an unofficial Altrincham FC website.
www.altrinchamfc.co.uk
---
OPTIONAL DROPDOWN MENU - HERE
---
Altrincham FC Youth (u-18)
---


Above: Altrincham FC Youth line up on 15 October 2017.
SK KITS have kindly sponsored and supplied the Youth Team's kit.
---
---
Altrincham's Youth side is managed for 2017-18 by Paul Fay, assisted by Sam Heathcote. The team plays in the North West Youth Alliance (Under-18s) Premier Division.
Altrincham FC Youth currently (November 2017) play their league and league cup games at Manchester Health Academy M23 9BP
---
FA Youth Cup games are played at Moss Lane. Altrincham & District FA games are usually held at Trafford FC, Shawe View, Flixton.
North West Youth Alliance League
---
NEWS
---
2 October 2018 On Wednesday evening (7.45pm), Altrincham FC Youth take on Daisy Hill in the FA Youth Cup.
---
1 October 2018 Altrincham FC Youth warmed up for Wednesday evening's FA Youth Cup clash at Daisy Hill with a 7-1 win on Saturday against Avro. Their next league game is away to Prescot Cables, who they then meet again the following Sunday (14th) in the NWYA Neil Thomason Cup.
---
16 September 2018 On Sunday, Altricham's Youth team beat Prescot Cables 8-2. The goals came from substitute Max Lewens, who hit a hat-trick, and from Ben Elliott and Curtis Miller (two apiece), Dontai Gabidon.

The Alty team (in a/z order) was Louie Barrett, Elliot Coleman, Oliver Culkin, Ben Elliott, Dontai Gabidon, Callum Graham, Josh Mehta, Curtis Miller, Jack Ryan, Patrick Savage, Luke Sowerby. Substitutes: Sam Harding, Max Lewens, Billy Matthews, Cade Preston, Robbie Leigh.

Meanwhile, the Youth team awaits the draw for the next round of the FA Youth Cup after their prospective opponents in the First Qualifying Round, Lancaster City, withdrew from the competition this week. The second Qualifying Round is scheduled for the week commencing 1st October.
---
5 September 2018 In the F.A. Youth Cup Preliminary Round, at Ashton Town, Altrincham led 4-0 by the interval thanks to goals by Gabidon (19 mins), Barrett (24 mins) Ryan (42 mins) and an own-goal off Powell (44 mins).

Gabidon got his second (56 mins) to make the final score 5-0 to the visitors.

In the next round, Lancaster City will host Altrincham at The Giant Axe, in a fortnight's time (exact date TBA).
---
3 September 2018 After losing 4-0 at AFC Fylde a fortnight ago in their opening league match of the season, this Sunday, Altrincham Youth bounced back and won, at home, against Chorley by six goals to two.
---
6 August 2018 The following fixtures are supplied by the FA...
19/08/18 14:30 AFC Fylde v Altrincham
2/09/18 14:30 Altrincham v Chorley @ Manchester Health Academy M23 9BP
09/09/18 14:30 Curzon Ashton v Altrincham
16/09/18 19:30 Altrincham v Tranmere Rovers @Solar Campus CH45 8RE
23/09/18 14:30 Altrincham v Hyde United @ Manchester Health Academy M23 9BP
23/09/18 19:30 Altrincham v Chester FC @ Boughton Hall Cricket Club CH3 5EL
---
20 July 2018 One of Altrincham's rivals in the NW Youth Alliance, Chorley, report that their "under-18s head into the 2018/19 North West Youth Alliance Premier Division campaign with a new man at the helm. Declan Williams, an experienced UEFA B licence coach who's worked across the football spectrum in the UK and aboard, has stepped up from a successful spell with our under-16s. Last season's manager Ben Howard joins The Magpies' Development Squad.

Joining Dec in the revamped management setup is former Development Squad coach Dale Boydell. Taking the role of assistant manager, the former semi-pro and army skipper will fulfil the position while completing his UEFA B license.

Dave Livesey is the third member of the team, moving up with Dec from the under-16s side. A professional during a short spell at Burnley in his younger days, Dave brings a huge amount of experience to the role of coach.

'We are looking forward to our season with the new under-18s squad,' Dec told chorleyfc.com. 'There are around 40 players to look at for our upcoming season, so the expansion of our management team was a necessity. We can't wait to see what all the lads are capable of.'"
---
1 May 2018 Altrincham FC will be holding Youth team trials on 10th June for the 2018/19 season. These are for players born between 1 September 2000 and 31 August 2004. To participate, please e-mail to register your interest.

Meanwhile, details of Altrincham's first-team trials, on 5th May, are here.
---
29 April 2018 On Sunday Altrincham exited the NWYA Open Cup, losing 1-0 at Heswall FC. The only remaining fixture is a league game at home to Prescot Cables on 20 May.

Harry Sheridan, who made his first-team debut last week against Marine, has received a three-match ban for his red card in the Youth team match on 22 April.
---
22 April 2018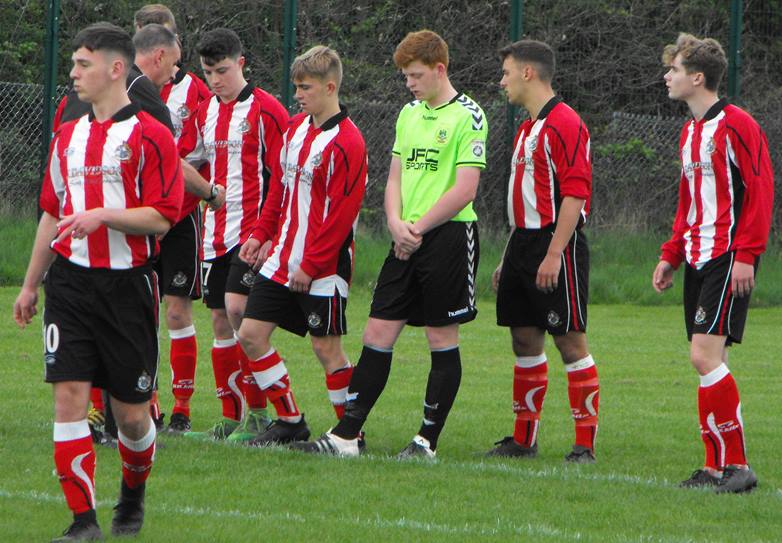 Above: Alty line up to defend a first-half freekick against Curzon Ashton.
In an eventful match which involved three pitches, three red cards and five goals, Altrincham bowed out of the Neil Thomason Trophy at the semi-final stage, having taken a 2-0 lead in the first half.
Match report here
In the other semi-final, Chester FC won 5-0 at Heswall.
Alty Youth's next match is on Sunday (29th) away to Heswall in the North West Youth Alliance Open Cup.
---