CLUB OFFICIALS
OPTIONAL DROPDOWN MENU - HERE
---
CLUB OFFICALS
Chairman, Board, Directors
As at January 2023:
Joint Chairmen - Bill Waterson (appointed to Board 23/2/17), Lawrence Looney (21/3/18)
Directors - Neil Faulkner (23/6/15), John Coyne (24/1/20), Rob Esteva (15/5/20), Chris Parry (1/1/21), Scott Burton (1/1/21), Sam Mackenzie (15/5/21), Mark Chapman (30/7/22), Mark Peter Luby (1/9/22), Alberto Antonio Valdes (1/1/23)
Associate Director (Financial Adviser) - Mike Adams (2/17)
Above, left to right: Bill Waterson, Lawrence Looney, Neil Faulkner, John Coyne
Recent Board History 2010-
Grahame Rowley became Chairman on 13 September 2010 after Geoff Goodwin resigned on that date. Grahame had previously been vice-chairman, having joined the Board in 2002. Grahame is a local man and a longstanding supporter of the club who, for many years, has also co-edited the matchday programme, with his brother, Terry.
From 14 September 2010, the Board comprised: Grahame Rowley (chairman), Andrew Shaw (vice-chairman), Derek Wilshaw and Paul Daine. Andrew was appointed vice-chairman in June 2011.
Andrew Shaw was named as vice-chairman in June 2011, a post he resigned on 1 February 2017 and, five days later, it was announced that Bill Waterson had become a significant shareholder and had joined the Board. In April 2016 Bill, a lifelong supporter, had made a significant donation to the Football Club. Nigel Collins left in 2017 and Barry Pond retired at the end of the 2016-17 season.
Local company J Davidson, scrap metal merchants based in Broadheath, became the major sponsors from 2011/12. The club continued to live within its means and took a big step forward with the building of a large Community Sports Hall within the stadium, which opened at the end of 2014 and has quickly become a community hub for the Altrincham area.
On 26 February 2017 it was announced that Paul Daine and Nigel Collins had resigned and that Mike Adams, who has a wealth of commercial experience, had been appointed as a Director, with particular responsibility for the Club's financial accounting. After joining initially as an Associate Director in 2017, Rob Esteva became a full Director in January 2018 but resigned in January 2019 owing to family and professional commitments before returning to the Board (see below). By 2020 Mike Adams was no longer listed as a Board member in club publications and was later described as a Financial Adviser.
On 22 March 2018 it was announced that Lawrence Looney, former Chief Executive at Lancaster City, had joined the Board.
In late November 2019 it was announced that John Coyne had accepted an invitation to join the board of the football club from December. And on 15 May 2020, it was announced that Rob Esteva had returned to the board as Director of Football.
Having earlier announced that he would be standing down as Chairman, Grahame Rowley handed over to the joint chairmanship of Bill Waterson and Lawrence Looney on 1 June 2020. Grahame initially remained on the club board and was appointed as the Club's President. On 4 November 2020 it was announced that Cathal Morrison had been appointed as a director of the club.
On 23 January 2021, Altrincham FC announced that Chris Parry and Scott Burton (the latter pictured, left), two businessmen based in Vancouver, Canada, had joined the club's Board. Chris Parry is an Australian by origin who runs Equity Guru, an information provision and analysis company focusing on millennial investors, while Scott Burton is CEO of FansUnite Entertainment, a sports and entertainment company focused on technology related to online sports betting".
It was announced on 30 June 2021 that Partnerships Manager, Sam Mackenzie, had earlier joined the Board. Sadly Derek Wilshaw died in August 2022.
On 26 January 2022 the club announced that it was seeking two additional Board members, an Operations Director and a Communications Director. But, a year later, neither had been appointed. However, a new post of Chief Excecutive Officer was announced in May 2022, again without an appointee being named to date.
Following the appointment on 30 July 2022 of Chris Hamlett of Armstrong Projects, who were developing the FanZone at the J. Davidson Stadium, and of BBC broadcaster and local man, Mark Chapman, the Club announced on 11 November 2022 that Mark Luby had also joined the Board, all three of where were based in the Altrincham area. However, Hamlett resigned on 11 January 2023, a decision confirmed the next day by the Club.
Chris Hamlett was the Managing Director at Armstrong Projects, and has been appointed Stadium Director, his company having refurbished the Noel White Suite, the Armstrong Projects VP Lounge, the Board Room, the Fan Zone and the home and away changing rooms.
The club stated that "Mark Luby is the Managing Director of EBS Aftermarket Group Limited and brings extensive international business experience to the club. He has made a significant investment already in Alty and is now our single biggest shareholder". He is a former Altrincham Grammar School for Boys pupil.
In its November 2022 statement the Club also confirmed that Cathal Morrison "has decided to step down after three years on the Board". He was instrumental in the set-up of the Altrincham FC Academy, oversaw the creation of our scouting network and implemented our player wellbeing programme".
On 1 January 2023, Alberto Antonio Valdes joined the Board. He is based in Austin, Texas, United States. On 12 January 2023 it was confirmed that Valcor Ventures LLC, based in Texas, USA, had purchased a minority interest in The Football Club.
Valdes is Valcor's managing director and also President and CEO at Hill Country Foodworks, Texas.
On 7 June 2023 the club announced the appointment of its first CEO in the form of John Williams, who had previously been Commercial Director at FC Halifax Town. This followed several years with Huddersfield Town.
---
Earlier History: The Altrincham FC Board 2002-10
Earlier, the Club had been through various changes in the previous decade (2001-10).
In late July, 2002, Geoff Goodwin, owner of the local Go Goodwins coach company, became Chairman. In the previous two years Mark Harris had become the Chairman in early 2001. However, Mark, who was formerly the Deputy Chairman, himself resigned w.e.f. the end of the 2001-02 season.
New Directors were appointed from February 2001 after the Club had been saved from a winding-up order threatened by an ex-Director. The remaining Board members resigned in May 2002, and the major shareholders, led by Gerry Berman, held an EGM on 17 June 2002. From this, a new Board emerged comprising Grahame Rowley (right) and Geoff Goodwin, both nominated by Graham Heathcote, and Andrew Shaw nominated by Len Rosenfield. They brought much needed stability to the club's operations, with a small operating profit being made in 2002-03.
They battled hard to pay off the club's debts, which they inherited, and the local Council's sale of the car park at Moss Lane brought a much-needed cash injection in 2007. In summer 2006, Grahame Rowley was named as Vice-Chairman and Derek Wilshaw joined Carole Hassan and Barry Pond on an expanded Board. Derek also assumed the voluntary role of Club Secretary from Graham Heathcote.
A significant step in the club's remergence at national level came when Andrew Shaw was elected to the Football Conference's national board in October 2006. At the end of May 2007, former Football League chief executive David Burns joined the Board. Sadly, David died in January 2009. Barry Pond resigned from the board at the end of 2008-09 season but became an Associate Director in July 2013, a role to which former Kidderminster Harriers' director Nigel Collins was also added but he apparently left soon afterwards.
In June 2008, Carole Hassan resigned due to her other commitments, her place on the Board being taken by Paul Daine, a local businessman who owns the Premium Collections company.
Under the guidance of Geoff Goodwin the club moved from the brink of insolvency to a position of stability through a policy of financial prudence. The club refused to follow the easy path of administration, by which the club's creditors would have been left out of pocket, and instead worked hard to return to solvency.
Under his chairmanship the club consistently reported a small profit each year. Geoff resigned as Chairman in September 2010, with Grahame Rowley assuming that role (see above).
---
Presidents/ Vice-Presidents
As at August 2022...
President - Grahame Rowley
Vice Presidents - D. Aldcroft, P. Daine, I. Foden, D. Whipp, R. Macauley, J.Evans, D. Ordman, J. Heslop, R Impey, G. Muir, M. Green, N. Faulkner, B.Smith, C. Harrison, B.Peters, M. Harris, P. Smith
Life Vice Presidents - D. Baldwin, B. Coop, J. Laidlar, E. Robinson, B.Pond, B.Flynn, A. Shaw, S. Crompton, G. Goodwin, T.Surridge, C.Nash O.B.E., D.Tracey, J.Wagg, R.Armstrong, M Maddox, K. Rowley
---
Club Administration
General Manager - Paul Carter. This was a newly created post in November 2020 but there was continuity as Paul had previously been the Club Secretary.
Partnerships Manager - Samantha Mackenzie. This was a newly created post in November 2020.
Process Improvement and Operations Manager - Levi Gill. This was a new role announced on 26 July 2023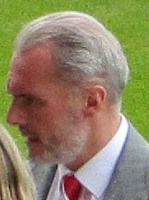 Chief Executive Officer (CEO): John Williams
John Williams's appointment as Altrincham's first ever CEO was announced on 7 June 2023. He had previously been Commercial Director at FC Halifax Town and, before that, had been employed at Huddersfield Town. John is pictured, right.
General Manager: Paul Carter
In June 2019 Paul, former Secretary at Stalybridge Celtic, succeeded Derek Wilshaw as Club Secretary. Derek retired after being in post from 24 July, 2006, when he replaced Graham Heathcote in that position. Prior to his appointment as Club Secretary, Derek had for many years previously worked on a voluntary basis in the Moss Lane offices of the Football Club.

Paul became full-time General Manager of the football club in November 2020. This was a new post created to embrace not only Derek Wilshaw's former role as Club Secretary but also much of the administrative work carried out by former chairman Grahame Rowley and his wife Karen.
Process Improvement and Operations Manager: Levi Gill
Former Barrow Director and CEO Levi Gill was announced as the appointee of a previously unnanounced post of Process Improvement and Operations Manager on 26 July 2023.

The job's aims, according to the announcement, are "to create a driven, dynamic leadership team capable of identifying and addressing off-field shortcomings and aligning standards with the professionalism shown day-in day-out by Phil, his backroom staff and his squad of players in readiness for the dream of Football League status being realised".
---
Team Management
First Team:
Manager - Phil Parkinson (above, far left)
Assistant Manager - Neil Sorvel (above, second from left)
Assistant Coach: Ross Speight
Sports Analyst - Mark Bushell (above, far right)
For more details of the First Team management see the Club Management page.
Reserves Team:
Manager - Danny Jarrett
Assistant Manager - Jack Johnson
Women's Team:
Managers: - Nick Pearce Assistant Manager - Chris Redfern
Academy Team:
Head Coach - Neil Sorvel
Senior Coach - Paul Fay
Coach - Ross Speight
Administrator - Sara Newton
Youth U-18 Team:
Manager - Paul Fay
Coach - Sam Heathcote
Asistant - Graham Houghton
Youth U-17 Team:
---
First Team Support Staff
Kitman - Steve Foster
Assistant Kitman -John Skelhorn
Chief Scout - Bob McClement
---
Medical & Rehabilitation Staff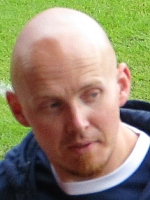 Club Doctor - Dr Robert Jackson
Sports Therapists - Jake Cunningham, Thomas Cadmore
Strength & Conditioning Coach - Matthew Fox (right)
---
Groundsman
Adam Lawrence succeeded Neil Brown as groundsman in September 2022.
---
Commercial & Corporate Officers
Commercial Manager - Noel Shield
PR & Promotions Manager - Peter Foster
---
Community Team
Club Welfare Officers - Karen Rowley, Paul Carter
Club Chaplain - Rev Andrew Barclay-Watt of LifeChurch, Sale.
---
Diversity & Inclusion
Hon. Diversity and Inclusion Officer - Jordan Tyms
---
Supporters' Liaison Officers (joint)
It is unclear whether the following posts still apply.
Mike Reeves
Alison Corser
---
Community Sports Hall
Community Manager - Simon Dow
Football Development Officer - TBC
---
Matchday Officers
Ground Safety Officer - Michael Heath succeeded Nigel Bunce as Safety Officer in July 2023. He had formerly worked at Stockport County.
Deputy Ground Safety Officer & Chief Steward - Dave Cardall who previously worked at Oldham Roughyeds RLFC and was appointed at Alty in July 2023.
Matchday Reception - Peter Lewis
Police Liaison Officer - Cliff Lea
---
Bar and Catering Team
Catering Managers - Dawn Abbott, Stuart Buchan
---
Media Team
Press and Media Officers - Brian Flynn and John Edwards
Alty TV Videographer- Mark Bennett
Photographer - Jonathan Moore, David Munro
Programme Editor - Ed Martin
Radio Robins - Brian Flynn and a team of commentators
Digital Media - Ed Martin
Social Media - Ed Painter
Tannoy Announcer - Ian Wilkinson
---
---