OPTIONAL DROPDOWN MENU - HERE
---
This website is an unofficial successor to the Altrincham FC official website of 2001-18. A new Altrincham FC official site was launched by the Club at
altrinchamfc.com
on 4 July 2018.
The Alty Files seek to supplement the new Official Site and it will concentrate, therefore, on:
1. Ensuring the continuing provision, (as well as the upgrading), of the archival data of the former Altrincham FC official site from 2000 to 2018.
2. Providing uptodate football news from across the division(s) in which the Football Club operates, which will include news about Altrincham FC.
To promote Altrincham Football Club, albeit in an unofficial capacity. Views expressed here are not necessarily consistent with those of the Football Club.
To provide accurate news relating to Altrincham FC and the league in which its representative teams play.
To ensure that all news is cited with its source and, where possible, a hyperlink to that source.
To provide historical information and statistics relating to the club, including news of former players and officials.
To provide information and news from other local football clubs and rivals.
To provide ample illustrative material which, where it not the copyright of this website itself, indicates clearly who is its creator.
Not to reproduce illustrative material without prior permission of the copyright holder.
To provide a site /archive of all material placed on the site.
To respond to all e-mails (other than spam, abuse etc). Where appropriate, e-mails will be passed on to other club officials for a response. Otherwise, e-mail addresses and personal information will not be passed to third parties.
To allow other websites to use material from this site subject to the laws of copyright and with the proviso that the source "www.altrinchamfc.co.uk" and the Alty Files name is always quoted.
The website does not accept reponsibility for the accuracy of views reproduced in good faith from other sources, nor does it accept liability for the consequences of any inaccuracies of content e.g. maps or directions, kick off times etc.
Where errors are made, these will be corrected promptly and, where appropriate, with an apology.
---
CONTACTING THE ALTY FILES WEBSITE
E MAIL
: Please email address below which, to minimize automated spam, is deliberately not provided as a hyperlink. Therefore,
please transcribe the address
into your e-mail's recipient field.
---
The origins of the Alty Files site go back to a previous unofficial site, called
The Alty Pages
, which started in season 1998-99. Subsequently (2001),
The Alty Pages
became the official club site, carrying on from the excellent pioneering work of Dr Alan Johnson, who had run the official site from its inception in 1997.
THE ORIGINAL ALTRINCHAM FC OFFICIAL WEBSITE, www.altyfc.u-net.com
The following article by Alan Johnson appeared in the Robins' Review of 16 January 1999.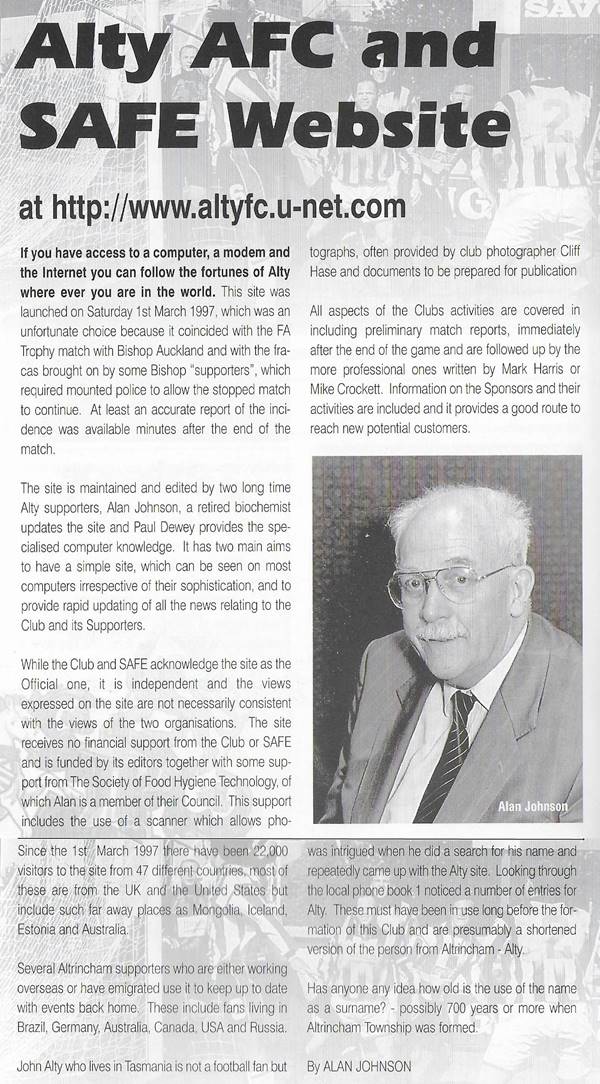 ---