an unofficial Altrincham FC website.
www.altrinchamfc.co.uk
---
OPTIONAL DROPDOWN MENU - HERE
---
Current News
---
ALTY HEADLINES
OTHER HEADLINES
17 Nov 2018: SATURDAY GAMES...More
17 Nov 2018: BPA ENJOY LIFE AT TOP...More
17 Nov 2018: COUNTY MAN GOES ON LOAN...More
---
17 November 2018
Before today, York City may not have visited Altrincham since 2011 but they are likely to include most if not all of the same squad which featured, in midweek, against Chester FC. That squad included several familiar faces who have appeared (and in a number of cases scored) against Altrincham previously. In fact some of the players will, by Saturday, have played against Altrincham for at least five different clubs!
The following non-exhaustive list of familiar faces includes...
Adam Bartlett, (aged 32)
A goalkeeper who started out at Blyth Spartans. His games against Alty include:
Kidderminster Harriers 4 Altrincham 0, 23 August 2008
Altrincham 2 Kidderminster Harriers 2, April 2009
Gateshead 1 Altrincham 0, April, 2015.
Sean Newton (aged 30)
An experienced defender whose games agains the Robins include
Chester City 1 Altrincham 1 - Chester City won 4-2 on penalties, 6 September 2006
Altrincham 1 Lincoln City 2, 12 August 2014
Lincoln City 1 Altrincham 2, 4 November 2014
Wrexham 3 Altrincham 1, 12 September, 2015
Altrincham 1 Wrexham 1, 9 February, 2016
Adriano Moke (aged 28)
A winger who, by Saturday, will probably have featured for at least five clubs against Altrincham
FC Halifax Town 3 Altrincham 4, 6 April 2013
Altrincham 3 Stockport County 0, 24 August 2013
Stockport County 0 Altrincham 0, 18 April 2014
Altrincham 1 Macclesfield Town 0, FA Trophy, 13 December 2014
Macclesfield Town 2 Altrincham 1, 10 February, 2015 - he scored
Wrexham 3 Altrincham 1, 12 September, 2015
Altrincham 1 Wrexham 1, 9 February, 2016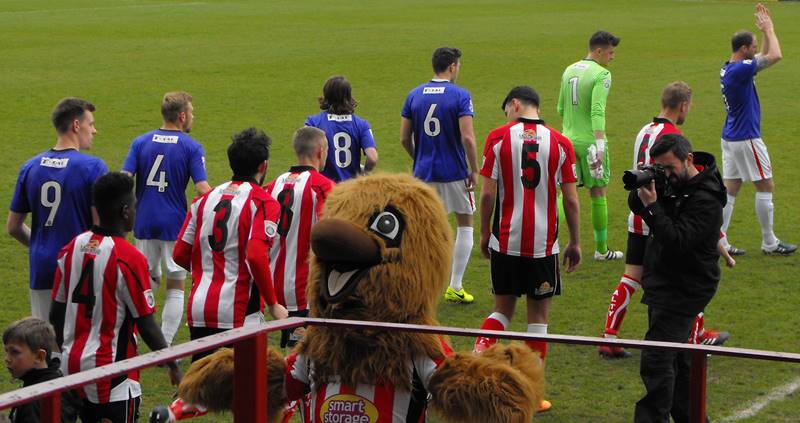 Whilst York City have not been to Altrincham since 2011, their new striker Joe Ironside was here as recently as April 2017. Above we see him as Kidderminster's no.9 entering the pitch at the J. Davidson Stadium before the league game in which he scored in the Harriers' 4-1 victory.
Joe Ironside (aged 25)
Ironside is a striker who, like Moke, by Saturday, will probably have featured for at least five clubs against Altrincham and has scored against them for at least three of those teams
Altrincham 1 Harrogate Town 3, 11 March 2014
Alfreton Town 1 Altrincham 1, 9 September 2014 -scored
Altrincham 0 Alfreton Town 1, 1 November 2014 - unused sub
Nuneaton Town 4 Altrincham 1, 13 September 2016 - scored
Altrincham 1 Kidderminster Harriers 4, 17 April 2017 - scored
Kidderminster Harriers 3 Altrincham 2, 29 September 2018
Jordan Burrow (aged 26)
The forward is another York player who, if selected, will be turning out against Alty for his fifth different club on Saturday
Altrincham 6 Boston United 1, 8 October, 2011
Altrincham 0 Morecambe 0, Pre-season friendly, 17 July, 2012
Altrincham 1 Lincoln City 2, 12 August 2014
Lincoln City 1 Altrincham 2, 4 November 2014,
Altrincham 1 FC Halifax Town 3, 6 October 2015 - scored twice
FC Halifax Town 1 Altrincham 0, 26 March 2016
FC Halifax Town 2 Altrincham 2, 9 August 2016
Jon Parkin (aged 37)
The experienced ex-Football League striker scored twice in his most recent encounter with Altrincham.
Forest Green Rovers 1 Altrincham 1, 6 December 2014
Altrincham 2 Forest Green Rovers 2, 14 February, 2015
Altrincham 0 Forest Green Rovers 1, 8 August, 2015
Forest Green Rovers 2 Altrincham 0, 28 November, 2015 - scored twice
Kennedy Digie (aged 21)
Recent York signing, Digie has twice been an unused sub against Altrincham.
Kidderminster Harriers 0 Altrincham 1, FA Trophy , 10 January, 2015 - unused sub
Kidderminster Harriers 3 Altrincham 2, 29 September 2018 - unused sub
On the eve of Saturday's game against York City, Altrincham announced that a new signing and a new loan player had joined the club. Details of these are on the
official site
.
Altrincham now have two successive home games against Yorkshire opposition. In fact, by next Saturday, Altrincham will have faced Yorkshire clubs five times in just over eleven weeks in league or cup matches. This Saturday, York City return to Moss Lane for the first time since 2011 whilst, on the following Saturday, Alty have their third encounter of the season against Bradford (Park Avenue). For more on the latter game, see below...
As for this Saturday, York Press says that "York City will face National League North's most-potent striking duo when they visit Altrincham. The Robins boast the division's leading marksman in Jordan Hulme, who has netted 11 times in the league this term, as well as hitting the target twice in the FA Cup.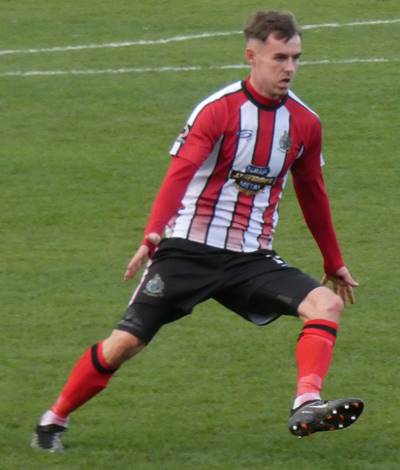 Hulme's former Salford City team-mate, right-winger John Johnson (right, in action against Ashton United), has also contributed eight league strikes this season, placing the pair two ahead of their nearest rivals for the division's deadliest duo, Spennymoor's Glen Taylor and Mark Anderson, who have notched ten and seven times respectively.
Last month's 3-0 defeat for the Minstermen at Spennymoor saw Taylor score twice and the visitors' hopes for a positive result at Moss Lane could rely on keeping a Robins' side at the bay, who have plundered 19 goals and conceded just three during five consecutive home victories.
Alfreton (3-1), Ashton United (3-0) and Nuneaton (4-0) have all been seen off during that time in the league, although Phil Parkinson's men are still to see anybody off in this term's bottom seven in front of their own fans. FA Cup visitors Whitley Bay (5-0) and Bradford Park Avenue (4-2) have also been sent packing since Alty last failed to defeat a visiting team.
The eighth-placed Greater Manchester outfit's overall tally of 33 league goals is only bettered, meanwhile, by Kidderminster, who have managed two more but have played a game extra.
At the other end of the pitch, though, Alty have shipped 24 goals, which is the second-worst tally outside the bottom six, aside from Chester, who have conceded one more. The Robins face City, having taken 13 points from a possible 15, although they have lost 2-0 to league neighbours Stockport in the Cup during that sequence.
As the division's form team, Alty have moved to a position just two points outside the play-off zone and are six points behind leaders Bradford Park Avenue with a game in hand.
Former Bury midfielder Max Harrop is missing, however, for tomorrow's match having been shown his fifth yellow card of the season against Chester, earning him a one-match ban. One-time Salford striker James Poole is not expected to recover from a hamstring problem either, joining midfielder Sean Williams (broken metatarsal) on the sidelines. Former Nantwich boss Phil Parkinson, a sports science lecturer, will be managing a team against the Minstermen for the first time, having guided the Robins to the Evo-Stik Northern League title in his first full season last term."
Saturday 17 November 2018, Vanarama National League North
Alfreton Town v Nuneaton Borough
Altrincham v York City
Blyth Spartans v Curzon Ashton
Boston United v Southport
Bradford (Park Avenue) v Ashton United
Darlington v Hereford
FC United Of Manchester v AFC Telford United
Guiseley v Spennymoor Town
Kidderminster Harriers v Chorley
Leamington v Chester
Stockport County v Brackley Town
The
Telegraph & Argus
informs us that "Bradford (Park Avenue) manager Mark Bower is thrilled to have led his side to the top of the Vanarama National League North, and he says that it is nothing less than the dedicated fans and volunteers deserve... Bower enthused, 'It's nice to do it for everyone who has worked tirelessly here, long before I came in a few years ago. It means a lot to the volunteers and supporters and getting into this position allows us to keep creating headlines and get some attention and publicity.
'I know it's a cliché but for the management and players, we've still got to take each game as it comes. We know there are teams below us with a game or two in hand but we should still enjoy it while we're there.'
Asked about the contributions of his younger players this season, Bower said 'Obviously, Jake Beesley has signed on loan from Salford and scored goals and Jamie Spencer has continued to improve from last season. We knew these players had talent but now they're adding a level of consistency which is really encouraging. It's not just the younger players either. Conor Branson, for example, has come in and performed very well, despite being new to this level.'
Bradford's opponents at Horsfall this weekend, Ashton [United], have conceded more goals than any other team in the division, but Bower warned 'They''re still a good team who like to get the ball down and play. They've had great results in their last two games too, with a draw against Boston United and a win over Guiseley. They were only promoted last season, so you could argue there's less pressure on them. We'll be looking to win and score goals, so our approach will be no different to usual and we'll have every chance of winning if we perform like we have over the past six weeks.'
Bower expects full back Danny Lowe to return to the side this weekend, while he is hopeful that Chris Dawson will be back in action too. He said the club will have to assess Oli Johnson closely to see whether he can make the game, the forward having limped off with a knee injury in last week's 1-1 draw at Curzon Ashton.
Meanwhile, Bradford will face Altrincham for the third time this season in next Saturday's FA Trophy Third Round Qualifying clash. They lost both of those previous two games to the Greater Manchester outfit and Bower groaned 'We were unlucky to get drawn away against the other real form side in the division. This game gives us a chance to put things right, though, and hopefully we can win and get an easier draw in the next round.'"
Also at Bradford (Park Avenue) "Club shop Manager and fundraiser Dave Stordy would like to provide the following update...
'Our supporters' players' fund, due to a couple of substantial donations, has now risen to over £5,110... As the majority of you will be aware the fund was started to help Mark and his management team compete with some of our wealthier rivals by possibly bringing in couple of additional signings, be they permanent or loans. Whilst we have not set any targets I would at this stage like to propose we target to reach the end of the year with the target of £10K. To achieve this I'm suggesting that if, say, 250 of our regular fans could commit to paying £10 each in the months of November and December then that would see us reach that target to enable Mark to hopefully make a couple of new signings to help our promotion push. I know not everyone might be able to afford this but those that can, will you please consider making the donations?"
NL Daily, "Stockport County striker Szymon Czubik has joined Mossley on a one-month loan following a successful spell at Stockport Town. The teenage front man has scored seven goals for Town this season. Winger Adam Etches has also been recalled from the Lions.

County boss Jim Gannon said, 'I am very grateful to Alan Lord and all at Stockport Town FC for the part they have played in giving Szymon valuable experience in men's football. He has shown his ability to play effectively at that level with his goal scoring exploits. Szymon, along with Adam Etches, were both recently recalled from their loans at the Town for our last two games. It was a great experience for both players to appear for the first team in our recent win at Warrington Town FC and also to be a part of the overnight trip and FA Cup first round 18-man squad for the Yeovil Town game.

'Despite these positive experiences we feel that the current strength of the squad allows us to consider the opportunity for the younger players to gain further valuable playing time outside the club. For Szymon, a move to the Evostik West Division seemed the next natural step. Szymon was subject to interest from several clubs but decided on a move to Sell Park.'

Szymon signed his first professional contract with the Hatters in January. The young striker joined Alan Lord's academy three years ago after impressing during a friendly against Goole Town."
Hereford FC "have confirmed that both Callum Sainty and Marlon Jackson will be leaving the club, with both players set to join new clubs this weekend. Jackson has made three starts and three substitute appearances for The Bulls since his arrival in September whilst Sainty has made just two appearances for The Bulls since joining in the summer.

Jackson is set to join a National League South side this weekend. Sainty, who hasn't featured for The Bulls since his sending off against Spennymoor in September, is set to join a Southern League side...

Head of Football Tim Harris said 'We have to reshape the squad, so, unfortunately, changes need to be made. We will continue to work hard to bring quality players in'".
Cheshire Live reports that "Fourth in the table and just a point off top spot in the National League North after an unbeaten run which lasted 11 games, things are going well for Chester FC this season. Under Bernard Morley and Anthony Johnson, the Blues are firmly in the mix at the top end of the table and could even move to the summit of the division tomorrow should they beat Leamington on their travels and other results elsewhere go their way.

The league campaign is approaching its halfway point and we thought it would be a good idea to ask our panel of Blues fans for their take on the season so far and what they have made of Chester under Morley and Johnson...

Matt Nickson: 'The fact that we had two opportunities to be top of the league this early in the season speaks volumes. "When you consider the disjointed season we have had and the overturn [turnover] of players, it is a true reflection of the management duo's ability to put together a strong side that are competitive in a very tough league... The team are exciting going forward, strong in defence and high energy in midfield. This makes the team very good to watch...

'You can park on the ground, get a drink in the bar or refreshments in the stands, watch an entertaining competitive football match and all for around £20. This is currently great value especially when you consider that on average a Premier League game costs around £40-£50. You also have the travel involved, this is on our doorstep'...

Kieron Shiel: 'Clearly the congestion of constant Tuesday and Saturday games for a part time team caught up with us and reared its head initially against Nuneaton, but we still didn't roll over. The Altrincham game was hard luck in my opinion and, on another day we could have got a draw in that game as we were just starting to come on top when we got hit with a second, but a fair result on reflection.

'To then turn to York away with their new found signings and get a hard fought point showed grit and spirit which clearly hasn't left the team'"
---
16 November 2018
Altrincham will be without suspended midfielder Max Harrop [right] on Saturday, when York City visit the J Davidson Stadium, as he has acquired five yellow cards in league matches this season. After the end of November 2018, players with five cautions in league matches do not suffer a suspension unless a total of ten is reached before the second Sunday in March 2019, when a two-match league ban applies. Fifteen yellow cards attract a three-game league ban.

The Altrincham FC official site has a match preview.

As for the opposition, York City have an interview with manager Sam Collins, discussing their midweek draw with Chester and their forthcoming game at Altrincham. He is very complimentary about Alty.

The National League reports that "Sam Collins thinks his side's performance against Chester could be the catalyst for another good run of form. The Minstermen could perhaps count themselves unlucky not to take all three points from their clash with the Blues, a game that eventually finished goalless.

Collins' men are now without a win in four league games but the manager thought there were good signs on show... The Minstermen recently put together a superb run of form following Collins' appointment but have faltered recently. But their boss, Sam Collins, is confident they can put together a similar string of results again soon".
The York Press reports that "The Minstermen chief has recruited loan quintet Lewis Hawkins, Joe Davis, Alex Bray, Joe Ironside and Kennedy Digie since being given the green light by chairman Jason McGill to bolster the ranks following the 4-1 home defeat to Bradford Park Avenue a fortnight ago.

Better displays have since been evidenced during the 2-1 FA Cup defeat at League Two Swindon and Tuesday night's 0-0 home draw against a Chester team who would have moved to the top of the National League North table with a victory.

But Collins still feels there are departments of the team that could benefit from new faces and he said 'We're still looking and still think we can be stronger in certain areas so, if it's the right time, that might be something we look to do. We've just got to be careful, though, with the number of players coming in both financially and to make sure the group is happy.'

With the club having only managed back-to-back clean sheets once in the last 15 months, during Collins' first two games at the helm back in August, the former Port Vale and Hartlepool defender is now hoping new centre-half pairing Joe Davis and Kennedy Digie can help the team secure another shut-out on Saturday at Altrincham, following their starring roles against Chester.

'It's difficult when you don't really know each other, and they'd only met the day before the Chester match, but they both looked really assured,' Collins enthused. 'They fitted together well with the balance between their different styles and that was really pleasing. I know Chester hit the post but, apart from that, they didn't really have anything else in the game and, if we start keeping clean sheets again, it gives you something to build on and, having been a defender myself, I pride myself on that.'

At the other end of the pitch, meanwhile, Collins believes it will be only a matter of time before striker Ironside hits the goal trail, despite the ex-Sheffield United striker saying sorry to his new team-mates for not taking two chances that would have secured maximum points in midweek. Ironside has netted 24 and 23 times at National League North level during the past two seasons and also has six to his name this season for parent club Kidderminster despite falling out of favour at Aggborough, with Collins reasoning 'When we played Kidderminster at home in September, he would have probably scored a couple of goals with the chances he had (on Tuesday night), and we've got to get him back to that.

'He has been getting frustrated at Kidderminster but, with his record, I think we will get him up to speed quickly. He apologised to everyone afterwards because he felt he should have scored, but that's fine, because we're pretty sure he will score a lot of goals for us, which is great.'

Collins also went on to praise Kallum Griffiths for the transition he has made from right-back to midfield anchorman during the last three games in the absence of an injured Simon Heslop. The former Spennymoor defender had been left out of the City squad twice and an unused substitute during the five previous matches but has been likened to a 'bull' for his determined displays against Bradford, Swindon and Chester since making the positional switch.

'He's been absolutely outstanding, and he has a really good attitude,' Collins said of the 28-year-old former Sunderland academy hopeful. 'You could tell him to do anything out on the pitch and he would give it a go, but he looks really comfortable there getting about people and breaking play up. He also wants to get on the ball and play and it's been a real positive him playing there. It came about because we did a few different types of training sessions and he caught the eye after we put him there, so we just thought let's go with it.

'It suits him because of the way he goes about the game and his endeavour. He's like a little bull the way he gets around the pitch and he's all over people like a rash. I like that and playing him there also gets him more involved.'

Having taken one point from a possible 12 in the league, Collins is now calling on his players to ensure the improvements witnessed in the last two fixtures are now translated into wins, starting at an eighth-placed Altrincham team, who lie just three points behind table-toppers Bradford with a game in hand.

The City chief added 'They are a good footballing team who had a good result against Chester at the weekend, with a 2-1 away win. We know it won't be easy, but we've got to meet the levels we have shown during the last two games and turn them into wins'".

As already covered on this site, the last Altrincham home league game against York City was in 2010-11 season and ended in a goalless draw.

And the encounter before that, on 13 March 2010, was also a goalless draw.

In fact, in eight games at Moss Lane, there have been four draws between the teams and Alty have only beaten the Minstermen once on home turf, as Mike Garnett's statistics (below) demonstrate.
At Altrincham: P8 W1 D4 L3 F8 A16
At York: P8 W1 D2 L5 F5 A16
All games: P16 W2 D6 L8 F13 A32
Like the 2010-11 game at Moss Lane, the fixture in 2009-10 season originally had been scheduled for 28 December of the previous year. But, this time, the game took place on a Saturday rather than under floodlights in midweek.

Both teams went into the re-arranged game in wretched form.

After a record-breaking run, which had included eight successive league wins, York had endured a wretched sequence of form which had seen them lose four and draw one of their previous five league matches. Likewise, Alty had not won themselves in five league games but had drawn four of those games. York started the game sixth in the table, with Alty eleventh.

In 2010 Alty fielded a self-selecting squad as they only had 16 fit players and they secured their fourth successive draw. James Smith was with a hamstring injury, Robbie Lawton was also sidelined and Tom Kearney had suffered a broken leg at Wrexham the previous midweek.

York's pantomime villain, Richard Brodie, who was the league's leading scorer, had a poor afternoon, missing two sitters and being booked for a blatant dive.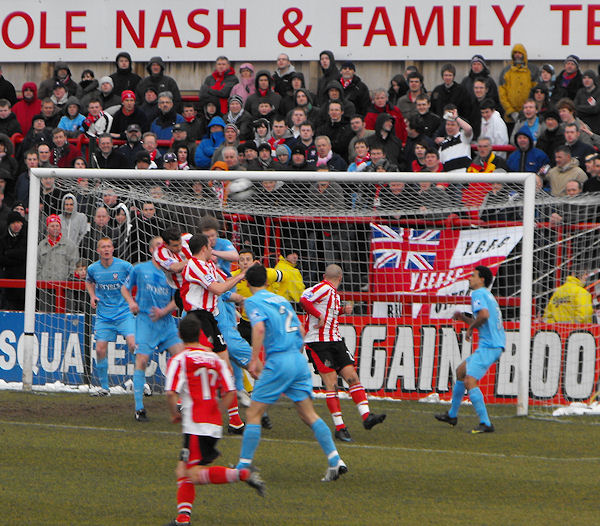 Above: Alty attack the York goal in the first half. It's not snow behind the goal but rolls of paper, thrown onto the pitch by York supporters.

ALTRINCHAM: 1. Stuart COBURN, 6. Shaun DENSMORE, 12. Robbie WILLIAMS, 5. Greg YOUNG, 27. Ryan BROWN, 21. Peter DORAN, 16. Anthony DANYLYK, 11. Nicky CLEE; 10. Chris DENHAM, 19. Chris SENIOR, 9. Colin LITTLE, Subs: 13. Russell SAUNDERS, 18. Michael WELCH, 8. Clive MOYO-MODISE, 17. John McALISKEY, 24. Adam CARDEN

YORK CITY: 24. Michael Ingham, 5. David McGurk, 3. James Meredith, 26. Graham Luke, 2. Ben Purkiss, 17. Levi Mackin, 16. Richard Brodie, 25. Jamie Clarke, 21. Djoumin Sangare, 28. Courtney Pitt, 9. Michael Gash, Subs: 6. Daniel Parslow, 15. Michael Rankine, 10. Richard Paquette, 29. Paul Harsley, 27. Kevin Gall.
Former Altrincham FC Youth midfielder (2013-14), Jeff King (pictured, right, in his Alty days), is the nephew of Alty's former manager and captain, John King. Since leaving Moss Lane he has played at a Championship club in England and a Premier club in Scotland.

After making his Alty debut in the CSC, Jeff had a loan period at Prescot Cables in the latter part of the 2013-14 season but then moved on to Nantwich Town in September 2014 before a further relocation to Kendal Town. By early 2015 he was playing for Trafford and early in 2015-16 season he was at Ashton United. Later that season he was at Witton Albion but in April of 2016 he faced an FA charge for alleged use of abusive, race-related language whilst playing for Ashton United and served a ban as a consequence.

At the start of 2016-17 he joined Droylsden but, by November 2016, he had been signed up by Bolton Wanderers where he earned a professional contract for 2017-18 and became a first-team squad member. He made his debut against West Ham United in the EFL Cup.

In summer 2018 Jeff joined St Mirren in the Scottish Premiership on a two-year contract, having previously had a brief loan spell at FC United of Manchester whilst at Bolton.

NL Daily reports that "Coalville Town have announced that striker Kyle Perry has today signed for the club. Perry, 32, will need no introduction to Coalville fans, having scored against the Ravens multiple times during his two spells at NPL side Stafford Rangers, where he now joins from.

Standing at 6ft 4 tall, he is well recognised as one of the best target-men around at this level of football with plenty of experience having playing higher in past years for the likes of Mansfield Town, AFC Telford, Port Vale, Lincoln City, Nuneaton, Altrincham and Worcester City. In between his two Stafford spells he also played for local neighbours Barwell and Stourbridge FC."

The National League confirms that "Four FA Cup Second Round games have been selected for live television coverage.
Solihull Moors v Blackpool - Friday November 30 - 7.55pm - BBC Two
Morecambe or FC Halifax v Wimbledon- Saturday December 1 - 12.30pm - BT Sport 1
Wrexham v Newport County - Saturday December 1 - 8pm - BT Sport 1
Guiseley v Fleetwood Town - Monday December 3 - 8pm - BT Sport 1
Bradford's Telegraph & Argus adds that "Guiseley, who shocked League Two Cambridge in the last round, will receive a live broadcast fee of £75,000". An additional £54,000 is available to the winners of the games in Round Two from The FA Prize Fund.
According to the National League Kidderminster manager "Neil MacFarlane is hoping his side can forget their recent rocky form and put in a performance against Chorley. The Magpies dropped off top-spot last week for the first time since August and the Harriers missed a chance to replace them when they dropped points against Nuneaton Borough.

They've won just once in their last five outings, dropping ten points from a possible 15...

'It's a massive game,' he told the club's YouTube service. 'It's one we're looking forward to for sure. Hopefully we can make amends for the past couple of weeks because I'm pretty positive that the group can move on from this. It's a long season and I'm confident that come the end of it that we'll be up there.'"
Cheshire Live reports that co-manager "Anthony Johnson says that he and Bernard Morley are looking to freshen up their Chester FC squad to ensure they maintain their promotion push. With 17 games of their National League North season gone the Blues are exceeding expectations and sit fourth, just one point of league leaders Bradford (Park Avenue).

The Blues missed the chance to go top on Tuesday night after they were held to a goalless draw at York City. Johnson and Morley handed a debut to Adam Dawson from the bench in that game after he joined the Blues following his release from AFC Telford United, and Johnson stated post match that there could well be more comings and goings as they look to improve the squad to ensure they remain in the hunt for promotion back to the National League...

'We've still got lads trying to find where they fit into the team. I think one of the important things is that me and Bernard need to make sure that we keep freshening the group up. We've had the same group of lads now for a little bit and, if it means one or two of them have to go out the door to be able to do that, then we're prepared to do that... It's important that we push on now.'

When the managerial duo arrived at the Swansway Chester Stadium in the summer they had won the National League North title just weeks before with Salford City. But while at Salford they had a budget the envy of the league, at Chester they are having to operate with a lower-half budget and have little room for manoeuvre. But with his and Morley's side further on down the line than they anticipated, Johnson didn't rule out comings or goings from Chester before the weekend to aid their cause, with the Blues heading to Leamington on Saturday...

He said 'We're always looking. We're at that stage now where we are two or three games away from being at the halfway stage of the season and we're in a really good position. We've got to think about what that looks like, not just for Saturday, the week after but long term. We've done the short term stuff, we've got to where we wanted to be but what does that look like now going forward? If that means improving the team, if that means one or two things we might be able to do off the field to help us cement that place then they are discussions that are being had. As a club we are much further on than we anticipated to be back in May and it is so important that we stay in this type of position now.'

Midfielder Gary Roberts is available for the trip to Leamington after it was confirmed that he had received four bookings in the league, not five... The cards accrued reset at the end of November."
From NL Daily we learn that "FC United have confirmed that former Bolton Wanderers and Bamber Bridge player Ryan White has signed from AFC Blackpool, and David Chadwick has returned to the first-team squad, seven years after his last match.

Winger Ryan White, who turned 20 last week, has already made an instant impact, scoring on his debut in the Manchester Premier Cup on Tuesday night. White, along with [ex-Alty Youth] Jeff King (who played on loan for FC last season) and Cole Lonsdale (who joined FC a few weeks ago) were all part of Bolton Wanderers Under-23 side last season.

And in a week that sees Wayne Rooney return to the England set-up for one last hurrah, former FC United captain, interim manager, and club legend David Chadwick (aged 41) has gone one better, signing up to Neil Reynolds' squad to provide defensive cover, a full seven years after leaving FC United in search of more regular football. 'Chaddy' came on as a second-half substitute in Tuesday's match away at Mossley, making his 210th appearance for the Reds".

Cheshire Live reports that "The first round draw of the Cheshire Senior Cup has handed Chester FC a trip to Winsford United while Crewe Alex take on nearby Nantwich Town. The Blues will travel to the North West Counties Football League side after coming through the preliminary round by beating Witton Albion 2-1 last month at the Swansway Chester Stadium.

The Railwaymen meanwhile will take on the Dabbers in a south Cheshire derby at Gresty Road in a repeat of the 2017 final.

Fellow League Two side Macclesfield Town will host Runcorn Town, while National League North side Stockport County will take on 1874 Northwich at Edgeley Park.

Stockport Town will face either Northwich Victoria or Tranmere Rovers, while Runcorn Linnets have a clash at the Millbank Linnets Stadium against Stalybridge Celtic.

Cammell Laird 1907 will take on Alsager Town and Congleton Town will play Sandbach United. The ties are scheduled to take place the week commencing Monday, January 7".
---
15 November 2018 Alty entertain York City on Saturday.
York Press reports that "York City boss Sam Collins believes Alex Bray can be an 'electric' addition to the Bootham Crescent ranks. The on-loan Rotherham winger won the sponsors' man-of-the-match award during his home debut, a 0-0 draw with Chester, having made his first start at the weekend against Swindon in the FA Cup.

Bray, 23, tormented Chester right-back Dominic Smalley to the point where he had to be replaced at half-time having been lucky not to receive a second yellow card for felling the ex-Wales under-19 international just outside the penalty box. He also troubled sub Jon Moran after the break and an impressed Collins said 'For somebody who hasn't played too much football for a while, Alex was really good. Their player should have been sent off just before half-time because Alex was going into the penalty area.

'The ref told me he thought his first booking was worse, but I can't see how that can be the case as that one was on the half-way line. They then took their player off, because they knew he should have been sent off. Alex is a really talented boy and he came recommended by a lot of people I know and trust in the game and what we've seen from him in his first two games for us matches their feedback. Hopefully, he can keep improving because, when he gets going, he's electric.'

Full debutant Kennedy Digie, recruited on loan from Kidderminster, also caught the eye at centre-back, as the Minstermen kept their first National League North clean sheet since August bank-holiday Monday with Collins admitting that he even advised higher-division clubs to scout the 21-year-old defender prior to bringing him to Bootham Crescent.

'I thought Kennedy was excellent,' Collins enthused. 'When we played Kidderminster at home (in September), I was so impressed with him that I spoke to a lot of clubs at higher levels and told them that they should be watching him. It was some debut and I hope that continues. He's only a young kid, but there's definitely a player there. He's a strong boy, who is really comfortable in possession and I want my players to be like that. It was a really composed debut alongside Joe Davis and I was delighted with them both.'

City denied Chester the chance to move to the top of the table and also improved their own position by three places, moving up to 12th, with Collins arguing...

'I thought we played really well throughout the game,' he declared. 'We were really solid and well-organised defensively and the players matched how we performed on Saturday at Swindon, which is what I asked for. The only thing that was missing was a goal and we had so many good situations in the game, but I can't fault the lads because we were really, really good. Chester were lucky to go away with a point, so it was bit disappointing not to get a win, but there were so many positives to take and, hopefully, this can be the start of something now and we can go on a good run.'

Collins went on to suggest that some of the players currently on the squad's fringes could now be loaned out to lower the rising squad numbers. 'There are a couple of things happening, because I can't guarantee some players first-team football and it's the right thing for them and the club to get them games somewhere else,' he explained.

Also from York Press we read that "York City kept a first National League North clean sheet since August following a keenly-fought 0-0 home draw with Chester. Both defences were on top with City's new centre-back pairing of Joe Davis and Kennedy Digie deserving huge credit for ending the hosts' nine-game wait for a league shut-out. During that period, the Minstermen have shipped an average of more than two goals a game, but keeper Adam Bartlett was only called upon to make two saves all evening...

On-loan debutant Joe Ironside headed the home side's best two opportunities off target... City flank patroller Alex Bray was... bright... from the off... Bray went on to send in a left-wing cross that was... inviting for Ironside but the ex-Sheffield United striker somehow headed across the goal and wide from three yards out...

The hosts made a positive start to the second period with Josh Law sending an excellent right-wing cross into the box, only for Ironside to mistime his header, resulting in the ball bouncing wide...

City ratings: Adam Bartlett 7, Josh Law 7, Joe Davis 8, Kennedy Digie 8, Sean Newton 7, Kallum Griffiths 7, Lewis Hawkins 7, Adriano Moke 8, Alex Bray 8, Joe Ironside 6, Jordan Burrow 6. Substitutes: Macaulay Langstaff (for Ironside, 83), Jon Parkin (for Burrow, 88). Subs not used: Alex Harris, David Ferguson, Nathan Dyer.

Star man: Digie – commanding and athletic performance at the back on his debut... Attendance: 2,319 (174 from Chester)
Shots on target: City 2, Chester 3
Shots off target: City 4, Chester 5
Corners: City 6, Chester 3
Fouls conceded: City 14, Chester 10
Offside: City 2, Chester 0
NL Daily adds that "York City boss Sam Collins is targeting a strong run in the FA Trophy despite a tough draw at Kidderminster Harriers, The York Press say.

The Minstermen have failed to win any of their last seven contests against Kiddy, who also knocked them out in the first-round proper of last term's competition. That match ended 2-1 in the hosts' favour with the two sides now scheduled to meet again at Aggborough one stage earlier a week on Saturday...

[Collins] said 'I just want to win every game, whatever competition that may be in. I felt that way going to Swindon on Saturday and, as players, you need to feel like that in every training session as well.'"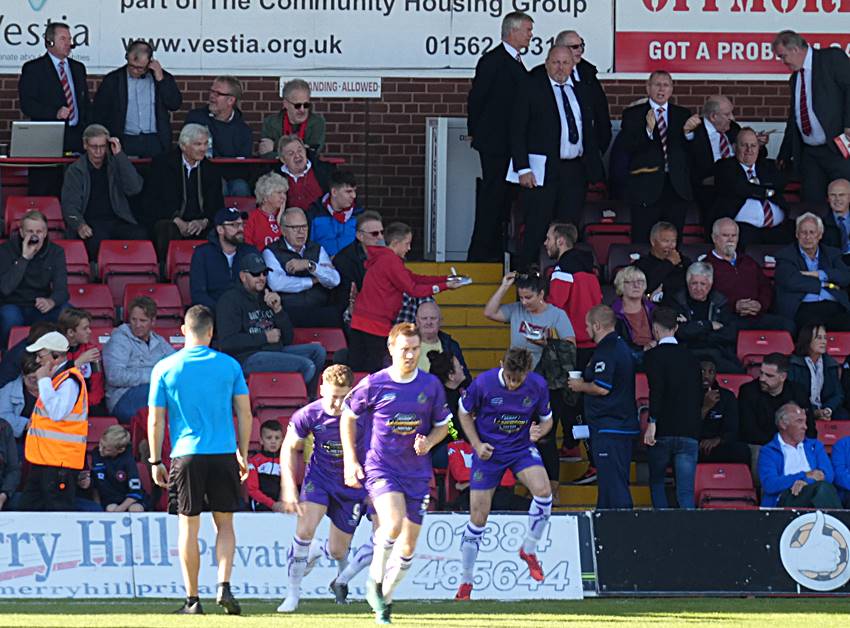 With Radio Robins broadcasting to the nation (top left), Ryan Murray (centre) puts the players through a pre-match warm-up at Kidderminster, as members of the Altrincham FC Board and a number of club volunteers (top right) take their seats, shortly before kick-off of the game in September.

On Monday evening, shareholders gathered for the 97th Annual General Meeting of Altrincham Football Club. This covers the 2018-19 period. At the start of the meeting, Chairman Grahame Rowley opened his introductory address to those present...

"Good evening and welcome to the 97th AGM of Altrincham Football Club

The 2017-18 season was a highly successful season resulting in promotion back to the Conference North at the first time of asking – the first time any team has managed this.

This achievement can be attributed to everyone associated with the club, who pulled together in times of adversity and brought about a strength within the club from Board to first-team management, to the supporters and volunteers..."

For the full text, see the Altrincham FC official site.

Wednesday 14th November 2018 - Cheshire Senior Cup Preliminary Round
Northwich Victoria 1 Tranmere Rovers 2 (at Wincham Park)
According to the National League, "Chester may have missed two chances go top of the table this week, but it doesn't faze Anthony Johnson.

The Blues' joint boss says... 'It's been a tough few weeks with the lads we've had missing and the amount of games we've had,' he told the club's Twitter after the goalless draw with York City. 'Thankfully, now the Saturday - Tuesdays have finished we can start to replicate what we looked like a few weeks back. We're in a brilliant position and we've said since the start, if we were three or four points off the play-offs around halfway through the season, we'd have been really happy.'

The Blues were on an incredible run of form before losing at home for the first time this season to Altrincham last week...

'We're still a work in progress because we're still trying to work out where we are but we're not happy to just fall away. We've stablilised our position in the league and it's important that we push on now'".
Also from the National League, we learn that "Hereford manager Marc Richards is urging fans to keep the faith as the club's poor form continues. The Bulls are without a win since August 14, a run that saw Peter Beadle leave the club. Richards was the man chosen to turn the ship around and, although he hasn't won a game yet, he's adamant that will change soon.

'It's a results business and we're not getting results at the minute so that's something we need to sort out,' he told the club's official website. 'We're going to continue working hard on what we need to do and the preparation for every single game. Hopefully we can turn this around because we need to. Pressure is part and parcel of being a football manager and that's the same at any level. I've got no problem taking all the pressure because I want the players to play with freedom.'

The Bulls are second bottom of the National League North and face a tough trip to Darlington on Saturday. Ahead of the game, Richards assured fans that their faith will be repaid.

'I get it, I get their frustrations,' he said. "All I'll say is, stick with it. Because we know what we're doing. I know the fans don't feel like that at the minute but we will turn it around and when the good times do come, we can all enjoy them together.'"
Also down at the wrong end of the table, NL Daily reports that "Nuneaton Borough have confirmed that striker Shane Benjamin has left the club. Benjamin has returned to Heather St. John's. The bustling centre-forward made eight appearances for the Boro' and was very popular for his no-nonsense style and aerial prowess".

The NL Paper confirms that "BT Sport have selected two FA Cup first round replays involving Non-League sides to be televised next week.
TUESDAY 20 NOVEMBER 2018: Oxford City v Tranmere Rovers (7.45pm) – Live on BT Sport 1
WEDNESDAY 21 NOVEMBER 2018: Salford City v Shrewsbury Town (7.45pm) – Live on BT Sport 1"
---
14 November 2018
York City pay their first visit to Altrincham since the clubs played out a goalless draw in the Conference's national division at Moss Lane on 22 February, 2011. That was a Tuesday night match which replaced a fixture postponed on 28 December 2010. 1,143 spectators saw the game, of whom 444 were from York.

This time around it is Altrincham who start the game in a higher league position; eighth in comparison with York's fifteenth (before Tuesday's results).

Back in 2011 York were pushing for promotion back to the Football League whilst Altrincham started and finished the game in 22nd position (out of 24). Nevertheless, Altrincham dominated the last 25 minutes and only failed to win because they failed to convert a hatful of chances during the game and were denied as blatant a penalty as you will ever see when Damian Reeves was pushed over on the line as he was about to put the ball in the York net. The ironically named referee, Mr Wright, later said he was unsighted.

York only seriously threatened to score once, when Man of the Match, Marc Joseph, cleared off the Alty line in the first half. Alty ended the season, still 22nd, and they were relegated whilst the Minstermen finished eighth.
For this match, Altrincham defender James Smith [right] returned after suspension but Chris Denham and Shaun Densmore remained sidelined by injury. However, new loan signing from Fleetwood, Steve Connors, started despite picking up a knock the previous Saturday. Unfortunately, loanee Sam Wedgbury was playing his last game before returning to his club, Macclesfield Town. Alty were also without centre-back Greg Young, who was not allowed to play against his employers in this fixture.

Statistics of previous encounters are provided by Mike Garnett: At Altrincham: P8 W1 D4 L3 F8 A16 At York: P8 W1 D2 L5 F5 A16 All games: P16 W2 D6 L8 F13 A32

The line ups in 2011 were:

ALTRINCHAM: 30. Craig DOOTSON, 5. Robbie WILLIAMS, 4. Marc JOSEPH, 26. Carl PIERGIANNNI, 2. James SMITH, 7. Robbie LAWTON (capt), 18. Steven CONNORS, 28. Sam WEDGBURY, 8. Damian REEVES, 11. Nicky CLEE, 19. Mark BEESLEY, Subs: 1. Stuart COBURN, 17. Wes BAYNES, 16. Anthony DANYLYK, 15. Ryan BROWN, 9. Michael TWISS.

YORK CITY: 24. Michael Ingham, 2. Liam Darville, 5. David McGurk, 30. Chris Smith (capt), 3. James Meredith, 8. Peter Till, 19. Ashley Chambers, 27. Daniel Racchi, 28. Andre Boucaud, 29. Scott Kerr, 15. Michael Rankine. Subs: 4. Jonathan Smith, 25. Leon Constantine, 6. Daniel Parslow, 7. Jamie Reed, 11. Chris Carruthers

The official Altrincham FC website has John Edwards's post-match interview with Phil Parkinson, following the win at Chester last Saturday.

The National League adds that "Phil Parkinson said his Altrincham side showed bravery and character as they ended Chester's unbeaten home record this season... They haven't lost in the league since the end of September, something that delights their manager.

'We're delighted to come to Chester and win given that they were unbeaten at home and unbeaten in 11 games before this,' Parkinson told the National League's Oli Osborn. 'We were really up for it today, as we are every week and the biggest thing was the bravery we played with. We were outstanding in the first half with the football we played. We've shown real depth of character to get a result here and if we can be as good in possession as we are out of possession, we can be successful'...

'The Manager of the Month award sits uneasy with me because it's a team effort. It's not about me, it's about the club and the direction we're turning'".

Tuesday 13 November 2018, Vanarama National League North
Hereford FC 0-3 Southport

Hereford played with ten men from the 22nd minute when they conceded a penalty which was converted. Southport exchange 20th and 21st places with the Bulls who conceded three at home for the second time in three days to teams who started the match below them. Attendance 1,512 (30 away); Bulls' News reporter says "I'm pretty sure that's Hereford's lowest ever attendance for a home league game".

York City 0-0 Chester FC

Attendance 2319. York move up three places to twelfth with their point. Chester are now fourth, the top four being covered by a single point.
According to the Shropshire Star, "Furious AFC Telford United chiefs have reported rivals Chester to the FA for an alleged illegal approach for Adam Dawson following the winger's departure from the club.

Dawson yesterday quit the Bucks in order to join their National League North rivals, having informed boss Gavin Cowan over the weekend of his desire to find a club closer to his Manchester home. Telford claim Chester then made contact and held talks directly with Dawson on Monday, without making an official seven-day approach. That has prompted the Bucks to report their rivals to the FA and the National League.

A statement said 'The club received information to suggest Chester had already made contact with the player regarding a move and that Adam was meeting them to agree terms without club receiving an official seven day approach to allow permission.'

Dawson, who joined the Bucks in the summer, scored one goal in 14 appearances for the club".
In response Chester FC stated that they "are aware of a statement made today by AFC Telford United regarding Adam Dawson. As a club we strenuously deny any wrongdoing and believe we have acted within all FA guidelines throughout the transfer negotiations with both Adam and his previous Club. We await FA ratification of this deal".

Meanwhile, Chester FC reported before Tuesday's game that they were "looking to bounce back from a first defeat in 12 games on Saturday, as tonight they face a trip to York City.

It is likely to be the final time ever they make the trip to Bootham Crescent, with York all set to move into their new stadium for the 2019-2020 campaign. They sit 15th in the National League North, ten points behind the Blues.

Manager Sam Collins recruited Kennedy Digie and Joe Ironside on loan from Kidderminster yesterday, and would have been encouraged on Saturday as the Minstermen were just edged out 2-1 in the Emirates FA Cup to League Two side Swindon Town. They will look to build on that this evening.

Anthony Johnson and Bernard Morley's side were on a superb run of 11 unbeaten before defeat to Altrincham on Saturday. A tough period with games coming thick and fast saw Gary Stopforth miss out due to injury, he is 50/50 for tonight's match".

And the Chester Standard said that "Joint manager Bernard Morley has urged his weary players to seize their opportunity at York City on Tuesday night in the knowledge that a win for the Blues will take them top of the National League North for the first time this season...

'It's really hard to be negative with this group of players with what they've done this season, especially from those dark days early doors,' said Morley. 'To go 11 games unbeaten with some of the sides we've taken points off is brilliant. We don't become a bad team overnight. We've not gone in the changing room at the end of the game [against Altrincham] for a reason because sometimes emotions get the better of you and you say things that you don't really want to say, so we've been coy about that today.

'We let the lads speak about it and get it off their chest. They don't need us to tell us they weren't good enough today, they know that'...

The joint managers face an uphill task on Tuesday to get 11 fit players on the pitch and Morley admitted that the side they put out against Altrincham suffered from the loss of injured midfielder Gary Stopforth with winger John Pritchard and striker Anthony Dudley forced into unfamiliar midfield roles.

'We played a winger and a centre forward in central midfield,' said Morley. 'You can get away with it in certain games but we didn't get away with it today. We had enough quality on that pitch to go and win the game. I look at the fact that when we are in possession we have got those extra two players in centre midfield who should have been better on the ball, especially going forward. We looked a little bit disjointed at times, but we have got players who can play in different positions. We have got no excuses whatsover'...

'Players have got to run through brick walls to get top of the league. I never had that opportunity as a player at this level so personally I think we need more out of them. It's a chance to put the wrongs of Saturday right when sometimes you have to wait a week or 14 days but good sides drop points, every side does and we're not the only one... When you're top you become that side that everyone wants to beat so sometimes it's nice to stay off the radar but the proof will be in the pudding because if we win Tuesday night we go top of the league and if that doesn't give the lads an incentive I don't know what will.'"
According to NL Daily, "Blackburn Rovers youngster Lewis Thompson has extended his loan spell at FC United of Manchester until Saturday 15th December. The youngster joined in September for a month before the deal was extended for a further 30 days. Following some impressive displays, with Thompson scoring one of the goals in the side's victory over Hereford at the weekend, the teenager will remain with the Greater Manchester side for a further month...

Meanwhile, fellow Rover Lewis Mansell will return to the club following the end of his loan spell with FCUM. The forward scored a couple of times during his stay with the club".
The Lancashire Evening Post informs us that "If Chorley win their FA Cup replay at Doncaster Rovers next Tuesday they will secure a second round clash with either League Two side Mansfield Town or League One club Charlton...

And Chorley boss Jamie Vermiglio sees a good cup run as a way to emotionally, mentally and financially tee them up towards their main goal: promotion.

The Magpies held League One Doncaster to a 2-2 draw in the first round of the FA Cup on Sunday in front of a bumper 3,000 strong crowd at Victory Park. They now face a trip to the Keepmoat Stadium to attempt to clinch a place in the second round for the first time since 1990...

The Chorley boss... said 'To look around and see the local Chorley people here savouring the moment has been wonderful. I tell the story now and again, one of my first games for the club playing at Rossendale in front of a 100 supporters. Now we are here in front of 3,000. The club is moving in the right direction at the moment. We are very stable. We probably plateaued over the last few years, despite getting to the play-offs.

'We want to get to that extra yard and try and get that promotion. A good cup run will prepare us emotionally and mentally but also financially. To non-league clubs you cannot help but thinking of the finance.'

And Vermiglio... said [of Doncaster] 'Credit to them, they are a very good side, probably the best side we have played over the last six or seven years. But we are a good footballing side. We have had a bit of a reputation over the years of being big, dominant, a bit of a snotty type of team. People new to the team on Sunday will have seen we can put the ball on the ground, move it around a bit and play some decent patterns.'"
At Southport "After an excellent week for the Port, which has seen three wins including an Emirates FA Cup victory, the lads return to league action to face Hereford. With a victory over higher league opponents, Boreham Wood, in the cup, as well as last week's 4-1 league win over Kidderminster, there's more positives for Liam Watson's side.

Of course, recent good results can't gloss over the fact the side still sits in 21st place in National League North, but can certainly add a boost.

The game against Hereford could give the team another huge push, as The Bulls also sit in the bottom three. After getting promoted last season, adapting to a higher division has proved difficult for the side, which included their first managerial sacking in mid-September. Starting the season with three wins in their opening four games, they have failed to win a single league game since.

A shortage of firepower is certainly a huge reason behind their lack of victories this campaign, with only 13 goals in 16 games. Whilst they are the worst attacking side in the league, they have still have a better defensive record than Southport, conceding one less".
From Curzon Ashton we learnt on Tuesday that "The Nash make the short journey across Greater Manchester tonight, as they travel to the Peninsula Stadium to face Salford City in the Manchester Premier Cup.

Curzon go into tonight's' clash on the back of a solid home draw, after a 1-1 stalemate with Bradford (Park Avenue) at the Tameside Stadium. Park Avenue opened the scoring just after the break through Salford loanee, Jake Beesley, however the Nash hit back shortly after as Oliver Crankshaw's fourth goal of the season made sure the table toppers only left Ashton with a point...

Form wise, the Nash go into the game having lost just once in their last seven games in all competitions, with the only loss coming at home to Stockport County two weeks ago".
---
13 November 2018 The National League confirms that "The draw for the FA Trophy Third Qualifying Round has been made... National League North and South teams have entered the competition and our clubs stand to pocket a cool £5,000 if they win their ties... All ties will be played across the weekend of Saturday November 24". The northern half of the draw is below...
Altrincham v Bradford (Park Avenue)
Blyth Spartans v Marske United
Alfreton Town v Farsley Celtic or Carlton Town
Spennymoor Town v Halesowen Town
Hereford FC v FC United of Manchester
Brackley Town v Nuneaton Borough
Kidderminster Harriers v York City
Southport v Chester FC
Leamington v Witton Albion
Darlington v AFC Telford United
Ashton United v Boston United
Basford United v Curzon Ashton
Lancaster City v Guiseley
Stockport County v Chorley
Whilst Altrincham have already met their Trophy opponents in the league and FA Cup this season, Nuneaton Borough report, likewise, that they "have been drawn away to Brackley Town in the 3rd qualifying round of The Buildbase FA Trophy. The two sides have already met at Liberty Way twice this season, once in the League and once in the FA Cup. The visitors won the first clash but Boro' came from behind in the second encounter leading to a repl[a]y at St. James's Park".

And another coincidence is that Hereford FC v FCUM is a repeat of last Saturday's league fixture.

Goal highlights from the Chester FC v Altrincham game last Saturday are here. The Football Supporters' Federation "is pleased to announce the shortlists for the 2018 FSF Awards in partnership with Virgin Media; voting is open now, and fans can back their favourites at www.fsf.org.uk/vote. Ninety six shortlisted candidates will battle it out across 16 categories, recognising everything from the best players of 2018 to fans' favourite away days.

National Game Community Award nominees: Altrincham FC, Boston United FC, Curzon Ashton FC, Eastbourne Borough FC, Hartlepool United FC and Wrexham AFC".

Curzon Ashton add that "The award is new for this year and aims to showcase the community outreach work undertaken by non-league football clubs. The award will acknowledge best practice and innovation, and will particularly recognise those clubs that involve supporters and community delivery partners to make a positive impact in their local community."
Altrincham FC have announced that goalkeeper Elliot Wynne (right) has signed a contract with the club.

21 years-old last week, Elliot has made eight starts this season, six in the league and two in cup matches, having joined on non-contract terms from Gorton club Abbey Hey this summer. He has been named in every matchday squad so far this season.

As rumoured yesterday, confirmation comes from York City, who visit Altrincham this Saturday, that "Striker Joe Ironside and defender Kennedy Digie have today completed loan moves from Kidderminster Harriers.
Subject to league approval, both players will be in the squad for tomorrow night's Vanarama National League North game against Chester at Bootham Crescent...

Ironside, 25, joined Kidderminster from Nuneaton in March 2017 and scored 23 goals last season as his club finished fourth in Vanarama National League North. He started his career at Sheffield United and has also played at Halifax, Harrogate Town, Alfreton Town, and Hartlepool United,

Digie, 21, signed his first professional contract with Kidderminster four years ago and has gained first team experience on loan at Hednesford Town, Stourbridge, and Worcester City. He made 10 appearances for Kidderminster last season."

When Alty played at Aggborough earlier this season both Ironside and Sigie were on the bench but Ironside came on as a second-half substitute. The previous season Ironside scored against Alty at Moss Lane in a 4-1 mauling by the Harriers. And earlier that season he had again netted against Altrincham whilst playing for Nuneaton Town, who sold him to Kidderminster for a "five-figure fee"..

According to the EvoStik League "Nantwich Town moved to within two points of leaders Scarborough Athletic.... after a 4-1 win at bottom-markers North Ferriby United... A second [goal] for Glover, this time from open play in the 67th minute, completed a comfortable win for Phil Parkinson's side."

Footnote: They have since deleted the reference to Phil.
The unofficial Harriers Online reports that "In an ironic twist of fate the Harriers drew York City out of the hat in the FA Trophy draw at lunchtime today. Ironic because, only an hour or so earlier in the day, we had sent two key players to Bootham Crescent on loan for two months.

With the game due to be played in two weeks time on November 24th it's to be hoped that neither player will feature for them whereas Russ Penn, who signed for us from York on Friday, should have no such bar to him turning out for us due to it not being a loan.

Also ironically we played City in the Trophy last season, too, beating them 2-1 at home in the 1st round.

So earlier today it was confirmed that striker Joe Ironside and defender Kennedy Digie are to join up with fellow league side City for the next two months. This seems to be part of the deal that has bought Russ Penn back to the club. A deal that was done last Friday in time for the game at Nuneaton Borough the following day.

At the time of Penn's arrival it was being rumoured that Ironside would be joining City on a permanent basis following a short loan spell but that wasn't mentioned in the press release put out by KHFC earlier today. That may change at a later date but, with his contract ending at the end of this season it looks unlikely that we'll recuperate any of the £25,000 fee that we are believed to have paid Nuneaton for [him], following his initial loan spell with us that started in March 2017.

Joe has lost his place in the starting eleven in recent weeks due to the form of both Dan Bradley and Ed Williams. His twelve starts and seven sub appearances have still netted him six goals though so it could be said that those are future goals that we could miss out on.

Digie hasn't featured as much as was expected this season after finally making it into the first team following four years with the Harriers. Most of his time with us has been spent on loan with other clubs and now he's gone out on loan again. This move makes more sense to the fans than the Ironside loan due to the fact that it would be more beneficial to Digie to get game time and hopefully improve him as a defender for when he returns to Aggborough.

For the moment though we now have a severely weakened team with the loss of these two bench stalwarts. Russ Penn replaces one of them but we're still short on numbers for cover and hopefully we may see more new faces soon. Just don't cross too many fingers."
In its weekend review, the National League says that "We have new National League North leaders as Bradford PA took over top spot - but someone should probably tell their players!... Having taken the lead at Curzon they were cut up they didn't see the win through but the Bradford boss called for them to look at the bigger picture...

Said Bower, 'I don't think we played well but we were on top. I think Curzon were set up for the point and they've got it... We're five unbeaten now but it's mixed emotions really.'"

Nuneaton Borough have posted a "Response to Racist Abuse During Leamington Match. Following our match with Warwickshire neighbours Leamington on the 3rd of November, it was brought to our attention that a member of the opposition staff was subject to racist abuse. This incident has been reported to the Warwickshire Police...

As a club, we are fiercely committed to stamping out all types of discrimination within the game and will work with Warwickshire Police to investigate all allegations of racist abuse. Anyone found guilty of such behaviour will be ejected and the Club will seek prosecution. We urge fans to report any incidents that they witness and help make this kind of abhorrent behaviour a thing of the past."
FC United of Manchester tell us that "After securing a second successive away win at the weekend against Hereford we take a look how the squad is applying to new boss Neil Reynolds's attacking style of football. So far, the FC players seem to have adapted quickly to Reynolds' free-flowing style of play...

Having achieved his first win the week prior at Blyth Spartans, Reynolds has now overseen FC United achieve more league away wins than in the whole of last season with the victory over Hereford. He is also unbeaten in his first four games, with the club themselves on a five-game unbeaten run.

Against Hereford on Saturday that attacking play proved too much for FC's opponents to handle. Within five first-half minutes, Hereford found themselves go from being level to three goals behind.

Tom Peers opened the scoring in the 25th minute, adding to the debut goal he scored the week before at Blyth. Hereford captain Harvey Smith then put Lewis Thompson's cross through his own net three minutes later, before Kurt Willoughby wrapped the game up just a minute after.

The home side got a late consolation...

The FC squad in on a brilliant run of form under new boss Reynolds... Reynolds will now be targeting his side's first home league win of the season. We now look ahead to a midweek away trip to Mossley in the Manchester Premier Cup (13th November) before welcoming Telford to Broadhurst Park on Saturday."

In Monday's FA Cup Round Two draw, the surviving Vanarama National League North clubs were assigned the following ties...
Guiseley v Fleetwood Town
Mansfield or Charlton Athletic v Chorley or Doncaster Rovers
Barnet or Bristol Rovers v Stockport County
Tranmere Rovers or Oxford United v Southport
---
12 November 2018 The Buildbase FA Trophy Third Qualifying Round draw has replicated the FA Cup Third Qualifying Round draw by handing Altrincham a home tie against Bradford (Park Avenue) on Saturday, 24 November.

The two clubs have already met twice this season. Alty won the league match at the Horsfall Stadium 3-2 before defeating Avenue 4-2 in the FA Cup tie at the J. Davidson Stadium.

The sides have met previously in the FA Trophy. That was in 2002/03 season when Altrincham won 1-0 at Moss Lane.

Altrincham FC Ladies now lie joint top in their league with Liverpool Feds Reserves. Their next fixture is away to Chester FC Women, next Sunday. Altrincham FC Youth hammered Southport 6-1 on Sunday in the NWYA Premier Division. They currently lie third in the division behind Chester and leaders Hyde. Hyde have played three more games than both Alty and Chester.

On 25 November in the Open Cup, Alty entertain Newton Heath Locos.
Next Saturday, York City pay their first visit to Altrincham since they played out a goalless draw in the Conference at Moss Lane on 22 February, 2011 [pictured, right].

York Press reports that "York City are believed to be lining up a double swoop for Kidderminster Harriers pair Joe Ironside and Kennedy Digie.

Former Sheffield United striker Ironside, 25, rattled in 23 goals for the Harriers in National League North last term but has lost his place in the first XI this term.

Centre-back Digie, 21, has also been on bench duty in recent times and, while City boss Sam Collins did not want to reveal the identity of his latest targets following the Friday loan arrivals of Alex Bray and Joe Davis from Rotherham and Port Vale respectively, The Press understands that the two players were expected to make the switch to North Yorkshire, as part of the deal that saw Russ Penn return to Aggborough at the end of last week.

Collins was pleased with the full debuts of Bray and Davis during this afternoon's 2-1 FA Cup first-round defeat at Swindon and is understood to have alluded to the possible loan additions of Ironside and Digie afterwards when he said: 'The two new lads had good debuts, especially having not played as much first-team football as they would have liked going into a game like that one and they were a big plus for us. We've strengthened a little bit and I'm hoping for more good news over the next few days. I don't want to say anything until we've got them over the line but the two players we're hoping to bring in would be really positive additions for the club and the group to the extent that I'm a bit surprised that it's going to happen, because I'm sure the two players we are talking about would be really important players for us.'

Swindon opened the scoring at the County Ground through teenager Scott Twine, before David Ferguson levelled the scores on the stroke of half-time. An even start to the second half then saw home fans start to turn on manager Phil Brown and his players, before Steven Alzate grabbed a timely winning goal on 76 minutes.

The visitors' performance, though, represented a significant improvement following a run of three defeats in eight days and Collins insisted the same attitude and commitment levels must now be displayed in all future National League North contests, starting with Tuesday night's home game against Chester...

Collins said 'It should be a given, but the attitude and determination was what I'm looking for and we also had some really good spells of football. We didn't get off to the best of starts, as they caught us off guard a bit by changing formation... At half-time, there was a lot of belief in the dressing room and the players were saying we can win this game. We then started the second half well and, for 25 minutes, it looked like we might get another goal to hold on to. Then, they had a little spell with the ball and got their second goal.

'The goals we conceded were the most disappointing aspects of the game, as they both looked like they came down to similar things, but I don't want to be over-critical, because the character the players showed was somewhere near what I want all the time, which I think was seen in the reaction of our fans at the end. I'm sure they were pleased with what they watched in terms of the commitment and willingness to run for 90 minutes and work hard, but you can't just raise your levels for the FA Cup.

'That has to be the standard for every game we play, because we go back to the bread-and-butter now and we really need to kick on and win matches in the league'...

The City boss ventured 'As you go up the leagues, everything is done quicker, and the fitness levels are higher, but I want that from our players at the level we are playing and there's no reason why they can't play at the same tempo by improving another 20 or 30 per cent.'

Josh Law will now be assessed ahead of the Chester game, having limped out of the action on the hour mark with Collins explaining 'His toe got stamped on and he was struggling'".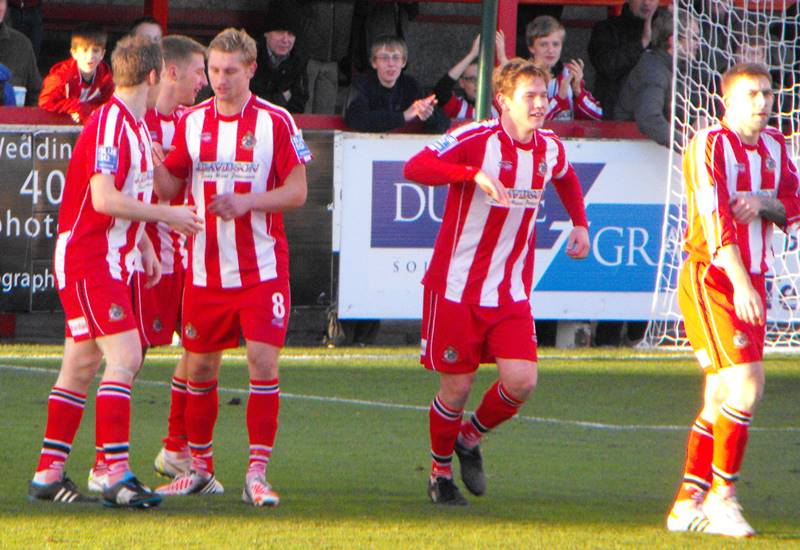 Above: Altrincham celebrate one of their goals against Hinckley. Left to right we have Nicky Clee, James Lawrie, Jake Moult, Shaun Densmore and Damian Reeves

Altrincham host York City on Saturday (17 November). Howard Watts and Mike Garnett's Through the Years records show that the most recent game played on that day of the year was a memorable one.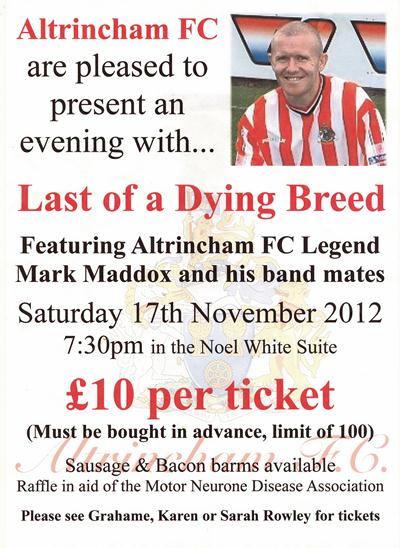 On 17 November 2012 Altrincham recorded an 8-0 home win over Hinckley United in the Blue Square Bet North. James Lawrie put Alty ahead as the game went into its eighth minute. A superb goal from Jake Moult made it 2-0 after 29 minutes when he chested down a ball from the right before swivelling and volleying across the keeper into the net. And, just before half time, Shaun Densmore scored from a freekick just outside the box (45 mins).

Nicky Clee scored a fourth as his shot was half stopped but looped over the line (60 mins). A Densmore freekick made it 5-0 (69 mins). When substitute Ryan Brooke was felled he got up to convert a penalty past an outfield player after the Hinckley keeper had been sent off for his offence. Duncan Watmore added a seventh and eighth at the end.

For Matt Doughty, it was his 100th appearance for Altrincham (96+4 games).

17 November 2012 was also the date of an evening with Mark Maddox's band, Last of a Dying Breed [right].

ALTRINCHAM 1. Stuart COBURN, 2. Scott LEATHER, 3. Matt DOUGHTY, 4. Simon RICHMAN, 5. Gianluca HAVERN, 6. Danny HALL, 7. Shaun DENSMORE (capt), 8. Jake MOULT, 9. James LAWRIE, 10. Damian REEVES, 11. Nicky CLEE, Subs: 12. Patrick LACEY, 14. Duncan WATMORE, 15. Ryan BROOKE, 16. Danny MITCHLEY, 18. Adam REID (gk).

And the first time Altrincham ever played on 17 November was in 1917 and, appropriately for this year of World War I commemorations, that game was against a team called Canadians, who Terry Rowley has identified as the Canadian Army Medical Corps, who were based in Buxton. Altrincham won the away game 2-0 but in the first league game of that wartime season at Moss Lane, Alty had lost 2-1.

Sunday:
Chorley 2-2 Doncaster Rovers
Alfreton Town 1-4 Fleetwood Town
Guiseley 4-3 Cambridge United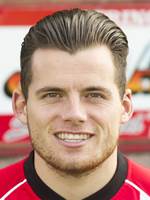 Jordan Sinnott [right] (Alfreton Town), Josh O'Keefe (Chorley) and Josh Ginnelly (Grimsby Town), were all goalscorers in the FA Cup this weekend. Ironically, loanee Josh made his debut for Altrincham in a 5-0 win over his current employers!

Lance Key, a former Alty loanee goalkeeper from Northwich Victoria, is now manager of Histon. He is subject of a lengthy article in the NL Paper in which he looks forward to a run in the FA Vase. His team are currently the league leaders in the Eastern Counties League Premier Division.

Nuneaton Borough report on a "'Stalemate' at Liberty Way stadium as Boro' gain crucial point.

Nuneaton Borough substitute Rhys Davies cancelled out Harriers' skipper James O'Connor's header to ensure that the points were shared in an exciting showdown. The hosts entertained a Kiddy side which knew that a win for them, would have lifted them to the summit of the table if other results went their way. The visitors, however, met a brave and positive Nuneaton Borough who, on the afternoon, looked anything but a team struggling at the foot of the table.

Kidderminster had the better of the chances in the first 45 minutes... The visitors showed why they're the highest scoring team in the division; captain O'Connor heading past Belford from a great Edward Williams set-piece in the 66th minute, sucker-punching Boro' fans. Nevertheless, the hosts replied, 11 minutes after the Harriers' goal; Davies smashing the ball in to the back of the net after some confusion in the Kiddy 18-yard box.

Both teams felt like they could have won this game. Nuneaton Borough showed that they can face anybody at the Liberty Way stadium whilst Kidderminster Harriers failed to capitalise on Bradford P A's draw against Curzon Ashton to jump to the top of the National League North standings. Overall, Nuneaton gained a valuable, morale-boosting point to take in to next Saturday's tie at Alfreton Town".

They have twice been beaten by Altrincham this season but Bradford (Park Avenue) "claimed top spot in the Vanarama National League North despite being held to a 1-1 draw by Curzon Ashton...

Bradford made an early substitution in the twelfth minute, introducing former Curzon winger Ben McKenna to the action in place of Johnson... but the two sides headed into the break level...

The deadlock was eventually broken when Beesley connected with a free-kick delivery from Knight and directed a header past a helpless Mason. Curzon, however, were back on level terms just four minutes later when Crankshaw latched on to Ryan Brooke's pass and poked past Drench. With the wind in their sails, the hosts began to pile bodies forward and Hughes was unlucky to see his strike from the left-hand side fly wide... Neither side could find the spark required to unlock the opposition's defence.

With three minutes remaining on the clock, chaos descended on the Tameside Stadium as all 22 players and staff came to blows. Bradford's coaching staff and players alike were infuriated to see a foul on Spencer go unpunished and Curzon were incensed when the midfielder reacted by fouling Daniel Morton. Shane Killock, Spencer and Morton were all booked for their involvement in the fracas.

According to the Telegraph & Argus "Bradford (Park Avenue) are top of the Vanarama National League North after gaining a point in a 1-1 draw against Curzon Ashton at the Tameside Stadium and, although it might only be a temporary visit to the summit, the table makes for good reading. Mark Bower's men were joint top with Chorley... Chorley trail the new leaders by a point, but now have two games in hand on them.

Following their stalemate against Curzon, who are old rivals, Bradford manager Bower was deflated. He said 'Over the course of the game we were the better side and should have won. You could see from the way they set up that they would be happy with a draw as they were slowing the game down. We had them camped in for the first 20 minutes of the second half and, even into injury time, they were messing with substitutes because they wanted to protect what they had.

'What's disappointing is that having got ourselves into a winning position, we have given a poor goal away. We've gone top of the league but looking around our dressing room you wouldn't think it... We've come away from home to a side in the top ten of the league and we're disappointed to come away with a draw... We're pleased to get a point but we should have won.

'We got in good areas but we lacked that quality in the last third and that's fine, because we're not going to play like we did at York last week or at home against Chorley the week before every time... with a part time squad at this level of football.'

Avenue suffered an early setback as Oli Johnson lasted just 12 minutes before his recurring knee injury forced him off, Ben McKenna coming off the bench to replace him".
---
11 November 2018

A two-minutes' silence, to mark Remembrance Day, was impeccably respected by all on Saturday.

The NL Paper quotes Altrincham manager Phil Parkinson after Altrincham won 2-1 as saying "I thought we deserved the win. We knew that this was always going to be a difficult place to come to but, for periods, we did dominate proceedings. We were disappointed to concede the goal we did. We knew that they would be strong at set-pieces".
He added, "We are on a good little run at the moment but we know... you have to be on the top of your game to collect any three points".

Chester co-manager Bernard Morley conceded "I thought they (Altrincham) deserved it. we didn't win individual battles in key places". The NLP includes Jordan Hulme and John Johnston in its team of the day.

Chester FC recorded 355 supporters in the away end at the Swansway Stadium on Saturday.

For more on the match, and more images, see below.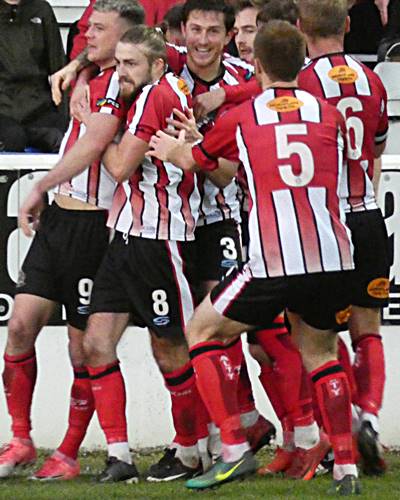 After the game, Chester FC reported that "Chester's eleven-game unbeaten run in the National League North came to a close as they slumped to a 2-1 defeat against Altrincham. The visitors' top scorer, Jordan Hulme, opened the scoring as he slotted a low effort beyond Grant Shenton in the eleventh minute.

Right: Jordan Hulme is congratulated on his second goal at Chester.

On the opposite side of half-time, the Blues equalised through Simon Grand but Altrincham won the game... as Hulme scrambled [?] home his second of the afternoon.

National League North Player of the Month, Gary Roberts, was without his usual partner in the middle of the park. Gary Stopforth sustained a thigh injury in midweek and was replaced by John Pritchard. Also injured in Tuesday's clash with Nuneaton was Anthony Dudley, although the Blues' top scorer made the lineup.

Altrincham started the better of the two, a vicious volley towards goal from Andy White was saved well by Grant Shenton with the resulting corner, their third in five minutes, nullified.

The visitors then took a well deserved lead on 11 minutes as Hulme, Altrincham's top scorer this season, pounced on a misplaced pass, surged forward and placed his low effort into the corner beyond Shenton...

At the turn of the half, Altrincham were initially the stronger until Roberts' inswinging free-kick found the diving head of Grand. The Chester centre-half was able to escape his marker and nod below Thompson, to bring the Blues level!...

Then, against the run of play, Altrincham regained the lead through Hulme. Despite appeals for a push on Jon Moran, Alty's star man managed to bundle a 62nd minute corner across the line at the back post...

The visitors became the first side to leave the Swansway Chester Stadium with three points this season. Chester next travel to York City on Tuesday night in an attempt to bounce back".

On Saturday, Altrincham Reserves won 4-1 away at Blacon Youth Club in the Cheshire County FA Amateur Cup, Third Round. Duncan Watmore's rehabilitation after injury continues as he enjoyed taking part in a training friendly for Sunderland recently.

Tom Peers netted his second goal in as many appearances for FC United on Saturday.

Vanarama National League North
Att. 1146 AFC Telford United 1 - 0 Boston United
Att. 415 Brackley Town 1 - 1 Blyth Spartans
Att. 2388 Chester 1 - 2 Altrincham
Att. 314 Curzon Ashton 1 - 1 Bradford (Park Avenue)
Att. 2473 Hereford 1 - 3 FC United Of Manchester
Att. 549 Nuneaton Borough 1 - 1 Kidderminster Harriers
They knocked Alty out of the FA Cup recently and now the BBC reports that "Stockport pulled off one of the biggest shocks in the FA Cup first round as they beat League Two side Yeovil at Huish Park.

Alex Fisher headed the hosts in front early on before Matty Warburton's curling free-kick made it 1-1. [Ex-Altyloanee] Nyal Bell then tapped in to give the visitors the lead at the break. The Hatters extended their lead midway through the second half as a defensive mix-up allowed substitute Frank Mulhern to walk the ball into the net...

'For the club this is a great day because it shows we're perhaps on the up and working our way back,' said manager Jim Gannon. 'More importantly for these players, who are trying to establish themselves as full-time professionals or work their way back into the game, for them it's a massive day.'"

And the BBC also reports that "Steven Alzate scored his third goal of the season to fire Swindon to an FA Cup first-round win over non-league York at the County Ground. York were 14 minutes away from taking their League Two hosts to a replay when Alzate struck.

Swindon took the lead in the 12th minute... York equalised two minutes before half time when David Ferguson scrambled home from six yards...

Alzate settled an entertaining tie in Swindon's favour in the 76th minute with a close-range shot after Keshi Anderson had crossed."

Elsewhere, the BBC stated that "Dean Winnard and Jason Gilchrist scored as Southport reached the FA Cup second round for the second time in three seasons with a 2-0 win over Boreham Wood.

Goals in either half from Winnard and Gilchrist meant the National League North strugglers go into Monday's draw...

Southport finally made the breakthrough on the half-hour mark, with Winnard powering home a header from Jack Sampson's corner... The Yellows picked up where they left off after the break and... Southport sealed their passage into the next round on 70 minutes as Gilchrist rose highest to head home Bauress's deep free-kick."

York City are the next visitors to Altrincham, on Saturday (17th).

On Saturday, York City reported that "City's FA Cup campaign is over despite a gutsy performance against League Two side Swindon Town.

David Ferguson's equaliser just before the interval raised hopes of a possible first round upset after Scott Twine had put Swindon ahead just 12 minutes into the game. But Steven Alzate won it for Swindon with just under 15 minutes to go - hitting a deflected shot past City goalkeeper Adam Bartlett in a crowded penalty area.

Loan signings Joe Davis and Alex Bray had made instant debuts and Ferguson and Nathan Dyer had both been recalled as manager Sam Collins made four changes to the side beaten 4-1 by Bradford Park Avenue in the last league game seven days ago.

Striker Jordan Burrow was handed the captaincy in the absence of the suspended Joe Tait and midfielder Reiss Harrison, 17, was a surprise inclusion on the bench...

Although Swindon had enjoyed the majority of first half possession, City were back on level terms just before the interval courtesy of Ferguson's second goal of the season...

City soaked up more Swindon pressure at the start of the second half before beginning to push back the hosts... However, Alzate's goal rocked the Minstermen who had been defending bravely during another spell of Swindon pressure...

City's travelling supporters showed their appreciation for the performance by applauding the players off the pitch at the final whistle.

York City: Bartlett; Law (Harris 60), Davis, Newton, Ferguson; Dyer (Parkin 79), Hawkins, Griffiths, Moke, Bray (Langstaff 79); Burrow (C). Unused substitutes: R.Harrison, Wright, Bencherif, Whitley".

The Worcester News tells us that "Harriers failed to capitalise on another chance to go top of National League North when they were held to a 1-1 draw at Nuneaton Borough.

With midfielder Declan Weeks sidelined with illness, Harriers were forced into one change to their starting eleven for the game, with James Baxendale in to replace him and earn his first league start of the season.

The home side had undoubtedly had the better share of the first half chances...

Six after the hour Harriers were ahead, O'Connor found by Williams at a free-kick and the ball crashing into the net with the aid of a deflection.

Nuneaton responded well... before the leveller arrived on 77 minutes, Davies left free to stab home a ball in the area after Vaughan's clearance lacked conviction."

The EvoStik League reports the following "player movements"...
Tyrell McKenzie from Curzon Ashton to Buxton
Jonathon Margetts from Boston United to Gainsborough Trinity (Short Term Loan)
Cole Lonsdale from FC United of Manchester to Lancaster City
Tom Greaves from FC United of Manchester to Ossett United
---
---
The following pages, which initially replicate those pages with the same web addresses which formed part of the official Club website, will be re-branded from 2018 as part of this new unofficial Alty Files site.
A/Z Site Index to The Alty Files at www.altrinchamfc.co.uk
---