CURRENT NEWS
OPTIONAL DROPDOWN MENU - HERE
---
NEXT FIXTURES:
Sat. 24 Feb. 2018: ASHTON UNITED (Away) 3pm
Sat. 24 Feb. 2018: CONGLETON VR (Home) 2pm
Sun. 25 Feb. 2018: ST HELEN'S TOWN (Away) TBCpm
Sun. 25 Feb. 2018: TBC
---
ALTY HEADLINES
OTHER HEADLINES
21 Feb 2018: TUESDAY GAMES... More
21 Feb 2018: REDS LOOK TO CUP FOR REVIVAL.. More
21 Feb 2018: STAFFORD BOSS STIRS UP HIS PLAYERS... More
---
21 February 2018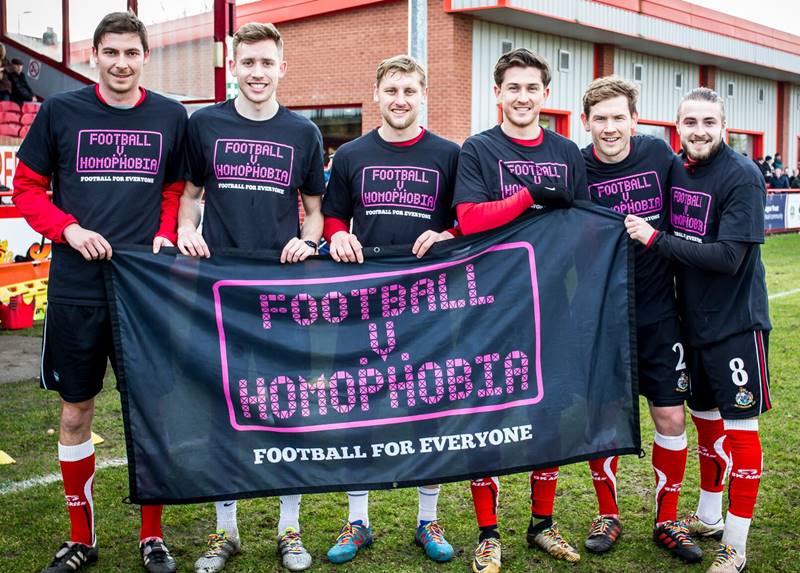 Above, courtesy of club photographer Gavin Rathbone, we see six of Alty's team in the "Football v Homophobia" t-shirts that the team wore before last Saturday's match against Sutton Coldfield Town. Pictured, left to right, are Ben Harrison, James Jones, Jake Moult, Connor Hampson, Shaun Densmore and Max Harrop. As can be seen, a number of the players also wore special rainbow laces to underline their support for the cause.
Altrincham FC Press and Media Officer John Edwards writes...
"Saturday will be remembered for poignancy as well as league points at The J.Davidson Stadium after the passing of another Altrincham supporter, as well as David Cameron, was marked with a heartfelt tribute.
Following the shock of David's untimely death at the age of just 32, a minute's applause rang round the ground in memory of him, shortly before the start of Alty's 2-1 win over Sutton Coldfield Town.
Now it has emerged there was another equally sincere but less public act of remembrance around 20 minutes after the final whistle. A knock at the main entrance was answered by doorman Peter Lewis, who was handed an envelope marked 'For the attention of Grahame Rowley'.
When Grahame opened it, he found banknotes and a simple but moving message that read, 'Please accept this donation in memory of my husband.'
Reflecting on a gesture that rounded off an emotional day for everyone connected with the club, the Alty chairman said, 'There was no name on the note, and the lady didn't say who she was when Peter answered the door. She just asked him to pass the envelope on to me.
'I was taken aback, to say the least, when I opened it. It was a generous donation and a lovely, kind way of marking her husband's support for the club, which we can only assume was the case.
'We would love the chance to meet her and express our gratitude, as well as condolences, if at all possible. If she would rather remain anonymous, we would, of course, fully respect her wishes, but it would be lovely to say hello, either in person at the club, where she would be made very welcome, or by phoning 0161 928 1045 or e-mailing me".
Alty TV
has a post-match interview with Phil Parkinson, Jordan Hulme and John Johnston, conducted after the game last Saturday, by Brian Flynn.
The EVO-STIK Premier Division
Rushall Olympic 1-2 Stafford Rangers (Kyle Perry netted the winner)
Whitby Town P-P Grantham Town
Altrincham have two strikers in the top ten scorers in the EVO-STIK Premier Division, as listed on the league website.
Liam Hardy 25 (Buxton, goals 20+5 penalties)
Lee Shaw 24 (Grantham Town 21+3)
Jordan Hulme 20 (Altrincham 20+0)
If penalties are discounted, Jordan lies second in the rankings behind Grantham's Shaw.
And, if you exclude James Walshaw, who is listed fourth on the league list, as he is now playing at a lower level for Scarborough Athletic, another Alty player, Josh Hancock is listed by the league in seventh place. However, the League has credited him with 14 league goals. As previously noted this is wrong; Josh has 13 goals, but the league wrongly attributes Tom Peers's goal against Nantwich to Josh. Nevertheless, the Alty duo are the leading strike duo in the division.
The
News & Star
reported that "A win in [Tuesday's] Integro League Cup tie against Marine could be the boost Workington Reds need says joint chairman John Mackay.
After a poor run of form in the league, Mackay is hoping that his side can turn things around...
'Yes we are having a bad spell in the league but it was always going to happen,' said Mackay... 'But that does not make us a bad team overnight. We have a genuine bunch of lads who are trying their best. They didn't play as well as normal on Saturday but days like that happen'...
Joint manager Lee Andrews has some tough calls to make this week as Reds will follow up tonight's clash with a Cumberland Cup game against Workington Athletic on Thursday night, before getting back to the league on Saturday. And all parties agree that the league has to take priority, so squad players and reserves will also be used to bolster the side, who are already missing Anthony Wright and Josh Calvert through injury.
'We will have to mix and match for both games I would have thought,' added Mackay... 'We can't afford to lose any more players or be too tired for Saturday... Hopefully these young lads will come in and give us a lift to keep some of our other players fresh for Saturday'"
The Stoke Sentinel reports that "Stafford Rangers need to 'change the mentality' to avoid getting sucked into a relegation scrap, says manager Neil Kitching. Saturday's 1-0 defeat at Farsley Celtic means Boro have won just two of their past 14 league games, and three of 19 in all competitions (though they have progressed on penalties after draws in two cup games).
That form has seen them slip to 19th in the Northern Premier League. They are still some 12 points off the bottom two teams, with games in hand...
'"We've got to start nicking some results or we're going to start getting dragged into some trouble,' he told the Newsletter... 'Perhaps we've got to change the mentality, because there's not enough in that dressing room that are scrapping at the minute. I get the feeling they think they did okay against Matlock or last weekend, and they can relax a bit. But they can't and I've warned them that there's five or six teams below us scrapping for points and putting their bodies on the line... I've put it on the line to them and said 'you need to start doing more'...
Boro travel to Rushall Olympic tonight before hosting Stalybridge Celtic at the weekend. Those are both teams around them in the table, which could look a lot different if the win them both. But Kitching says...'We've had a big chat, because we're just moseying along, nicking a point or the odd win in three,' he said. 'It's not good enough for me or a club of this size... I said to them "You're all thinking might nick a point at Rushall and win at home to Stalybridge", but we shouldn't be looking ahead and thinking "this might happen" or "that might happen".
'We're too interested in the intricates and final third stuff, but I want people that are going to turn up and scrap, battle, fight and put their bodies on the line'...
Boro have used 33 players this season, but do not have the resources to keep on bringing in new faces. 'We can't keep bringing new players in, we've got to get it out of the squad of players we've got,' said Kitching. 'We've got five or six key first-team players injured or suspended, but we can't use that as an excuse'".
Veteran midielder Tom Bates has joined Jimmy Ginnelly's touchline team at EVO-STIK League Barwell as a player-coach.
The Evo-Stik League reports that "Veteran midielder Tom Bates has joined Jimmy Ginnelly's touchline team at Barwell as a player-coach. A popular figure in the dressing room, who rejoined the Leicestershire club for a third spell four years ago, the 32-year-old midfielder started in his new role on Saturday when he gave a short team talk before the Canaries drew 1-1 at home with Ashton United.
As part of his new duties at Kirkby Road, the former Atherstone Unnited, Bedworth United, Coventry City, Daventry Town, Leamington, Hinckley United and Nuneaton Griff star will also be scouting potential signings for Ginnelly as well as the club's upcoming opponents".
---
20 February 2018
Altrincham FC have been advised that the away game at Stourbridge, which was recently rearranged to Monday, 5 March, after being postponed because of a waterlogged pitch, has been moved again. For reasons that are currently unknown, the match will now take place on Monday, 9 April. The change still gives Alty two away games in the space of three days, as we now travel to the Midlands after a Saturday match at Lancaster City.
In case you missed the new dates announced last week for Altrincham fixtures, here they are again, now incorporating the newly revised Stourbridge date.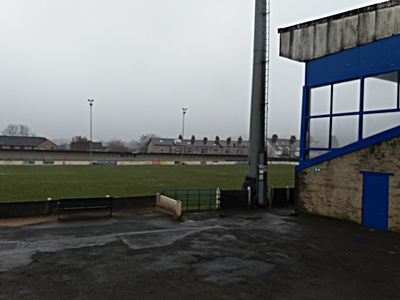 Right: A very damp Silverlands on the day that our match at Buxton was postponed. Image courtesy of Mick Taylor.
Saturday 10th March: Altrincham v Mickleover Sports, formerly 3/02
Tuesday 27th March: Altrincham v Shaw Lane, formerly 13/02
Monday, 9th April: Stourbridge v Altrincham, formerly 20/01 and 5/03
Tuesday 17th April: Buxton v Altrincham, formerly 10/02
Altrincham have 16 league fixtures remaining, plus at least one more in the Cheshire Senior Cup, in which our opponents have yet to be determined.
The remaining fixtures are...
Home (8): Stourbridge, Mickleover Sports, Workington, Stalybridge Celtic, Shaw Lane AFC, Marine, Barwell, Hednesford Town
Away (8): Ashton United, Shaw Lane AFC, Halesowen Town, Rushall Olympic, Lancaster City, Stourbridge, Buxton, Grantham Town
Neil Sorvel (right) hailed a Max Harrop-inspired Altrincham fightback that saw off a spirited Sutton Coldfield Town side and turned the screw on their title rivals at The J.Davidson Stadium on Saturday.
Belying their lowly position in the Evo-Stik Northern Premier League, Sutton Coldfield deservedly went in front early on before finally succumbing to Alty's never-say-die attitude, as Max Harrop equalised from long range and John Johnston converted a late penalty for a 2-1 win.
Reflecting on the likely impact on those looking for a chink in the Alty armour, assistant-manager Sorvel said, 'It wasn't our greatest performance, but it was important to get over the line, because it sends out a message to the teams chasing us.
'Everyone looks for results elsewhere when their game has finished, and it can have an effect on you. I remember at Nantwich last season, we were chasing Blyth for top spot, and it just demoralises you when you look to see how they've got on every time and find they've won again.
'We asked the players for a quick start, but, in fact, we made a terrible start. Max Harrop (left) was the only one really at it in the first 20 minutes, and that was another great strike from distance for the equaliser. Early on, when we were nowhere near, he was the one getting on the ball and trying to get us playing. Some of his switches of play were fantastic, and he has been near-enough perfect since moving into that central role.'
Shaun Densmore hobbled off with a knee injury in the first half, and Sorvel added, 'Dens just opened his knee out a bit in a tackle. He tried to persevere with it but had to come off. We'll see how he does during the week, but we hope he should be OK for Saturday's game at Ashton United.
'Tom Hannigan is getting there as well and was potentially fit enough to have been on the bench against Sutton Coldfield'".
NL Pitchero
reports that "Making his debut for Glossop North End in Saturday`s disappointing 5-0 defeat at Colne FC on Saturday was the experienced Cavell Coo. The 30-year-old defender had been in his second spell with Evo-Stik Premier side Ashton United. [He played against Alty recently].
His consistency and high-quality performances were rewarded as he won the Robins' Directors player of the year award in 2016. Coo has previously played for various clubs, including Crewe Alexandra, Altrincham, Witton Albion, FC Halifax Town, Mossley AFC, Curzon Ashton, Salford City and FC United of Manchester".
Also from NL Pitchero we learn that "Curzon Ashton have signed Jude Oyibo from Glossop North End. Oyibo is a winger who has previously played for Altrincham, Stockport Town and Stalybridge Celtic. His pace down the flank makes him into a crowd pleaser, and after joining Glossop from Stalybridge he has certainly showed some of that excitement in his twenty-seven games and 7 goals."
Shaw Lane AFC
report that manager "Paul Quinn names his new Assistant Manager. Rob Wilson will join the Ducks as new Assistant Manager and brings with him a wealth of experience.
Manager Paul Quinn and Chairman Craig Wood have moved quickly to replace John Reed who departed for Gainsborough Trinity at the end of last week. Wilson played over 300 football league games including over 200 for Fulham FC and was capped for the Republic of Ireland at under-21 level. The former midfielder also had spells with Huddersfield Town and Rotherham United before retiring from full time football in the early 90s.
After finishing his playing career Wilson completed his coaching qualifications before joining Huddersfield Town's academy staff where he coached for 7 years. Wilson later joined up with Paul Quinn at Brighouse and helped the club win promotion to the Evo Stik league in 2014 before taking a break from the game in 2016.
Wilson is now looking forward to the new challenge at Shaw Lane and said, 'I am delighted to be joining up with Paul, I'm really looking forward to working with the staff and players to help drive the club forward... As a team we are in a great position and we will all be doing everything we can to achieve the highest possible finish this season'.
Quinn commented...'His experience will be invaluable for players and staff alike'".
Also Shaw Lane "will host another cup tie if we beat North Gawber Colliery FC in the Quarter-Finals... If we beat North Gawber Colliery FC in the Quarter-Final, due to be played Wednesday 21st February, we will face either Swallownest FC or rivals Frickley Athletic FC. We beat Frickley in the final last season at Bramall Lane... The other tie saw Penistone Church drawn at home to Maltby Main FC."
At Warrington Town "Lee Andrews's squad options have been reduced following the announcement that midfielder James Earl has left the club. Originally with the club briefly in 2008, James returned to Borough Park in 2015 and, for the past two and a half seasons, has been an important member of the squad.
During that period he has made 79 starts for the team and been named as a substitute on a further 30 occasions. He has netted seven goals whilst on first team duty. In recent weeks, he hasn't had much field time".
Still at Borough Park, the News & Star reports that "Workington are still looking for their first league points of 2018 after slipping to a fourth successive defeat. After a splendid 17-match unbeaten run, Reds have only had FA Trophy progress to savour so far this year as play-off hopes have receded.
This was another game in which the Cumbrians should have had something to show for their efforts, even though they were short of their best. The rhythm and intensity which under-pinned that long unbeaten run is not there, with more uncertainty and less drive about their play these days. To add to the problems, as they face the prospect virtually of playing twice a week for the rest of the season, another injury added to the disappointment of the result.
Anthony Wright suffered a hamstring pull and had to be replaced after only 18 minutes. The only consolation from that unfortunate episode was that his replacement Rob Wilson, who has spent more time on the bench recently, emerged as one of Reds' best players.
Reds had looked more than comfortable in the first half, so it was a major disappointment when Rushall scored right at the end...
The second half never really came alive until the final quarter... Rushall were dangerous on the break, as Reds pushed for an equaliser. Once, they had four against one but Gari Rowntree got back to help out and block the shot...
Rushall: Slinn, Webb, Smikle, Maye, Hull, Whittall, Waldron, Hawker, Dubidat (Archer 78), Landell (Sarmento 66), Singh (Sangha 68). Subs (not used) Adelekan, Fonovich.
Workington: Taylor, McLuckie, Rowntree, Wordsworth, Douglas, Wright (Wilson 18), Symington, Holt, Allison, Waterston (Joel 75), Tinnion. Subs (not used) Smith, Mellen, Whitehead".
Across the country, Whitby Town say that "Andy Monkhouse could be in line to return to Chris Hardy's starting line-up after serving his one-match ban, as Grantham Town visit the Turnbull Ground. Monkhouse sat out of Saturday's 2-1 win over Nantwich Town, after picking up a red card in the draw at Stafford Rangers.
The midfielder's return gives Hardy a selection headache... 'We're looking for selection headaches because we had a late pull out with James Fairley [on Saturday],' Hardy said. 'He had to pull out of the squad, which was disappointing. We need bodies in there. Able bodies; fit bodies so Monks's return will only benefit us'...
Luke Bythway will also sit the visit of the Gingerbreads out with a knee injury, whilst captain Steven Snaith serves the second game of his suspension. Hardy will also have to do without the services of Matthew Tymon. The striker... misses out due to work commitments. Whitby go into the game on the back of a six-game unbeaten run...
The fixture will be Grantham's first outing since their 1-1 draw with Witton Albion on February 3, and they are still yet to lose in 2018, sitting third in the Evo-Stik Premier. The Gingerbreads also have the joint-best away record in the division, notching up eight wins on the road so far this term.
The visitors will have to do without defender Tom Batchelor, who is ruled out through suspension, whilst Luke Shaw continues his recovery from a long-term injury."
According to the Stoke Sentinel "Stafford Rangers chairman John Bromley says it is imperative that the club are not shifted to a southern division next season. New divisions at step three and four of non-league have been agreed in principle by the Football Association in a major shake-up of the National League system structure.
Step three, where Rangers play in the Northern Premier League, will run with a fourth division, while there will be an additional one at non-league's fourth tier as football's governing body look to reduce costs and travelling times.
Currently, the Isthmian Premier, Southern Premier and Northern Premier League premier divisions have 24 teams each. Under the new proposals that number is likely to be reduced to 22, with step four leagues lowered to 20. Rangers want to be placed into a centrally-based league, to reduce travel times and costs, but fear they may end up in a more southerly division.
'Stafford Rangers do not wish to become one of the most Southern-based clubs in the Northern Premier League next season,' said Boro chief Bromley. 'We are applying for the central league, our management team and most of our players are from the central region. Who knows if they will want to travel even further than they do now? Our mileage would increase by about 1,000 miles, which would lead to a 33 per cent increase in coach travel costs.
'Our supporters are fantastic but will they want the extra expense of the increased travelling? It will be a really important decision that will have to be made that will have a massive impact on our management team, players and supporters and on our finances. I hope the powers that be will have a duty of care for us or are they going to financially support us for the coming season?'"
---
19 February 2018
"On Friday 16th March 2018, the Altrincham FC Community Sports Hall at the J Davidson Stadium will be the venue for an exciting murder mystery evening, based on a fictional end-of-season Altrincham FC Awards Dinner, filled with intrigue, suspicion, and of course, MURDER!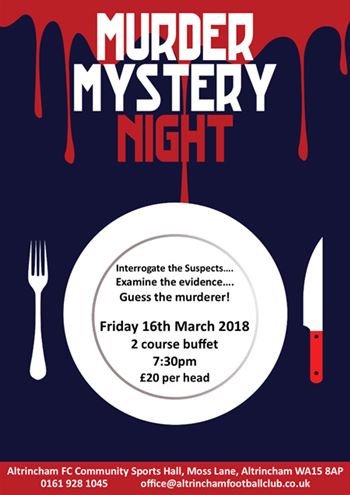 As well as enjoying a delicious two-course buffet, guests will be able to take part in a fully interactive murder mystery event, performed by eight professional actors. During the course of the evening, guests will have the opportunity to interrogate the suspects, examine the evidence, and ultimately guess the murderer, with the winner receiving a 'Star Detective' certificate and a special prize!
The event will start at 7.30pm, finishing at around 10.00pm, with the bar remaining open until around 11.30pm.
THE PLOT.....
Following a number of turbulent years at Moss Lane, chairman Terry Burpman has resurrected the club's fortunes, and under the guidance of manager Bernard Baker, Altrincham FC have secured promotion back to the Conference North.
The whole town is in party mode, and there's excitement in the air as supporters head to Moss Lane for the club's end-of-season Awards Dinner.
Terry will be at the top table, alongside his wife Marian, to present the awards, and supporters are invited to join club officials, staff and players for a very special evening.
Fans will get the chance to meet Jordy, the club's star striker and leading goalscorer, who is widely expected to pick up the club's Player of the Year trophy.
Everything seems to be running smoothly at Moss Lane, on and off the pitch, and everybody connected with the club is looking forward to a memorable evening.
But things aren't quite as they seem.
With cracks beginning to appear in Terry and Marian's marriage, a simmering of resentment and jealousy amongst certain people at the club, and rumours circulating that the club is in financial difficulties, a series of unfortunate events and revelations will ensure it is indeed a memorable evening, for all the wrong reasons.
Could you uncover the truth?.
Come along and find out. Tickets are £20 each including 2 course buffet meal. Please see Noel Shield, Neil Faulkner or Grahame Rowley for more information or contact by e-mail or by telephone on 0161-928-1045".
On Sunday, Altrincham FC Youth were beaten 5-0 at AFC Fylde. Next Sunday, in the NWYA Open Cup, Alty are away to St Helens Town.
Altrincham FC Ladies lost 1-2 to Crewe Alexandra in the Cheshire County Cup on Sunday.
Monday 19 February 2018: The EVO-STIK Premier Division
Shaw Lane P-P Stalybridge Celtic (waterlogged pitch)
Tuesday 20 February 2018:
The EVO-STIK Premier Division
Rushall Olympic v Stafford Rangers
Whitby Town v Grantham Town
The Integro League Cup 17-18 - Third Round
Mickleover Sports v Witton Albion
The Integro League Cup 17-18 - Second Round
Warrington Town 0-2 Lancaster City
Workington v Marine
Wednesday 21 February 2018
Sheffield & Hallam Senior Cup 17-18 - Quarter Final
Thursday 22 February 2018
Cumberland Senior Cup 17-18 - Quarter Final
Workington Athletic v Workington AFC, to be played at Borough Park, Workington AFC
Marine
"are pleased to announce the signing of 19 year-old midfielder Luke Griffiths from Warrington Town. He began his career at Bolton Wanderers, progressing through the youth set up before moving to Runcorn Linnets last season"
---
18 February 2018
Altrincham FC captain, Jake Moult (left), has a column entitled "Captain's Chat" in each issue of the
Robins' Review
matchday programme. Below is Jake's article from Saturday's game...
"After so many recent frustrations at the hands of the weather, it's good to be back in action this afternoon as we welcome Sutton Coldfield Town to The J.Davidson Stadium.
For all the best efforts of our ground staff, and Buxton's, we've had one postponement after another over the past couple of weeks, which has been hugely frustrating for all concerned.
Like so many of our supporters, we have travelled in hope and actually made it to the ground before hearing the game is off, though, as players, we have at least had the consolation of being able to train and put some useful work in before returning home.
That's no substitute for playing, of course, and it is being denied the chance to get out there and keep the momentum going that has been the biggest frustration for everyone in the changing room.
Such was our form, prior to the bad weather, and so intent we were on putting more points on the board, that every time a game finished, we couldn't wait for the next one to begin.
Right: James Poole.
At times, we've been kept waiting longer than we would have liked, though we did at least manage to dodge the downpours and stage a match a week last Tuesday, when Ashton United visited The J.Davidson.
We could hardly have wished for anything better than going 2-0 up inside 15 minutes, and though we were disappointed at letting Ashton in for a couple of goals near the end, no-one could dispute we were well worth the three points. Max Harrop got us off to a flyer with an exceptional strike from outside the area that seemed to settle him down for what was a superb performance at the heart of midfield. We've seen him do it on the training pitch many a time, so it came as no surprise when he set his sights from distance and arrowed a shot into the top corner.
James Poole's header for the second, from a superb cross by Connor Hampson, was all about reading the situation and timing his run to perfection. Once he'd done that, I always fancied him to win the header and stick it past the keeper, and it was well deserved for a player who's in a rich vein of form at the moment.
It was 3-0 in the second half after another reminder of how you can't keep Jordan Hulme out of the action. Overall, it might not have been his best night, but the great thing about Jordan is he never gives up. While others might let their heads drop and allow frustration to get the better of them, he channels it in the right way and redoubles his efforts to make a positive impact.
It was there again with another great individual goal that showed he's worth his weight in gold, especially when you consider Ashton's late fightback meant it was the one that kept our noses in front.
Away from events on the pitch, I was extremely sorry to hear about the death of Alty fan David Cameron at the age of just 32, and, on behalf of all the players and staff, I'd like to pass on our heartfelt condolences to David's family. I feel there is a real connection between this squad and our supporters, and we all share the sense of shock at such tragic news.
For me, that connection is pivotal to the success we've been having on the field. Some of the more experienced players who have been here a while have given a lot to the club but, at the same time, owe a lot to the club and the supporters. What we are striving for this season means a lot, and there will be no prouder man than me if we can get over the line and see the job through.
Jake".
Altrincham have no midweek match owing to the much delayed replay between Warrington Town and Winsford United to determine our next opponents in the Cheshire Senior Cup. So, Alty's next match is on Saturday 24 February whe w travel to Ashton United. As previously announced, it is uneconomic to run a supporters' coach for such a short journey, which can be made by car or public transport. The postcode for the ground at Hurst Cross is OL6 8DY.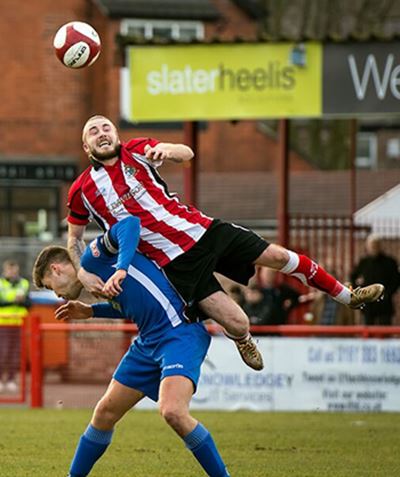 Right: Courtesy of Mike Ripley we see Man of the Match, Max Harrop, in action against Sutton Coldfield Town on Saturday.
Match report here.
On Saturday, Altrincham FC Reserves lost 1-0 away to Linotype Cheadle H.N. Next Saturday they are at home to Congleton Vale Royal.
The EVO-STIK Premier Division
Att. 905 Altrincham 2 - 1 Sutton Coldfield Town
Att. 192 Barwell 1 - 1 Ashton United
Att. 131 Coalville Town 1 - 4 Lancaster City
Att. 246 Farsley Celtic 1 - 0 Stafford Rangers
Att. 462 Marine 1 - 0 Halesowen Town
Att. 421 Matlock Town 2 - 3 Witton Albion
Att. 162 Rushall Olympic 1 - 0 Workington
Att. 389 Stalybridge Celtic 2 - 2 Hednesford Town
Att. 476 Stourbridge 2 - 1 Buxton
Att. 283 Warrington Town 3 - 1 Mickleover Sports Sean Williams 24'
Att. 301 Whitby Town 2 - 1 Nantwich Town
Saturday 24 February 2018: The EVO-STIK Premier Division
Ashton United v Altrincham
Barwell v Workington
Buxton v Stourbridge
Halesowen Town v Matlock Town
Hednesford Town v Warrington Town
Lancaster City v Rushall Olympic
Marine v Mickleover Sports
Nantwich Town v Grantham Town
Shaw Lane v Coalville Town
Stafford Rangers v Stalybridge Celtic
Sutton Coldfield Town v Farsley Celtic
Witton Albion v Whitby Town
---
17 February 2018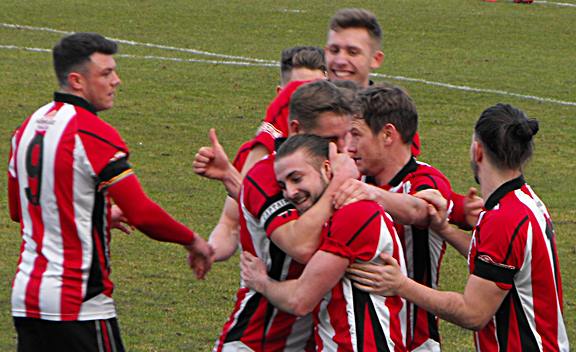 Above: Max Harrop is engulfed by his team-mates after scoring his goal.
Sutton Coldfield belied their bottom of the table position to make Altrincham work hard for the three points. The home side started poorly and had Hawley got in a better shot the hosts could have been behind inside forty seconds. Indeed, it was the Royals who took the lead, in the 13th minute, when Alty stood off Hawley and allowed the former Stafford man to feed the overlapping Lyttle. From right of goal he drove a fine, low shot past Thompson.
Altrincham slowly improved and they levelled the score eight minutes later. A superb 22 yard shot from Harrop gave keeper Brown no chance.
On a soft surface Altrincham found it hard to create clear openings and it took a penalty, ten minutes from time, to decide the outcome. Hancock got to a ball just inside the box fractionally ahead of a defender who tripped him to concede the spot-kick. Johnston coolly converted the penalty, having come on as a substitute during the second half after an injury lay-off.
The action was not over as Sutton Coldfield substitute Dell lasted just four minutes before punching Harrop in reaction to a foul by the Alty man and being shown a red card in the 89th minute.
Match report here.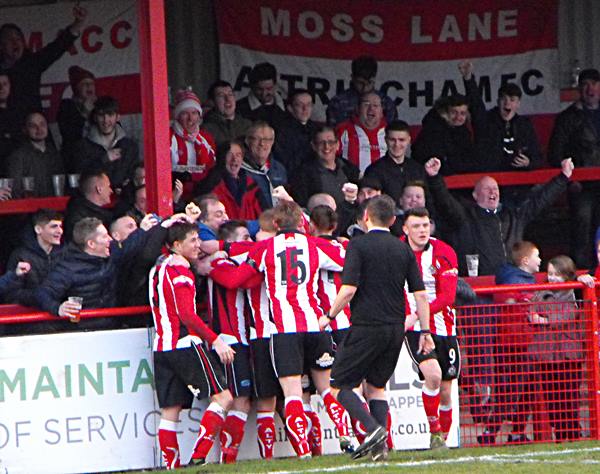 Above: John Johnston celebrates converting his penalty at the Golf Road end..
Saturday 17 February 2018
Altrincham 2-1 Sutton Coldfield Town
Barwell 1-1 Ashton United
Coalville Town 1-4 Lancaster City
Farsley Celtic 1-0 Stafford Rangers
Marine 1-0 Halesowen Town
Matlock Town 2-3 Witton Albion
Rushall Olympic 1-0 Workington
Stalybridge Celtic 2-2 Hednesford Town
Stourbridge 2-1 Buxton
Warrington Town 3-1 Mickleover Sports
Whitby Town 2-1 Nantwich Town
You can follow this fixture via this website's minute by minute text updates by clicking on the icon below. Alternatively, Radio Robins' coverage of the game is outlined below as well.
Brian Flynn announces that "Radio Robins, sponsored by Ashley Mowers Garden Machinery, is providing full live commentary of Saturday's game. The commentators are Simon Ellis and Tim Ainsworth and the match summariser is Ian Watmore. Coverage starts at 2.40pm.
Guidance for Listening to Radio Robins
There will be 4 ways to listen to Radio Robins via Mixlr
a) The Radio Robins website. Open the page in any web browser and the broadcast should start automatically. Please note that the 4 Player Options (Windows Player | Real Player | Quick Time | Winamp ) will not work now.
b) Download and install the Mixlr app on Android devices from the Google Play Store - start the app and search for 'Radio Robins'.
c) Download and install the Mixlr app on Apple devices from the Apple Store - start the app and search for 'Radio Robins'.
d) There is a temporary WIX website here.
Hednesford Town
report that Altrincham winger "Mason Walsh has opted to return to Altrincham after the Northern Premier League leaders made an approach for his services again". Mason was sent off recently whilst playing for the Pitmen and, following his earlier red card in Altrincham colours in the Integro Cup, is believed to be facing a four-match ban.
However, midfielder Laurence Taylor's loan at our neighbours Trafford has been extended. And now joining Laurence (right), and fellow loanee Sean Miller, at Shawe View is Darius Palma. The 19 year-old forward had a recent loan spell at Kidsgrove Athletic.
Altrincham FC Press and Media Officer, Brian Flynn, has issued the following press release:
Altrincham FC Supporting the Football v Homophobia campaign
"Evo-Stik Premier Division leaders Altrincham FC are supporting the Football v Homophobia campaign.
The Robins are aiming to bounce back to the Vanarama National League North at the first time of asking, and Saturday's home encounter pits the league leaders against Sutton Coldfield Town who are currently bottom of the table, trailing West Midlands rivals, Halesowen Town, on goal difference, after both teams were deducted points this week for fielding ineligible players.
It's also an important fixture for the club's Diversity and Inclusion (D&I) team, who are gaining a reputation in non-league football for going the extra mile to ensure everyone feels welcome at the J.Davidson Stadium, where the club plays its home games.
This weekend's fixture will be dedicated to the Football v Homophobia campaign and is part of a series of steps undertaken by Alty to reach out to different parts of the community in and around South Manchester.
Jordan Tyms, the club's D&I officer, says there is a long-term strategy to make the 6,000 plus capacity stadium a place where football is accessible to all.
'The club took a service review with supporters and partners, and we are now in a five-year-plan, in which we want to be more inclusive, so that as many people as possible come and watch games here and enjoy being part of the club.'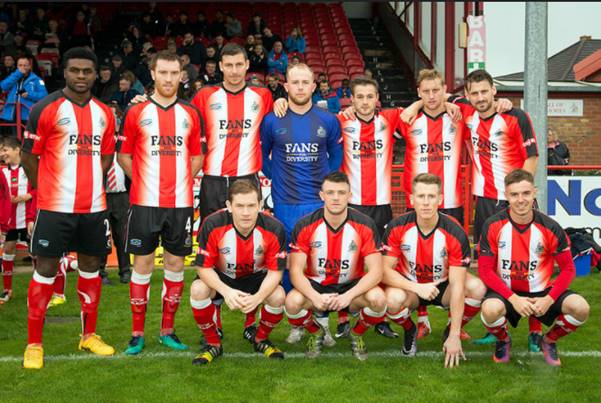 Above: Alty's 'Fans For Diversity' Shirts were worn against Rushall Olympic on Non-League Day.
'Last October, we were one of four clubs nationally that was selected as a "Fans for Diversity" club by the Football Supporters' Federation and Kick It Out. One element of our inclusion strategy is to welcome more LGBT (Lesbian, Gay, Bisexual & Transgender) supporters, and Saturday's game is an opportunity to make that more widely known.'
Altrincham wore a special 'Fans for Diversity' kit when they played Rushall Olympic in an Evo-Stik Premier Division game in October.
In addition to the important business of trying to beat Sutton Coldfield to maintain or extend the club's nine-point lead at the head of the table, there's another fixture being staged in the morning - an Alty Supporters' team is taking on LGBT-inclusive club Village Manchester FC in a friendly in nearby Bowdon for the Alty FC FvH Cup.
Before kick-off back at the J. Davidson Stadium later in the day, the first-team players will wear Football v Homophobia T-shirts, pairs of Rainbow Laces will be available, and all supporters will be given branded postcards which challenge stereotypes and provide education around how to report homophobic abuse.
Season-ticket holders and members of the two Manchester giants, United and City, neither of whom is playing at 3pm on Saturday, are able to attend at a reduced price of just £5.
Altrincham FC Ladies will also support the campaign at their important Cheshire County Cup Quarter Final tie against Crewe Alexandra on Sunday while at the end of February, the club and the FvH will convene special workshops for Alty's young teams and local schoolchildren.
Tyms says LGBT inclusion is still rarely discussed in non-league football circles, although there has been wider interest in the story of Liam Davis, who became the first openly gay male footballer to play at Wembley when he turned out for Cleethorpes Town in last year's Buildbase FA Vase final. Davis has since featured in a video for UEFA's #EqualGame campaign.
'I don't think it's on the radar for most non-league clubs. It seems to be just ourselves and Cleethorpes at the moment. We're now hoping to get back into the National League North and share our own experiences with others. There's no reason why any other club couldn't do what we do.'
There is equal focus on other elements of the D&I picture at Altrincham, with Tyms grateful to various partners, organisations and local businesses for their generous contributions.
'We wanted a new disabled shelter, and a company came and erected that for us free of charge,' he says. 'The board and the manager have been so supportive and full of ideas, and we have a designated director for D&I matters.
'In September, a vice-chair of the local Muslim Association was attacked on his way to evening prayers, a crime that attracted national attention. He accepted an invitation to our "Fans for Diversity" match in October, and from that we've forged a relationship to support the association's local boys' team with equipment and a summer tournament, with money from the FFD fund.'
'It's been one of several success stories from the D&I work we've done'".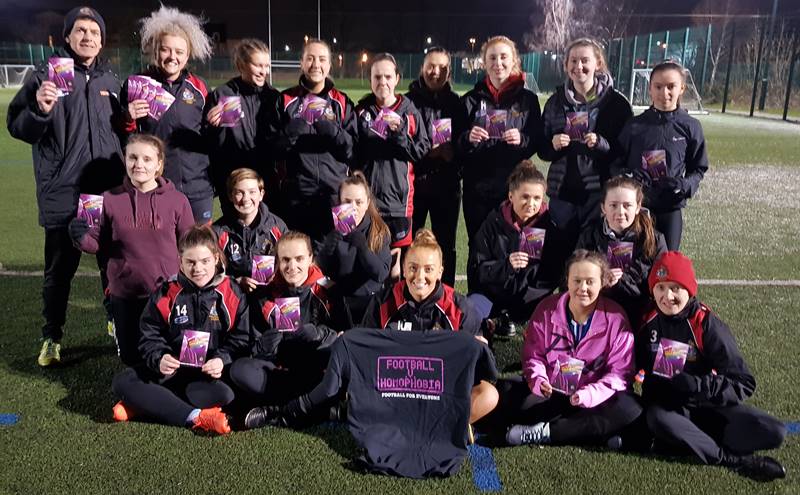 Pictured above, courtesy of manager Keith Edleston, are the Altrincham FC Ladies, with fitness coach John McManus, displaying the "Football v Homophobia" shirt that was brought down to their training session on Thursday night. Keith adds that "Everyone involved in the Ladies' section backs this initiative to the hilt".
The Ladies are in action at Mersey Valley on Sunday (1.30pm) when they entertain Crewe Alexandra in the quarter-final of the Cheshire County Cup. All spectators are very welcome.
At
Shaw Lane
, "Manager Paul Quinn has made several off-field appointments in recent weeks in what he has described as 'positive steps forward' for the football club.
The new management/coaching structure has included appointing a Head of Football Operations, Head Scout and an analysis team in an effort to support the short and long term aims of Shaw Lane.
Longstanding club official Doug O'Connor has taken on the role of Head of Club Operations. The role will see O'Connor lead on match day logistics and also link directly with new Head Scout Mark Duffy in terms of player identification. Duffy joined the club at the start of the year and the former Bolton Wanderers scout has already been tasked with opposition and individual scouting.
Quinn commented, 'Mark has made a real impact at the club already... This appointment not only helps us with information gathering on opponents, but also identifying talented players at all levels... This is a big job for just one person so Doug O'Connor will also assist Mark with this role and be the direct link between the Chairman and coaching staff.'
Luke Couchman and Liam Harrison have also joined the club to oversee the player analysis aspect of the game. Couchman, formerly of Silsden FC, will work directly on video analysis of games. Harrison, who formerly held a role at Brighouse Town FC, will lead on the use of Playertek, which uses GPS to track player movement on the pitch.
Quinn said, 'We are always looking for ways in which we can improve what we do and improve the support we give to the players'... The manager is also in the search for a new Assistant Manager, following the departure of John Reed to Gainsborough Trinity earlier this week."
Shaw Lane also lost their manager earlier this season when he moved to Grimsby Town and the Grimsby Telegraph reports that "Grimsby Town have been urged to shun the managerial merry-go-round and take a chance on a modern-thinking coach with fresh ideas... following the sacking of Russell Slade... Some believe Town should ignore the usual tired old names, and bosses on their way down, in favour of someone from the new breed.
One of the voices calling for that approach is Cleethorpes Town boss Marcus Newell... Newell believes Town could do a lot worse than take a close look at Boston United manager Craig Elliott, who has emerged as the bookies' favourite. Before taking over the Pilgrims' hotseat, Elliott was in charge at Barnsley-area side Shaw Lane, who enjoyed a meteoric rise up the non-league pyramid under his guidance...
'Craig knows how to build and pick a team which is the hardest thing in football', said Newell. 'Some can do it and some clearly can't. The level won't be a problem as he's adapted as he's come through the leagues... When I came up against him you always knew it would be an attacking game played in the right spirit. Town can always pick up a manager off the merry-go-round, or they can take a gamble on a lad who is fresh and knows how to win from the lower leagues!'...
Elliott guided Shaw Lane to three promotions in four seasons, before joining Boston United. He is currently presiding over an upturn in fortunes for the Pilgrims in National League North."
An "Official Statement: Proposed Club Re-Structure" has been issued by
Bradford Park Avenue
which says, "At the AGM of Bradford Park Avenue Community Benefit Society on Thursday, it was announced that the directors are proposing a change in the ownership structure of the club.
The club's first team currently plays in National League North, just two divisions below the Football League. The cost of surviving at this level has escalated to a level which the club cannot afford beyond the short term, under its current ownership structure. Operational costs are eating up capital which had been earmarked for off-the-field development, and new investment is needed.
Two years ago the club became a Community Benefit Society (a "CBS"), intending that its ownership should be spread amongst the local and regional community. However, very few new members have joined. As a CBS, the club is entitled to issue Community Shares to potential investors, but the law provides for a maximum of £100,000 in community shares for any individual, which is not enough to make a crucial difference. In addition the CBS is heavily indebted to its current benefactor, and as an investment opportunity the club in its current form is unattractive.
The directors have decided to face reality, and they propose to change the structure of the club so that it becomes a privately owned enterprise, from which investors can potentially earn dividends or at least look to recover their investment at some point in time.
Any change in structure is subject to the approval of the current members of the CBS, the FA and also to the approval of the Financial Conduct Authority, whose advice has already been sought. A further meeting of members will be held in the near future at which specific proposals will be put forward".
---
16 February 2018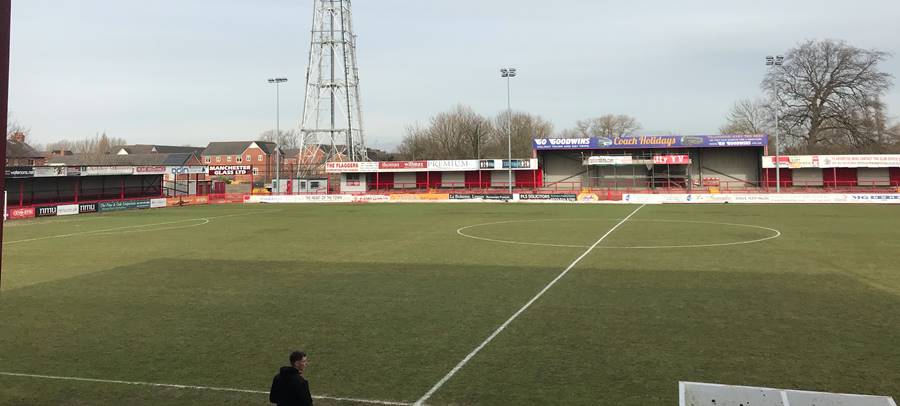 The pitch at the J Davidson Stadium is looking good on the eve of Saturday's match against Sutton Coldfield, thanks to the hard work of groundsman Neil Brown, as well as Bryan Ford and other volunteers who have worked on it.
The
Sale & Altrincham Messenger
reports that "Phil Parkinson suffered more fixture frustration at the hands of the weather on Tuesday night, but the rain clouds at least had a silver lining for the Altrincham manager as his injury worries continued to ease...
Disappointed though he was at the inevitable outcome of a lunchtime pitch inspection, Parkinson could at least reflect on the extra recovery time for key defenders Tom Hannigan and James Jones, who should both be fit for Saturday's home game against Sutton Coldfield Town. Hannigan has not featured since the 1-0 win at Farsley Celtic on January 6, while Jones was withdrawn with a slight hamstring twinge in the second half against Ashton United last week.
'The weather is certainly having a big impact at the moment,' said Alty boss Parkinson. 'We've only managed one of the last four Saturday games, after the Buxton match was called off, and now we've lost Tuesday's game with Shaw Lane, which is a big disappointment for everyone. We were really hoping it would go ahead, but, equally, it was important the right decision was made, as neither club wanted it on a pitch that was not really playable. We were hopeful James would have been available and Tom might have been as well.
'Also, Josh Amis (right) came through Saturday's reserve game okay and could have been on the bench. Clearly these lads now have a few extra days before we play again'...
There will be a minute's applause before kick-off against Sutton Coldfield on Saturday in the memory of David Cameron, the 32 year-old Altrincham supporter whose sudden death was reported earlier this week.
This Sunday, Altrincham FC Ladies are at home in the Cheshire County Cup, a competition in which they have reached the quarter-final. They entertain Crewe Alexandra Ladies at Mersey Valley, Banky Lane, Sale on Sunday with kick-off at 1.30pm. Spectators are very welcome; the clubhouse will be open as usual.
Altrincham's opponents on Saturday, Sutton Coldfield, have acquired two new loanees, reports
NL Pitchero
. "Neil Tooth, manager of Sutton Coldfield Town, has completed the loan signings of two players from neighbours Tamworth to boost his squad for the final phase of the season.
Regan Upton and Dexter Walters will train with the team... before making the trip to table-toppers Altrincham on Saturday. Upton is a highly-rated 21-year-old defender who joined The Lambs from Wolverhampton Wanderers at the start of the current season. Walters joined Tamworth from Sutton's current groundsharers Romulus and is an exciting 19-year-old forward who will give Tooth options in the wide areas with his pace and energy."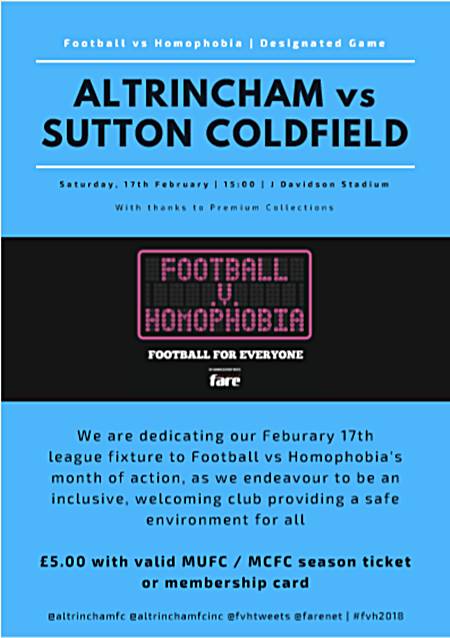 Sky Sports reports that "Altrincham FC [is] championing diversity and inclusion in non-league football... They're top of the table, with the league's most potent attack and the tightest defence, Altrincham FC's Northern Premier League season could hardly be going better, with a third of the Premier Division campaign left to play...
It's also an important fixture for the club's compact but influential Diversity and Inclusion (D&I) team, who are gaining renown in non-League football for going the extra mile to ensure everyone feels welcome at Altrincham. This weekend's fixture will be dedicated to the Football v Homophobia campaign, which is currently in its annual February activation, and is part of a series of steps undertaken by Alty to reach out to different parts of the community in and around south-west Manchester".
Altrincham FC caterer Richie Bentley adds that, for this match, a pint of Fosters or Wainwrights and a bacon or sausage butty will be available for £5 from 12.30 to 1.30pm with entry to the J Davidson Stadium being via turnstile 8.
Altrincham FC supporters travelling by train are advised that the RMT trade union is holding a strike on Northern Rail on Saturday 3 March when Altrincham are away at Shaw Lane AFC. For more on this, see the
Sheffield Star
.
Details of TASC supporters' coach transport to the game will be published in due course.
The Sale & Altrincham Messenger reports that "Altrincham director Neil Faulkner has pulled off a major coup for the club after securing the services of World Cup winner Ossie Ardiles and his former Tottenham team-mate Micky Hazard for a sporting dinner at The J.Davidson Stadium...
The event was originally pencilled in for Friday, March 16, until Sky decided to change Tottenham's home game with Newcastle to that date for live TV coverage. With Ardiles and Hazard both contracted to Tottenham for hospitality work, Alty were forced to alter their plans and reschedule for April 20.
With King and many of his fellow Alty Cup heroes on the guest list, there has been a scramble to snap up tickets at £35 each, and the function looks sure to be a sell-out...
Faulkner said... 'The idea is to fill a table with Alty players from that era, and we will be contacting them, to get as many along as possible. It is fantastic news for the club, a real coup, to have a World Cup winner and another exceptionally-skilful midfielder in Micky Hazard, who won two FA Cups with Tottenham... The original date was a sell-out, but we can't yet confirm the same for April 20 because we're still contacting people about the change. It's possible there may be the odd ticket or two left, so I'd urge anyone interested to check with the club on 0161 928 1045 or by e-mail.
"It's been training rather than playing for Matlock Town's squad as the wet weather put off their visit to Nantwich Town last Saturday and then Tuesday night's home meeting with Rushall Olympic" reports
NL Pitchero
.
"It might not have been such a bad thing as far as the Gladiators are concerned for it has given them time to work on the deficiencies which have cost them dear recently in time for this weekend's home clash with Witton Albion. The last three visiting sides to the DCJ Group Arena have each scored three goals and Albion also hit three against Matlock last November when the sides shared six goals in Cheshire.
Joint bosses Craig Hopkins and Glenn Kirkwood would no doubt have been concentrating on improving Matlock's defensive game in the hastily arranged training sessions held on Saturday and on Tuesday night.
'All ten outfield players have to play their part in helping out [goalkeeper] Phil Barnes,' said Hopkins. 'Eleven people have to defend properly. When we've done well in the past we've had energy and that energy and spark hasn't been there all of the time this season. Our teams have been athletic and played at a tempo and we've reminded the lads about this.'
Witton currently lie in tenth spot having picked up one more point on their travels than they have gained on home soil. Hopkins admitted... 'Yes, we're looking at next season, but the important thing is to get things right at the minute. We're making enquiries about players with next season in mind when we want to get back to having a young, hungry, athletic team. We're concentrating on getting a good result against Witton on Saturday. They're a good side with energy and good players, it'll be a hard game but we're looking forward to it.
'It was a cracking game up there that could have finished 6-6 when both sides looked threatening. The lads have worked hard in training and in all honesty we're not a million miles off and we're bursting to get going on Saturday.'
The Gladiators languish down in eighteenth position but with the reorganisation the non-League system taking place in the summer, they are comfortably clear of the one relegation spot this season. But Hopkins says the league position is a cause for concern, 'The league position we've been in has been a concern all year and we can't say we're better than we are. We have thirty-eight points from thirty-two games because it's what we've deserved and we've all got to work hard to improve on that'.
A fresh face is likely to be added to the squad before the weekend. Matlock have one or two injury and illness doubts as players will be assessed again at tonight's training session."
NL Pitchero
reports that "Guiseley AFC have confirmed that manager Paul Cox and his assistants Adam Murray and Ben Marvin have left the club with immediate effect. Experienced former Republic of Ireland international Sean St Ledger will oversee training until a suitable replacement is found".
---
15 February 2018
Altrincham's four outstanding postponed fixtures have now been allocated new dates, as follow....
MONDAY 5TH MARCH Stourbridge v Altrincham, formerly 20/01
SATURDAY 10TH MARCH Altrincham v Mickleover Sports, formerly 3/02
TUESDAY 27TH MARCH Altrincham v Shaw Lane, formerly 13/02
TUESDAY 17TH APRIL Buxton v Altrincham, formerly 10/02
Press release:
"Altrincham FC has dedicated this weekend's league fixture to Football vs Homophobia's month of action.
The game against Sutton Coldfield will highlight the club's commitment to be inclusive, welcoming and providing a safe environment for all. The occasion also provides an opportunity to encourage local United and City fans to once again come along, enjoy the football and support the day. Admission is £5 with a valid MUFC / MCFC season ticket or membership card.
Huddersfield Town v Manchester United (FA Cup 5th Round) will be shown on the big screen in the Community Sports Hall following the Alty v Sutton Coldfield game. Speaking about the initiative, chairman Grahame Rowley said '"We're delighted to support this great campaign. We're always keen to promote a "football for all" message which we believe is highlighted in our community work as well as on matchday'.
Jordan Tyms, Inclusion and Diversity Co-ordinator for Altrincham FC, added, 'It's great that the club is supporting FvH, one of many projects we have planned as part of our ongoing commitment to inclusion and ensuring football is accessible to all.'"
Altrincham FC caterer Richie Bentley adds that, for this match, a pint of Fosters or Wainwrights and a bacon or sausage butty will be available for £5 from 12.30 to 1.30pm with entry to the J Davidson Stadium being via turnstile 8.
Altrincham entertain Sutton Coldfield on Saturday, as The Royals make their first visit to the J. Davidson Stadium in their 139-year history. As
Sutton Coldfield Town
say "Things have changed a lot since 1879 and even since 2011. At the end of 2010 the then Assistant Manager Neil Tooth asked if the Club could use its Rotary connections to find somewhere they could train throughout the season. The Board undertook a survey and it was agreed with funding from within the Club to spend £400,000 on a 3G artificial pitch as the main stadium pitch. At that time ( and it still is) this was a massive project for a Club at that level.
The ground was levelled and a very efficient drainage system installed before the 3G carpet was placed on top. All of this was done in record time from early May when the season ended and work commenced, to mid July when it was completed, in time for pre season friendlies. The 3G pitch has completely changed the fortunes of the Club. On the playing side, no matches are ever postponed due to bad weather and the level pitch ensures good passing football can be played (by both sides).
On the commercial side, the pitch is hired out to other teams... The income generated is used to maintain the pitch (including money put aside for a fund to replace the pitch after 10 years approximately), staff the operation and put money into the Club to financially support the 1st team budget".
Following their one-point deduction this week, the Royals stated that they had "been charged with a breach of FA Rule C1 (g) (x) in relation to loan player Matt Waters. The player participated in 2 fixtures when on loan from Chester FC when the loan paperwork had not been received by the FA and thus making him ineligible to play.
The 2 matches were:-
v Nantwich (A) D 0-0
v Ashton (A) L 2-0
As a result (and following an NPL hearing, in which we were given an opportunity to explain what had happened ), Sutton Coldfield Town FC have been found guilty of a breach of NPL Rule 6.9 – playing an ineligible player. Consequently a fine of £100 has been imposed and the deduction of the point earned in the draw at Nantwich made. The Club has decided to accept this ruling and will not appeal against this decision.
In a season where it has proved difficult to gain points, this is obviously a blow to our chances of avoiding relegation and has arisen simply because the correct paperwork was not received at the FA although it was received by the NPL and Chester FC at this time. However we are bound by the rules and must move on".
The point deduction leaves Sutton Coldfield bottom of the EvoStik Premier but level on points with Halesowen Town. However, The Royals have been in good form recently, having picked up seven points from their last four games in which their only defeat was to Warrington Town.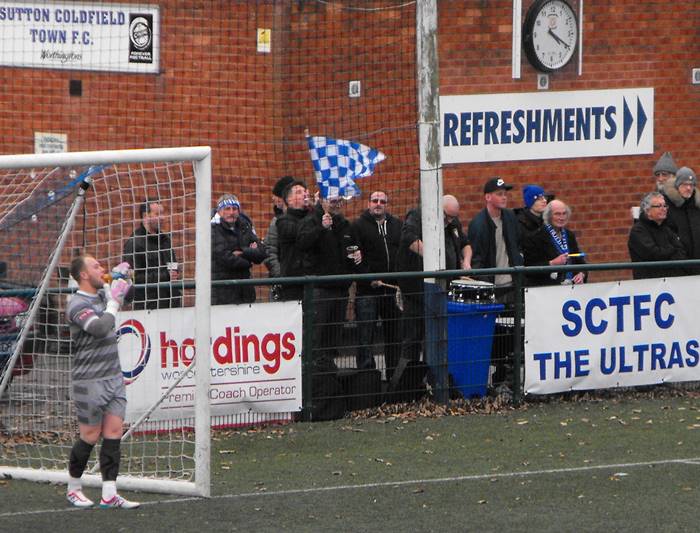 A novel and enjoyable feature of Alty's visit to Coles Lane was the performance of the home club's band, pictured above behind Tony Thompson's goal.
In the reverse fixture with Altrincham, at Coles Lane on 18 November, three early goals put Altrincham in a strong position and they went on to complete a 4-0 victory. But Alty will be aware that they will be facing much changed oposition, as only four of the sixteen players in the Royals' squad in the November game were also in the more recent squad against Warrington.
The Altrincham Supporters' Club (TASC) travel coordinator, Mark Eckersall, advises fans, as follows...
"The weather continues to play havoc with away travel plans after the wasted trip to Stourbridge and postponement of the game at Buxton. We had our largest turnout of the season booked on for Saturday so it was very frustrating not to be able to be part of what would have been a large number of Robins up in the Peak District.
Just a heads-up that, due to its close proximity, it will not be possible to provide transport to the next scheduled away game at Ashton United on Saturday, 24th February. With a journey time of 30 minutes door to door and a distance of just 18 miles, we expect another good following there.
Travel will be arranged for the Shaw Lane fixture on Saturday, 3rd March, so keep an eye on the website for details nearer the time."
Altrincham were set to play Shaw Lane on Tuesday night, until the match was postponed, and also on Tuesday we heard that former Alty boss Lee Sinnott had been appointed manager of Gainsborough Trinity. And now the two stories have come together as
NL Pitchero
confirms that "The experienced John Reed has left Shaw Lane AFC as assistant-manager to team up with new boss Lee Sinnott at Gainsborough Trinity.
As manager of Harrogate Town Reed won promotion from the Evo-Stik Northern Premier First Division in 2002 and won the West Riding County Cup in successive seasons before taking on the manager role at Stalybridge Celtic. After taking over part way through the 2005/06 season with Celtic eighteen points adrift, Reed oversaw a 'great escape'. The following seasons Stalybridge missed out on the play-off places on the final day of the season.
Later, at Buxton, Reed lead his team to win the Derbyshire Senior Cup. During six seasons there he also missed out on promotion from the NPL Premier Division, losing to Gateshead in the play-off final. Reed became assistant-manager at Scarborough before taking the reins at Ossett Town in 2014, replacing Craig Elliott, who left to join Shaw Lane.
Reed stayed on to assist Paul Quinn after Elliott departed for Boston United late last year. Head of football operations Doug O'Connor told the club`s official Pitchero website, 'We're sorry to see Reedy go. He's had three fantastic years with us and we wish him all the best at Gainsborough Trinity in their bid to save themselves from relegation from the National League North'.
On departing, Reed thanked everyone at Shaw Lane, 'It's been a tremendous three years at the club. There are so many nice people'".
Cantilever Catchup
reports that, on Tuesday, "Warrington suffered a frustrating 1-0 defeat at the hands of Stalybridge Celtic who record[ed] their first win away from home since April 2017. A mistake from Tony McMillan, when he was under pressure from Matthew Wolfenden after a cross, gave the visitors the lead with fifteen minutes to go and the Yellows' new boy, Joe Piggott missed from the penalty spot to draw level in the 84th minute.
Paul Carden's side looked to utilise the pace of their forwards early on by putting balls in behind Celtic's defence and, while they were unable to create anything significant, the home side were in the ascendancy... After the break, Stalybridge looked to trouble Warrington by getting the ball up to Liam Dickinson but, despite the tall striker causing problems, there was little in the way of chances for the side.
The Yellows faithful attempted to lift their team who hadn't reached the high standard of performance they have set for themselves over the course of the season so far... Carden made a double substitution in a bid to find a way through the stubborn defence of the visitors. McDonald and Hayhurst made way for Gerard Kinsella and Stephen Milne respectively but the deadlock remained...
Against the run of play the away side took the lead after McMillan suffered the misfortune of scoring an own-goal. The ball was played into the box and the Warrington keeper punched the ball under pressure from opposition forward Wolfenden. The ball looped up and trickled into the net with the referee deciding that there was no foul on the man between the sticks.
The Yellows increased the intensity and were awarded a penalty with five minutes remaining. Stalybridge manager Liam Walton [?Steve Burr] was furious with the decision but Piggott was unable to convert the spot kick, rounding off what was a very disappointing evening for the promotion contenders... Carden's men still sit in fourth position and will be confident of putting the performance behind them as they focus on cementing a place in the play-offs".
---
---
---
---