CURRENT NEWS IN FULL
1 May 2016
A statement regarding the managerial situation at Altrincham FC will now be made tonight, Sunday 1 May, and will be posted on this website when it is available.
Following the match, caretaker boss Neil Tolson told the NL Paper, "It's an awful day for the club. We've just not turned up. I think there are people inthat dressing room who are going to wke up tomorow with lots and lots of regrets. That's the frustrating thing.
"Braintree were better than us in every single department today. But if they were better than us, and we we had given it a go, it would probably have been an easier pill to swallow. We've not shown anything that we've shown in recent weeks.
"It's over 46 games. We needed a minor miracle and we didn't give ourselves a chance of that happening. That's been the disappointing thing".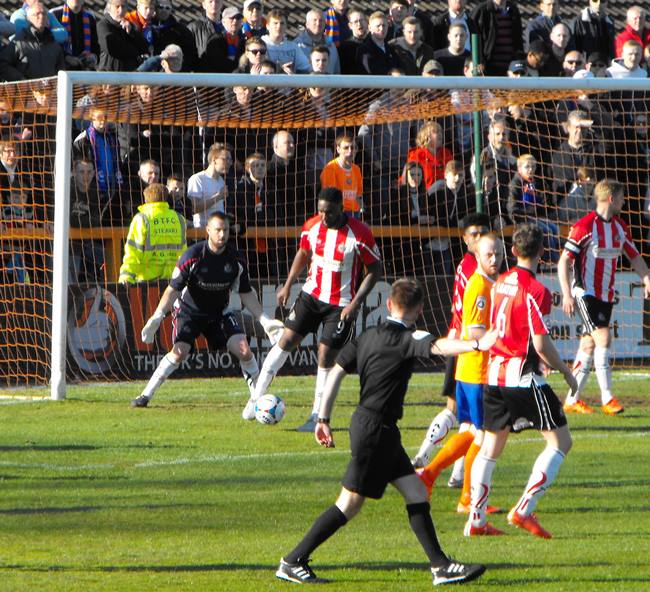 Michael Rankine clears the ball as referee Ollie Yates awards the visitors a freekick in their own box at Braintree on Saturday.
Altrincham suffered their fourth relegation from the top flight of non-League football since 1997 when they were comprehensively beaten by a Braintree Town side which secured a deserved place in the promotion play offs with this victory.
Braintree took a 17th minute lead when the impressive Akinola miscued a shot across goal and Cheek was on hand to convert from close range at the back post. Cheek made it 2-0 three minutes before the break when he converted a cross, following a fine run by Brundle.
Brundle added the third when he converted a cross after Akinola had got to the byline. The Iron finished third from top and Altrincham, third from bottom - and the gap was evident.
Match report here.
Saturday, 30 April, kick off at 5.30pm...
Barrow 2-0 Wrexham
Braintree Town 3-0 Altrincham
Bromley 1-3 Aldershot Town
Cheltenham Town 3-1 Lincoln City
Chester FC 4-2 Gateshead
Dover Athletic 0-1 Forest Green Rovers
FC Halifax Town 1-1 Macclesfield Town
Guiseley 4-3 Torquay United
Southport 3-4 Kidderminster Harriers
Tranmere Rovers 1-0 Grimsby Town
Welling United 0-3 Boreham Wood
Woking 2-1 Eastleigh
Braintree Town now meet Grimsby Town in the play-offs, whilst FGR play Dover Athletic.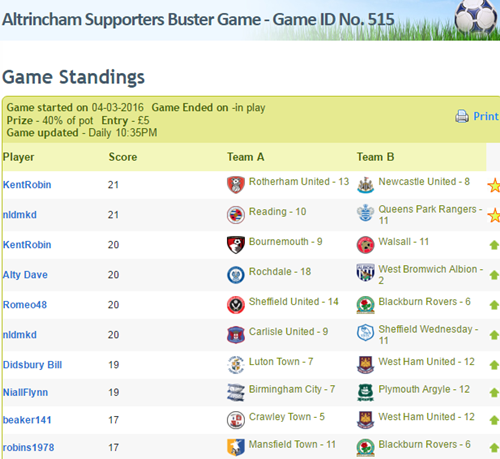 Brian Flynn advises that "The second 'Football Buster' game has now been completed and we have two winners: Ian Rosendaal & Nigel Davis (also a winner in the first game!). A screenshot of the final result is above. Each winner has won £17.60 and I will be in touch with both Ian and Nigel to arrange payout. As it is so close to the end of the season and it is unlikely that another game would be completed in May, the next game will start in August, when the new season starts".
---
30 April 2016
You can follow this fixture via this website's minute by minute text updates by clicking on the icon below. Alternatively, Radio Robins' coverage of the game is outlined below as well.
Brian Flynn announces that "Radio Robins, sponsored by Ashley Mowers Garden Machinery, is providing full live commentary of Saturday's game. The commentators are Laurence Howarth and Ian Wilkinson and the match summariser is Brian Flynn. Coverage starts at 5.25pm with the game kicking off at 5.30pm.
And Howard Watts's Through the Years records show us that 30 April has been a key date for Altrincham several times in the last few years...
Mike Garnett's data summarise previous encounters with The Iron; the last two meetings have each seen us conceded four goals so we are aiming for much better this time around!
Home: P2-W1-D0-L1-F1-A4
Away: P1-W0-D0-L1-F2-A4
All: P3-W1-D0-L2-F3-A8
As Alty fans will be aware, we have to win this match to have any chance of staying in the Vanarama National League and, in addition, FC Halifax Town have to lose their game and Guiseley have to do no better than drawing their fixture.
Ryan Crowther is unlikely to figure in the game and so is likely to join long-term absentees Stuart Coburn, Luca Havern, Tom Marshall and Nicky Clee on the sidelines.
Altrincham FC supporters are reminded that the revised times for the TASC supporters' coach are as follows...
The Vine, Sale 11.10 am
The Hare & Hounds, Timperley, 11.20am
Altrincham Leisure Centre, 11.25am
Altrincham FC, Moss Lane, 11.30am
As previously announced, the BT Sport transmission of the Braintree Town v Altrincham game will be shown in the Community Sports Hall on Saturday. The Hall will open at 4.30pm and the game kicks off at 5.30pm. Food and drink will be available so if you cannot get down to Essex, do come along and support Alty alongside fellow supporters and in comfortable surroundings!
The
Braintree & Witham Times
announces that "Braintree Town will be keeping an eye on Alex Woodyard ahead of tomorrow's game against Altrincham as he has a sore ankle after taking a knock to it at Wrexham last weekend.
However, manager Danny Cowley was hoping that Sean Marks may be back involved after recovering from a hamstring injury. He added that Chez Isaac was also battling to be fit, after also having a hamstring problem, while Remy Clerima is now back with the squad after his groin injury".
And the Braintree & Witham Times adds that "Danny Cowley will make sure there are no stones left unturned to make sure there is no pressure on him or his Braintree Town team when they face Altrincham tomorrow... Danny and his brother Nicky, who is assistant manager at the Iron, are no strangers to the tensions of play-off pushes, having successfully steered their previous club, Concord Rangers, through a number before coming to Braintree...
'The over-riding emotion we have is pride, not fear,' said Danny. 'We are proud of what we have been able to do. But we have to be non-emotional, as being emotional is a waste of energy. We just have to focus on getting to our levels of performance. We have a game plan clearly set out and we have been working towards that all week.
'Nicky and I have been in this position before, though, at the business end of the season. Coming up to big games like this one, we make sure we work so hard and are so detailed so that, when we get to Saturday, there has been nothing left and we know we have done everything in our power to achieve success.
'By making sure there are no stones unturned, when Saturday comes around there is no pressure, as you know you couldn't have done anything more'".
On Friday,
Braintree Town
announced that "Ticket Office open tomorrow lunchtime. After the success of early ticket sales for tomorrow (Saturday's) Vanarama National League clash at home to Altrincham, the Club have decided to extend the sale of tickets and will now be selling tickets for cash only purchase from the Club Ticket Office from 12.30pm to 2pm prior to the match tomorrow (Saturday) lunchtime. Ticket holders will be able to avoid the queues to pay on the day and use the ticket holders turnstiles 5 & 6. For those wishing to pay thereafter, admission will be through turnstiles 1-4, as usual, which will be open from 3.30pm."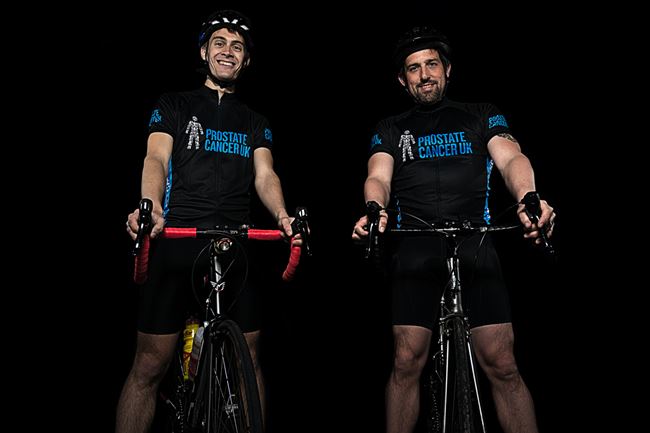 Press release:
"Whilst Altrincham Football Club is providing a free coach to take supporters to their final and crucial Vanarama National League game of the season at Braintree Town on Saturday, two fans will be cycling the 225 miles to raise funds for Prostate Cancer UK and Altrincham Football Club Community Sports.
Dan Martell and Mike Ripley (above, left and right respectively) will set off very early on Friday morning and are aiming to complete 140 miles on Day 1, which is Mike's 38th Birthday, with 85 miles to be completed on Saturday. The intrepid duo have targeted a 4pm arrival at the Avanti Stadium, with the match, which is being televised live on BT Sport 2, kicking off at 5.30pm.
En-route, they will be passing through Stoke, Leicester, Market Harborough and Cambridge and they are also planning to fit in a five-kilometre park run on Saturday morning!
Prostate Cancer UK is a charity that both Dan and Mike are both keen to support and to raise awareness for an illness that affects so many people.
You can support directly at the following links:-
BT Sport will be filming Dan and Mike's arrival at Braintree and using the recording in their broadcast of the pre-match build-up from 4.45p.m.
Phil Taylor advises Alty supporters that "Altrincham FC Ladies will set off for the Isle of Man on Saturday to participate in a four-team tournament. After the success of the game last year at Clay Lane, when we took on the Isle of Man Representative Team the IoM FA were so impressed by both the Ladies and the Club as a whole that they have invited us to travel over, together with Chester City Ladies.
This is a major coup for the Ladies, the Community Company and the Club. It is hoped to be able to provide updates via Social Media and an account of the tour when we return."
According to
NL Pitchero
, "The entire Board of Directors of crisis-hit FC United of Manchester has offered to stand down after weeks of turmoil at the fan-owned club. Bosses have told members an extraordinary general meeting will be held 'as soon as possible', where remaining Board members will either resign permanently or stand down and seek re-election.
The Board told more than 5,000 members it 'recognised the unrest and upset' felt by many following weeks of discontent and rows about the state of democracy at the club. Many members have expressed frustration at the club, founded in 2005 to protest [at] the Glazer family's ownership of Manchester United, and have questioned its direction. General manager Andy Walsh has already announced he is stepping down after eleven years at the helm. And two Board members, Adam Brown and Alison Watt, last week resigned saying an 'orchestrated campaign' was being waged against the leadership.
A statement confirmed Board member Richard Searle has now also stood down with 'immediate effect'. The rest of the Board will stand down at the extraordinary general meeting as the club looks to wipe the slate clean. A date for that is yet to be announced.
The statement read... 'The EGM will elect a new Board for the club. This will provide members with the opportunity to vote for a newly-formed Board, with a fresh mandate to represent the club's best interests and best serve the club going forward... Board members recognise the unrest and upset felt by many members currently and are collectively committed to ensuring that the co-owners of FC United of Manchester can find a way through the challenges we face at this stage of our history.'
The club has also apologised to fans after a general meeting at the club's new £6m Broadhurst Park stadium, where a number of 'key decisions' were due to be made, was postponed. The sheer number of people wanting to attend, coupled with issues around voting, meant it had to be adjourned. The meeting is now due to be held on May 15th at the Longfield Suite in Prestwich.
The statement added, 'The Board recognises that there were a number of issues at the adjourned meeting, relating to the venue and the registration of proxies and postal ballots that were unsatisfactory and fell below the standards that members expect'. Bosses insist an issue with the administration of postal votes and proxies has been sorted after a 'small number' of members' votes were not recorded as cast. The missing few have now been accounted for."
---
29 April 2016

Ian Senior has kindly supplied the above image of Altrincham players training on Thursday evening in snowy conditions!
Alty's opponents on Saturday are the subject of news in the
Braintree & Witham Times
to the effect that "Mitch Brundle knows Braintree Town will need their 12th man on Saturday. The 21-year-old Iron midfielder has scored what has turned out to be the winning goal in both of their last two Vanarama National League games to set up a potentially history-making day this weekend.
They face Altrincham at the Avanti Stadium, knowing just a point will seal a top-five finish and a coveted berth in the end-of-season play-offs. However, Brundle and his team-mates are under no illusion that Altrincham, who will be fighting for survival at the other end of the table, will make things tough for the hosts and he has called on a vociferous home crowd to roar them on.
'The fans are our 12th man', said Brundle, whose goal at Wrexham last weekend sealed a 3-2 victory. 'Playing at Wrexham, they were fantastic and even though there was less than 100 of them, you could hear them over the four and a half thousand home fans. That makes you feel so proud and keeps you going. Sometimes, in games, you feel that your body has had enough but, when you hear support like that, it kicks you on to another level. I know for sure that we're going to need that again on Saturday'".
Meanwhile "Braintree Town manager Danny Cowley feels that there will be plenty of people backing his team... The Iron are battling big-spending giants of non-league football, such as Tranmere Rovers, Grimsby and Eastleigh, for a spot in the top five... and Cowley feels there will be a lot of fans around the country behind their bid.
'We are still the smallest club in and around the play-offs when you compare ours to the resources that the likes of Eastleigh and Tranmere have,' he said. 'So, 100 per cent, we are still the underdogs and we are really proud of the players and what they have achieved this year. I like to think that we have given every small club hope. We have had a lot of support from the non-League fraternity this year and the amount of good wishes we have had from people outside the club has been overwhelming.
'I think we've given everyone in football hope. We feel we are fighting for small clubs. In a world of football that can governed by money, we are fighting for all small clubs who don't have the financial support that clubs who are normally in this position have'".
And the Green Un adds that "The small-budget Essex part-timers head into their final match of the regular National League season on Saturday needing just a draw... to confirm a play-off place. If they went on to secure promotion via a play-off final at Wembley then they would join already-relegated Essex neighbours Colchester United in League Two next season.
This is a club that was playing in the Eastern Counties League at the start of the 1990s alongside the likes of Cornard, Felixstowe and Stowmarket. Now they are beating the likes of Tranmere, Grimbsy and Wrexham, the players still managing to fit in jobs which include taxi driver, support worker and personal trainer. Danny Cowling's squad have covered more than 2,500 miles on the road in the last month. When they got back from a midweek match at Barrow recently, the majority of players got off the coach at 6am and went straight to work.
'We are on the verge of something truly remarkable,' enthused [chairman] Harding. 'Just like Leicester in the Premier League, ours is such a refreshing tale. We have no prima donnas, no sugar daddies backing us, but an incredible unity and togetherness. When we won the Ryman League in 2006 everyone said "Braintree are punching above their weight, they'll go back down". It was the same when we won the Conference South. We started this season, once again, as many people's favourites for relegation. How wrong were they?'
Harding, who took over at Cressing Road in 2003, said, 'We've shown that the non-league pyramid system does work and that you don't have to get hundreds of thousands of pounds into debt to make progress. As a business we turn over around £350,000 a year. Cheltenham received twice that amount as a one-off parachute payment after being relegated from League Two. Forest Green Rovers made a £2.9m loss last year which is more than 10 times our entire playing budget! We have players on £150/200 a week, sensible amounts.
'Our overriding principle has been to try and play at the highest sustainable level. We have never pretended to be something that we're not. We are a reasonable sized market town in Essex, but we believe that this town could sustain a Football League club.'"
The referee at Braintree is Mr Oliver Yates of Staffordshire. His previous matches involving Altrincham include...
Lincoln City 1 Altrincham 1, 22 September, 2015
Altrincham 1 Boreham Wood 0, 21 November, 2015
Eastwood Town 1 Altrincham 6, Saturday, 21 April, 2012
To ensure arrival at the ground in good time for the Braintree Town v Altrincham match this Saturday, for what is expected to be a well-attended game,
it has become necessary to bring forward the previously published departure times. The revised times are now as follows...
The Vine, Sale 11.10 am
The Hare & Hounds, Timperley, 11.20am
Altrincham Leisure Centre, 11.25am
Altrincham FC, Moss Lane, 11.30am
These times and other details are also to be found on the Away Travel page.
Earlier, Altrincham FC announced that "As a gesture to our supporters and a way to maximise our support down in Essex, chairman Grahame Rowley has kindly offered to cover the cost of the coach hire to Saturdays game at Braintree.
Altrincham FC is pleased to announce that "As a gesture to our supporters and a way to maximise our support down in Essex, chairman Grahame Rowley has kindly offered to cover the cost of the coach hire to Saturdays game at Braintree.
A larger 49-seater executive coach has been booked. This means that Robin's fans can travel for free to the game to get behind the team as they have so well all season. If you haven't already booked on then please contact the club office with your name and contact details to be added to the list (subject to availability).
As with all official TASC travel, the coach is family friendly and conveys passengers of all ages. By law, and policy of TASC, alcohol is not permitted on the vehicle without exception. Please only book your place if you are certain of travelling.
We look forward to seeing as many Robins' fans down there as possible as we look to the players to complete their part of the equation for Saturday with your support.
Please contact the club on 0161 928-1045, after 10am, to book a place".
Timings are on the Away Travel page.
According to the
BBC
"Forest Green Rovers' chairman and owner, Dale Vince, has said former manager Ady Pennock was sacked because the team 'were likely to fail in the play-offs'. Pennock, who guided the club to second in the table, was dismissed one week before the National League play-offs, after seven matches without a win.
'It was in order to give us our best possible chance in the play-offs, given our form in the last seven or eight games', Vince told BBC Points West. 'It's the opposite of a gamble.' Vince continued, 'In a way, I see it as giving us a chance, because I felt we didn't really have a chance the way that we were heading into the play-offs. Our feeling was that we were likely to fail and our manager couldn't turn it around, wouldn't be able to. It was a big decision but we feel it is the right thing to do. Our form has been poor. At another part of the season it would have been different.'
Caretaker manager Scott Bartlett admitted it was a 'shock' to take the reigns of the Gloucestershire club 'out of the blue'. 'It is a unique situation that we're in,' said Bartlett. 'It's about asking (the players) to give us an extra 10-15% on what we've seen in the last three or four weeks. If we can get that, then we're looking in good shape.'
Vince added that the club had already received expressions of interest regarding the vacant managerial post but would not be drawn on whether or not an appointment would be made before the end of the season".
The Macclesfield Express "John Askey has expressed his concern for Macclesfield Town's future after suggesting the club could go bust if they don't receive investment soon. The Silkmen have operated on a limited budget dwarfed by some of their National League rivals over the last few seasons.
So far, under Askey, the club has managed to hold their own in the division, though their ambitions of challenging for a play-off place have fallen short two years running. The manager believes the squad is over-achieving but asking them to do that year in, year out is a dangerous ploy. And Askey believes relying on such a small budget could catch up with Macc next year and he suggested the club could seriously struggle unless investment is found soon.
'My worry is that one of these seasons it's going to take its toll. We won't get the results and people will blame me for it so I'll get the sack and the club will probably go under,' he said. 'In the last three seasons we've done really well but it can't keep happening. It's like trying to plug a dam, you can't keep doing it time after time, one year it will tell.'
The Silkmen overspent during Steve King's spell in charge, which started in the summer of 2012. His ill-fated tenure ended in April 2013 and Askey took the reins. However, he has never been given the same financial backing King enjoyed. Former vice chairman Andy Scott attempted to buy out owner Amar Alkadhi in the summer of 2014 but Mr Alkadhi, conscious of the Conference's deadline for the deal to go through and concerned the club could be expelled from its Premier and regional divisions, retained control...
'The budget next season will be the lowest in the league and it probably was this season as well, so take from that whatever. People might think I'm joking about that and making things up, but it is the lowest in the league. It's as simple as that and until we get either a few local businessmen who would be prepared to support the football club and put a decent amount of money in, or we get somebody with a lot of money coming in and taking the club over, then it's going to be a struggle...
'I've spoken to the players and they all want to re-sign but until we start talking to them properly about money then we won't know what will happen. Obviously we want to try to keep them together and add to the squad with better quality but we're just waiting around to see who is left and trying to take from the leftovers'".
---
28 April 2016
The
Football Conference
reports that "Obi Anoruo's 118th minute header fired Stockport County to a 2-1 victory over National League play-off hopefuls Tranmere Rovers to secure the Cheshire Senior Cup for the Hatters for the first time in fifty years.
Earlier in the match John Marsden [had] opened the scoring after firing in from close range, but Tranmere equalised to take the game into extra-time. It was County boss Jim Gannon's third Cheshire Senior Cup final in three years, and his second win".
Tranmere Rovers add that "A young Tranmere side battled resolutely throughout, with Luke Pilling, Liam Hogan, Matt Hill, Jack Mackreth and Liam Davies included in the starting line-up. After a goalless first half, Stockport took the lead early into the second half... The lead was short-lived as Rovers equalised when a deep cross from the right by Davies was fumbled by the County goalkeeper and Sam Ilesanmi took a touch, swivelled and fired home from six yards.
No further goals before the end of the 90 minutes meant extra time. Hogan and Hill were replaced by Tom Williams and Jay Galloway and Ilesanmi had a chance to give Tranmere the lead in the first additional period. County pressed hard for a winner, and that pressure finally told with a minute remaining as Obi Anoruo turned the ball home from close range.
Tranmere's squad included none of the squad which played in last Saturday's National League game and comprised, Pilling, Hulley, Hunter, Lucy, Hogan (Williams), Hill (Galloway), Mackreth, Askew, Omotola, Davies, Ilesanmi. Subs: Ramsbottom, Akpan, Medlen."
A surprise announcement from
Forest Green Rovers
states that "Rovers have made the 'difficult decision' to part company with manager Ady Pennock ahead of the National League play-offs after a run of seven games without a win.
Despite finishing the regular season in second place, Rovers missed out on automatic promotion after recording just one win during the final two months of the season leading up to Saturday's remaining fixture against Dover Athletic.
Forest Green Rovers' chairman Dale Vince said, 'it was a difficult decision just a week out from the play-offs after Ady had taken us to our highest placed finish in the National League. However, as a club, we felt we needed to make this change, in order to give us the best chance of succeeding in the play offs. We thank Ady for his efforts while at the club and wish him well in the future.'
Forest Green Rovers' Academy manager and former first team captain Scott Bartlett will take over as caretaker manager. Pennock joined Forest Green in November 2013, replacing previous manager David Hockaday who had been at The New Lawn for over four years. He guided FGR to a fifth -placed finish last season, before losing 1-0 and 2-0 in the play-off semi finals against eventual promotion winners Bristol Rovers".
Earlier news from the Gloucester Citizen told us that "Forest Green midfielder [and ex-Alty loanee] Sam Wedgbury is not expected to play again in 2016 after snapping his anterior cruciate ligament.
The 27-year-old went straight to hospital after suffering the injury in the 1-0 defeat at home to FC Halifax Town on Saturday and a scan today revealed the extent of the damage, which means he will now have to go for an operation on his knee and will be out for around seven to eight months. Wedgbury has been a regular in the side since joining Rovers from Stevenage two years ago, making 33 starts to help them achieve a second-place finish in the National League this season, and the news comes as a bitter blow with the play-offs looming.
'It's terrible for us and terrible for him as well,' said Rovers' manager Ady Pennock. 'I'm devastated for him. Sam's been great for two years. Even on Saturday I got emotional because I knew at the time it was similar to what I did. I had to sit down for a bit and unfortunately it's been confirmed. This is the worst part of football. He will be missed as a player and in the changing room but he's still a part of what we want to do this season and hopefully he'll still be around.'
It brought back painful memories for Pennock from when he suffered the same injury while he was at Bournemouth... Pennock said, 'He will have to be mentally strong. Mine was a long time ago, I was 23, and operations are much better now and recovery times are much quicker.'...
Pennock is confident that his side will be able to cope without Wedgbury with the first leg of the play-off semi-final coming up next Wednesday. 'Sam has done that role for two years so he will be a loss,' said Pennock".
Contrasting managerial news comes from Southport where "Andy Bishop is the new Southport Football Club manager. The ex-Wrexham, York City and Walsall striker takes up his full time appointment at the Merseyrail Community Stadium after a highly impressive tenure as caretaker boss, navigating the Port to 15th place safety in the Vanarama National League. Bishop's immediate success, style and demeanour put his stamp on the role and he had to fight off a very competitive field of external applicants striving for the Southport hot seat.
Chairman Charlie Clapham said, 'We have all been impressed with the professional way that Andy has grasped the opportunity. He is hungry and determined and I am looking to work with Andy over the long term. I want him to take us forward from a good base. Andy will be one of the youngest managers in senior professional football and I am very pleased that he has taken the opportunity. We are craving for stability and Andy can supply us with that and I firmly believe we will have success ahead.'
Andy Bishop stated, 'I am delighted to have been given this opportunity. I told the Chairman I wanted the job a couple of weeks ago and he has been great to work with. All the players have been very positive at a crucial time in the season. I can now build for next season and aim to take us forward. I've really enjoyed every aspect of management so far. My target is to improve on this season and let's see where it takes us. I've played a lot at this level so I know what it takes. Southport is a club with real potential and ambition.'
Andy Bishop will be introduced onto the Merseyrail Community Stadium pitch to the club's supporters before kick off on Saturday".
In "The Integro Doodson League Cup Semi Final" for EvoStik League clubs, Marine beat Colwyn Bay 4-1 with one of the scorers for Marine being Andy Owens.
---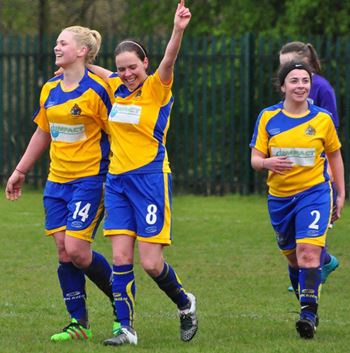 Altrincham FC Ladies' manager Keith Edleston writes about his team's 6-0 win over Liverpol City Ladies last Sunday. "A great afternoon of football down at Mersey Valley yesterday as both teams put in a shift and a half in pouring rain to make it a very entertaining match. Pre-match saw our junior team play Didsbury in the FA Girls' Football Week exhibition game and both teams were superb with the way they played the game. Afterwards the two team joined us to be mascots Alty were ours and Didsbury were Liverpool City's. Thanks go to Harriet,Anne and the girls from Liverpool who agreed to do this and I know it made both sets of girls very happy.
The final score was Altrincham FCL 6 Liverpool City 0, with goals from Liss Taylor, Kate Bryan, Laura Dodds (x2), Gail Simpson and Kye Brown. The Players' Player of the Match was Gail Simpson and the Manager's Player of the Match was Laura Dodds.
Thanks go to all our support, who have made it down to watch and cheer the girls on throughout a season in which, at times, it has been a tough one in our new league. But it has made us all a lot wiser and stronger for next season. Bring on 2016/17!"
Pictured, right, Gail Simpson celebrates her goal. Image courtesy of Keith Edleston.
Phil Taylor adds that "Altrincham FC Ladies ensured that we would not finish in a relegation position by beating Liverpool City Ladies. Many thanks to everyone who has supported us in any way this season and particularly to our hardy bunch of parents, partners etc. However, very special mention has to be made of our now regular supporters, especially Bill and Roger. Everyone connected with the Ladies is extremely grateful to you; your support, appreciation and encouragement are hugely appreciated".
Following the announcement that the Braintree Town v Altrincham match, which kicks off at 5.30pm next Saturday, will be televised by BT Sport, Altrincham FC confirms that the match will be shown on the multiple screens of the Community Sports Hall. Further details of the arrangements are to follow.
Alty snapper Mike Ripley writes that "Dan Martell and I are cycling the 225 miles to Braintree for our last game of the season, in order to raise money for Prostate Cancer UK and Altrincham Football Club Community Sports. We will be doing this over two days, starting with 140 miles on Friday 29th April (my birthday, of all days!) and completing the ride on Saturday 30th, after Dan (and possibly I...) have also taken part in a 5km park run, hopefully arriving in time for the later kick off.
For information on what we are doing, and why, and to show your support please visit our Just Giving page here.
The
Sale & Altrincham Messenger
informs us that "A bumper crowd turned out for a charity football match in memory of a little boy from Bowdon Vale. There were around 3,000 spectators at Altrincham's J. Davidson Stadium at Moss Lane on Sunday, eight months after 10-year-old Isaac Maley died, after suffering a severe asthma attack.
Former Bowdon Church School [boy] Isaac was a keen football player and so his parents and friends organised the fundraising day, called 'There's Only One Isaac Maley', as a tribute to him. The celebrity match and fun day raised £34,000 for the charity 'Once Upon a Smile', which has helped to support Isaac's parents, Vicky and Andrew.
Football stars Denis Irwin, Paul Dickov and Bryan Robson turned out for a team led by Isaaac's dad, Andrew, against a celebrity team that included Emmerdale star Anthony Quinlan and Nico Mirallegro, from the TV series 'My Mad Fat Diary'. Isaac's mum, Vicky, said, 'Andrew and I are completely overwhelmed by the generosity and support from our community. The day meant the world to us. Standing on the football pitch and looking in to the crowds of people filled my heart with pride. Thank you'.
The match ended with Andrew's team taking the 'There's Only One Isaac Maley' trophy after a 5-4 win. There was also a junior match between Altrincham FC Tigers, Isaac's team, and Bowdon C of E, his school, which Bowdon won 2-1. To support the charity go to Once Upon a Smile.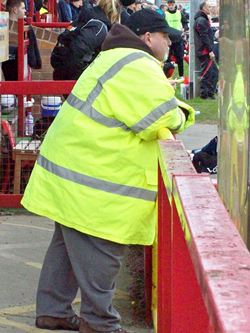 Altrincham FC salutes steward Steve Jameson, who is retiring after some 35 years of service to the Club. All at the J Davidson Stadium thank him for his magnificent effort. Steve is seen, right, at his customary location near the home players' gate onto the pitch, in an image courtesy of Ian Senior.
Jack Jolly, organizer of the Supporters' team for the annual clash with the Altrincham FC Staff writes that "We'll be doing the annual pre-match training session at Walton Park, Sale this year (where the supporters play their home games) on 27th April (next Wednesday) meeting at 6:15 and starting at 6:30. Changing facilties are available at the park.
Would those who are coming please drop me an email with your name age and playing position. You must have have be atleast 17 to play, and watch Altrincham FC, to be considered.
The actual game itself is on Friday 6th May, kick off will be around 7pm. It's £25".
In advance of their final day of the season clash with Altrincham, the
Braintree & Witham Times
says that "Danny Cowley is determined that he and his Braintree Town players will enjoy their time in the limelight this week. The Iron's 3-2 win at Wrexham on Saturday... means they need just a point from their final game of the regular campaign, against Altrincham at home on Saturday, to seal a top-five spot and stay in the race for promotion to the Football League.
A big crowd is expected for the live televised game, which kicks off at the Avanti Stadium at 5.30pm, and Cowley wants his players to embrace the occasion rather than be intimidated by any thoughts of what is at stake. However, he isn't underestimating the size of the task still ahead of his team as Altrincham will be desperate for points themselves as they battle against relegation.
'It will be our toughest game of the season, no doubt about it,' said Cowley. 'It will be and we've had a few tough ones this year, I can tell you. But this will be the toughest. Altrincham are a good team and they'll be in there fighting for their lives. We will dust ourselves down.
'It was important to enjoy the win at Wrexham, not too much, but we did enjoy it and we've now got our focus on Saturday. We'll enjoy it. We have to because we've worked so hard for it. If you can't enjoy these moments, then what do you do it for? So I'm determined that we will embrace it and really enjoy it.'
One concern for Cowley ahead of the game against Altrincham is the fitness of midfielder Alex Woodyard, who went off at Wrexham after taking a knock to his ankle. Cowley added, 'Woody has got an ankle injury that doesn't look great and we're having to monitor that one. We're waiting until it settles down.'"
The J Davidson Stadium hosted the Cheshire County Under-21s League cup final on Tuesday night. Curiously the game was between non-Cheshire sides, Irlam and Southport, and the prize for the winners was the Richie Bentley Catering League Cup, sponsored by the Alty FC official caterer.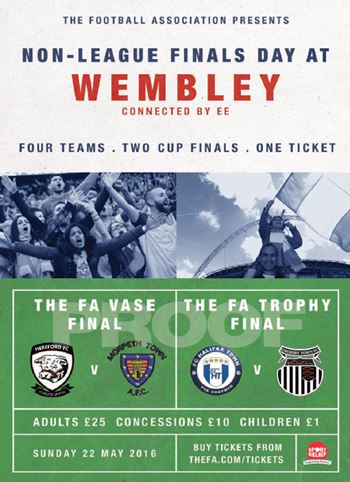 The FA Vase Final is Hereford FC v Morpeth Town and The FA Trophy Final is FC Halifax Town v Grimsby Town. Details are shown, right..
In the Evostik League Premier Division Promotion Play Offs, Semi Finals, the results were...
Blyth Spartans 3-4 Workington
Salford City 3-1 Ashton United
From the EvoStik League we learn that "Hyde United are inviting potential candidates to come forward and formally apply for the hot-seat at Ewen Fields. The supporter-owned Tigers are looking for a manager with the right 'experience and resolve' after caretaker boss Darren Kelly stood down after Saturday's final day of the season.
Despite slipping to a third successive relegation under former Oldham Athletic and FC Halifax Town boss Kelly, who replaced Gary Lowe at Easter, officials say the successful candidate will benefit from exciting plans currently being put in place to transform the club's financial position, integrate their successful academy and develop a community programme to increase supporter involvement and boost attendances next season.
The Tigers have set a closing date of 7pm this Friday (29 April) for potential candidates to contact them and express their interest in the post via e-mail.
---
26 April 2016
Ian Senior confirms that the "Final figure raised from auction/selling of the purple Cancer shirts, produced for the game against Bromley, is £2,420. Now all donations have been received from those who bid and those who bought replicas, We (Altrincham FC) have raised £2420 for a local children's cancer charity; a figure all can be proud of I think. Thanks to all who supported the event."
The April winners in the AFC Friends' monthly draw, which took place on Saturday were-
*32 G & J Muir £100
*37 D Jones £50
*105 Andy Howe £35
*107 L R Wilkinson £15
Details of the annual Altrincham FC Beer festival are shown, right...
The
BBC
reports that "Aldershot Town manager Barry Smith will leave the club at the end of the season after deciding to not renew his contract. The 42-year-old Scot joined the Shots last April and guided the side to safety this season.
'I had to make a decision for my family,' he said. 'The board have given me their full backing throughout the season but also have understood why I needed to make this decision to return to Scotland.'
The former Dundee and Alloa boss has won 15 of his 45 league games at Aldershot and will take charge of the side for the last time at Bromley on Saturday. The Hampshire side are 16th in the table...
In contrast, a manager who hopes to be remaining for the coming season is the subject of another piece from the BBC, which states "Torquay United manager Kevin Nicholson hopes he will be able to stay in charge of the club when it is taken over. A deal is set to be finalised between the current board and entertainment firm Gaming International to sell the National League club.
Nicholson took over in September and has kept the team in the division, despite being 12 points from safety in the middle of February. 'I would like to be the manager here next year', Nicholson told BBC Devon. 'I would like to be given the chance to move forward. But new owners may have new ideas and, if they have, then I'll carry on being a Torquay fan and hope my chance comes again.'
Nicholson paid tribute to chairman David Phillips and his team, who took over the club in June 2015 after millionaire former owner Thea Bristow sold her stake. 'They're coming into a club that's on the up, they're coming into a club with a solid foundation now,' said Nicholson. 'The chairman and the board that have taken over and given this club life-support for the past year have done a fantastic job. We've been fortunate enough to make sure that the club is in the league it needs to be in for now, because this is a League football club, but they're coming into a club now that they can do with as they wish'".
Boreham Wood announce that "As we now enter the most important week in Boreham Wood Football Club's 68-year history, the club, the players and everyone associated with us are full of expectation and excitement. We are so thankful for the messages of support and good luck from our supporters from all round the world in the last 24 hours. We are gobsmacked by how many Wood supporters are following us from afar, from Australia to the USA, from South Korea to the Middle East across Europe and all around the UK.
We're also happy that you all understand that we are still very much the underdog club in this division, hugely overachieving. That said, our belief is strong, our players' belief is stronger than ever and the squad is fully fit and raring to go. We have ensured throughout that our dressing room and our supporters have stood together especially in the last few months. We have re-focused ourselves and side-lined distractions and we have now given ourselves a chance of survival.
So we have the same repeating message to our supporters. We really are going to need your continued support for the final league game at Welling next Saturday and we are urging you all to find a way to get there. TRY, TRY, TRY to get yourself, your friends and your family, down to Welling United for this incredibly important relegation battle. We know we need a performance on the pitch and we need your vocal support on the terraces".
Elsewhere, the Daily Post tells us that "The hunt for a play-off place, and also the race to avoid relegation from the National League will go to the final day of the season. While Wrexham's race to finish in the top five ended following a heartbreaking 3-2 loss at home to Braintree Town on Saturday, the results means the Iron are all but guaranteed a place in the play-offs.
Danny Cowley's side need only a point in their final game of the season at home to Altrincham to ensure a fifth place, while even a defeat may be enough as long as Tranmere don't win or Eastleigh don't win with a scoreline of more than three goals.
Tranmere gave themselves a chance of the play-offs with a late 1-0 win at top five rivals Eastleigh, James Norwood scoring in the 87th minute. The result sees them three points behind Braintree, but with a better goal difference meaning a victory for them on Saturday at home to Grimsby and a defeat for the Iron would see them overhaul Cowley's side.
Eastleigh meanwhile need both Tranmere and Braintre to lose, but must beat Woking at Kingfield Stadium with a healthy scoreline as they have the lowest goal difference.
The battle to avoid the drop is also heading into the final day of the campaign with any two of four teams still in with a chance of the drop. Altrincham... are the lowest of the four sides still in danger, and need to beat Braintree at the Avanti Stadium on Saturday if they are to stand any chance of avoiding the drop... Guiseley host a Torquay United side already safe from the drop after an end of season revival...
Halifax remain in danger despite beating second placed Forest Green Rovers on Saturday, Josh MacDonald on target. The win means Halifax, who entertain Macclesfield on Saturday, are one point outside the bottom four, but could still be caught by both Alty and Guiseley on the final day".
Over the Pennines, the Yorkshire Evening Post reports that "Guiseley plummeted into the National League drop zone after Saturday's 1-0 loss at relegation rivals Boreham Wood was made even worse by a crucial win for FC Halifax Town.
The Lions now need at least a point at home to Torquay on the final game of the season and even a win might not be enough if results do not go their way. Guiseley knew that victory against fellow drop battlers Boreham would have guaranteed survival and began brightly... It was [Wood's] Sam-Yorke who opened the scoring after 23 minutes... Guiseley started the second half well with Adam Boyes putting pressure on the hosts' defence but Boreham Wood were able to deal with the danger...
Guiseley are now fourth bottom, and one point behind both fifth-bottom Halifax and sixth-bottom Boreham Wood who also have a far superior goal difference. Boreham visit relegated basement club Welling on the final day while Halifax, whose goal difference is marginally worse than Guiseley's, are at home to 10th-placed Altrincham [!!It is Torquay United actually]...
Halifax jumped out of the drop zone with a fine 1-0 win at second-placed Forest Green Rovers as Shaquille McDonald's 70th-minute winner ended a seven-hour Shaymen goal drought.
In National League North, Harrogate Town failed to guarantee their play-off spot after a 2-1 loss at AFC Fylde who now sit second... Fourth-placed Town host relegated bottom club Corby Town on the final day. Mid-table Bradford Park Avenue drew 0-0 at second-bottom Hednesford Town and host sixth-placed Nuneaton on Wednesday. Nuneaton are the only team who can take Town out of the play-offs and need two wins from their last two games to stand any chance."
Stockport County
remind us that "County's Cheshire Senior Cup final against Tranmere Rovers take[s] plac[e] tomorrow night (Tuesday April 26). Kick-off will be at 7.45pm. The final, which will still be played at Nantwich Town, was originally scheduled for Thursday April 28, but this would have given both teams just 48 hours' recovery before their weekend league fixtures."
News of The Vics' former chairman came recently in the Runcorn & Widnes World, which reported that "A jury has found the former owner of Northwich Victoria guilty of conspiring to supply class A drugs. James Rushe, 54, of Runcorn Road, Moore, was standing trial accused of conspiracy to supply cocaine, a Class A drug. He was in the dock alongside co-defendants Mark Fishwick... and Andrew Fetherston... All three men denied the charge. But Fishwick and Rushe were found guilty by the jury... after three hours of deliberation...
Rushe and Fishwick will be sentenced on May 6 with the judge telling the pair they would face a custodial sentence. Recorder Simon Medland QC said... 'I will send you both to prison for a long time. As an act of mercy I am extending bail to allow you to put your family and business affairs in order.'
Recorder Medland reminded the jury that the case against the three men was part of a wider investigation by the North West Organised Crime Unit (Titan) into the large scale supply of cocaine and other controlled drugs in the region and beyond... Medland said... 'They're not interested in drugs themselves but attracted by the substantial amounts of money available by being in this trade'... Rushe and Fishwick have been granted bail until they are sentenced on the condition that they each reside at their home address, that they will be electronically tagged, that they abide by a 9am to 6am curfew, that they surrender their passports and do not apply for any documents that may enable them to leave the UK and that they report to their nearest police station between noon and 1pm on Mondays, Wednesdays and Fridays". According to the Vics' website the current owner (100%) of The Vics is Martin Rushe, son of Jim.
---
25 April 2016
The highlights of the Alty v Welling United game have been made available by
Alty TV
.
From Welling United we learn that "Mark Goldberg's first game under his new regime ended in the Wings' heaviest defeat of the season. With just one training session with the squad ahead of the game, Goldberg after the game said he had 'learnt a hell of a lot about the squad from this defeat' and urged The Wings' faithful to 'come on this journey with us'.
Welling started brightly and Ade Yusuff had a few half-chances, the first of which taking a deflection enabling an easy save for Tim Deasy. Yusuff then shot straight at Deasy when perhaps he should have done better.
Altrincham, needing a win to avoid relegation themselves, slowly got into stride and Michael Rankine saw a shot blocked by captain Kevin Lokko. Rankine was then played clean through from a lovely ball by James Lawrie but fired over. Mid way through the half though the home side took the lead, Josh Ginnelly wriggling through the Welling defence before cooling poking the ball home [?].
This calmed the Robins nerves and shortly after they were rewarded a dubious penalty. Sinnott firing a cross at Ian Gayle. The ball striking his arm but whether this was intentional was very harsh. Rankine stepped up and somehow managed to beat Rodak with a scuffed effort that went through the body of Rodak.
Straight after half time James Lawrie put the game beyond Welling making it 3 nil. After breaking the offside trap his effort scuffed into the ground beating Rodak via the post. It was all Altrincham as The Wings disintegrated and they made it 4-0 when Damian Reeves headed home Sinnott's cross after a lovely move.
Ibrahim Kargbo struck a fierce effort just over from 25 yards. But in the last minute of injury time, Altrincham made it 5-0 when Rankine lobbed Rodak after being played clean through.
So a difficult start for new man Mark Goldberg, but the long term future looks a lot brighter for The Wings heading into next season".
The BBC Possession Alty 54% Welling 46%
Shots: 19 v 8
Shots on Target: 7 v 3
Corners: 2 v 5
Fouls: 12 v 14
Thanks are due to Steve Foster and his TASC colleagues for all their work in organizing the annual TASC Race Night at the Football Club, which took place after Saturday's match against welling United. This raised important funds for the Club and thanks are also due to those who supported the event.
During the TASC Race Night, which took place in the Community Sports Hall, time was set aside for a "Fans' Forum" at which supporters were invited to put their questions and comments to the Board of the Football Club. The Board members who fielded the questions comprised chairman Grahame Rowley (GR), deputy chairman Andrew Shaw (AS) and Board members, Paul Daine (PD), Derek Wilshaw (DW) and Neil Faulkner (NF). Brian Flynn (BF), chairman of TASC, compered the session.
GR opened the event with a brief statement. He paid tribute to departed manager Lee Sinnott (LS) describing him as "One of the best managers we have ever had here". Lee had shown great dedication and, not least, had spent five years driving across the Pennines to and from Altrincham from his Hull home several times a week to manage the side. GR explained that LS's departure had arisen because "Lee had had enough". He confirmed that LS was not sacked but that it was an amicable parting of the ways.
GR went on to say that he and his family had since suffered "six weeks of abuse and slander" from certain parties on the "Fans' Forum" and other social media and that he had found this behaviour understandably "disgusting". "I love Altrincham FC but I love my family more", a clearly upset Altrincham FC chairman added. GR revealed that, as a result of the abuse, he had tendered his resignation at the Board meeting last Wednesday but that the Board had asked him to continue.
GR also corrected the misinformation put out on social media about Altrincham FC Reserves and the role of Chris Rowley in that team's operation. GR explained that Chris and Craig Malbon had set up the Reserves "at no cost to the Football Club, not a penny". The worth of the Reserves had been shown, he continued, by the emergence into the first-team squad of players such as Callum Williams, Sam Heathcote, Adam Savill and Joel Swift.
GR then moved on to address ill-informed criticism of the Community Sports Hall (CSH). After underlining his pride in the building of the CSH facility, GR stated that "The Football Club has put no money into the CSH this season".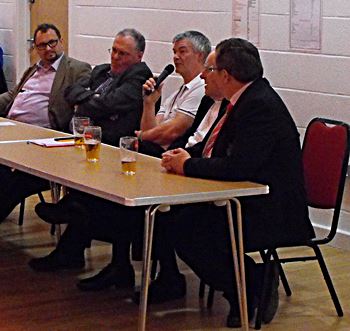 Right: The Altrincham FC Board answers questions at the Fans' Forum.
The chairman went on to say that "This year's playing budget has exceeded last season's". This was largely due to the need to cover for four serious and long-term player injuries. All four players had been paid throughout the season so covering for them was a significant extra cost. There had also been the loss incurred by the Anthony Griffith debacle.
Before handing the discussion to the floor, GR paid tribute to Peter Foster and the colleagues who had brought about the successful completion of the CSH. To mark this, Stacey Rowley, joint manager of the CSH, made a presentation to Peter, which was accompanied by generous applause from the floor.
QUESTIONS
In response to the first composite question, which asked about medicals for new signings, crowd segregation arrangements and the perceived need for an e-mail newsletter for supporters, GR agreed that the Anthony Griffith signing had been a "rushed job" and "a big mistake". [Griffith signed for the club and was then declared unfit to play football at this level and, following PFA intervention, had had to be paid off with a substantial sum which ate into the player budget]. As for crowd arrangements GR stated that the Club had learnt its lesson and errors of early season had not been repeated in terms of home supporters' accommodation on the Popular Side. He was also happy to initiate an e-mail newsletter.
The next question asked for details of plans to attract investment to the Club. GR explained that a lot of hard work went on to this end and it was only through the efforts of Barry Pond and others on the Board and elsewhere that we had sponsorship for the Club.
GR explained that in 2014-15 only 28% of the Club's income came through the turnstiles; 22% derived from commercial activity and 24% in total came from donations. As for publicity for donations, many donors wished to remain anonymous but Bill Waterson had agreed to publicize his recent donation, in the hope of encoraging others to follow suit.
The Board was then criticised for "not making much effort to stay up" by allegedly not boosting the budget in 2015-16. As had already been stated, it was repeated that there had been significant extra expenditure to cover the injured players and their loanee replacements.
Questioned about the appointment of Neil Tolson (NT) as caretaker after LS's departure, AS said that, when LS left, there were "Not 25 Jose Mourinhos out there waiting for his job". As was later explained, the Board took a collective decision that the playing staff was of a standard that could keep us in the division and that appointing the acting assistant manager as caretaker manager was considered the best option. AS pointed out that Chester FC had done the same after Steve Burr's departure, i.e. made an internal caretaker arrangement.
AS added that bringing in a new manager and his entourage at that stage of the season could have seriously disrupted the existing dressing room. A questioner criticised the club for putting loyalty above a "hard-headed business call" in going for an internal caretaker appointment. GR explained that, as soon as LS had left, the Club had received calls from people seeking his job but the Board concluded that the standard was not adequate to justify a "knee-jerk response" at that point. The Board preferred to make a measured assessment and seek an appointment for the longer, rather than short, term.
After DW had underlined that it was a collective Board decision to appoint NT, GR revealed that the Club was going to interview prospective managers during the coming week.
Further questioners repeated the earlier expression of concern in some quarters about the caretaker appointment. AS accepted that the Board "is fallible" but insisted that it was by no means definite that a new face would have done any better than the team has done to date. [For comparison: Alty had 35 points from 35 games before the caretaker appointment and has taken 9 points from 10 games since. They had conceded 58 goals from the first 35 games and have conceded 12 from the subsequent 10 fixtures. They scored 34 goals in their first 35 matches and 14 in the ten games since then].
A questioner returned to the subject of the announcement of the caretaker appointment. GR conceded that he had written the announcement text and that, in hindsight, he should have consulted with his Press Officers. He explained that "I wanted to issue a statement that LS agreed with. I had a lot of respect for him". PD reiterated that the Board acted collectively and that it was not GR's decision alone. "We made the best decision we could" added Paul. AS added that "There was no hidden agenda".
Asked if the club would go "all out" for promotion if relegated next week, GR responded that "We certainly will".
When, once more, a questioner queried the caretaker appointment, GR stated that "Neil has taken on the job and has done his best with a lot of hard work". This was met with applause from the majority in the CSH.
Returning to the subject of a permanent managerial appointment, GR said that he hoped to have a decision "at the end of the season or very soon afterwards". He confirmed that four players remain contracted for 2016-17. These are Sam Heathcote, Jake Moult, Simon Richman and Shaun Densmore.
It was then suggested by a questioner that the Club should not dwell on its "Part-time and we are proud of it" status but should, instead, proclaim "We are Altrincham FC and have won the Conference twice, been to Wembley three times" and shout out its successes. There was repeated criticism of the club for advertising for second-hand mowers and similar items on the website.
Queries about the Club's shareholders elicited a response from GR who explained that the diversity of the Club's shareholding made it more difficult for those seeking to take over the club to get their hands on its assets to do so. GR reminded the audience that Carole Nash had put up 4,000+ plus shares for sale and that some 3,000 remained available.
When a questioner referred to Forest Green as being "in dreamland" after attracting a millionaire through an advert in the Financial Times, AS queried that term. He reminded people that it only takes a single large shareholder to withdraw or move on for an apparently wealthy Club to find itself in trouble. PD also pointed out that adverts in the Financial Times cost £10K which we cannot afford. He went on to explain that in his role as Chair of the Altrincham Chamber of Commerce, he, like other Board members, works to raise the profile of the Club and to attract new investment.
Asked about the Club's finances, DW explained that "We've got no debts. We pay our bills, we have no bank or brewery loans. We are completely solvent" despite having to increase our playing budget this season because of the injuries.
DW added that loanee players do not come cheap, even though we generally negotiate to pay them less than their parent club's full wages. He also said that, "Come 31 May 2016, we will be in the black"
GR told the gathering that there was a "worrying trend in fundraising income". In 2008-09 the Club raised £28K from fundraising but this is now down to £15K. People are not attending functions like they used to do. He made a plea both for supporters to attend these events and also to help run them.
In response to questioning about the absence of free tickets for juniors being offered in the local press, it was explained that the Sale & Altrincham Messenger is no longer produced in the town and that it will no longer run offers such as these.
In conclusion everyone was invited to support the team in its final game at Braintree. There will be an announcement about travel arrangements for this game in the near future.
Altrincham FC Reserves are on course for promotion as the
FA
reports on Saturday's result, Altrincham FC Reserves 4 Daten 1.
Their next game is on 27 April in the MCFA Saturday Trophy Final against Maine Road Reserves, followed on Saturday 30 April by an away league match at Egerton. Following that on 7 May at the J Davidson Stadium (3pm) Altrincham FC Reserves entertain Middlewich Town in a match which coincides with the Alty Beer Festival.
And it was also a good weekend for the ALtrincham FC Ladies who beat Liverpool City Ladies' Community FC 6-0 on Sunday at Mersey Valley. Their final fixture is next Sunday, 8 May, at home to Mersey Girls.
Altrincham FC Youth's remaining games are...
1/5/16 2.30pm away to AFC Fylde
3/5/16 6.30pm home to AFC Fylde at Hale Country Club
5/5/16 6.30pm home to Chester FC Youth at Hale Country Club
Braintree Town
announce "Reduced admission prices for Altrincham match.
For our final Vanarama National League fixture against Altrincham on Saturday, 30th April, segregation will NOT be in force. This game will NOT be all ticket. All spectators are reminded that this match kicks-off at 5.30pm.
However, with both sides needing points from the game, a larger than usual attendance is expected for the match.
Adult admission prices for the ground for this match have been reduced to just £15 and this game will therefore be a Category C fixture.
The Club will be opening additional turnstiles from 3.30pm on Saturday. For those wishing to avoid the queues to pay on the day (and use the ticket holders turnstiles 5 & 6) tickets will be available for cash only purchase in advance on Thursday evening from 7.30pm - 9pm in the Clubhouse at the Avanti Stadium.
Anyone wishing to sit should purchase their seat ticket either on Thursday evening or at the turnstile when they enter the ground, there will be no cash transactions within the ground for upgrades to seats.
Those spectators wishing to pay on the day should use the four turnstiles to the left of the clubhouse, numbered 1, 2, 3 and 4.
The Club are mindful of the limited parking we have available at the ground. Following the advice received from Essex Police, the Club have decided to charge for entry into the car park, with a flat rate of just £2 for all users. Essex Police have also suggested that the car park be closed prior to kick-off to ensure that there is no congestion between pedestrian spectators and vehicles. As a result, no vehicles will be allowed entry into the car park after 5pm.
The Clubhouse at the Avanti Stadium will be open to all spectators and access is from inside the ground.
For further information, please contact the Club on 01376 345617 or 01376 330976 or via e-mail.
Braintree add that on Saturday their win at Wrexham was "with a team performance that manager Dan Cowley described as 'Incredible, where every player worked their socks off for 90 minutes'...
Iron still need a point from their final game at home to Altrincham on Saturday to reach the play-offs.
'We know what we have to do, nobody is getting carried away,' said Cowley. 'This game against a top quality full-time side was really hard and we knew we would have to weather their pressure when they came back strongly against us. But, despite going behind after taking such an early first half lead, I know this group of players and that they would come back again and keep their composure,' said Cowley...
'To come to such an imposing former Football League ground in front of a decent crowd of fervent fans with vocal support, the players put in a fantastic performance', he continued... 'It was also good to hear our supporters in such vocal support, particularly in the second half when we were defending hard yet pushing hard for a winner and the players really appreciated it'...
So it's all down to next Saturday's final home game of the season again Altrincham (note the kick off is 5.30pm like all National League games on the day).
Braintree Town: King; Long, Fry, Phillips, Habgerham; Brundle, Miles (Paine 60), Davis, Woodyard (Sparkes 68); Akinola, Cheek (Cardwell 74). Unused subs: Clerima, Edgar. Attendance: 4,507 (including 79 from Braintree). Referee: Adrian Holmes."
More news of our next opponents comes from the BBC, which reports that "Mitch Brundle put Braintree on the brink of the National League play-offs with a late winner that ended Wrexham's promotion hopes. The visitors stayed fifth, three points clear of Eastleigh and Tranmere after Rovers won at the Spitfires. Michael Cheek scored Braintree's opener before Simon Heslop levelled and Lee Fowler put the hosts ahead.
Cheek added a second before the break and Brundle struck to keep Braintree's promotion hopes alive.
Wrexham manager Gary Mills told BBC Radio Wales, 'We always knew we were rank outsiders to do it (make the play-offs), but it's disappointing to not win the game and go into it with a chance next week. When we went 2-1 up we started to dominate the game a little bit, but then we go and give away a stupid goal again and it changes the whole mental state of the players. It was a tough afternoon. We've given away some sloppy goals, which I've said too many times this season'".
The Braintree & Witham Times adds that "Danny Cowley believes what his Braintree Town team have achieved this season is 'nothing short of a miracle' as they stand on the verge of securing a place in the Vanarana National League play-offs...
The Iron need just one point from their final game of the season, against Altrincham at home next Saturday, to seal a top-five finish and a place in the play-offs for promotion to the Football League. It is a phenomenal achievement by Cowley's part-time team amidst big-spending full-time opponents...
He said, 'It was a great win for us – an unbelievable win. It was a tough game (at Wrexham) and a bit of a rollercoaster of a football match but it was nice to get on the right side of it. We had a fantastic start, which was really beyond our wildest dreams. It was a great goal from Michael (Cheek) and I thought we did really well early on, but we conceded a poor goal...
'Wrexham are a terrific side. They pose so many questions of you defensively and they make the pitch so big. They caused us a lot of problems and hurt us by getting in behind us in the first half... We were pleased with the equaliser just before half-time, but we were pleased to hear the half-time whistle.
'We managed to re-organise at half-time and I thought we were much better in the second half. We were much more in control of it. To a man, I thought we were magnificent.. We should be mightily proud that we are sitting nine points ahead of Wrexham. That's an unbelievable achievement for our football club... What we have done this season has been nothing short of a miracle'".
Also from the Braintree & Witham Times we read that "Mitch Brundle once again scored a decisive Braintree Town goal as the Iron took a huge step towards a finish in the Vanarama National League play-offs. Having scored what turned out to be the winner at Gateshead seven days previously, the 21-year-old former Bristol City trainee fired in an 81st-minute goal to wrap up a 3-2 victory at Wrexham...
Braintree manager Danny Cowley was able to name an unchanged side from the one that started the 3-2 win at Gateshead the week before and his team repaid him with an excellent start... With a win being equally important to both sides' hopes, both pushed for a third goal after the break, but while Wrexham were disappointed, Braintree were jubilant. It didn't come until nine minutes from the end, but it was worth waiting for for the small contingent of Iron fans among the crowd of 4,507.
And it was Brundle who proved to be the hero once again as he drilled the ball into the top corner to leave Braintree's fans dreaming of a place in the play-offs."
The final two relegation places are between Altrincham, Guiseley, FC Halifax Town and Boreham wood, though Alty cannot reach the Wood due to their much superior goal difference. The
Telegraph & Argus
reports that "Guiseley will have to beat Torquay United at Nethermoor next Saturday and hope other results go their way to salvage their status after a slender defeat at fellow strugglers Boreham Wood dumped them into the relegation places for the first time this season...
Delano Sam-Yorke's 23rd-minute strike into the top corner was enough to see Boreham Wood leapfrog the Lions, and a surprise 1-0 win for FC Halifax Town at high-flying Forest Green Rovers led to the Shaymen hauling themselves out of the drop zone at Guiseley's expense... The Lions looked nervous and lacked energy and drive in the first half. Whatever manager Mark Bower and his coaching staff said to the players at half-time worked wonders.
Guiseley dominated the second half and created chances but found home keeper James Russell in tip-top form....
A dejected Bower said, 'I'm disappointed on so many different levels but I've been saying for the last few weeks that we can't rely on other results and that we had to win games. In that second half, we had so many chances to come back and not just draw but win it. We could have been three or four nil up but again we've had an absolutely scandalous refereeing decision on the penalty. Everybody in the ground has seen their lad handball it and how he cannot give that is beyond me.
'But again we should have scored goals and, if you don't take your chances, you find yourself in a situation like we are. We are in the bottom four and we've not been there all season so it's a hard one to take. The only thing we can do is go and win next Saturday and hope things go our way elsewhere....
'We had a few words at half-time and came out much better. We could have been 2-1 up within a few minutes of the second half kicking off. We have just got to take our chances though. Their keeper has pulled off a couple of 'worldy' saves and we've hit the bar and had a penalty denied. If we can start like that against Torquay and play as well as we did in that second half at Boreham Wood then we will be able to win'".
From Wales, the Daily Post supplies "Rob Griffiths's verdict as the Dragons' promotion campaign comes to an end at the Racecourse. Wrexham's play-off bid came to a faltering end, a disappointing defeat at the hands of a stubborn and gritty Braintree Town side their ultimate undoing. Fans, players and staff alike will have woken up the morning after the game facing the grim reality of another season in the fifth tier...
Yet again the Dragons were victims of their own downfall, giving away sloppy goals, all three of which very avoidable, even if the actual finishes themselves deadly. And that is the difference between a side, Braintree, who look to have all but ensured their place in the end of season play-offs and Wrexham, who will... potentially have thoughts turning to a summer of recuperation.
All three of the Irons goals were put away with devastating effect, Michael Cheek twice on target with Mitch Brundle adding the third late on to kill off the Dragons hopes... Essentially it was all Cheek did all afternoon, even being replaced with more than 15 minutes remaining...
Wrexham's goalscoring record collectively isn't bad, only three sides have found the back of the net more than the Dragons this term...
Cheek, Braintree's leading scorer, has less goals this season than the Dragons' top marksman, Connor Jennings, yet it is the way he took his efforts at the Racecourse that left the home crowd looking on somewhat enviously. Snap shots or half chances taken clinically and with ruthless efficiency. Cheek did very little else throughout, he was marshalled well by the Dragons defence otherwise...
Robbie Evans failed to get close enough to Davis in the midfield, the Iron skipper playing in Brundle who still with a lot to do, beat the covering defence, and unleashed an unstoppable effort into the top corner... Braintree sat in deep, dared the Dragons to break them down and held out for the remaining minutes of the game to ensure the double over Gary Mills's men".
---
24 April 2016
| | |
| --- | --- |
| After Saturday's match, the annual end of season awards were made in the Main Stand to the winning players and to the Clubman of the Year. | Stuart Coburn, Special Recognition Trophy |
| Scott Leather, Young Player of the Season | Josh Ginnelly, Goal of the Season |
| Tim Deasy, Players' Player of the Season, presented by Shaun Densmore | Dave Johnson, Tom Earley Clubman of the Season, presented by Neil Tolson |
| Jake Moult, runner-up of Supporters' Player of the Season with Brian Flynn, chairman of TASC | Tim Deasy, winner of Supporters' Player of the Season with Brian Flynn, chairman of TASC |
The annual Altrincham FC End of Season awards were as follows...
Young Player of the Season:
Goal of the Season:
3rd: Jake Moult v Colchester United
2nd: Jake Moult v Torquay United
1st: Josh Ginnelly v Aldershot Town
Players' Player of the Season:
Clubman of the Season:
Supporters' Player of the Season:
3rd: Josh Ginnelly
2nd: Jake Moult
1st: Tim Deasy
Special Recognition Trophy:
The National League reports that "BT Sport has announced that they have selected Braintree Town v Altrincham for their final regular season screening from the Vanarama National League on Saturday 30th April. 5.30pm kick off. All the live action will come from Cressing Road as The Iron seek the one point required to cement their Play Off place. But Altrincham need a win in their endeavours to avoid relegation and they will make the fixture even more testing with that in mind.
Should there be a slip up by the Essex club then Tranmere Rovers lie in wait to steal that last and most important 5th place. They face a home fixture against Grimsby Town and with the Mariners already assured of their Play Off spot then Prenton Park will be rocking, so BTSport will have a camera crew at the match ready to cover any twists and turns which may arise.
And, to add to the spice, Eastleigh who are away to Woking could even snatch that final place if both Braintree and Tranmere lose. So once again the ingredients are in the mix for a tremendous serving of tea time excitement.
Whatever the outcome all the last-day highlights including Cheltenham Town receiving the Championship Trophy will be included in the weekly Highlights Show on Sunday 1st May.
It certainly will be a long wait for the final day of the season and what a cracker is on the cards".
"Here is joint Press and Media Officer, John Edwards's post-match interview with caretaker-manager Neil Tolson after a resounding 5-0 win over Welling United in our final Vanarama National League home game of the season.
Q: We couldn't have rounded off the home programme much better, could we?
A: No, it was a great team performance. We looked solid. They had a few half-chances from 25 yards, which we'll take all day long. I don't think Tim Deasy has been worked too much, and Callum Williams had nothing to do when he went on, so it was pleasing. We took our chances, with some excellent goals, and if you do that, you are going to win games. I'll reiterate what I've been saying for the past few weeks; there's not a lot wrong with where we're at.
Q: The fourth goal was the pick of the bunch, wasn't it?
A: It was the goal of the season. If it was Barcelona, they'd be replaying it on telly for the next 15 years, it was that good. I wasn't counting, but it looked a good 10-15-20 passes from one end of the pitch to the other. It was at a good tempo as well, and it completely opened them up, culminating in a fantastic finish by Damian Reeves. It started on the edge of our own area, with Scott Leather and Jordan Sinnott working it down the line, then a great cross and clinical header by Damian. Great stuff.
Right: Relive Damian Reeves's superb "team" goal aganst Welling on Alty TV!
Q: What can it do for confidence, going into next Saturday's game at Braintree
A: It's going to be a tough task for us, but my view is it's a great game to be going into. They still need a point to confirm their place in the play-offs, so they are going to be on edge. There is going to be a team very disappointed come next Saturday. We know what we need to do. Me and Matt said before today's game 'give yourselves a chance', and we've done that. We go to Braintree next Saturday still in with a chance. We were hoping other results might have gone a bit differently, but you get these freak scorelines every so often, don't you? The Halifax score was very surprising, because Forest Green Rovers are normally solid at home. But if the worst happens and we go down, it won't be because of one result at Braintree. It will be down to not accumulating enough points over 46 games. That is the simple reality of it.
Q: There was a bit of pressure on today, because anything less than three points would have meant signing off at home with relegation confirmed. You must have been pleased with how the players handled it?
A: Training has been upbeat. I have said this from day one, and it still applies, 100 per cent I have got the backing of the dressing room. They have given us their all yet again, and I keep going back to the same point, there is not a lot wrong with how we have set up. But if you don't convert chances, and that is a collective issue, rather than aimed at the forwards, you don't get the points you need. You are not going to win enough games.
Q: There was a fantastically enthusiastic response from supporters on the Popular Side at the end, prolonged applause for the players that they seemed to appreciate. Did you see that?
A: I don't read the forum, but I have to say the majority of people I have spoken to genuinely want me and this football club to do well. I don't get too carried away with negatives, just as I don't get too carried away with positives, because I know I've got a job to do. I knew six weeks ago it was not going to be easy. I was brave enough to sit in this chair and give it a right good go.
I genuinely haven't heard anything negative. People can see what we are trying to do. We are trying to play football, trying to get the ball down and pass it, trying to stick to the ethos of this football club. We just haven't taken our chances.
Think of Kidderminster, conceding an equaliser in the last minute, or Southport here, going in front then conceding a minute later. There's four points thrown away, which would make an absolutely massive difference going into next week's game. That's me just picking two games out off the top of my head. If you look through the rest of the season, more will come to mind, such as Dover away when they scored in the last minute to win the game. It's not something that has just started happening recently.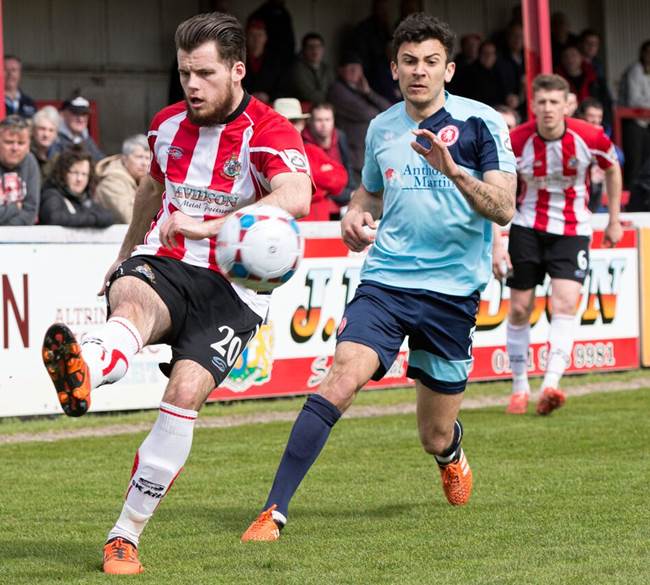 Above: Jordan Sinnott and Scott Leather (in background) played a major part in Damian Reeves's goal on Saturday against Welling. Here Mike Ripley captures Jordan in action during the match. More of Mike's images are here.
Q: Will anything be done differently this week in the build-up to Braintree?
A: We will prepare as if it was a normal game. There will be pressure on both teams. There was a strange result at Forest Green today; there might be a strange result next week, a strange turn of events. The message to the players will be 'give yourselves a chance'.
Q: Did Tim Deasy need a painkilling injection today?
A: I don't think he had one in the end, but he has been struggling with a thigh problem and it was clear he was having difficulty kicking the ball. But I don't think it's any worse than before, so hopefully another seven days and he'll be back to 100 per cent. Callum went on to protect Tim a bit, to be on the safe side before it got any worse. Sometimes it can seem a bit disrespectful to the opposition when you sub your keeper with a scoreline like that, but I explained to their manager why I was doing it, and that it was a genuine injury, and he understood.
Jake Moult came through fine. It just seemed sensible to bring him off, because he was on a booking and he's had a problem with his ankle. Damian Reeves was disappointed to be subbed near the end, but he has scored 120 goals for this club and deserved a round of applause from the supporters all to himself. I explained that to him. Not only that, it's a big game next week, and we need Damian Reeves fit and ready to go for that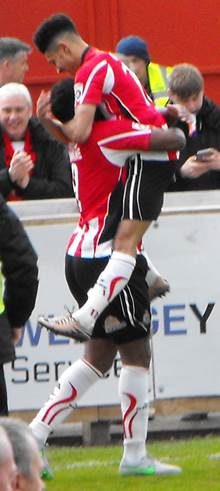 Despite their biggest win of the season against relegated Welling United, Altrincham go into next Saturday's final game of the season, at Braintree Town, needing not only to win but also for FC Halifax Town to lose and Guiseley to do no more than draw for The Robins to stay up.
After a nervous opening in which Rankine missed two good chances, Altrincham went ahead out of nothing in the 33rd minute. The ball broke to Sinnott who slotted home calmly in the 33rd minute. As the first half ended, Welling conceded a penalty for handball which Rankine converted.
It became 3-0 five minutes after the break when James Lawrie's shot into the ground beat goalkeeper Rodak. Alty scored a superb fourth with a one-touch move up the right which featured a magnificent exchange of passes by Leather and Sinnott before Reeves headed in Sinnott's cross from the right. That was after 66 minutes and, in added time, Rankine added a fifth as he lobbed the exposed Rodak.
Match report here
Right: Josh Ginnelly and Michael Rankine celebrate Alty's second goal.
---
---