an unofficial Altrincham FC website.
www.altrinchamfc.co.uk
---
OPTIONAL DROPDOWN MENU - HERE
---
Current News
---
ALTY HEADLINES
20 May 2019: ARE WE THERE YET?... More
20 May 2019: TROPHY AND VASE CONNECTIONS... More
20 May 2019: TWO MORE SIGN ON... More
OTHER HEADLINES
---
20 May 2019
In addition to Jordan Hulme,
Altrincham FC
announce that both John Johnston and Tom Hannigan will be staying at the J. Davidson Stadium next season.
To date, Johnston has made 94(+5) appearances and scored 35 times in his two seasons at the club. Centre-back Hannigan, the club's player of the season, has amassed 96(+5) appearances and netted seven times in his three seasons at Moss Lane.
The FA has released its list of allocations of clubs to the various levels of the non-League pyramid for 2019-20 season. The list confirms that the five new clubs in the National League North, (two transferred sideways and three promoted), will be Farsley Celtic (57 miles from Altrincham), King's Lynn Town (152 miles), Kettering Town (132 miles), Gloucester City (112 miles) and Oxford City (149 miles).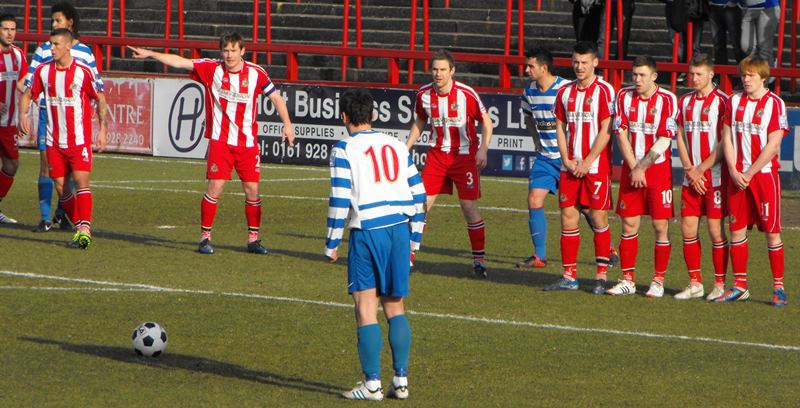 Oxford City have been in the North division previously; here we see Alty defend an Oxford freekick at Moss Lane in 2013
These five replace the promoted duo from 2018-19, namely Stockport County (10 miles from Altrincham) and Chorley (35 miles), and the relegated trio of Ashton United (19 miles), FC United of Manchester (21 miles) and Nuneaton Borough (90 miles).
So, Altrincham will have many additional miles to travel next season. This is because Altrincham have lost five return trips from 2018-19, which totalled 350 miles, and acquired five new return journeys totalling 1,204 miles, an increase of 854 miles.
With York City expected to move to a new stadium during 2019-20, there will be at least four new grounds to visit next season, as King's Lynn Town, Burton Latimer (Kettering Town) and Evesham (Gloucester City) are also locations where Alty have not previously played.
Sunday's FA Trophy Final was won by AFC Fylde, 1-0, against Leyton Orient. In addition to manager Dave Challinor's connection with Altrincham, chronicled here recently, The Coasters' physio is former Alty physio, Sean Riley.
Less happily, former Alty goalkeeping coach Ian Senior provided the kit for Vase finalists Cray Valley, through his company SKkits, who also provide Altrincham's kit. However, the Kent side lost 1-3 to Chertsey Town in Sunday's final.
As chronicled above, Altrincham will have five opponents in 2019-20 who were not in their league last season.
However, our neighbours, Trafford FC will face ten new opponents next season thanks to a redrawing of the boundaries in the former EvoStik First Division West. This division has been rebranded as the First Division North West, with seven clubs leaving the former West division to join the South East division. These are all Yorkshire clubs, with only the three most southerly Yorkshire teams remaining in the newly named South East division (Sheffield, Stocksbridge Park Steels and Frickley Athletic).
So next season Trafford will now have to navigate to new members of their division; Brighouse Town, City of Liverpool, Dunston UTS, Marine, Marske United, Ossett United, Pickering Town, Pontefract Collieries, Tadcaster Albion and Workington.
The EvoStik League explains that "The EVO-STIK Northern Premier League can confirm a tweak to the boundary line in its step four divisions, as revealed at the recent chairman's meeting. The East/West Division split has been adjusted to North/West and South/East ahead of the 2019/20 season.
As a board, we have a responsibility to all 40 of our step four member clubs and something had to be done to address the balance to make the competition fair. In the season just gone, teams in the East Division had to travel 20,000 more miles to complete their fixtures in comparison to their West Division counterparts. The average journey in the East was 127 miles, compared to 84 in the West.
With the changes, the difference is reduced to around 7,000 miles, with an average of 126 in the South/East division and 110 in the North/West division. This has resulted in a number of lateral movements in the FA's club allocations for steps one to four, announced on Sunday morning.
Brighouse Town, Marske United, Ossett United, Pickering Town, Pontefract Collieries and Tadcaster Albion move across to the North/West division.
Chasetown, Glossop North End, Kidsgrove Athletic, Leek Town, Market Drayton Town, Newcastle Town and Sutton Coldfield Town move across to the South/East division.
Worksop Town and Ilkeston Town, both promoted from step five, join the South/East division, with City of Liverpool and Dunston going in to North/West.
Carlton Town are reprieved and stay in the Southeast division, with Kendal Town reprieved from relegation in North/West. The two clubs relegated from the Premier Division, Marine and Workington, go in to the North/West division.
Departing the NPL are Hednesford Town, who have moved across to the Southern League Central. Coming down from National League North to the Premier Division are FC United and Ashton United".
According to the
Telegraph & Argus
, "Bradford (Park Avenue), Guiseley and Farsley have had two long trips added to their fixture schedule following adjustments made to National League North for next season.
Gloucester City and Oxford City have been moved across from the South division... Gloucester stayed up in their second season in the South section in the campaign just ended after eight years in step two's Northern section. Oxford had three years in the North between 2012 and 2015, including a sixth-place finish, but have spent the last four campaigns in the South.
Their lateral movement is because Maidstone United, Havant & Waterlooville, Aldershot Town and Braintree Town have been relegated from the National League top flight".
Chester FC report that "At last night's Chester FC Awards, Craig Mahon put pen to paper and signed a new one-year deal. This deal takes the Irishman into his seventh season at the Swansway Chester Stadium and, during 2018/19, he eclipsed the 200 appearances mark for Chester FC. The first and only to do so since reformation.
The 29-year-old joined from Vauxhall Motors in the summer of 2013, and has gone on to make 229 appearances and scored 18 goals. Last season he was a regular once again, making 40 appearances and scoring four goals."
And NL Daily tells us that "AFC Telford United vice skipper Ellis Deeney has signed a new deal which keeps him with the club until May of next year. The 27-year-old younger brother of Watford star Troy has been a vital member of the Bucks squad over the last couple of seasons.
He joined in January 2018 and helped Rob Edwards's side seal National League North survival... Combative midfielder Deeney made 45 appearances in all competitions for Telford last campaign, scoring four goals."
Blyth Spartans "must announce the departure of midfielder Sean Reid, who has signed with Evo-Stik Northern Premier League side Morpeth Town. The tireless midfielder joined the club in the summer of 2015 from Northern League outfit West Allotment Celtic, making himself a household name at Croft Park.
'Reidy' made 186 appearance for Blyth notching an impressive 66 goals in all competitions. He has filled in a makeshift centre-back and centre-forward on a number of occasions".
Meanwhile, Bulls' News reports that "The football budget for next season at Edgar Street looks as though it will be around £700K. That's nearly double the budget former manager Peter Beadle had in his last full season.
In the accounts for the year ending May 31st 2018,the football budget was £331K which was up from £256K the previous season. In an interview last Saturday, director Mick Merrick confirmed that the budget would rise. '50% was the increase in budget from going into last season and this year we are looking at a 40% increase in the football budget and that is significent,' he said.
So, assuming the figure of £331K was correct, an increase of 50% gave a budget for last season of £496K. A further increase of 40% this coming season would lift the budget to circa £694K. For the record, team and management wages (the budget) is understood to include manager and all background staff and all playing staff."
---
19 May 2019
As previously announced, Altrincham FC's Patrons' scheme has been relaunched ahead of the 2019/20 campaign after just failing to gain promotion for the second season in a row.
Altrincham FC's Board "agreed that any funds raised via the Patrons' Club would go directly to boosting the playing budget. We've worked hard on retaining the management team and now the squad for next season as well as scouting potential new signings, and supporting the team via the Patrons' Scheme will only enhance our chances further."
For the cost of £50 each Patron's name will appear throughout the coming season in the matchday programme and on the official club website as a Patron of Altrincham Football Club. At the start of the 2019-20 season, every member will be entered into a prize draw, with 10 winners being given four hospitality places in the Manchester Glass Sponsors' Lounge for an alloted game at the start of the 2019-20 season.
If you are interested in becoming a Patron for next season, please forward a cheque, payable to Altrincham Football Club, for £50. Alternatively, you can pay by card by phoning the office (0161 928-1045). If you require any further information please do not hesitate to enquire by e-mail.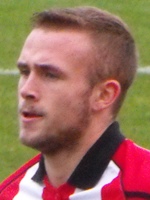 Hyde United
report "a second of last season's players remaining. Left back, Kyle Brownhill, has been secured for the 2019/20 season... This is another player who had spent a number of seasons at Hyde United going all the way back to the 2014/15 season. In total Kyle has chalked up 125 appearances but, sadly, no goals, but not for want to trying".
Altrincham signed local player Kyle Brownhill from Hyde United on 15 December 2016. Though signed initially as a left-back, Kyle was later deployed in central midfield. He was released by Phil Parkinson in summer 2017 after he had made 17(+1) appearances for Altrincham.
According to the
Hereford Times
"Hereford FC have increased their 'football budget' by 40 percent as they aim for at least a play-off place next season.
Speaking to the club's website Hereford United Supporters' Trust nominated director Mick Merrick said, despite the increase, the club would not blow the club's reserves on 'big ticket' players.
'We are really ambitious but we're not going to let the club go bust trying to do it,' said Merrick. 'We're not going blow our reserves and our budget on bringing in big ticket managers or players. We've seen that doesn't really work and we have to grow into the Football League and sustainably. That means living within our means and sustainably.
'Frankly we are well off because of our fantastic supporters which [who] provide the funding to attract players and, hopefully, make our way towards the Football League in the not so distant future. I wouldn't put a time on it but we need to be playing challenging football. Fifty per cent was the increase in budget from going into last season and this season we are looking at a 40 percent increase going into the football budget, that is significant.'
Merrick said that the management team are currently working towards [signing?] players that will 'get people excited' next season. He added '"Everybody works hard around this club and they (the management) are working particularly hard to make sure they put in place the sort of plan and bring in the players that are going to get people excited next year. We want to be in the play-offs and challenging for promotion. This will be the first season that it will be their (the management's) players and our team collectively and hopefully challenging.
'There has been quite a lot of activity going on to try and recruit the right type of players. Everybody wants to get into the Football League there is no doubt that is what everybody here wants to do.'"
Southport have published some interesting statistics.
The Facts And Figures From 2018-19 include:
The total home and away was 47880 our best in CN by 3493, this gave an average of 1140 which is up 84 on the previous season.
Interestingly in the second season we got promoted (2009/10) the home average was just 924. The best ever home average of 1423 came in 1999-2000.
We went 24 games without a draw from 2017-18 into 2018-19 which is a NL Club Record
We also went 12 games without a home win from 2017-18 into 2018-19 which is also a NL Club Record
The 13 wins is a CN low but way off the record of 8 set back in 1979-80
Chester Football Club "are pleased to confirm that defender Danny Livesey will join the Blues on a permanent deal from Salford City on July 1st."
AFC Telford United "announce that goalkeeper Andy Wycherley has had his contract option exercised, keeping him at the club for the 2019-20 season.
Wycherley joined the Bucks back in August 2018 from Welsh Premier League Champions TNS before going on to make 20 appearances for his boyhood club.... AFC Telford United have also completed the signing of Andre Brown for the 2019-20 campaign.
Boss Cowan said, 'I'm really pleased to confirm Andre will be staying with us next season. I believe his undoubted ability will be seen this year as we evolve to his style of play. His patience and understanding of the team needs have set him up to have his best season yet going into next year.
AFC Telford United are also delighted to announce the signing of Jon Royle for the 2019-20 campaign".
The
National League
states that "It was the most gripping of seasons which went down to the final day. Now BT Sport are offering you the opportunity to kick back and re-live it all again. The broadcaster have put together a special season review covering all the important action from a campaign to remember.
The one-hour highlights show will be sure to bring back plenty of good memories. The review is scheduled to start at 6.45pm on Sunday; right after the FA Trophy final.
Should Leyton Orient's match with AFC Fylde overrun, it will [be] following the final after extra time and possibly penalties.
The Trophy final is part two of a fantastic Non-League finals day which will be broadcast live on BT. It starts early with Chertsey Town's FA Vase final with Cray Valley PM from midday".
---
11 May 2019
The death has been announced of former Altrincham FC chairman, John Maunders, aged 74. A Hale resident, on leaving Altrincham FC, his resignation statement in summer 1995 explained that, "Mr Maunders rescued Altrincham FC from bankruptcy in October 1993 by injecting £231,000 and his building company has sponsored the club for the last six seasons". He replaced Bill King as the club's chairman for the 1994/95 season.
His surprise withdrawal announcement, at the end of the 1994-95 season, explained that it had been "an agonising decision to sell my shares in the club. This season, the £175,000 I have personally invested has been eaten up twice over, together with the £100,000 we received from the Tottenham Hotspur FA Cup tie, on running costs including payers' and officials' wages".
John Maunders concluded that "On average home gates of around 700, despite the team challenging for the Conference title, it has become clear to me thst the additional expenditure needed to promote the improvement of Moss Lane to achieve Grade A status would not be supported by the town".
A former Altrincham centre-back, Robbie Williams (right), has enjoyed promotion this summer as part of the back-room staff at Salford City. As the Ammies'
website
explains, "Robbie re-joined the club in 2017 as Sport Scientist. The former central defender made four appearances on loan at The Ammies in 2014-15, and returned as club staff when the club went professional in 2017.".
Now 31, 6ft 5ins Robbie signed for Altrincham on 28 July 2009 after a successful pre-season. Robbie made his Conference debut as a sub on the opening day of the 2009-10 season against Ebbsfleet United and soon established himself as a regular starter. He won the first of his 3 Wales U23 semi-pro caps in March 2010 when he scored against Portugal and he has also played against England and Poland. Outside football, whilst at Altrincham Robbie worked for a printing firm based in Bolton.
After leaving Moss Lane, he rejoined Altrincham, initially on a one-month loan, from AFC Telford on 6 September, 2011. The loan developed into a 93-day period at Alty, expiring in December 2011. He had left Moss Lane in summer 2011 after two seasons as a virtual ever-present in the Altrincham team. His move to Telford was marred by a pre-season injury which prevented him starting a Conference game for them before his return to Moss Lane. He made 106(+8) appearances for Altrincham and scored 9 goals.
After hitting the financial buffers, North Ferriby United has risen from the ashes as North Ferriby FC. The
EvoStik League
reports that "New Matlock Town boss Steve Kittrick has been hit... Recently appointed assistant [manager] Chris Bolder has departed the club after just a week. Bolder has taken up the post as manager of the newly formed North Ferriby FC.
He was previously manager of North Ferriby United before linking up with [Matlock boss Steve] Kittrick at Scarborough".
According to the
National League
, "Chorley's historic promotion has seen then rewarded with a special gala dinner as their local council confirmed official plans are being made to celebrate their success...
Manager Jamie Vermiglio says he can't wait to cut his teeth at the next level after their 4-3 penalty shoot-out win over Spennymoor last Sunday... A council spokesman told the Lancashire Post that the achievement will be officially recognised soon. They said 'We're in discussions with the club as to how best to mark the promotion'...
l Manager Vermiglio said, 'This is a massive, massive, massive thing for this town- make no mistake about that. This club were being watched by a few hundred people ten or so years ago. Now we're playing to 3,500. It's wonderful... We're not just going into the National League to enjoy the experience. We want to go as far as we can and make these fans even more proud of their club'".
NL Daily tells us that "AFC Telford United have signed Chris Lait from Tamworth. The former Stourbridge and Solihull winger enjoyed an impressive season for the Lambs, netting 21 goals and picking up three awards at the club's presentation night last weekend. Lait first came to prominence as a Solihull Moors academy player, before departing in search of senior football. He experienced spells at Rushall Olympic and Stourbridge, where he ended his spell scoring 22 goals from 90 starts.
Boss Gavin Cowan was thrilled... 'He has pace, power and can play in numerous attacking positions that will give us plenty of options in the attacking phase of our play. He's hungry and ready to achieve at this level after a brilliant return last season'" reported AFC Telford United.
News from the Shropshire Star is that "AFC Telford United vice skipper Ellis Deeney has signed a new deal which keeps him with the club until May of next year. The 27-year-old younger brother of Watford star Troy has been a vital member of the Bucks squad over the last couple of seasons.
He joined in January 2018... Combative midfielder Deeney made 45 appearances in all competitions for Telford last campaign, scoring four goals. His commitment is another boost for Cowan, who has already had many of last season's squad agree fresh terms. Skipper Shane Sutton, young goalkeeper Andy Wycherley, defender Ross White, midfielder James McQuilkin and striker Andre Brown are just some of those who are staying with the club. The future of 26-goal top scorer Daniel Udoh remains uncertain though."
NL Daily has news of a promoted rival to Altrincham next season as "Adam Clayton and Jack Higgins have extended their stays at Farsley Celtic ahead of the 2019/20 season. Clayton and Higgins join fellow defender Danny Ellis in committing to the club, ensuring the back three who formed part of the second-best defence in the Evo-Stik Premier will be kept together for next season.
Clayton was happy to extend his time into a fifth season and said 'I'm delighted to have signed again for another season, it was never in any doubt really! Loyalty goes a long way in life, and that's what the club have showed me, so it's only right in my eyes that I do the same. Last year was unbelievable, it was the best season I've had as a footballer. We were under pressure all the way to the end and we needed everyone involved to get us through some tough periods and ultimately over the line.
'This will be my fifth year with the club and I've probably enjoyed my best years here, it's a pleasure to play here and a really enjoyable place to be, with brilliant people from the board room to the fans... We aren't going into that league to just enjoy it and make the numbers up, we want to achieve things and the squad we have is good enough to do that'...
Jack Higgins has started every league game since joining the Celts from Warrington Town last summer, making 54 appearances in total in his first season at the club... On penning a new deal, the ex-York City man commented: "As soon as the gaffer (Adam Lakeland) got in touch about signing up for next season it was an easy decision and it went really smoothly. We'll be presented with different challenges next season but it's something I think we'll relish...
'Our squad has been the smallest I think I've ever played in and we've had some real testing times, especially over the festive period when the same 11 lads played all four games and took 12 points, but it only made us stronger as a group and took us to where we wanted to be... I can't wait to test myself against teams in the National League North... I love playing with this group, it's not often you play with a full team where there are no egos or hidden agendas, but we've a team of top lads who'll do well'"
Curzon Ashton "are delighted to announce the signing of Nicky Wroe for the 2019/2020 season. The vastly experienced midfielder, Wroe, joins us from fellow National League North side, Boston United, where he finished last season. The Sheffield born player had spent the previous three years with Yorkshire side, Bradford Park Avenue.
During his career, Nicky has made over 300 appearances in the Football League.
On his signing, First Team Manager, Mark Bradshaw said 'Nicky will bring us that bit of experience in the centre of the park, similar to that of former captain, Alex Brown'".
And, also, "Curzon Ashton say that Harry Twamley BEM has decided to step down from his role as chairman, one of two roles he currently fulfils.
Commenting on the change, he said 'I've held the positions of chairman and finance director for a number of years now and, as we prepare for another season in the National League North, I've decided that the time is right to make the change... I now feel that the good work should continue under a younger leadership team. I am pleased to say the board accepted my proposal for Wayne Salkeld to become chairman, with Jimmy Newall as vice-chairman. I will continue in my role as finance director...
Additionally, Syd White has agreed to join the board. White has previously held the roles of commercial manager, CEO & COO during a 15-year spell with Tameside neighbours Stalybridge Celtic".
The Northern Echo reports that "Darlington are on the verge of appointing their next manager having whittled down their choice to a shortlist to a handful of candidates. The process to replace Tommy Wright as boss has been ongoing since the end [of] Quakers' season three weeks ago, with the position having attracted 71 applicants.
Interviews have taken place this week, with two bosses of National League North clubs understood to be among those in the frame. Darlington say they were delighted with the quality of applicants for the job, with everyone shortlisted being in possession of the UEFA A or UEFA Pro level coaching badge, a criteria that Quakers stipulated was necessary.
The process has been led by advisor to the board John Vickerman, who is a human resources director with Fujitsu, while a handful of supporters have been consulted for their opinion on replacing Wright. The Northern Echo understands that names are in contention at this stage [who] have previously played for Darlington and an appointment will be made early next week. Although Jordan Nicholson and Luke Trotman have signed new one-year contracts, Quakers' squad is small, having seen a number of players leave since the end of the season, and it is understood the new manager will waste little time in making new additions."
According to York Press "York City's newest signing, Kieran Green, is optimistic about the Minstermen's firepower next season and says he wants to 'join in a promotion party'. The 21-year-old arrived this week from Blyth Spartans and has found plenty of familiar faces from his time at Gateshead, including manager Steve Watson.
Forwards Jordan Burrow, Macauley Langstaff, Jake Wright and Wes York, as well as fellow midfielder Paddy McLaughlin, are all former Heed players.
'I look forward to playing with them all again,' said Green... Green scored eight goals in 58 appearances for Blyth, initially on loan prior to a permanent switch from Gateshead last summer.
'I'm hoping for 10-plus goals; that's a good target from midfield,' he reasoned... 'I want to join in a promotion party, to kick on and finish as high as possible in the league and get the club back to where it belongs.'...
Green had the option to stay at Blyth, but cites boss Watson and the club's aspirations in his decision to come to Bootham Crescent. 'I've known him for a couple of seasons and he's done a lot for my career,' Green said... 'I like (Watson's) philosophy and ambition. The way he likes to play, I feel I fit well with. When my season finished with Blyth, he contacted me straight away and explained his plans for the season'...
Assistant-manager Micky Cummins said of Green... 'He's quite physical in the air, fantastic with either foot and he's really good around the changing room. He's got that winning attitude and mentality. He's a leader, he won't shy away from a challenge and he gets on the end of crosses'".
Meanwhile, at Gloucester City the club is "delighted to announce the appointment of Eamonn McGurk and Alex Petheram as joint Chairman with effect from the 17 May 2019, with Jody Gooding taking up the role as Vice-Chairman. Eamonn enters his 25th season at the club from his role as shareholder and director. Alex joined the club as a Director in 2018 with Jody joining the board in 2018.
In a joint statement from the three, [it stated] 'We all need to come together to get this club over the line and playing in the city again. Our drive and vision is for the children of Gloucester to have the opportunities we had in our younger days, being able to go and watch the team in their City, creating a strong club culture throughout all sectors...
'Our goal for next season remains the same, to stabilise both on and off the pitch as we continue our long journey back to Meadow Park. Now we have planning granted and our funding application is in, we're currently working with the FSIF in the due diligence stage, which due to the nature of our detailed application will be concluded we hope at the end of September 2019'".
The
National League
reports that "As they prepare to return to the place where their problems all started, Justin Edinburgh says completing a National League and FA Trophy double would be reward for the club's fans who have suffered that fateful 2014 afternoon. Leyton Orient have sold 23,300 tickets for Wembley's final on Sunday already but the manager is determined to make sure the party doesn't go flat.
The National League champions are looking to sign off in style against AFC Fylde this weekend on Non-League Finals Day.
But Orient haven't played a competitive game since the last-day draw with Braintree clinched the title while Fylde were at the National Stadium just last weekend. If anyone thinks the Coasters have bad memories of Wembley in what will be eight days after losing to Salford, then they should check in with Orient's near 25,000. The last time they were there they lost to Rotherham United in the League One play-off final. Less than four years later, they found themselves in the National League's relegation zone.
Then Edinburgh arrived and now they want to banish bad memories once and for all".
Welsh Premier
reports "Here we go! It's JD Welsh Premier League European Playoff Final time. The home team? Bala Town, the European heavyweights. The visitors to Maes Tegid on Sunday evening will be Cardiff Met, contesting their third straight Playoff Final and hoping to take that final step into the Europa League.
We caught up with Will Evans, who has been one of the stars for Cardiff Met in midfield this season... 'Over the last two years we've had those experiences of being in these finals and unfortunately not been successful'...
With one of the league's strongest sides set to miss out on Europe this weekend there is a fair amount of pressure on the result for both sides to say the least."
---
17 May 2019
The
National League
reports that "Altrincham fans have received another boost days after manager Phil Parkinson agreed to extend his deal. Their talismanic striker Jordan Hulme is staying put after a contract was signed for next season.
Hulme scored 20 goals [17 in the league] as the team reached the play-offs and Alty have announced the forward has now committed. It comes after Parkinson and assistant Neil Sorvel confirmed they are staying until 2022.
Parkinson said, 'We came so close to a second successive promotion in this our first season back in the Vanarama National League North, and we are hungry to go one better this time round. But we want to go one step further and establish ourselves in the National League over the course of this contract.
'The board has shown their ambition and we will work together on and off the field to keep moving this club forward.'
Chairman Grahame Rowley said, 'The next 12 months are perhaps the most important in the club's history. We have shown that we can be a big team at this level, and we have major plans to deliver changes that will ensure we are ready for the National Division when the time comes'".
For more see the Altrincham FC official site.
Altrincham's matches will probably be watched by fewer people next season as three of the top six clubs as regards attendances have left the National League North this season.
The National League reports that "The crowds came out in force this season...
A lot like the title race, Stockport County topped the table but, unlike the battle for the championship, it wasn't a close run thing! The Hatters attracted more than 1,500 more than anyone else last term, with over 6,000 watching on two occasions at Edgeley Park.
Second were York City, with newcomers Hereford just behind... It was a record breaking season for crowds across the three divisions. Here is who came where as we tally up the gates and put them into table form. [Presumably these figures include the play-offs].
National League North Attendance Table:
1. Stockport County 4,002
2. York City 2,500
3. Hereford 2,367
4. FC United of Manchester 1,943
5. Chester 1,838
6. Chorley 1,650
7. Kidderminster Harriers 1,602
8. Darlington 1,391
9. AFC Telford United 1,352
10. Altrincham 1,244
11. Boston United 1,105
12. Southport 1,071
13. Spennymoor Town 859
14. Blyth Spartans 801
15: Nuneaton Borough 799
16. Guiseley 794
17. Leamington 666
18. Brackley Town 645
19. Alfreton Town 534
20. Bradford (Park Avenue) 525
21. Curzon Ashton 449
22. Ashton United 362
The
National League
reports that "Curzon Ashton's young star Joel Senior has joined Premier League Burnley.
The 19-year-old will link up initially with the Clarets' U23 side after securing a fantastic move. Senior impressed in the National League North and his displays have been rewarded.
'I'm delighted. It's been a long time coming. I've been working hard for it for the last three or four years and it's finally happened,' said Senior on Burnley's official website. 'Burnley have put their trust in me, and I'm delighted to be here. A lot of people's routes have been different and mine has been to come up through men's football with some good clubs'".
---
16 May 2019
Chorley
"are absolutely delighted to announce we've named as best away day experience in step two of non-league football by the Football Supporters' Federation. The award is an extension of the organisation's annual 'Away Fans Matter Campaign', which encourages clubs to make travelling supporters more welcome.
Away fans are vital to the health of the game and we want the award to encourage clubs to create a warm welcome for visiting supporters. Chorley were the winners at step two and in a tight contest visiting supporters praised the club and home fans for the welcome they received...
The FSF recognises facilities and resources vary at the different levels of the game and considers nominations at each of the top four levels of the National League System. The nominations are assessed across a number of categories with a judging panel deciding the winning club at each level. The full list of 2019 winners is"..
Step 1 – Harrogate Town (overall winner)
Step 2 – Chorley
Step 3 – Lewes
Step 4 – Ossett United
AFC Telford United report that they "are delighted to unveil the new Joma Home kit for the 2019/2020 season...
Our new home kit made by Joma features our traditional colours of black and white following a successful vote by supporters. The new home kit takes us back to black on the shorts and socks too, with an option of white shorts and white socks in particular fixtures.
AFC Telford United are also delighted to reveal an all red away kit and our brand new third kit which will be all purple."
Likewise Guiseley report that "The Lions will line up in the Yellow and Navy kit when away from Nethermoor next season. The shirt compliments the home kit with its chequered pattern and uses softlock fabric which is custom-made for each kit, lightweight, tear-resistant and quick drying".
Boston United "have added another player with vast National League North experience to their ranks in the guise of midfielder Tom Platt.
The 25-year-old, who began his career at hometown club York City, has since played extensively for Harrogate Town and Alfreton Town during recent seasons...
He was part of the Harrogate squad which, like the Pilgrims, reached the play-offs in 2015-2016... Manager Craig Elliott was delighted with his latest signing.
'Tom is another experienced player who has played in this league for five seasons', Elliott told bufc.co.uk. 'He can play a couple of roles in midfield and he knows what Boston United is all about from playing against us for other clubs. He is hungry to be successful.
Curzon Ashton report that "Luke Merrill has signed a contract with us for the 2019/2020 season. Luke, after being released from Blackburn Rovers at 16, came to Curzon and has worked hard to develop his game last season in the U17 and this season being a driving force in the success of the U18 Youth Team.
Luke made first team appearances against Salford, Kidderminster, Southport, Stockport and Spennymoor as well as being in the squad and on the bench several times".
Southport "confirm that the contracts of Andy Hollins and Dan Cockerline have now ended. Dan made seven league starts for the club after making his debut at Stockport County in 2017 and has been out on loan this season. Andy made one cup start at Holker Old Boys in 2018-19 and was on the score sheet twice in the game. The club thank both players for their time at the club and wish them well in the future.
Darlington report that defender Terry Galbraith picked up his Manager's Player of the Year and Away Supporters' Player of the Year awards from Pete Graves of Sky Sports at our dinner last Friday night".
Stockport County "have won the NLP Fair Play Award for the second season in a row.
The National North champions received the accolade for having a clean record for dissent and foul and abusive language across Steps 1-4 and the overall best disciplinary record amongst the 296 clubs. The annual award is decided by the FA's disciplinary panel.
Manager Jim Gannon collected a similar award for the whole of the Football league when he managed County in the 2008/2009 season and also won the Fair Play trophy from his first full year in management at Dundalk in 2005.
He said, 'This award means a lot to me and is great recognition to our staff and players for the manner in which we play the game. For the second year in a row we have had no cautions for dissent or foul and abusive language, which shows our respect for the referees and officials of the game.
'But our respect extends beyond just them and to the opposition players and their staff. We play the game in the right spirit and hope to set an example to all managers and players at every level, that you can be successful whilst never compromising your principles.'"
---
15 May 2019
York Press
confirms that "York City have signed midfielder Kieran Green from National League North rivals Blyth Spartans. The 21-year-old - who came through the youth ranks at Hartlepool made 58 appearances in total for Blyth, scoring eight goals and helping them reach the play-offs this season...
After two loan spells at Croft Park, manager Alun Armstrong secured fan-favourite Green on a permanent deal at the beginning of the 2018/19 season. Blyth finished term sixth but were knocked out of the play-off eliminators on penalties by Altrincham".
The Chester Standard reports that "Veteran defender Simon Grand has signed a new one-year deal at the Swansway Chester Stadium as Chester FC continue to build their squad for next season.
The 35-year-old centre back joined the Blues from AFC Fylde in July 2018 and was a regular in Anthony Johnson and Bernard Morley's starting 11 ending the season with 41 appearances in all competitions, and scoring four goals.
The Chorley-born defender notably played in the Football League for Rochdale, Carlisle United, Grimsby Town, Morecambe and Aldershot Town. He has also previously played for Northwich Victoria, Fleetwood Town, Southport, Mansfield Town, A.F.C. Telford United and Barrow.
Grand struck up an effective partnership with Danny Livesey in the centre of defence throughout the season as well as filling in as left-back for a number of games...
Grand joins Matty Waters, Brad Jackson, Gary Stopforth, Iwan Murray, Matty Thomson, Theo Roberts and George Waring in extending their stays at the Swansay Chester Stadium, with Gary Roberts expected to also re-sign should he complete a summer fitness programme put in place by the management team".
Tha National League says that "Gloucester City have announced Mike Cook will continue to lead the club forward next season. Cook, Vanarama National League South Manager of the Month for April, helped insure their survival. Having gone 17 games without victory when he took over in January, the club were to face a huge fight to stay up.
But he turned things around and, winning four of their last five games, convinced the board he was the man to club needed in charge next season. Clearance came through from the Professional Footballers' Association on Monday and he has been given the green light to remain at the helm...
A club statement confirmed, 'Cook took charge of City in January and ensured our status at this level was retained following an impressive end to the season; with the club finishing 17th in the National League South with 47 points'"
---
14 May 2019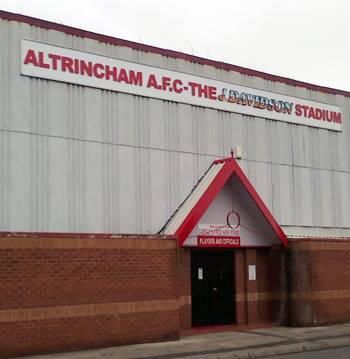 Details of the 2019-20 season's prices for Altrincham FC season tickets and turnstile admission at the J. Davidson Stadium (right) are available on the club's
official site
.
The
North West Youth Alliance
confirms that Altrincham FC Youth still have two fixtures to play. Sadly, Alty's 3-2 defeat by Curzon Ashton last week handed the league title initiative to the Nash. Curzon are now five points ahead of Alty with one game to play, whilst Alty have two matches left.
16/05/19 18:30 Chester FC Youth v Altrincham, at Boughton Hall Cricket Club CH3 5EL
19/05/19 14:30 Chorley FC v Altrincham at Bishop's High School
Curzon do not complete their campaign till 26 May.
According to the
Northern Echo
"There are those who might argue that being a lifelong fan of Darlington Football Club is enough to turn anyone to drink. But for Paul Colman, a member of the Darlington FC Supporters' Group, alcohol and the town's Quaker traditions are proving to be an unlikely winning formula.
Darlington owes much to the pioneering Quaker families of the 18th and 19th centuries and, as well as their notable influence on the railways, wool, linen and banking, they are also known for their moderation when it comes to alcohol. It is, therefore, a surprising twist that Paul, along with his wife Leanne, should now be forging a new business under the brand 'The Little Quaker Distillery'.
Enterprisingly launched in an old washhouse in his parents' back garden last October, a bid is now being lodged for it to be registered as the UK's smallest gin distillery... They spotted a gap in the market; that Darlington didn't have a gin to call its own ... but they needed a name. Darlington Gin was rejected on the grounds that it was too obvious, and Paul's footballing affiliations gave them the idea for a quirky alternative that also touched on the town's history.
'Quaker Gin just seemed to fit perfectly,' says Paul. Leanne drew the line at letting him have Darlington FC's black and white hoops as the label, and an historic picture of the town centre was chosen instead... Within months of the launch, Quaker Gin is already supplied to just about every bar in the locality".
The Shropshire Star reports that "Interim AFC Telford United chairman Andy Pryce is thrilled Gavin Cowan's 'infectious spirit' has proved the doubters wrong. Some questioned Cowan's lack of any prior managerial experience when he was appointed Bucks' chief last summer, in the wake of three successive seasons battling against relegation in National League North.
But hiring the man who served as a coach under both Rob Edwards and Rob Smith has certainly paid off.
'When we interviewed for the manager's job we wanted continuity,' added Pryce. 'Gav's experience with the squad from the 18 months he was with them beforehand was invaluable. His spirit is infectious, so we are delighted that his hard work is paying off.'
Cowan oversaw a sublime run to the FA Trophy semi-finals... He also nearly got them into the National North play-offs, with them finishing eighth and missing out on goal difference.
Now, Cowan aiming is to keep hold of the majority of his squad as he looks to build next campaign. He has been boosted in that respect by defenders Shane Sutton, Ross White and Zak Lilly agreeing new deals. Dom Smith, though, has left in what the club claim was a U-turn on new and improved terms".
Cheshire Live informs us that "It might be a regionalised league that Chester FC play in but it might not feel like that next season for Blues fans. The past weekend saw the play-offs done and dusted, with promotion from the National League North sorted as well as who will come up from the Evo-Stik 'super' play-offs.
Chorley and Spennymoor Town did battle in the North final while, at Cantilever Park, former Chester City midfielder Paul Carden's Warrington Town were entertaining King's Lynn Town. Chorley... claimed a dramatic penalty shoot-out win over Spennymoor... Chorley, an hour from Chester, heading to the National League at the expense of Spennymoor, a mere two hours and 50 minutes from Chester.
Then there is Warrington. Carden's Yellows side, in front of a crowd of 2,200, were leading 2-1 with five minutes to go before King's Lynn snatched a late leveller to force extra time where ex-Cambridge United striker Michael Gash pounced six minutes from the end to break Warrington hearts. Chester fans would have no doubt been keen for a trip to Warrington, the first side to take on the Blues in a competitive league fixture after reformation in 2010. Just over 30 minutes and 22 miles away.
But it wasn't to be and instead of that local jaunt next season it will be a trek to Norfolk to face King's Lynn. Just the eight-hour round trip for hardy Blues fans.
The make up of the National League North won't be ratified until the National League AGM on June 8 at Celtic Manor, Newport. With all four sides relegated from the National League in 2018/19 very southerly indeed, it appears likely that one or two sides from the National League South, possibly Oxford City or Gloucester City, may face the prospect of being switched across.
Chester lost two local-ish games next season with FC United of Manchester and Ashton United both relegated to the Evo-Stik Northern Premier. With Kettering Town and Farsley Celtic both coming up as champions of the Evo-Stik Premier Central and the Northern Premier League, respectively, sides in Northamptonshire and West Yorkshire, the travelling will be mammoth next season for what is a regionalised league".
In the NL Paper we learn that "York City boss Steve Watson has received a boost as he starts preparations for the new campaign with the news that striker Macaulay Langstaff has signed a new contract with Minstermen.
The 22-year-old netted 10 goals for City last season after moving from Vanarama National League side Gateshead and been the subject of reported interest from other clubs during the campaign's run in. He also scored two goals during a month's loan stay with Bradford (Park Avenue).
Langstaff, who scored five goals in seven games following his return from the loan spell, said 'I am really happy to be staying and I know the manager is building a squad that will be up there challenging for promotion next season. I enjoyed my first season with the club but the loan move was also good for my confidence. When I came back, I got into double figures and it felt like the season finished at just the wrong time for me! Now I am aiming to score 20 goals next season and just hope I can start pre-season in the way I finished off the last.'"
NL Daily
reports that "Gateshead's players and staff are still awaiting receipt of their wages for the month of April. With the wages now a fortnight overdue, the club's former sports therapist Annie Davis is continuing to help out with player treatment. Despite being sacked, along with the rest of the Heed's staff, Davis has been treating teenage midfielder Elliot Forbes, who has a significant hamstring injury.
She has now been treating Under-19 players after they picked up injuries last week. The treatment has been taking place at nearby Hebburn Town, who allowed Gateshead to use their training and other facilities after the club was no longer permitted to use the International Stadium due to unpaid council bills."
---
13 May 2019
Altrincham will have to wait until the National League AGM in the summer before they can be certain of the make-up of the National League North for 2019-20.
With five teams having departed the division this summer, (namely the promoted duo of Stockport County and Chorley and the relegated trio of Ashton United, FC United of Manchester and Nuneaton Borough), five new members will be incorporated into National League North for 2019-20. With the National League at Step One having lost four decidedly southern teams at the end of 2018-19, no one will be dropping down to National North from that quartet.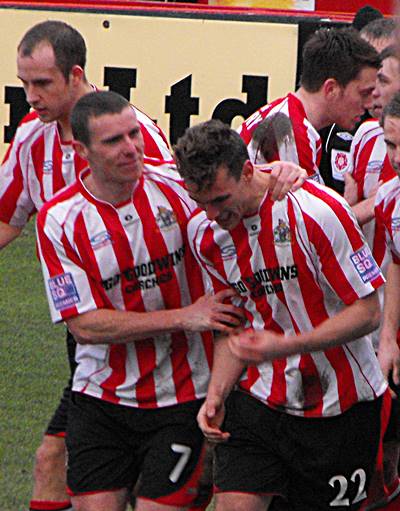 Right: Seen here being congratulated by Robbie Lawton, Greg Young (no.22) netted Alty's late winner when they beat Kettering Town 3-2 at Moss Lane in 2011.
In the opposite direction, arriving in the North division from lower divisions are likely to be Farsley Celtic, Kettering Town and King's Lynn Town. All three have hit the financial buffers in recent years and, in a sense, can be viewed to varying degrees as new opponents for Altrincham. Since our last encounter with Farsley Celtic, the Yorkshire club has been defunct and re-formed, whilst Kettering Town have rebuilt after enforced demotion and administration and now play at a different venue, whilst King's Lynn Town are new opponents altogether.
Farsley Celtic were unable to complete their fixtures in season 2009-10 and were expelled by the Conference. They reformed as Farsley and were later allowed to reuse the Celtic appendage to their name.
As for Kettering Town, Wikipedia reminds us that "After losing their Rockingham Road ground in 2011, the club went into administration during the 2011–12 season, finishing bottom of the Conference National and were demoted two divisions to the Premier Division of the Southern League. They finished bottom of the Southern League Premier Division the following season and were relegated to Division One Central". They have now climbed back to Step Two and currently play at Burton Park Wanderers' Latimer Park ground in Burton Latimer, just south of Kettering.
The bookies' money is on the other two places in the National League North being taken by two clubs transferring from southern climes, namely Gloucester City and Oxford City. Again we have played both clubs previously but, this time around, Gloucester have a different adopted home, at Evesham, whereas they played at Cheltenham Town when we last encountered them. They hope to return to their original site in Gloucester in the near future following remedial work to prevent a recurrence of the river flooding which caused them to vacate that location.
On 9 May Gloucester City announced that "Chairman Rod Jenner has departed the Club. In a statement to the fans and Club volunteers, Rod had this to say... 'I came to the role, reluctantly, under very difficult circumstances and perhaps during one of the most critical points in the Club's history. During a massive period of upheaval and change for the Club, both myself and now former Vice Chairman Chris Gage, provided a stability and leadership which saw us retain National League status and with the team we built around us, provided resilience across multiple club roles and delivered progress on the Stadium.
I spoke some months back about my intentions to step aside at the end of the season, with my family and my rapidly expanding business now demanding more of my time; and we had agreed that this announcement would come once both planning was secured and the funding application submitted... I've no doubt that the Club will, with the financial backing it now has at board level and the new Supporters Trust Board now working in tandem with the Club, return home to Meadow Park in the very near future".
Although Altrincham have not met King's Lynn Town before, they like Farsley are a phoenix club. As King's Lynn, founded in 1879, they were wound up in 2009 and re-formed as King's Lynn Town in 2010. The earlier club had a season in the Conference North in 2008-09, when Altrincham were in the National division.
And Lynn News tells us that "King's Lynn Town manager Ian Culverhouse has compared his side's promotion to the National League to that of a fairytale. The Linnets came from behind to defeat Warrington 3-2 after extra-time in the Super Play-Off at Cantilever Park to secure their place back in the National League for the first time since 2008.
Having come so close last campaign, only to miss out in heart-breaking fashion against Slough in the final, the former Norwich City assistant boss, who returned to the club mid-season, has successfully completed the job he was brought in to do. Culverhouse said 'This is a massive achievement for the football club, to do what we've done and to come from where we were'...
Culverhouse believes that Lynn's 3-0 victory at high-flying Alvechurch, his first game back in the Walks' dugout, last November, was the catalyst for their promotion push.
'I sat there because Baz (Paul Bastock) came in with me. I was with him at Grantham and I tried to play the way we have here over there but it just didn't work,' he said. 'I said to him at the time "You watch these boys play" and he sat on the side and said "Oh my god, this is just a different level"...
We came up [for Warrington] on Friday night and our preparation was spot on. It doesn't guarantee you anything and it costs money to do what we did, but [the chairman] backed us massively and he's got his rewards.'
Although Culverhouse won a UEFA Cup winner's medal as a player and helped the Canaries to back-to-back promotions as a number two, he admitted that guiding Lynn to promotion towers above all his previous achievements in the game... 'The promotions were magnificent and I will never, ever forget them as long as I live, but my head was below the parapet then... Now I'm giving the orders out and the buck stops with me'".
The
National League
reported that "The second-placed sides won the day as Chorley and Woking earned promotion into the National League. Both runners-up edged through as the home sides got the job done on an afternoon of drama.
The National League South Promotion Final went the way of Woking as Alan Dowson kept his promotion promise to the fans. The Cards go back up at the first time of asking after suffering the heartbreak of relegation just 12 months ago. Armani Little's stunning free-kick was enough to put Welling United to the sword, a third play-off final defeat for their unlucky manager Steve King.
It was just as nerve-wracking at Victory Park and it went all the way. The game ended 1-1 after an exciting 90 minutes. It was to be decided on penalty kicks and despite missing their first two, the Magpies took the glory. Spennymoor's Johnson's spot kick was saved and it's Jamie Vermiglio's team who go up after an incredible season."
Just as against Altrincham a week earlier, the Magpies won a shoot-out despite missing their first two spot-kicks!
Chorley report that "The Magpies were promoted to the National League after outlasting Spennymoor in a penalty shootout following 120 tense minutes at Victory Park. Both teams were unchanged from their respective semi-final victories on the first Sunday of May...
The first half came and went with few clear-cut chances for either side. The visitors started the better, but struggled to create a clear opening... At the other end Chorley worked their way into the match and bossed the final 15 minutes...
The second [half] saw Chorley go on the offensive with Moors' happy to sit and hit on the break... Chorley had numerous set piece opportunities from free kicks, corners and long Blakeman throws,... The first half of extra time saw The Magpies again on the front foot and when Blakeman swung a corner over for Scott Leather to head home unmarked it looked as though the home side had done enough. Only the visitors went right down the other end to equalise through Glen Taylor, who beat Andy Teague's dive to finish past Matt Urwin.
There were few further chances during the extra minutes, so to penalties we went once again and ONCE AGAIN Matt Urwin was the hero, stopping three of Spennymoor's six kicks, around four completions by Meppen-Walter, Josh O'Keefe, Marcus Carver and Elliot Newby, to send Chorley back to the non-league top table for the first time since 1990".
Att. 3594: Chorley 1-1 Spennymoor Town (Chorley win 4-3 on penalties).
Att. 4865: Woking 1-0 Welling United
Chorley return to Step One of the Non-League Pyramid, 29 years after their previous stay at that level, which lasted just two seasons (1988-90).
The
Hartlepool Mail
reports that "Hartlepool United have missed out on a potential National League derby with Spennymoor Town, after the Moors suffered defeat in their play-off final. Jason Ainsley's side suffered a heartbreaking defeat on penalties after they had pegged back much-fancied Chorley in extra-time.
A Scott Leather header in the first-half of extra time looked to have handed the North West side victory, only for the prolific Glen Taylor to level only moments later and send the game to penalties.
And after the shootout went to sudden death, Andrew Johnson missed the decisive spot kick to ensure it would be Chorley who gained promotion to the National League... In the dugout, both boss Jason Ainsley and assistant manager Tommy Miller have turned out for Hartlepool...
In a tense and nervy first-half, it was Chorley who dictated the possession without ever seriously threatening visiting stopper Matthew Gould.... Spennymoor began to have chances of their own after the break but again failed to trouble Matt Unwin between the sticks. That meant the tie progressed to extra time and, when Leather rose highest to nod home from a corner, it looked to be over for the Moors.
But Taylor wasn't quite done yet, with the frontman prodding past Unwin to set up a nervy finale, which ultimately ended in penalties.
After both teams missed two spot-kicks apiece, the tie progressed to sudden death. And it was Chorley who held their nerve to join Pools in the National League next season after Unwin saved Johnson's penalty".
At
Darlington
"Chief Executive Officer David Johnston addressed the annual awards dinner on Friday night.
He said, 'This was a season of great expectation; we came out of the 17-18 season with a run of form over the last 15 games that placed us 3rd in the form table. We then were backed superbly by the fans... and strengthened the squad with a competitive budget. Sadly, we have had a disappointing season, finishing 16th and with no cup runs yet again. Poor results led to lower crowds and reduced revenue forcing me to cut the budget to maintain good financial diligence and this meant selling players mid season.
I just want to mention here the financial plight of many clubs in a perilous condition; look at Gateshead, Nuneaton, FC United of Manchester, and even the likes of Bolton, Notts County; I could go on and on. Clubs are spending beyond their means. FFP does not exist in the lower leagues, just take a look at Salford's accounts, £2m loss last year!! Crazy, but in existence whilst they have rich benefactors who remain interested; god forbid what happens if that interest and investment wanes. We will not risk this happening to DFC again, hence our actions.
Our performance as a club has not come up to the standards we had hoped. We have to take COLLECTIVE RESPONSIBILTY for this; Myself as Chairman, The Board, Management and the players. Quite simply we have not performed well enough. We therefore need to restore the fans' confidence in us and we must improve in the new season...
Where will we be playing Blackwell Meadows or the Sporting Village? This is still under discussion but we are making good progress... The location discussions are nearing a conclusion so we will update you when we have a preferred option.
To our players; some of you will stay some will leave but can I say thank you for your efforts this season. For those who will remain we must improve collectively and as individuals. I expect and will demand more. The model we have been running with will become more prominent next season with a blend of contracted and loan players. We have and will develop closer relationships with League clubs and the north east clubs in particular...
It's obvious to say [our manager] Tommy has gone... We discussed next season and agreed it was in the best interests of the club that he moved on... We have started a process to look for a new manager and as expected we have had over 60 applications for the role. There are some very interesting candidates in there and we have been interviewing all day today to produce a short list for the final selection. It is going to be a difficult choice!
We will hopefully be making a quick appointment but trust me this will be done diligently and we will follow a detailed process...
The club is supporter-owned and we have done a great job to get back to debt free, well run and this is a massive achievement... We may not have celebrity owners, but we will be here next month and the month after!... So let's remain positive. I fully believe DFC will get back to the Football League it's just a question of when".
A player leaving the National League North is the subject of a report from Gainsborough Trinity who say that former Alty loanee "Liam King and Ross Hannah have swooped to secure the signature of a striker with in excess of 330 career goals. A prolific centre forward, boasting 127 strikes for Frickley Athletic and in excess of 50 goals for Shaw Lane and Goole, thirty-three year old Gavin Allott joins, following his departure from National League North side Boston United...
His goal scoring ability has made him one of non-league football's most feared centre forwards. In a short spell last season, Allott struck eleven times at the higher level, finishing second top scorer for the Pilgrims, doing enough to be offered a new deal, choosing instead to sign for the ambitious Holy Blues...
'Joining Gainsborough was an easy decision. I had spoken to a few clubs, but after I had spoken to Liam and Ross and heard what they have planned for next season, it was a no brainer. I have known Ross (from our time together at Belper) and Liam through football over the years. A big draw for me, as a player, is that the management have a great knowledge of the players at this level and higher and they seem determined to put together a competitive side. I want to do the best that I can as a player and that's winning things'" he explained".
The
BBC
reports that "A football club narrowly avoided going bust after an accountant stole thousands of pounds to spend on cocaine and a 'live sex-cam model'. Andrew Barnbrook, from Bispham, Lancashire took £240,000 from AFC Fylde to also fund online gambling, luxury gifts and a champagne lifestyle.
The National League club only survived by borrowing money to stay afloat, Preston Crown Court was told. Barnbrook, 38, who admitted theft, was jailed for 32 months.
Judge Andrew Jeffries QC told him 'You stuck the money up your nose, drank in champagne bars, befriended a live sex-cam model, bought lavish gifts for her and paid for her time'... But she insisted their relationship was purely business, after admitting Barnbrook had blown between £50,000 and £70,000 on luxury goods for her... Barnbrook was working as a finance director for semi-professional side AFC Fylde when he transferred £239,900 to his personal bank account.
But his financial wrongdoings came to light on 5 January 2018 and he was suspended from the club. In a victim impact statement, Stuart King, the chief operations officer for Tangerine Holdings, which owns the National League side, said the club was only able to survive because it was part of a larger group and could borrow money".
---
---
The following pages, which initially replicate those pages with the same web addresses which formed part of the official Club website, will be re-branded from 2018 as part of this new unofficial Alty Files site.
A/Z Site Index to The Alty Files at www.altrinchamfc.co.uk
---