CURRENT NEWS IN FULL
---
25 May 2016
To assist in keeping track of the player movements at the J. Davidson Stadium over the summer, here is a list of those players committed to Altrincham FC for 2016-17 and those who have left since the end of last season.
2016-17 squad, to date: Andrew Dawber, Shaun Densmore, Tom Hannigan, Sam Heathcote, Charlie Joyce, David Lynch, Jake Moult, Simon Richman, James Lawrie, Damian Reeves.
Departed players: Stuart Coburn (retired), Tim Deasy (released), Scott Leather (opted to move to Chorley), Adam Griffin (released), Luca Havern (released), Tom Marshall (released), Ryan Crowther (released), Michael Rankine (opted to go elsewhere), Nicky Clee (released), George Bowerman (released), Josh O'Keefe (released).
North Ferriby United
have now issued an "Official Club Statement. After another fantastic season for North Ferriby United culminating in promotion to The National League, the club has to announce that, after five extremely successful years, our manager Billy Heath and assistant (Bobby) Mark Carroll have decided to take up an offer with FC Halifax Town.
The club has experienced a fantastic few years with Billy and Bobby at the helm and the club would like to thank them for their tremendous work ethic and remarkable achievements during this period with North Ferriby United. North Ferriby United wish them every success in their new role at Halifax Town, a well established West Yorkshire club steeped in football history."
Meanwhile FC Halifax Town "has decided not to renew manager Jim Harvey's short term contract. It has not been possible to delay the announcement following the success on Sunday, due to the three-week extension to the playing season and the need to commence planning for the 2016-2017 campaign and player contract discussions.
We admire the efforts of Jim and Tommy Miller in what has been a difficult season trying to avoid relegation and the outstanding success of winning the FA Trophy...
The Club can confirm the appointment of Billy Heath and Mark Carroll on a two-year contract. After another fantastic season for North Ferriby United under the leadership of Billy and Mark, culminating in promotion to The National League. ... they've also secured two promotions, two other top five finishes and were also FA Trophy winners last season". [Reproduced as written].
Elsewhere, NL Pitchero says that "AFC Fylde's new man Steve Williams believes he can make history with the club following his switch from National League side Barrow AFC.
The towering centre-half spent last season with the Bluebirds, but turned down a new deal in favour of a move 'back home' with the Coasters...
'We originally had talks a couple of years ago before I signed for FC Halifax Town,' said the 29-year-old. 'So, joining the club has always been in the back of my mind. I am a local lad so it's something that I've thought about for a while. I spoke to the manager again at the end of this season and it seemed like the right time to sign, especially with the club making a real effort to get out of the league. It's something I aspire to and want to help the club achieve.
'I think the deal is a positive move for both parties. With my experience and the club's ambition, we should be able to help each other reach those targets next season. I don't see the move as dropping down a division. I fully believe that I'll be back playing in the Conference next season with Fylde, so that drives me on. Yes, the club is in a league below but, in 12 months` time, I'll be playing back at that level but with a club that's on the up. I'm looking at the bigger picture rather than just this season.'
Williams already has plenty of Football League experience having made close on a century of appearances for Bradford City and is now hoping to guide the Coasters to that level playing the 'proper way'.
'I played almost 100 League games for Bradford and that's ultimately what I want to get back to. Living in the area gives me even more desire to get there with a local club. I'd love to make history with the club and help get them to that level. I've played in the Conference for a couple of years and it's a very difficult league to get out of. There are a few clubs paying big money for players and they still struggle to get out but, hopefully, during my time with the club we can achieve that.
'Another pull for me was the style of play that the gaffer has instilled into the team. When I played against Fylde for Barrow in the FA Cup last season I thought they were the better footballing side and that really appealed to me. It's about teaching the right philosophy and if we do go up then we will be one of the few teams that plays the proper way'...
The former Chorley defender will be looking to fill the void left by the departing Tom Hannigan [now with Alty], but he admits that doesn't faze him. 'I don't really see it that way, I just want to come here and do my job. I don't see it as having to fill anyone's shoes. I have enough confidence in my own ability to be the man in that position. Strong and commanding is something that's stuck with me throughout my career. I'm a ball playing centre-half but having played in the Conference for a while I know football doesn't always work like that and you have to be solid. Sometimes you have to play ugly and I have adapted to that side too.
'I want to become an all-round better player so it will be interesting to see how exactly the gaffer wants us to play next year. It always depends on the opposition and sometimes he might want us to be more robust but, either way, we will be doing everything to get ourselves promoted'".
The National League reports that "FC Halifax Town defender Hamza Bencherif has signed for Wrexham.
The 28-year-old joined the Shaymen last summer from Lincoln City on a one-year deal. Although he was born in Paris, Bencherif started his career with Nottingham Forest where he was loaned out to Lincoln City in October 2007... He was released by Forest at the end of the 2008/09 season and signed a one-year contract with Macclesfield Town... but a broken ankle he sustained in December ended his season.
Bencherif signed a one-year extension to his contract in May 2010, and scored 16 goals in forty-one League games during the 2010/11 campaign. He rejected a new contract offer from Macclesfield in June 2011 to sign a two-year deal with Notts County... He then signed a short-term deal with Plymouth Argyle... He was released in January 2014... and moved to Algerian side JS Kabylie on an eighteen-month contract.
In August 2014, Bencherif joined Lincoln City... After one season with Lincoln he joined FC Halifax".
At Harrogate Town, "The following players are no longer under contract and will not be with us next season: Harry Coates, Paul Clayton, Luke Foster, David McGurk, Andy McWilliams, Matt Bloomer, Jordan Thewlis (joined Gainsborough Trinity)...
We are delighted that the following players are all now under contract for the 2016/2017 season: Peter Crook, Lewis Turner, Danny Ellis, Luke Shiels, Joe Colbeck, Paul Thirwell, Lloyd Kerry, Warren Burrell, Jack Emmett, Tom Platt, Dominic Knowles, Simon Ainge.
Andy Gascgoine, Ryan Fallowfield and James Cadman have all been invited back to attend pre-season training. Louie Swain and Brendan Daniels remain in negotiation with the club."
At Hednesford Town "Gurjit Singh has agreed a one-year deal with the Pitmen. The striker, who has spent the last 14 months with Kidderminster Harriers, has been a consistent goalscorer...
He said, 'I rejected offers from the league above in order to come to the club.".
---
24 May 2016
From John Edwards, joint Press & Media Officer at Altrincham FC, we learn that manager "Neil Young is celebrating a double transfer breakthrough for Altrincham after beating a host of rival clubs to the signature of Fylde skipper Tom Hannigan and also landing tough-tackling midfielder David Lynch from Clitheroe.
New Alty boss Young pounced for Hannigan as soon as he heard Fylde's decision to go full-time was at odds with the 27-year old centre-back's work commitments.
He wasn't alone in offering Hannigan a fresh start but was able to announce a major coup for his rebuilding programme at The J.Davidson Stadium after the highly-rated defender accepted the offer of a two-year deal to become the cornerstone of a new-look backline.
Reflecting on a hectic spell of transfer talks that ended with Hannigan and former Burnley, Workington and Clitheroe midfielder Lynch bolstering a reshaped, rapidly-expanding Alty squad, Young said:
'David is a hard-working, tenacious midfielder who had an excellent season last season at Clitheroe. At 22, he fits the profile of what we are looking to do, and he is very keen to come in and do well.
'Tom is a significant signing for us and is the type of experienced player we have been looking for to help the younger lads we have recruited and will continue to recruit.
'Tom has captained AFC Fylde at this level for the last three years and only recently missed out on promotion. I know (Fylde manager) Dave Challinor was very keen to keep him, but due to a change in their status to full-time, combined with Tom's work commitments, the chance arose to sign him.
'I'm very happy that Tom has chosen us ahead of a number of other clubs to play his football for the next two seasons.'
Hannigan joined Fylde from Vauxhall Motors, where he not only skippered the side but was shortlisted for non-League Player of the Year at the North-West Football Awards in 2013".
Tom Hannigan (dob 11 April 1987), the captain of AFC Fylde, joined Altrincham on 23 May 2016. A central defender, Tom had joined AFC Fylde in summer 2014 from Vauxhall Motors who were then in Conference North. At the time, the Coasters' manager Dave Challinor said, "He will fit into our style, having played for a few years at a side that do play from the back. Defensively he's very good and he will hopefully continue to get his fair share of goals at the other and he attacks the ball well and will be a threat at set pieces". In his first season with Fylde he was named "Manager's Player of the Season". In his early career, Tom was with Notts County.
David Lynch (dob 1993), a left-sided central midfielder, joined Altrincham from Clitheroe on 23 May 2016. A former Burnley player, he had joined Clitheroe in summer 2014, when Simon Garner, who this week joined the Altrincham backroom staff, was manager at the Lancashire club. David was captain at Clitheroe and in 2010-11 had been Burnley's young Player of the Year for the 2010/11 season
Garner said, at the time, "He really impressed me. He's got a really professional attitude... I know that he will train like he plays and he'll be a voice in there... He will go higher so to get him down here, it's a massive plus for the club... When asked what Clitheroe could expect from David Lynch, the central midfielder replied '100% commitment and energy levels up and down the pitch every single game. I'm not a big time Charlie or anything like that; I've got nothing about me to be like that. I just love playing football I'll always give my best in every game and hopefully weigh in with a few goals'".
In 2013/14 David played for Workington but started out at Burnley. He has also played for Burscough.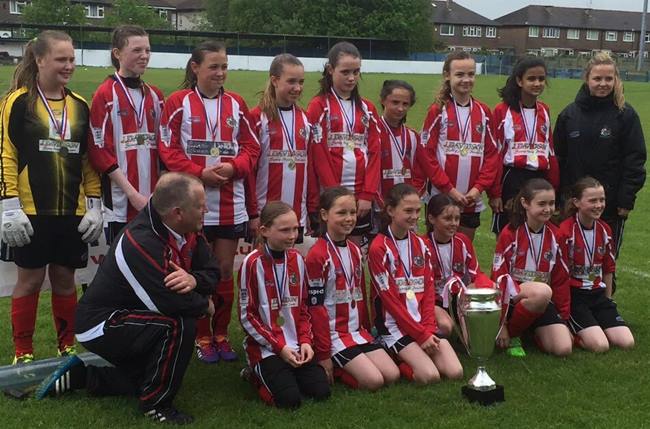 Darren Gregory tells us that in last weekend's Finals, Altrincham FC Girls' teams won two of their three matches. The Wrens (under 12s) were their B League cup Winners (pictured) and the Chicks (under 16) were their B League cup Winners. The Skylarks (under 13s) lost their final, going down 2-1 to Stretford Vics. As Darren rightly says, "Overall it's been a excellent achievement to win six out of the seven Finals that Altrincham FC's junior girls were in".
The
FA
confirms that Altrincham FC's under-18s' team finished the season fifth in the NWYA Premier Division.
The
Cheshire FA
"Development Programme of the Year Finalists are:
Altrincham FC Community Sports
Cheshire Walking Football Group
Frodsham Women's Recreational Session
For the first time the winners of each award category will be formally announced at our Awards Evening... Cheshire FA's annual awards look to recognise and reward those involved in grassroots football across the county who make a real difference to how the game is played and developed... Our Awards Evening is taking place on June 3".
The
Lytham & St Anne's Express
confirms that "AFC Fylde are to operate as a full-time club from the start of the 2016-17 season. The Coasters narrowly missed out on a place in the National League following defeat in the Promotion Final at North Ferriby United nine days ago but decided, nonetheless, that going full time would be beneficial for the club to progress.
In addition, the management team of Dave Challinor and Colin Woodthorpe have been handed an extension to their current contracts by chairman David Haythornthwaite. Challinor believes the decision gives his squad a massive boost as they prepare to move into their new Mill Farm stadium.
Challinor said... 'Had we gone up, we would have definitely done it. Missing out on promotion put question marks over it, but it was quickly decided after the game that the infrastructure is now in place to make this step up. We won't be training two or three days a week, we will be doing it properly. We are going into this with a professional mindset and we want the lads to take on the mentality of being full-time footballers, which ultimately gives us the best opportunity of getting out of what will be a very difficult division.
'We have been preparing for this transition for a while in terms of our recruitment. There will be some players that we would love to keep that will be leaving due to work commitments, but we can't let that stop us doing what we want to do...
'Most of the teams in the league above are full-time and this will hopefully give us a head start if we are to be promoted next season. There are two or three clubs at this level who are already full-time and it gives you the scope to work with players on a regular basis... Lads sometimes have had tough days at work and that makes training in the evening difficult. This gives us a real advantage...
'Most people laughed when we said we were going to build a new ground but that's now a reality and we continue to progress... We play in a different way to a lot of teams in this league and that sometimes makes it difficult to be successful, but I have a philosophy as a manager to play attractive football. It might be easier to lump the ball up but that's not pleasing on the eye and ultimately doesn't work in the long
 term'...
Chairman David Haythornthwaite said, 'We knew we would have to make this move at some time in the future and with us moving into the new stadium in August it just seemed right to do it now. The cost implications are obvious and our wage bill will grow dramatically as we will now be paying 44 weeks as opposed to 38, but this is all part of putting the club on the best professional footing. It will also help us attract a better quality of player which is ultimately what we all 
want.
'We need to get out of this division and I want to give Dave and Colin the best possible opportunity'". Fylde's average gate last season was 586.
Whilst by Monday mid-evening neither the FC Halifax Town nor the North Ferriby United websites had anything about their managerial changes, the BBC reported earlier in the day that "FC Halifax Town boss Jim Harvey has admitted he would love to stay at the club, despite them being expected to appoint a new manager. BBC Radio Humberside understands that North Ferriby United boss Billy Heath will take over in the next few days...
'I would love to bring this team back up and restore a little bit of pride in the town,' he told BBC Radio Leeds. 'That's a question (about his future) that you need to ask the Chairman and I couldn't elaborate any more than that. I would love the opportunity'.
Halifax had three managers at The Shay in 2015-16, with Neil Aspin sacked in September following just one win from 10 games. His replacement Darren Kelly was dismissed after 47 days while, under Harvey, the team were relegated from the National League but claimed victory on their first trip to Wembley. 'I wish I had [had] more time with them because we could get better still,' Harvey added.
'To come here and beat a team that has just gone into the Football League, and to beat them twice in the last couple of months, that's pretty massive'. Heath recently led North Ferriby into the National League by winning the National League North promotion final against AFC Fylde."
The Hull Daily Mail added that "North Ferriby United are set to start life in the National League with a new manager. Billy Heath, who guided the Villagers to the top division in non-league football just 10 days ago, is close to securing a deal to become the new manager of Halifax Town.
It's an end to a glorious era for the club located in a sleepy village in east Yorkshire with a population below 4,000. Heath, and his assistant Mark Carroll, are highly regarded in non-league football for achieving success never thought possible during their time in charge of Ferriby. Having signed a three year contract before Christmas, it seemed Ferriby were destined for more success over the coming years.
But this news will devastate the supporters who have watched the club transform in the space of four and a half years. The Villagers were facing relegation from the Evo-Stik Premier when John Anderson was replaced by Heath in October 2011. Since then, the club has gone from strength to strength, turning them from virtual unknown to one of the most envied clubs outside the Football League.
During their tenure in charge, Ferriby have won two promotions and the FA Trophy. The pair's stock has risen year after year making them hot property and were linked with the vacant job at National League side Lincoln City recently. Joining Halifax, in the division Heath guided Ferriby out of last season, is a major coup for the west Yorkshire side who beat Grimsby Town 1-0 on Sunday to win the FA Trophy.
Losing Heath and Carroll may just be the start of a mass exodus at the E-On Visual Media Stadium. One of the reasons for Ferriby's success in recent years has been the relationship between Heath and his players. They don't have the resources other clubs have, but the spirit generated by Heath has been priceless. With the smallest squad in the league, Heath has got the best out of the players because they have bought into his philosophy.
Heath has shown great faith by taking players with him wherever he goes. Adam Nicklin and Danny Clarke are two who have been signed by Heath at different clubs in the past. They could follow Heath to Halifax and other team-mates could follow them out the door. Skipper Liam King, striker Tom Denton and Ash Palmer could also make their way to the Shay Stadium. Halifax are due to confirm Heath as their new manager imminently leaving Ferriby searching for a new manager.
One possible candidate to take over could be Adam Bolder. Bolder hinted that he might be tempted to hang his boots up after helping Ferriby beat AFC Fylde 2-1 in the National League North play-off final. The 35-year-old, who has played league football for Hull City, Derby County, QPR and Millwall, could be seen as the perfect replacement. With his vast experience, North Ferriby would be a great opportunity for him to start his management career.
He will have great contacts, knows the players, is used to the club and has already helped with game preparations before at Ferriby."
According to the Worcester News, "Worcester City have begun the search to find a new goalkeeper to replace Solihull Moors-bound Nathan Vaughan. The 34-year-old stopper ended his two-year spell at the club after agreeing terms to join last season's Vanarama National League North champions.
Manager Carl Heeley admitted it was a blow to lose Vaughan, who made more than 60 appearances since joining City from Kidderminster Harriers in 2014. But he insists he is confident of finding a player to fill his gloves ahead of the 2016-17 league campaign.
'Of course it has (left us with a hole to fill),' Heeley said. 'But when one person departs, the door opens for somebody else to come in. We have got irons in the fire, there have been constant discussions and we will replace Nathan'...
It is not the first time City have had to look to replace Vaughan as a new job at Jaguar Land Rover forced the former Evesham United stopper to depart the club last summer before a change in work commitments saw him return. 'We didn't struggle to get a replacement (last summer) but I don't think we looked seriously because I had a little bit of a suspicion that was not the end of Nathan's association with the club,' Heeley added...
'We assured him that, whatever decision he made football-wise, he would not get any bad press from me because he has been brilliant and given us some fond memories. Once we have had that conversation with him, he was open with me and said he got an opportunity to join Solihull and wanted to have one last crack at the National League'".
ITV says that "A footballer who killed a brother and sister in a horror car smash has signed a contract to play for Stockport County FC. Former Manchester City youth player Courtney Meppen-Walter, 21, spent eight months behind bars after Kulwant Singh, 32, and his sister Ravel Kaur, 37, from Salford , died when the player's car smashed into their Nissan Micra.
The defender was sentenced to 16 months by a judge after he admitted two counts of causing death by careless driving. Mrs Kaur's two teenage sons were also injured.
Meppen-Walter, from Blackley , was said to have been speeding at nearly twice the 30mph limit when his Mercedes ploughed into Mr Singh's car at the junction of Great Ducie Street and Sherborne Street, near Strangeways in Manchester , in September 2012. He was jailed in February 2013.
The player was originally released early in July 2013 but immediately recalled after it was realised he was freed in error. He remained behind bars until he served half of the sentence. Stockport County, who play in the National League North, announced the signing today.
Meppen-Walter is a former England youth international who played 17 times for his country and captained England at Under-18 level. After leaving Manchester City he signed for Carlisle United in November 2013 and spent two years at Brunton Park... He left Carlisle last year and joined Chorley following a brief spell at Ashton United.
County manager Jim Gannon said Meppen-Walter was 'hungry to get his career going' and said he has 'matured greatly from his life and career experiences'.
He said, 'Courtney, similar to our previous signings, epitomises the qualities outlined in our recruitment profile. He is young but mature, proven at this level but with great potential. He has the strength, height and physical qualities to be competitive in his key positions. He also displays great technical quality for a big lad with a mainly defensive background. In terms of our overall squad profile Courtney, being mainly left footed, gives great balance and depth to our defence and midfield options'".
---
23 May 2016
On the same day that Manchester United sacked Louis van Gaal, after he had won the FA Cup, FA Trophy winners FC Halifax Town have replaced manager Jim Harvey by Billy Heath, manager of promoted North Ferriby United. More on this tonight...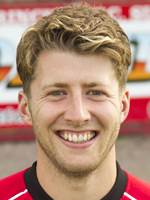 John Edwards, joint Press & Media Officer at Altrincham FC, announces that manager "Neil Young has further bolstered his new-look Altrincham squad for next season after announcing that James Lawrie has agreed a deal to remain at The J.Davidson Stadium.
Former Northern Ireland international Lawrie's versatility has been a constant theme of his time at Alty, with previous managers using him on either flank, in central midfield or in a more advanced number 10 role, just behind the main striker.
But in a policy decision that should prove popular with Lawrie and the vast majority of Alty supporters, Young has revealed his intention to use him in the position most feel is his most effective.
'James is a player who, whenever I have been up against Altrincham, has always caused me problems, particularly when he plays in that number 10 role,' he said. 'That's the position I will be looking to play him in.
'He has shown great commitment to myself and the club, as with the other players I have offered deals to, to take quite a reduction in terms, and I look forward to working with him.'
Lawrie's positive response follows that of Damian Reeves, in contrast to Scott Leather, who rejected new terms to join Chorley, and Michael Rankine, who is also expected to sign for another Conference club after saying 'no' to a deal at Alty".
On Sunday evening Altrincham FC's new management pairing of Neil Young and Gary Jones, along with chairman Grahame Rowley, answered questions from supporters at a Meet the Management session in the Community Sports Hall. Compered by Brian Flynn, the new management outlined the philosophy that they intend to apply at the Club. What follows is not an exhaustive report but, hopefully, it summarizes most of the key points covered during the evening.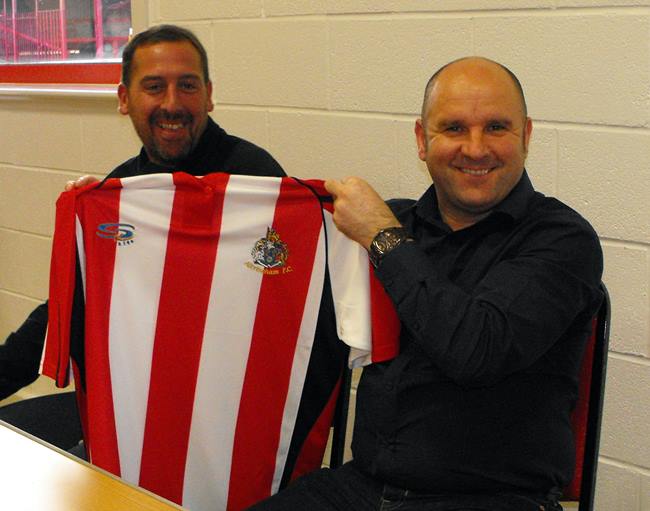 Pictured above are Gary (left) and Neil (right) with the new 2016-17 Altrincham FC home shirt, supplied by SKkits.
Relegation necessarily means a reduced budget and the high wages being offered by certain other clubs in the National League North this summer meant that Neil and Gary were having to be realistic in building a squad. The Club cannot compete with the bankrolled clubs in the division who are offering players £750 a week or more so Neil will be putting together a team with a younger profile than previously, mostly 18-25 years old but with some more experienced heads and they will be making use of the loan system more heavily than has recently been the case at Moss Lane. Neil emphasised that he was keen to build a long-term structure at the club and not simply a quick-fix.
Neil underlined that he feels that having a good strike force is the most important aspect of a team and he is delighted that both Damian Reeves and James Lawrie have committed to remain at the Club. He explained that he sees James as a number ten, playing behind the front man/men. Neil felt that his spell at Stockport County was not as successful as it might have been due to a lack of good strikers, amongst other factors.
Asked about the addition of Simon Garner to the backroom staff, Neil said that although he would probably sign playing forms, Simon would not be a player/coach.
Explaining why so many of last year's squad had been released, Neil explained that he was dictated by "numbers and finance". In other words, he needed to build a squad of 18 or 19 players on a smaller budget than had operated last season.
Gary Jones was asked to introduce himself by outlining his background. He recounted how he had been a professional player for twenty years at Tranmere Rovers, Nottingham Forest and Grimsby Town before teaming up in management with Neil Young at Colwyn Bay. He and Neil had womn promotion there as well as three successive promotions with Chester FC.
Neil underlined how the community orientation and volunteer ethos at Chester was akin to that at Altrincham and he was keen to ensure that both the management and the players were accessible to the supporters.
Only six players remain from last season (Densmore, Richman, Heathcote, Moult, Reeves and Lawrie) so Neil and Gary are looking to "freshen things up" and bring in a number of young, "hungry" players. Goalkeeper Andrew Dawber has been brought in as the new number one but Neil admitted that releasing his predecessor, Tim Deasy, had been a very difficult decision. Andrew had a good pedigree, not least having spent 14 months under Tim Flowers's tutorship at Fulham. Neil said that the young players would make mistakes but that he would rather have that than older players who might be less energetic.
He would not fill his team with "big lumps" but, nevertheless, would ensure that his team were not bullied and would be able to "put their foot in" when needed to do so. Charlie Joyce, his first signing, was a player who would get the ball off the opposition and would not shirk a challenge.
Neil added that he had been impressed by what he had seen of the Altrincham Reserves and that he was also in discussions with other young players with a view to joining Altrincham.
At Stockport, Neil admitted that he had made mistakes with some of his signings but overall he had benefitted from the experience. The fact that a substantial portion of his budget was already committed to contracted players had limited his options at Edgeley Park.
Director and Commercial Manager, Barry Pond, delivered the good news that, as well as J Davidson renewing their sponsorship of the Club, Mornflake had also agreed to renew their shirt-back logo sponsorship. Tribute was later paid to Barry's tireless work on the commercial front.
Asked why Neil had been chosen as manager, Grahame Rowley quipped that "He was the cheapest" of the candidates. Grahame said that all four of the interviewed candidates had been of high calibre but that the interview panel had been unanimous in selecting Neil.
Gary and Neil were asked to name their best signings at previous clubs. For Gary these were strikers, Michael Wilde at Chester, ex-Grimsby man Nathan Jarman and Tony Gray now at Airbus but formerly with Southport. For Neil, Dave Challinor was a key signing at Colwyn Bay, George Horan was important at Chester and Anthony Sarcevic was his other choice. He had been bought for £3,000 from Crewe and sold on to Fleetwood for six figures.
Several supporters expressed their support for the new management's approach and looked forward to a new era at the J, Davidson Stadium. All in all it was a very positive evening.
Congratulations and thanks got to all ten runners who were raising funds for the Altrincham FC Community Sports Hall as they completed the Manchester 10km run on SUnday. Thanks are also due to all those who kindly sponsored them.
FA Vase Final:
Hereford FC 1 Morpeth Town 4
FA Trophy Final:
FC Halifax Town 1 Grimsby Town 0
The
National League
reports that "With respect to the 'Whole Game Solution' proposals to change the future structure of the professional game, The National League Chairman, Brian Barwick, has made the following statement,
'The National League is very concerned about the potential consequences of any potential adoption of the Football League's "Whole Game Solution Discussion Paper". We strongly feel its attempt to re-shape the existing professional game structure has failed to take into consideration the effects of any change on football played below its proposed five divisions.
'We seriously believe it could be very damaging to the National League and its member clubs and will be determined to make that point very clear when we meet up with Football League officials to discuss their proposals. The National League is an ambitious and forward-thinking organisation as well as a well-established and well-loved competition and we will do everything possible to protect both its integrity and its commercial value'".
---
22 May 2016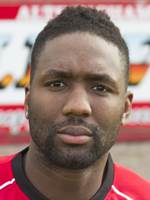 Joint Press & media Officer at Altrincham, John Edwards, writes that "Altrincham have lost out in their efforts to re-sign Michael Rankine (right) but strengthened their backroom team with the acquisition of former Clitheroe manager Simon Garner.
Burly striker Rankine was one of four existing Alty players offered terms by new manager Neil Young, but, unlike fellow-frontrunner Damian Reeves, he has decided against accepting and is, instead, considering approaches from other clubs.
But Young was delighted to announced the arrival of Garner, an impressive midfielder with FC Halifax, FC United of Manchester and Chorley who made an immediate impact on his transition into management by moulding Clitheroe into Evo Stik Division One North promotion contenders in his first job.
'Michael Rankine has turned down the offer of a new contract, as he has received offers from other teams within the Conference,' said the Alty boss. 'Simon has had an excellent career at all levels of non-League football as a player and has also done a fantastic job as manager of Clitheroe.
'He is very well respected. He has just steered Clitheroe to one of their most successful ever seasons and will be a great addition to our backroom team.'"
Footnote: Michael Rankine joined Altrincham last summer and was the Club's leading scorer in 2015-16 season. In all competitions he made 34(+10) appearances and scored 16 goals, 13 of which came in the National League from 30(+9) appearances.
Don't forget that on Sunday evening "Following the England v Turkey friendly (kick off 5.15pm) there will be a Meet the Management Q&A session in the Community Sports Hall at Moss Lane. The bar will be open from 4.45pm and food will be available whilst the game will be shown on the multiple TV screens. Everyone is welcome".
The FA Trophy Final between FC Halifax Town and Grimsby Town takes place at Wembley on Sunday at 4.15pm. It is being broadcast live by BT Sport.
On the eve of Sunday's FA Trophy Final, the
Yorkshire Post
reported that "It has been a quite remarkable journey. A little under eight years after starting life in the humble surrounds of Colwyn Bay and Rossendale United, FC Halifax Town will walk out at Wembley.
Grimsby Town, newly-promoted to the Football League, await the Shaymen in the FA Trophy final and there will surely be few among the 10,000 visitors from Yorkshire prouder than chairman David Bosomworth. Along with fellow director Bobby Ham, the boyhood Bradford City fan rescued senior football in Calderdale after the old Halifax Town had been wound up amid ruinous debts in 2008.
Literally starting from scratch, the pair have overseen a rise that, even allowing for last month's relegation from the National League, has restored a sense of pride to Halifax that had ebbed away during the long, slow death of the old club...
The club who spent 76 years in the Football League, step out at Wembley for the first time... The Halifax chairman told The Yorkshire Post... 'We are all still hurting at the moment following relegation'...
FC Halifax began life in the Northern Premier League Division One North, English football's eighth tier... Halifax's first competitive fixture... was a 3-0 home defeat to Bamber Bridge, while the opening weeks of the season also included losses to Lancaster City and Mossley.
'It was a big drop to go three leagues lower,' recalls Bosomworth... 'We hadn't got a clue about the league, what wages you pay, who the players were or anything'...
Bosomworth's involvement at The Shay came following a stint helping out at Valley Parade in 2004. Along with Ham, he joined a five-man steering committee to help the Bantams tip-toe through the minefield of a second administration...
'I hadn't been involved with football before Bradford,' says the Halifax chairman.... 'It was very much initially a case of sitting in a dingy office and seeing what you can do to help. But then you grow into it... What Bradford gave me, though, was the taste. I wanted to have a go myself after that. Bobby felt the same so we came to Halifax... We wanted everyone to come to the ground and feel welcome. All the clubs, whoever they were, we looked after them'...
'Our objective remains to get in the Football League,' added Bosomworth. 'Relegation makes that harder, of course it does. But we have bounced back from adversity before and we will do it again... As much as the fans were disappointed... when a 1-1 draw on the final day was not enough to stave off relegation... There were a few 'sack the board' comments or whatever. But I think most realise we hurt every bit as much as the fans do. Maybe even more at times...
'We are proud of FC Halifax Town,' added Bosomworth. 'People have asked me in the past if we want to drop the "FC" but I don't. Halifax Town AFC had its life and a lot of fans associate with that. It is their club. But FC Halifax is a new entity. We still represent the town, we still play in blue and white but this is a new club with ambitions to bring League football back to Halifax'".
The Yorkshire Post adds that "All eyes in the FC Halifax Town squad will be on Jim Harvey not once, but twice this weekend... Every member of the travelling party is desperate to play and there will, Harvey knows, be plenty of contrasting emotions when the team is read out. Before that, however, the Shaymen chief intends to inject a bit of fun into the preparations by handing a couple of players an opportunity to be at today's FA Cup fFinal...
'The difficult thing for us ahead of the Trophy final is we can't have a visit beforehand. So, what we have decided to do is hold a raffle among the players for a couple of tickets that we have for the Cup Final. It will be a bit of fun and I am sure the lads will be desperate to win when we draw those lots. I think it will bring a little bit of humour and a bit of fun to the build-up, which is what you often need before such a big game'" said HArvey.
"Town's preparations began in earnest yesterday (Friday) when the squad travelled south. Training then took place in Milton Keynes, while last night a visit to the cinema was planned for the entire travelling party. Another training session is earmarked for today (Saturday), this time at Barnet's Hive ground...
'We gave the lads a week off straight after the last game of the season,' said Harvey. 'Relegation was a big disappointment so it was important that we shut the door on it, and the lads had a bit of time on their own. Fatigue can catch up with you after a long season, too, so it was important they had a break. Since returning to training, the lads have done well and we had a practice game against Derby County Under-21s recently that was a great workout.
'It got us sharp again and I have seen a real bounce in training this week among the lads, suggesting to me they have left behind all that disappointment'...
A little over 45,000 tickets have been sold...
'We all know how dire things were early in the season. When I took over, the team looked dead and buried in terms of relegation. There had been just one clean sheet in 30 odd games and we were 10 points adrift... We now have the FA Trophy final and a win at Wembley will be absolutely marvellous in terms of taking us through the summer'".
Meanwhile, the BBC says that "After their loss to Grimsby in the National League promotion final, Forest Green Rovers owner Dale Vince says his club will win the division in 2016-17. He told BBC Points West it had been a 'great day' for the the Gloucestershire club".
Also from the BBC we learn that "The National League is "very concerned" about the Football League's proposed shake-up, says chairman Brian Barwick. The Football League wants to create an extra division with 20 teams in each from 2019-20, increasing the number of clubs from 92 to 100. Both the Football Association and Premier League back the proposal 'in principle'.
'The National League is very concerned about the potential consequences of any potential adoption,' said Barwick. 'We strongly feel its attempt to re-shape the existing professional game structure has failed to take into consideration the effects of any change on football played below its proposed five divisions. We seriously believe it could be very damaging to the National League and its member clubs and will be determined to make that point very clear when we meet up with Football League officials to discuss their proposals.
'The National League is an ambitious and forward-thinking organisation as well as a well-established and well-loved competition and we will do everything possible to protect both its integrity and its commercial value'...
BBC Sport has contacted the 18 clubs that were neither promoted nor relegated from the top-tier of English non-league football this season about the idea, with the responses ranging from 'simply awful' to 'long overdue'...
Barrow: 'Simply awful. This is clearly the proposal of someone completely out of touch with grassroots English football and in thrall of the elite clubs. A reduction of potential revenue through less games, a further diminution of the FA Cup to a midweek competition, and absolutely no perceived benefit to any club below the top half of the Championship. I had to check it wasn't 1 April,', said chairman Paul Casson.
Braintree Town: 'It introduces another tier between the Premier League and non-league football, effectively relegating all but the eight clubs that are invited to join the re-organised Football League. A better structure would be a reorganised Football League with the existing Championship and League One tiers fed by a League Two North and League Two South' said chairman Lee Harding...
Forest Green, 'The proposal sounds like a good idea. 20 teams per league, ending Tuesday night games. It makes perfect sense that the top eight teams from our league should be incorporated into the Football League if this goes ahead. In fact, given that below the National League all competitions become regional, the Football League should really think about adopting the National League now. They should also standardise the number of teams that are promoted and relegated between divisions,' said chairman Dale Vince....
Southport:'There's been no consultation with the National League board from the Football League. There's a lack of understanding of how the pyramid system will change; what happens to the others when the eight clubs go up?', said a club spokesperson...
Torquay United: 'I believe the lower leagues should be regionalised. Travelling the length of the country, like to Gateshead in front of paltry crowds is farcical,' said chairman Dave Phillips.
Woking: 'I personally think it is a fantastic proposal and long overdue, I am definitely in favour' said Woking football director Geoff Chapple".
The NW Evening Mail says that "Centre-back Steve Williams has left Holker Street after one season to join AFC Fylde.
The 29-year-old had been offered a new contract by Barrow boss Paul Cox earlier this month, but has instead chosen to join the ambitious National League North side... The former Halifax Town and Macclesfield man made 15 National League appearances for the Bluebirds during a one-year stay which was disrupted by injury.
He found himself below both Simon Grand and Danny Livesey in the pecking order for the two central defensive berths for much of his time working with Cox, but whereas Grand was released following the end of the season, the AFC boss had offered Williams a new deal.
Similar offers were made to Alex-Ray Harvey, Andy Parry and Elliot Newby, with Barrow yet to announce whether any of that trio have agreed terms. Cox had been hopeful of making more signings this week, but delays in the process mean those recruits are now not set to be confirmed until at least next week."
At Gainsborough Trinity, "Dominic Roma [has] made his sixth signing of the summer, capturing the signature of Jordan Thewlis to further bolster his attacking options. A regular member of the Harrogate side that reached the end of season play-offs... the winger, who is equally comfortable playing in a front three, grabbed seven goals in twenty starts...
The former Scunthorpe United youth-teamer, at only 23 years of age clearly has a point to prove, having failed to break into the Scunthorpe first team, and what better way to prove himself than getting amongst the action back at Trinity. Other experience for the versatile forward has been gleaned from spells at Goole, Scarborough Athletic, Brigg, Stocksbridge Park Steels, Matlock and Buxton".
We learn from the Evostik League that "Fans of Darlington, Salford City, Skelmersdale United and Rugby Town won't want to miss out on The Non-League Paper this Sunday after the quartet of EVO-STIK Northern Premier League clubs were honoured at the 2016 National Game Awards.
Darlington's Nathan Cartman... [was] at Chelsea's Stamford Bridge to collect their accolades, along with EVO-STIK NPL chairman Mark Harris who picked up Salford's award on behalf of the absent top flight's play-off winners...
Quakers' star Cartman beat off stiff competition from across the country to walk away with the SK Kits Steps 3 & 4 Player of Year accolade and... [he collected] his honour from the sponsor's owner, EVO-STIK NPL legend and current Altrincham goalkeeping coach Ian Senior."
---
21 May 2016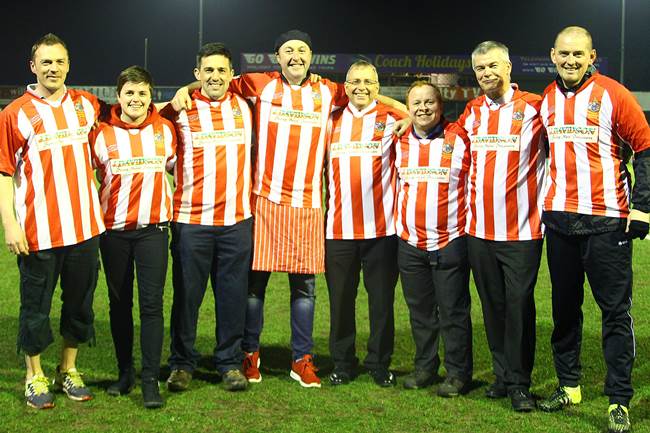 Judy Henson writes that "As many of you know, the Community Sports Hall (CSH) has been open for well over a year now and we have held many fundraising events to help with paying the final thousands off the total cost of the build. With that in mind, we have assembled a team of community/club representatives to run this year's Manchester 10km on Sunday 22nd May.
If you have a spare £1 and would like to make a donation, please follow this link and we would be extremely grateful for your support.
Runners include: Grahame Rowley (Chairman), Richie Bentley (Club Caterer), Stacey Rowley (CSH Manager), Judy Henson (Community Co-Ordinator), Alan Ainsley (Physio), Neil Tolson (Community Coach), Michael Ripley (Club Photographer), Phil Taylor (Community Coach), Steven Crane (BTEC/Youth team Coach), Steven Foster, Richard Parris, Richard Impey, Barry Woodyatt (Club Volunteers).
If you're in the city centre on Sunday, give us a wave and cheer! We will be the smiling bunch dressed in Alty's famous red and white stripes".
The runners are pictured above.
All monies raised via Mike's Just Giving page (link above) will be matched by Barclays Bank, up to £1000, so please pledge as much as you can!
As previously announced, "Following the England v Turkey friendly at Sunderland on Sunday May 22nd (kick off 5.15pm) there will be a Meet the Management Q&A session in the Community Sports Hall. The bar will be open from 4.45pm and food will be available whilst the game will be shown on the multiple TV screens. Everyone is welcome".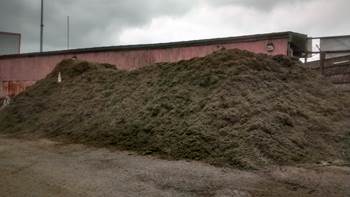 Altrincham FC has plenty of quality top soil, removed from the pitch at the J. Davidson Stadium this week. It is available for free collection - just bring your own spade and containers. The mound of soil (pictured, right), will be found behind the Popular Side in the car park, so just help yourself!
Macclesfield Town
"are offering a unique chance for you to trial with the Football Club. The Silkmen are offering spaces in a trial game at the Club training ground on Friday 8th July. The match will be assessed by members of the Silkmen coaching staff with at least one stand-out player of the day given the chance to train with the first-team squad during pre-season.
Players in the game will be given a full video footage of the match for their own future use. Full playing kit will be provided and players will just need to arrive at the training ground with boots and shin pads. The game will kick-off at 6.30pm and any interested players should apply quickly to reserve their space in the game.
Players who want to apply for the game must be aged 16-38 and should email their footballing CV to First-Team Coach Byron Jenkins. Your CV will then be assessed and 22 players will be selected for the game. Players are asked to apply quickly for the game to help the Football Club process the expected large number of applicants."
From the Grimsby Telegraph we learn that "FC Halifax will have no problem getting motivated for Sunday's FA Trophy Final at Wembley. That's the message from Grimsby Town manager Paul Hurst...
But despite effectively being two leagues apart for this weekend's final... 'I'm expecting a massive effort from Halifax,' Hurst said. 'You'd think they'd be driven by, first of all, the disappointment of losing their National League status, particularly how it happened because they gave themselves a great chance after looking dead and buried in the early season. But also, I'm sure some of the Halifax players will be in the shop window, and that makes for a difficult game.
'You walk out of that tunnel and on to that pitch on Sunday, there's going to be a decent crowd in, you can't help but want to do well. Irrespective of the fact that we've achieved our main goal this season and Halifax have had a massive disappointment this season, I think on Sunday it's very much a one-off game. I think you could well see an entertaining game as well, as it was on Sunday for the Play-Off Final, instead of these cagey affairs which you sometimes get'...
There will be added interest in the final at Wembley following the sides' two meetings in the league this season. The Mariners came out on top in emphatic fashion at Blundell Park back in October with a 7-0 win... But they came unstuck in the return fixture at the Shay when Halifax got their revenge with a 4-2 victory...
'When they came here, in all fairness... they didn't look like they had much fight in them at all'...
But, after achieving their main goal of promotion and the celebrations that followed the victory over Forest Green, Hurst admits he may look to make some changes. 'I haven't had too much time yet to say which way I'll be going. People often say you shouldn't always let sentiment get in the way of things and wanting to go and win another game of football, but there's certainly a pull to play certain players in that game. That would then lead to people asking; is he playing his best side?...
'We've had some lads here that have stayed loyal when perhaps other opportunities have arisen, so there is an element of that in my mind. But I can guarantee the supporters 100 per cent that it'll be a team I put out that I think can win us the game'".
From the Lincolnshire Echo, we learn that "Dayle Southwell has admitted he may have played his last game for Boston United... The Pilgrims striker is attracting interest from clubs higher up the football pyramid after scoring 54 goals in the last two seasons. The former Grimsby Town striker is eager to return to the full-time game and looks likely to leave the Jakemans Stadium this summer...
Said Southwell, who has been called up to the England C squad for next month's match with Slovakia Under-21s in London, 'I said to Boston last summer that I'd give them another year, which is what I did. They've said if anything came up in a higher division in full-time football, which is my ambition, they wouldn't stand in my way. If anything comes up, I would want to move on. But if nothing comes up in the full-time game, Boston have said they would welcome me back. They've been really good about it'...
Southwell scored 30 goals last season and 24 this season, despite missing two monthswith a broken foot... 'This summer I've got to do what's best for myself. After the two seasons I've had, I think I've probably done enough to get back into full-time football... I'll see what offers come in during June and then weigh up the options. Having said that, I'm not ruling out staying at Boston... Boston would be entitled to compensation if he moved to an English club as he is under the age of 24."
NL Pitchero reports that "Gloucester City have confirmed a list of players that have committed to the club for the forthcoming Vanarama National League North season.
These players join Sam Avery and Jasbir Singh who have already signed with the club ahead of the 2016/17 campaign. Club captain midfielder Tom Webb, 31, has made over 640 appearances for City and was at the heart and soul of the midfield for most of last season. Calvin Dinsley, 25, signed for the Tigers from Kidderminster Harriers in November 2015 and quickly impressed fans with his calmness and ability on the ball.
Chris Knowles, 29, is a competitive midfielder who is a threat at set plays. He was signed midway through the 2014/15 campaign. Spencer Hamilton is a 21-year-old defender who signed for the Tigers in 2014 and impressed in pre-season...
Ed Williams, 20, originally signed for the Tigers on loan from Cheltenham Town when he was 18, before signing permanently after spells at Evesham United and Cirencester Town... and has been a stand out player last season.
Lewis Hall is a 20-year-old utility player who signed for the Tigers on loan from Bristol City during the 2014/15 campaign and was the joint top goalscorer last season... Joe Parker, now 21, was joint top goalscorer along with Hall in his first full campaign back with the Tigers since his release from Newport County which unfortunately was hampered by injury.
Luke Hopper, 27, signed for the Tigers from Swindon Supermarine in December 2015, where he made an impact as a pacey target man, who showed his lethal combination of strength and quickness".
According to NL Daily, "AFC Fylde have announced that First Team Manager Dave Challinor has been handed a further one-year extension to his contract, tying the 40-year-old to the club until 2018. Challinor has enjoyed a remarkable record since joining the club in 2011, winning 164 of his 262 games in charge, with his side scoring an incredible 554 goals along the way.
Despite suffering play-off heartbreak in the last two seasons there was never any doubt in Chairman David Haythornthwaite's mind... Haythornthwaite said, 'Chally and I have always had a great working relationship from the very first time he set foot in the football club. He is professional in everything that he does and his communication at all times is first class. There will always be speculation regarding a manager's position, especially at a club like ours where the expectations are so high. We know we made mistakes last season but we are all still learning and we will come back stronger. We had more injuries and suspensions last year than ever and this all contributed to us falling at the last hurdle.
'However we had a very productive meeting on the team coach coming back from North Ferriby after the game on Saturday and we are united in our aspirations to go one better next season. I don't think there is a better manager in this division, or indeed the one above, so we are delighted to announce Dave's contract extension'...
Challinor said, 'I have learnt an awful lot about myself over the last 12 months and I think I have improved as a manager'"
From Maidstone United we learn the costs of promotion as the club reports that "We have looked at where our running costs are going to increase: items such as greater stadium security and policing costs, greater travel costs and expenses linked to more matches played further afield. We also wish to increase the budget available to Jay for his playing squad to enable us to be as competitive as possible in the National League while continuing to manage the club as a solid and sustainable business. We aim to ensure that revenues exceed costs and that debt is not excessive in relation to recurrent revenues and asset value.
We know we face a major challenge in expanding the stadium. To put this into context we are still settling final matters relating to the expansion of the Conway main stand in the close season. Now we find ourselves victims of our success in having to increase capacity by 1,000 in order to meet the requirements of an A grading by the FA and the League.
Having said that we know that it makes sense for us to do this now as our attendances have been going up steadily since opening the Gallagher Stadium in 2012. There is every chance that we could fill the Gallagher Stadium with more than 3,000 on several occasions this season and it would be great to have the capacity to do so.
Building a new stand at the North End has to happen quickly in order to comply with League rules. We are doing all we can and hope that the result will satisfy the League and FA. We plan to apply for planning at the latest by the first week of June... During the building works, which could last about six months altogether, there will be some disruption to match day attendances. We may find the overall capacity is temporarily reduced to about 2,500. This is unavoidable...
How do we finance the new stand? Well cash-flow is very tight due to previous stadium projects. We have therefore tried to keep the cost down to a minimum. The new stand will be a simple terrace with railings but will have some flexible seating installed, principally for segregated matches. We will have to add entrances and exits, toilets and refreshment facilities. The current budget is between £600,000 and £750,000.
Remember we also have to budget for replacement of the 3G pitch for season 2017/18 which will cost some £150-200,000. We will be applying for grants from the Football Foundation but as we have already had some grant assistance previously these may be limited on this occasion. We plan to launch a supporter fund-raising scheme shortly... Yes, prices have had to go up, but by no more than we feel necessary in order for the club to survive and prosper at this level and also to enable us to help finance the expansion."
The National League "has received the discussion paper "A Whole Game Solution" from The Football League. The proposals outlined therein appear to have potentially fundamental implications for our competition, and as such, The National League will consider these carefully in consultation with our clubs and discuss the matter with the game's governing bodies at the earliest opportunity."
The proposals included expanding the Football League membership by eight clubs as an extra division is created.
---
20 May 2016
Pictured above, courtesy of Grahame Rowley, are two images of the work being done on the pitch at the J. Davidson Stadium under the guidance of hardworking groundsman, Neil Brown.
The Friends of AFC monthly draw was made at the J. Davidson Stadium this week and the winners were:
*103 Val Shaw £100
*79 Mark Eckersall £50
*20 Derek Wilshaw £35
*25 Allison Lewis £15
The
National League
reports that "One of the most eagerly-awaited occasions of the close season is the release of the new season's fixture list. Please be advised that the fixtures for 2016/17 across the Vanarama National Leagues are planned to be released on Wednesday, 6th July."
Manager Keith Edleston has kindly provided a brief report of the Altrincham FC Ladies' game, last Sunday, against the Bolton Wanderers Development Squad.
"The season ended with a friendly v Bolton Wanderers Development/1st team down at Mersey Valley last Sunday. With the sun shining it promised to be a good game and it was, with some entertaining football on show from both sides. The game ended with a 2-1 victory, the first goal being an unfortunate own goal but we are crediting it to debutant Jade Hesketh and the second was a well-struck shot from just inside the penalty box from Gail Simpson. All in all, it was a good performance to finish the season off with. Now it's time to recharge the batteries in readiness for pre-season, when we go again.
Thanks again for all your support and hope to see you all again down at Mersey Valley Sports Club next season".
Above, left Bliss Molyneux, right is Gail Simpson after scoring her goal. Images courtesy of Keith Edleston. Click on the images to enlarge them.
Jake Moult's fantastic goal at Colchester United in the FA Cup has reached the FA Emirates Cup top five goals of the 2015-16 season. It can be viewed again
here
.
Following their successes in three cup finals last weekend, Altrincham Junior Girls' teams have another three finals this weekend at Valley Road, (Flixton FC).
Saturday 21st May
Under 12s Wrens v Eastleigh Pearls, B League Cup, kick off 10 am
Under 16s Chicks v Reddish North End, B League Cup, kick off 2 pm
The Phoenix under-10 team are also due to play an exhibition match tba
Sunday 22nd May
Skylarks under 13s v Stretford Vics, Challenge Cup final, kick off 11.45am
Everyone is welcome to come and watch; admission is adults £3, children £1.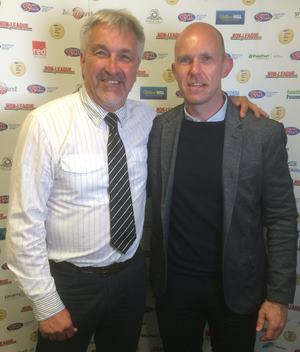 Former Altrincham goalkeepers are pictured, right, at the Non-League Awards event. Image courtesy of Ian Senior.
Altrincham will have several fixtures on artificial pitches next year after both Tamworth and, now, Harrogate Town, announced work on installing new surfaces over this summer. The
Harrogate Advertiser
confirms that "Harrogate Town have unveiled a ground-breaking switch to an artificial third generation pitch at their Wetherby Road ground.
Contractors move in on Monday to start work on ripping up the turf at the CNG Stadium with work expected to be finished in late July. The transformation is part of a £1million investment into community football project and will be funded by Town chairman Irving Weaver.
Town's new ladies team and development squads will also play home games on the surface and other local teams will be able to hire out the facility. Town manager Simon Weaver said, 'This development is incredibly exciting. The CNG Stadium has really become a fortress for us, and now the playing surface will help us give the fans more of the dynamic, fast-paced football they've grown accustomed to. It also means we can regularly train at the ground, which will give us a real edge going into the new season'.
Town have also agreed a partnership with St John Fisher Catholic High School to build a separate 3G pitch over the summer and are awaiting approval from the Football Foundation. Managing director Garry Plant said, 'This is a monumental day, both for the football club and the local community. The development at St John Fisher will allow the club to play a much bigger part in the community.'
Since buying the club, chairman Irving Weaver has ploughed funds into improving the playing surface at the CNG Stadium. After levelling the traditional slope, additional drainage work has been undertaken over the last two off-seasons. However, Town had severe problems with the pitch three seasons ago when they had to play a number of 'home' matches at alternative grounds...
The grass will be replaced by a high-spec 3G pitch, tested to FIFA's two-star standard. The National League Premier voted to approve 3G pitches in January allowing Town to be promoted should they win the league or play-offs next season. However, the Football League has yet to accept clubs with artificial surfaces".
The Nuneaton News has bad news as "Boro boss Kevin Wilson could be without one of his star midfielders when pre-season training starts next month. Tom Elliott, who signed from Worksop earlier this year, broke his ankle while out running on Wednesday night...
Wilson said, 'It looks like it is a break at this point. That could be six-eight weeks out for Tom if that is the case... There is never a good time for this type of injury. We just have to hope there are no complications and that he only misses the start of pre-season training and will be back as soon as he can after that'".
At Tamworth, "Hot on the heels of Paul Green extending his stay with us, Ross Dyer has followed suit, and committed his future to The Lambs for next season.
The Shropshire Star adds that "Dyer reached double figures in the goalscoring charts last season... The ex-Forest Green and Mansfield Town man strengthens the attacking options available to Andy Morrell and Mike Fowler ahead of the upcoming campaign, with Danny Newton and Greg Mills already on board."
Also in the Shropshire Star we learn that "AFC Telford boss Rob Smith is confident defender Darren Campion will commit his future to the club. Campion was a regular in the Bucks starting line-up last season, making 34 appearances in National League North.
The 28-year-old full-back is known to be a good character in the dressing room and someone who Smith and assistant Larry Chambers can rely upon... Smith, who is soon expected to meet with Campion for talks over a new deal, said: "I haven't actually met and sat down with Camps yet... I don't think there will be any problems there.'
So far, there are seven players signed on at the New Buck's Head for next season. Goalkeeper James Montgomery, full-back Dwayne Samuels and midfielder Lucas Dawson have all committed for another year. Former Shrewsbury Town striker Dave Hibbert's current deal runs for another year. Ex-Hednesford captain Ben Bailey, Albion academy product James Hurst and former Tamworth defender Dan Preston are new arrivals.
Smith is looking to have a fairly tight squad next season, after 48 players were fielded for the Bucks last term. He said, 'I think I have got about seven or eight signed and I'm looking to bring in around 18 players in total. We are speaking to players... but it is just a case of being a bit patient, at the moment.'
The likes of Curtis Tilt, skipper Jack Rea and Josh Wilson are understood to have been offered fresh terms, but agreements are yet to be made. Another player who is set to return to the fold next season though is long-term absentee Paul McCone. The 24-year-old former Hednesford defender damaged his knee last November and underwent anterior cruciate ligament reconstruction in February. Smith regularly speaks to McCone and is hoping to have him back in the fold by the autumn."
From Stockport County we learn that "defender Scott Duxbury is back at Edgeley Park just nine months after leaving the Hatters... Scott has been reunited with James Gannon having enjoyed an incredible season under the manager at Northwich Vics...
Scott said, 'County is a second home to me, from the management through to the volunteers and, even though I left nine months ago ,people have kept in touch with me and they're all really good friends, so I'm buzzing to be honest. County is like my second family and I was so pleased to get the call from Jim, to get another opportunity under him is fantastic for me. I left originally because I knew I wasn't going to be playing under Neil Young but, at my age, I just wanted to get back enjoying football, so Jim took me to Northwich and now to come full circle again is overwhelming."
Scott initially joined the Vics on a month-long loan deal last August, before agreeing to take the brave decision to tear up his contract in order to sign a season-long deal with James Gannon's side...
James said, 'I was extremely impressed with Scott's initial season as an 18-year-old playing in the Conference North and he's had great experience for such a young player with over 100 senior games already...
Scott said, 'I believe we can push for the Play Offs at least, or even the title. We'll have a really strong squad, he's bringing in some quality players and hopefully we can get playing in the way he wants and win the league at the end of the season... This week I've started working on my own because I want to push myself and be as strong as I can at the start of the season. Jim is a great coach and a great manager, and I will put everything into it this year, because I love this club and want the best for this club'".
NL Pitchero says that "FA Trophy finalists FC Halifax Town have announced that defender Scott McManus has signed a new two-year deal with the club relegated from the Vanarama National League. McManus, 26, is the longest-serving player with the Shaymen, having joined... in the summer of 2011. The popular full-back started his career with Prestwich Heys and has also had spells with Curzon Ashton, Crewe Alexandra and FC United of Manchester".
And, finally... Metro News reports that "Players at Britain's only vegan football club have been caught eating meat. The pair, from Forest Green Rovers, were rumbled when they popped into Greggs in Stroud, Glucestershire, for pizza".
---
---