an unofficial Altrincham FC website
OPTIONAL DROPDOWN MENU - HERE
---
NEXT MATCH: Saturday, 29 February 2020, 3pm
Away v HEREFORD FC
Vanarama National League North match
---
ALTY HEADLINES
23 Feb 2020: THE BEST LAID PLANS...More
23 Feb 2020: CURTIS STARS ...More
23 Feb 2020: NEXT OPPONENTS: HEREFORD FC...More
OTHER HEADLINES
---
23 February, 2020
When Altrincham FC's fixtures were released last summer, there were 42 dates set aside for their league matches and four additional blank dates; two assigned to the dates of FA Cup 2Q and 3Q rounds, as well as two for the FA Trophy 3Q and Round 1. So Alty supporters' calendars had 46 dates earmarked for Alty action and could plan other events around them. But 2019-20 has turned out very different from that simple supposition...
Altrincham supporters' calendars and diaries have now now seen numerous changes and additions. Indeed, this Saturday's postponement of the home game against King's Lynn Town will be the eleventh league fixture date for Altrincham on which a planned or a subsequently re-arranged match-date has had to be changed (or re-changed) this season.
In some cases the alterations, or alterations to an alteration, have been due to a weather-induced postponement; in other cases, the amendment has been due to a fixture clash with a cup competition and, in one instance (home v Blyth), for a reason that remains unclear.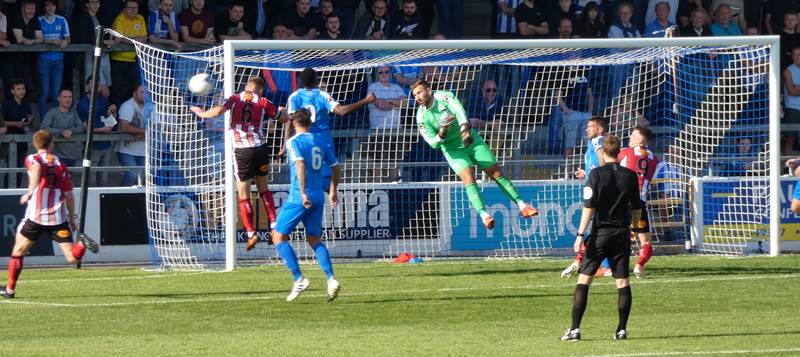 Above: Although the sun was shining in September when Alty drew at Chester FC in the FA Cup, the result meant another date had to be added to the calendar for the replay.
In cup competitions, as well as those four dates set aside by the National League at the start of the season for the first two rounds of the FA Cup and Trophy, two additional dates have been required by Altrincham for replays in those rounds. Additionally, Alty's extended progress in the FA Cup meant that a further three FA Cup dates had to be found to the detriment of the planned league fixture list.
Furthermore, a Cheshire Senior Cup tie had to be accommodated.
The full litany of changes is detailed below.
The season started smoothly enough in August and September, as Alty's first eleven league fixtures were all completed as scheduled. In the light of what was to follow, the League had wisely started the campaign very early in August and had scheduled plenty of early-season midweek fixtures to forestall the effects of potentially bad winter weather.
After those eleven league games, the next Saturday, 21 September 2019, was left blank for the FA Cup 2Q and Alty duly played at Chester FC on that date before having to play Additional Fixture no.1, an FA Cup replay against Chester FC on the following Tuesday, 24 September.
Disruption to the planned fixtures then began as Home Postponement no.1 occurred on Saturday, 28 September when Alty's home league game against Gateshead had to be called off owing to a waterlogged pitch.
Following an FA Cup trip to Halesowen Town on what was a planned blank fixture date, 5 October, Alty's further progress in the FA Cup meant that an assigned league trip to Kettering Town on 19 October had to be replaced by an FA Cup jaunt to Southport on 19 October, which was therefore Fixture Clash no.1.
On 26 October came Home Postponement no.2. Alty were set to play AFC Telford United at Moss Lane but that game had to be postponed as, for a second time, the pitch at the J. Davidson Stadium was waterlogged.
A CSC tie at Stalybridge (Additional Fixture, no.2), which was scheduled for 29 October, became Fixture Clash no.2, when it had to be postponed owing to Celtic's unplanned FA Trophy replay that night.
On 9 November, Alty were to play Blyth Spartans at Moss Lane in the league but the Robins' FA Cup progress caused that match to be called off in Fixture Clash no.3.
Altrincham's league fixture, away to Kettering Town, which had been postponed on 19 October, owing to Altrincham's continuing involvement in the FA Cup, was then rescheduled for Tuesday, 12 November.
However, due to Altrincham's FA Cup tie on the preceding weekend having been moved to a Sunday to accommodate television coverage, this rearranged away game was moved again, this time to Tuesday, 26 November but even that date was contingent on there being no replay need by either club following the Third Round Qualifying of the FA Trophy.
And, of course, Alty's win at York in the Trophy meant that the Kettering game again bit the dust in Fixture Clash no.4.
Meanwhile, Alty entertained Gateshead in a rearranged league game on 19 November.
After the planned game at home to Spennymoor had been played, Alty went to the Bower Fold on Tuesday, 2 December to play their rearranged CSC tie.
Alty's postponed game at home to Blyth Spartans was rearranged for 10 December but, for reasons that were never made clear, it was then re-arranged again, this time to 7 January 2020.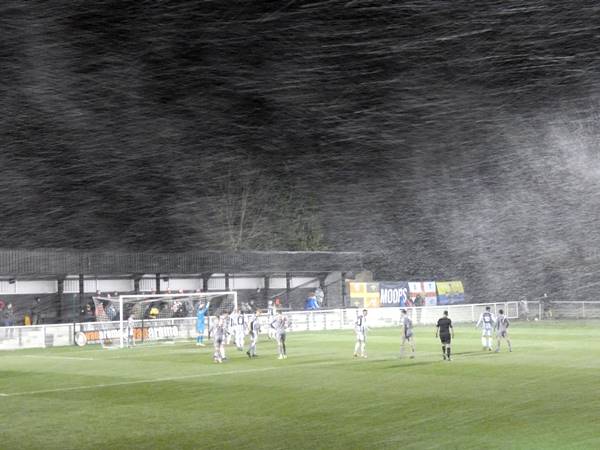 Right: one match which eventually beat the weather after an earlier postponement, was Alty's trip to Spennymoor on 11 February.
Additional Fixture no.3 came on 17 December when Farsley Celtic visited Altrincham for an FA Trophy replay.
Christmas and New Year passed uneventfully with five planned league game being played without a problem, begging the question of the wisdom of having a Winter Break at that time, as has been mooted in some quarters.
2020 saw the previously postponed Blyth league fixture finally being played on 7 January.
But the previously postponed Spennymoor Town away game proved abortive, on 14 January, as Alty and their supporters completed the long trek to the Brewery Field on that Tuesday night only to find that the game had been postponed, barely an hour before kick off.
On 28 January, the previously twice-rearranged fixtured at Kettering Town was finally played, as was the previously postponed visit from AFC Telford United, which was played at Moss Lane on 4 February 2020.
The away game against Spennymoor Town was finally played on 11 February.
And, finally, as things stand, Saturday's game at home to King's Lynn has become Home Postponement no.3 and the third match lost at the J Davidson Stadium because of waterlogging. So the planned conclusion of the season which, before this weekend, had featured only matches to be played at 3pm, now has to have a further floodlit evening game to accommodate when the Linnets finally visit Altrincham.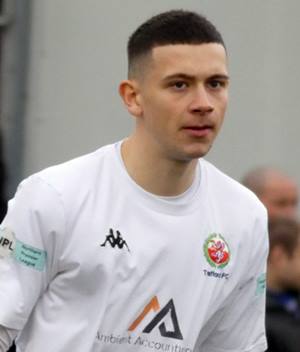 Our neighbours, Trafford, survived a first-half onslaught from Neil Young's Marine at Shawe View on Saturday, to emerge 2-0 winners.
Altrincham's Curtis Miller, pictured (right) during the game, came on as a substitute for Trafford, a club with which he is dually registered, and scored with a superb goal from outside the box in the 75th minute to put his side ahead. Marine had won a dozen or do corners in the first half but had been unable to break through.
Starting for Trafford were some other familiar "Alty" faces in the form of striker Lewis Salmon and winger Darius Palma, whilst Laurence Taylor was a second-half substitute for the Flixton-based club and Sam Grimshaw was also on the bench. Unfortunately, Palma had to go off injured in the second half.
Next Saturday, Altrincham travel to
Hereford FC
where this Saturday, "The Bulls played out another home draw as we shared the spoils with Darlington in what was an entertaining encounter.
The early action on a wind-swept afternoon saw a... lively start from The Bulls as Riley almost played in Jared Hodgkiss who made a positive forward run...
It was the visitors who opened the scoring on 36 minutes when Donawa got in a low cross from the right that found Rivers at the far post and he made no mistake...
The second half started with a corner for The Bulls... Some desperate defending from the visitors saw them survive a raid but their resistance was soon broken when Lenell John-Lewis fired home sweetly for his first goal for the club to level matters on 56 minutes...
On 85 minutes we took the lead when Jason Pope's cross was only half-cleared into the path of skipper, Jared Hodgkiss, who lashed the ball home.
Our lead lasted just three minutes as Omar Holness lashed home the equaliser to make it 2-2. In stoppage time, Jagger Cane's header from close range was well saved by Chris Elliott as we pushed for a winner in a breathless ending but it finished with honours even once more.
THE BULLS: Hall, Hodgkiss, Pope, Jagger Cane, Anderson, Riley, Mooney, Owen-Evans, John-Lewis, Liburd (Ash 75), O'Sullivan (Thomas 81). Subs not used: Davies, Raison, Whitlock".
Tuesday, 25 February
AFC Telford United v Curzon Ashton
Boston United v Gateshead
Kettering Town v Brackley Town
Saturday, 29 February
Blyth Spartans v Kettering Town
Boston United v Farsley Celtic
Chester FC v Gateshead
Darlington v Brackley Town
Gloucester City v Alfreton Town
Hereford FC v Altrincham
Kidderminster Harriers v Guiseley
King's Lynn Town v Southport
Leamington v Bradford Park Avenue
Spennymoor Town v AFC Telford United
York City v Curzon Ashton
The
Eastern Daily Press
reports that "Linnets still sitting pretty, thanks to some of those on the sidelines. For the first time since mid-November, King's Lynn Town have a team above them in the promotion race.
The Linnets had been top since a 2-1 win at Southport back on November 16 but, while they were kicking their heels on Saturday following the postponement of their game at Altrincham because of a waterlogged pitch, York City were winning 1-0 at Kidderminster Harriers.
It was enough to send the Minstermen top, with a two-point lead, albeit from three games more than the Linnets. Even sitting in second spot is, as manager Ian Culverhouse says, beyond anyone's wildest dreams as the Linnets continue to defy the odds.
Whilst the players will take most of the plaudits, it's time to look away from the pitch and to the sidelines and the stands to see what Culverhouse, his assistant Paul Bastock and the club owner Stephen Cleeve, have contributed to the story so far...
Ian Culverhouse: His first spell as manager was pretty good. This second has been ridiculous. Three weeks ago he suffered his first home defeat in the league since his return almost a year and a half ago. Took Lynn to the National League North after a brilliant play-offs campaign. The odds were on a survival battle, but the Linnets are still sitting pretty and maybe a little of that top-of-the-table pressure has eased.
From outside of the dressing room, Cully is a mild mannered, good humoured man. He chats amiably with the media post-match (something he didn't always do in his first spell), enjoys a laugh and you feel there is a trust established. Ask the players and they see him as a man they respect, a man with a CV that proves he's right. And they love playing for him, not least because it's good football to watch. He lets them make mistakes (not too many of course), as long as they learn. He can explain every decision he makes and is a brilliant coach; watch him with his notebook during the game.
Paul Bastock: Booming voice, the man on the touchline who does the dirty verbal stuff, and loves it. Works hard with Alex Street and it has paid off... player relationship is good as is the one with the fans. Wears his heart on his sleeve at times, and we love him for it. Him and Cully are chalk and cheese but the best manager-coach teams often are.
Stephen Cleeve [chairman]: Fell out with his manager first time out, but knows a good thing when he sees it. Has put an awful lot of money into the club and has enabled recent new signings [to be made]. Running a football club is a costly business, and the owner has to have a businessman's head, which doesn't always go down well, usually with those who don't have to keep dipping into their pockets."
York Press tells us that "York City's 1-0 win at Kidderminster Harriers may have put pressure on King's Lynn Town by knocking them down to second but manager Steve Watson insists he is keeping his mind solely on the Minstermen.
Dan Maguire struck very early in the second half to secure a vital three points for York and send them two points clear at the top, having played three games more than King's Lynn.
And Watson said... 'I've got one of the worst hard-luck stories in history, 12 points clear in January with Newcastle. I know what it's like to be top of the league and what it's like to look over your shoulder and see teams winning and winning. It does add a little bit of pressure but as I've said before, I'm not one to try and play mind-games. We focus on ourselves, win as many games as we can and see where that takes us.'
On the game, he added 'It was a fantastic win. I thought we looked solid without being spectacular with the ball, to say the least...
'I picked the team I picked to try and be positive, almost like a 3-4-3, with Greeny pushed a bit higher. But we couldn't break them down, we didn't really test the keeper in the first half. It was great for Dan [Maguire], that's the type of player he is, he's an opportunist, and he's scored a really, really important goal for us...
We didn't look like being broken down either, which is the way we try and start every game. It was uncharacteristic for us to concede five goals in two games so the main part away from home was to be solid again. I thought we looked solid and the shape was good but we didn't create an awful lot and we didn't play brilliantly with the ball.
'There's a lot of teams will come here and not win so, at this stage of the season, I'm not too disappointed. We know what we need to work on; we need to be better with the ball and better at retaining the ball'"
A 2-2 draw at Hereford FC is the subject of a report from https://darlingtonfc.co.uk/news/hereford-v-darlington-updates-1">Darlington who tell us that "A late goal by sub Omar Holness earned Quakers a deserved point at Edgar Street.
They led 1-0 at half time and maybe could have scored more, and in the second half Hereford struck twice to lead 2-1 with five minutes left.
But sub Holness finished off a good move to grab a deserved equaliser three minutes from the end.
With the wind blowing across the pitch... Hereford had their first real opening on 28 minutes... Quakers took the lead on 35 minutes with a breakaway goal. Wheatley cleared a corner and found Donawa, who made plenty of ground up the right and played the ball across the six yard box for Rivers to come in at the far post and tap in his third goal of the season...
Hereford caused problems at the start of the second half... Hereford levelled out of the blue on 56 minutes when Lenell John-Lewis picked the ball up on the right, and struck a right foot shot that went across Elliott and into the top left hand corner of the net... But Hereford went in front on 85 minutes when Mooney crossed from the left for Hodgkiss to run in and volley home through a crowd of players.
Quakers levelled straight away when Holness found space inside the box, and fired past Hall into the net.
Chester FC "came crashing back down to Earth after Tuesday's late goal, coming undone in the 90th minute against a stubborn Brackley side.
The visitors had the better of the first half and led through Lee Ndlovu's close range strike. The Blues were much improved in the second half and equalised through James Jones. Parity was short lived though as Thierry Audel restored the visitors' lead ten minutes later.
Chester set up a grandstand finish when equalising through Danny Livesey with five minutes to go, but a mix-up between Waters and Griffiths allowed Matt Lowe to toe-poke the ball beyond the pair and seal victory for Brackley.
The Blues made one change from the side that secured a dramatic late victory over Kings Lynn Town on Tuesday night, as injury forced Matty Hughes out of the team, with Anthony Dudley replacing him in the starting line-up and Danny Livesey taking his place on the bench...
Chester struggled to make any progress in the final third and were caused even greater problems when they had to make two first half changes, with Joel Taylor and Akwasi Asante both being substituted...
As the 90 minutes were up, and five added minutes were shown, the visitors found a winner as Matty Waters tried to shield the ball out, Griffiths came across but Matt Lowe poked the ball under Griffiths and into the unguarded goal".
Blyth Spartans report that "A goal in either half from Dave Syers and Jimmy Spencer inflicted a 2-0 defeat on Blyth Spartans at Farsley Celtic.
Former Darlington man Syers put the hosts ahead on 39 minutes before Spencer doubled their advantage on the hour-mark.
Spartans played well in large parts of the game, particularly in the final quarter of an hour, but lacked the cutting edge.
Lee Clark made two changes to the starting XI against Altrincham last weekend. Mark Waddington and Adam Wrightson came in for Damen Mullen and Tom Devitt.
Blyth dealt with the windy conditions better than their hosts in the early stages and created three very good opportunities inside the opening 10 minutes. Leighton McIntosh, on loan from Wrexham, was at the thick of the goalmouth action...
Farsley soon applied pressure of their own when Syers' 21st-minute goal was ruled out for offside... And while Blyth continued to carve out half-chances through Waddington and Macaulay Langstaff, Farsley arguably took control. Well, at least they did on the scoreline. This time Syers beat the offside trap to power his shot past the helpless Hemming for 1-0 on 39 minutes.
The Middlesbrough loanee kept Blyth in it at the break after he stuck out a left-hand to prevent Hayhurst's effort from nestling into the bottom corner...
After half-time... the bright start didn't pay off. Minutes after Spencer was superbly denied by the legs of Hemming, the unmarked striker was on hand to make it 2-0 at the back post. Farsley threatened to put the game beyond doubt... To Spartans' credit, with the introduction of Ben Harmison, they came on strong in the final quarter of an hour but it was too little, too late".
We learn from the Boston Standard that "Dominic Knowles kept his cool from the penalty spot as Boston United defeated AFC Telford to make it six straight wins...
The in-form Pilgrims picked up where they left off on February 8, stretching their unbeaten run to eight and keeping clean sheet number 16 of the campaign.
The three points, picked up on a day Brad Abbott made his 100th appearance for the club, moved Boston above Chester to third, six points behind new leaders York City with two games in hand.
The contest threatened to be more weather report than match report as the blustery conditions gave neither side much opportunity to reach top gear but, as the full-time whistle blew, Knowles's first-half finish proved the difference.
Elliott stuck with the 3-5-2 formation which saw his Pilgrims beat York City 3-1, the only change seeing Jay Rollins come in at right wing back, replacing Alex Penny following his move to Kidderminster Harriers.
Leading marksman Jordan Thewlis remained on the bench where new signing Tyrell Warren and Jake Wright, unable to face the Minstermen due to the terms of his loan, joined him.
The strong, swirling wind caused both sides all sorts of problems from the off...
James McQuilkin screwed a volley over for Telford, who were happy to take their time with every dead ball, before Boston were generously handed the lead... Knowles forced home his 13th of the season from the penalty spot, sending Michael Luyambula the wrong way.
But the Bucks' outraged players deserved some sympathy as there appeared to be little contact as Frank Mulhern went down in the box following the challenge of Arlen Birch, the full back who trialled with Boston this summer...
The second half began with Telford more eager to get a move on but Boston happy to emulate their guests' less-than-energetic approach to resuming play as they set about protecting their lead... The Pilgrims held on for victory, with [Telford's] Birch dismissed after the final whistle for remonstrating with referee Callum Walchester".
---
22 February 2020
York went back to the top of the table with King's Lynn's game at Altrincham postponed. Alty are now sixth by virtue of goals scored, just ahead of Spennymoor.
Saturday 18 February: Vanarama National League North
Altrincham P-P King's Lynn Town
Boston United 1-0 AFC Telford United
Bradford Park Avenue P-P Kettering Town
Chester FC 2-3 Brackley Town
Curzon Ashton P-P Gloucester City
Farsley Celtic 2-0 Blyth Spartans
Guiseley 2-2 Gateshead
Hereford FC 2-2 Darlington
Kidderminster Harriers 0-1 York City
Leamington 1-0 Southport
Spennymoor Town 5-0 Alfreton Town
Lynn News
reports that "title chasers King's Lynn Town are facing a potentially exhausting fixture backlog. Today's league clash at Altrincham has fallen foul of the weather and the games are now starting to pile up for manager Ian Culverhouse and his players.
The Linnets, who have now had three successive blank Saturdays, have lost three of their last four fixtures to the elements.
Lynn, who will now train today, have a gruelling end to the campaign, with eight fixtures still to be fulfilled before the end of March and another five in April, plus the postponed Altrincham fixture, to come.
With Easter falling on the second weekend of April, Lynn are starting to run out of alternative dates for fixtures should there be any more postponements.
Lynn have free Tuesdays on March 24th and 31st, but only one in April, which is the 21st, because of Good Friday and Easter Monday.
With the Linnets due to travel to Hereford on the first weekend of April, it is unlikely that they will want the Altrincham trip rescheduled for the final Tuesday in March.
League leaders Lynn, who are a point clear at the top, are next in action at home to Southport next Saturday. By that time they could find themselves knocked off top spot unless Kidderminster Harriers, the team to end Lynn's long unbeaten home record earlier this month, can do them a huge favour at home to York City today".
With Alty's match postponed (see below), Alty supporters can see some local action at Shawe View where Trafford FC entertain Neil Young's Marine at 3pm. With the distance travelled by the away team much shorter than in Alty's aborive fixture with King's Lynn Town, a 10.30am pitch inspection was held at Shawe View and the game was declared "on".
After yet more overnight rain, the outcome of a pitch inspection this morning at the J. Davidson Stadium was the postponement of today's Altrincham fixture against King's Lynn Town.
Yesterday, Altrincham Football Club had announced that it "has organised a pitch inspection, by a local referee, for 7.45am on Saturday. There is some standing water at the Golf Road End, which has prevented using the covers.
It has been raining today [Friday] at the ground and there is a high probability of further rainfall from this afternoon until tomorrow morning. If the rainfall is substantial, it is likely that the game will be called off".
Before today's fixtures, King's Lynn had played the joint fewest league games in the division.
As reported yesterday, Crewe Alexandra midfielder Josh Lundstram has had his loan at Altrincham extended.
Crewe Alexandra
, for their part, "confirm that midfielder Josh Lundstram has extended his loan spell with Altrincham for another month.
Lundstram has made eight appearances since arriving at the National League North club in January following a successful spell with Kidsgrove Athletic.
The midfielder, who can also operate in a defensive role, will now be with Altrincham until March 24th".
Altrincham's opponents next Saturday (29 Feb) are
Hereford FC
who report that "Reece Styche has left the club by mutual consent.
Styche, who arrived at Edgar Street from Alfreton Town in the summer, has featured 23 times for The Bulls in the National League North this season, scoring four goals.
We'd like to thank Reece for his effort whilst at Edgar Street and wish him well for the future."
Meanwhile, Worcester News reports that "Worcester City striker Demetri Brown is stepping up three levels with National North giants Hereford.
Brown plundered 13 goals from 33 matches in blue and white following his summer signing from West Midlands (Regional) League champions Tividale. His 32 goals in 37 matches helped to take the crown to The Beeches but it is his all-round play that has caught the eye since joining City...
'Demetri has been fantastic all season on and off the pitch and deserves his opportunity to test himself higher up the football pyramid,' said City manager Ashley Vincent. 'Over the season the interest in a player we brought in from step six has been incredible but he showed his loyalty and character throughout and also his trust in us as a staff to help to develop him'...
Bulls' boss Josh Gowling said 'He's scored a lot of goals in his career so far, he's strong, powerful and rapid. He can play anywhere in attack whether that's down the middle or a bit wider, so he gives us options and a bit of flexibility. He's a hard worker and has ambitions to play at a higher level. His attitude really impressed me.
'When I first met with him the talk wasn't about how much he'd get paid or how long the deal would be but about his desire to do well, that he wants to improve and that he wants to kick-on in his career. Speaking to him was a breath of fresh air really'".
Kidderminster Harriers
report that "duo Riess Taylor-Randle and Harry Higginson have left Aggborough on loan.
Taylor-Randle has linked up with Gresley for an initial one-month loan spell, while Higginson has re-joined Bromsgrove Sporting, where [he] has already had a number of temporary spells. He'll stay there until the end of the season."
From the Boston Standard we learn that "Alex Penny has left Boston United.
The defender, who was on a non-contract deal with the Pilgrims, has linked up with rivals Kidderminster Harriers.
Former Peterborough United and Hamilton Academical player Penny, 23, joined Craig Elliott's side in October.
He made 15 appearances for the Pilgrims, winning 11 and drawing one of those fixtures. Losing Penny, who started the last seven consecutive matches for United, will be a blow to the club, especially to a side 11 places below them in the standings"
And the Boston Standard adds that "Craig Elliott has moved fast following the departure of Alex Penny, bringing in Manchester United academy product Tyrell Warren.
The 21-year-old has joined Boston United on an initial month-long loan from League Two Salford City.
Warren, who can play as a right-back or in the heart of defence, has represented the Red Devils at youth, under 18s and under 23 level.
He joined Salford in the summer and has also had a loan spell at Radcliffe Borough. Penny left United for Kidderminster Harriers today."
Rochdale confirm that "Fabio Tavares has joined Curzon Ashton on loan. The forward has joined the Nash, who sit in 19th position, until the end of the season.
A Dale Academy graduate, Tavares signed his first professional contract with the Club in the summer.
He has made 21 appearances so far this season, scoring twice, including his first professional goal in a 3-1 Sky Bet League One win at Bolton Wanderers".
---
21 February 2020
Altrincham FC
has announced that Josh Lundstram's "loan from Crewe Alexandra has been extended until March 24th".
So far he has played eight matches, since his debut at Gateshead on 18th January 18th. Before joining Altrincham, Josh had previous experience of National League North football during a loan spell from January 2019 with Nuneaton Town, during which he played against Altrincham in April, 2019.
Prior to his fifteen games for Nuneaton, Josh had a loan spell at Kidsgrove Athletic and also had a second spell at the club from November 2019.
Assuming the match goes ahead, the next visitors to the J. Davidson Stadium, on Saturday, are
King's Lynn Town
who report that "Despite leading the game twice The Linnets left Cheshire empty handed on Tuesday evening following this 3 - 2 reverse, the second defeat in two games.
Following on from recent postponements, this was Lynn's first game since 1st February, and great credit must be given to the home ground staff who managed to get the playing surface into decent order after all of the recent wet weather. Simon Power missed out with a slight calf strain so Sam Kelly came into the starting line up alongside the fit again Ross Barrow.
Chester began strongly but Lynn weathered the early storm and took the lead following a quick break as Adam Marriott played in Barrow who shot into an empty net from close range.
Home pressure grew again which resulted in Rory McAuley touching the ball into his own net following a corner making the score 1 - 1, which is how things stood at the interval.
The visitors had better control of the second spell and retook the lead following a controlled finish from Chris Henderson from the edge of the area after patient Linnets build up play. Chester again responded when a hopeful punt picked out substitute Anthony Dudley who finished well from just inside the box.
Deep into added time Simon Grand was on hand to turn the ball past Alex Street after the Lynn stopper parried out an initial shot to the on-rushing home player.
Despite the defeat Lynn remain top, a point clear of York City and still with two games in hand heading into another difficult test this weekend at Altrincham.
Lynn: Street, Jones, Barrows, Jarvis, Smith, McAuley, Kelly (Fox), Richards, Gash, Marriott, Henderson (Southwell). Subs (not used) Carey, Payne, Hawkins".
Altrincham missed two penalties in four days last week, bringing the total of missed spot-kicks this season, (all saved), to five. Arguably these have cost Alty a total of four points based on what the final result would have been had the penalties been scored. And the "culprits" have been four different players!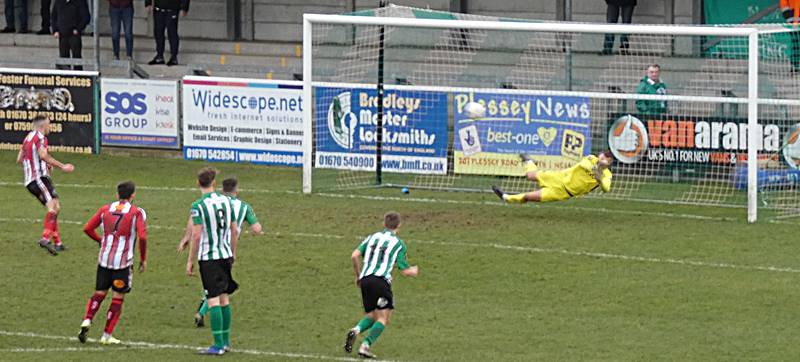 Above: Jordan Hulme's penalty is saved by Zach Hemming at Blyth.
The Sinners:
17.8.19 John Johnston at Brackley, where Alty lost 1-0
31.8.19 Sean Williams at home to Farsley; Alty won 3-1
11.1.20 Josh Hancock, at home to Guiseley. Alty drew 1-1
11.2.20 Josh Hancock at Spennymoor, Alty lost 2-3
15.2.20 Jordan Hulme at Blyth, Alty won 3-0
The Saints:
12.10.19 Josh Hancock scored v Guiseley away, Alty drew 1-1
19.11.19 Josh Hancock scored at home v Gateshead, Alty won 3-0
30.11.19 Josh Hancock scored at Portsmouth in the FA Cup tie which Alty lost 2-1
11.2.20 Elliott Durrell netted at Blyth; Alty won 3-0
Although his signing for Altrincham was announced on 8 February, it was stated that James Hooper would remain at West Didsbury & Chorlton for the time being. The
BetVictorNPL
now reports that "James Hooper has joined BetVictor Northern Premier side Witton Albion on dual-registration from National League North side Altrincham. Hooper, 23, has Football League experience having began his career with Rochdale before a short spell with Carlisle United.
He has also previously appeared for FC United of Manchester, Stockport Country, Radcliffe, Salford City and Chorley.
'I'm buzzing to be back playing,' he told the club's website. 'I've been out for three months after a shoulder operation and played three games for West Didsbury and scored three goals. I just want to get back up to speed, score some goals and help the lads push up the table and hopefully get into the play-offs'".
As reported here at the time he signed forms for Altrincham, James started out as a professional with Rochdale (2015), where he was their youth team Player of the Season (2014-15). He progressed to play twice for Rochdale in the EFL before loan spells with FC United and Stockport County.
From Rochdale he joined Carlisle United on a short-term deal, making one League Two appearance for the Cumbrians, before moving on to FC United od Manchester and then Radcliffe Borough (2017) where he became the club's leading scorer that season (2017-18). In summer 2018 he rejoined the professional ranks at Salford City. Later that year he moved on to Chorley, where his games included a late substitute appearance against Alty in January 2019. Early in 2019-20 season he rejoined Radcliffe.
NL Daily
says that "It took a meeting with stark reality but an about-turn has set Spennymoor Town winger Ben McKenna into his stride. The one-time Burnley and Carlisle United youngster is finally feeling fully invested in himself, while his first season as a Moors player has also seen him welcomed into the fold with unashamed authenticity.
Some time before securing his signature, Ben McKenna was a player Jason Ainsley was more than familiar with, having seen his Spennymoor side at the sharp end of the wideman's capabilities at the beginning of last season. He was in the green of Bradford (Park Avenue) when he drifted in off the right and into a crowded penalty area to sweep home a match-winning, first-time left-footer from the edge of the six-yard box.
Before that 2018/19 campaign was finished, Ainsley had tried to sign him and, though Chester was his chosen destination at the time, the County Durham outfit belatedly got their man in the summer....
'Well I'll be honest with you, I've been at a lot of clubs in non-league, especially Conference North, and so-called bigger teams, but Spennymoor, I'm not just saying it, it's the best club I've been at. The way it's run and the direction that they want to go in. I was at Bradford Park Avenue last season and, even though we were towards the top end of the league, they didn't want to go up, because I don't think the club could sustain National League football.
'Spennymoor want National League football, they wanna get there, so I'm loving it. It's a very close club, everyone's connected; the players, the fans, the people who work there'...
It has been the environment to help the 27 year-old thrive, though as he describes... 'Well it's a harsh dressing room! As soon as you sign for the club, you get put in the group chat, and you've got to take a bit of stick for a while; I think it took me two or three months to get used to it! Big characters, you've got Ramma (Rob Ramshaw), James Curtis; a lot of the North East lads and lads that have been there for a while. Sparky, Mark Anderson, Ste Brogan, and you've got me who sits on the perimeter and likes to observe!...
With 30 of their 42 league games gone, Spenny are in touch with the play-off pack, level on points with Gateshead in the last of those coveted places, albeit having played two games more. They are, however, just three behind 5th-placed Altrincham, and with a game in hand on an Alty side they ran out 3-2 winners against at home last Tuesday.
Also captain and assistant during his time, Moors' gaffer Jason Ainsley is now 13 seasons in, making it a tenure that surpasses that of any manager in the EFL or National League. Far from an authority figure presiding from a distance, he has been central to what Ben has found since he arrived. 'I think one thing with the gaffer is he's a man-manager. At some clubs, the manager'll pull himself away from the players, whereas here, everyone's connected.
'You get in the dressing room, lads have a laugh with him, you're not worried about saying the wrong thing, he'll ask for your opinion. I've got on with him so well and I think it's because he can man-manage people; he works as a teacher and I think he's taken that role and how he deals with people into the dressing room.
'I think it's probably the best season I've had and I think it's been down to the manager having belief in me. There's been some games where I maybe haven't played that well in them, but he's stuck with me, kept playing me, and I think over the course of the season I've done well'...
A gambling addiction is a key part of his story up to now, though the crucial detail is that he is set on not allowing it to enjoy a destructive starring role... It had begun in earnest when he was a YTS player at Carlisle United, with a trend for some of the older pros to head to the bookmakers when training was done for the day. By his early-20s, working for his dad and playing in non-league with the likes of Workington and Stalybridge Celtic, the problem had very definitely set in, with Ben pawning his jewellery and turning to payday loan companies...
The ex-Curzon Ashton and Chester man, who works full-time as a machine operator for a materials company in Blackburn, has nine assists to go with his three goals this season, and he has found a way to match that productivity in his spare time... 'At the minute, my life literally is work and then football, and at a weekend, I like to chill out. I enjoy doing stages of sobriety, which is obviously not drinking, so I got into that.
'I had a gambling addiction, and one day, 5th September 2018, I decided to stop gambling, but just before that, to clear off my gambling debts, I decided to stop drinking for six months. When I say that, people might think stopping drinking means because you're an alcoholic and you've got a problem with it, and it's far from it. I'd only probably drink on a Saturday or every two Saturdays, just like any other lads, so what I decided to do was not gamble and not go out for six months, and not drink. In that six-month period of not drinking, I couldn't believe the benefits I saw from doing stages of sobriety.
'Now I'm on my fourth stage, which I'm doing until the end of the football season, and I started it at the end of December. Honestly, it's been life-changing for me, and I'd recommend it to anyone...
Ben's North West-to-North East journey to link up with Spennymoor each week is not a brisk trip by any means, but again, he does his level best to glean something valuable from it... I get in my car and drive to Billingham near Middlesbrough, where we train. I finish work at 3, go home, make a bit of food, and then I set off to training about 5 o'clock, and get there for half 7.
'It's a big commitment, doing five-hour round trips to train for an-hour-and-fifteen, but that's a decision I made at the beginning of the season. I've enjoyed it, but it's a long way for me, I'm not gonna lie'"
According to the Boston Standard "Jordan Thewlis's goalscoring record has slowed down as the National League North pitches have deteriorated, according to Craig Elliott.
The Pilgrims' leading marksman scored 11 goals in his first 16 appearances for the Pilgrims, and four times in his last 16. But manager Elliott believes the pacy forward's game is being stifled by the boggy surfaces, which have been caused by recent heavy rainfall.
'I think he's done all right. I'll be honest, I think it's the pitch,' Elliott said. 'I don't think the pitch suits his style of play. It's so heavy. It suits certain players. Aingey (Simon Ainge) and Shielsy (Luke Shiels) can get through this mud and they love it.
'Jordan, away from home on good pitches, is unplayable. I think it's just the muddy, slow pitches holding him up a bit. Thewlis, who scored his last goals in December 16's FA Cup defeat to Rochdale, grabbed a hat-trick at AFC Telford United earlier this season.
And he will be keen to cause the Bucks more problems as they visit York Street on Saturday. Thewlis was an unused substitute in United's last game, February 8's 3-1 win over York City. But Elliott has hinted... 'Jordan Thewlis is our leading goalscorer, a great player. It hurt me to put Jordan and Jay (Rollins) on the bench. It's not something I like doing, they're both fantastic players and we'll need them. We'll need to change things around for different opposition.'"
---
20 February 2020
In the
Sale & Altrincham Messenger
, Altrincham FC press and media officer John Edwards writes that "New signing Elliott Durrell pressed his claims for a starting place after another telling substitute's appearance as Altrincham defied the elements and a Blyth Spartans side fighting for their lives at windswept Croft Park.
The livewire attacker marked his Alty debut by winning and converting a penalty shortly after coming on at Spennymoor last week, and he made an even more dramatic impact after entering the fray in the second half at Blyth.
The outcome was still in the balance, following free-kick specialist Josh Hancock's first-half opener, but Alty could breathe easy after Durrell doubled their lead with an assured finish less than a minute into his second Robins appearance.
'Elliott's first touch after going on was to get the ball out of his feet, and his second was to finish in emphatic style, which was really pleasing,' said assistant manager Neil Sorvel after a 3-0 win that included Alty's fifth penalty miss of the season, this time by Jordan Hulme.
'He's been on the pitch for just a few minutes, twice now, and scored each time, so that is a really positive start for him in Alty colours. It was a fantastic goal at Blyth, but he is a confident lad, which he showed with the penalty against Spennymoor...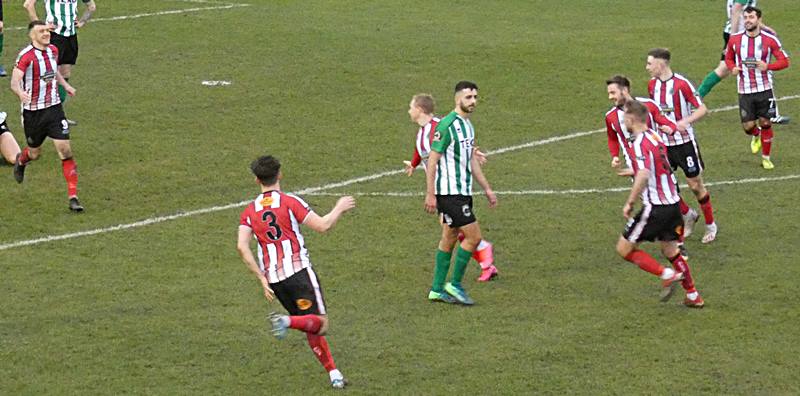 Above: Jordan Hulme (left) and his other team-mates rush to congratulate Elliott Durrell (behind Blyth player) on his goal at Blyth.
Alty have the ideal opportunity to reinforce their promotion credentials on Saturday when they face leaders King's Lynn Town at The J.Davidson Stadium...
Added Sorvel 'They have been really consistent, and it's nice to see another footballing side doing well. It is going to be a tough game, but we are looking forward to it and more than capable of meeting the challenge.'""
On Saturday, King's Lynn Town make their second trip of the week to Cheshire, this time to face Altrincham. Having lost 3-2 at Chester FC on Tuesday and, before that, 0-2 at home to Kidderminster Harriers, they arrive after two successive defeats, their worst sequence of the season.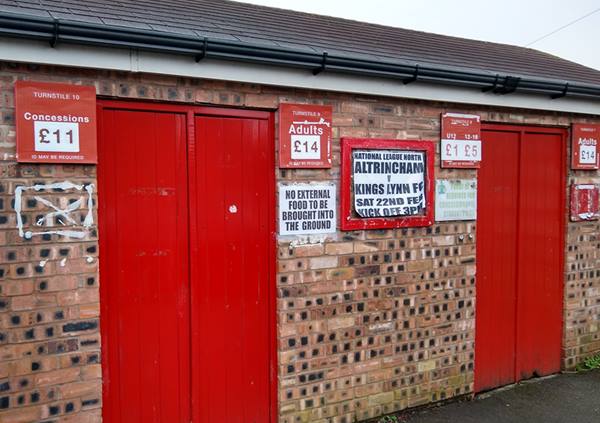 Above: The notices at the Golf Road turnstiles advertise Saturday's fixture between Altrincham and King's Lynn but also now make clear that no "external food" is to be brought into the ground; and who would want to, when Richie Bentley and his catering team offer such a good range of options in the Community Sports Hall and in the kiosks at both ends of the J. Davidson Stadium?
King's Lynn Town's line up for their most recent game, last Tuesday at Chester, comprised: Street, Jones, Barrows, Jarvis (c), Smith, McCauley, Kelly (Fox 66), Richards, Gash, Marriott, Henderson (Southwell 78). Unused substitutes: Carey, Payne, Southwell, Hawkins.
When they hosted Alty back in November, the Linnets featured nine of the same players in their starting eleven: 1. Alex Street, 2. Aaron Jones, 3. Nathan Fox, 4. Ryan Jarvis, 5. Ross Barrows, 6. Rory McAuley, 7. Michael Clunan (c), 8. Jordan Richards, 9. Michael Gash, 10. Adam Marriott, 11. Chris Henderson. Subs: 12. Sonny Carey, 14. Alfie Payne, 15. Ryan Hawkins, 16. Sam Kelly, 17. Nathan Stewart.
Saturday's game pits the league's two leading scorers against each other, with the Linnets having netted sixty times in 28 league games, the joint lowest number of completed fixtures in the division. For their part, Alty have scored 56 times in 31 games, the joint highest number of completed fixtures in the league.
Alty lie fifth in the division, nine points behind King's Lynn Town, who remain the league leaders, a point ahead of York City but with the Linnets having two games in hand. Saturday's game is the first of five league home games still to be played by Altrincham this season against the league's other top seven clubs.
Altrincham FC
has Brian Flynn's interview with Altrincham FC's Assistant Manager, Neil Sorvel, following the match against Blyth Spartans last Saturday.
Chester FC
report that they "secured a dramatic late victory over the league leaders as they came from behind twice to run out 3-2 winners on another incredible night under the 1885 Arena lights.
Ross Barrows fired the Linnets ahead before a Rory McAuley own goal brought the Blues level at the interval. Chris Henderson restored Kings Lynn's lead before a superb Anthony Dudley lob again brought Chester on an even keel.
Then, with the stage set, Simon Grand secured the three points for the Blues as he was on hand to turn home a parried John Johnston shot to inflict a first away league loss for the Linnets since September.
The Blues were unchanged from the side that beat Blyth Spartans two-one, a week and a half ago. Chester started the game brightly, working the ball up to the final third well but weren't able to create a clear-cut chance...
Nevertheless, it was the visitors who struck the first blow as Adam Marriott broke the offside trap and slid the ball back for Barrows to simply turn into the back of the net with the defence static, appealing for an offside call.
Chester made an immediate response though and pulled level thanks to an own goal after a terrific inswinging cross from Joel Taylor was turned beyond Alex Street by Kings Lynn defender Rory McAuley...
The league leaders flexed their muscles once more just after the hour mark as the impressive Henderson fired low from the edge of the penalty area to beat Griffiths at the near post...
But this side never gives up, and battled back in style. Asante flicked on a long ball forward to sub Anthony Dudley, who did superbly to beat Street to it and lift it over the Kings Lynn 'keeper and into the back of the net. They weren't done there...
The pressure mounted eventually and Chester sealed a dramatic late winner as Johnston's shot was pushed away by Street and Simon Grand was on hand to turn in the rebound and send the 1885 Arena into pure bedlam".
Cheshire Live adds that "Bernard Morley not getting too carried away after Chester FC triumph over King's Lynn Town...
For Chester bosses Anthony Johnson and Bernard Morley it was a moment to savour, even if Johnson had to watch from the media room having been sent to the stands minutes before after a few choice words with match referee Aaron Bannister and the fourth official.
It was a moment that saw the title race blown wide open again and the vice-like grip that King's Lynn had a few weeks ago was starting to loosen.
'We've been here 18 months and we have been waiting for that, me and Jonno,' said Morley. 'This side is a good side. We've let ourselves down and we know that and people say we use excuses which we don't, we sometimes don't get the rub of the green but I feel like tonight the ref didn't give us much, he couldn't wait to send Jonno off for something that he said.
'In fairness another referee on another day might have sent James Jones off for the push in the back (on Adam Marriott when through on goal). Simon Grand was round the back but, on another day?'...
Morley said 'We were relentless with what we did and at 2-2 we were still pushing on and bodies bombing on and I'm thinking "Jesus, we could lose this 3-2", but fair play to the lads...
'Fair play to King's Lynn, they've come with a game plan and they executed it at times. Spectators might come and watch tonight and think "They're not all that good", but they are brilliant at what they do. They way they sit in behind the ball and make you think that you have a foothold then they counter and you are 1-0 down.
'Fair play to the lads and I told them in there. With the effort that they have put into training in the last four sessions there was no way we weren't going to win that game... I thought we were brave in our formation to go 4-4-2 against top of the league and at times you are going to get exposed in the middle of the park but George Glendon and Scott Burton were unbelievable at times.
'To beat King's Lynn and come from behind twice you have to be at your best. I don't think anyone can deny we were the better side but the better side doesn't always win the game'...
The win, allied with a late leveller for Southport to deny Chester's opponents this weekend and play-off rivals, Brackley Town, three points gave rise to the hope that the title race that had seemed dead and gone for the Blues may now have come back to life. The Linnets are six points ahead of the third placed Blues although they do have two games in hand on Chester and second placed York City...
Said Morley... 'Our goal has always [been] to get in the play offs and anything else is a massive achievement. We've given ourselves a mountain to climb but, if we keep winning our games of football, then King's Lynn are surely going to drop on the road, they know that. It doesn't get any easier for them, they are at Altrincham on Saturday who haven't been beaten in 16 games at home. [It's 14 actually in the league, 15 in league and cup]. But you just don't know do you? I think we can beat anybody on our day'".
However, the East Anglians were less impressed with their hosts than the above accounts suggests they should have been. Cheshire Live reports that "The Linnets boss was less than impressed with the goals conceded nor the decision not to send off James Jones
Ian Culverhouse felt that his King's Lynn Town side didn't make Chester FC earn their three goals in the Blues' 3-2 victory over the National League North league leaders on Tuesday night.
A Simon Grand winner deep into added time sealed a memorable win for Bernard Morley and Anthony Johnson's Chester side, who had to come from behind twice against their Norfolk visitors, with the win closing the gap between the Blues and the Linnets to just six points.
Ross Barrows and Chris Henderson had twice put the Linnets in front only for a Rory McAuley own goal strikes from Anthony Dudley and Grand to seal the spoils for a Chester side that, in truth, were far the better side.
But Culverhouse, whose side have now lost back to back games for the first time this season, was not impressed... 'The goals we gave away were poor goals. They didn't earn their goals we gave them it [the game?].
'Both of our goals were really good team goals and [we] had to work hard for them but we gave them theirs. They are a good side, a really good side, but you could see we were lethargic and a lot of people stretching and you could see we'd had a couple of weeks off.'
Culverhouse was unhappy with the decision of match referee Aaron Bannister to show Chester defender James Jones only a yellow when he pushed over 30-goal Adam Marriott when the striker appeared to be clean through. It was a decision that on another day may have seen Jones, excellent for the Blues at the heart of defence against the Linnets, handed his marching orders.
Said Culverhouse 'The biggest turning point was when Maz (Adam Marriott) was clean through. I just don't understand what the ref is thinking. He is about to shoot and he gets taken off behind, there is no defender in front of him just the goalkeeper so that one baffled me. It was a big turning point. I've always said we deserve to finish where we finish. At the moment we are letting ourselves down with the goals that we're giving away but when we tighten up that we'll be all right.'"
Over at Guiseley, "After a blank weekend, The Lions return to action on Saturday at Nethermoor with Gateshead the visitors. Both sides have suffered from postponements recently with Gateshead's trip to Gloucestershire postponed on Monday and our game at Kettering falling to a waterlogged pitch on Saturday.
The Heed were one of two games that beat Storm Dennis on Saturday as they drew 0-0 to a resurgent Kidderminster Harriers at the Gateshead International Stadium.
The Lions are plagued by inconsistent home form with just one win in LS20 this calendar year which has also seen defeats to Chester, Darlington and AFC Telford United. Away from Nethermoor is where Marcus Bignot and Russ O'Neill's side have really sparkled, currently on an eight game unbeaten run and proudly sitting third in the away league table.
Gateshead are on an excellent run of form and haven't tasted defeat in nine games with their last coming at home to Blyth Spartans on Boxing Day, They are without a loss away since 30th November when they fell to a 1-0 reverse at league leaders King's Lynn.
The two sides are in the hunt for a play off spot with Gateshead currently occupying the last place but with three games in hand on some around them, they're currently five points and two positions ahead of The Lions so it is set to be a crucial game at Nethermoor on Saturday.
Aaron Martin is eligible for this one having served his two-game suspension and Jamie Spencer could return from his injury. Gateshead name former Lion Jordan Preston in their squad with the winger nearly inspiring a late comeback in our 3-2 win over his current employers back in November.
Russ O'Neill praised Kennedy Digie who struck his first Lions' goal last time out at Nethermoor, speaking to the Wharfedale Observer the Joint Manager said 'Kennedy has shown resilience. He's a strong and mobile defender, which has suited us since we changed shape. He's acquitted himself well, especially since he's a right-footer playing on the left (centre) in defence.
'I've asked him to be aggressive in both boxes and he got himself on the scoresheet. He needs to back up his defending with goals as we need them all round.'...
Looking at the play off picture O'Neill added 'We know we're not far away (five points) from the play-offs. We've set ourselves a points target and hopefully we're somewhere near that come the end of the season'.
Marcus Bignot spoke to the Yorkshire Evening Post and is delighted to have Aaron Martin back available. 'We missed him for a large part of the season either through suspension or injury. He's picked up two suspensions; I think he's missed five or six games due to that, but his goals speak for themselves and that's what we need in this run-in, goals."
'We're only a point behind our whole points tally of last season and we're massively on track in terms of moving forward.'"
According to the Northants Telegraph, "Paul Cox has revealed striker Tre Mitford turned down offers of 'a lot more money' to sign a contract with Kettering Town.
The 25-year-old frontman has impressed in recent weeks and has hit six goals in all competitions while adjusting to life at a higher level having joined from BetVictor Southern League Division One Central side Bedford Town earlier this season.
Cox confirmed 'two or three clubs' had made seven-day approaches to Kettering for Mitford but any chances of him moving away from Latimer Park were laid to rest when, last week, he signed a deal with the Poppies which will run until the end of next season. Cox believes there is still lots more to come and he was full of praise for Mitford for sticking with Kettering when it would have been easy to leave.
'Tre has worked extremely hard at certain aspects of his game and I think there is room for major improvement in him as well,' the Poppies' boss said. 'There were two or three clubs who put seven days in for him and this is where we have to give the lad credit because, certainly, a local club offered him a lot more money than what was on the table with ourselves.
'It was a big decision for Tre. I had numerous talks with him about the situation and I can understand it when people want to go for more money. But Tre decided to stay with us when the package on the table wasn't anywhere near what other clubs were offering him. I salute him for that because it would have been easy to leave us for the sake of extra money.
'He feels he is developing right, he feels he is at the right club and this is where he sees himself growing as a player.'"
He made his debut against Altrincham and now the Shropshire Star tells us that "Three years ago Michael Luyambula found himself in the firing line as Marco Reus and team-mates rained in with cannonball shots during training at his boyhood club Borussia Dortmund. The goalkeeper, from the north of Germany, left Dortmund for England, soon after, as an 18-year-old with a dream.
'I have my goal to be a professional football player and the opportunity came with Birmingham City so I took it,' said the 20-year-old who is currently on loan at AFC Telford United. 'My English was bad. I could understand and I talked to the team all the time to learn it. My family came to visit but I'm here by myself.'
Transfer restrictions meant Luyambula could only turn out for the Blues' under-23s team after impressing in a trial in 2018. He did well in the youth ranks before a National League South loan to Hungerford Town, his first experience of men's football. Luyambula impressed and helped keep the Crusaders in the division.
League Two Crawley came calling last summer and there he became their cup keeper, between the sticks for a historic run to the EFL Cup round of 16 with Norwich and Stoke defeated along the way. He was recalled by Birmingham with a view to finding him first-team football, and has made three appearances for Gavin Cowan's side since making the Shropshire switch.
'I think for me, because I didn't have game time before that, it was a really, really good opportunity for me to get game time,' added the Dortmund fan. 'As soon as I knew Telford were interested I took the opportunity to get involved and train with them. I've found it really nice to meet the boys. I already feel like it's not about just anybody else, it's about the group. Everyone is helping each other. My first weeks were really nice.
'The dressing room is really, really funny. Even when I came the first time they were playing ping pong together and everyone is talking together... It's a good dynamic in the group and a good vibe."
On boss Cowan, he added 'I found him really well. When I played the first game he believes in me. He has helped me a lot. He took the pressure away from me...
Luyambula continued 'The type of football is like typical English men's football. At Birmingham I've only had the opportunity to play in the under-23s, so I needed bodies in the box, crossing, that's what I need and where I can improve'...
Thomas Tuchel was the manager in charge when a teenage Luyambula would be peppered by shots in Dortmund first-team training. But, having moved to the west German city aged nine in 2008 and joined the club's youth ranks a year later, Luyambula, of Congolese descent, experienced the full Jurgen Klopp revolution. The Bucks shot-stopper added 'When I was there we won the German title and to be honest the vibe in the city changed... Jurgen Klopp brought a lot into the club... I trained sometimes with the first-team squad'...
Luyambula, who aims to play for the Congo national side, could have stayed at his club and continued to progress through the age groups... 'I left Dortmund because they wanted to help me in the under-23s but I won't play because the third choice from the first team plays for the under-23s,' he added. 'There was no game time for me so I decided to leave for more game time. I went to other trials but in the end I decided for Birmingham....
'I still want to go to their first team and make it'".
We learn from the Banbury Guardian that at Brackley, the "Saints could only draw 1-1 with Southport in Tuesday's clash.
Saints started the game seeking a first goal and a first win in five games. Top scorer Lee Ndlovu's second half header broke the goal drought and looked to have set Wilkin's side on their way to a deserved win until Southport grabbed a stoppage-time equaliser.
The seven-nil corner count told the story of the first half... Southport's Reagan Ogle's long throws were a threat...
The second half took a while to get going again but Dan Holman's deflected shot won a 77th minute corner that Shane Byrne took finding Glenn Walker at the near post and his header was finished by Ndlovu for his 16th league goal of the season.
Saints enjoyed further opportunities while Southport substitute Jack Dunn's fierce shot brought a fine save from Lewis as the visitors pressed late on. Three minutes into stoppage-time a cross was tipped over by Lewis earning Southport a second corner of the game.
Keeper Hanford came forward for the corner kick with seconds only remaining but Saints defended the set-piece only for the ball to be played back into the danger area and Jack Doyle's header somehow found the bottom corner of Lewis's goal through a thicket of bodies. The restart was the final action of the game leaving Saints crest fallen and ruing further dropped points.'"
Southport report that "Jack Doyle scored his first Southport goal deep in stoppage time to earn Liam Watson's side a point at Brackley Town.
The Port looked to be heading to defeat when Lee Ndlovu headed the home team in front with 12 minutes remaining. But having been on the receiving end of late drama in their last game against Hereford, this time it was Southport's turn to profit, as Doyle nudged the ball home from inside a crowded penalty area.
Over the piece, the visitors were worthy of a point, having matched their fifth-placed opponents for large periods of a tight game. The result extends Southport's current unbeaten run to five games, this being the second of four consecutive long away trips.
As at Hereford, Watson opted for a shape that included three central defenders, handing a debut to Jack Sanders, who recorded an assured first start on loan from Wigan Athletic...
Carl Baker, the former Port attacker, was one of the more dangerous outlets for the home team... With chances in short supply and quality difficult to find, there was little between the teams for much of the game.
But with 20 minutes remaining, the home side started to apply more pressure... It looked as though Ndlovu would settle the matter when he headed home a corner at the far post, but the final word instead went to Doyle, earning Southport a deserved point".
---
19 February 2019
Altrincham welcome league leaders King's Lynn Town to the J. Davidson Stadium on Saturday. Before that King's Lynn lost at Chester FC on Tuesday night.
In the away fixture, Alty and King's Lynn Town drew 2-2 in early November.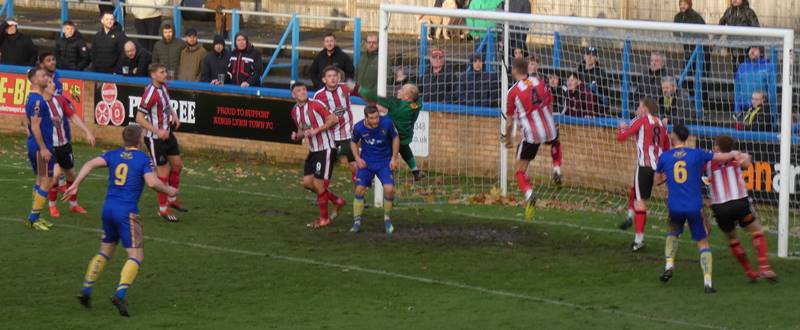 Above: Alty defend their goal in the first half at a windy King's Lynn in November, 2019.
In advance of their defeat at Chester on Tuesday, King's Lynn Town announced that they were preparing "for two tough tests of their credentials in the North West of England spread over five days. Altrincham provide the weekend test but it's Chester who Town have firmly in their sights on Tuesday evening.
Lynn have had no competitive action since February 1st , suffering postponements at Gloucester last week and Saturday, when Storm Dennis ensured there would be no chance of Bradford PA visiting The Walks. Ian Culverhouse has put his squad through their paces on the training pitch in-between times...
Fourth placed Chester are one of the league's big hitters and have been in or around the league's play off places for all of the season to date. The corresponding fixture between the sides took place back in October at The Walks when an exciting fixture saw the teams share four goals...
Like Lynn, Chester were also inactive over the weekend as their trip to Alfreton Town was also postponed. The Linnets are expected to be able to choose from a full squad on Tuesday evening, apart from skipper Michael Clunan and Ryan Fryatt who continue to recover from long term lay offs."
Also Lynn News reports that "A new date has been set for King's Lynn Town's National League North fixture at Gloucester City. The Linnets were due to face the National League North strugglers at Evesham last Monday, but the clash was postponed due to a waterlogged pitch after Lynn had arrived at the ground an hour before kick-off.
Lynn will now face the Tigers on Monday, March 16. Depending on when the home clash against Bradford PA, which was postponed on Saturday due to safety concerns, is rearranged Lynn could face playing up to seven fixtures in the month of March.
As it stands, Lynn currently have two free midweek dates on March 10 and March 24. Ian Culverhouse's side still have three February fixtures left to play, at Chester [Tuesday], followed by a trip to Altrincham on Saturday and a home game against Southport the following weekend".
Altrincham FC
has the host club's extended highlights of Alty's victory at Blyth, last Saturday.
Aiden Beswick's post-match interview with Elliott Durrell is on the Altrincham FC website.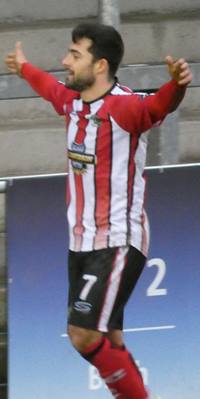 Right: Daniel Mooney celebrates his first goal for Altrincham, at Blyth, last Saturday.
Monday 17 February: Vanarama National League North
Gloucester City P-P Gateshead.
Tuesday 18 February: Vanarama National League North
Alfreton Town 1-0 Leamington
Brackley Town 1-1 Southport
Chester FC 3-2 King's Lynn Town (added-time winner after Chester had trailed)
Kettering Town P-P Hereford FC
The National League has confirmed the play-off dates for the National League North this season, as follows:
QUALIFYING ROUND: Wednesday, 29 April.
Match A: 5th place v 6th place
Match B: 4th place v 7th place
SEMI-FINALS: Sunday, 3 May.
2nd place v winner of Match A
3rd place v winner of Match B
PROMOTION FINAL: Saturday, 9 May.
Winners of above semi-finals play each other, presumably on the ground of the higher-placed team.
Before Tuesday's match,
Alfreton Town
reported that they would "welcome 16th placed Leamington in a mid-table clash...
The Reds themselves are in good form but have endured a stop-start last week or so with postponements against Gateshead and Chester due to a frozen pitch and then stormy conditions on Saturday.
We'll look to get back to it with the Reds sitting fifth in the form table, with Leamington in 21st picking up just two points from their last five league games. Alfreton will be looking to extend the unbeaten run tomorrow as we aim to continue our recent strong home form.
Alfreton were denied a third straight win in our last outing nine days ago as Farsley grabbed a point at the Citadel. It was our first away draw of the season in a game which really was a tale of two halves, in the sense of the first half being one of the most low-key and quiet periods of the season in terms of chances. Ryan Qualter and Danny Elliott had half chances as both sides cancelled the other out with neither team being able to really stretch the other in the final third.
The second half proved a different affair as the tempo increased and the chances soon began to arrive frequently. Danny Elliott scored his fifth goal in three with another great solo goal, converting into the bottom corner in the box on the hour mark. However our lead would last just a few minutes as Clayton powered a header from a Richards cross... A draw was probably the fairest result although the Reds would feel they could have had all three on chances created in the second half. It was another performance to build on...
We will look to extend the unbeaten league run to four games and, in turn, aim for a third home win in a row after successes against Gloucester (6-1) and Hereford (2-0). The Reds are unbeaten in four at the Impact Arena after two draws prior to the two wins, with Telford and Kings Lynn.
Leamington... did play last Tuesday in the Birmingham Senior Cup Quarter Final, losing to Wolves Under 23s 2-0 at the Phillips 66 Stadium... League form has been in desperate need of improvement with the Brakes six games without a league win... with their last win in the league coming at Hereford on 28th December. Away form has seen five games without a win in all competitions with the Hereford success also the Brakes last win on the road".
Also in advance of the midweek fixtures, the Chester Standard reported that "Putting a dent in King's Lynn Town's impressive away record is just one motivating factor for Chester's players, says Anthony Johnson.
The Blues return to action tonight against the title favourites following the postponement of Saturday's clash at Alfreton Town. Beaten just twice on the road by their league rivals this term, King's Lynn arrive refreshed from a two-week fixture break after successive postponements.
But Chester joint-manager Johnson is relishing his side's opportunity to 'put down a marker' by reducing the nine-point gap on the pace-setting Linnets.
'It's the start of a hugely important run of home games for us, with Brackley and Gateshead to come in quick succession,' he said... 'It's a chance for us to get ourselves right back into the title race. When teams are travelling halfway across the country for a midweek evening game it can be tough for the away side, as we saw when we went to Gateshead recently.
'King's Lynn's home record is great and you'd expect their away form to be pretty average, but the fact they've only lost two away league games tells you that's not the case. It's all about us putting down a marker and finding a way to win the game however we can. Yes, Kings Lynn have games in hand, but points are all that matter at this stage of the season'...
The Blues fared well in the reverse fixture, where goals from Simon Grand and Akwasi Asante earned a 2-2 draw in Norfolk. Prolific Linnets striker Adam Marriott netted a brace in that game and is currently leading the division's goalscoring charts after netting 28 times this season...
Johnson insists that Ian Culverhouse's side are far from a one-man team. 'First and foremost they're a very good footballing side,' he added. 'People always underestimate how physical they are as well. There are some big six-foot three lads in there. As good as they are in open play they're also really strong at set-pieces and cause a lot of problems from them.
'Then you've got strikers like Marriott, Michael Gash and Dayle Southwell there who have a great pedigree between them and can really hurt teams. You look at the management there and they're a quality outfit from top to bottom. I've been really impressed with them this season and we know we need to deliver a big performance against them.'
Centre-back Danny Livesey and striker George Waring miss the game through injury while Matty Waters serves a one-match suspension."
According to the Boston Standard "Craig Elliott has revealed he is in talks to extend 'fighter' Brad Abbott's Boston United contract, as the midfielder prepares to make his 100th appearance for the club.
The 25-year-old looks set to reach treble figures as the Pilgrims host AFC Telford United on Saturday. And manager Elliott is keen to keep the player at the club after extending the contracts of Tom Platt and Peter Crook last week...
'I like having players like Brad and Jay (Rollins) who are part of the furniture now. He doesn't miss training and rarely misses a game. He always gives 110 per cent and wants to win. He epitomises the type of player I like to work with, he gives everything. I also think he's improved during the time he's been here'...
United paid Buxton an undisclosed fee for Abbott in December 2017... Barnsley youth product Abbott has only missed five matches since making the move to Boston. A lot of players are mercenaries and don't stay long before moving on, so Brad deserves a lot of credit.'
Things haven't always gone smoothly for Abbott, with the midfielder on the receiving end of stick from parts of the crowd during the previous campaign as United failed to rediscover their early season form... Players at Boston have to come through that sometimes. Sometimes you'll get a bit of stick at a club this size,' the manager continued. 'Some players don't respond to those pressures and leave, but Brad's the opposite'".
Blyth Spartans "welcome back Mike Coulson from Gateshead, who will be taking up the position of General Manager.
Spartans advertised for a new GM after Anthony Seghini decided to step down after three seasons in the role at the end of the season...
A statement from Mike reads 'I accepted my first official position with Gateshead FC in 1999, as assistant secretary to Arthur Waggott. Since then, I have been secretary, general manager and, at one stage, owner of the club. There have been many "ups and downs" during my career...
'At this stage of my career I wanted a new challenge and was honoured to be offered the position of general manager with Blyth Spartans'"
More off the field news comes from Kidderminster Harriers that "Monica Shafaq, CEO of mental health and wellbeing charity, The Kaleidoscope Plus Group, is to join the Harriers' Board.
The club are keen to develop their skills and expertise in the areas of equality, diversity and well-being, all areas in which Monica has a vast knowledge and expertise. She is already a Non-Executive Director and equality lead at the Birmingham County FA... In addition, she sits on the Premier League's Equality Standard Panel, therefore has an insight to best practice in equality on and off the field. She also works closely with the FA as a member of their Asian Women's Inclusion in Football National Working Party.
Monica said, 'I've seen first-hand the lack of attention paid to wellbeing issues in the football sector. I'm also aware of inequalities in football. Equality and wellbeing are huge passions of mine and this is an opportunity to firmly put these issues at the forefront in a sector where it has been lacking'...
She continued 'I'm thrilled to be on board. I've always dreamt of owning my own club (yes, I dream big!) whose ethos it is to support staff (both on and off the pitch). As I will be lead Director for Equality and Wellbeing, the position allows me to put this into practice in a club that is proactive and genuinely wants to create an environment that is supportive of its staff both personally and professionally.
'I'm excited to put procedures and practices in place that will be supporting players through the academy system. Less than 1% of academy players make it to professional football which can, in some cases, lead to a range of issues if they are inadequately supported throughout their time at the academy'"
In the Northants Telegraph "Paul Cox insists it would be 'fantastic' for him if he is given the opportunity to take Kettering Town forward. In the past couple of weeks, the Poppies have extended the contract of midfielder Connor Kennedy while also handing a deal until the end of next season to striker Tre Mitford.
It seems, on the face of it, that the planning for the months and years ahead on the pitch is already under way. Cox has made a big impression since arriving at Latimer Park as he has guided Kettering out of the Vanarama National League North relegation zone and, ahead of the weekend trip to Bradford Park Avenue, they are currently seven points clear of the drop-zone.
It has been a remarkable turnaround and should their status at Step 2 be secured, the club's fans will be desperate to see Cox stay on to lead them into the next campaign... The former Poppies centre-half insists that should he lead the club to safety, it will go down as one of his biggest achievements in management.
'I have no desire to leave,' the Poppies' boss said when asked about his future. 'I am not tied down to the club in any way and they could release me just like that but they have given me an opportunity and I am enjoying my football. As a manager, you never know how long you are going to be in a job... I think the average stay for a manager at any club now is something like 13 months so it's not the best job or career to plan accordingly!
'One minute you are a hero and the next you could lose four or five on the bounce and the perception of you changes and that's why I keep myself level. But when I look at what we have done here so far, it probably ranks as one of the best things I have done. I have a history with Kettering and I love the passion of the fans so to be given the opportunity to develop this club would be fantastic for me.
'Of course, I have spoken with the chairman (David Mahoney) and the owner (Ritchie Jeune) but, at the moment, everything is focused on finishing off the job this season and making sure the club is in a healthy position to attack next season. It's all about achieving our goals for this season and if we do stay up then it will rank up there as one of the biggest things I have done in management...
'But there is still a lot of work to do and I can't afford to let my concentration waiver onto other things and I don't expect anyone else at the club to do that either. There is nobody bigger than the club.'"
---
---
The following pages, which initially replicate those pages with the same web addresses which formed part of the official Club website, will be re-branded from 2018 as part of this new unofficial Alty Files site.
A/Z Site Index to The Alty Files at www.altrinchamfc.co.uk
---