an unofficial Altrincham FC website.
www.altrinchamfc.co.uk
---
OPTIONAL DROPDOWN MENU - HERE
---
NEXT MATCH: Saturday, 20 July, 2019, 3pm
Home v. BLACKPOOL XI
Pre-season Friendly
---
ALTY HEADLINES
19 Jul 2018: BLACKPOOL ON SATURDAY...More
19 Jul 2018: SEASIDERS AND ROBINS...More
19 Jul 2018: ALTY OLD BOY'S EUROPEAN SUCCESS...More
OTHER HEADLINES
---
19 July 2019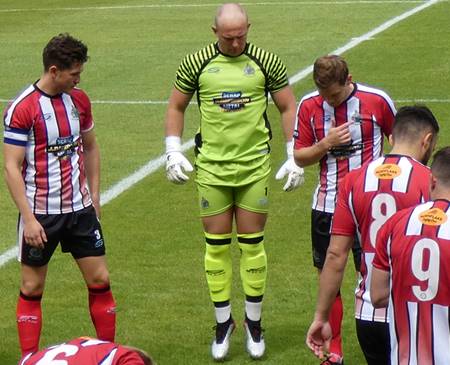 Blackpool bring a team to Moss Lane on Saturday for Altrincham's fourth pre-season game against external opposition. To date there has been a 1-0 away win at Whitchurch Alport, a heavy 0-6 home defeat by Crewe Alexandra and a 2-2 draw in midweek at Atherton Collieries.
The club has intimated that both defender Andy White and goalkeeper Steven Drench may be making their first bows of the summer as they return from injury. It is also thought likely that trialist Lewis Walters (ex-AFC Fylde) may again figure in the match after making his debut in the second half at Atherton on Tuesday.
Right: Conor Hampson wore the captain's armband against Crewe Alexandra last Saturday.
On Saturday against Blackpool, Jake Moult will be an absentee as he recovers from his operation so left-back Connor Hampson is likely to captain the side as he has done already in pre-season. Pre-season games have also seen Shaun Densmore and Sean Williams wear the armband at various stages of those encounters.
Nine trialists have been deployed so far in pre-season, namely goalkeeper Dan Gyollai, defender Zac Corbett, midfielder/forward Lewis Salmon, winger/full-back Jamal Crawford, midfielder Tom Whelan, winger Lewis Walters as well as Shakeel Jones, Darren McKnight and Ethan Cartwright. Aside from any remaining decisions to be made about trialists, manager Phil Parkinson will also be assessing Matt Chadwick's form. The former Ashton United forward, who joined Alty towards the end of last season, is recovering from injury and hoping to earn a place in the 2019-20 squad.
Saturday's game is the first of three home matches in the coming week, with Stockport County the visitors on Tuesday night, followed by AFC Fylde on Saturday, 27th July. Pre-season concludes with a short trip to our neighbours, Trafford FC, on Tuesday 30th July.
The list of players who have played both for Saturday's visitors, Blackpool, and for Altrincham is fairly lengthy.
The most recent member of this group of players is, of course, Yusifu Ceesay who spent a loan spell at the J. Davidson Stadium last season. He arrived on loan from Blackpool on 6 February 2019 and went on to make 13(+2) appearances for Altrincham, netting three goals in the process.
But, perhaps the best known player to appear for both clubs in the last twenty-five years is striker Keith Russell, who was the club's record signing, when he signed from Blackpool for a five-figure sum, believed to be £15,000. He had played for Tamworth and Atherstone before moving to the Seasiders for £50,000 in 1997. In 1998-99 Keith averaged a goal a game at Moss Lane, helping the club regain its Conference status for 1999-2000.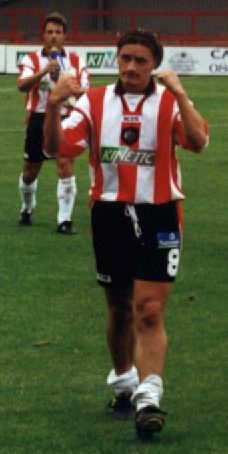 Back in 1998, Keith had scored to help Alty lift the UniBond Challenge Cup against Gainsborough Trinity at Chesterfield. In the semi-final against Chorley, the Magpies had written that "Ebullient Robins' chairman Gerry Berman regards the Russell deal as a 'massive signing' for the club and 'the biggest non-league transfer I know of in the last couple of years'. Berman reckons Altrincham have the highest wage-bill in the UniBond League and he is prepared to find the money to bring in more quality players for next season".
Sadly Russell [pictured left] was unable to repeat his 1998-99 goalscoring in the Conference in 1999-2000 as the Robins slid from mid-table safety to relegation after a disastrous run-in to the season.
Also in the late 1990s, goalkeeper Matt Dickens was another former Seasider at Moss Lane. He signed for Alty in August 1996 from Stockport County but earlier in his career had been at Blackpool.
A few years later, defender Neil Murphy made his Robins' debut as right-back in August 2002. He had recently been released by Blackpool where he had played for their first team.
David Beckham's best man, Dave Gardner re-signed for Alty from then NW Counties side Salford City just before Christmas 2002. He had previously had a brief spell with The Robins but played just one Conference game for them in October 1999 at Welling. Dave started as a Manchester United junior before he joined Manchester City on 1 July 1995. He was released from Maine Road in the 1996 close season and went, on Pontins' League forms, to Blackpool.
Another ex-Blackpool player to shine at Altrincham was tenacious midfielder Steve Bushell who joined Alty on loan from Halifax Town, where he was team captain, on 24 November 2005. From 1998 he had played at Blackpool for three years before, in August 2001, he signed for Stalybridge Celtic (then in the Conference). For Blackpool his league appearances alone comprised 64(+14) games.
More recently, in December, 2011, Blackpool loanee Adam Dodd, a left-sided midfielder/defender, arrived at Altrincham on a month's loan. Born in nearby Kirkham, he had been at Bloomfield Road from under-10 level and had signed a contract for Blackpool in May, 2011. He made 3(+2) appearances for Altrincham.
And, likewise in December 2011, Altrincham FC signed Liam Tomsett on a one-month loan from Blackpool; he returned to Bloomfield Road at the end of that period. A central midfielder, Liam had signed with Blackpool's youth department in May, 2009 and had made his first-team debut for the Seasiders in the third round of the 2010–11 FA Cup in January, 2011.
Subsequently, Liam played against Altrincham for several clubs, including Curzon Ashton and, most recently, Ashton United.
Going back in time midfielder Les Campbell [right] joined Preston North End as an 18 year-old in June 1953. After seven seasons at Deepdale he moved to the coast for a season with Blackpool and played 11 League games for them. In July 1961 he moved on to Tranmere Rovers.
One of the best-known players to appear for both clubs was Ernie Taylor. He had joined the Seasiders in 1951 and was a team-mate of the legendary Stanley Matthews. As "The Best of Charles Buchan's Football Monthly", a compilation from the top-selling football magazine of the 1950s to 1970s related "By 1961 the club [Altrincham] was in a bad way financially, the ground was in bad shape, the team doing badly and the future gloomy. They [White and Swales] decided to step in... They loaned £6,000 to the club to clear its immediate debts. They·took up £2,000-worth of unissued shares and by guaranteeing wages, they succeeded in preventing the club's complete professional staff from walking out... Knowing only too well that names make news, they brought in ex-Newcastle.and Manchester United inside forward Ernie Taylor".
Striker John Hughes, who arrived at Moss Lane for the 1974-75 season, will always be remembered for the goal that he scored at Goodison Park against Everton in the 1-1 Third Round FA Cup tie in 1975. He had started out as a junior with Blackpool, signing professional terms in July 1969. During his time at Blackpool he played 5(+3) league games and had a loan spell at Southport in March 1971 where he played a further 7(+1) league games and scored his first league goal.
The
BBC
reports that "Connah's Quay Nomads embarrassed Kilmarnock 2-0 in Ayrshire to earn a stunning Europa League first qualifying round aggregate victory.
Callum Morris' penalty proved decisive for the Welsh side, who recovered from a 2-1 first leg defeat to earn an unlikely aggregate win and set up a tie with Partizan Belgrade of Serbia.
Ryan Wignall gave the part-time visitors the lead and was later sent off after Kilmarnock's Stuart Findlay had been dismissed for conceding the penalty that Morris converted.
It was a first defeat for new Kilmarnock manager Angelo Alessio and was greeted by jeers by supporters who had celebrated a third-place Scottish Premiership finish last season.
But it was a glorious night for Welsh Premier League runners-up Connah's Quay and their Scots-born manager Andy Morrison".
In the Nomads' team was former Alty defender John Disney [above, right] whose career at Altrincham was sadly cut short by a pre-season injury and he made just 1(+1) appearance in competiitive Alty games.
There's a quite bizarre analogy in the
National League
report that "Sunday's eventful Cricket World Cup Final saw England claim glory in the narrowest of margins over their opponents New Zealand. After a tied match and Super Over, Eoin Morgan's side earned the title based on boundaries scored.
In many ways, the situation faced by the Kiwis was a reminder to those connected to AFC Telford United of just how cruel sport can sometimes be. Having been heavily involved in the Vanarama National League North play-off race for much of the campaign, the Bucks fell short on the final day due to goal difference.
But boss Gavin Cowan is never one to dwell on the negatives. After all, he was a part of Solihull Moors' squad three years ago who were crowned champions of this very division.
Preparation is already underway at New Bucks Head. The aims are orientated around bridging that minute gap between themselves and the top seven. Cowan said 'We'll never stand still. I'll always remain at the Club as long as we're improving in all aspects on a day-to-day basis, with long-term ambitions. The desire is to be better and that's what I challenge the players to do in every training session and every match'.
Despite losing three out of four games in pre-season so far, all three defeats coming against higher level opposition, Cowan maintains his ethos of 'Trust the Process', which played a crucial role in galvanising the Club and support base last term. He added 'We're getting the work outs we need to. From a fitness perspective, it's all going to plan. There's a lot to work on, but that's something we envisaged. We're comfortable with where we are and where the group is.
'These last two matches have been extremely useful. We've tried new formations and can now go away and analyse our work of transferring information from training into our match play. It's a big part of what we do and we'll sit with the players and go through our findings, which is hugely beneficial for all concerned. It's a case of refreshing the group from what we achieved last year, then ensuring... we have surpassed that'.
Replacing the goals of striker Daniel Udoh... was always going to be a tough task. But Cowan managed to secure the signing of a frontman at the top of his wish list, the much sought-after Aaron Williams. The Bucks have also drafted in Adam Walker and Chris Lait to add more experience in midfield...
The Telford boss admitted, 'We're very strategic in our play, both in and out of possession. It's going to take a bit of time to get used to it but, once they do, that's when we'll see the best of them'".
And from the Shropshire Star comes news that "AFC Telford United deputy Phil Trainer believes the club's three new additions will make a telling difference in the new season. Gavin Cowan... who also works alongside popular former Telford midfielder Trainer in their line of work at Crossbar Coaching, has made few changes this summer.
But Trainer believes the additions of Chris Lait, Adam Walker and Aaron Williams will be decisive.
'I thought we had a very good team last season with a very good core,' said Trainer. 'It was just a case of adding a few here and there, which is what we have done. The signings the gaffer has made have been very good'... On the new additions Trainer added 'They'll definitely make a difference and add to the quality... It's three very good signings, I'm sure Aaron Williams would walk into most teams in the National North.
'Adam Walker is similar, very experienced. I've played with Adam and he's a very good player. "Chris Lait was one of the top players in the league below last season. A winger that not just gets assists but scores goals. I think they're very good additions and I take my hat off to the gaffer.'"
From NL Daily we learn that "Birmingham City's young goalkeeper Zach Jeacock has agreed to join Gloucester City on a season-long loan deal. Jeacock made ten appearances for Birmingham's Under-23 side last season, keeping clean sheets in five of them, and signed his first senior contract with them in May. The 18-year-old was also included in an England training camp and was named in the LFE (League Football Education) team of the season.
Scott Bevan, Blues' Under-23s Goalkeeper Coach, commented... 'He has shown great development over the last 18 months with our Under-23 teams and proven [sic] that he can handle, plus excel, in Academy football. The chance to now get him out at National North Level and playing competitive men's football to a team the size of Gloucester City was too good to turn down and we feel it will help further aid his evolution as a goalkeeper'".
We learn from the Chester Standard that "Chester could bolster their squad with further signings if there are funds available, says Bernard Morley.
The Blues have already made a raft of new additions to their squad this summer... Morley and joint-manager Anthony Johnson have hailed the balance of their current squad, which was bolstered with the signing of goalkeeper Russ Griffiths just hours before their friendly with Carlisle United. The 23-year-old stopper became the club's sixth permanent signing...
'I'm sure we'll be knocking on the board's door and seeing what we've got left', he said... 'If we have got to be ruthless with some people who've signed and get them out on loan then we'll do that. The three central midfielders, for the majority of the season, there will only be two of them playing. We've got Iwan Murray who's shown class again, we've got Anthony Dudley who has played in that number 10 role and has shown [himself] to be better than anyone in our league.
'Then there is Craig Mahon who was absolutely unbelievable in that number 10 role (against Carlisle). In terms of balance I think it is there. However, you don't know what's around the corner or who might become available from a Blackburn or a Fleetwood, so we'll sit tight with that and continue to work with what we have got and we're happy with what we've got... In terms of the difference between last year I think there is a massive improvement.'
Among those under consideration for deals is trialist striker Rhys Oates, who impressed in the Blues' first three summer friendlies. Oates, who has since returned to his native Isle of Man where he plays for Peel FC, fired a hat-trick for Chester in their 9-1 friendly win at Newquay last week... 'Rhys has gone back to the Isle of Man and he impressed us massively,' said Morley.
'We've had a conversation with Rhys about how it can happen and what type of money it's going to be. He just wants an opportunity to be in this league and I think he has done enough to be given that opportunity. However, money talks, and if we can work it we'll work it and, if not, we'll do our best to get him somewhere located round here so we can keep an eye on him.'"
At Southport "The club can confirm that striker Jason Gilchrist has completed a permanent transfer to South Shields. Jason, who joined Southport from FC United of Manchester in November 2017, has signed for the BetVictor Northern Premier League side. The 24-year-old leaves having scored 19 league goals for the Port, including hat-tricks against Tamworth and Gainsborough Trinity in the 2017/18 season.
Jason also represented England C during his time with Southport and spent the final part of last season on loan at Stockport County".
---
18 July 2019
Blackpool bring a team to Altrincham on Saturday, despite having a fixture at the same time at Barrow. On Tuesday night they defeated neighbours AFC Fylde 2-0 in a friendly.
New Blackpool owner, Simon Stadler told the Blackpool Gazette this week that "He's taken on the club with his 'eyes wide open' and is prepared to invest what is required.
Even with larger attendances next season, the Seasiders are expected to make a loss, which will only grow over the coming years with capital expenditure projects planned... When asked if the prospect of losing money scares him, Sadler said 'I knew exactly what I was getting myself into... I know a large amount of investment is needed and I will step up and do it, but at the same time revenue will need to increase...
'I'm sure some people will want me to spend a lot of money to get us out of League One this season but I don't think that's the right thing for the future of the club'... Sadler has, however, stated it is his aim to get out of League One within the next two seasons and admits he would be 'gutted' if it wasn't achieved in three".
As usual admission for Altrincham FC season ticket holders will be free for this pre-season game whilst prices on the turnstiles will be:
Adults - £8
Concessionaries - £5
Under-16s - £2
Under-12s - Free
From the Blackpool Gazette, we learn that "Ryan Hardie says he's looking forward to rekindling his friendship with former Rangers teammate Jordan Thompson at Blackpool... The striker, who today [Wednesday] became Pool's sixth signing of the summer, came through the youth ranks at Ibrox alongside Thompson...
Thompson, a Northern Ireland international, made the move south of the border this time last year... The 6ft 2ins striker has made the move to Blackpool for an undisclosed fee, penning a two-year deal with the option to extend by a further 12 months".
Altrincham had never previously visited Atherton Collieries before the 2-2 draw there on Tuesday at the Skuna Stadium.
Off the field it was also an enjoyable evening, with sunny weather and friendly club officials and spectators.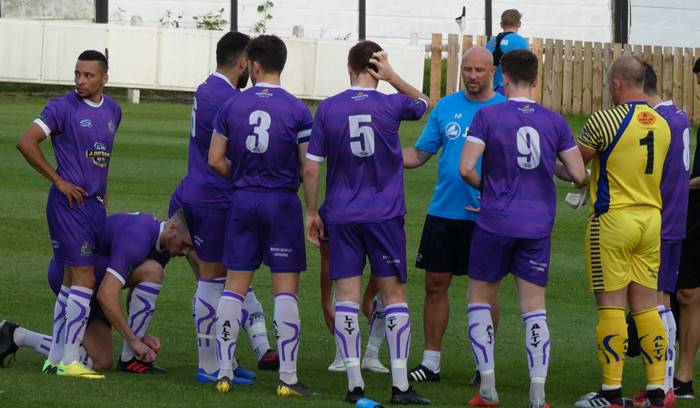 Above: Phil Parkinson addresses his players before kick off at Atherton.
In addition to a clubhouse, Atherton Collieries hosted an outdoor Skuna cider bar, courtesy of their stadium sponsors, and a visiting ice cream van was a further welcome feature on a warm evening.
A twelve-page, all colour programme, "The Carbon", at just £1 was a bonus at a pre-season game and its content was informative and well written.
The club has just been promoted to the highest level in its history, the Bet Victor Northern Premier League, and on Tuesday's showing the Colls should certainly prove competitive at that level.
The club has a fascinating series of friendly fixtures in 2019. After the Alty game, The Colls visit their fellow mining town of Hemsworth in Yorkshire to face Hemsworth Miners' Welfare, for what will be the club's 10th annual Jolly Boys' Outing. Since 2008 the club has undertaken an annual Jolly Boys trip to a variety of clubs that they would not normally meet, often at locations with a shared mining heritage.
In 2018, for instance, they played for a Collieries Cup trophy at Pontefract Collieries who won the match and will defend the trophy at Atherton on 3 August.
After their trip to Yorkshire mining country next Saturday, Atherton have an exotic home friendly against eight-times Saudi Arabian champions al-Ittihad who have even competed in the FIFA World Club Cup twice. The fixture came about through the Colls links to local club Bolton Wanderers.
Before The Colls kick off their league campaign against Ashton United on 17 August, the Skuna welcomes another visiting club, like the Saudis, rarely seen in the North West, but slightly less exotic, in the shape of Southern League Division One team, Bedworth United".
This website has a match report on Tuesday's game, here and both Altrincham FC and Atherton Collieries also have reports on the fixture.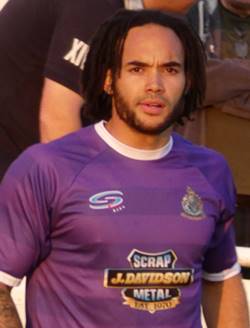 None of the trialists used in earlier pre-season games by Altrincham was in evidence at Atherton on Tuesday night but a new face did appear. Lewis Walters [right] played the second half on the left wing. He is a former AFC Fylde player, whose previous clubs were Leeds United, Nottingham Forest, Barrow and Guiseley. Harrogate-based, Walters had trials at Carlisle United last summer.
Walters is also expected to figure in Saturday's clash with Blackpool.
Altrincham's final pre-season game will be on 30 July at Shawe View, against Trafford.
On Tuesday the Bet Victor NPL reported that "Trafford boss Tom Baker has handed the captaincy to defender Sam Egerton, with goalkeeper Matt Cooper reverting to vice-captain. Egerton, 28, suffered a broken leg last summer and sat out the campaign through injury.
Baker said 'Sam is a natural born leader and was a candidate last season to be captain, prior to breaking his leg. He echoes me as a manager and is fully on board with the direction of the group! He is a really mentally strong character who will lead by example on and off the field. Matt Cooper did a fantastic job last season of being Captain and will ably assist Sam. It's no slight on Matt. I just feel it's better to have an outfield player as captain.'
Egerton said 'I am extremely proud to be captaining the club for the coming season; after a difficult first year at the club with injury, I'm grateful for the trust the Gaffer has put in me in offering me this role. We have an exciting group of players going into the new season with a good blend of youth and experience. I feel the mentality of the group that has been created by each individual will take us a long way this season.
'On behalf of the group, I'd like to thank the fans for their continued and unconditional support; it doesn't go unnoticed.'
Meanwhile, Trafford have signed wideman Sam Grimshaw, whose former clubs include Hednesford Town, Glossop North End and Radcliffe. The club has also confirmed the return of Harry Sheridan, re-joining on a dual-registration deal with National League North side Altrincham."
Chester FC
"can confirm that Friday's planned pre-season friendly at the Deva Stadium against Bolton Wanderers has now unfortunately been called off". This is reportedly a consequence of the Bolton players again not being paid.
The Chester Standard elaborates, saying that "Chester's scheduled pre-season friendly against Bolton Wanderers is off. The Blues were due to host the crisis-hit League One club at the Deva on Friday evening, but the visitors have pulled out of the clash. Wanderers' player have refused to play in the fixtures, citing ongoing issues with pay and a lack of communication from the club during the administration process.
The squad has become increasingly concerned by the speed at which the takeover process is happening and met this morning at the training ground to confirm they would not play at Chester.
A joint player statement released to the media read 'The players and coaching staff have not been paid by the club for 20 weeks and the administrators have not offered any financial assistance. It is our understanding that there are sufficient funds to provide financial help immediately but there has been none... With the new season looming it is becoming impossible to prepare correctly for the challenge ahead...
A Blues statement said... 'We would now encourage Chester FC supporters to attend the games this Friday and Saturday away at Cheadle Town and Colne respectively. "The Blues are fielding an XI at home to newly formed CPD Bangor 1876 next Thursday (25th) in our final match at the Deva before the new National League North campaign gets underway.'"
The Shropshire Star informs us that "A solitary strike from Jamie Reckord condemned AFC Telford to a 1-0 defeat in their pre-season friendly against Solihull Moors at the New Buck's Head.
Gavin Cowan's side lost to National League opposition for the second time in four days... The only goal arrived on 27 minutes as Reckord, who trained with the Bucks when Rob Edwards was in charge, stepped inside a challenge and drilled in past keeper Corey Addai.
Cowan made several changes to the team that lost to Wrexham on Saturday and Marcus Dinanga had their first chance but fired wide when he could have squared to Andre Brown... A host of substitutions midway through the second period disrupted the flow of the game for the 448 fans who had turned out to watch.
And the visitors almost doubled their advantage eight minutes from time when Matt Stenson got in behind the defence and hit a shot that rattled the woodwork, while Alex Gudger clipped the top of the bar with a header."
At Southport, "Dean Winnard has signed a contract extension with Southport for the 2019/20 season. Dean, who joined the Port last summer from Morecambe, will continue to combine his playing role with a coaching capacity.
The 29-year-old defender was a key part of the Port team last season, starting 28 games and scoring two goals from his position at the back. Dean, who also holds a Uefa B coaching license, possesses a wealth of experience which has already proved invaluable during his time at Southport. With almost 300 appearances in the EFL to his name, he began his career with Blackburn Rovers and spent seven years at Accrington Stanley before moving to Morecambe.
'I'm delighted to be able to extend my contract with the club. I really enjoyed my first season here, we've got a great group of players and it's fantastic being around them every day... I've learnt a lot from working alongside Liam (Watson) and Jon (McCarthy) over the past season and the lads work well together as a group' said Dean on extending his stay."
According to the Boston Standard, "George Green wants the Boston United fans to see him at his best, with the former Everton youngster promising he will not let his talent go to waste. Green, who moved to Goodison Park from Bradford City for a £2m fee as a 15-year-old, has spoken openly about his well-documented battles with mental health, alcohol and cocaine in the past.
But the summer signing arrives at Boston feeling very much like a player on the up, believing he has put his off-field problems behind him. 'I'm doing the right things off the pitch, which I keep reverting to,' 23-year-old Green said. 'I know that's right. Now it's about getting sharpness and minutes and working hard in training. It's got to come together. My talent's not going to waste. That's not what I'm out to do, I'm here to work hard.'
Green, whose former clubs include Tranmere Rovers, Oldham Athletic, Burnley and Kilmarnock, arrived at York Street something as an outsider as the majority of Craig Elliott's newly-assembled squad know each other well, many from their times together with Harrogate and the Pilgrims.
'The lads do know each other and you can tell they've all got good relationships,' added Green, who missed large chunks of last season with Chester due to injury. 'But I've been welcomed in with open arms and you can tell that out on the pitch with the team cohesion we've got... last year it was a drag going in and knowing I was injured. But this year I'm embracing it... I think we can go on and achieve big things this year.'"
Y Clwb Pel-Droed reports that "Barry Town United have signed Keyon Reffell following his departure from Hereford. The 28-year-old joins the Jenner Park club as their fifth signing of the summer.
The attacking midfielder rejected a new deal at Hereford, despite Marc Richards's best attempts to keep him at the Vanarama National League North side. He revealed he wanted to be closer to his family in South Wales, hence his decision to move to Barry...
Barry's new addition had an injury-ravaged season last year, having been sidelined by injury, making just six league appearances. Reffell links up with former Bulls teammate Callum Sainty, who had a brief spell at Edgar Street last season."
Crewe Alexandra, fresh from their 6-0 win at Altrincham, had another big win over a National League North side on Tuesday as they report that manager "David Artell was pleased that most of his squad got 90 minutes under their belts in last night's 3-0 win over Witton Albion. The Alex boss made the trip to Northwich whilst his assistant Kenny Lunt oversaw the 5-1 win at Curzon Ashton."
And Curzon had also lost on Saturday to another pre-season visitor to Moss Lane, Stockport County, who play at the J. Davidson Stadium next Tuesday.
Stockport County report on the game saying that "The Hatters stepped a short distance beyond the Stockport postcode area, as well as four non-league tiers up in terms of opposition, for their third friendly match of the summer but still succeeded in dominating play as they recorded a hat-trick of pre-season wins at Curzon Ashton.
Having scored 18 times in the two local fixtures at Cheadle Heath Nomads and Stockport Town, both from Division One South of the North West Counties League, County added two more to the July tally against the National League North 'Nash', courtesy of a goal in each half for Jake Kirby.
But the Hatters will be pleased with a performance at the Tameside Stadium that saw them enjoy by far the greater shares of possession and chances, as well as a fifth clean sheet in a series of matches that stretches back to their home NLN fixture against the same opponents during April.
County took to the pristine-looking pitch in a new white and dark navy alternate away kit, showing just one change from the first 11 at Stockport Sports Village four days earlier, with Connor Dimaio, in place of Alex Curran, making his first start of the pre-season campaign. Sam Minihan... was to be the only Hatter to complete the full 90 minutes...
The Hatters' early superiority was rewarded with a goal as Kirby advanced towards the edge of the area before firing a low drive past home goalkeeper Cam Mason... Mason proceeded to keep the Nash in the contest...
All 21 players in the the Hatters' squad, including three trialists who had appeared during the previous week, would enjoy some game time in OL7, although the 10 substitutes were to be brought on in four separate tranches rather than all at once...
Kirby headed in Walker's corner from the right to double the lead... Another home player once (albeit briefly) of the Edgeley parish almost halved the arrears in spectacular fashion, as left-back Josh Askew, on loan in SK3 from Salford City for four matches last August, hit County's right post with a 30-yard pile-driver".
Welsh Premier
reports that "Substitute Dean Ebbe scored minutes after coming on to the pitch to give The New Saints a 1-0 win over Feronikeli in their UEFA Champions' League QR1 second leg.
Saints needed to score having drawn last week's first leg at Park Hall 2-2, but it was the home side who came out early on with intent... The killer strike came midway through the second half, Ebbe heading in a cross from Simon Spender two minutes after replacing Adrian Cieslewicz.
That pressed the Kosovan champions into action, but they were unable to find a response, and Saints progress into QR2 where they will meet Danish champions FC Copenhagen."
---
17 July 2019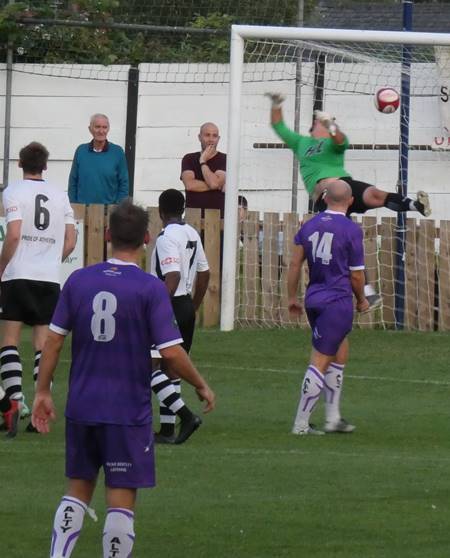 An entertaining match at the Skuna Stadium ended in a draw for Altrincham against the newly promoted NPL side, Atherton Collieries. With no trialists in their starting eleven, Altrincham fell behind to a seventh-minute penalty when Mullarkey was judged to have brought down Bentham. The home striker got up to convert the spot-kick.
Altrincham levelled the score in the 34th minute when Tom Peers back-heeled the ball home after it had been played into the goalmouth by Toby Mullarkey at an Alty corner.
Right: Max Harrop's freekick beats keeper Hartley.
Alty made half a dozen changes at the interval, one of whom was a trialist, Lewis Walters from AFC Fylde, who played on the left-wing. In the 69th minute, another of the second-half substitutes, Max Harrop, hit the net with a superb freekick from outside the box after a foul on Matt Chadwick.
Just four minutes later, the hosts came back strongly and scored a deserved equalizer, albeit thanks to an Altrincham defensive lapse. James Jones tried to shepherd a ball back to his keeper, Tony Thompson, only for Hardcastle to nip in and take the ball round the keeper and score.
Match report here.
Following news that Blackpool, who visit Altrincham on Saturday, had postponed their planned friendly at Spennymoor Town, as their new manager wanted a different pre-season schedule, we learn from the
Blackpool Gazette
that the Seasiders have now got another planned friendly fixture against a National North club in jeopardy, as "Blackpool's pre-season friendly against Southport has been cancelled due to concerns over the non-league side's pitch. The Seasiders were due to travel to Haig Avenue next Tuesday...
Southport have recently re-laid their pitch and, having taken advice from a pitch consultant, have decided it would be too soon to play a game on the new surface. However, both clubs remain in discussions regarding the potential to play the friendly elsewhere, although there is a possibility this could be behind closed doors.
Blackpool said 'The club has been informed that the playing surface at the ground requires further root growth and will no longer hold any pre-season fixtures prior to the new season. Both clubs remain in discussions with a view to holding the game at an alternative venue, with a further update to be provided in due course'...
Pitch consultant Alan Lewis informed Southport that playing any pre-season games on the surface could put it in doubt for the remainder of the campaign. The Sandgrounders have also been forced to cancel a friendly against Blackburn Rovers.
Southport director Ian Kyle said 'We are extremely pleased with how the pitch has come on and we're sure that those fans who come to the ground every Tuesday will have enjoyed seeing the work that has gone on to get it to the high standard it is now. Mr Lewis has assured us that it will be one of the best surfaces in the league. Much as we would like to play the games against Blackpool and Blackburn Rovers at the ground, as much for financial reasons as anything else, we also want to give the players every opportunity for the season ahead.
'We all witnessed how well the team played last season against Curzon Ashton and Colne, and it was no coincidence that these performances were on pitches that allowed us to play good football. It will be great to give the players that opportunity to play on a great surface at every home game. The last thing we would want to do is to sacrifice that at this late stage.'"
Altrincham's remaining pre-season matches are...
Sat. 20 July HOME Blackpool XI 3pm
Tue. 23 July HOME Stockport County 7.45pm
Sat. 27 July HOME AFC Fylde 3pm
Tue. 30 July AWAY Trafford 7.45pm
Crewe Alexandra boss Dave Artell gave his club website an
interview
after defeating Altrincham last Saturday.
And Crewe Alexandra report that "Josh Lundstram emerges as possible right-back cover. The Academy graduate certainly caught the eye with his half an hour at right-back in 6-0 in over Altrincham.
Josh Lundstram's impressive cameo performance at right-back at Altrincham last Saturday certainly caught the eye of many, none more so than his manager David Artell. The versatile Academy product usually plays in central midfield but he showed another string to his bow by slotting in at right full-back with ease.
Eager to press forward and competitive enough to steal possession back on a number of occasions, Lundstram has enchanced his chances of making his senior debut sooner rather than later no harm at all.
Artell said, 'Wherever he plays on the pitch, not a lot gets past him and it was the same against Altrincham when he came on and played at right-back. Could he get in the first team playing that position? Maybe, maybe not. But it is another string to his bow and he has shown that he could be good enough to play right-back if we need him to.'".
The
Shropshire Star
tells us that "AFC Telford United boss Gavin Cowan is looking forward to another tough New Buck's Head test as they welcome Solihull Moors for a friendly tonight [Tuesday]... after losing 2-0 to Wrexham on Saturday.
And although results are not the be-all and end-all at this point, Cowan wants to be build momentum ahead of the new National League North season...
'We'll start focusing on other parts of our game now,' said Cowan, with a home friendly against Coventry City taking place this Saturday too. 'We've got really tough games against competitive opposition, which is exactly what we want'...
As well as the loss to Wrexham, Telford have had a 4-3 defeat in a behind-closed-doors game against a West Brom XI and a 3-1 win at Market Drayton Town so far in pre-season...
Former Wolves, Kidderminster and Macclesfield defender Keith Lowe could feature after playing against Wrexham, as could goalkeeper Corey Addai who is currently contracted at Coventry but came off the bench for the Bucks against the Red Dragons as well. 'The line-ups have already been picked, but obviously we will manage as we go along,' added Cowan. 'Results are still immaterial, though it would be good to get that winning mentality but, all in all, we're ahead of schedule.'"
Southport report that "Manager Liam Watson has strengthened his defensive options with the signing of Zehn Mohammed. Zehn, who spent a brief period with Southport last season, re-joins on a youth loan from Accrington Stanley until January.
The 19-year-old full-back spent two months with the Port during the winter before finishing the season at FC United of Manchester, making 15 appearances in the Vanarama National League North. Zehn has already featured for Southport during pre-season and scored our third goal in the friendly win against the Fleetwood Town Development Squad.
Born in Blackburn, Zehn signed a professional contract with Accrington in the summer of 2017, and has also spent time on loan at Ramsbottom United and Clitheroe in a bid to assist his development".
Rotherham United "confirm that all 22 first team players will travel to the friendlies at Farsley Celtic and Bradford Park Avenue on Tuesday and Wednesday evening.
The Millers returned to English shores in the early hours of Tuesday morning and will regroup this evening as Paul Warne looks to maximise game time for his players ahead of the new season. It is once again likely that, as in Germany, players involved for around 60 minutes tonight, will play less in the other fixture and vice versa."
Altrincham's first guests of the new season are the subject of news from York Press which tells us that "City manager Steve Watson predicts tomorrow evening's game against Hartlepool United will be the most appropriate test of pre-season... The Minstermen have already come up against last season's Championship play-off contenders Leeds United and League One outfit Bolton Wanderers. Still to come are Notts County, who were relegated from League Two last season, and BetVictor Northern Premier League sides Scarborough Athletic, South Shields and Pickering Town.
Pools, meanwhile, have finished their last two seasons in the National League 15th and 16th following their 2017 relegation from League Two.
'I think the Hartlepool game will be a lot closer to what we're going to face on a weekly basis', Watson said. 'They're still a very good National League side and they will be very competitive against us...
He added, on the variety of pre-season opposition, 'It's three very different games and I expect Hartlepool will be the closest of who we will face all pre-season'...
Watson is still looking to give players match experience, though the Leeds and Bolton games have already given him food for thought. Centre-back Steve McNulty and midfielder Billy Beresford missed out on Sunday against the Trotters but Watson was confident of them being fit enough for tonight. 'I wouldn't be thinking about playing the team I'll play at the start of the season until the last couple of games of pre-season,' Watson said.
'But, even after two games, I've got an idea of what I want to do. The lads who didn't play (against Leeds) will be involved on Wednesday. It's a chance to get minutes under their belts and to make my mind up for me.'
Striker Alex Kempster has also praised the Minstermen's pre-season schedule. The 23-year-old got his first full 90 minutes of the campaign on Sunday against Bolton, netting the first-half winner. 'I got a good run-out, created a lot of chances and I'm glad I got the goal,' he said".
---
16 July 2019
Altrincham play their first ever match at Atherton Collieries tonight (Tuesday). The Colls won the EvoStik First (West) last season, the division they shared in 2018-19 with our neighbours Trafford, whom we meet on 30 July. So Atherton now meet Altrincham with just one step of the Pyramid between them.
In their pre-season home games in 2019 the Colls have lost 0-2 to a strong Chorley side, last week, before trouncing Ashton Town 5-0 last Saturday.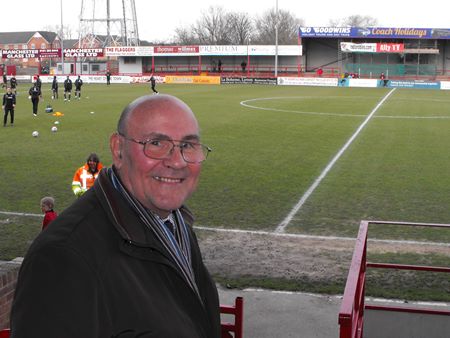 The Colls play at the Skuna Stadium, Alder Street, Atherton, Manchester M46 9EY. Admission for the game against Altrincham will be £5 for adults and £3 for concessionariess. A match programme will be available for £1.50.
Despite not having met previously, Altrincham and Atherton Collieries have several ex-players in common. One such link between Altrincham and Atherton Collieries (and, coincidentally, with Alty's next opponents, Blackpool), comes through Derek Halliwell, who played in the successful mid-sixties Altrincham team and who was a regular spectator at Moss Lane before his sad death in 2016. Not only was Derek born in Atherton, but he had also played for Atherton Collieries before joining Alty. In addition he had enjoyed a seven-month spell on the ground staff at Blackpool.
Right: Derek Halliwell at Moss Lane, February 2015.
Other players to have donned the shirts of both Altrincham and The Colls include former Alty defender Chris Lynch, who moved from Moss Lane to Atherton Collieries in 2018. Likewise, Lloyd Bannister, who spent pre-season at Altrincham in 2018, moved on to the Colls, whilst former Alty reserve, Keith Wedge had made a similar move some years earlier.
Another player who has been on both clubs' books is a Robins' youth team graduate and first-teamer, striker Mario Daniel. Likewise former Alty goalkeeper, Adam Reid, also played for the Atherton club.
Tonight, Altrincham will be looking for an improved outcome compared with their last pre-season outing, a 0-6 defeat to Crewe Alexandra last Saturday.
More on last Saturday's game at the JDS comes from
Crewe Alexandra
, whose "boss David Artell says that the tactical work and sharpness we worked on last week showed at Altrincham at the weekend. Crewe romped to a 6-0 win with Oli Finney grabbing a hat-trick at Moss Lane and, although it was a comfortable afternoon for the Railwaymen, Artell says there is a room for improvement in all aspects.
Artell said, 'We did more work on our sharpness last week and you could see it start to the effect it had at Altrincham. It was pleasing to see the players create numerous chance and score goals but there is a long way to go. There is room for improvement and plenty left but I think the fans could see the difference between the Nantwich performance and that one on Saturday.
'They had being doing a lot of running in those first 10 days of pre-season and were a bit leggy at Nantwich but working on those short and sharper stuff made a difference to us in the final third at Altrincham. It was another step in the right direction and all minutes under the belt for most of them.'"
And Crewe Alexandra add that they "are set to split the first team squad right down the middle for friendlies at Witton Albion an Curzon Ashton... Both games take place on Tuesday 16 July... The Alex boss is set to send evenly matched sides to Wincham Park and the Tameside Stadium as he looks to get a full 90 minutes of pre-season match fitness into the legs of his squad."
Membership of the Altrincham FC Patrons' scheme for 2019/20 is heading towards the two-hundred mark.
For the cost of £50 your name will appear throughout the coming season in the matchday programme as a Patron of Altrincham Football Club.
Every member will be entered into a prize draw, which this year will be made at the Stockport County pre-season game on 23rd July, with the prize being hospitality packages for four people at the Alfreton Town league fixture on Tuesday 13th August.
If you are interested in becoming a Patron for next season, please forward a cheque, payable to Altrincham Football Club, for £50. Alternatively, you can pay by card by phoning the office. If you require any further information please do not hesitate to enquire by e-mail. More details are on the Altrincham FC official website.
Dulwich Hamlet
report that "Manager Gavin Rose was in good spirits after a productive pre-season tour to Chester and Liverpool
Dulwich Hamlet returned from their first away games of preseason with two victories: a 2-1 win against Chester and a 4-2 comeback over Marine. Given that Chester compete at the same level as us, it was a good opportunity to see how this newly assembled Dulwich side is coming along and for Gavin Rose this was perfect preparation for the upcoming season.
'They were very fit and they moved the ball well and they were aggressive. I felt like that was good for us because we reacted quite well to it', Rose said of our first opponents. 'I think at the start we were probably quite surprised at their approach but we reacted really well and competed well, and we started to pass the ball'...
Dulwich preserved a clean sheet in the first half and it took two second half goals from new striker Danny Mills to secure the win over Chester... Rose continued 'That game could have easily been a league game. We're only two weeks into the preseason so I think it's a credit to both teams in terms of our fitness levels on the day.'"
According to the Birmingham Mail "Birmingham City are tracking Kidderminster Harriers midfielder Ed Williams. Birmingham are keen to strengthen this summer with head coach Pep Clotet chasing several new recruits...
Attacking midfielder Williams has scored 13 times and grabbed six assists in 36 appearances for Harriers since joining the club from Gloucester City last year. Blues' Championship rivals Swansea City are also reported to have shown interest in the 23-year-old, as have League One promotion hopefuls Peterborough United.
Speaking about transfers from Blues' training camp in Portugal last week, Clotet said, 'We know exactly what we need, we know that we are a solid team and we know what we are lacking. What we are lacking is really what we lost, a little bit of creativity, a bit of goals with Che and that's what we need to improve. "We need players that are going to come here with hunger to keep the team progressing.'"
Kettering Town advise that "The Poppies are on the road Tuesday night as they take on Jon Taylor's new look Bedford Town at the Bright Management Eyrie. The Eagles lost 1-2 to Luton Town last Saturday, Tre Mitford scoring their goal after 87 minutes. Former Poppy Nathan Abbey is the Eagles' assistant manager, with Bed Ford and Nick Bennion in the ranks of ex-Kettering players."
Alty renew acquaintance with Farsley Celtic in the coming season and we get a reminder of their history from Rotherham Vital Football, which informs us that "Rotherham United... take on Farsley Celtic at the Throstle Nest tomorrow (Tuesday, 16 July).
Founded in 1908 Farsley joined the West Riding County Amateur League eighteen years later. 1949 saw them join the Yorkshire League Division Two getting promoted to Division One at the end of the 1951/2 season. They were champions and runners-up a number of times and the 1974/5 season saw them reach the FA Cup first round for the first time taking on Tranmere Rovers who won two-nil. They had a few seasons of yo-yoing between Division One and Two and after the Yorkshire League and the Midland League combined 1982 saw them in the Division One North of the Northern Counties East League getting promoted to the Premier Division at the end of the 1984/5 season.
Two years later they were promoted to the newly formed Division One of the Northern Premier League and seventeen years later were promoted to the Premier Division. After Spennymoor United failed to fulfil their fixtures, the League took their results away, leaving Farsley champions until the FA stepped in and gave all teams who hadn't played Spennymoor three points meaning Farsley ended up in third place losing to Workington in the play-off final. The end of the 2005/6 season saw Farsley promoted via the play-offs to the Conference North and [they] got another promotion, again via the play-offs, the following season but were relegated after just one season.
Financial problems saw the club expelled from the league before the start of the 2009/10 season although, being re-admitted, they went into administration and, when they couldn't finish their fixtures, March 2010 saw them expelled from the Conference and [they] were disbanded.
They reformed as Farsley AFC for the 2010/11 season joining the Premier Division of the Northern Counties East League and, after winning the title, gained promotion to Division One North of the Northern Premier League. 2015 saw them return to the name Farsley Celtic and [they] were promoted via the 2017 play-offs to the Premier Division.
Last season the Celt Army took the Premier Division title and they will start the coming season in the National League North."
The
Halifax Courier
informs us that "FC Halifax Town have announced the departure of manager Jamie Fullarton after 17 months in charge. The 44-year-old Scot, who took charge of Halifax's 1-0 friendly win at Farsley Celtic on Saturday, succeeded Billy Heath in February last year and helped Town avoid relegation during the 2017-18 campaign.
After the club's transition from part-time to a hybrid version of full-time last summer, Fullarton guided them to a 15th placed finish in the National League last season. Of Fullarton's 67 games in charge (not including West Riding County Cup but including the 2-0 win over Hartlepool on the day of his appointment), Town won 21, lost 18 and drew 28.
Halifax are now without a manager with just 19 days to go until the start of the new campaign."
---
15 July 2019
The official
Altrincham FC
website has a post-match interview by press officer, Brian Flynn, with manager Phil Parkinson following the 6-0 defeat by Crewe Alexandra on Saturday.
Atherton Collieries
entertain Altrincham on Tuesday. They play at the Skuna Stadium, Alder St, Atherton, Manchester M46 9EY
Atherton Collieries report that on Saturday, "Two goals inside a minute early in the first half set the tone as Colls coasted to a 5-0 victory over Ashton Town at the Skuna Stadium on Saturday morning.
Following Tuesday's 2-0 home defeat to Vanarama National League newcomers Chorley, Colls' preparations for the new BetVictor Northern Premier League Premier Division campaign continued with this encounter, Town finishing ninth on their return to the North West Counties League First Division North after promotion from the Cheshire League.

Colls went in front on ten minutes when Marcus Perry fired the ball in to the bottom right-hand corner of the net, and it was almost in exactly the same spot that the lead was doubled by a trialist barely a minute later.
With the hosts 2-0 in front at the break, a third goal was added on 54 minutes when some lovely build-up play saw Jack Egan exchange passes on the edge of the box before finishing from ten yards out.
The two sides last met three years ago in a friendly at Edge Green Street... In goal for Colls that day was youngster Paul Foster, and he lined up in goal for the visitors this afternoon for the second half, but there was nothing he could do about a fourth goal for the hosts on 71 minutes as Oliver Roberts curled a delightful free kick in to the top left hand corner of the goal before another trialist completed the scoring on 83 minutes with a deflected effort.
Pre-season action continues for Colls this coming Tuesday (16th July) when Vanarama National League North side Altrincham are the visitors to the Skuna Stadium for a 7.45pm kick off".
In their previous game, Atherton Colieries reported that "Colls faced another very tough pre-season test as newly promoted National League side Chorley brought a strong side featuring trialists from league clubs.. Colls had to wait until the 30th minute before launching an attack of note, Ben Hardcastle shooting wide from the edge of the box.
Tom Bentham created Colls best chance of the half on 39 minutes when he won two 50/50 tackles in the midfield area, rode a third challenge before playing the ball to Danny Lambert who crossed for Bentham himself to nod narrowly wide inside the box.
The game then turned in Chorley's favour, [ex-Alty loanee] Elliot Newby was adjudged to have been fouled in the box, stepping up himself for the spot kick, only for Chris Cheetam to pull off a great save. However, minutes later, just before the break, Chorley came again and [ex-Alty midfielder] Josh O'Keefe was able to finish after a header back across the box to open the scoring.
The second half saw a couple of changes for both teams and Chorley were soon on the scoresheet again, Elliot Newby making amends for that earlier missed penalty.
From then on, Colls had some great chances to get on the scoreboard, Tom Bentham unable to direct a cross from Trialist on target and Jordan Cover being denied by a point blank reflex save onto the bar after heading a Gaz Peet cross goalwards from 4 yards out...
The pace of Colls attack continued to cause Chorley problems, Cover and Trialist on the left going past defenders with ease, to the delight of the crowd, but unable to put the icing on the cake. With Chorley looking dangerous each time they attacked, the game provided another decent run out for the squad".
As reported earlier, Altrincham's guests next Saturday, Blackpool, recently cancelled another planned pre-season game against National League North opposition, in the shape of Spennymoor Town. The
Blackpool Gazette
elaborates on this, stating that new manager "Simon Grayson has explained his reasoning behind cancelling Blackpool's scheduled pre-season friendly at Spennymoor Town. The Seasiders were due to take on the non-league side at Shildon AFC's ground on Saturday to coincide with the end of their six-day training camp in Scotland.
It had been arranged that the Pool players would get on the coach from St Andrew's to the stadium, a journey that would have taken around four hours. However, Grayson believed that wasn't the right preparation for his squad and decided to cancel the match, taking charge of an inter-squad 11 v 11 game instead.
'I looked at the schedule and I thought going to Spennymoor was a long way out of our way really,' Grayson told The Gazette. 'Geographically it didn't work and Spennymoor were fine with that. Instead we'll do a session in the morning, we'll do a double session Thursday and Friday and we'll have an 11-a-side game, an in-house game which I can control a little bit more. If I go to Spennymoor I can't really stop and start it like I want to do, so that will be the schedule.'"
NL Daily
reports that "Bradford (Park Avenue) have announced the signing of experienced defender Ryan Cresswell. The 31-year-old has notably represented the likes of Bury, Rotherham United, Southend United and Northampton Town in his career, most recently spending the end of last season at Boston United.
He becomes the latest signing for Bradford player/manager Garry Thompson, alongside Shaun Gardner, Mitchell Lund and Ben Hedley.
Thompson said, 'We're really happy with the squad we are building and have had a few options for a player of Ryan's experience and background which we have been considering. The support we have from the directors is excellent and getting Ryan finalised today was a big part of that squad balance we have been focusing on.'
Cresswell said 'Speaking with Garry and the club has been really positive... The pre-season schedule the club has is very strong and I can't wait to get game time against Brighouse, and then it's my old club Rotherham on Wednesday night."
Chester City "announce the signing of 'Trialist B' – forward Danny Elliott. The 23-year-old has already made his mark at the Deva,scoring a fantastic solo goal at home to Wigan Athletic last Saturday.
Elliott spent time at Nottingham Forest and Aston Villa during his youth days, before playing college football for Hofstra Pride in New York. He made 68 appearances and scored 14 goals. Danny was most recently at Port Vale, after training with the club and earning a deal in January 2019. He features again for the Blues against Dulwich Hamlet" in a home match which Chester lost, "two-one in a closely fought friendly".
The Eastern Daily Press tells us that "Football managers say they take little notice of the early pre-season friendlies but, if King's Lynn Town's opener proved anything, it was that summer transfer business appears to have been astute.
There have been three additions to the squad which won promotion; Sam Kelly, Sonny Carey and Nathan Fox, and all three showed exactly why manager Ian Culverhouse wants them in his squad. Culverhouse's recruitment hasn't finished yet - he's in the market for a defender and Saturday's two Lynn teams, one for each half, included a raft of the ubiquitous summer player, A Triallist, including one Chris Smith, a free agent centre-half after leaving Ipswich Town.
Culverhouse has five more friendlies to work out who he wants before the big kick-off... time is short, but the build-up needs to be sweet. And at the Zeeco Stadium, it was.
Yes, the scoreline gives him nothing tangible, but it allowed the master craftsmen to tinker with pairings, formations and players. Fox was given the first half to show what he can do as he tries to fill the large boots of Frazer Blake-Tracy, while Kelly and Carey appeared after the break with Lynn 2-0 up and cruising.
Carey is one for the future, but has an air of confidence, carries the ball well, is confident in possession and, judging by what happened in the 57th minute, a bit handy in front of goal; he pulled out a screamer from just outside the area to make it 3-0.
Kelly may well be the cleverest acquisition of the lot. He has some pedigree at Football League level, and he showed it; a turn of pace that raises the eyebrows, an eye for an opening and another who is comfortable in possession...
'We handled the ball okay,' said Culverhouse. 'I am not that bothered about scores... It is just looking at combinations and the way we are passing the ball. The pitch was a bit sticky, but I was pleased with them. Their work rate was very good. You are just looking at fitness levels and things like that.'
Culverhouse is likely to field two teams on Tuesday when Lynn go to Bury Town, but after that it begins to get a bit more serious as he looks to ensure Lynn are competitive at the higher level, and that will mean having plenty of tricks up his sleeve."
Bulls' News reports that "Simeon Maye has signed for Hereford after impressing while on trial. The 24-year-old midfielder, who has previously starred for Rushall Olympic, Solihull Moors, Redditch United and Boldmere St Michaels, played against both Wellington and Cinderford, but was unavailable for Friday night's match against Yeovil.
However, he linked up with his new team mates yesterday... Hereford Head Coach Marc Richards said 'Simeon has been with us from the start of pre-season. He brings energy, quality and he has the legs to get around the park. I've been really pleased with his attitude and character, he's been great to have around and has an infectious personality. He's fitted in well with the boys which is really important'".
According to Bolton Vital Football, "A bunch of kids few will have heard of represented Bolton Wanderers as they lost their opening pre-season friendly to York City by a goal to nil.
Although, in theory, our senior players could have featured, none did. Amongst the 23-man (or boy) squad, the only senior involvement was literally in name-only, with Adam Senior named on the bench. Connor Hall and Ronan Darcy were the only players who had played for the first team in an official game, while Dennis Politic and Yoann Zouma were two of the more familiar names. Phil Parkinson was in the stands, leaving Nicky Spooner and Julian Darby to it, so maybe this was a calculated thing to play the kids.
In the end, one mistake seemed to be the difference between the two sides, with Kempster scoring the only goal of the game, capitalising on an interception... You would expect, and hope, that the team in 20 days time against Wycombe is stronger and has a bit more experience in it".
Meanwhile, York Press report that "Manager Steve Watson reckons York City could have finished with a 'very healthy' scoreline against Bolton Wanderers had they been more clinical but he is not overly concerned about that at this stage.
The Minstermen were in control from start the finish against their League One opponents at Bootham Crescent, racking up four times as many shots as the Trotters. Alex Kempster got the only goal of the game in the 1-0 win, however, as good chances went begging...
Watson said 'I don't want anybody peaking in the middle of July. I want everybody coming into form, fitness and sharpness at the start of August... We created plenty and it could have been a very, very healthy score... After a comprehensive defeat against Leeds, it was a lot more controlled; the only downside was the quality of finishing'...
In contrast to Wednesday night against Leeds, when all of the squad played a part, Ryan Whitley, Sean Newton, Josh King and Kempster all played the full 90 minutes, though Watson is keen to avoid doing so again against Hartlepool on Wednesday. Along side King, fellow youngster Nathan Dyer, Reiss Harrison, Jake Watson and Kiari Ventura also got run-outs, impressing in the victory.
'Our team didn't look any worse for having the young players in,' Watson said. 'Kiari stretched them and Jake Watson did well before he unfortunately got injured'"
The Daily Post informs us that "Bryan Hughes felt Saturday's match at AFC Telford United was the perfect run out for Wrexham...
After opening their pre-season schedule with a 4-0 win at Welsh Premier League side Cefn Druids, Wrexham have put in promising displays against League One side Fleetwood Town and Portuguese Primeira Liga outfit Portimonense SC, but lost both games 1-0.
Wrexham were back in action on Saturday as they claimed a 2-0 win at the New Buck's Head... thanks to clinical finishes from Leighton McIntosh and Bobby Grant...
'It was perfect for us,' said Hughes. 'It has been a long week, being in Portugal and getting back and the travel arrangements, so this was the perfect test for us. It is a bit more realistic to when we go into the National League. Telford caused us a few problems, turned us many times, so it got us into that defensive structure which at times we are going to have to deal with, but I thought we dealt with it really well'".
The Northern Echo informs us that "Alun Armtrong has brought in nine players to Darlington so far and wants two or three more to bolster his new-look squad.
Bringing in a striker, likely to be on loan from a Championship club, is among his priorities. 'It's ongoing,' he said. 'Loans will probably happen in the last week before the season starts. I still want one or two players if I can. I would like three in, but finances will dictate that. I don't want to blow the money too early because it's the fans' money and I want to protect it.'
All nine of his new additions started on Friday when Quakers lost 2-1 at Harrogate Town, and most will be involved in some capacity in Monday evening's friendly at Bishop Auckland. Ex-Sunderland winger Lucas Bell will play as will a couple of players from the academy, while a handful [of] Bermudan players remain on trial including Justin Donowa, who made a favourable impression when used as a substitute against Harrogate.
The match at Heritage Park, where Darlington played 109 games as tenants from the beginning of the 2012-13 season, will be Armstrong's third game at the helm and he has been pleased with the progress made so far... He said 'The Motherwell match was the first time these lads had played together at 11-a-side, we hadn't had chance to do any shape, it had all been focused on fitness. You could see in the final third we need a lot of work there, but everyone could see how exciting we're going to be, how hard working we're going to be and I think the fans will enjoy it'".
---
14 July 2019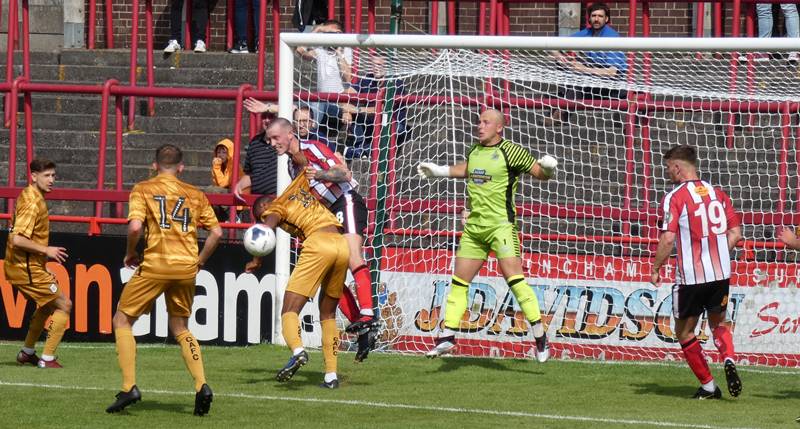 Above: Alty centre-back Toby Mullarkey clears as Crewe threaten Tony Thompson's goal in the second half.
Match report here.
From the opposition, Crewe Alexandra report that they "ramped up their pre-season with a really positive outing at Altrincham. The Alex were in the mood to create chances and threaten the opposition goal and we took the game for Alty from the off. It ended 6-0 and it could have been more...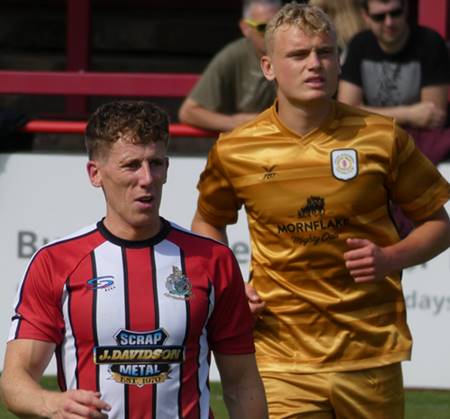 Right: Alty's Tom Peers, who has returned to the club after leaving last season, and Crewe's Billy Sass-Davies, who had a loan spell at Altrincham last season.
First half goals from Paul Green, a penalty from Charlie Kirk and one from Perry Ng gave us the cushion of a 3-0 lead and we continued to be on the front foot in our second friendly of the summer.
After David Artell made 11 changes just before the hour mark, midfielder Ollie Finney did his chances of a first team start no harm whatsoever with a quick fire hat-trick. His first one should perhaps had been saved by the Altrincham keeper Tony Thompson but his other two strikes demonstrated his finishing ability.
Crewe Alexandra's second pre-season fixture allowed boss David Artell to give most of his first team squad another sufficient run out at Moss Lane. The majority who started the game against Phil Parkinson's Altrincham side were given an hour of playing time before they were replaced...
Chris Porter was a late withdrawal after suffering a slight knee injury so youngster Connor Heath stepped in. New signing Olly Lancashire made his first appearance since joining us but Daniel Powell did not feature due to a sore back. Summer trialists, centre-half Christian Mbulu and forward Paul Taylor were provided with another opportunity to impress after both being retained from the opening friendly at Nantwich.
There was certainly a greater intensity to Crewe's play and the attacks soon flowed towards the Altrincham goal... With Crewe doing most of the early attacking, the home side were reliant on the counter attack and they nearly caught us out from one of our own corners. Kirk put a shift in to get back and that allowed Ng to position himself to block from winger Nathan Arnold and Matt Chadwick could only fire wide on the rebound...
Crewe finally took the lead on 22 minutes. More good work down the left by Kirk and Pickering gave Green the opportunity to bend a powerful bending shot past the helpless Tony Thompson. Veteran Green was then quickly involved again to help make it 2-0 within two minutes of his own opener. Crewe were awarded a penalty when Shaun Densmore's last ditch tackle to prevent Green making it 2-0 caught the Alex midfielder. With Porter missing, Kirk stepped up and rolled the spot kick past Thompson with relative ease.
At the other end, Richards was hardly troubled... Crewe went in 3-0 ahead at the break, Lowery's cross was met by the head of Kirk and his powerful header hit the crossbar and Ng helped himself to the rebound for the goal he had threatened all afternoon.
The Alex continued to look for more goals... There was [sic] 11 changes made by Artell just before the hour mark... Finney notched his first after being found by Regan Griffiths. The keeper should have kept it out with his powerful shot really going through his grip and into the net.
Soon after Finney made it 5-0 with his second goal of the afternoon. He evaded a couple of defenders coming towards him inside a crowded box, before picking his spot for a fine finish... Finney completed the scoring in emphatic fashion. The midfielder was really positive with his run forward and at the end, he emphatically smashed it out of Thompson's reach for his third goal of the game and Crewe had six goals on what proved a warm afternoon in Altrincham".
On Tuesday night Altrincham travel to Atherton Collieries for their next pre-season friendly (7.45pm). On Saturday Atherton Collieries warmed up with a 5-0 home win over Ashton Town.
Former Alty striker Damian Reeves has joined Yorkshire club
Ossett United
after spending last season at Gainsborough Trinity.
In Saturday's game with Crewe Alexandra, three trialists from previous pre-season games were included in the second-half squad. These were defender Zac Corbett (ex-Southport), wide man Jamal Crawford (ex-FCUM and Chester FC), and Lewis Salmon (Hanley Town), though Lewis did not get onto the pitch. A fourth trialist also featured, who had not played for Altrincham this summer. He was Darren McKnight, a midfielder, who started out at Barnsley but later played for Shrewsbury Town, Morecambe, Glossop NE, Bamber Bridge, Hyde United and Stalybridge Celtic.
Also in the squad on Saturday were youth graduates Dontai Gabidon (left-winger/left-back) and goalkeeper Oliver Culkin.
Altrincham were not the only National North club on the wrong end of a scoreline on Saturday as
Gateshead
report that "Player-manager Mike Williamson thought the scoreline gave a harsh reflection on his young Gateshead side as Consett ran out 4-1 winners on Saturday afternoon. The Heed fielded no first-team players at Belle View Stadium in their second friendly of pre-season as a number of trialists and youth players were handed a chance to impress against the Northern League Division One side.
[Former Altrincham man] Mason Fawns put Williamson's side in the lead after 14 minutes from close range before goals from Ali Alshabeeb and Luke Carr handed Consett the advantage at the break.
A two-minute quickfire double in the second half from Carr's penalty and Michael Brown ensured the hosts won by a comfortable margin... 'It was a good run out, I thought it was a worthy [worthwhile] exercise,' he said. 'We got a chance to look at a few of the lads. As a new team it's obviously hard to come and play a game like this as a one-off but there were some very good performances.
'We looked strong in the first half and got into some good positions, and the second half we just looked as though our inexperience got the better of us in the end'...
The Heed are now almost midway through the pre-season schedule... Hebburn and Harrogate Town are next up for Williamson and his men...
'It was a tough test for us today,' added Williamson... 'We picked up a couple of little niggles in training this week and I didn't want to risk any of the first-team lads. We've obviously got a small squad as it is so today was about looking at a few other lads. We'll certainly be going with our first team squad moving forward. It's pre-season so there's a lot of load inside our legs on the training field, but we need to get minutes on the pitch so it will be full-strength from now on.'"
According to the Grimsby Telegraph, "Scunthorpe United started their UK pre-season schedule off with a 2-0 victory over Guiseley.
First half goals from Lee Novak and John McAtee gave the Iron the victory in what was a solid display".
And yet another of Alty's divisional rivals, also lost as Mansfield Town tell us that "Stags' manager John Dempster says that alongside being pleased with Mansfield's 'combination play' in today's 1-0 win over Alfreton, he confirmed his men came through the game 'unscathed.'
Under-21s' midfielder Alistair Smith scored the game's only goal late on, with his excellent first-time finish at the back post. The Mansfield boss described this afternoon's clash as a 'really good exercise' for his players... The pitch was immaculate, so credit to Alfreton for that...
'It was brilliant for Alistair [Smith] to get a goal... We came through unscathed, with minutes in the bank for the boys. If you look at the Bradford [Park Avenue] game and the Alfreton game, there are glimpses [of patterns]... and you look at Cooky [Andy Cook] in the second-half, with the problems he caused Alfreton's centre-halves through physical dominance'".
At Halifax Town "The long wait is over, and football is back as FC Halifax Town got their pre-season underway in a short away trip to Conference North newbies Farsley Celtic. An impressive performance in the first pre-season game seen [sic] the Shaymen come away with a 1-0 win with a goal from Josh Staunton inside the first ten minutes.
The first scare of the game came inside the first minute for the Shaymen when a cross was met by Farsley Striker Nathan Cartman who was free inside the six-yard area, but he handled the ball before putting it into the net, and the referee was in the correct position to easily disallow the goal...
The attack kept coming from the Shaymen and on nine minutes the goal came, after two unsuccessful corners, one paid off. Earing whipped in the cross to find Josh Staunton completely unmarked inside the six-yard box to head the ball past Farsley goalkeeper Elliot Wynne.
FC Halifax Town were going all guns blazing inside the first 20 minutes, playing exciting football and really worrying the Farsley defence... The Farsley Attack struggled to offer much, as the Shaymen's defence stood firm...
Farsley Celtic FC Line-up: 1. Elliot Wynne 2. Jordan Richards 3. Isaac Baldwin 4. Chris Atkinson 5. Jack Higgins 6. Adam Clayton (C) 7. Ben Atkinson 8. Tyler Walton 9. Paul Walker 10. Nathan Cartman 11. Will Hayhurst. Subs: 12. Luke Parkin 13. Kyle Trennery 14. Kwame Boateng 15. Mark Bett 16. Danny Ellis".
Stockport County visit Moss Lane a week on Tuesday. But, on Saturday, Curzon Ashton conceded that "Stockport County proved too strong as Curzon fell to a 2-0 defeat in their first pre-season appearance at the Tameside Stadium. Two goals from Jake Kirby provided the foundation for the visitors' victory as they showed exactly why they won the National League North last season, but Curzon can take encouragement from their defensive resilience and an improved second half showing.
After a scrappy opening, Stockport gradually began to control possession and Frank Mulhern cracked the game into life, 12 minutes in, when his 25-yard effort battered the crossbar. From that point on the visitors dominated the rest of the half and took the lead ten minutes later when Kirby drove forward unchallenged and struck a low shot past the despairing dive of Cam Mason and into the bottom corner.
Mark Bradshaw had nominally begun with a 4-2-3-1 formation with Sean Miller pushing high up in support of Callum Saunders. But those plans had to be altered when Saunders was forced off less than 20 minutes in to be replaced by a trialist. After scoring 18 goals in their two pre-season games thus far, there was no let up from the Hatters as they pushed to extend their lead... and the Nash could consider themselves fortunate to only be trailing by a goal going into half time.
The second goal did arrive only two minutes after the restart, though; Kirby doubling his tally for the day with a firm header from a corner. Curzon introduced Liam Davies, Jack Banister, Danny O'Brien, Elliott Cooke and Luke Merrill in the second half and the longer the half went on the more they grew into the contest...
With the game slipping away, Curzon started throwing more bodies forward and were nearly caught out on a subsequent counter-attack. Nyal Bell burst through one-on-one but Mason stared him down and parried his shot away to keep the score respectable."
From The Leader we learn that "Leighton McIntosh and Bobby Grant were on target as Wrexham beat Telford United 2-0 at The New Buck's Head Stadium in their latest friendly.
Summer signing McIntosh's early strike proved to be the difference between the sides in the first half of Wrexham's fourth pre-season outing. National League North outfit Telford were the better side after the break and missed a penalty before substitute Grant scored a late second for Bryan Hughes' men to seal victory...
Telford had a goal disallowed when Ellis Deeney converted a corner after Dibble was adjudged to have been fouled but the Wrexham goalkeeper did well to punch away Brendon Daniels's dangerous cross with team-mates ready to pounce...
Telford came close to an equaliser at the start of the second half as Dinanga got ahead of Dibble and the ball reached Aaron Williams whose headed was cleared off the line by Jake Lawlor... Telford continued to threaten and Theo Streete's penalty was brilliant saved by Dibble who then conceded a penalty as he brought down Dinanga in the area.
However, Dibble redeemed himself and guessed the right way to keep out Dinanga's spot kick... But the Reds made it 2-0 in the 88th minute as a corner wasn't cleared and Shaun Pearson fed Grant who fired home.
Telford United: Wycherley, Streete, Sutton, White, Daniels, Cowans, Deeney, Walker, Knights, Williams, Dinanga. Subs: Lowe, Addai, Morley, McQuilkin, Barnes-Homer, Brown, Royle, Lilly, Lait".
And another losing club from the National North on Saturday was Leamington who went down 1-3 to Solihull Moors.
"Brakes endured another tough afternoon against a very good Solihull Moors side who took the opportunity to use a large number of their first team squad... Despite not facing the Moors for four years there are still plenty of connections between the two clubs, with Tony Breeden, Junior English, Callum Gittings and Jack Edwards having turned out for Solihull in the past, while Liam Daly and more recent Brakes players Matt Stenson and Jordan Murphy were on the visiting side.
Breeden was up to his usual antics outside of his penalty box early on, trying to take the ball past Murphy to clear only to be penalised...
Tim Flowers' men opened the scoring inside the opening ten minutes, and on the day that last season's top scorer Colby Bishop left the club to sign for Accrington Stanley, Matt Stenson returned to find the net against his old team mates, pouncing on a poor kick out from Breeden to flight the ball perfectly over the backpeddaling keeper and into the net.
Having smashed in seven goals in five pre season games for Brakes 12 months ago, Stenson clearly had the bit between his teeth as he looks to prove that he is worthy of a regular place in Solihull's starting eleven, but he had nothing to prove to his old supporters, who are well aware of how good he is... The visitors picked up the pace after the goal, but they were rocked back on their heels on 23 minutes as they inexplicably shot themselves in the foot... Brakes new boy Cieron Keane on the left put a low ball across the face of goal from the touchline that Harry Flowers turned into his own net under no pressure from anyone...
Solihull were ahead for a second time seven minutes into the second half, however. Murphy was brought down just outside the box and Hawkridge took full advantage, steering a powerful low free kick in off the post... With just over twenty minutes to play Murphy became the second former Leamington man of the afternoon to score as he finished from close range... In Paul Holleran's absence Martyn Naylor and Tom James used all their available substitutes including three trialists. This has been a testing week for Leamington, with three tough warm up fixtures, and they will surely enjoy more of the ball and more scoring opportunities in their next couple of games.
Life after Colby Bishop starts here, the manager has developed a habit of unearthing strikers with potential who have all gone on to better things. The challenge now is to do it once more.
Leamington: Tony Breeden © (13 Ben Newey, 80), Junior English, Jack Lane, Joe Clarke (17 Trialist, 80), Jamie Hood, James Mace (18 Trialist, 66), Josh March (15 Connor Taylor, 75), Callum Gittings (12 Reece King, 47), Kaiman Anderson (16 Trialist, 75), Jack Edwards, Cieron Keane (14 Kian Taylor, 66)."
Kidderminster Harriers "continued pre-season with a hard-fought 1-1 draw against League 1 Bristol Rovers. Ashley Chambers had Harriers ahead at the break with a well-taken goal, with Tom Nichols notching an equaliser for The Gas at the end.
Harriers began the game the brightest of the two teams, and hit the woodwork inside seven minutes as a well-struck free-kick thumped off the post and away with the goalkeeper beaten.
Chambers opened the scoring with nine to go until the break when Austin's expert pass released the striker, the former Nuneaton man tucking the ball beyond the keeper and into the back of the net.
Six after the restart Rovers were level when Nichols met a good cross with a strong header from eight yards that beat the goalkeeper..
With the entire outfield consisting of players to have played, or be playing, in the Harriers Academy, the finish was a tough work-out for the Aggborough youngsters but they showed their own mettle superbly, blocking and tackling their way to a deserved draw."
And, finally, news of a winner, at last, in National North as Bradford (Park Avenue) won 3-2 as "Garry Thompson's side travelled to Brighouse for their final away game before the commencement of the 2019/20 season. The match ended in a 3-2 victory to Bradford (Park Avenue) in a strong hit-out for both teams.
Bradford Park Avenue opened the scoring after three minutes thanks to Sean Gardner who chipped the keeper from an inch perfect pass from Ben Hedley. Despite conceding, Brighouse continued to keep the pressure on Bradford Park Avenue and made it difficult for them to move the ball about as the play became more fast paced and less structured. This change in pace allowed Ben Hedley to pounce on a loose ball in the Brighouse box that came about from a defensive error and slot it past the Trialist between the sticks.
A period of possession by the hosts in attack led to a Trialist finding space and firing home to bring the deficit to one goal. Within ten minutes, a piercing cross delivered into the away team's box was met by the head of Carl Stewart who glanced it into the top right corner ten minutes before the half-time whistle...
Three minutes into the second half a Bradford shot was palmed away by the keeper into the path of a Trialist who gently guided the ball into the bottom corner and capitalised on the handling error... Garry Thompson and Shaun Gardner were pleased with the performance and combinations being built throughout the squad...
Bradford (Park Avenue): ‪1-Charlie Andrew ‪2-Trialist‬ ‪3-Matty Clarke‬ ‪4-Mitchell Lund‬ ‪5-Ryan Cresswell (C)‬ ‪6-Trialist‬ ‪7-Trialist‬ ‪8-Ben Heddley‬ ‪9-Shaun Gardner‬ ‪10-Elliot Holmes‬ ‪11-Trialist‬. ‪Subs‬: ‪12-Garry Thompson ‬-65'- Shaun Gardner ‪13-Trialist‬ -65'- Charlie Andrew ‪14-Lewis Rathbone -62'- Ben Hedley ‪15-Jon Moran -62'- Ryan Cresswell".
---
---
The following pages, which initially replicate those pages with the same web addresses which formed part of the official Club website, will be re-branded from 2018 as part of this new unofficial Alty Files site.
A/Z Site Index to The Alty Files at www.altrinchamfc.co.uk
---