an unofficial Altrincham FC website
OPTIONAL DROPDOWN MENU - HERE
---
NEXT MATCH: Saturday, 19 October, 2019, 3pm
Away v. SOUTHPORT
Emirates FA Cup 4th Qualifying Round
---
ALTY HEADLINES
OTHER HEADLINES
---
14 October 2019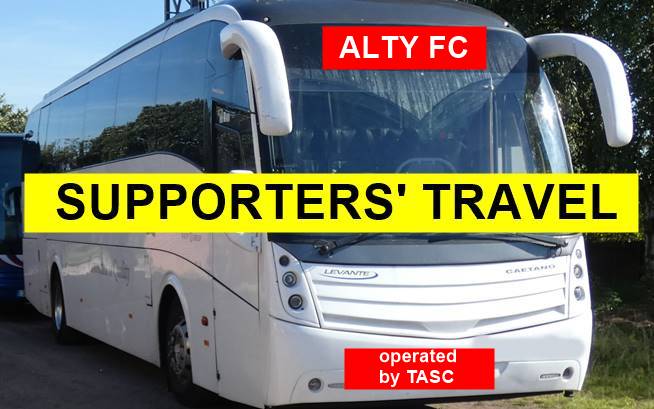 TASC Travel Coordinator, Mark Eckersall, writes...
"We're back on the cup trail next Saturday when we will be providing coach travel to our Emirates FA Cup 4th Qualifying Round tie at Southport. We expect to take a strong support to get behind the lads and hope you will consider joining us on the coach.
As ever we provide a family friendly atmosphere with travellers of all ages welcome. There is strictly no alcohol permitted on board without exception, please respect our volunteers by adhering to this rule.
Bookings will be taken via the club on 0161 928-1045. Please book early to allow us to gauge transport size and ensure we don't disappoint people later in the week. Thanks for your support".
Timings and fares can be found on the Away Travel page.
Match report here.
Altrincham manager Phil Parkinson was interviewed by press and media officer, John Edwards, after the game and his comments can be read on the AltrinchamFC site.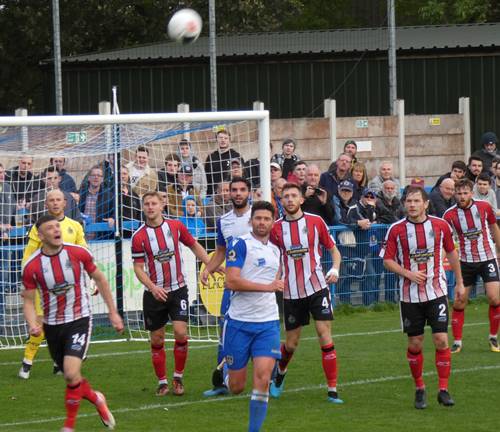 Right: Alty clear their lines at Guiseley.
Bradford's Telegraph & Argus says that "Promotion-chasing Guiseley laboured to a 1-1 home draw against lowly Altrincham in the Vanarama National North on Non-League Day but the Lions' joint manager Russ O'Neill felt it was a positive result.
Guiseley had lost their last league game 3-1 at Gloucester City and they were knocked out of the FA Cup by a side from lower down the non-league ladder last weekend as they were beaten by a stoppage-time winner at Peterborough Sports.
The Lions retained seventh place, the last play-off spot, with the draw while the Robins remained in 18th place, but the game at Nethermoor was overshadowed by a bad injury to Guiseley's on-loan Chesterfield striker Lee Shaw.
The forward crumpled to the floor after an awkward landing and was treated on the pitch before being stretchered off. The incident led to ten minutes being added on the first half but he was released from hospital later that evening.
O'Neill said 'We will have to see how Lee is on Monday and, fingers crossed, it won't be as bad as first thought. He went down badly and was taken off to hospital for x-rays so we'll have to wait but it didn't look good because of the pain he was in. In terms of the game I think it was a point gained rather than two lost in all honesty because of the overall situation. We've got two players out suspended and Jamie Spencer picked a card up so he'll be suspended now.
'Lee's injury is the latest in a long line and that'll hit us as well. I said we'd been lucky with injuries in the early part of the season but it has come to bite us now. So, all in all, I think we've earned a point because we'd lost our way a little bit in the last couple of weeks.
'We started well but once we lost Lee we had to change our game plan a little bit and we were against an Altrincham team who keep the ball really well. We created chances and, with a bit more composure, we could have been a few up before they equalised.'
It was a dream start for the home side as Kaine Felix gave them a fifth-minute lead as he drilled a shot into the bottom corner to beat Robins' keeper Tony Thompson. But Shaw went down in the 16th minute and the long stoppage disrupted the game.
The visitors began to get into the contest and by the break they were arguably the dominant side.
Alex Starcenko had replaced the unfortunate Shaw and the young Academy graduate conceded a penalty just before the hour mark. The Robins' midfielder Josh Hancock sent Lions' keeper Marcus Dewhurst the wrong way from the spot".
Altrincham travel to Southport next Saturday in the Emirates FA Cup. From
Southport
we learn that the club can "confirm that captain David Morgan has signed a contract extension with the club until 2022.
Morgan, who has played 85 times for the Port since joining from Harrogate Town in September 2017, marked his new deal by scoring the winning goal against Brackley Town on Saturday. It was Morgan's fifth goal of the current campaign taking his total tally to 13, as he continues to play an influential part in the Southport team.
'I didn't see myself wanting to go anywhere else and I'm delighted to sign the contract,' the 25-year-old Belfast-born player said. 'I'm really pleased to be part of things here and I want to go further with the club. I came here at a difficult period and, in that respect, I've ridden through the storm. Coming out of the other side of that, Liam Watson has given me the armband and the licence to influence the game in the areas that will hurt other teams. I'm really enjoying my football and I want to build on things."
The combative midfielder, who began his career at Nottingham Forest and has been capped by Northern Ireland in three age categories, was named Port captain last November. Since then, his performance levels have excelled further, with dominant displays in the centre of the pitch and some eye-catching goals scored.
'David has been a brilliant player for me and I'm really pleased that he's signed a new contract,' manager Watson said. 'He works hard, sets the tone for the team and has got a goal in him. He could easily be a Football League player. David is someone who the fans can relate to. He has been great for the football club and I know that he is proud to be captain'".
And Southport "Manager Liam Watson says Southport have completed a 'massive signing' with the addition of midfielder Marcus Wood.
Wood, who spent six months on loan with the Port last season from Bolton Wanderers, has penned a permanent contract at the Pure Stadium. The 21 year-old made a big impression with his strong midfield performances during 34 appearances last season before leaving Bolton in the summer.
He has spent part of the current season with Bradford (Park Avenue), having been at Bolton for a year, prior to which was a youth player at Manchester City, representing England at U18 and U19 level.
'Adding Marcus to the squad is a massive signing for us, especially to get someone like him at his age,' Watson said. 'Everyone knows the performance he put in for us last season and I didn't think there was any chance he would come back into Non-League football. He has done, and we need to help him like he needs to help us. I'd tip him to have a lot of success higher up the pyramid.'"
Wood played for Port in their one-nil defeat at Moss Lane last season.
Howard Watts and Mike Garnett's
Through the Years
records reveal that on 19 October, when Alty travel to Southport in the FA Cup 4th Qualifying Round, it will be the third time that the Robins have played a match at this stage of the competition on that date. But both of the previous matches were slightly curious occasions.
The first such match was in 1963 when the Robins met opposition from outside England in the form of Rhyl, who at that time were competing alongside Alty in the Cheshire County League. Alty won that game 3-1 at Moss Lane.
The only other Fourth Round Qualifying tie to be played by Altrincham on 19 October was a Fourth Qualifying Round replay, which took place in 1999 at the Bower Fold, Stalybridge. The original match on 16 October, at Moss Lane, had been a goalless draw watched by 1,186 souls.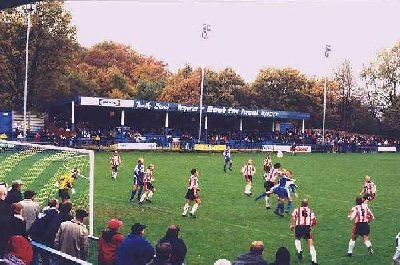 Right: Paul Ellender heads clear in the replay at the Bower Fold, 19 October 1999.
In the replay, despite a very late goal from Richard Landon, Stalybridge won 2-1 but, afterwards, it emerged that Celtic had played an ineligible player. As the Robins' Review subsequently reported, "It had come to the notice of the FA and Altrincham, via an anonymous letter, that Andy Mason had played for Stalybridge without international clearance. Thus it was decided that the original replay was null and void and the game was to be replayed". Mason had actually scored the goal which had put the hosts 2-0 up in the game.
In its inconsistent way the FA decreed that it would not remove the Tameside club from the competition, as has happened before and since to other clubs for similar offences. In the replayed replay match, Alty led 2-0 at the interval, thanks to goals goals from Paul Ellender and Kevin Ellison but lost again, this time 3-2 after extra time. This replayed replay was on a Saturday and was watched by 1,058, a major increase on the 791 who had seen the original Tuesday night tie on Tameside.
The defeat in the above match was the eighth successive defeat for Altrincham at the Bower Fold, an even worse run than Alty's current sequences at Kidderminster (no league win but 7 draws in 15 visits over the last 25 years), and Guiseley (no win ever, but five draws, over 23 years and 10 attempts in all competitions). Alty were to lose again at Stalybridge in 2000-01, 2002-03 and 2003-04 seasons before securing a draw there in 2004-05. There was a win in the Cheshire Senior Cup in 2008 but normal service resumed with a 1-5 defeat in the league in 2011/12, followed by a 2-2 draw in 2012/13, before Alty finally won a league match at the Bower Fold, 5-0, on New Year's Day 2014.
Alty's trip to Southport this Saturday will, therefore, be the first time Alty have played a (presumably) valid match in the Fourth Qualifying round of the FA Cup on October 19th against a club from England.
As previously reported here, this will be the fourth meeting of Altrincham and Southport in the FA Cup, with Alty having won twice at home (1978/79 and 1994/95) whilst Southport won the game at Haig Avenue in the 1921/22 season. Southport also won the league match this season at Haig Avenue, 2-1, on 3 September.
Last Saturday (5 October), Altrincham Reserves won 2-1 in the local derby at Broadheath Central. The Alty starting eleven included Lewis Walters, Sam Heathcote, Rhain Davis and Max Pouncey, who have all had first-team experience, whilst Ben Elliott (pictured, right) and Jack Ryan were amongst the substitutes.
Alty's goals came from Pouncey and substitute Daniel Lewis.
This Saturday (12th), in the Cheshire County FA Amateur Cup, Second Round, Altrincham FC Reserves beat Stoconians AFC 6-1 in a home match. Stoconians FC, formed in 1928, hail from Offerton, Stockport.
According to their Twitter account, Stoconians put in a "Great performance until the keeper got sent off. Poor decision by the assistant ref. The ball quite clearly hit him in the face".
Alty went ahead after two minutes of the game but Stoconians levelled three minutes later through Irwin.
On 17 minutes Altrincham were reduced to ten men for ten minutes as the new "sin bin" rule came into effect. The score remained 1-1 at the interval.
Four minutes into the second half the visitors' goalkeeper was sent off for handling outside the penalty area. Stoconians insisted the ball had hit the keeper in the face. From the resulting freekick, Altrincham regained the lead (50 mins).
It became 3-1 just after the hour mark and 4-1 in the 65th minute before two late goals wrapped up a 6-1 win.
The FA fixture list has the following games:
19/10/19 k.o. 15:00 Egerton FC v Altrincham FC Res. @ Egerton Youth Club
26/10/19 k.o. 14:00 Altrincham FC Res. v Eagle Sports @ Egerton Youth Club
Cup 29/10/19 k.o. 19:45 Altrincham FC Res. v Whaley Bridge Athletic @ Moss Lane
Altrincham FC Ladies game at home to Northwich Vixens First Women was postponed on Sunday. The next scheduled fixture (20th October) is at home to West Kirby Ladies at Egerton Youth Club. This fixture has been brought forward from 23 February.
West Kirby Ladies currently lie seventh in the league, with eight points from seven games. Although Alty are ninth they have only played two league fixtures to date!
Altrincham FC Youth beat Prescot Cables 3-0 in the only fixture in the NWYA Premier to escape the wet weather. The win took Alty to top of the table but they have played more games than others.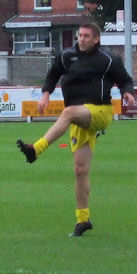 AFC Fylde's Dave Challinor became one of three National League bosses sacked this week when he was dismissed this weekend. After almost winning promotion to the EFL last season, the Coasters currently occupy a relegation position in the National League.
Challinor once played in the Alty colours, in a friendly match against Stockport County in 2008 and is pictured, right, on that occasion.
Whilst Altrincham and a number of National League North teams are involved in the Emirates FA Cup next Saturday, eight of the eliminated teams are playing league games on 19 October.
AFC Telford United v Guiseley
Alfreton Town v Farsley Celtic
Blyth Spartans v Chester FC
Gloucester City v Bradford (Park Avenue)
According to the
Telegraph & Argus
, "Just 90 minutes after Mark Bower returned to the dugout at the Horsfall Stadium, Bradford (Park Avenue) were out of the relegation zone after a deserved 3-2 victory over play-off hopefuls Hereford.
Bower led the club to back-to-back play-off finishes in his first spell but there was a parting of the ways at the end of last season. The board turned back to the former Bradford City centre-back after a disappointing beginning to 2019/20 under Garry Thompson and then interim manager Marcus Law.
Avenue were second bottom of the table and had not won at home all season but Bower brought the magic back and the crowd went wild as they celebrated. Two familiar faces had returned in the fortnight since Avenue's last game as utility player Adam Nowakowski and defender Billy Priestley were in the squad. They started alongside Joe Green, the former Guiseley keeper making his Avenue debut.
Nowakoski was deployed as a holding midfielder but he pounced to steer home the opening goal after the visitors failed to clear a ninth-minute free-kick. It was half-cleared but, as the ball back in caused confusion for the Bulls defenders, Nowakowski slotted in.
Keeper Brandon Hall was beaten again midway through the first half as a rejuvenated Avenue mounted a rapid counter-attack following a corner for the visitors... A deep cross to the far post picked out Lewis Knight, who netted a superb finish, hooking the ball on the volley over his shoulder past a stunned Hall.
Hereford halved the deficit soon after the half-hour from a questionable penalty after Mitch Lund was judged to have fouled Tom Owen-Evans... Hereford boss Russell Slade had seen enough and words were exchanged in the dressing room. Owen-Evans didn't reappear for the second half as Kelsey Mooney replaced the forward.
The change didn't bring the desired effect as Avenue increased their lead just six minutes into the second half when they were awarded a penalty. Bulls' right back Kieron Thomas bundled Avenue striker Dan Sweeney over and he got up to send Hall the wrong way from the spot before being mobbed in the celebrations.
It was a nail-biting last half-hour after Hereford cut the arrears for a second time... But Avenue held on as Bower said 'The players have responded well and having a couple back who know the club and know this level made a big difference. I thought they played well as did Joe Green on his debut. When we were under pressure late on you need a good keeper and Joe's handling was excellent. But from one to 11 everyone did well...
'The win has lifted everyone and to get it against a very good side who are in the play-off places is a massive boost. But there is a lot of hard work in front of us if we are to secure our place in this division. I hope no one is getting carried away because we've won one game; there is a long way to go and I'm sure there will be some difficult days along the way.'"
Bulls' News adds that... "[I was] 'delighted with it obviously,' Bower told the Avenue OS. 'We've been in for a couple of weeks now, we're not in a great position in the League and things have not been going too well. But we were a lot more solid and physically strong today in comparison to earlier this season.
'We got the first goal from a set-piece and a fantastic second goal. It's been about making them work a bit harder, we're a bit more resolute, a bit more experienced. We did have a period in the second half with a few tired legs but with that experience we could put ourselves in the right position and get that ball up the right end of the pitch to relieve that pressure. I thought we did that really well.
'For a team that lost 8-0 last game, to get that sort of reaction was a fantastic achievement'.
Bower mentioned the performance of keeper Joe Green. 'Towards the end of the game when a lot of balls were coming into the box, he was really dominant and it took a lot of pressure off the defence. He made a couple of good saves for us.'"
---
13 October, 2019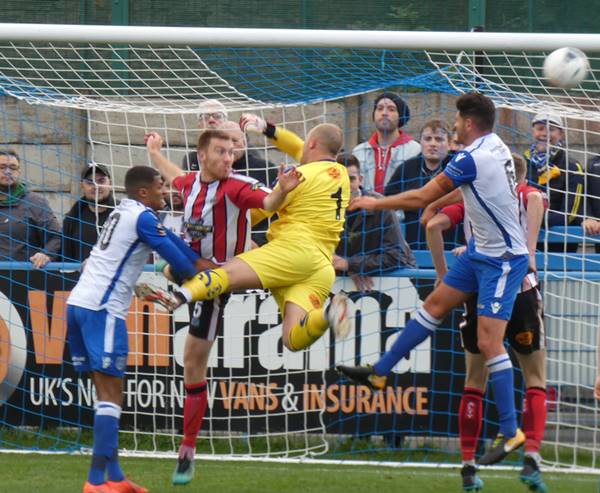 Above: Tony Thompson punches clear in the second half against Guiseley.
Another indifferent performance from Altrincham saw them fail to land a meaningful shot on target, apart from converting a penalty. They fell behind in just the sixth minute when a mistake by White saw him overhit a pass at, rather than to, Jones. The ball ran to Felix who beat Thompson.
Despite ten added minutes in the first half, caused by an injury to Guiseley's Shaw, Guiseley maintained their lead at the interval.
Altrincham improved in the second half but Guiseley almost scored again when Barkers missed a sitter.
In the second half Altrincham passed the ball about and enjoyed possession but they caused no threat to the home goal until Johnston was upended and a penalty was awarded. Hancock converted it, coolly, to level the score on the hour mark.
The game ended when substitute Hulme did well and Harrop was put free but a timely tackle halted him amidst Alty's adamant claims for a penalty. So Alty's twenty-year wait for a win at Nethermoor was extended after this tenth failure to emerge with a victory.
Match report here.
Guiseley
report that "Already down to the bare bones through injuries and suspensions Guiseley can consider themselves unlucky not to have taken all three points against Altrincham at Nethermoor this afternoon.
Having gone ahead early on through through Kaine Felix they then lost striker Lee Shaw to what looked like a bad shoulder injury and, despite creating several chances, they eventually had to settle for a draw after Josh Hancock had squared matters from the penalty spot midway through the second half.
Missing Aaron Martin and Brad Nicholson through suspension and Aram Soleman and Kenedy Digie through injury, Dylan Barker and Andrai Jones were in the starting eleven while Academy striker Nathan Newall was on the bench.
The Lions got off to the best possible start, after just five minutes, when a wayward pass meant for Altrincham keeper Anthony Thompson went straight to Felix who cooly slotted the ball past the stranded keeper for the opener.
Playing some slick football the home side's rhythm was cruelly interrupted when Shaw appeared to fall heavily and after a lengthy period of treatment from both physios he was carried off the field on a stretcher to be replaced by Aleks Starchencko on seventeen minutes.
The loss proved pivotal to the Lions' game plan which, up to that point, had seen Shaw, Johnson and Felix harrying the fragile looking Alty defence but, with his loss, they dropped back to defend wiht the intention of hitting the visitors on the counter.
As a result Alrincham had plenty of possession and got speedy wingers John Johnston and Ashley Hemmings down the flanks only for both of them to over-hit their crosses which more often than not went harmlessley behind or found the far touchline for a home throw-in.
In their occasional forays into enemy territory the home side forced several corners and, from one, they nearly doubled their lead but captain Scott Garner's powerful header came back of the bar with Thompson beaten and bounced to safety.
The Robins had the better of the early exchanges on the resumption but found the home defence in no mood to give anything away although, at times, it took a last ditch intervention to protect their lead.
Guiseley should have put the game beyond Alty ten minutes into the second period when Felix, who proved to be a constant thorn in the visitors side, did well to escape the attention of three defenders before putting the ball across the six-yard box where Barkers, at the far post, managd to miss the target from three yards out.
Newall replaced Barkers shortly after and the Lions went on the offensive and forced several corners that produced a couple of half-chances that the visitors managed to scramble away".
Altrincham travel to Haig Avenue next Saturday to take on Southport, who won the corresponding league game last month.
Mike Garnett reminds us of the record in matches between the clubs.
Home: P20-W11-D5-L4-F28-A22
Away: P16-4W-D3-L9-F20-A28
All: P36-W15-D8-L13-F48-A50
On Saturday, Southport reported that "A David Morgan penalty gave Southport a 1-0 victory over Brackley Town in Liam Watson's 500th game as manager.
After the two sides went into the break level, Morgan stepped up just after an hour of play to convert the spot kick. After walking out to a guard of honour prior to the game, Watson will be pleased to mark his milestone with three points...
The visitors should've gone into the break leading, as Gareth Dean headed the ball against the crossbar from a corner, and none of his teammates able to get the ball over the line from the rebound.
In the second half, the struggle to get the opening goal continued between the two sides. Southport seemed to come out fired up, as they took control of the match, putting the Brackley defence under pressure. Just after the hour mark, Watson's side were handed a golden opportunity, as Ellis Myles blatantly handled the ball in box to concede a penalty.
From the resulting spot kick, David Morgan stepped up and slotted it into the bottom left corner, sending the keeper the wrong way. After announcing a new deal with the club before the game kicked off, it was the perfect way for midfielder to celebrate...
In the final moments of the game Brackley had a key chance to equalise, but James Armson could only head over Glenn Walker's cross.
Southport FC: Charles Albinson, Reagan Ogle, Andy Parry (45'), Dean Winnard, Ryan Astles, David Morgan, Devarn Green, Jack Doyle, Raul Correia (71'), Jack Sampson, Brad Bauress Substitutes: Russell Benjamin (45'), George Newell (71'/ 85'), Connor Woods (85') Unused subs: Zehn Mohammed, Dan Hanford".
Ties affecting northern clubs...
Southport v ALTRINCHAM
Hednesford T v Boston U
Gateshead v Colne
Barrow v Solihull Moors
Whitby T. v Stourbridge
Hartlepool U v Brackley T
Nantwich T. v King's Lynn T.
Chorley v Spennymoor T.
Tamworth v Darlington
York C. v Stockport County
Notts County v Belper Town
Chesterfield v Wrexham
FC Halifax Town v Harrogate T.
AFC Fylde v Peterborough Sports
Before Saturday's win,
Bradford (Park Avenue)
reported that "Returning Bradford (Park Avenue) manager Mark Bower has added four names to his squad...
Goalkeeper Joe Green and winger Liam Hughes have both joined the club, while fans should recognise fellow signings Adam Nowakowski and Billy Priestley.
Central defender Priestley last played for Avenue a number of years ago, proving a popular figure under John Deacey and Martin Drury.
Meanwhile versatile Nowakowski left the club along with Bower in the summer, with the former Harrogate and Darlington rejoining ahead of Hereford's visit.
Green, who played under Bower and assistant Danny Boshell at Guiseley, arrives to replace Rhys Taylor, who left the club following Marcus Law's departure.
And winger Hughes has signed for the club to add some quality in the wide positions, last featuring for Stratford Town."
Bulls' News confirms that it has been an "Awful week for the Bulls. Hereford lost 3-2 to Bradford (Park Avenue) to complete a very disappointing week for the club.
It is the fourth time the Bulls have conceded three or more goals on the road this season and comes on the back of being knocked out of the FA Cup by lower-graded Tamworth on Tuesday.
Adam Nowakowkski opened the scoring in the ninth minute after a free-kick hit the wall, before Lewis Knight doubled the lead 13 minutes later when his hooked effort beat Brandon Hall in the Hereford goal.
Peter Vincenti reduced the arrears from the penalty spot 10 minutes before half-time after Tom Owen-Evans was fouled.
Bradford scored a penalty of their own through Dan Sweeney in the 51st minute to restore the home side's two-goal advantage.
Again, the Bulls pulled a goal back, this time through a fine Tommy O'Sullivan goal six minutes later, but Russell Slade's side couldn't force an equaliser.
Going into the game, Bradford (PA) had only scored six goals all season and had shipped 35".
Before the game, Hereford FC reported that "Experienced Football League midfielder Stephen Dawson has agreed a deal with The Bulls, subject to the relevant clearances being received by the English Football League (EFL) and FA.
'Unfortunately, due to the complex situation with Dawson's most recent club being Bury FC, the relevant paperwork hasn't been received in time for today's game at Bradford (PA),' said Slade. 'However, we fully expect to receive clearance shortly.'
33-year-old Dawson, the former captain at Bury, has a wealth of experience in the game having made close to 500 Football League appearances for Mansfield, Bury, Leyton Orient, Barnsley, Rochdale and Scunthorpe.
Slade said that he is excited by Dawson's arrival 'I've worked with Stephen before and he is someone who will bring a great deal of knowledge and experience into the team. He's a player who can really drive us forward during games, he's a leader out on the pitch, he's got a great tempo, fantastic attitude and can be a real influence on games.'"
Boston United "failed to recover from conceding twice within the opening 10 minutes as hosts Darlington claimed a 2-1 victory on Saturday afternoon.
The Quakers led through early goals from Tyrone O'Neill and Adam Campbell but United reduced the arrears within eight minutes through Dominic Knowles's fourth goal of the campaign.
United applied plenty of late pressure at Blackwell Meadows but were unable to find a way through."
From the Eastern Daily Press comes news that "King's Lynn Town were on the hunt for a replacement central defender before the dust had settled on an enthralling 2-2 draw at home to Chester in National League North.
The loss of Chris Smith after just 20 minutes took some of the gloss off an excellent performance against another of the league's big fish, leaving manager Ian Culverhouse with Rory McAuley as his only recognised centre-half.
Culverhouse is also without Ryan Fryatt so, within minutes of the final whistle, the search was on for reinforcements.
'We have put a phone call in already,' said Culverhouse. 'We have to see what comes available, but it has to be the right fit as well, we are not going to panic, and if it is not the right fit we won't go out and get him'.
Smith was taken to hospital during the game with what is a suspected dislocated elbow, while Fryatt watched from the sidelines because of a knee injury, the extent of which will be clearer after scans."
Chester FC report that"An absolute cracker ended all square at the Walks Stadium as a strong performance from Chester saw them take a point back to the North West.
Adam Marriott was at the double, with a seven-minute salvo sandwiched in between by Simon Grand and Akwasi Asante for the yellows in a four-goal thriller.
Anthony Johnson and Bernard Morley made three changes from the 3-3 draw with Leamington 14 days ago, with returns from injury for Kevin Roberts and Danny Livesey. Gary Roberts made his first start since recovery too, donning the armband after Scott Burton was forced to miss the game.
King's Lynn Town, unbeaten at home in over a year, took the lead inside the first seventy seconds. Russ Griffiths's left-footed kick out of his own box was tame and fell straight to Linnets top scorer Adam Marriott, who slotted home...
Chester saw a lot of the ball in the opening 45, but couldn't create a big opportunity...
But the game was on its head just after the hour mark after a superb double by the visiting side. First, on 56, Matty Hughes rifled a ball across the box after an extended spell of pressure for Simon Grand to find the net. Then the goal of the game came seven minutes later. Glendon switched a sublime 60 yard pass for the run of Jackson on the right, allowing the winger to fire into the area for the onrushing Asante to sweep home his 12th of the season.
Tired legs were creeping into the encounter... a cross from the right was brilliantly chested and fired home by Marriott... In the end a draw was a fair result in an electric encounter in Norfolk".
According to York Press, "York City missed a chance to extend their lead at the top of the National League North table, following a 1-1 draw at AFC Telford United...
After a largely uninspiring first half, Jordan Burrow broke the deadlock with a confident finish from an excellent team move. The lead lasted just a few minutes though before James McQuilkin headed home an equaliser.
This was again not York City at their best and, despite a mostly confident performance at the back, especially in the opening 45, there was not a lot to rave about going forward. That said, there were still some lovely passages of play in and around the area and, with better finishing, City could have taken all three points but the same could be said of Telford. In all, a draw was probably a fair result.
Bucks manager Gavin Cowan made five changes from the side that lost 3-1 at Blyth Spartans last week, with three new signings, Derby County loan keeper Matt Yates, former Everton Academy defender Arlen Birch and Matt Stenson, all making their debuts. Also in the starting 11 was Ellis Deeney, the younger brother of Watford striker Troy and Aaron Williams, the side's top scorer so far this term with three goals.
Two-goal strikers Darryl Knights and Marcus Dinanga started the day as substitutes, and were joined on the bench by the late addition of Jonathan Royle after recent signing from Bradford Park Avenue Riccardo Caulder pulled up in the warm-up...
Other changes from last week's FA Cup tie saw Peter Jameson return between the sticks and Alex Kempster regain his starting place, with Elliott Durrell and Kyle McFarlane dropping to the bench. But the big change was the reinstatement of club captain Steve McNulty's name in the back three after a month and a half out with a hamstring injury. McNulty's early involvement in the game bespoke the composure he is renowned for...
Burrow put York ahead from a fantastically-worked moved in the 58th minute. Starting out in the attacking third on the right, City worked the ball over the Ferguson on the opposite flank through McLaughlin, Bond and Moke. Ferguson played into the path of Newton on the overlap and he delivered onto the edge of the six-yard area for Burrow to dispatch...
No luck was needed with the equaliser though. James McQuilkin rose well in the area and headed beyond Jameson from a free kick".
Blyth Spartans inform us that "Levi Amantchi's tap in late in the second-half was enough to earn Blyth Spartans all three points against Curzon Ashton.
Lee Clark's side battled hard for 90 minutes and got the three points they deserved to secure their first away win of the season. Amantchi tapped home at the back post after 75 minutes...
The home side almost took the lead three minutes into the second half as Daniel Trickett-Smith tested Mark Foden from a free-kick...
[Finally, there was a] "fantastically worked goal as Roberts broke from midfield and fed Wrightson into the box who then gave it to Anthony Callaghan on the overlap before the full-back picked out Amantchi at the back-post for his first goal in a Spartans shirt."
The Northants Telegraph says that "Managerless Kettering Town dropped into the Vanarama National League North relegation zone with a 2-0 loss to Spennymoor Town at Latimer Park.
The Moors started brightly and took the lead within five minutes through Glen Taylor's header, following a cross from the left wing.
After 23 minutes, on loan Northampton Town centre-back Jay Williams was sent off for an elbow, a disappointing second involvement in the youngster's Poppies career.
In the last five minutes of the first half, Spennymoor created several chances... Kettering managed to make it to half-time only one goal down, however two minutes into the second half Taylor scored his second of the game, volleying in a cross from the left, virtually ending the Poppies' hopes of a fightback.
Interim joint-boss Steve Kinniburgh's team struggled to create in the second half, their only chance coming from James Brighton who was played in before he crossed straight into the gloves of Matthew Gould...
The Moors saw out the rest of the game and eased to a 2-0 victory, ending Kettering's misery after a very poor performance. The Poppies head into a friendly at home to Stamford next Saturday ahead of two huge matches away to Curzon Ashton and home to Bradford Park Avenue in their fight for survival. The hunt for a new manager continues".
---
12 October, 2019
AFC Telford United 1-1 York City
Bradford Park Avenue 3-2 Hereford FC
Curzon Ashton 0-1 Blyth Spartans
Darlington 2-1 Boston United
Gateshead 1-0 Gloucester City
Guiseley 1-1 Altrincham
Kettering Town 0-2 Spennymoor Town
Kidderminster Harriers P-P Farsley Celtic
Kings Lynn Town 2-2 Chester FC
Leamington 0-1 Alfreton Town
Southport 1=0 Brackley Town
Altrincham will be looking for their first away win in the National League North, this season, when they travel to Guiseley today (Saturday). Over the past twenty years Alty have failed to win on their previous nine visits to Nethermoor but, after securing an away win in the FA Cup last weekend at Halesowen, they will be optimistic of breaking that hoodoo.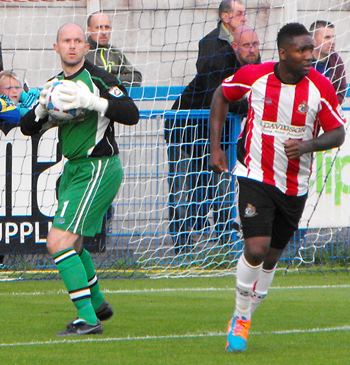 Right: Flashback to Alty's visit to Guiseley on 11 August 2015 as Stuart Coburn and Michael Rankine are seen in the 1-0 defeat for the visitors.
Manager Phil Parkinson will have to decide on his attacking options after Jordan Hulme limped off at Halesowen and his replacement, Tom Peers strenghtened his claim to start when he netted the opening goal. New signing Lewis Archer will also be available after the postponement of the league match against Gateshead and the subsequent FA Cup matches for which he was ineligible, left him still awaiting his debut for Altrincham.
For Guiseley, leading scorer Aaron Martin is suspended.
Guiseley have announced that "Prostate Cancer UK is once again the National League's official charity partner to help raise awareness of a disease which will affect one man in every eight.
For a second successive season, The National League has changed its competition name on a temporary basis in support of official charity partners Prostate Cancer UK. The League's sponsors and long-time supporters of Prostate Cancer UK, Vanarama, have again agreed to use their sponsorship in support of the leading men's health charity until November 9th. Last year, the MANarama campaign raised over £150,000 to help stop prostate cancer being a killer.
MANarama ambassador Vinnie Jones said 'I am beyond proud to back this MANarama campaign. It combines two things which are so important to me; grassroots football and fighting cancer. I started playing football in Non-League so I know that these clubs are at the heart of local communities. I don't need to explain why the fight against cancer is so important for me'...
Admission prices are: Adult £13, Concession (65+/student) £9, U18 £5, U11 £1 and tickets can be purchased online or on the day at the turnstiles".
The funeral of Altrincham supporter Martin Jordan will take place on Tuesday, 22 October, at Altrincham (Dunham Lawn) Crematorium on Tuesday, 22 October at 12.45pm. After the service, Martin will be interred alongside his late mother.
The family has requested that attendees at the funeral dress brightly. The funeral will be an occasion for family flowers only but donations may be made on the day to Christie's and Springhill Hospice, Rochdale.
Hereford FC
report that "Bulls' boss Russell Slade has been impressed by the attitude of his players following their FA Cup exit on Tuesday.
'I said after the game on Tuesday that I'll learn a lot from my players this coming weekend. We were all absolutely devasted at full-time on Tuesday but now we've got to pick ourselves up and put the Cup defeat behind us.
'We can't afford to dwell on Tuesday's game. It's imperative that we keep our good league form going', Slade said.
'I was pleased with the players' focus in training on Thursday evening. There has to be a real determination amongst ourselves to make sure we go to Bradford and get a positive result, and I was impressed by their positive response and attitude in training.'
With Tuesday night's Cup game going to extra-time, Slade says that this week has been all about making sure that the players have recovered. 'We've been focussing on managing the recovery of the players. There wasn't anything too strenuous on Thursday, but what we did ask of the players, they did well.
'We've prepared as we usually do in terms of looking at the opposition, identifying their strengths and weaknesses and making sure that the players are aware of what needs to be done. I am looking for the positive reaction that I have seen so far to be carried on into the game on Saturday. We have a good chance to consolidate our league position, to keep in touch with the top sides, and that has to be our focus now.'"
Off the field, Hereford FC "announce a new partnership with Sporting Pay Ltd who are a well-known merchant services provider that deliver bespoke payment solutions to the sports industry. As part of the partnership, Sporting Pay will see their brand appear across the club, delivering its services within the retail side of the business.
James Watts, General Manager at Hereford FC, said, 'We know this type of partnership has worked for several Football League clubs who are already enjoying the benefits from the partnership with Sporting Pay'...
As part of the agreement, Sporting Pay will be advertising on the club's digital screen and team sheet whilst also having advertising boards around the stadium. Sporting Pay will also become the club's Social Media Partner for the rest of the season".
Bradford's Telegraph & Argus reports that "Bradford (Park Avenue) boss Mark Bower is aware of the size of the task facing his side this season, saying that finishing 20th and surviving would be as good as coming seventh last year.
Avenue come into tomorrow's home game against Hereford on the back of a dreadful 8-0 defeat at Brackley Town a fortnight ago, with Bower admitting that restoring some pride this weekend is the priority....
He said 'Hereford are strong, with an experienced manager (Russell Slade), and they have a very healthy budget at this level. They come into the game as favourites, and their only target will be to win, whereas there's no pressure or expectation on us. It's a transitional period, but as long the players do the jobs we ask of them, we've got a chance'...
He mused 'We will have some dark days ahead but we've got to make sure we can get to 20th, which would be like seventh last season. We'll do what we can to stay here in this league. I've seen footage of all the games so far and the team have played well at times. They were unlucky not to win against Spennymoor, for example. We need to work on the positives and just eradicate the negatives.
'Young players learn by their mistakes. That's why I want to add experience in and around them, as they'll learn quicker like that than in any other way. I like having a settled squad of players but we do need to change things. I'm here to get the best out of the players we've already got but I think, no matter where you are in the league, you're always looking to improve your team.'
Bower added 'We're short of left-sided players. We only had two left-footed players when I arrived but one's gone and the other I've not seen. I feel we need a bit of experience in central midfield but really anything just to make us better. We're working hard to get the right people but we have to be patient and wait until they become available.'
For now, Bower's squad is largely the same as the one that was thumped at Brackley, but hopefully they can be inspired by a big crowd on Non-League Day. He enthused 'People might turn up to see me coming back and hopefully the weather holds. Horsfall's not always the best place to play football but with the fence finished and bringing the supporters close to the pitch, it creates a better atmosphere'".
York Press confirm that "York City midfielder Wes York has been sent out on loan to fellow National League North side Brackley Town.
The 26-year-old has made six appearances so far this campaign, five of those coming from the bench.
He is due to return to Bootham Crescent in January 2020".
From Burnley we learn that "Youth team goalkeeper Harry Allen has joined Curzon Ashton on a short-term loan.
The former Manchester United shot stopper has joined U23 goalkeeper Kai Calderbank-Park, who is also on loan at the Ashton-under-Lyne Club. Allen has played in all, but one league matches for Tony Philliskirk's side this season in the U18 Professional Development League.
Meanwhile, Calderbank-Park is currently away on international duty for Australia U19s, with the goalkeeper returning back to England on Tuesday."
Elsewhere, Boston United "are searching for their second away league win of the campaign when they make the trip to Blackwell Meadows to face Alun Armstrong's Quakers.
New recruit Martyn Woolford could make his United debut, having completed his move from Hyde United earlier in the week.
Manager Craig Elliott will check on the fitness of defender Simon Ainge, who limped out of last weekend's Emirates FA Cup win at Sutton Coldfield Town, and winger Jay Rollins, who sustained an ankle injury the week before against Southport.
York City loanee Jake Wright is still sidelined with a hamstring complaint".
According to the Northern Echo, "After three wins on the road, Darlington aim to bring their good away form home back to Blackwell Meadows as they make a return to their own patch. They have been away on six of the last seven Saturdays, with a defeat to York City the only home date in that sequence, though there have been Blackwell matches in midweek (against Bradford Park Avenue and Blyth).
They will not be at Blackwell for the next week two Saturdays either with trips to Tamworth and Guiseley to come. So beating Boston United tomorrow would give supporters something to cheer and maintain the momentum created by winning in successive weeks at Trafford, Alfreton and Leamington.
'We haven't had enough home games for the fans,' admitted manager Alun Armstrong. 'The last one, York, we played well but we couldn't put the ball in the net and we didn't get the result. York defended well and nicked it. That's what we did at Leamington, defended well and nicked it with two quality goals.
'One of the things I said when I came in is that we've got to get these fans back and start performing at home. I can't remember many bad performances at home but Bradford Park Avenue has stayed with me, that hurts still because we were slow and laboured. Other than that, performances at home haven't been bad.'
Beating Leamington last week led to Darlington being given a third successive away tie in the FA Cup, a visit to Tamworth.
Armstrong added 'We've not had much luck with the cup draws with getting away ties. I was desperate for a home draw for the fans. At least Tamworth isn't as far as Hereford, but it means moving a Saturday home game, Kidderminster, to a Wednesday, which is a bit of a blow.'
Stephen Thompson may be missing against Boston with a groin strain sustained a fortnight ago at Alfreton... Said the manager 'When you think what's at stake is it worth risking him? It'll be up to him, really, to see how he feels.'
Justin Donawa has scored after coming off the bench in each of the last three games, but is now on international duty with Bermuda alongside Osagi Bascome.
'It's a bit of a blow as we'll not have that impact, but we've got to deal with it and see what we can get out of the game,' added Armstrong... Also unavailable is Ben Hedley, who has slotted in at right-back recently but serves a one-match ban for reaching five cautions.
'Ben is suspended so we need to decided do we go with a back-three or a back-four... but I don't like changing too much, especially when we've had three good results on the bounce'...
Much has changed [at Darlington] with most of Tommy Wright's men having been moved on, Jonny Burn being the latest to head through the exit door after this week agreeing to cancel his contract in return for a pay-off".
---
11 October 2019
The Times
, on Thursday, had a list of the 17 players who are in Gareth Southgate's England squad for tonight's international match who have enjoyed loan spells during their careers.
Five of those 17 have spent loan periods at non-League clubs and four of those England players have previously played against Altrincham during those loan spells or in the formative stages of their professional careers.
The four in question are goalkeepers Dean Henderson and Nick Pope and outfield players Kieran Trippier and Callum Wilson.
Goalkeeper Dean Henderson, now enjoying life in the Premiership with Sheffield United, kept goal at Moss Lane for Manchester United in a pre-season game on Friday, 22 July 2016. United won 2-1 but Damian Reeves can look back on scoring against the England prospect to score Alty's goal in that game.
And, just a week later, another keeper who has played for England, Nick Pope, kept a clean sheet as his Burnley side played out a goalless draw with Altrincham in another pre-season fixture at Moss Lane.
Defender Kieran Trippier is now playing his trade with Atlético Madrid but, back on 16 July, 2011, he played for Manchester City against Alty.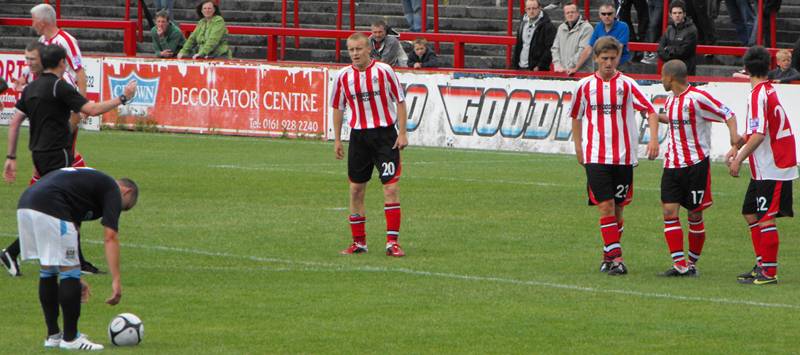 Above, an image from Altrincham's 2011 match against a Manchester City XI, which included Craig Bellamy and Michael Johnson. Here, Jake Barnabas, James Smart, Astley Mulholland and Sam Langford make up the four-man wall against a Manchester City freekick, being lined up by Kieran Trippier, who had played 35 first-team games for Championship side Barnsley in 2010-11 season.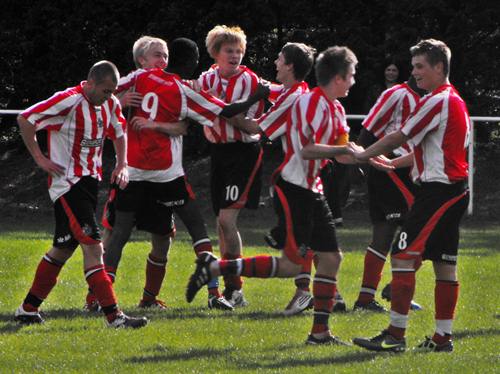 Right: August 2011, Duncan Watmore (no.10) is congratulated after scoring Altrincham Youth's late winner in a 5-4 win over FC United of Manchester.
A year later, Trippier was at Moss Lane again, this time as a substitute for Burnley as they beat Alty 4-1 in pre-season on Saturday, 21 July, 2012.
Earlier, Bournemouth's Callum Wilson was in the Kettering Town side which lost 3-2 at Moss Lane in a Blue Square Bet Premier match played on Saturday, 19 February, 2011. At the time he was on loan from Coventry City.
And, whilst none of the Alty players who have rubbed shoulders with the above four players has become an England first-team international, the club came close to achieving this with Duncan Watmore [above right]. As the Sunderland Echo reminded us in May 2015, Duncan outshone at least two players who have gone on to win first-team international caps. "Sunderland youngster Duncan Watmore has been named as Barclays Under-21 Premier League player of the year. Watmore was chosen by the Premier League Club Support Managers following an impressive 11 goals in 18 Barclays U21 Premier League matches this season.
Watmore has also been named in Sunderland's first team squad on two occasions this season after being selected for matches against Manchester United and West Ham United. He is currently away with England U20s, and scored in a 3-3 draw against Morocco yesterday. Watmore beat off competition from Chelsea striker Dominic Solanke-Mitchell and Liverpool winger Harry Wilson... who were shortlisted". Solanke has since played for England whilst Wilson is a full Welsh international.
One lesson to be learned from the above is that it is always worth attending the home pre-season games at the J. Davidson Stadium as you really will see some stars of the future!
Altrincham FC board member Bill Waterson reports on the healthy state of Altrincham's finances on the
Altrincham FC
website.
Altrincham FC
reports that "We are ecstatic to be the focus of a four-part documentary series on the trials and tribulations of Non-League football. The keenly-anticipated four-part documentary, taking you behind the scenes at Altrincham FC is... now live on the Footy Accumulators YouTube channel... as players and management open up in a first-of-its-kind for Non-League football".
By coincidence, when Altrincham visit Guiseley on Saturday (12 October) it will be 17 years to the day since the Robins made the identical trip in 2002 for an FA Cup Third Qualifying Round match, which they lost 1-2.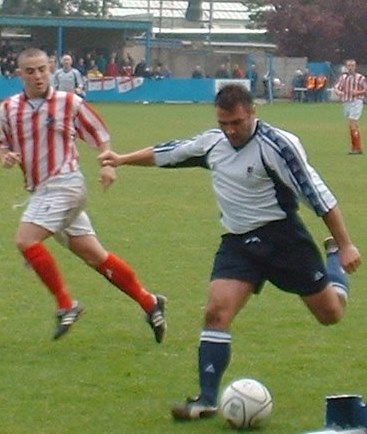 Back in 2002 Guiseley started the match in next to bottom position in the UniBond First whilst Alty were four off the bottom of the UniBond Premier Division. The Lions had won only one league game that season whilst for Alty it was four seasons since their last visit to Nethermoor.
Seen [right] in the 2002 match is former Alty star Clive Freeman, who played at left-back for Guiseley that day. Here he is being tracked by Chris Young with Stephen Rose in the background at a damp Nethermoor.
This site's report on the match said, "Any hope that the FA Cup would rescue Altrincham's faltering season disappeared against a more determined Guiseley side. A poor first-half performance from Altrincham saw them fall two goals behind due to defensive errors. The first came after Talbot missed a through ball and Acton hesitated, allowing Ryan Senior to lob the Alty keeper after just four minutes. The second came from a corner conceded after an error by Rose. The corner was headed out to ex-Southport man, Stuart, who drove it home.
Alty dominated the second half and Band headed home a McDonald cross after 67 minutes. Three minutes later Talbot headed home but the goal was ruled out for a foul on the keeper. Alty, without a recognised striker in their squad, spurned a number of other chances during the game. They have now won just 8 games in 43 league, cup and pre-season matches since last March and have yet to take anything from a game this season in which the opposition has scored first".
ALTRINCHAM: 1. Richard ACTON, 2. Neil MURPHY, 3. Gary SCOTT, 4. Stephen ROSE, 5. Gary TALBOT (capt.), 6. Neil RYAN, 7. Jason GALLAGHER, 8. Chris YOUNG, 9. Peter BAND, 10. Ian CRANEY, 11. Andy McDONALD. Subs: 12. Mark MADDOX, 14. Andy TUNNICLIFFE, 15. Chris BARTON, 16. Stuart FENNA.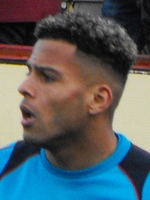 The
BetVictor NPL
reports that "Hyde United have added three new faces to their squad as they look to end a run of four league games without a win.
Goalkeeper Aidan Winterbottom, defender Luis Morrison [right] and Michael Elstone have all been brought in by manager Dave McGurk. Former Grays, Alfreton, Nuneaton and Stratford defender Morrison started in the 4-1 win over Glossop North End in the Manchester Premier Cup on Tuesday night.
McGurk told the club's official website... 'Luis joins us and is available for tomorrow evening. He is a player with a real presence and is another one who has impressed in training. He's vocal and will add strength and leadership down the spine of the team'".
Also from the BetVictor NPL we learn that "The 7-0 win over Grantham Town on Tuesday night was Buxton's first league win of the season. Meanwhile, Aaron Chalmers's loan from Ashton United has been made permanent".
The
BetVictor NPL
reports that "Whitby Town manager Chris Hardy hailed their FA Cup progress against Gloucester City as his best moment in charge of the club. The Seasiders travelled south for Monday night's third qualifying round replay with just 14 fit players, including three goalkeepers.
A brace from makeshift striker Kieran Weledji helped them win 3-1 and set up a tie at home to former NPL club Stourbridge for a place in the FA Cup first round proper.
Hardy told the club's official website 'That's the FA Cup for you.... What the lads did was unbelievable and the work ethic was flat out. That's my best moment as the Whitby manager.'".
We learn from the BetVictor NPL that "Bamber Bridge have signed Chester pair Matty Thomson and Louis Hayes on loan. Defender Thomson... made his senior debut in April 2018. He made 16 appearances last season, signing a one-year contract extension in the summer.
Midfielder Hayes is also an academy graduate, who joined the club from Blackburn in May 2017. Manager, Joey Collins said 'They are both held in high regard by all the Chester staff and have bright futures ahead of them.'"
According to Cheshire Live "King's Lynn Town assistant manager Paul Bastock insists that Chester FC are the ones that should be fearful this weekend. Second meets third in the National League North's standout match on Saturday as Anthony Johnson and Bernard Morley take their Chester side to Norfolk looking to do something that no team has managed in over a year, beat the Linnets at The Walks.
King's Lynn, promoted via the Northern Premier League play-offs last season, have been the surprise package in the division thus far and sit a place and a point behind second-placed Chester.
The Linnets boast a stunning home record and Johnson and Morley know their side will have to be at their very best to glean something from the contest, the Blues opting to stay over on Friday night in order to give themselves the best possible chance of a positive outcome at 5pm on Saturday...
Bastock, who at 49 is still registered as a reserve 'keeper at the Linnets and who has made a world record 1,280 appearances, says he and manager Ian Culverhouse know what to expect from Chester this weekend and are planning accordingly. 'They're very direct and we all know about the managers, so we know what we've got coming up against us,' Bastock told the Linnets' official YouTube channel. 'But while we have the gaffer with us he will be coming up with a few tricks for us this week.
'We have no fear, no fear. If the boys can stand up to long balls and the physical side and be brave with their passing and movement then I think they'll have more to fear than us.'
The Linnets are flying in the National League North so far, thanks in no small part to the goals of experienced striking duo Michael Gash and Adam Marriott...
Bastock says... 'First and foremost to stay in this league was the priority and that is still our priority. We've had a great start to say that we're staying in this league for next season, and then we can build and build and build. We don't want to get carried away because we are overachieving, but "he who dares" [wins]. We just have to maintain the standards that the gaffer sets and the belief in our football. We've already surprised everybody this year and I'm pretty sure that we can continue.'"
NL Daily tells us that "Attacking midfielder Ravi Shamsi has signed for Stratford Town.
Shamsi has just left Leamington, having previously been at Maidenhead United, and Banbury United, where he scored 16 goals in 37 appearances. He also spent two seasons at Fulham with their Under-18s squad."
This from BBC Midlands; 'Labour plans to give supporter trusts a greater say over their local football clubs has kicked off a debate about ownership in the beautiful game. Jeremy Corbyn wants to see supporters with seats on the board and the right to buy shares.
It's a model that's already being pursued at clubs like Hereford FC, which rose from the ashes of the collapsed Hereford United, but can it work in the game's upper echelons where money talks?
Rob Mayor's been speaking to fans, football experts and the former Chairman of a Premier League club to get their views...
BBC Sunday Politics Midlands, 10am BBC One".
---
10 October 2019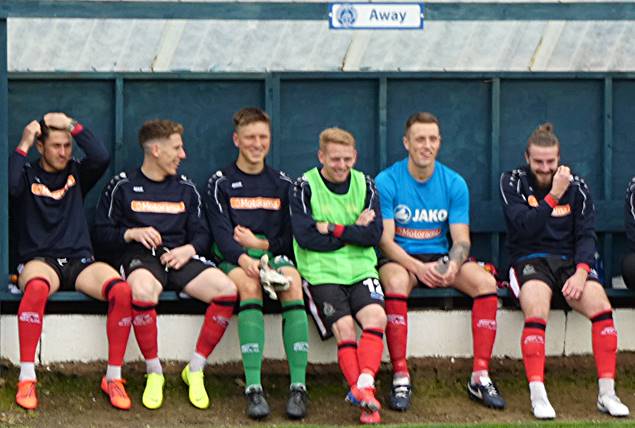 If a happy bench is the sign of good team spirit then the above image, captured at Halesowen on Saturday, bodes well for Altrincham. Pictured above are, left to right, Connor Hampson, Tom Peers, Joel Torrance, Sean Williams, Toby Mullarkey and Max Harrop. Alty also named Yusifu Ceesay on the bench but the injured wingman was nowhere to be seen.
Altrincham's most recent league game was back on 14 September when they lost at Kidderminster Harriers. At their fifteenth attempt in the past 25 years, Alty failed to win a league match at Aggborough. By an unfortunate quirk of the fixture list, this coming Saturday Alty travel to their next worst bogey team in the National League North, Guiseley.
In nine visits, Altrincham have never won and have secured just four draws in matches against the West Yorkshire club. All the matches against Guiseley have been in the league unless shown otherwise in the list below...

Above: Alty warm up at Nethermoor, 1 May 1999
10 February 1996, FA Trophy round 2: LOST Guiseley 4 Altrincham 0 The least said about this game the better.
8 November 1997: DREW Guiseley 2 Altrincham 2 Alty twice led through Niell Hardy and a Tony Kelly penalty.
1 May 1999: LOST Guiseley 2 Altrincham 0 Altrincham arrived as the already confirmed UniBond NPL champions but lost to a Guiseley side which finished third in the table. The Lions were to be relegated the following season.
12 October 2002, FA Cup 3Q: LOST Guiseley 2 Altrincham 1 Alty played poorly with former Robins' hero Clive Freeman deployed as the Lions' left-back. After this defeat Alty had won just 8 games in 43 league, cup and pre-season matches since the previous March!
9 April 2012: LOSTGuiseley 3 Altrincham 2 Goals from Yorkshiremen Nicky Clee and Damian Reeves were not enough to prevent defeat.
11 April 2013: DREW Guiseley 1 Altrincham 1 Ryan Brooke wasted a chance to win this game with a late penalty miss; it was Alty's eighth penalty miss of the season! Earlier, Alty had had the better of the first half but failed to score before Josh Wilson netted in the 37th minute. Already without the ill Nicky Clee from kick off, Alty lost both Watmore and Richman to injury before the second half started.

Guiseley had Kevin Holsgrove [who also played for Alty] sent off midway through the second half before Jake Moult levelled with a well struck 78th minute shot following a Lawrie corner.

21 December 2013: DREW Guiseley 2 Altrincham 2 This was almost an Alty win but Gavin Rothery equalised for the hosts in the 94th minute. Luca Havern and Carl Rodgers's goals had put Alty in front.
11 August 2015: LOST Guiseley 1 Altrincham 0 This was an evening meeting at national rather than regional level which Altrincham lost with a poor first-half performance. It was a failure to defend a corner which cost Alty the decisive goal as Atkinson's bullet header powered past Coburn, who was to be his side's Man of the Match. A bad night was made worse by the loss of Havern to a hamstring injury in the first half.
29 December 2018: DREW Guiseley 2 Altrincham 2 This time it was Alty who grabbed a late equalizer as Connor Hampson hetted in the 90th minute. Loanee Ashley Hemmings put Alty ahead before Guiseley scored twice in the final twenty minutes.
Guiseley
report that "Altrincham are the visitors to Nethermoor on Saturday as we return to league action on Non-League Day.
We have a couple of special offers on and hope to see a bumper crowd at Nethermoor for the MANarama National League North clash, it is just £5 entry for students, EFL and Premier League Season Ticket Holders, all you need to do is show your valid NUS card/student card or Season Ticket at the turnstiles to take advantage of the offer.
Why not bring down a friend, work colleague or a member of your family to give them that non league experience and show them what is on offer at Nethermoor Park.
It's been a good season so far in the league for Russ O'Neill and Marcus Bignot's side who sit in seventh after an Emirates FA Cup appearance last time out.
Altrincham are currently in 18th place in the league and have had a mixed September which saw two wins, two defeats and a draw before winning 2-0 at Halesowen last weekend live on the BBC Red Button.
Alty's squad includes a few familiar names in Steven Drench, Conor Branson and Lewis Walters all ready to line up against their former side.
The Lions meanwhile slipped to seventh place last week as Hereford took full advantage of their game in hand with a 2-0 win at Leamington.
Russ O'Neill will be looking for a return to winning ways on home soil after two defeats on the spin in Worcestershire and Cambridgeshire.
Speaking after the last gasp defeat to Peterborough Sports in the Emirates FA Cup last weekend the Joint Manager said 'It is a massively disappointing result and performance for us, we were a couple of minutes away from getting a replay, we have made a silly decision in the middle of the pitch and it has cost us.'
With top scorer Aaron Martin serving the second of game of his three match ban on Non-League Day, O'Neill said 'He is a huge loss, he has 14 goals in 12 games. That is no excuse, we only have ourselves to blame today, we knew what to expect. First half we hit the post and created a few chances, on another day we score them and go on to win, you know what the FA Cup means you get one chance and we have lost the chance today.'
Speaking of the travelling faithful who made the trip to Cambridgeshire in their numbers Russ couldn't praise them enough "Fantastic, they always do, they all hung around at the end, they applauded us off we know how disappointed they are, you could hear them all the way through so fair play to them, we have to recover now and let's see what this week brings'...
Finally looking ahead to Saturday O'Neill knows Altrincham will pose a tough test "They are a real tough team to play against, they are probably the best footballing team in the league, they will be coming to our place and seeing a nice pitch. We need to get back to that resilience and play with the energy we were at the beginning of the season, at the end of the day we are in the final play off place so we need to fight like mad to make sure we hang on to it.'"
Alty travel to Haig Avenue for the second time this season, on 19 October, to face
Southport
who announce that "Our FA Cup game against Altrincham will take place on Saturday October 19th with a 3pm Kick Off.
Normal matchday prices will be in place and as it is an FA Cup fixture there are no discounts.
Seated - Adults £15.00, Concessions Over 65, Armed Forces and Students £11.00, Juniors (12-17) £5.00, 11s and under are free
Standing - Adults £13.50, Concessions (as above)£10.00, Juniors £5.00
Tickets will be available to buy online (from 10am Thursday October 9th) which we strongly recommend to avoid any queues on the day. Cash turnstiles will be available for home and away supporters. The Club Shop and 1881 Lounge will take card payments on the day but advance purchase is highly recommended"..
After Tuesday's FA Cup replay defeat at Edgar Street by Tamworth,
Hereford FC
say that there "was penalty shoot-out agony as we fell to a 3-1 defeat on spot-kicks having played out a goalless draw after extra-time...
The visitors had a great chance to open the scoring in the sixth minute when a long ball played through Dan Creaney who was thwarted by an important save by the alert Brandon Hall... On 20 minutes, Tommy O'Sullivan showed good feet as he cut inside and his dipping effort from distance was well pushed over by Jasbir Singh...
We were starting to up the tempo at this stage...
The visitors made a bright start to the second half... As we started to get back on top, Jacob Jagger Cane was unlucky when his strike from just inside the area was cleared off the line... There was plenty of cut-and-thrust as the visitors hit us on the break...
On the hour-mark, [manager] Russell Slade was given a yellow card for his comments to the referee... Extra-time started... With the bit between their teeth, The Lambs came forward again as Gowling had to defend at the near post to deny Rhys Hoenes...
Still the teams could not be separated as it ended goalless after extra-time and so we went to a penalty shoot-out.
The penalty shoot-out saw us miss three times as we fell to a 3-1 defeat."
The Hereford Times adds that "Hereford manager Russell Slade is looking for an immediate response from his side at Bradford (Park Avenue) on Saturday... ,p. Slade said that his side were 'hurting' and urged for an immediate response... 'We have to recover, do things right and we have to respond in the best possible way,' said Slade. 'The game kicks you in the teeth sometimes and it hurts. I hope every single one of them in that changing room hurts tonight.
'I hurt, it's upset me losing that game tonight... I can't have anybody feeling sorry for themselves going into Saturday's game as it's absolutely huge. I will learn more about this group than I've learnt in the last five or six games on Saturday. We need to ensure on that long journey that we go up there and come back with all the spoils'...
'My success rate in penalty shootouts is not fantastic, I think I've won one in the Checkatrade Trophy to get to the final with Coventry but I've lost a play-off final on penalties and it's not nice... but we haven't quite done enough over the two games to nudge through into the next round really... but we've kept a clean sheet and it's in that final third where at times it didn't quite drop kindly for us'...
When asked how much the Bulls had practised penalties, Slade added 'I think if you're full-time you can get out on that training ground between Saturday's game and be practising them. "We're not and so it's up to players who have taken penalties in the past and have got that experience, some of ours have and some of them have got quite good records, but didn't quite show it tonight. It's a lesson learnt, a hard lesson and games are hard sometimes'".
According to York Press, "York City's FA Cup tie at Bootham Crescent against Stockport County has been picked for television. The fourth qualifying round match is set to be shown on BT Sport 1 on October 19, kick off 5.15pm...
This is the second of the Minstermen's 2019/20 FA Cup campaign to be broadcast live after their second qualifying trip to Irlam, which was shown by the BBC."
York City add that the club "been the target of theft and vandalism both at Bootham Crescent and the club's training ground, over the weekend 5th-8th October 2019.
Bootham Crescent was broken into, the medical room and kit room were targeted resulting in theft and damage.
The club's training ground was also broken into and vehicles driven over the training pitches, resulting in damage to the playing surface.
A club spokesman said 'It is very disappointing that individuals act in this way, trying to harm the club, rather than act in a positive way matching the on-field success'".
In the Northern Echo we read that "Simon Ainge is hoping to be fit to play against Darlington on Saturday for Boston United.
The 31-year-old is on loan from Darlington for the entire season, but there is no clause in the arrangement to prevent him playing against his parent club in the league.
Quakers' manager Alun Armstrong was keen for Ainge to leave the club in the summer due to financial reasons, as he believed there was greater value to be found elsewhere.
Armstrong explained 'He's a Boston player. Yes, we contribute a bit to his salary but it was the only way I could move him on and I had to agree to their terms. I needed him out for financial reasons.'
As Ainge's Quakers contract expires in the summer of 2020, he is effectively no longer a Darlington player, though they continue to make a contribution towards his wages with Boston footing most of the bill. Ainge has been an ever-present for Boston, not missing a minute of the action until last Saturday when he had to be substituted in an FA Cup tie against Sutton Coldfield Town.
'He got a kick on his calf, which tightened up', Boston boss Craig Elliott told the Boston Standard... 'But we've got a good replacement with Lewis Gibbens. It's only in the FA Cup he (Ainge) can't play (against Darlington). He can play in the league fixtures. The chances of drawing Darlington are slim so I agreed to that.'
Ainge has been playing as a defender for Boston, which is how he finished his year with Quakers having initially been signed in the summer of 2018 by Tommy Wright to play as a striker following a fruitful spell up front for Harrogate Town.
Wright, meanwhile, has lost his job at Stratford Town".
Meanwhile, Boston United "have secured the signature of vastly-experienced attacking midfielder Martyn Woolford.
The Pilgrims have snapped up the 33-year-old former Millwall, Sheffield United and Grimsby Town man, who has also appeared for the likes of York City, Scunthorpe United and Bristol City.
Woolford has arrived at The Jakemans Stadium following a short spell with Hyde United in the BetVictor Northern Premier Division and is eligible to make his Pilgrims' debut against Darlington on Saturday.
He did not feature for the Tigers in their solitary Emirates FA Cup appearance earlier in the campaign and is therefore free to play for the Pilgrims in the competition.
Reflecting on Woolford's arrival, United manager Craig Elliott said 'Martyn is versatile and left-footed and he played nearly 40 games in League 2 last season. He has played nearly 400 games in the Football League, for some big clubs, so he will give us vital experience that we are perhaps lacking at times. He's hungry to do well and he's a fit lad so I am sure he will be a big asset for us.'"
Alfreton Town "confirm that midfielder Dale Whitham has joined neighbours Buxton on a month's loan.
Dale joined us in the summer from Chorley after spending nine years at the Magpies and notching over 300 appearances and scoring 69 goals.
After impressing throughout pre-season and stamping his mark on the midfield, Dale started in our opening day defeat at Brackley, our second game against Boston before making just one further substitute appearance.
Dale's game time has since been limited after the Reds went on a four-game winning run with few changes to the line up and the recent arrival of Conor Branson from Altrincham.
Billy Heath said, 'Dale has been fantastic since he joined us, he's a good player and he had a great pre season. However his game time has been limited and we want him to stay sharp and stay fit so it's all about minutes and fitness for Dale'".
The
National League
reports that "A month ago, Stockport County were loving life back in the big time and were fifth in the fledgling MANarama National League table.
But who would've known the catastrophic effect defeat to old foes Chorley would have?
Since then, the Hatters have been winless and scored just once, their goalless draw with Sutton on Saturday afternoon adding their only point in six outings.
Signs of a shift in momentum? Maybe, feels boss Jim Gannon.
'It feels like we're getting back the team that can do something,' he said... 'The positive thing is that we've stopped the losing run. This game is the start of a massive week for us and I'd like to us to get back to winning ways. We've shown we're getting back to the team we used to be and there's no better place than Edgeley Park under the floodlights, live on BT Sport'...
Stockport County against Hartlepool United was live from Edgeley Park on Wednesday evening live on BT Sport 1." County won 2-1.
---
9 October 2019
Assuming that the Altrincham v AFC Telford United league match on Saturday 26 October goes ahead as scheduled, it will be the first Saturday match at the J. Davidson Stadium for seven weeks.
Altrincham's last Saturday match at home was on 7 September, when Leamington were beaten 5-0 at Moss Lane. The only scheduled home match since then was to have been on 28 September against Gateshead but that had to be postponed, owing to a waterlogged pitch.
The Robins did play at the JDS on Tuesday, 24 September in an FA Cup replay against Chester FC but, now, the FA Cup Fourth Qualifying Round draw has ensured that Alty do not return home till 26 October, 49 days after the Leamington fixture.
The Cup draw also means that, as well as the Gateshead fixture, Alty also now need to rearrange their league trip to Kettering Town which was supposed to happen on Saturday 19 October as that is now the date for the Cup match at Southport.
And it doesn't get much better after 26th October, as two more successive away games follow the visit of Telford; Alty travel to Stalybridge on 29th October in the CSC and are at King's Lynn Town on 2nd November. So that means that, potentially, seven of the nine fixtures between 7 September and 2 November (8 weeks) are away games. And if Alty make it to the FA Cup First Round they could be away again on 9 November! A rearranged home league match against Gateshead or a cup replay with Southport might change that.
Sat.14.9.19 A Kidderminster Harriers
Sat. 21.9.19 A Chester FC
Tue. 24.9.19 H CHESTER FC
Sat. 5.10.19 A Halesowen Town
Sat. 12.10.19 A Guiseley
Sat. 19.10.19 A Southport
Sat. 26.10.19 H AFC TELFORD UNITED
Tue. 29.10.19 A Stalybridge Celtic
Sat. 2.11.19 A King's Lynn Town
Sat. 9.11.19 ?A ...if still in FA Cup and drawn away.
Altrincham FC Monthly Draw winners for September were:
6th prize, Alty FC Polo Shirt: #404 Linda Jackett
5th prize, Alty FC Home Replica Shirt: #378 Gary Kenwright
4th prize, Hospitality for Two at Home Match: #247 I. Wiggins
3rd prize, £25 Cash: #514 T. Pendlebury
2nd prize, £75 Cash: #174 Catherine Grace
1st prize: £500 Cash: #244 P. Widdows
Duncan Watmore scored for Sunderland on Tuesday night agaist Grimsby Town.
Tuesday 8 October 2019
Hereford FC 0-0 Tamworth (after extra time, Hereford missed their first three penalties and Tamworth won the shoot-out 3-1. Tamworth now at home to Darlington)
Bowers & Pitsea 1-1 Canvey Island (aet, Bowers won penalty shoot out 5-3)
Wealdstone 4-0 Bristol Manor Farm
Weston Super Mare 1-4 Kingstonian
Slough Town 2-3 Chippenham Town
With unfortunate timing given Farsley's 0-5 humbling by Southport in the FA Cup on Saturday, The National League North Manager of the Month is Adam Lakeland (Farsley Celtic). The National League says, "The journey into the National League North can sometimes be a lot more enjoyable than the destination, history shows us. Life for those promoted into the division isn't often easy. Ask Hereford, who finished just a few places above the drop zone last time out. Or Ashton United, who finished inside it.
Nobody bothered telling Farsley Celtic, and their manager Adam Lakeland. But he told us something in the summer. Farsley had to stay in the league. However they did it, he wanted the club back again for another go this time next year. If they maintain their current form he risks failure on that front. There is every chance the Celts could be here just for one year but leaving via the other end.
Farsley are fourth and going very well indeed. September has seen them win four from four, putting Bradford (Park Avenue) Kettering Town, Leamington and Curzon Ashton in their place during a wonderful and spotless month. Lakeland has avoided what many do and not only kept his team from a battle at the wrong end, but has taken the Yorkshire club to within touching distance of the top.
The Player of the Month is James Armson (Brackley Town).
If Brackley Town are playing, chances are they'll win, and James Armson will be on the scoresheet. Well that's true for September, at least. The Saints bagged victories against Kidderminster Harriers, Curzon Ashton and an 8-0 humbling of strugglers Bradford (Park Avenue) with Armson registering in all three games.
The club's form has seen them mingle at the top for most of the season having lost just once in their last ten league games with an unbeaten home record to boot. This season is Armson's fourth with the club and he's seen more success than most with three top seven finishes and an FA Trophy on the roll of honour.
And the midfielder is once again proving to be a valuable asset to boss Kevin Wilkin, who will be more determined than ever to see Town scramble out of the MANarama National League North.
Volunteer of the Month is Jason Hatfield (Boston United)... Jason has worked voluntarily on a day-to-day basis for over 20 years, administering all of the first-team kit requirements in terms of matchdays and laundry. He travels to each first-team fixture on the coach and is the first port of call for any requirements the players have on matchdays. He also performs various other tasks around the club on a daily basis and is happy to help in any way he can. His help is invaluable and Jason's role at the club has enabled him to grow from a shy individual to a confident and hard-working member of the Pilgrims' behind-the-scenes team"
A common factor in the Manager and Player of the Month awards is that the teams involved have been playing lowly opposition. Farsley's fixtures in September included three against the current bottom three clubs and two of Brackley's three wins were also against bottom three clubs. Alty's Phil Parkinson had little chance; his side has yet to play any of the teams in the bottom seven of the division.
Darlington assess the season to date. "York City are still unbeaten and cruising at the summit, but Farsley Celtic's perfect month means they're well in touch. High-scoring Brackley Town aren't taking any prisoners either. At the other end, Kettering Town dismissed Nicky Eaden after a dismal first two months while Mark Bower returned to Bradford (Park Avenue).
The high point? With five minutes to go and trailing to Alfreton Town, the result looked done and dusted. But Tyrone O'Neill and Justin Donawa had different ideas. The pair snatched late goals to complete a two-minute turnaround and seal all three points at the Impact Arena.
Attendances are on the rise at Blackwell Meadows. The Quakers are already way ahead of last season's average of 1,391, with 1,588 coming through the gates this season, they boast the fourth-best numbers in the division.
Alun Armstrong admitted he needed to 'fathom out' their away form before heading to Alfreton and winning. He also declared his belief in his side despite their form. He said, 'When we cut out the daft mistakes, I think we're a difficult team to deal with'.
It was a month that won't live long in the memory with just one win coming in four outings as a turbulent start to the season continued".
Chester FC "confirm goalkeeper Theo Roberts has joined Mossley AFC on an initial 28-day loan deal.
Theo arrived at the Deva Stadium in July 2018. The promising young goalekeeper came through the youth ranks at Wigan Athletic, and made his debut for them in November 2017 in an EFL Trophy game against Accrington Stanley before having a loan spell at National League side AFC Fylde.
After impressing in pre season 2018, he earned a one-year deal with the Blues. Earlier on in the campaign, Theo had a loan spell with Atherton Colls. He now arrives at Seel Park with Mossley sitting 10th in the BetVictor North West Division."
"Manager Lee Clark has talked up the significance of A href="http://www.blythspartans.com/interview-clark-on-huge-curzon-clash/">Blyth Spartans' National League North trip to Curzon Ashton on Saturday.
Following two consecutive wins against The Nash and AFC Telford United, Blyth's dip in performance levels was punished by Hednesford Town in a 4-2 FA Cup exit at the weekend.
With a new management team and practically a new squad, Spartans feature in the early relegation places with five points from their opening 12 matches. However, a win at the Tameside Stadium will bring Clark's side closer to safety and the process, drag Curzon Ashton into danger.
Clark said 'It's a huge game for us at Curzon on Saturday. We have to be ready and we have got to prepare them on Tuesday and Thursday and make sure that we are right. We have made up some ground on the teams around us. We want to start catching them up even closer now.
'If we can go and beat Curzon, we'll bring them closer to us as well and bring another team into the equation. Equally, we have got to bounce back from a disappointing performance at Hednesford and the only way to do it is by going and getting a result on Saturday'.
The pair meet for the third time in a month after playing out two very closely-fought affairs in the FA Cup Second Round Qualifying stage. In the North West, a Callum Roberts hat-trick and a goal from Olly Scott forced a replay at Croft Park before Michael Sweet sent Blyth into the next round with a 1-0 win.
The former Kilmarnock manager added 'I'm hoping the players can use our previous performances against Curzon to go in with some confidence but we can't be overconfident. In football, you have got to stay humble. I hope the players can use it to our benefit that we have gone down there and scored four goals, put in a good performance and beat them in the replay.
'But if we think it is just going to be easy and just turn up, that won't be the case. We have got to deliver a very big performance next Saturday... Certainly we will look back at the Hednesford game and use it to say "Look, you can't turn up and expect to win a football match, you have got to be better in all departments."'"
And Curzon Ashton's poor run continued as their "defence of the Manchester FA Premier Cup ended at the first hurdle as they were shocked 2-1 by Wythenshawe Town.
Despite Isaac Sinclair giving the Nash a second-half lead, they never had control of the contest and the North West Counties Division One South side rallied commendably with goals from Aaron Dwyer and Connor Brotherton enough to see them into the next round.
The game, though, was overshadowed by what looked like a horrific injury suffered by Nash centre back Olly Thornley early in the second half after he was taken out from behind by Wythenshawe striker Brad Byrne, a challenge not even deemed worthy of a free kick in the eyes of referee Alex Kirtley. But to blame the referee would be to do disservice to a determined display from the visitors who fully merited the victory on the back of another disappointing Curzon performance who now boast a winless streak of 11 games and face a crucial match with Blyth Spartans on Saturday.
After a 10 day gap from their last game, Mark Bradshaw made five changes from the team that lost to Farsley Celtic with Josh Askew, Luke Merrill and Jack Banister recalled, Mark McCoy given a start in goal and James Baillie making his first Nash appearance in almost a year following his return from long-term injury...
Having already lost Askew, who was suffering back spasms in the first half, the second period began disastrously for the Nash thanks to Thornley's injury... The Nash looked a little rocked after that, but they did take the lead midway through the half when Calveley's shot was well blocked by Jakovlevs and Sinclair pounced on the rebound.
However, that advantage lasted only five minutes when Dean Warburton slid Dwyer in down the right channel. His first effort was saved by McCoy, but the ball bounced kindly back to the winger and he kept his composure to slot the ball home at the second attempt.
And a dream night for Wythenshawe was completed ten minutes from time when Curzon went to sleep from Wright's throw in, allowing Dwyer space to pick out substitute Brotherton whose header flew past McCoy at his near post".
Gloucestershire Live informs us that "Gloucester City bowed out of the FA Cup at the third qualifying round stage after a 3-1 replay defeat by Whitby Town at the Jubilee Stadium on Monday night.
The Tigers had levelled in the 92nd minute through Joe Hanks on Saturday to earn a second crack at Northern Premier League Premier Division side Whitby after a 1-1 draw. They fell behind again in the replay after 25 minutes through Kieran Weledji's strike and their hopes of progressing to face Stourbridge in the fourth qualifying round were severely dented by the dismissal of Josh Thomas before half-time.
City also lost Birmingham City loan goalkeeper Josh Bradley-Hurst to injury in the 29th minute, with veteran stopper Tom King going on in his place. Former Cheltenham Town youngster Thomas was shown a straight red card for a foul on Bradley Mills in the 40th minute of what was his comeback appearance after injury.
Defender Weledji, operating as an emergency forward, made it 2-0 in the 50th minute, but substitute Zack Kotwica restored hope for Mike Cook's side in the 72nd minute. An own goal in the 85th minute sealed the North Yorkshire club's progress and netted £11,250 in prize money.
Whitby finished with goalkeeper Dan Dixon up front due to only having 14 fit players, three of which were custodians.
Gloucester receive £3,750 as third qualifying round losers and they return to National League North action with a long trip to Gateshead on Saturday".
---
---
The following pages, which initially replicate those pages with the same web addresses which formed part of the official Club website, will be re-branded from 2018 as part of this new unofficial Alty Files site.
A/Z Site Index to The Alty Files at www.altrinchamfc.co.uk
---