an unofficial Altrincham FC website
OPTIONAL DROPDOWN MENU - HERE
---
NEXT MATCH: Season 2019/20
Home v CHESTER FC (behind closed doors)
Sunday, 19 July 2020, 3pm
Vanarama National League North play-off eliminator
---
ALTY HEADLINES
OTHER HEADLINES
14 Jul 2020: COWANS OUT TO PROVE FITNESS TO COWAN... More
14 Jul 2020: THREE WON'T FIGURE FOR BOSTON IN PLAY-OFFS... More
14 Jul 2020: HEREFORD MAN SIGNS UP...More
---
14 July 2020
Altrincham's play-off opponents,
Chester FC
report that ex-Alty man and current "Blues winger John Johnston is our feature interview...
The 25-year-old will face a first [elimination] round showdown at his former club, Altrincham.
With JJ and the Blues players all playing for free... our explosive winger promises the team will leave everything out on the pitch.
Speaking to the Cestrian, he said 'We will give it everything we've got. This club is very special to us all, and that is exactly why we chose to play for free. Name me another club who would do that. We're doing it for the fans, they've been fantastic all season, and fingers crossed we can reward them with a bit of success.
'I know the Chester record against Alty in recent years isn't great, but fingers crossed I can be the one to end that run.'"
The National League has issued a press release in it confirms that "a streaming service will be in place to broadcast all play-off matches from the Vanarama National League North and South.
In partnership with BT Sport and Sportradar, each of the ten season-defining games will be shown exclusively live on a brand new platform, available to an audience across the world.
The action starts on Sunday with four Vanarama Eliminators, with amended start times of 1.30pm and 4pm...
National League Chief Executive Michael Tattersall said... 'To ensure a safe environment for National League play-off matches to be played in, we urge supporters to not congregate at the grounds'.
Details of how supporters can gain access to the matches will be released shortly"
NB Kick off times have been changed for the elimination round as follows.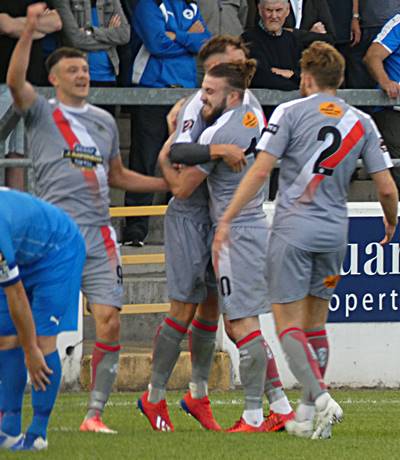 Right: Alty's Hulme, Johnston, Harrop and White celebrate their team's goal in the 1-1 draw at Chester back in August. The return league fixture did not take place before the pandemic struck but Chester will now visit the JDS this Sunday in the play-off elimination round.
Vanarama National League North
Sunday 19th July 2020
1.30pm Elimination Round- Match A - Altrincham vs Chester FC
4pm Elimination Round- Match B – Brackley Town vs Gateshead
Saturday 25th July 2020- 3pm
Semi Final – York City vs Winner of Match A
Semi Final – Boston United vs Winner of Match B
Saturday 1st August 2020- 3pm
Promotion Final – Stadium of higher ranked finalist
Cheshire Live
reports that "Chester FC's goalkeeping dilemma for the National League North play-offs looks to have been resolved after Louis Gray and Jon Worsnop received clearance, verbally, to play from the League.
The Blues were left without a senior goalkeeper on the books for Sunday's play-off eliminator clash at Altrincham following the departure of Russ Griffiths to AFC Telford United and Theo Roberts, leaving this summer, unable to commit.
Bernard Morley and Anthony Johnson moved to bring register Louis Gray, who had been on loan at Chester from Carlisle United at the time the season was halted due to the Covid-19 pandemic, and Jon Worsnop, now back at the club in the dual role of back-up keeper and goalkeeping coach.
There was some question over whether Gray, who could well make the move to the Deva a permanent one for next season, was registered at the National League's specified cut off point. Another issue was that he was now a free agent after he was released at the expiry of his deal with the Cumbrian side.
For Worsnop, 37, he played in the step below last season for Grantham Town but was now a free agent. The Blues sought to register him in case clearance wasn't forthcoming for Gray.
But now the Blues can at least plan for Sunday's behind-closed-doors showdown with some assurance that they have two experienced options between the posts for what is a game of enormous significance. The pair are due in to sign registration forms on Tuesday and written confirmation is expected well in advance of the weekend.
A total of 19 players have come back into training for the game against Altrincham and, after being handed a clean bill of health from their first round of Covid testing last week, the Blues squad and staff were back in for round two on Saturday and currently awaiting the results.
In line with the gesture of the rest of the squad, both Gray and Worsnop have agreed to donate any contractual entitlements back to the football club for the play-offs, effectively playing for free."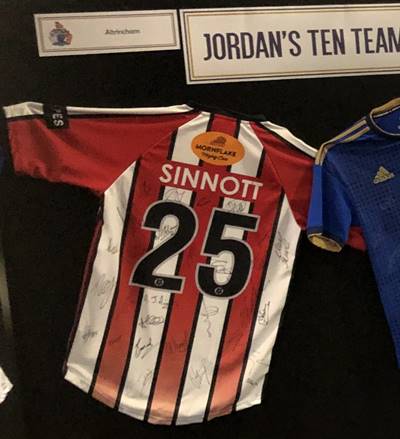 In last Sunday's
Non-League Paper
, we read that "Cardiff City goalkeeper Alex Smithies is aiming for promotion as a fitting tribute to his former Huddersfield team-mate,
Jordan Sinnott
.
Sinnott, who was also close friends with Cardiff striker Danny Ward, died after being attacked on a night out in Retford, Nottinghamshire, in January.
Ward revealed a shirt bearing the former Matlock Town midfielder's name and number following his late winner at Bristol City last weekend... And Smithies admits winning promotion would be a fitting gesture to the man nicknamed Sinbad...
'It's been tough for Dan; me and Jordan were both best men at Danny's wedding last summer. He was such a thoughtful person and he would have wanted us to continue and go on to have successful careers', said Smithies.
Smithies and Ward had been involved in collating shirts with Sinnott's name on, from clubs from all corners of football.
Added Smithies, 'It started off when the family asked us to get hold of shirts from all of his previous teams and, before you knew it, we had a round a thousnd shirts. They were all on show at his funeral; it was astonishing to see them all togehter'" said Smithies.
On this day, 14 July, in 2015 Altrincham entertained old foes Wigan Athletic in a pre-season friendly match at Moss Lane, which ended in a 1-1 draw. After two games against lower league opposition this was Altrincham's first encounter with higher graded opposition; it was also the first home match of pre-season and groundsman Neil Brown had again produced a superb playing surface.
Altrincham gave an excellent performance against a Wigan Athletic team which deployed 24 players during the match. As well as playing some good football, Alty also matched the fitness of their opponents despite only using 16 players and one of those only played for two minutes.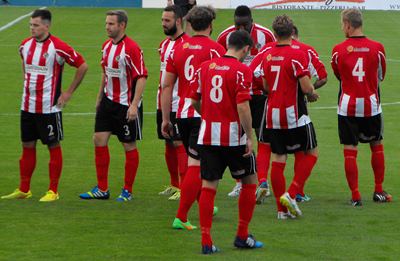 Left: Alty's players emerge for the pre-match handshakes.
Wigan took a 27th minute lead when McKay turned and drove an unstoppable shot past Tim Deasy from 25 yards. But Alty levelled ten minutes later when Michael Rankine dispossessed a defender in the Wigan box and held off a challenge to drive home the equalizer.
Alty had the better of the first period of the second half but Wigan finished more strongly. Eleven minutes from time, Wigan were awarded a dubious penalty against Deasy but the keeper saved Tavernier's spot kick to keep the scores level.
Alty's squad for this evening kick-off included only two trialists; Jordan Deacey and an unnamed striker, plus reserves Sam Heathcote, David Brown and Joel Swift, though the last two named did not get onto the pitch.
Altrincham started with nine of the previous season's squad but were without first-choice full-backs Shaun Densmore and Adam Griffin. So Alty deployed Jordan Sinnott at right-back and Nicky Clee on the left of the back four. The two new players were striker Michael Rankine and goalkeeper Tim Deasy. Alty named eight subs, of whom only four made more than a minute's appearance. In contrast, Wigan, named 24 players and used them all.
Altrincham: 1. Tim DEASY, 2. Jordan SINNOTT, 3. Nicky CLEE, 4. Jake MOULT, 5. Luca HAVERN, 6. Tom MARSHALL, 7. James LAWRIE, 8. Simon RICHMAN, 9. Michael RANKINE, 10. Damian REEVES, 11. Ryan CROWTHER. Subs: 14. Scott LEATHER, 15. Josh O'KEEFE, 16. Jordan DEACEY, 17. Sam HEATHCOTE, 18. Stuart COBURN, 19. A Trialist, 21. Joel SWIFT, 22. David BROWN.
According to the
Shropshire Star
"AFC Telford manager Gavin Cowan insists 'hungry' midfielder Henry Cowans is not ready to give up on his football dream.
Cowans, 24, has been with the Bucks since 2017 and was a key player in the push for promotion two seasons ago. But injuries restricted him to just two league starts last season, where he spent time out on loan at Stratford and Stourbridge. But boss Cowan has offered the schemer an opportunity to prove his fitness and mental fortitude by training with the Bucks in pre-season.
'It's important to reiterate Henry is not coming on trial,' said Cowan of the former Villa youngster. 'He's had injury and off-field problems that have thankfully run their course and he's overcome. It's a credit to him he's come out stronger but injuries can define a player. Henry's not ready to give up on that footballer's dream. When you've got someone of his athleticism and ability, if you can put the hunger with that you've got a real player on your hands.'"
The Boston Standard explains "why Jonathan Wafula, Martyn Woolford and Ben Middleton aren't in Boston United's play-off squad...
Martyn Woolford, Jonathan Wafula and Ben Middleton are not involved in Boston United's play-off campaign, manager Craig Elliott has confirmed. Defender Middleton has linked up with Grantham Town and winger Woolford is expected to be officially unveiled as a Gainsborough Trinity player. Wafula has also agreed a deal with a new club as he prepares for a fresh challenge.
'They're not in the 20-man squad,' Elliott said of Middleton and Woolford. 'They knew about that, they were free to go and good luck to them. They've done well for us this season. I had to think about worst-case scenarios, losing players through illness and who who can cover certain positions, trying to get a more rounded squad. I'm happy with the 20-man squad. We've got good options.'
Elliott admitted he would have liked Wafula to have been part of the promotion push, but the utility man had already expressed his wishes to move on after finding starts hard to come by, beginning just four matches this term.
'Jonno let me know very early, literally as we went into lockdown, that he wanted a new challenge and he'd agreed something with somebody else,' Elliott confirmed. 'He's someone I've worked with a number of years, going back to Shaw Lane and he's a great lad. I would have liked to have him involved in the play-offs but I respect his decision to move on. He let me know early so it wasn't fair to convince him to stay when other lads wanted to be part of it.
'Sometimes it's a good thing for players and manager to move on. Me and Jonno have worked together for a number of years and he's never let me down once. He's been fantastic and we've got some good memories at Shaw Lane and he did well at Boston. His biggest thing is he can play so many positions that sometimes goes against him but he's a good lad and I've got nothing bad to say about him.'"
Meanwhile at Hereford FC, "Midfielder Ben Pollock is the latest player to commit to the Bulls for the 2020/21 National League campaign.
The 22 year-old joined up with the Bulls in October, with his versatility proving useful to Josh Gowling as the North East native became a regular starter under the then caretaker boss.
Gowling was pleased to add him for the coming campaign 'I'm delighted that Ben is with us next season. He is a versatile player that can play in a few positions. Ben has shown his commitment to the Football Club by playing for free all last season, players with this kind of drive and commitment to this Club are the players I want here.'"
---
13 July 2020
With the deaths of ex-player Mick Farrelly, former youth team manager and matchday secretary George Heslop and supporter Ivan Curtis, it had already been a sad week for Altrincham FC and now we learn of the death of supporter Peter Rogers.
As the Altrincham FC official site notes, Peter was not only a loyal supporter of the club but he was also responsible for introducing longstanding club sponsorship supremo and club director Barry Pond to the club. Barry was his brother-in-law.
Seven years ago, 13 July 2013 witnessed the first match played in the newly sponsored J Davidson Stadium. It was a pre-season friendly, which Accrington Stanley won 3-2.
A combination of the hot weather and the much more extensive use of substitutes by Accrington led to Alty fading in the closing stages as Stanley came back from 2-1 down to snatch an 89th minute winner. Before that Altrincham had been good value for their lead in an open and surprisingly active game, given the sweltering heat.
Miller fired the visitors ahead in the 17th minute after controlling the ball well. After 35 minutes a foul on Perry gave Alty a freekick which Shaun Densmore curled home impressively from just outside the box, right of goal.
Just three minutes into the second half Jamie Walshaw was upended and he converted the resulting penalty, awarded by Premiership referee Anthony Taylor.

Above: James Walshaw converts his penalty against Accrington Stanley
After 62 minutes Stanley made no fewer than eight substitutions whilst Alty made much more sparing use of their bench. The visitors gradually got on top and, following a move up their left, Naismith sidefooted home an equalizer after 77 minutes. With under two minutes left the visitors snatched a win when, following a corner, a cross was headed home by Murphy (89 mins).
But Altrincham had given a good account of themselves, without several of their regular first team squad (Coburn, Leather, Rodgers, Richman).
Altrincham were without Simon Richman, due to his involvement in the World University Games in Russia, whilst Stuart Coburn, Scott Leather and Carl Rodgers were other absentees, today, from last year's squad. However, Alty included their summer signings in the shape of Kyle Perry, Jamie Walshaw, Mike Williams and Danny Boshell, as well as a few trialists, all of whom were on the bench.
The trialists included a goalkeeper Matt Lord, Scott Byrom (ex-Nelson), left-back Christopher Bailey (Colne to Nantwich Town in February 2013), Pat Crilly (Alty Youth) and goalkeeper Daniel Lloyd (previously with Runcorn Linnets and Barrow).
Stanley had a number of trialists, too, many of whom were assigned a forename on the teamsheet beginning with A, which in most cases was not correct!
Altrincham: 1. Adam REID, 2. Shaun DENSMORE, 5. Gianluca HAVERN, 6. Mike WILLIAMS, 3. Matt DOUGHTY, 7. Kyle PERRY, 4. Jake MOULT, 8. Danny BOSHELL, 11. Nicky CLEE, 9. James LAWRIE, 10. James WALSHAW. Subs: 12. Sam FREAKES, 14. Rob GILROY, 15. Damian REEVES, 16. Matt LORD, 17. Scott BYROM, 19. Chris BAILEY, GK. Dan LLOYD, David BROWN, Pat CRILLY.
As well as being the first game played at the newly named J. Davidson Stadium at Moss Lane, Mike Garnett advised us that this was also the first-ever friendly meeting between the two clubs. The last time the clubs had played a league match was in 2005-06, when Stanley won both matches 1-0 in the Football Conference. They also knocked Altrincham out of the FA Trophy that season, which ended with the Lancastrians promoted to League Two as champions.
The
Derbyshire Times
reports that "Midfielder
Mark Lees
takes Matlock boss Paul Phillips's tally of new recruits into double figures.
Phillips, who was Wild's assistant at the time, has managed Lees at Ashton United when the Robins qualified for the NPL Premier Division play-offs and Stalybridge Celtic and he says he has signed a winner.
'He's another lad who's been there and done it and can play in a number of positions', he said. 'He's as fit as a fiddle and knows the standards I set on the pitch. He's looked after himself and has that winning mentality'".
Meanwhile Salisbury have been running a series of player photos and this week they feature former Alty winger Bay Downing.
"In the last of these picture book player profiles we feature two players, one of whom is still with us and one who isn't! The latter [Bay Downing] appears, and I make no apology for that, because he was very popular with fans, and that was enhanced by his success from the penalty spot...
Bay Downing often found himself in advance of the midfield and liked nothing better than to get forward. He had made a good recovery after a nasty injury and there seemed to be no obvious after effects when he returned to match fitness".
The article adds "No matter how many times some people are put on the spot, there are some who don't feel the pressure, and Bay didn't disappoint. Looking at the images the style is very consistent, and there may be some keepers who wish they had done some homework to get a foretaste of the kick! However, most finishes were hit with sufficient venom and good direction to give keepers little chance, and a success rate of 5 from 5 says it all".
In March Downing joined Hayes & Yeading United.
Altrincham signed Bay Downing in late July, 2018 after he had played in three pre-season games, operating primarily on the right wing. He went to Millfield School before spending time in the USA where he played for Tampa Spartans (2015-17). After making his debut as a substitute against FC United of Manchester, and one further appearance from the bench at Darlington, he signed dual registration forms with Wiltshire side Salisbury during August 2018 and scored for them several times in his opening games for the Step Three club.
His Altrincham appearances were limited to two substitute appearances.
The
Hereford Times
reports that "Hereford FC manager Josh Gowling says that the club are hoping to move training into a more northerly location to reduce travelling costs.
Last season the side trained at Hartpury College, but Gowling said that this would be changing.
'We will be moving north and the theory behind that is that we're in the north (National League North) but we're training in the south,' said Gowling while talking to Radio Hereford FC this afternoon.
'I know a lot of our fans won't like it as we're not in Hereford but currently last year we were training in Gloucester, so not in Hereford anyway.
'We were training at night when nobody saw the players anyway so that's one thing. For me I've got to look at the club's sustainability and the simple fact is we paid a lot of money for players last year because of our location, as simple as that.
'We had to pay travel expenses and so many other outgoings because of where we trained. So from my point of view, as a financial point of view from a football club, it makes us more sense to be training more centrally. Moving the club into a more central location in the long term will make the club more sustainable.
'For that we can get a better quality player in a better catchment area for less money, that's what it boils down to'...
Gowling added 'The long term vision is to get us into a position where we've got successive promotions and then we can bring it back when the budget is better for Hereford because we can then pay players location money and pay them enough to not work and relocate, live and work in the community.
'That's the long term goal to get players back at Hereford. It's great to see the players shopping in town or in coffee shops or whatever. In the short term we don't have the budget to be able to get players to relocate it's as simple as that.'
Despite training being moved further up north Gowling said that players would be working in the Hereford community and going into schools and hospitals."
The Boston Standard reports that "Winning the National League North play-off final was Scott Garner's greatest achievement in football. Now he wants to do it all again with Boston United.
The Pilgrims defender netted the winning goal in extra-time as FC Halifax Town beat Chorley 2-1 at the Shay in 2017. But reliving that high is not the only motivation Garner will take with him to York Street on July 25 when Boston host the winners of Brackley Town and Gateshead in the final four.
After being knocked out at the semi-final stage twice before with the Pilgrims, he wants to make sure it's third-time lucky...
'When I left Boston I always said I had unfinished business,' Garner told The Standard... Garner is gunning for his third promotion from this division with as many clubs.
But despite being part of the Alfreton Town squad which won the title in 2011, he refuses to claim it. 'I came back from injury at Grimsby Town and went to Alfreton for a couple of months on loan,' he said. 'I wasn't there at the end of the year, so I don't really count that one'".
Leamington report that "A hallmark of Paul Holleran's Brakes teams over the years has been continuity, with the backbone of the side remaining consistent, and skipper Jack Edwards will continue to be a key part of that going forward, having agreed a deal until the end of the 2020/2021 season.
Since taking the armband from the departed Jamie Hood, Jack has become the focal point of the team. Aside from his brief spell at Solihull Moors he is the longest serving player in the Brakes squad behind James Mace...
'Jack has been an important part of the team for a number of years now, and since taking the captain's armband he has raised his game to another level,' said Paul Holleran.
'He's heading towards 300 games for the football club. Every week his performances are wholehearted, fully committed and he has been great for us on and off the pitch. He is a massive ingredient of what we do and we are delighted that we have been able to get Jack tied down to the end of next season...
Jack said, 'The club strives for consistent improvement, is a great environment to play in and has given me the opportunity to captain a group who motivate and lead themselves. Leamington are a good fit for me and me for them, we are ambitious, so I look forward to what the future holds!'"
Gateshead are "offering fans the opportunity to purchase a virtual ticket for our Vanarama National League North play-off eliminator fixture away to Brackley Town...
Competing in the play-offs comes at a significant cost for each club, and the absence of supporters in these fixtures, though understandable, is a huge loss nonetheless with ourselves receiving no matchday income since March 7...
For £10 per ticket, the funds from which will go towards costs involved in competing in the play-offs, fans will receive a one-off ticket which will be printed and delivered via post to keep as a souvenir. The virtual ticket also includes a digital copy of our matchday programme, HeedLines, produced as a special edition for the play-offs.
All tickets will arrive signed by a member of the first-team squad, making this an ideal addition to the collection for members of the Heed Army who wish to be a part of our first play-off fixture since the 2014 National League play-off final at Wembley Stadium."
Meanwhile, at Brackley Town where there is "the upcoming play-off eliminator match with plenty going on behind the scenes so that the game behind closed doors can go ahead...
As the home side we are responsible for hosting the game and putting in place all of the necessary measures to ensure the welfare and safety of the players, officials and everybody else involved.
Attendance is tightly controlled. Only accredited players, coaches and medical staff from each team, safety and security staff, a handful of press/media people and a small number of officials from each club will be allowed into the ground.
Our training and match protocols and stadium plan set out in detail the arrangements leading up to the game and on the match-day itself. This includes the Covid-19 testing regime for anybody who will be in the Red Zone inside the ground.
Arrival and ground entry are strictly controlled and every step in the process towards getting the game started is carefully laid down from procedures for players changing (the away team will be using both the normal home team changing rooms) to how they enter the field of play, how the coin toss is conducted to the new rules around substitutions.
The game will be played over 90 minutes with no extra time were it to be level at full time. In those circumstances the game will be settled by a penalty shoot-out for the right to meet Boston United in the play-off semi-final.
We wish to emphasise to all Brackley Town supporters that there will be no entry to the match and all supporters are asked to stay away from St James Park on the day of the match.
The circumstances surrounding this game are unique in the history of our club. To add some fun to this unique occasion we have teamed up with The Football Company to provide an opportunity for supporters to be at the game in cardboard cut-out form as you might have seen at recent Premier League games. We hope that you will want to get involved in this way and we will tweet out and publish pictures of the cardboard cut-out crowd at the game...
A further opportunity to show your support for Kevin and the team is to have your flag or banner displayed on the terraces. This costs nothing but you will need to follow the instructions and to deliver your flag or banner to the ground on Friday 17 July and it will be put up for you and later taken down and made available for collection...
It now seems unlikely that BT Sport will be televising the game. It may still be possible that the club will stream live pictures of the action so look out for further details about this. Live radio commentary will be provided by a combined BBC local radio team including BBC Oxford and BBC Northampton."
Blyth Spartans "manager Michael Nelson has hailed the impact of the Future Fund and the 1899 Club following the signing of Matthew Elsdon from Barrow...
The former Norwich City defender believes... 'Without the Future Fund and the continued support of everyone in the 1899 Club, I don't think we would have been able to get Matthew signed up so quickly... There will have been a huge risk of losing out on him to someone else.
'He is a local lad and there has been interest from other clubs in the area, so the success of those two areas has been a massive help in allowing us to get it done so quickly after Matty left Barrow.'
Nelson also revealed... 'It is still ongoing in terms of leagues still being active because of the play-offs, right down from League Two, National League and National League North and South,' he added. 'There are a lot of players who are still tied up but once the play-offs end, some of those players could be available.
'You've then got other players who are available currently but are possibly waiting to see what happens with those teams in the play-offs. Some players don't want to commit at the moment. There is no mad rush at the minute but there probably will be a fallout of players coming out of higher leagues and falling down with the way the coronavirus has hit'".
---
12 July, 2020
2008 was the last time that Altrincham played a game on today's date, 12 July. And that game, at Abbey Hey, witnessed a remarkable feat as Chris Senior hit five goals for Altrincham in a 5-0 win.
Even more remarkable, he scored all the goals in the first half. And another notable feature was the debut of Jake Moult.
After that, the second half was something of an anti-climax with the half-time score of 5-1 remaining unaltered at the end of the full 90 minutes. It was a curious match insofar as Abbey Hey included seven starters who had played for Altrincham Reserves in the past whereas Altrincham themselves had only five players in their starting eleven who had ever worn an Altrincham shirt before! The home side's manager and nowadays the Alty groundsman, was Neil Brown which explained why there were so many players in his side from the disbanded Altrincham Reserves' side.
Above: Ben McHugh, one of Alty's trialists, warms up before the game at Abbey Hey. In the background, left to right, are Anthony Danylyk, Luke Horrocks, Robbie Lawton, Greg Young, Dale Johnson and Jake Moult.
They were Battersby, Young, Peyton, Lawton and Senior. Alty's other six starters were new signings Anthony Danylyk and Dale Johnson, along with trialists James Coates (goalkeeper), Luke Horrocks (winger) and Natt Kerr (central defender), together with last season's youth team midfielder Danny Browne. On the bench, to be used as second-half subs, were goalkeeper Stuart Coburn, trialist defender Ben McHugh (ex-Crewe), trialist left-back/midfielder António dos Santos, a Portuguese who has been at Guiseley, trialist Jake Moult who was a Stoke-born former Plymouth Argyle midfielder and ex-Alty youth teamers striker Tom Bailey and winger Charlie Weir.
It was eleven weeks to the day since Altrincham had apparently been relegated at Weymouth on the last day of the 2007-08 season. But just three players who started at the Wessex Stadium also started today as manager Graham Heathcote used this game against the Vodkat League Division One side to blood seven debutants, (two of them signed and five trialists).
ABBEY HEY: 1. COOPER, 2. Keith WEDGE, 3. Ashley BROWN, 4. John BENNETT, 5. JEFFRIES, 6. John MALONEY, 7. Aaron EDWARDS, 8.James MARSDEN, 9. Daniel DOHERTY, 10. Daniel HEFFERNAN, 11. Astley MULHOLLAND. Subs: 12. SCOTT, Adam FROST, 15. EME, 16. Paul LEWIS, 17. Steve COOKE.
ALTRINCHAM: 13. James COATES; 2. Richard BATTERSBY, 4. Natt KERR, 5. Greg YOUNG, 11. Warren PEYTON; 17. Robbie LAWTON (capt), 16. Anthony DANYLYK, 6. Danny BROWNE, 14. Luke HORROCKS; 8. Chris SENIOR, 10. Dale JOHNSON. Subs: 1. Stuart COBURN, 3. Ben McHUGH, 7. António dos SANTOS, 9. Jake MOULT, 12. Tom BAILEY, 18. Charlie WEIR
Altrincham took the lead when Lawton fed Senior from the right and the striker converted comfortably. Lawton was involved again as Alty doubled their lead in the eleventh minute, the goal arriving after good work from Dale Johnson had led to Lawton having a shot blocked but Senior was on hand to score.
Senior forced a save from Horrocks's feed (26 mins) but a minute later Senior completed his hat-trick with a far post volley from a well taken corner on the left by Danylyk (27 mins). But then an uncharacteristic error by Young just outside the Alty box allowed Heffernan to score a well-taken driven goal, low past the keeper, despite Kerr's valiant atempt to cover. It was now 3-1 (30 mins).
As Kerr berated Coates for not claiming a ball, the keeper responded perfectly by planting a long kick upfield which Senior neatly lobbed over the keeper for his and Altrincham's fourth goal (38 mins). And with the statisticians reaching for their record books, Senior made it 5-1 with his fifth goal in the 41st minute, following good work from Dale Johnson.
ABBEY HEY 1
ALTRINCHAM 5

Above: Natt Kerr


Warren Peyton &
James Coates


Jake Moult,Chris Senior
& Graham Barrow


Danny Browne &
Anthony Danylyk


Luke Horrocks &
Jake Moult


Dale Johnson


Antonio dos Santos


Anthony Danylyk


On Sunday, Alty played cricket
against Timperley CC, where
Matt Doughty kept wicket
Nantwich Town
"announce that
Josh Langley
[right] has signed a new 1-year deal with a 1-year option with Nantwich Town. This would take the contract up until May 2021, the 1-year option clause would take the deal up until May 2022. "
Menahwile the Northern Premier League confirms that Mark Lees has moved from Mossley to Matlock Town and Ryan Brooke from Mossley to Runcorn Linnets.
The
Shropshire Star
reports that "AFC Telford United's headline signings have come to the club for success and not a holiday, insists boss Gavin Cowan.
Cowan's four outfield captures during the close season all boast significant playing experience above Telford's current National League North level. And the boss moved to confirm that defenders Lee Vaughan and Courtney Meppen-Walter, midfielder Jack Byrne and striker Jason Oswell, players the Bucks have been 'fortunate' to bring in, still have it all to prove and are aiming high.
'I'm very big on being proactive and being at the front of every queue for players beneficial to the club. That is my job,' Cowan said. 'If a player turns us down then that's fair enough, but our job is to be at the front to try to persuade them. Fortunately enough I've been lucky to be able to capitalise on a few players who, ordinarily, we wouldn't be able to sign.
'But they've certainly got to prove themselves at this level again and want to prove to people that they're not dropping down to this level for a jolly-up. They're coming here to be successful. We're fortunate that their own personal path has led to us signing them. You like to think you get one a season but to get three or four has set us up nice[ly] and we're very pleased with what we've done.'
The Bucks have trained twice last weekend and on Wednesday evening, since regrouping after the coronavirus lockdown. They continued their 2020/21 preparation at Lilleshall today."
At Hereford FC, "Bulls' captain Jared Hodgkiss is the second player to commit to the Bulls for the 2020/21 National League season.
The full-back stays at Edgar Street for a second season with Josh Gowling confirming he will remain as captain for the coming campaign:
'Jared is the captain of the football club, he is a leader and a person that players look up to. He is a model professional on and off the pitch and throughtout my time at the club Jared has wanted what was best for the team.
'He puts the team first before anything else and that shows what the football club means to him.'"
From the Kidderminster Shuttle we learn that "Kidderminster Harriers have signed Luke Maxwell back to the club on a contract for the new season.
Maxwell is a familiar face at Aggborough, he is graduate of the club's academy and made his first team debut in 2014 before his performances alerted the attention of Birmingham City who swooped for his signature. He flourished in midfield at Harriers before further honing his skills in defence while at St Andrew's during three years on the books with Blues. During that time, he picked up further first-team experience with Grimsby Town, Gateshead and Solihull Moors before joining the latter on a permanent basis in 2019.
Maxwell spent part of last season on loan with Gloucester City...
Luke Maxwell said 'It's my hometown club and where I've played my most enjoyable football. This is perfect for me. I've lived here all my life and I've played with the gaffer at Gateshead. I know what he's all about, and I'm looking forward to enjoying my football again; there isn't a better place for me to be doing it.'
He has joined the club on a one-year deal."
Boston United "chairman David Newton said it has been 'humbling' to see the generosity of fans during the coronavirus pandemic. The Pilgrims' play-off donations campaign has raised an impressive £8,000-plus within a week of being set up, while more than £10,000 was spent as memorabilia from the club's York Street home went up for auction.
On top of that, supporters continue to purchase goods for United's new stadium via the Building Together fund and supported the Pilgrim Pixels campaign to aid the club on and off the pitch...
'It goes beyond (what we expected) really... It's been a difficult old year for everybody, and when you take the season as a whole, the amount of away games we had, where everyone was travelling everywhere, it must have cost everybody such a lot of money. To then support us now in such difficult times is quite humbling. We're really, really grateful.
'Obviously, we're ploughing away, building a new stadium. So to know that all that is still there in the background is reassuring that we're doing the right thing'...
Competing in the play-offs will cost United somewhere between £30,000 and £70,000 as they pay staff wages and cover the costs of hosting matches, training facilities and weekly COVID-19 tests without any match day revenue.
'We're trying to keep the cost in the middle of that amount at the moment,' Mr Newton added. 'The cost is irrelevant as we've taken the decision to play them'".
---
11 July 2020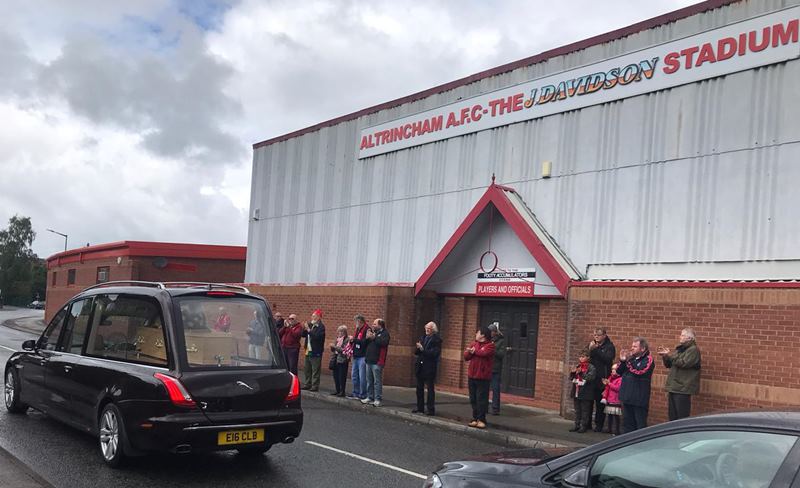 Above, in an image courtesy of Bill Morris, we see fellow supporters of Altrincham FC applauding as Ivan Curtis's funeral cortege paused briefly outside the J. Davidson Stadium on Friday morning. This allowed a good number of his friends from the Football Club to pay their respects in this time of limited permitted attendances at funerals owing to the Cov-19 pandemic.
The hearse and mourners were on their way to the commital service, which was conducted by Altrincham FC supporter, David Slack.
It has been a sad week for the Football Club with the deaths in the past few days not only of Ivan but also of former Youth Team manager and First-Team Matchday Secretary, George Heslop, and the passing of former player Mick Farrelly, who scored the winning goal for the club in the 1986 FA Trophy final at Wembley.
Chester FC
announce that "Four weeks ago, Chester Football Club launched Boost the Budget, the most ambitious fundraiser in the club's history which aimed to raise £100,000 for next season's first team budget over a seven-week period".
To date (10 July pm) the sum of £109578 has been raised, with three weeks of the appeal period to go.
Also from Chester FC we learn that "Chester Football Club can confirm that we have now received our testing results back ahead of the National League North Play-Offs.
Our first round of COVID-19 testing took place on Tuesday 7th July, with 26 players and Club staff being tested.
We are pleased to confirm that zero individuals tested positive.
Because of this, preparations in training are now underway ahead of our First Round Play-Off clash at Altrincham on Sunday 19th July".

Above: The less than animated Alty bench at Bamber Bridge, 11 July 2015!
Five years ago today, on 11 July 2015, Altrincham played a pre-season game at Bamber Bridge and won 1-0, thanks to a goal eleven minutes from time by Damian Reeves. Bamber Bridge played in 2015 in the First Division North of the EvoStik (Northern Premier) League, three tiers below Alty at that time in the non-League pyramid. Brig had last been league opponents of Altrincham in 2000-01 and, before that, in 1998-99, they had fought closely with Altrincham for the then UniBond League title, which Altrincham eventually clinched, allowing them to return to the Football Conference.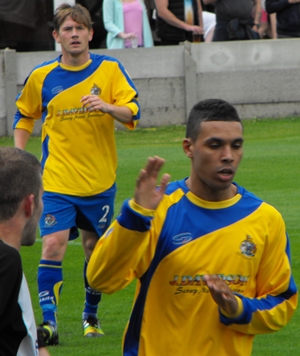 Pictured, right at Bamber Bridge are trialist Jayden Hall, who was on loan at Chester FC from Burnley in 2014-15, and Alty captain, Shaun Densmore.
It was Alty's second pre-season game, and they again kept a clean sheet following a goalless draw at Abbey Hey a few days earlier. But, once more, Alty lacked much threat up front. However, they secured a late win against their EvoStik Division One opposition with an expertly taken goal from Damian Reeves.
Brig created the better chances in a first half which saw Simon Richman suffer a head wound which needed hospital attention. He was replaced by Josh O'Keefe midway through the half. The winner finally came when James Lawrie's good, low through-ball set Reeves free and he stroked the ball past the advancing Josh Samberg [ex-Alty himself] in the Brig goal, the ball going into the net off the foot of the keeper's right upright.
Compared with the game at Gorton the previous Tuesday, Alty fielded a stronger starting eleven at Bamber Bridge, with all the starters having featured for the club last season except for trialist Jordan Deacey and new signing Michael Rankine.
At the interval, a further six changes were made by Alty, as regulars Lawrie and Reeves came on, alongside new goalkeeper Tim Deasy and trialists Josh Green, Jayden Hall and ex-Youth teamer, Jeff King. Ryan Crowther was away on holiday.
For Bamber Bridge, former Premier League striker, Brett Ormerod, was making his debut.
ALTRINCHAM: First Half: 1. Stuart COBURN, 2. Shaun DENSMORE (capt), 4. Scott LEATHER, 5. Luca HAVERN, 3. Adam GRIFFIN, 12. Jake MOULT, 7. Simon RICHMAN, 8. Jordan SINNOTT, 14. Nicky CLEE, 16. Jordan DEACEY, 6. Michael RANKINE. Second Half subs: 18. Tim DEASY, 6. Josh GREEN, 7. Jayden HALL, 8. Josh O'KEEFE (also wore #7 as a first half sub), 9. James LAWRIE, 10. Damian REEVES, 11. Jeff KING
Guiseley
"announce versatile young player George Cantrill has signed a new contract to play for the club for a second season.
The 20 year-old was released by Sheffield United in the summer of 2019 and, despite interest from other Football League clubs, he decided to join The Lions, where he had had a loan spell from The Blades in the 2018-19 season. The Sheffield-based player made a positive impact in his first full season with The Lions figuring in midfield as well as at full-back.
George was a consistent performer in any role he was been asked to play and made 32 starts in the past season...
He said 'I couldn't wait to sign a new contract with Guiseley and now I can't wait for a new season to start. It is a pity the season ended early as I feel we could have got into the play-offs the way we were performing, especially with the way we played in the last game we played at King's Lynn.
'We look as if we will have a similar squad to last season so I think we can push on and aim for promotion. I believe we are capable of that and we will have as much of a chance as anyone else.'
In the lockdown George has been keeping fit by running and by helping out in his family's livery yard. With an eye to a future career in coaching, since some restrictions were lifted, the Level 3 coach has been doing some coaching with youngsters in Sheffield and is hoping to complete his UEFA B Licence."
The Boston Standard advises us that "Alex Whittle is determined to end the season with two firsts; a Liverpool-Boston United double. The Pilgrims defender has already celebrated his former club winning a league title for the first time in his life this season.
Now he wants to claim his first promotion at the fourth time of asking.
'I was hoping for the Liverpool-Boston double and there's still a chance of that,' said 27-year-old Whittle, who came through the same Reds youth team as Raheem Sterling, Conor Coady and Jon Flanagan. 'I was always Liverpool, getting tickets for the games. When I was 18 I got released and, obviously, I lived away for many years so it was hard to get to the games, but I'm a big fan. Most of my family are Reds'...
As United prepare to host the winners of Brackley Town and Gateshead on July 25 in the National League North play-off semi-finals, the left back has his sights set on securing promotion after missing out with Dunfermline and Warrington.
'I've lost three play-off finals,' he continued. 'I lost two in Scotland and one last year with Warrington against King's Lynn. They always say third time lucky, but hopefully it's fourth for me... It was a frustrating time, the league above's play-offs were happening and what I was seeing on Twitter, ours wasn't happening. I was buzzing to get back...
'When you start getting the feel of the ball it all comes back to you. The lads have kept in decent shape as well and they're a fairly fit team as well. Everyone' s close as well. There's no divide or cliques. Everyone encourages everyone to do well... We've got that 20-man squad that can do it at this level, definitely.'"
Off the pitch the Boston Standard also reports that "Memorabilia from Boston United's York Street stadium has raised more than £10,000 at auction.
The Pilgrims put items from their ground on ebay, allowing fans to bid for their own pieces of club history as the Pilgrims prepare to move to the under-construction Jakemans Community Stadium.
The item receiving the highest bid was the Jakemans Stadium sign which welcomed fans to the ground, fetching £637. The club crest which was the centrepoint of the Town End display was bought for £560, while the most eyecatching deal was arguably a toilet sign featuring two club badges, which cost one punter £295.
Other items up for sale included the boardroom table (£266), programme kiosk (£360.53), the manager's chair (£245) and a raffle drum (£165).
In total, more than £10,200 was raised from more than 70 lots. More items are expected to go up for auction after the play-offs have concluded."
At Bradford (Park Avenue) "Versatile Mark Ross has agreed to re-join the Avenue after a year away at Chorley, making up 19 appearances in the National League for the Magpies. No stranger to the fans of Bradford (Park Avenue), Ross was a key member of both squads that made consecutive appearances in the play-offs.
Super fit Ross can play either in central defence or at right back and will add extra experience and solidity to the Avenue back line next season. During his previous two-year spell with at the Horsfall Mark started 80 games contributing to 24 clean sheets and scoring a solitary goal.
Manager Mark Bower added, 'When we began to identify players for the new season, Mark Ross was one of the names at the top of the list, so I am delighted that he has agreed to join us. When speaking to him, it was clear his main objective was to enjoy his football in a team able to compete. Having worked with us and several of the players before, it is great that he feels we fit the bill. Rossy is another who we will be able to count on to perform at a consistent level and help our younger players with his experience.
He will also set a first class example to them in the way he conducts himself off the pitch.'"
And the Telegraph & Argus adds that "Mark Bower has once again dipped back into the squad that helped him reach successive playoff finishes as Mark Ross has rejoined Bradford (Park Avenue).
Last Friday, Bradford announced the signing of ex-player Luca Havern and a week later they have brought back his former defensive partner. Ross left at the same time as the manager at the end of the 2018/19 season and spent last term in the National League with Chorley, making 19 appearances.
Originally, the defender, who can either play at centre half or right back, started out at the Magpies in 2010. He played a great part in the club's rise through the divisions, up to the National League North.
After six years of service, he moved onto Stockport for one season before linking up with Bower. During his two years at Horsfall, he starred 80 times, keeping 24 clean sheets and scoring just the one goal.
The 31-year-old... could prove a crucial cog to a defence, which is starting to shape up nicely with the likes of Mitch Lund, Havern and Matt Downing already amongst its ranks."
York City announce that "We're giving fans a chance to get back in the ground, with the launch of Fans At The Game.
Bringing our fans on our Play-Off journey is incredibly important to us, so we've teamed up with The Football Company, to give you an opportunity to have your own personalised, recyclable, waterproof cut-out displayed proudly in the stands. We want our supporters to be represented, at Bootham Crescent even if they can't be there in person.
Cut-outs are now on sale...
All you need to do is use your smart phone device to visit our Fans At The Game website, allow your smart phone device camera to take a picture, make sure you fit in the silhouette, approve your picture – done! Make your secure online payment; it costs £25 per cut out. After that your cut-out is produced, delivered here to Bootham Crescent and installed. Before you know it, you'll get back in the ground, and be a fan at the game once more...
When crowds are allowed back into football matches, and we no longer have to use cut-outs as our fan representation, those who have purchased a cut out will then have the chance to collect it...
Why is the cost of a cut out more than the price of a ticket? Cut outs will be situated in the stadium for as long as crowd restrictions are in place, so your presence in the stadium will last longer than one game. You'll also be able to keep the cut out after. The cut-outs are priced by Fans at the Game and in line with fan engagements like this across the country and indeed Europe.
Will the cut outs be in the stadium if York City reach the final? We really hope so! However we are discussing this with the National League, who's [whose] decision this would be...
Can I buy an AWAY cut-out? Yes, if you add the word 'AWAY', in capital letters after your name during the booking process we will work with the club to ensure away fans are grouped together in the stadium".
---
10 July 2020
In
Cheshire Live
"Jon Worsnop has described the decision to return to Chester FC as a 'no brainer'.
The 37-year-old returned to the Deva Stadium last month in a player/goalkeeping coach capacity having spent two years at Chester between 2014 and 2016 where he played a significant role in the run to the FA Cup second round... Worsnop also played one game for the Blues during the 2002/03 Conference season under Mark Wright and was most recently at Grantham Town after a spell with Marcus Bignot's Guiseley.
The Bradford-born keeper is busy with two successful businesses outside of football, owning a manufacturing company in Halifax and a specialist meal-preparation firm, Gymology, which supplies athletes from the likes of Manchester United to GB Taekwondo with their nutrition...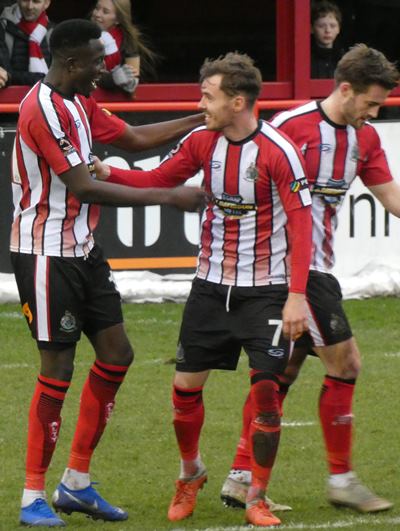 Right: When Alty meet Chester FC on 19 July, John Johnston will be on the visitors' side. But back in March 2019 when Chester lost 4-0 at the J. Davidson Stadium, John Johnston was playing for Altrincham and here he receives congratulations from Yusifu Ceesay for his part in one of the goals. Later in the match JJ went on to score the fourth goal for his side.
When the chance to keep his hand in playing and also coach came up at Chester he was quick to jump at the chance. 'I'm chuffed to be home,' said Worsnop... 'I've always had dialogue with Bernard and Jonno and respected what they've done and I've made it known that I'd love to work with them in some capacity, as a player or a coach... When I was there in a playing capacity we didn't have a goalkeeping coach and it is an important capacity. As a goalkeeper you end up joining in possession or joining in the running sessions. You don't need to be the fittest at running or good in possession, you need to be a goalkeeper...
'Jonno was asking what I was doing and said I'd make a good coach. I said I wanted to be a coach and become a back up somewhere as well, in case the number one keeper got injured. For a lot of clubs it kills two birds with one stone. I said if an opportunity came up at Chester then give me a call and the phone rang... and I bit Jonno's hand off'...
Worsnop... could find himself playing a part sooner than he expected as Chester wait on whether Louis Gray will be able to play. He said 'Chester is a great club to me. It is 25 minutes away from where I live in Hale, I have lots of fond memories and have friends there'".
And in the Chester Standard he added that... 'I would class myself as an avid Chester supporter. I check all of the club's results and give a little fist pump when they've had a good one,,,
'I had other options, but I was holding out in the hope something might happen and when Jonno asked... I bit his hand off'...
He's a huge fan of Johnson and Morley... 'I've always wanted to work with them' said Worsnop... 'I truly believe that they are the best management duo down in non-league football and given their mentality and desire, they are destined to go further in the game. They've blown me away with what they've done and it would be great it we could form a team and if I could stick close to them, because I believe in what they do...
'We are just waiting for clarification,' said Worsnop... 'Touch wood myself and Louis are cleared to play.'"
Meanwhile Cheshire Live reports that "Danny Livesey says he and his Chester FC teammates owe it to themselves and Blues fans to see the season through.
The 35-year-old centre back, who has been dependable at the back for Anthony Johnson and Bernard Morley's side for the last two seasons, was one of the senior players behind the decision to compete in the play-offs and donate their contractual entitlements back to the club, effectively playing for free...
'I can only speak for myself but it was an easy decision for me personally, and I think a few lads probably feel that way,' said the former Carlisle United, Bolton Wanderers and Barrow centre back. 'To go through a season and not to see it through seemed wrong and I was more than happy to come back. It wasn't a big debate or anything, we all wanted to come back and finish what we started. If it lasts a game then it lasts a game, at least we gave it a go and saw out the job. It wouldn't have been right not to. We owe it to ourselves, the club and the fans...
'Usually in pre-season we have a few weeks of training and preparation then some lower key friendlies and you build things up. We are going to be playing a competitive play-off game with about 10 days preparation as a team.
'Altrincham have had a bit more time to prepare but it will all be about fitness and who comes out on top on the day. We're all fit and come back in good shape so we'll give it our best shot and see where it takes us... I definitely want to carry on and play again next season,' said Livesey...
'I think I've done alright since I've been at Chester. I've had the odd injury and probably tried to come back too soon before now but I feel I still have a lot to offer, whether at this level or above... I'd like to stay at Chester. I've enjoyed my time here, it's a great club and I think that it is close to something really positive'".
As previously mentioned, the funeral cortege for supporter Ivan Curtis, who died last week, will be passing the J. Davidson Stadium at around 11.20am today (Friday). All who knew Ivan are invited to pay their respects, within the bounds of social distancing of course.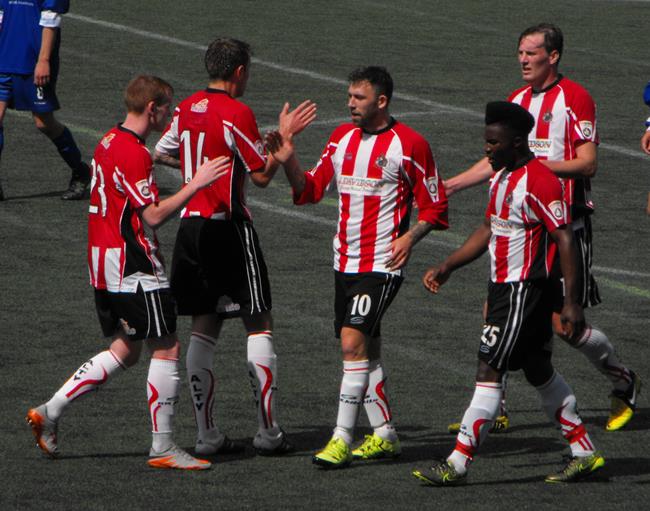 Four years ago today witnessed Altrincham's first game under Neil Young's managership, a 2-2 draw away to Widnes. Since Alty's last visit to the Halton Stadium, when playing against Runcorn FC Halton, the playing surface had been made artificial, providing an introduction similar to what Alty would find in the stadiums of several league opponents in the coming season.
Above: Damian Reeves receives congratulations after equalizing.
After falling behind 2-0, two late goals secured a draw for Altrincham. With different line-ups playing in each half and with each of them comprising a mix of last year's squad, new signings and trialists it was not surprising that the visitors were unable to impose themselves on the NW Counties side. It was not until the last fifteen minutes that Alty began to assert themselves.
They had fallen behind after 35 minutes when a long ball reared up and allowed Jack White to score past trialist keeper Ciaran O'Loughlin who, earlier, had made two fine saves. When Simon Richman lost possession and then fouled Owalabi, he conceded a penalty. Owolabi scored from the spot in the 64th minute.
Alty got back into the game when Boris Melingui's fine pass gave Damian Reeves a shot which was half-stopped but, as Danny Hattersley went to finish it off, he was brought down. Hattersley took the spot kick to make it 2-1 after 77 minutes.
Reeves got the equalizer with six minutes remaining, steering home a low shot, just inside the post.
The Altrincham second half players were not numbered on the team sheet and several of them wore differing numbers on their shorts from their shirts!
ALTRINCHAM: 17. Ciaran O'Loughlin, 18. Sam Patterson, 12. Keenan Quansah, 5. Tom Hannigan, 2. Harry Cain, 14. Joe Cuff, 9. Jake Moult, 20. David Lynch, 11. Billy Hasler Cregg, 7. James Lawrie (capt), 21. Craig Hobson. Second half subs: 1. Andrew Dawber, 14. Charlie Joyce, 20. Callum Charlton, 22. Sam Heathcote, 25. Boris Melingui, 26. Liam Haynes, 8. Simon Richman, 28. Jamie Menagh (capt), 10. Damian Reeves, 23. Danny Hattersley.
The
Telegraph & Argus
tells us that "Being a non-league footballer is a totally different ball game to that of one in the Football League. The majority are forced to have another job to pay the bills, meaning competing in the sport they adore is often put on the back burner.
Ex-Bradford (Park Avenue) and Guiseley striker Adam Boyes is no different, with his football career stalling due to work commitments.
Last month, after a difficult couple of years at Spennymoor Town, the primary school sports coach dropped down two divisions to sign for Northern Premier League Division One North West side Marske United. It is a remarkable fall from grace when you consider he was banging in 20 league goals at Horsfall just two seasons previously.
The mindset of a striker has to be different from any other position in the team. You know if you go a few games without finding the back of the net, that your name in the starting 11 is at risk. This has played a part throughout the ex-York City and Scunthorpe United forward's career and especially at his last club Town, where he only scored seven times altogether in the league.
He said 'If you go to a new club and don't score for five or six games, you start thinking that they don't think you're any good and you start missing chances. It is very important to get off to a good start wherever you are.
'I have had spells when I haven't scored but that isn't down to the pressure, it's over trying... When I first joined (Spennymoor), he (manager Jason Ainsley) was saying it was going to be 4-4-2 and I thought that would be great, but he never played that formation. He only did when Glen Taylor was injured and he played me up top with another lad, which worked really well. We won three out of three and were scoring goals. Taylor is a good player so he came back from injury and he was straight back in.
'It was frustrating because I knew I should have been playing. It wasn't great getting the odd 10-15 minutes every week. That is why I had to get out of there. I have hardly played for a year and half so I need to be playing 90 minutes week in, week out. 50 games a season and getting back to where I want to be.'
It was his relationship with ex-Lions and current Avenue boss Mark Bower and assistant Danny Boshell that helped the striker produce his best form. Boyes scored a combined 64 goals in the 147 league matches he spent with the pair at both West Yorkshire clubs. With Bradford on the lookout for a frontman after deciding not to keep Tom Clare, you would think Boyes would be the perfect replacement. After receiving interest from fellow Vanarama National League North outfits Darlington and Blyth Spartans, the 29-year-old is far from done at this level...
'I loved my time at Bradford,' he said. 'If it wasn't for the travelling, I would have never left. I still speak to Mark and Danny, and if they ever need advice on players I try to help them out. We still have a good friendship. I didn't leave on bad terms. I left because I was working up here (in the North East) and it was taking me an hour and a half to get to training on a Tuesday and Thursday.
'I always said to Mark I wished he'd got a job up this way. He was up for the Darlington job, which would've been great for me. He used to play for them... I have played at clubs like Spennymoor and you make one mistake and the staff are on your case straight away so you start panicking.
'Danny was still playing so he was basically one of the lads and Mark had just stopped playing, so they knew how to get the players going'...
It is a shame that Boyes cannot be part of the club's attempt to bounce back from last term's bottom-placed finish, but he certainly serves as an example of the type of player Avenue will be targeting to headline their attack next season".
And the Northern Premier League also tells us that "Gainsborough Trinity have signed... winger Rod Orlando-Young... [who is] joining the club for a third spell [and] arrives from Buxton. The former Norwich City, Exeter City and Ilkeston Town flier had a trial with the Holy Blues under Lee Sinnott, and signed under Liam King and Ross Hannah last summer before leaving to join Bradford Park Avenue".
From the Banbury Guardian we learn that "Glenn Walker sees no reason why Brackley Town can't break their National League North play-off duck this season... when they take on Gateshead in the first stage of the play-offs at St James Park on Sunday, July 19...
The matches will be played behind closed doors... Either Brackley or Gateshead will then travel to Boston United in the semi-finals on July 25 with the final due to take place at the home ground of the highest ranked team on Saturday, August 1.
For Brackley, it is the third season in a row they have finished in the play-off places. They were beaten by Harrogate Town in the final in 2018, shortly after they had won the FA Trophy at Wembley, and were then beaten on penalties by Spennymoor Town in the semi-finals last season. And, despite the circumstances being completely different this time around, Walker insists there is a real belief within the Saints squad...
Said Walker, who has made over 300 appearances for Brackley... 'All the boys have come back in good condition... We aren't really strangers to the play-offs over the past couple of seasons so the atmosphere within the camp is quite vibrant at the moment... and there is a belief that maybe this could be our year...
'It's 90 minutes with no extra-time and straight to penalties if it's a draw so I think that will make it more of an attacking game, both teams will be going for it'...
Asked what the testing process has been like, Walker replied 'It's not the most pleasant thing to be honest!... We are all doing the right things and keeping ourselves safe when we are away from the club'".
The Northern Premier League confirms that at Colne, "Connor Hughes has left the club...
Midfielder Hughes has called time on his spell at Harrison Drive after two seasons with the club.
He is expected to link up with former Colne manager Steve Cunningham at Curzon Ashton"
And more news of a former National League North player is recorded by the Northern Premier League that "Craig King will be like another new signing for Matlock Town when he finally puts his injury nightmare behind him.
King, 29, was an eye-catching for the Gladiators from Alfreton Town in October 2018, but just days after signing an extended contract with the club, he ruptured his ACL in a home game against Farsley Celtic in February 2019...
There have been two management changes at Matlock while King has been on the sidelines, with Dave Frecklington departing at the end of the 2018/19 season, and then his successor Steve Kittrick was replaced midway through last season with ex-Buxton boss Paul Phillips...
Phillips has made eight signings in the off-season so far, including strikers Sefton Gonzales and Liam Hughes, as he looks to put his own stamp on the squad".
According to the Shropshire Star, "New signing Jason Oswell insists he has joined AFC Telford United to win trophies and rediscover his love for the game.
Jason Oswell became AFC Telford boss Gavin Cowan's sixth new signing of the summer at the start of July. The 27-year-old Bucks hot-shot completed his move to the New Buck's Head from National League side Wrexham at the beginning of this month.
Oswell, who has been prolific with Newtown and Stockport County and played in the Football League with Morecambe, believes boss Cowan has stolen a march on rivals with his off-season business.
'I want to get my love back for the game. I've achieved some personal goals in the last few years but now I want to win titles and trophies, and experience what we did at Newtown,' Oswell told AFC Telford's website.
'Everything is in place for Telford to be very strong this year, they've made some good signings and Gavin Cowan has been ahead of the game in his preparation and it has given me a real buzz back that I've not had for a while.'
Oswell's one full season at National North level saw him fire Stockport County to the play-offs, with 28 goals along the way, enough for the player of the year gong.
That was after a prolific three seasons with Cymru Premier side Newtown, where Oswell helped the Robins qualify for the Europa League, where he netted twice against Malta champions Valletta, as Newtown won their first ever game in the competition.
Oswell, a target of Cowan's for three years, added 'Gavin Cowan was on to me very quickly after the season finished. Telford came in and I told the Wrexham gaffer I couldn't take any chances, as I knew there was only a slim chance of a deal there.'"
---
9 July 2020
Nine years ago, in 2011, on today's date, 9 July, Altrincham entertained a strong Burnley side in a pre-season friendly Match which the Clarets won 4-2.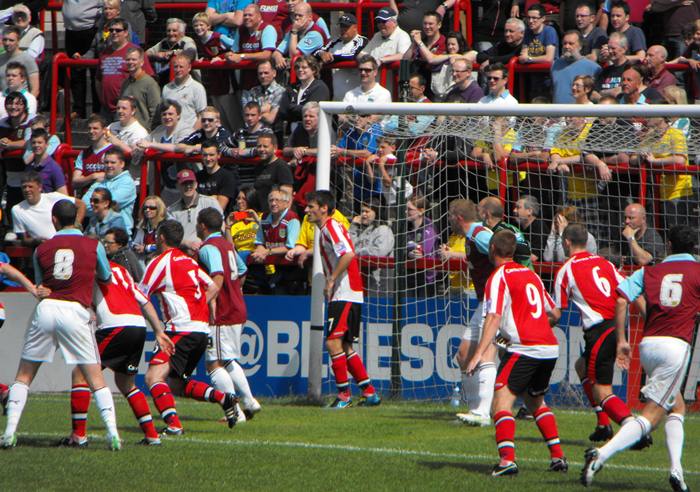 Action from the match.
This was both clubs' first pre-season game and the Clarets had promised to bring their first-team squad for Alty boss Lee Sinnott's first match in charge, which helped to generate a good crowd. The match referee was Premiership official, Anthony Taylor.
Both sides and the 1,253 spectators were probably happy at the outcome; Alty's experimental squad of new and old players was far from embarrassed by a club four rungs higher than them in the footballing world, whilst The Clarets, particularly in the first half, showed some slick build-up play and gave almost all of their squad 45 minutes of football.
After starting brightly, Altrincham were put behind in the 9th minute when Alex Macdonald sidefooted home at the end of a good move. Eagles then sidefooted a second after good work by Wallace (19 mins). When Paterson rounded Coburn to make it 3-0 (33 mins), it seemed that there might be a repeat of the 6-1 mauling suffered by Alty in the 1980s FA Cup clash between these sides. But with the Clarets changing all eleven players at the break and Alty making four substitutions, the Robins rocked their visitors with two goals from Nick Chadwick in the first four minutes of the second half. Chadwick had already hit the post, late in the first half.
Chadwick's first goal stemmed from Robbie Lawton's fine ball forward from right-back, where he was positioned for the second half. Chadwick's second stemmed from the alertness of new signing Simon Richman who anticipated Jensen's throw-out and got the ball before putting in an accurate cross for Alty's trialist striker to head home.
Chris Iwelumo settled things with a thumping header, making it 4-2 in the 67th minute.
Altrincham's team included just six starters who had been at the Club in the previous season. The remaining five places were taken by four new signings; Simon Richman, on the right flank, Adam Flynn and Mark Lees at centre-back and Chris Lynch at right-back, and a trialist, in the shape of striker Nick Chadwick, who had been released by Barrow in May.
The trialists and youth teamers involved were...
Paul Jones - an experienced 33 year-old ex-Barrow centre-back. His pedigree includes Tranmere Rovers, Blackpool, Leigh RMI, Oldham Athletic, Hyde Utd, Droylsden.
James Coates - former Alty keeper who has returned for pre-season. Stuart Coburn will play today but misses the next games as he will be on holiday.
Matt Fearon - Youth team defender
Sam Langford - Youth team winger
Jake Barnabas - Youth team defender
Michael Jukes (dob 11 July 1992) a 6ft 2inch Bangor City striker who comes from Warrington and was at Wigan Athletic as a youngster.
Kevin Gall, a winger who left Wrexham in January 2011; his previous clubs include York City, Yeovil, Bristol Rovers, Lincoln, Carlisle, Darlington and Port Vale. A Welshman, he started as a trainee at Newcastle United.
Nick Chadwick, an ex-Barrow forward released in May, 2011. His previous clubs include Everton, Derby County, Millwall, Plymouth Argyle, Hereford Utd, Shrewsbury Town, Chester City. He made his first team debut for Everton in 2001-02 season and had a spell on loan at Millwall. He left Everton in 2004-05 season after 14 first team appearances, and then joined Plymouth Argyle where he made 77 appearances, leaving in 2008-09 season. He joined Hereford United then Shrewsbury Town. In 2009 he joined Chester City, then Barrow.
Steve Hall - a centre-back, who was not used today.
ALTRINCHAM: 1. Stuart COBURN, 2. Chris LYNCH, 6. Mark LEES, 5. Adam FLYNN, 3. Ryan BROWN; 7. Simon RICHMAN, 4. Robbie LAWTON (capt), 8. Shaun DENSMORE, 11. Nicky CLEE; 9. Nick CHADWICK, 10. Damian REEVES. Subs: 12. Paul JONES, 13. James COATES, 14. Anthony DANYLYK, 15. Brian SUMMERSKILL, 17. Kevin GALL, 18. Michael JUKES, 19. Steve HALL, 20. Matt FEARON, 21. Jake BARNABAS. Also present but not on the teamsheet was Sam LANGFORD.
Runcorn Town
's "defensive line for the 2020/21 season will have one less thing to worry about with goalkeeper Adam Reid committing himself to the club for his fourth season.
Adam won the NWCFL Premier Division in 2016/17 with Atherton Collieries before making the switch to us in February 2018. He quickly established himself as the club's number one and as a firm favourite with Runcorn fans. His consistency is remarkable, making 106 appearances in his two and a bit seasons, and his clean sheet record is also up there with the best of them with 31 shut outs in that time.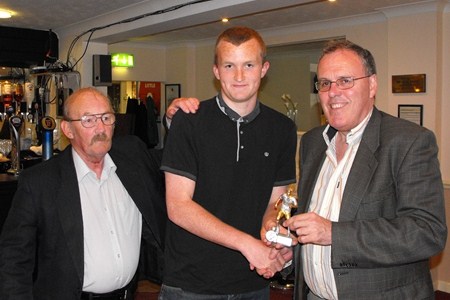 Right: Adam receives an end of 2011-12 season award from deputy chairman Andrew Shaw and (left) George Heslop, whose death was sadly reported yesterday.
Speaking of his re-signing, Reidy said 'I am delighted to commit to the club for another season and feel that there is unfinished business yet to be done. There was a few great high points last season such as the FA Cup run and Macron Cup run, but we also dropped quite a number of points that cost us a chance at the top three. The season coming to an end was therefore a good thing really because although we didn't have the chance to play in the Macron Cup Semi Finals, we do have another chance at three promotion spots and that's what we must achieve.'
So does Reidy have any aims for the new season? He says "I don't really set personal goals to be honest such as number of games I want to play or number of clean sheets I want to keep. I just aim to always try and play every game I possibly can and get as many clean sheets as possible. From a club perspective, the league and all the cups are on offer so the aim should be to win every game possible."
Since we last played at home to Burscough, Reidy has been keeping himself busy, saying "Away from Runcorn I do some goalkeeping coaching, and I have had to unfortunately stop that due to Covid. However I started doing full time hours in my part time job to keep me going and I'm looking forward to starting it up again when we can. I've been keeping my fitness up since the season stopped just to stop the boredom, so I can't wait to get going again'...
Last season was competitive and we sat 7th when the season was finally concluded. Reidy thinks it will be the same again saying 'I think it will be the usual suspects of 1874 [Northwich] and Bootle, and then you have your Rylands, Longridge, Charnock, Vics who can all quite easily challenge'...
'I think the club is heading in the right direction, and hopefully the ground situation will get sorted soon which could help the club push on'".
At relegated
Chorley
"midfield options have been strengthened by the signing of Mike Calveley from National League North rivals Curzon Ashton.
No stranger to the division having spent the last couple of years with the Nash and Nuneaton Borough, the 21-year-old is the eighth new face through the doors at Victory Park ahead of the 2020/21 season...
'I know the National League North really well from the last two seasons and I'm looking forward to hitting the ground running when football returns', said Mike Calveley.
A product of Port Vale's youth system, Chester-born Mike turned out four times for the League Two outfit as well as enjoying loan spells with Leek Town and Nuneaton. Despite his fledgling career, the central midfielder has already amassed 79 senior appearances.
'Mike fits the profile of player we've been looking at this summer; young, hungry and offering both plenty of potential and a fair bit of experience too. He'll bring strength and energy to the midfield' added Jamie Vermiglio".
News of another club relegated to National North comes from the Lytham St Anne's Express which informs us that "AFC Fylde are parting company with their assistant manager [and former Alty player and manager] Kenny McKenna, the longstanding number two of team boss Jim Bentley.
His departure is set to leave nobody in charge of the club's football side temporarily, with Bentley facing a heart bypass operation which is expected to sideline him for a while. McKenna has been Bentley's second-in-command throughout his managerial career, which began at Morecambe in 2011. The Liverpudlian pair moved to Mill Farm last October.
Fylde chairman David Haythornthwaite says the search for a new number two is designed to freshen up the management structure, action he believes should have been taken during Dave Challinor's eight years at the helm...
Haythornthwaite explained, 'Maybe it's time for a change and sometimes it's good to have a new number two. It can get stale. I very much felt that with Dave Challinor. With all respect to Colin Woodthorpe (who assisted Challinor throughout his time at Fylde), I felt that Dave should have changed earlier. It keeps you fresh. If you look at Old Trafford, Ferguson always changed his right-hand guy every couple of years and he did it for a reason to keep himself fresh, keep the players fresh, keep everybody on their toes.
'We had a chat about it and felt that was right for the club, so Kenny will be departing. It's always sad in football when you have to let people go. It's a tough business. But anyone who knows Kenny knows he is a real character, with a wicked sense of humour and a razor-sharp brain. You'll never get one over on him. I hope we have as amicable a parting as you can have in a divorce...
'It's sad if he's leaving with a relegation on his CV that certainly wasn't his fault. He was a hard-working guy.'
McKenna, who turned 60 last week, had managerial experience with TNS, Cammell Laird and Altrincham before linking up with Bentley nine years ago."
Also from Fylde we learn from the Lytham St Anne's Express that "AFC Fylde may have to take legal action to resolve the issue with its Mill Farm pitch.
The surface has been described as a 'disgrace' by the club's chairman David Haythornthwaite, with drainage issues the key concern...
'We had a terrible time with the pitch last year,' he said, 'I was always proud of my pitch and I was embarrassed with my pitch this year. It was a disgrace. We investigated and dug the whole thing up, and found a lot of faults with the drainage and with the way things were originally put in three years ago. We are in the middle of finding out whose responsibility it is.
'The builders subcontracted to another company, who subcontracted to somebody else and when these things happen everyone blames everybody else. We are trying to get this resolved without going legal, that's my preference, but it looks like we may not be able to do that...
'I don't want to spend a penny until the last minute but if we are going to have a September-ish start, we are probably going to have to dig up the pitch in the not too distant future. I just want to get the legal part sorted out first'...
Fylde's relegation from the National League appears to have been sealed following the announcement of play-off dates for National League North and South. The finals of these six-team competitions are scheduled for August 1, with the winners set to replace Fylde and Ebbsfleet."
Ebullient Bradford (Park Avenue) report that "Bradford (Park Avenue) are excited to confirm that next season, we will be offering fans not one, but two ways to enjoy our newly revamped match day programme.
Following consultation with our fans, and internal discussions, we are excited to announce that alongside our traditional offering of a physical copy, we are making a move towards the future and will be offering fans the option to download our programme via an app on your phone or tablet.
Football Operations Manager Calum Cullen said; 'We have been looking at ways to make sure we can cater for all our fans, not just those who attend the games, but fans who might not be able to get down, or live away from the Horsfall, and this solution allows us to do this. With just a few clicks on your device, you can download our programme and have it with you forever...
At the same time we were appreciative that there are fans out there who would still like to be able to have a physical copy, and we want to delight them as well'...
The newly designed program [programme] will be 36 pages crammed full of news, stats and views from those within the club and community."
According to the Boston Standard "Fitness levels will play a big part in Craig Elliott's selection process ahead of the National League North play-offs.
The Boston United squad reported back for training last week following a three-month break due to the coronavirus pandemic, with the manager praising the attitude and physical condition of his players. Beginning again with a blank canvas, the Pilgrims manager told The Standard...
'We've got a 20-man squad. On paper I like the look of it, we've got good options,' he said, before addressing the issue of match fitness. 'That's my only concern now. It's important to understand there's no form as such.
'I'll be looking to see who's maybe a touch fitter than others. That maybe goes some way to deciding minutes on pitch as we need to be ready. There's no hiding place'...
The Pilgrims looked to have lost Andi Thanoj for the remainder of the campaign due to a knee ligament injury, while striker Jake Wright was looking at two weeks on the sidelines due to concussion. But both are now back in contention for selection".
In the Shropshire Star "Gavin Cowan predicts AFC Telford United could have a feared strike partnership on their hands in Aaron Williams and Jason Oswell.
Former Wrexham and Stockport County hitman Oswell last week became Cowan's sixth new signing of the summer at the New Bucks Head.
The 27-year-old joins Williams, 26, as Telford's recognised centre-forwards. The pair struck 24 and 25 goals respectively in the National League North in 2017/18.
'A lot of people won't realise Aaron Williams's personal situation last year,' Cowan said... 'He's been doing a lot of work over the summer. It's like signing a new player.
'He's another 30-goal striker. If we can get them both signing the same tune, working well and doing what they do best then we have a serious strike force on our hands.'
Cowan first tried to bring Oswell to the club while first-team coach to Rob Smith and Larry Chambers, when he suggested the duo bring in Oswell's Newtown team-mate Shane Sutton. The boss revealed the Bucks have capitalised on the striker's decision to go part-time, balancing playing with his work as a physiotherapist.
Cowan added 'It's another player we've seen the benefits from that he wants to go part-time. He's a qualified physiotherapist and in the current climate he feels it is better off in part-time than full-time football... You've got a Conference player there who ordinarily we wouldn't be signing but we've got him.'"
York Press reports that "The National League are looking to stream the play-offs matches in their North and South divisions, though no firm decision has yet been made...
York City have confirmed that... 'no positive tests have been returned, following the latest round of COVID-19 testing.
'The club is now operating within Stage Two of the government's Elite Sport Return to Training guidance'"
We learn from the Hereford Times that "Former Bulls' defender Jordan Cullinane-Liburd says that he couldn't accept a deal to stay at Edgar Street due to the change in training programme.
Manager Josh Gowling has announced his side plan to change their training schedule ahead of the new season with the squad training in the daytime instead of the evenings.
Cullinane-Liburd, who joined the Bulls in the title winning Evo-Stik Southern Premier 2017/18 season, said that it wasn't viable for him to stay with Hereford because of his day job in insurance.
'I knew what the intentions were straight away with training so I was waiting to see what the budget was and whether I could justify staying as my contract was up already,' said Cullinane-Liburd. 'I had offers (from elsewhere) given to me so I was just waiting as I would have loved to stay...
'After the league stopped and our contracts ran out we didn't hear much and other clubs were making signings. With Gowling taking over I said when he took over that he [I?] was happy to stay if he wanted me. Gowling was happy [for] me to stay and on the season finishing I had the understanding I was going to be there next season.
'Unfortunately a change of training, my job and what I was offered I had to turn it down. I've got a job and a career at the end of the day and I'm not going to be able to get that wage from football. It's not the end of the world and I'm not going to be playing (paid) football until the end of my life.
'Training in the morning is more specific. People have to realise I'm working in a job where I'm paid more than playing football so I would have to be compensated in terms of going full-time. Some of the lads if they are still part-time will probably still stay but some people will have to look for somewhere else to stay'...
'There was uncertainty about next season's contracts and some lads left previously because of that,' added Cullinane-Liburd".
---
8 July 2020
Cheshire Live
says that "Anthony Johnson insists that he [his] and Bernard Morley's Chester FC side won't be taking the play-off eliminator clash with Altrincham as a 'free hit'.
The Blues returned to training this week in preparation for the clash at the J. Davidson Stadium a week on Sunday (July 19, 3pm), with players and staff undergoing their first round of Covid-19 testing on Tuesday night.
Phil Parkinson's Robins side have been back in training for the best part of a fortnight and have a head start on the Blues, boosted further by being allowed to keep key midfielder Josh Lundstram on loan from Crewe Alexandra.
But while Chester may be playing catch up in terms of preparation, Johnson has no doubt that come July 19 his side will be there to win and to book a semi-final showdown at York City.
'The lads are absolutely buzzing for it now and we won't be taking part and thinking it's a free hit,' said Johnson. 'We want to win promotion and we know how good we are and how good we can be.
'Altrincham have been in for longer than us and will have that little bit of extra preparation time but when it comes to the game it will just be about that 90 minutes. We know our lads and we know what they are capable of.'
Altrincham have a friendly lined up this weekend with FC Halifax Town, but sorting something along the same lines for Chester won't be possible due to the short turnaround time and costs involved.
But despite all the perceived disadvantages Chester have, Johnson says the mood of the players, who are effectively playing for free for the play-offs after agreeing to donate their contractual entitlements back to the football club, was buoyant.
'The lads look in phenomenal shape, and I mean that,' he said. 'They've been working on their own individual programs [programmes] but they have come back and look really fit and really strong. We've said it loads of times about our mentality here, they are all mates and that was what it felt like when they all came back in for testing. They hadn't seen each other and it was great to see the carmeraderie [camaraderie] again.
'The spirit was fantastic and the lads are champing at the bit to get out there again and we can't wait for it.'"
Alty last met FC Halifax Town in a Vanarama National League North match which was played at Moss Lane on 4 February 2017. The Shaymen wpn 1-0 and went on to be promoted via the play-offs whereas Alty were relegated to the Northern Premier League.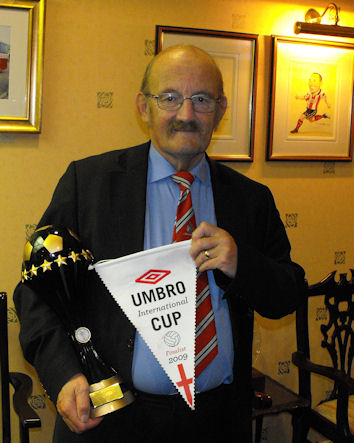 Altrincham FC's press and media officer Brian Flynn has reported "with great sadness that we have learned of the passing of George Heslop late yesterday afternoon.
George was one of the greats of Altrincham Football Club having been a lifelong supporter and is probably best known for his role for many years as the hugely successful manager of the Altrincham FC Youth team until 2016.
Our deepest condolences to Jenny, Sally, Nikki & all of George's family".
Right: George in 2009 after his Altrincham FC Youth side won their group in the annual Umbro International Tournament.
The AltyFiles adds that...
George was so much a part of Altrincham FC for many years that he even had his name over the door; he was the club's nominated licensee for the club bar which was run by his wife Jenny, herself also a stalwart of the football club, to whom our condolences are extended.
On a personal level, for many years George conscientiously supplied the club website with match reports and news of the Altrincham FC Youth team which enjoyed great success under his management.
As well as winning titles and trophies, George was also instrumental in developing players. When Duncan Watmore started to rebuild his career after leaving Manchester United it was through the club's junior section and then George's youth set-up that he developed. Another notable product of the youth team was Lewis Chalmers, who went on to play professionally in the Football League.
Many other Altrincham FC youth players graduated to the club's first team or to other non-League clubs.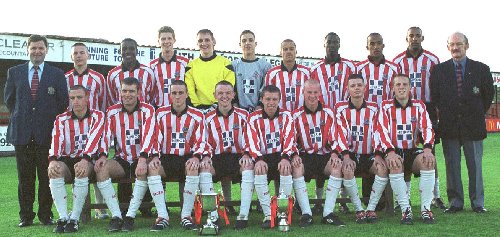 Above: The double-winning side of 2000-01, which won the NWYA Premier Division and Cup competition with George, far right, and his assistant Neil Thomason, far left.
Above the double-winning side of 2003-04. Back row: Stevie Taylor, Sam Cawthra, Andy Thorpe, Joe Connor, Paul Lewis, Barry George, Chris Rowley, Matt Tooth, Josh Collins, Kieran Lugsden, Tom Read, Neil Thomason (coach), George Heslop (manager). Middle: Adam Ball, Steve Lunt. Front: Danny Grimshaw, Stuart Cook, Lewis Chalmers, Alex Frost (capt.), Kelvin Lugsden, Adam Douthwaite.
Above: April 2004, Altrincham Youth win the NWYA Premier Cup by beating Morecambe 3-2 at Bamber Bridge.
But it was not all glamour and lifting trophies. In addition to countless nights of training, many were the wet and windy days that George stood on the touchline at youth fixtures which, years ago, were often played on muddy fields in remote parts of Greater Manchester and beyond. He believed in experiencing the same conditions as his players and was certainly "No Wally with a brolly" as the adjacent image shows.
Altrincham FC
report that "Altrincham's promotion hopes have received a significant boost after Crewe Alexandra gave the go-ahead for Josh Lundstram to be included in the Robins' play-off campaign...
Acceptance of the loan by the FA has also been received, though it came with a caveat that read 'We can accept the loan documentation as it stands. However currently discussions are ongoing with the National League whether loan registrations such as this would be classed as new loans or continuations. We will issue the confirmation once this has been ascertained how it's being registered.'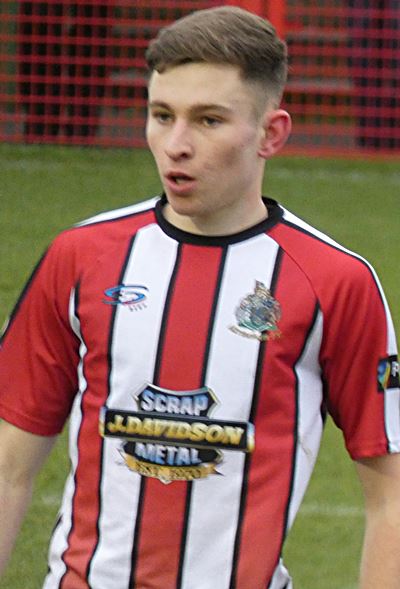 Left: Josh Lundstram in action against Bradford (Park Avenue) in January 2020.
Though the statement leaves some room for interpretation, Alty are quietly confident it will not prevent the influential Lundstram from bolstering manager Phil Parkinson's options against their Cheshire rivals".
In an article submitted to the Sale and Altrincham Messenger, Press and Media Officer John Edwards added that "manager Phil Parkinson made it clear he would be closely monitoring the central midfielder's form in training before deciding on his starting line-up.
'Josh was a stand-out performer for us during his initial spell here,' said the Alty boss. 'There's no getting away from that, and it was a no-brainer to bring him back. We're not going to put ourselves in a weaker position by not fielding, or not having the opportunity to field, what was our strongest team when the season was halted.
'But if Josh thinks he's coming back in and it will be easy for him, it won't be. Sean Williams looks in the best condition I have ever seen him in, Simon Richman looks great and there's Jake Moult as well, so we have some really good options in there.
'It's by no means a given that Josh coming back here will mean a starting berth, but when you look at how he finished the season, if he can recapture that form, then he has a very good chance.'"
Uniquely in recent years for an Altrincham loanee, Josh started all ten games for which he was at the club, starting at Gateshead in January 2020.
His arrival at Alty was announced on 17 January. He turned 21 during February and played the full 90 minutes on his debut the next day, at Gateshead, where he played in central midfield. Josh had had previous experience of National League North football during a loan spell from January 2019 with Nuneaton Town, during which he played against Altrincham in April, 2019.
Prior to his fifteen games for Nuneaton, Josh also had a loan spell at Kidsgrove Athletic and a second spell at the club from November 2019. After eight full 90-minute games for Alty, Josh's original loan was extended to 24 March 2020.
In Sunday's
Non-League Paper
Chester joint boss Bernard Morley said of impending play-off opponents Altrincham, "We haven't beaten them in five games since myself and Jonno have been here; three league games and two cup-ties.
In one game they beat us 4-0. It was 0-0 at half-time but we then had our captain, Scott Burton, sent off and they took advantage against ten men.
The other four games have been really tight and I think this one is going to be the same. I don't expect Parky and his players to take their foot off the gas. The side that wants it more and is fitter and stronger will win through".
Chester would have to win three away games to earn promotion and Johnson observed "I don't think any team in our league has won three away games on the spin all season, so we'll have to be at our best, but it is doable and I believe we can do it".
Referring to the departure of top scorer Akwasi Asante, he stated "Let's be honest, he would be in our strongest team but we have to accept he's not here and we are going to have to find a way".
Chester FC add that "Further to a number of media reports, the Club have received several enquires regarding the streaming of our Play Off game away against Altrincham on 19th July.
To date, the Club have received no confirmation regards the streaming of the match and, in light of the media reports, have sought clarity from the National League.
They confirmed that, whilst they desire to enable streaming of the matches, given the unique nature of them being played behind closed doors, no final decision has been made regards streaming of the games or associated arrangements".
Also from Cheshire Live we read that "The Robins have received confirmation that one of their key men before the season was halted, Josh Lundstram, will be allowed to remain on loan with the club from Crewe Alexandra for as long as Altrincham's interest in the play-offs remain... The National League have allowed the midfielder to return to Alty on loan for the play-offs, which begin for Phil Parkinson's side on Sunday, July 19 with a home encounter against Anthony Johnson and Bernard Morley's side...
Lundstram is highly rated at Crewe having progressed through their academy set up and is tipped to make an impression for David Artell's side next season. Allowing Lundstram to play does give hope that Chester will be able to register goalkeeper Louis Gray, given he was on loan for the month before the season was suspended from Carlisle United.
The Blues have sought clarification on registering both him and Jon Worsnop after the Blues were left with no senior keepers on the books with Russ Griffiths leaving for AFC Telford United and Theo Roberts unable to commit."
According to the
Conference Forum
"Clubs are now allowed to play friendlies against other play-off teams e.g. Notts county play Dorking this Saturday.
So all clubs have a field of 12 they can play that aren't in the same play-offs as them
Altrincham, Barnet, Bath City, Boston United, Brackley Town, Borehamwood, Chester FC, Dartford, Dorking, Gateshead, FC Halifax Tow, Harrogate Town, Havant & Waterlooville, Notts County, Slough, Weymouth, Yeovil Town and York City".
Sunday's
Non-League Paper
quotes former player and manager Lee Fowler saying of ex-Alty striker, Kyle Perry, that he is "one of Non-League's great characters. People judged him before they see [sic} him play. They think he's a bad egg or, because he's a big lad, he's unfit.
But I can assure you he's very good. It's not just how he plays, but his game management and how he helps people around him.
He's umnbelievable for morale in the changing room too... These characters, they seem to be a dying breeed.
Away fans hate Pez [Perry] but the home fans love him. He's not afraid to embrace it all.
He joined me at Ilkeston and helped us.. win the Midland League title.
I wish I'd had him at Nuneaton two years earlier! I told my players to get round Pex because something always seems to happen.
If I was fast I'd be on the shoulder, running in behind him. If I was a no.10, I'd be waiting for the ball to drop down. If I was a winger, I'd be getting out side. He gives loads of options.
Kyle's Altrincham appearances comprised 38 starts and 53 substitute appearances, a total of 93 in which he scored 22 goals.
On this day, 8 July, back in 2014, Altrincham won a pre-season friendly 1-0 at Buxton's Silverlands ground.
An excellent 68th minute headed goal by Damian Reeves from a fine James Lawrie cross settled a well-contested game. James Lawrie had just come on, with Sean Williams, as a substitute at a time when the home side were enjoying a good spell and the Alty duo's introduction to the game prompted the visitors towards a bright finish.
Four of the seven members of the 2013/14 season's squad who had not played at Abbey Hey in an earlier friendly made their first appearances of pre-season here. They were Clee, Richman, Moult and Wilkinson, leaving three regulars from last season who were yet to play in pre-season (Coburn, Marshall, Havern), though one of these, Stuart Coburn, was present at Buxton. This game gave an Alty debut to goalkeeper Dave Parton, signed from Newcastle Town and ex-youth team defender David Brown was given a starting place, too. The only other addition to the squad for this game was ex-youth striker Max Pouncey on the subs' bench.
For Jake Moult, the game came just three days after his wedding.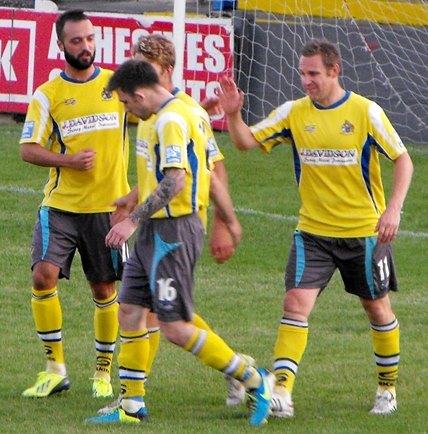 Right: In an unusual yellow and grey strip, Damian Reeves and James Lawrie take the plaudits from team-mates Ryan Crowther and Nicky Clee after Altrincham's goal.
Buxton included two well-known ex-Altrincham faces. Goalkeeper Adam Reid is on trial at Buxton whilst defender Greg Young had recently joined the club from Gainsborough Trinity. At the time, Buxton held their training sessions at Doncaster, which was where Greg lived.
Altrincham's squad comprised 1. Dave PARTON, 2. David BROWN, 3. Adam GRIFFIN, 4. Jake MOULT, 5. Scott LEATHER, 6. Mike WILLIAMS (capt), 7. Simon RICHMAN, 8. Greg WILKINSON, 9. Kyle PERRY, 10. Ryan CROWTHER, 11. Nicky CLEE. Subs: 12. Shaun DENSMORE, 14. Sean WILLIAMS, 15. James LAWRIE, 16. Damian REEVES, 17. Tom CLARKE, 18. Josh SAMBERG, 19. Max POUNCEY.
At the break, Reeves replaced Perry for Altrincham. Almost immediately, Reeves made an impact as he saw a shot blocked and then put his follow up narrowly over the bar (47 mins). Later Lawrie and Sean Williams replaced Moult and Wilkinson. At this stage it was Buxton who looked the more likely to score but, out of nothing, Lawrie advanced on the right and executed a superb cross which Reeves cleverly headed downwards into the net to give Altrincham the lead (68 mins).
After this Densmore, who had taken over the armband from Mike Williams at the interval, advanced impressively but his left-footed sidefooted shot just cleared the bar (72 mins). Next, Tom Clarke came on for Alty's Crowther, the ex-youth man slotting in at right back (82 mins) before Richman was replaced by Pouncey and the game soon reached its conclusion.
At
Bradford (Park Avenue)
there is a "Horsfall Pitch Update, Days 13 – 16. Curbing edge now finished off with concrete and, you guessed it, more leveling. Further leveling and rolling to take place over next few days with the first testing phase to start on Thursday. Hopefully the next set of contractors can then move on site to start work on the crash pad[!] and 3G pitch next week.
Also a massive thank you to the army of volunteers from BPA and West Bowling for their efforts this past week. West Bowling made light work of the stand which has been swept and weeded top to bottom, every chair washed and all the broken seats have been replaced. All while BPA cleared the area behind the club house to make way for a newly refurbished beer garden. Work was also started pressure washing down the running track".
The Boston Standard says that "Boston United aim to be spot on as they begin practising penalties ahead of National League North play-offs...
Two of the Pilgrims' three play-off semi-final defeats have come from spot kicks this decade, losing out to Guiseley in 2011 and Chorley in 2015. And United manager Craig Elliott, who suffered a County Cup shoot-out defeat against Gainsborough Trinity in just his second match in charge of the Pilgrims, isn't taking any chances.
'We started practising penalties on Saturday,' he told The Standard.
'We'll do that every session as we all know they're important in the play-offs.'
Jordan Thewlis is Boston's go-to guy from 12 yards, having netted seven penalties this season with a 100 per cent conversion rate. Dominic Knowles's penalty secured the 1-0 victory over AFC Telford United in February, the last goal scored by a Boston player at York Street but also saw a penalty saved in the FA Cup win at Sutton Coldfield.
United defender Simon Ainge, who was part of the Guiseley side which pipped the Pilgrims in 2011, is no stranger to spot kicks either and once took three in the final 10 minutes to earn former club Harrogate Town a 3-3 draw with Salford City, slotting home two and finishing the other from the rebound.
Boston's last shoot-out success was a 5-3 victory at Stamford in the county cup in 2012."
Hebburn Town
report that "The FA has been in touch with Hebburn Town FC and other semi-finalists in recent days with regard to its plans to complete the 2019-20 FA Vase competition... The game's governing body is determined to finish the Vase, as well as the FA Trophy and FA Cup.
The Hornets are due to face Southern League side Corinthian FC in one semi-final with our fellow Northern League club Consett set to face Western League side Bitton AFC in the other semi-final.
This week, the FA has re-iterated its intention to play the final at Wembley, and said it is in close touch with the Government about when playing games with spectators present might be possible, though this obviously depends on further lifting of restrictions necessary to stem the pandemic.
It is understood the FA Vase and FA Trophy finals will still be played on the same day, and Wembley has been approached about available dates.
Once agreement has been reached over the finals, dates for the semi-finals will be arranged, and these are likely to be before the start of any new 2020/21 season".
---
7 July 2020
Altrincham's most recent game on today's date, 7 July, was in 2018 when they travelled for the second summer running to Rhyl for a pre-season friendly. Because of a clash with England's World Cup quarter-final match in Russia, this fixture was brought forward to a 1pm kick-off.
Alty won 3-0 in a low-key match played on a hot afternoon. It was a comfortable victory, despite the visitors fielding three under-17s and a trialist in the starting eleven and another three from the Alty Youth under-17s on the bench.
Right: Ben Elliott netted twice at Rhyl.
Phil Parkinson included the youngsters, with Shaun Densmore, Ben Harrison (recovering from injury), Tom Peers (playing for New Orleans Jesters in the USA), James Poole, Tony Thompson, Simon Richman and James Jones all unavailable.
Also included for the Robins was trialist Elliot Rokka (22), a Warrington-born winger, who had joined Tranmere Rovers last summer after three years at Radcliffe Borough, where he won the Evo-Stik League Young Player of the Season award. He started out at Manchester United. After a season playing for Rio Maior in Portugal, he joined Macclesfield Town.
Another trialist, in goal, was Callum Roberts.
Altrincham's squad comprised: 1. Callum ROBERTS, 2. Billy MATTHEWS, 3. Pat SAVAGE, 4. Tom HANNIGAN, 5. Liam GOULDING, 6. Jake MOULT (c), 7. John JOHNSTON, 8. Sean WILLIAMS, 9. Jordan HULME, 10. Josh HANCOCK, 11. Elliot ROKKA. Subs: 12. Max HARROP, 14. Dontai GABIDON, 15. Ben ELLIOTT, 16. Cayde PRESTON, 17. Andy WHITE, 18. Connor HAMPSON, 20. Matthew JOHNSON.
On a hot afternoon, punctuated by drinks breaks, the pace of the game was relatively slow after a bright start. In the first half, apart from the planned double substitution of under-17 defenders Matthews and Savage by the experienced White and Hampson, around the half-hour mark, there was little to get excited about.
Altrincham also introduced Harrop and Gabidon at the interval in place of Moult and Hancock and they took the lead in the 57th minute with a twenty-yarder from Harrop which he struck, left-footed, across the keeper into the far corner.
Soon after the hour, teenagers Elliott and Preston replaced Hulme and Goulding for Altrincham. Within seconds Elliott had scored, firing home off the upright from the edge of the box to make it 2-0 (62 mins).
After 65 minutes Savage returned to the match in place of Williams and this was soon followed by a water-break for the players. After 83 minutes Elliott netted his second, and Alty's third goal, after the lively Gabidon had won the ball. With time ticking away towards England's World Cup kick-off time the referee now curtailed the match, some six minutes early, leaving Alty comfortable winners.
Cheshire Live
reports that "Altrincham manager Phil Parkinson knows there won't be any secrets when his side do battle with Chester FC later this month.
The two sides meet behind closed doors on Sunday, July 19 in the National League North play-off eliminator game, both sides gunning for promotion to the National League next season.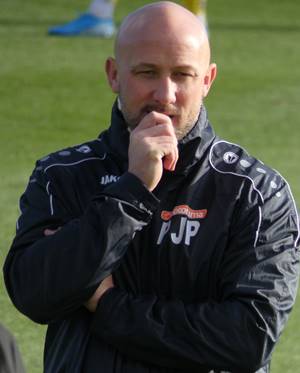 Altrincham and Chester are two sides who are well acquainted with each other having met numerous times in recent seasons in the National League, National League North and FA Cup.
It has been the Robins who have fared better in recent times, winning three and drawing two of the last five meetings with Chester's last win coming back in February of 2016.
Parkinson told Alty TV 'They don't come much bigger than Altrincham against Chester in terms of a game to go into.
'I'm sure if BT were going to look at a game then Altrincham against Chester would have been one of the ones right at the top of the list for our history, what Chester have done in the League in the past and the size of the clubs.
'Both sets of players know each other inside out, both sets of management teams know each other inside out so it makes for a fantastic occasion and one that everyone is looking forward to.'
With clubs returning to action for the first time since the Covid-19 pandemic halted the season back in March all form goes out of the window, although Parkinson hopes the planning that has been done by his side, already on their second round of Covid testing and back in training for over a week, will pay dividends.
'We know that we are in that shootout where you lose and you're out, there are no second chances,' said Parkinson. 'We need to be as prepared as we can be, and if preparations anything to do with it then we know we can go into the game with confidence and knowing that we can get the result.
'Hopefully it will be very rewarding. If preparation and dedication are anything to do with it then we have given ourselves a great chance. The players have shown the dedication and everybody at the club has shown the appetite for it.'"
Bradford (Park Avenue)
"announce that we have agreed a three-year supplier agreement with Italian manufacturer Macron. It has been a thorough and lengthy process beginning with defining our needs as a club financially, traditionally and from a technical quality perspective.
After speaking directly with Andrea Palilla in Italy it became immediately obvious that Macron strongly believes in the values of hard work and constant improvement. Sporting excellence in their eyes requires effort, sweat and a strong will, and we feel exactly the same way. This hard work and desire to supply the best technical products they can, has led to their rapid growth that has seen them become suppliers to several major European club sides (Lazio, Sporting, Club Brugge, Real Sociedad and Hibs to name but a few) as well as the Scottish and Italian National Rugby Union sides. We can now add Bradford (Park Avenue) to this illustrious list.
We subsequently spoke with their trading team in the UK and after a little back and forth, found some commercial common ground, that will enable the club to improve its mercantile position, whilst meeting all of our customer service requirements.
This new deal will see the club return to its green and white colours, right from our under 5s, all the way through the whole academy, to the men's and ladies' 1st teams, all wearing exactly the same kit, everyone feeling that we are all part of one big family.
Neil Holroyd, Macron Wakefield owner, said 'Having met Martin and visited the ground, there is a lot of hard work going on behind the scenes and with the facilities. A club with a lot of history and loyal fans'...
Martin Knight added, 'This has been a tricky process, trying to balance the financial needs of the business, the traditions of the club and the desires of the fans. After speaking with three major brands during the process it became clear that Macron offered us the best solution to try and meet the majority of those key drivers'...
If you are interested in sponsoring the kit this season that will give you access to over 100,000 [sic] visitors to the Horsfall, all of our academy games, all of the ladies' and men's 1st team games, home and away, then please contact our Operations Manager".
The Boston Standard tells us that "Boston United's loanees have reported back for training as the Pilgrims prepare for their promotion push.
Jake Wright, Simon Ainge, Frank Mulhern and Jordan Nicholson have all been given the green light to feature for the club in the National League North play-offs. The quartet were part of Craig Elliott's squad when the campaign was postponed and later ended on a points per game basis.
After early questions about their eligibility, all four will be able to line up as United host the winners of Brackley Town versus Gateshead on July 25.
'Frank, Jordan Nicholson and Jake have all trained well with us,' Elliott said. 'I don't really see Aingey as a loan player as he's been with us all season, but he's back in really good shape. I've no complaints at all.'
Nicholson and Matt Challoner, who signed for the club from Chorley, are yet to feature in match action for Boston as they arrived days before the postponement of the campaign. However, both will be involved in the play-off push.
Nicholson, who arrived on loan from Hereford, caught the manager's eye as he won the Yo-Yo Test, an aerobic endurance challenge, at training on Saturday.
Challoner will be a Southport player next season, but will compete for United in the play-offs.
He will link up with his teammates for training tomorrow evening (Tuesday) after carrying out stage one of his fitness regime at Premier League Burnley, where he works with the club on strength and conditioning...
'We had a really positive week to be fair, with aching legs and things like that. But it's great to see everybody getting back to what we enjoy' said the manager. 'They're a fit bunch and they've come back fit as well, the attitude's been great'".
At Kidderminster Harriers "Manager Russ Penn has said players will need to buy into the club's positive mentality ahead of the start of the new campaign...
The 34-year-old spoke of the 'healthy vibes' at all levels of the club.
Empowered by the club's owners to build a squad to compete next season, Penn admitted there is an eagerness and enthusiasm to press ahead, from the Boardroom all the way down...
'We're all in new positions, new owners and new managers, and we're all very enthusiastic, which can only be a good thing. It feels as though there are some healthy vibes around the place... We're all in the same boat and we have to use that enthusiasm to attract the players.
'Budgets have been cut all over the country in any line of work, and we are no different, but what we have got is a fantastic stadium with a fantastic pitch, with our fantastic training ground.
'It is run like a League club, and if players can dip into our mentality, then fantastic.'
'Don't get me wrong, to go with that, we'll need results,' he went on to say. 'We've got to build a competitive squad that's going to be up there all year round.'"
In the Shropshire Star "Lee Vaughan has called on his new AFC Telford United team-mates to thrive under the pressure of the Bucks fanbase.
The passionate full-back, back at the club after leaving 10 years ago, knows all about playing in front of big New Bucks Head crowds. Vaughan, 33, helped win promotion to step two and the Setanta Shield in his four years with Telford previously.
'I was about 18 when I made my Telford debut. We had big crowds and it was about playing under pressure,' said Vaughan. 'That's exactly what I thrive on and what some of the young lads we'll have in [?will] need to thrive on.
'We've got absolutely fantastic fans and that can't hinder them, it's got to push them on like it did with myself, it got me going. It's got to get our young lads going as well. It gave me something to build on when I went to other clubs playing in front of big crowds.'
Vaughan adds to experienced campaigners Shane Sutton and Theo Streete in Gavin Cowan's ranks. Fellow new additions Jack Byrne and Jason Oswell have also clocked up hundreds of career appearances...
'From the conversations I've had with the manager, manager he's just tweaking it up with a big more know-how in the final third of games and you never know what we can achieve.' Defender Arlen Birch, who left Telford this summer, has joined league rivals Chorley."
---
6 July 2020
Altrincham FC
has confirmed that "The Vanarama National League North Play-off Eliminator against Chester on Sunday, July 19th at 3pm will be streamed live by The National League.
The game will be available to view via a Pay Per View (PPV) platform meaning that fans of both clubs will be able to watch the action live".
One year ago today, on 6 July 2019, Altrincham travelled to Shropshire to face Whitchurch Alport. This was the first pre-season game of the summer for Altrincham although they had staged a game seven days earlier with the club's youth team as opposition.
In this match Altrincham secured a single-goal victory against Alport, who compete in the Hallmark Security League (NW Counties) Premier (Step 5). Starting with three trialists in their line-up, Altrincham took the lead in the 15th minute when summer signing Nathan Arnold's low ball from the left was met at the back post by the incoming Conor Branson and trialist Lewis Salmon. It was unclear which of the two got the final touch, though Branson appeared to be credited with the goal ahead of the youngster from Hanley Town.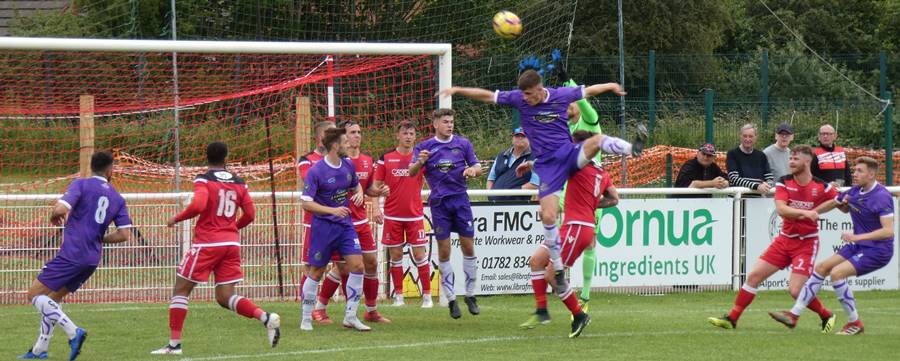 Above: Trialist centre-back Zac Corbett threatens the Alport goal.
Just before the hour mark, Altrincham introduced seven substitutes, who included trialist Matt Chadwick and reserves' striker Ben Elliott. For their part Alport made several changes, too, and were more in the game in the second-half and at one stage earned four corners in as many minutes. Tom Whelan (ex-Bury) was the only Alty trialist not to have appeared in last Saturday's game against the Youth team and he looked impressive in midfield.
Absentees for Altrincham included injured captain Jake Moult and Jordan Hulme, who was apparently at a funeral. Likewise, Andy White and Steven Drench had yet to appear this summer but both were at the game. First-teamers who did appear in last week's friendly against the Alty Youth team included John Johnston (getting married) Toby Mullarkey and Max Harrop. Among the trialists involved today were goalkeeper Dan Gyollai (Honved Budapest and Stoke City), Zac Corbett (ex-Southport), Jamal Crawford (ex-FCUM, Chester FC) Lewis Salmon (Hanley Town) and Tom Whelan (ex-Bury).
The Altrincham squad comprised: 1. Tony THOMPSON, 2. Shaun DENSMORE (capt), 3. Connor HAMPSON, 4. James JONES, 5. Zac CORBETT, 6. Sean WILLIAMS, 7. Jamal CRAWFORD, 8. Conor BRANSON, 9. Lewis SALMON, 10. Josh HANCOCK, 11. Nathan ARNOLD. Subs: 20. Dan GYOLLAI (gk), 12. Matt CHADWICK, 14. Ben HARRISON, 15. Simon RICHMAN, 16. Tom HANNIGAN, 17. Ben ELLIOTT, 18. Tom WHELAN
Chorley
report that "Former AFC Telford United full-back Arlen Birch has been added to the ranks at Victory Park ahead of the 2020/21 campaign.
The 23-year-old appeared in 19 games for the Bucks last season after joining the Shropshire side at the beginning of October.
'The manager sold the club to me and the ambitions to gain promotion match my own' said Arlen Birch. A former Everton and Burnley trainee, Arlen played 26 times for AFC Fylde in the National League during 2018/19, ending the season with an FA Trophy winner's medal.
'Arlen's another young player joining us with a lot of experience at a good level of the game. He's an athletic, quick and versatile defender and like the rest of the new lads who've joined over the last few weeks, he's hungry for success'" added manager Jamie Vermiglio. Birch is the seventh new signing at Victory Park as they restructure following relegation.
News of various Yorkshire clubs is found in the Yorkshire Post, which tells us that "York City will get the chance to play in next season's Conference. The play-offs are more convoluted than their Football League counterparts, with the teams in fifth and sixth [actually fourth to seventh] playing an eliminator to reach the semi-finals...
York were top of Conference North when games came to a halt because of the coronavirus pandemic, but the final table was decided on points-per-game, demoting them to second place and the play-offs.
They will host the winners of Altrincham and Chester City on July 25 at Bootham Crescent, which they are due to leave this year with a new stadium built at Monk's Cross. With the final being played on FA Cup final day – August 1 – Wembley is unavailable [it was never going to be at Wembley], so the final will be played on the ground of the highest-ranked team. If York reach it, that will be them.
The Minstermen hope to kick off next season in their new home, but cannot get a safety certificate for it while mass gatherings are banned, because test events cannot take place.
Harrogate also have logistical problems to consider. They will have to rip up their artificial surface if they win promotion to the Football League, where clubs have to play on grass, but will keep it otherwise."
Leamington "have completed their second transfer of the extended close season by snapping up prolific striker Lance Smith from rivals Hereford.
The frontman started his career at Littleton and Badsey Rangers in the Midland Combination before joining his home town club Evesham United where he spent three successful seasons, hitting the back of the net 74 times in 154 games.
He then joined Hereford ahead of the 2017/18 campaign as they continued their rapid rise back up the Pyramid, and Lance was well among the goals as they won the Southern League Premier Division at the first attempt. Last season was a frustrating one for the 28 year old as he missed a large part of it while recovering from an ankle injury, but he was still able to return and play his part in keeping the Bulls away from the relegation spots.
On signing for Brakes, Lance had this to say 'After a long journey with a niggling injury I finally feel like it's fixed and I'm ready for a new challenge. Paul Holleran has been in contact with me ever since it happened and he has shown constant support, which has made my decision to join Leamington easy.
'I believe the club is the perfect fit for me at this stage in my career and I am looking forward to meeting everyone there, and to hitting the ground running when it is safe and possible to do so.'
The manager was pleased to have finally been able to tie up a deal for a player he has been tracking for some years now. 'It's third time lucky really! We've tried before with Lance. He had to go under the knife at the back end of the previous season to sort out an ankle problem but it's fixed now and he's in great condition.
'He's the type of number nine that I think the fans will enjoy watching; he's a very hard working, honest player and will weigh in with his fair share of goals, so we're delighted to get him on board and we look forward to working with him.'"
At Gateshead "Tear is back. The midfielder has re-joined on non-contract terms ahead of the upcoming play-off fixtures.
Gateshead Football Club are pleased to announce the signing of Dom Tear on non-contract terms, subject to FA ratification. Tear's addition to the now 16-man squad allows him to take part in the upcoming Vanarama National League North play-off eliminator fixture against Brackley Town, as well as any further play-off fixtures.
The midfielder originally joined on a one-month loan deal from Huddersfield Town in August 2019 and extended his stay until the end of the 2019/20 season in October.
The 20-year-old made 30 appearances over the course of the season, scoring five goals and recording four assists."
---
---
The following pages, which initially replicate those pages with the same web addresses which formed part of the official Club website, will be re-branded from 2018 as part of this new unofficial Alty Files site.
A/Z Site Index to The Alty Files at www.altrinchamfc.co.uk
---