CURRENT NEWS
OPTIONAL DROPDOWN MENU - HERE
---
NEXT FIXTURES:
Sat. 23 Sep. 2017: GRANTHAM TOWN (Home) 3pm
Sat. 23 Sep. 2017: WYTHENSHAWE TOWN (Home) 3pm
Sun. 24 Sep. 2017: CURZON ASHTON (Away) 2.30pm
Sun. 24 Sep. 2017: CREWE ALEXANDRA (Away) 2pm
ALTY HEADLINES
23 Sep 2017: ALTRINCHAM v GRANTHAM TOWN: LIVE MATCH COVERAGE...More
23 Sep 2017: SUPPORTERS' TRAVEL TO HEDNESFORD...More
23 Sep 2017: FA YOUTH CUP DRAW...More
OTHER HEADLINES
23 Sep 2017: GINGERBREADS' GAME PLAN...More
23 Sep 2017: ARMCHAIR VIEWING...More
23 Sep 2017: EVO-STIK PREMIER NEWS....More
---
23 September 2017
You can follow this fixture via this website's minute by minute text updates by clicking on the icon below. Alternatively, Radio Robins' coverage of the game is outlined below as well.
Brian Flynn announces that "Radio Robins, sponsored by Ashley Mowers Garden Machinery, is providing full live commentary of Saturday's game.
The commentators are Simon Ellis and Paul Salt and the match summariser is John Edwards. Coverage starts at 2.40pm.
Guidance for Listening to Radio Robins
There will be 4 ways to listen to Radio Robins via Mixlr
a) The Radio Robins website. Open the page in any web browser and the broadcast should start automatically. Please note that the 4 Player Options (Windows Player | Real Player | Quick Time | Winamp ) will not work now.
b) Download and install the Mixlr app on Android devices from the Google Play Store - start the app and search for 'Radio Robins'.
c) Download and install the Mixlr app on Apple devices from the Apple Store - start the app and search for 'Radio Robins'.
d) There is a temporary WIX website here.
Catering Officer, Richie Bentley, advises supporters that "Following the match against Grantham Town the Club has a function so the main bar in the Community Sports Hall will be closing for 6.30pm. A few cheeky drinks may be available in the Vice-President's Lounge for those wishing for a few drinks longer!".
TASC is running a coach to Hednesford Town for Alty's game next Tuesday. Details of the times and fares are on the
Away Travel
page. Please book, as usual, either in the Community Sports Hall at Saturday's match with Grantham Town or by ringing the club offices during weekday office hours.
Altrincham FC Youth have been drawn away to Bootle in the F.A. Youth Cup, 2nd Round Qualifying, with the game scheduled to be played during the week commencing October 2nd, unless mutually agreed otherwise.
Our opponents today,
Grantham Town
report that they "will be looking to stop the rot of three successive defeats when they travel to recently relegated Altrincham on Saturday.
After Tuesday's 2-1 defeat at home to bottom of the league Halesowen, the Gingerbreads have found themselves winless in their last three games, seeing them drop down to 10th in the table. Home side Altrincham meanwhile will have confidence coming into the game after their emphatic 6-0 win over Farsley Celtic, propelling them to 8th in the league, just four points off a play-off spot.
Altrincham, also known as the Alty, are in excellent form going into the game having won four of their last five games, with their only defeat being a 5-2 loss away to Workington.
Grantham will also be looking to pick up their first points on the road since Bank Holiday Monday where they managed to see off Matlock Town in a 3-2 win for the Gingerbreads.
Gingerbreads boss Adam Stevens says the poor form needs to stop soon if they want to have any chance of improving on last season, 'We know we aren't in the best form right now and only we can address that. The best way to do that is to go out on the pitch and win football games. We shall turn up with a game plan in the hope we can walk off the pitch at the end of the 90 minutes knowing we have all three points in the bag.
In terms of team selection, all players are available for selection on Saturday. "
Saturday 23 September 2017, The EVO-STIK Premier Division
Altrincham v Grantham Town
Coalville Town v Stalybridge Celtic
Farsley Celtic v Barwell
Halesowen Town v Warrington Town
Mickleover Sports v Hednesford Town
Nantwich Town v Ashton United
Shaw Lane v Stafford Rangers
Stourbridge v Lancaster City
Sutton Coldfield Town v Buxton
Whitby Town v Marine
Witton Albion v Rushall Olympic
Workington v Matlock Town
Altrincham fans should settle down in an armchair to watch seventeen minutes of Alty TV's high quality highlights (above) from Tuesday night's game against Farsley Celtic. And then there is a post-match interview with assistant manager, Neil Sorvel.
NL Pitchero
reports that "Barwell have confirmed that midfielder Nathan Edgington has put pen-to-paper at Kirkby Road. The midfielder re-joins the club on contract following a spell on the sidelines with injury. Edgington originally joined the club from Midland League side Highgate United back in March 2016. He was previously with Stratford Town and Racing Club Warwick."
Meanwhile Barwell striker Ryan Robbins has joined Gresley.
Stalybridge Celtic "are pleased to welcome back 2014 Young Player of the Year, Oliver Crowley. Oliver, now 21, started the season with FC United of Manchester, but before that was playing in America with New Orleans Jesters...
In player departures, Gary Gee has left the club".
Buxton have tweeted that they "have signed youngster Aidan Nagi from junior football in Sheffield" and that "Danny Burns has re-joined The Bucks on a month's loan from Gateshead".
Bradford's Telegraph & Argus says that "Farsley Celtic manager Adam Lakeland faces his biggest test of the season as he looks to lift his players following the club's biggest defeat in more than ten years. Lakeland has only been in the job since the close-season but has already established his side as credible Evo-Stik League promotion contenders in their first season back in the Premier Division, even though they were thumped 6-0 at Altrincham in midweek.
The Celts' boss said, 'It was a bitterly disappointing night for us. We were second-best in every department against the best side we've played this season. We need a big reaction tomorrow. Jimmy Pollard missed that game through suspension but is back in the squad but we'll be missing Adam Clayton after his sending off in last Saturday's win against Halesowen.
'These red cards are costing us. Sometimes players are unlucky but we have to stop putting ourselves in these positions'. The Celts host mid-table Barwell, who only trail them by six points and have a game in hand. They will be on the up after beating Matlock Town in midweek but Farsley are still only a point off the summit, although three of the four clubs above them now have games in hand".
---
22 September 2017
TASC is running a coach to Hednesford Town for Alty's game next Tuesday. Details of the times and fares are on the
Away Travel
page. Please book, as usual, either in the Community Sports Hall at Saturday's match with Grantham Town or by ringing the club offices during weekday office hours.
Altrincham FC Youth have been drawn away to Bootle in the F.A. Youth Cup, 2nd Round Qualifying, with the game scheduled to be played during week commencing October 2nd, unless mutually agreed otherwise
Altrincham FC's Board has issued the following statement...
"We know that our supporters and our shareholders have had many questions around the share issue and the potential for new investment. However in these circumstances, there are constraints about what we can say and to whom we can say it. We are pleased to advise that there has been interest in acquiring the 51% new share issue, and detailed discussions are underway under a Non-Disclosure Agreement (NDA). This NDA limits what the information we can share, but be assured that we will keep you updated where we can on developments in what could be a very important progression for the club".
The
Sale & Altrincham Messenger
reports that "Neil Sorvel [left] hailed the perfect response to Altrincham's shock FA Cup defeat after they demolished Farsley Celtic 6-0. On a night when sixes filled the air down the road at Emirates Old Trafford, in England's one-day cricket win against the West Indies, Alty produced one of their own with an attacking masterclass that eased the pain of a 1-0 FA Cup exit at Shildon three days earlier.
Josh Hancock scored twice and flying winger John Johnston ran Farsley's defence ragged, as Alty turned on the style in a way they hope will attract a bumper crowd for Saturday's home game with Grantham (3pm) as they bid to close in further on the promotion places.
'We asked the lads for a reaction after the disappointment of Saturday, and they were at it from the word go,' said assistant-manager Sorvel. When the opposition set up to defend and counter-attack, it's really important the first goal goes your way, so it was ideal to score so early. We pushed on from there, and it was an outstanding performance all round.
'We moved the ball around really well and were able to break them down, so much so that we could have had double figures. It would not have been an injustice if we had scored 10, we were that good. We were having a little laugh to ourselves when one of our centre-halves (Tom Hannigan, right) got Man of the Match after we scored six goals, but really that just illustrated how everyone contributed.
'It was nice to see all the front players on the scoresheet, but there's no doubt the lads at the back played their part as well in restricting Farsley's chances to an absolute minimum and keeping a clean sheet. The table is looking more positive, now we are up to eighth with games in hand.
'It's about getting into the play-off places and showing the consistency to stay there, and we will need more of the same against Grantham. They will be a decent test for us'".
NL Pitchero
reports that "Following last week's wins against Grantham Town and Halesowen Town, Farsley Celtic travelled to Altrincham in the Evo-Stik League Premier on Tuesday night in good heart, but came away on the receiving end of a 6-0 beating.
The Celts' manager Adam Lakeland said, 'It was a very difficult evening for us against an impressive Altrincham side that was, by a distance, the best team we've played so far this season. I can accept losing to a team which is better than us on any given day, but there is a way to lose and I felt in the final 30 minutes we lost our discipline, had no organisation with or without the ball and made the scoreline become a bit embarrassing to be honest.
'It was just a bad night from start to finish where individually and collectively we were nowhere near our capabilities and as a result we were second best in every department.
'It was always going to be a tough game and with the result they had in the Emirates FA Cup last Saturday (losing to Northern League Division One Shildon) and the manager quite publicly calling out his players for a reaction, I knew it was going to make the game even more testing for us.
'We expected a fast start from them so we had a game plan to try and frustrate them, slow their momentum and try to create chances on the break. We wanted to break the game down into three stages of thirty minutes, with the plan to be in the game in the last half an hour and give ourselves the chance of getting a result, but to concede from a free kick after eight minutes and then, again, on twenty-two minutes from a quickly taken free-kick tossed the plan out of the window.
'At the break, we tried to re-group and said if we could all raise our levels and get the next goal, somehow, we would be back in the game, so to then go and concede so quickly in the second half killed us again. The remainder of the game was extremely poor and, had we dug in and lost it 3-0 or 4-0, to a point I could have taken that, but 6-0 is unacceptable.
'lost our discipline, clocked off after 70 minutes and allowed for the scoreline to become ridiculous. We must learn from this and make a commitment to one another that no matter how hard it gets we don't fold like we did.
'I'm disappointed that we didn't give a better account of ourselves as the lads have been fantastic so far this season and even when we have been beaten previously we have fought till the end and been a difficult team to beat. On Tuesday we were just miles off it and sometimes you get performances like that and as a manager it's frustrating as you can't quite put your finger on why.
'In saying that, we have a great group of lads who are hurting from this result and it's up to us now to bounce back when we take on Barwell at the Throstle Nest on Saturday. Finally, I would like to apologise to the supporters who travelled to the game and, as manager, I take full responsibility for the result'".
The local Telegraph & Argus reported that "Farsley Celtic had a night to forget as they blew their opportunity to claim the leadership of the Evo-Stik League Premier Division after a heavy defeat at mid-table Altrincham. Instead of climbing to the summit, the Celts suffered a drubbing as they were hit for six of the best".
Courtesy of Alty Ladies' manager Keith Edleston, we have his Ladies' Development Team colleague, Steve Mackay's report on last Sunday's Chester City v Altrincham Ladies' Development Team match.
"Going in to today's game we were missing four key players due to recent injuries and, more importantly, this included our keeper. A reshuffle was needed prior to kick off, which would test the team.
It was a scrappy opening affair with neither team really testing the keepers and this theme continued throughout the half. Midway through, Chester were awarded a corner. As the ball was played in, several Alty players including the stand-in keeper lost the flight of the ball, due to the glaring sunshine, this simply allowed an easy tap-in for Chester.
Alty regrouped at the break and, right from the kick-off, we started to dominate the game but Chester's defence held strong. Alty continued to keep the pressure on and, not long into the second half, we made the breakthrough, thanks to Sabrina. As the game continued, it was plain to see Chester were tiring after being put under a lot of pressure from Alty. We continued to push forward to find the winner when there was a rare attack from Chester, which caught us out and they scored.
Alty's players never gave up and, once again, they kept pushing and pushing but, once again, Chester's defence held strong. As the game entered into added time, Alty were awarded a corner Initially, the set piece came to nothing but Chester defended it poorly, which allowed the loose ball to land near Natalie who blasted it in the top corner", 2-2.
Grantham Town, "The Gingerbreads" are the next visitors to the J. Davidson Stadium, this Saturday.
Mike Garnett provides us with the historical statistics on games between our two clubs.
Home: P2-W2-D0-L0-F7-A3
Away: P2-W1-D1-L0-F4-A1
All: P4-W3-D1-L0-F11-A4
Alty supporters will recall that some years ago we suffered an occupation of the then Chequers car park by a group of travellers. And Grantham have recently experienced the same problem. However, on Thursday it was reported that the travellers had moved on.
Lincolnshire Live reported earlier that "A group of travellers have set up camp in a field usually used as a car park by Grantham Town fans. Gingerbreads supporters were advised by the club to consider alternative parking arrangements after travellers unlawfully set up base at the South Kesteven sports stadium.
Fans travelling to the ground ahead of the match with Halesowen Town were informed that there would be limited car park spaces available in the stadium's main car park and asked to park elsewhere".
On the pitch, the Grantham Journal reports that "Grantham Town suffered their second embarrassment this week, losing to the bottom-of-the-table side. To be fair to the West Midlands outfit, they played better football than their lowly league position would suggest and improved as the match went on.
The game started at a frenetic pace with Grantham having the first shot on goal...Halesowen's on-loan Nigerian striker Daniel Udoh first made his presence known on 10 minutes when his close range shot was charged down.
But, in general, it remained all Grantham going forward, with further chances going awry through Hempenstall, Michael Hollingsworth, Stefan Galinski and Rhys Lewis, together with a succession of corner kicks which bore no fruit.
The visitors' first corner of the game resulted in them taking the lead in the 36th minute. Cameron Steele's flag kick was headed goalward by Dominic Smith. Grantham keeper Kieran Preston punched the ball out to Udoh who put it back in to Luke Shearer for a poke home.
But the Gingerbreads levelled two minutes later. Andrew Wright broke down the right and looked to have ran too far. However, he still managed to beat Platt and slotted acutely into the far bottom corner of the net...
Preston did well to stand up to block Halesowen substitute Roland Agbor's close range shot following a quick break in the 79th minute. But a minute later, the Grantham custodian was beaten by Udoh after a perfect set-up from Agbor...
The always dangerous looking Udoh was through on the Grantham goal two minutes later and Tom Potts brought him down in the box. Referee Mr Tinsley pointed to the spot but Preston got the biggest cheer of the night when he saved Udoh's penalty kick...
Grantham Town: Preston, Potts, Luto, Lewis, Galinski (McMenemy 90), Hollingsworth, Meadows, Wright, Hempenstall, Lee Shaw, Luke Shaw. Subs not used: Burrows, Dasaolu, Baker, Purcicoe".
From
NL Pitchero
we learn that "Marcus Bignot is the new manager of Chester FC... The former Solihull Moors and Grimsby Town boss takes over the club who are currently 21st in the Vanarama National League table.
Bignot guided Solihull Moors to the Vanarama National League and enjoyed a successful start to last season, that led to him moving to League Two side Grimsby Town, where he only lasted a few months in the role. As of Saturday he was helping out Micky Moore at Barrow in a temporary assistants role.
The Blues have only won one game so far during the season out of their first eleven, with their form at the Deva Stadium being a concern since the start of 2017".
---
21 September 2017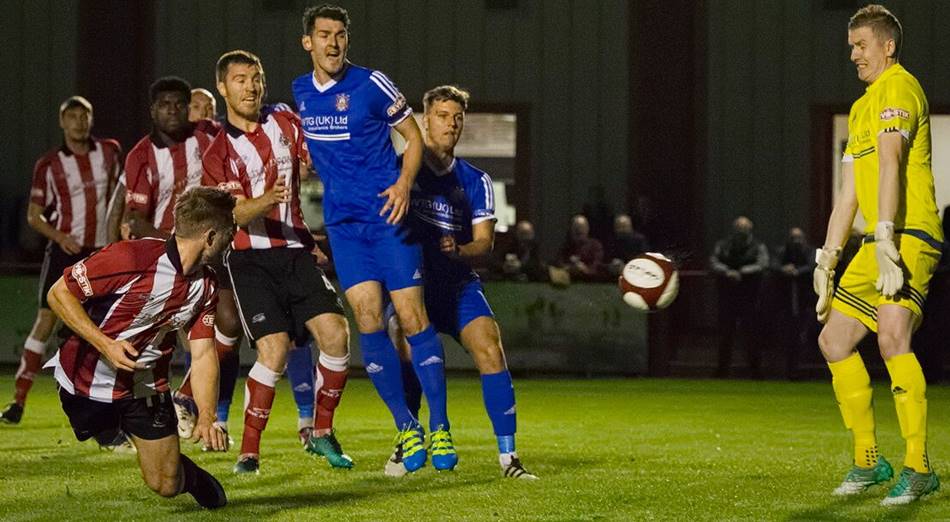 Above, Michael Ripley's camera captured Josh Hancock's headed goal against Farsley Celtic last Tuesday and, below, the celebrations following John Johnston's goal.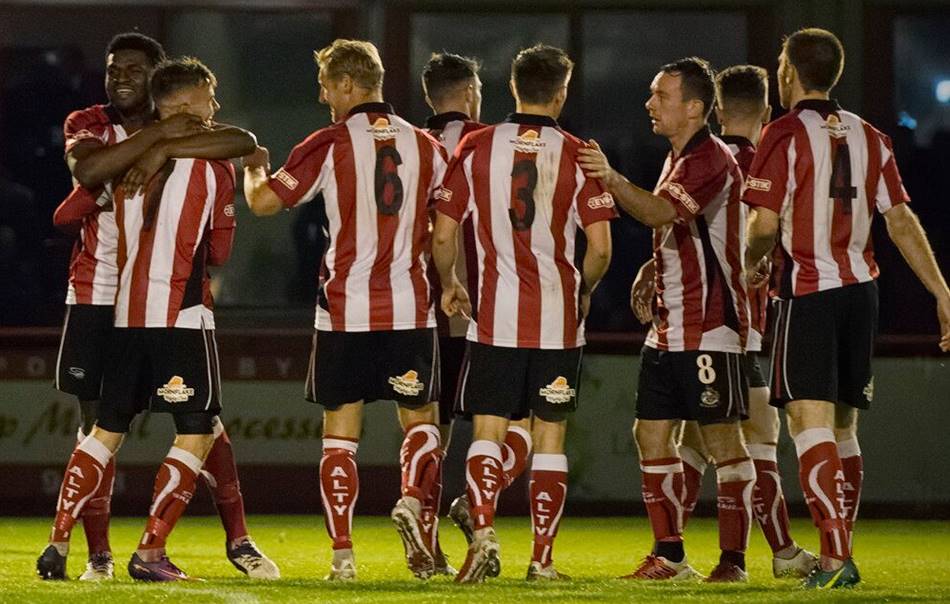 Tuesday's
Robins' Review
announced a "Meet the Manager/Players event, to be held after the home match against Buxton on 4 November in the Community Sports Hall. Along with our management there will be a select number of players in attendance, who will be available to answer questions from the floor. Tickets for the event, including food, will be just £10. Tickets are available from Saturday.
Please support this event and get to know the players outside their football environment".
As reported recently, Altrincham's league fixtures at Stafford Rangers, (originally set for 30 September), and at Shaw Lane AFC, (originally set for 30 October), have had to be postponed. In the case of Stafford this was due to Rangers' continuing involvement in the FA Cup. As for the Shaw Lane match, the change was necessary because our Cheshire Senior Cup tie had to be played in the same midweek. The EvoStik League has now notified Altrincham of new dates for these games as well as a replacement fixture for 30 September.
The new fixtures are:
Saturday, 30 September: Altrincham are now away to Stalybridge Celtic (3pm), a match originally set for 16 December, 2017.
Monday, 6 November 2017: Altrincham are now away to Shaw Lane AFC (7.45pm)
Saturday, 10 March 2018: Altrincham are now away to Stafford Rangers (3pm)
In the 'From the Medical Room' article in Tuesday's
Robins' Review
Tommy Uda informed supporters that "Simon Richman injured his ankle quite severely during the Witton game and had to come off after a nasty looking challenge. he has made good progress". Simon returned as a used sub against Farsley on Tuesday night.
"John Disney (right) has had his MRI [scan] results back... and there is good and bad news.
He struggled to recover from the horrific tackle he received at Trafford in pre-season on his ankle and myself and Ryan decided to refer him for a scan...
The positive is that there are no complete ruptures (grade 3) of any ankle ligaments. However, he has torn two ankle ligements quite severely and is facing a long spell on the sidelines. I'm afraid exactly how long is hard to say at this moment in time..
Laurence Taylor had to be carried off during the Abbey Hey game after, frankly, a shocking tackle that left stud marks halfway up the poor lad's shin and a severely sprained ankle. Laurence was stretchered off and sent straight to hospital for an x-ray which, fortunately, ruled out any fractures.
Nevertheless, Taylor sustained a nasty sprained ankle and has been out for a couple of weeks already. He has returned to light jogging and is making progress but he is unlikely to feature for another week or two...
James Poole has been suffering from a hamstring issue of late. We are taking a very cautious approach with it...
James has not been complaining of anything during training and fitness tests but when it come to competitive play he suddenly feels something and that's enough for us to hold him back but we are expecting him to be back very soon.
Myself and Ryan are working overtime to try and rehabilitate the players back to match fitness".
Farsley Celtic
report that they "suffered their biggest defeat in over a decade after an abysmal performance led to a 6-0 drubbing at Altrincham on Tuesday night. The Celts came into the game seven points above their hosts [having played two games more] but there was a gulf in class on the night as Alty produced their best performance of the season, and Farsley found, by far, their worst.
It took the Manchester side just nine minutes to open their account as Josh Hancock stooped low to divert a free kick into the Farsley goal. A 12th minute free kick from Isaac Baldwin straight at goalkeeper Anthony Thompson was the only shot on target Farsley could muster in the first half as things went from bad to worse shortly after.
The hosts doubled their advantage on 22 minutes when a long free kick was pumped into the Celts' box and Thomas Peters fired home. At 2-0 down at the break, Farsley were still in with a shout but John Johnston's 48th minute goal all but put the game to bed as the Reds put their foot on the gas... They fired in a fourth on 55 minutes as poor defending allowed Jordan Hulme to tap home from close range.
Four became five on 71 minutes as Thomas Hannigan netted... And the Robins rounded off their clinical performance four minutes from time as the ball was played in from the right, allowing Hancock to bag his second of the night.
The result could have been even more embarrassing for Farsley had Graeme McKibbin not pulled off a number of top saves in the closing stages on what was a night to forget in a hurry".
Press & Media Officer, Brian Flynn, writes that "The Radio Robins broadcast from Tuesday night's demolition of Farsley Celtic is available on Mixlr. To listen, search for 'Radio Robins' on the Mixlr App and the recording is available under 'Showreel'".
On Saturday, Altrincham entertain
Grantham Town
who report that "Despite dominating possession and chances The Gingerbreads fail[ed] to win again on a Tuesday night." against Halesowen Town
"Rhys Lewis, Jordan Hempenstall and Michael Hollingsworth all had long range efforts, which didn't trouble the keeper. Luke Shaw and Lee Shaw were working their full backs well but any cross could not be met by a Gingerbread.
On 36 minutes, though, Halesowen took the lead. From their first corner, the ball was hit long. Kieran Preston could only tip the ball towards the Halesowen attacker.
The Gingerbreads were level 3 minutes later. Michael Hollingsworth played to Jordan Hempenstall, his reverse pass found Andrew Wright who gave himself room and fired home... Chances came and went. Then came the sucker punch... Halesowen broke down the right and cut in, the shot taking a slight deflection passed Kieran Preston.
The Gingerbreads looked for an equaliser but it wasn't to be".
By way of context, before Tuesday's match Town reported that "Grantham welcome bottom of the table Halesowen Town to the Meres. Grantham will be wanting to forget the disappointment of being knocked out of the FA Cup after losing 4-3 at home to Alvechurch on Saturday, by trying to return to winning ways.
Bottom of the league Halesowen will also be looking to return to winning ways, and in doing so, look to pick up their first points away from home after losing 3-1 away to Farsley Celtic in the league on Saturday.
As previously mentioned, Halesowen have yet to pick up a point on the road making them and Stalybridge Celtic the only teams not to have picked up a point away from home this season. The Gingerbreads meanwhile have only won one of their last four games in all competitions with their only win coming against Workington Town [sic].
Grantham manager Adam Stevens says his side are aware of their poor form and that they need to stop the rot quickly... 'Recently some of our performances haven't been up to the standard we set for ourselves'... In terms of team selection, everybody remains available for selection. "
Stalybridge Celtic
report that "Steve Burr has added his squad with two signings. Former Chester man Ross Killock has signed forms... The centre back, 23, also lists Halifax and Leeds amongst his former clubs.
Also joining the squad is goalkeeper, [ex-Alty reserve] Craig Ellison. Craig, 30, joins as cover for goalkeeper Joe Slinn, who picked up an injury in the FA Cup tie against Chorley. Craig did have a spell with Celtic under manager Keith Briggs four years ago.
Moving on from the club is Charlie Ennis, who has opted to join Shaw Lane, following an approach. Also leaving the club is left back, Lee Neville".
In its midweek review, the EvoStik League reports that "Farsley Celtic could have gone top of the EVO-STIK League Premier table on Tuesday night had they won their game at Moss Lane against relegated Altrincham, writes Pitchero's Steve Whitney.
Instead, Farsley suffered their biggest defeat in over a decade after a 6-0 drubbing...
Instead it's Witton Albion, who came up with Farsley at the end of last season, who top the early table after they beat the side who came down with Altrincham, Stalybridge Celtic, 4-1 at Wincham Park. Nick Ryan gave Albion a 14th minute lead that Will Jones doubled six minutes later. Oli Roberts reduced the arrears seven minutes after the break but a brace of penalties from Steven Tames in the 66th and 74th minutes killed off Celtic's challenge.
Another promoted side, Lancaster City, lost their unbeaten league start last midweek, but bounced back to win 4-1 at the Giant Axe against Whitby Town...
Halesowen Town ended a run of seven games without a win by securing a 2-1 victory at The Meres against Grantham Town... Stourbridge moved up to fourth after winning 2-1 at Mickleover Sports. The Derbyshire side led through Bradley Grayson`s 24th minute opener. Aaron Forde eventually pulled the Glassboys back on level terms 11 minutes into the second half, and almost straight from the restart, Jack Duggan put the visitors in front, a lead they held on to.
Elsewhere, a dramatic comeback saw Ashton United recover from a two-goal deficit to grab all three points with a last-minute winner at the Marine Travel Arena against Marine AFC. The Mariners led through efforts from Danny Mitchley on 20 minutes... Only for Mark Lees to pop up with Ashton`s winner in stoppage time.
A 19th minute own goal from Nantwich Town`s Joel Stair halted Hednesford Town`s two-game losing streak at Keys Park, while Owen Story grabbed an 87th minute winner for Barwell at Kirkby Road against Matlock Town...
The evening`s other game saw Sutton Coldfield Town and Coalville Town share a 1-1 Coles Lane draw".
Altrincham had the biggest gate on Tuesday night...
The EVO-STIK Premier Division
Att. 497: Altrincham 6 - 0 Farsley Celtic
Att. 148 Barwell 2 - 1 Matlock Town
Att. 175 Grantham Town 1 - 2 Halesowen Town
Att. 319 Hednesford Town 1 - 0 Nantwich Town
Att. 240 Lancaster City v 4 - 1 Whitby Town
Att. 239 Marine 3 - 4 Ashton United (Mark Lees 90')
Att. 188 Mickleover Sports 1 - 2 Stourbridge
Att. 126 Sutton Coldfield Town 1 - 1 Coalville Town
Att. 244 Witton Albion 4 - 1 Stalybridge Celtic
The Emirates FA Cup Second Round Qualifying Replays
Att. 433: Hyde United 2-0 Warrington Town
Att. 114: Rushall Olympic 1-2 AFC Mansfield
---
20 September 2017
TASC Travel Co-ordinator Mark Eckersall advises "We're pleased to confirm that we will be able to run transport to the Hednesford Town fixture on Tuesday 26th September. We are just confirming prices and expect to have details by Thursday afternoon on the Away Travel page and updated here. Bookings will then be taken via the club or at the Grantham game in the CSH on Saturday. Thanks to all who have expressed an interest and we hope to get a few more joining us when details are released".
Altrincham, with five players out injured or suspended, took an inept Farsley Celtic side apart in a match that they dominated from start to finish. The visitors were fortunate to escape with a six-goal defeat and, equally so, to finish the game with all eleven men on the pitch after a series of agricultural challenges earned them six yellow cards.
Hancock opened the scoring when he converted a Johnston freekick from the right edge of the box. The second goal also came from a freekick, which was quickly taken, before the ball found Peers. He drifted to the left and drew the keeper before converting the chance.
Johnston ran Farsley ragged and he deservedly scored the third, three minutes after half time, converting Hulme's low cross from the right. Hulme added the fourth in the 55th minute after some poor defending before Hannigan poked home the fifth from Amis's excellent header.
Number six was scored by Hancock from a low Johnston cross, four minutes from the end.
Match report here.
Monday 18 September 2017
Tuesday 19 September 2017
Altrincham 6-0 Farsley Celtic
Barwell 2-1 Matlock Town
Grantham Town 1-2 Halesowen Town
Hednesford Town 1-0 Nantwich Town
Lancaster City 4-1 Whitby Town
Marine 3-4 Ashton United
Mickleover Sports 1-2 Stourbridge
Sutton Coldfield Town 1-1 Coalville Town
Witton Albion 4-1 Stalybridge Celtic
Second Round Qualifying, Tuesday 19 September...
Ties affecting the EvoStik Premier are as follow.
Hyde United 2-0 Warrington Town
Rushall Olympic 1-2 AFC Mansfield
Altrincham FC Youth have been awarded a walkover and so will not now play Ashton United in the FA Youth Cup on Wednesday evening. The Tameside club was unable to raise a team.
Altrincham's Cheshire Senior Cup Preliminary Round game with Chester FC has been arranged at the J. Davidson Stadium for Tuesday 31st October at 7.45pm. As a consequence, our league game at Shaw Lane, scheduled for Monday 30th October has had to be postponed. The rearranged date for this fixture will be announced when known.
In the meantime, as supporters are already aware, Alty's away match at Stafford Rangers on 30th September has also been postponed, due to the continuing involvement of Stafford in the FA Cup on that date. Unlike in the National League, rearranged games in this division are arranged by the EvoStik (Northern Premier) League and not between the clubs (followed by approval from the League). As yet, no notification has been received from the EvoStik League of any replacement league fixture for Altrincham on that date.
Club statement:
"We are always looking for ways to help expand the club's communication and marketing strategy. So, it is with pleasure that we can announce the launch of an official Altrincham FC WhatsApp news service.
Those who remember the days of Club Call will be no stranger to this sort of idea. It acts to provide short, snappy bulletins of information straight to your phone. Free of charge. Another way of keeping you connected by bringing the news directly to you.
The initiative is a collaboration between the club's social media volunteers Andrew Flynn and Jack Jolly, plus recently-appointed Supporter Liaison Officer, Mike Reeves, who ran a successful fortnight trial period for a selection of Altrincham fans.
The trio will be manning the service, and this opens an easy channel of communication between the fans and an SLO as we invite you to message the account with any queries you may have. They can then be addressed accordingly.
To sign up:
Download WhatsApp from your phone's App Store
Add 07849 328460 to your phone contacts
Save the number as Altrincham FC, or similar
Text NEWS to your new WhatsApp contact
We'll do the rest!
Tonight's match programme sees Bill Waterson provide further comments on the launch of the WhatsApp service".
Alty travel to Hednesford next tuesday and the
Worcester News
informs us that "Worcester City captain Tyler Weir has left for Hednesford Town. The former Hereford full-back, 26, moves back up two levels to join the Northern Premier League Premier Division club.
Weir decided to stay with City after their three-division demotion from National League North to the Midland League Premier Division. But Hednesford have since submitted a seven-day request to speak to the Ledbury-based player who has opted to leave for the Staffordshire outfit. Weir, who can also play in midfield, said, 'I have loved my time at this club and it has been a very difficult decision to make. After having discussions, I felt that at this point in my life this is an opportunity I couldn't turn down'.
He thanked the fans, club and joint managers John Snape and Lee Hughes for their support... Weir said, 'It has been an honour to have worn the blue and white strip and, also this season, the captain's armband. The fans all have been brilliant to me. I'll always remember that and I hope they have appreciated what I've done. It's time for a fresh challenge and I'm looking forward to it'".
Meanwhile, at Hednesford Town, the Pitmen "return home this evening [Tuesday] as we host Nantwich Town at Keys Park. After suffering back-to-back defeats on the road the Pitmen will be looking to put things right this evening as we aim to keep our unbeaten home start to the season intact...
Manager Rob Smith was expecting another tough game for his side this evening. He said, 'We are determined to put in a strong performance after a very long trek to Workington on Saturday. We could and should have won the game with the chances we created; we were really disappointed to come away with nothing. They had one shot, and we got punished for not picking up the player.
'On another day we would have had all three points but, for me, the positive was we really penned them in for most of the second half, the fitness levels were excellent, and we now have to build on that performance. All that was missing was taking the chances we created. Again it will be difficult tonight, it always is against Nantwich who, year after year, are challenging for promotion, but I am confident we can give them a real tough game'"
Over at Whitby Town, the club "is delighted to announce the signing of experienced ex-Football League centre-half Simon Ramsden. The defender joins the Seasiders after a spell out of the game, his last club being National League side Gateshead.
Ramsden adds yet more versatility to Chris Hardy's squad, with the ability to play in midfield and on the left-hand side of the defence. The 35-year old has made over 300 professional appearances, bringing a wealth of experience to the Blues' defence, having turned out for Bradford City, Grimsby Town, Notts County and Motherwell."
Whilst Hednesford felt the Reds were fortunate in Cumbria on Saturday, Workington themselves felt they were the unfortunate team on Monday at Shaw Lane. The News & Star reports that "For the second away game in a row, Workington Reds were on the wrong end of a controversial goal. They had deserved something from an entertaining game in Barnsley but an 'offside' goal on 64 minutes proved crucial. Damian Reeves was well offside but was allowed to go on and slide the ball past Aaran Taylor.
Although Reds forced their way back with a second equaliser, they were undone by a 72nd-minute winner direct from a free-kick. Shaw Lane were cock-a-hoop after a late winner in the FA Cup at Blyth on Saturday, so much so they were able to start with experienced striker Reeves, who got the winner at Croft Park, on the bench. But Reds went into the game on the back of their best sequence of results so far, two successive victories.
Sam Joel was unavailable, so Jack Ryan started... It was a wet night in Barnsley for the first-ever clash between the two sides but the Sheerien Park pitch looked in good condition...
There were two lengthy injury stoppages, Alex Byrne for Shaw Lane and Ryan for Reds. After the second, Reds were forced into making a change and had to reorganise. Ryan had twisted his ankle and was unable to continue, so Sam Smith came into defence; Josh Calvert into midfield and Holt up front... Reds were playing the football but Shaw Lane favoured the long ball, quite a contrast in styles.
Shaw Lane took the lead on 21 minutes from their second corner. The ball was whipped in and the experienced Paul Clayton flicked a near-post header into the far corner... It was all Reds as the break approached and they deservedly drew level just as three minutes of added time was announced...
On 62 minutes, Shaw Lane replaced Paul Ennis with Reeves. Two minutes later, the hosts took the lead again under very controversial circumstances. The player was clearly offside but was allowed to go on and it was fired home by Hough. That sparked lengthy arguments with the referee from almost all the Workington players but his only response was to book Earl. Five minutes later, Reds drew level...
Joy was short-lived as, on 72 minutes, Shaw Lane were back in front. Byrne scored with a free-kick over the Reds wall from just outside the area...
Shaw Lane: Stewart, Austin, Serrant, Norris, Lugsden, Qualter, Byrne, Harris, Clayton (Osborne 80), Ennis (Reeves 62), Walker (Hough 90). Subs (not used): Payne, Bacon.
Workington: Taylor, Simpson, Symington, Wordsworth, Calvert, Wright, Earl, Holt, Allison, Ryan (Smith 16), Tinnion. Subs (not used) – Douglas, Rowntree, Mellen".
---
19 September 2017
You can follow this fixture via this website's minute by minute text updates by clicking on the icon below. Alternatively, Radio Robins' coverage of the game is outlined below as well.
Brian Flynn announces that "Radio Robins, sponsored by Ashley Mowers Garden Machinery, is providing full live commentary of Tuesday night's game. The commentators are Alex Sarwar and Brian Flynn and the match summariser is Dave Stringer.
Coverage starts at 7.25pm with the game kicking off at 7.45pm.
Press & Media Officer, Brian Flynn, reports that "The Radio Robins broadcast from Saturday's FA Cup exit at Shildon is available on Mixlr. To listen search for 'Radio Robins' on the Mixlr App and the recording is available under 'Showreel'".
Farsley Celtic
report that "The 3-1 win on Saturday over Halesowen Town saw the Celts complete a highly satisfactory week at Throstle Nest, following as it did on from the 3-0 win on Tuesday night over Grantham Town....
The Celts [moved] up to second-spot level on points with leaders Warrington Town... A rightly proud Farsley boss Adam Lakeland looked back on the week and said, '"At the start of the week we set ourselves the challenge of getting six points from these two home games so for the players to have delivered that is great and exactly what they've deserved...
'We started the second half well... We had further opportunities to extend our lead and I felt if we had made it 3-0 we would have won the game by a bigger margin. The sending off evened the contest up and meant we had to play the final twenty-five minutes with 10 men for the second time this week. Shortly afterwards they scored, a poor goal for us to concede, and that gave Halesowen a chance of getting a result. We had to re-organise and compose ourselves again, which we did, and when Wally [James Walshaw] scored to make it 3-1 we finally put the game beyond them and got the result we thoroughly deserved.'
On the sending-off of Adam Clayton in the second-half, the Celts' manager said, 'At the time I wasn't sure if the referee had got it right as it was quite a distance from us in the technical area but, having watched it again, he made the correct decision. Overall I thought the referee was very poor on the day, but it was the one big decision and he did get it right. It's disappointing from our side as we now have Jimmy (Pollard) unavailable on Tuesday and Adam (Clayton) unavailable against Barwell, but on the positive it was a major boost for Danny (Ellis) to get through 90 minutes...
'It's great to see the midfielders weighing in with goals in recent games, with Ryan, Ben (Atkinson), Scooby and Wakka (Paul Walker) all contributing, which gives us goals from all areas, making us a real threat to teams. I think we should all be pleased with our work in the opening ten games of the season and to have accumulated 20 points gives us a great platform to build on. We have another difficult game at Altrincham on Tuesday'".
The Telegraph & Argus adds that "Celtic overcame a controversial sending off to bank three points that took them joint top of the Evo-Stik League Premier Division... There was no doubt that he [Clayton] fouled substitute Daniel Udoh, but there was a doubt as to whether initial contact was inside or outside the area, and there were conflicting opinions as to whether it denied a goal-scoring opportunity.
Referee Wade Smith was surrounded by Halesowen players as he backed away considering his next move and, after giving himself time to think, he pulled out a red card and awarded a free-kick on the edge area. Even Celts boss Adam Lakeland was non committal... 'It looked as though there was plenty of cover and Adam wasn't last man but we had a man on the other side (injured striker Adam Priestley sitting in the main stand) and he said the ref's got it right'"
The
Chester Chronicle
says, "Make no mistake about it the appointment of the next Chester FC manager is one that the club can ill afford to get wrong. The 4-0 loss at Dover Athletic on Saturday laid bare the challenge facing whoever is chosen to succeed Jon McCarthy in the Blues' hotseat.
The club are understood to be interviewing eight candidates for the role and could make a decision as early as Wednesday, with the new man expected to be in charge for Saturday's visit of Maidenhead United. While the identity of the full eight-man shortlist is unclear here's names who could very well feature.
MARCUS BIGNOT Told the Chronicle of his interest in the role and the former Solihull Moors and Grimsby Town manager has applied and is understood to have an interview.
RONNIE MOORE Another to have confirmed his interest in the job via the local press...
DERMOT DRUMMY Slightly leftfield candidate, the former Crawley Town head coach is believed to have applied...
GRAHAM BARROW The Chester legend will leave Chesterfield following the sacking of Gary Caldwell on Saturday and his name has been heavily linked since McCarthy's sacking. Has never publicly declared interest but he hasn't ruled it out. Don't be surprised to see him in the mix.
PAUL CARDEN The ex-Chester City midfielder was interviewed for the post last time and applied again this time around. Currently boss of Warrington Town...
KEVIN NICHOLSON Nicholson was the first managerial casualty of the National League season when he was sacked as Torquay United boss last month. Kept the Gulls up against the odds last season and understood to have applied for Blues role.
RICHARD MONEY A strong candidate with a hugely impressive track record, the former Luton Town and Cambridge United boss is believed to have thrown his hat into the ring....
KEVIN DAVIES The former Southampton and Bolton Wanderers striker confirmed his interest in the position to the Chronicle but does he have the necessary experience...
STEVE WATSON Watson impressed when interviewed for the job in 2016 and has since spent a year at Macclesfield Town as assistant to John Askey...
NEIL REDFEARN ...Understood to have applied for the job".
Alty's victors on Saturday, Shildon, face a long trip in the next round of the FA Cup...
The FA reports that "The draw for the Emirates FA Cup third round qualifying took place at Wembley Stadium on Monday afternoon. Following the weekend's ties in the second round qualifying, which featured 16 draws and one postponed game, there were 97 clubs still involved in the draw.
One tie which immediately catches is the eye is the pairing of two clubs who have recent history of winning at Wembley, as last season's Buildbase FA Vase winners South Shields have been paired with the 2017 Buildbase FA Trophy winners York City.
Third round qualifying ties will be played across the weekend of Saturday 30 September 2017, with winning clubs receiving £7000 from The FA's prize fund".
The northern portion of the draw is below...
1 1874 Northwich v Ossett Town
2 AFC Mansfield or Rushall Olympic v Boston United or Haughmond
3 Stafford Rangers v AFC Telford United
4 Newcastle Benfield v Kidderminster Harriers
5 Nantwich Town v Nuneaton Town
6 Boston Town v Warrington Town or Hyde United
7 Banbury United v Shildon
8 Scarborough Athletic v Stratford Town
9 Basford United v Kettering Town
10 Shaw Lane Association v Lancaster City
11 Buxton v Alvechurch
12 Stockport County v Handsworth Parramore or FC United Of Manchester
13 Ashton Athletic v Chorley
14 Leamington v Gainsborough Trinity
15 Stourbridge v Alfreton Town or AFC Rushden & Diamonds
16 South Shields v York City
17 Harrogate Town v Bradford (Park Avenue)
---
---
---
---