CURRENT NEWS
OPTIONAL DROPDOWN MENU - HERE
---
NEXT FIXTURES:
Sat. 25 Nov. 2017: ALFRETON TOWN (Away) 3pm
Sat. 25 Nov. 2017: CONGLETON CR (Home)
Sun. 26 Nov. 2017: HYDE UNITED (Home) 2 pm
Sun. 26 Nov. 2017: CREWE ALEXANDRA (Home) 2pm
---
ALTY HEADLINES
OTHER HEADLINES
23 Nov 2017: SHAW LANE'S NEW MANAGER'S OBJECTIVES...More
23 Nov 2017: INTEGRO CUP OPPONENTS: MOSSLEY...More
23 Nov 2017: OLD FOES' CHANGE OF OWNERSHIP...More
---
23 November 2017
As previously reported, TASC Travel Coordinator, Mark Eckersall has booked a 28-seater coach to take Alty fans to the game at Alfreton Town on Saturday. If you would like to add your name to the passenger list, please do so as soon as possible, by ringing the club on 0161 928-1045 during normal weekday office hours.
Timings and fares are on the AwayTravel page.
Altrincham are away at Alfreton Town in the Buildbase FA Trophy on Saturday. From there, we learn that "
The Reds
will be looking to build on their good 2-1 win at AFC Telford United last Saturday in the Vanarama National League North. This will be a very tough encounter against the current leaders of the Evostik Premier League...
After making a slow start they are currently in fine form and are unbeaten in their last twelve league games... Last Saturday saw them comfortable 4-0 winners at bottom of the table Sutton Coldfield Town with two goals from Jordan Hulme and one each from James Jones and former Red Jake Moult. Also in their side was [another] former Alfreton player, John Johnston...
Last season our two meetings with Altrincham saw us come out on top 3-2 at the Impact Arena with two goals from Andy Monkhouse and one from Liam Hearn. In the return game at Moss Lane we picked up a point in a 1-1 draw which was our final away game of the season, where Andy Monkhouse was again on target.
Admission to Saturday's game is Adults £10, Concessions £7, 12-16 years old £4, Under 12 £1".
Our opponents on 28 November in the Integro Cup are Mossley and
NL Pitchero
reports that the Lilywhites "have announced the signing of former defender Michael Thomas. An ex-Macclesfield Town youth product, Thomas initially signed for Mossley on loan from The Silkmen in 2010, making twenty-eight appearances and scoring 2 goals during his first spell at Seel Park.
Upon his release from Moss Rose in 2012, Thomas had spells with Leek Town, Colwyn Bay, Northwich Victoria and Linotype Cheadle Heath Nomads before re-joining The Lilywhites in September 2015. In a fruitful period with the club, Thomas made thirty-five appearances and scored on two occasions before being forced to depart in April 2016 due to work commitments in the Netherlands.
Meanwhile, midfielder Rory Fallon, who was at the club from Vanarama National league North neighbours Curzon Ashton on dual registration, has now returned to his parent club after making two appearances for Mossley."
One way or another we might be in the same league, once again, of the current bottom-placed club in the Vanarama North, North Ferriby United. And the
National League
tells us that "Steve and Eman Forster, who have owned the Villagers for four years, announce they have transferred the club to a new person. In [the] time since Steve and Eman Forster have owned the club, the team has won the FA Trophy, East Riding Cup, gained promotion to the Vanarama National League but are currently bottom of the Vanarama National League North.
The pair released a joint-statement via the club saying, 'We have always had a challenge in matching success with sustainability and this has been the direction in which we have moved the club. Unfortunately, we are no longer able to commit the time required at North Ferriby United and we are happy to transfer the club debt-free. With this in mind the club is now ready for a new challenge with a new owner Jamie Waltham. Many of you will know Jamie as he has been involved in local football for a number of years as a player, a manager and as an owner.
Jamie played for North Ferriby United for a number of years and now looks forward to the challenge of returning to the club as owner."
Following announcement of his appointment yesterday, Paul Quinn, the new manager at
Shaw Lane
, said "It is a privilege to have been given the opportunity to lead Shaw Lane as manager and I am really excited about the season ahead and the plans we are already putting in place to move the club forward.
I am really looking forward to meeting you, the supporters, and engaging with you all as much as I possibly can. The local community is the heartbeat of any football club and it is so important that as manager I try where possible to keep you updated on matters at the club. I will be doing this with the help of Graham and other members of the club, through program[me] notes, social media and by the good old-fashioned face to face conversations!
In terms of my initial plans for the club, this first couple of games is about assessing things for me. I'll be looking at the squad and seeing how we can help this group of talented players progress here at Shaw Lane.
In terms of staff behind the scenes I am delighted that John Reed* will remain as assistant manager. Charlie Creswell has agreed to continue as goalkeeper coach and John Williamson remains as first team physio. In addition Dave Thompson has joined us from Brighouse Town as first team coach.
Coming into any club mid season presents its own challenges but we clearly have made a great start to life at this level and the focus now is purely on Saturday's game.
In terms of what I want to see from us as a team is quite simple. Every team, organisation or individual who achieves success works hard. I know from speaking with John we have a group here who will run through brick walls for the cause and that is really important to me. This gives you a platform in any game. From there, it's about ambition and high expectations, being ambitious with our aims and having high expectations of each other in terms of our preparation and performances.
I honestly can't wait for the game Saturday, it will be an extremely proud day for me and I hope we can continue to make you the supporters and the whole community proud to be part of this football club."
*Footnote: Alty fans will remember Shaw Lane's assistant manager, John Reed, as manager of Harrogate Town when they played Altrincham, several times, in the mid-2000s.
---
22 November 2017
Altrincham FC Press and Media Officer, John Edwards, has submitted the following article for inclusion on the back page of this week's Sale and Altrincham Messenger.
"Phil Parkinson saluted a storming start from his Altrincham high-flyers as they reinforced their hold on top spot in the Evo-Stik Northern Premier League with a resounding 4-0 win over bottom side Sutton Coldfield at Coles Lane on Saturday.
Any fears of an upset were soon brushed aside as Alty made short work of their hosts with goals from Jordan Hulme, James Jones and skipper Jake Moult inside the opening 11 minutes.
Though a string of near-misses cost them the chance to surpass September's 6-0 scoreline against Farsley Celtic as their biggest win of the season, they added a fourth in the 81st minute, with Hulme's 15th goal so far.
'We said we wanted to improve our starts of late, and we certainly did that by taking every opportunity that came our way early on,' said Alty boss Parkinson. 'It settled everyone down, and that was a real positive.
'Their astroturf pitch can be a bit of a leveller, but the boys never let their standards drop. It was a really professional performance. We had complete control, so much so that Tony Thompson (left) had nothing to do until the very end, when he made one or two brilliant saves. It is fantastic for the team, to know you have a keeper who never switches off. The save at the end epitomised his concentration levels.
'We were superior in midfield. Simon Richman got through the running of three men, and Jake Moult's distribution was summed up by a half-volley pass out wide to John Johnston that was out of this world. The front three were creating and scoring as well, so if you look at a clean sheet, scoring four away from home and sitting top of the league, you have to say it was positives all the way.'
Alty travel to Vanarama National League North side Alfreton in the FA Trophy on Saturday, with Parkinson adding, 'We are relishing the challenge. We want a good run in the Trophy, and we can use it to gauge where we're at.'"
The Altrincham AFC Ltd AGM for 2016-17 year was held at the J. Davidson Stadium on Monday evening.
In his opening address to the meeting, chairman Grahame Rowley referred to last season as "disastrous", with the year culminating in relegation from the National League North.
However, following the appointment of manager Phil Parkinson and the successful results on the pitch, the atmosphere was now positive. Grahame thanked the attendees and spectators for their patience during last season's troubled times.
Mr Tony Collier, from MBL Accountants, took the meeting through the financial statements. New financial terminology has had to be used in the accounts, as required by European standardization of terms.
The club had made an operating loss to the year ending 31 May 2017 of £23,401. However, retained earnings at the end of the year were £62,810.
Derek Wilshaw's term of office having been completed, he was re-elected to the Board for a further three years.
Standardisation of the Club's Articles of Association were required by the Football Association and these were approved by the meeting. As Derek Wilshaw confirmed, the changes were of wording but "not of sense".
On completion of the AGM business, Grahame Rowley responded to a question from the floor regarding the recent share issue. The chairman confirmed that three parties had approached the Club.
Of these, two had met with the chairman but had not then followed up on their initial approach. The third party was the one to which the "non-disclosure" arrangements applied, as was reported on the website at the time. These negotiations were at a stage where further information was awaited from the party concerned.
There was also a question as to whether our strong budget for this season meant that, if we were not successful in gaining promotion this season, there would have to be retrenchment in 2018-19. The chairman explained that, although all efforts were being concentrated on the current season, improving attendances attracted by good results and the manager's attractive brand of football suggested that we would exceed our financial targets for the current season which would put us in a good position for the following campaign.
TASC Travel Co-ordinator Mark Eckersall writes, "Thanks to all who supported the coach last Saturday, an excellent turnout which makes the job of organising a lot easier. Great to welcome some new faces and welcome back some that have not been for a while. We hope that you will travel with us again and enjoyed the day.
Brilliant to see so many Alty fans there yesterday, overall, as well and we hope to continue that at Alfreton next Saturday.
We have now booked a 28-seater coach and ask that you please put your names down as soon as possible. We've added all the names who expressed an interest on the coach home on Saturday to the list and, if you'd like your name adding and haven't let us know, then please contact the club as soon as possible as we don't want to be disappointing people on Friday".
You can book by ringing the club on 0161 928-1045 during normal weekday office hours.
Timings and fares are on the AwayTravel page.
On Saturday 25th November 2017, Altrincham pay the first of two successive Saturday trips to Derbyshire when they take on Alfreton Town in the Buildbase FA Trophy Third Qualifying Round (3pm).
Alfreton have reminded Altrincham supporters that entry to the Impact Arena (postcode DE55 7FZ) is via the Alma Street entrance. The Reds have also provided suggested directions to the ground; "Leave M1 at J28. Take A38 towards Derby for two miles. Take B600 slip road. At T-junction, turn right towards town centre. At pedestrian crossing turn left into North Street and the ground is on the right hand side".
The following Saturday sees Altrincham travel deeper into Derbyshire as they make their first ever visit to Mickleover Sports.
Our last meeting with Alfreton was almost exactly a year ago, on Saturday, 19 November 2016. That league match ended in one of the Robins' most disappointing results of 2016-17 when "The Robins largely dominated the game only to concede three poor goals in the closing 14 minutes after making substitutions.
Greg Wilkinson's deflected shot had given Alty a 31st minute lead before they dominated the second half... With Altrincham in control, Jim Harvey brought on Marsh for Reeves (68 mins) and then Obeng for Lawrie on 75 minutes. A minute later, McGowan nodded down a freekick taken from near the centre circle and Monkhouse poked the ball home, much against the run of play to make it 1-1.
An excellent Moult header from a Miller cross made it 2-1 to Alty and a second league victory of the season looked on the cards (82 mins). Alty then made a further change as Goodall replaced McWilliams at left-back. Then two scrambled goals, both initially credited to Monkhouse (but later substitute Hearn was given credit for the winner), in the 86th and 90th minutes from balls into the Alty goalmouth stole the points for Alfreton".
Altrincham's team that day was 1. Andrew DAWBER, 2. Sam PATTERSON, 3. Andy McWILLIAMS, 4. Jake MOULT (capt), 5. John CYRUS, 6. Tom HANNIGAN, 7. James LAWRIE, 8. Simon RICHMAN, 9. Greg WILKINSON 10. Damian REEVES, 11. Sean MILLER. Subs: 12. Phil MARSH, 14. Curtis OBENG, 15. Alan GOODALL, 16. Simon LENIGHAN, 20. Tim DEASY.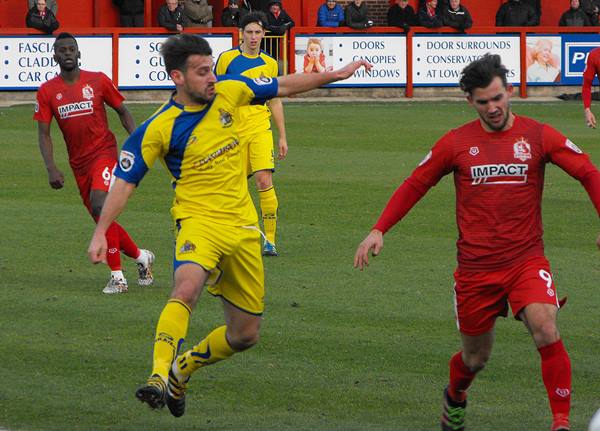 With Simon Richman (pictured above at Alfreton in the 2016 game) suspended for this season's game, only Jake Moult of the 2016 starters is likely to begin the game in the Altrincham line-up this coming Saturday.
Prior to 2016, Alfreton Town and Altrincham had last met at the national level of the Vanarama League in 2014-15, a season in which the Reds were relegated whilst Alty finished 17th. Altrincham lost 0-1 at Moss Lane but drew 1-1 at Alfreton.
Official caterer Richie Bentley is organizing the 2017 edition of Altrincham FC's celebrated Over-50s' Christmas Lunch at the J. Davidson Stadium.
The Lunch will take place at the Football Club at 12 noon on Thursday, 7th December and will cost £10 per head with Richie himself sponsoring the event.
On offer will be a three-course Christmas dinner, with coffee and mince pies. The event will also include a raffle and a quiz with prizes.
To book your place, please email either the Club or Richie.
Sky Sports News has reported that "Sunderland's Duncan Watmore suffers suspected cruciate ligament injury to same knee he injured in December 2016". The former Altrincham man has had some wretched luck with injury since joining the Black Cats and all at Altrincham FC wish him a full and speedy recovery.
Shaw Lane
"are delighted to announce Paul Quinn as their new first-team manager. Paul left his managerial role at Brighouse Town at the end of last season having enjoyed a very successful six years with the club.
Paul will take charge of the Ducks with immediate effect and will meet the squad at training tomorrow before the Ducks travel to Nantwich Town this coming Saturday. John Reed (assistant manager), who is staying on, and Dave Thompson (1st team coach) will make up the new management structure.
Shaw Lane chairman Craig Wood said 'When we began the process of identifying a new manager we established the profile of candidate we needed to take the Club forward and Paul Quinn was a perfect fit.
'Paul's attention to detail, knowledge of our squad, along with a very good understanding of the Evo-Stik League and clubs around us were extremely impressive. He quickly emerged as the outstanding candidate and I [am] delighted that Paul has joined us to reinforce our potential which will be significantly aided by his expertise.'
Paul said 'having enjoyed a period of time to recharge the batteries, I am delighted to have been appointed at Shaw Lane. This is a club I have admired for a number of years in terms of their drive and ambition both on and off the field. It also goes without saying I have created a deep emotional attachment with the club over recent times.
Taking all that into consideration and my own ambitions as a manager, both myself and the Chairman agreed this was an excellent fit. It is always a challenge when any club has to change their manager mid-season, for whatever reason, and my role, along with John Reid and the backroom staff, is to push this talented group of players forward over the coming months. Finally I am really looking forward to helping the club to continue to build its profile in the community which for me is an integral part of any successful football club.'"
Quinn is the son of former Altrincham manager, Gerry Quinn. Brighouse Town finished ninth in the EvoStik First Division North last season.
Back in July 2017 Brighouse Town reported that "Successful former Brighouse Town manager-coach Paul Quinn has quit the teaching profession after 11 years to go and work for the Football Association full time.
Quinn, 33, who left Brighouse in May after steering them to a North Counties East League Premier Division Championship and promotion to the Evo-Stik League Division One North and seeing them improve their position in the table year-on-year over the past three seasons, will be mixing it with the big clubs from September and reporting to his bosses at Wembley and St George's Park, Burton-on-Trent.
He will be co-ordinating the bridging of the gap between coaching and education at Huddersfield Town, Sheffield United, Sheffield Wednesday, Derby County and Chesterfield. The former Brooksbank, Elland, Colne Valley and Salendine Nook sportsmaster will oversee players at the professional clubs on adult learning courses and coaching courses also at the FA's Headquarters at St George's besides their own clubs.
Quinn commented, 'It will mean a lot of travelling but I am really looking forward to it as I have wanted to break into full time football... While I plan for the partnerships between football clubs and universities and other seats of learning, I will be reading up on coaching courses and be fully ready for my start in two months time'".
According to NL Daily, "Stafford Rangers fans may have seen Massiah McDonald in action for the last time this season. The Montserrat international has been in fine form since arriving on loan from Coalville Town, netting five goals in two FA Trophy games.
And, while he has yet to open his account in the league, he has added a physical and technical threat up front. However, his one-month loan ends this week, and Boro boss Neil Kitching said no deal to keep him longer had yet been done with Coalville.
'There's a lot of conversation going on,' said Kitching. 'We want to keep him but nothing's organised, so we've got a week to try and sort something out. They're unwilling to let him come and join us and we're unwilling to pay a transfer fee....
'"Mass" understands that we can't and won't do that for a 27 year-old. We'll take over his contract at the end of the season, if that's what Coalville want to do, or we'll extend his loan'".
Meanwhile, Coalville Town report that "The league cup game at home against Stamford has now been moved to Tuesday 5th December in case of any replay against York".
---
21 November 2017
Mossley have now agreed with Altrincham to hold their Integro Cup tie on Tuesday, 28 November at Seel Park. Kick off will be at 7.45pm.
Above, left, Megan Rowley gets in a shot. Right, Kye Brown closes down an opponent.
Altrincham FC Ladies' manager, Keith Edleston, writes that it was a "Fantastic result by the Ladies' first team as they travelled over to Moston and beecame the only side this season to stop FC United from gaining all three points.
On the first day of the season we went there and returned home not having performed or doing ourselves justice, soundly beaten by the better team, but this game would be different...
The girls, over the last few weeks in training, have been working so hard with all the coaches and on Sunday it was all brought to fruition. The game started in frenetic style with no quarter given, or asked, by both teams but, on 37 minutes, a run down the right by their winger, with a smart cut back then finish, enabled FC to take a lead they would hold to half time.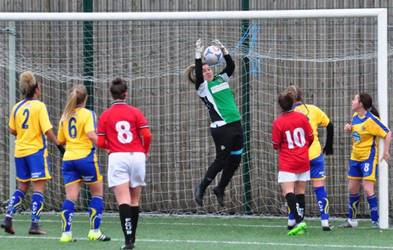 Right: Goalkeeper Esther Hernández Rodríguez collects a cross.
As the second half progressed the girls were pushing forward and an equaliser came from Kye Brown, who lobbed the ball back over the keeper from fully 35 yards, (a shot she had tried only a few minutes before), to put us back on level terms.
Still the game was end to end and, from a corner, Hannah Shufflebotham crashed a header onto the FC crossbar, so close to taking the lead!
The game got a bit more frantic into the last five minutes as FC poured forward for a winner, only to be given on 90 minutes, (rightly so), a free-kick on the edge of the box. Everyone held their breath; would this be a disaster? The FC player stepped forward and struck a venomous shot over the wall but onto the crossbar and captain Bliss Molyneaux headed out of play. The referee blew, it was all over and a very creditable draw had been gained. Well done to every player who gave everything today and left nothing in the changing room, brilliant!"
Following the Altrincham FC Ladies' draw with them,
FC United of Manchester
reported that "Altrincham force a dramatic draw to end United's winning run in the league.
In "The game against Altrincham earlier in the season, the reds triumphed 13-1". But on Sunday, "A stuttering performance, brought about by some not insignificant and unusual circumstances, coupled with a fired-up and well-drilled opposition, saw Altrincham leave Broadhurst Park with a creditable point as the game finished 1-1. Nicole Hatcliffe gave United a half time lead before Kyeshia Brown swept home a 40 yarder on 68 minutes to level the match showing that previous results matter for nothing in this "funny ol' game" of ours.
On a cold bright winter afternoon, Luke Podmore was forced by injury and illness into making changes to his recent settled starting 11 and after losing Captain Kirsty Chambers and defender Fliss Winters inside 20 minutes to injuries that required a joint trip to Tameside General, to be replaced by a bench containing just two players this week; it was always going to be a more challenging afternoon for the league leaders than usual...
The first threat came from Altrincham's striker Laura Kelly with Winters defending well to clear her lines.... On 5 minutes Chambers rode a challenge as she drove goalwards but injured herself in the process and could take no further part being replaced by Abbie Carrington. No doubt, the departure of FC's talismanic Captain gave the visitors a psychological boost and from the restart they poured forward resulting in Georgina Ashton firing wide...
United became guilty, likely as a result of losing two team mates, of forcing the issue rather than acting and relying upon the instincts that have served them so well this campaign... Sullivan chased down well firing in a first time cross from the bye line. Hatcliffe gambled superbly and raced ahead of her near post defender nicking her shot beyond the dive of Hernandez to give United a 35th minute lead...
Altrincham knew they were well in the game despite United having the better of possession and chances in the first 45 minutes and from a corner early in the second half Nadine Sproule directed a a header goalwards forcing Jackson into an excellent one handed save.. Midway through the half Brown lofted a speculative long range effort over the United bar that turned out to be a prelude for her forty yard effort on 68 minutes that this time dipped over Jackson and into the back of the net sparking delirious celebrations from the visitors...
Altrincham held on valiantly to record a creditable draw...
Altrincham FC Ladies: 1. Esther Hernandez, 2. Kyeshia Brown (Goal 68 mins), 3. Georgina Ashton, 16. Bliss Molyneaux, 5. Louise Edleston, 6. Aimee Hopkinson, 21. Hannah Shufflebotham, 7. Jessica Hartopp, 8. Gail Simpson, 9. Jade Hesketh 18. Laura Kelly. Subs: 12. Megan Rowley (for No18 25 mins), 15. Nadine Sproule (for No9 39 mins), 17. Melisaa Williams (for No7 90 mins). 23. Courtney Williams (for No 12 63 mins). Roll On, Roll Off Changes: On No 18, Off No15 (90+2 mins).
Match Stats by Paul Hinson...
FC United stats first... Goals: 1-1, Shots on target: 9-4, Shots off target: 15-2, Corners: 8-3, Completed Passes: 375-179, Possession: 68%.-32%".
Press and Media Officer John Edwards has submitted the following article for inclusion in the news pages of this week's Sale and Altrincham Messenger. The announcement about Mal came just too late for last week's paper.

"Tributes have been paid to legendary former Altrincham defender Mal Bailey (right) after he died, aged 67.
Renowned as a ferocious and fearless centre-back in the great side of the late 1970s, Mal became part of Alty folklore by scoring the goal that took them to Wembley for the first time, for the 1978 FA Trophy final.
'Everyone remembers Mal for that Trophy semi-final winner at Runcorn, yet another example of him sticking his head in where it shouldn't have been,' said Alty chairman Grahame Rowley. 'He was that type of player, a rough, tough, no-nonsense centre-half who always gave his all.
'He'd stick his head in where most players would be afraid to nowadays, and he always gave 100 per cent. You always knew what you were getting with Mal, and that endeared him to so many Altrincham supporters. We've had emails, messages and tributes from lots of people, including old team-mates.
'John Rogers and John King, two more great names from the past, have been in touch asking for funeral details. They were a very close-knit team, and I'm sure as many as possible will be there to pay their respects.
'Mal lived locally and used to call in for a chat every now and then, just to keep in touch. He was that type of person and will be missed by us all.'
Signed from Runcorn at the start of the 1977-78 season, Mal made 250 Alty appearances, plus 10 as substitute, and scored 21 goals. Funeral arrangements are to be announced".
As Howard Watts's
Through the Years
statistics, (updated by Mike Garnett), show, the last time Alty played on Saturday's date (25 November) was in 2006 at Grays Athletic.
The image, right, is from that game in Essex. Despite the building's height, Stuart Coburn still managed to kick clearances well over the roof, twice!
Alty's side that day comprised 1. Stuart COBURN, 2. Steve ASPINALL, 17. Karl MUNROE, 20. Stephen ROSE, 3. Gary SCOTT; 7. Robbie LAWTON, 6. Steve BUSHELL (capt), 8. Val OWEN, 14. Lewis CHALMERS, 11. Warren PEYTON; 9. Colin LITTLE. Subs: 10. Rod THORNLEY, 12. Joe O'NEILL, 16. Peter THOMSON, 18. Pat McFADDEN, 22. Colin POTTS.
The current status of the 24 clubs in the Conference National division in 2006/07 is shown below. There are noticeably more southern teams who have retained their status or improved it, whilst proportionately more northern/Midlands clubs have dropped to a lower level.
Clubs currently competing at that same level (5): Dagenham & Redbridge, Gravesend & Northfleet (Ebbsfleet), Aldershot Town, Woking, Halifax Town
Clubs at a higher level (8): Oxford Utd, Morecambe, Exeter City, Burton Albion, Stevenage, Forest Green Rovers, Cambridge United, Crawley Town
Clubs at a lower level, defunct or re-formed (11): York City, Kidderminster Harriers, Weymouth, Rushden & Diamonds, Northwich Victoria, Grays Athletic, Stafford Rangers, Altrincham, Tamworth, Southport, St Albans City
When Altrincham entertain Shaw Lane on Saturday 9 December, accompanied children under the age of twelve will be admitted free of charge on donation of a new toy to the Christmas appeal on behalf of the Children's Adventure Farm Trust. The appeal is organized by Smart Storage, who are also sponsors of the Family Stand at the J. Davidson Stadium.

Also on the above date, the winners of the recent Altrincham FC Junior Arts Competition to "design a football shirt to celebrate the differences in our community" will be announced.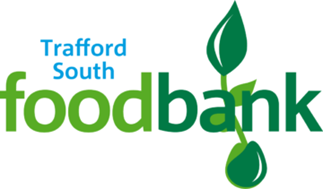 Jacqui Forster, Honorary Head of Diversity & Inclusion at Altrincham FC writes that "The Altrincham FC Inclusion & Diversity Group has teamed up with Trafford South Foodbank and a collection of items and monetary donations will take place at the home match on 9th December, 2017, when Alty entertain Shaw Lane AFC.
The local foodbank will be in attendance in the J. Davidson Stadium to take your donations and they will be able to distribute items to people just in time for Christmas, so please make somebody's Christmas a happy one and ensure that local families do not go hungry this year.
Please bring either the following items, or donate money to the collectors so that they can buy food in bulk, which is cheaper and they can check the best before dates:
Cordial and fruit juice, UHT milk, sponge puddings, biscuits and chocolate, crisps, nuts and sugar. Also, all toiletries, including shower gel, soap, shampoo, toilet rolls, deodorants. No fresh foods please. Thank you in advance to all generous Altrincham FC fans and let's make all local families have a wonderful Happy Alty Christmas!" Following Saturday's game, our opponents Sutton Coldfield Town report that "Top versus bottom proves to much for the Royals.

Sutton Coldfield Town's season of woe continued as they were hammered 4-0 by league leaders Altrincham, leaving The Royals winless in eleven games and seven points adrift of safety. There had been a surge of optimism in the week leading up to the game with the return of two former players. Defender Michael Townsend, who was an integral part of last term's 'great escape' [last season], has left Barwell to bolster Sutton's sloppy defence. While Aaron Birch has swiftly returned after a brief stint with Stourbridge didn't work out. Birch has been Sutton's best player this season, and him working alongside Danny O'Callaghan should elevate Sutton's creative potential.

Any optimism was quashed swiftly as Sutton found themselves one down after the first attack. Jordan Hulme turning and shooting a tame effort past a disappointed Nicky Draper. The leaders were looking sharp in possession, a contrast to a Sutton side struggling to locate a man in their own half.

The Robins made it 2-0 when, in the 9th minute, James Jones headed in from a corner. The Royals' marking was poor. A minute or two later and it was effectively game over as the visitors made it 3-0 courtesy of captain Jake Moult heading home from a Shaun Densmore free-kick.

Richard Sneekes, the Sutton boss, looked shell-shocked from his position near the toilets, the Dutchman serving a touchline ban... Although the goals inevitably dried up, Alty continued to dominate the game... Sutton finished the half with a bit of purpose but the damage had been done in the opening eleven minutes.

The second half featured less chances and Altrincham seemed content to sit back and try to hit Sutton on the counter. Altrincham were breaking well as the half wore on and Sutton were indebted to Draper for twice repelling Hulme in one-on-one situations. The introduction of Matt Walters gave Sutton fresh impetus. The substitute going close for Sutton on two occasions, including hitting the post when clean through...

Sutton's afternoon of misery was rounded off when Altrincham added a fourth: Jordan Hulme netting his fifteenth of the season to complete the rout".
---
20 November 2017 Brian Flynn's post-match interview with manager Phil Parkinson, following Saturday's win at Sutton Coldfield, is here. The Altrincham FC Youth team had a good away win on Sunday, defeating Prescot Cables 2-0. The lads now lie third in the NWYA Premier Division table but some clubs have games in hand on them. Their next fixture, on Sunday 26th, is at home to Hyde United (2pm), followed on 3 December by a Neil Thomason Cup Round One tie at home at Manchester Health Academy M23 9BP to Chorley (2pm). On Sunday, there was a very impressive away draw (1-1) for Altrincham FC Ladies against league-leaders, FC United of Manchester. The Alty Ladies now lie seventh in the league ahead of their next fixture. This is at home (Mersey Valley) against Crewe Alexandra's development team on Sunday, 26th November at 2pm.
---
19 November 2017

Match report here

Above left, Alty players prepare for the corner from which James Jones (no.4) was to score their second goal at Sutton Coldfield. Behind the goal, Altrincham's good level of travelling support helped the Royals to their largest home gate of the season, so far. Above, right, Tony Thompson takes a drink as Sutton Coldfield's excellent band serenades him with a rendition of "La Cucaracha"! Click on the images to enlarge them. Sutton Coldfield's Tim Lloyd also has some excellent images, to be found here. Altrincham FC Reserves won 6-3 away to Ashton Town on Saturday. They are at home to Congleton VR next Saturday.
Att. 148 Ashton United 1 - 1 Barwell
Att. 331 Buxton 0 - 3 Grantham Town
Att. 276 Halesowen Town 1 - 1 Marine
Att. 346 Hednesford Town 2 - 1 Stalybridge Celtic
Att. 259 Lancaster City 4 - 2 Coalville Town
Att. 214 Mickleover Sports 1 - 3 Warrington Town, one of Town's goals was a Sean Williams penalty.
Att. 305 Nantwich Town 1 - 0 Whitby Town, Clayton McDonald netted a fourth minute winner.
Att. 253 Shaw Lane 3 - 1 Stourbridge
Att. 490 Stafford Rangers 0 - 2 Farsley Celtic
Att. 269 Sutton Coldfield Town 0 - 4 Altrincham - this was the Royals' largest home gate this season.
Att. 320 Witton Albion 3 - 3 Matlock Town
Att. 430 Workington 4 - 1 Rushall Olympic
Alty's Sean Miller netted again for Colne in their 3-3 home draw with Radcliffe Borough. Sean has been joined on loan at Colne by Josh Amis. The northern half of the draw for the Third Qualifying Round, for matches on 25 November is...
1 Brackley Town v Salford City
2 York City v Coalville Town
3 Cleethorpes Town v Spennymoor Town
4 Grantham Town v Chorley
5 Tamworth v Warrington Town
6 AFC Telford United v Droylsden
7 Darlington v Harrogate Town
8 Gainsborough Trinity v Stafford Rangers
9 Bradford (Park Avenue) v Stourbridge
10 Boston United v Kidderminster Harriers
11 Nuneaton Town v North Ferriby United
12 Stockport County v Southport
13 Blyth Spartans v Stalybridge Celtic
14 Glossop North End v Workington
15 Alfreton Town v Altrincham
16 Leamington v Curzon Ashton
17 Lancaster City v Mildenhall Town
18 Marine v FC United of Manchester
Farsley Celtic report that former Alty man, "James Walshaw has left Farsley Celtic and dropped down a division to join Scarborough Athletic. Walshaw returned to the Club in the summer last year and went on to claim fifty goals in a memorable season as the Celts won promotion via the Play-Offs and lifted the West Riding County Cup". The EVO-STIK Premier Division
Farsley Celtic v Sutton Coldfield Town
Matlock Town v Halesowen Town
Nantwich Town v Shaw Lane
Rushall Olympic v Mickleover Sports
Whitby Town v Witton Albion
"Player movements registered with the EVO-STIK League from Sunday 12 November to 11am on Saturday 18 November 2017" include
Josh Amis from Stockport County to Colne
Nathan Cartman from Darlington to Farsley Celtic
Lewis Turner from Harrogate Town to Farsley Celtic
Matthew Baker from Grantham Town to Sutton Coldfield Town (loan)
Aaron Birch from Stourbridge to Sutton Coldfield Town
The EvoStik League reports that "Young Shayman Marko Basic has had his loan spell with Mossley AFC extended for another month.

On loan at Seel Park from National League FC Halifax Town since mid September, the 18-year-old had made 10 appearances so far in all competitions before the extension was confirmed on Friday.

The attacking midfielder with family roots in Serbia signed a one-year deal in the summer after impressing in the Shaymen's U19 side on the way to reaching the second round of the FA Youth Cup and winning the National League U19 Alliance.

The Lilywhites told fans on Friday that joint managers [ex-Alty man] Peter Band and Lloyd Morrison were delighted to hold onto the former Bradford city trialist".

Former Alty loanee Liam King made his debut for Gainsborough Trinity on Saturday. Likewise, James Walshaw made his Scarborough Athletic debut, and he also scored.

The National League reports that "Salford City remain top of the table after beating bottom-markers North Ferriby United 4-0 at The Peninsula Stadium on Saturday. It was personally a fantastic afternoon for the Ammies' experienced striker Jack Redshaw.

He hit all four goals against a Ferriby side who have still only won once this season to date...

And "Craig Westcarr gave [our Ttophy opponents] Alfreton Town a 26th minute lead at the New Buck's Head against AFC Telford United. Tom Allan then doubled the Reds' lead just 5 minutes later.

Elliot Newby gave Bucks' fans hope of a second half comeback when he reduced the deficit a minute before half-time, but the Reds held firm to record three good away points".
---
18 November 2017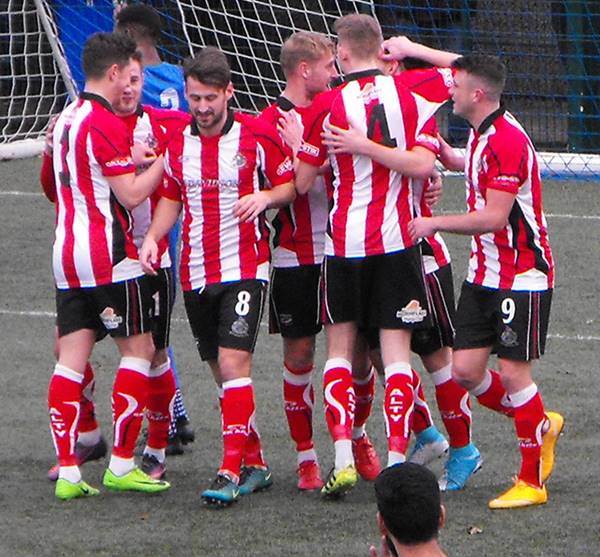 Above: Jake Moult is congratulated on his goal at Coles Lane.
Altrincham cruised into a 3-0 lead inside eleven minutes at Coles Lane but wasteful second-half finishing limited the visitors to only one more goal after the interval...
Match report here
Saturday 18 November 2017.
The EVO-STIK Premier Division
Ashton United 1-1 Barwell
Buxton 0-3 Grantham Town
Halesowen Town 1-1 Marine
Hednesford Town 2-1 Stalybridge Celtic
Lancaster City 4-2 Coalville Town
Mickleover Sports 1-3 Warrington Town
Nantwich Town 1-0 Whitby Town
Shaw Lane 3-1 Stourbridge
Stafford Rangers 0-2 Farsley Celtic
Sutton Coldfield Town 0-4 Altrincham
Witton Albion 3-3 Matlock Town
Workington 4-1 Rushall Olympic
You can follow this fixture via this website's minute by minute text updates by clicking on the icon below. Alternatively, Radio Robins' coverage of the game is outlined below as well.

Brian Flynn announces that "Radio Robins, sponsored by Ashley Mowers Garden Machinery, is providing full live commentary of Saturday's game. The commentators are Laurence Howarth and Mark Simpson ans the match summariser is Dave Stringer. Coverage starts at 2.40pm".

Guidance for Listening to Radio Robins

There will be 4 ways to listen to Radio Robins via Mixlr
a) The Radio Robins website. Open the page in any web browser and the broadcast should start automatically. Please note that the 4 Player Options (Windows Player | Real Player | Quick Time | Winamp ) will not work now.
b) Download and install the Mixlr app on Android devices from the Google Play Store - start the app and search for 'Radio Robins'.
c) Download and install the Mixlr app on Apple devices from the Apple Store - start the app and search for 'Radio Robins'.
d) There is a temporary WIX website here.
Manager Phil Parkinson's observations on the two recent cup matches, submitted to Altrincham Today by Brian Flynn, are below...

"We have made progress in two cup competitions this week. Last Saturday, we recovered from conceding a very early goal, for the second successive game, to beat Ramsbottom United 4-1 and Monday's Buildbase F.A. Trophy draw sees us on our travels to Alfreton Town from the Vanarama National League North, which will be a good test for us against a team from the league that we are trying to get into.

I was so proud of the team on Tuesday night. They put in a superb performance to progress 7-6 on penalties, against Chester in the Cheshire Senior Cup. It was 1-1 after ninety minutes and 2-2 after extra-time but the quality of the display shows the strength in depth that we have, as we used the game to give needed match minutes to a number of our players.

The hunger and desire of the players shone through; these lads just will not lie down and when you consider that we were down to ten men for almost a hundred minutes, it's a real testament to all the players that took part, that we made progress and an away draw with 1874 Northwich in January.
Having looked at Simon Richman's red card on the video, it probably was a sending off offence. It was a difficult one, as both players have gone in very strongly. Simon is gutted, but we will just have to accept that he will miss three games after today.
There were heroes all over the pitch on Tuesday night. Max Harrop (left) was phenomenal,Tom Peers put in an outstanding performance throughout, Mason Walsh showed what a gifted winger he is and it was a good night for Laurence Taylor, Josh Amis and Sam Sheridan, as well as the three young lads, Darius Palma, Callum Jones and Tom Westall, who showed that there is some great talent emerging from the reserves.
Today, we travel to Sutton Coldfield, which is never an easy place to go. They are having a tough time of it, so far this season, but have strengthened in the last few days by re-signing Michael Townsend, who is a strong central defender who certainly put himself about a bit when we won at Barwell, where he was captain, in September.
Their astro-turf pitch gives them a good home advantage and whilst they are struggling at the wrong end of the league, they can beat anyone on their day, both Shaw Lane and Buxton have returned home pointless from their visit to Coles Lane.

We will be looking to bring back a maximum points haul from the West Midlands to stay at the top of the table, particularly as this is our only league game, that comes sandwiched in the middle of four cup games.

I mentioned a couple of weeks ago that there would probably be more players going out on loan and last night, we agreed a deal for Josh Amis (right) to join Evo-Stik North side Colne, for a month, where he will team up with Sean Miller, who has already scored twice during his loan spell.

Laurence Taylor and Tom Hannigan will play for the reserves at Ashton Town today. Laurence is back pushing for a first team place again, following his bad leg injury at Abbey Hey in early September and Tom is ready for his first action in five weeks after suffering a knee injury against Halesowen in mid-October".

Altrincham FC is pleased to offer supporters half-season tickets, which make an ideal Christmas present!

Prices are as follows:
Adults: £90
Concessionaries: £60
Aged 12-16: £25
Under 12s: £7.50
The tickets are valid for all league matches from Christmas Day. Please ring 0161 928-1045 to order yours. Altrincham FC Ladies' manager, Keith Edleston, announces that "Altrincham FC Ladies Development team is looking for a new manager as, unfortunately due to circumstances beyond our control, our original manager Steve has had to leave the post. This team currently plays in the Cheshire Women's & Youth League Division Two and, at the moment, they top the Division. So, if you are at least minimum FA Level 1 qualified with a drive and desire for women's football and an attitude that you feel can take this team forward, then please drop me an email, as soon as possible". Ian Senior of SKkits reports that Altrincham's "Club Shop has taken delivery of items from the EVO Range as worn by the players, these include:
Midlayer Top
Hooded Sweatshirt
Polo Shirt
Technical Bottoms [!]
The above are available in adult sizes S M L XL. Other sizes can be ordered if required, and images can be seen on club shop . On behalf of Altrincham FC, Roger Goodwin (Volunteer Coordinator), is seeking a Development Group Volunteer Secretary.

The role description is below and can also be found on an ongoing basis on the Vacancies page of the website.

"

The role of the Volunteer Secretary is to support the Chair in ensuring the smooth functioning of the Website Development Group and Marketing Development Group.

The Secretary's tasks include:

Ensure Responsible Administration
To prepare agendas in consultation with the Chair of the group
To circulate agendas and any supporting papers in good time.
To receive agenda items from other group members.
To minute meetings and circulate the draft minutes to all group members.
To ensure that the Chair signs the minutes once they have been approved.
To check that group members and staff have carried out action(s) agreed.
To ensure up-to-date records are kept of group membership.
To update the freedcamp project group
Make Arrangements for Meetings
To ensure arrangements for meetings are met (booking the room, arranging for equipment and refreshments, organising facilities for those with special needs, etc).
Qualities and Skills Required
Organisational ability.
Experience of group work and procedures.
Minute-taking experience
Good communication and interpersonal skills.
Impartiality, fairness and the ability to respect confidences.
Approachable and sensitive to the feelings of others.
Well organised and an eye for detail.
Ability to work well with the group chairman.
Good time-keeping.
Time Commitment: The role of Development Group Secretary requires an estimated commitment of 3 hours a week.

This is a voluntary role and the deadline is Friday, 24 November 2017.

To apply please send a CV and cover email to volunteer@altrinchamfootballclub.co.uk."

The Altrincham player to have appeared in the most games this season is Tom Peers who has made 12 starts and 13 appearances from the bench. The only game in which he has not appeared was the away match at Warrington Town. From the Liverpool Echo we learn that "Micky Mellon insists Tranmere can still beat Gateshead this weekend – despite all their injury problems. Rovers do not have any central midfielders to pick from for their game in the north east.
In fact, eight players are unavailable... Defender Evan Gumbs has been recalled from his loan spell at Warrington and could be forced to play further forward. Winger Elliot Rokka was due to go the other way to Paul Carden's side on Thursday, but the crisis at Prenton Park is so bad that his temporary move to Cantilever Park was cancelled".
Across the Pennines, Farsley Celtic "travel to Stafford Rangers on Saturday as both clubs look to get back to winning ways. This is the first meeting between the two clubs since Farsley reformed, the last time a Farsley side played Stafford was eight years ago in August 2009.
Farsley are without a defeat in three games, drawing in the league with Workington (3-3) and Buxton (3-3), whilst progressing to the West Riding County Cup quarter-finals after a 2-0 win over Brighouse Town. Four of The Celts' last six matches have now finished 3-3 after 90 minutes. Farsley are without a win in five league games, their last win a 2-0 victory at home to Nantwich Town on the 7th October. New signing Lewis Turner is in contention to make his first appearance for the club, the ex-Harrogate Town player and twin brother of Farsley midfielder Nathan officially joining the club this week.
Ahead of the game Farsley manager Adam Lakeland said 'We've only actually lost once in our last 13 games over 90 minutes, which was to Mickleover so, in terms of our form, we are going quite well and have shown our character, resilience and qualities on a regular basis, now we need to turn these draws into wins and we will be fine.'
Stafford Rangers currently sit 12th in the Evo-Stik NPL, five points behind Farsley with a game in hand. Stafford had been on an excellent run of just one defeat in ten, with impressive victories over Ashton United (1-0), St Ives FC (6-0) and Farsley's FA Trophy conqueror South Shields (3-1). However they were brought back down to earth on Tuesday with a crushing 4-0 defeat at home to lowly Rushall Olympic. They have no apparent injury concerns."
Meanwhile at Nantwich Town the club can "confirm that full-back Courtney Wildin has committed to the Dabbers by signing a contract with the club this week. Wildin joined the Dabbers from Nuneaton Town in October, and has since made quite an impressive impression in his seven appearances.
The left-back made his first team debut this season as a first half substitute in the 5-1 away defeat to Altrincham. Previously at Nuneaton Town, Courtney began his career Aston Villa before moving to Sheffield Wednesday. He has had spells with Boston United, Gainsborough Trinity and Hednesford Town. He is also an Antigua and Barbuda international after making his debut in a Caribbean Cup qualifier in 2016 against Puerto Rico."
According to Non-League Yorkshire, "The deadline for applications for the vacant Shaw Lane AFC's manager's position is 5pm this afternoon [Friday]. The Ducks have been overwhelmed with CVs since advertising on Wednesday. It is hardly a surprise as the position is one of the most exciting to come up for a long time.
The vacancy opened up on Sunday after Craig Elliott ended nearly four magical years in charge to take over at National League side Boston United".
Barwell confirm that "Goole AFC defender Luke Foster has joined Barwell following the departure of Michael Townsend. 32-year-old Foster is an experienced central defender with Football League and National League experience. Foster boasts 351 career appearances on his CV, including 45 League Two appearances and 6 League One games.
He spent a period of time at Ilkeston and Coalville Town back in 2016, so knows the Midlands area well".
Over at Grantham Town, "Following his release from Boston United, The Gingerbreads have re-signed Tom Batchelor. The 25 year-old central defender left Boston from The Gingerbreads last season after making 6 appearances... Adam Stevens explained his delight in the signing, 'We were disappointed last season when he left, but understand everyone wants to play at the highest level possible. He's not match fit at the moment, so Dennis (Rhule) will get working on that."
---
17 November 2017 Altrincham pay their first visit to Sutton Coldfield Town on Saturday, 18 November. TASC is providing supporters' transport to the game and, as the initial response in terms of bookings has been good, a larger coach has been lined up for this trip. As a result, there are some seats available once more, so please ring the club (0161 928-1045) during normal office hours to reserve your place.

Details of fares and times are on the Away Travel page.

TASC is currently pricing up travel for the FA Trophy match at Alfreton and hope to be able to run a coach to this tie. This will be confirmed later in the week.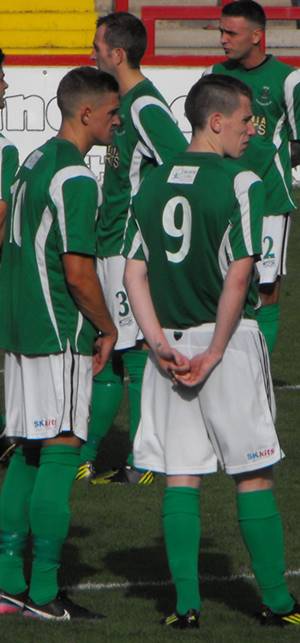 Our opponents in January 2018 in the Cheshire Senior Cup First Round are 1874 Northwich.

Altrincham played 1874 Northwich in a mid-season friendly on Saturday, 12 October, 2013 and won 2-1 thanks to goals by Kyle Perry and James Lawrie. Arguably, Alty were fortunate to win as the visitors had a penalty saved by Alty's trialist keeper Shaun Pearson (ex-Barrow). However, the Robins did dominate the second half.

At the time, 1874 Northwich were in their first competitive season, having been set up via the Supporters' Trust, to operate in competition to the then Flixton-based Northwich Victoria.

1874 Northwich's goal was laid on by none other than current Alty forward Tom Peers, who is pictured right (no.9) at the 2013 game. Alty dominated the second period but could not add to their score.

Alty's line-up was 1. Shaun PEARSON, 2. Scott LEATHER, 3. Matt DOUGHTY, 4. Carl RODGERS, 5. Gianluca HAVERN (capt), 6. Simon RICHMAN, 7. Brian SMIKLE, 8. Danny BOSHELL, 9. Kyle PERRY, 10. Damian REEVES, 11. James LAWRIE. Subs: 12. Shaun DENSMORE, 14. Adam COWEN, 15. Jake MOULT, 16. Rob GILROY, 17. Nicky CLEE, 18. Dan LLOYD (gk), 19. James WALSHAW.

Nowadays, 1874 Northwich compete in the Hallmark Security (NW Counties) League Premier Division. Although they currently lie 18th they have seven games in hand on the league leaders, with a backlog of fixtures largely due to involvement in cup competitions, notably the FA Vase. To underline the falseness of their league position, they actually lie second in the current form guide with five wins from their last six league fixtures.

They recently beat Alty's one-time nemesis, Tow Law Town, 5-1 in the Buildbase FA Vase and 1874 Northwich report that "1874 produced one of their best and most comprehensive displays ever in the FA Vase competition as they easily dispatched their opponents from the North East to set up a mouthwatering North West Counties Football League derby against Ashton Athletic in the next round...

In some ways the final score line perhaps flattered 1874 but many onlookers will say that in fact the margin of their victory could have been even greater. Right from the kick off it was evident that 'both sides were up for it' and the officials had to keep a close eye on the competitive battles around the field and that was particularly the case as the visitors' defence struggled throughout to thwart the wing play of both Taylor Kennerely and Adam Whitlock as both youngsters were keen to impress from the start...

The teams were level until the 37th minute when 1874's 'Mr. Consistency' Scot McGowan opened the scoring by finishing off a good footballing move by his side... The 1874 men had to endure some rough treatment by the opponents' desperate defending and indeed although there were a number of bookings many at the game thought that the visitors were lucky to end the game with eleven players still on the field.

The all-important second goal came after 50 minutes and it was scored by a cool finish from Whitlock... It was no real surprise when the lead was increased in the 65th minute with an excellent finish from Jake Parker, his third goal in the last four games...

Tow Law reduced the deficit to two goals... The three-goal margin was quickly restored as McGowan found the net again in the 72nd minute and then in the last minute of the game substitute Waite-Jackson added the fifth with an exquisite free-kick finishing in the top left-hand corner of the goal...

1874: Hall; Mitchell; Lee Jackson; Pritchard; Meadowcroft; Jones: Whitlock; Matt Woolley; McGowan; Parker & Kennerley. Subs: Riley, Hind, Waite-Jackson, Haughton & Woods. Attendance: 229"

NL Pitchero tells us that "Cleethorpes Town pulled off an upset in their Buildbase FA Trophy Second Qualifying Round replay at home against Evo-Stik League Premier side Hednesford Town. Cleethorpes, who are in their first season in the Trophy after being finalists in last season`s Buildbase FA Vase Final at Wembley, came back from a goal down to win 2-1.

The Pitmen held their lead until the half-time break, but just 7 minutes after the restart, the Owls were back on level terms when Jonathan Oglesby swung the ball in and it beat everyone, including the visiting keeper, before nestling in the back of the net.

If that was fortunate, Cleethorpes winner with less than 4 minutes of normal time to go was a lovely move which saw Luke Mascall produce a nice piece of skill before cutting the ball back for Danny North to fire home at the near post. To add to the Pitmen's misery, Darren Campion was given his marching orders in stoppage time after a fracas in the middle of the pitch".

Also from NL Pitchero, we learn that "Joint boss Glenn Kirkwood labelled Matlock Town's 3-0 home defeat to Nantwich Town in the Evo-Stik League Premier as both a disaster and a surprise and says only hard work will improve their fortunes in a season of underachievement so far.

Last Saturday's defeat was their fourth at home this term and a second successive 3-0 loss following on from the defeat at Ashton United eleven days earlier. It leaves Matlock stuck in seventeenth spot and badly needing three points from their trip to Witton Albion this weekend.

'Saturday was a disaster and a surprise. We'd had a week off, the lads had looked sharp in training and were buzzing in the changing room and in the warm-up so to play like that was a massive surprise,' said Kirkwood. 'We never got started and going a goal behind early on meant we were always chasing the game. The only positive to come out of the game is that we created chances despite playing so badly. At the start of the second half we could have levelled it but then a lack of concentration saw us 2-0 down and with ten men against a good side, it was always going to be difficult from that point on. Nantwich were quick out of the blocks, we weren't'...

'We've had a good chat at training, the lads got some things off their chests, things are very frustrating. Individually we have a good team but collectively it's not quite there...As a team we've got to man up. It's okay wanting to win, the difference is going into the game really wanting to win. Going that extra mile. People talk about last season, then we grafted and went that extra mile... this season I'm not really sure we've been getting that. We can't feel sorry for ourselves, we roll our sleeves up, puff out our chests, play for the badge, the club and the fans'...

On the playing front, Kirkwood says there is a need to 'freshen things up' and two new faces could be in the squad at Wincham Park. Last week striker Tyrell Waite was recalled by Boston United but it was a case of one in and one out as 18-year-old striker Ricky German came in from Chesterfield...

'I repeat that we want to bring players in permanently but it's more difficult than people imagine... but we hope to have two new lads with us for the Witton game'".

Coalville Town report "We have won the appeal to have Kyle Dixon's red card against Alvechurch overturned by the FA. He is available for selection on Saturday".

Also "Evan Gumbs's loan spell at Warrington Town has ended, following Tranmere Rovers recalling the defender".
---
---
---
---
---