CURRENT NEWS
OPTIONAL DROPDOWN MENU - HERE
---
NEXT FIXTURES:
Saturday 7th July, 2018: Rhyl (Away) 3pm
Pre-season 2018-19
Pre-season 2018-19
Pre-season 2018-19
---
ALTY HEADLINES
OTHER HEADLINES
25 May 2018: FRIENDLIES...More
25 May 2018: TELFORD REMAIN PART-TIME...More
25 May 2018: CURZON SIGN STRIKER...More
25 May 2018
As previously announced, Altrincham FC director Bill Waterson advises that "The funeral for Jacqui Forster, who died recently, will be held on
Friday, 25th May, 2018
. Her burial will be at Hale Cemetery, Hale Road, Hale at 12:30pm. Everyone is most welcome to attend.
A celebration of Jacqui's life will take place at Altrincham Football Club, Community Sports Hall, Moss Lane, Altrincham, WA15 8AP at 2pm. (Please do not arrive before 1:50pm). Parking is limited to the surrounding roads so if you can arrive on foot please do so.
Please dress as you like; football shirts for your local club will be much appreciated. We will be having Lancashire Hot Pot and Luscious Lemon Cake as per Jacqui's instructions and the bar will be open. A vegetarian option will be provided. Flowers are welcome and donations to The Christie will be gratefully received by James at Kershaw's on the day or by contacting the funeral directors directly on 0161 969 2288".
Ian Senior adds, "With Jacqui's funeral in mind, and Pete's request for anyone attending to wear an Alty shirt, we are clearing all remaining home shirts for whatever anyone is willing to pay. ALL proceeds will be going to Jacqui's chosen charity. Shirts are available in adult and kids' sizes from the Club."
Altrincham FC is inviting applications for the post of Website Manager of the Altrincham FC official website. The role description is to be found
here
. As stated in that document, applicants are invited to submit their CV and cover letter to Club Director,
Bill Waterson
by
Friday, May 25th
.
The role description is also to be found on the Job Opportunities page of the website.
As announced yesterday, Altrincham have arranged five pre-season games and Mike Garnett has kindly supplied the following information about them.
Above: Things have changed a lot at Moor Lane, since Alty last played a friendly against Salford City, on 2 August 2006. Pictured above we see Eddie Hussin (in blue, on knees) scoring the opener, with Robbie Lawton (19), Pat McFadden (28) and Lee Hendley (26) involved in the build-up. For that game, in a sign of things to come, City took to the pitch for the second half in a Manchester United strip. This time the Ammies will be visiting the J. Davidson Stadium on 28 July.
Last pre-season meetings:
v Rhyl; 22.7.17. (a) won 3-1
v Macclesfield Town; 27.7.10 (h) lost 1-2
v Crewe Alexandra; 26.7.16 (h) drew 1-1
v Trafford; 5.8.17 (a) lost 0-1
v Salford City; 2.8.06 (a) won 3-1
Record in friendlies as known since 1963:
v Rhyl; p.3 w.2 d.0 l.1 f.5 a.2
v Macclesfield Town; p.2 w.0 d.1 l.1 f.1 a.2
v Crewe Alexandra; p.7 w.1 d.3 l.3 f.6 a.13
v Trafford; p.17 w.12 d.2 l.3 f.47 a.18
v Salford City; p.2 w.2 d.0 l.0 f.5 a.1
As previously announced, here is a reminder to sponsors that last season's signed players' shirts are ready to be picked up from the Club at your convenience, during weekday office hours.

As usual, Altrincham FC will be arranging a couple of "working weekends" to get some maintenance jobs completed around the J. Davidson Stadium. The dates of these weekends will be confirmed in the near future. The tasks to be carried out include:
Weeding and a general tidy-up of the J. Davidson Stadium.
Painting in the home and away dressing rooms, corridors, Board Room and the Manchester Glass Sponsors' Lounge
If, however, anyone has a spare few hours during the week at any time and would like to help with any of these tasks, they would very welcome to do so. Please either ring the club (0161 928-1045) or just drop in.
From Shropshire, the
National League
reports that "AFC Telford United have dismissed speculation that the club are quite ready to go full-time. The Bucks do say, however, that they are confident a 'change of culture' will improve their fortunes next season. Telford just avoided relegation last season and earlier this month the club replaced manager Rob Edwards with former player Gavin Cowan.
The club [has] released a statement informing supporters of chairman Andy Pryce's plans going forward. They don't include full-time football yet but he is confident of a better season after a great end to last term. 'It has been very evident over the past 3 or 4 seasons that the club has found it very difficult financially in an ever more competitive league,' he said. 'There has been a lot of talk about the club becoming full-time, but at our current level of income and investment this is not possible. With that said, for the 2018-19 season the team will be part-time and will be in intensive training on Tuesday and Thursday evenings, in addition to this the team will also train on a Monday morning, which gives Gavin and his management team valuable extra time to work with his new squad.'
He added, 'Off the field we will continue to look carefully at all aspects of the club to ensure we build a club fit for the future, set on the foundations of stability, continuity, good solid structure and, most importantly, a club which is sustainable, not just for now but long into the future. For a couple of years now the club has needed a change of culture and a reimagining of its vision for the future. But it now needs more than ever more local support both in terms of financial support and through an upturn in the numbers of people getting involved to help the club with time and skills.
'There are still models at our level and slightly above (Accrington and Macclesfield spring to mind) which show that clubs structured correctly from top to bottom, and clubs which operate efficiently can still succeed. As a fan I know that success on the field is imperative, but we have to consider that success cannot be pursued at any cost, particularly at any long term detrimental cost to the club.'"
Curzon Ashton "are delighted to announce that striker Chris Sharp has agreed a deal to join the club from Alfreton Town. Thirty-one-year-old Sharp, son of ex-Everton and Scotland player Graeme, began his career in Wales with Rhyl before moving on to Bangor City.
Impressive displays for Bangor, including 33 goals in 40 appearances, earned Chris a move to The New Saints where he scored 22 goals in 29 appearances. After winning the Welsh title and playing Champions' League football in the process, the forward accumulated over 100 National League appearances across respective spells with Telford, Hereford and Lincoln. Chris also appeared for Salford City, Stockport County and Bradford Park Avenue before linking up with Alfreton Town last summer, where he started 25 games and scored seven goals.
Manager John Flanagan, on his third summer signing, commented 'Nev and myself are really pleased to be able to announce the signing of Chris. He's played well against us on a number of occasions over the last few seasons and subsequently I've had my eye on him. He's a big lad, powerful, aggressive and deceptively quick. Once again, my focus has been on improving our attacking options and I feel that if we use Chris in the right way we will benefit from an increase in our goals tally.'"
According to the Telegraph & Argus, "Shane Killock has signed a new deal at Bradford Park Avenue. After shaking off injury problems in the early stages of the season, the central defender went on to make 27 appearances in all competitions this season...
The 29-year-old was released by Huddersfield Town after just one first-team appearance... He achieved promotion to non-league football's top tier with AFC Telford United as captain and has also represented Ossett Albion, Oxford United, Harrogate Town and Guiseley. He becomes the fourth player to be confirmed as a member of Avenue's 2018/19 squad, following in the footsteps of Adam Boyes, Oli Johnson and Nicky Clee."
Still in Yorkshire, we learn that "On a sunny Saturday morning the new Guiseley AFC Management Team were at Nethermoor in front of the waiting press to give their first interviews since joining the club...
First up is an interview with Joint Manager Marcus Bignot. 'I am excited for a new challenge... Me and Russ have known each other for some time through our previous clubs, we share the same values and principles on football. I was encouraged by what I wanted to hear from the directors, for me my next club had to be with the right people and I have certainly made the right move to work with good people and the right people'...
The Joint Manager is ready for the training to start... 'To the Guiseley fans you are going to get a management team and a group of players who care, who will be approachable and you will be proud of us all, together nothing is impossible'".
---
24 May 2018
Altrincham FC is pleased to announce five pre-season games...
Saturday 7th July: Rhyl (A) 3-00pm
Tuesday 17th July: Macclesfield (H) 7-45pm
Friday 20th July: Crewe Alexandra (H) 7-45pm
Tuesday 24th July: Trafford FC (A) 7-45pm
Saturday 28th July: Salford City (H) 3-00pm
Remember that if you have a 2018-19 Altrincham FC season ticket, admission to the friendles at the J. Davidson Stadium is FREE, on production of your season-ticket book.
Hyde United
"announce that... returning to Hyde, albeit he was on loan last time, is defender
Sam Heathcote
. Sam made 6 appearances for the Tigers in his loan spell in 2016/17 season only losing one game he played in. An ex-Altrincham player, Sam [also] played 29 games for Ramsbottom and scored 11 goals for them in a makeshift striker role last season. Welcome back Sam".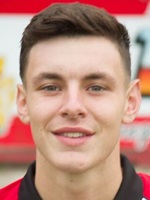 20 year-old Sam (right) graduated through Altrincham's youth team and reserves to sign Conference forms, as a back-up for the first-team, in March 2015. Converted from a striker (as he had been in his early days at Manchester United) to a centre-back in the Alty Youth and Reserves' teams, he was first included in the first-team squad for 2015-16.
He made a remarkable debut for the first team, coming on as an injury-time substitute against eventual champions Cheltenham Town on 5 September 2015. Within some ninety seconds he had scored the winning goal! With his opportunities in the first team limited, after making 5(+4) appearances in 2016-17, Sam went on loan to Hyde United. On his return he re-established himself as a regular member of the matchday squad.
Latterly, Sam has become a popular coach with the Altrincham FC community venture, a role which he retains. On 26 July 2017 it was announced that Sam had opted to leave the club after manager Phil Parkinson had indicated that he could not be promised a regular place in the starting eleven. He then joined fellow ex-Altrincham team-mates Kyle Brownhill and Jerome Wright at Ramsbottom United where he reverted to a striker's role. However, he made a welcome return to Altrincham on 1 March 2018.
He teams up again with Kyle Brownhill at Ewen Fields. Sam's Altrincham first-team appearances totalled 35(+26).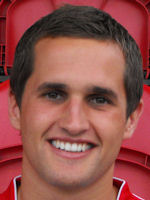 From the
Northern Echo
we learn that "Former Darlington [and Altrincham] striker
Chris Senior
(right) is to play in the club's Non-League Challenge friendly game in July. Senior scored the dramatic late winner in the 2011 FA Trophy final at Wembley, a moment that means he retains a place in the heart of all Quakers supporters.
'I'm really looking forward to it,' said Senior, who is now first team masseur at Sheffield Wednesday. 'My eyes lit up when I realised who else will be on the field...It's also a chance for my son to see me play football in the flesh!' The game will be played on Sunday, July 29 at Blackwell Meadows and will see Darlington play against a team of former Premier League players. It is part of the club's reward for winning the Marathonbet #NonLeagueChallenge, which was a competition to find the best goal celebration in non-league football."
According to
NL Daily
, "A move to get businesses behind a bid to buy-out Nuneaton Town Football Club has failed, forcing co-operative club members to go it alone.
That was the outcome of the Nuneaton Borough Supporters' Cooperative (NBSC) meeting where interested parties were asked to attend to discuss plans to buy out the Boro. While the asking price for the club and Liberty Way-based ground has not been revealed, it is known that it runs into six figures and, coupled with other concerns, it proved too much for businesses to get involved.
A spokesperson for NBSC said they will now revert to Plan B, working with Supporters Direct to finance the buy-out themselves but they have appealed to Lee Thorn, who owns the club, to get round the table and help them secure the future of the Boro...
'Nuneaton Borough Supporters' Cooperative chair Harry Warren and treasurer Mike Turner met with a number of people from the local community who had expressed an interest in supporting the Cooperative and their aims for a community run football club,' said the NBSC spokesperson. 'We delivered our vision to them regarding the future of the club, something which was widely bought into by the group, all of whom actively want to help us should we secure the football club. However, the price that has been quoted, coupled with information available in public domain about the operational situation of the football club, was deemed too high a risk for anyone to be interested in making financial support for our bid'".
Comment on this comes from the ever informative Bulls' News which says that "The owner of Nuneaton Town FC, Lee Thorn, wants to sell the club and has released a statement about what's led up to his decision. Late on Monday night I was informed that the Nuneaton Town Supporters Cooperative were not able to put together any offer for the football club and its Liberty Way home. I was very disappointed to hear this as I really wanted them to take over and make it a community and fan run club.
Two options were presented to the Coop:
Option 1 to buy the club and stadium at a figure supplied to them.
Option 2 to rent the stadium on a long-term lease which satisfied the competition criteria, based on an, under market value, rental figure (this option included taking over the clubs trading debts).
At no stage was any financial information requested by the Coop regarding the running costs, trading debts, or any other costs involved in taking on a club of our standing. The last few weeks have also proven that there is not a group of local businessmen waiting in the wings to invest in this club. They have had a chance to come forward and talk to me, yet none have taken it.
The Coop have shown, for a second time under my four-year tenure, that they are not able to take over the running of the club either. Since taking over at the club I have had to fight battle after battle to keep the club going. People inside the club have tried to sabotage it, people outside have tried to undermine it and people who want to cause the club to fail have tried to turn the town, and Boro fans, against the club for their own ends.
I have fought hard for over the past four seasons for a club that I have grown to love, but it has taken a toll and I'm now tired of the fight. I told members of the Coop about my intention to step down as Chairman and sell the club prior to my planned announcement. I did this to allow them time to prepare and plan, so they could spring into action when the announcement came. I also informed them that the application to change the club name, back to Borough, had been successful and when I had planned to announce it.
However, the Coop, for their own reasons announced those two things the day before I was going to, which made any statement from the club pointless. This meant our contracted players, employed staff, sponsors and fans found out from the Coop, rather than officially from the club, this alone created a huge amount of turmoil and uncertainty. This action has damaged relationships between the club and some sponsors, maybe irreversibly, and could cost the club thousands of pounds in lost sponsorship.
Prior to this I had not spoken to anyone about sponsorship for the coming season because I wanted to give the Coop a clean slate and a chance to earn as much money as possible upon taking over. I had also not set season ticket and admission prices, as I wanted the Coop to be able to set the prices they wanted, if they were to take over. Now it is clear they cannot table a serious bid, I must move on, as does the club. Other offers have been tabled which we hope to progress now that a line can be drawn, once again, under the Coop's ambitions.
The club must meet certain conditions to fulfil our licence to compete in the competition. We had three things to tick off to enable this to happen, we now have one item outstanding. It is not my intention, at this time, to re-enter the club, and I hope that a new owner is found as soon as possible, so that the work required to start the new season can commence."
The National League reports that "The new Alfreton Town boss Billy Heath is working hard to get a squad ready for the Vanarama National League North season. In total 13 players have been let go from the side.
These include Chris Elliott, Sam Topliss and Craig Westcarr [who] have all been released by the National League North side, while Tom Platt, Luke Shiels, Cieron Keane and Craig Disley have been retained. The club also revealed that Tom Allan had been offered a new deal with the Reds but opted to sign for York City. Eleven new players have signed for the side and the club say details of these will be released in the forthcoming days."
At Curzon Ashton, "three members of the 2017/18 playing squad will not be offered new deals for the upcoming season. Midfielder Luke Clark, 23, who joined the club in 2016 from Salford City, has accepted a job offer in London and will not be returning for pre-season at the Tameside Stadium. Fellow midfielder Richie Baker, 30, and centre-forward Ben Wharton, 27, have also been informed that they will not receive new deals at the club.
On the departures, manager John Flanagan commented, 'It's always difficult when you have to make decisions on who to keep and release. Unfortunately, following a difficult season, it's clear that changes to the squad going forward were required and, before we can adjust the squad, we need to create space for incoming players. Hopefully any new recruits will improve our level of performance for next season and help us stay away from the relegation threat that we had hanging over us this season'".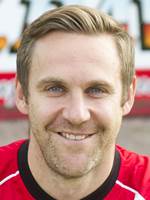 Bradford PA confirm that "Fan favourite Nicky Clee (left) has put pen to paper on a new deal after an impressive first season with the club. The tricky winger, who can also operate in central midfield or at left-back, joined from Altrincham in May 2017 and became a favourite amongst Avenue supporters due to his technical ability and work ethic. He made 35 appearances in all competitions for Mark Bower's side last season and spoke to us about his excitement for the season ahead...
'I'm really happy to have signed on for next season. I've been made to feel at home by everyone associated with the club from day one. My season was cut short with my broken toe, so I feel like I've had my summer already. I can't wait to get back amongst the lads and continue the good work that was done last season'".
The Shropshire Star reports that "Jonathan Royle has signed a new one-year- deal with Telford. The defensive midfielder's new contract ensures that he remains with the Bucks for a third season after initially joining on loan from Southport back in September 2016.
New boss Gavin Cowan knows exactly what he is getting from the 23-year-old after working closely with him over the last two seasons. 'Joff (Royle) has all the attributes needed for a midfielder at this level and I believe the level above', said Cowan".
Relegated
Tamworth
"Following the managerial appointment yesterday [see News for 23 May on this site], we are now in the position to offer a full update on the playing squad ahead of next season. Several new arrivals can be expected in the coming weeks...
Under Contract 2018/19: Akwasi ASANTE, Rhys SHARP, Tom SHAW, Aman VERMA
Offered Terms for 2018/19: Joel KETTLE, Chandler PEGG, Charlie SHAW, Connor TAYLOR (declined, signed for Leamington), Dexter WALTERS
Invited to Pre Season 2018/19: Sam COULSON, Dan JEZEPH, Bradley REID, Regan UPTON
Released: Andrew BURNS, Matt CURLEY, Jed DAVIES, Luke JONES, Darryl KNIGHTS, Jack LANE, Steph MORLEY, Callum POWELL
Following the final U21 fixture of the season on Friday May 18th, talks can now commence with individual members of that squad."
The Stoke Sentinel tells us that "Steve Burr has said he will look to establish an academy setup at Stafford Rangers via a link between the club and a local college. Last season, Boro's successful under-18 team, managed by Tim Turner, produced several players who stepped up to the senior side.
Most successful were striker Lucas Burnett and goalkeeper Riley Stephenson, both making their first-team boys towards the end of the campaign. And new manager Burr wants to continue and expand that focus on youth. He said, 'One thing that does surprise me about the club is no academy set up with a local college etc. Supporters love local lads coming into the first team and I do look at local lads. I have discussed with John (chairman Bromley) setting up an academy here, getting young players coming through. In my previous teams I have had lads who go and watch games for me as long as they get a ticket.
'I think it is important that you don't go too far afield, 25-30 miles, otherwise you have issues with training etc.'
Boro captain Josh Craddock and right-back Sam Griffiths have signed for rivals Hednesford Town, the club have announced. Meanwhile, Rangers have announced their first batch of pre-season friendlies – which will include a visit by Premier League outfit Leicester City".
---
23 May 2018
We are looking for supporters to renew or join the Patrons' Scheme for next season which will be the 13th season that it has run. The Club thanks those supporters who have signed up so far and invites others to join them in this important fundraising scheme.
For the cost of £50 your name will appear throughout the coming season in the matchday programme and on the soon-to-be-launched new website as a Patron of Altrincham Football Club.
At the start of the season, every member will be entered into a prize draw, with the winner being match sponsor for an appointed game along with nine guests. Second prize will be hospitality for five people and third prize hospitality for three people in the Manchester Glass Sponsors' Lounge.
If you are interested in becoming a Patron for next season, please forward a cheque, payable to Altrincham Football Club, for £50. Alternatively, you can pay by card by phoning the office (0161 928-1045). If you require any further information please do not hesitate to enquire by e-mail."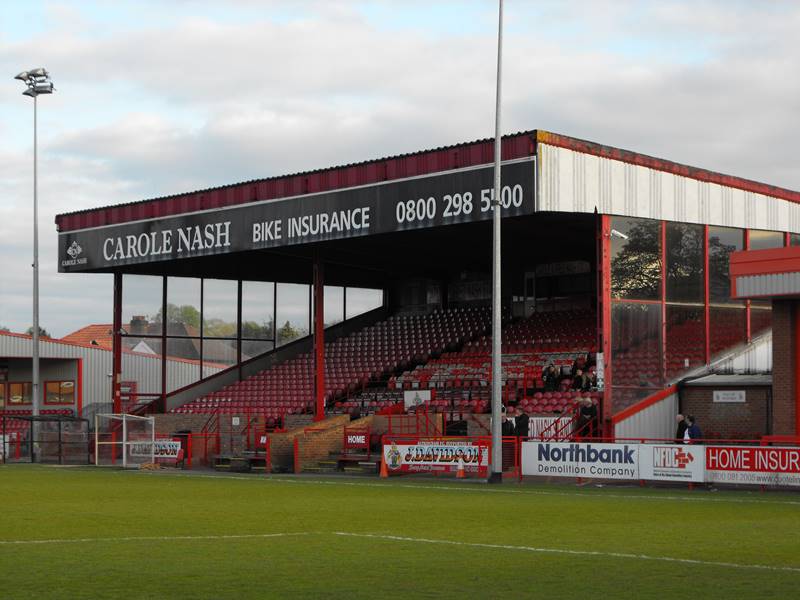 As previously announced the following admission prices at the J Davidson Stadium will apply for next season:
Adults £13
Concessions £10
Juniors (12-16) £5
Under 12s £1
Season tickets will be priced as follows:
Adults £220
Concessions £170
Juniors (12-16) £50
Under 12s £20
'Early Bird' pricing of Adults £210 and Concessions £160 will be offered for all season tickets purchased before 30th June.
Director Bill Waterson adds, "Thank you to all who contributed to this debate, and the board discussed it at some length on Thursday. We have set a price that is below the average pricing for the Conference North last season as we balance thanking you all for your excellent support last season with raising funds for the playing budget".
You can order your ticket now via the Club Offices although the tickets themselves will not be available from the printers till the end of May. Season tickets cover ALL league games and pre-season friendlies played at the J. Davidson Stadium. They do NOT cover cup matches.
At
York City
, "Striker Flynn McNaughton has signed his first professional contract with York City after graduating from the club's Academy. McNaughton, 17, made three appearances as a substitute for the first team last season and was also leading goalscorer for both the reserves and the Under-18s.
'I am really happy. It's a dream come true,' he said. 'If you had said to me at the start of last season that I would be making my first team debut in March, I would have said 'No, not a chance", but everything has fallen into place. 'My aim now is to break into the first team and try and make an impact. The first team will be looking for promotion next season and I just want to be part of it. I think the manager has made a big statement by bringing in players from the league above and we have got a really strong squad,' commented McNaughton. 'He has told me to come back for pre-seaso "fit as a fiddle" and be at the front of all the running. I will have to stake my case in pre-season games'.
Born in Scarborough, McNaughton joins midfielder Harry Thompson and centreback Josh Rogerson in signing professional terms for the club after graduating from the Academy this summer. McNaughton's father Michael was also a professional footballer who played for Scarborough 16 years ago before going part-time with Harrogate Town".
The National League reports that "Another of Macclesfield Town's title winners [has] opted to stay in the National League. Goalkeeper Shwan Jalal will remain in the division and has agreed to join new boys Chesterfield. He is the second key member of the champions to leave Moss Rose after midfielder Danny Whitehead put pen to paper at Salford City last week.
New Chesterfield manager Martin Allen was thrilled with his first signing. 'We have signed Shwan Jalal on a two year contract on a free transfer... We have a strong, reliable and decent keeper. On top of that, he knows what it takes to be a champion'".
At Hereford FC, "Bulls' boss Peter Beadle will hold talks with a number of players this evening as he continues his planning for next season's National League North campaign. So far eight players have agreed deals to remain at Edgar Street next season. Martin Horsell, Will Puddy and Eliot Richards are currently considering offers put to them by the club.
A number of players were away on holiday when talks began last week, and Beadle will start to meet with those players this evening. Jamie Cuss and George Hayes are currently the only two players to have been released, with Cuss being forced into retirement after an injury-hit two seasons."
They may have been relegated from National League North last summer but the National League reports that "Tamworth have announced their new management structure which they hope will lead them back into the National League. The Lambs were relegated last season after a poor second half of the season.
They are to rebuild in the Southern League with Tim Harris, who has been appointment as Director of Football. 'This will be an integral role within an exciting new first team football management structure, as the club aims for immediate promotion back to step two,' the club said...'[His] notable achievements include overseeing the rise of Newport County from Southern League to League Two, progressing to The FA Cup second round proper with three different clubs, and getting to the final of The FA Trophy...
'In the new first team football management structure, Mike Fowler will be retained as Head Coach', said a statement. 'Despite a disappointing end to last season, Fowler's work ethic, passion for the club, and potential are attributes that the club wishes to support and develop further. Key to the decision was Fowler's existing working relationship with Harris. Mike has worked with Tim extensively over the past fifteen years, and has captained three different clubs under his leadership.'
The final part of the new first team football management structure will see former club captain Paul Green return to The Lamb in a player-coach capacity."
---
22 May 2018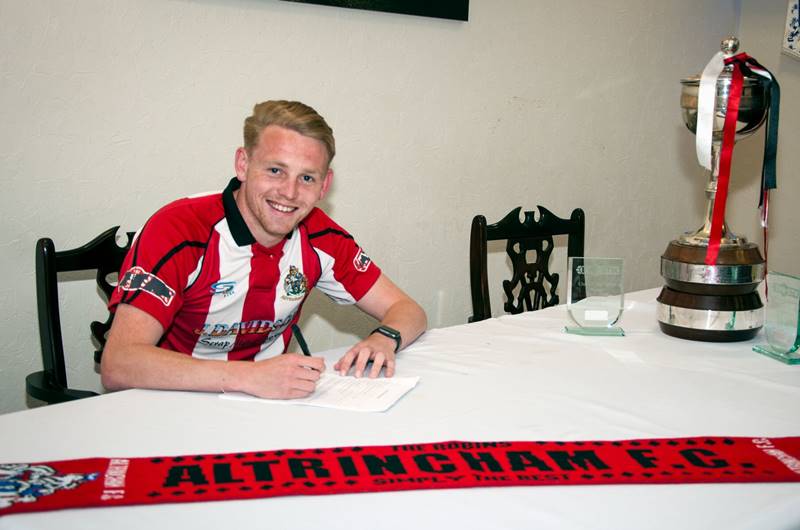 Press and Media Officer John Edwards writes that "Sean Williams (seen above, in an image courtesy of Mike Ripley), has become an Altrincham player for the second time and expressed his delight by saying: 'I've signed for the champions – what could be better?'
As the mainstay of Warrington Town's midfield, the industrious Williams spent most of last season trying to deny Alty the Evo-Stik Northern Premier League title, before doffing his cap to the 'sheer quality' that saw Phil Parkinson's team over the line with two games to spare.
Now he's devoting all his energies to building on Alty's success under Parkinson and making a positive impact on the Vanarama National League North after readily accepting an invitation to become the Robins manager's second signing of the summer, following last week's acquisition of forward Anthony Dwyer.
Reflecting on a mutual respect between himself and Parkinson that developed during an eventful title campaign, Williams said: 'Warrington and Altrincham played each other four times last season, so we bumped into each other quite frequently and would always have a word.
'It was a bit of a snarling match to begin with, because we were enemies, both going for the same prize! But it was always clear he liked how I played and rated me, and it goes without saying I admired the football Alty played and the way they won the league.
'It was a bit of a rollercoaster for us at Warrington, trying to hang on to Alty's coattails. We did ok in the head-to-heads, but generally we'd come off after beating some other team, look for Alty's score straightaway and find they had won three or four nil.
'We all got a bit excited and thought we were in with a shout when we finally managed to narrow the gap to a point, but quality and strength in depth shone through and took Alty clear again. Honestly, you look at that squad, and it is sheer quality. For large parts of last season, they just looked like they were not going to be beaten.
'So it will be really good to work with those boys, and the manager, instead of against them. I'm coming from a really good club and good team, but it didn't take much thought or persuasion when I got the call to rejoin Alty.
'It's nice getting a phone call asking you to play for the league champions. That's the sort of call I like, and I'm really excited about the season ahead. Alty are a club I have always liked, and I really enjoyed playing for them first time round, so I can't wait to get started again.'
The energetic midfielder accepts he faces a battle nailing down a staring place but it relishing the challenge.
'First and foremost, that's what I'll be aiming to do, but it won't be easy,' he said. 'If you asked me who took my eye most last season, I'd struggle to single anyone out, because there's so much quality in so many positions.
'There is competition for places in every area, which is what you want. You don't win the league like Alty did with ordinary players, but if I can add a bit of quality to what we already have, I'll be delighted.
'You look at the retained list, and a lot of the boys who were doing it week-in, week-out last season have been kept on, and I'm really looking forward to playing with players I rate so highly. I hope, no I believe, we can bring the same good times to the club that we had in the National League when I was here before.'
Williams vividly recalls how any despondency over two opening defeats in the National League under Lee Sinnott was swept aside by a memorable home win over Bristol Rovers.
'That's probably the abiding memory of my first spell at the club,' he said. 'Bristol Rovers were a big name for that level, a club with a long Football League history, but we saw them off in style. We were 2-0 up before they scored a late consolation goal and were worthy winners.
'That's when we started believing. From that point on, we all firmly believed we were capable of at least holding our own in that sort of company, and so it proved. A team like Bristol Rovers had come to our back yard and been sent packing – that was a great memory for me.
'I really enjoyed my football at that time and played with a freedom that was down to the style of football the manager favoured. The current gaffer has a similar philosophy and has instilled a real togetherness among a squad full of talent. There is a good spirit on the pitch and off it. I've kept in touch with some of the Scouse lads, and that comes across whenever I speak to them.
'It's great to be rejoining the club when there's such a feelgood factor. I'm pleased the fans are feeling positive again after a couple of ropey seasons, and it's great to see the club on their way back to where they belong. The aim will be to keep that going, but, in the meantime, I'm just looking forward to seeing some familiar faces again, supporters as well as team-mates. I hope I get the same welcome I got first time round - and we get the same results that took us into the National League.'"
Background:
Sean (born 20 January 1992, in Liverpool) first signed for Altrincham, from Colwyn Bay, in May 2014. Prior to that, he had another spell with the Bay, and had also played for FC Halifax Town where he was part of their promotion squad from Conference North. Earlier, he also spent time with Stockport County, Vauxhall Motors, Hyde and Skelmersdale United.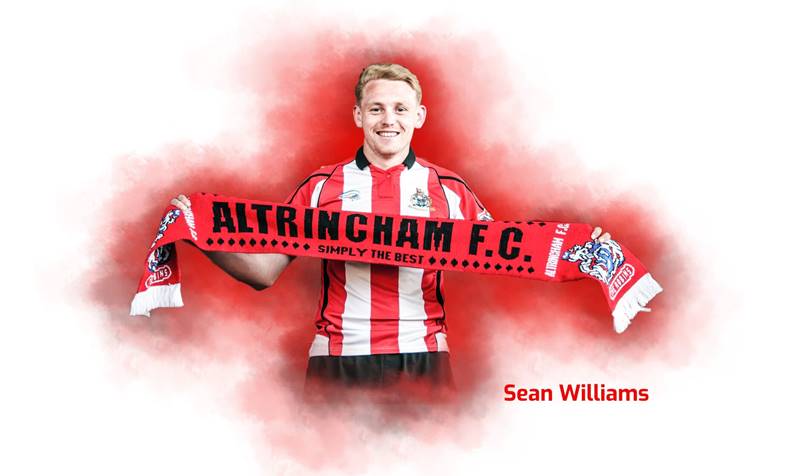 Above: Image courtesy of Michael Ripley.
After 25(+12) appearances for Altrincham, Sean was released by Lee Sinnott at the end of the 2014-15 season and, like his ex-Alty team-mates Kyle Perry and David Parton, he joined Hednesford Town for 2015-16.
By the start of 2016-17 season he had moved on to AFC Telford United but, in mid-November 2016, he signed for Warrington Town where he became an important figure in their reaching the promotion play-offs in 2017-18.
On Sunday, in their final league match of the season, Altrincham FC Youth beat Prescot Cables 1-0. Many clubs in the NWYA Premier Division have a signifcant number of matches to complete so quite when the final table will be known is difficult to say!
NL Pitchero
reports that "Brackley Town, whose league season came to a disappointing finale when they lost 3-0 at Harrogate Town in the Promotion Final a week ago, claimed the Buildbase FA Trophy in a thrilling final at Wembley.
The Northamptonshire side overcame Bromley from the National League on penalties after a terrific effort from both sides over 120 minutes in searing heat under the arch.
The first half was largely Bromley`s, although Matt Lowe had an effort blocked for Brackley and James Armson volleyed over the bar. Omar Bugiel had the Raven`s first chance but fired wide. However, in the 20th minute it was the former Forest Green Rovers striker who broke the deadlock. Some neat work from Adam Mekki saw him slip the ball through to Bugiel, whose cool, left-footed finish flew past Brackley `keeper Danny Lewis into the far corner of the net to send over 16,000 Bromley fans into raptures...
Bromley were 26 seconds from winning the FA Trophy when Brackley's outstanding skipper Gaz Dean was in the right place at the right time in normal time as a shot from Shane Byrne hit the post and bounced in off him and Bromley's vastly experienced former Wolves defender Roger Johnson.
So, in searing heat, there was to be another 30 minutes, and with both sides visibly tiring and play becoming lethargic, the extra-time period petered out...
---
21 May 2018
In Sunday's
Non-League Paper
, Jordan Hulme is interviewed after lifting the National Game Awards Step 3 & 4 Player of the Year trophy.
"I really didn't like football nine months ago, to be honest", Hulme said. "I fell out of love with it and got on board with Altrincham to see how things went. But to be winning an award now is unbelievable and I've really enjoyed every minute of it. I'm just so happy to win this award.
"You can go places on a Tuesday night and be questioning whether you want to be doing it anymore and you come to this part of the season and you're absolutely loving it and you can't wait to start again.
"It's a long season of ups and downs but that's football".
The NLP reports that "Hulmne had been planning to play in America throughout the summer until a snag with his clearance scuppered the short-term move. But it did mean he could travel to Stamford Bridge to collect his award. As self-deprecating as ever, Hulme joked the nominations must have come from a single performance...
'I still can't believe it. They must have watched a good game. I feel like I've had a good season but I'm helped by great team-mates, a great gaffer and a great club. I'm taking all the accolades at the minute and I can't complain about that. There's a common goal to do well in football and you need these things to get people together'".
Altrincham FC's Bonus Ball has twelve numbers avaulable. For just £1 a week, you could win £25 if your number is the bonus ball in the Lotto draw. The remaining stake money goes towards the Football Club's expenditure. The numbers available are 11,12,21,24,25,30,33,34,35,36,47 and 49. Please contact
Grahame Rowley
or the
club office
to sign up for any of these numbers.
Chorley
announce that "Club stalwart Adam Roscoe is among seven players set to leave The Magpies following the conclusion of the 2017/18 campaign. Defender Kieran Charnock and forward Jason Walker are the other permanent members of Matt Jansen's squad to depart, while the loan deals of Matt Urwin, Luke Burgess, Delial Brewster and Lee Molyneux have ended.
Fan-favourite Roscoe enjoyed two spells at Victory Park, signing initially in 2005, before returning in 2011 during Gary Flitcroft's reign as manager. Playing a total of 345 games in a black and white shirt, the 32-year-old will be best remembered for his stunning overhead kick against Boston in the 2015 play-off semi-final...
Assistant manager Jamie Vermiglio told chorleyfc.com, 'The number of appearances he has is testament to his commitment. His attitude and personality around our changing room has been first class... Adam moves on with our best wishes in search of more regular football as he approaches the back end of his career'...
Charnock (82 games) and Walker (87 games/27 goals) have spent three and two years respectively at Chorley, playing big parts in a period of sustained success in the sixth tier.
'Kieran and Jason have been very important to us as we've strengthened and progressed as a club,' manager Jansen said. 'Kieran has always been very professional and when opportunities have arisen he's never let himself or the club down. Unfortunately, he wasn't going to play as much as he hoped and so it is only fair that he moves on to enjoy the rest of his playing career.
'With Jason it was a very difficult decision. His experience has been vital for us as we pushed into the play-off positions. He's a player who's brought cleverness to our build-up play and who's contributed with his fair share of goals. Jason will improve whatever team he goes to and we wish him all the best for the future.'
Of the temporary signings moving on, goalie Urwin made the biggest impact, producing consistently excellent performances while starting 54 of 55 matches in all competitions. He returns to Fleetwood, who executed their one-year contract option on the 24-year-old last week.
'Matt was incredibly good for us this past season,' Jansen added. 'We were never let down by Matt and I fully expect him to go back to Fleetwood and push for the number one jersey. I feel we've helped him progress both on and off the field and a full season under his belt has helped him find his confidence and belief; he is a Football League goalkeeper without a doubt.'
Guiseley loanee Molyneux made 11 appearances in the first team, acting as a crucial stand-in for Adam Blakeman on the left flank. Former Everton striker Brewster will be best remembered for what turned out to be the winning goal in the Challenge Trophy final at Bolton last month, while midfielder Burgess returns to Wigan after playing a vital role in the Macron Stadium showpiece".
At Bradford Park Avenue, "After what can only be described as a successful season, albeit the semi-final disappointment, the club wish to maintain the impetus and assist Mark with assembling a squad that can continue the good work of 2017/18.
Owner in waiting Gareth Roberts stated 'We are going to continue supporting Mark and maintain the same level of playing budget. Although, the costs associated with running the club are high and, whilst we have to cut some costs, we will be looking to improve our revenue streams to support Mark and improve the Stadium. To start we will be re-launching the Players Fund that assisted Mark and the lads to get to the Play-Offs last season. We are hoping that our supporters, from all over the world will get behind the club and the money donated will be ring-fenced to assist Mark throughout the season'".
---
20 May 2018
Trafford FC
report that "Following discussions with manager, Tom Baker, we are very pleased to announce that Mark Derbyshire, Keil O'Brien,
Darius Palma
and
Laurence Taylor
have agreed terms for 2018-19 and will return to Shawe View for the forthcoming season".
All at Altrincham wish both Laurence (right) and Darius every success next season. Laurence made 25(+6) appearances for Altrincham, whilst Darius made 3(+4) appearances. Both players were graduates of the Altrincham FC Youth system and also played for the Reserves.
NL Pitchero
tells us that "Bradford Park Avenue have announced that manager Mark Bower and his assistant [ex-Alty midfielder]
Danny Boshell
have signed contract extensions that will run until the end of the 2020/21 season.
Former Guiseley AFC boss Bower was appointed in September 2016 and guided the club to National League North safety in his first campaign. He took the helm again in the 2017/18 season and led Avenue to a seventh-place finish and into the semi-finals of the play-offs. As a player, he made over 200 appearances for neighbours Bradford City and has now established himself as one of the best young managers in non-League football.
Boshell was Bower's right-hand man during their time at Guiseley, combining a role in the dug-out with duties in the centre of the Lions' midfield. He assumed the same role upon joining Avenue in September 2016 and made twenty-eight appearances last season."
Also at Bradford Park Avenue, "The club can confirm that popular defender and Academy coach Matt Hill has left the club. The veteran left-back has moved on after a two-year spell with the club, during which he had a stint as Assistant Manager and worked closely with the Academy. He becomes the fourth player to leave since the end of the season after the departures of Javan Vidal, Adam Smith and Lee Knight were confirmed on Tuesday.
Matt joined Avenue from Tranmere Rovers in July 2016 and quickly established himself as an integral member of the playing squad after leaving his post in the dugout. He made 32 appearances in all competitions last season and was an influential figure throughout despite missing out on the play-offs through injury.
Bower said of Hill, 'He's been magnificent for us since he arrived. His professionalism, both on and off the pitch, has been a great example to the other players in the squad and he has performed consistently well over the past two seasons... Four players have left us this week and we're in discussions with the rest of the squad. It is always a difficult time of the year and saying goodbye to players that have given everything for the club never gets easier.
Javan (Vidal) played in numerous positions for us and always gave 100% for his teammates... Lee (Knight) had a frustrating season with limited opportunities and I hope he finds a club that offer him regular game time so that he can build on the potential he has. Adam (Smith) is a great lad who was unlucky with injury during his short time with us'".
Back on this side of the Pennines, Chorley report that "Long-serving goalkeeper Sam Ashton has announced he'll be leaving The Magpies after five years at Victory Park. In a Twitter post the 31-year-old stopper, who spent the second half of last season on loan at Ramsbottom United wrote... 'I've had some great times at Chorley FC'...
Injury curtailed the former Bolton Wanderers trainee from making any appearances for Chorley during the 2017/18 campaign, leaving his tally at a no-less impressive 167 games. 'We had a long discussion with Sam about his future,' manager Matt Jansen explained. 'He's a very honest person who has expressed his desire to play as much as possible in the next few years. Unfortunately, after his injury, we couldn't guarantee the playing time he wanted. We did want Sam to come to pre-season so we could assess his fitness level but, with offers from several clubs to be their number one, Sam feels he can't turn the opportunity down...
'He's been a big part of our success over the last few years and contributed greatly to the growth of Chorley Football Club'".
At Curzon Ashton, the club confirms "the signing of defender Danny Morton from Stalybridge Celtic. Full-back Morton, who spent time at Burnley and Blackburn during his youth, becomes John Flanagan's second summer addition after winger Connor Hughes joined on Thursday. The defender became a fans' favourite in his two-year spell at Clitheroe after signing from NWCFL side Barnoldswick Town in 2013...
The 25-year-old earned a move to Stockport County where he spent the entirety of the 2015/16 season and collected their Young Player of the Year award. Danny joined Stalybridge in 2016 from Colne and was awarded the captain's armband for the 17/18 season at Bower Fold, where he made 77 appearances...
Manager John Flanagan said... 'Danny is a player that I've tried to sign previously but circumstances this time allowed us to get the deal done. He's a great age at 25, experienced and athletic with some excellent leadership qualities so he will bring a lot to our changing room. As a player, he's adaptable so he's able to drop in at full-back, centre-half and centre-midfield'".
News of a former Alty loanee comes from Southport, where "Defensive player Andy Parry (right) has joined Southport FC on a one-year deal. Andy re-joins Southport FC for his third spell at the Club. The 26-year-old Liverpool-born Parry can play either in defence or midfield.
First joining in 2011, Andy made 62 appearances for the Sandgrounders in his first spell at the club. The 26-year-old became a firm fan-favourite at Southport, with his performances securing a move to Luton Town for an undisclosed fee. In 2013 Andy featured for England C against the Czech Republic.
While at Luton, Andy made loan appearances for AFC Telford United, Altrincham, Barrow and Southport, where he added four more appearances to his tally for the Club... Andy earned a permanent move to Barrow, where he has made a total of 22 National League appearances.
Liam Watson said, 'Andy was one of the first players we wanted. I know what I get from him. He can play anywhere, right-back, centre-back, centre-mid. The fans know him, he was brilliant when he was here and he got sold on my last day to Luton Town, I'm delighted to have him back through the door'.
Andy said... 'I'm made up to be back. You see all the things happening around the Club and around the ground, it's a really exciting time'".
Meanwhile, at Stockport County "County Manager Jim Gannon has confirmed that contract offers have been made to defenders Chris Smalley and Steve O'Halloran, and that positive talks have taken place with Jason Oswell and his representatives.
However, the manager has decided, at this stage, not to offer a further contract or non-contract terms to Michael Clarke, Harry Winter, Harry Brazel or George West. Both Michael and George have been offered the opportunity to return to the club for pre-season training and talks may continue with those players at that stage.
Jim said, 'These decisions have been very difficult in light of the good work that the players have done this season. I've worked with several of these players over a number of years and the working relationship extends beyond just professional. They're very good people who've shown great heart for the club'...
Jim explained that one of the challenges lies in planning for a switch back to full-time football in the near future, with the club committed to making that additional investment. He said, 'The difficulties I have are in improving the team for the coming season, but we're also mindful of any future move to full-time football in the coming years and how the squad will need to be reshaped with a different type of professional who can commit more time to football. Since the turn of the calendar year we have shown that a combined working environment that allows the continued strong performance from part-time players, mixed with a growing environment for the young players committed to becoming better professionals, has worked to make us as effective and high-performing as the full-time and higher budgets teams in the division.
'I feel that the emerging model at the club is the most cost-effective and efficient model for us to progress with at this stage, but the aspirations of the club are to become more competitive. I feel the main area for improvement is to attract and develop good young players who have proven themselves at least at this level, but have the potential to become better and play higher. But we know we must combine that with a back bone of strong professionals that provide the character, experience and game-craft to progress the club to a higher position this coming season'...
Jim Gannon also... said, 'I am heavily engaged with a large number of prospective players and we expect to close in on a number of our targets and the best players for us over the coming weeks'...
Chris Smalley first came to Edgeley Park in December 2015 from Kendal Town in the midst of an injury crisis, and has been a regular in the back line ever since. He made his debut in a 4-0 win at Corby Town and has now played almost 100 games for the club. Chris, 28, previously spent time at Clitheroe and played under Jim Gannon at Northwich Vics.
Steve O'Halloran is an experienced left-sided defender who began his professional career in the Premiership with Aston Villa, earning two caps representing the Republic of Ireland. He went on to play for Wycombe, reaching the League Cup semi-finals, Coventry City, Carlisle United and Nuneaton. Stephen, 30, first joined the Hatters under Ian Bogie and stayed for two seasons before being released by Neil Young to join Salford City in 2015...
Jim Gannon brought Steve back to County last May and has now clocked up more than 120 games for the Hatters during his two spells at Edgeley Park".
The National League reports that "Brackley Town knew if they were going to win the FA Trophy, they would have to do it the difficult way. Ten games later, the little club from Northants are at Wembley and they are determined to make the most of every second of it.
They aren't alone in doing the hard yards. Bromley have spent more on petrol than than their 16,000 fans have on tickets combined! The Ravens took in trips to Workington, Blyth Spartans, Spennymoor, Darlington and Gateshead before reaching Sunday's final.
Brackley manager Kevin Wilkin knows whoever goes on to lift the iconic piece of silverware under the Arch would have deserved it. 'Both teams have taken some winding roads to get to Wembley,' he said. 'We have had ten games, a fair few replays, and some tough old matches. We learned a lot about ourselves and became stronger for it. This is a huge match for us'...
Of course it could have been an even better season for Brackley and their fans, with around 6,000 of them expected to be cheering on the Saints. But they couldn't do the first leg of what they hoped would be a great double, losing 3-0 in last Sunday's National League North Promotion Final at Harrogate Town...
'We have got to re-group after last weekend,' Wilkin said. 'We need to find our focus and have one final push. We desperately want to end a great campaign on a high. We have played 61 games this season and we can't afford to look as tired as we were at Harrogate as the Wembley pitch takes no prisoners'".
---
---
---
---