an unofficial Altrincham FC website
OPTIONAL DROPDOWN MENU - HERE
---
NEXT MATCH: Season 2020/21

Vanarama National League!
---
ALTY HEADLINES
OTHER HEADLINES
---
13 August 2020
Altrincham FC
announced on Wednesday evening the arrival on contract of their former loanee from Blackpool, Yusifu Ceesay, and also the signing of former Tranmere Rovers and Morecambe defender Richie Sutton.
Heading out of Moss Lane are Max Harrop and James Hooper, the latter joining Lewis Archer in joining Alty this season but never getting onto the pitch.
ARRIVALS:
Yusifu Ceesay

Ceesay (d.o.b 21 March, 1995 in Barcelona, Spain) has had two loan spells at Altrincham. A tall, powerful and speedy left-winger, Yusifu rejoined Altrincham for a second loan spell in 2019-20 season, in time to make his second debut, against Farsley Celtic, on 31 August 2019.

After impressing during this second spell at Alty, Yusifu was sidelined by a hamstring injury in mid-September 2019 before his loan spell ended without any further appearances on 4 January 2020. Sadly, this second loan comprised just 3(+2) games.

Yusifu's first loan spell at Altrincham from Blackpool was in 2018-19 season. At that time, on 6 February 2019, it had been the winger's fourth National North loan-club of that campaign. His arrival had immediately followed a month's loan at Nuneaton Town whilst, earlier in the campaign, he had also spent loan spells at Boston United and AFC Telford United. Before that, Ceesay had first emerged at Sporting Khalsa, in the Black Country from where he had moved to Alvechurch.

Blackpool originally signed him in September 2018 before loaning him out for spells at the three National League clubs mentioned above, as well as for a couple of months back at Alvechurch in autumn 2018.

In all, before his signing for Altrincham yesterday, his appearances for the club comprised 16(+4) games, in which he netted three goals.

Richie Sutton

34 year-old defender Richie's early encounters with Altrincham included appearances for Stafford Rangers in 2006 whilst he was on loan from Crewe Alexandra. He later joined Stafford Rangers, Northwich Victoria and Halifax Town before a spell at Nantwich Town.

He next played for Port Vale in the Football League (2010-11) before spending four years at Mansfield Town (2011-15).

Four more years followed at Tranmere Rovers, during which he had a loan spell with Barrow (2016). He was at Morecambe last season before The Shrimps released him this summer.
DEPARTURES:
Max Harrop

27 year-old midfielder Max Harrop joined Altrincham on the eve of the opening game of the 2017-18 season. His career began with Liverpool FC's Academy, before he moved to Bury, where he made his Football League debut in March 2011. At the end of that year he went on loan to Blyth Spartans. After returning to Gigg Lane, another loan followed, at Hinckley United.

After he had been released by Bury, he joined Nantwich Town in the summer of 2013. However, he left for Ashton United in March 2015 but, at the start of the following campaign, he was at Ramsbottom United. However, he rejoined Nantwich in 2016. His energetic performances and long-range shooting soon made him a popular figure with supporters of Altrincham.

However, his regular starts were curtailed by injury in February 2019 and of his 41 games in 2018-19, 13 were from the bench. Having got back into the side he was sent off in January 2020 and suspended before making further appearances, predominantly from the bench. 2019-20 also saw his starts limit and he made just nine starts but twice as many appearaances from the bench.

His Altrincham appearances to August 2020 totalled 63(+44) games and he scored 12 goals.

James Hooper

On 8 February, Altrincham announced the signing of Timperley resident James Hooper (aged 23) on non-contract terms. Following a broken collar-bone before his arrival, James was not immediately available to play and it was agreed that he would remain at his former club, West Didsbury & Chorlton, on dual registration. However, some ten days later, he signed dual registration forms for Witton Albion in the NPL.

James started out as a professional with Rochdale (2015), where he was their youth team Player of the Season (2014-15). He progressed to play twice for Rochdale in the EFL before loan spells with FC United and Stockport County.

From Rochdale he joined Carlisle United on a short-term deal, making one League Two appearance for the Cumbrians, before moving on to FC United od Manchester and then Radcliffe Borough (2017) where he became the club's leading scorer that season (2017-18). In summer 2018 he rejoined the professional ranks at Salford City. Later that year he moved on to Chorley, where his games included a late substitute appearance against Alty in January 2019. Early in 2019-20 season he rejoined Radcliffe.

He was first named in an Altrincham first-team squad in the Play-Off Eliminator against Chester FC on 19 July 2020 but he did not manage to get off the subs' bench in that game or subsequently before his departure was confirmed.
Altrincham and Macclesfield Town were last in the same division in 2015-16 when Altrincham ended the campaign being relegated from the National League and Macclesfield finished tenth.
The Robins then sank to the Northern Premier League in 2017 and, although they won promotion back to the National League North in 2018, their joy was partly offset by The Silkmen winning the National League and regaining EFL status, to maintain a two level differential between the clubs!
After finishing 22nd in the National League in 2019, Macc's 2020 relegation, alongside Altrincham's promotion, brings the Cheshire rivals back together for 2020-21. So, there are now three Cheshire teams in the National League with Stockport County being the third club, having been promoted to that level in 2019.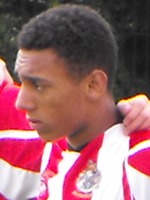 Curzon Ashton
report that the club's "latest signing [is] Darius Palma [right], following his arrival from Northern Premier League North/West side, FC Trafford.
21-year-old Palma has been with Trafford since January 2018, having arrived from Altrincham, and has since then proven his worth on the wing, contributing a number of key goals from wide positions while at Shawe View.
Palma, who can also operate at left-back, had joined Alty back in July 2016, and went on to spend two years with the Robins before making the move across the Manchester to Trafford. While at Moss Lane, he also enjoyed a short term loan spell with Kidsgrove Athletic.
The midfielder is not known solely for his footballing ability, as he has also fought at elite level in kick boxing competitions from the age of six, and has since gone on to register over 15 professional fights, winning at least 10 of those".
Background: 21 year-old Darius made his first-team debut for Altrincham as a substitute at Macclesfield Town in the FA Trophy on 4 January 2017. His league debut followed later that season at Darlington. After a further first-team start in 2017-18 in the Integro Cup, Darius signed dual registration forms with Kidsgrove Athletic in early December, 2017 and in February, 2018 he went on loan to Trafford FC. His appearances for Altrincham totalled three starts and four appearances from the bench.
The latest profile in Terry Rowley's
Alty Legends
sequence is Frank Briggs, who went on to play in the Football League but had his career compromised by World War II.
West Didsbury & Chorlton have strong and friendly links currently with Altrincham, the South Manchester side now being managed by former Reserves' manager at Moss Lane, Chris Rowley. They also feature several players who have also played for Alty. Things were not quite the same fifteen years ago today, on Saturday, 13 August, 2005, when WD&C hosted Altrincham Reserves in a pre-season friendly match which Alty won 6-1. But the term "friendly" turned out to be an inappropriate label as the game was abandoned by the Alty manager after it had become over-physical!
Reserves' boss Neil Brown reported on the game...
Leigh RMI Reserves had only managed to beat West Didsbury & Chorlton 1-0 in the hosts' last game so Altrincham expected a tight match. But, they were already 4-0 up after just seven minutes.
The goals started after two minutes when Heffernan [left] found Lynsey in midfield and, via Jones, the ball came to Grimshaw, who went past two defenders and as the keeper came out, he slotted the ball into the right corner of the net. After four minutes, with Altrincham's pace troubling their opponents, Lynsey in midfield flicked the ball over to Heffernan who, in turn, found McFadden. He fed Maloney who slotted the ball home, sidefooted, from 10 yards. It became 3-0 after six minutes when McFadden beat a defender for pace before shooting past the keeper into the bottom, left corner.
A minute later it was 4-0. McFadden [right] and Monaghan got the ball to Jones, whose mishit effort went to Michael Brown on the far right. He played a good pass to McFadden who, again, beat a defender before powering a shot into the corner of the net.
But West Didsbury replied with a goal on 18 minutes after keeper Milner had called for the ball but failed to hold it. Marsden and Monaghan then collided as they attempted to clear the danger and left an open goal for Mohammed to score. The scorer had, ironically, been loaned to the opposition by Alty for whom he had applied for trials.
But Alty soon went to the other end and made it 5-1, after 21 minutes, when slick play, involving Heffernan and Lynsey saw the ball flicked to Maloney and on to Brown on the wing. He found McFadden who scored. It was 6-1 after 25 minutes when Griffiths got the ball and Mike Brown then found Mongahan on the overlap. The passing continued, via McFadden to Griff Jones, who rounded the keeper to score into an open goal.
In the second half Alty were playing very well with pace and neat one-touch passing but their opponents' physical response led to problems in the second half. Just before the hour goalkeeper Ellison slid out to gather the ball as Mohammed advanced and the striker's boot connected with the keeper's head after the ball had been gathered by Ellison. With Ellison looking badly hurt, a melee developed and the referee sent off Mohammed, though Alty allowed a replacement player to come on. Then McFadden was elbowed in the face and after a studs-up tackle caught former Vics man, Bingham, Alty manager Neil Brown withdrew his side from the game to avoid further injuries. It was an unfortunate end to a "friendly" game.
Following their latest points' deduction and resulting relegation,
NL Daily
reports that "Macclesfield Town head coach Mark Kennedy and assistant Danny Butterfield have left the club.
The former Crystal Palace pair have declined the club's contract offers, Macc say... Former Republic of Ireland international Kennedy was named as Macc's head coach back in January."
And another National League club finds itself without a manager as the National League reports that "Barnet are beginning their search for a new manager after Darren Currie left the club.
The Bees have confirmed the departure of their popular boss in a brief statement this morning. He guided the club to a play-off semi final last season after taking a top seven place on the unweighted points per game basis. The season before, he took the North Londoners into the FA Cup third round where they came close to shocking Brentford. Currie's assistant Junior Lewis has also left the Hive, the National League outfit announced".
Earlier, "Barnet Football Club can today (12th August) announce that Head Coach Darren Currie and Assistant Coach Junior Lewis have left the Club... We will release a more detailed statement in due course."
And there has been a management blow at a third National League club as the BBC confirms that "Scunthorpe United have appointed Notts County assistant boss Neil Cox as their new manager.
The ex-Aston Villa and Watford defender, 48, has succeeded Paul Hurst, who was sacked by the Iron in January after eight months in charge. This is Cox's first job in full-time management having previously served as Neal Ardley's assistant at both AFC Wimbledon and Notts County. Cox is from Scunthorpe and started his playing career with the club.
'It's been a long time since I left and I'm obviously over the moon to be back,' he told the club website. 'It was the easiest decision I've ever made. I left 29 years ago and I really didn't want to go but I had no other choice at the time'".
According to the Leader Live "Jake Lawlor will be playing in League Two next term after signing for Harrogate Town.
The 29-year-old centre-back spent the last two seasons at Wrexham, where he made 65 league appearances, but he was one of 11 players released by Reds' boss Dean Keates at the start of July.
Lawlor has been snapped up by Harrogate, who clinched promotion to the Football League for the first time in their history by beating Notts County... Prior to joining Wrexham, Lawlor had a brief spell with Salford City and previously spent five years at Guiseley, and also had time on loan at AFC Fylde".
Also from the Leader Live we learn that "The National League season is set to start in less than two months time and Paul Rutherford would love to be turning out for Wrexham on the opening day.
Rutherford is one of three players that Reds' boss Dean Keates is holding contract discussions with... Rutherford, who arrived at The Racecourse in the summer of 2016 and would be the second longest serving player in the squad after Mark Carrington, hopes to strike a deal with Keates so he can extend his spell with the club into a fifth season.
'It is reassuring that I am part of the gaffer's plans and hopefully we can get everything sorted, and we can go forward together,' said Rutherford, who has made more than 150 league appearances... 'I love being a part of the football club and I want that to continue... These are difficult times but hopefully we can achieve the outcome that we all want because I want to stay.
'I have loved my spell at the club, it is something that I will cherish for the rest of my life and I want that to continue as long as possible'...
'A misperception by people is football is back in the Premier League and Championship so that means it must be back,' said Rutherford... 'For a club at our level, below and in League One and League Two, matchday income is a massive part of their revenue and [it] is a different ballgame... It is a good move by the National League to put the dates back in line with the statement released by Boris Johnson saying crowds can start to return to venues from the beginning of October.
'If it is not straight away, it is important that as many games as possible are played in front of crowds because clubs need that income'...
Rutherford, a 33-year-old winger who has played for Chester, Barrow and Southport, and his Wrexham team-mates have not returned for pre-season training yet. The Wrexham players could report back on Monday, while the National League are due to announce next season's fixtures on September 8...
Added Rutherford, 'By the time we got to October last season, we were nearly a third of the way through the season because of the scheduling'".
The Derbyshire Times says that "When the Spireites sold Liam Cooper to Leeds in 2014 they negotiated a clause which would entitle them to an additional sum of money if the Whites won promotion to the Premier League and if the defender made a certain amount of appearances during the same season.
Leeds won the Championship title this campaign and Cooper played a large chunk of games, triggering the windfall. The Spireites were taken over by the Chesterfield FC Community Trust last week, and they had been 'assured' by the previous ownership that the payment, believed to be around £150,000, would arrive this week. But to the Trust's 'surprise', they have since found out that the money had already been received by the club before they took over.
Spireites chairman, Mike Goodwin, said 'We are naturally very disappointed to have missed out on receiving a six-figure sum from the sell-on clause, but the matter was out of our hands. Having been assured that the payment was due to be received by the club this week, it was a great surprise when we took charge of the company bank account to learn that the money had already been transferred prior to the community trust taking ownership.
'It is disappointing, but we had factored in the possibility that this sum of money may not be available to us as it was all down to the timing of the payment and we had no way of influencing that'...
In response, former Chesterfield owner, Dave Allen, said in a statement 'The long and protracted takeover has consistently been delayed by the community trust and the councils, not us. If they had got all their ducks in a row earlier then they would have obviously had the benefit of the money. If they had also conducted a final audit prior to purchasing the club they would have seen that the money had been already received before they went public in the press conference. You don't buy a house without taking a final meter reading.
'During the delays I had to inject a further £500,000 into the club, so I don't see a problem. They will of course benefit from any sell on of Sam Morsy in the future, so I guess we are even.'
Former Spireites company secretary, Ashley Carson, added 'We were surprised to see the Liam Cooper money enter our bank account earlier than anticipated. However the six figure sum was only used to pay off CFC 2001 Ltd debt prior to the takeover.'"
According to NL Daily "Eastleigh have announced two new signings ahead of 2020/21, with Ben House and Pierce Bird joining.
Striker House, 21, links up with Ben Strevens's side after his departure from Reading. He had a loan spell in the National League last season with Dagenham & Redbridge.
Centre-back Bird, meanwhile, also 21, is a Northern Ireland Under-21 international and signs for the Spitfires after leaving Notts County earlier this summer."
At Dover Athletic, "Winger Nassim L'Ghoul has left the club after his contract was cancelled by mutual consent.
The Frenchman made the move to Crabble in the summer of 2019 after leaving Welling United.
The 23-year-old scored three goals in 33 appearances in all competitions during his time with us".
AFC Wimbledon boss "Glyn Hodges believes that he has unearthed another gem from non-league by snapping up 21-year-old midfielder Ethan Chislett.
The South African-born talent becomes Wimbledon's fifth summer signing after leaving Aldershot Town, where he scored nine goals from midfield in his first season at National League level. Ethan's debut campaign in the fifth tier of English football really caught the eye and he had scouts from league clubs watching him, as he made 38 appearances for the Shots after joining from Metropolitan Police...
Said Glyn, 'There's such an abundance of talent at non league level that we had to do our due diligence and know what was out there. We've done that. We've signed two from Conference clubs with Cheye (Alexander) and now Ethan. They are two players that have earned the chance to step-up and I hope they are successful for the club... We have followed him since then and we looked at him again in January when he was at Aldershot. He had a great season there, scored a lots of goals, and he was tremendous'...
Ethan added, 'At Met Police I was more of a number eight, but in the National League it was more physical, so I was more of a number 10 or a left winger... I've come from humble beginnings with the non league background'".
The
NW Counties' Football League
reports on a new memeber club, FC Isle of Man, whose nickname is The Ravens and who were only founded in 2019.
The "are looking forward to their debut season in the English Non-League system after they were accepted into the North West Counties League Division One South... It took the club two years to reach their goal of joining the English football pyramid with several rules having to be amended along the way for it all to be successful".
There is "an ambitious ultimate aim to take FC Isle of Man into League 2 of the EFL within ten to fifteen years. They are aiming to follow in the footsteps of two other Islands; Jersey have been a great example over the last season in the Combined Counties League, only missing out on promotion through the null and void[img] of the season and, of course, Guernsey are about to commence their tenth campaign...
The rationale for placing FC Isle of Man in the NWCFL Division One South is that they will be playing their midweek games at a ground on the mainland in close proximity to Manchester or Liverpool Airports, so with this as a base it has been used as a calculated basis for placing them within the South Division.
The club will be playing their home games on the Island on Saturday evenings with the games scheduled to start at 1730hrs so that there is no clash with any other football in the vicinity. The club will cover the costs of visiting clubs and match officials travel and hotel expenses for the games, which is a considerable commitment...
They have appointed an experienced Manager in Chris Bass to the hot seat. Chris has been involved in successful IOM club, St George's (whom are based in Douglas) and in nearly two decades with them, guided them to more than 40 trophies in that time. That haul included 13 of the last 16 League titles and four of the Islands Grand Slams...
The club have signed a three year deal with Manx Telecom to become the club's main sponsor... Steve Burns who is Media Co-Ordinator at FC Isle of Man [said] "We have had a strong International side for years and we won the National League Systems cup as recently as 2014 and the Island Games Tournament in 2017 and have always been competitive... We beat Brentford's B team 5-3 recently, held Connah's Quay to a draw and were only narrowly beaten 0-2 here by Bury FC. We are probably equivalent to Guernsey by way of quality.
"We have two divisions and both have a combination, including reserve sides, so in effect we have four leagues of football. We have a regular top six of sides... These clubs will be feeding players into the FC IOM club and they will have their chance to impress on the wider stage."
---
12 August 2020
Farsley Celtic confirm that goalkeeper Steven Drench has joined them from Altrincham.
Altrincham signed him from Bradford (Park Avenue) on 28 January 2019, following the Yorkshire club's unexpected decision to allow players to leave. After starting out at Blackburn Rovers (2005), where he works as a coach, Steven played for Morecambe (2006-08) alongside Alty assistant manager Neil Sorvel when the Shrimps gained promotion to the Football League. Next, he joined Southport (2008-09), and subsequently followed Port manager Gary Brabin to Cambridge United on loan.
After leaving the Sandgrounders he signed for Leigh Genesis where he played 45 times (2008–10). A trial at York City came to nothing and, instead, he joined Guiseley, racking up well over two hundred appearances and earning promotion, before moving on loan to FC Halifax Town and then to Bradford PA in 2017, following former Lions' manager Mark Bower to the Horsfall Stadium.
He made his Alty debut against FC United of Manchester on 9 February 2019 but after two further games Steven was sidelined by injury and Tony Thompson resumed as first-choice till the end of the season. Steven started 2019-20 as first-choice keeper but in the sixth game ruptured his Achilles so went through a long recovery period. He was not in the matchday squads for the play-offs in 2020 but was present an apparently lent importance assistance to Tony Thompson in a coaching role.
In all, injury meant that Steven made just nine appearances for Altrincham. He follows the same path as fellow keeper Elliot Wynne who also left Alty for Farsley in . Elliot was the reserebc keeper for Altrincham in the recent play-offs.
Macclesfield Town
reported on Tuesday that "As a result of this today's appeal hearing, Macclesfield Town can confirm that the adjudication of the previous Independent Disciplinary Commission has been successfully challenged by the English Football League. The EFL have released the statement below...
'An independent Arbitration Panel has upheld the EFL's appeal in respect of the outcome of an independent Disciplinary Commission who, in June 2020 had considered misconduct charges brought against Macclesfield Town.
'The charges related to failing to pay a number of players on the applicable payment dates due in March 2020, failing to act with utmost good faith in respect of matters with the EFL and for breaching an order, requirement, direction or instruction of the League.
'The Arbitration Panel confirmed that the two-point suspended sporting sanction activated on 19 June 2020 from previous proceedings will stand and in addition the four-point deduction, originally suspended in the latest proceedings and only to be activated in the event of a further breach of Regulation 63.7 during season 2020/21, will be activated immediately and applied to the 2019/20 table.
'Today's outcome leaves Macclesfield Town in 24th position in the table on 19 points with a points per game (PPG) total of 23.62, rosition in the table on 19 points with a points per game (PPG) total of 23.62, resulting in the Club's relegation into the National League.
'The Arbitration panel's decision is final and binding. The EFL will be making no further comment.'
The Club will be providing further comment in due course".
Relegation would mean that Stevenage will be reprieved from relegation from League Two to the National League.
Amongst the more recent of many Macclesfield misdemeanours, catalogued by the BBC, are...
19 December 2019: A 10-point deduction is imposed, with four suspended, for non-payment of salaries and failing to fulfil a fixture against Crewe. In March, this was reduced to seven points with three suspended after Macclesfield appealed. It meant the club were deducted four points with immediate effect.
7 May 2020: A seven-point deduction follows for failing to play a match against Plymouth and non-payment of wages, with the suspended three points from the first case being applied. That took the total deduction for the season to 11 points. A further two-point deduction was suspended.
19 June 2020: The two-point deduction is activated for a third breach, taking the season's total deduction to 13 points, plus a further four-point suspended deduction.
11 August 2020: The suspended four-point penalty is enforced immediately following the EFL's successful appeal and Macclesfield are relegated.
Terry Rowley's latest profile in the
Alty Legends
series is former Bolton Wanderers' FA Cup winner, John Higgins, who later played for Altrincham.
Twenty years ago today, in contrast to the situation in 2020, Altrincham had just been relegated back to the Northern Premier League. On 20 August 2000 they travelled to Southport where they lost 2-10 in a pre-season friendly.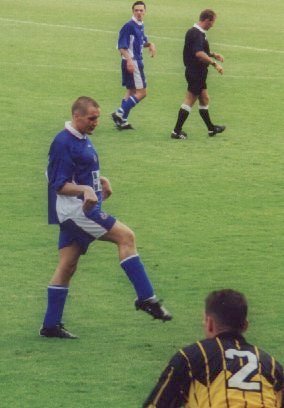 Right: Carl Furlong (foreground) and Stuart Scheuber seen during the game at Southport.
Under new manager Mark Ward, this was Alty's fourth successive pre-season defeat and the fifth game without an Altrincham goal. Nevertheless ALtrincham gave a good first-half performance and it was only after substitutions had been made in the second-half, and after the award of a controversial opening goal, that Altrincham became second-best. The substitution of the towering Gary Talbot was perhaps the biggest single reason for Altrincham's second-half demise.
In what was Altrincham's last pre-season friendly, Mark Ward had elected to play a strong starting line-up, although Steve Hawes (suspended for the first three League games) gave way to Stuart Scheuber in midfield, and both Phil Power and Richard Landon were initially confined to the bench. Leroy Chambers and Carl Furlong started up-front and Jason Gallagher was preferred to Barry Crowe at right-back.
Shaun Goodwin, after 45 minutes in the Manchester City friendly, was not in evidence. However, two unexpected sightings at Haig Avenue were Mick Morrell who, on relegation in May 2000, had left Altrincham for Leigh RMI, was present in the stand. Mick was currently recovering from a leg operation. Also in the stand was Southport manager Mark Wright's old crony, England international John Barnes.
Altrincham took to the field in their new away-kit and the blue and white shirts revealed the names of the Club's new sponsors to be "Heyrod", a construction firm. Whilst it is a longstanding football joke that away teams often have to play the referee as well as the opposition, the fact that the programme revealed that three of the four officials were from Southport and the fourth was from Liverpool, threatened to make that nightmare come true.
To be fair, the referee, Mr Miller was correct in most of his decisions though the controversy surrounding Southport's first goal did not reflect well on him. The Southport side included new signings Simon Parke from Guiseley, Mike Marsh from Kidderminster and the former Mansfield player, Dave Linighan. The Sandgrounders side was probably close to their first choice team.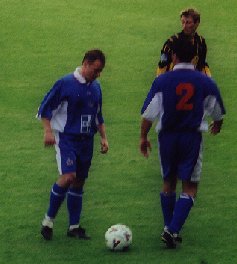 Left Mark Ward and Jason Gallagher at Southport, 2000.
On 57 minutes, the effective Gary Talbot was substituted by trialist Adam Farley. Almost immediately, a fine cross from the left by the marauding Stuart evaded Farley's head and dropped invitingly for Pell near the edge of the box and the ex-Northwich man cracked the ball home firmly past Coburn (58 mins).
However, the one non-Southport official on view, Mr Claro from Liverpool, was resolutely waving his flag having become rooted to the spot more than half-way inside the Southport half. He had clearly seen an offence by Shaun Teale and had kept his flag in the air throughout the time it took for Southport to move the ball forward by sixty yards and score a goal. The referee was persuaded to go and consult his assistant and after a lengthy deliberation had a protracted talk with Teale.
Perversely, although the linesman had clearly seen an offence and had persuaded the referee of its occurrence, Mr Miller allowed the goal to stand.
Then, Phil Power lost the ball to Stuart, who had been Altrincham's chief tormentor in the 0-2 defeat at Haig Avenue in the Conference last season. The balding full-back found Robert Pell whose shot from 25 yards was firm but not outstanding. Much to the Altrincham fans' surprise, Stuart Coburn, who had played so well, seemed to have the ball covered but then somehow allowed it go through his dive to the right and into the net for Southport's clincher (75 mins).
ALTRINCHAM 1. Stuart COBURN 2. Jason GALLAGHER 3. Danny ADAMS 4. Eddie TURKINGTON 5. GARY TALBOT capt 6. Mark WARD 7. Stuart QUINN 8. Stuart SCHEUBER 9. Carl FURLONG 10. Leroy CHAMBERS 11. Kevin ELLISON Subs: 12. Richard LANDON 14. Barry CROWE 15. Steve PORTER 16. Adam FARLEY 17. Steve HAWES 18. Phil POWER.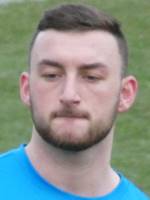 The
Northern Premier League
reports that "Ramsbottom United have announced the re-signing... of Mason Fawns [right] for the upcoming 2020/21 season... [He has] signed [a] new contract with the club for the 2020/21 season".
After four first-team appearances for Oldham Athletic, Mason had a loan spell with Ashton United and then with AFC Fylde (from January 2018 to the end of that season) before joining Curzon Ashton. He joined Altrincham from The Nash on 6 February 2019. After two appearances from the bench, Mason was playing for Trafford FC by early March 2019.
Peterborough United
"have completed the signing of 17 year-old defender Ronnie Edwards from Barnet with the youngster penning a three-year deal at the Weston Homes Stadium.
Edwards was given permission from the Bees to train at the Mick George Training Academy and he featured in the victory over Peterborough Sports in a behind closed doors friendly. Manager Darren Ferguson admitted... 'He played in a friendly fixture and, within 20 minutes of that game, I had made my mind up, he was excellent. He did everything I asked of him.
'He is a lovely lad, very mature for a 17-year-old and we believe he has real potential', the Posh boss said.
Edwards has been with the Bees since the age of nine and made his debut for the senior team at the Hive in December 2019. He was involved in the Bees play-off squad and has attraction the attention of several league clubs...
Edwards said 'Barnet were great in allowing me to come in and train and play in a game for Peterborough and I thank them for that'".
According to relegation-reprieved Maidenhead United "United's Josh Kelly is to stay with the club, with the Magpies also bringing in Dan Sparkes and George Wells.
21 year-old attacking player Kelly had seemed set to leave this summer, but he has now agreed a deal for next season.
Wide player Dan Sparkes, meanwhile, is one of two new additions. The 28-year-old arrives after a stint at Barnet.
Left-back George Wells is the other signing, having left Slough Town. Wells, 24, had played for the club in the recent National League South play-offs."
The National League has advised clubs not to sell season tickets yet for next season but the Hartlepool Mail advises that "chairman Raj Singh has praised the club's supporters after the initial batch of season tickets were snapped up.
Almost a fortnight ago, Pools announced its new season ticket plans for the upcoming campaign. The inflated prices, limited availability of 1,000, no early bird option and concession changes were met with a mixed response from Poolies. But that didn't stop many fans applying for their 2020-21 season ticket at Victoria Park with the first batch already sold out.
As a result, a further 500 tickets have been made available to apply for on a first-come, first-serve basis.
Season tickets have been priced at £325 for adults, £225 for concessions, which will no longer include people aged 60 to 64, £95 for under-16s, £50 for under-12s and free for carers and under-5s...
Raj Singh told the club website 'The response to this campaign has been incredible in the short time since its launch. We feel it is only right to allow more of our passionate supporters to demonstrate their loyalty to the club by releasing another tranche of tickets'...
It is likely that stadium capacities will be significantly reduced when National League football is set to return on October 3.
Dave Challinor currently has 16 players signed up and contracted for the upcoming campaign and acting executive director Martin Jesper believes the fans' continued commitment will allow for more investment...
Pools have pledged to provide an extra matchday ticket to every season ticket holder who is unable to attend a match due to any crowd number restrictions. A total of 1,500 season tickets have now been made available at Victoria Park but that figure is unlikely to increase until the club gets more information on the number of fans who will be allowed in The Vic".
And Notts fans will be seeing a lot more of him now he has put pen to paper on a new contract."
Boreham Wood "announce... [they] have secured the return of Femi Ilesanmi for 2 more years, the left-back originally featured for the Wood in the 2016/17 campaign, where he started all but three matches under first team manager Luke Garrard.
The attack-minded defender started his career in the academy of AFC Wimbledon, before being snapped up by Queen's Park Rangers. He then departed Loftus Road and went on to sign for Dagenham & Redbridge. Ilesanmi featured over 100 times, across a four-year stay at Victoria Road, before departing for York City. Ilesanmi went on to make a further 70 appearances for York City, before beginning the first of his spells at Meadow Park.
After a single season with the Wood, Femi joined Dover Athletic... During Femi's absence The Wood reached the Vanarama National League play-offs in 2017/18, losing narrowly to Tranmere Rovers in the final at Wembley. The Wood's growth persuaded Ilesanmi to return to Meadow Park during the summer of 2018, signing a one-year contract with a one-year option which was taken up and leaving him out of a contract at the end of the 2019/2020 season.
Femi has played a huge part in the 2019/2020 season and we believe as a club he will continue to have an impact going forward. Femi is not only a fans' favourite but also highly respected by his teammates and BW PASE Players that he coaches weekly."
Havant and Waterlooville "announce the signing of Moussa Diarra from Woking. Diarra joins the Hawks after a successful spell at the National League side, where he was part of the team that won promotion to the fifth tier in 2019. He has also had top tier Non-League experience with both Dover Athletic and Barrow.
Manager Paul Doswell [said] 'Moussa was one of our main targets for this season, and probably the marquee signing defensively. I watched him play for Woking many times and he had a fantastic season with them. He's a fantastic leader on the pitch, and defensively he wins his headers in both boxes'".
The Leader Live reports that "It looks like Bobby Grant has played his last game for Wrexham with the attacking midfielder joining Oldham Athletic on a season-long loan.
Grant was one of only seven players currently under contract at The Racecourse for the 2020-21 season... After joining Wrexham on loan from Fleetwood Town in November 2018, Grant made the move permanent the following January. Grant was allowed to join Accrington Stanley on loan during the 2020 January transfer window but the 30-year-old still finished last term as Wrexham's leading scorer with eight goals.
Manager Dean Keates [said]... 'It is a season-long loan so technically he is an Oldham player in name. While he was at the football club he was part of my plans but this has been put to us and it has happened, it works now. Now he is not part of the football club we go about our business'...
Only captain Shaun Pearson, Luke Young, Rob Lainton, Devonte Redmond, Jay Harris and Daniel Jarvis are under contract at The Racecourse for next season. But Keates... has started contract talks with Mark Carrington, Paul Rutherford, Davis Keillor-Dunn and Christian Dibble.
'We are not far off,' said Keates, who saw James Jennings opt against waiting to hold talks over a new deal in favour of joining Stockport County. 'Things were put to the lads over the weekend and we will see how they work out over the next few days.'
Keates is also due to speak with Centre of Excellence manager Dan Nolan before informing the club's scholars who will be offered professional contracts. 'They have not been told about their futures yet'.. said Keates...
Nolan's rising stars were crowned National League U19 Alliance Division H champions last season, while several young guns were handed first team appearances in both the Scottish Challenge Cup and FA Trophy.
'They did what was needed to be done,' added Keates".
At Notts County "Alex Lacey has joined Michael Doyle in committing his future to us...
The 27 year-old defender signed a short-term deal last November and went on to win the acclaim of supporters with his classy and consistent performances at the heart of our defence.
At Dagenham & Redbridge The Daggers "are pleased to announce the signing of Elliott Johnson .
The defender, who turns 26 next week has spent the entirety of his professional career at Barnet, before leaving at the end of July after his contract expired. Johnson is experienced in both the Football League and the National League, amassing 105 appearances in League Two, as well as 129 National League caps. Our new man is predominantly a left-back...
The signing of Johnson follows on from the signings of George Saunders, Dean Rance, Callum Reynolds and Paul McCallum.
Daryl McMahon gave his thoughts on our fifth signing of the summer, 'He is a very experienced player for someone of his age... He can play in three positions, which i feel is very important as well, centre-back, left-back and left-wing-back. He will be very valuable addition to our squad.'"
Stevenage have "agreed terms with centre-back Luke Prosser…
The 32 year-old captained Colchester United for the past three seasons, leading his former side to the Play-Offs in 2019/20...
Prosser said 'I had a few offers over the Summer, but I live locally and being close to my family is a big pull. I am really looking forward to playing under the Manager.'
Alex Revell said, 'Luke is a fantastic signing for us. Everyone behind the scenes has worked incredibly hard to make this deal happen. It's testament to the clear direction and identity we now have for the team that Luke committed his future to Stevenage.
'He led his team to the Play-Offs last season, playing every game in the league. He has huge experience but the most important thing when you have that experience is to be in the best physical shape you can be and to have that inner fire to do whatever it takes to win. Luke ticks all of those boxes. Ultimately, he is an excellent defender and naturally left-footed which gives us great balance to our team.
'Along with Scotty, Romain and Cokes he will have a huge responsibility everyday to not only lead the squad with his experience, but show the younger players what it takes to be a top professional'".
---
11 August 2020
The death has been announced of popular Altrincham supporter Mark Eckersall, who had waged a prolonged and courageous fight against cancer. Mark's wife Jane and his family may find some slight consolation for his untimely death in the many spontaneous testimonials which have already followed its announcement.
However, to describe Mark as simply a supporter of Altrincham Football Club would be a gross disservice to his memory. In fact, arguably no one else in the club's history has possessed an Altricham FC curriculum vitae to match his in the range of roles that he undertook for The Robins.
Uniquely for a supporter, "Ecky" as he was universally known, has not just stood on the terraces and led the fans' singing through thick and thin but he also has been a director of the football club (as the supporters' association's representative on the board); He has been an employee of the club, as its Sales and Marketing Manager some 20 years ago; he was for many years the supporters' travel coordinator, ensuring that his fellow fans got to Altrincham's away fixtures; a manager of the supporters' football team; he served as a Radio Robins match summariser; he was an organizer of summer working parties to tidy up the ground... and he carried out countless other voluntary roles at Moss Lane.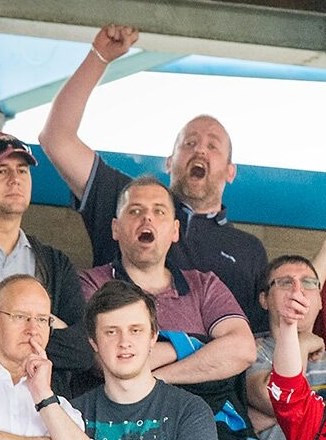 Right: Happier times: Mark Eckersall leads the promotion celebrations at Grantham in 2018.
Back in the mid/late 1990s Mark had been involved in helping the club as it emerged from its near extinction following the departure of chairman John Maunders. In the aftermath of that crisis, he became a close friend of the Alty manager of the late 1990s, Bernard Taylor. When Mark was appointed as Altrincham's Sales and Marketing Manager in July 2001, the club summed up his qualities, stating that "In a move away from Commercial Managers, the board were looking to appoint someone with extensive local knowledge and someone who had Altrincham FC 'running through their blood'. With Mark's appointment, the Board believes they have found their man".
Mark had that rare gift of being able to bridge not only the age divide of Altrincham supporters but also to get on well with the club's chairmen and directors over many years. He was not afraid to voice criticism but always did so in a sincere and constructive manner.
His people skills, common sense and dedication to the Club were nowhere more evident than during his many years as the Travel Coordinator, organizing the supporters' coach trips to away games with great efficiency and ensuring that everyone, young and old, had a good day out. If hiring a supporters' coach to a remote location for a midweek match proved uneconomic, Mark would even step in and drive a supporters' minibus to places such as Torquay (and back), on a Tuesday night.
In recent times, even when undergoing courses of chemotherapy and other debilitating treatment, and therefore unable to travel himself, he would never fail to book the coach for his fellow supporters, sometimes even from his hospital bed. And when he was fit to travel between sessions of chemotherapy, he would run the away trips as if nothing untoward was happening in his personal life.
Mark will be greatly missed by all who knew him and admired for the positivity and courage which he exhibited in his final years as he battled his terminal illness.
The
Northern Premier League
reports that "Matlock Town have added
Kelvin Lugsden
to the squad for the 2020/21 season...
Lugsden featured for Ramsbottom United last term but will be a familiar face to some of the Matlock squad, having played at Shaw Lane with Jon Stewart, Spencer Harris, Alex Byrne and Chib Chilaka... [He] featured in Matlock's 3-1 pre-season win over Wythenshawe Town."
Gordon McKinna, who excelled at cricket as well as football, is the latest
Alty Legend
profiled by Terry Rowley.
According to
Echo News
advises that "Southend United remain in talks with Weymouth boss Mark Molesley.
The 39-year-old has guided the Terras to successive promotions into the National League. But it is not a foregone conclusion Molesley will succeed Sol Campbell at Roots Hall... Blues have been without a manager since Campbell left the club at the end of June... It is understood Molesley, who also coaches Bournemouth's under 21 team, will be bringing five members of staff alongside him if he does get appointed.
At Weymouth, Molesley has an assistant manager, two coaches, a performance analyst and a player care staff member...
Barnet boss Darren Currie and ex Shrimpers manager Steve Tilson have both been informed they will not be taking charge at Roots Hall. However, the club's under 23 coach Craig Fagan... could still be in the frame if Molesley decides against making the move."
From NL Daily we have confirmation that "Stockport County manager Jim Gannon has signed a new contract with the club.
Gannon's new deal will run until June 2022, with assistant manager Dave Conlon also extending his contract, as first-team staff Karlos Lenaghan, Luke Smith and Nick Donnelly sign full-time contracts. Sean O'Callaghan has also joined from Peterborough United as performance analyst.
Club legend Gannon, who is in his third stint as County boss, told the club's website... 'We really appreciate the opportunity of new full-time contracts to take the club forward, and we are all very excited about how the future is shaping up.'"
---
10 August 2020
Altrincham FC's captain Jake Moult and longest-serving player, Shaun Densmore, were interviewed by the NL Paper on Sunday about the club's two relegations and two promotions in the last five seasons.
As for the two-stage drop from National League to Northern Premier League, Moult said "Those two seasons were awful... It just felt like we we're sinking and couldn't get to the surface.
Shaun attributed the collapse in form partly to the late defeat at Colchester United in the FA Cup. He said "That game seemed to knock us. We lost confidence, lost key players. I was out for five months, our two centre-halves were out long-term, our keeper Stuart Coburn got injured; that's four of our back five".
The NLP's Chris Dunlavy continues, "Four permanent managers occupied the dugout... On two occasions Moult and Densmore were asked to hold the fort. 'Jesus, it was tiring' says Densmore... And the worst thing of all was that Neil Young brought in so many players... We were having to leave about five lads out of the squad... It was properly awkward'".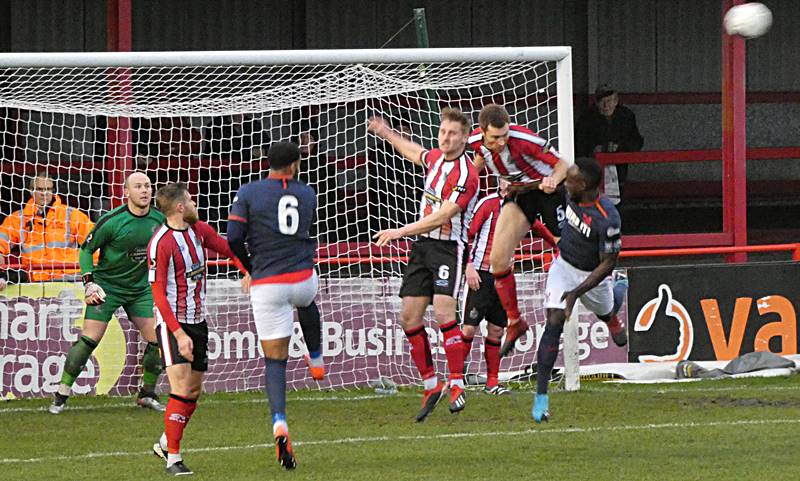 Above: Jake Moult (no.6) and Tom Hannigan combine to clear the ball in December's match against Kidderminster Harriers, as the "loud" Tony Thompson, for once, keeps his counsel on the goal-line!
As for manager Phil Parkinson, Moult stated "What Phil and his staff have done is incredible. To go up two out of three [seasons], given what happened previously".
Shaun added, "For me, the key to everything was the recruitment that first summer... Phil... got rid of almost all the lads. At the time you're thinkng 'God, this is brutal' But, looking back,it was definitely a positive thing because there wasn't a massive amount of scar tissue [left] in the squad. The atmosphere completely changed".
And Jake pointed out that "What he did was bring in big characters like Jordan Hulme and Tony Thompson, who could carry the weight of that expectation.
"Tony's a loud lad, there's no getting away from it. A typical Scouser who loves the sound of his own voice, in a good way!"
Referring to Josh Hancock, Densmore said "Josh is 29 now and I can't believe he's never got a move [higher]. He's scored 16, 18, 20 goals the last three seasons and he was prolific for Nantwich before that".
"In terms of style, this is the best Altrincham team I've played in by a long way and I think we'll be a breath of fresh air in the National League next season... Not many of them try to play home and away but we do".
Jake then referred to the club potentially following a hybrid model, mixing part- and full-time players, "We've not been told anything along those lines but I do think it is the ambition of the football club at some point".
Regarding the management duo, Shaun says "I am sure they've had offers at some point" [to go] elsewhere. I know it's an ambition of theirs to go full-time and everybody wants to play or manage at the highest level possible. I do think it'so nly a matter of time before they do that", he concluded.
Seven years ago today, a very disappointing gate of just 271 turned up at Moss Lane to see Altrincham entertain a Burnley XI in a pre-season friendly which turned into an exciting contest as The Robins overcame a two-goal first-half deficit to run out 3-2 winners in their final game of the pre-season.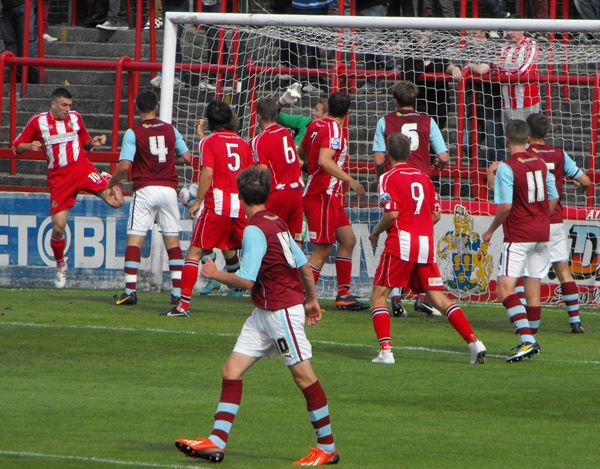 Left: Action from the Alty v Burnley match in 2013.
Altrincham were without the injured Simon Richman and Stuart Coburn. Brian Smikle, the former Kidderminster Harriers and Hereford winger, was again in the squad as was Liam Irwin, son of former Manchester United defender Denis Irwin. Burnley had brought their Development Squad to Altrincham; their first team was away at Sheffield Wednesday simultaneously with this match.
It was thanks to a strong second-half performance that Altrincham recorded an ultimately deserved win over Burnley's Development Squad. Burnley had taken the lead with two goals in as many first-half minutes. Firstly, Steven Hewitt struck a 20-yard freekick past Adam Reid in the 20th minute and then Jamie Frost curled a low shot home. Alty, without Stuart Coburn and Simon Richman, brought on Carl Rodgers, Scott Leather, James Walshaw and Brian Smikle at the interval.
Altrincham dominated the second half and pulled a goal back in the 73rd minute when Walshaw took advantage of a deflection to him by Burnley's Gallagher. James Lawrie equalized in the 82nd minute, after good work by Nicky Clee. With two minutes remaining, Altrincham-born substitute Liam Irwin, (a player formerly on Bolton Wanderers' books), took a fine corner for the Robins, from which Lawrie's header was deflected into the net for an own goal to give Alty a 3-2 win.
ALTRINCHAM: 1. Adam REID, 2. Shaun DENSMORE (capt), 3. Matt DOUGHTY, 4. Jake MOULT, 5. Gianluca HAVERN, 6. Mike WILLIAMS, 7. Kyle PERRY, 8. Danny BOSHELL, 9. James LAWRIE, 10. Damian REEVES, 11. Nicky CLEE. Subs: 12. Scott LEATHER, 14. Carl RODGERS, 15. James WALSHAW, 16. Brian SMIKLE, 17. Rob GILROY, 18. Dan LLOYD (gk), 19. Liam IRWIN. BURNLEY XI (Claret and blue shirts and socks, white shorts): 1. Nick LIVERSEDGE, 2. Cameron DUMMIGAN, 3. Kyle BROWNHILL, 4. Archie LOVE, 5. Alex COLEMAN (capt), 6. Tom ANDERSON, 7. Andrew MUSUNGA, 8. Steven HEWITT, 9. Jason GILCHRIST, 10. Jamie FROST, 11. Christian HILL. Subs: 13. Dan NIZIC, 14. Cameron HOWIESON, 15. Luke GALLAGHER, 16. Nutumba MASSANKA, 17. Jack ERRINGTON.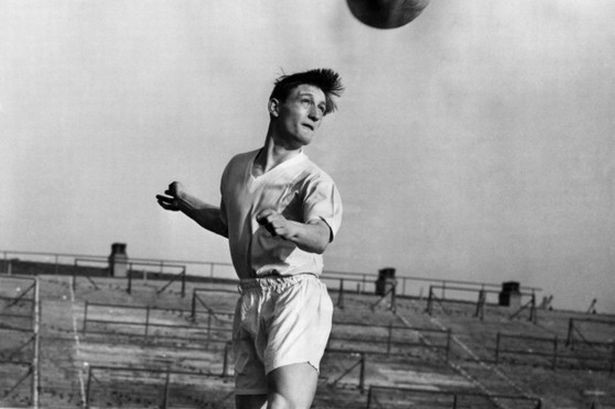 After playing alongside Duncan Edwards and Bobby Charlton at Manchester United, and a subsequent spell at Manchester City, Dennis Fidler (right) ultimately arrived at Moss Lane and played for Altrincham as Terry Rowley explains in his latest
Alty Legends
profile.
At
Stockport County
"The Club is delighted to announce it has secured a lease for a dedicated First-Team training facility.
The Championship grade facilities in Carrington [Trafford] contain a large gym, players' lounge, restaurant, recovery rooms, player briefing rooms, office space and three elite training pitches. The Club has signed a three-year lease with owners, Sale FC Rugby Club and invested in a significant refurbishment programme.
The facility provides a vital short-term training solution, with a longer-term ambition to build new facilities in the Borough of Stockport over the next 3-4 years. The Club is currently working closely with Stockport Borough Council to identify possible sites to build a state of the art Community Football Campus that will house the First Team [and] Academy teams alongside extensive community facilities that will support grassroots football and promote healthy lifestyles.
Simon Wilson, Director of Football said 'Today is a significant step for the Club and the result of a lot of hard work... While Edgeley Park is very much the home of the Club, the training ground can be thought of as the home of the team as they will spend the majority of their time there. We know from studies that environment controls up to 80% of human behaviour.
'While there has been an earnest quality and humbleness created from the use of rented facilities in the part-time hybrid training model, that we never want to lose, the acquisition of a training ground gives us an opportunity to make a further upgrade in our all-round professionalism and give Jim and his team every opportunity to maximise the potential of our players...
'We believe in this group of players and staff to do great things for our Football Club. But with high challenge you need to provide high support. With this facility, Jim, his immediate support team, and further infrastructure developments we are making, we feel we are giving ourselves the best chance of being successful.'"
Maidenhead United "are delighted to have been nominated for a FA & McDonald's Grassroots Football Award for Project of the Year. Our nomination is for the Magpies' Community Helpline which has helped an incredible 600 local residents in the Royal Borough thanks to the help of 160 amazing volunteers in Maidenhead and Windsor during the COVID19 Lockdown...
It is a great honour to be recognised for a #BBFAAward and we would like to take the opportunity to once again thank all those wonderful volunteers who have supported and continue to support the project".
Aldershot Town state that "The fixture dates will be published today (Monday 10th August) with the actual details of the games published on 8th September. Twelve games next season are scheduled to take place midweek.
Meanwhile there has been huge activity around the ground to establish not just how many spectators could be accommodated but also how they book tickets (before the day online), how they access the ground, arrive safely at their standing position or seat and how they leave in safety too. Add to this the need to have a 'comfort break' and some refreshments and we have a full product offering.
The pitch maintenance and renovation starts on Monday by TurfTonics and our loyal volunteers are sprucing the ground to welcome you back... On the positive side we have a stadium with considerable capacity in relation to its average crowd size so our team, who has [sic] been drawing up [a] socially spaced seating and standing plan is very hopeful that we will be able to welcome all our regular supporters to our matches. No promises but it does look encouraging for us.
Unfortunately, as part of our planning for when the matches recommence, with the increased costs of stewarding and reduced supporter capacity in the short term whilst the Pandemic is restricting our normal operations, we are suspending the current offer of U11's entry free with a paying Adult.
Danny is very active putting his team together and for those who enjoy totting up names and playing positions you will know that we could now field a very effective team...
We can assure you that we have tackled our overheads and ongoing costs. At one stage we had just two people working full time with others on furlough, coupled with the fact that all our stakeholders have been incredibly supportive during this time".
---
9 August, 2020
It is eight years since Alty had a game on today's date. On the evening of 9 August 2012 they lost 0-2 at home to FC United of Manchester in their poorest performance of pre-season. The FC United side showed more determination throughout. Both their goals were headers. The first arrived in the 20th minute and was scored by Lee Neville direct from a corner, which had arrived after two magnificent saves in succession from Alty keeper Stuart Coburn.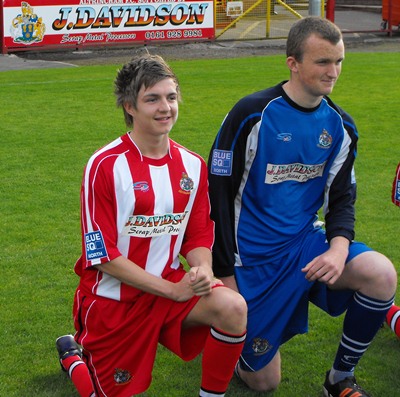 Left: Two of the graduates of the late George Heslop's Altrincham FC youth team were defender Sam Grimshaw and goalkeeper Adam Reid, who were seeking to impress in close season 2012 at Moss Lane.
Eleven minutes from time, Carlos Roca, a winger who had previously worn the Alty shirt in his career, and the smallest man on the pitch, headed home the visitors' second goal, converting Johnson's cross from the left, to complete Alty's misery.
FCUM had knocked Altrincham out of the FA Trophy in the previous season and they were looking for a repeat of that outcome against a team who were, at the time, one rung higher in the footballing pyramid.
Alty had deployed Damian Reeves as their lone out and out striker but they scarcely troubled FCUM keeper Jon Worsnop, whom Alty recently encountered on the Chester FC bench in the play-offs.
Altrincham were again without Duncan Watmore, who had been on holiday, as manager Lee Sinnott selected the same starting line-up that had faced Wrexham a few days earlier, except that Nicky Clee returned at left-back, as Matt Doughty moved to the bench.
ALTRINCHAM: ALTRINCHAM : 1. Stuart COBURN, 2. Shaun DENSMORE (capt), 5. Gianluca HAVERN, 6. Danny HALL, 3. Nicky CLEE, 7. Simon RICHMAN, 4. Carl RODGERS, 8. Scott PHELAN, 9. James LAWRIE, 11. Patrick LACEY, 10. Damian REEVES. Subs: 12. Scott LEATHER, 14. Matt DOUGHTY, 15. Ryan BROOKE, 16. Danny MITCHLEY, 17. Sam GRIMSHAW, 18. Adam REID (gk).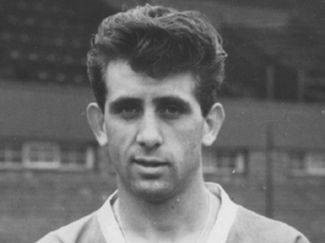 The latest
Alty Legend
to come to the attention of Terry Rowley for inclusion in his series of profiles is forward Charlie Rackstraw (pictured, right).
Including a number of reports already recorded on the Alty Files, the
National League
reports that "There's been plenty of player movement this week as the build up to the new campaign continues.
Goals win games and Dagenham & Redbridge know that more than anyone. They were the second lowest scorers last season and have done something to put the [that] right. Paul McCallum has put pen to paper after the former Barnet loan star left Solihull Moors.
York City full-back David Ferguson is Hartlepool's latest addition of a busy week. Dave Challinor's squad is taking shape after striker Mason Bloomfield also agreed to sign.
Havant & Waterlooville mean business again in Vanarama National League South, joint golden boot winner Joe Iaciofano has left St Alban's City to join their charge. Godfrey Poku has been convinced to join the Hawks as well after exiting Woking.
Boston United left-back Alex Whittle, 27, has joined fellow National League North side Gloucester City.
Ebbsfleet United have made Ben Frempah their latest addition, the defender is signing number 14 this season.
Alsewhere, Fleet's Kent rivals Dartford have won the race for Dorking midfielder Jack Barnham.
Giant Tadcaster Albion striker Jake Day is Billy Heath's sixth summer signing at Alfreton".
According to the Leader Live "The capacity of The Racecourse will be cut to 2,600 when Wrexham kick-off the 2020-21 season.
Fans zoomed in to the club's Annual General Meeting on Saturday when financial director Mark Williams outlined the changes facing the Reds because of the coronavirus crisis... The amount of supporters attending matches will be vastly reduced for the Reds...
'Initially, our capacity will be reduced to 2,600 people,' said Williams, who confirmed that all three stands will be open. 'That is our initial view of it based on what we can see around the stadium and what other clubs have done. We are assuming that restrictions will be lifted in the new year and then we will be able to accommodate additional spectators.'
The National League, due to release the fixture list on September 8, has recommended clubs do not sell season tickets for the 2020-21 season. Wrexham are not in a position to sell fans their usual seats but the club will retain details for future seasons...
Said Williams, 'All clubs had a zoom call with them [the National League] and they recommended not to sell season tickets for next season.
'Therefore, it is likely that we will not be able to sell their usual seats but we have got the records of the season just gone so, when football returns to normality and we have got no restrictions in the stadium, we will be able to introduce your seats back again. But for next season, we are social distancing and, with restrictions in capacity, we will pick seats which will maximise our capacity and then it will be sold on a first come, first served basis.
'Some people might get lucky, their seat might be available, but it is done so we can maximise the amount of people into the stadium in a safe manner whilst adhering to all local and government guidelines.'
Williams outlined plans to introduce blocks of tickets initially; 10, 10 and 3 games, and switch to season cards if restrictions are lifted.
'We are probably going to introduce a block of tickets,' said Williams. 'We will initially sell a block of 10 which will cover the first 10 league games of the season. Then part way through the season we will do another 10 and then finally we will do another three. That's our plan at the moment; rather than do all 23 league games...
'If all restrictions are gone by January, we can then probably introduce your seats again so by doing 10, it just gives more flexibility'...
The return to football is done in four stages; return to training (no contact), return to close contact training, return to competition but no spectators (pre-season) and return to competition with safe return of spectators".
At Solihull Moors, "Left-back Jordan Cranston has become the latest addition to Jimmy Shan's squad ahead of the 2020/21 campaign. The 26-year-old has signed for an undisclosed fee from Morecambe, penning a two-year deal with the Moors.
Cranston spent his early career with Wolverhampton Wanderers, securing his first professional contract with the Molineux club. He played locally with Nuneaton and Hednesford, before moving onto Notts County in 2014/15. Since then, Cranston has played his football at Lincoln City, Gateshead and Cheltenham Town... The defender signed for Morecambe in 2018 and went on to make 54 appearances, scoring four times...
Cranston said... 'When I heard the first bit of interest from the club it tempted me to move back home. At the moment, the club is a really good fit for me and that's what tempted me to come here. I'm here to try and get in the team and help the team where they need to get to, and that's in the Football League.'
Manager Jimmy Shan added 'Jordan has been on top of our recruitment list for some time... He is a player with vast experience and another in our changing room who has won this league. Jordan is an offensive full-back who has really good end product in the final third, he will add pace and athleticism.'"
At Notts County we hear news of that "Club captain Michael Doyle has agreed to extend his stay at Meadow Lane.
The Irishman, who first arrived in January 2019, led us to the play-off final last season...
'I'm delighted to be part of the club's future,' said the skipper. 'I can see success ahead over the next four-or-five years, I really can. The club has come a massively long way and the people in charge are making the right moves to take it forward. There are a lot of exciting times ahead for the supporters and on a personal level I just want to play a part in getting us back into the League and on the right footing.
'My target when I arrived was to keep us in the EFL. Unfortunately we came up short, so something that's driving me on is my desire to leave the club where I found it. If I manage to do that in my time I'd be so happy... It's going to be a long, hard season'...
Doyle was one of seven players to be offered new deals, with Richard Brindley, Kristian Dennis, Dion Kelly-Evans, Alex Lacey, Joe McDonnell and Sam Osborne also being given the chance to remain at the Lane."
---
8 August 2020
The previously published statistical review of Altrincham's 2019-20 season, which appeared when the season seemed unlikely to be completed, has now been updated to include the three play-off games. It can be found
here
.
Amongst the changes arising from the play-offs are the facts that...
Josh Hancock [right] moves two clear of Jordan Hulme in terms of league goals scored during the season but Jordan remains the leader for goals in all competitions.
Dan Mooney grabs the joint runner-up spot for yellow cards with five cautions, accrued in just nine games for the club.
Tom Peers comes into the top seven of appearance makers in 2019-20.
The three play-off wins complete a run of six successive wins for the club at the end of the season, the team's best sequence of 2019-20.
Ernest Peter Jones is the latest
Alty Legend
in Terry Rowley's ongoing series about players who have left their mark on the history of Altrincham FC.
Altrincham FC has announced that its latest Monthly Draw, for July 2020, is as follows:-
£250 cash | #110 | Malcolm Riley
£75 cash | #31 | Paul Brady
£25 cash | #80 | Mark Eckersall
Match Hospitality for 2 | #197 | John Laidlar
Home Replica Shirt | #28 | Jackie McLay
Alty FC Polo Shirt | #72 | Barry Pond
Congratulations to all the winners!
The
BBC
reports that former EFL club "Bury's application to join the National League system in 2020-21 has been rejected by the Football Association. The Shakers lost their place in League One last season because of financial problems and the collapse of a last-ditch takeover bid. Despite not having a league to play in, the club, founded in 1885, still exist[s].
The FA said the decision not to accept the application related to Bury's 'financial resources, ownership and insolvency status'. 'This decision was not taken lightly as both the FA and its Alliance Leagues Committee recognise the history and standing of Bury FC,' an FA statement said. 'As a result, the Alliance Leagues Committee would welcome an application from the club to join the National League system for the 2021-22 season and detailed guidance has been provided in relation to the various conditions that would be expected before one could be considered.'
Bury appeared to be on the brink of liquidation after their expulsion in August 2019 when another prospective buyer ended their interest two months later. A winding-up petition served to the club over an unpaid tax bill was dismissed in February, giving the financially-troubled Shakers a reprieve.
Bury AFC, a club formed by fans of Bury FC, were allocated a place in the 10th-tier North West Counties League Division One North. There had been doubt over the status of the new club after the non-league seasons at seventh-tier level and below were voided by the FA, but they have now been given a place for next season."
NL Daily
reports that NL North club "Southport have confirmed the departure of five players.
The National League North side have released details of their retained list, with the following departing the club this summer: [ex-Alty loanee] Andy Parry, Charlie Albinson. Morgan Homson-Smith (FC United of Manchester). Ryan Astles (TNS). Brad Bauress.
Liam Watson has already brought in Chorley forward Marcus Carver, Curzon Ashton's Mo Ali and ex-Boston United defender Matt Challoner ahead of 2020/21." Challoner played against Altrincham last Saturday for Boston United.
From Gander Green Lane, Sutton United reported on Friday that "On the day before the National League season, under normal circumstances, would have started the 2020-21 season, we're delighted to welcome two new signings...
Goalkeeper Dean Bouzanis has joined us having played for Melbourne City in his native Australia for the last four years. After playing junior football in Australia, Dean joined Liverpool and played for their Under-18 and reserve sides, and also had a loan spell with Accrington Stanley before joining Oldham, where he spent two seasons and played for the Latics in their 3-2 FA Cup defeat of Liverpool in January 2013.
After a brief spell with Greek club Aris he returned to Australia and his home city club of Western Sydney Wanderers before joining Melbourne City in 2016. He has represented Australia at Under-17, Under-20 and Under-23 level, and also Greece, who he is eligible to play for through his parents, at Under-19 level.
His partner Steph Catley, an Australian international defender, has recently signed for Arsenal Women's FC.
And 'We are also delighted to welcome 25-year-old striker Tobi Sho-Silva to Gander Green Lane. Tobi left FC Halifax Town earlier this week having scored eight goals in thirty games for them last season, including scoring in the play-off defeat at Boreham Wood last month.
Londoner Tobi began his career as a youth player with Charlton and had loan spells with Welling and Inverness Caledonian Thistle before joining Bromley in 2016, scoring eleven goals for them in the 2016-17 season. He then joined Dover, where spent two seasons before joining Halifax last summer. He has represented England at Under 18 level".
Though still not 100% certain of their status, given the situation at Macclesfield Town, Stevenage Football Club "has agreed terms with Lincoln City for Ben Coker on a one-season loan deal...
The 31 year old left-back arrives at the Club with a wealth of experience, most notably as a Southend United player for seven years, where he played a key role in the Shrimpers' promotion to League One in 2015.
Coker said, 'I have been down here for about a week training with the boys and I am just really happy to get it over the line'...
'We are really happy to announce Ben as a Stevenage player,' Alex Revell said. 'He is someone...that will add a huge amount of experience and leadership to our squad. He has a cultured left foot, is full of energy and he loves to drive forward and deliver crosses. His work rate, athleticism and character fit our DNA and he is someone that joins us from a higher level to help us as we push forward as a club.'"
Solihull Moors "confirm that striker Paul McCallum has departed the club to join Dagenham & Redbridge on a permanent deal.
McCallum [had] made 27 appearances for the Moors since arriving last summer, scoring 10 goals."
From Notts County we learn that "Portuguese attacking midfielder Rúbem da Rocha Rodrigues has become our first summer signing. Rodrigues, who moved to the Netherlands at a young age, joins us after scoring 12 goals and notching 10 assists for Dutch second-tier side FC Den Bosch last season.
'Before coronavirus stopped our season I was playing well,' said the 24-year old... 'Around October I started scoring consecutively and, after that, I performed well in general. I have a very strong right foot and like to shoot, pass and dribble.'
Rodrigues, who speaks fluent English as well as Dutch and Portuguese, turned down several other options to sign for us. 'At first it was difficult because I had never played in a foreign country but the club have pushed and pushed, which has given me the confidence to be here. My agent also knows Enzio Boldewijn and Enzio told me if he was in my position he would come swimming to England! He says everything is good; the coaches, the staff, the pitch, the city.
'I've had a tour and I didn't expect the stadium to be so big. We also saw the facilities at the training ground, which are amazing, the gym is nice and the indoor pitch is beautiful... To be the first Portuguese player in the history of the world's oldest professional club is a great achievement,' he said.
For Neal Ardley 'Rúbem is the player I watched more than any other during lockdown... I believe we have found an exciting talent who will improve the squad and get better with age. He can play as an attacking midfielder, a number ten or even as a striker and we hope he fulfils his talent with us'".
Dagenham & Redbridge "announce the signing of striker Paul McCallum.
The prolific frontman has signed a three-year deal at the Chigwell Construction Stadium.
The 27-year-old joins us from Solihull Moors, where he scored 11 goals in all competitions, before joining London neighbours, Barnet on loan, where he scored four goals in five Vanarama National League matches. He also scored in the Bees''s 0-2 victory against Yeovil Town in the play-offs.
The 6'3" centre-forward started his career as a youth product at West Ham United before featuring for the likes of Portsmouth, Aldershot, Leyton Orient and Eastleigh... McCallum was prolific for Eastleigh, where he notched up 27 goals in all competitions, as the Spireites [Spitfires!] qualified for the play-offs in the 2018-19 season.
The signing of McCallum further solidifies our ambitions for the new campaign ahead, which is due to start on the 3rd October.
Daryl McMahon gave his thoughts on bringing McCallum to Victoria Road... 'His record in this division speaks for itself and we have worked hard to get him here and convince him that the project that we have is a good one. The signing shows our ambitions and intentions for this season'".
Meanwhile from the real Spireites, Chesterfield advise that "Following the confirmation of Chesterfield FC Community Trust's purchase of Chesterfield FC and the resignation of Mike Warner and John Croot as directors, a new football club board is being assembled.
Community Trust chairman Mike Goodwin will take up the same role on the football club board and he will be joined by five fellow trustees".
And "New chairman Mike Goodwin has outlined the strength of the club's new board, which has been assembled following the Community Trust's takeover. Mike is joined on the board by Dave Simmonds and Martin Thacker, who will both act as co-vice chairman, together with Jane Cooper, Dr Paul Stankard and Terry Ward. All six new board members are also directors and trustees of the Community Trust.
'We have quite a plethora of skills,' said Mike... 'You have six supporters as directors. We've got different skills in terms of what we bring to the table but we are all first and foremost Chesterfield supporters and have been season ticket holders for many years'...
Mike Goodwin enjoyed a long and distinguished career in local government, spanning almost 40 years, before retiring in 2011 as chief executive of North East Derbyshire District council... Mike has been a qualified accountant for over 30 years and is proud to use the letters CIPFA in relation to his professional body.".
Chesterfield also report that "New chairman Mike Goodwin faced the media in a press conference... He said 'It is a big challenge but we have put together a very robust business plan and we think it's workable... There will be some bumps along the way but we're confident that we have the skills and the knowledge to get over those.
'I think you only need to look at the success that the Trust has had. I was appointed as chairman of the Trust five years ago and our turnover was around £50,000, operating from a little Portakabin. It now employs over 50 people and it has a turnover of over £1m a year. It's won national awards and the staff over there are fantastic, well led by John Croot...
'I have spoken to [manager] John (Pemberton) and he is very enthusiastic. He wants to work with the senior management team and the board to make this successful and we're already looking at new players. We will be bringing those in and making some announcements in the near future.'"
Barnet Football Club would like to issue a statement regarding the potential transfer of second-year scholar Ronnie Edwards. Second year scholar, Ronnie Edwards, has been with Barnet FC for seven years (since signing with the Club as an under-9) and has developed into a talented young player, who made his debut for the senior squad back in December 2019 and featured in the 19/20 play-off squad. The Club has made several offers to retain the young scholar as a pro, but is aware that he would like a move to a League club.
Following the conclusion of the season, Chairman, Tony Kleanthous, gave the defensive scholar permission to trial at Peterborough United, and Ronnie has since featured in behind-closed-door friendlies with the League One club. Barnet FC understands that the player was discussing terms with Barry Fry ahead of a proposed transfer.
However, the Club are deeply disappointed to have been informed that Ronnie's agent, Barry Ashby, has been touting the young player to other teams, most notably, Brentford FC. Mr Ashby has also been actively contacting and entering into discussions with other clubs, without the consent of Barnet FC.
Peterborough United Director of Football, Barry Fry, said 'Tony and I agreed a deal for Ronnie Edwards. He allowed me to bring the boy in to play and train with us behind closed doors. We have offered Ronnie a contract and left a message for his dad to ring me. We have spoken to his agent who informed us that several other clubs were interested and that he was meeting one on Friday.
'When I informed Tony of this he was disappointed by the information, as we were the only Club who had permission to enter negotiations with Ronnie.' Barnet FC have reported the illegal intermediary activity to The Football Association for the appropriate actions to be taken with regard to this breach of regulations."
The
Sale & Altrincham Messenger
reports that "Clubs in League One and Two have voted in favour of squad salary caps, the English Football League has announced.
The cap will be set at £2.5million in League One and £1.5m in League Two and has been introduced with immediate effect, the EFL said.
A statement from the EFL read 'The decision follows extensive and comprehensive consultation with all clubs in respect of addressing sustainability and wage inflation issues across the EFL which were initiated prior to the suspension of football in March following the Covid-19 outbreak and have continued during the course of the summer'...
It is understood 22 League Two clubs were in favour of a cap, with two against. The EFL said the cap would cover basic wages, taxes, bonuses, image rights, agents' fees and other fees and expenses paid directly or indirectly to all registered players. Promotion bonuses or incentives payable for success in cup competitions will not be included, the EFL said, and any income generated from players going out on loan is deducted from the club's salary cap calculation.
Forest Green chairman Dale Vince told the PA news agency 'I'm pleased it's happened because it will bring more sustainability to the league. It starts today, which I think is a bit unfortunate because when it was first mooted it was going to start at the end of June. We've done all our recruitment expecting it would come and then the EFL said it would start at the end of July, and now it starts from today.
'So there has been some big spending in the gap, in anticipation of the cap, but only by a few clubs. We won't feel the full effect of the cap until next season; not the one coming, the one after.'
Asked whether he expected the PFA to challenge the regulations, he said '"I have heard that they are going to try and stop it, that they think it's illegal. I think they're mistaken. There are already controls on what clubs can spend – SCMP (salary cost management protocol), financial fair play-type stuff. The salary cap is just a version of that. The principle is well established in football and I don't really understand the basis for their claim.'"
---
7 August 2020
For the play-off match at Boston last weekend the National League produced a match programme which was almost wholly devoid of details, other than names, of each team's squad but had a single player interview for each team. In Alty's case the selected player was goalkeeper Tony Thompson.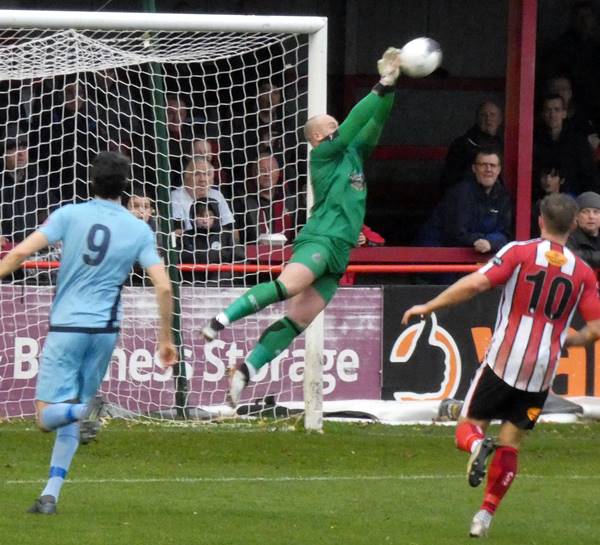 In the interview with him, Tony explained how united the Altrincham squad is and admits that, despite their rivalry for the gloves, he views fellow custodian Steven Drench as an "unbelievable keeper and someone I'm still learning from".
When Tony was dropped to accommodate Drench, "I was a bit disheartened at the time. I just had to knuckle down... It was a massive kick up the backside for me... I had to grit my teeth... and work that bit harder".
Tony admits that his team-mates have nicknamed him "Silverback" after the gorilla species of the same name! "It's down to my stature" he admitted.
He continued, "My job, away from Alty, is to erect and dismantle scaffolding, and it's long hours. I'm working in Blackburn at the moment, and I'm on the road at 6am to get there on time. If there's a night match or training, it will be 10.30pm before I get home.
"But it's football that keeps me going on those long days. You chase those dreams, don't you? Mine is to play football full-time and, at 25, there's still time for it to happen".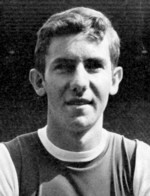 1970s' player Dave Mobley (right) is the subject of Terry Rowley's latest
Alty Legends
profile. He had two playing spells at Moss Lane and also served on the club's Board of Directors.
For most of us the nearest we could get to any of the the VNLN play-offs has been the live streaming of the games. However, there were also physical matchday programmes produced for all three games. Indeed for the game at York Street, as well as the National League's official programme for the game, Boston United produced a commemorative edition programme of their own.
This not only formed a matchday magazine but also was a "commemorative edition" of the club's longstanding "The Pilgrim" programme, to mark what was envisaged as the last ever game at the historic York Street stadium as The Pilgrims prepare to move to a new-build stadium outside the town centre.
York City's programme for the semi-final likewise made reference to the game with Alty also being potentially the last fixture played at Bootham Crescent, which is a unique double for the visitors.
For both York City and Boston United to start 2020-21 at their newly constructed venues must, however, still be transfers shrouded in some doubt given the need to complete safety procedures to license their respective new stadia, which may prove difficult in a Covid-19 environment.
Boston's programme included an interesting article by Boston United's "Record goalscorer and current Director", Chris Cook.
In addition to recalling a memorable FA Trophy semi-final clash in 1985 which Boston shaded the second leg against ten-man Alty, Mr Cook records that "I actually played a handful of games for Altrincham when Boston manager George Kerr decided to try and get rid of me, so I spent a month on loan in the northwest.
"Unfortunately, a hamstring injury put an end to the loan period and I returned to have a few more seasons back at my hometown club".
Elsewhere, in the programme's quiz page, "Chris Cook" is the answer to the question about which former Altrincham player scored four goals in a single FA Cup match, not once, but twice at York Street. Paul Ellender and Carl Piergianni are also the answers to other quiz questions regarding players who have featured for both Alty and Boston.
Yeovil Town
announce that "Darren Sarll has bolstered his squad, signing Carl Dickinson and Charlie Lee to new contracts for the upcoming season.
Making 66 first team appearances between them last season, both return as vital members of the Glovers' squad.
Lee, who was promoted from the National League with Leyton Orient in 2018/19, played more minutes than any other Glover last campaign.
The midfielder said 'I'm really pleased to get sorted for next season, it's been a tough time for everyone. It's nice to get another year at the club... Last season was as much fun as I've ever had, when I joined, I was moving far from home and didn't really know too many people here, but I had an amazing season and loved every minute of it.'"
Still in the South West, Torquay United report that "Torbay's naturally inspiring newspaper, Torbay Weekly, is set to launch a new series which highlights the most memorable moments and figures from the club's past.
Launching in August, Inside The Gulls will provide the Yellow Army with a wonderful array of stories from the dramatic history of Torquay United AFC, by lifting the lid on some of the great players, managers, incidents and campaigns since the club's formation in 1899... The series has been compiled by Dave Thomas, TUFC correspondent for over 40 years, and former United Club Secretary and Press Officer Tim Herbert...
This unique enterprise will cover 41 different chapters, from the glorious displays of the likes of Neville Southall and Eunan O'Kane, to the comings and goings behind the scenes... During the first edition, Torbay Weekly chats to the irrepressible Neville Southall, one of the greatest goalkeepers of all time, who remembers his time at Plainmoor as a career highlight.
Inside the Gulls will be a downloadable series through www.torbayweekly.co.uk and costs just £9.99 to subscribe, equating to just 25p per chapter... Subscribers will receive a printed glossy bookazine copy on completion of the series, at no extra cost. Signing up to Inside The Gulls also benefits the club, with a percentage from every subscription donated to supporting the club as well as a specific Plainmoor project sponsored by Torbay Weekly".
Closer to home, Solihull Moors report that "The Moors are delighted to announce the return of midfielder Joe Sbarra, who signs on a two-year deal with the option of a further year in place.
The 21 year-old played six times for Solihull in the 2018/19 campaign when the club narrowly missed out on promotion to the EFL, finishing in second place. Sbarra was on loan from Burton Albion in that campaign and, following his departure from the Pirelli Stadium earlier this summer, he has made the Moors his permanent home this time around.
He began his footballing career through the youth academy of West Brom before becoming an academy graduate at Burton... In total, Sbarra made 76 appearances for the Brewers which features games in the Championship and League One...
The midfielder had the following to say 'Ever since I came here on loan it's been a forward-thinking club; an ambitious club and I think it's just carried on... We're not going to be happy with anything but promotion; I think we've got the quality to do it.'
Manager Jimmy Shan added 'Joe had offers from both the EFL and SPL. Joe is an outstanding technician and has great ability to unlock defences, which will give us an edge in the final third... Joe excites with his energy, enthusiasm and quality. I'm sure he will fit right in and soon become a fans' favourite.'"
Hartlepool United "announce Aaron Cunningham has signed a contract extension for the new season.
Aaron has enjoyed a couple of breakthrough years where he has gone onto make several Pools appearances and earn vital experience out on loan. Cunningham featured on 11 occasions for Pools last season and then went onto spend the second half of the 2019/20 season at Blyth Spartans".
FC Halifax Town report that "Josh Staunton has decided not to accept new terms with the Club.
The former England C Captain joined us from Woking two summers ago and played in either defence or midfield positions.
Staunton made 42 starts this season scoring two goals in a season which saw Town finish in the play-offs but were defeated in the eliminator at Boreham Wood".
According to the
Northern Premier League
, "Droylsden have resigned from the Northern Premier League.
A club statement said 'Droylsden FC have as resigned from the Northern Premier League and will also take no part in Cup Competition this season'. In a letter sent to the Northern Premier League Chairman Dave Pace described the decision as the most difficult he has ever had to make. "However the disruption caused by the Covid-19 crisis has left him with no alternative.
The closing of the social club and its function rooms since the start of the pandemic, the main income source, with no indication of any restart on viable trading terms along with a loss of income from the club's main sponsor has left the club with no visible alternative income stream during the crisis.
The club may hopefully survive this crisis and continue into the future in less challenging circumstances than we find ourselves in during the present... The league will issue a further statement in due course."
---
---
The following pages, which initially replicate those pages with the same web addresses which formed part of the official Club website, will be re-branded from 2018 as part of this new unofficial Alty Files site.
A/Z Site Index to The Alty Files at www.altrinchamfc.co.uk
---