CURRENT NEWS
OPTIONAL DROPDOWN MENU - HERE
---
NEXT FIXTURES:
Sat. 28 Apr. 2018: HEDNESFORD TOWN (Home) 3pm
Wed. 25 Apr. 2018: CREWE (Home)
Sun. 29 Apr. 2018: HESWALL (Away)
Wed. 25 Apr. 2018: WARRINGTON WOLVERINES (Away)
---
FOOTBALL TRIALS AT ALTRINCHAM FC, 5 May 2018.
Details HERE
---
26 April 2018
ALTY HEADLINES
OTHER HEADLINES
26 Apr 2018: EVO-STIK PREMIER NEWS...More
26 Apr 2018: BURR REFLECTS ON HIS STALYBRIDGE STAY...More
26 Apr 2018: MIDWEEK FIXTURES...More
---
26 April 2018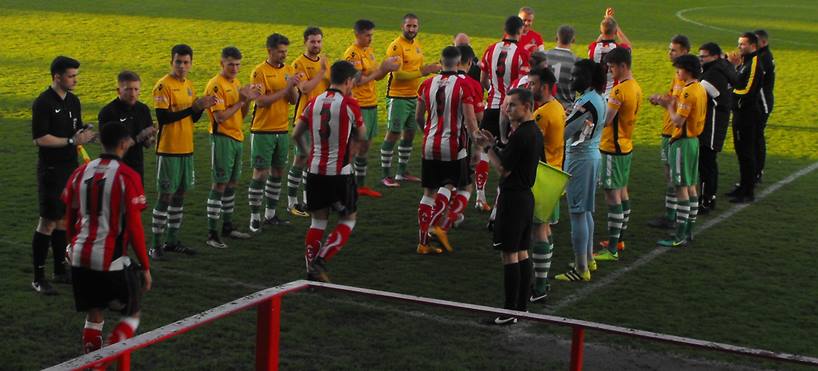 Above: Marine generously afforded Altrincham a guard of honour as they took to the field as champions of the EvoStik Northern Premier League.
After Altrincham had taken a tenth-minute lead through Jordan Hulme's smart conversion of a John Johnston feed, Alty failed to build on their advantage, despite dominating possession for most of the match. Marine equalised in the 53rd minute with a well-taken shot from Murray before Alty substitute Josh Hancock missed a penalty, awarded when he himself had been upended. His spot-kick hit the post and was cleared.
Match report here.
Wednesday 25 April 2018
Altrincham 1-1 Marine (att. 482)
Mickleover Sports 0-0 Halesowen Town (att. 175)
Stalybridge Celtic 1-3 Workington (att. just 93!)
Thursday 26 April 2018
Coalville Town v Workington
Hednesford Town v Rushall Olympic
Shaw Lane v Barwell
Stalybridge Celtic v Witton Albion
Stourbridge v Stafford Rangers
Liverpool County FA Senior Cup 17-18 - Final
Altrincham FC is grateful to all of those supporters who sponsored a player's shirt or shirts this season. These (except the goalkeepers' shirts) are now available for collection from the Club offices, either at tonight's game or subsquently, so please come along and collect yours!
Following tonight's scheduled match away to Warrington Wolverines, Altrincham FC Ladies have a fixture against Northwich Vixens which has been transferred to the J. Davidson Stadium, weather permitting. This is scheduled for 7.30pm on Friday 27 April.
Press release:
"On Saturday 14th April, Altrincham FC hosted Barwell in the Evostik Premier Division at the J.Davidson Stadium. Altrincham won the match 4-0 and secured a vital three points in their push for promotion as title winners, which was sealed at Grantham on Saturday 21st April.
This match was a designated Dementia Awareness fixture, as Altrincham FC Community Sports Lancashire Cricket Club and Sporting Memories Network promoted the work they do across Trafford. Altrincham FC Community Sports regularly promote discount tickets to families and school children. For this fixture, they encouraged children to attend with their grandparents, with the focus of the day being on sporting memories and encouraging older people to attend local sessions.
Volunteers from all three organisations spent the day handing out promotional leaflets, talking to fans about Dementia and raised an amazing £270.43 from donations. Altrincham and Barwell players wore SMN charity t-shirts to raise further awareness amongst the 880 fans in attendance.
Altrincham FC Community Manager, Judy Henson, said 'The day proved to be a massive success. As we do at every home game, we offer charities the opportunity to come along and showcase the work they do and raise awareness. Andy Tysoe (Sporting Memories), Kay Floyd (Lancashire Cricket Club Foundation) Stacey Rowley, Alan Ainsley and Peter Forster(AFC) have all been the driving force behind the set up of monthly Sporting Memories sessions here at the club since the start of the year and we wanted to make sure fans and local residents knew about the help and support that is on offer in Trafford, through schemes like this one.
We are really grateful to all the staff, volunteers, players and fans for their assistance, donations and participation on the day. If you want to find out more information about any of the work we do, please visit our websites, social media channels or visit us."
Sporting Memories "Unlock the power of sporting reminiscence to unite generations and to help tackle dementia, depression and loneliness. Sessions run throughout Trafford on a monthly basis. The Sporting Memories Foundation memory games are designed to create an opportunity for fans to recall their favourite moments from football – to help spark that memory. Whether that is of a favourite moment, player, or team, Sporting Memories want to highlight the importance of a footballing memory. The work the charity does is designed to embrace those memories and it uses sport to support people living with depression, dementia and loneliness.
By working with the clubs to create an awareness of this work on match days, Sporting Memories wants to speak to football fans round the country if they have a family member, friend, or colleague who may want to get involved in some of the work Sporting Memories is involved in. Fans can check out some of the exciting projects and #jointhesquad by visiting the website.
The
Grantham Journal
reports that "Warrington Town spent most of Tuesday night's match lying on the ground, feigning injury and complaining, much to the chagrin of the Gingerbreads and the home crowd.
Grantham Town held second placed Warrington Town to a 0-0 draw at The Meres last night, but the single point gained was not enough to secure a place in the play-offs. It would have been enough had play-off rivals Shaw Lane not managed to win 3-2 at Nantwich Town and close the gap to the Gingerbreads to five points. And so, the next deciding factor will be Shaw Lane's home game against Barwell on Thursday night. If Barwell win or it is a draw, Shaw Lane will be unable to catch Grantham.
Should Shaw Lane triumph, however, it will all go down to the final day on Saturday when the Gingerbreads travel to relegated Sutton Coldfield Town and Shaw Lane host Matlock Town, with everything to play for."
At Stalybridge Celtic "After it was announced Manager Steve Burr's contract was not being renewed, Steve spoke to Tony Bugby from 'Stalybridge Correspondent' about his time at the club since rejoining in February 2017...
'I would like to start by saying I have no regrets about coming back and it is still a wonderful club and will always hold fond memories... Things did not work out like I thought they would due to a lot of circumstances that have been well documented during the season, and I am disappointed not to have delivered the goods...
'The club has an absolutely smashing chairman Rob Gorski, vice-chairman Syd White, others on the board, backroom staff, supporters while the players' commitment, especially since the turn of the year when we have needed it, has been in abundance by the nature of how the fixtures turned out... You also have to remember we aren't full-time professionals and our players are part time and hold down jobs. I have always built sides with a good team spirit, but this is as good as any I have had while managing Chester, Southport, Kidderminster or Nuneaton'...
'I had a chat with Rob about three weekends ago and told him I would not be staying. I knew the club would have to make cutbacks and it was time for me to step down and allow the club to regroup and find a level what they can afford to pay and bring in players. The most important thing is that the football club keeps going. We had to cut back during the second half of the season due to there being no home games and therefore no revenue. It has been very difficult, but everyone dug deep.
When I assess the season, it has not been an easy one to manage and the supporters will probably have been as gobsmacked as myself. We have played some really good football, especially at home, and had some terrific performances against the top teams that we have beaten. But, there has also been some bad ones. I spoke to Rob today and there has been no fallout and I wished him all the best. Hopefully he can restructure the club to go in another direction. The club was in freefall when I arrived and I am proud to have turned it round and stopped it...
'I have a couple of offers on the table for next season which is nice, and I will look at them as I definitely want to carry on in management.'"
Nantwich Town report on "A strong second half comeback from Shaw Lane saw them claim a 3-2 win over Nantwich Town at the Weaver Stadium on a wet Tuesday evening... The Dabbers had gone into the break with a two-goal lead thanks to a fine individual effort from Jordan Cole and a Matt Bell goal just before half time.
However the visitors came out a different side in the second half as three goals in 11 minutes from Chib Chilaka, Godwin Abadaki and Kelvin Lugsden saw them come away with maximum points. After Shaw Lane arrived late due to traffic issues, the game was delayed by 20 minutes as Dave Cooke named a strong line up with Bell, Steve Jones and Harry Clayton returning to the starting line up...
The game had its first goal as a fine lofted ball from Danny Griggs found Cole just inside the visitors' box. The forward excellently controlled the ball on his chest before flicking it over the defender and calmly lobbing the stranded Wilczynski... The visitors looked for the long ball on many occasions but never troubled the Dabbers' backline...
The Dabbers doubled their lead as Bell struck a fine low shot from the edge of the box following Jones's blocked effort...
Chilaka came on for Jake Skelton. Chilaka then had an immediate impact as he pulled a goal back for his team... The Ducks [had] an equaliser as former Dabber Godwin Abadaki picked the ball up on the edge of the box before curling into the top corner with his left foot via a small deflection. Their comeback was completed two minutes later as defender Lugsden bundled home from a couple of yards after an in-swinging corner from the left hand side found its way into the six-yard box". The gate was just 121.
The Stoke Sentinel reports that "Neil Kitching says he knows he leaves Stafford Rangers in a better position than when he joined after securing a third piece of silverware last night. Boro beat fierce rivals Hednesford Town 3-2 in the final of the Staffordshire Senior Cup, the second time Kitching and assistant manager Nick Amos have lifted that trophy in their four years at Marston Road.
They have also won a league title, and could well finish this season in a higher league position than last year. The duo will depart after Saturday's final game of the season away to Nantwich Town, and Kitching said, 'It's been thoroughly enjoyable and we've loved every minute. I'll argue with anybody who says we haven't taken the club forward... Irrespective of where we finish this season, we've put a building block in place and the club is in a better position now. We're a better side, we can manage games better, as the results against the top sides show.'
In an end-to-end game last night, Boro took the lead through Jack Sherratt's long-range effort, before Hednesford responded with one of their own, courtesy of ex-Boro man Anthony Dwyer... It was Rangers who retook the lead thanks to Perry's header, and then extended it from a Robbie Thompson-Brown free-kick before Ben Bailey pulled one back to set up a thrilling finale".
The
Tameside Reporter
tells us that "Darren Kelly has described Saturday's promotion as the biggest moment of his managerial career. The Hyde boss watched on in delight as captain Paddy Miller headed home a dramatic 95th minute winner to secure a 2-1 victory at Mossley, thus confirming promotion to the Evo-Stik Premier Division.
Kelly, who initially joined the club towards the end of the 2015/16 season, has guided the Tigers to 26 league victories, 11 draws and just four losses, as well as an FA Cup First Round appearance against MK Dons on BBC Two.
Impressively, Hyde have yet to lose a league fixture at home this season and Kelly will aim to preserve this stat when Colwyn Bay visit Ewen Fields for the final game on Saturday...
The former Oldham Athletic and Halifax boss said it was amazing to secure promotion and reserved special praise for the board of directors particularly chief executive Mark Worthington... 'He's an amazing CEO who has backed me when other people wouldn't... On a personal level, it's my biggest and best moment... When I first came into the job a lot of people wrote me off, but I'm a fighter and the board have backed me and this is what it's all about'...
Miller popped up with the decisive goal to spark a mass pitch invasion... Having joined from Farsley Celtic in December 2016, Miller quickly became a fans' favourite and asserted himself as the team's leader... With interest in the club rising, Kelly sent out a clear message to potential future players. He said, 'When I'm chatting to players it's not about the budget; it's about the vision. I don't want players who come for money. I want players who buy into the vision and want to succeed as players. The players we have now aren't on a lot of money. They do this because they bought into the vision that I sold them'".
Confirmation comes from the NL Paper that "Chesterfield have been relegated from League Two after Morecambe drew 0-0 with Cambridge on Tuesday night. The Spireites, who parted company with manager Jack Lester at the weekend, have slipped out of the Football League for the first time since 1921. They were not in action last night but Morecambe's result has left them 10 points adrift of safety with three games to play. It is Chesterfield's second consecutive relegation after finishing bottom of League One last season, ending a 97-year stay in the EFL."
---
25 April 2018
The Altrincham v Marine match, postponed on Tuesday night, has now been rescheduled for today (Wednesday) at 7.45pm. There has been a pitch inspection (1.30pm) and the game has been given the go-ahead. Obviously, given yesterday's experience, this afternoon's weather will be the ultimate factor in the game going ahead.
Altrincham FC announces that "Following potentially libellous comments on social media, this morning, regarding the new pitch covers, Altrincham Football Club is taking legal counsel.
Further to the money received by Altrincham Football Club being transferred to pay for the new pitch covers, we have been advised that delivery will take place on Friday May 4th".
You can follow this fixture via this website's minute by minute text updates by clicking on the icon below. Alternatively, Radio Robins' coverage of the game is outlined below as well.
Brian Flynn announces that "Radio Robins, sponsored by Ashley Mowers Garden Machinery, is providing full live commentary of Wednesday night's game. The match commentary sponsor is 'Kids Disco Parties' whose website is here. The commentators are Ian Wilkinson and Niall Flynn and the match summariser is John Edwards.
Coverage starts at 7.25pm.
Guidance for Listening to Radio Robins
There will be 4 ways to listen to Radio Robins via Mixlr
a) The Radio Robins website. Open the page in any web browser and the broadcast should start automatically. Please note that the 4 Player Options (Windows Player | Real Player | Quick Time | Winamp ) will not work now.
b) Download and install the Mixlr app on Android devices from the Google Play Store - start the app and search for 'Radio Robins'.
c) Download and install the Mixlr app on Apple devices from the Apple Store - start the app and search for 'Radio Robins'.
d) There is a temporary WIX website here.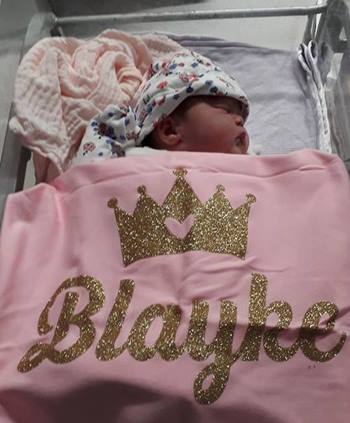 With excellent timing, Alty's own 'royalty', in the shape of official caterer Richie Bentley and, above all, his wife Kate, have upstaged Will and Kate by producing their fifth baby, who was born yesterday evening at Macclesfield Hospital.
Richie was expecting to miss only his second home match in more than a decade before last night's game with Marine was called off but the weather gods answered his prayers with a prolonged downpour.
The Bentleys' new daughter, their fourth, is to be called Blayke (image adjacent). Richie wishes to thank all Altrincham supporters for their good wishes.
"Altrincham FC's Patrons scheme has been relaunched ahead of the 2018/19 campaign in the National League North after the team gained immediate promotion back into the division.
"We made a big commitment to Phil Parkinson and Neil Sorvel in the 2017/18 season to ensure we could provide them with a competitive playing budget and they have duly produced the goods with automatic promotion. Our thoughts now immediately turn to next season as we continue to look forward.
'With Phil and Neil committed to the club with their recent new contracts, we are now striving to provide them with the best possible playing budget for the new season," said director Rob Esteva. "Subsequently, all monies raised via the Patrons Scheme will go directly on the squad to boost the playing budget for Phil and Neil."
'We already have the forecasts for next season and the playing budget mapped out thanks to Mike Adams's diligent planning but, now promotion has been confirmed, we want to top that figure up and give Parky and Sorvs the best possible chance to succeed in the National League North," he added.
'At the last board meeting, we agreed that any funds raised via the Patrons' Club would go directly to boosting that figure allocated to the playing budget.
'We've been working hard on retaining the management team and squad for next season as well as scouting potential new signings, and supporting the team via the Patrons' Scheme will only enhance our chances further.'
We are looking for supporters to renew or join the Patrons' Scheme for next season which will be the 13th season that it has run.
For the cost of £50 your name will appear throughout the coming season in the matchday programme and on the soon-to-be-launched new website as a Patron of Altrincham Football Club.
At the start of the season, every member will be entered into a prize draw, with the winner being match sponsor for an appointed game along with nine guests. Second prize will be hospitality for five people and third prize hospitality for three people in the Manchester Glass Sponsors' Lounge.
If you are interested in becoming a Patron for next season, please forward a cheque, payable to Altrincham Football Club, for £50. Alternatively, you can pay by card by phoning the office (0161 928-1045). If you require any further information please do not hesitate to enquire by e-mail."
Altrincham FC announces... "So that we can engage with the supporter base we are looking for their opinion on admission prices for next season. We have put together five options, as outlined below, please respond with your choice by
e-mail
or by notifying your choice to the Club office".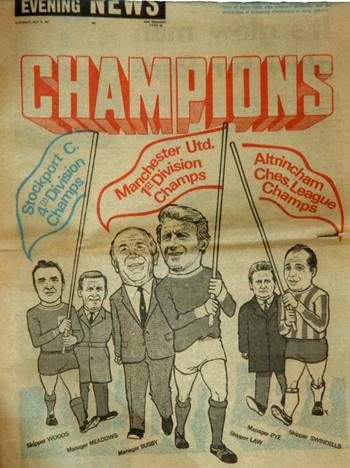 Although Altrincham clinched the EvoStik Northern Premier League championship on Saturday, Monday's
Manchester Evening News
had not a word about it. However, Terry Surridge reminds us that things were different back in 1967 when Alty, as champions of the Cheshire County League, were featured alongside two other local clubs on the front page of the Evening News, as shown in the adjacent image (courtesy of Terry Surridge).
The final day of the league season on Saturday sees Hednesford Town visit the J. Davidson Stadium. From the Midlands, the
Express & Star
reported on Tuesday that "Boss Rob Smith hopes his weary Hednesford Town side can dig deep to seal silverware over their old enemy. The Pitmen are not going into Tuesday's Staffordshire Senior Cup final against Stafford Rangers in the best of form.
They have played nine times in just over three weeks... and won just once, 2-0 against Stoke in the semi-finals of this Cup. Smith said, '"We have had that many games recently and, to be honest, it has absolutely killed us. It's shown in our results recently too. We've really struggled to get a team out at times and we've only got a small squad anyway. We've been running on empty a bit.
'We've managed to shuffle things around a bit more in the last few games and we've had one eye on this game for a while. I'm sure the lads will be full of adrenaline for this one and hopefully that will see us through.'
Smith won the competition in 2013, during his first spell in charge of the club... 'The games between us tend to be pretty close, very evenly-matched, and I don't see this one being any different,' said Smith. 'We have got a bit of experience in the squad, as well as youth, so they should be able to deal with the occasion, and rise to it.'
One player who could have a big say for Hednesford is striker Danny Glover. He recently passed 150 appearances for the club, and 50 goals. Winger Anthony Dwyer will be especially up for the clash too. Recently signed from AFC Telford United, the former Mansfield Town youngster had a spell with Rangers last campaign".
Monday 23 April 2018
Mickleover Sports 1-0 Stalybridge Celtic
Tuesday 24 April 2018
Altrincham P-P Marine
Barwell 1-1 Stourbridge
Grantham Town 0-0 Warrington Town
Lancaster City 1-1 Buxton
Matlock Town 1-2 Ashton United
Nantwich Town 2-3 Shaw Lane AFC (SLA were 2-0 down)
Stalybridge Celtic P-P Workington
Whitby Town 2-3 Rushall Olympic
Witton Albion 1-4 Farsley Celtic
Following the postponement of the Stalybridge Celtic v Workington game, the Reds and Celtic both still have three games to play this week.
Also following Tuesday's games, Ashton United have swapped places with Grantham Town and now lie third in the table. Shaw Lane came back from 2-0 down at Nantwich to win 3-2 and keep their play-off hopes alive.
Staffordshire Senior Cup 17-18 - Final
Stafford Rangers 3-2 Hednesford Town, at Stoke City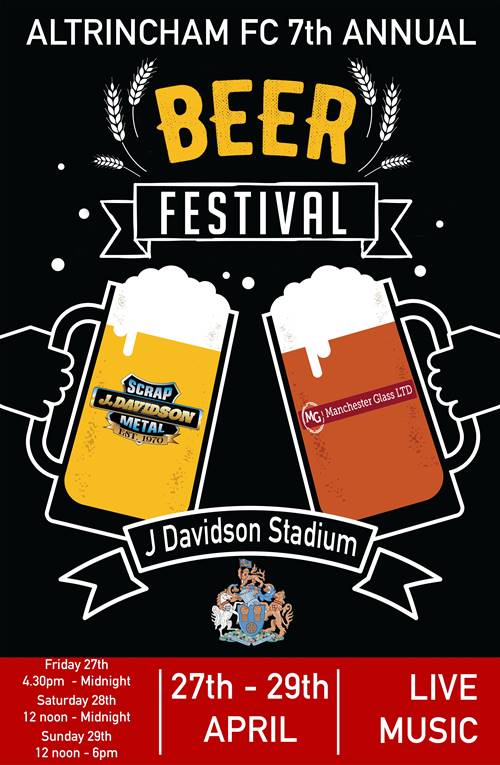 To make the Beer Festival a success, the Club needs volunteers to work on the Real Ale Bar. Available time-slots are:
Friday 4pm-12pm (three-hour shifts 4pm-6pm or 6pm to 9pm or 9pm to midnight)
Saturday 12 noon to 12 midnight ( 12 noon-3pm, or 3pm to 6pm or 6pm to 9pm or 9pm to midnight)
Sunday 12 noon to 6pm (12 noon to 3pm or 3pm to 6pm)
No experience necessary - on the job training provided!.
The
EvoStik League
confirms that "Steve Burr is preparing to leave Stalybridge Celtic on Saturday after taking charge of the club's final game of the 2017-18 EVO-STIK League season.
Appointed for the second time in February 2017, the former Southport and Chester manager's reign will end at Halesowen Town after officials at the club confirmed his contract was not being renewed on Tuesday.
According to a statement released by officials at Bower Fold... on Tuesday night... the decision to part company was a mutual one...
A statement on the club's website read, 'Chairman Rob Gorski would like to confirm that Steve's contract will not be renewed. It was an amicable and mutual decision and Steve will always be welcomed back at Bower Fold. He has his class and dignity as a man and we wish him every success in the future.'
Gorski added, 'We thank Steve for his efforts and hard work since February 2017. He leaves with our best wishes, and personally I have enjoyed working with a high quality manager. The club will appoint a new manager as soon as possible and no further comment will be made.'
Burr was unable to save Celtic from relegation from National League North after returning towards the end of last season but last weekend collected the EVO-STIK League's Premier Division 'Club of the Month' accolade for March, pictured, after turning around their fortunes this term after an up and down campaign to finally secure their top flight status.
As well as managing Celtic between 2007 and 2010, the 58-year-old former striker and England C assistant manager has also guided Nuneaton, Hucknall, Northwich Victoria and Kidderminster Harriers as well as Chester and Southport".
---
24 April 2018
After incessant rain today tonight's match against Marine has been postponed. It is likely to be rescheduled for tomorrow.
Ian Senior of SKkits writes that he has "Limited Edition Home replica shirts available as shwon above. To celebrate winning the league, I have printed my remaining stock of current replica shirts as shown in images, thanks to support from Club Caterer, Richie Bentley. Shirts will be available at tonight's game @ £10 in child sizes and £12 in adults. Sizes available: Child: 20/22 22/24 30/32 32/34. Adult: L XL XXL".
Press and Media Officer John Edwards writes, "As with most rearranged fixtures, tonight's Robins Review contains some material from when the game was originally due to be played, in this case Easter Monday. However, there is still good reason for considering it an unmissable title souvenir issue.
Skipper Jake Moult is pictured on the front cover with a flag bearing the slogan Champions, while in his column inside, he describes what the title means to him personally. Does it rank above the dramatic play-off final win over Guiseley four years ago? Jake gives his verdict and explains why.
Also, Bill Waterson eulogises over the season in his boardroom column and all the key moments from Saturday's unforgettable game at Grantham are captured by club photographers Michael Ripley and Gavin Rathbone in the 'Match Action' section, renamed for this evening only 'Title Action'.
Get your Robins' Review inside the ground before kick-off".
John Edwards, Press & Media Officer at Altrincham FC, interviewed the management duo of Phil Parkinson and Neil Sorvel after the league title was clinched at Grantham last Saturday. The conversation can be heard
here
.
And John has also submitted the following article for inclusion in this week's Sale and Altrincham Messenger...
"Phil Parkinson hailed Altrincham's promotion from the Evo-Stik Northern Premier League as a triumph for unity after they clinched the title with two games to spare at Grantham on Saturday.
A scintillating second-half performance capped by goals from on-loan midfielder Chris Merrie (right) and winger John Johnston confirmed Alty as champions in the grand manner as they cruised to a 2-0 win over one of their main promotion rivals.
After celebrating with nearly 400 Alty fans who made the journey and provided non-stop vocal support, jubilant boss Parkinson, whose side will be presented with the trophy at Saturday's home game against Hednesford, said: 'The players have backed Neil Sorvel and myself, as has everyone - the supporters, the board, everyone associated with the club – and this is what you get when everyone pulls together and is going for the same aim.
'It's an unbelievable feeling to be able to call ourselves champions, so special. When we took over 12 months ago, we made a promise we would try to bring to this club attractive football but winning football, and we have done that.
'It's worth remembering there were two successive relegations prior to this and, historically, clubs dropping into the Northern Premier League have kept going in the same direction. We really did face a mammoth task trying to go straight back up, and no one should underestimate the fantastic effort put in by everyone associated with the club to make it happen. I'm so proud of that.
'Our fans were unbelievable. The hairs on the back of my neck were standing up all game, and I'm just delighted we have given them, and the town, something to be proud of. The jewel of Cheshire is back!'
Reflecting on the performance that secured the title, assistant-boss Sorvel said: 'We wanted to win it on our own terms, rather than relying on others slipping up, and it makes it all the better that we've done that. Some of our football in the second half was a delight to watch, and their management team said at the end we had taught them a lesson. That was great to hear.'"
Altrincham FC will be presented with the EvoStik NPL championship trophy after Saturday's home game with Hednesford Town.
This is the second time Altrincham have won the Northern Premier League, the first occasion being in 1999 when it meant that the club returned to the national level of Conference football. On that occasion it prompted an open-top bus tour of the town centre as seen below. And guess who got a front row spot on the bus, next to manager Bernard Taylor... none other than the late Kenny Palin!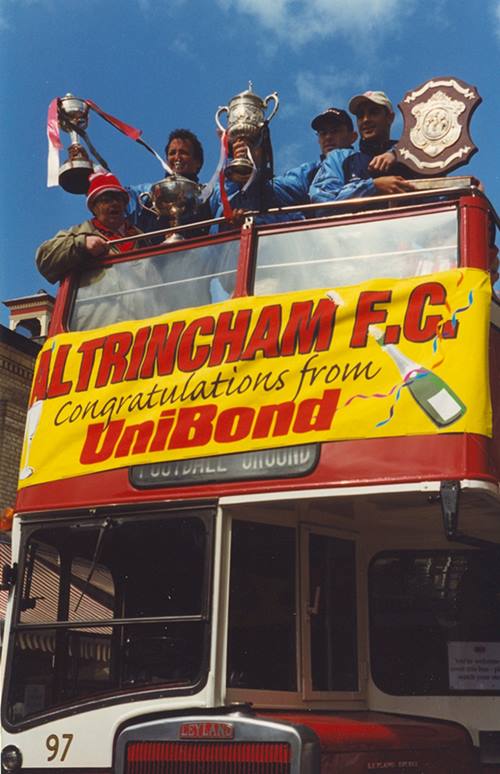 Keith Edleston, manager of Altrincham FC Ladies, reports on his side's 1-1 draw with Stockport County Blues last Sunday.
"Full-time at Mersey Valley saw the Ladies pickup a valuable point in their clash with Stockport County Blues. In a quite hectic game where quality was at a premium, a fantastic headed goal by Hannah Shufflebotham from a pinpoint Laura Dodds corner opened the scoring for the Lady Robins but a similar goal by the Blues in the second half tied the game up and it ended 1-1. It just wasn't to be, as our quality and cohesion let us down a tad but, on the plus point, we have played better and lost!
Pictured below is no.21 Hannah Shufflebotham rising to plant a firm header beyond the diving Blues keeper to open the scoring".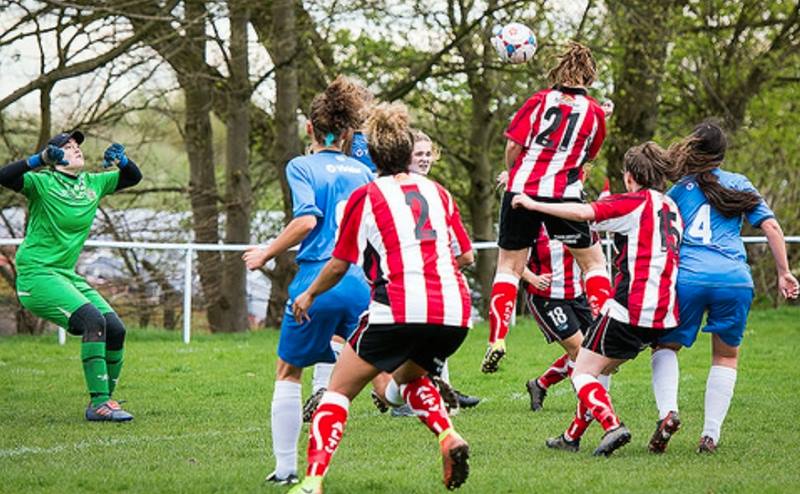 The Cheshire County League confirms that two of Altrincham FC Reserves' home fixtures have been switched from Egerton Sports Club to the J Davidson Stadium at Moss Lane. The games in question are...
Tues 1.5.18 versus Whaley Bridge, k.o. 7.45 p.m.
Fri 4.5.18 versus Greenalls Padgate St. Oswald's, k.o. 7.45 p.m.
Altrincham complete the league season next Saturday when Hednesford Town are the visitors to Altrincham.
Hednesford Town
report on their game last Saturday when "Town's last home league game of the season ended in defeat after Mickleover Sports eased to victory over the Pitmen... They would be ahead though when Pablo Mills sent in a looping header from a corner that deceived Town goalkeeper James Wren and found the back of the net.
In the 25th minute James Lawrie saw a header saved in front of goal by Lewis King in the Mickleover goal...
Although it was Hednesford who started the second half on the front foot it would be Sports that would double their lead in the 53rd minute. Some good football from the visitors saw William Norcross pick out Matthew Barnes-Homer who was able to slide the ball home from six yards out... In the 74th minute though when Barnes-Homer turned Mendez-Jones before unselfishly squaring the ball to Norcross who drilled a low effort into the goal.
Hednesford did reduce the arrears with ten minutes to go when some good play saw Dwyer drive a low cross into the box which Danny Glover was able to fire home into the top corner of the net...
The Pitmen now turn their attentions towards the Staffordshire Senior Cup final on Tuesday evening when we play Stafford Rangers at Stoke City's Bet365 Stadium.
Hednesford Town: Wren, Thorley, Curley, Bailey, Mendez-Jones, Rea (Glover 62), Dwyer, King, Butlin, Harris (Fitzpatrick 62), Lawrie. Subs not used: Campion, Fitzgibbon, Veiga".
According to
NL Pitchero
"Grantham Town have a chance to confirm their play-off place in the Evo-Stik League Premier in their final home game of the season against Warrington Town on Tuesday night.
Despite having the chance to confirm their place in the play-offs on Saturday, the Gingerbreads fell short, losing 2-0 at home to Altrincham, who became champions with the win. The result currently leaves Grantham third in the table, and seven points clear of sixth-placed Shaw Lane AFC, who have one game in hand on the Gingerbreads. This means Grantham need a win to confirm a play-off place. However, if Shaw Lane drop points tomorrow night then that will also be enough for Grantham to confirm a play-off place.
Opponents Warrington were the first side to assure themselves a place in the play-offs after a 1-1 draw at home to Halesowen Town on Saturday... The Yellows are unbeaten in their previous five games, winning two of them and drawing the other three.
Grantham boss Adam Stevens has said that his side want to get the job done for the fans on Tuesday, telling the club`s Pitchero website, 'Unfortunately for us, we came up against a very good side who showed why they deserved to be champions on Saturday. But Tuesday presents us with another opportunity to confirm our play-off place and we want to get the job done as soon as possible. We also want to put on a good performance for the fans whose incredible support never fails to impress me so to confirm the play-off place in front of them would be brilliant'".
There is sad news from Cumbria, where NL Daily reports that "The ground of Workington AFC has been broken into and some cash stolen. Police are investigating after Borough Park was raided overnight on April 18 into April 19".
Potential opponents of Alty next season are York City amd the National League reports that "York City boss Martin Gray says the side have simply not been good enough in recent weeks. The Minstermen look set to miss out on the play-off places, with a week to go, after a run of losses followed by a draw against Leamington.
'It is so frustrating not to see the game out, we have had some real strong, strong words down there,' Gray told the club's website. 'There will be changes. There will be massive changes next week. I want people to judge this football club on the players I bring in, I won't put my name to them [sic] performances. You will have a bunch of tough, horrible, people who will die for this club, work, and give every ounce to this club... I will pick a team that will go down there and not let me down.'"
NL Pitchero
reports that "The England C squad for the game against the Football Association of Ireland Amateur International XI has been announced.
The friendly will be played at Whitehall Stadium, Dublin on Sunday, 27th May, kicking-off at 2.15pm.
Paul Fairclough has named a new-look squad with only Dagenham & Redbridge striker Fejiri Okenabirhie and team-mate Charlee Adams, Kidderminster Harriers defender Fraser Horsfall, Leyton Orient's Sam Ling and Woking centre-back Josh Staunton having been capped before.
There is also a first full squad selection for Jersey-based goalkeeper Euan Van der Vliet, who plays for St Paul's.
Goalkeepers: Tom McHale (Truro City), Euan Van der Vliet (St Paul's)
Defenders: Kane Smith (Boreham Wood), Luke Pennell (Dagenham & Redbridge), Fraser Horsfall (Kidderminster Harriers), Sam Ling (Leyton Orient), Josh Staunton (Woking)
Midfielders: Tom Crawford (Chester FC), Charlee Adams (Dagenham & Redbridge), Josef Wheatley (Darlington), Cavaghn Miley (Eastleigh), Tom Walker (Salford City), Ky Marsh-Brown (Whitehawk)
Forwards: Fejiri Okenabirhie (Dagenham & Redbridge), Josh Koroma (Leyton Orient), Tommy Wright (Sutton United)"
---
23 April 2018
Above left, Jacqui Forster with former Alty player Nicky Clee. Above, right, Jacqui lifts the Cup! (Images courtesy of Pete Baker).
Altrincham FC is deeply saddened to learn of the premature death of Jacqui Forster, a longstanding supporter of the club and a national figure associated not only with organizations such as Supporters' Direct and Women at the Game but also many other initiatives to improve the experience for women, the disabled and minorities in the football environment. The Club's condolences go to her husband Pete Baker who supported Jacqui admirably, especially in the recent years of her terminal illness.
Jacqui was a Vice-President of Altrincham FC as well as its honorary Head of Diversity and Inclusion. An excellent article about Jacqui's work in encouraging female supporters' involvement in football appeared in The Guardian newspaper in 2017.
Jacqui's many achievements are all the more remarkable for her having to battle with terminal breast cancer for the last few years of her life but she refused to let her personal situation overcome her indomitable spirit.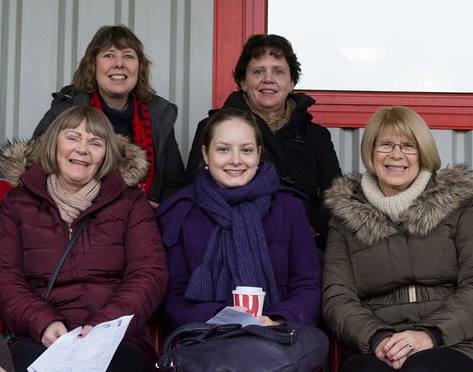 Above: Jacqui (back row, left) pictured with Women at the Game colleagues at Altrincham FC at the Alty v Gloucester City game in January 2017. Image courtesy of Michael Ripley.
In the early years of this millennium, Jacqui was heavily involved in the Altrincham FC supporters' organizations, SAFE and its successor STAR, and in the setting up of the Alty in Exile group for supporters of the club who lived away from Cheshire.
In March 2003, she was instrumental in the establishment of The STAR Supporters' Trust for Altrincham fans, with the involvement of Supporters Direct managing director and Altrincham supporter, Brian Lomax. Her organizational expertise was such that even local MP Graham Brady was in attendance at the launch, alongside the legendary Jackie Swindells and more recent Alty heroes.
One of Jacqui's most visible physical legacies to Altrincham is the disabled shelter at Moss Lane, which she was delighted to see doubled in size recently.
In recent years Jacqui and her husband Pete have lived directly opposite the J Davidson Stadium and Jacqui and Pete attended as many matches at home and away as her health permitted. It is particularly poignant that Jacqui's death comes on the same weekend that Altrincham clinched the EvoStik Northern Premier League title.
In addition to the players, there are many people at Altrincham FC who played important parts in the club's promotion. Not least, the management duo...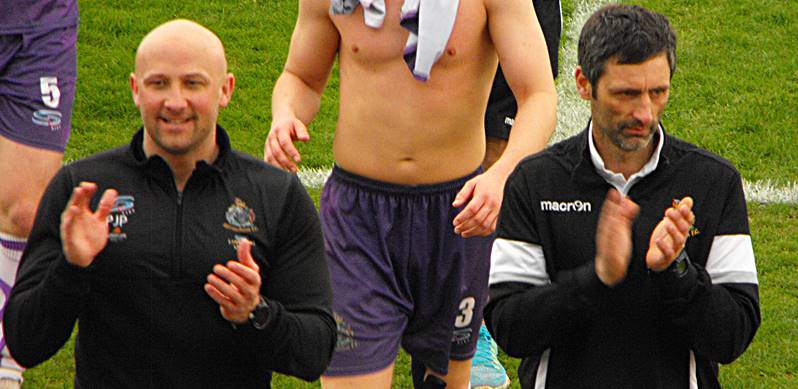 Above Alty manager Phil Parkinson and assistant Neil Sorvel leave the pitch at Grantham on Saturday.
Below, success on the pitch also owed much to hard work by backroom staff. Here, at Grantham, Gavin Rathbone pictures left to right Mark Bushell (sports analyst), Chris Parkes (coach). John Skelhorn and Steve Foster (kitmen), Ryan Murray and Tommy Uda (sports therapists)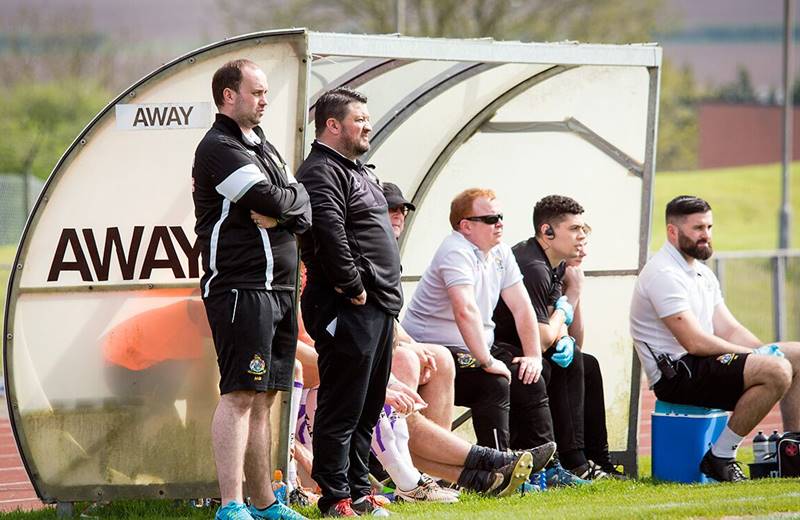 And, of course, the supporters also played a large part in helping the team win the championship after two years of disappointment...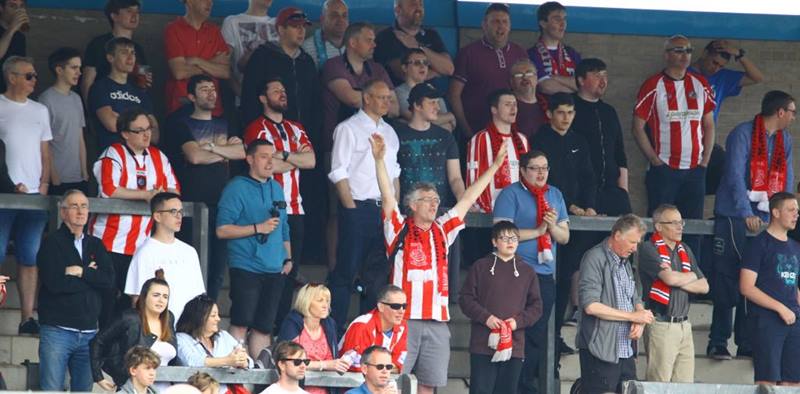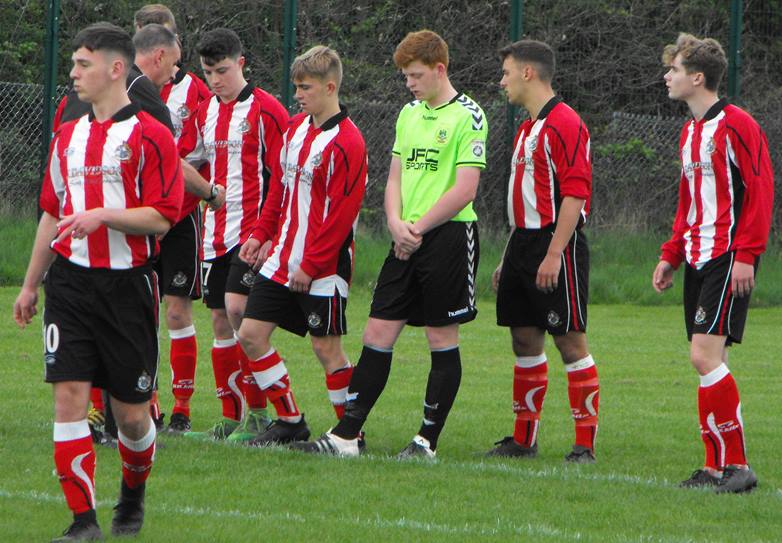 Above: Alty line up to defend a first-half freekick against Curzon Ashton.
In an eventful match which involved three pitches, three red cards and five goals, Altrincham bowed out of the Neil Thomason Trophy at the semi-final stage, having taken a 2-0 lead in the first half.
Match report here
In the other semi-final, Chester FC won 5-0 at Heswall.
Alty Youth's next match is on Sunday (29th) away to Heswall in the North West Youth Alliance Open Cup.
Match report here.
Alty TV goal highlights from the Grantham game on Saturday are here.
Fuller highlights can be found here.
Meanwhile the Grantham Journal reports that "Grantham Town were defeated by the league leaders at The Meres on Saturday, with the three points securing the Northern Premier League Premier Division title for Altrincham.
With the loss, the Gingerbreads are still not guaranteed a place in the play-offs after rivals Shaw Lane managed a draw. Saturday's match saw an expected bumper crowd at The Meres, bathed in spring sunshine with the usual strong wind, in what felt like a cup final atmosphere.
It was a well balanced first 45 minutes and 0-0 was a fair score going into half time. The visitors looked the fresher side after the break and Town were undone twice, with Grantham goalkeeper [Preston] still the hero as he made countless quality saves to spare his side's blushes... The game became an end-to-end encounter with successive counter-attacks as play swung to and fro...
The first of many great saves by Preston saw him tip Josh Hancock's 34th minute close range strike around the post... The game continued apace after the break and Altrincham went in front after just five minutes.
A minute previously, Preston pulled off a miraculous save to block Jordan Hulme's close range effort, followed by a couple more great stops, but he was unable to prevent Chris Merrie's left footer from flying in the net in an intense spell of pressure from Altrincham. This put the large travelling contingent in good voice and the atmosphere went up a further notch, despite the disappointment of the home crowd...
It was clear Altrincham had the upper hand and, despite Preston denying both impressive substitute Max Harrop and Hulme from close range, the visitors doubled their lead in the 79th minute, with Johnston running through the Town defence and slotting in for 2-0.
Preston continued to deny Altrincham any further goals with more impressive saves... Altrincham and their supporters celebrated the final whistle and their league title, but Grantham are still well and truly safe in with a chance of one of those play-off spots now. Next up is the visit of second placed Warrington Town to The Meres on Tuesday night"
On Sunday, Altrincham FC Ladies drew 1-1 at home to Stockport County Blues at Mersey Valley. Next Wednesday the Ladies are away to Warrington Wolverines.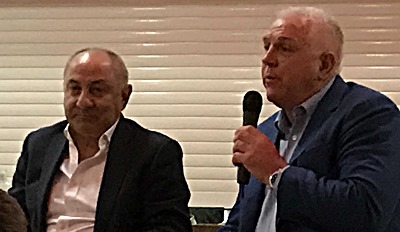 Pictured, right, are Tottenham Hotspur legends, Ossie Ardiles (left) and Graham Roberts, who were the star guests at last Friday's event in the Community Sports Hall to commemorate Altrincham's encounters with the North London club in the FA Cup. Alty met Spurs in 1978-79 drawing 1-1 away at White Hart Lane before losing the replay 3-0 at Maine Road. And, in 1994-95, there was the same outcome at White Hart Lane, all three matches having taken place in the Third Round of the FA Cup.
On Tuesday, Alty's last evening fixture of the season sees Marine as the visitors to the J. Davidson Stadium. This is a rearranged game, following the postponement of the fixture originally set for 2nd April. As we all know, it has been a season of rearranged games with ten of Altrincham's original league fixtures, as issued last summer, not actually taking place, so far, on the originally designated day or against the originally allocated opponents. Weather postponements, cup involvements of one side or the other, and the league's need to juggle fixtures to avoid backlogs all contributed to this situation.
Marine arrive at Altrincham on Tuesday night lying nineteenth in the 24-club division. Altrincham should be aware that the Crosby club is better away from home, with 29 of its 52 points having been accrued on their travels despite having played two games fewer, so far, away from home. For the record, Alty have also currently gathered more away points than at home, with 46 from their travels and 45 at home but they have played two fewer matches at the J. Davidson Stadium than away at present.
Alty's Josh Amis went to Marine mid-season to regain match fitness but he is not eligible to play against us on Tuesday, although he could legitimately be named in the squad.
In the reverse fixture, on Boxing Day, Altrincham won 3-0.
Marine have an interview with manager Tommy Lawson following their defeat to Whitby Town.
Howard Watts's and Mike Garnett's
Through the Years
files remind us that Tuesday's date is not the first time on which Altrincham have celebrated a promotion to the Conference North on 24 April. In a tense game on 24 April 2004 Alty needed to ensure their place in the newly created Conference North division. They did so with a 1-0 win over Runcorn, secured by a first-minute goal from Barry Shuttleworth.
This time, 24 April will be a less tense affair with promotion and the championship already secured.
NL Daily
reports that the "North Ferriby United's owner says he is looking into using the football club's ground as a travellers' site to boost revenue. Jamie Waltham, who bought the club late last year, claims the move could generate £2,461 a week, with the ground cleared for match days. But a member of North Ferriby Parish Council, which owns the Grange Lane ground, says this could not happen under the terms of the lease.
Mr Waltham claims the club, which plays its final home game of the season on Saturday, needs new forms of revenue.
He says, 'We are currently in talks with council and government officials to satisfy their demand for new travellers' sites within the East Riding, it's a real shame only around 1.5 per cent of residents of Ferriby and Swanland support the great level of football on their doorstep and, as a result, the club is forced to look at new ways to bring in revenue.
'The ground at Ferriby will accommodate 46 caravans at £53.50 a week, that's £2,461.00 a week which could be a great amount of money to the club, with shower and changing facilities already on site as well as a clubhouse Ferriby's ground is ideal and local travelling families are already scoping out the site and when we have a game they can just pull off for a few hours and maybe park on the Duke (of Cumberland) car park."
---
22 April 2018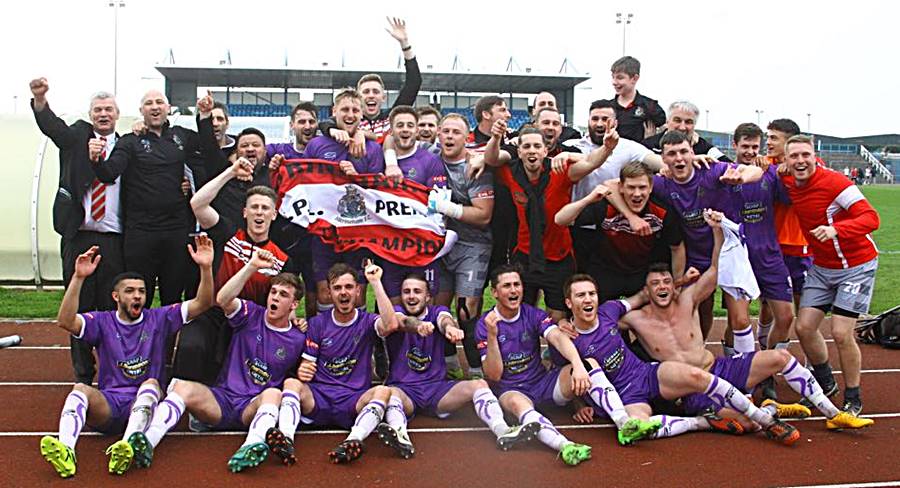 Above: Alty celebrate after the final whistle, image courtesy of Gavin Rathbone.
Despite the injury absences of Densmore, Poole, Jones, Harrison, Deasy and Peers, a strong second-half performance from Altrincham secured the league title and promotion back to the Vanarama North.
After a goalless first half played in a swirling wind, Altrincham dominated the second half. Loanee midfielder Chris Merrie put Alty ahead with a measured shot in the 51st minute and John Johnston beat keeper Preston in a one on one to double the lead (79 mins). But for Preston, the margin of victory would have been much greater for Altrincham.
Match report here.
Above, left, Chris Merrie, (watched by Tom Hannigan and Jake Moult), has proved an excellent loan signing by Phil Parkinson and his goal set Alty on the way to the title on Saturday. Chris was also able to celebrate his parent club, Wigan Athletic's promotion yesterday. Here he is seen by Gavin Rathbone's camera. Right, we see John Johnston and Max Harrop celebrating the second goal. Image courtesy of Mike Ripley.
In the last 22 seasons, few supporters of any club can have witnessed as many ups and downs as Altrincham's fans have experienced. On no fewer than 14 occasions in those 22 campaigns Altrincham have either won the league, reached promotion play-offs, or finished in the relegation places! And on many of those occasions, the club's status for the following season has been uncertain before (or, in three cases, after) the last game of the season.
The club's current promotion represents the club's ninth change of league in 22 seasons and that excludes the three other seasons when they finished in the relegation places but were reprieved and a further season when they qualified for the end of season promotion play-offs but lost out in the process. The litany of ups and downs is summarised below...
1996/97: DOWN Altrincham finished bottom of the Football Conference and were relegated to the Northern Premier League (then at Step Two of the non-League pyramid as we know it today).
1998/99: UP Altrincham won promotion from the Northern Premier League, as champions, and so regained their national status.
1999-2000: DOWN Although this season only saw the club lose in the league 14 times, they were relegated back to the NPL, largely as a consequence of drawing a phenomenal 19 games.
2003/04: UP, SORT OF In the fourth season at Step Two, Altrincham qualified in 12th place for the new Conference North which was introduced above the NPL at Step Two.
2004/05: UP This campaign saw Altrincham finish fifth but win three successive away games in the play-offs to regain their Conference status by beating Eastbourne Borough.
2005/06: REPRIEVED Altrincham would have finished comfortably safe (18th) in the Conference but for an 18 point deduction imposed on the club in 2005 for playing James Robinson when his former club, Accrington Stanley, had not gained international clearance for him before he joined the Robins. Relegation was avoided at the league AGM by demotion of Scarborough for financial reasons which affected recruitment for the following season.
2006/07: REPRIEVED Despite gaining 51 pts Altrincham dropped into the relegation places on the final day when they only drew with Aldershot Town. However, they retained their status because of the demotion of Boston United from League Two to Conference North for financial reasons.
2007/08: REPRIEVED For the second successive year Altrincham started their last game of the season safe but a draw on the final day (at Weymouth) put them back into the bottom four. For the third year running they were repreived, this time by the financial demise of Halifax Town.
2010/11: DOWN This season saw another bizarre last-day relegation and this tine there was no escape. After two lower-mid-table finishes in 2009 and 2010, Altrincham met the already relegated Eastbourne Borough at Moss Lane on the last day of the season. Alty fell 3-0 down before half time, then recovered to 3-3 only to lose 4-3. A win would have kept them up.
2012/13: PLAY-OFFS Alty reached the play-offs but failed to get through.
2013/14: UP Alty won promotion back to Step One by the play-offs thanks to Greg Wilkinson's 120th minute goal against Guiseley.
2015/16: DOWN Two seasons back at Step One ended when Alty were relegated in 2016 to National League North, finishing third from bottom.
2016/17: DOWN A second successive relegation, from National League North, menat that the club found itself back in the NPL for 2017-18 (now Step Two).
2017/18: UP Having led the table since mid-October 2017, Altrincham were promoted back to Step Two as champions in 2018.
Altrincham's strong away support helped Grantham to the day's highest gate...
Saturday 21 April 2018
The EVO-STIK Premier Division
Att. 205 Ashton United 2-1 Nantwich Town
Att. 151 Barwell 3 - 4 Farsley Celtic
Att. 341 Buxton 0 - 1 Sutton Coldfield Town
Att. 689 Grantham Town 0 - 2 Altrincham
Att. 216 Hednesford Town 1 - 3 Mickleover Sports
Att. 238 Lancaster City 0 - 0 Stourbridge
Att. 507 Marine 0 - 3 Whitby Town
Att. 320 Matlock Town 2 - 0 Workington
Att. 221 Rushall Olympic 0 - 0 Witton Albion
Att. 560 Stafford Rangers 1 - 2 Shaw Lane (Damian Reeves got both SLA goals and ex-Alty youth Osemi Abadaki was sent off for Stafford)
Att. 285 Stalybridge Celtic 0 - 3 Coalville Town
Att. 300 Warrington Town 1 - 1 Halesowen Town
Saturday 28 April 2018
Altrincham v Hednesford Town
Coalville Town v Rushall Olympic
Farsley Celtic v Marine
Halesowen Town v Stalybridge Celtic
Mickleover Sports v Barwell
Nantwich Town v Stafford Rangers
Shaw Lane v Matlock Town
Stourbridge v Warrington Town
Sutton Coldfield Town v Grantham Town
Whitby Town v Buxton
Witton Albion v Lancaster City
Workington v Ashton United
On Saturday in the Cheshire Football League Premier Division, Altrincham Reserves lost 2-0 at Malpas. On Wednesday they entertain eighth-placed Crewe FC. Alty are currently eleventh.
NL Pitchero
confirms that "Altrincham secured the Evo-Stik League Premier title on Saturday and promotion back to the Vanarama National League North after just one season following a 2-0 win at play-off chasing Grantham Town at The Meres...
Although beaten on the day, Grantham are assured a top five spot and have two games to try and finish as high as possible to obtain a favourable draw.
Warrington Town, who chased the champions hard, could only manage a 1-1 draw at Cantilever Park against second-bottom Halesowen Town... The hosts have confirmed a play-off place and will now try for runners-up spot and home advantage in the semi-finals. And with a four-point advantage over Grantham and five of fourth-placed Ashton United, they should achieve that with two games remaining.
Ashton kept their chances going with a 2-1 win over Nantwich Town at Hurst Cross. [Ex-Alty loanee] Liam Tomsett gave the Robins an early 6th minute lead and then levelled that himself with an own goal on 39 minutes. [Ex-Alty midfielder] Sam Sheridan restored the home side`s lead...
The top five battle to join Warrington and Grantham is between Ashton, Farsley Celtic and Shaw Lane AFC, who have a game in hand on the two teams above them. Farsley maintained their challenge with a best-of-seven win at Kirkby Road against Barwell...
Hickey`s second after 74 minutes looked to have won it for Barwell, only for Paul Walker to grab an 88th minute leveller and then, 3 minutes into stoppage time, Turner to win it for the Yorkshire side.
Shaw Lane had a slightly less frenetic 2-1 win at Marston Road against Stafford Rangers, taking an early 6th minute lead from a Damian Reeves penalty. Rob Thompson-Brown levelled, also from the spot, on 64 minutes, but the Ducks sealed a crucial win through Reeves again 5 minutes later.
Elsewhere on Saturday, seventh-placed Witton Albion`s top five chances have gone after a run of five games without a win, a 0-0 draw at Dales Lane against Rushall Olympic being the fifth.
Coalville Town earned a good 3-0 win at Bower Fold against a Stalybridge Celtic side who, in contrast to champions Altrincham, have struggled since coming down with them last April...
Matlock Town won 2-0 at home to Workington AFC... while Whitby Town were 3-0 winners at the Marine Travel Arena against Marine AFC... Lancaster City and Stourbridge shared a goalless Giant Axe draw, and... Mickleover Sports won 3-1 at Keys Park against Hednesford Town."
The
National League
reports that "Lee Sinnott wants to be the man to get Gainsborough Trinity back on the up after their relegation was confirmed on Saturday.
Trinity were leading 2-0 at fellow strugglers AFC Telford United but the Bucks fought back to win and condemn Gainsborough to the drop.
It is the first time the club have suffered relegation in their 145-year history and they will kick off next season in the Northern Premier League. Sinnott has overseen an upturn in results since he took charge in mid-February but they haven't been enough.
'It's massively disappointing but to be 2-0 up and lose it; that's a snapshot of the season,' boss Sinnott said. 'I've only been here for two months but that bit of fragility has been there all season. I feel sorry for the supporters who have made the journey down but we have to be realistic; we're a relegated team.
'It's not a nice thing to digest but now begins the work for next season. I've been given the inclination that I'll be here next season and I haven't heard anything different. I'm looking forward to the job in hand. There will be change because when things like this happen, there has to be change.'"
---
21 April 2018
Saturday 21 April
The EVO-STIK Premier Division
Ashton United 2-1 Nantwich Town
Barwell 3-4 Farsley Celtic
Buxton 0-1 Sutton Coldfield Town
Grantham Town 0-2 Altrincham
Hednesford Town 1-3 Mickleover Sports
Lancaster City 0-0 Stourbridge
Marine 0-3 Whitby Town
Matlock Town 2-0 Workington
Rushall Olympic 0-0 Witton Albion
Stafford Rangers 1-2 Shaw Lane
Stalybridge Celtic 0-3 Coalville Town
Warrington Town 1-1 Halesowen Town
Altrincham need two points to be mathematically certain of winning the league title but one point would almost certainly suffice given that their goal difference of 54 is thirty goals better than that of their only remaining rivals for the title, Warrington Town. So, regardless of Alty's result at Grantham, if Warrington fail to win on Saturday, Altrincham would be champions.
As for Grantham, their goal difference is 12 better than Warrington's but they are three points behind the Yellows. A win for the Gingerbreads and defeat for Warrington would therefore leave Grantham in second place.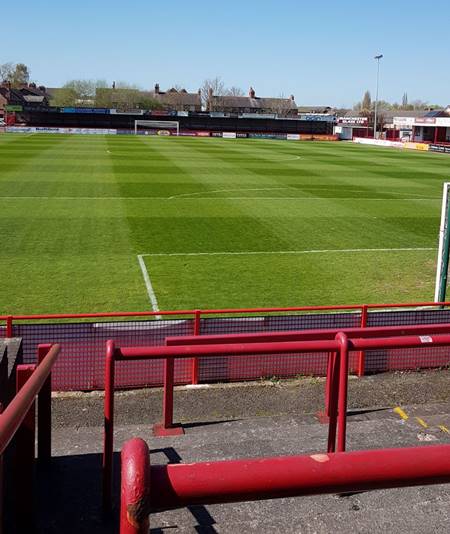 Right: Alty will complete the season with two matches at the J. Davidson Stadium next week. Pictured right is the ground on Friday, its excellent condition being a tribute to groundsman Neil Brown, his volunteer assistant Bryan Ford and other volunteers.
The run-in for the current top five clubs is as follows, though it should not be forgotten that several other clubs outside the current top five could still qualify for the play-offs.
ALTRINCHAM P43 PTS88 GD54
Sat.21.4.18 A Grantham Town
Tue.24.4.18 H MARINE
Sat.28.4.18 H HEDNESFORD TOWN
WARRINGTON TOWN P43 PTS80 GD24
Sat 21.4.18 H HALESOWEN TOWN
Tue 24.4.18 A Grantham Town
Sat 28.4.18 A Stourbridge
GRANTHAM TOWN P43 PTS77 GD36
Sat 21.4.18 H ALTRINCHAM
Tue 24.4.18 H WARRINGTON TOWN
Sat 28.4.18 A Sutton Coldfield Town
ASHTON UNITED P43 PTS73 GD23
Sat 21.4.18 H NANTWICH TOWN
Tue 24.4.18 A Matlock Town
Sat 28.4.18 A Workington
FARSLEY CELTIC P43 PTS71 GD11
Sat 21.4.18 A Barwell
Tue 24.4.18 A Witton Albion
Sat 28.4.18 H MARINE
The coach to Grantham on Saturday is now fully booked and TASC would like to thank everyone for supporting the TASC Supporters' Club throughout the season. Those travelling on the coach to Grantham are reminded that the prices are:
Adults £10
Concessions £8
Full time Students and U16s - £7
Th fares above represent a HALF PRICE trip, courtesy of a subsidy from the Club chairman, Grahame Rowley, in appreciation of the excellent away support that the team has enjoyed throughout this season.
Those who have not been regular TASC coach travellers are reminded that the supporters' coach is alcohol-free without exception and that the aim is to promote a family friendly atmosphere.
Details of the coach times and pick-up points are to be found on the Away Travel page. The coach returns promptly from Grantham after the final whistle.
Back in September, Alty beat Grantham 1-0 with a side depleted by the suspensions of Max Harrop and James Jones as well as the injury absences of John Disney, Sean Miller and Laurence Taylor. The winning goal arrived when Joel Bembo-Leta won a corner, after which Grantham keeper Preston juggled the ball three times, as he appeared to be jostled in the goalmouth. The ball dropped for Jordan Hulme, who netted from close range, to the understandable annoyance of the visitors.
Having used all their substitutes, Alty defender Ben Harrison suffered an injury and spent the last ten minutes hobbling as, first, a central midfielder and, then, further forward.
History repeats itself as Alty also go into this return fixture waith a depleted squad. Missing for sure will be Ben Harrison, James Poole, James Jones and Tim Deasy whilst Shaun Densmore is a major doubt after being injured at Shaw Lane on Thursday evening.
Saturday's match is a clash between the two highest-scoring sides in the division but, before we get accustomed to a goal-fest, we should also note that the Robins and Gingerbreads boast two of the best three defences in the division.
Mike Garnett provides the data on previous meetings between our clubs...
Home: P2-W2-D0-L0-F7-A3
Away: P2-W1-D1-L0-F4-A1
All: P4-W3-D1-L0-F11-A4
Grantham play at the South Kesteven Sports Stadium, Trent Road, Grantham, Lincolnshire NG31 7XQ, which accommodates 750 seated and 7,500 standing. There is a running track around the football pitch, as we have experienced previously at grounds such as the Horsfall Stadium, Bradford and the International Stadium at Gateshead.
After a run of five successive wins in March/April, the Gingerbreads' subsequent five matches have seen them lose twice and then acquire seven points from their most recent three fixtures, including away wins at Workington and Whitby Town. At home, they drew with Hednesford Town last Tuesday and, before that, they had lost 3-0 at home to Mickleover Sports after their keeper had been sent off early in the match.
On Thursday, The Gingerbreads had a fine 5-1 away win at Whitby Town. Grantham Town reported how they had "Returned to winning ways in emphatic style at Whitby... Tom Batchelor returned to the starting line up following his suspension, Jordan Hempenstall also started after being on the bench on Tuesday night.
The Gingerbreads took the lead after 12 minutes when Danny Meadows saw his shot loop into the back of the net. Stefan Galinski went off injured just before the 20 minute mark, meaning Rhys Lewis dropped back into defence again and Michael Hollingsworth came off the bench. Whitby levelled the match on 25 minutes through Junior Mondal's curling effort...
The Gingerbreads took the lead though on 50 minutes. Sam Osborne tricked down the left and pulled the ball back to Jordan Hempenstall in the centre of the box and he fired home... and with 17 minutes to go it was 3-1. Sam Osborne was played through on goal and slotted home. 4-1 came on 84 minutes, The Gingerbreads again got down the left and found Jordan Hempenstall who only had to tap the ball in.
And with the match in injury time, late substitute Andrew Wright made it 5-1 when he struck from the edge of the six-yard box. It's another quick turn around for The Gingerbreads, as on Saturday we host league leaders Altrincham. A point for them will clinch them the title.
From the other side we read that Whitby boss "Chris Hardy was left 'embarrassed' by his side's performance, particularly in the second half, against Grantham Town... His side put up a strong first half performance against the high-flying Gingerbreads but in the second half the Seasiders appeared to let their heads drop, eventually going down 5-1.
'Take nothing away from Grantham, they're one of the better sides we've faced this season. We were buoyant to go in 1-1 at half time and we were confident we could get something from the game. The second 45 was just a horror show. We didn't seem to do the basics. We seemed to get destroyed down both flanks time... which meant the centre-halves were getting isolated and it got progressively worse. I can only apologise'...
'They're not playing for places now, it's for futures. There's no way that I'll be signing on for another season of that. That's just not acceptable at any level. I've never been involved in this type of situation. This will not continue. If the players that we put out there cannot deliver a performance that we expect and are looking for, then Whitby Town is not the club for them'".
Grantham Town have issued "A reminder that we have our Academy trials on tomorrow [Saturday] so, if you are in currently in year 11 or 12 and interested in sports, get yourself down to the Meres 3G to see what we can offer. Times are 12:00 till 1:30 for coming along you will gain a free ticket to our first team game" against Altrincham.
The Grantham Journal adds that "A bumper crowd is expected at The Meres tomorrow, with Grantham Town keen to get a result to help secure their play-off berth. Numbers are also expected to be swelled by visiting fans from table-topping Altrincham who will be hoping to be crowned league champions if the game goes their way.
Town followed up an excellent away win at Workington on Saturday with a disappointing end to the midweek [Tuesday] fixture with Hednesford Town, who equalised in the dying seconds of added time to disappoint the home fans.
Gingerbreads manager Adam Stevens thought his team should have sewn the game up beforehand, 'We dominated the game to the extent that they probably had a couple of efforts on target and scored with one, whereas we had enough opportunities to close the game out well before the added time.'
In a hectic end to the season, both Altrincham and Grantham won on Thursday night. The Gingerbreads triumphed 5-1 at Whitby Town after a brace of goals from Jordan Hempenstall, with Danny Meadows, Sam Osborne and Andrew Wright adding the others... Town boss Stevens was upbeat about the finale to the season, 'Cramming matches into such a short timescale is not an ideal way of ending the season, but we have no option and all the top teams have to face the same scenario. The lads have responded well and we will do our best to use the whole squad where possible.'
Whatever happens tomorrow, there will be little time for reflection or rest as on Tuesday the visitors to The Meres will be second-placed Warrington Town. So, yet another big fixture as the Gingerbreads have not yet given up hope of achieving that position at the end of the season. Stevens relished the chance to compete at the top end of the league, 'If, in August, we could have anticipated that we would be battling for second place in the league come late April, I would have been delighted... and hopefully with the full squad now available again we can give it a good go.'
Last weekend, the Gingerbreads received acknowledgement of their progress over the last two seasons with both striker Lee Shaw and goalkeeper Kieran Preston being picked in the Northern Premier League Managers' Team of the Year... The combination of a sunny day and the visitors' strong following means a big crowd is expected tomorrow, so local fans are advised to arrive early to ensure they all get into the ground in time for the 3pm kick-off."
Meanwhile, Grantham Town add that "The Gingerbreads are just three points away from confirming a play-off place and could do so on Saturday, with a win over champions elect, Altrincham... The result left Grantham in 3rd place and now just three points away from sealing a play-off place after other results going in their favour during the week...
The previous encounter between the two sides earlier in the season saw the Gingerbreads fall to a controversial 1-0 defeat away from home and they will be looking to spoil Altrincham's promotion party.
Grantham boss Adam Stevens has said his side can't let the occasion get to them on Saturday as they prepare for a tough test. 'Sealing a play-off place would be the icing on the cake to a brilliant season but we have to make sure we win the game first. Altrincham will have a big support coming down and will want to wrap up the title for them so we must play as we have been all season and prepare ourselves for a very tough game this weekend.'
Captain Stefan Galinski could be doubtful for Saturday after picking up an injury on Thursday which saw him substituted for Michael Hollingsworth. Luke Shaw is still also unavailable due to injury [but he actually played on Thursday night according to the website's match updates]. The rest of the squad is available for selection."
Match report here.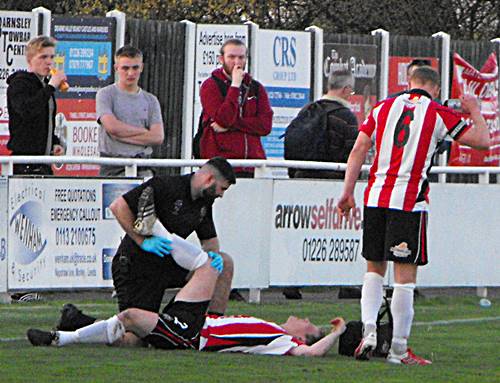 Shaw Lane AFC report that "It was a tough night for Shaw Lane who battled hard, only to concede a goal in the last seven minutes against the league leaders.
Visitors Altrincham will be breathing a sigh of relief after Josh Hancock came up with the winner on 83 minutes to put them one point away from winning the title. The striker hit his 17th of the league campaign after controlling the ball in the area, turning Jake Skelton, and tucking the ball away past Ed Wilczynski.
Right, Tommy Uda treats a prostrate Shaun Densmore in the early stages of the match at Athersley. Sadly, Shaun had to be substituted shortly afterwards.
The result could easily have gone the other way on 55 minutes when a Chib Chilaka header [following his unpunished foul on Hampson] was denied by Anthony Townsend [i.e. Thompson] from point blank range following a delivery into the box from the free-kick.
Shaw Lane had already battled back into the game on 43 minutes when lively Godwin Abadaki won a penalty for his hard work in the box. Former Altrincham striker Damian Reeves sent Townsend [Thompson] the wrong way to net his 21st of the season in all competitions.
The equaliser came just three minutes after the Robins took the lead for the first time. A ball from the right found John Johnston one on one with Wilczynski on the edge of the area. The Altrincham player was able to take it past the keeper before squeezing the ball home from a narrow angle with defender Kelvin Lugsden trying to block the goal line.
The result leaves Shaw Lane still chasing for a play-off spot. With four games left to play they are four points behind Farsley Celtic, but do have a solitary game in hand on their rivals".
Following the game, Shaw Lane confirmed that "Manager Chris Willcock and assistant Lee Donafee have extended their contracts and will be in charge for the 2018/19 season".
From the
Northwich News
we learn that "Witton Albion's players have promised to support Nick Ryan after he suffered a broken leg during Thursday night's game. The defender was taken to hospital by an ambulance summoned immediately after he had sustained the injury while challenging an opponent for the ball during a 2-2 draw at Marine.
His teammates, some of them visibly distressed, salvaged a share of the spoils after scoring an equaliser in the sixth minute of added time. Following the final whistle, they agreed to donate money they have collected over the course of the campaign, earmarked for a holiday they have planned together next month, to the 24-year-old.
'This is a special bunch of lads,' said Witton boss Carl Macauley. 'We all want to stick by Nick and make sure we give him our full backing. It's tough as a player to see your teammate get hurt like that. We talked about it after the game, and Paul Williams stood up before making a suggestion that they use what they've put into the kitty, for social stuff and their trip away at the end of the season, to help him get by. It's a great gesture, and we're all desperate for him to make a speedy recovery.'
Macauley paused more than once to compose himself while describing the scene in the dressing room after the game, his voice trembling with emotion. He added, 'Everybody was right behind it, and I think that's brilliant. It's all we can think about, forget about the result, because we know just how hard it is on him. He has had so much bad luck; he broke his jaw just before Christmas, and now this; it's another bad, bad injury. I'm gutted.'
Rob Hopley's goal established a lead for Witton shortly after Ryan had left the field on a stretcher before James Murray capitalised on a defensive error to restore parity. James Short appeared to have sealed a victory for Marine when he scored in added time. However Steve Tames bundled a loose ball over the line on 96 minutes to earn Albion a point they deserved.
Macauley said, 'A draw was fair and, while we weren't at our best, we improved enough in the second-half to take something from the game. I've talked about it previously, but the spirit this side has means they keep on pushing'".
Thursday 19 April
The EVO-STIK Premier Division
Att. 239: Buxton 3-0 Nantwich Town
Att. 229: Hednesford Town 1-1 Rushall Olympic
Att. 316: Marine 2-2 Witton Albion
Att. 261: Matlock Town 2-0 Stalybridge Celtic
Att. 292: Shaw Lane 1-2 Altrincham
Att. 223: Whitby Town 1-5 Grantham Town
From the
EvoStik League
we learn that "The Football Association have given Radcliffe Borough the green light to rebrand as Radcliffe FC from the start of the 2018-19 EVO-STIK League season. The club will be officially referred to as Radcliffe FC in all league and cup competitions after the request they made at the start of the current campaign to drop Borough was finally approved on Thursday...
Fans, players and officials at Stainton Park have already been informally referring to themselves as Radcliffe FC this season after chairman Paul Hilton launched an ongoing review to modernise every aspect of the club last summer. The drive included unveiling a new crest to better reflect their proud history and place in their local community since governmental changes back in 1974 saw Radcliffe absorbed into the Metropolitan Borough of Bury.
According to a statement from club officials, although they will always be happy to be known as 'The Boro', the move rendered the Borough in their official title 'outdated if not obsolete' as they rebrand to head into a 70th year during the second half of the 2018-19 campaign. In use since last August, the new design of the club's badge incorporates a number of Radcliffe icons including the River Irwell which runs through the town and put Radcliffe on the map by powering mills like the Grade II listed Mount Sion Mill Water Wheel which is also featured."
---
20 April 2018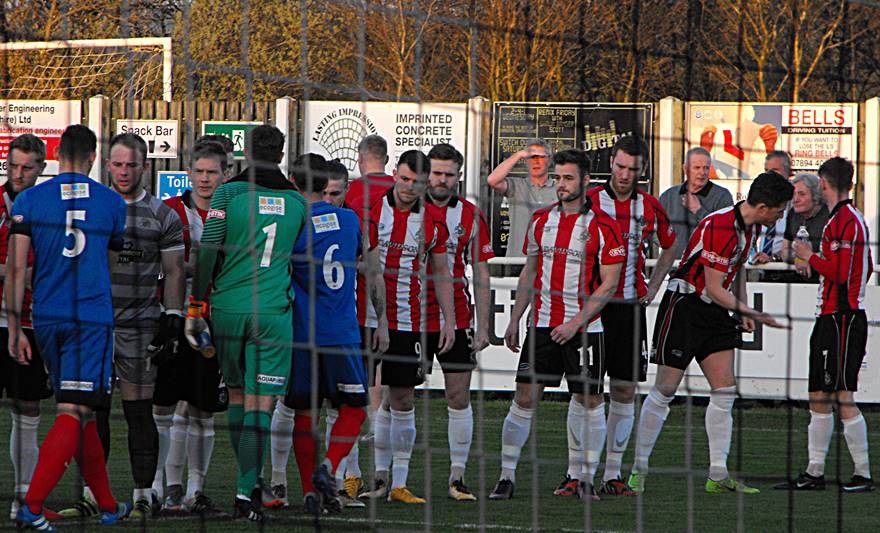 Above: Alty line up before kick off at Athersley.
Despite losing Shaun Densmore to injury in the first half, Altrincham took a giant stride towards the title with these three points at Shaw Lane. Altrincham took a deserved lead in the 40th minute when Johnston finished superbly at the back post.
But, as in the reverse fixture, Alty conceded just before half-time from the penalty spot, Reeves converting the spot-kick (43 mins).
In an often physical encounter, Alty kept out Shaw Lane in the second half without too many alarms before applying some pressure of their own. This culminated in a close range winner by Hancock after good work, left of goal, by Hulme (83 mins).
One more point should ensure the championship on goal difference regardless of all other results.
Match report here.
TASC Supporters' Travel Coordinator, Mark Eckersall, writes to supporters...
"Thanks for the support of the coach at Buxton. Due to demand, we have now upgraded our 35 seater for tonight's game at Shaw Lane and for Saturday's game at Grantham to full-size coaches. So, there is still time to join us on them; please call the club on 0161 928 1045 or if it's a very late please call me directly on 07837 658627. Let's help get the lads over the line."
Earlier Mark advised supporters that "A generous donation from club chairman Grahame Rowley means that TASC can offer a discounted rate for supporters' coach travel to Shaw Lane (Thursday) and Grantham Town (Saturday) for our final two away games of the season.
TASC Travel Coordinator Mark Eckersall explains that "Grahame was keen to express his thanks for the backing the team has received and we know this gesture will be appreciated by the fans who will travel with us".
Coaches to both destinations will be priced at:
Adults £10
Concessions £8
Full time Students and U16s - £7

This represents a saving of 33% off the expected fares for the Buxton and Shaw Lane games and a HALF PRICE trip to Grantham Town, one of our longest of the season. We've booked 35 seater coaches for all three games.
The coaches are open to all fans of all ages; we remind people that all TASC coaches are alcohol-free without exception and we promote a family friendly atmosphere.
Please book by calling the club offices from 10am on weekday mornings".
Details of the coach times and pick-up points are to be found on the Away Travel page.
Thursday 19 April
The EVO-STIK Premier Division
Buxton 3-0 Nantwich Town
Hednesford Town 1-1 Rushall Olympic
Marine 2-2 Witton Albion
Matlock Town 2-0 Stalybridge Celtic
Shaw Lane 1-2 Altrincham
Whitby Town 1-5 Grantham Town
---
---
---
---