CURRENT NEWS IN FULL

---
ALTY HEADLINES
25 February 2017: ALTRINCHAM v WORCESTER CITY: LIVE COVERAGE... More
25 February 2017: STRATEGY PRESENTATION.. More
25 February 2017: SUPPORTERS' AWAY TRAVEL UPDATE.. More
OTHER HEADLINES
25 February 2017: LIVE MATCHES BEFORE AND AFTER ALTY'S GAME.. More
25 February 2017: STALYBRIDGE TO LEAVE BOWER FOLD?... More
25 February 2017: TODAY'S OPPONENTS: WORCESTER CITY.. More
---
25 February 2017
TASC is running supporters' transport to the game at AFC Telford United next Saturday (4 March). Details of times and fares are on the
Away Travel
page.
You can book your seat either at today's match, at the TASC table in the Community Sports Hall, or by ringing the club during weekday office hours (0161 928-1045).
You can follow this fixture via this website's minute by minute text updates by clicking on the icon below. Alternatively, Radio Robins' coverage of the game is outlined below as well.
Brian Flynn announces that "Radio Robins, sponsored by Ashley Mowers Garden Machinery, is providing full live commentary of Saturday's game at The J.Davidson Stadium.
The commentators are Tim Ainsworth and Ian Wilkinson and the match summariser is Dave Stringer.
Coverage starts at 2.55pm and you can listen to Radio Robins here.
Alty are again without the injured Shaun Densmore, Sean Miller and Craig Hobson but pre-match are hoping for some involvement from Tom Hannigan and Andy Owens. Former City player Micah Evans faces his former club as does Simon Richman, another former Worcester player.
Worcester have Tyler Weir suspended and pre-match injury doubts over James Chambers, Andy Gallinagh, and Graham Hutchison.
On Saturday, you can watch live TV football action on the screens in the Community Sports Hall both before and after Altrincham take on Worcester City at 3pm. So, why not enjoy a drink and snack whilst watching Leeds United v Sheffield Wednesday (12.30pm) and Watford v West Ham (5.30pm)?
"As previously stated, all supporters are cordially invited to the presentation, in the Community Sports Hall on Sunday, February 26th, starting at 7pm.
It will be chaired by Ian Watmore, and the order will be as follows:
Presentation of the Strategic Review findings by the Review team
Q & A to cover the Review
The Football Club Board response to the Review
Q & A to cover the response.
The Club would like to apologise to any supporters who are unable to attend, though it is hoped a detailed account of the meeting will appear on the website".
The Summary Findings from the Strategic Review are available in...
"TASC advises that it will not be possible to provide transport to the away game at Darlington on Wednesday evening. Transport was arranged to the postponed Saturday fixture but too many of the original travellers are unable to make midweek arrangements.
We apologise for any inconvenience this may cause and hope that, as we have already been advised by some fans, people can get to the game in other ways.
We will be running a coach to the fixture against AFC Telford and a booking list and details will be available in the CSH on Saturday against Worcester City. There will also be a list to register names for the Boston trip the Saturday after, where we also hope to run transport should numbers permit".
Sat 25 February
AFC Fylde v Tamworth
Altrincham v Worcester City
Boston United v Nuneaton Town
Brackley Town P v P FC Halifax Town
Chorley v Alfreton Town
Darlington 1883 v Harrogate Town
Gainsborough Trinity v Curzon Ashton
Gloucester City v FC United Of Manchester
Kidderminster Harriers v Stockport County
Salford City v AFC Telford Utd
Stalybridge Celtic v Bradford Park Avenue
Alty manager Matt Doughty spoke to Altrincham Today after last Saturday's game...
"Last Saturday's scoreless draw against Harrogate wasn't a great game for the fans to watch but I was pleased with the way my players responded to the disappointment of the 2-1 defeat at Hyde United in the Cheshire Senior Cup on Valentine's Day.
We are obviously short in terms of attacking options at the moment and that showed as we didn't really create very much against Simon Weaver's team but, defensively, we did really well and the players deserved the clean sheet and our first home league point since early September, when we drew 2-2 with Chorley.
We are twenty points adrift of staying in this league with just thirteen games to play. Whilst the situation seems hopeless, we have to keep going whilst it is technically possible to survive and something will have to give tomorrow as our opponents, Worcester City haven't won since November and our single league victory was as long ago as early October; a draw is not of much value to either side, so both teams should be going all out for that elusive victory.
Micah Evans, who I thought did well for us against Harrogate, will get a chance to come up against his former team mates, just two weeks after leaving Worcester to join us.
On the injury front, Tom Hannigan has a 60% chance of playing, whilst Andy Owens is unlikely to be fit enough to start, but might be able to take a place on the subs' bench.
Sean Miller and Craig Hobson are still a few weeks away from being fit for selection, whilst I need to be very careful about considering Shaun Densmore again during this campaign as his progress in building up the muscle round his knee is very slow, therefore it might be next season before Shaun plays football again.
Worcester City are now in the relegation zone along with Stalybridge and ourselves and they seem to have been hit by financial issues, which meant that all of their players were made available a couple of weeks ago. Tomorrow's game is a big opportunity for us to gain our first home league win of the season; let's hope that we grab it!"
And in the Sale & Altrincham Messenger we learn that "Matt Doughty saluted his Altrincham side's fighting spirit after they scrapped their way to a hard-earned goalless draw with promotion-chasing Harrogate Town...
'I asked for more fight and hunger and got it 100 per cent,' said the Alty boss. 'It wasn't a great game to watch, more a war of attrition, but we matched them. It wasn't quality that enabled us to do that, it was effort. Maybe in the final third we could have done better again, but we are bottom of the league, and all I can ask of them is to give it a go, and they certainly did that.
'They gave it a right go, and I'm a proud manager after that, whereas on Tuesday I wanted to hang myself. I couldn't fault any of them, though the stand-out performances were probably from defence-minded players, which wasn't surprising because Harrogate lump it forward... We came out on top in that department, and I thought John Cyrus was fantastic.
'I had a big pop at him on Tuesday, but his reaction couldn't have been better, and he was rightly man of the match. Chris Lynch was outstanding again, and Jake Moult. Kyle Brownhill again showed the defensive midfield role we've given him suits him down to the ground, Elliot Newby did really well and Micah Evans had a brilliant first half, running their defence ragged.
'We need to build on that now by doing more in the final third'".
Today's opponents,
Worcester City
say that "Following last week's 2-1 defeat to Halifax Town... City have strengthened their squad this week, re-signing goalkeeper Nathan Vaughan, following his summer departure to Solihull Moors. Nathan looks set to go straight into the squad, competing against West Bromwich Albion loanee Ethan Ross.
Ever-present, Tyler Weir, will be on the sidelines after picking up two yellow cards in last weeks fixture. There are also question marks over the fitness of James Chambers, Andy Gallinagh, and Graham Hutchison...
Altrincham and City both sit in the relegation zone... but a win could see City move free of the drop zone, rising to 17th place, if other results go their way... with the last win coming against AFC Telford United in November... When the sides met earlier in the season, City ran out 3-0 winners".
Off the field, "The Board of Directors met earlier this week with representatives of the Supporters' Trust. The Board took the opportunity to outline to the Trust the options currently being considered by them and their reasons for doing so. The issues discussed were:-
The need to return to play matches in the City (either in a temporary or permanent home) at the earliest possible;
The rationalisation of the current operating costs (including the Playing Budget) and the need to bring forward break-even budgets for next (and future) seasons so as to ensure that the Clubs remaining funds are protected to help support its return to Worcester;
The need to continue to evaluate the future affordability of football at National North level.
The Board of Directors have previously stated that they would consider the move to community ownership when the planning application for Perdiswell was due to be determined. With this now imminent both the Board of Directors and the Supporters Trust can now work together to put in place a plan of action to enable this to happen.
Both parties are committed to the long term survival of the Football Club and are wholeheartedly supportive of the Perdiswell planning application... The Trust is supportive of the reasons for the current budgetary reviews and the need to consider the future affordability of playing at the current level in the future. It is committed to working with the Board to ensure the long term viability of the Football Club...
Past differences have been put aside and more frequent meetings will be held in the future. The passionate support of its followers is one of the Clubs strengths and the long term viability and prosperity of Worcester City Football Club will depend on this. The Board and Trust are keen to unite behind the Football Club and it would urge all supporters to do likewise".
Next Wednesday, Altrincham travel to Blackwell Meadows to meet
Darlington 1883
who this week reported that "We look to make it back-to-back wins this Saturday when we host Harrogate... Last Saturday we picked up a 2-1 win at Boston United which was our first victory on the road since our 4-1 win at Harrogate back in October...
We go into Saturday's game in good form, having lost just twice in our last eight league matches. Last week, Nathan Cartman and David Syers gave us the victory that kept us four points off the playoff places, with all but two of our remaining games against clubs below us in the league".
From
NL Pitchero
we learn that "Stalybridge Celtic have signed young striker James Roberts on loan from Oxford United until the end of the season. Born in Stoke Mandeville, Roberts joined Oxford from Wycombe Wanderers when he was 16 ...
He scored the club's goal of the season in 2014/15 with a spectacular effort at Plymouth Argyle. He was signed on loan for Chester FC by new Stalybridge boss Steve Burr on October 2015 and has since had two spells on loan with Oxford City and a month with Barnet towards the end of last season".
Also "Stalybridge Celtic [have] announced plans to leave their historic Bower Fold home. Chairman Rob Gorski confirmed the news in a meeting and says the club have support from Tameside Council to relocate them to a site in the town centre. They both feel a move will help enhance the chances of a 'successful and healthy future' for the club...
'It all started when I met one of the council members and the conversation evolved from there', Gorski said... 'I have to say, from our side it seems very exciting. The council are all for it... If there's a will from both sides we can make some big announcements in the later summer'".
The National League reports that "Bradford Park Avenue have signed 21-year-old midfielder Jake Hibbs on a month`s loan from league rivals FC Halifax Town. Hibbs signed for the Shaymen in 2013 after being chosen as the successful player in trials run by the club.
His reward was a first-team contract and he has since had loan spells at Droylsden, Hyde United and AFC Telford United... Hibbs signed a three-year deal with the Shaymen in May 2016".
Elsewhere, "Dave Frecklington, the new manager of Gainsborough Trinity, has returned to one of his former clubs, Lincoln United, to sign defender Michael Jacklin. An experienced player, Jacklin re-unites with Frecklington having played under him at [Lincoln]... where he has been for the past three seasons".
---
24 February 2017
As previously announced, Altrincham FC has organised a sponsored walk to our match against Salford City on 1 April.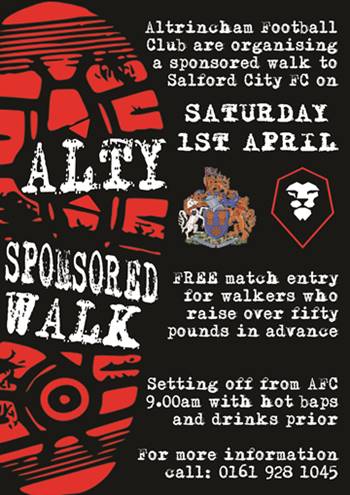 "In short, what is involved is...
A sponsored walk of 11 miles from AFC to Salford City on Saturday, 1st April.
The duration should be approx 3.5 hours, so we will be setting off around 9.30am for a 1.30pm arrival.
Hot baps and refreshments will be available at AFC from 9.00am (in the Vice-Presidents' Lounge).
Each walker who raises £50 prior to the walk gets free entry to the match".
Please join up by e-mail or, if you need a copy of the sponsorship form to be printed for you, please ring the Club on 0161 928-1045.
Mike Garnett's records summarise previous results between Altrincham and Saturday's opponents, Worcester City...
Home: P11-W8-D1-L2-F27-A13
Away P13-W4-D3-L6-F15-A18
All P24-W12-D4-L8-F42-A31
From the Worcester News we learn that "Caretaker manager John Snape has pledged to give home-grown talent a 'baptism of fire' in Worcester City's relegation battle. And he has drawn up a 'hit list' of 'local lads' who he is looking to bring to the Vanarama National League North strugglers.
With cash-strapped City looking to cut costs, several of their current squad are likely to follow Lee Hughes, Colby Bishop and Micah Evans through the exit door... The Blue and Whites are third from bottom and two points adrift of safety after a run of 13 league matches without a win.
'If an offer is made (to a player) and people want them to leave then we will have to review that with the board,' Snape said. 'But I will be looking to bring lads from Worcester into the squad. I want to give them a baptism of fire in a relegation battle. I have got a hit list of some local lads that I can't name because they are probably at clubs at the minute but some of them have played here before. If I get the opportunity to bring anybody in I feel will enhance the side then I will do.
'But, if local home-grown talent is available and they want to come, they will get a chance to keep the club up this year'.
Callum Devlin, 17, came off the bench to make his debut in Worcester's 2-1 defeat to play-off chasing FC Ha lifax Town last Saturday. Sixteen-year-olds Tyreece Ruddock and Aaron Brett, also part of City's under-18s' Midland Floodlit League side, were unused substitutes and are expected to travel to bottom club Altrincham on Saturday...
He also said he was keen to gain access to players in Heart of Worcestershire College's football academy who work in partnership with City.
'I have not been forced (to name Ruddock, Brett and Devlin)', Snape added. 'They have come in because I want some local Worcester lads in there. There are lads at the College who are a bit older and I have been told they are either as good as or better than the ones I have brought in. I would like them to come and play. There are things stopping that from happening at the moment which I am hopefully going to adjust. I want Worcester-based players playing for City and for Worcester people to come and support them from now until the end of the season.
'They will get their chance and I hope they take it for everyone's sake'".
According to the
Shropshire Star
, "AFC Telford United are looking to sign a goalkeeper before Saturday's trip to Salford City due to Matt Urwin picking up an injury.
Urwin, who is on loan from Fleetwood Town until the end of the season, has a groin strain and is expected to not be fit for the clash at Moor Lane... The coaching staff, who are also concerned about Luke Higham having a bruised ankle, are keen to bring in an emergency replacement.
'We have picked up a couple of injuries', said assistant boss Larry Chambers. 'Matt is very, very doubtful so we need to get that sorted out. With Luke, we have players to shuffle around but the priority now is getting a goalkeeper in before the game. We had been blessed in that position with James Montgomery there earlier in the season. Matt is here until the end of the season and he has done well.
'At this stage, we don't know whether it's one game out with Matt, or two or three. He had tweaked it and then aggravated it against Tamworth so we are looking to bring someone in'.
Urwin has made three appearances for Telford since arriving from the Cod Army... Full-back Higham impressed during an initial one-month loan spell from Blackpool and is at the New Bucks Head until the end of the campaign.
Despite the worries over those two, Telford have good news on the fitness front as top goalscorer Josh Wilson is expected to return to the squad for the game against the Ammies. The striker has been struggling with a toe injury and missed out on the Tamworth game due to illness".
Gloucestershire Live tells us that "Evesham United have started improvements to the Jubilee Stadium ahead of next season's groundshare with Gloucester City. In order to comply with National League North and FA requirements, the Southern League Division One South and West club are installing three new turnstiles to the south of the main stand.
There is also a new terrace behind the South End goal, which will hold up to 400 supporters... Gloucester City will spend at least one year with Evesham, having now spent close to a decade groundsharing with Forest Green, Cirencester Town and current landlords Cheltenham Town following the 2007 floods."
---
23 February 2017
Our visitors on Saturday,
Worcester City
report that "The Blue And Whites snap up goalkeeper Vaughan. Nathan Vaughan put pen to paper last night on a deal which will see him in a City shirt until the end of the season, and [he] will compete with loanee Ethan Ross for the number 1 jersey.
Ahead of leaving City in the summer for promoted Solihull Moors, goal keeper, Nathan Vaughan wrote himself in to City folklore, saving a penalty in the 1-2 win against Coventry City...
Vaughan said 'I'm looking forward to getting back at it and putting in solid performances'".
Meanwhile the Worcester News reports that "The cost of playing at Sixways 'may be too high' for cash-strapped Worcester City, admits chairman Anthony Hampson.
However, Hampson insisted the board have to be 'realistic'... 'Nothing would be nicer than to play at the Worcester Warriors facility,' he said...
'It is a fabulous facility, but there would be a cost... At the moment that cost may be too high for the club in order for it to maintain its long term viability.'
City agreed a two-year deal to play at Bromsgrove Sporting's Victoria Ground from the start of the season... But the Blue and Whites have been losing money... cushioned" by their exploits in the FA Cup, reaching the second round in 2014 and first round a year later.
However, Hampson admitted they were finding it 'much harder' this season and have recently put all players up for transfer...Managerless City are third from bottom, two points adrift of safety and on a run of 13 league matches without a win...
Hampson said... 'We are going hammer and tongs until the end of the season and we will be staying up if we can'".
NL Pitchero
reports that former Alty reserve and now "Trafford boss Tom Baker believes there are good and bad points about being based in Greater Manchester as a football club...
In Non-League football alone there are 20 clubs as well as another six who currently play in the Football League.
Baker explains the bad points, 'The only difficulty with being so many teams in the local area is recruitment... We are one of the smaller clubs... it makes recruitment quite hard'...
It means that the club isn't having to do as much travelling as some clubs have to do. He said, 'Yes it's one plus point... Nothing compared to what you have in the Evo-Stik Northern Premier League'...
The Shawe Lane outfit meet one of those Manchester based sides in Mossley this weekend... 'With Mossley, there is a little bit of a rivalry between the two sides, we have taken a few players from there over the last season or so'...
The club has had somewhat of an injury crisis over the last month as they have lost seven first-team players to injury or suspension, so much so Baker had to name himself and Assistant Manager Chris Shuker, the former Barnsley man who played 100 times for the Tykes for their trip down the A6."
---
22 February 2017
Tue 21 February
Gloucester City 1-3 Brackley Town (att 262)
NL Pitchero
reports that "AFC Fylde boss Dave Challinor believes new boy Laurence Maguire will only get better after making an impressive debut in the 3-1 victory at Brackley Town at the weekend. Maguire, who joined from Chesterfield last week, was part of a new-look Coasters back four on Saturday that included three young loan players and Challinor was delighted with how his new man performed...
Challinor told his club`s official website, 'He looked really assured in what was a very young back four. To be thrown together at the last minute and go to a place like Brackley is very tough and he will only improve with experiences like that. He is a ball playing centre-half and sometimes there will be situations where he just has to put his foot through it, but that's something he will learn as he develops'...
The Coasters have been plagued by injuries over recent weeks... Midfielder Sam Finley, who has missed the last three months through illness, made a welcome return to the squad at the weekend... 'Sam is still a long way from full fitness, but he has given everyone a lift with his enthusiasm and character in the changing room. To have him back around the place is a huge boost and to give him the last five minutes was pleasing...
'James Hardy is a massive loss for us and he may still be a little way off, as is Josh Langley, but Dom Collins has been back in training this week so the situation is slowly improving. We have less than ten weeks to go in the season and the more players we have available the better'.
Meanwhile, Challinor was also full of praise for Lincoln City after their FA Cup exploits this season and joked that his enquiry for players from the National League leaders may now be out of the window... 'Danny Cowley has done a fantastic job this season. We speak from time to time and he has asked for my opinion on players on occasions... We had actually enquired about getting a couple of players on loan but with the number of games they have coming up, I don't think that's very likely now!'"
Kidderminster Harriers state that "Harriers' boss John Eustace has praised young striker Andre Brown after the hit man reached double figures for the season with his goal at Chorley on Saturday.... Having made just a dozen starts for the team, his manager was understandably pleased for him.
It marks a significant milestone for the player who signed as a teenager at Aggborough in the summer... 'Andre has only just turned twenty', said the boss. 'To be a lone striker against an experienced back three like he was against Chorley, and how he has been all season, is tremendous'".
And from NL Pitchero we learn that Stalybridge Celtic "Chairman Rob Gorski has told supporters to attend a meeting on Thursday night at Bower Fold as he has an announcement to make... He says the development is 'very positive' and urged followers of the Vanarama National League North strugglers to turn up in their numbers.
Gorski wrote to fans, 'This is not some sort of "How is the weather?" type of meeting. I would very much like every single supporter to attend if possible. It will be worth their while! Please forgive the lack of an agenda and please don't bother asking the board... as they won't be able to answer you either. I'd thought about waiting until Wednesday to announce the meeting in order to minimise the speculation, but it's more important to give everyone advanced warning so that they can attend. This is a VERY positive meeting, so please, no ridiculous speculation that we are permanently closing the gates'".
---
21 February 2017
Press release:
"The Summary Findings from the Strategic Review recently carried out are available below...
Though the official presentation is still nearly a week away, it was felt by the Club that supporters should be given every opportunity to absorb fully the Review Team's findings in advance.
As previously stated, all supporters are cordially invited to the presentation, in the Community Sports Hall on Sunday February 26th, starting at 7pm.
It will be chaired by Ian Watmore, and the order will be as follows:
Presentation of the Strategic Review findings by the Review team
Q & A to cover the Review
The Football Club Board response to the Review
Q & A to cover the response.
The Club would like to apologise to any supporters who are unable to attend, though it is hoped a detailed account of the meeting will appear on the website".
The Summary Findings from the Strategic Review are available in...
The
Worcester News
reports that "Steven Craig's future at Worcester City is set to be made clearer after holding 'serious' talks with caretaker boss John Snape.
The 36-year-old frontman is expected to discuss his options with Snape today after his loan spell at Stafford Rangers came to an end. Worcester are light on attacking options following the departure of strikers Lee Hughes and Colby Bishop. But Craig has scored just once in 10 appearances since joining the club last summer and has struggled with injuries.
'I will be talking to Steven as his loan is up with Stafford Rangers,' Snape said. 'When he comes back, we will have a serious chat about his future and what he wants to do between now and the end of the season at the football club'.
The former Wycombe Wanderers player joined Rangers on loan last month as he looked to get games under his belt. But the Manchester-based forward failed to score in three outings and Stafford manager Neil Kitching was not impressed with his performances. 'I sent him back after Tuesday night's game,' Kitching said... 'He hadn't really had an input with goals or performances. It wasn't right keeping him around, we'll go with the lads who are fully committed to what we're trying to do'.
Forward Jordan Murphy and attacking midfielder Ebby Nelson-Addy impressed in an unfamiliar strike force in City's 2-1 defeat to FC Halifax Town at the weekend. Snape has spoken of his desire to field home-grown talent as 16-year-old Tyreece Ruddock, Aaron Brett and Callum Devlin were named on the bench, with the latter coming on for his City debut in the final few minutes. But Worcester-born striker Joe Bates, who has been on the fringe of the first team squad, will remain on loan at Bishop's Cleeve.
'Joe took a three-month loan as he wanted to get games and he wants to see that out', Snape added".
Also from the Worcester News, we laeran that a "Late injury 'blow' to Graham Hutchison handed Rotherham United youngster Tom Rose a starting berth against Halifax Town, according to Worcester City caretaker boss John Snape.
The 19-year-old defender, who has joined on a one-month youth loan, played the full 90 minutes... Snape said he was pleased with the debutant's performance as he was part of a five-man midfield... after finding out centre-back Hutchison had picked up a knee problem.
'He wasn't originally going to start the game, he was going to come on,' he said. 'He is a left-sided player and probably still needs to learn the game a little bit at this level as he is not used to it, But an injury to Graham before the start of the game led to him starting... He will be training with us in the week as well, so hopefully we can get a bit more out of him'.
Snape also confirmed experienced defender James Chambers (thigh) and winger Chekaine Steele (hamstring) were also ruled out through injury. But he is hopeful they will be back fit for Worcester's trip to bottom club Altrincham on Saturday. 'Graham was feeling his right knee, but hopefully it is just a twinge,' he said. 'James has got a thigh strain and Chekaine was not fit to play as he has got a hamstring strain that we are monitoring. Hopefully we can address that this week so he is available for Altrincham'".
The
Harrogate Advertiser
reports that "Harrogate Town were left frustrated after being held to a goalless draw by National League North's bottom side, Altrincham...
Boss Simon Weaver said, 'I thought we were 15-20 per cent short of energy of where we've been the last couple of games. It was a slippery game with everything to lose. Perhaps external factors got in some players' mindsets - the pitch, the atmosphere was flat, there was no one here [the gate was 782, with 48 from Harrogate] and I thought that, in a negative way, affected us in the first half. I had a word at half-time and said 'Come on, we're here to win the game'. We showed more energy second half, but just lacked in the final third.
'You lift your own expectations when you've won the last two 3-0, but I'd have taken a 1-0, but unfortunately that didn't happen'. Weaver named the same starting XI that had recorded back-to-back 3-0 wins at Boston United and at home to Worcester City...
The only shot in the opening half an hour came when Kyle Brownhill's speculative volley flew wide of the post... Town's best moment of the half arrived as Danny Ellis struck a sweet left-footed volley from 30 yards that forced Deasy into a fine save... Despite throwing men forward in the closing stages, Town could not find a way through and were made to settle for a point".
In the Cheshire FA Ladies' Cup quarter-finals, Altrincham FC Ladies lost 4-1 away to a Tranmere Rovers Ladies side from a higher level in the football pyramid.
The Ladies' next league fixture is at home to Warrington Wolverines.
---
20 February 2017
"Altrincham FC is pleased to announce the winners of the February draw, made on Radio Robins during the half-time interval on Saturday.
£500...Ian Langford (*34)
£75...Brian Topping (*18)
£25...B Hassell (*214)
Hospitality for two in the Manchester Glass Sponsors' Lounge....R Cummack (*309)
Replica Shirt....Ruth Gallagher *(54)
Polo shirt ....S Bond (*524)"
Full details of the Draw and how to join in are here.
Alty's next match is at home to Worcester City. The
Worcester News
tells us that their "Baffled interim boss John Snape was 'absolutely astonished'" FC Halifax Town did not get a player sent-off in their 2-1 victory over 10-man Worcester City... Two goals in the space of five minutes from Matty Kosylo and Tom Denton put Halifax in control.
Worcester then suffered a further set-back on 62 minutes when Tyler Weir received a second yellow card immediately after reducing the deficit from the spot. But Snape was convinced Halifax should have gone a man down when Jordan Keane was brought down in the box. 'It was a penalty, but I don't know how the lad has stayed on. It is a refereeing decision that still baffles me,' he said. 'Tyler gets himself sent off for trying to retrieve the ball out of the goal when the goalkeeper is blocking him off. But I can't understand how we have got one of our players sent off and three of theirs have stayed on for a handball and two blatant obstructions'.
Weir will now miss City's trip to bottom club Altrincham on Saturday and Snape admitted it was a 'silly sending off'.
'The goalkeeper has stopped him from getting the ball out of the net, so he has given him a shove to get the ball to get us the kick-off,' Snape explained. 'His first booking was silly, but his second was even sillier which is disappointing. It was a silly sending off, but I am still amazed that we had 10 on the pitch and they had a 11. I find that absolutely astonishing.'
However, Snape refused to use it as an excuse for the defeat, which sees City drop into the relegation zone and extend their winless streak to 13 matches. He praised the 'energy' and 'desire' his side showed, but he was disappointing with the goals they conceded...
'It was a solid performance in the first half,' he said. 'We set up the side slightly differently... I think we probably had more chances and corners in the first half than we have had for a long time... There were a few little niggly things that crept into the game that maybe started to spill over at the start of the second half. They brought on the big lad, Tom Denton, who caused us some problems due to the aerial threat.
'Silly mistakes have cost us all season and we made another one as there was a mix-up in the box. We are not learning from it which is disappointing. For the second goal, I think we should have dealt with it a bit better. It was a good ball in, but they have got a 6ft 5in lad and I have got two 6ft 4in and a goalkeeper, so I am a little bit disappointed with the two goals'.
Player ratings... Worcester City (3-5-2).
6 Ross, 6 Oji, 7 Sharpe, 6 J Keane, 5 Weir, 6 Jackman, 7 English, 6 Rose, 6 C Keane, 7 Nelson-Addy – making a rare outing up front, the 24-year-old was a real livewire in attack and did not forget his defensive duties either, 7 MURPHY – was a bright spark, especially in the first half as he produced several nice touches and ran his socks off all afternoon. My man of the match. Subs: Scrivens (Jackman 77) Devlin (Murphy 86). Not used: Ruddock, Brett".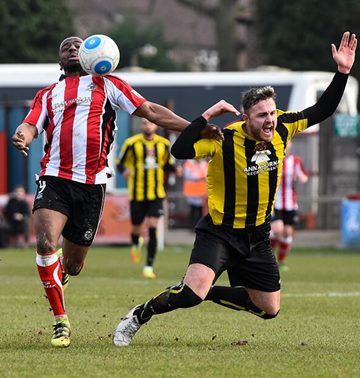 Right: Micah Evans battles for the ball against Harrogate Town. Image courtesy of Michael Ripley Photography.
Alty TV has highlights from the game against Harrogate.
A dismissive Town manager, Simon Weaver, bizarrely claimed in a post-match a BBC interview that the pitch at Alty "was horrendous".
On Saturday Altrincham FC Reserves lost 4-0 at Linotype Cheadle HN. Tom Westall was named as the away team's Player of the Match. Next up is a home game against Malpas at Egerton Youth Club on Saturday, 25 February.
Altrincham FC Youth had a fine away win on Sunday, 2-0 against Warrington Town. Next Sunday the team hosts AFC Fylde at Hale Country Club (2pm)
Altrincham's "BTEC" team is away to FC Halifax Town next Wednesday.
The team which knocked Altrincham out of the FA Cup, Lincoln City, will be away to either Arsenal or Sutton United in the quuarter-finals of the Emirates FA Cup. As the Sunday Telegraph reports "Altrincham's victory [at Birmingham City in 1986] was the last away win by a non-League side at a top-flight club before Saturday. Kevin Ellis [who he? Ronnie perhaps?] put the visitors one up. Robert Hopkins equalised before he scored an own goal past a young David Seaman".
The rest of the draw comprises..
Chelsea v Manchester United
Middlesbrough v Huddersfield/Manchester City
Tottenham v Millwall
---
19 February 2017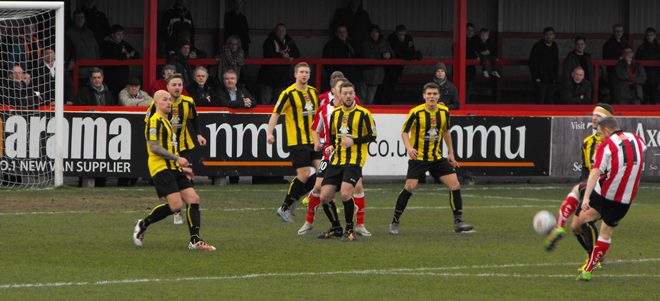 Above: Nicky Clee fires at goal against Harrogate Town.
Match report here.
Adfter Saturday's game,
Harrogate Town
reported that "Town could not extend their recent winning run as a goalless draw was played out at Altrincham. In a contest of very little chances, the best opening fell to Luke Shiels fifteen minutes before time only for Tim Deasy to keep out the centre back's header with his feet.
Town thought they had broken the deadlock when Danny Ellis' 30 yard strike forced another fine save...
Simon Weaver named the same starting 11 that had recorded back to back 3-0 wins at Boston United and at home to Worcester. The contest started slowly... The only shot in the first 30 minutes came from Kyle Brownhill's speculative volley that flew wide of the post.
Another nasty looking injury, this time to Peter Crook forced the stopper into being replaced by Chris Ellott before four minutes of added time was signalled. It was in that additional period that Town's best moment of the half arrived as Danny Ellis struck a sweet left footed volley from 30 yards that forced Tim Deasy into a fine save...
Arguably Town's best chance of the afternoon fell to Luke Shiels with fifteen minutes to go as the defender headed Joe Leesley's free kick towards the feet of Deasy who scrambled clear".
Sat 18 Feb
AFC Telford Utd 1-0 Tamworth (gate 1178)
Altrincham 0-0 Harrogate Town (782)
Boston United 1-2 Darlington 1883 (1243)
Brackley Town 1-3 AFC Fylde (396)
Chorley 2-1 Kidderminster Harriers (1242)
Curzon Ashton 5-0 Alfreton Town (243)
Gainsborough Trinity 1-1 Gloucester City (477)
Nuneaton Town 1-2 Bradford Park Avenue
Salford City 2-1 Stalybridge Celtic (1310)
Stockport County 2-1 FC United Of Manchester (5630)
Worcester City 1-2 FC Halifax Town (572)
A further "Club statement" has been issued by
Worcester City
, saying that "Supporters will be aware of the Statement released by the Club on 10th February 2017. As part of this original statement the Board set out the 4 objectives. It highlighted the need to return to play matches in the City (either in a temporary or permanent home) at the earliest possible opportunity by working closely with the City Council and other partners. This remains fundamental to the Clubs future ambitions and is a vision which it believes all supporters share. The Board is therefore continuing to pursue [this] relentlessly with all partners.
The Board believes that a rationalisation of the current operating costs (including the Playing Budget) is necessary, as is the need to bring forward a break even budget for next season (and future seasons). The losses which the Football Club has incurred in previous seasons and is likely to incur this season need to be mitigated. The sole reason for this rationalisation is to ensure that the Club's remaining funds are protected to help support its return to Worcester.
There have been some player movements this week and there will continue to be others (both in and out) as the Management Team look to rationalise the playing squad.
This rationalisation of costs has led to speculation about the Club's ambitions for this and future seasons. Supporters should not be under any illusion about the level of funds needed to compete in the second tier of non-league football...
The Board has not applied for voluntary relegation from the National League. Its immediate ambition is to remain competitive for the remainder of this season and to retain its National North status.
A Director attended last night's training session to update the players on the current situation so that they are fully aware of the Board's intentions and ambitions...
The Board is keen to meet with the Supporters' Trust to discuss the Board's intentions and for the Supporters' Trust to outline how they propose to work with the Football Club".
Before Saturda's game Worcester City also announced a "Squad reshuffle... Rotherham United defender Tom Rose has joined The Blue And Whites on a one month Youth Loan. The Shrewsbury-born defender put pen-to-paper on a short term deal today, having previously enjoyed spells with Stocksbridge Park Steels and Sheffield FC.
Colby Bishop has moved on to Boston United... Finally, making the step up from the Worcester City youth setup are Aaron Brett, Callum Devlin and Tyreece Ruddock."
From the Halifax Courier we learn that "Goals from Matty Kosyolo and Tom Denton made it six wins out of seven for FC Halifax Town as they beat 10-man Worcester City 2-1... but the hosts shrugged off their tag as crisis club with a defiant display.
On paper, it looked no contest, with The Shaymen heading into the match unbeaten in six and the hosts without a win since November 28, but Worcester bridged that gap to make it an uncomfortable afternoon for Billy Heath and his team.
After a poor first-half, a quickfire double appeared to have handed Halifax a comfortable win, but a Tyler Weir penalty halved the deficit moments before he was sent-off and left the result in doubt until full-time.
The Worcester press pack were still trying to work out the hosts' team line-up as the teams came out, with The Blues fielding no natural strikers after flogging their two senior forwards in an ongoing bid to cut costs, while their bench featured three 16-year-old youth team players who had only been registered for the first-team earlier in the week.
All of which was an indication of the turmoil that the club came into the match with, but Worcester's balance sheet was probably more appealing to look at than the game in the first 20 minutes...
Worcester's makeshift striker Jordan Murphy was the best player on the pitch in the first-half... It appeared as if the crisis surrounding Worcester had galvanised the players and was the driving force behind a hard-working performance.
Billy Heath went into the game saying his team's quality would show through if they worked hard enough, but there was little evidence of it, with The Shaymen again struggling against a team near the foot of the table... As at Altrincham, Town's creators-in-chief Adam Morgan and Kosylo were peripheral figures...
All of which could be forgiven if, as at Altrincham, Town somehow went on to win the game. For that, they needed a re-think, which came in the form of Denton, who replaced the ineffective Daniel Nti at half-time.
But it was a mistake from the hosts that led to Kosylo opening the scoring... It was harsh on the hosts, whose performance didn't deserve that. But by the time Denton added a second, all Worcester's hard-work was undone...
The game looked as good as over, but Worcester were awarded a penalty after a free-kick was launched into the Town box, and Weir converted it - just their third goal in eight games... But the defender was then shown a second yellow card for apparently slapping Town keeper Sam Johnson when trying to retrieve the ball...
Worcester: Ross, Weir, J Keane, Sharpe, C Keane, Jackman (Scrivens 78), Oji, Murphy (Devlin 86), Rose, English, Nelson-Addy. Subs not used: Ruddock, Brett."
In its weekend review, the
National League
reported that "AFC Fylde moved ten points clear at the top of thetable on Saturday after they won 3-1 at Brackley Town. The Coasters increased their advantage due to Kidderminster Harriers... losing 2-1 at fellow top-five side Chorley... who are now fourth, just a point behind Harriers...
Salford City slipped into second spot after a 1-0 win at Moor Lane against second-bottom neighbours Stalybridge Celtic. The only goal of the game for the Ammies in front of 1,310 came from Mike Phenix 12 minutes into the second half.
FC Halifax Town are fifth after winning 2-1 against struggling and now third-bottom Worcester City at the Victoria Ground. The first half was an even affair with defences coming out on top. The second half was a completely different affair...
City were handed a lifeline in the 63rd minute as Jordan Keane was bundled over in the box and Tyler Weir stepped up and slid the spot-kick home only to be shown a second yellow card by the referee. City were pushing for the equaliser but with ten-men couldn't find a way through the Halifax backline who held on to the lead and took the points back to Yorkshire.
Stockport County, in sixth, are level on points with FC Halifax after winning the derby against FC United of Manchester at Edgeley Park. A fantastic crowd of 5,630, a record for the National League North, saw Elliot Osbourne put the Hatters in front right on the stroke of half-time. Scott Duxbury then added County`s second in the 70th minute, but Jerome Wright`s penalty reply just 4 minutes later led to a nervy final 15 minutes or so for the home fans.
Darlington 1883 are seventh, four points behind County with a game in hand after the Quakers secured their first away win since October... Tamworth dropped to eighth place, level on points with Darlington, after AFC Telford United`s eased their relegation fears with a 1-0 win at the New Buck's Head...
[Altrincham] are still twenty points behind fourth-bottom Gainsborough Trinity, who also picked up a point from a 1-1 draw against in-form Gloucester City. It was new manager Dave Frecklington`s first game in charge of Trinity and he saw Nathan Jarman give his side a 31st minute lead from the spot after a foul on Chib Chilaka. However, Sam Avery equalised...
Bradford Park Avenue won 2-1 at Nuneaton Town, who have now gone six games without a win after a terrific run after Tommy Wright`s initial appointment as manager... Boro were unable to find a leveller and have been pulled right back into the relegation mix.
As are Alfreton Town, who are now level on points with Avenue and just three above third-bottom Worcester after losing 5-0 at the Tameside Stadium to mid-table Curzon Ashton... And to make matters worse for Alfreton, they had Terry Kennedy taken to hospital with a suspected broken collarbone"
Former Gainsborough Trinity player-manager Dominic Roma has signed as a player for Scarborough Athletic.
Movwa recorded by the
EvoStik League
include Simon Woodford from Glossop North End to Ashton United and Steven Gillespie from Warrington Town to Skelmersdale United [loan].
In the match Coalville Town 1 Ashton United 3, Ryan Crowther netted for the winners. And Kyle Perry scored for Stafford Rangers as they won 3-2 against Workington. As Warrington Town beat Halesowen Town 1-0, the scorer was Daniel Hattersley.
---
---