an unofficial Altrincham FC website
OPTIONAL DROPDOWN MENU - HERE
---
NEXT MATCH:
Sat. 24 July 2021, at 12 noon
WEST DIDSBURY & CHORLTON (Away)
Pre-season Friendly
---
Sat. 24 July 2021, at 3pm
ASHTON UNITED (Away)

Pre-season Friendly
---
ALTY HEADLINES
21 Jun 2021: RICHMAN RELEASED... More
21 Jun 2021: ALTY OLD BOYS... More
21 Jun 2021: NW NEWS: SUN SETS ON DROYLSDEN... More
OTHER HEADLINES
---
21 June 2021
Altrincham FC
announce that "An era has come to an end at Altrincham with the news that Simon Richman is leaving the club after 10 years' sterling service...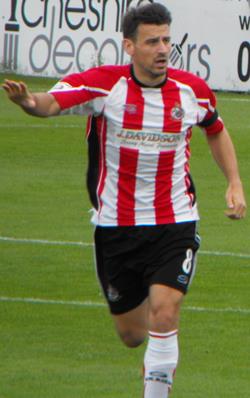 Right: Simon Richman in 2015 in a match against Tranemre Rovers.
'Simon has been a fantastic servant for this club, but sometimes decisions have to be taken and often they are difficult ones at this time of year,' said Alty boss Phil. 'This one was as tough as they come. Through the course of well over 350 appearances in Alty colours, Ringo built up a reputation for reliability, commitment and, of course, phenomenal energy levels, and those qualities contributed greatly to the success story that has unfolded during the first couple of seasons of my time here.
'He is a dependable player, and I knew that whatever job I asked him to do in whatever position, he would give it his all and deliver for the team. I always appreciated that, as did his team-mates, and I am immensely grateful for everything he has done for the club over so many seasons well beyond my time. He is a true Alty legend.
'I know he's a popular figure with fans, and rightly so, but time moves on and, as manager, I have to plan for the future and make difficult calls to try and move the club forward. Without doubt, this was tougher than most, but Ringo moves on with the best wishes of everyone here, and I certainly hope it's not the last we'll see of him; he knows he's welcome back at Alty anytime he likes.'"
More on Simon's contribution to the Club will follow here later tonight...
In Sunday's Vanarama National League play-off final, fourth-finishing Hartlepool United overcame second-placed Torquay United 5-4 in a penalty shoot-put at Ashton Gate, Bristol.
That came after the match went to extra time when Torquay's Brazilian goalkeeper Covolan headed home an equaliser deep into added time, making the score 1-1 after ninety minutes.
One team that Hartlepool could not beat in 2020-21 was Altrincham, who secured two draws against the promoted club.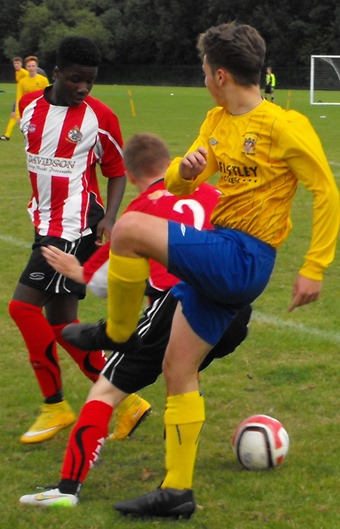 Right: Jude Oyibo in action for Altrincham FC Youth in a 1-0 win over Warrington Town Youth on 30 August 2015.
As well as signing former Alty winger James Hardy this summer, Chester FC have also now added former Alty Youth and Reserves' winger Jude Oyibo to their squad.
The Non-League Paper says that joint manager Anthony Johnson "believes that former Curzon Ashton winger, Jude Oyibo 22, will be a big hit with the Deva Stadium faithful.
'He's absolutely lightning quick and has got quick feet. He can cause defenders absolute nightmares'".
Amongst the players retained at Hyde United for the coming season are goalkeeper Craig Ellison and midfielder/defender Kyle Brownhill. Manager Dave McGurk told the NLP, "Kyle is the fittest player I've worked with".
Altrincham signed Kyle Brownhill from Hyde United in December 2016. Though signed initially as a left-back, Kyle was later deployed by Alty in central midfield that season.
Also in the news is Nathan Arnold who is the new manager of Nottinghamshire side, Newark. The Chad reports that "The 33-year-old has had previous management experience with Melton Town and Bourne Town as well as a management role at Boston United.
Now he will further enhance his managerial experience with the ambitious Central Midlands League North Division club.
His ambitious appointment is being supported by Newark-based company, Gusto Group...
Gusto Group Chairman, Steff Wright, added... '[After] our 10 years as chairman and CEO respectively at Lincoln City, I, alongside club secretary Dave Roberts, will be wholeheartedly supporting Nathan to deliver success for this great club'.
Arnold came through the youth ranks at Mansfield Town... In June 2018 he joined Boston United on a one-year contract... After six months away from football he played three games for Altrincham, then joined Bourne Town in August 2020 as joint player manager alongside Simon Dawes.
But the team only played nine games before the season was abandoned due to Covid 19 and he left them this May".
Former rivals of Altrincham,
Droylsden
have announced that "Droylsden FC have as of today resigned from the Northern Premier League and will also take no part in Cup Competition this season...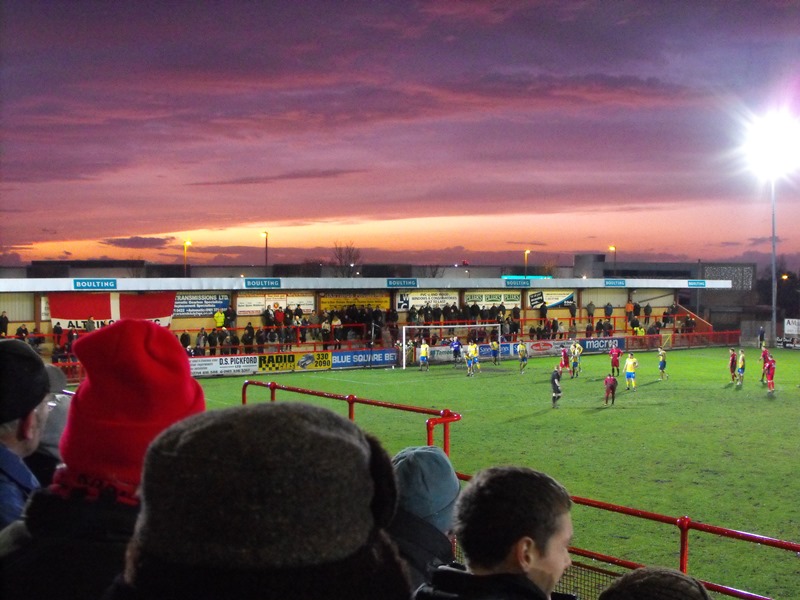 Above: The sun is seen setting over the Butcher's Arms, Droylsden as Alty lost 3-1 on New Year's Day 2012..
"The club may hopefully survive this crisis and continue into the future in less challenging circumstances than we find ourselves in during the present"'
Under Dave Pace's stewardship the club reached the top flight of non-League football for 2007-08 season but finished bottom after winning just five of their 46 fixtures. They last competed in the league with Alty in 2012-13 season in National League North when Alty won the match at the Butcher's Arms 5-0 and the reverse fixture at Moss Lane, 6-0.
The Manchester Evening News added that "Droylsden FC withdraw from competition for second year due to financial impact of Covid.
Coun. David Mills, Tameside councillor for Droylsden East, told the Manchester Evening News 'It's a massive loss and it is devastating for Droylsden that they won't be taking part in the upcoming season. Dave and [wife] Stella are cornerstones of the community, they have a great club. Dave has been there a very long time.
'We are obviously worried about the future of the football club as this is the second season they won't be able to take part but hopefully with the easing of restrictions in a few weeks the financial situation at the club will improve...
In the statement issued today (May 26), Mr Peace said he had 'heavily subsidised' the club since taking over as chairman more than 30 years ago... Last August, the club announced it had resigned from the Northern Premier League and withdrawn from all cup competitions for the 2020-21 season...
Droylsden FC, nicknamed 'The Bloods', was founded in 1892".
The
Daily Mirror
reports that "Hartlepool came out on top by winning a penalty shootout 5-4 following a dramatic final at Ashton Gate to win promotion to the EFL.
There were ugly scenes in the National League Play-Off final on Sunday after Hartlepool beat Torquay...
In a hugely dramatic encounter, Luke Armstrong gave Hartlepool a first-half lead in the 35th minute by firing a powerful shot in off the crossbar.
But deep into injury time Torquay's Brazilian goalkeeper Lucas Covolan sensationally equalised with a brilliant header to give the Gulls hope...
There was no breakthrough in extra time, but the shoot-out saw further drama as both sides missed their first two penalties each.
It eventually went to sudden death, and Torquay's Matt Buse missed the decisive spot-kick to prompt a mass pitch invasion from joyous Hartlepool fans, who were celebrating their club returning to the EFL for the first time since their relegation from League Two in 2017.
Unfortunately some went overboard, and could be seen winding up a number of Gulls players, who reacted angrily and had to be separated by security...
There were also reports of both sets of supporters launching bottles at each other, and stewards had to form a cordon to keep them apart.
Hartlepool 'keeper Brad James said: "A rollercoaster of emotions. We thought it was gone. But the lads never gave up and worked so hard'...
Their captain Nicky Featherstone added 'I have been here seven years and it's been a real struggle at times. I've had three owners and eight managers.
'To be among the squad that was relegated and then to be part of the squad that has got the club back to where it belongs is massive personally for me.'"
The Hartlepool Mail adds that "Gary Johnson has revealed the Torquay United dressing room was 'inconsolable' after the dramatic play-off final defeat to Hartlepool United...
Pools triumphed 5-4 after a dramatic shoot-out, Brad James, who was at fault for Torquay's late equaliser, proved the hero with a stunning fingertip save to push Matt Buse's effort onto the crossbar...
Torquay United boss Johnson said 'Obviously Lucas was our hero saving two penalties and scoring his goal. Unfortunately, his teammates missed three penalties and you're not going to win a final if you miss three penalties.
'We're disappointed because we thought we might have had two more goals during the game. I've asked the referee to watch them back but I won't hear anything back from him, you never do in this league.
'We've got to grieve for a couple of weeks now and once we've done that you gradually get over it and start building for next season. We're inconsolable in the dressing room at the moment, what can you say?...
'I always think two teams should be promoted automatically from the National League'...
Pools have five players currently under contract and the hard work starts straight away in terms of rebuilding the Pools squad ahead of the new season."
And the Hartlepool Mail qutoes The Hartlepool manager 'We had one hand on the trophy and the Football League and then it's snatched away from you but we go on to win it in the most emotional way possible'...
'It feels absolutely amazing. The play-offs are a bit of a lottery and the penalty is even more of a lottery so when our best two penalty takers miss and their best two penalty takers miss, you start questioning what's going on?...
Challinor added, 'The last six minutes of injury time were awful, I wasn't happy with our second half performance and I thought we sat on our lead.
'Brad made a mistake and goes from villain in the 95th minute to the hero on penalties... It was two teams who were emotionally drained for penalties. It was a game that had everything and thankfully we've won.'"
---
20 Jun, 2021
Altrincham FC season tickets for 2021-22 season are on sale now and details of prices and of how to obtain your ticket are on the
Altrincham FC
website.
FC Halifx Town
announce that "In partnership with Chorley FC we're delighted to announce the Chorley Group Victory Park Stadium will play host to a charity game this summer in honour of [ex-Alty loanee] James Dean.
Above: James Dean (no.20) is congratulated on his superb goal for Alty at Salisbury in 2007.
The match, taking place on Sunday, August 8, will pit a Chorley Old Boys side (featuring members of the 2014 NPL title-winning squad) against a Halifax Old Boys side for the James Dean Memorial Trophy...
'We hope the event will give his boys, family and friends a chance to see that the admiration for Deano extends far and wide' said Jamie Vermiglio (Manager, Chorley FC)".
Today (Sunday 2pm), Torquay United play Hartlepool United in the National League promotion final at Ashton Gate, Bristol.
The BBC reports that "Hartlepool United's potential return to the English Football League would be a landmark moment for the club, players and in particular boss Dave Challinor...
Challinor spent the majority of his professional career in the League... and wants the same status now as a manager.
'I want to make sure I can class myself as that,' he told BBC Radio Tees...
Four seasons out of the league have coincided with tough times for Pools, but the rebuild under chairman Raj Singh and Challinor's guiding hand have turned the club around...
'Personally you want as many promotions on your CV as you can,' the 45-year-old said. 'My ambition when I started managing in 2011 at Colwyn Bay was to be a Football League manager, and I've not had the honour to be able to do that'...
If Challinor is a relative novice at managerial level, particularly in the upper echelons of the game, then opposite number Gary Johnson is at the other end of the scale.
Having started out at Newmarket Town and then Cambridge as part of John Beck's staff, the 65 year-old has gone on to surpass 1,000 games as a manager in charge of clubs such as Bristol City, Yeovil and Peterborough over the past 30 years.
He has also twice won the National League, most recently in 2015 with Cheltenham, and wants his Torquay players to savour the scenario they find themselves in on Sunday...
Johnson told BBC Radio Devon, 'We'd rather suss out League Two than stay in this league'.
The Gulls have now spent seven seasons outside the EFL, in which they have had to battle their way back from the National League South, their lowest league placing...
'Every year big teams come out of the league into the National League,' Johnson continued. "And they don't get out straight away so it shows how difficult it is. The teams that go up do OK, they survive and compete'.
Torquay's big concern will be the fitness of veteran striker Danny Wright, whose two goals proved valuable in the semi-final victory over Notts County. The 36-year-old has been nursing a hamstring problem but was given the nod to feature against the Magpies.
Ben Killip, Brad James, and Henrich Ravas will compete for selection for Hartlepool, while Lewis Cass's availability will depend on his hamstring injury".
Devon Live adds that "Torquay United manager Gary Johnson says... 'We have got to be very careful that you don't see the semi-final as the be-all and end-all,' said Johnson. 'It was such a great day for us that we have really got to make sure we are up for the final... All this week we have been drumming in how important it is and their responsibility etc, etc'...
Johnson has continued with his 'work, rest and play' philosophy... with work on the pitch at Plainmoor followed up with trips to Babbacombe, albeit it with that challenging hill climb back up from the beach at Oddicombe...
There will be just over 3,000 Torquay fans inside the stadium, the same for Hartlepool, after season-ticket holders were able to buy a first wave until Wednesday and then the rest of the tickets went on general sale... A club spokesman said the ticketing website had 790,000 hits between 10am and midday on Wednesday, and more than 35,000 phone calls came into the club's Plainmoor offices in the same two-hour window. Those are quite frankly astonishing numbers.
Talking of numbers, striker Danny Wright broke into double figures when he scored his two goals against Notts after returning from his second hamstring injury of the season. He has now scored 11 goals in 20 National League appearances - not a bad return for a 36-year-old who has suffered two injuries in his first season with the club... Had Wright not been injured this season, surely Torquay would have beaten Sutton United to the title and gone straight up.
Asa Hall... is another player that would be hugely missed if he doesn't make it. Whether the captain's head injury will prevent him from playing will only become apparent when the teamsheet is released...
If those two players are fit, it seems unlikely that Johnson will make a change to the starting line-up, though playing centre half Kyle Cameron on the left wing will no longer be a surprise if the manager opts to do that again.
The threat up front for Hartlepool will be the dynamic duo of Rhys Oates and Luke Armstrong".
Sutton United
send "Congratulations to David Ajiboye, Harry Beautyman and Ben Goodliffe, who have all earned inclusion in the Vanarama National League team of the season which was announced today (Saturday) ahead of tomorrow's play off final between Torquay and Hartlepool at Ashton Gate.
David was a threat to all defences with his pace during the season and scored some memorable goals, Harry's goal tally was in double figures for the second consecutive season and Ben part of a defence widely praised for it performances througout the campaign and with the second best record in teh division.
The full team is (4-4-2): Ben Hinchcliffe (Stockport); Jeff King (Halifax), Ben Goodliffe (Sutton), Liam Hogan (Stockport), David Ferguson (Hartlepool); David Ajiboye (Sutton), John Rooney (Stockport County), Connor Lemonhaigh-Evans (Torquay), Harry Beautyman (Sutton); Michael Cheek (Bromley), Kabongo Tshimanga (Boreham Wood)."
The Grimsby Telegraph tells us that "Grimsby Town have wasted no time in getting their business underway this summer, with Paul Hurst having made five new signings so far.
Shaun Pearson, John McAtee, Ryan Sears, Ben Fox and David Longe-King have all completed their moves to Blundell Park as the Mariners build up a serious head of steam ahead of their return to the National League.
It's a far cry from the situation Town found themselves in 12 months ago, when a chaotic summer saw a flurry of players leave the club amid uncertainty about the upcoming season...
Eleven players in total left the club last summer... [amingst them] Bradley Garmston... Since being released by the club last summer, the 27-year-old has remained without a club...
Harry Davis is one of the players Town fans would no doubt liked to have kept hold of last summer. Davis went on to join Morecambe after being released... The defender found his chances becoming more limited as the season wore on,...
The 29-year-old is again on the lookout for a new club this summer, having been released by Morecambe following their promotion and a return to Blundell Park could well be on the cards...
Elliot Grandin, perhaps the forgotten man of that short spell under Ian Holloway's stewardship at the start of 2020, Grandin made just five appearances after making the move to Blundell Park... randin has been without a club ever since being released by the Mariners.
Jake Hessenthaler's was possibly the departure that caused the most pain for Town fans, Hessenthaler's final game lasted just a minute as he was forced off with a punctured lung... Having been released by Town, he made the move to Crawley, where he has continued the consistent performances he came to be known for at Blundell Park, playing in every league game for the Reds last season.
Harry Cardwell can certainly consider himself unlucky having been sent out on loan to try and get some game time in January 2020, his spell at Chorley lasted just one game as he picked up a hamstring injury on his debut for the club...
He ended the season on loan at Stockport County, where he scored five goals in 18 games as they fell in the National League play-offs; he's back at Chorley, but could well be a man in demand this summer.
Ahkeem Rose... after 43 appearances and three goals, he was let go by the club. He made the move south as he joined Dover Athletic, where he scored two goals in 15 league appearances... Rose became one of the many players to be released,
Jordan Cook... never quite got his time at Town going properly. Following his release, he made his way back up to his native north-east as he joined Gateshead... and he's on the lookout for a new club after failing to agree new terms.
Billy Clarke made quite the impact in a short space of time with the Mariners, earmarking himself as one of the standout players under Holloway. Having failed to thrash out a new deal though, the forward instead made the back to Bradford City for the third time in his career... but will be looking for a new club this summer after being released by the Bantams.
Fans were left dumbfounded when Town somehow managed to let Charles Vernam leave last summer, despite holding the option of a further year on his contract. The forward made the move to Burton Albion, but come January there were whispers that a return to Blundell Park could be on the cards.
It never materialised though, and he instead joined Bradford for a five-figure fee;he remains under contract with the Bantams for next season."
Meanwhile at Woking "Rohan Ince has agreed to sign, starting July 1st.
The midfielder, 28, will join the Club from Maidenhead United.
A product of Chelsea's youth academy, Rohan left the Blues on loan to Yeovil Town in 2012. Between 2013 and 2016, he made 72 Championship appearances for Brighton & Hove Albion. Loan spells at Fulham, Swindon Town, Bury and Cheltenham Town followed".
---
19 June 2021
The
Derbyshire Times
reports that "Former Aston Villa academy graduate Jack Clarke is set to sign for Chesterfield.
The 22-year-old will be joining the Spireites on a permanent deal after impressing on loan from Aston Villa last season.
The attacking midfielder made 13 starts for the Blues, scoring twice, as they marched towards the play-offs. Irish-born Clarke has been released by Villa and is available on a free transfer...
Boss James Rowe was impressed with how Clarke 'came of age' in the latter stages of the season, putting in big performances...
The Spireites have already signed goalkeeper Scott Loach and centre-back Jamie Grimes and tied down Liam Mandeville to a new contract".
Also in the Derbyshire Times we learn that "Goalkeeper Grant Smith has made a surprise exit from Chesterfield after having his contract cancelled by mutual consent.
The 27-year-old joined the Spireites in January on a free transfer and impressed with 10 clean sheets in 18 appearances last season.
He initially joined on a short-term deal until the end of the campaign but he signed a new one-year contract just two months ago.
Smith lost his place in the side towards the end of the season as James Montgomery who has also now left the club, started the last six fixtures.
The Spireites signed experienced goalkeper Scott Loach, 33, last week, who is now the only stopper on Chesterfield's books.
Smith recorded four clean sheets in his first five games and made another four successive shutouts from the end of March to early April. One of standout moments came when he saved a late penalty against Altrincham in February"/
The Eastern Daily Press claims that "Sonny Carey is a wanted man, with six-figure bids in from Luton and Blackpool, and interest elsewhere for the King's Lynn Town midfielder...
When Sonny Carey walked through the doors at The Walks two years ago, he was marked down as 'one for the future'.
The Hellesdon youngster had learned his trade amongst the rising stars of the Norwich City academy...
He ended up at Wroxham in the Eastern Counties League. It's no surprise he flourished there... Lynn were keen and he joined in their training sessions for a couple of months before signing on June 1, 2019...
'He is an exciting talent and has a great future ahead of him'... said Lynn's director of football Robbie Back...
'For a little kid like he is, he's cute and cool as anything,' said manager Ian Culverhouse... 'He is a hell of a prospect, he is a really confident boy, and he has loads and loads of ability'...
As Lynn prepared for their historic National League bow last summer... the door was open for Carey. He didn't jump through it, he glided through the gap, ball at his feet, not much able to stop him...
With Lynn having to furlough players because of the pandemic, Carey assumed extra responsibility. And he flourished...
Way before the last of his 30 starts, Carey's name was being linked with a number of clubs... Bolton, Bournemouth and Swansea were the first to emerge... If there's competition for his signature that can only be beneficial, financially at least, to King's Lynn Town FC."
The Halifaz Courier tells us that "Jack Earing says he is gutted to be leaving FC Halifax Town but excited about the future after joining League Two side Walsall.
Earing spent two seasons at The Shay after he was signed from Bolton by Jamie Fullarton, who is now technical director at Walsall, and after a mixed first season, enjoyed a superb second campaign as one of the star performers for Pete Wild's team...
'I've had two wonderful seasons at Halifax,' Earing said... 'When there was interest in League Two, especially from Walsall, as I knew Jamie Fullarton was there, and Matt Taylor, they were a big influence in me going there...
'The chance of being back in the Football League was a major factor for me'.
Reflecting on his two years at Halifax, Earing said... 'It's just been my home, I've just felt loved by the fans, the players, the coaches, the environment I've been in.
'When I arrived after leaving Bolton, I didn't think it'd be easy but I think I just took it for granted that I was playing in the National League, and I thought I'd just walk all over it.
'But I soon realised that it's a bloody hard league and I was going to have to work my guns off to get where I wanted to be, which is back in the Football League...
'I feel like the loans, taking a step down into the National League North, definitely helped me, in terms of the ugly side of the game, which I felt like was what I needed to improve on, and I felt that made me more of a complete player...
'When the manager gave me the chance to play the next season, I just put my head down and went from there'...
Earing says Wild and assistant manager Chris Millington played a major part in his development...
'I rang them the other day just thanking them for what they did for me... That's what they're so good at, the coaching side of it'...
'I'm only 22 and I've just got to prove myself in the EFL, this is my chance to step up with a big club like Walsall,'he said.
'It was a hard decision because there was a contract on the table for me at Halifax... If Halifax had got promoted this season, I would 100 per cent have been at Halifax, because I knew I would be playing there and I felt loved by the fans, it was just a happy environment to be'...
Earing has joined Jeff King in departing The Shay."
Play-Off Final, Sunday 20 June 2021, k.o. 2pm at Ashton Gate, Bristol
Torquay United v Hartlepool United
---
18 June 2021
In 24 year-old Josh Ginnelly's career his 20 starts on loan at Altrincham from Burnley in 2016 are still the most starts he has made for any club in a single season. In addition he made one Altrincham appearance from the bench, and netted five times for Altrincham in those games and that remains his biggest goal haul in any season.
Josh made his Alty debut in the strange surroundings of Bognor Regis in the FA Trophy, where the game was only started after several cars whad been parked on the pitch before kick-off to melt surface frost!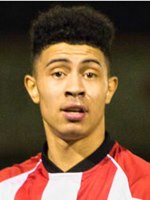 Josh was signed by Lee Sinnott, on loan from Burnley, on 8 January 2016. He had been bought by The Clarets for a six-figure sum from Shrewsbury Town, after starting out in the Aston Villa academy. He proved a great addition to Alty's squad and showed commendable commitment to the cause, whist also winning the Club's goal of the season competition for a solo goal against Aldershot Town.
News comes this week from the Edinburgh News that Scottish club Heart of Midlothian have "announced the signing of winger Josh Ginnelly on a permanent deal.
The 24-year-old spent last season on loan at the Tynecastle side from Preston North End and has now agreed to a two-year contract to remain with Robbie Neilson's men after being released at Deepdale.
Ginnelly managed only nine appearances in all competitions due to injury, but made quite an impression in games where he was able to play, including a starring display off the bench in the Scottish Cup final as Hearts pushed Celtic to penalties.
Despite an injury sustained against Raith Rovers in January putting paid to the rest of his season, Ginnelly remained in Edinburgh to rehab with Hearts. He now becomes the club's first signing of summer after securing promotion back to the top flight of Scottish football."
Stockport County
have confirmed their "released and retained list for the next campaign.
The following players are under contract beyond 30th June 2021:
Ben Hinchliffe; Josh Schofield; Sam Minihan; Macauley Southam-Hales; Ash Palmer; Liam Hogan; James Jennings; Mark Kitching; Jamie Stott; Ryan Rydel; Jordan Keane; Lois Maynard; John Rooney; Ryan Croasdale; Will Collar; Elliot Newby; Jack Hinchy; Richie Bennett; Connor Jennings; Alex Reid; Jordan Williams; Paddy Madden.
Players returning to parent clubs:
Harry Cardwell; Tom Walker.
The following players will be released at the end of their current contracts:
Josh Barnes; Ross Fitzsimons; Adam Owen; Finley Stanyer; Jordan Downing*; Alex Curran; Max Greenhalgh; Jack Hopkins; Harvey Gilmour; Adam Thomas; Nyal Bell. *Contract cancelled by mutual consent.
In a season that saw us finish in our highest league position in ten years, and reach the third round of the Emirates FA Cup, the Club would like to thank every departing player for their contribution this season...
The Club would also like to say a special thank you to two departing champions in Nyal Bell and Adam Thomas. Nyal made 88 appearances across three seasons at the Club, scoring 18 goals, whilst Adam scored 17 times in 152 appearances in a five year spell at Edgeley Park".
According to Get Surrey, "Woking FC skipper Josh Casey is in talks... to stay at Woking as Cook, Ferdinand and Hodges depart...
Josh Casey is determined to stay a Woking player next season and is prepared to do two full-time jobs to make it happen declaring, 'I would be forever regretful if I didn't give it a go'.
The 29 year-old Cards skipper,who marries his fiancée Ashling next week in Northern Ireland, will continue to work in finance with his new employer Dynatrace in Maidenhead and if the company agrees, he will fit in Alan Dowson's stringent training programme too and be there for every session.
The inspirational left-back admits he could make life easier for himself by staying part-time with a club at a similar level but 'the pull of Woking' takes precedence as well as the full-time lure...
He added 'It's a really exciting time at the club and I feel to leave at the end of this season would be horrible and would feel like unfinished business, with the last two seasons being massively impacted by Covid-19. So I want another year of trying to finish off what we started and have a really good year in the National League.'
Casey missed the last part of last season after injuring his shoulder in January and playing through pain while the FA Trophy run continued, before he was furloughed. He came back for just one game, against Bromley...
'Dowse had a suspension and needed another body so I basically played that game with one arm,' he recalled...
He conceded 'I considered whether I want to go part-time and not have to stress about different things and not have the added pressure of doing two full-time jobs. But it's a once-in-a-lifetime opportunity for me at this stage and, at my age, I think I would be forever regretful if I didn't give it a go. So I really hope I can make it happen.
'The Woking pull is strong with the new owner [John Katz] and Dowse's enthusiasm about next season'...
Meanwhile, Woking have released Kane Ferdinand, Jack Cook and Paul Hodges and Casey added 'It's horrible to see them go. Cooky and Kane have been mainstays throughout my time here... It's sad when it happens but everyone has got to do what's right for them personally. All three leave with their heads held high.
'It's an exciting time for Woking. You look at all the plans happening around the club. The move to full-time, the buzz, the excitement, the new kit, the sponsorships. I really do feel like it's a fresh start, a clean new year and a massive opportunity, which I hope to be part of'".
The Grimsby Telegraph asks "Who is Ben Fox?...
The midfielder became the Mariners' fourth signing of the summer earlier this week as he signed a one-year deal at Blundell Park.
It's been another busy week on the transfer front for Grimsby Town, with two more new signings making their way through the door at Blundell Park.
Ben Fox was first to arrive on Tuesday as he signed a one-year deal, followed by former Newport County defender David Longe-King, who put pen to paper on a two-year contract...
Fox is a 23-year-old midfielder who makes the move to Blundell Park after being released by League One side Burton Albion.
A Burton native, he spent five years working his way through the ranks with the Brewers before being handed his first professional deal in 2016.
Described as a box-to-box midfielder, Fox can also fill in as a right-back, although Chris Doig confirmed he'll be primarily used in the middle of the park with the Mariners...
He joined National League North side Tamworth in December 2016 on an initial month-loan, before having the deal extended to the end of the season and making 20 league appearances for the Lambs, scoring twice in the process...
He spent a short time with Solihull Moors in the National League, before heading back to Tamworth, and then taking in a final spell with Gateshead.
The 2018-19 campaign saw him break into the first team picture with Burton... He'd go on to make 36 appearances in total that season...but he suffered an anterior cruciate ligament injury [which] ruled him out for the whole of 2019/20.
He returned from injury last season, making 12 appearances for Burton before heading out on loan to Barnet in the National League.
His debut for the Bees proved to be a real mixed bag... he received a straight red card as Barnet fell to a 3-1 defeat. This proved to be his only game for the club...
Fox was released by Burton following the conclusion of the 2020/21 season."
The Derbyshire Times reports that "Chesterfield Football Club is in a 'far better shape' than it was a year ago and fans are starting to 'dream' again, says Spireites chief executive John Croot.
The community trust took over the club last August and they have stabilised the finances and appointed a talented young manager who led them to a sixth-place finish last season...
Croot told the DT, 'We have made great strides in all directions, the club is pulling together all as one...
'Season ticket sales are going great... We are exceeding sales from what we did the year before last'...
The club is not resting on its laurels and manager James Rowe has already made two new signings with more expected in the coming weeks.
Croot joked 'I almost daren't answer my phone to him!... The vast majority of the squad have come in early this year, and we did that to give James the best chance of getting us a good spot in this coming season.
'He has got a budget we feel we can challenge with, and James does as well///
'It is a community club now. We are playing an exciting brand of football, we have got a great, exciting manager who has brought some good players in so come down and give us a chance.'"
Relegated Southend United claim that "Now, after a difficult 18 months on and off the pitch, there is a swell of positivity building at the Club and we know that fans are starting to look forward to watching the team from the stands at Roots Hall once again!
There is a reset taking place at the Club, across all Departments. We are implementing new procedures and processes with a view to improving the customer journey and fan experience.
Phil and Ricky are working hard to ensure we have a team capable of winning the National League…and we are hoping for a cup run too! ...
We want to compensate our fans who purchased a Season Card for 2020/21 and recognise their loyalty... We are providing significant benefits for those who choose to donate [the cost]. Those benefits include honouring the price of a 2021/22 Season Card for the 2022/23 season and a unique exclusive replica shirt offer (if renewing in 2021/22), as well as free entry to friendlies and your name on the 'Wall of Thanks'.
It would be a great if you could help the Club and donate the balance of your Season Card, however, we understand that everyone's circumstances are different... Regardless of whether you donate or request credit, we will be issuing you with an exclusive lanyard (and Season Card if you renew). The lanyard not only provides a visual representation of your loyalty but will entitle you to benefits".
---
17 June 2021
FC Halifax Town
report that "Jeff King [right] has decided to leave the Club. Jeff joined the Shaymen in 2019 spending two years at the Shay, he has previously played for Witton Albion, Droylsden and St Mirren.
King was named in the NLP Team of the season and the Vanarama team of the season for the 2020/21 season having played 35 of the 42 games scoring 6 goals".
25 year-old King, the nephew of former Altrincham FC manager and captain, John King, made his first-team debut for Altrincham in the Cheshire Senior Cup at Tranmere on 18 March 2014.
He made his first Altrincham league appearance, in a Skrill North squad on 12 April 2014 against North Ferriby United. Jeff then continued to play for the Altrincham FC youth team, which he had joined during the 2013-14 season.
After being on the bench for several first-team games he went to get match experience at Kendal Town before leaving Altrincham and ending the season at Trafford FC.
Kent Online
reports that the "Dover Athletic chairman Jim Parmenter hits back at FA after appeal rejected
Jim Parmenter says Dover have been failed by the football authorities after their appeal against a £40,000 fine and 12-point deduction was rejected. Parmenter said he was 'surprised and disappointed' by the outcome and 'angered' and 'disgusted' by the FA's written reasons.
Dover were charged by the National League with failure to fulfil four fixtures between February 16 and 27 after placing their squad on furlough..
The FA... questioned the lack of financial projections or forecasts from Dover in their evidence, saying that made it 'impossible to see whether or not the club could afford to service the loan".
They also questioned why Parmenter had offered 'no breakdown of personal wealth... to show why he could not provide equity contributions as in previous years'.
Parmenter... said 'What it highlights is it's not truly an independent system and the system's failed here. I definitely believe that. I was surprised and disappointed by the result, but I was quite angered by the written reasons... The fact we weren't able to project the next five years when we were in the middle of a pandemic doesn't seem to me to be relevant.
'The suggestion my personal financial information should have been made public in order to support our case when we're dealing with a football club that's a limited company should be a warning to anybody that's thinking of investing in a football club or supporting a football club financially, because it seems the FA deem it their right to decide how much you should be putting into a club and how much you shouldn't, and I'm frankly disgusted by that'...
'We've had to cut our budget,' he said. 'Despite suggestions to the contrary, we're going to be on probably 50 per cent of the budget we had last year but this is Dover and we'll be fighting like hell next season. We're going to start with a 12-point deduction but that's something for us to target and aim at and try and get over.
'I think it's commonly thought that we've been treated quite badly, and unfairly, and I still hold that true. I think the football system has failed us, I think the FA have failed us and I think the general public and the town and the area need to get behind the club to show they think we've been unfairly treated'.
In the Swindon Advertiser "Ben Whitfield says he has not turned down Torquay United contract after being linked to Swindon Town...
After reports emerged that the 25-year-old's signature was being hunted by League Two... the striker took to Twitter to have his say.
Whitfield's current Torquay deal is set to run out this summer, but the former Port Vale forward says he has not turned down a new contract just yet, simply that a new deal has not been agreed so far...
The 25 year-old has previous Football League experience with Port Vale and Yeovil Town too, though the Englishman only managed 10 goals and nine assists in 101 appearances. In the National League, he has found the net 16 times and provided eight assists in 84 games".
According to the Dorset Echo, "Tom Bearwish has become the third striker to sign for Weymouth this summer.
Portland man Bearwish, 21, joins Brandon Goodship and Brad Ash as forward options.
Bearwish was released by Eastleigh at the end of the season having scored four goals in 40 appearances, mostly from the bench.
In securing Bearwish, manager Brian Stock has taken his tally to 12 signings this summer. Bearwish was with Eastleigh from the age of 16... During that time he had loans spells at Dorchester Town in 2017 and Portland United in 2018.
Bearwish said... 'I need to prove to myself and everyone around me that I can play at this level... Being a local lad and following the club since I was little means I've seen the club's highs and lows over the past few years'...
Stock added 'He's technically a very good player. He can get forward, he can score goals and brings a lot of energy to the team... He's had a really good education over the last few years being at Eastleigh full-time'">
Boreham Wood FC "announce our new, young and exciting First Team management team ahead of the 2021/22 season.
Watford legend Mr Lloyd Doyley joins Wood Manager Luke Garrard's backroom team as the Wood's new Assistant Manager, whilst Connor Smith returns to the Club within the First Team set up from local rivals Wealdstone to couple his current Club Academy Manager role with First Team coaching and playing duties.
Luke Garrard will also retain Martin Brennan as Goalkeeping Coach for a third season, along with Elliot Allum as our Senior Analyst...
With the recent departures on the First Team front of Cameron Mawer, David Dodds and Danny Woodards, the Club has been busy putting together a new backroom team after the conclusion of the 2020/21 season. It was important for our structure to find suitable replacements to compliment the Gaffer, who also know the club and who share the historical Club ethos of Attitude, Discipline and Desire; that ethos is often helped by promoting from within...
Lloyd Doyley will need little introduction and as has been coaching at Meadow Park periodically over the last two seasons within our Academy... His playing career saw "Lloydy" become a Club legend at Hertfordshire's premier side Watford FC."
In the Barnet & Potter Bar Times "Harry Kewell has spoken of his desire to create a 'winning environment' at Barnet...
The Australian has been installed as new manager, with former Wealdstone boss Dean Brennan also arriving as Head of Football...
Kewell said... 'We're now putting to the pre-season together and obviously going through players and having meetings...
'We all seem to be singing off the same same sheet here so which is great. I'm sure there's going to be altercations between everyone, but that's what you want, you want to create that winning environment and that's what we're trying to create here'.
After a very difficult season in which Barnet finished bottom having won just eight out of 42 games, Kewell knows he has a tough job on his hands".
---
16 June 2021
Having scored once and made five starts and six more appearances from the bench after signing for Altrincham in the third week of February 2021, winger James Hardy (aged 25, pictured right) has left the club.
Hardy had joined the Robins following his release by AFC Telford United whose National League North season had been decelared null and void.
As a youngster he was with Oldham Athletic for six years before signing for Manchester City in 2012. He moved on to play for AFC Fylde in October 2015 but, after helping them gain promotion from the National League North, he was badly affected by injury for two seasons.
A loan period from Fylde, at FC Halifax Town, followed in February 2019, before he left the Lancashire club, having made almost 100 appearances for The Coasters.
Next, he was signed by EFL club Walsall in June 2019 but, after eleven appearances, he was released at the end of 2019-20 season, whereupon he joined AFC Telford United for 2020-21.
And later, a one-line statement from Chester FC said simply that "Chester Football Club are thrilled to announce the signing of James Hardy."
The
BBC
reports that "Eleven National League clubs have lost their appeals against sanctions imposed on them for failing to fulfil fixtures last season due to Covid-19.
Dover Athletic, who had their results expunged after not playing beyond January, will be deducted 12 points next season and fined £40,000... Chairman Jim Parmenter, who placed all of Dover's staff and players on furlough in February to prevent the club becoming insolvent, has previously stated they will not pay the £40,000 fine.
The club has already decided to move from professional to semi-professional status, having not played a competitive fixture since 30 January.
The other 10 clubs, who all play in non-league Step Two, National League North or South, have each been fined £2,000 per breach of fixture and handed a suspended two-point deduction, also per breach.
Alfreton Town, Bath City, Bradford Park Avenue, Chippenham Town, Curzon Ashton, Darlington, Dulwich Hamlet, Kettering Town, Slough Town and Southport all had their appeals dismissed between 3 and 11 June.
Chippenham, Curzon Ashton, Dulwich Hamlet and Slough were fined £8,000 for four breaches each, Bradford Park Avenue £6,000, Alfreton and Bath £4,000 and Darlington, Kettering and Southport £2,000.
They and Dover have also been ordered to pay costs, between £1,200 and £1,600 per club, and their appeal fee of £250 will not be returned.
Three other Step Two clubs, Blyth Spartans, Farsley Celtic and Spennymoor Town, have had 50% of their fines (£6,000 for Blyth and £4,200 for Farsley and Spennymoor) suspended."
According to Football League World, "Cardiff City are interested in a potential move for Solihull Moors striker Kyle Hudlin...
Hudlin joined Solihull last year, and has so far scored 12 goals in 39 appearances... That has already seen the likes of Barnsley, Huddersfield Town and Sheffield Wednesday linked with the 20 year-old, who at 6ft 9in, is said to be the tallest outfield player in British football...
This could be a decent signing for Cardiff, but it does feel like it could be one more for the future".
And there is speculation about another National League player in Football Insider which claims that "Swindon Town and Exeter City lead the race to sign Torquay United striker Ben Whitfield...
The prolific forward, 25, is available on a summer free transfer after failing to agree a new Torquay deal.
A source has told Football Insider that has led to a stampede of interest from EFL clubs... Whitfield has scored six goals in 28 games across all competitions for Torquay this term...
He has previous experience in the EFL with Port Vale and Yeovil Town. The Englishman has 10 goals and nine assists in 101 League Two appearances in spells with Vale and Yeovil.
In the National League, he has found the net 16 times and provided eight assists in 84 games">
The Leader Live reports that "Wrexham's Chief Executive Fleur Robinson has penned an open letter to Reds' supporters.. Robinson took up her role at The Racecourse on June 1 following a long spell with Burton Albion.
She wrote...'There is immense potential here and that the rightful place for this club and town is in the EFL... I have arrived at a time when there is some disappointment around after narrowly missing out on the play-offs. And this has led us into a period of transition on-the-field to match the positive changes that have been happening around the club this year...
'Everyone associated with Wrexham AFC should be proud of what has been achieved in the 20/21 season... It is striking to see the faith that the fans have put in the RR McReynolds regime. This unity between the fans and the club is the most important building-block in the foundations that have been laid so far for the mission...
'On the field we will see a refreshed management team and playing squad that will soon be cheered on in person as grounds safely open for supporters again in the 21/22 season. While, alongside this there will be new commercial partners joining us, ever-deepening relationships nurtured with our loyal local partners, and more investments in community initiatives'".
Yeovil Town have "confirmed the signature of Morgan Williams on a two-year contract.
The defender, well-known to Glovers fans following two loan spells, was excited to get started after putting pen to paper. The 21-year-old said... 'It's a fresh start and I want to leave my mark on the club.
'The main aspiration in my time here is to get promotion to League Two. First of all, I need to knuckle down in pre-season, get some game time in and then push on'...
The former Coventry man couldn't hide his delight at returning to Huish Park".
In the Northern Echo, "After six months with Hartlepool United, Jamie Sterry says 2021 has been his 'most enjoyable year by far' with the club.
The Pools full-back has been crucial to the club's success this season featuring 29 times since joining until the end of the season in December from Northern Premier League side South Shields... The 25-year-old former Newcastle United defender documented his struggles during his playing career in a wide ranging interview with The Athletic...
Sterry admits he's loved his time playing a pivotal role at right wing-back. 'I haven't really played at wing-back much until I've come here this season. Normally I'm like "we defend and when I can get forward, I'll get forward" but it's been really good to play higher up the pitch.
'I played a little bit there at Newcastle when Rafa (Benitez) was the manager but to be able to have that little bit of space and time and make the runs forward is a hard position to play you've got to be really fit to get up and down there...
'Coming in here, I only trained one day and then I played against Stockport at home but I've got my fitness up. I'm probably the fittest I've been in my career. This is the most enjoyable year I've had by far'...
Preparations for Sunday's huge game down at Ashton Gate are well underway...
'You've got to enjoy the highs when they are around but you can't take it over the top', says Sterry. 'The lads are celebrating in there but I'm thinking "we haven't won anything yet"...
'It's such a good group in that dressing room. I couldn't tell you one bad egg who is in there... We should believe in ourselves to win next week'"
One of the latest clubs to issue its retained list is Notts County, where "Eight players remain under contract heading into the new season, while several members of the squad have been given the chance to extend their stay at Meadow Lane.
Michael Doyle has been offered the role of assistant head coach on a permanent basis, although should he accept he will remain registered as a player.
Six contracted players, including long-serving squad member Enzio Boldewijn, will sadly be leaving us, while five loan spells have come to an end...
Under contract: Alex Lacey, Richard Brindley, Jake Reeves, Callum Roberts, Ruben Rodrigues, Lewis Knight, Elisha Sam, Kyle Wootton
Offered new contract: Sam Slocombe, Tiernan Brooks, Connell Rawlinson, Adam Chicksen, Dion Kelly-Evans, Jim O'Brien
Offered assistant head coach role: Michael Doyle
Released: Luke Pilling, Luke Steele, Ben Turner, Damien McCrory, Jordan Barnett, Enzio Boldewijn
Loan players returning to clubs: Mark Ellis, Calvin Miller, Regan Griffiths, Matty Wolfe, Jimmy Knowles
The Dorset Echo tells us that "Brad Ash has joined the Terras from Chippenham Town.
Pacy forward Ash, 25, joins from the National League South side having chalked up four goals in 14 games with the Bluebirds. In the 2019/2020 season, Ash scored once in 11 starts for Hereford, making 20 appearances in total.
Ash has National League experience with Boreham Wood, scoring five times in 22 games.
His form with hometown club Weston-super-Mare in the 2015/16 season, where he netted 14 goals in 14 matches, netted him a move to then League One side Barnsley.
Although failing to feature for the Tykes' first team, Ash was a prominent figure in Barnsley's Under-21s squad... Barnsley loaned him back to Weston-super-Mare for the 2016/17 campaign...
Weymouth boss Brian Stock said... 'He's already had success and been spotted by Barnsley in the Football League and that shows he has quality. What I really love about him is his attitude and application, in and out of possession. He's an out-and-out goalscorer, he will give us a lot of energy and he fits the mould of how I want my team to play perfectly'...
Ash is the 11th signing for Weymouth this summer behind goalkeeer Gerard Benfield, defenders Josh Leslie-Smith, Ben Morgan, Ollie Harfield and Calvin Brooks, midfielders Andy Robinson, Sean Shields, Cameron Murray and forwards Josh McQuoid and Brandon Goodship.
Woking "confirm the departures of Jack Cook, Kane Ferdinand and Paul Hodges...
Kane was the first of the three to join the Cards, in the winter of 2016... He went on to play 167 games at Woking...
Jack followed Dowse from Hampton & Richmond Borough in the summer of 2018 to the Cards, quickly forming a partnership with Ben Gerring at centre-half... He later played at right-back, enjoying his best spell at the Club in 2019/20 as he was voted Woking News & Mail player of the season. 127 games on, he leaves due to work commitments as the Club transitions to full-time.
Paul joined the Club from Hartley Wintney in the summer of 2018... He left the Club initially in February 2020 for Slough Town, before coming home in the Spring of 2021 to help Dowse's part-time Cards through a tricky spell. Like Cookie, Hodgey leaves after 81 games due to work commitments as the Club transitions to full-time".
---
15 June 2021
In the education field, the town of Altrincham, as part of Trafford MBC, has been one of the last bastions of the "11+" examination whilst the town's football club has been a relatively late comer to the 11+ phenomenon on the pitch.
Before squad numbers were introduced to football, a team's starting eleven wore numbers one to eleven, which added up to a mere 66 in total.
However, when Altrincham played at Weymouth in 2021, their starting eleven's shirt numbers totalled 206, possibly the highest ever aggregate worn by an Alty team. And their five named subs added another 89 to that total for the squad.
Altrincham's squad at Weymouth this season comprised: 1. Tony THOMPSON, 6. Jake MOULT (c), 7. Daniel MOONEY, 8. Sean WILLIAMS, 17. Nyal BELL, 19. Reagan OGLE, 24. Joel SENIOR, 25. Toby MULLARKEY, 29. Alistair SMITH, 34. Ryan COLCLOUGH, 36. Connor KIRBY. Subs: 10. Josh HANCOCK, 15. Matty KOSYLO, 20. Shaun DENSMORE, 21. Matt GOULD, 23. Tom PEERS.
That array of high shirt-numbers prompts a look back to the introduction of dedicated shirt numbers and surnames for each player.
The Football Conference introduced squad numbers in 2002 but, in Alty's case, the first season in which squad numbers were used was 2005-06, when the club returned to the national level of football after a five-year hiatus at step two.
The Robins' first game that season was away at Stevenage when no fewer than five of the starters were wearing numbers outside the traditional 1 to 11 bracket. That starting eleven's shirts added up to 107 with the subs' bench adding a further 75 to that total, in the following line up.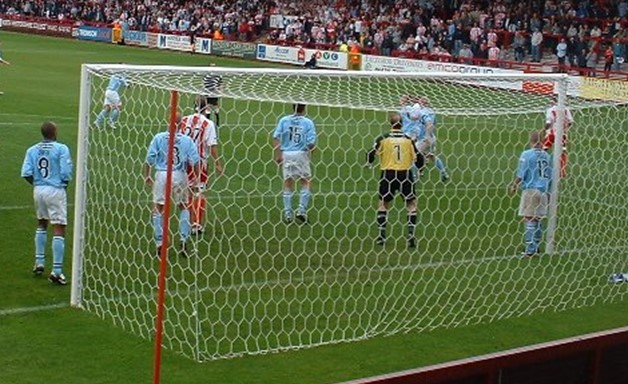 Above: Peter Band (15) and Steve Hawes (12) wore Altrincham (blue) shirts bearing squad numbers for the first time at Stevenage in 2005.
Alty's squad at Stevenage in August 2005 comprised 1. Stuart COBURN, 15. Peter BAND, 4. Mark MADDOX, 5. Gary TALBOT, 3. Chris ADAMS; 17. Karl MUNROE, 12. Steve HAWES, 8. Val OWEN, 14. Lewis CHALMERS; 19. Gary WILLIAMS, 9. Colin LITTLE. Subs: 7. Colin POTTS, 10. Rod THORNLEY, 13. Richard ACTON (gk), 20. Kieran LUGSDEN, 25. Nehru McKENZIE.
That season, as a whole, saw 23 players assigned numbers above 11, with several numbers being reissued during the campaign...
13. Richard Acton, 14. Lewis Chalmers, 15. Peter Band, 16. Chris Butler and James Olsen, 17. Karl Munroe, 18. Chris Butler, Blake Norton and Lutel James, 19. Gary Williams and James Robinson, 20. Kieran Lugsden, 21. Stephen Rose, 22. Richard Norris, 23. Kirk Hilton, 24. George Melling, 25. Nehru McKenzie, 26. Lee Hendley, 27. Kurt Edginton, 28. Pat McFadden, 29. Kyle Wilson, 30. Steve Bushell, 37. Ged Murphy.
James Olsen became Alty's first player to score a goal when wearing a shirt numbered above eleven. That was against Aldershot Town on 27 August 2005 at the Recreation Ground. It was not until November 2005 that the Moss Lane fathful saw a home goal from a player wearing a number greater than eleven; that was James Robinson against Tamworth, one of the appearances that led to the club's massive points' deduction at the end of that season.
The
Nottingham Post
confirms that "Former Notts County boss Neal Ardley has been appointed Solihull Moors' new manager - alongside a familiar face... almost three months after his departure from Meadow Lane.
Ardley... will officially begin his role on July 1.
The 48-year-old takes over from Mark Yates, who took charge in March on a short-term deal until the end of the season just gone.
And Ardley says... 'After leaving Notts County I was hoping my next job could be a project that would give me the chance to take a club forward. From day one, after meeting Darryl (Eales, chairman), Tim (Murphy, vice-chairman) and Craig (Cope, technical director), it was clear there's a huge ambition to go alongside the wonderful story of Solihull Moors...
'I'm really looking forward to starting with the players after their strong finish to last season, and working closely with Quinny (James Quinn) and all the staff at the club.
'Alongside this, Greg Abbott's huge knowledge and contacts will help the club attract and recruit even more quality to the squad'...
Abbott was his assistant at Meadow Lane and has now taken up a consultancy role at Solihull, with a focus on recruitment and match preparation.
James Quinn will be Ardley's No.2, having been promoted from first-team coach...
Chairman Darryl Eales said: "We are fortunate to have been able to attract a manager of Neal's pedigree and track record. 'I first met Neal when he was at AFC Wimbledon, and I was chairman of Oxford United. I would have liked to have appointed him as Oxford manager when Michael Appleton left to join Leicester City. At that time, I deemed it inappropriate to approach a manager at another club...
'Not only is Neal a highly experienced and accomplished manager but he is also one of the most humble and genuine people I have met'".
A short statement from FC HAlifax Town tells us cryptically that "Our retained list includes all players who were contracted last season with the exception of Danny Williams and Reuben Noble-Lazarus...
Once we have more team news it will be shared".
In the Hartlepool Mail "Stockport County boss Simon Rusk reacts to play-off semi-final defeat to Hartlepool United...
During the game, Stockport's Paddy Madden missed a glorious chance to put the hosts into an early lead and former Pools loanee Richie Bennett saw his point blank header saved brilliantly by Brad James late in the day.
'We created the better chances in the game,' Stockport manager Simon Rusk said.
'We've had a mistake punished and in a play-off game there's a terminal element to it. We've got a great football club in place here, the infrastructure and the ambition is there and we weren't a million miles away this year. We've got to make sure with all those things in place, it drives us on to get over the line next year'".
Off the field news comes in the Lynn News which confirms that "A King's Lynn Town footballer who faces drugs charges is set to be given a new court date.
Rory McAuley was due to appear before Norwich Crown Court today [Monday], charged with conspiracy to supply a class A drug and possession of criminal property.
The 31-year-old was committed to the crown court by magistrates in the city last month.
But the case will now not be heard today, with officials indicating there was insufficient capacity in court listings to schedule it... McAuley, of George Fox Way, Norwich, was suspended by Lynn nearly two weeks ago before details of the charges against him became known.
The defender featured 17 times for the club in the National League last season".
The Derbyshire Times confirms that "Captain Will Evans and striker Scott Boden are among several players who have been released by the Spireites.
Also leaving the club are James Montgomery, Luke Coddington, Josef Yarney, David Buchanan, Jonathan Smith, Milan Butterfield, Jack McKay, Luke Rawson, Jamie Sharman, Dylan Wharton and Regan Hutchinson.
Strikers Tom Denton and Nathan Tyson will remain at the club.
Meanwhile, centre-back Fraser Kerr, who joined on a short-term deal in March, has agreed a new contract...
Evans has been at the Blues for the last three years after signing in 2018 from Aldershot Town. Boden returned for his second spell in January 2019. He is currently on loan at Torquay United.
Goalkeeper Coddington has not played for the Spireites since December 2019 following injury.
Yarney made a limited number of appearances this season, while experienced duo Buchanan and Smith did not feature from December onwards...
Youngsters Rawson and Sharman... did not play under Rowe and were loaned out."
---
14 June 2021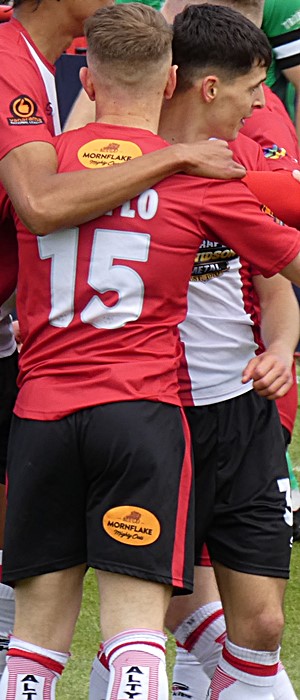 Altrincham FC announce that "There's a continuity to Mornflake's association with Altrincham FC after they renewed their shirt sponsorship for another 12 months.
Right: Alty will continue to wear the Mornflake logo on their shirts and shorts in 2021-22.
The Cheshire-based food company, who have been rolling out a wide range of delicious and healthy oat-based products for very nearly 350 years, are now approaching a decade of unswerving support for the Robins after agreeing to have their name on our shirts again for the 2021-22 Vanarama National League campaign...
Mornflake said 'Mornflake have a long-established relationship with Altrincham FC, and it gives us great pride to continue this partnership with a progressive community owned and supported club'...
Alty co-chairman Bill Waterson said... 'Mornflake have been an important partner for Altrincham FC, and we are delighted that our relationship has been extended a further year.'"
In the
Northern Echo
we learn that "Hartlepool United have reached the National League play-off final as Rhys Oates scores the vital goal in a 1-0 win against Stockport County.
Pools have set up a date with Ashton Gate next Sunday where they'll face Torquay United, who beat Notts County 4-2 yesterday in extra time.
Stockport had a glorious chance in the first seven minutes as former Pools full-back Macauley Southam-Hales broke free, teed it up on a plate for Paddy Maddedn from six yards who managed to skew the ball wide with the goal at his mercy...
As Stockport piled men on in the forward position, Pools fought back and the breakthrough came from their main man. Oates found some room and took the ball to the edge of the box where he fired in a low shot into the bottom right-hand corner...
Stockport huffed and puffed to find an equaliser but Brad James was to Pools rescue as he somehow denied a point blank header from Richie Bennett, who almost came back to haunt his old side.
Pools hung on and ran the clock down to secure a place in the National League play-off final".
Also in the Northern Echo we read that "Hartlepool United manager Dave Challinor was on an emotional high after reaching the National League play-off final...
Pools ended County's 18 match unbeaten run with a huge performance in Cheshire as they held onto the victory after Oates's 75th minute strike.
'These are games that put you through the mill emotionally'... Challinor said after the full time whistle. 'It's difficult to reflect so quickly after you're on such a high. I thought we were a bit safe in the first half and once we got into the attacking half we were bang average.
'We needed to be more brave and I asked Jamie and Fergie how many balls they'd put in and they couldn't really say. At the start of the second Jamie has already put two in.
'You felt one goal would do it and thankfully we're on the right side of it'...
Oates scored his 17th goal of the season and his ninth in his last nine games...
'It's the first goal I probably haven't celebrated because I was shouting at somebody else. I'm not sure how the ball ended up with Oatesy there...
'We'd set up a certain way because of how Stockport were and their personnel. We didn't know what there team was going to be for certain so you've got to be adaptable.
'We watched the Torquay game yesterday and I've never seen them play like that. Centre back, left midfield in a four-four-two. Whether they choose to be like that again, I'm not sure. We know they've got threats all over the pitch so we know we've got to, as best we can this week, cover every eventuality'".
Meanwhile, Stockport County, report that "The Hatters' first venture into non-league's top-tier play-offs saw them edged out by a single goal against Hartlepool at Edgeley Park.
A socially-distanced crowd of over 2,700 saw County's 18-match unbeaten run come to an end, courtesy of ex-Hatter Rhys Oates's strike, 15 minutes from time, that consigned Simon Rusk's side to a third successive season in the National League.
County took to the field for a first competitive match at EP in flaming June, showing two changes from the starting line-up at Yeovil just over a fortnight previously, with Will Collar and Paddy Madden both returning from injury in place of, respectively, Jordan Keane and Alex Reid.
The Hatters made a lively start... They went close after... Madden skewed beyond the far post. But as the game settled down, the two former Football League rivals, who had finished a single point apart at the end of the campaign-proper, proceeded to cancel each other out for a long spell...
The visitors made much of the early second-half running...
[Ex-Alty loanee] Elliot Newby was introduced for Collar on the hour... before being set up by Tom Walker from the left to poke a deflected shot just wide of the near upright.
With a quarter of an hour of normal time left on the clock, Oates broke the deadlock, and the Hatters' hearts, after picking up the ball on the edge of the area and firing it past Hinchliffe into the bottom-right corner.
As the 90 minute mark approached, County looked for all the world to be sending the game into extra time as substitute, and one-time Pools loanee, Richie Bennett connected with a Jennings cross from the left, only to see his header brilliantly kept out by James".
---
13 June, 2021
With the play-off contenders now reduced to three clubs, Torquay United, Stockport County and Hartlepool United, Altrincham can take pride in the fact that none of the survivors has beaten Altrincham this season!
Alty beat Torquay at Plainmoor and drew all the other five clashes against the remaining play-off hopefuls.
Having been derprived by Covid of watching Alty's first-ever league clashes with Notts County in 2020-21, Altrincham supporters, hopefully, can now look forward to a trip to Meadow Lane and to welcoming the Magpies to the J. Davidson Stadium in 2021-22 season.
The clubs did meet in the FA Cup in 1972-73 season when Notts County won 1-0 at Moss Lane.
Play-Off Semi-Final, Saturday 12 June 2021
Torquay United 4-2 Notts County, after extra time, 2-2 at 90 mins.
Devon Live
reports that "Torquay United are off to Ashton Gate to play in next Sunday's National League play-off decider after beating Notts County 4-2 at Plainmoor today, with extra-time needed to find a winner in the most exhilarating of games.
It was 2-2 at full time with Torquay taking the lead twice through striker Danny Wright, who was the surprise name on the teamsheet for the 12 noon kick off.
The fitness of talisman striker Wright, who has been missing since March, was a precious kept secret in the run-up to the game but he announced his comeback with an explosion, scoring the opening goal inside the first minute.
Notts hit back but Wright again found the net before another equaliser from the visitors. So the game went into extra time and captain Asa Hall made it 3-2 before Dean Moxey made the win certain with a calmly taken penalty.
Dropping to the bench was Jake Andrews, with no place for striker Scott Boden among the substitutes; the extra forwards there instead being Billy Waters and Benji Kimpioka.
Also in the team was Kyle Cameron, who played up front on his own at Altrincham as Johnson experimented in the dead-rubber game. This time he was playing an attacking role on the left of midfield and it was Connor Lemonheigh-Evans who was alongside Wright".
In extra-time at 2-2 "It looked like Notts were now on top; that was until a good Kimpioka run resulted in a corner in the 100th minute. Andrews swung in the corner and Hall rose to head the ball home for 3-2. The game didn't restart though until Hall had been treated for a head wound and bandaged up, with the game was stopped for five minutes, at least.
Almost immediately after the restart, Kimpioka caused the Notts defence some serious problems, the ball found its way to Lemonheigh-Evans in the box and the midfielder was brought down. Surprisingly, Moxey was the player to step up and take the penalty and he scored with some aplomb to make it 4-2".
From the other side, Notts County report that "We suffered a 4-2 extra-time defeat at Torquay United...
After twice coming from behind thanks to excellent goals from Ruben Rodrigues and Adam Chicksen either side of the break, we headed into an extra 30 minutes to try and book our place in the final.
But two quickfire goals from the hosts, the second a penalty which should never have been awarded against Mark Ellis, left us with too much to do in the second period as the home side progressed.
We had the nightmare start as, within 40 seconds of kick-off, Danny Wright's header took a big deflection off Chicksen and nestled in the back of the net.
But we settled into the game and created an excellent equaliser when Enzio Boldewijn did well to release Kelly-Evans, whose perfect cross was matched by a brilliant Rodrigues header into the top corner...
Shortly after the restart... a move broke down on the left-hand side, allowing the Gulls to burst forward on the counter with Wright applying an excellent finish to bag his second.
Within minutes, however, we were level again when Brindley nodded Rodrigues's corner down in the area for Chicksen to smash the ball home via the underside of the bar...
We were cursing our missed opportunities when Asa Hall got into space in the area to head his side back ahead from a corner.
Our task was made even harder shortly after the restart when, despite clearly playing the ball, Ellis was booked for what the referee deemed to be a foul on Connor Lemonheigh-Evans, allowing Dean Moxey to make the score 4-2 from the spot."
According to NL Daily "Maidenhead United manager Alan Devonshire has signed a new contract.
The former England international is now set to extend his stay with the Magpies until summer 2024.
The ex-West Ham United midfielder took over back in 2015, having previously led the club for seven years from 1996 onwards.
In his second stint, the 65-year-old has led the Berkshire side into the National League, lifting the National League South title in 2017".
---
12 June 2021
Joh Edwards's interview with new signing Marcus Dinanga is on
Alty TV
.
And Altrincham FC has John Edwards's transcript of his interviews with Marcus and manager Phil Parkinson.
"Phil Parkinson admits it has been 'a painstaking journey' finding a new number nine, but he is convinced it will have been worth the wait".
Phil Parkinson said that "We have been working really hard right through the season to identify the right person, and the difficulty we have is the financial restrictions we face in comparison to other clubs, which everyone knows about... but we also want players who are coachable, who want to improve, who suit our system, suit our style of play and suit our changing room...
"I really feel we have found our man in Marcus. We have done due diligence. He has got bags of potential, and the most important thing for me when I speak to a striker is when I ask them what their main strength is. The first thing Marcus said to me was 'scoring goals'.
You don't always get that answer, funnily enough. They hold the ball up well or hold the line, but the answer from Marcus was he scores goals, and I think everyone knows that is something we are desperate for in that number nine position.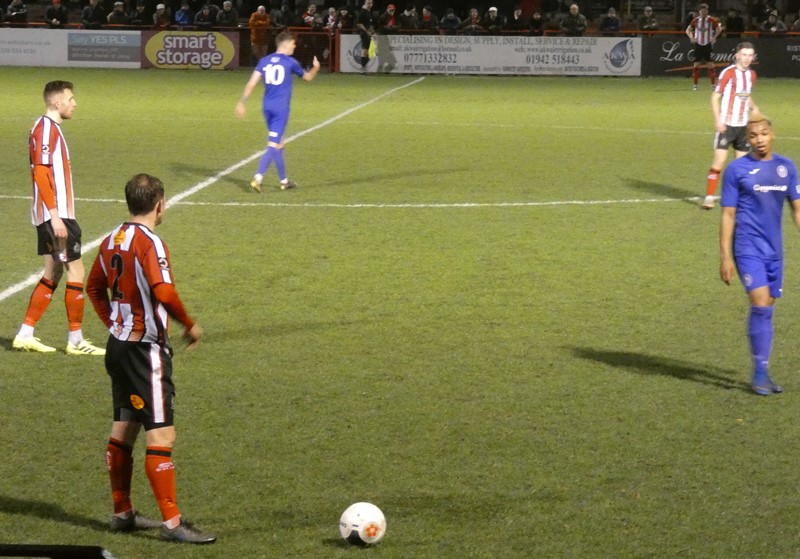 Above: Marcus Dinanga played and scored for AFC Telford United against Alty in February 2020 but the hosts won 5-2. Here, Shaun Densmore prepares to take a freekick.
"He has been on my radar for years... I don't think he is one of those who is going to contribute loads and loads in terms of build-up. He can do that, but the thing for me is that he really comes alive inside the box. He makes great runs and is a clinical finisher".
Asked whether he would be comfortable playing the lone striker role?, he replied "Absolutely. That is our system, and it is certainly something we identified in him that he can play that role.
"He is a confident lad. He wasn't being cocky when he said that. He was just saying truthfully what his strength is, and that's exactly what I wanted to hear...
"He has got a lot to offer, and the confidence and self-belief are certainly there. He just needs someone to believe in him, which I certainly do...
He has scored goals at a level below us and been signed by a club a level above, and he is someone we know really well."
In his Alty TV interview, Dinanga told John Edwards, that Alty "play a style of football I like and that suits my game. You move the ball very quickly and to feet, and I like that...
"I always back myself. Always. That may come across as cocky, but I don't see myself as cocky. There is a difference. I back myself all the time, whether it's the second minute of a game or the last. I always want to make things happen, and I always back myself to do it...
"I'm known mainly for being pacey and having an eye for goal, I guess. I'm good at one-on-ones as well and just try to contribute as much as I can...
"I'm up for taking penalties, for sure. I was the penalty-taker at Telford and I never missed. I had a 100 per cent record. I know Josh Hancock takes them for Alty and has a great record, but I think I might be having a word with him".
In the
Derbyshire Times
Liam Norcliffe gives his verdict on each Chesterfield player who is out of contract.
Amongst them he says of Alty's new signing Marcus Dinanga, who was "Signed on loan from Stevenage in January.
Showed promise at the start but he never really looked like scoring that many.
Six starts, one goal.
Verdict: I would not be pursuing him any further".
Let's hope he's wrong!
Saturday 12th June:
Torquay United v Notts County k.o.12 noon
Sunday 13th June:
Stockport County v Hartlepool United k.o.12 noon
Sunday 20th June:
Play-off Final, k.o. 2pm.
The
Leader Live
tells us that "Betting has been suspended on one candidate in line for the vacant manager's job at Wrexham AFC.
Mark Hudson appears to be on the verge of becoming Wrexham's next permanent manager as BetVictor closed betting on him getting the job following a dramatic shortening of odds.
Nigel Clough and Jim Gannon were the initial leading contenders for the role, with high profile names such as Casey Stoney and Mark Hughes also being linked to the vacancy at The Racecourse.
However, Mark Hudson then emerged as the favourite for the job and the former Huddersfield Town and Cardiff City player had remained in pole position as his odds were stable at 3/1.
However, the Englishman's odds began to dramatically shorten today, and as a result betting on the market has now been completely suspended by BetVictor, as it is anticipated that Hudson will soon be appointed by Wrexham's owners Ryan Reynolds and Rob McElhenney.
The Examiner adds that "Former Terriers defender and coach Mark Hudson looks set to return to football after betting was suspended on the vacancy at Wrexham.
Hudson first arrived at the John Smith's Stadium from Cardiff City as a player under Chris Powell and hung up his boots after the successful playoff campaign under David Wagner in 2016/17, staying on as a coach for a further three years, including two in the top flight.
He left his position as coach of Huddersfield Town when the Cowleys were sacked last July and is believed to want to get into full-time management having had two short caretaker spells in charge of the club he helped get promoted to the Premier League as a player...
If he were to get the Wrexham job it would be Hudson's first permanent managerial position".
Also, the BBC reports that "Wrexham's Hollywood owners Rob McElhenney and Ryan Reynolds say they hope the club can regain the freehold of their Racecourse Stadium.
Glyndwr University has owned the ground's freehold since 2011. Plans to redevelop the Kop as part of the wider Wrexham Gateway Project could lead to the club regaining control.
'An application for public sector funding support has been made by the Council,' the owners said of the redevelopment. 'And we have agreed to make a significant financial contribution to make it happen, which would also see the return of the freehold of the Racecourse Ground to the club's ownership....
'The need to find a long-term solution, to where the club players train, was highlighted by the constant search for venues on a weekly basis for all the clubs teams that is only going to get harder as Covid-19 imposed restrictions are removed and our requirements increase,' the statement added...
McElhenney and Reynolds said that the appointment of a new manager was their 'immediate priority'...
Wrexham's executive director Humphrey Ker said earlier in June that the club had been 'hugely encouraged by the quality of the candidates who have put themselves forward already'.
McElhenney and Reynolds said... 'The playing budget will be consistent with that of a club that wants to achieve promotion... Our goal is to grow the team, return it to the EFL in front of increased attendances at an improved stadium, while making a positive difference to the wider community in Wrexham'".
In the Nottingham Post "Ian Burchnall says leading Notts County to the National League play-off final would be 'massive' but he feels Torquay United represent a threat to their promotion hopes.
The Magpies head to Plainmoor on Saturday hoping to secure a victory that would leave them just one win away from reclaiming their place back in the Football League.
Notts have been in sensational form over the last month having lost just once in their last nine games making them the in-form play-off team...
He said, 'When I came in, I know there was a lot of talk about a long-term vision and that's correct... but we never took our eyes off the short-term goals... But it's going to be a tough challenge down there.
For Notts to reach the final they must overcome a Torquay side led by the shrewd Gary Johnson... Both League games between the sides finished all square... Torquay will be backed by a crowd of around 1,600 for the much-anticipated clash and Burchnall is well aware of the threat they pose...
He said, 'They play forwards quite dynamically. The wingers go into pockets, they overload and they've got some quality in there... They are well organised and Gary Johnson knows what he's doing.
' He's been around this for a long while. This is not his first time in this situation. They've had two weeks to prepare and I'm sure they will be very well drilled and organised when we meet them'".
We learn from the Derbyshire Times that "Chesterfield sign former Watford, Ipswich Town and Hartlepool United goalkeeper Scott Loach...
The 33-year-old was a free agent after leaving Barnet, where he made 26 appearances last season.
Nottinghamshire-based Loach said 'It's an unbelievable feeling. I'm really, really happy'...
Manager James Rowe added 'I have followed Scott's progress for a number of years and I am delighted we have secured his signature for next season. He will add invaluable experience to the position'...
The stopper has had various clubs, including 150 appearances for Watford and... at Hartlepool United where he played 100 consecutive games. He was capped by England 14 times at under-21 level and also featured in the full squad.
As many as six goalkeepers played for Town last season. Grant Smith looked to have nailed down the number one jersey but James Montgomery, who signed on a short-term deal from Gateshead in April, started the last six matches".
Torquay United "announce that manager Gary Johnson has signed a new contract to extend his stay at Plainmoor.
Appointed as manager in mid-September 2018, Johnson has overseen a remarkable transformation in the Club's fortunes during his tenure. After winning the National League South in his first season, the Gaffer has continued to raise the bar in pursuit of success at Plainmoor, and this season has seen his team scale ever greater heights".
The Hartlepool Mail reports that Hartlepool United' "National League play-off semi-final at Stockport County... will be decided on the day with extra-time and penalties if necessary...
Hartlepool manager Dave Challinor admitted his side have been practising from the spot... 'You can't practice for extra-time, you've just got to be as fit as you can but we practised penalties last week,' he said.
'Players are different, from my perspective, I want to see them all take a penalty so I've got some idea of whether they're any good at them or not. Some of them don't want to practice and, as much as you want to try and replicate the [penalty shoot-out] situation, it's completely different in a game...
'It's a mental test as much as it is a technical one... I've got real belief that we can go and win the game.'
Pools have a perfect record from the penalty spot during matches this season with Nicky Featherstone scoring four and Richie Bennett and Luke Williams netting one apiece. But the side lost on penalties in the FA Trophy at Halifax Town back in December, the only shoot-out they've taken part in since 2015..
You'll have to go back 15 years and five shoot-outs to find Pools' last shoot-out victory, an FA Cup first round triumph over Rochdale at Victoria Park in November 2006".
---
11 June 2021
Altrincham FC
press and media officer, John Edwards, reports that the club has signed "striker Marcus Dinanga from League Two side Stevenage.
The Altrincham manager has been on the look-out for a proven finisher to provide the cutting edge that was missing last season and is convinced he has found the ideal candidate after making Marcus his second summer signing, following the recent acquisition of winger Brad Jackson from Chester...
Alty's boss almost landed the 23 year old nearly 12 months ago, only for the lure of League football with Stevenage to prove decisive.
And Marcus, twice top scorer for AFC Telford United prior to joining Stevenage, announced his arrival at The J.Davidson Stadium with a bold statement of intent...
'I will deliver,' he said. 'If I get the service, I will score goals for Altrincham.'"
Before joining Altrincham, Marcus Dinanga (dob 2 Jan 1998) most recently had been on loan at Chesterfield, from Stevenage. Indeed, he was named on the bench when the Spireites beat Altrincham 1-0 back in February in Derbyshire.
His early career was with Burton Albion, from where he went on loan to Mickleover Sports.
2016–17 season saw him playing for Matlock Town on loan, followed by a loan at AFC Telford United from the start of the 2017-18 season and he concluded that season as the Bucks' top scorer.
He started 2018-19 with what was intended to be a season-long loan at Hartlepool United but, in December 2018, he left and signed for Telford, netting 14 times, before moving on to Stevenage in August 2020 where he made six appearances, scoring once.
Before his involvement against Alty for Chesterfield this season, he had scored against Alty when the Bucks lost 5-2 at Moss Lane in February 2020. He had also been a substitute for both games against Altrincham at Telford in 2019 and 2020.
Altrincham FC
's "season ticket pricing for next season will be held or reduced compared to the 2020-21 season, and the overall percentage discount offered is slightly increased on last season.
Matchday admission prices will be as follows for next season:
Adult: £17
Concession: £14
Junior (12-16): £6
Under 12: £2
And Season Tickets are priced as follows:
Adult: £289
Concession: £235
Junior (12-16): £75
Under 12: £36
Existing season ticket holders renewing for next season will have the option of a 15% discount on their purchase".
Barnet FC
"announce its new backroom and coaching team, following the appointments of Dean Brennan as our new Head of Football and Harry Kewell as the Bees new First Team Head Coach.
Australian football legend and former Crawley Town, Oldham Athletic and Notts County manager, Kewell will lead the Club's coaching staff heading into the new campaign...
Since retiring from on-field action, Kewell has enjoyed success at managerial level too, overseeing a successful campaign as Crawley Town boss in Sky Bet League Two during the 2017-18 season, before moving to Notts County. The 42-year-old most recently spent time at Oldham Athletic where he helped the Club move away from the relegation zone and subsequently improved their league position from the previous season before leaving the Latics earlier this year.
Kewell has also coached at youth level, overseeing the Under-23s at Watford FC...
Kewell said 'The Chairman and myself have put a really exciting backroom team together, with the view of a collective unit being the driving force behind a successful future for the football club.
That starts with me as a Head Coach, but also with all of the staff, players and of course the supporters, we need to be a collective group with the ambition of bringing brighter days back to this incredible Club. There's plenty of hard work to do to get us going in the right direction and I can't wait to get started!"
Meanwhile, the Club has appointed Dean Brennan to oversee all off-field football matters and manage the recruitment, performance, analysis, logistics and youth departments of the Football Club. The Irishman has achieved fantastic success at non-league level, managing Hemel Hempstead Town to their first ever promotion to The National League South, before guiding Wealdstone to The National League South title in his first season in charge.
Brennan also played for the likes of AFC Wimbledon, Luton Town and Grays Athletic during his earlier playing days, before taking a step into football management...
'We need to bring everyone together, that includes the supporters, they are the life and soul of the Club, so let's all get together and move forwards as one. We have lots of recruitment to do and that works starts immediately, I will be tasked with bringing the very best players who want to work hard for our Club'" said Brennan.
"The Club has also offered contracts to coach Dave Anderson, Head of Performance Gary Anderson, as well as physio Ollie Galloway, to continue within their roles for the 21-22 season. The Club will also appoint a new First Team Coach in due course".
The BBC adds that "Harry Kewell has previously only managed in League Two... The 42-year-old, who was sacked as Oldham manager in March, teams up with Dean Brennan, who has been appointed as the club's new head of football...
He succeeds interim manager Simon Bassey and is the Bees' first permanent boss since Tim Flowers left in March...
Kewell won 17 of 41 games in charge of Oldham from the start of last season until his sacking in March, while at Notts County he won just four of 14 games in a two-month spell from September 2018; the Magpies went on to be relegated from League Two at the end of that season.
His first managerial role came in the summer of 2017 at Crawley, leading them to a 14th-placed finish in League Two in his one full season in charge before leaving for the Notts County job".
In the Hartlepool Mail, "Dave Challinor discusses Stockport County supporters and why Hartlepool United are 'second favourites' going into National League play-off semi-final.
Hartlepool United travel to Stockport County this Sunday (12pm kick-off) with a place in the National League play-off final at stake.
Dave Challinor's side will be looking to carry on the momentum from their 3-2 play-off eliminator round win over Bromley at Victoria Park last weekend.
Pools face a Hatters side who are 18 unbeaten and finished a point above them in the table to secure third place and a home semi-final at Edgeley Park...
Challinor said... 'Anything can happen, there are so many emotions you go through. It's wide open, we go there not as underdogs as such but certainly as second favourites in terms of Stockport are at home and have solely a home crowd...
'There will be 2,500 inside the ground, there won't be any Pools fans inside but I imagine there could be quite a lot outside the ground,' Challinor added.
'It doesn't matter, we have to use the fact that winning means we would play in front of our fans in what will be the biggest game this club has had for a long time as motivation. Hopefully that's motivation for us to do our best and get us over the line.'
The victors on Sunday will go on to play either Torquay United or Notts County in the play-off final at Ashton Gate on June 20 (2pm kick-off)".
According to the Eastern Daily Press, "King's Lynn Town have parted company with defender Chris Smith.
The former Ipswich Town player leaves The Walks by mutual consent as manager Ian Culverhouse continues his summer overhaul ahead of the new National League campaign.
Smith, 23, joined Lynn in July 2019, following his release from Ipswich, where he had spent most of his career.
He made 20 appearances in his first season as he helped Lynn win promotion from National League North. He was released by Ipswich at the end of the 2018–19 season and went on to make 20 appearance for the Linnets in 2019-20 and a further 27 starts last season".
Sports Mole reports from Torquay United where "Gary Johnson's men must do things the hard way by battling through the playoffs, which they enter at the semi-final stage.
Notts County have already had to overcome Chesterfield in the quarters to make it this far, earning a 3-2 victory in that one-legged tie... settled by a 90th-minute header from Mark Ellis...
The Magpies may have finished 10 points below Torquay after 42 matches of the regular season, yet there is an argument to be had that they are in better shape heading into this tie.
Whereas County have momentum on their side after beating Chesterfield, Torquay have had a two-week hiatus since their 0-0 draw at Altrincham on the final day.
That stalemate made it 13 games without defeat, though, so there is no doubt that United are the favourites of the four semi-finalists to earn promotion.
However, there was nothing to separate Torquay and County in their two league games this term, playing out a 0-0 draw in January and a 2-2 draw at Plainmoor three months later.
The pressure is now on Johnson's charges in a game that they are expected to win as they look to end a three-year exile from the Football League...
Ian Burchnall may stick with the same lineup from that late win against Chesterfield, with Callum Roberts the only confirmed long-term injury absentee.
As for Torquay, they have had two weeks to rest up for this game, though that 13-day gap is not necessarily a good thing as their players may be a little rusty. It does at least mean that influential striker Danny Wright and tricky winger Ben Whitfield could return from injury in time for Saturday's showdown.
Scott Boden, Billy Waters and Josh Umerah were named among the subs against Altrincham last time out, but one of them will likely come into the side to lead the line here...
We say: Torquay United 1-1 Notts County (AET, Torquay through on pens)... We are tipping Torquay to hold their nerve in the penalty shootout".
---
10 June 2021
The 2021-22 National League season starts on Saturday, August 21. The National League North and National League South commence before that, on on August 14.
The regular National League season will end on Saturday 21st May 2022, followed by Play-Offs between Wednesday 25th May 2022 and Sunday 5th June 2022.
Christmas games are set to be played on Sunday 26th December, Tuesday 28th December (which is a Bank Holiday), and Sunday 2nd January 2022. Clubs will be allowed to change the first January fizture to Saturday 1st January 2022 or Monday 3rd January 2022 (both of which will be Bank Holidays)
The
Portsmouth News
reports on "How Barnet's chairman Tony Kleanthous told of his disappointment after Simon Bassey left his role as manager to join Pompey... [as] a first-team coach at Fratton Park...
Bassey was appointed Barnet manager in April in a bid to save them from finishing in the National League relegation places.
Although that couldn't be achieved, the former AFC Wimbledon coach made a sound impression at The Hive. In his 12 games in charge, Bassey won five matches, drew two and lost five... Kleanthous wanted Bassey to remain at Barnet to help them forge their way back to the Football League.
He told the club's website 'I was delighted with the progress we had made during Simon's time at the club and was very keen to have him on board for the upcoming campaign. I am disappointed but understanding of Simon's decision'".
Following their exit from the play-offs at the weekend, Bromley "confirm our retained list...
Currently contracted for the 2021/22 season:
Mark Cousins
Billy Bingham
Chris Bush
Luke Coulson
Michael Cheek
Courtney Duffus
Kory Roberts
Byron Webster
Jude Arthurs
Released following end of contracts
Jack Holland
Frankie Raymond
Joe Kizzi
Ben Williamson
Jack Bridge
Charlie Fox
Tarek Najia
Tom Purrington
Charlie Wakefield
Ollie Tanner
Andy Woodman and his Management team remain in dialogue with a number of players from the 2020/21 season".
According to the Daily Echo, "Jack Payne has departed Eastleigh to join EFL outfit Crawley Town.
Following the Spitfires' failure to achieve promotion from the National League, Payne has brought an end to his two-year stay at Silverlake Stadium.
The midfielder has joined League Two side Crawley for an undisclosed fee, signing a one-year contract, with an additional one-year option.
The former Gillingham and Peterborough man played 91 times for Eastleigh, scoring twice.
Payne said... 'It all happened quite quickly but I've known the gaffer (John Yems) for years which made it easy for the deal to cross the line.'
Eastleigh boss said, 'He's been a key member of the squad both on and off the pitch since he joined us permanently. I completely understand his wishes to return to the Football League and, with this move being closer to his family as well, we didn't want to stand in his way".
Exeter City "announce the signing of winger Josh Coley from Maidenhead United for an undisclosed fee.
Josh, who signs on a two-year contract, was born in Stevenage but began his career with York City and progressed through the youth side, before moving back down south, featuring for the likes of Hitchin Town, Histon, Arlesey and Baldock Town before joining Norwich City in 2018... He featured heavily for the Canaries under-23s, before making his way to Scottish Championship outfit Dunfermline Athletic. After a short stint at Stotfold in the Spartan South Midlands League, he joined Alan Devonshire's Maidenhead.
Coley has been highly rated in the top tier of non-league football and scored five times for the Magpies last season, assisting a further seven goals in 37 appearances...
'Josh is a good attacking player and someone we've watched consistently throughout the last season for Maidenhead,' Matt Taylor said of his first summer signing... 'The fee remains undisclosed for the benefits of both sides and Josh himself'".
News of their U21 & Youth Team comes from Lynn News which announces that "King's Lynn Town have taken the decision to withdraw their sides from all competitions in the Thurlow Nunn League.
The decision has been made as part of a 'footballing restructure' at The Walks.
A statement on the club's website read... 'This decision has not been taken lightly, with the lack of a venue to both play and train for matches being a major stumbling block.
Another reason is the fact that most of the players for both teams either are or will be enrolled in the club's highly-successful Academy partnership with KES which will see an Under-19s' team competing in the National League's Under-19 Alliance competition.
'This means the club wouldn't have the resources to compete in all competitions in a way which would effectively benefit all players. The Academy side will represent the club in next season's FA Youth Cup competition'".
And the Eastern Daily Press tells us that "King's Lynn Town legend Michael Gash has a new club.
Gash has signed for Peterborough Sports, who play in the Southern League Premier Central.
The 34-year-old left Lynn at the end of the season after being unable to commit himself to full-time football in the National League next season... Gash joins another former Linnet, central defender Ryan Fryatt, who joined the Peterborough side on Monday."
According to the Halifax Courier, FC Halifax Town "boss Pete Wild is hopeful that in-demand midfielder Jack Earing will choose to stay with the club.
The 22-year-old is out-of-contract this summer and has been rumoured to be on the radar of some Football League clubs...
'Jack's had a really good season, so he's obviously going to demand interest, as a lot of our players have done this year'... Wild said...
'Jack's been made an offer, he's now taking time to consider that, he's looking at his options and we're hopeful, because we've been talking to him for quite a while, that he'll pick us as a viable option. So we'll see what happens.'
Midfielders Danny Williams and Reuben Noble-Lazarus have both left the club since the end of the season. Wild praised Williams' contribution... 'We just didn't think that Dan would get the game time that he wanted, and if we feel like that then we have to do what's right for both parties'...
Williams combined his playing duties with coaching for Town's academy, and could still continue in that role...
Noble-Lazarus failed to make a competitive appearance for the club due to persistent injury problems.
'I was gutted how that panned out because before he came in he trained for three months with us for no money every day, and there wasn't an issue,' said Wild... 'He just never got into a position to play, which is unfortunate for him really because the fans didn't get to see what a top player he was'...
'We're speaking to agents, we want to see what agents have got, we're trying to get our players to accept our offers, so it's a balancing act,' he said. 'We're spending all this week seeing what's out there, we know what we want but we also want to know if there's anything coming out that we don't know about but that we should know about...
'Then over the next couple of weeks we're reviewing the season, preparing for next season and what needs to be done, football-wise, physically and analysis-wise... I get really excited at this time of year about how we can make the team better, what we can do differently and what players are out there that we can make better, and can we sell the club to the players that are interested to try and get them to come and sign for us, because they see us as a great place to play their football'...
Wild says... 'We're certainly an excellent football option for them, it's whether they decide that the finances are right for them, or they decide that they want to go elsewhere. Like I say, we have to appreciate where we are in the food chain...
'Don't get me wrong, if there's no answers within the next seven-to-ten days, then we move on because we're not waiting all summer for them to tout themselves around and then come back to us at the end of the summer'...
With Williams's departure, Wild says a left-sided player is one of the positions he will look to fill".
---
9 Jun 2021
Altrincham FC
has announced a "second pre-season fixture for Saturday July 24th at West Didsbury & Chorlton FC.
Kick-off is at noon at the Step Places Stadium.
Phil Parkinson and Neil Sorvel will spit their squad between this game and the 3pm kick-off at Ashton United on the same day".
Alty have visited West Didsbury & Chorlton in pre-season previously. Back in July 2003, Altrincham won 1-0, thanks to a 12th minute goal by Andy Tunnicliffe.
This was Altrincham's third pre-season game of the summer and was their first ever visit to the West Didsbury & Chorlton club, at Brookburn Road, Chorlton. The hosts have a history going back to 1908 but this was their first game under their new name of West Didsbury & Chorlton, having previously been just West Didsbury.
Alty blooded a few members of last season's Youth team but half a dozen of the more senior squad members started the game as well. Into the squad which had been involved the previous day against Manchester United came goalkeeper Richard Harrison, left-back Mark Griffiths, centre-back Greg Byrne and midfielder Jon McEvoy. On the bench was another of last year's youth team, Josh Collins. The spectators included Gary Scott, Barry Shuttleworth, Mark Maddox and Richard Acton.
ALTRINCHAM (Pale blue shirts, white shorts, black socks): 1. Richard HARRISON, 2. Neil RYAN (capt.), 3. Mark GRIFFITHS, 4. Stephen ROSE, 5. Greg BYRNE, 6. Steve ASPINALL, 7. Andy TUNNICLIFFE, 8. Jon McEVOY, 9. Mattie HUGHES, 10. Steve LUNT, 11.Rob MATTHEWS. Subs: 12. Josh COLLINS.
Above, this WD&C freekick was deflected past Alty keeper Harrison but Mark Griffiths cleared off the line. The other Alty men pictured were from left- Rose, McEvoy, Byrne, Ryan, Lunt, Tunnicliffe, Aspinall and Matthews.
The full pre-season schedule for 2021 is below, with all matches being away from home owing to the major pitch works being undertaken at the J. Davidson Stadium this summer.
Sat.24.7.21 12pm A West Didsbury & Chorlton
Sat.24.7.21 3pm A Ashton United
Tue.27.7.21 7.45pm A Nantwich Town
Sat.31.7.21 NB 2pm A Brightlingsea Regent
Tue.3.8.21 7.45pm A Bradford (Park Avenue)
Sat. 7.8.21 3pm A Curzon Ashton
Tue. 10.8.21 7.45pm A Trafford
Sat. 14.8.21 TBA A Huddersfield Town "B"
The
Daily Mirror
claimns that "Notts County lead the non-league heavyweights in the battle for the final EFL spot..
Four clubs, each with a proud league history, are competing for the final spot in next year's EFL... Torquay, Notts County, Stockport and Hartlepool have all dropped out of League Two within the last decade and their relegations brought to an end long stays for each of them in the top four divisions.
Notts County were the most recent of the quartet to suffer the ignominy of surrendering their league status. That was in the 2018-19 campaign and it brought to a halt their stay in the EFL, which they'd been a part of for their entire history...
They have to find a way past Torquay at Plainmoor on Saturday in the semi-final. Their hosts relinquished their EFL status in 2014 for the second time in seven years...
Credit has to go to veteran boss Gary Johnson who led them to the National League South title in 2018-19, his first campaign at the club. They consolidated last term before Covid saw the regular season end early, and this term they finished just four points short of eventual champions Sutton United.
In stark contrast to Johnson's experience is the relatively unknown Ian Burchnall. He started coaching at university before moving to Scandinavia to take on various coaching roles, eventually succeeding Graham Potter at Ostersunds before being tempted to Meadow Lane in March.
The other end of the draw sees another two famous old League names compete, when Stockport host Hartlepool on Sunday... Whilst Pools were last in League Two in 2017, for County it's now a full decade since they were part of the EFL.
They even dipped down into the Conference North in 2013. It took them until 2019 to get back to the National League..
As for Hartlepool, they've flattered to deceive in their three previous seasons outside the EFL, finishing 15th, 16th and 12th... The presence of home fans only may well be a key advantage in both this weekend's games...
Unlike previous years, the winners of this weekend's tie will not be meeting in a showpiece final at Wembley. That's due to the famous ground being one of the host venues for this summer's European Championships.
Instead, the one-game shoot-out for a spot in the EFL will take place at Bristol City's Ashton Gate on Sunday, June 20".
The Halifax Courier tells us that "FC Halifax Town manager Pete Wild says he wants to get two or three of his out-of-contract players signed up before any retained list is announced.
Midfielders Danny Williams and Reuben Noble-Lazarus have left the club since the end of the season, but it is thought that leaves 11 other players whose deals are up with their futures still to be resolved.
'We've spoken to all the players, I know there'll be a bit of frustration about why it's (retained list) not come out yet, but we just want to get two or three players nailed down onto deals before we start making it public where player's contracts are up to,' Wild said...
'You have to understand as well, the moment we make that live, the cattle market starts for our players, and we're in a position where we have to be a bit coy about things so we don't lose our prized assets'...
Wild said, 'People have been spoken to and they've been made offers'...
On whether there would be further departures... Wild said 'There may be a couple of others, just with the nature of offers they may get from other clubs and we have to appreciate where we are in the market, we've got what we've got.
'If players get better offers, like last year, and offers we can't compete with, then we have to hold our hands up, shake their hands and look for the next one... but we're quite confident we're going to keep as many as possible.'"
The Derbyshire Times asserts that "Liam Mandeville needs to repay James Rowe's faith and unlock his true potential at Chesterfield...
In December 2016, aged 19, he was named the EFL's Young Player of the Month, scoring five goals in six games for Doncaster Rovers in League Two. He went on to score 10 goals that campaign as Rovers won promotion...
John Sheridan, who brought him to Chesterfield two years ago, said in November 2019... 'He is our best player but he has got to be consistent... He should be doing more. He should be scoring at least 10 goals in the league'.
And then along came James Rowe who... made similar comments; 'He just needs to be more consistent in his performances," he told the DT... 'It can't be nine out of 10 and then five out of 10. If he does not play so well then he needs to be a minimum seven to contribute to the game'...
He never really did fulfill his potential at Rovers. He had a season on loan at Morecambe and was then released... Four goals last season and just three this time around, including two in his last two, is not good enough for someone of his ability...
I just hope his end-of-season form was not because a new contract, which he has now signed, was dangling in front of him. In Rowe's 36 matches in charge, Mandeville has started 14 and made 16 substitute appearances... At 24, his peak years are ahead of him but it is up to him now".
---
8 June 2021
Altrincham FC season tickets for 2021-22 season are on sale now and details of prices and of how to obtain your ticket are on the
Altrincham FC
website.
The National League play-off elimination games last weekend have seen Bromley and Chesterfield drop out of contention, leaving the second to fifth-placed finishers (Torquay United, Stockport County, Hartlepool United and Notts County) to compete for the one remaining promotion place.
In their eight league games, home and away, against the four clubs left in the promotion play-offs, Altrincham only lost once in the 2020-21 season. That defeat was away at Notts County.
Otherwise, Altrincham took four points from Torquay United (a home draw and an away win), two points from both Stockport County and Hartlepool United (draws at home and away), and one point from a home draw with Notts County. So, with nine points accruing from clashes with those four clubs, almost 20% of Altrincham's total points for the season came from those four high-flying clubs alone.
The
Leader Live
reports that "Shaun Pearson has explained why he made a last minute u-turn and decided to re-join former club Grimsby Town rather than sign a new deal with Wrexham.
The 32 year-old, who has been captain since arriving at The Racecourse in the summer of 2017, was offered a new contract by the Reds for the 2021/22 season and terms had been agreed with the centre-back.
However, with Pearson set to put pen to paper on Tuesday afternoon, he informed the club that he had received another offer from Mariners manager Paul Hurst.
With his wife and her family from Grimsby, and with her family still based there, Pearson subsequently elected to return to Blundell Park where he has signed a two-year-deal.
'If there was one club that was going to pull me away, it was this one,' said Pearson. 'Purely because of everything that goes with it. A lot of other clubs I wouldn't have been interested. I was going to come back in and sign the contract at Wrexham but Paul Hurst contacted me to talk about a player, and said he wanted me back...
'I felt I couldn't turn down the opportunity to return to Grimsby.'
Wrexham are looking for a new boss having decided not to offer Dean Keates a new deal... Pearson, only offered a one-year contract extension, admits not being able to discuss where he stood in the manager's plans at The Racecourse did not help Wrexham's cause.
'That was definitely a factor in the decision as well,' Pearson said about having the security of a two-year deal at Grimsby...
'That is not a dig at Wrexham but, with no manager in place, I couldn't have that conversation to see where I would be in the plans of the new management team... I didn't have time to wait around for that to happen because Grimsby wanted to move onto somebody else if they didn't get me.
'I just felt this was the best for me and my family but also for me playing-wise. It was there in front of me and I have got a great relationship with Paul Hurst'...
Pearson, immediately installed as club captain when he signed for Wrexham, finished his first campaign as Player of the Season and he went on to make 132 league appearances in four seasons for the Reds".
According to the BBC "Notts County boss Ian Burchnall has urged his side to refocus for the next step in their bid to regain their place in the English Football League.
The Magpies travel to Torquay on Saturday in the second phase of the National League play-offs...
'They are a very good team, they nearly won the league, but finished secon'... Burchnall told BBC Radio Nottingham... 'We really have to focus now, we have to bring ourselves down and refocus on the next game." County lost their EFL status for the first time when they were relegated in 2019 and failed to bounce back at the first attempt when they lost 3-1 to Harrogate in last season's National League play-off final'.
They are now one game away from a return to Wembley after Mark Ellis scored a last-minute goal... Burchnall joked 'He's got a massive head. He's brave, he puts his head on everything. He doesn't mind getting his face smashed in. He's been magnificent.'
Ellis was born in Devon and made more than 130 appearances for Torquay earlier in his career.
'They're a former club, but there's only one thing on my mind and that's to go there and win and get us to the final,' the 32-year-old said".
Meanwhile, Torquay United "Manager Gary Johnson has issued a rallying call to United supporters...
'Our lads, after a training session, watched the Notts County game together, which was a good opportunity for us to discuss the tactics etc against Notts County. What we did see, was although all teams were similar in standard in both Play-Offs, the 12th man was obviously the home team's support.
'I'm going to go a step further and ask our crowd to be our 11th man, because we need them in the team!
'I think everyone will understand that, because what a game to be involved in. We need an atmosphere that's bouncing, and that movement will motivate the lads, I'm sure you'll sing your hearts out for the lads, and it can make the difference. It also gives us a great opportunity to showcase our club on and off the field, and to enhance our growing reputation'".
---
7 June 2021
Altrincham FC lost their North-West Youth Alliance J B Parker Premier Division Challenge Cup final on Saturday 0-3 against Egerton FC at Winstanley Warriors FC, Wigan.
Play-Off Eliminator Round, Saturday 5 June 2021, k.o. 4pm.
Notts County (5th) 3-2 Chesterfield (6th), winners away to Torquay United
Play-Off Eliminator Round, Sunday 6 June 2021, k.o. 2.30pm
Hartlepool United (4th) v Bromley (7th), winners away to Stockport County
The Hartlepool Mail stated that "Pools boss Dave Challinor has praised his players for the way they started the play-off clash at The Vic in front of 1,700 fans to set up a semi-final away at Stockport County next Sunday...
Challinor said 'We started the game really well, which you always want to do. I have been in similar situations being 2-0 up and 2-0 behind early on in play-off games...
'We probably got a little bit safe in the second half...
'The play-off final is June 20 and we came back the same date last year so it has been a long 12-months, we are managing a few little bits, it won't be a case of doing massive amounts, we will gear up to Sunday to ensure everyone is prepared to go and perform'".
The London Football Scene reports that "It was Play-Off stage fright for Bromley as an uncharacteristic defensive display saw them fall to a 3-2 defeat against Hartlepool United...
Having sprung a surprise with a more offensive selection than anticipated, Bromley were blown away in the opening 25 minutes of the game courtesy of a Rhys Oates masterclass.
The Pools frontman gave the home side the lead when he took advantage of defensive indecision to poke beyond Mark Cousins on 17 minutes.
Three minutes later he turned provider, once again peeling off the Bromley defence before crossing for strike partner Luke Armstrong to finish smartly.
And it was 3-0 four minutes later when Oates got on the end of a flick-on before shooting low past Cousins when the ball broke back to him.
With the game over Bromley rallied briefly in the second-half with substitute James Alabi pulling a goal back three minutes after the restart when he nodded in from a corner".
The Review of 2020-21 concludes with...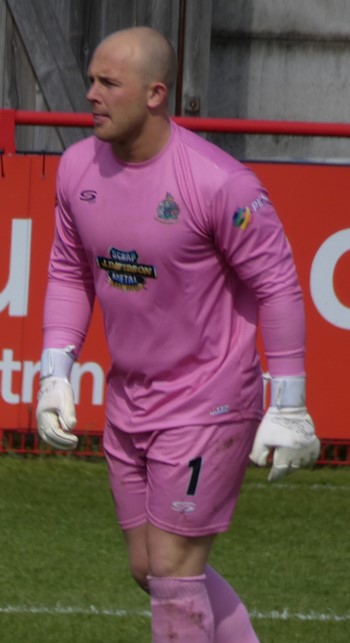 APPEARANCES IN ALL COMPETITIONS
2020-21
Only three cup matches were played, so in all there were 45 first-team matches.
44 Anthony THOMPSON (42 league, 2 cup) - pictured, right.
41 Joel SENIOR(39+1 league, 1 cup)
41 Jake MOULT (38+1 league, 2 cup)
38 Josh HANCOCK (33+3 league, 2 cup)
36 Tom PEERS (12+21 league, 3 cup)
36 Yusifu CEESAY (24+9 league, 3 cup)
34 Tom HANNIGAN (33 league, 1 cup)
34 Matty KOSYLO (29+3 league, 2 cup)
2019-20
As the regular season was not completed in 2019-20, the figures were necessarily lower than in previous seasons but the statistics below DO include the three play-off games.
45 Jordan HULME (all starts, 35+1 league, 8+1 cup)
40 Tom HANNIGAN (31 league, 9 cup)
39 Josh HANCOCK (29+1 league, 9 cup)
39 Anthony THOMPSON (30 league, 9 cup)
38 Jake MOULT (28+1 league, 9 cup)
37 Connor HAMPSON (23+7 league, 4+3 cup)
36 James JONES (27+2 league, 7 cup)
36 Tom PEERS (10+18 league, 6+2 cup)
Stability was a key factor in 2018-19. 12 players made 37 or more starts:
49 Jake MOULT (all starts, 44 league, 5 cups)
46 John JOHNSTON (44+2, comprising 40+1 in league, 4+1 in cups)
46 Josh HANCOCK (39+7, comprising 36+5 in league, 3+2 in cups)
44 Tom HANNIGAN (all starts, 40 league, 4 cups)
44 James JONES (43+1, comprising 39+1 league, 4 in cups)
41 Connor HAMPSON (38+3, comprising 35+2 league, 3+1 in cups)
41 Max HARROP (28+13, comprising 25+12 league, 3+1 in cups)
40 Simon RICHMAN (20+20, comprising 16+20 league, 4 in cups)
39 Jordan HULME (36+3, comprising 31+3 league, 5 in cups)
37 Anthony THOMPSON (all starts, comprising 34 league, 3 in cups)
37 Andy WHITE (all starts, comprising 33 league, 4 in cups)
37 Sean WILLIAMS (30+7, comprising 26+7 league, 4 in cups)
PLAYERS USED IN LEAGUE
In 2020-21 heavy use was made of loan players...
Named in a league squad incl. play-offs: 39 players
Loanees named in league squad: 10 (Bell, Dales, Gibson, Holgate, Kirby (right), Ogle, Robbins Sass-Davies, Smith, Zouma)
Named in a squad but never got on pitch in league game: 2 (Will Hall, Rowan Roache)
Used as a sub but did not start a league game: 2 (Jamie McDonald 0+3, Curtis Miller 0+6)
In 2019-20:
Named in a league squad incl. play-offs: 32 players
Loanees named in league squad: 4 (who are included in total above; they were Yusifu Ceesay, Ashley Hemmings, Josh Lundstram, Ethan Walker)
Never got on pitch in league game: 2 (Lewis Archer, Joel Torrance, James Hooper, Elliot Wynne)
Used as a sub but did not start a league game: 2 (Curtis Miller, Ethan Walker)
In 2018-19
Named in a league squad: 37 players
Loanees named in league squad: 9 (who are included in total above; they were Yusifu Ceesay, Owen Dale, Brendon Daniels, Ashley Hemmings, Josh Langley, Joe Piggott, Chris Sang, Billy Sass-Davies, Nathan Waterston)
Never got on pitch in league game: 3 (Ben Elliott, Josh Langley, Charlie Scott)
Used as a sub but did not start a league game: 5 (Bay Downing, Dontai Gabidon, Callum Harris, Billy Sass-Davies, Nathan Waterston)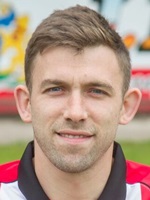 Two strikers who have worn the Altrincham shirt have joined
Belper Town
. First to be announced in the past week was "the signing of experienced striker, Damian Reeves...
[Manager] Grant Black is delighted to have acquired the services of such an experienced striker, saying, 'He is a fox in the box and will be a real asset to us this season.
'His experience will also help guide the younger strikers so we are really happy to have got him into the club.'
Two days later The Nailers also announced that Black had "added another experienced striker to his growing squad, with Jonathon Margetts the latest to join the Nailers ranks."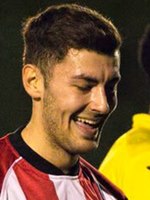 Margetts (right) had a spell on loan at Alty in 2016, scoring twice in six appearances "before he joined Lincoln City on a one-year contract. After scoring 5 goals in 7 matches for Lincoln, Jonathon signed for Scunthorpe United on a 2-year contract for an undisclosed fee.
In 2018, he joined Boston United before returning to Gainsborough Trinity on loan for three months and then to Matlock Town for the remainder of the season. After a short spell at Tadcaster Albion, Jonathon joined Frickley Athletic in September 2019, where he was made club captain. Following a decision to move on from Frickley, Jonathon decided to join Belper Town in June 2021".
Margetts added that his godfather John Reed is assistant manager at Belper.
After beating Chesterfield on Saturday, in the
Derbyshire Times
, Notts County manager Ian Burchnall said, "I thought it was a fantastic game.
"I thought we showed unbelievable character and belief, we were behind twice against a very good team. I thought the way we played was just magnificent, I am so proud.
"We did not panic, we stuck to our principles, we attacked relentlessly and I thought we were well deserving of the win...
"All of our defensive line will probably look at the two goals we conceded and maybe be a bit disappointed with them".
Ellis, who scored the winner, added, "It could not have gone better, probably one of the last kicks of the game...
"You have got to give credit to Chesterfield, they came out and did a job on us in the first-half... That is the worst we have been for a while I think, in the first-half, and we knew we had 45 minutes of hard work and graft to try and get a result...
"It is not the first time we have come from behind to win games."
At Woking The Cards have signed "Solomon Nwabuokei...
Solomon joins from St Albans City, having made a big impression across two seasons at Clarence Park.
The tireless box-to-box midfielder, 25, signs for the 2021/22 season".
Meanwhile, Wealdstone "announce the departure of Michee Efete, Connor Smith, Danny Green, Dan Wishart, Moses Emmanuel and Jorome Slew.
We thank all six players for their efforts whilst at the Stones, especially Michee, Connor, Danny and Moses for their fantastic efforts in helping the club win the National League South last season.
Michee Efete departs after 64 appearances for the Stones, scoring nine times... Connor Smith departs after making a total of 95 appearances, scoring seven times over two spells at the club...
Danny Green leaves as the club's continuous longest-serving player after he was signed by Gordon Bartlett back in 2016. He made a total of 230 appearances at the Stones, scoring 40 goals...
Moses Emmanuel joined midway through last season, with his goals in the latter stages helping secure vital wins that earned the Stones promotion... He leaves with 11 goals in 26 appearances overall.
Dan Wishart and Jorome Slew joined the club in the summer... and Wishart leaves after making 16 appearances this season and Slew leaves after one goal in 11 games this season and three goals in 14 appearances over two spells at the club.
And as announced yesterday, Ross Lafayette has announced his retirement from playing and Ryan Gondoh has joined Hampton & Richmond Borough...
Stones retained list: Jake Askew, Jack Cawley, Ashley Charles, Dennon Lewis, Jacob Mendy, Jerome Okimo, Danny Parish, Michael Phillips, Connor Stevens
These nine players join Craig Fasanmade, who we had already announced as signed for the new season. Academy players Elijah Hearn and Tecane Shrowder also remain at the club after making two first-team appearances each in the league this season.
The club is currently in negotiations with four of last season's first team squad which include Charlee Hughes, Alex Dyer, Nikola Tavares and Josh Meekings...
Loan players Joseph Olowu, George Shelvey, Riley-Jay Harbottle, George Langston and Sonny Blu Lo-Everton have all returned to their parent clubs".
At Eastleigh, "Manager Ben Strevens has confirmed his released and retained list.
The following players remain in contract, have signed new deals, or have triggered appearance-based extension clauses:
Joe McDonnell, Ross Flitney, Joe Tomlinson. Cav Miley, Jack Payne, Sam Smart, Ryan Hill, Tom Blair, Dan Smith
The following players have been released:
Callum Baughan, Ben Scorey, Abdulai Baggie, Tom Bearwish. Lewis Beale
The rest of the first-team squad are continuing their contract talks with the club and manager".
Solihull Moors "with grateful thanks and a heavy heart announces that Darren Carter will be leaving the club.
For the past four seasons, Darren has served the club admirably as a player, coach and ambassador.
The 37 year-old joined the Moors in June 2017 and has made 137 appearances in all competitions, scoring 12 goals.
Darren captained the side that retained its National League status against all odds in the 'great escape' and was a central player in the 2018/19 season when Moors recorded their highest ever league finish. He was also named in the National League Team of the Season."
---
6 June 2021
The third part of the website's statistical review of 2020-21 season covers Players Used and Attendances.
PLAYERS USED IN ALL COMPETITIONS
Players named in any matchday squad, league or cup:
2020-21
46 of whom 10 (Gavanagh, Graham, Hall, Howarth, Mercurius, Potter, Roache, Salmon, Taylor, Torrance [pictured, right]) did not make a league appearance and seven of whom (Gavanagh, Graham, Howarth, Mercurius, Potter, Taylor, Torrance) were not named in a league squad.
In 2019-20, which was a curtailed season of just 33 league matches plus the play-offs...
40 of whom 9 did not figure in a league squad (Liam Blackburn, Dontai Gabidon, Callum Graham, George Howarth, Billy Matthews, James Matthews, Raheem Mercurius, Jack Ryan, Dre Taylor)
In 2018-19:
44 of whom six did not figure in a league squad (Louie Barratt, Reece Coley, Matt Cook, Callum Jones, Pat Savage, Ross Woodcock)
DISCIPLINE: YELLOW AND RED CARDS
The following totals of red and yellow cards were issued in 2020-21:
Red: 3 in league.
Yellow: 66 in league, 1 in cups.
In 2019-20 incl.play-offs:
Red: 4, all in the league
Yellow: 49 in league, 8 in cups.
In 2018-19:
Red: 4 of which 3 in league (inc. 1 in play-offs) (Jordan Hulme away at Leamington, Andy White away at Telford, Josh Hancock away at Chorley in play-off). 1 red in cups: Jordan Hulme, home to Stockport County)
Yellow: 61 in league, 6 in cups
RED CARDS
In 2020-21 individuals receiving red cards were:
1: Connor Hampson, Tom Hannigan, Jake Moult
In 2019-20 individuals receiving red cards were:
1: Tom Hannigan, Max Harrop, Simon Richman, Sean Williams
In 2018-19:
2 Jordan Hulme
1 Andy White, Josh Hancock
YELLOW CARDS IN ALL COMPETITIONS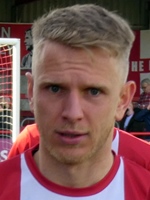 In 2019-20:
12 Matty Kosylo [pictured, right] in 31+3 appearances
8 Jake Moult in 40+1
6 Tom Hannigan in 34
5 Tony Thompson in 44
4 Ryan Colclough in 23+5
In 2019-20:
8 Jordan Hulme in 43+2 appearances
5 Andy White in 31+1
4 Max Harrop in 9+17
4 James Jones in 34+2
4 Jake Moult in 34+1
2018-19
11 Max Harrop in 28+13 appearances
8 Jordan Hulme in 36+3
7 John Johnston in 44+2
6 Andy White in 37+3
5 Sean Williams in 30+7
5 Simon Richman in 20+20
LEAGUE ATTENDANCES
Only four league matches in 2020-21 had spectators, one was at Dagenham where only the hosts' supporters, (numbering 773), were admitted and three were at the J. Davidson Stadium.
The largest gate at Moss Lane was 1,032 home-only supporters versus Torquay United on 29 May, 2021.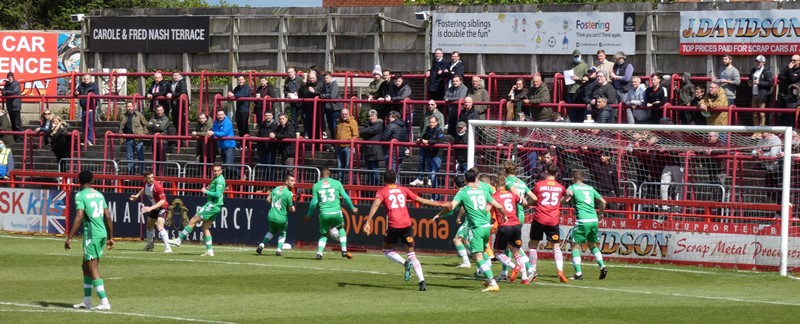 Above: Spectators were admitted for the first time in 2020-21 season for the match against Yeovil and in the absence of away supporters, they could populate the away end as seen here.
2019-20 League gates: the curtailed season saw the home and away highest gates and the lowest away away attendance all occurring in a one week spell in which were played the first three fixtures of the season!
HOME
Highest: 1,879 v York City, 3 August 2019
Lowest (excl. games behind closed doors): 614 v Blyth Spartans, 7 Jan 2020
AWAY
Highest: 2,153 at Chester FC 6 August 2019
Lowest (excl. games behind closed doors): 305 at Gloucester City, 10 August 2019
2018-19 League gates:
HOME
Highest: 3,383 v Stockport County, 26 December 2018
Lowest: 695 v Nuneaton Borough, 30 October 2018
AWAY
Highest: 4,549 v Stockport County, 1 January 2019 and 3,446 v Chorley in play-off semi final, 5 May 2019
Lowest: 454 at Bradford (PA), 15 September 2018
ATTENDANCES
In 2019-20, of course, attendances were hit by the incompleted fixture list and games behind closed doors, but home gates stood up well despite several big games not being played.
Home avge: 1139
Away avge: 938
In 2018-19, excluding play-offs:
Home avge: 1137
Away avge: 1198
Altrincham FC
have announced that "In a move aimed at easing the financial burden on 17 and 18 year-old Altrincham supporters, the club can announce today that theiir age bracket has been reclassified and they will now count as juniors in terms of admission charges at The J.Davidson Stadium.
Previously, the junior classification was 12-16... The decision by the board came after representations were made by a number of fans who asked if there was a way of easing the impact for those who had advanced beyond 16 but were still obliged to remain in full-time education and might therefore struggle to bridge the gap between junior and senior admission prices.
Recognising it as an eminently valid argument, Alty's directors readily ratified the change and are delighted to be able to confirm that 17 and 18 year-olds can now enter the ground for £6, rather than £14, or buy a season ticket for £75, instead of £235...
Alty co-chairman Bill Waterson said 'The 16-18 age group of fans is an important one. For many, this is the age at which you become hooked on Alty... We are creating the platform for fans for life. And that can only be a good thing!'"
Play-Off Eliminator Round, Saturday 5 June 2021, k.o. 4pm.
Notts County (5th) 3-2 Chesterfield (6th), winners away to Torquay United
Play-Off Eliminator Round, Sunday 6 June 2021, k.o. 2.30pm
Hartlepool United (4th) v Bromley (7th), winners away to Stockport County
The play-off matches are being broadcast live by BT Sport.
After their 3-2 win on Saturday, Notts County reported that "A last-gasp Mark Ellis header handed us victory over Chesterfield...
The visitors dealt the game's first blow when Danny Rowe's free-kick had too much power for Sam Slocombe, but Kyle Wootton levelled shortly afterwards when Ruben Rodrigues closed down a defensive clearance, paving the way for Wootton to score inside the area.
Chesterfield were back ahead shortly before the break when Liam Mandeville turned home a low cross from the left... And we responded when Wootton bagged his second goal of the game, turning home Ellis's knock-down from Rodrigues's corner.
And our turnaround was complete in the dying seconds of normal time when Rodrigues's drilled free-kick was met with a clinical header from Ellis six yards out, sending the Kop into raptures.
Slocombe, who had made an excellent one-on-one save from former Magpie Nathan Tyson earlier in the half, tipped an effort wide at the end of injury time and we escaped a scramble from the subsequent corner to book our place for next weekend's trip to Torquay".
Already serving a four-match ban for his behaviour in the technical area, the Chesterfield boss is yet again dissatisfied with the march officials as the Derbyshire Times reports that "James Rowe said he was 'proud' of Chesterfield's performance but was left frustrated by the officials as the Spireites suffered late heartbreak in the play-off eliminator against Notts County.
Having led twice in the first-half through Danny Rowe's thunderous free-kick and then Liam Mandeville's strike, Kyle Wootton equalised with his second goal of the game before Mark Ellis headed a 90th minute winner from a free-kick which the Town manager felt should not have been awarded.
Leading 2-1, a big moment came on the hour-mark when Town goalkeeper James Montgomery suffered an injury and struggled for the remaining 30 minutes. Manny Oyeleke was also forced off injured at the same time.
'It is a tough to lose it in that manner,' boss Rowe said. 'I am really proud of the team but it has come down to a wrong decision for the winning goal. It is not a foul, it is diving, for the third goal, it should not happen. That cannot happen at this stage of the season.
'He (Notts player) has dived into the dugout to get a free-kick and he (the referee) has given it. Yes, we have to deal with the free-kick better, obviously the goalie normally comes and claims it from three yards out and you would never get a header there. The gods were not with us with the goalie getting injured.
'We were very comfortable until Monty got injured and that gave them a lift. "The second goal can't happen from the corner, a really poor goal to concede, just like the first one. We trapped them in superbly and we had the better chances to win it and we did not take them'...
On the injury to Montgomery and the decision not to name a goalkeeper on the bench, Rowe added 'He (Montgomery) can't walk. Credit to him for carrying on. We got hit with Monty and Manny (Oyeleke) at the same time, two big hits in the second-half.
'You toy with putting a goalie on at this stage and sacrifice one of the outfield players. I have chosen wrong and I will take that on my shoulders.'"
In fact Rowe had not included a second keeper on the bench so he could not have "put a goalie on".
The
Southend Echo
reports that "Brandon Goodship has returned to Weymouth following his release from Southend United.
Goodship netted six goals in 60 games for the Shrimpers before being let go at the end of last season. And he has now gone back to the Terras...
Weymouth boss Brian Stock said, 'He's a player that needs no introduction... "The fans know what Brandon's all about. He left the club for all the right reasons. It was the right decision for him to try and progress his career. Sometimes you need to take a step back to take a step forward...
'With the relationship I've had with him previously, I fully expect it to be a continued one and one I'm looking forward to as well.'
Goodship netted 75 goals in 83 games during his first spell with Weymouth...
'He's natural finisher and goalscorer, we've all seen that, albeit two leagues below,' said Stock. 'That doesn't ever go, that's something that will stay with him for the rest of his career. He just needs to be in the right team to score those goals. I think he's found that team.'"
According to the Portsmouth News "Former Barnet boss Simon Bassey has joined Pompey as first-team coach under Danny Cowley. Bassey quit non-league Barnet on Thursday, having served as Bees boss since April.
Despite finishing second from bottom in the National League, he sufficiently impressed the Barnet hierarchy to be asked to continue in the role next season.
However, the former AFC Wimbledon coach has opted to depart The Hive in favour of working with Danny Cowley at Fratton Park.
The pair are long-time friends stretching back to non-league times... Bassey said 'An opportunity has come up for me to work at a higher level, one I felt I couldn't turn down.'
That opportunity is Pompey...
Bassey spent 17 years at Wimbledon, including time as a player. As a coach, he was a constant through the rise up the leagues".
In the Leader Live we learn that "Goalkeepers Rob Lainton and Christian Dibble have signed two-year deals to remain at Wrexham until the end of the 2022-23 season.
The duo kept 17 clean sheets between them last season, meaning for the first time in the club's history that two goalkeepers have kept eight or more clean sheets in the same season.
Lainton, who first arrived at The Racecourse in the summer of 2018 on loan from Port Vale before committing to a permanent deal later in the campaign, has kept 45 clean sheets for Reds in 102 appearances... The 31-year-old was also named Player of the Season in his debut campaign.
Dibble, meanwhile, first signed for Wrexham in 2017 and the 27 year-old has gone on to make 42 league appearances, keeping 14 clean sheets...
Lainton told the official club website... 'The Club has big ambitions for next season and I'm looking forward to being part of that.'
Dibble added 'I've really enjoyed my four seasons at the club and I'm looking forward to getting this new era underway... Me and Rob are good friends but we compete with each other day in, day out and that has to be a good thing... I don't just stand for being number two, I want to push him and he wants to push me.'"
1st Team Bromley "Manager Andy Woodman has won the Vanarama National League Manager of the Month award for May 2021.
The month of May began with a home 1-0 win over Hartlepool United... ending a 16 game unbeaten run for the Pools.
A 0-0 away draw at Torquay United then followed... before a 1-0 away win at Wealdstone... Then came a very impressive 2-2 away draw at Notts County, rounding off three away trips in a row...
Woodman's men then secured two victories to end the regular season... Ian Burchnall's Notts County were the visitors to Hayes Lane on the final day of the season... We all know how that game panned out".
The National League added "Since he arrived at Hayes Lane in late March, the south east London club haven't looked back.
He certainly wasn't expected to make the play-offs from those on the outside, but that he did after a victory-filled two months at the helm".
The Northern Echo reports that "Dave Challinor wants his Pools side to get a feel for the play-offs.
Hartlepool United are in training as they make final preparations for their biggest game of the season.
Pools host Bromley in a National League play-off eliminator in front of a sell out crowd at Victoria Park. The winner will set up a semi final tie away to Stockport County. ..
As part of his preparations, Challinor and his coaching staff will watch the other play-off eliminator between Notts County and Chesterfield on Saturday afternoon.
The Pools boss said 'We're football people. You like to watch football games. Even watching from a TV perspective, you'll be able to feel the atmosphere and feel the tension that's involved in it. We won't tell the players what to do, ultimately they need to relax and prepared for Sunday.
'But I do think it would be a good process for maybe the ones that haven't played in play-off games before. Just to see what it's like and maybe get a feel of how it affects different things and then you can pick up something that might benefit you that will help us on Sunday and hopefully moving forward.'
Ahead of the tie, Challinor confirmed that he'll have a clean bill of health among his squad after Luke Armstrong missed last week's win over Weymouth through illness".
Boreham Wood "announce that... Nathan Ashmore, Jamal Fyfield, Femi Ilesanmi, David Stephens, Kane Smith, Mark Ricketts, Gus Mafuta, Kabby Tshimanga and Tyrone Marsh will all be retained for next season.
Our recent January signing Krystian Pearce has now been placed on the transfer list due to his location, and all other senior players within last season's squad have either been released or have chosen to leave. As such, we would like to thank Adam McDonnell, Piero Mingoia, Ryan Huddart, Danny Woodards, Tom Champion, Keiran Murtagh, Matt Rhead and Shaq Coulthirst for their services and efforts across what has been a very difficult season...
Further detailed discussions were also held between the Chairman, the Club's Chief Executive and the Manager this week to talk about the Club's vision and its infrastructure. As such, both First Team Assistant Manager, David Dodds, and the Club's Senior Clinical lead, Steve Snelling, have left the club.
Chairman Danny Hunter said, 'Our ethos has certainly in all my time here, encompassed a sense of selflessness and an ethos of Attitude, Discipline and Desire. However, in this social media savvy day and age, it also needs clarity, vision, planning, intelligence, energy and positivity from top to bottom to succeed, which over the last 12 months in certain areas has for me been sadly lacking.
'Some people just haven't understood our Club or its ethos, nor do they want to understand or respect its bottom-up infrastructure. That lack of understanding had shown itself time and again in all manner of situations last season, especially with some of our new personnel and backroom staff during this nightmare of a pandemic.
'As such, it's now time for me to ensure that I return this Club to our very simple values of 'Attitude, Discipline and Desire' first, and personal gain and agents' nonsense second, if not it's only ever about self-gain and even more pounds, shillings and pence that we simply haven't got, and when it's like that, it's never about the collective good and development of both the player or the Club', Hunter concluded.
Retained, under contract:
Nathan Ashmore, Jamal Fyfield, Femi Ilesanmi, David Stephens, Kane Smith, Mark Ricketts, Gus Mafuta, Kabby Tshimanga and Tyrone Marsh
Transfer-listed:
Loans expiredL
Corey Whitely, Junior Morias
Out of contract:
Danny Woodards, Tom Champion, Piero Mingoia, Keiran Murtagh, Matt Rhead, Ryan Huddart, Shaquile Coulthirst, Adam McDonnell
---
5 Jun 2021
Below, Part Three of the Review of Altrincham's 2020-21 season addresses Points Accrued, Biggest Wins, Heaviest Losses, Draws and Aggregate Scores.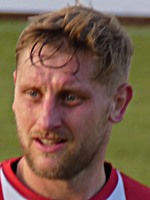 Right: Jake Moult captained Altrincham through the 2020-21 season.
POINTS ACCRUED
In 2020-21 Altrincham performed far better in the first half of the season than in the second half.
Games 1-21: 30 points
Games 22-42: 17 points
In 2019-20:
Games 1-21: 33 points
Games 22-33: 24 points
In 2018-19:
Games 1-21: 35 points
Games 22-42: 36 points
LEAGUE HAT-TRICKS
For the second season running there were no league hat-tricks scored by any Altrincham player in 2020-21.
The last hat-trick in the league came in 2018-19 from Joe Piggott at Curzon Ashton
BIGGEST WINS IN LEAGUE
In 2020-21:
3-0 at home to King's Lynn Town
In 2019-20:
5-0 at home to Leamington
5-1 at home to Hereford FC
In 2018-19:
7-0 at Alfreton Town
6-0 at Curzon Ashton
4-0 at home to Nuneaton Borough and at home to Chester FC
Three of the best players who arrived in 2020-21 were (left to right) Joel Senior, Alistair Smith and Ryan Colclough.
HEAVIEST LOSSES IN LEAGUE
In 2020-21
0-4 at home to Sutton United
In 2019-20:
0-5 at Boston United
1-3 at home to York City
0-2 at Kidderminster, Bradford, Gateshead
In 2018-19:
1-4 at Chorley
0-3 at Leamington
DRAWS IN LEAGUE
In 2020-21, for the first time in three seasons, Altrincham played a goalless draw in the league; in fact they played two, one in the opening match versus Weymouth and the other in the final fixture against Torquay United. Both were games at Moss Lane.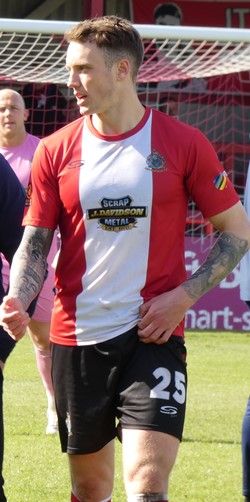 Right: Toby Mullarkey established himself as a regular in the Alty defence, appearing in 30 league fixtures.
Goalless draws in league: 0
As for other scoring draws in 2020-21: 9 in league (4 home, 5 away). Seven of the draws were 1-1, the other two were 2-2.
In 2019-20, the record was identical but from nine fewer fixtures...
Scoring draws: 9 in league (4 home, 5 away). Seven of the draws were 1-1, the other two were 2-2.
In 2018-19 Altrincham had eleven draws in the league proper plus two more in play-offs which were settled by penalty shoot-outs. Until the end of the season Alty had never drawn two successive league matches under Phil Parkinson but they finished the campaign with a run of four draws if the play-offs are included!
Goalless draws in league: 0
Other league draws: 11 in league (6 home, 5 away), 2 more in play-offs
BIGGEST WINS IN CUPS
In 2020-21 the biggest cup win was 3-0 v Barnton in the Cheshire Senior Cup.
In 2019-20 the biggest cup wins were 2-0 at Halesowen and 3-1 at Southport, both in the FA Cup.
In 2018-19:
5-0 at home to Whitley Bay (FA Cup)
4-0 at home to Bradford (PA) in FA Trophy
HIGHEST AGGREGATES IN LEAGUE GAMES
In 2020-21:
7: Altrincham 4 Yeovil Town 3
5: Altrincham 3 Chesterfield 2
5: FC Halifax Town 3 Altrincham 2
5: Altrincham 2 Boreham Wood 3
5: Altrincham 2 Barnet 3
In 2019-20:
7: Altrincham 5 AFC Telford United 2
5: Boston United 5 Altrincham 0
5: Altrincham 5 Hereford FC 0
5: Spennymoor Town 3 Altrincham 2
5: Altrincham 4 Spennymoor Town 1
5: Altrincham 3 Chester FC 2 in play-off eliminator
In 2018-19:
8: Spennymoor 4 Altrincham 4
8: Altrincham 5 Chorley 3
7: Alfreton Town 0 Altrincham 7
6: Curzon Ashton 0 Altrincham 6
6: Altrincham 3 Darlington 3
Barnet
announce that "The following senior players remain under contract for the 21/22 season:
Harry Taylor, Ephron Mason-Clark, Ben Nugent, Ben Richards-Everton, Liam Daly, Matt Preston, Antonis Vasiliou, Aymen Azaze
The Club has offered new deals to the following players:
Wes Fonguck, Xander McBurnie, Josh Walker
The following loan players have departed upon the end of their deal:
Muhammadu Faal, Michael Petrasso, Courtney Baker-Richardson, Adam Parkes, Sam Skeffington, Sam Beard, Themis Kefalas
The following players have left the Club following the expiry of their contract:
Scott Loach, Dwight Pascal, Jack Connors, Alex McQueen, Jerome Binnom-Williams, Loic Hernandez, Lee Vaughan, Tyrone Duffus, James Dunne, Eliot Richards, Jack Tompkins, Anthony Wordsworth, Alfie Pavey, JJ Hooper, [ex-Alty forward] Tomi Adeloye".
Another club announcing its retentions and releases is King's Lynn Town.
The following players are under contract:
Ross Barrows, Alex Brown, Kyle Callan-McFadden, Sonny Carey, Michael Clunan, Tyler Denton, Tai Fleming, Cameron King, Rory McAuley, Chris Smith, Dayle Southwell, Paul Jones
Exercised option [to stay?]:
Offered new terms:
Aaron Jones, Jordan Richards
Released:
Alex Kiwomya, Sam Kelly, Ryan Jarvis".
In the Leader Live, "Theo Vassell was 'shocked' that he wasn't offered a new deal by Wrexham after having a 'good season' for the Reds.
The centre-back arrived at The Racecourse last summer and made 31 National League appearances, impressing at the heart of the defence... Supporters are surprised that Vassell was not given a contract extension with club advisors deciding on the retained list after parting ways with manager Dean Keates on Sunday...
'We had no manager to make the decision so I don't know what has happened there,' said Vassell, who had spells with Chester, Gateshead, Port Vale and Macclesfield before he was brought in by Keates. 'I am shocked myself to be honest but it is what it is. I thought I did enough to get a new deal.
'I thought I had a good season and I enjoyed it at Wrexham but going forward, I won't be around... but it is not the end of the world.'
It was announced in February that the club was not going to offer any contracts to senior players before the end of the season... 'The club offered me a new deal in February but then the club turned around and said they didn't want to offer anyone new deals,' said Vassell.
'Now it has come to this so it's a bit strange.'"
The Derbyshire Times reports that "James Rowe says he has got different 'options' to choose from when selecting his team for the play-off encounter against Notts County on Saturday.
The Spireites played with two 'number 10s' in Liam Mandeville and Jack Clarke against Dagenham and Redbridge and Halifax but they have also gone with two up front regularly as well.
When asked about the latest on striker Danny Rowe, who came off in the first-half against Halifax because of a sickness bug, the manager said '"He is fine, credit to him for putting the shirt on and giving it a go. Obviously it did not work out as we would have wished'...
The boss will have a selection headache given the impact Nathan Tyson had off the bench at The Shay last weekend.
'We have changed our shape and personnel regularly through the season depending on the opponent'... Rowe explained. 'Obviously Nathan came on and did very well as well. We won there (at Notts County) with two centre forwards in the past so we have got options so I need to have a good think about how we are going to set up'...
One player Rowe won't be able to call upon at the weekend is Kairo Mitchell who is on international duty with Grenada in two World Cup qualifiers".
And also in the Derbyshire Times we learn that "James Rowe is keen for Chesterfield not to let their play-off opportunity pass them by and is confident that they can perform under pressure...
He said 'I have no doubts, considering the last two performances, the players can show once again for a third time under pressure that we can perform... Nobody expected us to be here but we don't want the opportunity to pass us'...
Both teams have recorded a win against each other this season but Saturday is the first time Rowe and Notts boss Ian Burchnall will have gone head-to-head.
Town won at Meadow Lane in February but Burchnall did not take over at the Magpies until March.
'They have changed their way of playing a little bit,' Rowe said. 'They play shorter passes, shorter build-ups, a little bit more rotation, but nothing we can't handle... Their form has really come forwards to get themselves in fifth position...
'I expect an open, technical and fast and furious game considering the fans are in and it being a play-off game'...
Rowe hopes that his time at Aldershot Town as a coach can help give the Spireites the edge... This is my third time in five years at this level now, so hopefully I can bring that extra one per cent if I can,' he added".
News of another play-off participant is to be found in the Hartlepool Mail, which advises us that "Hartlepool United are monitoring a few players but have no new injury concerns going into Sunday's crucial play-off eliminator against Bromley... [in] their first play-off campaign in over 16 years...
Challinor has a near full-strength squad to choose from as it stands...
'We've got some lads who haven't trained as much this week who we are managing and may train today but may not tomorrow in order to be ready for Sunday... Now it's about what will hopefully be three huge games and having our players fit for those games is going to be vitally important'" said Challinor.
"Ben Killip (elbow) and Joe Grey (back) are long term absentees but Luke Armstrong is expected to return after missing last weekend due to illness. Right-back Jamie Sterry is also expected to start despite being withdrawn at half-time in the 4-0 home win against Weymouth.
'Luke trained straight away on Tuesday'... Challinor added. 'It was just a 24 hour thing with him... We've got a few lads with sniffles and colds but nothing that will keep them out of what is a massive game for us.
'Jamie will train [Thursday] morning but we have to manage him. He could have completed the game on Saturday and probably would have if it was our last game of the season'".
---
4 June 2028
After a season wearing a red shirt with a white chest panel, Altrincham make a very welcome return to a striped kit for 2021-22.
The official Altrincham FC website says that "The Puma era at Altrincham is well and truly underway, and in keeping with the professional approach behind recent progress on and off the pitch, the club have produced a special video to mark the first kit launch with our new world-renowned commercial partners...
It shows a return to traditional red and white stripes, black shorts and white socks at home and a combination of yellow with blue trim, blue shorts and yellow socks on the road".
Altrincham FC
has announced that "season tickets for the 2021-22 campaign have gone on sale...
There are still a number of unknowns over next season – will all the COVID restrictions be lifted? Will our capacity be limited? Will streaming be allowed to continue? Will away fans be permitted? And all of this makes budgeting for the season very difficult.
We have, however, made some of the major decisions, which I can now outline. Most importantly, season ticket holders will gain priority access to any game with a limited capacity, just as they did for the last three games of the season. Also, a season ticket will include free access to any streamed game, once the National League have given their approval for streaming to continue. Furthermore, season ticket holders will have first right to purchase tickets for any FA Cup or FA Trophy game home or away.
Our season ticket pricing for next season will be held or reduced compared to the 2020-21 season, and the overall percentage discount offered is slightly increased on last season.
Matchday admission prices will be as follows for next season:
Adult: £17
Concession: £14
Junior (12-16): £6
Under 12: £2
And Season Tickets are priced as follows:
Adult: £289
Concession: £235
Junior (12-16): £75
Under 12: £36
Existing season ticket holders renewing for next season will have the option of a 15% discount on their purchase... I will be contacting you all to advise of the discount code".
A day after he spoke of the merits of recently sacked Wrexham manager Dean Keates, the
Grimsby Telegraph
claims that the Red Dragons' captain "Shaun Pearson looks set to make a remarkable return to Grimsby Town this summer.
The defender spent six years with the Mariners after joining from Boston United in 2011, before leaving the club in 2017.
Pearson has spent the last four years in North Wales with Wrexham, where he became the Dragons' club captain and a firm fans' favourite.
His deal at the Racecourse Ground is set to expire this summer, although he has been offered a new deal as Wrexham prepare for another season in the National League... They look set to be beaten though by the Mariners, with reports suggesting Pearson will be returning to Blundell Park... on a two-year deal...
He made 209 league appearances for the Mariners, and was part of the squad that won promotion back to the EFL in 2016.
He stayed on for another year in the Football League before leaving the club in 2017, with no offer of a new deal incoming at the time, a move which still rankles with Town fans to this day".
According to Get Surrey, "Woking manager Alan Dowson [has] revealed he was offered £100,000 by the club to bring in players in January but turned it down because, 'It would only have benefited me not the club'.
The 50 year-old was less interested in protecting his own reputation by securing better results than he was ensuring the club was in good financial health ahead of next season and he said 'When I got offered £100,000 at the end of January it was a week before no relegation from the league was announced. Then, once no relegation came in, there was little point in me accepting the money as the only person who would have benefited was me.
'I would have signed maybe four or five players to get me 15th place. That would have been for the benefit of me and nobody else. I told them to keep it for next season. Together with the furloughed players, that's a hell of a lot of money saved off the wages this season we can use for next season...
'But what it's done is the owner [John Katz] has come into this club, and I know he appreciated it, without any debt at all. We could have put the club back in debt, but we haven't. We've knocked thousands and thousands off the budget...
'I am quite high tempo,' he said before explaining 'I have been a manager now for 15 years, I've always had a fear factor and I'm demanding. But when you can't demand things from a side it's very hard. Some lads have been on furlough. Some aren't going to be here next season because some of them can't and some of them I don't want. So I can't say 'get out of the room' because I had no other players to play.
'So I've had to be a bit more nicey, nicey in the last few months. I'm looking forward to running a changing room again, I'm looking forward to being a leader again and signing players who want to work how we want to work.
'We believe in hard work, we like good football but we haven't had time for training because of all the games'...
"Dowson's next job is to tell some players there is no future for them at Woking and he revealed... 'In my own head I have known for a couple of months but... it won't be hard for me... If it was this time last year I might have felt it was difficult. But now I don't feel that I must admit... it's gone past that [the sentimental] stage to be honest'".
The Dorset Echo reports that "Weymouth have secured the signing of club captain Josh McQuoid for the 2021/22 season.
McQuoid, 31, scored eight goals and provided five assists in 34 games... The former Northern Ireland international has shown adaptability, often stationed in a central midfield role, as a number 10 or out wide.
Echosport understands boss Brian Stock... sees his long-term future in midfield.
Stock said 'Josh fully deserved my player of the year and I'm delighted to secure him for another year. You look for a captain to lead from the front, even when things aren't necessarily going well, and he's done that'...
McQuoid, who joins centre-back Ben Morgan as the only players currently on the Terras' books for next season, signed in August 2018 and has 71 appearances and 19 goals to his name.
Earlier this week, 10 players left Weymouth in a mass exodus.
The highest profile was the decision not to renew midfielder Jordan Ngalo's contract. Josh Wakefield signed for Salisbury, while Jack Hoey and Ade Olumuyiwa joined Totton.
Alefe Santos, Jack Dickson, Cody Cooke, Myles Anderson and Harry Burns left having been furloughed in January. Pierre Fonkeu also departed.
Loanees Andy Dallas, Ben Worman and Brennan Camp had already returned to their parent clubs".
Meanwhile, Barnet, share some of the key statistics from this season's Live From The Hive streaming service...
Highest Virtual Attendance: 3666
Average virtual attendance: 1300
Average virtual attendance with fans allowed (four home matches): 906
Media and Communications Officer, Adam Rowe, said... 'Many supporters won't be aware that the streaming of matches allowed for students at our partner university, UCFB, to gain vital industry experience this season, we had students working with us as camera operators throughout the campaign and we are very thankful for their hard work'".
London Football Scene reports on Bromley "Having snuck into the National League Play-Offs on the final day of the season courtesy of a 1-0 win over Notts County, the Ravens find themselves the joker in a pack that includes six former Football League clubs...
Bromley have made steady progress since promotion to the National League in 2014/15. Under the guidance of former manager Neil Smith, they established themselves as a solid top half side...
Yet it is off the pitch where the ambition of Bromley Football Club can mostly be seen with the demanding leadership of chairman Robin Stanton-Gleaves seeing the club transition from part-time to full-time, put down 3G pitches in and around the stadium and install a 1,500 all-seater stand
In March this year Stanton-Gleaves made the controversial decision to remove the popular Neil Smith when Bromley were seventh in the league. Sensing that Bromley would fall short by the end of the season, Stanton-Gleaves entrusted the hotseat to Arsenal's head of goalkeeping Andy Woodman...
Having only tasted defeat once since he took control, no other club has shown better form in that same period of time... They would need to defeat both Hartlepool United and Stockport County in one-off games away from home, [but] the Play-Offs are all about momentum."
---
---
The following pages, which initially replicate those pages with the same web addresses which formed part of the official Club website, will be re-branded from 2018 as part of this new unofficial Alty Files site.
A/Z Site Index to The Alty Files at www.altrinchamfc.co.uk
---