an unofficial Altrincham FC website
OPTIONAL DROPDOWN MENU - HERE
---
NEXT MATCH:
Tue. 27 July 2021, at 7.45pm
NANTWICH TOWN (Away)
Pre-season Friendly
---
ALTY HEADLINES
26 Jul 2021: ALTY TRIALISTS...More
26 Jul 2021: ALTY'S DEFENSIVE CONCERNS...More
26 Jul 2021: ON THIS DAY: 26 JULY...More
OTHER HEADLINES
26 Jul 2021: NOTTS COUNTY WIN AT TELFORD...More
26 Jul 2021: STRIKER INJURIES AT GRIMSBY...More
26 Jul 2021: SOUTHEND SANGUINE AS VETERAN LEAVES...More
---
26 July 2021
Above: Jordan Lussey, Junior Brown, Ben Pringle in action for Altrincham at West Didsbury & Chorlton.
Over the next few days we will have a look at the background of some of the trialists who have featured this summer for Altrincham.
We start with midfielder Jordan Lussey who partnered Connor Kirby in Alty's friendly at West Didsbury & Chorlton on Saturday.
Ormskirk born six-footer Jordan was born on 2 November 1994 and he spent last season with AFC Fylde, having started his career at Liverpool and Bolton Wanderers. He was an unused sub in the Emirates FA Cup 4th Qualifying Round match between the Coasters and Alty in October 2020.
An England under-18 international twice in 2011, he had gone on loan from Bolton to York City in 2015 before spells at Southport (2016-17) and the following season at Telford United. Next he joined Chorley where he was dual registered at Witton Albion.
A move to Nuneaton Borough in 2019 was followed by time at Marine before he joined AFC Fylde in 2020.
Junior Brown played at left-back on Saturday but Alty had encountered him more than a decade ago when he featured for Fleetwood Town in a 3-1 win over the Robins in a Blue Square Bet Premier match in April 2011. played on Saturday, 16 April, 2011.
Now 32, he started out at Crewe Alexandra, his local club. This was followed by games for F.C. Halifax Town, Northwich Victoria and Fleetwood Town, the last-named being a club that he helped to gain Football League status.
Next, he played in League One on loan for Tranmere Rovers (2014). After leaving Fleetwood, he signed for League Two Oxford United (2014-15) but moved on to Mansfield Town in early 2015.
Summer 2015 saw him sign for Shrewsbury Town in League One and stayed there till joining Coventry City in summer 2018. The summer of 2019 saw him move to Scunthorpe United on loan in EFL2.
Playing at no.10 on Saturday was Ben Pringle, who spent last season with Morecambe in League Two.
He turned 33 yesterday (d.o.b. 25 July 1988 in Whitley Bay, Northumberland). He started out at West Bromwich Albion (2006-07) before retruning to his native north-east to play with Newcastle Blue Star and Morpeth Town during the following season.
A return to the Midlands brought 42 appearances for Ilkeston Town in 2008-09 where he earned a move to Derby County (2009-11) during which spell he played five gamnes on loan for Torquay United.
Four years were spent at Rotherham United where he made nearly 150 league appearances and he also enjoyed 15 appearances for Fulham in 2015-16.
After a loan at Ipswich Town, he moved back north to Preston North End from where he was loaned to Oldham Athletic and in 2018-19 to Grimsby Town. Another loan spell followed at Tranmere Rovers before joining Steve Evans at Gillingham in 2019-20. His move to Morecambe followed in 2020.
Press and media officer John Edwards tells us on the
AltrinchamFC
website that at Ashton on Saturday, "Trialist David Fitzpatrick filled the left-back role, but it was otherwise a line-up full of familiar faces...
After showing up well enough on the left of Alty's back line, Fitzpatrick was replaced by another trialist, Alex Brown, for the second half, and the former King's Lynn Town defender did his prospects no harm with an energetic, forceful contribution in the same left-back role".
The article continues, stating that "With Connor Hampson [left] and Andy White both nursing injuries, it was no surprise the left-back position came under scrutiny on Saturday, with trialist Junior Brown showing what he can do in the game at West Didsbury.
'I think everyone is aware that Connor and Andy are not going to be fit for the start of the season, so that is an area of concern at the moment,' said assistant-manager Neil Sorvel. 'Junior played in the first game at lunchtime, and David and Alex had a half each at Ashton, and I think they all acquitted themselves pretty well, so there is some thinking to do and decisions to make sooner or later.
'I thought we were outstanding for 30 minutes against an Ashton side you would expect to be up there in the Northern Premier League this coming season. We totally dominated and controlled the game and looked two levels above them.
'A little bit of sloppiness crept in at times towards the end of the first half, but we started the second half well and created chances, and I thought overall it was an enjoyable game to watch.'"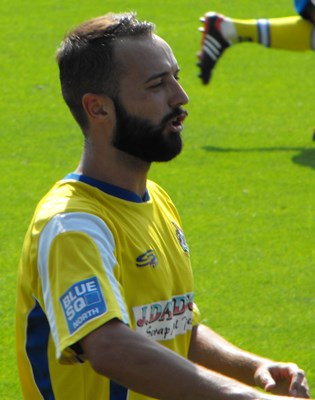 Seven years ago today Altrincham played a friendly against Hyde United at Ewen Fields for the Ray Stanley Memorial Trophy. With just eight minutes remaining, and disappointingly trailing two-nil to a Hyde squad comprising just six named players and 12 unnamed trialists, Altrincham secured a draw with late goals from Reeves and Gillespie.
It took 18 spot kicks to resolve the contest as Altrincham missed five of their nine attempts and Hyde missed four.
Altrincham had rested Jake Moult, Tom Marshall and Kyle Perry this afternoon and had two regulars from last season (Sean Densmore and James Lawrie) moving to the bench.
Right: Ryan Crowther was one of five ex-Hyde players in Alty's squad back in 2014.
Hyde had taken the lead when the so called "Trialist F" evaded a tackle before feeding ex-Vauxhall man Steve Tames, who drew Coburn out of goal before scoring (38 mins). Hyde's second goal came after "Trialist G" got past Havern in the box and from his feed, an unmarked Tames scored, in the 75th minute.
Alty's comeback was engineered by Gillespie. His fine run to the byline set up Reeves for a goal (82 mins) before he himself slotted home an 89th minute equalizer.
Having announced before kick off that there would be no extra time or penalties, after the final whistle it was decided to conduct a penalty shoot-out. Hyde won 5-4 after Altrincham had missed five of their nine attempts and Hyde missed four. In short, it was a disappointing afternoon for an Altrincham side which was unable to translate plenty of possession into much in the way of a goal threat.
Penalty Shoot-Out:
LAWRIE shot wide; Trialist L shot saved - 0-0
DENSMORE scored, Trialist G scored - 1-1
CROWTHER scored; Brizell scored - 2-2
GILLESPIE scored; Trialist J shot saved - 3-2 to Altrincham
REEVES hit bar; Tames scored - 3-3
KING scored; Hughes scored - 4-4
HAVERN shot saved; Trialist K shot saved - 4-4
Sean WILLIAMS shot saved; Trialist H shot over the bar - 4-4
GRIFFIN shot saved; Trialist B scored - 4-5 win to Hyde FC.
ALTRINCHAM: 1. Stuart Coburn (gk), 2. Scott Leather, 3. Adam Griffin, 4. Simon Richman, 5. Gianluca Havern (capt), 6. Mike Williams, 7. Ryan Crowther, 8. Greg Wilkinson, 9. Steven Gillespie, 10. Damian Reeves, 11. Nicky Clee. Subs: 14. Shaun Densmore, 15. Sean Williams, 16. James Lawrie, 17. Jeff King, 18. Josh Samberg (gk)
According to the
Nottingham Post
"The Magpies secured a second friendly win of the summer as they beat AFC Telford 1-0 at the New Buck's Head with a solid performance.
Callum Roberts's second-half goal sealed the victory as he drove home from the edge of the box just seven minutes after coming on as a substitute.
Trialists Andre Wright, Lamine Keba Sherif, Kyle Bennett and William Hondermarck were also given another chance to impress as the Magpies enjoyed a comfortable afternoon...
Ed Francis, the former Manchester City academy player, has big shoes to fill given he is replacing Michael Doyle who has now moved into the dugout as assistant manager... Notts have acquired a player who carries the kind of composure and quality the Irishman was renowned for...
He was tidy in possession, he was calm and was always on hand to receive possession but was not afraid to rattle into the challenges either... Francis, at the age of 21, looked a class act...
Given how Ian Burchnall sets his teams up, the holding midfield position is one of the most pivotal positions in the system...
It took just seven minutes after coming on from the substitutes' bench for Callum Roberts to remind Notts fans what they were missing last season. Had the former Newcastle midfielder been fit last term then Notts may have found themselves preparing for life back in the Football League...
He looked fit, he looked sharp and he crowned off a wonderful 30 minutes at Telford with a stunning strike from the edge of the box. Having Roberts back feels like a new signing and his ball-carrying ability not to mention his intelligence, will give Notts an added dimension to their attack...
Kabongo Tshimanga's name has been doing the rounds on Notts County's social media amid speculation the Magpies were lining up a move for him this summer. But head coach Ian Burchnall nailed those rumours after the game by insisting he was a player not worth talking about as he was under contract at 'another club'.
Bolton Wanderers have already been linked with a move for him over the summer... Some fans think that, apart from Kyle Wootton, they lack the depth and quality of their rivals in terms of high-calibre forwards... but as Burchnall said after the game, Notts are being patient in terms of making sure they make the right addition...
Many Notts fans were dismayed to see Calvin Miller turn down the chance of moving to Notts in favour of a move to arch-rivals Chesterfield over the summer. But the club did not hang around in finding a replacement by ironically signing Chesterfield left-back Joel Taylor for an undisclosed fee...
Taylor was excellent in the first half as he clipped several delightful crosses into the box... He may not have the dazzling feet of Miller, but he showed good intelligence, he took up some excellent positions and his crossing was superb".
The Grimsby Telegraph provides a "Grimsby Town injury update as... Paul Hurst has rated Ryan Taylor and Lenell John-Lewis 'touch and go' for the start of Grimsby Town's season.
The pair are both currently out through injury, leaving the Mariners without a recognised senior striker... John-Lewis suffered a torn calf in training, while Taylor pulled up just 15 minutes into the opening friendly at Cleethorpes Town with a hamstring problem. P> The latter went away for a scan last week, and is thought to be in a better position to make the kick-off for the new National League season on August 21.
'Both have got injuries that I think for the start of the season are probably touch and go,' Hurst told GrimsbyLive.
'Probably as we're stood here now, I'd say Ryan's got a slightly better chance than Lenny, but I think it will be touch and go... Hopefully there's no setbacks with either one...
'It's disappointing, especially to get two in the same position. But at the minute, I'd say the players in midweek and today have dealt with playing in a different way very well, and that encourages me. It tests us out as staff, and certainly as a manager, to find different ways.'
One of those different avenues has seen the Mariners' younger players get the chance to impress in pre-season.
Edwin Essel and Aaron Braithwaite once again featured from the bench against Rotherham United on Saturday, while Harry Milner and Jamie Bramwell also made late cameos".
Southend's Echo News confirms that "Greg Halford has joined Waterford after leaving Southend United.
The versatile 36 year-old made 16 appearances for the Shrimpers last season.
But Blues boss Phil Brown opted to look elsewhere... Said Brown, 'He's a very laid-back character and he's had a first class career. He was expecting an offer on day one at the end of last season and I think he got a bit disillusioned when that didn't happen.
'I wanted to change the dynamics of the changing room altogether and if we've lost Greg to someone else it's not the end of the world. We will just have to replace him'".
And the Echo News adds that "Southend United manager Phil Brown felt Blues' five trialists made a mixed impression against West Ham United.
Yasin Ben El-Mhanni, Deon Moore, Matt Dennis, Will Atkinson and Hamzad Kargbo all featured for the Shrimpers in their 5-1 defeat at Roots Hall...
'One or two of them showed positive signs and one or two of them didn't but I'll leave you to work out who,' said Brown. 'The mentality of a player coming in from the Premier League can be questionable but when they're prepared to come to this level that's also the interesting part.
25 July 2021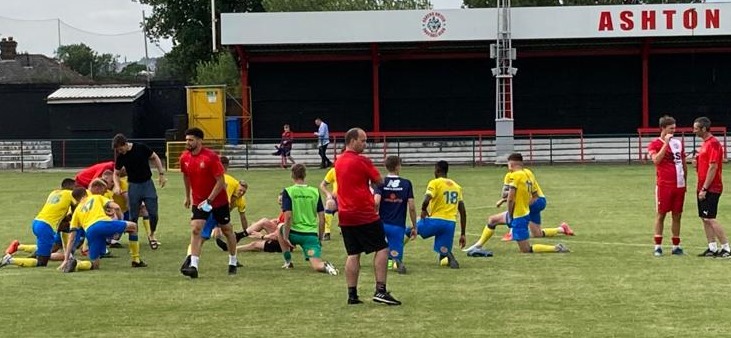 Above: Altrincham players carried out post-match stretches on the pitch at Ashton, under the guidance of fitness and conditioning coach Ryan Spencer, (image courtesy of Nigel Bunce)..
In their second match of the day, at Hurst Cross, Altrincham deservedly beat Ashton United 2-0, thanks to goals from Dan Mooney and Ryan Colclough.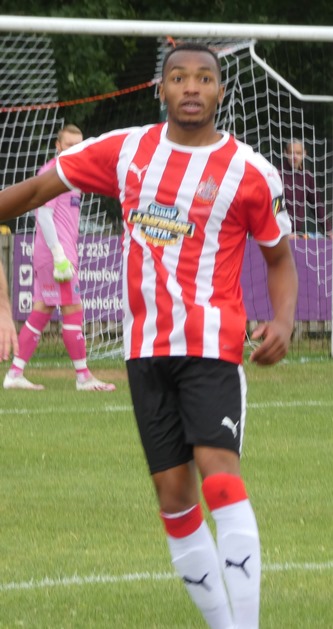 Right: New striker Marcus Dinanga, in the new Altrincham FC home kit in the game at West Didsbury & Chorlton.
Mooney lobbed the home keeper to make it 1-0 after 19 minutes before a second-half goal from Colclough made it 2-0 in the 56th minute.
For this game Altrincham fielded a stronger side than at Chorlton earlier in the day (see below).
Match report here.
ALTRINCHAM 1. Tony THOMPSON, 2. Joel SENIOR, 3. David FITZPATRICK, 4. Toby MULLARKEY, 5. Tom HANNIGAN, 6. Jake MOULT, 7. Dan MOONEY, 8. Sean WILLIAMS, 9. Josh HANCOCK, 10. Matty KOSYLO, 11. Ryan COLCLOUGH. Subs: 12. Tom PEERS, 14. Alex BROWN, 15. Fisayo ADARABIOYO, Yusuf ADENIYI
Against a West Didsbury & Chorlton team ending its pre-season games, Altrincham in their inaugural game of the summer succumbed to a 1-0 defeat. The goal, in the eighth minute, was a disaster for goalkeeper Matt Gould who failed to deal with a routine back pass from new signing Kennedy Digie and conceded an own goal.
Alty barely mustered a shot of note in the first half and though they dominated the second period, ex-Alty keeper Andrew Jones was rarely troubled in the West net.
With another match for Alty at 3pm on the same afternoon, the squad at Chorlton comprised new signings and trialists with just Gould and captain Ritchie Sutton in the starting eleven from last season's squad, though returning loanee Connor Kirby did play the ninety minutes.
Match report here.
ALTRINCHAM 1. Matt GOULD, 2. Phil PARRY, 3. Junior BROWN, 4. Kennedy DIGIE, 5. Ritchie SUTTON (c), 6. Jordan LUSSEY, 7. Brad JACKSON, 8. Connor KIRBY, 9. Marcus DINANGA, 10. Ben PRINGLE, 11. A-J LEITCH-SMITH. Subs: Harlan RYAN-MORGAN, Liam EVANS, Yusuf ADENIYI, James BERRY, Ryan MORELAND, Liam BLACKBURN (gk)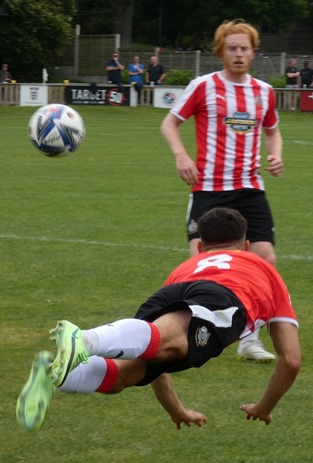 Right: Connor Kirby heads clear as trialist Ben Pringle looks on in the game at West Didsbury & Chorlton.
Alty TV has an interview with loanee Connor Kirby, conducted by press and media officer, Brian Flynn.
Altrincham FC
have announced that goalkeeper Joel Torrance "has joined Salford City's development squad on a 12-month contract.
Joel, who turned 19 in April has been with Altrincham for over three years, in which time he has developed consistently, progressing through the Youth team and Reserves and made one first-team appearance at Stalybridge Celtic in a Cheshire Senior Cup tie in 2019.
The teenage goalkeeper produced an heroic performance in an FA Youth Cup tie against Curzon Ashton in 2019,making 3 outstanding saves in the penalty shoot out and his final appearance for the Robins was for Altrincham FC Reserves in the J.B. Parker Challenge Cup Final against Egerton FC in June".
The
Southend Echo
tells us that "Ricky Holmes is set for a medical at Southend United this weekend.
The experienced winger has yet to agree a new deal with the Shrimpers. But Blues boss Phil Brown is hoping the situation can soon be sorted.
'I was desperate to play Ricky against West Ham and Ricky was desperate to play,' said Brown. 'Hopefully he will have a medical over the weekend which will show the people in charge he's fit enough to play. I liked what Ricky showed in the last six games of last season and that kind of character was missing a bit against West Ham.
'We can't have that missing come August 21st and the National League will expose any kind of weakness. I don't think it's a case of finances or anything like that and I think Ricky ticks all the right boxes'.
Holmes, 34, joined Blues in February and made 14 appearances for his hometown club last season".
Barnet "announce the signing of attacking midfield player, Serhat Tasdemir on a season-long loan from Championship side, Peterborough United.
The 20 year-old is no stranger to National League football, having made several appearances at this level for AFC Fylde... becoming their youngest ever player in the process, as he notably scored a hat-trick in his first appearance...
Tasdemir made 34 appearances in all competitions in 18-19 season scoring nine goals from midfield... At Mill Farm, he made a total of 63 appearances scoring 14 times...
His impressive displays for AFC Fylde earned him a move to Peterborough United in the summer of 2019, since then the attacking midfielder has made 20 appearances... He also spent a short time on loan at Oldham Athletic last season...
Tasdemir likes to take a man on and has an eye goal both inside and outside of the penalty box".
Red Rants reports that "Highly-rated Manchester United starlet Will Fish has joined Stockport County on a season-long loan.
The Red Devils have officially confirmed on their website that the 18-year-old will head out to the National League side for the 2021-22 season.
He is currently with Ole Gunnar Solskjaer's side for the pre-season and will remain with the first team for the next two fixtures. He will join his new club at the end of this month.
The youngster has shown great progress at United, earning his competitive debut against Wolverhampton Wanderers in last season's penultimate game...
Fish is a highly talented defender who has been praised for his maturity and mentality. He joined United's youth academy in 2012 and has made 28 appearances for the Under-23s, weighing in with two assists. The 18-year-old needs regular football, and he is likely to get that at Stockport".
In a pre-season friendly match played twelve years ago today, on Saturday, 25 July 2009, Altrincham deservedly shared the spoils with a Bolton Wanderers XI in an entertaining game today at Moss Lane. Alty took the lead late in the first half when the impressive Tom Kearney's cross from the right was turned into his own net by Obadeyi.
But the visitors, fielding a side mostly drawn from their Academy, equalised on the stroke of half-time when Blakeman netted despite Altrincham appeals for an offside decision. He chipped the ball over Saunders who, again, had an excellent game in goal for the Robins.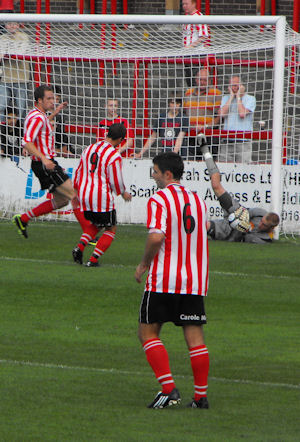 Right: Bolton keeper Lainton saves as, (l. to r.), Robbie Williams, Chris Senior (9) and Tom Kearney (6) are in attendance.
Odebayi then scored at the right end for Bolton after being allowed to run unchallenged (55 mins) but Danny Heffernan, who again impressed, scored with a fierce drive two minutes later to level the scores. Marcos Michael put Bolton 3-2 up after 73 minutes but, when substitute Robbie Williams's header from a Kearney freekick came back off the bar, his fellow centre-back Greg Young scrambled home the rebound to level the score once more (84 mins).
On the downside, Alty lost Robbie Lawton in the first half, Alty's captain having started the game with a groin problem which appeared to be aggravated during the game.
Trialist Russell Saunders was in goal as Stuart Coburn sat this game out, the Alty no.1 being still on the road to recovery after a summer knee operation. Alty's other injured player Michael Welch was at the game, on crutches, following his serious ankle operation. New signing Nicky Clee took part in the warm-up and was named on the bench but did not take part in the game.
Despite his groin injury, Robbie Lawton started the game but was on the right of midfield in a 4-4-2 formation as the new signings Tom Kearney (ex-Wrexham) and Maty Crowell (from Northwich) took over central midfield. Colin Little was rested on the bench where he was joined by Anthony Danylyk and James Smith, (both still regaining match fitness), Danny Heffernan and trialists Aaron Chalmers and Robbie Williams. Another trialist, Ben Muirhead was named on the bench but did not appear to be present.
Bolton's side was mostly drawn from their Academy though the likes of Obadeyi had first-team experience and left-winger Harsanyi was a reserve.
ALTRINCHAM: 1. Russell SAUNDERS, 2. Shaun DENSMORE, 4. Mark McGREGOR, 5. Greg YOUNG, 3. Matt DOUGHTY, 7. Robbie LAWTON, 6. Tom KEARNEY, 8. Matty CROWELL, 11. Chris DENHAM 9. Chris SENIOR, 10. Dale JOHNSON. Subs: 12. Anthony DANYLYK, 14. Colin LITTLE, 15. Danny HEFFERNAN, 16. Aaron CHALMERS, 18. Robbie WILLIAMS. Also named but not used were Ben MUIRHEAD, James SMITH and Nick CLEE.
---
24 July 2021
Altrincham FC
start their pre-season on Saturday, "starting at The Step Places Stadium against West Didsbury & Chorlton, in a match kicking off at midday, and continuing at Ashton United three hours later.
The two fixtures, featuring different Alty squads, will be the first opportunity for supporters to see the club's brand new Puma kits in action, with the home kit on display against West Didsbury & Chorlton and away colours on show at Hurst Cross".
As press officer John Edwards explains, "It has been an eventful summer for Alty, with extensive work taking place to ensure the new playing surface is in top shape and several comings and goings on the player front...
Yusifu Ceesay, Joe Piggott, Simon Richman, Alistair Smith, Lewis Salmon and James Hardy all departed, but Alty boss Parkinson acted quickly to balance the books by bringing in Brad Jackson, Marcus Dinanga, Connor Kirby, and Kennedy Digie, all of whom are set to feature this weekend.
To ensure that every member of the squad can get some game time under their belts, the Alty squad will be split in two, with some lining up against West Didsbury & Chorlton and others facing Ashton United...
There will also be a number of reserve and junior players taking to the field, as well as one or two trialists who will be hoping to catch Parkinson's eye".
Above: West Didsbury and Chorlton FC
At West Didsbury & Chorlton, "There will be a familiar face in the opposition dug-out, with West currently managed by Chris Rowley, Alty's former reserve team manager, who took charge of our near-neighbours in December, 2019.
He worked at The J. Davidson Stadium from June, 2014 through to May, 2019, during which time his sides experienced two promotions before missing out on winning the Cheshire League by the narrowest of margins.
Prior to embarking on a career in coaching, Chris played as a goalkeeper at clubs across the North West, including Trafford and Kidsgrove. Since hanging up his boots, he has thrown himself head first into management, gaining a UEFA B licence".
Both games will be covered live by Radio Robins.
Altrincham FC
have Brian Flynn's interview with manager "ahead of Saturday's opening pre-season fixtures at West Didsbury & Chorlton & Ashton United."
The
Maidenhead Advertiser
reports that "Maidenhead United kicked off their National League pre-season preparations with a behind-closed-doors friendly against MK Dons...
Having been primarily training with one another at Bisham Abbey, the Magpies were able to spread their wings in their first 'competitive' game comprised of 120 minutes, four 30-minute halves...
Alan Devonshire's men were defeated 3-1 with Sam Barratt scoring the solitary goal for the Magpies.
The match, however, was more about... monitoring new signings such as Kane Ferdinand and Will De Havilland.
'We had only been back [in training] for a fortnight, so it was always going to be a tough ask to get a result, especially against a team that are notorious for passing the ball well,' said Barratt...
'It was good to get off the mark too. It wasn't the best penalty I've ever hit, but I was there for the tap-in. I've got a target this season to kick on from the 15 I scored last year'...
Barratt said it was good to get an understanding of how new players Ferdinand and De Havilland play'... 'I played the second two halves [quarters] so I didn't get a chance to play with Kane, I played half an hour with Will who played well up top as well. But, watching on, they both look like good signings. It was good to see the 'keepers (Rhys Lovett and James Holden) in training as well...
'The gaffer (Alan Devonshire) has made some strong signings to add more squad depth'".
According to the Derbyshire Times, if you "Google Stefan Payne's name that infamous incident at Grimsby Town last season dominates alongside the words 'chaos', 'bizarre' and 'bust-up'.
But one mistake should not define a person and clearly Payne has a lot of talent... and the striker looks to have the bit between his teeth...
A fit, firing and motivated Payne should be a handful in this league and credit to manager James Rowe for looking beyond his misdemeanor last season and not overlooking the fact that the 29-year-old scored bundles of goals at this level with Dover Athletic, played for Barnsley in the Championship and it was not that long ago that he found the net 14 times for Shrewsbury Town...
Rowe is not exactly a shrinking violet, he has a big personality himself and is not afraid to let off the odd firecracker when required so I think he will quite enjoy working with him...
He [Payne] is aggressive, fast and a bit of a throwback target man, according to Micky Mellon, who signed him for Tranmere .
Yeovil Town "announce the signing of Dale Gorman from Glentoran on undisclosed terms..
The midfielder reunites with Darren Sarll who brought him over to England in his teens whilst at Stevenage. Now 25, Gorman has a National League winner's medal with Leyton Orient, alongside EFL spells with the aforementioned Stevenage and a loan spell with Newport County.
Most recently, the midfielder spent time in the Northern Ireland Premier Division with Glentoran...
Gorman said 'Our ambition has to be promotion; you look at the size of the football club and not many would expect us to be here. We'll give it a good go this year to try and get back where we should be.'"
In days gone by players joined football clubs for footballing reasons but nowadays a call from an American film actor appears top have more clout as the Wirral Globe reports that "In demand former Tranmere striker, Paul Mullin, has caused a stir by signing for National League promotion hopefuls Wrexham on a long-term deal.
The 26 year-old hitman plundered 32 goals for Cambridge United last season, helping the Us secure automatic promotion to League One in the process.
But when United, who named one of the stands at their stadium after Mullin, offered him a new contract, he turned it down and was expected to join another League One club with bigger ambitions and resources. Instead, the Litherland-born forward has put pen to paper on a three-year deal with non-league Wrexham and in doing so, moved down a division [effectively two divisions actually] instead of moving up one.
The North Wales club was bought by Hollywood stars Ryan Reynolds and Rob McElhenney in February this year. It is understood that the pair phoned Mullin personally to help secure the services of the winner of last year's League Two Golden Boot".
This is confirmed by the Leader Live which says that "A phone call from club co-owner Rob McElhenney persuaded superstriker Paul Mullin to sign for Wrexham AFC...
He said, 'I'm made up... The ambition of the Club attracted me here. Rob McElhenney gave me a call a couple of nights ago; at that time, I wasn't too sure about making the move but, once he outlined the plans for the Club, and the plans for me in the future, it was something I really wanted to be a part of and something that just excited me that much that I had to come.
'He really sold the Club to me. What they have planned for the Club is magnificent and something I want to be a part of'...
He made his professional debut for Morecambe, scoring 28 goals in 140 matches between 2014 and 2017. After a season at Swindon Town, Mullin was part of the Tranmere Rovers squad which won promotion from League Two in the 2018/19 season and scored 12 goals in 56 games across two seasons.
He played six games on loan at Cambridge in the 2019/20 season... but signed a permanent deal with the Us for last season. His record-breaking season also saw him break Cambridge's goalscoring record and... he finished the year with 34 goals in 50 appearances...
On the signing, Executive Director Humphrey Ker said, 'The Board have been delighted with the Club's recruitment to date in preparation for the season. We always wanted to make a signing that would stop people in their tracks and feel this signing fills that requirement.
The Nottingham Post reports that "New Notts County midfielder Matt Palmer has explained his decision to join after completing his move to Meadow Lane.
The 26 year-old signed a two-year deal with the club after leaving Swindon Town at the end of the season. Notts beat off competition from a number of clubs for the player...
The midfielder has racked up more than 200 EFL appearances... and has explained his decision to join Notts. 'I looked at it two ways, I wanted to come and join a place that's got a long-term project. I came and spoke to the gaffer and he obviously explained the way he wants to play and the vision of this football club and the vision of the owners and stuff like that which was really appealing to me...
'It's either I go somewhere for maybe a short term year and they're maybe trying to stay in the league, where this club is trying to go places... I think there's a long-term project, which is what I want to be a part of'...
'When I came to speak to him [Burchnall]... it came across that he knew me as a player already. He knew that I could do rotation in midfield, get on the ball in deeper positions and further forward, so I was really impressed when I spoke to him, it sounded like he knew exactly what kind of player I was and the best to get out of me'".
---
23 July 2021
West Didsbury & Chorlton
"welcome National League side Altrincham for our final friendly of pre-season .... on Saturday 24th July, 12 noon at The Step Places Stadium, Brookburn Road, Chorlton, M21 8FE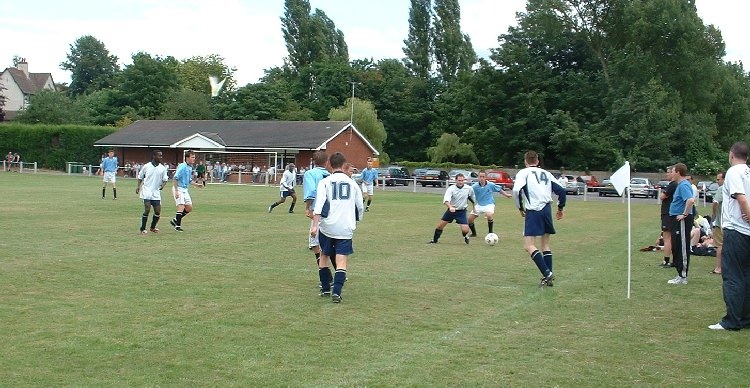 Above, 20 July 2003, Alty won a pre-season game 1-0 at West Didsbury & Chorlton.
Admission on the gate – £5 adults / £3 concessions (60+) / under-12s free with a paying adult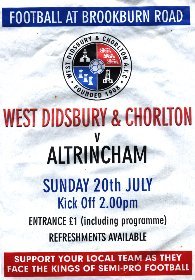 Right: When Alty visited West Didsbury and Chorlton in 2003, they described Alty as the Kings of Semi-Pro Football.
Manager Chris Rowley has arranged a serious examination of his side to wrap up preparations ahead of the NWCFL campaign, with 94 league places separating the teams at the conclusion of last season...
A significant chunk of the West side have experience in red and white, having played for Altrincham's reserves under Rowley. Sam Heathcote's time at Moss Lane was particularly notable, as he made 35 appearances for the Robins' first team from 2015 to 2018.
Saturday's match will be the first at Brookburn Road since the easing of government restrictions on 19th July. The clubhouse and bar will be open as normal, with tables inside and outside. Alcohol can be taken around the ground, with the exception of glass bottles which must not be taken outside of the clubhouse. Please do not bring your own alcohol into the ground.
We are no longer operating under capacity limits but please continue to consider the safety and comfort of your fellow supporters:
Supporters are asked to wear a face covering while moving around inside the clubhouse and at the bar, unless exempt. Face coverings do not need to be worn while sitting inside the clubhouse.
Social distancing is no longer a requirement, but please remain respectful of others while moving around the ground.
Hand sanitiser will be available at the gate and outside the clubhouse.
As per government requirements, we will continue to collect details for Track & Trace purposes. The NHS QR code will be on display at the gate and pen and paper will also be available.
Parking: Hardy Farm car park, located at the bottom of Hardy Lane, will again be in operation. The car park will be open from 11am. Please use M21 8DP (what3words: ///kicks.unity.admits) for navigation, and stewards will be on hand to assist supporters. As usual, please do not park on the private roads on and around Brookburn Road.
Altrincham have a second friendly on Saturday, at3pm at Hurst Cross against
Ashton United
who on Wednesday lost 0-2 at home to Stockport County
"A midfield chess match broke out, with both sides holding strong in the centre of the pitch but two early enforced changes for Michael Clegg's men could have unlocked the stubborn County defence.
Michael Brewster and Theo Hudson went off with niggles, replaced by Chris Rowney and Ben Hardcastle and it was the latter that made an impact...
Stockport changed their entire line up at half time... and the second half Hatters' line up showed their class.
Captain Liam Hogan knocked in a rebound off the post from John Rooney's shot [and] broke the deadlock on the 57th minute.
Ashton had a good share of possession after the goal... County struck with what was effectively the last kick of the game. Experienced front man John Rooney fired home from 12 yards from a Sam Minihan cross.
Post-match, manager Michael Clegg said 'We had to change our plan tonight. Originally, we wanted to give lads 70/80 minutes but, in this heat, it was just not possible.
'When you make that many changes its always going to have an effect and we conceded just after that, but I thought the lads on the pitch recovered well'
Line Up: Hartley, Whalley, Spratt, Coates, Raynes, Brewster, Wall, Sheridan, Ntalu, Redshaw, Hudson. Subs: Azam, Ollerenshaw. Hardcastle, MacAdam, Rowney, Baird, Wood, Bentham, Tserpes.
Tickets (£5) for the game against Altrincham are bookable here.
Altrincham FC
has John Edwards's interview with "Sam Mackenzie, the latest addition to an ever-expanding Altrincham board of directors and only the fourth woman in the club's history to have the honour bestowed on her".
Seven years ago today, Altrincham played a pre-season game at home to Manchester United Reserves and ended up on the wrong end of a 5-0 scoreline.

Above: Action from the game against Manchester United Reserves in 2014.
It was a Wednesday evening game in which Altrincham used their first team squad but played several of them in unfamiliar positions as manager Lee Sinnott experimented in advance of the new season. The outcome was a comfortable win for a skilful Manchester United reserve side who used 19 players during the game.
Alty lined up with the attacking threat of Damian Reeves and Nicky Clee left on the bench, along with midfielder Greg Wilkiinson, youth graduate Max Pouncey and goalkeeper Dave Parton. Also, there was no Adam Griffin or Jake Moult in the squad. Trialist Wade Joyce, son of United' Reserves' manager Warren was also an absentee for the Robins. On the pitch, James Lawrie started in an unaccustomed central midfield role and Scott Leather was at right back. Up front, Kyle Perry was partnered by new signing Steven Gillespie. So it was somewhat of an experimental side for Altrincham.
Alty barely threatened the United goal throughout the game and they fell behind after 28 minutes when Wilson scored after Altrincham had failed to clear a corner. A fine long-range goal from Petrucci made it 2-0 after 41 minutes and though United might have scored again before the break, it was Alty's Gillespie who came closest as his excellent freekick came back off the upright of O'Hara's goal.
With Parton replacing Coburn for the second half, Petrucci made it 3-0 on the hour mark after good work on the right by Lawrence. McNair nodded home a freekick after 72 minutes before Goss beat Parton with a near post flick six minutes from time. United's quick movement and accurate passing made them well deserved winners.
ALTRINCHAM: 1. Stuart COBURN, 2. Shaun DENSMORE (capt), 3. Mike WILLIAMS, 4. Scott LEATHER, 5. Gianluca HAVERN, 6. Tom MARSHALL, 7. Simon RICHMAN, 8. Ryan CROWTHER, 9. Kyle PERRY, 10. Steven GILLESPIE, 11. James LAWRIE. Subs: 12. Sean WILLIAMS, 14. Greg WILKINSON, 15. Damian REEVES, 16. Nicky CLEE, 17. Max POUNCEY, 18. David PARTON.
The
Derbyshire Times
reports that "Chesterfield secured their first win of pre-season with an entertaining 3-1 victory against Matlock Town.
Danny Rowe and Nathan Tyson scored two impressive goals to add to Liam Mandeville's early opener which was cancelled out by a well-taken free-kick by Alex Byrne.
Overall it was another good workout for the Blues in hot and humid conditions in front of 1,614 fans... Matlock... had won all four of their previous friendly matches including against Mansfield...
The Blues are now heading off for a training camp at Loughborough University before returning for two home friendlies against League Two sides Bradford City and Port Vale.
At least three of the four goals scored in this match were worthy of a bigger occasion.
Chesterfield got off to a perfect start when Stefan Payne found some space about 25 yards out and slipped Mandeville in on goal who stroked the ball across Matlock goalkeeper Shaun Rowley into the far corner after just three minutes... Matlock levelled seven minutes before half-time with a nice free-kick from Byrne...
But the Spireites went into the break in the lead when Payne claimed his second assist... laying the ball to Rowe who struck the ball like an arrow into the net...
Another fine goal rounded off the night. Saidou Khan carried the ball at pace from his own half... before playing the ball into the path of Nathan Tyson who powered it home from 18 yards...
For the second consecutive game summer signing Jamie Grimes impressed and he played the full 90 minutes again just as he did at Alfreton... Interestingly, he started on the right of a back three along with fellow left-footers Gavin Gunning and Laurence Maguire. As we know, boss James Rowe likes his centre-backs to step out with the ball so whether Grimes is comfortable doing that remains to be seen...
Manny Oyeleke, making his first appearance of pre-season, showed some classy touches and played some excellent passes which brought applause and cheers from those in attendance...
Rowe and Payne started together for the first time and they showed some early signs of a partnership formins...
Three more trialists were given a chance to show what they can do...
George Carline, Fraser Kerr and Jack Clarke are the only ones not to play any part in pre-season due to injury and illness espectively. Curtis Weston, another of those being carefully managed due to an Achilles problem, did not feature here but did play against Alfreton...
Team (3-5-2): Loach (Triallist 46); Grimes, Gunning (Triallist 72), Maguire; King (Rowley 58), Oyeleke, McCourt (Khan 55), Mandeville (Triallist 55), Whittle (Miller 46); Rowe (Tyson 46), Payne (Denton 58).
The Maidenhead Advertiser confirms that "Maidenhead United have re-signed goalkeeper James Holden on a season long loan from Reading FC.
The Royals u23s' player has been back in pre-season for the past three weeks and also joined the club's first team squad on a recent training trip to St Andrew's in Scotland...
He and Rhys Lovett, another of the club's summer signings, are set to rival each other for the goalkeeper's number one shirt.
Holden said 'After playing five games here last season I wanted to come back... I hope to keep more clean sheets and keep the ball out of the net more than I did in the last five games, which were all tough. I want to be solid, someone you can trust and not have to worry about.'
Holden was signed on an emergency loan basis for the final five games of last season, after Lovett was injured playing in goal against Notts County.... However, it was a tough end to the season for the Magpies who were running on empty in the final weeks due to injuries, suspensions and an over-crowded schedule of fixtures".
KIng's Lynn Town "picked up there first pre-season win with a convincing 7-0 victory against Thurlow Nunn Premier side Gorleston.
Lynn took the lead on 15 minutes through Gold Omotayo's header. On 20 minutes they extended their lead when a Michael Gyasi cross was tapped home by Junior Morias...
Lynn made it three just after half-time with Omotayo's second of the game, and another header.
On 50 minutes it was four when Tyler Denton turned home a Ross Barrows cross. Three minutes later the same players combined, this time Denton heading home a Barrows cross.
Two late goals from Omotayo, in between Morias hitting the bar, gave Lynn a comprehensive win...
Lynn starting XI: Paul Jones, Ross Barrows, Luis Fernandez, Kyle Callan-McFadden, Pierce Bird, Tyler Denton, Michael Clunan, Munsahe Sundire, Michael Gyasi, Gold Omotayo, Junior Morias. Subs (Half time): Joe Gascoigne for Gyasi, Tai Fleming for Callan-McFadden".
The Grimsby Telegraph cvlaims that "The improvements being made at Grimsby Town this summer have been well documented.
But in amongst the takeover, numerous signings and face-lifts at Blundell Park and Cheapside, there are still plenty of small changes that have perhaps gone unnoticed...
'The improvements up here have made a good impression with the players', Hurst told GrimsbyLive. 'I know we've got a lot of new bodies... Even the new players have been pretty impressed with what we've got, but I think more so with how they're looked after and treated, and that's important..
We all know there's almost endless improvements we can make, we've got to understand when the right times are to improve and what's realistic... The pitches for example, I think we'd have liked it to have been that little bit better if we're totally honest, but the timing of everything was difficult to get that work done because of when the takeover went through...
'Not everything's going to be perfect, but we're certainly striving to be better, and that's what I really like about [owners] Jason and Andrew's vision'...
Hurst has added to his backroom staff, with new kit man Alistair Hotson joining the crew, while masseuse Chloe Parsons is now working full-time after assisting last season.
Elsewhere, sports therapist Ben Mortlock, who has spent the summer working with the England squad during their run to the Euro 2020 final, will return to Cheapside to work with the club's youth team".
According to the Southend Echo, " Southend United manager Phil Brown has been boosted by season card sales for the forthcoming National League campaign.
More than 2,300 fans have already snapped up tickets for next season despite the Shrimpers having suffered two successive relegations.
And Brown has been delighted by the loyalty shown by the Roots Hall faithful... Said the Blues boss, 'I think it's brilliant after back to back relegations to have 2,000 supporters through the door already, it's fantastic.
'We're not finished in terms of our signings and if there are one of two fans sitting on the fence waiting to see then I can promise you we will be bringing more in.
'If we could get to 2,500 it would be magnificent and if we could get to 3,000 it's a telltale sign the supporters are well and truly with us.'"
---
22 July 2021
Altrincham will be looking to improve on recent history when they kick off the league campaign next month.
Over the last seven seasons Altrincham have only twice won any of their first three league fixtures in a season; that adds up to just two wins in 21 matches! The last time they won their first three fixtures was in 2013-14 when they not only won those first three games but extended that run to five wins and two draws in the opening seven matches.
Ironically, the only season in the last seven when Alty were unbeaten after three matches was the disastrous 2016-17 campaign when they were relegated to tier three of the non-League pyramid. So, likewise, a bad start does not always presage a bad season but a good satart to the campaign certainly helps in building conifdence!
The record over the last seven seasons from game one to game three is:
2020-21: D(raw) L(oss) D(raw)
2019-20 L D D
2018-19 D W D
2017-18 L D L
2016-17 D D D
2015-16 L L L
2014-15 L L W
The slow starts have continued beyond the opening trio of fixtures in most of those recent seasons too, with the points' haul over the first eight matches being:
2020-21: P8 W1 D3 L4 PTS 6 (Alty did also win game 5 at Dover but this was struck from the records)
2019-20: P8 W2 D3 L3 PTS 9
2018-19: P8 W2 D3 L3 PTS 9
2017-18: P8 W4 D1 L3 PTS 13
2016-17: P8 W0 D3 L5 PTS 3
2015-16: P8 W3 D0 L5 PTS 9
2014-15: P8 W2 D1 L5 PTS 7
Four years ago today in 2017, in a pre-season friendly, Altrincham travelled to Wales and defeated Rhyl 3-1.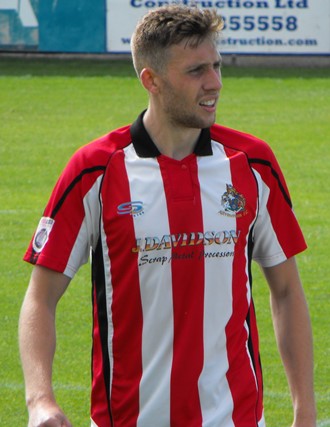 Right: Centre-back James Jones is seen here at Rhyl in 2017. This was the second consecutive game in which James had faced another James Jones, against Chester FC last time out and here at Rhyl!
Alty brought 17 players to Rhyl so there were not quite the mass changes seen in previous matches. There were no new faces in their squad as manager Phil Parkinson had announced that he was happy with the squad as it stood.
ALTRINCHAM: 1. Tim Deasy (capt), 2. John Disney, 3. Kyle Brownhill, 4. Laurence Taylor, 5. James Jones, 6. Sam Heathcote, 7. Tolani Omotola, 8. Sam Sheridan, 9. Josh Amis, 10. Josh Hancock, 11. Jerome Wright. Subs: 12. Tom Peers, 14. John Johnston, 15. James Poole, 16. Jake Moult, 17. Lewis Short, 20. Tony Thompson.
Altrincham secured their third successive pre-season win in a match they largely dominated but without creating too many clear chances.
Josh Amis scored the opener after 14 minutes, heading home after a short corner routine had allowed Jerome Wright to get to the byline on the right. It was the former Stockport County striker's third goal in three matches.
Despite Altrincham enjoying the lion's share of the ball, it remained only 1-0 at the break. And, just before the hour mark, Rhyl equalised when a Hoult header looped over keeper Thompson from a good 15 yards out. However, Alty immediately responded when John Disney got up the right, cut in and saw his goalbound left-footed shot deflect off a defender's head and loop into the net to make it 2-1 to the visitors.
A poor back pass by Rhyl then allowed Johnston to nip in and, though his effort was blocked, James Poole arrived to shoot firmly into the net in the 74th minute.
The
Nottingham Post
says that "Notts County's summer spending spree continued after they completed the impressive capture of Matty Palmer.
The Magpies have signed the ex-Rotherham midfielder on a free transfer following his release from Swindon Town who were relegated from League One last season.
The 26 year-old arrives having racked up more than 200 EFL appearances... with Wigan Athletic and the Robins last season... Ex-Notts defender Ben Turner player an integral role in helping convince Palmer to move to Meadow Lane.
The pair were team-mates at Burton Albion and Turner is understood to have given Notts a glowing assessment of the club and its ambitions.
Head coach Ian Burchnall said... 'We've brought in two very talented young midfielders in Ed Francis and Frank Vincent this summer, so adding someone of Matty's experience will give us great balance in the central area. Matty's played more than 50 games in the Championship, around 80 in League One and nearly 100 in League Two so he brings a lot of know-how to the squad while, at the age of 26, he still has plenty to offer in terms of development and improvement.
'We're looking at him playing a similar role to Jake Reeves towards the end of last season. He could play deep, but we see him more as a box-to-box midfielder who can contribute to the attacking side of the game'...
Palmer's arrival does not signal the end for the trialists at Meadow Lane and they will remain with the club for the time being. 'We've still got Lamine Kaba Sherif, William Hondermarck and Kyle Bennett on trial and they're all showing promise,' said the head coach".
According to Football League World "Many Bolton Wanderers fans have taken to Twitter to react to the news that defender Reiss Greenidge has joined non league Barnet on loan for the 2021/22 season...
Bolton quickly gave the 24-year-old the green light to head out on loan to the National League outfit in order to get more consistent game time under his belt.
Greenidge, who is originally from London, made just seven appearances for the Trotters last term as they secured promotion back to Sky Bet League One and will now be looking to become a regular at the Hive".
The Manchester Evening News added that "The 25-year-old defender has completed a move... from Wanderers, [for] whom he signed a two-year deal with last summer.
Greenidge has made only seven appearances for Bolton is all competitions since moving to the club... The central defender has now joined the Bees on a loan deal for the upcoming season...with a view to signing for the club permanently"
The Grimsby Telegraph reports how "Grimsby Town maintained their winning start to pre-season on Tuesday as they overcame Mansfield in their latest run-out.
The Mariners earned themselves a 1-0 victory... with Erico Sousa grabbing the only goal of the game during the second half.
Once again, Paul Hurst got the chance to take a closer look at his new-look squad in action, as well as some of the club's youth team stars looking to break their way into his thinking. The game was played behind closed doors...
Having made a solid first impression against Cleethorpes Town on Saturday, Ben Fox has enhanced his reputation with his latest showing...
With both Ryan Taylor and Lenell John-Lewis out injured, and possibly out for the start of the National League campaign, Hurst is in need of someone to lead the line. There were suggestions that former Forest Green frontman Kurtis Guthrie would feature as a trialist at the RH Academy, but there was no sign of him in the side.
Instead, the duty of leading the attack went to Joel Grant, and by the looks of things he did a decent job as an out-and-out striker. It's a role he was given under Ryan Lowe during his time at Plymouth; Hurst would certainly prefer to utilise him as a winger in the new season...
All-but one of Town's new signings got their first outing at the weekend... with the Portuguese winger getting his first run-out in the second half at Mansfield... supplying the finish to earn the Mariners another victory.
He had a record of a goal every other game for Darlington last season, and judging by the reaction from the Quakers' fans he made quite the impression".
The Southend Echo confirms that "Southend United striker Simeon Akinola has tested positive for coronavirus.
The forward's future remains in doubt after he featured in just one of the six games Phil Brown took charge of at the end of last season.
But it was illness which meant Brown could not call upon Akinola against Great Wakering Rovers on Tuesday night.
'Sim is another one who has unfortunately gone down with Covid... My Covid officer is also the chief executive so when he says we aren't training we aren't training. I have no say in the matter and we've had to close the training ground down as a proper training venue for five days and we test every Monday and Thursday.'
But winger Ashley Nathaniel-George did not feature against Wakering due to a knee problem. 'Ash has had an operation behind his knee,' said Brown.... 'It's a little bit more complicated than we though but fingers crossed everything is OK'".
---
21 July 2021
Altrincham FC
confirm that "Our first pre-season game is on Saturday July 24th with a Noon Kick-off:- West Didsbury & Chorlton v Altrincham at The Step Places Stadium, Brookburn Road, Chorlton, M21 8FE
Cash Admission on the gate –
£5 – Adults
£3 – Concessions (over-60s, students with valid ID and under 18s)
Free – Under 12s accompanied by an adult
Car Parking is available at HARDY FARM Postcode M21 8DP
Alcoholic drinks can be purchased and enjoyed during the game".
Nine years ago today there were some big names playing against Altrincham for the visiting Burnley XI at Moss Lane, managed by Eddie Howe. Danny Ings, Kieran Trippier and Charlie Austin were amongst the Burnley visitors.
In contrast Alty were without several players. Goalkeeper Stuart Coburn was one of them due to holiday, whilst midfielder Carl Rodgers and striker Ryan Brooke were also not in the starting line-up, though Brooke was a second-half substitute and Rodgers was involved in the warm-up.
So, Adam Reid took over in goal, whilst his former youth team colleagues Duncan Watmore and Sam Grimshaw were also included; Duncan as a starter and Sam as a substitute. No trialists started the game for Alty but four were used in the second half (Matt Doughty, James [not John as on the team sheet] McCarten, Ashley Young and Adam Mather). Former Alty Reserves' keeper, Steve Downs, stepped in as goalkeeping cover on the bench, as he had also done the previous summer.
Up front, just one out and out striker was deployed, in the shape of Danny Midgley.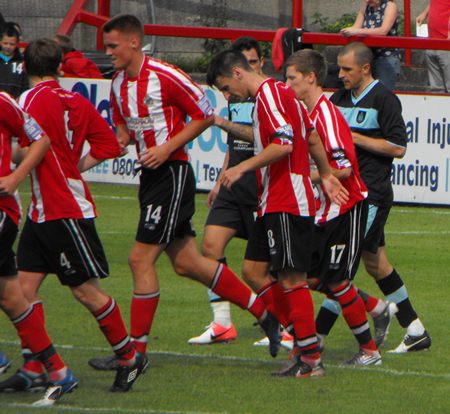 Right: Trialist defender James McCarten (no.14) is congratulated on his goal for Altrincham.
The Clarets quite deservedly won this match 4-1 but a fierce first-half shot against the post from Duncan Watmore and a second-half disallowed goal could have narrowed the margin in a game which finished with only James Lawrie and Simon Richman of last season's regular starters on the pitch for the Robins.
With Stuart Coburn unavailable for this and the next two Alty games, Adam Reid kept goal and distinguished himself with a trio of good saves, whilst fellow youth team graduates Duncan Watmore and Sam Grimshaw, a second-half sub, also enhanced their reputations.
Alty fell behind in the 14th minute when Chris McCann scored with a low drive into the bottom corner of the net. With Burnley fielding a different eleven in the second half, they scored twice in three minutes soon after the break. Firstly, Danny Ings scored from the edge of the box (48 mins) before Charlie Austin's left-footer made it 3-0 in the 51st minute. Austin added the fourth in the 90th minute, with a back-post header from Treacy's cross from the left.
Alty's goal arrived in the 70th minute when trialist centre-back James McCarten (ex-Everton and Aberystwyth Town) stabbed the ball home after Stewart had failed to clear.
The match was refereed by Altrincham's own Premiership official, Anthony Taylor.
ALTRINCHAM: 1. Adam REID, 2. Scott LEATHER, 5. Gianluca HAVERN, 6. Danny HALL, 3. Nicky CLEE, 7. Duncan WATMORE, 8. Simon RICHMAN, 10. Scott PHELAN, 11. James LAWRIE, 9. Danny MITCHLEY. Subs: 12. Matt DOUGHTY, 14. James McCARTEN, 15. Ashley YOUNG, 16. Ryan BROOKE, 17. Adam MATHER, * Sam GRIMSHAW, GK. Steve DOWNS
BURNLEY: 1. Lee GRANT, 2. Luke O'NEILL, 3. Joseph MILLS, 4. Kev LONG, 5. Jason SHACKELL, 6. Chris McCANN, 7. Ross WALLACE, 8. Steve HEWITT, 9. Joe JACKSON, 10. Martin PATERSON, 11. Junior STANISLAS. Subs: 14. Kieran TRIPPIER, 15. Danny LAFFERTY, 16. Michael DUFF, 17. Ben MEE, 18. Dean MARNEY, 19. Danny INGS, 20. Alex MacDONALD, 21. Keith TREACY, 22. George PORTER, 25. Charlie AUSTIN, 27. Jon STEWART (GK)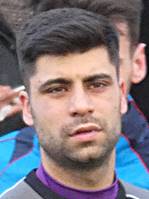 Former Alty loanee Nathan Waterston [right] was in the Cumberland side facing Lancashire in a one-day cricket match played at Sedbergh School on Tuesday. Sadly Nathan was out for one.
Nathan's stay at Alty on loan from Barrow in 2019 was prematurely ended by a crude last-minute challenge at FC United of Manchester, which put the striker out of action with an ACL injury.
Altrincham FC
has announced that "The Altrincham FC Business Club already launched in spectacular fashion, with a wide range of locally-based companies and businesses signing up and creating an enviable membership base in a matter of days...
Two of the initial intake of members, tax experts Catax and leading estate agents Watersons, have stepped forward and become the Club's official sponsors... with the major boost of sponsorship from Catax and Watersons allowing Alty to launch a dedicated Business Club app, which will be announced and launched shortly...
Alty director Sam Mackenzie said... 'We've had a fantastic take-up in the space of one week, since the Business Club's inception, and more and more new members are signing up each day. To have followed that up by reaching a sponsorship agreement with two thriving local names like Catax and Watersons is just brilliant news. We wanted to forge closer links with local businesses'".
The
Grimsby Telegraph
reports that Paul Hurst, "the Mariners boss, is on the lookout for a new frontman with both Lenell John-Lewis and Ryan Taylor out injured ahead of the start of the new season.
Paul Hurst has made it clear he'd like to secure a new frontman before the start of the National League campaign, which gets underway on August 21. That desire has been hastened after Ryan Taylor pulled up just 15 minutes into the Mariners' opening pre-season game at Cleethorpes Town on Saturday.... [with a] hamstring problem, and... with Lenell John-Lewis potentially facing a lengthy spell on the sidelines after tearing his calf in training, Hurst is reportedly getting down to work on finding a new frontman immediately...
There's plenty of speculation to suggest that Paul Hurst is already taking a look at the former Port Vale frontman, Kurtis Guthrie, [who] is available after being released by the Valiants at the end of the 2020/21 season, having only made the move to Vale Park in January...
Supporters have raised concerns over his lack of goals over the past year, but with suggestions he'll be getting a run-out against Mansfield, Hurst may be looking to see if he can rediscover his scoring touch".
Notts County "have completed the signing of former Manchester City and England youth captain Ed Francis.
The 21 year-old midfielder, who skippered the likes of Phil Foden and Jadon Sancho during an 11-year rise through City's academy, has signed a two-year deal at Meadow Lane to the delight of Ian Burchnall.
'Ed's time at City gave him a tremendous education,' said the head coach... 'He progressed through the ranks as a left-sided centre-back but felt, at around 6ft, he probably wasn't quite tall enough to make it at the top in that role – hence his adaptation into a holding midfielder... In the role we want Ed to play, you're the pivot of the whole team. You have to understand space, where to position yourself to receive the ball and the defensive areas to cover. You're also responsible for dictating the play, so it's a hugely important position...
'Having left City for Wolverhampton Wanderers in 2019, Francis captained the Molinuex outfit's Under 23s on several occasions... but an untimely ankle injury dented his chances of breaking into Nuno Espirito Santo's plans for the 2019-20 Premier League campaign.
Following a Covid-curtailed loan move to Swiss side Grasshopper, Francis took the brave decision to cancel his Molineux contract in pursuit of first-team action elsewhere. This paved the way for a move to League Two side Harrogate Town last December, where he made a positive impression in his 20 appearances...
Said Burchnall 'He found himself being used at full-back quite a lot but I know he sees himself as a holding midfielder, as we do'">
Another ex-Harrogate player is the subject as the Harrogate Advertiser reports that "Simon Weaver's summer clear-out at Harrogate Town continues, with Tom Walker's exit confirmed...
The 25-year-old left-winger leaves Wetherby Road to re-join National League promotion-hopefuls Stockport County on a permanent deal. Walker only signed for the Sulphurites last summer, but despite beginning the 2020/21 in Weaver's starting XI, he quickly faded out of the picture and was loaned to Notts County in November.
A second temporary switch followed two months later, with the former Bolton Wanderers and Salford City attacker choosing to link up with the Hatters, for whom he went on to make 22 appearances... By the time Walker had returned to Harrogate to begin pre-season training at the start of July, Weaver had already... stated that Walker and a trio of other players still under contract were free to move elsewhere.
The other three, Joe Leesley, Connor Kirby [now at Alty] and defender Kevin Lokko, have already departed... following eight players who were released by Weaver at the end of last season... Walker featured in 12 competitive matches for Town, failing to score a goal".
According to the Halifax Courier, "Town manager Pete Wild says the club are confident they have identified the right replacements for defender Neill Byrne and striker Jake Hyde...
Wild, who celebrates his 37th birthday today, said 'I thought it was key that we put the statement out on Sunday night, because everyone gets sceptical and apprehensive, and I appreciate that...
'In Neill's case, Neill's representative came to us and asked would there be any mileage in Hartlepool making an offer, and I said we didn't want to lose him but if he wanted to move on into the league, that's what it would take to do it, and fair play to them, they came up with the money, and it was really good business, it was good money, Neill had expressed that he wanted to leave...
'As soon as players express a desire to leave then we have to work with them to try and move them on...
'Obviously there's been rumours across the summer about Jake. There were a couple of clubs interested, Wrexham came in with an offer, again Jake had made it clear to us that he wanted to move on, for various reasons, and again, it's a really good bit of business for a 31 year-old who we didn't get as many games [from] as we thought we would last year, so the business was good...
'We should be really happy as a football club for what we received for them... I'm under no pressure to generate income for the football club.
'But the two factors are they express a desire to move on, and their valuations were met very comfortably, in our eyes, so it's really good business for the club, especially in these times, it will certainly help me reinvest in bringing other players to the football club...
'We always know the targets we're going to go after to replace players, and now is no different. We've already had really good conversations with the people who we want to bring in and now they're making their decisions whether they're for us. We haven't just spoken to one, we've spoken to two or three in both those positions, so it'll be a case of, if they all come back with a yes, we have to pick the best person for the job, but we'll be happy with any of them three in both positions'...
'[Four] traillists are in the building, they have started really well... The plan is still on track. Yes, there's a bump in the road with those two leaving, but we've dealt with that'...
Wild says striker Matty Stenson is making good progress in his rehabilitation from long-term injury... 'Hopefully, nearer Christmas, he'll be back out there showing everybody why we invested money bringing him to the club.'
Town are back training at their base in Leeds".
Newcomers to the National League, Southend United "confirm midfielder Timothee Dieng has departed the club and joined Exeter City.
Dieng joined Blues in 2018 and made 113 appearances for the club during the three seasons he spent at Roots Hall, chipping in with nine goals in all competitions.
Dieng was offered a new deal by Blues but has opted to join the Grecians in League Two for the upcoming season".
Solihull Moors "announce the signing of central defender Matt Preston, who has penned a two-year contract with the club until May 2023.
Preston, 26, started his career at Walsall where he captained their under-18 side before signing his first professional contract in January 2013.
He went on to amass over 100 Football League appearances for the Saddlers, Swindon Town and Mansfield Town.
In October 2020, Preston signed for Barnet and made 16 appearances in all competitions across the 2020/21 campaign...
Preston said... 'I've always thought it's a good club. Everything that you need is here. I think everyone at the club wants to get promoted, that's what the ambition is. First and foremost, I'm a defender and my job is to help keep the ball out of the net. I'd like to think I can keep the ball as well and recycle where it needs to be recycled.'"
---
20 July 2021
Two years ago today, on 20 July, 2019, Altrincham put in their best performance of pre-season, so far, to secure a 2-1 win over a Blackpool XI in an entertaining and largely end to end game at the J. Davidson Stadium. Left-winger Lewis Walters was the only trialist in the Altrincham squad and both he, and fellow winger Matt Chadwick impressed in a lively first half.
Blackpool had sent another squad to Barrow for a simultaneous game with this one at Altrincham so the Seasiders were not at full strength. After their 0-6 mauling by Crewe at Moss Lane last time out, Alty were looking for a much improved performance but they fell behind to a well-worked goal by Tollett in the 23rd minute. The excellent Liam Feeney's slide-rule pass set Devitt advancing towards goal and, from the right, his low cross was tapped home by Tollitt.
The hosts equalised in the 35th minute with an excellent move. Densmore's impressive crossfield ball located Hampson and, via Williams and Hancock, the ball was crossed from the right byline by Chadwick for Walters to head into the net.
Just six minutes afterwards, Richman made a fine interception in midfield and played in Chadwick who was brought down as he advanced up the middle of the penalty area. Chadwick himself converted the penalty with a firm spot-kick.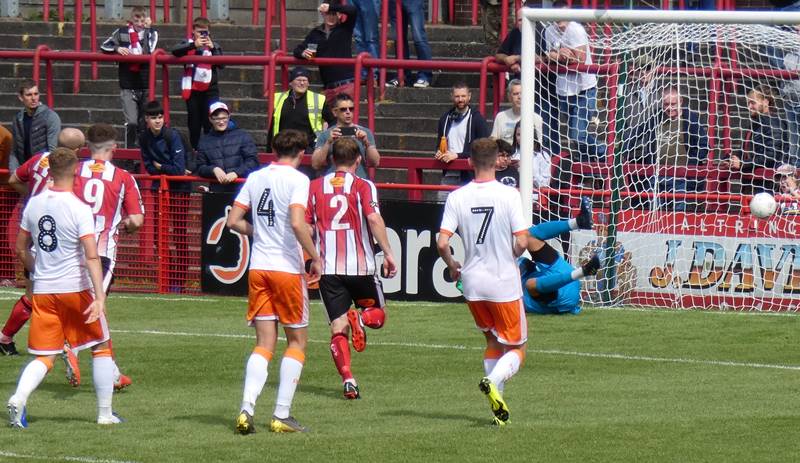 Above: Matt Chadwick (far left, no.7) converts his penalty.
At the break, Tony Thompson replaced Steven Drench in goal and, in the second half, Alty lost Walters to injury, with Nathan Arnold replacing him. Soon afterwards seven more Altrincham substitutes were deployed. Although there was plenty of attacking movement from both sides there were to be no more goals before the final whistle.
For their part, Blackpool used a player who at that time had been a former Alty loanee, Yusifu Ceesay, as a second-half substitute.
ALTRINCHAM: 1. Steven DRENCH, 2. Shaun DENSMORE, 3. Connor HAMPSON (c), 4. James JONES, 5. Ben HARRISON, 6. Sean WILLIAMS, 7. Matt CHADWICK, 8. Simon RICHMAN, 9. Tom PEERS, 10. Josh HANCOCK, 11. Lewis WALTERS. Subs: 9* Jordan HULME, 12. Andy WHITE, 14. Max HARROP, 15. Tom HANNIGAN, 16. Toby MULLARKEY, 17. Nathan ARNOLD, 19. Dontai GABIDON, 20. Tony THOMPSON, 21. Conor BRANSON
Altrincham FC season tickets for 2021-22 season are on sale now and details of prices and of how to obtain your ticket are on the
Altrincham FC
website.
Portsmouth News
reports that "Michael Doyle and Kyle Bennett have reunited. Doyle has spent the last two-and-a-half years at Notts County, culminating in last month's appointment as player-assistant head coach.
And it appears he is already having an influence in the Magpies' recruitment following the arrival of Bennett. His ex-Pompey team-mate has suffered a difficult time since leaving Fratton Park in January 2018 under Kenny Jackett.
After initially impressing at Bristol Rovers, the winger then fell out of favour over the next three-and-a-half years. He spent the majority of last term on loan at League Two Grimsby... Now, following his Rovers release, the 30 year-old has arrived at Meadow Lane as a trialist seeking a new home.
Bennett marked his first game for the National League club with an impressive display in Saturday's 2-0 friendly win over Coalville... Bennett sealed the success with a superb 20-yard effort...
Magpies boss Ian Burchnall told Nottinghamshire Live, 'You can see obviously that he's been at a good level and he's got lots of quality'...
Bennett arrived at Fratton Park in the summer of 2015... and went on to make 117 appearances, scoring 13 goals... Bennett went on to make 62 outings for Bristol Rovers".
According to the Essex Daily Gazette "Former Colchester United favourite Tom Lapslie has signed for Torquay United.
The tenacious midfielder, who was one of a host of players to leave the U's in May, is one of a number of new signings for the Gulls.
Lapslie joined Colchester's academy at the age of 16... He went on to become a regular in midfield, under several different managers... The combative midfielder made 170 league and cup senior appearances for the U's...
Lapslie admitted it was tough to leave... 'It's the only thing I've known for the last ten years'".
Bromley "returned to Hayes Lane for their first pre-season friendly. The game saw a number of trialists and first team players feature, as well as different sides selected for each half...
Overall, there were few chances for both teams throughout the first half.
In the second half, a mistake in defence from Bromley, saw Fulham forward Terry Ablade have an open goal to aim at, the forward made no mistake and the visitors took the lead...
Then, the moment Bromley had been waiting for. The ball was played to a trialist on the wing, he weaved his way past a couple of defenders, inside the opposition's penalty area and slotted the ball with ease into the bottom corner. A deserved equaliser for The Ravens...
It was honours even at Hayes Lane, but there certainly were moments of promise for the hosts".
Aldershot Town "announce that Harrogate Town defender Kevin Lokko has committed to Aldershot Town for the next two years!
Lokko, who is a central defender by trade, is a product of the academy system at Norwich City... Since then, the 25 year-old has had spells with a number of National League clubs including Welling United, Maidstone United, Dagenham & Redbridge (loan) and Dover Athletic (loan before made permanent).
The central defender joins the Shots with plenty of experience in the National League too, playing over 180 games in the division with an impressive return of 17 goals during this time as well.
Lokko has also had spells in the Football League with both Stevenage and Colchester United during his career, before most recently moving to his most recent former club Harrogate Town.
This was after a successful spell with Dover Athletic in the National League which also saw the defender captain of the Whites".
---
19 July 2021
Four years ago today, Chester FC arrived at Moss Lane residing two rungs higher than Alty on the Non-League ladder. And two years prior to that both had been in the same division. Now in 2021 it is Altrincham which is a higher-ranked club than its Cheshire neighbours.
The match in 2017 was a pre-season friendly match which Altrincham won 3-2. Trialists James Jones, Josh Amis and Tony Thompson remained in the squad for the match but recent signing Jordan Hulme was not available. Chester had played 24 hours earlier at Bala Town and, in that match as well as this, they fielded separate starting elevens in each half.
Indeed, it was a very encouraging performance from Altrincham which was rewarded by a narrow margin of victory that did them scant justice after a game they had dominated for almost the entire ninety minutes. Chester used a different eleven in each half whilst Alty employed nine substitutes during the game.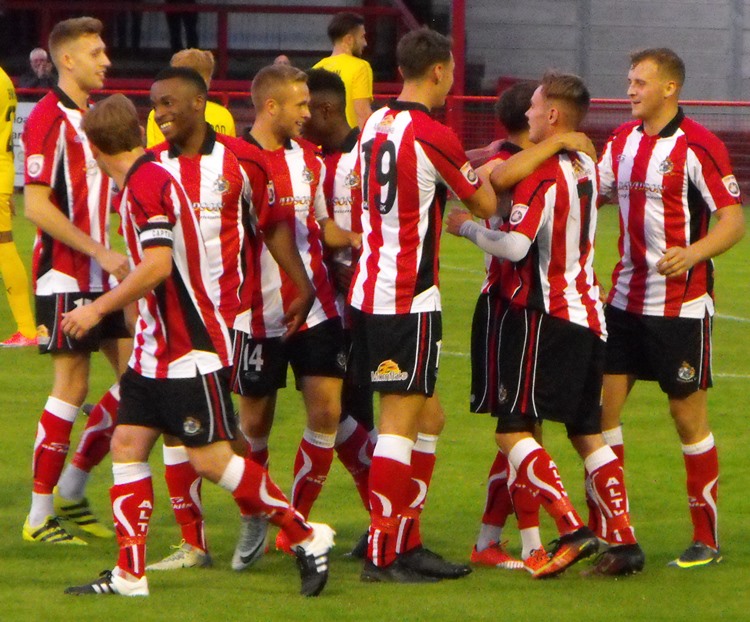 Above: Alty celebrate a goal against Chester FC in 2017.
Altrincham took a deserved 33rd minute lead when Poole found Hancock on the left. His shot was diverted into the net by Tom Peers, who was playing in the central striker's role in the first half. But, just four minutes later, Chester, who had scarcely threatened the Alty goal, netted an equalizer which arose from a mix-up between Sheridan and Moult. This allowed Davies to fire home impressively from outside the box.
Chester improved in the early stages of the second half before Alty again reasserted their dominance. A brilliant goal by Jerome Wright made it 2-1 after 69 minutes. He made space in the box before curling the ball into the far top corner, to the keeper's right.
Seven minutes later, Johnston found trialist Josh Amis whose low shot went through the Chester trialist substitute keeper's hands to make it 3-1. With Alty well on top, Chester were given a way back when the referee judged Alty trialist Jones to have fouled Nyal Bell as he got the ball off the former Alty loanee inside the box. Dawson netted the penalty to make it 3-2 with seven minutes remaining.
Alty saw out the match comfortably and moved towards the new league season with increasing confidence in what was proving to be an effective and attractive style of football.
ALTRINCHAM: 1. Tony THOMPSON, 2. John DISNEY 3. Lewis SHORT, 4. Chris LYNCH, 5. Ben HARRISON, 6. Jake MOULT, 7. John JOHNSTON, 8. Sam SHERIDAN, 9. Tom PEERS, 10. James POOLE, 11. Josh HANCOCK. Subs 12. Shaun DENSMORE, 14. Kyle BROWNHILL, 15. James JONES, 16. Laurence TAYLOR, 17. Jerome WRIGHT, 18. Josh AMIS, 19, Sam HEATHCOTE, 20. Tim DEASY, 21. Tomoli OMOTOLA
According to the
Non-League Paper
, "Stockport County owner Mark Stott has purchased a controlling share in the town's other football club, Stockport Town.
The club, which competes in the North West Counties League Division One South, was previously owned by Pro Football Academy, a company which coaches players between the ages of four and 16.
Stott, a property entrepreneur and multi-millionaire, bought PFA last week, thus becoming the de facto owner of Stockport Town.
A statement from Town, who will be managed by [former Chorley manager] Matt Jansen, said 'The acquisition supports Mark's passion for creating opportunities for everyone to get more out of football and create pathways for young footballing talent in Stockport and the wider region.
'The FA, EFL and North West Counties League have all approved the transaction subject to conditions that ensure Stockport Town is operated independently from Stockport County.'".
The leading story in the
NL Paper
is that "FC Halifax Town manager Pete Wild believes there is more money being spent by clubs in the National League than League Two this summer".
And his view is not surprising after FC Halifax Town reported tersely that "FC Halifax Town striker Jake Hyde has joined Vanarama National League side Wrexham AFC for an undisclosed fee.
Thank you Jake and good luck with them".
And this came just after the Shaymen had issued an identical two-line statement to confirm that "FC Halifax Town defender Neill Byrne has joined EFL League Two side Hartlepool United for an undisclosed fee.
Thank you Neill and good luck with the Pools".
Elaboration came from FC Halifax Town in an open letter to supporters from manager Pete Wild stating that "I am writing to help you understand and allay any fears you may have regarding the sale and recruitment of players.
As I have continually stressed over the last year we have developed a strict budget and playing structure which allows us to get every penny out of the playing budget. This is firmly driven by me and supported by the Chairman. This will at times see us lose or miss out on certain players, but allows us to maintain our budget and ensure harmony in the squad.
Regarding the sale of the two players this week, I'm under no pressure to sell any player at this Club, however every player has a price, coupled with individual player circumstances.
Both Neill and Jake have made it known to me during the summer that they would like to move on, for various reasons. When a player says that to me, then I have to work in the best interests of the football club and look to move them on. I'm sure you will agree with me, we only want players here who are committed to making this Club better, not with one eye elsewhere. Of course the financials have to be right and the appropriate figures have been achieved.
In my eyes this was excellent business for the football club given the circumstances. The Chairman has always stated to me from day one that any money created from player sales will be reinvested into the playing budget. When you see the term 'undisclosed fee' that is normally the request of both clubs involved, not just one.
As you would expect, we have already identified and are speaking to clubs and players who we wish to replace those who have left...
I can assure you we all remain committed to producing the best squad possible for the new season.'"
The Leader Live confirms that "Wrexham AFC have paid Halifax Town an undisclosed fee to bring in striker Jake Hyde to The Racecourse.
Hyde, 31, scored 12 goals in 27 games for the Shaymen last season, and has signed a two-year contract at the Racecourse Ground.
The forward previously played for Woking and scored 16 goals in 32 games in the 2019/20 season...
Hyde said 'It's a fantastic set-up here and I'm really looking forward getting going. I had a couple of clubs in for this summer, and once Halifax let me know Wrexham were one of those, I spoke to the manager and from then on it was the only option for me'...
Hyde started his career with Swindon Town, twice moving on loan to Weymouth and making his career debut with the Terras, before moving to Barnet in 2009... but moved to Hayes & Yeading before spells in Scotland with Lochee United, Dundee (twice) and Dunfermline Athletic.
He moved back to Barnet in 2012... and then went on to play for York City, Stevenage and Maidenhead United before his move to Woking... Hyde spent last season with FC Halifax Town.
He added... 'I've been successful at this level for three years and I'm hoping I can continue to do that while I still grow with this Football Club and take it back to where it should be'".
The Nottingham Post reports that Notts County "kicked off their pre-season campaign at the weekend as they beat Coalville 2-0 with goals coming from Damien McCrory and Kyle Bennett...
It was an excellent work out for Notts who were level at the break having been frustrated by a Coalville side who carried a genuine threat... But eventually, Notts' class told with Bennett firing a shot off the post which McCrory tapped in before the trialist curled in a magnificent 20-yard effort.
Magpies writer Leigh Curtis was in attendance and he analysed the first friendly...
The former Portsmouth winger [Bennett] is currently a free agent following his release from Bristol Rovers and now finds himself looking for a new home. Notts have taken him on trial...
It was clear from his performance against Coalville that he still retains a great deal of quality...
The young goalkeeper Brooks is highly thought of at Meadow Lane having come through the ranks of the academy. Last year he had spent time on loan at Lincoln United...
Head coach Ian Burchnall was effusive in his praise of his performance post-match and with only two goalkeepers on the books, Brooks is certainly staking a worthy claim to be back-up to Sam Slocombe...
Cameron looks a class act.... Notts pulled off something of a coup to land the former Newcastle centre-back given he was being chased by plenty of Football League clubs...
He was handed the captain's armband in the first half during which he demonstrated all the qualities which made him one of the club's top summer transfer targets...
One of Notts' biggest problems last term was their over-reliance on Kyle Wootton who finished the campaign with 19 goals in all competitions... It hasn't quite happened for Lewis Knight following his arrival from Bradford Park Avenue, while Elisha Sam was used sparingly at the back end of the season...
While Ruben Rodrigues was absolutely sensational in the final few weeks of last season, he is more of a second striker rather than somebody who can lead the line should Wootton ever be ruled out for a period of time.
< Head coach Burchnall has admitted that a striker is on his agenda, but it cannot be another forward who needs developing.".
From Southend, the Echo News reports that "Hughly-rated goalkeeper George Murray-Jones has joined Manchester City from Southend United.
The first year scholar, who came through the youth ranks at Roots Hall, has been invited to England training camps due to his fine form.
And the youngster has now been snapped up by the Premier League giants.
Murray-Jones in the second Southend player to join City in recent times after defender Finley Burns made the same move back in 2019.
The Derbyshire Times says ther are "Four talking points as Chesterfield lose to Alfreton Town in pre-season friendly.
Tom Denton scored on his first appearance in six months as Chesterfield slipped to a late 3-2 defeat against Alfreton Town in their first pre-season friendly... with the hosts winning it in the 90th minute in sweltering heat at the Impact Arena.
Matt Rhead's penalty, scored against the run of play on 25 minutes, had the National League North side ahead at the break.
The Spireites equalised eight minutes into the second-half when one of Chesterfield's four trialists on the day, a striker, blocked a clearance by goalkeeper Teddy Unwin-Marris and the ball flew in.
Denton marked his return from injury with a trademark header from Jak McCourt's corner to put the visitors in the lead with 20 minutes remaining but the Reds equalised almost instantly from Michael Williams' long-range strike before Shaun Tuton notched a late winner...
It was understandable that Alfreton, with two friendly matches already in the bag before this one, finished the stronger as the Blues tired... Jamie Grimes was probably the stand-out performer of the new boys. He was comfortable on the ball and played some excellent diagonal passes out to fellow new signing Jeff King on the right flank.
King himself also made a positive impression, his pace and ability to go on the outside or cut in on his left caused the hosts problems.
Stefan Payne looked a threat and it was encouraging to see him get on the end of some chances.
---
18 July 2021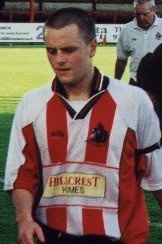 After a recent look at the Alty kit for 2000-01 we now turn to the kit worn in 2001-02 as we continue our review of the club's first-team kit since the start of the current millennium.
Right: Steve Hawes in the 2001-02 home kit.
Altrincham finished ninth that season which ended with third-bottom club Bishop Auckland being demoted because their proposed home at Shildon had not met the ground grading criteria. The 22nd and 23rd place teams (Hyde United and Bamber Bridge) should have been relegated; the 21st place team (Bishop Auckland) should have been involved in a play off with the 3rd to 5th teams UniBond First Division teams to decide which team played in the Premier League the following season.
But Ossett Town, who finished second in the First Division, also failed a ground assessment, so the only team promoted automatically to the UniBond Premier was Harrogate Town, the champions of Division One, who replaced the only relegated team, Bamber Bridge.
As seen in the team photoshoot below, the 2001-02 attire now incorporated a slightly broader red and white striped pattern and a new main sponsor's logo in the shape of local building firm Hillcrest Homes, run by Alty director Jeremy Pollitt. The backroom staff are sporting the all-white away kit (see below).
The player numbers were in black on a white panel.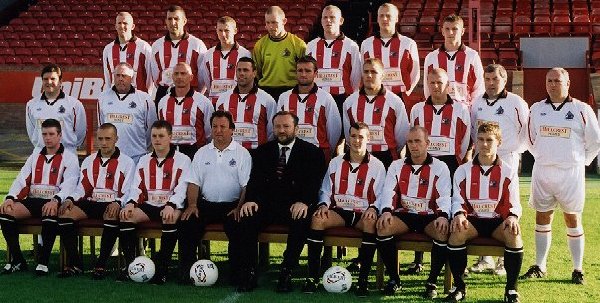 Back row L to R: Mark Maddox, Mark Sertori, Ian Craney, Stuart Coburn, Paul Taylor, Terry Bowker, Gary Scott; middle L to R: Gary Thompson (Physio), Keith Mairs Senior (Coaching Staff), Kevin Hulme, Jason Gallagher, Danny Murphy, Carl Furlong, Chris Adams, Graham Heathcote (Coach), Graham Wright (Reserves' Manager); front L to R: Dave Swannick, Keith Mairs, Steve Hawes (Captain), Bernard Taylor (Manager), Mark Harris (Chairman), Rod Thornley, Lee Poland, Jeremy Illingworth.
Away from home the change strip comprised an all-white kit with the same Hillcrest panel that featured on the home kit. On this shirt the player's numbers were in red rather than the black used on the home shirts.
The norm was black shorts and socks but white was worn for either or both when there was a clash.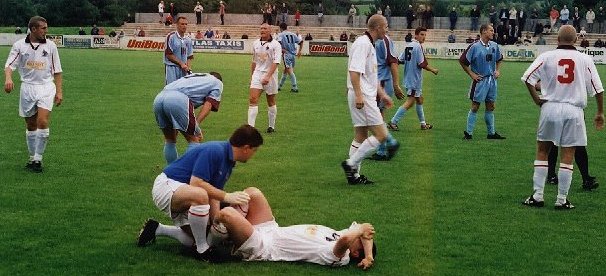 In the all-white strip, Alty's Steve Hawes is seen, above, receiving treatment from Gary Thompson after being fouled by ex-Robin, Marc Limbert (bending over in no.7 shirt) at Colwyn Bay. The other Alty players visible are (l. to r.) Mark Sertori, Kevin Hulme, Mark Maddox and Chris Adams. In the background is Bay no.11, Stuart Scheuber, who had been employed at Moss Lane the previous season.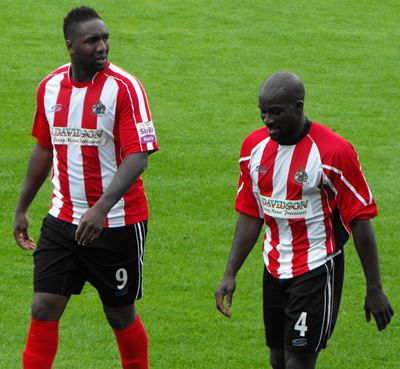 Six years ago today, on Saturday, 18 July, 2015, Altrincham won a pre-season friendly match at The Bower Fold against Stalybridge by the only goal of the game. This was Alty's fourth pre-season fixture, following draws at Abbey Hey and at home to Wigan Atheltic and a victory at Bamber Bridge. Interestingly, for a match at this level, the match officials were provided with ear-pieces to enable them to contact each other.
Right: New boys, Michael Rankine and Anthony Griffith, seen at Stalybridge in 2015.
In this game, Altrincham took an early lead when Stalybridge's former Alty keeper, Tony McMillan, raced out to his right touchline but was hustled off the ball by Michael Rankine. Alty's new striker then curled his shot into the net from wide left, despite the attempts of two retreating defenders to block it. That was in just the seventh minute.
For Celtic, Chippendale impressed and, especially in the second half, they had the majority of the forward momentum. They had a goal chalked off for offside but Altrincham almost scored a second goal in the 90th minute when James Lawrie's fine shot came back off the underside of the crossbar.
Surprisingly, trialists Jordan Deacey and Jordan Sinnott were not in Altrincham's squad but new signing Anthony Griffith made his debut. Nicky Clee and Shaun Densmore were not involved in the game either.
ALTRINCHAM: 1. Stuart COBURN 2. Scott LEATHER, 3. Adam GRIFFIN, 4. Anthony GRIFFITH, 5. Gianluca HAVERN (capt), 6. Tom MARSHALL, 7. James LAWRIE, 8. Simon RICHMAN, 9. Michael RANKINE, 10.Josh O'KEEFE, 11. Ryan CROWTHER, Subs: 12. Sam HEATHCOTE, 14. Jake MOULT, 15. Damian REEVES, 16. Joel SWIFT, 17.David BROWN, 18. Tim DEASY, 19. Rhain DAVIES.
The
Grimsby Telegraph
report that on Saturday Grimsby Town were set to get "their pre-season schedule up and running as Paul Hurst gets a closer look at his new-look squad in action.
The Mariners head to neighbours Cleethorpes Town... where they'll be looking to blood their 10 new signings for the first time...
'I think first and foremost, it's a usual line that most managers will be saying, it's about fitness,' Hurst told the Telegraph. 'We've probably done more 11 v 11 work going into the first game than we've probably done in the past. Some of that is because it's a new group of players, and we're trying to implement certain movements and systems.
'We've also got longer to prepare for the season... It's allowed us to run with the Wednesday off that we would normally do throughout the season. We just want to see an understanding from the players of what's been asked of them. We've done some analysis work, Chris (Doig) in particular has gone through clips with individuals or certain units of the team to try and get them to understand what's required'...
On how his new signings are faring, Hurst added 'Good, some are better than others at this moment in time, and with experience you learn to not get caught up on making too many judgements and ideas on players... Harry Clifton for example looks like he's at the wrong place because he can just run all day, he probably should be in an athletic team!
'Some of the others have to work at that, and some are more technical than others. In general, you're just looking for their attitudes, their application to it. There's a couple of things already that I'm keeping an eye on in terms of people's approach and trying to guide them and get them to fully understand what myself and the staff want from players'".
MK Dons secured "a 3-1 victory over Maidenhead United in a behind-closed-doors friendly.
The format of the clash was the same as the previous clash with King's Lynn, with two different XI's each playing 60-minutes.
After a goalless first hour, the Dons fell behind to Sam Barratt's goal but a brace from one of the two trialists and a Jay Bird finish saw Russell Martin's men make it back-to-back wins this pre-season...
Despite all the dominance from MK Dons, it was Maidenhead who took the lead from the penalty spot. The referee pointed to the spot after a foul inside the area, although Fisher got down well to save, the striker turned home the rebound. 0-1...
The Dons pressure was eventually rewarded as... Boateng found the run of A Trialist who held off his marker before finding the back of the net inside the box. 1-1.
It was A Trialist who then put MK Dons... he found the bottom corner. 2-1.
Two soon became three as Jay Bird found the back of the net after his initial shot was saved".
The Nottingham Post reports that "Notts County... are running the rule over several players... as they take on non-league Coalville Town in their first friendly...
Notts County are running the rule over former Leicester City midfielder Lamine Keba Sherif as the Magpies gave four trialists the chance to impress...
Sherif was named in the starting line-up for the Magpies' first friendly of the summer and is currently a free agent after his departure from Accrington Stanley. Sherif spent 10 years at the Foxes before he was released in 2019 and then moved to Stanley who deemed him surplus to requirements at the end of last season.
He was joined in the starting line-up by ex-Norwich midfielder William Hondermarck who also started the game in midfield as did striker Andrew Wright whose last club was Ayr United.
And on the bench was former Bristol Rovers attacker Kyle Bennett whose last club was a loan spell at Grimsby Town.
The quartet started alongside new signing Kyle Cameron who took his place in the defence alongside Adam Chicksen and Dion Kelly-Evans while midfielder Jim O'Brien also started. Lewis Knight was given a role up front.
Young players Archie Aves and Brad McGregor were also given a chance to impress".
In the Midlands Express & Star, we leran that "Hope was in short supply when Albion were famously beaten by non-league Woking back in 1991.
Thirty years on, though, this meeting between the two sides will have Baggies supporters feeling more optimistic... Albion made the long trip to Surrey to mark the day Tim Buzaglo netted an FA Cup hat-trick to write his name into the history books of both clubs...
[This was the] first public friendly under new boss Valerien Ismael. And his side put on a display to whet the appetite ahead of the new campaign. In his time at Barnsley, the Frenchman became known for playing variants of a 3-4-3 system...
The Baggies enjoyed almost total control for the opening 45 minutes, with Woking offering little in the way of an attacking threat... But that bit of magic you need in the final third just wasn't there with their [WBA's] final pass constantly letting them down...
Despite the control his side had enjoyed, Ismael grew more frustrated as the half progressed.... Ismael then made wholesale changes with youngsters Ethan Ingram, Quevin Castro, Taylor Gardner-Hickman and Rayhaan Tulloch introduced along with Cedric Kipre and Kenneth Zohore.
The pattern of the game remained uncharged, though, with Albion continuing to knock on the door...
Woking had put up a plucky display. But there could be no doubt, overall, Albion deserved to win. And they finally broke the deadlock with what was virtually the last kick of the game. Zohore was tripped in the box with referee Charles Breakspear pointing to the spot.
And the striker dusted himself down to powerfully find the bottom corner from 12 yards".
---
17 July 2021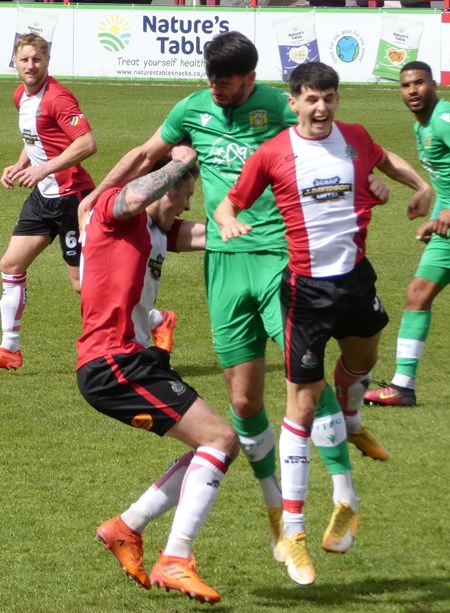 On loan from Harrogate Town, Connor Kirby played in the last seven games of Altrincham's 2020-21 season, starting five games and being a used substitute in two further fixtures. He netted a goal, too, against Yeovil Town.
Now, Altrincham FC confirms that "Phil Parkinson has bolstered his midfield options for the new season by signing Connor Kirby on another extended loan deal.
Right: Connor Kirby in the match against Yeovil in May.
The 22 year-old impressed in Altrincham colours last season... When the opportunity arose to sign the energetic midfielder for a second time, Alty boss Parkinson wasted no time agreeing a temporary deal that will run until January 3rd...
The Barnsley-born midfielder can boast an impressive pedigree after sampling Championship football for Sheffield Wednesday and making a total of 50 appearances at League Two level for Harrogate and, on loan, Macclesfield Town".
He joins three permanent signings announced by Altrincham over the summer, in the shape of Marcus Dinanga, Kennedy Digie and Brad Jackson.
Altrincham have also confirmed that, having listed them in the recent issue of squad numbers, "teenage centre-back Will Hall and 20 year old forward Curtis Miller have both signed contracts for the duration of the 2021/22 season".
Altrincham FC
has announced that tickets are available for three of their pre-season games, namely at Ashton United, Nantwich Town and Curzon Ashton.
Nine years ago tonight, in 2012, Altrincham played out a goalless pre-season game at home to a Morecambe side which included many familiar faces on the pitch and in the technical area.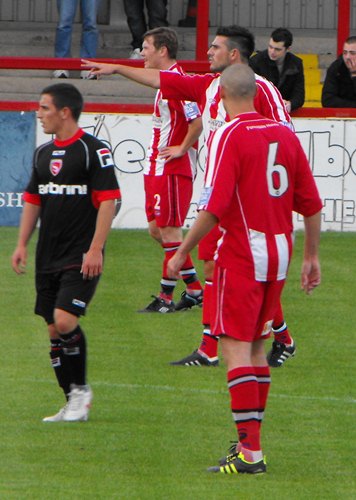 Left: Gianluca Havern points the way as he, Danny Hall (6) and Shaun Densmore keep an eye on Morecambe's former Alty striker, Jack Redshaw.
In fact, Altrincham gave a strong Morecambe side as good as they got in the Robins' first goalless draw in any match since February 2011. Once again, groundsman Neil Brown had produced an excellent playing surface at Moss Lane over the summer. Alty's management team of Lee Sinnott and Neil Tolson fielded a starting eleven comprising players who all have already signed forms for the club.
The only omissions were goalkeeper Adam Reid and midfielder Simon Richman, who were both on the bench. So, the only trialists in tonight's squad were all named as substitutes and they included one new face, right-back Scott Leather, who was later to become a first-team regular at Altrincham. Leather had been for several years in Crewe Alexandra's junior and youth system before moving to Preston North End and had recently been trialling at Barrow.
In the two previous pre-season games, Alty had used a whole different team of outfield players in each half but, tonight, they retained their starting eleven till the hour mark, after which they made five changes before the final whistle. At Lee Sinnott's disposal on the bench were five trialists and one youth team graduate, Sam Grimshaw.
Overall, Alty worked Morecambe keeper Roche more than the Shrimps tested Stuart Coburn in an end to end game in which the defences emerged on top. Centre-back Danny Hall was arguably the pick of the Altrincham players but Duncan Watmore again showed some promising touches going forward.
The match was refereed by Ian Hussin, brother of ex-Alty man Eddie Hussin. Ian is now a regular assistant referee in the Premiership.
Former Alty boss Ken McKenna, who was then assistant manager at Morecambe, and the Shrimps' manager, Jim Bentley, had brought a strong team to Moss Lane for this pre-season friendly. Their squad included some faces familiar to Alty fans in striker Jack Redshaw and used-substitute Kevin Ellison. Watching the game from the Carole Nash main stand, with the Shrimps officials, was striker Richard Brodie, who had played against Altrincham on several occasions in the recent past.
Also in the Morecambe squad were other players whose careers embraced both clubs in the form of Joe Mwasile and Paddy Lacey.
ALTRINCHAM: 1. Stuart COBURN, 2. Shaun DENSMORE (capt), 5. Gianluca HAVERN, 6. Danny HALL, 3. Nicky CLEE; 7. Duncan WATMORE, 4. Carl RODGERS, 8. Scott PHELAN, 11. James LAWRIE; 9. Danny MITCHLEY, 10. Ryan BROOKE. Subs: 12. Matt DOUGHTY, 14. Simon RICHMAN, 15. Scott LEATHER, 16. Greg PEARSON, 17. Sam GRIMSHAW, 18. Adam REID (gk), John McCARTEN, 8*. Adam MATHER.
MORECAMBE: 1. Barry ROCHE, 2. Andy PARRISH, 3. Robert THRELFALL, 5. Chris McCREADY (capt), 8. Andy WRIGHT, 10. Jack REDSHAW, 16. Stewart DRUMMOND, 17. Izak REID, 18. Gary McDONALD, 20. Joe MWASILE, 22. Danny CARLTON. Subs: 12. Ben WOODHEAD (gk), 4. Joe McGEE, 7. Andy FLEMING, 9. Lewis ALESSANDRA, 11. Kevin ELLISON, 14. Jordan BURROW, 15. Dan PARKINSON, 21. Paddy LACEY, 23. Chris DOYLE, 24. James SHORT
Stockport County
"announce the signing of Barrow striker Scott Quigley for an undisclosed fee, with the forward signing a three-year deal after a prolific spell at Holker Street.
Quigley leaves Barrow having scored 35 goals over his last two seasons for the Bluebirds, including 20 league goals during their National League title winning season in 2020 – earning him the National League golden boot in the process.
The pacey and powerful forward began his career in Wales with Welsh Premier League side The New Saints... earning him a move to League One Blackpool in 2017. During his time at Bloomfield Road, Quigley enjoyed a successful loan spell at Wrexham in the second half of the 2017/18 season...
After spending the following season out on loan at Port Vale and FC Halifax Town, Scott eventually departed Blackpool in 2019, signing for Barrow on a three-year deal... with Quigley's 20 goals in 35 appearances earning him a place in the National League Team of the Season...
Back in the EFL, the Shrewsbury-born forward soon found his form again, finishing the season with 15 goals in League Two...
Director of Football Simon Wilson said 'Scott is a player we have admired from afar for a while, with a nice balance of pace, power and craft... He is humble and down to earth, but I'm impressed with his hunger, and with that mindset he will fit in well here...
'Naturally, for a player of Scott's experience it was a competitive deal to conclude, but we're delighted again that quality players are drawn to what we are doing'...
First Team Manager Simon Rusk said... 'I've no doubt that his qualities align with our ambitions for the season ahead, and he will be a great fit here'".
Meanwhile, Barrow add that "Scott Quigley has completed a move to Stockport County for an undisclosed fee...
He did not feature in the first pre-season friendly at Holker Old Boys on Saturday...
'Scott stated that he wanted to leave the Club,' explained boss Mark Cooper. 'He told us that he wanted to be closer to home and that he had been offered a very good deal elsewhere, which we couldn't really compete with.'"
According to the Leader Live, "Liam McAlinden believes expectation levels have risen at Wrexham following the high profile takeover of the club but that doesn't faze the striker.
McAlinden has joined the Reds on a two-year contract after leaving Morecambe...
'The expectation levels are always high at the club,' said McAlinden... 'They have probably been heightened with the buzz around the club and the calibre of manager... When you see the clubs that he [Phil Parkinson] has managed and done well at, and he phones you and offers you a meeting to be part of a project like this, it is something I couldn't turn down,' added McAlinden.
'We had a good hour's chat, he told me his plans and how he sees it going in the future... It seemed the perfect place to settle down for the two seasons'".
Also from the Leader Live we leran that "Each week, at the moment, brings changes thick and fast at Wrexham AFC.
The pitch has now been relaid, construction work is underway under the WrexRent Stand and new equipment is on its way to the groundsmen...
We were delighted to welcome some new faces to the Wrexham fold, this past week. Firstly our two new players, Shaun Brisley and Liam McAlinden, who come to us with impressive League football pedigrees... A commanding centre-back and a direct, creative wide forward...
The club continues to work on identifying and securing further targets as we look to build a National League-escaping squad. I don't think it will shock anyone to read there are a few more coming in, over the next few weeks!
We were also joined this week by Lee Butler, who comes in as goalkeeping coach, having served in the same role under Phil at Sunderland, Bolton Wanderers and Bradford'".
Southend United "announce Jason Demetriou has signed a new contact.
The former Cyprus international joined Blues in 2016 and has gone on to make 178 appearances.
He has put pen to paper on a one-year extension which includes a club option of a second year.
Manager Phil Brown said... 'He's signed to us as a player at the moment and hopefully we can help him in his journey where coaching is concerned, but it's not officially started yet. That's something for him in the future. In the main I want JD to concentrate on getting 35/40 games next year because I'm sure the way he plays the game and the way he conducts himself off the field of play he will be quite capable of getting that many games in.
'I was responsible for bringing him to the football club and I'm delighted to be working with him again'...
Demetriou said... 'The staff all knew I wanted be back here and it was just about finalising it so it suited all parties. I'll be going into my sixth season at the club and I felt like I had to stay to try and help get us back into the Football League...
'I've been back in pre-season since day one with everyone which has been good... and it's been really tough, double sessions each day... It's what we need. Everyone knows if you have a good pre-season it sets you up for the year...
'We need a good start so pre-season is massive for me and everyone'. The 33-year-old added 'We need to perform well and bounce back this season. We all played our part in last season and we ended up going down so I felt it was right to come back and play as many games as possible to help us have a good season'".
Yeovil Town's "latest addition Lewis Simper cannot wait to get going after signing a season-long loan deal with the club.
Signing on loan from Cambridge United, the midfielder... is looking to get more experience in the men's game. Simper said... 'It's a big club and I can't wait to get in with the boys and for the season to start. My ambition for this season is to... push for a place in the team'...
Having grown up in the Cambridge United academy, Simper already has a familiar face in the ranks at Huish Park in Tom Knowles... 'I got on the phone to him, and he only had great things to say about the club and the people here...
'I'm a technical midfield player, I like to get on the ball and try creating chances'".
---
16 July 2021
Altrincham FC
has announced that their "first Vanarama National League fixture of the New Year against Stockport County at The J.Davidson Stadium has been rescheduled for Monday, January 3rd, with a 3pm kick-off.
When the fixtures were released earlier this month, Sunday, January 2nd was set aside for the opening round of matches in 2022, though clubs were informed they could switch to the Saturday or Monday, provided both parties were in agreement.
It was felt by both Alty and Stockport that putting it back 24 hours to the Bank Holiday Monday would prove popular with supporters and also allow both sets of players extra recovery time after the exertions of playing on December 26th and 28th".
Altrincham FC
press and media officer John Edwards writes that "Shaun Densmore's testimonial has been put on hold until later in the season after he picked up an injury that will sideline him for the opening weeks of the Robins' Vanarama National League campaign.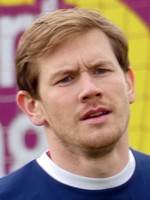 Plans were being formulated for a special tribute match involving some familiar faces in the early stages of the season to mark over 400 Alty appearances spread over a remarkable 12 years of sterling service by the highly-popular and ever-dependable defender.
The testimonial will still go ahead but has had to be put back after 'Dens' felt some discomfort in an Achilles and had it diagnosed as tendonitis...
'I played the final two games of last season, and after having been out so long, I thought it would be good to keep rolling with the fitness levels,' he said. 'I wanted to stay in condition, so I did a lot of treadmill running after the season ended.
'Then I had some time off, just four or five days of doing nothing, and I started feeling some stiffness around the Achilles. I went to see (sports scientist and therapist) Ryan Murray, and he said it was tendonitis...
'Hopefully I won't be out too long. The main objective is to be playing again and challenging for a place in the team. I know there are no guarantees, especially the way Joel Senior has been playing, but I was fairly encouraged by those two games at the end of last season, and I'm as keen as ever to give it a good go and contribute if I possibly can.
'At the same time, I'm looking forward to the testimonial and want to be out there in the middle, fully involved. The plan is for two Alty Xls, and it makes sense to rearrange later on, because there are one or two people I want to kick!'
The club are provisionally looking at the possibility of April 9th, or even a Saturday at the end of the season".
Eight years ago today, in 2013, Altrincham played a pre-season friendly at home to Tranmere Rovers. The Wirral side won the match 3-1.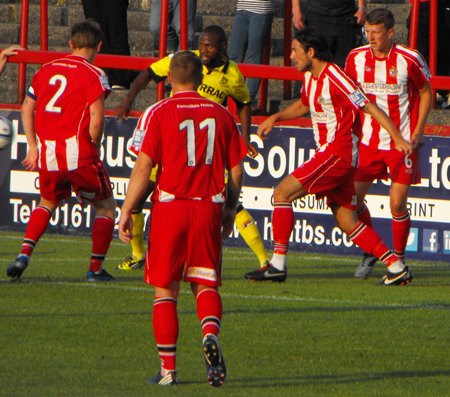 Right: The Alty defence in action against Tranmere as Shaun Densmore, Gianluca Havern and Scott Leather join forces, watched by Matt Doughty (11)
But had James Lawrie's impressive jink into the box in the closing stages, from a fine pass by James Walshaw, been rewarded with a goal, this game could have ended the same way as Alty's first friendly of the summer against Accrington the previous Saturday, in a 2-3 defeat. But such a narrow margin would not have reflected the dominance of the League One side in this evening match, as Rovers put out a strong team against their Altrincham opponents from three rungs down the footballing ladder.
Without goalkeeper Stuart Coburn and midfielder Carl Rodgers, Simon Richman and Nicky Clee, Alty fell behind after just nine minutes when Thompson got free on the right and his cross was turned into the net off the back post by Ryan Lowe. The same duo combined after 28 minutes and this time Lowe headed home another cross from the right wingman after Alty had lost possession near halfway. A minute before the interval, goalkeeper Reid could only palm a high ball towards Sodje, who made it 3-0.
Tranmere kept Alty penned back for long periods of the second half but Damian Reeves cleverly headed in Jake Moult's cross from the right byline after 70 minutes. Alty ended the game well but could not score again.
Altrincham were again without Simon Richman, due to his involvement in the World University Games football final in Russia, whilst Stuart Coburn, Nicky Clee and Carl Rodgers were other absentees, though Stuart was involved in the warm-up. The Alty bench comprised summer signing James Walshaw, three youth team graduates in the shape of Rob Gilroy, David Brown and Pat Crilly, plus five trialists.
Scott Leather came in for his first start of the summer, whilst Matt Doughty moved to left midfield and Mike Williams to left-back.
The trialists were goalkeeper Matt Lord, Scott Byrom (ex-Nelson), left-back Christopher Bailey (who moved from Colne to Nantwich Town in February 2013) and Dan Lloyd (previously with Runcorn Linnets and Barrow).
ALTRINCHAM: 1. Adam REID, 2. Shaun DENSMORE (capt.), 3. Mike WILLIAMS, 4. Jake MOULT, 5. Gianluca HAVERN, 6. Scott LEATHER, 7. Kyle PERRY, 8. Danny BOSHELL, 9. James LAWRIE, 10. Damian REEVES, 11. Matt DOUGHTY. Subs: 12. Chris BAILEY, 14. James WALSHAW, 16. Sam FREAKES, 15. Rob GILROY, 17. Scott BYROM, 18. Matt LORD, David BROWN, Pat CRILLY, Dan LLOYD.
Altrincham FC "season ticket pricing for next season has been held or reduced compared to the 2020-21 season, and the overall percentage discount offered is slightly increased on last season.
Matchday admission prices will be as follows for next season:
Adult: £17
Concession: £14
Junior (12-16): £6
Under 12: £2
And Season Tickets are priced as follows:
Adult: £289
Concession: £235
Junior (12-16): £75
Under 12: £36
The
Nottingham Post
reports that "Notts County have taken on two trialists and more could feature in the club's first pre-season friendly of the summer.
Head coach Ian Burchnall confirmed both players... are likely to feature when the Magpies take on Coalville at the weekend. The duo are both midfielders... having seen Jake Reeves leave the club to join Stevenage in the summer.
And with Michael Doyle set to take on a greater role in the dugout after being named assistant manager, the club only has Jim O'Brien and new signing Frank Vincent as first-team midfielders...
'We've got two in at the minute, and then we'll probably have a couple more Friday and then in the game to help us out... They're interesting players so the profiles are interesting... You have to see them firsthand.
'They are midfielders but we will look at maybe attacking options as well.'
Notts have already been busy in the market having signed three players which began with an eye-catching move for Torquay defender Kyle Cameron... and he was followed by midfielder Vincent who joined the club after he was released by Championship Bournemouth.
Notts then paid an undisclosed fee to Chesterfield to sign wing-back Joel Taylor who signed a two-year deal this week...
Burchnall said 'We started with Kyle Cameron... and I thought he was an outstanding player for Torquay last season. To be able to bring him in given his age and where he is in his development, I think it's fantastic for us...
'Frank Vincent has come in and sadly isn't 100 per cent fit. He needs a few weeks just to recover from a knee injury... Then we signed Joel and he is going to give us something in that wide area. He has pace, that directness, that one v one'".
The Daily Echo says that "Eastleigh manager Ben Strevens says he's 'convinced we'll have some good players joining us' and he wants to add 'a few more' signings...
They've already added three names in Football League lads right-back Josh Hare, left-back Michael Kelly and centre-back Tom Broadbent, but these are only direct replacements for outgoings...
As well as a handful of experienced players that have departed the Silverlake, a number of the club's former scholars and young potential have too gone out the exit, including popular figure Tom Bearwish.
Strevens [said]... 'We're being patient... but there's a few we are talking to, and we are convinced we're going to get some good players joining us in the next couple of weeks. We lost some of the younger boys because I had to be fair to them and let them go out there and play. Someone like Bearwish leaving was a horrible decision for me to make but it was right for Tom and I'm convinced he's going to do well at Weymouth'...
Centre-midfielder Jack Payne is another that has moved on from the club and joined League Two side Crawley Town, and after playing 41 of the 44 league fixtures last year leaves a sizeable hole.
Eastleigh can call it a success to keep hold much of the remaining squad though... Strevens added 'At the moment all it has been with the defenders coming in is replacing what we've lost. What we need to do now is get a couple of midfielders in to replace Paynie and probably a forward'".
From AFC Telford United we learn that The Bucks "have completed the loan signing of Lewis Earl from Stockport County.
Earl has just penned a one-year deal at National League Stockport on Monday after leaving former club Preston, and will immediately be loaned out to the New Buck's Head.
The 19 year-old is a right-footed defender who can play in the backline or as a defensive midfielder. Cowan said... 'I'd like to give a real huge thanks to Stockport, who have seen the bigger picture, from a financial perspective they've recognised that and allowed us to bring a player of his quality in'".
According to the Halifax Courier, "FC Halifax Town defender Jack Senior says he can't wait to start playing in-front of fans again for his hometown club after signing a new deal with The Shaymen.
Senior... joined Town last summer and made 31 league appearances for the club at... left-back or left wing-back.
'On the last day of the season was the first time I've played in-front of fans in a proper game for maybe two years,' he said... 'It didn't feel like we only had 800 there, it felt double that... What I'm most looking forward to is the fans, the atmosphere, driving us on. I'm really excited for that'...
Senior... says he was pleased with how his campaign went. 'Personally I'm really happy in terms of the amount of games I played, I haven't played that many games for a few years now, and it was really enjoyable...
'In the first few games I played I was still finding my feet to a point, in the sense of not playing for so long and getting into a rhythm... When I started to get more of a run of games in the second-half of the season, I think I was on my way to showing what I can do...
'I was thankful to be given the chance to get back into full-time football by the gaffer and Milly (Chris Millington), and I think I've still got some repaying to do... My goals and assists contributions could be better, in terms of putting more crosses in for people to get on the end of, and being more of a threat attacking-wise'...
Senior isn't the only one, with the vast majority of Town's squad from last season having been retained...
'We've had a season together, we know how each other clicks on the pitch... but the main thing is we know the plan'".
---
15 July 2021
The funeral arrangements for supporter John Canning, whose death was announced recently, have now been relayed by
Altrincham FC
.
The club announces that "The funeral of longstanding Altrincham supporter, John Canning, will take place on Thursday, 15th July at St. Vincent's Church, Altrincham at 12:15pm followed by interment at Dunham Lawn Cemetery at 2:00pm.
Then [mourners will gather] at the Best Western Cresta Court Hotel, for tea and fellowship. All welcome who knew John. No flowers please. Family would be grateful for donations to Cancer Research".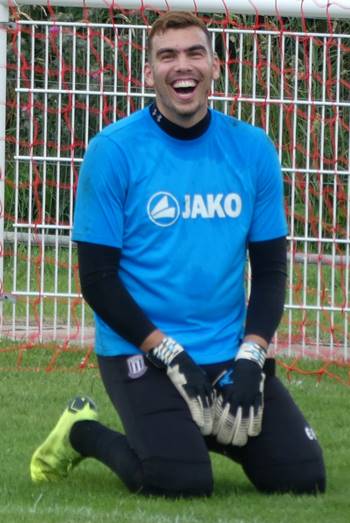 A Hungarian goalkeeper who trialled for Altrincham in 2019 is the subject of a report from
Peterborough Today
which says that "Posh goalkeeper
Dan Gyollai
[right] has also spent time training at Barnet with a view to a move. Gyollai (24) was also placed on the transfer list at the end of last season after failing to break into Posh's League One team".
Gyollai kept goal for the Altrincham First XI when they played Altrincham FC Youth in a pre-saeson game on 29 June 2019. He was also a used sub for Alty in the match at Whitchurch Alport the following week.
Two of Altrincham's hosts for pre-season friendlies this summer met at Shawe View on Saturday as the
Sale & Altrincham Messenger
reports.
"Trafford's preparations for the forthcoming season got underway on Saturday when, in front of a magnificent crowd of just under 400, a last-minute goal gave visitors Curzon Ashton a rather undeserved equaliser in a 2-2 draw...
Returning fans favourite [ex-Alty winger] Darius Palma skipped past two defenders and floated a glorious chip inches over from 25 yards.
And the hosts were rewarded for their superiority in the 18th minute, Morgan curling a fine low drive inside the right hand post from 20 yards.
Two minutes later Trafford suffered a blow when new skipper Keil O'Brien pulled up with a hamstring injury and was replaced by [ex-Alty defender] Harry Sheridan...
[Trafford manager] Caldecott made five changes to his line up at half-time but still Trafford remained in control and Palma saw his low drive saved at full length...
At the other end, Curzon's Dominic Knowles struck a fierce volley that clipped the crossbar but in the 67th minute Trafford doubled their lead when the impressive Tunde Otulana released Alfie Belcher who drilled his effort into the top corner...
In the 80th minute Jack Dyche rose to power a header past Trafford's young substitute keeper Niall Jordan. It appeared as though the hosts would hold out for what would have been a splendid victory when, with virtually the last kick of the game, Jack McKay broke clear down the middle and blasted his shot hard and low past the advancing Jordan and into the bottom corner.
Trafford continue their pre-season build-up when they travel to [another of Alty's summer opponents] West Didsbury and Chorlton on Saturday".
Altrincham supporters of a certain age may be interested in the latest issue of Backpass magazine which includes an interview with former Alty player Gerry Harrison.
He recalls his days at Altrincham in the early 1960s when Charlie Mitten was "player-manager". One particular incident is related when Mitten called an unexpected team meeting less than an hour before kick-off of an Altrincham game.
Rather than imparting a tactical masterclass on the match ahead, Mitten instead simply wanted to share his hot tip for the 3pm race at Kempton Park racecourse that afternoon. Most of the players placed bets before playing the first half, which ended with the scores were level.
At the interval the players learned that the horse had won at 5-1 and, perhaps as a consequence, the buoyed-up Alty players went on to complete the game as 4-1 winners.
Thanks to Paul Burton for informing me of this article.
In the
Derbyshire Times
, we larn that "Scott Boden leaves Chesterfield after eight years at the club over two spells.
The 31-year-old was placed on furlough around Christmas time and loaned out to play-off finalists Torquay United for the rest of the season, where he scored six goals in 18 appearances.
The striker, who was released by the Spireites at the end of June and is currently a free agent, is sad to leave...
'I have been involved with the club for eight years so it is gutting for me personally,' Boden told the DT. 'I was buzzing to come back two-and-a-half years ago... Chesterfield holds a big place in my career'.
Boden... was one of the players furloughed during winter and he admits it was a 'horrific' time for him... He explained... 'The manager has got to do what he feels is right and you respect his decisions but I still feel like I had a lot to offer and I think I showed that when I went to Torquay.
'It is water under the bridge now but it was not a nice time at all... For me it was not handled right... I did not get a chance to say goodbye to people within the building, who I have made good friends with...
'I don't think I did anything to merit the way I was treated, in my opinion... If people read this and think "is he talking about me" then the likelihood is I probably am talking about you because you would not think that otherwise. It could have ended amicably, for me, but it just deteriorated...
'I don't want it to come across as a bitter ex player because it is not that at all'...
Boden was criticised for the way he celebrated Torquay's second goal in the 2-0 win [over Chesterfield] and, although he admits it probably was not the best thing to do, it was the result of a 'build-up' of emotions and from an earlier incident during the game...
Boden said 'I was tied to Torquay at the time, we were top of the league, I wanted us to win the league, so that was one reason (for the celebration) but not the ultimate reason, I will be honest. There was something particular that happened on the day that probably brought that out more than anything, to be fair.
'There are reasons which I don't want to go into too much but at the time when I was told in no certain terms that I was not going to play for the club again, there was certain stuff said that ruffles your feathers. Out of respect to people at the club I won't say what was said.
'I will be honest and say that I came to that game thinking if I can ruffle feathers a little bit, get a bit of a reaction, it sparks the game a little bit but, in all honestl,y I got to the game and thought I don't need to do that because that would put me in a bad light, I don't need to be seen to be doing that.
'I just left it but there was something that went off in that first 10 minutes of that game where I think it was that more than anything because that just sparked our bench as well... I was behind the dugout where I have seen many players sit when I was there. I was sat with all the rest of the squad and the players who were not involved. And then I got a tap on the shoulder and was told to move...
'Obviously we scored the goal in the second-half and that (my reaction) was probably everything built up. The three months previous to it, the 10 minutes of the first-half, the fact we were trying to win the league, and then it just all boiled over. What I mean is you are only human, you can only take a certain amount and then you are going to implode.
'When that second goal went in, it was probably a wrong thing to do but I think if the fans knew what circumstances you had been through then I am sure there would be some who would get my point of view and get why I did it...
'There are no grudges held and I hope that is reciprocated. That is football at the end of day.'"
According,/A> to Peterborough Today, "Peterborough United midfielder Serhat Tasdemir is on the verge of completing a move to National League side Barnet.
Transfer-listed Tasdemir is expected to join the Bees on a season long loan after rejecting the chance to make a permanent move to the Hive. The clubs had agreed a fee for the 20 year-old.
Tasdemir has made just one Football League start since moving to Posh from Fylde in July, 2019... Barnet's manager is Harry Kewell who took Tasdemir on loan to League Two side Oldham Athletic last season".
The Southend Echo reports that "Exeter City are keen on signing Timothee Dieng, Echosport understands.
The 29 year-old midfielder has been with Southend United since 2018 but seems set to leave the club after failing to agree a new deal.
Dieng has made 113 appearances for the Shrimpers".
According to the Eastern Daily Press, "Ian Culverhouse is still looking to add to his squad after the departure of two players.
Midfielder Jordan Richards, 24, has failed to reach agreement over a new deal so has left, while striker Dayle Southwell, who joined Lynn in January, 2020, has joined Alfreton.
Southwell was out of favour after Lynn brought in strikers Gold Omotayo and Junior Morias. Richards, who joined Lynn from Gainsborough Trinity in July, 2018, is understood to be training with Dagenham & Redbridge.
'He (Richards) just didn't want to agree the terms and I would like to thank him for all he has done because he has been exceptional in the three years I have been here with him and we wish him well,' said Culverhouse.
Morias impressed during the 3-1 defeat by MK, although he was due to have treatment yesterday on a knee injury. 'His hold-up play was good, we are just worried about his knee,' said Culverhouse... 'This is the good thing now we're full-time, we can have him in and assess it. We are keeping our fingers crossed on that one because him and Gold will be an exciting partnership.'
The Lynn boss has brought in eight new players over the summer; Omotayo, Morias, goalkeeper Paul Jones, midfielders Ethan Coleman and Munashe Sundire, as well as defender Pierce Bird, Dan Bowry and Luis Fernandez.
But after Tuesday's first pre-season game against MK Dons, Culverhouse says he is still short.
'It is a big change around this year for the football club,' he said. 'We have to build a new squad. We have still got a few of the old faces who will carry the football club forward. But we're still short. With Macca (Kyle Callan-McFadden) and Jonesey (Aaron Jones) out I think we are a couple shot. I'm still looking'".
King's Lynn Town add that their "first pre-season friendly ended in a 3-1 home defeat against MK Dons, a game played in four 30 minute quarters to allow both managers to use their squads.
All seven of Lynn's summer signings were included along with the usual batch of trialists.
MK took the lead on 10 minutes... MK extended their lead on 58 minutes when Twine got his 2nd of the game from close range.
The start of the 3rd quarter saw Lynn change their entire side, including an appearance for youth team keeper Charlie Phillips.
On 70 minutes Lynn pulled a goal back, and what a goal it was. The ball breaking for Cameron King 30 yards from goal, he spotted the keeper of his line and chipped him.
With 15 minutes to go MK scored their third through Max Watters...
Overall, a good workout for both teams with all the players getting 60 minutes under their belt...
Lynn starting line up: Paul Jones, Dan Bowry, Pierce Bird, Ross Barrows, Michael Gyasi, Michael Clunan, Junior Morias, 4 x trialist
Lynn line up for second half: Charlie Phillips, Tai Fleming, Luis Fernandez, Tyler Denton, Ethan Coleman, Joe Gascoigne, Munashe Sundire, Cameron King, Gold Omotayo, 2 x trialist".
In the Nottingham Post, "Ian Burchnall issues a Notts County transfer update and targets key positions... having added three players to the squad so far this summer.
Notts County head coach Ian Burchnall wants to add at least four signings before the National League season gets under way and has not ruled out paying further transfer fees.
The Magpies announced their third summer arrival on Tuesday having paid an undisclosed sum to Chesterfield for wing-back Joel Taylor who has signed a two-year deal.
The 25-year-old followed Torquay defender Kyle Cameron to Meadow Lane while midfielder Frank Vincent has also joined the club following his release from Championship side Bournemouth...
Midfield is likely to be top of the agenda as well as another centre forward...
'We need some options in the middle. We know we need midfielders in and more options upfront as well... In an ideal world you have everybody in on day one of pre-season, but it looks like it will probably take another week or so before I feel like we're more or less done.'
Burchnall has said Notts have ambitious targets in mind having missed out on a move for Hartlepool United defender Jamie Sterry this week...
The fact that Notts paid an undisclosed fee for Taylor further underlines how owners Christoffer and Alexander Reedtz are right behind Burchnall when it comes to new additions. And he did not rule out the club paying money for players rather than just rely on the free transfer market".
According to Non-League Daily, "Maidenhead goalkeeper Rhys Lovett has extended his spell at Maidenhead United.
The 24-year-old joined Alan Devonshire's side at the end of March.
Lovett notably came on as a striker for the Magpies on the final day of last season, scoring the last goal in a 4-1 win at Boreham Wood.
The ex-Cheltenham Town youngster had been with Gloucester City prior to joining Maidenhead".
Solihull Moors "have completed the signing of Sheffield United defender Harry Boyes on a long-term loan until January 3rd 2022.
Boyes, 19, is an attacking full-back and has been with the Blades since July 2018. He was a key member of their under-23s' title-winning side last season.
Born in Barnsley, Boyes spent eight years with Manchester City prior to his move to Bramall Lane.
Last season [he] enjoyed a loan spell with Bradford Park Avenue... earning a place on the bench for the Blades in their Premier League fixture at Newcastle United in May...
Boyes said 'I'm an attacking full-back. I love to get forward, get crosses in and I love a good shot as well'.
*Sheffield United have no recall option in place".
---
14 July 2021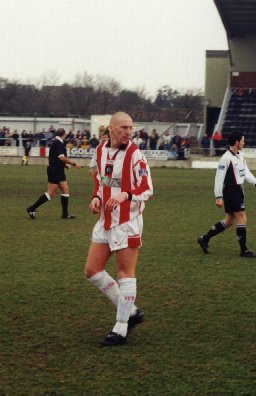 With Altrincham set to wear Puma kit for the coming season, it seems timely to look back at the kits that Altrincham FC has worn in the 21st century, mostly provided by Ian Senior's SKKits.
We start our periodic look at kits of each season with the one worn at the turn of the millennium in 1999-2000 season.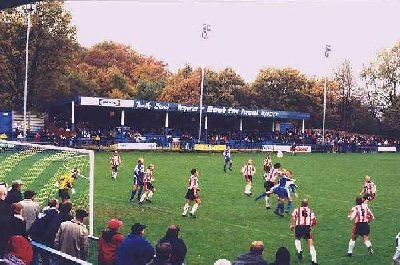 Left: Alty in their 1999-2000 home strip, here worn with white as opposed to the normal black socks at Stalybridge.
Right: Kevin Ellison in the home strip with white shorts.
The early part of the year 2000 saw Altrincham seemingly comfortably placed in the Conference prior to a Spring collapse and eventual relegation in May 2000.
The home kit for 1999-2000 comprised red and white striped shirts with a black strip on the collar and the top of the arm. Shorts and socks were black which were, both or separately, changed to white for away games where there was a clash of colours.
The front of the home shirt comprised three red stripes on a white background with three panels. The Nationwide league sponsors' logo appeared on the arms of the shirt.
The largest panel, halfway down the front, was in shades of green with white lettering, advertised Kinetic, the club's main sponsors. Immediately above it was a black crest on which appeared the club crest and name. Above that was a small rectangular panel, just below the neck insert, which advertised sponsors ICIS.
The black shorts had a red and white stripe down each leg and a large player number in white on the front of the left leg. A small ICIS panel also appeared on the side of the right leg whilst a blue and greeen panel with white lettering advertising the league sponsor Nationwide, appeared above the number on the left leg.
On the back of the shirt the player's number was in black on top of the red and white stripes which replicated those on the front of the shirt.
Above left: Danny Adams sports the home kit with white shorts in the match at Hednesford in 2000.
Above right: The away kit is worn here by Jason Gallagher at Kidderminster.
The away kit in 1999-2000 was yellow with a horizontal black band which was across the chest onthe front but lower at the back to accommodate a yellow panel for a black number. This shirt was also sometimes worn with white shorts, as for example at Morecambe.
On the front of the away shirt, the above-mentioned Kinetic panel was centrally positioned above the black band with the club crest worn over the left breast.
The
Edinburgh News
reports that former Altrincham loanee "
Josh Ginnelly
is in the proverbial good place. Hearts is the ninth different club of his career but, at 24, he finally feels settled, contented, and most importantly fit. He is now gradually easing himself back into a rhythm after more than five months without proper football action.
The Englishman signed a two-year deal to join Hearts permanently last month following a 12-month loan from Preston North End last season. A ruptured hamstring in January curtailed his progress, although he had already shown sufficient wing wizardry by then to earn a contract.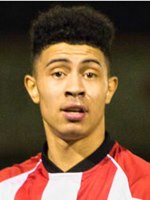 He still believes he must prove himself in Edinburgh. People accusing him of being injury-prone received short shrift on social media as he doesn't suffer fools gladly...
'I've got things to prove but I know I can produce and I've got the confidence of my team-mates and the gaffer, so it will come,' said Ginnelly...
Hearts are back in the cinch Premiership awaiting high-octane fixtures against Celtic, Rangers, Hibs, Aberdeen and others in the top grade of Scottish football. His Preston contract officially expired at the end of June...
'This is a fantastic club and it's actually an honour to play for Hearts. I love it here'...
Saturday's 2-0 win at Peterhead in the opening Premier Sports Cup tie was a reasonable start... Ginnelly played 60 minutes and showed flashes of pace and skill...
[Robbie Neilson is] 'a fantastic manager and everybody is on his side... I think he's superb'" concluded Ginnelly.
Footnote: Josh was signed on loan from Burnley on 8 January 2016 who had signed him for a six-figure sum from Shrewsbury Town. He had started out in the Aston Villa academy. Whilst at Alty in 2015-16 season he won the Club's goal of the season competition for a solo effort against Aldershot Town. He made 20(+1) appearances and scored 5 goals.
Also in Scotland Oluwatomisin ("Tomi") Adeloye who signed for Altrincham on 12 January 2017, scored twice for Ayr United on Tuesday night versus Edinburgh City in the Scottish League Cup.
Tomi made a promising debut for Altrincham at home to Gainsborough on 14 January 2017 but was released on 2 February 2017, after his one start and three more appearances from the bench. He subsequently played for Leyton Orient in the EFL and scored against Alty for Barnet last season.
Nine years ago today, Altrincham played a pre-season game at the Weaver Stadium against Nantwich Town which ended in a 3-1 win for the visitors.

Above: At half-time, manager Lee Sinnott debriefs the players who turned out for Altrincham in the first-half at Nantwich.
The result meant that Altrincham won their second successive pre-season game, with manager Lee Sinnott and assistant Neil Tolson using the same formula as previously of deploying two separate teams in each half of the game. This time, however, goalkeeper Stuart Coburn played the full ninety minutes.
Altrincham started well and a bright start from the visitors saw Ryan Brooke smartly heading home an excellent left wing cross from trialist Matt Doughty in the 13th minute. The lively Duncan Watmore added a second in the 16th minute. Nantwich enjoyed a better spell as the half progressed. However, with ten replacement outfield players, Altrincham made it 3-0 four minutes after the break when Matt Fearon's freekick from the wide left drifted into the net as it evaded everyone in the Nantwich box.
The Dabbers failed to take several chances in the second half, several of them engineered by winger Lewis Short. But they got a goal back when Lewis Short, who later joined Alty, volleyed home at the back post from a Lowe cross from the right after 56 minutes. Ofori went close to scoring again for Altrincham with a fine lob and Alty squandered a couple of one on ones with the goalkeeper before the final whistle sounded on another satisfactory step in the pre-season preparations.
ALTRINCHAM (First Half): 1. Stuart COBURN, 2. Shaun DENSMORE, 5. Gianluca HAVERN, 6. Danny HALL, 3. Matt DOUGHTY; 7. Duncan WATMORE, 4. Carl RODGERS, 8. Simon RICHMAN, 11. James LAWRIE; 9. Danny MITCHLEY, 10. Ryan BROOKE.
ALTRINCHAM (Second Half): 1. Stuart COBURN, 4. Nick SWIRAD, 5. James McCARTEN, 14. Greg PEARSON, 12. Sam GRIMSHAW; 17. Ashley YOUNG, 6. Matt FEARON, 15. Scott PHELAN, * Adam MATHER; * Derryn OFORI, 16. Denico WALTERS.
Sub not used: 18. Adam REID.
Notts County
"have completed the signing of Chesterfield wing-back Joel Taylor.
The 25 year-old Stoke City academy graduate, who joined the Spireites from Chester last summer, has signed a two-year deal after we paid an undisclosed fee for his services.
Our head coach, Ian Burchnall, said 'We needed a wing back who could offer a threat one-against-one. Joel's pace in the wide areas and his ability to attack in those moments is really important. He's been playing wing back at Chesterfield and, based on the games we've seen, he was most effective when they were attacking. With us being a team that wants to do that, we feel he'll suit us well...
'We know Adam Chicksen can play in the same position, which gives us two highly competent players in that area.'"
More comes from the Nottingham Post which tells us that "Notts County have made their third signing of the summer by moving for Chesterfield left-back Joel Taylor... who had a year remaining on his contract at the ProAct Stadium.
It is thought that Taylor has been allowed to move to Meadow Lane after the Spireites captured wing-back Calvin Miller who spent time on loan at Notts last season.
Taylor was regarded as one of the best left-backs in non-league which prompted Chesterfield to pay around £25,000 to Chester for his services last December. H e made 17 appearances for James Rowe's side...
The fact Notts have paid a fee for 25-year-old Taylor underlines their ambitions in the transfer market this summer. He becomes their third signing and follows midfielder Frank Vincent and defender Kyle Cameron to the club".
The Derbyshire Times reports that "It is too soon to start speculating when star man Akwasi Asante might return to action, says manager James Rowe.
The striker, who scored 10 goals in 22 league games last season after joining from Gloucester City, suffered a ruptured ACL against Boreham Wood in April and was ruled out for about nine months.
It means the Spireites will be without the 28 year-old for around half of next season.. The fans are yet to see him play live...
'He is in good spirits,' Rowe told the DT... 'but obviously he is a long way off before we can start talking about his likely return'.
When asked if he was on track to return around Christmas or New Year, Rowe explained... 'Everything is going to plan'...
Centre-back Haydn Hollis was another long-term blow for Town last season. The defender, who was in fine form and had just been rewarded with a new contract, ruptured his Achilles against Eastleigh in April, ruling him out for around seven months.
On Hollis, Rowe added... 'He is on target. He is slightly ahead of Akwasi.'"
It is not just the manager who has dropped down from the EFL at Wrexham but Football League World now confirms that "Sunderland goalkeeping coach Lee Butler has left the club to join Wrexham of the National League.
Butler joined The Black Cats in November 2019 to work under Phil Parkinson, and he will now link up with him again with the National League club...
And the Leader Live reports that "Phil Parkinson has started adding to his squad but the Wrexham boss admits securing some new signings could take time.
The 53-year-old... had 16 players signed up for the club's 14th season in non-league, including Rob Lainton, Luke Young and Dior Angus.
The first two new signings of the summer arrived at The Racecourse last week with centre-back Shaun Brisley and striker Liam McAlinden both putting pen to paper on two-year deals.
Talks are on-going with transfer targets and Parkinson, who has managed six clubs including Bradford, Bolton and Sunderland... does have time to compile a competitive squad with Wrexham starting a 14th season in non-league...
'We are in talks with several players and we are trying to progress on those as quickly as possible', said Parkinson... 'It is important that we are calm and we make the right decisions... There's obviously money in the budget to bring quality players in and the team working with me are working hard to achieve that...
'The squad is a little bit lighter than the absolute ideal situation, but I was aware of that and I would rather be in a position where we have got more spaces to fill than more of the budget was taken up by existing players. There's a lot of available players out there.'
Parkinson's squad includes young guns Max Cleworth, Jake Bickerstaff and Ryan Austin, with the Reds' boss eager to run the rule over the trio in pre-season".
We learn from the Halifax Courier that "FC Halifax Town start pre-season training on Saturday...
Pete Wild will have just over a month and six friendlies, one of which is still to be rubber-stamped, to fine tune his squad...
'We had a staff meeting on Friday to discuss everything we need to do,' Wild said. 'Everybody returns on Saturday morning for testing... and then we're back in Monday dinner time, 12 o'clock, and ready to go... The lads have a battery of testing they'll go through in terms of their physical appearance, so heights, weights, fats, to get a balance of that,' he said...
'There'll be some physical testing outside in terms of jumps, running... What we'll try to do this year is balance the load so we don't pick up as many injuries in pre-season'...
Last season... strikers Jake Hyde and Matty Stenson both picked up injuries during pre-season. 'We've looked at some of the distances we were covering later in the week in pre-season last year, and they were too high, so we need to tail them off,' he said...
'We're at a disadvantage because we only five weeks to get them where they need to be... We made mistakes in how long we had them out last year, and we've worked closely with the medical team to ensure we don't do that again...
'It'll be straight out on the grass and straight into the tactical side of how we want to play this year and how we want to do things... There'll be lots of 11 v 11s, because that's how we work, and it'll hopefully be taking them into the games where the lads can get some minutes in their legs and start to learn how to play as a team...
'It's been a tough close season, but now it's all systems go and I'm sat here looking at the triallists we've got coming in, looking at the people we're recruiting'...
Wild is expecting to have a group of about 28 players reporting on Monday, which will be cut down to around 22 for the first two friendlies...
'We are where we are now for close-season signings, but give us a couple of weeks of pre-season and hopefully you'll see a few more'.
The Town boss is hopeful there will be four more new signings, after the additions of Harvey Gilmour and Billy Waters were announced last week, one of which will be a back-up goakeeper following the departure of Harrison Davison-Hale.".
---
13 July 2021
Altrincham FC
has now issued its players' squad numbers for the 2021-22 season.
In all 21 players have been assigned a squad number for next season.
They include the three new signings announced over the summer, namely
9 Marcus DINANGA ex-Stevenage
16 Brad JACKSON ex-Chester FC
18 Kennedy DIGIE ex-Hereford FC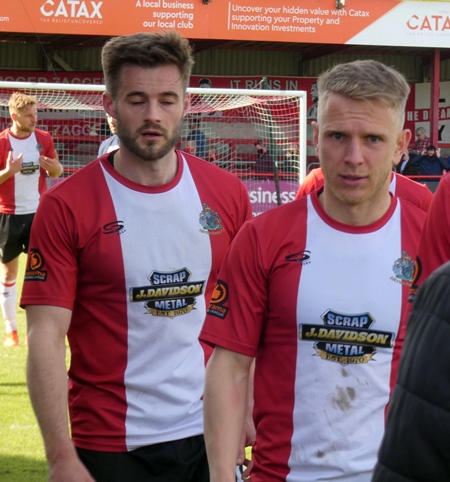 Right: Josh Hancock and Matty Kosylo are two of the eighteen players assigned squad numbers for 2021-22 who were at the club last season.
Three players who had numbers last season have been assigned new numbers this season,
2 Shaun DENSMORE was no.20
11 Ryan COLCLOUGH was no.34
20 Andy WHITE was no.2
22 Will HALL was no.14
Five players who had squad numbers at the end of the last campaign but are no longer in the numbered squad are,
16. Lewis SALMON, signed by Nottingham Forest
22. Joel TORRANCE, cover goalkeeper
26. Fisayo ADARABIOYO, signed in October 2020 but following an injury, he was not named in a squad for 26 consecutive league matches before a sub appearance in game 38. He was then named as an unused sub in the last match of the season.
29. Alistair SMITH, signed by Sutton United
30. Simon RICHMAN, departure announced in June 2021
32. James HARDY, departure announced in June 2021
The players who remain at the club with their same squad numbers as last season comprise,
Matthew GOULD - 23
Connor HAMPSON - 3
Josh HANCOCK - 10
Tom HANNIGAN - 5
Matty KOSYLO - 15
Curtis MILLER - 12
Daniel MOONEY- 7
Jake MOULT - 6
Toby MULLARKEY - 25
Tom PEERS - 23
Joel SENIOR - 24
Ritchie SUTTON - 4
Anthony THOMPSON - 1
Sean WILLIAMS - 8
Loanees Reagan Ogle and Connor Kirby have presumably returned to their parent clubs, Accrington Stanley and Harrogate Town respectively.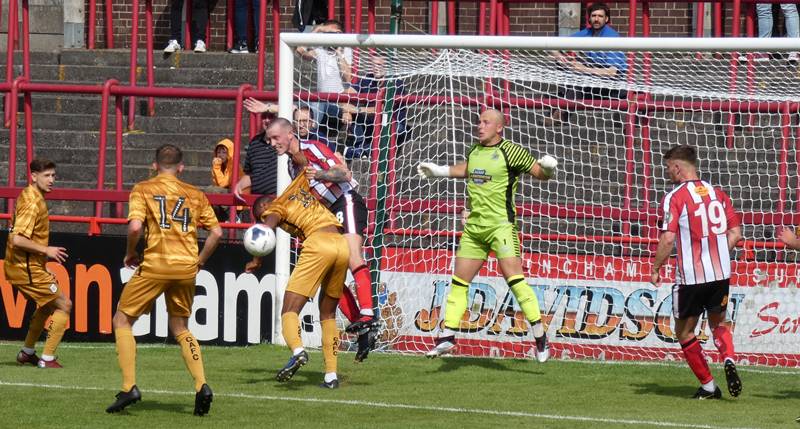 Above: Alty centre-back Toby Mullarkey clears as Crewe threaten Tony Thompson's goal in the second half.
Two years ago today, in 2019, Crewe Alexandra visited Moss Lane for a pre-season game and gave their Cheshire neighbours a footballing lesson in a match which featured no fewer than forty-three players!
Both sides fielded their stronger elevens in the first half before Alty made ten changes at the break. Crewe changed all eleven of their players just before the hour mark.
Two goals in as many minutes midway through the first half set Alex on the way to victory. The opener was a well-struck effort from left of goal by Green, which found the far corner of the net. Barely a minute later, a challenge by Densmore on Green conceded a penalty, which Kirk converted (24 mins).
Just before half-time, Crewe captain Perry Ng scored the visitors' third goal after a thunderous header by the visitors' number ten had come back off the crossbar from an Owen Dale cross. Owen, of course, had enjoyed a loan spell at Alty in 2018-19.
Soon after Crewe had made a complete change of team, one of the new eleven, Finney scored with a shot which was touched but not stopped by Thompson (62 mins). Four minutes later it was 5-0 as Finney drove home a low shot. The sixth and final goal arrived nine minutes from time when Peers's mis-pass led to Finney completing his hat-trick emphatically.
ALTRINCHAM: 1. Tony THOMPSON, 2. Shaun DENSMORE, 3. Connor HAMPSON (c), 4. James JONES, 5. Tom HANNIGAN, 6. Sean WILLIAMS, 7. Matthew CHADWICK, 8. Conor BRANSON, 9. Jordan HULME, 10. Max HARROP, 11. Nathan ARNOLD.
Second half: 1. Tony THOMPSON, 3. Jamal CRAWFORD, 12. Tom PEERS, 14. John JOHNSTON, 15. Josh HANCOCK, 16. Simon RICHMAN, 16* Darren McKNIGHT, 17. Ben HARRISON (c), 18. Toby MULLARKEY, 18*. Dontai GABIDON, 19. Zac CORBETT
Altrincham FC season tickets for 2021-22 season are on sale now and details of prices and of how to obtain your ticket are on the
Altrincham FC
website.
The
Leader Live
informs us that "Jordan Ponticelli wants to put an injury-wretched season behind him with the striker vowing to come back 'fitter and stronger' when Wrexham head into a 14th campaign in non-league.
The 22 year-old completed a permanent move to The Racecourse last summer after deciding to leave Coventry City but was plagued by hamstring problems throughout 2020-21. After returning to full fitness for the run-in, Ponticelli ended the season in good form as he scored three times in four appearances...
'I'm just looking ahead to next season... I feel great now. I had an injury-ridden season but want to get that out of the way and come back fitter and stronger next season'...
Wrexham's destiny lay in their own hands heading into the [last-day] clash with Dagenham but the Reds failed to get the win they needed to guarantee a top-seven finish.
Ponticelli, who grabbed a 90th minute equaliser, was disappointed to miss out on the play-offs...
Said Ponticelli... 'I just wanted to be in the play-offs and that didn't happen. It was not a good day at the office for us'".
The Nottingham Post reports that "Wrexham have signed former Notts County defender Shaun Brisley and have also recruited striker Liam McAlinden as they signalled their intent in the National League promotion race.
Ex-Magpies centre-back Brisley has put pen to paper on a two-year deal at the Racecourse Ground after he left League Two side Port Vale. Brisley made more than 70 appearances for Notts in all competitions, having signed... from Carlisle United in 2017...
Brisley is Wrexham's first signing in the summer, and he was quickly followed by McAlinden, who has signed from League Two side Morecambe...
Former FC Halifax Town and Stockport County striker McAlinden was part of Morecambe's side which won promotion to League One via the play-offs... 'I've played in the National League before, and enjoyed a consistent season. I'd describe myself as a hard-working forward, I like to get in behind defenders'".
Promoted Sutton United "Manager Matt Gray has completed the signing of striker Richie Bennett, after his departure form Stockport County last month. He played a prominent role... after he was loaned by Stockport to Hartlepool towards the end of the season and scored five goals in four games before then returning to Edgeley Park...

30-year-old Richie began his career with his home town club Oldham Athletic, and after spells in non-league with Mossley, Northwich and Barrow he joined Carlisle in 2017 and subsequently played for Port Vale before joining Stockport in March 2020".
And the Nottingham Post adds that "Notts County look to have missed out on a move for Hartlepool United full-back Jamie Sterry amid claims he is set to sign a new contract at Victoria Park.

Sterry was wanted by a string of EFL clubs... with the Magpies also hoping they could lure him to Meadow Lane.

But the full-back is now set to remain at Victoria Park... The Magpies had been interested in the former Newcastle defender with the Sunderland Echo also reporting Notts had even offered him accommodation as part of the deal".
Confirmation comes from the Dorset Echo that "Weymouth have announced the triple signing of defender Tyler Cordner, goalkeeper Ross Fitzsimons and winger Ahkeem Rose.

Fitzsimons, 27, joins on a one-year deal from the Terras' Vanarama National League counterparts Stockport County. The Londoner counts Notts County and Boston United among his former clubs and was on the books at Crystal Palace and Bolton although he did not appear for either side. Fitzsimons will vie with fellow custodian Gerard Benfield for a starting place.

Terras' boss Brian Stock told Echosport 'He'll join us on a year's contract from Stockport and he was at Notts County (before)...

Ahkeem Rose, 22, joins from fellow National League club Dover after scoring three goals in League Two with Grimsby Town... Jamaican wide man Rose also counts Boston United among his former clubs.

Stock said... 'He's an exciting player, full of pace. He can take players on, he's lightning quick... It took a while to make sure we came to an agreement with him but he's got a point to prove. Ability-wise, you're looking at a League-type player coming into the ranks'...

Cordner is a particularly impressive capture, given clubs such as Southend United were in the race for his signature. Cordner played 14 games for the Shrimpers last season on loan from Bournemouth...

Stock said 'I know Tyler having played with him at Havant & Waterlooville... Sometimes when players leave academy football... it becomes difficult to find another club. Tyler's done that, he's gone out and performed well.

'He's commanding, 6ft 4, nearly 6ft 5, so aerially he brings a lot to the table'...

The trio take the tally of Weymouth signings this summer to 16.
Meanwhile, news of a playe rwho has faced Altrincham before comes from the Grimsby Telegraph which says that "Grimsby Town have completed their latest piece of transfer business with the signing of former Swindon Town winger Joel Grant on an initial one-year deal.

The 33 year-old Jamaican was released by the Robins after his contract expired this summer.

Prior to his time in Wiltshire, he had a three-year spell with Plymouth... Grant can play wide or as a central striker, and won 14 caps for his country earlier in his career. The vastly-experienced forward came through the academy at Watford as a youngster and went on to play for Aldershot, Crewe, Wycombe, Yeovil and Exeter City.

Boss Paul Hurst told his club's website 'He is a player who is technically very good, very comfortable on the ball... he can score goals and that is something that we are trying to add to the squad... He has played the majority of his career at a higher level... His age doesn't concern me at all'...

Following last Friday's signing of defender Adam Crookes, manager Paul Hurst said he was hoping to make three or four additional new signings".
---
---
The following pages, which initially replicate those pages with the same web addresses which formed part of the official Club website, will be re-branded from 2018 as part of this new unofficial Alty Files site.
A/Z Site Index to The Alty Files at www.altrinchamfc.co.uk
---