ALTRINCHAM FC LADIES
Altrincham FC Ladies
---
---

Above: Altrincham FC Ladies, May 2015 (click to enlarge)
Altrincham FC runs an open-age Ladies' team which plays (2015-16) in the North West Regional League, Division One South.
The venue for home matches is normally Mersey Valley Sports Club, Banky Lane, Sale, M33 5SL. Matches are normally played on Sundays, k.o. 2pm. Spectators are welcome at all games. For details of matches and times, please see the fixtures list below.
There is a separate website for the Altrincham FC Juniors and social activities.
| | | | |
| --- | --- | --- | --- |
| Keith Edleston | Phil Taylor | John McManus | Dave Grundy |
Manager - Keith Edleston
Administration/Coach - Phil Taylor
Fitness Coach - John McManus
Coach - Dave Grundy
Recruitment
Aspiring lady footballers are invited to e-mail the Ladies' Team Manager,
Keith Edleston
, giving details of their footballing background.
---
23 October 2016
Altrincham FC Ladies lost 3-4 to Manchester Stingers in the Argyle Sports Cup. More on this to follow...
---
19 October 2016
Alty Ladies' 3-3 draw against Liverpool Feds Reserves last Sunday is the subject of Phil Taylor's latest
match report
.
---
18 October 2016
Via Alty Ladies' manager Keith Edleston, we have a brief report from "our Manx supporter/reporter Paul Hatton, on Altrincham FC Ladies 3 Liverpool Feds Reserves 3.
A 90th minute speculative strike from Altrincham's Megan Wright made sure there was a share of the spoils when they drew 3-3 against Liverpool Feds at Mersey Valley in the North West Regional Division 1 South.
It was a match of two halves which saw the visitors take the lead on three occasions, only to be cancelled out by the Robins.
Altrincham played 4-5-1 in the first half, which saw them struggle to get a foothold, especially by the high standards they have set themselves this campaign. Liverpool repeatedly played the ball behind the hosts' back-line which resulted in the opening goal. Captain Bliss Molyneaux was looking to shepherd the ball back to goalkeeper Lizzie Brereton, Levi Walmsley nipped in ahead to poke the ball into the net.
Altrincham's only chance in the first half saw them score with 26 minutes played. Jade Hesketh slipped a pass to Jess Hartopp on the right who unleashed a trade-mark long range effort that flew into the roof of the goal.
However, the Feds restored their advantage, Carina Mendes received a through-ball and guided her shot into the net.
Brereton pulled off a great save before the interval, however, the Robins levelled for the second occasion on 51 minutes. Kate Bryan collected a Georgia Plant pass, side-stepped her marker and drillrd a low shot just inside the left post.
Liverpool scored for the third time following a corner wasn't cleared. Jade Moore poked home from close range.
Alty pushed forward for another equaliser. Hartopp had a header cleared off the line, the Feds' goalkeeper pulled off saves denying Plant and Wright.
On 90 minutes, Altrincham got their deserved equaliser. Plant's corner was half-cleared, Wright unleashed a long range strike that landed into the roof of the goal and saw them maintain their fourth place in the league.
Player of the Match: Georgia Plant".
Keith adds that, below, we see (left) captain Bliss Molyneaux, leading out the team with mascots Faye (U11s) and Lucy (U8s) from our junior girls' teams and, right, Laura Dodds in typical midfield action.
---
14 October 2016
A report on Altrincham FC Ladies' 3-1 win at Liverpool last Sunday is
here
, courtesy of Phil Taylor.
Congratulations go to an Altrincham FC Ladies' player as
Edge Hill University
reports that "After receiving nomination from Edge Hill's DipHE Paramedic Practice programme, Laura Kelly has been named the College of Paramedics Student of the Year 2016... Laura has been named Student of the Year in recognition of her achievements and determination in her academic studies, as well as her genuine commitment to family, fellow students and the community.
Laura began studying on Edge Hill's Dip HE Paramedic Practice course in 2013 and immediately highlighted to her tutors that she struggled in the past with her academic work due to her dyslexia. Despite this, Laura put 100% effort into her work and successfully completed the first semester scoring good grades in each of the assessments.
As the main carer for a relative, Laura dedicates a vast proportion of her time to helping support her family at home, and struggled with balancing her home commitments and study for her examinations. She was determined to persevere with her studies however, and successfully passed the examinations and assessments.
During this period and throughout the course, Laura also helped her peers who were struggling with their own work... Laura also attended external Continual Professional Development days and became a British Heart Foundation Heart start instructor, running sessions teaching lifesaving skills in the local community.
As well as receiving a certificate at an official presentation, Laura's name will be added to the Roll of Honour on the College of Paramedics records and website, and included in their Annual Report. Laura is now completing a BSc (Hons) Clinical and Professional Paramedic Practice".
---
10 October 2016
Above: Laura Dodds celebrates after her goal (left) and Megan Wright takes on the Liverpool defence (right).
Altrincham Ladies defeated Liverpool City 3-1, away, today. The goals came from Laura Dodds, Jade Hesketh and Kate Bryan. The Ladies are now fourth in the league and host fifth-placed Liverpool Marshalls Feds Reserves next Sunday at Mersey Valley, on Sunday at 2pm.
Manager Keith Edleston writes, "Just a few words from Sunday's game against Liverpool City LFC,
We travelled up onto Merseyside where you are always guaranteed a tough game, in whatever competition you are in, and today was to be no exception.
Liverpool have got a fair few new players in this season, so they were going to be a bit of an unknown qauntity to us but we knew, if we stuck to our game, then we should be OK. A text-book goal from Laura Dodds, after some lovely play where we swung play from one side of the pitch to the other, sent Jess scampering down the right to the by-line and she cut a perfect pass back to Doddsy where she gratefully smashed the ball into the net... 1-0.
A harsh penalty, converted just on half time for Liverpool meant we went in 1-1 at the interval. A few points were made and, within two minutes of the restart, a through ball sent Kate Bryan away and she finished to the keeper's left. A further goal from Jade Hesketh saw us see the game out without too many worries but, boy, there are games when you have to earn the win and we certainly did earn this one!
It was a good, gritty team performance today from the girls and now we take this on to our next match, this coming Sunday, down at Mersey Valley Sports Club in a 2pm kick-off, where we entertain another team from Merseyside in Liverpool Feds Reserves.
Players' Player of the Match: Laura Dodds".
---
5 October 2016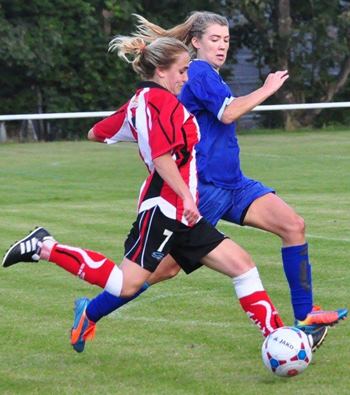 Right: Jess Hartopp unleashes a rocket into the net.
Phil Taylor has filed his customary excellent report on the Altrincham FC Ladies' latest match. This time it was a home game against FCUM last Sunday. It can be read here Next up for the Ladies is a trip to take on Liverpool City Ladies on Sunday, 8 October (2pm).
And manager Keith Edleston has also provided "a guest report from a friend (and reporter from the Isle of Man) Paul Hatton...
A View from the Isle of Man
Despite being Altrincham Fc's first home defeat of the season, losing 3-2 to top of the league table FC United of Manchester, the Robins can take a lot of positives from this performance last Sunday at Mersey Valley.
Considering that Alty finished with only six points and narrowly avoided relegation last season, their fortunes on the pitch have dramatically improved. Flying high in the league table, last Sunday, the Robins fought right to the end and gave FC United a scare.
Alty made the first impression, Georgia Plant came close to opening the scoring with a long range effort just over the crossbar. At the other side, Lizzie Brereton pulled off a great save from point bank range.
However, the visitors got their break-through on 20 minutes, Allisha Marsh's pass across goal was converted by Chloe Wilde at the far post.
The Robins cranked up the gears, Megan Wright's low shot was well saved, just before the half hour mark, they got a deserved equaliser. Jess Hartopp latched onto a through-ball and unleashed a long range effort into the net.
With the match in added time, the visitors recaptured their lead. A near carbon copy of their first goal, Marsh crossed from the left for Nicole Hatcliffe to slot home on the right.
With the match in the early phases of the second half, the visitors extended their lead further, Marsh raced clear from the left and convert their third.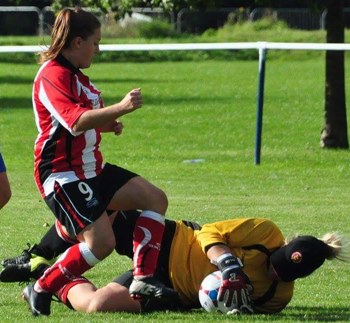 Left: The FCUM keeper saves well at Laura Kelly's feet.
Although the visitors enjoyed swathes of possession, captain Bliss Molyneaux was superbly leading the troops and organising the back four and Brereton pulled off another impressive save. The Robins pushed forward and reduced their deficit on 87 minutes. Following a free-kick that was half-cleared, Jade Hesketh pounced on the loose ball and expertly placed her shot into the net.
However, the Alty were denied a last minute equaliser; Kyeisha Brown's long-range shot was superbly saved by the FC United goalkeeper".
Keith adds that Players' PoM went to Bliss Molyneux. Staff PoM went to Louise Edleston.
Next up for the girls is a visit to Merseyside to take on Liverpool City Ladies at Admiral Park, Liverpool, L8 8JN. It's a 2pm kick off and we would love to see you there to cheer the girls on".
---
25 September 2016
Alty Ladies' unbeaten start to the season ended wth a 2-1 defeat at Ellesmere Port Town on Sunday.
---
20 September 2016
With three wins in their first three league games, Altrincham Ladies are enjoying a great start to the season. Last Sunday they beat Egerton Ladies 4-1 and Phil Taylor has kindly provided a
match report
.
---
19 September 2016
Altrincham FC Ladies' manager, Keith Edleston writes that his "Lady Robins make it 3 wins out of 3.

Above: The girls after the game with our Norwegian Supporters' Branch flag which they had they sent over for us".
"It was a great result today down at Mersey Valley where, after giving Egerton an early one-goal start, we had to dig deep, roll our sleeves up to get back into the game and we did so with some aplomb.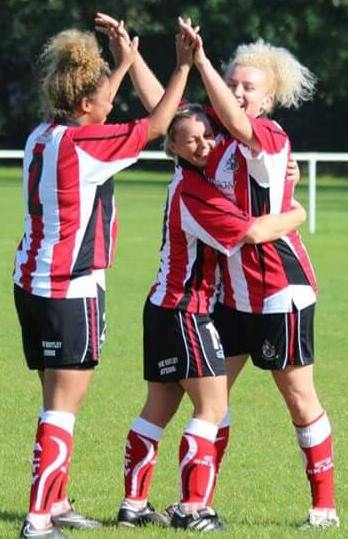 Right: PofM Anna Dillon celebrating with goalscorer Kate Bryan and Kye Brown.
I am proud of the team for not letting their heads drop. Even when things didn't come off, they kept on playing the right way and, in the end, it paid off. Manager's Player of the Match, and also the Players' Player of the Match, was given to Anna Dillon for her non-stop performance in midfield and creative ability pushing the girls forward.
A massive mention must go to our ever-growing band of supporters who keep turning up. Today must have seen approximately sixty there, cheering the girls onwards. Huge thank-yous to you all. We now look forward to another tough test this coming Sunday, when we travel up the M56 to take on Ellesmere Port. Roll on Sunday!"
---
13 September 2016
Phil Taylor's report of the Ladies' 6-3 win at Stockport is
here
.
---
7 September 2016
Altrincham FC Ladies got their season off to a fine start with an away win at Chorltonians. Phil Taylor has kindly provided a
match report
. The Ladies match at home to Curzon Ashton tonight has been postponed owing to registration problems for the opposition.
---
31 August 2016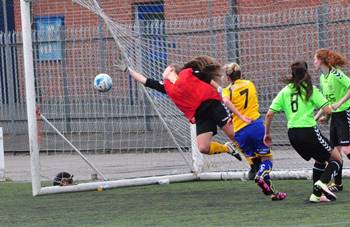 Manager of Altrincham FC, Keith Edleston, has provided the following brief report and accompanying image from last Sunday's 4-1 win over Curzon Ashton.
Pictured, right, is Jess Hartopp's headed goal.
"It was a great game today down at The Tameside Stadium as we took on Curzon Ashton in a hastily arranged last pre-season game. The game was played in some heat, and on astro, but we played some lovely football and created a fair few chances throughout the ninety minutes. Curzon also played their part in an entertaining game with some good performances especially from the no.9, Amy, who never gave up and caused us a few problems. And, I must thank Sam and Curzon Ashton for accommodating us at such short notice.
Special mention goes to our Elina "Nana" Parker who ably stood in in goal and played superbly. Next up is the start of our league campaign and it's an away trip across town to play Chorltonians LFC next Sunday, 4th September at 2pm. Let's carry on all the hard work in training and hopefully have a great season!
Sunday's goalscorers were Laura Dodds, Megan Wright, Laura Kelly and Jess Hartopp".
The season starts for the Ladies next Sunday with a trip to Chorltonians (2pm).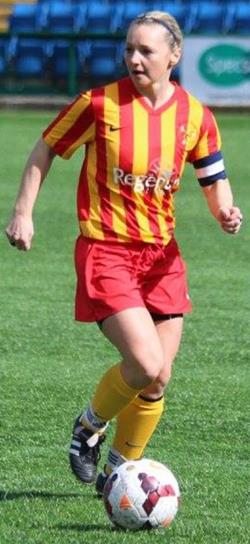 Altrincham FC Ladies' registered players for 2016-17 were as follows...
Elizabeth Brereton
Samantha Briggs
Kyeshie Brown
Kate Bryan
Anna Dillon
Laura Dodds
Louise Edleston
Jessica Hartopp
Judy Henson
Jade Hesketh
Laura Kelly
Bliss Molyneaux
Paloma Ortiz-Lopez
Elina Parker
Georgia Plant
Heather Scott
Gail Simpson
Lucy Smith
Brogan Walsh
Megan Wright
But Keith now reports an important new signing...
"I would like to take this opportunity to announce and welcome Anna Dillon (right) to our team. Anna who lives on the Isle of Man joins us from Corinthians LFC and is also the captain of the Island's Representative team. We first saw Anna when the Isle of Man representative team played us a couple of years ago and myself and Dave commented then how good she was and it would be nice to have her in our team. Little did we know that, after our tour this year, it would come to fruition.
After a few months of chats and texts over the phone, working out travel arrangements, etc. and with a couple of pre-season games under her belt, she has finally said yes and joins us in time for the new league season. Anna is a 100% tough-tackling ball winner with quality distibution and an eye for a pass out from midfield/defence. She will wear the number 19 shirt. Welcome Anna!"
---
27 August 2016
Sunday's game has been changed due to Tranmere Rovers unable to field a team. Keith Edleston says "I have hastily arranged for us to play Curzon Ashton away. The game will be a 2-15ko and will take place at Curzon Ashton FC, The Tameside Stadium, Richmond St, ,Ashton u Lyne, OL7 9HG".
---
24 August 2016
Keith Edleston, manager of Altrincham FC Ladies reports on last Sunday's friendly game against Leigh RMI Ladies.
In images courtesy of Keith Edleston, we see above (left) Megan hurdling the keeper and other action from the game. Below, we see Anna breaking forward from midfield.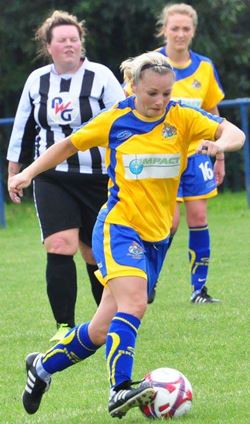 "A lovely, sunny day dawned on Sunday down at Mersey Valley Sports Club, where our visitors for our third pre-seadon game were Leigh RMI Ladies. The pitch was looking well after a morning "Vets'" game on it and was a very lush green colour so it all bode well for a cracking game. I organized four tough games for the girls this pre-season, as I like to test them and pick stuff out to work on rather than just turn up and beat a team 6-0. I really think you don't learn anything about yourselves from doing that.
Well, after a chat on how we wanted to play, we witnessed some superb passing football, from the first whistle, all over the pitch (especially building up from the back). This was appreciated by a decent sized crowd.
A shot from the edge of the box from a corner saw Laura Dodds put us 1-0 up and set the tone for a high intensity game. Leigh played their part in it, as well, and an equalizer from them saw us go in 1-1 at the break. Second-half goals. one a fine debut goal for our young striker Megan Wright, a Laura Dodds penalty and a fine finish from Brogan Walsh eased us to a 4-1 win.
Both teams played their part in an entertaining game and I wish Leigh RMI Ladies the best for the new season. Plus-points for me were the way we asked the girls to play, which was taken on board and applied, Megan scoring her first goal and everyone in the squad that day got some quality game-time in preparation for the new season. Onward to our last pre-season game this coming Sunday, when we face a trip up the Wirral to face a stern final test against Tranmere Rovers LFC, with 2pm kick-off.
We're looking forward to the 2016/17 season and hope to see you down at Mersey Valley Sports Club to watch a game or two this season. I'm sure you won't be disappointed".
---
18 August 2016
| | |
| --- | --- |
| Paloma Ortiz-Lopez | Megan Wright |
Keith Edleston, manager of Altrincham FC Ladies says "We have made two new signings over the last month to complement our squad. First up is Paloma Ortiz-Lopez. Paloma (27) is a Spanish midfielder who joins us from AFC Stockport. Paloma has a good footballing pedigree as, before she came over to England, she played for Villarreal. She is determined, has good technique and is a great passer of the ball. 'P' will wear the number 12 shirt.
Second up is Megan Wright (16), who is a forward who joins us from West End Girls and is a pacey, strong girl with a great eye for a goal. Even at such a young age she has a fantastic CV, having played for both Manchester United and City then latterly with West End, winning many trophies and accolades. Meg is certainly one to be excited about. She will wear the number 14 shirt".
---
15 August 2016
Keith Edleston describes Sunday's 3--3 draw between Altrincham FC Ladies and Rhyl as "a great advert for women's football. It was a great afternoon today down at Mersey Valley Sports Club, in an entertaining game that went from end to end and finished 3-3 with our goals coming from Jess Hartopp, Kye Brown and Kate Bryan. Both teams gave everything in the sunshine and performed well with both teams rattling the crossbar a few times. We have some things to work on but we are progressing well and should be ready for the start of the season. Also to be noted were some superb saves by Lizzie Brereton and some fine work from all the girls gave us some smiles and something to work on".
Player of the Match was Jess Hartopp and the attendance was 47.
Keith adds, "It's onto matchday 3 which is another home game down at Mersey Valley Sports Club, Banky Lane, M33 5SL this Sunday 21st August against Leigh RMI, 2pm kick off. Why not pop down and support the girls? We look forward to seeing you there".
Pictured, below (left to right) are Bliss Molyneaux leading the team out with Lucy from our Under-8s and trialist Amy Whittle taking on a Rhyl defender.
---
8 August 2016
Keith Edleston, manager of the Altrincham FC Ladies' team, advises us that "This Sunday's (14th Aug) pre-season game v Rhyl LFC has been rearranged to our HOME venue at Mersey Valley Sports Club with a 2pm kick-off. We would love to see as many supporters as possible down to cheer the ladies on against our Welsh Premier League opponents. The usual bar facilities will be open from 12 noon. We look forward to seeing you there!"
---
28 July 2016
Altrincham FC Ladies' league fixtures for 2016-17 in the North West Women's Regional League, Division One South, are
here
.
Manager Keith Edleston says "It's going to be a tough season with the two promoted teams from the Cheshire League being put into our league along with two Premier teams dropping into ours too, but we will relish the challenge.
Our pre-season games are as follows...
7th August: v Bury LFC (Dev/Squad), Away 2pm
14th August v Rhyl LFC, Home 2pm
21st August v Leigh RMI LFC, Home 2pm
28th August v Tranmere Rovers LFC, Away 12 noon
---
27 July 2016
Keithe Edleston, manager if the Altrincham FC Ladies has kindly sent images and information from the recent Presentation Night for the Ladies' team. This was kindly sponsored by Neil Faulkner from Robinsons Preservation Ltd. who made the presentations seen below.
The awards were...
Manager's Player of the Year: Jess Hartopp
Players Player of the Year: Kate Bryan
Most Improved Player: Lucy Smith
Sportswoman of the Year: Lucy O'Dwyer
Blue Dog Player of the Year: Heather Scott
Isle of Man Player of the Tournament: Laura Dodds
Parents' & Supporters' Player of the Year: Elina Parker
Top Goalscorer: Kate Bryan
Physio of the Year: Alan Ainsley
The images below are courtesy of Keith Edleston.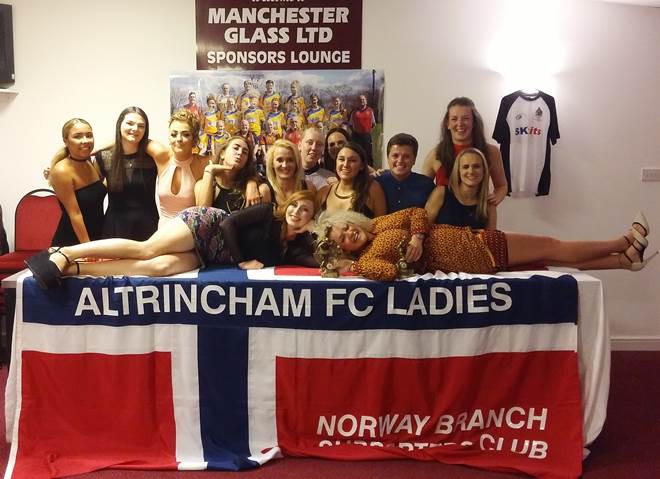 Above: The Ladies after the Presentation Evening.
| | |
| --- | --- |
| Jess Hartopp | Kate Bryan |
| Lucy Smith | Lucy O'Dwyer |
| Heather Scott | Laura Dodds |
| Alan Ainsley | Elina Parker |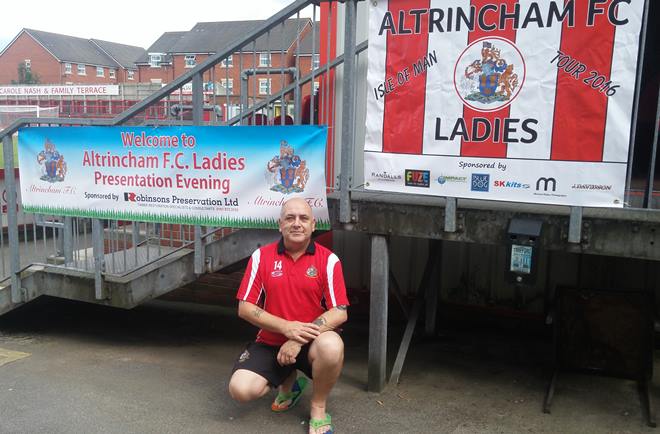 Manager Keith Edleston
---
---