ALTRINCHAM FC EVENTS
OPTIONAL DROPDOWN MENU - HERE
---
CLUB AND SOCIAL EVENTS
Altrincham FC depends greatly on support for its off-the-field events and activities. So do please support as many of the following events as you can - more details and, where appropriate, tickets, are available from the Club by phone (0161 928-1045) or
e-mail
.
---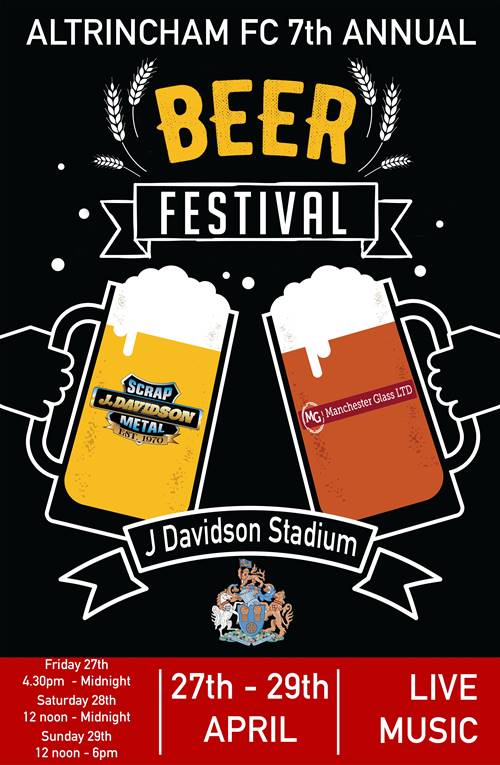 MONTHLY DRAW
Full details of the Monthly Draw scheme are
here
. Members are entered into a monthly draw in which you can win £500.
HELPING ALTY
How You can Help
ALL CHANGE FOR ALTY
Grahame Rowley writes:
"We have available for collection 'All Change for Alty' money boxes. This scheme was started last year for fans to collect small change and was a great success raising in excess of £1000. Seventy five boxes were distributed last year and this year we aim to distribute in excess of 100. Please consider taking one home – it's a great way to help fundraising with very little effort. Your support would be much appreciated".
GOAL SPONSORSHIP
TASC's Steve Foster writes,
Steve Foster writes: "TASC are running the Goal Sponsorship scheme again for this season.
TASC therefore invite you to join the scheme in any form you wish. We are happy to have any arrangement, whether to sponsor an amount for every goal the team score, every clean sheet the team have, every goal an individual player scores, or even every penalty that Stuart Coburn or James Coates makes.
As last season, we will be updating you during the season of how much your sponsorship has cost you and we propose that the money should, as before be paid in a couple of instalments. The names of the goal sponsors and the amount that they have sponsored will be published in the programme.
If you are interested in sponsorship for this season, please send me an e-mail, call the club (0161 928-1045), or speak to me at any game.
Steve Foster".
---