ALTRINCHAM FC FIRST TEAM
OPTIONAL DROPDOWN MENU - HERE
---
---
Altrincham FC
2017-18 First-Team Squad.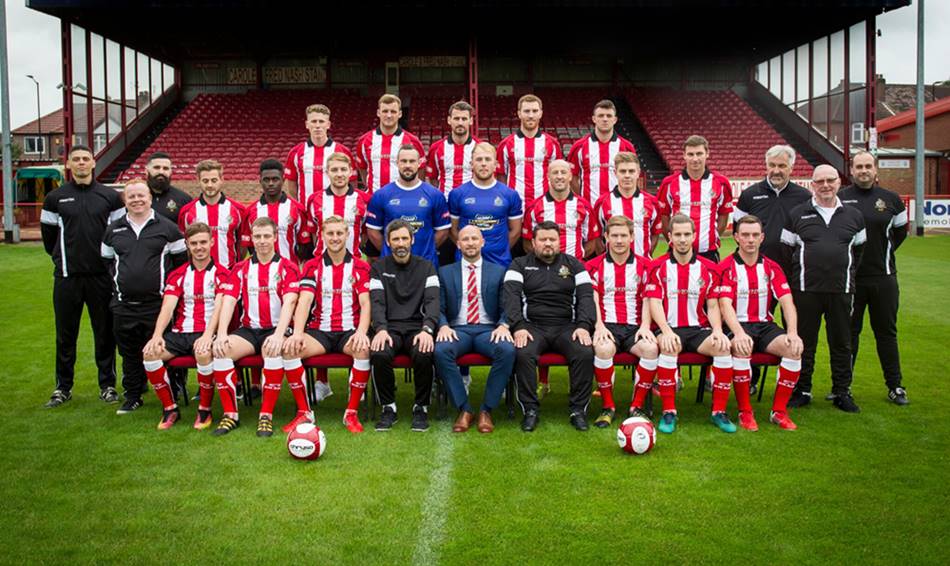 Above photo courtesy of Altrincham FC official photographer Gavin Rathbone, (August 2017).
BACK ROW Tom Peers, Josh Amis, Simon Richman, Tom Hannigan, Jordan Hulme
MIDDLE ROW Tommy Uda & Ryan Murray (sports therapists), Josh Hancock, Laurence Taylor, John Disney, Tim Deasy, Tony Thompson, Chris Lynch, Lewis Short, Ben Harrison, Ian Senior (goalkeeper coach), Mark Bushell (analyst)
FRONT ROW Steve Foster (kitman), John Johnston, Sean Miller, Jake Moult (capt), Neil Sorvel (assistant manager), Phil Parkinson (manager), Chris Parkes (coach), Shaun Densmore, James Poole, Sam Sheridan, John Skelhorn (kitman).
For details of the 2016-17 squad, click here.
First-Team Squad Members, 2017-18
All players named on a first-team match teamsheet in 2017-18 are shown below. Where a player is predominantly in the Reserves or Youth team squad, this is shown with (R) or/and (Y) after his name.
For players who left the club during the season see the list of Departed Players at the foot of this page.
PHOTO/SQUAD NO.

GOALKEEPERS

Tim DEASY (d.o.b. 1 October, 1985)

Tim was unexpectedly released during summer 2016 by new manager Neil Young, despite winning the Supporters' and Players' Player of the Season awards for 2015-16. He then joined Guiseley at the start of the 2016-17 season. However, following Neil Young's departure in late August 2016, Tim rejoined Altrincham on 2 September 2016.

He had originally joined Altrincham on 7 May 2015 from Northwich Victoria. Tim had previously signed dual-registration Conference forms for Altrincham on 13 March 2014 whilst still playing for Northwich Victoria. However, he did not make an appearance for Altrincham before that season ended.

His career began at Macclesfield Town, where he made three first-team appearances before leaving in summer of 2006. From there, he signed for Stockport County but moved on on at the end of the 2006/07 season, without making a first-eleven appearance for The Hatters.

For 2007-08 he joined Barrow, where he gained promotion to the national level of the Football Conference. In all, he made 93 appearances for the Bluebirds before leaving Holker Street in summer 2010. He moved east to Gateshead, for whom he made 55 appearances before his release in April 2012. Next, came a spell with Bradford Park Avenue (19 appearances), a club he left at the end of the 2012-13 season. After that he joined Northwich Victoria.

In only his third game back at Alty, on 10 September 2016, Tim was injured against Gloucester City and had to be substituted but returned to action before he was struck by a more serious thigh injury on 1 March 2017 at Darlington. He returned to action before the end of the campaign. The early part of 2017/18 saw him sharing first-team duties with Tony Thompson before the latter established himself for a run of games. Tim's season was curtailed by a knee injury in March.

Altrincham appearances to June 2017: 76.

Andrew JONES (d.o.b. 20 February, 1990)

Andrew Jones played for Altrincham FC Youth (2007-) and Reserves before playing for several local clubs in the NW Counties and EvoStik leagues including Maine Road, Stafford Rangers and Winsford United. He was named in the first-team squad for the game at Nuneaton on 13 September 2016. After being named on the bench in 2016-17, Andrew signed dual registration forms at Mossley in late November 2016 to gain more match experience. Andrew made his league debut for Alty as a substitute for Tim Deasy at Darlington on 1 March 2017 and was named on the bench several times as Alty completed the 2017-18 season.

Altrincham appearances to June 2017: 1(+1).

Josh SAMBERG (d.o.b. 7 September 1995)

Altrincham FC originally signed their youth team goalkeeper Josh Samberg on first-team, non-contract, forms in mid-December 2013. He had established himself as the regular Altrincham FC Youth team goalkeeper in the 2013-14 season but before that, in summer 2013, he had been goalkeeper for the Team GB Under-18s who won a medal in Israel in the 19th Maccabiah Games.

Josh made two first-team starts in the Cheshire Senior Cup in March 2014. He again joined the first-team squad for pre-season training, in summer 2014 and made a further CSC appearance in 2014-15 season. In March 2015 he went on loan to Radcliffe Borough and Bamber Bridge. In autumn 2015 he joined Trafford but soon moved on to Ashton United.

He rejoined Alty on the eve of the FA Cup match at Shildon on 16 September 2017, where he was an unused substitute.

Altrincham appearances to June 2017: 3.

Cameron TERRY (d.o.b. 21 August 2000)

Altrincham FC Youth team goalkeeper, Cameron Terry was named on the subs' bench for the Integro Cup match against Ashton United on 17 October 2017.

Altrincham appearances to June 2017: 0.

Anthony THOMPSON (d.o.b. 4 November 1994 in Liverpool)

Tony made his first appearance for Alty in a pre-season game on 8 July 2017. In 2016-17 he played on loan from AFC Fylde for Warrington Town. He started out with Rotherham United (2012), from where he had loan spells with Chelmsford City and Southport in 2014-15 before he joined Morecambe, where he played one League Two game. Later in 2015-16 he moved to Chester FC before joining AFC Fylde in 2016. The early part of 2017/18 saw him sharing first-team duties with Tim Deasy but he then established himself as the regular first choice.

Altrincham appearances to June 2017: 0.

---

DEFENDERS

Shaun DENSMORE (d.o.b. 11 November 1988, in Liverpool)

Signed initially on a month's contract on 12 September 2008, Shaun is a former Everton Academy Player of the Year, who was released by the Toffees in summer 2008. After trials with Bradford City he joined Altrincham. Shaun, a hardworking right-footed defender/midfielder, made his Alty debut on 16th September 2008. On 13 October 2008 Shaun signed on for the rest of 2008-09 season, having impressed in a run of seven unbeaten games in the side.

The son of former Altrincham player of the 1980s, Peter Densmore, Shaun followed his father into the England semi-pro international side and scored on his debut for England "C" side against Malta in February, 2009. Despite an early season suspension in 09-10, Shaun soon re-established himself as a tenacious right-back/midfielder. However, he picked up a medial ligament injury in February 2011 which sidelined him till the latter part of the season but he returned to full fitness before the end of the season.

A regular starter in 2011-12 in central midfield, Shaun was named captain on the departure of Robbie Lawton in November, 2011, a role assumed by Jake Moult in 2017. He now normally plays at right-back but is also impressive in midfield. His wholehearted approach and his excellent freekicks make him a key member of the team. His 2014-15 season was disrupted by injuries but he again impressed. However, 2015-16 was also disrupted with two significant injuries by mid-October and in early January 2016 it was announced that a knee operation would terminate his season and, sadly, he missed much of 2016-17 through injury as well.

Following the resignation of manager Neil Young on 28 August 2016, Shaun, along with Alan Goodall and Jake Moult, was appointed to a caretaker-management role before the appointment of Jim Harvey. Shaun made a welcome but brief return to playing action on 6 December 2016 in the FA Trophy but was then sidelined again by injury for much of the remainder of that campaign. In 2017-18 he initially started mostly played as left-back, alternating in that role with Lewis Short, before re-establishing himself at right-back with some outstanding performances.

Appearances to June 2017: 304(+15), 25 goals.

Dontai GABIDON

A left-back or left-midfielder with the youth team, the pacy Dontai made his debut in the Cheshire Senior Cup against Winsford United on 21 March 2018.

Altrincham appearances to June 2017: 0.

Connor HAMPSON (d.o.b. 23 August, 1992)

A left-back who can also operate as a central midfielder, Connor joined Altrincham, initially on a month's loan, from Stockport County on 2 November 2017. He had been at Edgeley Park since February 2017, when he joined from Curzon Ashton, but injury sidelined him before the end of the 2016-17 season at County. Connor had previously been at the Tameside Stadium since 2011. His impressive performances for Alty prompted an extension of his loan period into 2018. He missed several games in the Spring before returning for the run-in where he played at centre-back.

Appearances to June 2017: 0

Tom HANNIGAN (d.o.b. 30 June 1988)

Tom Hannigan, who was the captain of AFC Fylde, joined Altrincham on 23 May 2016. A very reliable central defender, Tom had joined AFC Fylde in summer 2014 from Vauxhall Motors who were then in Conference North. In his first season with Fylde he was named "Manager's Player of the Season". Earlier in his career, Tom was released by Tranmere Rovers, aged 16, and then studied for 'A' levels before completing a degree at Hallam University.

He made his Altrincham debut on 6 August 2016 at home to Darlington. Sadly, Tom picked up a knee medial ligament injury in only his second competitive game and was ruled out for at least six weeks. His season was further disrupted by suspension and another injury in Spring 2017 which terminated his season. However, he recovered to start the 2017-18 campaign and put in some assured performances before injury again sidelined him in late October 2017. However he recovered and was an important factor in Alty's strong run-in for the league title.Appearances to June 2017: 19.

Ben HARRISON (d.o.b. 29 October 1990)

Ben Harrison is a centre-back who signed for Altrincham, from Nantwich Town, on 16 May 2017. Previously he had enjoyed a lengthy stay at Witton Albion, where he racked up more than 200 appearances. Earlier he had played for two other Cheshire teams, Barnton and Lostock Gralam. He had a brief spell at AFC Telford United early in the 2015/16 season before returning to the Dabbers in September 2015. Ben soon impressed with his reliable performances in pre-season and the season proper. A knee injury sadly curtailed his season in April 2018. Appearances to June 2017: 0.

Sam HEATHCOTE (d.o.b. 5 August 1997)

Sam was a junior striker at Manchester United and, following his release, he graduated through Altrincham's youth team and reserves to sign Conference forms, as a back-up for the first-team, in March 2015. Converted to a centre-back in the Alty Youth and Reserves' teams, he was first included in the first-team squad for 2015-16. The son of former Alty player and manager, Graham Heathcote, Sam has represented Cheshire County FA Youth.

He made a remarkable debut for the first team, coming on as an injury-time substitute against eventual champions Cheltenham Town on 5 September 2015. Within some ninety seconds he had scored the winning goal! With his opportunities in the first team limited, after making 5(+4) appearances in 2016-17, Sam went on loan to Hyde United. On his return he re-established himself as a regular member of the matchday squad.

Latterly, Sam has become a popular coach with the Altrincham FC community venture. On 26 July 2017 it was announced that Sam had opted to leave the club after manager Phil Parkinson had indicated that he could not be promised a regular place in the starting eleven. He then joined fellow ex-Altrincham team-mates Kyle Brownhill and Jerome Wright at Ramsbottom United where he reverted to a striker's role. However, he made a welcome return to Altrincham on 1 March 2018. Altrincham appearances: 32(+19), 1 goal.

Callum JONES (d.o.b. 8 October 1997)

A defender at the time for Altrincham Reserves, Callum made his first-team debut as a substitute at Macclesfield Town in the FA Trophy on 4 January 2017. He had been a member of the Altrincham FC Youth team prior to joining the reserves. Callum subsequently made a good impression on his full first-team debut, in the Integro Cup, on 17 October 2017, playing at right-back. Appearances to June 2017: 0(+1).

James JONES (d.o.b. 13 March 1997)

James, a 1.83m centre/right-back, who spent 2016-17 at Welsh Premier club The New Saints, played as a trialist for Alty in July 2017 but, in August, decided to try his luck elsewhere, before returning the Club in time to make his debut on 23 August 2017.

Before joining Altrincham, James had spent three seasons with TNS, moving up from their Academy to first team. His season was curtailed by a hamstring injury shortly before the end of the season. Appearances to June 2017: 0.

Harry SHERIDAN

Centre-back / midfielder Harry has captained the Alty Youth team as well as turning out for the Reserves. His first involvement with the first-team squad came on 21 March 2018 when he was a used sub in the Cheshire Senior Cup. He was named on the bench for a league match at Grantham on 21 April 2018.

Altrincham appearances to June 2017: 0.

Tom WESTALL

Tom played for Altrincham's youth team as a winger before playing as a left-back for the Reserves. Tom's first appearance for the first team came in 2015-16 in the CSC against Crewe Alexandra. More recently, he started an Integro Cup match in 2017-18 and was also involved in several Cheshire Senior Cup squads.

Altrincham appearances to June 2017: 1.

Andy WHITE (d.o.b 8 October 1992)

Andy was signed on 21 December 2017 from Southport, having previously played under manager Phil Parkinson at Nantwich Town. He can operate as a full-back or wing-back on either flank and won Nantwich's Player of the Year award three seasons running and was named in the Evo-Stik Northern Premier League Team of the Year for the second successive time in 2017.

Andy moved from the Dabbers to Southport in summer 2017. He made his Alty debut on New Year's Day, 2018. Andy played at both righ- and left-back during 2018. Appearances to June 2017: 0(+1).

MIDFIELDERS

Theo BAILEY-JONES (d.o.b. 22 May 1994)

Theo Bailey-Jones was signed from Stalybridge Celtic on 20 March 2018, having been a used substitute against Altrincham for Celtic two days earlier. Theo joined Wrexham in November 2012, having started out at Manchester City, before moving to Crewe Alexandra. He then played for Northwich Victoria and Irlam Town before his move to Wrexham. In summer 2015, he joined Macclesfield Town after a loan spell at the Moss Rose from Wrexham. When his contract expired at the Welsh club, he signed for the Silkmen. After several substitute appearances he made his league debut on 21 April at Grantham.

Appearances to June 2017: 0.

Rhain DAVIS (d.o.b. Oct. 1997, in Brisbane, Australia)

Rhain, a midfielder and former captain of the Altrincham FC Youth team, signed National League forms on 3 September 2015. He had moved from Australia and joined Manchester United in 2008 but, following a broken leg, was released by United in 2013. After being named several times on the bench in 2015-16, he made his debut in the Cheshire Senior Cup First Round that season. In 2017-18 he was a used substitute in the Integro Cup against Ashton United and netted a penalty in the shoot-out at the end of that game, against Ashton United. He also made several league appearances from the bench in 2017-18.

Appearances to June 2017: 1.

Josh HANCOCK (d.o.b. 5 September, 1990)

Signed from Nantwich Town in May 2017, Josh is a midfielder who came through The Dabbers' youth set-up before moving on to Winsford United (2009-10). Next, he joined Witton Albion and made more than 150 appearances and scored some fifty times.

He next joined AFC Telford United before a return to Witton, which preceded a move to Salford City and then a return to Nantwich Town in January 2016. He started the season with four goals in his first six appearanes in league and cup matches and remained the leading scorer for the club in the league in mid-November. He continued to be a vital member of the team to the end of the season, weighing in with important goals.

Appearances to June 2017: 0

Max HARROP (d.o.b. 30 June 1993 in Oldham)

A lively and skilful winger, who is also a capable central midfielder, Max joined Altrincham on the eve of the opening game of the 2017-18 season. His career had begun with Liverpool FC's Academy, before he moved to Bury, where he made his Football League debut in March 2011. At the end of that year he went on loan to Blyth Spartans. After returning to Gigg Lane, another loan followed, at Hinckley United.

After he had been released by Bury, he joined Nantwich Town in the summer of 2013. However, he left for Ashton United in March 2015 but, at the start of the following campaign, he was at Ramsbottom United. However, he rejoined Nantwich in 2016. His energetic performances and long-range shooting made him a popular figure with supporters of Altrincham. Appearances to June 2017: 0

John JOHNSTON (d.o.b. 28 September 1994)

John Johnston was manager Phil Parkinson's first signing in mid-May 2017. A tricky right-winger, with electrifying pace, John finished 2016-17 season at Salford City, a club he had joined in 2016. His career started at Kidsgrove Athletic, before he moved to Leek Town in July 2013.

His good performances at Harrison Park led to a move to Crewe Alexandra in January 2014 but they immediately loaned him back to Leek till the end of the 2013-14 season. John's form was rewarded when he was named as the Evo-Stik League First Division South Young Player of the Year for 2013-14. In that same season he actually played against Alty when Leek won at Moss Lane in the FA Trophy.

At the end of November 2014, Crewe then loaned John to Alfreton Town who, in January 2015, signed him on themselves. A month's loan to Salford City came in January 2016 and he signed for the Ammies later in 2016. A loan spell under Phil Parkinson at Nantwich followed before he was recalled to Salford. Four goals in his first six competitive appearances endeared him to the Altrincham faithful and his mercurial performances on the wing were a continual source of entertainment. He also converted several penalties for the team. Appearances to June 2017: 0.

Chris MERRIE (d.o.b. 2 November 1998)

Altrincham signed Chris, on a youth loan from Wigan Athletic, on 15 March 2018. Liverpool-born, Chris is a left-footed central midfielder, who signed forms for Altrincham until the end of April.

After starting out at Everton's Academy, he joined Wigan at the age of 14 and made such an impression for the under-18 side in the 2016-17 season that he was awarded a professional contract at The DW Stadium in July 2017. He had a loan spell at Southport in 2017-18 where he made 3(+3) league appearances, scoring once. Before that, Chris had made his first-team debut for Wigan in a 2-1 League Cup win over Blackpool in August 2017. He proved a wonderful loan signing for Alty displaying an eye for a pass and a maturity beyond his years.

Appearances to June 2017: 0

Jake MOULT (d.o.b. 10 February, 1989)

Lee Sinnott signed midfielder Jake Moult on a 93-day loan from Alfreton Town in late August 2012. Previously, Jake had been a summer trialist at Altrincham in 2007. Born in Stoke on Trent, he joined Alfreton on 1 July 2010, before which he had been with Stafford Rangers. His earlier career was with Port Vale and Plymouth Argyle. Jake is also a capable centre-back when required.

In early November 2012, Jake formally moved to Altrincham on a free transfer, signing a contract to the end of 2013/14 season. He is the brother of Wrexham striker Louis Moult and Jake himself has a powerful shot. He was rewarded for his consistently good performances in central midfield with the 2014-15 Players' Player of the Season accolade.

Jake captained the side for much of the 2015-16 and 2016-17 seasons.

Following the resignation of manager Neil Young on 28 August 2016, Jake, along with Shaun Densmore and Alan Goodall, was briefly appointed to a caretaker-management role before Jim Harvey took over. In advance of the 2017-18 season Jake was appointed team captain and led them to success with many committed performances.

Appearances to June 2017: 207(+26), 25 goals.

Darius PALMA (d.o.b. 11 October 1998)

A member of the Altrincham FC under-18s' youth team, Darius is a speedy winger who made his first-team debut as a substitute at Macclesfield Town in the FA Trophy on 4 January 2017. His league debut followed later that season at Darlington. After a further first-team start in 2017-18 in the Integro Cup, Darius signed dual registration forms with Kidsgrove Athletic in early December, 2017 and in February, 2018 he went on loan to Trafford FC. Appearances to June 2017: 1(+2)

Simon RICHMAN (d.o.b. 2 June 1990 at Ormskirk)

Midfielder/winger Simon Richman is a product of the Bolton Wanderers' academy and the Port Vale youth system. He broke through into the Valiants' first team in League One in 2007-08 and made 48 League appearances for them in all, mostly in 2008-09 in League Two, when he was voted the club's Young Player of the Season. Simon then suffered a groin injury which kept him out of action for several months and, though he made five first-team League Two appearances for Vale in 2009-10, he was released at the end of that campaign. In summer 2010, he had trials with Southport and Worcester City, before joining City and making eight league appearances in the Blue Square Bet North.

Simon became Lee Sinnott's first signing at Altrincham in summer 2011 but his early Alty career was marred by injuries and illness. Having mostly played in right midfield, Simon completed the campaign in central midfield, a position he also played in during 2012-13. Summer 2013 saw him as an integral part of the Great Britain Universities' team which won the silver medal in the world games in Kazan, Russia.

His energy in midfield is an important feature of the team. Outside football, Simon is studying chemical engineering at the University of Manchester.

His 2015-16 season was disrupted by an injury in late August but he then re-established himself as a regular starter. 2016-17 also saw him as a regular starter though some games were missed through injury. Early 2017-18 also saw him miss games through injury before re-establishing himself as a regular starter. Towards the end of the season he played impressively at right-back as well as in midfield. Appearances to June 2017: 201(+37), 18 goals.

Scott SMITH

A reserve-team player, Scott, made his debut in the Cheshire Senior Cup against Winsford United on 21 March 2018.

Altrincham appearances to June 2017: 0.

Laurence TAYLOR (d.o.b. 5 September 1996)

A dependable central midfielder, Laurence made his first-team debut in the Cheshire Senior Cup on 3 February 2016 and on 6 December 2016 he also started the first-team FA Trophy match against Blyth Spartans. Prior to that he had been captain of the Altrincham FC Youth team, with whom he won the league, and after that was a Reserves' player. Laurence again signed first-team forms, for then manager Jim Harvey, in September 2016 and made several appearances in cup competitions before he made his league debut on 14 January 2017. He was named Altrincham FC Man of the Match on his debut and, the same day, it was announced that he had signed a contract with the club until the end of 2017-18 season. By the latter part of 2016-17 season he was a regular starter in central midfield but his 2017-18 season was affected by injury in September 2017, which sidelined him for several weeks.

Laurence went on a month's loan to Hednesford Town at the end of November, 2017 and after a brief return to Altrincham, started a month's loan at Trafford in mid-January 2018, which was renewed in mid-February. Appearances to June 2017: 16(+2), 0 goals.

Mason WALSH (d.o.b. 22 November, 1995)

Mason made his debut for Altrincham on 17 October 2017 against Ashton United in the Integro Cup. A right-winger, who can also operate on the left, he is the son of Paul Walsh, the former Tottenham Hotspur and Manchester City striker.

As well as having had a spell in the USA, his previous clubs in England include Aylesbury United (2017), Salisbury (2016/17), Welling United, Bishop's Stortford (loan, 2015/16), Poole Town (loan), Dorchester Town (loan 2014/15) and AFC Bournemouth (2014-16).

Mason went on a month's loan to Hednesford Town just before Christmas 2017, but then renewed in mid-January 2018.

Appearances to June 2017: 0

FORWARDS

Josh AMIS (d.o.b. 24 October 1994)

After playing impressively as a trialist for Altrincham in July 2017, former Stockport County striker Josh Amis joined Altrincham towards the end of that month. A Merseysider, Josh had started out at Preston North End before spending spells on loan at Northwich Victoria. He was at Stockport for 2016-17 but was released at the end of that campaign. An emergency appendix operation prevented Josh from starting the league season and his debut was not until 16 September 2017 when he played as a late substitute at Shildon in the FA Cup.

Appearances to June 2017: 0.

Jordan HULME (d.o.b. 23 November 1990)

Jordan Hulme signed for Altrincham on 13 July 2017, just after he had left Salford City where he had scored ten times and provided eleven assists in 48 appearances in 2016-17 in National League North. The previous season he had netted 18 times in 54 appearances for the Ammies.

Jordan's earlier clubs include CMB Sports Club, Walshaw Sports Club, Shevington, Padiham, Ramsbottom United (2012) and New Orleans Jesters (USA). At Ramsbottom, he had scored more than thirty goals in 100 or so appearances before following the Rams' management duo of Bernard Morley and Anthony Johnson to Salford City in January 2015.

A versatile player, at previous clubs he has turned out as a right-winger and right-back, as well as striker. By mid-November he had established himself as Alty's leading scorer in all competitions and crowned a fine season as Alty's top scorer and the NPL's Player of the Season.

Appearances to June 2017: 0.

Sean MILLER (d.o.b. 9 May 1995)

Right-sided midfielder Sean Miller (21) was signed in early June 2016 from Connah's Quay Nomads. A speedy winger, he had earlier been in Chester's youth system, when Neil Young was manager there. At Connah's Quay he was Players' Player of the Year and Supporters' Player of the Year as well as being top scorer. He was also named Welsh Premier League Young Player of the Year in 2015. He missed most of 2016-17 pre-season through injury, making his first appearance in a friendly against Witton Albion on 1 August 2016. He made his Altrincham debut as a substitute on 9 August 2016 at FC Halifax Town.

Despite suffering a couple of injuries, Sean made a very positive impression at Altrincham, with 10 goals in 19(+5) appearances up to the point where he signed an extended contract on 14 January 2017. But he then missed several months of the season through injury and remained in rehabilitation into September 2017. After returning as a substitute he went on a month's loan to Colne, to regain full match fitness, from the start of November 2017. In February 2018, Sean went to Trafford on loan. Appearances to June 2017: 19(+5), 10 goals.

Tolani OMOTOLA (d.o.b. 16 April, 1998)

Altrincham FC announced the signing of Tolani on 9 June 2017, following his release by Tranmere Rovers. He had made his league debut as a substitute in the Wirral side's final game before relegation from League Two in 2015.

Although he remained a Tranmere player following Tranmere's relegation, he went on loan to Burscough. Having signed a contract at Prenton Park for the following season, Omotola went on loan in 2016-17 to Witton Albion, where he netted 16 times. Before the 2017-18 season started, Alty loaned Tolani to Ramsbottom United but he was back with Alty by mid-September 2017 but did not make his debut until coming on as a substitute in the Integro Cup against Ashton United on 17 October 2017. He marked that occasion by coolly slotting home the winning penalty in the decisive penalty shoot-out.

However, he went on loan to Loughborough Dynamo at the start of November 2017, which was covenient as he is a student at Loughborough University. Appearances to June 2017: 0.

Tom PEERS (d.o.b. 23 October, 1995)

Born in Warrington, Tom came through the Chester FC youth system (2013-16) where he made 3(+21) first-team appearances under manager Neil Young. Tom then went on loan to 1874 Northwich FC and inJanuary 2015 he started a month's loan at Marine.

In December 2015 he went on a month's loan to Salford City, with a similar loan stay at Hednesford Town following that. In 2016 he briefly joined Hednesford before a summer 2016 move to AFC Telford United. However, he soon moved on to Warrington Town (Sept. 2016) and then Droylsden (Dec. 2016 to Feb. 2017). At that point he joined Nantwich Town.

Although his Altrincham appearances in 2017 were more often from the bench than from kick-off, by mid-November 2017 he had participated in more Altrincham games than any other member of the squad and had weighed in with some important goals.

Appearances to June 2017: 0.

James POOLE (d.o.b. 20 March 1990, in Stockport)

James Poole is a 5ft 11inch forward who Altrincham signed from Salford City on 16 May 2017.

He started out at Macclesfield Town (2005) before spending five years on the books of Manchester City (2006-11) where he was in their FA Youth Cup winning side. Whilst at City he had loan spells at Bury (2010) and Hartlepool United before signing for the North East coast club. He made almost a hundred appearances for Hartlepool (2011-14), which preceded a spell at Bury in 2014–2015 season.

Whilst at Gigg Lane, he made five appearances on loan in the Conference for Dover Athletic. James then joined Salford City, in September 2015, and scored regularly for the Ammies. James missed the opening game of the 2017-18 season through suspension but soon started to make impressive performances after that. However, injury caused him to miss a few games in September 2017, before he re-established himself as an inventive number ten. But a knee injury ruled him out for the closing month or so of the campaign. Appearances to June 2017: 0.

Dylan SCANLAN

Dylan made his debut in the Cheshire Senior Cup against Winsford United on 21 March 2018. As well as playing up front or in a no.10 role. Dylan had turned out at right-back for the youth team.

Altrincham appearances to June 2017: 0.

---

DEPARTED PLAYERS & STAFF - 2017 close season and during 2017-18

See Departed Players/Staff 2017-18

Alan AINSLEY (physio)
Joel BEMBO-LETA
Kyle BROWNHILL
Nicky CLEE
John CYRUS
John DISNEY
Matt DOUGHTY (manager)
Micah EVANS
Sefton GONZALES
Sam HEATHCOTE
Craig HOBSON
James LAWRIE
Robbie LAWTON (asst manager)
Chris LYNCH
Joe MWASILE
Andy OWENS
Sam PATTERSON
Damian REEVES
Sam SHERIDAN
Lewis SHORT
Stuart TOMLINSON
Jerome WRIGHT

For details of last season's squad (2016/17), visit the 2016/17 Squad Page
---