ALTRINCHAM FC DEPARTED PLAYERS/STAFF 2018
OPTIONAL DROPDOWN MENU - HERE
---
Players & Staff who departed Altrincham in season 2020-21
or in close-season 2020
---
Jacob BLYTH (d.o.b. 14 August 1992 in Nuneaton) formerly no.9

Blyth's arrival at Altrincham was announced when he was named on the bench against Stockport County on Boxing Day, 2020, but he had been training with the club for a fortnight previously.

An ex-Macclesfield Town forward, Jacob had earlier been at Barrow (2018-19) and Motherwell. That was after four years with Leicester City from which club he had loan spells with Burton Albion, Notts County, Northampton Town, Cambridge United and Blackpool.

His early career was at hometown club Nuneaton Griff and then with Bedworth United.

Jacob made three appearances for Altrincham, two of them against Stockport County over Christmas and New Year. His only start was at Edgeley Park against Stockport County and his departure from the club came immediately after that. On 16 January 2020 he signed a short-time contract at full-time Gateshead in National League North.

Altrincham appearances: 1(+2), 0 goals
---
Max CLAYTON (d.o.b. 9 August 1994, Crewe) Formerly No. 19
Max signed for Altrincham in August 2020 on a short-term contract. A forward, Max started out at Crewe Alexandra (2010-14) where he made 74 league appearances and scored nine times. As a 15 year-old youth at Crewe, Liverpool were said to have made a £1 million approach for him but he stayed at Gresty Road. He has England honours at under-16 to under-19 levels inclusive.
Having suffered a broken ankle in 2013, he later turned down a further contract at Crewe and in 2014 he joined Bolton Wanderers, where he made 27 league appearances, followed before a couple more for Blackpool (2017–19) where his stay was badly affected by hamstring problems.
After an 83rd minute appearance from the bench in Alty's opening game of the 2020-21 season, he was not named in the next two league match squads and his mutually agreed departure from the club followed, as announced on 26 October 2020. With games being behind closed doors because of Covid-19, unfortunately Max was never seen in action by Altrincham supporters.
Altrincham appearances : 0(+1)
---
Andy DALES (d.o.b. 13 November 1994)
Formerly No. 32

Following injuries to Daniel Mooney and Yusifu Ceesay, Andy arrived on loan from League Two Scunthorpe United as a replacement on the Alty flanks on his birthday, 13 November 2020 and he made his debut on the left-wing the following day.

Andy was formerly at Mickleover Sports and has also featured in the England C squad. He was in the Sports team that played Alty home and away in the 2017-18 season before his move to the EFL at the conclusion of that campaign.

Andy matured in the Derby County youth system, having spent a decade with The Rams and earned a contract there in 2013. After involvement with the V9 Academy of Jamie Vardy, he joined Scunthorpe United in June 2018.

He netted on his professional debut for The Iron, going on to make 25 appearances (20 in League One) in 2018-19 followed by a further six in 2019-20, of which three were in League Two.

He had a loan spell at Dundee (12 appearances) in early 2019 before another loan, comprising four appearances, with another Scottish Premier club, Hamilton Academical a year later.

After three league games for Alty he was injured at Boreham Wood on 21 November 2020 and was not seen again

Appearances to end of 2019/20 season: 3
---
---
Steven DRENCH (d.o.b. 11 September 1985 in Salford)
Altrincham signed experienced and reliable goalkeeper Steven Drench from Bradford (Park Avenue) on 28 January 2019, following the Yorkshire club's unexpected decision to allow players to leave. After starting out at Blackburn Rovers (2005), where he now works as a coach, Steven played for Morecambe (2006-08) alongside Alty assistant manager Neil Sorvel when the Shrimps gained promotion to the Football League. Next, he joined Southport (2008-09), and subsequently followed Port manager Gary Brabin to Cambridge United on loan.
After leaving the Sandgrounders he signed for Leigh Genesis where he played 45 times (2008–10). A trial at York City came to nothing and, instead, he joined Guiseley, racking up well over two hundred appearances and earning promotion, before moving on loan to FC Halifax Town and then to Bradford PA in 2017, following former Lions' manager Mark Bower to the Horsfall Stadium.
He made his Alty debut against FC United of Manchester on 9 February 2019 but after two further games Steven was sidelined by injury and Tony Thompson resumed as first-choice till the end of the season. Steven started 2019-20 as first-choice keeper but in the sixth game ruptured his Achilles so endured a long recovery period and he made no further appearances for the club.
At the end of the extended 2019-20 season Steven moved on to Farsley Celtic.
Altrincham appearances : 9.
---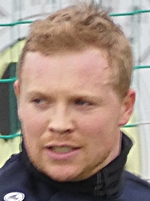 Elliott DURRELL (d.o.b. 31 July, 1989 in Shrewsbury)
Experienced midfielder Elliott Durrell's arrival at Alty was announced on 11 February 2020. He became Phil Parkinson's fifth signing of 2020, having just completed a short-term contract at York City, a club he had joined in summer, 2019.
His early career was at Hednesford Town before he joined Telford United (2007-08). He then returned to Hednesford Town (2008-14). These years included loan spells with Rushall Olympic (2008) and Evesham United (2011). From The Pitmen he joined Wrexham (2014-15) followed by spells at Tamworth (2015–2016), Chester (2016-17) and in the Football League with Macclesfield Town (2017-19) before he joined The Minstermen.
He made an impressive start at Alty, winning and scoring a penalty on his debut as a second-half substitute at Spennymoor, before netting with his first touch as, again, a used substitute, four days later at Blyth. Then a wonder goal at Hereford in his first start, and third outing, maintained his goalscoring record. He went on to score again in game no.4 before hitting a double against Chester in his fifth outing in July 2020.
After failing to add to his tally in the final two play-off games, in the close season he chose to rejoin a former club, Wrexham, with a record of having scored more goals than the number of games he started for Altrincham.
Altrincham appearances : 5(+2), 6 goals.
---
Dontai GABIDON (d.o.b. 15 February 2001)
Formerly No. 14
A left-back or left-winger with the youth team, the pacy Dontai made his first-team debut in the Cheshire Senior Cup against Winsford United on 21 March 2018. His league debut came as a substitute at Hereford FC on 3 November 2018.
He spent 2019-20 at Trafford FC. Dontai was assigned number 14 for the 2020-21 season but left the club before being involved in a first-team game that season.
Altrincham appearances: 3(+2).
---
Montel GIBSON (d.o.b. 15 December, 1997)
formerly no.33
Signed on loan from Grimsby Town on 1 March 2021, Montel had previously played against Altrincham for Halesowen Town in an Emirates FA Cup Third Qualifying Round played on Saturday, 5 October 2019.
He was signed by Notts County in 2016 from Midlands club Highgate United and made five appearances for The Magpies. In 2016-17 he was loaned out four times to Romulus, Barwell, Hednesford Town and Sutton Coldfield Town.
A successful spell at Ilkeston Town, following his release from County, led to brief spells with Redditch United and Bedworth United in the Midlands before a prolific spell with Halesowen Town in 2019-20.
He was signed by EFL2 club Grimsby Town in 2020 and had made 19 appearances for the Mariners before joining Altrincham. He was injured in the first half of his second start and has presumably returned to Grimsby.
Altrincham appearances: 2.
---
Byron HARRISON (d.o.b. 15 June 1987)
Formerly No. 28
Byron Harrison's arrival on a short-term contract at Altrincham was announced on 5 December, 2020; his previous club had been Barrow, a club he left at the end of 2019-20 season.
The 6ft 3inch forward started out in Hampshire at Havant & Waterlooville (2005) and also played for a variety of other southern clubs including Worthing in West Sussex, Boreham Wood in Hertfordshire, Harrow Borough in Middlesex, Ashford Town in Kent and Carshalton in Surrey.
In 2011 he returned to Hertfordshire and joined Stevenage Borough, playing there in League One, before dropping to League Two with AFC Wimbledon, where he stayed for two seasons before joining Cheltenham Town and then Chesterfield. A second stint at Stevenage, this time on loan, preceded his release by Chesterfield in 2016.
For 2016-17 he joined Barrow where he had his most prolific spell, scoring 27 times in 56 appearances. Next, he returned to the south of England, on loan to Sutton United.
For 2018/19 he signed for Barnet where he netted only twice in that season and was released. A return to Barrow followed for a season (2019/20) in which 24 of his 29 appearances came from the bench and he did not score, before being released.
Because of injury, it was more than a month after arriving at Alty that Byron made his club debut, as a substitute, at Sutton on 9 January 2021. He went on to make seven starts, without finding the net, before his departure was announced on 15 March 2021.
Altrincham appearances: 7(+1), 0 goals
---
Max HARROP (d.o.b. 30 June 1993 in Oldham)

A lively and skilful central midfielder or winger, Max joined Altrincham on the eve of the opening game of the 2017-18 season. His career had begun with Liverpool FC's Academy, before he moved to Bury, where he made his Football League debut in March 2011. At the end of that year he went on loan to Blyth Spartans. After returning to Gigg Lane, another loan followed, at Hinckley United.

After he had been released by Bury, he joined Nantwich Town in the summer of 2013. However, he left for Ashton United in March 2015 but, at the start of the following campaign, he was at Ramsbottom United. However, he rejoined Nantwich in 2016. His energetic performances and long-range shooting soon made him a popular figure with supporters of Altrincham.

His regular starts were curtailed by injury in February 2019 and of his 41 games in 2018-19, 13 were from the bench. Having got back into the side he was sent off in January 2020 and suspended but the 2019-20 season saw Max's starts again limited, to just nine, with a further 18 appearances from the bench. His departure was announced on 12 August 2020.

Altrincham appearances : 63(+44), 12 goals.
---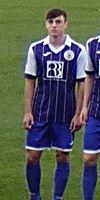 Harrison HOLGATE (d.o.b. 1 July, 2000, in Leeds)


formerly no. 35

Harrison's signing on what was planned to be a month's loan from Fleetwood Town was announced on 18 December 2020 as Alty faced a defensive injury crisis with centre-backs Mullarkey and Sutton both injured. He made his assured debut the next day in the FA Trophy against Chester FC.

He can play at right-back and as a central defender and has some first-team experience in the Fleetwood Town team, both in the EFL Trophy and Carabao Cup. Before joining the Lancashire coastal club in 2016, he had started out with Manchester United's Academy and had a spell, too, with the Middlesbrough's academy.

After a spell on loan at Stalybridge Celtic, he signed professional forms at Fleetwood in 2018, after which he had a loan spell at Ashton United for a month later that year.

Unfortunately, after three excellent performances for Altrincham he was recalled to Fleetwood on 16 January 2021.

Altrincham appearances : 3, 0 goals.
---
James HOOPER (d.o.b. 10 February 1997)
On 8 February, Altrincham announced the signing of Timperley resident James Hooper on non-contract terms. Following a broken collar-bone, it was stated that James was not immediately available to play and would remain at his former club, West Didsbury & Chorlton on dual registration. However, some ten days later, he signed dual registration forms for Witton Albion in the NPL.
James started out as a professional with Rochdale (2015), where he was their youth team Player of the Season (2014-15). He progressed to play twice for Rochdale in the EFL before loan spells with FC United and Stockport County.
From Rochdale he joined Carlisle United on a short-term deal, making one League Two appearance for the Cumbrians, before moving on to FC United od Manchester and then Radcliffe Borough (2017) where he became the club's leading scorer that season (2017-18). In summer 2018 he rejoined the professional ranks at Salford City. Later that year he moved on to Chorley, where his games included a late substitute appearance against Alty in January 2019. Early in 2019-20 season he rejoined Radcliffe.
At Alty, he was first named in a first-team squad in the Play-Off Eliminator against Chester FC on 19 July 2020 but he did not manage to get off the subs' bench in that game or, subsequently, before being released in August 2020 and signing for Witton Albion.
Altrincham appearances : 0
---
Jordan HULME (d.o.b. 23 November 1990)
Jordan Hulme signed for Altrincham on 13 July 2017, just after he had left Salford City where he had scored ten times and provided eleven assists in 48 appearances in 2016-17 in National League North. The previous season he had netted 18 times in 54 appearances for the Ammies.
Jordan's earlier clubs include CMB Sports Club, Walshaw Sports Club, Shevington, Padiham, Ramsbottom United (2012) and New Orleans Jesters (USA). At Ramsbottom, he had scored more than thirty goals in 100 or so appearances before following the Rams' management duo of Bernard Morley and Anthony Johnson to Salford City in January 2015.
A versatile player, at previous clubs he has turned out as a right-winger and right-back, as well as striker. By mid-November he had established himself as Alty's leading scorer in all competitions and crowned a fine season as Alty's top scorer, breaking the 30-goal barrier, and the NPL's Player of the Season.
He started 2018-19 with seven goals from eight starts before being suspended for a game and then missed further game time with a persistent eye problem. Nevertheless, he netted nine times in his first ten games of the campaign.
However, a flurry of yellow, and two red, cards meant that he missed more than a quarter of the club's first 30 fixtures in 2018-19 through suspension. Nevertheless, he still finished the season as joint top scorer in all competitions, with twenty goals. When the 2019/20 season was prematurely ended Hulme was again the club's leading scorer in that competition.
In summer 2020 he signed a new two-year contract but weeks later opted to take lower league AFC Fylde's offer of full-time football, his departure being announced just twenty hours before the start of the 2020-21 season.
Altrincham appearances : 132(+7), 70 goals.
---
Craig MAHON (d.o.b. 21 June, 1989 in Dublin)
Dublin-born winger Craig joined Alty from Chester FC on 24 January 2020, as John Johnston departed in the opposite direction. Craig had just been on loan at Ashton United as he recovered from injury but, before that, he had been the record appearance-maker (239 games) at Chester FC since the formation of the club from the ashes of the defunct Chester City. He had played ten games for Chester FC in 2019-20 in all competitions prior to his move to Moss Lane.
Craig had been a target of Phil Parkinson in summer 2019 but had elected to remain at Chester at that time. He had joined Chester FC in May 2013 from Vauxhall Motors, having previously been with Wigan Athletic (2008/9). At Wigan he had a loan spell with Accrington Stanley in League Two (2008/9) and became a Republic of Ireland youth international. Having been released by Wigan, Craig joined Salford City in 2009 before arriving at Burscough (2010). He had made 24 appearances for the Ammies before his move.
Early in 2010/11 season he joined Vauxhall Motors, where he made 117 appearances, before joining Chester in May 2013. Initially, when he joined Chester FC, he went on loan to AFC Fylde, before establishing himself at the Deva Stadium. He went to Ashton United on loan in December 2019 before joining Alty.
Craig was released by Altrincham on 14 August 2020, having made eleven appearances, latterly mostly from the bench.
Altrincham appearances : 6(+5), 0 goals.
---
Jamie McDONALD (d.o.b. 1993), formerly no.31
Jamie's arrival at Altrincham from City of Liverpool was announced on 13 November 2020. A striker, Jamie started out with Colne before moving to City of Liverpool.
In 2017 Jamie's prolific goalscoring took him from City of Liverpool to Warrington Town where he became the club's leading scorer in 2017-18 season. However, after attending the Jamie Vardy V9 Academy that summer, he returned to City of Liverpool for the following campaign and continued to assist their rise through the pyramid before his move to Moss Lane.
He made his Alty debut as a used substitute on 14 November 2020 against Aldershot Town and he then scored the winning goal at Boreham Wood. However, his departure from the club on 2 January 2021 was recorded by external websites.
Altrincham appearances : 0(+3), 1 goal.
---
Darren POTTER
(d.o.b. 21 December 1984)Formerly No. 27
Darren's arrival at Altrincham on a short-term deal was announced on 22 October 2020.
A former "Republic of Ireland international, Darren made 10 first-team appearances for Liverpool before loans to Southampton, Wolves and Sheffield Wednesday, a club he subsequently joined, added more than 200 further first-team outings to his CV.
But it was at MK Dons that he spent his longest stay (2011-17) and he made more than 200 appearances for them. A spell at Rotherham United was then followed by spending 2019-20 at Tranmere Rovers.
His arrival at Altrincham saw him moving into non-League for the first time in his career. He made his debut at AFC Fylde in the FA Cup on 25 October 2020 but his departure from the club was publicly confirmed on 28 October.
Altrincham appearances : 1
---
Joe ROBBINS (d.o.b. 20 February, 2002) Formerly No. 19

Joe Robbins's arrival at Altrincham, on a one-month youth loan from Crewe Alexandra, was announced on 30 October 2020 and he made his debut the next day at Dover. Though only 18 he was part of the Crewe under-23s' squad. His stay at Altrincham ended after the one-month agreement and he returned to Crewe at the end of November 2020.

Altrincham appearances : 4(+1).
---
Billy SASS-DAVIES (d.o.b. 17 February 2000 in Abergele) Formerly No. 28
Billy Sass-Davies's second loan spell from Crewe Alexandra at Altrincham was announced on 6 November 2020, prompted by a long-term injury to Toby Mullarkey and the summer departure of James Jones which
The Wales under-19 had previously signed on the eve of Alty's trip to York on 8 March 2019 on a season-long loan and he made his debut in that match as a substitute. Prior to joining Altrincham in 2019, Billy had just completed a loan spell at FC United of Manchester having previously had spells on loan at Colwyn Bay and Leek Town.
However, a three-week gap in Altrincham fixtures, an injury, as well as an early recall by Crewe on 13 April 2019, limited Billy to just two substitute appearances for Altrincham that season.
Having signed a new contract at Gresty Road in summer 2019, he went on loan to AFC Telford United in 2019-20 season, followed in February 2020 by a month's loan at Ashton United.
Billy also made his first-team debut for The Railwaymen and scored his debut first-team goal, for Crewe in the EFL Cup in September 2020
Unfortunately Billy's second loan at Altrincham was also curtailed. On this occasion it was by a recall to Crewe who were experiencing their own injury problems. In his second stay at Moss Lane, Billy made 5(+2) appearances.
Altrincham appearances : 5(+4), 0 goals)
---
Lewis WALTERS (d.o.b. 28 March 1995)
Lewis made his debut for Alty in the pre-season friendly at Atherton Collieries on 16 July, 2019. He opened his goalscoring account in the following friendly, against Blackpool, before missing the next game to go on trial, allegedly at Barnet.
He returned to play part of the following match against AFC Fylde, who were his most recent club. His previous clubs were Leeds United, Nottingham Forest, Barrow and Guiseley. Leeds-based, Lewis had trials at Carlisle United in summer 2018.
After two league starts for Altrincham and two appearances from the bench, Lewis went on loan to Buxton in early September 2019. He returned briefly, without appearing again for the Altrincham first team though he did turn out for the Reserves. On 15 October he started a month's loan at Ashton United before moving on to Trafford, where his initial loan was extended in December to cover the period to 18 January 2020.
In November 2019, Lewis was named Trafford's Player of the Month. He was recalled from his loan in January 2020 after making nine starts for the Shawe View club, in which he scored four goals. On his return he netted a well-taken goal at Telford in early February, 2020.
However, the club announced his release on 14 August 2020.
Altrincham appearances : 3(+7), 1 goal.
---
Elliot WYNNE (d.o.b. 6 November, 1997)
Before signing for Altrincham in late July 2018, Elliot had previously impressed when playing against Altrincham for Abbey Hey in the Emirates FA Cup in 2017. He was also Lancaster City's keeper when Alty won 2-1 at The Giant Axe in April 2018. As a teenager (2012), Elliot was with Oldham Athletic before moving on to Rochdale.
From Spotland, he joined AFC Fylde and later he gained a junior scholarship at Fleetwood Town, from where he went on loan to Lancaster City and Glossop North End. Next he joined Gorton club, Abbey Hey, where he played in 2017-18 season. Elliot won his place as first-choice keeper in late August 2018 but gave way to Tony Thompson in October. On 4 January 2019, it was announced that Elliot had gone on a month's loan to Trafford FC and this was extended in early February.
He returned to Moss Lane in early March 2019 but was released in late May 2019. On 31 May 2019 Farsley Celtic announced that Elliot had signed for them and, from there, he went on loan to Droylsden.
However, he returned to Moss Lane in time to be named on the bench against Chester FC in the play-off game on 19 July 2020. He was on the bench for the remaing two play-off games but left the club again at the end of the 2019-20 season on 1 August 2020.
Altrincham appearance: 10.
---