an unofficial Altrincham FC website.
www.altrinchamfc.co.uk
---
OPTIONAL DROPDOWN MENU - HERE
---
Altrincham FC
2022-23 First-Team Squad.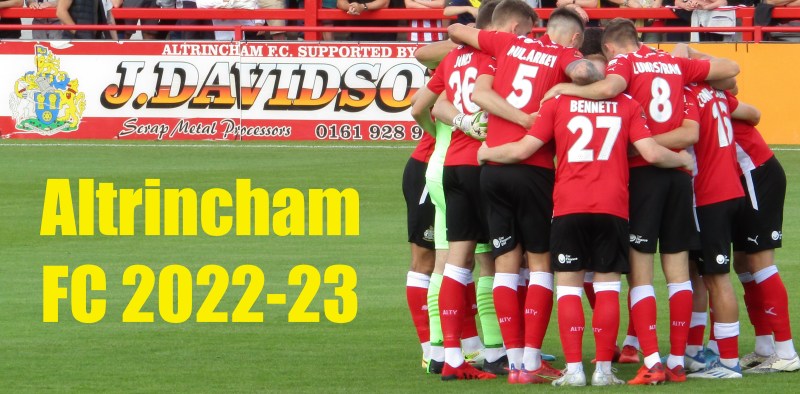 Above: 2022-23 players form a pre-match huddle
For details of the previous season's (2021-22) squad, click here.
---
First-Team Squad Members, 2022-23
PLayers who have been named in a matchday squad in league or cup competitions are listed below.
For players who left the club during the season or the 2022 close season, see the list of Departed Players at the foot of this page.
The squad (including those no longer at the club) in numerical order with 2022-23 numbers: 1. Oliver BYRNE, 2. Edward JONES, 3. Liam BROCKBANK, 4. Isaac MARRIOTT, 5. Toby MULLARKEY then Kyle FERGUSON, 6. Lewis BAINES, 7. Matty KOSYLO, 8. Josh LUNDSTRAM, 9. Jordan HULME (capt), 10. Elliot OSBORNE, 11. Ryan COLCLOUGH then Danny CASHMAN then Luke BURGESS, 12. Amaar HUSSAIN, 14. Ryan MORTON, 15. Joe COONEY, 16. Chris CONN-CLARKE then Armando Junior QUITIRNA, 17. Brad JACKSON, 18. Ben PRINGLE, 19. Jayden MATTHEW, 20. Aidan ROXBURGH, 21. Matthew GOULD, 22. Ross BARROWS, 23. Jake COOPER, 24. Ryan FORDE, 25. Harlan RODGERS MORRIS, 26. James JONES, 27. Aaron BENNETT (both spells), 28. Alex SAMIZADEH then Maxi OYEDELE, 29. Dermot MEE then Regan LINNEY, 30. Marcus DINANGA then Harry PERRITT, 31. Dan MALONE then Michael GYASI, 32. Zak GOODSON, 33. Egli KAJA, 34. Byron HARRISON then Miles WELCH-HAYES, 35. Connor JENNINGS then Tyrese SINCLAIR 36. Eden BAILEY, 37. Josh JORDAN, 38. Sonny ALJOFREE, 39. Joe HUGILL. Players who have appeared in cup squads but not assigned a league squad number are Joel BAILEY, Lewis BILLINGSLEY, Ewan MCGEADY, Owen GERMAN, Jack KINGDON
PHOTO/SQUAD NO.

GOALKEEPERS


No. 1

Oliver BYRNE (d.o.b. 31 December 1997)

Altrincham unveiled Oliver Byrne as the replacement for established keeper Tony Thompson on 26 June 2022. Although he was born locally and attended Wellington Road school, he joined Alty from Connah's Quay Nomads "for an undisclosed fee".

From 2014-16 Oliver was in the Manchester United youth structure and was in their under-18s' cohort with Marcus Rashford. In November 2017 Byrne arrived at Chorley on loan from Cardiff City's under-23 set-up. He had joined the Welsh club in 2016 after completing his scholarship at Manchester United.

From Cardiff's Academy Byrne joined Blackburn Rovers under-23s early in 2018. In September 2018, he spent a month's loan period from the Welsh club at Bamber Bridge in the Northern Premier League.

In January 2019 he joined Stevenage in EFL2 on a free transfer from Blackburn Rovers, though he did not make a League appearance for the Borough. After he had been released by Stevenage in July 2019, he spent two months at Atherton Collieries, where he played ten games.

He then went on trial at Connah's Quay in November 2019 and in January 2020 he signed for the Nomads. In February 2020 he went on loan to Airbus UK till the end of May 2020.

His competitive debut for Altrincham was delayed by a lengthy process of international clearance following his move from Wales.

Altrincham appearances to end of 2021/22 season: 0.

>
No. 24

Ryan FORDE (d.o.b. c.2004)

Ryan was named as one of the six Academy players who were to graduate to the first-team squad for 2022-23 season. Ryan had previously made his Reserves debut for Alty as a sixteen-year old. On 2 August 2022 it was announced that he would be going on loan to Alsager Town.

Howver, injury curtailed that arrangement in October 2022 but he was back at Alsager in early 2023. But he was named in the National League squad for Alty on 22 April against Torquay United.

Altrincham appearances to end of 2021/22 season: 0.


No. 21

Matthew GOULD (d.o.b. 7 January 1994 in Warwick)

Matthew's arrival at Moss Lane from Spennymoor Town was revealed on 16 August 2020. By chance he had been in goal for The Moors in what was the last Alty home game of the 2019-20 league season before lockdown and suspension of fixtures in March 2020.

Gould had been at Spennymoor since the start of 2018-19 season. His father is goalkeeper Jonathan Gould (Glasgow Celtic) and he is the grandson of prolific striker and manager of Wimbledon's "Crazy Gang", Bobby Gould.

Matthew was brought up in New Zealand and his goalkeeping career began there at Hawkes Bay United (2011). From there, he moved into football in Western Australia (2014) and his first English club was Cheltenham Town, a club he joined early in the 2014-15 season. From there he had a loan at Bishop's Cleeve (2015) before heading up to Scotland where he played for Livingston (2015/16)in a spell which included a loan to Stenhousemuir.

Early in 2016 he went, at first on loan, to Stourbridge where, in 2017-18, he played against Alty in the NPL. At the end of that season, he joined Spennymoor Town where he kept 20 clean sheets in 50 games in 2018-19. In the play-off final against Chorley, who had beaten Alty on penalties in the semi-final, Gould saved two penalties in the shoot-out.

He made his debut in the CSC at Barnton on 4 November 2020.

But despite being a regular at Spennymoor, at Altrincham he did not make his league debut until 3 May 2021 at Solihull and, indeed, over the whole season was only named on the bench for four other league games. In cup matches he played once, in the Cheshire Senior Cup, and was an unused sub for two other ties.

Injury in a pre-season match in summer 2021 was a factor in his exclusion from the first four matchday squads of 2021-22 before, on 24 September 2021, it was announced that he was going to Nantwich Town, on dual registration, to regain match fitness. Owing to injury to Tony Thompson, Matt was recalled from Nantwich on 13 October 2021, having made five appearances in which just three goals were conceded.

But Matt then returned to Nantwich Town and whilst there, in January 2022, he was called up to the New Zealand international squad for matches in the Middle East but was not a used substitute. It was also announced, in early February, that Matt would remain on loan at Nantwich till the end of the season but on his return in May 2022, it was announced that he would be remaining at Alty for 2022-23.

In addition to his role at Altrincham, Matt also coaches the under-18s and under-23s at Wigan Athletic. Having started the season in goal for the first-team, Matty suffered a bad facial injury in the second fixture, at Bromley. Having not played any National League after that, it was announced on Boxing Day 2022 that he would go on loan for a month to Ashton United but by 10 January he had been recalled.

On 7 February 2023 it was announced that Matt was going on loan to Chorley.

Altrincham appearances to end of 2021/22 season: 9.

---

DEFENDERS



No. 6

Lewis BAINES (d.o.b. 10 October 1998 in Brighton)

The arrival of left-sided centre-back Lewis Baines at Altrincham was announced on 30 May 2022.

Lewis started out at Fleetwood Town, from where he had loan spells with Bamber Bridge (2017) and Ashton United (2018).

After making his debut for Fleetwood Town in the EFL Trophy late in 2018, loans at Chorley (December 2018) and Stockport County followed (January 2019). After leaving Fleetwood, he signed for Chorley in July 2019. The Magpies were then in the National League but were relegated back to the North division at the end of that season. In all he has made well over 100 appearances for Chorley and has an England C cap to his name, when he was a used sub against Wales in April 2022.

Injury sidelined Lewis for eleven games after starting the first six fixtures of 2022-23.

Appearances to end of 2021/22 season: 0.


No. 22

Ross BARROWS (d.o.b. 9 November, 1997 in Sheffield)

Right-sided defender Ross Barrows was born in Sheffield on 9 November, 1997 and is qualified to play for any of England, Scotland and Jamaica. He was released by Scunthorpe United as a teenager (2013) and joined The Shaymen where he was named their 2014/15 Student Player of the Year for 2014/15.

In May 2017 he signed a new contract at FC Halifax Town before his move back to Lincolnshire to play for Grantham where he signed a one-year contract (2018-19). In March 2019 he moved on to King's Lynn Town where his contract reportedly expires on 30 June 2022.

His arrival at Altrincham was announced on 27 May 2022. However, injury delayed his debut until the sixth match of the league season. He then became a regular at right-back for 14 matches before being banned for three games by a post-match video intervention by the footballing authorities, relating to a game in which he had not even been booked! Having served that ban, on 1 December 2022, before he could return to action, he suffered a broken ankle which sidelined him for the rest of the season, at the end of which he was released.

Appearances to end of 2021/22 season: 0.


No. 3

Liam BROCKBANK (d.o.b. 2 March 2001 in Millom, Cumbria)

Left-back Liam Brockbank joined Altrincham in a move announced on 7 June 2022, having spent the previous season at Lancaster City. His season at The Giant Axe, followed two years with Workington.

As an eight year-old he had joined Carlisle United and played for their Academy before being released after nine years with the Cumbrians. He joined Lancaster City at that point (2019) and was also called up to the England Futsal team in 2019.

In mid-October 2022, it was announced that Liam had gone on loan to Gloucester City.

Appearances to end of 2021/22 season: 0.

Joe COONEY (d.o.b. c.2004)

Joe was caotain of the title winning Academy side in 2021-22 and was one of the six Academy players who were to graduate to the first-team squad for 2022-23 season. He was played predominantly as right-back for the youth team and reserves but can also play in midfield and even centre-back. He made his first-team debut as a substitute in the Cheshire Senior Cup in October 2022.

Joe's move on loan to Northwich Victoria was confirmed in early December 2022.

Altrincham appearances to end of 2021/22 season: 0.


No. 23

Jake COOPER (d.o.b. 2 January 2001 in Burnley)

Centre-half Jake Cooper was signed from Rotherham United in the summer of 2022, the deal being announced on 11 June. However, he had finished the previous (2021-22) at Moss Lane, on a one-month loan from The Millers which started on 1 February 2022. On 4 March it was announced that his loan had been extended till the end of the 2021-22 season.

Raised in Sheffield, he was a forward in the Sheffield United youth system before converting to a defensive role.

At Rotherham he had made three EFL Trophy appearances for Rotherham United before his arrival at Moss Lane.

He has previous non-League experience, having had two loan spells at Gateshead in 2019-20 and 2020-21, making 29 appearances for The Heed before he also made two appearances for Hartlepool United in 2021.

Indeed, in March 2021 he was an unused sub for the Monkeyhangers at the J. Davidson Stadium as Alty hosted Hartlepool behind closed doors.

In 2021-22 season, he made eleven appearances and scored three goals when on loan at National North club Darlington before he returned to Rotherham a fortnight ahead of his arrival at Altrincham, where he made his debut at centre-back on 5 February 2022.

Having played the full ninety minutes in eight successive league games, Jake was sidelined by a tendon injury in early November 2022. On 24 February 2023 it was announced that he was going on a one-month loan to Darlington in National League North. On 23 March it was announced that that loan had been extended till the end of the National North season.

Appearances to end of 2021/22 season: 11(+1), 1 goal.


No. 5

Kyle FERGUSON (d.o.b. 24 September 1999, in Glasgow)

Centre-back Kyle's first arrival at Moss Lane, on a short-term contract, was announced on 25 February 2022.

In 2021, the 6ft 4 inch defender had been playing for Waterford in the Republic of Ireland, whose season had ended in November 2021.

Unsurprisingly, given his father Barry's career with Rangers, it was at that club that Kyle started out, with spells with Kilmarnock, Airdrie and Clyde (2016-18|) all featuring on his CV.

He also spent time in the USA on a football scholarship with Medaille College and prior to joining Waterford he had been playing for Ytterhogdals IK in Sweden.

Kyle has also done some modelling in the past.

Having broken into the team when Tom Hannigan was sidelined by injury, Kyle made eight successive starts and completed ninety minutes on each occasion. He was offered terms for 2022-23 but rejected these and joined EFL 2 club Harrogate Town instead; his departure was announced by Altrincham on 30 May 2022.

However, Kyle returned on a month's loan from Harrogate to Altrincham which was announced on 4 March 2023. However, this was converted into a season-long loan, as was announced on 23 March 2023.

Appearances to end of 2021/22 season: 8(+1), 0 goals..

No. 2

Edward JONES (d.o.b. 25 October 2001)

Eddy Jones, a left-back, rejoined Altrincham for a second loan spell from Stoke City on 2 September 2022. The loan will continue for four months till New Year 2023. The previous season Eddy had signed up for a season-long loan from The Potters on 3 February 2022.

He joined the Potteries club from Bury and he went on to make 12 appearances in a loan spell at AFC Telford United before playing three games in EFL 2 for Hartlepool United at the start of 2021-22 season. His loan spell in the North East saw him make six appearances in all for Hartlepool.

He returned to Stoke in January 2022 before his first move to Altrincham, where he made an assured debut at left-back on 5 February 2022.

Eddy has representative honours at under-17 and under-21 for Wales. He went straight into the starting eleven at left-back on his "second coming" to the club and on 10 January 2023 it was announced that Eddy had signed on as an Altrincham player after leaving Stoke City.

Appearances to end of 2021/22 season: 12(+1).


No. 26

James JONES (d.o.b. 13 March 1997)

James's return to Altrincham was unveiled on 28 July 2022 after he had rejected a contract renewal at Barrow.

James first played as a trialist for Alty in July 2017 but, in August, decided to try his luck elsewhere. However, he returned to sign for Altrincham in time to make his competitive debut on 23 August 2017.

Before joining Altrincham, James had spent three seasons with Welsh Premier club The New Saints, progressing from their Academy to first team. His first season at Alty was slightly curtailed by a hamstring injury shortly before the end of the campaign.

But 2018-19 saw him establish himself as the regular partner for Tom Hannigan at the heart of the Altrincham defence.

That season he was a virtual ever-present and started 2019-20, once more, as first choice in the right-sided centre-back role until illness briefly cost him his place in New Year 2020. However, what turned out to be an excellent 2019-20 season culminated in his decision to leave Altrincham for Barrow in the Football League, a decision announced on 19 July 2020.

After starting eight of the first nine games of 2022-23, James lost his place to Jake Cooper.

Appearances to end of 2021/22 season: 108(+7), 13 goals.



TBA

Josh JORDAN

A Reserves player and student at UCFB in Manchester, Josh Jordan made his debut as a used sub in the Cheshire Senior Cup in October 2022. On 19 October 2022 it was announced that Josh had signed dual registration forms with Alsager Town.

On 27 November, it was announced that Josh had gone on loan to Widnes but by February 2023 he was on loan at Alsager Town.

Appearances to end of 2021/22 season: 0.


TBA

Jack KINGDON (d.o.b. 16 Nov.2005)

Centre-back Jack made his debut for Altrincham in the Cheshire Senior Cup on 11 October 2022 at Sandbach. A Manchester United under-18s' player, he was training with Alty under a work experience scheme at the time.

Before joining United, he had been at Morecambe.

Appearances to end of 2021/22 season: 0.


No. TBA

Ewan McGEADY

Ewan came through the Altrincham youth system and made his first-team debut in the Cheshire Senior Cup against Vauxhall Motors in January 2023, when he played the first 45 minutes.

Ewan went on loan during 2022/23 season at Alsager Town.

Appearances to end of 2021/22 season: 0.


No. 25

Jayden MATTHEW

One of six Academy players assigned a squad number for 2022-23, Jayden is comfortable both at left- and right-back. He moved to the Academy from the under-17 Development Squad having earlier been with Stoke City.

He moved to Trafford on loan in an arrangement announced on 2 August 2022 but made his Alty debut as a used sub in the Cheshire Senior Cup in October 2022. However he suffered a hamstring injury and was back at Altrincham by early November 2022.

Appearances to end of 2021/22 season: 0.


No. 30

Harry PERRITT (d.o.b. 16 February 2001 in Knowsley)

The announcement that Harry had become an Altrincham player was made on 3 March 2023 but he was one of many players to have enjoyed a previous loan spell at the club.

In Harry's case he had originally signed on a season-long loan from Accrington Stanley on 18 February 2022. A versatile defender, he can operate at centre- or right-back, as well as in midfield

He joined Stanley at the age of eleven and came through two setbacks, by way of fractures to the arm and ankle, to establish himself at the Lancashire club. After signing professional forms in 2019, he made his first-team debut in the EFL Trophy in March 2021 and had made six first-team appearances before his loan at Moss Lane. Before joining Alty he had a loan spell at Torquay United.

Altrincham appearances to end of 2021/22 season: 11(+1), 1 goal.


No. 34

Miles WELCH-HAYES (d.o.b. 25 October 1996)

The arrival at Altrincham of right-back Miles Welch-Hayes, on a season-long loan from EFL club Harrogate Town, was announced on 23 January 2023. He made his debut the next day at Chesterfield.

Miles started out at his local club, Oxford United, from where he moved to Bath City in National South. Whilst at Bath he spent a month on loan at Oxford City. He went on to enjoy a good spell with Macclesfield Town, then in the EFL, before signing for Colchester United.

After fifty league appearances for the "U"s he moved to Harrogate Town where he had made ten appearances before joining Altrincham. His debut came at Chesterfield on 24 January 2023 but injury sidelined him in late February.

Appearances to end of 2021/22 season: 0.

---

MIDFIELDERS


No. 27

Aaron BENNETT (d.o.b. 24 January 2004)

Aaron spent two loan spells at Altrincham in 2022-23.

His first spell, on a three-month loan from Preston North End, was announced on 1 August 2022. Having returned to Deepdale, a second loan was announced on 16 February, to extend till the end of the season.

Having left his first loan spell with five goals to his name, three in the league, on his return after being away for 17 National League matches, somewhat bizarrely he immediately became Alty's leading scorer on his return as no one else had scored more than twice!

An attacking midfielder who can also play up front and on the left-wing, Aaron had come back from a serious injury to earn a contract at Deepdale.

Aaron made his Alty debut on 6 August 2022 and was named Man of the Match against Maidstone United. He went on to score a commendable five goals from eleven appearances in midfield.

Appearances to end of 2021/22 season: 0.


TBA

Owen GERMAN (d.o.b. c.2005)

Owen made his debut for Altrincham in the Cheshire Senior Cup on 11 October 2022 at Sandbach. Despite only being seventeen he had already captained the Altrincham FC Academy side on occasions.

Owen is a product of the Crewe Alexandra youth system. In early 2023 he went on loan at Irlam in the North West Counties League Premier Division. In layte April 2023 he was an unused sub for Altrincham in the Cheshire Senior Cup Final at Moss Lane.

Appearances to end of 2021/22 season: 0.


No. 8

Josh LUNDSTRAM (d.o.b. 19 February, 1999 in Stoke-on-Trent)

Josh joined Altrincham from Crewe Alexandra in a move announced on 28 May 2022.

He had formerly enjoyed a loan spell from The Railwaymen in 2020, when he made thirteen starts for the club.

That originally short-term loan spell had been announced on 17 January 2020, and he played the fully 90 minutes the next day at Gateshead, in central midfield. Josh had had previous experience of National League North football during a loan spell from January 2019 with Nuneaton Town, during which he played against Altrincham in April, 2019.

Prior to his fifteen games for Nuneaton, Josh had a loan spell at Kidsgrove Athletic and also had a second spell at the club from November 2019. Unusually for a loanee, Josh became an ever-present starter and, after eight full 90-minute games for Alty, Josh's loan was extended to 24 March 2020 but the season was then curtailed by the Covid-19 pandemic. However, in common with rulings elsewhere, Josh was permitted to play in the July play-off campaign when football resumed.

Josh had played every minute of every Altrincham league game before he was awarded his first England C cap, as he faced Cymru C at Moss Lane on 21 March 2023.

Appearances to end of 2021/22 season: 13.

---


No. 4

Isaac MARRIOTT (d.o.b. 11 October 1999)

Central midfielder Isaac's signing from Bradford (Park Avenue) "for an undisclosed fee" was announced on Christmas Eve 2021. A former Huddersfield Town product, a club he joined as a nine year-old, he was loaned to Larne in Northern Ireland in January 2019 before joining the Bradford club on loan in 2019-20 season. He made 25 appearances for the West Yorkshire club that season before returning to Huddersfield.

Before his spell in Northern Ireland with Larne, Isaac has also had loan spells at clubs which included Brighouse Town and Warrington Town.

However, following his release by Huddersfield Town in summer 2020, he returned to Yorkshire and signed for Bradford (Park Avenue) where he had made fifteen appearances in 2021-22 before signing for Phil Parkinson at Altrincham. At Bradford he also played as an attacking midfielder and was rewarded with several goals.

However he completed ninety minutes just once in the first eight league fixtures of his Alty career, only actually appearing four times in that period. But once he had regained fitness he became an ever-present starter for the final sixteen games of the 2021-22 campaign.

A pre-season injury in summer 2022 meant that Isaac missed the start of the 2022-23 season and it was league game 18 before he started a game, on 8 November 2022. Hoowever, he soon re-established himself as a key figure in the team and was rewarded with a two-year contract extension, announced at the end of March 2023.

Appearances to end of 2021/22 season: 18(+3), 1 goal.


No. 10

Elliot OSBORNE (d.o.b. 16 May 1996)

On 6 January 2022, following his release by Stevenage of EFL2, Altrincham announced the signing of centre-midlfielder Elliot Osborne.

Osborne is one of Phil Parkinson's many Altrincham signings who had formerly played under him at Nantwich Town. Elliot started out in the youth system at Port Vale but, after the Valiants released him, he joined Staffordshire club Newcastle Town as an 18 year-old in 2014.

In February 2015 he moved across the county border to Cheshire to sign for Nantwich Town where he netted 22 times from midfield. In summer 2016 he signed for Fleetwood Town of League One but in September 2016 he went out on loan to Tranmere Rovers.

In January 2017 he went on another loan, to Stockport County and then Morecambe in League Two at the start of the 2017-18 campaign. However, in early 2018 he was transferred from t Fleetwood to Southport for an undisclosed fee.

In late September 2018 he again went on loan to Stockport County and in November he signed for the Hatterswhere he went on to record 79 appearances and 11 goals.

In summer 2020 he was signed by League Two Stevenage and played 30 games there in 2020–21 season.

He played every minute of all but two of his 23 league appearances for Altrincham in 2021-22 and was an ever-present starter in 2022-23 by October 2022.

Appearances to end of 2021/22 season: 22(+1), 0 goals.


No. 18

Ben PRINGLE (d.o.b. 25 July 1988 in Whitley Bay, Northumberland)

It was announced on 18 June 2022 that Ben Pringle had signed on for 2022-23 season. He had originally joined the club almost a year earlier, his arrival being announced on 3 August 2021. His signing followed his appearances in three pre-season friendlies in 2021. During the preceding 2020-21 campaign he had been on the books of League Two Morecambe.

He made the vast majority of his appearances for Alty in 2021-22 as a second-half substitute.

He had started out at West Bromwich Albion (2006-07) before returning to his native north-east to play with Newcastle Blue Star and Morpeth Town during the following season.

A return to the Midlands brought 42 appearances for Ilkeston Town in 2008-09 where he earned a move to Derby County (2009-11) during which spell he played five gamnes on loan for Torquay United.

Four years were spent at Rotherham United where he made nearly 150 league appearances and he also enjoyed 15 appearances for Fulham in 2015-16.

After a loan at Ipswich Town, he moved back north to Preston North End from where he was loaned to Oldham Athletic and in 2018-19 to Grimsby Town. Another loan spell followed at Tranmere Rovers before joining Steve Evans at Gillingham in 2019-20. His move to Morecambe followed in 2020.

As in 2021-22, in 2022-23 Ben was predominantly deployed as a used substitute.

Appearances to end of 2021/22 season: 14 (+24), 2 goals.


No. 25

Harlan RODGERS MORRIS

One of six Academy players assigned a squad number for 2022-23, midfielder Harlan is a forward-thinking midfielder who has turned out for the reserves as well as the Academy team.

Harlan made his first-team debut in the Cheshire Senior Cup at Sandbach in October 2022 but then went on loan to Alsager Town. By March 2023 he was on loan at Market Drayton Town.

He was first included in a National League squad on 22 April 2023 when he was an unused substitute versus Torquay United.

Appearances to end of 2021/22 season: 0.

---

FORWARDS


No. 36

Eden BAILEY (d.o.b. 4 February 2004)>
No. 36

The signing of the former Port Vale teenage striker was announced on 17 November 2022 as was his immediate loan to Hanley Town, where his manager was Ryan Shotton. However, in early 2023 he moved on to Mossley in the Northern Premier League West Division.

Eden made his first-team debut for The Valiants in August 2021, in the EFL (Carabao) Cup before making his League Two debut as a substitute in December, 2021. However, in March 2022 and following an ankle injury, he went on loan at Staffordshire club, Newcastle Town in the NPL Division One West, where he made nine appearances and scored once.

His contract at Port Vale expired in June 2022 making him a free agent when signed by Altrincham.

Appearances to end of 2021/22 season: 0.


No. TBA

Joel BAILEY

Reserve and youth player Joel was named in the squad to face Sandbach United in the Cheshire Senior Cup in October 2022 but, unfortunately, he did not get onto the pitch.

On 17 March 2023 it was announced that Eden's loan had been moved from Hanley to Mossley.

Appearances to end of 2021/22 season: 0.


No. TBA

Lewis BILLINGSLEY

Lewis had been a prolific goalscorer for various Altrincham age-group teams and reserves before making his first-team debut as a used substitute in a Cheshire Senior Cup tie at Vauxhall Motors in January 2023.

Lewis then went on loan at Alsager Town.

Appearances to end of 2021/22 season: 0.


No. 11

Luke BURGESS (d.o.b. 3 March 1999 in Liverpool)

On 23 March 2023, the season-long loan-signing of Luke from Oldham Athletic was announced. He is a winger who can also operate as a number ten.

His game time at Oldham had been limited to 7(+4) appearances in 2022-23 and he had scored one goal for the Latics before joining Altrincham.

Everton was his first club before he moved to Wigan Athletic in 2013, from which club he had loans at Chorley (one NLN game) and Barrow (25 NL games), before joining Salford City in January 2020.

He went on loan with AFC Fylde, and played for The Coasters against Altrincham in the FA Cup, before he returned to the Ammies in October 2020, where he played 14 times in EFL2.

In July 2022 he signed for Oldham Athletic on a two-year contract.

Appearances to end of 2021-22 season: 0


No. 32

Zak GOODSON (d.o.b. 8 April 2000)

On 30 August 2022 Altrincham announced Zak Goodson as their twelfth new signing (excluding loanees) of the summer. The speedy forward was acquired for an undisclosed fee from NPL club Ilkeston Town, having joined the Derbyshire club in May, 2020.

His career had started in the Academy at Derby County where he spent five years before joining Long Eaton United. He moved on to Basford United in Nottinghamshire (November 2018). Whilst with Basford he went on loan to Newark Flowserve (August 2019) before returning to Basford.

Injury delayed his Alty debut until October when he started in the Cheshire Senior Cup at Sandbach, and he scored in that first outing. However, on 28 October 20222 it was announced that Zak was going on loan to Boston United until 27th November. However, in his debut game on 29 October, Zak unfortunately suffered a fractured wrist which curtailed that arrangement.

AFter recovering he played a crucial role on his comeback as a used substitute inthe FA Trophy tie against Wrexham in January 2023. Zak netted the equaliser which led to a shoot-out and he netted his spot-kick in that finale. On 21 January it was announced that Zak had returned to Boston for a further loan. In nine appearances for The Pilgrims he scored once, from the penalty spot.

However, it was announced on 11 March that he had been recalled by Alty and, on 23 March 2023, the Robins confirmed he had gone on a season-long loan to Spennymoor United. However, he returned to play as a used sub on 22 April 2023 against Torquay United when he won and converted an added time penalty to secure a draw.

Appearances to end of 2021/22 season: 0.


No. 9

Jordan HULME (d.o.b. 23 November 1990)

Jordan Hulme rejoined Altrincham on loan from AFC Fylde in a move announced on 7 January 2022.

He had first signed for Altrincham on 13 July 2017, just after he had left Salford City where he had scored ten times and provided eleven assists in 48 appearances in 2016-17 in National League North. At the time Alty were in the tier below, the Northern Premier League. The previous season he had netted 18 times in 54 appearances for the Ammies.

Jordan's earlier clubs included CMB Sports Club, Walshaw Sports Club, Shevington, Padiham, Ramsbottom United (2012) and New Orleans Jesters (USA). At Ramsbottom, he had scored more than thirty goals in 100 or so appearances before following the Rams' management duo of Bernard Morley and Anthony Johnson to Salford City in January 2015.

A versatile player, at previous clubs he has turned out as a right-winger and right-back, as well as striker. By mid-November he had established himself as Alty's leading scorer in all competitions and crowned a fine season as Alty's top scorer, breaking the 30-goal barrier, and the NPL's Player of the Season.

He started 2018-19 with seven goals from eight starts before being suspended for a game and then missed further game time with a persistent eye problem. Nevertheless, he netted nine times in his first ten games of the campaign.

However, a flurry of yellow, and two red, cards meant that he missed more than a quarter of the club's first 30 fixtures in 2018-19 through suspension. Nevertheless, he still finished the season as joint top scorer in all competitions, with twenty goals. When the 2019/20 season was prematurely ended Hulme was again the club's leading scorer in that competition.

In summer 2020 he signed a new two-year contract but, just weeks later, he opted to take lower league AFC Fylde's offer of full-time football, his departure being announced just twenty hours before the start of the 2020-21 season.

However, an unhappy time with The Coasters prompted his return on loan in January 2022 to an Alty side which had lacked a potent striker since his departure.

Following a number of impressive preformances, injury sadly meant that he played in just two of the final eleven fixtures. After the end of the season, he was released by Fylde and rejoined Alty, as was announced on 21 May 2022, when he was also announced as the team captain for 2022-23.

Injury meant his playing time was intermittent at the start of the 2022-23 season.

Appearances to end of 2021-22 season: 144(+8), 72 goals.


No. 12

Amaar HUSSAIN (d.o.b. c.2005)

Amaar was the leading scorer as the Altrincham FC Academy team won the National League U19 Alliance Division H title in the team's first competitive season, 2021-22. He had also played for Altrincham Reserves before being named as one of six Academy players to join the first-team squad in July 2022.

After impressing in pre-season, Amaar went on loan to Hyde United at the start of September 2022. But on 19 October 2022 it was announced that Amaar had signed dual registration forms with Alsager Town.

Unfortinately, Amaar suffered an ACL injury and was sidelined in December 2022.

Appearances to end of 2021/22 season: 0.


No. 17

Brad JACKSON (d.o.b. 22 October, 1996 in Manchester)

Jackson's signing by Altrincham for 2021-22 was announced by his former club Chester FC on 14 May 2021 but not confirmed by Alty until the end of that month. His first encounter with Alty had been as a Burnley player in a pre-season game at Moss Lane in 2016; he was with The Clarets from 2015 to 2018, having also had loan spells in that period at Bangor City and Southport.

He joined Ashton United in summer 2018 but, in December 2018, he signed for Chester FC, where he played on the right-wing but he has also played as a right-back.

His most recent game against Altrincham for Chester FC had been in the play-off eliminator match in July, 2020.

Injuries limited him to seven starts before the NLN season 2020-21 was halted by Covid. In all, he made 71 appearances for Chester, scoring five goals and was voted by supporters as part of the squad in the Chester FC Team of the Decade.

He had started just four of the first 27 league matches, largely due to injury and a suspension, before it was announced on 23 December 2021 that he was going on a month's loan to Buxton to regain match fitness. He returned to Alty but made no further appearances that season, completing just 456 minutes in the National League campaign as a whole.

In 2022-23, having regained fitness, he started to make more regular appearances in the first team. BUt after 6(+10) appearances it was announced on 10 January 2023 that Brad had gone to Chorley on loan.

Appearances to end of 2021-22 season: 5(+3), 0 goals


No. 17

Egli KAJA (d.o.b. 26 July 1997 in Albania)

Having impressed a a substitute in a pre-season game at Moss Lane, right-winger Egli Kaja signed non-contract forms for Hampton & Richmond Borough in National League South. But days later he accepted a short-term contract at Altrincham, as announced on 19 August 2022.

After joining Kingstonian in 2006 he signed for AFC Wimbledon in 2008 and made his Wimbledon debut in 2015 but, in late 2016, he went on loan at Lewes before moving, again on loan, to Livingston in Scotland in summer 2018. A free transfer took him to Northampton Town in September 2019 where he made four appearances.

At Wimbledon he had a trial with AC Milan and was called up to play for the Albania under-21 side (2017). In late 2021 he returned to AFC Wimbledon on a short-term contract and by the end of his stay had made 27 EFL appearances over his two spells at the club.

Having impressed as a late sub in three games, injury sidelined Egli for five games but, on 8 November, it was announced that Kaja had signed a new contract of unspecified duration.

Appearances to end of 2021-22 season: 0


No. 7

Matty KOSYLO (d.o.b. 17 August, 1992 in Oldham)

On 16 August, 2020, Matty Kosylo became the fourth new arrival of the close season as he signed a two-year contract after leaving AFC Fylde. He had joined The Coasters in summer 2019 but had not replicated the success he had enjoyed over a three-year spell at FC Halifax Town, his previous club.

Earlier in his career, wingman Kosylo had played previously under Alty manager Phil Parkinson. That was back in 2014-16 at Nantwich Town, with Matty having begun his career at Stockport County before spells with Salford City, Ashton United, Hyde United and Vauxhall Motors (2013/14).

He left Nantwich for FC Halifax Town, for an undisclosed fee, in July 2016. At the time he was the Evo Stik NPL Young Player of the Year. Kosylo made a great impression in his three seasons at The Shay (2016-19), during which he scored 24 league goals in 74(+5) league appearances for The Shaymen.

Kosylo then joined AFC Fylde in 2019 but relegation in 2020 meant that The Coasters were prepared to release him from his contract to sign for Altrincham.

After his debut at home to Weymouth on 3 October 2020, he was a lively performer till injury limited his appearances in the second half of the campaign. In 2021 he missed a number of games through injury but in 2021-22 he had a successful season, netting ten times.

In May 2022 it was announced that he had re-signed for a further season. However, a pre-season ACL injury meant that he was out of action as 2022-23 season got under way.

Appearances to end of 2021-22 season: 62(+8), 13 goals


No. 29

Regan LINNEY (d.o.b. 12 May 1997 in Preston)>
No. 29

On 3 February it was announced that Regan had become the club's ninth signing inside a three-week period. However, he was the first of that clutch to be a permanent signing, for an undisclosed fee, rather than a loanee.

Linney joined from NPL side FC United of Manchester FC United, a club that he had joined in 2019 from Bamber Bridge for whom he made his debut in 2015.

The striker had made 133 appearances for FCUM and netted 61 goals before signing for the Robins. His debut came off the bench against Wrexham on 4 February 2023 and he soon impressed, scoring three times (including two penalties) in his first five outings for Alty, two of which were games in which he was a substitute.

Appearances to end of 2021-22 season: 0


No. 14

Ryan MORTON (d.o.b. c.2005)>
No. 14

One of six Academy players who signed first-team forms in summer 2022, striker Ryan had earlier become the first player from the Academy to make a first-team league appearance for Alty. His debut had come on 10 May 2022 when he came on as a late substitute in a National League match at Bromley.

After starting out as a schoolboy at local club Sale United, a spell with the Stoke City development set-up was hampered by injury before he returned home and signed up for the Altrincham FC Academy.

He moved to Trafford on loan in an arrangement announced on 2 August 2022.

Appearances to end of 2021/22 season: 0.

---

DEPARTED PLAYERS & STAFF - 2022 close season and during 2022-23

See Departed Players/Staff 2022-23

Sonny ALJOFREE (loanee)
Aaron BENNETT (loanee who left then returned to Altrincham)
Danny CASHMAN (loanee)
Ryan COLCLOUGH
Chris CONN-CLARKE (loanee)
Shaun DENSMORE
Marcus DINANGA
Kyle FERGUSON
Michael GYASI (loanee)
Kole HALL
Connor HAMPSON
Josh HANCOCK
Tom HANNIGAN
Byron HARRISON
Joe HUGILL (loanee)
Connor JENNINGS (loanee)
Dan MALONE (loanee)
Dermot MEE (loanee)
Dan MOONEY
Jake MOULT
Jamie MORGAN
Toby MULLARKEY
Elliot NEWBY (loanee)
Maxi OYEDELE (loanee)
Armando Júnior QUITIRNA (loanee)
Aidan ROXBURGH
Alex SAMI(ZADEH)
Tyrese SINCLAIR (loanee)
Tony THOMPSON
Andy WHITE

For details of last season's squad (2021-22), visit the 2021-22 Squad Page