an unofficial Altrincham FC website.
www.altrinchamfc.co.uk
---
OPTIONAL DROPDOWN MENU - HERE
---
Altrincham FC
2020-21 First-Team Squad.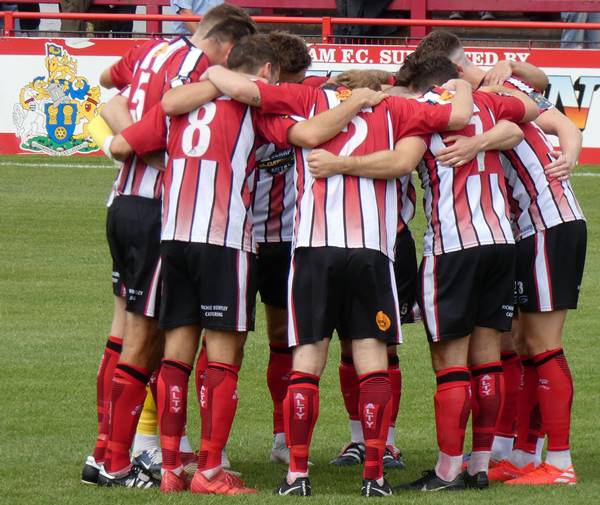 For details of the 2019-20 squad, click here.
---
First-Team Squad Members, 2020-21
For players who left the club during the season or the 2020 close season, see the list of Departed Players at the foot of this page.
The following alphabetical list includes each player's squad number for 2020-21.
---
The squad in numerical order: 1. Anthony THOMPSON, 2. Andy WHITE, 3. Connor HAMPSON, 4. Ritchie SUTTON, 5. Tom HANNIGAN, 6. Jake MOULT, 7. Daniel MOONEY, 8. Sean WILLIAMS, 10. Josh HANCOCK, 12. Curtis MILLER, 14. Will HALL, 15. Matty KOSYLO, 16. Lewis SALMON, 19. Reagan OGLE, 20. Shaun DENSMORE, 21. Matthew GOULD, 22. Joel TORRANCE, 23. Tom PEERS, 24. Joel SENIOR, 26. Fisayo ADARABIOYO, 29. Alistair SMITH, 30. Simon RICHMAN, 32. James HARDY, 34. Ryan COLCLOUGH, 36. Connor KIRBY
PHOTO/SQUAD NO.

GOALKEEPERS


No. 21

Matthew GOULD (d.o.b. 7 January 1994 in Warwick)

Matthew's arrival at Moss Lane from Spennymoor Town was revealed on 16 August 2020. By chance he had been in goal for The Moors in what was the last Alty home game of the 2019-20 league season before lockdown and suspension of fixtures in March 2020.

Gould had been at Spennymoor since the start of 2018-19 season. His father is goalkeeper Jonathan Gould (Glasgow Celtic) and he is the grandson of prolific striker and manager of Wimbledon's "Crazy Gang", Bobby Gould.

Matthew was brought up in New Zealand and his goalkeeping career began there at Hawkes Bay United (2011). From there, he moved into football in Western Australia (2014) and his first English club was Cheltenham Town, a club he joined early in the 2014-15 season. From there he had a loan at Bishop's Cleeve (2015) before heading up to Scotland where he played for Livingston (2015/16)in a spell which included a loan to Stenhousemuir.

Early in 2016 he went, at first on loan, to Stourbridge where, in 2017-18, he played against Alty in the NPL. At the end of that season, he joined Spennymoor Town where he kept 20 clean sheets in 50 games in 2018-19. In the play-off final against Chorley, who had beaten Alty on penalties in the semi-final, Gould saved two penalties in the shoot-out.

Despite being a regular at Spennymoor, at Altrincham he had yet to make his league debut by late February 2021 and, indeed, had only even been named on the bench twice for league games by that date. However, he did play in the CSC cup tie at Barnton.

Altrincham appearances to end of 2019/20 season: 0.


No. 1

Anthony THOMPSON (d.o.b. 4 November 1994 in Liverpool)

Liverpudlian Tony Thompson made his first appearance for Alty in a pre-season game on 8 July 2017. In 2016-17 he had played on loan from AFC Fylde for Warrington Town but he started out with Rotherham United (2012), from where he had loan spells with Chelmsford City and Southport in 2014-15 before he joined Morecambe, where he played one League Two game. Later in 2015-16, he moved to Chester FC before joining AFC Fylde in 2016. The early part of 2017/18 saw him sharing first-team duties with Tim Deasy but he soon established himself as the regular first choice for the remainder of the season.

However, he lost his starting place to Elliot Wynne before the end of August 2018, only to win it back, and lose it again in February 2019 when the experienced Steven Drench was signed. Having started the 2019-20 season as no.2 he regained his place in game seven after Drench suffered a serious Achilles injury and Tony deservedly retained the no.1 role for the remainder of the season.

By trade, Tony is a scaffolder. During 2020-21, in the occasional absences of Jake Moult, Tony has captained the side.

Altrincham appearances to end of 2019/20 season: 125.


No. 22

Joel TORRANCE (d.o.b. 2 April, 2002)

Six-foot plus youth-team 'keeper Joel Torrance was first included in a first-team matchday squad for the game against Kidderminster Harriers on 14 September 2019. This came just nine days after he had impressed in an FA Youth Cup match in which he saved three of the seven penalties that he faced in a shoot-out, only to finish on the losing side!

Although he did not make a league appearance in 2019-20, he was named nine times on the bench in the National League North in that truncated season.

Altrincham appearances to end of 2019/20 season: 1.

---

DEFENDERS


No. 20

Shaun DENSMORE (d.o.b. 11 November 1988, in Liverpool)

Signed initially on a month's contract on 12 September 2008, Shaun is a former Everton Academy Player of the Year, who was released by the Toffees in summer 2008. After trials with Bradford City he joined Altrincham. A hardworking right-footed defender/midfielder, Shaun made his Alty debut on 16th September 2008. On 13 October 2008 he signed on for the rest of 2008-09 season, having impressed in a run of seven unbeaten games in the side.

The son of former Altrincham player of the 1980s, Peter Densmore, Shaun followed his father into the England semi-pro international side and scored on his debut for England "C" side against Malta in February, 2009. sadly, he picked up a medial ligament injury in February 2011 which sidelined him till the latter part of the season but he returned to full fitness before the end of the season.

A regular starter in 2011-12 in central midfield, Shaun was named captain on the departure of Robbie Lawton in November, 2011, a role assumed by Jake Moult in 2017. Most of his appearances have been at right-back but he is also impressive in midfield and a capable left-back. His wholehearted approach and his excellent freekicks make him a key member of the team. His 2014-15 season was disrupted by injuries as was 2015-16 when he suffered two significant injuries by mid-October and in early January 2016 it was announced that a knee operation would terminate his season. He also missed much of 2016-17 through injuryl.

Following the resignation of manager Neil Young on 28 August 2016, Shaun, along with Alan Goodall and Jake Moult, was appointed to a joint caretaker-management role before the brief tenure of Jim Harvey. Shaun made a welcome but brief return to playing action on 6 December 2016 in the FA Trophy but was then sidelined again by injury for much of the remainder of that campaign. In 2017-18 he initially started mostly played as left-back, alternating in that role with Lewis Short, before re-establishing himself at right-back with some outstanding performances. By the closing stages of the season he was back to his best but an injury curtailed his appearances in the final games and another injury early in 2018/19 season also sidelined Shaun.

2018/19 and 2019/20 have seen Shaun mainly in a substitute's role, in which was extremely dependable. Shaun re-established himself as first-choice right-back in October 2019 but season 2020-21 has seen him largely confined to the bench following the emergence at right-back of Joel Senior. He then fractured his arm in the game against Bromley which sidelined him again.

Appearances to end of 2019/20 season: 390(+28), 29 goals.


No. 14

Will HALL (d.o.b. )

Will is a tall central defender who impressed as a trialist in summer 2020. Formerly at Salford City, he was first named in an Alty first-team squad on 11 November 2020 against Solihull Moors. In October 20202 it had been announced that Will had gone on dual registration forms to play for Whitchurch Alport.

Appearances to end of 2019/20 season: 0.


No. 3

Connor HAMPSON (d.o.b. 23 August, 1992)

A tall left-back, who can also operate as a central midfielder, Connor joined Altrincham, initially on a month's loan, from Stockport County on 2 November 2017. He had been at Edgeley Park since February 2017, when he had joined from Curzon Ashton, but injury sidelined him before the end of the 2016-17 season at County. Connor had previously been at the Tameside Stadium since 2011. His impressive performances for Alty prompted an extension of his loan period into 2018. He missed several games in the Spring of 2018 through injury before returning for the run-in where he played well at centre-back.

A broken hand kept him out of the side during August and September 2018 before he returned to be a regular starter at left-back. At the start of 2019-20 he acted as captain in the injury absence of Jake Moult but after starting the first eleven league games, a foot injury cost him his place and he was then sidelined by the good form of Shaun Densmore. However, he reclaimed his place for the final eleven league matches and played an important role in the trio of play-off games which secured promotion.

Outside football, Connor teaches in a primary school.

Appearances to end of 2019/20 season: 89(+13), 5 goals.


No. 5

Tom HANNIGAN (d.o.b. 30 June 1988)

Tom Hannigan, who was the captain of AFC Fylde, joined Altrincham on 23 May 2016. A very reliable central defender, Tom had joined AFC Fylde in summer 2014 from Vauxhall Motors who were then in Conference North. In his first season with Fylde he was named "Manager's Player of the Season". Earlier in his career, Tom was released by Tranmere Rovers, aged 16, and then studied for 'A' levels before completing a degree at Hallam University.

He made his Altrincham debut on 6 August 2016 at home to Darlington. Sadly, Tom picked up a knee medial ligament injury in only his second competitive game and was ruled out for a substantial period. His season was further disrupted by suspension and another injury, in Spring 2017, which prematurely terminated his season. However, he recovered to start the 2017-18 campaign and put in some assured performances before injury again sidelined him in late October 2017. However he again recovered and his consistency and experience were an important factor in Alty's strong run-in for the league title in 2018.

2018/19 saw him again as first-choice left-sided centre-back, a role he continued to execute with consistently good performances both in 2019-20 and 2020-21. Appearances to August 2020: 136(+5), 9 goals.


No. 25

Toby MULLARKEY (d.o.b. 4 November, 1996)

Centre-back Toby became the first close-season signing of 2019 when he joined from Nantwich Town in late May 2019.

A product of the Crewe Alexandra youth system, he subsequently joined Nantwich after a year with Leek Town. Having been an unused substitute for the first five matches of 2019-20, he came on as a substitute in game six and then joined the starting eleven in the absence of the injured and then suspended Tom Hannigan. After another spell on the bench he held his place after replacing the ill James Jones in early 2020 but again reverted to the bench on Jones's return.

After Jones had departed to Barrow in summer 2020, Mullarkey started regularly until a broken ankle bone sidelined him in late October 2020. However, he returned to action after mising twelve league fixtures and has featured both at centre-back and in midfield.

Appearances to end of 2019/20 season: 17(+17), 2 goals.


No. 19

Reagan OGLE (d.o.b. 29 March 1999)

Altrincham announced the loan signing from Accrington Stanley of full-back Reagan Ogle on 1 March 2021. Having played four full matches for Altrincham, it was announced on 18 March that an initial month-long loan period had been extended to the end of the 2020-21 season.

Reagan's time with Accrington Stanley had included previous loans with AFC Fylde and Southport, and he had played against Alty for both of those clubs.

He was a used substitute against Alty for AFC Fylde in the FA Cup in 2020-21 season and had played four times for Southport against Altrincham in 2019.

An Australian, Reagan had originally arrived at Accrington as a scholar in 2015.

Altrincham appearances to end of 2019/20 season: 0.


No. 24

Joel SENIOR (d.o.b. 24 June, 1999 in Didsbury, Manchester)

Right-back Joel was signed on 29 September 2020 after joining Altrincham for the 2020-21 pre-season. Joel started out as a youngster with Oldham Athletic who released him at the age of 15, leading to a spell playing at Sunday-league level. His career was rebuilt via NW Counties football at Maine Road, followed by joining FC United of Manchester in National League North and then Curzon Ashton at the same level before he moved to Premiership club Burnley who later released him.

He made his league debut at Eastleigh in the third game of 2020-21 season and established himself as first-choice in that position.

Altrincham appearances to end of 2019/20 season: 0.


No. 4

Ritchie SUTTON (d.o.b. 29 April, 1986)

Ritchie's signing was announced on 12 August 2020, his previous club being Morecambe. Having started his career at Crewe Alexandra, he had a loan from Gresty Road at Stafford Rangers before signing for the Martson Road club. He later joined Stafford Rangers, Northwich Victoria and Halifax Town before a spell at Nantwich Town.

Ritchie next played for Port Vale in the Football League (2010-11) before spending four years at Mansfield Town (2011-15).

Four more years followed at Tranmere Rovers, during which he had a loan spell with Barrow (2016). He was at Morecambe last season before The Shrimps released in summer 2020.

Appearances to end of 2019/20 season: 0.


No. 2

Andy WHITE (d.o.b 8 October 1992)

Andy was signed on 21 December 2017 from Southport, having previously played under manager Phil Parkinson at Nantwich Town. He made his Alty debut on New Year's Day, 2018. Andy can operate as a full-back or wing-back on either flank and won Nantwich's Player of the Year award three seasons running and was named in the Evo-Stik Northern Premier League Team of the Year for the second successive time in 2017.

Andy moved from the Dabbers to Southport in summer 2017. Two-footed Andy played at both right- and left-back during 2018 and for 2018-19 was a regular starter at right-back, a position he has also occupied in 2019-20.

In 2020-21 he was in and out of the side as injuries disrupted his appearances and on 24 March 2021 it was announced that he was likely to miss the remainder of the season with an ankle injury, having started just ten league games in the campaign.

Appearances to end of 2019/20 season: 86(+4), 5 goals.

MIDFIELDERS


No. 36

Connor KIRBY (d.o.b. 10 September 1998 in Barnsley)

On 21 April 2021, Altrincham announced the signing of Connor Kirby on a season-long loan from Harrogate Town. After signing in 2015 for Sheffield Wednesday he made two appearances for The Owls in the Championship as well as two in the league cup.

2019-20 saw him make 39 appearances on loan at Macclesfield Town before joining Harrogate Town in League Two for 2020-21 season, a club for which he made 22 appearances, 16 in League Two, before his move to Altrincham.

He made his Alty debut on 24 April 2021 in the home defeat by Barnet.

Appearances to end of 2019/20 season: 0.


No. 6

Jake MOULT (d.o.b. 10 February, 1989)

Lee Sinnott signed midfielder Jake Moult on a 93-day loan from Alfreton Town in late August 2012. Previously, Jake had been a summer trialist at Altrincham in 2008. Born in Stoke on Trent, he joined Alfreton on 1 July 2010, before which he had been with Stafford Rangers. His earlier career was with Port Vale and Plymouth Argyle. Jake is also a very capable centre-back when required.

In early November 2012, Jake formally moved to Altrincham on a free transfer, signing a contract to the end of 2013/14 season. He is the brother of former Wrexham, Motherwell and, later, Preston North End striker Louis Moult and Jake himself has a powerful shot. He was rewarded for his consistently good performances in central midfield with the 2014-15 Players' Player of the Season accolade.

Jake captained the side for much of the 2015-16 and 2016-17 seasons.

Following the resignation of manager Neil Young on 28 August 2016, Jake, along with Shaun Densmore and Alan Goodall, was briefly appointed to a caretaker-management role before Jim Harvey took over. In advance of the 2017-18 season Jake was appointed team captain and led them to success with many committed performances. In October 2018 he passed the 300-appearances mark for the Club.

A summer operation sidelined Jake for the early part of 2019-200 season before he came on as a substitute at Boston towards the end of August 2019. He has since re-established himself in the team and continues as captain.

Appearances to end of 2019/20 season: 346(+28), 39 goals.


No. 30

Simon RICHMAN (d.o.b. 2 June 1990 at Ormskirk)

Midfielder/winger Simon Richman is a product of the Bolton Wanderers' academy and the Port Vale youth system. He broke through into the Valiants' first team in League One in 2007-08 and made 48 League appearances for them in all, mostly in 2008-09 in League Two, when he was voted the club's Young Player of the Season. Simon then suffered a groin injury which kept him out of action for several months and, though he made five first-team League Two appearances for Vale in 2009-10, he was released at the end of that campaign. In summer 2010, he had trials with Southport and Worcester City, before joining City and making eight league appearances in the Blue Square Bet North.

Simon became Lee Sinnott's first signing at Altrincham in summer 2011 but his early Alty career was marred by injuries and illness. Having mostly played in right midfield, Simon completed the campaign in central midfield, a position he also played in during 2012-13. Summer 2013 saw him as an integral part of the Great Britain Universities' team which won the silver medal in the world games in Kazan, Russia.

His energy in midfield is an important feature of the team. Outside football, Simon has a degree in chemical engineering from the University of Manchester.

His 2015-16 season was disrupted by an injury in late August but he then re-established himself as a regular starter. 2016-17 also saw him as a regular starter, though some games were missed through injury. Early 2017-18 also saw him miss games through injury before re-establishing himself as a regular starter. Towards the end of that season he played impressively at right-back as well as in midfield.

Simon figured chiefly as a substitute during the early part of 2018-19 season and by the end of that campaign he had made twenty appearances each as a starter and as a used substitute. Simon had re-established himself in midfield before suffering a hamstring injury in January 2020.

In 2020-21 Simon generally has been named as a substitute.

Appearances to end of 2019/20 season: 266(+89), 24 goals.


No. 29

Alistair SMITH (d.o.b. 19 May 1999)

One of three signings announced on 13 November, 2020, Alistair joined Alty on loan from Mansfield Town where he had graduated from their Academy. He had previously made six first-team appearances for Mansfield and also had been on loan at Loughborough Dynamo, Frickley Athletic as well as at Kettering Town, where he played against Alty in February 2020.

He made his Alty debut as a used substitute on 14 November 2020 against Aldershot Town and after a further four starts and a substitute appearance in the National League, Alistair's loan was extended to 13 January 2021. Having made ten consecutive National League starts in games in which he completed the full ninety minutes in every case, his release from Mansfield was negotiated and he immediately signed for Altrincham on 15 January 2021. His contract runs to the end of the 2021-22 season.

Appearances to end of 2019/20 season: 0


No. 8

Sean WILLIAMS (d.o.b. 20 January 1992, in Liverpool)

Sean rejoined Altrincham on 21 May 2018, having first signed for the club, from Colwyn Bay, in May 2014. Prior to that, he had another spell with the Bay, and had also played for FC Halifax Town where he was part of their promotion squad from Conference North. Earlier, he also spent time with Stockport County, Vauxhall Motors, Hyde and Skelmersdale United.

After 25(+12) appearances for Altrincham, Sean was surprisingly released by Altrincham at the end of the 2014-15 season and, like his ex-Alty team-mates Kyle Perry and David Parton, he joined Hednesford Town for 2015-16.

By the start of 2016-17 season he had moved on to AFC Telford United but, in mid-November 2016, he signed for Warrington Town where he became an important figure in their reaching the promotion play-offs in 2017-18. That summer he joined Altrincham and was impressing in the Alty midfield when his season was interrupted by injury in late October 2018.

But after returning to fitness he reclaimed his starting place and continued as a first-choice central midfielder at the start of 2019-20 before an ankle injury sidelined him in January 2020. Away from Alty Sean works as coach with Liverpool FC and the Jamie Carragher coaching school.

Sean was injured at Eastleigh in the third game of 2020-21 and was still sidelined as of late February 2021.

Appearances to end of 2019/20 season: 79(+25) 1 goal.

FORWARDS


No. 26

Fisayo ADARABIOYO (d.o.b. 1 February, 1995)

Fisayo Adarabioyo signed on 12 October 2020, his arrival being announced two days later. He had impressed manager Phil Parkinson when scoring twice against Alty as a trialist for Curzon Ashton in a pre-season game in September. He also played for Curzon in the FA Cup against FC United of Manchester and, before signing for Altrincham, he also turned out for Stafford Rangers in a home defeat to Hyde United.

He started out at Manchester City where his brother, Tosin, was on the club's books for many years. After moving on to Birmingham City, Fisayo subsequently moved to Perth to join Scottish Premier side, St Johnstone where he was in their under-20s' squad early in 2014 but, by the end of that year, he had moved south to Croydon and Crystal Palace.

After these travels he actually made his professional debut much closer to Altrincham, at Macclesfield Town, a club he had joined early in the 2015-16 season. He made one start and two more from the bench at the Moss Rose.

Next came a single substitute appearance with AFC Fylde's development team before his travels began again with a move to The Netherlands for the start of the 2016-17 season at NAC Breda, who gained promotion during his stay. Fisayo scored once in 12 substitute appearances in the regular league and appeared twice more as a sub in Breda's play-off games before moving to Dutch Second Division side, FC Oss, where he scored twice in 16 games and played one more game in a cup competition.

Early in 2019 Fisayo briefly joined Romanian Liga 3 team FC U Craiova 1948 where he made two appearances. In February 2020, he joined Warrington Town, for whom he made three appearances, scoring on his debut in an abandoned game. His Altrincham debut was delayed by the Covid-19 hiatus to the club's 2020-21 league fixtures, which started on the day of his signing.

He made his debut against Hartlepool and by late November 2020 had started eight games for the club before injury sidelined him and he has not appeared again as of 21 February 2021.

Appearances to end of 2019/20 season: 0


No. 34

Ryan COLCLOUGH (d.o.b. 27 December, 1994)

Winger Ryan Colclough made a surprise debut from the Altrincham bench against Bromley on 24 November 2020, having been signed that day on a short-term contract after departing from Scunthorpe United where, ironically, he had been keeping Alty loanee Andy Dales out of the side.

On 12 December 2020, after just one start and two appearances from the bench for Altrincham, Ryan signed for the club until the end of 2021/22 season.

Earlier in his careeer, after more than three years at Crewe (2012-16), Ryan moved to Wigan Athletic and went on loan from there to MK Dons before signing for Scunthorpe United in August 2018.

On 24 November, 2020 he made his Alty debut at home to Bromley.

Altrincham appearances to end of 2019/20 season: 0.


No. 10

Josh HANCOCK (d.o.b. 5 September, 1990)

Signed from Nantwich Town in May 2017, Josh is a midfielder who came through The Dabbers' youth set-up before moving on to Winsford United (2009-10). Next, he joined Witton Albion and made more than 150 appearances and scored some fifty times.

He next joined AFC Telford United before a return to Witton, which preceded a move to Salford City and then a return to Nantwich Town in January 2016. He started the season at Alty with four goals in his first six appearanes in league and cup matches and remained the leading scorer for the club in the league into mid-November. He continued to be a vital member of the team to the end of the season, weighing in with important goals.

By March 2018 he had become the club's leading scorer in the league with 14 goals and ended the season as the club's top scorer in the league with twenty goals to his name. He started 2019-20 suspended after being sent off in the play-offs at Chorley in May 2019 and then he picked up a calf injury to interrupt further his 2019-20 season, albeit briefly. 2019-20 saw him a regular starter in the no.10 shirt. A season highlight for Josh was his goal at Fratton Park against Portsmouth in the FA Cup and he ended up the leading scorer in the league.

Appearances to end of 2019/20 season: 126(+11), 59 goals


No. 32

James HARDY (d.o.b. 11 May 1996, in Stockport)

The signing of winger/number ten James Hardy was announced on 22 February 2021, just after his release by AFC Telford United whose season had been decelared null and void.

As a youngster he was with Oldham Athletic for six years before signing for Manchester City in 2012. He moved on to play for AFC Fylde in October 2015 but, after helping them gain promotion from the National League North, he was badly affected by injury for two seasons.

A loan period from Fylde, at FC Halifax Town, followed in February 2019, before he left the Lancashire club, having made almost 100 appearances for The Coasters.

Next, he was signed by EFL club Walsall in June 2019 but, after eleven appearances, he was released at the end of 2019-20 season, whereupon he joined AFC Telford United for 2020-21.

He is an England C international and was their Player of the Year in May 2019.

Appearances to end of 2019/20 season: 0.


No. TBC

Brad JACKSON (d.o.b. 22 October, 1996 in Manchester)

Jackson's signing by Altrincham was announced by his former club Chester FC on 14 May 2021 but not confirmed by Alty until the end of that month. His first encounter with Alty had been as a Burnley player in a pre-season game at Moss Lane in 2016; he was with The Clarets from 2015 to 2018, having also had loan spells in that period at Bangor City and Southport.

He joined Ashton United in summer 2018 but, in December 2018, he signed for Chester FC, where he played on the right-wing but he has also played as a right-back.

His most recent game against Altrincham for Chester FC had been in the play-off eliminator match in July, 2020.

Injuries limited him to seven starts before the NLN season 2020-21 was halted by Covid. In all, he made 71 appearances for Chester, scoring five goals and was voted by supporters as part of the squad in the Chester FC Team of the Decade.

Appearances to end of 2019/20 season: 0


No. 15

Matty KOSYLO (d.o.b. 17 August, 1992)

On 16 August, 2020, Matty Kosylo became the fourth new arrival of the close season as he signed a two-year contract after leaving AFC Fylde. He had joined The Coasters in summer 2019 but had not replicated the success he had enjoyed over a three-year spell at FC Halifax Town, his previous club.

Earlier in his career, wingman Kosylo had played previously under Alty manager Phil Parkinson. That was back in 2014-16 at Nantwich Town, with Matty having begun his career at Stockport County before spells with Salford City, Ashton United, Hyde United and Vauxhall Motors (2013/14).

He left Nantwich for FC Halifax Town, for an undisclosed fee, in July 2016. At the time he was the Evo Stik NPL Young Player of the Year. Kosylo made a great impression in his three seasons at The Shay (2016-19), during which he scored 24 league goals in 74(+5) league appearances for The Shaymen.

Kosylo then joined AFC Fylde in 2019 but relegation in 2020 meant that The Coasters were prepared to release him from his contract to sign for Altrincham.

Appearances to end of 2019/20 season: 0


No. 12

Curtis MILLER (d.o.b. 29 November, 2000)

A product of the Altrincham FC youth team, Curtis's development was hampered by a long-term injury, before Phil Parkinson included him in the first-team squad for 2019-20. Despite often warming up with the first team, his only appearance before 2020 was in the Cheshire Senior Cup at Stalybridge in December 2019. He made his league debut at Gateshead on 18 January 2020 as a used substitute.

During 2019-20 he also turned out for Trafford FC under dual registration arrangements.

AFter six appearances from the bench in the National League in 2020, it was announced on 12 December 20202 that Curtis was going on loan for an unspecified period to Nantwich Town.

Appearances to end of 2019/20 season: 1(+1), 0 goals.


No. 7

Daniel MOONEY (d.o.b. 3 July, 1999)

Daniel arrived at Altrincham from Fleetwood Town for an undisclosed fee. The signing of the left-footed wingman was unveiled on 4 February 2020 and he made an impressive debut that evening, on the right wing, against AFC Telford United. He had previously played against Altrincham for Chester FC and Ashton United whilst on loan spells from the Fleetwood club, for whom he made two first-team appearances. He holds a number of Wales under-21 international caps.

Appearances to end of 2019/20 season: 9, 2 goals.


No. 23

Tom PEERS (d.o.b. 23 October, 1995)

Born in Warrington, Tom came through the Chester FC youth system (2013-16) where he made 3(+21) first-team appearances under manager Neil Young. Tom then went on loan to 1874 Northwich FC and, in January 2015, he started a month's loan at Marine.

In December 2015 he went on a month's loan to Salford City, with a similar loan stay at Hednesford Town following that. In 2016 he briefly joined Hednesford before a summer 2016 move to AFC Telford United. However, he soon moved on to Warrington Town (Sept. 2016) and then Droylsden (Dec. 2016 to Feb. 2017). At that point he joined Nantwich Town and followed manager Phil Parkinson to Altrincham in summer 2017.

Although his Altrincham appearances in 2017 were more often from the bench than from kick-off, by mid-November 2017 he had participated in more Altrincham games than any other member of the squad and had weighed in with some important goals. 2018-19 also saw him primarily deployed as a substitute and on 1 November it was announced that he had opted to move to FC United in the hope of more consistent game time. Ironically he left Moss Lane whilst top of the chart for goals scored per minutes played in 2018/19 season!

Tom ended the season at FCUM but rejoined Altrincham in late May 2019. Tom has scored a number of important goals in 2019-20 season having won a first-choice place after early appearances as a substitute.

Appearances to end of 2019/20 season: 46(+49), 23 goals.


No. 16

Lewis SALMON (d.o.b. 2 November, 2001)

On 6 November, 2019, Altrincham FC announced the signing on an 18-month contract of nippy forward Lewis Salmon. He had previously spent part of the 2019 pre-season with Altrincham and scored for the club in its pre-season game against its own youth team. He then played against Altrincham in Trafford's pre-season match at Shawe View in 2019. He joined Trafford on dual registration for 2019-20 and had become the leading scorer in their Step 4 league by early November.

After signing his Alty contract in summer 2020, Lewis was announced to be going on play for Stalybridge Celtic in 2020-21 on dual registration forms.

Appearances to end of 2019/20 season: 0.

---

DEPARTED PLAYERS & STAFF - 2020 close season and during 2020-21

See Departed Players/Staff 2020-21

Noel BELL - loanee from Stockport County
Jacob BLYTH
Yusifu CEESAY
Max CLAYTON
Andy DALES
Steven DRENCH
Elliott DURRELL
Dontai GABBIDON
Montel GIBSON - loanee from Grimsby Town
Byron HARRISON
Max HARROP
Harrison HOLGATE - loanee from Fleetwood Town
Jordan HULME
James HOOPER
Craig MAHON
Jamie McDONALD
Joe PIGGOTT
Darren POTTER
Joe ROBBINS -loanee from Crewe Alexandra
Billy SASS-DAVIES -loanee from Crewe Alexandra
Lewis WALTERS
Elliot WYNNE
Yoan ZOUMA -loanee from Barrow

For details of last season's squad (2019/20), visit the 2019/20 Squad Page