---
28 June 2008
SHORT INTERMISSION
The next update of the website will be on Tuesday, 1st July.
COLIN'S FERRARI!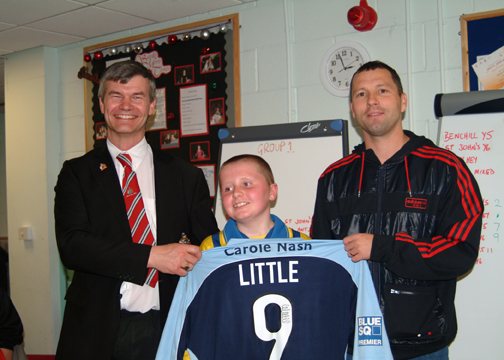 Altrincham FC press release from John Edwards
:
Striker Colin Little and vice-chairman Grahame Rowley (pictured right) presented the trophies at a recent kids' tournament in Wythenshawe - and had little trouble smiling for the camera after an amusing encounter with a star-struck youngster.
Grahame and Colin had just arrived at Benchill Community Centre when the little lad ran up to them for a word. After initially mistaking Grahame for our prolific frontrunner (honestly!), he turned to Colin and said: "You're the footballer, are you, mister? Have you come in your Ferrari?"
Colin had to explain that his part-time earnings weren't quite a match for Wayne Rooney's, even if his scoring feats were last season, before spending an enjoyable couple of hours with Grahame watching the teams do battle.
After helping Grahame distribute the silverware at the end of the Benchill Community Centre tournament, Colin said: "All the players and organisers seemed to appreciate us being there, and it was good to be able to help out. It was a particularly good day for me, because I grew up in the area and it was great to see so many people who remembered me."
BSP NEWS
The
NL Daily
says that "Blue Square South club Bath City's long search for a new striker is set to end with the signing of former Luton Town frontman Stuart Douglas. The 30-year-old spent last season in Blue Square Premier with Weymouth, where he was also the Dorset club's physio... Douglas had attracted interest from two Blue Square Premier clubs after being released by Weymouth boss John Hollins in May".
According to the Burton Mail "Burton Albion are hoping to sign former Liverpool starlet Jon Newby. The 29-year-old striker is available on a free transfer after being released by Morecambe. He has agreed to join the Brewers for pre-season training with a view to signing a one-year deal at the Pirelli Stadium. Albion boss Nigel Clough said: 'Jon is a nicely experienced striker - just the type of player we have been looking for to add to our squad. He is a hard-running type of player who is so well regarded that people we have spoken to are surprised that Morecambe have released him... Hopefully we'll get him sorted and signed as soon as possible'. The proposed deal probably means Clough has cooled on the idea of bringing Jon Shaw back to the Pirelli Stadium. The Brewers boss said earlier this week that the Halifax Town striker was on his list of options ... Clough revealed he had also inquired about Bishop Stortford's Greg Pearson, but the highly-rated striker - currently training with Notts County - is expected to be sold to a Football League club. However, the potential capture of Newby and former Derby County star Lee Morris could give Clough the four-man strikeforce he is looking for after releasing Jake Edwards and losing 28-goal top scorer Daryl Clare... England C striker Shaun Harrad has penned a new deal, while Clough has already secured the services of Jody Banim from relegated Droylsden. Banim and Newby are both Manchester-based, which Clough said was ideal for travelling purposes".
From The Argus "Lewes will be running a reserve team in the same league as Brighton & Hove Albion next season. The Rooks have entered a side into the Pontin's Holiday Combination League where their group opponents will also include the likes of Southampton, Reading, Charlton and Millwall. There was no reserve team at the Dripping Pan last season but new manager Kevin Keehan believes its resurrection warrants the costs involved for a club who are working on a vastly reduced budget in 2008-09. The side will be run by Steve Ibbitson and will use members of the club's successful youth team from last season as well as first team squad players and trialists. Keehan said: 'They stopped having a reserve team and I would agree with why they did that because they could not get the stepping stone right to the first team. I think it is well worth it now. From my point of view I can use this league. If we haven't got a midweek match we could use it as first team practice. We can try players in different positions or bring in trialists. The beauty is you can sign a player half an hour before kick-off so it will help us if we are short or want to experiment. It will be good for the young players. It is one thing being decent in the youth team but if they do well in this league then they will not be far away. Hopefully the fans will get behind the team and maybe come down to watch the reserves, which would also help with the cost involved'... Keehan has no more signings to date but is pleased with the way training is going.He confirmed he had spoken to former Rooks striker Lee Newman, who is staying at Maidenhead, and is currently targeting a big defender".
The Crawley Observer reports that low-budget "Crawley Town have signed goalkeeper Simon Rayner from Torquay Utd. The 6ft 4ins custodian impressed against Reds...at the end of the season. Two mystery goalkeeping trialists will fight it out to get the remaining goalkeeper's contract".
This is Nottingham says that "Notts County have beat off competition from rival League Two clubs to land Matt Hamshaw. The 26-year-old midfielder today became Ian McParland's second signing in two days... Hamshaw has penned a two-year deal with the Magpies, following his release from relegated Mansfield Town at the end of last season".
Meanwhile This is Mansfield states that "Former Notts favourite Mark Stallard, Andy Campbell and Alan O'Hare are three players Paul Holland says he wants at Mansfield Town. But the would-be Stags boss warned the trio may be forced to seek an alternative club if they are not offered deals by the start of next week. Derby-born Stallard, 33, scored 69 goals in 201 games in two spells with the Magpies and was released by Lincoln at the end of last season after two years at Sincil Bank. Fellow front man Campbell, 29, played for Middlesbrough as a youngster in the Premiership... Irishman O'Hare was released by Chesterfield at the end of last season having made more than 150 appearances. The 25-year-old left-back or central defender began his career as a trainee at Bolton. As yet, Holland has been unable to offer any new contracts while takeover negotiations continue".
"Wrexham FC have announced their sixth summer signing this morning. Centre-half Nat Brown, 27, joins the Dragons from league two side Lincoln City" claims The Daily Post.
NW FOOTBALL AWARDS
"After last year's successful debut, the award-winning Northwest Football Awards are back to celebrate the region's sporting prowess. The Awards, which recognise the region's accomplishments, both on and off the pitch, have already secured the support of headline sponsor, Bank of America as well as Grant Thornton, The Football Foundation and Footie Chick.... Last year loyal fans voted in their tens of thousands for the Northwest's top players categories, while an esteemed panel of judges selected the corporate teams which had made the biggest impact behind the scenes. This prestigious panel of sporting experts, including Gordon Taylor, Maurice Watkins and Paul Thorogood will assemble once again to pick the cream of the footballing crop. There will, for the second time, be a Manager of the Year Award and a Lifetime Achievement Award, last year presented to two of the region's best loved footballing heroes, Sir Alex Ferguson and Sir Bobby Charlton respectively , both of whom turned up to collect their trophies. Gordon Taylor, judge and spokesperson for the Northwest Football Awards, commented: 'The Awards give all Northwest clubs, from the Premier League to the Conference League, the opportunity to compete on a level playing field, regardless of financial status and performance on the pitch'... The Awards dinner, which will raise funds for The New Children's Hospital Appeal, a charity for which Everton player Phil Neville and his wife Julie, are patrons, will be held on Monday 17th November 2008 at the Midland Hotel, Manchester.
This year's Awards categories include
Goal of the Year
Community Scheme of the Year
Best Club Marketing Campaign
Most Innovative Non Match-day use of a Football Ground
Player of the Year - Conference
Northwest Footballer of the Year
Northwest Manager of the Year
Lifetime Contribution to Northwest Football

For more information on how to enter the Awards, please visit the website
GREAT EXPECTATIONS
They may not be in the BSP yet, but one Kent club has big ideas... "Ashford manager Steve Lovell has been told that he must win three promotions in four years as the wealthy club owners demand Blue Square Premier football" says This is Kentish Football. The club, currently in Ryman League Division One South, unveiled their ambitious plans to build an £8.5m sports village at The Homelands... And playing the likes of Ebbsfleet United (if the Kent club is still there) in the Blue Square Premier in four years time is the ultimate aim for owners Don Crosbie and Tony Betteridge.'My goal when I got here, 9 months ago, a year ago now, Tony and myself said our minimum goal would be Conference', Mr Crosbie told www.kentishfootball.co.uk.... 'There's not many football clubs that have the land and the facilities that we've got... We have the ability to take the club where ever we want it and Conference is minimum. We've got a five-year plan...on the Conference and that's been in place since nine months ago so the clock's ticking... We've got a computerised watering system on our pitch - whose got that? We've now got a drainage system in place that cost nearly £60,000, again, whose got that?".
---
27 June 2008
ATTACKING OPTIONS
Right: Alex Meechan (no.16) lines up against Altrincham in the 2-2 draw at The New Lawn in September 2006. When FGR beat us 5-0 in January 2006, Alex scored for Rovers.
Before the signing of Alex Meechan was confirmed last night, SAM reported that "Alty are on the verge of wrapping up another signing that will further signal their intent for the coming season" reported . A forward with experience in both the Football League and the Blue Square Premier has agreed terms on a move to Moss Lane and is expected to put pen to paper tonight (Thursday night). He will become the third forward to arrive at the club this summer, adding yet more firepower to an attacking arsenal that looked somewhat tame at times last season. Manager Graham Heathcote has already promised to bring more attractive football to Moss Lane in the coming season and he believes his dealings in the transfer market so far prove he is ready to deliver on that vow. He told SAM Sport: 'There is not going to be much difference in how we will prepare for the new season but we will approach games differently because we have different types of players. I said I wanted to play slightly differently so I have recruited players that will allow us to do that. There are a lot of attacking options that we have taken on board but, at the end of the day, we do still have to make sure we stay tight at the back'".
NO DISRESPECT
The website reports its first sighting of the summer of the "No disrespect" phenomenon applied to Altrincham. It comes on the Droylsden Forum, where former Witton defender Liam Brownhill, who has joined the Bloods in preference to Altrincham writes in his own unaltered words... "i just want to put your minds at piece, i have decided to join droylsden because when i met the manager there ambitions met mine!! i wanted to play for a team that is going to be chasing promotion next season and playing exciting football which suits my style of play!! the people who do no me,will no that i do have ambitions!!people who are saying that this move may be wrong,well only time will tell but for now this is the right move for me!!! i am totally behind my decision to join droylsden and so are my family!! outher intrests where from altrincham,but i spoke with people and had a long thought about it,but they signed a left bk days before i spoke to them,now for me to be carrying my england career on i need to be playing week in week out and i have a better chance at droylsden!! altrincham are a team that is going to struggle next seaon as already proven with no disrespect there and i new that there style of play would not suite the way i play! my srtongest postion is right bk but i was moved to left bk and i gelled there!!".
GRAHAM ON MARCUS
From SAM we learn that "Altrincham manager Graham Heathcote is worried lawsuits taken by players over bad tackles could set a dangerous precedent for the non-league game. His comments come after former Robins' striker Marcus Hallows decided to sue a fellow player for £100,000 over the horrific injury that ended his career. Hallows, 33, suffered a double compound fracture of his leg following a challenge with Ashton United defender Danny White in a game between the two teams at Moss Lane on Saturday March 19, 2005. While en route to hospital, Hallows almost died when his heart stopped and he needed two operations on his injured leg. The club stuck by Hallows following his injury, keeping him on their books at the start of the following season.

Despite attempting to make a comeback, the player was never able to take to the field again and, as a result, has decided to bring a lawsuit for loss of earnings against White and Ashton United... But Heathcote is worried about the possible repercussions on the non-league game, where such lawsuits are not as prevalent as in professional football. He told SAM Sport: 'Lawsuits set a dangerous precedent because I don't believe anyone would ever deliberately go in to a tackle looking to cause someone serious harm. Any mistimed tackle that ends up in injury to a player could become subject of a lawsuit and players will start to think twice about going in for tackles'. The case is expected to go to trial next year and should it be found in Hallows's favour, it could spell the end for Ashton United. Club chairman Dave Aspinall said: 'I don't know what we'd do if they found in his favour because they would look at claiming our assets but we have none to fall back on... there was no booking and neither the ref nor the linesman took any action at the time'".
OLD BOYS
Forest Green Rovers report that "Former Manchester United [and Altrincham] goalkeeper (and European Cup winner) Alex Stepney has made yet another great save, this time for Forest Green Rovers - the legendary stopper has agreed to replace Wilf McGuiness at Rovers' Sporting Dinner this July".

The BSP NEWS Grays Athletic "have secured the services of Simon Downer for the 2008/09 season, Simon will be signing a contract with the club on Saturday. Simon said he was pleased to be back at the club and wants to prove himself to the fans during next season".

"Coming in to Broadhall Way is Luke Cole" reports Stevenage Borough FC. "The young midfield player, who was part of Exeter City's youth set up last season, has joined the club after impressing in a trial match".

York City "have signed former loanee Daniel McBreen to lead their strike force next season. Several weeks of negotiations between the player, City Manager Colin Walker and Chairman Jason McGill were concluded on Wednesday culminating in the striker agreeing terms... McBreen represented City on loan from Scunthorpe last season making five appearances... He was recalled by Scunthorpe at the end of his loan period and subsequently re-loaned to St Johnstone at the end of last season"... Commenting on the capture of McBreen, Colin Walker commented 'He is a big strong Centre Forward who will lead our strike force well next season. He is the final piece in the jigsaw and I now feel that we have a squad of players ready to compete in the Blue Square Premier next season'".

The Crawley Observer says that "Crawley Town have appointed a former Vice President as their new company secretary. The Reds have appointed long term fan Mr Alan Foot (CIMA) who will take up a position alongside the board of directors... Chairman Vic Marley said: 'Alan Foot is a talented man with the highest integrity and we are delighted he has joined us. He has a wealth of experience in business and football. At this time he is also the company secretary to the Southern Football League so we will benefit greatly from his experience in football administration and finance generally'... Alan Foot admitted that he is now able to take up the position at the club after the departure of the previous owners. He said: 'In the past I never felt comfortable enough to take up this position when offered but given the integrity and make up of the new board it made my decision easy. I have a real love for this football club and want to see us in the football league but that is easier said than done... Everything at the football club is being structured properly'".

Does this sound familiar? The Northants Evening Telegraph reports that "Mark Cooper insists Kettering Town will have to accept losing out on players to clubs with bigger budgets after revealing he missed out on one his transfer targets. The Poppies' boss had got to the stage where he was due to meet former Queens Park Rangers midfielder Stefan Bailey – who had looked set to sign a one-year contract with the Blue Square North champions last week. However, the player failed to show and two days later signed a one-year deal with Blue Square Premier rivals Grays Athletic to become their ninth summer signing. And while the situation with 20-year-old Bailey left Cooper frustrated, he conceded it is a problem the Poppies may have to get used to. 'I was due to meet him last Tuesday after we had agreed a one-year deal'," the Kettering manager said. 'He didn't turn up and then signed for a club who were offering him more money. He has gone there for that reason and we can't moan about it. Yes, I am disappointed with the way it was handled. But what has happened is a fact of life and we just have to carry on working hard to try and bring the best players in who are within the budget'. Cooper, however... is confident of landing at least two or three more players before the transfer window slams shut at the end of August. Striker Nathan Smith and midfielder Dwane Lee have already signed while Alfie Potter is expected to complete a season-long loan move from Peterborough United. Cooper added: 'Those people who are panicking should remember we already have around 16 or 17 players here so I am only looking for two or three more. But I don't just want your run-of- the-mill Conference player who always finds a club but, perhaps, doesn't run himself into the ground for the cause. I am searching for something a bit different'".

Meanwhile, This is Nottingham says that "Mansfield Town are refusing to set a date for the completion of the proposed takeover by Dr Colin Hancock... It was set to be formalised on Monday. But nothing concrete has yet been signed - although talks between the two parties are continuing. Chief executive Stephen Booth said: 'We will not be making any further comment until a deal is done. It will be completed as soon as is practicable'. Fans are becoming increasingly frustrated as a manager for next season has yet to be appointed and the club have not been able to begin work on putting together a squad, as they look to bounce back into the Football League at the first attempt. Paul Holland, who took over at the end of last season, still hopes to be in charge... Meanwhile, his hands are tied when it comes to making new signings or negotiating new contracts with Stags' players".

The Chad says that "Paul Holland tomorrow enters the final seven days before pre-season training with just eight players and no guarantee on his own future. The Stags boss is in an impossible situation at Field Mill and said that the club now has to give the green light to bring players in before the weekend, whatever the state of the proposed takeover".

Gary Brabin, new manager at Cambridge, is not a popular man in Southport where the Southport Visiter reports that "Southport FC are a club in turmoil. With less than two weeks to go before their first pre-season friendly, they have no manager and only eight players on their books. Gary Brabin walked out on the Sandgrounders on Monday afternoon to take over at Cambridge United. He is supposed to have been contacted by Cambridge when on holiday last week and, miraculously in such a short space of time, has already appointed Paul Carden as his assistant. His wages will be higher, his playing budget will be higher and Cambridge have higher gates. Everything is sweet for Gary Brabin. Good old Gary. We couldn't get hold of him yesterday (surprise surprise) but in his press conference he said he wanted his players to give 100 per cent, enjoy their football and entertain the fans. Sounds like he was reading from the Visiter back page when Southport first appointed him.

Back at Haig Avenue, the club he has left in the lurch, Southport seem to specialise in jumping out of the frying pan and into the fire. Chairman Charlie Clapham had gambled everything on the club's new 'saviour' and given Brabin his first chance at management... Brabin will be in good company at Cambridge United, whose chairman was still denying any contact with him only hours before Monday's announcement. What a great way to do business... The Visiter could not get hold of Clapham yesterday (not a great day for getting hold of people) but chief executive Haydn Preece was pragmatic... He said: 'How many other clubs have had their manager head-hunted when he's only been in charge for seven matches?'... Preece admitted that the move to full-time football had not worked out as planned. 'We have never benefited from going full-time. The changeover from part-time was probably too much in one swoop rather than a slower evolution. We have a very short time to get it right and need to utilise the opportunity of full-time football effectively... Southport should be on the same stage as Cambridge United'... It is widely thought that one of Brabin's main reasons for leaving was the tight budget, believed to be around £5000 a week. Preece said: 'Brabin knew the wage structure and agreed to it.... We can't rush into an appointment, it has to be someone who can bring success... We just have to get it right this time' ... One disgruntled player yesterday said: 'The only way forward for the club is to loosen the purse strings because at this rate a top-10 finish will be hard to achieve'".b>
---
26 June 2008
ALEX JOINS ROBINS
Altrincham FC have signed striker Alex Meechan who spent the last six months of last season with Stalybridge Celtic where he netted ten times in approximately 30 appearances.

Stalybridge Celtic say that "Alex started as a trainee at Swindon Town, signing professional forms in 1997, aged seventeen. Playing mostly for the reserves, he made one substitute appearance, before signing at Bristol City in 1998. During his two year stint at Bristol, he made sixteen appearances and scored four times. His best period came when he joined Forest Green Rovers in the Conference in November 2000, where he went on to make a hundred and thirty-six appearances and score forty-two goals. A couple of loan spells, one to Yeovil and one two Dagenham before he was released to join Leigh RMI at the start of the 2004/05 season. He was ever-present for Leigh, making fifteen appearances and scoring once before signing for Halifax in November 2004 for the remainder of the season. First team appearances were hard to come by, and he re-signed for Forest Green at the start of the 2005/06 season, making another seventy appearances and scoring a further seven goals. In the January transfer window of 2007 he joined Chester to the end of the season, but did not get a good run in the side, and at the start of the 2007/08 season joined York, scoring once in his seven appearances". The website at Forest Green quotes from "Something to Shout About, The History of Forest Green Rovers AFC" (Tempus Publishing Ltd ) - "Heroes of the new millennium - Steve Perrin, Alex Meechan, Jim Harvey... Another great servant to the Club this decade was Alex Meechan, currently the Club's leading scorer in the Conference and with most appearances as well. Alex always promised much and was a handful going forward, and scored some memorable goals in a Rovers shirt since joining in 2000".
WELCOME, MATT
The Sale & Altrincham Messenger says that "Alty's seemingly neverending search for a natural left back has finally reached a conclusion after they completed the signing of Halifax Town's Matt Doughty. Manager Graham Heathcote has been seeking a left-sided defender since his side returned to the Conference in 2005 and Doughty himself has been a target for two years. But the 26-year-old finally decided to make the trip across the Pennines after the demise of Halifax, filling a huge gap in Alty's squad. 'The important thing is to have a balanced left-footed player in the side and that's what Matt brings us', Heathcote told SAM Sport. 'He can play at full back and on the left side of midfield so he'll be an important signing for us. The only left-footer we've had in the past couple of years has been Warren Peyton. I've been chasing Matt for two years but both times he decided to stay on at Halifax as a full-time player. The situation at Halifax forced a rethink and luckily he decided to sign for us'".
BROWNHILL CHOOSES BLUE SQUARE NORTH
The Droylsden Forum claims as "official news" that Liam Brownhill, the former Witton Albion and England C left-back has opted to join the Blue Square North side rather than Blue Square Premier Altrincham, his home-town club for which he had previously indicated that he would sign.
OLD BOYS
Droylsden also figure largely in recent moves of two ex-Alty players...
According to NL Daily "Striker Matthew Berkeley (right) says he is hoping to help fire Droylsden to Blue Square North title glory following his switch from Workington. The 20-year-old netted eleven times in twenty-seven matches for Reds last term, in his second spell at Borough Park, but he revealed the chance of moving closer to his Manchester home had appealed. Berkeley said: 'Next year Droylsden will be contenders to win it. It's a new challenge. The way they sold the club to me was really interesting, and hopefully I can help them be champions'... He added: 'People at the club [Workington] were so friendly and made me so welcome. I'd never say a bad thing about the club. I enjoyed it there, but it was time to move on'...Berkeley launched his career with Gretna, switching to Borough Park in 2006, playing nine games before being recalled. He later had a brief stint at Blue Square Premier Altrincham, rejoining Reds last term. Workington director Alec Graham said he understood travelling had become an issue for Berkeley" reports the News and Star.
Former Alty defender "Cavell Coo will join the growing clique of former Witton Albion players at Droylsden... The full back has called Witton boss Nigel Deeley to let him know he won't be returning... He joins Jon Kennedy and, probably, Alex Brown at Butchers Arms. "Cavell rang and told me he had made his mind up', said Deeley. 'I have wished him well'. The former Altrincham man, 20, switched to Wincham Park in August upon his release from Moss Lane. A favourite of former boss Jim Vince, he went on to make thirty-eight starts for the club in league and cup" claims This is Cheshire.
And Kyle Wilson who had a loan spell at Altrincham has now joined FC United of Manchester.
YOUTH NEWS
Altrincham FC Youth have a trial match scheduled this Sunday at Blessed Thomas Holford at 2.30pm. They also have a friendly arranged against Congleton Town at the same venue on 27 July.

The youth team plays in the NW Youth Alliance Premier Division. Because of increasing numbers in the League, next season will see two Premier Divisions of ten teams each, with the members being drawn by lot for each of these divisions. In all, 33 teams will be in the League, whether at Premier or First Division level. Amongst the newcomers to the League are New Mills, AFC Liverpool and Stalybridge. The League season starts on Sunday 24th August.
BSP NEWS
Crewe Alexandra "are delighted to announce the signing of Joel Grant on a three-year contract. The winger signed this afternoon after newly promoted Aldershot Town accepted our bid of £130,000. Grant agreed personal terms with the club and... is Crewe Alexandra's second signing of the summer".

The Evening Leader says that "Wrexham FC centre-back Richard Hope has signed a two-year deal with League 2 side Grimsby Town. The 30-year-old spent one season with the Reds at The Racecourse after being released by Shrewsbury... His move to the Mariners is expected to pave the way for more signings" The BBC reports that "Wrexham have signed former Wales Under-21 defender Kyle Critchell on a two-year deal. The one-time Southampton trainee joins fromrivals Weymouth and he is Dragons' boss Brian Little's fifth signing this summer. Critchell had one year remaining on his Weymouth contract but has joined Little's revolution as Wrexham aim to restore their Football League status. The 21-year-old last represented young Wales in 2006 against Turkey". He was the player involved in Gary Scott's sending-off at the Wessex Stadium in April.

"Salisbury City have been dealt a severe blow ahead of pre-season training after goalkeeper Ryan Clarke broke a bone in his foot... after stepping on a rock whilst on holiday. Clarke will be in plaster for two weeks he hopes to be fit for the new season. He said: 'I'll be in the cast for the first week of pre-season training. It'll give me three weeks to get ready for the first game of the season. I went for a dip in the sea and when I came out I went over on a rock in the water... The break wasn't all the way across the bone so that's positive'" reports the BBC who alo tell us that...

"Grays Athletic look to set to sign forward Jeff Goulding and midfielder Barry Cogan, provided the pair come through a medical and a trial. Goulding spent the latter part of last season with Grays after leaving Blues Square South side Fisher. Former Barnet, Millwall and Gillingham player Cogan, 23, also had a spell on loan with the Blue Square Premier club last season. If both players sign it would take boss Mike Woodward's acquisitions to 12".

"Cambridge United's new assistant manager Paul Carden has denied he had signed a pre-contract agreement with rivals Wrexham. The Accrington midfielder was appointed as assistant to Gary Brabin on Monday, but Wrexham claimed he had signed a contract to join them next month. The Welsh side claimed they would report the move to the authorities. Carden told BBC Radio Cambridgeshire: 'I couldn't have signed a pre-contract as I still had a year at Accrington... When an opportunity like this arises, you can't turn things down'. The midfielder apologised to Wrexham manager Brian Little when he decided he wanted to accept Cambridge's offer. 'He was fully understanding of where I was coming from', Carden said... Carden, 29, spent much of last season on loan at the Abbey Stadium from League Two club Accrington, but left after the U's lost the play-off final".

A puzzling tale comes from the Halifax Courier which says that "A High Court action to wind up Halifax Town has been dismissed, administrators revealed last night. A petition by the Inland Revenue against the club has been rejected, said administrators Begbies Traynor. The company, looking after Town since the Shaymen went into administration in March with debts of £2million, did not make it clear what would happen next. But it did say said it was aware a newly formed Halifax club was in talks with the Unibond League to play next season. It suggested the company would remain in administration. The statement said: 'Although it is not possible for a Creditors' Voluntary Agreement to be approved and the Football Conference has expelled the club from its competitions, the administrators are continuing to act in order to try and maximise the realisations from the company's assets'... Yesterday documents and a £5,000 deposit were sent to the Unibond League, paving the way for a Halifax team to compete in Unibond's Division 1 North".

Meanwhile "A fans' group has again urged the [Halifax takeover] consortium to make an announcement on its plans. Yesterday, the businessmen met the deadline set them by the Unibond League and barring a last-minute hitch they will be fielding a team in its division one north next season. The Halifax Town Supporters' Trust is now seeking a clear outline on the future of the new club being formed - and earlier asked for fans to be involved in a decision on the new name, which will need approval from the Football Association. 'We would hope the consortium would now issue a statement. The waiting continues', said a spokesman. He added the long-awaited statement from administrators Begbies Traynor did little to inform fans. The administrators have declined opportunities to directly talk to the Courier".

From This is Mansfield reports that "Jake Buxton is being chased by two League Two clubs - but the Mansfield defender is still weighing up his options. The Stags' club captain last season has not yet rejected the offer of a new deal at Field Mill. But he has made it known he is keen to move on in a bid to avoid dropping into non-league football. If Buxton leaves he would command a fee despite being a free agent because he is under the age of 24, so cannot leave on a Bosman free transfer. Mansfield were initially looking for a figure believed to be in the region of £20,000 for Buxton. But it is understood that Stags are now looking for £5,000 up front and the rest when the former youth product reaches a set number of appearances. Holland insists he is not yet aware of any interest in fellow defender Alex John-Baptiste, transfer listed at his request at the end of last season".

According to the Comet, at Stevenage, "One player has left this week - winger Wayne O'Sullivan has signed for Conference South side Braintree Town on a free transfer".
---
25 June 2008
MARCUS SUES
The Manchester Evening News confirms that "A footballer whose career was ended by a horrific injury is suing the player who tackled him for £100,000. Altrincham striker Marcus Hallows (left), 33, suffered an open fracture of his shin in the tackle by defender Danny White. He almost died when his heart stopped after he was taken to hospital. He had to undergo two operations. Now he is bringing a lawsuit for loss of earnings against Mr White and the team he played for, Ashton United.

Ashton say they are dismayed at the action and believe there is no case to answer. The club could be ruined if the court hearing goes against them... Mr Hallows is claiming loss of earnings based on a career in semi-professional football until the age of 35. The case is expected to go to trial next year... A preliminary hearing at Manchester Civil Justice Centre heard Marcus's injuries had been so severe that he could not continue playing - he has since started a new career as an Elvis impersonator. It is expected that a soccer expert will be called to give evidence about the tackle, in March 2005. There was no video footage of the incident but witness and photographic evidence will be given to the court.

His solicitor Gareth Williams said the key question to be asked was whether there had been a significant risk of causing injury when the tackle was made. Ashton United chairman Dave Aspinall said: 'We simply don't agree that it was a malicious tackle. The person best placed to comment was the referee. There was no booking and neither the ref nor the linesman took any action at the time. In our view it was a collision and it was very unfortunate. Danny White is a real gentleman and not surprisingly most upset about what has happened. He's a hard player but an honest one and we're backing him all the way. This was just a tackle that went bad. It happens sometimes but there was nothing deliberate about it. We'll just have to see what the court makes of it now'.

Mr Hallows, from Harwood, Bolton, was once a Bolton Wanderers reserve team player. He had only been on the pitch a couple of minutes after being brought on as a substitute in the non-league match. His club's physiotherapist said it was the worst injury he had seen. X-rays revealed that both the tibia and fibula bones in his right leg had been fractured".
BSP NEWS
"Wrexham have contacted the footballing authorities after finding out that their first summer signing Paul Carden has apparently signed for a rival club" reports the BBC. "The Dragons announced the signing of former Accrington Stanley player Paul Carden on a two-year deal at the end of May which was due to start on 1 July. But on Monday the 29-year-old midfielder was named as part of the new management team at Cambridge United. Wrexham are now looking at where it stands as a club in regard to the deal. Non-league rivals United unveiled Carden as their new player and assistant manager as part of their new coaching set-up alongside ex-TNS midfielder Gary Brabin. Carden needs no introduction to Us's fans after completing a successful loan spell at the club in the second half of last season making 22 appearances for the club. Just after signing for the north Wales club the player said he opted to play at the Racecourse in order to be near his wife and family as the ground was only 40 minutes from his home.... 'This is obviously disappointing news for both Wrexham FC and our supporters as the player had signed a two-year contract with us to start from 1 July with the full agreement of his parent club', said the club".

Meanwhile, according to the Wrexham Leader "Wrexham FC have signed midfielder Tom Kearney from Halifax Town. The former Everton trainee joins the Reds on two-year deal... Wrexham boss Brian Little had been tracking 27-year-old Kearney for some time, but the deal was held up because of the Shaymen's financial problems. A statement issued by Wrexham said: 'We certainly didn't want to be seen to be cherry-picking Halifax's best players when they still had an opportunity of remaining in the Football Conference, but following their demotion to the Unibond League for financial reasons, it was clear they would be unable to continue with their present staffing levels'. The statement added that dealings with Halifax have been 'very amicable'... He has been at Halifax for two seasons, having previously played for Bradford".

Despite their protestations yesterday at operating on one of the smallest BSP budgets, Crawley have somehow found the money to see off bigger and more local opposition to lure Halifax's Jake Wright - their third signing from the full-time Yorkshire club, 238 miles away. The Crawley Town site reports that "Young Halifax Town defender Jake Wright has completed his move to Crawley Town... Wright was in outstanding form throughout last season and has been subject to a number of offers for his playing services over the last two months. Wrexham, York City and the Reds are all believed to have kept themselves in talks with the player with the boy deciding to join the Broadfield club late last week. Town manager Steve Evans said; 'Jake Wright is a natural defender. More importantly he is a left sided central defender and they are hard to get especially when they come with excellent pace and are very brave. The boy was set for a move to Doncaster Rovers but their quality of player needed has gone up again, with them being promoted to the Championship. Sean O'Driscall rates the lad very highly and there is a manager who's opinion of the players I rate very highly. I did think he would head elsewhere but I asked his mates, Danny Forrest and Lewis Killeen, to get on the case to help persuade him to join us. All the boys are due back next week so there is a lot of preparation work going on. I would expect we will add to the squad this week... We have agreed terms with a goalkeeper and ... I am also due to meet two players for a second time this week and we must obviously have a chance of signing them or they would not be wanting to meet up again... The offers we make will be what we can afford. We cannot compete with the likes of Stevenage, Rushden, Wrexham or Torquay who have big budgets in comparison with 'ourselves but I can tell everyone last seasons champions (Aldershot Town) did not pay the wages that some did and they won the championship in a canter... We have a selected number of trialist for us to take a close look at but as for names... not yet anyway!'".

From the Burton Mail we hear that "Albion boss Nigel Clough is considering making a shock move to bring striker Jon Shaw back to the Pirelli Stadium... [Shaw is] the player he sold to Halifax Town in September... But the Brewers' boss has warned that Halifax's asking price and competition from Football League clubs could prove stumbling blocks... He scored 27 times for the Shaymen last season and won England C caps. Clough said: 'We thought it was the right decision to sell him when we did, but by the same token, we'll try to bring him back if we think it's the right thing to do... We've even seen Stuart Fleetwood go from Forest Green to the Championship (with Charlton) this summer, so it is quite possible that Jon will end up either in League One or Two'. Albion picked up a £10,000 fee for Shaw, who had scored 33 times in 123 appearances after joining them from Wednesday in November, 2004".

According to the Cambridge Evening News "Gary Brabin has vowed to bring League football back to Cambridge United in his first foray into management. Brabin signed a two-year deal yesterday (Monday)... And he brings a familiar face to United fans with him in the shape of former Blackpool team-mate Paul Carden, who had two spells on loan at Cambridge last season, as his player-assistant. Despite being a managerial novice with only a brief caretaker spell at Southport at the end of last term under his belt, Brabin, 37... The former Hull midfielder said: 'People keep going on about the word experience, but you can have someone with experience who has done nothing in the last 10 years. I'm not a loser, I'm a winner. I played for over 20 years, I coached at Everton and I've been an assistant manager for the last five years, so I've got a lot of experience in other fields. I want to be up there competing with the top six sides in the league and looking to get promotion... [At Southport] I was offered a contract, but I wasn't under contract and I had a solid offer of another job as well. When I found out Cambridge were interested I wanted to listen to them and I liked what I heard. It's a big club and I've played here a few times in the past. I couldn't turn down the opportunity... I admire [Carden] as a player and as a person and I trust him 100 per cent... 'First and foremost, I want him to keep doing his bit on the field. He has consistently been the best midfielder at this sort of level for the last eight years'".

Across the city, "Steve Fallon is ready to move Histon a step closer to becoming a full-time club when his players report back for pre-season training this week. The Stutes' boss... wants to up the ante in the pursuit for a place in the play-offs next season by adding extra afternoon training sessions to the regime at least once a week, starting next Thursday ... The Histon manager said: 'Training was one of our main issues last season because we didn't really get to do anything different from when we were in the Conference South. We ended up training on the edge of the pitch most of the time, which is demoralising for the players, so we did well last season... We have had it written into the players' contracts that they will be available through the week to have extra afternoon training'.... They have signed striker Damian Reeves from Farsley Celtic - Fallon is still keen to bring in a central midfielder".

Kent Online conforms that "Ebbsfleet defender Peter Hawkins has signed a new one-year contract... The former Wimbledon and Rushden defender is the 13th Fleet player to sign on for next season. Back-up goalkeeper Sam Mott is close to agreeing a new deal".

The Halifax Courier confirms that "The Unibond League received documents mid-afternoon which should pave the way for a Halifax team to play in division one north next season. League secretary Phil Bradley said the consortium sent the documents, including a £5,000 deposit, by courier. 'At first glance, I do not see any problems', he said... The consortium will also have to seek approval from the Football Association on a new name for the club. Administrators Begbies Traynor also confirmed this afternoon they are about to release a much waited statement clarifying issues surrounding the club".

"Mark Cooper will try to sign Tes Bramble" says the Northants Evening Telegraph "If the striker is able to prove his fitness when Kettering Town return for pre-season training next week. The frontman, who is 28 next month, was released by Stevenage Borough at the end of last season... Bramble – who has enjoyed lengthy spells at Southend United and Stockport County in the past – required knee surgery last November and that kept him out of action for the remainder of the campaign. However, he will link up with the Poppies when they return next ... The Kettering boss said: 'Tes is going to come in to try and prove his fitness. If he can do that, then there is good chance we will take him'".

The Chad says that "Paul Holland tomorrow enters the final seven days before pre-season training with just eight players and no guarantee on his own future. The Stags' boss is in an impossible situation at Field Mill and said that the club now has to give the green light to bring players in before the weekend, whatever the state of the proposed takeover. 'I don't want to come back in for pre-season training on Wednesday with just eight players. It sends out the wrong signals to players already here and makes those very important first few days very hard. Ideally I would like to have an absolutely packed weekend meeting players and sorting contracts. My target would be bringing in at least six or seven new faces by Wednesday. I spoke to all the players I want to bring in again at the start of this week and they are all still very keen... They can't wait forever... If Colin Hancock does take over then I will be straight in to see him... It would seem the deal is very, very close to being done without being finalised'".
---
---
24 June 2008
GEOFF'S MESSAGE
Altrincham FC Chairman Geoff Goodwin has issued the following Personal Message:

Both Suzanne and I were desperately sad to hear that our good friend Jane McGrath lost her long fight against cancer over the weekend. Jane was an incredibly brave lady who, despite being very ill, attended the event at The Cresta Court Hotel organised by Altrincham Football Club last September to raise funds for The McGrath Foundation.

As you know, I got to know the Australian Cricket Team that toured England in 2005 very well and many of them have become good friends of the Football Club. Glenn has done more than most over the last three years to help us and I have been in contact with him to offer not only Suzanne's and my condolences but also those of everyone at Altrincham Football Club.

Despite the very sad recent events, I am still planning to support The McGrath Foundation and there will be a Celebrity Football Match and Dinner in September. The Dinner will include a Questions and Answers session with some very high profile names from the world of cricket and hopefully both of these events will act as a fitting tribute to Jane.
ALTY CRICKET MATCH
Altrincham FC will be playing a cricket match against a Timperley Cricket Club XI on Sunday, July 13th at 2pm. A number of Altrincham FC players and staff will be involved in the game which will be on the Stockport Road grounds of the cricket club.
BSP NEWS
Confirmation of yesterday's piece from the Mansfield Chad comes from the BBC which says that "A Nottingham-based dentist has agreed a deal to buy relegated Football League club Mansfield Town. Colin Hancock, currently the chairman of Unibond League side Glapwell, will take an executive role at Field Mill to ensure the new season gets underway. Dr Hancock and current owner Keith Haslam have signed a document on the heads of terms on the agreement. The deal will see Haslam hand over the football club, the Stags' Field Mill stadium and surrounding land". Hancock is an ex-chairman of Aldershot.

The Chad says that "Stags' chief executive Stephen Booth has refused to reveal when any takeover of the club by Dr Colin Hancock will be completed... He said: 'The position is that a deal has been made between the two parties but it has not been signed, although that should be done today. It is, to my understanding, Dr Hancock who is in position to take over the running of the club... The timetable is not in the public domain and I don't want to comment further'"

The Chad continues, "Keith Haslam is today set to relinquish control at Mansfield Town, ending a 15-year spell at the helm of the club. The Stags' owner has verbally struck a deal to sell to Nottingham-based dentist Dr Colin Hancock... It is not clear if Paul Holland will be given the manager's job... Booth revealed he will stay on at the club in his role in the short-term while the handover takes place... Haslam first gained a majority shareholding in Mansfield in 1993... He was the youngest chairman in the Football League at 34 and vowed to take the club to the Championship".

Bullsnews says that "Peterboro have now put [former Grays Athletic striker] Aaron McLean in the £5million bracket. Speaking to the press, Barry Fry said the club had rejected a £1.5million second offer from Wolves and told them the deal would be struck at £3million plus sell-on - plus £2million when they won promotion to the Premier League because 'if you get Aaron, that's where he'll take you.' Last week the Express and Star reported Wolves had been given a £1.75million asking price".

From the Northants Evening Telegraph we learn that "Curtis Woodhouse has announced he is to quit Rushden & Diamonds at the end of the season to concentrate on his bosing career. Speaking after his first round knockout victory against Wayne Downing last night he said this season would be his last in professional football. Woodhouse extended his unbeaten record to seven fights at the National Indoor Arena in Birmingham ... Woodhouse will now return to pre-season training with Rushden & Diamonds next week... Woodhouse said: 'I've only been in boxing for two minutes and I'm under no illusions that I've still got a lot to learn. But it is no coincidence that my best performance has come in the football close season. Rushden have been brilliant to me in allowing me to pursue both sports but I am only staying in football for one more season so I can support my family. Within 12 months I will be boxing full-time and you will see a startling difference''".

The BBC confirms the surprising news that "Former Southport boss Gary Brabin has been named as the new manager of Cambridge United. The 37-year-old replaces Jimmy Quinn, who left the club earlier this month, on a two-year deal. Brabin is joined by midfielder Paul Carden, 29, who returns to the U's from Accrington to take up the position of assistant manager. Brabin made more than 200 League appearances during his time as a player before retiring in 2004".

Meanwhile, the Southport Visiter confirms that "Rumours and speculation relating to Cambridge United's interest in rookie Port manager Gary Brabin was proven over the weekend, much to the Port board's chagrin. Brabin confirmed to chairman Charlie Clapham belatedly on Sunday morning he had been approached by representatives of Cambridge United while away on a midweek break abroad. Southport officials had not been contacted by either Cambridge or, more worryingly, Brabin before the link hit the national headlines. Brabin's hand had been forced after a blaze of publicity revealed the Port boss as the U's first choice.

Southport FC released a statement which underlined the club's disproval of the way both Cambridge United and Brabin had conducted their affairs. Brabin was not given permission by Southport to talk to Cambridge who had dismissed Jimmy Quinn a week earlier. A Southport insider said: 'It looks like Gary Brabin has jumped ship before the Southport ship has left the dock and before he had recruited a crew. Gary's espionage [????] has, it seems, made his position at Haig Avenue untenable'. Brabin had been given his first management number one role by Southport and had managed the club in just seven matches... This summer, after the club boldly elected to remain full-time, Brabin was given the task of rebuilding the squad... A new manager will have to be in place in rapid time.

From the other end of the saga, the Cambridge Evening News tells us that "United were at the centre of a row last night after allegedly trying to poach Southport boss Gary Brabin... According to the Blue Square North outfit, United have approached the 37-year-old former Blackpool and Hull midfielder about the vacant post without their consent. In a statement released on Sandgrounders' official website yesterday (Sunday, 22 June), the club said it would speak to Brabin, whose only previous managerial experience was a brief spell as No 2 at Welsh Premier League side The New Saints, to discover where his future lies. It said: 'We are now aware for the first time that Cambridge United have seemingly approached Gary Brabin directly. This contact appears to have taken place while Gary Brabin was on holiday abroad this week'...

United chairman Phil Law said, 'I'd always want to do things in the right manner and I know their chairman Charlie Clapham very well, so I'd certainly not want to be accused of doing anything inappropriate. I'll make a couple of phone calls to see what might have prompted this, but I'm sure if there has been any contact, it will have been done in the appropriate way'. Meanwhile, Brabin said: 'I'm still contracted to Southport and I've promised them I'm not going to make any comment. I know Southport are a little bit unhappy with the speculation'".

And the unofficial Cambridge site adds that the "Amberarmy can exclusively reveal that "Cambridge United are chasing the signature of Brighton & Hove Albion legend Gary Hart... Striker Hart, who can also play right back, wing back and right midfield, is nothing short of a legend for the Seagulls... Gary was recently voted as the best bargain buy the League One club have ever made, seeing him make over 300 games, and playing a massive part in three of Albions recent promotions in 2001, 2002 and 2004... Should Cambridge pull off this signing, it could prove a major coup, especially after missing out on Antonio Murray, Charlie MacDonald and the unlikelihood of Clayton Donaldson arriving, especially after a flood of interest from League clubs such as Darlington and Crewe".

The Evening Leader reports that "Brian Little admitted that there are doubts whether or not Paul Carden is a Wrexham player. Midfielder Carden was Reds' boss Little's first summer signing when he was brought in from League Two outfit Accrington Stanley, penning a two-year deal at The Racecourse. But the 29-year-old has been linked with the assistant manager's position at Cambridge United where he spent last season on loan, and he has not responded to Little's telephone calls".

Grays Athletic have completed the signing of ex Dagenham & Redbridge Midfielder, Sam Sloma, Sam started his career at Wimbledon and has played for Hampton & Richmond, Aylesbury, Wingate & Finchley before moving to the USA where he played in the A-League for Milwaukee Wave United. During 2005-06 he was on loan with Thurrock before joining Dagenham & Redbridge, Sam can play left midfield or left defence".

It has been a while since there was any news from Crawley Town but the Sussex club announces that "The newly formed board of directors at Crawley Town Football Club have today confirmed that they have fully endorsed the three year contract given to Manager Steve Evans prior to the new owners taking control. Evans joined the Reds back in May 2007 and steered the team to a mid-table finish in last season's Blue Square Premier... The team also produced highly respectful [i.e. respectable] cup runs in the FA Trophy and Setanta Shield while the manager was also working within a largely reduced budget compared to previous seasons so the season overall was successful... Director Phil Jarman speaking on behalf of his fellow board members said; 'We wanted to re-iterate to Steve Evans how much we value his services.In our opinion he did a remarkable job last season given the circumstances. The fact is he had a reduced budget and he had to manage the points deduction which came at a time which must have devastated the players and himself. On top of that he was instructed to sell his leading goal scorer when Guy Madjo was sold to Shrewsbury Town and of course the team budget was subject to cuts throughout the season. In our opinion he has put together a very decent squad of players on a budget that gets nowhere near at least half the clubs in the Blue Square Premier so that is another piece of good management. He has been told we have to make progress but on a cost effective basis... The board has set the manager a target of a mid-table finish for this season and we are confident he can achieve that. He himself will strive for higher than that but that is the nature of a winner. He is a very passionate man about football but he now knows we expect him to control and channel that appropriately. He is now working for people who portray the highest standards... Over a quarter of a million pounds on outstanding bills have been paid out by the new owners to get this football club on a solid footing but in all fairness there is still such a long way to go'".

The local Crawley Observer adds that "Crawley Town have turned down interest from a mystery club to take on manager Steve Evans... Co-owner Phil Jarman explained: 'We had an approach from another club asking for permission to speak to Steve Evans. We politely said no! I cannot say which club that was'... Blue Square Premier rivals Cambridge Utd are among those clubs known to be looking for a new manager, having sacked a one-time contender for the Reds' job, Jimmy Quinn".

"Ebbsfleet manager Liam Daish has had his transfer kitty boosted by at least £20,000 by the club's supporters" claims Kent Online. "More more than 1,000 people pledged £20 or more online towards his playing budget. The news comes after more than 30,000 MyFootballClub members approved a weekly playing budget of £10,000 for the Ebbsfleet boss. The idea of pledging £20 towards Daish's playing budget was started by a MyFootballClub member, with the money only being made available if 1,000 people did the same. The deadline was set for June 21 with a total of 1,015 people signing up".

According to the Halifax Courier "100 years of history look set to come to en end this afternoon with Halifax Town's liquidation in the High Court, London... Halifax Town fans look set to be following a team playing Unibond Division One North football next season. But their team will effectively be a new club with a new name. It could be the end of July before detailed plans for completing the Shay stadium are finally agreed. But Calderdale Council says it remains committed to spending £2.7 million on the superstructure, changing rooms, roof, seats and the external walls of the East Stand, increasing the total capacity to 11,500.

The Shay Stadium Trust has still to decide whether it can afford further enhancements, including executive boxes and bars. The Council's regeneration and development director Ian Thompson said: 'The recent problems facing Halifax Town Football Club have not impacted on our commitment to get on with this... We now expect work to begin later in the summer. Although the club appears to have dropped three levels into the Unibond League North, we want and expect them to continue playing at the Shay'. Work on the East Stand ground to a halt in October 2001 but in April last year councillors agreed to spend up to £2.7 million on completing it. They intend to recoup the money by making other areas of the complex available for commercial development".

From This is Weymouth we learn that "Weymouth have ended their interest in former Middlesbrough striker Andy Campbell. The Halifax Town hitman had a medical at the Wessex Stadium last week but negotiations broke down over the weekend and now the Terras are moving on to other targets. Campbell has also been heavily linked with a switch to fellow Blue Square Premier side Mansfield Town, who now appear to be in the box seat to land the 29-year-old after the club was taken over by a new owner yesterday".

The Daily Post says that "Wrexham boss Brian Little, who is hoping to add to his four summer signings this week, admits it could be next month before there are any departures from the Racecourse. The Dragons boss has already recruited Paul Carden, Jefferson Louis, Simon Brown and Shaun Whalley... He will be hoping that as many as five contracted players deemed surplus to requirements find themselves new clubs before the new season gets under way in August. As things stand Anthony Williams, Richard Hope, Michael Proctor, Chris Llewellyn and Silvio Spann, who have all been told they can seek pastures new, are due to return for the start of pre-season training on Friday".
---
23 June 2008
JANE McGRATH
There is very sad news from the BBC which reports that "Jane McGrath, wife of former Australian fast bowler Glenn McGrath, has died after a long battle with breast cancer. England-born Jane, 42, died peacefully at her Sydney home with her husband and two children, James and Holly, by her side, Cricket Australia announced... The McGraths started a Foundation to raise money for breast cancer research. They were recognised for their charity work earlier this year when they were appointed as Members of the Order of Australia. Jane was first diagnosed with breast cancer in 1997, then bone cancer in 2003, but made a full recovery on both occasions. She was diagnosed for the third time in 2006, prompting McGrath to take eight months off cricket to care for her and their two young children. He returned to the team later that year to help Australia regain the Ashes from England, before suddenly announcing he was retiring despite still being at the top of his game". In September 2007 Glenn led a football team in a charity game at Moss Lane, Altrincham against an All Stars team. Altrincham FC chairman Geoff Goodwin had earlier forged a friendship with Glenn and other members of the touring Australian cricket team which led to the charity football match taking place in aid of the McGrath Foundation. The condolences of everyone at Altrincham FC go to Glenn and his children at this time of their loss. Glenn is seen, right, at the end of the game at Moss Lane.
CHARITY MATCH
Once again an Altrincham FC XI will be taking on East Levenshulme FC in a charity match this summer. This time the game will be on Sunday, 10th August, the day after the BSP season starts, at 1pm at Slade Lane, Levenshulme. Altrincham FC chairman Geoff Goodwin and vice-chairman Grahame Rowley are expected to play, as is Neil Faulkner, a regular sponsor of Altrincham FC. More details on this to follow...
GED PREPARES
At Trafford FC, whom we play at Shawe View on Thursday 17th July in a pre-season friendly, manager and former Alty midfielder Ged Kielty writes, "The players commence pre season training on 3rd July to get themselves in shape for the season ahead. They all look after themselves in mid season as they have a keen interest in sport/fitness in general, so they shouldn't find the sessions a problem. Hopefully we will welcome back some players who struggled to feature as much as we would have liked last year due to injury, players like Wes Wilkinson, [ex-Alty] Kev Elvin, Sean Smith [ex-Alty] and of course Max Kisseh. They'll be like four quality signings and there will also be a Trafford favourite returning who should excite you. I'll leave you guessing! Games have been arranged which will provide stern tests for us and I hope that you come along and show your support".
BSP NEWS
Jimmy Quinn, who left Cambridge United last week has some interesting comments on the background to his surprising departure in the NL Paper. He "was enjoying a family holiday in Portugal when he took the call from United chairman Philip Law telling him his services were no longer required... Quinn had been planning to relocate his family from their Cheshire home". He said, "The board weren't particularly happy with me and I wasn't particularly happy with them. We didn't see things in the same way and they led me up the garden path a bit saying that they want me to do this, that and the other, and then they rang me on holiday saying I haven't got a job any more, which isn't nice... As far as I can ee, I 've been the best manager there for ten years. Obviously they've got their reasons. I know what they are but the timing isn't right to tell people what it is because...I wouldn't want to hinder a new manager going in'".

Both of the Sunday non-league newspapers have features on the "Top 50 non-league managers". In the NL Paper, the approach is statistical. Based on points gained per game, Wrexham's Brian Little is top as he had one successful season in the Conference with Darlington. Needless to say Alty's boss Graham Heathcote, who has had to compete with a much smaller budget than virtually everyone else, is low down in the various tables though Alty do come out well for entertainment being mid-table for "Total goals per game" under his managership with an average of 2.75. In terms of games in charge, Graham is now the sixth in seniority but three of those ahead of him in experience have changed clubs in the last couple of years (i.e. Jim Harvey, Garry Hill and Graham Westley), so Graham is only beaten by Nigel Clough and Liam Daish for Conference games as a manager with his current club.

NL Today takes a different approach, selecting its own Top 50 ranking and including some odd choices. After selecting Steve Fallon of Histon as no.1, it places Lewes's ex-boss Steve King second followed by Aldershot's Gary Waddock. Amongst the curious choices are John Reed (no.37) who was sacked at Stalybridge last year and then failed to get promotion at Buxton.

From Mansfield's Chad we learn that "Glapwell-born dentist Dr Colin Hancock revealed on Saturday night that controversial Mansfield Town owner Keith Haslam has agreed to sell the club to him... Dr Hancock - who took over as chairman of non league football club Glapwell last year with ambitions to lead the club into the Unibond League - told Chad.co.uk late on Saturday night that the deal involved the purchase of the club and Field Mill. He will join the club immediately as an executive director ahead of an official handover - but would not disclose details of the figures involved... He stressed he would not have been prepared to have gone public in such a manner if he felt a deal was not on the cards... 'I was literally pulling into the car park here (at the Civic Centre) when I got the call from Keith',he told Chad.co.uk. 'I'm going to go in straight away because the place needs tidying up'.

Dr Hancock first shot to prominence earlier this year when he rang into a BBC Radio Nottingham football phone in to reveal he had funds in place financially back Notts County... Then it emerged that he was pursuing a possible buyout offer at Field Mill. [He said,] 'When I could not go any further with Notts, the logical thing to do seemed to be to look closer to where I was born and to Mansfield, which also needs help'. The Hancock deal brings to an end a controversial 15-year stint at the helm for Haslam, who has been the subject of fans anger for several seasons. It also looks to have extinguished the hopes of eccentric entrepreneur John Batchelor's hopes of buying the Stags, while there has also been speculation of a bid being made a group of Mansfield businessman".

Meanwhile "Supporters' group Stags Fan United has given a cautious welcome to news that Mansfield Town could soon be in the hands of a new owner... An SFU spokesman told Chad.co.uk on Sunday: 'We are cautiously welcoming the announcement made yesterday. However, we have been here not just once before, but many times before. Agreeing a sale and actually going through with the sale are two completely different things. Until we get Keith Haslam's signature on a piece of paper we won't be jumping for joy just yet'... So far, Chad.co.uk has been unable to get a comment from Mr Haslam to confirm the news".
---
22 June 2008
PAINTING THE TOWN RED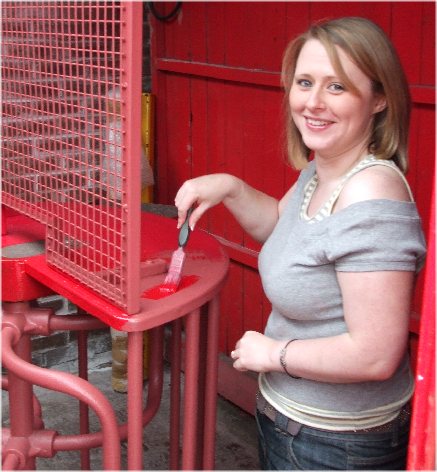 Lisa Jones (right) has recently been appointed as Altrincham FC's Commecial Executive but, although her job description did not include painting the turnstiles, that is what she was doing yesterday along with other volunteers at Moss Lane on the latest pre-season "Working Day" at the ground. There will be another chance for any volunteers to come along and help to spruce up the ground next Saturday from 10am; please do come along if you possibly can.
PRESS AND MEDIA OFFICERS APPOINTED
Altrincham Football Club is pleased to announce the appointment of John Edwards and Brian Flynn as Press and Media Officers.

John has supported the Robins since the 1960s and hails from Brooklands in Sale. He is a sports writer with the Daily Mail, primarily covering Liverpool and Everton and lives in Ripponden in West Yorkshire.

Brian Flynn has been an avid Altrincham fan since 1972 and, for the last 20 years, has kept supporters updated with match reports and interviews on Altrincham ClubCall as well as covering games on Radio Manchester.

John and Brian will utilise their excellent contacts to work together to promote Altrincham Football Club positively within both local and national media.
OLD BOYS
WInger Carlos Roca, who was with Altrincham at the end of last season but was only ever used as a substitute, has now joined FC United of Manchester.

The Birmingham Mail reports that "Blue Square North club Solihull Moors have snapped up former England semi-professional international Jake Sedgemore. Previously with Blue Square Premier side Altrincham, the central midfielder has also featured for Kidderminster Harriers, Shrewsbury Town and Bury. Moors' chairman Nigel Collins said: 'We're looking at Jake as a major signing. He wanted to leave full-time football and concentrate on business interests'".
BSP NEWS
The Halifax Courier confirms that "Matt Doughty has joined Altrincham - the side that benefited from Halifax Town's demotion from the Blue Square Premier. The defender made more than 130 appearances for the Shaymen, including the play-off final at Leicester a couple of years ago. Ryan Toulson has signed for Blue Square North Harrogate Town. The youngster spent the second half of last season on loan at Altrincham who escaped the drop when the Shaymen were relegated. Striker Andy Campbell is being courted by Weymouth and Mansfield Town. The Terras are keen to obtain his services, but the Stags may win the race to sign the north-east based frontman. Duo Danny Forrest and Lewis Killeen joined Crawley last month as the Shay squad breaks up following their plunge down the pyramid to Unibond League Division One North".

NL Daily tells us that "Newcastle Blue Star have made their seventh summer signing... Director of football Bob Morton has snapped up Darren Craddock, who has played in the Blue Square Premier with York City for the last two seasons... The Kingston Park outfit have already lined up [ex-Vics' striker] Paul Brayson... from Gateshead" states the Chronicle Live.

"In a surprise move announced by manager Jim Harvey, which suggests that on occasions those in charge have second thoughts about their decisions, it is announced that 21-year-old central defender Mark Preece has re-signed for Forest Green Rovers on a one-year contract. Many supporters were surprised that the ex-Bristol Rovers player had been released and thought he had done enough to earn himself another contract" says NL Daily.

According to the Daily Post "Wrexham boss Brian Little is still trying to bring in a player in each position – and hopes to unveil his next new signing on Monday. The Dragons' manager says he already has a side which will be competitive in the Blue Square Premier next season, but wants to create as much competition for places as possible to drive their promotion bid. And Little hopes a fifth signing of the summer will be arriving at the Racecourse early next week... 'I'm very keen to try and build my own team – although I've said before the players who played last season are certainly capable of playing this level. What I'm trying to do is create competition within the club, and my plan is to hopefully help people further their careers. By August we'll have done a lot of work together and hopefully we'll have a group of players with whom I can see us being successful – but I would like to bring in one or two more players."
---
21 June 2008
COME ALONG!
Today (Saturday) from 10am there is another Working Day at Moss Lane where volunteers are invited to come along and help to prepare the ground for the new stadium. All help is very welcome.
SEE THE FRIENDLIES FOR NOTHING
As usual if you buy an Altrincham FC season ticket, you get to see the pre-season friendlies for nothing. That alone could save you £28 as entry for the pre-season games at Moss Lane at the turnstile will be £7 for adults and £2 for under-14s and OAPs.

Don't forget that you can get a £10 discount on most categories of Altrincham FC season ticket if you order one before the end of June. So if you are an adult, you can see 23 league matches for just £199; that is just £8.65 for each league game - and you get free entry to the pre-season home friendlies too!

The prices (before the £10 discount) for tickets in 2008-09 are:

Turnstile Prices
Standing - Adults £12; Concessionaries £7
Seating - Adults £14; Concessionaries £8
Aged 12 to 16 seated or standing - £5
Under 12s seated or standing - £2

Season Ticket Prices
Standing - Adults £209; Concessionaries £99
Seating - Adults £249; Concessionaries £109

The £10 discount will apply to the above categories (only) if bought before the end of June.
Aged 12 to 16 seated or standing - £50
Under 12s seated or standing - £25
OLD BOYS
This is Staffs reports that "Good news for Blues [Leek Town] is the signing of midfielder Stuart Scheuber from Stone Dominoes. It is the second time Scheuber has made such a move. He joined Leek from Dominoes in the early part of his career, only for injury to prevent him realising his potential".

The BBC report that "Harrogate Town have signed utility player Ryan Toulson from former Blue Square Premier side Halifax Town. The 22-year-old played 39 games for the Shaymen before joining Altrincham on loan for the last four months of last season, where he made 13 appearances". .
CHESHIRE NEWS
"The Football League has placed a transfer embargo on Chester City for failing to pay some players' wages" reports the BBC. "The Professional Footballer's Association confirmed on Friday that the restriction on signing new players had been placed on the club. The PFA website states: 'The PFA has given financial assistance to the club to assist with players' wages. The majority of the players at the club have not received any payment for two months, or more'. It continued: 'The PFA have advised the Football League of the monies outstanding, and the Football League has placed an embargo upon the transfer of any registration by the club until the payments due to the current playing staff are made'...The club were unavailable to make any comment".
BSP NEWS
As if they were not in enough trouble behind the scenes already, "Mansfield have been ordered by a Court to pay a football agent £8,000 over the handling of former striker Richie Barker" reports Bullsnews. the same source tells us that "Peterboro have told Wolves they want £1.75million for Aaron McLean [the former Grays player]. Watford and Sheff Utd are also allegedly interested". Meanwhile This is Mansfield Town asserts that "Notts County target Matt Hamshaw will decide his future over the weekend. The 26-year-old midfielder has held talks with Notts County boss Ian McParland this week and he has also spoken to two other clubs, following his release from relegated Mansfield Town at the end of last season - with League Two clubs Rotherham United and Lincoln City heavily linked with a move for him. Hamshaw says he will take his time to make the best decision for his career, and his family - and insists it will not be about money. He said: 'I went to Notts and spoke to them the other day, and I've come away and have to decide what the best option is for me and my family now. I have got a couple of other offers, so I don't want to rush into any decision I might regret. I would like to think everybody understands that because it is a big decision for me. I have rushed into decisions in the past in my career and I don't want to do it again. It's not about holding out for the most money. It's about making the best footballing choice for my career'".

Blue Square Football says that "With just 50 days until the start of the Blue Square season, the team from Sports 360 are working up and down the country on behalf of league sponsors Blue Square. They are travelling through county after county in the specially branded Blue Square van - making sure things are in place at all of the grounds in the three Blue Square divisions. There are advertising and welcome boards to remove from teams as fortunate as Aldershot and Exeter who have graced the Blue Square Premier to find a place in the football league, and the equally fortunate sides who will get their first and hopefully happy taste of non-league action next year at Mansfield and Wrexham. There are also a number of promoted and relegated teams that are switching divisions within the league and need new welcome boards. Lewes and Eastbourne Borough will be welcoming visitors to Blue Square Premier football rather than Blue Square South football to name just two.

The van will take two weeks to complete a journey taking in 25 stadiums along the way and travelling over 10,000 miles - the team consists of Jason Whalley, Glenn Bowman and Anthony Parkinson. Anthony is also a linesman in the Blue Square North division, so this will be a busman's holiday with a difference!!! Any fans that see them on route can stop them (providing it's safe!!!) to claim some Blue Square merchandise. Starting on Monday 23rd June - their route is as follows - Halifax, Farsley, Droylsden, Leigh, Barrow, Stafford, Worcester, Bath, Exeter, Eastbourne, Lewes, Basingstoke, Aldershot, Chelmsford, Wimbledon, Stevenage, Cambridge, Kings Lynn, Kettering, Boston, Mansfield, Nuneaton, Wrexham and Fleetwood"

At Ebbsfleet United "Liam Daish has secured a season-long loan of central defender Darius Charles after a deal was this week agreed with Brentford. The 20-year-old will already be familiar to Fleet fans having impressed during a loan spell at the tail-end of last season when he featured in nine games... He can play as a central defender, left-back and also on the left of midfield. Daish's second signing of the day confirms the rumours that have been doing the rounds in recent weeks as former Gillingham midfielder Craig Stone joins on a one-year contract. He is a local player who came through Gillingham's youth ranks having joined at age 10 and broke into the first team at the age of 16 under then-manager Andy Hessenthaler in November 2005, Craig spent part of 2007-08 on loan at Brentford, making six appearances, and appeared for Gillingham 15 times in all. The six-foot midfielder... was released in May 2008. Playing mainly in the centre of midfield, Liam Daish clearly thinks the strong, combative Craig, 19, can fill the gap left by Michael Bostwick's move to Stevenage".

"Bristol Rovers have agreed to loan James Fraser to Lewes. The deal is for one month, with the Rooks having a view to possibly extending the loan period to a total of three months" confirms the Sussex Express. "Fraser is an ex-Brighton & Hove Albion schoolboy and is the brother of Albion's Tommy Fraser...Lewes boss Kevin Keehan said, 'They are really pleased with him at Bristol Rovers but they'd like him to have a little bit of experience of Conference football before he goes back and tries to break into the Rovers' first team'. Work commitments are hampering Richard Carpenter's decision to join the club. The ex-Albion man has just started a new job and working hours are currently making it difficult for him to commit to playing for anybody next season. Another Keehan target, Scott Taylor, is holding out for a full-time contract. It is believed Oxford United have made an offer for Taylor, who has a good pedigree at Blackpool and Plymouth Argyle before his leg break at Grays Athletic last season".

This is Weymouth says that "Weymouth have done everything they can to persuade ex-Premier League striker Andy Campbell to move to the Wessex Stadium according to assistant manager Alan Lewer. The former Middlesbrough man underwent a medical on Monday but the move remains on a knife-edge due to interest from other clubs including fellow Blue Square Premier side Mansfield Town. Campbell initially told Terras' officials that he would make his mind up by today but he has now put that deadline back by 24 hours. Lewer said: 'He wants until tomorrow. Mansfield have also come in for him and that is fair enough. A player of his quality is always going to attract interest from other teams and we have no problem with that... We have sold the club properly to him and it is now down to location. His wife has got a good job up north and it would mean her coming down on the weekends and that is what they want time to talk about'... Lewer added: 'Andy has got goals in him. He was not sold for one million pounds for nothing and there is no doubt that he would be a great addition'. Weymouth have also held talks with a goalkeeper. Lewer said: 'He wants the weekend to think about it'"; rumours suggest this is Halifax's Craig Mawson.

"Wrexham boss Brian Little says he is assembling a fearsome frontline that can fire the Dragons back into the Football League. And the Racecourse manager says letting winger Matty Done go to Hereford might be the best bit of business he's done. Little signed 20-year-old forward Shaun Whalley on Wednesday, the fourth signing made this summer by the Dragons boss. Little has already brought in strikers Jefferson Louis and Simon Brown, and midfielder Paul Carden... Done's departure will free up cash in Little's wage budget for more players... And while the Dragons have lost Done's pace and trickery down the left flank, Little believes Whalley and 24-year-old Brown can combine to create a new-look front line that will strike fear into the Blue Square Premier's defenders" claims the Daily Post. "Little said of Whalley: 'He's got pace, he's very attacking and his signing is something that certainly doesn't leave us with a gap after Matty leaving. It might eventually prove that we've got the better end of the bargain... We've not had that pace in the front line for a while but Simon Brown and Shaun are both that type of player'. After releasing 10 players and transfer-listing five... Little plans to continue his squad overhaul by creating a whole new team for the new season's promotion bid. And he is targeting more signings.... 'My aim is to try and make us a completely different team – but including some of the current players, of course' he said".
---
20 June 2008
MATT JOINS ALTY
Altrincham have signed former Halifax Town left-sided defender/midfielder Matt Doughty. Matt had joined the Shaymen in July 2004 from Rochdale. He had previously also played for Chester City whom he signed professionally when just 16. Born on 2nd November 1981 in Warrington, Matt was aregular for Chester for two seasons (1999-2001) making 53(+17) League/Conference appearances for them. In 2001 he moved to Rochdale as a left back and had a trial with Southampton, but a broken leg halted the prospects of a move to Hampshire. At Rochdale he made 93(+12) appearances in the League. Another broken leg hampered the 5ft 8inch defender's career at The Shay but he still managed 119(+12) league appearances for the club.
GETTING FIT
The Sale & Altrincham Messenger quotes manager Graham Heathcote on the first voluntary pre-season training session for players which took place last Saturday. "The session was basically fitness, just a chance to blow off the cobwebs and see where the lads are. A lot of them are still on holiday so we're not able to start proper session training yet but I was impressed with the fitness of those who turned up. It's important that we reach peak fitness for the start of the season. Whatever we did last season was on the right lines so we need to repeat that at least and even look to build on it" said Graham. SAM confirms that "A three-day retreat to Mottram Hall is already booked in for the first weekend in July. The trip will act as a team-building exercise but will also give Heathcote a chance to really put his players to the test... Heathcote [has] missed out on a centre-forward target, who has decided to stay with his current club, while centre-half Colin Murdock has decided to join Accrington Stanley. The club is still hoping to wrap up the signings of two left-sided defenders and are in talks with a host of other players".
OLD BOY
Former Altrincham midfielder Ged Kielty was awarded the First Division Manager of the Year award at the NW Counties League AGM in Chester last Saturday. Ged's Trafford team will now face Halifax Town amongst other clubs in the UniBond Division One North next season.
CHESHIRE NEWS
The Northwich Guardian informs us that "Graham Edgeley has resigned as Witton's secretary.... 'What has happened at Witton since the middle of April has been disgraceful', he said yesterday, Wednesday. 'Trust is something that will never belong in football again'. The club have lost a chairman, manager and a host of their best players since the end of the campaign, ex-boss Vince resigning twice in an acrimonious departure... In a statement released by the Wincham Park club yesterday morning, Edgeley was blamed for an administrative error that has led to Liam Brownhill's contract being torn up by the FA. But he later pointed out to the Guardian that he was on holiday when the player's paperwork was due to be completed last month in the days after Albion's play off semi final defeat against Buxton. 'As football secretary Graham Edgeley has accepted responsibility, but the board backs him fully', said acting chairman Mark Harris".
BSP NEWS
"Newport County midfielder Lee Fowler has bid farewell to the club to join Forest Green Rovers" says Blue Square Football. "The Wales Under-21 international enjoyed spells with Coventry City, Scarborough and Burton before joining the Blue Square South side in March 2007. However, Fowler made his name at League One club Huddersfield after notching up sixty-three appearances... County boss Dean Holdsworth told Non League Daily: 'Lee understands Newport County's desire to have him as part of the squad. However, Lee has been offered the opportunity of full-time football and the chance to fulfil his desire to progress in to the Football League - and we cannot or would not stand in his way'".

"York City manager Colin Walker has completed his fifth signing of the summer by securing the services of midfielder Niall Henderson. Henderson was released by Scottish Second Division side Raith after one season in which he accumulated just 14 league appearances. The 20-year-old started his career with Gretna and played in their Scottish Cup final defeat by Hearts in 2006. The former Northern Ireland Under-19 international was loaned out to Scottish Third Division club Dumbarton where he scored one goal in 16 appearances" says Blue Square Football

Meanwhile "Stockport County have announced the signing of defender Johnny Mullins on a two-year deal from Mansfield. Mullins joined the Stags in 2006, making 97 appearances and scoring four goals. The two clubs have agreed to a compensation fee as the versatile footballer is under the age of 24".

According to NL Daily "Grays Athletic have signed former Queens Park Rangers midfielder Stefan Bailey on a year-long contract. The 20-year-old was released by Rangers at the end of last season after making eighteen appearances in three years. Bailey played four games on loan with Grays' league rivals Oxford United last season".

"Eastbourne Borough have released midfielder Robbie Kember. Kember joined Borough from Tonbridge Angels in March and made six appearances but was not offered a new contract following promotion to Blue Square Premier", reports the Argus.

From Kent Online we learn that "Any approach for Ebbsfleet manager Liam Daish would be put to the club's 30,000 members. That's the view of chairman John Moules after Daish and assistant Alan Kimble were linked with rivals Cambridge. United sacked boss Jimmy Quinn... Mr Moules said: 'The people who have the final say are the members. If we're approached as a club we will seek the views of the members. We have had no contact or approach from Cambridge United whatsoever. We've also had no indication from Liam or Alan that they have been approached'".

"Former Gillingham midfielder Craig Stone could be on his way to Ebbsfleet. The 19-year-old was released by Gills manager Mark Stimson at the end of last season, and admitted he has held talks with the Fleet. Stone said: 'They're a club that has shown a bit of interest in me. I was born in Gravesend and spent a lot of my time there'... Stone added: 'I was very impressed with them and he seemed like a good manager. He wants to be in the league next season and to be pushing on. I know a few of the players there and it is a good set-up... but nothing is concrete'".

From Mansfield, The Chad tells us that "With pre-season training now less than two weeks away, Stags boss Paul Holland has submitted the names of the players he wants to bring in to the club. But, although the Stags hierarchy are pleased with who has lined up and the budget he wants, there will be no movement until the club takeover is sorted out... 'This was the first time I had actually told them the names of the players I want to bring in and they were pleased with the work I have been doing behind the scenes', he said. "But they said I still have to wait for an okay before I can actually go ahead and do anything. I have spoken to the players involved and they are all positive about coming here and are still very interested. We have spoken figures with therm and we are not a million miles away. They are all experienced players who I think can help to get us back out of this league straight away... I have spoken to Mickey Boulding and he is still waiting to see if I will be here as manager next season. I spoke to Stephen Dawson and Gareth Jelleyman again yesterday and neither of them have yet signed elsewhere though Dawson has a couple of clubs interested in him'".

"Oxford United's hopes of a huge cash windfall have been dealt a blow - after Dean Whitehead vowed to stay at Sunderland" says the Oxford Mail. "The midfielder, who has spent the last four seasons at the Stadium of Light after leaving United, has been linked with a £3m move to Stoke. And because of the 25 per cent sell-on clause negotiated by the tribunal following Whitehead's sale, United were licking their lips at a possible £750,000 bonus. However, the ex-Abingdon-based star wants to stay with Sunderland. 'It's exciting times for the club and I want to be a part of it', he said".

From The Comet we read that "Stevenage Boro are close to agreeing the capture of their sixth striker this summer. Kettering's Craig Westcarr agreed to join the Graham Westley revolution last month but deadlock ensued after the clubs could not agree on a price. But Boro chief executive Bob Makin said this week: 'We're still negotiating with Kettering and I would hope we're close to sealing the deal. As well as Craig, we're still talking to other players as we will always do if we feel they can improve the squad'. Westcarr is a former England youth international who, aged 16, became the youngster player ever to make his debut for Nottingham Forest. He can play in a variety of positions including striker, link player and wide right".
---
19 June 2008
BEHIND THE SCENES CHANGES
There have been two changes to the Board of Altrincham FC. Carole Hassan (right), who joined the Board in summer 2006 has left due to work commitments. But Paul Daine, of Premium Collections Ltd and a frequent match sponsor at Moss Lane, has joined as a director. The Club would like to thank Carole for her services over the past two years and wishes her well for the future.

Meanwhile, Barry Pond continues as the Club's Commercial Director but the Club now welcomes Lisa Jones who has been appointed to assist Barry as the Club's Commercial Executive.
CHESHIRE NEWS
From the Mid-Cheshire Chronicle we learn that "Nigel Deeley has started to reconstruct Witton Albion after being hit by further departures. Winger Mark Peers has been sold to Fleetwood Town, Alex Brown has switched to Droylsden and his former midfield partner Rob Lloyd is taking a year off to further his accountancy career. But Deeley has appointed an assistant manager and signed a goalkeeper and a right back. What's more, Tony Barras, Brian Pritchard and [former Alty man] Rod Thornley have accepted terms". Deeley's assistant is now "48-year-old former Leigh RMI manager Andy Nelson".
BSP NEWS
"Striker Lee McEvilly has signed for Cambridge United on a two-year deal. The striker spent the second half of last season on loan with the U's and made 15 starts and two substitute appearances".

Chris Zebroski, who spent last season on loan at Torquay United "is the subject of a bid from Wycombe" according to the ever reliable Bullsnews. "The out of contract Millwall man has been offered a new deal at the New Den but is expected to leave after a less than happy time at the club". The same source informs us that "Scunthorpe have been told by Chesterfield that Jamie Ward is not for sale. The want-away former Torquay and Villa man still has 12 months left on his current deal. The Irons have also ended their interest in Mansfield striker Michael Boulding". Meanwhile our old Conference rivals "Morecambe have delayed their new stadium by 12 months after delays at the planning stage. They intend to be in their new home by the 2010/11 season".

"Scott Tynan is heading for a showdown with manager Dino Maamria after allegedly using the Facebook website to announce he wants to leave Northwich Vics", the Mid-Cheshire Chronicle claims. "The England C goalkeeper, whose arrival from Rushden and Diamonds was a major reason behind Vics' survival last season, says he wants an improved deal... Tynan says Vics now want him to be full-time and should give him more money. Maamria recently signed goalkeeper Mike Jones, from Wrexham, to challenge Tynan, whose behaviour will be seen as extraordinary by club officials.

Club owner Jim Rushe may consider opening Vics up to investment from supporters. But he was cryptic in his response to being asked about his intentions. The Vics' Supporters' Trust annual meeting is at the Floatel on Tuesday (7.45pm) and Rushe will attend. Chairman Peter Grimes said: 'The discussion will include how the Trust might buy shares in the football club'. Rushe, though, said: 'I don't know what's on the agenda. We'll talk to anyone. I haven't got plans to issue shares, but then I haven't got plans not to issue shares either. We will think about it. What matters is what is in the best interests of Northwich Vics and if the Supporters' Trust can play a part then that's good'".

In Wales, the Evening Leader says that "Wrexham have signed attacking midfielder Shaun Whalley. The former Accrington Stanley player becomes the fourth new signing for Brian Little, who has already signed two strikers - Simon Brown and Jefferson Louis - and midfielder Paul Carden. Shaun Whalley, 20, who made his Football League debut in 2004 for Chester City, was one of 11 players released by Accrington at the end of the season. He has also turned out for Mansfield and non-league outfits Runcorn and Whitton Albion".

According to This is York "York City will reject an ambitious bid for striker Richard Brodie from Blue Square North new boys Gateshead. Brodie has already been the subject of one enquiry from his home-town club and the International Stadium outfit are in the process of making a second offer. Gateshead are prepared to shell out a four-figure sum for the 20-year-old frontman and double the amount should they gain promotion to the Blue Square Premier next season. But City's communications and community director Sophie McGill has confirmed that the KitKat Crescent club would not be entertaining any further interest from the UniBond League Premier Division play-off winners. She said: 'We received a call from Gateshead enquiring about Richard Brodie, but we stated we were not interested in discussing the matter with them. We view Richard as a player with a lot of potential who we want to continue to develop. He is very much part of York City's plans for the coming season and beyond'".
---
18 June 2008
FREE AGENT
The Northwich Guardian reports that "Liam Brownhill is free to walk out on Witton. The Albion full back has had his contract torn up by the FA after the game's governing body declared it invalid. He is now expected to join home town team Altrincham, with whom he has already held talks. The Robins' interest appeared to cool when Witton said they would demand a transfer fee for their most prized asset, who was capped twice by England C last season. 'We appealed to Soho Square but it seems that because the offers of re-engagement which were to be undertaken by the ex-manager were not completed in accordance with FA requirements, these became invalid', said acting Albion chairman Mark Harris in a statement released today, Wednesday.

The news is a blow to Witton, who had hoped to boost new manager Nigel Deeley's playing budget with cash from the sale of Brownhill. The 21-year-old was one of ex-boss Jim Vince's first signings when he took over the first team reigns almost three years ago. Vince successfully converted the right-footed defender to one of the finest attacking left backs in non-league football, a transformation that forced England scouts to become regulars at Wincham Park in the past 12 months. Brownhill made more than 130 appearances for the club in league and cup - scoring eight goals - before agreeing a new deal to stay with Witton at the end of last season.

Vince's acrimonious departure persuaded him to re-think his commitment with a queue of admirers - Altrincham and Droylsden among them - forming for his signature in recent weeks".
ALTRINCHAM FC JUNIORS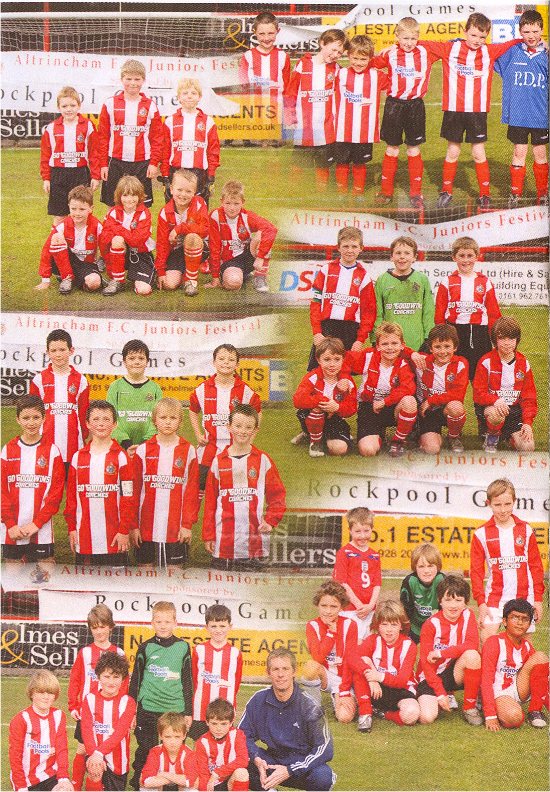 Altrincham FC Juniors held their awards night last month at the Altrincham Leisure Centre, where Alty first-team boss Graham Heathcote was a guest of honour. Pictured right is a montage from the programme for the event, which shows a variety of the Juniors' teams.
Players wishing to register for the forthcoming season with the Juniors must do so on one of the following evenings between 6-8p.m. at Altrincham FC, Moss Lane:
Tuesday 10th June 2008 or Monday 16th June 2008.

Any new players to the club should first contact the relevant age group manager for information as to team numbers and available places. Subscriptions for next season will be £100 per player ( for all ages) with a 50% discount for I additional players from the same family. New players or those being provided with a new kit will also be required to pay a kit deposit of £15. Subscriptions and deposits will be required at registration.

For those registering for under 9s, 11s, 14s and Youth teams for the coming season two passport size photographs will be required; in addition, for players not previously registered, proof of date of birth (copy of passport/birth certificate). It is expected that a photographer will be available at the registration evenings - a nominal cost will apply for this service.

The Juniors run a Saturday Soccer Club, every Saturday from 10am - 12 noon at Blessed Thomas Holford all weather facility, Urban Road, Altrincham, for boys and girls from 5-8 years old, in a safe and friendly environment. FA qualified coaching is provided. Please contact Chris Bullock on 0161-962-2369 for further details.

Visit the Juniors page for more details of the teams run under the Altrincham FC Juniors' banner.
BSP NEWS
Bullsnews reports that "Peterboro have already switched their home matches with Leeds, Leicester, and Millwall to noon kick-offs on Police advice. They have also confirmed rejecting a £1million offer from Wolves for Aaron Maclean", the former Grays Athletic player..

According to the Halifax Courier "Chris Wilder has cast a major doubt over his future as manager of Halifax Town following their demotion from the Blue Square Premier. The Shaymen have transfer-listed all eight remaining contracted players and are asking fees for Darryn Stamp, Adam Quinn, Jon Shaw, Tom Kearney and Nathan Joynes. Thomas Harban, Daryl Taylor and Craig Mawson have been told they can leave on free transfers... 'My future will have to be resolved in the next week or so', said Wilder who was appointed manager in the summer of 2002. 'I am in the same boat as the contracted players. When I took over six years ago I had not envisaged the club being in the Unibond League'. Wilder was clearly stunned by the news that the Shaymen would be playing Unibond League football next season... 'It is nothing short of disastrous for everybody', said Wilder. 'After all the hard work that has been put in over the past six years, it seems very unjust. I know more than anyone that the club has not overspent and has not been involved in anything underhand. But we have always tried to be as competitive as possible on the pitch. For us to be relegated three leagues for something that happened seven or eight years ago is devastating'".

FromWrexham we learn that "Matty Done has decided to turn down the offer of a new contract from Wrexham and has opted to sign for Hereford United instead. The 19-year-old winger was the subject of interest from the Bulls during the January transfer window and following their promotion to League 1, they have returned to take him back into The Football League. While the Oswestry-born player was out of contract this summer, because he is under-24 there is a claim for training compensation, but the two clubs have agreed on an undisclosed fee and Matty will switch to Edgar Street with immediate effect".

The Wrexham site also says that "you might well have seen in the local press about the efforts of Glyn Davies to get the Racecourse Ground recognised as a Guinness World Record for being the oldest surviving international football ground in the world. Glyn has been working with the people from the world famous publication to authentic the claim and we are delighted to learn that his efforts have paid off after receiving the following. 'We were contacted a few months ago by lifelong Wrexham fan Glyn Davies who believed the Racecourse Ground to be the oldest international football ground', said Ralph. Hannah, the Records Manager at Guinness World Records. 'Today, after receiving confirmation from the FAW that the Racecourse will still be used for senior international matches, we are delighted to confirm that the Racecourse is indeed the holder of the Guinness World Record for 'Oldest international football ground. As you may be aware, this world record has already led to media interest and we would be delighted for a media-trained Guinness World Records adjudicator to visit the Racecourse to present a certificate to a representative of both the FAW and Wrexham FC at the forthcoming Wales vs Romania U21 game on August 20th'".

The Woking News and Mail confirms that "Abdou el-Kholti has become the first of Kim Grant's signings at Woking. The left-sided defender/midfielder has signed a one-year deal at Kingfield having had previous experience with Yeovil Town, Cambridge United, Chester City, Weymouth, Grays Athletic and Rushden & Diamonds. 'I played in the same team as Abdou at Yeovil where we won the Conference so I know all about his qualities', said Grant. 'He is an exciting player who will entertain the crowd and I am delighted to have signed him. I won't rush into getting new players in and it might be some time before I sign another'".

"Championship side Charlton have won the race to sign highly-rated striker Stuart Fleetwood from Forest Green Rovers" states Blue Square Football. "The 22-year-old marksman scored 36 goals for Rovers last season and, along with the Golden Boot, was voted the Blue Square Premier Player of the Season. The former Wales Under-21 international has signed a three-year deal... Despite being a free agent, Charlton will pay Rovers a "developmental" compensation fee for Fleetwood because he is under the age of 24. The fee will be decided at a tribunal in due course".

NL Daily asserts that "Rushden & Diamonds striker Lee Tomlin has committed his long-term future to the club by signing a new contract ... until the end of the 2010/11 season. Nineteen-year-old Tomlin has been with the Diamonds since joining as a youth player from Leicester City and made his full League debut in early 2006 against Peterborough United at the age of just 16. Shortly after that, on his 17th birthday, he signed a two-year deal with the club, and went on to make four starts in the Football League during the remainder of that season. He went on to become the club's youngest league goalscorer with his debut goal at Weymouth in October 2006 - a record that he still holds. Tomlin made a total of forty-two appearances for Diamonds last season".

Meanwhile, "Gateshead are on the trail of York City's Geordie striker Richard Brodie, and are expected to table a bid later this week. Brodie, 21 next month, cut his teeth in Arngrove Northern League football at Whickham and Newcastle Benfield Bay Plastics before he joined the Minstermen. The Gateshead-born frontrunner won over the York fans last season when he scored fourteen goals... Gateshead's initial enquiry was rebuffed by York, but they will go back with a four-figure bid that, if accepted, would be doubled should the Tynesiders` gain a second consecutive promotion. Said chairman Graham Wood. 'He's a local lad and one that would add to the good quality forwards we already have at the club'".

From Torquay United we read that "Record breaking midfielder/forward/defender and goalkeeper Kevin Hill has today left Torquay United. The Gulls all-time league appearance maker has decided to move on".

"Barrow AFC are not scared to face the Conference's new tough stance on finances. The Holker Street club say they are running a far tighter ship than the one that sank down from the corresponding league ten years ago... In recent years, the Conference have run an Approved Playing Budget (APB) scheme whereby Blue Square Premier clubs are allowed to spend a certain percentage of their turnover on players' wages" reports the NW Evening Mail... Conference general manager Dennis Strudwick says that if the quarterly reports show that a club is getting seriously into debt, the league will impose a registration embargo... He adds: 'We want to know if clubs are paying the Inland revenue. They are often the biggest creditor – and that is public money'... AFC director Tony Keen says that – with key input from fellow board member Keith Allen – they have already installed good book-keeping practice. He states: 'We have projected our cash flow and based the players' budget on it. We have also tightened up yet again on things like VAT. It was a decision probably well overdue from the Conference. Our only worry is if the crowds don't turn up in the numbers we hope for. We have held ticket prices down to try and get numbers and turnover up. We need to turn Holker Street into a fortress'. Keen added that they had already decided to bring forward the annual general meeting to this November so that the accounts for the previous season would be more relevant. The Evening Mail understands that the club's player budget is based on some 60 per cent of turnover, which is expected to rise from £350,000 to around £500,000 in the Conference. The Bluebirds' last foray into the Conference during the Stephen Vaughan era ended in liquidation in 1999 and a controversial demotion despite finishing the season out of the relegation spots".

"Ebbsfleet boss Liam Daish has distanced himself from speculation linking him with the vacant manager's post at Cambridge United" claims Kent on Line. "United sacked boss Jimmy Quinn after 21 months as manager on Sunday, with Daish and his assistant Alan Kimble emerging as front runners to replace him... He said: 'I've not had any contact'. When asked if he was surprised by the timing of Quinn's dismissal, Daish added: 'That's down to Cambridge. I don't know what's going on there. I've got too much to do this end. I don't comment on things I don't know about... If you are a former player at any club you get linked to it. I'm sure that's as far as it goes'".

This is Weymouth judges that "Weymouth assistant-manager Alan Lewer is hopeful that the ex-Premier League striker the club has been chasing will put pen to paper later this week. The mystery forward held further talks with Terras' officials over the weekend and underwent a medical yesterday, and it is hoped that the deal will be finalised by Friday. Lewer said: 'We have held talks and it was all very positive, positive enough for the player in question to have a medical yesterday... His wife and baby came down with him and they had a good look around the town and he said he would come back to us by Friday so we should have a decision then'. The Terras are also close to finalising agreements with a couple of other targets, and Lewer is pleased with how the squad is coming together. He added: 'If we can get the ones we want and are in talks with at the moment we should have a very strong squad that has a nice balance of youth and experience'... Lewer has also drawn a line under the contract offers that were put to Paolo Vernazza and Michael Malcolm at the end of last season. He said: 'We have not heard anything back from either of them and we have now moved on. We have set our sights on other targets and now there is no room left in the budget for them'".
---
17 June 2008
FACE IN THE TEAM
Altrincham FC's Lisa Jones announces that:

We will be offering fans a special 'one of a kind' photo opportunity. On the day of the official team photo (31st July before training or 2nd August before the Blackburn match are the provisional dates) Graham Heathcote has agreed (along with Gavin Rathbone) that for a period of about half an hour, a space will be made available on one of the rows for fans who wish to wear their Alty shirts and pose for a photograph as 'one of the team'. We will be charging £35 for the experience and that will include a copy of the picture (A4) which we will frame with a special 'Face in the Team' mount.

So that we can get an idea of the numbers we can expect, would anyone interested please call the club (928-1045) or email me.

The finished photos will be available and displayed in the club shop for collection at the first home match of the season. Payment will be asked for on the day of the photograph. For those who do not have a current shirt one can be provided.
DIARY DATES
Some dates for your diary:
FA Trophy Final is on Sat. May 9th
FA Cup Final on Sat 30th May
Premier League season ends Sat 23rd May

The BSP season starts on Saturday, 9th August and the fixtures are due to be published "by 4th July". But "Fixtures" are often not fixed - as well as the dates of televised games being changed, non-league is also plagued by fixture changes due to local FA County Cups, which take precedence over the league and also because of England internationals. The first dates to check in the latter regard are 6th and 10th September when England meet Andorra and Croatia., whilst on 15th October England play Belarus followed by England v Ukraine on 1st April.

The FA Cup starts with the Extra Preliminary Round on Saturday 16 August 2008. The rounds affecting Alty hopefully include some of the following...
Fourth Round Qualifying: Saturday 25 October 2008
First Round Proper: Saturday 8 November 2008
Second Round Proper : Saturday 29 November 2008
Third Round Proper: Saturday 3 January 2009
Fourth Round Proper: Saturday 24 January 2009

The FA Trophy starts with the Preliminary Round on Saturday 4 October 2008. The BSP teams enter at Round One:
First Round Proper: Saturday 13 December 2008
Second Round Proper: Saturday 10 January 2009
Third Round Proper: Saturday 31 January 2009
Fourth Round Proper: Saturday 21 February 2009
Semi Final : Saturday 14 March 2009
Semi Final 2: Saturday 21 March 2009
Final: Saturday 9 May 2009

And in the FA Youth Cup:
Preliminary Round: week commencing Monday 8 September 2008
First Round Qualifying: Monday 22 September 2008
Second Round Qualifying: Monday 6 October 2008
Third Round Qualifying: Monday 20 October 2008
First Round Proper: Saturday 8 November 2008
BSP NEWS
After yesterday's shock departure of Jimmy Quinn, Cambridge United report that "Further to Sunday's brief statement, Cambridge United Football Club can confirm that Jimmy Quinn is leaving his post as manager of Cambridge United with immediate effect. He and Chairman Philip Law had a lengthy discussion on Sunday, during which it was agreed that Quinn will leave the club by mutual consent. Quinn is currently on holiday abroad with his family and there will be a further extended statement from the board of directors and Quinn on Friday 20th June. The Board wish to appoint a new manager as soon as possible and the process of recruiting a new man is underway immediately. The players were all spoken to by the Board on Sunday evening before the news was announced and the directors will stay in close contact with them and keep them appraised of the situation. The squad returns for pre-season training on 4th July.

Quinn was appointed manager of Cambridge United on 15th September 2006, taking over from Rob Newman, and guided the U's to the safety of 17th place that season. After rebuilding the squad last summer he took United to a FA Cup third round tie at Wolverhampton Wanderers and secured second place on the final day of a season that ended in the disappointment of a 1-0 Play-off Final defeat to Exeter City at Wembley".

And the local Cambridge News adds that "United chairman Phil Law has remained tight-lipped on the reasons for manager Jimmy Quinn's shock departure from the club... Law said: 'Jimmy is back on Friday and he will explain in his own way'... Quinn said: 'I'm on holiday at the moment and I'm not saying anything. I believe the club are putting out a statement today'... Supporters' Trust chairman Dave Matthew-Jones said: 'This news does not send out the message of stability we would like to be seeing. We urge the club to appoint a new management team as quickly as possible'".

In another University city, Oxford United confirm that "Joel Ledgister will be leaving the club after both parties agreed to cancel his contract by mutual consent. Joel, 20, made seven starts plus three sub appearances after joining from Southend last summer but was unable to hold down a regular first team place, going on loan to Hayes and Yeading towards the end of the season. Boss Darren Patterson told us: 'It hasn't worked for Joel at Oxford'".

On the South Coast, the Argus reports that "Lewes manager Kevin Keehan has secured the loan signing of Bristol Rovers midfielder James Fraser. Fraser, who is the brother of Brighton's Tommy, joined the Pirates last summer from Worthing... The former Albion schoolboy will join initially in a one-month loan deal with a view to extending that to three months".

The Northants Evening Telegraph reports that "Nathan Smith has become Kettering Town's second summer signing. The striker joins from Stafford Rangers having fully recovered from a knee injury which kept him out of the vast majority of last season. The 23-year-old has now completed his deal for the forthcoming Blue Square Premier campaign and follows midfielder Dwane Lee through the doors of the A-Line Arena this summer."

Mansfield Town report that "Mansfield midfielder Stephen Dawson is close to agreeing a move to League Two Bury. The Irishman is a free agent, with his one-year deal at the Stags expiring this summer. He has been offered fresh terms at Field Mill, along with the likes of Michael Boulding, Jake Buxton and Gareth Jelleyman. But Dawson is understood to have held talks with Shakers boss Alan Knill at Gigg Lane. Johnny Mullins has already rejected a new deal and is set to join Stockport. If Dawson were to leave too, it would be another blow for the club as they prepare for the Blue Square Premier League. He has been offered fresh terms at Field Mill, along with the likes of Michael Boulding, Jake Buxton and Gareth Jelleyman".

According to the Daily Post "Brian Little was delighted last night after winger Ricky Shakes issued a come-and-get me plea to Wrexham. But the Dragons boss warned he would have to wait until he had funding in place before any potential move for the former Brentford player. Shakes, 23, has been shown around at the Racecourse and said at the weekend he would relish the challenge of helping Wrexham's promotion bid. And Little said: 'I'm pleased he's liked what he's seen at the club. He's definitely a player we're interested in. But we've got to get our management in place and get our budgets in place. At the end of the day it's a decision that will be made when we can make that decision'... Shakes, who was told he would not be having his contract renewed by the Bees at the end of last season, said: ;Wrexham are the only side to have shown an interest – there is nothing else on the table, so that looks like the most likely option at the moment. I see moving down a league as a challenge for me to try and push myself back up the ladder again'".
---
16 June 2008
ALTY'S YOUNG KEEPER!
Alty boss Graham Heathcote is on record as seeking a young keeper this summer to "push" first-choice no. 1, 32 year-old Stuart Coburn. The NL Today paper has its 50 top non-league goalkeepers listed in Sunday's edition. Curiously at no.30 in the list is - "Stuart Caborn, [aged] 21, Altrincham: Caborn established himself as a talent at Leigh RMI before moving to Altrincham in 2003 but has yet to show his full potential"! Stuart Coburn actually made his name at Alty before having a couple of seasons at Leigh and returning to Moss Lane where he has certanly shown his potential for most of the last decade.
OLD BOYS
NL Today continues its series on old-time non-league stars with a brief profile of William Gowdy, an Irish "left-half with a bag of tricks". In the 1930s "Cheshire League side Altrincham paid Hibs £500 for his transfer though, true to form, he only stayed at Moss Lane for a single season before moving to Aldershot". Meanwhile the NL Paper continues its series on former England semi-pro internationals and includes a picture of Jeff Johnson scoring for the national team.
GET PELE'S SHIRT!
Don't forget that because the "May Ball" was cancelled, Altrincham FC still has the auction items that were to be used at that event. It has been decided to hold an "Online auction" for them and the proceeds will go to the playing budget for 2008-09. The auction will run from now until Friday July 18th - the day before our first home friendly against a Manchester United XI.

There are some excellent items available:
A signed Carlos Tévez football boot
A home Chelsea shirt signed by 18 of the squad
A complete set of DVDs of every Altrincham FC league game both home and away
A Pele signed Brazil No.10 Shirt
An England shirt signed by 13 players
A Carlos Tévez signed Manchester United shirt

If you are interested in bidding for any of the above items or you know someone else who would like to place a bid please contact Grahame Rowley on 07720-606897 or by e-mail. Grahame adds, "Many thanks for your support - all proceeds will go towards the playing budget for next season". The above details are also to be found on the Fundraising page till the closing date of the auction.
BSP NEWS
Surprising news comes from Cambridge United who "can confirm that the club has parted company with manager Jimmy Quinn. A further statement will be made on Monday afternoon".

According to Non-League Today, "Non-League's big guns have been given the green light to reach for their cheque books in the race for Blue Square glory next season. But the Football Conference are also launching tough new financial controls to stop clubs going bust. In a move which will open the door for big-hitters like Oxford, Stevenage, Torquay, Wrexham and Rushden, the Blue Square League will do away with the current Approved Playing Budget (APB) restrictions and instead keep tabs on club finances themselves... There will be much more stringent payroll control with every club filing quarterly accounts to prove their books are balancing". Inside the NLT, former Conference chief executive John Moules, now chairman of Ebbsfleet United, defends Altrincham and similarly prudent clubs. "The facts are that over the past few years Halifax have lived beyond their means and have been in and out of Administration and CVA... There are those who believe that Altrincham, Weston super Mare and... Doirchester Town should not be saved [from relegation]. These clubs have, however, not lived beyond their financial means"
NW NEWS
Craig Ellyard, writing in the NL Today newspaper about Leigh Genesis (formerly RMI) states, "Hopefully the future for Leigh is a bright one but I have to say that all the branding and clever logos won't mean a thing unless the club can put bums on seats . And I'm not sure that trendy marketing speak and silly names are going to get the fans pouring through the turnstiles".

As Leigh talk expansively, nearby Stalybridge Celtic, who missed out on promotion from the BS North last season, are cutting back. Manager Steve Burr has been given a new two-year contract "but has been told he must cut back on his squad numbers... Chairman Rob Gorski said, 'Steve knows fully the financial position of the club and the fact that sadly he will not be able to retain the depth in the squad'".
---
15 June 2008
WORKING SATURDAYS
The Working Weekends at Moss Lane have now become Working Saturdays and will continue next Saturday from 10am. More progress was made yesterday in painting and generally tidying up the ground. The main stand has been reglazed after the wind damage of earlier in the summer and now provides a totally transparent view towards the Carole Nash End.
EARLY TRAINING
Yesterday saw the first of four voluntary training sessions for the existing Altrincham FC squad and some trialists. Amongst the established players in attendance were Colin Little, Robbie Lawton and Joe O'Neill.
OLD BOY
The BBC announces that "Boston United have awarded long-serving former defender Paul Ellender a testimonial match. Ellender, 33, joined the Pilgrims in 2001 and made 275 appearances before moving to Alfreton Town at the end of last season. Chairman David Newton told the club's website: 'Paul gave Boston United terrific and loyal service and this is our way of rewarding him for that. The match will be played at York Street early in the new season'".
BSP NEWS
"Midfielder Tom Kearney could be set for a move to Wrexham after boss Brian Little admitted he was monitoring the situation at Halifax Town", reports the Daily Post" Meanwhile, Halifax Town announce that they "are able to confirm the Football Club has registered an application to join the Northern Premier League, the League structure immediately below the Conference structure, within the appropriate deadline period. We have been offered a placement in the Unibond Division One North. This application will be discussed at the Annual General Meeting of the Northern Premier League tomorrow and if approved, then the Club will provide a Business Proposal by Tuesday 24th June, which will be presented as required. Following discussions between the relevant parties, it has been agreed to make eight players who have a further 12 months remaining on their contracts, available for transfer. This is a very sad time for everyone involved with the Club, but we all felt it was important to allow them to progress their careers at a level commensurate with their ability. Those offered free transfers are: Thomas Harban, Daryl Taylor and Craig Mawson. Those for whom we require a fee are: Darryn Stamp, Adam Quinn, Jon Shaw, Tom Kearney and Nathan Joynes. Those players who are due to come to the end of their existing contracts at the end of this month are also available to leave".

"Kettering Town are the latest team to express an interest in Trevor Benjamin. Although reports stated that "Big Trev" didn't want to drop out of the Football League, a move to newly promoted Kettering could prove tempting to Benjamin as he was born there. The 29 year old scored 10 goals for Hereford United last season but was released by Graham Turner after failing to win a new contract" reports Bullsnews.

Accoridng to NL Daily "Carmarthen Town`s striker Jamal Easter has attracted the attention of several clubs in the Blue Square Conference and is currently training with Premier outfit Salisbury City. A Welsh under-21 international who was released by Cardiff City in August 2006, Easter joined Bristol Rovers on loan and played in three league games without scoring ... He became a regular at Torquay United during a loan spell last year, but failed to impress a new managerial team and arrvied at Carmarthen at the end of August, scoring nine goals from twenty-six Welsh Premier appearances".

Meanwhile "Torquay United have announced the signing of former Plymouth Argyle utility player Lee Hodges. The 34-year-old former Argyle stalwart was released at the end of last season". Gulls' manager Paul Buckle said "This is fantastic news for the club and the supporters. Lee made thirty appearances for Plymouth in the Championship last season which shows what another massive signing this is for Torquay United".

"Salisbury City coach Tommy Widdrington is hopeful Luton Town's teenage defender Ed Asafu-Adjaye could still join the Whites this summer" claims the BBC . "The 19-year-old enjoyed a successful loan spell with the Blue Square Premier side last season. Asafu-Adjaye has yet to sign a two-year contract offered by Luton and Widdrington told BBC Radio Wiltshire he plans to speak to the player again. 'I'd like to think we're heading the queue if Ed decides not to go back'" said the coach."

The The Cambridge News confirms that "Damian Reeves wants to get back into the Football League with Histon after becoming Steve Fallon's first summer signing. The striker, who netted 15 goals in all competitions for relegated Farsley Celtic last season, impressed the Stutes' manager when he scored both goals in his side's 2-1 triumph at the Glass World Stadium in September. Reeves began his career at Leeds and also had a spell with Barnsley before arriving at Throstle Nest via Wakefield & Emley. The 22-year-old forward was impressed by Histon chairman Gareth Baldwin's sales pitch and cannot wait to begin his Histon career after signing a two-year deal. Reeves said: 'I want to move forward, they want to move forward and you only have to look at the league table to see they're doing something right. My ultimate goal is to get back into professional football and I want to help the club achieve that'... Fallon, who is still searching for a central midfielder, said: 'I thought he did really well against us at our place. He's got a bit of everything - pace, he can hold it up and he's mobile. He's not the biggest in the world, but he's good in the air, he can get the flicks and he's good at getting across people... It gives us a lot of competition for places up front... He's not come here to sit on the bench and he wants to be in the first team, so it will be very interesting in pre-season to see who comes out as our front two'".

According to This is York "Former City of York Council leader Steve Galloway has revealed that land behind York Racecourse is being considered as a site for a new community sports stadium.... Galloway cites land between the former Terry's factory and the College of Law as a potential place to relocate York City and York City Knights... The land, known as Bustardthorpe and accessed from Bishopthorpe Road, is now a frontrunner, along with the previously-publicised site at Nestlé, as the most likely new home for the city's football and rugby league clubs... As previously reported in The Press, a separate planning issue has brought stadium negotiations with Nestlé to a standstill, meaning Bustardthorpe is now likely to present the football club's preferred home for a new stadium.

York City FC communications and community director Sophie McGill was reluctant to comment on the suitability of the site with auditors having just conducted a report on the club's accounts to be presented to council committee members before the end of the month. A final decision will then be made on whether the council will takeover the club's annual £138,000 Football Foundation loan repayments and ease the financial burden on the Minstermen until relocation from Bootham Crescent is secured". But McGill commented, "We believe a city the size and stature of York deserves a state of the art stadium for professional sport and a facility the community can be proud of".
PRE-SEASON
If you are looking for pre-season games the Intertoto Cup features a First Round 2nd Leg match on 28 June 2008 at 2.30pm at Belle Vue, Rhyl where the opponents are Irish club Bohemians. If Rhyl progress the Second Round is on 5/6 July 2008 with the 2nd Leg on 12/13 July. Elsewhere in Wales in the UEFA Cup, which includes both Bangor City and TNS, the 1st round draw is on 1 July 2008 for the 1st Qualifying Round which takes place on 17 and 31 July 2008.
---
14 June 2008
CALLING GIRL FOOTBALLERS!
David Johnson, a manager with the Altrincham FC Juniors, is hoping to recruit "current year 8 and 7 girls to register for next season [for the under-14s]. Registration will be next Monday between 6pm and 8pm. Training is on a Thursday 7-8pm on Stamford Park by Queen's Road, if any girls are interested". Please e-mail David or the club if you wish to join the team.
BSP NEWS
The Halifax Courier initially reported yesterday that "The consortium [seeking to takeover the club] has made an application for Halifax Town to join the Unibond League next season... The consortium accepts the league's conditions but is questioning being put in Unibond League Division One North rather than the Unibond Premier Division. The Division One placing was allocated by the FA League's Committee. 'That has nothing to do with us', said Unibond League secretary Phil Bradley. 'We are trying to clarify what they are talking about - they are not playing in our Premier Division so it is still up in the air'".

"By mid-morning the league still had not received a response to its 1 pm deadline... Speculation at the club reforming in the Unibond Premier was dismissed by Mr Bayley [of the UniBond League]. 'There is no vacancy in the Premier Division'. Boston United lost their appeal against expulsion from Blue Square North at their delayed FA hearing yesterday. The Pilgrims, who have entered into a CVA after a period of administration, have received confirmation that they will play in the Unibond League Premier Division next season".

By Friday evening the Courier had reported that "After weeks of negotiations the consortium finally accepted defeat in trying to re-start the club at a higher level up the football league pyramid.Unibond League secretary Phil Bradley confirmed the news to the Courier after Friday's lunchtime deadline was extended, because the consortium had accepted conditions of membership but not the division. 'The business consortium has now accepted its team will be playing in Unibond Division One North', he said. 'We would expect everything to go through at Saturday's annual meeting. We told the consortium a place in our premier division was not for discussion'...Last month creditors rejected a rescue package put together by the consortium for the club which went into adminstration in March with more than £2 million debts.... It has been revealed the consortium was backed into a corner by the Unibond League. It was given an ultimatum to accept Division One North this afternoon or the offer would be given to the Halifax Town Supporters' Trust. The consortium relented and now fans are hoping for a new era of openness. The Unibond League kept the Trust involved of developments today and it was ready to step and save football at the Shay if the consortium walked. 'We were advised by the Unibond League that there would be no chance of an appeal being successful. They also advised us that they had been told by David Bosomworth that the consortium had no interest in Unibond One North', said a Trust statement. 'We now appeal to the consortium to swiftly call a public meeting with the aim of bringing together, as one, all supporters to ensure the club moves forward positively. A number of decisions have to be made – such as the name of the new club – and consultation with the supporters should be carried out in this regard'".

Blue Square Football says that Hibernian "striker Clayton Donaldson could be on his way to Cambridge United after falling out of favour at Easter Road. The Bradford-born striker moved to Scotland after netting 42 goals in 91 starts for fellow BSP side York City in 2006/07. The former Hull City trainee is said to be eager to return to England, and should United persuade the striker to drop back into the BSP, it would prove a major coup.... New manager [Mixu Paatelainen] told [him] he could find another club, despite holding a contract until 2010".

But Cambridge have missed out on another striker as the Cambridge News reports that "Cambridge United have been dealt another blow in their quest to bring a new striker in for next season. The U's put in a £15,000 bid for Weymouth forward Stuart Beavon, but have had the offer turned down by the Dorset club. It is the third snub United have suffered this week in their attempts to add to their strikeforce after £25,000 bids for Southend's Charlie Macdonald and Histon hitman Antonio Murray were both given the thumbs down by their respective clubs... United manager Jimmy Quinn is thought to have been tipped off about Beavon's potential by Jason Tindall, who worked with the player while Terras' boss and has been carrying out scouting duties for United over the last few months. Director George Rolls said: 'Stuart Beavon is the only other striker we've bid for after Charlie Macdonald and Antonio Murray... We won't be going back to Weymouth with a higher offer'. Rolls said 'I can't see anything happening until the back end of next week. A lot of managers are on holiday and it just goes a bit quiet for a while'".

"Lewes are keen on signing experienced striker Scott Taylor" according to the Argus. "The 32-year-old made more than 400 League appearances for the likes of Millwall, Bolton, Tranmere, Blackpool, Plymouth and MK Dons, scoring 79 goals.He finished last season with Conference side Grays Athletic... Taylor is exactly the sort of player Lewes are keen to recruit to nurture the youngsters manager Kevin Keehan will be putting his faith in next season, although they face competition for his services. Keehan said: 'It looks like he will get an offer from Oxford United to stay full-time and he must decide whether he wants to be full-time or part-time... He is a goalscorer which is what we want'. Keehan held his first training session this week when 26 players turned up, including many who are trying to force their way into the manager's plans... He said: 'A few of last year's youth team were there'... Lewes have asked Blue Square to try to arrange home games on days when Brighton & Hove Albion are away in a bid to boost attendances.... He said: 'We have spoken to the Conference and they said they will try to do what they can'. Lewes have also requested that, as last season, midweek home games are on Wednesdays to avoid a clash with other local sides. Meanwhile, Eastbourne Borough have identified former Crawley and Lewes winger Mo Harkin as their final transfer target".

Elsewhere the Argus says that "Lewes returned to training extra early this week in an attempt to steal a march fitness-wise on their full-time Blue Square Rivals next season. The Rooks' first training session was on Tuesday... The likes of ex-Eastbourne Borough midfielder Ollie Rowland took part in the session, as did former Rook Chris Greatwich and Matt Geard and Danny Davis. Keehan said one of the reasons for the early sessions was to take a look at these players before they potentially make decisions as to what clubs they will join for next season, and also to get the players already on the Rooks' books up to the fitness levels required for a predominantly full-time league. Of the four above mentioned players, Keehan said, 'They've all been in the wilderness for a couple of years... But they've all been at pro clubs so they've got that pedigree, and hopefully our style of play will suit these kind of players'. Keehan confirmed he had been in talks with Albion players Gary Hart and Kerry Mayo but admitted that both players were hoping to stay in the Football League... Keehan also revealed that keeper Stuart Robinson had been released by the club after the signing of ex-Palace 20-year-old stopper Rikki Banks. Keehan is hoping to also bring in Albion keeper Chris Winterton".

This is Mansfield says that "Former Mansfield favourite Kevin Gray is one of several central defenders on acting boss Paul Holland's short-list of targets.The two are good friends from their time at Field Mill together in the early 1990s. Sheffield-born Gray is a veteran of more than 500 senior outings, after making his Football League debut for the Stags in 1988-1989 as a teenager... 'I am looking at four or five centre-halves because we are going to lose Johnny Mullins and possibly Bap (Alex John-Baptiste) and Bucko (Jake Buxton) as well'. Striker Danny Crow and keeper Shwan Jalal, both formerly of Peterborough have been linked with a move to Field Mill but Holland has not spoken to either of them. He is still waiting to see if he will land the Mansfield job full-time - with little more than two weeks before players return to training on July 2. And he has been told he cannot sign anyone until the long-running takeover negotiations have been resolved one way or the other. Holland said: 'I had 60 or 70 names that I have whittled down to 20-25 players who are possible targets'. Only Nathan Arnold, Jason White, Ashley Kitchen and the transfer-listed Alex John-Baptiste are signed on for next season. Michael Boulding, Stephen Dawson and Gareth Jelleyman have yet to respond to offers of new deals. Johnny Mullins has rejected his and is expected to leave for Stockport while Jake Buxton is keen to move on".

At the other relegated club the Evening Leader reports that "Brian Little revealed that the five players on the transfer list could yet have a future at The Racecourse. The Wrexham boss... has decided to make Anthony Williams, Richard Hope, Silvio Spann, Sam Aiston and Michael Proctor – all still contracted beyond the summer – available for transfer... Although he hopes the transfer listed players move on to free up valuable space in the squad, Little has held out an olive branch should they remain at Wrexham. 'If they don't leave we will treat them properly here. And you never know, a surprise might come out of the pack. Someone who does stay might perform better than in the past. But my thoughts are still the same – they are available to move on'. Three new signings – midfielder Paul Carden, and strikers Simon Brown and Jefferson Louis – have already arrived and Little has made no secret of the fact he wants to bring more players in and increase competition for places. Little is fully aware of the wage cap restrictions that apply in the division and admits the amount of new signings that follow will depend on how many of the transfer listed players leave the club. 'We are not in a situation where we have got too many players or I am over my budget. We know where we stand and we are okay', said Little. 'Some of what I do will be dictated by how many lads go out. I can change things around more by people moving on. Without them leaving, there is scope and room for me to bring a couple of players in but I have to keep things in house'... The Reds return for pre-season training on June 27 and the squad will also be boosted by the inclusion of centre-back Steve Evans and full-back Carl Tremarco who have signed new deals – winger Matty Done has not yet accepted his offer – while trainees Chris Maxwell and Chris Marriott have penned their first professional contracts... 'The more competitive we can become with new faces the better and I am looking to trial people in pre-season',said Little today. 'Some players won't be fixed up at the end of the month and they will come in, desperate to find a club. They will train with us for a few weeks and show what they can do, and that also makes it competitive for people already here. You are more likely to have younger players who have been at decent clubs who can't get contracts prepared to trial, though there will also be experienced lads not offered deals anywhere too'... Little, who has been linked with Halifax Town midfielder Tom Kierney, is hoping more new signings follow soon".
---
13 June 2008
BLUE SQUARE NEWS
The Halifax Town Supporters' Trust "have received confirmation that any reformed or new club that represents Halifax will join the Unibond League in its Division One North. The letter, also sent to the consortium, gives a number of conditions that have to be met before 'a' club is accepted into the league. Relevant information has to be submitted with the application and a deadline of 5pm on Tuesday 24th June has been set. There is however a more immediate deadline facing the application of a club which is 1pm on Friday 13th June. The requirement of this deadline is that written confirmation has to be given, accepting the terms and conditions of the League. This is due to the Unibond League holding its AGM on Saturday, where the League will seek the approval of its members on whether they accept a club from Halifax. If the Unibond League does not receive any confirmation by Friday's deadline, there will be no club representing Halifax in the Unibond next season – the next stage would be the North East Counties. The League also emphasises that only one application will be accepted and that the Trust needs to liaise with Mr Bosomworth to ensure only one is submitted. The Trust is confident that it is ready should the consortium feel unable to proceed".

Meanwhile, the Halifax Courier says that "UniBond League chief executive Duncan Bayley has offered Town hope as they survey the wreckage of their failed appeal against expulsion from the Unibond League. Mr Bayley has told Courier Sport that the league has already contacted the club to explain the timescale of a possible application to join".

And the Boston Standard confirms that "Boston United have lost their appeal to the Football Association and have been demoted from the Blue Square North. The club will be now be placed in either the UniBond Premier League or the BGB Southern Premier League, with an announcement is expected later today".

Meanwhile another troubled club, Nuneaton Borough now no longer exists as theConference Forum confirms. "Nuneaton Borough has received confirmation from the FA's Leagues Committee of the Clubs placing for the season 2008-2009. The Club has been placed in the British Gas Southern League Midlands Division. The FA took into account various evidence and with supporting information including mitigating factors such as no further involvement with the Club of the Directors of Stadia Safe Ltd. One further stipulation is that the new Club must not have 'Borough' in its new title. With this in mind, the Directors held an emergency consultation with the fans representative Committee the SSC, on Tuesday evening and they voted for the name Nuneaton Town FC to be adopted. At the same time the SSC selected the new badge for the Club. The board of Boro Leisure Ltd T/A Nuneaton Borough AFC had every intention of keeping the name Borough in the clubs title, but this change has been forced on us by outside parties. We do have every intention of keeping the name "Boro" connected to the club and have renamed our Sports Bar, the Boro Sports Bar and will look at other ways of maintaining the 'Boro' link.

Stevenage Borough "have agreed a new three-year contract with striker Steve Morison. The 24-year-old had one year left on his current contract... Chairman Phil Wallace said: 'Steve never wanted to leave Stevenage, he just wanted to play in the League and heard there was League One interest in him. That interest turned out to be at a price we wouldn't accept, which Steve understands. We've managed to construct a new contract that gives Steve a much improved deal, whilst providing a window for him to move at the end of this season for an agreed fee if we don't go up. This deal suits everyone and we're all delighted with the outcome'. Asked for further news on the offers Mr Wallace said: 'We had a revised written offer from Crewe after we turned down the first one, but that still didn't match our valuation. Steve's goals are worth a lot to us and our preference was always to try and keep him if we could. I've told Crewe that he's signed a new deal and is now off the list, but to be fair they handled themselves in a very civilized manner and did everything correctly, which is refreshing. I have a lot of respect for them'".

Grays Athletic "have signed ex Norwich City Youth & Reserve Keeper, Steve Arnold, on a one year contract. Steve had previously played for Boreham Wood and spent some time as a youth with Arsenal".

Eastbourne Borough are "pleased to announce that Colin Hutchinson, one time Managing Director of Chelsea Football Club, will be providing assistance to Boro as we move into the Blue Square Premier. Colin was a key figure at Chelsea FC as it enjoyed its most successful period prior to the arrival of Roman Abramovich. Colin began his time in football at Carlisle United as Commercial Manger, progressing to Managing Director... Colin moved to Stamford Bridge from Wimbledon in 1987 and remained for a 15 year period... Upon leaving Chelsea, Colin set-up his own consultancy, working with several football agents and agencies, but retired to Eastbourne in 2006. 'Since moving here I've visited Priory Lane several times', he said. 'I have been impressed by the organisation and set-up. I've had a wonderful life in football and been part of some fantastic occasions. The progress of Eastbourne Borough is an important event for the town and the history of the club is a fabulous story. This is a chance for me to return something to the game within the town where I now live'".

According to This is Nottingham "Out of contract Mansfield striker Michael Boulding is a Grimsby target... Their boss Alan Buckley has said he has contacted the 32-year-old frontman who is out of contract at relegated Mansfield this summer. Lincoln have already made their interest known and Scunthorpe and Rotherham are also understood to be trailing the player, who scored 25 times in a relegated side last season".

From This is Weymouth The Daily Post reports that "Wrexham boss Brian Little is still hopeful youngster Matty Done will re-sign at the Dragons, but admits he is unsurprised that the winger may be attracting interest from other clubs... On Tuesday manager Little saw Wales international defender Steve Evans – the other player offered a new contract – pledge his future to the club, but he is still waiting to hear from Done... He said: 'We haven't set him a time limit and there is no reason to panic'".

The Evening Leader adds that "Wrexham can expect one of their first ever fixtures outside the Football League to be shown live on television next season... That is the view of Setanta Sports' executive producer of the Blue Square Premier, Matt Curtis, who is given the task of deciding which matches are suitable for live coverage... Wrexham's only live league game was back in September 1997... a 3-2 defeat against Wigan Athletic at Springfield Park.... 'Wrexham are massively in my thoughts', said Curtis today. 'The fixtures are out next month and I will sit down with the Conference and look at identifying games to show in the first few months. Wrexham will come into that very early in the season, most definitely. And if the fixture list pairs Wrexham and Mansfield for the first weekend, that game would be the obvious choice... It is a significant amount of games over the season spread around all the clubs," said Curtis. 'We have to cover everybody once. I will try and balance it out. Little clubs such as Lewes have their appeal as much as the big clubs. And there are also teams of interest such as Rushden and Diamonds, who are spending a lot of money... Sometimes fixtures get changed but that is the reality now on television. We will do our utmost to give as much notice as possible but sometimes clubs are a victim of their own success – if they are flying high we will want to show them live more often... There is a blanket fee payable to every club. The more they are on television, the more money they get'.... Around 150,000 viewers tuned in last season to watch the top of the table clash between Aldershot – eventually promoted as champions – and Torquay... Other matches received viewing figures in the tens of thousands, with Setanta offering what Curtis describes as a more 'real' coverage of football... 'We are very proud of our coverage', added Curtis. 'Clubs have opened the doors and are very hospitable. It livens up matches and we would like to think we have got it all covered'".
LOCAL NEWS
Leigh RMI have changed their name to Leigh Genesis. "Tradition goes out of the window as UniBond League Premier Division club Leigh RMI launches its new name, new crest, and new colours; a predominantly new team playing in a brand new stadium" reports Non-League Daily. "Recently appointed, visionary chairman Dominic Speakman, 32, explains the thought process behind this radical move to give the club an all-embracing brand for the future. I became chairman in January this year and apart from the possibility of a move to a brand new 12,000-seat stadium, the club was struggling and its future was stagnant. I could see that there was potential to build an appealing, prosperous and competitive club which would be capable of growing and climbing forcefully up the football ladder. The club had adopted the generic Leigh town crest which did not give it any real identity. I believe the club needed to develop its own personality and as part of this there needed to be a strong, individual emblem of association. Ideas of colour were professionally developed into a striking, versatile and contemporary logo which formed the core of the new brand. As regards the name, 'Leigh RMI' (Railway Mechanics Institute) had followed the club from its roots in Horwich where there actually was a R.M.I. Leigh, on the other hand, could not even boast a railway station! Research confirmed that there was little loyalty or attachment to the old name which would make the decision more welcoming than controversial.

Genesis fits perfectly with the club image on several levels; a meaning of 'New Beginning, Origin & Creation' being the most important, it has a contemporary edge and is unique in the world of football. It is miles away from the American 'animal' and doesn't join the usual 'Cities or Uniteds' which gives it a chance of making a real mark in non-League football... The alignment of football to fashion is pretty well recognised now, and in order to give the new Leigh Genesis FC an appealing, attractive image, the kit had to become less fussy and more modern. The result was a fresh, white shirt with black shorts and socks supplied by established sports brand Nike, whose image complimented perfectly the effect we wanted to achieve.

What of the future? Speakman adds:'The new 2008/09 season will see Leigh Genesis playing in the UniBond Premier which is a mere three jumps away from the Football League. Genesis is aiming high and has ambitions 'to be the best that it can be'. "Already in place is a highly qualified coach Steve Bleasdale, who comes with his assistant Brett Harris, co-ordinator James Standing and physio Terry O'Brien... We can offer a family of four a day out at an impressive stadium at every home match of the season for just £18 per game. Now that's value! Replica shirts will be less than £30 which for a Nike brand is a fantastic deal; we want to be part of the community but more importantly we want the community to be part of us and keeping prices reasonable will definitely help'".
---
12 June 2008
OLD BOYS
Bullsnews reports that "Stockport have received a £250,000 bid from Derby for [former Trafford] striker Liam Dickinson, but have had a bid accepted for former Bulls' target Kevin Ellison, [the former Alty winger] and lodged a six-figure bid for a goalkeeper - believed to be Everton's John Ruddy".

"More than ten players have been shown the door at UniBond League Premier Division Ilkeston Town as new manager David Holdsworth continues to make his mark on the squad. Holdsworth... has retained only nine players from the side that survived relegation by virtue of goal difference last season". One of the nine is former Alty captain, Chris Timons.
BSP NEWS
Confirmation comes from the BBC that "Halifax Town's appeal to remain in the Football Conference has failed, BBC Radio Leeds understands. The club put their case to stay in the Conference to the appeals committee of the Football Association on Wednesday. Halifax had hoped the FA would put them in Blue Square North, but now look set to be in the Unibond Premier Division - if they can stay in business. Halifax were demoted two divisions as they failed to get a CVA passed by creditors and remain in administration. No-one at the FA has confirmed the reports but the stricken club are expected to release a statement to confirm their appeal failure".

Indeed Halifax Town later stated: "We can confirm that the 'Appeal' made by Halifax Town Football Club has ruled in favour of the Football Conference. This confirms that Halifax Town Football Club Ltd - In Administration is ineligible for the Conference Competition for the 2008-2009 season. The hearing commenced at 11.00am, lasting four and a half hours, holding up another hearing, which was due to commence at 2.00pm. The Club was represented by David Hinchcliffe of Walker Morris Solicitors and David Phillips QC. As stated in the last 'Update', an announcement will be made as soon as possible regarding the future of the Club. A clear position needs to be achieved, in consultation with the FA, the Legal Team on return from London and Begbies Traynor. Again, it is hoped a decision regarding the future of the Club/Business, will be made within 24 to 48 hours, for the benefit of all parties concerned".

It is believed that the fixtures for the Blue Square Premier will be released on Friday, 4 July.

York City have "signed 22 year old, left footed, central midfielder, Steven Hogg. Bury born Steven started his football career with Manchester United at the age of nine, and stayed with the Club until he was released at the age of nineteen. He went on to join ShrewsburyTown and then last season signed for Scottish Club Gretna, playing in the Scottish Premier League. Steven was recently released by Gretna due to the financial uncertainty surrounding the Club. City Manager Colin Walker said, 'He is 6ft 3 inches tall and will add height and physical presence to our midfield. He has a tremendous pedigree'".

The club adds that "Following the signing of left footed, central midfielder, Steven Hogg today, City has made a double swoop and also signed right footed, central midfielder, Ben Wilkinson. Ben Wilkinson is 21 years of age and has recently been released by Hull City. Born in Sheffield and the son of Howard Wilkinson, Ben was a youth player at Sheffield Wednesday, Sheffield United and Derby County. He then signed a professional contract with Hull City and also played on loan at Gretna. Ben Wilkinson previously had a trial spell with the Minstermen in January this year and scored two goals for City's reserve side against Sheffield United reserves at Kit Kat Crescent".

Confirmation of earlier reports about the televising of matches comes fromBlue Square Football, who announce hat "Blue Square Premier clubs will be pleased to hear that sports broadcaster Setanta has promised more television revenue for all the teams involved next season. Many clubs voiced their dismay last season over the fact that the flat rate of £5,000 for hosting a live coverage fixture, would not cover the subsequent loss in gate receipts. However, the Irish broadcasters have changed their tune this time around and Blue Square Premier clubs can now expect £8,000 for their first live home match and a further £13,000 for every subsequent televised game". Let's hope Alty get a few more games televised next season!

NL Daily tells us that "Nicky Law, manager of Blue Square North club Alfreton Town, has produced a 'big' signing in every sense of the word when he landed highly-regarded striker Leo Fortune-West. The 6' 4'' target man becomes Alfreton's sixth new face of the summer and Reds boss Law was delighted to have captured the former Doncaster Rovers, Cardiff City and Rotherham United player. Law said: "I am obviously pleased to get someone of Leo's calibre into the club. He is a major signing for us... "He has had a lot of interest from other clubs including three in the Blue Square Premier but geographically some of them didn't suit him at this stage of his career. We have fought off competition from other clubs to get his signature'". Recently former Alty defender Paul Ellender also joined Alfreton.

The Cambridge News confirms that "Histon have turned down a £25,000 offer from Cambridge United for Antonio Murray. The star striker, who netted 16 goals last term, signed a new three-year deal with the Stutes only two weeks ago... Stutes' chairman Gareth Baldwin confirmed: 'Cambridge United put an offer in of £25,000 for Antonio Murray, but I spoke to our manager Steve Fallon and we don't want to sell him. We have a decent squad and are looking to make the play-offs next season, so selling our best players is not something that is on our radar'. It is believed the 23 year old had already spoken to United and Rushden in between his original two-year deal with the Stutes coming to an end at the end of last season and the signing of his new contract last month". Meanwhile Histon chairman Gareth Baldwin has been elected on to the Football Conference's board of directors. He said: 'I am flattered to be invited on to the Football Conference board'.

According to the Gravesend Reporter "Liam Daish has revealed that FA Trophy hero Chris McPhee has opted out of his first-team plans for next season by placing family above the Fleet". Manager Liam Daish confirmed that "Chris McPhee's time at Ebbsfleet has come to an end... He basically told me that he's getting married in early July and has decided to move down to Torquay to live with his future wife. 'He's told me that he's doing this for family reasons and putting them first, which most people do anyway. From that family base, he's only looking to travel half an hour to 45 minutes for football and, if there is not an interested club down there, he's looking at taking time away and setting up a coaching business. It's put me on the back foot a little bit, but I've got to respect his decision. He's told me with all honesty that he's loved his time here, but his move is a family and lifestyle choice. There's just no way he can be a full-time footballer with Ebbsfleet living down in the south west of England'".

The Woking News and Mail says that "Kim Grant will introduce his own brand of professionalism at Kingfield in an attempt to stop players 'taking Woking Football Club for a ride'. The Cards' boss believes some players in the past have rested on their laurels once they have signed a contract and he will instil a hard work ethic in his current charges — who he will not meet until the squad returns for pre-season training on July 7. He also wants to sign 'two or three exciting players' who will dazzle the Woking public and have them coming back for more... The 35-year-old journeyman is only too aware of the graft he had to put in to make the grade as a professional in the Football League and he wants his players to aspire to that. He has already posted a letter to each player in his squad spelling out what is required of them when they return. Meanwhile, director of football Colin Lippiatt has been told by Grant that he is very much part of the management team".

This is South Devon reports that "The new improved financial deal with Setanta Sports TV is set to give Torquay United a boost in their drive to counter the loss of the Football League 'parachute payment'.Under the new Setanta arrangements, home clubs will receive £8,000 for their first live TV match, and £13,000 for the second and subsequent matches. That's up from a flat £5,000 per game last season. The £2,000 that each away club gets for a TV game remains the same. It means that, if United host the Setanta cameras for six matches as they did last season, they will receive £73,000 in 2008-2009, an improvement of £43,000. That sort of increase is important to the Gulls, because they will have to do without the £132,000 League parachute payment they received after their relegation in 2007.

As the Herald Express reported earlier this week, the number of Setanta's live games at Conference level is being reduced. They planned to cover 79 matches last season - it turned out to be 72 - but they are cutting that figure to 50 BSP games next season. Each of the 24 BSP clubs will again be guaranteed at least one live TV match. But United, whose live games attracted some of the biggest audiences last season, are hopeful that Setanta will again be heading to Plainmoor on a regular basis. Torbay accountant Ian Hayman, the Gulls' company secretary and director with special responsibility for finance, said: 'I think the Setanta figures next season are a bit more realistic. We will also receive a minimum of £85,000, in phased payments, from the Conference's other sponsorship deals. That's a slight improvement... The loss of the League parachute payment means that we will be £132,000 worse off next season, and we have to work hard to narrow that gap'.

Setanta are also expected to give more notice of fixture changes for TV coverage... As expected, the meeting also scrapped the previous wage-cap rules, with the help of a Football Association Initiative which could well be adopted throughout the Football League. A complicated formula, under which Conference clubs were allowed to spend only a fraction of their total turnover, meant that United were originally limited to around £12,000 a month on players. That had to include transfer fees, agents' fees, accommodation costs, National Insurance, all bonuses and wages. The scale of penalties threatened for breaches of the cap ranged from a £10,000 fine and one point deduction for a first offence up to more fines, three points docked and, possibly, expulsion. Now clubs will have to sign up to a 'Financial Reporting Protocol', to prove their ability to meet their commitments and pay their bills. Hayman explained: 'I have to provide a quarterly return, in which we have to satisfy certain financial criteria. I agree one hundred per cent with the new restrictions, as long as they are adhered to correctly by every club. It does mean that, if we wanted to throw £2 million in to win promotion, as long as we had that money, we could do it. It does, for instance, support an entrepreneur who wants to throw their money at it. It's a far more level playing field, and it's fairer and clearer. And, knowing how the Conference is a stickler for its own rules, I think they will implement the new system correctly'".

The report adds that "Although the lost League parachute payment was £132,000, United's missed promotion cost them a lot more than that. Last season a League Two club's basic distribution from the FL financial pool was £265,000. But that figure was eventually topped up to nearly £320,000 by further payments, plus £76,000 from a one-off Premier League 'Loyalty Bonus'".
---
11 June 2008
ALTY IN BSP
It has been confirmed that Altrincham will compete in the Blue Square Premier next season after completion of the appeal hearing for Halifax Town at the FA today. More on this when known...
FOOD FOR THOUGHT
Might you be able to help the Club on matchdays? Altrincham FC are looking for people to help out in the food kiosks next season. The hours of work are:
Saturdays 12.30 till 5
Tuesdays 6 till 10

For further details please contact Alty vice-chairman Grahame Rowley by email or phone (07720 606897) or speak to Keith Davey at the club on 928-1045.
CHESHIRE NEWS
From the Northwich Guardian we hear that "Nigel Deeley should know which players are staying at Witton by the end of the week. The Albion boss told the Guardian that talks with the remainder of last year's squad would take place in the coming days. 'I'll know more by the weekend' he said... Star midfielder Alex Brown is already mulling over a new deal, as has [ex-Alty] full back Cavell Coo... Deeley admitted there were no new developments on the futures of Liam Brownhill and Mark Peers. Both want to leave but, as contracted players, the club will be seeking a fee for their services. 'There is a bit of a stalemate right now', admitted Deeley. 'But I intend to leave that to the club to sort out with the FA and the players themselves'. Altrincham have held talks with England C international Brownhill, but their interest could cool if Albion insist they pay for his transfer. Last week acting chairman Mark Harris told the Guardian he intends to stick to his guns over the future of the club's prized assets. 'Both players have expressed a desire to leave after signing a new deal', he said. 'We have copies of those documents lodged with the FA and expect to be recompensed appropriately should they go'".
OLD BOY
Former Altrincham Youth goalkeeper Stefan Fielding has been voted Glossop North End's Players' Player of the Year.
BSP NEWS
The Halifax Courier reports that "The consortium running Halifax Town is likely to make an announcement on the club's long-term future on Thursday. The group, led by businessman David Bosomworth, will front an FA appeal on Wednesday in a bid to overturn Town's expulsion from the Blue Square Premier. The financially-stricken club was ejected after failing to settle massive debts last month. The consortium have so far remained tight-lipped, but in a statement released on Monday afternoon said they would make an announcement 'within 24 hours" of Wednesday's appeal'".

The BBC reports that "Departing Cambridge United striker Lee Boylan believes manager Jimmy Quinn's squad have been unsettled by the current spate of departures. Eight of the 11 players who started last month's Conference Premier play-off final have now left the club. Boylan joined Stevenage over the weekend for an undisclosed fee after being placed on the transfer list. 'It just felt like a bit of a place where you did not know what was going on there', he said.... 'I've got a manager at Stevenage in Graham Westley who was phoning me five or six times and day and really wanted me', he said. 'As soon as Jimmy Quinn said to me that I wasn't in his plans for next year my heart just wasn't at the club any more', Boylan told BBC Radio Cambridgeshire... 'I head Mark Albrighton had gone, then I heard Rob Wolleaston, and obviously before that Courtney Pitt had been released', he said. 'Obviously I've now secured my move to Stevenage, but I don't know if Cambridge have brought any other players in. I just don't know what other players are going to think'".

And a similar issue is reported by The Burton Mail which tells us that "Nigel Clough has insisted there is no need for Burton Albion fans to panic despite the lack of transfer activity at the Pirelli Stadium. Clough has so far only drafted in forward Jody Banim from relegated Droylsden... Clough said: 'Each summer, we see some clubs chasing success by pushing the boat out, but that has never been our policy. We've said all along that we're happy with the bulk of the squad that got us to the play-offs.... and we're delighted that 14 out of 15 agreed to stay'. The only player to slip Albion's net was top scorer Daryl Clare, who was snapped up by Rushden on a 'double your money' deal. Several more players were the target of other clubs, including defender Aaron Webster, midfielder John McGrath and fellow Irishman Keith Gilroy, but Clough managed to secure their services after two weeks of hard bargaining... The Brewers' boss said: 'We've made firm offers to two players and we're in talks with a third. But this is the deadest moment of the close season because people are away on holiday or, in the case of League players, they are still contracted to their current clubs until the end of the month'.

Former Derby County forward Lee Morris "has confirmed he will definitely join the Brewers for pre-season training". Clough.added that "We've also agreed in principle to take a player from a Football League club on a season-long loan and there is the possibility of a similar deal involving a second player... We're already close to the 18-man squad we want to operate with... We just need to bring in players to improve our options in a couple of positions" The Mail adds that "Clough's prime targets are a centre-back and a striker".

According to the Cambridge News "Former Cambridge United footballer [and ex-Weymouth boss] Steve Claridge was given a six month jail sentence suspended for two years today for dangerous driving".

The News also reports that "Cambridge United have had a £25,000 offer for Charlie Macdonald rejected by Southend... [who] are thought to have accepted a higher offer from a League Two club... Director George Rolls said: 'We felt Charlie could have done a job for us and scored 20-plus goals, but we aren't going to be held to ransom'... United have also had cash offers for two forwards with fellow Blue Square Premier clubs rejected... But it is rumoured United had not given up hope of resurrecting a move for Antonio Murray despite the striker only putting pen to paper on a new three-year deal at the Glass World Stadium two weeks ago... There has also been speculation that United are interested in making a move for Altrincham striker Colin Little to bolster their frontline. Rolls said: 'We certainly aren't going to panic. There are a lot of people we're talking to at the moment and I think there are five or six players Jimmy is having down to meet when he's back from holiday. The list has just come out and there are plenty of good players on there as well'".

Kent Online says that "More than 30,000 MyFootballClub members have approved a weekly playing budget of £10,000 for Ebbsfleet manager Liam Daish. Members have been voting since Thursday on how much Daish is able to spend each week on players' wages. The five options which were considered by members were £8,000, £8,500, £9,000, £9,500 and £10,000. The vote attracted 5,439 votes in total with 2,136 people opting for the highest figure. Only 425 members voted in favour of the £8,000 option. Last season the weekly playing budget started at around £7,500. It went up to £8,300 by January before rising to £9,650 by the end of the season".

"Rushden & Diamonds have brought in Scott Mitchell as their fourth summer signing" reports the Northants Evening Telegraph. "The 22-year-old, who finished last season at Coca-Cola League Two runners-up Peterborough United, began his professional career with Ipswich Town. Mitchell can play at right-back or in central midfield. He also spent two years at Scottish side Livingston".

Nearby, "Tony Turberville believes Kettering Town will eventually need to move into a new stadium if they are to progress to the Football League.However, it seems staying at the current site on Rockingham Road remains a possibility while the Poppies' chief executive confirmed the club were continuing to look at other sites as well... He said: 'Progress has been made in as much as the club has looked at what it might be possible to build or what the current site could be used for. As the chief executive of Kettering Town I have had to sign a confidentiality agreement with a person or persons and I can't say who they are'... The long-term aim at the A-Line Arena for chairman Imraan Ladak remains securing a place in the Football League". Turberville added, "I think you have always got to look towards Kettering being in the Football League".

In the Kidderminster Shuttle "Chairman Barry Norgrove hailed a victory for Harriers after it was revealed that the FA has altered its rule for appealing against players' dismissals. The FA have decreed appeals will not be fast-tracked through on a Monday, in order to give clubs more time to present more evidence. Harriers played a key role in high-lighting the problem in December, after former striker James Constable was sent off against Oxford at home, despite footage suggesting that he was innocent".

Mansfield's Chad reports that "Paul Holland is meeting with 25-goal star Mickey Boulding this week to try to persuade him to stay at Field Mill. Boulding, already linked with moves to Rotherham United, Lincoln City and Morecambe... has been contemplating the new deal offered to stay at Field Mill. 'I am still very positive we could keep both the Boulding brothers here for next season', said Stags' boss Holland. 'And so far my transfer targets have not signed for anyone else. They would prefer to come here but can't wait forever. I have not been in the club much this week as there is nothing much more I can do until I am given the go-ahead and I am asking the question every day'".

This is South Devon tells us that "Torquay United have placed two players - goalkeeper Simon Rayner and defender Chris Robertson - on the transfer list.The Gulls say they are looking for a fee for ex-Sheffield United centre-half Robertson, but not for Canadian-born goalie Rayner".

"Wales defender Steve Evans said he was happy to sign for Wrexham again despite the bitter disappointment of last season" reports the Daily Post. " The centre-back joined Wrexham's fight to get promoted back into the Football League when he signed a one-year-deal on Tuesday. The deal includes the option of an additional year. Evans said: 'I was disappointed with the way things went last season and then it didn't help just sitting on the bench for the two recent Welsh games. But I came back last week, had a chat with the boss and after a few days away with the family was happy to come in and sign on again for next season'".
---
10 June 2008
DARREN'S DEPARTURE SETS A PROBLEM
Altrincham FC "captain Darren Tinson (right) has left the club to sign for hometown team Nantwich Town. Tinson had originally committed himself to the Robins for another season but made the u-turn after receiving an offer from the Dabbers... Manager Graham Heathcote said he will be hard to replace. 'I'm disappointed but I understand his decision', he told SAM Sport.. "'I'm disappointed because when I went away there didn't seem to be a problem and he was staying here. But he's 38 and has just become a dad and the bottom line was that he can't do all the travelling anymore. He leaves on a good note and I wish him all the best at Nantwich'. Tinson's departure leaves Alty with just three recognised defenders in their squad, with only Greg Young, Chris Lane and Richard Battersby remaining from last season's squad.

The club are confident they will be able to announce the signing of one left-sided defender when his contract expires on July 1 and are also hoping to conclude a deal for another if contract issues can be resolved but the acquisition of a new centre back has become a priority. Heathcote said: 'Tinno's departure has thrown me a little bit. The problem now is that I have to put one or two moves on hold because getting a new centre half becomes a priority. I have to decide whether to go for an ex-league player who is looking to go part-time or recruit from one of the lower divisions. There are a couple of names on the PFA list but I'll wait till Graham Barrow gets back before we start making any moves'".
THE NEW TRIO
In another article SAM reports "the signing of Droylsden forward Chris Denham, who manager Graham Heathcote has been trying to sign for the past two years. He is joined by Hyde striker Dale Johnson and Leek Town midfielder Anthony Danylyk, bringing a more youthful look to the Robins' squad.... The pacy 25-year-old can play both on the wing and up front... Heathcote beat out competition from big-spending Blue Square Premier rivals Rushden and Diamonds to sign Denham and is delighted to finally get his man. He said: 'There have been clubs trying to get Chris to go full-time but the figures being talked about weren't quite enough for him to commit fully to it. He's a talented player and I've been trying to sign him for the past two years. I knew about him when he was playing for Stand Athletic in the Manchester League eight years ago. He's still got a lot to prove and we hope he'll be able to score a few more goals than last season'.

Johnson, meanwhile, finished last season as a teammate of Denham's while on loan at Droylsden. The 6ft 2ins centre forward had been at Hyde for the past four years after signing from Woodley Sports but last season... was mainly used on the wing. Still only 23, Heathcote is hoping he can realise the rich potential he has shown glimpses of. 'Dale is an exciting prospect', added the Robins boss. 'I've given him an opportunity and now he has to find his fitness and show everyone he can handle this level of football. It says it all when (former Hyde teammate) Gareth Seddon, one of the highest rated strikers in non-league football, recently said he was one of his favourite players to play alongside'.

The final member of the trio, Danylyk, was captain of Leek Town last season as they were relegated from the Unibond Premier League on goal difference. Danylyk, 25, started his career at Stoke City... The central midfielder joined Leek in March 2002 and swept the board and the club's annual awards ceremony last month. Heathcote said: 'Anthony's a tenacious midfielder who's good on the ball, switches play well and is good on set pieces. One of the things I felt last year was that we were decent on the ball but didn't do enough when the other team had it and Anthony will help with that. He's another young lad who has a lot to prove and is hungry to play at this level'".
BSP NEWS
"Cambridge United have had two £25,000 bids for strikers rejected. The first bid was for an unnamed striker at another Blue Square Premier club... The second was for Charlie Macdonald, but Southend United rejected the bid because they have received a higher offer from a League Two club. 27-year-old Macdonald began his career at Charlton but made his name at Crawley Town and then Gravesend & Northfleet... 'We are actively moving onto new targets and we're willing to pay fees to ensure that we bring the right players into the club to strengthen the squad', director George Rolls told the official website.

Ebbsfleet United have "announced the appointment of a new Chief Executive Officer and Chairman. David Davis, who has a wealth of experience in finance, business and management will be the club's new CEO and former Conference chief executive John Moules becomes Chairman. Both candidates have also received the unanimous recommendation of the MyFC Society Board. David Davis' position will be a full-time role... He will take over the day-to-day running of the club from the MyFC operators who will now be free to concentrate on the MyFC website and promotion of MyFC... John Moules has knowledge of football at Conference level that is second to none. He was chief executive and company director of the Football Conference for eight years to 2007 and is on first name terms with a host of club chairmen and managers alike. John is very knowledgeable about many players at our level of football including issues to do with buying and selling. John is also an excellent communicator and has great experience in media liaison. His position with us will be part time and his role will concentrate on advice on football issues and on media statements".

David Davis provided "a little background on my recent career: I held a senior management position at an international financial data service provider in Fleet Street, where I started as Technical Services Manager with a staff of three, and left as Director of Customer Services, Europe. I joined a global computer brand as the UK Service Manager... and left as Head of Field Operations, EMEA, with responsibility for the performance of over 8000 engineers. The annual budget for the region was $80M. For the last few years I have been earning the major part of my income as a Forex trader... I am happy to roll up my sleeves and 'get stuck in' when necessary... The key priority at the club is to use business experience to reduce the operating loss as much as possible... It is difficult, without becoming much more intimately acquainted with the financials and operations at the club, to determine how far the losses can be reduced, whether they can be eliminated or turned into profit and over what period of time...We have a wealth of talent around the globe and, to put it bluntly, should be using this free labour wherever practical. Another benefit our competitors do not have. The other edge we have is technology. I would like to see the technology extended to link MyFC to the Club, even in ways such as webcams at the training ground and pitch (watch the players going through their paces and Peter Norton riding his mower up and down!), to video Q&A sessions".

John Moules adds "l was Chief Executive of the Football Conference and oversaw the competition progress from a 22 Club Membership to 68 Clubs and progressed the commercial income from around £350,000 per annum to around £3 million per annum for the season just finishing and that income is guaranteed for the next 4 years. The introduction of increased promotion with the Football League, Play-Offs, restructuring of the National Leagues and representation on the F A Council all came during my time of leadership with the competition... Some months ago l was approached by MyFootballClub.com to explore areas of common interest in assisting them progress their aims and objectives as new owners of one of my local clubs Ebbsfleet United... My role as Chairman of the Board will see me operating on a consultancy-type basis one or two days a week looking at all aspects of the club and liaising with David and the administration team, helping and advising where appropriate Manager Liam Daish on football matters and using my experience to introduce new people and projects to the club'".

Weymouth "manager John Hollins has admitted to holding talks with former AFC Bournemouth keeper Gareth Stewart. The Cherries released the 28-year-old last month but any chance of a move to the Wessex Stadium looks unlikely... Hollins said: 'We did speak to Gareth early on but I think that has died down now. We also had a look at Andy Marriott at Exeter City but he is currently on a better deal where he is. We are still keeping an eye on Stephen Henderson's situation and as I have said many times before, we would love to have him, but we cannot wait too long and that is why we are looking at several other options'... Weymouth are also looking to add some firepower up front... Hollins said 'One thing I will say is that we have more or less got the package we want and I will be happy with that but we will see how it fares'".

Setanta Sports are showing a Non-League programme at 5pm this Friday which includes footage from the Conference AGM.

"Oxford United's Match programme has been recognised as the best in the Blue Square Premier League. The Programme was voted best in the division at the end of season awards, an award voted for by each club in the Blue Square Premier. It is the second year in a row that the programme has been recognised; last year it won the prestigious Programme Monthly award. Editor Chris Williams told himself: 'It's great news. We were runners up in the Programme Monthly awards this season which was good, but to be recognised by the other clubs in the division is tremendous'".

According to the NW Evening Mail, Barrow "folk hero Steve McNulty is celebrating his ultimate accolade out in the footballers' paradise of Ibiza. The 24-year-old Barrow defender was revealed as Blue Square North player-of-the-year at the league's presentation evening in Blackpool over the weekend. McNulty learnt of the prestigious award last week – voted for by the club managers – before going abroad but was then sworn to secrecy... It highlighted an excellent evening for the Barrow club with Matt Henney, who scored 17 goals from wide midfield, also named with McNulty in the team of the year... McNulty, signed from Vauxhall Motors during the close season, proved a colossus throughout the promotion campaign and swept the board at the club's annual presentation night... Director Tony Keen said 'Our managers (Dave Bayliss and Darren Sheridan) were highlighted for the rise from 20th place, although Kettering manager Mark Cooper took the main award.... The TV company realise that, with our fans, we are going to be high profile in the Conference'". The Blue Square North team of the year was: Lee Harper (Kettering Town); Lee Vaughan (Telford United); Steve McNulty (Barrow); Guy Branston (Kettering Town); Denny Ingram (Harrogate); Matt Henney (Barrow); Ashley Winn (Stalybridge); Craig Westcarr (Kettering Town); Jean-Paul Marna (Kettering Town); Ciaran Kilheeney (Burscough); Alex Meechan (Stalybridge).

Having initially denied that they would allow Lee Boylan to join the mass exodus from Cambridge United, the club "have maintained it was Lee Boylan's decision to go to Stevenage for an undisclosed fee" according to the Cambridge Evening News. "United snubbed an offer from Stevenage last Tuesday, but they came back with an improved bid later in the week and Boylan is thought to have made it clear he wanted to leave the Trade Recruitment Stadium...Following the departures of Mark Albrighton and Rob Wolleaston to Stevenage and Rushden & Diamonds - both for fees - United were keen to hold on to Boylan. His exit means United have only one striker on their books - Mark Beesley - with less than a month before pre-season training begins... Boylan had a brief spell at Broadhall Way in 2001 following 18 months out of the game after being diagnosed with Crohn's disease.. Manager Jimmy Quinn added 'I didn't really want Lee to go, but he has set his heart on Stevenage. It's a good deal for the club and it's what the player wanted'".

From Kent Online we learn that "Ebbsfleet United have moved a step closer to building a new stadium in Gravesham. Fleet Group Development (FGD), a subsidiary group set up to work on the club's new stadium project, have revealed the progress made on securing a new stadium for Ebbsfleet during a meeting with MyFootballClub society board members... FGD has identified a site within a three-mile radius of the club's current ground, Stonebridge Road. The initial plans will be to open the stadium with between 5,000 and 8,000 seats in the main stand with terracing on the other three sides. At the moment there is no firm timeframe as to when the club could realistically be in a new home because of funding issues and land purchase.... MyFootballClub society board member Steve Sullivan said 'We were advised that the intention is that the new stadium will be capable of housing a Championship team, should Ebbsfleet ever progress that far'".

Reports from the Northants Evening Telegraph confirm that "Kettering Town have completed a major overhaul behind the scenes with the formation of a new management committee... The new structure at the A-Line Arena was revealed by Tony Turberville who was officially appointed as chief executive officer following a shareholders meeting yesterday. Lifelong Poppies fan Ken Samuel has been made commercial director and he will have three members of staff working with him – two of which are players Brett Solkhon and John Dempster. Chairman Imraan Ladak's wife Arefa has taken on the role of community and schools' liaison officer while Amanda de Choisy is finance director". Mr Turberville said "We may not be able to compete with others on a monetary basis but we need to show professionalism, loyalty to one another, loyalty to the fans and together we will get through any hard times that come our way".

Mansfield's Chad states that "The newly-formed Stags Fans United (SFU) is well on the way to hitting its first fundraising target of £25,000 within the first week... Now the SFU is urging more fans to back its appeal to raise £250,000 to buy a future share in running Mansfield Town Football Club. The group is a merger of the club's four major fans groups - the Stags Supporters Association (SSA), Stags Fans For Change (SFFC), TEAM Mansfield (TM) and Ollerton Stags Supporters Club (OSSC)... hoping to use money donated to buy a 'significant shareholding' in the Stags under any suitable new owners".

This is South Devon says that "Torquay United and their Blue Square Premier rivals will receive MORE money for FEWER televised matches in an improved deal with Setanta Sports next season. And a big relaxation in the 'wage cap' rules is also set to cheer managers like Gulls boss Paul Buckle. Those are the two standout developments from the Conference's annual meeting in Blackpool over the weekend...

But Setanta, who appear to have taken fans' opposition to wholesale changes in the fixture list on board, are expected to cut the number of live TV games in the BSP from nearly 80 to just over 50. And home clubs, whose gates are affected by live TV coverage, are set to receive an improved sliding scale of payments, starting at £7,500, instead of £5,000 last season, and rising to around £12,000 for subsequent matches. As expected, the Conference is also poised to adopt a completely new wage-cap regime, replacing the limits where clubs were allowed to spend only 60 per cent of their turnover on player costs.

United chairman Alex Rowe, who attended the annual meeting with fellow Plainmoor directors Ian Hayman and Mark Boyce, revealed: 'The Approved Player Budget as it stands will be removed. A draft discussion document will be circulated shortly, and the proposals are, as I understand it, intended for all clubs in all leagues. The penalties, for instance, are less severe - almost certainly a player embargo rather than a points deduction. The old system has been scrapped. In its place will be essentially a solvency test. At Torquay United, we still intend to set a budget and stick to it. But it will give us more flexibility, and it should help Paul (Buckle) and Colin (Lee) to pursue the players they want. I quite liked the APB system, but only on the basis that everybody played by the rules, which we certainly did. It also made us focus on the business side of the club, as well as just trying to win games of football. But there was too much smoke and mirrors and too many grey areas. I think the new system will be a more factual and practical test of a club's ability to meet its commitments and pay its way. And I am confident that this club is and will stay well managed going forward'.

Of the new Setanta deal, Rowe added: 'There will be far less TV fixtures to cram in, so there should be less disruption. I think they (Setanta) took on too much last season. But they have listened to the issues. Payments for home TV games will be improved, substantially after the first match. And, while the payments for away clubs will remain the same, I don't have a problem with that. The £2,000 was a big help in travelling and hotel expenses which we would have had to pay anyway'.

The Setanta audience for the BSP Play-Off Final between Cambridge United and Exeter City was in excess of 200,000, reportedly more than watched their coverage of a key match in the race between Celtic and Rangers for the SPL title at the end of the season. Despite being nominated, Rowe was not elected to the Conference board... The Gulls' chairman confirmed our story of last week, that speculation that United will be signing Peterborough goalkeeper Shwan Jalal for a fee around £50,000 is wide of the mark".

The Daily Post reports that "Wrexham coach Martin Foyle believes new signing Jefferson Louis's experience will prove invaluable in the Dragons' bid to restore their League status.. The 29-year-old front-runner scored four goals in 14 outings for the Stags after joining them in the January transfer window from Weymouth... And Foyle said: 'When Jefferson joined Mansfield at the back end of January for the final three months of the season they improved no end. A lot of people felt if he had gone in earlier Mansfield would have stayed up and he certainly played very well against us and caused us all sorts of problems'".
---
9 June 2008
TWO SIGNINGS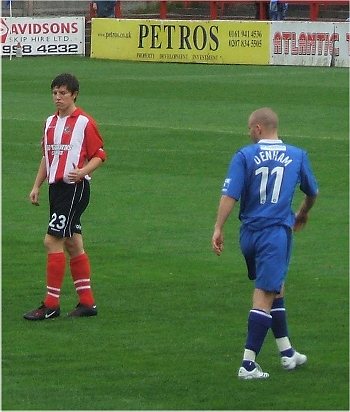 Right: Chris Denham playing for Droylsden against Altrincham at Moss Lane last September. Sean Clancy is the Alty player pictured.
Altrincham FC are pleased to announce two new signings. Pacy and skilful former Droylsden forward Chris Denham (born 14.9.82) has joined the club. He started his career at Prestwich Heys before enjoying a prolific season at another North Manchester club, Stand Athletic. During that season he also had a loan period at Bamber Bridge. In August 2002 Chris joined Stalybridge Celtic before signing for Radcliffe Borough in July 2003. By December of that year he had returned to the Bower Fold. He has likewise had two spells at Droylsden, whom he first joined in in June 2005 before rejoining in October 2005 after a brief at Ashton United in between.
Also signed by Altrincham is midfielder Anthony Danylyk, the captain of Leek Town. He started out at Stoke City before being released and signing for Stone Dominoes. He joined Leek Town in March 2002. Following the arrival of midfielder Kevin Street and striker Dale Johnson, this brings the number of new faces at Moss Lane to four this summer.
BSP NEWS
The unofficial Cambridge United site has a report on the Conference AGM. It says that "Subject to an FA appeal this coming Wednesday, it has been confirmed that Halifax Town have been relegated from the Blue Square Premier, with Cambridge City falling from the South division, and Nuneaton Borough and Boston United crashing out of the North. None of these four clubs had finished in the relegation placings in their respective decisions. The reason for Halifax Town's demotion is their failure to secure new ownership and failing to sort out their long running CVA problems, and they will be expected to reform in the Northern Premier League. Cambridge City spent all their limited funds on a court battle against ground owners, meaning no cash was available to upgrade their Milton Road ground to fall into line with FA Ground Rulings... Nuneaton Borough had amassed debts of almost £1,000,000 and rather than opt for the administration route, they entered voluntary liquidation and now hope to be reformed... Boston United are in the same boat as Halifax, after failing to qualify under the League's membership rules with regards to their financial dealings. The knock on effect means reprieves for various sides. Altrincham will survive at the expense of Halifax in the Blue Square Premier for the third season running... Hucknall Town and Vauxhall Motors remain in the Northern section due to Boston and Nuneaton's failings, whilst Dorchester Town and Weston-Super-Mare regain South membership at the expense of Cambridge City... Redditch United, who had been earmarked for a stint in the Blue Square South (after four Northern clubs were demoted from the BSP) have now been re-instated in the North. Worcester, another side moved from North to South, will remain in the South division. Boston and Halifax will hear appeals by the FA on Wednesday, but both are likely to fail in their bids".

The "leader" in the NL Paper says "Of course, no one wants to see clubs who have been relegated on the field of play stay up and the fact that four of the six [bottom] clubs at Step Two [of the pyramid] has done so is a crying shame". So, if a club overspends and breaks the rules but stays up, that is OK, but teams who keep to the rules and might well have stayed up if they, too, had overspent, deserve no sympathy. Not a view that finds much favour in these parts!

Elsewhere in the NL Paper, Simon Wormull, who has just joined Eastbourne Borough from Lewes says, "It has been chaos at Lewes since the end of the season".Neverthless, "Lewes actually offered me a better deal [than Eastbourne] but it was never about the money".

Stuart Hammonds in the NL Paper sums up the changes at Cambridge United where "Already six of the starting line-up from the Wembley Play-Off Final defeat have already left... Rob Wolleaston became the eleventh player to leave when he signed for Rushden".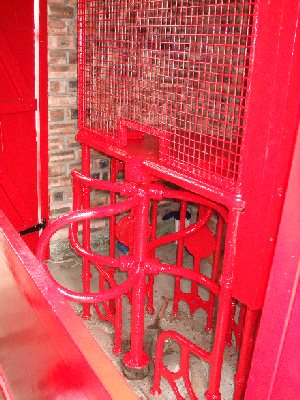 PLEASE HELP!
Despite progress over the last two weekends on getting the ground ready for the new season, there still remains plenty to do next weekend when again there is a "Working Weekend" at Moss Lane on Saturday and Sunday (from 10am each day). Please do come along and help if you possibly can. Any assistance will be much appreciated.

Last Saturday, the painting of the turnstiles inside the new "Warren Peyton" turnstile block was completed (left), with vice-chairman Grahame Rowley leading the way with his paintbrush. Alty midfielder Warren Peyton laid the brickwork for the new block (pictured, above, left) earlier this year and the facility will be ready for use for the new season, replacing the turnstiles at the bottom end of Golf Road.
OLD BOYS
NL Today has its "Top 50 Non-League Midfielders" of last season in which former Alty man Lewis Chalmers is ranked second after Oxford United's Adam Murray. It says of Lewis, "After capping his brilliant season by playing a big part in the England C team's Four Nations triumph, Chalmers is expected to shine as The Shots hit the Football League running".

The PFA list of released players includes Alty's Chris Senior, though this is apparently just because he has not yet put pen to paper at Moss Lane. Also listed is Russell Saunders, the Wigan Athletic goalkeeper, whose loan spell at Moss Lane came to a premature end last season when he was carried off on his debut. Also in the list is 34 year-old left-back Tim Ryan, now released by Darlington.
---
8 June 2008
WORK PROGRESSES AT MOSS LANE...
Altrincham FC started its annual programme of close-season Working Weekends last week and they continue this weekend, 7th/8th June from 10am. Please come today (Sunday) and do your bit to help Moss Lane look welcoming for the new season.

There will be a further working weekend on Saturday/Sunday 14th-15th June, again at 10am. The jobs include tidying the ground and painting.

Pictured, above left, is the new turnstile block at the Golf Road end, with brickwork by Altrincham midfielder Warren Peyton. Also nearing completion, at the Golf Road end of the ground, is the new joint toilet and refreshment facility, pictured above right.
... AND NEXT DOOR, TOO
Meanwhile, more building work is continuing on the former car park at Moss Lane. As can be seen, below, the new apartments and housing are rising behind the Carole Nash Family end of the ground.

OLD BOY
Former Altrincham striker Pat McFadden is reported to have signed for Vauxhall Motors.
JAY STEPS UP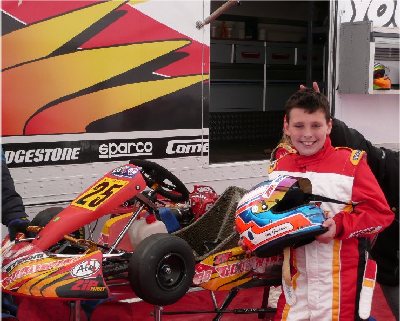 Altrincham FC chairman Geoff Goodwin's son, Jay (aged 10), is rapidly making a name for himself as a budding racing driver. The Sale & Altrincham Messenger reports that "Jay has made a big impression on the karting circuit after signing up for the Zip Young Guns team, the same outfit that nurtured Formula One stars Lewis Hamilton and David Coulthard... The youngster intends to begin racing at junior level next season in the 125cc MiniMax karts. When he makes the step up, Jay will become the youngest competitor racing in that class, which admits 11 to 16 year olds and would be hitting speeds of up to 80mph...But, whatever happens, dad Geoff, who used to race Formula One stock cars himself, will ensure his feet remain firmly rooted to the ground... 'There's no ultimate aim at the moment and he isn't thinking about Formula One... As long as he enjoys its and gets the most out of it that he can, then I'll be happy'", he said. And Geoff added that he and his wife Suzanne are "really proud of Jay because not only is he doing well in the karting but he's keeping up his schoolwork as well" having just passed his eleven plus examinations.
BSP NEWS
The BBC says that "Relegated Wrexham have signed much-travelled striker Jefferson Louis. Non-league Wrexham is the Dominica international's 18th club in eight years, after the 29-year-old forward was released by Mansfield Town. He is Dragons' boss Brian Little's third free transfer signing this summer, following Simon Brown from Mansfield and Paul Carden from Accrington".

Meanwhile, This is Mansfield reports that "Mansfield's out-of-contract defender Johnny Mullins is close to tying up a deal with Stockport County. Mullins was one of the Stags' most improved players last season. Mansfield offered the 22-year-old a new contract on improved terms in a bid to tempt him into staying at Field Mill but the former Reading player has rejected that offer... The defender is understood to have been up to Edgeley Park for talks following the Hatters' promotion after their play-off success over Rochdale at Wembley. The good news for Mansfield is that, with Mullins under 24, they would be entitled to a compensation fee if he left".
---
7 June 2008
WAITING
As expected, today's Conference AGM in Blackpool could not deliver a definitive answer on which clubs would be in which division of its various leagues.With both Boston United and Halifax Town having launched appeals about their imposed demotions, a final decision cannot be expected until after next Wednesday's FA appeal hearing for both clubs.
ON HIS WAY?
If This is Staffs is correct, "Leek skipper Anthony Danylyk, who swept the board of player-of-the-year awards, is to join Blue Square Conference club Altrincham. Danylyk expects to complete a non-contract deal on Monday and said: 'I have never played at Conference level and that is the attraction'". Danylyk started off as a youngster at Stoke City before joining Stone Dominoes in 2002 and moving on to Leek Town.
YOUTH UPDATES
Courtesy of George Heslop, we have the following updates to the website:
Youth team player statistics for 2007-08.
Season's record for 2007-08
NWYA Premier Division table for 2007-08
NWYA Premier Division results grid for 2007-08
Youth team fixtures for 2008-09
OLD BOYS
NL Daily reports that former Alty "Striker Matthew Berkeley is ready to turn his back on interest from rival Blue Square North outfits to re-commit to Workington. There had been speculation that out-of-contract Berkeley might move on, but he revealed he is prepared to remain loyal to Darren Edmondson's team. 'There has been other interest, but I couldn't say if there's anything definite. I would be happy to stay at Workington, but I've obviously got to see what their plans are, and what the manager intends to do', Berkeley said. Workington finished fourteenth last season... 'It started really well for us, but towards the end, the team as a whole didn't do as well as it could have', he added... The St Kitts & Nevis international revealed that travelling to West Cumbria from his Manchester home had not proved a problem in his second spell at Borough Park. 'Darren's been good with it', he added. 'He gives me extra days off sometimes and understands I have to travel a lot. It works out well'. Berkeley impressed Bury during Reds' FA Cup tie at Gigg Lane last term, though the club did not follow up their initial interest after being asked to make an offer. Their manager was sacked later in the season, and when that happened it just fizzled out'" the striker told the News and Star.

Former Altrincham manager ""Gerry Quinn has departed as manager of Mossley by mutual consent after failing to agree terms for next season" reports NL Daily.
SEASON'S REVIEW
Right: Loan players played a major role at Altrincham in 2007-08. Here Tom Cahill, loaned from Rotherham United, is seen in action at Rushden.
The annual statistical review of the past season (2007-08) is now here.
BSP NEWS
The Halifax Courier states that "Halifax's Town's Blue Square Premier future will not be discussed at the Conference's annual meeting in Blackpool tomorrow. And the saga of where the club will play in the 2008-09 campaign is set to rumble on. Conference chief executive Dennis Strudwick has confirmed to the Courier that Town have appealed to the Football Association over the league's decision that, because of their financial position, they were no longer eligible to be members. As a result, the club's position will not be on the agenda tomorrow. 'A solicitor has lodged an appeal with the Football Association on behalf of the administrator', Mr Strudwick confirmed. 'There cannot be any discussion at the meeting about it because it is sub judice'". An FA spokesman confirmed no date has been set for Town's appeal", though some sources say it will be next week.

Ambitious Stevenage Borough "have added two more strikers to their list of new players for next season. An undisclosed fee has been agreed with Cambridge United for the transfer of 29-year-old Lee Boylan and Kidderminster Harriers' striker Iyseden Christie aged 31, has agreed personal terms to join".

There is sad news from This is Glos which tells us that "Forest Green Rovers chairman Colin Gardner has relinquished his position at the club with immediate effect after being diagnosed with a brain tumour. Gardner, 67, has been with the Blue Square Premier club for the past four years, and chairman for the past two years. Former chairman Trevor Horsley, the current vice-chairman, will take over until the club's AGM later in the year. In a statement, Rovers have revealed that the medical prognosis is not good and it is imperative that Gardner receives urgent treatment". Best wishes from all at Altrincham go to Mr Gardner.

At Wrexham, the Evening Leader says that "Brian Little does not want players offered new contracts at Wrexham to stay on at The Racecourse as a last option. Although full-back Carl Tremarco has re-signed, Reds' boss Little is still waiting to see if two players will follow suit. Centre-back Steve Evans and winger Matty Done make up the trio offered new deals but the pair have not yet decided if they will accept. Little is particularly disappointed that Done, who decided to stay at Wrexham despite holding talks with Hereford United in the January transfer window, has not yet made a decision about his future, and he stressed that he would not be messed around. 'There has been no movement on Matty's part to try and sign the contract', aid Little today. 'I am sitting here wondering which way does he want to go. I wanted to avoid that. Are we just an option waiting to use if he has to? That is not healthy for us. I would be delighted if someone offered me a two year deal – not many get that at this level. The offer has been on the table for four weeks and I am disappointed Matty has not signed it. If he would prefer to be elsewhere, I will move to a different area myself.... I want people here because they want to be here and want play for us... You need commitment and it is important people genuinely want to be part of the team. It is important to establish that with these two players... Steve is keen to sign but a bit disappointed with the offer... But Steve did not have the greatest of seasons'... Little believes it was wise to release [seventeen of the] out of contract players rather than waiting to see if they would accept new deals.... Little admitted that the five players on the transfer list, and whether they move on or not, will be key to how many more signings he makes over the summer because of the salary capping that is in place".

Arriving in the BSP from the opposite direction to Wrexham are Lewes where "Steve King this week spoke exclusively to the The Sussex Express about his shock departure from Lewes Football Club. King has remained tight-lipped since he was ousted from the managerial hot-seat more than a month ago... King recalled the events that would ultimately lead to his shock departure from the club. 'They (the Board) approached me about three months before the end of the season and said they needed some backers to come in, and did I know anybody. I knew someone who would be interested but he wasn't interested in just coming into the club but more about taking the club over. That didn't meet what they wanted and they rejected it. There was no bad blood between me and the Board about that. It was their decision. They just didn't feel it had the kind of structure that they wanted. They then said they were talking to other investors. I never dreamt that that would lead to me losing my job. I was the manager who got them where they were. I thought I would be part of any deal that was to be done. I had a meeting with them on the Friday before the Weston-super-Mare game. They told me that basically that was it the end of it. It was the end of the line for me. When we beat Dorchester Town the Saturday before all the papers and radios were asking (Martin Elliott) 'surely you want to tie up Steve King now?', and he wasn't prepared to talk about it, so the alarm bells began ringing then. But I didn't know I was going to lose my job until the meeting on the Friday... After winning the championship I thought they would be offering me a long term contract. I was devastated. It was a bolt out of the blue. It's very unusual for a manger to win the championship and then be told he's not wanted at the club. I felt betrayed. I had stayed loyal to that club when we twice got into the play-offs but couldn't go up. I stayed when I had received offers from other clubs. For them to say that they couldn't reach my demands was rubbish. We never sat down and talked about budgets. At every fans' forum they said Steve King sticks to the budget perfectly... I'm so proud that I led Lewes to the title on £5,000 to £6,000. That was probably only top eight in terms of budgets in that division...nothing like what people saying, that it was one of the biggest in the league. And to say they couldn't cover the week's wages after a gate of 1,600 is simply not true. I believe they wanted me out the door because the offer from Kevin Keehan people meant that they could concentrate on sporting hub and wouldn't have to fund any more money for the football club...I just wish they had sat me down and spoken to me – and asked would I be prepared to work here with a reduced budget. At least that would have given me the option to stay or go. I though that was the least I deserved.

All the players showed a stance – a loyalty to themselves and also a loyalty to me. What the club did to them was disgusting. When a mananger goes, usually four or five of the players go, but for the whole team to go shows how disgusted they were with the whole situation. I know they tried to keep eight of the players... and they've all said no. All the players have gone elsewhere – the deals they got were unbelievable. They couldn't turn them down. I feel there are three lots of people who have had their hearts ripped out in all of this: the fans, the players and myself and my staff. "I feel that that team would have comfortably been mid-table next season, and with the four or five people I had earmarked, we would have made a push for the play-offs. We would have done a Histon. I feel no one can doubt me on that... We would have worked within the budgets again – as we have always done and has been stated by Kevin Powell. If the budget was lower, I would have had to just duck and dive a bit more in terms of getting players. I would have used my contacts books. There's more to managing a football club than just spending money'....

They decided to go with Kevin Keehan and his consortium – but there is no consortium. The people they introduced to the club are for the sporting hub, Active Lewes – whatever you want to call it. They're not there for Lewes Football Club... It saddens me to feel what's going to happen to the team, with inferior players and people who don't understand managing at that level. I'm all for opportunity for people, but I believe the Conference is not the level to start at. I got my opportunity at Ryman One level. That's maybe where this manangment duo should have started – not by buying their way into a Conference national job. I feel that the club is goimg to go backwards now – after all the hard work done on and off the pitch of the last seven years... Lewes are already the laughing stock of Sussex and wider across non league. It breaks my heart to see that happen to the club I love... I'm disgusted that after five years' service, a letter fell through door with a Lewes stamp on – I thought it was a letter thanking me for my service at the club – but it was my P45. That was their final act.... I changed my whole life to move down here. I know it goes with the territory of being a football manager – but you don't expect it after three promotions, two championships, two FA Cup runs, two play-offs, three semi-finals of the Sussex Senior Cup and one Sussex Senior Cup win'".
---
6 June 2008
CAPTAIN LEAVES
Nantwich Town say that they are "pleased to announce the signing on contract terms of very experienced central defender Darren Tinson. Negotiations with the chartered physiotherapist have been underway since the end of season but on Thursday evening (5th June) he accepted the terms on offer". Darren was captain of Altrincham last season, making 51 appearances in all. Darren, who is 38, joined Alty in May 2007, after he had spent the previous two seasons at Burton Albion. Previously he was at Northwich Victoria before moving to Macclesfield Town for £10,000 in February 1996. He was part of the Macc side which gained promotion to the Football League and then moved on a free transfer to Shrewsbury Town where he again won promotion to the League before joining Burton Albion from 1 August 2005. Darren had been expected to continue next season at Altrincham but he has now elected to join fellow ex-Northwich defender Steve Davis's team in the UniBond Premier.
ONE IN, TWO TO FOLLOW?
Altrincham FC is pleased to announce the signing of striker Dale Johnson. Dale finished last season in the Blue Square Premier on loan to Droylsden after a prolific spell at Hyde United. Born in Ashton-u-Lyne on 3 May 1985, Dale spent three years at Hyde, after joining from Woodley Sports..

Altrincham expect to announce a further couple of signings next week, one a striker, the other a midfielder.
PLAYING FOOTBALL
The Sale & Altrincham Messenger reports that "the Robins' manager's recruitment efforts so far have focused on bringing in players who are comfortable on the ball, in a bid to compete with the technically superior sides in the Blue Square Premier. At times last season Alty were accused of a negative approach by fans as they struggled to cope with the well-drilled full-time sides. But Graham Heathcote appears determined to answer that criticism by equipping his team to play a more pleasing brand of football... He told SAM Sport, 'All the players coming in will be footballers because we want to try and play more football next season, keep hold of the ball better. We've already signed Kevin Street, who is very comfortable on the ball and we're confident we have secured two left-sided players who will significantly strengthen our team. The only players we have targeted who don't fit that mould are a big centre-half and a centre-forward. We're just waiting to hear back from a young, raw centre-forward who will knock a few players about and bring a bit of energy up front. Our other priority is to get a young goalkeeper to push Stuart Coburn. There isn't anything we can announce at the moment and we don't get our forms to sign until the Conference AGM on Saturday so we have to continue to be patient'".

The Alty boss also explained that "We have always tried to minimize the amount of contracts we give out and we've tried to do the same this year. But we have found this year that we are having to give out more than in the past beacuse players want that security. In the Blue Square Premier, we are dealing with a professional level of football so we have to adapt so we can compete for players".

Speaking of quotes from Nantwich Town that Alty skipper Darren Tinson may be signing for the mid-Cheshire side, Graham added, "As far as I'm aware, Tinno is staying. I spoke to him and he said he wanted to come back, so that's what we expect".
OLD BOY
The Radcliffe Borough forum says that their and our "Ex-player Lee Hendley has signed for US side Baltimore to try his trade there". Lee was a product of the Altrincham FC Youth and Reserves who made a handful of first-team appearances in the Conference in 2005-06.
NEW BOY?
Leek Town have announced that their "Captain Ant Danylyk has decided to leave Harrison Park, and will sign for Buxton or Altrincham later this week". Midfielder Danylyk started out at Stoke City.
CHESHIRE NEWS
Former Altrincham chairman "Mark Harris has rubbished rumours that Witton Albion's best players have a clause in their allowing them to walk away. The acting chairman laughed at suggestions that Witton's star men could leave for nothing now that Jim Vince had left the club. 'As far as I'm concerned it's a total load of rubbish', he said. 'I have seen copies of all the contracts and there is no evidence of that whatsoever. Any football club that agrees to tie all their players to the future of the manager is totally mad', he said. 'We haven't done that and I'm pretty sure nobody else is stupid enough either'.

Albion are already embroiled in one row after Adam Warlow quit Wincham Park at the weekend to former title foes Fleetwood Town. Witton took out an option on their star forward's deal to retain him on the same terms for another season. That meant his name was sent to the Football Association on a list of players the club wished to retain for the forthcoming campaign. 'He was free to go as he hadn't signed a new contract'," added Harris.

It's a different story for Liam Brownhill, tipped to be on the verge of signing for home town club Altrincham, and Mark Peers. 'They have expressed a desire to move on', Harris revealed. He said both players had already signed contracts for next season, meaning Albion can command a transfer fee for their services. Harris added: 'We have copies of both documents lodged with the FA'. That has not stopped speculation that Brownhill has already agreed to switch to the Blue Square Premier outfit, bitter rivals of Albion's neighbours Northwich Victoria. The 21-year-old full back, capped by England C earlier this year, signed for Witton from Welsh club Connahs Quay Nomads in December 2005. He has made more than 100 appearances in league and club for the Wincham club since then" reports the Northwich Guardian.
BSP NEWS
At least one of the following three big-spending ambitious ex-League clubs (Oxford Utd, Cambridge Utd, and Rushden), who are throwing money at bids for promotion, is going to be disappointed this season...

First of all Oxford United reported yesterday that their "57th AGM was held this morning. Chairman Nick Merry addressed the shareholders... before questions were taken by the chairman, Director Kelvin Thomas, General Manager Mick Brown and Manager Darren Patterson. The accounts ending in June 2007 showed a loss of £653,000, but Kelvin Thomas told the meeting that 'As with some business purchases in the first few years we always understood there would be losses and had actually budgeted for a loss of £750,000 for the year, so that figure is not as worrying as it looks. Our goal was to win the league and it was very disappointing not to achieve that, but building a team to do that costs money. Our commercial goal remains to own the stadium and considerable effort is going towards that.Nick Merry continued along similar lines: 'WPL, the club's owners, remain committed to funding those losses until the club has control of the stadium. The price is agreed for the stadium at £13 million. That is not negotiable but the valuation of the stadium is some way short of that so funding that deficit needs to make commercial sense. We are not prepared to put the future of Oxford United at risk. Any deal has to make sense for both the short term and long term future of this club'.... [Manager] Darren Patterson was then asked about players he has as a target and told the meeting that 'We have left it later because we are looking at quality players who will be well worth the wait. I'd rather wait that extra time for the top targets'".

There are also big ideas at the Abbey Stadium as the Cambridge Evening News tells us that "Phil Law is targeting League One as the realistic summit of Cambridge United's ambitions. The United chairman believes the club could comfortably sustain football at that level - if they can get out of the Blue Square Premier... He said the club would not rest on their laurels if promotion is achieved next term. Law said: 'The manager has got the money to bring in one or two more players and I'm sure he'll exercise that right, so my expectation is that for next season we'll be looking to achieve what we've done this year and hopefully go one better. We want to develop and promotion to League Two would be great, but that's not our destination, that's just a stopping-off point. We want to get to the upper levels of League One and I feel we can sustain a level like that. Historically, if you average it out over the last 20 years, we come out something like mid or top half of the table in what's now League One, and that's our realistic target. Once we get to that point in time, we'll take stock and kick on from there'. Law added US-based director Adrian Hanauer remained committed to backing United, despite also being a key figure in Seattle Sounders' move into Major League Soccer next year. And he felt the potential for a crossover between the two clubs would be more likely if United were able to reach League One. 'For the foreseeable future, Adrian is fully committed to Cambridge United', said Law. 'If United reached League One, it would be comparable to the MLS. That might be something we can exploit if we can get to that level and it could be that would open up more opportunities for the club'".

As well as at Cambridge, confidence is sky high at Rushden where the The Northants Evening Telegraph reports that "Keith Cousins is feeling confident over the promotion prospects of Rushden & Diamonds. The Nene Park chairman has already invested this summer to strengthen Garry Hill's squad with five-figure transfer fees paid for Lee Phillips and Rob Wolleaston as well as bringing in prolific striker Daryl Clare. With Hill set to add further players capable of challenging towards the top of the Blue Square Premier table, Cousins believes the good times will be back soon. He said: 'There's a real determination on my part to give everyone a team that is going to have a chance next season... Our recent signings, together with a few we hope to attract over the coming weeks, demonstrate our ambitions to take this club back into the Football League. I'm confident in the manager, staff and players. But you never know what might happen as this league is going to be harder than ever.. We have every reason to be confident that we will be in a better position than we were during a difficult last year... Having spoken to Garry, I concluded that we had to do a great deal of work to improve. The only way of doing that was by using the facilities, along with our skills and contacts, to attract better players. We inherited a lot of players on substantial deals and it took over a year for some of those to be worked out and resolved. There were restrictions due to the previous management. That had an adverse effect on trying to achieve our aims of going forward'".

This is South Devon states that "Work has started on the installation of upgraded floodlights at Torquay United.Local company Sports Lighting, who are also involved in lighting for the 2012 London Olympic Games, have started taking down seven lights from each of Plainmoor's four columns. They will be replaced with new bulbs and new fittings which will direct every bit of light at the pitch. The work, costing around £30,000, will be completed next week and will raise the Gulls' lights to Championship standard".

From Kent Online we learn that "Ebbsfleet manager Liam Daish will have his playing budget determined by more than 30,000 MyFootballClub members this week.Members can vote from today (Thursday) until Monday on how much Daish is able to spend each week on players' wages. The five options which will be considered by members are £8,000, £8,500, £9,000, £9,500 and £10,000. The weekly playing budget for last season started at around £7,500 – it went up to £8,300 by January before rising to £9,650 by the end of the season. Most teams challenging for promotion in the Blue Square Premier are expected to have a budget in the region of £15,000. As a result, one MyFootballClub member is looking for support in his bid to boost Daish's transfer kitty by pledging £20 towards the playing budget, but only if 1,000 other people do the same. So far, more than 200 people have signed up with a deadline set for June 21. Club secretary Roly Edwards believes the initiative is a good idea... Mr Edwards believes the club's owners now face a potential make or break decision. He added:'If we could get 200 more people at every home game it would go some way to helping us get where we want to be.. We're not far off having a team to challenge for a play-off place. We are not talking about mega bucks, just a few quid to fund a few players'".

According to Blue Square Football "Peterborough director of football Barry Fry has confirmed that full-back Danny Blanchett has turned down a move to Weymouth. The 20-year-old has struggled to break into the first-team at London Road since signing from non-league outfit Cambridge City in 2007 and was placed on the transfer list at the end of the season. Fry told the Peterborough Evening Telegraph: 'Danny is desperate to stay in the league if at all possible, but Weymouth are still a level higher than he was playing at when we picked him up. Danny wants to give it a bit more time and see if anything else materialises'".

From Non-League Daily we learn that "Bob Morton, director of football at Newcastle Blue Star, revealed that the signing of former Newcastle United striker Paul Brayson [ex-Northwich] underlined his side's ambition for next season. Morton has signed three players from Gateshead during the close season in Brayson, Jamie McClen and Steve Bowey, and is hoping his side can make a success of their Unibond First Division campaign next term".

The BBC says that "Kettering captain John Dempster will remain at Rockingham Road next season for their return to the Blue Square Premier after signing a new deal. Craig Westcarr, subject of an alleged illegal approach from Stevenage, and David Bridges have joined Boro. Defender Luke Graham has agreed to stay at Town, while talks remain 'ongoing' with midfielder Brett Solkhon. Tom Kemp and Kevin Spencer are set to remain, and the club hope to keep first-team coach Adam Sinclair".

The Argus reports that "Lewes have signed Worthing goalkeeper Rikki Banks. The former Crystal Palace apprentice has signed a one-year contract at the Dripping Pan. Manager Kevin Keehan is also talking to another goalkeeper".

Forest Green Rovers say "19 year old youth prospect Ben Ashford, has agreed terms for his first ever full time professional contract with a one year deal at the New Lawn. Central defender Ben has just completed his studies at Hartpury College, where he represented the College helping them win the English Colleges Trophy. Last season, he also made 12 appearances for FGR Reserves in the Football Combination. He has been allocated Squad No 14, which he takes over from the departing Stuart Fleetwood".
---
5 June 2008
BSP NEWS
Though there are no more new signings to be announced at Moss Lane at the moment, there is plenty of activity at the wealthier clubs in the BSP. For example, Kidderminster manager "Mark Yates has confirmed to the Harriers official website that striker Iyseden Christie has turned down a new deal to stay at the club. After verbally agreeing a deal to remain at Aggborough, the former Mansfield Town forward has instead opted to join rivals Stevenage Borough when his current Harriers deal expires at the end of the month. A disappointed boss Yates told harriers.co.uk: 'We gave Iyseden everything he asked for and he had agreed to come in and sign for us. We offered him a deal originally and he came back to us asking us for more, which we agreed to, as well as giving him the option of a second year. He'd agreed last week that he would come in and sign for us this week, but after leaving numerous messages for him on his phone, I finally got a call from him today. He confirmed that he won't be signing for us after all and will be taking up an offer from Stevenage. They have offered him mega money - we couldn't possibly have done any more to try and keep him'... Christie leaves Aggborough with total Harriers career stats of 44 goals in 126 appearances dating back to 2004".

In the Northants Evening Telegraph we read that "Garry Hill believes Rushden & Diamonds are sending out the right signals to supporters and the club's rivals with their summer signings. He has already brought in strikers Daryl Clare and Lee Phillips plus free-scoring midfielder Rob Wolleaston after all three players missed out in the Blue Square Premier promotion play-offs last season at Burton Albion, Torquay United and Cambridge United respectively. Hill feels those additions prove Diamonds should be considered as serious contenders for a return to the Football League. He said: 'We are picking and choosing as we go along – waiting for the right men to strengthen the squad. We want competition for places and we've certainly got that in midfield with Wolleaston joining us. I'd like to feel that bringing in Wolleaston, Clare and Phillips has started to send out the right signals. Until now I've had to work under very tight restrictions. But the chairman (Keith Cousins) has been superb in backing me. We talked about this and agreed the supporters here deserve a lot more than they've had for the last three or four years. I've convinced him to help us move on with the opportunity of fetching in more quality which can only benefit the club. We know this is going to be a tough league'... Having signed three players who should produce goals, Hill will switch his focus to defensive areas as Diamonds still need a goalkeeper and two full-backs. It is understood that deals could be completed in the next two weeks. For the second successive summer Diamonds' squad will have a pre-season trip to Portugal. They are in the Algarve from July 15 to 19 following the first friendly at Halstead Town". Last season Rushden were expressing concern at poor gates but since the arrival of former Cambridge United backer Lee Power, things seem to be on the up again at Nene Park.

Another club acquiring new players with some regularity is Torquay United. Peterborough Today says that "Posh are selling transfer-listed goalkeeper Shwan Jalal to ambitious non-league club Torquay. Director of football Barry Fry has agreed a deal with Gulls' chief Paul Buckle. He confirmed the deal will go through when both the Torquay boss and Jalal return from holidays later this month... Fry refused to reveal the exact worth of the deal but insisted Posh will not be making a loss on a player who arrived from Woking in January 2007 and made 11 appearances for the club. Fry said: 'Shwan is very keen to go to Torquay who have already made several signings since the end of the season... They are desperate to push on and get back into the league... Shwan had a couple of little runs in the side here but the manager preferred the experience of Mark Tyler in the end'... Jalal spent the second half of last season on loan at League Two outfit Morecambe after plunging down the Posh pecking order following the club record arrival of Joe Lewis".

From Blue Square Football we learn that "Woking have struck a deal with Isthmian League Division One South side Corinthian Casuals over the loan of several of the Blue Square Premier club's fringe players. The Cards have come to an agreement with the Casuals that will see a number of Woking's reserve players join Brian Adamson's side on a special loan deal. This follows Woking's decision to abandon plans for a reserve squad for next season and Corinthians' assistant boss Keith Holloway is delighted at the prospect. 'Woking have a lot of very good young players but their academy system is a bit like dressed-up youth football to be honest', Holloway told Your Local Guardian".

The Halifax Courier confirms that "Halifax Town have appealed against their impending expulsion from the Blue Square Premier Conference League. The news emerged today [it was actually reported elsewhere last week] after talks were held between Halifax Town Supporters' Trust chairman Allan Baker and consortium leader David Bosomworth. The discussions between the two parties... have been described as 'brief' ... A statement released by the Trust after the talks said Mr Bosomworth had advised Mr Baker that the consortium was 'still working very hard on a number of fronts in respect of trying to get the club into as high a league as possible'. Mr Bosomworth also 'advised that an appeal has been lodged with the Conference'. Mr Bosomworth has agreed to meet with the Trust after the Conference annual meeting, which takes place on Saturday and is expected to rubber stamp Town's relegation for breaching rules on club finances... The Bosmomworth-consortoum has been trying to ensure the club will be playing as high up the football pyramid as possible next season while the Trust are formulating plans as a back-up should it be required".

Hereford-based Bullsnews remains a good source of non-league information despite the club's rise up the League pyramid. It tells us that "Neil Grayson has joined Unibond newcomers Glapwell. The Nottinghamshire side are in the Unibond League for the first time ever after progressing through the County leagues. Grayson, 43, leaves relegated Stafford Rangers after four years and fifty goals in 150 games".

"Liam Daish expects George Purcell to up his performance levels a fair few gears after making him the 10th summer signing for Ebbsfleet United on Tuesday", reports the Gravesend Reporter. "The Fleet boss got ex-Gillingham player Purcell to put pen-to-paper on a new one-year contract in midweek but, approaching his third season at Stonebridge Road, Daish still wants the speedy winger-cum-striker to display his clear capabilities more regularly next term. 'George has got obvious talents. He's been with us two years and I'm looking for him to realise his potential now', the 39-year-old said. 'He's grown up with us over the last couple of seasons and he knows what is expected of him. The futures of six other members of Ebbsfleet's first-team squad (Peter Hawkins, Gary MacDonald, Chris McPhee, Sam Mott, Danny Slatter and Dan Stubbs) will be thrashed out once Daish returns from a family holiday".

"Grays Athletic have released Ben Watson to allow him to join newly promoted Exeter City in League Two on a permanent basis. Meanwhile young goalkeeper, Jake Whincup, has been released" states the Thurrock Gazette.

The Mansfield Chad says that "Former Stags' striker Simon Brown, one of seven first team players not offered new contracts at the end of the season, has joined fellow Blue Square Premier newboys Wrexham... After a disappointing season the 25-year-old was released by manager Paul Holland... He had joined in December 2004 for £50,000 from Kidderminster, after starting his career at West Bromwich Albion. On Wednesday a Stags spokesman said there was no news on whether or not the players offered new deals for next season had agreed to stay at Field Mill".

According to the Oxford Mail "Unwanted trio Eddie Hutchinson, Alex Jeannin and Joel Ledgister have been told if they want to play football, they need to leave Oxford United. The no-nonsense message has come from boss Darren Patterson... All three are still under contract to Oxford... Hutchinson, who joined the U's on a three-year contract from Brentford two years ago, is one of the club's biggest wage earners... The midfielder, twin brother of Woking centre half Tom, has already turned down a move this summer, after rejecting possible moves last season as well.... 'The boy is under no illusions what he's coming back to if he doesn't move on. It's the same with all three of them - they are not in my future plans and if they really want to play fotball they need to find another club. But they have known this for two months. They are like others who were here last season. Too many were in the comfort zone, we've carried people for far too long'. French defender Jeannin, who was on loan at Kidderminster for the second half of last season, has recently turned down a year-long loan deal with a club. Patterson says Ledgister's position is slightly different, because he is still young, and is not a big drain on the club's wages. But his attitude 'stinks', according to the Us' boss, and he doesn't want him around the club. 'These players won't even be coming on tour with us, even if they haven't moved on', he added. 'I want to make sure we're tighter in the dressing room next season, I'm looking for a seige mentality, with the players, the staff, the fans and everyone'... French defender Alex Jeannin says he wants to return to Oxford United and fight for a place in the team. And he's not interested in going out somewhere on a season-long loan... He said: 'As things stand, I am still returning to Oxford when we all report back on June 23. I'm contracted to Oxford and I'll be coming back. I've got to speak to the manager, but I want to come back and be part of the team... I want to be at a club where I'm part of what they want to achieve, and feel a part of the set-up'... Left-back Michael Howard is still under contract for another year at Morecambe, but they are understood to be prepared to let him go, and he is keen to return to Oxford, where he was on loan since February".

The Salisbury Journal The Woking News and Mail is the source of the following. "A tide of optimism swept through Kingfield on Tuesday night as new Woking boss Kim Grant demonstrated the supreme confidence that saw him beat 38 applicants to the post" The 35-year-old Ghana international, who plans to perform 'a major role as a player' in his first managerial job, aims to shake up one of the Blue Square Premier's least talked about clubs and push The Cards back into the national spotlight. Refreshingly, he also intends to play a style of football completely alien to that served up by his two predecessors — using the revolutionary tactic of keeping the ball from the opposition while trying to score more goals than them. A veteran of 16 clubs as a player, both at the top level in England and countries such as Belgium, Portugal, Japan, and Malaysia, Grant intends to blend what he has learned from the many different footballing cultures sampled. He also insisted he would not be concerned about moving players on from the current squad if they don't come up to scratch, while those he was about to bring in would be of real 'quality'. 'I am going to be my own person and do it my way', he said. 'I'm very proud to be manager. It's a privilege because it's a big club and, for my first job, I couldn't ask for anything more. I'm going to grab it with both hands and I believe I can change this club'".
---
4 June 2008
TONY'S FUNERAL
The funeral of well-known Altrincham FC supporter, Tony Walker (67) will take place at 11.30am at Altrincham (Dunham Lawn) Crematorium, this Friday, 6th June.
DARREN SOUGHT
Nantwich Town report that "Director of Football Clive Jackson and Head Coach Steve Davis are hopeful that Altrincham defender Darren Tinson (right) will pledge his future to Nantwich Town this week".
BSP NEWS
"Cambridge United manager Jimmy Quinn has admitted the U's will be working to a tighter budget next season. Seven players have left the club since the defeat by Exeter in the play-off final last month, and no new faces have arrived. 'We've set the budget for this new season which is a bit less than we spent last year', the U's boss told BBC Radio Cambridgeshire. 'We did go over budget last season. You need to cut your cloth accordingly'. Quinn released Courtney Pitt, Mark Peters, Leo Fortune-West, Dan Chillingworth and Michael Hyem following the 1-0 defeat at Wembley. Captain Danny Brown, Lee Boylan, and Mark Convery are also believed to be available for transfer, while Mark Albrighton and Rob Wolleaston have joined Stevenage and Rushden respectively.

'The finances are up to nearly the limit on the budget so we had to release one or two players to free money to bring new players in', Quinn said. 'Sometimes there's got to be sacrifice and you will lose a player or two if it means freeing up a bit of money to do a bit of business... Ben Farrell is going to come to the fore this year, we've got Stephen Reed in there and Darren Quinton', he said. 'There'll be plenty of players available and I've got one or two targets that I am chasing - there will be new faces coming to Cambridge... Wayne Hatswell isn't going anywhere - Stevenage did enquire about Wayne and I said "no"".

The Cambridge Evening News asserts that "There could still be more to follow Wolleaston through the Trade Recruitment Stadium exit with Danny Brown, Lee Boylan and Mark Convery all ready to be off-loaded and Wayne Hatswell - currently in the West Indies with the England C team - rumoured to be a target for Wrexham. United have also been turned down by Adie Cambridge after the club had agreed a nominal fee with Histon for the 33-year-old midfielder... But [director, George] Rolls said fans should not fear the movement of players was all one-way at United. He said: 'I have to tell them not to panic. There's still a month before we come back for pre-season and there will be several signings in the coming weeks'.

Contradicting the above report, Cambridge United themselves assert that "Lee Boylan will be staying at the Trade Recruitment Stadium after United rejected a bid from Stevenage Borough for the 29-year-old former West Ham and Canvey Island frontman. Boylan, who had a brief spell at Broadhall Way in 2000, was the U's second-top scorer last season with 14 goals from 29 starts. The offer included a fee, but in turning down the bid, Director George Rolls indicated that he did not expect to have any more departures from the Trade Recruitment Stadium. 'No one else will be leaving', he said. 'Not Lee Boylan, not Wayne Hatswell or anyone else, unless someone offers ridiculous money. All we'll get now is players coming in'.

The BBC says that "Eastbourne Borough have signed midfielder Simon Wormull and striker Jean-Michel Sigere from Lewes, but will bid farewell to striker Scott Ramsay. Ex-Brighton striker Ramsay scored 185 goals in six seasons with the club, but has failed to agree a new contract. Winger Adam Wilde is also leaving after not being offered a new deal. Wormull and Sigere, both 31, add Conference experience to the Borough squad".

Still in Sussex, we learn from The Argus that "David Martot has turned down ambitious bids by Lewes and Crawley... The out-of-contract Le Havre midfielder, who played on loan at [Brighton & Hove] Albion last season, is keen to continue his career in England. He has set sights on League One football... Lewes, who are remaining part-time next season, were keen to make the Frenchman a centrepiece of their new-look team. Martot said 'We talked about it but my ambitions are higher than that. Maybe if I was a young player or I was just winding down my career it would be interesting but I believe I can do a lot more. They were only talking about two training sessions a week'... Martot confirmed he had also been in contact with Crawley but said: 'It was not really serious. If I come back to England I want it to be in League One'".

According to the Kidderminster Shuttle "Russell Penn hit the back of the net as England C defeated Barbados 2-0 in a friendly on Monday night. The Harriers midfielder followed up Jon Shaw's opener to secure victory at Bridgetown".

This is Nottingham confirms that "Mansfield Town supporters' groups united last night in a bid to raise the £250,000 they believe will help save the club from 'the brink of oblivion'. At a public meeting attended by more than 500 people at the town's civic centre, fans were asked to pay a minimum of £100 each to buy a share in a trust - to be called Stags Fans United Supporters' Society. It is the first time the quartet of Stags Supporters' Association, Team Mansfield, Stags Fans for Change and Ollerton Stags Supporters' Club have joined forces... Each supporter would be given one share and one vote for their investment no matter how much money they put in. The partnership hope that once a new buyer for the club has been secured, they can approach them and look to purchase a stake in Mansfield of at least 30%.... Chris Vasper, of Team Mansfield, who spoke for Stags Fans United explained the concept. 'With the finality of relegation the fans' groups have hammered out a deal. We understand that this may be late and we all make mistakes, but we need to talk about where we go from here... If the club is not sold we will be investing in a phoenix Mansfield Town similar to AFC United or AFC Wimbledon. We are on the edge of oblivion... Boycotting is the only language Keith Haslam understands. We need to invest in the new owners, whoever they may be'".

Stephen Booth, the club's chief executive said: "The club, when it's sold for £1, will be left with net assets equivalent to share capital of £311,000 and there will be no debt. I hear talk about administration, but Mansfield Town is nowhere near administration and never has been. I believe I'm very close to an agreement to sell the club". But "Danny Phillips, who was part of a consortium that failed to take control of Mansfield... feels the club is not genuinely for sale and fears the club may not run a team next season. Phillips said: 'A price of £400,001 was asked for the sale of the club and we came to the conclusion that Keith Haslam never had any intention whatsoever in selling'".

On the same topic The Chad says that "Around 600 Stags' fans packed into Mansfield Civic Centre on Monday evening to back a recently created supporters' group determined to help Mansfield Town Football Club into a new era. Ahead of the public meeting more than £12,000 had already been donated by fans - the first step towards a £250,000 goal which Stags Fans United (SFU) believes would then give supporters a say in the future running of the Stags. Now the SFU wants more fans to back the cash appeal and provide future new owners of the Stags with a significant financial investment - should controversial owner Keith Haslam complete his protracted sale of the club. The Stags appear to be in limbo while the owner deliberates over a sale with at least four interested parties – manager Paul Holland still does not know if he has a job next season and no new players have been signed for the first ever season in non league football.... [The SFU] has set a short-term target of raising £25,000 for the SFU Supporters Trust by the end of this week... Kevin Rye from the Government-funded Supporters Direct said; 'This is an amazing attendance and show the number of people who care about the club and want to do something about it.'. The SFU aims to raise £250,000 to back any new suitable owners in return for shares and a place on the board of directors at Field Mill... The SFU says that cutting off income to Field Mill until a sale will give new owners the best possible start. And with business leaders saying that relegation to non league football - under the stewardship of Haslam - is likely to cost the town millions of pounds, many firms, as well as supporters, have already backed the SFU.

Chris Vasper from TEAM Mansfield – one of those behind the SFU – said: 'Already this club is weeks behind others in the Blue Square Premier'... Mansfield's small businesses and spokesman Victor Bobo told the meeting: 'The only problem with Mansfield is Mr Keith Haslam!'... At an eventful meeting, Stags chief executive Stephen Booth made a surprise appearance and announced on the protracted takeover at the club: 'I believe I am close to an agreement'".

This is Devon reports thst "Torquay United manager Paul Buckle says he is happy about the fitness of his latest signing Matt Green, despite comments made by Darren Patterson, the unhappy boss of rivals Oxford United. Patterson is angry that former Cardiff City forward Green, 21, turned down a proposed move to the Kassam Stadium in favour of a two-year deal at Plainmoor last weekend. He accused Green, who scored ten goals in 17 starts on loan at Oxford from Cardiff last season, of showing 'little respect' for the U's. And he also insisted that Oxford's offer to him was 'very fair considering the issues with his knees'. Patterson claimed that Oxford had received a report on Green from a specialist which 'wasn't exactly glowing'. But the U's still negotiated a deal to sign Green permanently, only for the former England Schools international to opt for a move to the Gulls. Buckle insisted: 'Matt's knee is fine. As for the rest, he came down to Torquay on Friday with his girlfriend, stayed the night here so we could show him round and we completed the deal on Saturday afternoon... It seems clear that United were able to offer the pacy Green a better deal than Oxford were".

Further up the South coast, This is Weymouth is the source of news that "Weymouth boss John Hollins says the club 'can't afford to wait' on Michael Malcolm and Paolo Vernazza as the duo continue to mull over new deals... He said: 'They are still thinking about it, but we as a club can't afford to wait... While they are doing what they are doing we are moving on, we've told them it's up to you'. There's no pressure on me so I'm not losing sleep'. Hollins has so far signed six new faces for next season's Blue Square Premier campaign and is happy with the progress he's made so far. He added: 'We've talked to keepers we've known for a long time, and the ones we want will come in and make a difference. The PFA list is out soon which lets you know about players all over the country so that could be interesting'".

FromThis is Yorkwe read that "City have missed out on a shock swoop for Huddersfield Town striker Luke Beckett. KitKat Crescent director Sophie McGill has confirmed that Beckett was prepared to sign for the Minstermen but has been unable to reach a settlement with the League One club over the remaining 12 months of his Terriers' contract. Beckett, who has netted 163 goals in almost 400 appearances during ten years as a Football League professional, has been told by newly-appointed Huddersfield boss Stan Ternent that he can leave... A 15-year friendship with the former Barnsley trainee had made City boss Colin Walker the surprise favourite to secure Beckett's signature... After leaving for Chester in 1998, Beckett scored 22 goals in 62 games before moving on to Stockport... [and] earning Beckett a £50,000 move to Sheffield United in November 2004... [then] on loan at Oldham before leaving for Huddersfield".
---
3 June 2008
MY SQUARE
ALTRINCHAM F.C. "MY SQUARE" PITCH SPONSORSHIP 2008/09
Ian Rosendaal is again organizing the My Square fundraising venture for Altrincham FC. The details and form below will remain on the web site all season on the Social and Fundraising Page. The scheme raised over £700 for the club last time round so let's see if we can do even better this year! You can e-mail Ian for further details, if necessary.
Following on from last year's huge success, the My Square scheme will once again be running for the 2008/09 season. The "My Square" pitch sponsorship scheme gives Alty fans the chance to sponsor their own little square of the Moss Lane pitch for a whole season for as little as £3!! What better way to be a part of your club and show your support for the Robins? Once again, a draw will take place at the end of the season and one lucky winner will receive a very special prize – their very own square of Moss Lane turf to plant at home in their garden! What better way to add a permanent piece of Moss Lane to your home? You will also receive a nice bottle of champagne to toast your victory!
It's all exactly the same as last year, but in case you're new to all this here's how it works: "Special squares".
There are some parts of the Moss Lane pitch which have been selected as "special squares", where a lot of the action has taken place over the years. Both penalty spots have seen their fair share of drama over the years and these are expected to be very popular. Also available at a slightly higher price are squares in the penalty area, the centre circle and also the corner quadrants.
The "Freeman Square" -This extra-special square is located at the spot from which Clive Freeman hit his "Goal of the Month" blockbuster against Chester City in 1992. This square will only be made available by which will take place online at www.altyfans.co.uk or alternatively bids can be emailed directly to me at ideas4alty@hotmail.co.uk. Bids will be accepted throughout the course of the season until 5pm on Friday 3rd April 2009 and the winner will be announced shortly afterwards.
Prices
Penalty spots x 2 squares @ £50.00 each
Centre spot x 1 @ £25.00
Penalty area x 40 @ £5.00 each
Centre circle x 8 @ £10.00 each
Corner quadrants x 4 @ £10.00 each
Normal pitch square x 79 @ £3.00 each
"Freeman Square" x 1 - by auction only

ALTRINCHAM F.C. "MY SQUARE" SCHEME 2008/09

Name:____________________________________

Squares required (please state grid references):________________________________

I enclose a cheque for £________ made payable to "Altrincham F.C."

Email:_____________________________________

Tel:_______________________________________

Please return this form, complete with payment, to:

"MY SQUARE"
Altrincham F.C.
Moss Lane
Altrincham
Cheshire WA15 8AP

Alternatively, you can hand this form in at the club along with your payment at any time during office hours or at any home game during the course of the season. Please ensure the envelope is clearly marked "MY SQUARE". Thank you for your kind and generous support!
CHESHIRE NEWS
From Bullsnews we read that "Stockport have released nine players following their play-off win. Included in those out of the door is former Wolves striker Adam Proudlock" but neither of Altrincham's loanees Greg Tansey or Paul Turnbull is available.
BLUE SQUARE NEWS
The Coventry Telegraph confirms that "Nuneaton Borough, one of the giants of non-league football, have gone into liquidation. The news that every Boro' fan was dreading - but expecting - was finally announced at a specially convened press conference at the club's Liberty Way ground today at 2pm. That was the moment the club offcially ceased to be members of the Blue Square North League. Their future, on the playing field, now rests with the Football Association who will be meeting next Monday to reveal which league the club will be playing in next season. The signs are that Boro will be relegated two tiers into the Midlands Division of the Southern League".

The Nuneaton Forum has a statement from the club's Board of Directors:

The new Board of Directors of Nuneaton Borough Football Club wishes to announce that due to the club's serious financial problems the decision has been taken to take the club into Liquidation. The Directors have spent several weeks exploring every option available to them but have accepted professional advice from insolvency experts that there is no alternative but to liquidate the club's assets. This decision has not been taken lightly and the board wishes to stress that had this route not been taken there was every likelihood that the club could have folded and there was a serious prospect of Nuneaton losing its football club. We did explore the possibility of going down the route of Administration of a CVA (Compulsory Voluntary Arrangement) but this would have involved going before a judge with our insolvency expert and, as there were no funds, our application simply wouldn't stack up so Liquidation was the second option. Detailed discussions have been ongoing with the Football Association to determine the future of the club. We are still awaiting clarification as to which league Nuneaton Borough will be playing in next season but it is likely that we will be dropping two divisions and will be members of the Football Association Southern League Midlands Division.

We have no choice but to move out of the Football Conference. Their regulations stipulate expulsion from their leagues whether a club goes into Administration, a CVA or Liquidation. The Football Association rules state that clubs in our position will be relegated by a minimum of two divisions. We did put two proposals to the FA in the hope we could go into the Southern League Premiership Division rather than the Midlands Division. If we had agreed with the 14 shareholders and the creditors with substantial debt we could have gone down the route of Administration or CVA and gone into the Southern League Premiership but we could not reach agreement with them. We will have the FA's final decision on June 9th but our expectation is that we are likely to go down two divisions.

We have to realise and accept that we are in a serious financial predicament, a predicament that we have inherited... My company has guaranteed the players' wages and we are now committed to investing in excess of £1 million in order to get the club back on its feet, develop new facilities, build the new stand and help the manager develop the playing side of the club. We have to manage this club as a business. As I have said many times before, the fundamental problem has been that too much money has been going out and not enough revenue coming in. That is a recipe for financial disaster and is the reason why Nuneaton Borough Football Club is in the position it is in today... By becoming Chairman I am personally giving my 100 per cent commitment to the future of Nuneaton Borough FC. The club is in safe hands. I am Nuneaton born and bred and have the interests of the club and town at heart... Ian Neale"

Cambridge United have announced another departure. "Rob Wolleaston has today joined Rushden and Diamonds for an undisclosed fee. Since signing in February 2006, the former Chelsea trainee has made almost 100 starts for the U's, netting eleven goals. Last season brought his best return with eight goals in total, including both in the memorable Play-Off semi-final second leg against Burton Albion. George Rolls commented, 'I would love to be able to let our supporters know the value of the deal, but Rushden have insisted on a confidentiality clause. As I said before, we have to work within a budget, but it's not going to be one way traffic - there will be a number of players coming into the club'. The move sees Wolleaston link up again with former U's Chairman Lee Power at Nene Park."

According to the BBC "Crawley Town manager Steve Evans has been given a two-month ban from all involvement in football, suspended for a year. It follows a Football Association hearing where he admitted to four different charges of improper conduct. The two-month ban will be applied if Evans is found to be in breach of FA rules in a similar way again. Evans told BBC Southern Counties Radio: 'There is dramatic room for improvement. It has to change me'. He added: 'I'll change for the better and we'll have a football club that supporters can be proud of'... He had already been given a four-game touchline ban to start off the new season".

Bullsnews reports that "Kidderminster's Chris Mackenzie has joined Hinckley United. Now 35, he departed Aggborough last week after choosing to go part-time".

Blue Square Football reports that "Charlton Athletic have emerged as the favourites to clinch the signature of Forest Green Rovers striker Stuart Fleetwood. The Welshman... turned down the chance to join Crewe Alexandra in the January transfer window. Rovers agreed a fee of £175,000 with Crewe only for Fleetwood to reject the switch in favour of seeing out his contract at the New Lawn. Fleetwood's one-year contract expired at the end of the season but Forest Green will still be entitled to fee as he is under the age of 24. However, it is understood that Forest Green and Charlton have come to an amicable agreement for the 22-year-old's services".
---
2 June 2008
CHANGE OF FRIENDLY
Altrincham's friendly game on Saturday 19th July will now be at home to a Manchester United XI rather than away to Sheffield FC as previously announced.
GEOFF ON TRAVEL COSTS
In Sunday's Non-League Today, in response to the paper's claim that the rising price of fuel will put up the cost of travelling for football fans by 26%, Alty chairman Geoff Goodwin says, 'The first thing to go in times of a credit crunch is the luxuries of life, and following a football team can be a luxury. Wages aren't on the increase but fuel has gone through the roof. Something has got to give eventually. I think attendances could be down next season, particularly in terms of away support.. Running a vehicle is now like having a second mortgage. It's not right. To hire one of my 49-seater coaches costs £1,100 at the moment but will have to rise. The fuel cost for my [coach] company has risen from £280,000 last year, to £400,000 this year".
OLD BOY
NL Daily says that "Alfreton Town have signed former Boston United captain Paul Ellender. The 33-year-old, 6'1'' Scunthorpe-born central defender began his career with Gainsborough Trinity where he had four seasons before moving on to Altrincham and then to Scarborough. He became Boston's record signing when he joined them for £80,000 from Scarborough at the start of the 2001/02 season. He then spent the next seven seasons at York Street ... He made 275 appearances for the Pilgrims". Ellender left Boston as their wage offer did not meet his expectations.
BSP NEWS
Alty defender Greg Young's fiancee Kerry Anne Booth continues to make progress in the Football Finder competition - follow the link to vote for her!
BSP NEWS
The NL Paper reports on Halifax Town. "A decision is expected in midweek on whether the current club... will continue, be wound up and then reformed by Dave Bosomworth's consortium, or whether a fans' club will be set up in its place... Bosomworth still hasn't given up hope of staying in the Conference, having lodged an appeal to the FA against the league's decision [to expel them from the Conference]. Success on that front is highly unlikely, with the Conference's AGM being next Saturday". The FA is setting up an appeal hearing "but no date has yet been set". Interestingly, manager Chris WIlder "and his squad are still being paid by Bosomworth". Wilder added, "The lads are on 52-week contracts and he's paid us all this week. He didn't have to do that".

The NL Paper claims that "A massive £1.2m transfer dividend awaits Grays Athletic this summer if two of their sought-after former players move clubs. The Essex club will bank the windfall if Aaron McLean leaves Peterborough for the £2m Posh are asking and ... Michael Kightly, for whom Wolves have already rejected a £4m bid, eventually moves to the Premiership. Grays' owner-manager Mick Woodward inisisted on a 20% sell-on clause when the pair left the New Rec".

The Woking website reports that it "spoke to Kim Grant yesterday evening. He is at Keele at the moment completing a UEFA B course. Phil Gilchrist [along with Grant, appointed as coach his week] also happens to be on the same course, which finishes on 5 June.... Kim was keen to tell me, though, how much he was looking forward to the job at Kingfield: I've had other opportunities to go into management but I knew that this was the right job for me. The Club has solid foundations and an ambitious Chairman. I'm really looking forward to working with Phil and Colin Lippiatt. I know that Colin has an immense knowledge of the non-League game and I will certainly be seeking his advice. In the end, though, the decisions will be down to me... I've played at a senior level in the League and at international level. I've also been a part of a Conference-winning side at Yeovil under Gary Johnson and I think I know what it takes to win this league. I've played in several countries abroad and studied coaching techniques wherever I've been. I will be introducing new ideas, right through from the warm-up to what we do on the pitch'. Kim emphasised that he was very happy to accept the challenge of getting the Cards into the Football League in three years. Indeed, he is setting himself a more ambitious target than that and would dearly love to emulate his former team-mate at Luton, Gary Waddock, who did it in one year at Aldershot Town! ... I had several possible candidates in mind for the Assistant Coach role, including some from abroad, but I decided that Phil, with his top-flight experience as a defender, his stint as club captain at Oxford United and his time at the Leicester Academy fitted the bill best'... Kim mentioned that both he and Phil will also be registering as players".

According to Blue Square Football Ebbsfleet United "Skipper Paul McCarthy has penned a one-year deal along with fellow defenders Mark Ricketts and Sacha Opinel. 20-year-old striker Luke Moore and 26-year-old midfielder Neil Barrett have also put pen-to-paper on 12-month deals".

In the weekend's non-league international, England C drew 1-1 in Grenada, with Morison being the England scorer.
---
1 June 2008
BSP NEWS
According to the Holker Street Newsletter at Barrow, "Programme Monthly have released some [of the results of its national awards], the rest... will be announced in July. Conference National top ten:
1. Cambridge United 630 pts
2. Oxford United 586
3 (equal) Kidderminster 554 and Exeter 554
5. Rushden 455
6. Crawley 446
7. Woking 438
8. Aldershot 435
9. Torquay 428
10. Ebbsfleet 409

Blue Square South:
1. Eastbourne 316 2. Havant & W 298 3. Braintree 291

The Daily Post reports that "Wrexham FC yesterday published financial figures which reveal the club lost £200,000 the first year it came out of administration and was plunged heavily in debt. By June 2007 the club owed nearly £3m. Despite substantial investment in facilities off the pitch including refurbishing the changing rooms and the board room, players' wages accounted for only about 40% of turnover. But the stand redevelopment which is the key to paying off Wrexham's debts is set to drag on a while longer according to joint director Geoff Moss. In the financial statement, which covered 14 months up to the end of June 2007, Mr Moss said: 'Talks with Wrexham [County] Borough Council and the Welsh Assembly Government, relating to the provision of a grant towards the development of a new Kop stand are progressing and we hope to have made final arrangements by the end of the 2008/2009 season. We have also entered into a contract with a developer to sell certain sections of land surrounding the Racecourse Ground. This contract remains dependent on full planning permission being granted within given timescales. Outline planning permission has been granted to the club. Receipts from this sale are fundamental as regards our continued ability to fund the club'.

And Mr Moss said: 'Our underlying aim when we took control of the club was to leave it in a financially stable position and under the ownership of a genuinely Wrexham FC sympathetic investor. We remain determined to finalise the re-financing of the club, via the land sale, and also to find a suitable investor'... A Trust spokesman said' "We are pleased that the accounts have been published, but they make somewhat depressing reading. It shows just how important league status was to us.'".

s Meanwhile the Evening Leader "Brain Little [has] revealed he is closing in on more possible signings. Little has already secured the services of one new player, midfielder Paul Carden, who has joined Wrexham from Accrington Stanley... 'We're all very active and speaking to people all the time, and we have a couple of strong irons in the fire', said Little. 'We have spoken to players and made offers verbally so we are waiting to see what happens. We said that it would be a few weeks until things really take off, and it might be some time later in June when people make their move. But we will see if one of those we are speaking to happens quickly based on what we have in place. I am hoping to have some more good news in the next week or so. Things are in place, it is just not the right time to announce it yet'. Little has been linked with another midfielder, Tom Kearney, who has been at Halifax Town – in administration and facing demotion of at least two steps down the football pyramid from the Blue Square Premier – for the last two seasons.... 'I have known Tom for years and seen him play', said Little. 'I have watched him for Bradford years ago and know his background from his Everton days. Tom is a good player who for the last couple of years has played beneath the level he should be at. We like him a lot'... He is still waiting to hear if out of contract centre-back Steve Evans – currently away on international duty with Wales – will accept the offer of a new deal, Little is still actively looking to strengthen his defence, and said positive steps have been taken as he aims to add fresh faces in both positions.... 'Hopefully we have a striker lined up and it is a yes', said Little... 'We have also made moves in the centre-back area, but until it is done we can't really shout about it... I am just hopeful we have got enough to entice people to play for us in our division', he said. 'One or two players are being hunted by Football League clubs which has slowed it down'... With 22 players told they have no future at The Racecourse, Little's overhaul of the Wrexham squad is in full swing. However, five of those players – Anthony Williams, Richard Hope, Sam Aiston, Silvio Spann and Michael Proctor – remain under contract for at least another season. But Little admits there has been interest from other clubs in the quintet: 'I know one or two have had offers, and hopefully they will take those offers...It is for their benefit for them to be playing football regularly and I am trying to create as much movement as I can'".

The Argus reports that "Terry Parris has agreed to return as chairman at Lewes. The Rooks' legend recently admitted he was worried about the direction the club was taking after replacing title winning boss Steven King with Albion commercial manager Kevin Keehan. Parris said: 'Once I knew the full facts, and the reasons for the new direction, I was only too pleased to accept the offer from the Board'. Former Lewes midfielder Tom Davis, 24, has signed for AFC Wimbledon".

And the Sussex Express adds that "Lewes legend Terry Parris has made a surprise return as Chairman of Lewes Football Club. Parris is the record appearance holder for the Rooks as a player and has also served the club as manager and chairman once before... He branded accusations that the Board members did not have the best interests of the club at heart as 'disgusting'. He said: 'I was delighted to be asked to return. I have missed Lewes Football Club... The Board of Directors are all good Lewes people who only have the interests of the club at heart. They put money in, not take it out, and to suggest otherwise is disgraceful. They want the club to consolidate the recent successes and then be in a position to be financially stable and go forward. This club is 123 years old, what is being put in place now will ensure it is here for another 123 years. The way it was going, had to be checked. It has taken us five years to get a B grading, and now we have 12 months to get an A grading. Plans are in place to achieve that, where possible. I have always supported the Board and they have a clear vision of the next phase for this club. Look what they have achieved in such a short space of time already. We have had great success on the pitch with Jimmy Quinn and Steve King, but none of that would have been possible without what has gone on off the pitch. We must all now embrace the change and look forward for the good of the club.'".

According to the Halifax Town website, "Members of the Halifax Town Supporters' Trust were receiving ballot papers today seeking views on the future direction of the club... Members are being asked to decide whether the trust should withdraw its 'statement of intent' and allow more time for the consortium to evaluate its position alone, or ask the consortium to withdraw its 'statement of intent'. A decision is needed as the FA will only accept one application for a team from Halifax and the trust has set a deadline of June 5 for replies. It has been frustrated at the lack of dialogue with the consortium but will support whichever option is chosen by the membership. And, if the consortium does not pursue its interest, the trust will proceed with plans for a fans' owned club but warned continuing delays could see deadlines missed for the Unibond Premier League Division One North - and the club re-starting as low as the Northern Counties East League at step six of the national game alongside Brighouse Town".

At Torquay United "Paul Buckle has continued with his recruitment drive today by signing Oxford striker Matt Green on a 2 year contract. Matt, 21, had both Oxford United and Barnet chasing his signature but he has chosen Plainmoor to ply his trade for the next two seasons, he started his career at Newport County before moving to Cardiff City, Darlington and finally spent the second half of last season at Oxford where he scored 10 goals in 14 starts. A delighted Paul Buckle spoke to the website... 'He is quick and strong and impressed me greatly when he played against us last season. Matt and his girlfriend came down to Torquay yesterday and I spent the day with them both and showed them the sights! Matt is at a good age to come here and this is a brilliant investment for Torquay United'".

From Stevenage Borough we learn that "The club confirm that there is no news yet on whether Steve Morison will be with the club next season. Chairman Phil Wallace said: 'We've done the right thing by Steve, notifying every League One and Championship club that he's asked for a transfer. We didn't notify any League Two clubs as both ourselves and Steve agreed that moving to League Two wasn't a long-term career move for him from Stevenage. He's happy with us, but just wants the chance to play a high standard of League football, which is understandable. So far nothing has materialised and, in order that we can properly plan for our coming season, we will take Steve off the transfer list if the situation remains unchanged next week. The Manager has got to know whether he's signing strikers to compliment Steve or to replace him. At the moment his hands are tied because we just don't know. To his credit, Steve understands the position and has said that if he's with Stevenage next season, both the club and the fans can expect him to give 100% to help us achieve promotion, as indeed he's done in the past'".

Confirmation comes from Histon that "Star Striker Antonio Murray has delighted the management team and fans of Histon FC by signing to stay at the Glass World Stadium for another season".
---
FOR EARLIER NEWS, CLICK HERE
---