30 November 2010
KEN TRYING TO STRENGTHEN
Cambridge United
have a post-match interview with Alty boss Ken McKenna, who said, "We spoke after last week about getting off to a good start and worked on defending during the week but it was all undone by the early goal. There are certain areas of the pitch that we need to sort out and you don't have to be José Mourinho to see that. We know where we are weak and we know what we have got to do, the problem is getting it done.
In certain areas of the park we have players that on their day will trouble anyone in this league and we had chances from them out there today but in other areas we are getting undone and that frailty was shown up today by a good footballing team. The wide players caused us problems but it's not those players that hurt you, it's the ones that come in and put the ball in the net that does that.
It's that area of the pitch that we are not dealing with things and the area I was trying to strengthen before the game without any luck. We know where we need help but knowing about it and being able to do something about it is two different things.
Today showed how it goes when you are at the bottom, it seems we are being punished for every little error at the moment. We have to work hard on the training ground and try to eradicate those errors from our game because at times it was far too easy for Cambridge out there.
I thought we did all right in the middle of the park but it was the defending that let us down. Even with the free kick, the keeper has saved it but they were the first to react and as a manager that is very, very frustrating. Going forward we had chances, balls dropped to us in good areas but we couldn't put a finish on it. That was summed up by the penalty, the game was long over by then but we couldn't even put that away.
We know what we have to do and we have to sort it out as soon as we can because if we don't we are going to be in a lot of trouble".
PRE-CHRISTMAS OFFER
Ian Senior, whose
Sensport Kits
company supplies Altrincham FC's kit and sportswear, has announced a generous offer... "With Xmas in mind, I will "personalise" any item of merchandise bought from the club shop, free of charge, be it replicas, polo shirts, hoodies, etc. Offer applies to names, initials and numbers".
BSBP NEWS
NL Daily
says that "York City boss Gary Mills has revealed that he would have liked to have finalised a loan move for midfielder Levi Mackin to another Blue Square Bet Premier club. The former Wales under-21 international is currently trying to regain match fitness after recovering from a knee ligament injury suffered on the opening day of the campaign.
'I think the competition for places in midfield is excellent', said Mills. 'We have got a few bodies in there and, because of that, we wanted Levi to get some football because he needs games. But he still might join a Blue Square Bet North team, who are not restricted by last night`s deadline'".
REFEREE
The referee for Altrincham's away match at Tamworth next Sunday is Mr K. Johnson, who we don't seem to have had previously.
---
29 November 2010
MATCH OFF
Tuesday's match at Moss Lane against Forest Green Rovers has been postponed, due to a frozen pitch, following an inspection by the match referee this morning. Alty's next scheduled game is next SUNDAY (5th) at Tamworth (3pm). See the Away Travel link for details of supporters' coach travel to that game.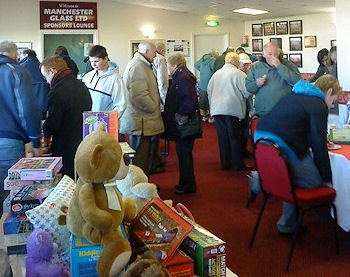 THANK YOU
Altrincham FC wishes to thank all who organised, attended or donated items for the Christmas FAir, which was held at Moss Lane on Sunday. The event raised £470.25 which is a credit to all concerned.
Darren Gregory's photo, left, shows the Fair in full swing.
TOO EASY FOR US
After Alty's game at Cambridge,
Cambridge United
report that "Manager Ling said afterwards: 'Obviously with them coming off a 7-0 scoreline last week everyone expected this to be easy for us, and in the end it was because we did the right things. It was nice to see the front two get two each, and it was a good professional performance all round. In a way you're on a hiding to nothing because you're expected to win, but we did that and did it comfortably. We got a bit sloppy at the end when it was becoming too easy for us, but overall I'm very pleased'...
'We knew they'd park the bus and make it difficult for us, so we went for a front two with pace out wide in JP and Robbie, who got three assists between them. The front four worked perfectly, and having Paul Carden back as covering player for anything that they had to offer was pleasing as well...
They came with a back five and we pinned back their wing-backs well and had players getting across the defenders to score. Three of the goals came from crosses, plus the one where Gray's got the rebound from the Jennings free kick, and I thought the wide boys gave them a lot of problems'...
'I don't think it was a penalty, Rory just leaned into him but it was a good save from Danny Naisbitt to preserve the clean sheet'".
Right: Snow had to be removed from the pitch before Alty could play Cambridge last Saturday, as can be seen, right. As an Alty cross comes in from the right, Matt Somner (no.25) is prevented from getting airborne by a defender.
FA CUP
The non-League clubs in the draw for the FA Cup Third Round (on the weekend of 8th/9th January, 2011) were as follows:
Brighton & Hove Albion or FC UNITED OF MANCHESTER v Portsmouth
Huddersfield Town v DOVER ATHLETIC
CRAWLEY TOWN or Swindon Town v Derby County
Bolton Wanderers v YORK CITY
Tottenham Hotspur v Charlton Athletic or LUTON TOWN
Norwich City v DROYLSDEN or Leyton Orient
BSBP NEWS
News of Tuesday's visitors to Moss Lane comes from "Forest Green Rovers have acquired the services of Northampton Town striker Steve Guinan" reports NL News 24. "The 34-year-old, who has played 16 times for the Cobblers this season and actually scored for them against Rovers in the FA Cup this month, has decided to sign for Rovers until January.

He told the club's website: 'Regular football is a key element at my time of life and of course I know the Conference well. Having played recently against Rovers at the New Lawn, they are in my opinion a club which is determined to improve on the field and I believe they have a good manager and an excellent chairman. I look forward to a longer stay that just January and I hope to be able to use my experience to develop the talent which Reece Styche and Ross Dyer have begun to demonstrate'".

This is Glos reports that "Rushden snatched a 94th minute equaliser as Forest Green let a 2-0 lead slip in gut-wrenching fashion... Rushden needed a break in more ways than one, and they got it within five minutes of the restart when referee Amy Fearn decided McDonald's clumsy challenge on Craig Farrell – seemingly a couple of yards outside the area – merited a penalty kick... Forest Green: Bittner; Hodgkiss, L. Jones, Quinn, Armstrong; Klukowski, Turk, M. Fowler (Caines 75), McDonald; Enver-Marum (Guinan 70), Dyer; Subs not used: Bartlett, Stokes, Else."

Bath City "are pleased to announce the signing of midfielder Leon Jeanne on non-contract terms. Jeanne began his career with Queens Park Rangers where he made his first team debut in 1999. He has also played for Cardiff City, Newport County, and a series of small non-league clubs in England and Wales. He joins City from Cardiff Corinthians FC.

Although universally considered to be a very talented footballer, Jeanne's career has been dogged by disciplinary problems. Signing him is a step that City manager Adie Britton has decided to take after careful consideration: 'You do not see many players who excite you when they are just controlling the football. His first touch is different. He has undoubted ability. I am well aware of the problems he has had before, but after getting to know him better I have decided to give him an opportunity with us. Bath City is a club that is continuing to exceed expectations. We do this by giving one hundred percent all of the time. All of my players know this, and Leon knows it too. He is aware of our standards and our work ethic. As long as he adheres to those, and continues to work hard, he will remain with the team and do very well with us...

I see him in the near future as an impact player. He'll need to work very hard on the physical aspects of his game to make the starting line-up'".

Gateshead "boss Ian Bogie is hoping that his side's progress this season will not be derailed by another winter wipe-out. The Tynesiders game at Kettering was one of three called off in the Blue Square Bet Premier and prospects are bleak for Tuesday's home game against Barrow...

'It looks like we will have two games in four days postponed', said Bogie. 'That allows other sides to steal a march and we don't want a repeat of last season when a host of games were frozen off... If we can score more goals we can finish in the top ten this season'...

Attendances at the International Stadium have increased for a fourth consecutive season, the current average of 776 more than 100 up on last season. 'We are gradually building up our fan base both home and away', added Bogie. 'We took 400 to Darlington and 300 to Notts County in the FA Cup which is encouraging'...

'There is also the live Premier TV Sports game against AFC Wimbledon at the end of January to look forward to, so these are exciting times'. The construction of Gateshead's eagerly anticipated 8,000 capacity new centre of town stadium is expected to generate further interest in a club bidding to regain Football League status. It is exactly half a century since Gateshead were unceremoniously, and unjustly, booted out of the League and a planning application for the new stadium will be submitted in the New Year...

'We expect gates will increase significantly when we have our own purpose built stadium but, as always, results and performances on the field will be key'".

At Grimsby Town "Andrew Wright has been recalled by Scunthorpe United and he has returned to Glanford Park... because of an injury crisis at the club. Wright is nearing two months on loan at Blundell Park and had just agreed to stay for the maximum three".

Kidderminster Harriers say that they "have tied up two pieces of deadline day transfer business with the loan signings of former Liverpool starlet Craig Lindfield from Accrington Stanley, and Birmingham City youngster Mitch McPike".
---
28 November 2010
YOUTH MATCH OFF
Temperatures which reached minus nine last night ruled out any possibility of the Alty Youth match against Nantwich Town being played today at Wythenshawe Town.
CHRISTMAS FAIR
This Sunday is the date for the Altrincham FC Christmas Fair at Moss Lane from 11am-2pm. Please come along and support this event, which is being held in the Manchester Glass Sponsors' Lounge.
NEXT SUNDAY
Don't forget that next weekend's match is on SUNDAY (5th Dec.), against Tamworth at 3pm. The game has been moved to Sunday because The Lambs are playing a televised game the preceding Thursday.

Details of the TASC supporters' coach to this match are here.
YESTERDAY
The Non-League Paper claims that "It was like snatching sweets from careless kids as Danny Wright and Wayne Gray helped themselves to a couple of goals each against rock-bottom Altrincham" at Cambridge on Saturday. "The visitors' defence may as well have had a welcome mat in front of it as the Cambridge United striers homed in on a series of centres from wingers Robbie Willmott and Jordan Patrick".

Alty manager Ken McKenna said "We were done by a better team. We just didn't defend well enough and that killed us. I don't think we were too bad in midfield and we had something going forward but we just weren't getting to the second balls and the knock-downs in the box".

Cambridge boss Martin Ling added, "Everybody was expecting it to be easy but you have to work to make that happen".

The Cambridge United website said that "United never looked back after surging into a 2-0 first half lead, and a late penalty save from Danny Naisbitt also ensured that the U's kept a clean sheet as they picked up their first win in four games...

Altrincham pushed forward in the closing stages, and were awarded what looked a soft penalty when Denham went down under challenge from substitute Rory McAuley. But Naisbitt was equal to Shaun Densmore's effort, diving to his left to make the save".

Nevertheless the United site statistics show possession as 50%/50%, with Cambridge winning the shots on target 7-4, but, overall, all shots were 12-11 to Alty, who also won the corner count 6-4.
---
27 November 2010
CAMBRIDGE UNITED 4 ALTRINCHAM 0
Altrincham suffered their second successive heavy defeat with this 4-0 loss to Cambridge United. And, for the second week running Shaun Densmore had a penalty saved (pictured right) which would have been a slight consolation but would not have altered the outcome.
Match report here
Alty line-ups
Saturday 27 November
Through the Years by Howard Watts.
Barrow AFC v Kidderminster Harriers POSTPONED
Cambridge United 4 Altrincham 0
Forest Green Rovers 2 Rushden & Diamonds 2
Kettering Town v Gateshead FC POSTPONED
Newport County 2 Hayes & Yeading Utd 1
Southport v Eastbourne Borough POSTPONED
Wrexham 1 Mansfield Town 1
LIVE UPDATES
It is intended to provide live updates from the Cambridge United v Alty game on Saturday afternoon; they will be on the Matchday update page.
SHOWING WHAT THEY'RE MADE OF
In Friday's Manchester Evening News, Alty manager Ken McKenna says "With 26 games still to go, I know we can get out of this mess but it's not me who needs to be convinced of that. It's the players.

If they want to continue playing at this level, they have to realise that it's at times such as this that they have to roll their sleeves up and show what they're made of".
SATURDAY'S GAME
Mike Garnett's records tell us that Altrincham and Cambridge United have met 10 times previously...
At Moss Lane: P5 W3 D0 L2 F8 A6
At The Abbey: P5 W0 D3 L2 F3 A8
Total: P10 W3 D3 L4 F11 A14
CAMBRIDGE'S PLAN
With temperatures minus five and worse expected overnight in the Manchester area, there is better weather news from Cambridge United who report that "The Club was aware of the cold weather on its way ten days ago and all of the preparation work on the pitch, the marking up, has been brought forward and is all completed. The vulnerable areas of the pitch, which do not get the sun during the day, are all covered with sheeting and all areas of the pitch are soft and playable at present. With the current forecast not suggesting any snow until early next week, we do not foresee any problems with the game going ahead and, whilst we will keep the match referee updated with any changes, there are no plans for a pitch inspection at present [Friday]".

Meanwhile, "manager Martin Ling has warned his players not to under-estimate their struggling opponents... 'Altrincham won't just come here and be lambs to the slaughter', said Ling. 'People might look at it that way, but their manager is going to expect a reaction after the result they had last week. They're going to set out in a 4-5-1 to try and frustrate like they did last week judging by the report we've got on them. Obviously it didn't work very well then, and there's no getting away from the fact they've just lost 7-0 and their confidence is going to be low.

If we can get amongst them and get an early goal I would expect us to go on and dominate the match. It's a game we will win if we play to our potential, but we can't afford to make silly mistakes like we did last week'. The U's are unbeaten in six league games going into the match, but four of those games have ended in draws...

'Because we're playing catch-up we need to win games, because if you draw you just end up treading water and not moving up the table'" said Ling. He added that "Jordan Patrick has been pushing on in the last few weeks and deserves his chance... The young players are a massive part of what we're doing as a football club. looked at our squad the other day, and of the 27 players with squad numbers, 13 of them have come through the youth system, which must be one of the highest number of any club in the country. People sometimes seem to think these players appear from nowhere, but we wouldn't get them without the development centres and the support they get from local firms'".

The United site adds that Alty's "Connections to United begin with centre-half Marc Joseph, a former trainee at the Abbey, who joined from Rotherham during the summer... United fans may recall Ken McKenna was appointed Chief Scout at the Abbey during the reign of Gary Brabin, before joining Alty in June 2009. Ken is now assisted by Stuart Bimson, who enjoyed spells as both a player and coach with the Mighty U's... Links with United are enhanced by the presence of Matt Somner. Currently on loan from Mansfield, the 27-year old was emblazoned in black and amber between December 2004 and May 2005, but departed following our Football League relegation. Former Wales under-21 international Matt played 24 games for United... A rough diamond in the Alty midfield, his battle with Paul Carden tomorrow afternoon could prove interesting."

The Cambridge News reports that "Jordan Patrick will be handed his full debut in Cambridge United's home encounter with bottom club Altrincham tomorrow. After hinting the youngster was pushing for a start following his stunning display as a substitute in last Saturday's 3-3 draw at home to Tamworth, manager Martin Ling confirmed Patrick would be in the side. Ling said he hoped the teenage winger would make the most of his chance.

He said: 'Jordan started this season poorly, but in the last couple of months he has come on for 20-minute spells and he has grown from a boy to a man. The next step is to do it for 90 minutes rather than coming on with 20 minutes at 3-0 down with nothing to lose. It's a different kind of pressure when you've got to impose yourself on a fresh pair of legs, but I'm pretty confident he'll be able to do it'.

But Ling admitted Patrick's arrival may necessitate moving to a 4-4-2 system from the 4-3-3/4-5-1 formation that has helped United turn the corner since dropping into the Blue Square Bet Premier relegation zone last month. He said: 'If I go 4-4-2, one of the midfield players will have to be left out with Jordan playing on one side and probably Robbie (Willmott) on the other. Cardy (Paul Carden) would take one of them, so then it's between Simon Russell, Stav (Alex Stavrinou) and Rory McAuley for the other place. We've got selection headaches in there, which is pleasing because the team has picked itself recently and that's never a good position to be in'.
Ling's decision could be made simpler as Stavrinou missed training yesterday with a virus and is rated doubtful. But he said Altrincham should be treated with respect despite going into the game on the back of a 7-0 thrashing at Crawley. 'We'll have to put the tempo into the game and that can be a difficult thing to do', said Ling. 'The longer the game goes on if we don't get that goal, players, staff and fans alike become frustrated, so we need to be careful in that and impose our passing game on them'" .
Meanwhile confirmation comes from the BBC that "Cambridge captain Paul Carden should be available after shaking off a calf problem, but loanee Alex Stavrinou has had flu and is a doubt. The match comes too soon for striker Daryl Clare as he continues his recovery from a broken finger.
Altrincham defender James Smith could feature after recovering from a hamstring strain. Winger Nicky Clee (right) and striker Damian Reeves (left) are pushing for starts after substitute appearances last week.
Cambridge United boss Martin Ling told BBC Radio Cambridgeshire: 'We need to treat this as another game, forget about their 7-0 defeat last weekend [by Crawley] and the fact they're bottom of the league. I expect them to come to defend and it will be up to us to try and break them down and get some tempo into the game. If you let them get a foothold then they might to forget about their predicament, so we need to impose ourselves and remind them where they are in the league'".
FA CUP ROUND 2 GAMES
The games involving non-League clubs are: Friday, 26 November
Crawley Town 1 Swindon 1

Saturday, 27 November 2010
AFC Wimbledon v Stevenage
Brighton v FC United of Manchester
Carlisle v Tamworth
Charlton v Luton T.
Colchester v Swindon Supermarine
Darlington v York C.
Dover A. v Aldershot T.

Monday, 29 November
Droylsden v Leyton Orient (on ESPN, k.o. 7.45pm)
BSBP NEWS
The BBC reports that "York City have signed midfielder Andre Boucaud on loan from Kettering Town with a view to the deal becoming permanent in January... The 26-year old has also had spells with Peterborough, Wycombe, Aldershot and Reading. He had spent two and a half years at Kettering, where he played 99 league games, 10 of them as a substitute".

And "Luton Town have signed experienced Northampton Town defender Craig Hinton on a loan deal until 4 January. Hinton, 33, has made just one first-team appearance this term after missing the start of the season through injury. 'This is a good move for Craig, his attitude has always been exemplary', said Cobblers' boss Ian Sampson... 'He missed the first two months of the season but he worked really hard to get back fit'...

Hinton has made a total of 47 appearances for the Cobblers since joining them from Bristol Rovers in the summer of 2007. He started his career at Birmingham City, before going on to make 240 appearances for Kidderminster Harriers".

From the Football Conference comes news that "Karl Ledsham signed for Southport... The 22-year-old left-sided midfielder has impressed at neighbours Skelmersdale United as a goalscoring midfielder who can operate centrally or on the left. At 6` 3", Ledsham will add height into the midfield and Watson is confident the former St Helens Town player will make an impact in the Conference National".

The Conference also says that "Steve Evans, manager of Crawley Town, beat the loan transfer deadline of 5pm on Thursday to secure the signing of the very highly thought of youngster Abdulai Bell-Baggie from Reading. The Reading youngster, 18, a lightening fast and tricky wide man, has had loan spells at two League Two side Rotherham towards the end of last season and Port Vale at the start of the current campaign. The lad is well known to Reds' captain Pablo Mills and Craig McAllister who played at Rotherham when the young Reading wide player was on loan in South Yorkshire. Crawley have beaten Rotherham and a number of npower League Two clubs to land the talented player on loan transfer deadline day".

And "Gateshead have received an unexpected early Christmas present with the news that key defender James Curtis has not broken his foot after all. Curtis had been diagnosed with a second break of his fifth metatarsal and had been told he would be out until the New Year. However, after further consultation, it has been revealed there has been no break and that the injury is soft tissue damage. Gateshead's longest serving player could therefore be back a month earlier than expected if there is no reaction when he returns to training next week".

According to Blue Square Foobtall "Newport County winger Charlie Henry is set to join Luton Town pending a medical at the club. A statement on the County site reads: 'Charlie Henry is poised to join Luton Town for an undisclosed fee. The club was approached with an offer, of which Charlie was informed. After making the move down to South Wales, Charlie has talked to me in recent weeks of his desire to move back as he missed his family and friends and the option to move back closer to home was too much to miss... County have a ready-made replacement with Sam Deering already at the club, while central midfielder Christian Smith has joined on loan from Wrexham...

The Hatters meanwhile signed experienced Northampton Town defender Craig Hinton on a loan deal until 4 January suggesting the McGurk deal [from York] will have to wait until the winter window at least. With Hinton on a free in the summer watch this space".
---
26 November 2010
ALTY REINFORCE
Altrincham FC have recalled winger Kevin Holsgrove (left) from his loan at Hyde FC and he will be joined in the squad at Cambridge United on Saturday by new loan signing Mark Beesley, a former Cambridge player, who has joined from Fleetwood Town till 3 January, 2011.

A striker, Mark Beesley (d.o.b. 5 December 1980), started out with Preston North End where he made one first-team appearance before joining Chester City for more than three seasons, followed by a spell at Hereford United in late 2003. In 2004 he signed for Forest Green Rovers before going on loan to the Giant Axe where he played for Lancaster City before returning to FGR. From there, he was bought by Cambridge United but in summer 2010, he joined Fleetwood Town.

Alty tried to get him on loan a couple of months ago but the loan regulations got in the way at that time. In the interim he has been on loan with York City, since early October, but the arrangement was terminated by City's new boss, Gary Mills.
SAM'S CONFIDENT
In the Sale & Altrincham Advertiser, Alty's midfielder, Sam Hewson (right), says "We're sorry about Saturday- it was an embarrassing game for the fans and for us and the lads don't want to do that again. We were all disappointed after the match, But we will be looking to put it right against Cambridge. We'll come out fighting and show a bit of spirit.

Everyone at the club is behind each other. We will be a different team on Saturday...

I think the team is capable of playing in this league. Our performances were more like a team in the top half of the table before Saturday... I still think we can get out of it but we need to get points from the next few games. These are the games we need to be winning... It's down to everyone... We need the fans to stick by us. We know our performance wasn't up to par on Saturday and we need to put it right straight away".
GIG OFF
The "Real Young & The Lazy Horse" gig at Moss Lane tonight (Friday) has had to be cancelled owing to illness of the Neil Young tribute band's lead singer. It is hoped to re-arrange the event in February 2011. Apologies to all who had planned to attend.
Sunday, 28th November, 11am-2pm: CHRISTMAS FAIR
Altrincham Football Club Christmas Fair
To be held in the Manchester Glass Sponsors' Lounge at Moss Lane.
We would like donations of the following, please:
1. Good as new toys and games
2. Unwanted toiletries
3. Chocolate (bars,tins,boxes) for the Tombola
4. Raffle prizes

All donated items can be bought into the Club during office hours anytime in the weeks leading up to the event or into the club shop on matchdays.

Thank you for your help. Please make a note in your diaries to come along and enjoy the day!

Louise Gregory & Karen Rowley".
THURSDAY MATCH
Histon 1 Bath C. 2, gate 470.
League table
A QUESTION OF CONFIDENCE
The Cambridge News reports that "Paul Carden is confident Cambridge United can move up the table before the crucial festive period begins. United have four Blue Square Bet Premier matches between now and Christmas, starting on Saturday with a home encounter with bottom club Altrincham.

Assistant manager Carden watched the strugglers lose 1-0 at home to Luton 12 days ago, while recuperating from an injection in a nerve in his back to sort out a hamstring problem. Altrincham followed it up with a 7-0 drubbing at Crawley last Saturday, and Carden hopes United are catching them at the right time to launch a winning run.

He said: 'They just looked like a side low on confidence and I met Kenny McKenna (Altrincham manager) and Bimmo (Stuart Bimson, assistant manager) afterwards and they were bracing themselves for this run of games. Hopefully, they'll still be bracing themselves, but sometimes a tonking like that can really stir them up or it can send them the other way. But we need a win to get us moving up there and make sure we're in contention come Christmas to strike and stake a claim beyond that'.

Carden also hopes to be back for the Altrincham game after missing last Saturday's 3-3 draw at home to Tamworth with a calf problem. He said: 'I'm sick to death of missing games – I've missed four this season through injury'".

And the BBC adds that "Cambridge United winger Robbie Willmott feels he has played some of the best football of his career in recent weeks. The 20-year-old U's academy product has scored five goals in the last six league matches, including a penalty against Tamworth on Saturday. Willmott told BBC Radio Cambridgeshire: 'I think I'm back to my old self, I'm happy playing for the club. I'm playing football the way I enjoy and taking on my man and for the past month I've been playing really well'.

Willmott struggled for form during the last campaign before suffering a knee injury in February, but has been a virtual ever present this time around. The U's are unbeaten in six league games and took League One Huddersfield to an FA Cup first round replay earlier this month. 'We're brimming with confidence since the Huddersfield matches, we just need to go into every single match with the same work ethic', Willmott said... 'I don't mind taking penalties, I tend to either smash it down the middle or smash it either side. I don't bother curling it', he said".
OLD BOYS
The BBC says that "Accrington Stanley have signed... Fleetwood Town midfielder Ian Craney on loan until 3 January... with Craney re-joining for a third spell... Craney will miss the visit to Vale Park as he is cup tied...

Craney told the club website: 'I am delighted to be coming back. The move has come out of nowhere. But I have been keen to come back into the Football League. It's nice to get back to what you know and I have always enjoyed playing under John Coleman and Jimmy Bell'...

Meanwhile, Fleetwood have taken Tranmere's youth team goalkeeper Andy Coughlin, 17, on work experience.

From the Shropshire Star comes news that "Midfielder Carlos Logan may become the latest player to sign forms at AFC Telford United... Former Darlington and Barrow man Logan, 25, is a free agent and has been training with the Bucks for the last few weeks. Assistant manager Darren Read... said he could now sign non-contract forms in order to add competition for places".
BSBP NEWS
From the Football Conference we learn that "The Football Conference Community Club Development Fund, operating between the Premier League, the Professional Footballers' Association and the Football Conference will be officially launched on Thursday, 2nd December 2010 in front of Premier Sports cameras at the live Blue Square Bet Premier fixture between Tamworth and high-flying Newport County, who are the visitors to the Lamb Ground on the evening.

Amongst the guests at the launch will be Sir Dave Richards (Chairman of the Premier League), Gordon Taylor (Chief Executive of the PFA), and Brian Lee (Chairman of the Football Conference).

Tamworth will be the first of the current 67 Conference member clubs to receive a grant from the recent overall funding - amounting to £800,000 per season for the next three seasons - being made available by the Premier League and the PFA, to assist clubs to engage with various sections and elements of their local communities in approved matched funding schemes.

The Club is working with Turnaround, a local consortium involving Tamworth Borough Council, Staffordshire Police and the Fire Service, as well as the Tamworth School Sport Partnership who will provide the match[ed] funding as well as qualified coaches.

The Football Conference launched the Fund in August. The scheme is designed to encourage member clubs develop their work in their local communities. It was made possible by the generous commitment of the Premier League and the Professional Footballers' Association.

Steve Lathbury, Vice Chairman of Tamworth Football Club & Trustee of Tamworth In The Community, said: 'This is a huge boost for the Club and our programme, and for the young people of Tamworth and Staffordshire. Sport is a great way to develop children's understanding of healthy living. By using our first-team players, we hope to demonstrate the type of role models they can become'"

Richard Scudamore, Chief Executive of the Premier League, said about the Fund: 'We are extremely pleased to be working with the Football Conference to establish the development fund that will allow Conference clubs, all extremely important within their local communities, to invest more funds into local youth development and good cause initiatives."

Gordon Taylor, Chief Executive of the Professional Footballers' Association, said 'Sport plays a central role in helping young people stay fit and healthy. It is particularly pleasing to see that Tamworth's players will have some responsibility in helping to deliver this project. We are looking forward to this being the first of many projects to be funded by our partnership'.

Brian Lee, Chairman of the Football Conference said: 'It gives us great pleasure to announce this first grant, and we are grateful to both the Premier League and the PFA for their generosity in creating this fund. Tamworth is one of many undertaking important work in their communities and I look forward to seeing the outcome of their work'.

Meanwhile Susan O'Brien, Project Manager for the Football Conference Community Club Development Fund, will shortly be announcing a further 20 offers to member clubs for schemes amounting to £200,000. More details on which clubs are to receive funding grants in this first tranche of releases will be announced shortly by the FCCCDF".
---
25 November 2010
WEDNESDAY GAME
FAT3QR Replay: Witton Albion 1 Harrogate Town 2
THURSDAY GAME
Histon v Bath City
LOOKING FORWARD
The Sale & Altrincham Messenger says that "Ken McKenna is calling for a positive response from his Altrincham players as they head into a vital spell of games in their bid for survival in the Blue Square Bet Premier.

Though bitterly disappointed with a late collapse against Crawley, the Alty boss is adamant his side cannot afford to dwell on their 7-0 setback at the Broadfield and must be ready for a challenge that starts at 16th-placed Cambridge United on Saturday.

Alty then face three teams currently in the bottom six, as they take on Forest Green Rovers at Moss Lane next Tuesday, followed by Tamworth away and Histon at home. It is an ideal opportunity to climb off the foot of the table, and McKenna is stressing the need for discipline to be maintained throughout, after a late lapse proved costly at Crawley.

'There wasn't a great deal we could do about the way Crawley went at us in the first half, but we might have salvaged a bit of pride in the second half, when we could easily have pulled it back to 4-2', he said. 'Instead, we lost our discipline, conceded three goals in the last five or six minutes and ended up on the wrong end of an embarrassing scoreline. We have to learn from that and make sure we keep our focus from start to finish'.

Alty weren't helped by a hamstring injury to key defender James Smith, just hours before kick-off last Saturday, but are hopeful he may pass a late fitness test, ahead of the Cambridge game.

The club are throwing open their doors and hoping for a bumper turnout for their Christmas Fair, in the Manchester Glass Sponsors' Lounge at Moss Lane on Sunday from 11am to 2pm. Donations, such as toys, games, toiletries or chocolate items, are still being sought for the tombola and raffle and can be delivered to the ground during office hours".
CHRISTMAS FAIR
Darren and Louise Gregory remind us that this Sunday is the date for the Altrincham FC Christmas Fair at Moss Lane...

"Sunday 28th November 11am-2pm

To be held in the Manchester Glass Sponsors' Lounge at Moss Lane.

We would like donations of the following
1. Good as new toys and games
2. Unwanted toiletries
3. Chocolate (bars, tins, boxes) for the Tombola
4. Raffle prizes

These can be bought into the club during office hours anytime in the week leading up to the event".
OLD BOY
Jamie Phoenix got a 90 + 4th minute winner (1-0) for Vics in their FA Trophy replay v Whitby on Tuesday.
BSBP NEWS
According to Blue Square Football "Cambridge United assistant boss Paul Carden is erring on the side of caution when it comes to easing Daryl Clare back into competitive action. Clare recently returned to full training after being sidelined with a broken finger for the past month. But Carden says the striker will only make his return in next weekend's trip to Newport County on 5 December.

'He has got the all-clear to train full contact again, but the surgeon said the most sensible thing to do is to wait and declare him ready for next weekend', Carden told cambridge News. 'He said an extra week isn't going to kill anyone, but it's hopefully going to mean he's better for it, and that's the main thing... What he has been doing is non-contact work, which is obviously better than nothing and Daz is the type of lad who will keep himself fit anyway'".

Bath City announce that "non-contract player Darren Edwards has left the club and is preparing to sign with Gloucester City. During his time at Bath City, with over 150 appearances, Edwards has been instrumental in most of the important events in recent club history... Last season his career best 25 goals was crucial to City's eventual promotion success".

The Cambridge News announces that full-time "Histon are offering fans of clubs from England's top four divisions the chance to attend tomorrow night's game with Bath City for free. The Stutes take on last season's Blue Square South play-off-winners at the Glass World Stadium in front of the Premier Sports TV cameras.

And anybody producing their valid season ticket or membership scheme card from any of the 92 clubs in the Premier League, npower Championship, League One and Two can get through the turnstiles at no cost. Full-time students who are in further or higher education and have ID can also now get into all Histon home games for just £3.

The Stutes and the Cambridgeshire FA are teaming up to provide a host of activities at the game for invited players, parents, referees, coaches and secretaries. The Cambs FA's chief executive Chris Pringle said: 'The high-profile game at the Glass World Stadium tomorrow night provides a perfect opportunity to support the club and demonstrate our partnership with Histon'".
---
24 November 2010
BSBP FIXTURES
Tuesday 23 November
York City 2 Southport 0
FA TROPHY
FA Trophy 3QR:
Tuesday 23 November
Ebbsfleet United 4 Bromley 0

Tuesday's FAT 3QR replays:
Northwich Vics 1 Whitby Town 0
Chasetown 4 Workington 0
Grays Athletic 0 Cirencester Town 1
Hampton & Richmond 2 Bognor Regis Town 0
YANKEE
Altrincham FC's Saturday Yankee jackpot now stands at £900. Last week's unissued winning code was 8995, but five winning trebles each netted £40.
FAT MONEY
When Alty meet Curzon Ashton on 11 December in the 1st Round Proper of the FA Trophy, the winners will get £5,000 in prize money. Should a replay be necessary, it will take place at Moss Lane on Tuesday December 14, necessitating a postponement of the Cheshire Senior Cup game at Runcorn.
BOOKINGS
The website's yellow card statistics have been updated against the official club record and can be found on the:
Alty player stats, where totals are shown.
Alty line-ups, where the bookings in each game are recorded.
BSBP NEWS
From the Football Conference we learn that "Gateshead`s on-loan defender Michael Kay has returned to parent club Sunderland after spending two months on Tyneside. Gateshead manager Ian Bogie had hoped to further extend the deal but the 20-year-old has instead opted to go back to the Stadium of Light. With left back Paul Heckingbottom still a couple of weeks away and centre half James Curtis out until the New Year, Bogie had been keen to keep Kay at the International Stadium.

'It is disappointing because Kay has featured in all ten games since we brought him in and it would have been good to keep him at the club a bit longer', said Bogie. 'The Conference Premier is a very competitive league but he has decided he wants to go back to Sunderland and play reserve team football'. Gateshead are already without central defender James Curtis until the New Year, while experienced left-back Paul Heckingbottom is still sidelined. Former foreign triallists Wesley Ngo Baheng and Bakary Bojang, meanwhile, have got fixed up with new clubs after playing for Gateshead reserves. Former Magpie Baheng has joined Aldershot Town on an initial short-term deal, while Bojang has joined Gateshead`s league rivals Tamworth".

According to Blue Square Football "Darlington manager Mark Cooper has revealed that he's looking to sign a centre-forward in the January transfer window. Curtis Main, Tommy Wright and Jefferson Louis have scored just two goals between the them in 26 appearances and Cooper admits it is a major area of concern for him. Cooper told the The Northern Echo: 'We know what we need to do, we know where we need to strengthen and January is coming soon. We had six good results and hopefully by January we'll still be in contact with the leaders and then we'll improve the squad. I'm not talking dramatic changes, but we need that little bit of quality. We need a front-man who is going to get hold of the ball and link up play because that's what we've been lacking'".

Blue Square Football also says that "£55,000 signing "Michael Gash has turned down the chance to go out on loan despite being out of favour under Gary Mills at York City. Minstermen boss Gary Mills has already appealed to the 24-year-old to regain his fitness after declaring him unfit for first-team action. Gash has not started a match under Mills since his appointment on October 16...

Mills [told] the York Press: 'We've had some clubs who want to take him on loan, but he's turned down the chance to go to two of them. There are a couple of others that have shown an interest but, with the deadline coming up at the end of the week, he will still be with us as it stands'".

Meanwhile "Rushden and Diamonds loan striker Rene Howe says that he does not want to return to parent club Peterborough. The 24-year-old has scored seven goals for the Diamonds this season but is due to go back to London Road in January. Howe told BBC Radio Northampton: 'I don't intend to go back to Peterborough. Hopefully something can get sorted here or elsewhere. My family lives 10 minutes away and I've enjoyed my time here. But I don't know what's going to happen'" reports the BBC.
---
23 November 2010
SATURDAY'S REF
The referee this Saturday at Cambridge United will be Mr S. Long, who oversaw Histon 1 Alty 0 in September 2008.
FA TROPHY
Monday's FAT 3QR replay:
Havant & Waterlooville 1 Basingstoke Town 2

Following the FA Trophy Round One draw, Mike Garnett advises the website that, "Our record v Curzon at competitive first-team level is restricted to one match, viz. FA Cup 1st Qualifying Round (the last time we appeared at that stage of the competition - to date) on Saturday, September 12, 1992 at Moss Lane when Alty won 3-0 in front of an attendance of 594.

Mention might of course be made, in passing, to this year's pre-season game (24.7.10, Curzon 2 Alty 1, att 205). In addition Alty Reserves certainly played Curzon 1st XI in the Manchester League in 1970-1 (H - lost 3-4; A - drew 2-2) and played Curzon Amateurs 1st XI (the original name of the Curzon club from 1963-69) in the same competition. I know from my records that in 1968-69 the results were H - 3-1; A - 0-0".
NEXT TUESDAY
Alty entertain Forest Green Rovers next Tuesday (30th) but player Reece Styche is suspended for two matches after a booking in last Saturday's game.

The referee for the Alty-FGR match is Mr R. Metcalfe. He has previously reffed Alty 1 York 1 in January 2009, Wrexham 0 Alty 1 in April 2009 and, most recently, Alty 2 Rushden 2 in October, 2010. But he will probably be best remembered for Alty 2 Kiderminster 1 in January 2008 which was "a match whose first-half was played in unbelievable weather - torrential rain, strong winds, almighty claps of thunder and massive flashes of lightning which were too close to the pitch for comfort, [in which] Alty finally got out of the relegation zone for the first time this season. Indeed, referee Metcalfe, who coincidentally had been the official who had to abandon the New Year's Day 2005 game at Moss Lane in similar deluge conditions, had to take the players off for 15 minutes with this game only in the twelfth minute of the first half". Bring your umbrella!
CSC
News of our next Cheshire Senior Cup opponents comes from the NL Daily which reports that "Runcorn Linnets have signed experienced midfielder Ian Barker. Barker joins the Linnets from league rivals Ashton Athletic where he spent a spell as assistant-manager. He lost his managerial role when Paul McNally took over from Chris Brookes as boss in mid-September. As a player, Barker enjoyed spells with the likes of Rossendale United, Chorley, Mossley and Leigh RMI".
BSBP NEWS
Fleetwood Town announce that they "have put in the required '7 day notice' to AFC Fylde to allow them to talk to former Town captain Jamie Milligan.The FA have today confirmed Milligan isn't on contract with the 'Coasters' allowing Town to discuss terms with the player after the 7 day period has elapsed"

Barrow's "Holker Street Newsletter" reports that "There's still no official announcement over what has happened to Barrow's former physio, Tommy Cosh, his place at Saturday's game against Grimsby Town was taken by a female physio who Dave Sheridan had managed to obtain on loan from Manchester United... In the absence of any official comment, this is what I've been told: Barrow AFC have made the physio, Tommy Cosh redundant to save money and [Phil] Bolland, who is a trained physio, and [Gregg] Blundell, a masseuse, will be taking over the duties".

From the Liverpool Daily Post we read "We can beat the drop, declares Southport manager Liam Watson... Defeat at fellow new boys Newport County on Saturday saw Southport fall to third bottom...

The Port manager praised his side's battling spirit and said bar a 13-minute spell early in the second half when Newport struck, his team were more than a match for last season's Conference South champions... but Watson once again lamented missed opportunities in front of goal for the Yellows. 'Apart from a 10-minute period in the second half, I thought we competed throughout the game', said Watson.

'We created more chances on Saturday than in any away game so far this season. We had a great chance from a corner with Earl Davis but the difference on the day was their two forwards took the two chances which came their way. In terms of commitment and endeavour I couldn't ask for any more. We scrapped right to the end. If we can put in performances like that for the rest of the season then we'll be fine at this level. And as long as the players keep believing in themselves then we can compete here. Perhaps at the moment we just need that little something to drop for us in the box or that bit of fortune for us to cling onto'".

The Football Conference says that "Histon have announced the signing of Jack Ainsley from Ipswich Town. Ainsley joins initially on a one month loan... He will compete for a place at the heart of the defence".

According to Blue Square Football "Crawley Town manager Steve Evans has backed his side to grow from strength to strength after Saturday's 7-0 victory over Altrincham... Evans told the club's official website: 'The performance from the lads was outstanding for long periods but I do feel we can get better as the season continues. There is more to come from this team, I really do believe that. It is not often your top striker [Tubbs] gets a hat-trick and you feel compelled to talk about another goal but Brodie's [second] goal was magnificent, in every detail it was a wonder goal.

We started the match brightly, we had a real edge to our play. When we work as hard as we did and you have our abilities as a team we are going to take some stopping. Neilson and Torres were outstanding, Tubbs and Cook where masterful and we had total control in the middle of the park with Bulman and Masterton.

As a manager you want competition for places and we have that in all areas of the team. Being able to leave someone as talented as Kyle McFadzean out of the team demonstrates that. But with him having four cautions and a little niggling injury it was not a day we needed to take any chances... This squad of players has a real togetherness, a kindled [?kindred] spirit so to speak. We will lose games and hurt, we will win lots of games and rejoice but we will do it together, this is team Crawley...

The lads will be back in tomorrow and they will work hard all week to get ready to face Swindon Town. No one needs to tell them we will face a huge step up in quality and class of player".
---
22 November 2010
AWAY AT CURZON
Altrincham have been drawn away to Curzon Ashton in the FA Trophy Round 1 on December 11th. Alty fans will not need reminding that in a pre-season friendly for the Jack Crompton Trophy (on 24 July, 2010), Alty lost 2-1 at the Tameside Stadium.

Full draw ...
Wrexham v Kidderminster Harriers
Rushden & Diamonds v Eastwood Town
Worksop Town v Mansfield Town
Droylsden v Hinckley United
Curzon Ashton v ALTRINCHAM
Darlington v Tamworth
Harrogate Town v AFC Telford United
Chasetown v Kettering Town
Stalybridge Celtic v Nantwich Town
York City v Boston United
Blyth Spartans AFC v Fleetwood Town
Alfreton Town v Hyde
Worcester City v Northwich Victoria
Grimsby Town v Redditch United
Barrow v Guiseley AFC
Gateshead v Southport
Dorchester Town v St Albans City
Histon v Bath City
Luton Town v Welling United
Eastleigh v Sutton United
Harlow Town v Woking
Ashford Town (Middx) v AFC Hornchurch
Cirencester Town v Gloucester City
Eastbourne Borough v Boreham Wood
Ebbsfleet United v Hayes & Yeading United
Cambridge United v Forest Green Rovers
Crawley Town v Dartford
AFC Sudbury v Hampton & Richmond Borough
Lowestoft Town v Uxbridge
Newport County v Wealdstone
AFC Wimbledon v Braintree Town
Basingstoke Town v Salisbury City
"COMPLETELY HUMILIATED"
In Monday's Manchester Evening News, Alty boss Ken McKenna says of the defeat at Crawley, "There's no shame in losing to such a fantastic team and I could even have accepted a 4-0 defeat but for us to concede three in the last six or seven minutes is totally embarrassing. We made the worst possible start and there was little we could have done to prevent what Crawley did to us in the first half. But, in the second, we could have easily pulled it back to 4-2 only, instead, to end up being completely humiliated. I thought we were going to salvage a little bit of pride then we go and lose our discipline in a crazy last few minutes".
FA TROPHY DRAW
The FA Trophy draw will appear here as soon as it is known on Monday morning.
CRAWLEY GAME
Above: Matt Tubbs (right) beats Stuart Coburn with Crawley's second spot kick of the afternoon.
Match report here.
Right: If looks could kill; captain Robbie Lawton faces referee Mr McLaughlin just after the award of the first penalty against Altrincham at Crawley. Stuart Coburn is in the background.
YOUTHS BOW OUT
Altrincham FC Youth went out of the NWYA Open Cup in the Second Round on Sunday, losing 2-1 at home to Nantwich Town. Ashley Woods, who played for the first team last Tuesday, had given Alty the lead scoring after his early penalty had been saved.

Match report in youth section.
OLD BOYS
Ex-Alty men on the scoresheet last Saturday included Stockport's ex-Alty loanee Greg Tansey; his fellow Stockport team mate at Moss Lane, Paul Turnbull recently completed his 100th league game for our neighbours. Turnbull, 21, was County's youngest ever league player at the age of 16 years and 97 days and is now club captain at Edgeley Park.
---
21 November 2010
NEW LEADERS
AFC Wimbledon deposed Crawley from the top of the BSBP with this win on Sunday....
AFC Wimbledon 3 Kettering T. 2

In Sunday's FA Trophy games...
Gloucester City 1 Chelmsford City 0
Worksop Town 4 Stocksbridge Park Steels 1
CRAWLEY GAME
Above: the sides line up before the game at Crawley.
Speaking after the 7-0 win over Altrincham, Crawley assistant manager Paul Rayner claimed that when Alty were awarded a penalty, "The ref must have felt a bit sorry for them... It was never a penalty... and that's not being patronising to Altrincham". Alty have now conceded eight penalties in the BSP this season.
The Robins' last 7-0 reverse was at Morecambe in 1995/96 season.
Match report here.
SATURDAY'S GAMES
Through the Years by Howard Watts.
AFC Wimbledon v Kettering Town SUNDAY
Bath City 1 Fleetwood Town 1
Cambridge United 3 Tamworth 3
Crawley Town 7 Altrincham 0
Gateshead FC 1 Forest Green Rovers 1
Grimsby Town 1 Barrow 1
Kidderminster Harriers 2 Eastbourne Borough 1
Luton Town 5 Histon 1
Mansfield Town 3 Hayes & Yeading Utd 2
Newport County 2 Southport 0
Rushden & Diamonds 0 York City 4
Wrexham 2 Darlington 1
FA TROPHY
The draw for the FA trophy First Round Proper is on Monday, at which stage Altrincham enter the competition, which is not regionalised. Saturday's 3rd Qualifying Round results were...
Alfreton T. 4 Kendal T. 0
AFC Telford 2-1 Corby
Bishop's Stortford 1-2 Ashford Town (Middx)
Blyth Spartans 1-0 Stafford Rangers
Bognor Regis Town 2-2 Hampton & Richmond
Boreham Wood 3-0 Romford
Boston Utd 2-1 Gainsborough T.
Chorley 0-1 Guiseley
Cirencester 2-2 Grays Athletic
Dover 1-2 Woking
Eastleigh 2-1 Folkestone Invicta
Eastwood Town 2-0 Cambridge City
FC United of Manchester 1-2 Hinckley Utd
Harlow 3-0 Maidstone Utd
Harrogate Railway 3-4 Nantwich Town
Harrogate Town 1-1 Witton Albion
Leamington 1-2 Hyde
Lowestoft Town 2-1 Swindon Supermarine
Maidenhead Utd 2-4 Uxbridge
Nuneaton T. 1-2 Worcester C.
Thurrock 0-2 Dartford
Welling 1-0 Tonbridge Angels
Workington 0-0 Chasetown The EvoStik League reports that "Cammell Laird have moved quickly to appoint [ex-Alty man] Tony Sullivan as their new manager following the resignation of [ex-Alty loanee] Alex Hay earlier in the week. Speaking in a statement on the club's website, Sullivan said; 'I believe that the club is going in the right direction, and from the boardroom to the dressing room all will be looking to ensure the club can compete not only in this division but also higher, this also applies to the reserve team and we will be all working together to push both teams up the table the right way'.

Sullivan has already appointed his assistant - well-known local face Kevin Hodgeson; 'Kevin has a fantastic background and has worked very successfully as part of Tranmere Rovers youth set up, Kevin and I have some ambitious plans to take the club forward and we are grateful for the club in granting us this opportunity to show what we can do'. Sullivan also spoke of how he intends to be at the forefront of a sponsorship push - perceived lack of funds being one of the reasons for Hay's departure'".
---
20 November 2010
CRAWLEY TOWN 7 ALTRINCHAM 0
Right: Shaun Densmore's penalty is saved but Nicky Clee could only put the rebound over the bar.
Altrincham were up against it right from the start when referee McLaughlin awarded Crawley a penalty when a shot was deflected against Robbie Lawton's hand; Tubbs converted the early spot kick (2 mins). Six minutes later Neilson headed home a Torres cross from left after an Alty clearance had been charged down.
League table
CRAWLEY v ALTY
It is intended, wi-fi permitting, to have the usual live Match Updates on the website from around 2.45pm on Saturday afternoon for the Crawley v Altrincham game.

Mike Garnett's records tell us that Altrincham and Crawley Town have met 11 times before this Saturday's encounter, six times at Moss Lane and five times in Sussex. Alty have won just once, which was at Crawley, when Warren Peyton's goal secured a 1-0 win in September 2007.
At Moss Lane: P6 W0 D4 L2 F6 A8
At Broadfield: P5 W1 D1 L3 F2 A8
Total: P11 W1 D5 L5 F8 A16
Pre-match Alty have doubts about Anthony Danylyk [pictured, right] (twisted knee), James Smith (cut knee) and Michael Twiss. Damian Reeves's two goals in midweek in the Cheshire Senior Cup must have aided the club's leading scorer's chances of a first start in six games.
Before they entertain Altrincham, This is Sussex tells us that "Steve Evans admits he is relieved to be finally returning to the Broadfield - having clocked up almost 1,500 miles on the road since their last home game in the league. The Reds face Altrincham on Saturday having come away relatively unscathed from a brutal run of fixtures that has seen them travel to Newport County, Mansfield Town, Guiseley and Darlington since they last entertained their home supporters on October 16...
'Hallelujah! We are coming home', he said after watching his side secure a scrappy point at Darlington. 'We haven't had a game at the Broadfield for five or six weeks. The Cup game next week has got everybody in the town really excited and it will be great to play in front of the live cameras... We know over the course of the season we will have to do a lot of travelling and you won't catch us complaining about it. We travel in the most luxurious bus, we stay in the best hotels and eat the best food. Some of my players don't get treated like that in their home lives and for one or two of my players they don't go as far on their holidays'".
Meanwhile The Argus tells us that "Steve Evans is stepping up his efforts to strengthen Crawley's squad... The Reds' boss is confident of getting the go-ahead from club owners Bruce Winfield and Sue Carter to bring in at least two players, promising the club will be 'very proactive' during the January transfer window.
Although Reds have already spent more than £500,000 transforming the squad this season they only have 18 professionals on the books after Barry Cogan became the ninth player to leave since the start of the season. Cogan... is one of five players who have been released while Adam Quinn, Mikey Malcolm, Ben Wright and Liam Enver-Marum are all on loan. In addition, defender Simon Rusk is three weeks away from a return following knee surgery.
Evans said: 'Bruce Winfield tells me that when I go to him to discuss players "make it easy for me to say yes". We have done enough work trimming the squad to make it easier for the directors to say yes... Something could happen before the window, it might not be big business but during January I'm sure we will be very proactive. Whether that means one or two players I don't know... Unless we sign the best at our (non-league) level, which costs big money, we will perhaps have to look above our level. But attracting players to Crawley is not a problem anymore because the perception of the club has changed'.
One of Evans's targets is thought to be Luton playmaker Andy Drury, who lives in Burgess Hill, and with three of the players released all midfielders that is an obvious area where Crawley will look to strengthen. Evans added: 'Scouting for players is a massive part of what we do. On Tuesday we had four people out watching games. We have got some specific targets in mind and we will be tracking them right up until the transfer window'.
Reds can regain top spot in the Blue Square Bet premier with victory at home to Altrincham on Saturday and they should be at full strength after Ben Smith, who missed Saturday's 1-1 at Darlington, and Glenn Wilson both coming through unscathed from Tuesday's 2-0 defeat at Horsham in the Sussex Senior Cup".
OLD BOYS
Chester FC confirm that they "have signed striker Jimmy McCarthy from Evo-Stik First Division South side Kidsgrove Athletic... Neil Young was delighted to capture the signing of McCarthy, 'Jimmy will give us another option up front or in wide areas and now gives me the fourth striker that I have been looking for to strengthen us. He is quick and tricky and will give us another different type of striker to the three lads we already have'. McCarthy, joins the Blues having previously been on trial at Crewe Alexandra in the summer, and had recently re-joined Kidsgrove from Conference side Altrincham".

A former Alty loanee from Tranmere, NL Daily reports that "Alex Hay and his assistant Kenny Irons have stepped down from management of Cammell Laird after the victory over [Mark Maddox's] Leigh Genesis. Hay stated that he has been pondering about his position for the last month or so and reluctantly came to this decision. Laird have thanked both Hay and Irons for the work they have done over the last fifteen months under very trying circumstances and have wished them well in any future ventures they undertake".
BSBP NEWS
Barrow report that they "have signed former Halifax and Aldershot Striker, John Grant, following the sale of Jason Walker to Luton. Grant, 29, left Aldershot in the summer after scoring 47 goals in 127 appearances over 4 seasons in the Conference and Football League. A deal to join AFC Wimbledon then fell through. Grant has joined, initially, on non-contract terms and has been training with Barrow recently. He has turned down offers from three other Northern-based Conference Premier clubs to come to Holker Street".

The Football Conference says that "Darlington have signed Leicester City midfielder Aman Verma on loan until January. The 22-year-old... joins former Manchester United and Northern Ireland star Keith Gillespie as Cooper's second new signing this week. Verma... has only made one senior appearance for the npower Championhip club, as a sub in a League Cup game. He spent four months on loan with Crewe... Verma then had a eight-match loan with Histon towards the end of last season and a brief stint with Kidderminster Harriers at the start of the current campaign".

Indeed, Blue Square Football reports that "Darlington have confirmed the signing of veteran midfielder Keith Gillespie following his release by Glentoran. The 35-year-old has been training with Mark Cooper's side for the past month and his stay has been made permanent".

And "Hayes & Yeading United have signed former Wealdstone midfielder Graeme Montgomery on a month`s loan from Dagenham & Redbridge", whilst "Tamworth have signed Gambian attacker Bakary Bojang. Wide player Bojang had been training and trialling with the Lambs' league rivals Gateshead for the last few weeks... Bojang, 24, who also had trials with Tranmere Rovers, Grimsby Town and Hartlepool in the summer, has previously played in Denmark with Odense Bold Club and B1909".

News of an outgoing player comes from Haig Avenue, where "Liam Watson, manager of Southport, is shaking up his squad before this weekend`s trip to Newport County. At training this week Watson told his captain Adam Flynn the time is up at Southport. Flynn was informed his future lay elsewhere and he should get fixed up at another club as soon as possible. The situation came to a head with Flynn's post as a coach at Liverpool resulting in him requesting time off for another international trip. Recently Flynn went to Kenya and this next visit was for fourteen days. With such demands the players fitness has been called into question by the management team.

'I need total commitment and Adam cannot give the team that', said Watson. 'We have talked it through amicably and agreed to part. Adam can seek another club - he can then fit his coaching career with a club more likely in a part-time league. At Blue Square Bet Premier level our training has to be intense to compete with full-time clubs. It has become apparent to me that Adam cannot devote that amount of time to his playing career, hence my decision. Adam was central to our championship squad last season, but I cannot look back, we have to look forward'".

According to Blue Square Football "York City defender David McGurk has issued a plea to join the club's rivals Luton Town. According to manager Gary Mills, McGurk has handed in a written transfer request at Bootham Crescent, however the Minstermen boss has rejected a number of offers from the Hatters...

Mills told the Press: 'Luton have made a couple of offers for David, which we have turned down. David has expressed an interest in speaking to them with a view to signing for them but he's somebody I don't want to lose. I have told him that and even offered him an extension to his contract, which he has turned down. I'm trying to build a team and a squad of players that I feel can compete at this level and I want David to be part of that but he has told me he would like to move to Luton. He has put in a written transfer request but I've not given permission for him to talk to Luton because I value him as an important part of my future plans for the club. In the meantime, I will continue to pick him for the team'".

The Football Conference states that "Newport County have announced that they have secured the re-signing of Oxford United's Sam Deering on loan for the next six weeks. Deering returns to the club after a previous one month loan spell, having spent last season playing Conference National football. County boss Dean Holdsworth said: 'He played in a side that was promoted to the Football League, is a year older and stronger and I believe from talking to him has the fire in his belly with a point to prove'... Oxford manager Chris Wilder said: "It's a chance for Sam to get games, and we know that Newport will look after him'".

From the BBC we learn that "Histon have signed Ipswich Town defender Jack Ainsley on a one-month loan deal. The 20-year-old centre-half has featured twice for Roy Keane's side this season. Stutes' boss David Livermore told BBC Radio Cambridgeshire: 'He comes from a fantastic football club which has a very good academy. I've heard a lot of good things about him'... Ainsley made one substitute appearance during a loan spell with Rushden & Diamonds last season".
---
19 November 2010
MANAGER'S VIEWS
Alty's joint Press Officer, John Edwards has kindly provided this fuller version of an article submitted to the Sale & ALtrincham Messenger...

"Ken McKenna put on a brave face after seeing a contentious decision cost Altrincham dear for a second successive Blue Square Bet Premier game.

A dubious offside ruling against Michael Twiss thwarted a potential fightback against AFC Wimbledon, and Alty were left shaking their heads in bewilderment again when an official appeared to change his mind over whether a close-range effort from Luton midfielder Alex Lawless had crossed the line.

After keeping his flag down for several seconds, the well-placed linesman then bizarrely raised it, to signal a goal and spark furious Alty protests that led to a booking for keeper Stuart Coburn. Luton held on for a 1-0 win, but McKenna adopted a diplomatic stance as he reflected on two games against high-flying opposition that could easily have yielded points.

'I asked the linesman about it afterwards, but there's no point going on about it now and having a moan,' said the Alty boss.

'Once I've had it out with the officials at the time and had my say, that's it. You just have to take it on the chin and move on. But it is disappointing and frustrating, because we deserved to take something out of each game. We were really unfortunate with Twissy's goal against Wimbledon, and only one team were going to score the next one if that had stood, and the longer it stayed 0-0 against Luton, the more desperate they were becoming.

'The plan against the top teams is to keep it tight, restrict their chances and try and nick something yourself, and it was going according to plan. In fact, there was only one team in it in the last 20 minutes, and we did more than enough in the second half to merit at least a point.'

McKenna could at least draw comfort from the way his players made a nonsense of suggestions that ex-Football League outfit Luton were going to stroll to victory.

'You listen to some of the comments about having an easy time of it at Altrincham, and you wonder whether these people are actually watching the same game,' he said. 'While they might be a better side than us, there was nothing easy about the 90 minutes we gave them. Despite the massive difference between being full-time and part-time, the lads stuck to their task and competed really well.

'People keep telling me they are the best side in the league, but we competed with them and actually finished the game on the front foot. For the last 20 minutes, we were the only ones in it. We've had that before, though. You hear people going away from here, saying it was comfortable for them, when the reality is it was anything but. Some of the comments make me laugh, they really do. It seems every team we play manage to create 600 chances, enjoy 100 per cent possession and force a million corners. Then you check the score and find it finished 1-0, sometimes with a dodgy goal.

'They can think what they like, but I know I've got an honest bunch of lads who will give anyone a game. If they were able to do everything we wanted them to, they perhaps wouldn't be playing for Altrincham, but they take on board everything you tell them and can be counted on to try their best, week-in week-out.

'Stuart Bimson and I are as thorough as we possibly can be, to try and make sure the players are well drilled and well prepared for every game. The day before Luton, it was all I could think about. I was twisting and turning in my seat and up late, still thinking over ideas and strategy. I'd phone Stuart and ask him his views, and he would come back at me with something else to think about.

'I went to watch them at Wrexham on Thursday night, to see if there was any more to find out about them, and that gave me and Stuart more to talk about. There is always a lot of homework to be done, because when you are up against so many full-time teams, you have to be properly prepared. You have to know the areas and times when caution is required, and the moments when you can open up and have a go.

'You have to take into account your own strengths and weaknesses when you are planning your approach, and we always do that.. We know our limitations, and we play accordingly. We go into each game with a precise plan of how we are going to manage what is in front of us. A lot of planning and preparation goes into it, and I feel we have been really unlucky to come away from those games against Wimbledon and Luton empty-handed.

'You analyse games, and think of the offside flag against Wimbledon and goal that was awarded for Luton, and you realise how fine the margins can be.'

Two goals from Damian Reeves helped Alty to a 3-2 Cheshire Senior Cup win over Hyde on Tuesday night, though Anthony Danylyk ended up joining Twiss and James Smith on the injured list, with all three needing fitness checks before another tough test, at Crawley on Saturday.

'Damian looked sharp, and that was good to see, but you do always worry about injuries in these games,' added McKenna. 'James's knee opened up a bit against Luton, and Twissy got a knock on his ankle, and they weren't fit to face Hyde. Anthony has twisted his knee, so we'll have to assess them all later. Injury concerns apart, these cup games are a welcome opportunity for the lads to sharpen their technique out in the middle, rather than working on the training pitch. I would much rather be playing a game, though with our squad numbers, your heart is in your mouth every time a player goes down.

'Of course, Crawley is going to be difficult, but I have never gone into a game in my life not thinking we could get something out of it. I have taken a team from the Welsh League into battle against Premier League opposition, so I know about a challenge, and I've never shied away from one yet.

'We will go into the game knowing the lads are going to give it everything they have got. If it turns out we were just not good enough on the day, we will hold our hands up and say that at least we gave it our best shot. Provided the lads listen to, and take on board, everything we tell them, and make sure they leave nothing behind, they will not have a problem. The fans appreciate it when you are putting that level of effort in.

'I'm always saying to the players: "The only time you will have a problem is if the fans think you are not giving every last ounce. They will let you know, and quite right, too." We all accept that. I'm a football supporter as well, and you shout about it, if your team are not having a go. I've no problem with that.

'They all know that if they go out there and have a right go, but lose to a better team, no-one will hold it against them. There are some injury doubts for Saturday, but I know the honesty of these lads, and I know that, whichever 11 we put out, they will give it all they've got'".
BET ON ALTY
Blue Square Bet's Alan Alger writes:

"With AFC Wimbledon facing Kettering Town on Sunday due to their live FA Cup replay, Crawley Town or Luton Town will be looking to climb to the top of the Blue Square Bet Premier table on Saturday. The prices for both teams to win are almost identical as they face sides from the bottom five at home. Crawley are the 3/10 favourites against 24th placed Altrincham. Alty have had a tough couple of weeks and this will complete a three game run against the top trio in the standings. They have acquitted themselves well in two home games, where although having failed to find the net they kept scores down to a 1-0 defeat against Luton and a 2-0 defeat against Wimbledon. Prior to those tough tasks they had a record of only one defeat in their last eight as they tried to close the gap at the bottom. Ken McKenna's team are still in a relegation fight but are five points off safety and moving in the right direction in the last few weeks. Crawley remain the slight title favourites at 6/4 and punters will be expecting them to add another three points to their haul on Saturday".

Crawley Town return home to The Broadfield Stadium for their first home match in over a month when Altrincham are the visitors on Saturday.

The lads will know that a win over Altrincham on Saturday will see them top of The Blue Square Bet Premier on Saturday evening as there can be no better place to be...

Manager Steve Evans said, 'Our only focus is Altrincham on Saturday, nothing else interests me. It will be strange to face Altrincham without Graham Heathcote in the opposite technical area, a man I have enormous respect for. However Kenny McKenna was the only man to replace him, he knows his football and I know his team will be organised and efficient; - he will have them fired up for every match and even more so on Saturday.

Our lads have trained with a real purpose this week and everything has been very sharp. Our talisman striker Matt Tubbs is doubtful for Saturday but every day he is making progress under the guidance of Mark Stein. We will rightfully give the lad every opportunity to be fit for selection; - Simon Rusk will be missing for a few weeks yet but everyone is else in the first team squad is fit and bursting for action.

We know that if we get all three points on Saturday we will move back to the top of The Conference Premier, it is a great place to be but for us to achieve that we will need to be at our best on Saturday. We may have to be patient at times'".
CONFERENCE STATEMENT
The Football Conference has issued the following statement:

FINANCIAL STABILITY IMPROVING IN CONFERENCE CLUBS

The Directors of the Football Conference were pleased to receive figures presented at their last monthly Board meeting (11th November) indicating a considerable reduction in total monies owed by member Clubs to HMRC for PAYE, NIC and VAT.

From an estimated sum of £1.6m last season concerted efforts over the past twelve months has seen a dramatic reduction to below £400k, as at the last reporting period (31 October).

Under a Financial Reporting Initiative, designed to nurture sustainability, Clubs are required to submit a quarterly return relating to their financial trading. The Initiative was adopted by the Clubs in 2009. It is believed the scheme is encouraging more Clubs to live within their means, and is responsible for increasing accountability in respect of Crown debt.

Quite naturally, the Board is keen to continue promoting a conscientious response. Further practices and monitoring will, therefore, be introduced in the next 12 months to deal with other issues allied to financial prudence. In the past three years 13 Clubs have been subject to a winding-up petition, six have ceased to trade, and another entered into a CVA. It is abundantly clear, the Board's aims & objectives to improve good governance and raise fiscal awareness amongst its members, is in the interest of each member and protects the integrity of the Competition. The industry cannot afford to lose any more Clubs: every participant within the game has a responsibility to protect and insure football's future.

Commenting on The Conference's latest findings, Chairman Brian Lee stated "We are really pleased with the improvements seen in the report to the Board. It is good news that there has been a substantial decrease owed to the Revenue but that is only part of our overall strategy to achieve a debt free membership. Collectively the Football Conference has been derided in certain sections of the football community for our stance.

The current Board will not be deflected from our vision for the future. We have to be strong for the benefit of the majority of clubs who do play by the rules and we are of course mindful of the pain and hurt caused to fans when clubs are sanctioned for their inability to live within their means. We are heartened to see our strong stance on these issues being rewarded. The accounts each club must now submit on a quarterly basis allows us to be proactive in offering assistance where we can but we have scope and wish to see other areas tightened up. Until the member clubs receive details of the proposals to be introduced next season it would be wrong at this stage to say anything publicly for obvious reasons".

Mr Lee continued, "As Chairman of the Football Conference I am proud to head up a group of dedicated directors who have been instrumental in leading the way for the whole of the game and who will not be deflected from their vision to improve how clubs operate financially. Clubs have to be honest and trust us to keep all matters confidential. The message we are sending out though is clear. For those who wish to mislead, give inaccurate or false information; there will be severe sanctions".

The report identified 47 clubs were fully up to date with HMRC payments, compared with 39 this time last season. 12 more had agreements to cover outstanding arrears, against 22 last year, and 5 Clubs had no agreement in place but their debt to HMRC was less than three months old. The 3 remaining clubs in the current membership have issues which, amongst other sanctions, have resulted in them being placed under player embargo until they are compliant with the current regulations.

Lee confirmed "It is clear from these club statistics that 12 months down the line we are turning the corner but it is against a backdrop that at the end of this season a number of member clubs will move out of the overall competition, either by promotion or relegation, which in turn will bring others into membership, and who knows what issues they may bring with them. We obviously do wish to see the day when all matters are decided on the field of play but until the day all clubs live within their means, the Football Conference will continue to lead the way as these latest figures clearly and ably demonstrate".
TONIGHT'S RESULT
FAC 1 replay
Ebbsfleet 2 AFC Wimbledon 3, aet
BSBP NEWS
Mansfield Town report that manager "David Holdsworth and Mansfield Town Football Club have parted company by mutual consent. The decision has been reached following an unacceptable run of results which has seen us win just once from our previous eight league matches.

We believe we have done everything possible to support David during his time at the club. We would like to thank him for his professionalism and hard work whilst with the club. The club will keep supporters up-to-date in respect of any managerial appointment, but, in the meantime, Duncan Russell will prepare the team for our important home game to Hayes & Yeading United on Saturday. We will not be rushed into finding a successor and will explore every avenue to appoint the right manager to take Mansfield Town Football Club forward".

According to the Football Forum there are plenty of familiar teams in the latest Premier Sports televised CSBP schedules:
Friday 28th January 2011. KO 19:45. Gateshead v AFC Wimbledon
Thursday 3rd February 2011. KO 19:45 Kettering Town v Crawley Town.
Saturday 12th February 2011. KO 19:15 Mansfield Town v Newport County.
Friday 18th February 2011. KO 19:45 Cambridge United v Kidderminster Harriers.
Friday 11th March 2011. KO 19:45 York City v Luton Town.

"A new Non-League magazine has been launched by the people behind NonLeagueDaily.com. The magazine is available online in digital format and it's completely free here".

Luton Town say that "Town fans at tonight's FA Cup first round replay had a special surprise when the Town completed the signing of Barrow's prolific striker Jason Walker for an undisclosed fee on the Kenilworth Road pitch prior to kick-off. Barrow-born Walker, 26, like Lawless, would have been out of contract in the summer and, with a number of clubs circling for his signature, Richard Money has moved swiftly to secure his services immediately. The frontman has already hit 11 goals in just 18 appearances for the Bluebirds this term and will join the Town on-loan until January before he makes the switch permanently. Walker has penned a deal which will keep him at Kenilworth Road until the end of next season".

More on this from the Football Conference: "Luton Town completed the signing of prolific striker Jason Walker from rivals Barrow for an undisclosed fee on the Kenilworth Road pitch prior to kick-off in the FA Cup First Round replay win over Corby Town on Wednesday night. Barrow confirmed that, after exhaustive discussions with Walker over a new and improved contract, the striker was unwilling to put pen-to-paper and confirmed that he would like to consider the Hatters' offer, which he duly accepted".

Meanwhile, "Fleetwood Town have signed former Huddersfield Town captain Jon Worthington on a month`s loan from npower League One side Oldham Athletic. Worthington signed a two-year deal with Oldham Athletic in May 2009. The 27-year-old Huddersfield Academy product made 237 appearances for Town, scoring fourteen goals, and was loaned to Yeovil Town after Lee Clark took over as manager, and made nine appearances in an impressive stint with the Glovers. To date he has made sixteen appearances for the Latics, who orginally made him available for transfer, along with five other players, last July."

The Sun reports that "Luton boss Richard Money claimed he was NUTTED by Corby's Nathan Jarman.... The game was marred when Jarman steamed into the home dugout after they delayed giving back the ball.

Ref Chris Sarginson showed Jarman a red card and also sent Luton's assistant boss Gary Brabin to the stands following the clash.

Money fumed: 'I was nutted. The ball has gone between my legs and the player attacked me to try and get the ball'.

Corby boss Graham Drury said: 'My player is saying the ball went under Money's seat and as he went to get it, he got kneed in the face - so he's reacted'".

According to Blue Square Football, "Gateshead have moved swiftly to find cover for James Curtis, who is sidelined until the New Year with a broken foot. The Tynesiders have signed vastly experienced centre back Alan White,... the former Luton Town, Colchester and Darlington defender... The 34-year-old, who has signed on a monthly contract, has been a regular in the Stalybridge Celtic defence since the start of October, starting the last eight games... The Darlington-born defender had two spells with his hometown club, including 24 appearances for the Quakers in League Two last season, as well as two spells with Luton Town...

'With Curtis out for up to eight weeks it was important we brought someone in as we only had two fit central defenders at the club', said manager Ian Bogie... 'He has playing regularly at Stalybridge, where he was made captain, and is in good condition'... Gateshead have suffered on the defensive front lately with Curtis, left back Paul Heckingbottom and goalkeeper Tim Deasy all currently sidelined".
---
18 November 2010
KENNY'S PERSPECTIVE
Ken McKenna held his first "Meet the Manager" session at Moss Lane on Wednesday evening and he kept the audience entertained for an hour and a half as he answered questions on a wide range of footballing topics.

Before the meeting, TASC chairman Brian Flynn indicated how The Altrincham Supporters' Club is seeking to boost its membership, with a target of getting at least 1 in 4 of Alty's core support to sign up.

Kenny than explained the current situation with Tom Kearney and Matt Doughty, who both suffered serious injuries last season. Tom is still undergoing rehabilitation and was at Lilleshall this week; he is unsure whether he will return to Moss Lane. Matt has been playing at a lower level as he regains his fitness.

Questions were answered about former players such as James McCarthy, whom Kenny rated as a good player but on whom he could not take the chance of waiting for his development, given the club's immediate need to get out of relegation trouble. The manager also mentioned how he has been unable to sign many targeted players because he cannot match wages of some clubs, even at a lower level than us. One EvoStik League player recently declined a move to us as he was better paid at that level!

Kenny also explained why he had signed the three loan players (Somner, Baynes and Milne) and talked about his close links with some of the other BSP managers such as Dean Saunders at wrexham and Dave Bayliss at Barrow. With Youth team manager George Heslop present, Kenny said that he often called on George to provide promising players to take part in training games, though ideally he would like to see a reserve side reinstated at the Club. Playing the likes of Ashley Woods, who came on in Tuesday's game, not only encouraged the player himself, but also his fellow youth teamers.

The Alty boss also gave his views on match officials, saying that he would never publicly criticise them because he felt it got you nowhere and could rebound on you in future encounters. Kenny also explained the difficulties that part-time footballers have, especially those who work full-time in non-physical jobs. With just two hours training on a Tuesday and an hour on Thursday's it leaves us at a disadvantage against full-time teams. He particularly values overnight stays before games as it gives him and Stuart Bimson, his assistant, more time to prepare the team.

He paid tribute to Stuart, who commutes from Cambridge to work for Alty. His infectuous enthusiasm makes him popular with the squad. The reasons why James Smith had been named captain in Robbie Lawton's absence were also explained. In all, it was a very informative evening and Kenny concluded the event to a round of applause from those present.
TUBBS DOUBT
Blue square Football says that "Crawley Town assistant manager Paul Raynor is sweating on the fitness of top-scorer Matt Tubbs ahead of Saturday's visit of Altrincham. Tubbs, who missed last weekend's 1-1 draw at Darlington, is suffering from a stiff back - much to Raynor's obvious concern.

'Matt Tubbs has scored goals all his career and that's what he does', he told the Crawley Observer. 'He's not at the top of the scoring list for nothing and we will do everything we can to get him fit in time for Saturday. We are hoping that head of medical Mark Stein can work his magic because a fit Tubbs is a real handful'".
HYDE'S VIEW
Hyde FC report that "Despite fielding a weakened team due to suspension and injuries and having two players ineligible, Hyde were still unlucky to go out of the Cheshire Senior Cup at Moss Lane on Tuesday....

Despite some late pressure, Hyde couldn't find an elusive equaliser but were certainly not disgraced by their more illustrious opponents in an open game".
MATT STAYS
Mansfield Town report that "Tough-tackling midfielder Matt Somner (right) has extended his loan at Altrincham until the 1st January 2011. The 27-year-old joined the Robins on a month's loan which was due to expire on November 13th before an extension was agreed. The ex-Wales U21 has made 61 starts for us since signing from Notts County two years ago but has found first team opportunities difficult to come by this term.

He is enjoying frequent selection at Moss Lane this season and has played five times for Alty so far".
BSBP NEWS
Mansfield report that "Premier Sports TV have selected our home match to Newport County on Saturday 12 February 2011 for live coverage. The match will now kick off at 7.15pm!". Meanwhile Luton Town add that "The Hatters have had another of their fixtures added to Premier Sports TV's 2011 Blue Square Bet Premier schedule. Subject to either club being involved in the semi-finals of the FA Trophy, the Town's match at York City will be broadcast live on Friday 11th March, kick-off 7.45pm.

The Hatters have already appeared live on the channel three times - against Grimsby, AFC Wimbledon and Wrexham - and will appear for a fourth time in January when Grimsby Town are the visitors to Kenilworth Road on Tuesday 25th". And AFC Wimbledon tell us that "Wimbledon's game at Gateshead will be shown live on Premier Sports TV and will now be played on Friday 28 January, kick off 7.45. Further televised games will be announced in the next few days".
---
17 November 2010
WEDNESDAY GAMES
Wednesday, 17 Nov.
FAC 1 replays
Luton Town 4 Corby Town 2
York City 3 Rotherham United 0

ALTRINCHAM 3 HYDE FC 2
Match report here.
AWAY TRAVEL
Altrincham are away at Crawley Town on Saturday; details of the TASC supporters' coach are on the Away Travel page.
ALMOST A SELL OUT
TASC'S Brian Flynn writes:

"There are just six places left for the Pensioners' Christmas Lunch, which is being held in The Sponsors' Lounge at 12.30pm on Wednesday, December 8th. To guarantee your place, please contact Derek Wilshaw (0161 928 1045 or by e-mail) or Brian Flynn on 07860 561011 or e-mail as soon as possible!"
SCORES
Cheshire Senior Cup
Through the Years by Howard Watts
Altrincham 3 Hyde FC 2
FAC 1 replays
Milton Keynes Dons 1 Stevenage 1 aet, Stevenage won 7-6 on penalties
Leyton Orient 3 Dagenham & Redbridge 2
Huddersfield Town 2 Cambridge United 1
Woking v Brighton & Hove Albion aet, Brighton win 3-0 on penalties
Southend United 2 Macclesfield Town 2, aet, Macc win 5-3 on penalties.
Port Vale 4 Dartford 0
Walsall 2 Fleetwood Town 0
Charlton Athletic 1 Barnet 0
Vauxhall Motors 0 Hartlepool United 1
Peterborough United 4 Stockport County 1
Aldershot Town 1 Brentford 0
YANKEE
The winning code, 1786, in the Altrincham FC Saturday Yankee was unissued so the jackpot rises to £600, for a £1 stake. There were 5 winning trebles, each receiving £40. For details of how to participate, click here
NEXT OPPONENTS
Altrincham travel to Crawley this Saturday. From Sussex, the Argus reports that "Crawley have released midfielder Barry Cogan by mutual consent. The former Millwall player has been unable to claim a regular place in Reds' promotion-chasing side this season and has made just three appearances, one of them from the bench...

Crawley boss Steve Evans said: 'Barry was excellent for us last season but the form shown by the lads competing for his position has meant he has not been involved on a regular basis... It became clear the lad wanted to go and play some first team football, that is what every player should want to do'".
OLD BOYS
As previously reported two ex-Alty Youth forwards recently joined Ashton United. The NL Daily adds that "Manager Danny Johnson has brought in Osebi Abedaki from league rivals Buxton and Sam Madeley from another Premier Division outfit, Nantwich Town.

Winger Abedaki, 19, joined Buxton from Evo-Stik First Division North side Mossley in September. He started out at the Blackburn Rovers Academy before going on to play for Baguley Athletic in 2006. From here he moved to Altrincham, joining their youth set up in 2008. Since then he has played for Stalybridge Celtic before having a trial at Macclesfield Town in the summer of 2010, joining Mossley straight after...

Madeley arrives from Nantwich. The talented teenager came through the youth ranks at Altrincham before signing for Woodley Sports. He progressed through Sports' reserves into the senior side in March 2009 before joining the Dabbers in September 2010".
BSBP NEWS
The Football Conference says that "Louis Briscoe has signed a new deal keeping him with Mansfield Town until May 2012. The pacy wingman is already under contract until the end of this term and has signed a year's extension until the end of next season. Briscoe became one of David Holdsworth's first signings in January 2009 after a spell under him at previous club Ilkeston Town".

And "Gateshead have received a major setback with the news that long-serving central defender James Curtis has broken his foot for the second time this season. The 28-year-old has again fractured his fifth meta-tarsal in a freak accident involving team-mate Ben Clark late on in the 1-1 draw at Tamworth last Saturday. Curtis is expected to be out until the New Year having missed the opening five games of the campaign and all of pre-season with exactly the same injury".

From Kettering Town comes news that "The Club can announce that Nathan Abbey has been dismissed from Kettering Town Football Club having been found guilty of gross misconduct. At this time the Club would like to give no further comment".

According to the BBC "Barrow's emergency loan signing Mark Halstead has been recalled by parent club Blackpool after just one game at Holker Street. Halstead, 20, had signed a month's loan deal on Friday. But he was eligible to be recalled early because he is a goalkeeper and Ian Holloway's Premier League side faced extenuating circumstances. A scan on Matt Gilks's knee injury suffered at West Ham on Saturday showed it to be worse than first thought.

In his one match for Barrow, Halstead helped Dave Bayliss and Darren Sheridan's side to a 2-0 win over AFC Wimbledon... but Barrow will now wait for news on Chris Masters who was injured at Millwall while on trial and underwent groin surgery last Friday. Barrow had already lost goalkeeper Alan Martin who suffered an ankle injury while on loan from Leeds".
---
16 November 2010
TONIGHT
There will be live updates from tonight's Alty v Hyde match on the Matchday Updates page; they may not be quite as frequent as usual, owing to the effect of the cold on typing fingers!

Tonight's Cheshire Senior Cup match kicks off at 7.45pm. Russ Saunders and Dale Johnson could figure for The Tigers, but Kevin Holsgrove, back on loan to the Tameside club, is barred from playing against Alty.

You can book your seat on the TASC coach to Crawley in the Robins' Shop before the game or at half-time.
MEET THE MANAGER
Don't forget it is Ken McKenna's first "Meet the Manager" evening this Wednesday 17th) at 7pm in the Noel Whiet Suite. Everyone is welcome to come along and ask a question or two over a pint in the bar. And you can combine the evening with watching the England v France friendly which will be being shown - but with the volume silent when the Meet the Manager event is in progress - but normal volume at other times!!
BUCKET COLLECTION
Saturday's half-time bucket collection raised £54.52. The Club thanks all collectors and donors alike.
NEXT SATURDAY
Saturday's referee at Crawley is Mr M McLaughlin who reffed Torquay 3 Alty 1 in February, 2009, a match Stuart Coburn will remember as Mr McLaughlin gave a penalty against him, booked the Alty keeper, and then allowed a goal when the ball semed to be kicked out of the keeper's hands.

News of our next league opponents comes from NL News 24 "Crawley Town manager Steve Evans wasn't too disappointed following his team's 1-1 draw with Darlington on Saturday, despite his opponents having been reduced to ten men. Evans told The Argus: 'If it was based on possession and it is based on stats, we would have got 64 points instead of a point because we were so dominant. That takes nothing away from a Darlington side who under Mark Cooper were well organised, very efficient and worked hard. It is a difficult venue to come to. When you look at the reaction when the referee blew for full-time, Darlington's celebration reminded me of when they got promoted a number of years ago and I sat here watching it. That shows you what it means to get something from Crawley Town'" .

The Argus agrees that "Steve Evans was not too downbeat after his Crawley side were held to a 1-1 draw away to ten-man Darlington. The hosts played the entire second half a man short after Aaron Brown was sent off for a professional foul just before the interval but the Reds could not break them down... Evans was not happy, though, about a first-half header from Richard Brodie which was disallowed... Evans said: 'They had a man on the line. How that is not allowed I just don't know'".
LAST SATURDAY
A further report on last Saturday's game at Moss Lane comes from Luton Today in which the "Gritty Hatters ground out a hard-fought victory as they were made to work hard for their 1-0 win at bottom side Altrincham... writes Mark Wood.

A controversial first goal from Alex Lawless on his second game for the club made sure Town earned victory... It may have taken an age for the linesman to raise his flag to signal his effort had crossed the line, but Town just about shaded this game as they had a late second from Danny Crow ruled out for offside by the same official...

The Robins defied their bottom-of-the-league placing in the opening encounters but Town gradually started to come into it... Town took the lead with the best move of the match two minutes in[to the second half]. Barnes-Homer broke clear on the right and his low cross was deftly turned over Coburn by Lawless. The ball looked to be well over the line by the time it was finally hacked clear, but play ensued for several seconds before the linesman finally flagged. The late indication clearly incensed the home players and fans with Coburn being booked for his protests...

With the clock ticking down the Robins started to work their way back into it and Tyler had to be alert to save substitute Damian Reeves's – who scored Altrincham's goal in the first game of the season at Kenilworth Road back in August – drive. Wes Baynes then twice went close blasting a venomous free-kick just wide and flicking a header over".
BSBP NEWS
Blue Square Football tells us that "Darlington boss Mark Cooper has again expressed his delight at securing the services of Marc Bridge-Wilkinson. The 31-year-old initially joined the Quakers on a one-month loan but his stay was recently extended by a further two months, much to the delight of Cooper...'We've not lost with him in the team'" said Cooper.

From Mansfield Town we learn that "Both Tom Naylor and Gary Mills have returned to Field Mill following respective loan spells at Alfreton and Forest Green. Naylor has spent the last month at the heart of the Blue Square North leaders' defence whilst Mills has just come back from a four week stint at the New Lawn making two appearances in the BSBP for the Rovers. Manager David Holdsworth has welcomed their return to a depleted Stags side which has battled with injuries and the prospect of handing 19-year-old Naylor a chance to build on the three appearances he has already made for us this season".

According to Welsh Premier "Bangor City have rejected a 'five-figure bid' for striker Jamie Reed from York City. 'We've spoken to Jamie about it and it was mutually agreed that it wasn't the right place for him to go, or the right time to move at this stage of his career', Bangor boss Neville Powell told the Daily Post... 'Jamie wouldn't have been able to move until January anyway when the transfer window opens... For now, he's delighted to be staying at Bangor'... The 23-year old Reed started his career at Wrexham and was loaned to Aberystwyth for half a season after previous loan spells at Glentoran and Colwyn Bay.

He returned to the Racecourse in January 2008 after netting nine Welsh Premier goals but, after a further loan spell at Tamworth, was released by Wrexham and signed a one-year deal at Rhyl. He left in May 2009 to try and break into Major League Soccer in the USA. However, he soon returned to the UK and, after trialing with several clubs, joined Bangor where he was leading scorer last season. Reed spent the summer with Dandenong Thunder in the Victorian Premier League and has scored eight league goals since returning to Farrar Road".

The South Wales Argus reports that "Newport County have parted company with assistant manager Fraser Skimming. The former Redbridge assistant was in his second spell with boss Dean Holdsworth but left late last week with immediate effect. A popular member of the staff since joining a few months after Holdsworth did, former Essex-based teacher Skimming had relocated to Newport from this summer to work with the club full-time, making his exit a surprise similar to that of Chelsea's Ray Wilkins this week.

Boss Holdsworth confirmed the news yesterday and expects the club to make a statement today, but refuted any suggestion that there has been a big falling out or anything of that manner. 'Fraser has left the club, nothing dramatic has happened, it's just one of those things', he said. 'I am not someone for ranting, raving and swearing and there hasn't been a big issue between us, there hasn't been a big shouting match or anything like that, it's just a structural issue really, but we of course wish Fraser all the best for the future'".

News of Dean's brother comes from This is Nottingham which states that "David Holdsworth insists his players – not his input – were to blame for Mansfield Town's below-par showing in the 2-1 defeat at Forest Green Rovers. A disappointing reverse at the New Lawn, hot on the heels of a 2-0 win at Kettering, saw renewed calls for the Stags' boss to quit from their travelling fans. But he feels it should be the players' turn to take some of the criticism...

'There have been a few home truths told and certainly a few of the players needed to look at themselves in the mirror', said Holdsworth. 'We prepared right but, ultimately, from my point of view, when they cross that line there is nothing more we can do... The game is played by physical people, but some with weak minds'. Holdsworth was livid at the sending off of skipper Steve Foster, who was dismissed for the second time this season and now faces an uncertain future. He said: 'It is not acceptable. For your captain to get sent off for ill-discipline is disappointing.'".
---
15 November 2010
YOUTH WIN
Altrincham & District FA's Youth team (comprising Altrincham FC Youth) beat Macclesfield & District Youth 3-1 this morning.
CSC
The winners of this Tuesday's clash between Altrincham and Hyde FC in the Cheshire Senior Cup this Tuesday will be away to Runcorn Linnets in the next round on Tuesday 14 December. Runcorn Linnets recently returned to return after playing outside the town and now play at the Millbank Linnets Stadium, Murdishaw Avenue, Runcorn, Cheshire WA7 6HP.

The Cheshire County FA confirm that the full draw is:
Alsager Town v Woodley Sports
Northwich Victoria v Nantwich Town
Runcorn Linnets v Altrincham / Hyde FC
Warrington Town v Congleton Town

Meanwhile we learn that Hyde FC "have signed Ashley Young. Ashley is a local lad , who most recently has been playing for Erie Admirals (Pennsylvania). Ashley signed a form a few weeks ago, but we have been waiting for his international clearance.
BSBP NEWS
York City announce that "Gary Mills has secured two loan signings to bolster the squad. Ashley Chambers joins City on loan from Leicester City until January. Ashley, 20, is a striker who became Leicester City's youngest ever first team player after making his debut on 20 September 2005 aged 15 and 203 days. He has also represented England at U17, U18 and U19 level.

Robbie Weir, 21, joins on loan from Sunderland for a month after impressing in a midweek trial match. Robbie is a right footed midfielder and was a regular in Sunderland's reserve team last season".
WHEN ALTY WERE KINGS
The latest instalments of Barry Pikesley's series, "When Alty Were Kings" have now been added to the website, here. They include the FA Cup replay against Orient at Brisbane Road.
---
14 November 2010
SUNDAY GAME
York City 1 Wrexham 1
League table
CAMBRIDGE GAME
Subject to their FA Cup replay against Huddersfield Town this week, Cambridge United are set to host Altrincham on November 27th. TASC is running a supporters' coach to the Abbey stadium, the details of which are on the Away Travel page. Should Cambridge beat Huddersfield in the replay, the match with Alty would be postponed as it clashes with Round 2.
LUTON MATCH OPINIONS
After Saturday's game, Ken McKenna told the NL Paper, "I was pleased that we battled hard to keep it goalless at the break. I felt that... we would get chances the longer the game went on. We played an excellent team there but I felt that we did enough to get a point".

The BBC has an audio interview with Luton boss Richard Money.

Even Luton Town themselves were bemused by the match officials handling of their goal at Moss Lane on Saturday, where "Alex Lawless's first goal for the Club gave the Town their fifth win in seven matches to go within two points off top spot in the Blue Square Bet Premier. In what was the Hatters' 5,000th competitive match it was the recent signing from York City who grabbed the all important winner two minutes after the break.

With some confusion, the midfielder guided a Matthew Barnes-Homer cross beyond Altrincham goalkeeper Stuart Coburn from six yards. At first the assistant referee did not allow the goal before strangely changing his mind. It was a sole chance in a game dominated by the Town against their bottom-of-the-table hosts to earn Richard Money's men their first double of the season".

In their match updates, the Hatters said... "47 mins GOAL! GOAL! Altrincham 0-1 HATTERS - Drama here as the Town lead but the hosts can't believe it. MBH does well down the right to cross to an unmarked Lawless who poked a shot goal[wards] that looked over the line. The assistant and referee seem to agree that it hadn't [crossed the line] but, after Crow and Lawless had appealled, eventually the linesman signals that the ball had crossed the line. Bizarre. But who cares? 1-0. Get in!"

And the Luton website adds, "Town boss Richard Money was pleased to see his side earn all three points... 'I said to them that this was a must win game and we told them we needed nothing less than three points. I think we could have scored a few more goals but getting the victory was the most important thing.'...

'You might get some different opinions about that goal but I'll tell you the truth: it was at least a yard over the line', Money confirmed. 'The linesman's not given it but in the end they've got it right between them and the goal has crowned an excellent performance'".

The Bedfordshire News also has a report on the Alty v Luton game. "Fewer than 48 hours after their unexpected defeat at Wrexham, the Hatters needed the assistant referee's intervention to convince referee RJ West that Alex Lawless's effort from the right of goal had crossed the line in the 48th minute".
THANK YOU
On behalf of his father, Jack, Altrincham FC's former groundsman, David Thorpe would like to thank everyone who has expressed their good wishes on Jack's recent 97th birthday. As most Alty fans will know, Jack continues to support Alty at home games and most away matches, too!
OLD BOYS
Two former Alty Youth strikers have moved to Ashton United; Osebi Abedaki (from Buxton) and Sam Madeley (from Nantwich Town). Meanwhile, on Saturday for Ashton, Clive Moyo-Modise scored but they lost 2-1 at Chasetown. Elsewhere, former Alty Reserves' captain Keith Wedge has signed for Trafford from Rossendale United. Two other ex-Alty Youth players on the move are Paul Monaghan (Irlam to New Mills) whilst Flixton have signed Tom Bailey.
---
13 November 2010
ALTRINCHAM 0 LUTON TOWN 1
Right: Stuart Coburn lines up a defensive wall in the first half.
A controversial goal, early in the second half, gave Luton the points in a game in which they had 18 shots at goal but rarely actually troubled Alty keeper Coburn, thanks to effective closing down and blocks from the Alty players as well as wayward shooting from Luton.
The goal came when Alex Lawless's effort seemed to be cleared off the line by Robbie Williams but, after the match, Luton boss Richard Money claimed it was "at least a yard over the line". Referee West at first allowed play to continue after Lawless's shot, until the Luton players protested to him and the linesman. The linesman then belatedly raised his flag and Mr West went to consult him. The outcome was a goal awarded to the Hatters. Stuart Coburn was booked for his protests.
Alty line-ups
Saturday, 13 November
Through the Years by Howard Watts.
Altrincham 0 Luton Town 1
Barrow AFC 2 AFC Wimbledon 0
Darlington 1 Crawley Town 1
Eastbourne Borough 0 Newport County 0
Fleetwood Town 1 Rushden & Diamonds 1
Forest Green Rovers 2 Mansfield Town 1
Hayes & Yeading Utd 0 Grimsby Town 3
Histon 0 Kidderminster Harriers 1
Kettering Town 2 Cambridge United 2
Southport 2 Bath City 3
Tamworth 1 Gateshead FC 1

Sunday, 14 November
York City v Wrexham
Luton will be the first team to complete home and away fixtures with Alty this season. Right, we see Alty lining up at Kenilworth Road for the opening game of this season which Town won with a late goal. In the foreground we see Ken McKenna, then the assistant manager to Graham Heathcote. Alty's line-up that day in August was:
1. Stuart COBURN, 6. Shaun DENSMORE, 5. Robbie WILLIAMS, 2. James SMITH, 4. Marc JOSEPH, 11. Nicky CLEE, 16. Anthony DANYLYK, 7. Robbie LAWTON (capt), 15. Ryan BROWN, 8. Damian REEVES, 14. Dale JOHNSON. Subs: 21. James COATES, 10. Chris DENHAM, 19. Danny HOLMES, 17. Tom McCREADY, 22. Michael WELCH.
Our opponents, report that on Thursday "Town boss Richard Money thought his side deserved at least a point in the wake of the 1-0 defeat at Wrexham. The Hatters dominated a game spoiled by awful weather conditions but were made to pay for missing chances...

'I thought we dominated possession and created the more chances but it was always going to be a night when a mistake would happen and unfortunately it's us who has made it', Money said afterwards. 'Wrexham took their chance but we should have taken ours and we could have been level or even in front by half-time'...

'The wind was blowing one way and then the other in the first half', he said. 'In the second half it was gale force against us... but it's not an excuse. I said to the players that you've got to come to places like this and on nights like this and get a result'...

The Hatters won't have long to get the defeat out of their system with Saturday's trip to bottom-of-the-table Altrincham two days away. With the team staying in the North West, Money believes keeping the squad together until the weekend will get them physically and mentally prepared for the test at Moss Lane.

'Now begins our 36 hours of recovery', he said. 'The players will eat now, they probably won't want to go to sleep after that but we'll make sure they go to bed and are up in the morning. We'll train around 11.30am. Those who played tonight will have a lighter session than those that didn't and then we've got some team-building activities planned for the afternoon to keep the group occupied and make sure they're ready for Saturday'...

Richard Money has hinted that striker Danny Crow may be available for tomorrow's game at Altrincham. The 24-year-old, who won the Blue Square Bet Premier player of the month award for October, has missed the past two games due to a swollen lymph node in his groin. But the Town boss said after the 1-0 defeat at Wrexham that the six-goal striker could return at Moss Lane on Saturday. Adam Newton, Amari Morgan-Smith and Shane Blackett all remain sidelined, however".

The Bedfordshire News adds that "Luton Town's promotion prospects won't have suffered too much as a result of a narrow defeat at the Racecourse last night, but it was a big three points for Wrexham and their manager Dean Saunders...

The Hatters clearly missed the injured Danny Crow and, despite the best efforts of lone striker Matthew Barnes-Homer, lacked a cutting edge up front... For all their possession, the visitors struggled to break down a solid home defence... Luton Town: Tyler; Gleeson, Pilkington, Kroca, Murray; Drury, Lawless, Keane; Howells (Walker 73); Gnapka (Atieno 46), Barnes-Homer. Subs: Kidd, Asafu-Adjaye, Poku."

According to Luton Today "A defensive howler from Freddie Murray handed the three points to Wrexham... His horrible header in the opening moments left keeper Mark Tyler completely stranded and presented Andy Mangan with simplest of chances from just a few yards out... The Hatters made three changes from the side that drew 1-1 at Corby in the first round of the FA Cup on Saturday.

New signing from York Alex Lawless went straight into the midfield, while fit again duo Andy Drury and Zdenek Kroca were recalled to the starting XI. As a result Taiwo Atieno, Ed Asafu-Adjaye and Dan Walker dropped to the bench... Out of ideas the Hatters failed to threaten in the closing stages and limped to defeat at Town's three-match winning streak came to an end".

Speaking of Altrincham Luton boss Richard Money said: "'They've had a bad run recently. Wimbledon went there on Tuesday and won and that's the benchmark for us. We are well aware we have to go there and get three points'. Players are set to have massages and ice baths this morning in a bid to be fit for the game, but they won't be worked too hard in preparation for it...

But he warned the Hatters could well face terrible conditions again, just like they did in Wales last night. Money said: 'The way the weather is it could be like this again. It doesn't suit us'". Alan Alger of Blue Square Bet writes "After their defeat at Wrexham on Thursday night, pre-season title favourites Luton Town have remained in North Wales to prepare for Saturday's game at Altrincham. The Hatters were beaten 1-0 by a strong and willing Red Dragons side who were good value for their victory. Luton boss Richard Money now needs to pick his side up and think about beating the league's bottom club. Alty had shown a little improvement of late to close the gap at the foot of the table, but were well beaten by leaders AFC Wimbledon in midweek. They will see Luton's poor away record as a weakness going into this game, but are priced accordingly at 3/1. An away win for the Bedfordshire side is a best priced 8/11 with Blue Square".
YOUTH TEAM
Altrincham & District FA (comprising Alty FC Youth) play at The Moss Rose on Sunday in the Cheshire County FA's District Youth Cup against Macclesfield & District FA. The match is scheduled to kick off 11am, which seems a strange choice for Armistice Sunday.
PENSIONERS' CHRISTMAS DINNER
The chairman of TASC, Brian Flynn, writes...

"The Altrincham Supporters' Club (TASC) are organising a Christmas Lunch for Pensioners on Wednesday December 8th at 12.30pm in the Sponsors' Lounge at Moss Lane. The menu is as follows:

Cream of Fresh Vegetable Soup
Roast Cheshire Turkey, Chipolata Sausage & Stuffing
Roast Potatoes,Carrots & Sprouts
Christmas Pudding with Fresh Cream
Mince Pies
Tea or Coffee

This festive gastronomic delight will be prepared by Dave 'Doorman' Johnson & the price is just £9.00 including drinks!!!!

TASC Chairman, Brian Flynn said 'We had a full house last year & it would be lovely to see the Sponsors' Lounge packed to the rafters again this year'".

To make your reservation or for further information, please contact Derek Wilshaw on 0161 928 1045/ or by e-mail; or Brian Flynn on 07860 561011 or by e-mail".
NEW YEAR'S DRAW
The chairman of TASC, Brian Flynn writes...

It's the 1.1.11 Draw!!!

TASC is pleased to announce that tickets will be available for the New Year Draw before tomorrow's match against Luton Town. This year's main prizes are as follows:-

Samsung 19" LCD TV
Nintendo DS
Dyson DC30 Handheld Vacuum Cleaner
£90 worth of Aroma Spa Treatments at The Marriott, Worsley Park
2 Tickets to the Altrincham F.C. Centenary Ball plus a signed ball & shirt
PLUS MANY MORE!!!!!!!!!!!!!!!!!!!!!!!!!!!!!!

The draw will take place in The Noel White Suite, Altrincham F.C. at 5.30pm on Saturday January 1st 2011 following the game against Wrexham.

Tickets are priced the same as last year at 40 pence each or £2 for a book of 5 tickets.

This is normally TASC's biggest fundraising event of the year and we hope that all Altrincham fans support it as well as they have done in the last couple of years.

If anyone can help out selling tickets, please contact Brian Flynn by e-mail or ON 07860 561011".
BSBP NEWS
Whilst Wrexham had an impressive win on Thursday over Luton, off the field, the BBC reported that their tenants at The Racecourse, "Super League club Crusaders entered administration on Friday. The troubled Welsh club released a statement saying that inherited debt had 'made the business untenable'. Crusaders faced a winding-up order from Her Majesty's Revenue and Customs over unpaid tax, but last week announced they had repaid the amount owing.

Joint administrators Peter O'Hara and Simon Weir have been appointed, although O'Hara indicated he was hopeful that the club could be saved. 'There was a high level of support and enthusiasm towards Super League rugby in its first season in Wrexham which exceeded the club's expectations', O'Hara said...

The Wrexham-based club also faced legal action from the Rugby League Players Association over claims of missing pension payments to players".

Meanwhile, "Wrexham manager Dean Saunders says he is closing in on the loan signing of Oxford United defender Mark Creighton. The 29-year-old is expected to sign ahead of Sunday's trip to York and will stay at the Racecourse until January. 'With the injury to Frank Sinclair, we were short today and didn't have a centre half on the bench', Saunders said after Thursday's win over Luton... Creighton began his career at Kidderminster Harriers before spending a number of years moving between lower non-league sides, in the Midlands such as Moor Green, Paget Rangers and Halesowen Town. He eventually ended up at Redditch United where he became captain and his success at the Valley saw him return to the Harriers... Creighton joined Oxford United in May 2009".

From Histon we learn that "Ben Clarke has today been released from his contract by mutual agreement. Ben joined the Club at the start of this season but has experienced difficulties travelling to the Club from his home in Milton Keynes... The Club can also confirm today that both Sekou Diarra and Mamadou Gomes have agreed to terminate their contracts and have been released".

Tamworth report that "James Severn, who has been in tremendous form for the Lambs since he moved from Derby County on an emergency loan to replace Ross Atkins, has been recalled by Derby as they have no other keeper who can play for their Academy/Youth side... and Ross will return to The Lamb. Derby who had recalled Ross earlier in the season due to their first team keeper injury crisis have allowed him to return to the Lamb now that the first team keepers are all back from injury. Ross will go straight into the team".

Goalkeeping issues are also the subject of Said manager David Holdsworth, 'He is a big influence for us. We are crossing our fingers, but we are looking at after Christmas now'".

"Chairman Dave Reynolds has revealed the board have spoken to at least five potential investors in Kidderminster Harriers since taking over" according to the Kidderminster Shuttle. "The Aggborough chief informed fans at Monday's meeting that there were two parties who had shown a serious interest and three tentative enquiries. One of those enquiries came from an ex-patriot businessman based in Greece...

Harriers are also set to speak with an official fronting for former chairman Barry Norgrove's mystery backer. Last week, Norgrove claimed the shadowy figure could plough half a million pounds into the club. 'We may have found the mystery man, I'm not sure we have, but we'll be talking to a gentleman in a week or so's time', said Reynolds...

Reynolds also revealed at the meeting he gave the club an interest free loan of £50,000 in December last year, which was set to be paid back in monthly £1,000 instalments, which he only received three of".

A third club with goalkeeping problems is the subject of the NW Evening Mail; "Barrow AFC are hoping to sign Blackpool goalkeeper Mark Halstead after Clark Masters suffered a groin injury. Masters was taken into hospital after suffering the injury while on trial at Millwall... while Alan Martin remains sidelined with an ankle injury. Paperwork is tonight being drawn up to allow 20-year-old Halstead, who has one first-team appearance for The Seasiders, to join Barrow immediately on a one-month emergency loan deal until December 11th.

Barrow AFC joint-boss Dave Bayliss said today: 'I got a phone call at 9.30am saying that Clark Masters, who made his debut last week and did really well, had got injured and was going to hospital for an emergency operation. It's just typical of our luck with injuries this season'"

However better news for the Bluebirds is that "Jason Walker has denied rumours he is set to quit Barrow AFC – despite a bid from big spenders Fleetwood Town. Walker's agent last night confirmed that AFC's Conference rivals wanted the Bluebirds' star striker, but said the offer had been rejected".

Walker stated, "As far as I'm concerned, it's just rumours. I don't read the forum but my family does, and some of the things posted on there are a little bit ridiculous to be honest". However, "Walker's agent – who wished to remain anonymous – said the 26-year-old Barrow-born striker has been greatly unsettled by the speculation he was about to leave... Fleetwood Town did make an offer for him, but it was turned down by the club. Jason has not protested at that whatsoever, he has not been in and said he wanted to speak to Fleetwood in the slightest. All the speculation has been crazy and it has unsettled him".

However, "Walker is able to speak to other clubs from January and sign a pre-contract, but his agent said this was not something he wanted to do. 'He won't be going to Fleetwood and if he did, it certainly wouldn't be until the end of the season' the agent added...

Fleetwood boss Micky Mellon said this week he was about to sign a new striker, with top-scorer Magno Viera out injured. And sources close to the Fylde Coast club say Walker, along with Blackpool's out-of-favour veteran Brett Ormerod, top Mellon's shopping list. Mellon... told the Blackpool Gazette: 'We expect something to happen on the transfer front that will solve that problem (Viera's injury)... Let's just say it is a very positive signing for us. I don't want to speak about until it is done because it would make us look stupid if it didn't happen'...

When asked if he would be interested, if a club with the financial muscle of Fleetwood made a bid for him, Walker said: 'I can't really answer that question to be honest'. Discussions over a new contract for Walker opened a few months ago, but no agreement has been reached as yet".
---
12 November 2010
THURSDAY
On Saturday, Luton play at Moss Lane, but they also played on Thursday night:
Wrexham 1 Luton Town 0
League table.
KEN'S COMMENTS
Altrincham FC joint Press Officer, John Edwards, has kindly supplied this extended version of an article submitted to the Sale & Altrincham Messenger this week...

"An unhappy Ken McKenna could not hide his frustration after seeing Altrincham hand high-flying AFC Wimbledon a gift goal in the opening minute at Moss Lane on Tuesday night.

A defensive mix-up after just 29 seconds allowed danger man Danny Kedwell to nip in for the first of a decisive double that dashed Alty's hopes of climbing off the foot of the Blue Square Bet Premier.

'If that happened on a Sunday morning, you would be tearing you hair out,' said Alty boss McKenna. 'We had spoken about making a good start. Wimbledon should have been coming here and having a really difficult night. We should have been in their faces, making it hard for them, but, instead, we are a goal behind before I have even sat down.

'We have given them the biggest lift you can imagine inside 30 seconds, and it had nothing to do with coaching or preparation. It had everything to do with players not concentrating, and maybe that is why some are playing part-time football, not full-time.

'There were spells when we more than matched them, and there were some good signs. But we killed ourselves, basically. You just can't legislate for a goal like that, and you can't keep accepting those sort of mistakes. Right from the second game of the season, there have been silly individual errors that have cost us. You know those are going to happen, but we are making too many.

'The players have got to pick themselves up for Luton on Saturday and concentrate better than they did tonight. At any level of football, if you start the game like that, you are hurting your chances of winning. We've got to give ourselves the best possible chance.

'For much of the first half, I thought we did well. We more than matched them, only to be caught on the counter attack for what was a good goal, from their point of view. It was a good cross and excellent finish, so you can sort of half-accept that.

'But 2-0 down meant we had a mountain to climb, and I told the lads at half-time that we had to score the next goal. I explained that if we could do that, I'd fancy our chances of getting at them.'

Alty thought they were back in it, only for Michael Twiss to be denied by a debatable offside decision after driving a cross into the roof of the net.

'I jumped up and actually couldn't work out what he had flagged for at first,' said McKenna. 'Michael ran between two defenders to meet Chrissie Denham's cross, and I couldn't believe he had given offside. I spoke to the linesman afterwards, and he said it was marginal. I always thought you gave the benefit of any doubt to the forward, not the defender.

'But that's how the whole night went for us. There's no doubt they are a better side than us, and are up at the top on merit, but it was a game we could easily have got something out of.

'There were some positive signs, and we have got some good players here now. We looked decent in patches, but we need to look decent for 90 minutes, not just in patches.'

McKenna, who hopes to welcome back James Smith against Luton and awaits the outcome of a late fitness test on Marc Joseph, had mixed feelings about last Saturday's trip to Bath City, as Alty went 2-0 up before being pegged back for a 2-2 draw. 'It was very frustrating to see that two-goal lead slip,' he said. 'On the one hand, we could have been looking at a 4-0 win with better finishing, but on the other, we could have lost, but for Stuart Coburn.

'We had chances on the break that we should have stuck away, but when teams gamble like they did, and throw caution to the wind and start pushing you back, it becomes increasingly difficult to get forward.

'The game should have been put to bed after an hour, from our point of view, but we've ended up scraping a draw. There is a sense of frustration at that, but I suppose you feel relieved as well at taking a point, when it could have been worse'".
MATCHDAY SPONSORS
Barry Pond has kindly supplied an updated table of Matchday Sponsors; if you would like to sponsor a game or the match ball, please ring the club on 0161 928-1045.
JOHN KING- CULT HERO
In Thursday's Manchester Evening News, Andy Mitten writes about his new "Rough Guide to Cult Football" - out now at £9.99 - in which Andy writes, "It features players like Best, Breitner, Cantona, Garrincha, Kubala... Meredith, Trautmann, Marsh and Altrincham's John King". Andy, one of the best football writers around, is brother of former Alty striker Josh Mitten and editor of Red Issue.

And another book also has Alty relevance. Alex Stepney's new autobiography "Tooting Common to the Stretford End" covers his time at Moss Lane in 1979/80 (pp.242-44). Alty expert Barry Pikesley points out that "the text also includes the woefully inaccurate claim that Stepney returned to Moss Lane for the 1980/81 season and helped the club to win their second APL title. I suspect that John Connaughton may well have something pertinent to say about that!". Stepney is holding a signing session at Waterstone's in Altrincham at 2.30pm on Saturday afternoon.
LAST TUESDAY
Right: Gavin Rathbone of GR Photography captures Nicky Clee in action against AFC Wimbledon.

AFC Wimbledon reports that "The Dons regained top spot as they overcame bottom club Altrincham with a comfortable victory...

Wimbledon made a dream start with a goal in the first minute when Danny Kedwell ran onto Ricky Wellard's through ball and outpacing the two central defenders shot past Stuart Coburn.

Despite their lowly position Altrincham played some neat football and Seb Brown was called upon to make an excellent save from Nicky Clee...

Terry was in a very happy mood on the team coach home. 'It was a fantastic win in what will be a busy week for the team. The three hundred plus fans who made the long journey north will have found it very worthwhile'".
CHESHIRE SENIOR CUP
Woodley Sports 5 Witton Albion 1 att. 31
Runcorn Town 1 Warrington Town 1 Warrington Town win on penalties 2 - 4 (1 - 1 after 90 mins) att 108
Northwich Victoria 3 Cheadle Town 0 att 60
Nantwich Town 3 Cammell Laird 2 att 144
Alsager Town 3 Vauxhall Motors 1 att 27
Winsford Utd 1 Runcorn Linnets 2 att 102

Wednesday

Chester FC 2 Congleton Town 3 att 605

Next Tuesday, Alty host Hyde FC in the CSC.
BSBP NEWS
According to the Football Conference "Kidderminster Harriers have swooped to land hot-shot Sutton Coldfield Town striker Jamille Matt before this weekend`s game at Histon. The 21-year-old is a graduate of the Evo-Stik League First Division South club`s youth system... Matt arrives at Aggborough initially on a non-contract basis".

"Forest Green Rovers have signed former Bolton Wanderers defender Chris Stokes from Swindon Supermarine" reports the Football Conference. "Stokes is predominantly a left-back, who has been capped by England at under-17 level whilst with Bolton. He also captained Bolton at youth level... In March 2010 he signed for Crewe Alexandra on a one-month loan deal... In May 2010 he was released by Bolton... he opted to quit his trial period at Crewe in order to take up a similar opportunity at Walsall...before moving to Supermarine last month".

From Blue Square Football we learn that "Kidderminster chairman Dave Reynolds has moved to reassure Harriers' supporters that the club will not be reverting to a part-time outfit. The club were recently handed two anonymous donations which spared them from facing a potential winding-up order.

Reynolds told The Shuttle: 'I don't see any future in part-time to be honest. I think in regards to part-time players, the quality we had years ago isn't there anymore... that time has gone and things have changed'.

Meanwhile, new director and Aggborough Holdings member Mark Serrell... said: 'There was a big increase in attendances in the 2008-09 season when the club finished sixth, they dropped off last year. This year we're struggling with attendances already, 1,565 is the highest and the lowest is 937... that's something we've got to change. Fans can support functions and come up with ideas. We're also looking for more volunteers to help work around the club. We need as much help as I can get. If we don't improve the financial position quickly the club faces administration and liquidation. That help and effort is needed immediately'".

According to This is Tamworth "Lambs' caretaker boss Des Lyttle... is running the rule over former Sheffield Wednesday and Gillingham striker Guylain Ndumbu-Nsungu... The need for a striker has become even more urgent with Kyle Perry suspended for Saturday's crunch league clash... They are desperate for a league win, slipping to within two points of the relegation zone...

Lyttle could add further fresh faces and will include loan goalkeeper Ross Atkins – back for a second stint from Derby after they recalled James Severn. Lyttle said: "Guylain is training with us with a view to signing. He's a Congolese footballer who is unattached at the moment but has plenty of league experience. He's a six foot striker, who is mobile, and hopefully we can get him in. He will be a good addition'".

The BBC says that "Gateshead have taken former Newcastle United striker Wesley Ngo Baheng on trial following his release from St James' Park at the end of last season. The 21-year-old Frenchman, who failed to make an appearance for the Magpies first-team, made his Gateshead reserve debut at home to Grimsby on Wednesday.

'I want to play in English football', Baheng told the Gateshead website. 'With Gateshead now a professional outfit and a Tyneside club it would be a good move for me. I will train with Gateshead and play again for the reserves against Lincoln City on Monday and we'll take it from there'"
---
11 November 2010
CHRISTMAS FAIR
The Altrincham Football Club Christmas Fair is to be held in the Manchester Glass Sponsors' Lounge at Moss Lane on Sunday, 28th November, from 11am to 2pm.

The Club would like to thank those who have donated items for the Fair and would be very pleased to receive further donations, particularly of,
Chocolate (bars,tins,boxes) for the Tombola
Good as new toys and games
Toiletries
All donated items can be bought into the Club during office hours anytime in the weeks leading up to the event or into the club shop on matchdays.

Thank you for your help. Please make a note in your diaries to come along and enjoy the day!
ANDREW STAYS
Altrincham FC is pleased to confirm that defender Andrew Milne (right), whose one-month loan from Barrow is drawing to an end, has had the loan extended for a further two months to 9th January, 2011, though he will be subject to recall during that period if needed by the Bluebirds. So far, he has played five games for Altrincham, spending most of those matches on the right side of the back line.
JACKPOT WINNER
The £1,800 jackpot in the Altrincham FC Saturday Yankee was won this week by good friends of the football club, local newsagents, Stamford Park News. You, too, can win prizes of this size and more, for a £1 stake, by joining the Yankee. The winning code was 1858, and there were 5 winning trebles netting £40 each.
WATCH BSBP ON TV
The following press release has been received from Premier Sports TV:

"Premier Sports TV have teamed up with Altrincham FC to offer fans a special two months for half price promotion. Watch all the live action over the winter for only £3.49 per month!

To take advantage of this special offer please enter the code AL61 on the Premier Sports website or call 0871 663 9000, quoting the code.

The offer is open to new customers only and terms and conditions apply. Offer ends 28th February 2011.

Premier Sports TV shows 30 live games from the Blue Square Bet Premier every season as well as goal highlights from other games. The league has entered into a revenue sharing arrangement whereby, once the cost of production is covered, clubs receive 50% of all revenue on top of the basic amount.

The more people get behind this deal the more money the clubs get. Sign up now!"
VISIT CRAWLEY IN STYLE
Altrincham are away at Crawley Town on Saturday week (20th). TASC is running a coach to the game; details are on the Away Travel page.
ALTRINCHAM HEROES
Longstanding Altrincham supporter Peter Hennerley advises the website that on Friday (12th) from 3pm he will be at Sainsbury's in Altrincham, where he will have copies of his DVD of Altrincham's "Chapel Street Remembered" available for a minimum donation of £7 - though larger donations are very welcome. Chapel Street was honoured after World War I as being the street in Britain which provided the highest number of military volunteers for its size. All proceeds from the DVD go to the Royal British Legion and the Cheshire Regiment Association.

Peter will also be the standard bearer at Altrincham Cenotaph (St Margaret's Road/Dunham Road) on Remembrance Sunday (13th) at 2.30pm and will also have copies of the DVD available there.

Peter is also planning a "launch night" at the Cresta Court hotel later this month. The event will consist of a hot pot supper and a large-screen showing of the DVD. More details to follow.

Image, left, courtesy of the excellent Sevenoaks Art site.
WHEN ALTY WERE KINGS...
"I think that the League is like the wife - always there - but the FA Cup is our mistress and we enjoy meeting her!" Find out which Altrincham character made the above statement - and much more about the Robins - by reading Part 26 of Barry Pikesley's fascinating series "When Alty Were Kings".

Parts 27 and 28 which include the FA Cup tie at home to Orient are also now on site. Follow the above link for all parts of the series.
"LESSER LIGHTS"
On Tuesday's game at Moss Lane, South London Today says that "Danny Kedwell returned to scoring form as his brace sent AFC Wimbledon back to the top of the Blue Square Bet Premier Division. The Dons' top scorer put the visitors 1-0 up inside the first minute as he fired home from the edge of the box, then he doubled the advantage just before the break, capitalising on good build-up play by Sam Hatton. Manager Terry Brown handed a rare start to out-of-favour striker Jon Main, and there was another welcome return during the second half when Lee Minshull was brought on after two months out with a knee injury"

Your Local Guardian tells us that "Danny Kedwell reckons the ability to pick up wins on the road at the Blue Square Premier's lesser lights will prove crucial in deciding AFC Wimbledon's fate this season. The Dons moved to the top of the table with a 2-0 win at bottom side Altrincham on Tuesday night, with Kedwell bagging both goals...

Kedwell said: 'Playing the likes of Altrincham are the type of games we should win and the type of game we have to win. We know if we want to be up there come the end of the season we have to pick up points in those games. It is a long old journey up to Manchester for a midweek game so to get three points is a big boost, and we need to do it all again at the weekend'...

Kedwell added: 'I have more to my game than goals and I am not an out-and-out goalscorer - I get about the pitch and I have a pass in me... I know the boss says we are playing 4-3-3 but to me it feels more like 4-5-1 as I seem to be on my own up front most of the time. What it meant was I was getting really tired about the 70-minute mark in games. When you have another striker up there with you it makes a massive difference'".

However, "AFC Wimbledon boss Terry Brown admitted he wanted to rest last night's match-winner Danny Kedwell. The Dons boss rotated his squad for the trip to Altrincham, but Keds bagged a first-half double...

Said Brown 'It would be nice to rest Danny Kedwell in particular but anyone watching him will see how important he is for us. It was important to get back to winning ways in an important month in our history. It was a really good night gaining three important points and no injuries'".
BSBP NEWS
AFC Wimbledon say that "ITV has announced that the FA Cup second round tie will be televised, irrespective of the outcome of the first round replays. The game will take place at 12.50 on Saturday 27 November". The tie could end pitting AFC Wimbledon against MK Dons.

Surprising news comes from Wales in the Leader. "Former Chester City owner Stephen Vaughan claims he is part of a bid to buy a controlling stake in Wrexham FC. The Liverpool-based businessman said yesterday he is one of a four-man consortium that is currently putting together an offer to buy a 100 per cent controlling interest in the club. But current club vice-chairman and part-owner Geoff Moss said he knew nothing about any such offer.

And the 650-strong Wrexham Supporters' Trust made it clear it would not welcome the move. Mr Vaughan took over as chairman and majority shareholder of Chester City in 2001... He told the Leader: 'Wrexham FC is up for sale and I have been approached to join the consortium that is putting in a bid for it. They have offered me a stake of around 30 per cent in the special purpose vehicle which has been put together to make the bid. The offer will be made to the club via our legal people within the next seven days. I would be involved strictly as an investor and would have no part in the day-to-day running of the club'...

While Mr Vaughan would not reveal who the other three members of the consortium are, he said they were all from the north of England and that 'every one is a football person'. Speaking of his past involvement with Chester City, he said: 'I put nine years of my life into the club and £5 million of my own money. I never took a penny out. I was let down by a shower of fools who hit their own self-destruct button'.

Mr Vaughan is currently involved with boxing promotions in Liverpool and runs a residential lettings company in that area. Geoff Moss said: 'I have not had any contact with Stephen Vaughan and know nothing about an offer from any consortium he might be involved in. I do know him from football circles and he did approach us once before – three or four years ago – to buy the club but nothing came of it. The club is for sale and we have had a couple of enquiries but none, as far as I know, have been from Mr Vaughan. Let's just wait and see if he does make an offer'.

Lindsay Jones, a spokesman for Wrexham Supporters' Trust, said: 'The trust is aware of Mr Vaughan and we can say categorically that he would not be welcome here under any circumstances'".
---
10 November 2010
ALTRINCHAM 0 AFC WIMBLEDON 2
Altrincham conceded a goal after 29 seconds of the match and then did so, again, a minute before the interval but, in between, they played some good football, as they also did in the early part of the second half.

Alty player stats
CAPTAIN'S LOG
In last night's "Robins' Review", Alty captain Robbie Lawton wrote:

"It is hard to remember another time when a game has been turned on its head quite as unexpectedly as against Bath City on Saturday.

After going in front in a relatively close first 45 minutes, all the talk in our dressing room at half-time was about making the most of a golden opportunity to move off the foot of the table. We were in with a great chance of going home with all three points, and the manager told us to imagine how good it would feel to hand bottom place to someone else. It is very rare not to make a move when you are picking up points most weeks, yet we had been sat there a while.

For too long, in fact, and Ken spelled out what a psychological boost it would be, if we could press home our advantage against Bath and finally climb away from last spot.

It all seemed to be going according to plan when Michael Twiss added to Nicky Clee's first-half goal to put us 2-0 up, but that was to prove a turning point, rather than platform for victory.

I don't know whether that second goal possibly came a bit too early, but Bath were transformed and produced the best level of football for the final 35 minutes that I've seen all season. They made changes in personnel and tactics and basically threw everything at us. It was clear they decided it was time to gamble, even though it could mean losing 4-0, just as easily as getting back into it. Either way, at 2-0 down, they had nothing to lose.

They sent bodies forward and started moving us about the park with some slick passing, and it soon became apparent we were up against it. Their two wingers, who we knew could be a threat but had been kept fairly quiet, began to make their mark, and we found ourselves coming under increasing pressure.

At one point, they had four up top, with another just behind, and I also noticed their left-back started overlapping down the right flank, such was their intent on attacking us from all angles and at every opportunity. I know that, to a neutral or anyone who wasn't there, it will look like two points dropped, after they pegged us back for a 2-2 draw. But when you consider that last half-hour or so, and some of the saves Stuart Coburn made, there is a case for saying it was a point salvaged.

I'm not sure the manager viewed it that way, but we were bombarded, and Stuart was outstanding. He made numerous world-class saves, not least right on the final whistle, when Bath must have thought they had rounded off their comeback in the most dramatic fashion.

Stu had already tipped one piledriver on to the bar, and he reacted brilliantly again, with seconds left, when one of their lads caught a shot perfectly, only for Stu somehow to get a hand to it and turn it round. You might expect his own team-mates to be slapping him on the back, but even the home supporters were joining in and shaking his hand. I was stood next to Stu in the bar afterwards, when one of them came up and said: 'Are you their keeper?' Stu said he was, and the lad said: 'That was unbelievable, that was. Absolutely outstanding.' It was a nice touch, and thoroughly deserved by big Stu. Talking about saying well done, a big thankyou from everyone in the dressing room for the unbelievable gesture from our fans, in helping us get down to Bath the night before the game and prepare in such a professional manner.

We are all aware that an accountability factor comes with it, and we will continue to do our utmost to repay an act that shows just what Altrincham FC means to you all.

Friday night traffic is never the best, particularly in driving rain, but we all benefitted from a Saturday morning routine that started with a light breakfast and was followed by a training session that got our legs going and pre-match meal that gave our energy levels a lift. Thanks, also, to all those who travelled down to Bath and gave us the same invaluable vocal support we had at Hayes and Yeading. It really is appreciated and makes you feel you're not all on your own out there!

Now it's AFC Wimbledon, and the first of a series of games against sides with ambitions of promotion. They have been consistently one of the strongest and most dangerous sides we have faced, since they came into this league, and we are going to have to be at our best. Let's hope we can rise to the challenge. Robbie".
FLYNNZINE
Brian Flynn's latest Flynnzine article appeared in tuesday's Robins' Review...

Plug pulled on Bath night.....but didn't we have a lovely time the day we visited the Romans?

"Whatever your view of F.C. United of Manchester, there is no doubt that their debut in the First Round of the F.A. Cup last Friday, produced an excellent game of football and a stunning evening of live sporting entertainment for viewers of ESPN. F.C. United started with no less than four former Alty players in their ranks in the shape of Richard Battersby, Karl Munroe, Carlos Roca and Ben Deegan, with perhaps Deegan being the pick of them on the night.

Things might have been different if the referee Mr Eltringham had spotted a blatant handball by Karl Munroe in the first minute and awarded Rochdale a penalty, but F.C. United deserved their victory and the whole event was quite a spectacle and a night that none of the 3000 plus travelling fans will forget.

We would have loved to have been going to Meadow Lane on Saturday, to take on Notts County, but that honour fell to our 4th Qualifying Round conquerors, Gateshead and we had to settle for a trip to the spa town of Bath for a league game. This turned out to be a particularly good consolation prize as I'm sure that all Alty fans who went to the West Country will have enjoyed their tripand it certainly was more preferable for fans, players, directors and management that we managed to rearrange this game at short notice and avoid a midweek hike in the middle of this month.

For many Altrincham fans, this will have been the most eagerly anticipated trip of the season and the friendly tone of Bath City Football Club was set when a Romans' fan, who saw his first Bath game in 1963, kindly walked our group to the pub we were looking for in the city centre. There may not be too many of us, but Alty fans seem to have a natural gravitational pull towards each other and, lo and behold, the pub we had chosen was full of West Country folk and a number of friendly Altrincham faces!

When I first went to Twerton Park in the inaugural season of the Alliance Premier League - a 1-1 draw in which Stan Allan scored a ridiculous goal with a free kick from the centre circle that bounced over the keeper's head - it was a stadium that was fairly typical of the former Southern League teams that we were playing for the first time... impressively bigger than the majority of Northern Premier League grounds that we were used to. It hasn't changed a lot in thirty years but it is a lovely, traditional, old football stadium of the type that, sadly, we see less often as time goes by.

The game itself didn't disappoint and whilst most Alty fans will have been frustrated that we lost a two-goal lead, Adie Britton's side deserved at least a point. Stuart Coburn's save in injury time was immense... Nuneatonesque yes that good!!

The team put in a very decent shift on the pitch and the support on the teraces was awesome - brilliant job everyone!!

We welcome high-flying AFC Wimbledon tonight for their second visit to Moss Lane. I must admit that I was slightly surprised at how well Terry Brown's team started the campaign but it looks like they are in for an exciting season as they go in search of promotion to the Football League and, of course, there is the potential match up with MK Dons in the F.A. Cup 2nd Round which would certainly be interesting!!

Brian".
BSBP NEWS
According to the Football Conference "Gateshead have released former Lincoln City midfielder Shane Clarke after a short spell at the International Stadium. The 23-year-old made seventy-three appearances, twenty-four off the bench, for home-town club Lincoln but had his contract paid up at the end of August. Handed an initial one-month deal at Gateshead, Clarke played four reserve games but was limited to a brief cameo off the bench in the Conference at AFC Wimbledon. The writing was on the wall when Gateshead last week brought in another central midfielder, Ashley Winn from Southport...

'Unfortunately Clarke did not do enough during his month on Tyneside to convince me that he would strengthen the squad' said [manager] Bogie. Summer signing Jonny Allan, meanwhile, is set to resume training this week following a long standing knee problem".

For the FA Cup Round 2, ESPN have chosen to televise Crawley v Swindon and Droylsden v Dagenham & Redbridge or Leyton Orient.

This is Glos tells us that "Forest Green chairman Dale Vince has given his full backing to manager Dave Hockaday, insisting the club are 'lucky' to have him. Anti-Hockaday chants rang out from the home Rockwool terrace during the second half of Saturday's 3-0 FA Cup defeat to Northampton Town. It was not the first time fans have called for the former Watford coach's head this season...

The Ecotrocity chief, who has pumped badly-needed cash into the Blue Square Bet Premier strugglers, said: 'I've got to know Dave these past few weeks. He's one of the most honest and open people I know, he works incredibly hard and he's immensely loyal. I think we're lucky to have him'...

Hockaday has struggled to win over supporters since his appointment in September 2009, and only Salisbury City's expulsion from the league spared Rovers from relegation last term. But Vince is keen to point out that until last week Hockaday had been working with a semi-professional squad and effectively a Blue Square South club's budget...

Said Vince, 'We started this season with a team budget that was about two thirds of what it was last year, actually the smallest budget in this club's history in this league. That led to the need to go part-time, and when I first became involved in August we had a squad of just 13 players... I think, given what we had to build a team with, we're doing well...

Vince also feels avoiding relegation is 'not life and death' for Rovers this season. He added: 'Relegation is a possibility, best avoided, but one in six clubs in this league will go down this season. It happens. If it happens to us we'll fight our way back up'.".

According to the Express & Star "Cash-strapped Kidderminster Harriers have predicted they face a £160,000 black hole if the club's financial crisis does not improve. New bosses are set to make cutbacks... Harriers were bought by former chairman David Reynolds last month, who claimed the club were on the brink of administration and £250,000 in debt...

Fans have been asked to help raise £50,000 to pay creditors. And director Mark Serrell confirmed the Blue Square Premier outfit could suffer a shortfall between £140,000 and £160,000 by next May. He said: 'The shortfall is what is presently being predicted taking into account the measures we are planning to make at the moment'...

Over 150 supporters quizzed the board on how the club had sunk into such a financial slump under former chairman Barry Norgrove. Serrell blamed a lack of financial control of day-to-day expenditure under the old regime".
---
9 November 2010
TUESDAY NIGHT
Through the Years by Howard Watts.
Altrincham 0 AFC Wimbledon 2
Bath City 3 Hayes & Yeading Utd 1
Cambridge United 1 Grimsby Town 1
Darlington 1 Tamworth 0
Eastbourne Borough 0 Forest Green Rovers 0
Fleetwood Town 0 Gateshead FC 0
Kettering Town 0 Mansfield Town 2
Kidderminster Harriers 1 Rushden & Diamonds 0

Grahame Rowley writes, "Tuesday's bucket collection will go towards paying for the overnight stay at Bath last saturday. If anyone was thinking of donating at last Tuesday's postponed fixture with Hyde they will have another chance tonight. A sizeable percentage of the total cost of the stay was covered by supporters' donations and a big thank you goes to everyone who contributed".
MEET THE MANAGER
Altrincham manager Ken McKenna will be holding his first "Meet the Manager" session in the Noel White Suite at Moss Lane on Wednesday, 17th November at 7.00pm. Ken is happy to answer questions on any footballing topic. The bar will be open, so come along and enjoy a drink and ask a question! (This replaces the event originally planned for this Thursday, November 11th).
TUESDAY NIGHT
Right: Alty's two scorers are seen here at Bath; left is Nicky Clee and right is Michael Twiss.

Tonight's visitors, AFC Wimbledon report on their last match, a "a disappointing draw against a revitalised Ebbsfleet side on a 13-game unbeaten run. But the referee attracted more attention than the two teams seeking a place in the Second Round of the FA Cup, dishing out two red and six yellow cards...

Jolley had just felt the wrath of Terry Brown for failing to control a Seb Brown throw-out, and in an attempt to win the ball back from the resultant throw-in Jolley mistimed his tackle on Craig Stone and gave away what was a clear free-kick. But Mr Davies saw a dangerous two-footed challenge and, to general disbelief, whipped out the red card...

Wimbledon were struggling to find the form that had propelled them so excitingly to the top of the Blue Square Bet Premier. Jolley's absence from the left meant a lot more attacking involvement for the back-to-form Blackman, but he continually left space behind him, and twice the pacy Shakes should have made more of the opportunity to breach the Dons' defence...

Wimbledon really should have made the visitors pay for their lack of cutting edge, but the final ball was missing time and time again, with Blackman and Sammy Moore over-hitting crosses and Gregory failing to pick out Kedwell and Sam Hatton when each was clear of the Fleet back line. Willock then had another chance to punish the side for whom he played one pre-season friendly prior to the Dons' first season in the BSBP, but he allowed Yakubu to make a timely tackle. Shakes then did similarly when running at the retreating Wimbledon defence, but this time Blackman nipped in and toed the ball away...

Lorraine crashed into the back of [AFC's] Sammy Moore on the edge of his own penalty area for what certainly looked like a late tackle from behind, but it went unpunished, and Moore left the pitch on a stretcher with a painful ankle injury. Duncan then caught Yussuff with a scissor tackle far more violent than Jolley's, but Mr Davies failed to act, much to the ire of the Dons' bench". Wimbledon indicate that both Jolley (suspended) and Sammy Moore (injured) will be out for the replay - and therefore also for tonight's game.

Blue Square Football tells us that "MK Dons chief Pete Winkelman insists the club are not focussing on a potential FA Cup clash with AFC Wimbledon just yet. AFC were set up by fans in protest when Wimbledon relocated up the M1 to Milton Keynes before becoming the Dons, and the sides could meet in an explosive second round tie if they get through first round replays.

Winkelman said: 'It is potentially a fantastic tie that will inevitably draw a lot of attention'".

The referee for Alty v AFC Wimbledon is Mr D. Handley, whilst for Luton's visit this Saturday it is Mr R. J. West, who has reffed Alty 1 Cambridge 0 in 2008; Alty 0 Luton 1 on October, 2009 and Kettering Town 3 Alty 1 in March 2009.
SOCIAL EVENTS
Grahame Rowley reminds us of a series of "Forthcoming Events" which everyone is urged to support for the benefit of the Football Club. A full list of social and fundraising events is always on the site here.
Friday, November 26th, Noel White Suite: Real Young and the Lazy Horse
Nigel Hennerley writes: "As you may have gathered from the name, this is a Neil Young tribute band – but with a hard rock edge. They are:

Guitars & Vocals: Simon Foster – guitar player with well known North West band. Cheapskates – awesome. Enough said!
Drums: Jim Fallon – another regular here at Moss Lane with his dad. Jim runs his own drum school and is an ace drummer – hits the skins real hard – in fact, he is one of the best drummers I have ever played with (the other one is Jim Benson)
Bass guitar: Manuel Kochgruber – Mani moved from Switzerland to be in this band - when he was six. He is the most laid back person I know and a fantastic musician. He also plays in another band – The Replicants
Second Guitar: Nigel Hennerley – I have been a Neil Young fan since the 70s when I first picked up the guitar with a Neil Young song book. So when I was asked, last year, to rehearse with the band, I didn't need to be asked twice. I am not too sure about tribute bands as a rule, but this seems different, we do things our own way.
Sunday, November 28th, 11am-2pm, Manchester Glass Sponsors' Lounge: Christmas Fair
A Christmas Fair will be held in the Manchester Glass Sponsors' Lounge with stalls to include "Good as New" toys and games, chocolate tombola, toiletries, raffle and cakes. Why not come along and have a hot turkey sandwich and a cup of tea whilst browsing the stalls and supporting your Football Club? Free entry.
Friday December 3rd, Cresta Court, 7.30pm: John Motson Sportsman's Dinner
Come along and see "Motty" at our annual Sportsman's Dinner. Only a few tickets remaining priced at just £50 per ticket or £450 per table of 10. Four-course dinner, comedian, raffle and auction, with the night compered by Jimmy Wagg of BBC Radio Manchester.
Wednesday, December 8th, Manchester Glass Sponsors' Lounge: Pensioners' Lunch
Another annual event which becomes more popular every year. With places limited to just 45, please book your place early. Priced at just £9 per ticket for a traditional Christmas Dinner, drink and mince pie.
Saturday, December 18th, Noel White Suite:– Christmas Celebration
With the Sportsman's dinner being held in December we have found it impossible to find a date for our usual Christmas party night at the Cresta Court, so we are intending to hold a more informal event in our own bar following the game against Histon. Details to follow.
BSBP NEWS
"Blue Square Bet Premier high-flyers Crawley Town have announced that midfielder Eddie Hutchinson has had his contract terminated with immediate effect by mutual consent" reports the Football Conference. "Hutchinson has been plagued with injuries since pre-season and has featured only once this season as a second half substitute".

Next Saturday, Luton Town are the visitors to Moss Lane. According to Blue Square Football "York City midfielder Alex Lawless has joined Luton Town on loan with a view to a permanent deal for an undisclosed fee in January. The club have been extremely reluctant to let the player leave but Luton have been very persistent in recent weeks increasing their original offer on no less than three occasions. Lawless is out of contract at the end of the season and would therefore be eligible for a free transfer next summer. He expressed his desire to leave City and the club felt that it was unfair to stand in his way if he wished to move on.

City Manager Gary Mills commented, 'I am very disappointed to see a player of Alex's calibre leave the club as I feel that he has much to offer and has been very popular with the supporters. However, we need players who want to play for York City, are focused on their jobs and happy at the club. If this is not the case then they will only become restless and in turn this will affect their perfomance. On the positive side I have several players in mind that I would like to sign for the club and the fee received for Alex will give us the funds to attract the right players to the club. Also Chris Carruthers and Levi Mackin are now close to match fitness which will bolster our midfield options'".

The same source adds that "Mansfield Town winger Ryan Williams has extended his loan spell at Gainsborough Trinity for a further month. The fortunes of the Holy Blues have drastically improved since... the 32-year-old joined last month".

Meanwhile, Mansfield Town themselves announce that "Manager David Holdsworth is hoping to secure the services of young striker Danny Mitchley. The former Blackpool frontman has impressed during a trial period here at Field Mill in recent weeks and the Gaffer is now looking to add him to our injury depleted squad on non-contract terms.

With Rob Duffy, Peter Vincenti and Paul Connor all looking doubtful for our trip to Kettering tomorrow, Holdsworth added: 'I'm hoping to sign a new player on non contract terms because we are so stretched. He is a young boy who I've been looking at in training'. The 21-year-old is currently a free agent following his release by Blackpool back in June... He was loaned out to Southport, Burscough and finally Wrexham in March this year to gain first team experience".

From Kettering Town we learn that "Nmanager Marcus Law has gone back to his former club Barwell FC to recruit Nick Green, the Leicestershire club's captain. Defender Green, is included in the squad that will face Mansfield Town on Tuesday night and is looking forward to his new challenge. Nick has also played for Aston Villa, Stourbridge Swifts, RC Warwick and Quorn, before a highly successful period with high-flying Barwell".
---
8 November 2010
BATH VERDICTS
Match report here

Bath City report on Saturday's draw with Alty. "Points shared means neither manager would be happy with this result – Altrincham dropped a two goal lead and Bath dominated much of the match. At 2-0, the scoreline didn't reflect the gameplay as City gave away silly goals and played the better football. The Romans fought well to erase the two goal deficit and looked likely to take the three points, but Robins' keeper, Coburn, was in great form and played a massive part in Altrincham's ability to hang on to a single point.

City's technical superiority was immediately evident as they got the ball down and played some pretty football... The tempo was dictated by the Romans, who kept up some lengthy periods of pressure. This frustrated Altrincham and forced them to sit in their half...

Clee carried the ball in to the box and let fly from 15 yards with the ball bouncing off of an unsuccessful Rollo block and past Petney on 38 minutes... After the break... goalscorer Clee, this time turned provider for teammate Twiss as he played a delicate ball through City's back line that was confidently latched on to and tucked away inside the box just two minutes in to the half. Altrincham's easiest chance of the game soon followed, which could have put the game to bed if it weren't for Densmore's lack of accuracy and composure from inside the box and in yards of space. His shot came about due to a low cross from Twee [?Clee] who had done well on the left to work some space, but the effort was placed a yard wide of the right post – City were let off the hook...

The final half an hour was all City, who looked by far to be the better team. They had both more possession and more opportunities but ultimately struggled to beat Coburn".
NEXT GAME
Altrincham's next game is at home to AFC Wimbledon on Tuesday evening at Moss Lane.

Following the FA Cup second round draw AFC Wimbledon have issued a statement, saying "Depending on the outcome of two replays, we have been drawn against Milton Keynes in the FA Cup 2nd round to be played on 27 November. Most people know the way that Milton Keynes obtained their football club. It was wrong then and it is still wrong now, which makes this fixture very painful for us. However, when we entered the FA Cup we understood that this might happen and we will go about our business professionally and complete the fixture. But we would have preferred that it hadn't happened. We have no further comment to make at the moment".

The Surrey Herald reports on AFC 's last game, a goalless FA CUp draw at home to Ebbsfleet United. The paper describes it as "a stormy stalemate that ended with both sides reduced to 10 men. AFC Wimbledon's Christian Jolley was red-carded for a late lunge on Craig Stone in the 39th minute".

It is 25 years on Tuesday since the memorable Altrincham 7 Nuneaton Borough 4 game in 1985, as is revealed by Howard Watts's AFC Wimbledon add that "The busiest man on the pitch was referee Andy Davis who showed six yellow cards and two red as both teams played the entire second half with just ten men... Neither team was able to show that decisive cutting edge although there were several near misses at each end".
YOUTHS HIT EIGHT
Altrincham FC Youth beat Aspull Juniors from Wigan 8-1 on Sunday to advance in the NW Youth Alliance Open Cup. Both Kieran Madden and Ashley Woods hit hat-tricks, with Sam Langford and Theo Kidd netting the other goals. There is a match report in the Youth Team section.
OLD BOYS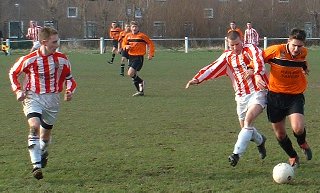 It was like an "old boys" convention at the Altrincham FC Youth match on Sunday - and that is not a reference to manager George Heslop! In fact there were three of George's former youth team players at the game. Josh Collins, winger on George's Alty Youth sides of 2002-03 and 2003-04 when he played alongside Lewis Chalmers, Steve Lunt and the Lugsden twins, has joined the coaching team for Altrincham FC Youth. Josh spent three years in the USA playing for DC United reserves and first team before a spell in Australia. When George Heslop recently asked for help with coaching, Josh approached his former manager and joined the team. Josh is seen on the right of the adjacent picture, playing for Alty Youth.

Also watching the match was Youth team captain of 2004-05 and 2005-06, Richard Gresty, who also represented the English Colleges national team whilst with Alty. Richard has since had spells at a number of clubs including Stalybridge Celtic. And from nearer twenty years ago, Paul Jones, was also a spectator. Paul played for George in Sunday league as well as graduating to the Altrincham FA District youth team under George's guidance.

Last Wednesday in the FA Trophy, Colin Little and former Alty reserve Alex Frost scored two of Witton's goals as they beat Radcliffe Borough, whose goal came from Richard Chetcuti, another ex-Alty reserve. Jimmy McCarthy scored as Kidsgrove beat Cammell Laird 7-2. Tony Sullivan scored one of Lairds' goals.

NL News 24 reports that "Northwich Victoria midfielder Adam Carden and full back Ben Jackson have been told they are free to find new clubs. The pair did not make the trip to Frickley Athletic this weekend, even though the visitors were only able to name two outfield substitutes. Both were playing for Northwich on non-contract deals. Former FC United of Manchester utility man Carden, 25, has been out for three weeks nursing an injured calf".

Aaron Burns scored a penalty for Ashton United but they lost 1-3. Ex-loanee James Dean got two and Tom Baker a penalty as high-flying AFC Halifax Town beat Marine 6-0 in Crosby. Another ex-Alty loan player Liam King scored as Matlock Town lost 1-0 at home to Hucknall and Jimmy McCarthy scored as Kidsgrove also lost 1-2, at home to Paul Ellender's Brigg Town.
FOOTBALL MANAGER 2011
The 2011 version of "Football Manager" has just arrived at Moss Lane and will be on sale at Tuesday's match or by calling into the office any day from 9am till 3pm.
FA CUP ROUND 2
Alty's FA Cup conquerors Gateshead, went out to Notts County on Saturday. County now have a home tie with AFC Bournemouth.

The rest of the FA Cup draw involving non-League clubs is below:

Cambridge United or Huddersfield Tn v Macclesfield Town or Southend United
AFC Wimbledon or Ebbsfleet United v Stevenage or Milton Keynes Dons
Hartlepool United or Vauxhall Motors v Yeovil Town
Droylsden v Dagenham & Redbridge or Leyton Orient
Crawley Town v Swindon Town
Brighton & Hove Albion or Woking v FC United of Manchester
Torquay United v Fleetwood Town or Walsall
Barnet or Charlton Athletic v Corby Town or Luton Town
Colchester United v Swindon Supermarine
Dartford or Port Vale v Accrington Stanley
Carlisle United v Tamworth
Dover Athletic v Brentford or Aldershot Town
Darlington v Rotherham United or York City
---
7 November 2010
SATURDAY'S GAME
Above: Altrincham's supporters were in good voice again on Saturday at Bath.

Match report here.

This is Bath has an audio interview with the Bath manager after Saturday's game. It also has a match report which includes how "The visitors thought they had earned three welcome points when Nicky Clee and Michael Twiss scored either side of half-time...

When Altrincham took the lead a couple of minutes later, Canham gave the ball away in midfield and the visitors immediately broke through Clee, who surged to the edge of the box before firing in a shot which seemed to take a slight deflection off Jim Rollo as it dropped into the back of the net...

Just 80 seconds after the restart Altrincham doubled their lead. Baynes brought the ball forward before slipping a lovely pass through to Twiss, who showed great composure to lift his shot over the advancing keeper. And the game really should have been over as a contest a couple of minutes later when Twiss dispossessed Rollo before pulling the ball back to Shaun Densmore who, with plenty of time and space, sidefooted wide when he really should have hit the target".

I Love Bath City adds that "In normal circumstances this [comeback] would undoubtedly be considered a point gained, but the home team was denied victory by Altrincham goalkeeper, Stuart Coburn, who produced a string of outstanding saves... It was against the run of play that The Robins forged ahead after 37 minutes when Clee raced through on goal. Rollo did well to make a challenge, but his attempted block only succeeded in lifting the ball over Pentney, and high into the net...

The visitors took the wind out of their sails with a second goal within two minutes of the restart. Wes Baynes fed Twiss, who made no mistake in lifting the ball over the advancing Pentney, and into the unguarded net. The game should have been put well out of City's reach two minutes later, when Twiss robbed Rollo and squared to the unmarked Densmore, who inexplicably dragged his shot wide from 10 yards out...

It was now all City, and the Robins were rocked back on their heels... Coburn... crowned his wonderful performance by making a breathtaking full length save at the foot of his post. The final whistle was met with a mixture of emotions. On the one hand, the home faithful would have felt some satisfaction with a point being rescued from an apparently hopeless situation. On the other, there was a feeling of disappointment that a win had not been achieved. Certainly, over the course of the full ninety minutes City did more than enough to deserve victory but, in the final analysis, only the extraordinary heroics of Stuart Coburn prevented this outcome".
---
6 November 2010
BATH CITY 2 ALTRINCHAM 2
Above: Nicky Clee receives congratulations from Robbie Lawton and Shaun Densmore after opening the scoring.

Altrincham surrendered a two-goal lead but ultimately hung on for a point, thanks to several excellent saves from Stuart Coburn. Nicky Clee put Alty ahead after 39 minutes with a well taken goal after he picked the ball up 35 yards out and advanced into the box. Baynes fed Twiss who out Alty 2-0 up after 47 minutes. Densmore had a glorious chance to make it 3-0 moments later but steered his shot wide. After that it was all Bath City as Alty struggled to keep possession. Phillips made it 2-1 after 63 minutes and the inevitable equalizer arrived from the same player in the 74th minute. It was largely one-way traffic after that with Coburn's injury-time save the pick of his excellent stops. Alty remain bottom but at least they were off it for 35 minutes this afternoon! Match report here.
FANS' FORUM OFF
As Ken McKenna will be running his eye over the clash between Wrexham and Luton this Thursday, the planned Fans' Forum has had to be postponed; it will be re-arranged shortly.
SATURDAY'S GAME
The BBC says that "Bath will again be without midfielder Lewis Hogg (groin) and defender Luke Roddick (hamstring). On-loan winger Marley Watkins picked up an ankle injury in the 3-1 defeat to Luton last week and will be out for around three weeks.

The Manchester Evening News reports that before Alty have three successive games against the top three sides in the BSP (AFC Wimbledon, Luton Town and Crawley Town), they have a chance to get off the bottom of the league if they can win at Bath City. Ken McKenna, "the Robins' chief, said, 'We've got ourselves into a decent position, considering where we were just a few weeks ago, and the thought we could be off the bottom come ten to five on Saturday is a massive incentive for all of us'.

McKenna hopes at least one of the injured trio Robbie Williams, James Smith (right) and Chris Denham will be back to boost his selection options".
EARLY START
Altrincham FC Youth's Open Cup game against Aspull Juniors at Wythenshawe Town on Sunday (7th) is a 1.30pm kick off to allow for extra time and penalties, if necessary.
FIXTURES
Friday, 5 November

FAC 1st Round

Rochdale 2 FC United Of Manchester 3

Saturday 6 November

Blue Square Bet Premier

Barrow 2 Newport County 1
Bath City 2 Altrincham 2

FAC 1st Round

Colchester U 4-3 Bradford C
Corby T 1-1 Luton T
Harrow B 0-2 Chesterfield
Notts Co 2-0 Gateshead
Stevenage B 0-0 Milton Keynes Dons
Rotherham U 0-0 York C
Havant & W 0-2 Droylsden
Bury 2-0 Exeter C
Cheltenham T 1-0 Morecambe
Hayes & Yeading U 1-2 Wycombe W
Dagenham & R 1-1 Leyton O
AFC Wimbledon 0-0 Ebbsfleet U
Lincoln C 1-0 Nuneaton T
Mansfield T 0-1 Torquay U
Hereford U 5-1 Hythe T
AFC Bournemouth 5-3 Tranmere R
Chelmsford C 3-2 Hendon
Swindon Supermarine 2-1 Eastwood T
Rushden & D 0-1 Yeovil T
Southampton 2-0 Shrewsbury T
Cambridge U v0 Huddersfield T 0
Gillingham 0-2 Dover A
Tamworth 2-1 Crewe A
Darlington 2-1 Bristol R
Guiseley 0-5 Crawley T
Brighton 0-0 Woking
Macclesfield T 2-2 Southend U
Carlisle U 6-0 Tipton T
Dartford 1-1 Port Vale
Forest Green R 0-3 Northampton T
Fleetwood T 1-1 walsall
Barnet 0-0 Charlton A
Plymouth A 0-4 Swindon T
Accrington S 3-2 Oldham A
Hartlepool U 0-0 Vauxhall M
Stockport C 1-1 Peterborough
Brentford 1-1 Aldershot T

Sunday, 7 November

Southport v Sheffield Wednesday
Burton Albion v Oxford United
BSBP NEWS
According to the Football Conference "Newport County have secured the loan signing of Alan Goodall from Rochdale. Goodall, 28, is predominantly a left-back and he has League experience with Chesterfield and Rochdale".

Barrow "have signed former Brentford and Aldershot Keeper Clark Masters on non-contract terms as cover for the injured Alan Martin. With Martin due a scan today on his troublesome ankle, which he injured in the warm up at Cambridge in mid October, Barrow bosses Bayliss and Sheridan have moved to bring in an experienced keeper after young Shaun Pearson has stood in thus far. Masters, 23, is currently trialling with Millwall after budget cuts ended his stay at his home town club, Hastings United, recently.

After a youth career with Brighton & Hove Albion and Gillingham, Masters started his senior career with Brentford. In 2005 and 2006 he had loan spells with non-league clubs Redbridge and Slough Town. He signed professional forms with Brentford in June 2006... Rumours circulated that the young keeper would be signed up by Premier League side Arsenal. In March 2007, Masters joined AFC Wimbledon in a one-month loan deal. He played five games for the Dons, keeping two clean sheets, before being recalled by Brentford...

He embarked on another loan spell the next month, this time with Welling United... Masters joined Southend United in January 2008,[and was immediately loaned out to Conference National side Stevenage Borough]. He never played a competitive game for Southend, and had a trial with Grimsby Town, in an attempt to find regular football. In July 2009, Masters joined Aldershot Town on a one year deal, as a replacement for outgoing Nikki Bull. On the 1st February this year, Masters was released by Aldershot Town and immediately signed for Hayes & Yeading United. He joined Hastings in mid August".

From Luton Town we learn that "The Hatters are delighted to reveal that Godfrey Poku and Dan Walker have signed contract extensions... until the end of next season".

Rushden & Diamonds confirm that their "midfielder Max York has gone on loan to Barton Rovers for one month. Rovers play in the Zamaretto League Division One Central.

Commenting on the loan, Justin Edinburgh said 'It was an ideal opportunity for him to go out and get some games at a nice footballing club, where he'll continue his development in a similar way to the other two lads. Aynsley McDonald has joined Nabil Shariff at Banbury for a month, and I think it's only right that they get out and play, because I'm a great believer that you learn more from playing than you do from training.'".

From Blue Square Football we learn that "Frustrated AFC Wimbledon striker Jon Main will be denied the chance to join another club on loan if fellow hitman Mark Nwokeji also leaves on a short-term basis. The former Tonbridge Angels man is considering a temporary switch from Kingsmeadow in search of regular game-time. However, if Nwokeji - who has attracted interest - lands a loan move first, then Wombles boss Terry Brown says he will not let go of Main as well.

'We'll see what happens', Brown told the Surrey Herald. 'Both of the lads need games, but we would probably only let one of them leave at a time'".
---
5 November 2010
KEN HAPPY WITH RECRUITS
Altrincham joint press officer John Edwards writes:

"Ken McKenna hailed his board of directors for digging deep and agreeing to finance a move that helped bank another crucial three points for Altrincham's survival fight in the Blue Square Bet Premier.

Despite funds being tight, Moss Lane chiefs sanctioned an overnight stay, ahead of last Saturday's key game at fellow-strugglers Hayes and Yeading, and saw it pay off with a 1-0 win that took Alty to within striking distance of the other teams in the bottom four.

'It made such a difference and was a great gesture by the board,' said Alty boss McKenna. 'We set off at half-past four on Friday afternoon and, despite terrible traffic, got down there in time for a cup of tea and bite to eat before turning in.

'On the morning of the game, instead of bouncing around on a coach for three-and-a-half hours, we were able to have breakfast together, then train on a school pitch, where we worked on set-pieces and our overall shape.

'We had a pre-match meal and then headed for the ground, and we could not have asked for anything better, in terms of being ready for the game. I have always said an overnight is no guarantee of points, but it does guarantee you will have the best possible preparation.

'It made it all the more pleasing that we became increasingly dominant, as the game wore on, and, just when I was beginning to panic about not scoring, we got the penalty that Shaun Densmore tucked away.

'I know it costs, and it's difficult finding the money for a club like ours. But we want to give ourselves the best possible chance of staying up, and we felt it was important to prepare properly for a game like this.
'I don't know how often we will be able to do it. I will have to discuss it with the board as we go along, but what they laid on for us at Hayes and Yeading was appreciated by everyone.'

McKenna's recent recruits have all contributed to a much-needed revival, and the Alty boss revealed he is still keeping an eye on player availability. 'It's important you get the right character in, someone you know will be able to help you in a difficult situation,' he said. 'Those we have brought in so far certainly fit the bill in that sense.

'Andy Milne (right) is a fairly quiet lad but a real steady Eddie and a bit of an unsung hero. Matt Somner gets tackles in and gets around the park. He's a leader, and he allows those around him a bit more freedom, while Wes Baynes has fantastic quality at set plays, as well as good pace. He has a great strike on him.

'I'm happy with what we've brought in, but I'm still looking for more, because we have let a couple go and are still a bit thin on the ground. It's not easy, though, because you are competing with clubs who are throwing money around and you have to be absolutely sure it is someone who is going to fit in and be beneficial to you.

'There was a bit of criticism about our style of play after the game at Hayes and Yeading. Their manager evidently said something along the lines of 'it depends on how you want to play the game', but we are getting used to that.
'Every single manager in the league seems to trot out comments like that, particularly if we've taken points off them, but what I saw out there last Saturday was an Altrincham team with a real desire to win. They showed great determination and were good value for it, in my book.

'It was important, when I took over, to try and stabilise things and start picking up a few points. There is still a need to strengthen the squad, if we can, but the number of knockbacks we've had, even from players in lower leagues, tells you how difficult that is going to be.

'We've just got to be patient, but it has at least been good to see Michael Twiss (left) coming into his own a bit. There was never the slightest doubt about his ability, but he needed to work on his fitness and was not helped, in that respect, by picking up an injury.

'He has actually benefitted from a lack of options up front, because we've had to throw him in, and those minutes out in the middle have done him good. He has always been particularly good at holding the ball up and bringing others into the game, and that has been a real advantage for us in recent weeks. Hopefully, we'll get even more out of him as his fitness levels continue to improve.

'There are one or two players who have found themselves out of the starting line-up lately, because of the lads we have brought in, and I know what it's like to be on the bench. I know how frustrating it can be, but I have stressed to all the players that they will all have a part to play. We haven't got a massive squad, and as the season goes on, with injuries, suspensions and dips in form, there will be plenty of opportunities for everyone.

'It's a squad game, and you have to trust the manager and coaching staff to keep analysing the situation and bringing players in when the time is right. We want a nice tight-knit group who will go out and work for each other, and I believe we've got that. We are all in it together, and I won't have it any other way.

'That's got to be the cornerstone for us, because when you look at some of the expensive, full-time squads in this league, you know you are up against it every single week. How many times do you look at the odds for our games and find we are favourites to win? We're not exactly odds-on every week, are we, so that means you have to work to get the very best out of what you've got.

'The players know what is expected. They know that if they do what is asked of them and put a shift in, they will have no problem with me or any of the staff here. I can't and won't accept anyone not having a go, and neither will the fans or the club.

'We know we will come up against better footballing teams at times, but you still have to pose them problems and work out how you are going to pinch some points off them. I sit down with Stuart Bimson and the coaching staff and try to be as thorough as possible about whoever we are up against. We work out the strategy, then make sure it is drilled into the players - and as long as they then give it their best, no-one is going to complain.'

Alty face another vital test at fourth-bottom Bath City on Saturday. A win would haul them up to level on points with their opponents, but they are again without James Smith and Chris Denham. Robbie Williams hopes to shake off a groin problem".
HAPPY JACK
Altrincham FC wish former groundsman Jack Thorpe a very happy birthday. Jack is 97 this week but still attends virtually all Altrincham games, home and away, with his son Dave!

The Sale & Altrincham Messenger adds that "Altrincham has seen players and fans come and go, but Altrincham's Thorpe family have remained loyal for more than 100 years. At the turn of the century Jack Thorpe played for Alty, six decades later his son Jack became the club's groundsman and today his grandson David works in the souvenir shop.

The family's support for the club has never faltered and now, at the age of 98 [97], former groundsman Jack is believed to be the club's oldest fan. Jack, who celebrates his milestone birthday on November 4, is a familiar face at the Moss Lane ground where he worked as a groundsman for 23 years until his retirement in 1996. The veteran fan was first inspired with a love of Alty by his dad, who played for the team in the 1909/10 season.

He then passed his love of the club to his son David, 52, and the pair are a regular sight cheering Alty on at almost every match, both home and away. David said supporting Alty was a 'way of life' for both him and his dad.

Grahame Rowley, chairman of Altrincham FC, said... 'It's great that he still supports the club in his later years'. David and Jack are also regular visitors to their local pub, the Tatton Arms on Tipping Street, where their family also has a long history. Jack, who has been drinking in the pub for 82 years, since he was 15, remembers his dad, who was a footballer and a firefighter, putting out the blaze that gutted the original pub in the 1920s".
NEXT GAME
Altrincham are away at Bath City on Saturday.

Mike Garnett's stats say we have played Bath 30 times previously, winning 15, drawing 8 and losing 7. Of the 15 away games, Alty have won 6, drawn 5 and lost 4.

I Love Bath City reports that "City could have a new goalkeeper between the posts against Altrincham on Saturday after signing Carl Pentney from Colchester United on a months loan. With first choice no.1 Ryan Robinson under pressure following a number of mistakes in recent games and untested Giancarlo Borhy the only other keeper with the club, manager Adie Britton has boosted his options in this area. The 21-year old former Leicester City player will go straight into the squad for the vital match against the bottom of the table Robins.

One player going the other way is midfielder Hector Mackie after he was allowed to join St Albans City. The 22-year old, who has made four starts and eight substitute appearances this season, scoring twice, will continue to train with the club...

The Robins can claim to be one of the most successful non-league clubs of recent times. They won the first two Alliance Premier League titles in 1979-80 and 1980-81 as well as reaching the FA Trophy Final at Wembley three times in 1978, 1982 and 1986, winning the first and third of those appearances. It was the FA Cup that brought the club to national attention and they hold the record of 16 victories over League sides.

City should welcome Sekani Simpson back to their squad after he missed the last three games with a knee problem but loan signing Marley Watkins is set for several weeks out after picking up an ankle injury... He joins Luke Ruddick (hamstring) and Lewis Hogg (groin) on the sidelines">

Meanwhile the official site at Bath City reports that "Bath City Football Club is proud to announce that global accounting firm Moore Stephens is the new club sponsor for the remainder of the 2010/11 season. This is a change from previous club sponsors, Inter Payroll, who have had their contract terminated by the club.

Inter Payroll has been experiencing cash-flow difficulties and has been unable to meet its recent payment obligations to Bath City. Although there have been verbal reassurances from Inter Payroll CEO Mikael Anderson that this would be corrected, he could not guarantee when payments would be made. In view of this continuing uncertainty the Bath City board made the decision to look for and secure a new main sponsor for the club... The club will not suffer any future financial loss from its difficulties with Inter Payroll.

Moore Stephens was founded over a century ago and has grown to be one of the largest international accounting and consulting groups in the world... Moore Stephens partner Robert Branch says, 'When I was approached about sponsoring Bath City by Ian Jones last week I could see immediately what a great opportunity this was for Moore Stephens. City will give us fantastic exposure locally and across the country... I'm looking forward to the match against Altrincham this Saturday'".'
BSBP NEWS
The Football Conference says that "Manager Steve Burr has revealed to Kidderminster Harriers` official website that he is running the rule over highly-rated Newcastle Town midfielder Ryan Connor. Connor, who has impressed massively since joining Town in the summer...is currently on trial at the club. Released by Premier League side Stoke City at the end of last season, the teenager spent time with Plymouth and Port Vale before linking up with Newcastle".

Blue Square Football states that "Mansfield Town manager David Holdsworth is keen for his side to do well in the FA Cup this season despite the club not needing the financial boost of a prolonged run in the competition. The Stags were reliant on the tournament to some extent last season but have seen their financial worries lessened by the takeover of John Radford...

Holdsworth told This is Nottingham: 'This is respite from the league, but I have spoken to Mr Radford and he wants to do as well as we can in every competition, which echoes my thoughts. I had some fantastic personal achievements in the FA Cup and I want the players to achieve some of that for the club and the fans'".
---
4 November 2010
HARBINGERS' GENEROSITY
TASC chairman Brian Flynn writes...

Harbingers Gig Raises £222

TASC are pleased to announce that ticket sales from the recent Harbingers gig raised £222. Harbingers guitarist and Altrincham fan, Nigel Hennerley, delivered the cash to Moss Lane earlier this week in order that the club had the option of using it to help finance the team's overnight trip to Bath on Friday.

TASC would like to thank Harbingers for organising another successful gig".

The Club adds its thanks to Nigel and his fellow band-members. Anyone else wishing to make a donation will be very welcome to do so and may contact the club on 0161 928-1045 or by e-mail.
THOMAS COOK OFFER
The Thomas Cook Alty Holiday Club is a good fundraiser for the football club. The company is now making a Christmas offer...

Christmas Break in Lapland

Enjoy the magic of a Lapland day trip or short break at Christmas. Get the chance to meet Santa in his secret underground grotto, complete with his elves and his reindeer. Lapland is alive with husky rides, reindeer sleighs, and snowmobiles. Imagine dashing through the snow-covered frozen woodlands and then at the end of the day relaxing with a hot drink in front of a blazing fir log.

A truly unforgettable experience, a short break to Lapland is a unique family occasion. Filled with adventure, relaxation and fun, as well as the opportunity to see the Northern lights at night, breaks to Lapland make an ideal winter getaway.

Simply visit your local Thomas Cook or Going Places store and ask for your Holiday Club saving off your holiday with Thomas Cook. (Terms and conditions apply to Holiday Club bookings. Full details available in store).

Click here or on the Thomas Cook image that is permanently on this site (above, left) for details of how the scheme works to provide savings for you and commission for the club.
NEXT OPPONENTS
News of Alty's next opponents on Saturday 6th November comes from This is Bath. "Hector Mackie is leaving Bath City but has been told to prove he is good enough to be part of the club's future. The Scottish winger has shown glimpses of promise during his eight-month spell at Twerton Park... However, he has been unable to establish himself in the first team and is set to join St Albans City in a bid to get more football.

City manager Adie Britton said: 'We still believe in Hector, he just needs three or four months where he can play football week in, week out. You have to remember that before he joined us in February he had hardly played for a year because of injury. Hector will continue to train with us and is still part of our plans... Hector is a very good Conference South player but has yet to prove whether he is good enough for Conference National. He has done really well coming off the bench but not so well when he starts and he is not where we want him to be at the moment'".

Howard Watts's Through the Years for 6th November.
YOUTH TEAM
Altrincham Youth are again at home this Sunday, when they entertain Aspull Juniors from Wigan in the 1st Round of the NW Youth Alliance Open Cup at Wythenshawe Town, k.o. is 2pm.
OLD BOYS
Alty released James McCarthy last month and, now, This is Staffs tells us that "Kidsgrove stormed into the third round of the Evo-Stik League Cup by hammering Cammell Laird 7-2 at the Seddon Stadium... The second-half rout began on 50 minutes when Liam Shotton [brother of former Alty loanee, Ryan] netted from a McCarthy cross... Grove then took over and surged further ahead through Shotton (60), Walker (62, 82) and McCarthy (74)". Another ex-Robin, Tony Sullivan, who is assistant coach to manager Alex Hay (an ex-Alty loanee) scored for Cammell Laird.
The EvoStik League reports that "Curzon Ashton goalkeeper David Carnell has continued the club's tradition of goalscoring goalkeepers with a sensational 80 yard free-kick in his side's 2-1 extra time defeat to Chorley... The Tameside club have previous with unusual goals, with four goalkeepers finding the net in the last 30 years... Ian Senior [currently Alty's goalkeeping coach, seen left] found the net in 1989 with a long punt that was assisted by a near-gale force wind, while the eccentric Ashley Timms [who briefly played for Alty's first-, reserve and youth teams] deliberately lobbed the opposition keeper in a North West Counties League game in 2006...

It wasn't the end of unusual goal action for Evo-Stik League teams last night. Scott Metcalfe [ex-Alty reserve] scored twice in five minutes - both directly from corners - in FC Halifax Town's 5-0 West Riding County Cup win over Ossett Town.

Meanwhile, Premier Division side Colwyn Bay became the second Evo-Stik League side to score ten goals in three weeks, beating Cymru Alliance side Gap Connah's Quay 10-0 in the North Wales Coast FA Cup". Connah's Quay add that "A much-changed gap Connah's Quay Nomads side were beaten 10-0 by Colwyn Bay... Boss Mark McGregor [ex-Alty] made nine changes to the starting line-up". After falling 5-0 down, "The second half was much the same with the torrential rain and gale-force wind favouring Colwyn Bay... An audacious 40-yarder from Steve Aspinall that flew over McCormick and dipped under the bar made it six midway through the half". Also in the Nomads' team was Stuart Scheuber, who featured under Mark Ward at Alty in 2000-01.
BSBP NEWS
Blue Square Football says that "Mansfield Town will investigate the payment of funds to its former owners as well as to a number of individual parties, a statement has revealed. According to an announcement on the club's official website, a significant amount of money was paid out despite the club being financially unable to do so.

The statement reads: 'John Radford and the Board of Directors of Mansfield Town Football Club Limited have become aware that the Report of the Directors and Financial Statements for the year end 30th June 2009 for the Club reported that it was the then directors' view that a dividend of £2,442,488 paid on 9 December 2008 to, amongst others, the club's then owner Stags Limited, should not have been made because the Club had insufficient net assets to permit it at that time.

Certain other payments to various individuals and companies totalling over £600,000 have also been brought to the attention of the Club. As a result of these matters the Club has today instructed lawyers and forensic accountants to investigate these payments and to report the outcome of their investigation to the Club. If the investigation supports the view of the former directors, the Club will take any necessary steps to recover any monies for the benefit of Club which should not have been paid out in the past."

Meanwhile, NL Daily confirms that "Goalkeeper Tony McMillan will be missing from Southport`s team sheet on Sunday for the big FA Cup First Round tie with Sheffield Wednesday. Unfortunately, the in-form keeper received the news the Haig Avenue staff had all been dreading when the FA threw out the club's appeal for the red card administered last Friday night in the league draw with Kidderminster Harriers. Deputy 'Port keeper Steve Dickinson is poised to replace the ever-present McMillan".

From the Leader we learn that "Some words of wisdom from Graham Heathcote have helped Dean Saunders put his two-year tenure as Wrexham boss in perspective. Ex-Wales assistant Saunders celebrated the second anniversary of his appointment as manager at The Racecourse at the start of October with a 1-0 success at Darlington. Since then Wrexham have suffered just one defeat in four league matches, moving them into seventh place in the Conference table...

But the club still find themselves outside the Football League – much to the disappointment of the club's supporters. However, Saunders remains calm following a conversation with the former Altrincham boss, who left Moss Lane by mutual consent on September 14. 'I was talking to Graham Heathcote who has been in this league, he has been in the league 30 years and you can always learn something', said Saunders.

'He was saying there are only two clubs that have got straight back into the Football League since 1970. Everybody thinks they are going to do it and they don't. He said he has seen it so many times it is incredible and teams still think they are going to bounce back up but the odds are stacked against them. You've got to build, people don't think you have to build – you might strike lucky with putting a team together straight away and they might knit but you have to build a team of players that can get out of the league. At the minute we are in seventh and I said to him that we have thrown some points away, but he said that if I had been told that Wrexham would be seventh at the end of October and within touching distance of where you want to be, would I have taken it?

I said 'yes'. I think where we are is a good position and we are always thinking about how we can make this squad better and take another step forward'.

Saunders revealed on Monday that Adrian Cieslewicz has been offered an extension on his contract until the end of the season and the 46-year-old is also looking into the possibility of new arrivals.

And while the Crusaders [who play rugby at The Racecourse] battle to get their financial problems under control, football club secretary Geraint Parry said that 'there is nothing to concern Wrexham FC fans' and Saunders may be able to use some of the money from the Neil Taylor [transfer fee] tribunal as Wrexham look to confirm themselves as a top five side.

'We have people in mind, whether we can get them I don't know', he said. 'Two or three players. An injection of pace, perhaps an injection of youth and an injection of experience. Obviously we have lost a couple, a couple have left and I told the players that I had players last season who probably wouldn't put their body on the line or in between the man and the ball, who wouldn't put their head on a ball in the box, who wouldn't get hurt. We had players dancing around the fringes of the game and now I feel there are hardly any of them doing that. They are all committed. There are one or two – not everyone can be as brave as others – but they have to do other things and that is what I demand of them'".

Meanwhile, "Ex-Wrexham striker Matty Wolfenden has signed for FC United of Manchester. The former Oldham youngster was released by Wrexham at the end of the 2009/10 campaign".

From the BBC comes news that "Kidderminster Harriers have been saved from a potential winding-up order - thanks to two anonymous donations. The club, who have overall debts of £250,000, were as little as a day away from being wound up over a £90,000 Inland Revenue bill.

'They weren't even going to accept another 24 hours. That was how close it got', chairman Dave Reynolds told BBC Hereford and Worcester. 'But there have been many calls coming in from dedicated and loyal people'. Reynolds, who was chairman of Harriers for 18 years before stepping down to concentrate on his business interests in 1999, returned to take control of the club last week...

'It was more than serious', he said. 'It would have meant that myself and other directors would have been kept away and an administrator brought in'. Outgoing Harriers chairman Barry Norgrove had submitted a proposal which would have seen an unnamed investor putting around £500,000 into the club...

But Reynolds says that, when it came to the board meeting, there was nothing concrete for them to look at and that time was not on their side...

At a time when average league attendances at Aggborough this season have fallen to just over 1,300, he is looking for the missing fans to return... Reynolds told BBC Hereford and Worcester, 'I don't expect our supporters to put their hands in their pockets for much. The very least they can do is turn up, and let's get the gates back up to 1,600. We all have a duty of care here. This is our club. A football club is one of the focal points of a town of the size of Kidderminster. The staff here have been superb since I came back. They have backed me to the hilt. We are on the move. The snowball is rolling and we aim to get this club into a good financial position by the end of the season'".

Also from the BBC we learn that "Grimsby Town have extended midfielder Andrew Wright's loan from Scunthorpe until the end of the year. The 25-year-old, who can also play at full-back, initially joined the Mariners on a one-month deal at the end of September".

"Crawley Town have announced that both club captain Adam Quinn and striker Ben Wright have been sent out on loan to fellow Blue Square Bet Premier clubs" NL News. "Both players are in desperate need of first team competitive action and given the strength of the Reds' first-team squad at present, manager Steve Evans has sanctioned the respective loan moves. Captain Adam Quinn has joined Forest Green Rovers and striker Ben Wright has joined Newport County...

Crawley boss Evans said: 'We constantly look at our squad - the players' match time, training performance levels and take that back to an individual player strategy. In both Adam and Ben's case I considered it was first-team competitive action they both needed and they will get that at Forest Green and Newport... Both the lads have become frustrated lately as they want to play first team football and as their manager I fully understand that, however they both accept there are players in their positions in the team that are at the top of their game.

I thought long and hard about where we should place them as we had a number of options, I took the lads' views into consideration and the result is that both are set to play first-team football. Both of them are top class professionals as are all the boys we have here".

According to Blue Square Football. "Darlington have released goalkeepers Chris Oldfield and Dan Lowson following striker Danny Powell's return to parent club MK Dons...after spending the past month on loan at the Darlington Arena... Meanwhile, Cooper will be searching for a new goalkeeper after releasing non-contract duo Oldfield and Lowson".
---
3 November 2010
DONATIONS WELCOME!
Though, as reported below, many generous donations have been received to help fund the team's overnight stay before Saturday's game at Bath, the amount received does not yet meet the full cost so all further contributions will be most welcome!
THANK YOU
Altrincham FC would like to thank all supporters who contributed generously towards funding an overnight stay for the first team this Friday night, before their important match against Bath City. Last week's overnight stay before the win at Hayes and Yeading was felt to have been a significant factor in the team's performance as it allowed a pre-match training session, which is not possible when the team travels on matchday itself.

Strong Altrincham support at away grounds is also an important factor in the team's performance. For spectators travelling to the match, please don't forget that TASC is running a coach to the game; details here.
£1,800 TO BE WON
The Altrincham FC Saturday Yankee jackpot now stands at £1800 after the winning code, 1382, went unclaimed last week. Five entrants won £40 for "trebles".
BATH ARRANGEMENTS
Like Altrincham, Bath City were relegated from the Conference in 1997 and this is their first season back at this level. City have helpfully written to Altrincham FC with advance details of their Blue Square Bet Premier clash on Saturday, 6 November 2010 at Twerton Park. Amongst other things it confirms:
We will be parking the Altrincham supporters' coach in our car park
Our colours will be black and white striped shirts, black shorts and black socks with the goalkeeper in green.
We are not segregating for this match and your fans should use the home turnstiles numbered 3 to 13.
It will be possible for your fans to buy stand seats in advance, and also the family tickets for adult + 1 or 2 children (U16) by E-mail or by phone 01225 423087 (option 3). Supporters can pay by card over the phone and pick up the tickets on the day.

Admission Information; Pay at Turnstiles:

Adult Standing: £13
Seniors/Student Standing: £9
Child (U16) Standing: £4
Transfer to stand £1.

Pay at the ticket office:

Adult + 1 Child (U16) Standing: £15
Adult + 1 Child (U16) Seating: £17
Adult + 2 Children (U16) Standing: £17
Adult + 2 Children (U16) Seating: £20

Proof of age is required for ALL concessions, including Seniors (men over 65, women over 60). A photocopy is acceptable of, for example passport or Pension card BR464.

All away fans are very welcome in our bars, Charlie's and Randall's, before and after the match. Real ale and locally made organic pies are available plus Sky TV".

As for directions, "Exit M4 at junction 19*, (*we recommend this junction, even for teams coming from the East, as it avoids the laborious task of driving through the centre of Bath and a low bridge), for the M32. Follow the lane signposted A4174 leaving the M32 at the first junction you come to. Turn left at the roundabout at the bottom of the slip road. Continue on the ring road until you reach a roundabout where the A4 joins the A4174 ring road. The A4 will be signposted Bath.

Turn left at this roundabout and go along a dual carriageway until the next roundabout. Go straight across this roundabout and go through Saltford until you reach another roundabout. Take the second exit going past the Globe pub. Proceed up a hill and down the other side where there is a left hand turn (Newton Road) at the bottom, signposted Twerton.

Take this turn and proceed for about 1 mile. Entrance to the stadium is on the right, the access road being next to Blockbuster Video Store".
OLD BOY
NL News 24 reports that "AFC Telford are aiming to find out the extent of the mystery back injury that has left striker Alex Meechan in hospital. The experienced former Forest Green [and Altrincham] hitman, 30, has scored three goals in the Bucks' unbeaten start to the Blue Square Bet North campaign. But he missed Saturday's 1-0 win at Stalybridge Celtic and was kept in hospital on Monday night on morphine to control the pain. 'Alex is struggling', manager Andy Sinton confirmed to the Shropshire Star".
BSBP NEWS
Our next opponents, Terrace: £32 (normally £39), Grandstand: £35 (normally £42), Club Room: £47 (normally £60)".

According to the Football Conference "Gateshead have brought in Southport midfielder Ashley Winn on loan until the end of the year and the Teessider goes straight into the squad for Saturday`s FA Cup tie at Notts County. Winn, 24, will then sign a professional one-and-a half-year contract for Gateshead at the turn of the year for a £2,500 transfer fee. Gateshead manager Ian Bogie has been an admirer of Winn for some time and is delighted to finally have the Stockton-born player on board. 'Ashley Winn is a player we have tracked for a couple of years and we tried to get him when we were in the Conference North but he got a full-time deal at Barrow', said Bogie. 'He caught the eye whenever he played against us for Southport and is a player with a lot of energy, a good box-to-box player who will be a useful addition to the squad'".

NL Daily says that "Fleetwood Town have signed former England `C` international midfielder Andy Burgess. The 29-year-old former Rushden & Diamonds captain, who last season played with Luton Town and Mansfield Town, turned down offers from a string of full-time clubs to join Evo-Stik League First Division North side Chester FC in the summer – dropping four divisions in the process. However, he struggled to adapt to the lower level and was transfer-listed last month".

And "Darlington want to keep Marc Bridge-Wilkinson for the season, but Carlisle boss Greg Abbott insists he will not be rushed into a decision on the midfielder's future. Bridge-Wilkinson, who is on a month's loan with the Quakers... has another two weeks left of his initial spell and is quickly becoming a favourite with Darlo fans. Cooper said: 'Hopefully we can keep him longer... He's been out injured at Carlisle so he's come to us to get fit - but hopefully Carlisle will win loads of games so he can't get back in their team so stays with us for the rest of the season!'. Abbott, however, said he will not make a decision until Bridge-Wilkinson's initial month is up" reports the News & Star

The Blue Square Bet Premier awards for October are:

Manager: JUSTIN EDINBURGH from Rushden & Diamonds
Player: DANNY CROW from Luton Town

FromBlue Square Football we learn that "Forest Green Rovers boss David Hockaday has drafted in Gary Seward as an assistant manager. The pair are former Blackpool team-mates... Hockaday revealed in his column in the Stroud News and Journal: 'Gary is someone I trust completely. He has massive experience, a great pedigree at the highest level in the game and will take a lot of weight off my shoulders'.

Hockaday added 'I am delighted that the club has returned to full-time status as the mixture of full-time and part-time players was not working as well as we would have liked, but thankfully the arrival of Dale Vince [as chairman] has enabled us to rectify that. Dale has given everyone at the club a lift. The aim is to consolidate and then push on with improvements both on and off the field of play'".

According to Blue Square Football "Newport County manager Dean Holdsworth has revealed that he will be bolstering his injury-hit squad with two loan signings this week....

He told the South Wales Argus: 'I will react this week to the squad being thin, I will bring two players in by Thursday and that's a fact... I will bring in two quality players this week, that's a fact. I've been trying to do it for three weeks but I haven't got the players, it's difficult, but we talked on Thursday and it's important to get two fresh faces in'".

"Grimsby Town manager Neil Woods believes his side has been seriously hampered by injuries to striker Charles Ademeno and goalkeeper Kenny Arthur this season. Ademeno joined the Mariners from Crawley Town this summer but has made just one starting appearance and a further four from the bench.

Arthur suffered a hamstring injury against Rushden & Diamonds at the start of the campaign and was poised to make his return to action against Fleetwood Town on the 20th of September. However, he picked up a thumb injury in the warm up and on-loan goalkeeper Richard O'Donnell deputised once again...

However, Woods remains confident that his side will be challenging for honours at the end of the season... 'We believe we have a big chance of getting back up this year'".
---
2 November 2010
MATCH OFF
The Alty v Hyde game tonight in the Cheshire Senior Cup was called off just after 7pm due to a waterlogged pitch. Subject to confirmation, the game will be played on Tuesday, 16 November (7.45pm)

Altrincham v Hyde was the only CSC match being played tonight as the remainder of the games are next Tuesday, 9th, when Alty are set to entertain AFC Wimbledon. Those games are:

Alsager Town v Vauxhall Motors
Chester Football Club v Congleton Town
Nantwich Town v Cammell Laird
Northwich Victoria v Cheadle Town
Runcorn Town v Warrington Town
Winsford United v Runcorn Linnets
Woodley Sports v Witton Albion
HELP THEM ON THEIR WAY
At tonight's game against Hyde, there will be a bucket collection whose proceeds will go towards the team's overnight stay in advance of the game against Bath City this Saturday. Please give generously!
FIXTURE POSTERS
"Altrincham FC has printed off both A3 and A4 posters advertising forthcoming home games at Moss Lane. If anyone has access to pubs, shops or workplaces which would like to advertise our games, please call into the offices and pick up a copy (or two), please. Many thanks, Grahame Rowley".
KEN TO BE HONOURED
The Welsh Premier site reports on Alty boss Ken McKenna. "The New Saints FC are honouring former manager and Welsh Premier legend Ken McKenna with a testimonial game next month. The club's Welsh Premier clash with current league leaders Bangor City on Friday 17th December will be the game used to say 'thank you' for the 10-years' service Ken gave to the club prior to his departure in 2008.

The club tried to organise a game against Liverpool, but unfortunately the fixture was not able to be confirmed, so it's Bangor City for the likeable Scouser. Kenny joined The New Saints from Bangor City at the start of the 1998/99 season and went on to make over 60 appearances for The Saints, scoring 20 goals.

He steered TNS to three runners-up spots in the Welsh Premier League before winning three successive titles in 2004–05, 2005–06 and 2006–07, as well as adding the FAW Premier Cup, Welsh Cup and Loosemores Cup successes.

The choice of the Bangor game for his testimonial is particularly appropriate, as Ken was also a Farrar Road favourite, scoring 18 goals from 27 appearances for the Citizens in season 1997/8.

Special hospitality tickets can be purchased for the game for £12.50, which includes a pre-match buffet, match programme and viewing from the balcony area of the ground.

The club is also looking to arrange a Q&A football forum on Sunday 23rd January with Ken being joined by the club's owner Mike Harris and other footballing legends. Further details regarding this event will be released soon".
IAN'S COMPETITION
Ian Senior writes in the Non-League Paper, "I am Ian Senior, the current Altrincham FC goalkeeper coach, and also own my own football kit and equipment supplier, Sensport Kits. Until recently, I was a full-time fireman but, having retired, have put all my time into making my company the 'recognised brand' it is becoming. Besides Altrincham... I supply Kendal Town, Lancaster City, Nantwich Town, Radcliffe Borough and Buxton. I also supply a number of clubs in the feeder leagues... All the goalkeepers at these clubs receive gloves from me and I would like this opportunity to offer the winner of a competition gloves for the remainder of this season.

All my gloves are manufactured using the best 4mm German latex and the goalkeepers on my books send me regular feedback so I can make improvements to design and fit that they might require...

Each entrant will receive a £10 discount on any orders received up to the end of the year. For your chance to win, please answer the following question.

Who is the current Altrincham FC goalkeeper?'.

Send your answer to Sam Emery or post to Sensport Kits Competition, The Non-League Paper, Tuition House, St George's Road, Wimbledon, SW19 4EU
GOAL RUSH
During November 2010 Altrincham FC is running a fund-raising event, involving the 92 football clubs in the Premiership and Football League. It is called "Goal Rush" and has a £100 prize.

For £5 you simply select four random numbers (between 1 and 20 for a Premiership club, 21-44 for a Championship club, 45-68 for a League One club and 69-92 for a League Two club). At the end of the month, each team's goal average will be calculated (goals scored divided by the number of games played in all competitions).

The winner will be the person with the highest collective goal average for their four teams.

Teams have now been allocated a random number by a draw (see below). Altrincham FC thanks all participants.

Birmingham City 1, Fulham 2, Tottenham 3, Blackburn 4, Newcastle Utd 5, Arsenal 6, West Brom 7, Liverpool 8, Wigan 9, Wolves 10, Aston Villa 11, Bolton 12, Man City 13, Chelsea 14, Sunderland 15, Stoke City 16, Blackpool 17, West Ham 18, Everton 19, Man Utd 20, Cardiff City 21, Middlesborough 22.

Millwall 23, Swansea 24, Norwich City 25, Portsmouth 26, Barnsley 27, Coventry 28, QPR 29, Crystal Palace 30, Leicester City 31, Scunthorpe 32, Watford 33, Reading 34, Burnley 35, Leeds 36, Notts Forest 37, Doncaster 38, Sheff Utd 39, Hull City 40, Bristol City 41, Ipswich 42, Preston 43, Derby 44.

Dagenham 45, Walsall 46, Sheff Wed 47, Huddersfield 48, Bournemouth 49, Charlton 50, Bristol Rovers 51, Hartlepool 52, Notts County 53, Exeter 54, Rochdale 55, MK Dons 56, Oldham 57, Brighton 58, Colchester 59, Peterborough 60, Carlisle 61, Brentford 62, Yeovil 63, Tranmere 64, Leyton Orient 65, Swindon 66, Plymouth 67, Southampton 68.

Bury 69, Torquay 70, Burton A 71, Southend 72, Accrington 73, Stockport 74, Northampton 75, Barnet 76, Hereford 77, Lincoln City 78, Morecambe 79, Gillingham 80, Chesterfield 81, Port Vale 82, Shrewsbury 83, Wycombe 84, Cheltenham 85, Aldershot 86 Rotherham 87, Stevenage 88, Oxford 89, Bradford City 90, Macclesfield 91, Crewe 92
REFEREES
Our referee this Saturday is Mr T. J. Robinson who reffed the Histon v Wrexham game last Saturday.

Next Tuesday for the visit to Moss Lane of AFC Wimbledon, Mr D. Handley is the referee. He officiated at Altrincham 1 Woking 0 in February, 2009 and in February 2010 he oversaw Altrincham 1 Grays Athletic 1.
NEXT LEAGUE GAME
News of Bath's last game comes from This is Bath. "A spirited second-half display gave Bath City something positive to take from what could have been an embarrassing afternoon at Kenilworth Road. Trailing 3-0 at the break and once again uncertain in defence, City looked like they might be on the end of a real hammering. However, the half-time introduction of Joe Burnell galvanised the visitors and they were much the better team in the second period, culminating in a well-worked consolation goal from sub Lee Phillips.

Adie Britton had started with a defensive line-up as City sought to be party-poopers at the Hatters' 125th-anniversary celebrations. Kaid Mohamed had recovered sufficiently from an ankle injury to take his place as City's only recognised striker in a 5-4-1 formation. Marley Watkins and Danny Webb also returned to the starting line-up, with Darren Edwards, Scott Murray and Adie Harris all dropping to the bench after Tuesday's shock home cup defeat to Swindon Supermarine. Hector Mackie, a goalscorer in midweek, was not included in the City 16...

City, who were so poor defensively in midweek, again started nervously at the back... Crow's boot also caught Robinson in the midriff as he followed through and the game was held up for six minutes as he received treatment. The stretcher was brought on to the pitch but, without a substitute keeper on the bench, Robinson had to carry on".

Luton's second goal "was the fourth goal City had conceded from a corner in two games... City were dealt another setback in the 42nd minute when Watkins was stretchered off with a suspected broken ankle. Phillips was sent on up front, with Mohamed dropping to the left and Alex Russell switching to the right...

Britton decided to freshen things up for the second half, taking off defender Jones and sending on midfielder Burnell - out injured since signing in the summer - for a belated City debut. Sitting just in front of the back four, Burnell soon got himself in the thick of the action - breaking up attacks and keeping the ball moving - as City made a bright start to the second half... BATH CITY: Robinson, J Edwards, Jombati, Rollo, Jones (Burnell 46), Webb, Connolly, Canham, Watkins (Phillips 42), Russell, Mohamed. Subs not used: Harris, Murray, D Edwards"
BSBP NEWS
According to the Football Conference "David Reynolds, who took over as chairman of Kidderminster Harriers, has issued a statement regarding the true picture of the finances at Aggborough.

'After my appointment last week as chairman, I have implemented an urgent review of all of the income and expenditure at Kidderminster Harriers Football Club. Although this is not yet completed it is immediately apparent that the club is in a dire financial position. In the interest of all of the supporters, shareholders and stakeholders of the club, the Board are committed to being clear and transparent in moving forward. We are seeking community support in resolving the issues so that we can return to having a vibrant, financially secure Football Club at the heart of our town.

The initial findings of the review indicate that the Football Club currently has outstanding debts of over £250,000 - 50% of which is due for payment within the next few days. Furthermore at the current levels of income and expenditure we anticipate a trading loss at the end of May 2011 of between £350,000 and £400,000. Clearly this cannot continue.

The board are working hard to identify areas to improve efficiency and to reduce costs but without a large cash injection, the long-term future of the club is not viable.

We have read the recent press speculation regarding a high-profile investor willing to invest up to £500,000 in the Football Club, and would be thrilled to hear from them or anyone else interested in investing. It is my intention to remain as chairman in the short-term only until someone more suitable becomes available.

We have arranged a business lunch at the Aggborough Suite for Friday, 12th November 2010, with an aim to get the business leaders of Kidderminster and the surrounding areas involved in taking the club forward. We urge all business men and women in the area to attend. We have also arranged a free Fans' Forum for Monday, 8th November 2010 at 7:30pm, also at the Aggborough Suite. We urge all supporters to attend and also get involved in taking the Club forward'".

Crawley Town Football Club's "Board of Directors can confirm weekend newspaper reports that they have turned down an official approach for Manager Steve Evans from Notts County.

A formal written and subsequent telephone approaches were made for the manager by County late on Thursday afternoon as their new team manager at Meadow Lane, Paul Ince, sought to add Steve Evans to his backroom staff.

Steve Evans is under written contract at Crawley Town Football Club and is a major asset within our business. Notts County Football Club were told that no approach was welcome and no level of compensation would be considered. The manager, his staff and the team are doing a fantastic job and we have the greatest desire to see that continue. As a board of Directors at Crawley Town Football Club we consider the matter now closed".

From Cambridge United we learnt that "defender Brian Saah is set to undergo a double hernia operation today, which will keep him out of action for the next six weeks. Martin Ling told cambridgeunited.com, 'He won't be able to get through until the end of the season without the surgery. He was in a lot of pain after games so we felt this was the right course of action to ensure he's back playing for us over the heavy Christmas schedule. He's expected to be out for six weeks'.

The Club can also confirm that young defender Blaine Hudson was involved in a car accident on Sunday evening and sustained a number of serious injuries. Martin explained, 'He's sustained some nasty injuries but will go on to make a full recovery. We are all very thankful that he came out of the accident alive'.

In terms of cover for the central defensive positions Martin added, 'We have Dave Partridge, Kevin Roberts and Rory McAuley who can all play there. We will have to asses that position as we are down to the bear bones in terms of numbers'".

According to AFC Wimbledon "Terry Brown was philosophical about Saturday's first home defeat of the season... 'With the heavy schedule of games the players have recently undertaken we decided to give the starting eleven a day off today. The squad players who haven't had too much game time recently will all get a run out tonight in a fixture against the British Army at the Military Stadium, Aldershot...

After reviewing the DVD of the game, I was pleased with the patience and a lot happier with the performance than I was the previous Saturday against Basingstoke. The quality of the opposition and the manner in which they play made it very difficult for us and we have to find ways around the many teams who will come and play in a similar fashion... We will be back training tomorrow and getting our thoughts in line for Saturday's FA Cup tie'".

Elsewhere, "York City manager Gary Mills lamented a striker shortage after watching his side go down 2-1 at fellow strugglers Forest Green Rovers", reports the York Press. "The Minstermen slipped to sixth bottom in the table after Saturday's defeat with none of the club's recognised forwards – Michael Rankine, Leon Constantine and Michael Gash – having now netted in open play for nine matches.

Gash failed to make the bench at the New Lawn with Mills even pairing midfielder Alex Lawless and winger Peter Till in attack for the last 20 minutes of Saturday's game after withdrawing Constantine and Rankine. On-loan frontman Mark Beesley, meanwhile, has been sent back to Fleetwood Town, following non-contract signing David Dowson out of the door, as the City chief looks to clear room to bolster his options in the final third of the pitch.

'The situation we are in is that I have come into the club with a lack of strikers', Mills pointed out... 'It did not concern me putting Alex Lawless and Peter Till up front at all... People might raise their eyebrows because I put them up there but Michael Rankine wasn't having the best of games and was drifting out of the match even more'".
CARLSBERG FA TROPHY
Right: Wes Baynes, on loan at Alty from Wrexham, got in some good crosses and corners at Hayes and Yeading last Saturday.

Altrincham enter the FA Trophy on 11 December in Round One. The draw for the Third Qualifying Round on Saturday, 20th November is as follows:

Alfreton Town v Kendal Town or Matlock Town
Vauxhall Motors v Stalybridge Celtic
Blyth Spartans v Stafford Rangers
Whitby Town v Northwich Victoria
AFC Telford United v Corby Town
Curzon Ashton v Solihull Moors
Leamington v Hyde
FC United Of Manchester v Hinckley United
Worksop Town v Stocksbridge Park Steels
Boston United v Gainsborough Trinity
Droylsden v Stourbridge
Eastwood Town v Cambridge City
Chorley v Guiseley
Harrogate Town v Radcliffe Borough or Witton Albion
Harrogate Railway Athletic v Nantwich Town
Workington v Chasetown
Nuneaton Town v Worcester City
Dover Athletic v Woking
Braintree Town v Farnborough
Lewes v Salisbury City
Maidenhead United v Arlesey Town or Uxbridge
Weston-super-Mare v Dorchester Town
Basingstoke Town v Havant & Waterlooville
Eastleigh v Folkestone Invicta or Thamesmead Town
Cirencester Town v Grays Athletic
Sutton United v Billericay Town
Ebbsfleet United v Bromley
Thurrock v Dartford
Boreham Wood v Romford
Welling United v Tonbridge Angels
St Albans City v Staines Town
Truro City v AFC Sudbury
Bishop's Stortford v Ashford Town (Middx)
Brackley Town v Wealdstone
Chippenham Town or Lowestoft Town v Swindon Supermarine
Bideford v AFC Hornchurch
Harlow Town v Maidstone United
Bognor Regis Town v Hampton & Richmond Borough or Godalming Town
Gloucester City v Chelmsford City
Bye:- Redditch United
---
1 November 2010
CAN YOU HELP, PLEASE?
Yesterday's excellent result at Hayes and Yeading was achieved on the back of a rare overnight stay for the Altrincham players before the game. Normally, Altrincham's part-time squad travels to games on match day and returns immediately afterwards.

However, manager Kenny McKenna believes that a significant factor on Saturday's performance was the improved preparation that an overnight stay permitted. The players were able to have a training session on Saturday morning and that was reflected in their improved play.

So, Altrincham FC is asking if any of its supporters, either singly or collectively, could contribute towards a planned repeat of the travelling arrangements for this Saturday's vital league clash at Bath City. If you can help with a donation of any amount, this would be greatly appreciated. Please contact chairman Grahame Rowley by e-mail or telephone 07720 606897 to make your donation.
NEXT GAMES
Tuesday, 2 November, 7.45pm; home to Hyde FC in the Cheshire Senior Cup.
Saturday, 6 November, 3pm; away at Bath City. TASC is running away coach transport as usual and you can find the details here. After last Saturday's win, come along and help to try and secure some more away points!
YOUTH GAME
Altrincham Youth lost 3-2 at home to Marine on Sunday. There is a report in the Youth section.
OLD BOYS
Kieran Lugsden (Buxton) and Alex Hay (Cammell Laird) were on the scoresheet on Saturday whilst Paul Ellender played for Brigg Town.
LAST SATURDAY'S GAME
Match report here.

Hayes & Yeading United's report on Saturday's game says that "United lost for the sixth time in nine home games as bottom side Altrincham came to London and deservedly returned to the North-West with all three points courtesy of a late Shaun Densmore penalty...

United were struggling to defend Baynes' dead balls and ten minutes from the break he was just off target from 20 yards and then just before the break he again picked out Somner at the far post, this time his header looped up and just over Lee Harrison's goal landing on the roof of the net... Somner yet again got his head to a Baynes dead-ball, this time a corner, the ball looping over Harrison only for Lewis Ferrell to head it off the line...

The killer blow came in the 81st minute and was of United's own making. Clee not for the first time ran at the home defence on the left and as he entered the box Adam Bygrave hung out a trailing leg and needlessly brought down the winger giving referee Kinseley little choice but to award a spot kick. Densmore stepped up and despite a good effort by Harrison the kick was perfectly in the corner and the visitors took the lead".

There is seven minutes of video of the game on >You Tube
BSBP NEWS
Blue Square Football confirms that "Newport County have strengthened their squad with the acquisition of midfielder Jon Challinor... Exiles manager Dean Holdsworth told NonLeagueDaily: 'Jon is an experienced League and Conference attacking midfield player with an impressive goals-to-games ratio. His attitude also impressed me in that within hours of first speaking to him he jumped in the car to make sure that his paperwork was signed in time to be included in Saturday's squad'".
---
FOR EARLIER NEWS, CLICK HERE
---