---
31 August 2010
ALTRINCHAM 0 MANSFIELD TOWN 4
Alty line-ups

Above, during the first half, Robbie Williams outjumps everyone to head towards goal. Gary Silk (Mansfield no.4) scurries back and, moments later, heads the ball off the line with the keeper in no man's land.
After Saturday's game, Mansfield Town report that "Merciless Mansfield surged to the summit of the table, sweeping aside a hapless Altrincham side... The win was no less than Stags deserved after enjoying total domination against their struggling hosts... as Mansfield recorded back-to-back wins for the first time in 11 months. Altrincham looked short on confidence throughout the contest, reflecting their rock-bottom league position...
Gary Mills prevented Altrincham from reducing the deficit on 21 minutes, clearing off the line from a Rob Williams header after Alty had won a free kick mid-way inside the Stags' half...
Altrincham had the perfect chance to pull a goal back just 38 seconds after the restart, but Damian Reeves placed his shot wide from inside the area after a Ryan Brown assist from the left... James McCarthy hit a rasping shot at goal but was denied by the fingertips of Alan Marriott. It was a rare highlight in a game in which the home side were second best throughout... a peerless Stags' display".
Monday, 30 August
Through the Years by Howard Watts.
AFC Wimbledon 2 Newport County 2
ALTRINCHAM 0 Mansfield Town 4
Barrow 1 Darlington 1
Bath City 0 Wrexham 2
Cambridge United 2 Eastbourne Borough 0
Crawley Town 1 Forest Green R. 0
Fleetwood Town 2 York City 1
Grimsby Town 2 Histon 1
Kettering Town 0 Rushden & Diamonds 1
Kidderminster Harriers 2 Tamworth 2
Luton Town 1 Hayes & Yeading Utd 1

Before Saturday's game This is Nottingham reports that "David Holdsworth has warned his players they must come down quickly from the high of Saturday's win over Cambridge United and steel themselves for a testing Bank Holiday encounter at Altrincham...

Holdsworth remembers last season's fiery clash, when Mansfield won 2-1 after Altrincham had two players sent off. And he expects the Robins to push his side all the way again. 'Graham Heathcote's teams are always well prepared and tough to beat and I'm sure nothing will be different this time. But that's nothing to be scared of. It's up to us to do the right things and play our own game... We were victors there last year and I expect a tough battle. We have done our homework on them as best we can'...

Meanwhile, "Keigan Parker... against Cambridge... netted a 62nd minute penalty... Parker insisted he had no hesitation in taking the spot kick, despite missing one in Mansfield's second game of the season against Fleetwood... 'The gaffer let me stay on the penalties and I stepped up with a bit of pressure on me'". Parker netted twice at Moss Lane; one of them a penalty.
YORK'S VIEW
York Press says that manager Martin "Foyle was delighted with City's first three-point haul of the season" against Altrincham. He added: 'We knew Altrincham were going to come with a very defensive formation. If that's the way they want to play, to scrounge a point, then we have to break them down. That's what I have said in the last two or three games... When we scored the first goal you could actually see us relax... I have put my arm round him (Brodie), kept him going, kept him buoyant but he is the one that's got to deliver... Michael [Rankine] has done himself plenty of favours. It was a good goal the first one, a fantastic ball in and he has spun off and finished with his left foot and you could see the old Michael Rankine return... I thought we defended well, the keeper was superb, we looked organised'".
OLD BOYS
John McAliskey scored for Vics as they lost 2-1 at Nantwich. On Saturday Warren Peyton netted for Guiseley.
OLD FOES
Brighter times lie ahead for a former opponent of Altrincham in their UniBond days. John Cowey's excellent Bishop Auckland Newsletter tells us that "BAFC's new football ground, stand and lounge will be completed in early October 2010 and will be a fantastic facility for the Club and the town". There is more on the Bishop Auckland website.
---
30 August 2010
ALTRINCHAM 0 MANSFIELD TOWN 4
Despite a bright start to each half of the game, Altrincham ended up soundly beaten by Mansfield Town - their heaviest home defeat since a 0-4 reverse against Rushden in November 2008. Alty fell behind against the run of play when former York man, Adam Smith, got up the left and his cross found Connor unmarked. His header back across goal looped perfectly into the net off the upright with 11 minutes gone. The goal prompted an improvement from the Stags who made it 2-0 in the 18th minute when Alty stood off Adam Smith, allowing him time to choose his spot, just inside the same upright that Connor had struck with the first goal. Alty, already without the injured Lawton, Doughty and Denham, lost Holsgrove after 32 minutes, injured by a foul tackle. McCarthy, making his debut, replaced him.

Reeves almost made it 2-1 in the first minute of the second half but after the first 10 or 15 minutes of the half the impetus went and the game drifted uneventfully. But in the closing stages Parker made in 3-0 with a tap in from Medley's cross (81 mins). Then in the third minute of added time, Parker got past Danylyk to the right by-line where the Alty midfielder brought him down to concede a penalty. Parker himself made it 4-0 from the spot to send Mansfield to the top of the table.
Alty line-ups
UPDATES
It is intended to provide live updates (wi-fi permitting) from Altrincham v Mansfield Town on Monday on the Matchday Update page.

Alty should have new signing, striker James McCarthy, available after suspension. Four players were out of the side at York through varying degrees of injury; Lawton, Doughty, Clee and Denham - with the latter two the most likely of the quartet to play against Mansfield.
BALLOON GOES UP AT ALTY
At the bank holiday game against Mansfield you are invited to make your purchase of balloons for the balloon race to take place on Non-League Day on Saturday 4 September, for which the winner receives a £100 prize. If every Alty supporter sponsors at least one balloon (at £1 a time) between now and then the Club could raise a significant and much-needed four-figure sum. So, please remember to bring your pound coins (or bank notes!) along on Monday.
BANK HOLIDAY TREAT
For each home game this season you can be a guest in the Manchester Glass Sponsors' Lounge at Moss Lane. There you will enjoy a pre-match talk from manager Graham Heathcote, followed by an excellent choice of hot meal, with soup, sandwiches and cakes, all prepared by resident caterer Richie Bentley. You also get a pre-match complimentary drink and coffee and biscuits at half-time. During the game you can watch from a seat in the Family Stand which gives excellent views of the entire pitch. This offer is open to all and for the Mansfield Town game on August Bank Holiday Monday when, for home fans who are season ticket holders at Moss Lane, the price is just £20. For others it is still a bargain at £30.

All the following are 3pm kick-offs except where shown.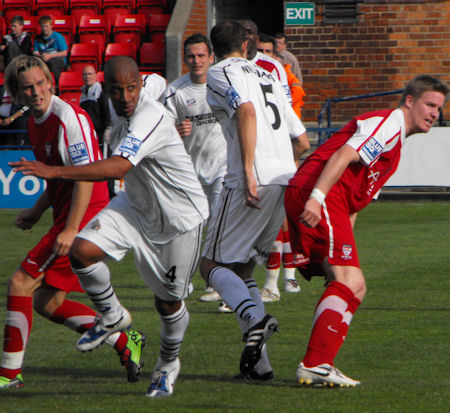 Right: Marc Joseph and Robbie Williams in the thick of it at York last Saturday, as Matty Crowell awaits the outcome.
TASC MINUTES
The latest Committee minutes of The Altrincham Supporters' Club (TASC) are now on the website, here.
BSBP NEWS
NL News 24 says that Manager "Neil Woods hasn't ruled out signing a new player for Grimsby Town before next week's transfer deadline... It is understood he is in the hunt for another central midfield man. He has run the rule over one player in that position this week with former Manchester United youngster Sam Hewson on trial. Woods told This Is Grimsby: 'We've had Sam with us this week and he's done okay. The lad is technically very good and that's what you expect when someone has the pedigree of coming through the ranks at Man United. He is short on fitness, though, as he hasn't had a pre-season. He's a great lad and likes it here so we'll talk with him and see what's what but nothing is imminent. There are other conversations going on ahead of the deadline and if we can find the right sort of player then it's possible we'll add someone else'".

Meanwhile, "Kidderminster Harriers' manager Steve Burr has hailed the efforts of Tom Shaw in standing in for Lee Vaughan at right-back. Vaughan, a summer signing from AFC Telford United, has had to sit out the first four matches of the season through a suspension carried over from last season. Shaw has been an excellent replacement but Vaughan's return will allow the ex-Tamworth man to bolster the midfield".

Last week Crawley Town signed Ben Wright who had been on loan at Hayes & Yeading United from Peterborough. In return Crawley offered Hayes loan players. From Blue Square Football we learn that "Hayes & Yeading have clinched the services of striker Michael Malcolm on a loan agreement from rivals Crawley Town. The ex-Stockport County frontman joins United on a short term deal... 24-year-old Malcolm signed a new contract with the Red Devils at the start of July and can count also count Kettering Town, Rushden & Diamonds and Weymouth amongst his former clubs. Hayes & Yeading boss Garry Haylock told the Uxbridge Gazette: 'Ben (Wright) was just one player in our squad and we will just have to cope without him'".

Welsh Premier tells us that "Wrexham loan duo Leon Clowes and Nick Rushton will boost Airbus manager Craig Harrison's squad for the home game with Aberystwyth on Saturday. Central defender Clowes has now completed a four-match ban incurred with the Dragons, while striker Rushton is a new addition on a six-month deal".

Still at Wrexham we learn that "There was an obvious sense of relief all round the ground following our 95th minute equaliser against Barrow and that was refelected in Dean Saunders's post match comments. 'It was nothing more we deserved', said the boss. 'It could have been the most one-sided game I have ever been involved with! I had a stats man counting for us, and he recorded 37 balls played into their box, 16 corners and 21 crosses... Even on the final whistle it's an obvious penalty, as the referee blew so he didn't have to make a decision. At the end we have come away with a point and yet it feels a bit like we have won... I actually felt more pleased for the fans than myself when the goal went in, because they were trying to stay behind us, even though they were frustrated'".

According to Luton Town "Boss Richard Money hopes his side can bounce back to winning ways at home to Hayes and Yeading United on Bank Holiday Monday at Kenilworth Road following Saturday's disappointing defeat at Tamworth... But Money isn't expecting a repeat of last season's 8-0 hammering his team dished out to United last March.

'I'm really expecting nothing other than a difficult match', Money said. 'It is tough every time we take to the pitch and anyone who thinks differently is living in cloud cuckoo land'... Money revealed his frustration at the number of fixtures the Conference have crammed into the first three weeks of the campaign... He believes their schedule has been far too hectic. 'We look a tired group of players on Saturday, we've put a lot into the five first games and we've got another one', he said. 'Six games in 16 games, who thought that one up? He must be Einstein. We started a week late. Can anybody tell me why that was? Why didn't we start the same time as the Football League? Then they ask you to play six games in sixteen days. They're human beings, not robots'". If Luton's players are tired, think how our part-timers feel after the same number of games and full-time work!
---
29 August 2010
YORK'S VERDICT
York City report that they "Finally registered their first win of the new season at the fifth time of asking after a 3-0 home win over lowly Altrincham...

Despite languishing at the bottom of the table with one point from their opening four games it was Altrincham who started the brighter. After only five minutes Michael Ingham was pressed into action as he tipped wide Matty Crowell's ambitious 40 yard dipping effort with a superb save. If that wasn't an early warning then two Robbie Williams headers certainly gave City cause for concern as Ingham twice denied the defender...

The Minstermen carried on their dominance at the start of the second half... Ten minutes after coming on Rankine struck the opening goal with an unstoppable effort across Coburn... Straight from kick off Altrincham almost levelled the score but Ingham was to the rescue once again to tip over Shaun Densmore's mis-hit cross from the right.

Four minutes after the opening goal City had the chance to wrap up the game from the penalty spot as Brodie was brought down in the area by Marc Joseph who was unaware that the striker was behind him. Last season's top scorer dusted himself down and calmly sent Coburn the wrong way from the spot to give City a two goal advantage".

This site's match report is here.
FANS' FORUM
Don't forget there is a Fans' Forum at 8pm on Thursday 2nd September in the Noel White Suite at Moss Lane. Everyone is welcome. The Club's management and board representatives will be on hand to answer your questions, so please come along and get the latest news.
NEW RECRUITS
As well as the Balloon Race on Non-League Day (September 4), Altrincham FC will be running a New Recruits Evening that day in the Manchester Glass Sponsors' Lounge.

Altrincham FC "New Recruits" evenings are always entertaining and popular events. The event is compered by Graham Heathcote. Players Danny Holmes, Marc Joseph and Matty Crowell, who have joined or re-joined Alty in 2010-11, are the guests, for a hot meal in the Manchester Glass Sponsors' Lounge, along with supporters. The meal is provided by Richie Bentley, the club's excellent official caterer. After the meal, Graham leads a question and answer session which is often very revealing and invariably humorous.

Alty vice-chairman Grahame Rowley writes,"For those who have come to a previous New Recruits event I don't have to tell you what a good evening's entertainment they are. For those who haven't been to one - shame on you - you've missed some cracking nights!!! We hope to have at least 3 of our new recruits in attendance along with our Master of Ceremonies, Graham Heathcote".

The event is on September 4th, after the Kidderminster game at Moss Lane, and the cost is just £15 per person - please e-mail or ring 0161 928-1045 if you wish to attend. The event starts at 7pm in the bar with the New Recruits itself beginning at 7.30pm.

Danny joined us from Burton Albion via Ilkeston, Marc was with Rotherham United and a number of other league clubs whilst Matty has returned to Moss Lane after a spell in Australia. So there is a wide range of backgrounds on which the players can draw.
REDUCED PRICE ENTRY
On Saturday, September 4th, Non-League Day, entry to Moss Lane for holders of Premiership or Football League season tickets will be just £5 (£2 for under-12s). Kidderminster Harriers are Alty's opponents that day at 3pm.
APPRENTICESHIP SCHEME
Altrincham FC joint Press officer, Brian Flynn, writes:

New and Exciting Apprenticeship Schemes at Altrincham Football Club!

Altrincham Football Club is about to launch two exciting new programmes which will allow it to employ up to 40 full time sport apprentices during the current season.

The club in partnership with the Sport For All Programme(SAP) have sourced matched funding that will help develop and educate young people in a variety of sports and at the same time provide a core base of sporting qualifications.

The scheme is open to both male and females who are aged between 16-24 years old and they can choose between two programmes both of which will be based at the Football Club;

The Football Education Programme is for any young footballer who is looking for an opportunity to develop over a season to work, initially, towards a standard for semi-professional football. It is ideal for any late developers or young players who have been at professional clubs but have missed out on being given a scholarship. It will allow the young apprentice to work over a season to further develop their football skills and abilities through a programme of training sessions and matches against both professional and semi-professional youth teams. The programme will be led by qualified former professional footballers and Altrincham manager Graham Heathcote.

The Sport For All Programme is a programme for any young person who wants to develop towards a range of multi-sporting qualifications. It is a chance to learn new skills for a range of different sports and fitness training techniques and will allow participants to work over a period of up to 40 weeks to further develop their sports skills and abilities through a schedule of training programmes.

Each programme will allow students to increase their education by working towards their NVQ Level 2 followed by NVQ Level 3 in Sport Recreation and First Aid and Child Welfare qualifications.

All the apprentices will be paid a weekly wage and will combine their professional coaching and education over a three-day week.

Graham Heathcote is excited about the schemes stating, 'It is an excellent opportunity for a club like ours to run both projects. The Football Education Programme allows us to try to train and develop young footballers and give them an insight into the level to aspire to and I am really looking forward to attending the training sessions and having an input. The Sport for All Programme will help youngsters develop and learn new skills in various sports, whilst working towards sporting qualifications. We recognise that we are a sporting focal point for our community and as such we are delighted to give the young people of Altrincham a positive opportunity'".

The club will be holding an enrolment day at their Moss Lane Ground on Monday 6th September between the hours of 12.00noon – 1.00pm and 6pm – 7pm. To book in please call 07817-914622 or e-mail.

There are only limited places available on each course, so please make contact as soon as possible".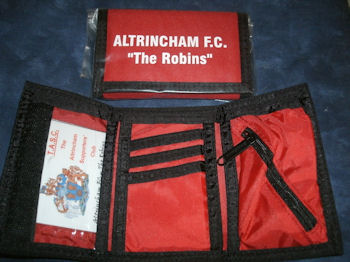 ALTY WALLETS
TASC's Colin Mitchell writes:

"I have a new batch of the Alty wallets (see picture) available. These will be on sale in club shop at Monday's game with Mansfield Town at Moss Lane. The wallets hold cards, cash and have a compartment for change and are priced at only £6.00. All proceeds go to Altrincham FC".
OLD BOYS
Colin Little scored twice on his debut for FC United as they beat Retford 5-1. His former team-mate, Kieran Lugsden scored for Buxton, whilst Youth team graduate Wes Wilkinson has signed for Irlam - the club where Stuart Coburn started out.

Winsford United announce that "One of the North-West's most prolific strikers over the past few years has agreed to join Winsford. Carl Furlong has been a much sought-after striker for a long time and has played for clubs such as TNS, Altrincham. Leigh RMI and Cammell Laird. Although 34-year-old Liverpool-Based Carl has now reached the veteran stage, he still has much to offer in the way of ability and experience".
BSBP NEWS
There were some disappointing gates again yesterday, with the lowest being the 320 who watched Hayes and Yeading United take on Crawley Town, which is almost a local derby in BSBP terms as only 47 miles separate the clubs.
---
28 August 2010
YORK CITY 3 ALTRINCHAM 0
Three goals in the final 19 minutes gave York the points and kept Alty bottom of the table. Altrincham had a couple of early chances and Matty Crowell's 50-yard effort caused the York keeper, Ingham, concern as he back-pedalled to tip the ball out for a corner. Substitute and one-time Alty trialist Michael Rankine scored the opener with a good shot into Coburn's left corner after a build-up on the right. When Joseph needlessly upended Brodie on the by-line a penalty was awarded and Brodie got up to drive it past Coburn (75 mins). Alty threw on Twiss to add to the attack but Rankine made it 3-0 with virtually the last kick of the game, turning well to plant the ball in Coburn's bottom right corner.
Match report here.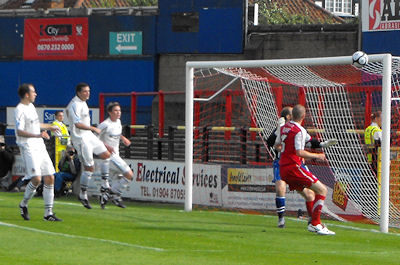 Right: A York freekick hits the Alty bar in the first half at Bootham Crescent.
Darlington 2 Gateshead 0
Eastbourne Borough 2 AFC Wimbledon 3
Forest Green R. 0 Bath City 0
Hayes & Yeading Utd 0 Crawley Town 3
Histon 0 Kettering Town 3
Mansfield Town 1 Cambridge United 0
Newport County 3 Kidderminster Harriers 0
Rushden & Diamonds 4 Grimsby Town 1
Southport 1 Fleetwood Town 0
Tamworth 3 Luton Town 1
Wrexham 1 Barrow 1
York City 3 ALTRINCHAM 0
URGENT - YORK GAME
TASC's chairman, Brian Flynn writes "This morning, we had 25 people booked on the coach to York tomorrow. Unfortunately, four have contacted us today to advise they will not be able to travel. This means that we have 21 people travelling on the coach and unless we get some more people going, we will make a substantial loss on this trip.

Prices for this trip are exceptionally good value (see below) and if you can possibly travel by coach tomorrow, then I would urge you to do so. Tom Jacobs has done an outstanding job setting up the coach travel this season, however TASC are unable to subsidise Supporters' Travel going forward and a significant loss at this stage will mean that we will need to review whether organised travel is viable for every game this season.

If you can go, please either contact me by e-mail or by phone (07860 561011). Thanks".

Full details of times and fares are on the Away Travel page.
SATURDAY GAME
The referee on Saturday is Mr R. M. Clark (at York) and on Monday it is Mr P.C. Wright. Mr Wright did the Alty v Histon game at Moss Lane, last season.
The York Press reports that "Late goals have been the scourge of Altrincham this season... Goals conceded by the Robins in the last ten minutes of matches have already lost them six points – after smash and grabs from Darlington (a last minute Tommy Wright goal in a 2-2 draw) and Luton Town (Matthew Barnes-Homer two minutes from time in a 2-1 opening day defeat). Alty have also lost 1-0 to Crawley in the meantime so, like York, are still waiting to pick up their first three point haul of the campaign.
They have not been helped by a crippling injury list which, for the Southport game, meant former Minstermen transfer target Michael Twiss, Matt Doughty, Robbie Lawton, midfielder Anthony Danylyk and England 'C' international Shaun Densmore were all out. Manager Graham Heathcote... [had] just 14 of his 20-man squad for the Southport trip. Danny Holmes and Kevin Holsgrove both made their first starts for Altrincham and Heathcote's injury situation is not likely to clear up any time soon.
Doughty has a cruciate ligament problem, Twiss is still troubled by an ankle injury he picked up in pre-season while Lawton's bruised ribs mean he is likely to be missing for a further fortnight... They lost defensive talisman Greg Young to York, while Chris Senior left for Darlington and main scorer Colin Little left at the end of last season to coach Manchester United Under-13s. The early signs are that Altrincham are finding them hard to replace.
York, too, have problems with manager Martin Foyle commenting on striker Richard Brodie, who has yet to score this season, 'At the moment, he probably doesn't feel wanted. We will put an arm around him and try and work him. Of course Richard wants to be here. We love him to bits. When you get that negativity and people making up rumours and stories (about proposed transfer moves) it makes it very hard. Maybe his head has been turned a little and we will get him back down to basics'...
Foyle is convinced the Lancashire [Cheshire!] outfit will mimic midweek visitors Barrow in looking for a draw... 'They will come for the draw, will drop off deep and we have got to break it down. They will come to frustrate us and we have to have that finish. The lads are buoyant. They know they have played well'".
SUPPORT NON-LEAGUE DAY
On 4th September when there are no Premiership or Championship games, an unofficial "Non-League Day" been declared at many Conference and other non-League clubs. At Altrincham, where Kidderminster Harriers are the visiitors, there will be discounted admission for holders of valid season tickets of Premiership and Football League clubs - £5 for adults and £2 for under-12s.

There will also be a balloon race with the winner getting a £100 prize if his or her balloon goes the farthest. Everyone is asked to buy one or more balloons, costing just £1 each, starting on Monday at the home game with Mansfield Town. A share of the proceeds goes to the Children's Adventure Farm Trust at Millington, Cheshire.

After the match with Kidderminster there is a "New Recruits Evening" at Moss Lane for which a number of Alty's new players will be the guests. Compere Graham Heathcote will be on hand as supporters ask the players questions about their careers and opinions on footballing matters. A cash bar service will be available. Tickets are just £15 and include an excellent hot meal prepared by resident caterer Richie Bentley and his team.

Please ring the club (0161 928-1045) or send an e-mail to book your seat either in the Sponsors' Lounge for the match or for the New Recruits' evening, or both.
BANK HOLIDAY SPECIAL
On Monday, Mansfield Town visit Moss Lane. This is Nottingham says that "Mansfield Town Town are two players short of having a squad that can challenge for the play-offs, manager David Holdsworth insisted. The Stags have made a bright start to the season, losing only one of their opening four Blue Square Bet Premier matches. After releasing a host of players in the summer and losing Jake Speight to Bradford for £25,000, Holdsworth recruited 11 new faces. He is also making enquiries about adding to that ahead of the close of the permanent transfer window on Tuesday at 6pm...

'I still think we are two quality players short of having what we need to fight for a place in the play-offs', said Holdsworth. 'But it's probably a case of players going out before we bring any in because we have to juggle things financially. Some of the players may wish to go out on loan... It may look like we have a lot of players kicking their heels, but that's only because almost everyone is fit'...

Meanwhile, chairman Andy Saunders says the club will not know until next week if they have broken even on last Saturday's Westlife gig. It is understood the club needed to sell in the region of 10,000 tickets to ensure they didn't make a loss".
ALTRINCHAM UP FRONT
From Friday's edition of the Manchester Evening News we read Tony Glennon's Non-League column...

"'Altrincham need help up front' - Heathcote

Altrincham boss Graham Heathcote has warned the Robins risk losing their cherished top-flight status unless he's given the means to boost his strike force.

The ailing Moss Lane outfit currently prop up the Blue Square Bet Premier after scoring only three times in an opening four match spell which has seen them suffer three odd-goal defeats and register just one point from a draw with Darlington.

And, as Alty prepare for tomorrow's visit to a York City side similarly still chasing their first win, Heathcote - who lost main strikers Colin Little and Chris Senior in the Summer - admits the Robins' lack of firepower is already giving him real cause for concern.

He said: 'I've tried to replace Colin and Chris without spending but it's already apparent the strikers I've brought in are not good enough for this division. I feel so sorry for our defenders who have done well so far but if things carry on this way, we're simply not going to score enough goals to keep our heads above water. It's an awful thing to be saying in August but I'm already thinking in terms of a survival fight'".
OLD BOYS
FC United report that "Former Altrincham striker Colin Little is set to make his FC United debut this Bank Holiday weekend as [ex-Alty Youth] Ben Deegan is out for two to three weeks with ankle ligament damage. Karl Marginson knows losing Deegan is a blow especially as the striker has been in fine form over the last few weeks...

Little scored 112 goals for the Robins during a six year spell and Margy is happy to have the veteran striker on board this season. He said: 'It's unfortunate to lose Ben but it gives us a chance to have a look at Colin. It's a bit more rushed than we would have liked, Colin's not fully fit and I think he knows he'll probably never be able to put in a full 90 minutes but he has the quality to see him through'".
OLD FOES
For a change, some good news about a club who used to compete with Alty. On 30 April 2005, Alty played their last Conference North match before the play-offs at Hucknall Town. NL Daily that "Hucknall Town have confirmed that planning permission was granted for their new stadium off Aerial Way, in Hucknall (opposite our existing ground) at the meeting of Ashfield District council on Thursday (26th August). The decision and permission are the result of some five years of work by the club, Welbeck Estate and its consultants... It is envisaged that the provision of a new stadium for the club will at last provide the path for the club to resume it progress in non-League football which in recent times has been frustrated by the uncertainty of its existing ground and its facilities... Current thinking is to aim for occupation of the new stadium during season 2012/13. This does, however, depend on the success of the development sale of its existing ground".
BSBP NEWS
The Football Conference report that "Saturday 4th September is national `Non League Day` in football and Bristol City`s Vice-Presidents' Club are responding with a wonderful gesture. City are to team up with Forest Green Rovers for their Blue Square Bet Premier fixture against Southport by sponsoring the match.

Brian Cook on behalf of the VP Club stated: 'In recognition of the world of football below the Football League our gesture in sponsoring the game is a small contribution to all that clubs like Rovers bring to their respective communities. This idea first came about when City fans on their way to Doncaster recently met up with the Rovers Team Coach at Trowell Services on the M1 and Colin Peake, their secretary, who is never backward in coming forward leapt on our coaches and offered fans the chance to come to the match against Southport at reduced rates to celebrate a date which we feel should be an annual one in the football calendar. The least we could do was for our membership to officially recognise the great work that everyone puts in at the New Lawn to promote the game generally and we are only too pleased to respond in this fashion'.

Peake reciprocated the understanding existing between the two clubs and commented: 'This is another clear indication that whilst there will always be obvious rivalry between clubs, there is deep down strong bonds which link us. We wish to pay thanks to Brian and his colleagues in the VP Club at Ashton gate and assure them that their supporters and in fact any from other clubs, will be most welcome at the New Lawn on Non League Day'".

"Aman Verma is set to make his debut for Kidderminster Harriers debut at Newport County on Saturday" states the Football Conference. "The 22-year-old utility player has joined Harriers on a one-month loan from Leicester City... Verma, who made seven appearances on loan at Crewe Alexandra and also Harriers' league rivals Histon last term, featured throughout pre-season for the Foxes".

And "Goalkeeper Ross Atkins has had his loan spell with Tamworth from Derby County extended until January. The 20-year-old joined the Lambs on a month-long deal on August 10th and has impressed boss Gary Mills with his performances. He will now remain with Tamworth until January 8th".

According to the Uxbridge Gazette "Garry Haylock has claimed that Ben Wright turned down Crawley Town's first offer because he wanted to stay at Hayes & Yeading. But boss Haylock says he was powerless to prevent Wright - who signed on loan at Hayes & Yeading earlier this month - from joining Steve Evans's men as their second offer proved too good to turn down. 'He turned down their first offer because he wanted to stay here', said Haylock. 'But I would not have expected him to turn down their second offer. If we could have offered him more money, then he may have stayed here. He has done ever so well for us'.

Haylock has been offered players on loan from Crawley Town to soften the blow of losing Wright and he expects to have a replacement signed up before the men from Sussex visit on Saturday".

Luton Town say that "Club Captain Kevin Nicholls has left Kenilworth Road by respectful, mutual consent. In a show of typical Kevin Nicholls's loyalty to the Hatters, the decision comes after the 31-year-old volunteered to be released from his contract which was agreed after lengthy discussions...

As the Town failed to win promotion back to the Football League last term, Nicholls had a serious knee operation and as a result did not play again following the 2-1 defeat at Crawley at the end of February...

Managing Director Gary Sweet said: "In the modern era, the phrase 'by mutual consent' is tantamount to saying a contract has been terminated. In this situation, that couldn't be further from the truth... It was Kevin who originally approached us with the suggestion. In his time at the club he has seen us stand by a number of players who have had long term injuries and he did not want to take money out of the Club when he felt that he wasn't contributing... It is widely acknowledged that Kevin turned down offers from clubs in higher divisions and took a dramatic pay cut to come back to Kenilworth Road'".

Meanwhile "The Hatters can confirm that defender Alan White has left Kenilworth Road by mutual consent. Centre-back White, 34, rejoined the Town last summer from hometown club Darlington, for his second spell... He was loaned back to the Quakers until May... Gary Sweet said: 'Alan's decision to leave us was purely a football decision'".

From the Northants Evening Telegraph we learn that "Michael Corcoran has joined the 'horrendous' injury list at Rushden & Diamonds. The vice-captain will be missing for up to five weeks after suffering a torn hamstring at the end of the midweek win over AFC Wimbledon...

Strikers Aaron O'Connor, Craig Farrell and Sam Smith are already ruled out... Diamonds' boss Edinburgh said: 'The injuries have been horrendous and it's very frustrating at the moment... We need to get through this sticky period with limited numbers... But there's no need to panic because nothing is won or lost in the first month of the season'".

This is Grimsby says that "Neil Woods is hoping a virus around his squad won't hamper his selection plans ahead of back-to-back bank holiday fixtures for Grimsby Town... Skipper Lee Peacock hasn't started the last two games after suffering from the bug and now Michael Leary has been ruled out again... With Rob Atkinson (hernia), Nick Colgan (elbow) and Adrian Forbes (knee) already out, Lee Ridley has now joined the injury list after a groin strain forced him out early on Tuesday. Meanwhile, Peter Bore is suffering from a similar complaint and missed training yesterday".

According to Cambridge News "David Livermore is bidding to bring a player-coach with European experience to Histon. The Stutes' manager... is good friends with the transfer target...

'I've spoken to the chairman (Russell Hands) and the budget's pretty much spent, so I'd have to use my contacts and do some wheeling and dealing', said Livermore. 'I would like to bring someone else in and I've got someone in mind who could come and play, as well as coach. It all depends on his circumstances as he's got a few contract offers on the table. I've known him for a long time and he's got experience of European football. He's the right type of person and player that could help us out'".
---
27 August 2010
NEW SIGNING
Altrincham FC announce the signing of striker James McCarthy from Warrington Town. Born on 2 December 1985, he will wear number 23. However, James is suspended for one game so cannot play till Monday. James, who lives in Altrincham, last year turned down a move to Nantwich Town. Before joining Warrington he played for Mossley, Leek Town, Alsager Town, and Kidsgrove Athletic. In May 2010, James was linked with a move to Crewe Alexandra with whom he trained during the summer. Crewe coach Neil Baker told BBC Radio Stoke: 'Jimmy is a player, I would say, that has more ability than anyone I have ever seen'".

Only two weeks ago on 10 August, the Crewe Chronicle reported that "Attacker Jimmy McCarthy has been released from his trial at Crewe Alex. The 25-year-old, spotted playing for a pub team, spent all summer training at Reaseheath and featured in a number of friendlies. But boss Dario Gradi said: 'Jimmy just didn't quite live up to the expectation and standard he set himself but to be fair to the lad, he gave it a real go and worked hard. He has ability and everywhere we went in pre-season the people at the other clubs liked him... If we had more money in the budget then we may have given him a year and see where he could go with it, but I didn't think that would be fair to him at his age'".
MATTY AVAILABLE
Having lodged a request with the FA for international clearance for Matty Crowell (right) on 28 July, thirty days later it has finally come through to Altrincham FC. Matty played five games for Altrincham last season before going to play football in Australia. He returned to England and it was hoped to have him available from the start of the season but delays at the Australian end of the clearance process forced him to sit out the first four league games of this season.
BANK HOLIDAY GAMES
TASC is running a coach to York on Saturday; book now to avoid disappointment. Details are on the Away Travel page.

For those travelling to York under their own steam, please note that the Leeds Music Festival is on this weekend and big jams are forecast on the roads round Wetherby (Branham Park).
ALTY FANS - TOP OF THE CLASS!
Quite a few Altrincham supporters have recently got their exam results and we hope they have all done well. One of them, Alasdair Park of Wellington School, Altrincham is subject of an article in Trafford Metro News. In his GCSEs, despite medical difficulties, the 16 year-old "achieved six A*s and for As. The lifelong Altrincham FC fan celebrated by watching his beloved Robins take on Southport". Alasdair is staying on to study History, French, German and English at AS-level. Congratulations go from Altrincham FC to Alasdair and everyone else who has passed their exams at whatever level.
BSBP NEWS
There is another signing recorded at Crawley Town where "Peterborough United striker Ben Wright has joined The Reds for an undisclosed fee. Wright (22) has been on loan at Conference Premier club Hayes & Yeading this season but has been in outstanding goalscoring form, scoring five goals in four matches, thus making him to date this season the top goalscorer in The Blue Square Bet Premier. The player got himself the matchball after scoring a hat-trick in midweek against Forest Green Rovers so he joins up at The Broadfield Stadium and adds more firepower to The Reds front ranks...

Late last night (Wednesday) a transfer fee was finally agreed... Steve Evans said, 'He will compliment the strikers we have... I have been speaking with Barry Fry at Peterborough United for over a week but he has not been budging on his valuation and with young Ben smashing goals in I suppose he has had every right to be like that but we eventually got a fee agreed. Ben could have chosen to play his football at a higher level but it would have meant moving up north and he was happy to be joining our project and at the same time moving back home.

We are sympathetic to Hayes and Yeading who are losing a good player and after speaking with my directors we offered to assist Garry Haylock with a loan player or two to help soften the blow, I think he appreciated that and we will maybe hear from them shortly'.

After signing Ben spoke exclusively to www.crawleytownfc.com, he said, 'Crawley Town is a club going places and I wanted to be a part of it. I met Steve Evans for the first time this morning and he was so enthusiastic about the season and the club as a whole. I know Sergio Torres well and I spoke with him last night about Crawley Town, he gave a glowing reference, after that chat I just wanted to join'".

Meanwhile, The Argus tells us that "Crawley's Matt Tubbs insists he is trying to ignore speculation about his future after Reds turned down a £250,000 offer for the striker... Boss Steve Evans revealed that a League One club's bid had been rejected. Evans then slapped a £700,000 asking price on the 26-year-old after club owner Bruce Winfield had asked him for a valuation. Tubbs said: 'I wasn't aware of that £700,000 valuation. As players you accept that things are going on all the time so you have to forget about it'...

Tubbs had a brief spell in the Football League in 2008 when he played on loan at Bournemouth whilst with Salisbury but his chance of a dream move were scuppered when the Cherries changed manager. 'Jimmy Quinn had me and I was going to sign a permanent deal but he was sacked the day before it was due to happen', said Tubbs. 'It was a bit weird because one minute I League...

Steve Evans wouldn't put together a squad with the calibre of players we have if he didn't think we could get promoted so it would be great if it happened with Crawley'. Evans said: 'If the club concerned were going to pay £700,000 for him Tubbs wouldn't probably agree terms! They quoted a figure of £250,000 but we said no and the owners asked me for my valuation. I only said £700,000 after telling our owners that he had no price. We don't want Matt to go but we are not one of these clubs who say none of their players are for sale. Everyone is for sale at every club from Chelsea down to us if the buying club meets the valuation of the player'.

Evans has already signed 15 new players and spent £330,000 in transfer fees but a bid which would have broken the Conference transfer record for an un-named striker was turned down on Tuesday. Evans said: 'The good thing is that if I find a player that I think will improve is I know what the answer will be from Bruce Winfield and Sue Carter when I try and sign him. They will say 'go and get him'... We have four strikers but it is not enough, you need five if we are going to challenge. If you want evidence of that have a look at Stevenage and Oxford's squads last year. We are working so hard to get the right player in. That is testament to the owners and the two investors in Hong Kong who have been absolutely fantastic'".
At Tamworth former Alty loan player "23 year old Ben Wilkinson (right) has signed for the Lambs and goes straight into the squad for the weekend games against Luton Town and Kidderminster Harriers. Ben who trained with his new team mates on Thursday will be wearing the number 20 shirt. The Sheffield based player was last on the books of Chester City and has played in the Scotland for Gretna whilst on loan from Hull City".
The Worcester News reports that "Steve Burr, manager of Kidderminster Harriers, is hoping to bolster his squad after they were hit by a host of injuries. Burr and assistant Gary Whild are trying to bring in at least one loan signing, thought to be a utility player at a Championship club, before the transfer window closes on Tuesday. John Finnigan is set to be absent for the Bank Holiday weekend matches after a reoccurence of his long-standing calf problem. Mark Albrighton missed Tuesday night's draw at Wrexham with a hamstring injury...
'We've got a squad here and we weren't hanging them out to dry after Saturday's defeat to Mansfield, we brought them to the club and we'll stick with them', commented Burr. 'If things don't improve you have to change things in the team but I've got faith in these lads to do well this season'... Right-back Lee Vaughan will come into contention for Harriers after serving his four-match suspension and could make his Conference Premier debut for Harriers in South Wales. Loan striker Marc Williams is also available for selection after he was ineligible to play against parent club Wrexham. The hitman is set to miss the trip to Altrincham on Saturday, September 4th after being called up for Wales under-21s".
FORMER FOES
Two of Alty's former opponents are in serious financial difficulty. First of all, the Nuneaton News tells us that "Hinckley United are hoping the sale of land will go through in time to stop them going bust. The Knitters have four weeks left to pay off money owed to satisfy a winding up order or they would go under, according to frustrated manager Dean Thomas... Thomas said: 'The chairman Kevin Downes is... hoping to sell some land to Hinckley Rugby Club that would pay off the debt'".

And, secondly, the Droitwich Advertiser reports that "Bromsgrove Rovers could be moving out of the Victoria Ground after the deadline for them to vacate expired. Fixtures and fittings from the ground were seen being removed from the site on Tuesday and put into a van and the gates left open. They included goalposts and other equipment from the ground. Meanwhile, the deadline for Rovers to appeal against their expulsion from the Zamaretto League was Tuesday. Chairman Mike Ward said he was going to appeal but a league spokesman said they were waiting to hear from the FA whether it had been lodged. A spokesman for Bromsgrove District Council this week said 'We are in discussions with the football club over them handing back the keys now their lease at the ground has expired'".
---
26 August 2010
SUPPORT NEEDED!
Altrincham FC joint Press Officer, Brian Flynn writes:

"Altrincham Chairman, Geoff Goodwin, was under absolutely no illusions how difficult a season Altrincham are in for, after seeing his team go down by a single goal on Saturday to Crawley Town. The Sussex side are the Manchester City of the Blue Square Bet Premier with a reputed wage bill that is ten times the size of what the Altrincham players earn, but it was the puzzlingly low crowd of 766 that left the Robins' Chairman scratching his head.

'We had almost 1100 here on Tuesday night against Darlington, which was great, but on Saturday, even taking account of the very small travelling support that Crawley had, we had 150 less Altrincham fans in the ground', said the bemused Chairman. 'Of course, lots of people are on holiday as we are still in August and Crawley is normally one of our poorest gates of the season, so I am really hoping that we get a bumper crowd for the visit of Mansfield on Bank Holiday Monday. We have to run such a tight ship here financially, that if we suffered a deficit in our budget so early in the season, then we would have to look at how we could deal with that very quickly'.

The recently announced television deal for the Blue Square Bet Premier is not likely to be Altrincham's saviour either. Whilst the contract for 'Premier Sports' to screen 30 live games during the season is good for the league's exposure, it is not likely to swell the coffers of the clubs involved.

Goodwin feels that new blood is needed at Moss Lane in order to support the club in its attempt to compete in what is a highly competitive league. 'We're crying out for new people to come in and help us financially, but they really would have to be coming on board for the right reasons. There is a lot to be proud about in terms of the way this club is run and we must maintain the ethos and principles that have stood us in such good stead for many years'.

The Robins went down to their second single goal defeat in four days on Tuesday night at Southport.Tony Gray scored a deflected winner eight minutes from time to send Altrincham to the foot of the league. Altrincham's game against Mansfield Town at Moss Lane on Monday August 30th kicks off at 3.00pm and supporters are invited to attend a Fans' Forum with manager Graham Heathcote at 8.00pm on Thursday September 2nd in The Noel White Suite".
YOUTHS PLAY WELL
In a friendly match on Tuesday at Knutsford, Altrincham FC Youth drew 1-1 with the Cheshire County FA representative team. More on this match in the Youth section.
BANK HOLIDAY GAMES
The referee on Saturday is Mr R. M. Clark (at York) and on Monday it is Mr P.C. Wright. Mr Wright did the Alty v Histon game at Moss Lane, last season.

York Press report that "York City's players need to find a good luck charm quickly... They won't believe today they are still waiting for their first win of the Blue Square Bet Premier campaign after a frustrating 0-0 draw with Barrow at Bootham Crescent. With the Bluebirds largely devoid of ambition, and clearly happy to settle for a point, the Minstermen bossed both territory and chances but just couldn't get the breakthrough. The ball was cleared off the line, deflected off a post – it went everywhere but in the net.

It means last year's play-off finalists are still to get on the winning trail, four games into the campaign. Having played 4-3-3 in Saturday's 2-2 draw with Bath City, Foyle reverted to 4-4-2 as Jonathan Smith came into midfield and Michael Rankine dropped to the bench – putting another body in the centre to counter Barrow's 4-5-1...

The visitors were hardly ambitious, frequently stacking men behind the ball as they made their ambitions very clear – and tested the referee's patience with some blatant time-wasting...

Martin Foyle said of Barrow, 'They have come here for a draw and they came with a very defensive formation... I usually stick up for my strikers but we have had some chances... we should have taken the points... Barrow kept dropping deeper and deeper. I am frustrated but the quality from back to front has to be better'" .
SOUTHPORT VIEWS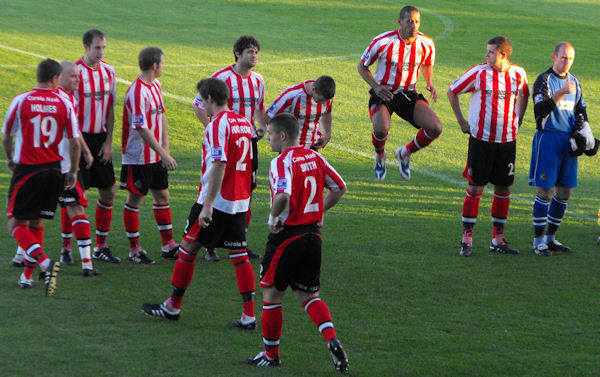 Left: Alty's starting eleven take to the field at Southport on Tuesday, with Danny Holmes and Kevin Holsgrove making their first starts for the club. Left to right: Holmes, Denham, Williams, Clee, Holsgrove, Johnson, Smith, Brown, Joseph, Welch and Coburn.
The Southport Visiter says that "Tony Gray's late strike proved the difference as Southport edged out Altrincham. The striker slotted past goalkeeper Stuart Coburn in the 82nd minute... A low key affair for much of the night, Port found the Robins a stifling opposition and found their usual set-piece dominance to be providing little joy.
With a lack of craft in the midfield, the game was heading towards a consecutive 0-0 for Liam Watson's men but Gray neat one-two with substitute Steve Daly carved Altrincham open and the summer recruit found the space to make it 1-0 in front of a jubilant Jack Carr stand...
The first half was edged by the home side who enjoyed the majority of possesion and created out the best chances... The visitors emerged a far more threatening prospect after the break but equally found clear cut chances hard to come by, despite the speed of replacement Damian Reeves
Southport FC has an audio link to Liam Watson's comments after the match with Alty on Tuesday, won by "An 82nd minute effort from close range which deflected in off defender Michael Welch - earned the Sandgrounders victory in a closely-fought encounter against a stubborn Altrincham side... There is a recognition that if the Sandgrounders are to consolidate their Blue Square Bet Premier status this season, these are the matches they must target a maximum return from.
For much of the evening it was a tight affair with little by way of goalmouth action, and although Southport saw more of the play, they struggled to find the guile needed to unlock the visiting defence. That was until eight minutes from time, when substitute Steve Daly completed a neat exchange of passes with Gray, whose goal provided Southport with reward for their persistence...
Altrincham proceeded to produce their best spell early in the second half. Kevin Holsgrove sent a rising shot wide, before Tony McMillan saved from Damian Reeves and Rob Williams headed over from a Nicky Clee corner".
YANKEE JACKPOT
The Altrincham FC Saturday Yankee jackpot is currently £5,000 with a reserve jackpot of £3,300 and this can be won for just £1. Last week the winning code 4723 was unissued but seven Trebles were won, earning their owners £28.57 each.
BSBP NEWS
You can now sign up for Premier Sports' televised coverage of the Blue Square Bet Premier by clicking the logo (left). It is also permanently on the site at the top left of the home page.
The BBC says that "Crawley Town manager Steve Evans hopes to sign another striker before Tuesday's transfer deadline. The Reds have brought in 15 new faces for more than £320,000 over the summer but Evans is still hoping to strengthen his attacking options. He told BBC Sussex: 'We'd like to bring another striker in. We'll need five if we are going to challenge. We're talking about smashing the Conference record to try and get the right player in'.
He added: 'We're working so, so hard. That's testament to [co-owners] Bruce Winfield and Susan Carter. They've been absolutely fantastic. We might be in a position where we can freshen it up. It won't be for the want of trying... We've found a third Conference club who say they won't sell to Crawley Town', he said".
Amongst the attendance figures in the Conference on Tuesday night were:
Hayes & Yeading U. v Forest Green R., 286
Full-time Gateshead v full-time Fleetwood T. 623
Histon v Eastbourne 421

Blue Square Football tells us that "Eastbourne Borough FC are flying high in the league at present - and the club is now offering free entry to one of two selected matches to those with vouchers from the recent Airbourne air show. It has teamed up with Eastbourne Borough Council's tourism team, which printed the vouchers in the 2010 Airbourne Souvenir Programme.

They were intended to be used against the first home game of the season, but are now also valid for the league matches with Darlington on Saturday September 4 and Altrincham on Saturday September 18. The voucher CANNOT be used for the fixture against AFC Wimbledon on Saturday August 28. Only one voucher can be redeemed per person per season, and the offer expires on September 18, 2010.

The match against Darlington, relegated from the Football League just last season, is in particular expected to attract a big crowd, with September 4 being declared 'Non-League Day', a campaign to persuade fans of professional football clubs to instead go along to watch and support their local side.

Last season's home match with Altrincham ended in a thrilling 2-2 draw and this year's match is anticipated to be another closely-fought encounter".

"Wrexham chairman Ian Roberts says there is still confidence in boss Dean Saunders despite a poor season start. A group of fans chanted 'Saunders out' after they let slip a 2-0 lead to draw their match at home to Kidderminster on Tuesday night...

'The fans don't see the hours he puts in on the training ground and other functions of the club but everything, like in any business, is under review'...

Roberts revealed that manager Saunders has had to operate under budget cuts of '30-35%' this season, but the Racecourse Ground side are still far from being the paupers of the Blue Square Bet Premier. 'It's a slower start to the season than we would have liked, obviously we're only 10 days into the season', Roberts said. 'We do have no divine right to beat anybody at this level and there's some tough teams in there, a lot of teams struggling to get out of the league as we are... The club has gone from year to year losing money and we had to cut budget. I think he's brought in experienced players, whereas last year we didn't have... and it's going to take a little bit of time for that team to gel... Our gate last night was 2,400 which I think was the second highest in the division, but we do need the people of Wrexham to support their football club... The supporters will say "well we want to see a winning side" but it really does centre around money unfortunately, sport today'".

From the Uxbridge Gazette we learn that "Hayes & Yeading have offered ex-Newcastle United striker Paul Robinson a chance to relaunch his football career. The 31-year-old, who made 15 Premier League appearances with Newcastle and Wimbledon, has been training with the club and boss Garry Haylock will run the rule over him in a reserve match...

Robinson, who also played for Hartlepool United, York City and Grimsby, finished playing professionally in 2006 with Torquay United and has since been playing non league football in the north-east. However, a move down South earlier this year for Robinson resulted in an unsuccessful spell with Maidenhead United. 'There is no doubt that he is quality', said Haylock. 'But he is way short of match fitness and needs matches'... The striker is famed in the north-east for being the man who Ruud Gullit selected in front of Alan Shearer for Newcastle's derby clash with Sunderland in 1999, a move which cost the Dutchman his job".
---
25 August 2010
SOUTHPORT 1 ALTRINCHAM 0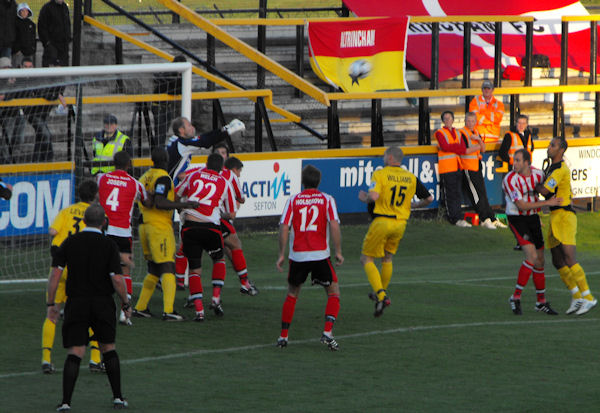 Right: Alty defend a first-half corner at Southport.
For the third time this season a late goal cost Alty dear as Tony Gray's shot deflected off Michael Welch's back into the net in the 82nd minute to send Alty to the bottom of the table. Southport had had the better of an open game but Alty had their half-chances with Williams's header the nearest to a goal for the visitors. Reeves ended the game limping to add to Alty's injury list which saw Densmore, Danylyk, Twiss, Lawton and Doughty all unfit to play today and with Crowell's international clearance still delayed he, too, was absent. To add to the woe, Denham had to go off at half-time, too.
Match report here.

SOUTHPORT (Yellow and black): 1. Tony McMillan, 2. Kevin Lee, 5. Earl Davis, 3. Chris Lever, 15. Robbie Williams, 17 Liam Blakeman, 11. Matty McGinn, 8. Alan Moogan, 7. Ashley Winn, 10. Tony Gray, 16. Matty McNeil. Subs: 6. Michael Powell, 22. Steve Dickinson, 4. Adam Flynn, 14. Paul Barratt, 9. Steve Daly

ALTRINCHAM (Red & white striped shirts, black shorts and red socks): 1. Stuart COBURN, 2. James SMITH, 5. Robbie WILLIAMS, 22. Michael WELCH, 4. Marc JOSEPH, 15. Ryan BROWN, 11. Nicky CLEE, 19. Danny HOLMES, 12. Kevin HOLSGROVE, 10. Chris DENHAM, 14. Dale JOHNSON. Subs: 8. Damian REEVES, 21. James COATES, 17. Tom McCREADY, 9. Michael TWISS, 7. Robbie LAWTON
Alty line-ups
---
24 August 2010
TUESDAY SCORES
Crawley Town 2 Bath City 1
Darlington 0 Grimsby Town 1
Gateshead 0 Fleetwood Town 2
Hayes & Yeading Utd 3 Forest Green R. 4
Histon 1 Eastbourne Borough 1
Luton Town 1 Newport County 1
Mansfield Town 1 Kettering Town 1
Rushden & Diamonds 1 AFC Wimbledon 0
Southport 1 ALTRINCHAM 0
Tamworth 1 Cambridge United 1
Wrexham 2 Kidderminster Harriers 2
York City 0 Barrow 0
SPECIAL OFFER FOR MANSFIELD GAME
For each home game this season you can be a guest in the Manchester Glass Sponsors' Lounge at Moss Lane. There you will enjoy a pre-match talk from manager Graham Heathcote, followed by an excellent choice of hot meal, with soup, sandwiches and cakes, all prepared by resident caterer Richie Bentley. You also get a pre-match complimentary drink and coffee and biscuits at half-time. During the game you can watch from a seat in the Family Stand which gives excellent views of the entire pitch. This offer is open to all and for the Mansfield Town game on August Bank Holiday Monday when, for home fans who are season ticket holders at Moss Lane, the price is just £20. For others it is still a bargain at £30. You can book by e-mail or phone (0161 928-1045).
ALTY - "THE SORT OF TEAM WE NEED TO BE BEATING"
Before Tuesday night's game at Southport, the local paper the Southport Visiter reports that "Robbie Williams [theirs, not ours!] has targeted [the] visit of Altrincham as the perfect opportunity for Southport to claim a second win of the season. The former Accrington Stanley defender was instrumental in Port's 0-0 draw at Cambridge United on Saturday and says following the point up with a victory over Graham Heathcote's men would cap a solid start to life in the Blue Square Bet Premier...

The 31-year-old has warned the Yellows they must learn to keep hold of possession better if they are to continue their decent form. 'We've got to be looking to win on Tuesday and if we can do then it has been a cracking start to the season. But these are definitely the sort of teams we need to be beating at home. That is one of the major differences when you come up from the Conference North in the Conference, because at the back we do need a rest at times. There were periods in the game when the ball seemed to come back too quickly, but we're still learning and still working on things though have made a very good start to the season. I just think we need to keep the ball a bit better because when we do that we instantly look an improved side'...

Playing a second game alongside Earl Davis at the heart of the Yellows' defence, Williams says... 'From set-pieces we looked dangerous and probably should've have done better there, but it must be said Cambridge have had some really good chances and there were times when we rode our luck... I feel alright at centre half and time will tell whether the partnership with Earl flourishes or not. I'm more used to playing a centre half but feel comfortable anywhere across the back four'".
BSBP NEWS
According to the Football Conference "Kettering Town have signed veteran forward Martin Smith on non-contract terms".

Meanwhile, "Rushden & Diamonds have brought in left-winger or forward Nathan Koranteng from Peterborough United on a month`s loan. The 18-year-old started his career at Peterborough's youth team, signing a pro-deal in the 2009/10 season after impressing for the reserves. He has had loan spells at Spalding United, Boston United and Tamworth during the last season and has played three first-team games for the Posh".

According to the BBC "Former Millwall midfielder David Livermore has been given his first chance at management by Histon. The 30-year-old, who played 14 times for Barnet last season, replaces John Beck who left the club by mutual consent on Friday. Livermore told the Stutes' website: 'I am pleased, proud and excited to be offered this chance to move into football management... It is tremendous to be able to make my managerial debut at a club like Histon in the Blue Square Bet Premier', he added.

'I was most impressed with the attitude and commitment displayed by all the players at Newport County on Saturday and I can't wait to get working with them in training and preparing for another important game tomorrow night'. Livermore's playing career included a seven-year spell with Millwall, where he made 312 appearances. He began his career as an Arsenal trainee but never played a first-team game.

Histon chairman Russell Hands said, 'David has played at a high level, under some highly-regarded managers and coaches. We were impressed by the way he has assimilated the best approaches he has experienced to underpin his own organisation, communication and leadership skills and style. David's experience as a young professional within the Arsenal academy, one of the best in the country, is really valuable and relevant experience as it equips him to help us achieve one of our priorities, which is developing our own youngsters in the Histon academy'". x NL Daily says that "Evo-Stik League Division One North newcomers Chester FC have signed striker Nick Rogan on a month`s loan from Fleetwood Town. The 26-year-old started his career at Morecambe and where he pent three seasons before joining Lancaster City in the summer of 2005 and then Southport. In February 2006 he joined Barrow and won the Blue Square North`s player of the month award for April 2008... He moved to Fleetwood in the summer of 2009 and was a member of the Fylde coast side`s promotion-winning squad of last season".

NL Daily also confirms that former Wrexham midfielder Nathan Fairhurst, who played in one pre-season game for Altrincham this summer, has joined Chorley, his home-town club.
---
23 August 2010
ALTY HIT BY INJURIES
Manager Graham Heathcote has revealed that just 14 of his 20 man squad are likely to be available for the trip to Southport tomorrow, and that number includes two goalkeepers. The six players ruled out are as follows:
Matt Doughty continues his rehabilitation from his cruciate ligament injury.
Michael Twiss remains sidelined by his ankle injury, suffered in pre-season.
Shaun Densmore has a knee injury.
Anthony Danylyk has a groin problem.
Robbie Lawton is likely to be out for a further fortnight with bruised ribs, and
The Australian FA have still not produced the international clearance documentation for Matty Crowell, more than three weeks after an application was submitted to the FA.

The remaining players are goalkeepers Coburn and Coates and 12 outfield players; Smith, Joseph, Williams, Reeves, Denham, Clee, Holsgrove, Johnson, Brown, McCready, Holmes and Welch.
CRAWLEY GAME
Match report here
YOUTH TEAM DRAWS
Alty Youth drew 0-0 with Morecambe on Sunday.
Match report in Youth Team section.
TOM KEARNEY SITUATION
John Edwards, Altrincham FC joint Press Officer, writes:
"Graham Heathcote has moved to clarify the uncertainty over Tom Kearney's future and has assured Altrincham followers he has not given up hope of welcoming the stylish midfielder back to the fold later this year.
Anxious fans feared they had seen the last of Kearney (left) in an Alty shirt after noting his absence from the official team photograph and squad list for the new season.
But as the former Wrexham midfielder continued a recovery from a broken leg that is due to be completed in the next couple of months, Heathcote explained why he has been forced to play a waiting game.
'All the indications during the summer were that he was moving to the United States,' said the Alty manager. 'But there seems to have been a complication over that, and it is now far from certain he is going. 'It has left him in limbo a bit, and all we can do is wait and see what the situation is when he's fit again, probably in October.
'The point is that all the time Tom was trying to finalise arrangements for where he was going to be, I had to think about making sure we were ready for the new season. My priority had to be ensuring we had a squad ready and able to take on Luton on the opening day.
'I haven't forgotten about Tom, that's for sure, and if it does turn out he's staying in this country, we'll have a look at it when he's fit again. He will be a free agent, of course, and there's the financial aspect, but we'll cross that bridge when we come to it.'
Alty are still waiting for international clearance for Matty Crowell but may be able to call on him towards the end of the month, after it emerged the FA can grant temporary forms 30 days after an application has been submitted. The FA conveyed Alty's application to the Australian authorities at the end of July, meaning Crowell may be available for the York game on August 28, if clearance does not come through in the meantime.
As an added frustration, though, Crowell may not be considered ready to go straight into the starting line-up after so long without any match action".
THE ROAD TO MOSS LANE
Terry Rowley has published the first part of his fascinating account of the emergence of Moss Lane as Altrincham's ground, 100 years ago this September. It is entitled The Road to Moss Lane.

Those interested in the story may also find the earlier page on Pollitt's Field, Alty's previous ground, of interest.
CAPTAIN'S LOG
Altrincham FC captain Robbie Lawton's column in Saturday's programme is as follows:

Captain's log
An early glance at the fixture list left us in little doubt about the challenge facing us in the opening weeks, yet there is no question we should be unbeaten on four points, going into today's game with Crawley. Losing to an 88th-minute goal at Luton last Saturday was bad enough, but there was probably an even greater sense of frustration at Moss Lane on Tuesday at the way Darlington were allowed to nick a point after playing second fiddle to us for most of the night.
A club like Darlington are bound to have their sights on an immediate return to the Football League, but they are going to have to start putting teams under a lot more pressure, if they are to do it. Whether it was down to the way we defended so resolutely or set our stall out to press them high up the pitch, I'm not sure. But the fact is, we all sat down in the dressing room at half-time and said the same thing: 'This is a must three points.'
It looked like being, too, when we rightly went 2-0 up with a goal that said everything about our wholly committed approach and another that showed fortune does occasionally favour us, rather than the opposition. I thought Damian Reeves (right) looked at his sharpest against Darlington, but it was sheer persistence that brought its reward for our opener. We are always told to close down in groups of two or three, and when Damian applied good pressure on their defence and forced a mistake, Chris Denham was on hand to capitalise on it with a dink into an empty net.
If there was a slice of luck about the second goal, when a Ryan Brown free-kick fizzed across the face of goal and deflected in off Dale Johnson, no-one could argue it wasn't overdue. Unfortunately, we failed to make the most of it and were left kicking ourselves for letting Darlington snatch a point with two goals in the last eight minutes. It wasn't even as if they cut us open to force a draw. Far from it. The first was simply route one, a long ball from deep that started innocuously enough but somehow ended up with me flat on the deck, with the wind knocked out of my sails, and the ball in the back of the net.
I was backpedalling towards goal, alongside their striker, unaware that Stuart Coburn was travelling in the opposite direction, with only one thought in mind. Like any good keeper, Stuart's only concern was getting a fist on the ball, and if anyone got in the way, it was their tough luck. I did and was duly clattered in a collision that can't have helped Stuart's attempt to punch and may well have contributed to the ball crossing the line.
It has gone down as an own goal by Stuart, but let's get one thing straight. He has been our saviour so many times that no-one was in any position to start quizzing him about what had gone wrong. It was a bit like Pepe Reina's misfortune for Liverpool against Arsenal last Sunday, in that it just reminded us all that these incredibly consistent and high-performing guys are human after all.
A great ball dragged back from the by-line led to their headed equaliser in the last minute, and two more points had slipped away. I don't know whether those late lapses have been down to a lack of concentration or a bit of naivety, but I am sure it has nothing to do with fitness or sharpness.
There was no sign of anyone feeling the pace at half-time, and even at the end, none of the lads came off thinking they had been pulled all over the park. I just hope it's a case of swings and roundabouts and that, as the season progresses, we will have games where we have nicked something against the run of play.
Of course, my evening was cut short by that collision between Stuart's knee and my back. There was no way I could carry on, and it has left me with bruised ribs. I've been told to rest and wait for the bruising to settle down, and, as I write these notes, there must be a big question mark about whether I'll be cleared to play today.
I'll be out there if I can, because there are so many plus points about the way we've started such a difficult early run of fixtures. Crawley will be another tough one, but we have already shown we are up for a challenge. Robbie".
"COTE'S COMMENTS"
From the Robins' Review before the Crawley game:

Cote's Comments: We Must Cut Our Mistakes

"One week in and it's been a very frustrating week. We start today's game with 1 point and it could, and should have been 4 points. Late goals and some silly errors have cost us dearly and I understand no one makes a mistake on purpose, and whilst it's easy to point the finger, we have to collectively take responsibility just as we do when we score. I expect everyone, after this initial disappointment, to rally around the individuals and together focus on getting the next points which is never easy in this league.

Over the two games we have had there have been many pluses and we have shown ourselves that, as long as everyone is committed to the cause and is prepared to give their all, we are capable of competing with the rest of this league home or away. But we must be at full tilt every game, anything less and we will have difficulties.

The evidence so far has been very encouraging and whilst some players have still to get up to speed, most have done exceptionally well.

Today we must face our third game in a week and will have to monitor very carefully the effect this can have physically, and it is only physically why I have made substitutions so far. I think every player has done well in both games and they must look to continue this today against the big spending Crawley Town. Everyone sees it their own way of how to go about things; the financial way is certainly one but it is no guarantee. When anyone puts a squad together, be it Crawley or Manchester City, the cost is irrelevant because what it does not give you is any special time scale to suddenly gel.

You would expect in time good players will gel and that is why I think playing Crawley early is a good time; they don't know each other's game yet but they will, and when that clicks they will be a real force. Hopefully that's not today. We must do what we have done so far and remain positive in our approach, and over the season that will reap rewards without any tears at the end, so you take your choice.

Finally I would like to thank everyone who attended my mum's funeral; it was appreciated by me and my brothers. Alty somehow will never feel the same. So much of what I have been through here has been shared with my mum. She loved her football and was glued to the telly Saturday afternoons of late, watching for the scored and if we were losing or had lost she would say to our Chris 'I hope he's behaving' - I must remember that".
BSBP NEWS
Southport report that manager "Liam Watson is looking to build on an excellent week that saw the Sandgrounders record their first Blue Square Bet Premier victory last Tuesday at Kidderminster and their first clean sheet yesterday at Cambridge United.

The Sandgrounders are at home to north west rivals Altrincham on Tuesday night kick off 7-45pm. The Robins under Graham Heathcote are experienced campaigners at this level. They have not started well picking up one point from three attempts...

Liam Watson reported after his sides resilient display at Cambridge that all his players are fit and available for Tuesday night's fixture against Altrincham. Southport after the first week sit twelfth in the table on four points. With a home double header this week versus Altrincham on Tuesday night and Fleetwood next Saturday, the Port at Haig Avenue harbour hopes of a maximum points return to ensure a very solid start to their Blue Square Bet Premier campaign".

Liam Watson said after the point at the Abbey Stadium 'It has been a very good week. We are learning a bit and getting street-wise at killing a game, which I think we need to do away from home. We performed well against a 2,500 home crowd, the journey here went very well. We do not need to come and sell ourselves against full-time opponents. We travelled to Kidderminster on Tuesday, the lads have been in work, got up early this morning to travel and performed. We need to be professional and get results. We have started well and I look forward to our two home matches'".

Their last opponents, Cambridge United report that "Martin Ling expressed his frustration after his side were held to a 0-0 draw by Southport. United dominated against Port for long periods, but were unable to make the breakthrough... Ling said: 'Frustrating is the word. They came here with their game plan to take their time at long throws for reasons they see fit. There's nothing wrong with that from their point of view, it's up to the referee to sort out. It's about us breaking them down. We needed to get one so we get them out playing then we might've got a few more, but it didn't happen...

The U's were dealt a further blow when Paul Carden was forced off just after half time with an ankle problem...

Ling said: 'With their big players, Southport are always going to be a danger, but we coped ok. It's a question of fine divides - we could have missed the first man out better".

NL News 24 says that "Chairman Russell Hands is adamant that Histon will not be going into administration. The claim comes amid fears Histon could be in trouble following the sudden exit of John Beck on Thursday night with his plans for the club at odds with their financial standing.

Hands told Cambridge-news.co.uk: 'We have no plans to go into administration. We've had some positive responses from various sponsors and I'm not talking about £50 here or there. We're working really hard with people such as the bank. They've been really good offering us free advice which we'd normally pay for to help us get back on the straight and narrow.

It's hard work and it's slow, and apart from the players, the only person who gets paid here now is the secretary. That's what we've had to do whereas before people were being paid £10 for doing this, £50 for doing that... It will take a while for us to fill all the positions to make the system run smoothly and that might have affected John's opinion of how we're running things'".
---
22 August 2010
CRAWLEY GAME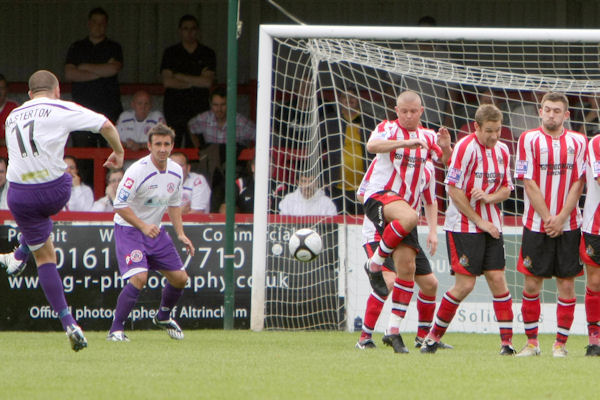 Left: Steve Masterton's excellent freekick found its way past the end of the Alty wall to win Saturday's game for Crawley. This and many other photos are from Gavin Rathbone of GR Photography.
BBC Sussex has an audio interview with Crawley boss Steve Evans who told the interviewer that, "The free-kick scored by Steve Masterton was worthy of winning the Champions League final". In the NL Paper, he is quoted as saying "That was good enough to win the World Cup".
Alty's injured captain, Robbie Lawton, who sat out the game with bruised ribs, said of Altrincham "The mood is positive. We [have] put in three solid performances and just need that final push to cross the line. We have played some top sides and still have some key players to come back, so thinks look good. I felt we were a bit flat and leggy after Tuesday and, in truth, a point was all we could have reasonably hoped for but we restricted a big-spending club to mainly half chances".
Match report here
ALL CHANGE 4 ALTY
The "All Change 4 Alty" scheme through which supporters take home a collecting tin and put their loose change in it for the benefit of the Football Club has raised more than £1,500 this summer. If you have not already got a tin or would like another, please collect one from the club either on matchday or during weekday office hours. If you have any queries, please e-mail the Club or ring 928-1045.
WIN A DVD PLAYER
Colin Mitchell of The Altrincham Supporters' Club (TASC) writes:

The first batch of Altrincham FC wallets have now been sold. £30 has been presented to the club for the sale of these. However another batch is being ordered so people can still reserve one via the club by leaving their contact details or seeing me on matchdays. I have also started to sell the names on a large football card on match days. Priced at only £1 a go you can win a new DVD player, (see pictured). I will be in the club shop at half time at home games and I also go into the bar with the card at the end of each home game".
PLAYER SPONSORSHIP
Here is an updated list of those players' shirts which remain available to sponsor. The price remains, as last year, at £150, for which your name is printed in each home programme under your chosen player's picture. It is also displayed in The Manchester Glass Sponsors' Lounge, and at the end of the season you receive the player's shirt, signed to you.
James Smith (Away)
Marc Joseph (Away)
Michael Twiss (Away)
Kevin Holsgrove (Home and Away)
Dale Johnson (Away)
Ryan Brown (Home and Away)
Anthony Danylyk (Away)
Tom McCready (Home and Away)
Matty Crowell (Away)
Danny Holmes (Home and Away)
James Coates (Home and Away)
Michael Welch (Home and Away)
BUCKETS
Despite the low attendance on Saturday, against Crawley, the half-time TASC bucket collection raised an excellent £93.29 for the Club. The Club wishes to record its thanks to everyone who contributed or/and collected the money.
OLD BOYS
Accrington Stanley report that "John Coleman has completed the signings of ... Andrew Owens, [who] has agreed non-contract terms at the Crown Ground. The 20-year-old most recently played for Altrincham and Stafford Rangers... as well as having a spell at Rhyl in the Welsh Premier League. Before that the 6 foot 3 defender trained at Glenn Hoddle's Academy in Spain after his release by Stoke City. He began his career as a youngster at Liverpool".

Former Alty reserve Kwame Barnett got the last minute winner for Northwich Vics yesterday.
---
21 August 2010
ALTRINCHAM 0 CRAWLEY TOWN 1
Right: Michael Welch started his first game of the season today and is here seen in first-half action.
Apologies, first of all, for the absence of live updates this afternoon. Normal service should be resumed on Tuesday.
Match report here
Saturday 21st August
Through the Years from Howard Watts.
AFC Wimbledon 3 Tamworth 0
ALTRINCHAM 0 Crawley Town 1
Barrow 2 Rushden & Diamonds 0
Bath City 2 York City 2
Cambridge United 0 Southport 0
Eastbourne Borough 4 Wrexham 3
Fleetwood Town 0 Luton Town 3
Forest Green R. 1 Gateshead 1
Grimsby Town 1 Hayes & Yeading Utd 2
Kettering Town 0 Darlington 0
Kidderminster Harriers 1 Mansfield Town 3
Newport County 2 Histon 2
CRAWLEY RESPECT ALTY
Our opponents on Saturday, Crawley Town report that "The Reds are looking for their first win of the season... and make the long journey up to Manchester to face Altrincham... The Reds are in for another tough match on the road and will have to be at their best if the points on offer are to come back to West Sussex, Moss Lane is notoriously a difficult place to get points.
New signing Kyle McFadzean will be included in the travelling squad with Reds manager Steve Evans hinting that he may make a couple of changes to his starting team. Steve said, 'Altrincham is always a difficult place to get points as Darlington found out in midweek. They have good players, an excellent management team in Graham Heathcoate and his assistant Kenny McKenna ;- those guys will have there team organised and efficient but it is another match we are looking forward to.
I may look into changing the team albeit only a couple of changes because the lads have been playing some great football but having had Altrincham watched in midweek it is something I am looking at. The team spirit here is excellent and the boys are enjoying their work, over a season that is massively important. We have worked on a few areas we were not happy with in our last match'".
The BBC says that "Altrincham midfielder Robbie Lawton (left)is a doubt after picking up a back injury in the midweek draw with Darlington. Striker Michael Twiss is still recovering from a knock picked up in pre-season. Crawley have goalkeeper Michel Kuipers available again after he served a one-match ban for his sending-off on the opening day of the season. Defender Sam Rents (facial injury) and midfielder Nick Carter (groin) are major doubts.
Crawley assistant manager Paul Raynor told BBC Sussex: 'Graham [Heathcote, Altrincham boss] is very astute and his hard work pays off. It's a hard place to go and we'll be ready. We don't fear going there but we need to be mindful. They're a good side. They're well organised and have got some good players. Performance levels in the last couple of games have been fantastic, we just haven't got the points we deserved'"
THE WAITING GAME
As of Friday, Altrincham had still, after three weeks of waiting, not received international clearance from Australia for Matty Crowell and NL Daily reports that we are not alone.

"Gavin Hurren is still awaiting the all-clear to begin his career with Zamaretto League Premier Division club Halesowen Town. The former Kidderminster Harriers and Tamworth midfielder has played for the Yeltz in pre-season and has signed forms. But after he had a spell playing in Australia Halesowen need international clearance and they have yet to get the go-ahead from the Football Association".
OLD BOYS
FC United have issued a 21-man squad list which includes former Alty hero, Colin Little. The list also includes ither old boys in Richard Battersby, Carlos Roca and Ben Deegan. FCUM state "Colin Little – 37-year-old former Crewe, Macclesfield and Hyde United striker has joined following a six-year spell at Altrincham. Supporters will no doubt notice that Steve Torpey [another ex-Alty man], who has been playing for FC United during the pre-season, isn't on the list. Soule explains: 'Steve has received offers from a number of clubs higher up the leagues and so he is considering his options. Steve is well aware of our financial situation and he has to decide what is the right option for him. He's got a close affiliation to the club and he's really enjoyed his pre-season, so we're hopeful but the decision rests with Steve'".
BSBP NEWS
At Histon where manager John Beck mysteriously disappeared from the scene yesterday, there is a message from the new acting manager, Brian Page: "I am looking forward to helping the club with the First Team for as long as the club needs me to. I have dedicated the last five years working with our young local and talented Academy players and believe that we have the necessary players already at the club, and will have in the future to climb the steep hill and survive in the Blue Square Bet Premier...

For the fans' benefit my background includes being a Kit Carson Academy Youth player at Peterborough Utd before becoming a professional player with Scunthorpe Utd. I have also played professionally in the USA and am a UEFA qualified coach. I will bring these experiences together for the limited time I am likely to have in this role whilst the club speedily make their future managerial plans... My plea to our fans is to unite behind our youngsters".

More on the situation cp=omes from the Football Conference which tells us that "Chairman Russell Hands explained the reasons for Beck`s departure from the Glassworld Stadium. He said that Beck`s medium to long-term vision required funding that the club, with strict financial measures in place to ensure survival, were unable to fulfil. He went on to explain that the sums involved were not particularly large, but nevertheless were out of reach of a club faced with a difficult financial situation left to it by 'previous regimes'.

This difference between the manager and the board had been an issue for several weeks but, only last night, was it decided by both parties that it was insoluble and that consequently John Beck would leave the club. He added: 'There is no more money. Everyone who works at the club now works out of love for the club, apart from the secretary and John'. Hands said that he was hopeful a new manager would be in place by Monday".
---
20 August 2010
GRAHAM POSITIVE
Left: Nicky Clee battles for possession against Darlington on Tuesday night. This is just one of many excellent photos from Gavin Rathbone's GR Photography website.
The Sale & Altrincham Messenger reports that "Graham Heathcote shrugged aside the frustration of costly late goals in Altrincham's opening two games, and hailed a clear sign that they intend making their mark on this season's Blue Square Bet Premier campaign.
Despite facing two of the league's more illustrious names, Alty would have been heading into Saturday's home game against Crawley unbeaten on four points, but for conceding in the 88th minute at Luton and 90th against Darlington on Tuesday night. Luton's late winner came after Damian Reeves had headed an equaliser, while a point was scant reward for Alty's enterprise and endeavour against Darlington, who had trailed 2-0 12 minutes from time.
'If we can maintain that level of performance, we are going to be a very competitive side in what is a tough league', declared Heathcote. 'It was a terrific effort at Luton, and anyone leaving the ground on Tuesday would have been shaking their head and wondering how on earth we hadn't taken all three points. There was great movement, pace and ability against Darlington, and our defending, in general, was good. The fact remains we have conceded four goals in the two games and have to cut out silly mistakes, but there was a lot to be encouraged about. We're still working on fitness levels with one or two players, and which combinations might work best, and it will probably be six to eight games before we get a true picture of where we stand. But what I've seen so far has been very positive'.
Heathcote, who has an injury concern over Robbie Lawton for Saturday but may be able to include striker Michael Twiss on the bench, has urged FIFA to try and ensure there is no repeat of the fiasco over Matty Crowell's international clearance. 'It still hasn't come through, and I would hope our FA would make some sort of representation to FIFA, because it is unacceptable and unnecessary', he said. 'There is no way on earth it should take this long, especially as there are no complications with Matty's club in Australia. We are talking about people's livelihoods here, and it's not good enough'".
SUPPORT THE YOUTH TEAM AT FYLDE
AFC Fylde confirm that their "Under 18s have been drawn against Altrincham at home in the 1st Qualifying Round FA Youth Cup, the first time the club has entered the National FA Competition. The tie will be played on Wednesday 8th September Kick Off 7.30pm, £4 adults, £2 all concessions.

We would encourage all AFC Fylde fans to come to this match and support the next generation of Fylde's players led by U18s' boss Paul Martland 'It's a fantastic tie for us at home. The U18s had a great season last season and this new crop of lads are looking forward to this game and the new season. The FA Youth Cup is a national competition and is regionalised at this stage".

Alty fans wishing to support the Youth team will find the AFC ground near Preston at Kellamergh Park, Bryning Lane, Warton, PR4 1TN.
ANOTHER "SIX-FIGURE" SIGNING AT CRAWLEY
Altrincham's opponents this Saturday at Moss Lane are Crawley Town, who are "Delighted to confirm they have beaten off a host of Football League Clubs to capture the signature of England C Captain and Alfreton defender Kyle McFadzean. McFadzean (23), the current England C Captain has been at Alfreton Town for four seasons, joining direct from Sheffield United where the player made one first team appearance. The player is a powerful, commanding central defender but is also outstanding both as a left back and central midfielder.

Over the summer period and most recently, a number of Football League clubs have had offers for the player turned down but manager Steve Evans has landed McFadzean after weeks of negotiations. The Reds have paid a substantial undisclosed sum".

Yesterday The Argus reported that "A £100,000 deal for a central defender currently with a Conference club is set to be concluded" so presumably they paid Alfreton that sum or more.

The Club adds that "Manager Steve Evans said, "Kyle is a top signing for this football club. He is a player who was sought after by many and there will be a few disappointed Npower Football League managers when they hear he has joined us. I must thank Alfreton Town manager manager Nicky Law and their Chairman Wayne Bradley for the professional and confidential way they have dealt with our discussions. The boy leaves a very good football club and joins another who are very ambitious, Kyle is a young man we look forward to working with and he will certainly play a big part in us trying to reach our objectives over this season and beyond'.

Moments after signing and speaking exclusively to www.crawleytownfc.com he said, 'Over the last year there have been several Non League and League Clubs who made offers for me but I don't think they could quite meet Alfreton's valuation. Everyone in Non League is talking about Crawley Town F.C, The manager Steve Evans is of course very well known and I know Paul Raynor who I worked under at Sheffield United so it was easy for me to say yes... This is a great move for me to show everyone in the Blue Square what I am all about and hopefully next season the Football League".
YOUR CHANCE TO SCORE A GOAL AT MOSS LANE
TASC chairman, Brian Flynn, writes...

Could you be the Moss Lane Penalty King or Queen??

Altrincham Football Club are offering all supporters the chance to take part in a penalty competition at Moss Lane this season.

This will take place during the half-time interval at the Robins' Saturday Blue Square Bet Premier Fixtures.

Each penalty taker will have three opportunities to score against Altrincham Youth Team goalkeeper James Fossdyke, with the winner of each matchday shoot out progressing to the next round.

The overall winner of the competition will receive a trophy and this competition is open to everyone. Entry to the competition is just £5 per person so if you fancy your chances of becoming the Penalty Champion of Moss Lane, please contact Brian Flynn by e-mail or on mobile 07860 561011.

This competition is being organised by TASC (The Altrincham Supporters' Club) with all proceeds going to Altrincham Football Club. The first round of the penalty competition will take place at half-time of the game against Kidderminster Harriers on Saturday September 4th!
FLYNNZINE
Brian Flynn's latest Flynnzine article appeared last Tuesday night in the Robins' Review, the Alty matchday programme, which is still a bargain at just £2 - 50% cheaper than quite a few others in the BSBP!

That'll do for starters!!

Despite going down to a late goal at Luton on Saturday, there were a number of positives to be taken from our opening game of the new season. Most Alty fans who travelled to Kenilworth Road must have been quite pleased with the overall performance and whilst few could argue with the 2-1 scoreline, there will no doubt be many better resourced clubs who are on the end of a considerable beating when they visit this season's ante-post favourites.

The Hatters were impressive when they had possession with Keith Keane and Adam Murray ferrying the ball quickly to Andy Drury and Jake Howells, the former Stevenage man looking to be a particularly good acquisition. They may go on to win the league, but I feel are certainly priced far too low at 7/4 to be champions. Richard Money has been waxing lyrical about the qualities of Zdenek Kroca in recent days, but I wasn't that convinced by his performance on Saturday and it will be interesting to see how their defence copes under pressure during the next 45 games.

It was also good to see a high proportion of young fans travelling on the TASC Supporters' Coach on Saturday. There is no doubt that there has been an increasing number of teenagers watching the Robins in recent years and these people are so important to the future of the Football Club. I wonder if any of those lads will be able to match Stan Riley in years to come, Stan first started coming to Moss Lane in 1944 and of course was there, as usual, on Saturday with his wife Isabel. As you may already be aware, Tom Jacobs is organising official coaches to this season's away games and Saturday was a good day out all round for those of us who travelled, notwithstanding the rather curious tour of Luton and its environs just as the floodlights hoved into view!

I really like Kenilworth Road....it's a bit different and whilst I am sure that there are many fans of Premiership and Championship clubs who probably think of it as a hovel, I have enjoyed each of our three visits there in the last two years. It's only four years ago that Xabi Alonso scored there in the FA Cup from inside his own half and Liverpool were also the visitors in 2008 for a 1-1 draw in the same competition.....the Hatters' next FA Cup visitors would be the mighty Alty ten months later!

The culinary delights of Luton's snack bars cannot be praised highly enough and I couldn't resist indulging in a Yorkshire Wrap......certainly a new one on me!! This was a flat Yorkshire Pudding rolled up and filled with Roast Beef and gravy!!!Brilliant.....and a must for the Moss Lane snack bars this season!

Such quality was not present alongside me in the Press Box as an irate Barry Pond rang me at half time to advise that the commentators from Three Counties Radio were awful and that you would hardly know that Alty were playing. These views are replicated on our Fans' Forum using slightly more colourful language and whilst I did not have the personal pleasure of hearing these two characters myself, I am able to vouch for the muppet announcer who tried to urge the home team on to a "hatful of goals" as we prepared for the start of the second half!

Sorry we couldn't oblige there matey!!"
CHESHIRE NEWS
Still on the subject of puddings and pies (see above), the Daily Star reported on Wednesday that a Cheshire club has an unwanted honour. "The question football fans have been asking for decades has been answered – it was Stockport County supporters who ate all the pies. The League Two club has the fattest fans in England, according to an NHS survey... Health Minister Anne Milton, 54, said: 'By highlighting the gap between their own health and football stars, we hope young people will be inspired to get active and adopt a healthy diet'"
BSBP NEWS
Histon announce that "This evening [Thursday] Histon Football Club and John Beck have agreed to terminate with immediate effect John's involvement with Histon FC. John is much admired as a coach and the Directors of Histon FC wish John well for the future. Brian Page will be looking after First Team affairs in a temporary capacity until a further announcement is made". Beck was only appointed as manager recently, having previously been Steve Fallon's deputy. No explanation has been given for Beck's departure.

Vital Football confirms that "Premier Sports have confirmed that they have secured the rights to screen Blue Square Premier games over the next 3 years. The league had been without a deal since the collapse of Setanta Sports last summer but have signed a contract with Premier. They aim to screen their opening game on the weekend of the 4/5th September. Premier Sports currently charges £6.99 a month for their service and earlier this week announced that it would screen live and exclusive coverage of Celtic's Europa League play-off match against Utrecht next week". Premier Sports is available via Sky TV.

Mansfield Town have issued a statement headed "Board set the record straight". It includes the following; "On 20 July 2010, it was announced that Andrew Perry had resigned from his position as Chairman of the club. As a Board of Directors, we would now like to add further to the original statement released at the time of his resignation. Andrew Perry was given a vote of no confidence from the Board and had little option but to resign. This was the consequence of a reneged financial agreement between the Board members.

Andrew Perry was part of a written agreement in which Board members put £125,000 into Mansfield Town Football Club. On the back of this, we took the huge step of booking Westlife and agreed subsequent budgets. It soon became apparent that Andrew Perry had no intention of coming up with the money after several requests and this led to financial hardship. We do have a signed written agreement and intend to pursue this through the legal courts".

The Stags also "announced at the Annual General Meeting that our Board of Directors are actively seeking fresh investment. The following statement was read out to shareholders by Andrew Saunders, who was elected as Chairman this evening: 'This season, we as a Board of Directors at Mansfield Town, believe our manager, David Holdsworth, has assembled a team capable of pushing for promotion into the Football League... The 2008/09 accounts show an operating loss of approximately £500,000. This same figure reflects the amount of money handed to Football League clubs on an annual basis.

Mansfield Town continues to be run like a Football League club which, in reflection, is the reason for these losses. In recent times, we have looked into all aspects of the club and have cut salaries by 50%, with inevitable redundancies. We have cut waste disposal by 60% and have almost halved electricity consumption. We are now operating with the 'bare bones' and the only area we have protected is the playing budget, to ultimately allow a realistic chance of gaining promotion.

The club has no major debt due to the fact that we cannot obtain an overdraft and cannot borrow against our assets. This all means that we, as directors, have covered all losses to the present date which comes to a sizable sum of over £1,000,000. This cannot continue forever. As a consequence, we will actively seek fresh investment to allow the club every chance of promotion.

Therefore, we welcome any potential new directors willing to put £100,000 into the club in exchange for a seat on the Board of Directors. Also, potential associate directors willing to pay £25,000 will receive the usual director benefits.

We will be looking issue a number of 500 gold shares priced at £1,000 for any fans/businesses wanting to help our promotion push for this season. Every fan can be proud to have the share certificate hanging on their wall in the knowledge that every penny we receive is initialised[??] by the club to support the team".

Meanwhile, This is Nottingham adds that "The Field Mill meeting confirmed the club lost £500,000 during the 2008-09 season... and a similar loss is expected for 2009-10".

On the pitch Blue Square Football says that "Mansfield Town keeper Alan Marriott could return to action sooner than expected. The 31-year-old former Tottenham Hotspur, Lincoln City and Rushden and Diamonds player looked set to be sidelined for up to six months after complaining of a stomach problem. It was felt that an operation was needed, however, recent reports intimate that the pain Marriott had been suffering was as a result of referred back pain. Marriott told The Chad: 'I have been given some tablets which seem to be doing the trick.. It was worrying as I had similar pain at Rushden which ended in a groin operation, so I was fearing the worst'".

The BBC reports that "Luton Town have been cleared of blame by the Football Association following the crowd trouble that marred their home game against York City in May. A group of Hatters fans invaded the pitch and threw coins and missiles at the visiting supporters, forcing York players to cower in the stands...

But an FA spokesman has told BBC Sport no action will be taken against Luton. Luton chairman Nick Owen said at the time that the behaviour of some fans had been 'appalling'. Police say they arrested seven people at Luton's Kenilworth Road ground and 30 more in connection with disorder in the local area. Officers were attacked with brooms and mops during violence near a DIY store. One man, from Norway, was later sentenced to 10 months in prison for violent disorder.

After receiving reports from both clubs and the police, it is understood the FA was satisfied Luton could not have done more to prevent trouble inside the ground. The Hatters will be given advice on stewarding at future matches in an effort to avoid a repeat of the scenes which happened on Bank Holiday Monday, 3 May".

"'The way that the Luton supporters went after our players was quite animalistic and I think it was very, very dangerous', said York chairman Jason Magill. Some players said they were struck by coins, although City manager Martin Foyle praised stewards for helping to escort them to safety". Only last Saturday, when Alty went to Luton, Alty's Damian Reeves was hit by a coin thrown from the crowd.

And NL Daily adds that "York`s communications and community director Sophie Hicks said: 'We are totally surprised by the Football Association's decision not to penalise Luton Town for the violence which occurred at Kenilworth Road in May. The scenes after our play-off match were utterly frightening for our supporters and the team, who were attacked by the Luton fans who invaded the pitch. I have never witnessed such dreadful behaviour at a football match and I am astounded the FA has been so lenient. Does this decision really send out the right message to the wider football world and those mindless individuals who choose to use football as a vehicle for violence?

Although York City were blameless in this incident, the violent scenes displayed by the Luton Town supporters have directly impacted the football club. North Yorkshire Police have now classified our forthcoming home game against Luton in March as a `Category C` fixture, which could potentially lead to Police charges of £14,000. Also, as a direct result of the incident in May, Bedfordshire Police have requested that our fixture at Kenilworth Road in December is moved to a 12 noon kick-off and is an all ticket match. This will cause significant inconvenience for our fans and will result in an overnight stay for the team the team, which will lead to a further £1,500 of costs to York City Football Club.

We have raised all these issues with the Football Association and we await their comments. This decision is unjust for York City Football Club and our players and supporters who were subjected to this frightening ordeal'".

"Wrexham are giving a trial to striker Mathias Pogba, who has trained with the club for the last two weeks. The Reds say Pogba is a free agent after contacting his last club, Quimper, to check his availability. Pogba, 20, is the brother of Manchester United's Paul, who moved to Old Trafford from Le Havre in 2008" reports the BBC.
---
19 August 2010
ALTY'S SPORT APPRENTICESHIP SCHEME
Grahame Rowley writes:

"Altrincham Football Club is excited about two new programmes which will allow them to employ between 20 – 40 full time sport apprentices for the new season.

The club, in partnership with the SAP Scheme, have sourced matched funding that will help develop and educate young people in a variety of sports and at the same time provide a core base of sporting qualifications. The scheme is open to both male and females who are aged between 16-18 years old and they can choose between two programmes;
The Football Education Programme will be based at the football club. It will be a programme for any young footballer who wants to progress, with an opportunity to develop over a season to work initially towards a standard for semi-professional football. It is an opportunity for any late developers or young players who have been at professional clubs and have unfortunately missed out on being given a scholarship. It will allow the young apprentice to work over a football season (maximum 40 weeks) to further develop their football skills and abilities through a programme of training sessions and matches against both professional and semi-professional youth teams. Students will also increase their education by working towards their NVQ Level 2 followed by NVQ Level 3 in Sport Recreation, Level 1 & 2 in Football Coaching and First Aid & Child Welfare qualifications. The programme will be led by former full time professional qualified footballers and manager Graham Heathcote. All the apprentices will be paid a weekly salary and combine their full time professional coaching and education over a three day week.

NOTE: SAP also has 15 places available for 19-24 year olds.

Manager Graham Heathcote is excited about the scheme stating, 'It is an excellent opportunity for a club like ours to run such a project. It allows us to try and develop and train young footballers and give them an insight and experience of the level to aspire to, I am looking forward to attending the training sessions and having an input'.
The Sport For All Programme will also be based at the football club and will be a programme for any young person who wants to develop towards a range of multi-sporting qualifications. It is an opportunity to learn new skills for a multi-range of different sports and fitness training techniques. It will allow the young apprentice to work over a period of 40 weeks (maximum) to further develop their sports skills and abilities through a programme of training programmes. Students will also increase their education by working towards their NVQ Level 2 followed by NVQ Level 3 in Sport Recreation and First Aid & Child Welfare qualifications.

All the apprentices will be paid a weekly wage and combine their full time professional coaching and education over a three day week.

Manager Graham Heathcote commented, 'The Sport for All programme is also an excellent project and opportunity for a club like ours to be involved in, it will help youngsters develop and learn new skills, whilst working towards sporting qualifications, we recognise we are the focal point for our community and a such we are delighted to give the youngsters of Altrincham a positive opportunity'.

The club will be holding an enrolment day at Altrincham Football Club on Monday 6th September between the hours of 12.00noon and 1.00pm and also from 6.00pm to 7,00pm. To book, please call or email the address below.

Anyone interested in any of the above exciting programmes should contact 07817-914622 or send an e-mail. There are only limited places available on each course, so please contact us early".
TAKE THE COACH
Altrincham travel to Southport next Tuesday (24th) and to York on Saturday, 28th August. The TASC supporters' coach is a convenient and cost-effective way of getting there and back for all Alty fans. For details, visit the Away Travel page and book your seat by e-mail or phone (0161 928-1045).
WATCH IN STYLE
Altrincham FC announce that for each home game this season you can be a guest in the Manchester Glass Sponsors' Lounge. There you will enjoy a pre-match talk from manager Graham Heathcote, followed by an excellent choice of hot meal, with soup, sandwiches and cakes, all prepared by resident caterer Richie Bentley. You also get a pre-match complimentary drink and coffee and biscuits at half-time. During the game you can watch from a seat in the Family Stand which gives excellent views of the entire pitch. This offer is open to all, whether home or away supporters for £35. For home fans, who are season ticket holders at Moss Lane, the price is just £25. You can book by e-mail or phone (0161 928-1045).
BUCKETS
The TASC bucket collection raised £50.57 on Tuesday night. The club is grateful to collectors and donors alike for their efforts.
PLAYER SPONSORSHIP
The link below shows the Altrincham FC players who are available for sponsorship. The price remains, as last year, at £150, for which your name is printed in each home programme under your chosen player's picture. It is also displayed in The Manchester Glass Sponsors' Lounge, and at the end of the season you receive the player's shirt, signed to you.

Altrincham FC Player Sponsorship
OLD BOYS
Warren Peyton got two goals for Guiseley on Tuesday night.

Colwyn Bay report that former Alty trialist "Dave Challinor, player-manager of Evo-Stik League Premier Division new boys Colwyn Bay, has signed 27-year-old former Morecambe midfielder Fraser McLachlan", who himself was a Moss Lane trialist this summer.
DARLINGTON GAME
Gavin Rathbone of GR Photographycaptures Dale Johnson's flick which diverted Ryan Brown's free kick from the left into the Darlington net.
Darlington report that "A spirited comeback saw Darlington fight back from two goals down to earn a draw at Altrincham on Tuesday evening... Salvation came with Tommy Wright playing a leading role... but the manager was no satisified with his team's performance for the bulk of the game.
He said: 'We might as well have not bothered turning up until half past nine because we didn't perform at all and that was not acceptable', he said. 'They've got to be able to deal with these situations at a Conference ground'"...
"Mark Cooper... pulled no punches in his post-match reflection... 'I've said I don't want to be in situations where in the last five minutes I'm having to play two at the back and eight up front, which was more or less the case... We managed to get one goal and keep the pressure on and we've sneaked the second one... We should never be in the position, with all due respect to Altrincham, where we found ourselves 2-0 down. Coming here we should be on the front foot, but it took us 70 minutes to get going, and that won't happen again. If you don't do things properly you can get turned over anywhere. We have to be more professional than we were here and the players have got to be better'... 'We've got a problem down the left side," he admitted. "But I want to get something straight, there's been no falling out with Dominik Werling. He wants to go back to Germany, but there's been no falling out'".
CHESHIRE NEWS
The EvoStik League reports that "Nantwich Town Football Club is pleased to announce that it will commence the 2010/11 season as a Limited Company. The change has been made following the 'Marcus Hallows case' in which Ashton United FC were found to be liable for an injury suffered by one of their opponents. The move has the backing of the Northern Premier League and Cheshire County FA and has been sanctioned by the Football Association.

It has been of paramount importance to the club to ensure its facilities at the Weaver Stadium will continue to be enjoyed by future generations. The freehold of the Stadium, therefore, will be held by Nantwich Football Trust Ltd whilst the club will be run on a day-to-day basis by Nantwich Town Football Club Ltd which will take out a lease on the stadium.

Both companies are 'Limited by Guarantee'. Therefore, there will be no shareholders and, hence, no opportunity for individuals now, or in the future, to make gain from the club or its assets".
BSBP NEWS
News of Saturday's visitors to Moss Lane comes from The Argus. "Crawley are set to take their spending to a staggering £330,000 today with a 14th summer signing. A £100,000 deal for a central defender currently with a Conference club is set to be concluded today, according to manager Steve Evans. He said: 'We are hopeful of finalising the deal today. The player can also play in midfield and will add to our competition for places in the squad'. Evans paid £50,000 for Bradford midfielder Scott Neilson yesterday and the 23-year-old made his debut in last night's 2-2 draw with Cambridge as Reds picked up their first Conference point of the season".

According to the Football Conference "Trialist winger Danny Racchi has signed non-contract forms in an attempt to earn a full-time contract with Wrexham. The former Bury man has been training at the Racecourse for two weeks now".

"Serge Makofo is back at Kettering Town... Makofo previously played for the club during Morrel Maison's reign as manager", report the Northants Evening Telegraph.

According to the Bedfordshire News "Question marks surround Tom Craddock's future at Luton Town after Hatters boss Richard Money suggested the striker had been 'tapped up' by an unnamed Football League club. Craddock was omitted from the 16-man Luton squad that won at Kettering last night and was chosen behind Matthew Barnes-Homer, Kevin Gallen and Danny Crow in Saturday's opening day clash with Altrincham...

Money said, 'We've been trying as hard as we can to sit Tommy down and discuss a new two year contract. As it stands at the minute he can walk out the club for nothing next summer... Tommy came to me yesterday morning and said he'd been tapped up by an unnamed Football League club and wanted to speak to them. I said when we get a bid from that unnamed Football League club we'll discuss it with him'. The Teesider, who was brought to the club by Mick Harford from Middlesbrough in 2008, was the Hatters' top scorer last season scoring 24 goals but Money isn't phased by the interest in the forward.

'It doesn't worry us. The simple matter is we want 20 players who want to play for Luton Town. There is always going to be some issues with people that are not in the team. If that issue has arisen early with someone like Tommy Craddock, we'll deal with it'".

The Kidderminster Shuttle says that "Harriers' manager Steve Burr admitted his side would need to work on their defending of set-pieces after losing 4-3 at home to Southport on Tuesday night... While the hosts looked good going forward, they struggled to cope with Southport's direct approach...

'The goals tonight were tremendous, we just ran out of time in the end', commented Burr. 'We've got to do better from set pieces. I thought that Southport might have played a 4-5-1 but they lined-up like us'".

Kidderminster Harriers add that "Three of Southport's goals came from moves involving set pieces with the other a contentious penalty. A case of self-inflicted wounds for Harriers, then, with the gaffer admitting: 'We knew the strengths of Southport - we knew they would go long and batter us with throws and it was just a question tonight of trying to deal with their set plays. Unfortunately three of the goals have come from throw-ins [so] we have to do better at set-plays'".

From Sport Grimsby we learn that "Grimsby Town boss Neil Woods said last night's performance against York City would have been good enough to win many games... 'The attitudes I don't question, I know what type of people we have in the building. And York got in the play-offs last season but we've come away disappointed not to have won the game'...

On the direct, physical style of football his team are likely to face in the Conference this season, as they did against Martin Foyle's York side last night, Woods said: 'Martin put three big lads upfront, which I take as a compliment. I think if teams make it a game of football we fancy ourselves to beat anyone in this league. We've got to deal, and we have done so far, with the direct football teams are playing, but ultimately you have to score goals and we didn't unfortunately."

The Cambridge News reports that "John Beck was sent off at half time as Histon suffered a last-gasp 2-0 defeat at AFC Wimbledon ... The Stutes' manager was not allowed to watch the second period after making comments to referee Mr Atkin as he walked off the pitch at the interval... Beck put his assistant Dean Greygoose on media duties. Danny Kedwell scored from the spot after Remy Clerima was adjudged to have brought him down inside the box in the second minute of added time... Greygoose was upset with the referee's decision to award the penalty after goalkeeper Joe Welch had made numerous fine saves... Said Greygoose. 'I felt the referee couldn't wait to give it and it didn't surprise me'".

The News adds that "Ling admitted he was delighted Cambridge United claimed a 2-2 draw after going two down early on at home to Crawley... Ling said: 'We just stood there and threw two goals away. It looked as if we'd never played together in our lives... Crawley have got the front four with Scott Neilson, Tubbs, Sergio Torres and Craig McAllister and a few on the bench as we'll, so they've got real money and real threat".
---
18 August 2010
ALTRINCHAM 2 DARLINGTON 2
The Quakers were very fortunate to take anything from this match;. Alty were coasting, deservedly 2-0 up when, eight minutes from time...
Match report here
Right - Chris Denham and Darlington's Paul Terry, John Terry's brother.
CHRIS'S VIEW
Before last night's game, the Northern Echo reported that Darlington's out-of favour players will be called up soon rather than later, says manager Mark Cooper, who has moved to reassure those not currently in his first XI... Only five substitutes are permitted in the Blue Square Bet Premier, compared to seven in the Football League, which on Saturday counted against the likes of Josh Gray, Curtis Main, Corey Barnes and John McReady.

'They'll all get their chance', he insisted... 'They've got to be ready and if you're going to be successful and have a strong squad when you get your chance you've got to make sure you take it'. In line to make his second start for the club this evening is Chris Senior, a summer recruit from Altrincham and the striker is looking forward to facing his former teammates.

'I want to play in every game but when the fixtures came out I looked for this one and couldn't believe it was so soon', said Senior, who spent three-and-a-half years at Moss Lane. 'It's probably a good thing to get it out of the way and hopefully we'll get three points but I'm sure a few of my old friends will be trying to stop me. There's been a few nice text messages from my friends there. I spoke to a couple of the lads on Friday, wishing each other luck for the season. Obviously come Tuesday I'll be wanting to put one over them. I've been having bit of banter with Stuart Coburn, the goalkeeper. He was at my wedding in the summer and I've told him if there's a chance I'll be looking to put him in the back of the net! They're a good club and do really well with the resources they've got. The manager hasn't spent a penny on players for the last seven or eight years but it will be a tough season for them because there's a lot of club clubs in the division and even part-time club are spending money now. I wish them well, but not on Tuesday'".
OLD BOYS
From the Football Conference we learn that "Stalybridge Celtic boss Jim Harvey added the finishing touches to his squad prior to the league opener last Saturday, signing no fewer than EIGHT players... The eight include four goalkeepers... and midfielder Lee Elam."

"Northwich Victoria have added to their attack for the forthcoming campaign by signing... Northwich Villa pair Craig Flowers and Kwame Barnett... [on] non-contract deals". Barnett was an Alty reserve before moving to Welsh football.
BSBP NEWS
"Bradford City winger Scott Neilson has joined Crawley Town for an undisclosed fee" reports the Football Conference. "The Bantams accepted a five-figure sum for the 23-year-old former Cambridge City player and Neilson has signed his contract with the Sussex side. Bradford manager Peter Taylor said, 'Crawley came to us with an acceptable offer over the weekend. I just felt Scott may not have received the amount of games here that he needs at this stage of his career, so we decided to accept the bid from them'".

NL Daily says that "John Beck, manager of Histon, has added young trialists Edward Adjei, Jordan Pavett and Lamine Sagna to his squad. All three have signed non-contract terms... Former Peterborough United trainee Adjei, 18, came off the bench as a winger in last Saturday's win over Barrow. Senegalese forward Sagna, 21, was an unused substitute last Saturday. Sagna re-joined Welling United from Blue Square Bet South rivals St Albans City last March... Eighteen-year-old striker Pavett joins after leaving Chelmsford City in the summer".

News of a former Conference rival comes from Get Surrey, which anounces that "Shahid Azeem has dramatically quit as Woking FC chairman and director after the Kingfield board failed to back him. And with Chris Ingram now returning to the helm in a temporary capacity, it has emerged that only a further £200,000 handout from the Blue Square South club's owner had prevented the Cards from possibly going bust amid gloomy forecasts of heavy losses.

Ingram, who first rescued the club from financial ruin eight years ago, recently sent in former financial director James Aughterson to cast his eye over the accounts with Peter Sheppard stepping down. And the new acting chairman explained, 'The club's financial position has deteriorated substantially and following James's appointment and a thorough examination, the board decided they were unsustainable unless outside help could be found. I stepped in with the funding, up to £200k, to cover that loss...

He [Azeem] has contributed a lot in a short time but the financial situation created an emergency and if I'm putting my money in I want it done properly. It's a sad state of affairs in every respect but the financial situation is indisputable and the board agreed. I stood back for 15 months and the club lost money. I was concerned, and so was the board, that the club would go into administration'.

Azeem [said] 'I have been told by the board they have no confidence in me and I don't want to bring the club down any more than it is'. The IT entrepreneur took control just over a year ago, making giant strides to restore Kingfield's feelgood factor. Azeem has pumped in sizeable amounts of his own money... But he has grown ever more frustrated that Ingram chairman of the club's holding company, which owns the ground had resisted relinquishing full control.

Azeem said: 'I gave it my best shot and if that wasn't good enough for some of the people, I can't do any more... I have really enjoyed it and there were some fantastic moments but you can't change things round with one hand tied behind your back that's the issue'".
---
17 August 2010
TUESDAY SCORES
Tuesday 17th August
AFC Wimbledon 2 Histon 0
ALTRINCHAM 2 Darlington 2
Barrow 1 Gateshead 3
Bath City 2 Rushden & Diamonds 1
Cambridge United 2 Crawley Town 2
Eastbourne Borough 5 Hayes & Yeading Utd 0
Fleetwood Town 3 Mansfield Town 0
Forest Green R. 3 Wrexham 0
Grimsby Town 0 York City 0
Kettering Town 1 Luton Town 3
Kidderminster Harriers 3 Southport 4
Newport County 1 Tamworth 1
NEW RECRUITS EVENING
Altrincham FC "New Recruits" evenings are always entertaining and popular events. Compered by Graham Heathcote, three or more of the players who have joined Alty in 2010-11 are the guests for a hot meal in the Manchester Glass Sponsors' Lounge, along with supporters. The meal is provided by Richie Bentley, the club's excellent official caterer. After the meal, Graham leads a question and answer session which is often very revealing and invariably humorous.

Alty vice-chairman Grahame Rowley writes,"For those who have come to a previous New Recruits event I don't have to tell you what a good evening's entertainment they are. For those who haven't been to one - shame on you - you've missed some cracking nights!!! We hope to have at least 3 of our new recruits in attendance along with our Master of Ceremonies, Graham Heathcote".

The event is on September 4th, after the Kidderminster game at Moss Lane, and the cost is just £15 per person - please e-mail or ring 0161 928-1045 if you wish to attend.
THIS WEEK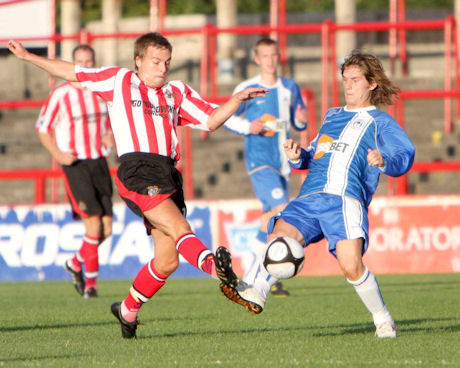 Right: Anthony Danylyk in action against Wigan in pre-season. Photo courtesy of Gavin Rathbone of GR Photography
Altrincham have Kevin Holsgrove available to make his competitive debut tonight after sitting out Saturday's game through suspension. But unless Matty Crowell's much-delayed international clearance comes through during the day, he will again be unavailable for selection. Otherwise, management duo Graham Heathcote and Ken McKenna have no injury worries apart from Michael Twiss, who may be available this Saturday and Matt Doughty, who continues his recovery from a cruciate ligament operation.
"Darlington won the battle of the Blue Square Bet Premier newcomers on Saturday – Newport County having walked Conference South last season – and this was very much Mark Cooper's Darlington" reports the Sunday Soon...
The home side were organised and compact, swelling areas with numbers. The back-four headed away a second half aerial onslaught, Paul Terry underpinned a midfield diamond as though his life depended on it and when Darlington appeared somewhat looser when switched to 4-3-3, Sam Russell repeatedly and defiantly stood in County's way.
Cooper said, 'We're new boys in the league, with a fantastic pitch and stadium, which people want to come and play in. Newport were on a crest of a wave so it was as tough a game as we could have asked for. I think you got a glimpse of what Conference football is all about. You've got to defend well - you could see that we've done a lot of work on that'...
Cooper was disappointed the Quakers could not add to their tally. They should have done, on 17 minutes, when Chris Senior blasted Richard Offiong's lay-off over the bar". For most of the second half "It was all Newport".
Before the game, the Northern Echo reported that "Darlington's first game of the season sees seven new players in the starting line-up... Sam Russell, Jamie Chandler, Liam Hatch, Danny Hone, Kevin Austin, Paul Terry and Richard Offiong. However, four of them – Russell, Chandler, Hatch and Offiong - are already familiar to Darlington fans having played previously for the club. Striker Offiong signed yesterday on loan from Carlisle United while midfielder Joe Clarke has joined from Solihull and is on the bench. Tommy Wright, another back at the club for a second spell, is on the bench having put in some disappointing performances in pre-season".
The Echo adds that "Under pressure for much of the second half at home to Newport County, Mark Cooper's side began their Blue Square Bet Premier campaign by displaying enough defensive resolve to collect three points... 'I'm just disappointed we weren't a bit better going forward... We'll take the positives out of it and try to do better on Tuesday'.
That is at Altrincham where Cooper would be satisfied with another battling one-goal win, though the manner of Darlington's start on Saturday suggested they were in for a higher margin of victory... Chris Senior, who started behind the front pairing of Hatch and Richard Offiong, lashed the ball over the bar...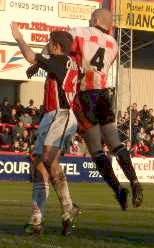 Right, Mark Maddox heads Alty's goal in the 2001 match.
Cooper said: 'I wasn't bothered so much about how we played, I was more bothered about getting three points'". His side adopted a 4-3-1-2 formation. Of ex-Alty man Chris Senior, the Echo said, he "Started with a free role behind the strikers and Newport found him difficult to pick up".
There have been five previous encounters between Alty and Darlington, with Alty yet to win!
1983/84, FA Cup Round 2, Darlington 0 Altrincham 0
1983/84, FA Cup Round 2 replay, Altrincham 0 Darlington 2
1989/90 Conference, Altrincham 0 Darlington 1
1989/90 Conference, Darlington 2 Altrincham 0
8 December 2001, FA Cup Round 2: Altrincham 1 Darlington 2

Alty's side that day was 1. Stuart COBURN, 2. Gary SCOTT, 3. Dave SWANNICK, 4. Mark MADDOX, 5. Mark SERTORI 6. Steve HAWES (capt.) 7. Kevin HULME, 8. Ian CRANEY, 9. Lee POLAND, 10. Rod THORNLEY, 11. Danny MURPHY, 12. Paul TAYLOR, 13. Kurt EDGINTON, 14. Carl FURLONG, 15. Leon SMITH, 16. Anthony HARGREAVES.
JEAN'S FUNERAL
The funeral of Jean Heathcote, mother of Altrincham FC manager Graham Heathcote, takes place this Thursday (19th) at Altrincham Crematorium at noon. Jean, aged 79, died last week and all who knew her are welcome to attend the funeral. Those wishing to send flowers should address them to the undertakers, John Tollitt, of 10, Higher Road, Urmston, Manchester, Lancashire. M41 9BQ, telephone 0161 7484448.
GETTING HERE
Anyone travelling to Moss Lane tonight should be aware, as the Sale and Altrincham Messenger reports, that "Metrolink services between Altrincham and Old Trafford were suspended at 7.30am on this morning [Monday] - and aren't expected to resume until Thursday... A regular replacement bus service, calling at all affected stops including Trafford Bar, is running... Philip Purdy, GMPTE's Metrolink director, said: 'I would like to apologise for the inconvenience caused by this unforeseen incident... Because of the scale of the damage that has been caused to the overhead lines and associated infrastructure, services between Altrincham and Old Trafford are not expected to resume until some point on Thursday".
OLD BOYS
Released recently by Altrincham, goalkeeper Russell Saunders has played for Witton Albion in their last two friendly games.
PLAYER SPONSORSHIP
The link below shows the Altrincham FC players who are available for sponsorship. The price remains, as last year, at £150, for which your name is printed in each home programme under your chosen player's picture. It is also displayed in The Manchester Glass Sponsors' Lounge, and at the end of the season you receive the player's shirt, signed to you.

Altrincham FC Player Sponsorship
GRAHAM'S POSITIVES
The Manchester Evening News says that "Altrincham boss Graham Heathcote refused to be too downcast despite seeing his rebuilt Robins beaten by a late goal in their Blue Square Bet Premier curtain-raiser at Luton... Said Heathcote: 'It's obviously disappointing to lose to such a late goal, but I think we can take a lot of positives from the way we played, particularly on the defensive side'".

From Bedfordshire, Luton Today reveals that, like Alty with Matty Crowell, "New Hatters' signing Pavel Besta is facing a race against time to make his Luton debut at Kettering Town. The 27-year-old wasn't in Town's squad for the 2-1 win over Altrincham on Saturday due to his international clearance not being finalised... The manager said: 'His clearance wasn't through, so he's unavailable for selection... Make no mistake about it, we've brought him here to play in our first team. The people in the team have got it all on to keep their place, but I have to say I thought Murray and Keane were excellent at weekend'".
YOUTHS' DEFEAT
An early goal by Woodley Sports Youth gave them a 1-0 win over Altrincham FC Youth on Sunday in the NW Youth Alliance Premier Division. Woodley Sports report that "Nerves were soon settled, after 3 minutes, when a well-worked set piece from a Mike Martin free kick wide on the right wing saw central defender Josh Harrison make his run across the keeper and put the ball in the top right hand corner".

Altrincham FC Youth's FA Youth Cup match away to AFC Fylde has now been set for Wednesday 8th September at 7.30pm
MEN IN BLACK
The next three men to referee Altrincham matches are:
Tuesday 17th v Darlington: Mr S. Martin, who oversaw Wrexham v Alty last season
Saturday 21st v Crawley Town: Mr R. West, who reffed Alty 0 Luton 1 in October, 2009 and Kettering 3 Alty 1 on a very wild and wet night at Rockingham Road in March 2009. He also controlled Alty 1 Cambridge 0 in November, 2008
Tuesday 24th v Southport: Mr P. Davison
BSBP NEWS
The BBC reports that "Barrow have signed 19-year-old goalkeeper Shaun Pearson from Welsh side Llangefni Town. Pearson, who is the younger brother of Barrow defender Mike Pearson, spent a trial spell at the club in July. Barrow secretary Russell Dodd said: "We are very grateful to Shaun's former club, Llangefni Town. 'We're also grateful to the Wales and English Football Associations for the speed at which they processed Shaun's international clearance'".

From the Northants Evening Telegraph, we learn that "Dominic Green [has] signed a loan deal to complete Rushden & Diamonds' squad for the first half of the season. The left-winger officially arrived from Peterborough United after training at Nene Park towards the end of last week when former Kettering Town striker Rene Howe made the same move. Green – who will be given squad number 25 – has agreed a one-month loan with a view to extending his stay alongside Howe until the January transfer window. Diamonds' boss Justin Edinburgh said: 'We've got all the players we need now and, rather than adding anyone, we need to gel as a team with better performances'".

According to the Kidderminster Shuttle "Harriers are hoping to complete three-month loan signing of Wrexham striker Marc Williams... The 22-year-old, brother of Harriers defender Mike Williams, is awaiting international clearance after agreeing a short-term stay at Aggborough. The Wales under-21 defender scored 17 goals for the Dragons during the 2008-09 campaign but last season was blighted by the same foot bone being broken twice. Wrexham will have the opportunity to recall striker Williams at 24 hours notice after the first month".

"Dave Bayliss said there was only one positive to draw from Barrow AFC's dismal opening day defeat at Histon – the nice cup of coffee he had prior to kick-off" reports the NW Evening Mail.

"'We never played well from start to finish', said Bayliss. 'We conceded three really poor goals from three long kicks down the field. Histon wanted it more than we did... Our defending was poor. We've worked hard this summer defending, but it seems the lads have been going home afterwards and forgetting what we've practised. For a lot of young lads, Histon wanted it more than we did. It's frustrating. We've been beaten today by a team I feel will get relegated this season. If we don't shape up we'll end up in the bottom four with them. That's how gutted I am. We are a good side and we've not shown a single thing today'.

Barrow – who gave competitive debuts to defenders Andy Nicholas and Andy Milne, as well as second half substitute Danny Forrest – took the lead on 12 minutes when Remy Clerima headed past his own goalkeeper. That, however, was as good as it got. Cambridgeshire-based Histon, playing an effective style of direct football long-associated with their manager John Beck, equalised on the half hour mark...

Some of the traveling Bluebirds fans booed their team on the full-time whistle. Bayliss said: 'This league is made up of all kinds of different types of teams. You have the likes of Histon who play direct and go for set-pieces and you have teams that pass the ball around well. You have to deal with them all... Today, however, the lads just basically got bullied. Their front two ran us ragged, if I'm honest. They put us under all types of pressure when they got the ball in behind and we never dealt with that... What happened is the consequence of not doing the basic things right... No disrespect to Histon, we have a decent squad and enough cover to come here and get a result'".
---
16 August 2010
ALONE IN A CROWD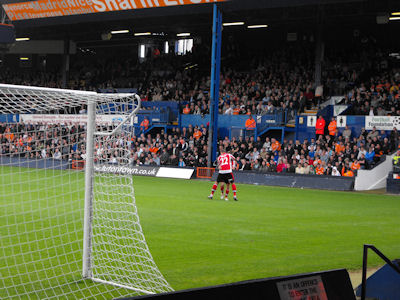 Right: As 6,564 home supporters in the 6,665 crowd look on in stunned silence, Alty's Michael Welch and Damian Reeves are alone in their celebrations of Alty's goal last Saturday at Luton. The 101 Alty fans behind the goal were a bit more animated.
Match report here.
GREAT NEWS FOR ALTY SUPPORTERS
There is excellent news for those who make up Altrincham FC's away support as Altrincham FC and The Altrincham Supporters' Club (TASC) announce details of away travel for supporters this season...

Altrincham Supporters' Away Travel 2010 - 2011 Season

T.A.S.C are delighted to announce details of away travel for the 2001/2011 season. We have now agreed a deal to replace last season minibuses with coaches for each away game this season whilst still providing excellent value for money and greater comfort. For our longer trips we will be providing executive coaches whilst still maintaining great prices. We need your support to make this work.

As ever, the supporters' coaches will be alcohol-free (by law) and have a family friendly environment to encourage all supporters to attend. We plan to arrive at grounds around an hour before kick off to allow supporters to see the local area or enjoy a couple of pints in the social club. We leave just after the game to get people back to families or home for nights out etc.

Due to traffic problems in Altrincham Town centre, we decided to remove Station House from our pickups last season. However we have now added in a pick-up outside Altrincham Leisure Centre to allow easy access for people wanting to travel from the town or tram/railway station.

We have also introduced banded prices, with three categories based on distance to make things simpler. And based on feedback from last season we have now extended our junior price to include Under 18s and valid NUS members to cater for our ever growing student fan base.

We hope you will support us on as many journeys as you can and we look forward to another season of progress. Remember to book early at the club shop or by calling the club on 928 1045 during office hours.

Book on for Southport (on Tuesday 24th August) today! - Pick Up Times are below:
The Vine, Sale - 5:20 pm
The Hare and Hounds, Timperley 5:30 pm
Altrincham Leisure Centre - 5:35 pm
Altrincham Football Club - 5:40 pm

The details of each trip's category are below and will be permanently on the Away Travel page throughout the season.
OLD BOYS
The FC United squad for their latest friendly included five ex-Alty faces in the starting eleven: Richard Battersby, Karl Munroe, Danny Browne, Carlos Roca, Ben Deegan.

Joe O'Neill played for Guiseley along with Ryan Toulson in BSB North and Kieran Lugsden scored for Buxton in a friendly game.
ATTENTION RUSHDEN FANS!
The Vodkat League has alerted supporters to road problems for away supporters to our neck of the woods. Alty entertain Rushden on Saturday, 2nd October and we travel to Histon on 9th October.

"M56 Closure In Early October... We have been made aware that the M56 will be closed at Junction 6 Westbound from 2200 hours on Friday 1st October until 0500 Monday 4th October, to facilitate the demolition of the bridge at junction 7 up to the A556 at Bowdon. Junction 6 will also be closed the following week on Friday 8th October from 2200 hours until 0500 hours on Monday 11th October to allow the new bridge to be put into place".

It is the intention to close junction 7 westbound on the main carriageway allowing traffic to leave via the slip road up to Bowdon roundabout, then re-joining the motorway by the entry slip at junction 7. This may[!] cause delays on Bowdon roundabout if coming down the A556.

It is worth noting that the official diversion route for the two Friday closures is via the M60, past the Trafford Centre, M62 Westbound to Liverpool to the M6, then south on the M6 to Junction 19 where the A556 joins the M56. Anyone who knows this stretch of motorway will understand this is a very lengthy detour and one to bear in mind when travelling to games on those two weekends".
BSBP NEWS
Rushden & Diamonds "have concluded a deal to sign 23 year-old striker Rene Howe on loan from Peterborough United until January. The striker started his career with Bedford Town, moving to Kettering Town in 2006, where he impressed scoring 25 goals in 40 appearances to attract the interests of Peterborough United. During his time at London Road, Rene has had loan spells at Rochdale, Morecambe, Lincoln City and Gillingham".

Darlington, our opponents on Tuesday, report that "Dominik Werling has told Mark Cooper he wants to return to Germany. The defender reckons he wants to leave the club to go back to his homeland due to his mother suffering an illness. Cooper said: 'Dom has told me he's not happy and wants to go, it's disappointing as he's a good player. But he's under contract with us so we're not letting him go for nothing. If he wants to go to another club in Germany, or any other club, then most managers have got my number or can get it and they're free to make an offer'.

Cooper told the media earlier this week of a slight fall-out with Werling during training. 'I was making sure Dom knows what I expect of my full-backs', explained the Darlo boss. 'With me, I'm pretty straight. If they do what is asked of them then fine, no problem. If they give me everything they've got they won't have a problem with me. I think that is the way it has got to be. When you play football whether it's the proverbial jumpers for goalposts you have to be 100% at it or there is no point in playing'".

The BBC confirms that "Kettering Town have signed former Bradford City midfielder Stephen O'Leary on non-contract terms. The 25-year-old featured for the Poppies in pre-season, having been released by the League Two club in May. He had limited first-team action least season, after breaking his toe in training in August. O'Leary started his professional career with Luton Town, where he made 73 appearances in five seasons. He also featured for Tranmere and Hereford".

The Football Economy reports that "The Conference is close to a television deal for the Blue Square Bet Premier, reveals the Non-League Paper. A contract is likely to be signed with satellite subscription channel Premier Sports within a week. The Conference has been without television coverage for a year since the collapse of Setanta.

Premier Sports will not provide as extensive coverage as Setanta with up to 30 games a season being shown but this will please supporters as there will be less disruption of fixtures to suit television schedules. The possibility of a Friday night or Sunday slot is being discussed.

Premier Sports is a relatively low profile channel that boasts Gaelic football and Australian rugby football league, but is looking to expand into the English football market".

Hayes & Yeading United announce that "Influential central defender and England "C" International Tom Cadmore has renewed his contract with United".
---
15 August 2010
THE LONG AND THE SHORT OF IT
Both the NL Paper and Luton Town's manager Richard Money, a former giant defender for Liverpool, curiously seem to have made much of Alty's tall defender Michael Welch coming on yesterday as a sub. Money told the NLP "The longer the game went on the bigger the players they put on the pitch and with plenty of 6ft players on the side all it takes is one good delivery from one set piece". Alty ended the game with just two outfield players of more than 6ft - Williams and Welch, whilst three others - Holmes, Lawton and Joseph - just reach that height. Their used subs were Danny Holmes 6ft 0ins, Michael Welch 6ft 3ins and Chris Denham at 5ft 10ins, but they also took off the 6ft Dale Johnson.

Both of Luton's goals were scored by six-footers and one of these was from a set-piece too. In fact, Alty's goal was scored from a header by 5ft 9ins Damian Reeves whilst the tallest man on the pitch was actually Luton's goalscorer Kroca, a 6ft 4inch Czech defender, who was thrown forward for a corner and, to use the above words, took advantage of "one good delivery from one set piece". Luton's used subs also included the six-foot plus Claude Gnapka, who like Welch replaced a shorter player.

In the NL Paper, Luton boss Richard Money says of his team's supporters, "I think they'd all agree they've seen an absolutely fantastic performance from their players". NL Paper reporter Stuart Hammonds adds, that Altrincham "may have offered little in an attacking sense but Heathcote's teams are always organised enough, despite their part-time status, to frustrate the top teams. A centre-half thrown on as an attacking substitute always helps and it was Michael Welch's header that set Reeves up for the equaliser".

Richard Money also said, "I've only one comment to make about Andy Drury. What is he doing playing at this level? Where has he been all his life? The boy has so much quality, it's unreal". Drury was at Stevenage last season and chose to leave to join Luton rather than go up with the champions.

The Altrincham website match report is here.

From the other side, Luton Town report that "The Hatters were fully in command in an opening half that oozed class and confidence... However, for all their creative invention the Town took 19 minutes to test Coburn in the Alty goal...

Money's men started the second half as they finished as they continued to wow the 6,665 inside Kenilworth Road with more stylish football. Gallen was becoming frustrated with the no-nonsense tactics by the Alty defence...

But football's a funny old game and on 70 minutes the equaliser duly arrived to shock Kenilworth Road. From their first corner of the afternoon, taken by Ryan Brown, substitute Michael Welch saw his header goalwards met by the head of Damian Reeves who stole in at the back-post to bring the score level... Forget the scoreline: this was an exceptional display"....

A delighted Richard Money praised match winner Matthew Barnes-Homer...'I thought we were fantastic... to have 6,500 here is superb. They will have gone away having seen an outstanding performance... Our play, our passing and movement meant we able to create numerous chances. We knew Altrincham would put up a real barrier and would be tight all over the pitch'".
DANNY LOVES IT HERE
In the NL Paper, Alty's new signing Danny Holmes (right) "reckons he's stepped into another Burton Albion set-up by joining Altrincham... the 23 year-old midfielder can see the resemblances between two well-run part-time outfits in non-League's top flight...

'I'm delighted to be back in the Prem with Altrincham. It's a good, debt-free club, similar in many ways to the way chairman Ben Robinson does things at Burton. He always ran a tight ship when I was there and it seems to be the same here. What's also similar is the team spirit... All the lads [at Burton] stuck together whether we were in the side or not. From my first few weeks here, it looks as if Graham fosters the same kind of atmosphere'"...

Holmes still lives in Burton and will juggle his Moss Lane commitments while still working for... Nigel Clough in Derby County's academy, where he coaches the Under-11s.

'It's good that I can fit it all in around playing part-time... I meet Ryan Brown and Anthony Danylyk at Stoke and car-share from there... This is only an hour and 15 minutes'" he said.
OLD BOYS
The excellent Welsh Premier site reports that former Alty reserve "Ashley Stott has completed a move to Hyde after failing to figure for Bangor City in the Europa League or pre-season. The 23-year-old frontman, who made a high-profile return to the Citizens for a transfer fee a year ago after a season with Halifax Town, failed to reproduce his form in a second spell at Farrar Road, scoring six goals from 11 (+17) Welsh Premier appearances last season... Named the Welsh Premier League's young player of the year Award in 2008, Stott joined Bangor from Altrincham in July 2006 after spending time as part of the Preston North End youth and reserve sides".
BSBP NEWS
NL DAily reports that a high-earning player whom Kidderminster have been openly trying to offload has now moved on. "Forest Green Rovers' operations director Colin Peake has worked tirelessly to register two more players... Experienced defender Gavin Caines joins from Kidderminster Harriers having had previous League experience with Cheltenham Town. The 26-year-old started his career with Walsall and joined Cheltenham in 2004 where he helped them in their promotion to League One. Another strong tall defender arriving on loan from Swansea City is 19-year-old Jamie Grimes".
---
14 August 2010
LUTON TOWN 2 ALTRINCHAM 1
Above: Michael Welch rises to head Shaun Densmore's corner; Damian Reeves arrives from out of the picture to head the ball home for Altrincham's goal.
A well-struck goal two minutes from time by Matthew Barnes-Homer prevented Altrincham from gaining a point against the title favourites. Luton dominated most of the attacking play and took the lead after 22 minutes when Czech defender Kroca headed in from close range after a far post corner had been headed back to him. Alty brought on three subs around the hour mark and one of these, Michael Welch nodded on a Densmore corner to Reeves whose header made it 1-1 after 70 minutes. But Alty could not hold out and when a bouncing ball deceived Williams, Barnes-Homer smashed home the winner (88 mins). Report here.
Altrincham Player Line-Ups & Bookings
Saturday 14 August
Crawley Town 0 Grimsby Town 1
Darlington 1 Newport County 0
Gateshead 0 Kettering Town 0
Hayes & Yeading Utd 2 Bath City 1
Histon 3 Barrow 1
Luton Town 2 Altrincham 1
Mansfield Town 3 Forest Green R. 1
Rushden & Diamonds 1 Fleetwood Town 1
Southport 0 AFC Wimbledon 1
Tamworth 4 Eastbourne Borough 2
Wrexham 1 Cambridge United 0
York City 1 Kidderminster Harriers 2
THE SEASON STARTS
Altrincham start the 2010-11 season with an away match at title favourites Luton Town. It is intended to provide live matchday updates from Kenilworth Road on Saturday afternoon, starting with the confirmed line-up before kick-off.

Whilst Altrincham struggle to raise a full 16-man squad, with Doughty, Twiss, Crowell and Holsgrove all ruled out for the opening match of the season at Luton, our opponents have no such problems.

Luton Town reports: "When your manager speaks with such positivity one wonders how far the Kenilworth Road feel good factor can be felt. Phrases like 'We don't think we could be a better place right now', 'We've got a fully-fit squad', 'We're looking forward to the game very much' and 'We've got a good squad that can cope" should be a warning sign to teams that the Town mean business. With, indeed, a squad only missing the suspended Adam Newton and long term casualty Kevin Nicholls, the Hatters' hand is significantly strong for Saturday's season opener at home to Altrincham.

Eight new faces were signed in the summer. All are fit, raring to go and hungry to stake a claim in a squad brimming with ability and experience...

'I'm sure there will be plenty of interest in the starting XI', manager Richard Money said... 'We'll be utilising the group we have with so many games in a short period... We've worked hard on fitness', Money continued. "We've shared out the players' minutes on the pitch with the net result being the fully-fit nature of the squad... It's been down to good planning from the medical team and sports scientists'...

Graham Heathcote's visitors frustrated Money's troops last season by grinding out a 0-0 draw in final home fixture of the regular campaign last April... So does Money think Alty will play with the same mentality on Saturday?

'I don't know, it's up to them how they approach the game,' he said. 'The first match is always difficult for everyone as nobody wants to get beat on the opening day. I expect them to be hard to break down but we know how we want to play and how we're going to go about it'...

The game marks the beginning of the club's 125th anniversary season with a near full house expected who will see the team sport the commemorative pink and navy blue halved shirts.... 'It will be fantastic to have 7,500 home fans inside Kenilworth Road', he said. 'It's a wonderful effort from the fans for us to have sold 4,000 season tickets. We want a good start but promotion won't be won or lost tomorrow... If there's 7,500 fans on our side it will make it a helluva lot easier'"

Luton's "special strip, which was first worn at Marlow in this summer's pre-season friendly, was also worn against Liverpool at Kenilworth Road in our opening home pre-season fixture... Following discussions with the Football Conference, the Town have been given the green light to sport the kit in the opening league fixture against Altrincham...

With eight new signings, a lovely green playing surface primed for action and a new-look programme what are you waiting for? It promises to be a fantastic season at Kenilworth Road".
GRAHAM INTERVIEWED
The Non-League Channel has a video interview with Graham Heathcote (right), discussing the new season.
PREVIOUS MEETINGS
Penalty misses by Altrincham have cost them dearly in two of our four previous games with Luton Town; and, to date, the Hatters have only scored against Alty from the spot...
FA Cup 1st Round: 8 November 2008: Luton Town 0 Altrincham 0
FA Cup 1st Round replay: 18 November 2008: Altrincham 0 Luton Town 0 - Warren Peyton missed a penalty for the Robins in normal time, then Alty missed two more in the shoot-out to lose 4-2 on spot-kicks.
17 October, 2009: Altrincham 0 Luton Town 1 - Colin Little missed a penalty for Alty but Craddock converted one for the Hatters.
17 April 2010: Luton Town 0 Altrincham 0
SATURDAY'S GAMES
Once again the website is grateful to Howard Watts, who from across the Atlantic, provides the Through the Years records of Altrincham's scores on the corresponding date to today's game.
BSBP NEWS
Despite Sky Sports's reports yesterday, Rotherham Vital Football reports that "Rotherham United have said that there has been NO bid for midfielder, Nicky Law. Yesterday, the rumours were doing the rounds that Conference National side, Crawley Town, had put in a bid for the twenty-two year old but Chief Operating Officer, Paul Douglas has today quashed the rumours. Speaking to the Official Site, Mr Douglas said, 'Rotherham United have not received any offers for any of our players. And, we have no need, and are not looking to, sell any of our players'".

The BBC tells us that "Forest Green Rovers have signed six more players for the new season. Midfielder Jonathan Else played a handful of games in midfield last season while goalkeeper Zak Jones joins older brother Luke at the New Lawn. Striker James Norwood on a one-month loan from Exeter, while Ollie Cleaver, Yan Klukowski and James Baldwin have all impressed in pre-season. Central defender Lee Ayres has been released after failing to agree terms".

Southport say that manager "Liam Watson has signed teenage striker Alan Collins on the eve of the season. The Haig Avenue boss has heaped tremendous praise on the young striker. 'Alan has shown great promise from his first reserve match. He has got great potential and an excellent attitude. I am really looking forward to working with Alan and see him develop. I have put him on contract. He is an exciting prospect'".

From Blue Square Football we learn that "Darlington manager Mark Cooper has continued to strengthen his squad with the signing of Carlisle United striker Richard Offiong on a month's loan. The 26-year-old rejoins the Quakers on an initial one month deal...

Cooper told the Darlington and Stockton Times: 'Richard gives us that real pace that we don't really have at the top end of the pitch. And it gives us the opportunity to stretch teams. He is ready to play. He has had an injury from when he was on loan in Sweden at the end of last season. It was a thigh problem but all it stopped him doing was kicking balls in pre-season, otherwise he has done all of the leg work. He looks fit enough. His record suggests that he will score goals. It is the same with Liam Hatch and Chris Senior. So, if those three players are in the team then we look like we have goals at our disposal'. Offiong joined Darlington on loan from Newcastle in November 2002 and went on to make nine appearances, scoring four goals in the process".

Wrexham announce that "The latest player to arrive at the Racecourse is Trinidadian international centre half Marvin Andrews. A former League champion in Scotland with Rangers, the 6'2" defender moves south of the border after appearing in the SPL with Hamiton Accies last season. Due to a number of issues, including the acquiring of his international clearance, the big man is not due to make his debut for the Dragons until next week.

With over 100 international caps for his country in a variety of competitions, the 34-year-old comes with a tremendous amount of experience... Said Marvin, 'I grew up with Hector Sam, while also knowing both Carlos Edwards and Silvio Spann very well, and they all told me to sign. Even when I walked into the Racecourse and saw the Trinidad flag flying above the Kop, it made me very welcome. It is a great set up here and I'm very grateful to Dean Saunders and the directors for giving me this opportunity to play again'".

Meanwhile there is a long "Financial Update Wrexham FC - August 2010" from chairman Ian Roberts on the club's website. it includes the following:

"It saddens me to read in the local newspaper, articles concerning the possible sale of the Football Club to a fan-led consortium. I originally arranged for reconciliation talks with the Wrexham Supporters Trust, as I have made it public knowledge I wanted to try and improve the links between the fans and the Club and hopefully reach a stage where we could have some fan participation in the running of the Club.

The Club has been requesting some financial help for a number of years, to help towards the cost of running our Youth Academy which has now lost its funding, for replacement seats and more recently a request from Dean for financial help to bring some key players to the Club. A request was also made for manpower help in gaining sponsorship etc.

It however became clear at the meeting that there was to be no financial support but only the desire from the WST board members present to own and run the Club themselves.

I took the opportunity to tentatively discuss the likely price we at Wrexham Village would sell for, it must be stressed however at this stage that it was nothing more than exploratory talks and that both parties would need to discuss their position further...

During the administration period the Club made a profit (pre-administration costs) of circa 200K. However the administration costs and legal fees incurred during the administration amounted to approximately £1.62 million, this figure was part of the payment made by the Moss/Dickens consortium upon its purchase of the Club, and so in reality there was a £1.42 million loss.

As a point of reference, on exit from administration the Club owns the Stadium and Colliers Park Training Ground, but had debts of circa £3.3 million. Since then the debt has risen due to the Club trying to fund firstly its survival in the Football League, then two managers, two new teams and the attempt so far to unsuccessfully gain promotion back into the League...

The Club now owns the Stadium and Colliers Park Training Ground but is not burdened with any major debt or interest payments to make, unlike many other clubs both large and small... The losses in the Football Club have to be addressed and that has been partly achieved by reducing the player's budget and management costs, reducing the administration staff costs and further cutting unnecessary overheads and seeking to increase commercial income...

We the board firmly believe that the Racecourse Ground is best served by offering itself as a multipurpose sporting, entertainment and business venue for Wrexham and North Wales as a whole and not just as a football stadium, to this end we intend to continue to extend its promotion as a venue in many varied ways".
---
13 August 2010
ALTY'S SELF-SELECTING SQUAD
Following the news that Michael Twiss is sidelined by the injury he picked up on pre-season and with Matt Doughty still on the recovery trail, the Alty squad tomorrow is a self-selecting sixteen as John Edwards (joint press officer) confirms that "Altrincham have been dealt a blow, on the eve of the new season, after it was confirmed that Matty Crowell (left) has been ruled out of their opening Blue Square Bet Conference game against Luton at Kenilworth Road.

Alty officials were still clinging to the hope that international clearance from the FA would come through in time, following the midfielder's spell in Australia, but they were forced to concede defeat when the offices in Soho Square shut for the weekend without it being granted.

'It really is so frustrating, especially after the time and effort that has gone into trying to get this resolved,' said vice-chairman Grahame Rowley.'We have bombarded the FA with phone calls and emails and were still trying to force the issue this afternoon (Friday).

'But the offices have shut and the last chance has gone, as far as the Luton game is concerned. To be fair to the FA, they say they have got a pile of similar applications to ours but are getting little response from the Australian FA. 'They claim that is where the hold-up is, so there's not much we can do, except continue trying to exert pressure on them to get it sorted out. What makes it all the more frustrating is that Matty is ready to play and desperate to, but our hands are tied'.

Recent signing Kevin Holsgrove (right) is also out of the reckoning for Kenilworth Road after having to serve a one-match ban left over from his time at Hyde last season".

Alty's remaining 16-strong squad comprises: 1. Stuart COBURN, 6. Shaun DENSMORE, 5. Robbie WILLIAMS, 2. James SMITH, 4. Marc JOSEPH, 11. Nicky CLEE, 16. Anthony DANYLYK, 7. Robbie LAWTON (capt), 15. Ryan BROWN, 10. Chris DENHAM, 14. Dale JOHNSON. 21. James COATES, 8. Damian REEVES, 19. Danny HOLMES, 17. Tom McCREADY, 23. Michael WELCH.
MONDAY NIGHT FOOTBALL
Don't forget that on Monday (16th August), Altrincham FC will be showing live, in high definition, the televised game between Manchester United and Newcastle United. The bar will open at 7.30pm for an 8pm kick-off, so come along and enjoy the game in a genuine football atmosphere. The event is open to everyone, Alty supporters or otherwise.
OLD BOYS
An Alty trialist Lewis Codling (ex-Everton) has now signed for Aberystwyth Town where he joins former Alty Reserve, Conall Murtagh.
CHESHIRE NEWS
According to NL Daily "Witton Albion have produced their first ever mini-newspaper. 5,000 copies of The Wittoner are being hand delivered by a team of over 30 volunteers to homes and businesses throughout the Northwich area ahead of the start of the 2010/11 season. The eight-page, full-colour publication focuses entirely on everything that the club is doing both on and off the field.

Chairman Mark Harris said: 'Like most clubs at our level, Witton is competing for limited editorial space in our local paper. As a result, we don't get the opportunity to tell the local community what we are doing, or why. So we've decided to make matters into our own hands'".
BSBP NEWS
Today's news includes four Conference clubs who are in the money and two ex-Conference clubs in dire straits...

As recently as January 2010, Crawley Town proclaimed, in an interview with Ms Carter that their manager Steve "Evans now operates with one of the smallest budgets in the Conference while expenditure elsewhere at the club has been slashed". Seven months later, with the same board in place, the Crawley Observer reported that "Crawley Town are continuing their efforts to add to their already expensive squad by making two huge bids for high ranking midfield stars.

They have had a £150,000 bid for Scottish League 1 winger Willie Gibson turned down by the player himself after his club Dunfermline agreed to sell. The Reds' assistant manager Paul Raynor said: 'Willie's girlfriend has started a new job and didn't want to move south. We have to respect that and move on'. Crawley have now launched an alternative bid for an unnamed League 2 midfielder which is believed to be around £200,000 and if it goes through will shatter the Conference record.

A £20,000 offer for a League 1 utility midfielder/defender has amounted to nothing, but the Reds are considering yet another bid to take its place. All this transfer activity is indicative of the concerted effort by Crawley's owners Bruce Winfield and Sue Carter, together with their investors, to mount a serious promotion challenge this season". Sky Sports News reports that Crawley Town's bid for Rotherham's Nicky Law amounts to £250,000.

Another club in the money is subject of a piece from the Northants Evening Telegraph which confirms that chairman "Imraan Ladak has confirmed Kettering Town have made a 'substantial offer' for a new striker just hours before the big kick-off... 'We made a substantial five-figure offer for a striker who we have been monitoring since last season', Ladak said. 'Our manager (Lee Harper) is in a situation where he has Moses Ashikodi not match fit and he wants to ensure he has different combinations of strikers available. This is something I agree with and he needs to have four quality strikers at his disposal...

'I am wary about putting too much pressure on our team because we are in the first year of a two-year plan we have set ourselves', he added. 'I firmly believe that if anyone finishes above Luton Town then they will win it. There are probably 10 or 12 teams apart from them who will compete for four play-off places and I am obviously hopeful that we are one of them. It's not been an easy pre-season because Lee has had a look at a lot of trialists. I am sure we will see a committed and ever-improving Kettering side competing with the best once the season gets underway'".

The South Wales Argus reports on another well-endowed club; "Newport County's directors are all dreaming of a return to the Football League – and that means never saying never to boss Dean Holdsworth if he wants to sign new players. Chairman Chris Blight [who runs the local Crook & Blight estate agency] has underlined the policy of the Exiles board, who have already provided the biggest playing budget in the club's history.

The chairman, who has been appointed to the board of directors for the Football Conference, has stressed: - Holdsworth has been told to never stop looking for players he wants to sign.
That the board are pushing the boat out to ensure the club have a competitive squad.
That they are willing to increase the budget if County make a good start to the campaign.
Holdsworth is being encouraged to address any potential new signings with the board despite already having a quality squad in place.
That the club will never jeopardise their long term future and will always stay in the black financially.
That the ultimate dream of everyone connected with the club is for them to move into their own stadium...

Blight explains: 'We will never say never to Dean. Our message to him in terms of player recruitment is a very simple one – never stop looking for players that can improve our prospects of going to where we all want to be... We will never over stretch ourselves financially and be irresponsible and jeopardise the club's future, but we appreciate too that sometimes you have go to that extra mile to get where you want to be. Sometimes we might have to say no to Dean because the priority is to keep us in the black, but we always want him to ask the question if he has a player in mind... We've all worked very hard to have a budget that is a good one but a responsible one. We've pushed the boat out a bit but that's because we've got some excellent players', he said...

'We are beginning to dare to dream... Our biggest handicap in growing this club is the stadium and it's something everyone here dreams of addressing'". Newport share their stadium with Llanwern F.C. and Newport Harriers Athletic Club.

Another club with newly found wealth are Forest Green Rovers but This is Glos reports that "Dave Hockaday will not be rushed into spending Dale Vince's money on new players. Forest Green have been the talk of the Blue Square Bet Premier following the arrival of Ecotricity supremo Vince as majority shareholder, who has pledged to back Hockaday in the transfer market...

Hockaday said: 'I've got a list of players, as I would always have, and I'm talking to a few people to see what can be done. It would be lovely to sign them all straight away but I'm not going to do that because it's Dale's money and the club's money... We need to make sure we sign the right players for the right wages at the right time. I've got a great bunch of players and there is no way I'm going to threaten or disrupt that, so I'm doing a lot of homework on players. Character is everything for me'...

As of last night Hockaday had only 13 registered players – bolstered by Hartpury College students – at his disposal. Former Bristol Rovers and Chippenham Town midfielder Yan Klukowki is expected to be on board in time for the trip to Field Mill, having impressed on trial spell this summer, but any spate of injuries would expose a severe lack of depth and experience in the squad. Multi-millionaire Vince's arrival has created huge excitement among supporters, particularly after last season's threat of winding-up orders and even extinction,

Rovers' chairman David Drew has already confirmed that the new investment will 'more than cover' the £250,000 debt which led to the Keep The Green Alive campaign launch in March, and he sees no reason why the club cannot shake off the tag of perennial relegation strugglers. Drew said: 'We want to be in the upper half of the table and the sky is the limit after that. This is Dale's show and he is the one bringing the initiative and investment which should see this club fulfil its potential. I don't think there is such a thing as wiping debts clear because football is a difficult business at the moment'".

In contrast to Crawley, Kettering, Newport and FGR where money is flowing, two of Alty's former Conference rivals are in financial trouble...

NL News 24 says that "HMRC has served a winding-up petition on yet another member of the Non-League fraternity, with Welling United this time being in the frame. The Wings are believed to owe a substantial five-figure sum and could be wound up later this month after a proposed takeover fell through". The Club says it will "remain optimistic that everything can be resolved with the backing of those who wish to see The Wings not only survive but prosper in the future".

Another ex-Conference opponent of Altrincham is in even worse trouble as the Bromsgrove Advertiser tells us that "Bromsgrove Rovers have received confirmation from the Southern League that they will not be allowed to play in the competition this season. Rovers could not meet the Southern League's requirement of having a suitable ground to play on by the start of the season. It now looks like Bromsgrove Rovers will not play football at all this season. Team manager Steve Daniels, who postponed training last night, has resigned from his position".

Earlier the Advertiser ecplained, "Rovers have reached a stalemate with Bromsgrove District Council who were expecting the keys to the ground to be handed over last Friday after the current lease expired. That didn't happen, and Rovers officials spent Monday frantically trying to convince council and league officials they have the right to remain on the ground whilst the club is in administration. They are are basing their last-gasp arguments on a piece of legislation under the Insolvency Act 1986. It says a company in administration has the right to remain on the land they are occupying whilst the administrator allows it...

But Bromsgrove District Council issued a statement which said: 'The council can confirm that the lease of the ground to Bromsgrove Rovers has expired. The club will now need to vacate the premises and return the keys and the Council has written to the club to explain this. The council remain committed to the provision of football at the ground and the benefits that this provides for the community and will continue to work with all interested parties to achieve this'".

Back with current Conference clubs, we learn from the Express & Star that "Kidderminster Harriers manager Steve Burr admits it's unlikely there will be any further signings before the season starts at York on Saturday. Burr is known to be after another striker to take his squad to 20 players... A target has been identified and the player is still available but, with a game to prepare for, the manager admits he will not be able to conclude his business before the trip to KitKat Crescent.

Not all of the playing budget at Aggborough has been tied up but Burr is mindful of the fact he has little left to work with, so is playing the waiting game in the hope a deal can be struck down the line. There's also the situation with Gavin Caines, who appeared no closer to being ushered out of the door today with Stafford Rangers stalling over a loan move for the outcast defender. His high earnings would have given the Harriers boss slightly more money to play with but interested parties are baulking at his demands, leaving the club inreasingly likely to be stuck with him".

"Solihull Moors' pre-season planning has taken a blow with the news of the likely move by midfielder Joe Clarke to full-time football with Darlington... Clarke only joined the Moors in the close season from league rivals Redditch United" says NL Daily.

According to the BBC "Barrow have signed left-back Andrew Nicholas (26) on a two-year deal with defender Andrew Milne handed a short-term contract... Milne, 19, impressed on trial at Holker Street, having left Leeds at the end of last season... The two signings take Barrow's permanent summer arrivals to six, with defender Matthew Haywood, midfielders Ciaran Donnelly and Marc Goodfellow, and striker Danny Forrest also joining the squad. Meanwhile Barrow have also secured the services of goalkeeper Alan Martin on a six-month loan from Leeds United, and striker Andy Cook from Carlisle United".

And "Tamworth have signed former Lincoln City midfielder Stefan Oakes and goalkeeper Ross Atkins after releasing veteran Claus Jorgenson. Atkins, 20, has signed on a one-month loan deal from Derby County after David Grof was recalled by Notts County. Oakes began his career at Leicester City and he has penned a two-year-deal after his release from Lincoln City. The 31-year-old comes in to replace Claus Jorgenson and both players could feature on Saturday against Eastbourne. Oakes has plenty of football league experience with previous spells at Wycombe, Walsall, and Notts County making over 200 league appearances and scoring 13 goals".
---
12 August 2010
JEAN HEATHCOTE
It is with deep regret that all at Altrincham FC extend their sympathy to manager Graham Heathcote and his family on the death, yesterday at home, of his mother, Jean. Until relatively recently, Jean was a regular at Altrincham matches both home and away. Despite failing eyesight, she travelled to the away games on the Altrincham supporters' coach for many years. As well as her son Graham playing and becoming manager of the Club, another son, Alan, also played for the Robins. She will be much missed by many Altrincham supporters.
ALTY'S BATH TIME IS NOW LATER
Altrincham FC's visit to Bath City has been moved from 12 October to 16 November (7.45pm) due to the Somerset club's involvement in a local county cup competition.
NEW NUMBER
Although Michael Welch was listed as no.23 for last Tuesday's friendly, his squad number for 2010-11 will be 22.

The squad numbers for 2010-11 are:
1. Stuart COBURN
2. James SMITH
3. Matt DOUGHTY
4. Marc JOSEPH
5. Robbie WILLIAMS
6. Shaun DENSMORE
7. Robbie LAWTON
8. Damian REEVES
9. Michael TWISS
10. Chris DENHAM
11. Nicky CLEE
12. Kevin HOLSGROVE
14. Dale JOHNSON
15. Ryan BROWN
16. Anthony DANYLYK
17. Tom McCREADY
18. Matty CROWELL
19. Matty HOLMES
20.
21. James COATES
22. Michael WELCH
A GRAND DAY OUT!
Saturday, 4th September, has been declared England's Non-League Saturday, as the top-flight of the country's football takes a break for international football (England v Bulgaria). Altrincham FC will be playing its part with a grand balloon race and a New Recruits Evening.

Every supporter will be invited to bring £1 and launch a balloon in a race to see which balloon goes furthest. And after the game there will be another in the Club's entertaining series of New Recruits Evenings. At these events a panel of three or four new players at Moss Lane join manager Graham Heathcote and a roomful of supporters for a meal and a question and answer session. Graham usually coaxes out a few secrets from the players as he plays the compere role. And the excellent food, provided by Richie Bentley, is another feature of the evening. Details will be published soon and tickets will be available from a week on Saturday (at the game against Crawley Town).

All the above will be happening on the day that Altrincham welcome Kidderminster Harriers to Moss Lane (3pm).
GRAHAM'S ASSESSMENT
Left: Robbie Lawton (back row, third from right) was one of the players who gathered at Rushden last week when Blue Square Bet got together a representative from each Premier Division club for the 2010-11 season.
Meanwhile, Altrincham FC joint press officer, John Edwards, writes:
"Altrincham have re-signed Michael Welch but face an anxious wait over Matty Crowell's availability for Saturday's Blue Square Bet Premier opener against title favourites Luton at Kenilworth Road. Towering centre-back Welch was among the substitutes against Wigan on Tuesday night, after being released at the end of last season, and is in contention against a Luton side rated 'the team everyone is going to have to beat' by Alty manager Graham Heathcote.
But there was uncertainty over the involvement of Crowell, back at Moss Lane following a spell in Australia, after it emerged the club were still waiting for international clearance. 'It is in the hands of the English and Australian FAs,' said Heathcote.'We have been on the case for the past few weeks and have been badgering them non-stop. But there's only so much you can do. They determine when it is granted, and it hasn't been yet.
'We've worked hard to get Matty back to the club. He lives in Swansea, so travel was an obvious problem. But we have arranged for him to come up to training on a Thursday, then stop over until the game on Saturday. We're not sure yet whether it will be at someone's house or a hotel, but it shows the trouble we have gone to.
'Now we're not sure he's going to be eligible for the opening game. It's frustrating, but we just have to hope it does come through in time. Michael will add height and strength at the back and give us four centre-halves to choose from. If I'd known Greg Young was leaving, I probably wouldn't have released him in the first place. He has signed non-contract forms, so it's up to him now to seize the opportunity.'
Michael Twiss is still 'a couple of weeks' away from full fitness, but fellow-newcomer Damian Reeves pressed his claims by hitting the bar and post in the 0-0 draw with Wigan. 'Damian is looking sharper and can hopefully do a similar job to Chrissy Senior,' added Heathcote. 'All our preparations have been geared towards August 14. It's a tough start against a team with massive expectations, so it's going to be all about application and desire from the first whistle.'
With Grimsby and Darlington eager to make their Conference stay as brief as possible, and Fleetwood increasing the numbers seemingly intent on spending their way to the top, Heathcote is bracing himself for a harder time than ever trying to maintain the progress of the last two seasons.
He is not daunted by it, though, and is determined his players won't be, either.
'I saw Luton against Newcastle last week, and it is clear they are going to take some stopping,' he said. 'You look at the League clubs who have come down and the money being spent by Crawley and one or two others, and there is no doubt this division is going to be stronger than ever. But I will say to the players what I always tell them before a game. Never mind what the other lot have done in previous seasons, or whether they have spent a hundred grand or two hundred grand or whatever on signings. They are in the Conference, same as us, which means they are a non-League team with a non-League squad. You are up against 11 non-League players and have nothing to fear.
'It's going to be tough, but the great thing about this league is that any team on any given day are capable of putting one over any opponents you care to mention. Some teams may be better than others, but that can happen, and I'll be trying to make sure we take that mentality into each game.
'Some of the players still have a bit to do fitness-wise, but I saw signs against Macclesfield, Manchester United and Wigan that we are getting there. It's not going to be easy, because, in many ways, the fixtures are in reverse, compared to last time.
'I remember looking at the run-in last season and thinking we'd better make sure we're safe by the end of March. This time, it's the first half-dozen or so games that are going to really test us, so we've got to be ready for that. I wasn't anticipating such a massive overhaul of players, either. You try and build something, year on year, and just one or two additions would have been ideal. But I suppose it's the price you pay, as a part-time club doing well, that one or two of your top performers (Greg Young and Chris Senior) get snapped up. The predators bite, and with Colin Little retiring as well, we had to bring enough new faces in.
'That was a job in itself, with our budget, but we did it and are ready now for what it's all about - the serious stuff, with points at stake and fans turning out in numbers. There may have to be a bit of juggling around to begin with, to get pairings that are going to last 90 minutes, but I hope the players are ready to step up to the plate now and show what they are capable of.
'The aim will be to improve our home form and at least maintain what we did on our travels last season - and if we can do that, we won't go too far wrong'".
ALTY WILL BE "VERY NEGATIVE"
News of Alty's next opponents comes from the Bedfordshire News which tells us that "Richard Money is in confident mood ahead of the Blue Square Bet Premier curtain-raiser at home to Altrincham on Saturday. Luton Town, once again, start the non-league season as favourites for the title...

'I don't feel any pressure at all, to be perfectly honest', said Money. 'I'd much rather be manager of Luton Town than any other club in the division... The only pressure that I feel is the pressure that I put on myself, nothing else'.The league's sponsors Blue Square Bet have Town as 7/4 favourites for the league with big spending Crawley Town [who visit Moss Lane the following Saturday] second favourites at 5/1...

'I think there is more quality in the league this year and I don't think there is any doubt about that, said Money. 'Two teams will replace the two that have gone up and the four coming up will undoubtedly be better the than the four going down and that's no disrespect to any of those teams'...

Money strengthened in the close season with the captures of Czech pair Kdenek Kroca and Pavel Besta last week bringing his summer shopping spree to seven... 'We're pretty pleased with the way pre-season has gone', said Money. 'Obviously it all depends on the way we start on Saturday but in terms of how you want things to go, we're pretty much where we want to be. Early on, there are 15 games between the start of the season and October 9 and I think in that period you're going to need a big squad, and one that can come on the pitch and play'...

The Hatters have only managed one goal in their last three outings against their opening day opponents Altrincham, and the manager is expecting similar tactics to the ones that resulted in a stalemate at the tail end of last term. 'We know that they are going to come and be very negative, I would suggest very defensive but they might surprise us', Money said. 'In some ways I hope they do but it's about us being good with ball, being patient, everyone in the stadium being patient, and making sure we don't leave ourselves open for the counter attack. That's always the problem of having home games here. Everyone comes and puts 11 people behind the ball and I wouldn't expect Altrincham to be any different'".
OLD BOYS
Northwich Vics drew 3-3 at Leek Town in a friendly this week. The Northwich Guardian tells us that VicS "fielding a team almost entirely made up of trialists – twice came from behind... Manager Andy Preece switched to a three-man attack in the second half, introducing Northwich Villa's top scorer Kwame Barnett [A former Alty reserve]. It paid dividend[s]...

Barnett showed strength – and no little skill – to wait for the right moment to send ex-Everton junior Andy Fowler clear and his finish was expert when face-to-face with Ritchie".

And news of John Owens's son, Andy, who was himself at Moss Lane briefly last season, comes from NL Daily which reports that "Accington Stanley are considering offering a deal to Glenn Hoddle Academy graduate Andrew Owens. The 20-year-old centre back was at the Crown Ground to watch Stanley's goalless draw with Aldershot Town last Saturday. The Reds are contemplating handing a week-to-week contract to the former Stoke City youth team player. Stanley are searching for a tall centre back, with their current central pair both under six feet, and 6` 3" Owens is looking to return to the Football League after spending time at Hoddle's Academy in Spain. The Liverpudlian spent last season in the Blue Square Bet North with Stafford Rangers, Blue Square Bet Premier Altrincham and in the Principality Welsh Premier with Rhyl".
BSBP NEWS
Exeter City report that "It is with great sadness that Exeter City Football Club have to confirm the news that Adam Stansfield passed away on Tuesday evening. Our thoughts are with his wife, family and friends at this time. Adam was first diagnosed with bowel cancer in April 2010 and the 31-year-old underwent intensive treatment...

He got a chance to sign for Yeovil Town in November 2001 and made his debut in the Conference 24-hours later against Southport. He continued to regularly hit the back of the net for Yeovil, the sort of form that won him a place in the England semi-pro team. A broken leg kept him out of action, but he made a full recovery before signing for Hereford United at the start of the 2004/05 season, where he helped the Bulls into the Football League, as he had at Yeovil.

Adam's Exeter career began back in June 2006 and his successful first season included a double against Southport on the final day to help City into the Play Offs before scoring a memorable goal at Oxford in the Play Off Semi Final Second Leg which helped the Grecians to Wembley for the first time in their history.

He continued to score goals and create many more with his tireless running as City clinched back-to-back promotions".

Adam played against Altrincham several times and all at Moss Lane add their condolences to those of his former clubs.

One of the Wigan Athletic players against Alty on Tuesday night was ex-Newcastle United defender Callum Morris who had recently had trials at Gateshead but not been offered a contract.

According to the Football Conference "Cambridge United have completed the signing of Wayne Gray on a month-by-month basis, with an understanding between the club and player this will be reviewed after six months...

U's boss Martin Ling told cambridgeunited.com: 'Wayne is a player I know well, having had him for two seasons whilst at Leyton Orient. He had a disappointed season last year with injuries and had a bad knee injury whilst with me at Orient. The importance for me is on him proving he's still got the ability he had prior to his injuries which in pre-season I feel he has'. The 29-year old has recently enjoyed spells with Grays Athletic, Leyton Orient and Yeovil Town".

"Garry Haylock, manager of Hayes & Yeading United, has swooped to sign up three more players" says NL Daily. "None are completely new faces to fans at Church Road but securing them is likely to bring surprised smiles to many faces. After featuring as a trialist in early pre-season games, tall striker Ben Wright arrives on loan from Peterborough United to spearhead the attack for the start of the new season. Wright, who spent spells on loan last season with this season's division rivals Luton Town and Grimsby Town, is a proven goalscorer at non-League level...

Also signing for the new season is Sierra Leone international Ahmed Deen. Left-sided player Deen has featured heavily in United's pre-season programme impressing with his pace and versatility... The final new signatory is United favourite James Mulley. Having progressed from the Yeading reserves, Mulley went on to establish himself in the merged club's first-team, earning the supporters` player of the year award last season. After trialing with both Charlton Athletic and Dagenham & Redbridge this summer in the hunt for a Football League deal, he has returned to Church Road".
---
11 August 2010
ALTRINCHAM 0 WIGAN ATHLETIC XI 0
Altrincham were unfortunate not to win this game after a good performance against a young Wigan side. In the second half Damian Reeves could have had a hat-trick as he hit both the post and the crossbar, as well as being stopped by a last-ditch tackle. Report here.

ALTRINCHAM: 1. Stuart COBURN, 6. Shaun DENSMORE, 5. Robbie WILLIAMS, 2. James SMITH, 4. Marc JOSEPH, 11. Nicky CLEE, 18. Matty CROWELL, 16. Anthony DANYLYK, 7. Robbie LAWTON (capt), 15. Ryan BROWN, 10. Chris DENHAM. Subs: 12. Kevin HOLSGROVE, 14. Dale JOHNSON. 21. James COATES, 8. Damian REEVES, 19. Danny HOLMES, 17. Tom McCREADY, 23. Michael WELCH.
WELCH RETURNS
Following last night's friendly against Wigan Athletic, Michael Welch signed registration forms for Altrincham FC and joins the squad with number 22. Michael was released by Altrincham at the end of last season, a campaign in which he was only able to play 3(+13) games due to a leg operation. Michael came on as a substitute during the second-half against Wigan.

The squad numbers for 2010-11 are:
1. Stuart COBURN
2. James SMITH
3. Matt DOUGHTY
4. Marc JOSEPH
5. Robbie WILLIAMS
6. Shaun DENSMORE
7. Robbie LAWTON
8. Damian REEVES
9. Michael TWISS
10. Chris DENHAM
11. Nicky CLEE
12. Kevin HOLSGROVE
14. Dale JOHNSON
15. Ryan BROWN
16. Anthony DANYLYK
17. Tom McCREADY
18. Matty CROWELL
19. Matty HOLMES
21. James COATES
22.
22. Michael WELCH
TEAM PHOTO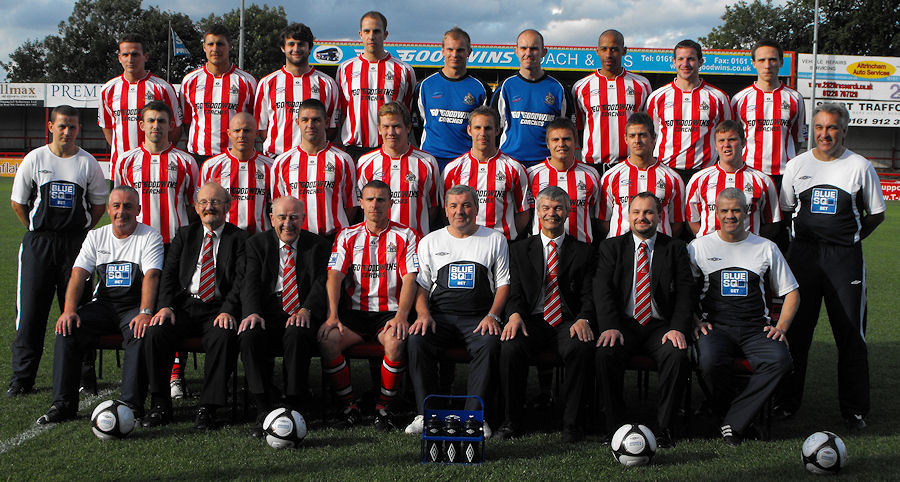 Altrincham posed for their official team photo on Tuesday night and it will shortly be available for purchase via Gavin Rathbone's GR Photography website. In the meantime, this unofficial version (which may be enlarged by clicking on it) shows...
Back: Matty Crowell, Danny Holmes, Dale Johnson, Robbie Williams, James Coates, Stuart Coburn, Marc Joseph, Michael Twiss, Tom McCready.
Middle: Charles Heathcote (kitman), Damian Reeves, Chris Denham, James Smith, Shaun Densmore, Nicky Clee, Anthony Danylyk, Ryan Brown, Matt Doughty, Ian Senior (goalkeeping coach).
Front: Sean Riley (physio), George Heslop (company secretary), Derek Wilshaw (secretary), Robbie Lawton (captain), Graham Heathcote (manager), Grahame Rowley (vice-chairman), Paul Daine (director), Ken McKenna (assistant manager).

Missing from the photo is Kevin Holsgrove.
BOOST FOR JUNIORS
The Sale & Altrincham Messenger says that "Junior football at Altrincham FC is set to receive a a boost with news of a £5,000 cash injection from the Football Foundation towards developing new junior teams. The money, staggered over the next three years, will help create an additional five teams, and will assist with expenses such as the funding of pitches, qualified FA coaches and referees. Funded by the Premier League, The Football Association and the Government, the Football Foundation is the nation's largest sports charity.

Altrincham Fc vice chairman, Grahame Rowley, said: 'We are so grateful to the Football Foundation for this support. We're working hard to increase the club's contribution to the local community, and this award will enable a further 80-100 boys and girls to get involved in sport, which is great news!'".
WHEN ALTY WERE KINGS
Barry Pikesley's masterful series "When Alty Were Kings", a reprise of the title-winning 1979-80 season, appeared in the "Robins' Review" matchday programme during 2009-10. It is set to resume in the 2010-11 programmes, so to get you in the mood, here are the three concluding parts from last season...
Parts 25
BSBP NEWS
The NW Evening Mail says that for Barrow "The real action starts with a league opener at Histon. Are the Bluebirds ready? Yes. Is the starting XI nailed on? Not quite..

Leeds United keeper Alan Martin is a cert to start. The Scotland under-21s' keeper made his second debut for the Bluebirds at the weekend and looked composed and assured... Ever-reliable right-back Simon Spender has been the Bluebirds' most consistent performer in pre-season. Another solid showing... has nailed his place in the XI...

And so to left-back, Barrow's problem position all summer following the departure of Paul Edwards. Debutant trialist Andrew Nicholas took up the mantle against Bolton and turned in a polished display... The rangy 26-year-old former Football League defender... could be the man to fill the void, should Barrow sign him. His missile-like long-throws... would be an excellent weapon in the AFC armoury.

Experienced centre-half Phil Bolland returned from injury... and is a shoe-in to start at Histon. Who will partner the stand-in captain could be the biggest problem Bayliss and Sheridan have to solve. Matt Heywood, who had a trial at Gateshead [and Altrincham] earlier this summer, was signed on a one-year deal nine days ago but has yet to be seen by Bluebirds fans. Asked if Heywood would be available for the league curtain-raiser, Bayliss said: 'There's a couple of problems he's got to sort out personally, so I don't know'".

FA Trophy-winning skipper Paul Jones is... unlikely to be rushed back from an Achilles injury... That leaves Mike Pearson... following his return from a thigh injury, or, perhaps Andrew Milne, the 19-year-old Scotsman who has been on trial... Two of Barrow's most improved players this summer, Mark Boyd and James Owen, could, as they were at the weekend, be partnered in a central midfield missing the suspended Robin Hulbert and injured Ciaran Donnelly...

Alongside Boyd, tenacious Welsh 19-year-old Owen covered every blade of grass with yet another all-action performance... New recruit Marc Goodfellow had something of a quiet afternoon against the men from The Reebok, but the classy ex-Burton Albion ace is still expected to start on the wing at Histon... The other wideman berth will probably be handed to Paul Rutherford... Simon Wiles is also in contention, though it was ex-Everton midfielder Jean-Paul Kissock who started on the left wing at the weekend. The 20-year-old trialist clearly has talent and likes a step-over, or two...

Up front, a fresh-looking Walker, last season's top-scorer with 22, terrorised the Bolton backline with his pace in behind and took his goal with real conviction. He was partnered by 19-year-old Carlisle United starlet Andy Cook, playing his first game of a month-long loan deal... Will Cook start at Histon? Probably. Gregg Blundell took his place for the second half at the weekend, but the experienced frontman is himself just returning from a hamstring injury. Fellow strikers Nick Chadwick and Danny Forrest both remain sidelined".

According to the Football Conference, "Forest Green Rovers have confirmed that Dale Vince, founder and MD of local company Ecotricity, is in the process of taking a major shareholding in the Limited Company. Dale, who has a passion for the game of football and who together with his sons regularly play 5-a-side locally, has agreed to invest 'a sizeable sum' in his local club...

Forest Green currently employs a large number of staff both full-time and part-time and this move brings further security and puts the club on a more stable financial footing. Vince said: 'I'm currently talking with the Directors about a number of things that Ecotricity can do to help the off the pitch (or non-football) side of things, and with the manager, Dave Hockaday, to see what we can do to strengthen the team while the transfer window is still open'...

Meanwhile, Forest Green Rovers informed their supporters via their website: 'The Board has been quick to respond to the reprieve which we received only a few weeks back, coupled with sorting out our Inland Revenue issue. Having already entered a strong partnership with Coventry Building Society we are thrilled to have such a high profile local company decide that this club is a major community asset. We welcome Dale and in particular his wishes to bring a new and creative approach to his investment'".

From Blue Square Football, we learn that "Former Sunderland reserves' striker David Dowson has been released by Gateshead and ex Newcastle United defender Callum Morris has not been offered terms after a trial period at the Tyneside club... Morris has played in recent friendlies after completing a trial period at Inverness Caledonian Thistle...

Summer signing Ben Clark meanwhile has been installed as captain for the 2010/11 season, taking over from Kris Gate who is now vice-captain... Clark, 27, played 181 games over a six year period at Hartlepool United before he joined Gateshead...

'Gate was disappointed to lose the captaincy and I can understand that', said Bogie 'but he will now be free to concentrate on his playing role and has a lot to offer. I felt it was time to freshen things up and Clark is a vastly experienced player who has performed well at a higher level and has shown leadership qualities. He has captained England under 19 in the past and is a good organiser who will be a vocal presence on the pitch'".

At AFC Wimbledon the club "has rejected a bid from Crawley Town for captain and top Conference striker, Danny Kedwell. Manager Terry Brown said 'Danny is our skipper and our leading player. He is an integral part of the future of the team and he is not for sale. Danny is aware of the situation and he has made it clear that he is very happy here'.

Chief Executive Erik Samuelson said 'quite often these bids get out in a distorted form and we thought our fans should hear it from us. To be clear, we are not a selling club - and certainly not to other clubs in this league... We tell each player that... we won't stand in their way if a good offer comes in for them. We also explain that 'a good offer' does not mean a club in our league or, indeed, from most of the clubs in the two leagues directly above us. So, he isn't for sale'".

Crawley were also looking to spend more of their new-found cash north of the Border as Dunfermline Athletic announce that "winger Willie Gibson has been subject to a £150,000 bid from Football Conference side, Crawley Town. The Dunfermline Athletic Board reluctantly accepted the offer but the player has turned down the move south because of a combination of personal terms and personal reasons...

At a press conference on 1st July 2010, co owner Bruce Winfield stated that all Crawley's debts had been cleared and revealed that friends/business acquaintances of his had come onboard as passive shareholders thus meaning the club had money in the bank. Manager Steve Evans had also been told to assemble a squad that could get them into the Football League".

NL Daily reports that "Due to the fact that the licence for nonleaguedaily has been sold, there will be lots of changes to its look and, indeed, content in the next few weeks. Because of that there will be no results, fixtures and league tables for the 2010/11 season – I will publish results on the news section (as on Saturday) until further notice. The club section will be also be changed, so please do not send any more alterations/additions for this.

Nonleaguedaily has built up a fantastic following in the 11 years since it began and I am very grateful to everyone who has viewed on a regular basis, making it by far the most popular non-League football website. Thanks and have a good season. Steve Whitney, Editor".

The BBC reports that "Kidderminster Harriers midfielder Chris McPhee says he has been asked to play up front by manager Steve Burr. The 27-year-old fort Torquay player told BBC Hereford & Worcester that the role holds no fears for him. 'I used to be a striker many moons ago', he said. 'And I am confident of sticking the ball in the net as well'.

McPhee joined the Aggborough club from Weymouth in February 2009... While used predominantly as a midfield player, McPhee has also operated as a centre back when needed... McPhee is one of only a handful of last season's squad that remains as manager Burr has rung the changes during the summer".

Grimsby Town confirm that "Nick Hegarty has had his contract with the club cancelled by mutual consent. Hegarty, who has featured almost 100 times for the Mariners, was one of seven players who were told they could look for a new club at the end of last season".

Tamworth say that "Goalkeeper David Grof has been recalled by Notts County, meaning Gary Mills has had to move quickly to bring in another shot stopper... Once the paperwork has been completed we will let you know who the new Lambs no.1 is".
---
10 August 2010
DON'T MISS OUT!
For Altrincham's first league game of the season, away at Kenilworth Road against Luton Town this Saturday, a full-sized coach will be operating so take the chance to travel in style and support the Robins as they take on one of the title favourites for 2010-11. Those who have not been to Kenilworth Road will find a ground with plenty of character and it will be everyone's first opportunity to see the eight new signings in the Altrincham squad in competitive action. Don't miss it - many of Alty's best performances last season were on the road - book now!

Details of the trip are on the Away Travel page. You can book your seat either at Tuesday's match (in the Club Shop) or by ringing the Club (928-1045).

Right: Stuart Coburn fields the ball in last April's match at Luton.
TUESDAY NIGHT
Altrincham take on a team from Premiership club Wigan Athletic tonight (Tuesday). Note this is a 7.30pm kick off. It will be an opportunity to welcome back Graham Barrow, the former Alty player and, more recently, Assistant Manager at Moss Lane. As usual for pre-season games, entry is free to Altrincham FC season ticket holders and just £7 for those paying at the turnstiles, (£2 for concessionaries). This is the last chance to see Alty in pre-season and the first chance to see the finalised squad for 2010-11.
THE SQUAD
With the signing of James Coates, Altrincham have brought in eight new players this summer - to replace eight players who have left Moss Lane since the end of last season.
Departures: Adam CARDEN - midfielder, Peter DORAN - midfielder, Colin LITTLE - striker, John McALISKEY - striker, now at Northwich, Russell SAUNDERS - goalkeeper, Chris SENIOR - striker, now at Darlington, Michael WELCH - defender, Greg YOUNG - defender, now at York City.
Arrivals: Michael TWISS - striker (ex-Morecambe), Damian REEVES - striker (ex-Alfreton, Farsley Celtic), Marc JOSEPH -defender (ex-Rotherham), Kevin HOLSGROVE - left-winger (ex-Hyde), Tom McCREADY - midfielder (ex-Everton), Matty CROWELL - midfielder (returning from Australian football), Danny HOLMES - midfielder/defender (ex-Burton), James COATES - goalkeeper (ex-Rhyl).

Two players, Matt Doughty and Tom Kearney remain on the way back to fitness after serious injury last season. Altrincham therefore go into the season with 18 fit players. The other players remaining at the Club from last season are Stuart COBURN, James SMITH, Shaun DENSMORE, Robbie LAWTON, Chris DENHAM, Nicky CLEE, Robbie WILLIAMS, Dale JOHNSON, Anthony DANYLYK and Ryan BROWN.
REFEREES
The referees for Altrincham's first two league games have been announced:
Saturday 14 August v Luton Town (A): Mr M. F. Thompson. He is presumably the same Mr Thompson who oversaw Crawley 4 Altrincham 0 in December 2008.
Tuesday 17 August v Darlington (H): Mr S. J. Martin. He reffed the Wrexham v Altrincham game in which Tom Kearney broke his leg last season.

For the Luton game, the Hatters confirm that:

"We have approx 1500 unreserved seats available. Tickets are priced as follows:-
£18.00 for Adults,
£13.00 for Seniors (Over 65) and Young Adults (17-21)
£8.00 for Youths (10-16)
£10.00 Golden Seniors (Over 75)
£5.00 for Juniors (Under 10)".
CHARITY GAME
Altrincham FC groundsman and former Reserves' manager Neil Brown has provided the following report on the annual charity game played last Sunday by Altrincham FC and East Levenshulme FC.

"The annual game between East Levenshulme and Altrincham FC produced a good turn out of players, fans and commitee - giving their all, again, for two good causes. This year, though, Alty were in fear that they were going to lose by a big score. It seemed it was going that way when, after only 10 mins or so, they were one-down after a bit of a scramble in the six-yard box saw a Levy player hit the ball and it went in-between players and no one had a chance to stop it. We were two-down not long after, but to a very dubious goal, which came when when a long ball was chased down by a Levy forward and an Alty defender. The keeper came out and kicked clear but it struck the Levy player, whose hands helped it into the net - 2-0.

The game was well contested by the two teams and ended in a 3-3 draw after some excellent finishes from Danny Heffernan - the first, a screamer. From just inside Levy's half the ball came to "Heff", who looked up and saw the keeper off his line and shot perfectly over him to make it 2-1.

Just after this, Levy went 3-1 up but, again, when the ball was played to Heffernan, he took on two defenders and beat both and slotted past the keeper - 3-2 . The equaliser was a free-kick 22 yards out and this time Heffernan placed it around the wall and into the bottom corner, giving the keeper no chance.

In the dying seconds, Alty nearly won the game as the ball went through and a defender messed up, leaving Ollie Needham with a chance to finish - but he just missed.

I wish to thank all who turned up and played or came to watch and support this event that is organised by the Levy manager, Lenny, each year for two good causes (Francis House and Christie Hospital), one of which is also close to a few of us at Alty at the moment. The Alty team consisted off - Geoff Goodwin, Grahame Rowley, Neil Faulkner, Alan Ainsley, Peter Band, Danny Heffernan, Ashley Brown, Robert Jones, Chris Rowley, Jay Goodwin, Paul Taker, Duncan Atkins, Sam Banki, Michael Rockson, Steve Foster, Ollie Needham, Louis Needham, James Dawson".
BSBP NEWS
Mansfield Town confirm that "The 12th Stag, a fund which adds money to the manager's playing budget, has dug deep once again by contributing to the wages of forward Luke Medley, who put pen to paper on a six-month deal this afternoon. £1,200 has been put towards the frontman's wages from the group who had previously helped bring striker Paul Connor to the club. The 21 year old, who began his professional career with Bradford City and later joined Barnet said: 'It's great that the supporters have done this. I thank them a great deal and I hope I can repay them with goals for the club'".

The Daily Post says that "Wrexham FC owner Geoff Moss has expressed regret that tentative proposals to give Wrexham Supporters Trust first option on a potential purchase of the club were made public on Friday...

The Trust is canvassing opinions on a possible £2m buy-out of the club and the Racecourse Stadium ahead of substantive talks with club chairman Ian Roberts in the near future... Moss said: 'It's disappointing that this has come into the public domain when it had previously been agreed that the discussion would remain confidential until such time as a further meeting had taken place'...

Moss also defended the position of parent company Wrexham Village, which has allegedly gone back on guarantees that cash from the student accommodation development adjacent to the stadium would form part of the club's income stream".

After a 2-2 draw with Welsh club Airbus, manager Dean Saunders said "I was not happy with our performance. I told the players I didn't want anyone sulking because they are not in what they think will be the starting line-up next week. I told them to fight their way into the team and show me on the pitch rather than walk around the place moping...

I'm more or less settled in my mind for next Saturday but I might try and get a couple of players in before then, so it's not nailed down yet... Hopefully Frank [Sinclair] will be all right by Monday".

"Regarding further possible signings, the Dragons boss said: 'We are working on it as we speak and we might have to get a few out on loan before we get any more in'".

From the Northants Evening Telegraph we read that "Justin Edinburgh faces 'mission impossible' at Rushden & Diamonds before the big kick-off. He believes Lee Tomlin will be irreplaceable following his six- figure switch to Peterborough United – although [he] may look for two signings in the next few days.

Edinburgh is hoping to convince Nene Park chairman Keith Cousins to strengthen the strikeforce by spending some of Tomlin's undisclosed fee. The Diamonds' boss said: 'We are never going to be able to replace Tomlin because he was the best player in the league – it's impossible... It was the right move financially for our club and the correct thing for the kid. He has earned this. The only downside is the timing of it and we're not going to replace him directly. It might take two players coming in – a striker and a wide player. I'm sure it's going to be a busy week ahead.

The chairman has been away and he comes back today so I will sit down with him early this week to find out if there is any money available. I know times are tough and the club is still without a shirt sponsor."The stability of the club is paramount and it's going to be here longer than myself or the players'".

In Lincolnshire, Sport Grimsby reports that "Neil Woods has warned his players they will need to be up for the battle in the Blue Square Bet Premier after they were fortunate to escape a 'rough and tumble' friendly encounter at FC Halifax Town with a win... The Mariners were second best for long spells at The Shay and had to hold on at the end to win 2-1...

The Mariners' manager said: 'We learnt a big lesson on Saturday... We didn't compete well enough and got out-fought in too many areas. Without being disrespectful to Halifax, they were aggressive and direct but that was why we went there to play that game. And too many of ours didn't deal with that side of it... Teams like Halifax are not going to make it a footballing game because if they do, they lose. So you have to give their management and players credit'".

The manager of the other relegated club is also unhappy as the Northern Echo reports that "Darlington brought their pre-season programme to a close with a 0-0 draw at Gretna and the team's lack of bite up front left manager Mark Cooper frustrated. Cooper saw his side limp to a second consecutive 0-0 draw – having also drawn at Spennymoor last Monday...

Cooper admits to being concerned about Quakers' forward play. 'We have to improve in the final third of the pitch', said Cooper, who deployed a 4-3-3- formation and gave a game to trialist striker Richard Offiong... 'Gary Smith, Paul Terry and Jamie Chandler all battled in the middle of the park and we are looking hard to beat'. One of the stars of Darlington's impressive defence since putting pen to paper has been Kevin Austin... since moving from Chesterfield and he shares his manager's frustration...

Quakers failed to capitalise when they found themselves in good positions throughout the first half. The second period saw some improvement, with Chris Senior, Dominik Werling and Chris Moore bringing a more direct style of play and natural width. Moore has endured a limited role throughout pre-season but, with Senior, helped raised the tempo of Quakers' play when he came on as a substitute... Cooper is looking to bolster his attacking options by adding former Quakers' loanee Offiong to the squad. He is out of favour at Carlisle...

Cooper, meanwhile, has revealed that midfielder Michael Brough requires an operation on his knee. The manager said: 'Brough will have an operation on Tuesday and we don't know how long he will be out for until the surgeon has had a look'".

According to the Football Conference "Rob Wolleaston and Jay Conroy have signed for Blue Square Bet South new boys Farnborough, while Daryl McMahon has penned a new two-year contract at Cherrywood Road... Wolleaston [was]... sidelined for much of last season after ending the previous term with Rushden & Diamonds... Former AFC Wimbledon full-back Conroy has also joined".

Meanwhile, "Kidderminster Harriers have added another new face... in the form of winger Matty Blair. The former Redditch United and AFC Telford United man has been a regular feature out-wide for Harriers throughout the summer campaign. Blair – son of former Aston Villa and Coventry City midfielder Andy – only joined Telford in March 2010, having signed for Redditch the previous November from Bedworth United... The player has penned non-contract terms at Aggborough to become Burr's latest new signing".
---
9 August 2010
ALTY SIGN KEEPER
Following the release of goalkeeper Russell Saunders a few days ago, Altrincham FC have signed 25 year-old James Coates to challenge for Stuart Coburn's no.1 jersey. James (d.o.b. February 22, 1985) has previous experience at Moss Lane, having been a trialist in 2008-09 pre-season, and also having faced Alty several times whilst playing for other clubs including Vauxhall Motors, Northwich and Worcester City.

James is a former under-21 Welsh international who had an early League spell at Mansfield Town and a loan period with Boston United. His former non-League teams include Worcester City, Moor Green, Hucknall Town, Leigh RMI, TNS, Kidsgrove Athletic, Vauxhall Motors, Abbey Hey and Northwich Victoria. He joined joined Rhyl from Northwich Vics in August 2009.
YOUTHS' FRIENDLY WIN
Above: Alty Youth captain Owen Davies makes an aerial challenge as Sam Langford awaits developments.
Altrincham FC Youth's pre-season continued with a 4-2 win over Glossop North End Youth at Blessed Thomas Holford, Altrincham on Sunday. Ashley Woods struck a hat-trick for Alty after Matabaro had netted the opener. Report in the youth section.
LOCAL ACTION
With no Altrincham action this weekend, if you are looking for some local action, why not go along to a newly arranged fixture at Shawe View on Monday night (9th) where Trafford FC take on Mark Maddox and Gary Scott's Leigh Genesis at 7.30pm?

Meanwhile Aaron Burns is now at Ashton United whilst a summer Alty trialist, Matthew Holt, played for Witton on Saturday. John McAliskey has now joined Northwich Vics but he missed a penalty by hitting the bar at the weekend.
BSBP NEWS
Wrexham have offered the club up for sale to their supporters' trust for £1, but the buyers must also find £2 million to purchase the stadium. The original document is on the Wrexham forum. It states, "Whilst the Club is currently wholly owned by Wrexham Village Ltd and remains financially dependent on its financial support, we believe that the Club can now be separated from the group, debt free, if so desired. In response to our enquiry we were informed that the club was for sale and that we (WST) could acquire it from Wrexham Village.

Wrexham Village briefly stated two options:
WST to acquire the football club for a pound. Or,
WST to acquire the football club and ground for £2m.

We agreed to meet again with the Village to discuss these options in more detail... Our initial reaction was to ascertain how a sale of the club would affect future benefits from the Student development. WST would not wish to see any income stream withdrawn because of a sale of the club. We were told that there was no more money coming to the club from the development. We queried this because the Village had always stated that 100% of the proceeds from the development would go back into the club.

Mr Roberts stated that this was never the case and that the club had already benefitted from the sale of the development to the tune of £6m, this being £3m more than it is worth. In light of this the Board of the WST have agreed to pursue this opportunity and are currently awaiting documentation from the Village...

The club is a heavily loss making business. Large parts of the ground are ageing and our support is declining in relation to a pretty grim product on the pitch. Turnover is down and our losses are up. The board have discussed the basis of a WST bid and have agreed that we can only purchase a club that is sustainable in the longer term and to that end several friends of the Society are working on a business plan to support this".

Meanwhile the Daily Post confirms that "Wrexham FC fans have been told they can buy the club for £1 – but a deal to buy the Racecourse Ground as well would push the price up to £2m. The shock news comes in a newsletter sent out yesterday to the 600 members of Wrexham Supporters' Trust (WST) in which the group's chairman Lindsay Jones outlines details of exploratory talks with the club's parent company, Wrexham Village, a director Ian Roberts and the then chief executive Paul Retout

Jones says 'The ideal course of events would be that we meet with the Village and negotiate a realistic and sensible deal that we can put to our members for their consideration'...

The club is available at that low price because the student flats are nearly built and parent company Wrexham Village has no need for a football club. Where this leaves the Crusaders, who knows? If the fans were to achieve their dream of owning the club, it would then be a simple task to divorce the football club from the land around the stadium with the Racecourse thankfully protected by a Local Development Plan designation – which means it can only be used for sporting events... Wrexham Village have no real use for a ground they can't build anything on. Selling the club – even for £1 – makes sense.

In exchange for the land around the ground, which will have already been used to build flats, Wrexham Village will hand over the club debt-free. But unless fans can raise £2m, they will have to pay rent on the ground. Even after buying the club for £1 the new owners would still have to pay wages, find sponsors, commercial opportunities, sell tickets and do all the other things that come with running a football club. There is even the question of building a new Kop, which will have to be financed".

The Bedfordshire News says that "Hatters' boss Richard Money has revealed that he will take his Luton Town youngsters to play Arlesey Town in the Bedfordshire Premier Cup on Tuesday night. Speaking after Luton's 2-1 victory at Woking, Money indicated that, with the Blue Square Bet Premier season kicking off on Saturday, it may also be an opportunity to give first-team players who have not featured much in pre-season like Ed Asafu-Adjaye, who was injured at the Hatters' training camp in Portugal, a further run-out.

Money said, 'Newton is suspended for the first game of the season [v. Altrincham] but he's had a plenty of action in the pre-season so I'm not sure he'll take part but it will be a young team and we will use this week now to temper with everything slowly down and make sure that we are fresh and ready for next weekend...

Money said, 'Personally, I think that the pre-season has gone on a week too long, I think everyone has seen that the Football League has started today and we probably feel that we should have started today. I know the players were ready for it and the trick is going to be keeping them really fresh and sharp throughout next week and ready to start next Saturday which I'm sure they will'".

The NL Paper confirms that Crawley Town offered £200,000 for Rushden's Lee Tomlin this summer. Tomlin has now joined Peterborough United for £180,000 "but both he and his club could have earned a larger pay day by accepting the rich Red Devils' mammoth offer. Manager Steve Evans attempted to lure the England C star to Broadfield with an enticing up-front £200,000 offer a fortnight ago". Tomlin was not interested in "a sideways step. Now Crawley have intensified their chase for a new winger with a six-figure bid for a League wide-man, understood to be Peterborough's Dominic Green". Alty's first Saturday home game this season sees Crawley visit Moss Lane on 21 August - where, in contrast, not a penny has been spent on transfers in the eight years of manager Graham Heathcote's reign.

The NLP quotes Alty's Blue Square odds as 80/1 to win the title and their promotion odds are 40/1. Crawley's odds are, respectively, 5/1 and 5/2. Confirming Alty's tough start to the campaign, their first game, away at Luton, pits them against the 7/4 favourites for the BSBP title.

Despite their big spending, from The Argus, we learn that "A penalty from former Crawley striker Nic McDonnell condemned Reds [Crawley] to a 1-0 defeat at Bromley in their final pre-season friendly today... Reds played a strong side with keeper Michel Kuipers and midfielder Pablo Mills, both resting minor injuries, the main absentees. Boss Steve Evans gave a trial to former Ipswich and Cambridge midfielder Jai Reason and will make a decision next week on whether to offer him a permanent deal or not. The start was delayed for 30 minutes after Reds were held up on the M25 on their way back from their four-day training camp in Essex".
---
8 August 2010
CHESHIRE SENIOR CUP CLASH
On the night that AFC Wimbledon are scheduled to visit Moss Lane, Tuesday 9 November, Altrincham have now been drawn at home to Hyde in the Cheshire Senior Cup. As FA County Cups still take precedence over league fixtures, the Dons' visit will have to be changed.

The full Cheshire Senior Cup draw is:

1st Round, 21/09/10
Nantwich Town vs Stalybridge Celtic

2nd Round: 09/11/10
Alsager Town vs Vauxhall Motors
Altrincham vs Hyde FC
Chester FC vs Congleton Town
Nantwich T. or Stalybridge C. vs Cammell Laird
Northwich Victoria vs Cheadle Town
Runcorn Town vs Warrington Town
Winsford United vs Runcorn Linnets
Woodley Sports vs Witton Albion
PATRONS' DRAW WINNERS
Altrincham FC vice-chairman Grahame Rowley writes: "The Altrincham FC Patrons' Club draw took place on Saturday morning during the team's training session. The winners were;-
1st Place: (Hospitality for 10) - Isabel Riley
2nd Place: (Hospitality for 5) - Lee Wolstenholme
3rd Place: (Hospitality for 2) - Dennis Massey

The Corporate draw was also made and the winner was the "Top Banana Partnership" who will now have an advertising hoarding made for them to display around the ground at Moss Lane. Many thanks to everyone who has joined the Patrons' Scheme this season - your support is truly appreciated by the club. Congratulations to the winners, who will be guests at our game against Darlington on Tuesday 17th August".
VOTE FOR STUART
You can help Stuart Coburn (right) become North West Player of the Year in the non-League category by voting for him in the NW Football Awards. He is up against Barrow's Robin Hulbert for the title.
OLD BOYS
Former Altrincham players on the move include Paul Ellender, who has joined North Ferriby United from Retford United. Former Alty trialist in 2008, Damien Allen has moved to Colwyn Bay from Bury.

Jody Banim played in a friendly on Saturday for Stalybridge Celtic. Altrincham FC Youth graduate Ben Deegan scored in FC United's 6-1 win over Bala Town. Also now on the FCUM books are Richard Battersby, Carlos Roca and former youth midfielder Danny Browne. More recent Alty Youth players, Ben Shawcross and Andy Gamble have signed forms for Curzon Ashton according to the Evo-Stik League's most recent press release.
BSBP NEWS
The Uxbridge Gazette says that "Hayes & Yeading have released two more of last season's regulars with Matt Ruby and Toby Little both leaving the club. Centre-back Ruby has been playing in pre-season for Havant & Waterlooville, but he did make a second-half appearance for Hayes against QPR two weeks ago. However, manager Garry Haylock has decided not to offer him a deal with new signing Adam Bygrave and Tom Cadmore above him in the pecking order and youngster Charlie Wassmer as back-up... Midfielder Little, who came through the club's youth ranks to the first-team, has also not been offered a contract after playing in pre-season for Hayes and he is currently on trial at Woking".
---
7 August 2010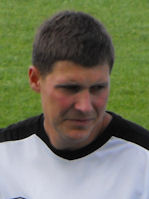 HOLMES JOINS AS SAUNDERS LEAVES
Altrincham FC have signed former Burton Albion player Danny Holmes, following a series of successful pre-season games in which he has played both in midfield and defence. Born on 17 November 1986, 23 year-old Danny started out as a Port Vale trainee and then joined Burton Albion from where he was released when they reached the Football League in 2009. Altrincham were already on his trail before the midfielder joined Ilkeston Town for 2009-10.

Leaving Moss Lane is goalkeeper Russell Saunders, who has been released after six starts in two spells with the club. His first appearance was as a loan player in 2007 from Wigan Athletic, when he was carried off with a leg injury after an hour of his debut. He returned to Moss Lane as an Altrincham player for the 09-10 season. The Club wishes him well for the future and thanks him for his services.
SUNDAY CHARITY GAME
Altrincham FC groundsman, Neil Brown, confirms that the annual charity match between East Levenshulme FC and an Altrincham FC XI will be on Sunday, August 8th at 1pm at the East Levenshulme ground on Slade Lane. All proceeds go to Christie's Hospital and the Francis House hospice. All donations will be gratefully received. Neil can be contacted for further details on telephone number 07968 045657. The Altrincham side will include chairman Geoff Goodwin, Vice-chairman Grahame Rowley, former players Peter Band, Danny Heffernan, Ashley Brown and Chris Rowley as well as regular Staff v Supporters' match participants Neil Faulkner, James Dawson and Oli Needham.
YOUTH GAME
Altrincham FC Youth will play a pre-season friendly this Sunday (2.30pm) against Glossop North End at Blessed Thomas Holford, Altrincham.
FIRST GAME
Alty are away at Kenilworth Road next Saturday and Luton Today reports that "Luton Town have announced ticket prices for the first three home games of the 2010-11 season. For the matches with Altrincham, Newport County and Hayes & Yeading, the prices are £5 for juniors (U10), £8 for youths (10-16), £13 for young adults (17-21), £18 for adults (22-64), £13 for seniors (65-75) and £10 for golden seniors (Over 75). Unlike in previous seasons, there will be no additional £2 charge when buying tickets on a match day".
BSBP NEWS
There are good words for Altrincham in the Southport Visiter where "Cult hero Steve Dickinson has warned goalkeeper Tony McMillan to be at the top of his game this season or risk losing his standing as first choice. The 37-year-old sealed a popular return to Haig Avenue this summer... Manager Liam Watson brought back the club's all-time leading non-League appearance holder to act as mentor to McMillan and provide him with much-needed competition...

'It is going to be a tough season and I don't want to sound pessimistic, but if we stay up we'll have done very well. Newport, who came up from the Conference South, have double our wage bill, so it just goes to show you what we're up against. But Liam has mainly stuck with the lads who he knows will give that extra 10% and will graft for each other to get the result we need. If we stay up this season then we need to build like Altrincham have done and stop moving up and down the leagues'".

According to Blue Square Football "Southport manager Liam Watson admits the number of injuries in his squad is causing him concern ahead of the new season. Liam Blakeman, Tony McMillan, Robbie Williams and Kevin Lee are all on the treatment table as they look to recover before their first game against AFC Wimbledon.

Watson told the Southport Visiter: 'Blakey is really struggling for the Wimbledon game and looks like he will not make it. He got 65 minutes against Marine and some more time last night against Bamber. We have just been rehabbing Tony as much as we can from the injury he sustained in the Eastwood game. He went to see a specialist last week and they have given him the all clear to start training again because it is only a level one strain in his knee. But if he doesn't make it then we've got a more than capable replacement in Steve Dickinson who has looked really good in pre-season. Robbie has tweaked his groin, but I don't see it as being a massive problem'.

Watson also revealed that budget constraints have led to the release of trialists Paul Henry, Jonathan Crane, Simon Richman and Chris Simm. He added: 'All the trialists have been released and I was not in a position to put an offer on the table to Paul because unfortunately the budget dictates as much'".

From the BBC we learn that "Cambridge United were fully aware of Daryl Clare's injury problems before they signed him, says boss Martin Ling. The 32-year-old forward, signed from Gateshead this summer, is unlikely to be fit for United's opening game...

Ling told BBC Radio Cambridgeshire: 'We knew he had a slight problem with his glute area and we knew we had to do some rehabilitation. There's no panic, I look at it as a two-year programme. I can guarantee that everything's OK with Daryl. There has been a specific programme he has had to go on. He's actually played with the problem before. The reason we're doing as we are is because I think we have the best physio in the Conference and he feels he can make Daryl a better physical specimen... People have to remember Daryl was part-time six or seven months before he came here. I think he'll prove over the next two years to be a very valuable signing to us'"

At Clare's former club, Gateshead report that "The news that goalkeeper Paul Farman has become the third Gateshead player to miss the start of the season has been offset by a double swoop by manager Ian Bogie. Farman will be out for three weeks with a knee injury to further deplete the spine of the side, with centre-forward Jon Shaw and centre-half James Curtis already ruled out.

Keyhole surgery or a clean- out operation are the likely options for Farman... Gateshead, meanwhile, expect to have two new signings in their side for their final pre-season friendly at Guiseley tomorrow, while a mystery foreign striker is also set to jet in to spearhead the attack.

Bogie said: 'The 23-year-old front man has captained his country at various levels, has been at a top club in Europe and is keen to play in England'...

He unveiled two other players expected to sign short-term deals. Former Gillingham striker Gary Mulligan, 25, is set to join the Tynesiders on an initial six-month contract and former Barrow keeper Tim Deasy, 24, on a three-month deal... 'We needed another goalkeeper and Deasy fits the bill. He has played over 50 games for Barrow and I've also offered ex-Hartlepool keeper Mark Cook non-contract terms'" revealed Bogie.

At Deasy's old club, Barrow confirm that the "have signed young Carlisle United striker, Andy Cook, on a one month loan deal as cover for injuries to Nick Chadwick and Danny Forrest. Cook had 2 loan spells with Barrow last season, but broke his foot early into the second month at Holker Street... Forrest is doubtful for the season's opener at Histon with a hamstring tweak, while Nick Chadwick is definitely out due to a knee injury, so Cook's acquisition is vital. Cook is the second addition of the week, following Leeds United keeper, Alan Martin, who has joined on loan until January 3rd 2011".

The Chad reveals that "Stags' goalkeeper Alan Marriott could be out of action for between 'three to six months' if he needs surgery for a stomach muscle injury... Mansfield manager David Holdsworth confirmed on Thursday that the former Lincoln stopper is still feeling twinges and... fears Marriott may have to go under the knife if the results are not encouraging - which would leave the club with just Neil Collett to draft in.

Said Holdsworth: 'It is not a situation you like to happen eight days before the start of the season to your number one goalkeeper. To lose Alan would be a bitter blow... He is an integral part of our team. I hope it doesn't happen that way. I hope it can clear up with just rest between games. If it doesn't we'll have to look at another goalkeeper, as Neil Collett would be the only one we have. The young goalkeepers at the club are certainly not ready for inclusion'".

From the Express & Star we learn that "Kidderminster Harriers manager Steve Burr was today trying to squeeze the last remaining cash out of the coffers at Aggborough to bring in one more striker. Burr currently has 19 contracted players after rebuilding the squad in his first summer in charge, but has revealed he is still under the playing budget set by chairman Barry Norgrove... with just two out-and-out strikers currently on the books.

Lee Morris and Nick Wright have been signed with Chris McPhee also able to play in attack if needed, but the Harriers boss has still been actively looking to bring another cost-effective option on board... Defender Gavin Caines could hold the key. Caines is under contract but is not wanted at Aggborough and, after playing a game for Stafford Rangers this week, could be allowed out on a part-subsidised loan to claw back some of his wages...

Burr said: 'A striker has become available who I would be very keen on getting here. He's been in somewhere and hasn't been taken on, but it might have come a bit late for us... We are just under our budget at the minute, but it depends on what the lad is looking for'".

Rushden & Diamonds "have signed striker Donovan Simmonds on a short term contract. The 21 year old started his career as a youth with Charlton Athletic, moving to Coventry City in 2007. During his time at the Sky Blues Donovan had loan spells at Gillingham and Kilmarnock. He then had a short spell at Floriana in Malta, returning to sign for Greenock Morton in February 2010".

But there is also a significant departure from Nene Park as "Lee Tomlin has today signed for League One side Peterborough United for an undisclosed fee. The striker signed for Rushden & Diamonds as a 16 year old in 2005 following his release from Leicester City's Academy... A regular for the England C team, Tommo has played up front and in wide midfield for the Diamonds... Manager Justin Edinburgh commented 'It's a massive loss for the football club but it's totally right, he deserves his opportunity to be a Football League player... I'm sad to see him leave but I'm delighted for him'".
---
6 August 2010
TWO SIGNINGS, ONE DEPARTURE
Altrincham FC are pleased to announce the signing of defender Marc Joseph and midfielder Matty Crowell, who are pictured left and right respctively, with manager Graham Heathcote (pictures courtesy of Sarah Rowley). But leaving Moss Lane is midfielder Adam Carden, who has been released. Adam departs after joining last season and playing 3(+12) games for the Robins. The Club thanks him very much for his service and wishes him well in his future career.

Marc Joseph (33) is a former Rotherham United defender, who has impressed in pre-season, where he has mostly figured on the left of the back-line. He is a former Antigua and Barbuda international who, before playing for The Millers, was with Blackpool, who released him in May 2007.

Matty Crowell (26) is no stranger to Alty, having signed last summer. But, after just five matches he went to Australia to play football. Fortunately he has returned and, though based in his native Wales, has rejoined Altrincham.

Altrincham FC welcomes both Marc and Matty to the Club.
YOUTH CHANGES
Although they were only issued this week, the fixtures for the NW Youth Alliance have already been changed. Altrincham FC Youth team plays in the Premier Division and Altrincham FC Juniors in the First Division.

The fixtures are on the Youth Page.
SPONSOR A SHIRT OR TWO!
For just £150 you can sponsor an Alty player's shirt for the whole season and you get the shirt signed, to you, at the end of the campaign. So far, the following players are available for sponsorship:
James Smith (Away)
Matt Doughty (Away)
Shaun Densmore (Away)
Robbie Lawton (Home and Away)
Damian Reeves (Home)
Michael Twiss (Away)
Chris Denham (Away)
Kevin Holsgrove (Home and Away)
Russell Saunders (Home and Away)
Dale Johnson (Away)
Ryan Brown (Home and Away)
Anthony Danylyk (Home and Away)
Tom McCready (Home and Away)

Please ring the club on 0161 928-1045 or send an e-mail to secure your chosen player's shirt.
OLD BOY
"Mossley have signed speedy Nigerian striker Osebi Abadaki who finished last season with Ashton United" reports NL Daily. "Lightning fast Abadaki, 19, began his career with Blackburn Rovers Academy before playing for Altrincham and then Stalybridge Celtic youth teams. He joins Mossley after recent trials with Macclesfield Town and Kidderminster Harriers".
BSBP NEWS
Right: Matty Crowell is here caught in action on Tuesday against Manchester United by the lens of Gavin Rathbone, whose GR Photography website has many more Alty pictures for purchase.
News of Altrincham's first league opponents comes from the Bedfordshire News which says that "Former Luton Town defender Lewis Emanuel will not be signing for the Hatters' Conference rivals Barrow after telling the club he is not over his injury troubles. The Yorkshireman, who played only one game for Town last term, did not report back for pre-season training with Luton and was released.
The 26-year-old was then given a chance to impress at the Cumbrian club but his toe injury has not healed properly and could require more surgery. Bluebirds boss Dave Bayliss, said: 'Lewis had an operation two years ago and has been is some discomfort since. He could have easily signed a deal with us then told us afterwards but he has been really honest about it. You don't get many honest lads like him in football any more. We did want to sign him, but he's now facing two to three months out of action, so it isn't going to happen at the moment'" .
Meanwhile, "Hatters' boss Richard Money confirmed the signing of Czech trialist Kdenek Kroca and plans on adding the defender's fellow countryman Pavel Besta after last night's pre-season win against Newcastle United. Besta made his first appearance for Luton against the Magpies and lasted 75 minutes where Kroca played the full 90 minutes...
Money said, 'We're going to sign both of them. Kroca's already signed a contract tonight until January and we'll try and do the same with Besta. We've been searching for the right centre half and we've been searching for the right central midfield player to go along with what we've already got. The two of them look as though they fit the bill. There is always a question mark on whether they are going to be, not tough enough, that's the wrong word, because I would suggest if you live in the Czech Republic you're pretty tough, but whether they can cope with the hurly-burly...
Money said: 'Besta looks like exactly what we need. Tough, uncompromising, proper central midfielder player, who keeps that box of four very, very strong'".
Lincoln Vital Football reports that"Former Lincoln City loanee Michael Uwezu has been handed a trial by Wrexham following his release by Fulham. The Nigerian teenager played three times for the Imps last season - all as a substitute - after joining the club on a temporary basis. But he never got a look in on his return to London and was duly shown the door by the Cottagers at the end of the season.
City boss Chris Sutton has admitted that he would like to re-sign some of last year's on-loan players, but Uwezu was not one of those on his radar due to an innocuous stay at Sincil Bank. He linked up with Wrexham earlier this week... Manager Dean Saunders told the Daily Post: 'I've never seen Uwezu before, but he's come up from Fulham so I just gave him a game. It was difficult for him, coming on when we were 1-0 down, but he looked quick and sharp'".
The NL Daily says that "Notts County goalkeeper David Grof has joined Tamworth on a month`s loan deal in time for the new season. Grof signed a one-year deal with County last week but has joined the Lambs to pick up some experience. The 21-year-old Hungarian has spoke of his desire to become Notts' number one stopper...
Meanwhile, former Birmingham City trainee Jacob Rowe has become the latest trialist released by Lambs' boss Gary Mills. He follows Craig Reid, Fabrice Kasiama, James Reid and Mark Dudley in departing the club in the past fortnight. But Mills is still keen to keep Ben Fairclough, who has impressed during pre-season".
NL News 24 reports that "Striker Luke Medley is a target for Mansfield Town. The 21-year-old former Bradford and Barnet hitman has impressed since coming in on trial... He would provide some immediate welcome competition for Paul Connor and Keigan Parker with Rob Duffy (appendix) and Lee Gregory (heel) currently unavailable... [Manager] Holdsworth tells This Is Nottingham, 'He has made a big impression, and he has told me he wants to join. But players will have to go out before I can bring anyone else in. That's life'".
According to Sport Grimsby says that "Former West Brom man Dwayne Samuels today signed a two-year deal with Grimsby Town today. The 19-year-old right-back impressed Mariners' boss Neil Woods in games against Lincoln City and Scunthorpe United, earning himself a permanent contract. Woods said: 'Dwayne has impressed us from the moment he's walked in. His training and attitude to everything we've given him has been superb'.
"Grimsby Town have today completed a double swoop – adding midfielder Robert Eagle to this morning's signing of Dwayne Samuels. Eagle, a former Norwich City first-teamer, has joined the Mariners on a two-year deal and becomes Neil Woods' 12th summer acquisition".
---
5 August 2010
MORE ON THE NEW SIGNINGS - & MORE TO COME!
Brian Flynn writes:

"Altrincham have strengthened their squad with two new signings this week and there looks likely to be a couple of further additions before the start of the Blue Square Bet Premier campaign on Saturday August 14th.

Kevin Holsgrove, a 22 year old winger, and Tom McCready, a 19 year old midfielder, signed on Tuesday before featuring in the Robins' 2-0 defeat against an impressive Manchester United XI.

Holsgrove was with Hyde United last season and recently turned down a full time professional contract with Kidderminster Harriers. Altrincham manager, Graham Heathcote, moved quickly to offer terms to the former Everton Youth Academy player on Friday after he came on as a second half substitute in the 3-2 victory over a Tranmere Rovers XI.

Tom McCready is just 19 and spent last season in Scotland with Hibernian, having also graduated through the youth ranks at Goodison Park.

'I watched Kevin two or three times last season and he is a strong, skilful, pacy player who I am sure will be an asset to us going forward. Tom is a young player who is an excellent prospect for the future of the Football Club. I'd like to think that we will have two more signings by the end of the week and I am also considering bringing a player in on loan'.

Heathcote is the longest serving manager in the Blue Sqare Bet Premier and is quite upbeat ahead of the new campaign, despite the frustrations of recent weeks. 'Fitness has been a concern throughout pre-season, but the United game was a great workout and I thought we came through it quite well and defensively we were better than in previous games where we have conceded too many sloppy goals. I'm quite pleased with the way the squad is taking shape now, although I've lost count of the number of potential signings that I have lost out on due to players wanting full time football or being offered better terms'.

Some of the players Heathcote has gone in for, but who have ultimately joined other clubs are:-
Jamie Milligan (Fleetwood Town to AFC Fylde)
Luke Jones (Mansfield Town to Forest Green Rovers)
Jonathan Smith (Forest Green Rovers to York City)
Danny Forrest (Crawley Town to Barrow)

Altrincham complete their pre-season schedule with a game against a Wigan Athletic XI on Tuesday August 10th.Kick Off at Moss Lane is at 7.30pm."
£5,000 TO BE WON
The Altrincham FC Yankee jackpot of £5,000 remains to be won after last week's races produced unclaimed code 7209. However, eight contestants each won £25 for "trebles". Follow the link to join the scheme.
ON THE ROAD
It is hoped to run a supporters' coach to Altrincham's opening fixture of the season, away at Luton Town on Saturday, August 14th. Times and fares are on the Away Travel page. To book please ring the club on 928-1045 or sign up in the Club Shop at tonight's or next Tuesday's home match.

Some of Alty's best performances last season came on the road, so don't miss out on the chance to support the Robins at Kenilworth Road.
FRIENDS' WINNERS
The latest Friends of Altrincham FC monthly draw results are:
1st: Nigel Hennerley (no.42) - £100
2nd: David Mardon (40)
3rd: Peter Wragg (83)

Follow the above link for details of the scheme which helps the Club and gives you a chance of a cash prize.
BSBP NEWS
The rags to riches fairytale continues in West Sussex, where Blue Square Football reports that after a summer of big-spending at a club which was releasing players to reduce its wage bill less than six months ago, "Crawley Town manager Steve Evans has set his sights on two players from League One. The 47-year-old revealed he is chasing a winger and a midfielder, but declined to name them. 'We have made a substantial bid for a League One wide player who has tremendous ability', he told the Crawley Observer.

'I have been speaking with co-owner Bruce Winfield about this and he has released the funds for me to do this. The Football League club will be having a board meeting on Wednesday to decide on this and we expect to hear a decision soon afterwards. The other player is someone I have tried to sign before on a number of occasions but was not able to because of the cost, which at the time couldn't be afforded. He can play anywhere in midfield or across the back-four... We are expecting a response from this on Friday. We are in a healthy position and it a sign of the times we are talking about £20,000 being a small bid when last season it would have been a fantastic sum. I would like to thank owners Bruce Winfield, the club's investors and Sue Carter for allowing me to make these offers'".

But it is a much different story in East Sussex where "Eastbourne Borough have decided against signing Will Salmon. The former Ebbsfleet right-back was on trial with the Sports but was turned away due to budget constraints - so says head coach Nick Greenwood. 'Although we were pleased with what we saw from Will we haven't got unlimited funds so we decided not to take him', he told The Argus...

In other team news, former Brentford goalkeeper Clark Masters is hoping to win a deal... Greenwood is looking for cover for summer signing Rikki Banks as last season's first-choice stopper, Danny Knowles, is out until December with a broken leg".

Blue Square Football also reports that "Kyle Nix insisted he remains 100% committed to Mansfield Town after failing to land a contract at Sparta Rotterdam. The midfielder went on trial at the Dutch club with the permission of Stags boss David Holdsworth. Sydney-born Nix felt it was a 'chance of a lifetime' that he was duty bound to pursue in a bid to push his ambitions to play for Australia...

said Nix, 'It is hard enough to go on trial at English clubs, but there were lads there speaking French and German, which I didn't understand. I only trained once and played 45 minutes, but it was still a great experience. It was something I had to give a go. They are a massive club. It was something that only comes up once, the chance of a lifetime. They have an Australian on their coaching staff and that was the main reason I wanted to give it a go. It was a no-brainer. But I'm really happy at Mansfield... I'm going to look to be more selfish around the box. I got nine or ten in my first season at Bradford so, hopefully, I can get somewhere close to that'" he told This is Nottingham.

According to the BBC "Leeds United and Scotland Under-21 goalkeeper Alan Martin has signed for Barrow on a loan deal until January. Martin, 21, made 25 appearances for the Bluebirds while on loan during 2008/09, and played 10 times for Accrington Stanley during a loan spell last term".

from the Uxbridge Gazette comes news that "Striker Elliott Buchanan is next on Hayes & Yeading manager Garry Haylock's hit-list of potential signings for season 2010/11. The 21-year-old is expected to sign on the dotted line soon after an impressive trial spell at Church Road... Buchanan quit Zamaretto Division One Central side Slough Town after ending last season as their top scorer with 19 league goals and he is seeking full-time football again after a previous stint at Stevenage Borough during 2008.

Buchanan had earned that move after striking 23 goals in 26 games for Northwood. Haylock is also closing in on signing former Brentford youth goalkeeper Josh Lennie as cover for experienced number one Lee Harrison. As first revealed by the Gazette last week, Hayes have confirmed the signings of Harrison, defender Adam Bygrave and midfielder Peter Holmes with Adam Green also resigning for the club.

Former Woking midfielder Jamie Hand and ex-Brentford full-back Lewis Ferrell signed up on Monday to join Bradley Pritchard, Charlie Wassmer, Nathan Webb and Daniel Wishart in committing for next season, while Tom Cadmore's signature is also imminent. However, Haylock says his search for new talent is far from over.

'I have had phone calls from two more players and I was very surprised that they were available', he said... 'The signings we have made takes us to 13 or 14 players now, but we are still looking'. Hayes & Yeading suffered a 1-0 defeat at Southern Leaguers Hungerford Town with several trialists featuring at Bulpit Lane".
---
4 August 2010
ALTRINCHAM SIGN TWO
Following Tuesday night's friendly with a Manchester United XI, Altrincham FC have signed two of the trialists who started that game. They are:
Kevin Holsgrove (left): A tall, left-winger whose previous clubs include Everton, Colwyn Bay,NEWI Cefyn Druids and, most recently, Hyde United last season. 22 year-old Kevin, (d.o.b. 19/1/88), has impressed in his two appearances both with his pace and his strength in holding off challenges.
Tom McCready (right): A 19 year-old midfielder, who is another ex-Everton graduate but a Liverpool supporter. In fact, Tom spent six years as a youngster with The Toffees, where he was a regular in the reserves, before joining Scottish club, Hibernian at the age of 18. There, he was briefly a team mate of Aaron Chalmers, an Alty trialist last season. Brought up in Ellesmere Port, Tom's elder brother Chris has many League appearances under his belt for Crewe Alexandra and Tranmere Rovers.

All at Altrincham FC welcome Kevin and Tom to the Club.
ALTRINCHAM 0 MANCHESTER UNITED XI 2
A goal in each half from a slick-passing young Manchester United reserve team, managed by Ole-Gunnar Solskjaer, decided this game.
Match report here.

Above left: Chris Denham in competition with United's Magnus Eikrem.
BSBP NEWS
The Northern Echo says that "Darlington striker Chris Senior was on his honeymoon when he received a text message telling him that Simon Davey had quit the club. The player who'd just signed a one-year contract after three-and-a-half successful years with Altrincham would not have been the first newly-wed to suffer from second thoughts.

And Ryan Kidd's blink and you'll miss it spell in charge at The Northern Echo Arena did nothing to reassure Senior he'd made the correct decision to join Quakers from the Conference National outfit. But after linking up with Mark Cooper and seeing the club's determination to regain their Football League status, Senior is convinced his move to the North-East will prove to be a happy coupling.

He is expected to be part of the Darlington squad who continue their pre-season preparations at Northern League champions Spennymoor Town. 'I wasn't looking for a move because I enjoyed being at Altrincham', said the 28-year old. 'It's a really good club but, with no disrespect to them, I think their fans would agree with me when I say they aren't going to be challenging for a promotion and when I heard Darlington were interested I wanted a crack at it.

But it was a bit weird. I got married in the summer and then all of a sudden I'm on honeymoon and I get a text saying Simon had resigned. Then I got a phone call off Ryan Kidd to say he's in charge now, so put your mind at rest. Then I got another text saying he's resigned as well. But everything seems settled now. The new manager has come in and he is first class, so everything is in place to bounce back at the first attempt'".

Wrexham say that "It has been confirmed that striker Obi Anoruo will enjoy a spell away from the Racecourse. The Liverpool-based player will sign for Vauxhall Motors in the Blue Square Bet North, initially on loan until next January".

News from Luton Town, our first league opponents, suggests that they are paying top clubs to play them. "After two impressive home pre-season friendly performances Town boss Richard Money is happy with the way his side is progressing ahead of the new campaign. However, the victories over a Liverpool XI and Kilmarnock last week have been tinged with a disappointing average crowd of 2,098 at Kenilworth Road for two games.

With Money's playing budget set in accordance to estimated attendances for the friendly games, the Hatters' chief warned that another low gate for the visit of Newcastle United on Wednesday could hinder his transfer plans throughout the forthcoming season.

Talking after the 1-0 victory over Kilmarnock he said: 'I know money is tight but the reality is we have budgeted for bigger crowds. We have paid a lot of money to bring Liverpool, Kilmarnock and Newcastle to Kenilworth Road. We want to show our supporters what they have and what we have here. If we've budgeted too highly then it will only impinge on team building for the rest of the season. We're like everyone else, there's a lot of hype and nonsense out there that we can spend what we like, it's just not true. We've got a strict budget and it's not as big as people think it is...

We've budgeted for more than what we've got in the last two matches'... 'I've spoken to Chris Hughton', Money said. 'He said they're going to try and bring the best team possible'".

Hayes & Yeading United have "confirmed that Adam Green has re-signed for the new season along with former Brentford youngster Lewis Ferrell and experienced central midfielder Jamie Hand who was with Woking and Hemel Hempstead Town last season".

Welsh Premier inform us that "Port Talbot Town are set to lose midfielder Scott Barrow, who was one of three nominations for last season's Welsh Premier young player award. The 21-year-old is currently in negotiations with Tamworth with a view to a move... Barrow played 45 minutes at left-back for Tamworth in a pre-season friendly... and was invited back for a second match on Saturday... The Wales Under-23 semi-pro international is now discussing personal terms with a view to a permanent move".

According to the Daily Post "Midfield player Jamie Tolley yesterday agreed to join Wrexham on a month-to-month basis, much to the delight of cash-strapped manager Dean Saunders. The 27-year-old former Wales under-21 international, has been training with the Dragons for most of the summer and has regularly featured in the club's extensive programme of warm-up matches...

The Dragons' boss, who yesterday claimed there are eight Blue Square Premier clubs with a player-budget larger than his own, views Tolley as the ideal replacement for Kristian O'Leary, who turned down a Racecourse contract offer to sign for hometown club Neath. Tolley has made more than 220 Football League appearances for Shrewsbury Town Macclesfield and Hereford United and Saunders said: 'Jamie is not quite fully fit yet and we'll keep his situation under review on a monthly basis.. He's a big lad and has the physical presence we need...

When the winter kicks in we'll need players with a bit of strength in the team and he can do that job alongside Christian Smith'... Striker Gareth Taylor... was back in training yesterday but midfielder Jay Harris cut his session short after sustaining a slight groin strain. Saunders said reports that young Airbus striker Jake Cassidy would be having a trial with the Dragons this week were premature... An experienced central defender remains the top priority...

Saunders, however, has high hopes for young defenders Declan Walker, who has won a first call-up to the Republic of Ireland under-19 squad, and Johnny Hunt".
FLYNNZINE
Brian Flynn's latest "Flynnzine" appeared in the Robins' Review on Tuesday...

Pre-Season is OK......but it could be better!!!!

Pre-season is a rather strange phenomenon in my view. On the one hand, many fans have barely finished reading the programme from the last match of the previous campaign before they start feeling agitated by the lack of Alty matches and counting the days to the first pre-season friendly, whilst at the other end of the spectrum, there are supporters who wouldn't dream of attending a friendly match and will click the turnstile for the first time at the first home competitive game.

You can understand both perspectives. Some fans just can't wait to see the new signings that have been made and hope that the trialists throw up at least one gem who is going to go on to become a Moss Lane legend, whilst others see the games as glorified training sessions and are quite happy to wait to see the likes of Damian Reeves and Michael Twiss in the middle of August.

I guess it's not exactly the favourite time of year for players too, with a high proportion of the work done focused on achieving a specific level of fitness in eleven days time. Gerry Quinn, the Robins' manager in 1992/3 said " I'm bored of pre-season now and just want to get on with the start of the season" and those sentiments were echoed by Graham Heathcote three years ago after our final pre-season game against The New Saints, which had finished as a 1-1 draw.

In some ways things are better for supporters of the major clubs, who generally travel to North America, the Far East or Australia, where they will take on opponents who are not only fired up by the opportunity to take on one of the top Premier League teams but, also, these teams are often in better condition as a result of already being in the midst of their own domestic league season.

I watched the New York Red Bulls take on Manchester City last week and it was quite a decent spectacle as the MLS team ran out winners by the odd goal in three with new signing Thierry Henry making his "second appearance in the Bulls' Uniform!!"

On Saturday I went to the Liverpool Senior Cup Final between Skelmersdale United and Liverpool.The game was held over from last season and a very competitive and entertaining match finished 3-2 to the men from Anfield. It revived a long held personal view of mine that it would be a good all-round move to play at least one and probably two rounds of the Cheshire Senior Cup before the start of the league campaign. I am convinced that this would give a shot in the arm to an ailing competition and a more competitive edge to one or two games before the big kick off.

Also, the Liverpool Senior Cup Final was played at Skem's Stormy Corner stadium, begging the question why the Cheshire Senior Cup is not played on the home ground of one of the competing teams. I fully understand that if our County Cup Final was played at Tranmere, Crewe, Stockport or Macclesfield, then that would make sense in terms of making the most of the occasion, however playing the game at a non-league ground does little to enhance the status of this historical competition..... I think that there were fewer than 300 in attendance for last season's final here at Moss Lane between Woodley Sports and Northwich Victoria.

So, there we have it.....what started off as a nice gentle literary amble considering the pros and cons of the pre-season schedule has meandered into a couple of concrete suggestions for improving our County Cup competition. All we need now is for the Cheshire F.A. to wake up and smell the cocoa!
---
3 August 2010
DON'T MISS THE BUS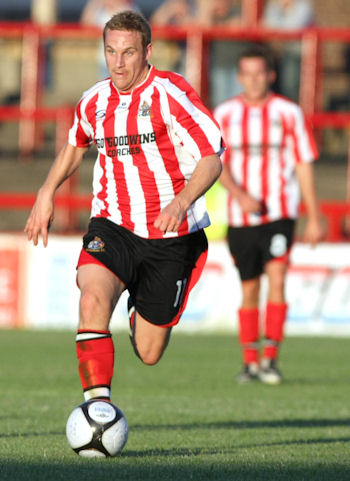 Right: Nicky Clee has shown good pre-season form despite still also playing league cricket in West Yorkshire alongside football at Altrincham this summer. Here Gavin Rathbone of GR Photography captures Nicky in action against Macclesfield last week.
It is hoped to run a supporters' coach to Altrincham's opening fixture of the season, away at Luton Town on Saturday, August 14th. Times and fares are on the Away Travel page. To book please ring the club on 928-1045 or sign up in the Club Shop at tonight's or next Tuesday's home match.
Some of Alty's best performances last season came on the road, so don't miss out on the chance to support the Robins at Kenilworth Road.
GOAL RUSH
During October 2010 Altrincham FC are running a fund-raising event, involving the 92 football clubs in the Premiership and Football League. It is called "Goal Rush" and has a £100 prize.

For £5 you simply select four random numbers (between 1 and 20 for a Premiership club, 21-44 for a Championship club, 45-68 for a League One club and 69-92 for a League Two club). At the end of the month, each team's goal average will be calculated (goals scored divided by the number of games played in all competitions).

The winner will be the person with the highest collective goal average for their four teams.

Teams will be allocated a random number by a draw to be held at the club on 30th September 2010. If you would like to join Goal Rush then simply send the details requested below to Altrincham FC, Moss Lane, Altrincham WA15 8AP with a cheque for £5 made payable to "Altrincham Football Club".

Applications will be accepted until 30th September 2010.

Your entry should indicate:

Your contact name and telephone number and your four chosen numbers:
(a) A number between 1 and 20 for your Premiership team
(b) A number between 21 and 44 for your Championship team
(c) A number between 45 and 68 for your League One team
(d) A number between 69 and 92 for your League Two team
BSBP NEWS
Blue Square Football reports that "New boys Grimsby Town have announced the signing of defender Steven Watt following a successful trial spell at Blundell Park... Watt has put pen-to-paper on a two-year deal and will provide cover for Rob Atkinson, who is currently on the treatment table with a hernia injury. Grimsby boss Neil Woods told the Grimsby Telegraph: 'He's a composed player with good positional sense. Whether its Darran, Scott, Peter (Bore) or Bradley playing alongside him at the back, they are all young lads and Steven would provide a calming influence'. 6ft 3in Watt started his career at Chelsea and has gone on to represent Swansea City and Ross County".

Another fellow relegated team going for experience is Darlington who "have signed experienced pair Kevin Austin and Paul Terry on one-year deals. Austin, 37, joined the Quakers on trial last week and took part in the club's team-building trip in the Lakes... Terry, brother of England and Chelsea star John, played more than 70 minutes in the win over Kendal last Thursday...

Said Darlo boss Mark Cooper, 'They both offer us valuable experience at both Conference level but also from the Football League. They'll offer us something we didn't have before'... Hackney-born Austin, who has won one cap for Trinidad and Tobago, has previously played for Leyton Orient, Lincoln, Barnsley, Brentford, Cambridge, Kettering and Bristol Rovers. The defender, who can play as a left-sided centre-back or a left-back, spent the last two seasons with Chesterfield. Centre midfielder Terry, 31, spent last season with Rushden and Diamonds and has also previously played for Grays Athletic, Leyton Orient, Yeovil Town and Dagenham."

At Wrexham "As manager Dean Saunders looks to finalise his squad for the start of the new season, the latest piece to be fitted into his jigsaw sees former Shrewsbury Town midfielder Jamie Tolley agree a short-term contract with the Dragons. The ex-Wales U21 international has been training at Colliers Park for the best part of a month now and will sign a month-to-month deal with Wrexham, as he aims to prove his fitness to the boss".

As ever, the 200% site has some interesting observations. "The start of the new season is almost upon us, but it will only take a few weeks for the top two divisions in England to grind to a halt to make room for a round of international matches to take place. With this in mind (and bearing in mind that England's match against Bulgaria in the European Championships takes place the night before), a campaign has sprung up to try and persuade the supporters of Premier League and Championship clubs to visit their local non-league clubs with the first "Non-League Day"...

Without any television money, only hundreds (or often fewer) of people paying to get into matches and with sponsorship having taken a battering as a result of the current economic situation, a hand to mouth existence is the very best that non-league clubs can manage. Most exist thanks in no small part to the benevolence of thousands of volunteers who turn up, week in week out...

A good number are sensibly and realistically run. However, it has long since been established that any significant benefits of the football equivalent of what might be described as trickledown economics will only (if anybody can manage it at all) benefit a lucky handful of clubs that manage to draw a big club in the FA Cup and, with FA Cup replays now under threat thanks to the hysterical reaction to England's under-achievement in the recent World Cup, even the chance of making a few coppers from this seem likely to be vastly diminished...

In no other country is there such a vast network of football clubs, and all of them are (or at least have the potential to be) massive assets to their communities. We should be proud of this diversity and Non-League Day is a terrific opportunity for supporters of all clubs to celebrate it".
---
2 August 2010
HELP YOURSELF AND HELP THE CLUB
The new Blue Square Bet logo has been added to the site and also the new link to Blue Square Bet site. Clicking on the betting link allows Blue Square to track the source and this generates income for Altrincham FC so, if you are thinking of betting with Blue Square, please do so via the image (right) which is permanently displayed on the top left of this site.

Also, don't forget when booking your holidays, that using the Thomas Cook Alty Holiday Club also generates income for the Club. Click on the image, below right, for details. This is also permanently on the site, above left.
YOUTH NEWS
Altrincham FC Youth have now trimmed down their squad after the management team, led by George Heslop, saw more than eighty aspiring players over the summer in trial games. Last Saturday they played Chadderton at BTH in a friendly and won 4-0. More on this game is on the Youth Page.

The first NW Youth Alliance league fixtures have been released, though they remain provisional. This season the Altrincham F.C. Youth team is joined by Altrincham FC Juniors, with the Youth team playing in the Premier Division and the Juniors in the First Division. The Youth team will play as usual at Wythenshawe Town whilst the Juniors' base is the former Linotype ground.

For details see the Youth Page.
CHARITY GAME
Altrincham FC groundsman, Neil Brown, confirms that the annual charity match between East Levenshulme FC and an Altrincham FC XI will be on Sunday, August 8th at 1pm at the East Levenshulme ground on Slade Lane. All proceeds go to Christie's Hospital and the Francis House hospice. All donations will be gratefully received. Neil can be contacted for further details on telephone number 07968 045657. The Altrincham side will include chairman Geoff Goodwin, Vice-chairman Grahame Rowley, former players Peter Band, Danny Heffernan, Ashley Brown and Chris Rowley as well as regular Staff v Supporters' participant Neil Faulkner.
BSBP NEWS
NL News 24 says that "Manager John Beck wants to take Histon into the Football League as part of his long-term plans, it has been revealed. Beck pointed to the success of League One side Dagenham & Redbridge, who have loaned Histon Lee Wootton and Femi Ilesanmi, as the example he would like the club to follow. 'We've got a long way to go but I'm pleased with the progress we've made', he tells Cambridge-news.co.uk. 'We're going to be an organised side, fit and hard to beat. I feel that we're going to do something. I don't think it will be this year but probably next year. I know we're in the Blue Square Bet Premier but we have to adopt a Premier League attitude if we want to maintain our status and then move on to the Football League'".

In Sunday's NL Paper, Wrexham boss Dean Saunders calls for three clubs to be promoted each season from the Blue Square Bet Premier to League Two. "Saunders believes his club have been overtaken in the budget table by traditional non-League clubs Crawley and Fleetwood who will look to gatecrash the promotion race in 2010-11. Saunders said, "There should be two automatic places and another through the play-offs because there are so many big clubs who can attract decent crowds. I think the Football League needs the likes of Cambridge, York, Luton, Wrexham, Grimsby and Darlington because they can go up to the next league. There should be two automatic places to make it easier. It's usually the fault of one person that a club falls out of the League, mainly for financial reasons. I don't think it's fair on the fans that the way back is so difficult. It's easier to hang on in League Two with crowds of 1,200 than it is to get out of this league".

Saunders adds that "he has rejected other job offers this summer because he now knows enough about the Conference to have Wrexham challenging for the title". The NLP adds that "Saunders has already signed more than 50 players for Wrexham since taking over in October 2008. Saunders is quoted as saying, "We've made progress. We sold nine players to Premier League clubs last season as well as Neil Taylor and Andy Fleming to Swansea and Morecambe for money, which is something I'm pleased about... We don't like losing players but sometimes you've got no option when Liverpool and Everton come in for your kids and agree to pay compensation".

NL Daily says that "York City have confirmed that midfielder David McDermott and goalkeeper David Knight have signed forms for the club. A series of solid performances by the duo in pre-season friendlies have lead to McDermott signing a contract with the club and Knight joining on a season long loan from league rivals Histon. McDermott made over forty appearances for another of the Minstermen`s league rivals, Kidderminster Harriers, between 2008 and 2010."
---
1 August 2010
VOTE FOR STUART
The Holker Street Newsletter announces that "Barrow fans are being urged to vote for Robin Hulbert, after it was announced that he has been short-listed for a prestigious North West player of the year award. Hulbert will battle it out against Altrincham's Stuart Coburn for the title, voted for by supporters, at this year's MBNA North West Football Awards...

The winners will be revealed at the awards ceremony, which takes place in October. A panel of expert judges, headed up by PFA chief executive Gordon Taylor, will decide the winners in the other categories, acknowledging the off the pitch achievements of the north-west's clubs and celebrating the contribution that the region's businesses make to the global football industry...

More than 450 VIP guests from the football and business world are expected to attend the awards, which was launched in 2007... Chester-based MBNA, a subsidiary of the Bank of America, is the title sponsor of the event which takes place on 11 October 2010 at Lancashire County Cricket Club".

You can vote for Stuart Coburn here.

Right: Football provokes a wide range of emotions... Stuart Coburn was at his former club Trafford on Saturday to watch their friendly against Llandudno. He saw Llandudno convert this penalty. Behind the goal, a red-shirted Welsh fan clenches his fists in celebration; the Trafford keeper is prostrate with despair; whilst the LLandudno no.11 shows no interest at all as he ties his laces!
FRIDAY'S BUCKET COLLECTION
The bucket collection at the match versus Tranmere Rovers on Friday night realised £33.17. Many thanks to all who contributed so generously, and to the collectors.
OLD BOYS
"Mossley deservedly retained the Willowood Hospice Cup at Hurst Cross...against Premier Division neighbours Ashton United" reports NL Daily.

Ashton took the lead shortly before the break when Ged Murphy scored at the second attempt... Mossley stepped up another gear with Chris Rowney and Aaron Chalmers taking a complete grip of midfield... Ashton were forced to resort to the long ball game with ex-FC United of Manchester striker Aaron Burns often the intended target but Mossley held out well despite one scare when Chalmers had to clear a bouncing ball from near the line. The game went to penalties without extra-time and Aaron Chalmers stepped up to score the opening spot-kick... and Mossley won the penalty shoot-out 5-4".

Also on the goalscorers' list on Saturday was John McAliskey who netted as Northwich Vics beat a Fleetwood XI, 3-1.
BSBP NEWS
Former Grimsby defender, Matt Heywood, who trialled recently with Altrincham, has signed elsewhere as the NW Evening Mail reports that "Barrow AFC have agreed a deal to sign experienced centre-half Matt Heywood. Bluebirds joint-boss Dave Bayliss revealed after today's 2-0 friendly defeat against Manchester City that Heywood was set to sign the necessary paperwork tonight. The club could also be set to announce the official signing of [ex-Burton] winger Marc Goodfellow over the weekend or early next week.

Barrow have been hit by pre-season injuries to both first-choice centre-halves Paul Jones and Phil Bolland this summer. The 30-year-old Heywood stands at 6ft 5ins tall and counts Burnley, Swindon Town (for whom he played over 180 times), Bristol City, Brentford and Grimsby among his former clubs. Heywood, who is a close friend of AFC midfielder Robin Hulbert, was not part of the team that played at Holker Street today, with young 19-year-old trialists James McArten and Andrew Milne playing at centre-half for the Bluebirds.

Bayliss also revealed they have been knocked back in attempts to make the on-loan signings of Alan Martin (Leeds United) and James McKeown (Peterborough United). Trialist Steven Drench played between the sticks for the Bluebirds today.

Bayliss said: 'We've had promises, where we're 99 per cent certain on a player, and then the club has come back and said they want more money. It happened with James McKeown when we agreed a fee with Peterborough to pay for his wage then they came back and doubled their demands. The same thing happened with Alan Martin from Leeds, they doubled their demands.

'It's very frustrating and not nice, we're only a small club with a small budget. They are not dead in the water, but we can't keep going back to the chairman and saying we need this and that. It's not fair on the club, who are already paying out a bigger budget than last year'. In a further blow, the Barrow co-chief also said he expects injured duo Paul Jones and Nick Chadwick to miss the start of the new season".

News comes from the Football Conference that "Chris Jones has had his contract with Grimsby Town cancelled by mutual consent...

Meanwhile, manager Neil Woods wants to sign trialist Steven Watt. But the Mariners' boss has set a deadline of early next week to secure the 25-year-old former Ross County centre back's services. Watt, who began his career at Chelsea, has impressed in two of the Mariners' pre-season friendlies... But there is competition for the 6`3" defender from clubs in Scotland and in the Football League".

Some insights on Newport County come from Stevenage who report how they "lost to a Craig Reid goal in their final pre-season friendly in South Wales on Saturday afternoon. Quite what Graham Westley learned against a side that treated the afternoon as if it were a play-off final is hard to judge, but for preparation against fractious, aggressive and over committed opponents it could be said to be perfect preparation.

The Conference South champions approached the match as if their very lives depended on it, and the fact that Boro failed to match that desire and intensity could be considered a worry... If Stevenage were looking for a fully committed, whole hearted ending to their pre-season campaign they certainly picked the right opponents in Newport County, flaying elbows, in your face aggression and over zealous tackling where there in abundance. And that was only the opening exchanges.

There can be no doubt that Newport are an ultra competitive team. Even for a pre-season warm up game almost every refereeing decision involved a full bloodied confrontation, surrounding the referee with copious pushing and shoving. Aside from the barrage of abuse raining down from the main stand the first half was almost totally forgettable".

The other Holdsworth brother's team was also in action on Saturday as NL Daily reports that "Paul Connor bagged a brace as Mansfield Town proved too strong for Evo-Stik League Premier Division hosts [Buxton] at the Silverlands. The veteran striker impressed once again in an entertaining encounter which saw David Holdsworth field a full strength side. Goals from Louis Briscoe and Steve Foster completed the victory - [ex-Alty man] Kieran Lugsden and Josh Wilde replied for Buxton".

From NL News 24 we learn that "Adie Britton has put plans to sign a back-up keeper on hold at Bath City. Britton had hoped to sign a second shot-stopper on a permanent basis to compete with regular number one Ryan Robinson but admits he will have to lose 'one or two" members of his squad for that to happen now.

Former Forest Green Rovers man Terry Burton has featured heavily in City's friendly programme but the manager will now explore cheaper alternatives, This Is Bath is reporting. 'I've told Terry I'm unable to sign him', said Britton. 'He's impressed on the football field and would have fitted the bill but I simply can't fit him into the budget at the moment. There are a couple of others on trial with us, one from Clermont Ferrand and another who is from Verona and going to Bristol University, so we'll have a look at them. It might be that I sign somebody who is very, very cheap or go for a loan goalkeeper should the need arise. It would have been nice to have had somebody like Terry on board as it gives me a bit of security. I wouldn't have been on edge all the time'".

Blue Square Football reports that "Eastbourne Borough are on the verge of securing the signature of Will Salmon. The defender has been on trial at The Sports during pre-season... The 23-year-old was shown the door at Ebbsfleet United last season following their relegation...

Greenwood told The Argus: 'He has impressed us and we will be trying to sort something out'".

In the Bluesq.com Stewards' Cup on Saturday at Goodwood, in which Blue Square clubs were allocated a horse, the winner was Dorylsden's mount which came in at 25/1. "To commemorate their new three-year deal to sponsor the league, Blue Square have created a prize fund for clubs centered around this showpiece race. The club with the winning horse will receive a cheque for £2000 plus an additional amount determined by a £100 bet on that horse".

Hayes & Yeading United have "confirmed that veteran goalkeeper Lee Harrison, last season's Ebbsfleet United skipper Peter Holmes and 21 year old former Histon central defender Adam Bygrave have signed on the dotted line to play in United's colours this coming season".
---
FOR EARLIER NEWS, CLICK HERE
---