31 October 2008
WE MAY BE ON TELEVISION
Provided that neither Altrincham nor Burton Albion need an FA Trophy replay following the 1st Round games on 13th December, Setanta TV will televise the BSP league game at Moss Lane between the Robins and Brewers and move the game from Saturday 20th to Thursday 18th December. But if the Trophy replays do intervene, the Altrincham v Burton game will remain on Saturday 20th as the Trophy replay would be on Tuesday 16th December. If played on 20th December, the game will not be televised.
HISTON GAME
In three attempts, two away and one at home, Altrincham have yet to take a point off their visitors this Saturday, Histon. Last season the Cambridgeshire side came to Moss Lane and won 2-1, aided by a woeful back -pass from Carlos Logan which set up the winning goal. Chris Lane netted Altrincham's goal after Histon had taken the lead through Akurang, despite appeals by the Robins for offside. Earlier this season, Alty lost 1-0 away at Histon.
Altrincham dropped a place last night courtesy of Salisbury's win so start the game in 14th, whereas Histon lie 4th, with a game in hand. Nevertheless, Altrincham share third place in the current BSP form guide with their opponents, Histon, both having gleaned 13 points from their last six matches.
BSP RESULT
Thursday, 30th October
Salisbury C. 2 Crawley T. 0
LUTON's "BARE BONES"
Luton Today tells us that the "Helpless Hatters' boss Mick Harford has revealed it's a case of 'needs must' at Kenilworth Road after naming another YTS player on the bench for Tuesday night's abandoned match with Bournemouth. And while Harford felt it was the right decision to call off the October 28 game, he admitted his side was down to the bare bones as he was forced to name youth teamer Mark Farthing on the bench alongside schoolboy Jordan Patrick. Harford said: 'He is a promising kid. He is a central midfield player and a size. In normal circumstances we wouldn't put the young boys in this situation, but at this point it's needs must. We are down to the bare bones. Jake Howells and Mark Farthing are YTS boys and we've also got a schoolboy'... Harford also revealed that he's likely to name an unchanged squad for Saturday's trip to Shrewsbury, as the injured players are 'highly unlikely' to be fit".

Meanwhile Luton Town's website confirms that against Alty "Kids can again watch Luton Town for the price of just two 20p pieces. Following the "Kids for 2020" promotion that ran for the game vs. Bournemouth on Tuesday 28th October 2008, the club calculated that the attendance for that night would have been in excess of 7,000 with a significant increase of under 17s present... Therefore, we have decided to repeat that particular ticketing promotion to cover the FA Cup First Round tie against Altrincham on Saturday 8th November 2008 K.O. 3pm. This match is pay on the day only via cash turnstiles and unreserved seating, with prices set at normal pre-matchday prices (listed below). Any junior or youth (under 17) can watch the match for two 20p pieces when accompanied by a full paying adult, however, any unaccompanied children will be charged at normal pre-matchday prices.

As promotions for cup matches need to be authorised by the FA and the opposition, Luton Town would like to express its thanks to Altrincham FC for their co-operation and participation which has allowed us to continue this offer for this game. We sincerely hope that Altrincham will bring a good following for this cup tie a week on Saturday".
OLD BOYS
Carlos Roca got two goals and Kyle Wilson one as FCUM beat Ilkeston 3-1 on Wednesday night.
CONNOR LEAVING
The Sale & Altrincham Messenger will soon be saying goodbye to sports editor Connor Murphy, who has become a well-known face at Moss Lane as well as at numerous away games. Connor is leaving to take a job at the Warrington Guardian where he will be covering the rugby league. All at Moss Lane wish him well in his new role and thank him for his coverage of Altrincham FC over the last few years since he took over from Mike Crockett.
RED RESERVES
The Man Utd reserves' squad for Thursday night's Manchester Senior Cup match against Bolton was Amos; Gray, C Evans, Chester, Eckersley; Gibson, Drinkwater, Possebon, Hewson, Cleverley; Manucho.Substitutes: Zieler, Derbyshire, Eikrem, Wootton, Bryan.
BSP NEWS
The Northwich Guardian reports that "Vics have cut two members of their playing squad due to the current financial situation hitting the club. Trevor Benjamin and Michael Byrne are the players that have been shown the door. Benjamin only joined Vics on October 10 after leaving Hereford United at the end of last season. Byrne has been at the club since February 2005. Stand-in manager Mike Marsh said the club had no choice.

'Due to the financial situation at the club we have had to release the both of them', he said. 'It's disappointing and it's not nice to put people out of work. It is part of the cost cutting exercise at the club and unfortunately part of that is to get players off the wage bill and Michael and Trevor were the ones decided on'".

Next, news of another club reducing its costs. "Striker Stuart Beavon has become the latest star to be transfer-listed by troubled Blue Square Premier outfit Weymouth" reports the Dorset Echo. "The 24-year-old, who has been a favourite with the Terras' fans ever since he moved to the club in January 2007, has joined Danny Knowles, Scott Doe, James Coutts, Josh Webb and Michael Malcolm in the shop window as chairman Malcolm Curtis continues to try and cut costs. Weymouth boss John Hollins said: 'It is a board decision really and the simple philosophy behind it is that if we cannot satisfy someone in terms of giving them a contract then it is only right to put them on the list to see if anyone wants them. In the meantime the player continues to play for us and play properly. And what I mean by that is if I said to them you have to stay here and rot it would not do anyone any good and it certainly would not get the best out of the player on the pitch. It will be interesting to see what interest we get for Bevs but I can honestly say that no one has rung me so far. And if people do not ring me personally and instead try and go around the back then I will not stand for it. It is my team and my squad'. The Terras crashed out of the FA Cup last Saturday after a 2-1 defeat against AFC Hornchurch and it appears that has hastened the need for cutbacks.

When asked just how bad the situation is, Hollins added: 'We are going to have to cut and cut. We are slightly over our budget and the money to take that extra player has now run out. The money from getting through in the FA Cup would have provided us with a nice nest egg but we did not progress and to be honest at the moment I do not know what the situation is'... The Weymouth board have been holding meetings all week and more are expected in the next 24 hours as they continue to search for a solution to the current financial crisis at the club."

The Evening Leader reports that Wrexham keeper Gavin Ward "is determined not to let the good work under Dean Saunders be undone in the wake of Wrexham's FA Cup defeat... against Eastwood Town... after being outplayed by their Unibond League Premier Division hosts... 'It was disappointing because since Deano took over as manager, we have done well. All of a sudden people think 'here we go", said Ward. "The league and getting out of it is the most important thing" said Ward. "No disrespect to them but to be beaten by a team from two divisions below us, and part-time is hard to take... They set out a game plan and then stuck to it. They put five across midfield and the one in front of the centre-back played very well, while the lone striker worked hard".

Meanwhile, "Wrexham Reserves held a Manchester City XI to a 1-1 draw at City's Carrington training ground. Boss Saunders used a number of un-named trialists with Simon Brown getting the goal... Wrexham are back in cup action next Tuesday at Altrincham. They go to Moss Lane in the third round clash in the Setanta Shield. But they'll have to do without the services of Wes Baynes. His booking at Eastwood was his fifth of the season and he'll be banned for the tie"

According to the Football Conference "Crystal Palace midfielder James Dayton has joined Crawley Town on loan. 19 year-old Dayton had a loan spell with Yeovil Town earlier this season. Crystal Palace Manager Neil Warnock, speaking to crawleytownfc.net said 'He is a talented boy who is learning his trade and is highly regarded here at Selhurst Park by all of the coaching staff. The boy needs competitive first team action as part of his development and at a club where he will be driven. I could not send him on loan to anywhere better than Crawley Town with Steve Evans in charge'".

Meanwhile Blue Square Football says that "Cambridge United have decided to loan out Courtney Pitt to CRC in order to aid the winger's fight to regain full fitness. The 26-year-old, who is suffering with damaged knee ligaments, has penned a one-month loan deal with the club's 'youth/reserves' outfit as he battles to return to first-team action. U's manager Gary Brabin believes the spell in the Ridgeons League will help the former Chelsea trainee build up his match fitness".

From theNorthants Evening Telegraph we learn that "Keith Cousins is backing boss Garry Hill to guide Rushden & Diamonds towards the play-offs. The Nene Park chairman insists the board of directors are 100 per cent behind Hill – despite three successive defeats which have left them mid-table in the Blue Square Premier and out of the FA Cup. Hill remains in charge following supporters' calls for him to be sacked or to resign. But he has promised changes with eight players put on the transfer list. Cousins said: 'I've told Garry to get rid of those under-performers and replace them with players who will give us 100 per cent in the hope that they can get us into a strong position for promotion. He can bring in players who will freshen things up and re-energise ourselves to take this club into the play-offs by the end of the season. We remain confident that will happen. There's every reason to be positive... If we left it until Christmas it might have been too late. Our fans, staff and volunteers deserve better. If some of the players put in as much effort as those people, we would be on top of the league. I wasn't prepared to allow those players to continually under-perform. So I decided to do something about it'... Cousins also confirmed that Diamonds are looking for a transfer fee for striker Lee Phillips after paying £17,500 to Torquay United for him last summer. The other players on the transfer list are Curtis Woodhouse, Andy

Cambridge United announce that "Our fixture away at Histon on New Year's Day has been selected for live television coverage on Setanta TV... at 3pm."

The Argus reports that "Lewes are signing Brighton and Hove Albion's Adam Hinshelwood on a month's loan. Rooks' boss Kevin Keehan was hoping to have the deal tied up in time for the defender to feature in their game at Wrexham tomorrow. Hinshelwood has been featuring in Albion's reserves as he makes his comeback following a succession of knee operations".
---
30 October 2008
BAD NEWS FOR KEVIN
Altrincham FC midfielder Kevin Street has had his recent training-ground injury diagnosed as cruciate ligament damage. This means he will be sidelined for nine to twelve months. All at the club are very saddened by this news and hope that Kevin will make a full recovery inside the estimated timescale. Kevin has made four starts and two appearances from the bench for Altrincham since arriving at Moss Lane this summer from Stafford Rangers.
TWO COACHES
So far, two coaches have been arranged to take supporters from Altrincham to the Luton Town FA Cup match on November 8th. Travel details are here; please book your seat by ringing the club on 928-1045 as soon as possible.
A LONG JOURNEY
In his programme notes for last Tuesday's match against Bournemouth, Luton Town manager Mick Harford wrote of the FA Cup 1st Round draw, "Thankfully we were rewarded with a home tie against Altrincham. Hopefully, this will be the start of a long and exciting journey in this competition".

In contrast, Alty boss Graham Heathcote had a long and unexciting journey to the Luton v Bournemouth match - the 315-mile round-trip to watch our Cup opponents yielded just eight minutes of action as snow forced the early abandonment of the game!
OLD BOY
Former Alty reserve Danny Heffernan netted twice as Abbey Hey, managed by Alty groundsman Neil Brown, lifted themselves out of the relegation places in the Vodkat League with a 3-1 win over Flixton this week.
COLIN'S CENTURY
SAM reports that "After scoring his 100th Alty goal on Sunday, Colin Little is ready to start all over again. The experienced striker, who turns 36 on Tuesday, brought up his ton with the crucial equaliser in the Robins 2-1 FA Cup win over Newcastle Blue Star... He told SAM Sport: 'When I scored my 100th goal I was more bothered about the game to be honest. It was an important goal to get because we didn't have the best start so we needed it to get back in the game... We've got a trip to a League club in the next round and without wanting to sound big-headed, I reckon we can go there and get a result. We have to approach every game with that attitude. I was glad to get my 100th goal out of the way but it's not something I'm really bothered about at the moment, these kind of achievements mean more after you've finished playing. I just want to keep on scoring goals. I'm 36 on Tuesday but I still feel young, I'm loving my football and I want to keep on going for as long as I can'. It is no coincidence that Alty's recent upturn in form has coincided with Little's own hot streak in front of goal.

After a wretched start to the season that saw the Robins win just one of their first nine games, they have won seven of their past 10 games and are unbeaten in nine at Moss Lane... the striker bagging five in his last seven games... But the former Crewe man has warned against compacency... 'We are not too far off the relegation zone so we need to keep on picking up points. But I think we have proved to people in recent weeks that we are capable of more and we are not out of any of the competitions we were in at the start of the season. Things are going well but they could quite easily go the other way if we don't stay focused'".
LUTON PRICES
Altrincham are away at Luton Town in Round One of the FA Cup on Saturday, 8th November. Admission will be by payment at the turnstiles, on matchday. The prices have been confirmed to Altrincham FC as:
Adults: £20
Concessionaries over 65; £15
Concessionaries over 75: £10
Aged 17 to 21: £15
Under 17s, if accompanied by a paying adult: £0.40 (forty pence)
Under 17s, unaccompanied: £10
ROBINS WHO WERE HATTERS
For clubs separated by more than 150 miles and, over the years, several divisions, a surprisingly large number of players have played both for Altrincham and their next FA Cup opponents, Luton Town. One of them is one of Alty's current players, Kevin Street. Whilst with Crewe Alexandra, Kevin had a loan spell with Luton Town (making 1+1 league appearances). Sadly, Kevin is currently injured so will not feature at Kenilworth Road. Another current Alty player with Luton connections is Alex Meechan who had trials with Luton Town.

One of the earliest players to appear for both clubs was Altrincham Legend the wonderfully named Herbert Kitchener Blackshaw. As Terry Rowley writes, after being an Alty regular in 1939-40, Herbert "surprisingly turned up and played for Luton Town in their first post-war season".

More recently, striker Peter Thomson, who was signed by Alty in June 2006 from Stafford Rangers, also played for the Hatters, who bought him from Dutch club NAC Breda for £100,000 in 2000. After a loan to Rushden & Diamonds in 2001-02 Peter returned to Luton before joining Southport in summer 2002. A third player to appear for both clubs was Alty's 2003-04 winger Rob Matthews (left), who made 12 appearances for the Bedfordshire side. An Alty player of 1986-87, Graham Jones, made his Football League debut for Luton Town at the age of 16 and completed 39 appearances for them. In 1971/72 Alty had winger John Ryan on their books; he had signed at Moss Lane midway through 1970/71 season from Notts County but had earlier moved from Wigan to Luton Town with manager Allan Brown for a four-figure fee. Another ex-Robin to have played for both sides is goalkeeper Andy Dibble, who was at Alty in 1997-98 season, a decade after serving at Kenilworth Road.
FAC4QR REPLAY
Wednesday 29th
Horsham 1 Stevenage Borough 4

Stevenage are away at Leicester City in Round One.
NW NEWS
Sad news comes from Leigh Genesis, formerly Leigh RMI, whose chairman reports the "End Of An Era. It is with deep regret that I am announcing that as of today I will be stepping down as chairman and will no longer fund the club going forward. Over the last 9 months we have made huge changes to the club, in raising its profile and raising the standards, but unfortunately that investment was made on the assumption that we would be moving into the new stadium in time for pre season. Since the end of last season we have been left with no ground to play at, meaning that we have had to play all our home matches outside the town, resulting in significantly reduced income, to the point that staging a match just about breaks even. Match income doesn't even start to eat into the player costs and administrative costs of the club. We set the cost base of the club at the end of last season, at a point when we were still being told that we could be in the stadium for pre season. Had we moved in then the club would have been fine and would have continued to make huge strides forward. At the start of the season we were left without a ground as Hilton Park deteriorated and was ultimately condemned the day after Centurions played their last match.

The council and LSV have periodically informed us of delays in the opening date of the stadium, but over the last six weeks there has been hardly any progress on the site due to a standoff between the builders, developers and the council with regards to some finishing issues. Last week we were told that the earliest chance for our first game would be the 13th December, but there was even some doubt over that. The final straw came last week when the council and the health and safety advisory committee gave its verdict on stewarding requirements for the ground. We were presented with their proposal to open a quarter of the stadium, which they judged to need 45 stewards of varying degrees of seniority, costing £3,000 per match, including 5 people to run the control room!!! All this for a match where there may only be 250 spectators!! Bearing in mind the stewarding costs at Hilton park were under £200 per match. Similarly the cost of meals for players, of which we are bound by the league to provide 40 per match, will rise in cost from £2per player to £7.50per player at LSV.

Unfortunately the people involved in running the stadium appear to have no appreciation of the running costs of a club of this type and are gearing the stadium up with a cost base similar to a Premier League club, then trying to pass the costs onto the clubs. By resigning as chairman and ceasing with funding the club, it doesn't necessarily fold, although when I joined the club it was days away from running out of cash and there was nobody else to keep the club going. We are trying to restructure the club to fulfil the remaining fixtures, effectively on a zero cost base, but that would require several key issues with the league and council to fall into line.... I went into this with an amount to which I was prepared to fund the club, but with virtually zero income, the losses have effectively trebled. I do hope that the club can continue, although it is looking difficult and I hope that the council review how they are viewing the clubs so that Centurions aren't faced with such ridiculous costs and a similar fate. What looked like a bright future for the club six month ago has turned into a nightmare because of poor management of the stadium build and health and safety people that just don't live in the real world... Regards, Dominic Speakman".
BSP NEWS
The Northants Evening Telegraph confirms that "Garry Hill insists changes to his Rushden & Diamonds squad must be made 'sooner rather than later'. He has put six more players on the transfer list - including club captain Andy Burgess and skipper Curtis Woodhouse - following a poor start to the Blue Square Premier season and an embarrassing exit from the FA Cup. Strikers Lee Phillips and Leon Knight, winger Lee Tomlin and centre-half Phil Gulliver have also been told to leave along with defender Sagi Burton and forward Dean McDonald who were made available on loan or a free transfer last week".

But Diamonds are still keeping one player according to the BBC. "Bournemouth loan striker Michael Rankine will return to his parent club Rushden & Diamonds next month. Cherries' boss Jimmy Quinn had asked to extend the player's loan beyond the initial month, which is due to expire on 8 November. But Quinn told BBC Radio Solent: 'Rushden are having a bit of a shake-up there, and they want to take him back. I'm disappointed because Michael has done well'".

"Lewes manager Kevin Keehan has apologised to the club's fans after Tuesday's FA Cup defeat by Leiston. The Rooks lost 3-1 at home to the Suffolk club, who are the lowest-ranked team left in the competition. Keehan told BBC Southern Counties Radio: 'We are doing our best but it was not good enough. We should have won and brought much-needed revenue in. There is a lot of pressure at the club to bring money in', he added. The club say they will hold an 'emergency' board meeting next week following the defeat" reports the BBC. This is confirmed by The Argus which states that "Lewes announced they have called an emergency meeting to discuss the future of under-fire manager Kevin Keehan".

Altrincham host Histon this Saturday. "Histon boss Steve Fallon was delighted with strikers Jack Midson and Danny Wright after Tuesday's 5-2 FA Cup replay win over Durham City. The pair each scored twice with Josh Simpson scoring their other goal in the fourth qualifying round clash. 'The front two were magnificent and 5-2 was a fair reflection of our performance', Stutes boss Fallon told BBC Radio Cambridgeshire. 'Jack and Danny were just too quick for their back four'".

"Woking manager Phil Gilchrist says the attitude of some of his players should have been better in their 1-0 FA Cup defeat at Ebbsfleet. Woking let a two-goal lead slip in the original tie before losing the replay. Gilchrist told BBC Southern Counties Radio: 'A couple of individuals need to look at themselves. I warned them if they were feeling sorry for themselves they shouldn't travel - we couldn't afford it. We got what we deserved'".

The Football Conference tells us that "Defender Patrick Cox has signed for Salisbury City".

Blue Square Football says that "Wrexham suffered their first defeat under Dean Saunders when they were bundled out of the FA Cup by Unibond Premier League side Eastwood Town... Eastwood followed up their admirable feat in the first meeting with an outright and well-deserved victory... to hand Saunders's first defeat, ending the Dragons' five-match unbeaten run under the Welshman... 'I won't even try to make excuses, we just have to get more talent into the club', he told the BBC... 'We had three great league results that gave us breathing space, but now I have to hurry the recruitment process up. Some of the players have had a chance and they're not good enough. The loss was unacceptable - if I manage for 30 years more that will be the low point'... The defeat meant that Wrexham failed to make the first round proper of the Cup for the first time in 84 years... 'It's easy to say now that we're concentrating on the league, but this club is famous for its Cup runs', Saunders told BBC Sport Wales. 'I've won the Cup myself, and I want to win every game that I play in. Well done to Eastwood, but they never tried to beat us. They sat back, asked us what we had, and it wasn't enough. We created nothing, even when we had four up front at the end. As I said, we need more talent. I have players in mind, it's my job to get them in quickly and motivate them'".

"Mansfield boss Billy McEwan has bolstered his squad with the signing of Pakistani international midfielder Adnan Ahmed on a month's loan. The 24-year-old arrives from Tranmere Rovers as McEwan bids to add experience to his depleted club as injuries begin to take their toll... 'We have got lots of games coming up and we need players with experience... We have some young players at this club who are not ready'", said manager Billy McEwan. "Ahmed spent three years at Huddersfield, whom he joined after a stint at the Manchester United academy" says Blue Square Football.

There were some poor attendances at Tuesday's FA Cup replays, with Ebbsfleet recording 869, FGR 425, Histon 411 and Lewes 363.

The NW Evening Mail confirms that "Striker David Brown has been given until early next week to decide his own Barrow AFC future. The 30-year-old former Football League forward is mulling over an improved offer from the Bluebirds. Brown is currently playing on a non-contract basis, having originally set his sights on a full-time offer from clubs in the January transfer window. The Wigan-based frontman, who has scored twice in six appearances for Barrow, is also interesting rival clubs, with Saturday's full-time visitors to Holker Street, Forest Green Rovers, rumoured to be keen on the ex-Hull City man. AFC managers Dave Bayliss and Darren Sheridan have... set him a deadline of early next week for an answer".

From Sussex's Argus we learn that "Crawley boss Steve Evans has praised the reaction of Jamie Stevens after the young defender was told he was a stone overweight. Stevens has already lost between 5-6lbs and could play at Salisbury tomorrow when victory would take Reds back to the top of the Blue Square Premier. Stevens, 18, was a virtual ever-present last season and Championship side Ipswich Town were one of several clubs who were interested in signing him. But he was dropped after Reds' opening-day defeat and has started just one league game since, despite being selected for the England non-league team last month. Evans warned Stevens to get his act together after discovering his weight had shot up at one of the three-times weekly weigh-ins the Crawley players undertake. He said: 'Jamie was a stone overweight last Thursday but since we told him he has got his focus back and has been outstanding in training and already lost half of it. No one loves Jamie more than me. I signed him from Rushden when I was Boston manager and he was my first signing when I came here. I've looked after him and think the world of his parents... but when he went out of the team he lost his focus'... Evans is hoping to make two loan signings ahead of tomorrow's trip to Wiltshire. He is definitely without the suspended Thomas Pinault, who has been fined two weeks wages for his red card in Saturday's FA Cup defeat to Havant & Waterlooville".

Meanwhile, the Crawley Observer adds that "Reds' defender Brad Thomas has gone out on loan to Blue Square North club King's Lynn until the end of December".

"One of the strangest transfers in Grays Athletic's history came to a conclusion today when the club announced that Lee Canoville has completed a move to Halesowen Town" reports the Thurrock Gazette. "Canoville, 27, was signed by chairman and then manager Mike Woodward on September 1, but though he was always declared in the squad and never appeared on the club's injury list, he did not feature in any games, even on the bench. He was released by Notts County at the end of the last campaign, having made 35 appearances last season. Meanwhile loanees Simon Thomas and Jon Dixon have now returned to their parent clubs. Thomas... has gone back to Crystal Palace early. He refused to play for Grays in last weekend's FA Cup tie as he didn't want to get cup-tied, even though Palace said they were happy for him to play. Dixon goes back to Brighton and Hove Albion".

From the Mid-Cheshire News we learn that "The sacking of Northwich Vics manager Dino Maamria last week has been followed by a war of words between the club's owner and the dismissed boss... Vics' officials are still staying tight lipped as to the reasons why Maamria was sacked while the 34-year-old Tunisian, who steered Vics away from the threat of relegation last season, is claiming unfair dismissal and is taking legal advice on whether he can sue the club. Owner Rushe... said: 'In light of how much Dino has had to say about the matter in the local Press, I don't really want to get into an argument with him in the papers. Dino knows the reasons why we are not bringing him back and if he says he doesn't know then that's up to him. But if he does choose to take things further then the truth will come out. I would prefer to keep it is an internal matter at the moment'. In the aftermath of Maamria's exit, Mike Marsh will continue to take charge of first-team affairs for the foreseeable future in his current caretaker role... 'We are letting Mike take charge in the interim as I am not really looking for a manager at the moment. Mike is doing a good job so finding a replacement for Dino in the short-term is not really a priority'... Marsh has immediately put himself up for the post and... said: 'I would like to take the post if it is offered. The ball is in Jim's court now'".
---
29 October 2008
BSP NEWS
Rushden & Diamonds have announced that eight players have been transfer-listed. They are Burgess, Burton, Gulliver, Knight, McDonald, Phillips, Tomlin and Woodhouse. "Speaking to the Evening Telegraph this morning, manager Garry Hill admitted 'Sometimes you have to take action before its too late. Results have not been good enough and we can't afford to wait until the transfer window opens in January. It doesn't seem at the moment that the team had gelled and it doesn't look right. There has to be changes. I want players and staff who will show desire and passion. We can't feel sorry for ourselves'".
GAME AT MOSS LANE
In a hastily re-arranged fixture, Manchester United Reserves will play Bolton Wanderers Reserves at Moss Lane tomorrow (Thursday) at 7pm. Entrance costs £5 for adults and £2 for concessionaries. Manchester United season-ticket holders and members will get free admission.
SPONSORS
An updated list of Matchday Sponsors is now on the website.
COLIN LITTLE AWARD
Brian Flynn writes that:

Colin Little will be presented with the ball with which he scored his 100th goal for Altrincham, before Saturday's Blue Square Premier game with Histon. The presentation will be made by former Manchester City star Dennis Tueart. Little, a lifelong City supporter, became the first Altrincham player in almost 30 years to reach this landmark with a header in Sunday's 2-1 FA Cup victory over Newcastle Blue Star. Altrincham now travel to Luton Town in the FA Cup 1st Round.

Kick Off at Moss Lane on Saturday is 3.00pm with the presentation taking place on the pitch at 2.40pm. Little, 35, scored his first goal for the club in August 2004 against Gainsborough Trinity and his achievement is all the more remarkable as Altrincham have been in the lower reaches of the Blue Square Premier League for the majority of the time he has been at the club.
FA CUP
Tuesday 27th
FA Cup Round 1:
Northwich Victoria 0 AFC Telford 3

FA Cup Round 1 Replays:

Monday 27th
Curzon Ashton 1 Hinckley United 1 Curzon won on penalties

Tuesday 28th
Belper Town 1 Droylsden 2
Histon 5 Durham City 2
Mansfield Town 1 York City 0
Eastwood Town 2 Wrexham 0
Ebbsfleet United 1 Woking 0
Forest Green Rovers 4 Ashford Town 0
Lewes 1 Leiston 3
SETANTA SHIELD ROUND 2
Tuesday 28th
Bath City 4 Newport County 1
OLD BOYS
In the Manchester County FA Premier Cup on Monday night New Mills beat Hyde United 4-2 after extra time. Karl Munroe netted one of the Tigers' goals. Highlights of this game will be on Channel M this Friday evening (31st October) between 7pm and 8pm.
NW NEWS
"Another 120 minutes couldn't separate Curzon Ashton and Hinckley United in this FA Cup Fourth Qualifying replay at the Tameside Stadium on Monday night. It eventually went to penalties after the two sides had again drawn 1-1, and even though Chris MacKenzie saved two spot-kicks, Hinckley lost out 3-2". It was 1-1 after extra time. Curzon "are now at home to Exeter City in the First Round Proper [a week] on Saturday".
BSP NEWS
"Major departures could be on the cards this week at the Wessex Stadium as Malcolm Curtis bids to turnaround Weymouth's latest financial crisis. The Terras lost out on a cash pot of £12,500 last Saturday due to a 2-1 FA Cup defeat against AFC Hornchurch and it appears that has hastened the need for cutbacks" according to Non-League Daily. "Curtis said: 'Saturday was a real kick in the teeth. When you are down you are down, and to be honest I am still collecting my thoughts on that...we initially got on top of the club's debt although we did have to throw some cash at it to get it in line. In fact during the summer we did almost break even for a couple of months but what has really knocked us back is the fall in crowds, which have been 25 to 30 per cent down. We could have coped with 10 per cent and what with everything else that is happening in my world in terms of property at the moment, it is making things very difficult. We are no nowhere near the losses of last year but we are running at a significant loss and obviously we cannot let that continue... we have covered these losses and I am sure we will be able to do it for another week or two... There is no point in building a new stadium and pushing on with those plans if there is no club around to move there... I reckon 80 per cent of non-League clubs are in the same position as we are. The only difference is I am honest and open about it. This club has always been in financial problems but it is only because it has once again been brought out into the public domain that people are after me and baying for my blood... Everyone seems to have an opinion but no one comes up with any suggestions - any viable ones anyway... I would not want to name names but if you are losing and your biggest overhead has two legs, you have got to make sure those two legs go'...

Curtis has also admitted that he has held talks with potential investors but he is refusing to say whether former chairman Ian Ridley is one of the parties he has spoken to... Meanwhile, Pete Saxby has resigned as fixture secretary for the Terras, citing fears for the future of the club. He said: 'I'm morally opposed to the direction that the club is being taken at the moment. I feel someone has to make a stand and by resigning I feel that is the best way to do it. I don't like the way the club is being run and really can't see a way forward and have real fears that it will not exist in its present format for much longer if it carries on as it is'".

The Football Conference tells us that "Newport County have extended the loan of Grays Athletic striker Craig Reid until 22nd November [and] Kidderminster Harriers have permitted loan player Paul Bignot to stay at Newport County until 22nd November".

From the FA we learn that "Five players are once again in the frame to be voted 'E.ON Player of the Round' and take their place at The FA Cup Final on 30 May, following their display in the Fourth Round Qualifying. The first name on our shortlist is Barrow's Richard Brodie.... Evesham have a player in the running, this time in Danny Scheppel... Blyth Spartans' Shaun Reay is the third name on the shortlist...AFC Wimbledon have... Sam Hatton... The final selection is Ian Simpemba, who plies his trade at last season's Cup heroes, Havant & Waterlooville". The referee on Saturday for Altrincham v Histon is Mr P. A. Davison who I believe is new to Altrincham matches though he officiated at Mansfield Town v Northwich vics recently. The Northants Evening Telegraph reports that "Imraan Ladak believes Kettering Town have never been closer to solving their stadium problem... The Poppies - who currently sit proudly on the top of the Blue Square Premier - could face automatic relegation in March next year if their stadium issue isn't resolved as they need a 10-year lease. Their current lease at the A-Line Arena currently has just five years left to run... Ladak said: 'We are working with several different parties on five or six viable solutions for both the short and long term. "Many of these strategies can work separately or in conjunction with one another but all focus on us remaining at Rockingham Road for at least two years and then relocating to a new and purpose built ground... I am more optimistic than ever that we can find a solution that meets our objectives. All our plans will require the support of our local council, landlord and external parties but I believe they make sense and can be finalised by the required deadlines'".

According to the Kidderminster Shuttle "Midfielder Neil MacKenzie has returned to parent club Notts County after serving his month loan spell at Harriers". 28 October 2008
LUTON TRIP
The times and fares for the Altrincham FC supporters' coach to Kenilworth Road for the FA Cup tie against Luton Town on Saturday, 8th November, are here.
SICK BAY
Altrincham physio Sean Riley writes:

Last Monday Robbie Lawton (left) had a scan to see if he had developed hernias on the left and right sides of his groins. Fortunately, there was no hernia present on either side, but the scan showed that a groin tendon, and the front of his pelvis was considerably inflamed, an anti-inflammatory injection was carried out on the area to settle the inflammation down. As Robbie was suspended for the FA Cup game it allows him to fully rest and be available for the Histon game.

Joe O'Neill had surgery on his left knee on Thursday to remove a piece of torn cartilage, the operation was a success and Joe's recovery and rehab should allow him to return to first team duties in about 4 weeks time (mid to late November).

Kevin Street (right) sustained a freak injury to his left knee during Thursday night's training session, as he went past a player, he twisted his knee and heard a pop in his knee, which became swollen quite quickly. He is due to see the surgeon on Wednesday evening to assess the extent of the injury. Initial findings are not to good as it appears Kevin has sustained medial knee ligament damage as well as a possible cartilage tear. Hopefully an MRI scan will show us the extent of the damage he has sustained.
COLIN'S TON UP
Altrincham FC press release:

Graham Heathcote led the acclaim for Colin Little's "remarkable" scoring achievements after the Moss Lane legend claimed his 100th goal for the club in Sunday's hard-fought 2-1 FA Cup win at Newcastle Blue Star. The former Crewe front-runner's first-half header put Alty back on terms, after we had gone behind in the first minute, and gave him 100 goals in just 206 appearances (197 starts and 7 sub appearances). Heathcote paid tribute to his prolific form over the years and revealed how he had repeatedly resisted overtures from Football League clubs.

"What makes his record all the more impressive is that we have been struggling, as a team, for the past three or four years", said the Alty boss. "When you are down near the bottom, you are not carving out five or six chances every week. He has had to live off one or two yet has maintained a ratio that's better than a goal every other start. That really is remarkable. He has had loads of offers to go back into the League. People have been chasing him every season, but he has stayed loyal to Altrincham. Needless to say, we are quite pleased about that. He has been fantastic for us"..

Altrincham's other post-War goalscoring centenarians include:
Jackie Swindells 265 goals
Graham Heathcote 147
Jeff Johnson 140
John Rogers 133
NEWCASTLE VIEW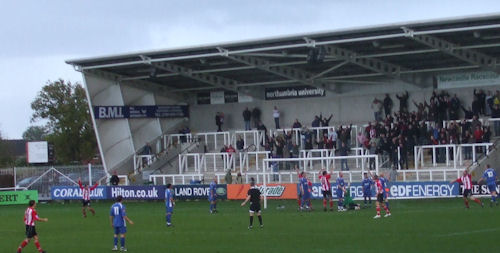 After Sunday's game, Newcastle's Chronicle reports that "Blue Star director of football Bob Morton paid tribute to his players, who went out of the FA Cup at the final qualifying hurdle in a narrow 2-1 defeat against Altrincham. Debutant Peter Snowdon made a flying start to his Blue Star career, the former Blyth Spartans skipper opening the scoring in the first minute when he drove the ball home from six yards. [It was a header].

Above: Alty fans celebrate as Chris Lane (far right) makes it 2-1 for Altrincham.

The goal had the 500-plus crowd [given as 305 by the FA] at Kingston Park dreaming of a first-round tie at Luton. But Blue Square Premier side Altrincham drew level on the half-hour through Colin Little, and booked their place in the next round with Dale Johnson's [?] header in first-half injury time. Morton said: 'We knew beforehand that the winners of our tie would be travelling to face Luton Town in the first round proper, and the bookies made Altrincham firm favourites – after all we were against a side who are three divisions above us. There was a great team spirit and I cannot load enough praise on our lads, who showed true character. 'Peter Snowdon headed us in front and, despite going 2-1 behind, there was only one team in it. The players were disappointed and dejected because they clearly didn't deserve to lose in what was our ninth cup tie of the season'. Morton hailed the capture of Snowdon, adding: 'We signed Peter on Friday and he showed great experience and leadership at the back. Steve Baker, Chris Carr and Snowdon were outstanding in defence, and Peter could not have started any better with his early goal. He is a great competitor'".
ALTY ODDS
In the NL Paper, Alan Alger writes, "Graham Heathcote has worked wonders to get Alty into mid-table and a fantastic unbeaten run has given them some breathing space... Their relegation price has drifted to 7-2... They need to improve their form against teams in the top half - only three points fron a possible 21".

Meanwhile, NL Today places Graham Heathcote in its top twenty current non-League managers.
OLD BOYS
Phil Sharpe has been appointed manager of Harrogate Railway Athletic in the Vodkat League.

"Ashley Berry, the new manager of Salford City, has wasted little time in strengthening his squad... bringing with him a player/assistant-manager in 35-year-old Greg Challender, who is a former Preston and Oldham professional player with a wealth of non-League experience with the likes of... Altrincham". Berry has also... signed Liam Coyne from Mossley", a former Alty Youth. "43-year-old midfielder Neil Redfearn, who... has more than 1,000 first class games under his belt" has also joined City.

Former Alty reserve Griff Jones is now playing at Radcliffe Borough.

The NL Paper has a review of the original clubs who formed the Alliance, forerunner of the Conference, which Altrincham won in its first two seasons. Pictured in the article are former Alty boss John King and current assistant manager and former player, Graham Barrow.

Pat McFadden, injured against Altrincham in the CSC, made his comeback as a late sub for Vauxhall Motors last Saturday. Karl Munroe was on the bench for Hyde United, whilst Richard Battersby and Steve Torpey turned out for Stalybridge Celtic.
FA CUP ROUND ONE
Altrincham travel to Kenilworth Road a week on Saturday (8th November), to face Luton Town in the FA Cup First Round. Luton are currently bottom of League Two as a result of a 30-point deduction for financial issues. Their current form would actually place them just below half way in the table. However, they have won just one of their six home games this season. Known as "The Hatters" and boasting the late comedian, Eric Morecambe as a former supporter, Luton have a good Cup pedigree having been the beaten FA Cup finalists in 1959, the same year ??? that they were relegated from the old First Division.

Kenilworth Road (1 Maple Road, Luton LU4 8AW) has been their home since 1905. Their manager is Mick Harford who was appointed in January 2008. They were relegated from League One last season following a 10-point deduction.

The entrance for away fans is curiously via a former terraced house which backs onto the terrace on Oak Road. Entrance prices this season are : Adults £20, Over 65s/Under 22s £15, Over 75s/Under 16s £10, Under 10s £5. For an illustrated guide to Kenilworth Road, visit the Football Guide website.

Some useful Luton links:
Luton Town official website.
Luton Town Forum
Luton Town report that "Fans urged to turn out in force for Tuesday night's must-win clash against fellow strugglers AFC Bournemouth... Both sides sit at the bottom of the table on minus points due to the harsh penalties handed out by the footballing authorities during the summer, and a win for the Hatters would see the gap between the sides close to 7 points. Kenilworth Road is a special place to be under the floodlights, and the big games tend to bring out the best in Luton fans and tomorrow night, more than ever, the team needs the loud positive vocal support from the Kenilworth Road faithful. The "Kids for 2020" deal means that kids ticket prices are set at 40p (with a full paying adult), therefore it's the perfect opportunity to get Kenilworth Road full to the rafters and create the kind of atmosphere that not only encourages those kids to come back, but also spurs the team on in what can be described as one of the biggest games in our great club's history".
Luton's manager, Mick Harford, was a striker at Newcastle United, Bristol City and Birmingham City (amongst others) before joining Luton in late 1984 when David Pleat was the Hatters' manager. It was here that he got into the England team for two matches. He helped Luton Town to lift the Littlewoods Cup in 1988 by defeating Arsenal. He moved then to Derby County before rejoining Luton in 1991. Spells at Chelsea, Sunderland and Coventry City followed before he ended up with Wimbledon under Joe Kinnear. He has had brief spells in charge at Nottingham Forest, Rotherham United and QPR prior to taking over at Kenilworth Road last January.
TV coverage of FA Cup Round One is as follows:
Friday 7 November 2008
7.45pm on Setanta Sports 1: Leeds United v Northampton Town

Sunday 9 November 2008
1.45pm (approx) on ITV1 and Setanta Sports 1: Havant & Waterlooville v Brentford

The FA Cup sponsored by E.ON Second Round Proper Draw is at 2.00pm on ITV1

Monday 10 November 2008
7.45pm on Setanta Sports 1: AFC Wimbledon v Wycombe Wanderers - Setanta Sports 1
ALTY SIGN UPSETS RESTAURANT
SAM has a curious pieces... "An Altrincham restaurateur claims a large road sign outside his premises could force him to move his business out of the town. Domenico Lacolla says the sign - directing people to Altrincham FC - has had a devastating effect on his trade because it shields his Pagliacci's Italian restaurant from passing traffic. Since it was put up around four years ago his takings have gone down by 25 to 30 per cent. But his pleas for the council to move the sign or reduce its size have been rejected, with town hall chiefs saying there is no evidence it has affected trade. And now he may have to close up unless action is taken.

Domenico claims the sign adds to problems caused by the parking charges in Altrincham - where drivers have to pay £1.50 an hour, compared to just 10p an hour in nearby Hale. Domenico, who opened his eaterie on Ashley Road in 1997, said: 'I can't understand why they have put this sign up right outside my shop. It blocks all the signs of my restaurant from passing traffic. Since they put up the sign up my business has dropped by 25 to 30 per cent. I pay more than £7,000 rates a year but the council has told me it can't be moved - but I can't understand why they don't put it where there is no business. If they don't move it I will relocate elsewhere - even though I like Altrincham'.

A council spokesman said: "'Signs directing people to Altrincham Football Club were installed following a request from the club to better assist supporters coming into the borough. This sign was strategically placed at this location to make sure it didn't obscure traffic signals and to stop people being diverted down other, less suitable roads... We have received no evidence to suggest that it has been the cause of any detrimental impact on businesses on Ashley Road'".
NW NEWS
Bullsnews confirms that "Chester have sacked striker Paul Taylor after he again failed to turn up for a match. The on-loan Vauxhall Motors' man was due to complete a permanent move to the club in January but constantly angered club staff by failing to turn up for training and matches".
---
27 October 2008
NEWCASTLE BLUE STAR 1 ALTRINCHAM 2
Dale Johnson replaced Chris Senior up front and Warren Peyton came in for the suspended Robbie Lawton as Altrincham faced UniBond One North team Newcastle Blue Star. 16 year-old Joel Brownhill, the youth team's left-winger, was an unused substitute.

In a game more memorable for witnessing Colin Little's 100th goal for Alty than for the quality of play, the Robins earned a First Round tie away at Luton Town in a fortnight's time. Alty started disastrously, conceding a goal inside the first minute when they failed to defend a short corner and new signing from Blyth Spartans, Peter Snowdon, headed in off the crossbar. Alty levelled when Little headed in Johnson's nod-on (29 mins). The winner came after 45 minutes, when Lane, with possible assistance from a defender, headed home. The second half was largely forgettable.
Alty cup line-ups
<
---
26 October 2008
OLD BOY
Witton Albion's poor run continues but Rod Thornley scored their only goal as they lost at home, 1-3 to Leigh Genesis. Wes Wilkinson scored for Trafford, who won 6-2 at Salford City.
BSP NEWS
After Saturday's abandoned game at the Marston's Arena, The Northwich Guardian tells us that "Vics have yet to decide whether to compensate supporters sent home at half time from today's FA Cup clash.... after a four-figure crowd went home disgruntled following a power failure... 'What happened is not the club's fault', said owner Jim Rushe. 'There was nothing we could do'. He talked to fans in the foyer as they refused to go home long after play had been halted following the first half. Visiting Bucks' fans stayed on the Danebank requesting their money back... It is not clear whether the FA will impose any sanction for Vics failing to fulfil today's fixture... Rushe intends to speak to stadium owner Mike Connett to seek reassurance a repeat will be avoided in the future. He also needs to know if a replacement power supply will be in place by Tuesday".

Meanwhile, "Rob Smith blasted Vics following the abandonment... The Telford boss said he could scarcely believe it after a power failure prevented the two teams taking to the pitch for the second half. 'It's not good enough to be honest', he said. 'They are a Blue Square Premier club and yet this is how the game ends – it's a farce to be honest'. He asked the fourth official more than once during the first half to put in a plea to turn on the floodlights.... 'There was obviously a problem before kick off because we all saw that the generator had blown up', he continued. 'Then we were told at half time that a back-up generator was working but it wasn't strong enough to power the floodlights. I told the referee I was prepared to wait 15 minutes but if nothing had changed my side would not be coming out for the second half'. Smith said he did not agree with opposite number Mike Marsh's assessment of the first half, in which the visitors trailed after Mark Roberts' fifth minute opener... He said, 'The lads wanted to get out there because they felt they had played Northwich off the park in the first half'".

The Guardian also says that "Match announcer David Lee was unable to confirm to the crowd that Mark Roberts had scored as his microphone was not working. Indeed Marston's Arena safety officer Bob Robinson found a battery-powered megaphone to tell the four-figure crowd to go home shortly after 4pm. He had to repeat himself as bewildered fans shouted him down. 'The game has been abandoned', he said... Many initially refused to go home, turning their ire instead on the ground's owner Mike Connett, whose company Beaconet owns the nine-acre Wincham site. His afternoon had started ominously when a stand-alone generator providing electricity to the facilities failed shortly before kick off, sending plumes of thick black smoke swirling across the pitch. Naylor delayed the game's start until the air had cleared. But, while the two teams played out a spirited encounter, the changing rooms and bar in the main stand was plunged into darkness.

At half time the players huddled in the tunnel waiting for information because they could not see each other in their dressing space. Robinson, the reigning mayor of Northwich, was still giving interviews to the gathered press pitch side at 4.45pm... 'A generator providing electricity to the ground failed shortly before half time', he said. 'We had an electrician on site in accordance with Football Conference rules but he was unable to fix the problem so we called the company that supplied the generators. Unfortunately they were unable to send an engineer for at least two hours so the referee was left with little choice but to call the game off. There was a second back-up generator that was functioning but it was [not] big enough to power the floodlights'... Naylor did not want to be interviewed, nor did Connett".
ENGLAND "C"
The England C squad to face Italy in Benevento, near Naples, on Wednesday, November 12th comprises the following...
Lance CRONIN - GK - Ebbsfleet United FC
Adam BARTLETT - GK - Kidderminster Harriers FC
Jake WRIGHT - Crawley Town FC
James SMITH - Ebbsfleet United FC
Carl TREMARCO - Wrexham FC
Daniel GLEESON - Cambridge United FC
Exodus GEOHAGHAN - Kettering Town FC
Russell PENN - Kidderminster Harriers FC
Michael BOSTWICK - Stevenage Borough FC
Josh SIMPSON - Histon FC
Jon Paul PITMAN - Crawley Town FC
Antonio MURRAY - Histon FC
James CONSTABLE - Oxford United FC
Mitchell COLE - Stevenage Borough FC
Shaun HARRAD - Burton Albion FC
Greg PEARSON - Burton Albion FC

Contingency Squad:
Craig HOLLOWAY - GK - Braintree Town FC
Luke FOSTER - Oxford United FC
Lawrie WILSON - Stevenage Borough FC
Ben PURKISS - York City FC
Paul STONEHOUSE - Forest Green Rovers FC
Andrew BOND - Barrow FC
Jonathan SMITH - Forest Green Rovers FC
Ishmael WELSH - Grays Athletic FC
Jonathan D'LAREA - Mansfield Town FC
Anton ROBINSON - Weymouth FC
Luke MOORE - Ebbsfleet United FC
Nicholas WRIGHT - Tamworth FC
Michael GASH - Ebbsfleet United FC
---
25 October 2008
YOUTHS' INACTION
On Sunday Altrincham FC Youth were due to play Marine in the NWYA Open Cup but the match has been postponed due to a waterlogged pitch.
BLUE STAR CONFIDENT
Altrincham travel to play Newcastle Blue Star tomorrow (Sunday). Newcastle's Journal reports that "Newcastle Blue Star boss Steve Bowey has urged the experienced former Football League players in his squad to lead the way as the club looks to make FA Cup history at Kingston Park. Blue Star take on Conference side Altrincham, a full three tiers above them in the football pyramid, in the fourth qualifying round tomorrow as they bid for a first-ever appearance among the likes of Leeds United and Leicester City in the first round.

"While Blue Star are the underdogs they have considerable experience in their ranks. Paul Brayson, Stuart Nicholson, Steve Baker, defenders Jamie McClen and Darren Craddock and Bowey himself all have Football League experience. 'Of course, it's a massive task for us because they're a Conference side. But we're going into the game as if we have nothing to lose and that is often when you play your best football', Bowey said. 'We're full of confidence after making such a good start to the season and we've not been beaten at Kingston Park yet, so we'll not be going into the game thinking that we're going to get beaten. We have good players who have played at the highest level and this is a terrific opportunity for them to show what they can do. I look at the likes of Daz Craddock, Paul Brayson and Steve Baker and this is a game for them. They are the sort of games that these lads want to play in and I'm confident that they'll step up and show what they can do'.

With Newcastle and Sunderland playing today [Saturday], Blue Star are hoping for a sizeable crowd to cheer them on at Kingston Park...'It would be such an historic achievement if we did make it, you can't help but think about what would happen if we did win'. Bowey missed the birth of daughter Lucy to help Blue Star into the final qualifying round with a thumping defeat of Hucknall Town, and he admits that the subsequent media interest has taken him by surprise..' 'She might even be making an appearance at the game – her first ever football match – and I'll be trying to win for her'" said the manager.
FA CUP 4QR
The draw for Round One Proper of the FA Cup is at 1pm on ITV1 on Sunday 26th October - before Alty kick off at Newcastle Blue Star in the previous round. The results of the 4th Qualifying Round games are below. BSP sides losing to lower league opposition in Saturday's games were Salisbury City, Crawley Town, Weymouth and Rushden and Diamonds.
Hinckley United 1 Curzon Ashton 1
Kettering Town 3 Burton Albion 0
Tamworth 0 Barrow 4
Kings Lynn 1 Kidderminster H. 5
Boston United 2 Cambridge U. 3
Newcastle Blue Star v. Altrincham PLAYING SUNDAY 3pm
Droylsden 0 Belper Town 0
Durham City 2 Histon 2
Retford United 1 Alfreton T. 3
Northwich Victoria v. AFC Telford United ABANDONED AT H/T, FLOODLIGHT FAILURE
Blyth Spartans AFC 3 Sheffield 1
York City 0 Mansfield Town 0
Fleetwood Town 4 Nantwich Town 3
Wrexham 0 Eastwood T. 0
Stevenage B. 2 Horsham 2
Woking 2 Ebbsfleet U. 2
Hampton & Richmond B. 0 Brackley T. 1
Oxford United 2 Hayes & Yeading U. 0
Maidstone United 0 AFC Wimbledon 1
Team Bath 1 Salisbury C. 0
Dorchester T. 1 Bishop's Stortford 0
Oxford C. 0 Eastbourne B. 1
Ashford Town (Middx) 0 Forest Green R. 0
Evesham United 2 Rushden & Diamonds 0
Bury Town 4 Basingstoke Town 1
Burgess Hill Town 0 Harlow Town 3
Grays Athletic 2 AFC Totton 0
Aylesbury United 0 Sutton United 1
Torquay United 4 Chipstead 1
Leiston 1 Lewes 1
Crawley Town 0 Havant & Waterlooville 3
Weymouth 1 AFC Hornchurch 2
Through the Years by Howard Watts.

Following the abandonment of Northwich's game, the Board issued the following statement:

"Northwich Victoria Football Club very much regrets the fact that today's game was abandoned and wishes to apologise to all concerned for the inconvenience, which was obviously due to events beyond the Club's control. The abandonment decision was made by the referee as he felt it was too dark to continue. The Club could not and did not influence the timing of this decision. The Club will seek to apply pragmatic and realistic prices at the rearranged game on Tuesday, subject to competition rules and to appropriate agreement with AFC Telford (who are of course entitled to a share of the receipts for both games) and the Football Association. By way of explanation to visiting and neutral fans, the ground is not owned by the Club and the Club occupies the ground on a long commercial lease.

The Club is seeking to rearrange the game - subject to the FA's approval - for Tuesday 28 October 2008 with a kick off time of 19.45. Appropriate arrangments will be put in place to ensure there is no repeat of today's events."

Seemingly, the floodlights had failed before kicked off but the first 45 minutes were played which meant that a full refund was not applicable, to the annoyance of spectators.
HALF-SEASON TICKETS
Starting from the New Year's game at Moss Lane against Northwich Victoria, Altrincham FC half-season tickets will be valid till the end of the season. As Vice-Chairman Grahame Rowley writes, "What better present for an Alty fan than a season ticket to watch all the remaining games this season - a season that promises much if we can maintain the impetus of late?".

Half Season Ticket Prices are:
Standing - Adults £100; Concessionaries £50
Seating - Adults £120; Concessionaries £55

Get your ticket now by ringiing the club on 928-1045 and speaking to Jenny Heslop or Karen Rowley in the club offices.
BLUE STAR WELCOME
The Newcastle Chronicle reports that "Newcastle Blue Star will be in the draw for the first round proper of the FA Cup for the first time in their history on Sunday. The draw is live on ITV at 1pm – two hours before Star entertain Altrincham in their fourth qualifying round tie at Kingston Park (3pm). 'Both teams will know before they step out on to the pitch who they will face – and it could be teams like Leeds or Millwall', said Star's director of football Bob Morton. 'From our point of view, it will be a massive achievement for a non-league club'. Morton is also hoping the public will respond to his call to turn out in force. 'It would be great if we could attract a gate of around one thousand', he said. 'Altrincham operate in the Blue Square Premier – a division three leagues higher than us in the pyramid. It will be tough – but I know we'll give them a good game. We have only lost twice in a year at home and this will be our eighth cup tie of the campaign'... Defender Paul Talbot will be the only absentee from an otherwise full squad available to Star's player-boss Steve Bowey".

There are player profiles on the Blue Star website.

The Journal reports that "Blue Star's former Magpies' midfielder Jamie McClen has been impressed with non-league football. 'I've been in non-league for two seasons now and it's better than I thought', says the ex-Kidderminster Harriers player. 'I was bamboozled with what I saw. With the facilities at Blue Star I don't understand why more fans don't come in. Some of the players we've got shouldn't be in non-league. But the lower league clubs don't pay a lot of good money and there's lads who'd rather keep their job and play non-league'". Amongst the other ex-Conference players are Paul Brayson and Darren Craddock, formerly at York City, as well as manager Steve Bowey.

Car/Coach Parking at Blue Star's Kingston Stadium is free and entry costs £7 (concessionaries £4) and don't forget that you are welcome to dine in the stadium's Italian restaurant before the game. The stadium also has The Hiding Place public bar and a refreshment van inside the ground. It all sounds a lot more welcoming than some of the BSP grounds we visit!
OLD BOY
According to NL Daily "Midfielder Jake Moult has turned down the offer of a contract with Leek Town to sign for Stafford Rangers. The 19-year-old former Port Vale youth player agreed to the move after speaking to Rangers manager Steve Bull in midweek". Moult was a summer trialist at Moss Lane this year.
BSP NEWS
"Colin Walker, manager of York City, has signed 21-year-old right-sided midfielder Gavin Rothery on a short-term contract" reports NL Daily. "The Leeds-born player spent several years at his home-town club and made the bench for the first-team during Kevin Blackwell's time as manager. He was also involved in the England under-19 set-up and was set to join Rotherham in the summer until the Millers went into administration".

Closer to home, the The Northants Evening Telegraph says that Rushden boss Garry Hill has "revealed that centre-half Sagi Burton and striker Dean McDonald have been put on the transfer list". And the Football Conference adds that "Rushden & Diamonds and Nottingham Forest have agreed to the loan signing of nineteen-year-old defender Brendan Moloney until 1st January 2009. The defender has proven very versatile at Forest, capable of playing in central defence, right back, and also in midfield".

The Conference reports the folowing signings "Newport County have signed defender Callum Hart from Weymouth FC... Torquay United have signed goalkeeper Kenneth Veysey ... Former Bromley midfielder Louis Bell has joined Lewes... Jordan Cherran and Richard Westcott have signed their first terms with Torquay United having been involved in the youth set-up at the club"

Meanwhile, A href="http://www.bluesqfootball.com">Blue Square Football adds that "strugglers Grays Athletic have strengthened ahead of the Saturday's FA Cup clash by bringing in four new players. Leyton Orient striker Bradley Gray has joined the Blues on a one-month work experience deal, while former Thurrock striker Danny Lodge has signed non-contract terms with the club. Former Fisher Athletic midfielder Kenny Beaney has signed on non-contract terms, along with team-mate Damian Batt".

Also, "Dean Saunders, manager of Wrexham, admitted the loss of Joe Allen was a huge blow. Midfielder Allen has had his loan spell at Wrexham cut short after suffering ankle ligament damage in a training session on Tuesday, and could be out of action for up to a month".

"Although a staunch believer in the beautiful game, Forest Green manager Jim Harvey admits he would settle for a victory of any kind in the FA Cup tomorrow" states This is Glos. "Rovers head to Ashford Town in the fourth qualifying round as clear favourites with the bookmakers, despite failing to win their last 10 matches... He said: 'Unfortunately Lee Fowler has picked up a knock on his ankle and Conal Platt is still struggling with a groin strain. With Jerry Gill and Darren Jones both suspended – and Mike Symons cup-tied – we don't have as many bodies available as I would like. We have also been on a stinking run, which means we have to work harder than ever to turn results around and start getting the breaks that tend to go against teams who are struggling. It's vital we get a win. The result is always more important than the performance in cup competitions and never more so than this weekend'".

The Northants Evening Telegraph reports that "Iyseden Christie will not feature in Kettering Town's FA Cup fourth qualifying round clash with Burton Albion tomorrow. The striker... is currently on loan from Stevenage Borough. However, it is understood that Stevenage do not want the player cup-tied... The Poppies are still trying to tie up a permanent move for the player after he rejected a move to York City earlier this month".

According to the Kidderminster Shuttle, "Two groups are still determined to generate money for cash-strapped Kidderminster Harriers after a meeting on Wednesday night. Kidderminster businessman John Davies, who wishes to start a consortium to raise £50,000, and leading members of the KHIST fans goup met to discuss ways to help boost the club's coffers. As a result, KHIST have announced they will officially launch their loan-note scheme on Saturday, November 1, after Harriers' clash at home to Grays Athletic. The scheme will allow fans to buy into a fund that would be used to to invest in Harriers... Davies is still searching for local businessmen to generate the money needed in order to buy a place on Harriers' board".

From the Dorset Echo comes news that "Manager John Hollins wants his Weymouth side 'to adopt the three Ms' tomorrow when Ryman Premier side AFC Hornchurch visit the Wessex Stadium in the FA Cup. The experienced boss will be looking for a 'mean, moody and masterful' approach from his men as they attempt to catapult the club into the first round proper for the fourth successive year. Hollins said: 'Even top sides like Chelsea have been on the end of some howlers in the FA Cup so we cannot afford to take anything for granted. The key is making sure that we do not start sloppy. Against Altrincham last Saturday we began really well and went on to win 2-0 and we need to make sure we do that again. We need to adopt the three Ms from the first whistle and be mean, moody and masterful, making sure we give Hornchurch no encouragement'".
---
24 October 2008
HIGH NOON
Altrincham's away league match at Northwich Victoria on Boxing Day will now be a noon kick-off rather than 3pm.
NO DEAL
To address their current injury crisis, Altrincham FC had hoped to make a loan-signing today. Unfortunately, this has not proved possible and, therefore, the player-availability situation remains as described below...
THIN ON THE GROUND
Altrincham currently have twenty players in their first-team squad, six of whom are unavailable for Sunday's FA Cup tie at Newcastle Blue Star. Of the 20-man squad, Val Owen has not played all season but is well on the way to recovery. Midfielder Kevin Street has suffered a possible knee ligament injury in training this week and forward, Joe O'Neill, had a "scope" operation on his knee in midweek and will be out for 3 to 4 weeks. Chris Denham remains sidelined by his workplace eye-injury. And, to add to this, team-captain Robbie Lawton is suspended and defender Luke Waterfall is not allowed to play in the FA Cup by Tranmere Rovers, from whom he is on loan. So, that leaves Graham Heathcote and Graham Barrow with just 14 players, including two goalkeepers for Sunday's match. Ironically, seven players can be named on the bench in FA Cup ties this season!
GRAHAM ON GMR
Altrincham manager Graham Heathcote will be interviewed on Radio Manchester (formerly GMR) on their lunchtime sports show on Saturday (25th). The show is on from 1pm to 2.15pm.
CLOCKS GO BACK
Those travelling to Newcastle on Sunday are reminded that the clocks go back by one hour during Saturday night/Sunday morning so you might get there an hour early if you don't alter your alarm clock!

As Altrincham have no game on Saturday, some local alternatives to watch include:
BSN: Stalybridge Celtic v Stafford Rangers
UniP: Ashton United v Worksop Town or Witton Albion v Leigh Genesis
Uni1NWoodley Sports v Skelmersdale United
VodkatP Abbey Hey v Formby
VAL'S COME-BACK CONTINUES
The Northwich Guardian says that "Witton counted a former Northwich Victoria captain among their number at Nantwich on Tuesday. Albion boss Nigel Deeley picked Val Owen in his starting line up for the 2-0 defeat after signing the veteran on loan from neighbours Altrincham... 'Val has gone to Witton as part of his recovery programme', read a note on the Robins' official website. The 37-year-old midfield anchor, who had not played a competitive match this season due a to a long-standing knee complaint, played an hour at the Weaver Stadium... He moved to Alty in 2004 following a two-year spell as Vics' captain... He is likely to start Saturday's UniBond Premier Division encounter with Leigh".
BSP NEWS
NL Daily says that "Rushden & Diamonds' defender or midfielder Scott Mitchell has signed a contract for Blue Square North side King`s Lynn". And "Woking have signed goalkeeper Carl Pentney on a month`s loan from Leicester City. Nineteen-year-old Pentney can play in Saturday's FA Cup Fourth Qualifying Round tie with Ebbsfleet United in place of another loanee, Lenny Pidgeley, who isn`t allowed to play by his parent club Millwall. Woking manager Phil Gilchrist said: 'He's an up and coming young keeper who's been getting rave reviews. I'm looking to the future with Lenny

From Blue Square Football we learn that "Rushden & Diamonds have been dealt a blow with the news that first-choice goalkeeper Alan Marriott needs to undergo groin surgery. The summer signing from Lincoln, who notched up four clean sheets in 12 games at the start of the season... Club physiotherapist Simon Parsell told the Evening Telegraph: 'It looks as if he needs a groin operation which would probably take place next Tuesday. He has a torn stomach muscle which needs to be fixed... He will be out for between four and six weeks'. On-loan Nottingham Forest stopper Dale Roberts will continue the goalkeeping duties in Marriott's absence, while youth-team captain Joe Day will provide cover on the bench.".

At Lewes "The Board of Directors met with Kevin Keehan on Tuesday to discuss the season so far. It was agreed by all parties that results have been disappointing and that some changes will be required to improve the team's poor form. As a result, Kevin Keehan is looking to strengthen the playing squad in key areas and equally, the Board of Directors are looking to raise more funds via commercial activity. The Board of Directors remain confident that Kevin Keehan will be able to move the Club forward and that he realises the enormity of the challenge that faces Lewes FC at this level. Following regrettably inaccurate speculation on both the radio and in print about this season's budget, the Board of Directors wish to confirm that the Playing Budget for this season is approximately 35% less than it was for last season... The Board of Directors continue to plan for a long-term and sustainable future for the Club and hope that results improve in the near future. It is worth reflecting that the Club and supporters have enjoyed remarkable success in recent years... progressing from Ryman Division 3 to the BSP in the space of 7 seasons".

Also from Lewes we read that "Following an incident at [this week]'s Sussex Senior Cup game against Wick, involving a Lewes FC player; the club are undertaking a full investigation into events. The Club have called for the player's statement and other witness statements. Until all the facts have been fully investigated the club feel they have no alternative but to suspend the player, Chamal Fenelon…". To which The Argus adds "Fenelon allegedly attacked a Wick player who needed hospital treatment".

In the Gravesend Reporter Ed Miller writes, in advance of this Saturday's FA Cup tie. "A trip to Woking may well be preferable to a home tie. When supporters travel away from home, they tend to be more encouraging and determined to get behind their team... You have to go back to early 2003, our first season in the Conference, to find the last time the Fleet lost five matches in a row (although we actually managed to go one further and stretch it to six back then). But that squad cannot hold a candle to our current batch of players and there should be no excuse for any further such dismal form this season".

"Kidderminster Harriers chairman Barry Norgrove has sought to clarify the club's position on welcoming new investors onto the board of directors. Despite no success so far, the Aggborough chief insists he is still searching for individuals who are able to put £50,000 into the club each season, which is the prerequisite for becoming a director.Norgrove revealed he is also willing to talk to groups who can generate the amount, but insists each consortium would only be given one place on the board. The news comes after local entrepreneurs John Davies and Keith Chandler joined forces to search for like-minded businessmen willing to plough money into the club. At the moment, both have put up £10,000 each and are looking to find others to join them" reports the Kidderminster Shuttle.

"'We are still looking for people who can put £50,000 in each season', said the chairman. 'In the short term if we had an extra £100,000 invested for the rest of the season then we would be okay'... Davies, who owns tool shop Hire It! in Kidderminster, also held talks with the Kidderminster Harriers Independent Supporters Trust (KHIST) last night about working together on the matter. Norgrove also staunchly defended finance director John Baldwin, who has had his place on the board... despite not putting any money into Harriers. However, Norgrove believes the free financial guidance he offers saves the club thousands of pounds, as does fellow non-paying member, solicitor Oliver Hunt.. 'They do not make decisions about the club. Only the board members who put money into the club do that'".
---
23 October 2008
FILLING THE BENCH
On Sunday in the FA Cup, seven substitutes are allowed on the bench, of whom three can be used. Altrincham will struggle to find 18 players given the absences through injury of Val Owen (well on the road to recovery after coming through an hour playing for Witton in midweek), Joe O'Neill (right, who has a minor operation on his knee this week) and Chris Denham (eye injury), as well as the suspension of Robbie Lawton.

The Chronicle in Newcastle seems to have got its wires crossed as it reports that "Newcastle Blue Star's director of football Bob Morton was hoping his outfit would have a free week ahead of next Saturday's FA Cup tie at home to Blue Square Premier side Histon. [Actually Altrincham are the opponents and the game is on Sunday; Histon are away to Durham City!]. But those plans were smashed to smithereens after Star drew 2-2 with Sutton Coalfield [i.e. Sutton Coldfield!] in the first qualifying round of the FA Trophy, with the replay taking place tomorrow night. Morton said: 'We were scheduled to play North Shields in the Northumberland Senior Cup in midweek, but Shields – and the Northumberland Football Association – had agreed to put the tie back a week. Now we'll be hitting the road again and already we are going to have to reckon without six players through injury and unavailability'. He continued: 'We've been knocked off top spot in the table by Ossett Albion, and it's important that we don't start to lose track of our league situation due to cup commitments'".

NL Daily reports that "Sutton Coldfield Town, had a comfortable 4-1 home win over Newcastle Blue Star with Aaron Farrell bagging a brace after Nathan Moran had opened the scoring from the spot on 36 minutes. Craig Owen added Sutton`s fourth on 61 minutes, with Scott Nicholson netting a consolation for the visitors 5 minutes later".
OLD BOYS
From NL Daily we learn that "Steve Burr, manager of Stalybridge Celtic, has made moves to strengthen the back line by signing one of his former players from Northwich Victoria, Richard Battersby. Battersby, 29, joins from Radcliffe Borough, where he was helping our his former club for a couple of weeks after being released from Altrincham. Prior to Altrincham, he was at Northwich where he made over a hundred appearances. He signed for the Vics from Radcliffe in 2005 of £5,000. He also lists Oldham Athletic amongst his former clubs".

"Bamber Bridge could have gone top of the UniBond League Division One North table on Tuesday night, but instead FC Halifax Town moved up to seventh after winning 5-2 at Irongate... [Ex-Alty reserve] Ashley Stott moved on to nine for the season with the second goal [for Halifax]... [another former Alty reserve] Colin McAllister rubbed salt into Brig`s nose".

As Tranmere won away at Cheltenham this week, a Town player "was fouled and injured by Ryan Shotton and the Rovers' full-back was shown a yellow card" reports NL Daily.
MAAMRIA SACKED
Northwich Victoria confirm that "The decision has been made to terminate the employment of manager, Dino Maamria, with immediate effect. Mike Marsh will continue as caretaker manager for the foreseeable future".

the Northwich Guardian adds that "Dino Maamria admits he feared for his future once his suspension entered a third week. In a frank interview with the Guardian following his dismissal earlier today, Wednesday, he said he was gutted to leave after 'barely starting the job'. 'If the club wanted me back I would have been before today', he mused. 'However I did expect some explanation, some sort of closure, but I've not even been thanked for the effort I've put in as manager here. Instead I'd left after less than five minutes without so much as a handshake'. He faced Jim Rushe at the Marston's Arena this afternoon for the first time since the club's owner told him to stay away at the end of last month. The club called it 'gardening leave' and baulked at describing the process as an investigation.

Maamria gave his account of what happened on September 29 – less than 48 hours after Vics' 3-2 defeat at home to Weymouth. He said: 'Jim called me and asked me to meet him at the ground', he said. 'I went there and was told to stay away for the next two weeks because the club planned to suspend me. I wasn't given a reason'... Asked if he would like to resign, he flatly refused. 'To be dismissed so soon into the season – just six weeks – is in my opinion disgusting', he said. 'Jim says the board have made a decision together but who is he talking about? I don't think he wanted me around any more but at no point has he said it's because results have not been good enough. I don't think that's the reason I'm not with Northwich any more'...

Rushe has spoken to every player, plus backroom staff, in a bid to resolve the "internal matter" he says led to Maamria's suspension... The Guardian contacted the PFA to ask if a complaint had been made about Maamria. A spokesman said that no-one had been in touch with the players' union about Northwich Victoria and today Rushe confirmed the reasons for the club's decision would not be made public. It leaves him at an impasse with Maamria, who confirmed he is seeking legal advice following his dismissal'".

From the other side, owner Jim Rushe told the Guardian, "'What we've done is in the best interests of the club'", he said. 'That's my first priority and always has been. The club is bigger than any one person and that includes me'. He refused to be drawn on what happens next... It is not yet known whether he intends to ask the former Liverpool star [Mike Marsh] to take over from his close friend on a permanent basis. 'I've only told Dino today that he will not be coming back to the club so it would not be right to speculate on what might or might not happen next', added Rushe... 'I could speculate on the reasons why I think the club wanted to get rid of me', said Maamria. 'But not at any stage have I been told what I'm supposed to have done'. On the prospect of facing a legal battle with Maamria should he decide to sue for his dismissal, Rushe was defiant. He said simply: 'We shall defend our position rigorously'".
BSP NEWS
"Kiki Musampa has revealed that he has never had any negotiations with Wrexham, nor does he have any intentions or desire to join the club" according to Blue Square Football. "The confusion arose when Musampa's brother Jean visited the Racecourse Ground for Wrexham's match against York City as a guest of the club. This led to the erroneous conclusion that Jean was at the game in an official capacity, to represent his brother, Kiki. This, however, was not the case, because although Jean is a football agent, he does not count his brother among his clients. 'Wrexham? I never had contact with anybody from that team or that club', Kiki told BBC Sport Wales. 'As soon as I heard the news I called him (Jean) and asked him what it's all about, people asking me if I'm going there and I was supposed to go and play some games, or whatever. He told me he doesn't know because he just came back from Belgium. But he did tell me that he spoke to some people from that club (Wrexham) but he didn't find it necessary to get back to me about that information. Jean is my brother so, as a brother, you kind of represent the people from your family, but he's not my trade agent'... Wrexham were looking for Musampa to join the club on a short-term contract while the player sought possible moves to bigger clubs as he is currently a free agent. Musampa has also denied rumours that he ever had any dealings with Dragons manager Dean Saunders, who admitted the only contact he had was with a 'third party' not the player himself. 'I never spoke to him, it didn't get that far but we tried and it looks as if it's not going to happen', Saunders said. 'we'd try to get Thierry Henry here if we could!'" he added.

The From the Cambridge News comes news that "Steve Fallon will consider letting the likes of Craig Pope, Erkan Okay and Robbie Nightingale leave Histon on loan in order to improve their match fitness. The Stutes' boss told the News last month that midfielder John Kennedy and young goalkeeper Joe Welch were seeking first-team action away from the Glass World Stadium... But he will only allow them to leave on a temporary basis if he feels a potential move would benefit both him and the player. Fallon said: 'If any offers come along then we'll have to sit down and see if it's the right thing for both parties'".

"Gavin Caines's loan move to Forest Green appears to have scuppered Josh Low's hopes of making the same switch. Rovers' manager Jim Harvey has revealed he wanted to bring the winger to the New Lawn, but pulled out of the deal when it became clear Caines was available. 'Josh wanted to come and we nearly got a deal done, but I would have been struggling financially to get anyone else in if it had, and a centre-half had to be my priority'. said Harvey. "Cheltenham also weren't too keen for Josh to play in the FA Cup'... Harvey has backed Caines to cure his club's defensive jitters... With former Cheltenham duo Jerry Gill and Darren Jones both suspended for the trip to Middlesex, and club captain John Hardiker requiring at least another four weeks' recovery from a knee injury, Rovers had been facing a crisis at the back... Said Harvey 'Our results have not been good lately and it never hurts to bring in a fresh face, particularly someone with bags of Football League experience like Gavin'".

The Thurrock Gazette confirms that "Tottenham Hotspur goalkeeper David Button has extended his loan with Grays Athletic for a further month",

Meanwhile, A< href="http://www.thisisnottingham.co.uk">This is Nottingham says that "Mansfield have begun their search for a new midfielder after injury forced Sam Wedgbury to return to Sheffield United. The 19-year-old was taken off less than 45 minutes into his debut against Wrexham on Saturday with a suspected broken leg. Fortunately, a scan has shown there is no break, but severe bruising has ruled him out for the rest of his one-month loan at Field Mill. It means boss Billy McEwan will have to look elsewhere for competition for Jonathan D'Laryea, Gavin Hurren and Matt Somner".

"Torquay United have taken a step closer to securing the immediate future of on-loan goalkeeper Scott Bevan" claims This is South Devon. The Gulls report that Bevan's club Shrewsbury Town are now happy for their player to appear in Saturday's FA Cup tie against Chipstead. And Shrews' boss Paul Simpson has also given the go-ahead for Bevan, 29, to stay at Plainmoor for a second month. The details were being finalised, when Bevan rejoined his new United teammates at their Newton Abbot Racecourse training HQ... Among Bevan's colleagues in training is United's own goalie Martin Rice. Rice, currently on loan himself at Truro City, is on recall standby for the Cup if anything goes wrong with Bevan".

Oxford United report that "There's a subtle change to the rules on Saturday as United take on Hayes and Yeading United in the FA Cup... Both teams are allowed to name seven substitutes rather than the usual five, with any three used during the game. It's something which manager Darren Patterson thinks is a good idea: 'I think it's a good idea. Having seven subs obviously gives you many more options from the bench. At the moment you tend to name players who can cover you in a number of positions but more men on the bench means you can have 'like for like' substitutions, and have specialist players for more positions. It also means two other members of your squad can be involved on a match day, keeping them happier and making the manager's job easier! You can also bring youngsters on to the bench to give them experience in and around the squad, so I think it's a great idea and hope others see the benefits'".
---
22 October 2008
VAL IN ACTION
Midfielder Val Owen (right), who has yet to play for Altrincham this season due to injury, played for Witton Albion on Tuesday night at Nantwich Town as part of his recovery programme. He was subbed during the second half. Val was amongst old friends in the Albion side, as it included ex-Robins Gary Scott, Rod Thornley, Mark Drew and Lee Thompson
SUNDAY'S REF
Ross Joyce is the referee for Sunday's FA Cup match between Newcastle Blue Star and Altrincham. According to the North Riding FA "Ross started in his role as Referee Development Officer at NRCFA in February 2008, having previously worked for Pertemps People Development Group as a Development coordinator. His role was to work with a variety of client groups, who were disadvantaged in the employment labour market. Ross is currently a Football League Assistant Referee and Panel List Referee which sees him officiate in leagues such as the Championship and Blue Square Premier Conference. Ross was appointed to represent England at the UEFA under 19s European qualifiers in October 2007 as Assistant Referee, as well as Referee several times at the USA Cup Tournament which takes place in Minnesota USA in July each year. Ross is also a keen follower of Middlesbrough FC and enjoys all sports".

In Tuesday's FA Trophy replay, Newcastle Blue Star lost 4-1 at Sutton Coldfield Town.
YANKEE
The
Saturday Yankee
is a vital fundraiser for Altrincham FC, so please do consider joining up if you possibly can. Follow the above link for details. The details of this week's competition and last week's results are
here
.
SAM'S VIEW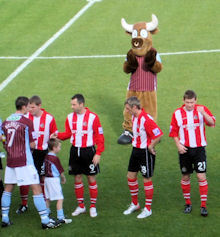 SAM
says that "Alty's eight-game unbeaten run came to an end on Saturday as they were beaten 2-0 at Weymouth" SAM says that Alty produced "a surprisingly lacklustre 90 minutes. Weymouth were in control from the start, with experienced duo Chris McPhee and Ryan Williams pulling the strings in midfield... Alty finally woke up and were unlucky not to equalise just three minutes later when Greg Young's header from former Weymouth man Lee Elam's corner thumped off the underside of the bar... On the stroke of half time, Little disappointingly blasted over from six yards after getting on the end of a good cross from Elam".
Right: Alty are stalked by Weymouth's mascot as they shake hands with their opponents at the Wessex Stadium last Saturday.
OLD BOYS
News of a summer trialist at Moss Lane comes from
This is Staffs
which says that Leek Town's "new skipper Jake Moult has aroused the interest of Stafford Rangers, who have put in seven days' notice of approach. Moult, formerly with Port Vale, has impressed since being signed from Plymouth in the summer and has now been offered a contract by Leek".
Barry Shuttleworth missed a penalty for Clitheroe at the weekend, but his side won at Bradford P.A..
NO SHIELDING THE STAR PLAYERS
The Setanta Shield continued last night with two more second round ties:
Blyth Spartans 1 Gateshead 2
Kettering Town 4 Bishop's Stortford 2

Because Setanta Shield rules require that clubs must include at least 10 of the 16 players named in their matchday squads for the previous two league games, Kettering were required to field a strong team.
BSP NEWS
The Dorset Echo says that "Weymouth Football Club chairman Malcolm Curtis said today he was open to offers for the cash-strapped club after suffering personal abuse from critics. But the property developer said: 'I want to keep the ownership of the land around the Wessex Stadium and deliver what I said I would from the start. But it is hard to do that and run Weymouth FC with the amount of hand grenades that are being thrown at me. For whatever reason the people of Weymouth feel reluctant to change and I have had to put up with a lot of personal abuse over the past few weeks. There have been attacks on my family, attacks on my business and attacks on me personally. A line has been crossed and now I have to review my options going forward. I have always said there cannot just be any one person at the top and I always knew I would fall on my own sword. But I am still committed to delivering the Holy Grail and giving Weymouth a new Community Sports Stadium because that is the only way the football club is ever going to be sustainable'. The Terras' last two home attendances have dropped below 950 and in the current economic climate, fans fear the club could be heading towards administration. But Mr Curtis said: 'We are not going into administration. However, people seem to want to talk us into it and they should be careful what they wish for... It is clear I have become part of the problem and like any good leader I have to consider my position'.

Following Mr Curtis's comments, the club's board of directors issued an official statement concerning its current financial circumstances. It reads... 'The board are exploring a number of options in order to alleviate the pressure of the club's reduced income streams and will announce any specific details that become relevant in due course. The proposed new stadium remains a key part of the football club's future plans'".

From This is Glos we learn that "Martin Allens' dramatic reshaping of his Cheltenham Town squad continued with defensive duo Gavin Caines and Michael Townsend leaving on loan. Caines, 25, has joined Blue Square Premier club Forest Green Rovers, where he will link up with his former Robins team-mate Jerry Gill, now player-coach at the New Lawn... Both deals are initially for one-month periods".

"Mansfield Town confirm they will not appeal the Football Conference's decision to dock them four points for fielding ineligible players" reports the BBC.

There is surprising news from York City, where "striker, Richard Brodie, has gone on loan to Barrow Football Club for one month... Richard will not be able to play against York should City play Barrow in any competition... [Manager] Colin Walker said, 'We have decided to send Richard out on loan because we feel he needs to gain some valuable experience to assist his development as a player. Richard will remain a York City player as we feel he has potential and he will develop and improve over time. Richard is keen to go on loan as he recognises the benefits this move will bring'".

Two BSP sides met in a friendly this week and Oxford United confirm that "United enjoyed a fine 5-1 win over Woking today in a behind closed doors friendly... to allow both teams to get players match fit. United included Ben Hinchliffe, Matt Day, Eddie Hutchinson and Yemi Odubade in their starting line up plus a first appearance of the season for Declan Benjamin. The young midfielder played sixty minutes and reported no reaction after his first game since breaking his leg in pre-season... Odubade converted a penalty after he had been brought down in the box".

Histon announce that their "FA Cup tie away to Durham City on Saturday 25th October is to be staged at Eppleton Colliery Welfare FC and the kick off will be at 4.00 pm. The reason for the switch of venue is that Durham's home pitch is astroturf and FA Cup ties are not permitted on artificial pitches". Eppleton play in the town of Hetton-le-Hole.

More movements are announced at Grays Athletic where Jim Dean has been appointed coach and Andre Vincent as physio. "Andre has served with several clubs including Chelsea, Crystal Palace, Orpington and Bromley". the Thurrock Gazette adds that Grays' "midfielder, Alex Campana, has terminated his contract by mutual consent and has joined Wivenhoe Town FC".

According to This is South Devon, "Torquay United are still hoping that on-loan goalkeeper Scott Bevan may be allowed to play in Saturday's FA Cup-tie against Chipstead at Plainmoor. But Bevan's availability hinges on a three-club agreement, involving the Gulls, Shrewsbury Town and West Bromwich Albion. Bevan's club Shrewsbury currently have WBA's promising 20-year-old goalie Luke Daniels on loan at the New Meadow. And they are trying to persuade the Baggies to let them play Daniels in the Cup, when they enter the competition... If the answer is 'yes', then Torquay are hopeful that Shrews' boss Paul Simpson will allow Bevan to play in the fourth qualifying round tie against Chipstead. At the moment there is a 'no cup' clause in Bevan's loan at Plainmoor, and the 6ft 6in tall keeper's first month at Plainmoor runs out after Saturday's tie. Because their other loan goalkeeper Michael Poke is still injured, United are ready to recall Martin Rice from Truro City to play against Chipstead — if Bevan can't play".
---
21 October 2008
WEYMOUTH - HAPPY & SAD
Weymouth boss John Hollins admitted his game plan had "'worked a treat' after his side ended Altrincham's seven-game unbeaten run with an impressive 2-0 win at the Wessex Stadium on Saturday" reports the Dorset Echo. "Goals from Chris McPhee and Ryan Williams did the damage for the Terras who totally outplayed their opponents in an accomplished display... Hollins said: 'Altrincham are a strong side. They had gone seven games without being beaten and they work really hard at stopping people playing. They also like to put three up top so we decided to match them up a little bit with Ryan Williams flitting off their full-backs and it worked a treat. We went one up and could have had more by half-time. We then came out in the second half and struggled to find our rhythm for a bit as they tried to put us under pressure but we defended well and then Ryan popped up and took advantage of a mistake from their keeper to get that vital second goal... Overall I was pleased with the performance'... Saturday's clean sheet was the Terras' first in 12 games... He said: 'We did not give them a lot of opportunities. They hit the bar with a header from a corner but in open play we did not allow them to create much and that was down to good defending... To be fair we could have easily won by more'".

Off the field, things are not going so well, as the Weymouuth Board has issued a statement "regarding the club's current financial circumstances. As a result of the present economic climate, the club's income sources have been reduced and the Board is actively looking at ways to responsibly secure the club's finances. It would be wrong to speculate at this stage as to any future course of action other than to state that the Board remain committed to both the short and long-term success and sustainability of the football club. As a result, the Board are exploring a number of options in order to alleviate the pressure of the club's reduced income streams and will announce any specific details that become relevant in due course. The proposed new stadium remains a key part of the football club's future plans and will simultaneously provide Weymouth with a first-class community sports facility and the club with the year round source of revenue that it needs to further establish a strong financial foundation".

And the Terras' Supporters' Trust adds that its own "board and a representative from the Supporters' Club met with the chairman of Weymouth Football Club last night (19 October) to further discuss the trading difficulties that Weymouth Football Club, like many others, is experiencing, in the current economic climate. The discussions were open and frank on both sides... We have received assurances from the Chairman that the club will continue to be supported while other avenues are explored... We have therefore requested that Weymouth football Club make a further statement to appease fans concerns about the current financial situation at the club".
OLD BOYS
Witton Albion lost for the sixth time in eight games last Saturday but Rod Thornley hit the woodwork. Meanwhile, a player from the Mark Ward era, Stuart Scheuber scored with an overhead kick for Stone Dominoes as they lost 2-1 at home to Padiham
BSP NEWS
The Conference says that "Over the weekend, Rushden & Diamonds signed a new assistant manager - Justin Edinburgh. Manager Garry Hill said 'I think at times having an extra voice and being able to bounce ideas off somebody else on the touchline will be a big plus for us. Justin will benefit the team with his experience as a player and a manager at Non-League level...Rushden & Diamonds and Nottingham Forest have today agreed an extension to the loan signing of Dale Roberts, keeping the goalkeeper at Nene Park until January. Manny Panther's loan signing ended on Sunday 19th October 2008, and he has returned to Exeter City'". Panther was sent off twice during his short stay at the club

Blue Square Football says that "Grays Athletic have waved goodbye to loan duo Kieron St Aimie and Sean Rigg following the completion of their loan spells". And Grays themselves confirm that "Physio, Dickie Harper, has left the club. He was a big part of Grays Athletic Football Club and will be missed by everyone".

From league leaders A departure is also announced by Woking, where "Adekunle Salau has left the Club by mutual consent".

The Sussex Express tells us that "Lewes FC's FA Cup clash this weekend is to feature on ITV's website. A statement from the network today announced, 'ITV will be filming Lewes's FA Cup game against Leiston this weekend. Highlights of the match will be on ITV.com/football from Sunday afternoon. Thanks to a partnership between ITV Local, ITV.com and The FA, matches involving non-league clubs have been available to view on ITV.com since the extra preliminary rounds of the competition in August".

Kent Online reports that "Chief executive David Davis has reiterated Ebbsfleet secretary Roly Edwards's claim that MyFootballClub membership renewals will be critical for the future success of the club. More than 28,000 members each paid £35 to own an equal share in the club... Mr Davis confirmed: 'Everything is dependent on how many renewals we get from MyFootballClub. Most clubs have a benefactor who pours money into a club, as the directors did previously. Our main benefactor is MyFootballClub Ltd. It's the most critical thing to the club'. Meanwhile, commercial executive Greg Bettles has left the club. He has been replaced by Barry Wickenden, who has taken on the role of promotions and marketing manager. Mr Davis added: 'There have been some significant changes with the profile being raised so high. We have international membership and realised that we needed a different role to the one we had.".

According to the Thurrock Gazette "Cash-strapped Grays Athletic have been paired with the well-supported Chelmsford City in the Setanta Shield. As well as the £3,500 prizemoney on offer for a third round win, Grays can expect a decent crowd at the New Rec for this Essex derby... Meanwhile Grays' new chief executive officer Tony Turburville has spoken to supporters of his role at the club. He said: 'As most supporters will be aware the chairman of Grays Athletic FC decided on restructuring the club in order to achieve more stability. My appointment has been met and quite rightly with some doubt about can the club financially afford the luxury of a CEO while others are being asked to accept wage cuts... I am here at Grays Athletic FC on a non-contract, non-salary basis... I am of the opinion that no instant radical changes need to be made but a more slower positive approach be taken, on a small step by step basis that makes us better equipped for the future and for the proposed move to a new stadium. On this matter I can say that the club's preferred choice will be to stay at the existing stadium until any new venue is built. To this end the chairman and I will be working hard to establish our continued tenancy with the present landlord and also progressing the proposed new stadium... It is envisaged that by the end of January 2009 a clearer picture would have emerged and the club be in position of being able to make an official statement'".

"Persimmon Homes WILL buy Bootham Crescent when York City finally move to a new stadium – despite the uncertainties created by the credit crunch" states The Press. "Andrew Bowes, managing director at the Yorkshire arm of the York-based house builder, said its option agreement to buy the site does not expire until February 2026 and he confirmed the company was 'committed' to following through with its planning application for 93 flats and apartments ... Since the beginning of the year, the company has laid off 2,000 workers because of the downturn. Persimmon are a key plank of the city's dream to build a community stadium, with the football club investing all of the proceeds of the sale of Bootham Crescent into their new ground... Bootham Crescent had been valued by council chiefs at £3.7 million... Jason McGill, York City's chairman, said: "'Bootham Crescent still remains an incredibly desirable site... The site is in an excellent location, close to the city centre, with views of York Minster'".
---
20 October 2008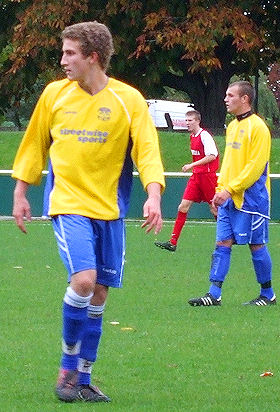 YOUTHS LOSE GRIP ON CUP
Having won the Cheshire County District Cup for three successive years, Altrincham & District FA Youth team, comprising Altrincham FC players, effectively lost their grip on the trophy on Sunday afternoon. They went down 3-1 at Shawe View to Crewe and District FA to record their third successive defeat in the group stage of this year's competition. Blaine Whiteside, son of Manchester United's Norman, netted Alty's goal. There is a match report in the Youth section.

Blaine is seen, right, with midfielder John Bennett in Sunday's game against Crewe.
FA CUP 4QR
Altrincham's opponents in the FA Cup next Sunday have had a good week. They defeated Hucknall Town of the BS North, two levels above them, 4-0 last week, with former Vics' striker Paul Brayson hitting a hat-trick in front of 290 spectators at Kingston Park. Then in midweek, again at home, they got an equalizer in the ninth-minute of added time in front of 119 spectators to secure an FA Trophy replay, with Brayson again scoring, along with player-manager Steve Bowey. According to the non-league press this Sunday, Bowey has just become a father for the fifth or the sixth time, depending which paper you believe.

Meanwhile Workington are still pursuing Blue Star's non-payment of £10,000 for their signing Tommy Cassidy, the Workingtonmanager last season. Workington players have taken a pay cut due to the club's financial plight.
ALTRINCHAM FC SUPPORTERS' CLUB
The minutes of the newly formed Altrincham FC Supporters' Club are here. As you will see the committee is brimming with ideas to get the new supporters' body up and running. The committee would be very pleased to hear from anyone who can donate significant prizes (value of £100 plus) for the Christmas draw.
OLD BOYS
In the NL Paper, Hinckley goalkeeper Chris MacKenzie includes Kevin Ellison in his "Dream team". He describes him as "Always chirpy and a mouth the size of the Mersey Tunnel. I loved him in my team at Chester but hated playing against him. tricky, ran for ever and always scores".
PETER'S PLEA
Well-known Altrincham fan, Peter Hennerley, has a letter published in Sunday's NL Paper. In this he complains about the inconvenience caused to spectators by television schedules which force games to be moved to new dates. He wants the NLP to show how many times each club is televised "Such a statistic would highlight where the cherry-picking was going on with Setanta and also show the benefits in financial terms for some clubs... We are entitled to know this".
BSP NEWS
The Terras' Trust has issued the following on the Weymouth Forum: "The Terras Trust board are conscious that our members are keen to find out the outcomes of the dialogue between the board and the chairman of Weymouth Football Club. We had hoped to have made a statement by now but as further dialogue is due to occur within the next 48 hours, we feel that it would be inappropriate to do so now. Please can we reassure you that the members of our board are putting in considerable efforts behind the scenes and that we will be informing you of the outcomes as soon as possible".

Meanwhile, Weymouth's Supporters' Club has issued a statement saying: Weymouth FC Supporters Club are involved and working with the Terras Trust in the ongoing discussions about Weymouth Football Club. All I ask as the Terras Trust have asked is for you to be patient and as soon as we have something solid to report we will inform you".

The NL Paper says that after Kwesi Appiah's move to Peterborough United from Ebbsfleet United, the Kent club's chairman John Moules has involved the FA. He said, "We received a seven-day notice from Peterborough but it came in after we were aware that the player had been training with Peterborough. We have put in a complaint to the FA". He added, "We got about one and a half games out of him then he's gone. We have put a lot of work and investment into his development and we would like a fair return on that".
---
19 October 2008
OLD BOYS
Carlos Logan was a scorer and Barrow's Man of the Match against Eastbourne Borough yesterday. Old boys on opposite sides were Steve Torpey and Lee Ellington who both netted for Stalybridge Celtic as they defeated Colin Potts's Fleetwood Town.

In League football, Ryan Shotton played 90 minutes for Tranmere and Danny Adams did likewise for Morecambe. But Lewis Chalmers only got 7 minutes of play as a late sub for Aldershot Town and Ian Craney was subbed for Huddersfield Town after 68 minutes. James Jennings was an unused sub for Macclesfield Town.
YOUTHS BEATEN
Altrincham District FA Youth lost 3-1 to Crewe & District FA Youth today at Shawe View (Trafford FC) in the Cheshire County FA District Cup. Blaine Whiteside scored Altrincham's goal.
WEYMOUTH 2 ALTRINCHAM 0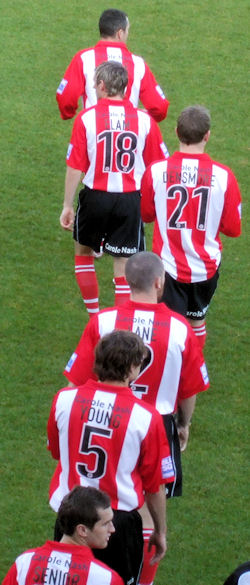 Right: Backs to the wall - Altrincham take to the pitch before the game at Weymouth.
Altrincham could have few complaints after this defeat which ended their run of six league games without defeat.
Alty Player statistics.

Weymouth have some excellent match photos from the game.
---
18 October 2008
SATURDAY
Saturday 18th
Barrow 3 Eastbourne B. 1
Ebbsfleet U. 0 Torquay U. 2
Grays A. 1 Woking 1
Histon 1 Crawley T. 0
Kettering T. 1 Kidderminster H. 0
Lewes 2 Northwich V. 3
Mansfield T. 1 Wrexham 2
Oxford U. 2 Burton A. 1
Stevenage B. 2 Salisbury C. 0
Weymouth 2 Altrincham 0
York C. 2 Rushden & D. 0
WEYMOUTH - BEFORE THE GAME
Weymouth report that "After playing two tough away games, it will be nice to welcome the Terras back to the Wessex this Saturday, for their match against Altrincham. Weymouth had two tough fixtures, against Woking and Cambridge. The Terras managed to earn a point against Woking, but couldn't do the same against Cambridge. An early Cambridge goal turned out to be the only goal of the game. Altrincham have been fairly successful so far this season, and are currently two points ahead of the Terras. Altrincham are unbeaten for six games, after a 1-0 win over Oxford. Ex-Terra Lee Elam (right) crossed the ball for Little who in the 64th minute scored the only goal of the game. Altrincham are unbeaten at the Wessex and are performing well of late. With the addition of players such as Elam, the team appears stronger than last season; they will not be easy opposition for the Terras".

The BBC says that "Weymouth boss John Hollins is set to name an unchanged line-up with Pierre Joseph-Dubois spearheading the attack with support from Stuart Beavon. Hollins will pack the midfield to protect his defence after admitting they had been guilty of 'silly' errors. Altrincham manager Graham Heathcote may hand new loan signing from Tranmere Luke Waterfall his debut. Loan-signing Shaun Densmore looks to extend his run in the team, while Chris Denham is out with an eye injury... Hollins told BBC Radio Solent: 'We've been making silly mistakes. We have thrown away points and have got to do better. We need to do the simple things well'".

However, there is different team news in the Dorset Echo: "Weymouth team-captain Anton Robinson is struggling with flu and could miss tomorrow's clash with Altrincham... The talented midfielder has started every game so far this season and his absence would be seen as a big blow ... Hollins said: 'Anton has a touch of flu and did not train yesterday. I had it for a couple of weeks and it just seems to stick with you. I can imagine just what it feels like for players because they want to be out running yet it would only do them more damage. We will treat him carefully'.

Alty currently sit in ninth place and are one of the most in-form sides in the Blue Square Premier so Hollins is expecting a tough proposition. He added: 'They have not been beaten in their last seven games, winning six of them, and are a strong outfit, so we are going to have to be really on our toes. It is going to be difficult but we are ready'.

And the Cheshire outfit will certainly be looking for revenge tomorrow after the Terras held them to a 2-2 draw in a fiery contest at the Wessex on the final day of last season. The stalemate saw each team have a man sent off and it also plunged Alty into the relegation zone but due to the financial demise of Halifax Town they were given a reprieve. Hollins said: 'There was a lot riding on that game last season. In the end we put them down so they will no doubt be coming here wanting to get something. They are a workmanlike side but the fact they have got themselves into a good position in the league means they must be playing good football as well. They have added to their squad and in Colin Little they have a good asset who gets them goals but we are a different proposition as well... We are certainly scoring goals at the moment which was something we were not doing last year... Defeat at the Abbey Stadium ended an unbeaten run of four games for the Terras who lie just two points adrift of Alty in 16th place".

For the record, Alty's squad last season was: 1. Stuart COBURN; 16. Ryan SHOTTON, 5. Darren TINSON (capt), 10. Greg YOUNG, 3. Gary SCOTT; 15. Chris LANE; 19. Chris SENIOR, 7. Robbie LAWTON, 21. Paul TURNBULL, 9. Colin LITTLE; 12. Joe O'NEILL. Subs: 2. Steve ASPINALL, 11. Warren PEYTON, 13. Richard ACTON, 18. Pat McFADDEN, 23. Ryan TOULSON. Only eight of that squad remain at the club now.
PRE-MATCH DINING NEXT SUNDAY
Our FA Cup opponents on Sunday week (26th), Newcastle Blue Star have extended an invitation to Alty fans. "If any Altrincham supporters travelling to Kingston Park would like to dine on arrival please click for menu and details. The stadium boasts an Italian restaurant open from noon in the West Stand. On Sundays there is a carvery in operation, too.
BSP NEWS
Peterborough United report that "Posh have signed young Ebbsfleet striker Kwesi Appiah on non-contract terms and he appeared as a second half substitute against Watford. He can only feature in reserve team fixtures".

At Mansfield Town, "Billy McEwan has made his second loan signing of the day by bringing in 19 year old Sam Wedgbury from Sheffield United. Wedgbury can play at centre-half, but has spent most of his career as a defensive midfielder. He joins us for one month on loan from the Blades. Wedgbury signed for United from Worcester City midway through the 2005-06 campaign... The manager added Nottingham Forest striker Emile Sinclair to his squad earlier... We now have two players on loan from both Nottingham Forest and Sheffield United, with goalkeeper Paddy Gamble already here along with defender Max Chanot". NL Daily adds that "Emile Sinclair [is a] 20-year-old... The tall and pacey striker is a regular in the reserves at City Ground and has been on the fringes of the first-team... He does have one senior goal to his credit... 'What Emile is first and foremost is competition for places', said Mansfield boss Billy McEwan (pictured)... McEwan added he is still confident of another player – a midfielder – coming in before the weekend", according to This is Nottingham.

"Striker Iyseden Christie hopes a permanent move to Kettering Town can be completed sooner rather than later. Christie was on the verge of a switch to York City earlier this week... But the frontman remains on loan at the A-Line Arena from Stevenage Borough after revealing... 'The York situation was happening before the Salisbury game and I knew they had made an approach to Stevenage and they had been given permission to speak to me', he said... If I had gone I would have moved up there but there were issues that came up and I couldn't be driving up and down the motorway every day. In the end it just wasn't appropriate.... I didn't have to come here on loan but it was a good move for me and the manager and the boys have made me welcome. After such a short time it's great for me that they are so interested in keeping me here... It's nice to be wanted and the fact that they want me is making me want to stay here'". Referring to his old club, Kidderminster, Christie added "I played there for the best part of four years and got to know the club really well. In the summer I decided to move on and I thought that was the right thing to do at the time. It was purely for football reasons. It was nothing to do with money. I just felt it was going to be a better option for me to go to Stevenage. Obviously that didn't work out".

Grays Athletic midfielder, Mark Molesley, has left the club to join League 2 club, AFC Bournemouth on loan until 1st January". Also "Grays Athletic can report that Coaches, Neil Smith & Tim O'Shea, have left the club. Chairman, Mick Woodward, said 'I would like to thank both Neil and Tim for their professionalism whilst at Grays Athletic. They understand the financial situation that the club currently find themselves in and have decided to seek other opportunities".

Woking are "pleased to announce the signing of Daniel Spence from Reading on a month's loan. Daniel, a product of Reading's Academy, is 19 years old, and plays at right back but can also play in centre midfield".

Wrexham report that "Despite not playing for the last 10 days, injuries have raised their ugly head to affect several players... The more serious problem has been suffered by midfielder Andy Fleming, after he has just enjoyed two starts in the first team. The young Liverpudlian has damaged knee ligaments and looks odds-on to need an operation, which will sideline him for a month or two. Gareth Evans, had positive news following a scan on his troublesome ankle and has been give the all-clear to resume training... Kyle Critchell has finally undergone surgery for his ankle injury, after having an operation delayed because he picked up a virus. Full back Simon Spender is back his chirpy old-self, but he still has his left arm in a cast after dislocating his elbow in the Torquay United match".

According to the Football Conference "Northwich Victoria have added striker Ross Farran and midfielder Wayne Riley to their squad. Ebbsfleet United have taken Millwall striker Gary Bowes on loan, Grays Athletic midfielder Adam Gross and Stevenage Borough striker Jerome Anderson have gone on loan to Welling United".

Further to the above, the Northwich Guardian back in August, "Ross Farran is aiming for the big time after impressing Sir Alex Ferguson with his skills. The 17-year-old footballer from Wincham took part in Nike's 'Most Wanted' campaign and came out on top – which has resulted in him signing a boot deal with Nike". He played in the Vics' Youth side that lost 7-0 to Wrexham in this year's FA Youth Cup".

"Nick Rogan, the Bluebirds' leading marksmen for the last two seasons, has been sent out on loan to Vauxhall Motors" says the North West Evening Mail. "The 24-year-old striker has struggled to find his form in the Conference after missing pre-season with an abdominal strain. So... Rogan will be attempting to regain match fitness with Motors".

The Argus states that chairman "Terry Parris is delighted with the progress Lewes have made recently but insists the club cannot afford to rest on its laurels. A hugely disappointing midweek cup defeat to Bognor was a reality check for a Rooks side who have been much improved in their last five Blue Square premier games. That run has yielded eight points and raised hopes Lewes can defy the odds by avoiding relegation... Defeat in tomorrow's game with Northwich would send the Rooks back to the bottom while off the field the club face a difficult challenge trying to raise the funds to achieve the A ground grading they need to stay in this league...

Off the field, the task of raising a figure in the region of £360,000 to fund necessary ground improvements, which need to be completed by March 31 next year, is proving a challenging one. Part of that will come through grants... The desire to avoid financial problems was the main reason behind the management change Lewes made in the summer. Parris said: 'Everywhere we go we see empty boardrooms and find out clubs have financial problems. Obviously a lot of these clubs spend a lot of money on the playing side... They have enormous overheads. We don't want to be a club that folds after a season because we didn't address the situation like the club did at the end of last year. The (ground) standards have been set too high by the league. The grading requirements are daft with regard to the numbers game. The Conference has got to have standards but if you are getting average crowds of 700 -800 what is the point of a 4,000 capacity?".

Meanwhile the Sussex Express reports that "Keehan has signed 20-year-old former Eastbourne Borough keeper Seb Barton on a permanent deal".

"York City boss Colin Walker is considering a move for former England Under-21 striker Bruce Dyer" claims The Press. "Unattached Dyer, who became England's first £1 million teenager when he moved from Watford to Crystal Palace in 1994, is a free agent after finishing last season at Chesterfield. The 33-year-old forward, who is also a full Montserrat international, played against the Minstermen's reserves on Tuesday night for former club Bradford City, where manager Stuart McCall has allowed him to train as a favour. One player that will be leaving KitKat Crescent, however, following tomorrow's home match with Rushden and Diamonds is midfielder Peter Holmes, who has been recalled by Rotherham".
OLD BOYS
Barry Whitbread was a Moss Lane favourite, and his son, who played against Alty in the FA Cup last season is now making news as Bullsnews reports that "Millwall defender Zak Whitbread, a US born 24 year old, is being chased by Everton and West Brom for a reputed £1 million according to press reports".
---
17 October 2008
NEWCASTLE PRICES
Admission to Altrincham's FA Cup 4QR tie at Newcastle Blue Star next week (Sunday 26th) will be £7 for adults and £4 for concessionaries.
SETANTA SHIELD 3rd ROUND
The draw for the third round of the Setanta Shield places Altrincham at home to Wrexham. The tie is likely to be on Tuesday 4th November at 7.45pm. The prize money for the this round is £3,500 for the winners of each tie.
Barrow v Blyth S/Gateshead
York C v Mansfield T
Forest Green R v Oxford U
ALTRINCHAM v Wrexham
Stafford R v Southport
Bath C/ Newport C v Salisbury C
Weymouth v Torquay U
Woking v Bognor Regis T.
Crawley T v Havant & W
Eastbourne B v Ebbsfleet U
Hinckley U v Histon
Rushden & D v Stevenage B
AFC Telford v Cambridge U
Kettering T/ Bishop's Stortford v Thurrock
Grays A v Chelmsford C
Burton A. V Kidderminster H.
ROBBIE BANNED
Following his fifth booking on Sunday, the FA website confirms that Altrincham captain Robbie Lawton is now suspended for one game from 19th October, so will miss the FA Cup match at Newcastle Blue Star. He has been ever-present so far this season.

Whoever wins at Newcastle Blue Star on Sunday week will know their next opponents before kick off as the draw for the FA Cup 1st Round will be made on Saturday 25th October on ITV1.
SATURDAY'S REF
Saturday's referee for Weymouth v Altrincham is Mr R. J. Martin.
OLD BOY
News of one ex-trialist who has little time for Altrincham. "Damien Allen has dropped from the Football League to play for FC Halifax Town in UniBond League Division One North. But despite offers to play higher up the non-League Pyramid, he was happy to sign at The Shay because he believes the club is geared up for bigger things. The 22-year-old central midfielder made twenty appearances for League Two Morecambe last term, and before that made more than fifty starts for Stockport County. 'I thought I had a new deal at Morecambe but ended up getting released in May', he said. 'I had no prior warning and went on holiday only to come back and find out I could go. I had an offer from Altrincham and went down to Droylsden, but the set up is no good at these places. They might be in higher leagues but the set up at Halifax is a lot better. Halifax has the potential to get back to where it was and I want to be part of that... I had a look on the internet before I signed and saw the average attendances at The Shay', Allen said. 'I could not believe it. And when I turned up at the ground for my first training session last week I could not believe the size of the ground. The crowd was amazing on Saturday - a lot better than teams in higher divisions'" he told the Halifax Courier.
BSP NEWS
According to the Dorset Echo "A retrospective application to sell cars on land at Weymouth Football Club's Wessex Stadium has been rejected. Club chairman Malcolm Curtis said people had 'dobbed' to West Dorset District Council's planning enforcement officer before the application was rejected under delegated powers. The reasons given for refusal included the displacement of traffic on to nearby roads on match days and the subsequent 'detriment to road safety and the free flow of traffic'.

The council's development services manager John Greenslade added that it would be 'impractical' to try to use the spaces only on non-match days and for the vehicles to be removed when the spaces were needed. Mr Curtis responded by saying: 'We are looking to come back with a new application later on but I'd rather not discuss that at present because I do not want to show my hand to the planners... We probably did not give it (the application) the effort that it deserves'. Mr Curtis said the land that the cars would have been sold from was sold by the Terras to Wessex Park Ltd last year and that it meant the club would have made 'nothing' from the deal if it had got permission. He added: 'It's the reason why people have dobbed us to the enforcement officer. Five years the cars have been on that land for sale'...

The application to park 34 cars for sale on the land at Wessex Stadium was rejected following an objection by Dorset County Council's highways department and despite it having the support of Chickerell Town Council. Weymouth FC has been dogged by rumours of an impending financial crisis recently. Mr Curtis was forced last week to reject claims that the club was having trouble paying wages and that it faced bankruptcy. He said that the rumour was untrue and described it as 'just a case of people putting two and two together and making five'".

Nevertheless, "Malcolm Curtis admitted at [the] AGM at the Wessex Stadium that trading in the current financial market is proving very 'difficult'. The majority shareholder chaired the meeting alongside financial director Ian Winsor and Terras Trust representative Mark Golsby. The accounts for the year ending May 31, 2007 show a £1,111,088 profit compared to a £1,220,568 loss the previous year but that is only down to former chairman Martyn Harrison writing off £2,643,543 in loans.

Curtis reckons a loss of around £750,000 was incurred over that period and is still adamant that the only way the club will improve its financial footing is to move to a new stadium... When quizzed about the empty spaces around the ground that used to house advertising hoardings, Curtis said: 'Many of the boards were historical and were not being paid for anymore so as a club we decided to take them down... As you can imagine it is proving hard to increase advertising revenue... The audit for 2008 is in process and it is hoped that it will be completed before the Christmas period, so I would like to think we will be able to have another AGM before Christmas to review the May 2008 accounts'".

According to the Football Conference, "Southport have signed former Northwich Victoria midfielder Michael Barnes".

Blue Square also announces that "Salisbury City have extended the loan stay of Gillingham full-back Sean Clohessy for a further two months" and that "Wrexham manager Dean Saunders has received a welcome boost with news that the club's Supporters Trust has offered him a £15,000... interest-free five year loan to Saunders this week and the Dragons boss will use the cash injection to strengthen his squad. Wrexham Supporters' Trust spokesman Lyndsay Jones told the Daily Post: 'The £15,000 comes from the AGM in summer when the money was set aside'".

NL Daily tells us that "Wrexham are hoping that an ambitious attempt to sign former Premier League player Kiki Musampa on a short-term deal proves successful. Former Dutch under-21 international left winger Musampa has played at the highest level in various European leagues and spent one-and-a-half seasons on loan at Manchester City between 2005 and 2006 where he made forty-one Premier League appearances, scoring three goals. Free agent Musampad) is hoping for earn a contract at a Premier League or Coca-Cola Championship club, and has called on new Wrexham manager Dean Saunders for help. Chairman Geoff Moss is hoping that Musampa, in the crowd when Wrexham beat York City 3-1 at The Racecourse last Tuesday, will join on a short-term contract in a bid to attract interest from other clubs as well as help the Reds in their push for promotion".

Moss said, "Dean was approached by a friend of Kiki's to see if he could get him fixed up. And Dean said 'come and play for me for about six games, and I will try and get you fixed up'. I don't want to excite fans too much but it wouldn't be until the end of the season. It is purely short-term, not a loan because Kiki is not in contract... There is a short- term goal to get points on the board and make sure we are in the mix at Christmas and we can push on again when the transfer window opens in January as Dean will be able to add further... I don't want fans thinking [signing Musampa] is too expensive, it is well within our reach". NL Daily adds that "Moss recently failed in a bid to bring in Robbie Savage on loan from Derby County as player-coach, with the midfielder instead joining Brighton for a temporary spell at the wishes of his parent club... 'We are ambitious.and are trying things', said Moss. 'And Robbie Savage nearly happened'... Saunders has already brought in midfielder Joe Allen on a one-month loan deal from Swansea City and having agreed terms with centre back Ashley Westwood, is just waiting for the trialist, who has been training with the Reds for a week, to put pen to paper... Moss couldn't help admire the contacts that the former Wales international striker has built up. 'Dean is giving the players here their chance', said Moss. 'But he is rooting around everywhere'... With a first-team squad of nearly 30 players, Moss admitted it was inevitable players will leave The Racecourse" he told the Evening Leader.

The Gravesend reporter says that "Ebbsfleet United are poised to turn their backs on the proposed site for their new ground in favour of a fresh location... Fleet director and head of the stadium project, Brian Kilcullen... said: 'The fact the residential market has plummeted hasn't helped the current plans we have. The costs involved with the site and the falling financial market means it is not as attractive as it was. However, it has thrown up the opportunity of another site, which wasn't available to us six months ago and might be now, which is better value than the previous one'. This alternative abode, like the one proposed four months ago, is located within three miles of their current base, Stonebridge Road in Northfleet... 'We're still at a stage where a stadium won't be bought for three to five years, which is quite a long time, and who knows what will be going on at that stage?'... Earlier this month, MyFootballClub - the website community that bought a 75 per cent stake in Ebbsfleet back in February - released their profit and loss figures for the three months to August 2008, which showed a loss of £157,000. Kilcullen said: 'The ongoing losses at the football club are down to day-to-day operations and long-term strategic projects are outside of that. Ebbsfleet is a football club that doesn't have money to buy land. We have a council who haven't got money to give us land and we haven't got a benefactor who is going to put in millions of pounds. But the new stadium won't cost Ebbsfleet anything'".

"A prominent local businessman has called on like-minded entrepreneurs to club together to give cash-strapped Kidderminster Harriers a much-needed injection of money" claims the Kidderminster Shuttle. "John Davies, who owns the Hire It! store in town, is willing to put up £10,000 of his own money and wants others in the district to do the same, in order to buy a place on the Aggborough club's board. His actions are in response to chairman Barry Norgrove's calls for new investors to step forward and aid the club". He said, "The team is the highest it has been in some time, we have a new youth team and a great football in the community scheme, so I believe the next step is to get local businesses involved". Earlier Horgrove had announced that "the current economic crisis in the country had severely affected his building company, Norgrove Homes, and meant there was no extra-money to give the manager. He has been approached by several parties but none with a firm offer of £50,000, which would buy a place on the Harriers' board for a season. 'I am still looking for two individuals who want to put £50,000 in each to give us a lift', said the chairman... 'Anybody who wishes to come on board must understand that it is £50,000 to be a member each season and they must also be prepared to spend more money'. Fans' group KHIST are planning a loan-note scheme, where supporters could own a small share of the place on the board, in the next few weeks. Despite cash being tight at Harriers, chairman Norgrove was able to fund the signing of striker Stefan Moore".

Similarily, the Salisbury Journal announces that "Cash-strapped Salisbury City's plight has been eased somewhat by its supporters and sponsors rallying to chairman Neville Beal's plea to help it raise more than £100,000 in two weeks. Although the appeal yielded just over £45,000... club officials believe the show of strength from its followers means the Whites are now in a slightly healthier position from which to compete... Some pledges had yet to be collected".

The Woking News and Mail tells us that "Chris Ingram is pricing himself out of the market if he is serious about selling Woking Football Club. That is the view of an adviser to a consortium of local businessmen who, he says, were prepared to table an offer of £4m to the Cards' owner - only to learn that the asking price is more than double that figure... The group are not willing to meet what they view as an inflated valuation and are already beginning to turn their attentions elsewhere. Ingram has already stated that £4m is the amount he has ploughed in to the club since he bought it six years ago - saving it in the process - so the consortium are prepared to effectively give him his money back. But for that, they want the holdings company as well as the football club.

'Chris says he wants to sell the club but you have to wonder whether that's true with the figure that's been suggested', said the adviser. 'If you are selling a house that's worth £200,000 and you put it on the market for £400,000, that says to me you're not that interested in selling. It would be a big gamble anyway for someone to come in and buy, while hoping the market changes, as well as having to put in £500,000 a year to fund the losses'". Ingram said, "Buying the football club is very different to buying the holdings company which includes the ground and if the club was to be sold it would need to be to a safe pair of hands and someone with the resources to take the club on". The Mail adds that "An overseas investor might be the only avenue for Ingram to pursue if he does sell - and sticks to what is understood to be the current asking price. Failing that, the Cards' owner is faced with a redevelopment project which is almost certain to be delayed still further, given the economic downturn, even if, as expected, planning permission is granted this year".

"The board of York City Football Club is very concerned about a number of incidents which have occurred, mainly at away matches this season, involving a small group of supporters. The incidents which have taken place have not just contravened ground regulations, but have also involved the use of dangerous items including fireworks and flares, which we feel have jeopardised the safety of other supporters. Due to this dangerous and unacceptable behaviour, York City has received negative correspondence from both Crawley Town and Woking football clubs and the Board feels this group's activities are now beginning to bring the Club into disrepute. We have also received invoices from opposing clubs totaling £625 for damage to fencing and toilets caused by this minority group. As a result of recent events increased stewarding and policing may be required, which would also have serious financial implications for York City Football Club".
---
16 October 2008
MIDWEEK RESULTS
Monday 13th

Burton A. 1 Mansfield T. 0

Thursday 16th

Forest Green R. 2 Cambridge U. 2
WEYMOUTH CONFIDENT
Altrincham play at Weymouth this Saturday. The BBC have an audio interview with Weymouth boss John Hollins in which he concludes "We'll get three points on Saturday".

But he was slightly less bullish about "workmanlike Altrincham" being a walkover for his under-performing team in an interview with the Dorset Echo. The paper says that "The Terras paid for a sloppy start at Cambridge United on Saturday where Jon Challinor's strike on 11 minutes was all that separated the two sides... The end result sees Hollins's men fall to 15th in the Blue Square Premier table. Hollins said: 'The goal was another poor one from our point of view. A long throw was flicked on and one of their lads had a shot from the edge of the box that flew in without Richard Barnard even moving'... The Terras' next game sees them take on Altrincham at the Wessex Stadium on Saturday, and Hollins has insisted his men will have to be on their mettle if they are to beat the Lancashire [I think not!] outfit.

He added: "We know we are in for another hard one on Saturday so we have got to be fighting fit this week to make sure we are ready. Altrincham are a good workmanlike side and we will have to start a lot better. We have certainly got the ammunition but it seems to take a goal all the time to liven us up... We can juggle with the team a bit but it would still be the same structure so we have just got to work harder. It is almost like we need to put a firework up a few backsides to get people going. Cambridge are where they are because they work hard and put their feet in where it hurts. We did that towards the end but you have to do it for the full 90 minutes if you want to be successful'".

Off the pitch the Terras' Trust mysteriously says "Following the meeting on Monday 13th October with the Chairman of Weymouth Football Club and in light of discussions that we have had at our board meeting we are urgently looking for any trust members who have shares in Weymouth FC to proxy or transfer their shares to the Trust... We plan to further update our members in the next few days when we have additional information that we can pass on".
SQUARE UP-DATE
Adam Martell of the Altrincham FC Supporters' Club writes:

Unfortunately, due to last minute absences, we weren't able to run the half time "Square Up" keepie-uppies competition last Sunday for the game against Oxford. Currently though, Gareth Thomas is leading with an impressive points total of 19. At the upcoming Blue Square Premier home games our aim is to have a personality at the club competing each week against two fans. You could be challenging first-team players, journalists, Alty favourites, and even Rocky the Robin – not to mention, that you will be on the hallowed turf of Altrincham FC!

Remember, in each round, the winner will receive a free £25 bet with Blue Square. If you are the highest points scorer at the end of the season you will have secured yourself a free pair of Altrincham FC season tickets for the 2009-2010 season and will enter the second round held nationally, competing against all the winners of the Blue Square Premier, North and South clubs. Then, if you are in the top five scorers across the country, Wembley beckons and there's a £10,000 jackpot up for grabs.

Confirmation of guest stars for the next league home game versus Histon on November 1st will be posted soon. So keep an eye out – you could be a half time hero, and keepie-up your way to £10, 000!

If you would like to take part in this fantastic competition then please contact, Adam Martell, on 07879 610 927 or email: e-mail him.

Thanks and the best of luck!
BAG2THE FUTURE
Fundraising is a vital feature of Altrincham FC and everyone is asked to do what they can to contribute. One supporter who is taking action is Alty Security Officer Darren Gregory who, with his wife Louise (a steward at Moss Lane) is leading a new initiative, as Darren explains:

Bag2TheFuture is launched

Who are Bag2TheFuture?

They are a business which specialises in collecting second-hand clothes in their original condition, these are then sold to developing countries in Africa, the Indian sub-continent and parts of Eastern Europe. See their website for more information.

What is it?

If you have any good quality secondhand clothing, bedding, curtains, soft toys, shoes (tied together please), belts and handbags you could donate. (NO Bric a Brac). Please start saving these items now.

How do I do this?

On Saturday 22 November 2008, at the Cambridge game you will be asked to take a donation bag home and fill it with the above items if possible. If extra bags are required you can just use an ordinary bin bag.

What do I do with my bag then?

Please return your bag with articles to Altrincham Football Club on Sunday 30 November 2008, between 10am - 3pm. Please look for the signs and somebody will be there to take it from you.

What happens next?

The bags will be collected by the organisers, Bag2TheFuture, on Monday 1 December and will be taken away to be weighed, the club will receive £200 per ton, basically the more we collect the more money will be made. (If we don't make the ton, we still get paid for as much as the items weigh)

How much does this cost?

The cost to you is nothing apart from a bit of time filling your bag and bringing to Altrincham Football Club on the above date. All bags are supplied by organisers.

Please note all bags are checked before weighing.

Will you be able to collect my bag?

No door to door collections will be available.

Can I bring my bag to the game on the 29 November 2008?

The answer is no as no storage space will be available.

Please do your best to support the above scheme it is not very often we have a fundraising idea that doesn't involve you putting your hand in your pocket.

If you have any queries please contact Darren Gregory by e-mail.

The above details are also on the fundraising page of the website, for ready reference at all times.
BSP NEWS
Nearer to home, the Northwich Guardian reports that "Vics must sort their managerial mess now, according to stand-in boss Mike Marsh.... 'This can't go on any longer', he told the Guardian. 'We are all in a kind of limbo and I think the situation should be made clear as soon as possible. The players need to know where their future lies and I'm not in a position to make those kind of decisions'. Maamria's enforced absence enters a third week today, Wednesday, but Rushe revealed he is "no closer" to a conclusion on whether the Tunisian will return to the bench. Marsh said he will speak to Vics' owner before Saturday's crunch trip to Lewes in a bid to voice his exasperation. He added: 'We are talking about livelihoods here. I want to know what happens next as much as anybody else because I feel the delay is not helping the team. That's not an excuse for them playing poorly but at the same time they are worried about how long things are taking'.

Rushe told the Guardian... that he has spoken to every player, plus backroom staff, although the manager has yet to be consulted. 'It's all gone really well so far but the club have not made a decision', said Rushe. 'I'm planning to speak to Dino very soon and I'm sure he's as frustrated as anybody because he just wants to manage. He will be given a chance to respond to what has been said about him'. Marsh, a close friend of Maamria, has taken four points from three league matches since taking the helm – a run that has lifted spirits at the club.

However last night's Setanta Shield exit at Stafford Rangers left the former Liverpool star in no doubt about what the club should do next. He concluded: 'It made me realise we need a resolution and fast'".

The same paper adds that "Marsh did not hide his dismay after Vics tumbled out of the Setanta Shield... 'I'm bitterly disappointed', he told the Guardian at full time. 'The lads haven't turned up to be honest – it's a weak mindset. You have to be careful with players because after last week's draw with Kidderminster they were all on a high and that had me worried. The two performances since then haven't been good enough'. David McNiven bagged a first half brace thanks largely to the charity of Mark Roberts – mistakes that led to the stopper being substituted five minutes before half time... 'Their opener was a rotten goal', Marsh said. 'Mark gave the ball away, was too slow in the recovery and deflects the shot past the keeper. He then gifts them possession that leads to a second goal and he just wasn't at the races at all... We created several chances but never once showed the desire to get in areas where we could score a goal', added Marsh".

According to Blue Square Football "Wrexham have told Tom Taylor that he is surplus to requirements at the club. Taylor arrived at the Dragons on transfer deadline day, but new manager Dean Saunders does not view him as an asset to the club".
FARSLEY'S VIEW
After Farsley Celtic's narrow defeat at Moss Lane, Farsley Today says that "The Celts bowed out after losing 4-2 on penalties. But their reverse was not without controversy, with Curtis Aspden saving a penalty from Dale Johnson (right), only for the referee to order a retake with Johnson this time making no mistake... Despite the defeat, caretaker-boss Neil Parsley - in the penultimate match of his spell as temporary manager - was pleased with his side's efforts. He said: 'I think we more than matched them. 'I know their manager Graham Heathcote really well [Neil was briefly an Alty player] and he was very complimentary of the way we conducted ourselves. I thought we aquitted ourselves very well but unfortunately in football you don't get your just rewards, I think tonight can go down as one of them occasions'".
SAM'S VIEW OF OXFORD
"Alty climbed to the dizzy heights of ninth in the Blue Square Premier after a 1-0 win over Oxford United" report the Sale & Altrincham Messenger. "A super strike from Colin Little secured the Robins' fifth win in six games to seal their fourth straight win at home. What's most impressive about that Moss Lane run is the fact Alty have not conceded a goal in 501 minutes on their home turf - a remarkable turnaround for a team that conceded 16 goals in their first nine games of the current campaign... If Oxford had edged the first half, the second was Alty's... After taking the lead, Alty almost contributed to their own downfall. The single blip in an otherwise excellent game for centre half Greg Young almost saw him put the ball into his own net when he made a mess of a back-header to Coburn. Luckily, he recovered to clear off the line. The introduction of substitute Dale Johnson (right) took some pressure off Alty's midfield and defence, the targetman holding up the ball well".
CHESHIRE NEWS
Alty fans will remember an impressive display last season by Vauxhall Motors' Paul Taylor in the CSC. Taylor later signed for Cheshter City. Bullsnews tells us that "Chester have signed assistant boss Wayne Allison to a playing contract. The much travelled striker, who turns 40 tomorrow, has been dragged back into action after forward Paul Taylor received a final warning after failing to turn up for last weekend's match".
BSP NEWS
According to the NW Evening Mail, "Barrow boss Dave Bayliss was livid with his side's second-half performance in the 3-2 win [over Fleetwood] at Holker Street last night. Raged Bayliss: 'The first 45 minutes were fine but too many players came out second half thinking the game was over. This is not the response me and Daz (Darren Sheridan) want and we are livid. It looked like we had 10 men and it has left a bad taste in the mouth. If you don't work hard and keep the ball, you are going to get beat. We were lucky to come out with a win... Second half for some reason we took daft options. The ball was not sticking to the forwards, midfield were using the wrong options and the back three was not splitting and kicking it long. Players have got to prove they are good enough to play at this level, if not we're not frightened to change things, we've proved that already. We've money to spend and a shopping list for January'. The manager said that seven or eight players were not worthy of the shirt on that performance. He added: 'Nat Kerr's done okay on his debut first half, he was making decent angles for Tim (Deasy) but not getting the ball'".

Stark news comes from the Thurrock Gazette which asserts that "Grays Athletic would have ceased to exist within six months without drastic financial cutbacks, chairman Mike Woodward has claimed. The colourful Woodward has asked his players and staff to take 50 per cent pay cuts this week after the club's three main sponsors withdrew their support. The pull-outs came as the club struggles near the bottom of the table in front of an average home gate of 665 - a staggering 27 per cent down on last season's average of 919... 'We have to look at our attendances and had to look at our position', said the self-made rail labour company boss. 'Could we maybe attract two or three hundred more supporters? No. We are also land-locked here and also, at the moment, are going through a feasibility study for a new stadium. When you take that into consideration, plus the players' wages and other bits, I'm not going to put the club in jeopardy, I'm not going to put myself in jeopardy and I'm not going to put other people in jeopardy'. Woodward... claimed many of Grays' rivals were also feeling the pinch of the worldwide financial crisis but, unlike them, he was not willing to put the club's long-term future at risk. 'We dealt with it straight away, whereas a lot of clubs are still going through the motions and hoping to get out the other end', he stated... 'It's not about Mike Woodward anymore. This is all about Grays Athletic Football Club. I can reassure the fans that if we had allowed it to go on there would not have been a Grays Athletic. If we had allowed it go for the next five or six months then the club would have been in jeopardy and I'm not going to allow that. I know I threw my dummy out a couple of months ago but I'm on an even keel now'".

Woodward also confirmed that Grays' players, who have been asked to take a 50 per cent cut, were free to join other clubs but implored them to stay and help them out of relegation danger. The chairman is also hopeful of the club's financial position improving with a run in the FA Cup or FA Trophy, or by virtue of the sell-on clause in Wolverhampton Wanderers' winger Michael Kightly's contract with the Championship side... Woodward concluded by insisting that Grays' plans to move to a new stadium as part of the Thurrock Sports Hub at Blackshots was still on... 'At Grays all we have got is turnstiles and a small bar and then if the sponsors cannot pay you have got nothing else'", he concluded.

The According to The Press "York City's move for Stevenage Borough striker Iyseden Christie has fallen through. Christie was set to be recalled from his loan period at Kettering by the Herfordshire club to pave the way for a temporary switch to KitKat Crescent. But City boss Colin Walker, who has been thwarted in bids to bring a succession of high-profile forwards to the club such as Clayton Donaldson, Michael Twiss, Justin Richards and Luke Beckett, has missed out on the 31-year-old ex-Mansfield and Kidderminster front-man. He said: 'For whatever reason, the deal's off. We had the shirts printed with his name on and everything, but it seems to have been scuppered'. Christie signed for Stevenage from Kidderminster in the summer but was shipped out on loan to Kettering just three weeks into the new season... Stevenage would be within their rights to request his return and sanction a similar move to the Minstermen". It was reported that York were willing to pay all of the player's wages, unlike Kettering.
---
15 October 2008
FARSLEY REPORT
There is now a match report on last night's Setanta Shield tie with Farsley Celtic here.
NEWCASTLE COACH
The supporters' coach for the FA Cup match at Newcastle Blue Star (Sunday 26 October), will leave The Vine at 9.30am, The Hare & Hounds at 9,40am, Station House at 9.45am and Moss Lane at 9.50am. Fares will be £20 (adults), £18 (concessionaries) and £10 (under-12s). Bookings can be made via the club on 928-1045.
SHIELD SCORES
The second round results in the Setanta Shield are:
Blyth S v Gateshead (21 Oct)
Barrow 3 Fleetwood T. 2
Hinckley U 2 Tamworth 1
AFC Telford 2 Solihull M 1
Vauxhall M 0 Southport 3
ALTRINCHAM 1 Farsley C. 1 (aet, Altrincham won 4-2 on pens)
Stafford R. 3 Northwich V. 1
Bath C. v Newport C. (28 Oct)
Lewes 0 Bognor Regis T. 2
Kettering T v Bishop's Stortford (21 Oct)
Fisher A 2 Eastbourne B 3 aet
Eatsleigh 2 Havant & Waterlooville 3
Chelmsford C 3 Braintree T 1
Thurrock 3 Hayes & Yeading U. 3, Thurrock won 5-4 on pens.

The draw for the 3rd Round of the Setanta Shield will take place on Thursday, 16th October.
BSP NEWS
The Daily Post confirms tha Wrexham have "agreed terms to sign defender Ashley Westwood until the end of the year. The 31-year-old former Manchester United trainee played alongside Dragons' boss Dean Saunders at Bradford City and has recently returned to this country after a short spell in Belgium. Saunders, who is currently on international duty with Wales, arrived at Dusseldorf airport to confirm that the deal had been done and he expects the centre-back to make his Dragons' debut at Mansfield Town on Saturday. The Bridgnorth-born player began his career at Old Trafford, but was released before making a senior appearance and went on to play more than 320 first-class matches for, among others, Bradford, Crewe Alexandra, Swindon Town and Chester City. Last season he spent six months in the Blue Square Premier with Stevenage Borough.

Saunders who is concentrating on his role as assistant to Wales boss John Toshack ahead of [a] World Cup qualifier with Germany, said he was leaving the details to his Racecourse assistant Terry Darracott.... Meanwhile, Wrexham midfielder Silvio Spann has been recalled by Trinidad & Tobago for their World Cup qualifier with the USA... Manager Saunders was happy for the player to leave. 'Silvio has been down a bit of late, but playing against York and now being recalled by his country has given him a lift' said the manager. 'This is exactly the sort of thing I was trying to point out to the players, if you put in the work, then you will get your rewards. It is a long trip for him, but he's used to it'".

According to the Northwich Guardian "Northwich Victoria have signed teenage attacker Peter Winn on a month-long loan. The Scunthorpe United wide man [was]in the squad to face Stafford Rangers in the Setanta Shield... Winn, a second year professional for the Iron, made four substitute appearances in the Championship last season after impressing for the reserves... Vics' stand-in manager Mike Marsh is glad to get his man. 'He's another tall player who will add physical presence to the side', he said. 'Peter can play up front or out wide and I'm sure he'll make our attack stronger'. Last week Vics' Blue Square Premier rivals Mansfield Town ruled out a loan move for the 19-year-old".

From The Press we learn that "York City are poised to swoop for Stevenage Borough striker Iyseden Christie. The 31-year-old forward has been on loan at rivals Kettering since September, having had his original short-term deal extended. But the Press understands he is now set to be recalled by the Hertfordshire side, paving the way for a temporary move to the Minstermen... The former Mansfield, Kidderminster and Leyton Orient front man, who has scored 110 goals in a professional career spanning 274 starts, had been expected to stay with the Poppies until the transfer window reopened in January. But, unlike Kettering, the KitKat Crescent club are expected to meet the full cost of Christie's wages and be amenable to a permanent deal in the New Year".

At Burton Albion "Former Derby County striker Lee Morris has continued his recovery from injury by signing a deal with the Brewers taking him until the end of the season. The 28 year old striker has been working on his fitness since joining Albion for pre-season training and after making his first league start of the season against Mansfield last night he signed a deal following the match".
FA CUP 3QR REPLAYS
Sheffield FC 2 Guiseley 1
Harrogate Town 0 Eastwood Town 2
Ilkeston Town 1 Alfreton Town 3
AFC Wimbledon 2 Dover Athletic 0
Crowborough Athletic 0 Harlow Town 2
Chipstead 3 Atherstone Town 0
Bashley 0 Basingstoke Town 3
Team Bath 4 Frome Town 0
---
14 October 2008
SHAUN STAYS
Altrincham FC have confirmed that, after completing his initial one-month contract at Moss Lane, defender/midfielder Shaun Densmore (right) has now signed up for the rest of the season. Shaun has made seven appearances for Altrincham, to date, and has yet to finish on the losing side.
ALTY SIGN WATERFALL
With their squad reduced to 16 by the injuries to Chris Denham, Joe O'Neill and Val Owen, Altrincham FC have signed a loan player. This is confirmed by Tranmere Rovers who announce that "Rovers' defender Luke Waterfall has joined Altrincham on a one-month loan deal. The 18-year old, who signed his first professional contract this summer after joining from Barnsley, has made two appearances this season, coming on as a substitute in the Carling Cup at Grimsby Town and starting in the Johnstone's Paint Trophy against Accrington Stanley. Manager Ronnie Moore said: 'Luke is a talented young defender who needs to be playing games. He'll get some great experience at Altrincham, will benefit from his time there and hopefully come back to push for a place in the team here'". In July 2008, Waterfall was signed by Tranmere who anounced that he had arrived "on a one-year contract. The 17-year old centre back joins Rovers from Barnsley where he progressed through their youth academy. He was regularly involved in the Tykes' reserve side last season... Manager Ronnie Moore said: 'He's big and strong, comfortable on the ball and knows how to tackle'".
TONIGHT'S GAME
Alty meet Farsley Celtic tonight in the Setanta Shield. The Yorkshire Evening Post reports that "Caretaker boss Neil Parsley praised super-subs Lee Tuck and Andy Campbell after they helped turn the tide against Hyde United. Farsley fell behind in this rearranged game at Throstle Nest in the 51st minute but levelled matters through James Walshaw before young striker Tuck... rammed home the winner from 25 yards. And Parsley said: 'Lee Tuck added the spark... Andy Campbell came on and he had four chances in 23 minutes and that's what he is all about', he said... 'He felt no ill-effects from his calf, and he wants to be involved'... Farsley Celtic: Aspden, Downes, Serrant, Iqbal, Knowles, Stabb, Matthew, Penford, Speight (Campbell 67), Walshaw (Tuck 58), Prendergast. Subs not used: Backhouse, Stevens, Price".

Farsley Celtic add that "The Setanta Shield is the next game for Farsley and Parsley is going there to win the game. 'We have got a tough game on Tuesday at Altrincham, but we'll be going there to win the game. There won't be any weakened sides played by me, some people use the Setanta Shield as a chance to use squad players but I don't'. Parsley has no fresh injury worries ahead of Tuesday's game and is hoping to have Jamie Price back. 'Chris Stabb has a slight hamstring stain; James Knowles will have had a stiff neck this morning when he landed awkwardly'".

Admission tonight is £9 (stand) £7 (terraces) and £5 (concessionaries) and £2 (under-12s).

Howard Watts's Through the Years records for 14th October are here.
STAR FACE COURT CASE
Altrincham play Newcastle Blue Star in the FA Cup on 26 October. The NL Daily adds that last weekend "Newcastle Blue Star followed up neighbours and league rivals Durham City's excellent performance in beating Stalybridge Celtic on Saturday in the FA Cup Third Qualifying Round by hammering another Blue Square North outfit Hucknall Town on Sunday. Experienced striker Paul Brayson led the way with a hat trick in the 12th, 32nd and 59th minutes, with Stuart Nicholson rubbing salt into the Nottinghamshire side`s wounds with a fourth with 5 minutes remaining".

The Chronicle states that "It just gets better and better for Newcastle Blue Star, who outplayed Hucknall Town at Kingston Park to reach the fourth and last qualifying round of the FA Cup... as they cruised to a 4-0 win... Their attractive, fluent play had home fans in the club's biggest crowd of the season in raptures. Director of football Bob Morton sad: 'Every game we just seem to improve... This club has made great strides in a short space of time and we aim to go a lot further... We are well on course to move up the ladder'... Blue Star, who have lost just once so far this season, have now scored 43 goals in 14 games – and 17 of those have been credited to Brayson. Morton added: 'The entire side was superb, but I have to pay tribute to Paul, who has been on fire all season. He has proved a tremendous signing... If we can get through the fourth qualifying round tie it is going to be a big day for Blue Star – whether we are playing home or away'".
ALTERNATIVES
As Altrincham will not now have a game on Saturday, October 25th, here are some local alternatives in the FA Cup:
Droylsden v Belper Town
Northwich Victoria v AFC Telford United

In the leagues, other alternatives include:

Stalybridge C. v Stafford R.
Ashton U. v Worksop T.
Witton A. v Leigh Genesis
Radcliffe B. v Colwyn Bay
Woodley S. v Skelmersdale U.
Abbey Hey v Formby
OXFORD'S VERDICT
From Oxford United we read that "Boss Darren Patterson was left angered and frustrated at Altrincham, seeing his side squander possession and chances to slip to defeat. Darren was in no mood to pull punches afterwards: 'As we said in the dressing room we are not looking for anyone to feel sorry for us because it has happened on a regular basis. The goal was like slow motion. We had started ever so well, completely dominated, and in the second half started really brightly again but in the last third of the pitch we were nowhere near it. It's too hard sometimes for some people and there were a lot of times when we got into good areas but then it was just too difficult for certain players. We are still conceding the sloppiest of goals, it's ridiculous, and we have to freshen it up I think. I have backed the players all the way, at the end of the day I brought them in, but now they just have to keep believing. In the end we were running round like headless chickens trying to make things happen, especially in central midfield, and we lost a little bit of shape. In the first half we were nice and solid and dominating the game. In the second we got into good areas but didn't look like scoring goals. That's the key. I was very pleased by the two young lads who came on, Matt Taylor and Sam Deering, because they gave us hunger and enthusiasm, which is what you're after. We should definitely have got something out of the game but I've ended up playing two youngsters and a central midfielder up front to try and get a bit of presence up there and if I was a wide player or a centre forward I'd be pretty ashamed at that'".

Meanwhile, Blue Square Football says that "Oxford United manager Darren Patterson is looking to bring in some new attacking players in a bid to remedy his side's lack of cutting edge in front of goal... He told the Oxford Mail: 'I hope we can magic some money from somewhere to get in one or two more. We've got to freshen it up'".
BSP NEWS
Grays Athletic state that "Following the financial situation that is affecting the country as a whole, Grays Athletic FC regretfully announces the following. The club's three major sponsors have been forced to withdraw their financial support for the club and therefore some drastic economic cuts will have to be made. After an emergency board meeting the clubs directors have stated the following.

The general running costs involved in providing over night accommodation, transport and medical cover during the season will be greatly affected. Salaries paid to contract / non contract players and staff will have to be reduced, this would mean players' salaries being cut by 50% from now, the club would however seek to repay the deficit at times when funds are available. Players who are affected by the changes will be free to leave the club with immediate affect; however the club will make every effort to minimise the disruption to training and preparation for matches.

Chairman Mike Woodward states 'I have nothing to hide, the whole country and many businesses and football clubs are in a state of uncertainty, living beyond their means, not knowing where money is coming from to pay employees wages, the club are making the players, the Football Conference, the FA and the general public aware of the situation now rather than waiting until the end of the month when wages and bills may not be met. I can assure everyone that creditors have or will be paid in full by the end of the month and you can rest assure that Grays Athletic FC will fulfil all fixtures for the remainder of the season'".

According to the Sports Echo "Onloan Lincoln City striker Kevin Gall has laughed off suggestions that he would be tempted by a move to Blue Square Premier leaders Crawley Town. Town boss and former Boston United manager Steve Evans has revealed his interest in the 26-year old former Yeovil forward, who is on loan with the Imps until January 5, and will attempt to speak to Gall when his loan spell at Sincil Bank ends in the New Year. However, Gall, who has yet to score for the Imps at senior level, has said he has no interest in moving to the Red Devils, despite having fallen out of favour in recent weeks under Imps boss Peter Jackson. 'I have not heard anything about Crawley, but I am better than the Conference', said Gall... 'One of my best friends, Simon Weatherstone, plays for Crawley, but no disrespect to Crawley, I am at Lincoln and I am here until January 5'".

"Barrow have been dealt a blow with news that on-loan defender Paul Black has suffered a suspected broken ankle on Monday. The full-back collapsed in training on Monday and was immediately rushed to hospital by Oldham's medical team" reports Blue Square Football... Meanwhile, Barrow have revealed that 20-year-old defender Nat Kerr [who had pre-season trials at Altrincham] has joined the club on non-contract terms. Kerr was released by Rotherham United at the end of last season and will make his debut against Fleetwood Town on Tuesday evening".

According to The Chad, "Mansfield Town strengthened their squad late on Monday when ex-England youth international keeper David Knight signed for the Stags. The former Swansea stopper (21)... was a member of Middlesborough's 2004 FA Youth cup winning side. He has also had League experience with loans at Hartlepool, Darlington and Oldham, before going to Swansea. Knight may replace Nottingham Forest keeper Paddy Gamble, whose loan spell at Field Mill since the start of the season has been dogged by inconsistency".
---
13 October 2008
CHRIS DENHAM INJURY
Chris Denham (right) missed Sunday's game due to a workplace accident which resulted in him having to have two stitches inserted in his eye during a two-day stay in hospital. He will be out of action for at least a month and, given the nature of the injury, the date of his return is difficult to predict.
ALTY AWAY IN FA CUP
Altrincham have been drawn away to Newcastle Blue Star in the FA Cup 4th Qualifying Round, to be played on Sunday 26th October. Blue Star share their Kingston Park ground, near Newcastle Airport (Brunton Road, Kenton Bank Foot, Newcastle Upon Tyne NE13 8AF), with Newcastle Falcons rugby club who have a game on the Friday night. The ground is also used by Newcastle United Reserves and has a capacity for 10,200 supporters.

It will be the first meeting between Altrincham and Blue Star, who include some familiar faces including Paul Brayson and Darren Craddock (both ex-York City). Their player-manager is Steve Bowey the former York and Gateshead midfielder. Blue Star are currently the league leaders in the UniBond Division One North. They beat Blue Square North Hucknall Town 4-0 in the last round.

It is planned to run a supporters' coach to this tie. It will leave The Vine at 9.30am, The Hare & Hounds at 9,40am, Station House at 9.45am and Moss Lane at 9.50am. Fares will be £20 (adults), £18 (concessionaries) and £10 (under-12s). Bookings can be made via the club on 928-1045.
COLIN'S VIEW
The Manchester Evening News has a report on yesterday's win over Oxford United. In it, Colin Little says, "We're defending far better now than at any time since we've been back in this division and it's that, more than anything, which has allowed us to go on this run. We're not playing that well in other areas but we are working hard and results are breeding confidence. Thankfully, I've been able to do my bit by going on a nice little scoring run but I'm not getting carried away and neither should anyone else be. Realistically, we shouldn't even be thinking of the play-offs. Let's just get as many points as we can, while the going's good. We know from past experience how quickly things can turn against you in this league".
ALTRINCHAM 1 OXFORD UNITED 0
Match report here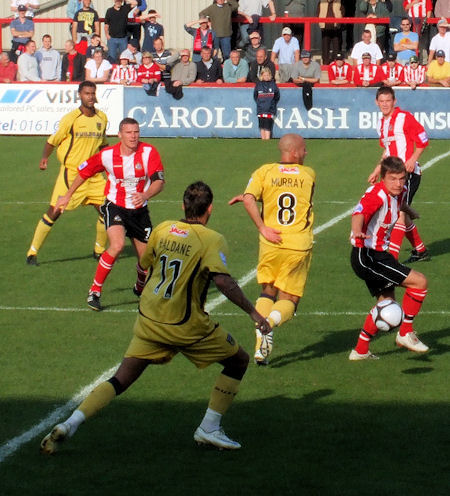 Lawton, Danylyk and Densmore are the Alty players seen here in action against Oxford.

For Sunday's game against Oxford United, the away turnstiles registered 367. With the club's security officer estimating a further about 50-80 Oxford fans in the stands, the visitors brought more than 400 fans. About 100 people are believed to have taken advantage of the special offer of £5 entry for holders of League and Premiership clubs' season tickets.

Oxford United have matchday pictures from Sunday's game at Moss Lane and a match report. This says that "United started much the brighter of the two teams and dominated the first half... Altrincham may have been one of the top two teams in the form table but were struggling to get near Billy Turley's goal until the 18th minute when a dipping strike from Anthony Danylyk was heading into the goal until Turley arched backwards to tip it to safety... The second half began more evenly with neither keeper really being troubled, but then on 64 came the decisive moment as the home side took the lead. A ball over the top of Carruthers got Lee Elam in on the right and he raced to the goalline before crossing deep. Adam Murray tried to clear but made no contact and that allowed Colin Little to take the ball down, set his sights, and drive the ball accurately into the corner of the net to give Turley no chance... Having won on their last two visits to Altrincham The U's had let a good first half fade to nothing".

The Oxford Mail adds that "Oxford United paid for not turning dominance into goals as they fell to a sucker punch at Moss Lane yesterday... The 64th-minute goal came from one of the Robins' first genuine chances of the match... The second half was much more even as Alty stepped up their play, without really creating much... In the end, Oxford United had just run out of steam. And their confidence had ebbed away after not taking their chances".
CONFIDENCE
Chris Senior told the NL Paper before Sunday's game, "After the start we made [to the season], we all got together and there were a few home truths told. We started to come in for training sessions and I think all the hard work we are putting in is coming off. The most pleasing thing is that we are putting in good performances against good teams. Rushden, Ebbsfleet and Mansfield will all be up there at the end of the season and we have taken seven points off them in three games. The confidence around the place is just unbelievable. I was subbed on Tuesday against Salisbury and I was gutted because I really wanted to be on the pitch and scoring goals for the team. No one wants to miss a minute of games at the moment. It's our job to make sure it continues."
ALTRINCHAM FC SUPPORTERS' CLUB
The minutes of the newly formed Altrincham FC Supporters' Club are here. As you will see the committee is brimming with ideas to get the new supporters' body up and running.
NO COACH TO WEYMOUTH
The cost of the economic downturn and of a series of long away trips [Woking, Eastbourne Borough, Histon (on a Tuesday night), Stevenage Borough, Rushden & Diamonds (on a Monday night), Salisbury City (on a Tuesday night) have all been visited in the first two months of the season], means that Tom Jacobs, the Alty travel coordinator writes: "Please be aware that the coach to Weymouth next Saturday has been cancelled. Unfortunately there has not been enough support to run the coach. This is not a precedent and we will try to run a coach to all other games. If anyone is driving to the game next Saturday and has space in their car, please post on the Fans Forum so we get as many people to the game as possible".
OLD BOYS
Steve Hawes is pictured in NL Today as he leads Sheffield FC's Poppy Appeal. Joey Dunn, a former Alty player and assistant to manager Mark Ward in 2000, has been sacked as manager of Burscough. FC Halifax met Skelmersdale on Saturday. FC included ex-Alty men Cavell Coo, Ashley Stott, goalkeeper Craig Ellison and trialist Damien Allen, whilst Skem had former Alty keeper Ryan McMahon between the sticks.
BSP NEWS
The NL paper reports on Northwich Victoria where "It would appear that manager Dino Maamria, placed on 'gardening leave'.... is being undermined but Vics' chairman Jim Rushe says that isn't the case... the circumstances surrounding Maamria's sidelining remain a mystery... Rushe said the manager is not being punished... 'We haven't put Dino on gradening leave as a suspension', he added. 'It's not an aggressive act. It's a neutral act to protect the club.. We feel that asking Dino to take some time away from the club was the right thing to do... he's on full pay'.

It has emerged that Beaconet Ltd, the company owned by former chairman Mike Connett is the subject of a winding-up order due to be heard next month... The Marston's Arena is still owned by Beaconet and leased back to the club, If Beaconet is liquidated, the stadium would be sold to pay creditors, leaving Vics homeless. But if Connett's company enters administration, the club would have a chance to buy the ground".
---
12 October 2008
ALTRINCHAM 1 OXFORD UNITED 0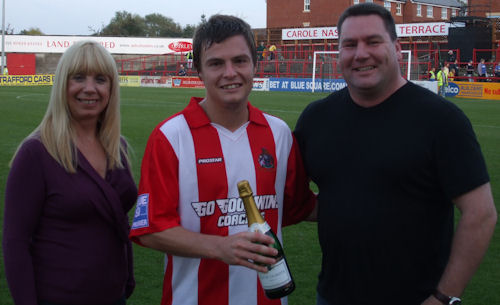 The great run of results continues. Alty secured their first-ever win over Oxford United and their fifth win in six games to move to the heady heights of ninth in the Blue Square Premier table.

Right: Anthony Danylyk receives his Man of the Match award from match sponsors Flexichem Services.

Alty line-ups and bookings.
SUNDAY
Sunday 12th

ALTRINCHAM 1 Oxford U. 0
Eastbourne B. 2 Stevenage B. 1
Rushden & D. 1 Torquay U. 3
Through the Years from Howard Watts for 12 October; Alty had lost their last five games on this date!
SPONSORS
Why not sponsor a match at Moss Lane? Details of how to do so are on the Sponsors' Page, where you will also find the updated list of this season's Matchday Sponsors, to whom the Club extends its thanks for their support.
OLD BOYS
Last season, Rotherham United strker Tom Cahill had a spell with Altrincham. The Yorkshire League Two club has now loaned him to UniBond club Ilkeston Town. Meanwhile, the NW Counties Football league confirms that Chris Adams has joined Neil Brown's Abbey Hey.

Richard Battersby scored Radcliffe Borough's fourth goal in their 6-0 beating of Salford City yesterday. A recent Alty trialist, midfielder Damien Allen has now joined FC Halifax Town. Former Alty Youth Danny Browne, who featured in several first-team pre-season games last summer, has signed for Woodley Sports. An Alty midfielder of 2005-06, Nehru McKenzie (right), has joined Runcorn Linnets.

The UniBond League press release this Saturday confirms that "First Division North strugglers Harrogate Railway have appointed the experienced Phil Sharpe to their vacant managerial post... Sharpe has plenty of experience at this level of the game after managing Frickley Athletic and Bradford Park Avenue and having been Assistant boss at Northwich Victoria under Neil Redfearn".
---
11 October 2008
RESULTS
Saturday 11th
Cambridge U. 1 Weymouth 0
Crawley T. 4 Barrow 0
Kidderminster H. 3 Ebbsfleet U. 1
Lewes 3 Forest Green R. 2
Northwich V. 2 Grays A. 0
Salisbury C. 1 Kettering T. 2
Woking 0 York C. 2
Wrexham v Histon POSTPONED (due to Wrexham's international call-ups)
FA CUP
Altrincham enter the FA Cup in the next round, the 4th Qualifying Round, for which winning clubs win £12,500. Saturday's 3rd qualifying round in the northern section ended as follows. There were some shocks as both Stalybridge and Southport crashed out to lower league opposition on their own grounds:
Belper Town 4 Prescot Cables 1
Guiseley 3 Sheffield 3
Buxton 0 Blyth Spartans 1
Curzon Ashton 4 Mossley 3
Retford United 1 Newcastle Benfield 0
Droylsden 3 Gateshead 2
Eastwood Town 2 Harrogate Town 2
Alfreton Town 0 Ilkeston Town 0
Stalybridge Celtic 1 Durham City 6
Fleetwood Town 2 Frickley Athletic 0
Whitley Bay 1 Nantwich Town 5
Newcastle Blue Star v Hucknall Town -playing Sunday
Southport 0 Boston United 2
CUT-PRICE OFFER
Late news... The offer below has now been extended to holders of other Premier or Football League club season tickets but you must bring ID with you to the turnstiles.

Altrincham FC announce:

Real Football for a Fiver for Manchester United & Manchester City Fans!!

With there being no Premier League action for Manchester's big two this weekend, Altrincham Football Club is offering Manchester United and Manchester City season ticket holders the chance to see their Blue Square Premier match with Oxford United this Sunday (October 12th) for just £5 (£2 for Under 16s).

The match kicks off at 3pm at Moss Lane and Altrincham will be hoping to continue their best run of results since returning to the Blue Square Premier in 2005. Oxford United are very attractive opposition and despite being below the Robins in the table, they will provide stern opposition. Many Manchester United fans may remember that they were the Reds' opponents in Sir Alex Ferguson's first game in charge and that they beat United at the Manor Ground!

In order to take advantage of this offer you will need to present your Manchester United or Manchester City season ticket along with proof of your identity at any turnstile. So why not come along and cheer on the Robins to what will hopefully be their fifth win in six matches?
SETANTA SHIELD PRICE-CUT
On Tuesday, Altrincham play Farsley Celtic in the Setanta Shield league cup competition. Prices are being reduced for this match, as follows:
Sitting: Adults £9, Concessionaries £5, 12 to 16 year-olds £5, under-12s £2.
Standing: Adults £7, Concessionaries £5, 12 to 16 year-olds £5, under-12s £2.
OLD BOY, OR NOT?
A curious tale in the Northwich Guardian says that Witton Albion have "winger Michael Warwick is in the squad for tomorrow's trip to Hednesford. Warwick, 22, is a wide player who lists Bolton Wanderers, Stoke City and Albion's neighbours Altrincham among his former clubs". He does not appear to have ever been an Alty player.
CHRISTMAS PARTY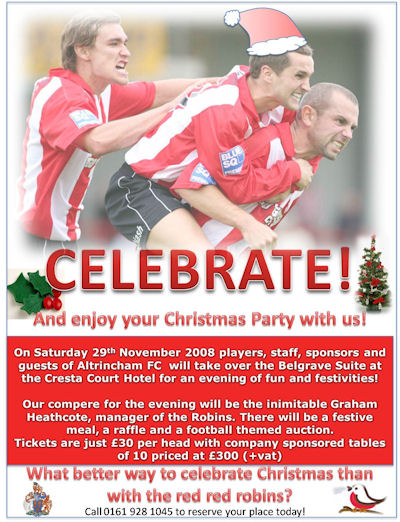 Altrincham FC are planning a Christmas dinner event on Saturday November 29th, at the Cresta Court hotel, following the Rushden and Diamonds home game that day. The evening includes a three-course meal followed by a disco. To book your seat please e-mail Grahame or Karen Rowley.

Even if you cannot attend what promises to be a very enjoyable evening, you can still help by donating a bottle of wine, or chocolate or similar items for the accompanying raffle. Please bring any such items to the club offices during normal working hours or on matchdays. Your generosity will be very much appreciated by Altrincham FC.
SUNDAY'S OPPONENTS
Oxford United say they "will go into Sunday's game at Altrincham pre-warned not to throw away all their hard work. Midfielder Adam Murray knows that a win over Rushden and a draw away at Torquay have been good results, but following that up with a good result at Altrincham is the biggest challenge: 'We know that. We have worked hard to get the two results this week but we could throw it all away if we don't perform at Altrincham. We need to work hard as a team again but we know that the results we've had mean nothing if we undo them at Altrincham. Within five minutes of the final whistle at Torquay Jordan the fitness coach was giving us our drinks to get us right for the next game and telling us what would happen over the next 60 hours, so we will be ready and well prepared come kick off on Sunday'".

Boss Darren Patterson shares Adam's thoughts on the game: 'When I looked at the fixtures for this week I looked at Rushden and Torquay and thought the Altrincham match might be the toughest game. I thought the first two would take care of themselves, a home game and then a game on TV, but Sunday's game is notoriously the type of match that we slip up on. We will hammer home to the players not to. We did it at Lewes after the Cambridge game and we need to make sure we look after each other, re-group and go again. Altrincham are much improved and are in form right now, but we believe that we can beat anyone on our day. We have learned lessons... We have key players more match fit now and have to have a mentality, wherever we go, that we focus on our performance, focus on working hard when we don't have the ball, and when we do get it we need to make sure we pass it and are brave enough to get on the ball. If we do that then we create chances and score goals'".

In the Oxford Mail "Darren Patterson saluted his players – and especially his midfielders – for sticking to their guns last night as they stunned in-form Torquay by taking a point away from Plainmoor... The U's boss said the way his central midfielders stayed brave on the ball and kept feeding it out to the wide players turned the game... Patterson was frustrated that a point didn't become three because Yemi Odubade was tripped in the box in stoppage time – yet the ref ignored it. 'It was a stonewall penalty, I've seen the replay on TV', said United's manager afterwards... He said: 'In the second half we started to stretch the pitch with our two wide players. Our two central midfielders remained brave on the ball and we kept getting it out wide – that was key to me'.

Torquay's goal, on 21 minutes, was not so clever, however, with the U's not picking up centre half Chris Robertson, who bundled in a corner... 'Our front two were working their socks off, but it wasn't really working for them. But we have to appreciate, they're getting match-fitter. It was having the two quick lads, Lewis (Haldane) and Yemi (Odubade), go up front which caused them a lot of problems'".
BSP NEWS
The NW Evening Mail says that "A war of words has broken out between the rival bosses as Barrow AFC set out on the road for their first-ever clash with leaders Crawley Town. Steve Evans, controversial manager of the Sussex side, has contemptuously dismissed the Bluebirds as a typical northern side. But AFC joint manager Dave Bayliss today hit back by calling his Scottish counterpart a 'bit of a clown'. Evans, who has just completed a two-month touchline ban, claimed tomorrow's game at Broadfield will be a clash of styles.

He states: 'Barrow will be a typical northern side, tough and physical while we will be Playing the ball around as we have some outstanding footballers. There will be no change of style to our play or to me sitting in the stand'. Bayliss, whose team are again staying overnight near Gatwick, said this would only motivate his players. He retorted: 'I've never had the honour of meeting Steve Evans and am looking forward to it. I know he has a reputation as a bit of a clown, a big-mouthed Scot. He's not a well liked man on the non-league scene and in football circles and you can see why. But you have to have respect for what he has done, his record speaks for itself... but the manager has had the budget to spend. From what he is saying all the pressure is on them to win against us northern monkeys'".

On the Crawley website, "Reds' boss Steve Evans is expecting a tough match. He said; 'Barrow are an excellent side with a good young management team driving them on... My lads have done brilliantly this season but it is hard to be at the top and stay there because everyone wants to beat the league leader. We are there to be shot at... The standard in the league this season has improved again. It is hard to get points and you do not get a better example than us on Tuesday night. We took Forest Green apart at times but got sloppy and we only ended up with a point'".

"Trevor Benjamin – a man who has played for more Football League clubs than anybody else – will lead Vics' attack against Grays tomorrow. The experienced former Jamaica international agreed terms on a deal at the Marston's Arena today, Friday. 'We're looking forward to seeing him in action', read a statement on the club's official website. Benjamin, 29, was unattached after being released from League Two outfit Hereford United at the end of last season. He scored 10 goals during his stay at Edgar Street. A tall, powerful striker, he is exactly the type of player stand-in manager Mike Marsh was looking for. 'I wanted to heighten the side' he told the Northwich Guardian. 'I feel we haven't been able to match teams physically so we've had to keep the ball on the floor a lot. We need to pose a different type of threat to give the opposition something to think about'. Capped twice by his country, Benjamin has racked up 16 Football League clubs in his career to date, although he began the current campaign at Gainsborough Trinity. He was publicly written off by former Vics' manager Jimmy Quinn following a trial with his new club Bournemouth last month. 'Trevor's not what I'm looking for, he's probably past his sell-by date', the Cherries' boss told BBC Radio Solent. 'As good as he's been in the past, he's probably dropped his standards a bit'. Vics will be hoping he proves the Irishman wrong".

The Gravesend Reporter says that "Liam Daish has lodged a complaint with the Conference to protest against the humiliating treatment he endured in the immediate aftermath of the 'Altygate' affair. The Fleet boss was sent off for retaliation following a heated bust-up in the tunnel at half-time during his side's 2-0 defeat at Altrincham last Saturday. He was initially banished to the stands, but - under league directives - red-carded managers are not allowed to watch the remainder of the match and Daish was barred from witnessing the second half from within the stadium walls. An eventual vantage point - peering in from outside Moss Lane - was found after the restart and his dissatisfaction with the situation was heightened by the leniency shown towards Mansfield's Billy McEwan and Wrexham's Dean Saunders on Tuesday night. Both men were jettisoned from their respective dugouts in midweek, yet were still permitted to view the rest of the action from the terraces. 'I was harshly dealt with and I'm lodging a complaint about what happened', the 40-year-old revealed. 'Football is a passionate sport and things happen in tunnels. Even if I've been sent from the touchline, I cannot see why I should not see the game at all. I cannot understand that and it's only in our league that that happens. Going further on from that, if I cannot see the match, what they tried to do to me then is just not acceptable and that's what I'm complaining about. Where else would a manager be outside of a ground while his team is playing? I was riled at half-time and I'm not complaining, defending or having a go at anyone about anything that happened in there. I did feel I was severely antagonised and provoked, although there were no punches thrown or anything like that - that did not happen. But, the events afterwards were not right... It's a fine line between success and failure at the moment'", he added.

"Jack Compton has gone on loan to Lewes FC from Brighton & Hove Albion" reports the Football Conference. The same source adds that "Hyde United have secured the services of Barrow midfielder Christopher Thompson on a month's loan [and] Michael West has joined Ebbsfleet United."

Other moves include - "Eastbourne Borough have taken 6ft2" Brentford defender Karleigh Osbourne on loan. The 20 year old graduated ... has made over 50 Football League appearances for them. Earlier this season he had a highly successful six match loan spell with Oxford United. Meanwhile former Under 21 international Jean-Michel Sigere, who joined Eastbourne Borough in the summer, has moved to Horsham on a three-month loan deal".

"Kidderminster Harriers have confirmed the short-term signing of former Aston Villa striker Stefan Moore" says the Kidderminster Shuttle. "The 25 year-old has spent the last couple of weeks training with the club, and penned a deal at Aggborough that will see him stay for at least the next month".

"Injury has foiled York City boss Colin Walker's attempts to lure Crewe Alexandra striker Clayton Donaldson back to KitKat Crescent" according to The Press. "But the Railwaymen have told Walker to inquire again in four weeks' time when Donaldson could be available for a loan move. The 24-year-old forward, who scored 44 goals in 93 games during two prolific seasons with the Minstermen, has made just seven appearances – all as a substitute – for the League One outfit since his summer switch from Hibernian.. But he is now expected to be sidelined until November. Walker, who is still hoping to add a new forward to his squad ahead of tomorrow's trip to Woking, added that Donaldson was one of a number he has pursued in recent weeks, including Morecambe's Michael Twiss, Kidderminster's Justin Richards and Huddersfield Town's Luke Beckett".
---
10 October 2008
HELP NEEDED
Altrincham FC is seeking a volunteer to supervise the Moss Lane car park, behind the Popular Side. This work would not prevent the appointee seeing the whole ninety minutes of the game as the hours are Saturdays 12.30pm to 2pm and, for midweek games, 6pm to 7pm.
SEAN'S PATIENTS
Altrincham FC physio Sean Riley writes:

Robbie Lawton went over on his right ankle on tuesday night but hopefully he will make a full recovery for Sunday's game. Just to clarify this for the supporters, Joe O'Neill (right) came on as sub against Salisbury despite his left knee problem, this is because he only has pain when his left leg is fully extended. As this very rarely happens, because we all run on a semi-flexed knee he is fine during games. The problem is that there is a definite blockage preventing him from fully straightening his leg. This is why he nedds the surgery on the 23rd of this month. That is why are supporters will still be seeing Joe involved up to this date. Not only that, it helps maintain his fitness levels so that he will have less work to do during his rehab, and therefore speeding up his recovery ready to resume 1st team duties.

Chris Denham will hopefully step up his training on Saturday as he continues to recover from the rib injury he sustained during are last Saturday's training session".
GRAHAM TAKES HIS HAT OFF
The Sale & Altrincham Messenger reports that "Alty boss Graham Heathcote insists he will not get carried away, even after his side claimed their fourth win in five games on Tuesday night.. at Salisbury... He said: 'The players are now proving what I thought all along, that they are capable of competing in this division. We had a situation at the club that put everyone on their toes and made everyone aware what was required. But we aren't about to start setting targets now. My aim is always simply to win the next game and the end results will be what the end results will be. Each new game brings it's own difficulties so I prepare to cope with that. We just need to try and keep this run going for as long as we can'.

Heathcote said: 'I think (assistant manager) Graham Barrow was right when he said the change in work ethic has been a major reason for our form. There's a more disciplined, professional attitude to what we are trying to do here. I take my hat off to the players for what they've achieved, they've been outstanding'.

On Sunday they face another side enjoying something of a revival. After a run of just one win from seven games, the "U"s have won two of their last three... They also have key players James Constable and Phil Trainer - someone Heathcote tried to sign last summer - available again after injury and the Robins' manager is wary of the threat they pose. He said: 'I think oxford have turned the corner a bit now. They've got one or two key players back and I think it'll be a really difficult game. Their position doesn't relate to the quality of the team. But all we can do is concentrate on ourselves and put in a full-blooded performance and I'm confident we'll be able to match them'".

Altrincham have yet to beat Oxford United after three defeats and an away draw, 1-1, in their only four meetings to date.
NEXT UP
Before last night's draw at Torquay, our next opponents, Oxford United said that "It's the away form that needs to improve after just one away win so far this season. United hope to have James Constable available again and Barry Quinn fit to play after an injury scare against Rushden. It would be Quinn's 200th start for the U's, but Chris Willmott stands by if needed. Adam Murray plays against his former club, having made 25 starts for the Gulls in a six month stay".

Also before last night's game, This is South Devon previewed the Oxford United team. Manager "Darren Patterson is the man charged with restoring the club to the level which Kassam fans believe is their natural right. They threw away a big lead in 2007, were never in real contention last season and they've been strangely inconsistent this time... Goalkeeper Billy Turley, 35 now and 6ft 4in tall, is part of the fixtures and fittings, in his fourth season after spells with Northampton and Rushden. The U's are big at the back — promising teenager James Clarke, central defenders Barry Quinn and Luke Foster and left-back Chris Carruthers are all six foot-plus, and so is No.1 reserve Chris Willmott".

That's not the case in midfield, where right-winger Yemi Odubade relies on pace and trickery rather than physique, and neither Adam Murray nor ex-Wycombe and Northampton player Joe Burnell would stand out in a crowd. Phil Trainer, however, is a tall lad, and he's always been able to pop up with a goal or two from midfield. Patterson does have options up front, now that on-loan Shrewsbury striker James Constable, always a handful, is fit again after injury... Last weekend, Patterson went with two more season-long loanees. Lewis Haldane has the pace to have played most of his games for Bristol Rovers on the wing, and Jamie Guy is on loan from League One Colchester. Guy, 21 and 6ft 1in tall, hit seven goals in pre-season, then dropped out for a month with hamstring trouble... Also in contention are young goalkeeper Ben Hinchliffe, midfielders Sam Deering and Eddie Hutchinson (Brentford) and striker Matt Taylor, a product of the club's youth scheme".
SQUARE UP
Brian Flynn writes:

Square Up" to a £10,000 Prize with Blue Square

Following the magnificent exploits of Gareth Thomas,Tom Jacobs and Dan Martell last Saturday, we need three participants for the next exciting instalment of the 'Square Up" competition which will take place during half time at Sunday's home game with Oxford United. 'Square Up' is the keepie-uppie challenge for fans of all Blue Square Premier, North and South clubs. You could show your skills and kick your way to a huge £10,000 prize. During the first round heats each fan will have 3 attempts to do as many 'keepie uppies' as possible with the unique Blue Square Ball. Winners at each match during the first round will scoop a £25 free bet with sponsors Blue Square.

At the end of the season the person with the highest score at Altrincham's home matches will go through to the second round and compete with the top scorer at all other Blue Square clubs. Those competing in the second round will have already secured a pair of Altrincham F.C. season tickets for the entire 2009/10 season. The five fans with the highest second round scores will make their way to the Blue Square Premier Play-Off Final and compete for £10,000 in front of the packed stands and a live TV audience.

Have you got what it takes to be a half-time hotshot and win with Blue Square? If you would like to take part in this exciting competition,please contact Brian Flynn on 07860 561011 or e-mail him.
SETANTA SHIELD
Altrincham enter the Setanta Shield at Round 2 next Tuesday against Farsley Celtic at Moss Lane, but Wrexham report that "The Third Round Draw of the Setanta Shield will take place on Thursday 16th October... The draw will then be released to Clubs first thing Friday morning, 17th October 2008. This round is regionalised as best the Conference can... At a quick guess, for the BSP that could mean drawing a line from Kidderminster Harriers across to Cambridge United, so as to include those clubs north of the M11. Looking at teams who have made it through to the third round, we could encounter one of from Southport, Hinckley or AFC Telford, and several more ties have still to be played next week; Altrincham v Farsley, Stafford v Northwich and Barrow v Fleetwood, while Blyth Spartans and Gateshead don't face off until 21 October, due to a waterlogged pitch. Third Round ties are scheduled to be played w/c 3rd November 2008".
BSP NEWS
The Football Conference confirms that "Three players have left Lewes in the past few days. Chamal Fenelon's return from his loan period at Tunbridge Angels has meant that Shabazz Baidoo, who was with the club on a game-by-game basis, has been released by manager Kevin Keehan. Midfielder Matt Geard, who had found playing opportunities limited in recent weeks has moved to County League side Horsham. Meanwhile, Kerry Mayo has returned to Brighton and Hove Albion a few days before his loan signing ends in order to get treatment for the knee injury he sustained on Tuesday night".

Blue Square Football says that "Blue Square North side Tamworth have secured the signature of midfielder Tom Shaw following his release by Mansfield Town. The 22-year-old has failed to break into the Mansfield first-team this season and has made 11 appearances from the bench".

"Kidderminster Harriers' chairman Barry Norgrove believes that the club needs new investors in order to challenge for promotion... The chairman's housing company, Norgrove Homes, has started to feel the effects of the credit crunch which is decimating the British economy and believes that bringing in new board members could be the only way the club could contend for the promotion places. Norgrove is looking for consortiums or individuals to invest at least £50,000 in turn for a place on the board. 'I cannot help the club as much as I would like to', Norgrove told the Kidderminster Shuttle. 'I'm looking for investors to come onto the board, or to come into the club in some shape or form and help me. This year is the right time to get involved, because we are in a good position in the table. If I can get some new investors on the board we could do something and stay near the top of the league'.

Harriers' coach Mark Yates has managed to put together a competitive squad on a fairly low budget, Norgrove says he can't spare any expenses until investors are found. 'I'm trying to do as much as I can for the club, but the credit crunch has hit hard and builders and developers are bearing the brunt of it... We brought in Neil MacKenzie, which cost us a bit extra, even though we loaned some players out. I've done a fair amount of paying out this season. We are over the budget and that's the problem. I'd love to strengthen the side. There is no one more than me who would love to see us winning promotion this season, but I can't quite afford it this year. All I can do is talk to the directors and see what steps we would have to take if we do not get new investment. We'd have to cut back or find some new money', commented Norgrove. 'We're in the black and we try to keep a tight rein on the players to maintain that'".

The offocial Kidderminster Harriers site has Norgrove's latest programme notes which say "The running of a football club is at the best of times a very expensive job and whilst I am, and have always been honoured to be in the position of Chairman of Kidderminster Harriers Football Club, I must admit that the last few months have been even more difficult for myself and the Board of Directors. With attendances down throughout last season we needed to reduce Mark's playing budget for the start of this campaign, but we're still operating with a very small squad and so, on occasion, we've had to go over that budget slightly which has left us in a bit of a struggle financially. As I'm sure you can imagine, the playing budget is one of the biggest expenditures for the club over the course of the season but it certainly isn't the only one... It's becoming more and more difficult for us to find the money we would like to help Mark strengthen the team even further... This is why I'm appealing for the help of potential investors to come forward and put money in to the club.... There is a genuine feeling that we could achieve something this season... We've always run a tight ship financially".

Rushden & Diamonds say that "It's your chance to vote in the prestigious Blue Square "Goal of the Month" award... You can watch the shortlisted goals live on Setanta and also refresh your memory by watching the goals on the www.bluesqfootball.com website". The contenders do not include Colin Little's cracker at Rushden but are:

Jon-Paul Pitman, Crawley Town
Daryl Clare, Rushden & D.
Michael Malcolm, Weymouth
Lewis Haldane, Oxford Utd
Keith Gilroy, Burton Albion"

Following Salisbury's recent two-week fundraising drive, Lewes have launched "a supporters' initiative to help the club attain their A ground grading. The club are looking for 100 supporters to each sell 50 Lewes FC scratch cards a week. Whether it is to family, friends or work colleagues, each supporter will be helping the club and if they're lucky, can win money themselves too. Scratch cards cost just £1 and the chances of winning are 1 in 6; from £1 through to the top prize of £1,000. Overall, there is £90,000 in prizes to be claimed and ticket sellers will receive 10% commission too. All proceeds go directly to the ground grading scheme, details of which were announced earlier this month".

"Barrow AFC loan keeper Alan Martin is not going to be recalled ahead of time by Leeds United" reports the According to the Crawley Observer "Travellers booted off Crawley land dozens of times over the summer have sprung up yet again - this time blocking emergency exits at Broadfield Stadium. The council were forced to contact the police after reports travellers had set up camp at the entrance of the stadium. The convoy of carava'We were called by the council who said that travellers were blocking the emergency exits at Broadfield Stadium. There is a football match on Saturday and so the travellers have to be moved by then'. A county council spokesman said: "We have a served a notice for them to quit the area by Monday. 'We will go to court and start proceedings to move them on should they stay. They should have moved on by Tuesday afternoon'".

"Work has started at last on the £4.5 million scheme to complete the Shay stadium" reports the Halifax Courier. "Site huts, mechanical equipment and builders have taken residence and during the next few months, the partially built east stand will be completely transformed. The roof will be stripped off to allow crane access and then refitted along with 3,500 seats and hospitality boxes. Changing rooms, toilets, a control room, offices, shops and classrooms will be created beneath the stand. But the biggest change will be the construction of a banqueting suite with up to 300 covers and a terrace overlooking the pitch, which will also be used for conferences. The classrooms will be used by Calderdale College and Leeds Metropolitan University, which will be running courses for students studying sport and leisure subjects. The ultimate aim is to increase the use of the stadium and make it economically viable.

Stadium project manager Duncan Farr said he expected the work to be completed by the end of May and for the capacity of the ground to be around 10,000. The council has appointed Hall Construction Services Ltd to carry out the work - a firm currently involved in five major sports stadium developments including the Leigh Village Stadium in Lancashire and a new stadium for Shrewsbury Town FC. Councillor Baines, the leader of the council, said: 'We are investing £4.5 million because we are committed to supporting professional sport and creating healthier communities'".

From The Northants Evening Telegraph we learn that at Rushden "The midweek attendance of 1,124 against Grays Athletic was the lowest home crowd for a league game at Nene Park since May 1995... Diamonds' boss Hill said: 'We are trying ever so hard to fetch League football back to the club. We're all aware that before the days of Max Griggs digging deep into his pockets it took a few years to get out of the Conference. This is the time now where we're having a go. And we want people to turn out in large numbers. We need their support... At home to Torquay on Sunday we need everybody here... I know there is a lot of pressure and expectation. At the moment we are not good enough. We are three points behind where we want to be. But we will be all right'". he said.

The Chad says that "The lengthy takeover deal of Mansfield Town FC is now on the verge of completion. The new owners - Andy Perry, Andy Saunders and Steve Middleton - met with previous chairman Keith Haslam this week and are delighted to announce that 'everything is now complete from the Haslam side of things'. Chairman Perry said: 'We just need out legal people to cast one more eye over it and hopefully it will all be tied up within a month'".
YOUTH NEWS
Altrincham Youth's game this Sunday has been postponed as five of their squad have been called into the Cheshire County Schools' squad for a match this weekend against the Northern Independent Schools. The five are Blaine Whiteside, Josh Smith, Joel Brownhill, Callum Garner and Dan Shaw.

Last Sunday, Alty Youth beat Middleton Juniors in the NWYA Open Cup, 3-1. The scorers were Cordock, Ellis and Bennett.

The next game for the players is under the Altrincham & District FA banner in the Cheshire County FA District Cup at Shawe View (Trafford FC). That is a week on Sunday (19th), against Crewe & District FA, at 2pm.
---
9 October 2008
THURSDAY SCORE
Torquay U. 1 Oxford U. 1
CHRISTMAS IS COMING
Altrincham FC are planning a Christmas dinner event on Saturday November 29th, at the Cresta Court hotel, following the Rushden and Diamonds home game that day. The evening includes a three-course meal followed by a disco. To book your seat please e-mail Grahame or Karen Rowley.

Even if you cannot attend what promises to be an enjoyable evening, you can still help by donating a bottle of wine, or chocolate or similar items for the accompanying raffle. Please bring any such items to the club offices during normal working hours or on matchdays. Your generosity will be very much appreciated by Altrincham FC.
A GOOD RUN
Altrincham have now won four and drawn one of their last five games. Looking back, the last time Altrincham put together a run as good as this in league games was in the run-in to our only season in Conference North. On that occasion we went seven games without defeat. Then, as now, Colin Little scored in three successive games. The results then were:
28.3.05 H Hinckley United 4-1 (Little 13,41,56 Talbot 19)
2.4.05 A Gainsborough Trinity 1-0 (Little 67)
5.4.05 H Hucknall Town 1-1 (Little pen)
9.4.05 A Bradford Park Avenue 2-1 (Owen 85, Thornley 90+5)
12.4.05 H Worcester City 2-0 (Hilton 45+2, Little 64) 6
19.4.05 H Stalybridge Celtic 4-1 (Little 45+2)71, Hussin 69, Norris 90+3
23.4.05 H Redditch United 0-0

In the Football Pages form guide, Altrincham now lie second over the last four games, with only Torquay United having a better record, on goal difference only. After defeat by Altrincham, the Salisbury Journal reports that "Jon Bass and Andy Sandell were both dismissed as Whites suffered their fourth Blue Square Premier defeat on the bounce... Bass saw red for a professional foul on 13 minutes, but Whites still went in on level terms at the break. However, Colin Little broke the deadlock inside 20 seconds of the second half. Andy Sandell was controversially dismissed on the hour after receiving a second yellow card and a miserable night for the Whites got worse when Dale Johnson doubled Altrincham's lead on 85 minutes. Substitute Charlie Griffin pulled a goal back for the Whites in added time, however there was still time for a Joe O'Neill penalty to complete the scoreline".
GATES
The superb Tony Kempster website has details of BSP attendances this season. Altrincham currently lie 17th with an average gate of 1,254 - which is an increase on the 1,063 of last season.
OPPONENTS' RECOVERY
Altrincham entertain Oxford United this Sunday where "James Constable gave the U's a boost ahead of the game at Torquay on Thursday evening, coming through a light training session yesterday and pushing for a recall against the Gulls. Constable has been troubled by a knee injury for the last three weeks but boss Darren Patterson is hoping to have his top scorer involved again: 'James wasn't right for the weekend but came through a light training session yesterday and will join us for full training this morning. If he comes through that and is 100% then he is straight into the squad for Thursday. He is a goalscorer, he works hard for the team, and we'd be delighted if he was available. Barry Quinn is in a similar position. He was doubtful after Saturday but is desperate to play and the injury has responded well to treatment. He will join training today and if he comes through that then he travels with us'".
SETANTA SHIELD
Next Tuesday (14th), Alty entertain Farsley Celtic in the Setanta Shield. And there is good news for an Alty "old boy" from Farsley Today which confirms that "Farsley Celtic have handed temporary boss Neil Parsley the managerial reins until the end of this month... The club, who sacked John Deacey last Thursday, met with Parsley on Monday evening and he will continue in the caretaker role for the next three weeks... Firbank said: 'It's the chance of a lifetime for Neil. I think he's raised the morale of the camp and everyone else'... Parsley, assistant to Deacey, certainly enjoyed a head-turning start to life in the Celtic hotseat, with his troops swatting aside Blue Square North cellar-dwellers Hucknall 4-0 in convincing fashion on Saturday". Hucknall ended the game with just eight players on the pitch. Firbank added, "We've got a couple of players coming soon to help matters, although we're still picking up some injuries. Mark Jackson damaged his medial ligaments on Saturday and is out for several weeks, but Jamie Price is due back in the first team next Tuesday for the Setanta Shield clash with Altrincham".

Results in Shield games played already include: Northern Section

AFC Telford United 2 Solihull Moors 1 a.e.t.
Blyth Spartans v Gateshead has been moved to 21 October.
Hinckley United 2 Tamworth 1
Vauxhall Motors 0 Southport 3

Southern Section

Chelmsford City 3 Braintree Town 1
Eastleigh 2 Havant & Waterlooville 3
Fisher Athletic 2 Eastbourne Borough 3 a.e.t.
Thurrock 3 Hayes & Yeading 3 Thurrock win 5-4 on pens
OLD BOYS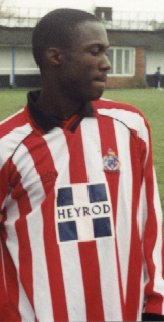 A number of ex-Alty players and trialists have been on the move recently. Former Youth team winger/striker Charlie Weir, who played with the first team in pre-season has registered for Leek CSOB, having previously been with Leek Town this season. Also involved in Alty's first-team pre-season games was Dominic Lilley, who has turned out several times for Neil Brown's Abbey Hey this season.

Four Droylsden players have just registered with Flixton, presumably on a keeping-fit basis. One of them is ex-Alty trialist Damien Allen - the others include a couple of well-known non-Alty names in Steve Halford and James Tandy.

Former Alty Youth captain Richard Gresty is playing for Trafford Reserves at present whilst his former team-mate in George Heslop's squad, left-winger Anthony Davies, is also shown on the Trafford Reserves' team photograph. Another Youth team graduate was striker Otis Thomas (right), who played in Alty's first team under Mark Ward in 2000-01. He made his debut in the Cheshire Senior Cup in September 2000, and scored his first senior goal in the FA Trophy against Ilkeston two months later. Otis is now listed in Maine Road FC's first-team squad. A Barbados under-21 player, Otis had trials whilst at Alty with Bristol City and Bristol Rovers.

Former Stockport County loanee at Moss Lane, David Holt is now with Atherton Colleries. Mark Drew scored for Witton Albion this week against Cammell Laird and Cavell Coo scored a late equalizer for FC Halifax Town at Garforth Town.

This is Staffs reports from Congleton Town whose "run of four straight league victories came to an abrupt end against lowly Abbey Hey" managed by Alty groundman and former Reserves' boss, Neil Brown. "A goal either side of half-time proved enough for the visitors, who had lost seven of their opening eight league matches... [Town's] assistant manager Darren Twigg was left to reflect 'Their front two caused us problems all night. Credit to them, they worked our back four very hard and deserved their victory'. Second-from-bottom Abbey Hey had the first effort on target, Dominic Lilley's long-range drive forcing Congleton keeper Rob Hackney to parry". Dominic featured in Alty's pre-season games having graduated from the Alty Youth team.

Meanwhile "Abbey keeper Andrew Ralph also produced diving saves to keep out efforts from Stuart Tulloch and Simon Robinson... The Bears' keeper also made a remarkable save to keep out a deflected shot hit by Danny Heffernan... Ralph continued to frustrate the Bears... Abbey Hey doubled their lead in the 62nd minute when Lilley fed Astley Mulholland, who beat Hackney with a low drive across goal into the bottom left corner". The Abbey Hey squad included more than half a dozen ex-Alty men, as well as current first-team squad goalkeeper Andy Ralph, as the following squad list shows: Ralph, Maloney, A. Brown, Dennis, Doherty, Lilley, Mulholland (Taylor, 87), Heffernan, Monde-Leke, Nevins, Maylott (Marshall, 82). Unused subs: M. Brown, Massey"
BSP NEWS
The Football Conference says that ex-Alty trialist "Michael Rankine has today gone on a month's loan to AFC Bournemouth... Rankine came to Nene Park from Alfreton Town in June 2006... Rankine scored 14 times last season. However with the arrival of Daryl Clare, Lee Phillips and Leon Knight up front, Rankine has found starting opportunities limited so far this season".

According to Meanwhile, "Barrow are to decide this week on the futures of striker David Brown and on-loan goalkeeper Ian Martin. Brown joined the club last week on non-contract terms while Martin is nearing the end of his one month loan spell from Leeds United... Joint-manager Dave Bayliss told BBC Radio Cumbria, 'If we can't keep Alan for longer then we will bring Tim Deasy back in'. Both players were involved in Tuesday night's 0-0 draw with Burton Albion, a result which pleased Bayliss... Bayliss said. 'We got our formation right and that's something we had to do after recent weeks. You can't knock our lads' effort and we could have even nicked it in the end... We want to win every game but if you can't win, then it's about making sure you don't get beat', he said. 'When we lost four in a row we lost our concentration and got ripped apart. Now we've gone 3-5-2 in formation it has made us look more solid and given us a bit more confidence... It doesn't help that we can see them only a couple of times a week being part-time. Maybe in the future we can hopefully go a couple more days a week with the lads'".

From This Weymouth we learn that "Weymouth FC chairman Malcolm Curtis today hit out at fresh rumours that the club is struggling to pay staff wages and is close to bankruptcy. He has also refuted suggestion that he has held talks with former AFC Bournemouth director Ernie Battey about possible investment or a take-over. Mr Curtis said: 'All this about not paying people's wages is complete and utter rubbish but the club is under pressure at the moment just like any other business is in the current economic climate. Our numbers are down in terms of income and we are struggling with our budgets but we are doing everything we can to cover those losses. It's not going to implode tomorrow or the next day but we are suffering a bit of pain'... He added: 'I have nothing to hide. Since I have had the club I have had two offers for it which I did not think were in the best interests of the club'.

The club is continuing to press ahead with its proposal for a new community stadium at the end of Monmouth Avenue, a strategy that Mr Curtis feels is the only option that will provide the Terras with financial security. Mr Curtis said that the club needs to make about £8 to £10 per person which comes into the ground - including car parking, refreshments and the cost of the ticket. He added: 'Only around 60 per cent of the people who come in on a match-day are paying full price and overall we are lucky to get £10,000 out of it. We hold 23 league games at home which is pushed up to around 30 with cup ties and friendlies. That is £300,000, which does not even scratch the surface when you think it takes £1.2 million to break even. That is why it annoys me when I hear people constantly moaning about prices. They want cheap tickets, cheap food, cheap parking and not only that they want to see the team win the league. So what I think they are saying to me is that they want Conference South football with a part-time club being run by volunteers. Like any business you have got to make it pay and this situation will never change until we move to a new stadium that gives the club an all-year round income'".

The Northwich Guardian confirms that "Vics have agreed permanent deals with defensive duo Mike Aspin and Simon Grand. The pair penned contracts this week that tie them to the club until the end of the current campaign. 'It's a huge boost', owner Jim Rushe told the Guardian... Teenager Aspin has been a revelation since turning up for a trial in the summer upon his release from Preston North End. He played for free while waiting for a deal, covering for then ousting regular right back Richie Sutton in Vics' starting line up. Team mate Grand was rewarded for his fine form with the captain's armband for last night's league tussle with Kidderminster Harriers. 'It was an easy decision for me to make once I knew Welchy wasn't going to start', said stand-in manager Mike Marsh. 'Grand has been around the block a few times and knows what it takes to win championships at this level. He's a vocal guy back there and brings that bit of experience I feel we maybe lack at times'. Versatile Grand, 24, made his Vics debut last month after finding himself without a club over the summer when Morecambe did not offer him a new contract. He was an integral part of Carlisle United's Conference title winning team in 2005, helping them clinch a second successive promotion to League One the following year". What Vics' manager Dino Maamria thinks of all this is unknown.

Histon confirm that "Wrexham v Histon in the Blue Square Premier due to be played this Saturday has been postponed due to Wrexham having three players called up for international duty. Manager Steve Fallon said 'It's obviously disappointing to have the game postponed when we are in great form but there is no point worrying about something we can do nothing about, we have to play everyone at some point so it's just a case of getting on with it which we are good at'".
---
8 October 2008
UNITED AT MOSS LANE
Manchester United under-15s will take on Liverpool's under-15s at Moss Lane tonight (Wednesday, 8th October). Kick off is at 7pm. Admission is free.
CHRISTMAS IS COMING
Brian Flynn has launched an appeal for Altrincham FC Christmas Draw prizes. On behalf of the re-nascent (there's a good word for a Wednesday evening) Altrincham FC supporters' association, he writes:

We have set ourselves a stretching but achievable objective of selling £2,000 worth of tickets for this year's Christmas Draw. One of the key enablers for a successful draw is the quality of prizes available and we are looking for FIVE main prizes, each with a value of over £100, that will help us promote the draw effectively.

If you are able to donate one of these main prizes,either directly or through a contact e.g. friend, business or employer, please would you contact Brian Flynn on 07860 561011 or by e-mail. We are also looking for fifteen smaller prizes with an individual value of £10-£99.
BELIEF
In Wednesday's Manchester Evening News Graham Heathcote says of the win at Salisbury, "People might say that, under the circumstances [City had two men sent off], this was an easy three points for us but there's no such thing as that in this league. The lads are now starting to believe they can give anyone a game in this division".
SALISBURY CITY 1 ALTRINCHAM 3
Alty line-ups and bookings

Tuesday 7th

Barrow 0 Burton A. 0
Cambridge U. 1 Lewes 0
Crawley T. 2 Forest Green R. 2
Eastbourne B. 1 Kettering T. 2
Northwich V. 1 Kidderminster H. 1
Rushden & D. 1 Grays A. 0
Salisbury C. 1 ALTRINCHAM 3
Stevenage B. 3 Mansfield T. 2
Woking 1 Weymouth 1
Wrexham 3 York City 1
Howard Watts's Through the Years record for October 7th
---
7 October 2008
LAST TIME
Alty play at Salisbury tonight.
Above: Jake Sedgemore nets from the spot in last year's game at Salisbury to put Alty 2-0 up at the RayMac Stadium. The game ended 3-3, after Alty had led 3-0. Referee Bennett is again in charge of the game this year. Alty's squad that day was: 13. Richard ACTON; 15. Chris LANE, 5. Darren TINSON (capt), 16. Ryan SHOTTON, 3. Gary SCOTT; 7. Robbie LAWTON, 6. Jake SEDGEMORE, 11. Warren PEYTON, 12. Joe O'NEILL; 19. Chris SENIOR, 20. James DEAN. Subs: 1. Stuart COBURN, 4. Karl MUNROE, 9. Colin LITTLE, 18. Pat McFADDEN, 22. Carlos LOGAN. Only Lane, Lawton, Peyton, O'Neill and Senior remain at Alty from that starting line-up.

Altrincham host Oxford United this Sunday. The Oxford Mail claims that "Darren Patterson said he hadn't wavered in his belief of the players he'd brought in after they bounced back superbly from Lewes by beating Rushden on Saturday... Had there not been the embarrassing blip at the Dripping Pan, the U's would be on a good run. But Patterson says... 'I've always believed in this group of players. We don't play like a team that's down there, we've always created chances, and we always will. I want attack-minded footballers and I thought we played some terrific stuff. It's been a tough week. The chairman has stepped down, it's a fantastic thing and brave decision that he's done, and we're all obviously delighted that he's staying on as a director... What with losing two players (Karleigh Osborne and Levi Reid), it's been a tough week – we've stuck together. I've taken a lot of personal criticism, but that comes with the job. We're all ready to take the pats on the back, so you've got to take the digs'"
AIMING FOR TOP HALF
In Monday's Manchester Evening News quotes Graham Heathcote as saying "Only when we sit in in the top half of this league will I say we're starting to justify my belief in this squad of players. The lads have now proved beyond question that they can get results against anyone in this division and, providing they keep giving 100%, I see no reason why that shouldn't continue".
SUNDAY'S REF
The referee on Sunday for Altrincham's game against Oxford United is Mr G. Eltringham who was the fourth official for the Alty v Kidderminster game in 2006-07.
LONG TRIP
Alty groundsman Neil Brown, who is also manager of Abbey Hey in the Vodkat NWCFL, faces a long away trip in the FA Vase, the Second Round of which was drawn yesterday. The game on 15th November will be away in the North East at Whitley Bay.
BSP NEWS
This is Nottingham reports how "Mansfield Town have been deducted four points by the Football Conference after a hearing into fielding ineligible players. It is thought the charge is related to the Stags' not having filed registrations in time when signing four players on the eve of the season. They were Aaron O'Connor, Tom Shaw, Luke Elliott and Anthony Robinson and it is believed they might not have been registered for the first two games leading to a four point deduction at a hearing in Birmingham today. Stags' boss Billy McEwan said he was bitterly disappointed: 'There is not much we can do about it. We just have to face the consequences and get on with it now. Everyone connected with the club is very, very disappointed. I feel for the fans but also the players who have worked their socks off. ... We felt we were doing everything correctly, by the book. We were not trying to cut corners. But we have been done for it and we have to take it on the chin'.

A club statement said: 'The club recognise that the discretion available to the disciplinary panel has been used in minimising the fine of £1,000 due to the mitigating circumstances surrounding the case. It is the club's belief that points should be won and lost on the pitch'... Mansfield are still awaiting the outcome of an FA investigation regarding having signed O'Connor while he was alleged to have been registered with another club. The issue relates to claims from fellow Blue Square Premier side Grays Athletic, who believed they had already signed the striker when he put to pen to paper at Field Mill in the summer. Billy McEwan added: 'This is a setback but I'm sure in time it will be a smashing little club. We will find out what the players' reaction is tomorrow night at Stevenage, but there is a lot of experience in the dressing room; they are not all kids'".

"Brentford manager Andy Scott says defender Karleigh Osborne, 20, could go on loan again just days after returning from a month-long spell with Oxford." Scott told BBC London 94.9: 'There were a lot of things going on (at Oxford), and they've changed their chairman in the last few days. "There may be a possibility that we'll send him back there or if any interest comes from a decent non-league club. He was one of Oxford's better players, they were disappointed to lose him'".

"Eight years ago, the Board of Directors of Lewes Football Club embarked upon a planned development of the Dripping Pan carried out in three principal phases; the construction of the Philcox Stand; the Rookery South Stand; and the work to the Eastern Ham Lane end... The club was awarded a B grading by The FA Regulatory Body at the beginning of 2008. This allows Lewes Football Club to continue to be a member of the Conference League. Regardless of our performance and position in the Blue Square Premier league this season, we need to have attained an A ground grading at the Dripping Pan by 31st March 2009.

The Board have, for several months, been consulting with the League Grading Committee; East Sussex County Council; The Safety Advisory Group; Lewes District Council Planning Department; our appointed Architects and a number of consultants and contractors. The required work for Grade A grading falls in to three key elements:

Floodlights - The Dripping Pan floodlighting system does not meet current day regulations... The average lux requirement... has to be increased from 180 lux to 250 lux... and cannot be achieved by simply replacing or supplementing the lamps we currently have on our existing floodlight masts. We have obtained a number of costed options... for a required planning application.
Ground Capacity - "We have to increase the ground capacity from 3000 to 4000... and we propose to extend our Eastern open terrace at the Ham Lane end... The necessary planning and building regulation approvals for these works have already been granted.
We have to incorporate two further turnstile booths and replace the temporary toilet block with a permanent structure that also includes the provision of a disabled toilet.

We believe that with careful planning, all of these works could be carried out during the playing season and would need to be commenced early in December if they were to be completed prior to the 31st of March 2009... Costs for the works are as follows:

New floodlighting installation £65,000 + VAT
Extension to East Terrace £160,000 + VAT
New turnstile entrances and toilet provision adjacent to Philcox Stand £85,000 + VAT

We have had a number of discussions with the Football Stadia Improvement Fund who have agreed that all the works would be eligible for a grant, but if we were fortunate enough to be awarded a grant, it is likely to be in the region of 20% of total cost... The Board cannot privately fund these works in the manner in which the previously completed development phases have been, and so the club is looking for 'new' offers of support from individuals or businesses, alongside a couple of planned supporter initiatives that will be launched shortly, to help the club achieve the finance figures required".

How To.tv are searching for a new presenter to be the face of the Blue Square Premier, which could lead to stardom as you'll also appear on the Setanta Sports coverage... You could be the envy of thousands of football fans up and down the country". The above link will allow you to "see what video producer, Richard, has created for Stevenage Borough... If you think you can do a better job for your local club, then all you have to do to enter the competition is submit a video (or a photo and 100 words) showing why you're the right person for the job".

According to NL Daily "Lewis Dark, who only joined Ridgeons League Premier Division club Wivenhoe Town just over a week ago, has signed for Crawley Town on a non-contract basis and was an unused substitute at Burton Albion on Saturday".

The Argus confirms that "Chamal Fenelon has returned to Lewes after completing a month's loan at Tonbridge Angels. Fenelon goes straight back into the squad for tomorrow's trip to Cambridge United."

Down the road, "Eastbourne Borough have signed young Millwall striker Lyle Taylor on a month's loan. The first year professional goes straight into the squad... and could start if Andy Atkin fails to recover from a calf injury. Taylor has yet to make an appearance for the Millwall first team but scored four goals in a reserve team game against Lewes at the Dripping Pan last month and also found the net against Southampton last week".

From the Thurrock Gazette we learn that "Other than the long term injuries of Jon Ashton(eye), Jamie Taylor(foot) and Ross Flitney (arm) and a hamstring worry for Rob Gier, Grays Athletic have a full squad to choose from for [their] game against Rushden. However, one man who won't be part of the fixture is Simon Downer who has left the Blues after his registration was cancelled".

On the day they were docked four points, there was some better news too for Mansfield Town as The Chad reports that their "Field Mill ground can return to its full capacity of 9,295 supporters... Nottinghamshire County Council confirmed the news - following reduced capacity at the ground over the past few years due to different safety concerns. The last time Field Mill was at full capacity was in July 2005... The most recent capacity reductions were imposed for the lack of a proactive approach to safety management, poor standard of stewarding and lack of commitment to safety at all levels throughout the club".
---
6 October 2008
STUTES GO SECOND
Monday 6th
Ebbsfleet U. 0 Histon 1

Histon go second in the table as referee J.D.A. Hopkins shows 10 cards, to make his tally 19 in his last two BSP games! When he officiated at Aldershot Town v Altrincham last season he booked five of our players.
MANSFIELD DOCKED FOUR POINTS
The BBC confirms that "Mansfield Town have been docked four points after being found guilty of fielding at least one ineligible player in the opening two games of the season. Stags' representatives met Football Conference officials at a hearing in Birmingham on Monday. A Mansfield Town spokesman said the club had a 'full and fair hearing" and will not appeal [against] the decision. The club share the disappointment with our fans and are determined this should galvanise us all', he said. The club spokesman added: 'It's the club's belief that points should be won and lost on the pitch. There are 90-plus points available, there is time to win them this season and our resolve to do so has been strengthened'. Mansfield picked up a draw and a win from their first two games".

Mansfield reportedly face a second hearing and a further, larger deduction of points over playing former Grays' striker Aaron O'Connor whilst not properly cleared to do so.
SALISBURY TRIP

Above, we see the eleven men who have started Alty's last three games in which they have won twice and drawn once. They are shown greeting their Ebbsfleet counterparts before the game on Saturday. Left to right, they are Mark McGregor, Anthony Danylyk, Greg Young, Chris Lane, Lee Elam, Shaun Densmore, Chris Senior, Colin Little, Matt Doughty, Stuart Coburn and the captain, Robbie Lawton.

Alty have been given a long-distance trip on Tuesday, away at Salisbury City. To join the suppporters' coach, please ring the club on 928-1045 as soon as possible. Details are on the Away Travel page. Last season Alty went 3-0 up at the RayMac Stadium only to be pegged back to 3-3 by a very late equalizer. Salisbury were top of the league when they visited Moss Lane earlier this season but are now just four points ahead of Altrincham in 10th position. City currently lie 21st in the form guide with one win in their last six games; Alty lie sixth following their recent revival of form. The last time Alty went four league games without defeat was exactly two years ago when they actually went five games unbeaten - but four of those games were draws.
CASUALTY LIST
Alty physio Sean Riley has kindly updated us on the injury list:

"Joe O'Neill has had a left knee problem for the past few weeks that has not settled, I suspect he may have a cartilage tear, we saw the club surgeon on Wednesday evening and he is in agreement with me. Joe will be going into hospital for an arthroscopy (a small camera inserted into his knee) to find out the extent of his discomfort. This will take place on the 23rd of this month.

Chris Denham has sustained bruised ribs following a collision with Chris Lane during training last Saturday morning. We just have to wait until this settles before he can resume any physical activity. Keeping with Chris Lane, he picked up a slight medial knee ligament injury during yesterday's game and could be doubtful for Tuesday night's trip to Salisbury".
WEYMOUTH TRIP
Please book as soon as possible for the Altrincham FC supporters' coach to Weymouth a week on Saturday (18th). Whether the coach will run and, if so, its size, will need to be decided in advance so early booking is essential. Details of the times and fares are on the Away Travel page.

A 42-seater coach will definitely be running to Salisbury for this Tuesday's evening, details of which are also at the above link. For the Salisbury or the Weymouth journey, please book as soon as possible (during weekday office hours) by ringing the club on (0161) 928-1045.
SUNDAY GAME
Altrincham's next game is at home to Oxford United next Sunday (October 12th, 3pm) - the 24 hour delay for this fixture being because of the visitors' game on Setanta TV this Thursday.

Here are some local alternative fixtures on Saturday, October 11th:

BS Premier:

Northwich V. v Grays A.

UniBond League:

Radcliffe B. v Salford City
Trafford v Wakefield
Woodley Sports v Garforth Town

FA Cup

Stalybridge Celtic v Durham City
YANKEE JACKPOT
Jack Rodgers, father of Jackie Gallimore, the hardworking organizer along with Ann Wilshaw of Altrincham FC's popular bingo nights, was a popular winner of the latest Altrincham FC Saturday Yankee jackpot. A cheque for £3,600 was given to Jack by Keith Davey and Jenny Heslop the Yankee promoters. You, too, can help the club by joining the Yankee either as a regular entrant or as a collector. Please contact Jenny at the club for details by ringing 928-1045 or complete the application form here on the website.
CHARITY AND FOOTBALL
The NL Paper had a report on the recent charity match at Moss Lane in which Darren Gough's XI beat an All Stars team 3-0. Gough was apparently a trainee at Rotherham United before devoting his career to cricket. Alty chairman Geoff Goodwin who, with his wife Suzanne, organized the event said, "It was a great day and Goughie enjoyed himself... He's definitely still got it as a footballer". The match helped to raise funds for the McGrath Foundation cancer charity, set up by Australian cricketer Glenn McGrath's wife, Jane, who sadly died recently. If your wish to donate, please send or deliver cheques to the club offices (Moss Lane, Altrincham WA15 8AP) made payable to the "Alty McGrath Foundation" and marked for the attention of Geoff and Suzanne Goodwin.
OLD BOYS
Former Stockport loan player Paul Turnbull scored for County on Friday. Recently a trialist at Moss Lane, Dave Challinor has joined Colwyn Bay from Cammell Laird. Former Alty Youth Dion Depeiaza has moved from Trafford to Salford City. Terry Bowker, now captain at Buxton, faced Matt Berkeley last Saturday in a game against leigh Genesis. Colin Potts played for 89 minutes for Fleetwood Town but Ian Craney lasted just 35 minutes for Huddersfield Town on Saturday. In the NL Paper, Ken McKenna, who recently stood down as manager of Cammell Laird, stated that he will now also move on from his commercial role at the club because "I'm not done with management yet. I wouldn't rule out a return to Wales but I'd prefer to be in England. I wanted to be closer to home because I'm a grandad now".

Though Richard Battersby has returned to Radcliffe, it is as a stepping stone to the Bower Fold. He will be with Borough "for up to a month while Stalybridge bid to scrape together the cash to capture the utility man" according to the NL Paper. Stalybridge boss Steve Burr added, "We need to release the money to get him... and it might mean releasing someone".
CONDOLENCES
Altrincham FC send their condolences to the family and friends of Woodley Sports' director Neil Rourke who, the NL Paper reports, has died "at the age of just forty. Neil had founded the club's youth team and managed the side in its first two seasons before taking his protégés in to the Lancashire League. He saw his side win numerous trophies and also managed the Stockport & District FA Youth side that won the Cheshire County Youth competition in 2007/2008. Of the current Woodley Sports side that plays in the UniBond League five current players started out under Neil in the youth set up... Woodley issued a statement on Friday announcing that their ground would be renamed "The Neil Rourke Stadium'".
---
5 October 2008
ALTY'S WIN OVER EBBSFLEET
After Saturday's win, Alty assistant manager Graham Barrow said, "We always thought there was a lot more quality in this team this year and the problem has been work ethic. We seem to have worked on that and got it right. Everyone is happier and the players are more comfortable. No-frills football and good defending is always good. A clean-sheet syndrome is a good syndrome. Graham Heathcote did his homework on Ebbsfleet and our tactics worked a treat". After shipping 16 goals in their first 9 league games, Alty have conceded just once in their last four outings.

For his part the Fleet boss Liam Daish spoke of his sending-off during the half-time interval on Saturday. "I felt like a prisoner. I was told I couldn't come out of the dressing room and I felt as though I was in a cell. I managed eventually to get out and watch some of the match through some railings outside the ground. This was all because of a disagreement with an Altrincham reserve during the break... I thought we looked strong in the first half before the referee gave a foul that led to the first goal. But I can't defend the second goal. It came from rank poor defending".

The BBC radio commentary on Saturday's game apparently reported that Ebbsfleet manager Liam Daish was sent off "at half time for 'having a disagreement with someone, not the referee'". Daish is reported to have said, "I voiced an opinion on their first goal, someone else wanted to get involved and said something personal to me, to the referee, and he's sent me off for retaliation... Before the first goal we were on top, there was only one team in it... I was told to stay in the changing room but I left the ground and watched the game through some railings".

The Ebbsfleet United website says that "The last game in which the Fleet failed to score – away at Lewes – was also one of their poorest performances of the season. Somehow it was outdone by today's clash with Altrincham where the visitors simply failed to turn up. The in-form home side were quicker, more eager, cleverer and better composed on the ball than an out-of-sorts Ebbsfleet who to any neutral observer would surely not have been considered play-off material... Jamie Hand wore the skipper's armband for the first time and while his encouraging roar at the kick-off promised a barnstorming performance, his team mates delivered anything but...

For all their struggles in this division in recent seasons, Altrincham's twin strike force of Little and Senior have always delivered and the pair were causing plenty of anxiety among the makeshift Fleet back four who were constantly hard-pressed... A toothless display resulted in a non-event of a second half that allowed Altrincham to coast to a victory and indeed the home side could perhaps have added to their tally had Dale Johnson and Robbie Lawton shots been better directed... The visitors looked as weary as their supporters by the end of the game, with both groups clearly longing for home as they contemplated their first defeat to Altrincham since 1981".

Whilst Kent Online adds that "A toothless display saw Ebbsfleet come away from their trip to Altricham with nothing... The visitors huffed and puffed in the second period but failed to find a breakthrough to redress the damage done before the break".
OLD BOYS
Richard Battersby, released recently by Altrincham, has returned to one of his former clubs, Radcliffe Borough.

Alty Youth product, Astley Mulholland, scored a goal as Neil Brown's Abbey Hey recorded a fine 3-2 away win at Colne in the FA Vase 1st Round Proper, winning prize money of £1,000 in the process. Another ex-Youth striker, Ben Deegan scored for Ashton United as they won 2-1 against Ossett Town. Ryan Shotton scored again for Tranmere Rovers on Saturday whilst seven of the eight goals in FCUM's 5-3 win over Witton came from ex-Alty players. Kyle Wilson and Chris Baguley each got two for the Manchester side, whilst Lee Thompson (2) and Rod Thornley netted for Albion. Steve Torpey also got a brace, for Stalybridge Celtic. Trafford thumped Rossendale 8-1 in the FA Trophy with ex-Alty Youth Leon Grandison scoring as well as Andy Lundy, who was once signed as emergency cover at Moss Lane. There was a good win for manager Neil Parsley, the new boss at Farsley Celtic against Hucknall, for whom Chris Timons netted an own goal.
---
4 October 2008
ALTRINCHAM 2 EBBSFLEET UTD 0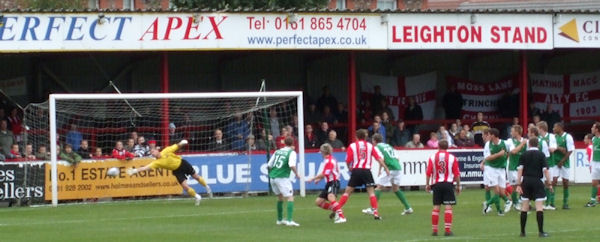 Above, Colin Little, off the picture to the right, beats Ebbsfleet keeper Cronin with his 20-yard freekick to put Alty ahead.

Altrincham made it three wins out of four and 10 points from their last four league games, courtesy of first-half goals from Colin Little and Chris Senior.
SATURDAY
Saturday 4th
ALTRINCHAM 2 Ebbsfleet U. 0
Burton A. 2 Crawley T. 1
Forest Green R. 2 Wrexham 3
Grays A. 0 Lewes 0
Histon 2 Salisbury C. 0
Kettering T. 2 Northwich V. 1
Kidderminster H. 0 Barrow 1
Mansfield T. 0 Woking 1
Oxford U. 2 Rushden & D. 1
Torquay U. 3 Stevenage B. 0
Weymouth 3 Eastbourne B. 2
York C. 0 Cambridge U. 0
YOUTH GAME
In a re-arranged game, Altrincham Youth are away tomorrow (Sunday) to Middleton Colts in the NWYA Open Cup, k.o. 2.30pm.
BEFORE THE GAME
For Saturday's game against Ebbsfleet, Altrincham have two injury doubts in addition to long-term absentee Val Owen. They are Chris Denham (left) and Joe O'Neill (right), though both may be fit enough to take some part in the game.

The BBC claims that "Altrincham have only one new injury worry as striker Joe O'Neill has picked up a knee injury and could face up to three weeks out". The club states, however, that Joe has had a scan to see if anything needs to be done and is expected to be on the bench tomorrow. The BBC adds that "Midfielders Kevin Street and Alex Meechan have been on the bench recently and will be pushing for a start along with Dale Johnson".

Saturday's referee is Mr P.C. Wright, who does not appear to have reffed an Altrincham game previously.

In Friday's Manchester Evening News Graham Heathcote said "Tomorrow is a massive game for us because if we can beat Ebbsfleet we really will be able to say that we can live with anyone in this division. But if any of my players think they can now take their foot off the pedal, I can assure them we'll come unstuck. Ebbsfleet might not be one of Blue Square premier's more fashionable clubs but they are a very good side, as their record shows".

From Kent Online we learn that "Liam Daish says there is more to come from his Ebbsfleet strike force ahead of the team's trip to Altrincham... Michael Gash and Luke Moore have netted 12 goals this season to help fire the Fleet into sixth place. Manager Daish said: 'Up front we're looking a threat as Michael and Luke complement each other well. We keep asking for more from them and they keep delivering. I think there is more to come from all of my players'. The Robins are unbeaten in three games... Daish said: 'I watched them on Monday and they got a good point. They have some dangerous players and it looks like they are not going to leave staying in the league to other people this time'". He added: 'But we're confident as we've picked up some good results away from home and should not fear them'. Defender Paul McCarthy will serve a one-match ban after picking up five yellow cards, but Sacha Opinel (knee) should be available" - contrary to the BBC's opinion about the Frenchman, which is that "Ebbsfleet will be without Paul McCarthy while fellow defender Sacha Opinel is very unlikely to be fit. James Smith and Dean Pooley will be pushing to replace them".

Meanwhile, Ebbsfleet United have signed striker Steven Springett, who has emerged from their youth team.
ON THE ROAD TO SUCCESS
Alty chairman Geoff Goodwin is not only presiding over his football clubs' rising fortunes which is now unbeaten in its last four league and cup games, and running a large coach firm Go Goodwins in a difficult economic climate, but he is busy masterminding his son's highly promising national driving career.

Jay Goodwin (aged 11), continues to make great strides as the prestigious British Racing Drivers' Club's Stars of Tomorrow website reports in a feature on the Alty chairman's son. It says that "Though he may only be eleven, Jay is already displaying prodigious promise, having taken his first tentative steps on the motor racing ladder three years ago.... 'I always wanted to try karting when I was little', the Ashton-upon-Mersey ace related, 'because motorsport runs in the family, and when I was eight my dad took me to Daytona Raceway in Manchester... After that my dad bought me an outdoors kart and we started out in a team called Turbo'... The young charger has been making rapid progress, as he follows in the footsteps of his father Geoff and brother Wesley. Both have raced BriSCA F1 stock cars."

Jay, who attends St Ambrose College in Hale Barns has competed "in the national BRDC Stars of Tomorrow and Super 1 championships in 2007, the former being the same series that first set Lewis Hamilton en route to where he is now... Jay returned to Stars in 2008 with a vengeance, as a works driver for the crack Zip Young Guns squad. Whilst he has invariably been there or thereabouts, he has found his efforts stymied by persistent carburettor issues, his weight – he is 7kg over the recommended weight for the cadet class – and a broken hand... The decision was made mid-season to move Jay up a notch into the more powerful Mini Max class – where rather than being a disadvantage, his weight would play to his strengths. As one of the youngest drivers in the category – up against rivals as much as five years older than him – time is undeniably on his side... He will look at possibly the sportscar-based Playstation Ginetta Junior Championship when he turns 16, before moving into single-seaters and, who knows, maybe even ultimately earning himself a place on the grand prix grid alongside Hamilton?" Jay said, "I would like to stay in motorsport in the future, but if I'm not a driver I'm working hard in school to be a lawyer".
SAME REFEREE
The referee for Tuesday's game at Salisbury City is Mr A. P. Bennett who also officiated the corresponding fixture last season, which ended 3-3 amid controversy when Alty tried to get substitute Karl Munroe onto the pitch, were not allowed to, and Salisbury scored a late equalizer. Mr Bennett also was the ref for Alty's 3-1 defeat at Forest Green on 18 August, 2007.

For Alty's visit, the Salisbury FC chief steward has confirmed that "partial segregation will apply"; i.e. the club bar is open to all, and is entered from outside the ground, but the stadium itself will be segregated. Away fans enter the ground via turnstiles E & F. Details of the ground are here.
OLD BOYS
Brian Flynn spotted this on the Sligo Rovers' website; former Alty defender "Chris Butler, Sligo Rovers' talented left back will be out for a minimum of six months having damaged his thigh bone and knee cap in a road traffic accident last weekend. An astute signing at the beginning of the season from Barrow, Chris has been a virtually permanent fixture in the Rovers' back four and has made a big impact in his first season with the club". Chris, a tall left-back, signed for Alty, initially for a month, in November 2005 from Accrington Stanley. He made his debut for Alty at Gravesend in November 2005 where he played for 58 minutes before being substituted. He left Alty for higher remuneration at Vauxhall Motors on 1 December 2005.

NL Daily says that "Former assistant boss Neil Parsley [an ex-Alty player] has been placed in charge of first-team affairs at Farsley Celtic following the departure of manager John Deacy. Parsley takes charge of Saturday's crunch hosting of rock-bottom Hucknall Town and a win is essential with the Celts labouring down in sixteenth place in the table."
BSP NEWS
The BBC says that "Crawley have failed in their efforts to sign Weymouth's free-scoring winger Michael Malcolm on loan. Malcolm was one of five players made available by the Terras this month. Reds' manager Steve Evans told BBC Southern Counties Radio: 'We made an enquiry, but it's passed us by. If you were Michael Malcolm you would walk from Weymouth to Crawley! It's not to be and we'll concentrate on ourselves'".

New "Wrexham manager Dean Saunders insists there will be no club versus country conflict as he juggles his two jobs... Saunders said: 'The Wales job is a big part of my life and doing both roles well will not be an issue. When Geoff was persuading me to be Wrexham boss, he made it clear he was happy for me to continue with Wales'... Dean Saunders as Wales coach and Wrexham manager [has the following clashes]:

October 11: Wales v Liechtenstein, Wrexham v Histon
November 18-19: Germany v Wales, Mansfield v Wrexham
March 28: Wales v Finland, Histon v Wrexham

But it is feared that 44-year-old Saunders,... Wrexham's fourth boss in 22 months, could jeopardise his future in the Welsh management structure. Wales will play fixtures on or 24 hours after Wrexham games three times this season alone... Said Saunders, 'When I go away with Wales, I'll have my Wales hat on and when I'm with Wrexham I'll be concentrating on Wrexham. I hope the people of Wrexham, though, will understand I'm trying to do something special for their national team because we are on the brink of something good. Geoff tried everything to get me and it's nice to feel wanted. I also feel the supporters want me so hopefully they'll understand'"... Saunders could also miss out on crucial Wrexham preparation time for their game at Mansfield Town on 4 April as Saunders helps Wales for their home fixture against Germany".

In Sussex, the Argus says that "Lewes are hoping to extend the loan of Charlton defender Aswad Thomas. Thomas picked up the man-of-the-match award on his first outing for the Rooks in last Saturday's 2-1 win over Oxford United. Keehan is now in talks with Charlton about about converting the loan deal to a three-month arrangement. The Lewes boss is also keen to extend the loan deals of Albion duo Sam Gargan and Kerry Mayo, whose month with the Rooks ends with next Saturday's game with Northwich. Chamal Fenelon's one-month loan at Tonbridge Angels ends with tomorrow's game against Horsham. Keehan said: 'He will play for them on Saturday, then I will talk to Tommy Warrilow (Tonbridge boss) and Chamal'".

Nearer to home, there are strange goings-on in mid-Cheshire where The Northwich Guardian says that "Vics have still not resolved the 'internal matter' that led to Dino Maamria's suspension as manager. The Tunisian remains in the dark about when, or if, he will be back in charge at the Blue Square Premier's bottom team. 'We have been working through everything', owner Jim Rushe told the Guardian this morning, Friday. 'There is an internal investigation ongoing at the club that will carry on today. I don't have a deadline. Once the process has reached its end then all the relevant information will be passed to the board for them to decide the next move'. The Guardian has spoken to Maamria, but he said he felt it was inappropriate to comment. Since Tuesday the club have refused rule out the possibility that he will not return to the dugout.

He was suspended – sent on 'gardening leave' according to the club – on Tuesday morning... His assistant Mike Marsh has been in charge since and will be on the bench alone when Vics head to Kettering Town... Yesterday Marsh told the Guardian he was happy to stand in for his close friend".

Meanwhile, "southport are said to be preparing to resign Paul Barratt. The Blue Square North club claim they are in negotiations with the Vics' winger, who was transfer listed by Dino Maamria this time last week... Port boss Liam Watson told the Southport Visiter, 'I would like to think he will have signed by the weekend'".

But Watson may be thwarted as, elsewhere, the Guardian reveals that "Vics' Famous Five have been taken off the transfer list – less than a week after they were told their time at the club was up. Owner Jim Rushe told the Guardian today that stand-in boss Mike Marsh was presiding over a 'fresh start' for everybody. 'We've taken them all of the transfer list'. he said... [ex-Alty loanee] Mat Bailey, Paul Barratt, Ryan Brown, Michael Jones and Richie Sutton were all told by Dino Maamria they did not feature in his plans... All four, Brown excepted, were signed by the Tunisian in the summer. Rushe confirmed that Marsh was free to bring in new recruits, be they temporary or permanent, providing they do not break Vics' tight transfer budget.

The former Liverpool star has already freed up some cash by sending Michael Carr back to Morecambe... Marsh spent yesterday afternoon running the rule over a potential loan signing. 'I don't know if I can call on any of the transfer listed players for the weekend, it's something I will have to clarify'. Rushe has since clarified that he can pick them should he choose. Earlier this week a loan move for Peterborough United full back Danny Blanchett – set up by Maamria, was aborted following his suspension".

New Oxford United chairman Kelvin Thomas has spoken to the Oxford Mail. Speaking of the departure of former chairman Nick Merry, Thomas said "Nick Merry has been under a lot of pressure. It was a decision reached by Woodstock Partners and the Oxford United board — and Nick Merry was part of those discussions. They gave me their backing to come in and take over the pressures of chairmanship. Nick has stood down as chairman, but is on the board of directors and is still a stakeholder in Woodstock Partners.It's now up to me to get the club on a sound financial footing... We have to be realistic, because we have short-term financial needs. We have to consider having discussions with any relevant company who have the potential to take the club forward... Obviously, administration is always a possibility when a club is in financial difficulty, but administration would not be helpful to either Oxford United or Woodstock Partners. We will do everything in our power to make sure this does not happen...

The club's finances are clearly not healthy and the team's league position is precarious. The priority, in the short term, is to attract new investment and ensure that our finances are secured... [Stadium owner] Mr Kassam was very helpful in us meeting our short-term needs in our ability to pay the rent".

The Mail adds that "Although Thomas didn't want to say it, Merry had not been good in communicating with the fans when the pressures of the job increased, and the new chairman wants to address that... 'We have very high expenditure at the football club, what we need to do is raise the levels of income', he said. 'Woodstock Partners are very open to potential investors coming on board'. Woodstock Partners is the company which owns Oxford United FC. It was set up by Nick Merry and Ian Lenagan, who both have a 50 per cent stake... Thomas admitted that his talks with stadium owner Firoz Kassam over the rent the club must pay, and other issues, will be critical to the club's short-term survival. If Oxford United can't pay the £468,000 rent and end up folding, that is clearly no good for Kassam to have no football club at the stadium... 'Maybe Firoz has the lock and we hold the key, or maybe it's the other way around'".

The NW Evening Mail says that "Barrow AFC are looking closely at a handful of unattached former Football League players to help boost the squad. David Brown – a former Hull, Manchester United, Hereford and Accrington forward – and ex-Rotherham and Crewe right-back Natt Kerr were put through their paces along with former Northwich left midfielder Luke Horrocks. (According to the Football Conference "David Brown has joined Barrow"). Kerr and Horrocks were both pre-season trialists at Moss Lane. "Bayliss said the trialists, who would not come under the transfer window, had all shown up well in difficult conditions" in a trial match. He added: 'Me and Darren will be having another look at them'... Bayliss revealed that ex-Port Vale defender Craig James – who was released from his loan without playing a game – had not met their discipline criteria at training".

And "Barrow AFC's players have been warned that no-one's place in the side is safe ahead of tomorrow's daunting trip to Kidderminster". Joint-boss Sheridan said "'I don't think any of the lads could have any argument if they're left out, Carlos Logan has probably been our most consistent player this season'. Bayliss today hinted that they would adopt a more defensive formation at Kidderminster. Maybe we've been a bit too attack-minded, this is down to me and Darren. Other teams have been in the Conference longer and we're a bit wet behind the ears'".

Two players joining Redditch United are "ex-Barnet hot-shot Mark Rawle, who has been snapped up from Kettering Town and Kidderminster Harriers' midfielder Sam Foley".

The Burton Mail" reports on a player who almost joined Altrincham but now Nigel Clough "has to make a decision on temporary signing Adam Yates. The Morecambe full back's six weeks on loan at the Pirelli Stadium end after tomorrow's game. Yates will almost certainly be on the bench for the second game running, which appears to indicate the Brewers' boss will not renew his interest in the former Crewe Alexandra player".

"Steve Fallon says Histon's finances are secure despite the departure of [former Alty loan keeper] Lance Key" claims the Cambridge News. "Goalkeeping coach Key has been axed and has already been snapped up as a player by Ridgeons League side, Wivenhoe. Fallon said he was sorry to see Key - who was on non-contract terms - leave but said... 'We're like every other club, our attendances are down so we're looking to make one or two savings where we can and, unfortunately, Lance Key came into that category. Lance understands the situation and maybe in time to come he'll be back and helping us out. If you like, it's a luxury. He was great for the keepers we've had at this club but these things happen. We have to prepare for what's going on in the financial climate - we've done that and done it early. There are no problems. The directors will make sure this club keeps going in the right direction. They back it with their money, but we've got to be careful... We haven't got any full-time staff to cut down on, so it has got to come from other areas'... Fallon's comments follow rumours, originally posted on unofficial Cambridge United website CUamberarmy.net and repeated on the official Blue Square Premier site, that Histon were about to go into administration. The article was removed from the BSP site on Monday, with Histon chairman Gareth Baldwin getting an apology after threatening to take legal action... Fallon revealed Craig Pope could make his first start since serving a four-match ban"
---
3 October 2008
FIXTURE CONFIRMED
Altrincham's second round Cheshire Senior Cup match at the Bower Fold, aginst Stalybridge Celtic, has been confirmed as taking place on Tuesday 11th November. Kick off time is expected to be at 7.45pm but will be confirmed in due course.
TRANSPORT CONFIRMED
It has now been confirmed that supporters' transport will definitely run to Salisbury City next Tuesday for Altrincham's game at the RayMac stadium. But please book your seat by Saturday so that the size of vehicle can be finalized. Please see the Away Travel page for times and prices. To book you can either call the club on 0161 928 1045 or by signing up at the club shop on matchdays.
GAVIN GOES UP THE AISLE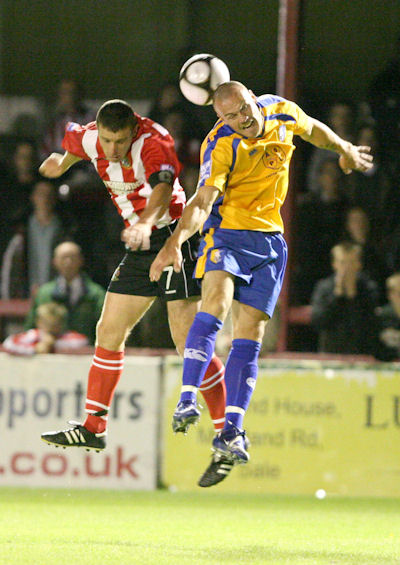 Gavin Rathbone, Alty's official photographer and a good supporter of the Club, will be at the other end of the camera's lens this Saturday, as he is getting married. All at Moss Lane wish him and his wife-to-be, Rebecca, a very enjoyable day and a long and happy marriage. The bad news is that we won't have any of Gavin's excellent images for the next three home games as he will be on his honeymoon. In the meantime, you can feast yourself on hundreds of his Alty images at his GR Photography website. But I ask myself, how can a man arrange his wedding on a Saturday during the football season! Shown right is one of Gavin's images from the recent game against Mansfield, showing Robbie Lawton contesting an aerial ball.
SQUARE UP AT MOSS LANE
Brian Flynn writes:

"'Square Up'" to a £10,000 Prize with Blue Square. We need three participants for the 'Square Up" competition which is the exciting half-time keepie uppie challenge for fans of all Blue Square Premier, North and South clubs. You could show your skills during half-time and kick your way to a huge £10,000 prize. During the first round heats each fan will have 3 attempts to do as many 'keepie uppies' as possible with the unique Blue Square Ball. The competition begins at Saturday's home game with Ebbsfleet United and you'll have a chance to be selected at home games right up until April to take part in the first round. Winners at each match during the first round will scoop a £25 free bet with sponsors Blue Square. At the end of the season the person with the highest score at Altrincham's home matches will go through to the second round and compete with the top scorer at all other Blue Square clubs. Those competing in the second round will have already secured a pair of Altrincham F.C. season tickets for the entire 2009/10 season.

The five fans with the highest second round scores will make their way to the Blue Square Premier Play-Off Final and compete for £10,000 in front of the packed stands and a live TV audience. Have you got what it takes to be a half-time hotshot and win with Blue Square? If you would like to take part in this exciting competition, please contact Brian Flynn on 07860 561011 or by e-mail.

Thanks to Adam Martell, Graham Jackett and Simon Ellis, who have offered to help organise this event during the half-time interval at home games. Adam will be doing this with Graham and Simon acting as cover".
GRAHAM SPEAKS
Blue Square Football has an audio interview with Graham Heathcote in which he assesses Altrincham's position so far this season.
SAM ON RUSHDEN
After the impressive draw on Monday at Nene Park, the Sale & ALtrincham Messenger concludes that "This was the clearest sign yet that an Alty revival is afoot... Just two weeks ago, such a result seemed impossible. But from crisis has come conviction - a sense of collective responsibility bolstered by a renewed impetus and belief... Colin Little's 44th minute opener had allowed Alty to dream... But if Alty's opener had been slightly unexpected, the hosts' leveller was even more so. Leon Knight struck after a 15-minute spell of Robins' dominance, the front three of Little, Elam and Chris Senior running Rushden ragged at times... Spurred on by a red-faced Garry Hill - the manager frustrated by his team's ineptitude - Rushden recovered somewhat immediately after the break... 13 minutes from time, Diamonds dashed the visitors' dreams. Coburn failed to gather Tomlin's corner and when Gulliver headed back across goal, Knight nipped in to prod home. Alty man of the match: Lee Elam (left). In his past few outings, Elam has begun to show the class Alty expected from him. Bright and skilful on the ball, his movement off the ball also causes no end of problems for opposition defences, creating plenty of space for his fellow forwards. But what has been most pleasing is his work ethic. Against Rushden, Elam got up and down the flank like a man possessed, only letting up when he was substituted 15 minutes from time".
FLEET HISTORY
Altrincham entertain Ebbsfleet United this Saturday. The Robins' games against the Kent club (formerly Gravesend and Northfleet) fall into two distinct phases. In the first three seasons that they met (1979/80 to 80/81), Altrincham were the best non-league team in the country, winning the Alliance title in those first two seasons, whereas Gravesend and Northfleet, after a good first season when they finished fifth, were relegated in 1982. Alty won five of the six encounters in those three campaigns and drew the other match. Alty won at Moss Lane 4-1, 2-1 and 3-1 in those games.
Above: Colin Little's penalty was the only bright spot for Alty against Ebbsfleet last season at Moss Lane.

But in the three seasons since 2005 when the sides have met again, the results have been exactly the reverse - five wins and one draw for the Kent side. Alty have lost all three games at Stonebridge Road, once 1-3 and twice by a 0-2 scoreline, whilst at Moss Lane the scores have been 2-2, 1-3 and 1-3. In the game at Moss Lane last season Alty shipped three goals in eight minutes during the first half before Colin Little responded with a penalty.

For this season's match, The Gravesend Reporter tells us that "Liam Daish fears Ebbsfleet United's run of two fixtures in three days could leave him with little option [other] than to change his starting XI. The Fleet travel north to Altrincham this weekend before hosting Histon - a match selected for live Setanta Sports coverage - at Stonebridge Road a mere 51 hours later with 500 miles on the clock. Such hectic preparations are bound to take their toll on Daish's players and, with their physical exertions on the pitch coinciding with a draining voyage to Cheshire, he just might need to freshen up his personnel.

'That could be the case', the 40-year-old boss admitted when asked whether squad rotation would be a necessity in such squashed circumstances. 'We've got Altrincham away on Saturday and we're going to have a long trip back. The lads will probably have to come in again on Sunday to assess what's happening and then obviously have a live game again on Monday. It's not ideal'. Ebbsfleet will, at least, head into their daunting double header on the back of a rousing result on the road after goals from in-form strike duo Michael Gash (2) and Luke Moore earned a comprehensive 3-0 victory at Barrow last Saturday. 'It's a long journey and it's an even longer one back if you come away with a poor performance or a bad result', Daish explained. 'But we worked hard, stood up to the challenge and - even though it all got a bit "committed" at the end - still came away with three goals, a clean sheet and three points away from home. You cannot really ask a lot more than that'. This one-sided success has also seen the Northfleet-based club's goal difference surge up to an impressive +11 - a feat currently only equalled by league leaders Crawley Town in the top flight of non-league football.

'It can change very quickly, but it looks good at this moment in time', he added. 'We've just got to keep trying to pick up points away from home'... Captain Paul McCarthy is suspended for Saturday's showdown after picking up five bookings, while Sacha Opinel (knee) is a doubt".
OLD BOYS
Recently, Dave Challinor played a trial game for Altrincham but the North Wales Weekly News says that "Colwyn Bay manager Neil Young has made a major new signing in former Tranmere Rovers and Bury defender Dave Challinor. Challinor, who became famous for his long throw ins, helped Tranmere reach the 2000 Worthington Cup final.... He signed for Altrincham in the summer but has recently been at Cammell Laird".
BSP NEWS
Former Liverpool striker and Welsh international, Dean Saunders, has secured his first managerial job, at the Racecourse Ground. The The Football Conference adds that "Wrexham chairman Geoff Moss at first thought that Dean would not be available for the position due to his commitments with the Wales National squad, but after talks with John Toshack, it appears an agreement has been reached to allow him to combine both roles. 'I'm delighted to have secured someone of Dean's standing', said Geoff. 'Initially I only asked him to give me his advice on certain aspects of the club, but after long talks with him I realised that this is something he wanted to get involved with. His enthusiasm is infectious and it's something that really excites me, and as to what he can bring to us. Even then I thought his position with Wales would rule him out, that has been talked through with John Toshack. Dean is very keen to take on his first managerial role and I'm looking forward to seeing him in charge at the Racecourse'. Also on the move is first team coach Martin Foyle, who has left the club. Foyle was devastated at the departure of Brian Little from the club and now feels it is time for him to also move on".

"Forest Green Rovers have confirmed that they have completed the signing of Cheltenham Town defender and club captain Jerry Gill, who will also act in the capacity of Assistant Manager with the Nailsworth outfit. The 38 year old Gill, has played almost 300 Football League games in a career with Birmingham City and Northampton Town... [He] moves across to the Blue Square Premier club under a loan agreement... Agreement has been reached with Gill to secure his immedaite future up to the end of the 2009/2010 season. Harvey commented 'He is the sort of person I have been looking to bring in since the end of August, when Jamie Pitman left suddenly... Jerry will hopefully be a stablising force both on and off the field and bring a new dimension and fresh ideas to take us back up the table'... Gill spoke about the move 'This was too good an opportunity to miss, even if it means leaving Cheltenham whilst still a first choice pick and club captain. Rovers have great potential and are a well run club... Having the chance to become No.2 to the most experienced manager in the Blue Square can only be beneficial for me" reports the Football Conference.

Cambridge United have loaned defender Gavin Hoyte to Halesowen Town until January.

The Northants Evening Telegraph says that "Garry Hill admits inconsistent home form is becoming a concern for Rushden & Diamonds. They have recorded two wins, two draws and two defeats so far this season at Nene Park with more points being picked up on the road. Diamonds missed out on a chance to climb up to third place when they needed a late equaliser... against Altrincham on Monday. That disappointing draw – in front of the lowest home attendance this term – came after a tough run of home games... Diamonds' boss Hill conceded: 'We are finding it hard to play at home. Our supporters are trying to pick the team up at times throughout the games. It's not the case that they are failing to get behind the players. But it's been difficult to break down teams. Last season we would have got beaten in a game like that against Altrincham. We had to dig out a point'".

According to NL Daily "Stevenage Borough striker Steve Morison has won the Blue Square Premier Player of the Month award for September".

The NW Evening Mail says that "Barrow AFC are already drawing up financial plans for the January transfer window. But director Tony Keen says they are still in 'positive' mood despite the recent slump in form... the fourth reversal on the trot with the Holker Street crowd down to just under 1,400... Only emergency loanees – such as keeper Alan Martin for the injured Tim Deasy – and unattached players can be brought in... Says Keen: "'If we can keep up the levels of attendance we've had to date, that's fine... What we don't want is to drop to similar numbers to when we were struggling in Conference North. If we can't maintain four- figure attendances then we probably don't deserve to be in the league... We are playing against good sides every week, ex-Football League clubs, there are no small teams in the league... It's probably more disappointing because of the exceptional start but we are holding our own 12 games in... The team is well capable of getting a draw-win-draw or putting together a three or four-game run of wins'"

Changes are afoot in Essex where the Thurrock Gazette reports that "Grays Athletic supremo Mike Woodward is beginning to made good on his promise to change the structure of the club... by appointing non-League troubleshooter Tony Turburville as Chief Executive. A club statement says his role initially will be to oversee the restructuring of the club at board level with the emphasis on building a corporate board that will see the club through and into a proposed new stadium. Priorities will also include formation of a supporters' trust, the closure of the present stadium with a two day festival/concert and... a ground share for the coming season. Mr Turburville, formerly in charge at troubled clubs Kettering and Farnborough, will also be responsible for with running the club on day to day basis with the assistance of club secretary Phil O'Reilly. A club statement says... 'Tony's past experiences at Farnborough Town FC and more recently Kettering Town FC gives the chairman the belief that this appointment is in keeping with his ideas of completely restructuring Grays Athletic Football Club".

We read in the Oxford Mail that "Nick Merry has stepped down as Oxford United chairman. Kelvin Thomas will replace him at the helm – and has promised U's fans he will do everything in his power to get the club back on a sound financial footing. Merry will stay on the board – along with Jim Smith – with Thomas in charge of the club's day to day running. Thomas was a key member of the board when Merry and Ian Lenagan brought the club before stepping down to concentrate on family life in Florida. But he has still kept involved in the club, and will now be based in Britain. 'This was a decision taken by Woodstock Partners (of which Merry and Lenagan are partners) and the board of Oxford United, and Nick Merry was part of those talks', he said. 'The club obviously has financial issues, but I am determined to take us forward'".

From the Woking News and Mail we learn that "Phil Gilchrist is hoping to complete the signings of Wilfried Domoraud and Neil Lyne this week - two men he sees as key to continuing the upsurge in fortunes at Kingfield sparked by three wins in four matches. The Cards' boss hopes to have the striker and his favoured assistant on board by the end of the week... Crucially, Domoraud has a different agent to the one he had two months ago, with Gilchrist already having sat down with both men to sort out a contract. 'Wilfried was unlucky in the summer because he had an agent who didn't have his best interests at heart', said Gilchrist. 'He was doing things behind Wilfried's back, let alone the club's back... He just wanted to play football and was happy to come to Woking'".
---
2 October 2008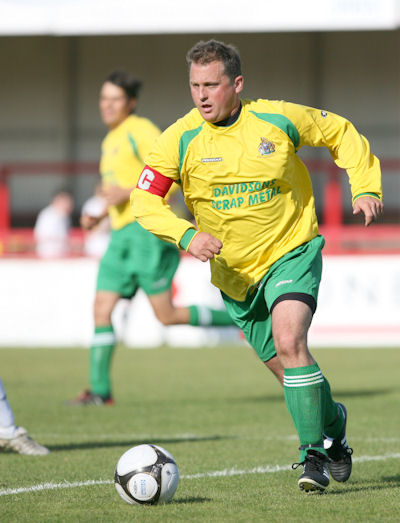 CHARITY GAME
Altrincham FC chairman Geoff Goodwin and his wife, Suzanne, wish to express their sincere thanks to Darren Gregory and all of the volunteer stewards and other helpers, especially Karen and Grahame Rowley, who ensured that last Sunday's fundraising charity football match at Moss Lane between a Darren Gough XI and an All Stars team went ahead smoothly. Geoff was very disappointed, however, at the low turnout of spectators for this good cause for which so many people had given their time and efforts. The joint ventures of Altrincham FC and the McGrath Foundation, organized by Suzanne and Geoff, have raised significant sums both for the charity and the football club. If anyone who was unable to attend the match would like to add to the matchday proceeds, by making a donation, will they please send or deliver cheques to the club offices (Moss Lane, Altrincham WA15 8AP)? Cheques should be made payable to the "Alty McGrath Foundation" and marked for the attention of Geoff and Suzanne Goodwin.

Right: Darren Gough in action as his side defeated an All Stars XI, 3-0, last Sunday. Photo courtesy of Gavin Rathbone's GR Photography.
OLD BOYS
Gateshead defeated Witton on Tuesday night in an FA Cup replay with three ex-Robins playing for the Cheshire club; Rod Thornley, Gary Scott and Mark Drew. NL Daily confirms that after losing his job at Histon this week, "Ridgeons League Premier Division club Wivenhoe Town [Essex] have signed veteran goalkeeper Lance Key from Histon and he will go straight into the side to play Potton United in the FA Vase on Saturday. Key (seen left at Histon v Alty in 2007) has had a career that spans over twenty years, with most of it in the professional game, which has seen him establish himself as a highly-respected goalkeeper and coach, and Histon have certainly benefited from his experience and knowledge. He started his career at Histon and left in 1990 for Sheffield Wednesday, returning in 2004 to help secure the Southern League and Blue Square South championships".
BSP NEWS
Altrincham travel to the RayMac Stadium next Tuesday where "Salisbury City's players are chipping in their own money to help the club raise £100,000 in just two weeks. But chairman Neville Beal insists they are not on the verge of going bust. With the credit crunch affecting clubs, the Blue Square Premier side are simply doing something about it - and need the money to help compete at this level. 'We're trying to get the club back on a level playing field', he told BBC Radio Wiltshire, 'so we can carry on with our plans for the future'. Salisbury lost one of their main financial backers in the summer with the departure of former director Peter Yeldon... 'The credit crunch has affected everybody', added Beal. 'Not just football clubs, which means sponsorship as well. Crowds are down, but they're down across the board, not just us. I don't think people are aware of how much it takes to run a football club at this level. It's more than a million pounds per season'. Supporters have been given collecting boxes with the aim of trying to raise £100 each, while businesses are already involved at the Raymond McEnhill Stadium tasked with bringing in £1,000. The players are also doing their part according to striker Andy Sandell. 'Anything to help the club', he said. 'If we can donate appearance money or goal bonuses we'll do that. Over the next two weeks you'll probably see a lot more of us around the city promoting things and trying to raise money. I think we need it and, if the club clears all of their debts and we're on a level playing field, not many clubs in this league or the league above can say that'".

The Football Conference says that "Oxford United have parted company with two players, with Levi Reid and Karleigh Osborne both moving on. Midfielder Reid had asked to be released from his monthly contract when it ran out at the end of September. Levi was keen to return to the Stafford area for family reasons where he will continue to play part time. Osbourne has returned to Brentford after his one-month loan".

Despite his touchline ban which covered last month, "Crawley Town manager Steve Evans has won the Blue Square Premier "Manager of the Month" award for September".

Our last opponents, "Rushden & Diamonds have signed Nottingham Forest goalkeeper Dale Roberts on a one-month loan. The 21-year-old enjoyed an impressive spell with the Diamonds last season, making 19 appearances, including the Setanta Shield final against Aldershot Town" reports Blue Square Football. "No stranger to life in non-league football, Roberts also spent the 2006/07 season at Alfreton Town. Diamonds 'keeper Alan Marriott was injured in the 1-1 draw with Altrincham, and as a result Roberts comes into the squad to provide cover. Roberts is highly rated at The City Ground, where he is the back-up to first choice goalkeeper Paul Smith".

Meanwhile, "York City striker Onome Sodje will be out of action for up to six weeks after sustaining a hamstring injury against Stevenage Borough on Sunday. The 20-year-old is joint top scorer for the Minstermen with three goals... It is the second time this season that Sodje has injured his hamstring, having missed a game last month after tweaking the muscle".

According to the BBC "Wrexham have targeted Dean Saunders to succeed Brian Little as manager, but have failed to sign Robbie Savage. Saunders, one of Wales boss John Toshack's assistants, was at the Racecourse on Tuesday. The Dragons wanted Savage, 33, as a player-coach with Saunders as boss, but the ex-Wales international opted to join Brighton on a month's loan. But chairman Geoff Moss said their loan bid was called off by Derby. He said, 'It looked likely we would have been able to bring in Robbie on loan, especially with a couple of players out injured at the moment. The player was keen on the opportunity and it seemed to be within our finances to allow us to bring him in. It's a shame for Robbie, who was all for the idea, and we certainly could have done with someone of his quality in our squad'. Strugglers Wrexham are looking for a replacement for manager Brian Little... Moss told BBC Radio Wales...'It's not our intention to rush into this. I've had three goes (at finding managers) and I've not done very well so far. We will take stock over the next few days'.

Savage's availability for loan sparked reports that Wrexham wanted him as a player-coach with 44-year-old Saunders as manager - and Saunders spent Tuesday at Wrexham's training ground... [He has] not had any experience as a manager".

"Mansfield Town have enquired about the availability of Scunthorpe United winger Peter Winn for a loan move... and are hoping to find the 19-year-old some regular first team football. Winn signed for Scunthorpe in October 2006, but has been limited to four league appearances from the bench" claims the BBC.

However, This is Notingham tells us that "Mansfield Reserves were unable to play keeper David Knight in the 3-1 defeat at Walsall last night. The Swansea player was expected to feature as a trialist and had driven down from his home in the north-east to play. But in trying to get the player registered, it was discovered he had already signed to play for Luton reserves and was unable to figure as a result. It meant youngster Luke Herriott took Knight's place in goal for the club's first league game of the new season. But fellow trialist Ricky Baines, a free agent formerly with Accrington Stanley, did play in central defence".

More off-field activity is noted at the Marston's Arena, where the Northwich Guardian reports that "Ryan Brown's name has been circulated to other clubs. The full back becomes the fifth Vics' player inside seven days to be transfer listed by the Blue Square Premier's bottom club. 'The club hope this will allow for the addition of new faces during the coming season', read a note on Vics' official website. Mat Bailey, Paul Barratt, Michael Jones and Richie Sutton were all told they were surplus to requirements by Dino Maamria on Friday. However Jones' name is not on the list released by the club today... Brown, 23, penned a two-year contract hours after the final game of last season, becoming Maamria's first signing of the summer, but he has been one of Vics' most disappointing performers in their slow opening... and was dropped for his side's only win to date against Barrow. Simon Grand has taken his place on the left side of the defence. The former Port Vale man is one of the club's longest serving players – this is his third campaign in green and white".

"Chairman Alex Rowe says that the best way for Torquay United to cope with the immediate pressures of the global financial crisis is to mount a repeat of last season's money-spinning cup runs" states This is South Devon. "But he stressed that the attendance for this Saturday's key game at home to Stevenage Borough will also reveal how well Gulls' fans are able to cope with tightening belts AND supporting their team. 'The Stevenage match will be an interesting barometer of where we are with our gates', said Rowe... United's last three BSP games have all attracted sub-2,000 crowds, against an average last season of 3,300. 'We are playing better now, with better results', said Rowe. 'In our last two away games, we had a tremendous win at Forest Green and a good draw at Wrexham... and I am certainly hoping for a reasonably good gate on Saturday... I don't think anybody is going to be untouched by what's happening globally', said Rowe. 'At our next board meeting we will definitely be reviewing every element of the club's finances. I am fairly confident about our funding for this season, because we have already put that in place... I am a keen observer of the non-League scene, and there are a lot of clubs having hard times. There are already half-a-dozen Blue Square Premier clubs who have told their managers that their current budgets will be it — there will be no more money... Rowe also stressed: 'As a supporter, I know that promotion is still the priority. But wearing my director's hat, the FA Cup and the FA Trophy do have, if anything, a greater importance. We really need the sort of cup runs which we had last year'... All told, the club is believed to have made around £300,000 from their cup exploits last season. 'As a result of the money we made last year, we have been able to invest in things like new floodlights, the new infrastructure in the Family Stand and in helping Paul (Buckle) to strengthen the squad'," said Rowe. 'The money from cup runs is crucial insurance, money we can put in the bank against a rainy day... I think Paul's decision to put together a stronger squad during the summer is now being vindicated... At Torquay United we need to be aiming for a 50 or 60-game season, not just a 46-game league season'".
---
1 October 2008
CHRISTMAS IS COMING
Altrincham FC are planning a Christmas dinner event on Saturday November 29th, at the Cresta Court hotel, following the Rushden and Diamonds home game that day. Further details to follow, but please make a note of the date.
UNITED AT MOSS LANE
Manchester United under-15s will take on Liverpool's under-15s at Moss Lane on Wednesday, 8th October. Kick off is at 7pm. Admission will be free.
COMING SOON
Altrincham travel to Salisbury next Tuesday and the Salisbury Journal reports that "manager Nick Holmes is hoping Whites stalwart Matt Robinson will play himself into contention for a return to the first team squad for Saturday's trip to Histon, when he lines up for the club's reserves... Holmes said Robinson, sidelined recently due to a heel injury, will be looking to get 60 minutes of action in the game at the Ray Mac. As well as fielding first team players who did not feature in Saturday's 3-2 defeat by Mansfield Town, the City boss also confirmed he will be running the rule over a couple of triallists".
SETANTA SHIELD
The next round of the Setanta Shield has now been confirmed, following the completion of the first round ties. Games are spread over more than a fortnight.

Tues 30 Sept

Fisher A. 2 Eastbourne B. 3 (aet)

Mon 6 Oct

Chelmsford C. v Braintree T.
Hinckley U. v Tamworth

Tue 7 Oct

Blyth S. v Gateshead
AFC Telford U. v Solihull M.
Eastleigh v Havant & W
Thurrock v Hayes & Yeading U.

Tue 14 Oct

ALTRINCHAM V Farsley C.
Barrow v. Fleetwood T.
Bath City v Newport C.
Lewes v Bognor Regis T.

Tue 14 Oct

Stafford R. v. Northwich V.

Tue 21 Oct

Kettering T. v Bishop's Stortford
AN EASY NIGHT?
The Northants Evening Telegraph says that "Leon Knight struck 13 minutes from full-time to earn Rushden & Diamonds a 1-1 draw at home to Altrincham. But overall this was a wasted opportunity as a fourth successive win... Diamonds went into last night's game boasting a 100 per cent home record against Altrincham who had failed to score in their previous four visits to Nene Park. Everyone expected another easy night... Altrincham's tactics gradually paid dividends... One of Curtis Osano's trademark runs through midfield was ended and Diamonds were caught out on the counter-attack with Gulliver unable to halt Lee Elam down the left flank. The ball was eventually cut back to Little who smashed a left-foot shot into the top corner... [Later,] Tomlin's corner was met at the far post by Gulliver and Knight claimed the final touch in front of the Peter De Banke Terrace, much to the relief of the home supporters."
BSP NEWS
Before news came of the Vics' manager's suspension, the Northwich Guardian reported that "Northwich Victoria can capture new recruits after a ban stopping the club signing players was lifted. The Football Conference ended the nine-day embargo on Friday, paving the way for Dino Maamria to bring in fresh faces as he bids to take his team off the bottom of the table. 'It's a huge relief', said the Vics boss. 'I've not had any room for manoeuvre and with the amount of injuries we've had that has been a problem for me'. And the Tunisian has wasted no time fine tuning his squad, circulating four names to other clubs and showing two others the exit. His mind was made up following Vics' embarrassing Cheshire FA Senior Cup exit at Woodley Sports on Thursday. As a result, Mat Bailey [ex-Alty loan player from Crewe in 2003-04], Paul Barratt, Michael Jones and Richie Sutton have all been told their future lies elsewhere. Trialists Mark King and Phil Marsh departed before yesterday's home defeat against Weymouth. 'People have to go before others can come in'," said Maamria. 'I think I've seen enough of some players to know they are not good enough to help us move up the table'. He also has decisions to make on two others.

Michael Carr, who missed the defeat against the Terras with a chest infection, is due to return to Morecambe on Monday. A month-to-month deal for midfielder Michael Byrne is also due for review this week. Meanwhile Vics must decide whether to go ahead with their planned appeal against the transfer embargo. They were fined a nominal fee for not providing paperwork detailing financial information to the Football Conference on time. The club may seek a refund. No date has been set for a hearing although it is likely to be weeks, not days, away. The Football Conference has introduced a new system this season, designed in tandem with the FA, for the 68 clubs in its Premier, North and South divisions, to help them keep on top of their debts. Clubs must report to league bosses every quarter on what they owe HM Revenue and Customs and are required to show they have paid up within two months or have a written agreement scheduling the payments. In Vics' case it is the latter".

According to Blue Square Football "Wrexham will have to cast their sights elsewhere after being informed by Derby that Robbie Savage will not be allowed to join on a loan deal... 'Wrexham enquired about Robbie but it's a non-starter', the chairman of Derby County, Adam Pearson, told football.co.uk. 'We have a number of clubs interested in him and it's up to the player to decide where he wants to go on loan to get games'".

We learn from the BBC that "Mansfield Town will face a hearing with the Football Conference next week over the registration of players. Officials will investigate whether one or more of the Stags' players were ineligible for the first two games of the current season. The hearing will take place on Monday, 6 October at the Conference headquarters in Birmingham. Mansfield picked up a draw and a win from their first two games, and will be hoping not to lose those points".

From the Argus we see that "Crawley boss Steve Evans is hoping to add to his squad with a loan signing. The un-named target plays for a Blue Square Premier club and will cover for Lewis Killeen, who is out for another two weeks with a twisted ankle. Evans said: 'He's not a big name but he is someone who is young and lively and will give us another option. We have been impressed when we've watched him'".
---
FOR EARLIER NEWS, CLICK HERE
---