Match Report
---
ALTRINCHAM (0) 1 OXFORD UNITED (0) 0
Blue Square Premier match
played on Sunday, 12 October 2008, at 3pm.
---
SUMMARY: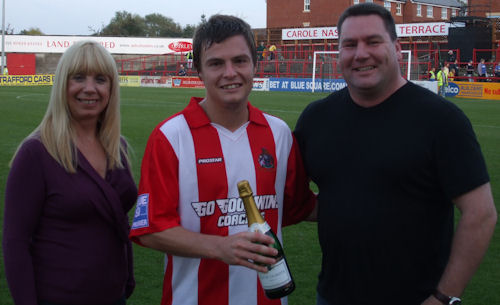 The great run of results continued this afternoon for Altrincham as they secured their first-ever win over Oxford United and their fifth win in six league games to move to the heady heights of ninth in the Blue Square Premier table. The deciding goal, his 99th for the club and fourth in successive games, came from Colin Little after 64 minutes. He drove the ball home from 12 yards at the end of a ten-pass move which culminated in Elam's cross from the right by-line which evaded a defender, leaving Alty's marksman with a clear shot at the target. After that, Altrincham rarely looked like conceding and with substitute Johnson causing Oxford problems, they might even have added to their single goal. Anthony Danylyk (pictured right, receiving his award) was a deserved Alty Man of the Match. A good crowd of 1,806 and a sunny afternoon made it a great time to be an Altrincham fan.
SCORERS
64 mins: Colin LITTLE (Altrincham 1 Oxford United 0)
---
REFEREE: Mr G. Eltringham
---
ATTENDANCE: 1,806
---
BACKGROUND
Oxford arrived after a revival in their fortunes; two wins and a draw in their previous four games, but Alty were the really in-form side, having won four and drawn one of their previous five games. But the Robins had not beaten Oxford in four previous attempts.
Because Oxford had played last Thursday at Torquay for the Setanta cameras, this match had been put back 24 hours to Sunday. This meant the game was played in bright sunshine rather than Saturday's rain and that 1,806 spectators turned up, a number boosted by a discount offer to League and Premiership club season ticket-holders who were without games over the international weekend.
---
TEAM NEWS
Not surprisingly, Alty were again unchanged. But on the bench Warren Peyton returned after illness, replacing Chris Denham who had suffered a workplace injury in midweek. Oxford were without James Constable who had only recently returned to the side from injury.
---
LINE-UPS
ALTRINCHAM (Red & white striped shirts, black shorts, red socks): ALTY: 1. Stuart COBURN; 2. Chris LANE, 4. Mark McGREGOR, 5. Greg YOUNG, 21. Shaun DENSMORE, 7. Robbie LAWTON, 16. Anthony DANYLYK, 3. Matt DOUGHTY, 19. Chris SENIOR, 9. Colin LITTLE, 18. Lee ELAM. Subs: 6. Kevin STREET, 14. Dale JOHNSON, 11. Warren PEYTON, 12. Joe O'NEILL, 15. Alex MEECHAN.
OXFORD UNITED (All yellow): 1. Billy TURLEY; 16. James CLARKE, 5. Luke FOSTER, 6. Barry QUINN, 3. Chris CARRUTHERS; 11. Lewis HALDANE, 8. Adam MURRAY, 4. Joe BURNELL (capt), 12. Phil TRAINER; 10. Jamie GUY, 7. Yemi ODUBADE. Subs: 12. Ben HINCHLIFFE (gk), 26. Eddie HUTCHINSON, 19. Sam DEERING, 20. Matt TAYLOR, 2. Matt DAY.
---
REPORT
Watched by a good-sized crowd, including Northwich Vics' boss-on-gardening-leave, Dino Maamria, who commendably paid his own £14 entrance fee, it was Oxford who kicked off towards their own fans on a gloriously sunny October afternoon. The visitors started the better but overall the early play was less than flowing with too much head-tennis and the defences being on top. Oxford's Guy nodded a cross from the right by Haldane narrowly wide in the fourth minute before Guy spooned an effort a good forty feet over the bar (6 mins). Alty's defence was holding firm and the midfield was also working hard, epitomised by Danylyk's fine tackle on Haldane (10 mins). When Oxford did create another shooting opportunity, Haldane did even worse than Guy had done earlier, the Oxford man hitting the tiled roof above the third-floor apartments which have recently been constructed behind the goal (10 mins).
Lawton, Danylyk and Densmore are the Alty players seen here in action against Oxford.
Senior then almost got on the end of a Coburn long punt but play went through several more minutes without any goalmouth action of note but during which the visitors had the upper hand. Indeed Coburn had to be alert as Young just managed to get in front of Odubade and relay the ball back to the Alty keeper (17 mins). But then, out of nothing, a superb 25 yard shot from Danylyk forced a fine tip over the bar by Turley for Altrinchamís first corner. At the other end, Coburnís half-block came to Odubade, who sliced badly over the bar to complete a trio of woeful shots from the visitors (19 mins).
Oxford's sub-keeper, Hinchliffe, was now made ready to come on as Turley appeared to be limping but, though he stripped off and put on his gloves, the young ex-Derby County keeper was not called on to the pitch. Carruthers then surged forward for Oxford, playing a one-two with Odubade, before his shot forced a save, low down, from Coburn (25 mins). An Oxford corner soon followed (29 mins). Though the visitors continued to enjoy plenty of the ball going forward they were not creating any real chances whilst Alty's best effort at this stage was Littleís header, which drifted well wide (39 mins). Little did better soon afterwards when a smart overhead shot drew a save from Turley (41 mins).
Trainer then won an Oxford corner on their left but it was Altrincham who now went very close to opening the scoring. This chance came as Little got free to the left of goal and his low cross was almost turned in at the back post by Senior but squirmed past the Alty man, who ended up in the net himself (43 mins). Oxford may have had more of the pressure in the first half but it was Altrincham who had the two closest efforts; Danylyk's 25-yarder and this close shave from Senior. However, after a minute of added time the half ended with score goalless.
---
Half-Time: ALTRINCHAM 0 OXFORD UNITED 0
---
Although Oxford's substitute keeper spent the half-time period warming up, Billy Turley emerged for the second half in the visitors' goal. The half began with a period of head-tennis, much as the first-half had done. But after ten minutes or more of fairly scrappy play, Doughty did very well to battle for possession on the half-way line before feeding Senior who gained a corner. But this came to nothing and, on the hour mark, Yemi Odubade, never a popular figure at Moss Lane after his diving antics in the 2005 Play-Off final between Altrincham and his then club, Eastbourne Borough, was withdrawn in favour of Deering, who is Oxford's equivalent to Chris Senior.
Alty then threatened when Elam did well but Carruthers covered competently. Oxford had now pushed Haldane up front with Jamie Guy, who is on a season's loan from Colchester United. Following an Oxford handball, Altrincham then started a move involving Densmore, Elam, Lawton, Little, Elam again, Lawton, Danylyk, Little, Danylyk and Elam once again. The Alty no.15 got to the by-line right of goal before crossing the ball which an Oxford defender missed in the air, the ball dropping to Little in the left of the penalty area. Unmarked, the Alty leading scorer controlled the ball before lashing a left-foot shot across Turley into the net (64 mins). It was Colin's fourth goal in four successive matches and left him one short of his century for the Robins.
There was panic in the Oxford box a few minutes later following Danylyk's cross but the visitors managed to hack the ball clear. But Alty did not have it all their own way as Oxford did then force a save from Coburn, low down before Young, who had another fine game, broke up another attack. Trainer then exchanged passes with Burnell but the ball span harmlessly to Coburn. The visitors then won a dubious corner which was cleared before Taylor replaced Guy for Oxford (71 mins). Indeed Altrincham were fortunate to escape an equalizer soon after this when Young's back header for Coburn fell short and the centre-back had to rush back to clear off the line after Coburn had saved his blushes with a fine half-block to the right of his goal. The resulting corner was cleared and, soon afterwards, Alty made a change as Dale Johnson came on for Senior (74 mins).
Johnsonís physical presence was soon evident and helped to ensure that the last quarter of an hour saw Altrincham going forward once again. After 78 minutes Oxford made another change as the veteran Eddie Hutchinson came on for Trainer, the defender being pushed up front as an auxiliary forward. When Clarke, the Oxford right-back surged impressively up the right and went down in the box, referee Eltringham was unimpressed and booked the player for diving (79 mins). A minute later, Warren Peyton came on for Alty's Lee Elam (80 mins). Johnson continued to impress for Alty and soon Altrincham made a further change with Joe O'Neill joining Johnson up front in place of Little, who left to deserved applause (83 mins).
Oxford posed a late threat when they advanced on the right but Coburn superbly parried the ball away (84 mins). Altrincham continued to go forward but Oxford won a late corner (88 mins) before three minutes of added time started. During this period Johnson did well to win a corner but Lawton foolishly wasted time in taking it and was booked, his fifth caution of the season meaning a suspension (90+2 mins). But Altrincham played out the final minute without any alarm. Indeed, when O'Neill went down in the box in the closing seconds, there were strong appeals for a home penalty.
With this result Altrincham recorded their fifth win in six outings and, with 16 points from their last six games, they took over from Torquay United at the top of the BSP form guide over the last six games. They also rose to ninth in the league table, behind eighth place Rushden only on goal difference. Luke Foster was nominated as Oxford's Man of the Match and Anthony Danylyk took the Altrincham award. But, above all, this was a fine team performance. The defence has now conceded just twice in more than nine hours of league action whilst the fluid team formation, with Elam and Densmore breaking forward impressively but also working hard to cover their opponents, is working a treat. The next test is in the Setanta Shield at home to Farsley Celtic before the long trip to Weymouth for next Saturday's league game.
---
Full-time: ALTRINCHAM 1 OXFORD UNITED 0
---