29 February 2008
SQUAD NUMBERS
WIth the recall of James Jennings by Macclesfield Town, Alty's squad is reduced to 23 players who have been allocated shirt numbers, 3 of whom have yet to appear in a league match (Tom Bailey, Danny Browne and Carlos Roca). Four of the 23 are loan players. Danny (formerly no.20) has now been allocated shirt no.28. In all 18 players have left Moss Lane since the end of last season
DRUMMING UP SUPPORT
Although this will be Alty's second away trip to Devon inside five days, a STAR supporters' coach will be running on Saturday to Exeter, so if you want to come along and lend your support, please book via the club on 928-1045. Details of the trip are on the
Away Travel page
. With Alty's away form better than their home record this season, you are missing a lot if you only watch at Moss Lane! And you may also get your first view of new signing Carlos Roca.
But don't forget that Exeter City are this week "Drumming Up Support: This project is being developed between the Trust and Wren Music (based in Okehampton). The project vision is to work with Wren Musicians and Oral History experts to engage the supporters of Exeter City Football Club in developing song, chant and drumming to support the football team... A professional drumming demonstration is expected to take place at the match on 1 March (Altrincham)".
Right - Colin Little and Chris Senior, Alty's leading scorers this season.
A MASSIVE POINT
This is South Devon
reports that "Altrincham manager Graham Heathcote believes that handling tension and nerves is the key to winning promotion and escaping from relegation at the sharp end of the season. And Heathcote admitted that he had pinned all his hopes on keeping Paul Buckle's Gulls to a single-goal lead before they snatched a 1-1 draw with a penalty at Plainmoor on Tuesday night. 'We are at the nervy end of the season', said Heathcote, 'and it's going to affect teams at both ends of the table. There are going to be lots more results like this one. Aldershot will have them, don't worry about that'. Even when 'Alty' were trailing 1-0 deep into the second half, Heathcote refused to change his 4-5-1 formation. He was without his leading scorer Colin Little, who was ill. And he made just one change during the match, sending on the fresh legs of Joe O'Neill for lone striker Tom Cahill after 56 minutes... 'We know we're not going to come to Torquay and think we're going to outplay them', said Heathcote. 'But the one thing you can guarantee is that, if you can keep yourself in the game for long enough, the tension will start to get to the opposition. Stay in the game - that's the secret. 'We've set our stall out and, even at 1-0 down, you are always in the game. That's why we didn't change (the formation). Last year we went to loads of clubs, including Morecambe (they won promotion) and Stevenage at this time of year and got good results (both 1-0 wins). The tension gets to the home team. Tonight we've used that to our advantage'. Heathcote added: 'In fairness, although our 'keeper has had a lot to catch, I don't think he had a lot of saves to make. Teams can run out of ideas a little bit, and in the last 15 minutes there were a lot of hopeful balls. It is a massive point for us. I have to congratulate my players on the way they defended and the heart they showed. And we could even have nicked it near the end, because O'Neill nearly got away again'".
"Alty sprang exactly the kind of surprise they needed after claiming a 1-1 draw at Torquay United on Tuesday night. Manager Graham Heathcote had called on his side to secure a couple of shock results after claiming just five points from their recent run of four games against lower table opposition. And they did just that, holding second-placed Torquay to a draw on a nightmare Tuesday night trip to Plainmoor... He told SAM Sport: 'We did very well against Torquay and got our reward for a lot of hard work. I know these kind of results are in us, it's just about everyone maintaining the focus for the full 90 minutes, which is exactly what we did. There was a lot of action in our penalty area but Stuart Coburn didn't really have that many saves to make and we defended extremely well. Generally since New Year's Day we've looked solid and that's pleasing.. We'll go to Exeter with a bit of confidence but we'll have to put in another good performance'".
This is Exeter reports that "Altrincham manager Graham Heathcote says his side's draw at Torquay United on Tuesday night has given them a timely boost going into Saturday's match against Exeter City... Heathcote, whose side are just three points clear of the drop zone, insists that confidence is high ahead of Altrincham's trip to St James's Park. 'The one thing we know is that we are a team in high spirits', said Heathcote. 'Hopefully Tuesday will give us the confidence to believe we can get results wherever we go'".
According to the BBC "Torquay midfielder Chris Hargreaves says he is confident the Gulls can bounce back from their disappointing draw with Altrincham last Saturday [Saturday?]. United travel to Grays on Saturday... 'It's a game that's winnable because they're in a period of transition with sacking their manager, so perhaps it's a good time to play them', he said"
SMALL, QUICK AND JINKING
"Graham Heathcote has followed through on his promise to strengthen Alty's attacking options after signing diminutive winger Carlos Roca" states
SAM
. "The 23-year-old joins from Blue Square North side Stalybridge Celtic, where he recently found opportunities limited despite scoring six goals in 32 appearances this season. Of his last 13 appearances for the Bower Fold outfit, 11 were as a substitute, causing the talented wideman to seek a move in search of regular first team football. Roca is almost a direct replacement for namesake Carlos Logan, who left Moss Lane earlier this month...'Carlos is a talented player', he said. 'He's a small, quick, jinking winger who will give us a bit of pace in wide positions. He brings something we didn't really have already'... It was at Vics where Roca enjoyed the best spell of his career so far, helping Alty's bitter rivals win promotion in 2006... Roca takes Alty's tally of former Vics players to five, following in the footsteps of Darren Tinson, Richard Battersby, Val Owen and Greg Young in representing both clubs".
ALL WORTHWHILE
"Alty chairman Geoff Goodwin insists his priority will be on-pitch success after being elected for three more years at Monday's annual general meeting. Despite being on the verge of extinction just five years ago, the club is now completely debt-free and even made a profit of more than £70,000 in the past financial year. New-found financial stability will not lead to speculative spending, however, and a move to full-time football has already been ruled out... Speaking exclusively to SAM Sport, he said: 'Building this club as a true community asset is still one of my main goals, but you've got to be honest and say the first team will be the priority in the coming years. Any football club has got to get people through the gate and the only way to do that is by having a successful team. We are completely debt-free now, so we can look forward without worrying about the past. I suppose if I was a fan, I might be frustrated that the club was not moving forward quickly enough but it's about slow and steady progress, we can't afford to get carried away'... When Goodwin was close to stepping down as chairman last year, he said it was the passion and hard work of his fellow board members which led to his eventual about-turn. 'It was the board who made me change my mind', he said. 'We all work together so well and they are all so positive. I have been feeling a bit guilty that I haven't been able to make it to as many games as I used to but they assured me it wasn't a problem. As long as they all want me here, I'll be happy to stay here. I'm just the figurehead really. It's more important that the likes of Grahame Rowley [vice-chairman] are re-elected because the work he and his family put into the club is remarkable'. A surprise guest at Monday's AGM was former Alty chairman and club president Noel White, who is still a key figure at the Football Association. And Goodwin was delighted White had a few kind words for the current board. He added: 'It was great to see a legend like Noel White back at the club and it was fantastic when he commended us on the job we've done here. To hear such positive comments from someone like that made my whole five years here worthwhile'".
BSP NEWS
Weymouth
have issued a "Press Statement from Malcom Curtis.
Wessex Park Limited confirms that it has recently completed a transaction which has resulted in the immediate injection of half a million pounds into Weymouth Football Club (WFC). The intergroup agreement sees the land surrounding the Wessex Stadium assigned to Wessex Park Limited, in return for the cash transfer (it is not a loan). .The Wessex Stadium and all of its facilities remain under the complete ownership of WFC, who will continue to have full and uninterrupted use of the land surrounding the stadium. Weymouth Wildcats Speedway will also continue to operate under their current tenancy arrangement, which remains unaffected by the new agreement.
Urgent action was essential to cover the Club's short-term trading losses, whilst providing available funds for the Club to invest in its future. Although trading losses have been significantly reduced in recent months, a timely cash injection was essential to the Club in order to support the work of the board and the wider management team in securing the long-term future of the club.
As previously stated by the Terras Trust, the Wessex Stadium is and will remain the property of the WFC. However, talks are ongoing for Wessex Park Limited to be granted an option to acquire the Wessex Stadium in return for providing the club with a new purpose-built stadium (which must be to a minimum of football league standard). Any new stadium must be able to provide year-round income over and above that generated by football related activities, alongside other commercial elements which will provide additional financial and business stability for the Club. Any new stadium would be in the sole ownership of WFC. Discussions on this subject are ongoing and the Board will engage with relevant stakeholders (i.e. the Terras Trust and the Supporters Club) before any agreement is finalised.
Chairman of Weymouth Football Club, Malcolm Curtis, commented: 'We are making significant progress within the business side of the club. This agreement is part of the long term plan to ensure that we have a Club for the short, medium and long term. The facts are that the Club has a long history of financial losses, which were still very much present when I took over in October last year. Until we can completely stem the flow of these losses, which will take time, the Club needs cash to survive in the immediate future. As a Board, we discussed in detail all the options for generating the cash flow required and this agreement was decided to be the best result for the Club, allowing it to utilise its land asset whilst ensuring that the stadium remained protected under its sole ownership. Let's not beat around the bush here, in the final quarter of last year when I took over the club, we were making losses of around £10,000 a week. Also, despite common misconceptions, the Club was in fact carrying a significant amount of debt, mostly relating to long term tax liabilities.
By implementing the initial action plan, we've been able to reduce the weekly losses to around £7,000 a week and have made good progress in clearing the remaining long-term debt. Whilst we continued to focus on reducing the weekly losses and clearing the long term debt, it became transparent that the Club needed additional support to help ensure its future stability. As a result, this agreement not only secures the Club in the short term but provides it with essential working capital to help sustain it in the longer term"
"Woking Football Club will introduce a revolutionary, community-based initiative from next season as part of David Taylor's personal crusade to increase the attendance levels at Kingfield by an average of 1,000. The Cards' chairman revealed the club will move into partnership with schools and other sports clubs for every one of their home league fixtures in 2008/09, in a bid to generate increased support from within the borough and beyond. In addition, steps have already been put in place to attract more people from the Asian community to games at Kingfield — some of whom attended at the weekend. In the meantime, after hailing it as a massive success on Saturday, the club will continue their 'kids for free' scheme this season by flooding the borough with around 20,000 tickets for their home match with Salisbury City on Monday March 24. A delighted Taylor said: 'Not only were there an extra 1,000 children, there were also around 400 additional paying adults. As well as bringing in children and involving the community, the key thing for us as a club is to attract parents who have never been before and to get them to pay. I want to increase the average by 1,000 and if 600 of those extras paid, the club would become self sufficient'. As for next season Taylor revealed: 'We have 23 home league matches and we will target 23 local schools and ask them to go into partnership with us for one specific game. We will give free tickets to children with an accompanying adult, who will pay a slightly reduced entrance fee, and £1.50 of that parent's money will go back to the school. In addition, we will target clubs such as Woking Hockey Club, Woking Boxing Club, and others in the same way. We will also divide up 23 areas in and around Woking and Guildford and flood one of them with free tickets for a specific match'".
NL Daily says that "Gary Waddock, manager of Aldershot Town, has added Junior Mendes to the squad for the remainder of the season. The 31-year-old Balham-born striker started his career at Chelsea before featuring for clubs including St Mirren, Dunfermline Athletic, Mansfield Town and Huddersfield Town in a career that has spanned 300 senior appearances. Mendes has also represented Montserrat in the CONCACAF Gold Cup".
"Rushden & Diamonds have extended the loan of 21-year-old Dale Roberts from Nottingham Forest until the end of the season and have released veteran former Boston United favourite Paul Bastock" according to NL Daily. News of our Cheshire Senior Cup opponents comes from NL Daily; "Nantwich Town have added to their squad this week with the signing of Egyptian-born striker Omar Mahmood. The 16-year-old has featured in his national under-19 side and latterly has been at Port Vale. Due to his desire to follow his father (a surgeon at Leighton Hospital) into the medical profession, Mahmood reputedly refused the offer of a scholarship at the League One club. However, an initial approach through his father to Nantwich head coach Steve Davis eventually led to the youngster attending training sessions at The Weaver Stadium where he has made an instant impression upon Davis and his assistant Peter Hall. In addition Daniel Kirkham-Stubbs, son of Martin Stubbs, the club`s youth development officer, has signed for Nantwich following the news that he will not be offered a scholarship at Stoke City".
"Forest Green manager Jim Harvey hopes Jack Russell will still have a role to play at the club despite being named Gloucestershire CCC's team mentor. The former England cricket wicket-keeper has been helping out at Rovers as assistant goalkeeping coach. Harvey told BBC Radio Gloucestershire: 'He's such an enthusiastic person, the two sports only overlap a little bit. I would imagine through the winter Jack's going to have time off and he'll no doubt come along to the football. We're looking forward to going along and watching Gloucestershire in the summer and seeing how he gets on and giving him a little bit of support'".
"Oxford United are signing Belfast-born former Lincoln City midfielder Ryan Semple on non-contract terms...Semple, who has also had loan spells at Rushden & Diamonds and Chester, started his career at Peterborough" reports the BBC.
From the Halifax Courier we learn that "Town boss Chris Wilder has expressed his dismay at the timing of the club's latest financial setback. Former chairman Ray Moreland, who was at the helm for three-and-a-half months until quitting in March 2004, has issued a winding up petition against the Shaymen... 'I am looking to attract players for next season and talking to members of the current squad', he said. 'I am currently negotiating with players but it is no wonder agents don't ring me up with things like this happening. If a player has to choose between us, Rushden and Kidderminster who do you think will be favourites? This has popped up and shows the difficulties we are still facing'. Wilder has come under fire in recent weeks from supporters unhappy that the side is languishing in the bottom half of the Blue Square Premier. People have an opinion at 4.50 on a Saturday afternoon and rightly so', said Wilder. 'But this puts it into perspective. We feel that the current group of players has underachieved, but maybe we should be looking at the bigger picture. Perhaps putting a competitive side out on a Saturday and Tuesday is not a bad situation'.
The Shay chief has expressed his frustrations in the past about the length of time the takeover led by David Bosomworth and Bobby Ham has taken to complete. The duo, along with other businessmen, have effectively been running the club for the past 12 months, but there has still been no formal announcement that they are in charge. 'The consortium has taken flak about the takeover, but they are doing as much as they can to get it done and dusted', he said.".
The same paper reports that a "Fans' group has urged a former chairman to withdraw his petition to wind up Halifax Town. The Halifax Town Supporters' Trust said it had been made aware by the consortium taking over the club of the outstanding loan repayments to Ray Moreland. 'We are surprised and disappointed that Mr Moreland feels it necessary to take the course of action he has chosen', said a trust statement".
Blue Square Football's Player of the Month poll for February offers the folowing alternatives:
Aaron Cook – Salisbury City
Neil Grayson – Stafford Rangers
Kirk Hudson – Aldershot Town
Kaid Mohamed – Torquay United
Matt Taylor – Exeter City
---
28 February 2008
JAMES RECALLED BUT TWO RENEWED
Following the change of managership at Macclesfield Town, where Keith Alexander has taken over this week, left-back James Jennings has been recalled from his loan to Altrincham by the League Two club. James made ten starts for Altrincham after arriving at the start of the January transfer window. He had impressed during his stay at Moss Lane and will be missed - though it is possible that he could come back on loan at a later date should Macclesfield so decide.

On a happier note, it has also been announced that Rotherham United have agreed to extend the loan periods of midfielder Liam King and striker Tom Cahill till 2nd April, which will be the last day permitted under the loan rules which only permit a 93-day period in total.
GEOFF WINS A RENEWAL
The Manchester Evening News reports that "Coach hire firm Go Goodwins is celebrating a five-year contract extension to transport the Engalnd cricket squad and all touring Test Match sides. The Eccles-based business has renewed its agreement with the England & Wales Cricket Board, which also covers the under-19s and the women's teams. Go Goodwins has also secured funding for a new £227,000 coach to add to its fleet of 17 vehicles". Hopefully this will mean that Geoff, the Alty Chairman, will be able to bring more Test cricketers to sample BSP football at Moss Lane as he has previously done with the Australian cricket tourists.
DEVON REFLECTIONS
Right: With a ban on match photography rigorously enforced at Plainmoor, the adjacent pre-match image is the best we can produce. It shows the good array of Alty banners on display at the game.
Tuesday's draw at Torquay means that Altrincham have extended their haul to 13 points from 10 games in 2008.
This is South Devon says "You can NEVER take anything for granted, and Torquay United let lowly Altrincham off the hook on a night of frustration at Plainmoor. Chris Zebroski's 44th minute goal - a rasping shot for his 14th goal of the season - seemed to point Paul Buckle's Gulls towards all three points.But their failure to turn almost non-stop pressure into more goals, plus one mistake in defence, let Altrincham back into the game. The Cheshire side, which played with only one man up front all night, was never going to score from open play. But Mark Ellis' push on substitute Joe O'Neill gave Warren Peyton the chance to score from the penalty spot in the 72nd minute, and he took it. Almost the only thing that debutant goalkeeper Mikkel Andersen had to do all night was pick the ball out of his own net...
The Gulls also rotated the captaincy yet again - loan signing Kaid Mohamed becoming the 13th man to wear the armband this season. Altrincham... made their intentions clear when they lined up with a lone striker, Tom Cahill, and five men in midfield... Referee Andy Halliday didn't help matters by giving 17 fouls in the first 28 minutes, many of them harsh decisions... When Altrincham defender Greg Young [it was actually Ryan Shotton] booted the ball away in a blatant display of time wasting, Mr. Halliday called him over - and then let him off. United's pressure was relentless, with Altrincham intent only on not conceding a goal...United finally broke through in the 44th minute... Zebroski... slammed a right-foot shot from the edge of the area just inside the left-hand post 1-0. Coburn had no chance... Altrincham stuck to their 4-5-1 formation at the start of the second half, so it was clear that they weren't about to throw caution to the wind... And by the 65th minute Buckle was ready to give his attack some fresh legs, Lee Phillips for Mohamed on the right. Phillips also took the armband. Seconds later Altrincham reminded everyone that the game was not over by nearly equalising. Liam King got round the outside on their left, floated a good cross to the far post and Richard Battersby's header deflected off Nicholson's head and behind for a corner... In the 72nd minute, with the ball running out of play for a goal kick, Ellis needlessly pushed O'Neill over and referee Halliday had no hesitation in pointing to the spot. Peyton stepped up and drilled the penalty low to Andersen's right hand, while the Dane went the other way... Altrincham were hanging on desperately, but in the 84th minute Ellis' concentration slipped again, allowing O'Neill to get away again on a simple long ball. But Ellis did make amends with a good recovering tackle just when it looked as if the visitors might snatch the lead...All United's pressure was to no avail".
CSC OPPONENTS
Our Cheshire Senior Cup Final opponents Nantwich Town beat FC United of Manchester 5-1 on Monday. According to IC Cheshire "Town discovered their devilish side and hammered FC United...The Dabbers produced a superb display... and progress to the President's Cup semi-final... Boss Steve Davis said: 'It was a tremendous result. This is the first time we have beaten them, home or away. They couldn't cope with us'".
NEXT OPPONENTS
News of our next opponents comes from This is Exeter as "Rob Edwards admits he was impressed by the three triallists on show in Exeter City's reserve team draw at Bristol Rovers - particularly Ghanaian youth international Kelvin Bossman. The Under-17 World Cup striker started up front... Bossman was joined in the side by fellow Reading academy player Josh Webb and Watford triallist Alex Campana. Edwards says all three showed promise, especially 17-year-old Bossman, whose physical presence and sheer power belied his years... Edwards has been looking after the reserves this season".
OLD BOYS
In Tuesday night's UniBond matches Garforth beat Radcliffe Borough 2-1, the first Garforth goal being an own goal by former Alty man Andy Scott. A former Alty trialist, Aaron Wilford netted a goal for Guiseley in their 5-1 victory over Ossett Town. In the Blue Square North, former Alty reserve Rick Chetcuti scored for Leigh, but the Railwaymen lost 5-2 at Burscough.
BSP NEWS
The BBC claims that "Kidderminster boss Mark Yates kept his players locked in the dressing room long after Tuesday night's 3-1 Setanta Shield defeat to Rushden and Diamonds... Harriers are now without a win in six games, the last three of which they have lost, while the crowd at Aggborough dipped below 800".

NL Daily reports that "Weymouth have signed young striker Jake Hyde on loan from Swindon Town until the end of the season... Swindon boss Maurice Malpas said: 'He needs to go out and get some experience. Weymouth could be the ideal place for him to get some games under his belt'". Meanwhile, "Weymouth chief executive Gary Calder has confirmed that the club is hoping to release a statement in response to speculation surrounding Wessex Park Limited's expected takeover of the administration of the land at the Wessex Stadium in the next 24 hours", according to This is Weymouth. The Terras' manager John Hollins "has revealed that striker Gavin McCallum is wanted by Havant & Waterlooville. The Terras' boss made the admission after his side were dumped out of the quarter-finals of the Setanta Shield by Woking... To make matters worse for Hollins' struggling side, Altrincham claimed a draw at high-flying Torquay United in the Blue Square Premier to leapfrog the Terras into 19th place. Hollins... said, 'Things did not go our way again. I could not see whether the ball went over the line or not for their first goal but the assistant referee said it did. A couple of the lads told me at half-time that it hadn't but that is just the way things are going for us at the minute. 'Their second goal was also a bit fortunate because it came from a headed clearance that hit the back of one of their forwards' heads and put them through. We made three of four great chances but did not take them and in the end they got a third from a free-kick into the box that found one of their strikers, who put it through Jason Matthews's legs'. Hollins made two changes to his starting XI, drafting in Scott Doe and Anton Robinson for Justin Roberts and Simon Weatherstone, but he stuck with the 4-5-1 system that he adopted in Saturday's defeat against Histon. He then went three up front in the early stages of the second half by bringing on Michael Malcolm and Swindon Town youngster Jake Hyde, who has signed on until the end of the season. Hollins said: 'It is important we stay positive and keep working hard and creating because if we do that sooner or later something will break our way'... Hollins is still looking for new blood but as yet he has not found the type of player he is after... The Terras have now not found the net in their last three games and since the turn of the year have fallen to defeats in eight of their 13 encounters".

And Crystal Palace confirm that "Moses Swaibu has gone on a month's loan to Weymouth. The young defender, who was an unused substitute in the Championship game against Watford in October 2007, hopes to gain first team experience with the Conference club".

"Darren Patterson, manager of Oxford United, has signed midfielder Jamie Hand on emergency loan from Lincoln City until the end of the season. Hand played in the friendly at Witney United on Tuesday night and is in contention to start in Saturday`s trip to Forest Green Rovers. It will be Hand`s second spell with the U's, having played a dozen times on loan from Watford in 2004". Hand made a "permanent move to Chester in the summer of 2006... He becomes Patterson`s fifth loan signing, along with Matt Green, Justin Richards, Michael Howard and Michael Blackwood and the United boss was delighted to have him back at the club". The nature of the "emergency" is not clear especially as manager Patterson told the Oxford Mail, "He'll be another good addition to the squad, in an area I felt we needed strengthening".

IC Cheshire will, at least, have to redigest its words after reporting that "Northwich Vics' survival hopes could be franked Made in Devon. And Surrey, of course. It was in injury time at Woking on Saturday that skipper Mike Welch fired a goal that might inspire a revival at last. It enables manager Dino Maamria to declare 'the fightback starts here' – and mean it. And if it started in the home counties then it may well be given impetus in Devonshire. Vics have to catch fifth-from-bottom Altrincham who were at Torquay last night and then return to Devon on Sunday to play Exeter City. Both are chasing promotion and the Robins could return from their 1,000 mile ventures and not be a single point better off. Vics, meanwhile, host beatable Ebbsfleet on Saturday and will find themselves favourites to win on Tuesday at rock bottom Droylsden. By this time next week Vics could be just three points behind their neighbours and have a game in hand".

Cambridge News which reports that "Steve Fallon believes Histon are still genuine promotion contenders despite seeing his side throw away a two-goal lead and draw 3-3 with Stafford Rangers last night. The Stutes' boss was distraught after Steve Bull's men made it 3-2 from a contentious 89th-minute penalty following an alleged push by Roscoe Hipperson, and Djoumin Sangare bagged a stoppage-time equaliser... Fallon said: 'We had three points and we've ended up with one - we're gutted and our play-off hopes have been dented, but it's not the end of them... The referee's seen a foul for the penalty near the end which was a real mystery. And their guy's just swung a boot at it and it's gone in for their third goal, but we should have put our chances away before that and won the game. At 3-1, they looked dead and buried, but we just didn't kill the game off and got ourselves stretched, although we looked comfortable before the penalty'".

The Halifax Courier confirms that "A winding-up petition has been brought against Halifax Town Football Club by Raymond Moreland, of Market Drayton, Shropshire. Mr Moreland is a former chairman of the club. The Stoke solicitor who was at the helm for three-and-a-half months until resigning in March 2004... Mr Moreland became a Town fan aged 11 when his family moved to Halifax and joined the club as a director in the summer of 2002. The petition will be heard at Manchester Civil Justice Centre, on March 17... Halifax Town Football Club said it would be issuing a statement later".

There is news of another Yorkshire club embroiled with officialdom from Farsley Today, which says that "A housing and sports ground development scheme drawn up to help secure the long-term future of Farsley Celtic has been rejected by councillors. The Blue Square Premier League outfit and Bellway Homes wanted permission to build 26 houses and 31 flats on part of the club's Throstle Nest ground and use the proceeds to redevelop the clubhouse, main stand, sports hall, outer pitches and car parking areas. A report to the council's West Plans Panel recommended the application be approved but the councillors voted to reject it. Coun. Colin Campbell, panel chairman, told the Yorkshire Evening Post that members had a number of concerns, including allowing land designated as greenfield to be built on. He said: 'Council policy is not to allow building on greenfield sites unless there is no alternative'. Coun Campbell added that the panel considered the design of the proposed homes was poor and that car parking should not be allowed to intrude on green spaces. A petition signed by 26 people objecting to the proposal had been sent to the council, which had also received 11 letters of support.

The report to the panel said that despite Farsley Celtic's recent promotion to the Blue Circle Premier League, the club's financial position remained diifficult. It wanted to go ahead with a development scheme to ensure its long-term future. The report acknowledged that as an existing sport and recreation site, the land was designated greenfield and it was council policy that previously developed brownfield sites should be built on first... But it added: 'However, the scheme will enable the long-term retention and improvement of a sport and recreation use on this site'... The club does have the right to appeal against the councillors' decision and is now considering its next step. Chairman, Andy Firbank, said: 'As a football club and major community partner we are very disappointed in the decision that was reached. A large part of the area we wanted to develop is just unused land. Under our proposal we would put something like £1.5m into sports facilities in west Leeds'".

"Grays Athletic have signed 24-year-old left sided midfielder, Marlon Patersson, on one month's loan from Dagenham & Redbridge" says the Thurrock Gazette. "Pattersson joined [the] Daggers in the close season on a non-contract basis and has played five times. Previously he joined Yeading at the start of summer 2006 from relegated Carshalton Athletic. His former clubs include Fisher Athletic, Dulwich Hamlet, Billericay Town and Crawley Town. He began his career in the youth ranks at Millwall then Chelsea, also had a brief spell in Eastern Europe".

From The Argus we learn that "Crawley boss Steve Evans accused his side of defending like a pub team following their Setanta Shield extra-time capitulation. Reds scored a late equaliser... before conceding four goals in the added 30 minutes. Evans said: 'The defending in extra-time was totally unacceptable. We thought we defended poorly at times against Torquay (last Saturday) and we did it again.. We looked like a pub team defending like that... Sometimes you have to say it was totally unacceptable. We apologise to our supporters for our extra-time performance and we will go back to the training ground, that is all we can do'. Shots boss Gary Waddock had insisted before kick-off that his title-chasers would take the game seriously... But it was not reflected in his team line-up as he made eight changes from the side that secured their place in the FA Trophy semi-finals on Saturday... Crawley also tinkered with the team who were dumped out of the Trophy by Torquay three days previously. James Krause replaced defender Bradley Thomas in the back-four and winger Mustapha Carayol returned at the expense of Josh Dutton-Black... They swapped a 4-3-3 approach for their more familiar 4-4-2 and looked more of a cohesive unit".
---
27 February 2008
TORQUAY UTD 1 ALTRINCHAM 1
After Torquay dominated the first half, they took the lead one minute before the interval when Zebroski hammered a low shot past Coburn from the edge of the box. It could have been worse as D'Sane's superb shot in the opening minute came down off the crossbar and Mohamed missed a good chance on the strole of half-time, following a fine parry from Coburn. But, after Altrincham had brought on O'Neill just before the hour mark, the visitors made much more of a game of it and when O'Neill was pushed over in the box by Ellis, Peyton calmly converted the penalty (72mins). Altrincham defended superbly throughout to gain a valuable point which took them to their highest league placing this season, 19th - though both Weymouth (20th) and Farsley (21st) have games in hand

Match report here.

The Torquay United website has a match report, too, which ends with the Gulls' manager's post-match comments. "'I was delighted with the players at half-time but I did say to them that with all the possession we were having and all the attempts on goal we had to be careful not to be countered. One slip up, one ball down the side, I'm not even sure it was a penalty but there you go, Altrincham have had two shots on target all night and they get a goal. The performance level was there, we were becoming desperate at the end because we want to win the game. The effort, work rate and quality in the first half was ten out of ten. I asked the players to come out quickly at the start of the game and we did that. I thought the lads did brilliantly to break them down and we should probably have been two goals up at half-time. It was a great finish from Chris (Zebroski) and Roscoe (Dsane) hit the bar, I thought we had a real go; we mixed things up well and caused them all sorts of problems. All the while the score is one nil and you are pushing for a second you leave yourself slightly vulnerable and that proved to be the case tonight'".
THIS WEEK
Tuesday 26 February
FAT QF Replay
Ebbsfleet U. 1 Burton A. 0 aet

BSP
Histon 3 Stafford R. 3
Torquay U. 1 ALTRINCHAM 1

Setanta Shield 5
Kidderminster H.1 Rushden & D. 3
Nuneaton B. 0 Halifax T. 1

Setanta Shield QF
Crawley T. 2 Aldershot T. 6 aet
Woking 3 Weymouth 0
SHIELD
The Northern quarter finals of the Setanta Shield are now clarified as:
Northwich V. v Rushden & Diamonds
Halifax Town v Droylsden/Burton Albion
PLAYER MOVEMENTS
Leek Town confirmed last Sunday that "The Leek management team continued to add to their squad last week with a further two signings ahead of the home game against Frickley on Saturday. Joining from Altrincham was defender Gary Scott (right) who will be allowed to play for the club on an as and when basis with Alty retaining his Blue Square Conference registration. Scott, 30, played in a pre-season friendly for Leek at Norton United in the summer on his way back from injury. However, he broke back into the Robins' side at Moss Lane but has been an unused substitute throughout February prompting Leek to seek his signature. Assistant manager Paul Ogden also used his friendship with Alty manager Graham Heathcote to secure the signature of midfielder Pat McFadden who returns to Leek after spending a short spell at Harrison Park earlier in the season. Since returning to Moss Lane he broke back into Alty's first team squad before enjoying a recent 6-match loan spell at Radcliffe Borough, but he now joins team-mate Scott on a similar 'loan' basis at Harrison Park".

Stalybridge Celtic have confirmed that "winger Carlos Roca has left the club. Roca has joined Blue Square Premier strugglers Altrincham, and Celtic boss Steve Burr is sorry to see him go. 'Carlos has been with me for three years and hasn't been a moment's bother. I've enjoyed working with him and I'd like to thank him for what he's done while he's been with me. I'd like to wish him all the best at Moss Lane, and hope to meet up with him in the Blue Square Premier next season".
BSP NEWS
According to NL Today, "Histon will not be joining the ranks of full-timers in the blue Square Premier, says chairman Gareth Baldwon... He said, 'It is unlikely that with our current finances and structure we could go full-time. It would be unsustainable at this time and we need to have a turnover of between £900,000 and £1 million a year, as well as establish ourselves in this league before we can do it. We may be able to have a mix of full- and part-time next season, but we'll have to wait and see'. Meanwhile, Steve Fallon's men will soon be playing in a 4,500 capacity stadium as work has begun on upgrading the Glassworld Stadium. A stand, with a current capacity of 300, will rise to 1,000 while Baldwin also confirmed that the club would appy for funding from the Football Foundation to build a new stand for 1,500 supporters next year".
---
27 February 2008
TORQUAY UTD 1 ALTRINCHAM 1
After Torquay dominated the first half, they took the lead one minute before the interval when Zebroski hammered a low shot past Coburn from the edge of the box. It could have been worse as D'Sane's superb shot in the opening minute came down off the crossbar and Mohamed missed a good chance on the strole of half-time, following a fine parry from Coburn. But, after Altrincham had brought on O'Neill just before the hour mark, the visitors made much more of a game of it and when O'Neill was pushed over in the box by Ellis, Peyton calmly converted the penalty (72mins). Altrincham defended superbly throughout to gain a valuable point which took them to their highest league placing this season, 19th - though both Weymouth (20th) and Farsley (21st) have games in hand

Match report here.
Alty line-ups
The Torquay United website has a match report, too, which ends with the Gulls' manager's post-match comments. "'I was delighted with the players at half-time but I did say to them that with all the possession we were having and all the attempts on goal we had to be careful not to be countered. One slip up, one ball down the side, I'm not even sure it was a penalty but there you go, Altrincham have had two shots on target all night and they get a goal. The performance level was there, we were becoming desperate at the end because we want to win the game. The effort, work rate and quality in the first half was ten out of ten. I asked the players to come out quickly at the start of the game and we did that. I thought the lads did brilliantly to break them down and we should probably have been two goals up at half-time. It was a great finish from Chris (Zebroski) and Roscoe (Dsane) hit the bar, I thought we had a real go; we mixed things up well and caused them all sorts of problems. All the while the score is one nil and you are pushing for a second you leave yourself slightly vulnerable and that proved to be the case tonight'".
THIS WEEK
Tuesday 26 February
FAT QF Replay
Ebbsfleet U. 1 Burton A. 0 aet

BSP

Histon 3 Stafford R. 3
Torquay U. 1 ALTRINCHAM 1

Setanta Shield 5

Kidderminster H.1 Rushden & D. 3
Nuneaton B. 0 Halifax T. 1

Setanta Shield QF

Crawley T. 2 Aldershot T. 6 aet
Woking 3 Weymouth 0

Colin Little and Chris Senior,
Alty's leading scorers this season.

Saturday 1 March
Aldershot T. v Kidderminster H.
Burton A. v Histon .
Cambridge U v York C.
Exeter C. v ALTRINCHAM
Forest Green R. v Oxford U.
Grays A. v Torquay U.
Halifax T. v Weymouth
Northwich V. v Ebbsfleet U.
Rushden & D. v Woking
Salisbury C. v Droylsden
Stafford R. v Farsley C.
SHIELD
The Northern quarter finals of the Setanta Shield are now clarified as:
Northwich V. v Rushden & Diamonds
Halifax Town v Droylsden/Burton Albion
PLAYER MOVEMENTS
Leek Town confirmed last Sunday that "The Leek management team continued to add to their squad last week with a further two signings ahead of the home game against Frickley on Saturday. Joining from Altrincham was defender Gary Scott (right) who will be allowed to play for the club on an as and when basis with Alty retaining his Blue Square Conference registration. Scott, 30, played in a pre-season friendly for Leek at Norton United in the summer on his way back from injury. However, he broke back into the Robins' side at Moss Lane but has been an unused substitute throughout February prompting Leek to seek his signature. Assistant manager Paul Ogden also used his friendship with Alty manager Graham Heathcote to secure the signature of midfielder Pat McFadden who returns to Leek after spending a short spell at Harrison Park earlier in the season. Since returning to Moss Lane he broke back into Alty's first team squad before enjoying a recent 6-match loan spell at Radcliffe Borough, but he now joins team-mate Scott on a similar 'loan' basis at Harrison Park".

Stalybridge Celtic have confirmed that "winger Carlos Roca has left the club. Roca has joined Blue Square Premier strugglers Altrincham, and Celtic boss Steve Burr is sorry to see him go. 'Carlos has been with me for three years and hasn't been a moment's bother. I've enjoyed working with him and I'd like to thank him for what he's done while he's been with me. I'd like to wish him all the best at Moss Lane, and hope to meet up with him in the Blue Square Premier next season".
BSP NEWS
According to NL Today, "Histon will not be joining the ranks of full-timers in the blue Square Premier, says chairman Gareth Baldwon... He said, 'It is unlikely that with our current finances and structure we could go full-time. It would be unsustainable at this time and we need to have a turnover of between £900,000 and £1 million a year, as well as establish ourselves in this league before we can do it. We may be able to have a mix of full- and part-time next season, but we'll have to wait and see'. Meanwhile, Steve Fallon's men will soon be playing in a 4,500 capacity stadium as work has begun on upgrading the Glassworld Stadium. A stand, with a current capacity of 300, will rise to 1,000 while Baldwin also confirmed that the club would appy for funding from the Football Foundation to build a new stand for 1,500 supporters next year".
---
26 February 2008
GEOFF TO STAY AS ALTY STAY IN THE BLACK
At last night's AGM of Altrincham Football Club, chairman Geoff Goodwin pledged to stay at the helm "for as long as the rest of the board wants me here". Conscious that he has 40 of the 52 weekends this year committed to attending karting events with his son, Jay, a highly promising kart-driver, Geoff did not want to be seen as not fulfilling his duties. But the rest of the Board was more than happy to endorse Geoff as chairman even if he could not attend many Saturday games. "I'd like us to play on Tuesdays and Fridays in future" quipped the chairman.

Testimony to the success of the current board was that they declared a profit of £70,336 over the year to 31 May 2007. As manager Graham Heathcote said, "You can't let Geoff resign, he must be the only chairman in non-league to have produced a profit!" Vice-chairman Grahame Rowley underlined how well the Board worked together. He and Geoff Goodwin were both re-elected for a further three-year period whilst the remaining members of the Board (Andrew Shaw, Barry Pond, Derek Wilshaw, David Burns and Carole Hassan) all remain in office.

It was confirmed that income in the 2006-07 financial year had included the £75,000 sell-on monies for Ian Craney's transfer whilst this year, the club had already received the monies owing from the development of the Moss Lane car park. Outgoings had included the new floodlights, the new toilet block which is taking shape, the payment of historic debts as well as a small increase in the playing budget. The Board revealed that it had held a special meeting to consider going full-time but had concluded it was not viable. Graham Heathcote referred to one unnamed player who had recently moved between two BSP clubs and was on a weekly wage of £1,700.

Tribute was paid to Barry Pond, the club's commercial director, who is retiring but who pledged to remain "in the background" to support his successor. Without Barry's hard work the club's financial statement would not be so healthy. A welcome attendee at the AGM was former Altrincham and Liverpool chairman, Noel White.

After the formal meeting there was time for a brief question and answer session. Asked why the club had no reserves team, Graham Heathcote reiterated his belief that the standard of the local reserve leagues was not at a high enough level. He also pointed out that a reserve side cost money to run and its games added to the wear on the pitch which he described as one of the best in the league. Graham preferred to organize ad hoc games against good-standard local sides instead. He believes that youth team players should show their potential by the age of 18 and therefore future first-teamers should be spotted at that stage or picked up from other local non-league teams. As for keeping first-teamers fit after injury or lay-offs, he preferred to loan them out to local teams in competitive leagues as had happened with Pat McFadden at Radcliffe and Steve Aspinall at Ashton United. Graham had good relationships with a number of local managers where our players could be accommodated for loan periods.

Graham was particularly proud of the rise on the club's community profile, with teams now operating at all school ages. He was also pleased that an Easter Summer School was taking place at Moss Lane this year and that the Saturday morning skill sessions had been so successful.

Graham indicated that the football authorities were threatening to be tighter on ground improvement deadlines this season, with 31 March the date when a number of clubs have to have works completed. He also stated his belief that 10 points as a deduction for going into administration was far too little a punishment. He believes that relegation is the most appropriate sanction for going into administration.

Asked about new signing Carlos Roca, Graham said he had "genuine pace" but had not enjoyed the best of times since dropping into non-league after spells at Oldham Athletic and Carlisle United. Hopefully the move to Moss Lane will benefit both the player and the team. In terms of team-building Graham thought we had gone backwards as we are now reliant on five loan players and will have to rebuild this summer again. However, he paid tribute to the commitment shown by the loan players who had done well since arriving.
TORQUAY TONIGHT
For tonight's match at Torquay, Alty boss Graham Heathcote has a full squad to select from, apart from the long-term absentee, Val Owen. But left-back James Jennings is suspended after picking up five cautions, one of which he brought with him when he arrived on loan in January from Macclesfield Town.

Torquay's last game was a 4-1 win over Crawley in the FA Trophy. The Argus says that "Crawley were given a rude awakening from their Wembley dreams after some dozy defending at Torquay. But manager Steve Evans blamed the FA Trophy exit on a nightmare decision by the referee early in the second half. Reds were 1-0 down in the quarter-final at Plainmoor when Gulls defender Lee Mansell fouled debutant Josh Dutton-Black. The right-back had already been booked for a similar misdemeanour... Mansell escaped with a telling off ... Evans said: 'We are disappointed. Torquay are a good side and if they get 3-0 up against you, they are going to pass it and move you around. They have good players and they pay fortunes for them at this level in terms of wages'". Mansell has a one game ban starting this Saturday so is eligible to play Altrincham tonight.

This is South Devon says that "Torquay United manager Paul Buckle will tell his players to forget all about the FA Trophy and a trip to Wembley after today's semi-final draw... 'The Trophy is put to bed', said Buckle in the wake of United's 4-1 quarter-final win over Crawley Town... 'And I'm not interested in talking about any double'. United now face a spell of three crucial BSP games in the space of seven days - Altrincham at home tomorrow night, Grays Athletic away on Saturday and then the key 'six-pointer' against leaders Aldershot a week tonight. 'We have to put all our focus into Altrincham', Buckle stressed. The Gulls' boss is also trying to strengthen United's hand in the goalkeeping department, either by persuading Southampton to return loanee Michael Poke or by going elsewhere. With Simon Rayner out on loan at Boston United, United have only one 'keeper, Martin Rice, at the club... Tomorrow's match against Altrincham is one of the two that United have in hand on Aldershot and most of their promotion rivals. Victory over Crawley stretched the Gulls' current unbeaten run to eight league and cup games, a spell which has seen them concede only three goals. Mohamed's two second-half strikes made it four goals in the last two games for the Welsh-born Swindon forward, who has just agreed a second month on loan. And although leading scorer Tim Sills appeared to walk off the field a little stiffly when he was substituted in the 68th minute at the weekend, Buckle said: 'Tim will be fine for Tuesday'. There was one 'casualty' against Crawley - right-back Lee Mansell's yellow card was his fifth of the season, and he will now be suspended for next Saturday's trip to Grays".
EXETER ON SATURDAY
The referee at Exeter this Saturday is Mr Brendon J. Malone. He officiated in Alty's defeat at Gravesend in November 2005. This is Exeter reports that "Exeter City boss Paul Tisdale could be set to strengthen his squad before the loan transfer window closes next month after taking Watford youngster Alex Campana on trial. The right midfielder, who has played three times for the Championship club, will play in tonight's reserve game at Bristol Rovers. Tisdale... will run the rule over the 19-year-old. 'He is someone that we will potentially take on loan', said Tisdale. 'He is a right-sided player and with Neil Saunders' lengthy recovery, plus the fact that the loan window closes, we want to get some cover. I want to make sure I have cover for Wayne Carlisle". Also "Tisdale will take a look at Reading youngsters Josh Webb and Kelvin Bosman tonight in the reserve clash at Bristol Rovers. Webb, 18, son of former England international Neil Webb, is a central midfielder and has risen through the academy ranks... and striker Bosman is a Ghanaian international and played in last summer's under-17s World Cup."
BSP NEWS
From This is Glos we learn that "Jim Harvey will not give up on a place in the Blue Square Premier play-offs, despite seeing Forest Green fall seven points off the pace... 'We're still looking for nine or 10 wins', said Harvey. 'Cambridge was always going to be a tough game away from home... but really the result boils down to the goals that we conceded, which were very poor again. Maybe the free-kick was wind assisted but it was such a long way out that I didn't expect to see it fly into the net. The second goal was just a long ball and I thought the goalkeeper was going to collect it, but it didn't quite get into the box. He should have dealt with it, but then Preecey was under pressure to head it back and unfortunately he's knocked it past him and into the net. Cambridge were very professional with regards to time-wasting and the number of fouls they gave away, and maybe the referee (Oli Langford) wasn't strong enough for this game', he said".

The Halifax Courier says that "Having called for his side to keep a clean sheet – and seen them achieve it - it was almost inevitable that Chris Wilder's Town side would fire blanks in attack. It has been that kind of a season. It is true to say that Stafford were not the most adventurous away team to be seen at the Shay in recent months. But they always kept two men up and anything they could muster was easily diffused by Halifax's new-look back four. In attack themselves, Town had more than enough chances to have wrapped up the game with something to spare. Their problem was a combination of poor quality delivery into the box, some disappointing finishing, the woodwork and Rangers keeper Danny Alcock. It is not uncommon for players making their debuts to catch the eye. And loan centre back Tom Clarke certainly did just that with an assured display in the heart of the Town defence. The former Sowerby Bridge youngster only arrived at the Shay on Friday. But the Huddersfield Town defender looked like he had been here all season as he slotted in next to Adam Quinn".

This is Staffs tells us that "Stafford Rangers produced a gusty defensive performance as Steve Bull's managerial reign started with a point and a rare clean sheet at Halifax. The draw extended Rangers' unbeaten run to three games, following victories in the two previous outings, and took them to within 10 points of fifth-from-bottom Altrincham... 'Overall I'm pleased with the performance and they way the lads responded today. I can live with seven points out of nine', said Bull. 'We've had some bad parts of the game when we didn't close the ball down and there were good parts as well. We could have nicked it 1-0. Streety picked the team because I haven't really got involved. He's been looking after the players for the last three months. I've not taken a training session. I'll see the game on Tuesday, then I'll take training on Thursday ready for Saturday... I've got to get these strikers hungry. You've got to throw the kitchen sink at it', he added".

The FA Trophy Semis will be two-legged on 8th and 15th March. The first legs are:
Torquay United v York City
Burton Albion / Ebbsfleet United v Aldershot Town

NL Daily says that "Harrogate Town have completed the permanent signing of striker Gareth Grant. Grant returns to Wetherby Road from Farsley Celtic, and was on the bench for Saturday`s 1-0 win at Gainsborough Trinity".
---
25 February 2008
ALTY SIGN ANOTHER CARLOS
Just weeks after the departure of winger Carlos Logan from Moss Lane, Altrincham FC have today signed 23 year-old winger Carlos Roca. Roca has most recently been with Stalybridge Celtic, a club he joined early this season having previously been at Northwich Victoria from 2005, initially on loan. At Northwich he played 85 times and scored 11 times. Before that Carlos had a year or so each at Carlisle United and Oldham Athletic, for whom he made 11 first-team appearances in 2004-05. He will not be registered in time to play for Altrincham at Torquay on Tuesday night. He will have squad number 20.
TORQUAY FOCUS ON 3 POINTS
At our next opponents, Torquay United, "Gulls' boss Paul Buckle gave his thoughts after the excellent 4-1 win over Crawley in the F. A. Trophy - 'I'm not sure but I can't remember Crawley having a shot on our goal and to score four goals today was fantastic. I'm very proud that we are in the semi-final of the Trophy. Crawley are a hard working team and anyone you play in a cup quarter final you are going to expect them to fight. Credit to them they were up for it but I thought we weathered the storm and our finishing was top drawer. We could have added to our total, we have proved again we can score goals although I was a little disappointed with the penalty but I can't be too harsh on the boys for that. I said to the players at half-time to get the ball under control quickly and move the ball to our wide players and every time we did that second half we looked a real menace. The players have worked very hard to get to the semi-final; we will enjoy our weekend and come back in Monday and be really focused on getting three points against Altrincham'".
CSC OPPONENTS
Altrincham meet Nantwich Town in the Cheshire Senior Cup Final on April 1st. The UniBond League Press Release says that "Nantwich Town's nineteen year old on loan striker Nick Farquharson so impressed the Nantwich management team with his hat-trick that sank Sheffield FC on Wednesday evening in what was only his second game for the club that they immediately contacted his parent club Crewe Alexandra to extend his loan spell, which wasn't due to finish until next week, to the end of March."
PAT GETS AROUND
This Wednesday (27th) Flixton entertain Abbey Hey of the Vodkat North West Counties First Division at the Valley Road ground. Abbey Hey manager Neil Brown has brought a number of former Alty players to his Gorton-based club, including ex-first-teamer Lee Hendley, and the latest familiar face in his team may be current Altrincham player Pat McFadden who has already had a spell with Radcliffe Borough (UniBond First) this season but signed forms last week for Leek Town (UniBond Premier).
YOUTH UPDATES
The following updates have been made to the Youth section of the website:
Match report, Alty Youth v Woodley Sports Youth
NW Youth Alliance Results Grid
Altrincham FC Youth Team Player Statistics
OLD BOY
Former Alty Reserve Lee Mannion is now at Atherton LR.
WELL DONE, LEE
Congratulations go to Alty Youth reserve keeper Lee Berrill who has been chosen for the English Schools trials which take place in July.
LOCAL SPORTS NEWS
SAM reports that "Planning chiefs have backed a scheme to open a new sports complex on Green Belt land in Timperley. Members of the planning committee agreed they were 'minded to grant' a development that is earmarked for the site of the former British Airways-owned sports club on Clay Lane. Residents who opposed the scheme have slammed the decision. Now the application will go to the Secretary of State for a final decision. The BA club closed down in May 2006 and has suffered from extensive vandalism since. The site was acquired by the Sports Development Group (SDG) in August 2006.

Plans for the new facility include the demolition of the existing single-storey building and the erection of a two-storey health and fitness club with a swimming pool, gym, treatment rooms and changing rooms. There will also be additional car parking and a cycle storage area. Existing access to the club will be closed and the new access will be shared with the adjoining Bowdon rugby club... Peter Noble, regeneration manager for the Altrincham town centre partnership, objected to the plan. He said: 'Clearly I'm supporting retail in Altrincham and don't want to see this competition from the Timperley area. The development is out of town and I support Total Fitness in the town centre, Trafford Community Leisure Trust and a new centre we're building within Altair. To have competition so nearby is a bit worrying'".
ALTY 1951 - AND STANLEY MATTHEWS!
Terry Rowley has kindly supplied further details of the Altrincham FC squad of 1951-52 which was featured on the website a couple of days ago. That piece was prompted by a photo hanging at Moss Lane of the team from that season. Terry has narrowed the photo's date to one of two early season games, against Buxton or Northwich Victoria, which were on August 29th 1951 and September 1st respectively . Alty deployed the same line-up for both of these games and Adam Wasileski's presence in the photo narrows it down to the above two dates.

Players of 1951-52:

Brian Parkinson: Left-back, who played for Altrincham (Reserves), Hyde United, then Altrincham (1951-52 36 games), Hyde United (52/53)

Harold (Alf) Rawding: Right-back, who played for Oldham Athletic, Altrincham (1950-51, 51-52 (53 games 3 goals). He was 24 years old on joining Alty.

Adam Wasileski: Centre forward. A 6ft 2inch Pole, who was born on 8th April 1925. He played in the Manchester League and was recommended to the club by Kon Kapler (see below). He played for Altrincham in 1951-52 but only in four games, in which he scored once. He was also at Rochdale (from July, 1953 for 1953/54 season). He died tragically young in 1956. See also Polish Players in Terry's Altrincham A to Z.

Robert 'Bob' Barrie: Born in Scotland, Bob was a goalkeeper who played for Torquay United, Hyde United (1948/49), Altrincham (1949-50, 50-51, 51-52). He was released at the end of the 51/52 season after 126 games for the club and then played for Mossley (1952/53, 4 appearances)

Brian Phillips Centre half - see details in the news below for 23 February 2008.

Gordon Smith: Born at Bowdon in 1923, Gordon had been with Witton Albion (1947/48-48/49) before joining Altrincham for 1949-50 where he stayed until the 1953-54 season. He amassed 151 appearances, and scored 25 goals. Gordon then joined Mossley (1954/55-55/56 39 games-1goal), Linotype Trainer (56/57) Then became Manager of Linotype till end of 59/60 season. Altrincham reserve team manager 67/68. Left Half or inside left.

Kon Kapler: Born at Tychy, Poland on 22nd February 1925. A left-winger, Kon was a Polish schoolboy International who arrived in Scotland with the Polish armed forces in the Second World War and started playing for Third Lanark (wartime) and later Forres Mechanics before he joined Glasgow Celtic for two seasons 1947/48-48/49 playing 7 first team games. However, he failed to establish himself in the first team and headed south and joined Rochdale (May 1949) and in 1949/50 season he played 4 games for them. He then signed for Morecambe (1950/51), playing 37 league games and 10 cup matches, scoring two league goals. After a spell at Congleton, he joined Altrincham uhere he played from season 1951-52 to 1956/57 inclusive, making 258 apperances. He then moved on to Stalybridge Celtic (1957/58), Mossley (1958/59). He died at Rochdale on 23 October 1991.

Robert 'Bob' Dale: Born at Irlam on 31st October 1931, Bob was an inside-right and another player to have joined Alty from Lancashire Steel. He joined Altrincham in December 1950 and played a total of 33 games, scoring 5 goals.. In September 1951 he joined Bury where he stayed until 1953/54 season, making 15 appearances and scoring twice. Next came a move to Colchester United in December 1953, where he stayed until the 1956/57 season, during which his career was ended by tuberculosis after 127 games and 11 goals for the Essex side. He died of cancer on 17th January, 2007.

Alf Morris: Born at Cadishead, Alf was a right-half who weighed 12stone and stood 5ft10 and a half inches tall. He played for Accrington Stanley (as an amateur) from 12 May 1945 and then as a professional from 18 October 1945. In 1946/47 season he played 7 legaue games for Stanley, in 1947/48 he played in 8 league matches before he joined Altrincham in 1948-49, staying till 1951-52 and appearing in 168 games for the Robins. He then moved to Hyde United (1952/53).

Cyril Barclay: An amateur player and club captain, Cyril started at Altrincham in 1946-47 and stayed until 1955-56, making 359 appearances. He then became player/trainer for Altrincham Reserves in 1956/57. By profession he was involved in banking and later retired to North Wales.

Walter Jones: An Altrincham FC Legend.

Terry adds that "The key individual to Altrincham in the late forties and fifties was Arthur Gale, who was brought in to coach the reserves and later the first team and eventually became the assistant manager to Jimmy Morris. He had been a forward with Chester, WBA and even Altrincham in the 1939 and 1940 war leagues. He was a school teacher and headmaster at a school in Lower Kersal and had a tempestuous relationship with the Altrincham board, resigning more than once (e.g. Feb 1953). He was the one that found hidden talent (Lancashire Steel [Irlam] being a particularly rich source and was referred to as "Altrincham's pet nursery club"). He had strong ties with the Northern Nomads.The talent that Gale found was often sold on to league clubs and it was this revenue that helped keep Altrincham afloat. One particular fall-out concerned Joe Kennedy who went on to be regarded by many as the best un-capped centre half of his generation whilst at WBA. He was played almost exclusively in the reserves much to Gale's chagrin (similar to Tommy Mort in the post First World War period- who went on to be a full England International but only played for Altrincham's reserves and quickly moved to Rochdale, then Aston Villa). Arthur Gale himself once scored 102 goals in a season for Chester - in their last season in the Cheshire County League before joining the Football League. In the league alone, Gale hit 73 League goals in 39 games before moving on to WBA.

Another notable figure from the period was Frank Hart who came to Altrincham in 1952/53 as a 20 year old. The previous season he had played for Manchester United's 'A' side and Linotype. He played the 1952/53 and 53/54 seasons at Moss Lane prior to National Service. He was again at Alty for 1956/57 and 57/58 but only had one full season at Moss Lane, playing 52 games in 1952/53 before adding 5 games at the start of the 53/54 season and 20 games in the 56/57 season but just 1 game the season after.

And last but not least, Ronnie Matthews, Sir Stanley Matthews's younger but less famous brother, played for Altrincham in the 1950s!
BSP NEWS
Lee Tuck has gone from Farsley to Guiseley on loan, whilst Chris Billy has left Celtic on loan to Ossett Town.. Sam Hall's loan from Burton Albion to Hednesford has been extended.
---
24 February 2008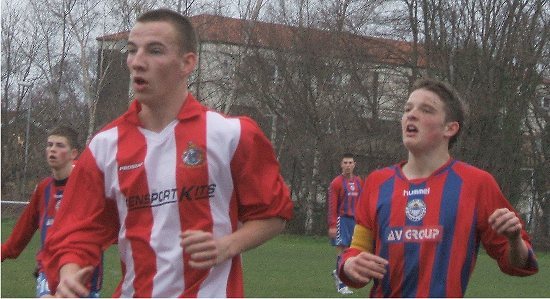 YOUTHS LEAVE IT VERY LATE
Right: Gavin O'Connor (left) and a Woodley player, in action.
A 90th-minute goal from Charlie Weir, who dispossessed an opponent on the half-way line before running into the box to score, secured a deserved 1-0 home win for Altrincham Youth on Sunday afternoon against Woodley Sports. Report to follow.
Next Sunday (2nd March), Alty are again at home, this time in the Neil Thomason Memorial Cup Quarter Final against FC United of Manchester. Kick off, at Wythenshawe Town, is at 2pm.
AGM
Shareholders of Altrincham AFC are reminded that the Club's AGM takes place on Monday (25th Feb.) at 7.30pm in the Gill Oates Sponsors' Lounge at Moss Lane. Please note that this meeting is open to shareholders only.
HAPPY 50TH
Congratulations to Altrincham FC Chairman, Geoff Goodwin, who celebrated his 50th birthday with a party at the Cresta Court Hotel on Saturday night. Reports that Geoff has aged 20 years since taking over as Chairman at Moss Lane have been denied by 23 year-old Altrincham FC Matchday Secretary, George Heslop.
GAME GOES AHEAD
Thanks to Torquay defeating Crawley on Saturday in the FA Trophy and thereby avoiding a replay which would have been on Tuesday night, Alty's away game at Plainmoor goes ahead that night. Alty now face two trips to Devon in the space of five days, with a total mileage of around 960 miles! A supporters' coach will run to each game so, save the strain of driving and book your seat by ringing 928-1045 (during normal office hours). Times and fares are here.
OLD BOYS
Peter Band was a used sub (at left-back) in Saturday's 3-1 win for Hyde United against Worcester City. Former Alty midfielder Stuart Scheuber has moved from Newcastle Town to join Stone Dominoes. Steve Torpey has left Halifax Town and has joined Stalybridge Celtic till the end of the season. Ben Deegan and Steve Aspinall (right) both played for Ashton United yesterday. Mario Daniel netted for Rossendale United and Wes Wilkinson did so for Trafford, who are now top of the Vodkat League 1 with games in hand, under the managership of Ged Kielty. Ken McKenna is interviewed in the NL Paper after announcing his impending resignation from The New Saints (TNS). "I would consider moving to the English non-league but the job would have to be right and I want the club to match my own ambitions", he said.
BSP NEWS
According to NL Today, Grays boss Justin Edinburgh "resigned after [chairman Mick] Woodward told the 38 year-old he would be working alongside him in the dugout...Woodward said ''I'm here [as manager] till the end of the campaign. As for next season, who knows?... I feel I am the right person for the job... I've been involved in football all my life. I played when I was younger, my kids and brother play, so don't tell me about football".

Maidenhead United boss "Johnson Hippolyte has signed 27-year-old left back Narada Bernard from Weymouth... Bernard is a Jamaican international who started his career with Tottenham Hotspur before moving to North London rivals Arsenal. He then spent three years at AFC Bournemouth... He then moved into non-League football... before arriving at the Wessex Stadium in January 2007" according to NL Daily.
---
23 February 2008
ALTY IN THE FIFTIES
With no Altrincham game today, it gives an opportunity to look back on a past era. The photo below of the Altrincham team of 1951/52 adorns the office walls at Altrincham FC but it bears no caption other than the season it features. So, I am grateful to Keith Davey who kindly contacted me to identify all of the players, from memory, as follows:
Back row: Brian Parkinson, Alf Rawding, - Wasilski (a Polish player), Bob Barrie, Brian Phillips, Gordon "Biffer" Smith, Charles Le-Massure (trainer, from Guernsey).
Front row: Konrad Kapler (Polish player), Bobby Dale, Alf Morris, Cyril Barclay, Walter Jones.

Keith who now manages the catering outlet at the away end at Moss Lane, adds that "The building in the background is the old changing rooms which later became the supporters' building and social club at Moss Lane. It was demolished in the 1960s by Ken Robinson (groundsman), John Broughton (assistant groundsman) and Keith Davey to make way for the new turnstiles adjacent to the Red Robin Club".

Coincidentally more recollections of the same era came to the website recently from Steve Hann, whose mother was joint secretary of the Altrincham FC supporters' club in the 1930s. He recalls attending matches in the 1950s and seeing "Brian Phillips [pictured above] who went to Middlesborough. He is the one that got involved with 'match fixing' and went to prison". He adds "Brian Phillips was a talented centre half who attracted some interest,and was eventually sold to Middlesborough for £1,000 (a lot of money in those days). He got involved with others and went to prison. This scandal was before the Peter Swann, Tony Kay scandal at Sheffield Wednesday".

Terry Rowley, a fount of knowledge on Alty past and present, adds that "Brian Phillips was born in Cadishead, Manchester. He was 5'11" and weighed 13st. and played for Lancashire Steel before he joined Altrincham (in December, 1950). He played for Alty in seasons 1950-51, 51-52, 52-53 and 53-54 before he was transferred to Middlesborough in June 1954. Brian played on Teesside from 1954/55 to 1959/60, making 121 appearances and scoring 2 league and 1 FA Cup goals for Boro' before joining Mansfield Town in June 1960, where he stayed till 1962/63. He was given a lifetime suspension for his part in illegal betting and bribery and was sentenced to 15 months in gaol at Nottingham Assizes in 1965. He was re-instated in 1971 and became the manager of the Notts FA representative side from 1975-78. He was also manager and general manager of Rainworth Miners' Welfare who were FA Vase finalists in 1982.

Another player of the 1950s was, says Steve, "Frank Hart - the ever present goalkeeper in the early 1950's - went in the Army (national service) after his ever present season and couldn't displace Billy Marshall when he returned". Terry adds that "Frank Hart got called up to do National Service in the Army. As playing for Altrincham was not his main job he did not get the preferential treatment that full time footballers got. Therefore he disappeared for nearly two years". Other players of the time included the former German prisoner-of-war, Konrad Kapler "who played on the left wing. If I remember, people said if he was younger he probably would have gone further. There was a right half Gordon Herrick", whilst Alf Lythgoe, the manager at the time, played with Steve's father at Stockport".
SATURDAY
Saturday 23rd
Altrincham have no game due to Crawley's involvement in the FA Trophy.
BSP
Cambridge U. 2 Forest Green R. 0
Exeter C. 2 Farsley C. 1
Halifax T. 0 Stafford R. 0
Kidderminster H. 1 Salisbury C. 2
Stevenage B. 0 Grays A. 0
Weymouth 0 Histon 1
Woking 2 Northwich V. 3
League Table
FA Trophy QF
Burton A. 0 Ebbsfleet U. 0
Rushden & D. 0 York C. 1
Tamworth 1 Aldershot T. 2
Torquay U. 4 Crawley T. 1
BSP NEWS
NL Daily says that "Nigel Clough, manager of Burton Albion, has finally managed to complete the signing of Crewe Alexandra goalkeeper Stuart Tomlinson on a loan deal until the end of March – seven months after initially trying for his services. Tomlinson, 22, will act as cover for Kevin Poole who faces several weeks on the sidelines after being injured in last week's defeat by Salisbury City. But Clough has said Saul Deeney will start in goal in Saturday`s FA Trophy quarter final against Ebbsfleet United. Tomlinson almost joined the Brewers towards the start of the season but a loan deal fell through".

The Cambridge Evening News says that "Jack Jeffery was today (Friday) snapped up by Cambridge United on loan from West Ham and will go straight into the squad for tomorrow (Saturday)'s home match with Forest Green. The 18-year-old striker has been drafted in on a month-long deal from the Premier League club to help fill the gap left by top scorer Scott Rendell's move to Peterborough. Jeffery was a prolific scorer for the Hammers' youth team and has been a regular in their reserves this season, but has yet to feature in the first team at Jimmy Quinn's former club. The teenager has already had a successful spell on loan at Blue Square South side Hampton & Richmond this term".

The Telegraph & Argus says that "Farsley Celtic were left bemused by reports that three of their players had been signed on loan by Bradford Park Avenue and categorically refuted any such moves had taken place. Farsley's matchday secretary Alan Hirst, a former Avenue employee, is part of the team that deals with administration at Throstle Nest and he said: 'Two of the players mentioned are in our squad for tomorrow's game at Exeter City so they would have to be pretty light on their feet to get from Exeter in time to be involved at any stage for Avenue at Horsfall Stadium'. The speculation appears to have begun on a fans message board but Farsley say there is absolutely no truth in the rumours. Former City striker Gareth Grant, Simeon Bambrook and Roy Stamer were the Celts linked with loan moves to Avenue. 'We are not going to allow players of their calibre to go out on loan when we are fighting to maintain our status in the Blue Square Premier League', added Hirst".

"Grays Athletic continue to rebuild their coaching structure following the departure of Justin Edinburgh, with the appointment of ex-Woking captain and Wellong manager Neil Smith" states the Thurrock Gazette. "Smith had a long and distinguished football career including stints with Gillingham, Fulham and Reading. Smith played 142 games for Woking where as captain he was fondly remembered as a committed, hard working,no-nonsense midfielder. He was released in May 2007. In July, he took his first steps into full-time football managment, taking up the reins at Blue Square Conference South side Welling United. It was to be short-lived. He was sacked last month after a run of heavy defeats saw the Kent side hovering above the relegation zone".

Sadly, "Grays midfielder Ernie Cooksey has been diagnosed with cancer. The 27-year-old utility player has battled cancer in the past but a recent scan showed it had returned. Cooksey joined Grays in the summer after stints with Crawley, Oldham, Rochdale and Boston... At Rochdale he played 64 games scoring 8 goals and was a firm favourite among the fans... A Grays Athletic press spokesman said: 'The chairman, board and staff of Grays Athletic wish Ernie all the very best and hope he has a speedy and full recovery'". Meanwhile, "Dagenham and Redbridge striker Jamie Taylor has become the first signing of the new Mick Woodward regime. 25-year-old Taylor has signed on a one-month's loan. Taylor's career has seen stints at Horsham, Woking, Aldershot as well as the Daggers. In six-and-a-half years he has scored four goals in 28 appearances".

The Halifax Courier reports that "Town have boosted their defence ahead of tomorrow's clash with Stafford Rangers at the Shay by signing Tom Clarke from Huddersfield Town and ex-Chesterfield right back Gareth Davies. Halifax-born Clarke, a former England under 19 international, joins the Shaymen on a month's loan from the Terriers while Davies joins to the end of the season having been released by the Spireites in January. Centre back Clarke, who is 20, has made 38 appearances for Huddersfield with just four of them from the bench. But recovery from injury has restricted him to just one Johnstone Paints Trophy game this season".

From the Oxford Mail there is news that "Rob Duffy has played his last game for Oxford United. Wrexham have confirmed that the Welsh striker will be signing a new loan deal with them next week, when his current agreement runs out on Wednesday. It was originally thought, because the Conference season finishes a week earlier than the Football League campaign, that Duffy would return to Oxford for a week and then go back to Wrexham for the rest of the season. But Wrexham manager Brian Little believes it's more important to have the tall forward around now with the Red Dragons, seven points adrift of safety... Oxford have agreed to Duffy staying at Wrexham, but it will mean him missing the final week of the season at the Racecourse Ground".

According to This is Staffs "Wolves legend Steve Bull has admitted Stafford Rangers are taking a gamble in appointing him as their new manager. The former England star, who has been involved in PR work at Molineux... was honest enough to admit Rangers were taking a punt on someone who has never managed a club before. 'Stafford have given me the chance', he said. 'They're taking a bit of a gamble and I'm taking a bit of a gamble, but no-one is going to lose. If Rangers can help me and I can help them, we'll both end up winners'... The fine details of his contract have yet to be signed and sealed, but it will be a full-time posting - and nothing will hinge on Rangers' fate this season. 'There is no pressur' he added. 'The attitude seems to be Stafford are going down and beating the drop would be a bonus. Well, it's not impossible and I'll be telling the players: We have a chance of stopping up and only you can do it'. Bull has not yet seen Rangers play and plans to be just an observer at both tomorrow's game at Halifax and the re-arranged game at Histon on Tuesday night.

'I'm going into the dressing room before the game at Halifax to introduce myself and talk to the players. I will tell them 'you are either playing for yourself, the club or your contracts, but all I want from you is 100 per cent'. It'll be the same at Histon'. In the meantime, Bull will be relying on former caretakers Neil Grayson and Kevin Street to organise the team... 'I think we have done enough for Steve to have faith in us, to start off with, but we have to impress him if we want to continue to work with him in the future'" said Street. A club statement added "Steve has a profile which, we believe, will bring supporters, both old and new to Marston Road"

This is Weymouth reports that "boss John Hollins has snapped up Dagenham & Redbridge defender Magnus Okuonghae on a month's loan. The former Fulham trainee, who is six-feet-three-inches tall, will go straight into tomorrow's squad for the clash against Histon... Hollins said: 'I always look forward to home games and tomorrow will be another opportunity to keep our run going because we are unbeaten here in our last two... John Beck is their manager. I have known John since he was just a little lad at QPR and he has got a different style of play. It's very similar to Torquay in terms of trying to push you back and getting in people's faces so we will have to come out and go for it because we need the three points'... Hollins added: 'We have got games in hand on most of the teams below us and the other major advantage we have is that we have - more home games in the run in than away but we have to get out there now and make that count'... Ashley Vickers and Marcus Browning are both recovering well from injuries but are not expected to be involved tomorrow while Stuart Douglas, who was suffering from a throat infection earlier this week, remains suspended.

"Swindon midfielder Kaid Mohamed is set to extend his loan at Torquay United by a further month" according to Confguide. "The 23-year-old has failed to hold onto a first team place with the Robins since signing from Carmarthen in 2007".

Forest Green Rovers report that "Following his excellent performances so far this season for the Reserves and an outstanding game... when we loaned him across to Gloucester City, 18 yr old Ben Ashford has signed forms for the Blue Square Premier. He will feature in the 1st team squad at Cambridge United and has been allocated Squad No 15. Ben has already represented English Colleges in 10 internationals and is considered by the management team to be a very bright prospect and now ready to be involved with the 1st team on a regular basis".

FromCambridge United announce that "Gavin Hoyte has joined Southern League promotion chasers King's Lynn on loan for the rest of the season, although after the first 28 days of the loan we have the option of recalling him at 24 hours notice".
---
22 February 2008
ON THE ROAD
Altrincham go to Exeter on Saturday 1st March and details of the STAR supporters' coach are on the Away Travel page. All fans intending to use the coach must book in advance; this can be done at the ground on matchdays or by ringing the Club on 928-1045. Before that, this Tuesday, Alty have another trip to Devon to play Torquay and details of the coach to that game are at the same link.

Howard Watts's Through the Years record for 26th February, the date of our next match, is here.
ALTERNATIVES
As Altrincham have no game this Saturday due to Crawley's continued involvement in the FA Trophy, local alternatives for Alty fans include:

Blue Square North
Hyde U. Worcester C.

UniBond
Ashton U. v Ossett T.
Curzon Ashton v Garforth
Witton A. v Whitby T.
Woodley S. v Wakefield

Vodkat League (NWCFL)
Flixton v Colne
St Helens v Trafford
Salford C. v Maine Road.
BSP NEWS
Stevenage Borough have "completed the emergency loan signing of England Under 17 left sided centre half Tommy Smith from Ipswich Town".

There is bad news for Farsley Celtic who report that "The application for planning which would result in the long term financial stability of Farsley Celtic was rejected this afternoon when the Leeds City Council Planning Committee chaired by Mr C Campbell turned down the application for redevelopments of the Throstle Nest site". Meanwhile, Farsley's Forum announces that Celtic's "Simeon Bambrook, Roy Stamer and Gareth Grant [have gone] to Bradford PA on loan". The BBC adds that "Scott Gardner's loan spell at Farsley Celtic will come to an end after this weekend's game at Exeter".

The Halifax Courier says that "Town have signed former Chesterfield defender Gareth Davies. The 25-year-old made 121 Football League appearances for the Spireites before being released from his contract last month".

Meanwhile the Halifax Town Supporters' Trust reports that "Plans to begin redevelopment work at the Shay Stadium are on course to start at the end of June. Calderdale Council has agreed to complete the Stadium's East Stand through a joint funded project with the Shay Stadium Trust. The completed stand will include a number of community facilities... All tenders for the project have to be back in by March 28. Calderdale Council intends to recoup the majority of funding put into the project by renegotiating the existing lease with the Shay Stadium Trust and marketing land surplus to the operational needs of the stadium. Land has been identified at the site which could be used for offices and residential buildings. Councillor David Kirton said:' We hope to have completed the work by the end of this year'".

From the BBC comes news that "Southend United striker Charles Ademeno has joined Rushden & Diamonds on loan until May... Ademeno has previously had spells on loan at Welling United, Bishop Stortford and Cambridge United".

"Stafford Rangers have appointed former Wolves and England striker Steve Bull as their new manager. Bull takes over from caretaker managers Kevin Street and Neil Grayson... Bull told BBC Radio Stoke: 'I'm excited but also a little scared as I've got a big job ahead of me, but I feel confident that I can succeed... It is going to be a long, hard road and it is a daunting job but at the end of the day it is a challenge and I love challenges', he said. 'The fans are so loyal here, and in many ways they are similar to the Wolves fans. I hope to strike up a relationship with the fans like I had at Wolves, and that they will warm to me as I produce the goods for the team'. Chairman Jon Downing was delighted... 'To get a name like Steve Bull is massive for the club and we hope it will raise the profile of the club', he added. Bull has signed a contract at Marston Road until summer 2009".

"Promotion-chasing Aldershot have secured three of their promising youngsters until the summer of 2010. Striker Danny Hylton, central defender Dave Winfield and full back Antony Straker have all signed new deals after earning regular first-team football. Aldershot chairman John McGinty told BBC Southern Counties Radio: 'We are trying to be sensible at this football club and we are working in stages. This is a base that we can build upon. They are young, and want to learn. We haven't finished yet and we can only do so much at a time. John Grant recently extended his contract which is encouraging too', he said".

This is Exeter says that "Paul Tisdale has two major selection decisions to make for Saturday's home game against Farsley Celtic.Tisdale has been handed a defensive dilemma after George Friend replaced the suspended Matt Taylor for last weekend's 2-0 win over mid-table Grays Athletic. And the City boss has a straight choice to make between Steve Basham and Richard Logan, as to who will start up front alongside the rejuvenated Adam Stansfield... 'We brought Richard Logan in because he has been training really well and I thought with the way the pitch was up at Grays then it would be ideal for him', said Tisdale...'At the beginning of the week I wasn't expecting to play Richard but when Rob came back and reported the state of the pitch that tipped the balance'... With Rod Edwards coming through the Grays game unscathed after passing a late fitness test, housemates Friend and Taylor face a straight battle for the right to partner Danny Seaborne in central defence. Friend has proved his versatility this season having played both at left-back and at centre-half. But with nine goals to his name already Taylor's threat from set-pieces might just earn him the nod. The Grecians go into Saturday's game... having extended their unbeaten run to seven league games. And with back-to-back home games against Farsley Celtic and Altrincham, Exeter are handily-placed to step up their pursuit of a top-five place... 'Our biggest regret is that we had three long-term injuries during the first 15 games of the season and that led to an imbalance in our playing style because of that... I had a lot of offers in January to bring players in but I kept away as I have faith in the players I have got. That's not to rule out a loan signing here or there, though'" said Tisdale.

The Thurrock Gazette reports that "Following yesterday's departure of manager Justin Edinburgh, quickly followed by news that chairman Mick Woodward is to take over that role, Grays Athletic have appointed Tim O'Shea as a senior coach. Pimlico-born O'Shea, 41, was a Tottenham youth player who went on to make three first-team appearances. He also won two Ireland Under-21 caps and was part of the 1985 Under 18 squad which included the likes of Niall Quinn, Terry Phelan, Pat Dolan and Martin Russell who beat England. O'Shea has also played for played for Leyton Orient and Gillingham, where he made more than 100 appearances, before spending seven seasons in Hong Kong. He was club captain at Farnborough Town, but was on loan to Welling at the time of their glamour tie with Arsenal in the FA Cup in 2003 O'Shea has also been involved with the Millwall FC Academy".

According to the Kidderminster Shuttle "Harriers' manager Mark Yates is hopeful that loan signings Matthew Bailey and Luke Jones will be able to stay at Aggborough for the rest of the season. Jones, from Shrewsbury Town, and Bailey, from Wolverhampton Wanderers, both joined Harriers on January 31 for a month's loan. Yates is eager to keep duo until the end of the season so he can run rule over them and is set to talk to their respective clubs in the next two weeks... The manager also did not rule out the possibility of signing up the duo and fellow loan signings Chris MacKenzie and Darryl Knights for next season. Former Ipswich youth academy striker Knights has joined on loan for the rest of the season from League One side Yeovil Town... The manager also called on the rest of his squad to end a disappointing season on a high note and earn new contracts for next season. Only Russell Penn, Paul Bignot, Michael McGrath and striker Justin Richards are contracted to the club for next campaign and the manager admitted he would like to keep up to 12 of the current squad as part of his summer rebuilding plans. Yates said: 'To be successful you need to stick with 11 or 12 players each season and build from that steady base'".

Stafford Rangers "is delighted to announce that Steve Bull MBE, the Wolves 'legend', is to take up the position of Team Manager with immediate effect... Steve has a profile which we believe will bring supporters both old and new to Marston Road. He passionately wants to get back into the sharp end of football. He believes Stafford Rangers is the ideal environment for him to prove himself as a manager in the same way as a player, leading from the front and giving everything to the job in hand... Steve will be spending the next couple of weeks looking carefully at the strengths of all the playing staff and trying to improve the standing of the club in the league by picking up some points... Whilst we believe that Steve Bull will be great for Stafford Rangers, we want to express our thanks to Neil Grayson and Kevin Street for the magnificent job they have done in stepping in as caretaker managers at our hour of need". Steve Bull himself said 'I am delighted to fulfil a long-held ambition to begin a career in managemen... but as I developed my own events company, I suppose I didn't actively seek out another role in football. It was during a recent appearance on Sky Soccer's 'Soccer AM' programme that I acknowledged that I need 'a kick up the backside' if I am to follow a career in football management and this prompted a number of approaches from club chairmen. I met with the Directors of Stafford Rangers and there was an almost immediate understanding that both parties would benefit from me becoming their new Manager.I know I don't start officially until 1st March... I will continue in my role as a Patron of Promised Dreams, the Wolverhampton-based charity that helps sick and terminally ill children. I am also proud to say I will also remain a Vice President at Wolves, and will be attending as many games as possible when not managing my new team'".
---
21 February 2008
CUP FINAL DATE
The date and venue for the Cheshire Senior Cup Final between Nantwich Town and Altrincham has now been set. it will be at Wincham Park (Witton Albion) - not Northwich Vics' stadium as was mooted earlier - on Tuesday 1st April. Kick off is at 7.45pm. Admission is £8 for adults and £5 for concessionaries.
OLD BOY SCORES
England "C" beat their Welsh counterparts 2-1 at Exeter last night, with the winner coming from former Alty midfielder Lewis Chalmers.
NEXT GAME
The referee for Torquay United v Altrincham on Tuesday is Mr A.I. (Andy) Halliday. Mr Halliday has an unusual refereeing affiliation as he is member of the Army Referees' committee and is a Warrant Officer. He has refereed Altrincham twice in the last year or so, with both games being lost by the Robins:
Altrincham 2 Burton Albion 3 played on Saturday, 2 December 2006. He is seen (right) before that game, with Steve Bushell.
Altrincham 1 Stevenage Borough 5 on Saturday, 29 December, 2007.

Mr Halliday was also the man who called off the originally planned game between Torquay and Altrincham back in December 2007 and was also an assistant referee for the Grays Athletic v Hucknall Town FA Trophy Final in 2005.

This is South Devon confirms that "Torquay United are poised to keep Swindon Town forward Kaid Mohamed for a second month on loan. Cardiff-born Mohamed's first month at Plainmoor expires after Saturday's FA Trophy Quarter Final against Crawley Town. But United manager Paul Buckle revealed: 'Kaid has done well, and we will be looking to extend the loan'... After giving him four successive starts, Buckle dropped Mohamed, 23, to the subs' bench for last Saturday's BSP game against Ebbsfleet. But the former Cwmbran, Llanelli and Carmarthen player went on after only four minutes, replacing the injured Lee Phillips, and scored twice in Torquay's 3-1 win... The Gulls' boss watched last night's Championship match between Southampton and Plymouth Argyle at St. Mary's, where he was hoping to firm up arrangements for Saints goalkeeper Michael Poke's return to Plainmoor on loan.... but the situation there has also been slightly clouded by the appointment of a new manager in Nigel Pearson". Meanwhile "Young striker Elliot Benyon gave Gulls' manager Paul Buckle a selection nudge with a busy two-goal display in Torquay United's 3-3 draw against Bristol Rovers in a reserve friendly at Plainmoor yesterday".
GRAHAM LOOKS FOR REINFORCEMENTS
According to the Sale & Altrincham Messenger "Graham Heathcote is set to resume his Robins recruitment drive as he looks to add firepower to his goal-shy squad. Alty have not managed a single goal in their past two games, causing the Alty boss to consider the need for reinforcements up front. More money for wages was freed up when Carlos Logan left the club last week and now Heathcote is keen to bring in at least two new faces. Speaking exclusively to SAM Sport, he said: 'We are looking to see if we can get in two or three new attacking options. We definitely need more bodies in that area but it's about getting the right type of players. It's not rocket science that we need a big centre forward to give us a bit of variation up top. But the problem with recruiting players is the type of money that's being thrown about in this league. The money some clubs are talking about is ridiculous. There's a lot of desperate money being spent but we aren't about to get dragged into that ourselves. Farsley just paid out a fair bit of money to bring in David McNiven on loan from Stafford so it shows you what we're up against. But we need to stick to our sensible financial approach. We've got some money to spend and we'll do the best we can with it'.

Alty have no game this weekend... When they return to action, they face two tough trips in the space of five days, first travelling to Torquay on Tuesday and then Exeter on Saturday... Heathcote believes his side must aim to pick up something from both games... He said: 'I'm disappointed with our return from the past four games, picking up just five points. I thought we would've done better and I basically said to the players that we have wasted the first half of the past two games. We didn't play enough football and then left ourselves with more to do in the second half. We have two tough games now but the way I look at it is that we have to pull something back from these two games to put ourselves back on track'. But the good news for Alty is that combative midfielder Val Owen is well on the road to recovery after undergoing an operation on his problematic knee. The 37-year-old should be back in action by mid to late March".
JAMES'S VIEWS
There is a lengthy interview with Altrincham loanee left-back, James Jennings in the Maccelesfield Town Fanzine. It says, "James Jennings thought he had a big future this season at the Moss Rose after coming through from the Youth team last term. But things haven't gone quite right for the young defender and he was shipped off to Alty.

James said, "Things are going well down at Alty and I am enjoying my time there both on and off the pitch. I have played 11 games already for them and we are picking up points and I have managed to climb out of the relegation zone. I didn't realise the rivalry until signing for them. To be fair the fans have been quite supportive, I think they are surprised really that I took the chance to play there with such rivalry between the clubs"..

Asked - Playing alongside a Macc legend in Darren Tinson must be helpful to your game? Are you learning a lot from him? James replied, "Yes, Tinno is a great pro. I was aware of what a legend he was at Macc and what a good player he was. But to play with him is a great experience as you can learn a lot from him especially playing along side him. He's very experienced and all the lads look up to him on and off the pitch... I heard through a friend that Alty were interested in me and that they were keen to take me on with my contract expiring at the end of the year (2007) however Macc decided to extend my contract and both me and the club decided the best thing for my progress was to go on loan, and it all went from there... I have been just training most days with the lads at Macc, and training twice a week with Alty in the evenings which is new to me... I went on loan at Altrincham for 3 months and with my contract at Macc expiring at the end of the season, I still hope there is time for me to make an impression and feature for Macclesfield...

I think my most natural position would be left back... I began my career playing for my local team Reddish Vulcans (Stockport) before being picked up by Man City by Gordon Hill where I played for 7 years. This was a great experience and time for me as I was captain for 5 of them years which included trips to Holland, Spain, Italy and Germany playing against teams like Barça, Real Madrid, Inter Milan, AC Milan, Ajax and many more. It was also a good experience training full time time in the summer and playing and training every day with the likes of Micah Richards, Michael Johnson and Stevie Ireland". At Macc. "I made a dozen appearances in 2006/2007... but found it hard to cement a place in the team"

Asked whether both Macc and Alty will survive relegation this season, he said "Hopefully yes, I think we both have the quality and strength to survive and to stay in the leagues they are in. There is still plenty of time".
MAY GAMES
You can delay "football starvation" at the end of this season as NL Daily reports that there will be an international non-league tournament within reasonable reach of Altrincham in May. And it will also give you a chance to see the ground upgrade at a former regular haunt of the Robins, at Colwyn Bay. "As further testament to the improvements carried out on facilities at Llanelian Road, the Football Association of Wales have announced details of this year`s semi-professional Four Nations Tournament which include matches to be played at Colwyn Bay. The teams participating in the tournament include Wales, England and Scotland and for the first time the involvement of a representative side from Gibraltar. The matches will be shared around three grounds – Llanelian Road (Colwyn Bay), Belle Vue (Rhyl) & Park Hall, Oswestry (TNS). The Four Nations tournament sees England, Wales and Scotland represented in an international capacity at semi-professional level.

The Scots utilise players from the Highland, East of Scotland and South of Scotland Leagues. The English National Game side is drawn from the Blue Square leagues, while Wales mix English-based players with some from the Principality Welsh Premier. The full match schedule is as follows:

Tuesday 20th May 2008
Wales v Scotland – Rhyl – Kick Off: 7pm
England v Gibraltar – Colwyn Bay – Kick Off: 7pm

Thursday 22nd May 2008
Wales v Gibraltar – Rhyl – Kick Off: 7pm
Scotland v England – Colwyn Bay – Kick Off: 7pm

Saturday 24th May 2008
England v Wales – Rhyl – Kick Off: 2pm
Gibraltar v Scotland – Oswestry – Kick Off: 2pm

Admission prices for the matches will be: Adults £3 / Senior Citizens & Juveniles (Under 16) £1.

This will be the seventh year of the Four Nations Tournament. In the past, the Republic of Ireland has been involved, but this year they were not able to take part. An invitation was therefore made to the Gibraltar FA and they were very happy to accept".
BSP NEWS
Surprising news from Essex where Grays Athletic report that "Further to discussions between The Chairman and Justin Edinburgh where a proposal to restructure the club's management was discussed, Justin feels unable to continue with his duties as First Team Manager in a satisfactory way. As a result of this it has been mutually agreed between The Chairman and Justin to terminate his employment at Grays Athletic with immediate effect. Justin would like to thank all at Grays Athletic Football Club for their support over the past 15 months and would like to wish everyone at the club success for the future. Chairman, Mike Woodward, would like to thank Justin for everything that he has done for Grays Athletic during his time as Manager and also wishes him well for the future... Following Justin Edinburgh's departure, Chairman Mike Woodward will be taking over as First Team Manager, Gary Phillips will be Assistant Manager and the club will be employing two senior coaches to look after the fitness and tactics of the team". Grays have a solid mid-table record this season - 11 wins, 11 defeats and 7 draws - and lie 14th in the table.

The Thurrock Gazette. adds that "Within an hour of the initial annoucement [of Edinburgh's departure] the club issued a second statement, saying Woodward would take over the hot seat... Woodward briefly held the role last season before stepping down, saying he didn't have enough contacts in the game". Meanwhile, "Grays Athletic captain Jamie Stuart will stand trial accused of breaking another player's jaw during a game. Stuart is alleged to have struck York City Striker Chris Beardsley during a Blue Square Premier League match. Beardsley was left with a broken jaw after the incident... Stuart, 31 of Knole Gate, Sidcup, in Kent was charged with causing grievous bodily harm. He appeared at Basildon Magistrates' Court today (Thursday) to face the charge. Stuart, who was dressed in a suit, answered only to confirm his name, address and date of birth. He pleaded not guilty to the charge and was released on unconditional bail. Stuart will reappear at Basildon Crown Court in April for a plea and case management hearing where a trial date is likely to be set".

"Rushden & Diamonds have once again loaned out goalkeeper Martyn Margarson" states NL Daily. "Margarson has joined Soham Town Rangers for a month. Margarson has had loan spells with Long Buckby and Rugby Town this season".

According to Confguide "Wrexham duo Conall Murtagh and Levi Mackin have had their loan periods extended at Droylsden until the end of the season... The midfielders have both made four appearances for the Bloods... Having already served more than 28 days on loan, the Dragons can recall either player within 24-hours if they are needed at the Racecourse ground".

According to Farsley Today, "Farsley Celtic striker Damien Reeves says he is in the dark over talk linking him with a possible move to Port Vale – but admits he is flattered by talk of a Potteries switch. The one-time Leeds United apprentice is eager for a second crack at the big time, with ex-Celts' boss and Vale chief Lee Sinnott reportedly in the hunt for the 23-year-old, who he brought to Throstle Nest from the comparative obscurity of Wakefield-Emley – now Wakefield FC – a few seasons ago. Reeves has fully vindicated Sinnott's decision to take the plunge and sign him since, firing 23 goals in the Celts' Conference North promotion campaign last term and continuing to impress this season... Reeves said: 'I honestly couldn't say whether there is any truth in it or not. I don't know anything, but we'll see what happens. Of course, I'm flattered as anyone would be when a League club is linked with them. To play in the League is my ultimate aim... I think I'm good enough, but we'll have to see'...

Celtic – set a 45-point safety target by boss John Deacey – still having crunch games coming up against Weymouth, Rushden and Droylsden and winnable matches at the likes of Northwich and Stafford. The 22-year-old [Reeves] said of the Altrincham game: 'Tuesday was a game of two halves. With the way they played in the second half, we couldn't grumble (with a point). We had the better of the first half and they performed better in the second and it could have gone either way... we've got to look at it as a point gained. We didn't lose any ground on Altrincham. We still have to play a few teams around us and at the minute have got two games in hand... In the last few games, our performances have picked up a bit, but we've not been picking up wins... I've got eight goals in the league.. but I've got 12 altogether and I'm fairly happy with that".

Still in Yorkshire, the Halifax Courier reports that "Halifax Town have been kicked out of the West Riding County FA Cup - and fined £1,500 - for fielding no fewer than five ineligible players in their quarter final clash with Ossett Albion. Twelve months ago the Shaymen were expelled from the competition when it emerged that youth teamer Simon Rawnsley, who bagged one of the goals in a remarkable 14-3 win over Pontefract Collieries, had also scored for Bradford Park Avenue in a previous round. This time the entire bench for the game with Ossett - Adam Legzdins, Tom Sharpe, Craig Nelthorpe, Anthony Griffith and Simon Ainge - were ineligible as they were on loan and temporary signings are not allowed under the competition rules. All five would have been allowed to play in either an FA Cup or FA Trophy tie... 'We were disappointed with the outcome despite our letter to the Committee, providing what we believed were and are more than reasonable reasons for choosing and playing the team that we did in the game against Ossett Albion', said a club statement. 'There is no right of appeal'. The statement went on to suggest that it was a fault with the West Riding County FA Cup rules which had led to this latest expulsion". Town were left with "just 11 other registered full-time Town players, all of whom played in the 4-1 win... 'What we do hope is it will allow the County FA to re-assess and if need be, bring certain rules in line with the modern game', the statement continued. 'To ask senior clubs to play in the West Riding County Cup and not play their fully registered (both with the FA and The Football Conference), regular first team players in the competition is most unusual'". There is an unfortunate side-effect for Alty, however, as "Town's expulsion will at least ease the potential fixture chaos looming with the semi-final against Bradford Park Avenue originally scheduled for March 3 - 24 hours before the Shaymen are due to travel to Altrincham in the Blue Square Premier".

A potential recipe for success comes from the Oxford Mail which says that "One of the country's top sports nutritionists could be coming in to Oxford United to try to help them achieve better results on the pitch. Manager Darren Patterson was interviewing Jon Williams last night in the hope of getting him involved at the club... He said yesterday: 'He's a leading sports nutritionist who has worked with some of our leading Premier League clubs and been involved with gold medal-winning athletes. It's more looking at pre-season and ways of improving our diet ahead of next season, but it's an important area'... Williams is at the top of his field and works with the Welsh Elite Rugby squad as well as Chelsea, Tottenham and Reading, providing nutritional advice. He runs a national company with Olympic athlete Darren Campbell [who was brought up in Sale] and all their recommended supplements are both registered and World Anti-Doping Agency tested at a WADA laboratory in Cambridge and approved... Coventry Rugby Club brought Williams in once a month... [after] their owner, Andrew Green... was horrified to discover that his players were gorging themselves on doughnuts before matches". Apparently now Coventry are running rings round their opponents and it is the opposition who are getting their just desserts...
---
20 February 2008
SHIRT AUCTION
Alty director Andrew Shaw is auctioning a Karl Munroe match-worn shirt signed by the Altrincham squad, with the proceeds going to a good cause. If you wish to make a bid, please contact the club on 928-1045 or via e-mail as soon as possible.
EASTER FUN WEEK
Altrincham FC's Football in the Community programme is running an Easter Fun Week - a five-day football course from Monday 31 March to Friday 4th April. The course, at Moss Lane, is open to all playing abilities between the ages of 5 and 12 (school years 1 to 7).

The course runs from 10am to 3.15pm (registration is from 9.30am daily) and the cost for the full week is just £55, with a discount applying for any brothers and sisters who register.

The week's activities will include
Skill awards for each age group, to be made at 3pm each day.
Meeting the manager of Altrincham FC, Graham Heathcote.
A group photo for each player.
A presentation of awards on Friday to each player, (parents are welcome).
A Scheme run by experienced Altrincham FC Community Coaching Team.

For an application form or further details, please contact Chris Bullock, either on (0161) 962 2369 or by e-mail. Alternatively you can e-mail Altrincham FC.
FRIENDS' DRAW
The winners of the latest Friends of Altrincham FC monthly draw are:
1st Ball 19 - Diane Swindells (£100)
2nd Ball 47 - Terry Surridge (£35)
3rd Ball 64 - John Ford (£15)

To join this important fundraising scheme for Altrincham FC and have the chance of winning £100 in the process, please click the above link to the Friends scheme.
NEXT OPPONENTS
News of our next opponents comes from This is South Devon. "Striker Lee Phillips was set to play for Torquay United in a reserve friendly against Bristol Rovers at Plainmoor [on Tuesday] only three days after being stretchered off and taken to hospital. Phillips was due to take his place in an all-pro side as Gulls' manager Paul Buckle looks to keep his all-fit squad match sharp for the run-in to their Blue Square Premier and FA Trophy double campaign. 'Lee is absolutely fine. We wouldn't play him otherwise', said Buckle. Phillips was checked out at Torbay Hospital, but released on Saturday evening, after being carried off following a clash of heads in the first minute of United's 3-1 home win over Ebbsfleet United". Meanwhile "Buckle insists that he wants to get loan goalkeeper Michael Poke back from Southampton as soon as possible, rather than trying to juggle dates in an effort to cover more games at the end of the season... There is a chance that he may not be allowed to resume his loan until next week, apparently because Saints' No.2 'keeper Bartosz Bialkowski's thumb injury is proving more troublesome than first thought. United will get back the days 'lost' during his current spell at St. Mary's. But with the original loan agreement lasting until three games from the end of the season, many Gulls fans have been wondering whether United might consider delaying his return on purpose to cover more matches at the end of April... 'I'm not interested in trying to be clever about things. Every match is important to us now, including the Trophy. We are two ties away from a cup final. I want to beat Crawley. I want to go to Wembley'".
BSP NEWS
Yesterday from the BBC came news that "Members of fans' website MyFootballClub will formally complete the takeover of Blue Square Premier side Ebbsfleet United on Tuesday. In January more than 18,000 members voted on the £635,000 takeover, with 95.8% backing the Kent club's purchase. The deal is believed to represent the first website-community takeover of a football club or business in the world... MyFootballClub has more than 28,000 members, spread over 80 countries... Each of its members have paid £35 to provide a £700,000 takeover pot and, after the majority backed the move to acquire a 75% controlling stake, they will all own an equal share in the club. The first Internet team selection is scheduled to take place in March. Last week Ebbsfleet announced sportswear manufacturer Nike will manufacture home and away strips from next season after 91.26% of the 13,809 members voted to accept their offer to supply kit and merchandise. 'It's a wonderful opportunity for the club', said Brian Kilcullen, who will take over as interim chairman from club chairman Jason Botley... The Financial Services Authority has approved the setting up of the MyFootballClub Trust to safeguard members' interests in the eventuality of the club running into financial difficulties".

And the NL Daily confirms that "Ebbsfleet United`s shareholders met on Monday night to agree the takeover of the football club by the 28,250 members in 72 countries of MyFootballClub, to become effective on Tuesday (19th February)... MyFC, which launched on 26th April 2007, has purchased a 75% stake in the club and members have so far contributed £1m. The 75% stake in the football club will cost £625,000, with £400,000 paid upfront and the rest spread over two years. Almost 2,000 members have already renewed their membership beyond the first year. That money being ringfenced until the season of that extended membership begins".

On the field, Blue Square Football reports that "Ebbsfleet United goalkeeper Lance Cronin has committed to his future at the club by penning a contract extension... that will keep him at the Kent-based club until the end of the 2009/10 season. Cronin was originally drafted in as cover for long-term injury victim Craig Holloway in August, 2006 and has gone on to make the number one jersey his own".

"Veteran Burton Albion goalkeeper Kevin Poole expects to be out of action for at least a fortnight after injuring his hamstring in the defeat at Salisbury. 'I took a goal kick and my standing foot slipped', Poole, 44, told BBC Radio Derby. "I felt my hamstring go - it's going to be two weeks at least'. Saul Deeney will come in for Saturday's FA Trophy tie at home to Ebbsfleet". From the The Burton Mail comes news that "Albion boss Nigel Clough is hoping to bolster his depleted squad by signing a goalkeeper this week... The Brewers have an able deputy in Saul Deeney - but no other goalkeeper cover... Clough told Mail Sport: 'The reason we signed Saul a few months ago was because we wanted a ready-made replacement in case anything happened to Kevin... the injury he got on Saturday means he's going to be out for up to a month... The worst case scenario is that Saul might get sent off or pick up an injury himself, and then we would be in trouble. We gambled a little bit last season by having Kevin as our only recognised keeper because we knew we could always fall back on (coach) Martin Taylor in an emergency. But it's unfair to ask the same of Martin now, so bringing in another keeper as insurance seems the prudent thing to do with so much at stake'".

York City "have completed the signing of Sam Duncum on loan from Rotherham United. The 21 year old is a winger who can play on both sides of the pitch and has joined the club initially for a month".

Former England striker Steve Bull is expected to appointed at Stafford Rangers where "There will be a Press Conference at the ground on Thursday 21st February, at 11 am, when the Directors will announce the new manager".
---
19 February 2008
JENNINGS SUSPENDED
In his ten appearances since joining Alty on loan from Macclesfield, left-back James Jennings (right) has been booked four times. But the FA confirms that the youngster has five cards and is now suspended, presumably because he brought a booking with him from the Silkmen. His ban starts on 23 February for one game so will rule him out at Torquay, assuming that match goes ahead next Tuesday.
1932 - ANOTHER ERA AT MOSS LANE
It was always a pleasure when the website hears from someone with Altrincham FC connections who gets in touch from distant parts. From East Anglia, we heard recently from Steve Hann, whose mother Eva Hann (née Green) and her friend Beattie Clacher (née Davenport) were the joint secretaries of the Altrincham FC supporters' association back in the 1930s. And that even pre-dates George Heslop! Just.

lefright> Eva's husband was Tom Hann, a footballer who had come from Newcastle to Stockport County, and then moved on to local Altrincham club Linotype FC. Tom also became a scout for numerous clubs and together with an Alty star of the 1950s, Brian Prolze, he worked at the Moss Lane Gas Works, just a few hundred yards from the football ground. Tom's brother, Ralph, played for Newcastle United and for Derby County in the old First Division. The story has a further Altrincham connection through Ralph's trainer at Derby. He was Steve Bloomer (1876-1938), the legendary Derby and England goalscorer who, in his time, was the greatest footballer the world. Bloomer's wife, Sarah, died at their daughter's home at 42 Acacia Avenue, Hale, Altrincham in 1936. Ralph later became trainer at Derby County and his daughter is Judith Hann, the former presenter of BBC's "Tomorrow's World" programme.

Mrs Clacher's husband was an Altrincham player of the 1930s, John Clacher, who had come to Moss Lane from Alloa Athletic in Scotland. John then went to Burnley and then on to Darlington. Altrincham FC historian Terry Rowley has kindly supplied a large amount of extra information about the 1932 side, from which I am grateful to be able to draw, below.

Steve has very kindly provided me with an autograph book of his mother's which includes the signatures of the Altrincham team which won 5-1 against Hurst (Ashton United) in 1932 and that page is reproduced, right.

Terry Rowley provides the following fascinating pen pictures which show what a different type of player was at Moss Lane 75 years ago, compared with nowadays! Altrincham finished 12th in the Cheshire County League that season, scoring 108 goals and conceding 95 in 42 matches.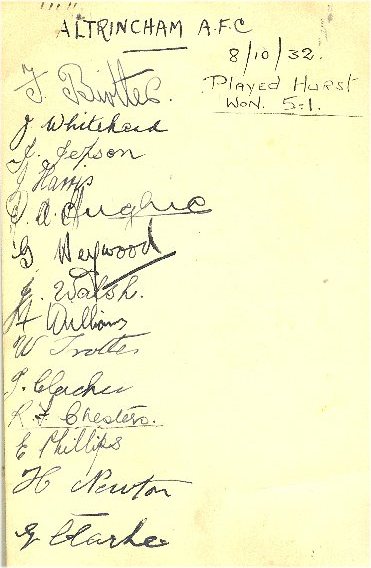 The team that played Hurst (later Ashton United) on 8th October 1932 lined up as: Jimmie Whitehead in goal, George Heywood - right back; Arthur Harris - left back, Frank Williams - right-half, Robert Hughes - centre-half, Jacky Walsh - left-half, Eddie Chesters - right-winger; John Clacher - inside-right, John Jepson - centre-forward, Fred Birtles inside- left and Walter Trotter - outside-left. The scorers were Birtles 2, Chesters, Jepson, Harris and the attendance was 2,000. Birtles is one of the select band of Altrincham players to have hit 100 goals for the club.
Arthur Harris - left-back
George Clarke- a reserve, the son of a former player and coach at Altrincham.
Fred Birtles - Born Stockport 5th April 1903. An inside left, who started with Crewe Alexandra. He played for them in 1922/23 to 1924/25 (27 games 9 goals), then moved to Hartlepools United in 1925/26 (15 games 6 goals), before going back to Crewe for 1926/27 and 27/28 (52 games, 13 goals). He next joined Chester -1928/29 (13LG 3 WC), before arriving at Altrincham for 1929/30 to 1932/33. After this he joined Stalybridge Celtic, then Mossley for 1933/34-34/35 (71games 27 goals)
Jimmie Whitehead - A goalkeeper who was an ex-Manchester United reserve. He played for Chester 1924/25-October 1926 (total 12 LG 1 FAC), Manchester United (10/26), Altrincham 1929/30, 30/31, 31/32 and 32/33. He was given a free transfer at end of 1932/33 after four seasons at Moss Lane as first choice and having played 170+ games for the Robins.
John James Jepson. Born at Heaton Norris in July 1899, he was a centre forward who played at New Mills, Atherton, New Mills again, Notts County (1924/25), Accrington Stanley (1925/26-26/27), Carlisle, Accrington again (28/29-29/30), Wigan Borough in 30/31, Mansfield in 31/32, Macclesfield, Altrincham in 1932/33, Nelson and New Brighton in 1934/35.
J. Arthur Harris - Left back who played for Nantwich, Chester, Altrincham (1932/33), Mossley (1933/34-1934/35 - 95 games, 0 goals).
Robert Arthur Hughes - Born Wrexham, 26th September 1901. He was a centre half and Welsh amateur international, who played for Flint Town, Chester, Blackpool in 1927/28, Chester, Orient in 1929/30 (6 league games, 1goal), Altrincham (1930/31-1932/33) and Mossley in 1933/34.
George Heywood. Born at Clayton, Manchester on 1st December 1907, he died in 1985. A right-back, he played for Salford Lads' Club, Manchester City (1928/29) for whom he played 11 Central League games. He also played with Oldham Athletic in the Midweek League, Altrincham 1928/29, 29/30, 30/31, 31/32, 32/33, 33/34, 34/35, 35/36 then moved to Port Vale for £250 for 1935/36-36/37 (23 games), Southport (11/1936 to 3/1937) playing 14 games. Also played for Hyde, Northwich in 1938/39-39/40, Altrincham again in 1939/40 wartime league and then Stalybridge Celtic. He was an England schoolboy international.
Jack ' Jackie' Walsh was a left half with Witton Albion, Northwich (wartime 1918/19) 1919/20, then he was at Winsford for seven seasons, Chester, Altrincham (1930/31, 31/32, 32/33) before he retired at the end of the 1932/33 campaign. He was a non-league legend in mid-Cheshire.
Frank (R) Harold Williams. Born Cefn-Y-Bedd on 10th March 1906. A right half, who is not to be confused with the other Frank Williams who played for Altrincham. He also played for Oak Alyn Rovers, Wrexham 1924/25-25/26 (3 games), Preston NE 26/27 (8 games), 28/29 , Port Vale 1 game, Oswestry Town, Northern Nomads, Rhyl, Ashton National, Cross Street, Altrincham in 1930/31, 31/32, 32/33, Shrewsbury Town, Buxton.
Wally Trotter - Born at Oldham, 4th July 1905. He was an outside left who played at Chamber Colliery, Oldham 1926/27-1927/28, Manchester North End, Manchester Central (31/32), Altrincham (32/33), Buxton (33/34).
John Clacher. Born at Kirkaldy 1st January 1912. Inside right who played for St Andrew's Athletic (3 seasons), Alloa Athletic, Altrincham in 1932/33-33/34, Bury 1934/35-36/37 (30 games 1 goal). Darlington 37/38 (36 games 2 goals)
Eddie Chesters. Born at Crewe. Right-half (utility player who also played left-half, centre-forward, right-wing, inside-right). Played also for Whitchurch, Northwich (28/29-29/30), Crewe Alexandra (29/30), Chester, Macclesfield, Altrincham (1932/33, 33/34, 34/35), Congleton, Nantwich.
E. Phillips - A reserve who played 7 games in 1932/33 at centre-forward, right-back, left-half and left-back.
Harry Newton - A reserve outside-right who played for Sandbach and Altrincham (1931/32, 32/33).
Steve Hann and Terry Rowley have also provided some information on the 1950s which together with details supplied by Altrincham FC's catering manager Keith Davey, I will write up into a separate article in the near future. That includes details of an Alty player of the 1950s who ended up behind bars for match-fixing - after he had left Moss Lane, of course!
UNICORN
Unicorn JFC were the most recent visitors to Moss Lane under the Featured Club Scheme. Anyone wishing to join this thriving junior football club will find details on the Unicorn website.
OLD BOY
"Manager Ken McKenna will leave The New Saints at the end of the season after almost 10 years with the club" reports the BBC. "McKenna has taken the club into Europe seven times, winning three back-to-back Welsh Premier titles... 'Ken has reached the stage of his career where he needs a new challenge', said TNS managing director Mike Harris. The Saints have not looked convincing this season, despite lying second in the WPL table... 'We will always be grateful for Ken's massive contribution to the club, not only with on-the-field successes, but in helping to develop our off-field coaching infrastructure' added Harris".
BSP NEWS
The BBC confirms that Cambridge United striker Scott Rendell has joined Peterborough on loan with a view to a permanent transfer. Rendell, 21, who has scored 22 goals this season, put in a transfer request after the U's snubbed a six-figure bid. 'We don't keep players who are unhappy and don't want to play for the club', said Cambridge director George Rolls. 'We're shocked he wants to leave us, bearing in mind we believe we can give him league football at the end of the season. We didn't want him to leave'".

"Weymouth manager John Hollins has released defender Joel Kitamirike reports BBC Radio Solent. The 23-year-old former Chelsea centre-back joined Weymouth in the summer of 2007 from Blue Square South side Fisher Athletic. 'We're now moving on. We thank him for his efforts and he's been tremendous but that's the way the game is going', said Hollins. 'I've got to make decisions and that is what I've done'. Hollins is still searching for his first league win in charge and new faces are expected soon at the Wessex Stadium".

"Halifax have released defender Brian O'Callaghan a month after signing him. The 26-year-old former Barnsley and Notts County centre-half joined the Shaymen from Cork City in January. But he managed only one appearance for the club... and boss Chris Wilder has decided he is surplus to requirements. O'Callaghan featured 90 times for Barnsley and turned out in 36 games for Notts County before making the move to League of Ireland Cork two years ago" says the BBC..

"Stafford Rangers caretaker managers Kevin Street and Neil Grayson say they will support Steve Bull if he becomes the new boss at Marston Road... Grayson told BBC Radio Stoke: 'If he comes in it will be a big boost for the club and he will get my full backing'. Street added: 'If I can help Steve in any way I'm more than willing to... After the win over Weymouth and then playing well in the abandoned game against Histon, beating Forest Green gives us a chance of staying up'... Saturday's clash at Halifax is expected to be Bull's first as manager of Rangers, with his first home game in charge coming against Farsley Celtic on 1 March. Street said the players had been lifted by the prospect of Bull being named as the club's new manager. 'The excitement surrounding Steve has given the club a new dynamic and we're hoping for a big crowd for his first home game. Hopefully he can come in and use his connections to strengthen the team'" reports the BBC.

Brad Maylett has swapped Blue Square Premier strugglers Northwich Victoria for relegation-threatened Blue Square North side Leigh RMI. The winger was released by Vics' boss Dino Maamria on Friday, before swiftly signing a deal with the Railwaymen. 'It's an excellent signing for us', said Leigh boss Steve Bleasdale... The former Boston United midfielder made surprise return to Vics' starting line up for last Saturday's home reverse to Salisbury City but was hauled off by Maamria at half time following another disappointing display... Signed by former manager Neil Redfearn back in the summer, Maylett has flattered to deceive in non-League football`s top tier despite his reputation" claims This is Cheshire.

NL Daily says that "Stevenage Borough signed Gavin Grant on loan from Millwall – and he scored on his debut in the 3-1 defeat by leaders Aldershot Town on Sunday... A Club spokesperson said: 'Gavin adds pace as an option up front, whilst Callum Willock and Tes Bramble fully recover from their injuries'... Since being at the New Den, Grant has had two separate loan spells with Grays Athletic".

According to This is York. "City boss Colin Walker claimed his side were not 'ugly' enough to avoid defeat at Histon. The Minstermen went down 3-1.. as the home side scored all their goals inside the visitors' six-yard box. It was a disappointing way for Walker, pictured, to lose his unbeaten league record as manager against a Histon team renowned for their physical and direct approach to the game and coached by former Cambridge long-ball exponent John Beck... Walker said: 'It was an ugly game and they play the ugly game well. We couldn't play the ugly game and could not cope with their ugly game and succumbed. We explained to the players how they would play. Both myself and Eric Winstanley had come up against John Beck a long time ago and they played exactly how his teams always do and did it very well. We knew they would look to play in the final third and try and get dangerous crosses in. They did and we couldn't live with it, but you can't legislate for people unwilling to work hard, put their head in or stop crosses'... While not blaming referee Amy Rayner for his side's demise, Walker also felt the Lough- borough official's appointment for the game was inappropriate. Rayner awarded City a dubious penalty for handball, while Tom Evans protested that the home team's third goal had been headed out of his hands. She also cautioned four players in a fiery first half that threatened to boil over and Walker said: 'I have to be careful what I say but, in a game like this, I'm not sure that selection of referee is appropriate unfortunately. We've seen her referee before at Kidderminster and she gets up and down the pitch well, but there was so much happening off the ball that she didn't understand or see - too many things to mention... She was not the reason we got beaten. We got beaten by a better team on the day'".

This is South Devon says that "Goalkeeper Michael Poke is poised to return to Torquay United this week after his sudden recall by Southampton.The Saints took 22-year-old Poke back, under the 24-hour recall clause, because of a thumb injury to their Polish No.2 'keeper Bartosz Bialkowski. Poke was on their subs' bench for Saturday's 1-0 FA Cup defeat at Bristol Rovers... 'Southampton had to take precautions and take Michael back, but they say that Bialkowski's injury is not too bad and he should be fit by the middle of the week', said United manager Paul Buckle... 'Southampton want Michael to come back here. We hope to have him back with us this week'...His original 93-day deal took him to within three games of the end of the league season. But United will now get back the days which they are currently 'losing' on his loan, covering at least one more fixture (York H April 19) during the run-in. After an impressive spell with Poke in goal, Rice was between the sticks when United set a new club defensive 'record' of 605 minutes without conceding a goal on Saturday. The previous record was 602, but a header by Ebbsfleet striker Raphael Nade (73mins) meant that the new mark stretched by only another three minutes... Cardiff-born Khalid Mohamed's first month on loan from Swindon Town runs out after next Saturday... 'I'm really enjoying it here, and I'd be happy to stay', said the former Cwmbran, Llanelli and Carmarthen striker".

From the Oxford Mail we learn that "It was only when he had experienced the Kassam Stadium's fantastic pitch and facilities first-hand that Droylsden manager Dave Pace fully appreciated what an achievement it had been for his little team to have beaten Oxford United earlier in the season. And the Bloods were just inches away from causing another upset when they nearly forced an injury-time equaliser on Saturday. Substitute Terry Fearns somehow knocked the ball wide of a gaping goal from four yards out in the final minute of stoppage time. Pace said: 'We showed a lot of character and effort today, but we didn't play as well as we can do, or play as much football as I'd like'... Pace drooled: 'For Droylsden to be playing Oxford in a league match, and here at this stadium, is absolutely brilliant. This is where we want to be. It shows either that we're over-achieving, or they're under-achieving. We knew how difficult it was going to be, being only part-time in what is really a full-time league, but I would like us to become that. We've just got to build on this and stay in the league and build again next season... For the Oxford players, if you're playing here every week and then you come to a place like ours . . . no disrespect to our ground, we're trying to improve it every year and I've spent £4.5m of my own money on it - but at the end of the day it's nothing like this... But we've not capitalised as much on our home advantage as we should have done'... Oxford United boss Darren Patterson hopes to further strengthen his team by bringing in a central midfielder this week, and completing a deal to sign Michael Howard on a permanent contract... Patterson says United will make the left back an offer... 'Because of the rules, we now have to sign Howard, we can't now take him on loan until the end of the season'" said the manager.

TheKidderminster Shuttle says that "Harriers have written to the FA to complain about referee John Hopkins after Sunday's Blue Square Premier clash away at Crawley was controversially called off on Sunday. The Wickford official called the game off at 12pm because of a strip of frozen pitch behind one of the goals, ten minutes before Harriers had arrived at the Broadfield Stadium... The referee left before Harriers chairman Barry Norgrove could ask him to reconsider his decision to call the game off. To add insult to injury Crawley manager Steve Evans played an internal friendly on the pitch... 'It was a totally ridiculous situation. The game was called off far too early and the referee didn't stay around long enough for him to talk to us', said an angry Norgrove. 'He should have stayed and spoke to both clubs because I believe there was a number of things that could have been done to save the game... by the time of kick-off it would have been absolutely fine. He could have delayed the game by half an hour or more to make sure the pitch was thawed out, that would have been better that calling the game off. Ourselves and the fans made the effort to come down on Sunday and Crawley had been ready for the game and the referee should have taken those factors into consideration'. The club have posted a complaint about the referee's actions... Norgrove said: 'We have sent a letter to the FA because it has cost us money for petrol Crawley for the food they had put on... although I don't hold out much hope that they will support us - the FA tend to back the referees'".

From This is Glos we read that "The home fans' jeers at the final whistle were perhaps a touch harsh, but they underlined how high the bar has been raised at Forest Green this season" after defeat by Stafford... Jim Harvey's men were ponderous for most of the afternoon, and frustration at their inability to kill off weaker opposition meant a splendid first goal of the season from Michael Brough was largely forgotten... [Goalkeeper] Robinson's moment to forget came in the 12th minute when he made a complete hash of Anthony Tonkin's back-pass, sliced the ball straight to ex-Rover Grayson and watched in horror as the 43-year-old cushioned a volley into the empty net. Poor distribution has blighted the former Morecambe stopper this term... Harvey pulled no punches in his assessment of Saturday's display, in particular the error by keeper Ryan Robinson... 'The back pass was always going to be precarious on our pitch, but he (Robinson) had a lot of time to deal with it', said Harvey. 'It was a dreadful miss-kick straight to their centre forward'".
---
18 February 2008
RUSHDEN GAME
Altrincham FC website match report here..
The Rushden & Diamonds site also has photos and a report from Saturday's game against Altrincham.
ALTY YOUTH 3 BOOTLE YOUTH 2
A report on Alty's win in this Neil Thomason Trophy match on Sunday is in the Youth section.
CRAWLEY DATE
The Altrincham match at home to Crawley looks likely to be on Tuesday, March 11th but is subject to Crawley's not having a Setanta Shield tie that evening. A further consideration may be that Crawley had their game against Kidderminster postponed on Sunday afternoon to complicate their fixture backlog still further.
PAT'S BACK
NL Today reports that "Paul [i.e. Pat] McFadden (right) has made a return to Altrincham following a loan spell at relegation-threatened Radcliffe Borough. McFadden had made six appearances for Borough and the club will retain his UniBond registration until the end of the current season. Radcliffe Director of Football, Peter Coyne, said, 'Pat is a really smashing lad to deal with and he portrayed an excellent attitude and he was unlucky not to score while with us. But the little spell helped both us and Pat and we wish him well on his return to Alty. We know we may well see him again this season'".
DIFFICULTIES
In NL Today, Southport Chief Executive Haydn Preece "bemoaned the lack of talent in the North West...[which] has forced him to look elsewhere for players. 'Ask officials at Droylsden, Altrincham and Northwich and they'll all tell you the same thing, it's difficult to find the right players around here compared with the clubs further south'".
OLD BOY
Former Alty Youth and reserve, Mark Drew, was sent off for Chorley on Saturday.
BSP NEWS
According to Blue Square Football "Kidderminster Harriers' assistant manager Neil Howarth is unhappy with the club's recent form. The Aggborough club have struggled to score goals recently and this has seen them slide down the table. 'We are disappointed with where we are', Howarth told the BBC. 'But we're not giving up. People might write us off but they're professional footballers. They've got to turn in performances every week'".

From Woking we read that "Farsley fully deserved their win as they won battles in every area of the pitch. They were lively up front, first to every challenge and header and the defence held a high line, giving Woking's midfielders little room to create chances – Aspden had a very quiet game in goal. The experience of Santos, Torpey and Prendergast was vital in a good performance and, if they continue to play as well as they did in this game, then they have every chance of staying in the Blue Square Premier. Woking, on the other hand, had a game to forget, with very few positive performances. They seemed slow and second to every ball and, despite creating lots of half chances, never really looked like getting anything from the game. It will be interesting to see how they react to this defeat in their next game".

Cambridge United "have rejected a six-figure bid from Peterborough United for leading scorer Scott Rendell Earlier this week the U's rejected bids from Southend United for defender Michael Morrison, who then boosted the club by signing a new two-and-a-half year contract, and today Director George Rolls said that a new bid for striker Rendell has been turned down. 'I've talked about this with Jimmy Quinn and with the other board members, and we're in agreement that we want to get back into the Football League and it would not be a wise decision or in our best interests to sell our leading scorer'".

But on Sunday evening, United announced that "Striker Scott Rendell has stunned Cambridge United by formally requesting a transfer to fierce local rivals Peterborough United, and he will join them on loan later this week. The U's rejected a six-figure bid from Peterborough for 22-goal Rendell but he handed in a written transfer request today, asking to leave Cambridge United and expressing his desire to join the League Two side. Director George Rolls revealed the latest development to cambridgeunited.com, saying, 'The club has a policy that we don't keep players who are unhappy and don't want to play for the club, so we have reluctantly agreed to allow Scott to join Peterborough on loan for the remainder of the season. We're bitterly disappointed and very, very upset that this has happened. We rejected the offer from Peterborough yesterday because we didn't want to sell him and we wanted him to stay at the club, but the player has contacted me today and has asked to leave the football club, saying that he wants to join Peterborough. So after consulting with the other Board members and Jimmy Quinn we feel that we can't keep a player who doesn't want to be at Cambridge United and doesn't want to play for us, so it's with much regret that we've got to let him go'. 21-year-old Rendell is currently on international duty with the England C squad ahead of their match against Wales Under-23 at St James Park, Exeter on Wednesday evening. United team-mates Michael Morrison and Dan Gleeson are also in the 16-man squad. Following the match, Rendell is expected to complete the move to Peterborough United, initially on loan, with a permanent six-figure transfer to take place at the end of the season. Rolls added, 'The Board of Directors and Jimmy are all very shocked and disappointed that he wants to leave us, bearing in mind that we believe we can give him League football at the end of the season. I want the fans to be absolutely clear that we didn't accept the bid, we didn't want him to leave, we don't want him to go, but Scott has forced the issue by putting in a written transfer request saying he wants to leave Cambridge United and join Peterborough. We can't keep a player who doesn't want to be at the club'".

From Burton Albion we learn that "Nigel Clough was clearly unhappy with his side after watching them slump to a third successive away defeat as Salisbury City put another dent in Albion's faltering play-off hopes... 'I thought we were absolutely rubbish. The first half was extremely painful to watch and I don't think we deserved anything out of the game. That is the third away league game in a row where we have conceded two goals and on the back of two away defeats we are very disappointed. Even when you are not playing well you need to grind out a clean sheet and start building something again but we didn't even look like doing that today'... Perhaps the biggest blow for the Albion manager was the sight of veteran goalkeeper Kevin Poole limping off with a hamstring injury... 'Kevin will probably be out for a few weeks' said Clough. 'At Kevin's age it takes longer to heal but we are very fortunate to have Saul to step in and he will get his chance again now in the Trophy next week. Saul felt he was fouled for the goal but we still can't really take anything from the game. Good luck to Salisbury, they were better on the day and deserved the three points... Right now we have to see which of those players have got the character to see the job through. We think we know which ones can handle it but we will have to wait and see'... Clough would have preferred a game to get today's defeat out of the system but the Conference have declared this midweek as off limits due to the England C international against Wales at Exeter City on Wednesday with Shaun Harrad and John Brayford due to link up with the squad ahead of the game".
---
17 February 2008
SUNDAY
Aldershot T. 3 Stevenage B. 1
Crawley T. v Kidderminster H. POSTPONED
League table
YOUTH TEAM JUST HOLDS ON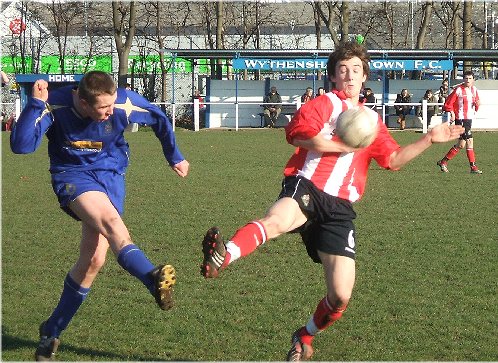 Above: Alty midfielder Dominic Lillie is seen during the game against Bootle.
After cruising into a 3-0 lead at the half-hour mark, Altrincham Youth lost their way and allowed a determined Bootle side to come back to 3-2 in today's Neil Thomason Trophy first round match at Wythenshawe Town. Sam Madeley tapped home Dominic Killilea's right wing cross to put Alty ahead in the 21st minute and then the Bootle keeper was unlucky to see his partial stop of Madeley's shot rebound off his own body into the net seven minutes later. When Jack Kimber was tripped to the right of goal, Tom Bailey made it 3-0 from the spot after 30 minutes. But the second half was dominated by Bootle and they pulled goals back in the 67th and 77th minutes before Alty rode out the remaining time to progress to the quarter finals. Report to follow.
"A POOR GAME"
In the NL Paper, after the Rushden game, Graham Heathcote says, "That was a poor game. I'll let other people decide if we deserved a point".

Altrincham FC website match report here..
WARREN'S CHOICE
Warren Peyton (right) selects his "Dream Team" in today's NL Paper. He includes Alty's Stuart Coburn who "seems to just get better with time... Week-in, week-out, he makes fantastic saves for us" Also selected is Chris Lane, as "You can get bullied at this level if you don't have a couple of hard men... He really gets stuck in and you always get 100% from him". As for Darren Tinson, he is a "very physical defender... solid and tough". Val Owen is also chosen, even though "There are plenty of players with more natural talent than Val but he makes a crucial difference to us when he plays. As far as I'm concerned, he breaks up the game better than anyone in the Blue Square Premier. Not great on the ball but so effective". As for Colin Little, "As he gets older he's dropping deeper and deeper... he's a massive part of the Alty team". Concerning himself, Warren says "I've decent ability on the ball which balances well with some of the tougher nuts in this selection".
OLD BOYS
George Melling has moved to Kendal Town from Bamber Bridge.

Alty groundsman and former Reserves' manager Neil Brown's Abbey Hey drew 2-2 at Colne yesterday with goals from former Alty Reserves' Lee Hendley and Astley Mulholland. Elsewhere, our neighbours Trafford beat Atherton LR with all three goals coming from ex-Alty men - Wes Wilkinson got two and Dion Depeiaza got the third goal. And another ex-Alty Reserve on the mark was Ben Deegan, whose two goals for Ashton United were their consolation at Frickley, where the home team hit four.
BSP NEWS
NL Daily says that "Burton Albion have signed long-serving Rotherham United defender Paul Hurst on a month`s loan agreement. The 33-year-old left-sided defender has played for the Millers for the whole of his career and he has amassed over 400 appearances and is closing in on the record number of appearances at Millmoor. With both Aaron Webster and Dave Farrell out for Saturday`s match with Salisbury City then Nigel Clough's latest recruit seems set for an immediate debut".

According to Blue Square Football "Stevenage Borough have completed the loan signing of Gavin Grant from League One club Millwall. The 23-year-old forward has been brought in by Boro boss Peter Taylor as a direct replacement for Ollie Allen. A Club spokesperson told the club's official website: 'Apart from pre-season friendlies and a few appearances off the bench lately, Ollie hasn't played all season. He needs games to get sharp, so hopefully he'll get that at Crawley Town and come back raring to go. Gavin adds pace as an option up front, whilst Callum and Tes fully recover from their injuries'">

"York City have decided to part ways with former Hull City and Halifax Town midfielder Russell Fry. Born in Hull, Fry managed only two starts and four substitute appearances since arriving at KitKat Crescent in September. The 22-year-old recently had a loan spell at North Ferriby United, who he is now expected to rejoin. Meanwhile, York manager Colin Walker looks set to offer terms to former Chesterfield defender Gareth Davies".
---
16 February 2008
RUSHDEN & DIAMONDS 1 ALTRINCHAM 0
Right; Alty's Tom Cahill competes with Rushden's white-clad captain, Phil Gulliver.
As they did against Farsley earlier in the week, Altrincham underperformed in the first half only to dominate the second period. But after conceding a 13th minute goal, when Rankine was allowed a free header from a right-side corner, Altrincham could not convert possession into an equalizing goal. Little's flashing volley across goal was the nearest they got in the second half. So, Alty remain firmly involved in the relegation battle, with Farsley now just two points behind with two games in hand.
Altrincham FC website match report here..
Rushden and Diamonds' own match report is here.
Alty line-ups
Saturday 16th
Farsley C. 3 Woking 0
Forest Green R. 1 Stafford R. 2
Grays A. 0 Exeter C. 2
Halifax T. 1 Cambridge U. 2
Histon 3 York C. 1
Northwich V. v Weymouth POSTPONED
Oxford U. 1 Droylsden 0
Rushden & D. 1 Altrincham 0
Salisbury C. 2 Burton A. 0
Torquay U. 3 Ebbsfleet U. 1
Through the Years for 16 February.
LOANS
Altrincham have several loan players on their books and their loan periods are varied and complicated due to the bizarre rules on such moves:
Ryan Toulson - is here till the end of the season from Halifax Town
Liam King and Tom Cahill are both here on loans from Rotherham United which started as one-month loans but at their maximum could be for renewed up to a total of 93 days - taking them to April 2nd.
James Jennings arrived here on a 93-day loan from Macclesfield Town.
Ryan Shotton - in his second loan spell loan from Stoke City - apparently until the end of the season.
VAL'S VIEWS
In Tuesday's Robins' Review, Val Owen (right) discusses a number of his team-mates. As a personal trainer by profession. Val is particularly impressed by Warren Peyton. "Warren Peyton is the fittest player I have played with. He'll think nothing of playing on a Saturday and then jumping on his racing bike the next day and cycling for 60 miles". And Val has found a player in his own mould in Liam King. Of him, Val says "He really scampers about all over the place, makes a nuisance of himself and messes things up for the opposition". Val himself is recovering after an operation and hopes to be back in action next month.
STAR QUIZ
The next STAR Quiz Night at Moss Lane is on Monday, March 3rd.
"THE LIKES OF ALTRINCHAM"
The Northants Evening Telegraph says that Saturday's "game is all about preserving a 100% home record and staying out of a relegation battle. Rushden & Diamonds have won the four previous meetings with Altrincham at Nene Park – including a couple of 3-0 victories last season... Diamonds are eight points above Altrincham who remain a further five clear of Farsley Celtic in the bottom four... While Diamonds are unlikely to be concerned about a fight for survival, they must avoid defeats to the likes of Altrincham and Farsley just to make sure... The midweek postponement due to heavy fog at Grays Athletic again left Diamonds frustrated following the Setanta Shield trip to Kidderminster Harriers being called off. But at least it gave an insight into manager Garry Hill's selection in the wake of a disappointing display at home to Halifax Town last Saturday. The official team sheet handed out at Grays showed three changesto the Diamonds' line-up. Right-back Curtis Osano was axed along with midfielders Jon Challinor and Marcus Kelly... Hill recalled Curtis Woodhouse and was ready to give full debuts to Michael Corcoran and Andy Gooding. Assuming the Diamonds boss does not change his mind for Saturday's home game, the only doubt remains over the position of Andy Burgess. He looks set for a free role behind strikers Michael Rankine and David Brown while Lee Tomlin will again have to wait for his opportunity off the bench...It seems likely Hill will again try to use Burgess further forward in their bid to break down Altrincham".

Whilst Alty have doubts over Robbie Lawton, the BBC says that "Rushden & Diamonds' manager Garry Hill has a clean bill of health ahead of the visit of Altrincham. Curtis Woodhouse has recovered from a hamstring injury and fellow midfielder Michael Corcoran could make his first league start since joining from Oxford".

Rushden & Diamonds say that "After suffering their second postponed away game in eight days, R&DFC return home from the Essex fog to face Altrincham. After the recent string of away league defeats, coupled with the draw against near rivals Halifax Town, this is a game that the Diamonds must get something from to avoid the danger of being sucked into the relegation battle. They will also want to preserve their 100% home record against the Cheshire club... The four previous games at Nene Park have all resulted in Diamonds wins. The first game was in May 1997... The team for that game [included a future Alty man] Simeon Hodson... Alty were relegated that season, and next came to Nene Park in 2000.... Alty were relegated again and, following the Diamonds promotion to the Football League, the two teams did not meet again until last season, when the game at Nene Park under Paul Hart was notable for a Simeon Jackson hatrick and the dismissal of Val Owen. The teams also met last season in the FA Cup, under Tony Godden, with the Diamonds also winning 3-0. Earlier this season the Diamonds travelled to Moss Lane, and returned with a 2-1 victory thanks to first half goals from Michael Rankine and Simeon Jackson."
LAST GAME
Farsley Celtic have a report on their draw at Moss Lane last Tuesday. It starts, "The lights went out but came back on as Celtic's relegation battle stayed alive at Altrincham... John Deacey was forced to make three changes... Stephen Downes picked up an injury... Scott McNiven was suspended after picking up five yellow cards and Roy Stamer was unavailable. Coming in for them was Scott Gardner, Ryan Serrant and Steve Torpey. Celtic were going so well until the lights went out.. The delay took the sting out of the game... Celtic were on top for the first five minutes of the second half but the tide turned and Celtic had to weather numerous storms... With the all the Altrincham pressure, the crowd were getting behind them and urging them on to get a goal... Celtic couldn't find a goal but a point is better than no points".
OLD BOYS
NL Daily reports that "The joint management duo at Blue Square North club Barrow will be hoping the performances of new recruit (ex-Alty reserve) Rio Nelson will have them waxing lyrical in the near future. According to Bluebirds` joint boss Darren Sheridan, Manchester-based Nelson is a music rapper with his own website on MySpace. The 22-year-old striker or winger has signed non-contract terms and made his debut in the reserves` 4-1 defeat at Kendal Town on Tuesday night. Sheridan said: 'I watched Rio playing for Flixton and Atherton down our end. He's been down training with us and joined in the warm-ups before the last two games. He looks all right, but it's difficult just to go off training'" reports the NW Evening Mail.
BSP NEWS
NL Daily reports that "Jim Harvey, manager of Forest Green Rovers, has completed his first loan signing of the 2007/08 season by recruiting Ishmael Welsh fromYeovil Town. The move has been financed by the supporters at the New Lawn in the shape of their GRASS Appeal. The club are most grateful to those fans who 'Give Regularly - Assist Squad Sponsorship'. This is the first time this season that Harvey has tapped into this funding stream to help his 1st team squad. 21 year-old Welsh has already tasted Blue Square Premier action, having been on loan earlier in the season with Torquay United where he made twenty appearances for the Gulls. Harvey needs to consider making a couple of signings to bolster his bare squad and following their recent run of matches, Simon Clist needs a weeks break from competitive football to assist recovery from an ankle injury. With the club having operated all season with twenty players and recently losing Mark Beesley to rivals Cambridge United, Harvey appreciates his squad is somewhat depleted and needs to strengthen as the business end of the season approaches... The loan is initially for one month but agreement is open to it being extended".

"Northwich Victoria`s Michael Byrne has been drafted into Tony Pennock`s Wales under-23 squad for the upcoming International Challenge Trophy game against England `C` at Exeter City`s St James`s Park next Wednesday".

From the BBC comes news that "Crawley have signed Southampton winger Josh Dutton-Black and Stevenage striker Oliver Allen on month-long loan deals. 20 year-old Dutton-Black has yet to make his Saints debut. Allen, 21, has started just one league game for Stevenage but scored four times for Barnet in League Two last season".

Also, "Former Wolves striker Steve Bull has confirmed that he is in talks to become the new manager of Stafford Rangers. The former England man told BBC Radio Stoke: 'Things should be finalised in the next three or four days. The club have told me their plans and what they expect from me over the coming years. Stafford Rangers is a club that I want to be part of'. Neil Grayson and Kevin Street have been in charge at Marston Road since Phil Robinson left in December... Bull feels he could be the man to turn the club around. 'I think the players just need a little discipline and maybe someone to give them a good kick up the backside. I'll be trying to put Stafford on the map again'... He has often spoken of his desire to get into club management... 'I don't ever want to be looking back on missed opportunities, I want to try new things. I fell I can succeed but if don't I'll hold my hands up and walk away'". Meanwhile, Stafford Rangers report that "Striker David McNiven has been loaned to Farsley Celtic until the end of the season. However, he will not be permitted to play when Farsley visit Marston Road".
---
15 February 2008
ROBBIE IS A DOUBT
In the Manchester Evening News, Graham Heathcote says "We've put ourselves in a decent position but I'm sure the four teams below us will still think there's everything to play for with around a third of the season remaining. We have to do everything possible to keep up the momentum and it's so important we strive for another positive result at Rushden, particularly with testing games against Crawley, [Torquay] and Exeter coming up immediately afterwards". The MEN adds "Heathcote's only injury concern lies with midfielder Robbie Lawton (right) who was hobbling at the end of Tuesday's goalless draw with Farsley". Lawton was injured by a foul tackle during the second half of that game but completed the ninety minutes.
THURSDAY SCORE
Crawley T. 1 Ebbsfleet U. 2
UNICORN AT MOSS LANE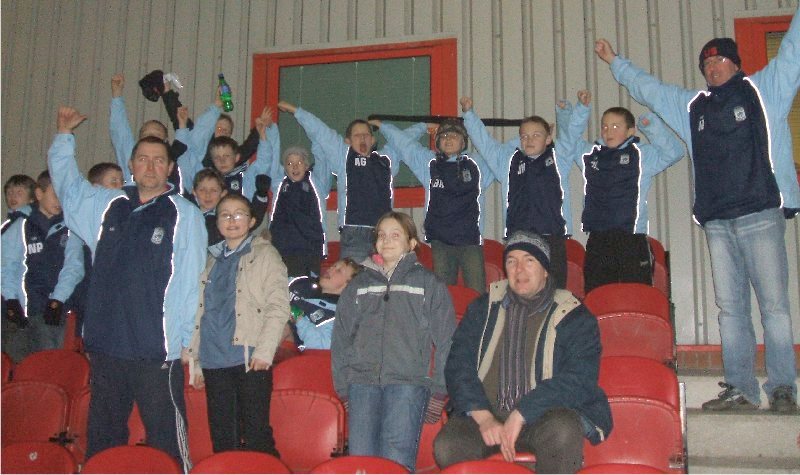 Above: Unicorn Junior FC were the latest young visitors to Moss Lane under Altrincham FC's Featured Club Scheme for local junior football clubs. They are pictured above raising the roof of the Family Stand before the game against Farsley Celtic last Tuesday. We hope that they enjoyed their visit.
GRAHAM DISAPPOINTED
According to SAM "Graham Heathcote could not hide his disappointment after watching his side draw 0-0 with Farsley Celtic on Tuesday night... He said: 'Our home form this season has been disappointing and really, that was another disappointing result. It was a nervous, edgy game and neither team wanted to lose so it ended up being a bit of a dire relegation scrap. But the way I'm looking at it is that we have to try and keep what we've got and take what we can. I suppose at least we kept the point we started with tonight. That's the important thing, making sure we didn't lose and keeping a blank sheet. We struggled defensively for a long time this season but we're more solid now, there's no doubt about that. At the end of the day it's about just trying to pick points up along the way. We have to aim to pick up one a game until the end of the season'. To rehash a well-worn football cliche, Tuesday's relegation battle was truly a game of two halves. The first 45 minutes was a dull, dreary encounter... Thankfully, the game burst into life in the second half. Heathcote had obviously used the break to remind his team what exactly it was they were supposed to be doing. They retained possession, showed renewed endeavour and applied some heavy pressure through their attractive passing game... despite the avalanche of chances, Alty just couldn't make the breakthrough".
CSC OPPONENTS
A report on Alty's Cheshire Senior Cup Final opponents comes from This is Staffs. "Nantwich Town scored two goals in five minutes to book their place in the final of the Cheshire Senior Cup after a hard-earned 2-1 victory against the holders Cammell Laird. Following previous postponements, Nantwich were forced to switch the tie to the Lairds ground at Kirklands, but the visitors were in determined mood despite a faulty start. Heavy traffic delayed their arrival until 15 minutes before kick-off, but they still managed to edge a competitive first half.... [Lairds] went ahead on 50 minutes through Joe Gibiliru. Nantwich responded 20 minutes later when Ashley Carter squeezed through a gap between the home central defenders to equalise from close range. Nantwich's persistence was rewarded on 74 minutes when they bagged the winner. Substitute Glynn Blackhurst hurled a long throw into the box and Paul Taylor drove the ball home from an angle. Nantwich survived severe pressure in the closing stages and now meet Blue Square Conference side Altrincham in the final on a date to be arranged. NANTWICH: Jones, Donnelly, Kiss, Smith, Dicker, Parkinson, Carter, Beasley, Kinsey, Taylor, Griggs. Subs: Ward, Blackhurst, Hamilton-Hendricks, Southern, Hancock".
OLD BOY
Bullsnews reports on Bury as "The Shakers have released striker James Dean. He was a surprise summer signing from Northwich but made only five starts for the club". Dean had a loan spell at Altrincham this season and is now at Stalybridge Celtic.
ALTY OFF-SCREEN AGAIN
Yet again Altrincham do not figure in the latest Setanta Sports TV schedules-
17 Feb Aldershot v Stevenage 7:15 PM
3 Mar Torquay v Aldershot 8:00 PM
10 Mar York City v Exeter City 7:45 PM
13 Mar Stevenage v Kidderminster 7:45 PM
16 Mar Burton Albion v Weymouth 7:15 PM
20 Mar Grays Athletic v Droylsden 7:45 PM
24 Mar Ebbsfleet v Cambridge 7:45 PM
25 Mar York City v Northwich Victoria 7:45 PM
27 Mar Salisbury v Stevenage 7.45 PM
ANDY ON ALTY
Well-known football writer Andy Mitten (and also Josh Mitten's brother) has now produced his account of attending the Droylsden v Alty game last Saturday. It can be found on the 4-4-2 blog and it includes the following comment on the Robins' travelling support- "Their proud history was recalled in a superb song by the 600 travelling fans in the 1,177 crowd when, to the tune of Lionel Ritchie's Three Times a Lady, they sang: 'We've been once, twice… three times to Wembley… and you've won the Manchester Cup'".
BSP NEWS
If Altrincham do survive in the BSP, they could be the only truly part-time club left after The BBC confirmed that "Farsley Celtic plan to join the full-time ranks of the Blue Square Premier - provided they can maintain their top-flight status. Celtic are enjoying their first ever season at their current level thanks to three promotions in the last four seasons. But to progress further, boss John Deacey believes the West Yorkshire club must go fully professional in the summer. 'If we stay up we will try and go full-time. I think we can', Deacey told BBC Sport. 'The background of the club is excellent, we have got the training facilities to do it and we have the staff to do it now Steve Torpey has been added to the coaching team'. Of the half-dozen part-time teams in the Blue Square Premier, four are currently filling the bottom five places. And Deacey admits that training part time around regular jobs - the squad currently gets together on a Monday and Wednesday night and a Thursday morning - has been Farsley's greatest handicap since going up. 'That's been the crux of it. In my opinion it's worth 10 points, being full-time', he said.

Farsley also have plans to improve their Throstle Nest ground and are contemplating a name change to incorporate Leeds in their title in a bid to gain further recognition and attract a greater fan base... 'Getting promotion was magnificent but staying in there is more difficult. It would be a bigger achievement. We have got to stay up because I think the second season might be easier', added ex-Chesterfield midfielder Deacey, 48, who combines management with running his own car body-shop business...'We had a great time with Lee Sinnott and I learned a lot', he said. 'And I have loved this. It was difficult to start with but I have got my teeth into and got some players that maybe I wanted to put in... We had to get some quality players in to blend with the young ones we've got. We've also got a big squad to cope with the demands of the league. The board backed us so we have to thank them for that... Deacey believes it is down to a three-horse race for one remaining relegation place with Northwich, Stafford and Droylsden all facing the drop. And he is backing Celtic to finish as the winners. 'I think it's between Altrincham, ourselves and Weymouth', he said. 'And I still think we have got a great chance with the acquisitions we made in January. We can definitely do it if we build on the start we have made to 2008. We have tightened up defensively. We just need to start scoring a few at the other end'".

At Cambridge United "Michael Morrison has put an end to speculation about his future by signing a new two-and-a-half year contract... Less than 24 hours after we announced that a series of offers for Morrison from League One side Southend United had been rejected, the centre-half put pen to paper on a new deal to June 2010".

The BBC says that "Torquay United manager Paul Buckle has praised his side's defending after the club went 500 minutes without conceding a goal. The Gulls drew 0-0 at Weymouth on Tuesday and their defences were last breached by Newport on 12 January. 'I'm pleased with picking up clean sheets but it is a team effort', Buckle told BBC Radio Devon. 'We lacked a finish, we lacked a final ball and I won't really be too harsh on them for that', he added. Torquay are second in the Blue Square Premier and Tuesday's clean sheet was their fifth in a row".

"Cambridge United have rejected a series of offers made over the last few days by Southend for defender Michael Morrison. Southend wanted to take Morrison, 19, on loan for the rest of the season ahead of a permanent move. Director George Rolls told Cambridge's website: 'Jimmy Quinn wants to keep our best players to give us the best chance to achieve something this season. So as a board we have decided to reject the offers'".

From the Gravesend Reporter we read that "Liam Daish has re-ignited his war of words with Conference chiefs by insisting his Ebbsfleet United side have been treated with 'disrespect' in their fixture fiasco. The Fleet travel to Crawley Town in the Blue Square Premier tonight ahead of their Torquay trip on Saturday afternoon with Daish adamant that the league hierarchy have reneged on a promise at a managers' meeting at the start of the season. The Fleet head coach said he was told that every effort would be made to avoid crippling calendar clashes and has been left less than impressed with two games in less than 48 hours. 'What we've been asked to do is unfair and the league have treated us with disrespect', Daish fumed. 'They have gone against what they told me in a managers' meeting at the start of the season. I don't really want to harp on about it, but I don't think a team like Torquay - or any other ex-league club in this league - would have been asked to do what we have been over the next two games'. The rigours of this dastardly double header is made sharply more apparent when a swift glance at the Fleet's run-in shows eight matches each in March and April and constant midweek encounters from Saturday, March 15 onwards... 'The other thing I cannot understand is why they leave so many blank weekends at the start of the season and then start filling them up at the end when clubs invariably are in cup competitions', he continued... Football Conference assistant general manager Keirina Rowland stressed that the league act solely as 'a mediator' when two clubs, Ebbsfleet and Torquay in this case, cannot amicably agree a re-arrangement and they only ever 'step in for the good of the game'. General manager Dennis Strudwick was unavailable for comment".

The Thurrock Gazette says that "Grays midfielder Karl Murray has left the club. Murray, signed from Woking in the close season, played 23 times for the Blues scoring three goals... Murray appeared to fall out with Blues boss Justin Edinburgh in the middle of a vital game against Aldershot at Christmas. A club spokesman said: 'Karl wanted to leave at Christmas but decided to stay a bit longer. Unfortunately he still could not settle and asked to leave. Both Justin and the club are disappointed but have allowed him to leave. We don't want unsettled players and prefer to have players that want to play for the shirt'".

According to the Halifax Courier "As debuts go, Mark Whitehouse had an absolute stormer. Brought on with 20 minutes of Tuesday's derby with York City at the Shay to go, he had become an instant hit with the Town fans within 10 minutes as he bagged the goal that gave his new side a share of the spoils. And all this happened within 24 hours of him putting pen to paper on a deal that saw him arrive from Unibond League Division One side Ossett Albion. As the 23-year-old admitted, it had been a massive surprise to find himself on the bench, let alone on the pitch. 'It was a shock when I was told I would be on the bench', he said. 'There are a lot of quality players here. Obviously I was pleased, but I didn't expect to get on. It was by far the biggest crowd I have ever played in front of and it could not have gone any better for me'. Whitehouse, who had scored in front of 175 fans at the Shay for Ossett six days earlier in the West Riding County Cup, showed no signs of being overawed by the occasion... 'I have been taught to pick a spot and stick to it. When it hit the back of the net I couldn't believe it and I didn't know what to do with myself'. It has been a remarkable month for Pontefract-born Whitehouse who was playing for Winterton Rangers in the Northern Counties League at the start of January. 'I played for Pontefract Collieries for a few seasons when Pete Daniels was the manager and when he moved to Winterton Rangers he took me with him', he said. 'It has gone on in leaps and bounds since then with two games at Ossett before coming to Halifax. I have signed a 13-week contract and the manager has told me it's a chance to try to prove myself. I will just do what I do and see what happens from there'".

"Northwich became an unlikely venue for some of soccer's biggest names yesterday" reports the Mid-Cheshire Chronicle. "Manchester United stars Wayne Rooney, Cristiano Ronaldo and Carlos Tevez arrived in town to film a TV advert for sportswear giants Nike with Lock Stock and Two Smoking Barrels director Guy Ritchie. The Marston's Arena was more like a Hollywood set than a sports ground, with more than 300 cast, crew and extras constantly pouring in and out of the ground. And security has never been tighter. Vics are one of only three clubs to host Ritchie and the entourage filming the multi-million pound ad – the others are Barcelona and Arsenal. Stadium owner and former Vics chairman, Mike Connett, told the Chronicle he was approached by Nike because of the Arena's burgeoning reputation. 'They came to us', he said. 'It's been fantastic for everyone here and I'm honoured to be part of it'... Ritchie, married to pop icon Madonna, has been at the club all week. And the United trio arrived yesterday (Tuesday) to film their cameos. The advert is expected to hit screens in the summer to coincide with the European Championships, which begin in June. Mr Connett said: 'I can't tell you what happens - you'll have to wait and see it. But it's going to be the biggest advert ever done by Nike. It's good for the town and it will put Northwich and the club on the map. We've had three of the biggest players in British football and one of the best film directors in the world here and they're absolutely loving it. They say it's the best they've been looked after. And that's a phenomenal compliment to everyone here'">

In the same vicinity, the Northwich Guardian reports that "Mike Marsh says he has every faith in Vics to survive in the Blue Square Premier. The former Liverpool midfielder was this week unveiled as Dino Maamria's new right hand man and his first impressions of Northwich are not of a team heading for relegation. 'I've been pleasantly surprised', he admitted on Friday. 'There's a lot of ability here and there's not been the doom and gloom in the dressing room that I expected of a team struggling at the wrong end of the table. In fact it's the opposite, these players believe they can pull this off'. Maamria gave his old pal a call before Christmas to ask him if he would be interested in giving a helping hand. Marsh, 38, has had to bide his time while his former Southport team mate trimmed the wage bill to make room for his arrival... 'Mike is a very, very enthusiastic kind of guy', said Maamria. 'His knowledge of the game is second to none... And he's one of the best people I have played with - he's a top professional'. The mutual appreciation does not end there as Marsh revealed he has found a much more laid back Maamria then the one he played with at Southport. 'He's a lot more even-tempered than I remember', he quipped. 'Dino is a winner and I think that's the attitude he wants to instil in his team'". Maamria added, "I need someone to bounce ideas off as I will make mistakes and having that extra voice can only be a help".

Oxford "United midfielder Danny Rose has agreed a new deal which will keep him at the club until the end of the season" states the Oxford Mail. "He had previously been on a month-by-month contract. 'I'm happy to stay here and fight for my place', he told United's website".

"Manager Paul Buckle refused to be too critical of his Torquay United players after they had to settle for a 0-0 draw at Weymouth... 'I have accused people this season of having too high expectation levels sometimes', said Buckle. 'So I must be careful that I don't go down that road myself. We did lack a bit of finish and a final ball... It's a point gained - there were a lot of other draws in the league - and Weymouth were worthy of it. I'm pleased with picking up another clean-sheet'... Buckle once again praised the near-500 supporters who cheered United on at the Wessex Stadium. 'I thank every one of them for giving up their evening and paying out their money to follow us - the players really appreciate it', he said... New Weymouth boss John Hollins said of Tuesday's match: 'Torquay are a very strong, powerful and well organised team - a good side... I think we will survive if we carry on playing like that'" reports This is South Devon.

From NL DailyGateshead are set to complete a triple raid on York City following the capture of striker Paul Brayson and defender Carl Jones. Both had been close season targets for the Tynesiders, along with midfield man Phil Turnbull, before they signed full-time contracts at the KitKat Crescent. South Shields-born Turnbull, who joined York from Hartlepool United, is now set to join Gateshead on loan with a view to a permanent signing. Turnbull`s career at York has been hampered by injury... The 21-year-old is expected to complete a second loan move to Gateshead". Meanwhile "The Durham FA have given their backing for the County Cup final to be held at the Stadium of Light and with Sunderland Reserves our opponents it would ensure a sizeable four-figure crowd. Gateshead have also made progress in their plans to build a new purpose-built 6,000 capacity stadium in the town having played at the council-owned International Stadium for over three decades".
---
14 February 2008
ALTY TO FACE NANTWICH
Cheshire Senior Cup SF: Cammell Laird 1 Nantwich T. 2. Nantwich Town play Altrincham in Final on a date to be decided.
LAST GAME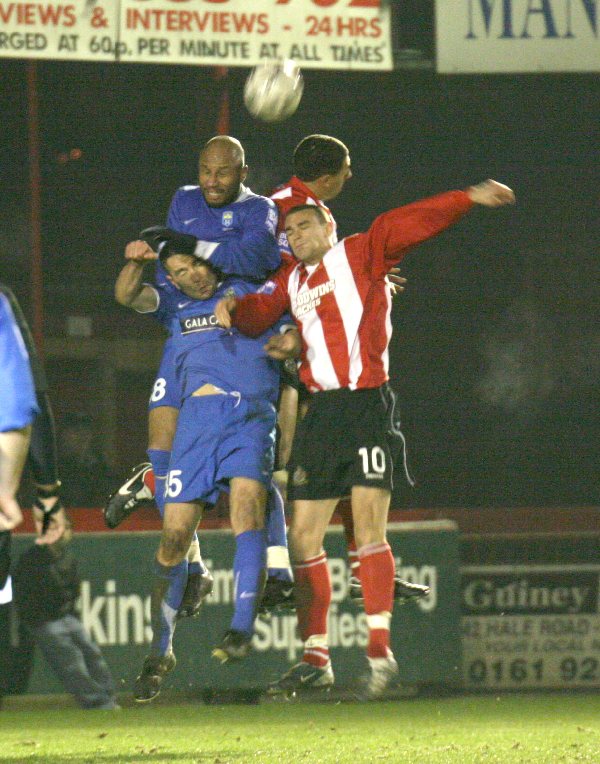 RIght: From Gavin Rathbone comes this image of Alty's Greg Young and Ryan Shotton competing for the ball against Farsley on Tuesday.
According to Farsley Today "Farsley Celtic boss John Deacey remains confident his side can avoid the drop after watching them pick up a vital point at fellow strugglers Altrincham. It was the proverbial game of two halves, with the visitors enjoying a promising enough first half and Alty by far the better side after the break.. Deacey said: 'I've got to be pleased with a point. Our first-half performance I thought was excellent but Altrincham came back in the second half. We worked like mad, like we did in our two previous games, and we have to build a platform from this to get the points back on Altrincham and Weymouth in the relegation dogfight. We've always been confident we can get out of this'. The first half was a dull, dreary encounter – a typical bottom of the table clash. Celtic did at least look marginally sharper than their hosts though... Thankfully, the game burst into life after the break, although it was Alty who had the better of the chances... Farsley held out. They might have even snatched victory late on had Andy Watson showed a touch more composure. But the sub blazed wildly over the bar".
"Farsley Celtic boss John Deacey is hoping for a speedy recovery for goalkeeper Tom Morgan, who fractured his collarbone in their Setanta Shield exit at Droylsden... Deacey said: "He will be out for six weeks and it is a real blow. We are going to miss him. He's a nice kid as well. He has been loyal to Farsley Celtic. Whenever we have asked him to step in he has done a good job. Hopefully, he will be back as quickly as possible'".
NEXT GAME
Our opponents this Saturday "Rushden & Diamonds face a fixture backlog over the final 10 weeks of the season" claims the Northants Evening Telegraph. "Last night's trip to Grays Athletic was called off just 15 minutes before the scheduled kick-off as heavy fog covered the Recreation Ground leaving referee Steven Tomlinson with no other option over the postponement. It means Diamonds were frustrated for the second successive week after the Setanta Shield tie at Kidderminster Harriers fell victim to a waterlogged pitch... Diamonds are not allowed to play next midweek due to the England C international against Wales at Exeter City – even though none of Garry Hill's squad has received a call-up. They already have a first-ever visit to Farsley Celtic in the Blue Square Conference Premier on Tuesday, March 4. The following two Saturdays are scheduled for the two-legged FA Trophy semi-finals... [On Tuesday] The Diamonds boss was hoping to hand full debuts to Michael Corcoran and Andy Gooding... Curtis Woodhouse was named in the starting line-up with Curtis Osano, Jon Challinor and Marcus Kelly all dropped following last weekend's 2-2 draw at home to Halifax Town. Diamonds take on relegation-threatened Altrincham at Nene Park on Saturday."
BSP NEWS
Blue Square Football reports that "strugglers Stafford Rangers have announced the signing of midfielder Ishmale Reid as they look to boost their chances of survival... The 21-year-old midfielder is the brother of former Rangers player Levi Reid and can count Port Vale, Stafford Town, Cradley Town and Rocester amongst his former clubs. His arrival follows the signing of Courtney Shaw and Keenan Meakin-Richards, who were both registered in time for Saturday's win over Weymouth. Caretaker boss Neil Grayson is fully focused on steering his charges clear of the drop zone and has asked them knuckle down for their remaining fixtures. 'We're still a long way from safety and when you're fighting for your lives, you can't afford to carry passengers', he told the Express & Star. 'No one's giving up. The players can enjoy the win (over Weymouth), but they've also got to enjoy the hard work that's to come'"..

From the BBC we learn that "Oxford United striker Rob Duffy will stay on loan at Wrexham for the remainder of the season. The 25-year-old Welshman was Oxford's top scorer last season, but was initially allowed to join the Racecourse Ground club for a month. With Joel Ledgister also out on loan, Oxford seem certain to add to their squad again, with a midfielder thought to be top of United's wanted list".

This is South Devon says that ""Try as they might, especially during a one-way second half, Torquay United just could not force a winner against Westcountry rivals Weymouth in brass-monkey conditions at the Wessex Stadium last night. Paul Buckle's Gulls piled on relentless pressure, and it was Weymouth who were celebrating their mere survival at the final whistle.A fifth successive clean-sheet in defence means that United have now not conceded a goal for 532 minutes... Buckle made one change, recalling Phillips up front against his old club in place of Roscoe D'Sane, who dropped to the bench... New Weymouth boss John Hollins made several changes after the 2-1 defeat at Stafford last Saturday. In came Justin Roberts and Trevor Challis in defence and new loan signings Franklin Anzite from Swindon and Jack Compton from West Bromwich Albion in midfield. Compton, who grew up in Torquay, is the 19-year-old son of former Gulls and Weymouth stalwart Paul Compton, so the ground of his senior debut could hardly have been more appropriate. The Terras also lined up with only Stuart Beavon up front and Simon Weatherstone 'in the hole' just behind him".
---
13 February 2008
RESULTS
Wednesday 13th
Stevenage B. 0 Forest Green R. 0
STATTO BANKRUPTCY MYSTERY
Angus Loughran, the Altrincham FC supporter and "TV betting pundit known to millions of sports fans as Statto has been declared bankrupt" says the Manchester Evening News "Angus Loughran, 42,... was declared insolvent at Manchester County Court, but mystery surrounds how the commentator and author ended up in financial trouble. Mr Loughran vowed that he knew nothing about the case when the M.E.N contacted him. After phoning the court, the pundit, formerly of Heald Road, Bowdon, Altrincham, said he had been told it involved council tax arrears. But Trafford Borough Council denied instructing legal proceedings against the TV star.

Mr Loughran said he had been `out of the country a lot recently'... 'I have ignored letters from the local council, and probably been a bit naïve', he said. 'But it's something I can hopefully sort out. I don't honestly know what, if anything, I owe them. 'I had no idea things had got to this stage'... he said. Mr Loughran, who is the son of former Halle conductor James Loughran, first shot to fame on BBC 2's Fantasy Football League programme... The former Ampleforth College public schoolboy, who confessed to getting poor maths results, became cult viewing... His encyclopaedic memory and love of statistics is also said to have earned him substantial sums of money... A spokesman for the Insolvency Service confirmed Mr Loughran was declared bankrupt at Manchester County Court on February 4".
CARLOS LEAVES
Altrincham FC left-winger Carlos Logan has left the club. Recently, a players' agent spoke to Altrincham about Carlos joining an Irish club on a tour of Spain. On Saturday at Droylsden, Graham Heathcote, the Alty boss, spoke to Carlos and said that if he wished to go to the Irish club, that was his decision and that if he did opt to go, he would go with the best wishes of our club. Carlos was asked to phone Graham on Sunday with his decision. No call was received and Carlos was therefore assumed to be staying at Moss Lane and, so, was pencilled in as a member of Tuesday night's squad. However, he failed to show at Moss Lane and is reported to be in Spain, although no contact has been had from him. "It's very disappointing" said Graham. "Effectively, he's gone and won't be seen again in an Altrincham shirt".

Carlos joined Altrincham in summer 2007, having been released by Darlington. His career started as a trainee at Manchester City before having a loan spell with Chesterfield before going on a free transfer to Darlington in August 2005 where he made 27+15 appearances. A loan to Bradford City followed (2006-07, 3+1 appearances) before he joined Altrincham for whom he made 13 starts and 13 sub appearances, scoring twice (both goals being in Cup games).
ALTRINCHAM'S AWARD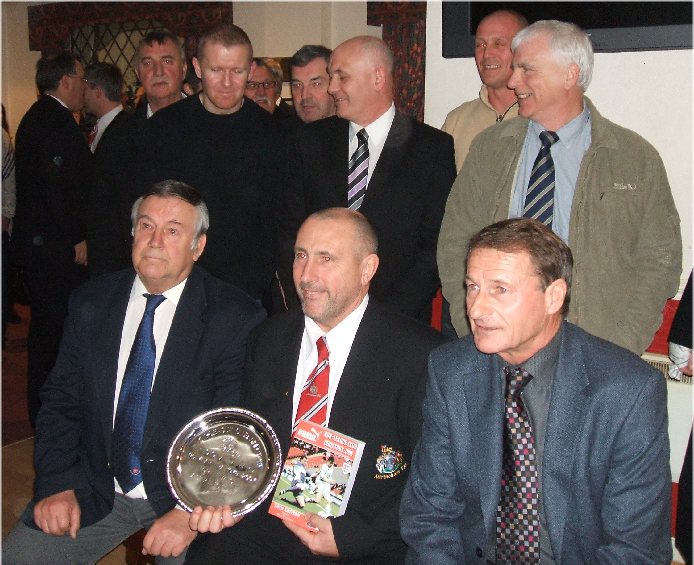 England's 1966 World Cup striker Roger Hunt last night presented Alty chairman Geoff Goodwin with an award to mark Altrincham FC as the most successful non-League club in the North West over the last thirty years. The award, made on behalf of the Non-League Club Directory, was preceded by brief speeches from Alty manager Graham Heathcote and Tony Williams, founder of the Directory. Graham reminded everyone of the club's ups and downs over the past thirty years, singling out John King and the the three-man board of Geoff Goodwin, Grahame Rowley and Andrew Shaw who saved the club in 1995 and 2002 respectively. As well as these four gentlemen, a good showing of former Alty players and supporters were in attendance to mark the occasion.
Above, Geoff is seen with Tony Williams (left) and Roger Hunt (right), flanked by names from Altrincham's successful past thirty years. Seen above in the back row are former players, left to right, Mal Bailey, Mark Maddox, Graham Heathcote, Paul Cuddy, Gary Talbot, Jeff Johnson. The club is grateful to Tony and his colleagues for making this award possible.
ALTRINCHAM 0 FARSLEY CELTIC 0
Altrincham played out only their second goalless draw of the season after dominating the second half but failing to score.
Alty player stats
BLUE SQUARE NEWS
"Dagenham have signed Mark Arber on loan until the end of the season from Stevenage to bolster their fragile defence. The former Peterboro and Barnet man spent the latter spell of last season at the Daggers, helping them to the Conference title" reports Bullsnews.

The BBC says that "Histon boss Steve Fallon has allowed long-serving defender Matty Haniver to join Blue Square South neighbours Cambridge City on a month-long loan. 'Hopefully this will enable Matty to get a month of first-team experience', Fallon told his club's website. 'That will certainly hold him in good stead for our hectic end-of-season schedule', he added. Haniver, 26, has only started a handful of games for Histon this season despite being an ever-present last term".

"Oxford United winger Joel Ledgister has joined Blue Square South side Hayes and Yeading on a month's loan. The 19-year-old has made seven starts for the U's since joining from Southend in July but has struggled to hold down a regular place in the first team" says the BBC.
RESULTS & FIXTURES
Tuesday 12th
Aldershot T. 0 Cambridge U. 0
Altrincham 0 Farsley C. 0
Burton A. 3 Droylsden 0
Exeter C. 2 Woking 2
Halifax T. 2 York C. 2
Grays A v Rushden & D. POSTPONED - FOG
Histon 0 Stafford R. 0 ABANDONED AFTER 63 MINS - FOG
Weymouth 0 Torquay U. 0
---
12 February 2008
JOB HALF DONE
SAM says that "Alty face part two of a crucial relegation double-header when they welcome Farsley Celtic to Moss Lane tonight.... 'It was good to beat Droylsden but we didn't go into the dressing room singing and shouting', said Graham Heathcote. 'As far as I'm concerned, it's only half the job done - it doesn't mean anything if we don't get the result against Farsley. We did our job against Droylsden. I always knew that if we kept a blank sheet we'd have a good chance of winning and that's exactly what we did. But it has to be a different performance tonight, we have to keep the ball better than we did on Saturday and force the issue a little more'. Liam King is the only injury doubt after suffering a slight recurrence of a knee injury against Droylsden.

But it is the 12th man Heathcote is counting on to make the difference at Moss Lane. He said: 'The support at Droylsden was absolutely fantastic. To run out to 500 supporters gives you a massive boost. We need more of the same tonight. Sometimes you don't get the same kind of noise at Moss Lane because people are spread out around the ground. It might be good if everyone gets together on the terrace and gets behind the team as much as possible'".

And don't forget the presentation to Altrincham FC in the bar tonight before kick off. This is from the Non-League Directory to mark Altrincham FC as the most successful non-League side in the North West over the last thirty years. As detailed below, England World Cup star Roger Hunt will be in attendance along with Tony Williams, (founding editor of the Directory), and a host of former Altrincham FC stars. The bar opens at 6.30pm.
FARSLEY GAME
Alty entertain Farsley Celtic tonight (Tuesday) in a vital Blue Square Premier game. A win for Alty would take them eight clear of Celtic, having played two games more, but defeat would cut the gap to two points.

Farsley Celtic lost 3-1 at home to Aldershot Town last Saturday and Farsley Today says that "Farsley's visit to fellow strugglers Altrincham tomorrow night assumes huge importance after another defeat for John Deacey's men at Throstle Nest. Victory would reduce Altrincham's advantage to two points in the scramble to avoid relegation from the Blue Square Premier League, but Celtic will be without the suspended Scott McNiven and James Knowles. Deacey also has doubts over Mark Jackson and Stephen Downes who both needed treatment for injuries received on Saturday... Deacey was critical of his side's defending... Farsley began with Reeves alone in the attack but were left chasing the game and eventually used three men at the back, five in midfield and two up front. Deacey said: 'We made three basic errors at the back'... Rory Prendergast, impressive against Droylsden in the Setanta Shield, again made a useful contribution on Farsley's left flank in his first home appearance, but Celtic will need to tidy up in defence and show a sharper cutting edge if they are to avoid the drop. Celtic: Aspden; McNiven, Jackson, Santos, Stamer (Torpey 61); Downes, Iqbal, Bentham (Knowles 52), Krief (Bambrook 85), Prendergast; Reeves. Subs not used: Gardner, Backhouse".

The BBC claims that "Altrincham midfielder Liam King is a doubt after sustaining a knock on his return from a knee injury. Richard Battersby will compete for a full-back spot after serving his one-match ban while on-loan Rotherham striker Tom Cahill is available. James Knowles is suspended for Farsley while Roy Stamer and Scott McNiven both miss out through injury. Celtic will also travel without Roy Crossley (back problem) and goalkeeper Tom Morgan (broken collarbone).".

As previously reported the referee for tonight's game against Farsley is Mr Mo Matadar whilst on Saturday at Rushden it is Mr S.R.M. Procter-Green.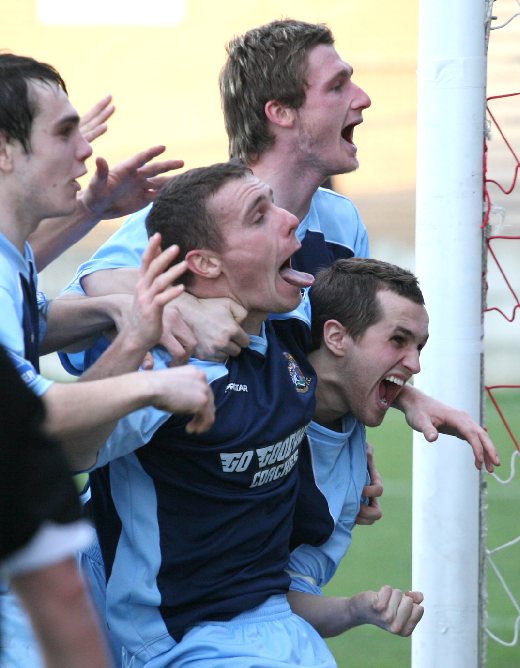 TUESDAY DATE
Right: A cracking photo from Gavin Rathbone of the celebrations after Alty's first goal against Droylsden. It shows (l. to r.), Liam King, Robbie Lawton, Ryan Toulson and Chris Senior. Gavin has dozens more excellent Alty images on his GR Photography website.
Alty host Farsley Celtic on Tuesday evening. Howard Watts's Through the Years records for Tuesday's game (12 February) have now been added to the website. The sides drew at the Throstle Nest earlier this season but on Farsley's only previous visit to Moss Lane, they lost 4-1 in October, 2004 in the FA Cup 2nd Qualifying Round.
OLD BOYS
We reported a few days ago that former Alty captain Steve Hawes had joined Sheffield FC. NL Daily confirms that a fee was involved, saying "Worskop Town have sold club captain Steve Hawes to UniBond Division One South side Sheffield FC for an undisclosed four-figure fee... Hawes lost his place in the side last month and manager Peter Rinkcavage decided to cash in on the player when an offer came in. 'Steve has been unsettled in recent weeks and we received an offer that we thought was a good one, and we've got back what we paid for him', said Rinkcavage, who brought Hawes with him from Stocksbridge in the summer. 'I think the pressure of captaining a big club got to him. When the team was struggling at the start of the season he took the criticism of the team on his shoulders, which was obviously difficult to deal with. Possibly making him captain when I came in put a lot of pressure on him'. Hawes made twenty-four starts in his second spell for the Tigers, on top of the 101 appearances he made in his first stint at Sandy Lane. Rinkcavage added: 'He loves Worksop Town but had stopped enjoying his football in recent weeks. He had other things going off at home with the arrival of a new baby and it all contributed. It's a timely reminder to all of us that at this level footballers have full-time jobs and young families to consider, as well as the club they play for. He has been a fantastic servant and his impact on a relegated club was very understated. His contribution to the turnaround of Worksop Town needs to be acknowledged. Nobody can say Steve Hawes didn't try in every minute of every game for Worksop Town'".

Witton Albion lost in the league cup on Saturday but, according to the Northwich Guardian, their "Star Man" was former Alty reserve goalkeeper Craig Ellison. Also playing was former Alty trialist Liam Brownhill, ex-Robins defender Cavell Coo, whilst a used sub was Rod Thornley.
BSP NEWS
From the BBC we learn that "Stafford Rangers are lining up Wolves legend Steve Bull to become their new manager, BBC Radio Stoke understands. The 42-year-old has limited coaching experience but has taken his Uefa B licence and is understood to be considering an offer from the club. Stafford have been without a manager since Phil Robinson left Marston Road in December, with senior players Neil Grayson and Kevin Street taking charge.... Bull has said he would be prepared to start at the very bottom if it meant getting a chance in management... Ironically, if he did get the job, he would be replacing one of his former team-mates. Bull and Robinson played together at Wolves during the late 1980s".

"Worcester City have decided not to extend defender Jonny Harkness's loan from Kidderminster Harriers... Harkness joined Harriers in January 2006 after being released by Walsall".

"On-loan Accrington striker Lee McEvilly has revealed he would consider the option of a permanent move to Cambridge United" according to Blue Square Football. "The 25-year-old has been a revelation at the Abbey Stadium and despite being away from his hometown of Liverpool, admits he feels welcome at the U's. He told Cambridge News Online: 'It's difficult to adapt with the situation I've been in. I've just had a little boy and had a few family problems as well and to be fair, I've never been away from home and it's a three-hour drive away. But that's at the back of my head now and I'm just here to play football. If you go into a new job or join a new team, the first thing you wonder is if the lads will take to you. They've looked after me in every possible way and the gaffer has taken me under his wing'. McEvilly is keen to pay the club back after regaining his form at the Blue Square Premier outfit and has insisted he would not down a permanent contract. He said: 'I'm here until the summer, but it's up to them, the ball is in their court. I definitely won't shut them out because they've done me a favour'".
---
11 February 2008
WORLD CUP WINNER TO HONOUR ALTY
It has been confirmed that on Tuesday evening (12th), before this Tuesday's game against Farsley Celtic, the former Liverpool and England striker Roger Hunt will be joining the Non-League Club Directory's founder Tony Williams at Moss Lane in presenting to Altrincham FC an award as the most successful non-League side in the North West over the thirty-year life of the Directory. Roger was a member of the England 1966 World Cup squad - indeed, he was the England player (shirt no.21) who was closest on the pitch to Geoff Hurst's famous "off the crossbar" goal against West Germany in the World Cup Final.

As well as the current Alty management of Graham Heathcote and Graham Barrow, present at the event will be other stars from Altrincham's successful past including Barry Howard, Mal Bailey, Paul Cuddy, John King, Ronnie Ellis, Ken McKenna, Mark Maddox and Gary Talbot. All supporters are welcome to attend the presentation which will take place at around 7.10pm. The bar will be open as usual from around 6.30pm.
DINE WITH FREDDIE
This Wednesday lunchtime is the deadline to book your ticket, via Karen Rowley at Altrincham FC (on 928-1045 or by e-mail) for the Freddie Pye Gala Dinner, which was announced last week:

Alty Vice-Chairman, Grahame Rowley, writes: "The Manchester Evening News has organized a Gala Dinner for Freddie Pye (left), the former Altrincham manager on February 28th at the City of Manchester Stadium. Altrincham FC has booked a table which has already been taken up by members of the board and guests. However, we have had a couple of enquiries from supporters about the possibility of going to the event. Would any interested parties please contact me by next Wednesday (13th) and, if there is sufficient interest, the Club will book another table.

The MEN says, "Stars have promised to turn out in force for Freddie Pye at the end of the month. The former Stockport County chairman, who managed Altrincham and was on the board at City for many years, has been suffering from ill health in recent years and his friends have rushed to his aid. Sir Alex Ferguson, Mike Summerbee and Wilf McGuiness will be the guests of honour at a gala dinner to be held in the Citizens' Suite at Eastlands on February 28. There will be a question and answer session with the top table conducted by Fred Eyre and there will also be a comedian on the bill. The dinner is open to ladies and gentlemen and starts at 7.45pm. Tickets cost £40 and further details can be obtained by contacting Bernard Halford on 0870 062 1894. Colourful character Pye has long been well known in football circles particularly in the north-west. He was a non-league player of some repute with Hyde United where he was a right half and after playing in the Welsh leagues became manager of Altrincham under chairman Peter Swales and vice-chairman Noel White, who later became two of the Football Association's most powerful figures. The Robins swept all before them and Pye, whose business was scrap metal, became chairman at Stockport County before moving to occupy the same position at Wigan Athletic. Pye later hooked up with Swales again at City where he served as vice-chairman and his last position was at Sheffield United as vice-chairman".
YOUTHS GO UNDER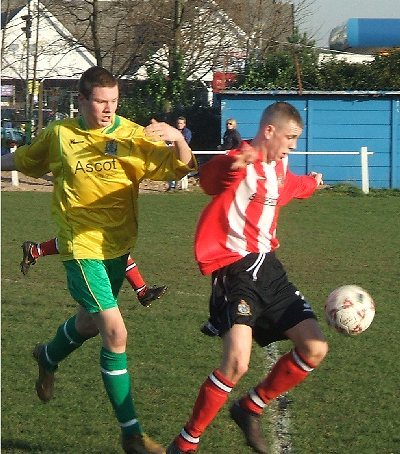 Right - Declan Wakefield in action against Marine.

It was a disappointing day for Altrincham Youth who put in a below par performance on Sunday afternoon, when they lost 1-2 at home to Marine. To compound their problems, they lost striker Tom Bailey to an injury, midfielder Danny Browne was sent off and goalkeeper Andrew Jones hobbled through most of the match with a groin injury. Charlie Weir put Alty ahead midway through the second half, only for the visitors to level from the penalty spot soon afterwards. After Browne had been dismissed for his second yellow card, Marine clinched the game with seconds of the second forty-five minutes left.

Match report in the Youth section.
BSP NEWS
Burton Albion "have finally had their 5th round Setanta Shield date confirmed but not for the date they hoped. The Brewers match against Droylsden at The Butcher's Arms will now take place on Tuesday 26th February and will be shown live on Setanta Sports, the second round in a row that Albion have featured in front of the television cameras. The new date does however mean that Albion's Blue Square Premier match at Grays Athletic will now have to be rearranged for the third time".

Ebbsfleet United say that "The Setanta Sports TV cameras will be at Stonebridge Road once again on Easter Monday for what could potentially be Ebbsfleet United's big play-off six-pointer against Cambridge United. The Bank Holiday clash on March 24 will now kick-off at 7.45pm to accommodate Setanta Sports' schedule rather than the afternoon kick-off as originally planned. This will be the Fleet's fourth televised game of the season, having played both Crawley Town and Woking, with the return clash at Crawley to come on February 14".

Stafford Rangers "celebrated their first home league victory of the season with a 2-1 win and completed the 'double' over Weymouth. Neil Grayson, with a first-half header, and substitute Courtney Shaw, with a late winner, were the men on target in the Marston Road sunshine. With Droylsden losing at home to Altrincham, Stafford moved off the bottom to 23rd position. The two [new] names on the teamsheet were Keenan Meakin-Richards, cousin of Jemiah who was previously with Hednesford Town, and winger Courtney Shaw who has played for Stafford's County Senior League side and Reserves in the past".
---
10 February 2008
SUNDAY SCORE
Forest Green R. 1 Crawley T. 0
DROYLSDEN 0 ALTRINCHAM 2
This site's match report is here.

In today's NL Paper, there are four colour photos of Alty's win at Droylsden, including one for Friends of Altrincham FC coordinator Steve Foster to frame which shows him celebrating Colin Little's goal with gusto. Also in the NLP, Graham Heathcote says of the win, "Today was never going to be about the performance, it was always going to be about the result. I think we produced a professional performance. We have 16 games left to play so it's still all to play for as far as we are concerned. There's still lots for us to do and we'll scrap for every point. We have Farsley Celtic at home on Tuesday so it's a big 72 hours for us. However, we are not getting carried away with today. None of the lads are giving 'yahoos' in the changing room, but today has been a good three points". Meanwhile Dave Pace said "There's lots of points to play for... It's not over until it's over and we can't throw the towel in with 17 games to go. We could go on a ten-game unbeaten run, who knows?... Their goals were down to three mistakes by us. Chris Denham failed to close down Jennings for the first and Lee Roche and Adam Dugdale missed crucial headers to clear. Bur it was a great spin by Little for his goal and it was their day today".

There are plenty of photos from the Droylsden v Alty game on the Bloods' Photo site.
WELL DONE
Congratulations to Abbey Hey manager (and Alty groundsman) Neil Brown, who has lifted his team off the bottom of the Vodkat League 1st Division with a 1-0 win yesterday over Bacup, thanks to a goal from former Alty Youth and Reserve, Astley Mulholland. Neil has also signed another ex-Alty reserve in Dwaine Lindsay.
OLD BOYS
Former Alty captain Steve Hawes has left Worksop Town for Sheffield FC and Paul Ellender scored for Boston United yesterday. Ex-Alty reserve striker Adie Orr has moved from Chadderton to Runcorn Linnets.
BSP NEWS
"The worst performance of the season so far - that's the verdict of manager Dino Maamria on his side's home defeat to Salisbury" according to the Northwich Guardian. "'That was very, very disappointing', he said. 'It was easily the worst performance I've seen since I took over as manager and I won't accept that level of performance again'. Pushed to find a reason for his team's no-show, Maamria blamed a mental block on the part of his players. 'I told them that they had to win today and maybe they crumbled under the pressure', he said. 'We had a meeting yesterday and I said I didn't want another week passing by without a home win but basically we failed to turn up. I've made a decision to go with a young squad and that's a gamble as sometimes they struggle with pressure and I think that's what happened today'. Vics looked like they were running on empty for large parts of a terrible game, punctuated only by Wayne Turk's scrappy winner. Maamria reckons extra time at York City, plus a poor playing surface at the Marston's Arena, were also factors in his side's struggle for form... 'The real reason we lost is because we haven't competed or shown the hunger or desire required to win games at this level... they countered and got a goal with their only shot'... Today's game marked the return of Michael Bowler, Jamie Mullan and Brad Maylett to the starting line up but all three were substituted following poor showings. 'The only positives I take are the performances of Ryan Brown and Luke Horrocks', added Maamria. 'I give people a starting shirt when they deserve one and there will be changes next week because I won't accept that performance again'".

The Crawley Observer says that "Crawley Town striker Jamie Cook has topped the fans' poll to be the Blue Square Premier Player of the Month for January. Cook found the net a remarkable seven times in four matches to help Crawley to three wins and a draw during the month. Having previously played for Town manager Steve Evans while at Boston, Cook joined Crawley during the summer".

NL Daily reports that "Rob Edwards has agreed a contract to become player-coach with Exeter City next season. The veteran defender has been tried out in the role for the last month and has impressed City boss Paul Tisdale. Edwards, who was due to be out of contact at the end of this season, is set to sign the new deal over the coming days. 'I am very pleased that Rob Edwards will become a permanent player-coach next year', said Tisdale".
---
9 February 2008
SETANTA SHIELD QUARTER-FINALS
North
Northwich V. v Kidderminster H/.Rushden & D.
Nuneaton B./Halifax T. v Droylsden/ Burton A.

South
Crawley T. v Aldershot T.
Woking v Weymouth
DROYLSDEN 0 ALTRINCHAM 2
Above: Altrincham celebrate victory in front of their fans at the Butcher's Arms.
Altrincham's improved form in 2008 continued as they recorded their first "double" of the season at the Butcher's Arms.
DROYLSDEN (Red shirts, black shorts and red socks) 1. Paul PHILLIPS (capt); 2. Lee ROCHE, 16. Adam DUGDALE, 5. Greg STRONG, 22. Steve HALFORD, 11. Chris DENHAM, 19. Levi MACKIN, 14. Connall MURTAGH, 8. Jamie McGUIRE; 9. Terry FEARNS, 12. Jody BANIM. Subs: 3. Karl MUNROE, 4. Colin CRYAN, 6. Gareth MORRIS, 15. Ashley BURBEARY, 26. Danny ELLIS.
ALTY (Pale and dark blue shirts, pale blue shorts and socks) 1. Stuart COBURN; 16. Ryan SHOTTON, 5. Darren TINSON (capt), 10. Greg YOUNG, 24. James JENNINGS; 23. Ryan TOULSON, 7. Robbie LAWTON, 25. Liam KING, 11. Warren PEYTON; 9.Colin LITTLE, 19. Chris SENIOR. Subs: 3. Gary SCOTT, 14. Tom CAHILL, 12. Joe O'NEILL, 15. Chris LANE, 22. Carlos LOGAN.
FIXTURES
Saturday 9th
BSP
Cambridge U. 2 Stevenage B. 1
Droylsden 0 Altrincham 2
Ebbsfleet U. 1 Exeter C. 1
Farsley C. 1 Aldershot T. 3
Northwich V. 0 Salisbury C. 1
Oxford U. 3 Histon 0
Rushden & D. 2 Halifax T. 2
Stafford R. 2 Weymouth 1
Torquay U. 1 Kidderminster H. 0
Woking 2 Burton A. 1
York C. 2 Grays A. 0
YOUTH GAME CHANGED
The Alty Youth match tomorrow (Sunday) has been changed from being against Daisy Hill (away) to Marine (at home). Kick off will be 2.30pm at Wythenshawe Town FC, Baguley.
NEXT TWO GAMES
The BBC confirms that "Striker Steve Daly is suspended for Droylsden's important home fixture with fellow strugglers Altrincham. Jamie Tandy is definitely out with a broken foot but Adam Dugdale is fit again and new defensive recruits Karl Munroe and Greg Strong may make debuts. Altrincham are without defender Richard Battersby, who serves a one-match ban. Loan signing Tom Cahill should be fit after hamstring trouble, Darren Tinson also hopes to feature, but Ryan Toulson is out and Liam King faces a late test". For Alty physio Sean Riley's report on injured players, see below...

The Tameside Advertiser tells us that "Altrincham arrive at the Butcher's Arms on Saturday in a battle of the Blue Square Premier strugglers... Dave Pace said: 'It was one of those games where we didn't really perform, just look at the result, but these things happen in football. There's not a lot I can say about it other than it was a freak result which even happens in the Premier League – Chelsea beat Manchester City 6-0 and City had spent £40m... We should have had a couple of penalties but I'm not really moaning about it, I can't really defend that sort of scoreline. If anything, it just spoils everything because we equalled the club's best run in the FA Cup and then got the furthest we've ever been in the FA Trophy... Our main priority is to stay in the league. We need to bounce back and make sure we improve'... Lee Roche could be available after sustaining concussion at Crawley, while Pace is also hopeful of adding to his squad before the weekend... He said: 'Altrincham is a massive game, if people don't say it's a six-pointer then they never will in my opinion. It's a game we've got to win, we're under no illusions about that because we've put ourselves in this position and we've got to get ourselves out of it. I'm trying to get some new lads in and we'll do what we can. The aim is to try and stay up, we haven't got any other distractions now so we'll see how that goes'".

Farsley Today reports that "Farsley Celtic may have seen their last hopes of silverware disappear at Droylsden in midweek, but boss John Deacey said: 'We have got 19 cup finals between now and the end of the season'. Those 'cup finals' are all in the Blue Square Premier and the first comes tomorrow when table-toppers Aldershot arrive at Throstle Nest. Celtic go into the game fourth-bottom of the table, just two points behind Altrincham and the safety zone, and they will be looking for another good performance before they travel to Moss Lane to take on the Robins for what is undoubtedly the biggest match of the season next Tuesday night. Deacey said: 'Now we just have one thing to concentrate on and that is survival. We have 19 cup finals left – that's what they are – starting tomorrow. We have got to get the consistency going. Every performance has got to be good between now and the end of the season if we are to stay in this league. It is a hard task when you are playing the side who are top of the league... but we have just got to try and get something out of it and then build on that at Altrincham on Tuesday because they don't come any bigger than that'.. The Celts' boss was busy in the January transfer window, bringing in the likes of youngsters Scott Gardner, Craig Bentham and Matt Lawlor on loan and goalkeeper Curtis Aspden and centre-back Georges Santos on permanent deals. He then added former Blackpool winger Rory Prendergast, a free agent having being released by Rochdale, to his squad... [Against Droylsden] Deacey said: 'We were in so much control it was unbelievable. We didn't look under any threat and then Tom [the keeper] got injured. That's the way it is going... The last three or four performances have been really encouraging, we just have to try and turn it into results now and I think we will do. I am confident we will stay up, which is the most important thing, and then we can build on it for next season'". For the future , "One enforced change will see Aspden returnin goal in place of Morgan, who will be sidelined for six weeks. Ryan Crossley is awaiting an operation on his back injury. Meanwhile, Deacey has ended his interest in Accrington Stanley duo David Brown and Mark Roberts".
OLD BOYS
A review of the calendar year 1962 for Altrincham FC has been added to the Past Players section of the website.

Bullsnews confirms that "The transfer of Hereford United target Kevin Ellison from Chester to Stockport has finally ollapsed. The deal is understood to have failed over his contract at Chester but no further details are known. Their intended replacement for him, former Cardiff man Kevin Cooper, signed for Chesterfield until the end of the season yesterday. While the retention of Ellison at Chester is popular amongst fans, the club has been derided after announcing the return of the Chairman's son, Stephen Vaughan Jnr, to the playing staff. The 23 year old had left the club 12 months ago, with the club claiming the fans had forced him out, ending up at Boston after a failed loan spell at Rochdale".
BSP NEWS
Altrincham have only three home Saturday games left this season. But according to the Northants Evening Telegraph "Tomorrow's return to league action kicks off a run of four successive Saturdays at home for Rushden & Diamonds. Indeed Garry Hill's squad can get used to spending their weekends at Nene Park for the rest of the season. Regardless of whether or not they get through to the FA Carlsberg Trophy semi-finals, Diamonds are scheduled to only have three more away games kicking off at 3pm – two of those are in April".

Especially for Gary Warrington, who runs the Alty Fans' Forum, Exeter City report on "Drumming Up Support: This project is being developed between the Trust and Wren Music (based in Okehampton). The project vision is to work with Wren Musicians and Oral History experts to engage the supporters of Exeter City Football Club in developing song, chant and drumming to support the football team. The musicians we will be working with are Paul Wilson and Matt Norman of Wren Music. Paul has 25 years experience of working with communities, documenting songs and stories and supporting participants to create their own music. Matt Norman is a young folk musician who specializes in researching oral traditions and has been trained by Wren Music. Wren has a commitment to participatory and community based work. We felt that their skills and ethos reflected our approach to working with communities and their track record is exceptional. If you would like to know more about Wren please view their website www.wrenmusic.co.uk. Exciting news about the launch of this project is due within the next week or so - see the club and Trust websites for more information SOON! Also make a note that a professional drumming demonstration is expected to take place at the match on 1 March (Altrincham)". Bring your ear-plugs!

The Oxford Mail says that "Darren Patterson is stamping his mark on Oxford United by changing some of the players' routines to try to get them back into the winning mode. He has already brought in new signings who possess a strong work ethic, and he's making some alterations to sharpen others up and get them out of the comfort zone. One of the first things to go has been the pre-match lunch before away matches just down the road. And it's believed that the paid-for meals after training will also go, with a more scientific approach to fitness at the training ground introduced. Patterson was unhappy at the sluggish start the U's made at Salisbury on January 12 when there was lunch en route, and he scrapped the normal group pre-match meal for the visit to Aldershot.

The result was immediate with United - despite facing the league leaders - starting the game on fire, although they eventually went down 1-0. The U's will bring some gym equipment across to their Milton Heights training base in a bid to concentrate on improving injury prevention... 'We've been fantastic in training all season, it's been in games', he said. 'We're looking more at injury prevention and I want to bring in a nutritionist and sports scientist to look at how we do things'".

At Torquay United "Michael Poke has signed a new loan agreement that will see him remain with United up to and including the 12th April 2008... The loan finishes on the date stated due to the F.A. rules on long term loans. After this date Michael will have to return to Southampton for the remainder of the season".

From the Salisbury Journal we hear that "Ed Asafu-Adjaye has extended his loan period with Salisbury City by a further two months. The Luton Town defender has been a key player in City's last four matches... His Luton team mate Rob Sinclair joined City on loan last week, shortly before the close of the transfer window".

"Lee Hales, on loan to Rushden & Diamonds from West Ham United has today gone back to Upton Park. Hales came to Nene Park in November, initially on a month long loan, which in January, was extended until the beginning of February. The eighteen-year-old central midfielder has featured for Rushden & Diamonds several times during his loan spell".

At Histon, "Winger Dean Bradshaw today left the Glass World Stadium after agreeing mutually with the club to have his contract terminated. The player, who joined in the summer from Braintree Town, has been hampered by a number of injuries... his work commitments and training requirements no longer allowing him to train at the level that would push him into the manager's plans. It is thought Dean will be joining...Borehamwood".

Crawley Town "have completed the signing of highly rated youngster Dominic Shimmin from Queens Park Rangers. Shimmin, 20, joins the club on a deal through to the end of the season... Shimmin is a strong and aggressive central defender who is also very useful with the ball at his feet. He joined Queens Park Rangers from Arsenal as a 17-year-old in March 2005 for a fee in the region of £80,000. After some impressive displays for Ian Holloway's side in pre-season, Shimmin made his debut for the Hoops on 20th August 2005 against Coventry City in the Championship. The youngster made two further appearances during his debut campaign... [He made] a full home debut against Stoke City on the final day of the 2006/07 season. Shimmin linked up with AFC Bournemouth in November, 2007 making two appearances for the Cherries on a short loan spell... Despite agreeing his release from the Lotus Road club at the end of January, Dominic is said to have bags of potential".

According to the Argus, Alty's 2005 play-off opponents "Eastbourne Borough have announced plans to make Priory Lane fit for the Blue Square premier. Borough plan to spend £50,000 upgrading their pitch in the summer and another £50,000 on improving facilities for the club's youth set-up. The pitch will be dug up immediately after the final home game of the season to allow new drainage to be installed in a bid to reduce the number of postponements at Priory Lane... Chairman Len Smith said: 'We are hoping to go up this season and if we do, we need a pitch which is suitable for the Blue Square premier or even the Football League'.

Meanwhile, The Argus adds that "Former Crawley defender Chris Giles is hoping avoid an unusual hat-trick against his old club. The Forest Green Rovers stopper faces Crawley at The New Lawn...on [Setanta TV] Sunday. The 25-year-old has scored an own goal in each of the previous two occasions he appeared on the box".

"Stafford Rangers were today desperately hunting reinforcements for [the] game with Weymouth at Marston Road. After the bitter disappointment of their FA Trophy exit at Tamworth, Rangers have been further hit by suspensions for Ross Draper and Jimi Sangare. Draper has a two-match ban for collecting 10 yellow cards this season, while Sangare is out for one game for five bookings" reports This is Staffs. "On top of that, midfielder Matt Hazley is doubtful because of a groin strain... The eight-day embargo on loan deals following the closure of the transfer window is today lifted and secretary and financial director Mike Hughes said caretaker bosses Kevin Street and Neil Grayson were looking at the options. 'It's a good bet that we will have a loan player in for the weekend, probably a defender, but we can't make any moves until Friday'. Already resigned to losing Jemiah Richards and Marco Adaggio, Rangers are hoping that Richard Sutton and Nathan Smith will be fit enough to rejoin the squad. Definitely back in contention is midfielder Seb Arnolin, who was cup-tied for the Trophy games'".
---
8 February 2008
PACE CONFIDENT
In advance of Saturday's game, Dave Pace, the Droylsden boss, has told the Manchester Evening News, "We have to beat Alty it's as simple as that, but we're certainly capable of doing so. I've said all along we won't go down and nothing that's happened to us so far has altered that view. It's a case of getting the lads to believe in themselves and, if we can drag ourselves back to within seven points of Alty, with a game in hand, anything's possible. The Bloods have won their last two games; in the league against Kidderminster and in the Setanta Shield against Farsley Celtic.
GRAHAM'S THOUGHTS
"Alty have silverware within their sights after a 2-1 win over Vauxhall Motors on Tuesday night took them into the final of the Cheshire Senior Cup" reports SAM. "Now only Cammell Laird or Nantwich Town stand between them and the trophy... 'It's nice to be in a final, although it wasn't easy getting there," he told SAM Sport. 'It was a long 90 minutes and a typical Cheshire Senior Cup game. None of the games in the competition this year have been particularly pretty. But now we have to put it behind us because we have three important games coming up in the Blue Square Premier when we have a chance to pick up points'. Alty travel to 23rd-placed Droylsden on Saturday and then welcome 21st-placed Farsley to Moss Lane on Tuesday before taking on Rushden and Diamonds, who have dropped to 17th... 'People are hyping these games up but we are going to be in this battle right until the end so the results in these games are not going to decide whether we stay up or not. It's more important for Droylsden to win on Saturday because they need the three points just to stay in the battle. We still believe we can pick up points in these games but it's not the be all and end all. There is a long way to go yet and I'm sure we'll spring a few surprises before the end of the season'. Alty have received a major boost ahead of Saturday's game at Droylsden with the news that injured trio Liam King, who limped off during the 2-1 win over Vauxhall, Ryan Toulson and Tom Cahill should be fit to return to the starting line-up. The prognosis for skipper Darren Tinson is not so good, however, and he remains a doubt".

IC Chonicle reports that "A valiant performance by a depleted Vauxhall side was not enough to overcome Altrincham in a closely fought [CSC] semi-final. Motors were missing Peter Heler and Craig Robinson (ineligible), Lee Dames (illness) and the experienced Ged Brannan (work) as their last hope of winning silverware this season slipped away... The hosts took the lead when a corner whipped in from the right presented Greg Young with a simple header. The goal sparked Motors into action and the mercurial Paul Taylor began to make life more difficult for the hosts... Motors' chairman Alan Bartlam said: 'It was disappointing because we felt we deserved to at least go to extra time. But now we must concentrate on the league and our survival. It is still tight at the bottom and a few wins will improve our position a lot'".
GOAL SPONSORSHIP
Jon Stack writes:

Alty goal/clean sheet sponsorship

"Now that we're well into the second half of the season, the total raised so far from goal and clean sheet sponsors stands at £962. Could all sponsors please hand the first instalment of their sponsorship monies in to the Club addressed to me and labelled as 'goal sponsorship' or else send a cheque made out to Altrincham AFC to me at 86 Main Road, Wigginton, Tamworth, Staffordshire B79 9DZ. Any queries, please email Jon Stack.

Here's the relevant totals so far:

Goals scored
Alty total 47
Jake Sedgmore 3
Darren Tinson 2
Joe O'Neill 5
Chris Senior 10
Clean Sheets: 4

Thanks to all sponsors and let's look forward to more goals and clean sheets in the season to come.......

Regards
Jon and Winnie Stack
BSP NEWS
Stevanage Borough "Defender Damian Batt today signed for Woking on an emergency loan until the end of the season".

From Non-League Daily we learn that "Burton Albion chairman Ben Robinson says he is unworried by an operating loss of £31,359 announced by the promotion-chasing club for the year ended May 2007. 'That's a manageable figure and I'm confident we're moving in the right direction', said Robinson. The Brewers' turnover and profit and loss figures vary wildly from those of 2006 - but that was the year when the accounts reflected the completion of the Pirelli Stadium and the money-spinning FA Cup tie against Manchester United. Last year, having also hosted a capacity crowd for a friendly against United, they were able to announce a one-off profit of almost £800,000. 'It's more realistic to compare this year's figures to those of 2005', said Robinson. The Brewers lost £90,000 in 2005, the 2004/05 season being their last at Eton Park before moving 200 yards to their new home. Figures since are reflecting bigger gates at the Pirelli Stadium and the fast-increasing non-football revenue the new ground is generating. Burton's net income in 2005 was just short of £350,000 and they had gate receipts of £201,378. Gate receipts in 2007 were up to £351,758, while net income has more than doubled to £816,534. 'That's because we're building up the ground as a conference and wedding venue and we have a lot of bookings now', said Robinson. 'Our turnover is approaching £1.2m and it was more like half-a-million in 2005'. Furthermore, the Brewers' accounts demonstrate that the club is being run economically. Administration expenses of £337,354 in 2006 had been cut to £215,356 in 2007 reports This is Derbyshire.

"Crawley boss Steve Evans is refusing to talk to The Argus for the foreseeable future. He is unhappy with a report last week which stated he swore at Woking fans and directors. Evans has been charged by the Football Association for improper conduct after being sent to the stand by the referee during Crawley's 1-1 draw with the Cards ten days ago".

And the Crawley Observer reports on another ban at Crawley where "Assistant manager Paul Raynor said he is not having a haircut while Crawley continue their unbeaten run after they beat Grays Athletic 4 - 0 in the cup.The Reds beat Grays at the Broadfield Stadium in the fifth round of the Setanta Shield on Tuesday night. With four players rested for the game, Raynor reckons it has created a healthy competition for places".

This is Exeter says that "Exeter City winger Lee Elam is not fazed by the prospect of being turned into a striker at St James's Park. Jamie Mackie's £145,000 transfer to Plymouth Argyle last month left City with only three recognised strikers. And despite the club lodging a club record bid of £65,000 for a top striker in the Blue Square Premier, the transfer window passed without any signings. Tisdale has hinted that he may bring in a loan striker but he has also suggested that Elam may be capable of filling the void. Elam partnered Richard Logan in the closing stages of Saturday's 4-0 demolition of Stevenage Borough at St James's Park and also in Tuesday's second string 4-0 defeat at Plymouth Argyle. And while the 28-year-old... said: 'The manager has spoken to me about it to see if I would give it a go and I said "definitely". When I was younger I used to play up front and I can do a job there'".

From the Halifax Courier we learn that "Craig Nelthorpe is expected to extend his stay at the Shay by a further month after impressing in his initial spell on loan from Doncaster Rovers. The 20-year-old winger has scored twice in four starts... 'I have spoken to the people at Doncaster and they are keen for him to come for another month', said Town boss Chris Wilder... The Shaymen beat Ossett Albion 4-1 in their West Riding County Cup quarter final. And the game was most notable for goals scored by strikers Andy Campbell and Darryn Stamp, neither of whom have been regular starters for the side in recent months.... 'Unfortunately at the club the players on the outside don't get to play enough games. I don't think you can replicate game time and game experiences for them'...Town will be away to Bradford Park Avenue in the last four in a match scheduled to be played in the week ending March 8. That is likely to mean games on successive days for Wilder's side - at Altrincham in the Blue Square Premier on March 4 and at the Horsfall Stadium 24 hours later. Rob Scott will be out for at least a month after a specialist advised him to rest his damaged Achilles for four weeks".

The Kidderminster Shuttle says that "Harriers have still had sweet FA from their FA Carlsberg Trophy Final appearance but chairman Barry Norgrove is hoping their Wembley wait will soon be over. An eight-month wrangle with football's governing body means the club is still waiting for its cut of the tickets sales from May's non-league showpiece at the new stadium. Harriers had been hoping to make an estimated £300,000 from the game, which was watched by a record breaking crowd of over 53,000 for a Trophy final... 'We're waiting for the final settlement and can't use the money until it is finally decided... I think it should all be cleared up in the next week or so. The problem is the percentage they're charging us for the commercial side of things at Wembley and the freebies given out. We don't feel we ought to be paying for these sort of things out of our takings. Stevenage feel the same, so we've both been arguing about the expenses incurred'... However, Norgrove believes the figure will be smaller than expected, despite agreeing the cost of hospitality before the final. 'I don't think it will be as big as £300,000. The expenses have come out as a lot more than we thought they would be. We had a meeting with the FA before the final and we've written down all the things that we discussed and how much they were going to take out and their percentages are different from what we have written down'.

The exit of star players James Constable and Scott Bevan for undisclosed fees to League Two neighbours Shrewsbury Town last Thursday, the tumble out of the FA Trophy and the team's fading play-off hopes in the Blue Square Premier have left the fans feeling frustrated... 'I expect we have made a slight profit from James's sale, but Walsall will get some of the fee because they have a sell-on clause', said Norgrove. 'We could have stopped him, he was under contract to us for another season, but if a person is unhappy we thought it would be better to let him go... Scott Bevan was free to go at end of the season so he could have gone for nothing'. Defender Jon Munday has had his loan stay at Worcester City extended until the end of the season"

According to The Mid-Cheshire Chonicle "Northwich Vics are close to break even point. The new regime vowed to make financial ends meet and they say they are succeeding quicker than they thought. 'There are one or two players, signed by Neil Redfearn, on higher wages than the budget allows for, but in the main we have done it', said director Jim Rushe. The club was lumbered with a huge wage bill from the start of the season as experienced players were given big contracts. The bill probably went even higher when manager Dino Maamria set about making 10 January signings. But they have been paid for by a string of departures, the latest being centre back Greg Strong, whose lucrative contract has been cancelled by mutual consent. Paul Tait, the last of the exiled trio, has agreed a settlement on his £600 a week deal.

Rushe added: 'The new players weren't selected willy nilly, but professionally with the balance and age of the squad in mind. We fully expect inquiries for several of them in the summer... Fans are returning, though we are just grateful for whoever comes after all the negative feelings about the place'. Vics will be given a higher profile in Northwich when their shop and offices open in Witton Street this week... [By] Saturday... Maamria... will have an assistant. He wants Vics to train four mornings a week on a regular basis, which was the main reason Paul Brayson did not return to the club last week. "Paul was within our pay structure', said Rushe... Broken leg victim Jonny Allan is now in full training. Rushe has promised a new deal to keep him at Northwich. Lee Steele, understood to be the highest earner at Vics but restricted to just nine appearances, has recovered from hamstring trouble".

http://www.northwichguardian.co.uk/display.var.2026224.0..php York City "boss Colin Walker blasted his players' performace as 'unacceptable' following their Setanta Shield exit [to Northwich]. The Minstermen's 14-match unbeaten streak ended in the process - their first reverse since Walker took over from Billy McEwan. 'We were very sloppy', he said. 'Nobody out there took responsibility and to lose our unbeaten run like that leaves a bitter taste'. Walker agreed that keeper Tom Evans was to blame for two of Vics' three goals but he pointed the finger at his whole back line. 'The back three have been superb for me but they weren't in this game', he said. 'No disrespect to Northwich because they had a gameplan and their three lively forwards caused us problems all night... The penalties typified the way we played... we got what we deserved".

"The flakiest of finishes saw [York] spoon three spot kicks in the shoot out. Lady Luck was wearing a green shirt tonight... It was a night to forget for the Minstermen, who hit the woodwork three times and missed a glut of glaring chances to go through... Yet a York defeat seemed far from the likely outcome during an opening spell that saw Vics struggle lamentably to function in another new Maamria formation boasting three front men". Two ex-Alty trialists conspired to give Vics the lead, as "Aaron Burns's scooped pass was sent skidding towards the target by Cayne Hanley's header that looped up and over Evans to the shock of everybody... [before York keeper] Evans mimicked his opposite number with a dreadful error of his own, dropping Byrom's flag kick at Hanley's feet for the Vics' front runner to smuggle his second goal of the game 10 minutes from time... Star Man: Aaron Burns - Gets better and better with every game. Superb movement off the ball and gifted on it, he is the real deal. Was felled for a clear penalty in the closing stages of full time and, despite suffering cramp after that, hauled himself up off the ground to steer home a cool spot kick in the shoot out... Attendance: 763 (23 from Northwich)". This is York adds that the "attendance of 763 is believed to be the lowest-ever for a City first-team game".

Stevenage boss Peter Taylor tells The Comet that "I am delighted the transfer window is closed. So until the end of the season, I won't be getting any more calls from Gillingham for any more of our players. They have now taken four of our first teamers and it would hurt any team in the world if you sold four of your current first team players. Add Craig Dobson - sold to MK Dons - to that and I'm sure you will understand that it will take time for replacements to adjust to our team work and standards. I'm delighted with our new signings but it takes time to get used to any team. We are third because of our last 10 games but I am disappointed about our last two games - a draw at Farsley Celtic and a defeat at Exeter. We didn't deserve to win at either so we have got to sort out a few things, especially on the defensive side of the team".

Reports from This is South Devon says that "Swindon town forward Kaid Mohamed is already hoping that his loan to Torquay United goes beyond the one-month deal which brought him to Plainmoor. Cardiff-born Mohamed, 23, says: 'I would be glad to play here for the rest of the season'. Mohamed, who was snapped up by former Swindon boss Paul Sturrock after a goal-laden career in the Welsh League, has started both United's last two games. He hit 20 goals in only 15 games for Carmarthen, after spells with Cwmbran and Llanelli. Now 23, he says: 'I''ve come to the pro game quite late. I've gone the long route, through the Welsh League... I was in and out of the Swindon team, and I was sent here to get games under my belt. I'm a striker really, but I'm enjoying playing on the right wing here. I'm an attacking player - I know I'm not so good in defence - and I love going forward. Everyone has been great to me here. There's been no attitude among the other lads, just really good banter and I think I've fitted in OK'...

Off the pitch "Most other parts of the Plainmoor operation are on the up this season, except matchday programmes. So Torquay United are cutting back on their print-run in an effort to break even. I think most fans agree that this season's programme is an improvement, certainly on last season's version. It looks good, and there's more in it. But, for one reason or another, sales continue to disappoint, even on gates which are nearly a thousand up on last year. 'We were showing a loss on the programme on the first half of the season', said chief executive Colin Lee, 'so we've had to have a hard look at it. We've considered lots of different options - design, content, price and distribution - and some of those may have to wait until the summer. But for now we're cutting the print run from 1,000 to 750 per game....If people want a programme now, they'll have to get in a bit quicker. But as opposed to being left with 300-plus per game, we'll make a profit for the remainder of the season instead of losing money'".
---
7 February 2008
DROYLSDEN GAME
Altrincham FC Security Officer, Darren Gregory writes: "Saturday's match at Droylsden will be segregated. Visiting supporters are requested to use the entrance on Greenside Lane - please note this is a standing only section. Parking at the ground is restricted and be aware to look for and read any signs on side roads to avoid being booked".
LOGAN BURIES MOTORS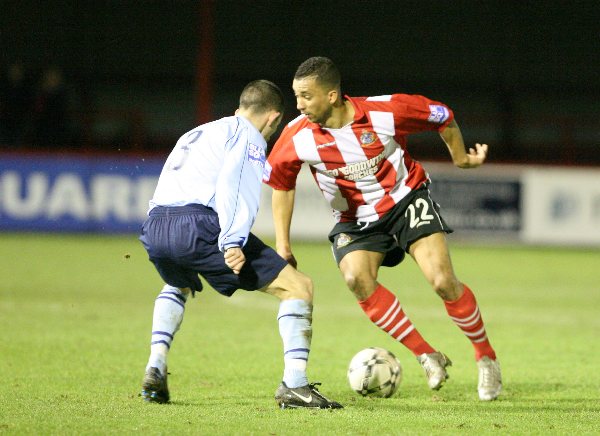 Winger Carlos Logan laid on the winner for Altrincham on Tuesday against Vauxhall Motors. He is pictured, right, by Gavin Rathbone's camera. More pictures are on his GR Photography site.
WEDNESDAY GAME
Setanta Shield Round 5: York City 3 Northwich Victoria 3 a.e.t. - Vics won on penalties.
SICK BAY
In Tuesday's Robins' Review Alty physio Sean Riley updated us on the current injury situation at Moss Lane:
Last Tuesday Val Owen finally had an operation on his right leg, which involved cutting away the piece of bone that was compressing the nerve on the outside of his leg, just below the knee... We will be aiming for Val to return to action towards the end of March.
Tom Cahill has stepped up his rehab and is making good progress following the hamstring tear he sustained... aginst York. He will hopefully be available, along with Darren Tinson, for the Droylsden game.
The injuries we picked up at Cambridge ... looked to have ruled three players out for the Woking game but Chris Senior and Greg Young responded well to treatment... however Darren Tinson's injury prevented him from playing.
Ryan Toulson, who was fouled late on against Woking, was taken to hospital for a precautionary x-ray and thankfully no fracture was detected. He will now be treated for his soft tissue injury and should be available within a fortnight".
YOUTH GAMES
The Altrincham FC Youth team fixtures till the end of the season are now in the Youth section.
OLD BOYS
There is praise for Pat McFadden on the Radcliffe Borough forum after Borough defeated Neil Brown's Abbey Hey 1-0 in the Manchester Senior Cup.. Former Alty reserve Aaron Edwards was sent off for Abbey Hey. The poster on the forum says "Abbey Hey came and put up a good fight. Fight being the operative word. Their No 6 was a demon, a vicious demon but the No 5 was an excellent player. He cut out most of the attacks and marked Pat MacFadden very well. However that doesn't detract from the fact that Pat had a very good game and escaped his tormentor on numerous occasions... But for some spectacular activity from the small Abbey keeper [Steve Downes, ex-Alty] would have scored at least 6. The keeper might have been about 5'8" but what he lost in height he made up in agility. He was pulling saves out from unusual angles just like Gordon Banks and still had the confidence to find the time to have a laugh with us behind his goals... Abbey Hey played really well but spoiled it with their constant 'mouthing off' at every decision....I wouldn't be surprised if the No2 was off work today with laryngitis!!!!!!! Pat Mc Fadden had a storming game and was easily my MOM for us".
BSP NEWS
On Tuesday night "A Tom Morgan injury was the turning point in this scrappy game as Droylsden came from behind to win 2-1 after extra time", says Farsley Celtic's site. It adds that "Farsley signed Rory Prendergast yesteday just in time for him to make his debut at Droylsden. Rory is a left winger with recent Football League experience with Blackpool and Rochdale". He was also an opponent of Alty's at Emley and Accrington Stanley. Farsley Today adds that "A string of missed chances and an injury to goalkeeper Tom Morgan contributed to Farsley Celtic's exit from the Setanta Shield... Without having a substitute stopper on the bench, it became their ultimate undoing... 'I thought we were the better side',said boss John Deacey. 'Rory Prendergast and Roy Stamer both played well and if we'd have taken our chances, the game should have been dead and buried'". The Bloods' side included Ged Murphy and former Alty reserve Conall Murtagh, whilst Karl Munroe was on the bench.

The Halifax Courier reported this week that Halifax Town "boss Chris Wilder has been dealt a major blow... with news that Rob Scott could be out for the rest of the season. The right back suffered a torn Achilles in the first half of Saturday's 2-0 FA Trophy defeat to Rushden & Diamonds at the Shay and will have a scan to determine whether an operation is required. 'With only 11 weeks of the season to go that could be it for Rob', said Wilder. 'He just turned and caught his studs in the ground'. Alex Bailey is set to start at right back" in his place.

From the Oxford Mail comes news that "Darren Patterson admits there has been a sea change in Oxford United's transfer policy, even if the club haven't come out and stated it as such. After trying, unsuccessfully last season, to win promotion with a team built on the foundations of players who had dropped down from the Football League, there is a trend towards bringing in players who have proved themselves in the Conference. Last week's capture of Michael Blackwood meant the U's boss had signed five players in January. Three have come from rival Blue Square Premier clubs - Blackwood and Justin Richards from Kidderminster and Craig McAllister from Grays - while the other two, Adam Murray from Macclesfield and Michael Howard from Morecambe, had spent most of their time in recent years in the Conference. Patterson said: 'I think it's important that they know how to handle this league. It's not an actual policy change as such, but it's something we are placing greater importance on. That's not to say there will not be players that we sign from higher levels'... Those transfer-listed players who did not leave Oxford during the January window will stay on the 'available' list. They include Eddie Hutchinson, Carl Pettefer and Matt Day".

According to This is Staffs Stafford Rangers' "defender Jemiah Richards has been ruled out for the rest of the season after breaking his foot... while striker Marco Adaggio has been sidelined for at least a fortnight with a pulled hamstring... 'We are struggling for defenders', said secretary and financial director Mike Hughes".

"Torquay United manager Paul Buckle has issued a 'We Can Do It Together' call to Gulls supporters to help beat the growing fixture logjam which goes with trying to do a Blue Square Premier and FA Trophy 'Double' this season" reports This is South Devon... It includes the likelihood that United will have to play twice in three days at the start of next month - Saturday to Monday, March 1-3. That's because Setanta Sports TV coverage has forced the key game against title rivals Aldershot Town to be brought forward 24 hours to March 3. 'It's ridiculous, but if we have to play two games in three days because of TV, we'll do it', said Buckle. 'Management is hard enough as it is, without things like that being thrown at you. When my club tells me to play, we'll be ready to play... Let others moan about the problems. We've got a lot of home games to come... Let's look at the exciting side of all that, not go looking for excuses. We never do that at this club'. United are still waiting for an answer from Grays Athletic to their request to play the scheduled March 1 league game the night before (Friday, February 29), to give them a little more time to recover for the Aldershot match".

This is York says that "Former Barnsley, Charlton and Oldham midfielder Neil Redfearn has been appointed as York City's new youth-team coach... He started this season as Northwich manager and his arrival at KitKat Crescent will mean previous head of youth Eric Winstanley will now work permanently as Walker's assistant, while overseeing all coaching at the club".
---
6 February 2008
WALKERS' SUCCESS
Above, courtesy of Alty vice-chairman Grahame Rowley, is a picture of the intrepid Altrincham FC walkers who reached Droylsden after a 17-mile fundraising trek yesterday. Beneficiaries of the sponsored walk, organised by Alty director Andrew Shaw and Radio Manchester's Jimmy Wagg, were the Autistic Society and Altrincham FC. Congratulations and thanks go to all the participants. There will be more on the walk, to follow.
ALTRINCHAM 2 VAUXHALL MOTORS 1
Altrincham played very unconvincingly yet reached the final of the Cheshire Senior Cup, thanks to goals by Greg Young and Joe O'Neill.
Alty Players Stats
SCOTTY'S BIG WIN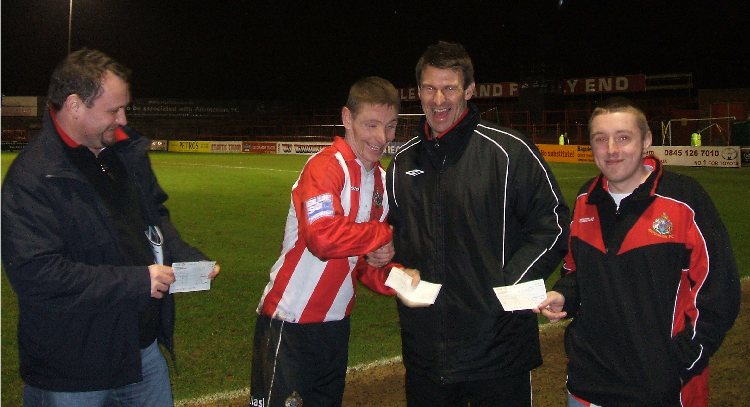 Above: There is never a dull moment when Gary Scott is around. Above Gary (second left) is seen receiving his cheque from Darren Tinson as the third-prize winner in the Friends of Altrincham FC monthly draw, organized by Steve Foster. Also pictured are Paul Daine (far left), the first-prize winner, and Daniel Jones (second-prize winner). You, too, can help the club and have your chance of winning £100 by becoming a Friend.
OLD BOY
Bullsnews confirms that Hereford United "could be back in the hunt for winger Kevin Ellison after his move to Stockport hit a snag. The announced loan deal to Stockport cannot be formally completed until the loan window reopens on Thursday, but a short statement on the Chester website announces: "The deal that would have seen winger Kevin Ellison move to Stockport County on loan for the remainder of the season is now in question due to objections raised by the player. It is unknown what objections have been raised, and which club they relate to, but the problem could now see other interested parties hijack the deal. The Bulls, Wrexham, and Bury were all confirmed as interested parties before the transfer window closed"
BSP NEWS
Ebbsfleet United announce that "MyFootballClub members are to vote on whether or not to accept a kit proposal from Nike which would begin in 2008-09 and members have been given three home and away kit choices each to choose from. Nike's UK Team Sales Manager Paul Gillespie has outlined his company's proposal and how it would benefit the club: 'Towards the end of 2007, a couple of MyFootballClub members approached us. We then made direct contact with the MyFC organisers offering to supply Ebbsfleet United with kit and other club merchandise for the 2008/2009 season... The basis of the proposal is that the club outsource its retail merchandising operation to Nike, including all online sales. In return, the club will receive quarterly royalty payments against all sales made... For every replica shirt bought, the club would receive up to 35% of the net sale. This would be pure profit for the club... We believe that the benefits of this proposal for Ebbsfleet United [include]:
All staffing and operational costs relating to club shop and online sales will be financed by Nike.
Members will choose the designs of the home and away shirt.
Club shop at the stadium upgraded.
Supply the first team squad with an allowance for new training kit for the remainder of this season.
Supply the first team squad with 2008/09 season playing kit (typically long & short sleeved home and away jerseys, shorts & socks), match travel wear (track suits) and an allowance for training gear.
The Nike Boot Bus will visit the training ground and the first team squad will test a selection of boots and be given one pair of their choice.

We hope you will appreciate that this is something of a step into the unknown for us and predicting the levels of sales cannot be an exact science. As such, at this time we cannot commit to providing a kit allowance for Ebbsfleet United's ladies and its youth teams (of which we are told there are around 20) next season. However, we will pledge to provide one full kit per team every 250 sales of replica shirts (or equivalent)".

Across the Thames estuary at Grays Athletic "Alan Power has been recalled from his loan spell with Grays Athletic and has returned to Nottingham Forest. Jack Obersteller has extended his loan with Grays Athletic until the end of the season".

"Torquay United's longest-serving player Kevin Hill may be loaned to Blue Square South side Dorchester Town, BBC Radio Devon understands. "Hill, 31, who has been with the club for over 10 and a half years, has made just two starts and seven substitute appearances for the Gulls this season".

Aldershot Town chairman John McGinty is "pleased to announce that John Grant has signed an extended contract with Aldershot Town Football Club and is committed to playing for us through to the end of season 2009/2010"

"Three of Cambridge United's players have been called up to the England C squad to play Wales Under-23 later this month. Michael Morrison, Dan Gleeson and Scott Rendell are all included in the 16-man squad... The full squad is as follows - Lance CRONIN (Ebbsfleet United), Adam BARTLETT (Blyth Spartans), John BRAYFORD (Burton Albion), Daniel GLEESON (Cambridge United), Michael MORRISON (Cambridge United), Ronnie HENRY (Stevenage Borough), Liam BROWNHILL (Witton Albion), Ricky HOLMES (Chelmsford City), Ben HARDING (Aldershot Town), Russell PENN (Kidderminster Harriers), Lewis CHALMERS (Aldershot Town), Dean MOXEY (Exeter City), Mitchell COLE (Stevenage Borough), Shaun HARRAD (Burton Albion), Matthew TUBBS (Salisbury City), Scott RENDELL (Cambridge United)".

Nigel "Clough has missed out on one of his transfer targets after Craig Armstrong opted to join Cheltenham Town" according to The Burton Mail. "The Brewers' boss tried to bring the player in on loan last week... Clough said: 'He's decided to join one of his former clubs at a better level than we can offer him'".

Before Tuesday's defeat of Farsley Celtic at Droylsden in the Setanta Shield, Farsley Today reported that "Deacey is expected to make changes to his side tonight../ That should provide an opening in midfield for Dominic Krief... Steve Torpey, who has been on bench duty, could also be promoted to the starting line-up... Deacey won't want to risk all of his regulars, though midfielder James Knowles and defender Scott McNiven may be given run-outs in what will probably be their final game before suspensions kick in under the totting up system. Deacey said, 'Setanta have been excellent for the league this season and we will have to show the competition respect,which is what we will do. But the league is everything to Farsley Celtic. It means absolutely everything for us to stay up this season, so we will have to bear in mind what is ahead of us'. Meanwhile, skipper Ryan Crossley will see a surgeon this week to discuss what steps need to be taken to rectify his back problem. Crossley had an MRI scan last week which has revealed a problem with a disc in his back".
---
5 February 2008
RESULTS
Monday 4th
Setanta Shield
Woking 1 Forest Green R. 0
Tuesday 5th
Cheshire Senior Cup SF
ALTRINCHAM 2 Vauxhall Motors 1
Nantwich Town v Cammell Laird POSTPONED
Howard Watts's Through the Years
FA Trophy replays
Histon 0 Burton A. 1
Tamworth 2 Stafford R. 1
Setanta Shield 4
Droylsden 2 Farsley C. 1 aet
Setanta Shield 5
Kidderminster Harriers v Rushden & Diamonds POSTPONED
Nuneaton Borough v Halifax Town POSTPONED
Weymouth 4 Ebbsfleet United 0
Crawley Town 4 Grays Athletic 0
St Albans City 0 Aldershot Town 4
ALTY'S TWO PAIRS OF MITTENS
Well-known football writer Andy Mitten has numerous Altrincham FC connections. He is the brother of former Alty striker Josh, a nephew of Alty kitman, Dave Mitten and a great-nephew of the famous Charlie Mitten, the former Manchester United player and Altrincham player/manager. Andy has been in touch with the website to say that he has recently set up a blog for "Four Four Two" magazine's re-launched website - there is a link to the blog here. As well as being of interest to all football supporters, the blog will carry references to the Droylsden v Alty game to be played this Saturday, as Andy will be attending the game at the Butcher's Arms.

Meanwhile, Josh (Jozzer) Mitten is now playing at Curzon Ashton, after hitting more than thirty goals for Flixton last season.
TONIGHT
Altrincham play in the Cheshire Senior Cup semi-final tonight at Moss Lane (Tuesday, 7.45pm), against Vauxhall Motors of Blue Square North. The game is not played to a conclusion if scores are level, but goes to a replay. The other semi is between Nantwich and Cammell Laird which will be played on February 13th at Lairds' ground.
NEXT TWO LEAGUE GAMES
Our next two league opponents have suspensions which could affect their appearance against us. The FA confirms that for "Droylsden FC Steven Daly [from] 09/02/2008 [is] suspended from all first team football until the Club have completed 1 first team", whilst for "Farsley Celtic FC, James Knowles [from] 10/02/2008 is suspended from all first team football until the Club have completed 2 first team matches".

The referee for Saturday's game at The Butcher's Arms is Mr D. Webb (who handled our away game against York, as well as our home win over Weymouth in November).For the Alty v Farsley match next Tuesday the official is Mr Mo Matadar, who also reffed the reverse fixture at Throstle Nest. Mr Matadar's previous encounters with Altrincham include:
Altrincham 0 Oxford Utd 3, on Saturday, 17 March, 2007
Altrincham 2 Woking 3 on Saturday, 16 September 2006
Southport 1 Altrincham 1 played on Saturday, 18 March 2006
Altrincham 2 Tamworth 0 on Saturday, 26 November 2005.
GATES
A national survey of average league attendances this season, covering Steps 1-4 of the Pyramid and giving the percentage change compared to last season, places Altrincham 24th with an average gate of 1,068 compared with 1,166 for the whole of last season. That is a drop of 8.4%.

Top of the tree are Oxford United but from last year's average of 6357 they are down 24.34% to 4810 this season. The next three are also ex-League clubs:
2nd Exeter City last season 3627, this season 3677, % change 1.38
3rd Cambridge United 2818 3425 21.54
4th Torquay United 2633 3389 28.71

Locally, we find,
9th FC United of Manchester 2581 2106 -18.40

Those below Alty from the BSP are;
26th Ebbsfleet United 1165 1042 -10.56
29th Grays Athletic 1075 1003 -6.70
31st Northwich Victoria 972 956 -1.65
37th Stafford Rangers 1181 877 -25.74
40th Farsley Celtic 308 814 164.29
43rd Droylsden Blue Square Premier 504 661 31.15
TROPHY
The FA Trophy draw for Round Four to be played on Saturday, 23 February is below. A replay involving Torquay would mean another postponement for Altrincham's trip to Plainmoor on Tuesday 26th February:
Stafford Rangers/Tamworth v Aldershot Town
Rushden & Diamonds v York City
Torquay United v Crawley Town
Burton Albion/Histon v Ebbsfleet United
BSP NEWS
"Former Exeter City directors John Russell and Mike Lewis have been permanently suspended from all football activity, with no review for 10 years" reports the BBC. "Ex-chairman Russell was jailed for 21 months in 2007 for fraudulent trading. And he did not respond to two Football Association charges of improper conduct over fraudulent trading and obtaining a pecuniary advantage by deception. Lewis, who was sentenced to 200 hours of community work in 2007, admitted his own FA improper conduct charge. The former Grecians vice-chairman had, like Russell, been charged with improper conduct in respect of an offence of fraudulent trading. Russell and Lewis both pleaded guilty to fraud at their trial at Bristol Crown Court in May 2007. They left Exeter £4.5m in debt when it was sold to the club's Supporters' Trust in May 2003".

At Kidderminster Harriers manager "Mark Yates has confirmed that defender Jon Munday will remain on loan with Worcester City until the end of the current season... Worcester have also expressed an interest in keeping Harriers' left-back Jonny Harkness on board for at least a second month. Boss Mark Yates told harriers.co.uk this afternoon: 'They've enquired about keeping Jonny for another month but that's not been sorted yet, I'll be speaking to Jonny before the end of the week and we'll see where we go'". "Losses of more than £30,000 have highlighted the importance of Kidderminster Harriers' Wembley windfall", reports the Kidderminster Shuttle. "A deficit of £33,459 is revealed in the club's balance sheet which will be officially presented to shareholders at their annual meeting in the Aggborough executive suite on Thursday, February 21. The figure covers the period for the year ending May 31, 2007. It does not include the money Harriers netted from their May 12 trip to Wembley when a record 53,262 crowd saw them lose 3-2 to Stevenage Borough in the final of the FA Trophy... Chairman Barry Norgrove said: 'The reason why we are having the problem is that Wembley are still trying to sort out all of their costings on the game'... Harriers' loss follows a profit of £28,695 for the previous 12 months... In his annual report, Norgrove says: 'The immediate aim is to return to the Football League, but it is no secret that we have found it difficult to bounce straight back... However, we haven't quite managed to find the consistency on the field to match the stability off it'".

"Weymouth Football Club is delighted to announce the winner of the competition to find the club's new motto. The winner, 'Forward Together', was suggested by Ben Stubbs and was the favourite in the fan's vote. At a time of change and forward thinking, the club decided that it would be fantastic to develop a motto that would reflect what the club meant to its fans and the community. Chairman, Malcolm Curtis, said: 'I've been determined to open up the club to get fans involved, which is one of the reasons why we ran this competition to give supporters the opportunity to say exactly what their club means to them'".

"Farsley Celtic captain Ryan Crossley is hoping for the beginning of the end for his frustrating spell on the sidelines" reports Farsley Today. "Crossley's season has been hampered by a persistent back problem and he hasn't kicked a ball in anger since Boxing Day... Crossley said: 'I went for a scan in Dewsbury on Tuesday and hopefully by the time we play York I should have the results, so fingers crossed I will know what the problem is. We have come to the end of the road really, we don't really know what is up with it. The pain started in the back but the problem has now gone into the hip a bit as well. We have exhausted all routes on the physio side and have stopped all treatment until we know exactly what is wrong'...

"An influx of new signings including on-loan youngsters Scott Gardner, from Leeds, and Craig Bentham, from Bradford, plus goalkeeper Curtis Aspden and centre-back Georges Santos, have got Farsley firing again... Crossley said of their draw with Stevenage, "to get a 0-0 result at Throstle Nest was great and the performance more than anything was really good. We looked organised, we looked strong and we should have got three points to be honest. John Deacey has brought a lot of good quality players in, that's put pressure on everyone to perform and it's good for the dressing room as well. It has given everybody a lift'".

The following players have been shortlisted for the Blue Square Premier January "Player of the Month" award:
Jamie Cook – Crawley Town
Stacy Long – Ebbsfleet United
Steve Morison – Stevenage Borough
Emmanuel Panther – York City
Matt Tubbs – Salisbury City

The voting cane be done on the Blue Square Football site.

Blue Square announces that "Liam Daish has won the Blue Square Premier "Manager of the Month" for January... The former Coventry and Ireland defender led his club (Ebbsfleet Utd) to three straight wins in the Blue Square Premier during the month, part of a nine match unbeaten run in all competitions. The Fleet now find themselves just six points off the Blue Square Premier play-off positions".

The Halifax Courier reports on our opponents on Saturday week, Rushden. "Two goals in the last three minutes saw Rushden & Diamonds book their place in the quarter finals [of the FA Trophy]". Halifax boss Chris Wilder said , "We played too safe. The players should have realised that. It sums up where we are as a team and a club at the moment - we are the nearly men. On our day we are all right but in tight games we seem to lose them... They have left it up to someone else - a dopey linesman - and the bottom line is that we are out of the cup'. The 'dopey' linesman Wilder was referring to was the one who failed to raise his flag against Rushden's opening goal scorer Lee Tomlin who appeared to be offside... It was another example of a long ball forward catching out the Town defence... Wilder added, 'We have been done with a straight ball which has been our Achilles heel all season'... Wilder was also unhappy with a Michael Rankine challenge on Adam Quinn in the first half when the Rushden striker escaped without sanction. 'Adam Quinn will need stitches in his lip after Rankine clearly caught him', said Wilder".
---
4 February 2008
SUPPORTERS' COACH FOR DROYLSDEN - CORRECTION
Please note that the departure times and fares for the STAR supporters' coach to Droylsden have now been corrected and may be found on the Away Travel page. The coach leaves The Vine at 12.50pm, the Hare & Hounds at 1pm, Station House at 1.05pm and Moss Lane at 1.10pm. Fares are £7 for adults and £5 for concessionaries and juniors.
YOUTHS REACH SEMIS

Above: As dusk falls at Wythenshawe Town, centre-back Jake Leigh-Watson drives home the first spot-kick in Alty Youth's 4-2 penalty shoot-out victory against Ashton Athletic in the NW Youth Alliance Open Cup quarter-final on Sunday afternoon.
Altrincham Youth beat Ashton Atheltic 4-2 on penalties after their Open Cup quarter-final had ended 1-1. Report in Youth section.
CSC
Whoever wins the Cheshire Senior Cup semi-final this Tuesday at Moss Lane between Altrincham and Vauxhall Motors will not know their opponents in the final straightaway. The Non-League Zone confirms that at Nantwich Town "Tuesday's match at home to Cammell Laird is off... The match will now be switched to Kirklands [Lairds' ground] on Wednesday 13th February... If the scores are level at full time there will be a replay which would be at the Weaver [Nantwich]". The rules of the Cup are apparently that if a match is twice postponed, it is moved to the opposition's ground.
ALTY ADVANCE LITTLE BY LITTLE
In the NonLeague Paper Colin Little "If we keep picking up points, it puts pressure on other teams and they know they have got to go to tough places and get points". He added that against Woking last Thursday, "We would have liked the win but after going two-nil down are very happy with the point. We got off to a poor start and rightly got a bit of a rollicking at half-time. But after the break we got level and maybe could have nicked it".
BSP NEWS
As reported yesterday Crawley Town confirm that their "trip to Altrincham later this month will be rearranged. The Reds were due to travel to the Blue Square Premier strugglers on Saturday, 23rd February, but the game will now be moved to a new date with the FA Trophy Quarter-Finals set for that weekend. No date has yet been arranged with Altrincham for the fixture to be played". Meanwhile, "Manager Steve Evans.. watched his side score an incredible EIGHT goals past league rivals Droylsden to secure a quarter-final place in the FA Trophy. 'I don't think I have seen a game like it. It had everything!' said Evans. 'I think without doubt it is one of the best days I have ever had in football. This might seem a bit harsh on Droylsden but the eight goals didn't do us justice. It could have been fifteen! We missed no end of chances, especially once we resumed the game in the second-half... Droylsden were impressive last weekend in their victory over Kidderminster Harriers... and they could have won by three of four goals'". The club website adds that "On his return to the side Magno Vieira grabbed a hat-trick, as did Jamie Cook taking his tally for the season to seventeen, thirteen of those coming in his last nine appearances. But Evans picked out another of his players as his star performer, 'For me the best player on the park was Dannie Bulman'".

Blue Square Football confirms that "Cambridge United have revealed that chief scout Willy Wordsworth has been appointed as Jimmy Quinn's new assistant manager. This follows the departure of Alan Lewer to Weymouth.... ''Willy is very happy to take this on', chairman Phil Law told the club's official website. 'He's a very experienced manager in his own right and he and Jimmy go back a long way... He may not have had a high profile but he's been one of the cornerstones of the success we've enjoyed so far this season with his detailed scouting of other clubs and identifying potential new signings... He's very well respected in the game and I know he will do a cracking job'". Meanwhile Non-League Today quotes Quinn as saying, "Alan, I'm afraid, has not handled this very well. He has not bothered making contact with me to explain his reasons. I guess it is about money... Alan has let me down big time. I was warned before he was capable of doing this. He has a reputation of pulling these stunts'".

From Cambridge United comes news that "The fans' trust, Cambridge Fans United, topped up Cambridge United's promotion fund to bring Forest Green striker Mark Beesley to the Abbey Stadium. Beesley was one of Jimmy Quinn's targets in the January transfer window but United's initial approach had been rejected. Whilst United had secured the transfers of defender Wayne Hatswell, striker Lee McEvilly (loan) and midfield duo Paul Carden (loan) and Ben Farrell, it had seemed likely that they would miss out on Beesley... That was until CFU stepped in with £10,000 to unlock the negotiations. CFU spokesman Robert Osbourn said, 'The directors have been matching contributions from the fans, and we felt that giving Jimmy the best opportunity to push for the promotion that would mean so much to the club was something we wanted to see achieved'".

According to the BBC "Kidderminster Harriers' chairman Barry Norgrove has claimed the club is still awaiting monies due from last May's FA Trophy final at Wembley. He told BBC Hereford and Worcester that Harriers have been involved in lengthy dialogue with the Football Association. 'The reason why we are having the problem is that Wembley are still trying to sort out all of their costings on the game', said Norgrove. 'There have been letters going back and forth so it shouldn't be too long now'".
---
3 February 2008
FAT ON SUNDAY
FA Trophy:
Farsley Celtic 0 York C. 2

IN THE PICTURE
Right: Ryan Shotton celebrates his goal against Woking, with captain Robbie Lawton. Picture courtesy of Gavin Rathbone's GR Photography whose website has many more pictures of Alty for you to purchase.
HOME AND AWAY
Crawley's 8-0 FA Trophy win over Droylsden means that Alty will have no league game on 23rd February as that date clashes with the next round of the competition. Therefore, Altrincham have just three home games on a Saturday left this season and the month of February sees no Saturday home league games at all. In all, Altrincham have just seven home league games left and ten on the road.

So, to see the most of Altrincham, why not come and support them on their away trips? Details of the STAR supporters' coaches to our next three away matches, at Droylsden, Rushden and Torquay are now on the Away Travel page. .
BSP NEWS
Goalkeeper Paul Cuss hasjoined Ossett Town from Farsley Celtic
OLD BOYS
Kieran Lugsden, who joined Leigh RMI from Altrincham, has now signed UniBond forms with title-chasing Buxton of the Premier Division Leigh RMI. Former Alty reserve Rio Nelson has moved from Atherton Collieries to Flixton.

Stockport County "have agreed a deal with Chester City to bring Kevin Ellison back to Edgeley Park. The winger should arrive initially on loan, and will then sign a permanent contract in the summer. Ellison first arrived in SK3 in November 2001 when Carlton Palmer, on the advice of Colin Murphy who was instrumental in taking the winger to Leicester from Altrincham, paid the Foxes £55,000.... After 52 senior appearances in County Blue he enjoyed a successful loan spell with Lincoln City before joining Chester for the first time, in the summer of 2004. His form at the Deva Stadium prompted Colin Murphy, then Director of Football at Hull City, to sign him for a third time, this time paying £100,000 for his services in January 2005. He helped the Tigers win promotion from League 1 at the end of his first season... He joined Tranmere Rovers in the summer of 2006 before moving across Cheshire, for his second spell with Chester, at the start of the current campaign. Now 28, Ellison will have to wait to make his second County debut as he is serving a three-match ban after collecting a red card in his final Chester appearance".
ACTION PICTURE
Right: Gavin Rathbone's picture shows left-back James Jennings, on loan from Macclesfield, and an important factor in Alty's improvement since New Year.
CSC
Altrincham host Vauxhall Motors in the semi-final of the Cheshire Senior Cup on Tuesday night. "Securing their first win of 2008 against fellow relegation battlers Hinckley has renewed the sense of optimism in the Vauxhall Motors camp" says IC Cheshire. "A heavy fog of doom was beginning to gather around the Motormen, who lie second from bottom in the table [in Blue Square North], as they searched for their first victory of the year to kick-start their survival fight. But on Monday at Hinckley they regained their fighting spirit to beat and leapfrog their hosts – bringing themselves just one point from escaping the relegation zone". During the game "boss Andy Mutch rang the changes. He replaced midfielder Keith Smith with defender Russell Hitchen on 50 minutes and, just six minutes later, the former Bury trainee opened his Motors account... Boss Mutch said: 'It was crucial that we got a win. That improves our survival chances and well done to the boys, they fought hard for it.'... Meanwhile, it looks as though Paul Taylor may remain at Motors at least until the summer. Despite interest from both Nottingham Forest and Leeds United, who each had him on trial, the only firm bid for the 20- year-old striker has come from Chester City, who had a £50,000 offer turned down... Motors' chairman Alan Bartlam said:'It is likely he will be with us for the rest of the season'. Taylor is contracted to Motors until the end of next season. Motors' next match is a Cheshire Senior Cup semi-final tie at Altrincham on Tuesday."
LOCAL NEWS
The Bolton News reports that Leigh RMI face a bright new future for the first time in many years after they were taken over by Bolton businessman Dominic Speakman. The Blue Square North club are currently bottom of the league and favourites for relegation, but a change at the top means a significant improvement in their long-term fortunes... The new owner has already tied up a deal that will see his club playing at Leigh Sports Village next season, while the sale of Hilton Park, by owners Grundy Hill Estates, will help pay off the club's debts. Speakman, who runs his own online travel company called Destinology, is the 32-year-old son of David Speakman, a former Bolton Wanderers director.. He said: 'I enjoy a challenge and I have run quite big companies, and feel that I can bring that expertise to Leigh RMI. I believe the future is bright. I have lots of plans for Leigh and feel it is a great opportunity for the club. We are moving to a new ground with great facilities and I want to create a club worthy of that. I want to attract young players with the right attitude that are out to further their careers. I am not going to throw money at it bringing in expensive players... If we can increase the fan base then, ultimately, I would like to have a professional set-up, but that won't happen overnight... Manager Steve Bleasdale is in a position to strengthen his side, although time is running out if they are to avoid the drop... 'Steve is a great coach with all the top badges... and I am happy for him to take the club forward', the chairman added".
BSP NEWS
This is Glos The Dorset Echo says that "Weymouth's new manager John Hollins is expected to release several players... He feels the squad he has inherited is too big ... Hollins said: 'The areas I am looking at are straight down the middle of the team really, a centre back, a central midfielder and a centre forward... It is not about paying money for players it is about affording their wages and if one comes in then one goes out, which is exactly what we did during my time at Crawley Town'". Moves:
Matt Bailey (not our ex-loan player) from Wolves to Kidderminster on loan
Michael Blackwood, Kidderminster to Oxford Utd on loan.

The Kidderminster Shuttle reprost that "Captain Stuart Whitehead has been released from Harriers by mutual consent. The defender was released from his contract by the club after agreeing it was time to move on. Whitehead was an important figure in Harriers' success last season... [but] struggled to repeat last season's consistency... after hernia surgery at the start of the season... Manager Mark Yates has also signed striker Darryl Knights on loan until the end of the season".

This is Thurrock confirms that "Two players have returned to Grays Athletic after completing their loan spells. Adam Gross and Jack Haverson are back at the New Rec after going out on loan to Weymouth and Sutton United respectively. However the club has parted company with Mark Marshall who has signed a permanent deal with Eastleigh FC and Colin Daniel has returned to Crewe Alexandra".

This is Glos states that "Mark Beesley has admitted financial security and the chance to play for a 'massive club' lured him away from Forest Green. The 27-year-old forward has penned a two-and-a-half year deal at Cambridge United, and is understood to have more than doubled his wages in the process. Having been at Rovers since 2004, and in the midst of his most successful season for the club, Beesley was far from unhappy at the New Lawn. But with a wedding to pay for in 2009 - and no guarantee of an improved contract if he stayed put - the chance to join Jimmy Quinn's promotion hopefuls proved too good to resist. He said: 'You only have to look around the Abbey Stadium to see that Cambridge are a potentially massive club. That was the main reason I decided to join, plus I was being offered the kind of financial security that maybe I couldn't get at Forest Green. It was a difficult decision to leave, particularly as (Rovers' boss) Jim Harvey has re-launched my career since he took over. I want to thank him. But I'm hoping to marry my girlfriend (Ruth) next year and maybe start a family, and football is not a secure business at this level'".

According to This is Exeter "Paul Tisdale has been given an £80,000 cash boost from the sale of Jamie Mackie to Plymouth Argyle. The Exeter City boss has been handed £40,000 now and £40,000 has been put into next season's playing budget. Mackie became the fourth most expensive player in City's history when he was sold to the Championship club for £145,000. And Tisdale is hoping to use the money to help sustain a promotion push this term. 'The club got £125,000 up front and I am getting £40,000 to spend now and £40,000 is being added to the budget next season', said the City manager. Tisdale was last night waiting to hear if a record-equalling £65,000 bid to sign a new striker was successful... 'It demonstrates that we are trying to add quality to the team and I was prepared to go to the wire to get the right one', said Tisdale. The City boss also slapped in bids for two other players - believed to be a defender and a midfielder... 'There is always the option of loans', he added. 'But I have got a list of young players at league clubs who would relish the chance of coming into a squad that is competitive'".

From the Crawley Observer we learn that "Crawley Town have recalled Jamie Lovegrove from his loan at Worthing for the big FA Trophy tie against Droyslden... Evans needs him back with Thomas Pinault being suspended and Kevin James cup-tied".

The Conference says that "AFC Telford United have completed their biggest ever signing by capturing the signature of Kidderminster Harriers captain and former Telford United hero, Stuart Whitehead, on a free transfer".

Cambridge United "issued a clear statement of intent by rejecting further offers for leading scorer Scott Rendell on transfer deadline day. On Monday evening it was announced here that a bid from a Football League club for Rendell had been rejected. Further enquiries were received today and bids from two League clubs were turned down. Chairman Philip Law was delighted to tell cambridgeunited.com , 'We were made a good offer for Scott ... Scott himself is happy to stay '... Defender Michael Morrison will also finish the season with the U's. The central defender has so far declined to sign a new contract and is due to be out of contract at the end of the season, but the January window has passed without an offer being made for the 19-year-old".
---
2 February 2008
YOUTH GAME
Tomorrow's Alty Youth game against Ashton Athletic is now not a league match but the quarter final of the Open Cup and kick off has been brought forward to 1.30pm at Wythenshawe Town.
FIXTURES
Saturday 2nd Feb. BSP:
Exeter C. 4 Stevenage B. 0
Salisbury C. 0 Forest Green R. 0
Kidderminster H. 0 Northwich V. 0
League table
FAT 3:
Ebbsfleet U. 1 Weymouth 0
Burton A. 1 Histon 1
Aldershot T. 3 Braintree T. 0
Farsley Celtic v York C. Sunday game
Stafford R. 2 Tamworth 2
Crawley T. 8 Droylsden 0
AFC Wimbledon 0 Torquay U. 2
Halifax T. 0 Rushden & Diamonds 2
ALTY DIPPY DAPPY
"Graham Heathcote was left rueing a poor first half display that gave his team just too much to do to claim victory against Woking on Thursday night" says SAM... 'We wasted the first 45 minutes', said the Robins' boss. 'Then the second goal was a bit of a killer, coming about 10 minutes after the break, and it gave us a mountain to climb. We lost discipline and shape throughout that spell but then the players showed a lot of character to come back and we'll need that in the last 17 games. I'm disappointed because I thought this was an opportunity to take all three points but one's better than none and we certainly earned that point. I'm not sure exactly what went wrong in the first half but we didn't do as consistently well in what we've been doing recently. We were more dippy dappy in our passing and we played in front of them too much, which you can't do with big centre halves, you need to try and turn them. There's still plenty to work on'".

The Cardsboard has an excellent match report oin Thursday's game against Woking.
BATTERSBY BANNED
Altrincham's most recent signing, Richard Battersby, was booked on Thursday and is now suspended for a game as he brought four previous bookings with him when he left Northwich Victoria. The FA confirms that he from 7 February he is "Suspended from all first team football until the Club have completed 1 first team match". He will therefore miss the game against Droylsden.
BSP NEWS
"Isaiah Rankin has joined Stevenage Borough on a short-term contract until the end of the season. The 29-year-old striker, previously with Grimsby Town, is keen on link up with Boro boss Peter Taylor. Rankin started his career at Arsenal and moved to Bradford City for a significant fee, moving from there to Barnsley three years later for another sizeable fee. He joined Grimsby in 2006".

This is Weymouth confims that the Terras "have snapped up Cambridge United assistant-manager Alan Lewer... Hollins said: 'Alan and I were born in the same area in Guildford. We have always met up to go scouting and watch games and we both went for the Crawley job at the same time. The club ended up asking us to work together and once we got into that we found we worked as a team really well. We were asked to knock it into shape and now it is a survived club'. Hollins has also released on-loan pair Adam Gross and Wilfried Domoraud, and trialist Chris Saunders. He said: 'Adam and Wilfried's loans were both up anyway and I wanted to cut down the size of the squad. I also want the players to know who they are competing against for a place and what we are trying to do. We have had a couple of good sessions this week... We have still got three experienced players out in Ashley Vickers, Simon Weatherstone and Nick Crittenden, which was one of the problems Jason Tindall had, and it is important we get them back fit'. The Terras did make enquiries about a 'big centre forward' earlier this week but... Hollins added: 'The player had already spoken to someone else and gone but like I said we have some good players to come back and we also have six emergency loans left if we lose a keeper or someone in another vital position'". Meanwhile "Narada Bernard could feature after a long lay-off with an ankle injury while Justin Roberts is a doubt... Hollins said: 'It would be a bit of a risk to play Narada but he is back in training. As for Justin he has had a bit of an illness so we cannot afford to run him into the ground too much... At the moment the club captain is Simon Weatherstone but on the pitch at this time it is Marcus Browning".

The Northants Evening Telegraph From the Oxford Mail - "There were no further moves in the transfer market for Oxford United on deadline day yesterday after manager Darren Patterson had two incoming deals scuppered because a player didn't want to go out... Patterson would not reveal the names of the players involved, but was very frustrated at being unable to add to his five acquisitions in January - Craig McAllister, Adam Murray, Michael Howard, Justin Richards and Matt Green. All he would say was: 'There was the possibility of three deals being done, but it hasn't happened. It's disappointing, because the players I was going to bring in would have improved our quality in the areas I feel need strengthening'. It's believed at least one of Patterson's targets was a winger, or wide midfielder - an area that has been weak or inconsistent all season. He added: 'There is the added bonus, though, that we can take loans after the closure of this transfer window. In the Conference, we can do that when the loan window opens again next Thursday'".

The Northwich Guardian says that "Paul Brayson will not be returning to Northwich Victoria... 'We are pleased to announce that Paul Brayson has signed for the Tynsiders after their release from York City', read a statement on the UniBond Premier Division outfit, Gateshead's official website. The Guardian can reveal that Brayson has had talks with Vics today but the two parties were unable to agree terms". Meanwhile, "The exit door was the only one used at the Marston's Arena on transfer deadline day. Northwich Victoria cancelled the contracts of Greg Strong and Kevin Sharp cut the wage bill. But there were still not pennies enough to pay for Paul Brayson. Dino Maamira admitted he headed home frustrated after day spent negotiating with a former fan favourite. 'His wage demands were too high', said the Vics boss. 'Paul could only commit to training twice a week and I need more than that because of the situation we are in fighting to stay in this division'.

Brayson instead switched to Gateshead in his native north east. Maamria revealed that he had tried to contact Mark Roberts over a possible return to his home town team, but insists the player never returned any of his calls... Roberts switched to Accrington Stanley in the summer and has been a regular for the League Two strugglers so far this season but a fall out with boss John Coleman in the past fortnight has left him looking for a club".
---
1 February 2008
NOT BROKEN
Ryan Toulson was taken for an x-ray after he was fouled last night against Woking; this confirmed that he has not broken his leg.
ALTRINCHAM 2 WOKING 2
Altrincham edged another point towards safety and showed great character to come back from two-down against Woking on a cold night at Moss Lane in front of the Setanta cameras.
Alty line-ups
OLD BOYS
Rumours that Karl Munroe, released recently by Altrincham, had joined Droylsden, have been confirmed by the Manchester club. Droylsden have also signed the former Northwich man, Greg Strong.

Bullsnews confirms that Hereford United "have joined the chase for Chester winger Kevin Ellison, according to the player himself. The former Tranmere winger acknowledged that he had been told of interest from four clubs, but had not sought a move himself. The 28 year old is Chester's top scorer, with eight goals in 30 games. Speaking to the Chester Evening Leader, Ellison said, 'Before Saturday's game against Rotherham a few Chester fans were asking if I was leaving the club, but I hadn't heard anything. Then, on Tuesday, I was told by a few people that Chester had accepted an offer from Wrexham for me, but I hadn't heard or spoken to anyone about a move. I'm set on staying at Chester and I don't see any reason why I should leave. Then, before Tuesday night's match against Rochdale, the gaffer pulled me into his office and I was told that Wrexham, Darlington, and Hereford were interested in signing me. At the moment I'm happy at Chester and I don't want to go anywhere else. I've got to think about my little one and a mortgage. I haven't spoken to my agent or any club about a move away from Chester because I'm happy where I am'".
CSC
NL Daily reports from Nantwich Town that "Ahead of last Tuesday`s Cheshire Senior Cup semi final [against Cammell Laird], heavy rain fell during the late afternoon over The Weaver Stadium and, with less than an hour before kick-off, the match referee concluded that the match could not proceed. In consultation with Cheshire FA officials, it was decided that a pitch inspection would take place this Sunday morning (3rd Feb) and, in the event that the pitch was unplayable at that point, Nantwich would travel to Colwyn Bay next Tuesday night for a league game, whilst a new date for the semi final would be sought". the other semi is next Tuesday at Moss Lane, between Alty and Vauxhall Motors.
BSP NEWS
Transfers completed on the last day of the Transfer Window include:
Simon Ainge - from Bradford City to Halifax T. on loan
Leo Fortune-West - from Cambridge U. to York C. on loan
Rob Sinclair - from Luton T. to Salisbury C. on loan
Curtis Aspden - from Hull C. to Farsley Celtic.

Blue Square confirm that "Cambridge United's assistant manager Alan Lewer has left the club to join Weymouth in a similar position. Lewer, who joined United as Jimmy Quinn's number two last summer, has worked with Hollins before, most recently at Crawley last season. They are known to be very good friends and Alan also has family ties in that area. Chairman Phil Law told the club's official website, 'We're obviously disappointed but we feel we can't stand in Alan's way... Jimmy Quinn added, 'These things happen in football, but the players we have here are a very professional bunch and this won't have an adverse reaction on the squad. The players here who have worked with Alan at previous clubs are all delighted to be at Cambridge United and are very professional, and the fans shouldn't worry about that'".

Meanwhile "Oxford United have cancelled the contract of Michael Corcoran by mutual consent. The defender has been on the transfer list for some time after falling down the pecking order at the Kassam Stadium. The 20-year-old arrived at the U's in July 2007 after a largely unsuccessful spell with Cardiff City".

"York City have released Carl Jones by mutual consent. The defender appeared for City in... the first two matches of the season. However injuries have limited the player's opportunities since then and he has recently been on loan at Gateshead. It is believed that Gateshead are keen to sign Carl on a permanent basis".

Woking say that "The Chairman of Woking Football Club, Mr David Taylor, has sent a letter of formal complaint on the 30 January 2008 to the Football Association in regard to the language, behaviour and post-match remarks in regard to officials of Woking Football Club by Mr S Evans, Manager of Crawley Town Football Club, when his club visited Kingfield on Saturday 26 January 2008. Woking Football Club, as a family orientated club, takes the above very seriously and awaits a response from the Football Association".

The Argus adds that "Steve Evans has been charged by the Football Association for his behaviour during last Saturday's game at Woking. He has been punished for improper conduct after being sent from the dug-out for the fourth time this season. Evans was escorted off the pitch by police officers as he tried to confront the referee, swore at fans and directors in the stand and accused Woking boss Frank Gray of conspiring with the match officials. He has until February 15 to respond to the charge. Evans was fined £500 earlier this season after being sent to the stand during a game against Altrincham".

From Torquay United we learn that "Midfielder Danny Wring has left the club by mutual consent".

Stevenage Borough confirm that "Terms have been agreed with Plymouth Argyle for the transfer of Scott Laird and the 19 year old joins Boro on a 2 year contract. Boro also swooped for 18 year old striker Elliott Buchanan, signing him from Northwood on a 2 year contract. The exciting forward has scored 23 times in 26 games in the Ryman League this season... Meanwhile Craig Dobson agreed terms with MK Dons and his transfer was confirmed today. Peter Taylor is still seeking to secure the services of an experienced striker to add to his squad and it is hoped that this may happen later tonight". Earlier Boro reported that "Winger Craig Dobson is expected to move to MK Dons... for an undisclosed five-figure fee plus a significant share of any future transfer fees. Stevenage will also receive further payments if MK Dons are promoted. Chairman Phil Wallace said, 'Ideally we would have preferred to have kept all our players, but in this day and age, once an agent has got a player a move to a League club on double or triple their wages, there is not much we can do other than negotiate an acceptable fee if he desperately wants to go and we feel we either know of, or already have, an adequate replacement. Dobbo is out of contract in a few months... MK Dons have met our valuation and made him an attractive offer to move... Our main priority is adding a striker... If Dobbo goes our squad size will be down to 26 senior players plus the youngsters. That is still a huge squad at this level, with high cost implications, but it is the only way we could cope with our injury crisis in December and January and remain competitive. Peter has steadily put together a squad with at least two players for each position and that's exactly what will be needed for the last three months or so of the season".

At Kiderminster Harriers the club has "completed the signing of former Ipswich Town striker Darryl Knights on loan from Yeovil. A former England U16 and U17 International, Knights is a product of the Ipswich youth system... The 19 year-old has made three appearances for Yeovil this term and scored goals at a frantic rate for the reserves, but has also featured for Cambridge United this term, a seven game spell at the Blue Square Premier outfit, in which he scored twice. Knights will remain at the club until the end of the season."

From Exeter City Steve Perryman confirms that "Exeter City have made a record bid for a striker but as yet we have not had that bid accepted. We have also put in two written bids for squad players but again we have yet to hear back from the clubs concerned". When assked about whether the bid was "around the £60,000 mark that we paid for Sean Devine", the Director of Football said, "That's correct". he also confirmed that 30% of the fee for Jamie MAckie's transfer (£125,000) has gone to the manager for new players.

At Ebbsfleet United "Liam Daish today captured the signature of Crawley Town full back Ronnie Bull. Ronnie can play on the left and right, and also has experience in midfield. Bull joins Ebbsfleet United on a free transfer, until the end of this season".

The Crawley Observer says that "Former Crawley Town FC boss Azwar Majeed still faces jail after he got one of his lackeys to do his community service.At a hearing in August 2007, Porsche driving Majeed, 31, admitted sending Danny Ullah, 29, to seven sessions of community service, which included gardening and weeding. But the owner of The Ja Ja Bar and Gentleman's Turf who hatched the bizarre plot after he was convicted for assaulting a Worthing teen in November 2006 later alleged he was wrongly advised by his legal team and tried to retract his guilty plea. The wrangle finally came to an end at Hove Crown Court on Monday when Majeed's new barrister Ian Bridge withdrew the claim. Instead he argued that police had abused the legal process by charging him with perverting the course of justice when there was no evidence to link Majeed and Ullah. The work-shy football boss eventually completed his 89 hours of community service and believed cops would not prosecute him for perverting the course of justice following a letter they sent to him".

Rushden & Diamonds confirm that "Striker Simeon Jackson has completed a move to League One Club, Gillingham, for an undisclosed fee... And have secured the signing of Northern Ireland Under-21 international Michael Corcoran, following his released by mutual consent from Oxford United yesterday. He joins the Diamonds until the end of the season". Also, "Andy Gooding has today put pen to paper on a contract with Diamonds for the remainder of the 2007/08 season, following his contract being cancelled at Coventry City by mutual consent earlier this month".

"James Constable will be leaving Kidderminster Hariers after Harriers and Shrewsbury agreed an undisclosed fee for the former Walsall player. Constable arrived from the Bescot Stadium on loan in November 2006, before the move was made permanent a year ago. James leaves the club after scoring 29 goals in 60 appearances. Meanwhile, the two clubs have also agreed to the transfer of goalkeeper Scott Bevan, again for an undisclosed fee. Shot-stopper Bevan joined the club originally in the summer of 2006 and leaves after 18 months at Aggborough, having made 71 starts. Coming the opposite way to Worcestershire in separate deals will be goalkeeper Chris MacKenzie, and central defender Luke Jones. MacKenzie is no stranger to the set-up at Aggborough having spent several months on loan at the club earlier this season. The experienced custodian joins on a free transfer and has agreed a deal until the end of the season. He'sjoined at the club by 20 year-old defender Luke Jones".
---
FOR EARLIER NEWS, CLICK HERE
---