Oporto Trams and Trolleybuses
Above: Left, Starbuck trailer no.9, now at the Crich tramway museum in England. Right, Interior of tram 218 (2015).
Oporto (Porto) is Portugal's second city. On 15 May, 1872, the Companhia Carril Americano do Porto a Foz e Matosinhos (CCAPFM) opened a mule-drawn tram line, to 1.435 metre gauge, from Infante on the city's river front downstream to Matosinhos. This later became route 1 of the subsequent STCP system, part of which still operates today. However, Oporto's tram system has fared worse over the years than that of Lisbon in that it has been reduced to a couple of short routes which are as much of museum status as working tramways for the use of the local population. However, the last few years have seen the arrival of the impressive Metro system which has catapulted the city's railed transport system into the 21st century.
By March 1873, the original mule-tram route had been extended into the city centre at the Rua da Restauração and at the other end, of its route had reached Leça da Palmeira. Also in 1873, another tram company, Companhia Carris de Ferro do Porto (CCFP) was established and from 12 August 1874 it ran a standard gauge route from Carmo in the city centre to Foz (which is on the way to Matosinhos) via Boavista. This company soon had five routes operating with destinations which included the main Oporto railway station at Campanhã. The CCFP used 10 Starbuck mule-hauled vehicles purchased from Birkenhead, in England. One of these was a double deck vehicle.
From June 1878 both CCAPFM and CCFP were able to use steam power, using seven locomotives (mostly Henschels) on joint services to Boavista from where mule haulage took over. Finally, in January 1893, CCAPFM and CCFP merged, with the latter's name being used for the combined operation. The first electric service started on 12 September 1895 from Carmo to the Rua do Ouro via Massarelos and this was the first electric system in Iberia. The route was then extended from Massarelos to Infante and employed Cologne-built four-wheel vehicles by Herbrand. Mule haulage ceased in 1904 but steam operation lasted till November 1914.
A new tramway company was set up in competition in 1907 and this was called the Companhia de Viação do Porto (CVP) but it was taken over by CCFP a year later. A 75-year concession was granted by the city council to the CCFP in 1906 and routes grew as a result of this arrangement, including services across the Ponte D. Luís to Vila Nova de Gaia. In 1912-13 a reserved track was created to Castelo do Queijo from Boavista to replace the steam tramway. Non-passenger trams also operated carrying coal and sardines, as well as freight to the port of Leixões.
The original Herbrand electric fleet was initially increased in 1903 by conversion of redundant mule cars using Brill 21E and German trucks. But, from 1905, new purpose-built electric cars were imported from Brill in the USA. From the 1920s the CCFP company itself built its own cars at Boavista using imported materials from Brill in the USA.
The Oporto city council exercised an option to take over the tramway operations from 1946 and the operator since than has been known as the S.T.C.P. (Sociedade de Transportes Colectivos do Porto), whose web site is an excellent resource for the visitor. In the 1950s the tram fleet stood at 193 motor vehicles and 24 trailers and the network extended over almost 250km. But from 1959 the network was reduced following the development of bus and trolley bus services. Motor buses had been operated since April 1948 when Daimler single deckers were introduced. And also in 1948 it was decided to introduce trolley buses.
Single-deck trolley bus
In 1958-59, 20 new BUT trolleybuses, with Metrovick motors, were acquired. These were 32-seater single deckers built in Portugal by UTIC. Further tram routes were converted to trolleybus in the 1960s and six more trolleybuses were bought.
Double-treck trolley bus
A further curb to tram operations was the inauguration of a lifting bridge over the river at Leixões which meant that the trams from Oporto had to terminate at Matosinhos. The link from Matosinhos to Leça was subsequently operated by double deck AEC buses which were later replaced by Leyland Atlanteans. The STCP bus livery, which like that of thst trams, had been ochre was altered in 1960 to turquoise and later orange and cream. In 1967-68 the acquisition of 50 double-decker and 25 single-decker Lancia/CGE trolleybuses dealt a further blow to tramway operations. By 1978 only routes 1,3,18 and 19 remained in tram operation and, by 1992, only 33 trams survived of which just 19 were in daily use. By 2004 usually only three or four trams were normally in use at any one time on truncated routes.
For more on Oporto's trolleybuses, see:
Harvey, David, . Stroud: Amberley, 2019. 12pp. ISBN 978-1-4456-9283-8.
Tram Rolling Stock
Before 1930 the STCP livery was green and white but since then it has been golden ochre and cream.
Electric cars, nos. 101-111 (Risca ao Meio - Longitudinal seats)
101-04 were four-wheelers, mounted on Brill 21E trucks. 101-4 were ex-mulecars, 104 being an 1860-type Starbuck car. 105-111 dated from 1905 and were 6-bay saloon cars.
Electric cars 112-114 (Brill 23)
Known as Brill cars, these were not actually bulit by that company but were of a similar type to the US manufacturer's product. They were of 7-bay construction with a mix of longitudinal and transverse seats.
Electric cars 115-119 (Carros Ingleses - English Cars)
These cars were built at Preston in England by the United Electric Car Company in 1909 with Mountain & Gibson 21EM trucks.
Electric cars 120-146 (Brill 23)
These were genuine Brill-designed vehicles. They were four-wheelers with windows, sliding into a barrel-roof vault. 120-136 were ordered in 1909, the rest in 1910.
Above: A rather worn tram, no.196, leaves Boavista depot in late May, 1981.
Electric cars 150-199 (Brill 28))
Similar to 120-146, these cars were 2.4 metres wide as opposed to the earlier 2.25m width. The original batch was ordered in 1912 and had 2+2 seating for 28. The later models were built by CCFP from the mid-1920s until 1938. They were 9.3 metres long and weighed 11.71 tonnes.
Electric cars 200-223 (Brill 28 Plataforma-Salão)
Built by CCFP from 1938-45 as 28 seaters, these cars had extended platforms making them 9.92 metres long.
Electric car 249
This was the first Oporto bogie car produced by Brill in 1904. It was similar, but heavier, than Lisbon's Brill class vehicles (nos 323-342)of 1906. This tram is now at the Shade Gap Electric Railway at Rockhill Furnace, Penn., USA.
Electric cars 250-261 (Italianos)
These were semi-convertible cars built by STCP in 1928-29 with 8 bays. These cars allowed larger passenger capacity with their length being 9.85 metres.
Electric cars 266-269 (Bogie Fumista)
Built in 1930 with domed roofs and 11 bays with removable windows, these cars originally seated 40 in 2+2 formation, but this was later changed to 31 seats in 2+1 set up. Length is 11.71 metres and width is 2.48 metres. Weight is 15.71 tonnes.
Electric cars 270-277 (Bogie Americano)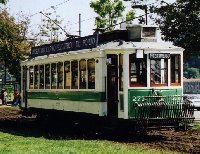 Tram 277 in revenue-earning service at Massarelos in July 2001.
Derived from 249 with 40 seats on German trucks (under Brill licence), these cars were 11.73m long, 2.43m wide and weighed 17.4 tonnes.
Electric cars 280-289 (Carro Belgo)
Right: Belgian car no. 284, seen at Matosinhos in 1993.
Bogie cars built in 1929 by Ateliers de Construction de Familleureux of Belgium, these stylish vehicles weighed 16 tomnes and were 11.65m long and 2.47m wide.
Electric cars 300-315 (Fumista)
Four-wheel cars similar to 26-69 but with 8 bay bodies and 28 seats. Length is 9.57m, weight is 11.7 tones.
Electric cars 350-373 (Carros de Aula - Classroom Cars)
Four-wheelers, uilt in 1947-51 by STCP on local trucks with flush sides and single ended operation. Their name of Classroom Cars came from their withdrawal for use as rural classrooms in Portuguese villages. Length 9.84m, width 2.4 m and weight 11.53 tonnes.
Electric cars 404-405 (Pipis)
Similar to 350 class, but these cars had only 5 bay bodies and were originally designed as trailers. Length 8.22 metres on a 2.36 wheelbase.
Electric car 500
A single ended car of 1952 this was intended as a prototype of a new series, which was never built. Of Italianate design it was a 22 seater, with a length of 9.69m, width 2.27m and weight of 12.25 tonnes.
Trailers
Trailers 1-7
These were bogie trailers built in the mid-1920s by STCP and were similar to cars 1051-114 with 32 seats. They remained in use till 1959 on route 1.
Trailers 8-10
These were vehicles from the former mule-fleet. No.9 is preserved at Crich, England.
Trailers 11-17
Nos 11-13 were former mule car saloons.
Trailers 18-20
Built in 1934 these were Fumista trailers.
Trailers 21-24
Former mule cars, these were motorised in 1903 but converted to trailers from 1934.
Works Cars
48: A converted mule car used for track repairs.
49 was a tower wagon.
76 was a rescue vehicle with a box body. It was also used as a shunter at Boavista shed.
C50-C80 were former coal cars used between the mines at S. Pedro da Cova and STCP's Massarelos power station.
Sardine trailers were also operated.
---
Massarelos Tram Museum: Museu da S.T.C.P.
The Oporto tram museum is located at Massarelos, near the river front, to the west of the city centre. It is housed in over 1940 sq. metres of covered accommodation adjacent to the operational tram shed on the site of the former STCP generating station, built in 1915. Admission is modestly priced. As you enter the museum you pass through an interesting shop with publications, models and other items on sale at reasonable prices. The main tram shed was at Boavista but its site has now being converted into a huge Casa de Música. The tram museum opened in 1992 and is well laid out with a wide range of trams, auxiliary vehicles and artefacts.
Tram Services
The city's only surviving tram routes both start here; the tram stop is about 100 metres east of the STCP building. Because of Metro construction works both routes were very truncated in summer 2001. For details see this site's Oporto tram museum page.
The operational fleet in early 2005 comprised eight trams:
Four-wheelers: 213, 218, 220, 221 and 223
Brill bogie car: 270
Carros belgos: 283, 287

Info below courtesy of Mike Russell.

On 16 December 2005, trams returned to Carmo again after an absence of many years when cars 104, 203 and 143, re-inaugurated this former city terminus for route 18, which had been terminating for some years at Viriato on its short route from Massarelos. The local council has also now set about re-opening the line from Carmo to Praça (da Liberdade) in the heart of the city and from there up the hill to Batalha to the upper station of the restored Guindais funicular. This work is set to be completed in 2006, hopefully in time for the annual tram parade, set for 6 May 2006. After this it is hoped to create a circular route around the city going beyond Batalha via Dom Pedro V and back to Carmo. In the interim there will be two-way tram traffic from Carmo via Rua dos Clérigos, Praça and the Rua do 31 de Janeiro to Batalha. STCP also has plans to reinstate services along the coast from Castelo do Queijo to Foz by initially operating westwards from the present Cantereira terminus via Foz and the Avenida do Brasil to Castelo do Queijo. This should be operative in 2007.

New magnetic track brake equipment is being fitted to the operating fleet to ensure there are no runaways on the extended network which has steep inclines on it. There are also plans to realign the track and ease the curves in Rua da Restauração, so that bogie cars can run up the steep hill via Viriato to Carmo. Traffic is growing and to cope, the remaining stored bogie cars are all to be overhauled and returned to service. These include a number of carros belgas.
---
Other Retired Oporto Trams
For details of a number of retired Oporto trams now in use or on show elsewhere, see the Oporto tram museum page.
Josef Pospichal has an excellent list of Oporto trams and where they have ended up.
---

Copyright: ©

Contact: the following is not a link; please transcribe the address into your email