---
30 April 2011
DECISION DAY
Saturday 30 April is decision day for Altrincham. To survive at the national level of non-League, the following must happen:
Alty must defeat Eastbourne Borough - didn't
Kettering must beat Southport- did
FGR and Tamworth must not draw - didn't

So, it will be remarkable if everything goes Alty's way! The usual live text updates will appear on the Matchday Update page.

Brian Flynn writes, Radio Robins will be providing a full commentary of our final game of the season against Eastbourne Borough on Saturday. During the half-time interval, it is planned to do a live interview with BBC Radio Manchester commentator & renowned after dinner speaker, Fred Eyre. The match commentators are Paul Salt & Tony Chetham".

After the match there will be the Player of the Season and other awards in the bar along with the annual Race Night; everyone is welcome.

In the Manchester Evening News, Ken McKenna, the Alty boss says, "It's out of our hands so all we can do is try and make sure we achieve the win we need to give ourselves a chance. There's no point us even beginning to think about other results if we don't do our bit so our sole focus has to be on getting three points. That in itself won't be easy because, unlike us, Eastbourne will be under no pressure and, no doubt, looking to leave the division on a high note after beating Bath on Monday.

But we showed great determination in winning at Grimsby when anything less would have sent us down. Now we have to do it all over again- then hope and pray it's enough".

The MEN adds that Ken is "hopeful veteran goalkeper Stuart Coburn and on loan midfielder Steve Connors... will be fit enough for him to name them as substitutes".

John Edwards, Alty joint press oficer, writes:

"Chairman Grahame Rowley has called on fans of all persuasions to unite behind the common cause of helping Altrincham stay in the Blue Square Bet Premier at Moss Lane on Saturday.

With Manchester United and Manchester City both playing on Sunday, Alty are offering £5 admission to League club season-ticket holders for the 5.15pm kick-off against Eastbourne Borough.

In a further attempt to bolster numbers for the final game of the campaign, with Alty needing a win to have any chance of staying up, hundreds of free tickets have been distributed to local schools.

'The scheme is primarily aimed at United and City fans, because their teams are playing the following day, but any League club season-ticket holders can come in for £5, on production of their ticket at turnstiles five or six,' said Rowley. 'We have been going round local schools, handing out free tickets, as well, and any schools that want more can still contact the club on 928 1045.

'Our biggest gate of the season was 1,928 against Wrexham on New Year's Day. It would be great to beat that and top 2,000, with everyone getting behind the team and hopefully helping them recreate Monday's outstanding performance at Grimsby.'

A second-half winner by Marc Joseph at Blundell Park ensured survival hopes stayed alive, with Alty now needing a win for themselves and defeat for two of the three teams above them, Southport, Tamworth and Forest Green.

'One of the things I told the lads before kick-off was that I didn't want to be turning up at Moss Lane on Saturday already relegated,' said manager Ken McKenna. 'I stressed that we had to give our fans some hope for the final day, and thankfully that happened.

'It was an excellent response to what was a sub-standard performance against Newport last Saturday. It was high tempo, but with 100 per cent concentration at the back, good discipline and instructions followed to the letter. We need to replicate that against Eastbourne.

'I had a bit of a go at the lads after the Newport game and told them that, whatever the result at Grimsby, I wanted to see a bit of pride in how they played. We owed the supporters that much, and I was pleased they seemed to take it on board.

'We should have been a goal up inside 30 seconds, and from that first minute onwards, we went after the game and really stamped our mark on it. I thought for a part-time team to keep their focus and discipline under that sort of pressure, with the threat of relegation hanging over us, was superb.

'We created some fantastic chances and limited them to next-to-nothing. They had little patches where they came into it a bit, which you would expect from full-time professionals playing for their futures under a new management set-up, but we dominated and thoroughly deserved the win.

'Now it's down to the last day, and while it's not ideal having to rely on others, we can only concentrate on ourselves and making sure we put in a good performance against Eastbourne. We have to do that, because Eastbourne are going to be tough opponents, as they showed by beating Bath 2-0 on Monday.

'But we've been under pressure since the day I took over. We had one point and were well adrift at the bottom, and there hasn't been a single moment since when we were not under pressure to try and close the gap on teams above us. Every minute of every game has really mattered, and we've had to work really hard for every little scrap.

'It will be no different on Saturday. Even at Grimsby on Monday, we went into the game knowing that anything less than a win would relegate us, so we have to take the same attitude into Saturday. We've got to give it everything and hope for a bit of luck elsewhere.'

Keeper Stuart Coburn and midfielder Steve Connors are both extremely doubtful".

Paul Salt of TASC writes:

"With the present season drawing to a close, TASC are already planning ahead for their fund raising for next season.

'Goal Rush' is a new sponsorship scheme for the 2011-12 football season with a chance to win free admission tickets, a signed shirt, matchball and possibly even a season ticket for the 2012-13 Season !!

The scheme is simple, anyone can sponsor the mighty Robins any amount they wish in multiples of 25p per goal for each goal they score throughout the 2011-12 season in all Blue Square Bet League, FA Cup, FA Trophy and Cheshire Senior Cup matches.

For example – If Altrincham score a total of 75 goals in the 2011/12 season for each 25p sponsored goal you would be paying £18.75 for the whole season.

For every 10th goal scored, each sponsor will be entered into a free draw based on one entry for each 25p sponsored, i.e If you agree to donate 50p per goal, you receive 2 entries, £2.00 per goal receives 8 entries etc.

The club have kindly agreed to donate TWO FREE TICKETS for a forthcoming home game for every 10th goal scored to the winner of each draw. In addition there will be an end of the season draw for TWO PRIZES of a signed shirt and matchball.

Should Altrincham score 100 goals in the season, and we get £30 sponsorship per goal, then the Chairman has kindly agreed to provide a FREE SEASON TICKET for the 2012-13 season in addition for the end of season draw.

We invite all our supporters to contribute and help reach our initial target of acheiving a total combined sponsorship of £30.00 for each goal scored by Altrincham throughout the 2011-12 Season.

Full details and entry forms will be available at the TASC desk, in the bar or can be downloaded from the fans forum on www.altyfans.co.uk.

Forms will also be available at the Race Night following the match v Eastbourne "
PENALTY COMPETITION
TASC Brian Flynn writes...

Final of Penalty Competition

The final of the penalty competition, that we have been running this season, takes place during the half-time interval of Saturday's game against Eastbourne Borough.

The five finalists are:- Sam Dorrington, Niall Flynn, Mike Green, Gary Stuart, Luke Vayro

The man they have to get past is Altrincham Youth Team goalkeeper, Adam Reid, who was part of the senior squad at Grimsby on Easter Monday. Each finalist will take two penalties and if there is no outright winner, the contest will then by decided by a sudden death shootout".
OLD BOYS
With no Alty midweek action, there was an opportunity to see some ex-Alty players in action. At Colwyn Bay on Thursday evening, 861 people witnessed Bay beat North Ferriby United 2-0. Ex-Robin James McCarthy laid on the first goal with a long throw and scored the second goal himself. But in scoring it he suffered a head injury; at that point three players were simultaneously on the deck with head injuries. Bay's Jon Newby suffered a head injury in the build up; and as well as James, a Ferriby player was also down after colliding with him. The Yorkshire man recovered but both Colwyn players were unable to continue.

Also playing for the Seagulls were Damian Allen and Fraser McLachlan, two ex-Alty trialists. Damian is seen, below, leading out Bay, with McCarthy two behind him and McLachlan two further back.

On Friday at Shawe View, Trafford went down 0-1 to a Woodley Sports penalty. The Sports featured Peter Band (above right) as captain at centre-back. "Bandy" is also now the assistant manager at the Stockport outfit.

Meanwhile NL Daily reports that "After topping the Vodkat League Premier Division goalscoring charts for most of the season, Flixton striker Astley Mulholland is gearing up for a move up the footballing ladder over the summer.

Not surprisingly, with over 40 goals to his name this season, the 22 year old striker is a wanted man with a number of Football League and Blue Square Bet Premier clubs currently in competition for his signature.

Blue Square Bet Premier outfit Kidderminster Harriers have offered him the chance to come down for pre-season training, but nPower League Two club Crewe Alexandra are leading the chase, and Astley played in a trial match for Alex in a friendly against Blackburn Rovers' reserves last Tuesday.

Flixton manager Lloyd Morrison told the Manchester Evening News that he was delighted at the progress Astley has made this season. He said: 'We've had scouts up from Crewe and I think it would be a great move for Astley. We had Danny Gardner go there last year and it wouldn't surprise me at all to see Astley go there. I think they (Crewe) liked the look of him. He didn't score but he had a decent game and you couldn't tell he was a trialist.

No disrespect to the clubs that have been after him but there's some really great clubs after him now, and I think we'll see him move up a good few levels in the summer. When we first signed him I thought we'd only keep hold of him for three or four months but he's not been interested in moving and he's given us a great season.

I think if he chooses the right club he will score goals at any level. He's got the ability and goalscorers are few and far between. I think he should just choose whichever club is best for him.. That will be four players who will have got full-time contracts from us in the last two years and it shows we're doing something right. It's nice when we get the best out of them. I'm quite proud because there's not many non-League managers who can say that'".
BSBP NEWS
The BBC says that "Rushden & Diamonds have been deducted five points for inaccurate information in their quarterly financial reports. The Football Conference has also imposed a suspended fine of £2,000 on the Blue Square Bet Premier club.

A petition to wind up Rushden & Diamonds FC Ltd has also been issued by Cloverdale Catering. It will be heard at Northampton County Court on 13 June and comes as the club have invited creditors to a forum on Wednesday to discuss proposals. Cloverdale Catering claims to be a creditor of the company...

The points deduction leaves Diamonds 14th in the table - 11 points clear of the relegation zone with one match to play. The Conference's financial reporting initiative, introduced in 2009, demands Blue Square Bet Premier, North and South clubs submit quarterly financial reports for assessment by the league.

Rushden were bought by Gary Calder and Liam Beasant in December, with Beasant becoming chairman on 3 March after Calder's resignation. Rushden & Diamonds claim that the Her Majesty's Revenue & Customs debts accrued and the reporting period at the end of 2010 overlapped with this change of ownership at the club. The Conference board have allowed the club the right of appeal, for which they have 14 days to prepare such an appeal".

According to NL Daily adds that "The Diamonds have invited all current creditors to a formal closed forum on Wednesday May 4 at 2:00pm at the Kimberley Suite, Nene Park, where the directors will discuss current and future proposals."

Tamworth report "We are Tamworth no one likes us!! The shed's popular chant is certainly true today as the club did not make any progress in gaining permision to sign a goalkeeper after the appeal to The Football Association was turned down. Caretaker Manager Dale Belford is very upset that he has been personaly placed in a postion where he may have to play despite advice from the Doctor not to.

If he plays Chairman Bob Andrews is going to lead from the front and take a place on the bench to show the footballing world that we are Tamworth and we will not be beaten. It is time for every Tammie to get down to the Lamb and lift the lads who are in a shirt. You can get your own shirt for a tenner in the shop before the game.

Injuries are limiting the numbers to add to the goalkeeping problem. who would have thought a week ago we would be in this position but we are and we must concentrate on the positives. We are Tamworth, no one likes us but do we care?, What more incentive is needed to be at the Lamb, a team needing your full support, great fans and a Mike Bassett appearance by Bob Andrews and its all on live TV".

At Wrexhamk "The Club is delighted to announce that the money owed to HMRC involved in their winding up petition has now been paid. This has been confirmed to The Football Conference, in accordance with their request, prior to the start of the Play-Offs".

From Blue Square Football we learn that "Eastbourne Borough have announced the first casualty following their relegation from non-league football's top division - sacking long-serving mascot Ollie The Owl.

The shock decision was made public to a disgruntled Ollie during Easter Monday's final home game of the season against Bath City... Chairman Len Smith confirmed the club had made the decision to release Ollie from his contract at the end of the season, but somehow the news was leaked before the match with Bath. At half-time, Ollie was presented with a silver salver to honour his service by sponsors Winning Look - but he took the opportunity to make his feelings public by hurling the momento to the ground and kicking over his suitcase, before making a one-owl sit-down protest in the centre circle.

The stunning display of feathered arrogance was captured on film and will soon be available on Ollie The Owl's Facebook page. This has not endeared him to club officials, who had raised questions about his fitness and doubted his ability to motivate the Borough players and supporters...

Eastbourne Borough FC commercial manager Lorna Gosling said: 'Ollie has been a great mascot and a loyal servant but he has to accept that the time will come in any ageing owl's career when he will be replaced by a younger, leaner and more dynamic model'...

Ollie the Owl broke his silence last night to squawk: 'I'm sick as a parrot. I'm not finished and I'm not ready for the 'owl people's home!'".
---
29 April 2011
UPDATES
Because of technical problems, updates to the website are currently limited. There should, however, be an update made this evening.
---
28 April 2011
KEN PLOTS ESCAPE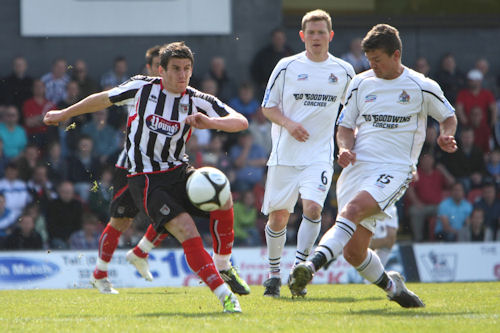 The Manchester Evening News reports that "Altrincham manager Ken McKenna said he wants to pull off a great escape so he can take the club on to bigger and better things. Speaking before Saturday's crunch relegation meeting with already doomed Eastbourne Borough, McKenna said that even with one game left, he thinks his side are in a false position.

Lying third bottom – one point from safety – the Robins must rely on other results to go their way if they are to stay in the Blue Square Premier League for another year.

Right: Ryan Brown has performed well when restored to the side recently; he is seen here at Grimsby.

Southport must lose at Kettering, while Altrincham must hope that 21st-placed Tamworth do not draw at home to 19th-placed Forest Green Rovers. But McKenna's men have given themselves a fighting chance of survival after the inspiring 1-0 win at Grimsby on Monday – when anything but victory would have seen them relegated.

McKenna said: 'With the group of players we've got, there's no way in the world we should be in the bottom four in this league. We have battered some teams, especially at home. When the players are at it, they are a good side.

'Everybody says that if you go down you deserve to go down. That's as well as maybe but I would love to have another chance to take this team forward at this level, with a few additions, and finish much higher up the table. If anyone deserves a bit of luck, it's this group of players – and I hope they get it for the club's sake'.

The Robins boss points out that when he took over at Moss Lane in September, Alty had one point from eight games and were rock bottom in the table – and looking like relegation certainties. A 5-0 reverse at Saturday's opponents in his first game was followed by an upturn in results for the Robins and Borough's decline.

He added: 'Saturday is a pressure game but we have been under pressure from the moment we took over here. We have been playing catch-up all along, and when results started to go for us, we missed any number of opportunities to move up the table'.

Perhaps because of that thrashing in East Sussex, McKenna is still wary of Saturday's opponents – despite the fact that their relegation is already confirmed following their 1-1 home draw with Kidderminster Harriers early this month. McKenna said: 'They are no mugs. The thing about this league is that anyone can beat anyone'.

Altrincham are offering entry to Moss Lane for just £5 to season ticket-holders from other [League or Premiership] clubs for the relegation decider against Eastbourne Borough on Saturday. Neither Manchester City or Manchester United are playing that day, and Alty are hoping for a bumper crowd to help them try to preserve their Blue Square Premier status".
---
27 April 2011
SIX YEARS ON - A FAMILIAR SITUATION!
Howard Watts's Through the Years records for 30 April, this Saturday, are particularly evocative. The last time we played a game on 30 April was in our promotion season in 2005, when we went to Hucknall Town needing to keep an eye on results at Kettering to ensure we were in the play-off places. And now, six years later we will again play the final game of the season with half an eye again on Kettering where Southport, potential relegation sufferers like Alty, are playing.

This website's report of the 2005 game reminds us of the situation...

"Despite losing today for the first time in eight games and conceding four goals for the first time in the league since March 2003, Alty qualified for the play-offs. By half-time, Alty had established a deserved 2-1 lead. Their opening goal was a penalty by Little (16 mins) after Owen had been upended by keeper Smith. Hucknall equalised, following a penalty, when Coburn brought down Ricketts. Despite a magnificent save by Coburn from Hunter's spot-kick, Hunter knocked in the rebound as the Alty players were slow to react (39 mins). A great shot into the top corner by Scott from 20 yards put Alty 2-1 up (45 mins).

Knowing that Harrogate and Kettering were losing, Alty started slowly in the second half. They also made 3 substitutions before the 70th minute mark, possibly in some cases with an eye to resting players for the play-offs. Indeed, Hucknall levelled after 57 minutes, and their goal may have had something to do with the substitution of Gary Talbot immediately before it. The goal came after Coburn had saved well from Todd only for Bacon to net the rebound. The third penalty of the game, conceded by Maddox, led to Hunter beating Coburn from the spot (83 mins).

Former Alty captain Chris Timons controversially made it 4-2 when his goal was allowed to stand despite an offside flag (87 mins). Soon after this, manager Graham Heathcote was sent off for protesting".
PLAYER OF THE SEASON
TASC chairman Brian Flynn states that "Voting forms for the 'Supporters' Player of The Year' can still be handed in at the club until 12 noon on Wednesday (April 27th). You can also vote by email, indicating your first, second & third choice & sending to Brian Flynn (brianflynn59@hotmail.com).

The winner of this season's award will be announced at the Race Night, which follows the final game of the season against Eastbourne Borough on Saturday April 30th".
UNITED RESERVES MOVE GAME
Manchester United's reserve game against Arsenal, this Thursday at 7pm, has been moved from Moss Lane to Old Trafford, with kick off at the same time as originally scheduled.
CORPORATE SEVEN-A-SIDE
Due to late withdrawal of one of the teams competing in the Corporate 7-a-side Tournament on May 7th, we now need one more team to compete. If you have a squad of players interested in playing, please e-mail me at altrinchamprog@yahoo.co.uk or phone me on 07720-606897. The Tournament begins at 11am and finishes approx. at 3-3.30pm with medals for all participants.
SATURDAY'S GAME
Holders of valid season tickets for any Premiership or Football League club will be admitted to Moss Lane for just £5 for the crucial match between Altrincham and Eastbourne Borough this Saturday, kick off is at 5.15pm. Entrance is via turnstiles 5 and 6 and all season tickets must be shown. Those travelling to Moss Lane from Manchester on Saturday need to be aware that Metrolink has announced that "On Saturday 30 April and Sunday 1 May there will be no trams running on the Altrincham and Eccles lines. Trams will run from Bury to Piccadilly only. There will be no through services to Altrincham.

Altrincham replacement bus services will run Altrincham to Piccadilly, calling at all stops to Piccadilly Station except Mosley Street". As these buses call at stations on the way, travellers from Manchester are much better advised to catch the very regular (and cheaper) Arriva 263 service from Piccadilly bus station to its Altrincham terminus. There is an hourly train connection from Piccadilly to Altrincham, via Stockport, too.

Altrincham's opponents on Saturday, Eastbourne Borough, defeated Bath City 2-0 on Monday, from where Bath City report that their "hopes of a top-half finish in their debut Blue Square Bet Premier campaign were hit by defeat to already-relegated Eastbourne Borough at Priory Lane. An experimental visiting side turned in a disappointing display in their final away game of the season and were twice saved by the woodwork before deservedly going down to second-half strikes from Richard Pacquette and Jamie Taylor. Eastbourne Borough: Banks, Kelly, Austin, Elphick, Demetriou, Brinkhurst, Hutchinson, Johnson, M Crabb (Jenkins 90), Taylor (Smart 89), Pacquette (Purcell 85). Subs not used: N Crabb, Lightwood.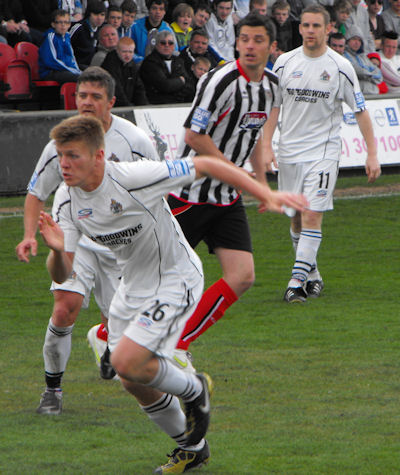 Right: Carl Piergianni, Ryan Brown and Nicky Clee all did a good job on the Alty left at Grimsby.
The referee for Alty v Eastbourne this Saturday is Mr A J Madley whose previous games include:
Alty 0 AFC Wimbledon 1, on 22.8.09
York C. 2 Alty 1, on 5.4.2010
Gateshead 2 Alty 0, on 11.9.2010
"NO DISRESPECT"
This is Grimsby reports that "Joint boss Rob Scott blasted Grimsby Town's performance as the Mariners ended their home Blue Square Bet Premier campaign with a 1-0 defeat against lowly Altrincham. A Marc Joseph header shortly after half-time gave the visitors a deserved three points, much to the annoyance of Scott and fellow boss Paul Hurst.

Afterwards, Scott questioned the desire of some of his players, who rarely threatened an Altrincham team who would have been relegated from the Blue Square Bet Premier had they lost. Scott said: 'No disrespect to Altrincham, but they are nowhere near the levels Grimsby Town should be at. We stood in the dressing room before the game and said the only thing they are going to hurt you from is set pieces and long throws and they will park the bus in front of their goal.

Now we are talking about them scoring from a corner with a free header and then standing back on the edge of their box for the rest of the game. If any of our players can turn around and say that is not what we told them before the game, then they were not listening. It is annoying the fact that they don't take in the information and carry out the instructions they have been asked.

How many saves did their goalkeeper make? One, at home against an Altrincham side who are fighting for their lives and who are camped on the edge of their box for the last 20 minutes. We had one shot on target and that is not good enough. I hate losing and I'm not sure it hurts enough people when we do lose...

The players will see we are very, very demanding and if we have won we will ask for more because as soon as you stop asking for more your teams start going backwards. We felt that we had stopped the rot a little bit and the form wasn't too bad but we have gone out with a whimper at home'".

Earlier This is Grmsby had reported that "Town couldn't end their home campaign on a positive note as relegation-threatened Altrincham boosted their survival hopes with a 1-0 win on their first visit to Cleethorpes... All the hard work by the club to get people on seats at Blundell Park with discounted prices was wasted with a lacklustre showing by the players.

It must be hugely frustrating for bosses Rob Scott and Paul Hurst who seem to take one step forward and two back at the minute; at least it is more food for thought in those meetings about contracts that are fast approaching...

Helped by the club's 'pay what you want' initiative, it was a bigger than usual bank holiday crowd in the sunshine at Blundell Park; the vast majority hoping the team could provide the bosses with a first home victory after two in four days on the road.

There was much more at stake for the visitors who needed a win to keep alive faint hopes of avoiding the drop... But they flew out of the traps, forcing a corner after just 10 seconds. And they kept pressing, a drilled effort from Marc Joseph forcing Arthur into a save to his right before Nicky Clee fired it back across goal from the opposite side of the box and it was bundled home by an offside Dayle Johnson [actually it was Damian Reeves]; the flag up straight away to halt any celebrations for the Robins.

The situation at the bottom was clearly in the minds of the Cheshire side who were having a real go with three up front. After the initial shell-shock, Town started to find their feet and Michael Leary saw a lucky 30-yard ricochet almost catch out keeper Craig Dootson as he back-pedalled to push it out and then gather at the second attempt...

The visitors, however, should have been in front three minutes later. More good work down the left from tricky wide man Clee saw him square to Johnson arriving to seemingly just tap home but he contrived to side-foot over from two yards with the goal at his mercy; he couldn't believe it and neither could the Robins' fans behind that goal...

Arthur may have been a spectator there but he was called into action five minutes before the interval; getting back well to tip over a dipping Joseph effort from 20 yards that was sneaking under the bar....

The second half started in much the same fashion as the first with Altrincham on the front foot and Arthur did well to push behind a powerful drive from Johnson. But his good work was undone by his defence from the resulting corner and Joseph was granted the freedom of the Pontoon End six-yard box to nod home the opener unchallenged and delight the travelling fans and bench.

The sizeable crowd was becoming disgruntled with the fayre on offer from Town; their first proper shot on target not coming until Connell's tame effort straight at Dootson on 58 minutes... The Robins were fairly comfortable with their lead having a superb outlet upfield in the shape of Johnson, who ran himself into the ground for their cause".

The Manchester Evening News adds that "Veteran defender Marc Joseph is the toast of Altrincham after his 53rd minute winner at Grimsby secured the Robins an unlikely Blue Square Bet Premier relegation lifeline. The 34-year-old Antingua international centre-half headed in from Ryan Brown's corner to give ailing Alty an against-the-odds 1-0 victory which keeps their hopes of staying in non-League's top-flight alive.

Altrincham showed nerves of steel to triumph in a contest which would have seen them demoted had they failed to win.

They can now perform one of football's greatest-ever escapes by beating doomed Eastbourne at Moss Lane this weekend, although Alty will still then be relying on Southport losing their final game at Kettering and Tamworth's closing-day relegation battle with Forest Green not ending in a draw"
BSBP NEWS
At the end of 2009, the Northants Evening Telegraph reported that "Kettering Town chairman Imraan Ladak has secured a multi-million pound deal which has seen one of television's Dragons buy out most of his company. Dragons' Den star James Caan has agreed to acquire 90 per cent of Mr Ladak's medical recruitment firm, DRC Group, which is made up of DRC Locums and Locumlinx".

Earlier this week The Poppies announced that "For several months Kettering Town has been chasing outstanding sponsorship fees from DRC Locums and its multi-millionaire Chairman 'Dragon' James Caan".

DRC Locums issued a response on Monday...

D. R. C. Locums Limited notes with regret the statement issued by Kettering Town Football Club late at night on Good Friday.

DRC has been a long standing supporter of non-league KTFC, sponsoring it to the tune of £600,000 per year, a substantial sum in sponsorship terms, since James Caan became Chairman of DRC. Unfortunately, due to the challenging economic circumstances affecting all businesses, which had seen DRC's profits fall by approximately 60% per year, DRC had to take action to reduce its costs but remained committed to supporting the club and trying to meet its remaining sponsorship obligations.

With this in mind, DRC as a gesture of good faith made a payment of some £50,000 to the club on Thursday, and offered a committed payment plan in respect of the balance for payment in 2 instalments, the first in mid May and the final payment in early June. The club issued its press statement without further reference to DRC, so DRC can only infer that that offer to make payment of the necessary sums has been rejected by KTFC.
DRC feels that certain of the statements made in KTFC's statement warrant clarification on behalf of DRC to ensure that a misleading impression is not created. The oldest of the outstanding payments is from January of this year. The other sums relate to invoices for February and to last month. The oldest of the outstanding payments is from January of this year, which was due for payment on 2nd March.
Aside from the financial issues referred to above, DRC had queried the VAT number on the invoices raised by KTFC which caused some concerns and had asked for correct invoices to be sent but had not received such correct, amended invoices at the time KTFC decided to make its press release. As at the date of this statement, no statutory demand has been formally served on DRC".
And now Kettering Town report that they "are forced to confirm several inaccuracies in the DRC Locums' statement of 25th April 2011:
1. The invoices including VAT number sent to DRC Locums are valid and do not prevent payment.
2. DRC Locums have received the statutory demand preceeding a winding up order and confirmed receipt to our solicitor last week.
3. DRC Locums owe Kettering Town FC more than £250,000 dating back to November 2009 (and have already agreed to future instalments for 60% of this amount), in addition to reneging on a further £225,000 of budgeted sponsorship payments. The sponsorship figures quoted are deliberately misleading. The club will not receive the figures quoted.
4. The DRC payment plan was rejected last week by e-mail from our solicitor and in person with James Caan and Hamilton Bradshaw who control DRC Locums. Accepting the payment plan from DRC Locums would mean stopping the lengthy statutory demand and winding up process, risking non payment again in the future and having to start the whole process again. In addition the club has a large VAT liability from unpaid DRC invoices for the previous VAT quarter making it impossible to accept any payment plan, even if the club believed the commitment would be kept. HMRC have made it very clear that a payment plan is not acceptable.

The legal proceedings, press releases and rejection of the payment plan offered were the only options available to the club to ensure its survival. DRC Locums have been made fully aware of the difficulties and given every opportunity to resolve the issue prior to our actions.

We hope that our next release on the matter is confirmation that payment has been made in full in order for several innocent individuals and companies affected to receive money they are currently being denied by DRC Locums non payment".

From Blue Square Football we learn that "Wrexham's administration fears have been eased after former MP Dr John Marek revealed the club's £200,000 tax bill will be settled this week. The staunch Wrexham supporter and former Member of Parliament has moved to reassure the club's supporters that the Red Dragons will be able to take part in this year's play-offs...

He told Daily Post North Wales: 'The money has been raised to pay the tax bill. It is a complicated process but we are hoping to pay the bill by Tuesday (today) and at the latest Wednesday. The club is in a great position for the play-offs which will bring in big gates and money'".

Tamworth report that "The relegation battle at The Lamb on Saturday against Forest Green Rovers has been chosen by Premier TV as the match they will showing live. Ironically the club originally protested about the late kick off time as the club's dinner and dance was and is planned for the same evening and now they will benefit from the match fee for being the chosen game, which kicks off at 5.15pm.

With both keepers unavailable [suspended] the club is seeking special dispensation to sign another keeper for Saturday and have also sent an appeal in against Aaron Mitchell's sending off offence at Wrexham on Monday".

Wrexham announce that "The FA has announced a bumper squad England 'C' for their upcoming ITC Final against Portugal. The game is due to be played at Nene Park, Rushden & Diamonds on Thursday 19 May - two days before the BSBP Play-Off Final. The FA acknowledges the timing of this game is far from ideal, but to compensate they have named a large number of players, in the likelihood that several will be unavailable.

Amongst those included are both Andy Mangan and Jay Harris. The final make-up of the squad will be revealed once the play-off semi-finals are concluded".
SEASIDE BREAK
Those seeking a midweek break from the relegation tension, could go to see Colwyn Bay entertain North Ferriby United in the EvoStik Premier play offs this Thursday night. Those who do may be interested to know that Colwyn Bay include several players with Alty associations on their staff. Apart from manager Dave Challinor, who almost joined Alty after a trial game a couple of years ago, the Seagulls coach is former Moss Lane favourite, Steve Aspinall. The squad also includes a recent Alty striker in James McCarthy, whilst their captain is Damien Allen. In summer 2008 Damien was a trialist at Alty with Dave Challinor. Also at Llanelian Road is Fraser McLachlan, an Alty trialist last summer, whilst Bay's Karl Noon is the brother of Alty Youth's Liam Noon.
---
26 April 2011
YOUTH OPPORTUNITIES
Above l. to r.: James Smart with Ryan Brown and Marc Joseph, Adam Reid, and Sam Langford with Stuart Bimson.
Altrincham called on two youth team members to join their first-team squad on Monday at Grimsby. They were left-winger Sam Langford and defender James Smart. Seven youth teamers have been named in squads for the first-team this season; as well as Sam and James, these were Ashley Woods, Matt Fearon, Joe Coombs, Jake Barnabas and Theo Kidd. Also at Grimsby on Saturday was youth goalkeeper Adam Reid who gave a fine display of shot stopping in the warm up at Blundell Park. However, Adam is not registered for the Conference and was therefore not in the squad to face the Mariners.
Grimsby Town report that they "lost their last home game of the season as Altrincham threw themselves a relegation lifeline at Blundell Park.
The Mariners, playing in front of an above average crowd, were looking to end their home campaign on a high after two wins out of two on the road but it was not to be as a spirited Altrincham secured a single-goal success. After a scrappy first half of few chances, the visitors grabbed the decisive goal soon after the break, with Marc Joseph the man on target.
Town then had most of the possession and territory but they were unable to unlock the defence of the away side, who deservedly held on...
The danger man for Ken McKenna's part-timers was likely to be 15-goal top scorer Damian Reeves, who was out to provide the firepower to spark a great escape for the men from Moss Lane.
Town kicked off but their visitors had an instant chance to take the lead when Dale Johnson put Reeves through within 10 seconds, only for Wood to get back and deny the striker with a great challenge, ensuring a corner was the only damage.
The away side had another chance to open the scoring when Marc Joseph let fly from 20 yards on four minutes but Arthur dived to beat the ball away. The rebound was put into the net [by Reeves] but the assistant referee's flag for offside meant the goal did not stand...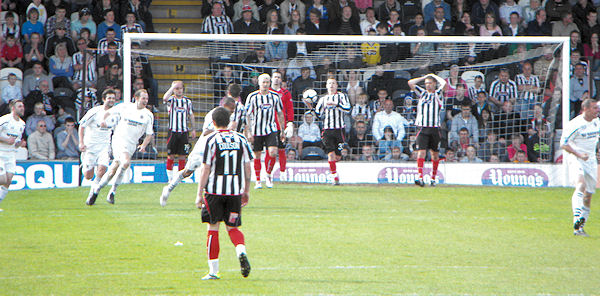 Marc Joseph turns after heading Alty's goal and is followed by Rob Williams, Dale Johnson and Damian Reeves.
The best chance of the game so far came for Altrincham on 32 minutes, when good link-up play between Reeves and Clee led to the latter drilling the ball across the six-yard box for Johnson but he put it over the bar from close range with the goal gaping.
Clee had been the visitors' star man... It had been a fairly scrappy half from a Grimsby point of view, while Altrincham would have felt they should have been ahead, with Johnson missing the best opportunity of the afternoon so far...
From the corner, the visitors had their relegation lifeline, when JOSEPH stooped to head home unchallenged at the far post to open the scoring... The Mariners were dominating possession and territory, but still Dootson remained untroubled in the Altrincham goal as the hosts failed to create many real opportunities...
Altrincham were defending for their lives but were inviting Town to pile on the pressure as they sat deep, looking to protect their lead".
The result meant that Grimsby had not won any of their last seven home matches.
The Grimsby Telegraph also has a report on the game, saying that "Town put in a lacklustre display in front of more than 4,000 home supporters at Blundell Park to leave joint bosses Rob Scott and Paul Hurst still awaiting a first home triumph... It was a game of few chances for Town".
FLYNNY ON THE BALL
As ever TASC chairman Brian Flynn's "Flynnzine" expresses a lot of common sense about Conference football. His latest column in the "Robins' review", last Saturday is reproduced below.

"Judgement Day Looms….For Some!

The joy of a five match unbeaten run, culminating in that fantastic victory at the Darlington Arena, may only have been four weeks ago, but March hope has turned swiftly to April despair and whichever way you look at it, we are lurching over the relegation precipice.

It's now a three match season, but the last two games may not be significant, if we don't build a rescue platform this afternoon, by beating Newport County, a team that once reached the quarter finals of the European Cup Winners' Cup!! If the Exiles achieve some sort of result and two out of Forest Green Rovers, Tamworth and Cambridge United win, then that's it...we are down. Therefore, whilst I am not a big fan of the phrase, I think that we have to say that this really is a 'must win game'.

If we can prevail this afternoon, then there is a good chance that things will look quite different, assuming results elsewhere don't go very badly against us but of course that hasn't been the case in recent weeks! Victory would no doubt give the players renewed energy for the Easter Monday trip to Cleethorpes for our first ever visit to take on Grimsby Town and the reality is that we really would need to win on the East coast to give ourselves something to aim at for our final game of the season.

Oddly enough, if we can take six points from our next two games, then we could be in a very decent position to complete the Houdini act on the final day of the season against Eastbourne Borough.

The prospect of relegation is a horrible one for the majority of supporters, but if we don't give ourselves some sort of chance on the final day, then there is a poisoned cherry sitting on the 'cake of doom'!

If we have a chance, I can see a crowd of 1,500+ inside Moss Lane, whilst my estimate would be about 750 if we are already down. 750+ extra people through the turnstiles, all cash paying customers, would bring the club in an extra £5-10,000, which could help dramatically in terms of the end of season Profit and Loss Account.

We are all primarily concerned with our own fate, that's only natural, but it is interesting that it may be that three of the four part-time clubs in the league may be relegated, leaving Bath City as the only remaining side that is not fully professional and remains in the Blue Square Bet Premier.

Altrincham, Southport and Eastbourne Borough are all well-run clubs, operating within their means, yet all three must be scratching their heads as they can only watch in amazement as poorly run clubs, such as Kidderminster Harriers and Wrexham, fight it out for a place in the Play-Offs and possibly League Two in August, by virtue of cheating.

I believe in the principle of doing the best with what you have and where you are but, looking at the Blue Square Bet Premier, it's easy to reach the conclusion that a more effective principle is 'Get where you want to, by breaking as many rules as you can get away with'.

I will console myself with the thought that there will be a 'Day of Judgement'!!". Brian Flynn - who was last sighted purchasing 30 copies of the Grimsby Telegraph in Cleethorpes!
GOOD WIN FOR YOUTH TEAM
Altrincham FC Youth had a fine 3-1 win at Morecambe last Sunday.
ALTY EBAY
Peter Foster of TASC writes:

Fund Raising: How You Can Help

Following the recent appeal we had a good response from many supporters and some great ideas. Thanks to all who responded. We are starting this one immediately as we believe it allows all supporters to help and doesn't cost anything!

AltyEbay

We know that times are difficult and not everyone will have much cash to spare to support the club, however, you may have unwanted items about the house that you may like to donate to the club.

We are extending our existing Ebay presence and, in addition to the Club merchandising, we hope to sell football memorabilia, as well as general items such as books, computers, printers, play stations, vinyl records, etc. In fact, if you have anything cluttering your cupboards that may have a value to someone else please email a description (preferably with a picture) to office@altrinchamfootballclub.co.uk.

We will let you know if we don't think it's suitable, but if it is, we will store, advertise, sell, despatch, and every penny we raise will go to the playing budget for next year!

We will publish progress with this idea in the early season programmes next season. Thanks to Tony Chetham for his help with this idea".
MIDWEEK ENTERTAINMENT
For those looking for midweek games within travelling distance, the EvoStik play-offs offer some opportunities...

Thursday 28th April, 7.45pm

Premier Division Promotion Play Offs - Semi Finals:
Bradford Park Avenue v FC United of Manchester
Colwyn Bay v North Ferriby United

First Division South Play Offs - Semi Final
Newcastle Town v Grantham Town
Rushall Olympic v Brigg Town

Friday 29th April, 3pm

Vodkat Div. One North
Trafford v Woodley Sports (for whom Peter Band is now assistant manager). This is a normal league match not a play-off.
BSBP NEWS
Rushden & Diamonds announce that chairman "Steve Beasant released the following statement on Easter Sunday...

Firstly we wish to welcome Mr & Mrs Roberts to our last home game of the season. They wished to attend in order to make a presentation of Dale's England & Rushden and Diamonds shirts to the club as a thank-you for the support they have received from all areas of Rushden & Diamonds FC Ltd, and its supporters.

My apologies are necessary as there will be no official programme for Monday's home game. This frankly is due to a last minute demand made against the club for total account payment which we could not accept.

Regarding the Conference disciplinary hearing, we anticipate a decision from the Conference Board during the week and we will advise on this once received.

As the season draws to an end I will be making a very detailed statement regarding all matters, from finances to new commercial proposals, which are at the final stage of negotiations, and which would be improper to release until signed.

I have been replying to all questions when I meet supporters or receive emails and letters. The fact is we are struggling financially and hence we need as many early bird season ticket sales now, and coupled with our pending commercial activity and revised budget proposal, will see this great club through current and future difficulties. As with all businesses the current climate dictates that we all have to cut our cloth, as the next few years are going to be extremely difficult, and decisions have to be made that may not be popular but necessary".

The Wrexham Supporters' Trust announced on Sunday that "Wrexham Supporters' Trust will today launch its bid to acquire Wrexham FC in a proposed partnership with private investors and individual supporters and outline plans to transfer its assets into community ownership with support from the public sector and football and rugby governing bodies.

In a leaflet to be distributed to fans at today's final match of the season against Tamworth, the WST outline ambitious plans to acquire a majority shareholding in Wrexham FC (2006) Ltd, the legal entity which owns Wrexham Football Club, the Racecourse and Collier's Park.

WST is encouraging private investors to invest in a joint bid to attract additional skills and experience. Once the acquisition is complete, the WST plans to conduct a share issue to enable supporters to subscribe in shares via the Trust to raise up to the estimated £1m it believes is needed to return the club to financial sustainability.

The Trust recognises that the immediate pressure is to resolve the HMRC's winding up petition which will be heard in the High Court in London on May 11th and plans to present a business case to Wrexham FC owners Geoff Moss and Ian Roberts within the next week to address both the short and long-term needs of the club.

Based upon the experiences of the 20 football clubs which survived winding up petitions last year, it is anticipated that this plan could be sufficient to enable Wrexham FC (2006) Ltd to ask the High Court for an adjournment whilst the Trust completes its due diligence exercise and finalises its investment case.

Chairman of Wrexham Supporters' Trust, Richard Owen said:

'It is now or never for local businesses and supporters to dig deep to save Wrexham Football Club. Please email shares@wst.org.uk ... with an indication of what you might be prepared to invest in Wrexham FC either as an individual or as a business...

Board members of the Wrexham Supporters' Trust will be outside the Racecourse today asking fans to indicate how much money they might be prepared to invest in a future share issue should the Trust be able to raise the investment required to acquire Wrexham FC (2006) Ltd and to fend off the winding up petition.

Once the acquisition is complete Wrexham Supporters' Trust proposes to transfer and asset lock the Racecourse and Colliers Park within a new legal entity such as a Community Interest Company (CIC) to protect them from future commercial development which may not be in the best interests of Wrexham FC".
CHESHIRE NEWS
Bulls News confirms that our neighbours "Stockport now require snookers to stay out of the Conference after drawing their crucial match with Northampton 2-2. They are six points behind the Cobblers, with two games left, and with a 35 goal backlog to overcome".
---
25 April 2011
GRIMSBY T. 0 ALTRINCHAM 1
A fine performance from Altrincham saw them keep their hopes of survival alive to the last game. Match report here.
Alty line-ups and bookings

Left: Alty celebrate at the end of the game; left to right are Ryan Brown, Craig Dootson, Rob Williams, Robbie Lawton, Marc Joseph and goalkeeping coach Ian Senior.

Easter Monday, 25 April

Howard Watts's Through the Years tells us that the last time Alty played a game on 25 April, they beat Emley 7-1 in 1998.
Eastbourne Borough 2 Bath City 0
Fleetwood Town 1 Barrow 0
Forest Green Rovers 0 AFC Wimbledon 0
Grimsby Town 0 Altrincham 1
Histon 0 Luton Town 4
Mansfield T. 3 Gateshead 2
Newport County 0 Crawley Town 1
Rushden & Diamonds 2 Kidderminster Harriers 1
Southport 1 Darlington 1
Wrexham 4 Tamworth 2
York City 0 Cambridge United 0
GRIMSBY COVERAGE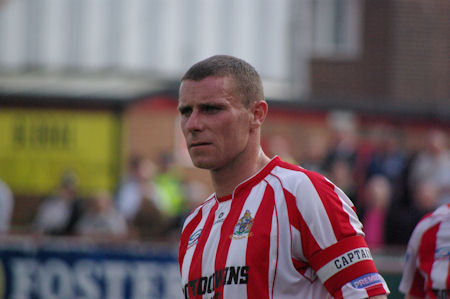 Right: The strain of a tough ninety minutes on a warm afternoon shows in Robbie Lawton's face during the match against Newport on Saturday.
Brian Flynn writes that Radio Robins is "hoping to broadcast full match coverage of the game at Blundell Park on Easter Monday, however Grimsby Town F.C. have advised us that the WiFi signal strength is variable and that may limit our ability to broadcast the game. The match commentators are Paul Salt and Jack Jolly".
It is also hoped to provide the usual website live text Matchday Updates, likewise depending on the wifi signal.
The BBC says that against Altrincham "Grimsby could welcome back midfielder Bryan Hughes, who has shaken off a troublesome Achilles injury. Fellow midfielder Rob Eagle could also return from an ankle injury, but will face a late fitness test. Altrincham will be relegated if they fail to win and Forest Green record a win against AFC Wimbledon". In fact it does not matter what FGR do if Alty fail to win as our goal difference is so much poorer than both FGR and Southport's.
"Defender Jonathan Bateson is set to miss out with a hamstring injury, while midfielder Chris Denham (groin) and Anthony Danylyk (broken arm) are out".
BSBP NEWS
As Brian Flynn pointed out in his Flynnzine article on Saturday (hopefully to be reproduced here in the near future), it is no coincidence that the teams at the bottom of the table are predominantly part-time and financially well run, whilst those at the top include some clubs boasting less admirable financial qualities. The NL Paper underlines this in its report on Wrexham, which states that the Welsh club has been issued an ultimatum that they "must pay their £200,000 tax debt in full this week or face play-off expulsion". It adds that "There has been widespread disgust throughout the league that Wrexham could feasibly win promotion back to the Football League having not paid tax on their players' wages for what is known to be the entire season". An NLP-quoted source adds "It is effectively cheating."

The NL Paper also reveals that Mansfield Town "will throw the cheque book at being the Blue Square Bet Premier's next 'Project Promotion', providing they manage to regain control of Field Mill from landlord Keith Haslam...

Chairman John Radford told The NLP he will throw around £2 million at emulating cash-rich Crawley's romp to the Conference title... Radford said, 'When I get the ground back, I am going to put a couple of million into getting Mansfield up, so we'll go for it big style. Watch Mansfield go for it when we get the ground'".
WHEN OUR SEASON ENDS
Local play-off games that may be of interest to Alty fans after the end of the BSBP season include the following possibilities from the EvoStik League.

The Evo-Stik League Premier Division:
Promoted to BSB North: FC Halifax Town (champions)
Play-offs: FC United of Manchester, Colwyn Bay, Bradford Park Avenue and one of North Ferriby United (5th) or Buxton (6th). The final league games are on Easter Monday, then the team which finishes 2nd plays the 5th and 3rd plays 4th on Thursday night (28th) - see below for details.
Relegated; Retford United, Ossett Town and two of Hucknall Town (20th), Burscough (19th), Frickley Athletic (18th) or Nantwich Town (17th)

The Evo-Stik League First Division North
Promoted: Either Chester FC or Skelmersdale United
Play-offs; Chorley, AFC Fylde, Curzon Ashton and one of Chester FC (1st) or Skelmersdale United (2nd)

The Evo-Stik League First Division South
Promoted; Barwell (champions)
Play-offs; Newcastle Town, Rushall Olympic and two of Brigg Town (4th), Grantham Town (5th), Sutton Coldfield Town (6th) or Kidsgrove Athletic (7th)

Thursday 28th April 2011 at 7.45pm

Premier Division Promotion Play Offs - Semi Finals - these are one-off games not two-legged:
2nd Placed Team v 5th Placed Team
3rd Placed Team v 4th Placed Team

First South Play Offs - Semi Finals
Newcastle Town v Fifth Placed Team
Rushall Olympic v Fourth Placed Team

Monday 2nd May 2011 at 3pm

Premier Division Promotion Play Off Final
Higher League Placed SF Winner v Lower League Placed SF Winner

First Division North Play Offs - Semi Finals
2nd Placed Team v 5th Placed Team
3rd Placed Team v 4th Placed Team

First Division South Play Offs - Final
Highest Placed SF Winner v Lower Placed SF Winner

Friday 6th May 2011 at 7.45pm

First Division North Play Offs - Final
Higher Lge Placed SF Winner v Lower Lge Placed SF Winner
---
24 April 2011
KEN UNHAPPY AT CHARACTER OF SIDE
In Sunday's NL Paper Dave Stringer writes that Altrincham "looked set for the Blue Square Bet North as they were outmuscled, out-thought and outplayed by the in-form Exiles". Alty manager Ken McKenna said, ""We stressed to our players the attitude required but we started terribly. We conceded possession too easily, gave away silly free kicks and defended abysmally. I just don't think that many of the side had the right character and I am disappointed with the attitude of players who are in a relegation battle.

This is probably one of the problems with having part-time players. Some clubs have told their players they are playing for their jobs but that isn't the case when you are part-time. There isn't the same pressure.

We gave it a go after the break but we knew we were leaving ourselves open".

County boss Anthony Hudson said "That was a truly impressive performance and we played some excellent football... Now bring on Crawley. I am 100% confident that we can turn them over".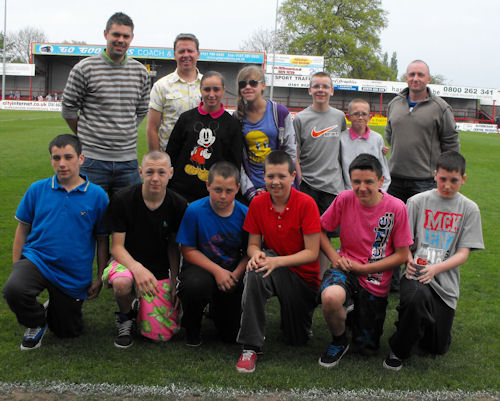 Right: These young people from the Broomwood area were the guests of Altrincham FC last Saturday as part of an initiative organised by GM Police's Craig Burrows to reward them for their good behaviour over the past year.
Newport County report that "Newport County strolled to victory in the St George's Day sunshine at Moss Road [sic] and all but relegated the home side in the process. The final score could have been several more, as the in-form Exiles opened their opponents up at will as they recorded their fifth win in their last six outings.
It was also County's first victory on the road in 2011 as Anthony Hudson begins to make his mark. Skipper Gary Warren got the Welshmen off to a flyer on 7 minutes with a trademark header; his second goal in successive league games. Jamie Collins scored a super second on 32 minutes, picking his spot coolly to double the Exiles' lead with his eighth league goal of the season. It was Sam Foley, on his 100th County appearance who notched number three on the hour; his third goal in three successive matches.
Sent clear by an exquisite Jamie Collins pass, Foley cheekily found the corner of the net to give Craig Dootson no chance. Danny Rose then struck a post before Altrincham managed a consolation strike two minutes into injury time; Dale Johnson heading in after a kindly rebound".
On the BBC there is an audio interview in which "New Newport County boss Anthony Hudson tells BBC Wales reporter Peter Shuttleworth about his managerial experience".
NEXT OPPONENTS
Grimsby Town report that "Over 1000 tickets have now been issued in less than 2 days for the 'Pay What you want' offer for Altrincham on Easter Monday, Blundell Park - kick off 3pm.

Incredibly, a queue of fans were waiting for the ticket office to open this morning and we feel that we are going to be completely swamped from 9am on Bank Holiday Monday. The full ticket office staff has been put on alert to be here at 9am to deal with the potential queues. So we urge fans who want to 'pay what they want' - to get the voucher from the Telegraph & visit the Blundell Park ticket office as soon as possible on Monday.

With a potentially 6000+ gate, don't miss out on what could easily be the largest BSP crowd on Monday (& also maybe in League 2 too)".

Meanwhile, "Grimsby Town secured their second victory of the week with a 2-0 success over Barrow at Holker Street. Goals from Alan Connell and Michael Leary sealed the points for the Mariners, who also claimed a second consecutive clean sheet... After seeing a number of two-goal leads frustratingly wiped out recently, it would no doubt have pleased joint managers Rob Scott and Paul Hurst to record back-to-back wins from that position.

Just one change was made to the Town side after the success at Mansfield in midweek, with Rob Duffy coming back into the XI in place of Lee Peacock. That meant youth team duo Andi Thanoj and Charlie I'Anson, who scored Town's second goal at Field Mill, both kept their places in the starting line-up for the trip to Cumbria.

Kenny Arthur started in goal, while joint managers Rob Scott and Paul Hurst kept faith with the youthful back four of Peter Bore, Scott Garner, I'Anson and Bradley Wood, which also kept a clean sheet against the Stags. The midfield also remained the same, with Micky Cummins, Leary and Thanoj making up a trio, leaving the three-man attack of Michael Coulson, Duffy and Connell to complete the team.

The Town substitutes were Peacock, Mark Hudson, Rob Atkinson, Sam Mulready and Dayle Southwell...

Town will now look to get a victory on home turf, when Altrincham are the last visitors of the season to Blundell Park for Monday's Pay What You Want encounter."

The BBC also has an audio interview in which "Grimsby Town's co-manager Paul Hurst tells BBC Radio Humberside he was pleased with how his side battled to a 2-0 win at Barrow".

According to This is Grimsby "Chairman John Fenty says new Grimsby Town bosses Rob Scott and Paul Hurst have been a 'breath of fresh air'. The pair registered their first win at Mansfield on Tuesday at the seventh attempt...

But it's their straight-talking about the squad they have inherited that has most impressed Mr Fenty. The Town chief said: 'They have pulled no punches and told it how they see it. I think they are going to rule with a rod of iron and I expect a lot of people will welcome that; I certainly know how that works from my time in industry'".

"Town bosses Rob Scott and Paul Hurst will have the same funds at their disposal in the summer as former boss Neil Woods did a year ago... Town chairman John Fenty has confirmed the pair will be working with a reduced budget overall – down from £1.16-million to £900,000 for 2011/12.

But with severance payments to unwanted contracted players included in that, the disposable cash available to the management duo could actually be higher than the figure Woods worked with in 2010. That's despite the loss of Football League parachute payments that amounted to £¼-million last season – a shortfall made up by Mr Fenty and the shareholders for the next campaign.

A playing budget of £900,000 remains one of the biggest in the Blue Square Bet Premier, particularly with big-spending Crawley Town moving up to League Two. Based on last season's various budgets, it amounts to one and a half times more than those of Wrexham and York, almost double the funds available at Rushden & Diamonds and three times as much as the likes of Barrow and Bath City.

Mr Fenty said: 'Some months ago we agreed a budget for this division or League Two if we achieved promotion... The starting budget will be £900,000 and I think that is very good for this division. We are aiming to pay-off the minimal number of players possible... There is no question it remains difficult financially at the football club. We had parachute payments from the Football League last year of £¼-million and naturally that helped, but that isn't there this season. And we have less towards the Youth department – that is cut by half to a grant of £80,000'".

On the field "A first goal of the season for Michael Leary and a 28th for Alan Connell made it back-to-back away wins for Grimsby Town at lowly Barrow. After an awful first-half, devoid of any chances at all, Town took the lead on 55 minutes thanks to an exquisite Connell chip from 23 yards that was placed to perfection...

Town: Arthur, Bore, Garner, I' Anson, Wood, Cummins, Thanoj, Leary, Coulson, Connell, Duffy. Subs: Atkinson, Hudson, Mulready, Peacock, Southwell."
REMAINING GAMES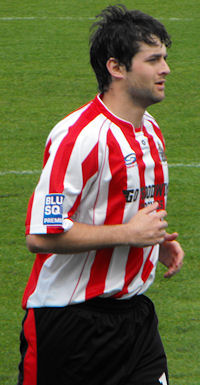 Right: Dale Johnson made it three goals in his 3(+3) appearances
since returning to Altrincham when he netted against Newport on Saturday.
Quite simply, to stay up Altrincham have to win both of their remaining games and rely on FGR and Southport picking up just a single point from their last two matches or, if either of the above take more than a point, Tamworth not picking up any points at all. Although Alty's maximum haul could be 47 points, their goal difference is so much worse than the others' that the Robins cannot afford for two of the above three teams to reach that total.
THANK YOU
Altrincham FC wishes to thank all who contributed towards the half-time bucket collection on Saturday, which raised £85.42 for club funds.
OLD BOYS
Greg Young, recalled by York City this week, was an unused substitute whilst, for opponents Darlington, Chris Senior did not play.

As Ashton United beat Stocksbridge PS 3-1, former Alty Youth Sam Madeley scored one and Aaron Burns got two.
BSBP NEWS
And "Alfreton Town secured the 2010/11 Blue Square Bet North championship on Saturday after a 4-0 hammering over already-relegated Redditch United... AFC Telford United are assured of a play-off place after an equally emphatic victory over Vauxhall Motors... Boston United are virtually certain of joining Telford after a 5-0 demolition of Blyth Spartans at the Jakemans Stadium.

It will be one from Nuneaton Town, Guiseley and Eastwood Town for the other top five slot after Solihull Moors suffered a home shock by lowly Hinckley United although, of course, the Moors should still make it due to the Badgers being unable to take part in the play-offs".

The Conference reports that "Following the announcement by Geoff Todd that he was stepping down as chairman of Blue Square Bet Premier club Bath City at the end of the season, a Board meeting was held on Good Friday morning to plan for this event.

The following statement was released afterwards: 'The Board would like to place on record its thanks to Geoff for his contribution as chairman during the last six years - a period which has seen a remarkable turnaround in the club's fortunes, culminating in last season's promotion to the Blue Square Bet Premier. It was decided that manager Adie Britton, who has recently agreed to join the board, will take over as temporary chairman, until such time as a permanent candidate can be found. At the same time, we would like to formally announce two new Board members with immediate effect. Stepping up from Associate to full Director is Andrew Weeks, with a remit to work in commercial areas. Joining the board as Director of Football is Andrew Jones. who brings both a wealth of knowledge of the local football scene from his previous involvement with Paulton Rovers and an excellent track record in business. We believe that with these two additions, and a new chairman still to come on board, the club will continue to progress further2.

Kettering Town announce that "For several months Kettering Town has been chasing outstanding sponsorship fees from DRC Locums and its multi-millionaire Chairman 'Dragon" James Caan. This is despite the club already allowing DRC Locums to defer substantial payments for other sponsorship rights previously enjoyed until next season.

Despite a promise that payment would be made by 19th March 2011, Kettering Town have now been told that DRC Locums cannot afford to settle this debt until June 2011. This seems odd, given the relatively small amount our football club is owed in comparison to DRC's £5million a month payroll and James Caan's investment company Hamilton Bradshaw's very deep pockets.

DRC Locums' refusal to make this payment has resulted in HMRC, players, staff, local businesses, connected families and other non-league clubs not being paid. Although our shareholders have over recent months injected large sums to try to minimise the effect, many innocent people and companies are being put through very testing circumstances as a result and many are now in dire situations. All of this has been explained to James Caan on several occasions.

As a result a statutory demand preceeding a winding up order has been lodged against DRC Locums. Following months of no progress, the instruction of legal firm Leathes Prior did at least result in a payment being made to the club and Kettering Town will be making part payment to creditors next week. We thank everyone concerned for their patience".
---
23 April 2011
ALTRINCHAM 1 NEWPORT COUNTY 3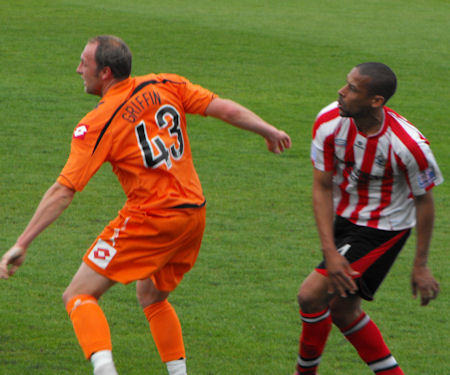 Altrincham's Conference survival hangs by a thread after this, their third successive defeat, which leaves them needing maximum points from their two remaining games to have any real chance of staying up.

Alty player stats

Saturday, 23rd April

Through the Years by Howard Watts
Altrincham 1 Newport County 3
Barrow AFC 0 Grimsby Town 2
Bath City 2 Histon 1
Cambridge United 1 Hayes & Yeading Utd 0
Darlington 2 York City 1
Gateshead FC 0 Wrexham 1
Kettering Town 2 Forest Green Rovers 1
Luton Town 3 Eastbourne Borough 0
Tamworth 0 Southport 1
FRIDAY SCORES
AFC Wimbledon 2 Mansfield T. 1
Crawley T. 4 Rushden & D. 0 - this is Crawley's 28th match unbeaten, matching Alty's Conference record run in the 1990/91 season. Their last league defeat was against Newport County on 16th October 2010.
Kidderminster Harriers 2 Fleetwood Town 1
League table
COVERAGE
You can follow the Altrincham v Newport game either on Radio Robins or via the live text Matchday Updates here. The Radio Robins commentators will be Simon Ellis and Tony Chetham.
BEFORE THE GAME
According to the BBC "Relegation-threatened Altrincham must shuffle their back four after Greg Young was recalled by York and Jonathan Bateson suffered a knee injury. Midfielder Steven Connors is back after serving a two-match ban and striker Dale Johnson (calf) should be fit.

Newport boss Anthony Hudson could make changes despite his side beating Barrow 5-0 last time out. Defender Lee Baker could return to the squad after missing most of the season with a foot injury".
"PLACES LIKE ALTRINCHAM"
The South Wales Argus reports that "Newport County boss Anthony Hudson is warning his charges that now is the moment to impress him with time running out at the business end of the Conference National season. Rookie Hudson has won two of his opening three league games as manager...

Trips to Altrincham today and Gateshead next Saturday are sandwiched either side of Bank Holiday Monday's visit from champions Crawley before time is called on a satisfactory debut season in the Conference for County...

Hudson wants to record his first win on the road for his biggest game yet. 'I am looking at this as our biggest game since I've been here, I want to know if we can go to places like Altrincham, who are relegation threatened and on paper need the result more than we do, and see how the players respond', he said.

'I won't have it, an attitude that the run-in doesn't matter and I want to see what the players attitude is like, are they going to play the way they have been? We were great against Barrow. The York away game wasn't a bad performance'...

'All the long term decisions and objectives can wait a couple of weeks, the focus at the moment has to be on getting the best end to the season we possibly can', he explained. 'We aren't setting point targets for the run-in because the players shouldn't be looking past the next game'.

County travel to Cheshire with two injury concerns, central defender Chris Todd (groin) and right back Paul Bignot (ankle) both set for late fitness tests after limping out of the Barrow clash. However, better news comes with the fact reinforcements are in place with Andrew Hughes, who was rested against Barrow, Eddie Odhiambo (wrist) and long term absentee Lee Baker (foot) all fit for selection.

'This little time window to work with the players, to see what they are all about, to get to know the club properly, it's absolutely perfect', he said. 'I am starting to get ideas for next season and it allows us to hit the summer period running, everyone will have had a fair crack of the whip'".

Meanwhile, Wales Online reports that "Newport County are no longer in the mix for the play-offs, but new boss Hudson wants no letting up from his charges. He said: 'Altrincham will be tough, I have seen them play and they are not as bad as the table suggests. We will have to make sure that we're on our game because if we are not they could turn us over and that is the last thing I want to happen. When teams are hurt, they throw caution to the wind and they are unpredictable. So I don't expect anything less than a hard battle and my players must be up for a different type of challenge than the one facing them on Monday. I want us to win our last three games and finish the way we mean to go into next season'".
SUPPORTERS' PLAYER OF THE YEAR
TASC chairman Brian Flynn writes:

Supporters' Player of The Year

Voting forms for the 'Supporters' Player of The Year' will be available at the Newport game on Saturday. Once completed, forms can be handed in at the club shop or to Steve Foster or Brian Flynn.

You can also vote by email, indicating your first, second & third choice & sending to Brian Flynn by Wednesday April 27th at 12 noon. The winner of this season's award will be announced at the Race Night, which follows the final game of the season against Eastbourne Borough on Saturday April 30th".

Also, don't forget you can nominate an Altrincham FC Volunteer of the Year; please send your nominations to the Football Club.
KIT CHOICE
Ian Senior writes: "Forms will be available at the club tomorrow for those supporters yet to vote on the choice of next season's Altrincham FC kit. The voting form is also available here, which shows the choices in colour images.
BSBP GAMES
The Football Conference announces that "The matter of Wrexham Football Club and their appearance before the High Court on 11th May, (subject to an application by HM Revenue & Customs to petition the court to seek to have the club wound up), was on the agenda at the regular monthly meeting of the Board of the Football Conference held in London yesterday (Thursday 21st April).

In light of the club's current position and that they are eligible at this time to seek membership of the Football League via the play-off system, the club has indicated to the Football Conference a time-line in which to ensure that the date of the High Court hearing and any decision by the court, does not cause the integrity of the play-offs to be brought into question, so enabling them to proceed without the possibility of causing disruption to the other member clubs involved.

The Board has received from Wrexham Football Club, encouraging information that the time-line they themselves set, will be met and the Board look forward to any possible disruption being negated.

At this time the Football Conference will not comment further and hope that the commitment made by Wrexham Football Club to the Board will not only be in their best interests but more importantly the competition".

Also, "At the monthly meeting of the Board of the Football Conference held in London yesterday (Thursday 21st April) it was confirmed, in accordance with the rules of the competition, should Eastwood Town (Blue Square Bet North) finish the playing season in one of the play-off positions, then the sixth place team will be eligible to compete in the play-offs, subject, of course, to that club having the required ground grading qualification to be promoted to the Premier Division".

Elsewhere, "Geoff Todd has confirmed that he will be standing down as chairman of Bath City at the end of the season. Todd announced last May that this would be his last season at the City helm and he reiterated his decision to the board of directors on Tuesday. He had hoped to be handing over the reins to a new investor who had the financial clout to keep the club moving forward after six years of progress under Todd. But while he is disappointed that nobody has yet come forward, Todd believes his decision could help speed up the process" reports the Football Conference.

Todd said, "No investor has made themselves known to us since but I feel that will be helped by me standing down and showing that the post is vacant... I want to see Bath City challenging for a place in the Football League and I think that is achievable but we need to get extra resources in... I would say there are probably around 1,000 floating fans in Bath who come to the big games who could be persuaded to attend on a regular basis...

Todd – who has invested more than £300,000 in the club during his twelve years on the board, six of which have been as chairman – is hoping to remain as a director. However, he said he would not be involved in deciding manager Adie Britton's playing budget for next season".

Manager Adie Britton added, "I would like to think in twelve months' time that there will funding in place for us to kick on another level".
---
22 April 2011
ALL CHANGE FOR ALTY
Collecting tins for the All Change for Alty scheme will be available at the last two home games from the turnstiles, bar and shop, to be returned at the start of next season. By dropping your loose change into the tin and returning it to Altrincham FC, you help to raise imprortant funds for the Club - more than £2,000 has already been raised in this way.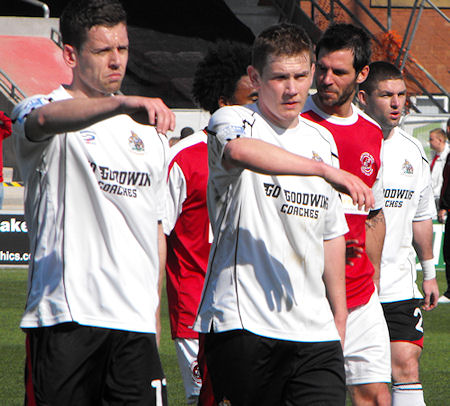 Right: Shaun Densmore made a welcome return to the starting line-up at Fleetwood; he is seen here (centre) coordinating arm movements with Wes Baynes (left). Also seen is James Smith.
GRIMSBY SUBSIDISED BY £18,000 EVERY GAME
Altrincham play their final away game of the season at Cleethorpes this Monday, from where Grimsby Town announce that "Supporters can decide how much they want to pay for Easter Monday's final home game against Atrincham - with a voucher from the Grimsby Telegraph. Fans can pay from £1 to £50 to get into the Blue Square Bet Premier League fixture...

The managers and players would like to complete a lap around the pitch after the final whistle, to thank the fans for their continuing support. Any invasion of the pitch will prevent this from happening and causes great fear for our younger supporters...

Away prices: Away Supporters [in advance] £16, £10, £6, on day £18, £12, £8. Please note that away fans concessions and child tickets must be purchased from the ticket office in advance. Please call 01472 605050 for more details".

More on this comes from This is Grimsby. "After some criticism from supporters following the half-price admission fee for the replayed clash with Rushden & Diamonds last week – the postponement of the initial match resulting in a £6,000 loss for the club – Town has decided to give fans the chance to choose their own entry price for the Easter Monday clash against the Robins.

It is the brainchild of accounts manager Steve Wraith, although a similar scheme was used by FC United of Manchester a few years ago for season ticket sales. Supporters will be able to name their price, from as little as £1 up to normal admission prices and beyond, for an Altrincham ticket using a special voucher in today's Telegraph which they can take to the Blundell Park ticket office...

Explaining the decision to offer the "pay what you want" deal, Wraith said: 'Both the Telegraph and the club received comments over the rearranged Rushden game and the 'half price' admission we levied on supporters. For the record, the Rushden cancellations – it was first called off in December due to the wintry weather – cost the club £6,000. Broken down that amounted to match-day staff and stewarding – £3,000; match officials – £400; re-printing and loss on three programmes – £1,400; floodlighting – £200 and costs to Rushden – £1,000.

With this in mind, I thought it was not unreasonable to ask for the fans to make a small contribution to mitigate this loss. From the subsequent criticism, I got the impression some fans believe that they pay enough or too much to watch their team and shouldn't really have to pay more. That's where this idea came from for the last game'.

Wraith says the decision is backed by chairman John Fenty, whose financial support for the club over the season to cover match-day losses amounts to just under £18,000 per game. Wraith went on: 'This season, John Fenty has committed funds to the club's cash-flow shortfall to the equivalent value of £17,856 per league game. His financial and personal commitment towards Grimsby Town has been unrelenting; but also obligatory for this club to continue to survive. In other words – his match-day 'ticket' for the 2010/11 season has been set in stone at a minimum of £17,856 per game.

We are asking the question – how much do fans want to pay to watch their team in action next Monday? Using the voucher in the Telegraph, fans can decide, be it £1, £5, £10 or full-price'".
BSBP NEWS
Blue Square Football says that "The Directors of Wrexham Football Club have issued an official statement with regards to the current financial situation...

"The Directors of Wrexham Football Club (2006) Ltd would like to set out the current financial and operating position of Wrexham Football Club (and Wrexham Village Ltd), in order to clarify the urgency of our current plight.

Wrexham Village Ltd has, to date, borrowed approx £14m from their bankers, the owners and third parties. This has been invested to purchase WFC land (£6m); adjoining land and the construction to date (£7.8m); and losses to date of £200k (the losses being - overheads and interest in excess of rental income). The owners have received no interest on their investments.

It will be many years before income from the student rooms has paid off the debts of the company. Given the property price crash, it is anticipated that the current owners will NEVER recover all of their investment and lost interest in Wrexham Village.

The owners have also personally invested in the region of £1.8m into WFC since 1 July 2009. Figures, which have been verified, by all interested purchasers through the 'due diligence' process carried out. No interest has been charged on this loan.

The owners are obviously heavily committed to Wrexham Football Club. However, they are not able to finance the club any further. Contrary to what some may think, they do not have any further available funds. The Wrexham Village project is now dependent on further business funding, for which arrangements are in progress.

When acquired in 2006, WFC was £3.8m in debt. With the sale of land to Wrexham Village and despite significant annual losses thereafter, the Club is now in a position where it owns the main ground and training ground, but has the short term HMRC debt to pay in April.

Various attempts to sell the Club have been made, with some still ongoing, however, no potential investors, have yet been willing and / or able to commit to a deal. Whilst the team is on the verge of a potential promotion, it is unfortunate that the funding seems to have now reached an end.

We are concerned that the Football Conference may prevent Wrexham Football Club from participating in the play-offs, should the HMRC debt not be paid in advance (that is by 6 May 2011).

Obviously, should the company be wound up or go into administration, it could lose its current league status and any phoenix club may be unable to apply to enter the English Football hierarchy.

The only other alternative that we currently have is to sell the Racecourse Ground, with some parties already showing an interest. The Crusaders currently have a long lease to play Super League games at the Racecourse and this will not impact on their future.

In summary, the owners, Ian Roberts and Geoff Moss have already invested millions of pounds in their support of WFC and are unable to continue."

A commentary on the Wrexham sotuation comes from 200%. It says that "The former chair of the Wrexham Supporters' Trust, Lindsay Jones, has sent this open letter to HMRC which he has granted us permission to reprint here....

"I have followed the slow decline of my club with a growing frustration and anger. This is shared by many thousands of my fellow supporters who can see our improved performance on the pitch matched by a jaw dropping incompetence off it. We have observed a proud institution reduced to a circus side show by owners who have sought to utilise its assets to support their other business interests.

My only motivation in writing to you is to try and rescue my club from the machinations of these characters and of course help HMRC to recoup the monies owed to it by my club...

Through various accidents of history the club has come to be owned by a holding company called Wrexham Village Ltd. The majority shareholders are Geoff Moss and Ian Roberts. The directors of Wrexham Village (Moss and Roberts) are also the directors of Wrexham FC (2006).

In December 2009 Wrexham Village acquired another company, the Celtic Crusaders, a rugby league franchise based in South Wales. The Crusaders franchise was moved north and subsequently played its matches at the Racecourse Stadium, the home of Wrexham FC.

The directors of the Crusaders were the same gentlemen who direct the affairs of Wrexham Village and also Wrexham FC... In November 2010 the Crusaders entered administration... The Crusaders were subsequently bought out of administration in January with the bulk of the creditors receiving nothing. The new owners of the Crusaders were Messrs Moss and Roberts. This time the club would be owned outside the Wrexham Village structure.

The administrators report states that HMRC was owed £445k by the Crusaders and I assume that this amount was lost to the Revenue. It may interest you to know that the Rugby League was owed £701k and in a side deal the new owners of the Crusaders agreed to repay this amount to the Rugby League...

A glance at the Crusaders expenses during the administration period also reveals that no rent was paid to Wrexham FC by the administrators. he assumption would have to be that the Crusaders were not paying a market rent for the use of the Racecourse Stadium. Of course this could be verified by a study of the latest accounts from Wrexham FC (2006), Celtic Crusaders and Wrexham Village. Sadly we will have to wait for this information as none of the aforementioned have filed accounts for the period under review...

It could be argued that the directors of Wrexham FC (2006) were in breach of their fiduciary duties to the creditors, employees and shareholders of Wrexham FC (2006) by failing to charge the Crusaders a fair market rent... I note today that the directors of Wrexham FC (2006) claim to have loaned a sum of £1.8m to the football club. This claim is a cause of some confusion to me as I cannot understand why directors of a business should choose to loan it money from their own pockets when at the same time they are passing up legitimate income opportunities elsewhere... I hope that the information in this e mail will in some way help HMRC to recoup the monies owed".

An interesting aside on this topic comes from Bulls News which reports that "Dundee are set to be the first football club to be forced to lodge a security deposit with the taxman when they come out of Administration. New rules brought in during the Budget means HMRC can demand a sum to be held as security in case the club defaults on payments again".

On the pitch the BBC says that "Cardiff City, Swansea City, Newport County and Wrexham will be invited to take part in the Welsh Cup after a 16-year absence. It would bring an end to a rule introduced in 1995 stopping any clubs playing in the English league system from competing in the competition. That has also excluded Colwyn Bay and Merthyr Town".

According to the Cambridge News, "Lanre Oyebanjo is determined to end his long wait for a dream move into the Football League. The Histon defender's contract is up at the end of the season and he looks set to leave the Glass World Stadium following the club's relegation...

And the 20-year-old right-back, who has been linked with Birmingham in the past and had a trial at Oldham in the summer, believes the time is right to prove himself on a bigger stage. 'I feel I can play at a higher level and I want to play at the highest level possible, which is what any player should want to do', said Oyebanjo".

Meanwhile, NL News 24 confirms that "chairman Russell Hands has revealed Histon would be prepared to pay a £1,000 fine to withdraw their reserves from the Ridgeons League. The Stutes' chairman insisted no decision had been made, but the board would be happy to foot the bill if manager David Livermore felt it would be in the club's best interests.

The boss spoke a fortnight ago of his displeasure with the Ridgeons League, claiming his young players were learning bad habits at step five of the non-League pyramid... Hands told Cambridge-news.co.uk. 'We don't have £100 to throw away, let alone £1,000. But, at the end of the day, if being in that league is going to stifle what we want to achieve over a number of years, then we'd have to bite the bullet. It's all about the future development of the club. We're not particularly impressed with the league'".

"Mark Cooper has today put pen-to-paper on a new one-year deal at Darlington. "His assistant Richard Dryden has also committed his future to Quakers by signing up for the 2011-12 season... Cooper takes his side to Wembley in the FA Trophy Final on Saturday May 7...

He said: 'We know what we need to do to strengthen and the fact we're on board early on will only help when it comes to preparing for next season... We're already planning for next season so that this time next year we're in a much stronger position in the league and hopefully walking about the chance of winning the league and going to Wembley again!... I wouldn't be here and I wouldn't have signed the new contract if I didn't think we had a chance of doing that'".

Crawley Town announce that "Rushden and Diamonds are the Good Friday opponents for Crawley Town... as Reds continue their pursuit of two Football Conference records. Going into the match Reds are on schedule to set new points and longest unbeaten run records but the targets are proving to be difficult to beat. A victory over Diamonds would take the team to over 100 league points whilst even a share of the spoils will see Reds equal the longest unbeaten record of 28 games set by Altrincham back in the 1980s".

The Uxbridge Gazette says that "Hayes & Yeading boss Garry Haylock is considering changes for Saturday's trip to Cambridge United with his side now effectively safe from relegation. Delroy Preddie and Esmond James are not thought to be ready for first-team action, while Pierre Joseph Dubois is unlikely to be back again this season.

So that means the quartet of Ben Wright, Andy Yiadom, Phil Appiah and Adam Green may all be in contention for starts after their recent stints on the bench for Hayes & Yeading. 'It may be an opportunity to play a few different players and some guys who have not had an awful lot of game time, but we have to respect the players that have got us where we are', said Haylock.

'I do not think it is worth risking Esmond - the last thing he needs after so long out is a setback that means he cannot start pre-season'.

Cambridge United are two spots behind Hayes & Yeading in the Blue Square Bet Premier table and are still in danger of being surprisingly relegated with caretaker boss Jez George still in charge after the sacking of Martin Ling earlier this season."

Also, "Haylock has warned that permanent deals to sign Steve Masterton and Sam Rents may be unrealistic in Hayes & Yeading's current plight. The on-loan Crawley Town pair have been influential in guiding the club away from the relegation zone and boss Haylock would be interested in signing them this summer.

But Haylock is preparing himself for a cut to the playing budget next season with the club's ground-sharing plan removing vital revenue streams...

'I have not got the budget for next year yet', Haylock said. 'What has to be appreciated is that this club is in a very difficult position now. We have lost revenue from the car park and the clubhouse and the revenue we are going to have will be cut again next season. If the board comes to me and says there will be a budget cut then I am going to have to deal with that. Players like that (Masterton and Rents) might be out of our league.

We have been pulling up trees in this league for the past two years as we have the lowest attendances by a long way. You can go down the road to Woking and they are getting 1,500 in a lower division. There has to be an acceptance of how this club is run, but the chairman and the board have to be commended in getting us to this level'.

Rising Hayes & Yeading stars Bradley Pritchard and Elliott Buchanan have been watched by Football League scouts in recent weeks and that highlights the value-for-money that Haylock has got from up-and-coming players in their first full-time seasons.

'I think we have done really well with the wages that the players are on, they are on far less than they should be', added Haylock. 'We do not have anyone here who you could say that we have paid them too much and not got our money's worth in the context of this division'".
---
21 April 2011
GREG RECALLED
With Chris Denham, Anthony Danylyk and Jon Bateson already set to miss Saturday's game, Alty were dealt a further blow when York City recalled Greg Young (right) on Wednesday. Greg, who had left Alty for York last summer, had returned to Moss Lane on loan on an emergency loan on 7 February 2011. York had indicated recently that they would not recall Greg unless they suffered defensive injuries in Tuesday night's game against Luton - but they lost Danny Parslow to a head injury in that game, prompting's Greg immediate recall.

Greg had made 11 starts for Alty during his loan, bringing his career appearances for Altrincham to 128(+8), scoring 12 goals. All at Moss Lane thank Greg for his efforts and wish him well for the future.
THREE IN A ROW
In the Sale & Altrincham Advertiser "Altrincham manager Ken McKenna admitted his side will need a bit of luck if they are to stay in the Conference this season..... But McKenna insists Alty are still capable of winning their last three matches...

'Our destiny is still in our own hands' he said. 'There's nine points to play for and two relegation places left. It's a difficult job to win three on the bounce but we've done it twice before this season, if I'm not mistaken'. [Alty have actually won three successive league games once this campaign]. 'It's not an impossible task, plain and simple. We just have to try and stay in it as long as we can and hope luck goes our way. The lads have to believe in themselves'".

Referring to Saturday's match at home to Newport County, Ken added, 'It's got to be like a cup final. They have to realise that every single moment is important but they need to try and relax and perform. It's not beyond them but they've just got to be able to manage the pressure. They need to keep calm and composed and come off with a win. If they do that, who knows? We could be in a completely different position but they've got to make it happen themselves'".

The Advertiser adds that Jon Bateson is likely to be unfit to play "but should have Dale Johnson back and fully fit".
THE SPIRIT OF 2005
There is also a rallying cry in the Sale & Altrincham Messenger where "Chairman Grahame Rowley has called on Altrincham to invoke the spirit of 2005 on and off the pitch to try and safeguard their place in the Blue Square Bet Premier.

After scraping into the play-offs in fifth place six years ago, Alty defied the odds by winning at Nuneaton and Kettering before going on to clinch a memorable 2-1 triumph over Eastbourne in the north v south final at the Britannia Stadium.

With three games to go in the current campaign, they are up against it once more, after a 3-1 defeat at Fleetwood left them four points adrift of safety.

But Rowley believes a repeat of the 2005 heroics could yet help pull off a great escape, as Alty prepare to face Newport at home on Saturday and Grimsby away on Easter Monday before the following Saturday's Moss Lane finale .. against Eastbourne.

'We won on penalties at Nuneaton on the Saturday, then 3-2 at Kettering after extra time on the Tuesday to set up the national final against Eastbourne at Stoke City,' he said. 'What a week that was, and if we can do the same over the final week of this season, who knows?

'It was just an unforgettable few days for everyone involved, players, officials and supporters, and let's hope for more of the same. Let's take inspiration from that and try and turn the Eastbourne game into another last-day celebration.

'I know how much it means to the players when our supporters turn out in numbers and really get behind them, and we really need that for these last three games.'

A recent plea for help with fundraising ventures has received an encouraging response, Rowley adding: 'Quite a few people have come forward and joined in the monthly draw, the yankee and the patrons scheme. We've got 96 participants in the monthly draw now and would love to reach 100 by the end of the season.'

Keeper Stuart Coburn is extremely doubtful with a calf injury, while defender Jon Bateson is out with knee ligament damage. Midfielder Steve Connors returns from suspension".

Free admission to the Newport game on Easter Saturday (3pm) will be given to under-12s on donation of an Easter egg per child (not mini-sized eggs), which will go to children's charities".
ALTRINCHAM HOUDINIS!
The Guardian has a piece entitled "Has a team ever been relegated from the same division two years in a row?" which includes the following...

"The undisputed Houdinis of English football, though, are Altrincham – the Robins were relegated, but not relegated, from the Conference for three successive seasons between 2005 and 2008. By now the story should be familiar – problems at Canvey Island and Scarborough came to the rescue in 2005-06, Boston United did likewise in 2006-07 and the liquidation of Halifax Town in 2007-08 made it a hat-trick of unlikely escapes. "We're in another relegation scrap this year," writes Altincham fan Sam Tomlinson, "but the feeling of invincibility settles the nerves." This piece from When Saturday Comes explains why the Robins may get another reprieve". Sadly perhaps for Alty, the WSC article is likely to prove over pessimistic about the fate of certain BSBP clubs.
BSBP NEWS
According to Blue Square Football, "Hayes & Yeading have revealed that a groundshare deal has been agreed with Blue Square Bet South outfit Woking at the Kingfield Stadium... subject to approval from the league's governing body, the Football Conference.

A statement on Hayes & Yeading United's official website read: 'While we will be hoping to move to our new stadium mid-season, the deal with Woking gives us a little leeway should any problems arise'".

Your Local Guardian reports that "Terry Brown called on a sports psychologist as he begins focusing his AFC Wimbledon squad on winning the Blue Square Premier play-offs. The psychologist was part of a play-off focus day on Monday organised by the Dons' boss...

Despite three league games remaining, Brown wants his players concentrating entirely on next month with the intention of taking the Dons back into the Football League after a nine-year absence [i.e. since the original Wimbledon club moved to Milton Keynes].

'We watched some DVDS of games, running through our strengths and not focusing on any weaknesses', he said of Monday. 'It was to show the players how good we are. There was also a sports psychologist which was something slightly different and he talked about play-offs in different sports and how they effect people... We are 100 per cent focused on May'".

From the Daily Post we learn that "An appeal from Wrexham FC owners Geoff Moss and Ian Roberts for help in paying an outstanding £200,000 tax bill fell on deaf ears at a meeting of the Dragons' largest fans' group, Wrexham Supporters Trust.

The Racecourse outfit was served with a winding-up order by HM Revenue & Customs last Friday and faces a High Court date on May 11 for a hearing that could wreck the club's bid to win promotion back to the Football League... Trust chairman Richard Owen said Mr Moss had warned a failure to clear the debt before April 30 could result in the club being excluded by the league's ruling body, which meets tomorrow to discuss the situation.

The Trust has been asked to make a £50,000 loan towards the cost of paying the tax bill and other individuals, including former Wrexham MP John Marek, are understood to have committed similar amounts. Updating around 150 Trust members on Monday evening, Mr Owen said any decision on the loan would require a ballot of the full membership, but an informal show of hands revealed almost unanimous opposition.

One fan commented: 'This debt has been run up by two muliti-millionaires through their neglect of the club whereas we have worked hard over the years to build up our reserves and increase our membership to more than 900. If you want to lose half the membership in one go, then give the money to Moss and Roberts, but if you want to keep your members don't give them a penny',,,

The Trust is still exploring the viability of launching a takeover bid for Wrexham with its financial advisors conducting due diligence to ascertain the club's financial situation. And Mr Owen suggested... 'We are halfway through the due diligence and as soon as that is complete and we know the current state of affairs and the level of funding necessary to get the club through next season, we will know if we are in a position to make a bid. In previous cases... adjournments were granted because potential bidders had a strong business plan in place and were able to convince the judge that a takeover was imminent'".

The BBC says that "Mansfield Town owner John Radford has confirmed the appointment of five executive directors, including the three previous owners. Andrew Saunders, Steve Middleton and Steve Hymas as well as Darren Bland and Mark Hawkins will join Radford in making up the six-strong board. All five executive directors have vowed to invest five-figure sums to help the Stags win back their League status. Radford completed his takeover of Mansfield in September 2010. The majority shareholder bought the club from Saunders, Middleton and Hymas".

On the field, This is Nottingham says that "Duncan Russell felt Mansfield Town's wastefulness in front of goal brought about their downfall in [Tuesday] night's 2-0 defeat to Grimsby Town...

'We totally dominated the game really, especially first half and we had the chances to score, but didn't take them," said manager Russell... We have seen it all too often. We are in charge and in the driving seat and looking like we will score a goal, but then we make a sloppy mistake. We played some of the best football since I have been here in the first half, but part of playing well is taking chances... I'm not making excuses, but there are some tired legs out there'.

"Given that it was at Blundell Park that Mansfield Town were beaten 7-2 back on New Year's Day, it was fitting that tonight's return clash saw the Stags unveil their own 'Magnificent Seven'. Chairman John Radford used the platform of the club's matchday programme to announce he has been joined by a quintet of executive directors on a new-look board, that also features current chief executive Steve Barker, designed to drive the club forward.

The well-known faces of Andrew Saunders, Steve Hymas, and Steve Middleton have stepped up from the non-executive roles they adopted when selling the club to Radford in September to become involved on the front-line once more. And new to many fans will be the names of Mark Hawkins, a childhood friend and associate of Radford's and Darren Bland, current vice-president and local businessmen...

Grimsby came into the match having not won any of their first six games under the charge of new joint bosses Paul Hurst and Rob Scott, which had seen them drop below the Stags in the table... In the end, Mansfield got exactly what they deserved".

From the other side, This is Grimsby says that "Rob Scott wants Grimsby Town's players to savour the winning feeling after a 2-0 triumph at Mansfield Town... A dream debut goal for 17-year-old defender Charlie I'Anson added to a Michael Coulson header to give the Mariners their first win under Scott and joint manager Paul Hurst, at the seventh attempt.

He said: 'We were comfortable and, at the end, it wasn't nervy. I always thought we would see the game out... We want to breed that winning feeling and we have told the players there is no better feeling than winning a match, so they should savour it and want it more... There has been a lot of negativity around the place and hopefully this will lift some of that'.

I' Anson was given his first Mariners start in place of Rob Atkinson, who dropped to the bench, and headed in a Connell corner to seal the three points. Scott said: 'We watched him play at Rotherham for the youth team and he won everything, was loud and very impressive... He performed very well, as did Scott Garner alongside him'".
---
20 April 2011
SATURDAY SPECIAL
For Saturday's game at Moss Lane against Newport County, Altrincham FC offers its season ticket holders a special deal- matchday hospitality in the Manchester Glass Sponsors' Lounge for just £25. This gets you a choice of hot meal, pre-match drink, half-time tea/coffee and refreshments and the matchday programme. Please contact Barry Pond or the Club's general office (0161 928-1045) to book your places.
UNITED ARE STAYING!
Altrincham FC Chairman, Grahame Rowley writes:

"Altrincham Football Club are pleased to announce that Manchester United have agreed to continue playing their home reserve team fixtures at Moss Lane next season.

Manchester United are very pleased with the facilities at Moss Lane and also the hospitality that is provided to both their staff and visiting teams.

We look forward to welcoming them back next season and thank them for their continued support".
PLAY ON THE HALLOWED TURF!
Altrincham Fc is hosting a number of special matches at the end of the season. One such event is the Corporate 7-a-Side Tournament on Saturday, May 7th. Just one more 7-a-side team is needed to complete the line-up; please e-mail altrinchamprog@yahoo.co.uk to enter your team.
FLEETWOOD REVIEW
Ron's Blog has a very informative account of the writer's visit to cover Fleetwood Town v Altrincham last Saturday.
OLD BOYS
Lewis Chalmers netted a penalty for Macclesfield Town at the weekend and another Alty Youth product, Kieran Lugsden scored as Buxton lost 4-2 at Northwich Vics on Monday night. In the North Wales Coast FA Cup Quarter Final, both [player-manager & ex-Alty trialist] Dave Challinor and Stephen Aspinall scored for Colwyn Bay, the game ending Llanrug 0 Colwyn Bay 4.
RESULTS
Tuesday, 19th April
Hayes & Yeading Utd 3 Gateshead FC 1
Kidderminster Harriers 1 Darlington 2
Mansfield Town 0 Grimsby Town 2
York City 1 Luton Town 0

As things are tight at the bottom of the BSBP, here are the final games for the most threatened sides:

Cambridge United
Cambridge U. v Hayes & Yeading
York City v Cambridge U.
Cambridge U. v Fleetwood Town

Tamworth
Tamworth v Southport
Wrexham v Tamworth
Tamworth v FGR

Forest Green
Kettering Town vV FGR
FGR v AFC Wimbledon
Tamworth v FGR

Southport
Tamworth v Southport
Southport v Darlington
Kettering Town v Southport

Altrincham
Alty v Newport County
Grimsby Town v Alty
Alty v Eastbourne Borough
YANKEE JACKPOTS
The Altrincham FC Saturday Yankee main jackpot of £5,000 was won this week with code 8054. But the reserve jackpot of £2,200 remains to be won, for a £1 stake. There were also six winning Trebles this week, each gaining their code owners £33.33.Details of how to join the scheme, which is also a vital fundraiser for Altrincham FC are here.
FUN FOR KIDS!
A popular weekday feature at Moss Lane is "Jojo's Music", an entertaining session of activities for parents and children (aged from 0 to 5 years). Activities offered include playing instruments, singing, dancing, "waiting your turn", "listening and sharing" and using props. These fun sessions take place at 10am and 10.45am every Tuesday morning in the Sponsors' Lounge at Moss Lane. To book your place please ring Jo on 07803 205657.
BSBP NEWS
The BBC says that Alty's opponents next Monday, "Grimsby, have had their playing budget cut by around £200,000 for next season, BBC Radio Humberside understands. Joint-boss Rob Scott also confirmed the Mariners must meet any paying-up of contracts from next season's budget.

He told BBC Radio Humberside: 'We would like to make a lot of changes but money dictates at the moment, and we've got to try and juggle things around. It's not a secret that the budget has come down from last season, that again ties our hands a little bit'.

The Mariners have struggled to adjust to life in the Blue Square Bet Premier... It led to the club replacing former manager Neil Woods in February with the former Boston United duo Scott and Paul Hurst. Scott added: 'Obviously we've got players that are on contract for next season. Ideally we'd have come in and had a clean slate, unfortunately we haven't got that. It ties our hands quite considerably at the moment. We haven't got bundles of money to pay players off which has possibly happened in the past because that money will come out of our playing budget for next season'.

The club has already announced that Charles Ademeno, Serge Makofo and Josh Fuller will be allowed to leave in the summer, but one player Scott hopes will stay at Blundell Park is striker Alan Connell. 'We feel we can get more out of him next season, I think we can get him more goals. He's part of the squad for next season and is one of the players we'd like to mould our squad around, but at the end of the day we're not naive enough to believe that he's one of the top scorers in this league and if clubs show an interest in him, then we will have to look at it'".

This is Grimsby says that "Almost a full team of senior players are fighting for their futures at Grimsby Town next season. Of the 26 first-team squad members inherited by new bosses Rob Scott and Paul Hurst, 10 are out of contract in the summer. Youngsters Tom Corner and Mark Gray were released ahead of Saturday's draw with Bath City...

After an overhaul last summer when former boss Neil Woods replaced 12 of the squad that were relegated out of the Football League with 12 new faces, another busy close season is ahead for Scott and Hurst... Charles Ademeno and Serge Makofo have already been transfer-listed before the season is done. Josh Fuller has joined them in being told he can depart, with a year left on his deal.

Of those others nearing the end of their current deals, skipper Rob Atkinson and Peter Bore are arguably the most high-profile; Woods previously going on record stating talks with the pair had hit a brick wall and that no new contracts had been agreed...

Senior stars out of contract at the end of the season include Lee Peacock, Michael Leary, Mark Hudson and Micky Cummins... The list of 11 is completed by Dean Sinclair – currently on loan at Cambridge – who signed a six-month deal in December, and Bryan Hughes who is at Town on non-contract terms...

And that's notwithstanding the fact they will probably have to field offers for top-scorer Alan Connell from league clubs after several enquiries were rebuffed in the January transfer window".

Meanwhile, before Tuesday game, we learnt that "Mariners' striker Rob Duffy won't be facing his former club Mansfield Town at Field Mill... [He] is ineligible as part of the terms of his move to Cleethorpes in January. While he hasn't been starting of late, it's a blow for Town bosses Paul Hurst and Rob Scott who have a squad already depleted by injuries.

Charles Ademeno (adductor muscle), Dwayne Samuels (back), Darran Kempson (broken metatarsal) and Bryan Hughes (Achilles) have now been joined by Rob Eagle (ankle) and Lee Ridley (calf)... It means the Town starting XI virtually picks itself...

Hurst said: 'We are taking 18 players and some will be younger ones we want to look at ahead of next season... Lee Ridley won't play again this season... Rob Eagle is also injured and Dwayne Samuels is still out'... Grimsby Town (probable): Croudson, Bore, Garner, Atkinson, Wood; Leary, Hudson, Cummins, Coulson, Peacock, Connell. Subs: Watt, Thanoj, Fuller, Makofo, Arthur".

In contrast to the cuts at Grimsby, Blue Square Football says that "Relegated Histon will maintain a similar wage budget despite dropping to a lower league. Club chairman Russell Hands... told BBC Radio Cambridgeshire: 'David [Livermore] is quite happy with the budget we've set and he's already working on who he wants to keep for next season. The budget will be very similar to what we've had over the past year'. Livermore has been at the helm since August 2010 and even though he has failed to keep The Stutes up, the club is eager to extend his contract.

'We're awfully, awfully close [to agreeing terms with Livermore] and we'd like to tie it all up as soon as possible and put it to bed', Hands added. 'We've sat down a couple of times and we're keen to put an end to all the rumours which are going around'".

Elsewhere, the BBC reports that "Wrexham FC has received a 'substantial' loan offer to help it pay a £200,000 tax bill. The club is preparing to release details of a fund-raising scheme which it hopes will encourage fans to help pay off its debts. Meanwhile, a loan offer has been made by Conservative assembly candidate Dr John Marek, who is also attempting to put together a rescue package. Her Majesty's Revenue and Customs (HMRC) wants the debt paid by 11 May. The club faces a winding-up order if the bill is not paid...

In a statement, Wrexham FC said: 'John Marek, who has kindly offered to loan us a substantial amount, is attempting to put together a rescue package with others'... Dr Marek,the Conservative Assembly candidate for Wrexham, said: 'It's public knowledge that I have made an interest-free loan offer. It's my view that we will in fact not have to go to court on 11 May and the problem will be sorted by then'.

It is understood the club still needs to find about £50,000 to cover the debt of nearly £200,000. Wrexham Supporters' Trust (WST) said the club had approached it for a £50,000 loan. However, spokesman Terry Heath said WST members decided unanimously against the request at a meeting on Monday. He said... 'The overall consensus was that putting the money into a black hole for nothing, with no guarantees, is not the ideal way of doing things'...

On Dr Marek's loan offer, Bill Brereton, Welsh Liberal Democrat candidate, said: 'Wrexham FC's troubles are not new so why wait until now to offer support? With elections just two weeks away, this timing certainly raises concerns'".

Also from the BBC we learn that "Alfreton Town can clinch promotion to the Blue Square Bet Premier with victory at Harrogate Town on Tuesday".

Gillingham midfielder Mark Bentley has revealed he fully expected to be involved in Cambridge United's trip to Forest Green on Saturday, reports BBC Radio Cambridgeshire. "The 33-year-old missed the match after it emerged his loan spell at the Abbey had come to an end. He [said: 'I trained on Friday in preparation for Saturday and was expecting to play. Then I got a call from Gillingham to say the loan was up and asking if Cambridge were aware'.

Bentley joined the U's on a month's loan deal on 8 April and made six appearances, scoring one goal. Speaking on Thursday, caretaker boss Jez George was confident of extending his stay at the club... He said, 'The current loan deal includes this weekend so we'll speak after Saturday's match'.

However the U's confirmed on Saturday afternoon, via their official website, that Bentley's loan deal was already at an end... Bentley cannot return on fresh loan terms as the deadine has now passed, leaving the U's to contiune their relegation battle without him. Had he played on Saturday, the U's could have suffered a points deduction which would have pushed them further into relegation trouble".

The Holker Street Newsletter from Barrow (via New Zealand) reports that "Tony Keen opined: 'The gates this year have included the number of corporate-paying guests, which has not been the case in previous seasons. The gate last Saturday at home against Kettering was 1015, but that included 100 in corporate, so the real gate based on previous seasons would have been 915. That shows the work we need to do to keep promoting the club. It will also affect our thinking as we work on the budget for next year. It's hard, but we have no option. We will make those budget decisions on the overall League gate average, so please, I would urge fans to come to our last two home games and boost that average'".

The article continues, "The Mail adds that Barrow's average League attendance for season is 1200, although the club budgeted for over 1500 (we averaged 1550 for the 2009-10 season)".

According to NL Daily "Caretaker boss Dale Belford says he has no interest in becoming Tamworth's permanent manager, despite leading them to a crucial win in their relegation battle. Goals from Ben Wilkinson and Kyle Perry secured a first win in nine matches after defeating former Lambs' boss Gary Mills's York City 2-1...

Belford, the Lambs' academy boss and former player, said: 'I have a lot of respect for Des [Lyttle, the previous manager] and am big mates with him so the last few days have been very, very difficult. I've got no interest in getting the manager's job but I've been asked to step into the breach. This was a vital result to help us stay in the league and if I can help the club achieve that, then that would be great'" he told the Birmingham Mail.

From the Uxbridge Gazette, we learn that "Garry Haylock has hailed the impact of on-loan Crawley duo Steve Masterton and Sam Rents, ahead of Hayes & Yeading's last-ever competitive game at Church Road. Haylock's men entertain Gateshead knowing that victory tonight could ensure a third season in the non-league's top flight after a season of struggle against relegation.

And the influence of Masterton and Rents, who both had their loan deals extended until the end of the season last week, has been crucial...

'They have added quality to the squad', said Haylock. 'They came in at the time when we had just lost Charlie Wassmer and Ahmed Deen and I could not sign anyone as the window had closed. In fairness, Crawley have done us a big favour in letting us have these two boys. Now we have the likes of Ben Wright and Adam Green on the bench and you know what you are going to get with those players, which is a great position to be in'".

York Press says that "David McDermott has recovered from the pulled hamstring that caused him to miss Saturday's game but, despite centre-back David McGurk's continued absence, [manager, Garry] Mills will not be recalling defender Greg Young from his loan spell at Altrincham for this gam, saying: 'That won't be happening but if we picked up another injury tonight then it might be a possibility'".
---
19 April 2011
MAKE IT A CENTURY!
Altrincham FC chairman Grahame Rowley writes...

"After the recent plea for increased help the Monthly Draw now has 94 members.

We are looking to hit the magic "100 Members" so we are appealing for 6 more supporters to join up for this excellent fundraising draw.

We are also proposing to increase the prize fund as well as to introduce a fourth prize amount

Anyone interested in helping us reach the 100 should please contact me by e-mailat altrinchamprog@yahoo.co.uk or Steve Foster at friendsofaltyfc@hotmail.co.uk; or, you can download details of the scheme and a standing order form here".
YOUTHS DEFEATED BY LEADERS
Alty Youth lost 3-0 away to FC United of Manchester last Sunday.
REFEREES
The referee on Saturday for Alty v Newport County is Mr A J Duncan. Mr Duncan, from Newcastle upn Tyne, reffed the memorable match in April 2005, at already relegated Bradford P.A.'s Horsfall Stadium, when goals in the 85th minute from Val Owen and the fifth minute of added time from Rod Thornley secured a vital 2-1 win to help Alty qualify for the play-offs in BS North.

The man in charge at Grimsby on Easter Monday is Mr S Stockbridge, who has also overseen an Alty comeback - when the Robins won 3-2 over Kettering Town at Moss Lane on 19 February, 2011.
NEXT GAME
On Saturday, Alty entertain Newport County, of whom the South Wales Argus says "County's recent revival continues apace after this five-goal five-star performance against a brutally bad Barrow. The Exiles have collected 12 points from their past five games and seem to be enjoying life under new boss Anthony Hudson. The former Tottenham coach faces an interesting assessment period between now and the end of April, attempting to juggle positive results, momentum for the next campaign and a desire to give everyone a fair crack of the whip.

To that end he unsurprisingly made four changes from the side that were beaten but also impressed at York City, giving fringe men like Sam Foley, Tom Miller and Scott Rogers a chance to shine and also recalling player/coach Wayne Hatswell...

The visitors looked shambolic defending set pieces throughout... Foley, finally playing off the main striker in the role he excelled in last term, was imperious... He's cut a frustrating figure this term and has never found his feet at Conference level, but on Saturday with workrate, possession of the ball and awareness of the game he reminded us all that he's a tremendous player and a big asset for County...

[Barrow] couldn't have made a worse start, but goalkeeper Clark Masters had other ideas. I don't know what Clark got his Masters in, but it wasn't judging when to kick the ball because on 25 minutes he was humiliated, charging out to kick a long punt by Glyn Thompson but beaten to it by the quick-thinking Foley, who rounded him with ease and stroked home the third...

The visitors were being battered and embarrassed, forced to make a tactical change to stop the rot – player boss Darren Sheridan subbing himself – and it worked to a degree...

The visitors were determined to limit the damage with the game long lost and did stem the tide for a time, though to pick a star man for them would be like nominating the best actor in Hollyoaks... The Exiles remain outside the playoff spaces with not enough time to reduce the arrears, but for the first time in a long time their fans won't be thinking about what might have been, they'll be thinking about what could be next term".
MONDAY'S OPPONENTS
Our opponents on Easter Monday, Grimsby Town report that "Charles Ademeno, Serge Makofo and Josh Fuller have been told that they don't have a future with the Mariners and can look for another club. Makofo joined the club from Kettering Town on a three-year deal in January but has made only 3 starts since his arrival from the Poppies. Ademeno arrived at Blundell Park last summer from Crawley and a fee for the striker was later set at £10,000 by a tribunal. A series of injuries have limited Charles's appearances in the Town side and he has featured just 12 times, scoring 2 goals. Josh Fuller, who has come up through the youth system at the club, was handed a 2 year pro deal by Neil Woods".

Kidderminster Harriers say that Alty Youth graduate and now "Flixton hot-shot striker Astley Mulholland, Cradley defender Benjamin Richards-Everton and George Stack of Barton United, have all been given permission by their clubs to spend time training with the Harriers' squad during this week.

Mulholland is currently leading the Vodkat Premier Division goal scoring charts having netted 40 goals already in 2010/11, more than enough to register on anyone's radar".

According to the BBC "The name of Gravesend and Northfleet could return to football four years after the side became Ebbsfleet United. The are gauging opinion as to whether they want a return to the club's original name. Chairman Phil Sonsara told BBC Radio Kent: 'The club plays in Northfleet, the two predominant towns are Gravesend and Northfleet. However Ebbsfleet United won the FA Trophy, not Gravesend and Northfleet. It's a difficult call'".

This is Grimsby tells us that "Lee Ridley looks set to miss the remainder of Grimsby Town's season after damaging his calf in Saturday's 2-2 draw with Bath City. The left-back limped out of the action after 35 minutes with Town 2-0 ahead. He has only recently returned from an injury lay-off, but joint boss Paul Hurst now expects him to miss Town's final four games.

He said: 'I don't expect to see him wear a Grimsby shirt before next season and that's frustrating because he is a man out there, an experienced defender and is probably one who livens one or two up'. Micky Cummins replaced him, which meant Bradley Wood – who had started the game impressively in the centre of midfield – had to move to left-back.

Hurst said: 'We tried Bradley in midfield, but he will now have to fill in for us at left-back. It would have been nice to have a longer look at him (in midfield) because we have been told he has done well in there in the past'".

Before they meet Alty, "Paul Hurst has challenged his Grimsby Town players to pick themselves up for tomorrow's trip to Mansfield Town. The Mariners' joint boss was left frustrated once again after Town surrendered a two-goal lead to draw 2-2 with Bath City... as the Romans scored twice in the last ten minutes... before Town's top-scorer [Connell] had an injury time penalty saved.

It means Hurst and Scott are still searching for their first win in charge after six games... Said Hurst, 'We have only been here for a short time and if that performance is similar to what they have been served up for the majority of the season, then I am surprised that they keep coming and it is credit to them that they do. The fans pay their money and, at times, I think they shout some nonsense – but on Saturday I don't think they did at all, I think they were right to voice their disapproval...

In a lot of ways, they just can't wait for the end of the season to come and hopefully next season they will have something better to shout about. I'm going to let the players pick themselves up. That might surprise people, but we can only do so much as managers. We haven't been able to change personnel since we have been here in terms of fresh players coming in to the club, and the "new manager" tag, with players giving their all, has obviously not been the case here.

The players said after Wednesday night (against Rushden) that they felt they have been giving more recently. Well, I question what they were giving before, because it is still nowhere near good enough'.

Town lost a goal lead against Rushden, and were twice ahead during the 3-3 draw with Kidderminster. Two goal home leads have also been surrendered late on against Gateshead and Tamworth.

Hurst said: 'We have tried dressing it up and going away from saying they aren't fit enough, but I think it is evident that all of a sudden we stop getting near to people and stop making forward runs. If we are not fit it makes the game a lot more difficult and I don't think that is going to change this season. The frustration for us is we can't even do anything about it... I don't think they can physically keep working for the 90 minutes...

Us losing the game doesn't come down to Alan Connell missing a penalty. But he is part of the team and as a team we have got massive problems'".
FLEETWOOD'S VIEW
After Saturday's game the Blackpool Gazette has a mtach report preceded by a revealing picture of Sean Clancy, whose challenge resulted in Jon Bateson's injury, catching Craig Dootson too.

"The Cod Army eased past Saturday's lowly visitors, with two red-hot first-half strikes from Seddon and Sean Clancy seizing the initiative after Danny Hurst had saved an early penalty. The home side ran Altrincham ragged after half-time, but failed to convert their chance and Robins substitute Dale Johnson clawed a goal back in the 90th minute...

The official opening of the completed £4.5m, 1,800 seater East Stand took centre stage in the build-up to Saturday's game, and this impressive new facility means Fleetwood now have the infrastructure in place to compliment a Football League club...

Altrincham's counter-attacking was upsetting the home team and they were nearly exposed again when Wes Baynes cantered 20 yards before striking just past Hurst's right-hand post... They took the lead after 37 minutes, when the lively Sean Clancy unleashed a 30-yard swerving drive that former Fleetwood goalkeeper Craig Dootson could only flap a hand at. The goal seemed to settle the home team and just before half-time they deservedly doubled their lead...

The visitors nearly pinched a goal back with their first attack of the second half on 84 minutes, when substitute Dale Johnson's looping header was clawed off the line by Hurst. But Johnson grabbed his goal minutes later",

Elsewhere the paper adds comments from manager Micky Mellon, "I think we got a little worried after missing chance after chance because you know what football is like – and we did get punished when they brought it back to 2-1".

It continues, "Altrincham manager Ken McKenna said: 'It could be a different story if the penalty had gone in. We gave away two poor goals after only letting them create two or three opportunities. They played some good football and we had to ride our luck in the second half. We got ourselves reorganised too late and a bit more composure was needed after pulling one back".
BSBP NEWS
Wrexham report that "Contrary to press reports, the outstanding HMRC debt has yet to be paid in full to avoid the winding up petition. [Former MP] John Marek, who has kindly offered to loan us a substantial amount, is attempting to put together a rescue package with others.

HMRC have made it very clear that the only way they will withdraw the petition is if FULL payment is made, they will not accept part payments. The Club is exploring every avenue to raise the remaining amount, and is putting together an initiative for the Tamworth game that we hope supporters will buy into that could raise a considerable amount towards paying the Club's debts.

A big gate is needed and we require all fans to help us, whether they be pay on the day or season ticket holders... There will be no advance reduced price ticket sales for this game and no free tickets will be issued - everyone, including those in the Directors' Box will be paying.

Typical of the problems facing the Club is that our bank account will probably be frozen today, making it very difficult to operate. Additional PAYE/NI monies will be due in the next few days, as well as wages at the end of April and VAT in May. Revenue from the Play-Offs would go a long way to easing those problems. The VAT are also looking for a bond going forward.

We are in constant dialogue with Richard Owen and Rob Parry of the WST in trying to find a short and a long term solution for the future of the Club. We are also in touch with the two parties who have expressed an interest in buying the Club".
---
18 April 2011
VITAL GAME
Altrincham's last away trip is to Grimsby Town on Easter Monday (25 April, 3pm). TASC is running a 42-seater supporters' coach and details of the pick-up times and fares are on the Away Travel page. As usual, please ring the club (928-1045) to book your seat, for what will be our first ever visit to Blundell Park - and a vital game if Alty are to avoid the drop. Don't miss it!
FLEETWOOD VERDICT
This site's match report on Fleetwood v Altrincham is here.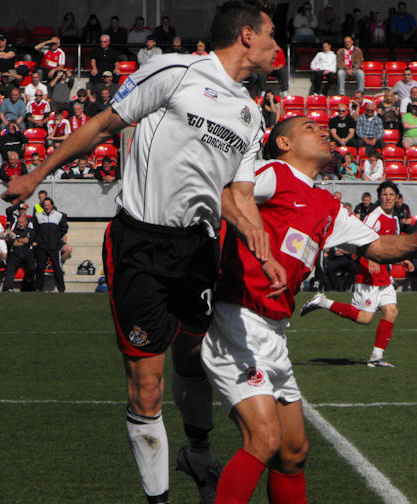 Right: Greg Young gets the better of Fleetwood's Magno Vieira in last Saturday game.
Fleetwood Town report that "A 3-1 victory avenged the defeat at Moss Lane back in October... Micky Mellon selected the same side that had started the rout of Eastbourne seven days ago, the first time since mid-January that he had been able to do so...
The match started quietly but the two benches soon came alive following a tackle nearby by Sean Clancy on Jonathan Bateson after five minutes. Three minutes later, Shaun Densmore [actually Damian Reeves] was brought down by Town skipper, Steve McNulty, and referee Martin pointed to the spot. McNulty received his ninth booking of the season for the challenge before Danny Hurst brought back memories of last season's play-offs with a two-handed save to his right from the Robins' leading scorer, Damian Reeves...
The injured Bateson was substituted by Rob Williams on the quarter hour... The visitors looked more likely to score in the first half hour but it was Town who changed the course of the match dramatically in the last ten minutes of the first half, scoring twice. They took the lead on 36 minutes, Clancy bearing down on goal and firing a 25 yard shot which deceived Dootson. The big keeper was off his line and managed to get a touch but in vain...
Seven minutes later, Gareth Seddon pivoted and turned near the edge of the area and struck a beautiful shot past the despairing dive of Dootson into the top corner...
The Robins ensured that the last moments would be nervy for Town when Joseph [actually Johnson] stole in to strike past Hurst for his fourth goal of the season but George Donnelly, on for Seddon, broke with his first touch of the ball and slammed a right foot shot spectacularly past Dootson...
Clancy, back to full fitness and top form, was named man of the match".
BSBP NEWS
The BBC reports that "Wrexham manager Dean Saunders has given a vivid account of the effect on his players of the club's financial woes. Saunders said players called him 'worried to death' after the club were served with a winding-up order over a £200,000 tax bill.

The team seemed to be hit weekly by 'a bombshell' and 'a protest at the ground', he said... His comments came after Saturday's 2-0 home win against Kettering...

'I'm convinced that if we can get out of this league we can get out of the next league, providing things are right behind the scenes. At the moment they're obviously not. Every Friday we seem to have a bombshell hit us. We have to respond every Saturday afternoon. And every week there seems to be a protest at the ground about something'.

He said he had received phone calls on Friday from 'worried' players and before Saturday's game it was his job to 'convince the players they are going to get paid'. Saunders said some of his squad were getting married and 'worrying if they can pay the bill' and others 'having babies and wondering if they can pay the bills for them'...

The club, which remains for sale, said it needed gates of 4,000 to survive, but Saturday's attendance was 3,662. Among potential bidders for the club are Wrexham FC Supporters' Trust (WST) and north east Wales hotelier and businesswoman Stephanie Booth. She has said, while she was weeks away from making an offer, in the short term, WST should use money it has raised to pay the tax bill".

200% has a thought provoling article on the future of televising Conference matches.
---
17 April 2011
EASTER OFFER
When Altrincham meet Newport County at home on Easter Saturday (23 April, 3pm), free admission will be given to under-12s on donation of an Easter egg per child (not mini-sized eggs!) which will go to local children's charities. So please bring along your eggs and help under-privileged children to enjoy their Easter.
STILL SUPPORTING THE ROBINS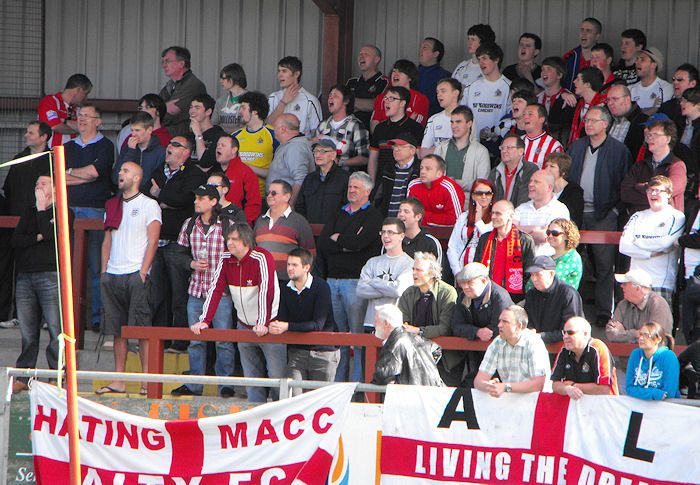 Right: Altrincham may be having a difficult time in the league but they had good support again yesterday at Fleetwood Town.
Match report here.
OLD BOYS
Ex-Alty Youth and reserve Mark Drew scored for Ramsbottom Utd who won 2-0 against Alsager Town. The Boston United site reports that "The impressive Kevin Holsgrove — who had bamboozled Cullingworth time after time — cut infield and saw his low drive deflected past a wrong-footed Bastock by Canoville." The result was Boston 2 Hyde 2 even though Hyde played with ten men for 60 mins. Matt Doughty and Russell Saunders also played for Hyde

Formerly a loan player at Moss Lane, Damien Allen scored two for Colwyn Bay but they lost 4-3. News of two ex-Youth players... Osebi Abadaki scored for Radcliffe Borough in their 2-2 draw with Chester, (for whom KYle Wilson netted), whilst Sam Madeley was on the mark for United but they lost 2-1.
BSBP NEWS
There is an interesting article on Wrexham's financial plight on the 200% site.
---
16 April 2011
FLEETWOOD 3 ALTRINCHAM 1
Alty were ultimately well beaten but had Reeves converted a 9th minute penalty, which he had won, it might have been a better story. Alty then fell behind to a well struck long range effort from Clancy, which Dootson could only push into the roof of his net and then a marvellous chip from Seddon made it 2-0 at the interval.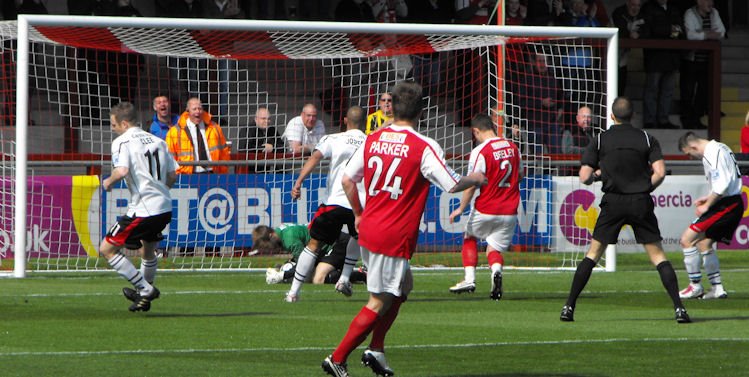 Above: "The Fishermen" got off the hook when Damian Reeves, (far right, in white), saw his ninth-minute penalty saved at Fleetwood.
Alty offered little in the second half and were lucky not to fall further behind. But Johnson got a goal back in injury time from Reeves's feed before Donnelly sealed it at 3-1, moments later. Match report here.
Alty league line-ups
Sat. 16 April
Eastbourne Borough 1 Kidderminster Harriers 1
Fleetwood Town 3 Altrincham 1
Forest Green Rovers 1 Cambridge United 1
Gateshead 2 Rushden & Diamonds 2
Grimsby Town 2 Bath City 2
Hayes & Yeading Utd 3 Darlington 2
Histon 0 AFC Wimbledon 4
Mansfield Town 0 Luton Town 0
Newport County 5 Barrow AFC 0
Southport 0 Crawley Town 4
Wrexham 2 Kettering Town 0
York City 1 Tamworth 2
BSBP NEWS
In Friday's Manchester Evening News, it states that at Fleetwood on Saturday Alty manager Ken McKenna would "settle for a draw even though it's wins Alty now need... McKenna is adamant Altrincham are capable of a shock victory on the Fylde coast, saying 'No one expected us to win at Darlington, Mansfield or Rushden, but we did. Fleetwood are one of the top teams in the Conference but that doesn't mean we can't go there and get a result'".

Radio Robins will be providing coverage of Fleetwood Town v Altrincham. Brian Flynn writes "We have been advised that the WiFi, wired internet and mobile phone signals at Highbury Stadium are good and we are hoping to broadcast a full commentary of Altrincham's vital game against Fleetwood on Saturday. The match commentators will be Simon Ellis & Brian Flynn".

This website will also aim to provide live Matchday Updates from the game.

At Fleetwood, the Jolly Sailor Pub has advised us that all Altrincham fans will be welcome for a drink before the game.The pub is situated on Radcliffe Road, just a hundred yards from the ground and the TASC supporters' coach will be parking in their car park.

Meanwhile Fleetwood Town advise that the club will "open the brand new Parkside Hospitality Suite and executive boxes this Saturday by marking well-remembered Fleetwood trawlers. The seven executive boxes, with views over the Highbury pitch, are each named after vessels long associated with the port.

Chairman Andy Pilley has led the way by naming his own box after a trawler with strong connections to the club. The Red Falcon was lost with all 19 hands on her way home from Iceland in December 1959. Vice-president, and former kit manager, Barry McLoughlin lost his father on the Falcon. Barry said 'It was December 1959 when it happened, and the crew were actually on their way back home for Christmas from Iceland. It was an awful time for my family losing our father so close to Christmas, so this is a wonderful thing for the club to do for the community'...

The grand opening of the new executive boxes and stand coincides with the crucial Blue Square Bet Premier clash against relegation-threatened Altrincham",

And "Fleetwood Town enter their home game with Altrincham as the Blue Square Bet Premier form team, with five wins out of the last six matches. Both they and their opponents need three points from the match for quite different reasons...

Despite the run of success, manager Micky Mellon's feet remain firmly on the ground... Apart from the long-term knee injury to Jamie Milligan, Nathan Pond is the manager's main concern. The experienced midfielder is struggling to shake off a leg injury...

[Referring to Altrincham], 'They will be motivated', says Mellon, 'and know that they will need a result. We'll find out if that suits us or not on Saturday'. Unusually, three former Town players have moved from Highbury to Moss Lane this season. Goalkeeper, Craig Dootson, midfield player, Steven Connors, and striker, Mark Beesley have all featured for the Robins' first team at some point or another".

The Football Trade Directory adds that Fleetwood's "new East Stand, located off Nelson Road, has been designed by FWP with three tiers and will house community, commercial, corporate and club facilities. Brent Clayton, partner at FWP, said: 'We have created something really special, not just for the club but for the whole community and we know fans can't wait to see what is in store for them once the stand is fully operational'...

FWP is also working with... a number of non-league clubs including Barrow and FC Fylde".
SATURDAY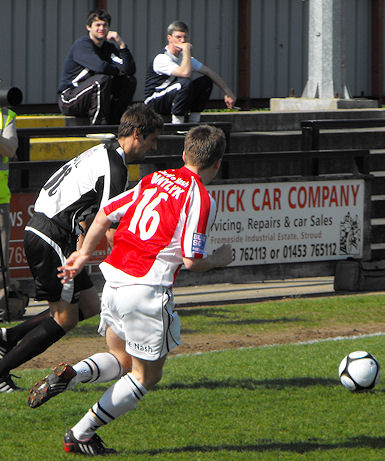 Right: Pictured here is Anthony Danylyk, whose season is over after breaking his arm in midweek training, but Dale Johnson, seen in the background with physio Alan Ainsley sitting on the terraces at FGR last week, will be hoping to be fit enough to be involved on Saturday at Fleetwood.
BSBP NEWS
The Birmingham Mail says that "Des Lyttle revealed he has resigned as Tamworth manager after the club tried to bring in Martin Foyle to work alongside him. Lyttle said he was stunned when the Lambs told him they wanted former York City and Port Vale boss Foyle to assist him, without the club's hierarchy consulting their manager.

Ironically, the Lambs board then decided against the appointment because Foyle, who left Bristol Rovers as coach last month, was on "gardening leave" but Lyttle said the actions destroyed any working relationship with the board.

He took training yesterday before announcing he was leaving, along with No.2 Martin Prentice, and Dale Belford has been put in charge of the first team, assisted by Steve Hinks and skipper Jay Smith, for the final four games of the season. Lyttle, who was appointed to his first managerial role last October after Gary Mills left, said: 'I felt I could no longer trust the board. I couldn't work for a board that was prepared to go behind my back. You can't have a working relationship if you don't trust the people you work for'".

From the Football Conference we learn that "Steve Beasant, chief executive of Rushden & Diamonds, has one again urged more fans to join in with supporting the club financially.

He said: 'I can't stress enough that if the bulk of our season ticket purchases are not received in the coming weeks the lack of these funds will impact dramatically on the club's survival, the same goes for shares and donations. After speaking to some fans whilst stood on the terrace at Grimsby Town on Tuesday night, my brother Liam (chairman) and I both openly discussed where the club currently is and where we would like it to be pre-season, and we reiterate again if season ticket funds are received now and further share donations are made, Diamonds will be in a positive position to commence the new season campaign.

We boycotted the director's box at Grimsby and thoroughly enjoyed the fans' comments and the burgers whilst watching the lads' great performance from the terrace on a cold night in Cleethorpes! We are currently having some board room changes as I can confirm that both Gill Wignall and Andy Shutlar have stepped down and we will be announcing some strong replacements in the coming weeks'".

"Eastbourne Borough have decided to keep faith with manager Garry Wilson and head coach Nick Greenwood" reports a href="http://www.bluesqfootball.com">Blue Square Football

. "The Sports look set for relegation this season but chairman Len Smith is confident the duo are the best option going forward.

A statement on the club's website reads: 'Eastbourne Borough can today confirm that Garry Wilson and Nick Greenwood will retain their positions within the club for the start of the 2011/2012 season. This decision comes after detailed effort to pinpoint the requirements to progress Eastbourne Borough FC both on and off the pitch...

Garry Wilson and Nick Greenwood have overseen the club's rise from the Sussex County League and have over the years demonstrated their dedication to the club's cause and the desire to make The Sports successful'...

Meanwhile, Smith told the Eastbourne Herald: 'I believe we can come back into the league (the Blue Square Bet Premier) as a stronger and better prepared club. We thought we were ready to compete at that level but obviously we were not. Within the three years the league has got stronger and you have to be full-time to survive. Some may see it as a lack of ambition but we need to establish ourselves in the South and get plans in place so when we do go back up we will be able to cope.

In three years' time we hope to develop our training facilities and have a full-time manager in place. We have discussed this with Garry and Nick and they have agreed to work with us to get us to that point'.

Wilson told the club's official website: 'I am delighted to be at Priory Lane for the 2011/2012 season. I have been at this club for over a decade and there has always been a desire to improve and be successful. That hasn't changed, and I look forward to the challenges the new season will bring'.

He added in the Herald: 'I did not want to leave like this. I still feel as though I have a lot to offer this club. If I felt the club did not want me I would go elsewhere. There will be a lot of changes during the summer. Players will come and go but the important thing is to get this club moving forward and feeling positive once again'".

Elsewhere, "Grimsby Town have been dealt a major blow with news that defender Darran Kempson will miss the rest of the campaign after suffering a metatarsal injury. The 26-year-old was stretchered off during Wednesday evening's draw with Rushden & Diamonds and a subsequent scan has revealed that Kempson has sustained a broken third metatarsal.

Grimsby joint manager Rob Scott told This is Grimsby: 'Darran has broken his foot so that's his season done... It's another injury; it never rains but it pours. On the plus side we have Steven Watt available and Rob Atkinson came on the other night'".

Further north, "Darlington have confirmed that highly-rated defender Dan Burn will join Fulham in the summer for a record-breaking transfer fee... Mark Hughes's Cottagers have won the race to sign Burn with an initial six-figure payment. Burn has agreed a three-year deal with Fulham and is not expected to feature heavily in the remainder of the campaign as he continues his recovery from a knee injury.

Commenting on Burn's transfer, Darlington chairman Raj Singh told the Northern Echo: 'This represents a fantastic bit of business for Darlington and we're delighted for Dan that he's joining a top, Premier League club... Dan will join Fulham at the end of the season'".

Wrexham "would like to assure its supporters and business partners, that having been issued with a winding up order today by HMRC, the current owners are doing everything within their powers to secure the future of the club.

That HMRC should take this action at all is a source of great disappointment and frustration, when offers to honour our commitment over a period to the Revenue have been rejected out of hand.

The club 'holds its hands up" in full acceptance that this situation has been allowed to escalate and realises that football clubs in general understand that there now exists something of a zero tolerance relationship between them and HMRC but, as already mentioned, Wrexham Football Club, through keeping channels of communication open at all times, have tabled a number of proposals to resolve this issue.

Although gates have increased of late, the club needs attendances in the region of four thousand to have a chance of meeting its current budget. Cash flow problems are a constant headache in the running of the club...

It is public knowledge that the club is for sale, and that negotiations continue with prospective purchasers. The club relies on its supporters paying at the turnstiles, with the owners having had to provide significant funds to retain a competitive first team budget...

The HMRC debt is just under £200,000. If the club were able to access a funding pot to clear that debt, then the club's future could be secured at a stroke".
---
15 April 2011
VOTE FOR THE NEW KIT
Ian Senior of SK Kits has devised a Voting Form for supporters to express their views on next season's kits. Just mark your choice for away and home kits and return the form to the Club.
FIXTURES
Thu 14 April
Mansfield T. 2 Bath C. 0
League table
HELPING ALTY
How You can Help
Join The Altrincham Supporters' Club (TASC)
Call Brian Flynn on 07860-561011 or e-mail him at brianflynn59@hotmail.com
Volunteer to help on match days
Call Grahame Rowley on 07720-606897 or or e-mail him at altrinchamprog@yahoo.co.uk
Enter the End of Season Draw
See instructions underneath the main TV in the bar.
Join the Friends of Altrincham Football Club (five pounds per month)
Call Steve Foster on 07876-767284 or e-mail him at friendsofaltyfc@hotmail.co.uk.
Become a Patron (fifty pounds per year)
Call Grahame Rowley on 07720-606897 or e-mail him at altrinchamprog@yahoo.co.uk
All Change for Alty- get a collecting tin for your small change from the Club
Call Grahame Rowley on 07720-606897 or e-mail him at altrinchamprog@yahoo.co.uk
Attend the Wilf McGuiness Sportsman's Dinner (Friday April 15th)
Call Pete Foster on 07557-101803 or e-mail him at office@altrinchamfootballclub.co.uk
Attend the End of Season Dinner (Saturday May 7th)
Call Pete Foster on 07557-101803 or e-mail him at office@altrinchamfootballclub.co.uk
Attend the Football Club Golf Day (Tuesday May 17th)
Call Pete Foster on 07557-101803 or e-mail him at office@altrinchamfootballclub.co.uk
Volunteer to help with commercial or fundraising initiatives
Call Barry Pond on 07957-456375 or e-mail him at office@altrinchamfootballclub.co.uk
Sponsor a game, or match ball
Call Barry Pond on 07957-456375 or e-mail him at office@altrinchamfootballclub.co.uk
Take out Company advertising in the programme, or a ground board
Call Barry Pond on 07957-456375 or e-mail him at office@altrinchamfootballclub.co.uk
BSBP NEWS
This is Tamworth confirms that "Des Lyttle has resigned his position as manager of Tamworth with immediate effect, writes Matt Panter. Lyttle felt his position was untenable after the club's board tried to bring in former York City boss Martin Foyle as an adviser for the remaining four games. Lyttle had planned to stay in charge until after the York game this weekend but, after some soul searching, felt he had no choice but to leave. Dale Belford will take over until the end of the season, alongside Steve Hinks and Lambs' captain Jay Smith".
According to Blue Square Football, "Burnley have confirmed they have agreed to extend midfielder Alex-Ray Harvey's loan spell at Fleetwood Town. The 21-year-old joined the Cod Army last month and has made three substitute appearances... His loan stay has now been extended until the end of April. Fleetwood currently occupy fifth place with 69 points and prepare to face strugglers Altrincham at Highbury on Saturday afternoon".
Blue Square also say that "Grimsby Town joint manager Rob Scott was critical of his charges following their 1-1 draw with Rushden & Diamonds... The performance of his side was of particular ire[?] to Scott, who feels they should have pushed on to win the game after netting the opening goal.
He told the Grimsby Telegraph: 'It looked like an end-of-season game to me. We were in control, scored, but then it was the same story. We didn't grasp the opportunity we had in our hands. I was sat in the stands with Robbie Stockdale (Youth coach) when we went a goal up and I said, "you watch what we do for the next five minutes". We dropped off, sat off the game and let them come back at us. Instead of stepping on and being positive and bright, we looked tired.
Maybe that's because we're asking them to work hard in training. Isn't that a prerequisite for anyone who goes to work - to work hard? We've not lost, but we haven't won again... Maybe we're asking too much of them, but we'll keep asking that'".
The Northants Evening Telegraph reports that "Marcus Law is hoping Ian Roper's contractual issues will be resolved in time for him to play in Kettering Town's final away game of the season at Wrexham on Saturday. Roper was absent from last weekend's 5-0 hammering at Barrow and it would appear that if he plays for the Poppies again this season then he will then become eligible for a contract for next season.
With the current uncertainty surrounding the Elgood's Arena, Law insists the club can't start committing to deals they may not be able to see through... 'It is a contractual problem', Law said of Roper's situation. 'The future of the club is not clear at the moment so it could put us in a position where we may not be able to honour certain things. It is no more than that but we are still hopeful an agreement can be reached to allow Ropes to play for us again this season'...
[A] friendly clash with Posh ended in a 1-1 draw as Patrick Noubissie returned after recovering from a dislocated thumb while there was also a welcome cameo appearance for striker Moses Ashikodi, who played for the final 10 minutes as he comes back from a cruciate knee ligament injury that has kept him out of most of the season.
Law added: 'I watched the DVD of the Barrow match and there is no doubt that some of my players were suffering having been up for 10 or 11 hours when they went out on the pitch. People can call it a lame excuse but that's the way it was. I actually felt sorry for the boys after watching it again'".
From the Express & Star we learn that "Raising cash from lotteries and running a car park are part of Kidderminster Harriers' long-term survival plan. The club – which was just hours from insolvency in February – has revealed its long-term future has been secured and they could be debt-free by August.
Fans group Kidderminster Harriers Independent Supporters Trust has generated £37,000 in recent weeks... KHIST raised £4,256 by holding three monthly lotteries at the Harriers' Arms. It is estimated this could generate up to £23,000 over the course of a year.
But KHIST spokesman and new club board member Karl Davies warned the club must not 'spend money it hasn't got" in future. He said: 'It's great news for everyone involved that the club can keep going and concentrate on the football from now on. But we must make sure the club never gets into this situation again and that we live by our means'.
So far 270 season tickets have been sold for the next campaign under Project 1,000 – which aims to shift 1,000 tickets. All money from these will go towards the playing budget for next season, according to Davies... Plans are also being drawn up for the club to run the nearby Stadium Close car park for the next three to five years, which bosses hope could raise thousands. The 100-space pay-and-display car park in Stadium Close is owned by Wyre Forest District Council. It is used by Harriers supporters on matchdays, but the proceeds go to the council".
---
14 April 2011
"WE'VE GOT TO MAKE IT HAPPEN"
John Edwards, Altrincham FC's joint Press officer, writes...

"Ken McKenna could not hide his frustration at losing to relegation rivals Forest Green Rovers but challenged his Altrincham players to produce one final push for Blue Square Bet Premier survival.

After seeing his side's five-game unbeaten run halted by a solitary second-half goal, McKenna sounded a rousing rallying call, ahead of their four remaining matches.

'I thought we were lacklustre on Saturday, and that disappointed me,' said the Alty manager. 'For some reason, we were not breaking our necks to create things, and when you are fighting for survival, you expect more.

'We had a good following of fans who made a lot of noise and got behind the lads, and we did our best to whip them up from the line. But some of our better performers from recent games never performed.

'The preparation was good, and we put a lot of thought into getting them ready for the game. But they seemed content with just doing enough to keep Forest Green at bay and not giving them many chances.

'Forest Green were keeping possession better than us, without actually hurting us, so I changed the system in the second half and felt we were more comfortable as a result. But there still wasn't the urgency we needed, and we paid the price.

'I just didn't see that coming after going five games unbeaten. I asked for bodies to be put on the line for a victory, but it was more like doing just enough for a draw, and we got caught out by a goal out of nothing.

'The galling thing is, we should be safe now, if you think of the points that have slipped away lately. The home draws that should have been wins, against York, Gateshead and Southport, and even against Cambridge, who might have won in the end but should have been finished off before getting back into it.

'But that's in the past, and we can't do anything about it. We can affect what happens next, though, and we've got to make the most of the four games left, starting at Fleetwood on Saturday.

'We can't feel sorry for ourselves. We've got to make it happen that we win enough games to stay up. We've got to want to keep testing ourselves against the likes of Fleetwood, Luton and Darlington. Those are the places I want to be going to next season, and I'll do anything to ensure it happens. That has to apply to the players as well – whatever it takes, they've got to do it.'

James Smith is available again after suspension but faces a late fitness test, along with Dale Johnson.

'James has got a slight pull, so we'll have to assess him later,' added McKenna. 'As for Dale, he took a terrible whack against Cambridge, right in front of the linesman. It was a kick off the ball, and if the linesman had seen it, it could well have been a red card.

'It has left Dale badly bruised, and we couldn't risk him at Forest Green, much as he wanted to play. He's another we will have to look at later in the week.

'Steve Connors is suspended, but couldn't have played against Fleetwood anyway, and, as for Greg Young possibly being recalled by York, because of their injury problems, I haven't heard anything from them as yet. We'll just have to see how that goes'".
KEN'S ANGER
Ken McKenna has some further forthright comments about the game at Forest Green which appear in the Sale & Altrincham Advertiser. "I can't express how angry I was on Sunday. The staff have worked hard all week, with coaches and physios doing overtime, while the away fans were really loud and created a carnival atmosphere". The Advertiser continues, "He added that the players had not shown enough desire in what was a poor game of few chances for either side...

Alty's manager claimed that his side should have had a penalty with around five minutes to go... McKenna said 'I asked the referee about it afterwards. He said he had never seen it, which is fair enough, and the linesman though the ball had hit the defender's chest. But TV replays clearly showed it hit his hand and that he left his hand out there. It used to be ball to hand but nowadays you more often than not see those given".

Ken also said "We told the players that they played too many long balls. I cannot understand why set pieces were so poor. The delivery was poor and the movement was poor, even though we practised those hard on the training ground. Forest Green had more possession than us but they were not really hurting us, until the goal".

Ken concluded "I am confident that myself and the staff will give everything that we've got to keep this club in the Blue Square Bet Premier League. But the players have got to take responsibility and ask themselves if they still want to play at this level and if they still want to stay at this club".

Anticipating the game at Fleetwood, the Alty boss stated, "They are a fantastic club. They have a great ground and they are progressive in that they want to get on. It should be a great game because we are trying to stay up but there will be pressure on them because they are going for the play-offs".
FLEETWOOD CONFIDENT
Alty travel to Fleetwood this Saturday where Blue Square Football reports that "Keigan Parker is confident Fleetwood Town have overcome their tendency to drop points against lower clubs ahead of Saturday's clash with Altrincham at the Highbury Stadium. The striker, currently on loan from Mansfield, believes last weekend's 6-0 drubbing of second-from-bottom Eastbourne, is testimony to their new resolve.

'We've been on a good run and getting six goals against anybody in this league is very impressive', Parker told The Gazette. 'I think we had a bit of a sticky patch when we were beaten by Eastbourne earlier on this season, so we had a point to prove down there. I think we are over that banana skin now when we were struggling against teams near the bottom. Getting so many goals can show we're the form team of the division with only four fixtures left'...

He added: 'Maybe four or five weeks ago we were looking a bit of an outside bet for the play-offs, but we've won four on the bounce now and given ourselves a very good chance... Hopefully we can get another victory against Altrincham and put pressure on Wrexham and the teams above'".

And Fleetwood Today adds that "Garteh Seddon's only disappointment about his comeback match for Fleetwood Town was that he failed to score – but the striker hopes he is saving his goals for even more important matches on the promotion trail... After only one full training session in the past month the 30-year-old was delighted to return to the starting line-up...

Seddon said: 'It's good to be back after about a month and it's the first real injury I haven't been able to come straight back from... I was quite surprised to go straight back into the team on Saturday. I had been running all week, then I trained on Thursday. It's still really sore but once you are on the pitch and the adrenaline is going it feels all right'...

Seddon added: 'In the past we've gone to clubs at the bottom like Eastbourne and let ourselves down, but on Saturday everyone had the right attitude. We need 11 captains to get us going and we had that. We should be going to places like that and winning by five or six. I'm sure some teams will go there and let the wind and hard, bobbly pitch get to them, but we are good enough to play on the floor or play the long ball... Hopefully I'll get a full week of training and be even stronger on Saturday'".
YOUR CLUB NEEDS YOU!
The following article by TASC's vice-chairman, Steve Foster, recently appeared in the Robins' Review and is now brought to a wider audience...

"Irrespective of the final outcome of the season, we have a lot of work to do as fans for next season. As you should now be aware, due to the leaflets that have been handed out at the turnstiles, the club look likely to face a deficit for this season. This is due to a crippling injury list, some crowds below expectations, unexpected costs, and various other factors. Though this figure is perhaps not of the magnitudes of many clubs in this league, including today's visitors [Cambridge United], this is of extreme concern to the club and us all, as fans, because this could impact significantly on next year's playing budget.

This has led the TASC Board to reassess the role of TASC, and to try to figure out how, as a Supporters' Club, we can do our bit to improve this.

The majority of the current TASC board have other roles within the Football Club already – Brian Flynn is also Press Officer, I also run the Monthly Draw and sell Golden Goals, Pete Foster is also the Promotions Manager for the club, Grahame Rowley, as the Board representative on TASC, is also the Club Chairman, Dawn Abbott also runs one of the snack bars, Mike Ainsworth is also a steward, Dan Jones is the club's technical engineer and sells Golden Goals.

I can see there'll be a few of you asking what the point of writing this is?

The point is that TASC need new people to come and help. We have a finite amount of time and this is stretched by the other jobs we all do at the football club as well as our other commitments. We, as a Board, have a limited number of ideas, and we run as many as we can. However, the lack of time and extra volunteers limits what we can do.

TASC, and the Club would love to run with some of the ideas that have been suggested but we just do not have the resources to do so. Can you help? If you can, please come and talk to any of the TASC Board, or e-mail me.

Why is it important now to raise money?

The budget for next season will be calculated very soon so, if we want to have any impact on that, now is the time to do so!

Please help TASC and the club in any way that you can. Everyone in the club needs to work together to take the club forwards, If you can spare any time, or can support any events, we would like to hear from you!

Steve Foster, Vice Chairman.
RESULT
Wed. 13 April
Grimsby Town 1 Rushden & Diamonds 1
NEXT SEASON'S KIT
More photos of possible new kits for 2011-12 come from Ian Semior of SKKits. His models, at Tuesday night's training at BTH were James Smith and Shaun Densmore.

Please convey any views on these to the Club.
YOUTHS LOSE
On Tuesday night Alty Youth lost 0-1 at home to New Mills in the NW Youth Alliance Premier Division.
CHESHIRE NEWS
Congratulations to Stockport County who report that they "have won the Cheshire Premier Challenge Cup at Edgeley Park against Crewe Alexandra after the two sides had drawn 1-1 after extra time, with Ian McLoughlin pulling off two great penalty saves to give Rose the chance to claim the win... Starting XI: McLoughlin, Halls, Goodall, Williams, Lee, Rose, Darkwah, Mainwaring, Fisher, Graham, Poole. Subs: Ormson, Sunderland, Ible".
BSBP NEWS
According to NL Daily "George O'Callaghan has been released by Cambridge United following Luke Berry's sudden return to fitness. The Irish midfielder was signed on non-contract terms two weeks ago as cover. But caretaker manager Jez George said he had let O'Callaghan go after Berry recovered from an ankle injury that had been expected to keep him out for the rest of the campaign...

He said: 'He hasn't done anything wrong, but he was the cover that we needed when Luke Berry looked like he was going to be ruled out.... It was best just to be honest with each other and there was no point prolonging it'" reports the Cambridge News.

Elsewhere, "Eastwood Town may be ruled out of competing in the Blue Square Bet North play-offs – without even kicking a ball. Paul Cox's men have stormed up the table with a fantastic run in the second half of the campaign to give themselves a real chance of a top-five finish...

However, the club have been informed by the Football Conference that their Coronation Park home is unsuitable for staging play-off matches. The Chewton Street venue achieved a grade B ground grading at the start of the campaign. But there is a slightly different set of criteria that must be fulfilled for post-regular season games, which the club have been told their home does not satisfy.

Any club that does win promotion to the Blue Square Bet Premier has until the following April to complete the necessary improvements to fulfil the required A grading. 'There are a couple of minor issues with the ground for the play-offs which we have only just received notification of from the Conference', said Eastwood chairman Tony Minnis... 'Now they are saying we will not be eligible for the play-offs, which is why we have appealed because they are only small things, which we believe can be put right... The frustrating thing is that if a club in our situation were to go up as champions, there wouldn't be a problem. This issue only arises because of the play-off games'" he tild This is Nottingham.

At "Darlington, boss Mark Cooper has revealed that highly-rated youngster Dan Burn is no closer to leaving the club despite the reported interest of Fulham. The 18-year-old is also being tracked by David Moyes's Everton but Cooper is adamant that Burn is not on the verge of leaving despite his absence from Darlington's team sheet in midweek.

'It's as you were at the weekend', Cooper told the Northern Echo... 'Deals can be agreed but they can't be done yet. So an agreement would mean nothing if, say, Manchester United came in and offered £1m then he would go there instead. A deal can't be done until July 1 anyway, besides he's struggling with a knee problem that he's had for a couple of weeks so there's no point us in risking him'".

Burn may not be leaving Darlington yet but their former stand is on the move... as Farnbrough "can confirm that they have 'in principal "agreed to purchase the East stand from Darlington FC's old ground Feethams which they vacated in 2003. The stand was built in 1998 and was used at Feethams until the club relocated to their new home. The stand has subsequently been taken down and stored in the North East. The stand was recently advertised for sale and generated a great deal of interest from various football clubs. However Farnborough were the first club to make a firm proposal and terms have been agreed and a deposit paid to secure the structure.

Farnborough Chairman Simon Hollis quoted 'We were made aware of the stand's availability and I drove up to Darlington immediately after making contact with the seller, and I am delighted that we have agreed "in principal terms". Whilst Farnborough do not require additional ground capacity for football, the attraction of the stand was the provision of the ancillary space, which is created behind the stand and overlooks the pitch. We are fairly unique at Farnborough as our ground is situated in a very densely populated area of the Borough with 12,000 residents within walking distance, we get a huge demand for private hire, meeting rooms and general facilities and at present with only two bars we are unable to accommodate the local requirements.

We have been working closely with Rushmoor Borough Council since the new club was formed and our common goal is to make the club a sustainable community asset that can provide maximum community benefit for local residents and to enable the club to do this we simply require more facilities. Our architects had already drawn up proposals to develop the West stand at the ground to accommodate further community space, and the proposal broadly accords with the layout of the Darlington stand.

The proposal would incorporate the existing west stands current facilities (bars, changing rooms etc), but would enable ground, first and second floor accommodation to run the full length of the West side of the pitch. The club are seeking to incorporate a variety of community uses within the new stand such as, function/conference rooms, aerobic/dance studios, offices, bars, a restaurant, hospitality boxes, classrooms/study centres and a gymnasium along with concourse facilities for football use.

The club already host many events outside of football such as the annual firework display, the forthcoming Rushfest music festival, cultural events & festivals and is committed to ensuring that the Stadium is fully utilised as a community venue for local residents... The club would also like to make supporters aware that this new development will not be at the expense of completion of works to the south stand that is currently under construction, and would like to confirm that works to the stand have recommenced today'".
---
13 April 2011
ANTHONY BREAKS ARM
With their midfield resources already depleted by the suspension of Steve Connors, Altrincham FC suffered a blow in training last night when Anthony Danylyk (right) suffered what has been described as a "freak accident" and broke the ulna and radius bones in his forearm. Anthony was likely to have replaced Connors for the trip to Fleetwood on Saturday. All at Moss Lane wish Anthony a speedy and full recovery from his injury.
"THE MOST IMPORTANT GAME OF THE SEASON"
From our next opponents, Fleetwood Town we learn that "Manager Micky Mellon is hoping he can draw upon his side's supporters in their remaining four league games. Town are currently 5th and occupying a play-off position, with Mellon aware of how crucial the fans can be in getting behind the players, and creating a '12th man'.

'The fans are massively important, because we need all the support we can get'...

This sentiment is echoed by chairman Andy Pilley who is offering free travel to a significant number of supporters for the Kidderminster game on Friday 22 April...

'It'll be nice to see more coming down and getting behind the team away. Whenever you're coming out of the tunnel it's always important to see a big number of fans cheering you on... The Altrincham game is more important than Kidderminster at the moment simply because it's the next one. This next game is massive for us and we need to get some sort of result. At this moment in time it really is the most important game of the season'".
WIN £5K - AND HELP ALTY
The Altrincham FC Saturday Yankee jackpot still stands at £5,000, with a reserve jackpot now having grown to £1,900. This week's winning code 9190 was unissued, with 7 lucky trebles each winning £28.57. Both prizes can be won for a £1 weekly stake - which also helps the club's funds. Details of how to take part are here
GOAL OF THE SEASON
Altrincham FC's Goal of the Season vote is coming soon. The winner will be awarded the Jimmy McKiernan Trophy. Grahame Rowley writes that "We will be issuing voting forms at the Newport game but supporters can also e-mail me at altrinchamprog@yahoo.co.uk with votes if you not going to be present at that game".

The ten goals to choose from are:
Grimsby (H) - Chris Denham
Grimsby (H) - Shaun Densmore
Kettering (A) - Chris Denham
Kettering (A) - Damian Reeves (pictured right)
Fleetwood (H) - Michael Twiss
Bath (A) - Michael Twiss
Rushden (A) - Damian Reeves
Newport (A) - Damian Reeves
Darlington (A) - Damian Reeves
Cambridge (H) - Robbie Lawton
"IT NEEDS ACTION NOW"
In his "Captain's Log" for last Saturday's matchday programme, Altrincham FC's captain, Robbie Lawton wrote...

"One of the great things about Altrincham Football Club is how much it matters to so many people that we remain a competitive force at as high a level as possible.

What it means to the players and supporters was evident against Southport on Tuesday, on a cracking night that lacked only an additional two points. What it means to the Board is there for all to see today, with the distribution of leaflets, outlining the club's financial predicament.

The finer details of income and expenditure don't usually reach the changing room, but it's obvious we have suffered from losing so many prime Saturday fixtures to the weather.

Tuesday nights aren't ideal, with the counter attraction of European football on television and the distance involved for away fans and even some of our own, and gates for these rearranged games have fallen short of what they might have been on a Saturday.

It has created a problem with balancing the books, and it is only right that the chairman has adopted a proactive stance by making people aware and urging everyone to rally round and do what they can before it is too late.

As ever with this club, everyone is working tirelessly for the common aim of safeguarding our status in the Conference Premier. What a shame it would be if we pulled it off, only to find we start next season with a weaker squad, because of budgetary restraints.

It needs action now, and I hope as many as possibly respond to the chairman's message. It is difficult expecting people to keep digging deep. You all do that every time you come through the turnstiles, and that financial commitment, and the vocal backing that goes with it, is hugely appreciated and will never be underestimated.

But you could make a material difference by doing things you perhaps do anyway. If you like a flutter, or do the lottery, why not have a go, instead, on the various club schemes that offer cash prizes? If you win, brilliant; if not, your money is going to the club, rather than a bookies or the lottery organisers.

Please give some thought to getting involved in any way you can, because it would be great to have more nights and afternoons like the last few. The atmosphere on Tuesday night was something special, but there was still a lot of frustration at the end that we hadn't reeled off a fourth straight win.

After going close so many times, not least when Nicky Clee hit the post, it was one of very few occasions when a draw felt like two points dropped, rather than one gained.

Not for the first time, as well, we had a referee who wanted to get too involved. I went into his room before the game, as part of the Respect campaign, and the message was: 'You can talk to me, Robbie. I've reffed you before, and we've always got on great. No problem'.

Then you get on the pitch, and he's a totally different person. Suddenly, it's 'don't be so aggressive when you're talking to me, and put your hands down.' I said 'look, it's not about you, it's a massive game', but it didn't make any difference. I wasn't surprised Anthony Danylyk got the first of his two yellow cards for dissent and, even when the numbers were evened up, I wasn't sure their sending off was a red card.

On the positive side, apart from making it 10 points out of 12, Dale Johnson was superb again and gave their back four a torrid time, especially Earl Davis, a big, experienced, combative centre-half who can rarely have been given such a runaround.

Dale has frustrated people before, not least Ken McKenna and the previous manager Graham Heathcote, but he seems to have decided this time that he is going to make the most of his undoubted talent.

That has helped us, since his return from Hyde, and we will be even better equipped for the run-in, once Chris Denham and Shaun Densmore are restored to fitness. That shouldn't be too far off, and it will be good to welcome back two such influential players.

Thanks once more for your support - and let's hear you again today.

Robbie".
OLD BOYS
Congratulations to keeper Andy Ralph whose current team Waitakere United have won the New Zealand football championship, news which comes courtesy of Ian Senior who also advises that there is a team photo on the club's website.

Former Alty Youth, Sam Madeley scored on Monday night as Ashton Utd beat Matlock Town 3-1, as did Joe O'Neill in Guiseley's win over Droylsden.
GREG COULD BE RECALLED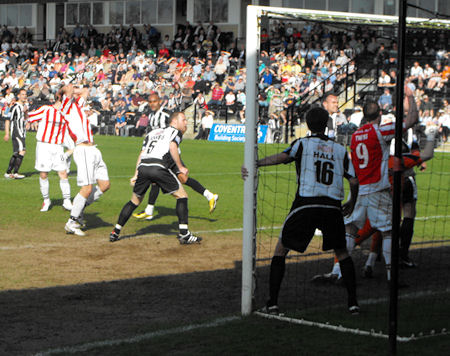 According to York Press, "York City defender David McGurk has been ruled out for the rest of the season with ankle ligament damage. Last season's Press Player of the Year was stretchered off during the closing stages of Saturday's 2-1 home victory over Newport County and tests have since confirmed that the injury will keep him sidelined until the start of the 2011/12 campaign.

Daniel Parslow is expected to revert to centre-half now for Saturday's home match with Tamworth, while Liam Darville will switch from midfield to his more natural right-back role. The sidelining of McGurk, though, leaves City manager Gary Mills with no defensive cover and could mean a recall from his loan spell at Altrincham for Greg Young.

Mills said: 'Dave McGurk will not be available for the rest of the season, which is a big blow. We have been solid and not looked like conceding goals and Dave, having missed a few games, had started to look like his old self again. We could do with everybody being fit for the final run-in and bringing Greg Young back is a possibility now. I will have to think about that this week'...

Right: Greg Young holds his head in his hands after his header from a second-half corner narrowly clears the bar at Forest Green last Saturday.

City have released five of their six second-year apprentices, meanwhile, with Johnny Andrew, Jassim Alali, Khalid Alali, Dan Owers and Jed Vale being told they will not be offered professional terms for 2011/12. Youth-team skipper Tom Richardson, though has been handed a two-week trial to prove he is worth a deal.

Mills added: 'Within our budget, we have constraints on how many players we can afford to develop and we can't be sentimental. I have feelings like everybody else but get paid for making tough decisions that I hope are the right ones for York City'".
BSBP NEWS
Blue Square Football reports that "Rushden & Diamonds' Chief Executive Officer Steve Beasant has released the following update to fans via the club's official website...

'Administration is not being considered by the board, this is based on the income anticipated from season ticket sales, shares, commercial sponsorship and contracts. April's sales of "Early Bird" season tickets allows the club to finish the season. So we can't stress enough that the club isn't about to 'go under' but does need the fans to show their commitment now to season tickets and shares to aid the club financially.

We put the Share issue scheme in place to give fans another way of helping boost the club's budget... Our focus is on getting funds in NOW to support the club financially when it needs it the most. At close of season we will have a big push commercially to bring in extra funds to clear any debts before the start of the 2011-12 season...

I am pleased to confirm that we are now fully up and running with this business [of running NVQ courses]... This is going to provide funding directly into the club by way of sponsorship".

According to Cambridge News, "David Livermore, manager of Histon, has quashed rumours suggesting the Stutes will look to drop two levels and compete in the Zamaretto League next season...

Despite six-figure debts and dwindling attendances, the boss insists the club want to compete in either the Blue Square Bet South or North next season. Officials from the FA, the Conference and the Conference structure's feeder leagues are set to meet to discuss next season's division compositions on May 10.

'Obviously we still want to play in the highest league we can, whatever that may be', said Livermore. 'At the moment it looks as though that could be the Conference North, which wouldn't be great for the club in terms of travelling'".

"Forest Green shareholders have voted for a process that makes it easier for chairman and majority shareholder Dale Vince to invest more cash in the club" reports the BBC. Vince told BBC Gloucestershire: 'It gives the board the ability to issue shares throughout the year without calling a meeting... We came in at a tough time, we've put a lot of things straight and we can see the light at the end of the tunnel. I see a great future and when you push all the problems to one side it's a privilege to be here', said Vince. 'There wasn't a lot of time to do "due diligence" because it was a bit of an emergency. We jumped in with both feet but I don't think I'd have done it differently'.

Vince has made his name as the founder of green energy company Ecotricity. 'Off the field the aim is to break even. I think we can do that in a season and a half. On the pitch it is to raise the level of football and chase promotion, and then it's also about the eco-message and to really "green" the place up. With all three of those things, next season should be a cracker. Relegation would not be the end of the world. We won't change our plans or the playing budget. We've signed a bunch of players already and it would be a small step backwards before taking a big jump forwards'".

This is Nottingham says that "The Stags' clash with Barrow tonight is the first of four games on the spin in the space of eight days in north Notts...

But, in the background, there is a bigger battle being waged – for the stadium itself. Ever since taking over as the club's major shareholder and chairman in September, Radford has been determined to wrest back control of the Stags' long-term venue and one of the oldest football grounds in Britain.

Since then, he has taken legal action against current landlord Keith Haslam over the issue, claiming the former Stags owner acquired the venue illegally and that Mansfield should be handed it back. Haslam, of course, strongly disputes that, meaning that a court case may be the only way to decide things one way or another.

Solicitors from the two sides are due to meet on Thursday to discuss where to go from here, including a possible date for a court hearing. But Radford has already made one offer to buy Field Mill and, even though that was rejected, is still optimistic he can do a face-to-face deal without the seemingly endless legal wrangling...

'I can't see us moving anywhere else as a club. We will be staying at Field Mill. How soon the next (court) hearing is depends on what dates are given to us on Thursday, but I will certainly be going to the next one. It could be as long as July next year before a decision is made, but I'm hoping it is settled well before that and I'm quite confident it will be. It may get resolved out of court, I don't mind either way. But if it is in court, it is going to cost a lot more money...

'We don't have the required lease at the moment and we are obviously trying to get that situation sorted out, but it is then we can invest in the team," he said. Hopefully it could be resolved in the close season. That would then give us licence to have a really good go next season. Ownership of the ground is crucial if we are going to get out of the Conference'...

'We will not be talking contracts with the players or manager until the last few days of the season, when May comes around', said Radford. 'It doesn't matter whether we win the FA Trophy or not, that will not decide it for Duncan. He gets the full support from myself for the rest of this season and he knows what he has got to achieve. Results are always important for any manager in any job'".
---
12 April 2011
MIDWEEK
Tue. 12 April
Crawley Town 1 Luton Town 1
Gateshead 3 Eastbourne Borough 0
Histon 0 Darlington 1
Mansfield Town 1 Barrow 1
ON TO THE NEXT GAME...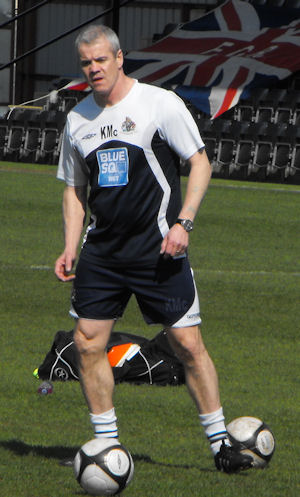 In the Manchester Evening News, Ken McKenna said, "I've said all along that there will be twists and turns along the way and no way will I, or anyone else here, be throwing in the towel while it's still possible to stay up. Saturday's match [at FGR] had 0-0 written all over it until we were hit by a goal out of nowhere. We then missed a glorious chance to equalise. but there's no use crying about it now. It's over and we go on to the next game".

Right: Ken is seen having shooting practice before the match at Forest Green.

Saturday's referee at Fleetwood is Mr S. J. Martin, whose previous Alty games include:
29.9.2009, Alty 3 Gateshead 2
9.3.2010 Wrexham 1 Alty 1
17.8.2010, Alty 2 Darlington 2
Through the Years for April 16th, by Howard Watts.
NEXT GAME AT THE BOWLING GREEN
Fleetwood Today reports that "It may have been a gruelling baptism in the top-flight of non-league football but delighted Fleetwood Town manager Micky Mellon says his side are looking 'as fresh as daisies' for the four-match run-in after their 6-0 victory at Eastbourne.

'If you have to make a 337-mile journey, you want to do it after a 6-0 win' said Mellon, whose side are clinging determinedly to the final play-off spot in the Blue Square Bet Premier...

The manager said: 'Nathan Pond missed out after a fitness test on the morning of the game and a few others were touch and go. But they stood up to be counted because they knew how important this game was and right through the side there were magnificent performances... We want to win games and make the play-offs. We are heading in right direction... There will be loads more twists and turns and there will be no easy games at this stage...

A delighted Mellon saved his final words of praise for the Fleetwood fans undaunted by a round trip of close to 700 miles. 'They are fantastic. You could see they were enjoying it and were right behind the team... Now we look forward to a massive following from the Cod Army on a bowling green of a pitch against Altrincham on Saturday'".
LAST GAME
The Stroud News & Journal quotes David Hockaday, manager of Forest Green Rovers, that "Saturday's home game to fellow strugglers Altrincham was Danny Hall's final game before his loan expired...

The New Lawn pitch had been watered twice daily through the week as we knew that Saturday was going to be very hot and still...tough conditions at this stage of the season. Altrincham arrived in a hot streak with three wins and two draws from their last five games...not a great time to play an in-form team.

However, as we kicked off the game it became apparent that our visitors would be very happy with a point and slowed the game down at every opportunity. I felt we looked nervous and struggled to get any momentum going in the match.. Half time came where we had the better of the territory but neither team really threatened.

M&Ms - mistakes and magic. The half-time talk was about staying focused and disciplined, to be patient and not make any mistakes in key areas. I asked who would provide the moment of magic that would win us the game...the second period would provide the answer.

With our fans once again cheering us on we took the game to Altrincham... I was able to introduce big Rob Matthews up front and Matt Somner to stabilise the midfield. These introductions added to our performance and eventually it was Curtis McDonald who provided the moment of magic with an excellent half volley from just outside the box which rocketed into the far corner of the net, leaving their keeper helpless. 1-0 up and plenty of time to go...stay disciplined and see the game out...within one minute a mix up in our defence saw the ball flash across our six yard box! That was the mistake we got away with...

Nevertheless, with our fans in full voice, we saw out the game comfortably for a deserved win. An ugly win, but a win nonetheless".
NEXT SEASON'S KITS

Adjacent are two photos from Ian Senior of SK Kits which show shirts which are candidates to be, respectively, the home and away shirts for next season. Please relay any feedback to the Club at office@altrinchamfootballclub.co.uk.
BSBP NEWS
The Football Conference reports that "In recognition of the large number of home games in April, and the excellent support this season, Gateshead have slashed admission prices for Tuesday's game against Eastbourne Borough at the International Stadium. As a one-off gesture the directors have decided to make entry for the game against Eastbourne just £5 across the board, under-16s when accompanied by a paying adult allowed free entry as usual. Chairman Graham Wood hopes many people will take up the generous offer while acknowledging the valued support of the regular fans.

'Six home games in April is a heavy schedule for the supporters and we are currently in the midst of a run of four home games inside a two week spell. Our aim is to finish the season strongly and achieve a top half placing and we want as many fans to attend our games at the International Stadium over the last three weeks as possible. By giving a large discount for Tuesday's game against Eastbourne we hope that supporters will turn up in their numbers and roar the side to another victory'.

Although one of only four top flight clubs that do not have a four-figure average attendance Gateshead's average league attendance has risen again this season and currently stands at 759, 14,433 spectators having watched the club's nineteen home games in the Conference Premier this season".

Rushden and Diamonds report that they "are pleased to announce that the Football Association have chosen Nene Park to stage the Final of the International Challenge Tournament where England C will face Portugal... Details of the game, which will have an evening kick-off, will be published nearer the date of the game".

According to the BBC "Highly-rated defender Dan Burn will leave Darlington at the end of the current campaign. The 18-year-old has been courted by several sides including Everton and Fulham. Darlington manager Mark Cooper conceded to BBC Tees: 'Whoever comes up with the money will get the player at the end of the season'.

A product of Darlington's academy, Burn has made 10 first team appearances for the side this season... Everton are likely to face stiff competition to sign the centre-half. Cooper added: 'There are numerous clubs that are interested in Dan Burn... He's been down to Fulham, they're very keen on him'...

Cooper has turned to younger players a number of times this season, with the likes of 17-year-old defender Phil Gray and 18-year-old striker John McReady stepping up to the first team. Cooper added: 'What is does do is give the younger lads the belief that if they are good enough they're going to get a chance in the team'".

The Darlington & Stockton Times adds that "Dan Burn's move to the Premier League edged closer at the weekend when the highly-rated defender underwent a medical at Fulham, who have made an offer for the teenager. Everton have also made a move for Burn, who was excused from Saturday's game with Bath City so that he could travel to London...

Newcastle United, Chelsea and Manchester City are understood to have made contact with Quakers about the Northumberland-born centre-back, while Stoke City have monitored his progress... Middlesbrough manager Tony Mowbray is another to rate Burn, who has only made 19 first-team appearances, but finances are tight at the Riverside so a bid will not be forthcoming.

Although a figure has not been publicly disclosed, Quakers hope to set a Conference record, which currently stands at £260,000..

Quakers' manager Mark Cooper said: 'The transfer window is closed so nobody can sign for anybody until the end of the season... For me it's important that he goes to the right club, a club that will look after him and fulfil his potential. It's not a piece of meat that we're selling'..

There is a chance Quakers could agree to sell him before the completion of the campaign. However, they would agree not to include him in any further matches, aside from the FA Trophy final, as such a measure would reduce the risk of Burn sustaining an injury".

From the Northants Evening Telegraph we learn that "A troubled week for Kettering Town ended in downright humiliation as they were put the sword in a disastrous 36-minute spell at Holker Street. Barrow ran riot once they had taken the lead after 54 minutes as the Poppies gave a whole new meaning to the word capitulation.

Pick your excuse. Could it have been the fact that the players were not paid on time? Perhaps, although it was confirmed that the remaining 50 per cent of their wages were paid late on Friday, just as chairman Imraan Ladak said they would be.

Could it have been that, because of a lack of finances, an overnight stop in Cumbria wasn't possible? Maybe. There are excuses available but the simple fact is that Marcus Law's men didn't turn up for the second half...

But no-one should forget the work that a Kettering team thrown together by Law has done in the last three months. From looking like a team that was destined for a relegation dogfight, they have survived with ease and that should not be forgotten... On a final note, however, Law revealed the Kettering Town (Poppies) Supporters Trust had funded his team's pre-match meal before the game".

From the South Wales Argus we learn that "Newport County manager Anthony Hudson has warned his players that the season is not over – and anyone who thinks it is will be looking for a new club in the summer... With just 12 points left to play for, the Exiles are nine points off the top five... but Hudson hasn't given up on a late collapse from the likes of Fleetwood, Kidderminster and York.

And even if he concedes that that is unlikely, he will not allow his players to coast through the remaining four matches at home to Barrow and champions Crawley and away to Altrincham and Gateshead.

'This club is going to be in the Football League and I need to make sure that come the start of pre-season I've got exactly who I know will do a job for the club to get us there', he said. 'This club is going places and we want to make sure we get it right for the start of next season... The play-offs are unlikely now but I want to win every game. The season's not dead for us... There's no way we'll be taking it easy'".
---
11 April 2011
TOP OF THE FORM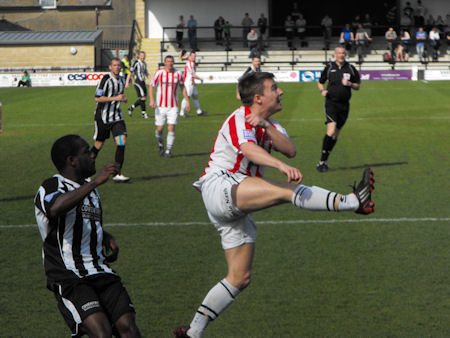 Right: Anthony Danylyk partnered Robbie Lawton in Alty's midfield on Saturday at Forest Green.
Despite their defeat by Forest Green on Saturday, Altrincham are fourth in the NL Paper's current form guide (over the last six league games). Unfortunately for them, top of the form guide are Fleetwood Town, who happen to be our next opponents!
Prices for admission are on the Fleetwood Town website. They are:
£12.50 adults
£8 senior citizens
£7 under 16
£7 students under 19
Under 5 - free

Details of the TASC supporters' coach to Fleetwood are on the Away Travel page. Ring the club on 928-1045 to book your seat.
HOW TO HELP ALTY
Please do follow up on some of the ways that you can help Altricnham FC...
Join The Altrincham Supporters' Club (TASC)
Call Brian Flynn on 07860-561011 or e-mail him at brianflynn59@hotmail.com
Volunteer to help on match days
Call Grahame Rowley on 07720-606897 or or e-mail him at altrinchamprog@yahoo.co.uk
Enter the End of Season Draw
See instructions underneath the main TV in the bar.
Join the Friends of Altrincham Football Club (five pounds per month)
Call Steve Foster on 07876-767284 or e-mail him at friendsofaltyfc@hotmail.co.uk.
Become a Patron (fifty pounds per year)
Call Grahame Rowley on 07720-606897 or e-mail him at altrinchamprog@yahoo.co.uk
All Change for Alty - collect your small change for the Club, in a tin provided by the Club
Call Grahame Rowley on 07720-606897 or e-mail him at altrinchamprog@yahoo.co.uk
Attend the Wilf McGuiness Sportsman's Dinner (Friday April 15th)
Call Pete Foster on 07557-101803 or e-mail him at office@altrinchamfootballclub.co.uk
Attend the End of Season Dinner (Saturday May 7th)
Call Pete Foster on 07557-101803 or e-mail him at office@altrinchamfootballclub.co.uk
Attend the Football Club Golf Day (Tuesday May 17th)
Call Pete Foster on 07557-101803 or e-mail him at office@altrinchamfootballclub.co.uk
Volunteer to help with commercial or fundraising initiatives
Call Barry Pond on 07957-456375 or e-mail him at office@altrinchamfootballclub.co.uk
Sponsor a game, or match ball
Call Barry Pond on 07957-456375 or e-mail him at office@altrinchamfootballclub.co.uk
Take out Company advertising in the programme, or a ground board
Call Barry Pond on 07957-456375 or e-mail him at office@altrinchamfootballclub.co.uk
OLD BOYS
Former Alty players in the news at the wekend included Ged Murphy, who was sent off for Ashton United, who beat Worksop 3-1. Also playing for the Tameside club were ex-youth striker, Sam Madeley and former reserve, Scott Metcalfe. In the goalless draw between Buxton and Colwyn Bay, Kieran Lugsden and Damien Allen were in opposition.
KNOCKED OUT
Altrincham Youth lost their NWYA Premier Cup match at Mossley on Sunday. The Lilywhites won 3-1.
---
10 April 2011
FOREST GREEN ROVERS 1 ALTRINCHAM 0

A well struck 25 yard shot by McDonald decided this match in the 71st minute; it was the one special moment in a game lacking otherwise in quality. Alty had been having the better of the game, without seriously threatening a goal, but soon after going behind Reeves somehow failed to get a boot on a ball across the box with which he had only to make contact to score from six feet out. In the first half Reeves had had Alty's only other serious effort but poked his shot at Bittner. Defeats for others leave Alty still able to escape relegation but defeat here has made it a whole lot harder and without more potency up front it is difficult to see from where the necessary goals will come.




Above: Carl Piergianni closes down an opponent at FGR.
Alty line-ups
This is Glos reports that "Curtis McDonald's second-half wonder strike earned Forest Green a second straight win and dragged them out of the Blue Square Bet Premier relegation zone. There was a blow for Dave Hockaday at the start of the second period when influential midfielder Kieron Forbes hobbled off injured, to be replaced by former Alty loanee Matt Somner. It set the tone for a scrappy period of play, littered with interruptions, but there was nothing untidy about the goal which broke the deadlock on 71 minutes.
The visitors thought they had staved off immediate danger when substitute Robbie Matthews's shot was blocked in a crowded area, only for McDonald to race onto the loose ball and lash an angled 20-yard drive into the top corner.
Ken McKenna's men almost hit back immediately, sub Wes Baynes pulling the ball across the six-yard box and watching in horror as Damian Reeves swiped at thin air with the goal at his mercy".
OLD BOYS
FC United report that they "Moved up to third place in the Evo-Stik Premier Division with a 1-0 victory over Northwich Victoria with Mike Norton scoring a late winner after striker Ben Deegan had saved a penalty following the sending off of Sam Ashton".
BSBP NEWS
Blue Square Football says that "Darlington have received a bid for 18-year-old defender Dan Burn from Everton. Toffees' manager David Moyes confirmed that a bid had been lodged with the FA Trophy finalists after his attempts to scout Burn under the radar were quashed.

The Scotsman travelled to Newport County on Tuesday night to watch the Quakers teenager in action and planned to slip in unnoticed, but he was spotted and has since come clean about his intentions. 'I didn't even put tickets on the door', Moyes told Sky Sports. 'I was going to pay and stand on the terracing, but I got seen so that was that. I did it because I thought it was the right thing to do. We have made an offer for him and he would come into the same category as Greek striker Apostolos Vellios. So before people say we are making a big signing, it is a young player who might have a chance of improvement. It is very difficult now to spot someone in the lower leagues. There are very few who get overlooked'".
---
9 April 2011
BEFORE THE GAME
Brain Flynn reports that "We have been advised that the WiFi & mobile phone signals at The New Lawn are good and we are hoping to broadcast a full commentary of Altrincham's vital game against Forest Green Rovers on Saturday. The match commentators on Radio Robins are Paul McGee and Brian Flynn.

There will also be the usual live Matchday Updates from Forest Green Rovers this Saturday afternoon on this website.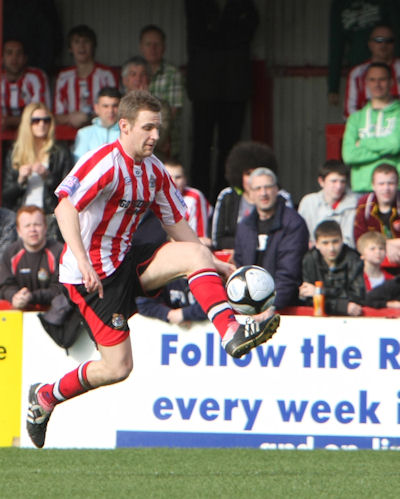 Right: Nicky Clee in action against Cambridge United, last week, as photographed by GR Photography.
Saturday, 9 April
Through the Years by Howard Watts
Barrow 5 Kettering Town 0
Cambridge United 1 AFC Wimbledon 2
Darlington 3 Bath City 1
Eastbourne Borough 0 Fleetwood Town 6
Forest Green Rovers 1 Altrincham 0
Gateshead FC 2 Histon 0
Grimsby Town 3 Kidderminster Harriers 3
Hayes & Yeading Utd 4 Mansfield Town 0
Luton Town 5 Southport 0
Rushden & Diamonds 2 Wrexham 2
Tamworth 0 Crawley Town 3
York City 2 Newport County 1

Alan Alger of Blue Square writes in his weekly preview that "Forest Green Rovers host Altrincham in an intriguing clash which is one of those 'six-pointers'. Ken McKenna has done a great job at Alty and if you took their points gained under him and averaged them out over a full season they would be comfortably in mid-table and planning for next year. Their bad start means they need to win here at 9/4 and I fancy them to do so".

The BBC reports that "Forest Green could welcome back striker Reece Styche, who dropped to the bench last weekend with a knock. Defender Jared Hodgkiss (knee) is unlikely to feature, while fellow defender Jeffrey Imudia (hamstring) faces a late check.

Altrincham will again be without defender James Smith, who serves the second game of a two-match ban. Striker Damian Reeves (hamstring) is a doubt, while midfielder Steven Connors begins a two-match suspension".

"Forest Green boss Dave Hockaday told BBC Radio Gloucestershire: 'We've just got to think positively and look to ourselves. There's three points at stake, if we play like we did against Histon and parts of the games recently then the result should take care of itself. We're looking to win every game, we believe that we're going to need three wins - or something like that - a minimum to give us a good chance. We just believe that all the games are winnable'".

Before FGR's last game, the Gazette quoted manager Dave Hockaday: "After the hard-earned point away to Cambridge United it was back to the training ground to prepare for our next game - away to fellow-strugglers Histon.

Reece Styche was unable to train until Thursday. Scott Bartlett suffered a serious knee injury in training on his way back to fitness. He has had rotten luck this season and we all wish him well on his road to full recovery. Jeffrey Imudia wasn't quite able to make the squad although his target is next week when Danny Hall's loan comes to an end. Jared Hodgkiss is getting nearer to fitness. Yan Klukowski was improving and we are getting better at managing his injury which will need surgery at the end of the season...

The game went according to plan without us having to scale any heights. We dominated territory in the opening half hour and deservedly took the lead.... We then injected some more energy and 'legs' by introducing first Bradley Gray and then Reece Styche. The effect was immediate with Dyer and Styche combining well up front and Gray causing problems out wide with his pace. Styche went through and his lob onto the bar was headed home by Dyer. Within minutes Styche forced his way through again to calmly volley home. Game over...

We were cheered non-stop from start to finish and to share our joy with them at winning the game was a sight for sore eyes. Well done to everyone that made the long journey to Histon. It is massively appreciated by all the staff and players. The challenge now is to get as many people as possible into the New Lawn for next Saturday's game at home to Altrincham".

Forest Green Rovers add that "Altrincham visit The New Lawn on Saturday in a massive clash between two sides desperate to beat the drop. Both sides are on equal points in the Blue Square Bet Premier table with Rovers only slightly higher because of a better goal difference...

Rovers' supporters will be hoping for a repeat of the 4-3 victory Rovers enjoyed over Altrincham in a tight contest last season at The New Lawn. Forest Green will be missing Lewis Young as the young winger has been recalled by Burton Albion, following his short loan spell at The New Lawn. Jared Hodgkiss is on his return from injury whilst Scott Bartlett is definitely out as he has dislocated his knee in training. Jeffrey Imudia is close to a return to full fitness and may feature.

Danny Hall plays his last game in a Rovers shirt as his 93 day loan spell is set to end after the match. Hall will return to the division's top of the table club, Crawley Town, and he has so far made 16 appearances in a Rovers shirt...

Carl Piergianni is in a race to be fit for the weekend's clash, as is former Hyde United winger, Nicky Clee, for Altrincham. The visitors will be boosted by the news that they have managed to extend the loan of Accrington Stanley defender, Jonathan Bateson, till the end of the season.

The Altrincham squad will feature former Forest Green utility man, Mark Beesley, who played over 100 times for Forest Green in a four year spell that saw him strike a successful goal scoring partnership with Stuart Fleetwood before later joining Cambridge United.

For those home and away supporters who fancy a pint before the big game can visit The Green Man before kick off where the real ale will be Cumberland Ale. Fans in The Green Man can also grab a Chicken Curry for just £3.50 from noon onwards. As with all home league games this season, kids can get in to watch the game for just £2".

From This is Glos comes news that "Results are all that matter for Forest Green in their five remaining Blue Square Bet Premier fixtures, but Dave Hockaday has called on his players to lift their performance levels...

Last Saturday's 3-0 win at bottom side Histon was precious but far from flawless, and Hockaday feels improvement will be necessary to see off Ken McKenna's side and move closer to the likely sanctuary of 50 points.

'Results are more important than performances but we have to give ourselves the best possible chance', he said. 'There are no guarantees, but you would like to think a strong performance is more likely to be rewarded with points than a scratchy one. I think we need three wins at least to guarantee safety, and that means playing sensibly while also being brave enough to take the initiative in the game'.

Part-timers Altrincham clawed back a one-goal deficit to win the reverse fixture 2-1 at Moss Lane less than a month ago. McKenna's men are unbeaten in five league outings, but Hockaday dismisses any notion that they might have a psychological edge tomorrow.

'The fact that we've played them so recently will have no bearing on this game – it's gone now', he said. 'We're unbeaten in three, and four points from two tough trips to Cambridgeshire is not a bad return, so we're not in such bad shape ourselves'.

Hockaday also hopes his team can count on more rousing support from the terraces, as they did at Histon... He added: 'If that extra edge is what keeps us up then the supporters will have done all they can'".
BSBP NEWS
"Rushden & Diamonds chairman Liam Beasant has appealed for the backing from the fans to help the club through their current shortfall in their finances" reports the Football Conference. "easant said the rumours that have been circulating amongst the Diamonds fans have exacerbated the situation with the club's cash-flow, by reducing the short-term commitment from fans for season tickets and the proposed share scheme.

Beasant said: 'The club isn't about to sink tomorrow but it needs this injection of cash via season ticket sales, taking advantage of "early-bird" discounts we have on offer. The sale of Joe Day has been a massive help, and fans can complement this with their commitments to season tickets, and in spending money when they visit Nene Park'".

Also Rushden & Diamonds report that they "have been advised that, following discussions today, the Football Conference require additional input relating to the recent charge under Rule 18 for allegedly submitting inaccurate information, relating to submissions made under the Football Conference's financial reporting regulations. This means that a decision on the final outcome of the charge is not now expected for a further seven days".

Darlington confirm that manager "Mark Cooper knows the play-offs are out of reach now - but he has challenged his players to finish the campaign on a high. After two defeats on the spin, the Darlington manager has targeted five wins out of the last seven games, followed by victory at Wembley to make up for losing out on the play-offs...

'I keep saying it, and I'm not trying to be smart, but players are out of contract', he said. 'I'm out of contract. There's a lot to play for, and the players should be breaking their necks to make sure it's impossible for me not to offer them a contract. It's a nice part of the job because we're talking about people's futures, but I'm doing it for the good of the club and the team. The biggest thing is a place in the final. I won't hesitate to drop anyone if they've played every game, because they're not doing it. We want to win to finish our season off as well as we can. We've thrown away a chance of getting into the play-offs. It's understandable but it's unacceptable.

Whoever has played, we've not scored enough goals, as simple as that... I can't do anything until the end of the season. I've made my mind up about players, there's one or two I'm still thinking about...

You probably write Crawley off, but we certainly expected to beat Altrincham, Kettering and get a result at Newport. It has told me a lot about the players... There's no point playing good football if there's nothing at the end - we might as well smash it forward like Crawley do'".

NL Daily reports that "Issue 4 of NonLeagueMonthly.com magazine is available now It's completely free, all you need to do is enter your email address".

NL Daily adds that "Football fans will get the chance to join the Pukka Pies England Band at this year's Grass Roots Football Show. The official England football band, who are sponsored by leading Pie brand Pukka Pies, will be looking for new band members at this year's show which takes place at the NEC from the 3-5 June.

The Pukka Pies England Band, famous for the Great Escape theme tune heard at all England matches, have not missed an England game since their first appearance in 1997".

Back in the BSBP, "Eastbourne Borough have extended Dan Kelly's loan until the end of the season. Kelly was due to return to Barnet after tomorrow's game against Fleetwood but the League Two outfit have agreed to let him stay at Priory Lane. Borough were keen to keep hold of Kelly due to injury problems with a number of defenders. Matt Langston is sidelined until the end of the season after knee surgery, Gary Elphick faces at least another week out with a hamstring problem and Crystal Palace loanee Jack Holland is struggling with a hip injury" confirms The Argus.

NL Daily also reports that "Grimsby Town's defensive options will be bolstered for tomorrow's match with Kidderminster Harriers... Three of the recent back-four who have been sidelined have returned to training and are back in contention as bosses Paul Hurst and Rob Scott search for their first win.

Darran Kempson has trained all week after recovering from his hamstring injury, while both Peter Bore (groin) and Steven Watt (hamstring) were back in action at Cheapside yesterday. Only Lee Ridley (calf) is definitely still out of this weekend's game... Another boost is the addition to the midfield ranks of Micky Cummins (hamstring) and Michael Leary (concussion)...

Hurst said: 'We've gone from scratching around slightly to having a big squad again where there will be a couple of lads who miss out'" reports This is Grimsby.

Also, "The Football Conference is considering a request to re-schedule the Blue Square Bet play-off first leg matches from the May 3 and 4 to May 5 and 6, to avoid a clash with Champions League fixtures. A decision on this proposal cannot be made until it is certain neither finalist in the FA Trophy will be a participant in the play-off".

Fleetwood Town say that they are "looking forward to the visit of Altrincham to Highbury Stadium on Saturday 16th April. The game will... see the opening of the Parkside Hospitality Suite in the new £4.5m stand.

The new 2,000 seat flagship grandstand compliments Highbury Stadium, which has been completely redeveloped over the last 5 years, bringing the ground capacity to 5,500. The Parkside Hospitality Suite includes seven executive boxes with balcony seating and unrivalled views of the ground alongside an 130-seater banqueting suite.

Award winning Fylde coast restaurant Twelve of Thornton will partner the club by providing not only match day hospitality but a full range of banqueting and conferencing catering for all occasions...

Louise Morley is the Hospitality & Banqueting Manager and said 'The hospitality dining and executive boxes have all sold-out for the Altrincham game and the Barrow game on Bank Holiday Monday'".

From the South Wales Argus we learn that "Newport County could be a big beneficiary of the Football Association of Wales' decision to base the National Football Centre in the city. FAW chief executive Jonathan Ford and national manager Gary Speed announced plans yesterday for a state of the art, purpose-built football training facility at the Newport International Sports Village...

It will be the home of the national under-21, women's and younger age-group squads and could be a future base for Speed's senior squad. The facility will be built just yards from County's Newport Stadium at Spytty Park and the Exiles are understood to be fully on board the €4-5m project, part-funded by FIFA and UEFA grants.

County director Matt Southall, whose father is an FAW Council member, has been liaising with Ford, Welsh Football Trust chief executive Neil Ward and Newport City Council leader Matthew Evans. The first benefit for Anthony Hudson's side would be the opportunity to train on a new 3G artificial pitch... The FAW are also committed to improving the Spytty Park playing surface with the prospect of regular Wales under-21, intermediate and youth matches taking place at the stadium...

said Ford, 'Improvements at Newport Stadium are part of the plan', he explained...

County chairman Chris Blight gave a cautious welcome to the plans and reiterated his belief that investment in football in Newport is overdue... 'Oak trees don't grow overnight but with the 2,000 seats we've already added, a new manager and three successive wins the future is suddenly looking a lot brighter for this football club today'".

This is Bath says that "City prove being part-time is still a viable option. [Fan] Shane Morgan... [says] 'We are now completely at home in this league and are in our best form of the season...

On Monday the City players set off at 9.30am for a journey of more than 300 miles to Gateshead to play an evening kick-off... The fact that teams like Gateshead are full-time is difficult for me to fathom. Only 500 fans watched the game on Monday and their average is in the 700s. How can that sustain a full-time team?

Most of the teams in this league seem to be living in a different reality to the rest of us. At Rushden & Diamonds the players haven't been paid for two months. The team play in a town with a population of just 9,000 but they are another who think they can have a big budget and chase promotion.

Hayes & Yeading United went full-time when the two clubs merged, then sold Yeading's ground and now look like leaving Hayes and playing at Woking!

Kidderminster Harriers send round begging bowls to pay the wages but stay full-time. Kettering are struggling but their chairman says they have to be full-time.

Why? Have Bath City not shown that you can thrive in this league as a part-time team? Some of these managers and chairman really need to wake up and smell the coffee or their clubs will go to the wall. The Conference Premier needs to crack down on these teams who are spending beyond their means. Why should they get away with not paying their wages on time? There should be points deductions for this kind of mismanagement.

By stark contrast we have a manager, Adie Britton, who is risking life and limb to climb Ben Nevis to raise money for next season. Eighty per cent of the money raised will go towards the playing budget and the rest is for a local children's charity".
---
8 April 2011
RED & WHITE, AFTER ALL!
The referee for the FGR v Altrincham match on Saturday has ruled that as the FGR home kit is predominantly white on the back (it is black and white stripes on the front), Altrincham cannot play in their normal all-white away kit. Accordingly, Alty will now play in their home shirts of red and white stripes but will wear white shorts instead of the normal black. Traditionally, both teams wearing stripes of whatever colour has been frowned upon by footballing authorities, but that will, nevertheless, be the case on Saturday.
YOUR HELP IS NEEDED!
Altrincham's joint Press Officer writes in the Sale & Altrincham Messenger:

"Altrincham supporters are being urged to grasp the opportunity of playing a key role in helping safeguard the club's Blue Square Bet Premier status.

While Ken McKenna and his squad have given Alty real hope of beating the drop, after going five games unbeaten, the club's board have confronted an equally-pressing matter off the pitch after predicting an end-of-season deficit that could be as much as £30,000.
'We have pushed the boat out a bit this season to counter such a bad start and the injuries that followed,' said chairman Grahame Rowley. 'We added players to the squad, like Steve Connors, Dale Johnson and Greg Young, and the response from Ken and the players has been fantastic.
'But with that extra expenditure, and gates suffering from so many Saturday postponements when the weather was at its worst, we are heading for a deficit that needs bringing down to a minimum.
'We are in discussions with a couple of companies over shirt and stadium sponsorship, but there is a very real role every single supporter can play in ensuring we have a competitive playing budget for the Conference next season, should we stay up.
'I truly value the backing of a fantastic hardcore of supporters who stick with us through good and bad, and I'm also mindful you can't keep asking people to dip into their pockets. But it's not just hand-outs we're after. We are running numerous schemes with cash prizes. The Saturday Yankee, for instance, is only £1 a week, but the jackpot currently stands at £5,000.
'Details are on the website or at the club (0161 928 1045), and everyone who takes part will be directly contributing to tackling the deficit and hopefully maintaining budget levels next season.
'This is not a panic call, and there is no doom and gloom. But there will be no going back to the dark days of massive debts and nearly going out of business. We need to address this shortfall, and if enough people participate in our monthly draws and other schemes, it will make all the difference. Every pound really does count'".
DISAPPOINTING TAKE-UP
A Premier Sports spokesman has used Facebook as a means of reporting the company's experience in televising Blue Square Bet Premier football. He says, "It is a shame the number did not reach the point were revenue sharing became an option. It is also a shame we have learnt the Bsq is not much more popluar than NRL and NASCAR in GB when it comes to people parting with cash to watch it. We put on Barrow match at last minute as we needed to cover a game and having listened to fans did not want to move it at short notice so it clashed with Barça game. 80 games a season would cost £1.2 million so I don't think that would work unless you got 25,000 people paying for it! We never promised a highlights show it was just mentioned as something we would look at. We look and decided at £200,000 a year it could not be justified. Anyway, enjoy the end of the season."

Meanwhile Bulls News reports that "Premier Sports have confirmed comments from Conference chairman Brian Lee that clubs received nothing from the revenue sharing agreement from their TV deal. This means the only money received was the £5,000 paid to home teams screened live, with £1,000 going to the away side".
BSBP NEWS
According to The Football Conference Alty's next opponents, "Forest Green Rovers, have been advised that Burton Albion are recalling Lewis Young due to an injury crisis at the League Two outfit. .. The former 21-year-old striker joined Burton in the summer after being released by Championship side Watford and has made nineteen appearances for the Brewers. He signed for Forest Green on loan and was to stay at the New Lawn until April 30th."

Also, "Rushden & Diamonds have lost goalkeeper Joe Day to Peterborough United on a four-year contract for an undisclosed six-figure fee. Day, who cannot play this season due to his signature being secured outside of the transfer window, will train at London Road with goalkeeping coach Barry Richardson, Joe Lewis and Paul Jones".

From Blue Square Football we read that "York City have revealed that midfielder Daniel Racchi has left the club with immediate effect. According to a statement on the club's official website, Racchi requested to be released due to a lack of first-team action".

Also, "Barrow AFC have confirmed they have recalled striker Danny Forrest from his loan spell at Guiseley. The 26-year-old joined the Lions in mid-January as he stepped up his recovery from injury. However, Richie Baker is currently suspended while Andy Ferrell and Louis Almond recently returned to their respective parent clubs, forcing Barrow to exercise their 24-hour recall on Forrest".

Alty have yet to travel to Highbury where "Fleetwood Town have been dealt a blow with news that midfielder Jamie Milligan will miss the rest of the season with a knee injury. The experienced midfield man has been playing through the pain barrier for a while now but his knee problem has regressed to the point where surgery is required.

Milligan told Fleetwood Weekly News: 'The knee has been troubling me for a while now and I've had to have the operation to sort it out... The surgeon told me I'll be out for a minimum of three months. I have had knee injuries before and been out for around five months, and I've managed to come back after that so I'm confident'".
E-MAIL
Following a query from a website user, it may be helpful to others to know that, if you click on an e-mail link on this or any other website and your computer opens the Microsoft Outlook e-mail program and Outlook is not your normal e-mail program, you will not be able to send the e-mail via Outlook - your computer may not make it clear that it has not sent your message. In such circumstances, What you need to do is either to cut and paste the e-mail address which appears in the recipient's box in Outlook and put it into your normal e-mail program and send the message in your normal way; or, alter your default e-mail program to Outlook.
---
7 April 2011
KEN ON CSC
In the Sale & Altrincham Advertiser, Alty manager Ken McKenna says "I think the young lads at the back did very well overall. We put out a very young side while Northwich used their extra experience to win the game. Congratulations to them.

We have a lot of niggly injuries at the moment so many of the changes were forced on me. We will look at the fitness of the likes of Piergianni and Clee before Forest Green Rovers on Saturday".

Right: Joe Coombs (left) and Jake Barnabas made their debuts at centre- and left-back for Alty in the CSC Final on Tuesday. Here they are seen in last Sunday's youth team game against Mossley. Of the seven Youth players in the CSC squad, Joe was the youngest - he was 17 in January, whilst James Smart, who was 18 last October, was the oldest.
YANKEE
There are currently two Altrincham FC Saturday Yankee jackpots to be won for a £1 weekly stake, one at £5000, the other now £1600. Last week's winning code 4820 was unclaimed, but four winners won Trebles, pocketing £50 each.
OLD BOYS
The EvoStik League reports that "Eleven days ago, Ashton United manager Danny Johnson sent out a team involved in a relegation scrap against fellow Evo-Stik Premier Division strugglers Retford United.

Johnson's men won 1-0 and then went on to play another four games over that ten day period; the following Monday night a see-saw Manchester Premier Cup Final just went the way of Blue Square Bet North side Droylsden by four goals to three but only after a magnificent effort from Ashton had seen the tie taken to extra time from being 3-1 in arrears.

Wednesday brought one of the longest trips of the season down to Mickleover Sports where a Scott Metcalfe goal brought a 1-0 win ... that was then followed by an even longer trek down to Hucknall...

Monday night brought the fifth game of the mini-series - an Evo-Stik League Cup semi-final against high-flying Matlock Town at Hurst Cross... It was The Robins who triumphed 1-0 to grab a first ever League Cup Final place... Those five games... were played without top scorer Aaron Burns...

Midfielder Ged Murphy (a mere 32 years young) did play in all five games but was substituted near the end of the Droylsden clash. In the days of highly paid Premier League Footballers bemoaning their congested three games in eight days fixture list, one wonders how many similarly 'finely tuned athletes' could endure five games in 10 days - one a cup final with extra time, another a semi-final, and three of which were pressure cooker relegation scraps.

Factor in two of the longest bus trips of the season, whilst at the same time working to keep a roof over the family's head and the picture of just how dedicated Non-League footballers really are becomes much clearer."

Meanwhile, Alty Youth graduate Astley Mulholland got two this week as Flixton beat Maine Road 3-0. Former loanee Tom Cahill also scored two as AFC Fylde beat Chorley 3-0.
BSBP NEWS
According to the Darlington & Stockton Times, before Tuesday's match, former Altrincham "Striker Chris Senior [right] confessed his Darlington future is on [the] line... The 29-year-old striker moved last summer from Altrincham and signed a one-year deal, with the club having the option of extending his contract by another season. Senior has spent the last four games on the bench and failed to come off it during Darlington's 1-0 victory at Grimsby...
With the diminutive forward struggling to make Mark Cooper's starting XI, it looks as if this could be his one and only season at The Northern Echo Arena - unless he manages a change in his fortunes. 'All the lads are playing for their livelihoods', admitted the Yorkshireman. 'There are contracts to be earned and there are personal goals that people want to meet. My aim is to get back in the starting XI and score a few more goals before the end of the season and we'll see what will happen there. I have been knocking on the door. The manager knows the situation with my fitness but the team has been doing quite well without me starting. I understand the gaffer's situation but he knows if I'm called upon I'll be ready to start. From there hopefully the goals will start to flow'.
Quakers' midweek victory at Grimsby has fuelled optimism in certain quarters a play-off place is not beyond the realms of impossibility. But, with six of the last nine Blue Square Bet Premier League games away from home, it is a tough ask.
'Maybe that is not a bad thing', said Senior when the remaining fixtures were put to him. 'Maybe that could work in our favour. I know we haven't won as many matches away from home as we have wanted. At home teams have been coming to The Northern Echo Arena and sitting behind the ball and making it hard for us. If we go away from home the pressure might be on the home team a little bit and we go out there and play a bit of football, that we know we are capable of. We won't give up. There is no need to give up on a play off position when there is still points to play for and games to be won.
There is a game at Wembley at the end of the season as a minimum. As players, you want to be playing in that match. The only way you can guarantee that is if you can go out and put a performance in'".
Also the Northern Echo says that "Potential bidders have been lining up to buy Darlington's stadium, as the fallout from the club's latest financial crisis continues... The team's stadium is up for sale.
Property firm Edward Symmons has been instructed to advertise the sale of The Northern Echo Darlington Arena after talks between receivers and club owners broke down. Darlington MP Jenny Chapman promised to 'move heaven and earth' if the club wanted to quit the arena and return to its spiritual town centre home at Feethams. The holding company, which owns the stadium and surrounding land, was placed in receivership in February.
As a result, chairman Raj Singh, who has pumped more than £2.5m into the Quakers since taking over in 2009, risks losing control of both the stadium and land. The holding company debt, which pre-dates Mr Singh's involvement, has since increased to more than £2m with interest.
The receivers, based in Leeds, asked Edward Symmons to sell the land and recover the outstanding debt. Chris Honeywill, from the firm said he received 'a couple' of inquiries yesterday. 'This does not affect the club because it has a lease agreement and that will continue', he added".
Reports from Southport suggest that Port goalkeeper Tony McMillan, captain Alan Moogan and leading scorer Shaun Whalley have all signed dual registration forms to allow them to turn out for Skelmersdale United in the EvoStik league play-offs should they not win the league.
---
6 April 2011
ALTRINCHAM 0 NORTHWICH VICTORIA 2 - CSC FINAL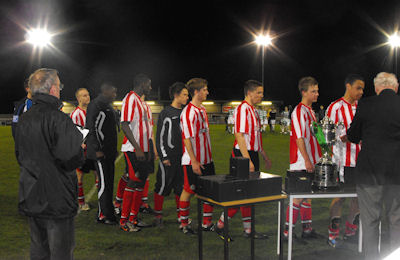 Right: Alty collect their runners-up medals. Seen here, left to right, are Jake Barnabas, Famoud Sonko, Mohamed Coly, Sam Langford, James Smart, Ashley Woods, Matthew Fearon and Theo Kidd
Alty made eleven changes from the side which started last Saturday with four youth teamers starting the game in the back line. Two other unfamiliar faces were midfielder Mohamed Sonko and winger Famoud Sonko, from Curzon Ashton. Coly had played one previous CSC game but Sonko was making his debut.
Altrincham matched the Vics in a fairly uneventful first half. There was a welcome return to action for Shaun Densmore who made a second-half appearance after his injury absence. Two more youth players, Ashley Woods and Theo Kidd came on as well in the second period as Alty ended the game with just four of their first-team squad on the pitch.
Alty Player Stats
FIVE CUP FINALS
Before last night's CSC Final, the Manchester Evening News, reported in reference to the Cheshire Senior Cup Final that, for Altrincham, "It's the five 'cup finals' the Robins still have to face in Blue Square Bet premier which remain uppermost in their thoughts... It's remarkable the Robins can still stay up, considering the position they were in when boss Ken McKenna took charge less than seven months ago. Back then, when the former Robins playing star stepped in to replace Graham Heathcote in charge, Altrincham had truly hit rock-bottom, having picked up just one point from their opening eight fixtures...

They than crashed 5-0 at Eastbourne in McKenna's first match at the helm, only to bounce back by beating Barrow - the first of 10 league wins Alty have achieved under th stewardship of the former TNS chief.

Four of those victories have been on their travels, where Mckenna's favoured counter-attacking approach has been used to best effect. It's on their home turf that Altrincham have often struggled to deliver.

So it's ironic the success or failure of their 'great escape' mission could ultimately depend on the outcome of their final two games at Moss Lane".
---
5 April 2011
BEFORE THE GAME
Today sees the Cheshire Senior Cup Final at Nantwich between Altrincham and Nortwhich Victoria. You can keep up to date with the match either through Radio Robins or via this website's live Matchday Updates - depending on wi-fi reception at the ground.
BSBP GAMES
Tuesday, 5 April
Histon 0 Rushden & Diamonds 2
Luton Town 2 Kettering Town 2
Mansfield Town 2 Southport 2
Newport County 2 Darlington 1
York City 1 Crawley Town 1
League table
CORRECTION
Alty will wear their all-white kit at Forest Green this Saturday and not their red and white shirts as previously stated on the website.
GREAT ALTY PRIZES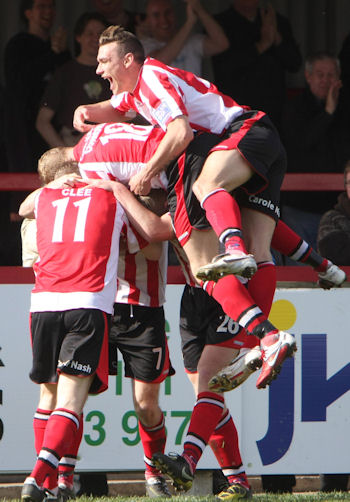 Right: In this excellent picture from Gavin Rathbone of GR Photography, Greg Young is top of the pile as Alty celebrate Robbie Lawton's goal on Saturday.
TASC's Steve Foster provides details, below, of the Altrincham FC 'End of Season Draw' to be made at the Race Night on Saturday, April 30th, after the final league match of the season, against Eastbourne Borough at Moss Lane. As you know, funds are vitally important to the Club so please do buy tickets for this special Draw.
The cost is £10 for each entry, with three tickets available for a bargain price of £25. Payments can be made to TASC chairman Brian Flynn, Steve Foster, to Alty chairman Grahame Rowley, or to any TASC Committee member. Further details can be had from Steve Foster at friendsofaltyfc@hotmail.co.uk or Grahame Rowley at altrinchamprog@yahoo.co.uk or the Altrincham FC at office@altrinchamfootballclub.co.uk.
The prizes are all of great interest to Altrincham supporters and comprise:
A place on the official Altrincham FC team photograph
Coach travel with the team to an away game (conditions apply)
Being a guest of the Club in the Boardroom (conditions apply)
A table for four in the Sponsors' Lounge at a game of your choice
A new (2011-12) first team shirt
Sponsorship hospitality at a home friendly for up to 10 people
Free supporters' coach travel to Altrincham FC's two furthest away fixtures next season
Being an assistant kitman for an Altrincham game
A framed picture and named spot in the Noel White Suite
Being the mascot for a game
A personalised fitness programme for the season from coach/physio
A signed match ball
An Altrincham FC polo shirt
A bottle of Whisky
A free ticket to attend two Altrincham Football Club fund-raising events
BEFORE THE GAME...
Live news from the Cheshire Senior Cup Final on Tuesday evening will be provided (wi-fi permitting) on this site's Match Update page.

Altrincham go into the Cheshire Senior Cup Final with many of their first team squad unavailable through injury, suspension and ineligibility. The following is believed to be the situation -
1. Stuart COBURN - eligible
2. James SMITH - suspended; though the CSC Final is deemed a first team game by the Cheshire FA, it is not so classed by the FA and therefore does not count as one of the two first-team fixtures which have to be played in Smith's absence.
3. Jonathan BATESON - ineligible
4. Marc JOSEPH - eligible
5. Robbie WILLIAMS - eligible, but may be rested
6. Shaun DENSMORE - eligible, but out injured for past seven weeks. May be involved in the CSC squad.
7. Robbie LAWTON - eligible
8. Damian REEVES - eligible, but injured in Saturday's game
9. Michael TWISS (below, right) - eligible
10. Chris DENHAM - eligible, but out injured since January
11. Nicky CLEE - eligible
12. Kevin HOLSGROVE - loaned to Hyde
14. Dale JOHNSON- ineligible
15. Ryan BROWN - eligible
16. Anthony DANYLYK - eligible
17. Wes BAYNES - eligible
18. Steven CONNORS- ineligible, but also suspended (as with James Smith, this match does not count towards the suspension)
19. Mark BEESLEY- eligible
22. Greg YOUNG - ineligible
24. Famoud SONKO -now based at Curzon Ashton
26. Carl PIERGIANNI - ineligible
29. Mohamed COLY - eligible and likely to be in the squad, though now based at Curzon Ashton
30. Craig DOOTSON - eligible

The following youth team players have been registered by Altrincham for the Conference but many other youth teamers signed by the Cheshire FA deadline are equally eligible for selection for the CSC Final. Of the five below, only James Smart and Ashley Woods have actually played in the first team this season, both in the Cheshire Senior Cup.
23. Theo KIDD (striker)
25. Sam LANGFORD (left winger)
27. James SMART (defender)
28. Matthew FEARON (midfielder)
31. Ashley WOODS (striker)
FROM THE VICS' SIDE
Courtesy of Brian Flynn we have extracts from Northwich Vics' Andrew Higginson's excellent and thorough "Tricky Log" previewing tonight's game...

Andrew confirms that there will be internet match commentaries on www.radiorobins.com.

"Tricky Dialogues With Alty Press man Brian Flynn:

Who are you ex-Vics players? – Looking at our squad, the former Vics' players appear to be Damian Reeves, Ryan Brown and Greg Young.

What sort of backing will you have? – Looking at our Forum, there is a view that we might only bring about 200-250 with the game being at Nantwich, whereas if it had been at Wincham Park, it would probably be nearer 400. Many are making a bit of a day of it...

Does your camp still view Vics as rivals? - The fans certainly do, but I don't think that it's a particularly big thing for a lot of the players who haven't played for Altrincham against Northwich before.

What sort of side will you put out? - We will be looking to play our strongest team available, but we have a few players who are not eligible to play.... Greg Young.... Steve Connors....... Dale Johnson...... Jonathan Bateson...... & it's touch & go whether either Shaun Densmore or Chris Denham will have recovered from their injuries by then. First & foremost... this season is about surviving in the Blue Square Premier...... if we can stay in this league & win a cup as well, we'll all be delighted.

Then, with Ray Pullen, Cheshire FA:

Why the choice of venue? – The Weaver Stadium had not staged it before and we endeavour to move it around. Nantwich Town have spent money on the pitch and keep it in good condition...

Vics are of course holders, having beaten Woodley in front of just 282 last March. The two finals before that were Nantwich v Altrincham affairs at Wincham Park seen by 747 and then 689. Darren Tinson ended up on the losing side in both, for Alty in 2008 and for the Dabbers in 2009.

REF-ER-EE! The officials on the night will be: Referee – R. Jones (Wirral); Assistant Referees: N. Davies (Wirral) and R. Abson (Chester); 4th Official: R. Andrew (Stockport)".
MONDAY SCORE
Gateshead 1 Bath City 1
FGR ARRANGEMENTS
The referee on Saturday for Forest Green Rovers v Altrincham is Warren Atkin from the Sussex FA. He previously was in charge of Hayes & Yeading United 1 Altrincham 2, on 15 August, 2009, at 3pm, a game which left The Robins second top of the Conference - a slightly different position from the one Mr Atkin now finds us in.

Altrincham will be in their all-white kit for Saturday's match as FGR advise that "Forest Green Rovers will play in black and white striped shirts, black shirts and black socks"...

FGR's Operations Director, Mr Colin Peake, adds that "Away supporters will be housed in the covered, all-seated EESI Stand, (located behind the goal on the south end of the stadium), with a capacity of 455 seats

Ticket prices are as follows:
£13 Adults
£8 Concessions (over 65s and students in possession of a valid student card)
£2 Under 16s

Disabled (wheelchair spaces) is provided in the main Western Thermal Stand, both at ground level (through turnstiles A and B) and at first floor level, via the lift in main reception.

Please note the stadium is non smoking, although there are clear designated areas for smoking outside the stadium. Action will be taken against anyone contravening these regulations".

Also "Parking for the team coach and up to two supporters coaches are provided within the stadium... Apart from the team coach parking for coaches is charged at £10. Car parking is provided on-site, at a cost of £3 per car. Disabled parking is available by reservation, at the front of the main Western Thermal Stand. Such permit holders need to contact the Club Admin Office on 01453 834860 to make such arrangement.

Our on-site public house, 'The Green Man', is open from 12 noon on matchdays, and away supporters are always made most welcome. A warm pre-match meal is available at a cost of £3.00. No pre-booking is required. Catering and beverage refreshments are also available before/during the game, and at half time, from the catering outlet in the EESI Stand. Please note, however, that alcohol will not be served here at any time before/during/after the game...

Our 52-page matchday programme will be available to buy inside the stadium, priced at £2.50".
BSBP NEWS
According to Blue Square Football "Hayes & Yeading United are currently exploring the possibility of a groundshare with Woking FC at Kingfield Stadium next season. United's planned move to their new home at Beaconsfield Road was delayed recently, forcing the Blue Square Bet Premier outfit to seek out a new home base for the 2011/12 campaign.

Woking spokesman John Moore told the Uxbridge Gazette: 'In part it depends on which league Hayes end up in next season. If they remain in Blue Square Premier they will need an A-grade ground like our stadium. If they are relegated they can look for a stadium with B grading. If they only need a B-grade stadium, they may well look closer to home like Staines, for example. If we remain in separate divisions the clubs will have to work around each other when it comes to putting the fixtures together. As far as the specifics, they haven't been determined'".
OLD BOYS
He didn't quite join Alty but Dave Challinor did trial with The Robins a couple of years ago. Now we learn that the Evostik Premier Division "Manager of the Month" award for March has gone to Dave who is now Colwyn Bay's boss.
---
4 April 2011
CAMBRIDGE VIEW
Jez George, the acting Cambridge United manager, gives his disparaging view of the Alty defence in an audio interview on the BBC website.
GOAL-LINE INCIDENTS
Altrincham have been involved in three "Did it cross the line incidents" in the past four games. We are not the only ones as Welsh Premier reports...

"Bangor City's 2-1 home defeat at the hands of Prestatyn on Friday night could well have been worse had goal-line technology - or eagle-eyed officials - been in place. With the Seasiders leading in the second half, Ross Stephens lofted a deft chip from outside the box over keeper Paul Smith and his shot clearly crossed the line and hit the goal net stanchion before bouncing down and being scrambled to safety.

But referee Mike Jones, his assistant and fourth official Lee Evans all failed to spot what the vast majority of the 775 spectators in the ground had seen. The decision almost proved costly for the visitors as City came close to finding an equaliser on two occasions.

Writing on his blog, Prestatyn keeper Jon Hill-Dunt says: 'When I confront the ref five minutes after, he said it hit the inside of the post, then I questioned why the ball bounced up then if it hit the post he replied: "Dry your eyes and get on with it, to be honest I couldn't give a ****, I have to put up with muppets like you lot".

They (referees) can cost you a game with bad decisions and if they do why shouldn't you be allowed your opinion! Football is the only sport where if you tell the truth you get into trouble!'.

Newly-appointed Prestatyn manager Lee Jones said: 'I think we had the goal of the season that was chalked off - everybody in the ground has seen it apart from the referee'.
---
3 April 2011
ALTY YOUTH 0 MOSSLEY YOUTH 4
With five of their regular players rested in advance of their possible involvement in the Cheshire Senior Cup this Tuesday - Alty have several first-teamers injured, ineligible or suspended for that match - this was always going to be a difficult game against a good Mossley side, and so it proved. But the match was marred by the need to call two ambulances to deal with a suspected fractured ankle for Mossley's Alex Clarke and a broken left collar-bone for Alty's Sam Grimshaw. Trailing 1-0 at the interval, Alty enjoyed their best spell early in the second half before conceding three further goals. Report in youth section.
"IMPORTANT! THIS AFFECTS YOU AND YOUR CLUB"
Supporters at the Altrincham v Cambridge United game on Saturday were handed the following message from Altrincham FC's Board...

Important! This affects you and your club.

"We have published two previous appeals for support for the Club, and although we have had some limited response, it has been extremely disappointing.

Although Kenny, Stuart, and the players are doing a fantastic job in trying to achieve their 'Great Escape', there is another battle within the Club, just as serious, to balance our finances.

The Club is run for you, our supporters, and we feel that it's important that you understand the current situation. We are currently forecasting a significant deficit (for us) for the year. At present this could be as much as £30k, depending on support that we get through the turnstiles, and for fundraising events.

This has been the result of reduction in income from gates and fundraising events, together with the need to provide funds to bring in players to cover injuries etc.

The implication of this is that the £30k shortfall will have to be met from next year's season ticket sales, which clearly reduces next year's playing budget. That isn't the end of it – if we have a shortfall of £30k this year, then we would have to assume that we will suffer similarly next year, which implies a £60k impact on next year's playing budget. This could be equivalent to four players.

Everyone at the club is desperate to be truly competitive in this league. Results in the last few months make us believe that it may be within our grasp with greater backing from you, the supporters. We also believe that such relative success will breed further success, and generate greater income going forwards. To achieve this success we must generate more cash, and quickly. However if the financial situation stays the same there is a good chance that next season we will not be competitive.

All of this will be covered in various articles in today's match programme, and also on the website, and Fans' Forum over the coming few days. Our immediate message is to be read below, and:
Please support all of the Fund Raisers that are advertised, as much as you possibly can (see new idea in the bar today).
Please step forward to help in any way that you can – help that we get from you may save, or raise ££s
Please look out for information from TASC and the Club re new fundraising ideas – we are conscious that some great ideas have been put onto the Fans' Forum and we want to tap into these.
Please continue to support the team as you did so well on Tuesday, bring friends, and buy your food and drinks in the ground.

Please help – we have seen recent examples of Clubs talking about the possibility of going into Administration– we are not in that situation, but the difference to your Club if we were able to raise significant funds would be immense.

Altrincham Football Club Board, April 2nd 2011".

How You can Help
Join The Altrincham Supporters' Club (TASC)
Call Brian Flynn on 07860-561011 or e-mail him at brianflynn59@hotmail.com
Volunteer to help on match days
Call Grahame Rowley on 07720-606897 or or e-mail him at altrinchamprog@yahoo.co.uk
Enter the End of Season Draw
See instructions underneath the main TV in the bar.
Join the Friends of Altrincham Football Club (five pounds per month)
Call Steve Foster on 07876-767284 or e-mail him at friendsofaltyfc@hotmail.co.uk.
Become a Patron (fifty pounds per year)
Call Grahame Rowley on 07720-606897 or e-mail him at altrinchamprog@yahoo.co.uk
Attend the Wilf McGuiness Sportsman's Dinner (Friday April 15th)
Call Pete Foster on 07557-101803 or e-mail him at office@altrinchamfootballclub.co.uk
Attend the End of Season Dinner (Saturday May 10th)
Call Pete Foster on 07557-101803 or e-mail him at office@altrinchamfootballclub.co.uk
Attend the Football Club Golf Day (Tuesday May 17th)
Call Pete Foster on 07557-101803 or e-mail him at office@altrinchamfootballclub.co.uk
Volunteer to help with commercial or fundraising initiatives
Call Barry Pond on 07957-456375 or e-mail him at office@altrinchamfootballclub.co.uk
Sponsor a game, or match ball
Call Barry Pond on 07957-456375 or e-mail him at office@altrinchamfootballclub.co.uk
Take out Company advertising in the programme, or a ground board
Call Barry Pond on 07957-456375 or e-mail him at office@altrinchamfootballclub.co.uk
THANK YOU
£126.42 was raised in Saturday's half-time bucket collection. The Club would like to thank all who donated or helped to collect this sum for the Club's funds.
A GOOD POINT?
Alty boss Ken McKenna was relatively upbeat after Saturday's draw with Cambridge United. He told the NLP's Dave Stringer, 'It was a bad result for us but we have, at least, pulled a point nearer some of the other clubs in the relegation fight. We conceded a goal through an individual error but Joseph wasn't helped by the other two central defenders who had a chance to alter the situation.

I was upset at not beating Southport on Tuesday night because we should have won but we were the poorer side today and we just have to hope the point today is a good one at the end of the season. I was upset that we were conceding chances even before they scored. Our decision making today was poor which suggests that we are tired both mentally and physically. But if we win our home games we still have a good chance of staying up".

Alty and Cambridge United shake hands before the game.
Match report here.

United caretaker boss Jez George said, "For the first time this season, we didn't deserve to win... I think they thought they only needed to turn up to win".

Meanwhile, Cambridge United reported how "Goals from Liam Hughes and skipper Brian Saah helped Cambridge United fight back from 2-0 down to claim a valuable point from their game with relegatoin rivals Altrincham.

After a bright start United then came under pressure from Alty and they found themselves a goal behind when Robbie Lawton pounced to put the homeside ahead on the 25 minute mark, and things went from bad to worse for the U's when Damian Reeves made it 2-0 from the penalty spot following a foul by Saah.

In a game that Cambridge could ill afford to lose, Hughes gave the visitors hope... The U's hit back early on when Brian Saah volleyed home following a corner that was awarded after more hard work from Wright...and both sides had to make do with a point".
JON STAYING TILL END OF SEASON
Accrington Stanley confirm that "Jonathan Bateson (right) has extended his loan spell at Altrincham FC by an additional month. The 21 yr old, who has made six appearance[s] for the Moss Lane outfit, will remain at the club until the 30th April". After Saturday's match, Jon has now made 4(+3) appearances for Alty.
OLD BOYS
Alty's Kevin Holsgrove, on loan at Hyde, scored but his side lost 2-1 at Gloucester City. Meanwhile former Alty and Barrow man, Carlos Logan, has joined Droylsden from Northwich Victoria. Kevin Street and Darren Tinson, recently relieved of the managership of Nantwich Town, have registered as players with Stone Dominoes.
BSBP NEWS
An unexpected appointment has been announced at Newport County who have issued the following statement; "On behalf of the Board of Directors, I am now in a position to confirm that Mr Anthony Hudson has agreed to, and accepted terms, to become the new Manager of Newport County AFC, commencing Monday 4 April 2011...

During the process Harry Red[k]napp called Matt Southall to give Anthony a personal reference. In their conversation Harry said he had known Anthony a long time, since his youth team days at West Ham in fact. In his time with Tottenham he had never known anyone work so hard - Anthony is first in every morning and the last to leave every night.

Harry views Anthony as a young José Mourinho, with his dedication to analyse and learn at every opportunity. Tim Sherwood and Harry wanted him to stay as a first-team coach at Spurs but Anthony's ambition and determination to fulfil his ambition as a Premiership man[a]ger meant that, when the opportunity to manage Newport County came along, Anthony asked for permission to leave and Harry felt that he couldn't stand in his way".

The Football Conference adds that "Newport County have announced the appointment of Anthony Hudson as the new first-team manager. Hudson, the son of former Chelsea, Stoke City, Arsenal and England player Alan Hudson, started his career in the youth system at West Ham and later had a spell at Luton Town. In 2001 he moved to Dutch First Division team NEC Nijmegen, spending two years in the Netherlands.

In 2005, Hudson became player/assistant head coach of professional United Soccer Leagues' team Wilmington Hammerheads, having spent the previous two years working as an academy coach at AC Diablos SC. In 2008 he took over as manager of Real Maryland at the age of just 27. Holding a UEFA 'A' Licence, having studied with the English Football Association, Hudson became the youngest manager in America. In his very first season as manager he led the club, which had the worst record and finished bottom of the table in 2008, to the quarter-finals of the 2009 play-offs. In June 2010 he returned to the UK and was coaching at Tottenham Hotspur, working alongside Les Ferdinand, Tim Sherwood and Chris Ramsey".
---
2 April 2011
ALTRINCHAM 2 CAMBRIDGE UNITED 2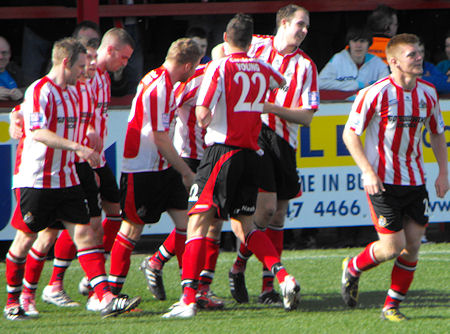 Right: Robbie Lawton is mobbed by his team mates after opening the scoring.
This result may have extended Alty's unbeaten run to five games but it also dropped them two places back into the relegation spots. And, after the disappointment of failing to beat Southport in midweek, Altrincham again let a lead slip - this time a 2-0 advantage - and once more had a man dismissed.
It all started so well with Robbie Lawton surging into the box to score into the roof of the net after 27 minutes and Damian Reeves adding a penalty five minutes later after Nicky Clee had been upended...
Match report here.
Alty line-ups
ALTRINCHAM (Red and white striped shirts, black shorts, red socks): 1. Stuart COBURN, 3.Jon BATESON, 4. Marc JOSEPH, 26. Carl PIERGIANNI, 22. Greg YOUNG, 7. Robbie LAWTON (capt), 18. Steven CONNORS, 11. Nicky CLEE, 8. Damian REEVES, 14. Dale JOHNSON, Subs 30. Craig DOOTSON, 9. Michael TWISS, 17. Wes BAYNES, 15. Ryan BROWN, 19. Mark BEESLEY
CAMBRIDGE UNITED 30. Simon Brown, 2. Kevin Roberts, 3. James Jennings, 5. Brian Saah (capt), 6. David Partridge, 20. Jordan Patrick, 21. Mark Bentley, 14. Conal Platt, 24. Dean Sinclair, 29. Liam Hughes, 9. Danny Wright, Subs: 1. Danny Naisbitt, 4. Josh Coulson, 19. Andy Marriott, 12. Rory McAuley 23. Courtney Herbert
SATURDAY GAMES
Saturday, 2 April
AFC Wimbledon 2 Barrow 0
Altrincham v Cambridge United
Bath C 1 Gateshead 0
Crawley Town 1 Darlington 0
Fleetwood Town 2 Tamworth 1
Histon 0 Forest Green Rovers 3
Kettering Town 1 York City 1
Kidderminster Harriers 3 Luton Town 3
Mansfield Town 2 Rushden & Diamonds 1
Newport County 2 Grimsby Town 1
Southport 1 Eastbourne Borough 3
Wrexham 0 Hayes & Yeading Utd 2
ALTY v CAMBRIDGE UNITED
Radio Robins will be providing full match commentary of Saturday's home game with Cambridge United. Coverage starts at 2.55pm and the match commentators are Simon Ellis and Tony Chetham.

This website will also be providing its normal, live Matchday Updates from before kick off till the final whistle.

Alty v Cambridge United kicks off at 3pm on Saturday but there is a 12.45pm kick off for West Ham v Manchester United, which will be broadcast live in the bar at Moss Lane. Doors open at 12.15pm - everyone welcome. Support your club not your local pub!

In Friday's Manchester Evening News it says that Alty boss Ken "McKenna is disappointed Alty dropped two points to... Southport and says the pressure is now on for his players to deliver a victory against a Cambridge side not yet out of danger themselves.

'We're only out of the bottom four so long as we keep winning, so that has to be our target from here on in. In my eyes, us drawing with Southport was a missed opportunity, well as we played on the night. We simply can't afford to slip up again, against Cambridge".

The MEN adds that Alty are without the suspended Anthony Danylyk but "Defender Rob Williams hopes to have recovered from the groin strain which forced him to miss his first league game of the season in midweek but long-term absentees Shaun Densmore and Chris Denham are each still at least a couple of weeks away from fitness".

Mike Garnett informs us of the past record of matches between Alty and Cambridge United:
At Moss Lane: P5 W3 D0 L2 F8 A6
At Cambridge: P6 W0 D3 L3 F3 A12
Overall: P11 W3 D3 L5 F11 A18

The reverse fixture this season ended 4-0 to Cambridge United, with Alty seeing Shaun Densmore's spot-kick saved to deny them a consolation goal.

The Cambridge News carries an interview with the United manager, Jez George. Meanwhile the Cambridge United site adds that "Jez George believes Cambridge United need to beware of Altrincham when they face the Robins tomorrow....

Caretaker boss George told cambridgeunited.com: 'I look at their season and they had a terrible start. I think there was a lot of turmoil earlier in the year. But they've used the loan window really well and I think the Altrincham we'll face on Saturday is a completely different one to that team which started the season.

It's amazing how teams down at the bottom find form at this time of year. They get a couple of wins to put them back in touch and that, in turn, gives them belief in themselves. I've been doing my homework and I went to watch them on Tuesday night, and they've got some useful players. They've brought a few new lads in, and that's coincided with an upturn in results, so we know it will be tough but equally we need to make it a tough game for them'.

George believes his charges have the quality to win the match and pick up three points which would go a long way towards securing their future in the division. 'We need to go there and be at our best, and work hard, because that's got to be the basis of everything we do', he said. 'Then we can look at adding the little bits of quality we've got to win us the match. It's not a matter of going there, sitting behind the ball, and trying to get something, but when you go away from home you know you're going to come under pressure and we need to defend properly and keep a clean sheet, because if we can do that then we won't lose'.

[Striker] Adam Marriott comes back into contention for a place in the squad after serving a three-game ban. New signing Dean Sinclair is also likely to be included. In Marriott's absence, Liam Hughes has impressed up-front alongside Danny Wright, and George said: 'Liam has come in and done well for us. He found the last game more difficult than the previous two because it was very physical and he's still got a lot to learn... We've got Marriott to come back, who's something different, and Dean Sinclair, who can get us goals from midfield. There are players in the team who can cause the opposition problems and we just need to structure things right to get the best out of them'.

He said: 'Suddenly the engine room looks really experienced with two players in there with a lot of League experience. Dean is 26 and Benno [Mark Bentley] is 33, and it's probably the most experienced area of the team now and we're lucky to have them. Hopefully, they'll be a calming influence and will help the others through the team.

No one is guarenteed a place in the side but we've brought him in with six games left to help us get the points we need. His expectation is that he wants to play and ours is that we want him to play but no one can just walk into the team, they have to deserve their place'.

Simon Russell will again be missing as he continues to recover from a quad muscle injury, which has turned out to be more serious than first thought... I want to get the points which will get us away from danger and then I can breathe easy again and the club can look at the way forward... I'm doing this in the short-term to help the club and will willingly pass it on for someone to do in the long-term'".

Meanwhile, Blue Square Football confirms that "strugglers Cambridge United have signed Irish midfielder George O'Callaghan on non-contract terms. The 31-year-old attacking midfielder has been without a club since parting ways with Cork City at the end of 2010. He had a two-week trial spell at League One side Brentford in February this year and has previously turned out for the likes of Ipswich, Tranmere, Yeovil and Port Vale.

Commenting on the capture of O'Callaghan, U's caretaker manager Jez George told Cambridge News: "'We signed him on non-contract forms yesterday because if we hadn't done that we would be past the deadline of March 31 to sign players. The first time he came and trained with us was yesterday and we need to have a better look at each other, but a non-contract deal doesn't tie him to us or us to him'".
CHESHIRE NEWS
Altrincham meet Northwich Vics next Tuesday in the Cheshire Senior Cup. Meanwhile the Cheshire Premier Cup final between Stockport County and Crewe will be held at 7.45pm on Tuesday, 12th April at Edgeley Park (not exactly a neutral venue). Admission prices, set by the Cheshire FA, are £8 for adults, £5 for OAPs and £3 for under-16s".
FLYNNZINE
Brian Flynn's latest "Flynnzine" article appeared last Tuesday... Angels and Demons!!

"I was in Rome during the weekend of our 2-1 defeat at Newport County. Having endured a depressing radio commentary from BBC Wales, I was absolutely gutted and wondering how things were going to improve from that point……but ultimately came to the conclusion that moping about Alty wasn't going to do any good at all and set out for a night out in the 'Eternal City'.

On the Sunday morning, a few of us ambled along to the Vatican and, since then, we have won three games on the bounce and secured nine priceless points! Divine intervention has certainly come from somewhere... whether it is an ecumenical matter is open to debate.

What is for certain, though, is that we are now in a position that we couldn't have dared to hope for just a fortnight ago. For a minute or two on Saturday, following Damian Reeves' sublime headed goal, we were actually out of the relegation zone, until our visitors tonight [Southport] snatched a late winner themselves to see off Luton Town...deservedly so, as well, by all accounts.

Hauling ourselves out of the bottom four is proving to be a gargantuan task. With such a dreadful start, getting ourselves off the foot of the league was a huge task in itself but that was achieved, in the very early days of the New Year, at Rushden.

Since then, we have been rooted in twenty-second or twenty-third spot and every time we have had a chance to get out of the relegation zone... something has gone wrong.

So, we need to be cautiously optimistic, rather than euphoric, in our mood just now. Four years ago, we went into March fourth from bottom and then dropped two places after a 2-1 reverse at Burton Albion. A quite remarkable run of five victories in six games, catapulted the team to thirteenth position in less than three weeks. On the equivalent Saturday to last Saturday, we triumphed 1-0 at Stevenage, who, like Darlington, had just reached the FA Trophy Final the week before... everything seemed set for a mid-table finish.

Sadly, that was not to be as we proceeded to win just one game and lose five, before, inevitably, drawing at home to Aldershot on the final day of the season to end up in the final relegation slot. Boston United's misdemeanours meant that we were, quite rightly, reprieved, but this is a cautionary historical tale for anyone who thinks we are 'out of the woods' yet!

Our defeat at Haig Avenue, in August, sent us to the foot of the table and I'm quite surprised that Southport are catchable by ten o'clock tonight. I realise that their away record is poor but they seem to have won loads of matches, recently, at home... with many opponents doing the decent thing by conceding an early penalty and having a player or two sent off... usually in the first half.

It should be quite an occasion tonight with a very good atmosphere inside the ground... the burning question is.. can we get the point we need to finally get out of the relegation zone or all three and leapfrog Hayes and Yeading United and Southport?

God knows!!! Enjoy it!! Brian".
BSBP NEWS
Blue Square Football reports that "Kettering Town bolstered their squad with two non-contract signings ahead of Thursday's transfer deadline. Poppies' boss Marcus Law has brought in striker Kieron St Aimie and midfielder Stefan Bailey, who will handed the chance to earn permanent deals at Rockingham Road.

21-year-old St Aimie has represented AFC Hornchurch most recently, while 23-year-old Bailey joins Kettering after a short spell at Blue Square North outfit AFC Telford...

Law told Northants Evening Telegraph: 'They have both had experience at Conference Premier level... This is the way we are having to do things at the moment. They have agreed to come here and play for nothing because they want to impress and earn a contract for next season. We have the likes of Nick McKoy, Liam McDonald and Jon Challinor who are also playing for virtually nothing...

It's a tough situation we are in at the moment but I am not going to complain. I will get my head down and do what I feel is best'.

The acquisition of St Aimie and Bailey follows the departure of striker Iyseden Christie to Nuneaton on loan this week. Law explained: 'It saves us some money, Iyseden needs the games and Nuneaton need a goalscorer to help them in their play-off bid. It suited everyone'".
---
1 April 2011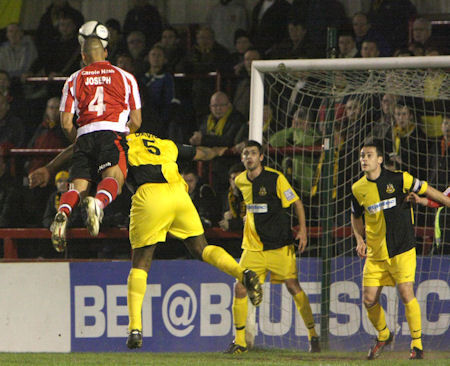 LIVE TV GAME BEFORE CAMBRIDGE MATCH
Alty v Cambridge United kicks off at 3pm on Saturday but there is a 12.45pm kick off for West Ham v Manchester United, which will be broadcast live in the bar at Moss Lane. Doors open at 12.15pm - everyone welcome. Support your club not your local pub!

Right: Marc Joseph outjumps the Southport defence last Tuesday night. Photo kindly supplied by GR Photography from whom numerous Alty images may be purchased.
STRIPES WIN
Feedback on the two possible shirt designs for Alty's home kit next season has been vociferous, with a strong majority favouring the traditional red and white stripes over the largely red design. Alty chairman Grahame Rowley says of next season, "After numerous comments, emails and texts it has become apparent that Altrincham FC are to play at home in red and white stripes".

Alty kit supplier, Ian Senior of SK Kits, adds "The reason behind looking at an alternative is the lack of sales of striped shirts recently, the thinking being, 'What can you do with a red/white striped shirt?' Also, although I have access to all main brands through my company, dealing with my own brand means I can supply single items, whereas 'Big Brands' want volume orders from Jenny for the club shop in return for supplying the volume of kit I supply FREE.

I actually need the shirt sales to be a success to justify my initial outlay in playing kit, training kit, track-suits, etc. Hence the thinking behind a change in Home shirt. Also, Altrincham have actually played in an all-red shirt during the last 20 years, and also red/black stripes when I played when Tony Sanders was manager and Maunders were sponsors [1989-90]. Regarding the away shirt, I have produced an alternative yellow/blue shirt from my range which might be available to view on Saturday".
DALE IS "A BREATH OF FRESH AIR"
John Edwards, Alty's joint Press Officer, has provided this slightly fuller version of the article which appeared this week in the Sale & Altrincham Messenger...

"Rejuvenated ltrincham finally climbed out of the Blue Square Bet Premier relegation zone but still left manager Ken McKenna reflecting on what might have been at Moss Lane on Tuesday night.

Ahead through a first-half Damian Reeves penalty, Alty lost midfielder Anthony Danylyk to a second yellow card and were then pegged back by a Southport equaliser in a 1-1 draw that lifted them to fifth from bottom.

With Cambridge United next up at Moss Lane on Saturday, though, McKenna sensed a missed opportunity and also made it clear he shared the home crowd's dismay at some baffling refereeing decisions.

'I might wake up in the morning and think it was a decent point, but at the moment I am very frustrated,' he said, shortly after the final whistle. 'We could have been in a position to try and overtake Cambridge on Saturday, and, in all truth, we should have been.

'We dominated after scoring and should have been on for a comfortable win. We were playing with confidence, the supporters were right behind us and there was a real buzz about the place.
'But we just froze for that one split-second that mattered, and they tucked away an equaliser. It was a case of regaining our composure after that, but I thought we did it superbly and looked a real threat again. Nicky Clee went so close a couple of times, and I felt really, really frustrated we just couldn't quite get over the line.
'I never publicly criticise referees, and I'm not going to get involved now, but there was a feeling of being let down a bit by some things that were out of our control.'
McKenna continues to get the best out of Dale Johnson (right), on his return from Hyde. 'Dale has been a breath of fresh air,' he said. 'Southport's two centre-halves won't have been in a game like that for a long time, and it just shows that, when he's up for it, he is a handful for anyone.'
OLD BOY
After reportedly announcing his retirement, the Kent News says that "Ebbsfleet United have beaten the transfer deadline to bring in much-travelled striker Jody Banim... The 32-year-old has played for a range of clubs during his career, mainly in the north of England, including four separate spells with Droylsden. His last appearances for the Bloods... was in a 2-0 defeat at Workington on March 12...

With seven games of the regular season remaining, Ebbsfleet are scrambling to secure a spot in the Conference South play-offs and the club confirmed this afternoon (Thursday) that Banim was registered and eligible to play at Basingstoke... Banim provides the Fleet with some much-needed attacking cover".
BSBP NEWS
AFC Wimbledon report that "Following a series of injuries, Lincoln City have recalled Drewe Broughton with immediate effect. Drewe played eight games (including five substitute appearances) for the Dons, scoring two goals in wins against Tamworth and Altrincham".

Also at Kingsmeadow, "Earlier this week, Mike Rayner became concerned that Fraser Franks's knee injury was not healing as quickly as expected. Therefore, as a precaution and despite there being no evidence of cruciate ligament damage, Fraser was sent for a scan on his knee and his case was reviewed by a specialist. Although the knee appeared clinically stable and was responding well to rehabilitation, the consultant's strong advice was that while the knee might be OK for normal everyday wear and tear, it would not stand the strain put upon it by the demands of professional football.

The advice from the consultant was that for the best chance of success the operation should be carried out immediately... We have been told that the operation went very well and Fraser should expect a rehab time of about six months".

The Football Conference says that "Southport have signed young defenders Kenny Strickland and Lewis Field from Evo-Stik League neighbours Skelmersdale United and Burscough respectively.

Twenty-year-old Strickland spent six years with Manchester United before being snapped up by Chelsea last summer. Born in Ormskirk, Strickland's short-term deal with the Stamford Bridge outfit – where he played in the under-18 side – came to an end and looking for a route back up the league ladder, came knocking on Skelmersdale manager Tommy Lawson's door in November 2010.

Field, also born in Ormskirk, was with Wigan Athletic last season and then joined Burscough in the summer, where he has made twenty-six appearances. Field was unlucky during his time at the Premiership club's academy, suffering from a broken leg and ligament damage that left him on the sidelines for a long period".

Meanwhile, "Bath City have strengthened their squad numbers ahead of the run-in. Two veteran favourites have signed Conference forms in assistant-manager Lee Howells and Lee Collier, while manager Adie Britton has signed a couple of the club`s academy players.

Howells enjoyed a long career with Cheltenham Town where he became their longest-serving player, making over 450 appearances for the club before moving into non-League football. Collier is another vastly experienced utility player who has had spells at Newport County and Bath on more than one occasion. He joined Salisbury City in October 2010. Moving up from the academy are defender Danny Rosser and midfielder Danny Collins."

Elsewhere, "Gateshead's midfield dynamo Kris Gate has seen his season ended prematurely after it was confirmed that the 26-year-old cracked two ribs at Newport County on Tuesday... Tynesiders' vice-captain Gate has missed just three games this season but will be sidelined for the next six weeks".

According to Blue Square Football "Mansfield Town assistant manager Paul Hall has come out of retirement to boost Mansfield Town's injury-hit squad. The ex-Jamaican international has been allocated squad number 31... The 38-year-old winger now becomes the most experienced member of the Stags' squad, having amassed over 600 appearances during a career spanning two decades". Could this give Ken McKenna and Stuart Bimson ideas?

News of our next opponents is that "Gillingham midfielder Mark Bentley says he would consider extending his loan spell with Cambridge United. The 33-year-old has started four matches for the Us and has three games left until his loan deal at the Abbey expires. But Bentley is eager to continue playing and would rather stay with Jez George's side than return to the Gills' substitutes' bench.

'It's whoever's going to offer me football, at my time in my career I don't want to be sitting on the bench', he told BBC Radio Cambridgeshire. 'If Cambridge can offer me football then great, if things can be extended I'll be keen to listen... I'll give my all for Cambridge, like I have done over the last four games'".

Blue Square announce that "Steve Evans from Crawley Town has been named the Blue Square Bet Premier 'manager of the month' for March...Matt Tubbs has been named the Blue Square Bet Premier 'player of the month' for March".

From NL Daily comes news that "Nuneaton Town have made a couple of signings in a bid to assist their bid for a play-off place. Iyseden Christie, an experienced Blue Square Bet Premier forward, has joined from Kettering Town for the rest of the season".

This is Grimsby reports that new "Joint boss Paul Hurst says the Mariners' squad needs to accept they are currently non-league players and adapt to the division if Grimsby Town are to return to the Football League.

Hurst and Rob Scott took up the reins at Blundell Park officially on Wednesday last week and picked their first Town team for Saturday's Blue Square Bet Premier clash with Tamworth at Blundell Park. A 2-2 draw against The Lambs was followed by a 1-0 home defeat to Darlington...

He said: 'There may be a lot of ex-league players here but ultimately that doesn't mean anything. The players have to realise, and hopefully they do, where they are. At present they are non-league players at a professional club. Until they prove otherwise, they are at this level. I would suggest many are capable of playing at a higher level from our initial look at them. But they have to perform consistently and do well at this level first...

Everyone will have the opportunity to impress in terms of training... If the team we put out wins and does well, then we won't just change it around for the sake of having a look at players'".
---
31 March 2011
NEXT SEASON'S KIT
Above are front and back pictures of the two main candidates for next year's Altrincham FC home shirt, as supplied by Ian Senior's SK Kits. If you have any views on which should be chosen, please e-mail the Club.
CONGRATULATIONS!
There must be something in the water at Moss Lane as, just weeks after Anthony Danylyk became a father, so too has Mark Beesley, whose wife gave birth to a son, Rhys, on Friday night. All at the Club send Mark and his wife their best wishes. Mark is now fit again after a recent injury.
ROB "GUTTED"
Alty defender Rob Wiliams pronounced himself "gutted" at missing his first Alty league match of the season on Tuesday against Southport. The Wales under-23 international took the sensible decision to sit out the game after experiencing a groin strain at Darlington last week. He and physio Sean Riley are confident that Rob will be fit for this Saturday's game and beyond, whereas had he played last night he could have risked putting himself on the sidelines for some time.

23 year-old Rob, who joined Alty in July 2009, had started all 39 league games before Tuesday's match which, coincidentally, would have pitted him against namesake Robbie Williams of Southport. Rob has now made 89(+6) appearances in all competitions for Altrincham. Should he play in five more games this season, he will achieve 100 appearnces for Alty.
BUCKET COLLECTION
The half-time TASC bucket collection during the game against Southport raised £65.15. Thank you to all the donors and collectors for their contributions.
VIEW ON TUESDAY'S GAME
The Sale & Altrincham Messenger reports how the game on Tuesday "lifted Altrincham out of the relegation places for the first time in seven months. But it had looked as if it would be the Robins' fourth successive win before midfielder Anthony Danylyk got himself sent off in the 53rd minute".

SAM adds that the result "still left manager Ken McKenna reflecting on what might have been at Moss Lane on Tuesday night. Ahead, through a first-half Damian Reeves penalty, Alty lost midfielder Anthony Danylyk to a second yellow card and were then pegged back by a Southport equaliser in a 1-1 draw...

With Cambridge United next up at Moss Lane on Saturday, though, McKenna sensed a missed opportunity and also made it clear he shared the home crowd's dismay at some baffling refereeing decisions.

'I might wake up in the morning and think it was a decent point, but at the moment I am very frustrated', he said, shortly after the final whistle. 'We could have been in a position to try and overtake Cambridge on Saturday, and, in all truth, we should have been. We dominated after scoring and should have been on for a comfortable win. But we just froze for that one split-second that mattered, and they tucked away an equaliser. It was a case of regaining our composure after that, but I thought we did it superbly and looked a real threat again. I never publicly criticise referees, and I'm not going to get involved now, but there was a feeling of being let down a bit by some things that were out of our control'".

From the other side, Southport report that "Tony McMillan has produced some fine saves over the course of the season, but few may prove to be as valuable as the one he made in the closing stages at Moss Lane on Tuesday night...

As a scrappy game reached a frantic conclusion, McMillan pulled off the best in a series of saves with just five minutes remaining. Nicky Clee had been a threat to Southport all night, and having seized on a mistake from Robbie Williams, the Altrincham striker looked sure to score as he closed in on goal, only for McMillan to save the visitors a point with a splendid stop to his right.

After overruning Southport for much of the opening half, Altrincham could easily have held more than a one-goal advantage at the interval. But the dismissal of Anthony Danylyk shortly after the break lit the touch paper for an incident-packed second period, with the endeavour from both sides making up for any shortage of quality.

Southport had lost their previous six league visits to Moss Lane, but a good result this time was not without cost. While Chris Lever now faces a suspension for his 73rd minute red card after being judged to have struck Clee with an elbow, the Sandgrounders will also await news on Kevin Lee and Aaron Turner, who both withdrew through injury.

Although the opening stages were relatively even, Altrincham posed the greater threat... The home side... proceeded to take control and Johnson twice came close again before half-time"...

"Liam Watson will view the match DVD before deciding whether to appeal Chris Lever's straight red card, Watson has also asked the match official to review the dismissal".
SMITHY'S CENTURY...
Last Saturday's match at Darlington was James Smith's 100th start for Altrincham and his 101st appearance in all for the Club.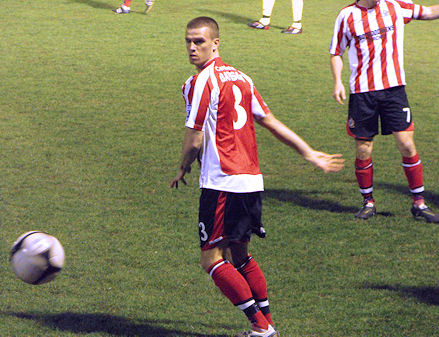 Left: Jon Bateson, Alty's loan defender from Accrington Stanley, came on as a sub for the injured James Smith on Tuesday night. James tweaked his hamstring but has not pulled it. To date, there is still no news from the FA on the disciplinary charges against James, arising from the Kidderminster game nearly seven weeks ago.
... AND DALE AND RYAN'S HALF-CENTURIES
The match against Southport was Dale Johnson's 50th start for Altrincham; he has also made 22 appearances from the bench for the Club. In the recent match against FGR, Ryan Brown made his 50th appearance for the club.

The Club's thanks and congratulations go to both James Smith, Ryan and Dale.
BSBP NEWS
From the Football Conference we read that "York City's accounts for the year ended 30th June 2010 have now been published. The club had a successful season on the pitch, reaching both the play-off final at Wembley and the Third Round of the FA Cup, with an away tie at Stoke City. This continued the success of the previous season in reaching the FA Trophy final at Wembley.

In view of the additional income received in the 2008/09 season by reaching the FA Trophy final, the Board took the view that this should be re-invested in the playing squad for the 2009/10 season...

Overall in 2009/10 the level of turnover was almost identical to that in the previous season at £1.69m, though gate receipts did increase. Ground repair costs during the 2009/10 season more than doubled from the previous year and rents and rates also increased, highlighting the club's desperate need to move to a new community stadium. There was an increase in transfer fees paid following the addition of Michael Gash to the squad.

However, the greatest part of the club's investment went into the wages for the playing squad. Overall there was an increase in wages paid by the club of about £250,000... These increased costs have led to a change from a small profit of £31,000 in 2008/09 to a loss of £274,000 in 2009/10.

The Board acknowledges that losses of this level are unsustainable in the long term and this again highlights the need for the Club to move to a new ground where additional sources of income and reduced maintenance costs of an aging stadium will assist the Club in maintaining its desire for promotion back to the Football League.

Chairman Jason McGill said: 'In order to break even at York City we would have to more than half our playing budget. From 2008/09 season, you can see that this reduced budget level does not give us the resources to compete in the Conference and would potentially lead to adopting part-time status. This is not something the Board believes our supporters want and we therefore continue to operate a playing budget that has the potential of generating on-pitch success...

The financial accounts for the year ended 30th June 2011 are expected to show a significant loss again, however, they are in line with the budget set at the start of the season and will be reviewed again during the close season to ensure that the club is operating at a level which takes into account the resources available to it".

From Blue Square Football there is confirmation that "Grimsby Town have recalled defender Scott Garner from his loan spell at Alfreton Town due to a lengthy injury list. The Mariners' new management team of Rob Scott and Paul Hurst are currently without four first-team defenders, forcing a recall for Garner.

Peter Bore has been sidelined by a recurring groin problem, joining Darran Kempson and Steven Watt (both hamstring) and Lee Ridley (calf) on the treatment table.".
---
FOR EARLIER NEWS, CLICK HERE
---