---
31 March 2011
NEXT SEASON'S KIT
Above are front and back pictures of the two main candidates for next year's Altrincham FC home shirt, as supplied by Ian Senior's SK Kits. If you have any views on which should be chosen, please e-mail the Club.
CONGRATULATIONS!
There must be something in the water at Moss Lane as, just weeks after Anthony Danylyk became a father, so too has Mark Beesley, whose wife gave birth to a son, Rhys, on Friday night. All at the Club send Mark and his wife their best wishes. Mark is now fit again after a recent injury.
ROB "GUTTED"
Alty defender Rob Wiliams pronounced himself "gutted" at missing his first Alty league match of the season on Tuesday against Southport. The Wales under-23 international took the sensible decision to sit out the game after experiencing a groin strain at Darlington last week. He and physio Sean Riley are confident that Rob will be fit for this Saturday's game and beyond, whereas had he played last night he could have risked putting himself on the sidelines for some time.
23 year-old Rob, who joined Alty in July 2009, had started all 39 league games before Tuesday's match which, coincidentally, would have pitted him against namesake Robbie Williams of Southport. Rob has now made 89(+6) appearances in all competitions for Altrincham. Should he play in five more games this season, he will achieve 100 appearnces for Alty.
BUCKET COLLECTION
The half-time TASC bucket collection during the game against Southport raised £65.15. Thank you to all the donors and collectors for their contributions.
VIEW ON TUESDAY'S GAME
The
Sale & Altrincham Messenger
reports how the game on Tuesday "lifted Altrincham out of the relegation places for the first time in seven months. But it had looked as if it would be the Robins' fourth successive win before midfielder Anthony Danylyk got himself sent off in the 53rd minute".
SAM adds that the result "still left manager Ken McKenna reflecting on what might have been at Moss Lane on Tuesday night. Ahead, through a first-half Damian Reeves penalty, Alty lost midfielder Anthony Danylyk to a second yellow card and were then pegged back by a Southport equaliser in a 1-1 draw...
With Cambridge United next up at Moss Lane on Saturday, though, McKenna sensed a missed opportunity and also made it clear he shared the home crowd's dismay at some baffling refereeing decisions.
'I might wake up in the morning and think it was a decent point, but at the moment I am very frustrated', he said, shortly after the final whistle. 'We could have been in a position to try and overtake Cambridge on Saturday, and, in all truth, we should have been. We dominated after scoring and should have been on for a comfortable win. But we just froze for that one split-second that mattered, and they tucked away an equaliser. It was a case of regaining our composure after that, but I thought we did it superbly and looked a real threat again. I never publicly criticise referees, and I'm not going to get involved now, but there was a feeling of being let down a bit by some things that were out of our control'".
From the other side, Southport report that "Tony McMillan has produced some fine saves over the course of the season, but few may prove to be as valuable as the one he made in the closing stages at Moss Lane on Tuesday night...
As a scrappy game reached a frantic conclusion, McMillan pulled off the best in a series of saves with just five minutes remaining. Nicky Clee had been a threat to Southport all night, and having seized on a mistake from Robbie Williams, the Altrincham striker looked sure to score as he closed in on goal, only for McMillan to save the visitors a point with a splendid stop to his right.
After overruning Southport for much of the opening half, Altrincham could easily have held more than a one-goal advantage at the interval. But the dismissal of Anthony Danylyk shortly after the break lit the touch paper for an incident-packed second period, with the endeavour from both sides making up for any shortage of quality.
Southport had lost their previous six league visits to Moss Lane, but a good result this time was not without cost. While Chris Lever now faces a suspension for his 73rd minute red card after being judged to have struck Clee with an elbow, the Sandgrounders will also await news on Kevin Lee and Aaron Turner, who both withdrew through injury.
Although the opening stages were relatively even, Altrincham posed the greater threat... The home side... proceeded to take control and Johnson twice came close again before half-time"...
"Liam Watson will view the match DVD before deciding whether to appeal Chris Lever's straight red card, Watson has also asked the match official to review the dismissal".
SMITHY'S CENTURY...
Last Saturday's match at Darlington was James Smith's 100th start for Altrincham and his 101st appearance in all for the Club.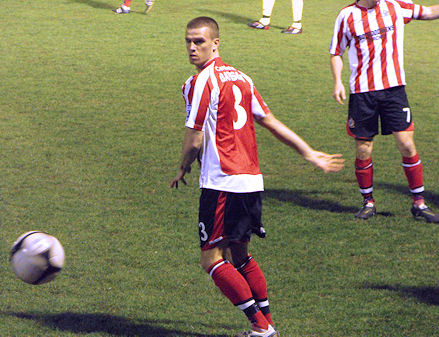 Left: Jon Bateson, Alty's loan defender from Accrington Stanley, came on as a sub for the injured James Smith on Tuesday night. James tweaked his hamstring but has not pulled it. To date, there is still no news from the FA on the disciplinary charges against James, arising from the Kidderminster game nearly seven weeks ago.
... AND DALE AND RYAN'S HALF-CENTURIES
The match against Southport was Dale Johnson's 50th start for Altrincham; he has also made 22 appearances from the bench for the Club. In the recent match against FGR, Ryan Brown made his 50th appearance for the club.
The Club's thanks and congratulations go to both James Smith, Ryan and Dale.
BSBP NEWS
From the
Football Conference
we read that "York City's accounts for the year ended 30th June 2010 have now been published. The club had a successful season on the pitch, reaching both the play-off final at Wembley and the Third Round of the FA Cup, with an away tie at Stoke City. This continued the success of the previous season in reaching the FA Trophy final at Wembley.
In view of the additional income received in the 2008/09 season by reaching the FA Trophy final, the Board took the view that this should be re-invested in the playing squad for the 2009/10 season...
Overall in 2009/10 the level of turnover was almost identical to that in the previous season at £1.69m, though gate receipts did increase. Ground repair costs during the 2009/10 season more than doubled from the previous year and rents and rates also increased, highlighting the club's desperate need to move to a new community stadium. There was an increase in transfer fees paid following the addition of Michael Gash to the squad.
However, the greatest part of the club's investment went into the wages for the playing squad. Overall there was an increase in wages paid by the club of about £250,000... These increased costs have led to a change from a small profit of £31,000 in 2008/09 to a loss of £274,000 in 2009/10.
The Board acknowledges that losses of this level are unsustainable in the long term and this again highlights the need for the Club to move to a new ground where additional sources of income and reduced maintenance costs of an aging stadium will assist the Club in maintaining its desire for promotion back to the Football League.
Chairman Jason McGill said: 'In order to break even at York City we would have to more than half our playing budget. From 2008/09 season, you can see that this reduced budget level does not give us the resources to compete in the Conference and would potentially lead to adopting part-time status. This is not something the Board believes our supporters want and we therefore continue to operate a playing budget that has the potential of generating on-pitch success...
The financial accounts for the year ended 30th June 2011 are expected to show a significant loss again, however, they are in line with the budget set at the start of the season and will be reviewed again during the close season to ensure that the club is operating at a level which takes into account the resources available to it".
From Blue Square Football there is confirmation that "Grimsby Town have recalled defender Scott Garner from his loan spell at Alfreton Town due to a lengthy injury list. The Mariners' new management team of Rob Scott and Paul Hurst are currently without four first-team defenders, forcing a recall for Garner.
Peter Bore has been sidelined by a recurring groin problem, joining Darran Kempson and Steven Watt (both hamstring) and Lee Ridley (calf) on the treatment table.".
---
30 March 2011
ALTRINCHAM 1 SOUTHPORT 1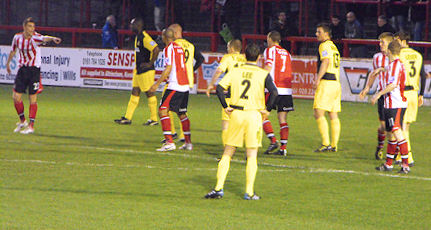 Right: Greg Young organizes the Alty defence against Southport.
In an incident-packed match, the dismissal of Anthony Danylyk, with Alty leading 1-0 was crucial to the outcome. Port had started the game the better but Alty took the lead with a penalty. Referee Joyce told Alty press officer Brian Flynn at the interval that he gave the penalty for Davis's foul on Joseph but added that he would also have given a spot-kick for the felling of Johnson by Marsh-Evans a split second later. Damian Reeves netted from the spot in the 19th minute.
Danylyk, who had been booked for verbals in the first half then tackled from behind a Port player, who was posing no danger way out on the touchline, and the inevitable outcome was a second yellow and a red. Five minutes later Daly equalized for Southport. Despite Clee hitting the post and forcing a fine save from McMillan, and Joseph having a headed goal disallowed, Alty could not find the winner. Mr Joyce once again left Moss Lane to a chorus of boos from the Alty fans and a tirade from the Southport manager after a number of baffling decisions. The point lifts Alty out of the bottom four for the first time since August. Match report here.
Alty line-ups
TUESDAY
Tuesday, 29 March
Through the Years by Howard Watts
Altrincham 1 Southport 1
Crawley Town 2 Mansfield Town 0
Grimsby Town 0 Darlington 1
Luton Town 0 Barrow 0
Newport County 2 Gateshead 1
Tamworth 1 Wrexham 1
EASTER FUN WEEK
Altrincham FC is holding another Easter Fun Week this year. The dates are 4th to 8th April and the daily hours are 9.30am to 3.15pm at Moss Lane. The cost for the full period is just £60 per attendee with individual day rates also bookable and discounts are available for brothers and sisters of attendees. Please contact Karen Rowley or Chris Bullock on 928-1045 or by e-mail.

There will a presentation event on the final day at 2.30pm to which family and friends are invited. Applications can be made in writing (to Altrincham FC. Moss Lane, Altrincham WA15 8AP), and these should include the player's name, address, age and school year as well as contact telephone and e-mail details.

Please also indicate the attendee's school and any medical conditions or special needs s/he may have. Any cheques should be made payable to Altrincham FC. Please also indicate whether your child may be included in team or group photographs.
YANKEE
The Altrincham FC Yankee jackpot of £5,000 remains unwon after last week's races. And the reserve jackpot is already up to £1,300 so there should be two big pay days in the near future for all members of the Yankee scheme. The Yankee also provides the Club with vital funds so why not join today?
REFS
The referee on Saturday for Alty v Cambridge will be Mr W. Barratt. Coincidentally he officiated when Alty played away in Cambridgeshire at Histon and lost 1-0 on 3.11.2007. He was also in charge of Alty's away win at Rushden on 3.10.2009.
BSBP NEWS
Before Tuesday's match at Moss Lane, Southport reported that boss "Liam Watson has agreed the transfer of the Port's longest serving player Michael Powell to Chester City. Ex-Preston teenager Michael Powell joined Southport as a sixteen year old...

Liam Watson said 'Michael has been a dedicated, loyal player here at Haig Avenue. Chester made an offer which I decided to discuss with Michael. I could not guarantee Michael a starting place and I felt Michael needed a change and I have to be looking at developing the squad. We are all on the best of terms, Michael joins Chris Simm and I am sure he will win another championship medal while at Chester. I wish Michael good luck and thank him for all his service at Southport, he will continue to be one of our community coaches this season'".

Blue Square Football says that "AFC Wimbledon striker Jon Main has joined Dover Athletic on loan for the rest of the season. The Dons frontman only just returned from a loan with Kent rivals Dartford before being sent out again".

From the Cambridge News we learn that "Dean Sinclair's personal ambition can give Cambridge United a vital boost in the run-in, according to caretaker boss Jez George. The central midfielder's loan move from Grimsby was ratified by the FA earlier this week, and he could make his debut in Saturday's crucial clash at Altrincham. Sinclair, who came through the youth ranks at Norwich City with former United and Cambridge City striker Robbie Simpson, has fallen down the pecking order at Blundell Park.

And the U's caretaker manager George expects the new recruit to play a key role in their bid to safeguard their Blue Square Bet Premier status. 'He's athletic, strong, he's got energy, can get forward and he can score goals', said George... 'He's got a good pedigree having played more than 100 games for Barnet and he went to Charlton for good money (£125,000)... Hopefully he'll feel he's got a point to prove in terms of his career, and he can help our cause'".

Mansfield Town confirm that "Luke Medley has today returned to Field Mill following a one month loan spell at Aldershot, while fellow front man Louis Moult has returned to his parent club Stoke City... 18-year-old striker Moult scored twice in six starts but was lately sidelined with a back problem".

Following Grimsby's announcement that the former Boston United managaement duo were coming to Field Mill, Grimsby Town announce "We can confirm that the club have received pre-action papers from Boston United. Town chairman John Fenty has issued the following statement.

'We have received the papers from Boston United and we will be dealing with them in due course. We do not accept any claims of any wrongdoing by Grimsby Town. We approached Boston United and wanted to speak to Rob and Paul because we understood there was a release clause. At no stage did David Newton ( the Boston United chairman) say anything about compensation. My interpretation is that they only had five weeks left on their Boston contracts, having not been offered new terms.

On Tuesday, I saw an article on the Boston website which said their resignations had been accepted and confirmed their release from their contracts. I think this article was later taken down and a new one put in its place with different wording'".

Barrow report that the man who scoed against Alty recently, "Star Winger, Paul Rutherford, has signed a new contract to keep him at Holker Street until summer 2012... Rutherford joined Barrow in July 2009 and has been particularly impressive in the last few games, being instrumental in the rejuvenated results".

The Northern Echo reports that "Darlington manager Mark Cooper has thrown the gauntlet down to his under-performing stars prior to [Tuesday's] trip to Grimsby - either shape up or ship out. Quakers' boss says his players are not only playing for a place in the FA Trophy final, they are playing for the futures at The Northern Echo Arena.

Cooper acknowledged his side have little chance of making the play-offs this season, Saturday's home defeat to Altrincham put paid to that, but has made it known he has one eye on next term...

'That tells you a lot about our players and their mental state', said Cooper in response to the late goals Quakers have conceded this term. 'It is not ability; it is not coaching; it is a mental thing. The good thing is that at the end of the season we have got quite a few players out of contract. And we get a chance to sort that out and reshape the squad.

'We've been on a good run but we haven't won enough games, they've drawn too many, but they'd lost only one before Saturday in 18 so they've done OK. But we've not had that mental toughness to go all the way... Players should have a point to prove and we'll probably change things around and give it a shake up. "There are players whose futures are at stake and they're not doing themselves any favours'.

Cooper refuted any suggestion the players could be suffering from fatigue as the season draws to a close. He said: 'Tiredness is a state of mind. You can have as much rest as you want during the week and make sure you're ready on a Saturday afternoon... I'm not talking about massive changes (next season) but it might be two or three who have been there and done it... You can paint as many pretty pictures as you want in the middle of the pitch but you have to be able to defend your goal and put the ball in the back of the net in theirs. If you don't you won't win a game. That is what it's all about'".
---
29 March 2011
SPEND MAY DAY AT MOSS LANE!
There will be three high quality games for you to watch at Moss Lane on May Day (Sunday, 1st May).

The action kicks off on the Moss Lane pitch with the annual Staff v Supporters match at midday, which will set a high standard for the other two games to reach. If you are interested in playing in the Staff v Supporters game please contact the club (tel. 928-1045, or send an e-mail).

After the game on the pitch, two televised Premiership matches will try to emulate the skill and quality displayed by the Staff and Supporters. Both televised games will be shown live in the bar at Moss Lane...
Arsenal v Manchester United, kick off 2.05pm
Manchester City v West Ham United, k.o. 4.10pm

So, make a date in your diary for six hours of action!
SOUTHPORT GAME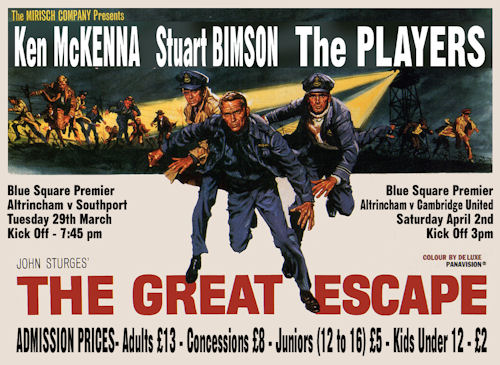 Right: Perry Online Marketing have created the adjacent poster to help the club advertise the next two games.
TASC chairman Brian Flynn advises that "It is planned that Radio Robins will deliver full live coverage of Tuesday night's match at home to Southport. The commentators will be Paul Salt & Brian Flynn & commentary is scheduled to start at 7.40pm. You can listen to Radio Robins via the internet".
This website's live matchday updates will also be provided.
Mike Garnett informs us of the past record of matches between these sides:
At Moss Lane: P16 W9 D3 L4 F23 A20
At Southport: P13 W3 D3 L7 F16 A22
Overall: P29 W12 D6 L11 F39 A42

The reverse fixture this season ended 0-1 at Haig Avenue.

The BBC says that "Altrincham will hand late fitness tests to defender Robbie Williams and midfielder Steve Connors as both struggle with groin injuries. Boss Ken McKenna could recall striker Dale Johnson and winger Nicky Clee to the starting line-up.

Southport manager Liam Watson has a fully fit squad to choose from. Midfielder John Paul Kissock came through unscathed in the win against Luton despite a recent leg injury and he will keep his place".

The BBC also has an audio interview with Liam Watson.

Southport add that "Liam Watson will be seeking consistency from his Port players on Tuesday night at Altrincham after a superb performance against Luton Town... Southport are at home next Saturday to Eastbourne Borough. The next seven days are pivotal for the Port with six points the target and, with that, safety from the relegation danger, drop zone. "
CHRIS PRAISES STUART
The Darlington & Stockton Times says that "Altrincham goalkeeper Stuart Coburn (below, left) was a guest at Darlington striker Chris Senior's wedding last summer but it would be a surprise if he's invited to any anniversary celebration.
The Robins' shotstopper upset his former Moss Lane teammate at the weekend when he left a belated and unwanted wedding present. But while most people leave some bedding or a vase as a gift, Coburn left The Northern Echo Arena with a clean sheet after a once in a lifetime performance that surely shatters any dreams Quakers had of making the play-offs.
The 34-year-old was inspired on Saturday, producing several superb stops and saves from Liam Hatch, Marc Bridge-Wilkinson, Dan Burn, Aaron Brown and, of course, Senior.
'Being an ex Altrincham player, I know Stuart Coburn really well and, I must admit, he is a really good goalkeeper for this standard', acknowledged Senior. 'But, he's made one ridiculous save off myself, and I said to him "Cobs, how did you save that?" to which he replied "Chris, I've been making those saves for years". It was a bit tongue in cheek but he has. He is a good goalkeeper so credit where credit's due'.
Darlington boss Mark Cooper, on the other hand, was far from impressed with the opposition's goalkeeper...
'When you have that bit pressure you need to have somebody who can create something or be able to finish a chance off', said the agitated Quakers' manager. 'You can't keep saying the keeper has made a great save. You have to take him out of it, bend it in the bottom corner. We're hitting shots at him and they're making him look like he's making great saves, but bend it around him'...
'When you have that much possession and when you're that dominant you have to score goals', said a frustrated Cooper. 'When you try and gamble at the end to try and get a winner you have to make sure your most experienced players at the back are well organised and keep the back door locked. Three of our back four who are experienced did not do that... Too much ball watching from the experienced defenders and no organisation'".
The BBC has an audio interview with Cooper.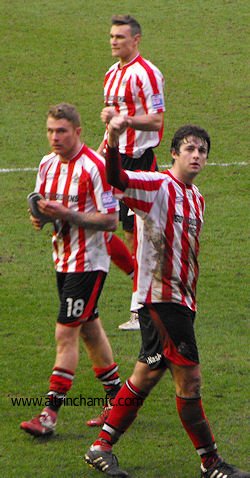 Right: All three players seen here only joined or re-joined Altrincham in the last seven weeks but all have been giving everything for the Robins' cause. Pictured at the end of the game at Darlington are Steve Connors (on loan from Fleetwood), Greg Young (on loan from York City) and Dale Johnson (re-signed last week).
A neutral's view of the Darlington v Alty game comes from Ron's Blog.
It''s a surreal experience going to the Northern Echo Arena, home of Conference side Darlington F.C. for the first time. For a hundred years the club played at old Feethams, but when convicted smuggler George Reynolds took over as Chairman and owner in 2000 he decided upon what has turned out to become Reynolds Folly. In 2003 he opened Reynolds Arena on the outskirts of town with 25,000 seats, far too large. It quickly brought The Quakers into administration. After six months in jail in the 1960s he had amassed a £300 million fortune with bathroom fittings. He tried to sign Paul Gascoigne and Faustillo Asprilla without success. He finished up in jail a second time a few years ago.
They finished last in Football League Division II last season, and I was here to watch them host Altrincham F.C., The Robins, who are one of the few part time professional club in the Blue Square Bet Premier League, and are battling the drop, but had won the last two matches...
1,967 fans showed up in the vast stadium, including just over 100 enthusiastic Alty fans. Sitting next to me in the press box was 17 year old Alty fan Jack Jolly, under the supervision of Media boss Brian Flynn, who was as smooth as silk, commentating for the first time for Robins Radio..
It was definitely a defensive battle with Stuart Coburn in the Robins goal in incredible form, stopping at least 3 near certain goals. He is their senior player, having played over 500 matches for the club. The Quakers, in black and white hoops had their fans on their feet shouting Darlo, Darlo, Darlo, and the small Alty contingent chanting, singing and waving flags in one small corner, with acres of empty seats all around.
The home team should have won easily, but in the last 10 minutes the visitors started to believe in themselves for the first time. Three minutes from the end they got the 3 points that might save them from the dreaded drop".
BSBP NEWS
Luton Town "would like to announce that, by genuine mutual consent, Richard Money has been replaced in his role as manager by Gary Brabin with immediate effect.

Commenting on parting company with the Hatters Richard said: 'I loved playing for the Club and it has a special place for me. I was very honoured to be selected as manager in November 2009 and since then, together with my staff and team, we feel we have moved a long way forward to the position we are in today. I am very proud to have the best record of any Luton Town manager but we all know that these are highly unusual circumstances with only one League position being considered as success.

I leave the manager's post with the Club in a solid position to enter the play-offs and this season we have achieved this by producing some quality football. However, from now to the end of the season is crucial. There must be no distractions and I have said before everyone must be together and united. I urge everyone to get behind the new manager and give 110% on and off the pitch to take this Club back to where it belongs, in the Football League.

After Saturday's defeat at Southport, Gary Sweet and I met to discuss, what we both felt was an unsatisfactory display. We both came to the conclusion that promotion must be the only target for the club in its current position and both decided that we needed to do whatever we felt necessary to make it happen. Therefore, it is with a very heavy heart that I pass on the baton so close to the end of the season but I have every faith that such an enthusiastic and capable person is in place to give the team and supporters a fresh impetus.

It is because the Club is so important that I have agreed to this decision and I thank Gary and the board of investors for the fantastic opportunity I have been given. I wish everyone the very best for the future and I look forward to sharing a glass of champagne in Manchester with you all in May'.

Town managing director Gary Sweet said: 'Richard and I have been in discussions since the game at the weekend. He has always been honest and honourable in his appraisal of any situation which has always has been hugely valued by the board and the investors. We all have immense respect for Richard and we recognise the huge differences he has made in his time here. These are exceptional circumstances that carry the highest expectation - a situation no other manager has ever found himself in. On a personal level, the board know what Richard has achieved and we all have expressed our most sincere and heartfelt appreciation to him'...

With immediate effect, the new manager will be Gary Brabin. Gary joined the Club at the same time as Richard in November 2009 and was previously Conference Manager of the Year during his spell at Cambridge United. 'Gary's credentials are there for all to see', Sweet explained. 'He has huge experience and only one focus - promotion. We will give him all the support we have available to achieve this goal. We need everyone to step up to the plate - players, staff and supporters - because we all know what is at stake. We have a run in that will be used to firstly secure the minimum of a play-off place, and then prepare for these head-to-head games. We know that we are all doing everything we can to make this close season a joyous one, with the prospect of league football come August".

The BBC reports that "Manager Dean Saunders says his hopes of leading Wrexham back into the Football League have been hit by a transfer embargo...

'We can't sign any players until we've paid off some bills, so my hands are tied at the minute', revealed Saunders. 'Everybody else up there will be strengthening and we're not - that's causing me a problem'...

A statement on the club's website on Friday read: 'The directors of Wrexham FC are disappointed by allegations made by Stephanie Booth that the club is "days away from administration". These are totally without foundation. We consider these remarks to be very damaging to the business of Wrexham Football Club. In view of this, all negotiations concerning Stephanie Booth's bid will be temporally suspended. Every business has it problems and no one likes them to be aired in public. The club's monthly debtors and creditors list currently has a fairly neutral position and it might surprise a few, that the debtors outweigh the creditors.

We currently have a creditors' issue with HMRC, due to the zero tolerance they have taken with all football clubs following some recent high profile cases. Negotiations continue to resolve this matter'...

Saunders says... 'I think we should be strengthening the team as we're in such a good position. Now is the time where we can probably spend some money because if we do get into the play-offs, we'll get two big gates and that will pay for all the players' wages'".

Blue Square Football says that "Alfreton Town have extended the loan of Cambridge United striker Daryl Clare until the end of the season. The U's have included a 24-hour call-back clause in the deal for the 32-year-old, who has made eight appearances for the Reds thus far".
---
28 March 2011
LUTON SACK MONEY
They may be third in the table with four games inhand on the second-place club in the Blue Square Bet Premier, but that has not stopped Luton Town parting with their manager. Luton Town "would like to announce that, by genuine mutual consent, Richard Money has been replaced in his role as manager by Gary Brabin with immediate effect". More on this later...
DARLINGTON VIEWS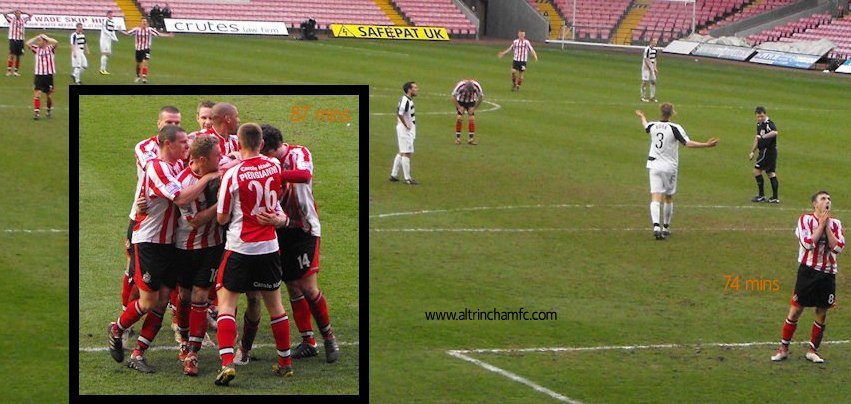 Above: 13 minutes in the life of a striker; the main picture, taken in the 74th minute at Darlington on Saturday, shows Damian Reeves (far right) with his despairing team-mates in the background after he had missed a great chance to give Alty the lead. The inset picture, taken just 13 minute later, shows Damian submerged beneath his team-mates after scoring his seventeenth goal of the season - his 13th in the Conference.
After the game, manager Ken McKenna said, "We had a game plan to soak up pressure and hit them on the break. Our keeper did briliantly, good saves at crucial times. We would have been happy with a draw. A win is a bonus. We need points but to come to Darlington and win boosts our confidence".
MONTHLY DRAW
Grahame Rowley, chairman of Altrincham FC, asks all supporters to consider joining "The Altrincham FC Monthly Draw". He writes:

"For just £5 per month, you could have a number in our Monthly Draw with a chance of winning the first prize of £100. At present there are three prizes every month but this will rise as the number of entrants increases. The basic rules of the draw are:-
Each entry costs £5 per month which can be paid at any time during the month by standing order.
There is no limit to the number of entries any one person can have in the draw.
Minimum prize of £100 drawn every month. Current prizes are £100 first prize, £35 for the second prize and £15 for the third prize.
All proceeds go to Altrincham Football Club.
Draw to be made every month with one entry for every £5 contribution that has been made in the previous month. The draw will take place each month at a function, or match. If neither is possible, it will be performed at the earliest convenience by the club.
A list of the entries and winners will be published on the website and when possible in the programme".

Contact the club on 928-1045 or by e-mail to sign up.
YOUTHS DEFEATED
Altrincham FC Youth lost 4-2 at home to Prescot Cables on Sunday. Having gone 2-0 down, a volley from Ashley Woods made it 2-1 and Alty looked the better side at that stage. But they later conceded two goals following free kicks. which sandwiched a Prescot own goal. A match report is in the Youth section.
BSBP NEWS
There is an interesting announcement from Wrexham where "The Directors of Wrexham FC would like to apologise to supporters for what they can only describe as the deeply embarrassing media circus surrounding the Club at the moment. They accept some responsibility for this and feel it best that no more statements are made for the time being".

There is also a club statement from Hayes & Yeading United which tells us that "Hayes & Yeading United Football Club can confirm that this season will be the last at Church Road. Whilst we can very much sympathise with supporters who hold many fond memories of attending matches at the stadium, this is the realisation of the club's ambition to expand its operations both on the pitch and throughout the week as a vehicle for community use.

Because Church Road is such a special place, we fully intend to give it a proper send off and although the last competitive match involving Hayes & Yeading United FC there is scheduled for the evening of Tuesday 19th April (against Gateshead), plans are at an advanced stage to host different commemorative events during May, including a charity match between Terry Brown's Hayes All Stars XI and Gordon Bartlett's Yeading All Stars XI on Sunday 15th May, the final match to be played on the pitch...

Work to build our new stadium on the old site of Yeading FC at Beaconsfield Road is gathering good pace and it is anticipated that at some point during next season, it will be ready to move into and Hayes & Yeading United will have a vibrant, multi-purpose complex at the centre of which will be a brand new stadium built to the specifications which allow the team to achieve its full potential.

In the meantime, it will be necessary for the first team, the reserve team and the under 18s to play their home matches at other venues and we are already in advanced negotiations with a number of other clubs with regards to providing us with a temporary base for each of our teams while work at Beaconsfield Road is completed. The club has also taken advice from the Conference to ensure that whatever is decided meets the stadium criteria required to compete in the competition".

Meanwhile, "With Delroy Preddie out for several weeks with the hamstring injury picked up at Crawley, manager Garry Haylock has drafted in former Reading and QPR keeper Shane McWeeney from Potters Bar Town".
---
27 March 2011
SUNDAY SCORE
Sunday, 27 March, 2pm
Wrexham 1 Newport County 0
League table
DARLINGTON 0 ALTRINCHAM 1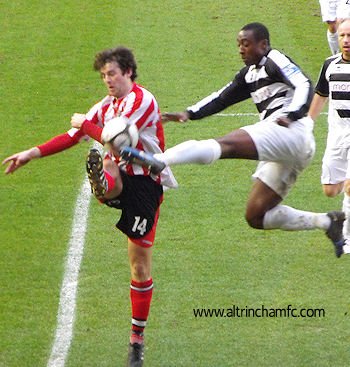 Left: Dale Johnson in the Darlington penalty area on Saturday.
This website has a match report on the game as does the Darlington site.
Another report comes from the Northern Echo, headed "Quakers hit by smash and grab". It adds that "Robins' striker Damian Reeves may have headed the all important goal three minutes from time, to ensure Quakers lost for the first time in 13 games, but it was goalkeeper Stuart Coburn who was the villain, or hero, for the visitors. The Altrincham shot stopper pulled off save after save to prevent Quakers taking a deserved lead and ultimately a win that should have been theirs... Cooper's side dominated proceedings from the off and only they know how they lost this contest...
Altrincham made it known they were still in the contest however and a shot from Connors acted as a warning to the home side on the hour... But despite all of Quakers' pressure the Robins kept plugging away and almost grabbed a lead themselves in the 75th minute when Nicky Clee found Damian Reeves unmarked on the counter. The striker missed the target completely...
Clee crossed from the left and Reeves headed past Russell with only three minutes remaining to conclude the biggest smash and grab you are ever likely to witness this season".
ALTY FC PATRONS
Keeping the club going through the summer months, when there is no regular income through the turnstiles, is always a challenge and Alty FC chairman Grahame Rowley invites all supporters to join in the Patrons' Scheme. he writes:

Patrons of Altrincham FC 2011-12

Thank you to everyone who participated in the Patrons' Scheme over the last few seasons – your support was much appreciated. If you didn't join last season then can I please ask you to consider joining this year?

Following the success of the scheme over the last six years, we have decided to continue with it for the coming season 2011-12. It has become even more important this season to maintain our income streams throughout the year as the credit crunch bites and thus your support would be greatly appreciated.

For the cost of £50 your name will appear throughout the coming season in the matchday programme as a Patron of Altrincham Football Club.

At the beginning of the season, every member will be entered into a prize draw, with the winner being match sponsor for an appointed game along with 9 guests. Second prize will be hospitality for 5 people and third prize hospitality for 3 people in the Sponsors' Lounge.

If you are interested in becoming a Patron for next season, please forward a cheque, payable to Altrincham Football Club, for £50 for my attention. If you require any further information please do not hesitate to contact me on 07720-606897 or e-mail me.

If you would like to pay in instalments this can also be arranged, as every bit of help is appreciated.

Thank you once again for your support.

Grahame Rowley, Chairman.
OLD BOYS
The EvoStik league reports that "Woodley Sports FC have announced club favourite Peter Band has been appointed to the position of 1st Team Assistant Manager.

Manager Chris Wilcock wasted no time in replacing John Flannaghan, appointing Peter Band almost immediately following Flannaghan move to Curzon Ashton. During his time at Woodley Sports, Bandy has been a fantastic leader, he took over the armband from the injured Rob Parsonage and has captained the side ever since.

Manager Wilcock stated 'Bandy has vast experience of non-league football, having played for Altrincham, Hyde United, Northwich Victoria and, of course, Woodley Sports. He's also captained every side he has played for. Wherever he has played, Peter Band has been a firm club and crowd favourite, often picking up the "Player of the Year" award. His leadership qualities are superb, and will bode well in his future football management'.

Bandy will take up his new role immediately, stating 'I am over the moon the club has offered me this chance, it is exactly what I am looking to get into, the management side of football. Woodley Sports have been fantastic with me since I joined the club, and have supported me in every way possible. This latest news has been a major boost for me, and I will give this role everything. I would also like to thank the gaffer, Chris, for believing in me and giving me this chance'".

The EvoStik League also says that Andy Owens has moved on loan from Accrington Stanley to Northwich Vics.

On Saturday Jamie Baguley scored for Rossendale Utd, Tom Cahill netted twice for AFC Fylde at Trafford, Peter Wright scored for Bamber Bridge, whilst on Friday night Kieran Lugsden got the only goal as Buxton won 1-0.

Earlier this season Alty signed two Francophone players based at Radcliffe Borough, Mohamed Coly and Famoud Sonko. Mohamed played in the CSC for Altrincham against Alsager but Famoud has never been in an Alty squad. Both men have now joined Curzon Ashton from Radcliffe.

According to the Football Conference, Hyde "have re-signed striker David McNiven from Tameside neighbours and league rivals Droylsden and have also signed defender or midfielder Matt Doughty...He signed for Altrincham in mid-June 2008". After injury, "He made a comeback with Nantwich Town and then moved to Witton Albion in December 2010".
YOUTH TEAM TODAY
Alty Youth have confirmed that today they will play Prescot Cables at 2.30pm but the game will be at BTH and not Wythenshawe Town.
SATURDAY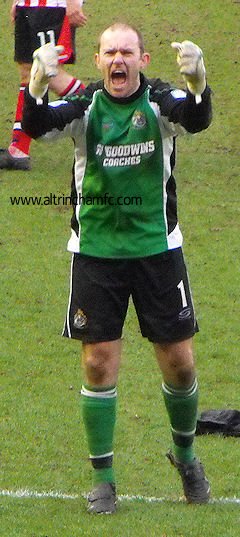 Right: At the end of most away games, Alty goalkeeper Stuart Coburn salutes the travelling supporters in inimitable fashion and here he is seen doing so at Darlington on Saturday. Stuart made several magnificent saves to record Alty's second successive clean sheet.
Saturday, 2 April
AFC Wimbledon v Barrow
Altrincham v Cambridge United
Crawley Town v Darlington
Fleetwood Town v Tamworth
Gateshead v Bath City
Histon v Forest Green Rovers
Kettering Town v York City
Kidderminster Harriers v Luton Town
Mansfield Town v Rushden & Diamonds
Newport County v Grimsby Town
Southport v Eastbourne Borough
Wrexham v Hayes & Yeading Utd
BSBP NEWS
At Luton Town manager "Richard Money apologised to the Town faithful after seeing his side throw away a 1-0 lead to lose 2-1 at Southport...

'It's hugely disappointing today to say the least', a frustrated Money said afterwards. 'I apologise to every Luton fan who travelled here today who had to watch that. The best team won. If I'm going to give the players something then perhaps it was a reaction to be down to nine men against Mansfield last Saturday. We looked tired, lacklustre and lifeless. People might say there was no passion or energy but it was just a tired performance that was not good enough'...

The Town boss made two surprise substitutions inside the first 35 minutes bringing off Luke Graham and Claude Gnakpa for Danny Crow and Amari Morgan-Smith. 'They were tactical', explained the boss. 'We had a problem with their diamond formation all afternoon and they were winning all the second balls. It meant our outlet was the full-backs so we decided to go more offensive. I'm not blaming Luke but we needed to do something about it and change it. As for the other change I don't think I need to say anything about that apart from I got up and took him off after 35 minutes...

You can't keep expecting your back four to play like trojans every week - they've played manfully for the last five or six games'".
---
26 March 2011
DARLINGTON 0 ALTRINCHAM 1
An 87th minute header from Damian Reeves from a Nicky Clee cross secured the points for Alty. Earlier Reeves had missed a good chance but it was a game in which Darlington failed to make plenty of possession tell. Match report here
Alty line-ups
Right: Alty celebrate Damian Reeves's goal. Seen, left to right are Greg Young (no.22), Marc Joseph (4), Jon Bateson (3), Steve Connors (18), Nicky Clee (11), Damian Reeves (8), Robbie Lawton (7), Carl Piergianni (26), Dale Johnson (14).
WEEKEND
Saturday, 26 March
Through the Years by Howard Watts
AFC Wimbledon 1 Rushden & Diamonds 0
Barrow AFC 0 Bath City 1
Cambridge United 1 Forest Green Rovers 1
Darlington 0 Altrincham 1
Eastbourne Borough 1 Kettering Town 3
Gateshead FC 0 Crawley Town 0
Grimsby Town 2 Tamworth 2
Hayes & Yeading Utd 1 Fleetwood Town 2
Mansfield Town 1 Kidderminster Harriers 2
Southport 2 Luton Town 1
York City 1 Histon 0
SATURDAY'S GAME
Brian Flynn advises that "It is planned to do a full match commentary of Altrincham's first trip to The Darlington Arena on Saturday. This will be Radio Robins' first coverage of a match away from Moss Lane and is subject to the wi-fi/mobile signal working at the stadium....Darlington have advised us that there should not be a problem.

Coverage starts at 2.55pm and the commentators are Jack Jolly and Brian Flynn".

Radio Robins can be accessed here.

It is also intended to provide the usual live Matchday Updates on the website from Darlington v Altrincham on Saturday afternoon.
For Saturday's match against Altrincham, the BBC speculates that "Darlington midfielder Paul Terry could be named on the bench after a long spell out with a serious knee injury. Jamie Chandler (broken hand) is a doubt while fellow midfielders Gareth Waite and Michael Brough (both knee) are out.
Altrincham defender Greg Young (right) faces a late fitness test after a recent ankle injury and winger Chris Denham remains sidelined with a groin injury. Striker Dale Johnson could start up front after coming on to score in the 2-0 win over Tamworth last Saturday."
AHEAD OF THE GAME
Darlington boss Mark Cooper tells BBC Tees: 'It's a must-win game, simple as that - we have to win. We should be expecting to beat Altrincham without being disrespectful in any way. They're near the bottom of the table and if you've got aspirations of getting in the play-offs then you have to win your home games, and we have to win tomorrow'".

Former Alty striker Chris Senior has been featuring for The Quakers mainly from the bench this season. ESPN stats show that Chris has made 14(+10) appearances and scored four goals in the Conference this season.

Darlington themselves report that "Gary Pallister still believes there's huge potential at Darlington FC. The football legend, appointed operations director by Raj Singh last September, thinks now the football side of the club is starting to look after itself, the club can only grow from strength-to-strength. Pallister was brought in on an informal basis to increase the club's profile and to help attract new sponsors and potential investors.

He's watched crowds dwindle, but subsequently pick up again, culminating in a euphoric FA Trophy semi-final win over North-East rivals Gateshead. Speaking in Saturday's match programme Quakers for the visit of Altrincham tomorrow, Pallister says: 'We had more than 4,000 here for the game against Gateshead, and took more than 2,000 fans to Gateshead itself. That just shows you that the supporters are out there. But we want to bring them here every other week to watch the home games, and the club can only really move forward properly if that happens...

'I can see a vast improvement in the team from the early-season form. The football has improved... People can see improvements in the team, and they want to come back. I've seen some cracking games down here'".
FRIENDS' DRAW
The March monthly prize draw for the Friends of Altrincham FC produced the following outcome:
1st - Lisa Jones
2nd - Ruth Gallagher
3rd - Barry Pond

Please follow the above link to see how you can join the Friends and both help the club and win yourself some cash!
LAST GAME
A report on last week's game at Moss Lane has now appeared in This is Tamworth where The Lams "suffered defeat for the eighth time in 10 outings... The club is becoming embroiled in a real dog-fight at the bottom of the table and the Tamworth FC traits of pride, passion and belief must come to the fore now.

At Moss Lane, Altrincham, where Tamworth are still to score a goal in 450 minutes of competitive football, the club third from bottom of the league came into the match with similar form to Des Lyttle's strugglers. But, once again, the lower placed side looked more likely to take all three points as Tamworth failed to create sufficient openings up front...

Yet again, Tamworth gifted the opposition victory... but now face a battle against the drop, which they could lose, unless the collective on the field rediscover their hunger and desire soon".

Meanwhile, "Tamworth boss Des Lyttle has called on his players to find their mental strength to dig the club out of their current troubles... Lyttle said: 'At this stage of the season, it's all about being mentally strong whether you are battling to stay up or hunting promotion... Finishing outside the relegation zone was the aim at the start of the season when Gary (Mills) was in charge and still is'".
BSBP NEWS
Following his fall-out with Bath City, AFC Wimbledon confirm that Dons' manager "Terry Brown signed Kaid Mohamed... Terry said 'Mo, as Kaid likes to be called, is a highly talented, pacy striker who has scored 13 goals this season at the rate of a goal every other game. Fans who saw our game at Bath City in January will already be aware of his talent, given the influence he had on that game. We could not have signed Kaid without the active assistance of Bath City, for which we thank them.

'Last weekend we were missing Sammy Moore, Sam Hatton, Christian Jolley and Danny Kedwell – that is 41 league goals that were taken out of the team. Mo is another major goalscorer and as we go into the last games of the season that will be invaluable. He has joined us for training today'.

Kaid Mohamed is 26. He started his career in non league in Wales where he was spotted by Swindon Town who signed him in 2007. Released by Swindon he went first to Forest Green Rovers and then signed for Bath City in 2009... Wimbledon paid a small fee to secure his services from Bath City". Alty first met him when he was playing for Torquay United a couple of seasons ago.

This is Bath adds that "Bath City boss Adie Britton is to join the club's board of directors in a bid to help fund the growing playing budget...

'About a year ago [chairman] Geoff Todd and the directors asked me to sit on the board', said Britton... 'At the time I wouldn't but I am quite happy to do so now. I just think I can add something financially... Because we have done really well this season some players will have to be rewarded with better money and we'll also need to bring new players in who have to be a lot better than before. I think we have to add £50,000 to the budget this summer just to stand still in this division but our goal is to go forward'".

According to the BBC "Newport County have shortlisted three candidates for the manager's job left vacant by Dean Holdsworth, BBC Wales understands and the new manager could be in place for County's match against Grimsby in a week's time. After two days interviewing 10 candidates Newport have narrowed it down to three. The club have asked the candidates to undertake a practical assessment and will be invited back for interviews".

Bath City "are pleased to announce that Joe Lennox is joining the team on emergency loan from Bristol City for one month. Lennox, aged 19, is an attacking midfielder and a product of the Bristol City youth programme".

Histon say that "We are delighted to announce the strengthening of the squad ahead of the trip to York City tomorrow. Wes Foderingham joins from Crystal Palace, Ed Asafu-Adjaye arrives from Luton Town and Elliott Cox comes in from Queens Park Rangers. All three have joined on loan and will be with us until the end of the season.

Wes Foderingham is is a 20 year old goalkeeper that is held in high regard by the Palace management. Initially on the books of Fulham before moving to Palace, Wes has been on loan at Boreham Wood and Bromley this season. Ed Asafu-Adjaye is a versatile defender capable of playing anywhere across the back four. First Team opportunities have been limited for Ed at Kenilworth Road this season...

Elliott Cox... is another versatile player, capable of operating anywhere down the right hand side. The 19 year old has already racked up a decade at Loftus Road...

Manager David Livermore said this afternoon 'It was important to move quickly on the last day of the loan window after the embargo was lifted yesterday and Joe moved to Stevenage. I hope that this shows our intent to do all we can to stay in the Blue Square Premier and we are very much up for the fight to sustain our league status'".

Across the city, Cambridge United "have moved to sign striker Courtney Herbert from Northampton Town on loan until the end of the season. Jez George told cambridgeunited.com 'Courtney will give us something different up front with his electric pace. He has had limited opportunities at Northampton Town but will add to our attacking options'".

Eastbourne Borough "have signed Jack Holland from Crystal Palace for the rest of the 2010/2011 season. The midfielder / defender signed professional terms with The Eagles April 2010 after impressing in the Under 18s".

From the Football Conference we learn that "Forest Green Rovers have taken striker Robbie Matthews on loan from league rivals Newport County until the end of the season. Matthews is a powerfully built striker who left Kidderminster Harriers, despite having a year left on his contract to join County in July 2010".

Meanwhile, "York City have taken young defender Aiden Chippendale on loan from Huddersfield Town until the end of the season".

Blue Square Football announces that "We are still offering promotion odds, a market in which two selections will be paid out as winners - the league champions AND the play-off winners. There are also a number of special Crawley Town markets which focus on Conference records. We offer 7/2 that they can extend their current unbeaten run of 20 to 29 and beat Altrincham's record of 28 from the early 90s".

From the South Wales Argus we read that "Newport County have sent three players out on loan as the club focus their attention on the appointment of a new manager... The names of David Holdsworth, the twin brother of former manager Dean, Mark Stimson and Martin Foyle have already been mentioned elsewhere and the Argus can confirm they were all on the short list...

Leading the departures is giant striker Robbie Matthews, who hasn't scored for the Exiles since February 12 and who has netted just twice in 2011. Matthews joins Forest Green Rovers... Also heading to Gloucestershire is Curtis McDonald, while midfielder Mike Fowler... has departed for Weymouth".
---
25 March 201
BSBP NEWS
News of a surprise move comes from Histon where "We can today announce that Joe Welch has joined Stevenage FC on loan for the rest of the season with a view to a permanent transfer in the summer. Joe has been in outstanding form for us this season and whilst we are sorry to see him go we, are also delighted that he has been offered the deserved chance of moving into the Football League". Welch is the Stutes' current first-team keeper.

Meanwhile, Histon also "announce that the transfer embargo placed on us by the Football Conference in January has been lifted as of today".

Southport report that "Liam Watson received better news than feared on Thursday morning after John Paul Kissock was stretchered off with a suspected broken leg at Prenton Park last night when playing in a Liverpool Senior Cup tie semi final against Tranmere Rovers. Kissock has had x -rays which revealed severe bruising but no break which should enable the outstanding ex Everton starlet to play a part in the Port's vital point searching run in".

According to The Football Conference "Cambridge United have confirmed that young midfielder Luke Berry has signed a three-year deal to keep him at the R Costings Abbey Stadium until May 2014. Delighted caretaker boss Jez George said: 'It's really good news. He's a talented young man who I can assure supporters has the character and temperament to match his ability. It's fantastic he's committed to Cambridge United and we've secured his immediate future and that he knows the club have put that faith in him'. It was also confirmed Berry will miss the rest of the season following the injury he sustained in the U's win against York City last Saturday".

From This is Lincs we read that "John Fenty, chairman of Grimsby Town, has told Boston United to forget about receiving compensation for Rob Scott and Paul Hurst, following their controversial switch to the Mariners. Pilgrims chairman David Newton has demanded recompense after the pair quit the club to join the Mariners.

But Town counterpart Fenty insists there are no grounds to even discuss a figure. Newton responded by insisting the matter is not closed and that Scott and Hurst remain contracted to Boston...

Meanwhile, Fenty was keen to draw a line under the matter as he unveiled the pair yesterday. 'I don't think there is any formal basis for Boston and Grimsby to have any more dialogue over this', Fenty said. 'There is no contractual obligation with either club. As a matter of respect, we sought permission to speak to the lads on Sunday. That was refused. It left Paul and Rob very dissatisfied. They haven't been offered any new terms at Boston whatsoever. They had five weeks left on their contract. They didn't know where they were going to be beyond that and they were denied an opportunity to talk to us. That resulted in them tendering their resignations. As a result, they were free agents and this football club sought to conclude negotiations'".
---
24 March 2011
HELP!!!
Altrincham FC chairman Grahame Rowley writes...

Coming towards the end of a difficult and at times depressing season, supporters need to know that, regardless of the League that your Club are in next season, we intend doing everything possible to ensure that we are competitive and that we improve on this season's results. We want to be in the highest league possible and, fundamental to this, will be maximising the funds available to support the playing staff.
Early in January we published a programme article asking for interested people to supplement the volunteers who currently contribute to the running of your Club. We were underwhelmed by the response (there wasn't one). We make no apologies for repeating this plea now.
We feel it's important that supporters understand the financial environment within which we operate, so that you can see how important your support is to the Club, whether that be attending games, contributing to bucket collections, supporting fundraising initiatives, etc.
The Board consists of supporters who have taken responsibility for the running of your Club and are committed to ensuring that the Club does not jeopardise its future by spending money that it doesn't have; however, they are equally committed to ensure that the Club spends all money that it raises, and as much as possible on the playing staff.
This season we will probably turnover about 560,000 pounds. This will come roughly equally from the following three sources: Gate receipts, a third, Sponsorship, a third, Miscellaneous fundraising, a third.
Expenditure comes into two main areas - Club and Ground running costs - around 40%, Playing and Management budget - around 60%. The running costs relate to rates, electric, etc.
We only have one full-time employee, Jenny, who looks after the bar, the shop, making sure the players have clean kit, the Yankee, etc. Kenny, Stuart and the players are all part-time.
Your Club can only operate at this level thanks to volunteers, whose activities we won't detail, but these range from cleaning the toilets and the ground after games to organising fundraising functions. Without these people we would have to employ staff. That cost would mean that we could not function at a reasonable professional level - they all deserve the appreciation of every supporter.
Clearly, to progress we need to step up our Operations and to generate new ideas and to raise additional funds. This could be by putting up more match posters, organising more fundraisers, selling more raffle tickets, etc. The outcome from these would all be the same - increasing revenue for the Club, which would be reflected by increased standards on the pitch.
It all sounds easy, so why doesn't it happen? It doesn't happen because the resources we have are stretched to the limit, and many initiatives are poorly supported!
We have seen many questions from supporters asking why 'The Club' don't do various things. Anything we expect to be done from a fundraising, commercial, or publicity perspective by 'The Club' means work being done by a volunteer. We don't have enough to go around.
The interest in helping the club has declined as our debts have diminished and we have appeared more prosperous. This means that more work is piled onto fewer people, and the dependence on this small group of people and their goodwill should be a real cause for concern.
We need to share this workload and to regain the enthusiasm of 5-10 years ago if we are to become, as we all hope, a force at a higher level of football - an ambition which everyone at your Club is committed to.
So, we need every supporter to try to support the Club in some additional way, whether by supporting a new fundraiser, or by offering some practical help to the Club. Please see below for some ways of helping.
Want to join The Altrincham Supporters' Club (TASC)? - call Brian Flynn on 07860-561011
Want to volunteer to help on match days? - call Grahame Rowley on 07720-606897
Want to volunteer to help with commercial or fundraising initiatives? - call Barry Pond on 07957-456375
Want to join the Friends of Altrincham Football Club (five pounds per month)? - call Steve Foster on 07876-767284
Want to become a Patron (fifty pounds per year)? - call Grahame Rowley on 07720-606897
Want to attend the Football Club Golf Day (Tuesday May 17th) - call Pete Foster on 07557-101803
Want to attend the Wilf McGuiness Sportsman's Dinner (Friday April 15th) - call Pete Foster on 07557-101803
Want to sponsor a game? Or match ball? - call Barry Pond on 07957-456375
Want to take out Company advertising in the programme, or a ground board? - call Barry Pond on 07957-456375
KEN'S VIEW ON DALE'S RETURN
Right: Space can be at a premium in midfield as this image from Alty v Tamworth shows. The Alty players seen are (l. to r.) Connors, Brown, Baynes, Reeves and Twiss, with seven Tamworth players and the referee, Mr Harrington, for accompaniment.
John Edwards, joint Press Officer at Altrincham FC reports that...
"Ken McKenna saluted a spectacular scoring return to Moss Lane for crowd favourite Dale Johnson as Altrincham added extra impetus to their Blue Square Bet Premier survival campaign with a second successive win. Snapped up after being made available by Hyde, Johnson had been on as substitute barely three minutes when his header hit the underside of the bar and crossed the line to give Alty a 2-0 win over Tamworth.
McKenna, who was assistant to Graham Heathcote during the striker's first Alty spell, backed the surprise decision to release him earlier this season and admitted there was a risk element to re-signing him.
'I was right behind Graham when Dale left, because we felt he had gone a bit stale,' said the Alty boss. 'But I felt bringing him back was a gamble worth taking, because we've had him watched recently, and he has looked sharp.
'When I spoke to him, I pointed out he had the chance to show people he had the hunger and desire to make the most of his undoubted ability. It's just application sometimes with Dale, but I could tell he was eager to give it a go and make people sit up and take notice.
'He's got another chance here, because it's a proper signing, not a loan, and I just hope he makes the most of it. It's down to him, but he was rarin' to go against Tamworth and unlucky not to get a second goal. We needed something up front, and I'm hoping he will prove the answer.
'I remember at Newport, we were 2-1 down with 15 minutes left, and you didn't have to be Jose Mourinho to work out that we needed a goal from somewhere. But when I looked round at the bench, we'd got two 17-year old kids, a centre-half, a holding midfielder and a keeper.
'When your squad is not big enough, you haven't got the options you need, and I just hope Dale's arrival will give us that bit more choice. I think he would be the first to admit he was a bit inconsistent in his previous spell here, but there were encouraging signs on Tuesday that he wants to put that right.'
Johnson's signing was at the expense of midfielder Sam Hewson, who has been released for financial reasons.
'Sam was a popular lad here, and I was disappointed to let him go, but the budget will only go so far,' added McKenna, who reiterated that Chris Denham and Shaun Densmore could be back in a fortnight and awaits fitness tests on Greg Young and Nicky Clee ahead of Saturday's game at Darlington and next Tuesday's Moss Lane showdown with Southport.
'He has to get himself right, because if he has the desire and hunger you see in some other players, there is no question he can play above this level. Ideally, I would liked to have kept him until the end of the season, at least, but the chance to bring Dale back was too good to miss.
'On the injury front, I've said for a while that Chrissie [Denham] and Shaun [Densmore] could be back for the start of April but that anything we get from them over the remainder of the season will be a bonus. Greg [Young] and Nicky [Clee] are both maybes for Saturday but should be OK for Tuesday, if not.
'As for Tom Kearney, there is nothing to report on that. I've always liked Tom, but the last I heard, there was a suggestion he might be going to America. I haven't spoken to him'".
GOOD REASONS TO COME TO MOSS LANE
Jimmy Wagg of BBC Radio Manchester has always been a good friend of Altrincham FC and his latest article in The Sale & Altrincham Advertiser makes a great case for coming along to Moss Lane...

"Altrincham may be battling to avoid relegation but a night match at Moss Lane remains one of my great pleasures. I went last week. The football was committed rather than cultured but the lads deservedly won and I thoroughly enjoyed the experience... Just about every shouted comment was clearly audible. It makes for an intensely personal game. Insults directed at the players don't get lost in the general hubbub.

Derogatory comments between the technical areas are received loud and clear...

For the match officials it can best be described as 'character building'...

Because of the Robins' parlous league position, these are draining nights for fans. They run the emotional gauntlet. Whatever the terrace song may claim, this is not like watching Barcelona. It is, though, strangely addictive.

As I left the ground, I passed a young lad with his dad. The youngster had a beaming smile and was singing an Alty song. He was ecstatic.

A question for you. Would he have felt that emotional high watching Champions League on TV?"
IN OUR OWN HANDS
The Sale & Altrincham Advertiser quotes Alty boss Ken McKenna after the wins over FGR and Tamworth. "To come away with six points definitely takes a little bit of the pressure off us. It gives us that bit of confidence and we know now there's no reason we can't stay up.

The result at the weekend means Tamworth have been dragged down into it and that's another team to battle it out with in our little mini-league...

The fact we're playing Forest Green and Southport in the next few weeks means it's in our own hands but we'll take nothing for granted and the only way we'll achieve safety is if we continue to work hard and fight for each other".

Referring to the fiery half-time team-talk against FGR, McKenna said: "At the time I felt we were lacklustre and I just let the players know that when you're in the situation we're in, every single moment of every single game matters and you need 100 per cent work rate and 100 per cent concentration. When you're behind at half-time there's no point coming in head down and moping around. We're in a battle and sometimes you need to be a little bit horrible and do what it takes to get the results.

But full credit to the players their reaction has been excellent. They're playing flat out against professional teams while also holding down jobs and it tires you both physically and mentally. I'm really pleased we don't have a midweek game this week, it'll just give us the chance to re-group and have a look at a couple of injuries and give the players a little bit of breathing space because the games have been coming thick and fast for them of late".

Having endured recent away trips to the likes of Newport County, Barrow and Histon, Altrincham are set for the more opulent surroundings of the 25,000 all-seater Darlington Arena this weekend. The largest ground in the Blue Square Premier was famously fitted with gold taps and marble toilets when it was opened in 2003, but for McKenna the chance to keep his kit dry and three crucial points will be luxury enough.

He said: 'I'm personally looking forward to having a bit of room when we get changed. A lot of the grounds at this level were only designed for 11 players and two subs and now you've got five subs and all your backroom staff and it can get a little cramped. I usually end up having to get changed in the toilets while my stuff gets soaked on the floor outside so it'll be nice to be in a nice, big stadium.

It's the sort of game you should look forward to, playing one of the big clubs in your league in a plush new stadium and we've obviously got to make sure we make it all the better by coming away with a result".
OLD BOYS
The Manchester Evening News reports that "Trafford boss Garry Vaughan is set for a summer swoop on neighbours Flixton for 36-goal hitman Astley Mulholland after losing club record goalscorer Scott Barlow to league leaders Chester. Mulholland has raced to the top of the Vodkat Premier Division goalscorers charts with a remarkable goalscoring season but Flixton boss Lloyd Morrison has admitted he is resigned to losing the striker at the end of the season.

Vaughan has placed the 23-year-old at the top of his wishlist to replace Barlow, who bagged 99 goals in just 172 appearances at Shawe View but signalled his desire to leave the club by handing in a transfer request earlier this month.

Vaughan said: 'We're going to chase Astley for next year. We've had a brief chat and he's going to stay at Flixton for the rest of the season which is totally understandable given the season he's had there but we'd like to have him on board as soon as possible for the next campaign. I've been to watch him a nine times now and he's scored in seven of those games. He's got great pace and movement and he's exactly the type of player we want on board. I'm very confident he'd be able to make the step up to play at this level, obviously these are still early days but we're very hopeful a deal can be done'...

Flixton manager Lloyd Morrison admitted he was resigned to losing Mulholland, but challenged the striker to end his Valley Road career with a band by reaching 40 goals for the season".

Elsewhere, Aaron Burns scored for Ashton Utd on Tuesday night in a 1-1 against Kieran Lugsden's Buxton. Meanwhile, Jake Sedgemore scored for Nantwich as they beat Colwyn Bay 2-1, whilst former loanee Tom Cahill got a hat-trick as AFC Fylde beat Lancaster City 4-1.
BSBP NEWS
According to the Football Conference "Forest Green Rovers have re-signed Curtis McDonald from rivals Newport County on loan. Left-back or midfielder McDonald quit the New Lawn to join County last December, but has returned after falling out of favour at Spytty Park. Originally on the books at Cardiff City, McDonald, 22, has also had spells with Carmarthen Town and Polish side MKS Swit before joining Forest Green for the first time in the summer of 2008.

'In hindsight I made a mistake leaving Forest Green, but the move was hard to turn down', said McDonald. ,At the time Newport were in the play-offs, but manager Dean Holdsworth left just after I arrived and then Tim Harris left me out... I want to impress the gaffer in the next eight games and secure a deal for next season'".
News of Alty's next opponents comes from Blue Square Football which tells us that "Mark Cooper admits his side's heroics in reaching the FA Trophy final this past Saturday took its toll on his players in midweek. Darlington dropped two points in their quest for a play-off place with a 1-1 draw with Kettering Town on Tuesday. Cooper says their cup achievements was a concern ahead of the Blue Square Bet Premier stalemate.
He told the Darlington and Stockton Times: 'You're always worried about it. We were certainly worried about it before the game. We expressed that to the players and we just asked them to be mentally strong and get the job done. We got off to a great start after two minutes, another great free-kick from Aaron Brown, a good header from Michael Smith and then we've let them straight in...
In the second half we were just huff and puff and in my opinion we wasted about 40 minutes of the first half. If we'd have played that time like we did the second half we'd have won the game. We created chances but we never looked as though we were going to take them".
Grimsby Town confirm that "Former Boston United duo Rob Scott and Paul Hurst are the new Grimsby Town managers. They leave The Pilgrims where they had a 63 percent win ratio..
The pair began working together at Ilkeston in January 2009 and after steering the club to promotion, moved to York Street the following May... The Pilgrims are currently one place and one point off top spot in Blue Square Bet North League. Their initial contracts will be for the remainder of this season, next season and then go onto be a rolling contract.
They will start work immediately and will be taking charge of the first team for the first time on Thursday morning".
On this topic, This is Lincs reports that "Boston United unleashed a spectacular curve-ball in Paul Hurst and Rob Scott's move to Grimsby Town by insisting their want-away managers are still under contract at York Street. The duo had appeared primed to join the Blue Square Premier Mariners yesterday...
But in a stunning twist late last night, chairman David Newton told the Echo there was no mechanism within their contracts which allowed them to walk away from the non-league club. It remained unclear whether Grimsby would still officially unveil the duo this morning after they both watched the Mariners' 2-2 draw against Gateshead from the Executive Box at Blundell Park last night.
Boston have been forced to take a hard-line stance in a bid to claim compensation for the duo, with the club third in Blue Square Bet North with seven games to play...
'The fact remains that Paul and Rob are still contractually tied to us because there is actually no mechanism within their contracts for them to resign', Newton said.. 'We have made our position clear to Paul, Rob and Grimsby and the ball is in their court now. We do not want to stand in Rob or Paul's way, but the fact remains they would be leaving us at time when we are third in the league and involved in the thick of a promotion race. That potentially is worth £100,000 to us, although that is nowhere near the figure we are asking for. We are just merely trying to protect ourselves, which we have a duty to do. It's now down to Grimsby to come and talk to us and come to some arrangement...
We received an approach by Grimsby on Sunday morning', explained Newton. 'That approach was rejected. With us second in the league with seven games to go, we had to do what was best for Boston United. Rob and Paul expressed a wish to speak to Grimsby so I put a set of terms to them, which I can't reveal. However, those terms were unacceptable to Rob. I think he felt we were putting up a barrier. That wasn't the case. And I don't think those terms would have been insurmountable to Grimsby. However, Rob didn't see it that way and that is what led to their decision to leave the club'".
In Sussex, The Argus says that "Crawley insist their ambitious plans to build the club remain on track despite the death of co-owner Bruce Winfield... A fan for nearly 50 years, he re-joined the board in 2009 and invested thousands of pounds so the club could declare itself debt-free last July. Crawley then embarked on 'Project Promotion' to try to secure Football League status funded by Winfield, co-owner Sue Carter and overseas investors.
Reds are odds-on favourites to win the Conference title and made more than £1m from the best ever FA Cup run in their history which culminated in a fifth round tie against Manchester United at Old Trafford. Chief executive Alan Williams said: 'Nothing has changed. The effect on this club of Bruce's passing has been emotional not financial. The revenue we generated from the FA Cup run has secured the finances of this club for many years'.
Mr Winfield's wife Silpa played a big part in helping Crawley become solvent, saving the club £70,000 a year in their energy bills. He added: 'Silpa has played a big part in ensuring the on-going financial stability of this club and her commitment will continue'".
---
23 March 2011
VALUATION DAY AT ALTY
Alty chairman, Grahame Rowley, reminds us that "We have done a deal with the Auction Centre to hold valuation days at Moss Lane, the first of which will be on March 30th in the Boardroom, as detailed below. If the event is successful such days will be held every 4-5 weeks".

The Auction Centre will be holding a free Valuation and Acceptance Day at Altrincham FC on Wednesday 30 March from 10 am to 4pm when an expert valuer/auctioneer from Lloyd Cameron and Partners will be in attendance to advise and accept items for their forthcoming Antiques and Collectables auction sales. Further information is available from The Auction Centre.
EASTER OFFER
When Altrincham meet Newport County at home on Easter Saturday (23 April, 3pm), free admission will be given to under-12s on donation of an Easter egg per child (not mini-sized eggs!) which will go to local children's charities. So please bring along your eggs and help under-privileged children to enjoy their Easter.
VARSITY MATCH
MMU announce that their "Football boys are going up against the Manchester University lot in a spectacle you don't want to miss. The game will be this Wednesday (23rd) from 6.30pm @ Altrincham Football Club. Tickets, [which MUST be purchased in advance from either of the Universities; there is no payment at the turnstiles allowed], are only £5 and include travel to the venue and back!". The game is preceded by a ladies' match between the two universities.
Right: Dale Johnson made a striking return for Alty when he came off the bench last Saturday. Here he is seen in that game, against Tamworth.
RESULTS
Tuesday, 22 March
Darlington 1 Kettering Town 1
Eastbourne Borough 1 Crawley Town 2
Grimsby Town 2 Gateshead 2
Histon 2 Mansfield Town 3
Rushden & Diamonds 0 Luton Town 1
League table
SUPPORT THE LADS!
The Altrincham Supporters' Club (TASC) is running supporters' coaches to the next three away games:
Sat. 26 March: Darlington
Tue. 5 April: Nantwich Town FC for the Cheshire Senior Cup Final versus Northwich Victoria.
Sat. 9 April: Forest Green Rovers

Full details are on the Away Travel page; please do support the coaches, if you can ,to ensure that Alty have good levels of away support.
OLD BOYS
Bulls News reports that "Rotherham have confirmed the departure of manager Ronnie Moore... with the board placing Andy Liddell in charge until the end of the season. The 37 year old... will be assisted by veteran striker Paul Warne and keeper coach Andy Dibble", who was an Alty keeper in the 1990s.
BSBP NEWS
The Football Conference says that "Newport County are still hoping to appoint a new manager this week, despite a couple of set-backs. Favourite for the post, former Wales international striker John Hartson, who had been helping with coaching at Spytty Park recently, has surprisingly withdrawn his application.

Club director Matt Southall said: 'John Hartson has withdrawn his application to continue his media career and we thank him for his interest and time. Speculation with regard to Paolo Di Canio's interest in the job was true, and Paolo was due to come to Newport for an interview earlier in the month. But due to a family illness, Paolo is uncertain as to his availability in the near future, and whilst we thank him for the interest that has made him unavailable for interview. It is a testament as to how far the club has come, and its reputation has grown that we have had candidates of this calibre. We have taken our time researching, referencing and reviewing the applicants, and the nine other short-listed candidates will be interviewed this week with a view to appointment as soon as possible, subject to availability'".

Meanwhile, "Kidderminster Harriers have completed a major piece of business by tying up the services of highly-rated goalkeeper Daniel Lewis for the next two seasons. Lewis began his second spell at Aggborough back in the summer, having previously played for the club in the Football League and Conference between 2004 and 2006".

According to Blue Square Football "AFC Wimbledon manager Terry Brown has recalled midfielder Ricky Wellard from his loan spell at Cambridge United. The 22-year-old had his loan stay at Cambridge extended for a further month last week but Brown has been forced to recall the Hammersmith-born player due to injury problems at Kingsmeadow".

On this topic, "Jez George has spoken to the Cambridge United website following the news that midfielder Ricky Wellard and striker Dan Walker have been recalled by AFC Wimbledon and Luton Town respectively from their loan deals at the Club.

Jez explained, 'Unfortunately it's one of the facts of loan deals that they remain the players of the parent club and once the initial 28 days have expired they can recall them with 24 hours notice. We're disappointed but we understand the situation and just need to get on with it. Both players have made a good contribution and have felt like part of the Club, not loan players, so we're grateful for their efforts and wish them all the best for the remainder of the season'.

In addition midfielder Luke Berry was withdrawn in the second half of the U's victory against York City and will see a specialist tomorrow to asses the extent of the injury. Jez explained, 'The injury is to an area just above his ankle and is going to keep him out for weeks rather than days, but we'll know more after he's seen the specialist tomorrow... He's going to be a big loss. It's a testament to his ability and consistent level of performances that we're speaking in such terms about an eighteen year old, who has only started ten games'".

And, Blue Square Football reports that "Darlington chairman Raj Singh has urged local councillors to show their backing for the club. The Quakers chairman has discussed planning and development issues pertaining to The Northern Echo Arena with council officials and he is not happy with their level of involvement.

Singh told The Northern Echo: 'We need to know whether the council wants a professional football club in Darlington, and how far they are prepared to go to help us make that happen. We've spoken about the covenants on the ground and the planning, and we've made it quite clear that they need to show us their hand. That will help us going forward. We've spoken to the council about various planning issues and talked about how we can develop the site. The public have shown their support in the last few matches - now it is time for the council to do the same. For me, they will be the biggest players in terms of where this football club goes over the next few years. If they can give us some answers that we want to hear, then we can go back to the people involved with the holding company and sort that issue out'".

Some useful general information comes from Barrow concerning "Conference Registration Deadlines. The Football Conference Emergency Loan Window shuts at 5pm on Friday March 25th. After this date no NEW emergency loans are permitted. (This only affects players joining Conference Premier sides.)

Registration of free agents (who were so before 1/2/11) for Conference Premier sides and all transfers / registrations for North & South Division clubs, closes at 5pm on Thursday March 31st. Existing loans may be extended at their original expiry date providing they are continuous with the previous loan".

This is Lincs claims that "Boston United are to lose their promotion-winning managers to county rivals Grimsby Town. After weeks of speculation, Rob Scott and Paul Hurst are poised to be appointed as joint-managers at Blundell Park...

The Pilgrims will be due compensation – thought to be less than £10,000 – for the former Ilkeston bosses. However, that has not proved a stumbling block for Grimsby, who were relegated from League Two last season...

However, at the weekend, Scott denied having any contact with the Mariners... 'It irritated me on Saturday when a couple of blokes shouted "just because you're going to Grimsby". That smacks of bitterness...I think it's justified for us to be linked with clubs... In any business, if you achieve, you get head-hunted. If that's going to happen now, in two years, five years, I have no idea'..

The Mariners have turned to Scott and Hurst after being rebuffed in approaches for Darlington boss Mark Cooper, Kidderminster's Steve Burr, Rushden chief Justin Edinburgh and Luton number two Gary Brabin".

Meanwhile at Grimsby Town we read that "Rumours are rife that Boston United duo Rob Scott and Paul Hurst are to become the next Grimsby Town managers. Although the pair have been linked with the vacant post, Town chairman John Fenty remains tight-lipped as to who Neil Woods's successor will be. Whoever the new manager is, he will be at tonight's game against Gateshead and will be unveiled on the official website tomorrow morning".

According to the Northants Evening Telegraph on Tuesdday, "Kettering Town could be without five players for tonight's tough trip to Darlington as illness sweeps through the squad. Poppies boss Marcus Law revealed... that skipper Brett Solkhon (pictured), Marcus Kelly, Jon Challinor, Danny Mills and Romone McCrae are all struggling with illness...

Law believes the illnesses have been caused by players being 'run down and fatigued" and he admitted he will have one eye on Saturday's clash at Eastbourne Borough when he picks a team tonight".

From The Leader comes news that "Bosses of Wrexham Supporters' Trust have given members a full briefing on the crucial role they are playing in the on-going battle for control of the football club... They were given an illustrated talk on how the complex saga has been unfolding over the past two months and told how things are changing almost by the hour...

Hotelier Stephanie Booth who, despite an earlier withdrawal from the contest, is still in the running to take a key role in the future of the club...

The Trust has just reached a milestone in its fundraising campaign. It had just broken through the half million pounds barrier and, after making donations of more than £123,000 directly to the club since 2002, the trust currently has a war chest of more than £380,000 to support an ownership bid...

Trust secretary Gavin Jones said... that, so far, the trust had made 'absolutely no agreement" with any potential bidder for the club... Members were told that there is believed to be a funding gap which must be bridged if a take-over is to be successful. Mr Jones said: 'We believe it might be as much as £700,000'".

The Cambridge News said on Tuesday that "Home must be where the heart is if Histon are to kick-start their survival bid, according to David Livermore. Six of the Stutes' last 10 matches of the season are at the Glass World Stadium, beginning with tonight's visit of FA Trophy finalists Mansfield.

Histon – who also have Forest Green, Rushden, Darlington, Wimbledon and Luton – still to entertain, have taken just 15 points from a possible 51 at Bridge Road this term. 'Our form has to be better at home', said manager Livermore. 'Away from home, we've looked very good since the turn of the year... When you're the away team, you can be a bit more reserved and a bit more professional in your approach. You can pick your opportunities to go forward... From a management and staff point of view, we've thought that 46 points is what it would take to stay in this division. It could well be lower than that, but we thought 46 was about the right amount. We've got to hope that's lower now... There are 10 more opportunities to do our best and to climb the table'".

Another manager setting targets is the subject of a report in the Northern Echo which says that "Darlington boss Mark Cooper has set his players a target of nine wins from their last 12 matches.. Quakers are unbeaten in their last 11 league and cup matches, and while they remain 11 points off the play-off places, they retain a promotion chance due to their number of games in hand...

He said: 'We think we've got to win nine or ten out of our 12 games, but we're on a good run now – one defeat in 18 – so we've got to keep going and make sure that we do things properly and professionally to win as many games as we can'...

Paul Terry is keen to get involved after recovering from a cruciate knee ligament injury. Midfielder Jamie Chandler sustained a broken hand on Saturday and although he was able to continue, he must wear a cast if he is to keep his place".
---
22 March 2011
SAM RELEASED
It is with regret that Altrincham Football Club wishes to announce the release of Sam Hewson (right). With the signing of Dale Johnson on Friday and the tight financial constraints imposed on the club it became necessary to trim the squad. The club would like to thank Sam for all his efforts this season and wish him all the best for the future.

22 year-old Sam joined Alty on 3 September 2010, following his release by Manchester United in June that year. He had League experience, having been on loan at both Hereford (2009) and Bury (2010). For Man. Utd Reserves he made 50+6 appearances, scoring 10 goals and for the Academy he appeared 51(+7) times, scoring 16 times. In December 2007, he was an unused substitute for United's first team in a Champions' League match at Roma. After his release by United on June 2010, he had trials with Grimsby Town. He made his Alty debut as a sub against Kidderminster in September 2010 and now leaves after making 14+9 appearances and scoring three goals.
REFS
The referee at Darlington v Altrincham this Saturday is Mr R. Wigglesworth, whose previous encounters with Alty include:
Alty 2 Rushden 2 on March 3, 2010
Alty 0 Crawley 0 on 12 September, 2009.

The following Tuesday (29th), when Southport visit Moss Lane, the man in charge is Mr Ross Joyce. His previous Alty games include:
Alty 1 Wrexham 3 on 30 January, 2010
Tamworth 0 Alty 2 on 24 November, 2009
Alty 0 Rushden & Diamonds 4 on 29 November, 2008
BSBP NEWS
Crawley Town announce "The death of Co-Owner and Director, Bruce Winfield. Bruce passed away earlier today at St. Catherine's Hospice in Crawley after bravely battling cancer. Everyone at Crawley Town Football Club is devastated by this sad news. Bruce has been associated with the football club for over 50 years as a lifelong supporter and later as an important figure in revitalizing the club's fortunes and will be sadly missed by all...

God Bless you Bruce, the family that is Crawley Town Football Club, will miss you more than words can ever say".

In the Birmingham Evening Mail, "Des Lyttle admitted Tamworth face a relegation battle after slipping to a ninth defeat in their last 11 matches in the Blue Square Bet Premier. A disastrous blunder that led to one goal and a controversial second condemned the Lambs to a 2-0 reverse at third-from-bottom Altrincham and left them just four points above the drop zone.

Manager Lyttle said: 'We never thought we were clear and this game proves that... Mistakes cost matches and we were punished for two terrible ones. We have to be better than this and there have been some players who have been strong before but now we need to stand up and be counted'".

Kidderminster Harriers "are thrilled to announce that Manager Steve Burr has committed his long-term future to the Club by penning a new deal to keep him at Aggborough until the summer of 2014. Aggborough's inspirational leader initially signed on at the club in early 2010 after leaving Stalybridge Celtic...

Assistant boss Gary Whild, too, has signed for the same period...

'Stability is something the Club has been crying out for previously, so we're delighted to have secured Steve and Gary's services for this length of time', said Chairman Mark Serrell".

News of our next opponents comes from Blue Square Football which reports that "Darlington chairman Raj Singh has revealed he intends [to] open contract talks with manager Mark Cooper before the end of the current campaign. Cooper's contract is set to expire at the end of the season and he was recently the subject of an approach from Grimsby Town.

Singh rejected the approach from the Mariners but it is believed that their chairman, John Fenty, remains hopeful that he'll be able to recruit Cooper. Singh told The Northern Echo: 'We'll sit down with Mark in the next couple of weeks. We've had a chat and he's assured me he wants to stay and there's no reason why he shouldn't want to stay and finish the job he's started'...

He added: 'With a bit of a luck we've still got our league run and hopefully we can get into the play-offs. I spoke to Mark and he hasn't given up on that. Maybe we'll bring in a couple of loan players to boost the squad. We're not discounting the play-offs until it's mathematically impossible. It's a tall order but there's no reason why we can't. We've had one defeat in 18 games and are hitting form at the right time'".

Meanwhile, "Forest Green Rovers boss David Hockaday has urged his side to go unbeaten for the rest of the season following a goalless draw with Newport County at the weekend. The Rovers have slipped into the relegation zone after picking up just two points from their last six fixtures and they now have just seven fixtures left to secure their Blue Square Bet Premier safety.

'A point and a clean sheet were the minimum I asked for against Newport, who are a big old team and have some monsters', Hockaday told This is Gloucestershire... 'I've now said to them 'can we go through the rest of the season without losing?' That's the deal, and if we can do that we'll put ourselves in with a great chance'".

From NL News24 we read that "Grimsby Town are close to appointing a new boss, chairman John Fenty has said. Mr Fenty also refuted a suggestion put to him that the potential candidates make for a particularly weak short-list.

He told thisisgrimsby.co.uk: 'Things are going well and we hope to be a little closer to appointing someone by the middle of next week. There is still about a quarter of the season left. The new manager will need to make preparations for next season... When the handover takes place, the aim to fight for the play-offs will remain – and Dave and Robbie deserve credit for keeping that opportunity alive. The focus remains on next season and preparations for it. The new manager needs eight to 10 games to understand the players we currently have, and what he wants to do looking ahead to next season'".

NLN24 also reports that "Mansfield Town manager Duncan Russell has revealed that the Stags used a sports psychiatrist to help clinch a trip to Wembley in the FA Trophy...

'One of the things I said to the players was to give ourselves a chance. We needed to keep our discipline and 11 men on the field', Russell told This Is Nottingham... 'Slowly but surely, little things are coming and making us a better side. It was a hostile atmosphere. A sports psychiatrist came in and watched the lads and then we put some things together about the game. We told them the only difference was that the reward is playing at Wembley. Other than that, everything else was still the same. The size of the pitch, the fans, the size of the goals. It was still 11 v 11. They were told to play the game and not the occasion, don't fall in a pressure cooker. They did that brilliantly and I think we went there 1-0 up and managed to put them in the pressure cooker'" .

Rushden & Diamonds tell us that they "are proud to announce that one million special B shares in the Rushden & Diamonds Football Club Limited Company are being made available to purchase, equating to 10% of the overall share base. These are priced at 1p each with an additional 49p donation per share towards the clubs playing budget. These shares are available for anybody to own in blocks of 20 shares for £10, or higher amounts at the same 1p per share plus a 49p donation".
---
21 March 2011
ONE HALF-TIME TALK; TWO PERSPECTIVES!
Saturday's "Robins' Review" matchday programme had two interesting accounts of the same incident - the Altrincham FC half-time team talk during the match last Tuesday against FGR...

Assistant manager Stuart Bimson described it in measured tones...

"We came in at the break a goal down but we reminded the players to stay calm and focused and stressed belief in what they were doing".

Captain Robbie Lawton had a slightly different perspective...

"When we got in the dressing room, Ken [McKenna] went berserk. I have since heard it described as 'heated'... It was like a good old-fashioned team talk, with no holds barred and Ken telling us how we were this and that. He really off loaded, not only verbally but also physically as well. It was that heated, he actually booted a row of water bottles and smashed the carrier they were in, sending bits of plastic all over me.

As he carried on with his volley, the kit man knelt down and started trying to sellotape all the bits back together again! Then, after five minutes, he walked out, either to calm down or because he couldn't stand being in the same room as us- and Stuart Bimson took over.

Bimmo retained the tempo for the remaining ten minutes so it just leaves me wondering who deserved the credit for the way we went out and turned it round in the second half.

To be fair to Ken, his reaction was understandable ".
YOUTH TEAM'S FINE WIN
A report on Alty Youth's fine away win in the Neil Thomason Memorial Cup over previously unbeaten FC United of Manchester is in the here.
THANK YOU
The TASC bucket collection at Moss Lane on Saturday raised £67.05, for which the Club thanks all contributors and collectors.
PHYSIO'S REPORT
In Saturday's "Robins' Review", Alty physio Sean Riley reports that "Tuesday night saw the return of Stuart Coburn in goal due to Doots feeling some discomfort in his hamstring...

Mark Beesley trained well last week and over the weekend with no problems with his hamstring then, during the warm-up and just before he was going on, (which he wasn't aware of), he felt some discomfort in his hamstring, but not in the same area as his original injury... Bimmo and myself decided the most sensible decision was not to play him...

Some good news is that Shaun Densmore does not need surgery as the cartilage in his knee was not damaged when he injured his medial knee ligament at Kidderminster... Hopefully, a return may be possible in the first week of April.

Chris Denham will step up his rehab this week and, hopefully, he is only a couple of weeks away from fitness. Greg Young (ankle) and Sam Hewson (ribs) may be fit for the trip to Darlington".
BSBP NEWS
According to NL Daily "Kaid Mohamed looks like he may have played his last game for Bath City after refusing to sit on the substitutes' bench for Saturday afternoon's match against Grimsby Town. The striker, who is City's joint leading scorer with 13 goals, turned down the offer of a contract in midweek, saying he is keen to leave Twerton Park at the end of the season and return to full-time football. That prompted manager Adie Britton to drop him from the starting XI for yesterday's game but, on hearing that he was a sub, Mohamed said he would not be involved at all, choosing instead to sit in the stands. But while Mohamed looks to be on the way out, fellow striker Lee Phillips has agreed to sign a new one-year contract with City", adds This is Bath.
---
20 March 2011
ALTRINCHAM 2 TAMWORTH 0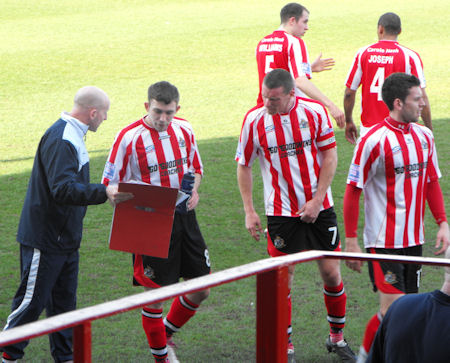 Right: Stuart Bimson, Alty's Assistant Manager, relays his tactics to Damian Reeves and Robbie Lawton during a lull in proceedings in the game with Tamworth.
It was a dream return for Dale Johnson as his header, on the hour mark, which just crossed the line off the underside of the bar, sealed a 2-0 win - just three minutes after he had come onto the pitch. Earlier Alty had taken a first-half lead in bizarre circumstances...
Alty line-ups, bookings
Tamworth report how the game at Altrincham was the "Ninth defeat in eleven for Lambs... With Jay Smith ruled out with a knee injury, Des Lyttle welcomed Liam Mitchell back in goal and Seb Lake-Gaskin in the starting eleven alongside new signing Christian Smith...
Mitchell raced out to deny Reeves a short back pass by Tait but when the ball came back his way Tait tried it again with an absolutely suicidal back header and the same Alty player advanced from a hugely offside (if play had come from his own player) position and scored (0-1, 36 mins)...
A complete mix up at the back allowed Lawton to cross the ball into the box from the right and Johnson headed it against the cross bar and it went straight down into the goalmouth, but despite the best efforts of Mitchell the ball was called by the linesman to have crossed the line to extend Alty's lead (0-2, 60 mins)...
Perry, harshly nicknamed 'submarine' by the home fans around the press box, was felled by Williams on 62 earning the Alty player a booking..."
BSBP NEWS
"The Football Conference have issued the following statement on issues involving Blue Square Bet Premier club Rushden & Diamonds and Blue Square Bet North Redditch United after a Board meeting held in London.

Rushden & Diamonds have been charged under Rule 18 for allegedly submitting inaccurate information relating to submissions made under the Football Conference's financial reporting regulations. The club was formally charged on 9th March and have fourteen days in which to respond. If requested by the club, a Personal Hearing will be conducted by independent members of the Competition, when the evidence will be considered. Arrangements for a Hearing will be made shortly.

Redditch United met a Panel of independent members of the Football Conference, commissioned by the Board, on 27th January 2011 to consider a Misconduct charge under Rule 18. The charge concerned an allegation of submitting misleading information in respect of financial reporting regulations.

As part of the findings of the commission the club was ordered to comply with certain conditions appertaining to information gleaned during the Hearing. The club was advised failure to adhere to these conditions would result in the suspended sentence of a five-point deduction from its league table score, would be imposed.

On its own admission, Redditch United has failed to adhere to the instructions of the commission and the full sanction is now imposed with immediate effect."
OLD BOYS
Kieran Lugsden got a brace of goals as Buxton drew 2-2 with FCUM on saturday.
---
19 March 2011
SATURDAY GAMES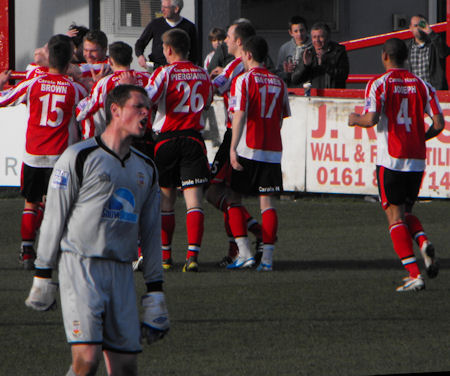 Right: Tamworth keeper Mitchell protests that the ball did not cross the line as Alty congratulate Dale Johnson for his goal.
Saturday, 19th March
Altrincham 2 Tamworth 0
Bath City 2 Grimsby Town 1
Cambridge United 2 York City 1
Eastbourne Borough 0 Barrow AFC 2
Fleetwood Town 1 Wrexham 0
Forest Green Rovers 0 Newport County 0
Hayes & Yeading Utd 3 Kettering Town 2
Rushden & Diamonds 2 Southport 2

FA Trophy SF 2nd Leg
Luton Town (0) 1 Mansfield Town (1) 1 - agg. 1-2
Gateshead (2) 0 Darlington (3) 0 - agg. 2-3

So the FA Trophy Final features Mansfield Town v Darlington. L
SPECIAL OFFER!
Replica home shirts are available at the heavily discounted price of £20 in the Club Shop today. You will also receive a £10 voucher which can be used for any future clothing purchase from SK Kits. The club would like to thank Ian Senior for his generosity in enabling this offer to be made.
BEFORE THE GAME
Radio Robins is planning to broadcast live commentary from the Alty v Tamworth game. There will also be regular live text updates from the Alty v Tamworth match on the website's Matchday Update page, starting with the confirmed team line-ups before the game.

Mike Garnett informs us of the past record of matches between Alty and Tamworth:
At Moss Lane: P4 W2 D2 L0 F4 A0
At Tamworth: P5 W1 D1 L3 F5 A7
Overall: P9 W3 D3 L3 F9 A7

The BBC reports, in advance of the Altrincham v Tamworth match, that "Altrincham defender Greg Young will miss out, as he is still struggling with an ankle injury. Striker Mark Beesley faces a late fitness test on a hamstring injury, while fellow striker Chris Denham (groin) will not feature.

Tamworth goalkeeper Liam Mitchell will be available after recovering from a hand injury. Midfielder Stuart Hendrie should keep his place in the side, while striker Jason Bradley is pushing for a start".

Post-dating the BBC comments, Alty re-signed Dale Johnson, who will join the Robins' squad for this game.

Also the Birmingham Mail says that "Tamworth boss Des Lyttle is hoping the capture of midfielder Christian Smith can spark the Lambs back to winning ways. A sequence of three successive defeats has left the Lambs – in 16th place... Smith, however, has joined from Wrexham on an emergency loan for the rest of the season and will make his debut in tomorrow's trip to relegation battlers Altrincham.

'With Christian coming in and Stewart Hendrie joining us last week, that will hopefully bring us a little bit of freshness', said Lyttle. 'Christian is a big, strong lad with a nice left foot and he will bring something a little bit different'. Midfielder Smith needed international clearance to join from the Dragons and this will be the 23-year-old's third loan spell of the season after stints at Newport and Barrow.

Wrexham had loaned keeper Danny Ward to the Lambs last week as a one-off but Tamworth will have Liam Mitchell back fit to face Altrincham after his hand injury. Skipper Jay Smith will miss out, however, after damaging his medial ligaments in training yesterday.

Lyttle, who is hoping to add another new face today, is aware Tamworth's slide has sucked them closer to a relegation dogfight. They now lie just five points ahead of fourth-from-bottom Hayes & Yeading".

The Football Conference informs us that "Play-off chasers Fleetwood Town have take young midfielder Alex-Ray Harvey on a month`s loan from Burnley. Burnley lad Harvey is a left-footed, aggressive, ball-winning central midfielder. He joined the Clarets` Centre of Excellence aged nine and has featured in the Lancashire County team. He was a regular for both reserve and youth teams in 2008/09 as a second-year apprentice and, in March 2009, was offered professional terms with the club. Harvey, who turns 21 on April 4th, has yet to make his senior debut for the club".
FRIDAY SCORE
Crawley T. 3 AFC Wimbledon 1
League table.
SIGN UP FOR THE NLP AND HELP ALTY
The Non-League Paper is offering Altrincham FC a chance to make some money while at the same time helping to boost the newspaper's circulation. NLP's Sam Emery writes, "The online edition of The NLP, available every week from 1am Sunday, is proving popular and we would like to attract even more subscribers. If you could find space on your club website to advertise our online edition we will give you HALF the revenue that ad generates.

For instance, a 48-week online subscription to The NLP is £48. So if 1,000 of your supporters took up our offer we would pay you £24,000". This online offer website could generate important amounts of for Altrincham FC, so please give it a go!

The online edition costs are: £15 for 12 issues; £28 for 24 issues; £48 for 48 issues.

Just click on the advert, towards the top of this page, to go to the NLP subscription page. When subscribing, please complete the drop-down box to indicate to which team you wish the proceeds to go. At the end of each month The NLP will add up the subscriptions and pay Alty accordingly.

The NL Paper is a mine of information on all levels of the non-League pyramid.
OLD BOYS
Blue Square Football announces that "In a slightly different loan move to usual, Droylsden have taken midfielder or defender Aaron Chalmers on loan until the end of the season from Evo-Stik League First Division North side Mossley. Chalmers, 20, joined the Bloods` Tameside neighbours in June 2010, but it is unusual for a club to take a player on loan from a team lower in the non-League Pyramid. Chalmers played for Bolton Wanderers as a junior before signing professionally for Oldham Athletic where he made a couple of first-team appearances. He then had a spell on non-contract forms at Macclesfield Town before signing for Hibernian at the start of last season. He recently signed an extension to his current Mossley contract to tie him to the Lilywhites until the end of the 2011/12 season. Jody Banim and Dave McNiven have both been released by the Bloods".

Aaron, brother of Lewis Chalmers, featured in the Altrincham team photo at the start of last season before turning down a contract at Moss Lane.

Welsh Premier reports that "Airbus UK Broughton have lost the services of Tom McCready after the loanee was recalled by Chester following a string of impressive performances. The 19-year-old Liverpool-born midfielder, who is a former Everton apprentice and Hibernian academy player, joined the Wingmakers in January and scored twice in five Welsh Premier appearances. McCready has proved pivotal in helping the Wingmakers open up a four-point gap at the top of the play-off conference but, having sent him to The Airfield to recuperate and gain some match fitness, Chester boss Neil Young has recalled the player to ease his growing injury concerns and to give him the shot he believes he deserves".

NL News 24 confirms that "Matlock Town boss Mark Atkins has fulfilled his promise to strengthen his Gladiators' squad... He has... signed Northwich Victoria's 6'4" target man John McAliskey on loan for the rest of the season".
---
18 March 2011
CHAIRMAN ON RADIO
Alty's joint Press Officer, John Edwards, writes:

"Grahame Rowley has been invited on to BBC Radio Manchester's early Friday evening sports programme to discuss the imminent end of the Geoff Goodwin era at Moss Lane and the quest to find new backers for next season and beyond. The Altrincham chairman will be interviewed about the Goodwin years and about the exciting opportunity for new investors to come on board as shirt sponsors, stadium sponsors or even both.

Radio Manchester's Jack Dearden hopes the interview, at the station's Oxford Road studios, will be aired at around 7pm tomorrow (Friday) evening, or soon after. The name Go Goodwins will no longer be on the front of Alty's shirts next season, after Geoff's decision to step aside and give someone else an opportunity, and the search for new partners is already well underway".
CRAWLEY PAY-OUT
Blue Square Bet announced before Friday's game that they "have made history by announcing that they will be paying out on Crawley Town as Blue Square Bet Premier title winners if they can beat AFC Wimbledon in Friday night's live game at the Broadfield Stadium. It's the first time that a bookmaker has announced that a win in a specific game will result in an early payout. Steve Evans's team are six points clear in this morning's table with their nearest challenge looking to come from Luton Town eleven points back in third place...

Alan Alger from Blue Square said: 'This is the first time ever that a bookmaker has pi-pointed[?] a game so that punters clutching ante-post vouchers can cheer an early payout as they watch a live match. We've decided that beating AFC Wimbledon tonight would give them an unassailable lead and therefore will be paying out over £20,000 to their backers. We keep a good ear to the ground in the divisions that we sponsor but we were caught out by Crawley's summer windfall that enabled them to buy the players to challenge. We laid them at all rates down from 33/1 in pre-season as a few lucky fans heard about the huge investment happening at the club...

We're throwing down the gauntlet to AFC Wimbledon to save us from a pay-out as they are a very favourable result in our book. Financially our worst scenario would be Luton Town coming back and wrestling the title off Crawley after we've paid out – that would push our losses nearer to six figures. There are still some bad memories in our office from paying out on Burton Albion when they were 1/100 in the 08/09 season only to see them drift to 2/5 before stuttering over the line on the final day of the season".
DALE RE-SIGNS
Altrincham have re-signed Dale Johnson from Hyde. He will be available tomorrow and has been given squad no.14. Hyde United say that "We have today released Dale Johnson with immediate effect to enable him to rejoin Altrincham. Hyde FC would like to thank Dale for his considerable efforts over the course of the season, and wish him all the best for his future footballing career. Dale managed 80 goals in 225 games for Hyde in his 2 spells for the club, with 12 goals in 29 appearances this season."

25 year-old striker, Dale, returns to Moss Lane with an Altrinhcam playing record of starting 49 games, being a used sub in a further 20 matches and a return of seven goals.
SPORTSMAN'S DINNER
Alty chairman Grahame Rowley writes:

"Altrincham Football Club are holding their annual Sportsman's Dinner on Friday 15th April at the Cresta Court Altrincham The guest speaker is Wilf McGuinness who has many a tale to tell. He will be accompanied by Billy Flywheel, a comedian/illusionist, who I'm told is one of the best in the business.

We all know how hard times are at the moment but the club needs your support in order to reduce the deficit which we are facing at the end of this difficult season. I hope that you will be able to buy ticket(s) for this event and also if you have any ideas of who else can be contacted, it would be much appreciated if you could spread the word or give me the contact deals.

We have sold over 50 tickets to date and are looking to hit the 100 mark if possible. Tickets are priced at £40 each which includes a 4 course meal. Dress code is lounge suits. If you need any further details please do not hesitate to contact me".
BSBP NEWS
News of our next opponents comes from Tamworth who report that "Manager Des Lyttle received the backing of the Board when they rubber stamped the signing of 23 year old Christian Smith from Wrexham, who has been signed until the 30th April on an emergency loan deal. The midfield player will wear the number 18 shirt which was previously worn this season by Troy Wallen. Christian trained with his new team mates at Whittington on Thursday morning and will go straight into the squad for the important League game at Altrincham on Saturday".

Meanwhile, "Manager David Livermore may drop some big names from his Histon line-up following Tuesday night's bitterly disappointing loss at Kettering. The Stutes' boss was clearly upset at the lack of leadership on the pitch as a 3-1 half-time lead turned into a nightmare 4-3 defeat...

Daniel Sparkes, Zak Mills, Jim Stevenson and Lewis Taaffe are the only players contracted at the club for next season but the performance in the second half did not suggest that squad members were playing for their futures. 'One thing I don't understand is there's only four people at the club that have contracts for next season', said Livermore. 'If I was in a position where I'm trying to earn a contract, at Histon or elsewhere, I'd be trying to make sure I was putting a performance in. We didn't have enough of that. There have been too many games where, when it's mattered, when we've had to stand up man-for-man against an opposition, we've found ourselves wanting. This was another example, and that's bitterly disappointing...

We've got a very small squad but, at some point, I've got to think about where we're going to go next season', he said. 'After a performance like that (at Kettering) I don't think anyone could complain if they're left out in the next game. Maybe it's time to have a look at one or two of the younger lads in or around the squad or who have been on the bench lately. They certainly can't do any worse than we did in the second half'", he told the Cambridge News.

NL Daily reports that "Crawley Town manager Steve Evans has confirmed that defender Sam Rents and midfielder Steve Masterton have agreed to join rivals Hayes & Yeading on loan...

The duo join fellow Reds' loanee at Church Road, Ben Wright... The players will be on loan for a four week period and then return to The Broadfield Stadium for the last few weeks of the current season. Hayes & Yeading manager Gary Haylock...said: 'I spoke to Steve a few weeks ago but got no joy but I made a further attempt after Tuesday night's match; I received a call from Steve Evans yesterday afternoon to give his approval and I acknowledge his help in this matter... They will add some real quality to our squad'.

Reds Boss Steve Evans said: 'Both Sam and Stevie need games at first team level, so this is a great short term move for them. They are without doubt two very good players who are extremely competitive but recently they have found it difficult to break into our first team matchday squad, so this loan move makes complete sense for both of them. The loan is for four weeks and after that they will be back here for the last few weeks of the season, we all know that will be a vital period here at Crawley Town and both Sam and Stevie will return match fit... I do believe they are joining a decent team who are below where they should be in the Blue Square Bet Premier league table'".
---
17 March 2011
KEN ENJOYING CHALLENGE
The Sale & Altrincham Advertiser has an interview with Alty boss, Ken McKenna, from before the FGR match on Tuesday. "We're all united and working as hard as we can to keep ourselves in this league. I really can't fault the players' effort and application. I think the fans can see that and they're sticking with us. The ones who came down to Newport on Saturday were outstanding and even though we lost the game, they stuck around to give the lads a round of applause which gives the lads a real lift", said the manager. He added, "We're a part-time side playing flat out every week against professional clubs and it can be hard to maintain that 100% concentration you need to get results. At Newport we were chasing the game but on the bench I had a keeper, a full-back, a holding midfielder and two kids so we didn't exactly have a lot of options to freshen things up and we just seem to be a bit short of goals at the moment.

I'm not enjoying where we are in the league.. but I'm thoroughly enjoying the challenge and extremely grateful to have been given the opportunity."
EASTER FUN WEEK
Altrincham FC is holding another Easter Fun Week this year. The dates are 4th to 8th April and the daily hours are 9.30am to 3.15pm at Moss Lane. The cost for the full period is just £60 per attendee with individual day rates also bookable and discounts are available for brothers and sisters of attendees. Please contact Karen Rowley or Chris Bullock on 928-1045 or by e-mail.

There will a presentation event on the final day at 2.30pm to which family and friends are invited. Applications can be made in writing (to Altrincham FC. Moss Lane, Altrincham WA15 8AP), and these should include the player's name, address, age and school year as well as contact telephone and e-mail details.

Please also indicate the attendee's school and any medical conditions or special needs s/he may have. Any cheques should be made payable to Altrincham FC. Please also indicate whether your child may be included in team or group photographs.
YANKEE JACKPOT TO BE WON
The Altrincham FC Saturday Yankee jackpot was not won last week with the code 7238 so the jackpot stands at £5,000, with the reserve pot already standing at £700. There were four winning "trebles" each netting their code holders £50. Consult the details of the Yankee and see how you can win the jackpot for a £1 weekly stake.
INJURIES
In the Robins' Review, Alty physio Sean Riley indicates that Mark Beesley has recovered from his injury - he was on the bench on Tuesday night - but "Greg Young will be out for a couple of weeks with ankle ligament damage and Chris Denham will step up his rehab on Thursday as it will be two weeks since his groin operation. Hopefully, if it was successful, he could be back by the end of the month".

Elsewhere, we learn that Sam Hewson, who has missed the last couple of games, has a rib injury after a fall. It is also hoped that Shaun Densmore will be fit for selection in the next fortnight or so.
FESTIVAL HELP NEEDED
The 2011 Altrincham Festival takes place on Saturday 2nd July and The Altrincham Supporters' Trust (TASC) will be running a float in the cavalcade. If you can spare any time on the day, please e-mail TASC or ring the club on 0161 928-1045. The Festival helps to raise the profile of the Club and raise funds so, if you can help, please do so.
RACE NIGHT
The annual TASC Race Night will be run on the last day of the season after the home match with Eastbourne Borough. That game now kicks off at 5.15pm so the Race Night will be likewise delayed.
SATURDAY'S FIXTURES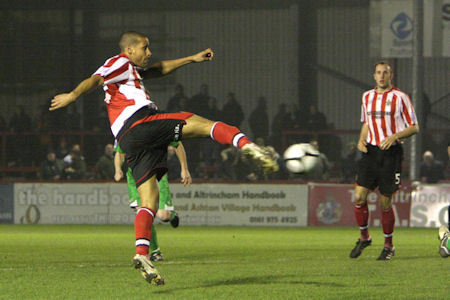 Right : This image by Gavin Rathbone of GR Photography, shows Marc Joseph netting against FGR on Tuesday night.
CSC OPPONENTS
Alty meet Northwich Vics in the Cheshire Senior Cup Final on 5th April. The Northwich Guardian reports that "Skipper Steve Woods will take no further part in Northwich Victoria's season after signing for title favourites FC Halifax Town on loan.

The former Torquay United stopper, who has been restricted by injuries to just a dozen starts for his home town club since signing in September, completed the move on Monday. 'It was a difficult choice we had to make', said manager Andy Preece. 'We've gone slightly over budget with the additions we've made recently, so something had to give. He's not lost to us though'.

Woods, 34, penned a contract through to the end of next season after leaving Stalybridge Celtic. But problems with his health – most recently a back strain – have hampered his ability to hold down a regular starting place in the team. Northwich further trimmed their playing staff at the weekend with the release of [former Alty Youth striker] Osebi Abadaki, David Thompson and Stuart Wellstead to Radcliffe Borough, Marine and Woodley Sports respectively".
---
16 March 2011
Saturday, 7th May 2011 - END OF SEASON BALL
Altrincham FC's annual End of Season Ball takes place at the Cresta Court Hotel, Altrincham on Saturday, 7th May. A four-course meal, followed by live music and dancing will be on offer. Further details will be announced as soon as possible, but please make a note of the date for your diary now!
CSC FINAL
As previously announced the Cheshire Senior Cup Final between Altrincham and Northwich Victoria will take place at Nantwich Town FC on Tuesday, 5th April 2011 at 7.45pm. Admission prices, for all parts of the ground, will be £8 for adults and £3 for over-65s and under-16s.
MATCHDAY SPONSORS
Altrincham FC wishes to thank all of its matchday sponsors and invites anyone who would like to help the Club by sponsoring a game or a matchball, to contact Barry Pond at the Football Club. The updated list of Matchday Sponsors is now on the website.
WHEN WE WERE KINGS
Apologies for the delay in updating the excellent "When We Were Kings" series written by Barry Pikesley and reproduced in the "Robins' Review". Here are four more instalments which give fascinating detail of the momentous 1979-80 season "When Alty Were Kings" and won the Alliance, the forerunner of today's Conference.
Parts 33 & 34
RADIO ROBINS
Brian Flynn advises that the new Radio Robins, which will provide matchday commentaries on Alty matches went live last night and you can catch up on the commentary of Alty v FGR on the Radio Robins site. The commentators are Paul Salt and Brian Flynn.
THANKS
Altrincham FC wishes to thank the donors and collectors for raising £53.45 through last night's bucket collection at Moss Lane.
FROM THE FGR SIDE
Forest Green Rovers report from This is Glos that "More self-inflicted wounds left Forest Green reeling at Moss Lane, and those wounds could prove fatal to their chances of Blue Square Bet Premier survival...

But they contrived to toss their advantage away, Marc Joseph and Michael Twiss netting in the 57th and 59th minutes respectively for the part-timers, and it leaves Dave Hockaday and his side staring down the barrel again... Hockaday handed recalls to Craig Armstrong and Wayne Turk at the expense of Steve Davies and Lewis Young...

Long-throw specialist Clee is Altrincham's answer to Rory Delap, and he caused consternation in the visiting ranks shortly after the restart with a massive hurl that was met by Joseph and deflected behind. Damian Reeves also sent a 20-yard shot fizzing wide as the Robins rediscovered some urgency...

The equaliser came a minute later, as Clee's corner was not cleared and Joseph was on hand to stab home through a sea of legs in the six-yard box. Another Clee delivery then turned the game on its head, as he skipped past Scott Bartlett and swung in cross for Twiss to finish via the inside of the post".
ALTRINCHAM 2 FOREST GREEN ROVERS 1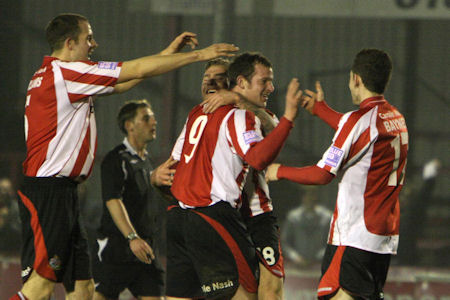 Altrincham showed great spirit to come back from an interval deficit with two goals in as many minutes, just before the hour mark. Altrincham had dominated the first half, without seriously threatening a goal, against a poor looking FGR side but then gifted the visitors the lead. Match report here.

Right : Gavin Rathbone of GR Photography, captures the celebration after Michael Twiss's goal. Rob Williams. Steve Connors and Wes Baynes are the other Alty players seen.
Alty player stats.

John Edwards, Alty's joint Press Officer writes:

"Ken McKenna saluted his Altrincham players' spirited response to a 'heated' half-time discussion as they fought their way back to secure three crucial Blue Square Bet Premier survival points at Moss Lane on Tuesday night.

Trailing 1-0 to an outplayed Forest Green Rovers, after gifting them a goal with a defensive mix-up, Alty faced the wrath of their manager when they returned to their dressing room at half-time.

The fiery exchange had the desired effect, as they turned the game round with two second-half goals to move to within three points of safety and boost confidence for Saturday's Moss Lane showdown with Tamworth.

'It was a bit of a heated half-time,' admitted McKenna. 'There were a few words, because we shouldn't have been behind, particularly not to a goal like that. It was Sunday morning schoolboy stuff, a terrible goal

'But we battled back in the second half with some good honest performances, and I was pleased with that. It may have been a bit scrappy, but you couldn't fault the character or attitude. That's just what we need at the moment, and we deserved the win, on that alone.'

Marc Joseph continued to shake off an uncertain start to his Alty career, with the equaliser, while recent loan signing Steve Connors was once more a powerhouse figure in midfield.

'Marc has taken a bit of stick at times but is showing his qualities now, with the way he is marshalling the lads at the back and getting everyone going,' added McKenna. 'Steve is a good, strong character, with a great attitude, and he takes a bit of stopping when he gets into his stride.

'Robbie Lawton put in a real captain's performance in the second half, as well, and I thought overall we deserved the win.

'We are still a bit restricted, with so many injuries, but the aim now is to stay positive and try and get something out of the Tamworth game. If we can get a little win there, and get one or two more players back from injury, we're going to be in with a chance'".
---
15 March 2011
MIDWEEK GAMES
Tuesday, 15th March
Through The Years by Howard Watts.
Altrincham 2 Forest Green Rovers 1
Cambridge United 0 Luton Town 0
Crawley Town 5 Hayes & Yeading Utd 2
Grimsby Town 1 Rushden & Diamonds 2 match abandoned due to fog after 57 minutes.
Kettering Town 4 Histon 3
Southport 2 Barrow 4
York City 2 Mansfield Town 1
BEFORE THE MATCH
Matchday Updates will be provided before and during Tuesday night's game against Forest Green Rovers.

Mike Garnett informs us of the past record of matches between Alty and FGR:
At Moss Lane: P6 W2 D3 L1 F10 A11
At Nailsworth: P6 W1 D2 L3 F10 A16
Overall: P12 W3 D5 L4 F20 A27

According to the BBC "Altrincham expect striker Mark Beesley to return after missing the last three games due to a hamstring injury. Winger Nicky Clee (thigh) and defender James Smith (hamstring) could be back, but Greg Young (ankle) is still out.

Forest Green midfielder Yan Klukowski faces a late test after going off in Saturday's 3-2 home defeat by Barrow. Rovers are without striker Steve Guinan again as he completes his three-match ban, while defender Jared Hodgkiss (knee) is out for the season".

Our opponents themselves, Forest Green Rovers report that they "Face another tough test in their fight against relegation, with a visit to lowly Altrincham this Tuesday night, 7:45pm kick off. After a frustrating defeat at the weekend, Dave Hockaday and his troops will be looking for a much needed confidence boost against 22nd placed Altrincham...

Steve Guinan sits out the final game of his ban for his sending off against Wrexham whilst Jared Hodgkiss remains on the sidelines with a knee injury. Yan Klukowski hobbled off after his goal scoring appearance as a substitute against Barrow on Saturday and is a doubt whilst Lewis Young, younger brother of England international Ashley, is available after making his debut against Barrow following his loan signing from Burton Albion.

Altrincham are without the long term injured Chris Denham and Shaun Densmore... Meanwhile defender James Smith is lacking fitness and only just made the bench for Saturday's trip to Newport.

Altrincham haven't won at home in the league since mid February when they picked up three points against Kettering thanks to a late Greg Young header whilst Forest Green have failed to win away since their impressive derby victory over Bath City at the end of 2010".

And This is Glos adds that "Forest Green have turned to winger Lewis Young – younger brother of Aston Villa and England star Ashley – to try to inject new life into their survival bid. Young, 21, came through the youth academy at Watford under Rovers' boss Dave Hockaday and has moved to the New Lawn on a month's loan from Burton Albion.

He made his debut on the left flank... 'Lewis needs to get to the pace of this game but he has got quality and is very quick', Hockaday said....

Hockaday said: "Basic mistakes have cost us because we kept on coming back and showed a spirit. I totally believe in the lads but we had a really bad day at the office, and yet we nearly got something out of the game... Football isn't a science, and when you come to play on a bobbly pitch on a warmish day at the end of the season it can be difficult to generate energy... We lacked quality on the ball and our decision-making was poor, and that comes from a negative pressure of being in the position we're at."
JAMES WAITS
Though there has been no formal notification, it is hoped that during next week the FA will deal with the case concerning the behaviour of James Smith during our game at Kidderminster, more than four weeks ago. James has served a two-match suspension already for his sending off in that game.
REFEREES
The next two games are reffed by familiar faces. The referee tonight (Tuesday) is Mr R. L. Metcalfe and on Saturday at home to Tamworth it will be Mr T. Harrington.

Mr Metcalfe has previously reffed Alty 1 York 1 in January 2009, Wrexham 0 Alty 1 in April 2009 and, more recently, Alty 2 Rushden 2 in October, 2010. But he will probably be best remembered for Alty 2 Kidderminster 1 in January 2008 which this website described as "a match whose first-half was played in unbelievable weather - torrential rain, strong winds, almighty claps of thunder and massive flashes of lightning which were too close to the pitch for comfort... Indeed, referee Metcalfe, who coincidentally had been the official who had to abandon the New Year's Day 2005 game at Moss Lane in similar deluge conditions, had to take the players off for 15 minutes with this game only in the twelfth minute of the first half". Bring your umbrella!

Mr Harrington has also experienced climatic adversity at Moss Lane, having had to postpone Eastbourne's visit to Altrincham two seasons ago. When the match was subsequently played, Mr Harrington got injured and had to be replaced during the game. Our most recent encounter with him was at Blyth earlier this year when Alty exited the FA Trophy.
BSBP NEWS
According to the Northern Echo "Darlington Football Club could return to its roots if a campaign to save a historic sports ground is successful. A group of prominent figures in Darlington has launched a last-minute effort to stop a housing development at Feethams – the Quakers' home of 125 years... The group is spearheaded by Shaun Campbell, the man behind a campaign to honour former Darlington goalkeeper Arthur Wharton, who became the world's first black professional footballer.

Yesterday, Mr Campbell unveiled his vision for Feethams, which includes a sporting academy based around a 7,000 to 10,000 capacity stadium. It is unclear yet how the project would be funded, but Mr Campbell said funding would come if the plans garnered enough support.

He added: 'All we want at this stage is to meet with the cricket club and explain a different way of thinking for Feethams'...

Last night, Mr Singh said he was still seeking to reach a resolution surrounding the holding company which owns The Northern Echo Arena and surrounding land. The company is in receivership over an outstanding £1.7m debt incurred before Mr Singh's 2009 takeover.

Mr Singh said: 'We would certainly be interested in talking about a potential move back to Feethams, as we do believe it would be a very popular option with our supporters. Unfortunately, we cannot sit down to talk about any possible relocation until the ongoing issues with the holding company are resolved'.

Brian Johnson, chairman of Darlington Cricket Club, which owns the site, said a deal with a developer was 'imminent', but added that he would be willing to listen to the proposals".

NL Daily reports that "Striker Jefferson Louis has returned for a second spell at Maidenhead United... from Hayes & Yeading United".

Also, "Grimsby Town Football Club's former ex chairman Mike Parker is set to bring his investment in the Club beyond the £1m despite resigning from the club's board last week. Parker had cited frustrations with the decision making process claiming there was 'not the appetite for change at board level which I had hoped' in a statement last week.

But speaking to BBC Humberside he confirmed he would be placing additional funds into the club. Parker said: 'I've made a formal application for the shares and I've had a verbal acceptance of that offer... I will continue to work in its best interests. At this stage, I see this being best done from outside the boardroom, rather than within it. As a lifelong fan I will always have the best interests of the club at heart'".
LOCAL NEWS
Our neighbours, Trafford FC, have placed prolific goalscorer Scott Barlow on the transfer list at his own request. The 20 year-old Barlow joined Trafford from Altrincham club Broadheath Central in 2007, being signed by former Alty midfielder Ged Kielty when he managed the club. He has hit 99 goals in 171 games for Trafford.
---
14 March 2011
NEXT GAME
News of Tuesday's visitors to Moss Lane comes from This is Glos which reports on the 2-3 defeat at the New Lawn to Barrow. "Wayne Curtis struck seven minutes from time to drag shoddy Forest Green back into the relegation mire. Yan Klukowski was the very definition of an impact substitute for the home side, coming off the bench in the 54th minute to make it 2-2 before departing injured with a quarter of the game remaining, but it was all to no avail...

There was a surprise inclusion for Forest Green in 21-year-old Lewis Young, younger brother of Aston Villa and England star Ashley, who had been signed hours earlier on a month's loan from Burton Albion".

Barrow won when "More horrific Rovers defending was punished again when Curtis found himself free from a quick free-kick and drilled into the net via a slight deflection. Forest Green: Bittner; Bartlett (Hall 82), L. Jones, Caines, Stokes; Davies, Forbes, Somner, Young (Klukowski 54, Enver-Marum 73); Styche, Dyer; Subs not used: Armstrong, Turk".
TROPHY SF 1st LEG
Mansfield T. 1 Luton T. 0
NEXT SATURDAY
Tamworth visit Alty next Saturday and The Lambs report that "The midfield has been given a boost by the signing of Stuart Hendrie, the 21 year old has been signed on an emergency loan from Morecambe FC until the 10th April. Stuart started with Tamworth's youth set up and was picked up by Walsall where he played for the Saddlers youth team. He was palying at Atherstone Town early season and joined Morecambe on a one year deal.

Dale Belford has also signed a non contract form as goalkeeping cover and will be keen to get some minutes on the pitch at sometime during the season as he will become the first player to play for the club in four different decades.

Tamworth have signed Wrexham's highly rated Welsh under 19 goalkeeper Daniel Ward, who will make his debut against Hayes and Yeading United at The Lamb on Saturday. It will be a one game loan as Liam Mitchell will be fit in time for the Altrincham game".

Later, "Lambs' boss Des Lyttle spoke frankly after the 2-3 home defeat by relegation threatened Hayes and Yeading on Saturday. 'To say it was not a great result or performance today is an understatment, we started well and could have notched a couple of early goals but we made a juvenile error which allowed them to score and we dug back in to get the game level but their penalty put us on the back foot and we didn't recover... The players have to stand up and be counted too. I can't play the game for them from the dugout and it is hugely frustrating. I was almost lost for words at times today.

It sometimes looks like too much hard work for some of the players and I have questioned how much they want it. At 1-1 we should have been kicking on and showing the fans, the board and everyone at the game associated with the club that the desire was there to keep us in this league - not allowing us to get sucked back down towards the bottom four.

It's me that will take the fall if we don't start to get the results, not necessarily the players. But we are all in this together - my job and their careers depend on the performances on the pitch, not what happens off it. I will be looking for a response at Altrincham on Saturday and a sign that they have taken on board what is being asked of them in terms of responsibility and leadership on the field.

And it all comes on the back of a 'week from hell' trying to sign a goalkeeper and bring other faces into the squad. People keep telling me that it's not 'my squad' and that the majority of the lads were brought in at the start of the season or before, but I have been part of Tamworth FC a long time too and both Martin (Prentice) and I are working long hours and tremendously hard to keep the football club in the top flight of non league football. Regardless of what or who has gone before, it's in my nature to be passionate about where I am and what I do and while things won't always work or go our way I want to see the appropriate level of desire and strength of mind from the players who pull on a shirt for this football club'. Tamworth's next game is a trip to 3rd from bottom club Altrincham on Saturday, 19 March".
LAST GAME
"It's been a long while coming hasn't it, but thankfully Newport County mustered their first victory of this New Year at the fourteenth time of asking in all competitions. Little wonder then that bold Director of Football Tim Harris cut such a relieved figure post-match.

'It's a massive relief for everybody at the club', he said, 'We've worked really hard this week and changed the system - we could have won by three or four today'...

A familiar face eclipsed them all on Saturday; Scott Rogers... He sat with great discipline and marshalled a wobbly midfield ... Just what County had been lacking during their wretched spell...
Visitors Altrincham arrived with 53 faithful supporters, seemingly even more flags and a whole host of problems of their own. Not that it appeared too apparent with just 46 seconds on the clock; as all of County's past frailties came back to haunt them when a routine long ball into defence was punished in style. Quite how Damian Reeves (right) was afforded so much space was one thing; but great credit to the forward who didn't ask any questions, instead the Alty striker smacked home a quite splendid goal from 20 yards that gave Glyn Thompson no chance. It was terrible defending, no question about that; but a quite brilliant finish all the same...
County however roared back onto the offensive and gained parity within just five minutes. A searching Foley cross to the far post was headed back across goal and with Chris Todd lurking intently on nabbing the finishing touch, defender Carl Piergianni reached the ball first only to turn it past his own bemused keeper...
Altrincham's affable manager Ken McKenna appeared philosophical post-match... He commented, 'We started well and we came here fully intending to be positive. Sadly Newport gained a grip of the game and we were determined not to make any silly mistakes in the second-half. Unfortunately the bounce didn't go our way and their lad finished it really well'...
Man of the Match [for] Altrincham: Steven Connors – a constant threat".
There are video highlights of the game here.
---
13 March 2011
NEWPORT GAME
After defeat at Newport, Ken McKenna told the NL Paper, "It was a tough game with little quality football played. We tried not to commit any stupid errors in the second half but the bounce went against us and the lad finished really well".

Match report here.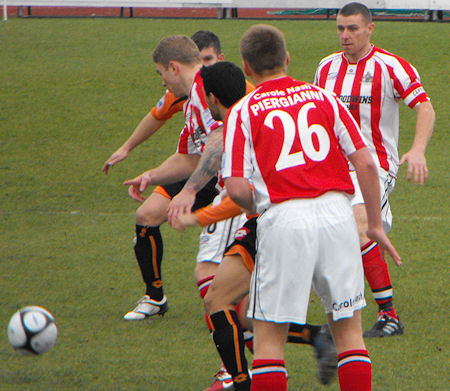 Right: Steve Connors is on the ball as Carl Piergianni and Robbie Lawton await developments at Newport yesterday.
BSBP NEWS
Alty's next opponents are Forest Green Rovers, of whom Blue Square Football says that "Burton Albion have confirmed young winger Lewis Young has joined Forest Green Rovers on loan. The 21-year-old has joined David Hockaday's side on a loan deal that runs until April 30th 2011... Young joined the Brewers at the start of this season following his release by Watford and has gone on to make 19 first-team appearances".

The same source adds that "Wrexham have given permission for young goalkeeper Danny Ward to join rivals Tamworth on an emergency agreement". Alty meet Tamworth next Saturday. "Ward has joined the Lambs on a work experience deal after on-loan 'keeper Liam Mitchell picked up an injury in the club's midweek defeat to Luton Town... Ward told Wrexham's official website: 'I thought the gaffer was joking this morning when he called me over during training and asked if I fancied playing for Tamworth this weekend... To now get the chance to play at Conference level is tremendous. It's likely to be only a short spell with Tamworth, but I'm going to make sure I enjoy it'. 17-year-old Ward is a Wales U-19 international and he is expected to go straight into the starting line-up".
OLD BOYS
Former Alty youth and reserve striker, Astley Mulholland, scored twice for Flixton on Saturday, whilst Kieran Lugsden is credited by the EvoStik league with two goals as Buxton beat FC Halifax. Joining FC Halifax is former Alty striker Lee Ellington whilst ex-Alty youth striker Osebi Abadaki has joined Radcliffe Borough from Northwich Vics.
---
12 March 2011
NEWPORT COUNTY 2 ALTRINCHAM 1
Altrincham took the lead after just 50 seconds with a well-taken goal by Damian Reeves. But less than six minutes later, following a freekick, Carl Piergianni headed into his own net from a couple of yards, presumably expecting goalkeeper Dootson to be behind him. After that, Alty rarely threatened and when Newport cranked up an extra gear in the second half, the pressure finally told as Warren headed home at the back post after a succession of corners (70 mins). There was effort from Alty but not enough craft to threaten an equalizer in the closing stages. Match report HERE.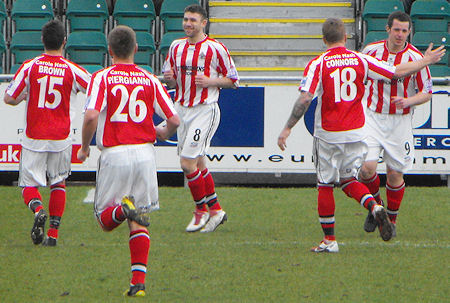 Right: Damian Reeves (centre) takes the plaudits after scoring for Alty in the first minute at Newport.
FIXTURES
Saturday 12 March
AFC Wimbledon 1 Kidderminster Harriers 2
Fleetwood Town 1 Crawley Town 2
Forest Green Rovers 2 Barrow AFC 3
Kettering Town 1 Grimsby Town 2
Mansfield Town v Bath City OFF
Newport County 2 Altrincham 1
Southport 1 Cambridge United 1
Tamworth 2 Hayes & Yeading Utd 3
Wrexham 1 Rushden & Diamonds 1
York City 1 Eastbourne Borough 0

FA Trophy SF 1st Leg
Mansfield Town v Luton Town SUNDAY
Darlington 3 Gateshead FC 2
BEFORE THE GAME
This will be Altrincham's first visit to Spytty Park, where County have not won any of their last seven matches games. The Exiles' last home win was on 27 November 2010 against Hayes. Indeed, Newport County have not won at home or away for 13 games.

Today's game is unusual in that Alty were set to play Newport County on 18 February 1989 but the match was postponed and the clubs never met again as County went out of business on 27 February 1989 with debts of £330,000. Their record was then deleted from the Conference in which they had played 29 matches, winning just 4 and drawing 7. In their only encounter, at Moss Lane, the Robins won 1-0 on 15 October 1988.

Today's Newport County include at least three familiar faces, both on loan from Stevenage. These are Yemi Odubade, whom Alty first encountered playing for Eastbourne Borough in the 2005 promotion play-off final. He subsequently faced us for Oxford Utd and Stevenage Borough. Also well known to Alty is Charlie Griffin, who used to play for Forest Green Rovers and Salisbury City before joining Stevenage Borough, and defender Wayne Hatswell, formerly at Chester City, Forest Green Rovers, Oxford United, Kidderminster Harriers, Rushden & Diamonds and Cambridge United.

Before Saturday's game, the BBC claimed that "Newport midfielder Tom Miller serves the first of a three-match ban after his red card in midweek. Scott Rogers could come in to replace Miller after being recalled from a loan spell at Weymouth.

Altrincham have doubts over defenders James Smith and striker Mark Beesley (both hamstring). Winger Nicky Clee (thigh) faces a late fitness test, defender Greg Young (ankle) is out and midfielder Steven Connors (groin) is doubtful".

According to the South Wales Argus "Newport County caretaker boss Tim Harris is hopeful that hard work will pay dividends this week as his side search for a first win of 2011. The Exiles have a golden opportunity to arrest their slump in their next two fixtures, lowly Altrincham the visitors to Spytty Park tomorrow with a trip to relative local rivals Forest Green Rovers, also struggling, next weekend...

The club have shrewdly moved to avoid tumbling attendances between now and the end of the campaign, extending their kids for a quid policy until the end of the season...

'The boys haven't trained like a sorry bunch at all, they have been really bright this week and that encourages me, there haven't needed to be any rousing pep talks', he said. 'We've done three mammoth training sessions this week, almost ten hours in total and the players look fully focused on the task ahead. The work rate is there and I am just hoping that it transpires that the harder you work, the more luck you get'.

Harris is still without broken wrist victim Eddie Odhiambo and long term casualty Lee Baker, with Tom Miller now also sidelined... That might well mean a return to the first team for Scott Rogers, the holding player who played such a vital role in County's ascent from Conference South. Rogers was sidelined for three months with a knee ligament injury and has now completed a further rehabilitation spell at Weymouth...

However, the good news ends there for County, striker Charlie Griffin a doubt with a groin strain that will be assessed today and if necessary, before the match. 'Charlie has felt a twinge, we'll stay on top of it because he's an important player for us', said Harris".

From the Football Conference we learn that "The Exiles started this season brightly under Dean Holdsworth... With County settled in second position in the table at the halfway stage everything looked bright at Spytty Park under their talented young manager.

Heads were being turned though and Holdsworth was tempted to move to Aldershot in December which has led to a huge reversal in form for the South Wales team.... a winless run that was extended to twelve matches at home to Fleetwood last Saturday in a 3-1 reverse... Saturday's home match with Altrincham takes on huge significance... Altrincham have won four matches in the same period".
OLD BOYS
Former Alty Youth and reserve striker Lee Shillito has joined Rossendale United.
BSBP NEWS
The club's takeover seems to be mired in confusion as Wrexham announce that "The owners of Wrexham FC confirm that they have been advised that Stephanie Booth no longer intends to make a bid for Wrexham FC. This follows the statement from Wrexham Supporters Trust (WST) this week which appears to rule out a sole bid from them.

There remain interested parties, including former Premier League and Wrexham FC player, Ashley Ward. Those involved in this bid have met with representatives of the Council, the WST and Stephanie Booth. A major part of those negotiations has been to offer the supporters a substantial equity stake in the club. This would ensure fan representation and participation and the protection of the Racecourse for sport.

The owners of Wrexham FC have several times expressed their intention to sell the club with a preference for a consortium with supporter involvement...

Stephanie Booth was invited to visit the premises and meet the staff on Tuesday 8 March, an opportunity she took up. She brought IT Consultants along to review the stadium facilities and made several suggestions on the running of the club. Following full disclosure by Wrexham FC and full co-operation with interested parties, a request was made for progress with the purchase and confirmation that funds to purchase the club and cover the usual running costs of a professional football club were available...

Later, the Dragons announced that "Following concerns raised, Geoff Moss and Ian Roberts have confirmed that neither will be present at tomorrow's Wrexham FC home match against Rushden & Diamonds FC. This follows fan reaction to the announcement that Stephanie Booth has withdrawn her bid to buy the football club and the statement put out by the club yesterday. This statement explained that the only potential purchaser to have presented short term and long term funding proposals was Ashley Ward.

The current owners of the football club have been reassured that Mr Ward's bid has no connection with Stephen Vaughan or Rob Bickerton. The current owners can understand why supporters of Stephanie Booth's bid are disappointed that the bid has been withdrawn. However, the club remains for sale to any potential purchaser who has the long term interests of the club at heart, including Mrs Booth and/or the WST... However, a sale can only proceed to a purchaser with the necessary funds and business plan in place. There is no reluctance or refusal to sell to any party with the long term interests of the club at heart, including Mrs Booth or the WST, if a fully funded bid is made".

The situation became even more unclear when The Leader reported that "Businessman Stephen Cleeve is set to re-enter the race to buy Wrexham FC...
Hotelier Stephanie Booth – who on Saturday announced she had been asked to lead a community takeover – says she has been told Wrexham is going to be sold to former footballer Ashley Ward.
Co-owner Geoff Moss says he has received an early morning death threat and a further threat against a member of his family.
Fans are considering holding a sit-in at The Racecourse after Saturday's match against Rushden and Diamonds.

On Wednesday afternoon Wrexham FC stated on its website that Mr Ward had been in talks with a view to buying the club. Mrs Booth subsequently wrote on her Facebook page: 'I still find it hard to believe that just four days after agreement with me the owners did not have the decency to even ring me. Geoff Moss and Ian Roberts have decided to sell to Ashley Ward and Colin Poole. This was confirmed to me at 11.30pm on Wednesday. I feel bitterly hurt and betrayed as we came so close but even I cannot buy a company in just four days'.

Speaking yesterday, Mrs Booth said the the first she knew about the Wrexham FC website announcement was when the Leader contacted her for a response... She said: 'This has all been a bolt out of the blue... Now it appears I have wasted several weeks and thousands of pounds on this. But I don't feel sorry for myself – it is the fans and the town that I do feel sorry for. They are the ones who are going to lose out'.

In response, Mr Moss denied saying there had been an agreement to sell the club to Mr Ward. He said: 'That is not what we said. We said that there was another bid which we were considering – something that we have every right to do'...

Stephen Cleeve said he had been in fresh discussions with Mr Moss over the club's future. He had previously been in the running to buy Wrexham but looked to be out of the race".

Providing commentary on these developments, 200% says, "It was recently noted by some wise soul that if the recent tribulations of Wrexham FC were to be suggested as the plot for a soap opera, they would be rejected as being too far-fetched". It has been a "tumultuous week that has seen two of the bids for the club – apparently – fall by the wayside, two new ones appear and some of the old faces that we mentioned on this site just a couple of weeks ago re-enter the fray. Meanwhile, Wrexham's supporters can now only wait and watch to see where the ownership of their club...

Prior to last Saturday's match against Forest Green Rovers, Booth's status as the preferred bidder was confirmed in a somewhat ridiculous ceremony on the centre circle before kick-off. Surrounded by cheerleaders, a stapled envelope was opened and Booth read out her own apparent succession to the throne before closing with a rendition of the Welsh National Anthem, 'Land Of My Fathers'".

Booth gave a leaflet to the crowd on Saturday, "It offered three levels of shareholding, the cheapest of which was set at £1,000 (for ten £100 shares in the club) – all of which would seem to preclude too many ordinary supporters from investing – and offered no olive branch to people of organisations that she disagreed with. The Wrexham Supporters Trust (WST) received a couple of side-swipes... There was no business plan that could be deciphered from the pamphlet itself, and the business plan revealed little more...

Booth boldly stated... 'Every single local company will be approached to sponsor WFC and I will not be slow to name and shame those that refuse'... Comments like this, so tactless, so seemingly ill thought-out, characterised her spell in the spotlight, as did the final sentence. At the end of a pamphlet that contained the words 'I' or 'me' no fewer than eighty-three times, she concluded by saying: 'This has nothing to do with Stephanie Booth or The WST, this is purely about who you want to lead the last chance to save Wrexham Football Club'..

Let's not forget that Booth's bid was announced on the pitch at The Racecourse Ground on Saturday and that this was preceded with banners hanging from the ground supporting it. What could have happened between Saturday and Wednesday?" when Ashley Ward's bid seemed to be the preferred option.

"This particular bid doesn't seem to be him on his own... One name linked with the Ward bid is that of Colin Poole, a former executive at Shrewsbury Town... As long ago as December 2000, Poole was being described as the 'baby-faced boss, raking in the dosh' at Claims Direct after it floated on the stock exchange, a deal which netted Poole and its co-founder, Tony Sullman, £50m, but by the summer of 2002 the company was in receivership...

Poole is understood to have made an estimated £10 million personal fortune from selling shares in the company prior to its closure... He was subsequently investigated by the Department of Trade and Industry, and... disqualified from acting as a company director for ten years from the 22nd of April 2008.

So, what is the significance of Poole's involvement with Shrewsbury Town? The answer, of course, is the company that he may have been keeping at the time. Amongst the people that he may well have come across at the time would have been Jon Harris and Rob Bickerton, who, as you may remember, were amongst the names involved in the aborted Van Morton Investments vehicle, which was looking to buy the club before dropping out after it became apparent that one of their backers was one Stephen Vaughan. In February, Vaughan stated that:

'I was part of a consortium which included former Premier League footballers and a cosmetics retail magnate. That was the reason for going the overseas route with the company and retaining anonymity – they didn't want their business interests revealed'...

Could one of those "Premier League footballers" have been – or, indeed, still be – Ashley Ward? If Booth, Ward and Vaughan are involved together (and no-one has issued a statement suggesting that they're not at the time of writing), this would surely create some sort of record for being a consortium looking to buy a football club, two of the backers of which would fail the FA's Fit & Proper Persons Test. Add Booth and Stephen Cleeve to the equation, and there may be another record. Two bids and one possible bid, and four people that are or have been disqualified from acting as company directors in recent years...

Indeed, for all the talk of democracy, this feels as if it has been the case all along. If, somehow, the WST's bid for the club can be rescued, there is a chance that Wrexham FC can flourish. There is very little between all of the other candidates to suggest that they could do the same".

Bulls News adds that "Booth's bid came with a business plan that stated that the club was currently losing £750,000 a year, had an immediate need for £500,000, and that she had witnessed staff pocketing club cash. Her plans to increase revenues included charging more for match entry the later supporters entered the stadium".

"Droylsden have taken experienced midfielder John Miles on a month's loan from Fleetwood Town" reports the Football Conference

From the Uxbridge Gazette, we learn that "A phone call from Hong Kong proved to be the ace in the pack for Crawley Town's successful pursuit of Charlie Wassmer... The intervention of Crawley Town co-owner Bruce Winfield played a key role in persuading him to sign for the ambitious Sussex club. Winfield was over in the Far East on business...

'The Crawley Town owner rang me up from Hong Kong and that said an awful lot', Wassmer revealed. 'That showed how much they wanted me and I am thankful that they put in a bid'...

Wassmer said 'At first I was not sure if I was going to do it. It took Crawley about three hours to persuade me to go... Long-term, it is a better stepping stone for me at Crawley'".

The Birmingham Mail says that "Tamworth manager Des Lyttle is hoping to complete a double signing ahead of tomorrow's 'six-pointer' against Hayes & Yeading. Lyttle had been frantically using his extensive contacts to try to recruit a keeper after on-loan Liam Mitchell was crocked in the midweek defeat to Luton.

Lyttle is also on the trail of a striker-midfielder from a League club on a loan deal for the rest of the season... 'I've probably tried 55 clubs to try to get in another first-team keeper without any luck but we've still got Friday to try to do something', said Lyttle. 'It's frustrating because two weeks ago there were a lot of keepers available and now it's all changed'".
---
11 March 2011
ALTY REGISTER FIVE YOUTH PLAYERS
With Greg Young, Nicky Clee and Steve Connors facing fitness tests before Saturday and with Chris Denham and Shaun Densmore definitely sidelined, Altrincham FC have registered five of their youth team to play in Conference matches. The five are:

23. Theo Kidd

25. Sam Langford

27. James Smart

28. Matthew Fearon

31. Ashley Woods
No.23, Theo KIDD (d.o.b. 15 September 1993). Theo is a striker who has established himself in the Youth team this season.
No.25, Sam LANGFORD (d.o.b. 6 August 1993). Sam is a left-winger, who is also a youth-team regular this season.
No.27, James SMART (d.o.b. 1 October 1992). James (pictured, right) is captain of the Altrincham FC Youth team and, after being an unused substitute in the first-team squad last season, he made his debut in 2010-11 in the Cheshire Senior Cup against Alsager Town on 8 February 2011. Sadly, he was injured after barely 15 minutes on the pitch and had to come off. He is comfortable both at centre-back and on the left side of the back line.
No.28, Matthew FEARON (d.o.b. 7 September 1993). Matthew is a defender/midfielder who has captained the Youth team in James Smart's absence. He has also been in a first-team squad this season, in the Cheshire Senior Cup.
No.31, Ashley WOODS (d.o.b. 12 December 1992). A forward, Ashley made his Alty first-team debut as a used substitute in the Cheshire Senior Cup against Hyde in 2010.
KENNY LOOKING FOR LEADERS
After the Barrow game, Alty manager Ken McKenna told the Sale & Altrincham Advertiser, "I was disappointed with the reaction to going behind and it's not often I've said that because they've shown great character in some games to fight for wins. But it wasn't there. We were looking for leaders and I feel they let themselves down. They didn't have enough belief". Ken added, "It's difficult when you're under pressure. I try and take as much off them as I can but there's no place in football for feeling sorry for yourself. There's a few who gave it up on Tuesday and that's not acceptable. The only positive thing is that it is still in our hands. If we win five games we probably stay in the league. It's a big ask but we can still do it".

With Young (right), Connors and Clee all picking up injuries at Barrow, to add to those to Smith, Densmore and Denham, the Advertiser says that Alty "may have to bring youth team players in to fill the bench" at Newport on Saturday. But the Alty boss concluded, "I'm looking forward to it, of course. We were disappointed but we go there and get a win and everybody's positive again. It's a fantastic opportunity to get some points".
OLD BOYS
Salford City announce that "Following renewed interest from Chorley, Salford City have relunctantly agreed to release top-scorer Steve Foster so that he can continue his season with the Victory Park side... 'Fozzie' first joined Salford during the dark days of February 2009 and since then has scored 57 goals in 70 appearances for the Ammies".

There is bad news for two ex-Alty players reported in the NL News 24. "Joint managers Kevin Street and Darren Tinson have today left Nantwich Town by mutual consent, with director of football Jimmy Quinn taking over the reins until an announcement is made about a permanent replacement. Nantwich are currently lying 14th in the Evo-Stik League Premier Division but are just four points above the relegation zone.

Street and Tinson said: 'Being at the helm has been great experience and we would like to thank the fans for all the support they have given us and wish Nantwich Town Football Club all the best for the future'".
BSBP NEWS
A week ago it looked as if the Dragons had decided on their new owner but now Wrexham report that "Former Wrexham and Premiership footballer, Ashley Ward, today confirmed that his representatives have had preliminary talks with the owners of Wrexham Football Club, with regards to the potential takeover of the Club.

Ashley commented: 'It's very early days yet, my representatives are embarking upon the legal due diligence process and I anticipate being in a position to make a formal announcement shortly. We have had positive preliminary talks with the Supporters' Trust and the local council, as we believe that each of these parties [is] instrumental to the future success of the Club.

'It is also important that the ownership of the stadium remains in the hands of the club. I have also had it confirmed to me, by the current owners, that none of the other interested parties have a preferred bidder status. Geoff and Ian have publicly confirmed that they will continue to provide support to the Club and ensure that it does not enter administration during the due diligence process.

I made my league debut at Wrexham and they helped me get my football career started. I have always had a soft spot for the Club and hope that I will be able to help restore Wrexham to its rightful position, not only in The Football League but, in time, back into the Championship."

Ashley Ward made 388 appearances for a number of clubs, including Manchester City, Leicester City, Norwich City, Derby County, Blackburn Rovers and Bradford City as well as Wrexham in 1991".

Meanwhile, The Guardian writes, "Pity poor Wrexham fans. Their club does put them through the ringer. Geoff Moss, who took them down and out of the Football League for the first time in their history, has stripped out much of the club's property assets and is now selling up.

Suitors have included Steven Vaughan, on whose watch Chester City collapsed, Stephanie Booth, a local caterer who is a disqualified director – and therefore not 'fit and proper' under Football Association rules – and Stephen Cleeve, a man who proved too much for the UK Independence Party, which deselected him as a parliamentary candidate. Cleeve admitted to Digger that he has past misdemeanours but insisted he has cleaned up his act.

The latest party to declare an interest in buying Wrexham is Ashley Ward, the erstwhile Wrexham, Derby County, Barnsley and Blackburn Rovers footballer and property developer. That is the same guy whose property firm, Bilton Ward Developments, entered into a company voluntary arrangement with creditors on £1.6m of debts last October. The creditors received a "first and final dividend" of 3.4p in the pound – or about £55,000 between them a month later. Digger wonders whether they would so readily have accepted that deal had they known Ward would soon be 'investing' in a football club.

One of Cleeve's past scrapes was with an Australian website called stephencleeve.com, which he took to a World Intellectual Property Organisation arbitration panel (and lost). In the hearing he was described as a 'conman', which is also how he had been described by the website, which objected to his conduct in selling land investments. Cleeve insists he is no such thing, and that he has sorted out his differences with the author of the website".

The NL Daily reports that "Kidderminster Harriers have taken defender Matthew Lowe on a month's loan from Macclesfield Town. The 20-year-old was given his first professional contract by the Silkmen in the summer of 2009 and... made his debut the following March... He quickly went on to make his full debut, making several assured appearances at the centre of midfield, despite his preferred position of full-back. A box-to-box player with a good engine, Lowe possesses a long throw which adds an extra dimension to his game. To date he has made eleven senior appearances for the Silkmen".

Meanwhile, Blue Square Football tells us that "Kidderminster Harriers have moved to ward off interest from rival clubs by offering manager Steve Burr a new contract. The Harriers recently rebuffed an approach from Grimsby Town and are hopeful that Burr will put pen-to-paper on a new deal before Saturday's trip to AFC Wimbledon. Burr told The Shuttle: 'Mark (Serrell) [rang] me last night and told me he had a phonecall from the chairman of Grimsby asking to talk to me.

'He asked me what my feelings were about it and I said I am more than happy at Kidderminster. I suppose at a club like Grimsby I could take on a team that has twice or three times the playing budget that we have and better my salary I should think. But I do like it at Harriers and Mark has told Grimsby that he doesn't want them to talk to me and I respect that'".

Now, Bulls News reports that "Boston have denied receiving an approach from Grimsby for managerial pair Rob Scott and Paul Hurst. The duo are now bookies' favourites".
LOCAL NEWS
Two men who have played for Alty this season are at Ewen Fields - Dale Johnson and Kevin Holsgrove, where Hyde United report that "The club has been informed that Chairman Steve Hartley and Director/Secretary Tony Beard have resigned from the board with immediate effect, due to a number of issues which they believe make it impossible to continue to act. No further statement will be made at this time". Later the club "announced that director, David Farrington has also resigned from the board with immediate effect".

A commentary comes from the Manchester Evening News which confirms that "Hyde FC's chairman Steve Hartley, plus directors Tony Beard and David Farrington, all departed Ewen Fields last weekend...

The long-serving pair have quit the Tigers together with a third director, David Farrington, after fresh doubts about the 125-year-old Blue Square Bet North outfit's financial position were raised at a supporters' club meeting. Hyde narrowly escaped being wound up 18 months ago after fans rallied to raise £35,000 in a week to pay off a tax bill and save them from extinction.

Hartley insists... 'Contrary to rumours, Hyde have not been in any danger of being wound up this season, although, for a number of reasons, income had been less than we'd anticipated, rendering the rest of the season extremely difficult to fund. Unfortunately, Tony and I were not invited to the supporters' meeting, have only heard rumours of what was said, and no one has bothered to ask us if what was apparently said is true. I don't want to get into a public debate about the current situation, but I'm not prepared to continue to make myself ill every day worrying about the club I love. Tony has other reasons for leaving in addition to mine'...

The Tigers' biggest shareholder, Leicestershire businessman John Manship, is thought to have a new secretary lined up and is reported to be planning an extraordinary general meeting to discuss the formation of a new board. Manship, whose son, Tom, plays for Hyde but was recently loaned out to rivals Corby for the rest of the season, was also said to be preparing to speak to manager Neil Tolson...in an apparent bid to reassure him that the club will continue to make every effort to pay its players".

On the Hyde Forum Steve Hartley adds, "The club has not been in any danger of being wound up this season, is up to date with its VAT payments and owes 2 months PAYE. HMRC are now being extremely strong with all football clubs, not just ours, and if a payment becomes 2 weeks overdue they are now issuing letters, and following that up with a distraint of goods order.

Due to cash flow last year, and to avoid any such action, Mr Manship paid one month's tax in September, and a further sum of a similar amount in November which was intended to be repaid. I understand he mentioned this at the Supporters' Club meeting. He has also made payments directly to improve the tea bars. Until 22 January 2011 those were the only payments made by Mr Manship to the club this season.

In the same period the board members, who have no voting rights, introduced double this amount into the club. Mr Manship has been supporting the wage bill since 22 January. This was after a period of postponed matches... The club then also received notice of a loss of a significant sponsorship...

Since then Tony Beard and I have explored every avenue to bring in additional funding, but have been forced to turn to Mr Manship for help... The expenditure budget has not been exceeded. It is the income which has failed. For the sake of clarity our relationship and contract with Manchester City FC has nothing to do with any of this...

Mr Manship indicated to us that the club should not issue cheques to the players if funds were not available in the bank, and covered last week's wages during last week because he did not want the players to go into Saturday's match not having been paid. He also indicated that he was not prepared to carry on doing this".

And the Northants Evening Telegraph confirms that "Striker Scott Mooney has arrived on a free transfer while midfielder Tom Manship has come on an initial loan deal. Both players will not cost the Steelmen a penny as Hyde are continuing to pay their wages... 'They both live at Melton Mowbray so it is not far for them to come to Corby', said Steelmen boss Graham Drury.
---
10 March 2011
GEOFF'S SHIRT SPONSORSHIP ENDS
Altrincham FC Joint Press Officer, John Edwards, writes:

"Geoff Goodwin has marked the end of an era at Moss Lane by announcing he will not be continuing as Altrincham's shirt sponsor next season.
Right: Geoff Goodwin is saluted by Rod Thornley and Colin Potts at the end of the Conference North/South Play-Off Promotion Final at Stoke in 2005. Picture courtesy of Gavin Rathbone.
After stepping down as chairman earlier this season, to concentrate on his business interests, the coach company boss has decided to relinquish his role as the club's main benefactor.
While the sight of Alty stepping out without Go Goodwins emblazoned across their shirts may take some getting used to, Moss Lane chiefs have wasted no time seizing the opportunity to launch an exciting new phase in the club's fortunes.
In a bold initiative aimed at maximising earnings and strengthening community links, they have invited bids for sponsoring not only their shirts but the ground as well, complete with the enticing prospect of naming rights.
'It is an open book at the moment,' said chairman Grahame Rowley. 'We are open to suggestions, but there's no question this is a fantastic opportunity for someone to take on the mantle and develop a close, successful and rewarding relationship with the club.
'Geoff was not particularly football-orientated to begin with, but the fact that he stayed so long and always spoke from the heart when he talked about Altrincham shows the effect this club can have on you.
'There are practical benefits as well, because the name of Geoff's company has expanded locally to a significant degree during his time here, and he has recently opened up new bus routes. He would be the first to admit his association with the club has helped achieve that.
'We are a community-run club, and that is reflected in the 600-odd youngsters currently playing football under the banner of Altrincham FC.
'The local community will always be important to us, but we are ambitious about pushing on and need help with that. We need a new partner to keep moving forward, and the possibilities could extend to having their name on the stadium. We are quite happy to discuss naming rights and logos round the ground, because the benefits would be both mutual and considerable.'
Interested parties are invited to contact Rowley at Moss Lane (0161 928 1045)". Grahame may also be e-mailed by prospective sponsors.
ALTY'S INJURY CRISIS
Brian Flynn, Alty's joint Press Officer writes:

"A single point from Saturday's home game with Gateshead and Tuesday night's trip to Barrow, leaves Altrincham effectively four points from safety with just eleven games left until the season closes on the last day of April. A very difficult position is heavily compounded by a looming injury crisis that has left manager Ken McKenna wondering what sort of team he is going to be able to put out in South Wales on Saturday, when the Robins make their playing debut at Newport County.

Already without five players, the reverse, in windswept Cumbria, cost Alty more than just three points as three further injuries were sustained. Greg Young (ankle), Steve Connors (groin) and Nicky Clee are all doubtful for Saturday, meaning that the Robins' manager may have just a dozen fit players,including two goalkeepers, going into a week where the team have nine points to play for.

The Altrincham manager conceded that Barrow deserved victory in windswept Cumbria as the Robins produced a lacklustre second half display in front of a live TV audience. 'We let them have the ball in the first half and kept it tight until half-time, but were let down by poor organisation at the start of the second half….it was a great goal that they scored, but I was disappointed by our response to going behind. When we were looking for leaders, some heads dropped and our energy levels were low until the last few minutes, when we did finally put them under some pressure.Survival is still very much in our own hands and we have to get ourselves back up quickly for Newport on Saturday'.

Altrincham have a massive game on Tuesday when Forest Green Rovers are the visitors for a 7.45pm Kick Off at Moss Lane.

The club have secured the services of former Manchester United manager,Wilf McGuinness to hold a Sportsman's Dinner at the Cresta Court, Altrincham on Friday 15th April. Tickets are priced at £40 each or £400+VAT for a table of 10. Please call the club on 0161 928 1045 to book your table".
BARROW VIEWS
The NW Evening Mail reports that Barrow's "Paul Rutherford scored a second-half wonder-goal as Barrow AFC beat Altrincham 1-0 and escaped the relegation zone. The first-half was a tight, scrappy affair in which Barrow enjoyed more possession but failed to create clear-cut chances... Altrincham, meanwhile, came the closest to scoring five minutes from half-time when a shot from Damian Reeves grazed the bar.

The second-half was only 47 seconds old when Rutherford cut in from the right and unleashed a 25-yard strike which flew into the far top corner to give Barrow the lead. The Bluebirds controlled much of the second-half but rode their luck in injury-time when Marc Joseph hit the bar for the visitors... Altrincham, meanwhile, were only able to name four substitutes on the bench".
BSBP NEWS
According to the Green 'Un "Cambridge United have moved to distance themselves from rumours that former Ipswich Town manager Roy Keane is interested in buying the club. Speculation surfaced this morning that Keane was interested in the cash-strapped side.

But a spokesman for Cambridge said: 'I can confirm we, as a club, have not received any official approach from Roy Keane with regards to acquiring Cambridge United Football Club. The club is up for sale and we would of course be very interested to hear from him, or any other parties, who feel they can come to the club with a proposal to help get us back to where we want to be in the coming years. We are a club with a proud and rich 100-year history, but unfortunately we are where we are'..

Keane still lives just outside Ipswich and often spoke about his love of the area while in charge at Portman Road".

At another troubled ex-league club Blue Square Football reports that "Darlington chairman Raj Singh has issued a passionate appeal to the club's supporters, asking them to commit to buying season tickets... in March as they would not be required to pay for them until the summer.

Singh told the club's official website: 'I'm prepared to continue to keep football in Darlington, if you are prepared to support me. I need convincing there are more than 1,600 fans out there. This club can't exist on those figures... We need to know there is a desire in Darlington for a football club. We're prepared to continue, but not on my own - we MUST do this together. We have reviewed our Season Ticket pricing and I'm prepared to keep them below £12 per game for those who are willing to support us, but we need to know by the end of March if that desire burns brightly enough to save this club.

This is a commitment only. Fans can be assured that payments will not be taken until June 1... If I get the support of 2,000 adults prepared to give me their support, I guarantee there will be a football club next season. If we can't get the support we're looking for, it would be heart-breaking for everyone as, in my opinion, there'd be no future for Darlington FC. We're in the semi-final of a cup competition [FA Trophy] for the first time in 111 years and our recent league form promises a bright future. But this future is firmly your responsibility just as much as it is mine. Let's do this together'".
---
9 March 2011
BARROW 1 ALTRINCHAM 0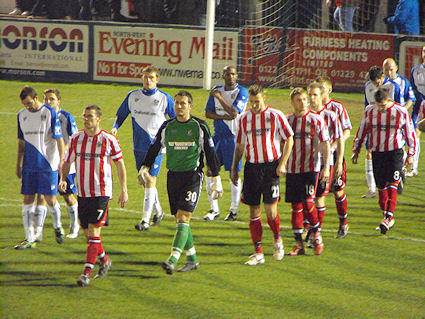 Right: Robbie Lawton leads the side out at Barrow.
Having weathered a battering both from the wind and the opposition in the first half, Altrincham lasted just 45 seconds of the second half before Barrow scored the winning goal- a fine shot from 20 yards by Rutherford. But the most disappointing aspect of the night was that Alty, in such a vital match, were decidedly second best throughout the second half and scarcely threatened. Earlier, however, Reeves had come close to a goal, just before the interval, with a 20-yard shot and Joseph hit the bar in injury time but, in between, there was little cause for optimism. And Alty lost Young to injury to add to their woes. Report here.
TUESDAY GAMES
BSBP
Barrow 1 Altrincham 0
Gateshead 2 Darlington 2
Kidderminster Harriers 0 Crawley Town 0
Luton Town 2 Tamworth 0
Rushden & Diamonds 2 Forest Green Rovers 2
Wrexham 2 Eastbourne Borough 1

FA Trophy QF replay
Mansfield Town 3 Chasetown 1
SATURDAY'S GAME
Saturday's half-time TASC bucket collection raised £79.39, for which the club thanks the collectors and donors alike.
YANKEE
The Altrincham FC Saturday Yankee prize pot now has two jackpots; the primary one stands at £5000 and there is, so far, £400 in the reserve one. Last week saw four code holders each win £50 for "trebles".
BSBP NEWS
According to the Football Conference "Strugglers Eastbourne Borough have signed striker Danny Kelly from Barnet on a month`s loan. Kelly, 20, had spells with the youth teams of Cambridge United, Peterborough United and Histon before joining Norwich City in 2007. He moved to Barnet in the summer of 2010 and made his senior debut against Chesterfield. At international level he has captained the Republic of Ireland under-19 side. Kelly spent a month on loan with Dover Athletic earlier this season".

According to the BBC "Cambridge United have signed Gillingham midfielder Mark Bentley on a one-month loan deal. The 33-year-old has featured 22 times for the Gills this term, scoring twice. U's caretaker manager Jez George told the club website: 'We're delighted to have a player of Mark's ability and experience for at least the next month'... Bentley, who can also play in defence, broke a bone in his foot in October and has since struggled to break back into the Gillingham first team".

From the Uxbrdige GAzette we learn that "Charlie Wassmer has revealed that he agonised over quitting his beloved Hayes & Yeading for Champions-elect Crawley Town. The 19-year-old defender came through the ranks at Church Road and started with the Hayes youth team as a nine-year-old. But his impressive performances during his first full season at senior level tempted money-bags Crawley to come calling and he signed on at Broadfield Stadium yesterday.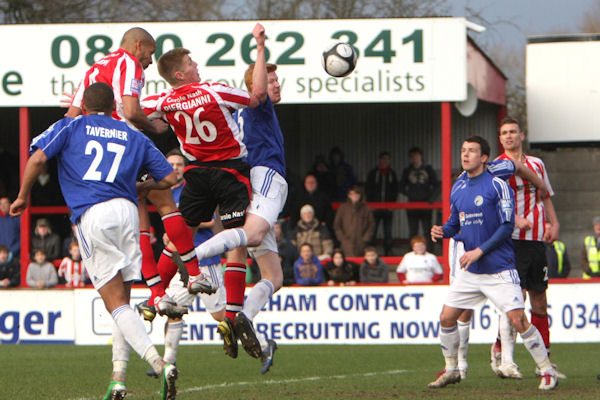 Right: Marc Joseph heads home Altrincham's late equalizer on Saturday against Gateshead; photo courtesy of Gavin Rathbone.
'I owe everything to Hayes & Yeading', Wassmer admitted. 'I played for the Hayes youth team, progressed through the reserves, and then into the first-team. They made me what I am today - it was a hard decision to leave Hayes & Yeading. It took them (Crawley) about three hours to persuade me to go. It is looking like they will get promoted to League Two and when a club like Crawley come in for you it is hard to turn down'...
Though he has initially signed on loan, Wassmer has signed a pre-contract with Crawley for an undisclosed fee and there is therefore no arrangement between the two clubs to stop him facing Garry Haylock's men. Wassmer's progress pays a huge compliment to Hayes & Yeading's FEDO (Football Education Development Opportunity) that offers the chance to progress to the first-team and continue studying at the same time".
THE CHEEK OF IT
Alty fans may remember a similar incident to the following in the CSC Final at Moss Lane in 2004 when Brian Pritchrad was dismissed for tackling a streaker. Now, NL News 24 reports that "Dorchester Town boss Ashley Vickers was left dumbfounded after a match referee sent him off for helping stewards to trap a streaker at last night's Blue Square Bet South match against Havant & Waterlooville... The naked invader gave stewards the run-around, holding the game up. Player-boss Vickers intervened, charging at the streaker and wrestling him to the ground so that stewards could escort him away. But despite being thanked by stewards for his assistance, Vickers stood in utter shock as the referee showed him a straight red card...

'The stewards actually thanked me for it. But the ref decided to send me off and it beggars belief. Their players told the ref not to send me off and their chairman even offered to take a player off to even things up. The ref lost the game after that and he knew he had made a great error by the reaction of Havant's players and management... I'm sure people will crucify me for this but I have broad shoulders'. The referee later sent off two more Dorchester players as the Magpies finished the game with eight men".
---
8 March 2011
BARROW "ODDS ON FAVOURITES"
It is hoped to provide Matchday Updates during the match at Barrow.

Before the game, "Barrow AFC wrote that they "welcome Premier Sports to Holker Street this evening for our home game against Altrincham. A small scaffolding camera stand has been erected in the Holker Street end behind the goals and the segregation scaffolding has now been removed.

A larger structure has had to be erected on the popular side, to house two cameras and the commentary team. A small section of the popular side has had to be taped off underneath this gantry. Barrow AFC would like to apologise for the inconvenience this may cause to any person who would normally stand in this particular area.

The TV company looked at putting this gantry on top of the roof, similar to where Setanta had their gantry, but the roof of the stand was deemed unsafe to support the number of persons and equipment that Premier Sports will require for this game".

The BBC says that "Barrow have no fresh injury worries ahead of their Blue Square Bet Premier relegation clash with Altrincham. Midfielders Robin Hulbert (hamstring) and James Owen (hernia) remain sidelined while striker Nick Chadwick (knee) may miss the rest of the season. Altrincham welcome back midfielder Steven Connors after he missed the draw with Gateshead through suspension. Striker Mark Beesley and defender James Smith both remained sidelined by hamstring injuries".

The Football Conference carries Alan Alger's Blue Square Bet report that "Barrow and Altrincham meet at Holker Street on Tuesday night in front of the Premier Sports TV cameras for a hugely important clash at the bottom of the Blue Square Bet Premier. The teams will kick-off level on points and occupying the top two berths in the division's relegation zone. Home team Barrow do have a game in hand and superior goal difference but it has to be said that both sides are in real danger of playing in the Blue Square Bet North next season.

The Bluebirds are the favourites at 10/11, with a draw priced at 12/5 and an away win offered at 13/5. Barrow extended their winless run to nine matches with a goalless draw at home to York City at the weekend. In the context of the table that can be considered a point gained and extends their decent record when the big teams visit Cumbria. The Minstermen becoming the eighth team from the top half of the table to return from LA14 with less than three points. It's not often that the joint-management team of Dave Bayliss and Darren Sheridan lead their team out as odds-on favourites for a match – but the price looks justified based on all the information available ahead of the game.

Altrincham have only won three league matches away from home this season although they can boast a 2-0 win from the reverse of this fixture earlier in the campaign. The Robins have conceded an average of nearly 2.5 goals per game on the road so Barrow can be hopeful of finding the net at least once. Not many teams get change out of the home defence at Holker Street and that's evidenced by their place of ninth in the 'fewest home goals conceded' table – a stat belying their position in the table that counts! A home win looks the best call here with 2-0 on the 'Correct Score' market paying an attractive 7/1."

Before the game at Holker Street on Tuesday night, the NW Evening Mail says that "Defender Mike Pearson is hoping Barrow AFC's luck changes soon as they battle to beat the drop from non-league's top division... 'Hopefully we'll get our luck soon'. A third successive goalless draw against York in league matches at Holker Street means Barrow remain fourth-bottom of the table...

Next up is a massive relegation six-pointer against old rivals Altrincham at Holker Street tomorrow night, before away trips to fellow strugglers Forest Green Rovers, Southport and Eastbourne Borough. 'We know what we have in the dressing room, we know we have a good team, and we're all confident we can get out of it', said 22-year-old Welshman Pearson. 'We're still three points adrift with games in hand, though it's no point having them if you can't win them. The next six games this month are massive, most of them against teams around us in the table. Hopefully we can get a good few wins out of them and move up the table'...

The weekend's result brought a first clean sheet in 15 games, a run stretching back four months. He said: 'That clean sheet has been a long time coming. As a defender myself, it's nice to keep clean sheets and not to record one since November is not great. We can build on that clean sheet and take [it] into the Altrincham game'".
MEN IN BLACK
Our referee at Holker Street is Mr A. Madley of Ossett, who had to postpone Mansfield's game at Moss Lane in 2009. He also reffed Alty's defeat at Gateshead earlier this season.

At Newport on Saturday we will see Mr A. Hendley from the West Midlands in charge. His previous encounters with Alty include:
Oxford Utd 1 Altrincham 1, 14 October 2006
Altrincham 0 York City 3, 4 April 2006
Altrincham 1 Torquay United 1, 29 March 2008.

For the visit of FGR to Moss Lane next Tuesday (15th) we welcome Mr R. Metcalfe. He has previously reffed Alty 1 York 1 in January 2009, Wrexham 0 Alty 1 in April 2009 and, more recently, Alty 2 Rushden 2 in October, 2010. But he will probably be best remembered for Alty 2 Kiderminster 1 in January 2008 which this website described as "a match whose first-half was played in unbelievable weather - torrential rain, strong winds, almighty claps of thunder and massive flashes of lightning which were too close to the pitch for comfort, [in which] Alty finally got out of the relegation zone for the first time this season. Indeed, referee Metcalfe, who coincidentally had been the official who had to abandon the New Year's Day 2005 game at Moss Lane in similar deluge conditions, had to take the players off for 15 minutes with this game only in the twelfth minute of the first half". Bring your umbrella!
LAST GAME
Following Saturday's draw at Moss Lane, the Chronicle Live says that "Gateshead, preparing for one of their biggest fortnights in their history with three consecutive derbies against Darlington, warmed up with a 1-1 draw at Altrincham on Saturday... The first clash is at the International Stadium in the league. Wembley is then at stake over the next two Saturdays in a two-legged FA Trophy showdown...

[Manager, Ian] Bogie said: 'We were well below our best at Altrincham, but should still have won the game as their equaliser came from a poorly-defended corner three minutes from time... We've won five and drawn two of our last eight on our travels. That is a tremendous record. It is one we can be proud of and I'm certainly not going to dwell on one below-par performance at Altrincham, a side who are fighting for their lives. It's disappointing to concede a late goal, especially as it is only the second time we have conceded a goal from a corner this season.

We were fortunate to be level at half-time but. After taking the lead through Ashley Winn, we had chances to put the game to bed, but poor decision making meant we didn't take them'".
YOUTH REPORT
There is now a match report on Alty Youth's game on Sunday against Nantwich Town; it can be found in the Youth Team section. The NWYA league table is here.
50 YEARS AGO...
Brian Flynn's latest "Flynnzine" is reproduced below from last Saturday's "Robins' Review".

Diamond Geezers!!

With everyone, connected with Altrincham Football Club, fully focused on maintaining our status as a Blue Square Bet Premier Club come August, one important anniversary has passed by without fanfare or ceremony.

It's just over 50 years since what is probably the most significant event in the club's history. Altrincham had some struggles in the 1950's…..most notably in 1952-53 season, when we finished 22nd in the Cheshire League, but if you are looking for our historical nadir, then the 1960-61 season takes a bit of beating.

With fortunes on and off the pitch at a low ebb in February 1961, two local businessmen, Noel White and Peter Swales, stepped in to take over the reins at Moss Lane and so began the most successful era in the history of Altrincham F.C. White and Swales set about their task with gusto. There was little that could be done to prevent the humiliation of having to seek re-election to the Cheshire League within a few months of taking over but, by August, there was newly found optimism breezing around the club.
The match programme (left) was a microcosm of what was happening. It became very informative, excellently printed on a better quality paper and echoed the professional approach of the new management. In the programme for the opening game of that season the new Chairman, Peter Swales, said: 'The months of hard work by staff and supporters are on show today...a new look ground and a new look team... We think Altrincham F.C. has gone a long way to being rebuilt in the last three months'.
Fortunes on the pitch headed in the right direction as the Robins finished 1961/2 season in 11th position. The next three campaigns saw Alty finish 8th,3rd and 8th, again, before the Cheshire League was won in 1965/6 season and retained a year later. There were cup successes as well and the Robins reached the F.A. Cup 3rd Round for the first time in 1966, before bowing out to Wolves.
Peter Swales moved on to become Chairman of Manchester City in 1973 and Noel White moved into the hot seat at Moss Lane.Even then, I believe that most Alty fans knew that we were incredibly fortunate to have such a high calibre individual at the helm. White led us through our most successful period in our history as Altrincham reached the pinnacle of becoming the best club in the country, outside the Football League.
League champions in the first two seasons of the Conference in 1979/80 and 1980/81, Alty's F.A. Cup record was of the very highest order and if any non-league club ever matches the achievement of reaching the F.A. Cup 3rd Round in four consecutive seasons, then that would be a bewildering achievement.
Noel White was also the man behind our famous F.A. Trophy exploits, although his decision to step down at Moss Lane and take a place on the board at Liverpool took place just a few weeks before our third and final visit to the old Wembley Stadium…the 1-0 victory over Runcorn was a fitting 'au revoir' to the man who probably has had a bigger impact on this club's fortunes than any other!
To finish this article, I feel that it is apt to quote from Derek Hodgson's obituary to Peter Swales, published in The Independent in May 1996.
'The story of Peter Swales, who died three days before Manchester City lost their place in the Premiership, and of his former partner Noel White, is worthy of Thomas Hardy. The two men formed a small business (radio and hi fi) at exactly the right time - in the early Sixties - when technological advance and rising affluence met, for a huge market to be crested. Their prosperity gave the partners the time and money to indulge in a hobby, in their case a local football club, Altrincham. Their knowledge, enthusiasm, hard work and choice of managers, turned Altrincham from nobodies into one of the leading clubs outside the Football League'.
I could not put it better myself Derek!
Take a moment at today's game to acknowledge the contribution to Altrincham Football Club of these two incredible individuals. Brian.
BSBP NEWS
Hereford's Bulls News tells us that "At a fans' forum on Friday night, Kidderminster's fans were told about their recent financial troubles. Board member Mark Serrell told the assembled fans that £110,000 had been donated by fans to the club to keep them out of Administration. They now anticipated a shortfall of around £84,000 by the end of the season rather than the sizable six-figure sum previously estimated after a series of cost-cutting measures.

They were also told that bidder Chris Swan claimed to have found another £165,000 of debt in the club that saw him cancel his offer but the club cannot find the debt itself. Swan is alleged to have told the board that the club should go bust and reform in the lower echelons of non-league".

Another signing is reported at Crawley Town where the "Club are delighted to confirm that young defender, Charlie Wassmer (19), has joined from... Hayes and Yeading. The youngster has initially joined on loan until the end of the current season but has penned an additional two year pre-contract agreement that will come into effect at the conclusion of his loan deal. The Reds have beaten off competition from Npower League 1 and 2 clubs to land the talented youngster and he has already enjoyed his first day's training under the guidance of Steve Evans and Paul Raynor.

Charlie has spent over ten years at Hayes & Yeading Football Club but has risen to prominence at first-team level this season... The player has signed for The Reds for an undisclosed transfer fee".

From the Northants Evening Telegraph, we learn that "Rushden & Diamonds' boss Justin Edinburgh is staying – despite offers from two rivals. He rejected approaches by Grimsby Town and Cambridge United...

Edinburgh admitted: 'I love it here and I've got a great affinity with the fans. We know the infrastructure is right – no doubt about that. It's no secret that we are over-achieving again by challenging for a play-off place. People must not overlook that fantastic achievement... I can't speak highly enough of this club. I love working here, I enjoy it immensely'...

Meanwhile, Edinburgh accused former chairman Gary Calder of 'under-hand tactics' which it is understood refers to an attempt to bring in another manager before Christmas. Despite an official statement by Diamonds claiming Calder had resigned last week, comments from Edinburgh and club owner Liam Beasant have since made it clear that it was actually the result of a meeting between the other directors.

Edinburgh said: 'I think people must be made aware of the decision for the chairman to leave. It's a positive move and personally I know there were under-hand tactics which I certainly didn't appreciate. I'm glad that the board have stood by me and, hopefully, we can move forward now. It was also nice to see a crowd over 1,000 on Saturday when people are in a difficult financial position'".
---
7 March 2011
THIS TUESDAY
Alty travel to Barrow on Tuesday and TASC is running a supporters' coach to the game. The match is being televised by Premier Sports so can also be viewed in the bar at Moss Lane, k.o. 7.45pm
News of Tuesday's opponents comes from the NW Evening Mail, which says that "Barrow AFC gained a point in their battle to beat the drop with a 0-0 draw against play-off chasing York City... Barrow made just one change to the side which was unlucky not to get a share of the spoils at Crawley Town last weekend, with new loan signing from Gateshead, Andy Ferrell, making his debut in midfield in place of Louis Almond...
The Bluebirds are now without a win in nine games and remain in the relegation zone with 13 games left to play. Barrow AFC: Clark Masters, Simon Spender, Paul Edwards, Phil Bolland, Mike Pearson, Darren Sheridan, Andy Ferrell, Richie Baker, Wayne Curtis, Paul Rutherford, Andy Cook (Louis Almond 74). Subs not used: Shaun Pearson, Marc Goodfellow, Eddie Toner, Andy Nicholas".
NEXT SATURDAY'S OPPONENTS
From the South Wales Argus we learn that "Former Newport County boss Dean Holdsworth says he would recommend the club to anyone interested in replacing him as manager, but rejects the notion that he is to blame for the Exiles' horrible run in 2011.

Holdsworth, now with Aldershot, has enjoyed a smooth transition into life in League Two, helping his new team away from the relegation zone... However, despite County being compensated for his departure, not to mention the fact that Holdsworth agreed not to raid his former club, the Londoner, who led the Exiles to a record breaking Conference South promotion has become something of a villain in the eyes of many of the County faithful...

'Put it this way, despite some of the things said when I left, which I thought were a bit unfair, I still love the club to bits, every bad result I've read about has upset me', he said. 'I know some of the fans won't ever be able to accept that I left because I wanted to manage in the Football League and that's fair enough. But I don't think it's fair to suggest that this horrible run they've had is down to me leaving'...

It would appear increasingly likely that Tim Harris will be reverting back to his director of football role in the coming weeks with interviews beginning to identify Holdsworth's permanent successor...

County's Conference freefall continued as Fleetwood Town enjoyed a smash and grab 3-1 win at the revamped Newport Stadium... Reduced to ten men after a reckless challenge from young midfielder Tom Miller, the Exiles conceded twice late".
NARROW DEFEAT
Alty Youth went down 1-0 at home to Nantwich Town on Sunday at Wythenshawe Town FC. Report to follow...
AFTER THE MATCH
Gateshead report that "Ian Bogie believed Altrincham were good value for their point even though his side had led until three minutes from the end in Cheshire...

'It's always disappointing to concede a late goal but it wasn't a great performance by any means. We didn't pass it well and made poor decisions throughout the game. However, I'm not going to be too disappointed as what we have achieved away from home of late has been nothing short of fantastic. We should have had enough to see the game out but on the balance of play I can't complain about the result. It was a set piece that saw the lad get a free header inside the box...

We had moments in the second half when we could have got a second goal that would have put the game to bed. Altrincham wouldn't have come back, but individuals made the wrong decision, electing to shoot instead of passing. We were fortunate to be level at half-time. Altrincham grew into the game and a few set pieces caused us problems...

We looked a bit jaded but it should have been an ugly win... A number of teams are fighting for their lives, including Altrincham, and we have no divine right to come to places like Moss Lane and win'".

Gateshead add that "While captain Ben Clark again led from the front too many others had an off day... James Tavernier, a revelation since joining the club on loan from Newcastle United had his worst 45 minutes for the Heed, and the midfield failed to spark... A lethargic Gateshead were second best in the first half, the Robins Nicky Clee causing plenty of problems down the left".
BSBP NEWS
BLue Square Football says that "Businesswoman Stephanie Booth was unveiled as the preferred bidder for Wrexham FC at the Racecourse on Saturday. The 63-year-old hotelier opened a sealed envelope from current owners Geoff Moss and Ian Roberts on the pitch before Saturday's 2-1 victory over Forest Green Rovers naming her as the preferred bidder.

Ms Booth read the following statement in front of supporters at the Racecourse:

'We, as the current owners, see that the best solution is to transfer them both (club and ground) into a broad-based community ownership. Because of her track record on working on similar projects, we pick Stephanie Booth to do this. If she accepts this, we promise to work quickly with her and promise not to allow the club to go into administration during the sale process'.

After reading the statement, she added: 'I am humbled by your faith in me, and I hope I can live up to your expectations. I promise to put the Racecourse and Wrexham FC into a community-based partnership, so never again can it be owned by one person. I promise every penny generated will be invested back into it and no one will make money out of it. I need the current owners to cooperate with me. Please stop any disturbances and demonstrations against them as they will look for a quick exit and we'll lose the club forever.

The club is safe. You know it's safe, so please sit back and support Dean Saunders and the team, they are the best asset we have. I'll be transparent and I've printed off 3,000 copies of my plans for the future to be picked up at the end of the match'".

Back in 2003, IC North Wales reported that "One of Britain's best known transsexuals is buying up a string of prominent hotels and pubs in and around an historic North Wales town. Stephanie Booth, who was once jailed for selling porn and runs a sex-change and cross-dressing website, has bought five hotels and pubs in Ruthin in the last 15 months...

So far, Stephanie, who used to be called Keith Hull, and husband David Booth have bought the 600-year-old Bodidris Hall, Llandegla, the Plough Hotel, also in Llandegla, the Anchor Hotel, Ruthin, the Castle Hotel and adjoining Myddleton Arms in St Peter's Square, Ruthin, and the Clwyd Gate Restaurant, between Mold and Ruthin...

On her website, titled Transformation and which advises and sells items to help people wanting a sex-change or who are transvestites, Bodidris Hall is advertised as being available for transvestite (or TV) weekends... Her life-story is also set to be made into a major film....

'After my autobiography came out about 15 years ago I thought I would keep a lower profile and stopped doing interviews. Now United Artists are about to make a film based on my life, and I shall be a consultant on it'".

The Daily Post adds that "Successful businesswoman Stephanie Booth has turned around a succession of failing businesses and owns a string of hotels. Key to her thinking is assuming that football alone is not enough to sustain the venue which therefore needs events, fan participation, tax breaks and grants essential to make ensure success.

Increasing attendances from 3,000 to 5,000 on a regular basis is also vital to make the business sustainable. A plan with four points has been devised.

First Ms Booth wants to form a Wrexham FC membership Club which will cost £52 a year, effectively £1 a week, to belong to – in return supporters get discounted tickets which will save money over the season.

Secondly Ms Booth wants a broad base of shareholders so no one person or group of friends can threaten the club again. Shares will cost £100 and no one person will be allowed to own more than 10%.

The third step is to buy the stadium and grounds and place them in to a community charitable trust which will give the ability to take advantage of the governments gift aid scheme allowing companies to get tax breaks from donations, gain eligibility for grants and: "ensure it is owned by the community for the community."

Lastly an Annual General Meeting would be held at the stadium so everyone has the chance to put their questions and receive a copy of the trading accounts...

She said: 'Apart from the paid employees no director will receive any payment, no dividends to shareholders although they will enjoy benefits as a result of their investment. I want people to become involved because they want to support this great club. I cannot do this alone, I need everyone of you to help me'".

The 200% site adds that "Stephanie Booth (as well as her husband, David, for the record) is banned from acting as a company director until the 17th of February 2012. This disqualification, which was unearthed almost by chance by a member of the Red Passion Wrexham website and forum, relates to a company that she was involved with called Lloyds Sterling, which was closed down in 2006 after an investigation by Companies Investigation Branch of the Insolvency Service".
---
6 March 2011
RADIO TEST
Brian Flynn writes:

Radio Robins: Second Stage Test

Thanks very much for all the emails that I have received and comments on the Fans' Forum regarding the initial broadcast.

Very pleasingly, it seems that everyone has been able to access the broadcast using either a laptop or a P.C. Using a mobile phone to access the station has been an issue, which we will investigate.

The station has been able to accommodate 11 listeners at one time and we had over 300 hits on Saturday afternoon.The next stage of testing is to see whether the station works when a large number of people try to access it at the same time and we would like to test that out at 8.00pm tonight.

We will broadcast some new content at 8.00pm tonight and it would be great if as many people as possible could access the station from that time. It would be helpful if once up and running, you could stay online until 9.00pm, allowing us to test the service over a full 60 minute time period.

Once again, please provide feedback via the forum or email Brian Flynn".
Radio Robins Link
ALTY CONGRATULATED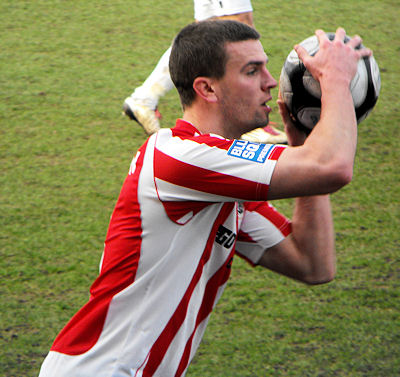 Right: Jonathan Bateson, Alty's latest recruit, on loan from Accrington Stanley, had a steady debut against Gateshead on Saturday. He is seen, here, taking a throw-in.
After Saturday's draw at Moss Lane, Gateshead boss Ian Bogie said "This time last year we would have been happy with a point at Altrincham but I am disappointed today. We did not reach the level of play today that we have shown over recent weeks and that is down to Altrincham. They did their homework on us and stopped us from playing. They had the lion's share of the game and dictated the rhythm of play. Altrincham are to be congratulated on how hard they worked to get a point".
Alty boss Ken Mckenna said, "We worked out how we could compete with a very good Gateshead side. They [Alty] are a great bunch of lads and they showed great character to come from behind after conceding a very unlucky goal. I had every confidence that we would get a point. Without being critical of the players I've got, I wish there was a bit more guile up front. i thought we could have been three up at the break".
OLD BOYS
Dale Johnson got a hat-trick for Hyde against second-bottom Stafford Rangers on Saturday; Hyde won 5-0. Fellow striker, James McCarthy, has moved to Colwyn Bay from Chester. Meanwhile, former Alty loanee Damien Allan netted for Bay in their game yesterday.
LOCAL NEWS
The Evostik League reports that "FC United of Manchester's hopes of moving into a new stadium at Ten Acres Lane have taken a blow after Manchester City Council announced that the nationwide spending cuts mean that the site is no longer viable.

In a statement, the council announced; 'As a result of the challenging local government settlement, the Council has to ensure that any available resources are optimised and deliver the very best for Manchester. The Council has therefore had to revisit its spending plans and examine other opportunities for securing a football facility within the city.

The Council acknowledges the immense amount of energy, time and effort that FC United and its members have invested in the Ten Acres Lane proposal to date and remain absolutely committed to helping FC United achieve its ambition of building a new ground in time for the 2012-13 season'.

The club, which is run by its fans, have called a members' meeting in which their concerns can be raised, but the announcement that the much desired site is no longer a viable option will have come as a bitter blow...

The club's official response, posted on their website, stated; 'Supporters should note that the statement provides us with a number of commitments on behalf of Manchester City Council. It is these and other assurances that the Board have been working hard to secure in the last few days. It is our belief that as a result of negotiations some of those commitments are stronger than were even in place for Ten Acres Lane'".
---
5 March 2011
ALTRINCHAM 1 GATESHEAD 1
Right: Baynes, Clee, Bateson and Lawton form an Alty wall to defend a second-half free-kick against Gateshead.
It took a late (87th minute) headed goal by Marc Joseph, from a Wes Baynes corner, to secure a point for Alty but it was deserved...
Match report here.
SATURDAY
The usual Matchday Update service will provide live news from Moss Lane before and during Saturday's game against Gateshead.

Altrincham could have as many as six players unavailable for the game. James Smith, Chris Denham and Shaun Densmore are all injured, whilst Steve Connors is suspended. In addition, Mark Beesley and Sam Hewson are pre-match injury doubts. However, new loan signing, defender Jonathan Bateson from Accrington Stanley, is a new face in the squad.

When Alty lost at Gateshead in the reverse fixture back in September, it proved to be Graham Heathcote's last game in charge. From the starting line-up that day at least six Alty players will not start today - Coates, Smith, Welch, Densmore, Crowell and McCarthy.

Alty v Gateshead, 8/9/10: 21. James COATES, 2. James SMITH, 5. Robbie WILLIAMS, 22. Michael WELCH, 6. Shaun DENSMORE, 18. Matty CROWELL, 7. Robbie LAWTON, 15. Ryan BROWN, 20. Sam HEWSON, 11. Nicky CLEE, 23. James McCARTHY, Subs: 1. Stuart COBURN, 4. Marc JOSEPH, 8. Damian REEVES, 9. Michael TWISS, 16. Anthony DANYLYK.
Alty line-ups
Saturday, 5 March
Altrincham 1 Gateshead 1
Barrow AFC 0 York City 0
Bath City 1 Kettering Town 1
Crawley Town 5 Histon 0
Darlington 1 Cambridge United 0
Eastbourne Borough 4 Southport 1
Grimsby Town 2 AFC Wimbledon 1
Luton Town 1 Kidderminster Harriers 1
Newport County 1 Fleetwood Town 3
Rushden & Diamonds 1 Hayes & Yeading Utd 1
Tamworth 0 Mansfield Town 2
Wrexham 2 Forest Green Rovers 1

Gateshead "will head for Altrincham looking to start another run after their seven game winning sequence ended in an unlucky 2-1 defeat at York on Tuesday. The Tynesiders played the last 25 minutes with ten men after Kris Gate was sent off for a second yellow, the midfielder subsequently banned for two games.

Gateshead have already recorded two 2-0 wins over Altrincham this season, one in the league and one in the FA Cup, but won't be taking the Robins lightly in Cheshire.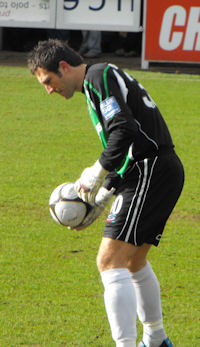 Left: Craig Dootson has started the last six games as Altrincham's goalkeeper. He is seen here last week at Wimbledon.
'Altrincham are fighting for their lives and will feel they have every chance of staying up so once again we will have to be at our best if we are to beat them for a third time', said [manager, Ian] Bogie. 'They have brought one or two in on loan and beat Kettering and drew with York in their last two home games, though their form has been up and down. Altrincham have been in the bottom four all season but they have a chance of getting out of trouble and will be scrapping for their lives. They will not go down without a fight but we have beaten them twice and I will be disappointed not to make it a hat-trick of wins'.
Gateshead are likely to hand a debut to new signing Richard Offiong up front alongside Conference Premier Player of the Month Jon Shaw. Loanee Adam Rundle has recovered from a knock... and former Magpie, Martin Brittain, is also available after illness. Mid-season signing Ashley Winn is given the chance to impress as Gate's deputy, the Teesider having made just four starts since joining Gateshead from Southport in November.
'It is an opportunity for Winn to stake his claim', added Bogie. 'He has to grab it by the scruff of the neck and show us what he is all about. Offiong has looked good in training and has a good pedigree while Rundle showed good quality in his first game at York...
The Moss Lane pitch is usually good, which will suit us, and we're looking to get straight back to winning ways ahead of the three games against Darlington'.
An x ray on front man Gary Mulligan's problematic groin area shows no fracture and the big Irishman will have a cortisone injection next week to try and clear up the injury. Fellow striker Jonny Allan, still to start a game this season, meanwhile is awaiting the results of blood tests after feeling ill over the last ten days...
Altrincham have selection problems with several players injured and on loan Fleetwood Town combative midfielder Steve Connors suspended... Key defender James Smith is out with a hamstring injury while Shaun Densmore and Chris Denham are still missing and Mark Beesley doubtful, though 21-year-old defender Jon Bateson has joined the club on loan from Accrington Stanley".
adds that Gateshead "could be set to hand former Newcastle United starlet Richard Offiong a short-term contract. The 27-year-old is a free agent after leaving Carlisle United by mutual consent in early January. The striker – who has also played for Darlington during two loan spells – has been training with the Tynesiders this week...

The Gateshead boss... said: 'When is a good time to strengthen your squad? Is it when you start to be beaten, or when you are winning games? I think it is when you are winning. We have to make sure there is no complacency creeping into the camp... Richard has undoubted talent. It is just about him finding a club where he feels he is wanted... He has a physical presence, has pace and he scores goals... He might be involved tomorrow'"

The Football Conference confirms that "Gateshead's Jon Shaw has been named the Blue Square Bet Premier 'player of the month' for February. Ian Bogie from Gateshead has been named the Blue Square Bet Premier 'manager of the month' for February".

The Conference adds that "Gateshead have signed 27-year-old Richard Offiong and the former Hamilton Academical front man goes straight into the squad for Saturday`s game at Altrincham. Offiong has been on the radar of npower League Two sides Stevenage and Macclesfield Town... The England under-20 international has also had two loan spells at Darlington as well as a brief stay at Doncaster Rovers...

'We tried to sign Offiong earlier in the season after he had left Carlisle so it is good to finally get our man', said Gateshead boss Ian Bogie".
YOUTH
Alty Youth are at home to Nantwich Town on Sunday at Wythenshawe Town FC, k.o. 2.30pm.
BSBP NEWS
The Conference also confirms that "Kidderminster Harriers have announced that they have refused permission for Blue Square Bet Premier rivals Grimsby Town to approach manager Steve Burr. Kidderminster received an official approach through correct channels from Grimsby, requesting permission to speak to Burr about their current managerial vacancy. After careful consideration and consultation with Burr himself, Harriers have decided to deny Grimsby this permission with respect. The club is currently in discussions with Burr about his own future here at Kidderminster Harriers".

According to Blue Square Football "York City defender David McGurk put pen-to-paper on Friday afternoon and signed an extended contract with the club. McGurk was contracted to City until the end of next season but has pledged his future to the club for a further year taking his deal through to May 2013". Also, "York City have extended the loan of Leeds United midfielder Will Hatfield until the end of the current campaign".

From NL Dailywe learn that "Kettering Town have re-signed defender Nathan Koo-Boothe. The giant centre half started his career with Watford and then joined MK Dons... and was used mainly for the reserves during his time at the club... The 6' 4" Koo-Boothe had a loan spell at Grays Athletic, but was released by the Dons in February 2006 when he joined the Poppies for the first time. He joined Aldershot Town in December 2007 under contract, and left in March 2008, after failing to make an appearance in the Conference National, signing for Jamaican outfit Portmore United in the summer of 2008. In July 2009 he had a trial spell with Crewe Alexandra before jetting off for a spell with Maltese First Division outfit Mosta. The 25-year-old recently had a trial spell with South African giants Kaizer Chiefs."

Cambridge United can confirm the "Club has received numerous applications to fill the vacant position of first team manager following the departure of Martin Ling in early February. A number of these applicants are currently in employment so their interest will obviously be kept strictly private and confidential.

As instructed by the Board, Director of Football Jez George has, over the last two weeks, met with a number of the above applicants. He has drawn up a short list for the Board to consider as requested. The Board gave this initial task to Jez in his capacity of Director of Football. We can confirm that this process was completed in a timely fashion which has given the Board the option of an immediate appointment.

The Board have now met and considered a number of very good candidates for the role, one of whom Jez has recommended as his choice of manager. However, after careful consideration the Board have asked Jez George, with the assistance of Nolan Keeley as first team coach, to continue in their roles until the end of the season.

Chairman Paul Barry told cambridgeunited.com 'We arrived at this decision for a number of reasons, among which is the unresolved contract positions with the previous management team and the financial constraints within which we are currently operating. At this present moment in time the Club cannot afford any significant extra expenditure and as a Board we do not believe a compromise appointment to be in the long term interests of the Club.

We have therefore asked Jez, in line with our initial thinking, to carry on until the end of the season. Jez, to his credit, has agreed to this request in the interest of the Club. Jez has made it clear he wishes to step aside at such time as these matters are satisfactorily resolved and an appointment is possible. However, as a Board member, he also understands in detail the issues within the Club, both on and off the field, which we believe puts him in a unique situation to help the Club in this difficult time".

According to the Southport Visiter "southport have swooped for Burscough's Dave Roberts - then immediately sent him out on loan. The versatile 23-year-old signed for the Sandgrounders on Wednesday night but is now likely to spend the next month at Skelmersdale United. Skem had made an unsuccessful attempt to get Roberts released from his contract last week but have now cut a deal with Port manager Liam Watson to borrow the highly-rated player.

Watson says Roberts, who can play in a variety of positions in midfield or defence, forms part of his long-term plans at Haig Avenue and feels with a return to full fitness, the former Wigan Athletic youngster can establish himself in the Conference...

Watson's men travel to basement club Eastbourne Borough tomorrow. Captain Alan Moogan returns to the fold having served a two-match ban for picking up a tenth booking of the season with his manager admitting the former Everton player has been sorely missed...

'Our deadline to bring in loan, or non-contract, players is at the end of the month. I'm not a fan of the loan market so this deal with Dave is ideal for us. After 28 days of his loan at Skem we can recall him so I know we don't need to look elsewhere. I believe Dave may have lost his way a little bit since I brought him into non-league when I was manager of Burscough'".

The Blackpool Gazette reports that "We've come too far to let our season fizzle out now – that's the defiant message from club captain Steve McNulty as Fleetwood Town head into the final ten games...

McNulty said: 'We still believe we can make the play-offs'. McNulty has spent much of the past month on the sidelines as manager Micky Mellon preferred Will Haining alongside new skipper Sean Gregan at the heart of defence. The end of Haining's loan spell from Morecambe has opened the door to McNulty again but his comeback match could hardly have gone worse. He said: 'We... can't get our heads round what happened at Darlington. There was not enough fight in us. Silly mistakes and individual errors left us with a mountain to climb'".
---
4 March 2011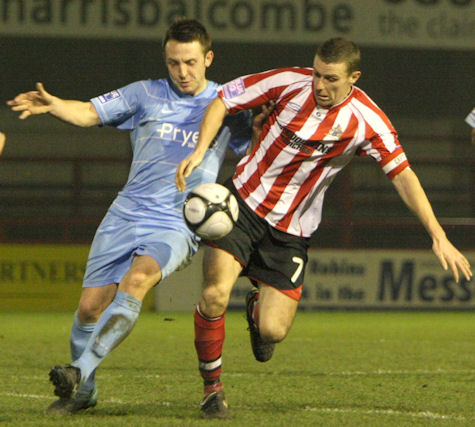 Right: Robbie Lawton battles for possession in last week's match against York City. Photo courtesy of Gavin Rathbone of GR Photography
BSBP NEWS
Rushden & Diamonds have issued a terse "Club Statement... Rushden & Diamonds Chairman Gary Calder has resigned from the Football Club with immediate effect. Liam Beasant takes over as Chairman, with Steve Beasant coming in as Chief Executive Officer".
NL Daily tells us that "Southport have signed midfielder or defender Dave Roberts from neighbours Burscough".
Mike Avery's attendance data shows that Altrincham lie 119th in the national attendance charts - which tallies quite closely with their league table position of 114th in the national leagues.
This season so far, average gate 1,016 - last season: 1,066 making a change of -5%.

Top of the Conference pile and 56th nationally are Luton, averaging 6,655 a change of -4%. At 196th lie Hayes & Yeading United who average 323 a massive drop of 49%.

From Blue Square Football we learn that "Wrexham's owners have confirmed they would be willing to sell the club to Wrexham Supporters' Trust if a bid was received. This was the crux of a positive meeting between Wrexham Football Club, Wrexham Council and Wrexham Supporters Trust on Wednesday. Local businesswoman Stephanie Booth has submitted a rival bid but failed to agree on a joint venture with Wrexham Supporters' Trust last week.

A statement on the club's official website read:

'All parties were united in the aim to protect the Racecourse as the premier sporting venue in North Wales. It was agreed that Wrexham FC Directors would share the due diligence review - completed today - with WST's advisors in the strictest confidence before the end of the week. This was in order to enable the Trust to finalise its proposals for approval by its members.

The Directors of Wrexham FC recognise the need for detailed consideration of the due diligence review before final plans can be prepared and confirm that they are prepared to consider a deal with the WST if a bid is forthcoming. All parties recognise though that there has been interest in Wrexham FC from other parties".
---
3 March 2011
NEW LOAN SIGNING
Accrington Stanley confirm that "Stanley defender Jonathan Bateson has joined Altrincham FC on a month's loan. The 21 year old moves to Moss Lane having made 12 league appearances for the Reds, but has failed to break back into the side after receiving a red card in the local derby away to Bury FC in October 2010".

The Football Conference adds that "Altrincham have signed right-back Jonathan Bateson on a month's loan from Accrington Stanley. Bateson was a 2010 summer arrival at the Crown Ground. He began his career at Blackburn Rovers but never made a first-team appearance. His professional debut came during a loan spell at Bradford City against Nottingham Forest in a Carling Cup tie in August 2009. Unfortunately, he was sent-off in that game but made his League debut twenty-four days later. He was released by Bradford at the end of the 2009/10 season and joined Stanley on trial. Bateson was impressive throughout his trial period at the Crown Ground and has made fourteen appearances to date".

Jonathan's squad number will be "3" and he is eligible for selection on Saturday.
INJURY BLOWS

Above: Ken McKenna pictured before kick off at Wimbledon on Saturday.
Altrincham FC joint Press Officer, John Edwards, writes "Ken McKenna urged his Altrincham players to dig deep after injuries and suspension conspired to cast a shadow over their Blue Square Bet Premier survival hopes. Optimism over an encouraging performance at promotion candidates AFC Wimbledon was offset by a second yellow card for tenacious midfielder Steve Connors and hamstring injuries to James Smith and Mark Beesley.
Connors (left) misses Saturday's home game with Gateshead, due to a one-game ban, as does key defender Smith, who will be out for 10 days. As a further concern for McKenna, he looks like being without Shaun Densmore and Chris Denham for another month.
The Alty manager put on a brave face, though, as he assessed the mounting toll on his threadbare squad, saying: 'We are thin on numbers, but we'll just have to see who is available or if we can possibly get someone in. Beesley has a chance for Saturday, and I'm hoping Sam Hewson might be back in training before the end of the week, but we'll be lucky to have Densmore and Denham back for the last month of the season.
'Denham has been our main forward this season, and it is a big blow to be without him so long. But the mood among the players is good, and there were plenty of positives about the way we restricted Wimbledon, created chances while the game was still in the balance and matched them for much of the game.
'We did go through a spell a while ago where we couldn't score, but I look at us now and see goals in our locker, whether it be from Greg Young or Robbie Williams at set-pieces or open play from Wes Baynes, Nicky Clee, Damian Reeves or any of the other lads up front.'
Connors has made a favourable impression since arriving on loan from Fleetwood, and his ferocious commitment will be missed against Gateshead.
'He's got a bit of an old-fashioned approach about him, in that he just loves a tackle,' said McKenna. 'He was a bit unfortunate, because I thought the first booking was a bit harsh, even if the second was fair enough. You can't follow through in this day and age, because it is seen as aggressive intent.
'But aggression is what his game is all about. He plays on the edge a bit. We will perhaps have to curb that a touch, because after being up at the top of the fair play league a while ago, we've suffered with one or two sendings off.
'We went to Wimbledon with the intention of keeping it tight, and that's exactly what we did for most of the first half. After 40 minutes, they still hadn't managed a shot, whereas we had worked a great chance for ourselves and could have been 1-0 up, with a bit more composure.
'Everything was going according to plan, then we got a reminder of what quality in front of goal can do for you, and we were up against it. Danny Kedwell was the difference between the sides, but I still felt we were in with a chance after pulling a goal back at 3-1.
'I was just about to bring Steve off, because he was on a yellow, when another chance went begging and he got a second card. That bit of luck you need is just eluding us at the moment, but there was still plenty to encourage us.
'We've still got a great opportunity in front of us. We're in the best position we've been in all season. One win, and we could be out of the bottom four. The longer we are down there, the harder it will get, so we really do have to reach out and grab it.
'We've got to keep going and keep believing. It is going to test our nerve, as well as our resources, but we must remain positive. I think we will, because there is no fear about us. We headed down to South London not fearing Wimbledon one bit.
'It's just tiny things going against us at the moment, and there's not always a lot you can do when a player shows why he costs big money. Terry Brown (Wimbledon manager) told me afterwards that they had to pay a lot for Kedwell, but we can't worry about that.
'We can only look to ourselves and make sure we are organised and up for the challenge, and I'm confident that will continue to be the case.'
McKenna is keeping his fingers crossed injury-hit York will not recall Young (above right) from his loan spell at Moss Lane.
'I certainly hope not, because he's so effective in both areas, with his extra height,' he said. 'I hope we can hang on to him, and I have heard nothing so far to the contrary'".
GATESHEAD OPTIMISTIC
News of Alty's next opponents comes from Blue Square Football which tells us that "Gateshead manager Ian Bogie is targeting a return to winning ways this weekend following a 2-1 defeat to Gary Mills's York City on Tuesday night...

Kris Gate received a straight red card to make matters worse... 'Other than the first 15 minutes I thought we dominated the game', Bogie told Chronicle Live... 'York were hanging on when we only had 10 men on the pitch. It was a disappointing result but a good performance. We came here and put York on the back foot and we dominated proceedings from 15 minutes on...

They started brightly and we did not, they scored an early goal'...

And Bogie believes the penalty and Gates' sending off minutes later were definitely influenced by York's vocal support. He added: "Some of the decisions I saw were unbelievable... 'I think the referee has listened to the home crowd. That changed the game and won it for York... Maybe Kris was a bit rash - but their lad was on the ground for long enough then he was up and sprinting about...

If we play like we did at York at Altrincham on Saturday we will win. This has not affected our confidence... We aim to bounce back on Saturday with a positive result'".
BSBP NEWS
Next Tuesday, Alty are at Holker Street, where "Barrow have confirmed the signing of midfielder Andy Ferrell on an emergency one-month loan from Gateshead" reports Blue Square Football. "The 27-year-old midfielder will join the Bluebirds on Thursday in an agreement that runs until April 2nd. Ferrell is expected to be thrust straight into the action at Holker Street with Robin Hulbert and James Owen both currently on the treatment table. With Adam Rundle joining Gateshead this week, Ferrell will gain some much needed game time at Barrow after falling out of favour".

According to the BBC "Top-class football is often accused of extravagance and financial recklessness, but research shows that more non-league clubs are suffering insolvency problems than their professional counterparts. Fans tell '5 Live Investigates' that this is a result of careless management - so should the FA be doing more to manage finances in the lower leagues?

'The players that we bought were far too good for our level. We would normally sign our centre forwards from Redditch and Bromsgrove. But we signed one from Angola. We were signing players from Conference clubs. We were signing players who had very recently been in League football and it was obvious that the wage budget was very high'.

Guy Cooper, a lifelong supporter of Halesowen Town, which currently plays in the Zamaretto (Southern) League, reflects on the vaulting ambition which took his club to the brink of bankruptcy... They went into administration in September 2009 owing more than £250,000...

Supporters claim Halesowen's decline dates to the appointment in 2007 of Morrell Maison, a well-known figure on the English non-league scene, who ran the club both on and off the pitch... Dr John Beech, the head of sport research at Coventry University, and author of the blog Football Management, has analysed 20 years of football-related financial data. His research establishes that over that period 68 non-league clubs have suffered 'insolvency events' compared with 66 of their professional counterparts.

Insolvency events cover a range of financial crises, from liquidation to administration to company voluntary arrangements (CVAs), and essentially refer to the moment when a club can no longer pay its bills...

'I think the big problem in all this is the dreaded "A" word - it's not administration, it's ambition', Dr Beech observes... 'I think the primary responsibility is to stop this benefactor model where benign benefactors pour money in, because I think that is going against the sporting ethic. It's the deliberate attempt to upset the competitive balance in a league'...

An alternative model of club ownership is emerging, following the creation of Supporters' Direct in 2000... [Accordingto] Supporters' Direct spokesman Kevin Rye... Many of the new breed of director, he claims, would be 'more interested in the land value that the ground was sitting on, rather than the community spirit that might be there'...

The FA has instigated 450 financial reviews of non-league clubs over the last 10 years, and introduced regulations which prevent any club in the top non-league division, the Blue Square Bet Premier, from buying players while in debt to the tax authorities... Only last week, Rossendale United had to postpone a game because the club failed to pay its water bill, and now faces possible expulsion from the Vodkat (North-West Counties) League. The club admits that its current situation is "precarious", prompting fears that they could become the 69th addition to Dr Beech's grim league of shame".

From the BBC comes news that "Grimsby Town are on the verge of offering their vacant manager's job to Darlington boss Mark Cooper. BBC Radio Humberside understands the Mariners have made a formal approach for the 42-year-old although a deal has yet to be finalised.

Mike Parker, who stepped down as Grimsby's vice-chairman on Tuesday, said: 'We're in very detailed discussions with an individual. Hopefully the club will be announcing that appointment before the weekend'.

Parker added: 'I've met the individual concerned, he's impressive... This is the individual that John [Fenty, Grimsby chairman] have been pursuing'...

'I'm under contract until June, and I'm out of contract in the summer, and that's where we are, nothing new', Cooper told BBC Tees". Darlington currently lie 9th in the BSBP, two points ahead of Grimsby.
OLD BOYS
Several ex-Alty players scored on Tuesday night. Former Reserve and youth teamer Mark Drew, netted a hat-trick for Ramsbottom United, Carlos Roca scored for FCUM and Peter Wright netted for Bamber Bridge.
---
2 March 2011
WEDNESDAY GAME
Wednesday, 2 March
Tamworth 3 Kettering Town 1 Already 3-0 down, Kettering had two men sent off.
League table
ALTY COMMENTARIES
Altrincham FC Joint Press Officer, Brian Flynn, writes:

Update on Setting Up Internet Match Commentaries for Altrincham F.C.

You may be aware that we are in the process of trying to set up an Internet Commentary Service for Altrincham matches and this is an update on the current situation. Following an appeal made in the programme and on this website, a number of people have, pleasingly, kindly offered to help to try to get this service up and running.

Within the last few days, Paul Burton, who has been an Altrincham fan since 1976, has managed to set up some software that will operate a radio station that has the capability of handling up to 1000 listeners. It is hoped that we can use this radio station as the platform to provide a match commentary service.

The first thing that we need to do is test that the service is generally accessible and we would like all Alty fans, with access to the internet, to help us out here, by trying to access the radio station and feeding back whether it works or not.

When you access the station, we have a nostalgic treat for you, as we are broadcasting a recording of Radio Manchester's Sportsline programme from April 1st 1978.The programme is hosted by Ian Frame and his studio guests are Noel White and Tony Sanders, who were Chairman and Manager respectively at that time.The programme takes place within a couple of hours of our home F.A. Trophy Semi-Final First Leg game against Runcorn, which ended 0-0.

Whether you have just started supporting Altrincham very recently... or, like Stan Riley, have been a fan since the 1940s, I am sure that you... for a number of reasons... will find this compelling listening!

The recording will play in a continuous loop until Sunday and should be accessible from around 9.00am-10.00pm each day.You may also find that between repeated plays of the broadcast, there are a few musical tracks from The Harbingers, who have a number of Alty fans amongst their group members!

We would like people, who try to access the station, to let us know how they got on, by posting a message on the thread on the Fans' Forum entitled "Radio Robins!!" Alternatively, please send me a personal message via the Forum or e-mail.

All you need now is the link... which is here.

Click... Play... Enjoy!!!

This is the first stage of the testing process and I will be in touch later this week to advise you of the next stage......where we will be hoping you can help us out again!"
SCORES
Tuesday, 1 March
Darlington 4 Fleetwood Town 0
Forest Green Rovers 0 Luton Town 1
Hayes & Yeading Utd 0 AFC Wimbledon 0
Newport County 1 Cambridge United 1
Rushden & Diamonds 5 Bath City 1
Southport 3 Histon 1
York City 2 Gateshead 1

FA Trophy QF
Chasetown 2 Mansfield Town 2
YANKEE - £5,000 JACKPOT
The Altrincham FC Saturday Yankee jackpot is now at its £5,000 ceiling, so a second jackpot fund has been started at £100. 2843 was last week's winning code which went unclaimed, though three subscribers each won £66.67 for "trebles".
NEXT TUESDAY
Following the news that Barrow v Alty will be shown by Premier TV, Barrow confirm that "This will be the first time since last May that Barrow have appeared live on television, with ITV covering the Wembley FA Trophy win... Barrow will hope to keep up their good record on live TV, with the only blemish in 5 games in the last three seasons, the 2-1 defeat at Burton Albion, covered by Setanta".

Meanwhile, NL Daily says that "Droylsden, who signed experienced striker Lee McEvilly and goalkeeper Sean Lake from Burscough on Monday, have followed that up with the loan signing of defender Paul Jones from Barrow".

The BBC adds that "Defender Jones, 32, joins the Bloods until 2 April in a bid to improve his match fitness after struggling to hold down a regular place at Holker Street".
OLD NEWS
From Welsh Premier comes news that "Defender Dave Swanick has left Newtown and made his debut for Technogroup Welshpool in Saturday's 6-1 home defeat to Rhyl. The 31-year-old had made nine (+1) appearances in the Welsh Premier for the Robins since signing last summer, but lost his place in manager Andy Cale's squad since the January transfer window. Swanick joined [Marc McGregor's] Connah's Quay Nomads during the summer of 2006 having previously played for Morecambe, Altrincham and the Stockport-based Unibond League side Woodley Sports."

He was joint manager at Alty at the start of the 1997/98 season but now Mansfield Town report that "Larger-than-life former Stags defender Brian 'Killer' Kilcline will be the guest speaker at a sportsman's dinner on 12 March... Kilcline, an old-fashioned caveman centre-half, is one of the most recognisable faces in the English game having played for seven clubs during an illustrious 17-year career".
BSBP NEWS
NL Daily reports that "Wide midfielder Adam Rundle is set to Gateshead on loan from Morecambe... until the end of the season. The former Rochdale wide man signed a two-year deal with the Shrimps after being released by Chesterfield at the end of last season. He began his career as a youth team player with Newcastle United before signing his first professional deal with Darlington. Carlisle United paid a £40,000 fee after just eight starts with the Quakers but he left the Cumbrians for a brief spell with Dublin City.

He returned to England with Mansfield Town before joining Rochdale in 2006 and he played more than 100 games for the Dale... He had a loan spell at Rotherham United before a move to Chesterfield in January 2009. The deal includes the possibility that Rundle can stay with Gateshead if they reach the play-offs or the FA Trophy Final at Wembley".

The Football Conference says that "Raj Singh has revealed that manager Mark Cooper, manager of Darlington, has been approached by another club - but the Quakers chairman is keen for him to stay at the Northern Echo Arena...

He explains how Darlington will be asking supporters throughout March to commit to buying a season ticket for the 2011/12 campaign, without paying for it until the summer when the off-field problems will hopefully have been resolved...

'It's no secret that we've made huge losses over the last two years which I've had to meet personally', he explains. 'Without promotion this season, it will be even more over the next 12 months without the Football League parachute payments. If I'm honest, it's not the sort of shortfall I'm prepared to meet next season...

We need to start making plans for next season now, so we're not chasing our tails like we have been in the last two summers. With the off-field events going public recently, the vultures are already circling. For example, Mark Cooper has already had one approach from a club seeking his services... "Mark has told me that he'd like to stay and wants to get this club promoted, whether that's this season or next, but I understand he has his future and security to think about as well. It would be a shame to lose him as we're working really well together...

So, this is an appeal to our fans, past and present, to get behind the club and show me and the manager the kind of support we need to move on, and show us your commitment in March'".

According to Blue Square Football "Mansfield Town have made the following statement concerning their ability to meet Football League membership criteria:

'The Football Conference have indicated to us that in order to be eligible for promotion to League Two next season, or to take part in the BSBP end-of-season play-offs, evidence must be shown that we have at least a 10-year tenancy at Field Mill in place by the end of today (Tuesday 01 March 2011).

We would therefore like to inform supporters that we have applied for an extension of this deadline due to the extenuating circumstances surrounding our current tenancy arrangements at our home, Field Mill. Our legal fight with landlord Keith Haslam is an unprecedented step by a BSBP club to question the legal ownership of its stadium and we firmly believe that we have a strong moral case to see it through to its conclusion before the Football Conference or Football League place any further demands on us to satisfy membership rules.

Should we successfully finish in a play-off place, it is our hope that common sense should prevail and that our attempts to right the alleged wrong doings of the past do not act as a barrier to our potential promotion...

Every effort is still being made on our part to resolve the matter before the case (Stags Ltd V MTFC) proceeds any further in the courts... In light of the unique nature of our current situation, we now appeal to the Football Conference to waver this deadline until after 14 April".

The BBC says that "One of the potential buyers of Wrexham Football Club has staged a 'rally' to try to drum up support for her bid. Stephanie Booth asked fans to Wrexham's Wynnstay Arms Hotel, which she owns. The businesswoman has said her plans for a community-led purchase of the club offer it the best possible future.

However, Wrexham Supporters' Trust (WST) which plans to table a 'seven-figure' bid for the club, will meet its owners on Wednesday...

Last week, WST met Ms Booth and Wrexham councillor Phil Wynn, who had been hoping to form a consortium to buy the club. Following that meeting, a posting by Stephanie Booth on a Facebook site said: 'Sad to say the WST have decided against everyone else's advice to pursue their own bid independently'...

She said Wrexham FC's new owners would be revealed on Saturday. She said: 'We presented our bid yesterday and we went in this morning to answer questions. The Supporters' Trust will be going in tomorrow. A sealed envelope will be opened before kick-off at the Racecourse on Saturday, when an announcement will be made'".

In the Daily Post "Wrexham FC bidder Stephanie Booth yesterday defended herself after fans raised questions on a website about her business past. Ms Booth said she had voluntarily agreed not to be a director of franchising companies after her experiences a few years ago.

Yesterday the Daily Post contacted Companies House that holds all the registers of businesses to see if there were any limits on her currently being a director. Ms Booth is listed as having one disqualification order at Companies' House from February 18, 2009 to February 17, 2012. But after researching Ms Booth's business involvement history Companies House said as far as they were concerned she was not a banned director and could operate as one.

Ms Booth is currently a director of Llangollen Hotels Limited and the Global Investment Group...

She said: 'I was a director of a franchising company controlled by others... and would never touch a joint franchise company ever again as it is akin to swimming with sharks'".

The BBC also reports that "Grimsby Town vice-chairman Mike Parker has resigned from the board. A statement from Parker read: 'There is not the appetite for change at board level which I had hoped for and been led to believe existed'...

Lifelong fan Parker joined the club as a director in November 2009 and was promoted to vice-chairman in the summer after promising a £500,000 investment. His statement added: 'The board discussed the position of John Fenty as chairman. Again, I supported the board in backing John to continue as chairman. However, for some time I have been pressing for other changes to be made in the club's board structure and believed that these changes had been agreed, but they were voted down by a board majority at the meeting. During this discussion I felt that my personal motives were being questioned, which I find unacceptable...

Previously I have committed to the club that I would share the funding of predicted losses going forward. As I am determined that my resignation will not threaten the club's finances, I will honour that commitment... I have proposed to John that I purchase additional shares, likely to take my shareholding to £1m'".

Confirmation comes from Grimsby Town that "After a unanimous decision by the Grimsby Town board of directors, John Fenty is to remain as chairman. Mr Fenty felt that it was right to question his own position as chairman in the wake of the sacking of Neil Woods...

Mr Fenty said: 'I am proud to continue... The board also considered a growing list of applicants for the vacant manager's job and some of the club's targets for the position. We are excited by the way that the talks progressed and we hope to have a man in place soon'" .
---
1 March 2011
ALTY ON TV
Premier Sports will be broadcasting the Barrow v Altrincham match on Tuesday, March 8th (k.o. 7.45pm). The game will be shown in the bar at Moss Lane for those unable to make use of the TASC supporters' travel to Holker Street, which is great value at just £11 for adult TASC members. Full details here.
NO SHAME
In the Manchester Evening News it says that "Altrincham boss Ken McKenna insisted his relegation-threatened Robins should feel no shame in losing 4-1 to Blue Square Bet Premier leaders AFC Wimbledon. Third-from-bottom Alty matched their title-chasing hosts for more than half-an hour and would have led had Wes Baynes not fluffed a great chance...

Said McKenna: 'We've had as many chances as them and yet, thanks to Kedwell, found ourselves three-down after an hour and it was more or less game over'".
REFEREES
The referee for Alty v Gateshead on Saturday is a regular official of Alty games, dating back to our UniBond days, Mr Jake Collin. His most recent encounter with the Robins was for the abandoned and replayed tie with Curzon Ashton in the FA Trophy this season.

For Tuesday's trip to Barrow, the referee is Mr Madley of Ossett, who also has experience of Alty matches being called off, having had to postpone Mansfield's game at Moss Lane in 2009. He also reffed Alty's defeat at Gateshead earlier this season.
TROPHY DRAW
FA Carlsberg Trophy Semi-Final draw
First Leg – Saturday, 12th March 2011
Chasetown or Mansfield Town v Luton Town
Darlington v Gateshead

Second Leg – Saturday, 19th March 2011
Luton Town v Chasetown or Mansfield Town
Gateshead v Darlington
BSBP NEWS
According to the Football Conference, "Crawley Town`s co-owner, Susan Carter, has confirmed manager Steve Evans and his assistant Paul Raynor have been offered new and improved three-year contracts. The Board of Directors has moved to secure both Evans and Raynor to longer term contracts after further external approaches had been made for their services.

Susan Carter said: 'We are very pleased both the manager Steve Evans and his assistant Paul Raynor have agreed and accepted the offered terms. However, they both wanted to put it all on hold until the end of the current season. The Board of Directors is delighted with how this season has developed and a large part of that is down to Steve Evans and Paul Raynor. We have made them new improved contractual offers, which will also give this football club further stability and we want them with us for a very long time. The current contracts were one year rolling contracts but we wanted their commitment to be long term and that is what has been agreed.

'Steve and Paul have verbally accepted the terms and the conditions proposed. Being the true professionals they are, they want to concentrate fully on the job in hand at present, and not be side-tracked. Therefore, they have requested that their new and improved terms should take effect when that is done, at the end of the season. We wanted their commitment long-term now and that is what we have secured. You have to work with our management team to realise just how hard they work and how good they are at their jobs. Having already turned down a few approaches from npower League clubs who wanted to take our management team away from us, we are not going to allow that to happen. Therefore we have moved to ensure we as a football club and a business get further assurances and protection. As a business we must protect our assets; as a football club our management team certainly comes into that category and we intend to keep ours'.".

From NL News 24 comes news that "Striker Charles Ademeno looks set to make his comeback after undergoing knee surgery for Grimsby Town. He will play for the reserves on Tuesday afternoon... Ademeno is expected to line-up for his first action since scoring twice at Histon at the beginning of the year, This Is Grimsby is reporting".

The NW Evening Mail reports that "Bluebirds' joint-boss Dave Bayliss says AFC players who fail to defend correctly from set-pieces will be fined. Bayliss was proud of this team's much-improved performance, but disappointed that, once again, it was a set-piece that was their undoing...

Afterwards the co-chief said: 'Again, we say every week, we give lads designated players to mark, and, with five minutes to go, Wayne Curtis has been bundled off the ball by big (Pablo) Mills and he's scored a free header. It's disappointing. It's the same old story. You have to be stronger when you come to places to Crawley. We defended really well, with Mike (Pearson) and Phil Bolland at centre-half and the whole defence doing superbly...

We had something when I used to play. You got designated a man to mark, and if you lost your man from a set-piece and they scored then you got fined heavily. I've just said to the players then, we have 14 games to go and we're going to give them someone to mark at each set-piece and if they lose their player then we'll fine them. It's worth trying something a little bit different because we've conceded too many off set-pieces, which are a massive part of football in this league and it's crucial you defend them properly'.

Asked as to the progress of injured trio Nick Chadwick, Robin Hulbert and James Owen, Bayliss added: 'They're not going to be back for a while, so we have to concentrate on who we have, get a system that suits, go from there, and try and grind some results out, which we're well capable of doing'".
---
FOR EARLIER NEWS, CLICK HERE
---