---
31 October 2010
AFTER THE MATCH
In the
Non-League Paper
, Hayes manager Garry Haylock says of defeat by Altrincham, "It depends on how you want to play your football. I don't want to play football the way they play football. We're not set up to play like that but we've got to be able to cope with it and I don't think we did".
Alty manager Ken McKenna said of Alty's winless run away from home prior to this game, "The longer it goes, the more of a problem it becomes so it was great to get that out of the way today. We had lots of chances. We just couldn't score. We thought it was going to be a frustrating 0-0. Luckily we got the penalty in the end".
Match report here.
Right: The players earned their money yesterday as the early part of the game was played in torrential rain. Here Robbie Williams keeps an eye on a Hayes player whilst, in the foreground, Shaun Densmore shows signs of a good soaking.
According to the Uxbridge Gazette "Hayes & Yeading endured a miserable Saturday afternoon as they slumped to defeat against rock-bottom Altrincham. Just 274 spectators – the lowest attendance in the Blue Square Bet Premier – watched the men from the north west edge a match billed as a relegation 'six-pointer', thanks to a Shaun Densmore penalty...
It was the manner of the defeat that will be most worrying for the manager as Hayes & Yeading were second best throughout. And that came against a team that had not won an away match in the Conference since January... Hayes & Yeading forced Stuart Coburn into action for the first time in the 35th minute when Jake Hyde – making his home debut – had a 20-yard drive parried by the Altrincham goalkeeper.
But the visitors...were always dangerous in the first-half and Somner rose highest from another Wes Baynes set-piece to head just over. The hosts again only survived by the skin of their teeth nine minutes into the second-half when Lewis Ferrell cleared another Somner header off the line.
In a second-half that Altrincham dominated, Lee Harrison was also forced into a save after a speculative drive from distance by Ryan Brown. But the killer goal came in the 81st minute when Adam Bygrave was adjudged to have brought down Nicky Clee in the box and Shaun Densmore made no mistake with the subsequent spot-kick. And there was little response from the hosts as they failed to create one single worthwhile chance during the second-half".
OLD BOYS
Former Altrincham players on the move include, Steve Aspinall who has returned to Colwyn Bay from Bamber Bridge and Cavell Coo who has moved, within Tameside, to Mossley from Curzon Ashton.

An Alty trialist last summer, Grimsby Town defender Matt Heywood, has now moved to Buxton.

Old boys on the scoresheet yesterday included Joe O'Neill, with a late winner for Guiseley (for whom Ryan Toulson also played) in BS Bet North and John McAliskey who netted for Northwich at home to Glapwell. Kevin Holsgrove scored again for Hyde but they remain bottom of the table after a narrow defeat on Saturday.
BSBP NEWS
Just before the game with Altrincham yesterday, Hayes and Yeading United signed a cover-keeper on loan from QPR following the sudden departure of Joshua Lennie who the club reported had moved "up north". The EvoStik League's press release reveals that Lennie has actually joined Skelmersdale United in the league's First Division.

Blue Square Football reports that "Newport County have strengthened their squad with the acquisition of midfielder Jon Challinor. Challinor has been brought in on a short-term deal in order to fill the void left by Scott Rogers, who is currently injured". After spells with Cambridge United and Mansfield, Challinor had been at Brackley most recently.
---
30 October 2010
HAYES & YEADING UTD 0 ALTRINCHAM 1
Above: Alty fans are jubilant as Shaun Densmore's penalty nestles in the back of the net at Church Road.
Altrincham deservedly gained their first away win of the season with an 81st minute penalty from Shaun Densmore after Nicky Clee had been brought down in the box. Match report here.
Alty player stats
Saturday, 30 October
Howard Watts's Through the Years.
AFC Wimbledon 0 Darlington 2
Forest Green Rovers 2 York City 1
Gateshead FC 2 Cambridge United 3
Grimsby Town 2 Eastbourne Borough 2
Hayes & Yeading Utd 0 Altrincham 1
Histon 1 Wrexham 1
Luton Town 3 Bath City 1
Mansfield Town 1 Crawley Town 4
Newport County 1 Kettering Town 2
Rushden & Diamonds 5 Barrow 0
Tamworth 0 Fleetwood T 2
SATURDAY GAMES
Hayes & Yeading United report that "United have swooped for a new back-up goalkeeper with the arrival of Niki-Lee Bulmer on loan from QPR. 19 year-old Bulmer previously lined up for the Hoops at Church Road in the summer's pre-season fixture. He has been the first choice Under-18s goalkeeper at QPR in each of the past two seasons. Born in Chester, the stopper was formerly on Manchester United's books before moving to west London where he has also made regular appearances in the Rangers Reserves. Niki-Lee is likely to go straight in to the squad for Saturday's 6-pointer against Altrincham".

Blue Square Football adds that "Niki-Lee Bulmer... will remain at Church Road until December 28th".

Meanwhile, the BBC says that "Hayes and Yeading goalkeeper Lee Harrison will keep his place after recovering from a thigh injury. On-loan striker Adrian Patulea remains doubtful, so Jake Hyde and Michael Malcolm are ready to deputise.

Altrincham will be without defender James Smith, who hurt his knee after colliding with an advertising hoarding in the FA Cup tie with Gateshead. Midfielders Wes Baynes, Robbie Lawton and Anthony Danylyk are likely to keep their places in the side".
FIXTURES
Friday, 29 October
Southport 2 Kidderminster Harriers 2
League Table
YANKEE
The Altrincham FC Saturday Yankee now stands at £1,500 after the jackpot code (1835) was unclaimed. Five contestants did win £40 each, however, for winning trebles.
MOTTY AT ALTY
John Motson, the celebrated football commentator, will be the guest at an Altrincham FC Sportsman's Dinner on Friday, 3rd December, to be held at the Cresta Court Hotel, Altrincham. The evening will be compered by BBC Radio Manchester's Jimmy Wagg, who is a good friend of the Club. Tickets are £50 each per individual or £450 for a table of ten places.

If you are interested in attending please contact the club by phone (0106 928-0145) or e-mail.
BSBP NEWS
The Football Conference reports that "At a Board meeting of Aggborough Holdings Limited held on Thursday night, it was agreed that an offer to purchase the majority shareholding of Kidderminster Harriers Football Club Limited from former chairman, David Reynolds, be accepted.

Following this meeting, a Board meeting of Kidderminster Harriers Football Club Limited was held and at that meeting the resignations of Barry Norgrove and Neil Savery were offered and accepted by the Board. Reynolds was then appointed chairman of the Football Club. Reynolds and the rest of the Board would like to thank both Barry and Neil for all the time and effort they have given to the football club since their involvement.

Reynolds said: 'I would like to emphasise that my time as chairman will be a short tenure. Ideally, I will be looking to recruit, either from the current Board or outside the club, a figurehead to act as Chairman for the longer term. This individual would be of sound business and football mind and there is an opportunity now for any person to approach myself or the club about the role. In the short-term, I have managed ensure the club is in the right hands and can move forward from here.

I am committed, along with new Board member, Mark Serrell, to alleviating some significant outstanding debt which will need to be paid within the next few weeks. The decisions taken last night have enabled the club to move into a period of breathing space. However, there still remains a debt situation that is not sustainable without the help not only of the club's Board and staff, but also the general public and our loyal supporters.

We will work together to bring about a happier and healthier long-term future for Kidderminster Harriers Football Club. There will be no further comment from the club or myself until after the weekend".

Elsewhere, "Eastbourne Borough travel to Grimsby Town on Saturday for a first ever visit to Blundell Park with two new squad members, signed on loan just prior to the trip. Boro have announced the signings of Joe Partington and Mitchell Nelson from AFC Bournemouth".

And "Forest Green Rovers have announced that both Reece Styche and Yan Klukowski have signed contracts in line with the club's announcement that they are returning to full-time status with immediate effect. Styche's contract will run until June 2012 whereas Klukowski's contract runs to April 2012".

From the Southport Visiter comes news that "Ashley Winn is today closing in on a move to Gateshead - as Southport manager Liam Watson reins in the FA Cup excitement. Port midfielder Winn has been given permission to talk with the International Stadium outfit in a week the club are preparing for their most vital game of the season, according to Watson.

Although the prospect of next weekend's live televised cup clash with fallen giants Sheffield Wednesday has got the town gripped, the Sandgrounders' boss insists Blue Square Bet Premier survival is more important with tonight's match with Kidderminster Harriers focussing his attention.

Screened live on Premier Sports TV, the rescheduled showdown with Steve Burr's Harriers will provide Watson's men with an opportunity to impress ahead of their cup payday next Sunday but more importantly an opportunity to move away from the drop zone.

Though with talks underway with Heed manager Ian Bogie, Winn is unlikely to feature in this evening's match as Watson revealed a fee has been agreed for the player signed from Barrow in January 2009.

'Tonight is the biggest game of the season', said Watson. 'We do not want to be going into the Sheff Wed match in the relegation zone. It gives the players who have not really been in the squad a chance to stake a claim for next weekend and for the lads who have been playing, that chance to reinforce their place'".
---
29 October 2010
MATTY LEAVES
Altrincham FC and midfielder Matty Crowell have decided on a parting of the ways after the Welshman's second spell at the club ended with 7(+2) appearances to add to the 5 games he started last season before he left to play football on Australia. This time around, Matty had been commuting from South Wales to train and play for Altrincham. This arrangement meant that Matty has felt he has not been able to be at his best on the pitch and so he and the club have decided to go their separate ways. Altrincham FC thanks Matty for his efforts and the commitment that he showed in making the long journeys to Altrincham and wishes him the best for the future.
SATURDAY GAMES
It is hoped to provide the usual live Matchday Updates here on the website, from Hayes & Yeading this Saturday afternoon.

News of Saturday's opponents comes from Blue Square Football which tells us that "Michael Malcolm backs new recruit Jake Hyde to impress up front for Hayes and Yeading this season. Malcolm previously played with Hyde - who joined United last Friday as a free agent - during a spell with Weymouth in the 2008/09 campaign.

The pair then revived their partnership in last Saturday's FA Cup qualifying victory at Poole Town, which earned United a first round home tie with Wycombe Wanderers. And Malcolm insists the ex-Barnet hitman will prove to be a shrewd acquisition. 'When I was at Weymouth, Jake was on loan there and he is a very good player', Malcolm told the Uxbridge Gazette. 'He is good with the ball into feet and is a good finisher'".
FLYNNZINE
Brian Flynn's latest Flynnzine appeared in last Saturday's Robins' Review

"There's no better place to celebrate a victory or cry into your beer after a miserable defeat, than the convivial atmosphere of The Noel White Suite. One of our supporters, who helps us all put the world to rights in there, is Martin Green and a few months ago he told me about a 1960s' film that he had purchased on the internet called 'Cup Fever'. The film was made by The Children's Film and Television Foundation and tells the story of a junior Football Club from Manchester and Moss Lane is featured significantly towards the end of the film.

The brief description on the cover of the video, that Martin subsequently lent me, comes from an era where intrigue and suspense were clearly not top of the copywriting agenda. It states 'Barton United's hopes of winning the Manchester Junior Football League Cup receive a setback when their practice ground is taken over for use as a car park. Luckily Manchester United help them with their training and enable them to win the cup'!

The final of the cup is played at Moss Lane and there is some wonderful footage of our ground which is packed with the schoolchildren of Altrincham, one of whom, Barry Heaton, a season ticket holder who sits on the back row of the main stand, remembers coming along to watch proceedings.

Filmed in glorious black and white, the old main stand that was replaced around 1966/7 is shown in all its glory and there is a great shot of the old Golf Road turnstiles (definitely pre- Warren Peyton) which used to have the words 'Altrincham F.C.' proudly above them. The scenes that resonated the most with me personally, were shot in a part of the ground that is now part of the Sponsors' Lounge. At that time it was The Groundsman's shed or as it was more commonly known "Jack Thorpe's shed".

Jack is coming up to the grand old age of 97 and incredibly is still a regular at Moss Lane with his son Dave who works in the Club Shop. His shed was an important place as far as my early days watching Alty were concerned, as it doubled up as a changing room for the ballboys....my first official role at Moss Lane....... in the early seventies.

The film has a strong cast including Bernard Cribbins, Susan George and Olivia Hussey, who I think is the young girl who can't bear to watch the match and hides in Jack's shed for the majority of it. There are also appearances by Sir Matt Busby, George Best, Denis Law, Bobby Charlton and even our very own Jack Crompton, who I think was Manchester United's trainer at that time.

Bernard Cribbins, a local policeman, organises a training session for the team with the United players at Old Trafford and they are all introduced to Sir Matt beforehand. One of the team's helpers is a young lad with the nickname 'Fatso' and the highlight line in the film for me is when Sir Matt utters the immortal words "Hello Fatso" as he introduces himself to the players and helpers before the training session.

There is also some excellent footage of Old Trafford, which looks a lot smaller than I remember it. The state of the art....well it was then....... Cantilever Stand (now North Stand) was being built and the historical interest of the film is not just about football grounds....there are some great shots of 1960s' Manchester, including Piccadilly Gardens and the area around where the Trafford Centre is now.

They certainly don't make them like they used to and hopefully we will be able to make this film available for Altrincham fans to purchase in the near future. Another episode of 'Cup Fever' would do nicely today with the same result that Barton Rovers achieved at Moss Lane!

Brian".
BSBP NEWS
The BBC tells us that "The Kettering Town footballer and former captain Ashley Westwood has been prosecuted for assaulting a police officer. Northampton magistrates heard that Westwood's car was seen jumping a red light in Northampton on 25 April 2010. At trial he was found guilty of the offences. He had also pleaded guilty to refusing to take a breath test.

Westwood was ordered to do 80 hours of unpaid work and was banned from driving for one year. Three points have been put on his driving licence and he has been ordered to pay the prosecution costs of £700. The offences took place 10 weeks before Westwood signed with Kettering Town. Upon leaving court Westwood declined to talk to journalists. There has so far been no comment from Kettering Town Football Club. Westwood is a former Manchester United trainee who was signed to Kettering Town from Wrexham in July 2010".

According to Blue Square Football "Gateshead goalkeeper Tim Deasy has agreed a deal with the club that will keep him on Tyneside until the end of the season. The 25-year-old, who joined from Barrow at the beginning of the season, had originally signed a three-month contract, but after impressing in recent weeks, an extension has been agreed".

Meanwhile, "Under-fire manager David Hockaday insists he has the backing of new Forest Green Rovers chairman Dale Vince. Pressure has been mounting on Hockaday following Rovers' poor start to the campaign, which currently sees them second-from-bottom. However, they ended a 12-game winless streak last weekend with a 1-0 win over Maidenhead in an FA Cup qualifier and Hockaday remains confident he can still reverse their league fortunes. 'I've talked to Dale Vince (chairman) and he is fully behind me. I'm totally convinced we'll turn it around and so is Dale'".

The Express & Star says that "Kidderminster Harriers have admitted that former Bromsgrove Rovers chairman Tom Herbert has been in touch since the club was put up for sale. But Harriers chairman Barry Norgrove insists he has not been negotiating with Herbert for the transfer of the non-league outfit to fresh ownership.

Norgrove has met with five different parties interested in taking control at Aggborough, three stand-alone people and two consortiums. All have proved they have the financial clout to complete a deal but no one has agreed to put their money on the table as yet, with talks set to continue over the coming weeks.

Herbert has had his name tarnished by the troubles at Bromsgrove under his command, which saw the 115-year old club effectively fold under his regime. But Norgrove insists... 'Tom Herbert might be linked to one of the consortiums that are interested, I have got inkling there might be something there, although they haven't said anything about it. Tom has called me about bits and pieces, but I haven't had a serious conversation with him about buying the club, although he did enquire about what we wanted for it. To be honest, I don't really know about him or his finances that much, but I am told he's been in football a long time'.

Harriers have already hit a snag in their budgeting for the months ahead with the club banking on progression in the FA Cup, which went up in smoke after a defeat at the first hurdle last Saturday. That has forced a rethink in figures but Norgrove is confident it will not hold up negotiations...

He said: 'It's still early stages, but we are hoping to get something a bit more concrete over the next few weeks. I am hoping we can get something sorted out way before Christmas'".

From the Football Conference we read that "The following three FA Cup First Round ties are designated for ITV highlights.... [on] Saturday, 6th November 2010:
Harrow Borough –v- Chesterfield (2.00pm kick-off)
AFC Wimbledon –v- Ebbsfleet United
Fleetwood Town –v- Walsall"

Elsewhere, "Former fans favourite Kevin Pilkington has made his return to Mansfield Town following a five-year absence. Manager David Holdsworth has been forced to move for another goalkeeper with Mikhel Aksalu struggling with a stomach injury and being treated by medical staff at parent club Sheffield United. The Estonian had been filling in for Alan Marriott whilst he recovers from a groin injury. Thirty-six-year-old Pilkington joins up with the squad in a loan deal from league rivals Luton Town which will keep him at Field Mill until January 8th 2011".

"Bath City will release a number of players in the coming weeks although chairman Geoff Todd insists it is not due to the club's exit from the FA Cup" reports Blue Square Football. "The Romans lost 4-3 to Southern League side Swindon Supermarine in a fourth qualifying round replay with Todd revealing they always had plans to lower their 22-man squad.

He told This is Bath: 'We do not budget for cup runs so from that point of view it will not affect us too much. Some players will leave over the next few weeks but that is because we are currently running with a squad of 22 and that was never intended to be the case. We have had some bad injuries to people like Lewis Hogg, Luke Ruddick, Joe Burnell and Scott urray, and at one point we only had two fit players on the bench which was unsustainable in this league.

We had to bring in players to cover for them and, as the others come back, there will have to be a rationalisation of the squad - but it is not because of the cup exit. Had we still been in the FA Cup we might have been able to keep the players for longer but we are running slightly over budget at the moment and need to balance it'".

News of a player who nearly joined Altrincham in the summer comes from The Leader. "Neil Young, manager of Chester FC, revealed he has received a couple of enquiries for transfer-listed Andy Burgess. The Chester boss explained that the experienced former Rushden & Diamonds midfielder was no longer part of his plans. Young said: 'Andy Burgess has been in and out of the side since he joined us in the summer. He has now recovered from his injury and the fact that he was left out of last Saturday`s team was down to me... Andy has had to adjust from full-time to part-time football and he has shown a lot of ability on the ball. But he wanted total football which I couldn't guarantee and he has been transfer-listed. A couple of clubs have shown an interest and made enquiries. One club who has been in touch has been a Blue Square Bet Premier side and the other is a Conference North club, but nothing concrete has been agreed'".

At Barrow "Joint-Boss, Darren Sheridan, has twisted his brother John's arm to land two young Chesterfield loanees. Young Midfielders, Craig Clay and Tendayi Darikwa, have joined Barrow on 28-day emergency loan, subject to FA Approval...

The Bluebirds [are] already missing Simon Wiles (knee) and Danny Forrest (ankle) through injury, while Robin Hulbert missed last weekend's cup defeat with a hamstring problem. James Owen was also absent with suspension".

Finally, The BBC confirms that "York City defender Duane Courtney has been made available to go out on loan... The 25-year-old joined York from rivals Kidderminster Harriers in the summer and has made seven appearances. City manager Gary Mills told BBC Radio York: "Football's tough and I have to make some big decisions. You can't afford to be sentimental. 'It's about me getting the right squad of players to take this club forward'".
---
28 October 2010
MEET THE MANAGER
Altrincham manager Ken McKenna will be holding his first "Meet the Manager" session in the Noel White Suite at Moss Lane on Thursday, 11th November at 8pm (after training). Ken is happy to answer questions on any footballing topic.
KEN'S POSITIVE MESSAGE
Altrincham FC joint press officer, John Edwards, has sent the website a fuller version of his article in this week's Sale & Altrincham Messenger.

Ken McKenna hammered out a positive message to Altrincham fans and urged them to rally round the battle for Blue Square Bet Premier survival, rather than dwell on another early FA Cup exit.

The Alty manager shared supporters' disappointment at a 2-0 home defeat by Gateshead that cost the club a bumper first-round pay day at Notts County.

But, with Saturday's crucial trip to fellow-strugglers Hayes and Yeading fast approaching, he sounded a rallying cry, and said: 'Sometimes, you've got to look beyond a result and see if there are positives you can build on. There were areas of the Gateshead performance that require some work, admittedly, but there were others we can take encouragement from.

'We were up against a very good full-time team who could give anyone in the league a game, but they didn't hurt us until we went behind to a 76th-minute goal that we would have kept out nine times out of 10. We gave the ball away, to begin with, then we failed to get a block in and, finally, Stuart Coburn said he was unsighted and on the wrong foot for a shot that somehow found its way in. It was a poor goal all round from our point of view.

'We were up against it after that, but people have to remember we are a part-time team in a full-time league. When you are training every day, and working on passing and movement, you are going to see the benefits out on the pitch. You get to know instinctively when are where a team-mate is making a move, and your passing becomes slicker and sharper as a result.

'You could see that in Gateshead's play. They moved the ball around a bit better than we did, but we stood up to them and made it the sort of cup-tie where the first goal was always going to be decisive. We defended OK and attacked on the break quite well, but we just lacked the right ball in the final third. It was either a touch too heavy or just too short, and that was the one thing that let us down. That vital first goal could have been ours, if we'd got that right. Michael Twiss and Wes Baynes had a two-on-one, and it summed us up that we couldn't quite make the most of it.

'I was a little disappointed with one or two comments that the lads were not trying. They were, believe me. We all appreciated and understood what a cup run would mean to the club, and we didn't miss out due to any lack of effort. Going out at this stage makes my job all the harder, because there would have been extra money for the budget, so I'm as disappointed as anyone.

'We just have to try and take more care with that final ball, but it is not all doom and gloom. The main target for all of us is staying in this league, whether it be by two points, one point or goal difference. We are playing catch-up after a bad start, but it is imperative to remain as positive as we can. Nothing is beyond us, with that sort of mindset. If we stick together, we're going to have a better chance.'

McKenna faces the dilemma of whether to make more changes against Hayes and Yeading, when the evidence of last Saturday's performance suggested the recent new arrivals may need more time to gell.
'It's a Catch 22 situation,' he said. 'When you take one point from your first 10 games, you have to take action to try and turn it round and liven things up. We are not in a position where we can simply go out and sign players left, right and centre, so it has to be loans. The new faces are just settling in, when their loan period expires and they return to their clubs. Then you ask the lads who made way for them to step in and do a job for you. It's not ideal, but it's where we are, and I intend making the most of it.'
Skipper Robbie Lawton is one who has lost his place in recent weeks, but McKenna was quick to reassure the combative midfielder about his future.
'I had a little word with Robbie and explained that a little bit of tiredness had crept in and led to a couple of mistakes,' he said. 'I decided to give him a bit of a rest, but I also made it clear he is part of my plans here, as is Anthony Danylyk (left). We're at the bottom, and I had to look to shake things up. But people like Robbie will have a part to play. You know you are going to get injuries and suspension during the course of the season, and there will be opportunities.
'If we are going to survive in this league, we are going to need everyone to be on their toes and ready to do a job at a minute's notice. By the time we have finished, I can see most of the players clocking up a similar number of appearances. It's going to be a squad effort that keeps us up.' Injuries are hardly helping Alty's cause, with key defender James Smith and danger man Chris Denham both ruled out on Saturday. 'James is going to be a couple of weeks, after he banged into the advertising boards and sliced his knee right to the bone,' added McKenna. 'We'll be without Chris for a couple of weeks as well, which is a blow, because he has looked really sharp'".
Smith was barged into the hoardings by a Gateshead player after the ball had gone out of play - and was not booked.
YOUTH COACH NEEDED
Altrincham FC Youth team manager is seeking further coaching help for the youth team to supplement the assistance he receives from Gareth Thomas. If you have coaching qualifications and are CRB checked, please contact George on 0161 718-0624.

The youth team's next game is at home to Marine at 2.30pm at Wythenshawe Town FC this Sunday.
TASC ACTIVITY
The Meet the Manager event will also give you the opportunity to join The Altrincham FC Supporters' Club (TASC). For just £10 you not only help the football club but get access to reduced price away travel to Altrincham games...

The latest TASC committee minutes are now on this website.

Steve Foster writes: "TASC are running the Goal Sponsorship scheme again for this season.

TASC therefore invite you to join the scheme in any form you wish. We are happy to have any arrangement, whether to sponsor an amount for every goal the team score, every clean sheet the team have, every goal an individual player scores, or even every penalty that Stuart Coburn or James Coates saves.

As last season, we will be updating you during the season of how much your sponsorship has cost you and we propose that the money should, as before be paid in a couple of instalments. The names of the goal sponsors and the amount that they have sponsored will be published in the programme.

If you are interested in sponsorship for this season, please send me an e-mail, call the club (0161 928-1045), or speak to me at any game.

Steve Foster".
MAKE A DATE
TASC is arranging with Alty photographer Gavin Rathbone to produce a 2011 calendar on the theme of 'Part time and Proud of it'. It is hoped to have it available by mid-November.
BSBP NEWS
Forest Green Rovers announce that "Following the meeting on Monday night the Board of FGR are pleased to announce the following;

From next week Forest Green will revert to training as a full time club. To enable this, two of our key players, Reece Styche and Yan Klukowski will both go full-time. While the decision to go part-time, at the start of this season, was a practical one driven by the then financial problems of the club, it is clear that this has had a significant impact on our ability to compete at this level. The recent investment of Ecotricity has made the resumption of full-time training possible. It is a significant step back in the right direction and has the support of the Board, the playing staff and the players.

Also, in the immediate term the manager will continue to seek loan players to bolster the team in key areas. And come January we will seek to further strengthen the team, on a more permanent basis, in the transfer window. We would also like to announce the appointment of Gary Seward as our new assistant manager. Gary brings a wealth of experience to the club as a former coach, manager and talent scout. Together these steps should enable us to compete more effectively and consistently on the pitch and hopefully to turn our season around".

According to Blue Square Football "Wrexham manager Dean Saunders has confirmed that goalkeeper Chris Maxwell has been invited to train with Everton this week. The Wales under-21 international is expected to return to the Racecourse later this week after being invited to Finch Farm by Toffees reserve team coach Andy Holden.

'Maxi has had a couple of days there and the experience will be good for him', Saunders told Daily Post North Wales. 'Andy Holden got in touch to ask if they could take a look at him as a young goalkeeper with potential... But he's back here tomorrow and it's important that he is focused on what he is doing for us'".

According to the Leader "Dean Saunders, manager of Wrexham, has emphasized the need to bolster his attacking options after his side were dumped out of the FA Cup. Wrexham were beaten 2-1 by fellow-Conference Premier outfit Southport... Saunders, eager to strengthen his squad, was disappointed...

'Unfortunately it is the same old story; we missed chance after chance after chance', said Saunders. 'I have got to do something about it because I keep coming into the dressing room same thing, and I keep standing in front of the media saying the same thing. I have tried changing things around and getting different players in. But once again we have had fourteen chances and have missed and missed. We missed fourteen clear cut chances, it was the same story against AFC Wimbledon. I'm sure the supporters are getting fed up of me saying it and I am getting fed-up of saying the same things. We are making chances and they are not going in. It is happening too often so I have got to do something about it. I am going to have to try and look who we can bring in to try and get us goals'.

Saunders, who will be looking to utilise the loan market, believes he is still two or three players away from completing his squad and ensuring Wrexham can maintain a promotion challenge.... He added, 'When I arrived I probably had sixteen or seventeen to change, it takes a bit of time to turn everything around. You bring players in who don't do as well as you thought they were going to do, like all managers do, and some do better than you think... I feel now there are only two or three places in the squad up for grabs where as six or seven months ago I was looking at ten or 11'".

News of another club dumped out of the FA Cup comes from the BBC "Barrow joint-boss Dave Bayliss has warned that players within the first-team squad could be axed indefinitely for recent poor performances. The Bluebirds slipped out of the FA Cup last weekend to Unibond Premier side FC United, extending their winless run to eight games in all competitions. 'Contracts don't last forever', Bayliss told BBC Radio Cumbria. 'They haven't performed so far this season and I can't see some of them playing in a Barrow shirt again'.

Having lifted the FA Trophy with May's 2-1 defeat of Blue Square Premier champions Stevenage at Wembley and secured a third season of non-league top flight football, there was optimism at Holker Street for the current campaign. New signings were made during the summer in the shape of Shaun Pearson, Danny Forrest, Ciaran Donnelly, Andrew Nicholas and Andrew Milne, although the latter two have struggled to make an impact and have been loaned out to Vauxhall Motors and Gainsborough Trinity respectively for first-team football. [Milne is actually on loan at Altrincham now].

Meanwhile league form has yielded just three wins in 16 games in Blue Square Bet Premier this season, to add to the disappointment of Sunday's cup exit. 'If people want a manager who has been involved in football for two and a half years who doesn't make mistakes, well there are people have been in football for 25 to 30 years who still make mistakes', Bayliss continued. 'You've got to look at the top managers in the world, I'm not saying we're the top managers in the world, but look at Sir Alex Ferguson and some of the players he's bought in the past, [Massimo] Taibi and [Juan Sebastian] Veron, great players who came to the club and couldn't settle.

We have made mistakes, we openly admit that, but if we make a mistake we put it right very quickly, but I think people get carried away. We won the FA Trophy, two third-rounds of the FA Cup and promotion all in the space of three years, so we are doing something right, but we are going to make big mistakes. It's how football goes, you do make the wrong decisions, you live and die by them, and we're big enough to take that'".

The BBC says that "Histon's scheduled appearance at the High Court on Wednesday to face a winding-up order has been dismissed. The Stutes paid HM Revenue & Customs £40,000 to settle a bill for unpaid tax earlier this month, meaning that the hearing was a formality. Chairman Russell Hands told BBC Radio Cambridgeshire: 'We raised that money very quickly and paid that bill. The courts said it will appear on the calendar, on the day, and it will be dismissed, no cost, end of story'".

Elsewhere, "John Radford hopes to reveal inside the next two weeks if he can buy back Field Mill for Mansfield Town" reports This is Nottingham. "The ground is currently in the hands of former club owner Keith Haslam, who leases the stadium to the Stags. It costs them more than £100,000 every year and sees them forced to annually re-negotiate a ten-year lease with their landlord – the minimum required for Football League membership should the club be promoted...

Radford is set for talks with Haslam in the next few days, during which he will discuss the possibility of a ground sale... With Radford now at the helm, any extra [FA Cup] revenue will go straight into manager David Holdsworth's budget".

From the Chronicle we learn that "Gateshead will have a look at ex-Manchester United trainee and Ireland U21 Chris Fagan on Teesside tonight. The striker has been training with the club and will go in against Middlesbrough reserves at Billingham Synthonia's Central Avenue stadium. Fagan, 21, spent three years at Old Trafford before joining the Glen Hoddle Academy in Spain and then League Two outfit Lincoln City.

The diminutive front-man scored four goals in 15 appearances for the Imps before ending last season on loan at Spanish third-tier club Jérez Industrial CF, scoring four goals in a dozen games. Fagan has been a free agent since he had his contract paid up in August along with Shane Clarke, who is currently on a month's trial at Gateshead... Paul Farman will continue his comeback by sharing the goalkeeping duties with Mark Cook at Central Avenue [for the reserves] tonight, and defender Carl Jones could return after injury. Gateshead have agreed with Sunderland to extend right-back Michael Kay's loan for another 28 days, allowing the 20-year-old to face Notts County in the FA Cup on Saturday week".
CHESHIRE NEWS
On Tuesday night Northwich Vics surprisingly lost 1-6 at home to Kendal Town. The Northwich Guardian said it was "Victoria's heaviest home defeat in a league match for close to four decades... Vics took the lead on eight minutes when Ollie Ryan, later to leave the pitch on a stretcher, swept in from close range...Vics' previous loss by a five-goals margin in front of their own fans – a 5-0 drubbing by Bangor City in March 1972 – was, ironically, during their first foray in the Northern Premier League". It may be their biggest home loss in the league for nearly 40 years but Alty fans won't need reminding of Altrincham's 6-1 win at the Drill Field in December 1999 in the Cheshire Senior Cup! 402 spectators saw Phil Power, Ged Kielty, Jason Gallagher (2), Gary Talbot and Chris Timons score for The Robins.
---
27 October 2010
NEW BATH DATE
As a consequence of Bath City's FA Cup defeat last night, both they and Altrincham are now without a game on Saturday, November 6th, when the First Round is to be played. So it has been agreed to rearrange the Bath v Altrincham league game to that date from its current date of Tuesday 16th November.
AWAY TRAVEL
TASC is running a coach to Alty's game at Hayes and Yeading this Saturday (30th). Please book your seat in advance with the club on (0161) 928-1045. Details of times and fares are on the Away Travel page.
GOAL RUSH
During November 2010 Altrincham FC are running a fund-raising event, involving the 92 football clubs in the Premiership and Football League. It is called "Goal Rush" and has a £100 prize.

For £5 you simply select four random numbers (between 1 and 20 for a Premiership club, 21-44 for a Championship club, 45-68 for a League One club and 69-92 for a League Two club). At the end of the month, each team's goal average will be calculated (goals scored divided by the number of games played in all competitions).

The winner will be the person with the highest collective goal average for their four teams.

Teams will be allocated a random number by a draw to be held at the club on 31st October 2010. If you would like to join Goal Rush then simply send the details requested below to Altrincham FC, Moss Lane, Altrincham WA15 8AP with a cheque for £5 made payable to "Altrincham Football Club".

Applications will be accepted until 31st October, 2010.

Your entry should indicate:

Your contact name and telephone number and your four chosen numbers:
(a) A number between 1 and 20 for your Premiership team
(b) A number between 21 and 44 for your Championship team
(c) A number between 45 and 68 for your League One team
(d) A number between 69 and 92 for your League Two team
FA CUP REPLAYS
Monday, 25 October
Chelmsford City 3 Carshalton Athletic 2

Tuesday, 26 October
Bath City 3 Swindon Supermarine 4
Dartford 3 Leiston 2
Dover A. 5 Farnborough 0
Grimsby T. 0 Tamworth 1
Nuneaton T. 1 Workington 0

Wednesday, 27 October
Met Police 0 Hendon 2
Tipton Town 2 Sheffield FC 0

The FA Cup 1st Round matches will see ESPN televising Rochdale v FC United and Cambridge United v Huddersfield Town. The EvoStik League adds that "FC United of Manchester's away First Round FA Cup tie at Rochdale will be live on ESPN. The tie is now scheduled for Friday 5th November with a 19:45 kick off". Southport v Sheffield Wednesday is expected to be shown on ITV.

Teams whose games are televised live receive £67,500.
CSC OPPONENTS
Three players with Alty connections were on view for Hyde FC, our CSC opponents nect Tuesday, when they met Eastwood town this week. They were goalkeeper Russell Saunders, striker Dale Johnson and winger Kevin Holsgrove, who scored Hyde's goal in a 2-1 defeat.

The Hyde website said that "The Tigers welcomed back Kevin Holsgrove on a 3 month loan from Altrincham and he was instrumental in everything positive Hyde did. Apart from scoring a well worked goal on 55 minutes, he hit the post a minute later and then in the dying seconds saw his goal bound shot deflected with the goalkeeper beaten.

After a pretty dull first period, the game livened up after the break once Hyde had gone ahead. Dale Johnson thought he had grabbed a second after the goalkeeper fumbled a Holsgrove shot, but the assistant ruled him offside. It was a close call and probably had a bearing on the result".
NEXT GAME
Right: Shaun Densmore is caught in action against Gateshead last Saturday. This and more Alty images can be found on Gavin Rathbone's GR Photography website.
News of Saturday's opponents comes from the Uxbridge Gazette which says that "Gazette Sport wishes to state its intentions as regards future coverage of Hayes & Yeading United in light of manager Garry Haylock's decision not to speak to our publication. Staff at the Uxbridge Gazette sports desk have worked tirelessly this season to improve the coverage of the club, especially on our website. This has been reflected by an increase in web traffic to our site, something that only serves to be a benefit for both the club in terms of publicity and ourselves.
While the manager's stance makes our job harder to provide the club's fans with news, the Uxbridge Gazette has reached the decision that it will continue to provide the best possible coverage on a regular basis. However, if further restrictions are placed on our ability to provide up to date news, then we would have to consider not covering Hayes & Yeading in our sports pages. Uxbridge Gazette Sport also wishes to point out that on no occasion this season has any of its stories been inaccurate.
Haylock and his players have been quoted accurately at all times during the 2010/11 season and the accusation from the club that people at the club's words have been taken 'out of context' is open to interpretation. We have also not intended to use 'unnecessary sensationalism' in our stories as stated in a recent manager's statement on the Hayes & Yeading website.
One national newspaper on Monday made reference to Haylock as the non league equivalent of Sir Alex Ferguson, who has refused to speak to the BBC and sections of the written press for many years. Such publicity we believe can only reflect badly on Hayes & Yeading as a club at a time when it is has the lowest average attendances in the Blue Square Bet Premier and ahead of a move to a new stadium next season.
The Uxbridge Gazette can only request that Haylock relents his stance in the near future, but in the meantime we will continue to cover the club to the best of our ability".
OLD BOYS
NL Daily says that "Paul Ogden, manager of Witton Albion, has added to his squad of forwards with the capture of the experienced Colin Little from New Mills and 21-year-old Anton[io] Bryan, a former Manchester United youth [and Altrincham] player".

Also, "Salford City's...new boss Rhodri Giggs has added four more players to his squad... Simon Woodford is another returning for a second spell at Salford. Previously with Altrincham, Cheadle Town and Ramsbottom United, he is a classy defender who can play as a right-back or in the centre...

Ben Shawcross is a young right-back who signed for Curzon Ashton in the close season having been on Altrincham's books, as was Andy Gamble, who followed his former team-mate to the Tameside Stadium from Moss Lane in the last close season".
BSBP NEWS
Histon announce that "Histon Football Club Ltd has been made aware of the appearance of the Company on the Companies Court Winding Up List for Wednesday 27th October published here.

The Directors and Officials would like to state categorically that the Club has received no notification of winding up proceedings and consequently that the reason for the Company to appear on this list is unknown. Nothing further can be done until the Court office opens at 9am tomorrow morning, which is the first opportunity the Club will have to determine the source of the action, if any. A further statement will be issued tomorrow, Wednesday, when more is known.

Club Chairman Russell Hands said: 'This has come totally and utterly out of the blue, but I'm actually getting used to that now. In my three months in the job, each time we get over one hill, the next one seems to be a little bit taller. We will deal with this latest issue just like all the others, we will work something out, there's no doubt about that'".

The BBC reports that "Ex-Forest Green goalkeeping coach Mick Byrne has claimed his exit is the first of several changes at the New Lawn. Byrne says he was dismissed by manager Dave Hockaday after the FA Cup fourth qualifying round win over Maidenhead. 'The manager spoke to me for a couple of minutes after the game on Saturday evening, the discussion was a bit of a shock', Byrne told BBC Gloucestershire. 'He described some changes that were being made in the club and there was no place for me in that re-shuffle'".

Elsewhere, "Cambridge United striker Daryl Clare is set to be out of action for six weeks after breaking a finger in training", claims the BBC. "The 32-year-old's start to the season had already been hampered by an ongoing glute problem. The U's already have striker Adam Marriott and midfielder Adam Miller out to long-term injuries.

Boss Martin Ling told the club's website: 'He's in cast at the moment, it's a nasty break and he might need an operation in a few weeks'... Clare, a summer signing from Gateshead, has only managed one goal in 13 appearances. Marriott, 19, is expected to be out for several weeks after damaging ankle ligaments, and 28-year-old Miller will miss most of the season after undergoing reconstructive surgery on his ankle".
---
26 October 2010
McCARTHY RELEASED
Altrincham FC announce that they have released striker James McCarthy. 25 year-old James was signed from Warrington Town on 27 August 2010, having been on trial at Crewe Alexandra a fortnight before that. Before joining Warrington he played for Mossley, Leek Town, Alsager Town, and Kidsgrove Athletic. He went on to make eight appearances for Altrincham, three of which were as a used substitute. The Club thanks James for his services and wishes him well for the future.
KEN'S DISAPPOINTMENT
In the Manchester Evening News, Alty manager Ken McKenna says "We are rooted to the bottom of the league. We are a part-time club in a full-time league and we have big challenges ahead. We haven't got time to sulk. This is a massive blow for us. The money we would have got for winning may have helped us bring in a couple more players. That now makes the job harder for us but it is already hard.

It is great for the fans to get a cup run going and it is good for the club because we need to get a couple of quid in. I'm sure the chairman will be disappointed with us. I know the fans are disappointed and I'm disappointed but we can't afford to sulk.

In our eyes we have another cup game on Saturday against Hayes and Yeading and we need to come away with a positive result".

The paper adds that "Skipper James Smith needed hospital treatment to a cut to his knee after colliding with the advertising hoardings and is set to miss Saturday's trip".

Ken concluded that against Gateshead, "The best team won on the day. They were just a bit sharper than us. We gave the ball away too cheaply at times and when we got into good areas, we panicked a bit".

From the other side, "Northern League Golden Boot holder Nathan Fisher picked the perfect time to end his goal drought as the former Boro trainee powered Gateshead into the first round of the FA Cup" reports the Chronicle Live. "A Fisher special broke the deadlock in the 76th minute at Altrincham, paving the way for a 2-0 win which will now see Gateshead head for Notts County in the next round of the Cup on Saturday week... Summer signing Fisher paid off his £3,000 price tag in one fell swoop as his game-breaking strike ensured the £12,500 final qualifying round prize money would be heading to Tyneside.

Fisher said: 'I struck it beautifully and the ball zinged into the bottom corner'... Shortly after learning they would be at home to Gateshead in the FA Cup, Notts County sprang a surprise by sacking manager Craig Short after just 17 games in charge...

Bogie added: 'They also had Sven Goran Eriksson on board last season and had plans to push for the Premier League, so we will enjoy the day and give it a real go'".
KEVIN'S LOAN
After 11 appearances (4 starts and 7 from the bench), Altrincham's Kevin Holsgrove (right) is returning on a 93-day loan to his former club, Hyde FC. Kevin can be recalled after 28 days and will not be allowed to play against Altrincham in the CSC game next week.
SATURDAY'S GAME
The referee at Hayes next Saturday is Mr N. Kinseley, of whom Alty supporters will have mixed memories. He oversaw Alty's 5-1 away win against St Albans City on 7 April, 2007 and also the 3-1 FA Trophy defeat at AFC Wimbledon on a Tuesday night in January 2010. To complete his set, he also reffed an Alty draw, 1-1 away at Crawley in February 2007.

As reported last night, Hayes & Yeading United have now confirmed that "Goalkeeper Josh Lennie has decided to move 'oop north' for family reasons and therefore left Hayes & Yeading United this week. He is expected to join a Blue Square North side imminently and we wish him all the best with his new club". He was HYU's first choice keeper recently. Highlights from the Poole Town v Hayes FA Cup are here.
CHESHIRE SENIOR CUP
On Tuesday, November 2nd, Altrincham play Hyde FC in the Cheshire Senior Cup at Moss Lane. The admission prices will be as follows...
Adults £10, Concessionaries £5, Under-16s £2. These prices apply whether standing or sitting.

Mike Garnett has kindly provided the following data on our previous clashes with Hyde clubs, a record that is very even as can be seen below...

Playing Record in the Cheshire Senior Cup

Altrincham v Hyde United:
| | | | | | | |
| --- | --- | --- | --- | --- | --- | --- |
| | P | W | D | L | F | A |
| Home | 6 | 3 | 1 | 2 | 14 | 7 |
| Away | 5 | 2 | 2 | 1 | 11 | 12 |
| Neutral | 2 | 0 | 0 | 2 | 4 | 8 |
| Overall | 13 | 5 | 3 | 5 | 29 | 27 |
Altrincham v All Hyde Clubs:
| | | | | | | |
| --- | --- | --- | --- | --- | --- | --- |
| | P | W | D | L | F | A |
| Home | 8 | 5 | 1 | 2 | 19 | 7 |
| Away | 7 | 2 | 3 | 2 | 15 | 18 |
| Neutral | 2 | 0 | 0 | 2 | 4 | 8 |
| Total | 17 | 7 | 4 | 6 | 38 | 33 |
Full Playing Record, Altrincham v Hyde United:
| | | | | | | |
| --- | --- | --- | --- | --- | --- | --- |
| | P | W | D | L | F | A |
| Home | 59 | 32 | 12 | 15 | 149 | 93 |
| Away | 54 | 14 | 8 | 32 | 81 | 137 |
| Neutral | 3 | 1 | 0 | 2 | 11 | 9 |
| Overall | 116 | 47 | 20 | 49 | 241 | 239 |
N.B. These records omit the annulled Senior Cup game in 1990.
BSBP NEWS
Blue Square Football says that "Defender Ollie Rowe has left Eastbourne Borough and dropped a division to join Chelmsford City. The versatile 19-year-old had impressed... while on loan at divisional rivals Lewes".
And "Luton Town have revealed that veteran striker Kevin Gallen has joined League Two outfit Barnet on a loan deal that will run until January 8. The 35-year-old has found his first-team chances limited at Kenilworth Road this season and Hatters' boss Richard Money has given permission for the striker to join the Bees in order to gain some valuable game time.
Gallen told Barnet's official website: 'This came out of the blue with a phone call on Thursday evening. I started the season in the Luton team but I need to be playing football and Barnet are giving me that opportunity'".
OLD BOYS
According to NL Daily "Trafford have brought in three new players over the past few days. [Ex-Alty man] Jamie Baguley joins from league rivals and neighbours Salford City. A tricky winger with an explosive shot, Baguley was particularly dangerous from set-pieces. He enjoyed a successful spell with Salford a few years back before departing for FC United of Manchester during the 2007/08 season... before moving on to Leigh Genesis, re-signing for the Ammies in September 2010, along with brother Chris".

Three ex-Alty players were in FC United's win over Barrow in the FA Cup on Sunday; they were goalscorer Carlos Roca, Karl Munroe and Ben Deegan. In the Manchester Evening News, FCUM manager Karl Marginson said, "Players like mine put on the red shirt for one reason and that's not money. They could play elsewhere for an extra £30 a week - that's what it is at this level - but they love playing for the club". Meanwhile the MEN says that "loan sales advisor... wideman Roca, who started out at Oldham Athletic, said he would be back at work tomorrow in Wilmslow despite being the centre of media attention after the game". Roca added, "It's the most important goal of my career".
---
25 October 2010
YOUTHS SHARE SIX GOALS
Altrincham FC Youth comprised the Altrincham & District FA Youth side which took on Crewe and District FA on Sunday afternoon in the Cheshire County FA District Youth Cup. After falling 2-0 down, Alty's Kieran Madden netted twice before Sam Langford fired Alty ahead. A penalty by ten-man Crewe levelled the game. Report in Youth section.

Right: Altrincham & District FA (in yellow) line up a defensive wall made up of (l. to r.) Reece Bailey, Matthew Fearon, Sam Grimshaw and Ansima Matabaro.
SUNDAY FA CUP RESULT
FC United Of Manchester 1 Barrow AFC 0

The only goal was scored by former Alty winger, Carlos Roca.
GATESHEAD'S VIEWS
Gateshead report that their "boss Ian Bogie was delighted with his side's professional performance that brought a 2-0 FA Cup win at Altrincham...

'It was another good all round team display', said Bogie. 'Defensively we were again magnificent and Tim Deasy had very little to do all afternoon. Both sides played with one up top in the first half with Altrincham hoping to catch us on the break, but we got some space out wide when they went with two up front. We controlled the game but lacked a cutting edge in the first half and our work in the final third needed to be better.

After the break Mulligan was unlucky to head against the bar and Curtis put a good chance wide after a ball had been put into the box with pace. Fisher took his goal very well. The Robins keeper was perhaps surprised he elected to shoot from distance but it is a goal that will have done him the world of good. The work ethic and spirit in the side is very good. It was important we got through to the 1st round of the FA Cup and we did a professional job at Altrincham.

The fans were fantastic at Moss Lane. We had a good following and I am delighted that we have been able to send them home happy... However, we are not going to win the FA Cup and the focus has already switched to Saturday's home game against Cambridge United as the Conference is our bread and butter'".

Elsewhere, Gateshead report that "The Tynesiders were again rock solid at the back where Craig Baxter deputised for the injured Paul Heckingbottom and on loan Sunderland defender Michael Kay switched to the left. Front man Jon Shaw was also sidelined, with a groin strain, so the fit again Gary Mulligan came in as the lone striker. The first half gave little for an 800 strong crowd to get enthused about with neither keeper seriously tested. Gateshead were the more composed side and played the better football but were unable to make it count in the final third...

Michael Twiss should have found on loan Wrexham midfielder Wes Baynes but didn't and a rare Robins chance went begging...

Fisher gave Mulligan a partner up top and the former Middlesbrough trainee scored his first senior goal for Gateshead in fine style. The 21-year-old let fly from 30 yards and the ball flew into the corner of the net past a motionless Coburn" before Turnbull "drove home off the inside of the post".
NEXT GAME
News from Next Saturday's opponents comes from Hayes & Yeading United whose forum reports that their goalkeeper Josh Lennie has left to move further north for family reasons.
THANK YOU
Altrincham FC thank the collectors and donors to the half-time bucket collection last Saturday, which raised £70.82.
---
24 October 2010
FA CUP DRAW
Altrincham may not be in the FA Cup First Round, but here it is anyway... Alty would have been at Notts County. Southport have a plum tie at home to Sheffield Wednesday.
CUP EXIT: ALTY 0 GATESHEAD 2
After yesterday's defeat in the FA Cup, manager Ken McKenna told the NL Paper, "We were up against a good side. We had a good first half and created a few half chances. But we didn't look our normal selves".
Match report here.

Right: Ryan Brown (foreground) and Michael Welch were both used substitutes yesterday.
YOUTH GAME
Altrincham FC Youth comprise the Altrincham & District FA Youth side which takes on Crewe and District this afternoon (2pm at Trafford FC) in the Cheshire County FA District Youth Cup.
MATT'S PROGRESS
Matt Doughty has continued his return to fitness after his cruciate injury by moving his EvoStik registration from Curzon Ashton in League One to Nantwich Town in the EvoStik Premier, where he plays under former Alty colleagues Kevin Street and Darren Tinson.
OLD BOYS
This weekend's EvoStik press release says that "Marine striker Jamie Rainford's achievement of scoring in seven consecutive games, including two goals in Monday night's FA Trophy replay win at Ashton United, is the best by a player for the club in 28 years. During this run he has scored a total of eight goals equalling [former Alty man] Barry Whitbread who achieved the same feat between October 16th and November 13th in 1982". Barry had left Alty before achieving the record.

Chris Senior scored twice and won a penalty Darlington beat Mossley 602 in the FA Cup. The Tamesiders had three men sent off. In the FA Cup as well, Warren Peyton scored the only goal as Guiseley beat Redditch 2-1

On league duty, Aaron Burns got two and former Alty reserve Alex Frost scored once as Ashton Utd beat Hucknall 4-0
NEXT GAME
Altrincham travel to Middlesex next Saturday from where the Uxbridge Gazette reports that in the game which ended Poole Town 1 Hayes & Yeading 3, "Lee Brown cracked a double to fire Hayes & Yeading into the FA Cup first round draw. The on-loan QPR left-back came to the rescue after the Dolphins - four divisions below Hayes & Yeading - had threatened to cause an upset... Hayes & Yeading then needed a 90th minute penalty from Brown to kill off the brave challenge of the Wessex Leaguers, before substitute Daryl McLean added a third to put the icing on the cake".

The BBC adds that "Hayes & Yeading have signed former Barnet striker Jake Hyde. The 20-year-old was released by the Bees in the summer after just one season with the club, scoring seven goals in 39 games. Hyde started his career at Swindon and had two loan spells with Weymouth in 2008 and 2009".
BSBP NEWS
According to the BBC, "Kidderminster Harriers have parted company with experienced midfielder John Finnigan, who has been dogged by injury since the summer. The former Cheltenham Town player, 34, arrived in the summer of 2009 on a two-year deal and was caretaker manager after the departure of Mark Yates.

Finnigan told the club website: 'I am disappointed that I haven't been able to offer more during my time here... I think I have done my bit off the pitch in terms of the dressing room and behind the scenes but injuries have just put paid to what I have been able to do as a player... It has been one setback after another, really. If you break your leg or have a serious injury and someone tells you "you're finished", at least you know where you are'.

Finnigan... feels there is a bright future for the current Aggborough squad. 'They can only get better - if they keep listening to the messages Steve Burr and Gary Whild send out then they will only improve with more time at this level', he said".

At York City "New City Manager Gary Mills has begun to trim his squad by releasing three City players. First year professionals Dean Lisles and Jamie Hopcutt have been released along with Non-Contract striker David Dowson".
---
23 October 2010
ALTRINCHAM 0 GATESHEAD 2
With just one defeat in their previous six games, Altrincham went into this FA Cup match with some optimism, but it was to prove misplaced. A lacklustre display saw Altrincham scarcely threaten the Gateshead goal before conceding two second half goals to a Heed side which simply found its own men on a more regular basis than Alty did. The home side's lack of mutual understanding was perhaps not surprising as the Robins started with five players who had started two or fewer games for the club this season.

Right: Alty debutant Wes Baynes seen in the game with Gateshead.
Match report here.

Saturday 23 Oct.

FA Cup 4QR
Through the Years by Howard Watts.
Altrincham 0 Gateshead FC 2
Basingstoke Town 0 AFC Wimbledon 1
Cambridge United 3 Lewes 0
Carshalton Athletic 1 Chelmsford City 1
Corby Town FC 3 Salisbury City 0
Droylsden 3 Barwell 0
Eastbourne Borough 2 Harrow Borough 4
Ebbsfleet United 3 Boreham Wood 0
Farnborough 1 Dover Athletic 1
FC Halifax Town 0 Mansfield Town 1
Fleetwood Town 2 Buxton 1
Forest Green Rovers 1 Maidenhead United 0
Guiseley 2 Redditch Utd 1
Havant & Waterlooville 2 Histon 0
Hendon 0 Metropolitan Police 0
Hythe Town 2 Staines Town 0
Kettering Town 1 Rushden & Diamonds 2
Kidderminster Harriers 0 York City 2
Leiston 0 Dartford 0
Luton Town 4 St Albans City 0
Mossley 2 Darlington 6
Newport County 0 Crawley Town 1
Poole Town 1 Hayes & Yeading Utd 3
Sheffield 2 Tipton 2
Stalybridge Celtic 1 Eastwood Town 2
Swindon Supermarine 0 Bath City 0
Tamworth 1 Grimsby Town 1
Vauxhall Motors 1 Newcastle Town 0
Woking 3 Eastleigh 2
Workington 1 Nuneaton Town 1
Wrexham 1 Southport 2
TODAY'S GAME
The Matchday Update page will carry live updates from Moss Lane this Saturday as Gateshead visit Moss Lane in the FA Cup. Whoever wins the game will have number 53 in the Round One draw which will be televised live on ITV1 between 12.30pm and 1.00pm on Sunday, 24 October.
SAM'S AMBITION
Right: Sam Hewson, pictured by Gavin Rathbone of GR Photography, in action against Fleetwood last week.
Friday's Manchester Evening News reported that "Sam Hewson is on a mission to prove he can still cut it as a professional footballer. Hewson was released by Manchester United in the summer after undergoing his entire football education at Old Trafford. He joined the Reds' Academy at the age of nine and signed trainee forms in 2005.
The 21 year-old went on to sign his first professional contract two years later and sat on the bench in the Stadio Olimpico during United's Champions' League clash with Roma in December 2007.
It was Hewson's first and last taste of the big time and now... he has set about rebuilding his career ... with Altrincham.
'I had mixed feelings about being released from United', said Hewson. 'They told me that they wouldn't be offering me anything, which was obviously very disappointing, but, on the other hand, I wasn't playing. I went to a few different clubs during the summer. I was on loan at Bury at the end of last season and they said they wanted me back so I went for a trial. But it didn't work out there and I was happy to sign for Altrincham'...
He added, 'Sometimes you have to take a step down to help you move forward and, ultimately, I would like to play in the Football League again. I expect there will be scouts at most of our games this season so I'll have a chance to impress one or two people. Hopefully, I can show everyone that I am still a good player'...
He has already played a big part in the Robins' recent revival. He scored his first goal for the club in the 3-3 draw with Kettering and the Bolton-born midfielder admits he is relishing the chance to play regular first-team football.
'I've been at Altrincham for about a month and I'm enjoying it', he added. 'The players and staff have all made me feel welcome and it's good to be playing again. I'm still trying to get some match fitness but I'm getting there. I'm getting games at Altrincham and I'm enjoying it. It was Graham Heathcote who broguht me in but Ken McKenna has taken over now and I get on very well with him. He put me in the team and he likes to play football so he's been very good for me. Hopefully, I can repay the faith he's shown in me'".
BEFORE SATURDAY'S GAME
Gateshead report that they "hit the FA Cup trail in an all Conference Premier 4th and final qualifying round tie against Altrincham... Goals from Jon Shaw and Craig Nelthorpe gave Gateshead a 2-0 league win over the Robins at the International Stadium in September. The Tynesiders are boosted by the return of striker Gary Mulligan who has missed the last two games with a groin strain.

Left back Paul Heckingbottom has missed training this week due to a medial ligament problem in his knee and will have a fitness test to see if he can retain his ever-present tag this season. Sunderland have allowed on loan right back Michael Kay to play in the competition and become cup-tied while midfielder Shane Clarke is also available to play...

'Altrincham are bottom of the league at the minute but in cup football form goes out of the window and the FA Cup is a great incentive for both clubs', said Gateshead manager Ian Bogie. 'Altrincham beat one of the fancied sides in this league last week, Fleetwood Town, they'll be buoyed by that and they also have a new man in charge. They will be hard to break down particularly if they go in front as they will get bodies behind the ball and we will have to be at our best...

The Robins are on their home patch and their home form isn't bad. They are also a club steeped in FA Cup tradition and have taken some big scalps in the past. I don't see us as favourites but if we apply ourselves in the same fashion as we did against Wimbledon and Tamworth we can get a result, be it a win or a replay on Tuesday... Every year a lower league club gets through to the 3rd round which is a big money-spinner and it would be great if it was to be Gateshead this season'".

Meanwhile, Chronicle Live says that "Ian Bogie insists his 'little Gateshead' side are far from favourites as they face Altrincham in the FA Cup tomorrow...

Bogie, who could be without Paul Heckingbottom and Jonny Allan (both knee), said: 'We have applied ourselves very well over the last few league games... we look a very hard outfit to beat and well organised...

I never say we are favourites. Every team we play against sees us as little Gateshead, a team which has risen through the leagues over the last few years'".
WES'S PEDIGREE
The Daily Post on Friday confirmed that "Wrexham FC utility player Wes Baynes is set to join fellow Blue Square Bet Premier club Altrincham on loan. Baynes, 22, has not been part of Dragons manager Dean Saunders' plans so far this season.

The versatile performer, who can operate in defence, midfield or up front, has been at the Racecourse for a number of years, developing through the club's centre of excellence and then securing a scholarship before being taken on as a full-time professional by Brian Carey in the summer of 2007.

Baynes made an impressive first-team debut against Chester in November 2007 under then new boss Brian Little which established him as an instant fans' favourite. After impressing in his first season, he signed a two-year extension to his contract in March 2008...

In January 2009, Baynes stunned the club by handing in a transfer request which he later withdrew... A dead-ball specialist noted for his fine deliveries from set-pieces, he netted seven goals for the Dragons last term. In all, he has clocked up 78 league appearances for Wrexham, netting 11 times.

This season, however, with several new faces joining Saunders's squad, Baynes has been out of favour but has now been offered a lifeline by Alti boss Ken McKenna".

Wrexham themselves add, "The paperwork is still being processed, but his international clearance should be through on Friday morning, allowing the 22-year-old to make his debut for the Moss Road club in this weekend's FA Cup tie against Gateshead. Although he signed a new Wrexham contract in the summer, Wes has yet to feature in a Wrexham line-up this season, so a spell at the other end of the M56 will give him the chance to get back into the action.

'I'm looking forward to the opportunity and will be glad to get back into first team foootball again', he said. The deal has been signed for the maximum 93-days allowed, but he could still be the subject of a 24-hour recall after a minimum of 28 days with the Cheshire club.

Manager Dean Saunders has allowed Wes to play in both the FA Cup and FA Trophy, but not in any game against us - as we are due up for a double-header with Altrincham over Christmas and New Year.

'So far this season I have only played for the reserves and with only a couple of games a month, I could do with more playing time', commented the winger. 'After being at Wrexham for so long, it will seem strange pulling on another club's shirt, but I hope I can help Altrincham start to lift themselves away from the foot of the table. They have a new manager, so it looks like a fresh start for everyone there'".
BSBP NEWS
The Football Conference says that "Darlington are trying to tempt stay-away fans to return to the Northern Echo Arena by slashing matchday prices for their next league game. Chairman Raj Singh is throwing the gauntlet down to the 'drifting' Quakers fans as the club prepare for two big home games next month. In a unique, one-off promotion for Darlington's next home league game against Tamworth on Tuesday November 9, fans can buy tickets for just a FIVER!...

Mr Singh said: 'We've been criticised for not doing these kind of offers before now but I've always felt we owe it to our season ticket holders not to devalue the package they shell out for at the start of the season. But I'm sure they'll understand and appreciate that, with crowds lower than we'd envisaged, we need to do what we can to encourage people back to the Arena. Dropping the Tamworth tickets to £5 is a bold statement...

The £5 match ticket offer is more than 70% less than the normal £18 match ticket for games at the Arena, and boss Mark Cooper, who used to manage Tamworth, has hailed the initiative. 'It's fantastic', he said...

The Quakers are also trying to encourage families back to the Arena for the Crawley Town game on Saturday November 13 with a special one-off family ticket price of just £25 (two adults and two children)".

From Mansfield Town we learn that "Peter Vincenti has signed on a three month loan deal from Stevenage with a view to it becoming permanent in January. The 24-year-old can play as an attacking midfielder or up front ... Jersey-born Vincenti joined the Hertfordshire outfit on a free transfer in January 2008 from first club Millwall but has found first team opportunities difficult to come by...

He joins Steve Cook, Rhys Day and Simon Grand as the fourth arrival at Field Mill in the last fortnight with Chris Smith, Gary Mills, Matt Somner, Ryan Williams and Tom Naylor all heading in the opposite direction".

According to Blue Square Football "Tamworth have put academy strikers Alando Lewis and Troy Wallen on first-team forms to bolster their squad numbers. Lambs caretaker-manager Des Lyttle has not been able to strengthen his squad with a loan signing this week and has decided to promote the young duo...

Lyttle hopes his charges can return to winning ways after going six games without a victory. Lyttle told the Tamworth Herald: 'They're a great set of lads but confidence has been a bit low as we haven't won in six. My job is to pick them up, get them feeling bubbly again and educate them for however long I'm in charge...I'd love to tie the job down permanently'".
---
22 October 2010
WES JOINS
Altrincham FC have signed Wrexham man Wes Baynes on a 93-day loan. International clearance has now been obtained so Wes is available for selection now. His squad number will be 17.

Wes is permitted to play for Alty in the FA Cup but not in any matches against Wrexham.

Born on 12/10/1988, Wes is 5ft 11ins tall and a versatile player in terms of where he plays on the pitch, though the right of defence or midfield are his usual slots. Though English born, he is a graduate of Wrexham's Academy, whose first team he reached before they were relegated from League Two.

His record for Wrexham is:
2009/10 League 24(+14) games, 7 goals; FA Cup 2 games, 1 goal.
2008/09 League 15(+13), 2; FA Cup 2.
2007/08 League 10(+2), 2.
NOT A DISTRACTION, SAYS KEN
In the new "Sale & Altrincham Advertiser" (formerly the Trafford Metro), Altrincham boss Ken McKenna said of the FA Cup game this Saturday, "Gateshead are a strong side and it'll be a difficult game. They're a club that are progressing very quickly and they'll be desperate to get through. I don't see the FA Cup as a distraction because we need to win as many games as we can whether they're in the league or the cup.

It's an important game and we can't ignore the financial rewards of going on a cup run. We've already had a little bit of luck by getting a home draw, the first one we've had for a long time and I'll be hoping for a bit more luck on Saturday.

With the position we're in, we need to start winning games and picking up points. Even though it's a cup game, we need to go on a run and build on the good result we had on Saturday...

The results have picked up but I don't think it's down to anything specific I've done. The lads are just playing with a bit more confidence and it's shown in the results. If Premier league players like Fernando Torres and Steven Gerrard can suffer from a loss of confidence as one or two people are saying at the moment, then anyone can'".
OLD BOYS
NL Daily confirms that "East Midlands Counties League club Gresley FC have pulled off something of a coup by signing former Burton Albion, Ilkeston Town and Altrincham midfielder Danny Holmes. Holmes, 23, signed after mutually agreeing his release from Altrincham at the end of last month.

Gresley manager Gary Norton said: 'Danny is a top class player and we are really pleased to have signed him. Although at the moment he's not available on a regular basis due to work commitments he will initially play games when available and will be a great option to have in the squad. Having said that we are hoping his availability may change in the near future... He trained with us last night and looked different class'".

Meanwhile "Witton Albion moved into second place in the Evo-Stik League First Division North table on Wednesday night, level on points with leaders Chorley, after a comprehensive 3-0 win over Cammell Laird. The 231 crowd at Wincham Park had to wait an extra half-hour for the final whistle after a nasty-looking injury to one of the opposition players, but a quickfire `double` over Laird was achieved, courtesy of an Ashley Stott [former Alty reserve] brace".

Success off the field for an ex-Alty player is reported by the Northern Echo which says that "Out-of-form Darlington take a break from league action this weekend, but yesterday diverted their attention away from football altogether as they held a golf tournament at Wynyard Hall Golf Club. And striker Chris Senior inspired a victory with his fourball team, sponsored by County Durham firm Tyne Tees Crushing, winning the event.

Mark Cooper's team play at Mossley in the FA Cup on Saturday and yesterday eight of his players took to the course... It was Senior's team who romped to victory". And "Former Newcastle winger Keith Gillespie is training with Darlington. Gillespie, 35, is a free agent after leaving Irish Premier League side Glentoran in the summer. The winger failed to agree a new contract with the Irish club and is now training with the Quakers after approaching the Blue Sqaure Bet Premier side. Gillespie was declared bankrupt on October 1 at Belfast High Court, following a petition by HM Revenue and Customs".

And Blue Square Football adds that "Winger Keith Gillespie is training with Darlington... The 35-year-old started his career with Manchester United in 1993".
BSBP NEWS
The Football Conference says that "Fleetwood Town have brought in a second player on a three-month loan deal. The Fylde coast outfit have signed 19-year-old defender Louis Horne from Bradford City following on the recruiting of the vastly experienced Sean Gregan earlier this week...

Horne, who is comfortable at centre back or left back, was regularly involved in the club's youth and reserve teams during the 2008/09 season. He joined Barrow on loan in February 2009 and made his first competitive appearance in senior men's football, playing the whole of the Bluebirds` 3–0 defeat away to Oxford United in the Conference Premier but the loan was cut short by Bradford a few days later... Horne was finally handed his first action in League football in January 2010 when he came off the bench to feature against Cheltenham Town".

"Forest Green Rovers have signed midfielder Wayne Turk from league rivals Newport County on loan with a view to a permanent move to the New Lawn. Turk is a holding midfielder who initially signed for County on loan from Salisbury City in November 2008. He joined Salisbury from Cirencester Town...

He suffered an injury pre-season and... both parties have agreed that it is in the best interest for both club and Wayne that he will join Forest Green on loan with a permanent transfer in place when the time is right".

The Conference also reports another departure from The Exiles as "Havant & Waterlooville have announced a third new signing in a week in the form of forward Giuseppe Sole from Newport County. The 22-year-old, previously with Woking for four seasons from 2006-2010...

His move to Spytty Park came in August this year after a five-month loan spell at Ebbsfleet United. Although he comes to Westleigh Park as a loan signing, the Exiles are looking to make his move permanent".

Also, the "New York City manager Gary Mills has completed his first signing by bringing former defender Chris Smith back to the club on loan from Mansfield Town. Derby born Smith left City in 2004 and played for Stafford Rangers and Worcester City before joining City's new boss at his previous club Tamworth, where he made seventy-nine appearances. The 6' defender signed for Mansfield at the start of this season and has made eleven first-team appearances during the current campaign".

Newbury Today reports that "Hungerford midfielder Ryan Crockford may be joining former Arsenal and French World Cup winning star Robert Pires as new signings for Crawley Town. The cash-rich West Sussex club fielded Crockford the full 90 minutes of Wednesday's 2-1 Football Combination defeat at Gillingham, and are poised to offer the player a contract.

Manager Steve Evans... was impressed with the performances of the former Reading youngster... Crawley have also been linked with Pires, who was said to be in talks with the club this week".

But contradictory news comes from the BBC which says that "Robert Pires is 'not aware' of any interest from Crawley Town, according to a spokesman for the midfielder. BBC Sussex understands that Crawley are set to begin talks with the 36-year-old former Arsenal and France star. But his spokesman told BBC London 94.9: 'We are not aware of any interest from Crawley Town'.

"Neil Woods, manager of Grimsby Town, faces a goalkeeping crisis ahead of Saturday's FA Cup trip to Tamworth after Sheffield Wednesday blocked loan stopper Richard O'Donnell from playing" reports This is Grimsby. "The Owls don't want their young keeper, who is in his second month at Town, to get cup-tied ahead of future rounds and it leaves Woods without a first-choice stopper...

Kenny Arthur is close to a comeback but Saturday may be a risk with Woods wary of any lengthy lay-off if the Scot isn't 100 per cent right. And with Nick Colgan now on loan at Huddersfield, it could be that goalkeeping coach Steve Croudson again fills in like he did against Histon earlier in the campaign. Woods said: 'We sent Nick Colgan out on loan for a variety of reasons that people probably understand and you can't recall players in the first month anyway'... Woods will also be without Danny Carlton after Bury also denied permission for him to play" in the FA Cup.

Forest Green Rovers there is an announcement of "Changes at Boardroom Level. The club announces with major investor Dale Vince recently taking over the role of Chairman, he will be supported via the appointment of dual Vice Chairmen - David Drew and Trevor Horsley. As part of his duties David Drew will take on a community role overseeing local links with community based groups and similar organisations, whilst Trevor Horsley meanwhile steps away from his role of Football Director, with Dale Vince taking overall control of 1st team matters".
---
21 October 2010
KEN AND THE CUP
The Sale & Altrincham Messenger reports that "A brave team selection by new boss Ken McKenna paid dividends, as Altrincham achieved only their second victory in more than six months against big spending Fleetwood Town.
McKenna selected just three players who had started in the 3-0 debacle at Histon last week and was understandably jubilant about the response he got. 'The way we played at Histon was unacceptable, but on Saturday it was an excellent, disciplined, performance against a team that were unbeaten in 10 games'.
James Smith (left), installed as captain for the first time, Mark Joseph and new loan signing from Mansfield, Matt Somner, all produced standout performances, while Stuart Coburn made some important saves on his return to the side. 'Matt Somner gave us some steel and composure in midfield and he will be a good addition to our squad', said McKenna, whose thoughts now turn to the FA Cup and the visit of Gateshead on Saturday.
'The importance of the FA Cup is very clear to everyone and Gateshead will be a tough nut to crack. They have improved from last year and are a progressive club, having gone full time in the summer. I enjoyed success as a player in this competition with Telford, reaching the fifth round in 1985, before going out to Everton in front of over 47,000 at Goodison Park', continued McKenna, who led The New Saints to Welsh Cup Success in 2005.
Victory over the Tynesiders on Saturday in the fourth qualifying round would not only give Altrincham a chance to draw the likes of Sheffield Wednesday or Southampton in the first round, but would put much needed funds, to the tune of £12,500 prize money, in the Moss Lane coffers".
BSBP NEWS
Blue Square Football says that "Cheltenham winger Marley Watkins is set to extend his loan spell with Bath City by a further two months. The loan extension will have various clauses which will bar Watkins from playing in Bath's FA Cup games and also includes a 24 hour recall clause".

Also, "Hayes & Yeading have been boosted by the news that on-loan Leyton Orient striker Adrian Patulea has been given the go-ahead to play in United's FA Cup clash at Poole Town this weekend. Garry Haylock will however be sweating over the availability of QPR full-back Lee Brown and Crawley forward Michael Malcolm. Patulea has found the net twice in six starts for Hayes but says he intends to up the ante after failing to find the net this past weekend.

He told the Uxbridge Gazette: 'I am enjoying myself here. It did not go so well for me on Saturday (against Wrexham), but I have scored a few goals and want to get more. We found ourselves up against a team who were organised and we did not take our chances in the first-half. Things started to go wrong in the second-half and will have to look at that. We were looking forward after winning at 1-0 (at Darlington), and were confident. We tried to get the ball down and pass, but it did not work out for us'".
OLD BOYS
In Tuesday's match between Mossley and Curzon Ashton, won 2-1 by the latter, Matt Doughty did not feature for Curzon Ashton but there were old boys on both sides. Mossley fielded Aaron Chalmers, who turned down an offer to join Alty last season, whilst Curzon employed ex-Alty Youths Glodi Kuba Kuba and Michael Linney.
OLD FOES
John Cowey's excellent Bishop Auckland Newsletter confirms that our former UniBond rivals "After a few minor delays...will receive the keys to the new stadium on Wednesday, with the opening event on Sunday 24th October".
---
20 October 2010
TUESDAY MATCH
Left: Michael Twiss nets his first goal for Altrincham against Fleetwood. This and many other excellent images are on Gavin Rathbone's GR Photography website.
Luton Town 6 Forest Green Rovers 1
League Table
NEXT GAME
Altrincham host Gateshead this Saturday in the FA Cup. "Gateshead manager Ian Bogie has revealed he'll need to see more of trialist Bakary Bojang before he decides on whether to offer him a deal" reports Blue Square Football. "The Gambian winger has featured in two reserve games for the Tynesiders, whilst also training with Bogie's side for the past three weeks. However, Bogie says he hasn't seen enough to make up his mind and also admits he'll have to send someone out on loan before a possible deal can be agreed.

Bogie told Chronicle Live: 'He is a talented player, but I need to see more of him'".

The referee this Saturday is Mr Paul Hodskinson of whom the Lancashire Evening Post said earlier this year, "Paul Hodskinson from Bamber Bridge has been promoted to Level 2 and he will now be eligible to referee games in the Blue Square Conference as well as refereeing at Contributory League games and Assistant Referee on Football League matches". He refereed Tamworth v Barrow this season and York v Hayes. On AUgust 14th he oversaw our opponents, Gateshead when they played Kettering Town when Blue Square Football said that "Referee Paul Hodskinson took centre stage as he brandished seven yellow cards and gave Kettering defender John Dempster his marching orders".
YANKEE
The Altrincham FC Saturday Yankee jackpot is now £1200 after the winning code last week of 8109 remained unclaimed. Four entrants did, however, win £50 each for winning "trebles". Follow the above link to see how you could help the Cluib and win big prizes for just a £1 stake.
ROAD WORKS
Of relevance to those travelling to Hayes a week on Saturday is a report from the Sale & Altrincham Messenger that there will be "an additional weekend closure of the M56" on top of the two planned for last ans this weekend. Matt Sweeting from the Highways Agency said: "A huge effort was put in this weekend to demolish the bridge but unfortunately we ran out of time to complete the central pillar before we had to reopen the motorway to Monday morning rush hour traffic. This means we will have to extend the work into a third weekend. We're sorry for any inconvenience this may cause and advise drivers to allow extra time for their journeys". So, "There will then be a full weekend closure from 10pm on Friday 29 October until 5:00am on Monday 1 November". The A556 will be open but delays may be experienced.
BSBP NEWS
According to the Football Conference "David Holdsworth, manager of Mansfield Town, has bolstered his defensive options by completing the loan signing of Brighton defender Steve Cook. The versatile 19-year-old, who can play at either right-back or central defence, joins the Stags on a three-month deal that will keep him at Field Mill until mid-January. Cook has made four appearances in Brighton`s first-team and arrives in Mansfield on the back of a month's loan with league rivals Eastbourne Borough".

Blue Square adds that "Eastbourne Borough defenders Steve Cook and Yado Mambo have returned to their parent clubs after their successful month-long loan deals expired. Cook made seven appearances for Boro after signing on loan from Brighton, scoring a header in Saturday's 4-2 home defeat to Luton Town. He impressed with his strength and presence in both penalty areas, as well as his exocet long throw, and is now expected to sign for Boro`s league rivals Mansfield Town on a three-month loan deal. Mambo returns to Charlton Athletic after five appearances for Boro. The club picked up eleven points during the pair's loan spell".

Meanwhile, "David Hockaday, manager of Forest Green Rovers, has brought in two more players... Midfielder Lee Fowler is now reported to be out for up to six to eight weeks with right knee damage sustained during training - he is now in a brace. So midfielder Gary Mills has been brought in on a month's loan from league rivals Mansfield Town. Mills is 29 and has several years' experience in the Conference... He has also had spells with Rushden & Diamonds, Stevenage Borough and Crawley Town.

Also joining Rovers on non-contract terms is 26-year-old Malvin Kamara, who is a wide right-sided midfielder. Kamara has played well over 100 matches in the Football League. He started his career at Wimbledon and MK Dons and has also played at Cardiff City, Port Vale and Huddersfield Town".

"York City manager Gary Mills has revealed that he has handed released winger David McDermott a second chance to impress at Bootham Crescent" reports Blue Square Football. "The 22-year-old midfielder was recently shown the exit door by caretaker manager Andy Porter having made four substitute appearances for the Minstermen. However, Mills is an keen admirer of McDermott's talents and has offered him a month-long deal with a view to earning an extended stay.

Mills told the York Press: 'I've taken David McDermott back for another month. I know him from the Midlands and have tried to sign him a couple of times in the past, so I'm aware of his qualities'".

From NL Daily we learn that "Fleetwood Town have announced the loan signing of influential centre half Sean Gregan. The 36-year-old defender has been made available by Oldham Athletic, a club he joined from Leeds United, initially on loan, in November 2006. Gregan started his career with Darlington and went onto make 160 appearances for the club before joining Preston North End under David Moyes for £350,000.

He spent six years at Deepdale, lifting the Divsion Two championship title, before a £2million switch to Premiership side West Bromwich Albion in August 2002. He then joined Leeds United in September 2004...

Town boss and former Football League midfielder Micky Mellon knows only too well about Gregan's ability. 'I'm delighted to bring a player with great quality into an already strong squad. At this point, we need a few more bodies to supplement who we have on paper... This isn't a reaction to recent results but a move to increase the strength of my squad due to one or two injuries and niggles here and there', added Mellon. Gregan joins Town on a three-month loan deal".
---
19 October 2010
WATCH THE FA CUP IN STYLE
For this Saturday's FA Cup tie with Gateshead why not enjoy a hot pre-match meal and drink as well as half-time tea and coffee and a free matchday programme. - all for just £30 in the Sponsors' Lounge for home and away fans. As season tickets are not valid for cup games, this same baragain price applies to all guests. To book your place ring the club on 0161 928-1045 or send an e-mail

News of our FA Cup opponents comes from Gateshead who report that manager "Ian Bogie was philosophical after seeing his side lose narrowly at promotion chasing AFC Wimbledon...

'Just as against another title chasing side, Crawley Town, we ran Wimbledon close only to lose out by a single goal', said Bogie. 'It is frustrating because we were once again close to getting a point and we defended very well and kept a good shape... with Ben Clark and James Curtis again immense at the centre of the defence. However, we didn't pass it like we can - too often the final ball was missing - and we didn't keep possession enough...

'we must now prepare ourselves for a tough FA Cup tie at Altrincham on Saturday. The Robins' new manager, Ken McKenna, got off to a winning start with a good win over Fleetwood Town so we are in for a battle'. Gateshead picked up no fresh injuries in the capital and striker Gary Mulligan should be fit for Moss Lane cup clash".

Elsewhere Gateshead's match report adds that at Wimbledon, "An unchanged Gateshead again deployed a 4-5-1 formation and while it worked defensively the visitors only occasionally threatened... Gateshead threw on Northern League Golden Boot holder Nathan Fisher for the final half hour with Shane Clarke then handed his Gateshead debut when he replaced Andy Ferrell in midfield. The former Lincoln City midfield man, however, had been on the pitch for less than two minutes when he gave away the free kick that resulted in the winning goal. Gateshead: Deasy, Kay, Heckingbottom, Gate, CURTIS, B.Clark, Brittain (Fisher 66), Turnbull, Shaw, Ferrell (S.Clarke 71), Nelthorpe (Gillies 83). Subs (not used): Cook (gk), Baxter.

The Chronicle says that "Ian Bogie praised his side's defensive performance in the capital on Saturday – but rued the concession of a costly late goal... Only bottom club Altrincham – Gateshead's next opponents, in the FA Cup on Saturday – have lost more games on their travels than the Tynesiders' five... 'The FA Cup is very important to us and while Altrincham are bottom of the Conference Premier they have a new manager and have improved of late so we are in for a battle'", said Bogie.

From the other side, the Surrey Herald reports that for AFC Wimbledon "Yakubu's 72nd minute header finally broke Gateshead's resistance after Ian Bogie's men had frustrated Dons for most of the afternoon... The men from the north-east fully deserved to get to half-time level... But the game really came to life just before the hour when both sides struck the woodwork within 60 seconds. It was the visitors that were unlucky first when Shaw headed against a post with home goalkeeper Seb Brown well beaten".
LAST SATURDAY'S GAME
Saturday's bucket collection raised £44.91. Altrincham FC wishes to thank all donors and collectors alike.
Left: As well as Matt Somner, pictured on the website over the weekend, another loanee, Andy Milne, also made his Alty debut against Fleetwood. He is on loan from Barrow and is pictured here under the watchful eye of Ken McKenna.
The Manchester Evening News says that "New Altrincham boss Ken McKenna hailed the professionalism of his part-time Robins after celebrating his first game as permanent manager with an unlikely 1-0 victory over visiting Fleetwood. Michael Twiss struck on the hour to get McKenna's reign off to a dream start just a day after his appointment was confirmed...
Ironically, the former United starlet's match-winning strike was Altrincham's only shot on target, with the Robins being forced to defend for long periods by a high-flying Fleetwood side who arrived boasting a 10-match unbeaten record... The win takes bottom-of-the-table Alty to within a point of their nearest rivals, Forest Green, although they're still seven short of safety".
Fleetwood Town report that they "couldn't break down a defensively-minded Altrincham side on Saturday afternoon... Midfielder Ian Craney featured for 68 minutes and was hugely disappointed with the result.
'I don't think we really got going today, they've set up a formation to frustrate us. It ultimately worked for them. It was a sloppy goal to concede, and we found it difficult to make a recovery from it'. It was a hugely frustrating afternoon for Fleetwood who, despite having the majority of possession, could not force their hand through a packed defensive line and ended the game with ten men.
'We were getting a lot of the ball in very deep areas, but really struggled when it came to the final third. That is frustrating, as we generally are a team who are capable of creating a lot of chances throughout the game', added Craney who began his career at Altrincham in 2001...
Craney says Saturday's defeat won't affect dressing room morale too much... Fleetwood fans should relish Craney's bullish response to the setback, and eagerly anticipate the team maintaining their excellent start to the campaign".
According to Fleetwood Today, "Robins fans' hopes of a resurgence under new manager and former player Ken McKenna will have been boosted by this display, as only three of the starting XI from the previous Saturday's 3-0 defeat at fellow strugglers Histon were retained... The start was cagey, with neither side able to dominate...
Town began to assert their authority against what appeared to be a changeable 5-4-1 and 6-3-1 formation... Town's midfield were given time on the ball but were unable to capitalise on territorial advantage and a number of passes went astray. Altrincham belied their position at the foot of the table and created opportunities but without testing Scott Davies in the Town goal... Altrincham took a shock lead in the 59th minute, when former Morecambe midfielder Twiss raced through to seize on a long clearance by keeper Stuart Coburn and lobbed the ball over Davies...
Manager Micky Mellon was 'incredibly frustrated' by the 1-0 defeat at Altrincham which ended Fleetwood Town's ten-match unbeaten run, though defender Peter Cavanagh gave the Cheshire club credit for some shock tactics. 'It feels a bit like we have been mugged but credit to them,', said Cavanagh, recalled at left-back in place of the injured Alan Wright.
'They have set themselves up with a different formation, 6-3-1 if you like, which I have never seen before and it was very difficult to create clearcut chances... They certainly set out to frustrate us and get as many men behind the ball as they could. On the day we weren't good enough to work it out... But I don't want to belittle what they did – they were keen and closed us down well'...
That first goal for the Robins by ex-Morecambe midfielder Michael Twiss certainly irritated Mellon, who added: 'We don't get goals like that, that's how frustrating it is. It's difficult to take because it was just a bog-standard straight ball from their keeper – one bounce and in'".
YOUTH TEAM TAKE OFF
Altrincham Youth lifted themselves to sixth place in the NW Youth Alliance Premier Division table with an exciting 3-2 win over Curzon Ashton at Wythenshawe Town. In fact the game was so entertaining that few spectators noticed that, during the game, the world's largest airliner, an Airbus 380 of Emirates airlines, (pictured right), flew over the ground after its take-off from nearby Manchester Airport.
BSBP NEWS
Darlington report that their "winger Chris Moore has finished his month's loan at Spennymoor Town, and Moors' manager Jason Ainsley believes that he is returning to the Blue Square Bet Premier outfit as a more confident player. The former Whitley Bay winger has been on loan for the last month after failing to break into the first-team picture, and in that time has been part of some good Spennymoor performances".

Two players have moved from Grimsby Town where "Mark Gray and Nathan Dixon have both joined Spalding United on a one month loan deal. The pair, who have both been in or around the Town squad this season, are set to make their debuts against Stamford tomorrow night".

The York Press says that "York City manager Gary Mills intends to set about trimming his squad after his Bootham Crescent reign began with a 1-1 home draw against lowly Bath on Saturday. The Minstermen currently have 25 senior players on their books, including youth-team coach Steve Torpey and first-year professionals Dean Lisles and Jamie Hopcutt.

Mills, 48, is accustomed to working with smaller numbers at previous club Tamworth, where he often named himself on the bench... The former Nottingham Forest midfielder said: 'We've got a lot of players – too many – and we haven't got a reserve team. I need to get a smallish squad of players working for each other. You can't have half a dozen sitting in the stands in their suits not being involved on a Saturday afternoon and there are a few issues that it's my job to sort out... In the second half, the players looked lost, tired and as if they had no confidence, which I can't believe when they are 1-0 up at half-time in a home game...

I liked what I saw in the first half to an extent, but I didn't like the majority of what I saw in the second. We were second to the ball and you can't play without the ball. I would dread to think what the possession stats were in the second half... I've got to pick a side where I see 11 players who are proud to play for York City. We need a couple of leaders out there as well because we were quiet (on Saturday). Football is tough and we are in a tough league. Ability is no good to anybody if you are weak mentally'.

The City boss will also consider a change to his favoured 4-3-3 formation. Mills started with a 4-4-2 line-up against Bath but switched tactics for the final 20 minutes, explaining: 'We changed to 4-3-3 for the last quarter of an hour because we weren't getting a kick... You have to be disciplined in a 4-3-3 as well though to make it work'...

He added: 'I think the two centre-halves [David McGurk and Daniel Parslow] got us the result along with Michael Ingham. He came and caught a lot of balls in the second half to ease a lot of pressure and also made that fantastic reaction save'. Parslow shifted back to the centre of defence with [ex-Alty man] Greg Young dropping out of the side following last weekend's 4-0 defeat at Newport".

From the NOrthants Evening Telegraph we learn that "Marcus Law believes he will have no choice but to strengthen his Kettering Town squad ahead of Saturday's FA Cup fourth qualifying round showdown with local rivals Rushden & Diamonds... after watching his team lose a 1-0 lead against 10-man Kidderminster Harriers... Kettering were without the suspended Ashley Westwood and injury victims Nathan Abbey, Moses Ashikodi and Iyseden Christie for the clash. And Law feels he is currently being 'governed' by his threadbare squad.

Asked if he felt new signings would be made this week, Law said: 'I think we have to. I am looking to strengthen the squad and I feel we have to do that sooner rather than later... I am letting the squad govern me and that's not a good place to be in'".
---
18 October 2010
FLEETWOOD GAME
Match report
Fleetwood Town report that it was "A disappointing afternoon for Fleetwood Town as their ten match unbeaten run came to an end at bottom-placed Altrincham... Town came into the game on the back of three successive draws but with the longest unbeaten run in the league, stretching back ten games...
Town began to assert their authority against what appeared to be a changeable 5-4-1 and 6-3-1 formation... Town's midfield were given time on the ball but were unable to capitalise on territorial advantage and a number of passes went astray. Altrincham belied their position at the foot of the table and created opportunities but without testing Scott Davies in the Town goal...
Altrincham took a shock lead just before the hour when former Morecambe man Michael Twiss raced through and lobbed the ball over the otherwise effect[ive] Davies for his opening goal of the season in his first match".
LOST KEYS
Darren Gregory writes:

"A set of house and car keys were found in the main stand area of the ground after the Alty v Fleetwood game. Anyone who has lost them can contact the club on Monday on 0161-928-1045 to arrange collection".
YOUTH TEAM WINS
Altrincham Youth scored a late winner on Sunday against Curzon Ashton, winning 3-2, thanks to a brace from Theo Kidd and a penalty from Ashley Woods. There is a match report in the Youth Team section.
SHAUN'S ASSESSMENT
In the NL Paper, Shaun Densmore says of Alty's relegation fight, "We need to get the belief back. If we can get a run together we can start climbing up the table. We know what we need to do. We've got a few injuries at the moment but there is a lot of quality in the squad and we can survive".

Shaun did not get on to the pitch in Estonia for England C's most recent international so was in an ideal position to assess his team-mates' performance for the NL Paper. He provides brief summaries of each player. Of himself and his fellow subs he says, "just for moral support we were outstanding. Good job we had some blankets to keep warm".
BSBP NEWS
Blue Square Football reports that "Crawley Town have issued an official statement with regards to Saturday's clash with Newport County at Broadfield Stadium. The statement reads as follows:

'At yesterday's game versus Newport County a small but vocal element of the away support made their way onto the home terrace. This provoked a short period of confrontation between themselves, club officials, police and a small element of alleged Crawley Town supporters. These away supporters were isolated and removed from the ground in a controlled and swift manner...

In the coming week we will work closely with both Sussex and Newport Police forces and using both club and police video footage we will identify the individuals involved and banning orders will be issued. Crawley Town Football Club has an exceptional reputation for being a safe place to watch football and we will protect this reputation by any means available to us".
---
17 October 2010
KEN'S ANALYSIS
Right: He may only be on loan at Moss Lane but Matt Somner appears to be delighted with Alty's win over Fleetwood on Saturday as he is greeted by assistant manager Stuart Bimson after the game.
Match report
After the game, manager Ken McKenna told the NL Paper, "Last week was very disappointing [at Histon] and there just had to be changes. We played a lot of today's game defending in the last third but that wasn't deliberate. Fleetwood are a good footballing side and we had to be excellent at sticking to our task. I thought we were very professional and we managed to restrict them to just a few chances. We knew if we kept going chances would come our way later in the game and that proved the case.
I'm still assessing my squad and although the loan players did well for me today I don't want to bring in too many because loan players can disrupt your play'".
BEFORE AND AFTER
Before Saturday's game, Fleetwood Town manager Micky Mellon took "his fourth placed side to Moss Lane this weekend looking to increase a 10-match unbeaten run... 5 wins and 5 draws.

'We are on a ten game unbeaten run and we will approach the Altrincham game in that frame of mind. There's always a fine margin between winning and losing. We'll approach Saturday's game in a positive way and knowing we have to be better in certain places across the field. It's certainly nowhere near a problem at the minute'...

'We are going to Altrincham against a team who are fighting for different reasons to us at the moment. I'll be saying to my team beforehand that we pay them respect but at the same time be ruthless... We want to get better. That's the ethos which goes through the whole football club'...

Fleetwood Town are odds-on favourites with Blue Square to win Saturday's game, priced at 5/6, with Altrincham at 14/5 and 12/5 the draw. Town currently possess the longest unbeaten run in the league, standing at ten games".

After the game Mellon told the NL Paper, "We didn't get going at any time. We came across a side that set out to frustrate us and put as many men as possible behind the ball. On the day we weren't good enough to break them down... we will come across this sort of opposition again and will have to be more ruthless'.

After the ref's decision not to award Beeley a penalty, Mellon said, "'That was the nost outrageous decision in my time at Fleetwood. It was definitely a penalty'". Instead, Beeley was booked for simulation.
ON THE ROAD
Altrincham's next away game, barring a possible FA Cup replay, is at Hayes and Yeading United for a BSBP match on Saturday 30 October. As usual The Altrincham Supporters' Club (TASC) is running a coach, details of which are here.
NEXT UP
Altrincham entertain Gateshead next Saturday (23rd) at Moss Lane in the FA Cup 4th Qualifying Round (3pm). Howard Watts's Thorugh the Years record for next saturday (23 October) is now avilable.
OLD BOYS
Joe O'Neill's goal kept Guiseley in the promotion places in BS North; his goal was laid on by man of the match, Warren Peyton. At Droylsden, Jody Banim netted for The Bloods. In midweek, Clive Moyo Modise scored for Ashton United at Ossett Town. Last Wednesday, Nantwich Town drew 6-6 at Mickleover Sports with Jake Sedgemoor netting the Dabbers late equaliser after they had trailed 6-2 with only 23 minutes left.

In Saturday's FA Trophy games, Ben Deegan's hat-trick helped FCUM beat Newcastle Town 5-0 in front of 1,035 spectators. In the same competition, Aaron Burns scored both of Ashton United's goals in a 2-2 draw at Marine.

Current Alty Youth player Jamie Brown has signed forms for Warrington Town, whilst former reserve Cayne Hanley has moved to Salford City from Padiham.

Ex-Alty player Jim Vince the "Former Witton Albion and FC Halifax Town manager is back on the Evo-Stik League scene taking charge of Woodley Sports. Vince was named this week as replacement for Gareth McClelland" reports the EvoStik weekly press release.

The Evo-Stik First North "Manager of the Month" award for September went to Joey Dunn of Warrington Town.

Damien Allen scored in Colwyn Bay's win; he is now captain at the club.
ALTRINCHAM HEROES
Peter Hennerley has been a well-known supporter at Altrincham for many years and the Sale & Altrincham Messenger reports that "An Altrincham street known as the bravest little street in England is being rememberd in a commemorative DVD. Chapel Street provided a record number of volunteers for the British Army in the First World War and was given a blue plaque honouring the 161 men from the street that volunteered.

Peter Hennerley, the grandson of one of the volunteers, has had a limited edition DVD produced of the street's history. He will be selling the 400 DVDs at Sainsburys, Altrincham, from 10am, for a suggested donation of £7, on October 22 and 29. Profits will be donated to Royal British Legion, and Cheshire Regiment Association".
BSBP NEWS
When Saturday Comes reports that "Such has been the volume of articles in the nationals recently, all trumpeting that AFC Wimbledon are 'on the brink of a Football League return' (that's right, in October), you might be mistaken for thinking they've been promoted by now....

The Guardian, Reuters and the Evening Standard have all been down in the past month, worrying Dons' chairman Erik Samuelson that a few too many League scouts might be following them in. This season's Wimbledon team is a young one for their first season as a professional club (average age 22), with manager Terry Brown frankly admitting that the club has targeted players still living at home, with the club unable to 'pay married men a living wage'.

Today's opponents Gateshead are another team that went full-time in the summer... with ambitions plans for the future based around turning pro and the building of a 9,000-capacity stadium in the centre of town...

Chairman Graham Wood said at the time that speculating to accumulate was entirely necessary, but it is a huge punt in what is essentially a one-club area. The stadium's usefulness is also heavily tied to the Newcastle-Gateshead bid to be a World Cup host city, when it would be used as a national team's training facility...

But if Russia is awarded the tournament instead, where does that leave Gateshead's stadium project?... The eight home games so far this season have seen only two four-figure crowds at the International".
---
16 October 2010
ALTRINCHAM 1 FLEETWOOD TOWN 0
Just three players who had started Altrincham's abject display at Histon last week also started this match - Smith, Williams and Densmore - with James Smith, in fact, named today as captain, as Robbie Lawton was dropped to the bench. Coburn returned in goal and Holsgrove started up front with Twiss, who made his first start for Altrincham, alongside two other debutants in loanees Somner and Milne. Hewson also came into the side as Brown and Reeves also found themselves on the bench.

Right: Michael Twiss is congratulated by Matt Somner. Both players were making their first start for Altrincham today.
Alty player stats
Saturday, 16 October
AFC Wimbledon 1 Gateshead 0
Altrincham 1 Fleetwood Town 0
Cambridge United 3 Barrow 1
Crawley Town 2 Newport County 3
Eastbourne Borough 2 Luton Town 4
Forest Green Rovers 0 Histon 1
Grimsby Town 1 Southport 1
Hayes & Yeading Utd 0 Wrexham 3
Kettering Town 1 Kidderminster Harriers 1
Mansfield Town 1 Darlington 1
Tamworth 1 Rushden & Diamonds 2
York City 1 Bath City 1

Tuesday 19 October
Luton Town v Forest Green Rovers
BEFORE THE GAME
Live updates from Altrincham v Fleetwood Town will appear on the Matchday Updates page from around 2.45pm.

The Manchester Evening News quotes Alty boss Ken McKenna as saying,"Fleetwood will present us with a difficult challenge but, in our present position, we have to look at taking points every time we play and, providing everyone here's on his game, I always feel we have a chance of that".

Speaking before he was confirmed as manager told the MEN, "As for me, I want the job here and have been working as though I've got it from day one. With the help of my backroom staff, my main priority has been to steady the ship. Barring the odd blip, we seem to have done that. The board have now had a good chance to see what I can do". The article continues, "Winger Chris Denham (groin) is definitely out while midfielder Matty Crowell is doubtful with an ankle knock".

The BBC says that "Fleetwood striker Wayne Curtis is pushing for a start after being left out of the 2-2 draw with Cambridge. Manager Micky Mellon is unlikely to make many changes to his starting line-up, as his side look to continue their 10-game unbeaten run".
YANKEE
The Altrincham FC Saturday Yankee jackpot now stands at £900. Last week eight entrants won £25 each with "trebles". The unclaimed jackpot code was 7832.
OLD BOYS
Bamber Bridge report that they "have signed George Melling from Kendal Town for a third spell at Irongate. Twenty-eight-year-old Melling (left) could feature in Saturday's FA Trophy tie at North Ferriby United and Brig boss Tony Greenwood...said: 'George is a committed and adaptable player who can play at right-back, centre half and in midfield. He knows Bamber Bridge, having worked under Neil Crowe and Phil Entwistle. I'm delighted he's back'".

A graduate of Alty Youth, Richard Gresty, has moved from Maine Road to Glossop North End.
YOUTH TEAM
Alty Youth are at home to Curzon Ashton this Sunday in an NWYA Premier Division match at wythenshawe Town Fc. Kick off is 2.30pm.
BSBP NEWS
The NL Daily says that "David Hockaday, manager of Forest Green Rovers, moved into the loan market again to obtain the services of young striker Liam Head on a month's loan from Plymouth Argyle. With Ross Dyer still not available it is hoped that he can make a good partner for Reece Styche... Head is a tall, 18-year-old striker, who played for England at under-17 level. Last season he had a loan spell at Tiverton Town".

And we also learn that "Tamworth were informed by Derby County early Friday morning that they were recalling Ross Atkins because of the current injury crisis at the club... Because of the situation that the Lambs were being left in, Derby cancelled the proposed loan move of England under-19 keeper James Severn, who was going to join Aldershot Town before the weekend so that he could sign for Tamworth... The loan is initially until the 13th November... Caretaker-manager Des Lyttle is already looking at possible replacements in case the Rams recall him".

NL Daily also says that "Mark Cooper, manager of Darlington, has strengthened his squad... with the signing of midfielder Marc Bridge-Wilkinson from Carlisle United. The left-sided player has joined the Quakers initially on a one-month loan deal from the Cumbrians... Coventry-born Bridge-Wilkinson began his career with Derby in 1997 and after a loan spell with Carlisle he joined Port Vale in 2000...

The 31-year-old joined Stockport in 2004 and played twenty-five games for them before moving on to Bradford City in February 2005... He signed for Carlisle in the summer of 2007".

From Grimsby Town we learn that their former Barnsley "Keeper Nick Colgan has joined Huddersfield Town on a one-month loan deal. Colgan signed for The Mariners in July 2009 after being recommended to manager Mike Newell by former boss at Sunderland, Roy Keane. Colgan, who has yet to feature for the Mariners this season because of injury, is set to play for the Terriers against Southampton tomorrow".
---
15 October 2010
ANOTHER LOAN SIGNING
Altrincham FC can confirm that they have signed defender Andrew Milne (d.o.b. 9/9/1990) on loan from Barrow. His registration with the FA was only completed late this afternoon. He had recently been on loan at Gainsborough Trinity. Andrew has Football League experience with Darlington, where he played whilst on loan last season from Leeds United. He also has won representative honours with the Scotland under-18 team.

After progressing through Leeds's Academy system he made his League debut for Darlington in December 2009 but got injured in his second match and went back to Elland Road before returning to Darlington for a further loan from March 2010. Leeds released him at the end of that season and he joined Barrow but, after two games of the 2010-11 season, he lost his place and went to The Northolme on loan to Brian Little's Trinity.

Barrow themselves reported yesterday that "The move will see the 20-year old gain match fitness after his loan to Gainsborough expired three weeks ago. The deal sees him move to Moss Lane from October 14th to November 13th including permission to play in the FA Cup. Milne played in the opening two defeats of the season but has been unable to force his way back into the reckoning since then".

Andrew will have squad number 27. Meanwhile, Matt Somner, who joined Altrincham yesterday on loan from Mansfield Town, will have shirt number 25.
KENNY SIGNS!
"The Board of Directors of Altrincham FC are pleased to announce that agreement has been reached for Ken McKenna to become the new manager of Altrincham Football Club. After returning from a short break in Estonia, Chairman Grahame Rowley met with Kenny prior to training and his contract was signed (see picture, right). Stuart Bimson has also agreed to become Kenny's number two. We wish them both every success with us".
SUPPORT THE FAIR
Karen Rowley and Louise Gregory are organising a Christmas Fair at Altrincham FC:

Altrincham Football Club Christmas Fair

Sunday 28th November 11 am-2pm

To be held in the Manchester Glass Sponsors' Lounge at Moss Lane.

We would like donations of the following, please:
1. Good as new toys and games
2. Unwanted toiletries
3. Chocolate (bars,tins,boxes) for the Tombola
4. Raffle prizes

All donated items can be bought into the Club during office hours anytime in the weeks leading up to the event or into the club shop on matchdays.

Thank you for your help. Please make a note in your diaries to come along and enjoy the day!

Louise & Karen".
NEXT UP
According to Blue Square Football "With Fleetwood Town currently occupying a play-off position after two months of the season and a ten-match unbeaten run looking to be extended, there is much to reflect on for the players in the first team squad.

For various members of Town's midfield, there have been contrasting experiences so far. [Ex-Alty man] Ian Craney, signed from Huddersfield Town in the summer after 132 Football League starts for various clubs, has been an ever-present and an influential player in the attacking third of the field with three goals to his credit and valuable assists such as that which set up Steve McNulty for the second goal against Cambridge United last Sunday.

Craney spelled out his ambitions when he joined the club and is delighted with the way that the season has developed: 'I've played in midfield before with Anthony (Barry) but it took three or four games to get to know the games of the likes of Pondy. It's going really well but teams have made it difficult for us at Highbury as they've tried to stifle us but we've been to places like Barrow and Wrexham and shown what we are about as an attacking team with our passing game.

The start's been brilliant but it shows the mentality of the club and individuals that we are disappointed we haven't got even more points in certain matches! There's a fantastic team spirit in this club and long may it continue'.

For Nathan Pond, Town's longest serving player, it has been a new challenge as,once again, he has stepped up a league with the club he has served so well for eight seasons...

Meanwhile, Sean Clancy, so instrumental in Town's march towards promotion last season, has endured a frustrating start following his summer operation: 'I'm getting match minutes with the reserves at the moment and that's giving me something that I can't get in training. Naturally, I'd rather that came with the first team but it's better for my progress than getting parts of matches as a substitute. It's taken a lot longer than expected but that's out of my control'".

And the Blackpool Gazette says that "Cutting out the sloppy goals has been the focus in training this week for Fleetwood Town skipper Steve McNulty and his fellow defenders. High-flying Town have drawn three of their last four home games, letting a lead slip on each occasion...

McNulty said: 'We have to stop conceding sloppy goals when we are winning comfortably. We need to settle for 10 or 15 minutes after scoring but Cambridge hit us right away... The fans at both ends were great but there was a small minority in the stand who were a bit of a downer. They had probably never been to a game in their lives before and they were saying things to the lads when they should be getting behind the team'".
ANDRAI GOES
Andrai Jones (right), who played the first half of Alty's game at Kettering whilst on loan from Bury, has returned to Gigg Lane. The Club wishes Andrai well for the future.
MATT ARRIVES
The Football Conference reports that "As expected, Altrincham have taken former Wales under-21 international Matt Somner on a month's loan from league rivals Mansfield Town. Somner, who was also wanted by Blue Square Bet North side Gainsborough Trinity, is a no-nonsense central midfielder who began his career at Brentford where he played nearly 100 times. Following his spell at Brentford he went on to play for Cambridge United, Aldershot, Bristol Rovers and Notts County. Somner is just as comfortable playing in the back four as he is in midfield."
ANOTHER CAP FOR ROBBIE
Alty's Robbie Williams gained another international cap on Wednesday evening (seen left) as "The Wales under-23 semi-professionals bowed out of the International Challenge Trophy with a 2-0 defeat to Poland at The Airfield on Wednesday night" reports NL Daily. "Despite enjoying the better of the first 45 minutes with chances for Marc Williams, Alex Darlington and Rob Williams, the hosts fell behind with the last kick of the half... Aberystwyth keeper, Cann, then gifted a second goal when he dropped a right-wing cross". As there were one or two other BSBP players in the team, here is the line-up: Stephen Cann (Aberystwyth) [Shaun Pearson (Barrow) 85'], Michael Pearson (Barrow), Curtis McDonald (Forest Green), Michael Johnston (Bangor), Rob Williams (Altrincham) [Lee Surman (Port Talbot) 70'], Aeron Edwards (TNS) [Luke Bowen (Port Talbot) 75'], Alex Darlington (TNS), Luke Sherbon (Aberystwyth) [Jamie Reed (Bangor) 60'], Marc Williams (Kidderminster), Scott Barrow (Tamworth) [Chris Jones (Neath) 70'], Craig Jones (TNS)".

Unfortunately Robbie has now reached the age threshold for the side and, as he will be 24 before the next international match, this week's game was his last cap. Robbie has won three caps in total for Wales.
BSBP NEWS
NL Daily says that "Former Walsall left-back Netan Sansara is on trial with Grimsby Town. The left-back made twenty-seven appearances for the Saddlers before his release from the Banks's Stadium at the end of last season".

The Football Conference reports that "Commanding centre half Rhys Day is expected to make a sensational return to Mansfield Town. The 28-year-old is expected to put pen-to-paper on a loan deal from Oxford United, which will last until early January 2011.

Day is no stranger to Stags fans, having made over 110 appearances between 2002 and 2006. The Welshman also appeared in the club's 2004 Division Three play-off final defeat to Huddersfield and subsequently signed for Aldershot. Day has since celebrated promotion to the Football League last season with Oxford.

Manager David Holdsworth said: 'Rhys is a very good, solid central defender and having let two boys go out on loan, it's important we have the right resources in the right areas. He is a strong character and good organiser and knows Mansfield Town through and through'"

Mansfield Town add that "David Holdsworth has strengthened his defence today with the addition of Fleetwood Town defender Simon Grand who joins on loan until 01 January 2011. The versatile defender (26), who can play in every position along the back line... began his career at Rochdale and soon won the club's Player of the Year award. Spells followed at Carlisle, Grimsby, Morecombe, Northwich and Fleetwood.

After putting pen to paper, Grand said: 'I would describe myself as a centre half, but am willing to play in any position' he added. Grand is also eligible to play for us in the FA Cup, unless we are drawn against Fleetwood in a future round".
---
14 October 2010
MATT SOMNER JOINS
The Football Conference reports that "As expected, Altrincham have taken former Wales under-21 international Matt Somner on a month's loan from league rivals Mansfield Town. Somner, who was also wanted by Blue Square Bet North side Gainsborough Trinity, is a no-nonsense central midfielder who began his career at Brentford where he played nearly 100 times. Following his spell at Brentford he went onto play for Cambridge United, Aldershot, Bristol Rovers and Notts County. Somner is just as comfortable playing in the back four as he is in midfield".

Midfielder / defender Matt Somner was born on 8 December 1982 and stands six feet tall. His previous clubs before Mansfield Town (2008-), from where he joins Alty on loan, include Brentford (2001-04), where he had substantial league experience, Cambridge United (2004-05), Bristol Rovers (2005-06), Aldershot Town (2005-06), Notts County (2006-08).

Though he has played for Wales at under-21 level, he was brought up in Middlesex.

A further loan signing is expected to be announced on Friday, when it has been ratified.
KEN'S PLANS
In the Sale and Altrincham Messenger, Alty's joint Press Officer, Brian Flynn, writes...

"Altrincham's caretaker manager, Ken McKenna, is not worried that there has been no announcement yet regarding a permanent successor to Graham Heathcote.

'As far as I'm concerned I am the manager and hopefully I will be able to sit down and talk with the Chairman on Thursday after he returns from watching the England C Team play in Estonia. There's no problem as far as I can see, but all my efforts at the moment are going in to try to sort out the short term issues that we have here'.

McKenna was at a loss to explain Saturday's 3-0 capitulation at Histon, a result that keeps the Robins firmly rooted to the foot of the table. 'The penalty changed the game and we really struggled to respond after that early blow. I have been working very hard to try to get some new players in, but I don't just want to take other people's problems and I have also been looking in the lower leagues, but have been quite surprised by the money that many of these players are on'.

'I'm very happy to be doing this job, despite the club's current plight, and feel that I have got really good backroom staff to support me. I'm keen to have Stuart Bimson as my assistant. He's a great motivator with excellent coaching skills and knows the game at this level inside out'.

One bright piece of news for the beleaguered Robins is that full-back, Matt Doughty, is close to being available again after eight months out with a cruciate ligament injury. Doughty has joined Curzon Ashton on loan to gain match fitness and it shouldn't be too long before he pulls on a red and white striped shirt.

Altrincham have been handed a home tie in the FA Cup 4th Qualifying Round for the first time in six years. They will face fellow Blue Square Bet Premier outfit Gateshead on Saturday October 23rd.

Before that, Fleetwood Town visit Moss Lane this Saturday for the first time in over thirty years. Fleetwood are fourth in the Blue Square Bet Premier and will provide very tough opposition. The game kicks off at 3.00pm".

Footnote: Mike Garnett's statistics reveal that although we have not played Fleetwood Town before, we have played their forerunners, Fleetwood F.C., 25 times, only losing four matches:
At Home: P13, W11, D2 L0, F29, A9
Away: P12, W6, D2, L4, F14 A17
Total: P25, W17, D4, L4, F43 A26

It is intended to provide the usual live Matchday Updates on the website this Saturday for the game with Fleetwood Town.
ALTY LINKED TO SOMNER
This is Lincs reports that "Gainsborough Trinity chairman Peter Swann revealed the Blues could lose out to Blue Square Bet Premier side Altrincham, in their bid to sign midfielder Matt Somner. The Trinity chief has confirmed that changes, in and out of the club, could be afoot this week and is still hopeful of sealing a deal for the 28-year old ahead of Saturday's clash at Corby.

However, the Robins' interest in the former Brentford and Notts County hard-man may have scuppered the struggling Blue Square Bet North side's chances. Blues boss Brian Little is desperate to make changes to his squad... and has already allowed striker Jefferson Louis to join Darlington on a three-month loan...

'We were hoping to bring in Matt Somner on loan, but I think he is going to go to Altrincham', said Swann. 'He is the sort of quality player that we are looking for and we went for him last week. He was then needed for Mansfield's game at Rushden on Saturday and then I heard yesterday that Altrincham had come in for him. I remain hopeful though and I would like to see him at Trinity'".
ON THE SPOT
TASC's Brian Flynn writes,

Can You Beat These Guys?

The next two rounds of our penalty competition will take place at half time during our games against Fleetwood and Gateshead. Entry is just £5 per person and, for that, you get to take three penalties on the hallowed Moss Lane turf.

At the Grimsby game, there was a penalty competition featuring 12 of the Kevin Millar's stag party from Edinburgh and there is now video of the final two penalties taken by Brian 'Blessed' Pickering and by "The Stag" himself".

If you would like to take part in the penalty competition, please either call Brian Flynn on 07860 561011 or send him an e-mail.
BSBP NEWS
Greg Young is obviously keen to emulate his former Alty team-mate Chris Senior (now at Darlington), as both ex-Alty players are now experiencing their third different manager since leaving Moss Lane in the summer, as surprising news from York City confirms that Tamworth boss Gary Mills has become the Minstermen's new boss.

York add, "Gary was manager of fellow Blue Square Bet Premier side Tamworth and successfully steered the Lambs to promotion from Blue Square Bet North as champions in 2009, earning himself the award of Manager of the Season. 48 year old Gary started his football career as a player at Nottingham Forest under Brian Clough, featuring in the 1980 European Cup winning side at the age of only 18...

Gary's managerial career commenced 14 years ago at Grantham Town and he has since gone on to manage Kings Lynn, Notts County, Alfreton Town and Tamworth. In 2002, Gary also spent two years as First Team Coach at Coventry City Football Club.

Commenting on his appointment, Chairman Jason McGill said, 'We are very pleased to welcome Gary Mills to York City Football Club. Gary is a highly regarded manager and has extensive experience of Conference football and knows what is required to succeed in this league. We appointed Gary because of his considerable football knowledge and his enthusiasm and drive as a manager to replicate his successful playing career'."

Gary will be joined by his assistant manager, 48 year old, former Hucknall Town player, Darron Gee. Darron has been Gary's right hand man for 13 years and together they have formed a solid management partnership...

Finally, Jason McGill said, 'We did not want to rush into a hasty, panic appointment following the surprise departure of Martin Foyle and were keen to find the right manager to take us forward'".

Meanwhile, Tamworth confirm that "Gary leaves the Lambs with the club's best wishes... It is a challenge that Gary could not turn down, Gary on Wednesday morning said that it was a tough decision but it was such a big club who are an ex-Football League side with ambitions of returning back into the Football League sooner than later he could not turn down an offer that he and Darron had worked hard for...

In the interim Des Lyttle will be asked to look after the team for training on Thursday and for Saturday's home match against Rushden and Diamonds. Applications will now be required and any experienced Manager wishing to put their name forward should write to The Chairman".

The Football Conference has written to all its clubs stating, "We are in the process of re- developing the Football Conference website over the next few week and months, in our on-going attempt to keep supporters of the Football Conference up to date with all the latest news in this ever evolving multiple media world that we live.

We aim to add several exciting new features, the first of which will be operational for this weekend's fixtures, a live score videprinter, with the goals and major events in the games across the Blue Square Bet Premier, North & South. This will be the first of several innovative introductions".

200% has some interesting observations.

"In 1979, when the Alliance Premier League was founded between clubs from the Northern Premier League and the Southern Football League, there was a fairly clear line in the stand. There was no automatic promotion and relegation between it and what was then known as Division Four... The Football League remained a closed shop until the 1987 when, faced with decimated League attendances, the APL re-branded itself as the GM Vauxhall Conference (GMVC), the Football League introduced automatic promotion and relegation, and the lines of demarcation between 'League' and 'non-League' have been slowly blurring more and more ever since...

The truth of the matter is that what we now know as the Blue Square [Bet] Premier is, for teams relegated from the Football League, a heck of a lot more easy to fall into than it is to climb out of...

Grimsby Town... The BSP is littered with such clubs - former Football League clubs that slipped on a banana skin too many... Every trip to the likes of Forest Green Rovers (members of the League since 1998) or Altrincham (members of the league for all bar six of the league's thirty-two year history) seems to be an insult to their sensibilities. The Blue Square Premier is 'tin-pot', yet they are stuck in this purgatory until the people running their club get their act together and manage to get them up again...

It would surely make sense for the clubs of the Football League to realise that one of the biggest single reasons why so many former members find it so difficult to get back after relegation from League Two is the fact in itself that only two promotion places are available for those that fall through the trapdoor. Until such further changes are made, however, it seems likely that relegation from the Football League will retain its stigma and that the newly-demoted will continue to find their new surroundings tougher to escape than they might expect".

The Football Conference adds that "Garry Haylock, manager of Hayes and Yeading United, has agreed a loan extension with Queens Park Rangers which will see left-back Lee Brown remain at Church Road for a further month. Brown, who has impressed during his first month, is expected to continue to fill the left-back slot with Adam Green still coming back to full fitness after injury".

From East Sussex, the Argus tells us that "Eastbourne Borough are hoping to extend the loan deals of defenders Steve Cook and Yado Mambo after releasing midfielder Kane Wills. Wills found his opportunities limited at Priory Lane following a summer move from Ebbsfleet United and had his contract cancelled after playing just 60 minutes of competitive football... and was allowed to join Lewes on loan last month.

Ollie Rowe has also extended his stay at the Dripping Pan on a temporary basis with Borough keen to keep Cook and Mambo longer than their original one-month loan spells. The pair are due to return to Albion and Charlton respectively after Saturday's home game against Luton Town but head coach Nick Greenwood admits discussions are under way to extend the deals".

Newport County "Following advice from the Avon and Somerset Police the Christmas matches with Bath City have been reversed, so we now play the away game on Boxing Day 26 Dec. 2010. Then the home game on New Year's Day".
---
13 October 2010
MATT'S RECOVERY
Matt Doughty is getting back to match fitness after his long lay-off with a cruciate ligament injury. He has now played two games for Curzon Ashton, which comprised 87 minutes in one match and 120 minutes in a cup win, 3-1, against Mark Maddox's Leigh Genesis which went to extra time. Leigh's side included Alty old boys Gary Scott and, as used subs, James Olsen and Mark Maddox.
BSBP NEWS
Despite the big-money sale of Richard Brodie to Crawley Town, the BBC says that "York City are expecting to suffer a 'significant' operating loss for the 2009/10 season. The club appeared at Wembley in the Blue Square Premier play-off final and reached the third round of the FA Cup. But a statement on the club website said: 'The financial position remains the same as in previous recent seasons. The club is likely to make a significant operating loss this year, but continues to be supported by parent company J M Packaging Ltd'.

The statement continued: 'In order to reduce costs, which is essential, York City has been forced to make two redundancies recently as part of a review of operations. Other cost reducing measures which have been implemented this season include new stewarding arrangements and the outside management of the Social Club, now the Pitchside Bar'...

The Club have been without a manager since Martin Foyle resigned towards the end of September. York are currently 16th in the table and have lost their last three games. Communications director Sophie Hicks said: 'Due to the current economic climate, like a lot of other businesses, we have been forced to look at cost reductions at the club for the long term benefit of York City. We have tried to maintain a healthy playing budget in order to give us the best chance of on-pitch success and we are now looking forward to the arrival of a new manager to make this happen'.

The club have announced the appointment of former trust board member Peter Rookes as the club's financial management consultant".

York Press adds that "Based on the current playing budget, which is estimated to be the eight or ninth highest in the Blue Square Bet Premier, City officials expect to make £350,000 in operating losses. A proportion of that deficit will be offset by Richard Brodie's six-figure sale to Crawley Town in August and that fee, which is less than the oft-reported £275,000 but also subject to a sell-on clause, has been banked in a one-off payment...

City are planning to unveil a new manager before Saturday's home match with Bath City but, in the meantime, youth-team coach Steve Torpey will continue in a caretaker capacity". The Football Conference "have announced that the fixture between Southport and Kidderminster at Haig Avenue, orginally scheduled for October 28th has now been put back a day and is now Friday, 29th October. The game will still be featured live on Premier Sports TV with a 7.45 kick-off. It has been put back 24 hours to avoid any potential FA Cup replay on the Tuesday as Southport travel to Wrexham, while Harriers also host Conference Premier opposition in York City on Saturday, October 23rd in the Fourth Qualifying Round".
---
12 October 2010
ENGLAND C
England C won their International Challenge Trophy Group decider against Estonia today 1-0 thanks to a goal from Jake Howells after 52 minutes. Alty's Shaun Densmore was a substitute but he did not get on to the pitch, so does not get a cap.

England team: Brown, Hatton, Newton, Flint, Gregory, Wylde, Henry, Porter (capt), Barnes-Homer, Howells, Rodman. Subs: Gamble, Wright, Densmore, Nix, Rose.
YOUTH GAME
Alty Youth are playing a friendly against a Bury FC Youth team tonight at Moss Lane, 7.30pm. All are welcome.
FA CUP
When Altrincham meet Gateshead in the FA Cup 4th Qualifying Round on 23 October, the prize money at stake for the winners will be 12,500 pounds.
Right: Alty new boys this season, Kevin Holsgrove and James McCarthy leave the pitch after the draw with Rushden last week.
After Gateshead were liquidated in August 1973, Gateshead Town were formed but lasted for just one season in the Northern Combination League before going out of existence. Next, South Shields of the Northern Premier League re-located to Gateshead and renamed themselves as Gateshead United. They lasted for three seasons till 1977. In that period they met Altrincham in the FA Cup in Round 2 of the 1974-75 competition at Moss Lane:
1974-75: Round 2, (Home), Altrincham 3 Gateshead United 0, (gate 3,200), scorers: J.Hughes, R.Hughes, Morris

At the time, Alty were second in the NPL, having gone 28 matches in all competitions unbeaten, and Gateshead were third. The referee was Ray Tinkler of Boston who later became famous as a top-level referee. Before the game, Alty chairman, Noel White, later chairman of Liverpool and a major figure at the FA, wrote in the programme:

"This is it... the big one! Everyone is talking about the match and now it is really here... If we win this match against our old friends from Gateshead then, for the second time in our history, we go into the hat for the 3rd Round draw...

This match is going to be one of the most keenly fought matches ever played on the Moss Lane pitch... I firmly believe the result will hinge on the support which our spectators give the team. This support could swing the match".

Winning that game earned Alty an away tie at Goodison Park, where they drew with top-flight Everton 1-1 in front of 34,519. The replay, played at Old Trafford in front of 35,630, saw Alty go down 2-0.

Gateshead report that thay "have been drawn away to fellow Blue Square Bet Premier side Altrincham in the 4th qualifying round of the FA Cup on Saturday 23rd October. It is the first time in six years that Altrincham have received a home tie in the final qualifying round of the Cup while Gateshead had home advantage at the same stage last year when they beat Southport 3-0.

The Robins have been bottom of the table for some time and have seven points from their 15 games while recording just the one win on home soil. Goals from Jon Shaw and Craig Nelthorpe gave Gateshead a 2-0 win over Altrincham at the International Stadium in September.

'It is a tough draw against a side from our own league', said Gateshead manager Ian Bogie. 'Altrincham haven't had the best of times this season but they have a good pedigree in the FA Cup. They are in a bit of disarray and we have to capitalise on that. It could have been an easier draw but it could also have been harder. Manchester United play their reserve games at Moss Lane and it is a good pitch which will suit us. We beat the Robins at home in the league without playing well and we will go there confident of getting a result, ideally a win but, if not, to bring them back to Gateshead.

We know all about them and will give it a real go. In terms of revenue and prestige the FA Cup is massive for clubs like ourselves. There is always the chance of picking up a plum tie in the 1st round so we will be looking to put on a professional performance and to get the result we are looking for'".

Seven of Altrincham's last nine FA Cup ties have been away from home, meaning that we have scored just one FA Cup goal at Moss Lane since 2004 - Chris Senior's prize-winning effort against Millwall. For the record, those nine games were:
2004-05: 3QR v Hucknall Town (Away) 0-1
2005-06: 4Q v Tamworth (Away) 1-3
2006-07: 4Q v Rushden & Diamonds (Away) 0-3
2007-08: 4Q v Kendal Town (Away) 1-0
2007-08: R'd1 v Millwall (Home) 1-2
2008-09: 4Q v Newcastle Blue Star (Away) 2-1
2008-09: R'd1 v Luton Town (Away) 0-0
2008-09: R'd1R v Luton Town (Home) 0-0 Luton won 4-2 on pens.
2009-10: 4Q v Mansfield Town (Away) 0-3
HISTON REPRISE
Courtesy of Martin Saxon, there are video highlights of the Histon v Altrincham match on You Tube.

Histon have a match report and also state that "The interim fundraising target of £30,000 was reached during the victory against Altrincham on Saturday. A massive thank you to everyone who has donated so generously since this fundraising campaign started in late April. The total now raised is £30,151.

On Saturday, the bucket collection raised a further £132 and three more Stutes' fans have signed up to sponsor the match against Kidderminster on 13th November. Just two more fans need to come forward and we will have this match sponsored. The third and very significant element that took us past the £30,000 line was the Histon Hornets organisation, who have decided to sponsor both Lee Smith and Lee Wooton. This is a wonderful gesture where one Histon football community organisation supports another. Histon Hornets - we really appreciate this support.

With the next stage of the fundraising set to start this evening, you are invited to attend the Income Generation Group meeting which will take place at Histon Football Club at 8pm. The IGG will be devising ways of reaching the next target of £40,000 as soon as possible".
OLD BOYS
New Mills report that "The Millers handed a debut to striker Colin Little at Maine Road on Saturday. 37 year old Colin played professionally for Crewe Alexandra, Mansfield Town and Macclesfield Town before joining Altrincham. In his six years at Moss Lane, Colin scored well over 100 goals for the Conference side before he left at the end of last season to pursue a coaching career with Manchester United where he looks after their Under 13 side".
THE REF
The referee this Saturday at Moss Lane, for the visit of Fleetwood Town, will be Mr J. G. Adcock, who reffed Luton 0 Alty 0 on April 17, 2010, as well as Alty 0 Torquay 1 on March 10, 2009.
CUP OPPONENTS' WOE
Altrincham meet Hyde FC in the Cheshire Senior Cup next month. Currently both clubs are having troubled times...

The Manchester Evening News says that "Hyde player/boss Neil Tolson offered no excuses for his troubled Tigers after seeing them again hit rock-bottom in falling 3-0 to high-flying Boston at Ewen Fields. Dale Johnson and Scott Mooney each forced fine saves from visiting keeper James McKeown, but they were no more than isolated incidents in a Hyde defeat which sees them slip back to the foot of Blue Square Bet North".

[Manager] Tolson said: 'On the day, we were well beaten'.

Altrincham caretaker-manager Ken McKenna was similarly forthright in his assessment of the bottom-of-the-table Robins' crushing 3-0 Blue Square Bet Premier loss to fellow strugglers Histon – their first defeat in five games. The Moss Lane visitors were second best throughout and are now a daunting eight points short of safety nearly a third of the way into the campaign. McKenna, who's nevertheless still firm favourite to replace Graham Heathcote – now tipped to take the reins at Stafford Rangers – said: 'I honestly can't think of anything positive we can take from this performance'".
BSBP NEWS
Blue Square Football says that "Luton Town have revealed that Czech midfielder Pavel Besta has been handed a reprieve from first-team football for a month. The 28-year-old joined the Hatters this summer following a spell with Slovakian outfit MFK Ruzomberok but missed out on the Hatters' pre-season preparations. And Luton boss Richard Money has now decided to give Besta a rest from first-team duties so that he can work on getting his fitness up to an acceptable level.

Money told Luton Today: 'I think what people should realise is that when we brought him over and played him against Newcastle that was his first piece of action since finishing the season in Slovakia at the end of June'".

At Barrow the Bluebirds "have been drawn away to FC United of Manchester, in the FA Cup Fourth Qualifying Round. It is expected that the game will be played at Gigg Lane, home of Bury F.C on Sunday 24th October at 3.00p.m."

Meanwhile, NL News 24 says that "Barrow have confirmed that Matt Heywood [and Alty pre-season trialist] is no longer part of the club. Bluebirds director Tony Keen told a meet-the-managers event that the defender, who signed for Barrow in pre-season but never played a game, breached his contract, nwemail.co.uk is reporting.

Joint-manager Darren Sheridan earlier said that there had been an issue surrounding an injury the player had had, adding: 'He's not a player for us'. Keen said: 'There was a breach of contract. It's a signing that didn't work out for us. Through the professional and legal system we have now closed it as an issue'.

Sheridan, fellow co-boss Dave Bayliss and Keen were also asked about the future of star striker Jason Walker, who is out of contract at the end of the season. Keen said: 'Jason has a lot to think about. We've sat with him and gone through the options. He's thinking about them. Whatever he decides, he will have the full backing of the club'".

The BBC says that "Darlington midfielder Paul Terry will miss the rest of the season after suffering a cruciate ligament injury... after eight minutes of the club's 1-0 home defeat by Hayes and Yeading on Saturday...

Meanwhile Cooper has reiterated he will not walk away from his post as Darlington manager despite the weekend's loss, the club's third in a row... 'As far as I'm concerned I haven't heard anything from the chairman, as far as I'm concerned I'm still the manager', Cooper continued".

From Mansfield Town we learn that "Ryan Williams has been sent on a month's loan to Conference North strugglers Gainsborough Trinity. The 32-year-old winger has been unable to break into the first team this season, but made 28 starts and 9 substitute appearances for us last term. 'This gives Ryan some much-needed match minutes', said manager David Holdsworth".

Southport say that "Liam Watson has recalled striker Chris Simm after a month's loan at Chorley. Defender Rob Marsh-Evans also will return on Wednesday. Simm and Rob Marsh-Evans will both be added to the squad for next weekend's away at Grimsby Town".

At Wrexham we read "With the draw for the FA Cup pairing us up with Conference rivals Southport, manager Dean Saunders gave his initial reaction. 'I really look forward to the Cup, it's one of the highlights of the year', said the boss. 'Having said that, I don't think either Southport or ourselves will be over excited at the prospect of meeting each other again, especially so soon after our recent BSP encounter... If I'm being honest, you do hope for a little easier tie to get you started, but we may have thought that when Eastwood came out of the hat two years ago!... Games are to be played on Saturday, 23 October and if a replay is needed it will take place during the following midweek, as the First Round Proper is due on Saturday, 6 November".

York Press report that "Calamitous defending saw plummeting York City suffer a third straight defeat after going down 4-0 at Newport County. Daniel Parslow and Greg Young were the chief culprits as the Minstermen made bigger boobs than those belonging to Linsey Dawn McKenzie – the chesty glamour model home boss Dean Holdsworth once famously enjoyed a fling with".

The Football Conference lists the "Sixteen-man squad [chosen] by England `C` team manager Paul Fairclough to take part in an FA Representative XI fixture at Hallam as part of their 150th Anniversary celebrations.

The full squad is: Darren Acton (GK) - Nuneaton Town; Lee Evans (GK) - Stafford Rangers; Josh Law - Alfreton Town; Kieran Murphy - Boston United; Luke Waterfall [ex-Alty loan player] - Gainsborough Trinity; Liam Brownhill - Droylsden; Anthony Church - Boston United; Kyle Storer - Nuneaton Town; Dan Dillon - Hinckley United; Luke Holden - Droylsden; Sam Duncum - Eastwood Town; Tom Thorley - Worcester City; Ben Mills - Stafford Rangers; James Walshaw - Guiseley; Scott Mooney - Hyde; Justin Marsden - Nuneaton Town... Full contingency squad: Connor Franklin - Alfreton Town; Andy Boyce - Gainsborough Trinity; Mark Noone - Nuneaton Town; Jack Rae - Stalybridge Celtic; Anton Brown - Alfreton Town; Shaun Whalley - Droylsden; and Jamie Vardy - FC Halifax Town.

The game takes place at Hallam's Sandygate Stadium on Tuesday, October 19th with a 7.45pm kick-off".
---
11 October 2010
CUP DRAW
Alty are at home to Gateshead in the FAC4QR on 23 October; full list below.

It is the first time Alty have had a home draw at their entry stage since 2004, having been draw at Tamworth in 2005, Rushden (2006), Kendal Town (2007), Newcastle Blue Star (2008) and Mansfield Town (2009).
Mossley AFC v Darlington
Sheffield v Radcliffe Olympic or Tipton Town
Guiseley AFC v Redditch United
Fleetwood Town v Buxton
Altrincham v Gateshead
Vauxhall Motors v Newcastle Town
FC United Of Manchester v Barrow
Workington v Nuneaton Town
Tamworth v Grimsby Town
Kidderminster Harriers v York City
FC Halifax Town v Mansfield Town
Wrexham v Southport
Stalybridge Celtic v Eastwood Town
Droylsden v Barwell
Hythe Town v Staines Town
Cambridge United v Lewes
Corby Town v Salisbury City
Newport County v Crawley Town
Luton Town v St Albans City
Farnborough v Dover Athletic
Kettering Town v Rushden & Diamonds
Hendon v Metropolitan Police
Leiston v Canvey Island or Dartford
Basingstoke Town v AFC Wimbledon
Swindon Supermarine v Bath City
Havant & Waterlooville v Histon
Poole Town v Hayes & Yeading United
Ebbsfleet United v Boreham Wood
Leiston v Dartford
FIXTURES
Altrincham's next opponents are Fleetwood Town and before Sunday's game, they reported that "Assistant manager Craig Madden and first team coach Steve Macauley lined up alongside manager Micky Mellon for an unusual Saturday morning training session. The session was due to a switch to Sunday football for Town's first-ever live televised game from Highbury - with Cambridge United the visitors...

It's all about us keeping the momentum going now we are into a good run. There was a slight dip last weekend against Histon and we put ourselves back on track with an excellent performance at Wrexham. We are injury-free in all positions and we have lads chomping at the bit to come into the side... The quality of our opposition shows just how far Fleetwood Town has come over the last few years'".
FA CUP
The draw for the FA Cup 4th Qualifying Round is due to take place today (Monday) and will appear here as soon as known.
---
10 October 2010
SUNDAY GAMES
Fleetwood T. 2 Cambridge U. 2
Kidderminster H. 3 Grimsby T. 2
HISTON 3 ALTRINCHAM 0
Above: James Coates keeps his eye on the ball as Lanre Oyebanjo strikes Histon's opening goal from the penalty spot on Saturday.
After the game at Histon, Ken McKenna told the NL Paper "Histon were fitter, stronger and hungrier. They bullied us all over the park. This was probably Altrincham's biggest game for five years but we just didn't turn up. It was really disappointing after a four-match unbeaten run. But there can't be any excuses. We allowed ourselves to be outplayed and I can't honestly think of any positives for us".
Match report here.
MATT'S RECOVERY
The EvoStik press release for this week states that Alty's Matt Doughty (right) has signed forms for Curzon Ashton as part of his programme for regaining of fitness.
BALLOON RACE WINNER
On Non-League Day, last month, Altrincham FC supporters took part in a fundraising balloon race. The winning balloon race was purchased by long-time supporter Denis Massey, whose balloon travelled just short of 35 miles. In second place was Mike Ford, whose balloon travelled just over 31 miles. The club wishes to thank everyone who took part.
OLD BOYS
Ben Deegan scored for FC United as they won 5-2 away to Norton & Stockton Ancients in the FAC3QR yesterday.

An Alty trialist last year, Eddie Stanford, has moved to AFC Fylde from Stalybridge Celtic. Former Alty reserve, Richard Chetcuti has joined Radcliffe Borough from Warrington Town
NEXT GAME
Alty are at home to Fleetwood Town next Saturday:
Through the Years by Howard Watts for 16 October.
BSBP NEWS
The BBC reports that "Forest Green have revealed majority shareholder Dale Vince has replaced David Drew as chairman, just two months after investing in the club. Drew, who was MP for Stroud between 1997 and 2010, will continue on the board as a director.

'He felt it was time to hand over the reins to someone with more business experience', a club statement said. 'At the Board Meeting on Friday evening [October 8] it was felt that Dale was just the right person'. Mark Coles has also stood down as a director following the same board meeting due to his own business commitments".

According to the Northern Echo, "Darlington's season slumped to a low today as they lost at home to non-league [i.e. as Darlington also are] Hayes & Yeading and sank to 13th in the table...

Quakers have lost three in a row and today's game was played out amid rumours surrounding the future of manager Mark Cooper. After the game at The Northern Echo Arena he confirmed he remains manager, but speculation continues regarding his position.

Attention was drawn to Cooper because, unlike in previous matches, he remained seated in the dug-out which led to suggestions he was not even at the Arena...

Chairman Raj Singh, managing director Graham Fordy and operations manager Gary Pallister took their places in in the directors box – 15 minutes after the second half had started.

Around that time Cooper made his first appearance in the technical area and it is understood he had been in negotiations with the hierarchy over his future...

[One Darlington miss] was so bad it preceded a crescendo of boos which is just how the final whistle was predictably greeted".
---
9 October 2010
HISTON 3 ALTRINCHAM 0
Altrincham failed to land a shot on target in this mediocre game at Histon. Match report here.

Right: Michael Welch, Alty's no.22, contests an aerial ball with Histon's no.22, Lee Smith.
Alty line-ups
Saturday's games:
Barrow AFC 1 Crawley Town 1
Bath City 1 Eastbourne Borough 1
Darlington 0 Hayes & Yeading Utd 1
Gateshead FC 3 Tamworth 1
Histon 3 ALTRINCHAM 0
Newport County 4 York City 0
Rushden & Diamonds 1 Mansfield Town 0
Southport 1 Kettering Town 2
Wrexham 1 AFC Wimbledon 2
GAME OFF
This Sunday's match between the Altrincham & District FA and Crewe & District FA youth teams has been postponed. This is because Crewe have some players involved for local teams in county cup matches.
HISTON'S "VERY WINNABLE GAME"
Wifi reception permitting, there will be the usual live matchday updates on Saturday afternoon from Histon on this site's Matchday Update page.
In advance of Saturday's game with Altrincham, the BBC says that "Histon striker Omer Riza is unlikely to feature as he continues to struggle with a hamstring injury. Defender Callum Stewart (ankle) is also unlikely to feature, but striker Antonio Murray is expected to shake off a hamstring problem in time to play.
Altrincham will welcome back [? he has started the last four games] striker Chris Denham, who has fully recovered from the flu. Defenders Ryan Brown (right) and Michael Welch (muscle strains) and winger Nicky Clee will face late fitness tests".
Histon have a video interview with their manager David Livermore in which he says that the match with Alty is "a game that's very winnable".
The Cambridge News adds that "David Livermore is urging his players not to get too carried away by recent results as Histon prepare to take on bottom club Altrincham tomorrow. Confidence has come flooding back to the team after Tuesday night's win over Southport, which followed a 1-1 draw at Fleetwood the previous weekend.
But while Livermore believes Altrincham and next week's opponents Forest Green Rovers are teams the Stutes are capable of beating, he is keen to guard against complacency. 'The next two games are very winnable', he said. 'Maximum points would be fantastic but at the same time we've got to keep our feet on the floor. It was a good result the other day and it was a good result at the weekend, but if we don't get anything against Altrincham then the two previous results mean nothing. If we start how we did on Tuesday with the same tempo and desire, not only will we cause Altrincham problems, we'll cause other teams problems too'.
Omer Riza remains a doubt with a hamstring injury and will face a late test to see if he will play alongside Antonio Murray up front. Otherwise, Livermore has no other injury concerns and is likely to field the same team that won in midweek.
'The 4-5-1 shape or 4-2-3-1 is suiting the lads better', he said. 'It allows Erkan and Lee (Wootton) to do what they're good at, which is sit in there, be disciplined and win second balls. We look more compact but still maintain that threat going forward. We've got everyone playing in positions that suit them'.
Histon have not yet kept a clean sheet this season but, with the team in resurgent form, Livermore is confident they will improve defensively. Livermore confirmed the club were looking to extend QPR defender Danny Fitzsimons's loan for another month, while Femi Ilesanmi's deal is also set to continue'".
THE ROAD TO WEMBLEY - MAY BE CLOSED
Despite an announcement on the BBC this morning that the M56 would be closed at the Bowdon junction this weekend, the Highways Agency announces that the replacement of the motorway's Bowdon View Bridge, "which carries westbound traffic from Manchester off the M56 at Junction 7 and over the M56 to Bowdon Roundabout, where it links to the A556", will not now take place till next week. This is the second successive week that the work has been postponed.

The Agency says "As we will be carrying out works to the bridge we will make improvements to the M56 Junction 7 westbound at the same time". Paul Hampson, Assistant Project Manager adds "I am pleased to confirm the revised dates for the demolition and replacement of the M56 Bowdon View Bridge. The bridge will be demolished on the weekend commencing Friday 15th October to Monday 18th October. The new bridge will be installed the following weekend, commencing on Friday 22nd October to Monday 25th October".

The Agency explains that each weekend, "The closures will commence at 10pm Friday evenings and be lifted by 5am Monday mornings. The M56 will be closed from Junction 6 to Junction 8 for westbound traffic (heading towards Chester) and from Junction 9 to Junction 7 for eastbound traffic (heading towards Manchester)". Whether Alty are affected by this or not depends on Monday's FA Cup draw as 23 October is 4th Qualifying Round day, so hopefully the road to Wembley will not involve us using the M56.

The Agency continues, "We will be diverting traffic onto the motorway network for each weekend. Traffic travelling eastbound on the M56 towards Manchester will be diverted via the M6, M62 and M60. For traffic travelling towards Manchester Airport the diversion will be via the M6 and A556. We will divert traffic travelling westbound on the M56 towards Chester off the motorway at Junction 6 to return on the M56 eastbound, then on to the M60, M62 and M6".
MOSS LANE ENTERTAINMENT
Altrincham FC supporter and gateman, Nigel Hennerley writes about the forthcoming gigs at Moss Lane:

The harbingers (22nd October 2010)
The harbingers are a tight indie-rock outfit based in Timperley. John Robb (Goldblade) once described them in City Life magazine as harking back to prime time 'Wedding Present'.
They are:
Guitars & Vocals: Mike Benson – The driving force of the band and a regular Alty fan.
Drums: Jim Benson – Mike's brother. Also a big Alty fan. Jim is the life and soul of the band.
Bass Guitar: Ian Price – Original band member, also from Timperley. Ian is a rock – does the business.
2nd Guitar: Nigel Hennerley – I knew Mike and Jim for years on the terraces here at Alty. One day they asked me to try out with the band – two years on, I am still on probation and currently recording our second album together.
More on harbingers.

Real Young and the Lazy Horse (26th November 2010)

As you may have gathered from the name, this is a Neil Young tribute band – but with a hard rock edge. They are:
Guitars & Vocals: Simon Foster – Guitar player with well known North West bank. Cheapskates – awesome. Enough said!
Drums: Jim Fallon – another regular here at Moss Lane with his dad. Jim runs his own drum school and is an ace drummer – hits the skins real hard – in fact he is one of the best drummers I have ever played with (the other one is Jim Benson)
Bass Guitar: Manuel Kochgruber – Mani moved from Switzerland to be in this band - when he was 6. He is the most laid back person I know and a fantastic musician. He also plays in another band – The Replicants
2nd Guitar: Nigel Hennerley – I have been a Neil Young fan since the 70s when I first picked up the guitar with a Neil Young song book. So when I was asked, last year, to rehearse with the band, I didn't need to be asked twice. I am not too sure about tribute bands as a rule, but this seems different, we do things our own way.

So there it is – I hope this will appeal to someone out there – please come along, listen to the band(s), have a beer and help support the club.

Peace and love

Nigel Hennerley"
OLD BOYS
There are Neil Youngs everywhere in the news today as the Chester Chronicle reports that AFC Chester manager "Neil Young's delight at bolstering his squad with three new additions has been tempered by the loss of Roger Sharrock to injury. Young has swooped for Kyle Wilson, Tom McCready (left) and Gareth Evans – the latter's arrival paving the way for Danny Meadowcroft to go out on loan – but the Blues boss will be without Sharrock for up to six weeks as the winger bids to cure a long-standing back problem... 'Tom is looking really good in training and we're looking forward to bringing him on', said Young, who has yet to settle on his strongest central-midfield combination".

Tom (left) has made just two substitute appearances for Altrincham this season.
BSBP NEWS
According to the Southport Visiter "Chris Simm will be recalled from his loan by Southport - as manager Liam Watson blames himself for Matty McNeil's latest injury set-back. The Sandgrounders' boss was last night expected to make the call to transfer-listed Simm and request he returns to Haig Avenue.

However, as contrary to what was originally understood, Simm will now not be eligible to play for the Yellows until next Saturday's trip to Grimsby with 28 days of his loan deal at Clitheroe ending after their match with Bamber Bridge tomorrow afternoon. Meanwhile, Port are to be without forward McNeil for Saturday's visit of Kettering Town after he picked up another groin strain in the midweek defeat at Histon.

The summer signing recovered from a similar injury to inspire Southport to victory over Tamworth last weekend but last only 35 minutes of Tuesday night's game against the Stutes and Watson feels he was too demanding on his target man. 'Matty has got a little strain on the other side of his groin but I blame myself', said Watson. 'We got him through 90 minutes on Saturday against Tamworth and then played him on Tuesday. I've got to take into account that when he is carrying a slight injury, that he is 34-years-old and asking him to play a further 90 minutes after a four-and-a-half hour bus ride down to Histon, is maybe too much. I've probably been immensely stupid and need to manage Matty much better because he is a player of such massive importance for us. I don't think the injury is anything long-term, it's just a minor set-back. I will recall Simo and he will be available to play in the Grimsby match but for Saturday we'll have to use Steve Daly, Tony Gray and young Alan Collins'".

There is always an interesting read on the 200% site. "Hayes & Yeading United... prepare to leave their Church Road home. Their old ground will be bulldozed and the club intends to move to its other home, which it intends to redevelop.

That Hayes & Yeading have two homes is the legacy of their origins. The club was formed as a merger of Hayes FC and Yeading FC in 2007 and since then has been playing its matches at Hayes's former home, while The Warren, the former home of Yeading, has been used for reserve and youth team matches, as well as for training and its social facilities. However, at a council meeting last month planning permission was granted by the London Borough of Hillingdon for one hundred and eighty-three dwellings to be built upon the Church Road site, which opened in 1920. The football club has negotiated a deal for the sale of the land with Barratt Homes, and it is now expected that the club will leave its home in the next couple of years or so...

The club states that plenty of money will be made available for redevelopment of The Warren, but to what extent will they actually be able to redevelop their other home? ... If one thing is clear it is just how cramped The Warren is... and the ground doesn't have terracing along one side and behind one goal. Moreover, access to the ground only comes from one small road at the end of what is effectively a cul-de-sac. The flip-side to this, Church Road, is a vast ground of traditional non-league dimensions. In terms of space alone, Church Road would seem to be a much better prospect for development as a football ground for the twenty-first century, but it is also in a residential area and is, presumably worth more money".

The York Press reports that "Two York City players and a former team-mate have narrowly avoided jail for their city centre violence following a team bonding session. Recorder Colin Burn told City strikers Michael Gash and Michael Rankine and former winger Craig Nelthorpe they had behaved like thugs even though young men and boys looked up to them as role models...

He told them to pay court bills totalling £3,850 and do 400 hours' unpaid work for the community... The previous day, all three had played in City's pre-season friendly at AFC Halifax Town, which York lost 3-1 and in which Nelthorpe had been sent off. After their return to York, the players held a team bonding session at The Gallery nightclub...

David Brooke, prosecuting, showed CCTV film of the incident outside the shop that began with Rankine behaving aggressively towards Oliver Powell, who was out enjoying himself with his friends after their shift in local pubs finished. Rankine briefly walked away, but his actions sparked more violence. Nelthorpe pulled Mr Powell to the ground and kicked him then when Mr Powell got up, Gash pulled him to the ground again and kicked out at him. Rankine also joined in the fracas. Mr Powell suffered facial injuries including a chipped tooth.

Nelthorpe ran away and hid by the river but was arrested the same night, as were the other two. Gash, 24, of Carrs Meadow, Escrick, who had joined the club only days before the incident, and Nelthorpe, 23, formerly of Edgbaston Way, Edlington, near Doncaster, who has since left York City and now plays for Gateshead, both pleaded guilty to affray. Rankine, 25, of Weston Road, Doncaster, pleaded guilty to a public order offence.

All three must pay Mr Powell £150 compensation each. Gash was told to do 180 hours' unpaid work for the community, Nelthorpe 140 and Rankine 80. Gash, who pleaded guilty on the day of his trial was told to pay £1,600 prosecution costs. Rankine and Nelthorpe, who pleaded guilty earlier, have to pay £900 costs each.

Barristers for all three said they had behaved out of character and were sorry for their actions. For Rankine, Taryn Turner said he didn't hit Mr Powell. For Nelthorpe, Chris Smith said he had curbed his drinking".

The BBC says that "Cambridge United have brought in Charlton Athletic midfielder Alexander Stavrinou for a 28-day loan spell. The 20-year-old played 22 times in the Blue Square Premier for Ebbsfleet during a loan spell last season.

U's boss Martin Ling said: "I saw Alex play a couple of times for Ebbsfleet last year and I've also seen him play for Charlton reserves... Ling was given funds to bolster his squad after a series of injuries had left him short on central midfield options... Stavrinou, who is English-born but has represented Cyprus at under-17 level, is a product of the Addicks' youth academy but has made just three appearances for the London club".

From The Argus we learn that "Crawley co-owner Sue Carter says there would need to be a 'major crisis' for the club to launch another spending spree in the January transfer window. Carter, who owns the club with Bruce Winfield, was reacting to stories that boss Steve Evans had been promised a £1m war chest to further improve the squad which are top of the Blue Square Bet premier.

She said: 'I have no idea where these stories come from. Who would worry about January at the beginning of October when we are top of the league and with arguably the best squad in the club's history? We have got cover in every position and unless there was a major crisis I don't think we will be looking to add to it. That was the mistake Oxford made last season when they brought in five players during the transfer window which certainly unsettled them whereas Stevenage didn't change their squad after November.

Of course we would look at it if we had injuries or another problem and we would take into account our league position and deal with it but to say X amount is available or that we would need to spend X amount is complete and utter rubbish'.

Boss Steve Evans admits there are areas of the team 'where we could be stronger' ... He said: 'I am not going to spend money just because Bruce and Sue say the funds are there - that would be a foolish approach. To be honest, we are looking at League One and Championship players. I reckon all our players bar a couple could already play in League Two'...

Carter said that the club have already begun the lengthy process of ensuring that they were ready for the Football League should they gain promotion. The Broadfield Stadium capacity of 4,996 meets League requirements but other issues have to be addressed. Carter said: 'We're not getting ahead of ourselves. You have to have everything in place before the end of the year and there is an awful lot of work... We have brought in a new commercial manager and operations director and the next employment probably won't be players, it would be off-the-field staff to make sure we are adequately covered'...

Reds' rise to the top of the table has been reflected at the gate with attendances up 57% this season – the biggest increase among clubs in all four of the leagues at the top end of the non-league pyramid. But their average home gate is 1,575 and Carter says it is 'some way short' of where the club would like it to be...

Carter said: 'Now we need existing fans to keep coming and encourage others to come as well, even if they don't come to every game. Otherwise we would have to think long-term about the sustainability of what we are doing. I don't think it is fair to expect a club to exist on the charitable donations of one or more individuals. We would need a bigger core support than 1,500 to flourish in the Football League should we get there'".

A club with less cash at its disposal is the subject of a report in the Express & Star which says that "Kidderminster Harriers are looking for an annual injection of around six-figures to let the club change ownership after putting it up for sale. Harriers could initially change hands for nothing, but any potential buyer would have to sign an iron-clad contract of a starting figure they would bring to the club over a sustained period...

That is what chairman Barry Norgrove believes it will take for Harriers to properly go forward and compete in the Blue Square Premier, as he puts in motion his own plans to faze [phase] himself out of the picture after five years in the role. The Aggborough ground is owned by Wyre Forest District Council but there are 40 years left on the lease and, significantly, the club have no big debts.

And Norgrove wants no personal return on his investment, which started with the £400,000 that his business consortium paid Lionel Newton for the controlling interest in 2005. He said: 'I just want someone who will take on Kidderminster Harriers and keep them safe... but there would have to be a binding agreement to how much money they are going to put into the club. It has got to be a reasonable figure, because the club would never survive otherwise'... But there's no rush, I am going to take it slowly and get it right'".

The Northern Echo reports that "Darlington's search for a striker has ended with the capture of Jefferson Louis (31)... With his team struggling for goals, scoring only twice in the last four games, manager Mark Cooper has been looking for a forward in recent weeks with Danny Powell arriving on loan from MK Dons. But Liam Hatch is struggling with injury and form while Tommy Wright has only just returned to action following an ankle problem. So Cooper has turned to Louis who is a veteran of the non-league scene having represented 21 different clubs. He finished last season with Rushden & Diamonds and started the current campaign with Gainsborough Trinity".
---
8 October 2010
THURSDAY SCORE
Forest Green Rovers 3 Grimsby Town 3
League table
LANDMARKS
Pictured, right, are the only two players to have started every game for Altrincham this season. They are defenders Robbie Williams (left) and James Smith (centre), who are seen here, with Marc Joseph, keeping an eye on Rushden's Tim Sills last Saturday.
Congratulations go to Anthony Danylyk who made his 100th start for Altrincham in the game against Rushden; in all he has made 109 appearances. He just pipped Shaun Densmore to the century; Shaun made his 99th start but 100th appearance in the same match last Saturday. Another recent landmark was Nicky Clee's 50th appearance for Alty at Eastbourne.
KEN'S ANALYSIS
Altrincham FC's joint Press officer, John Edwards writes:

"Ken McKenna admitted he feared fatigue was threatening to sabotage Altrincham's recent revival but saluted the never-say-die spirit that salvaged a last-gasp point against Rushden and Diamonds last Saturday.

Alty went ahead with an early header from Damian Reeves but conceded a penalty, for a foul by skipper Robbie Lawton, and second goal to a defensive mix-up before salvaging a 2-2 draw with a set-piece equaliser from Robbie Williams.

If their fourth game without defeat lacked some of the spark of their three previous performances, McKenna knew exactly why. 'There were some weary legs out there, and if you look at the mistakes we made, they were tired, unforced ones,' said Alty's caretaker-boss.

'For the penalty, Robbie was jockeying their player, who was out on the left of the area and going nowhere, and he had Shaun Densmore covering behind. Nine times out of 10, a fresh Robbie Lawton would not have made that challenge.

'Similarly, for the second goal, there was no threat when the ball came over. But tired minds led to a mix-up, and we gifted them another goal. It's disappointing, because, while our goals were clear cut and well worked, theirs were both giveaways.
'The fatigue is understandable, when you've got jobs in between playing and are up against full-time players. But I've got an honest, hard-working bunch of lads, and it says a lot for them that they kept going and got their reward.' In a manner that underlines why he is the overwhelming choice to become permanent manager, McKenna made it clear there will be no resting on laurels. He wants more from the likes of Nicky Clee [left], and the team as a whole.
'It was fantastic wing play from Nicky for the first goal,' he said. 'But there needs to be a higher percentage of end product. It has been a great response from everyone over the past couple of weeks, but we have to start turning some of the draws into wins. If we are to get away from the bottom, we need wins.'
McKenna is awaiting fitness checks on several players, ahead of Saturday's crucial trip to Histon".
BSBP NEWS
From the Football Conference we learn that "Gateshead have signed midfield man Shane Clarke on an initial one-month contract following the 22-year-old's release from Lincoln City at the end of August. Clark put pen-to-paper before Wednesday night's 4-1 friendly win at Chester-le-Street where he scored the Tynesiders' third goal. Last season the midfielder played thirty-three games for Lincoln but was subsequently transfer-listed and then allowed to leave by recently departed manager Chris Sutton. Clarke has been training withHinckley United since he agreed to have his contract paid up by Lincoln and will now attempt to secure a longer term deal at Gateshead.

'I have spoken to Paul Musselwhite at Lincoln City about the player and he believes Clarke can do a job sitting in midfield', said manager Ian Bogie. 'He hasn't played for awhile and the pitch wasn't great at Chester Moor but it will have done him good to get a game under his belt. He has had a month out of the game and hopefully a new environment will bring the best out of him and he can get his appetite for the game back. We are taking a bit of a gamble but it is one worth taking as we are still looking to bring a couple of players into the club. A combative midfielder is one requirement and hopefully Clarke will show he can fill that role'...

Gambian wide man Bakary Bojang was also on the scoresheet against the Cestrians along with Andy Ferrell and Josh Gillies. The 24-year-old was previously on Danish club OB Odense's books and had trials at several clubs in the summer including Tranmere Rovers and Hartlepool United... Added Bogie, 'He has been recommended by Brian Honour, who has had him at Horden CW this season. We've also got an American midfielder who will be training with us from Thursday and we'll have a look at him during the reserves' game at Hartlepool United next week'".

According to Blue Square Football "Forest Green Rovers have parted ways with midfielder Ben Gill after he struggled to make an impact at the club. Gill joined Rovers on a month-to-month contract in September, making two starts and one substitute appearance and boss David Hockaday has decided not to take up the option of another month. The 22-year-old former Watford, Cheltenham Town, Crawley Town and Weymouth player started his playing days as an Arsenal trainee and knows Hockaday from his time with The Hornets. He joined Rovers after a spell with Slovenian club Interblock Ljubljana".

The BBC reports that "Cambridge United boss Martin Ling says he has been given funds to bring in a loan signing. The U's are in the midst of an injury crisis with six first-team players sidelined through injury. Ling told BBC Radio Cambridgeshire: 'I'm hoping to fetch someone in over the next 48 hours. If we can just fetch in one more player who has experience and has done a job at a higher level I think it can release a bit of tension. I would say I've got about eight names on my list. We're halfway down it. It needs to be a midfield player. We're pulling my knowledge together along with Paul [Carden, assistant-manager] and John's [Schofield, coach] and then we'll come up with what I believe to be the right answer'.

With Cambridge floundering in the Blue Square Bet Premier relegation zone the club's board decided to give their manager public backing on Wednesday... 'I've seen votes of confidence that haven't meant what it says on the tin', he said. 'You could have a vote of confidence and you ask if there's any money and they say "no". I know they've got a belief in me, they know it's a three-year plan, it's only 15 months old but did I expect to be in the bottom four again? The answer's no'.

Ling has been handed some good news on the injury front, with defender Josh Coulson likely to recover from a back injury for Sunday's trip to Fleetwood".
GRAHAM LINKED WITH STAFFORD
From Staffordshire, the Express & Star says that "Graham Heathcote has moved into pole position to become the new manager of Blue Square Bet North Stafford Rangers after admitting his interest in the job. The 56-year-old forms a race that includes former AFC Telford United and Hednesford Town boss Bernard McNally, along with Bridgnorth Town`s management team of Lee Mills and Tony Dinning...
Heathcote has refused to rule himself out and wants a quick return to the game after being sacked [left by mutual consent] by Altrincham last month. His experience would appeal to the Marston Road board nearly eight years at Moss Lane as manager and he also counts former Rangers' chairman Jon Downing, still a director at the club, as a personal friend.
The board are due to meet at Thursday night's monthly general meeting to discuss who will replace Chris Brindley, who quit on Tuesday, and Heathcote is happy to be a name under consideration. He said: 'I hope to get back into management as quickly as possible, but it's about finding the right club. I would certainly be interested in going somewhere with a history and a desire to get back where that has took them in the past. Stafford Rangers would certainly get my due consideration, that's for sure'.
Heathcote was even at Marston Road for Rangers' last home game, when they were dumped out of the FA Cup by Eastwood Town, which spelled the beginning of the end for Brindley. But the free agent denies he was being lined up to be the club new manager while the old boss was still in charge. He said: "I have probably seen a dozen games in the last three weeks, what I am trying to do is take in the levels of non-league football that I haven't been involved in for some years.
'I was watching Eccleshall the other night, doesn't mean I am going to be their next manager!'".
---
7 October 2010
NEXT OPPONENTS
News of Alty's next opponents comes from the Cambridge News. "Goals from Remi Clerima and skipper Antonio Murray gave Histon a valuable win over Southport [on Tuesday]... in a first-half display full of attacking endeavour and quality...

Histon boss David Livermore started with the same team that drew 1-1 at Fleetwood at the weekend, but with Romone McCrae pushed forward into a more attacking role alongside Murray... The 1-1 draw at Fleetwood at the weekend gave Histon a much-needed confidence boost and it showed in the way they played last night...

Livermore was full of praise for the whole team, but was especially pleased with wingers Daniel Sparkes and Lee Smith, whose disciplined display helped subdue the visitors in the second half. Livermore said: 'Usually with wide players you have to get them to work harder to get back into shape, but they both do it naturally. They're very fit lads, enthusiastic and have quality. When they get the ball in the right areas they can hurt teams'".
BSBP NEWS
The BBC says that "Kidderminster Harriers have been put up for sale by chairman Barry Norgrove. The mid-table Blue Square Bet Premier club have struggled to attract crowds to Aggborough since being relegated from the Football League in 2005. And Norgrove has offered to step down as the club's chairman in a bid to help attract new investors.

'I feel I am holding the club back. We need fresh investment to get to the higher end of the table and I do not have the finances to do that', he said. 'I have been here for 10 years and have done all I possibly can, and we have had some success along the way. But I just feel now that, with my own business struggling, and with the tragic loss of one of our directors earlier this year in Gordon Howard, I am not in a position to take Kidderminster Harriers forward in the way I would like. There are people out there looking for football clubs - I know that for a fact. I have made this decision and it is final - I really do hope that we can find the right person or people to help push us on'".

The York Press reports that "Andy Porter has left York City. The caretaker boss, who had been in charge for four matches following the resignation of manager Martin Foyle, departed after [Tuesday's] 1-0 loss to Kettering at Bootham Crescent. Porter joined the Minstermen as assistant manager to Foyle at the end of December 2008.

A statement from the City board said: 'Following last night's match against Kettering, Andy Porter has completed his duties as caretaker manager and has left the club... After receiving a number of applications for the position of manager, the board of directors has compiled a short list and is in the process of interviewing prospective candidates. The club hopes to make an announcement regarding the appointment of York City's new manager as soon as possible. We would like to thank our fans for their continued support and patience following the surprise resignation of Martin Foyle'".

However, NL Daily reports that "York City have brought in experienced striker Mark Beesley on a month's loan from league rivals Fleetwood Town. Beesley began his career at Preston before spending three and a half seasons at Chester City. He joined Hereford United in December 2003 and made fifteen appearances for the Bulls. He moved onto Forest Green Rovers in June 2004 and moved back to the north west for a loan spell with Lancaster City in August 2004. He returned to Forest Green and enjoyed a strong run up front for Rovers before signing for Cambridge United in January 2008 for a five-figure fee. He joined the Cod Army in the summer".

And "Kettering Town have added to their squad by signing former MK Dons` midfielder Nick McKoy. McKoy started his career as a trainee with Wimbledon, staying with them when they moved from London and became MK Dons. He then joined Cardiff City spending the end of the 2006/07 season on loan at Torquay. After trials with a number of clubs and a single appearance for Potters Bar Town, he signed a short-term contract with St Johnstone in August 2008 and made six appearances before returning to England with Enfield Town. He followed Steve Browne from Town to Grays Athletic in June 2009, but left without making an appearance and had a brief spell with Bishop`s Stortford before finishing up at Sutton United. However, towards the end of January 2010 he left Gander Green Lane for 'personal reasons'".

According to NL News 24 "French defender Julian Cherel has signed on non-contract terms for Mansfield Town. The ex-Hartlepool centre half, 27, stands at 6ft 5ins and was initially brought in as cover for Chris Smith, who has been suffering with illness recently. Manager David Holdsworth told This Is Nottingham: 'He is a talented player who has been training with Oldham. I will assess Julian's progress to see if he is worthy of a longer deal'".

Meanwhile, "Winger David McDermott has been released by York City, having only managed four substitute appearances this season... McDermott's departure has paved the way for new striker David Dowson on the wage bill, with caretaker manager Andy Porter telling The Press, York: 'We felt he just did not perform enough to take him on for another month... So we brought Dowson in instead to get something different up front'".

From Blue Square Football we learn that "Mansfield Town will start the search for a new goalkeeper after Alan Marriott was ruled out of action for up to three months. The Stags' stopper has been carrying the groin injury since pre-season but it reached a head on Tuesday when he was forced off at half time in their 5-2 defeat to AFC Wimbledon. The 32-year-old former Lincoln City and Rushden & Diamonds keeper will undergo an operation with Neil Collett, who replaced him at Field Mill, Mansfield's only recognised gloveman.

Boss David Holdsworth told This is Nottingham: 'It is a massive blow for us and not what we wanted. We want Alan back as soon as possible, but we are looking at two to three months. When players get injured they need replacing... Neil has done a good job and I know I can rely on him but he is probably not ready for a whole season in the Blue Square Premier yet'".

Mansfield Town themselves add that "David Holdsworth has moved swiftly to replace injured goalkeeper Alan Marriott by the loan signing of Mihkel Aksalu from Sheffield United. The 26-year-old Estonian international, who has signed a two month loan deal, joined the Championship club midway through last season and has made two appearances for the Blades' reserve team".

The Uxbridge Gazette says that "Michael Malcolm has promised Hayes & Yeading fans that the best is still to come from him after his loan deal from Crawley Town was extended. The 24-year-old forward's initial spell at Church Road expired yesterday (Tuesday), but Hayes & Yeading boss Garry Haylock decided to extend it for another month with young striker Danny Wishart having joined Hendon for the same duration...

'I feel that Garry has given me more confidence and I am getting more fitness back. I am feeling more confident in games and I believe that there is a lot more to come from me. That is especially with the way that we play as it is total football and it suits me. I am enjoying it a lot here and it is nice to extend the deal'" said Malcolm.
---
6 October 2010
YANKEE
The Altrincham FC Saturday Yankee jackpot now stands at £600, which can be won for a £1 weekly stake. Last week there were three "treble" winners, each netting £66.67. The unclaimed jackpot code was 1863.
HOME AND AWAY
Former Alty chairman Geoff Goodwin's coach and bus company, "Go Goodwins", now operates several scheduled routes in the Sale and Partington area and these services offer free transport for holders of Altrincham FC season tickets to and from Alty's home games at Moss Lane. Pictured right is one of Geoff's new buses on the 252 route between Sale and Partington.
TASC (The Altrincham Supporters' Club) chairman Brian Flynn writes:
42-Seater Coach Booked for Histon
With 27 seats already booked, as of Tuesday morning, we have taken the decision to increase the capacity of Saturday's Supporters' Coach from 30 to 42. Whilst this involves additional cost, we feel that Saturday's game is important enough to justify this and we want to give all Alty fans the chance to see the match.
Prices remain as originally advertised and the 42 seater coach will afford everyone a higher level of travelling comfort.
Please call the club on 0161 928 1045 to reserve your seat and let's all get down to Cambridgeshire on Saturday to support the lads!"
Details of the fares and pick-up points are here.
MID-WEEK
Tuesday 5 October
Hayes & Yeading Utd 2 Cambridge United 0 att.362
Histon 2 Southport 1 att.368
Kidderminster Harriers 2 Gateshead FC 1
Luton Town 1 Crawley Town 2
Mansfield Town 2 AFC Wimbledon 5
Newport County 3 Eastbourne Borough 3
Rushden & Diamonds 2 Darlington 1
Tamworth 2 Barrow AFC 2
Wrexham 0 Fleetwood Town 0
York City 0 Kettering Town 1
League table
Cheshire Senior Cup
Nantwich Town 0 Stalybridge Celtic 1

Thursday 7 October
Forest Green Rovers v Grimsby Town
BSBP NEWS
The BBC says that "Crawley Town boss Steve Evans has denied newspaper reports that he will be given £1m to spend in January. Evans was handed a major transfer budget during the summer, signing York striker Richard Brodie and Salisbury's Matt Tubbs amongst others. But following the report in Sunday's Non League Paper, he told the BBC Non League Show: 'It's a load of rubbish. It's full of ill-truths, it's not true and it's not how we work the system at Crawley Town... Nothing's changed since the summer when we were given some transfer funds and an appropriate budget to compete at the top. We recommend players and the board then make a decision'...

He said: 'We believe it'll be January or February before the squad starts to gel and mature together. If this was January and I was offered some transfer funds, I'd say 'no' because I'm delighted with the squad we've got'. But he did add: 'We're always looking for players. Principally, we've got three people [scouts] that work a lot of hours for us. We've got a lot of others who try to help. We're always looking to better what we have got. That process is quite thorough, it's more than one person looking. First our chief scout goes, then we have a second representative go and give an opinion and we take a balance on the two'.

When asked who is bank-rolling the club, he said: 'I don't know who they are. All I know is that Bruce Winfield has a massive investment in the club, as does Susan Carter. And Bruce has a couple of associates that he has known for 10 years. My relationship and dealings are purely with Bruce and Susan'.

But when asked if this was against Football Association rules, he added: 'Bruce is the majority shareholder and the majority of the money comes from Bruce and Susan. The board are very honourable people... There is no war chest', he said. 'My understanding from Bruce is that the money for Project Promotion has been put in the bank for 12 months. We don't owe any other club a penny, they've all been paid within seven days'.

Evans also laughed off claims that he could become the next Lincoln boss or that Steve Coppell could replace him at the Broadfield Stadium".
---
5 October 2010
NEXT TWO OPPONENTS
Altrincham's next two league opponents met last Saturday when Fleetwood Town and Histon drew 1-1.

Saturday's referee for Histon v Altrincham is Mr C.J. Knowles who appears to have got where he is today without reffing Alty previously. Details of TASC's supporters' coach to this game are on the Away Travel page.

Mike Garnett's statistics reveal that we have yet to win or even score a goal at Histon...
At Home: P3, W1, D0 L2, F3, A4
Away: P3, W0, D1, L2, F0 A2
Total: P6, W1, D1, L4, F3 A6

The Blackpool Gazette says of Fleetwood Town 1 Histon 1 that "Managers often trot out the cliché that there is no such thing as an easy game, even against struggling opposition, but that sentiment rang out loud and true at Highbury. Histon may have arrived on the back of five straight defeats, but they proved stubborn opposition to put an unexpected brake on the home side's promotion drive...

Even with 10 men, Fleetwood managed to inch ahead with Magno Vieira's tenth goal of the campaign, but that advantage lasted all of five minutes as the village side from Cambridgeshire levelled... Histon: Welch, Oyebanjo, Fitzsimons, Clerima, Ilesanmi, Smith, Okay, Wootton, Sparkes, McCrae (Mills 75), Murray; subs not used: Lawton, Clarke, Stevenson, Adjei".

"Fleetwood manager Micky Mellon and his skipper Steve McNulty echoed each other's sentiments that their side failed to do enough to overcome dogged Histon on Saturday. Mellon said, 'We knew Histon would set their stall out to get something out of the game and we got nowhere near the levels we have been achieving in previous weeks. We never passed the ball well enough and we never got it to the frontmen quickly enough'".

Alty play Fleetwood a week on Saturday and "Town are now unbeaten in eight games but defender McNulty remarked: "It was frustrating that we didn't get the three points. Teams are going to set up like that and be negative, but we have to have more about us... The points keep Town in third place but McNulty said any speculation about promotion was wide of the mark. 'The talent in the dressing room is unbelievable – that is why we are disappointed at not beating Histon – but there is no talk of promotion. At the moment we are over-achieving. We need to reach 55 points to stay in the league and we'll see what happens after that'.

Striker Adam Warlow has been back on the Fleetwood training ground but there is still no indication of any imminent return to action".

The Cambridge News adds that "David Livermore admitted some disappointment after Histon ended a run of five straight defeats with a 1-1 draw at high-flying Fleetwood Town... With the hosts reduced to 10 men after the 53rd-minute dismissal of Jamie McGuire, he felt Town were there for the taking...

'Our aim was to try to stay in the game as long as we could and we did that' said Livermore. 'There was an opportunity there for three points and what a great three points that would have been here. But the positive is that we've frustrated a decent side'...

The return of Lanre Oyebanjo and Murray to the starting line-up was especially pleasing, the former crossing for the latter to head home the equaliser. Livermore said: 'We've missed Antonio and Lanre dearly. They've both come in and have done fantastically well. It shows what a difference a couple more experienced heads can do for a team'".

"The only other change by the Stutes boss saw Femi Ilesanmi switch back to the centre of defence with Danny Fitzsimons moving to leftback and the result was a far more assured display from the Dagenham & Redbridge defender. Playing in a 4-5-1 formation, Histon's primary objective was to disrupt Fleetwood's rhythm and stop them stamping their authority on the game... Histon will take renewed confidence from the performance, and the result. After a bleak couple of weeks, the Stutes once again have some cause for optimism".
THANK YOU
Altrincham FC thanks all who contributed to Saturday's bucket collection for the Sahara Stomp in aid of the Children's Farm trust at Bollington. It raised £75.15. The farm relies solely upon fundraising and donations and this allows them to provide holidays or day trips for young children who are terminally ill, sick, disabled and disadvantaged, as well as those who act as young carers and who have been bereaved.

Donations can also be made at Just Giving.
GOLF DAY
TASC (The Altrincham Supporters' Club) is pleased to announce details of the third Golf Day for Altrincham supporters.

Details of the event are as follows:-
Date: Friday October 29th 2010
Venue: Mobberley Golf Club
Tee-Times: From 11.00 am

The cost is £30 per person and for this you get the following:-
Tea/coffee and bacon roll beforehand (from 10.00am).
20 minutes Golf Coaching from Gary Donnison, the Mobberley Golf Club Professional, prior to teeing off.
18 holes (4-ball, Stableford points system).
A pint in the bar afterwards.
Prizes, (Top 3/Highest Points Scorers/Longest Drive/Nearest The Pin/Booby Prize for worst score)

Please contact Brian Flynn on 07860 561011 or by e-mail to book your place or should you need further information. All profits will go to Altrincham Football Club.
OLD BOYS
Congratulations go to a former Alty Youth goalkeeper, of whom the Vodkat league says "Maine Road goalkeeper Andrew Jones celebrated his 100th consecutive appearance for the club when he took the field for the FA Vase tie against AFC Blackpool on Saturday. Road manager Ian Walker paid tribute to his 20 year-old keeper's performances.

'Andrew has been a consistent performer for us since he came into the side. He was dropped in at the deep end a bit after our previous keeper left to join FC United, and he stepped up from the reserves. It took him a few games to adjust but he soon settled in, and the fact that he has now played 100 successive games shows how well he has done for us'.

To commemorate the milestone, the committee at Maine Road presented Andrew with a copy of the specially commissioned picture shown on the League's website.
---
4 October 2010
AFTER THE MATCH
Rushden & Diamonds have a report on Saturday's game.

This site's report is here.
WEEKEND FIXTURES
Right: Altrincham FC mascot, Rocky Robin, gets tickled under the chin by one of his young friends on Saturday at Moss Lane.
Saturday 9 October
Barrow AFC v Crawley Town
Bath City v Eastbourne Borough
Darlington v Hayes & Yeading Utd
Gateshead FC v Tamworth
Histon v ALTRINCHAM
Newport County v York City
Rushden & Diamonds v Mansfield Town 5.15pm k.o.
Southport v Kettering Town
Wrexham v AFC Wimbledon
BSBP NEWS
News of our next opponents comes from NL News 24 which tells us that "Despite Histon's poor run of form, manager David Livermore insists his enthusiasm for the job hasn't been dampened. 'I'm still enjoying it, even after five straight defeats', Livermore told Cambridge-news.co.uk. 'I'm loving being out there on the training ground, I'm loving coaching the lads and trying to improve them. It's even better when we're putting in decent performances. It's a great buzz – almost as good as playing. It's probably been harder than I expected. If you've had no experience of the job then you don't know how tough it's going to be until you're doing it. We've got the smallest budget and a lot's gone on at this club. There's been a big turnover of players, so you can only do what you can do'".

Lincoln Vital Football says that "Following Chris Sutton's resignation last week, Lincoln City have already received over 40 applications for the vacant manager's post and chairman Bob Dorrian has hinted that former on-loan midfielder Gary Brabin could be on the club's hitlist.

The 39-year-old, who has managerial experience with Southport and Cambridge, is now assistant to Richard Money at Luton Town, and was in the frame to replace Peter Jackson before Sutton was given the job. The Liverpudlian played four games for the Imps in the 1998-99 season, on loan from Blackpool, in a varied career in and outside the Football League, and has enjoyed success in his limited management career thus far.

Dorrian has been reported as saying: 'Gary is someone we may speak to and we certainly would not rule him out'... Meanwhile, in today's Football League Paper, their front page article has Justin Edinburgh 'topping City's list' although more interestingly, no quotes from Dorrian to back up their claims. The former Tottenham and Portsmouth full-back, who is the current Rushden & Diamonds boss... fits the 'up-and-coming non-league boss' criteria that has been mooted, although rumours emanating from the Bank also suggest Dorrian is looking for an 'experienced Football League manager'".

According to the NL Paper, Crawley's Steve Evans is also in the frame at Lincoln. The NLP also says that Evans will have £1 million to spend in the January transfer window at Crawley.

And York Vital Football says that "Former York City manager Martin Foyle has distanced himself from rumours already linking him with another couple of clubs. Foyle's named has been linked with the vacancies at League Two strugglers Lincoln City and Blue Square Premier bottom club Altrincham since his departure from Bootham Crescent. 'I`ve not left York City for another job and I haven`t spoken to anybody from Lincoln, Altrincham or anywhere else I have been linked with', he told The Press."
---
3 October 2010
AFTER THE MATCH
This site's match report on the draw with Rushden and Diamonds is here.

In the NL Paper, Robbie Lawton told Brian Flynn, after the match, "We had to adjust our formation as Rushden's game plan was a bit different to how we expected them to play. We've got a point without playing well. I shouldn't have dived in for the penalty and should have waited" before tackling the Rushden player.

The BBC has the Rushden manager Justin Edinburgh giving his views. He told the NLP, "We've been punished by the one opportunity that Altrincham have had in the second half. [Keeper] Joe Day has dominated his area all afternoon but didn't come for the one we needed. All credit to Altrincham who fought with great spirit right to the end for their new manager. It feels like two points lost at the moment".
HISTON, NEXT
Altrincham travel to Histon next Saturday and as usual TASC has arranged coach travel for supporters. Details are on the Away Travel page. Come along and help support the Robins as they seek their first away win of the season.
Howard Watts's Through the Years for October 9th.
CAPTAIN'S LOG
Robbie Lawton's "Captain's Log" again makes interesting reading...

"They say a week is a long time in politics, but it clearly applies to football, as well, after the way things have turned round for us over the past seven days or so.

The breakthrough win against Barrow last week had to be followed up with more of the same - or similar, at least - if it was to mean anything. We had to perform at the same level against Grimsby and Kettering, and also pick up points, if possible, and I'm delighted we managed both.

A lot of things have changed during the course of those three games, and the most noticeable is probably the level of belief running through the camp.

That was never more evident than when we went behind late on against Grimsby, here at Moss Lane last Saturday, and on no fewer than three occasions at Kettering on Tuesday night. Unlike the previous seven or eight games, there was no sign of any shoulders dropping, no body language that suggested we had given up and were resigned to our fate.

Losing had become a habit, a bad one, at that. There was almost an expectation that we were in for a difficult 90 minutes every time we stepped on the pitch, but that has gone now.

It's just a far better place to be, and while we can't lose sight of the fact that we are still bottom of the table, there is renewed hope that we can get ourselves out of it and safeguard our position in the Blue Square Bet Premier. It would have been totally unjust if we had ended up empty-handed against Grimsby, because we gave them a hard time for long periods, even if their manager chose not to see it that way.

Even when we went behind to a great strike, there was still a feeling among the lads that we could get something out of it, and the same applied at Kettering. Ken McKenna described Kettering as one of the best attacking sides he had seen this season, and it was another top-class finish that gave them a flying start.

We do seem to have had some quality goals put past us lately, but I think all our fans can see the one vital difference now. We may be conceding, but we are responding positively and always looking like we are going to score ourselves. So it proved, and it is highly encouraging the way Chris Denham has pulled out a bit of form, Shaun Densmore has chipped in with a couple of goals and Damian Reeves struck with a great header down at Kettering.

The way Kettering gambled by throwing men forward left them exposed at the back, and we caught them out once or twice to equalise three times and almost pinch a win at the end. Rockingham Road, as it always used to be known, has never been a particularly happy hunting ground for me, so it felt good to come away with a point.

I've been told that I've been referred to as Robinho Lawton in a post on the Fans' Forum, following the build-up to our last-minute leveller against Grimsby. All I can say to that is 'no comment', but I did think it was fantastic the way James Smith burst forward and crossed for Densy to head home. The three of us share transport, so that was a decent contribution from our car!

One thing I can confirm is that it was me in the background when Steven Gerrard was filmed visiting my school to promote an Adidas scheme for encouraging young people to become more active. Times like that are when you realise the difference in terms of media attention between the Conference and Premier League. He had press and television interviews to do and was followed everywhere by big burly security men.

I have met Stevie before, and I managed to have a word with him. He just said: 'Are you still kicking a ball about?' So I said: 'Yeah, sort of!'

We're all kicking a ball about with more of a smile on our faces now, and there is a strong feeling that Kenny has done enough to get the nod over the manager's job and be given the chance to get stuck into it and really do it his way. He has made a big difference, ably assisted by Stuart Bimson. Like Kenny, Bimmo is a very positive, highly motivated character, with an enthusiasm that rubs off on the players. One other thing I would say about Bimmo is that he ought to have a swear box next to him. We could take a couple of fines off him, no problem. In fact, if the club are looking for new investment, that could be the answer - he'd fill a swear box in no time!

Robbie".
GENEROUS GESTURE
Colin Mitchell, of TASC, who recently organised a Football Card Fund Raiser for a DVD player announces that "Greg Axon (the winner of the DVD player) has kindly donated the prize back to the Club to use as a prize in a future raffle - probably at the next Sportmen's Dinner evening. Many thanks to Greg for this kind gesture".
FLYNNZINE
Brian Flynn's latest "Flynnzine" article appeared on Saturday...

Who's in and who's out of the Woods?

This afternoon's visitors to Moss Lane, Rushden and Diamonds, arrive in confident mood after a 2-0 victory at Eastbourne Borough on Wednesday evening . Logically, the Northamptonshire side should win to complete the following sequence of scores in the last two weeks:-
Eastbourne Borough 5 Altrincham 0
Eastbourne Borough 0 Rushden and Diamonds 2

I think that most of us are wise enough now to know that logic plays very little part in the outcome of football matches and we have a classic recent example with the following scorelines :-
September 11th: Barrow 4 Eastbourne Borough 0
September 18th: Eastbourne Borough 5 Altrincham 0
September 21st: Altrincham 2 Barrow 0

Barrow arrived at Moss Lane for that match on the back of an unbeaten run of seven games, but their defeat at Moss Lane was the start of three consecutive 2-0 defeats that has put a massive dent in their season's progress.

It is only a fortnight since Ken McKenna took charge of his first game and the team capitulated to a humiliating thrashing at Eastbourne, but three terrific performances since that South Coast nightmare have lifted everyone's spirits massively.

I was bemused by the Grimsby manager's comments that he felt that they were 'comfortably the better team, particularly in the first half'. If Neil Woods genuinely believes this, then I would be worried if I was a Grimsby fan, as the guy is clearly quite deluded.

We were excellent last week against a team that is clearly finding it difficult to come to terms with playing outside the Football League. I will be surprised if the same man is at the helm when we visit Cleethorpes on Easter Monday!

In sharp contrast, Kettering caretaker manager, Morell Maison, was surprisingly generous in his eloquent post match interview, following our dramatic 3-3 draw at the Elgood's Brewery Arena on Tuesday night. When you are at home against a team that is bottom of the league and start the game as well as the Poppies did, subsequently going on to lead three times but only draw the game in the end, perhaps there was plenty of cause for the home team manager to kick off, yet he was remarkably complimentary about Altrincham.

'They're very good at what they do and are a better team than their position suggests', said the man who may well have been in charge for the final time as Barwell F.C. bizarrely announced on Wednesday that 'Marcus Law will take up the full-time position of manager of Kettering Town'. As of Thursday morning there was a deafening silence from that master of decorum, Imraan Ladak, as Kettering seemed unable to confirm anything at all! Hopefully, things will be sorted out by now, but it does appear to be a very strange way of appointing a new manager.

Everyone at Moss Lane is hoping that there will be an announcement soon regarding the appointment of Graham Heathcote's successor and there can be little doubt that caretaker manager Ken Mckenna is the almost unanimous choice of the fans. Ken and the Board have yet to sit down formally but, hopefully, things will be sorted out within the next week or so. Life is never dull in the Blue Square Bet Premier!

Brian".
CHAPLAIN'S CHAT
Andy Barclay-Watt is Senior Minister of LifeChurch (formerly Sale Baptist Church) and Club Chaplain. He can be contacted through the church office: 0161 850 0770 or by email.In his "Chaplain's Chat" column in the Robins' review, he writes:

"Good afternoon everyone and welcome to today's game. These are my first notes since Geoff and Graham both stepped down. They have both provided so much stability and success for the club over such a long period that, for most of us, it was difficult to cope with the idea of them both stepping back at much the same time.

When people have been around for a long time it is easy to take them for granted, but I am sure that within moments of hearing the news we all could appreciate what an amazing job they had both done and what a big hole they will leave! They made a great partnership and, between them (with the support of many others), significantly improved the financial side and the playing side of the club – a remarkable achievement!

Graham was so much more than just the manager of the football club, he seemed to be right at the heart of it. I so appreciated the incredible commitment he gave to the club as a whole and, on a personal note, I greatly appreciated the welcome I always felt from him. Despite the prominence of their roles I found that Geoff and Graham were down-to-earth, understated and always had time for people. I am hugely grateful for all that they have done for the club and hope that we will all play our part in seeing that the legacy they have left is built on.

As we look forward my hopes for the club remain the same. I hope that every person connected with the club will feel valued, respected and cared for. I hope that throughout the ups and downs both supporters and players will stay positive. I hope the supporters feel proud of the team and the team proud of the supporters. I hope the sense of community and unity throughout the club gets stronger and stronger.

It has always been apparent, from the first moment I got involved, that the Rowley family were right at the heart of this football club and that the club was right in the centre of their hearts. I know that Grahame will be a fantastic chairman and I am sure we all wish he and Ken, as he picks up the reins from Graham H, the very best of success. Let's not take them for granted, but give them our wholehearted support!

I was not at the game on Tuesday but hearing the reports from there and having seen the previous two home games it is obvious that there is a sense of commitment, pride and togetherness throughout the team – in the last two games we have come from behind five times! It would be great if we could get in front and go on from there today!

Enjoy the game and see you around the club.

God bless,

Andy".
OLD BOYS
Bizarre transfer of the season must be this one: Jamie Phoenix has joined Northwich Victoria from Vllaznia Shkoder FK of Albania. After spells with Altrincham, Stafford Rangers and FC United amongst others, Phoenix went to Malaysia before moving to the Albanian team, who released him.

Paul Gascoigne's Garforth Town beat Mark Maddox's Leigh Genesis 5-0 in the FA Trophy on Saturday. Mark's recent signings include Alty old boy Adam Farley.

Kyle Wilson has joined Chester whilst former loan player Paul Turnbull scored for Stockport. As Ashton United lost 0-3 to FC Halifax Town both James Dean (former loanee) and Tom Baker (former Reserve) were on the score sheet.

Meanwhile, former Alty Youth striker Osebi Abadaki has left Mossley for Buxton, for whom Kieran Lugsden got a hat trick as they beat Frickley 7-1.
---
2 October 2010
TWO RELEASED
Altrincham FC announce that two players have been released. They are former Burton Albion man Danny Holmes (left) and ex-Everton midfielder Tom McCready (right). Tom made just two substitute appearances for the Robins, whilst Danny started two games and was a used sub in four more matches. The Club wishes both players all the best in their future careers.
ALTRINCHAM 2 RUSHDEN & DIAMONDS 2
For the third time in a week Altrincham came from behind to secure a draw. This time, both the opposition goals were gifted to them; the first, a penalty, and the second, by a defensive mix-up.
Match report here.

ALTRINCHAM (Red & white striped shirts, black shorts, red socks): 1. James COATES, 4. Marc JOSEPH, 2. James SMITH, 5. Robbie WILLIAMS, 6. Shaun DENSMORE, 16. Anthony DANYLYK, 18. Matty CROWELL, 7. Robbie LAWTON (capt), 8. Damian REEVES, 11. Nicky CLEE, 10. Chris DENHAM, Subs: 23. James McCARTHY, 1. Stuart COBURN, 20. Sam HEWSON, 12. Kevin HOLSGROVE, 14. Andrai JONES

RUSHDEN & DIAMONDS (All yellow): 13. Joe Day, 2. Justin Miller, 5. Jamie Stuart, 6 Curtis Osano, 11. Jamie Day, 20. Shane Huke, 4. Max Porter, 18. Matt Johnson, 7. Tim Sills, 8. Aaron O'Connor, 10. Rene Howe, Subs: 27. Lance Key, 3. Kurt Robinson, 24. Lewwis Spence, 14. Alan Power, 19. Ryan Charles.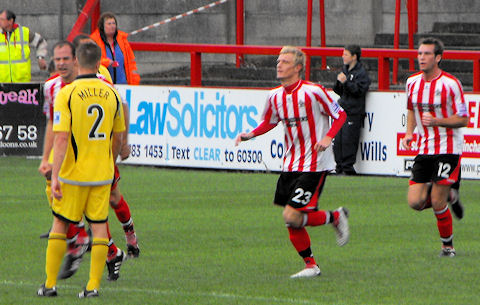 Right: Robbie Williams runs back to his own half after heading Altrincham's late equaliser. He is followed by James McCarthy and Kevin Holsgrove.
Alty line-ups
SATURDAY GAMES
Through the Years from Howard Watts.
AFC Wimbledon 1 Forest Green Rovers 1
Altrincham 2 Rushden & Diamonds 2
Barrow AFC 0 Luton Town 1
Cambridge United 1 Bath City 2
Crawley Town 2 Kidderminster Harriers 0
Darlington 0 Wrexham 1
Eastbourne Borough 2 York City 1
Fleetwood Town 1 Histon 1
Gateshead FC 1 Mansfield Town 1
Grimsby Town 2 Newport County 0
Kettering Town 2 Hayes & Yeading Utd 1
Southport 2 Tamworth 1
MATCHDAY UPDATES
The regular live match news will be provided on the Matchday Update page of this site on Saturday for the game with Rushden and Diamonds. The updates start around 2.45pm with the confirmed team line-ups.

A permanent link to the Matchday Updates is now to be found in the list of links on the top left of this page.
KENNY LOOKING FOR A WIN
The Trafford Metro quotes Ken Mckenna after the draw in midweek. "I was pleased with a point and I thought a draw was probably a fair result because Kettering are a good side. But you're never happy in football and we had two chances to win it at the end. We've come back twice in two games which is pleasing because it shows good character and good mental strength. But we know we need a win. We're sticking in there at the moment but we're still bottom of the league so we need to start picking up wins rather than draws". he continued, "We know what we need to do to improve. We know which areas we would like to strengthen but identifying who you want and actually bringing them in are two very different things. We're concentrating on the short term at the moment and focusing on getting a win on Saturday".

Mike Garnett's statistics reveal that we have previously played Rushden and Diamonds 13 times, with Alty winning just three times.
At Home: P6, W2, D1 L3, F10, A14
Away: P7, W1, D1, L5, F4 A12

In their last game, at Eastbourne, former Alty goalkeeper Lance Key was on the bench.

Rushden & Diamonds report that "Justin Edinburgh commented on this weekend's opponents Altrincham after Wednesday's match. "Altrincham on Saturday - they are bottom of the table but you can't take any team in this League for granted, they've started to pick up one or two results as well. Two games on the trot away from home - it's not easy for you.

Altrincham are very good at from home, normally stay up on their home record. A change of manager and they've had a couple of results of late, draws where they've got late goals so they'll be buoyed by that. So it'll be another test of our mental side again, it may not be pretty at times but we've got to go and be effective, play well and make the right decisions...

We'll go there confident and hopefully try and get some consistency together now, that's something that we've lacked this season if we're honest about that".

According to the BBC "Altrincham will be without defenders Michael Welch and Ryan Brown, who are both suffering with muscle strains. Winger Nicky Clee could keep his place, after making his comeback from injury during the midweek draw with Kettering.

Rushden and Diamonds have doubts over midfielder Jamie Day, who limped off during the 2-0 win against Eastbourne on Wednesday. Goalkeeper Dale Roberts is still struggling with a leg injury, so Joe Day should continue to deputise.

Rushden and Diamonds manager Justin Edinburgh tells BBC Radio Northampton: 'Special praise for Joe Day, he's come in and done very well. I'm delighted for him because he's had to wait patiently, and he's shown he can be a top goalkeeper at this level'".

"Justin Edinburgh discussed the latest situation with the Diamonds squad... 'Dale Roberts had a scan, and the good news is that there is no bone calcification in the muscle... even so, it's not a short term thing and will be another couple of weeks or so...

I feel we've been punished this season in terms of our away fixtures, with back-to-back away fixtures like these. Similarly we went to Bath and then Barrow, so perhaps they've been a bit unkind to us, but we are going to be mentally tough there [at Altrincham], and be prepared. They've had a couple of good draws of late, coming from behind and getting late goals, so their tails will be up - with the new manager instilling his ideas. Regardless of their position in the league we've got to go there and apply ourselves properly, and if we do that as we did in midweek then I'm sure we can get a result'".

Meanwhile, on Friday, the Northants Evening Telegraph said that "Max Porter is ready for another battle tomorrow. The England C international midfielder admits 'it wasn't pretty' as Rushden & Diamonds recorded a 2-0 midweek win on a wet night at Eastbourne Borough.

Having returned home in the early hours, they were given yesterday off to prepare for the trip to Altrincham who remain at the bottom of the Blue Square Bet Premier table. Porter expects a similar test of character for the Diamonds squad to the one which they passed on Wednesday.

He said: 'It was an awful game and a real battle... This time we ground out a result and showed we can do that... Both goals came from set-pieces which we haven't really practised too often in training, apart from working on our team shape, since the start of the season. We have scored some good goals and given away cheap ones...

Porter was on target at Altrincham last season when Diamonds conceded a stoppage-time equaliser. He reflected: 'My goal was definitely a cross which went in! I tried to whip the ball into the danger area and if everyone misses it there is a chance it will go in. You see that regularly on TV with Premier League and Championship matches... If we produce the same kind of performance tomorrow, hopefully we can get the right result. They have just changed the manager so the players will be looking to prove a point to him.

Altrincham have survived in this league for the last few years and they will want to do the same again, despite a poor start. I'm sure they will make it hard for us'... Matt Johnson came in to partner Porter and Shane Huke in the Diamonds midfield against Eastbourne as summer signing Alan Power was given a rest".
YOUTH MATCH
The NWYA fixture against Mossley announced last week was an error on the League's part as Altrincham and District FA, comprising Alty Youth, are playing this Sunday at Trafford FC in the Cheshire County FA District Youth Cup. The opposition is Crewe & District FA. Kick off at Shawe View is 2pm. Entry is free and you always get a warm welcome at Trafford. Further details are at the Cheshire County FA site.
ALTY'S SCOTTISH SUPPORTERS' CLUB
After enjoying his "stag" weekend, with 26 friends, at Moss Lane last Saturday, Kevin Miller has written to Altrincham FC saying...

"The stag 'doo' - It all began with a quiet pint in Ye Olde Inn, during this quiet pint the local bobboes decided to hurry us out, it was only midday!!! (In fairness the coach was causing an obstruction) Our journey down had its first stop off at The Gordon Arms Hotel, West Linton and thanks to Keith we were treated to a nice plate of stovies which helped line our stomachs, Kev was also presented with an embroidered Alty top from his mates which was much appreciated, his brother David (best man) was given the keeper's top, which brought a smile to everyone's face and even got a song going, "Davey Miller loves the .....".

Onward bound we went, Kev and Dave both sporting their new tops. The rest of the journey down went without incident, did I say "without"? Enough said. On arrival at The Jurys Inn [hotel], Manchester everyone managed the tricky task of checking in. You could tell the staff were delighted to see such a large group of Scotsmen, well the bar staff certainly were!!!

A quick change and a pint, we were ready to hit the Deansgate area of the city. As soon as we entered Revolution we were met by the Corrie cast. Not strictly true; they were having a quiet pint when we interrupted it!! They were good sports and allowed numerous photos to be taken. Kev Webster was their star of the show, a very friendly chap. A few pints/shots etc, etc. were consumed and everyone drifted back to the hotel via some other 'establishments', all good fun.

The day of the match had arrived and the excitement amongst our bleary eyed party was evident. T-shirts had been organised with the words "PC Booby's Stag Doo" thereon so everyone was sporting a T-shirt except Kev, who now had a convict's outfit on, ball and chain included - (was this a sign of things to come for the stag???).

We all managed to board the tram and we were now Altrincham bound. We made our way down Moss Lane and the stadium was in sight, the hangovers were now a thing of the past. On arrival we were met by a number of representatives of the club, who could not have been more welcoming.

We watched the 1st half of some game that was taking place along the road but the main focus was fast approaching, 3pm kick off at Moss Lane. We were invited through to the Sponsors' Lounge where were given our match programmes and reality set in that we were the match sponsors.

On reading the programme we realised there was a nice article written by a certain Mr Pickering, very touching and I know the future Mrs Miller appreciated the kind words. Kev was presented with a drawing of Moss Lane and also a signed ball and to say he was touched is an understatement. So much so, his thank you speech was minimal as he was speechless (first time for everything)!!

We all tucked into the feast that was before us and how everyone enjoyed it, compliments to the chef. This was washed down with some beers and so the match was upon us but not before a group photo on the field of play with the Captain and Reevsay, cheers lads.

3pm and we were off. Unfortunately, the Mariners [Grimsby] took the lead but that never dampened our spirits and we replied with a chorus of 'you only sign when your fishing', very amusing and just a bit of banter, not that this was reciprocated!!

HT 1-0, now for a penalty shoot out for the boys, Kev's family versus Kev's friends. A couple of cracking peno's, a couple not so cracking, (well there may well be a crack on the advertising board above the goal). Kev's dress sense was not the only attire which drew a cheer!! Kev's family 2 - Kev's friends 3.

And so the second have was underway and what a brilliant second half it was, good goals and to get a last minute equaliser with a diving header, well let's just say we were all happy chappies!! FT 2-2, a well deserved point.

Kev presented the Grimsby captain with the away man of the match, not a happy bunny!!

Into the bar for a post match pint, lots of well wishers from the Alty fans, for Kev (much appreciated). And then it was good bye after one of our most memorable days we have ever had. Up to the train station we trooped and even a little light exercise!!!

Saturday night was fairly quiet in fairness, although there were a number of people still up at 4am!!! The main chat of the night was the match.

And so Sunday had arrived, 11.30am departure with everyone present and correct, (certainly there in body anyway!!). A couple of John Smiths and the mood picked up before a pleasant stop off at Gretna just in time to see the second half of the Rangers game. What a fantastic way to end a fantastic weekend, (Rangers won 3-2).

The windy roads through the Borders brought a few casualties but not unexpected. And so that was that, the weekend had ended (for most people!!).

You now have an Altrincham Scottish Supporters Club!!

On behalf of all the boys, Thank You to everyone who made our day what it was".
KENNY'S EUROPEAN PAST
Thursday's Manchester Evening News reported on Alty caretaker manager Ken McKenna saying that he "will never forget his part in a symbolic moment in Manchester City's history. Back in August 2003, he was manager of the first team to visit Eastlands in a competitive match... McKenna, now caretaker boss at Altrincham, was in charge of Welsh side TNS who faced City in the UEFA Cup qualifying round...

Being the first team to play a competitive game at the new stadium was quite an honour' recalled McKenna... It was a fabulous tie for us but to play a club of that size was also quite daunting... Kevin Keegan was very complimentary about us afterwards and said we'd been well organised and disciplined'".
SHAUN STANDS BY
Following news of Robbie Williams's inclusion in the Wales semi-professional side, we understand that Shaun Densmore is on the reserve list for England C.

In the International challenge Trophy Group, England meet Estonia in Tallinn on Tuesday, 12th October 2010.

Squad: Seb Brown (AFC Wimbledon), Patrick Gamble (Alfreton Town), Sam Hatton (AFC Wimbledon), Aden Flint (Alfreton Town), Kyle McFazdean (Crawley Town), Sean Newton (AFC Telford United), Tom Cadmore (Hayes & Yeading United), Danny Rose (Newport County), Charlie Henry (Newport County), Max Porter (Rushden & Diamonds), Kyle Nix (Mansfield Town), Steven Gregory (AFC Wimbledon), Matthew Barnes-Homer (Luton Town), Jake Howells (Luton Town), Nick Wright (Kidderminster Harriers), Alex Rodman (Tamworth).
OLD BOYS
The Vodkat League reports that former Alty Youth and reserves' goalkeeper "Dale Newbrook of St Helens Town won the Premier Division Goalkeeper Of The Month award for August".

and "The Evo-Stik 'Manager of the Month' awards for September have gone to FC Halifax Town's Neil Aspin in the top tier, [and ex-Alty man] Joey Dunn of Warrington Town in the First Division North".
BSBP NEWS
The Football Conference says that "Gloucester City have announced that they have signed Steve Davies and Lee Smith from neighbours Forest Green Rovers. Smith, of course, is no stranger to Tigers` supporters, having only left in the summer to try his hand at Conference Premier level".

Also, "Having allowed Trinidad & Tobago international Kelvin Jack go out on loan to Kettering Town, Darlington have signed Dan Lowson, who was last with the sadly now defunct Ilkeston Town. A former England Schoolboy trialist, [goalkeeper] Lowson was formerly with Gretna and Newcastle Blue Star in 2008/09". Lowson kept goal for Blue Star against Altrincham in the FA cup in 2008.

The Blue Square Bet Awards for September include:
Manager, Blue Square Bet Premier: DEAN HOLDSWORTH from Newport County
Player, Blue Square Bet Premier: MATT TUBBS from Crawley Town

From Blue Square Football we learn that "Swansea have agreed a compensation fee of £150,000 with Wrexham for the services of defender Neil Taylor. The 21-year-old arrived at the Liberty Stadium over the summer after his contract expired at the Racecourse Ground but, as he is under 24, the Swans are required to pay a fee for his services. With the two clubs originally unable to agree on an amount the matter was set to go to a tribunal on Thursday afternoon, but the two sides managed to settle the matter between themselves with just hours to spare. Swans will pay the Blue Square Bet Premier outfit £150,000 plus 10% of any profit made on the potential sale of Taylor. The highly-rated youngster has made six league starts and one substitute appearance since his switch".

"Liam Watson, manager of Southport, is ready to hand Chris Simm a recall as Port continue to draw blanks in front of goal. With main target man Matty McNeil hampered by niggling injuries, the Sandgrounders have looked toothless in attack during recent matches... A midweek attempt to lure winger Shaun Whalley from Hyde FC fell through at the 11th hour with the Tameside club increasing the player's wages in an effort to make him stay, leaving the Port boss frustrated...

Watson is ready to bring Simm back from the brink of a Yellows exit to help fire them up the table. Simm is currently on loan with Chorley with a permanent deal thought to be in pipeline but as of next Friday, Watson is eligible to ask for the 26-year-old hitman back. In a move which will shock many Southport fans, who thought transfer-listed Simm would not don the home jersey again after the manager deemed him surplus to requirements, Watson believes the former Hyde forward could provide a spark sorely missing at present...

Watson is keeping his fingers crossed the tight groin which ruled McNeil out of the last two matches, will have healed sufficiently for him to lead a line which has scored just ten goals this season – the lowest in the division. 'We are struggling up front', said Watson. 'So, I'm thinking about recalling Simo because 'Plan B' requires us to play a bit more and I'd not previously given much thought to the partnership of Simo and Tony Gray. Certainly Simo gives us another option we really need and when he's good, he's really good and can win you matches. Obviously there is a consistency issue with Simo, but you can't fault his work-rate. If he produces a match winning performance once every six matches for us, then great, because we'll pick up points in the other matches. I have to wait for twenty-eight days of the loan deal to have elapsed before I do anything so couldn't get him back until the Kettering Town game next weekend anyway'" he told the Liverpool Daily Post.
---
1 October 2010
ENJOYING MATCH HOSPITALITY
Last Saturday the Altrincham v Grimsby Town match was watched by 27 Scottish visitors who booked themselves into the Sponsors' Lounge at Moss Lane as part of the stag weekend celebrations of one of their number, Kevin Miller.

Altrincham FC have now received from Brian Pickering, one of the visitors, the following message...

"To everyone at Altrincham FC,

On behalf of Kevin Miller's stag party we would like to extend our greatest thanks to everyone at the club. We honestly couldn't have asked for any more (well, maybe 3 points!). We were made to feel very special from the moment that we were first in contact with the club, to the moment that we left it. The club reps were a pleasure to meet, the supporters were incredibly friendly (the home fans anyway!), the players that we met were great fun and the food and drink service staff were first rate - and we know a thing or two about beer and curry!!!

I know that Kevin was particularly touched by the drawing of Moss Lane presented to him by the club and I would like to thank the club for allowing us to take the penalties at half time. I know that all of the group thoroughly enjoyed it and I hope that my retro shorts didn't put too many people off their half time snacks! To also be included in the matchday programme, local newspapers and on the club website was great for our family and friends to see.

I know that most of the group are already planning another trip to Moss Lane and everyone will be looking out for the Alty results each week. The experience was something that none of us will ever forget. I know that this was something new for the club too, but it really was a perfect afternoon. Thanks again to everyone from twenty seven, still recovering, Scotsmen. We hope that you had as much fun as we did. Cheers.

Brian Pickering and the rest of Kevin Miller's stag party".

And you too can enjoy hospitality at Altrincham FC during the match with Rushden and Diamnonds this Saturday. Special bargain prices of just £20 for Alty season-ticket holders and £30 for others will get you a choice of hot meal, a pre-match drink as well as other light refreshments (sandwiches, cakes) and half-time tea/coffee. Ring the club (0161 928-1045) or e-mail to secure your place to enjoy Richie Bentley's excellent catering.
SUPPORTING A GOOD CAUSE
Altrincham FC and TASC have held a number of fundraisers for the local charity, The Childrens Adventure Farm Trust, at Bollington. The farm relies solely upon fundraising and donations and this allows them to provide holidays or day trips for young children who are terminally ill, sick, disabled and disadvantaged, as well as those who act as young carers and who have been bereaved.

On behalf of the Trust TeamAurora2010, made up of Dawn Cantarelli and Dawn Gross, will be taking part in The Sahara Stomp - a charity desert trek in the Sahara. They will be walking for three days through the ever changing landscapes as well as climbing to the top of the Chigaga Dunes. They would be very grateful for any support. Donations to their fund can be made through a bucket collection by the two ladies which will be taking place before our game against Rushden & Diamonds this Saturday. Alty chairman Grahame Rowley says, "Please give generously, it's for a great cause".

You can also join them on The Stomp. "To join us on the trip all we ask of you is £150 to register and the promise you will raise £1,775 in sponsorship and donations. If you're entering as a team, the minimum amount per person is lower (£1,650 each for two people, £1,550 for three, £1,450 for four or more). Many people find they're able to raise even more – providing essential funds to help us in our valuable charitable work". It takes place from 18th - 23rd November 2010.

Donations can also be made at Just Giving.
ROBBIE CHOSEN AGAIN
There is good news for Altrincham's Robbie Williams in NL Daily which announces that "Wales semi-professional boss Terry Boyle has recalled The New Saints duo Aeron Edwards and Craig Jones to an otherwise unchanged squad for the clash with Poland next month... Edwards returns at the expense of Barrow midfielder James Owen, while Jones replaces Llanelli's Craig Moses...

Wales cannot qualify for the latter stages after a 2-2 draw in Belfast and a 7-2 away defeat to Portugal, so several members of Boyle's (pictured) squad will be making their swansong in Welsh colours after reaching the maximum age for the under-23 side.

Squad: Lee Idzi (Haverfordwest County), Stephen Cann (Aberystwyth Town), Lee Surman (Port Talbot Town), Michael Johnston (Bangor City), Mike Williams (Kidderminster Harriers), Rob Williams (Altrincham), Curtis McDonald (Forest Green Rovers), Michael Pearson (Barrow), Scott Barrow (Tamworth), Chris Jones (Neath FC), Luke Sherbon, (Aberystwyth Town), Ashley Williams (Airbus UK Broughton FC), Aeron Edwards, Craig Jones, Alex Darlington (The New Saints), Jamie Reed (Bangor City), Jack Christopher (Haverfordwest County), Marc Williams (Kidderminster Harriers).

Stand-by: Kyle Critchell (Dorchester Town), Craig Williams (Aberystwyth Town), Ryan Edwards (Airbus UK Broughton), Sion Edwards (Bangor City), James Owen (Barrow), Drew Fahiya (Port Talbot Town), Jordan Follows (Llanelli AFC), Luke Bowen (Port Talbot Town)".
ALTY ROCKS
The adjacent poster advertises a double-header fundraising event in the bar at Moss Lane in October and November, organised by Alty gateman Nigel Hennerley. It features his own group The Harbingers and another band, "Real Young and the Lazy Horse".
BSBP NEWS
From This is Bath we read "'Do the people of Bath really want us to be in this league?' Adie Britton believes his attempts to re-establish Bath City as a non-league force are being undermined by a lack of enthusiasm from the people of Bath.

Just 742 spectators were at Twerton Park on Tuesday to see City produce their best performance of the season so far and record a morale-boosting 2-0 victory over Kidderminster Harriers. Despite playing at their highest level for 13 years, City's average attendance is less than 1,000 for home games so far...

'If we're going to get crowds of that level then I'm afraid we're not going to last very long in this league', he said. 'It's up to everyone out there to decide, now is the time, whether they want us to be in this league or not. If we keep getting attendances like that then the answer is no. It wasn't good enough. You bring players in like Alex Russell and Joe Burnell, who we are simply not going to be able to keep if only that many people come to support us, simple as. Me and Arch [assistant manager Lee Howells] are doing our job, the players are doing their job, we are fighting for everything. I wish more people would see that.

'If you saw how emotional it has been in the dressing room already this season, how much we have put into it, you would understand. To be fair, the supporters who have travelled around the country with us this season have been fantastic. The support at Tamworth was just amazing, beyond the call of duty, then we had a three-day camel ride to Fleetwood on Saturday and there was a good crowd there for us. We are really appreciative of that, it's just a shame we don't have the same level of support at home. It's got to improve'...

'I've said all along we're competing in a league of eight or nine sides and I've now marked out in my mind who those teams will be. Although they've had a reasonable start, I think Eastbourne might be one of those at the end of the season so that is going to be a very important game. I also think Cambridge might only be a mid-table side so that's an important game too. We're not competing against the top six, they're in a different league to us, but the next two league games are very important'".

On the same theme, the Chronicle says that "Gateshead boss Ian Bogie hopes the Tyneside public will turn up in good numbers for Saturday's home game against promotion-chasing Mansfield Town following his side's 3-1 win at Histon...

Bogie said: 'We've put a good run together. Hopefully people are starting to take notice and recent results will be reflected at the gate on Saturday'...

Bogie praised the contribution of left side midfielder Nelthorpe, who is now Gateshead's leading scorer with four goals. 'Some eyebrows were raised when I brought Nelly (Nelthorpe) back to the club in the summer after two previous loan spells, but I always knew he had real quality', added Bogie...

In front of the Conference Premier's lowest crowd of the season, a paltry 289 [at Histon], former Gillingham striker Mulligan scored from less than a yard... An in-form Nelthorpe made it two with a stunning 30-yard volley just past the half-hour and then rounded Stutes keeper Joe Welch in the last minute for his second, before Omer Riza scored a last gasp consolation from the spot. The win, the fifth of the campaign, took Gateshead up to 10th in the table".

The Football Conference reports that "Gateshead have signed defender Michael Kay on a month`s loan from Sunderland. The 21-year-old has made the move to the International Stadium in time for their home fixture with Mansfield Town on Saturday".

And "Darlington have signed exciting young striker Daniel Powell on loan from MK Dons. The 19-year-old will join the Quakers on an initial month's loan. Manager Mark Cooper said: 'Daniel brings us lots of pace up front, he's very quick and he can score a goal. He fits into the system that we're trying to play. He's only 19 but he has first-team experience with MK Dons and has played in the Conference with Crawley Town and Forest Green Rovers, so he knows the division'".
---
FOR EARLIER NEWS, CLICK HERE
---