31 July 2010
BSBP NEWS
Blue Square Football
reports that "New boys Darlington have clinched the services of midfielder Paul Terry following his release by Rushden & Diamonds. Quakers' boss Mark Cooper has drafted in the 31-year-old to bolster his midfield options...
'He brings a wealth of League One, League Two and Conference football with him. He was arguably Rushden's best player last year and with the injury worries, Michael Brough and Gary Smith's unstable ankle, it potentially leaves us short in that area so I thought it was prudent to bring in another experienced midfield player'.
Also, "Kidderminster Harriers have completed a deal to sign former Aston Villa youngster Aaron Griffiths on a one-year contract. The 20 year-old left-back has been on trial at Aggborough this summer".
According to York Press, "John Guildford fears York City would not benefit from moving to Huntington Stadium – and believes council expenditure on the scheme amounts to bailing out the football club. The York City Knights executive chairman said City were keen on the move as it would help them pay off debt, but he believed money from any sale of Bootham Crescent would be swallowed up by that debt, with nothing left for a new stadium.
The football club, however, 'expect' there to be a surplus from the sale, which they would contribute, while their £2.2 million Football Foundation loan could become a grant once planning permission was achieved. Mr Guildford said the football club was reportedly losing £400,000 a year at Bootham Crescent and said those debts would accumulate before any stadium was completed.
'Why then move to a stadium that's smaller and further out of town', he said. ,How is that going to increase their income by £400,000 per year? If it's a shared stadium, then we (the Knights) should want a similar income. So how are we going to increase income by £800,000? The council would probably want something if they're putting money in. Where's the £1.2 million profit per year going to come from? I don't believe this is something that will generate that money. In that case, the football club might as well stay where they are'.
He added: 'Until somebody tells me what benefits there are to the Knights, all it seems to me is the council are spending all this time and money just to get a private limited company (York City) out of trouble through state aid. But where were they when the rugby club was struggling?... The football club are having a tough time, but I can't see why they won't have a tougher time if they come to our stadium... How would City coming here benefit the Knights? There's no reason for us to want to cause more problems for ourselves... The Knights have been moving along, paying our rent, paying our bills, living within our means and minding our own business, yet we might end up paying for that'.
York City chairman Jason McGill said: 'Dependent on the sale value of Bootham Crescent, the football club would expect to have remaining equity on the ground which we would commit to the stadium project'".
From NL News 24 we learn that "Russell Hands has returned to the role of chairman at Histon – some 20 years after he stepped down. Hands was chairman of the club in the 1980s when the likes of Giuliano Maiorana, Shaun Sowden and Lance Key were plying their trade there, but stepped down in 1990 and moved on to the holding company that looks after the club's assets.
'I feel what's happened over the last year or so, the club seems to have lost its heart', he tells Cambridge-news.co.uk. 'I'm pleased to hear (manager) John Beck say we're trying to get back to creating a family atmosphere that used to be here when I was here... For John to put a squad together after being decimated because of the financial implications the club finds itself in, is not far short of a miracle'...
Antonio Murray confirmed he has signed for the club and Beck remains hopeful Lanre Oyebanjo will remain, though Oldham are still interested in signing the defender following his trial period at the League One side. Beck also revealed that Dean Greygoose will be his assistant and goalkeeping coach and Nacer Relizani will take charge of player liaison".
---
30 July 2010
ALTRINCHAM 3 TRANMERE ROVERS XI 2
Altrincham recovered from two goals down after 22 minutes, and the stretchering off of striker Michael Twiss, to lead 3-2 by the interval. With numerous trialists used in the second half, they could have added to their lead, but were unable to do so.
Match report here
Right: New trialists, Alsseny Cissoko and Kevin Holsgrove.
BEFORE THE GAME
Altrincham take on a Tranmere Rovers XI tonight (7.45pm) at Moss Lane. As usual, entry is free to current Altrincham season ticket holders. For other spectators, the gate prices are £5 for adults and £2 for concessionaries.

Tranmere Rovers state "pre-season preparations continue with a friendly against Blue Square Premier side Altrincham on Friday evening. A mixture of some first team squad members, youth players and trialists are expected to line up in Rovers' shirts with the majority of the first-team facing Shrewsbury Town a day later. Altrincham have played six pre-season friendlies so far, winning one, drawing one, losing three and seeing their first game against Woodley Sports abandoned due to a serious injury. Rovers have lost just once in their seven games, that defeat coming on Tuesday night as a young side took on Chester".

Three years ago tonight, Alty lost 0-1 in a pre-season game against Tranmere. Alty's side that night is below. Of the 20 players in the squad then, only Stuart Coburn and Robbie Lawton remain at Alty today.

1. Stuart COBURN; 2. Chris LANE, 4. Karl MUNROE, 5. Darren TINSON (capt), 3. Steve ASPINALL; 7. Robbie LAWTON, 8. Val OWEN, 6. Jake SEDGEMORE, 11. Cavell COO; 9. Colin LITTLE, 10. Joe O'NEILL. Subs: 8* Chris BAGULEY, 10*. Chris SENIOR, 12. Gary SCOTT, 14. Stephen ROSE, 16. Colin POTTS, 16* Matthew BERKELEY, 17. Rod THORNLEY, *. Steven MOORE, GK. Richard ACTON.

The remaining friendlies at Moss Lane in 2010 are:
Tue. 3.8.10 at 7.45pm v MANCHESTER UNITED XI - £7 adults £2 concessionaries
Tue. 10.8.10 at 7.30pm v WIGAN ATHLETIC XI - £7 adults £2 concessionaries

Come along and see how Alty are shaping up for the new season and get an early view of the trialists who may end up in the first-team squad for 2010-11.

On Saturday, there is football at Trafford FC (3pm) where our neighbours take on Llandudno.
ALTY- "HIGHLY RECOMMENDED"
Left: A fine image from Gavin Rathbone of Stuart Coburn, making one of several excellent saves on Tuesday against Macclesfield Town. Gavin's images can be seen on his GR Photography site from where they can also be purchased.

The Manchester Evening News prints Jimmy Wagg's column which says, "A question for you. When did you last go to a game? If you feel the call of the live match, but the Premier League is a bit too pricey, why not try a little bit further down the local football food chain?

Like a lot of people who grew up on the south side of Manchester, my non-league team is Altrincham and I try to get to as many midweek games at Moss Lane as I can. Okay, the football might not be as good as the top flight, but the overall experience is absolutely brilliant. Highly recommended". Jimmy has long been a good friend of Altrincham FC, giving his time for club events and helping to increase our profile via his radio shows on BBC Radio Manchester.
NON-STARTER!
In the Blue Square competition in which each club was assigned a horse in the Bluesq.com Stewards' Cup, Alty's was eliminated along with 39 others before race day. "Football Conference sponsors Blue Square Bet will be paying a huge bonus to a lucky club if their specially allocated horse is successful in the Bluesq.com Stewards' Cup on Saturday at Glorious Goodwood. All 68 clubs in the Blue Square Bet Premier, North and South were given 'ownership' of a horse for this weekend's prestigious race after a draw on Monday at the betting company's headquarters in London...

Blue Square spokesman Alan Alger said: 'This is our way of giving something back to the clubs who supported us through the first three years of sponsoring this great league'".
BSBP NEWS
"Kidderminster Harriers have signed striker Nick Wright on a free transfer from Tamworth on a one-year contract" reports the BBC. "The 22-year old started his career with Birmingham and also had loan spells with Bristol City and Northampton... 'He ticks all the right boxes for us', added Burr. 'With the pace and strength he has he'll give us something different to what Lee Morris and Chris McPhee can give us'. Harriers also hope to tie on-trial left-back Aaron Griffiths to a one-year deal within the coming days after Burr agreed terms with the player".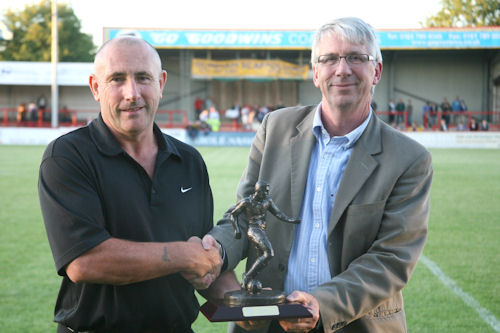 Right: Another excellent photo from Gavin Rathbone shows Alty chairman Geoff Goodwin receiving a memento of the Centenary of Moss Lane game played on Tuesday night from Macclesfield chairman Mike Rance. The memento was kindly presented by our opponents Macclesfield Town, who were also our first opponents at Moss Lane, 100 years ago this September. Gavin's images can be seen on his GR Photography site from where they can also be purchased.
Fleetwood Town confirm that "Mark Beesley and Wayne Curtis end trial period by signing for Fleetwood Town... pair join striker Magno Vieira who joined squad today... Departure... Jamie Milligan leaves club by mutual consent".
Barrow report that "An experimental Barrow line-up gained a 3-1 victory at Cheadle after a 2-0 defeat by Blackburn 24 hours earlier. At Cheadle, Wiles scored 2 penalties while young Salford College trialist, Beresford, scored a fine goal after Barrow had gone a goal down to a penalty. Former Grays French midfielder, Alsenny Cissoko featured as a trialist in both games, while the Blackburn game saw Stockport keeper, Lloyd Rigby, and ex-Luton full-back Lewis Emanuel trial. Ex-Morecambe keeper Stephen Drench featured at Cheadle."
AFC Wimbledon confirm that "Immediately after training this morning Terry Brown signed Fraser Franks, Ed Harris and Delano Sam-Yorke. 'I am delighted to announce that I have managed to squeeze some of the Premier League money out of Erik and we've increased the size of the squad to 20 players. Although my budget was complete, the opportunity to sign three very talented young players into our squad was one that I felt would benefit the club both short term and, hopefully, long term. The two young centre halfs offer us great cover for Brett and Ismail and, judging by last year, they will both see plenty of action. Up front, Delano (pronounced Delayno) Sam-Yorke offers us both cover for Danny Kedwell and he can also play either side of a central striker. He is a tall, strong and quick front runner who should develop quickly with full time training.
Fraser Franks and Ed Harris are both 19 and were previously with Brentford and QPR respectively. Delano Sam-Yorke is 21 and played for Woking after graduating from their Academy".
---
29 July 2010
TRIALISTS
Last night's Altrincham team sheet included two new trialists. Both of them have Welsh connections:
No.21 was Josh McCauley, a former Aberystwyth Town striker. He did not get on during the game at Moss Lane on Tuesday though he took part in the warm up as shown in the adjacent photo.
No.16 was midfielder Nathan Fairhurst (d.o.b. 16/10/89) who joined Wrexham from Preston NE at the age of 19, despite the offer of a contract at Deepdale. He had hoped to get regular first-team football at the Racecourse but was subsequently released. He came on as a second-half sub for Alty against Macclesfield on Tuesday.
Both of the above are pictured above with fellow trialist Tom McCready (far left) who is a former Everton reserve. Tom scored Alty's goal on Tuesday night.
Right: seen, left to right are Tom McCready, Ken McKenna, Josh McCauley and Nathan Fairhurst.
There is some video of the game against Macclesfield at Moss Lane on Tuesday here.
PREMIER PACKAGE FOR ROBINS
Altrincham FC joint Press Officer, Brian Flynn, writes:

"As Altrincham Football Club prepares for its sixth consecutive season in the Blue Square Bet Premier, the club has received a massive boost with the announcement that the Premier League has committed £6 million of financial support to the Football Conference.

This follows the £1 million payment made last season by the Premier League and represents a solidarity package with the Football Conference that will provide funding for the next three seasons.

The support will be split into general payments made to all 68 Conference clubs and a separate club development fund which any club can apply to for specific projects. The structure of the funding will provide £1.2 million per season to support all Football Conference Clubs, with £800,000 per season set aside for the new club development fund.

The rationale behind the deal was explained by Premier League Chief Executive, Richard Scudamore who said 'The Premier League and our member clubs recognise the importance of the continued health of football outside the Football League and it is with this in mind that we have made this commitment to the Football Conference'.

Altrincham Chairman, Geoff Goodwin, was understandably euphoric with the announcement: 'This is another wonderful gesture from the Premier League andis particularly welcome here at Altrincham. We are used to running a very tight ship at Moss Lane and the solidarity payments will be used wisely. The new project funding will also hopefully allow the Football Club to provide further benefits to the local area'.

The club can expect to receive its allocation of money from the first tranche of payments for the coming season by September 1st and, whilst full details will not be issued until August, it is likely that it will be on a par with the payments made last season.

The Robins' pre-season schedule is now in full swing and there are two attractive friendlies at Moss Lane in the coming week with Tranmere Rovers visiting on Friday July 30th and a Manchester United XI on Tuesday August 3rd. Both games kick off at 7.45pm".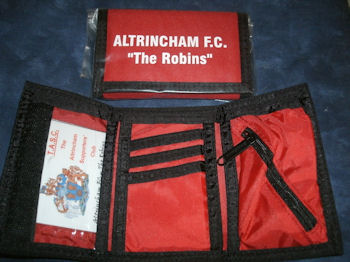 ALTY WALLETS
TASC's Colin Mitchell writes:

"Altrincham FC Wallets are now available on matchdays/nights from the main stand turnstile and club shop. The wallets hold cards, cash and have a compartment for change. Priced only £6.00. All proceeds to Altrincham FC.".
BSBP NEWS
NL Daily reports that at Eastbourne Borough, "Management duo Garry Wilson and Nick Greenwood have decided to offer terms to Kane Wills, which he has accepted. Head Coach Greenwood commented: 'He fits the profile of talented young Sussex players who are ambitious and looking to make their mark at Conference Premier level'... Shoreham-born Wills joined Brighton as a youth team player, progressing to the reserves before his release by the Seagulls in May 2009. After trialling with Ebbsfleet United he caught the eye of Fleet manager Liam Daish and was offered terms in August 2009 and went on to form part of a very young Fleet midfield. Wills made twenty-seven appearances at Stonebridge Road but has now returned to Sussex with The Sports".

The Sport Review tells us more about Non-League Day. "On Saturday 4 September, as the Premier League and the Championship make way for international fixtures, football fans across the country are being encouraged to give their local Non-League club some much-needed support. Speaking exclusively to The Sport Review, James Doe, the man behind the 'Non-League Day' campaign tells us...

'The idea for Non-League Day came to me after going to QPR's pre-season game at Tavistock a couple of weeks ago. The club and fans were made really welcome by the hosts and it was obvious how financially important the visit was to them. In the last year or so I've heard repeatedly how money is becoming really tight for Non-League clubs – the last time I went to watch Harrow they were about to hold a fundraising night to buy some new bulbs for the floodlights. Their plight cannot be unique so I wanted to start Non-League Day to try and give our local clubs a bit of publicity and a shot in the arm'...

'The whole experience of non-league football can be very refreshing. You can watch the game from pretty much any point in the stadium, move freely around during the game and you get some top banter between supporters and sometimes even with the players. To top it all, you can probably take the entire family and buy them refreshments for the price of one Premier League ticket in some cases'". Altrincham are at home to Kidderminster Harriers on that day and the club is looking at ways of celebrating the day at Moss Lane.

On that day Cambridge United will continue their long running leaflet campaign. "The leaflet drop for the first Cambridge Building Society sponsored South Stand Initiative (SSI) match of the 2010/11 season will take place in the coming weeks and will cover the area of Cambourne (lower and upper). The match will be against Gateshead at the R Costings Abbey Stadium on Saturday 4 September, when residents and workers of Cambourne will be invited to the match free of charge for children and just £5 for adults. There are over 5,000 homes to cover...

Every leaflet pushed through a front door will be a seed sown for the future of Cambridge United Football Club so your help can make a massive difference and if you can spare a few hours please get in touch. Without the fans giving up a bit of their spare time the scheme would not be possible. To date close to a million invitations have been dispatched since the scheme was launched in October 2006, and almost 29,000 new supporters have been introduced to the club over this period".

Blue Square Football reports that "Southport striker Chris Simm is expected to return to Haig Avenue after being informed by Bradford City that they will not be signing him... Simm looked set to join the Bantams but [manager, Peter] Taylor had a change of heart.

Simm told the Southport Visiter: 'After the match Peter said he was going to sign me but a few things had to be sorted out between the two clubs. However he rang me on the Sunday and said he wanted to take another look at me and asked would I go on tour with them down in Essex. I said yes but was struggling with bruising on my big toe so wasn't totally fit. Peter knew this but at the end of the week he came to me and said he really liked me but had changed his mind about the type of player he was after'.

Taylor said: 'It's been a tough week for Chris. You train twice a week and then all of a sudden you're training for five days and playing some matches... But he's got very tired this week. I'm going to let him go back at the moment and have a little think about it'".

Meanwhile at cash-strapped and full-time Histon, "Boss John Beck has bolstered his squad numbers with the acquisition of four new players on loan from Dagenham & Redbridge and Peterborough respectively. Centre-half Femi Ilesanmi and midfielder Lee Wootton join the Stutes from Dagenham & Redbridge, while youngsters Danny Mills and Romone McCrea arrive at the Glass World Stadium from Peterborough. Beck told Cambridge News: "Femi and the boy Wootton are going to be good assets for us... And we've agreed loan deals with Mills and McCrea. All four are here in the short term and we will look to make it long-term'".

"Luton Town manager Richard Money is close to the signature of Dan Walker after taking the forward on trial" reports Blue Square Football. "The Hatters' boss was impressed with the former Bedford Town player's performance in the 1-0 friendly win over Marlow at the weekend... We think he's interesting', Money told Bedfordshire News. "'He's raw but he's got pace and he was very impressive for them against us last Saturday. He came in for us last year but everyone says that he has got stronger'".

The BBC reports that "Rushden and Diamonds had a winding-up order dismissed by the High Court on Wednesday. HM Revenue and Customs presented the club with the petition after they failed to pay a tax bill. Both parties were in attendance but the Diamonds have been cleared to continue because the debts had been settled. Before the start of the 2009/10 season, Rushden and Diamonds were in the same situation but that winding-up petition was withdrawn two days later".

Blue Square Football adds that "Rushden & Diamonds are set to open new contract negotiations with defender Curtis Osano and midfielder Lee Tomlin. Tomlin has been the subject of fevered speculation this summer with big-spending Crawley Town interested in securing his services...

Edinburgh told Northants ET: 'I spoke to Tomlin's agent while we were away in Devon and hopefully we can arrange another meeting before the end of this week. The same applies with Osano's representative as we're trying to move things along. There's no real rush because he has another 12 months on his contract and Tomlin has still got another two years. There has been no contact since we turned down the only bid for Tomlin'".

Mansfield Town report that "Experienced striker Paul Connor has put pen to paper on a one year deal at Field Mill - with supporters' group The 12th Stag contributing to his wages. £3,000 has been donated towards Paul's salary by The 12th Stag, a supporters' fund which raises money to put towards the manager's playing budget.

Connor, 31, has spent his entire career in the Football League, most notably at Rochdale where he scored an average of one goal in every three matches. The Spotland outfit paid £150,000 for his services in 2001 before he was transferred to Swansea City for £35,000 three years later. Spells at Leyton Orient, Cheltenham and Lincoln City followed.

The 6 ft 2 in striker said: 'It's great that The 12th Stag have helped contribute to bring players in - it's fantastic work from everyone involved and it's nice to think that the fans want you here'...

Said David Holdsworth: 'The 12th Stag is a great benefit to us. We are extremely grateful for their support'.

You can see why the supporters have had to chip in, after the club lost half a million pounds last season as Mansfield Vital Football tells us that "Stags lost £500K in 2008/09. The latest accounts for the football club do not make healthy reading, showing a massive loss for the 2008/09 financial year....

Figures released to shareholders just this week, show that the club made the trading loss in their first season as a non league football club. The biggest blow to supporters though, is the news that in that year, ex owner Keith Haslam was paid a reported £156,897 in rent. Mr Haslam remains the landlord at Field Mill, despite being forced out by supporters following the relegation from League 2.

Acting chairman Andy Saunders is expected to confirm the huge loss in the club's annual general meeting, as well as reveal more details on the expenses of the club, and how they will move forward".

From the Surrey Herald comes news that "AFC Wimbledon boss Terry Brown will sit down with trialist Delano Sam-Yorke on Friday to discuss his future. The young striker appeared in friendly wins against Corinthian Casuals, Kingstonian and former club Woking after leaving Kingfield at the end of the season. And Brown admits 'He's not 100 per cent fit, but he's a young boy who I thinks got a good future. I will keep hold of him if I could, but it's down to money'".

The NW Evening Mail tells us that "Barrow AFC handed a debut to trialist left-back Lewis Emanuel in last night's 2-0 pre-season friendly defeat against a talented young Blackburn Rovers XI at Holker Street. The 26-year-old has good pedigree, having spent five years at Bradford City and four at Luton Town...

But afterwards joint-boss Dave Bayliss was reluctant to answer questions about him. The co-chief did, however, talk about Kevin Austin, who, having previously trialed at Barrow, now appears on the verge of joining rivals Darlington. 'It was all sorted with Kev, we'd made as good an offer as we could, but Darlington came in at the last minute. It looks like he'll be going there for four figures a week, for two days training a week'".

The Luton & Dunstable Express tells us that "Trialist Stefan Bailey will not be offered a contract with Luton Town because manager Richard Money is wary of the former QPR midfielder blocking the first team chances of emerging talent Godfrey Poku. The Hatters signed Poku along with Jonathan O'Donnell, from St Albans City last season as a development prospect, and even then his manager was saying that the teenage midfielder was closer to bursting into the first team squad than people might have thought.

The hot prospect has been impressing further in Luton's current pre-season campaign... Poku's continued development could be the missing piece of Money's midfield jigsaw, especially after Money hinted his summer shopping may stop after he hands a 12-month contract to Bedford Town trialist Dan Walker...

'All through pre-season we've felt that we might have needed another midfield player but every time Poku comes on the pitch he's grown and grown and so maybe we don't. Let's see how the season goes on... [Bailey] hasn't done enough at the minute for us to offer him a contract'...

Luton's midfield has been strengthened this summer with the captures of Adam Murray from Oxford United and Andy Drury from Stevenage, while Frenchman Claude Gnakpa is yet to feature in this pre-season but will return to training tomorrow (Thursday)".
---
28 July 2010
ALTRINCHAM 1 MACCLESFIELD TOWN 2
Macclesfield Town deservedly won this friendly match staged to commemorate 100 years of football at Moss Lane but a late flurry from Altrincham gave the visitors some concerns.
Match report here.
Right: Marc Joseph played on the left of the Alty back line against Macclesfield.
NW NEWS
Stalybridge Celtic announce that "Celtic have announced the signings of defenders Glen Rule and Kristian Platt, midfielder Nathan Finnigan and striker Lloyd Ellams. Rule (20), Platt (18) and Ellams (19) are all products of the Chester City youth system, while Finnigan formerly played for Celtic reserves. He spent last season at Abbey Hey".

"Andy Preece praised his players' improved form following their friendly reverse against Accrington Stanley on Saturday, which marked the return of Wayne Riley" reports the Northwich Guardian... 'Obviously having people like [Michael] Connor and [Wayne] Riley back helps... I hope the fans could see some progression with us bringing in [ex-Alty striker] John McAliskey and Ollie Ryan up front and that gives us something in the final third'".
BSBP NEWS
Wrexham report that "It appears that midfielder Andy Fleming has agreed a deal with Morecambe and will now be joining the Shrimps with immediate effect. A long time servant of the Dragons, Andy... totalled over 70 first team appearances".

Winding-up orders due to be heard in the High Court today (Wednesday) include various non-Leagu clubs including Ilkeston Town, Crawley Town and Rushden and Diamonds.

Two-Footed Tackle tells us that "Many of you will already know about Non-League Day, a celebration of all that is good and right in football on 4th September 2010. For the rest of you, here's the lowdown. James Doe, a Queens Park Rangers supporter with previous at Harrow Borough, spotted that the next Saturday without any Premier League or Championship fixtures is 4th September and has decided to try to persuade all and sundry to throw of the shiny shackles of Premier League oppression, just for one afternoon, and do something twofootedtackle has long encouraged people to do: get out their and support your local team. After all, what else are you going to do?

My fondness of non-league is not just down to disillusionment with the Premier League, but to a belief that non-league is where football exists at its very best. In many cases the clubs are vitally important to their communities and the communities to the clubs. The volunteers that help out their local clubs are a far cry from the agency automatons that man the concourse kiosks further up the ladder. As a converted Premier League supporter, I can say that there is a relaxed honesty about non-league that can make it a very worthwhile experience.

If you're a Premier League supporter like me, think about how many football clubs you probably go past on your way to matches? Almost all of those need more exposure, bigger crowds and more cash. Why not do yourself a favour by getting down to your nearest club and enjoying an honest afternoon of football? I bet it won't be the last time you go there this season.

Non-League Day is 4th September 2010 and you can follow @non_league_day on Twitter and confirm your intent to join in on Facebook. Pitch Invasion has already linked back to some of its own useful non-league information, I'd recommend a browse through that. Do the right thing. Support your local team".

According to the Uxbridge Gazette "We have teamed up with Eastbourne Borough Football Club and VisitEastbourne.com to give one lucky family the chance to cheer on Hayes and Yeading when they play at Eastbourne on August 17. The lucky winners will receive tickets to the match at Priory Road stadium and overnight accommodation at Eastbourne's Premier Inn... With Premier Inn and Eastbourne Borough offering a special price for any away fans travelling to the game at just £39 per person for overnight stay plus match ticket, the UK's official sunniest place makes a great destination for a sporting getaway".

Barrow "Midfielder Cieran Donnelly has agreed a contract at Holker Street... Donnelly formerly of Blackpool and Blackburn has been trialling in all of the friendlies so far and has done enough in the eyes of managers, Bayliss & Sheridan, to warrant a deal. Meanwhile there will be a new left back on show tonight. Kevin Austin stay at the club is seemingly at an end as he is now in discussions with Darlington. The, as yet un-named, defender has been training with the club this week".
---
27 July 2010
OUR OPPONENTS' PLANS
Our opponents tonight (Tuesday, 7.45pm), Macclesfield Town report that "As Cheshire East's consultation process designed to seek views on the development of Macclesfield town centre and the South Macclesfield Development Area (SMDA) moves into its final phase Silkmen Chairman Mike Rance has been working hard to ensure that the benefits a new stadium might bring, not just to the club but also to the community and to the town's economy, are clear.

The club announced its wish to relocate to a new stadium within the bounds of the SMDA in December last year...

'It's our aim to make the case for a sports and leisure-based development, anchored by the proposed 7,000 capacity stadium, in South Macclesfield [and] incorporating community facilities and a flexible arts and performance space with the potential to host conferences and exhibitions as well as music and touring theatre... The proximity of the soon to be capped landfill site is seen to add to the potential of the Club's proposal.

'We've already proposed that the stadium could incorporate a combined heat and power plant utilising landfill methane as a part of our zero carbon plans', said Rance... There's a great example of a similar, though smaller scheme in Cheshire East already. The new Nantwich Town development is a great success and there's no reason why we couldn't do something similar'. The Silkmen's vision for its new stadium was strong enough for it to be included as a base training camp in the Manchester Host City bid for the 2018 World Cup.

'The decision on which country gets the vote will be taken in December', added Rance, 'but Macclesfield is in the hat. Should England win the bid, we might find ourselves hosting Germany, Spain or Brazil'...

Macclesfield Town Football Club's membership of the Football League was hard won but it is becoming increasingly difficult to sustain at Moss Rose where the capital investments needed to move forward simply aren't feasible... Said Rance, "The Football League puts Macclesfield firmly on the map and in the public eye more effectively and more frequently than any other organisation in the town. We would like to use that platform to enhance the town's footprint on the national stage'".
UNDER STARTERS' ORDERS
An innovative fundraiser is announced by Blue Square on the Conference website. ""Blue Square are delighted to announce our bluesquare.com Stewards' Cup competition for all clubs within the three Conference divisions.

Our prestigious Glorious Goodwood race will take place at 3.40pm on Saturday 31st July – Live on Channel 4. To commemorate our new three-year deal to sponsor the league we have created a prize fund for clubs centred around this showpiece race. Each club in the Blue Square BET Premier, North and South has been allocated a horse in the race.

Whichever horse wins that club will receive a cheque for £2000 plus an additional amount determined by a £100 bet on that horse. So for example a 20/1 winner would yield another £2000 for the lucky team.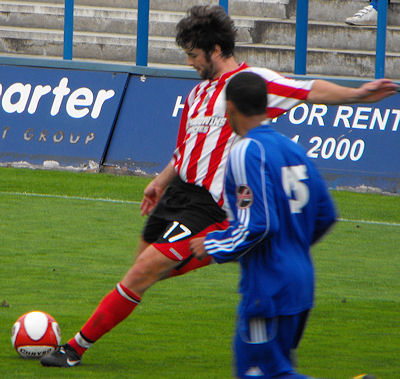 Right: Dale Johnson looked sharp against Curzon Ashton last Saturday as he continues his return to action after a serious cruciate ligament injury last season.
The random draw took place at the Blue Square offices in London and the horses/clubs are as follows:
The BSP clubs drew the following horses...
Palace Moon - Luton Town
Enact - Fleetwood Town
Jonny Mudball - AFC Wimbledon
Hawkeyethenoo - Grimsby Town
Victoire de Lyphar - Gateshead
Himalya - Hayes & Yeading United
Noverre To Go - Darlington
Ingleby Lady - Kettering Town
Five Star Junior - Crawley Town
Bagamoyo - Barrow
Olynard - York City
Deacon Blues - Newport County
Sunraider - Southport
Hogmaneigh - Eastbourne Borough
Elnawin - Wrexham
Damien - Histon
Kelly's Eye - Mansfield Town
Johannes - Tamworth
Oldjoesaid - Cambridge United
Sir Gerry - Rushden & Diamonds
Valery Borzov - Forest Green Rovers
Global City - Bath City
Wildcat Wizard - Kidderminster Harriers
Fitz Flyer - Altrincham

On Thursday, 29th July – the first 28 horses that intend to run (in handicap order) will be declared for the race – meaning 40 clubs will be eliminated at this stage. The final 28 clubs will receive additional details about their horse on Thursday afternoon."

If it actually runs, let's hope that Fitz Flyer is not last past the finish having been last out of the bag of the BSBP teams!
BSBP NEWS
According to NL News 24 "Histon manager John Beck is in negotiations to loan two players from Dagenham & Redbridge... an 18-year-old midfielder and a 19-year-old left-sided defender, Cambridge-news.co.uk is reporting. 'We may be able to bring the players in on loan', said Beck. 'This would be down to my excellent relationship with (Dagenham manager) John Still'".

Wrexham have signed goalkeeper Scott Shearer who "began his career in Scotland with Albion Rovers before moving to junior side Tower Hearts. He then returned to Albion and the earned a move south of the border to join Coventry City in 2003...

Shearer went on loan to Rushden & Diamonds in February 2005 before a permanent move to Bristol Rovers on that summer. Shearer was the Pirates' first choice keeper for 2005-06... joining Shrewsbury Town on a three-month deal in October 2006... After Wycombe's relegation from League One at the end of last season, the 29-year-old was one of a number of players released by the club".

From Tamworth we learn that "Boss Gary Mills was impressed with his side's performance against The Dons but appears to have no option but to find another goal keeper for Tuesday night as David Grof looks set to sign for Notts County on Monday. Mark Dudley and Fabrice Kasiama have also been released as the gaffer continues to hone his squad".

"Flying winger Ashley Cain has put pen to paper on a one year deal" at Mansfield Town. "The 19 year old, known for his blistering pace... [and] formerly with Coventry City, has also enjoyed spells with Luton Town and Oxford United".

Gateshead "are interested in Venezuelan goalkeeper Mikhael Jaimez-Ruez following the 26-year-old's release from Aldershot Town. It was originally thought that Ruez was to head home. The shot-stopper, however, has had a change of mind and Gateshead have made an approach. The Tynesiders have also contacted former Carlisle keeper Matt Glennon, 31, who was with Bradford last season.

Manager Ian Bogie said: 'We are waiting to see if Ruez is interested in joining Gateshead while Glennon is still hoping to get fixed up with another Football League club'. Ruez said: 'Wherever I go in the future I will continue to work hard and give 100%'. Gateshead handed a trial to 18-year-old keeper Jack Binks, at Charlton last season, and Mark Cook, 21, at Hartlepool last season, during Saturday's full-scale practice match at the International Stadium. The pair will train with the squad this week along with other trialists including midfielder Paul Terry, Danish strikers Mark Sundstrup and Kenneth Djoeneri and former Magpie, Callum Morris. The Ireland under-21 international was the pick of the seven trialists at the weekend".
---
26 July 2010
STRONG MACC SQUAD
Macclesfield Town have confirmed that for Tuesday's centenary friendly at Moss Lane, they will be sending their first-team squad. Kick off is at 7.45pm.
MAKE AN EVENING OF IT!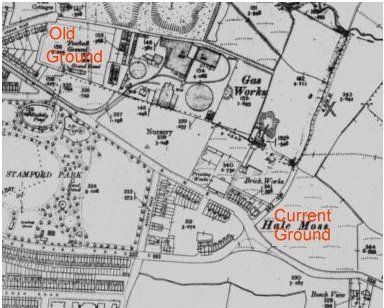 Tomorrow (Tuesday) witnesses the centenary friendly with Macclesfield Town, which marks 100 years of football at Moss Lane, a ground to which Alty moved in 1910 from nearby Pollitt's Field. Prior to that they had used pitches in Broadheath. The first game played at Moss Lane was against Macclesfield Town, in the Manchester League, on the 3rd September 1910. Altrincham lost 3-1 on that occasion, with former player Dickie Best scoring all three goals for Macclesfield.

Altrincham FC season ticket holders for 2010-11 get free entry to all the Moss Lane pre-season games but if you are paying at the turnstile, entry is still good value:
Tue. 27.7.10 at 7.45pm v MACCLESFIELD TOWN - £7 adults £2 concessionaries
Fri. 30.7.10 at 7.45pm v TRANMERE ROVERS XI - £5 adults £2 Concessionaries
Tue. 3.8.10 at 7.45pm v MANCHESTER UNITED XI - £7 adults £2 concessionaries
Tue. 10.8.10 at 7.30pm v WIGAN ATHLETIC XI - £7 adults £2 concessionaries

To mark the occasion, Altrincham FC is offering hospitality in the Manchester Glass Sponsors' Lounge for the match. This includes a hot meal, free drink, free tea/coffee at half time and free matchday programme and costs just £20 per person or £90 for a table of five. To book your places, please contact the club on 0161 928-1045 or by e-mail, as soon as possible.
ALTRINCHAM YOUTH GAME
In an entertaining game of three 30-minute periods on Sunday, Altrincham FC Youth defeated Altrincham FC Juniors 3-2, with a last-minute goal by Reece Bailey. Match report on the Youth page.
OLD BOY
I am grateful to former Robins' Review editor and current Tranmere Rovers scout, Paul Brady, for the following information from the Liverpool Daily Post about Eddie Bishop, who played for Altrincham between 1986–1988, making 37 appearances and scoring 13 goals. Eddie went on to join Tranmere in 1988. Eddie's brother is the well-known Liverpudlian comedian, John Bishop, who currently has a BBC TV series. But Eddie himself has another claim to fame apart from football. The 42 year-old "specialises in iron sculptures, while fellow artist Paul Harcombe works with wood veneering. The pair joined forces to produce 'The Irony of Wood'", an exhibition in Liverpool". John recently opened the exhibition for his brother.
BSBP NEWS
Altrincham FC have received the following e-mail... "My name is Chris Sharples and I am presenting a programme on the new Non League Football Channel this season. Check out the website on www.nonleaguechannel.co.uk

We will be covering the non league game throughout the season... We will be showing two shows a week. Tuesday nights will usually cover the previous weekends matches with post match interviews and Thursdays a look ahead to the weekend's games coming up and covering the week's news".

In Sunday's NL Paper, Stuart Hammonds writes, that "Histon's switch [to full-time] means only Eastbourne, Bath City, Altrincham and Southport will be genuine part-time clubs in the BSBP next season, the lowest numbers since 2006-07 when the division increased to 24 clubs. There will be 17 full-time clubs, including Forest Green's two days and two nights [of training], and three "in-betweeners" next term".

Former Rushden and Diamonds, Oxford, Luton and Mansfield player, Andy Burgess, "has chosen to drop three divisions to join Chester... despite receiving offers to return to his beloved Luton or stay in the BSBP with Barrow, Altrincham and Gateshead". In fact, Burgess did not receive an offer from Altrincham as he was unable to attend a trial match. Burgess interestingly reveals that whilst at Mansfield last season, 'I didn't get paid correctly or on time once in six months'".
---
25 July 2010
CURZON ASHTON REPORT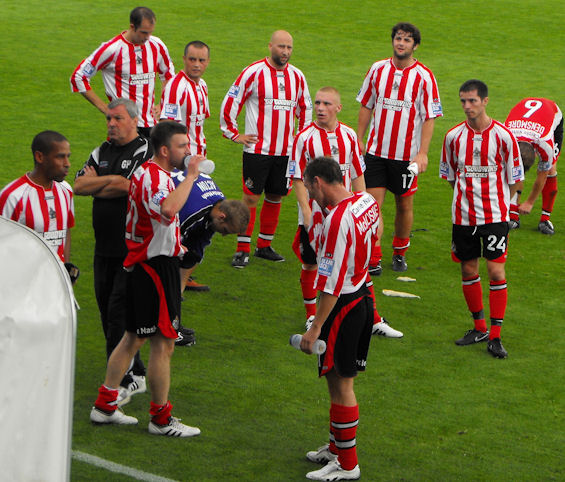 Above: Alty's finishing eleven wait to collect their medals on Saturday. Only Robbie Williams and Shaun Densmore of those eleven were regular starters at the end of last season. Background, left to right, Williams, McLachlan, Saunders (bending) Adams, Gamble, Johnson, Carden, Densmore. Front, Joseph, manager Graham Heathcote, Reeves and Nowland.
There is a report on Alty's defeat at Curzon Ashton, here.
NEXT OPPONENTS
Alty's next game is their friendly with Macclesfield to mark the centenary of football at Moss Lane. The game is this Tuesday at 7.45pm. Yesterday Macc reported that they beat a Manchester City XI, 2-1. "Tyrone Barnett and Nat Brown scored goal in either half of a 2-1 win for the Silkmen over Manchester City's 'Elite Squad'"[the bizarre new name for City's reserves].

Lewis Chalmers was a used sub for Macclesfield, whose team was Veiga (Cudworth), Reid (Lowe), Tremarco (Beardsley), Brown, Brisley, Hamshaw, Butcher (Roberts), Bolland (Chalmers), Daniel, Sinclair (Wedgbury), Barnett (Mukendi).
THANK YOU TO STAMFORD PARK NEWS
Darren Gregory announces "I have managed to get a sponsor to pay for the cost of new hi-visibilty waistcoats for the Stewards at Moss Lane. The stewards' sponsors are Stamford Park News, who are located at 79 Stamford Park Road opposite the ground A big thank you to Hassan and his wife for doing this. Please do you best to support all the club's sponsors".
OLD BOYS
John McAliskey, released by Alty this summer and recently on trial at Tranmere, played for Northwich Vics in a friendly against Accrington on Saturday. Vics lost 0-3.

Other Alty "old boys" in action on Saturday included Alex Meechan who scored for AFC Telford as they won the Supporters' Direct Cup against FC United of Manchester. Meanwhile, Kieran Lugsden scored the winner for Buxton as they won 2-1 against Stalybridge, for whom Lee Elam played. And AFC Fylde beat Southport 2-1 with Tom Cahill a scorer for the winners. Matty McNeil scored for Port. Two ex-Alty men were on the mark for Hyde who won 2-1 at Prestatyn Town; they were recent Alty trialist Kyle Wilson and former reserve, Ashley Stott.

Last Saturday, Michael Carr played as an Alty trialist against Nantwich. This week he played as a sub for Nantwich against Crewe Alexandra. The Dabbers' side also included ex-Robins Darren Tinson and Jake Sedgemore, with Kevin Street and ex-Alty Youth Sam Madeley on the bench.
---
24 July 2010
CURZON ASHTON 2 ALTRINCHAM 1
After a promising display at Trafford last Tuesday, where Altrincham won 5-0, this was a very disappointing showing against more EvoStik League One opposition in the shape of Curzon Ashton. Four trialists were in Alty's starting eleven and a further three were on the bench for this Jack Crompton Trophy match but all seven had figured in earlier games this summer. Altrincham had gone the closer of the two sides to breaking the deadlock in the first half but after 43 minutes a mis-header backwards by Densmore conceded an unnecessary corner to Curzon. From this, two initial efforts were kept out by a save and a clearance off the line but the third chance was smashed into the net by Mack (44 mins).

Eight minutes after the break it was 2-0 when Robbie Williams was penalised for hand ball and McDonagh drove the resulting penalty past Stuart Coburn. On the hour mark, frustration got to James Smith who, having lost possession just outside his own box, took a hack at a Curzon player's shins. The referee leniently showed a yellow but the management immediately withdrew the defender. With substitutions every few minutes, the second half was nevertheless an improvement on the dismal first half, especially after Reeves made it 2-1 with a well taken goal after McLachlan's initial effort had been brilliantly saved by former Alty reserves' keeper, Craig Ellison (67 mins). One of few positives for Altrincham was a promising second-half appearance from Dale Johnson as he continues his rehabilitation from injury. Report to follow.
CENTENARY MATCH
Altrincham's home friendlies start next TuesdaY (27th) when Macclesfield Town are the visitors. As previously announced this game celebrates 100 years of football at Moss Lane, a ground to which Altrincham FC moved in 1910 from nearby Pollitt's Field.

Alty vice chairman Grahame Rowley writes, "The whole point of arranging a game against Macclesfield this season was to commemorate the 100 years at Moss Lane with Macclesfield being our first opponents here in 1910. There will also be a "100 Years at Moss Lane Dinner", arranged for around the time of the actual centenary of the first game at Moss Lane, which took place in September 1910. I'm sure that we will be playing our strongest team available on the night. Everyone's support was this game would be much appreciated - a small commemorative programme will also be produced for the occasion".
BSBP NEWS
The BBC tells us that "Youth players Zac Mills, Lewis Taaffe and Jim Stevenson have all penned professional terms with Histon. All three were part of the club's link-up with Cambridge Regional College. The signings take the squad numbers up to eight ahead of the new season, although goalkeeper David Knight is at York with a view to a loan move. Fellow stopper George Lawton could be about to join the Stutes with manager John Beck offering the local boy a one-year deal".

Blue Square Football says that "Gateshead manager Ian Bogie will run the rule over a number of trialists over the next few weeks with players jetting in from Denmark and the West Indies. Bermuda international Tyrell Burgess arrived a the club this week, while two unnamed Danish defenders are expected to feature in Saturday's practice game at the International Stadium.

Striker Kenneth Djoeneri is also expected to join the club on Monday after representing AC Horsens in Denmark most recently. Bogie told the Evening Chronicle: 'The Danish link came through an agent. I don't know much about the players but it is an avenue worth exploring. I have been scouring the market for players who are free agents and also some who are currently attached to a club as it is important we bring the right people in'".

Not only are Crawley spending lavishly before the season starts, but they promise to spend even more in the New Year, according to their own website. "Experienced defender Dean Howell (29) has become a Red after signing a contract... Howell, who lists Aldershot Town and Rushden & Diamonds among his former clubs, has been outstanding in recent pre-season matches...

He said, 'I think the fans can see I like to get stuck in and give my all. It is a pleasure to come to work every day, the whole place has a really positive vibe about it'.

Reds' boss Steve Evans said, 'I tried to sign the lad when he joined Aldershot Town from Rushden & Diamonds so he is a player I have seen play many times prior to the last few weeks... The project promotion squad is now almost complete. We will always be in the market for any affordable player who makes our team better. Bruce Winfield has also assured me that if we are challenging at the top end of The Blue Square Bet Premier in January there will be significant funds to strengthen the team if I decide that is what we need'".

In contrast, money is tight at Kidderminster Harriers where the club is "hoping that outcast defender Gavin Caines will speed up his own departure in the coming weeks after leaving the club on trial" says the Express & Star. "Caines is available on a free transfer and would have been released this summer, but had an appearance-related clause in his contract which triggered an extra year's extension to his deal. It is understood that the centre half is hoping to earn a deal at Darlington... Harriers are desperate to move on the 26-year-old, who is a reasonably high earner at Aggborough, to free up room in the wage bill for their transfer targets ahead of the new season.

And manager Steve Burr said: 'He knows he is free to go, I have told him that, and it would be a big help for us with his wages. Any lad who knows he is not in the manager's plans would want to go, but who is going to pay the money he is on?'. Harriers are putting the finishing touches to their squad for the season ahead, with a left-back and a striker left on Burr's shopping list.

A frontman is where the manager has earmarked most of his remaining resources, depending on the situation with Caines, with new signing Mike Williams able to play in central defence and on the left if needed. But Burr has not ruled out signing any one of the three specialist left-backs currently on trial at Aggborough with Stuart Giddings, Josh Quaynor and Connor Franklin bidding to earn contracts... The Harriers boss also confirmed summer signing Keith Briggs [from Stalybridge Celtic] will be his new captain for next season".

The NW Evening Mail says that "Winger Simon Wiles has agreed a new deal to stay at Barrow AFC. The 25-year-old will soon put pen to paper on a one-year deal at Holker Street. Wiles joined the Bluebirds... in January after returning from a long injury lay-off. He played 25 games last term and scored twice. The wideman also started at Wembley when Barrow won the FA Trophy before his deal ran out. Preston-based Wiles was invited back this pre-season to prove himself fit and worthy of a contract...

'We wanted him to come back and prove he's fit. He's done just that and looks good'" said joint manager Dave Bayliss.
---
23 July 2010
JACK CROMPTON TROPHY
Saturday's match at Curzon Ashton against Altrincham is for the Jack Crompton Trophy. As well as the trophy itself, medals will be presented to bothe teams and an award will go to the Man of the Match. Jack, who was Manchester United's goalkeeper in the 1948 Cup Final, and his wife Sheila, have been frequent visitors to Moss Lane. Curzon is their local club so they have an affinity with both sides. The game kicks off at the modern Tameside Stadium.

Curzon Ashton provide the following directions: Ground Address: The Tameside Stadium, Richmond Street, Ashton-under-Lyne, OL7 9HG...

M60 Junction 23 turn left off slip road, then get into the second from left lane to go through the lights onto the A6140 sign-posted Ashton. Keep on the A6140 until you come to a set of traffic lights with a cinema on your right, turn left at these lights, follow road over a bridge then over a mini-roundabout then turn left after the mini-roundabout. Ground is at the bottom.
OLD BOYS
NL Daily says that "Evo-Stik League Division One North club AFC Fylde have completed an ambitious transfer swoop with four new signings... [including] striker Tom Cahill from Blue Square Bet Premier neighbours Fleetwood Town".

And FC United report that in their latest friendly "New signings Danny Browne [ex-Alty Youth] and Martin Parker were also in the squad, lining up against their former side...With less than a quarter of an hour gone, Mack picked out Ben Deegan [also ex-Alty Youth] in the box from a free-kick on the right and the centre forward rose for the header, putting it just off target". A third graduate of George Heslop's team, Astley Mulholland also played for FCUM, whilst Kelvin Lugsden turned out in opposition for Glossop North End.
HOSE RETIRED?
Altrincham FC goalkeeping coach and supplier of the Club's kit through his Sensportkits company, Ian Senior (right), has this week retired from his job as a firefighter, at the age of 50. All at Altrincham FC wish Ian an enjoyable retirement though he will be keeping very busy with his kit-supply business and coaching.
BSBP NEWS
"Mansfield Town have announced the signings of pacey striker Keigan Parker and tough-tackling midfielder Tyrone Thompson" reports the Football Conference. "Parker, 27, began his career at St Johnstone, where he spent six seasons. He was subsequently snapped up by Blackpool in 2004... Parker also helped Blackpool into the Championship with a goal in the play-off final against Yeovil. The pacy Scotsman subsequently enjoyed spells at Huddersfield Town and Oldham Athletic.

Former Sheffield United trainee Thompson, 28, is an industrious midfielder who enjoyed successful stints at Scarborough, Halifax Town, Crawley Town and most recently Torquay United - where he spent two seasons".

According to the NL News 24 "Magno Vieira, who is out of contract after scoring 18 goals for relegated Ebbsfleet United last season, appears not to be joining Mansfield Town. Stags' boss David Holdsworth had hoped to bring the former Carlisle, Barnet and Wycombe man to Field Mill... 'My pursuit of Magno Vieira looks likely that it will be falling short with other clubs able to offer him bigger packages', Holdsworth tells This Is Nottingham. 'Magno knows me and I have been on his case for over a year now, but it is one of those frustrating ones... He's a cracking lad, but he's one that's slipped through our hands'".

Later, NL Daily confirmed that "Manager Micky Mellon has moved to strengthen his front line in readiness for Fleetwood Town's debut in the Blue Square Bet Premier. Magno Silva Vieira scored over twenty goals in the Conference National last season for relegated Ebbsfleet United...

Vieira started his career with Wigan Athletic and has also appeared [for] Carlisle United, Barnet and Crawley Town. Mellon said he welcomes the additional attacking option: 'We're absolutely delighted to bring Magno on board. It's been quite a long chase to bring him in and he's just what we need. Firepower and pace is needed upfront to take the load off the lads'...

Town has drawn blanks in their last three pre-season games and Mellon will be looking for improvements in front of goal. 'It's not just scoring. We haven't created enough chances either. Fine tuning is the job at the moment. None of team selections have been with the intention of winning a football game. Actual minutes on the pitch is all important right now and accommodating the varying playing styles we have available due to the strength of the squad'".

And they are also still spending the cash down in Sussex where the BBC says that "Crawley Town have signed Salisbury City winger Chris Flood for £10,000... Flood, 21, made over 50 appearances for Salisbury, scoring five goals during his time at Raymond McEnhill stadium. Crawley Town manager Steve Evans said: 'He is young and has outstanding pace, that will always give defenders he faces a problem.... He is a different type of player to what we have in the squad and he will give us further options'".

Wrexham boss Dean Saunders "could be on the verge of his next signing, with trialist Jay Harris impressing during [a] friendly against Liverpool. The former Accrington Stanley and Chester City midfielder has agreed a one-year deal, now he has finished a one-year ban following the same betting 'incident' that involved Andy Mangan...

'I'm looking to sign him', said the manager. 'He realises that he's made a mistake, so we'll bring him in and let him show what he can do... I hope he can come in, resurrect his career and do well for us'... A former trainee with Everton, Jay had a year as a professional at Goodison Park, without making the first team, before making the move to Accrington Stanley in 2006. He left Livingstone Road in the summer of 2008, after playing over 80 times for the Lancashire club. His next stop was the Deva Stadium but by the end of the season he had been found guilty of betting on a Stanley game and also a Chester match, which led to a 12-month ban that expired earlier this week. Still only 23, he has played over a 100 senior games"
---
22 July 2010
ALTY LOOK FOR BACKERS
In the Manchester Evening News, John Edwards, joint Alty press officer, writes:

"Altrincham are opening their doors to potential backers in an attempt to continue the remarkable renaissance that has transformed their fortunes over the past few years.

One of non-League football's most famous names have gone from debt-ridden to debt-free under the current board and made similar advances on the pitch by becoming a force to be reckoned with in the Blue Square Bet Conference. Having established a solid foundation for reviving the halcyon days when being paired with Alty was every Football League giant's FA Cup nightmare, the club are looking for prospective partners to help build on it. While financial ruin is all-too-evident elsewhere, Alty have created a business model that is the envy of many. Ever proactive in their approach, they are now exploring ways of making an even bigger impact on an increasingly competitive league.

'These are exciting as well as challenging times for Altrincham, and they can be even more exciting, if we can attract local business people or entrepreneurs to the club,' said vice-chairman Grahame Rowley. 'Over the last eight years, the board have worked tirelessly to eradicate debts they inherited from the previous regime and put the club back on a sound footing.

'This has been achieved, but to carry on progressing as we would like, we really do need new investment. And what a time to invest. Stability has been regained, and the team's year-on-year improvement was there for all to see last season, with a seven-game unbeaten run and top-half position for much of the campaign.

'We face an even tougher test next season, as one of maybe only four part-time teams in a League that looks stronger than ever. There must be people out there who are at least interested in coming on board and having a say in the fortunes of a club who are community-minded and friendly but still progressive and ambitious. Whether you have a proposal, or simply want to know more about us, let's hear from you.'

Grahame Rowley can be contacted by e-mail or via the club on 0161 928 1045".
ALTY YOUTH NEWS
Altrincham FC have two more pre-season games coming up:
Sunday, 25 July, versus Altrincham FC Juniors at Blessed Thomas Holford, Altrincham, 2.30pm
Saturday, 31 July, versus Chadderton FC Youth at Blessed Thomas Holford, Altrincham, 2.30pm

There is more Youth Team news in the Youth section.
IDENTITY CRISIS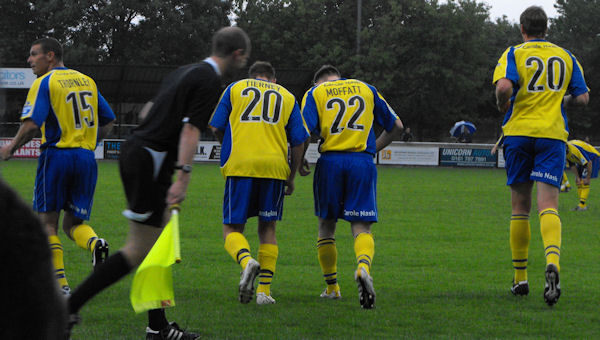 Four second-half substitutes take to the field for Alty at Trafford on Tuesday night. The fact that the face on the left is Robbie Lawton's, though the shirt declares him to be Rod Thornley, underlines the pre-season problems for spectators in identifying their own team's players. Likewise, the three other players in the photograph are not Tierney, Moffatt and an anonymous number 20. (Paul Tierney left us in September 2008 and Man. United loanee Scott Moffatt departed, after a brief stay, a year later). The true identities of the players shown are, left to right, Robbie Lawton, Matty Crowell, Damian Reeves and Matt Heywood.
MOVING ON
When Altrincham visited Nantwich Town last Saturday, they named Andy Burgess as one of the trialists in their squad for that game. However, the former England C international did not appear and now Chester First confirms that newly-formed Chester FC "boss Neil Young has been boosted by the signing of Andy Burgess. The 28-year-old has joined Chester from Mansfield Town following the termination of his contract for personal reasons. Burgess won the Conference League title with Rushden and Diamonds in 2001, and the Division Three title in 2003... Young has also secured the services of defender Michael Aspin from Northwich Victoria". Chester will start their season in the EvoStik One (Step 4 of the Pyramid).
BSBP NEWS
Echoing Eastbourne Borough's comments yesterday and despite their recent financial troubles, the Cambridge News reports that "A switch to full-time training is the only way Histon can realistically hope to stay in the Blue Square Bet Premier, according to boss John Beck. The Stutes will train five days a week from the start of the new season and Beck believes that will be the only way he can turn a young squad into a side capable of holding their own in non-League's top tier.

'With our budget we can only get in youngsters aged 18 to 22 years on a small wage', he said. 'They will not have the knowledge, experience or know-how to cope at this level initially, so it's up to me to give them the tools to try to cope. We did consider staying part-time, using our budget on more experienced players so they could turn up for a couple of nights a week and do other jobs. But I think full-time is the best way forward. We can get the young lads together and offer them a reasonable, but small, wage. In the short term we may pay for going in with a lot of youngsters. It may be too much for us for the first couple of months in a highly-competitive league but I'm hopeful full-time training will help us develop team strategy and methodology to help keep us in the Blue Square Bet Premier'.

However, the switch from part-time did not appeal to Adam Tann, who yesterday revealed he was joining Chelmsford City, while the increased amount of training means Histon will need additional facilities. Beck said the club were already looking into the matter and said: 'We're training at Impington Village College at the moment and are in negotiations with a couple of other venues. It will cost the club a bit extra but we're going to see what we can negotiate'.

Histon continue their pre-season preparations with a friendly at home to an African Select XI – made up of players aged 16 to 22 who have played at international level in some age group. Beck will again cast a keen eye over his trialists but he will also want to see what the opposition have to offer as Histon have first refusal on any players that impress. Keepers Joe Welch and George Lawton are likely to play a half each while Danny Mills and Ramone McCrae could also feature with Beck hopeful of a possible loan move from Peterborough United".

From Blue Square Football, we learn that "Kidderminster Harriers have announced the signing of defender Mike Williams and striker Lee Morris. 23-year-old Williams was released by Wrexham at the end of last season and has put pen-to-paper on a one-year deal at Aggborough...

Harriers' boss Steve Burr told the club's official website, 'Although he [Williams] is still at a young age he is a relatively old head - there aren't many players who have played as many games at this stage as he has, in the Football League and in the Conference'...

30-year-old Morris joins Kidderminster on a one-year deal following his release by Hereford United. Morris had loan spells at Mansfield Town and Forest Green Rovers last season and can count the likes of Sheffield United, Derby County, Burton United and Leicester City amongst his former clubs...

'Lee has had one or two injury problems... But this can be a fresh start for him. It might not have worked out for him at Hereford last season but it goes without saying he is someone who knows where the net is'... Meanwhile, Burr has also revealed that youngster Nathan Hayward has left Aggborough. Burr added: 'We offered Nathan new terms... but ultimately he is looking for a bit more money and, unfortunately, that is not something we feel we can give him at this stage... we think we can perhaps use the resources we have now on one of the other young lads who is coming through'".

Meanwhile, "Veteran striker Paul Furlong has joined Kettering Town in a playing and coaching capacity... The 41-year-old brings vast experience... having played for Chelsea, Watford, Birmingham, QPR, Luton, Southend and Barnet - where he featured prominently in League Two last season. Manager Lee Harper had been searching for a target man and now appears to have killed two birds with one stone as Furlong looks to further his coaching knowledge under his tutelage".

According to the Surrey Herald "Former Arsenal youth team full-back Rene Steer will not be joining AFC Wimbledon. The 20-year-old AFC trialist, released by Oldham at the end of last season, opted to move elsewhere rather than wait for Dons' boss Terry Brown to make a decision on his future... He has also been on trial at Hayes & Yeading.

'I think Rene has got something sorted already', admitted Brown. 'He had a game at Hayes and he needs to stay fit, it is a difficult time for young players as they have to find a new club'. Brown was hoping for the green light from AFC chairman Erik Samuelson to juggle the club's playing budget slightly and extend the one remaining spot in his squad from one to two. That would then mean he can keep both young trialists Fraser Franks and Ed Harris at the club as he admitted it would be an agonising decision having to choose between the two centre-backs... Said Brown, 'We might be able to keep both, I would like to as they are both players that will develop. I only real have the one slot at centre-back to fill, but it is about juggling the finances and if it is not something ridiculous that they want then we might be able to do it'".

From The Argus we read that "Steve Evans believes his squad is already strong enough to challenge for promotion to the Football League. But that will not stop the Crawley boss trying to bring in midfielders Keith Keane and Lee Tomlin. Rushden and Diamonds turned down Reds' £150,000 offer for Tomlin last week while an even bigger bid for Keane, which Evans says would have smashed the club's transfer record, was rejected by Luton on Monday.

Evans said: 'I won't shed any tears if we don't make any more signings. Our squad is already strong and if the things we are trying to do make us better then great but we could start the season tomorrow and be ready'. Crawley had Keane watched in a friendly at Bedford Town on Saturday... He was due to meet co-owner Bruce Winfield last night to discuss whether to make a fresh bid for a player he clearly admires.

Evans added: 'Keane is a gifted young man, a bit like Bryan Robson with a bit more flair, albeit at a lesser level... The same applies to Tomlin. That deal is not dead. We had him watched at the weekend too and will see how that develops'.

Reds' interest in Keane has infuriated Luton, who tied the 23-year-old midfielder to a new two-year contract in June, with manager Richard Money accusing Evans of playing 'petty, ridiculous mind games'. Evans said: 'I'm not going to get into a war of words with Richard Money but I would say that before we started investing in our squad he would never have regarded us as being at Luton's level but he does now and that is to our credit'.

What might help is Crawley's ability to pay transfer fees up front rather than in instalments which can be attractive for cash-strapped rivals. Evans said: 'The formula Bruce has come up with is incredible in the professional way it is structured and better than 95% of clubs in the country. When we signed Matt Tubbs the thing that excited Salisbury was that we could pay them the next day. It made the difference because we didn't bid the most for him'.

Evans is hoping to bring in defender Dean Howell on a permanent basis... The 29-year-old would be cover for former Albion defender Sam Rents who faces up to three months out after fracturing an eye-socket and cheekbone and breaking his nose in a friendly against Millwall 11 days ago. The Reds boss said: 'Howell is a good player but we can't get carried away. Bruce Winfield still runs a very prudent ship and I will have to make a convincing argument to get a third left-back at the club. Sam's injury will help my cause but it doesn't automatically mean I will get a yes... I get calls from League managers offering me players and I have to tell some of them they wouldn't even get in our squad now, never mind the team'".

An interesting angle on Crawley's big-spending comes from This is Sussex where "Ben Smith admits he was 'surprised' to see Crawley Town splash out more than £170,000 on Matt Tubbs and Sergio Torres - as just weeks before he had been asked to take a pay cut. The popular midfielder was one of several Reds players to be offered new contracts at the end of last season on reduced terms and was told that money was tight at the Broadfield based outfit.

Since then both Tubbs and Torres have put pen to paper while Pablo Mills, Steve Masterton and Craig McAllister have all signed on potentially big money contracts. However, the 31-year-old says he bears no grudges against the new recruits or boss Steve Evans - insisting he was more than happy with his deal when he signed it.

'It certainly was unexpected', said Smith. 'I personally took a pay-cut to stay and I know I wasn't the only one to do that. I was just happy to sign. That's the gamble you take. I could have said no and looked around to see what I could get elsewhere. At the end of the day no one forces you to sign a contract and you take what you think you can get'.

And the former Arsenal trainee claims there is no divide in the squad between the players who were there last year and the expensive new recruits... 'I could have hung on and held out for a better deal but that doesn't always pay off. Last year I decided to do that and I didn't sign at Crawley until August which wasn't ideal as I didn't get a pre-season. I thought that affected me last year and although I did OK I don't think I had the best season so I wanted to commit to the club quickly'...

'From my experience in the Conference the best team always win the league - but that doesn't mean they have the best players', added Smith. 'Stevenage last season were the best team but I don't think they had the best players. It was the same when I was at Weymouth when Dagenham & Redbridge won the league. We now have the players to win the league but we have to become the best team and gel'".

At another ambitious club, the Chronicle Live reports that "Gateshead gave a surprise run out to the elder brother of former England captain John Terry during last night's 2-1 pre-season friendly win at Harrogate Town. Paul Terry, who has played over 100 games for both Yeovil Town and Dagenham & Redbridge, came on for the second half at a rain-lashed CNG Stadium. Terry, whom also played 81 games for Leyton Orient, is looking for a new club after leaving Rushden & Diamonds under a cloud last season.

Gateshead manager Ian Bogie, in the market for a midfield enforcer, as well as three other signings said: 'Terry was comfortable in the middle of the park. He is a good organiser and talker and he will train with the squad next week... He will feature in the pre-season friendlies against Sunderland and Newcastle United X1s next week and we'll then take it from there'".

"Defender Matt Ruby's future at Hayes & Yeading hangs in the balance as he is yet to agree terms with the club" claims the Uxbridge Gazette. "The centre-back last week played for Blue Square Bet South side Havant & Waterlooville in a friendly against Southampton and Hayes boss Garry Haylock admitted that his future at Church Road is uncertain. 'He has not signed anything yet and we have not made a final decision on him to be honest', said Haylock. 'He has trained with us, but at the moment he has not signed for us'".

But "Veteran goalkeeper Lee Harrison is set to be the new number one for Hayes & Yeading after the 38-year-old agreed to sign on at Church Road. Harrison's contract is in the process of being finalised... Manager Garry Haylock ditched his interest in signing ex-Torquay United and Crawley Town number one Simon Rayner after Harrison's decision to join. Harrison is an experienced Football League goalkeeper having enjoyed stints at Leyton Orient, Fulham and Peterborough, but he is most fondly remembered at Barnet for achieving the feat of making 300 league appearances for the club".
---
21 July 2010
TRAFFORD 0 ALTRINCHAM 5
After stuttering pre-season performances at Woodley, Rhyl and Nantwich, Altrincham were much improved against local neighbours Trafford of the Evo-Stik First Division, winning the game 5-0. Alty used a large number of trialists, especially in the second half but there were only three new faces amongst them.
Match report here.
JACKPOT TO BE WON
The Altrincham FC Saturday Yankee jackpot of £5,000 remains unwon after this week's results, with winning code 2761 untaken. However, seven members each won £28.57 for "trebles".
BSBP NEWS
Mansfield Town report that "It is with deep regret that we announce the resignation of Andrew Perry as Chairman and from the Board of Directors with immediate effect. Mr Perry made the decision after stating his desire to devote more time to his business.

Andrew Saunders becomes interim Chairman until the next Annual General Meeting in August. A statement from the Board of Directors read: 'We would like to thank Andy for his hard work and commitment over the last two years and for his work in helping put the club back at the heart of the community'.

Mr Perry said: 'As one door closes, another one opens, but my decision to leave will not stop the growth of the club. I thank the directors for their hard work and most importantly I would like to thank the fans - the heartbeat of the club. I cannot praise them highly enough'".

The BBC says that "Eastbourne Borough manager Garry Wilson says the side must become full time to remain in the Blue Square Bet Premier. The part-time club is facing growing difficulties with player availability as an increasing number of northern teams dominate [???] the division.

Wilson told BBC Sussex: 'The future must be to go full-time to proceed. For us as part-timers to go to York on a Tuesday night and then Southport on a Saturday gives us a load of difficulties to get players off work'. He added: 'Other clubs don't have that problem'.

Grimsby and Darlington were both relegated from League Two last season while Oxford and Stevenage were promoted. 'We are in our third year of trying to survive in this division and we'll give it a go', Wilson continued. 'We're the bookies' favourites to go down once again but we will work against that'".

Meanwhile "Bath City have signed ex-Bristol City winger Scott Murray on a 12-month deal. The 36-year-old Robins' fans' favourite made 427 appearances during 11 years over two spells at Ashton Gate but spent last season at Yeovil. The Scot has also played for Aston Villa, Reading and Cheltenham and still has a part-time coaching role with Bristol City.

Bath have also signed former Team Bath, Weymouth and Salisbury striker Jake Reid after a successful trial...

[Of Murray] Bath City manager Adie Britton told BBC Radio Bristol: 'We all know what a character he is, certainly he'll bring something else to the dressing room. On the field, he can play in a lot of positions - down the right side, he can play behind the front man - he will fit in very well with the lads I've got'".

Further north, "Barrow are set to offer experienced defender Kevin Austin a deal after the 37-year-old impressed on trial at Holker Street... following his release by Chesterfield this summer. Barrow joint-boss Dave Bayliss told BBC Radio Cumbria: 'We are hoping to sign him up. He's a big lad and he's looked after himself. He's as fit and as quick as anyone at the club'".

According to the Blue Square Football says that "Striker Ben Wright has joined Hayes & Yeading on trial after being placed on the transfer list at Peterborough United... Wright joined Peterborough from Hampton & Richmond Borough in January, 2009 but made just five first team appearances. He was loaned out to Kettering Town, Luton Town, Grimsby Town and Barnet before being placed on the transfer list by club management this summer".

From the Conference Forum we learn that "Next Monday.. The Non League show, together with the NLP and Nln24.com will be streaming a live Non League Forum from AFC Wimbledon - there are many of the great and good of the Non League world there - ranging from chairmen of leagues, to the FA, to managers, to players - from all over the place and all different leagues. There will be moving pictures too - so you might just spot the odd conference forum member.. It's all from 8pm at www.bbc.co.uk/nonleague
---
20 July 2010
MORE BSBP NEWS - MANSFIELD CHAIRMAN GOES
Mansfield Town report that "It is with deep regret that we announce the resignation of Andrew Perry as Chairman and from the Board of Directors with immediate effect. Mr Perry made the decision after stating his desire to devote more time to his business.

Andrew Saunders becomes interim Chairman until the next Annual General Meeting in August. A statement from the Board of Directors read: 'We would like to thank Andy for his hard work and commitment over the last two years and for his work in helping put the club back at the heart of the community'.

Mr Perry said: 'As one door closes, another one opens, but my decision to leave will not stop the growth of the club. I thank the directors for their hard work and most importantly I would like to thank the fans - the heartbeat of the club. I cannot praise them highly enough'".
BATH GAME CHANGED
The Bath City v Altrincham fixture has been moved forward by seven days to Tuesday, 12 October, owing to Bath's County Cup game against Radstock Town on the earlier date.
THIS WEEK
Altrincham's next match is another pre-season friendly, tonight, Tuesday (20th), at 7.45pm at Shawe View, against our neighbours Trafford FC of the EvoStik (Northern Premier League) First Division (North). Shawe View is located off Pennybridge Lane, Flixton, Manchester M41 5DL.

After that Alty take on another EvoStik First Division (North) side, Curzon Ashton (away) on Saturday, July 24th at 3pm. The Curzon Ashton site gives the following directions:

"Ground Address: The Tameside Stadium, Richmond Street, Ashton-under-Lyne, OL7 9HG...

M60 Junction 23 turn left off slip road, then get into the second from left lane to go through the lights onto the A6140 sign-posted Ashton. Keep on the A6140 until you come to a set of traffic lights with a cinema on your right, turn left at these lights, follow road over a bridge then over a mini-roundabout then turn left after the mini-roundabout. Ground is at the bottom. ALL VEHICLES MUST PARK IN THE CAR PARK ON THE RIGHT. COACH PARK ON LEFT".
OLD BOYS
Lee Elam, who left Altrincham for Northwich played for Stalybridge Celtic in a pre-season defeat at Congleton on Saturday.

After Lance Key left Histon in acrimonious circumstances as goalkeeping coach, NL Daily tells us that his successor is another ex-Alty loan keeper. "Neil Reader has stepped down as joint-manager of Ridgeons League Division One club Team Bury. Reader follows fellow joint boss Dean Greygoose who has joined Histon as goalkeeping coach".
BSBP NEWS
Blue Square Football says that "Luton Town manager Richard Money has revealed that full-back Lewis Emanuel has missed out on the chance to earn a permanent deal at Kenilworth Road. The 26-year-old made just a handful of appearances for Luton in League Two last year after a recurring toe injury kept him on the treatment table for extended periods of the campaign. Emanuel's Luton contract expired at the end of last season but he was invited back to the club for pre-season training with a view to earning a new deal. However, the left-sided player failed to turn up for any of the club's pre-season training sessions.

'Lewis Emanuel is no longer at the football club', Money told Luton Today. 'We gave him the opportunity to come in for pre-season but we haven't seen him. That door is closed'".

Meanwhile "Mansfield Town manager David Holdsworth has revealed he will continue to search for a new striker after abandoning his pursuit of Anthony Elding. The Stags' boss was quoted a fee of £30,000 to secure the services of Elding, who is currently plying his trade in Hungaria [i.e. Hungary!] with Ferencvaros. Holdsworth will now step up his search for a new frontman with Rob Duffy, Louis Briscoe and Lee Gregory currently on the treatment table.

'I am trying my socks off to bring in someone up front, but it looks like I will now have to give up on Elding,' Holdsworth told the Nottingham Post...

However, "Holdsworth has given permission for midfielder Kyle Nix to join Dutch side Sparta Rotterdam on trial. The 24-year-old is under contract at Field Mill but Holdsworth has given the move his blessing".
NW NEWS
According to the Lancashire Telegraph "Accrington Stanley look set to get special get special dispensation again this season for the Crown Ground to operate below the Football League's minimum capacity of 5,000. The Reds' plans for a £1.2m redevelopment of the ground fell through and a possible temporary extension to the Coppice Terrace is not expected to be in place by the start of the season. 'We've had dispensation from the Football League for the last 12 months and they continue to be lenient with us on that', said managing director Dave O'Neill. 'We'll finish up at around 4,600 to 4,700 by the start of the season, so we're only a small amount away'" .

Bullsnews confirms that "Southend have signed former Salisbury defender Sean Clohessey on pre-contract pending the lifting of their transfer embargo". Clohessy only joined Bath City during this summer.
---
19 July 2010
BSBP NEWS
Blue Square Football tells us that "Cambridge United will only be able to sign players on free transfers over the next few weeks, manager Martin Ling has revealed. The U's have agreed a fee with rivals Forest Green Rovers for the services of striker Conal Platt while the club will also have to pay Kettering Town for defender James Jennings [ex-Alty loanee], whose fee will be decided by a tribunal.

Striker Wayne Gray, 29, is also on trial at the club and Ling admits he will need to think carefully about any further players he plans to bring into his squad this summer".

Also, "AFC Wimbledon manager Terry Brown has released four trialists after they failed to sufficiently impress him... Goalkeeper Tommy Smith, defender Michael Noone, midfielder Adam Martin and striker Tyrone Sealey have all been shown the door at Kingsmeadow. However, Rene Steer, Ed Harris, Fraser Franks, Reece Jones and Javon Malloy will stay with the Wombles and are still hopeful of being offered deals.

Brown told the Surrey Herald: 'I'm reluctant to let anyone go. I want them to stay as long as I can. The longer they're here the more I'm likely I'll be able to juggle something'".
---
18 July 2010
FRIENDLY REPORTS
There are now reports on Alty's last two friendlies:
versus Nantwich Town
Below is a gallery of images from Alty's pre-season friendlies, depicting both a selection of last season's players and many of the trialists of this summer.
| | | |
| --- | --- | --- |
| Danny Adams | Fraser McLachlan | Dale Johnson |
| | | |
| --- | --- | --- |
| Michael Carr | Andy Gamble | Marc Joseph |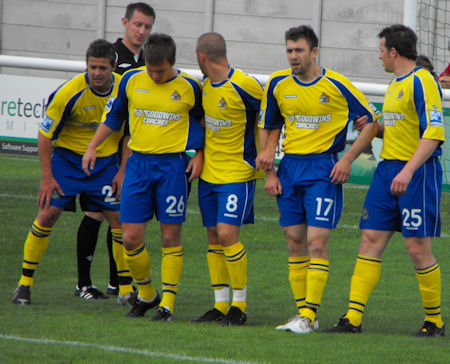 Brown, Danylyk, Denham, Reeves and Twiss.
| | | |
| --- | --- | --- |
| Adam Nowland | Danny Holmes | Tom Schofield |

In addition to the information on trialists who played for Altrincham in the past week summarised earlier on the website, the following information may be helpful:
Michael Carr (d.o.b. 6/12/83). Previously at Northwich (2005-08), Stalybridge (2009-10), Kidderminster (2009), Morecambe (2008) and Macclesfield (2001-04), Michael played in midfield for part of Saturday's game at Nantwich.
Danny Holmes, d.o.b. 17/11/86. Danny started out as a Port Vale trainee and then was at Burton Albion from where he was released when they reached the Football League in 2009. Altrincham were already on his trail before the midfielder joined Ilkeston Town for 2009-10.
Adam Nowland: 28 year-old Adam was latterly on non-contract terms at Blackpool where he started as a trainee in 1998. His career took him to MK Dons, West Ham United, Gillingham, Nottingham Forest, Preston NE, Stockport, Notts County and back to the Seasiders in summer last year.
Tom Schofield has been at Knutsford FC, playing alongside former Alty striker Steve Lunt.
Marc Ellis Joseph (d.o.b. 10.11.76 in Leicester) An Antigua and Barbuda international defender, he has been recently with Rotherham United. Before joining the Millers he was with Blackpool, who released him in May 2007.
FESTIVAL SUCCESS
Couretsy of TASC's Steve Foster and Brian Flynn, we read that: "Altrincham Football Club and TASC are pleased to announce that their stall at the Altrincham festival raised £325. In addition to that, many free children's tickets were given out.

The festival is not only an opportunity for TASC and the club to raise money, but it is also a great opportunity to increase awareness and raise the profile of the club in the local community.

Right: Alty vice-chairman, Grahame Rowley, shows his goalkeeping prowess at the Festival.

The Club and TASC would like to thank Mike Antrobus, James Antrobus, Dawn Abbott, Ian Cox, Louise Bowyer, Jack Bowyer, Colin Mitchell, Jill Mitchell, Carole Mitchell, Kate & Michael McGann, Mike Ainsworth, Graham Jackett, Mike Ford, Sarah Rowley, Karen Rowley, Grahame Rowley, Pete Foster and Graham Horton for their assistance with the TASC floats and stalls on the field. The Club and TASC would also like to thank Graham Horton, Rick Brennan, Donald McIntosh, Nick Milne and Chris Machin and all the junior players and their mums and dads who took part in the parade for the their help with the Juniors' float.

TASC would like to say a particularly special thanks to Dunham Scaffolding for their donation of the two floats, without which the parade would not have been anywhere near as much of a success!".
CHARITY GAME
Altrincham FC groundsman, Neil Brown, announces the annual charity match between East Levenshulme FC and an Altrincham FC XI. This will be on Sunday, August 8th at 1pm at the East Levenshulme ground. All proceeds go to Christie's Hospital and the Francis House hospice. All donations will be gratefully received. Neil can be contacted for further details on telephone number 07968 045657.
UNITED AT MOSS LANE
Whilst Manchester City have painted Ewen Fields blue, changed the club's kit to white and blue, put an MCFC crest on top of the stand and the host club has deleted "United" from its name, before the Premiership club's reserves kick off their season at the Tameside club's ground, Altrincham are to host Manchester United Reserves once more in 2010-11 without having to re-brand themselves.

Manchester United Reserves' league fixtures for 2010/11 are below; this year the league is national rather than regional so the likes of Chelsea, Arsenal and West Ham will visit Altrincham. Kick off is normally 7pm.

Alty groundsman Neil Brown is again to be congratulated for producing a pitch acceptable to the exacting standards of Manchester United.
Thu Sep 16 Aston Villa H
Mon Sep 27 Blackburn Rovers A
Mon Oct 4 Arsenal H
Tue Oct 26 Wolverhampton Wanderers A
Tue Nov 2 Bolton Wanderers A
Thu Nov 11 West Bromwich Albion A
Thu Nov 18 Wigan Athletic H
Tue Nov 23 Manchester City A
Thu Dec 9 Newcastle United H
Thu Dec 16 Chelsea H
Thu Jan 13 Bolton Wanderers H
Tue Jan 25 Wigan Athletic A
Thu Feb 17 Manchester City H
Tue Feb 22 Newcastle United A
Wed Mar 9 Blackpool A (Kick-off 4pm)
Thu Mar 17 Sunderland H
Tue Mar 22 Liverpool A
Tue Apr 5 West Ham United A (Kick-off 2pm)
Thu Apr 14 Everton H
BSBP NEWS
According to the Football Conference "AFC Wimbledon have snapped up former Ipswich Town and Brentford midfielder Sammy Moore. Dons' boss Terry Brown offered the 22-year-old a permanent deal at Kingsmeadow after impressing on trial".

NL News 24 tells us that "Forest Green have encountered a lot of red tape in their efforts to add talented African players to their ranks. Five Ghanaian students from Hartpury College were expected to feature in Rovers' second pre-season friendly of the summer at Harborough Town today, yet the club's two-year campaign to register Sam Mensah and Isaac Shaze for competitive matches remains unresolved.

Home Office regulations prevent overseas students playing in the Premier League and Football League, but there is no such ruling in the Football Conference. Nonetheless, the FA have warned Rovers not to field the Ghanaians in Blue Square Bet Premier games until rules on student visa credentials for players from outside the EU are clarified, This Is Gloucestershire is reporting.

Shaze and Mensah are studying at Hartpury as part of the Right to Dream scheme, along with goalkeeper James Nortei, defender Thomas Boakye and wingers David Accam and Bismark Kwarteng. They regularly return to Ghana to coach under-privileged children and have starred for Rovers' reserves during the past two seasons".

From Bullsnews comes information that James Smith's nemesis at Mansfield Town, "Bradford striker Jake Speight, has been released from prison after having his 12 week jail sentence reduced to a suspended sentence on appeal. Cheltenham have signed defender Martin Riley from Kidderminster. The 23 year old hasn't cost them a fee despite Kiddy offering him a new deal".

And "Cheltenham boss Mark Yates has raided former club Kidderminster for defender Martin Riley" reports http://www.bluesqfootball.com/story/0,20970,13040_6267529,00.html">Blue Square Football. "Riley, who began his career with Wolves, has signed a one-year contract at Whaddon Road".
---
17 July 2010
SATURDAY'S RESULT
After a poor first half in which they fell 0-2 down - and it could have been 0-4 - Altrincham recovered and drew 2-2 at Nantwich today.
RHYL'S VIEW
Above left: As the most senior player at Rhyl, Nicky Clee captained Alty for the first time last night. Here he shakes hands with his opposite number as Kyle Wilson (background) and Craig Mahon (no.19) look on. As can be seen, Mahon does a passable impersonation from behind of Chris Senior, whose old shirt he was wearing. Above right: Former Rhyl defender Matt Holt (left) warms up with a front view of Craig Mahon (right).
After their deserved win over Altrincham's trialist-packed team on Friday, Rhyl reported: "Another encouraging performance for Rhyl was on show at Belle Vue tonight. The home team were on top for the majority of the match and took the lead midway through the first half through impressive Australian trialist Pasquale Polistina who netted from close range following neat work from [ex-Alty striker] John Toner. Polistina was replaced at half time by fellow countryman Nicolas Le Ruoco who also put in an exciting performance, showing off plenty of trickery and pace.
Ex-Rhyl defender Matthew Holt played the full match for the visitors. Anthony Costa played the full match in goal and although he didn't have much to do, he managed well when called upon. As a team, everyone made an impression and once again they can be proud of their display".
Altrincham received a friendly welcome at Belle Vue and wish their opponents every success in the coming season.
BSBP NEWS
According to the Bedfordshire News "Keith Keane is going nowhere - that is the message from Luton Town manager Richard Money who blasted claims of a big money bid for the midfielder from rivals Crawley Town. The Hatters boss revealed that no bid has come in for the 23-year-old - but that one had arrived for another of his stars which was turned down.

Asked what he thought of a rumoured bid for Keane from the Sussex outfit, Money said: 'When they (Crawley) put a bid in I'll have some thoughts on it and they'll be told where to go in no uncertain terms. I can't believe there's been such a fuss about it, to be perfectly honest. I think everybody needs to understand, both the media and supporters, that (Crawley manager) Steve Evans is trying to be clever. I wouldn't call it mind games, I'd call it petty, ridiculous rubbish. We've had no bid for Keith Keane from Crawley.

We've had a bid for one player this summer - not Craddock, not Gnakpa, not Keane, not Howells, not Asafu-Adjaye. One player - Matthew Barnes Homer. 'He's going nowhere either. It was from Crawley but he ain't going anywhere and neither is Keane. I don't think Keith Keane wants to play in front of 700 people. I'm hearing that they (Crawley) are going to make a six figure bid, so I presume we'll get a bid on August 3 for £100,01. That's clever isn't it? We'll pre-empt that and say that unless the offer starts with a nine, they can forget it."

On the Red Devils' bid for Barnes-Homer, the manager said: 'It was a lot of money'. Asked if it was in the region of what they have paid for Matthew Tubbs and Sergio Torres, Money said: 'I would say it's in a similar range, yeah... I think it's flattering that Steve Evans obviously feels that he wants to try and intimidate us in whatever way he wants to, but it's the oldest trick in the book. We'll just ignore it and we'll see how well they do. They've obviously got the biggest budget and are paying the most for players and, I would guess, the biggest salaries with it.

They are having a go at it, fair play to them, I've got no problem with that whatsoever, but it means they've got a lot of new players who need to gel together. Let's see how they do, but for me, the two clubs coming down (from League Two) will replace those who have gone up. The four coming up will definitely be much stronger than those who have gone out of the league. York are going to be the biggest challengers. The teams that were up and around it (promotion), like Rushden, Kettering and Mansfield, will again have a go at it. Wrexham and Cambridge will be much stronger'".

From This is Nottingham we learn that "Michael Boulding has left Mansfield Town to put himself in the running to join Barnsley. The 34-year-old had impressed for the Stags in two pre-season games after joining on trial. But after scoring in the second of those, a 3-0 win over the Tykes in a behind-closed-doors fixture yesterday, the Championship club want to have a second look". Manager David Holdsworth said, 'We have to try to attract the right players – and that is what I was trying to do here. Of course I'm disappointed, but that's the way it goes sometimes'".

The Football Conference says that "Rushden & Diamonds [have] signed Lewis Spence following a successful medical. The 22-year-old midfielder started his career with Crystal Palace, where he was a regular at Youth and Reserve levels, playing three games for the club, also playing three games for Palace's feeder club Crystal Palace Baltimore in the USA on loan.

In 2008 he moved to Wycombe Wanderers, playing 30 games for the Chairboys between 2008 and 2010. During that time at the start of last season Spence went on loan to Forest Green Rovers, playing seven times".

Meanwhile "Lincoln City defender Danny Hone has joined Darlington on loan,... a deal which will see him join up with the Quakers until January 1st, 2011".
YANKEE JACKPOT
A £5,000 jackpot remains to be won in the Altrincham FC Saturday Yankee, with the reserve jackpot now at £1500. Find out how you can win it here. Last week, two winners received £100 each with winning trebles. 5692 was the unissued winning number.
RHYL 1 ALTRINCHAM XI 0
Altrincham's 16-man squad included only three of the club's players (goalkeeper Russ Saunders, Adam Carden who played at full-back and Nicky Clee who played for just 45 minutes), the rest were all trialists. Amongst the starters was Kyle Wilson, who had a loan spell at Alty a couple of years ago and ex-player Vernum Rowland. The game was decided by an excellently worked goal from Rhyl which opened up the Alty central defence, allowing Rhyl's lively Australian/Italian winger Pasquale Polistina a first-half tap-in. Though Wilson threatened in the first half and another trialist, Mahon (ex-Wigan) was presented with a couple of chances, Alty created relatively little, with Holmes's first-half header against the bar the nearest to an equalizer. Carden had a solid game playing both on the left and the right of the back line. Report to follow.

Pictured right, are the starting eleven, joining in a minute's clapping before the kick-off to honour a local soldier who had recently been killed in Afghanistan.

ALTRINCHAM: Russell SAUNDERS; Adam CARDEN, Danny HOLMES, Matt HOLT, Vernum ROWLAND; Clive MOYO-MODISE, Tom McCREADY, Frazer McLACHLAN; Kyle WILSON, Craig MAHON; Subs: Mark KIDDIE and four others.
---
16 July 2010
PREMIER LEAGUE SUPPORTS FOOTBALL CONFERENCE
The Football Conference announces - "New Football Conefrence club development fund to be launched.

The Premier League today announced a solidarity package with the Football Conference worth £6m over the next three seasons.

Following the £1m payment made to the Football Conference in 2009/10 the Premier League has decided to provide funding for seasons 2010/11, 2011/12 and 2012/13 that will support all Football Conference clubs.

The funding will be split into general payments made to all sixty-eight Conference clubs and a separate club development fund which any Conference club can apply to for specific projects.

The funding will be structured in the following way:
£1.2m per season provided as funds to support all Football Conference clubs.
£800,000 per season committed to a new club development fund to which all Conference clubs can apply.

Premier League chief executive Richard Scudamore said, 'The Premier League and our member clubs recognise the importance of the continued health of football outside the Football League and it is with this in mind that we have made this commitment to the Football Conference.

'In particular, we are extremely pleased to be working with the Football Conference to establish a new club development fund that will allow Conference clubs, all extremely important within their local communities, to invest more funds into local youth development and good cause initiatives'.

Football Conference chairman Brian Lee said 'This is a further wonderful gesture of friendship from the Premier League towards the Football Conference. The solidarity commitment for three years is most welcome whilst the new funding will allow our clubs to express themselves in a tangible form for the benefit of their communities. We accept the challenge with gratitude'".
GRAHAM IS RUNNER-UP
The NL News 24 lists its top 50 non-League managers in issue 8 of its generally excellent all-colour magazine. Altrincham's Graham Heathcote comes out well, in second place. But it is surprising that the top manager is named as Liam Watson, the Southport manager. Whilst Liam has won the Conference North twice with Southport and the UniBond Premier with Burscough, surely Graham's feat of getting Alty from the lower ranks of the UniBond Premier (now step 3) to step 1 (Conference) and keeping them there for six seasons so far, without spending a penny on transfers during his eight years as manager, outweighs that.

The NLN also curiously describes Graham as "The Robins' all-time leading goalscorer".
IDOLS' CHAMPIONSHIP
Right: As promised, here is a photo of the victorious Alty Idols who, as announced yesterday recently won the Altrincham Sunday Leisure League for the first time. The title went right down to the wire as the Idols, needing a point in their final game, defeated main challengers Clansmen 3-1, with goals from Steve Foster (2) & Mike Barton.
Standing, L. to R.: Tom Jacobs, Grahame Rowley, Ross McEwan
Kneeling L. to R.: Steve Foster, Mike Barton, Brian Flynn
BSBP NEWS
"Brett Solkhon has completed a permanent move back to Kettering Town" reports The Football Conference. "The midfielder has re-signed for the Poppies just over a year after he left the club to join neighbours Corby Town after a lengthy stay at the Elgood's Arena".

Also, according to the BBC "Kettering Town player-manager Lee Harper says they are looking closely at signing midfielder Alex Dyer. The 20-year-old midfielder, was released by Northampton in May, and played in the Poppies' 1-0 defeat by the Cobblers in a pre-season friendly. Harper told BBC Radio Northampton: 'I've been impressed with him so far. His fitness levels are above any of our players and he plays it simple. We're seriously considering him. It'll depend on our budget'...

Meanwhile, Harper may be forced to play in goal for Kettering in their first league game against Gateshead, despite a serious back injury. He said: 'Nathan Abbey is suspended. My back isn't good and I need to retire, but I'll do what's best for the football club. I'll give Niall Cooper a chance in [the] next three friendly games, and if he impresses, maybe he'll play. But it's vital we get off to a good start. We've got some tricky games as it is, so experience might be the answer, and I'll probably play'".

From Blue Square Football we learn that "Barrow joint-boss Dave Bayliss has revealed that goalkeeper Tim Deasy is unlikely to join the Bluebirds for the upcoming campaign. The 24-year-old rejoined the Bluebirds for pre-season training after parting ways with the club at the end of last season. However, Bayliss has admitted that he is currently running the rule over a number of other possible targets. Bayliss told BBC Radio Cumbria: 'You never say never but the deal doesn't look likely at the moment'".

Alty's leading scorer last season, Chris Senior, has yet to kick a ball in anger at his new club, Darlington, but his third manager since joining the Quakers this summer "Mark Cooper, has clinched his second signing of the summer, with former striker Liam Hatch joining on loan from Peterborough United" reports the Darlington site. And the new man is a "6ft 3ins forward, who scored nine goals for Darlington in 26 league games while on loan during the 2008-09 season. [He] has joined the Quakers from League One side Posh until January.

Cooper said: 'I've been waiting patiently to bring in some quality players so we're delighted get Hatchy in. We're trying to bring in the right kind of people. There's no point rushing out there to bring in ordinary players who won't improve the squad, we want quality signings and Hatchy certainly fits into that criteria... He'll complement Tommy Wright, Chris Senior, Curtis Main and Michael Smith. We're still looking to bring in another two or three. We're looking at defenders as we do think we're short in that area, and we'll hopefully have some news on that front fairly soon'".

Cambridge News says that "Wayne Gray must prove his injury problems are behind him if he wants to turn a trial spell into a permanent deal with Cambridge United. The 29-year-old striker, who is a free agent after leaving Grays Athletic, is training with the U's... United manager Martin Ling worked with Gray at Leyton Orient and the pacey forward is bidding to join Daryl Clare, Danny Wright and Adam Marriott in the striking ranks.

But the U's director of football Jez George admits Gray must prove a troublesome knee problem is behind him if he wants to earn a contract.... 'Martin has made it pretty clear we've got room for maybe one more striker and we'd want one with a bit of pace, which Wayne's got in abundance'... Gray began his career at Wimbledon and can list Swindon Town, Southend and Yeovil among his former clubs...

'You can never have too many front men', George added. 'You try to make sure your main four strikers cover all the bases and can give you different qualities. We've got good pace in wide areas with Robbie Willmott and Conal Platt, but someone with explosive pace would be good to have in the mix up front'".

The Uxbridge Gazette says that "Hayes & Yeading have four goalkeepers in the frame to fill the vacancy between the sticks if Garry Haylock's number one target rejects a move to Church Road. Haylock has made an offer to an experienced goalkeeper with over 300 Football League appearances under his belt and is awaiting a response later this week from the man in question.

But Haylock is also running the rule over ex-Torquay United and Crawley number one Simon Rayner, released at the end of last season. Young pair Josh Lennie and Jonathan North, released by Brentford and Watford respectively, played a half each in the 2-0 friendly win over Beaconsfield SYCOB... while retaining Chris Baker for next season is another option.

Haylock signed up both Nathan Webb and Charlie Wassmer last night with Daniel Wishart, Bradley Pritchard and Tom Cadmore also having agreed terms with a view to signing later this week. The Hayes boss is also hopeful that he has offered his number one goalkeeping target and Peter Holmes the terms to seal a deal for the pair after a board meeting approved the contracts".

"Rushden & Diamonds welcomed a new goalkeeper coach this week. Lance Key joins the club for the year as our First Team Goalkeeper Coach. Lance has a wealth of experience as a keeper since starting his career with Sheffield Wednesday, with over 100 games for Kingstonian and Histon, along with playing for Oldham Athletic, Oxford United, Lincoln City, Hartlepool United, Rochdale, Dundee United, Northwich Victoria, Altrincham and Wivenhoe Town."

Dean Holdsworth told the Newport County site "I am pleased that we have captured the signature of experienced, 33 year old Goalkeeper Glyn Garner. 6ft 2 inch Glyn, who along with his family are firm County fans, was released from Shrewsbury Town at the end of last season. He started his career at Cwmbran, has made over 250 league appearances for Shrewsbury, Bury and Leyton Orient and has achieved 1 full Welsh cap. Additionally, I am hopeful of capturing the signature of another striker".
---
15 July 2010
JOIN THE STEWARDS!
John Edwards, Altrincham FC joint press officer, writes in SAM:

"Altrincham are appealing for more volunteers to help bolster their growing reputation for crowd safety after no fewer than 10 of their stewards achieved unparalleled levels of success at a recent awards ceremony.

The club's Safety Officer, Darren Gregory, described his pride at seeing 10 of his team, himself included, receive an NVQ3 certificate in spectator care, ahead of their annual pre-season stewards meeting in the Manchester Glass Lounge at Moss Lane. Mindful of the extra emphasis on crowd control in an increasingly competitive Blue Square Conference, he urged more people to come forward and play a part in a success story that mirrors the progress made on the pitch over the past two seasons.

'This is the first time anyone at the club has reached this level of competence in spectator safety, and we all feel a great deal of pride at seeing our efforts and dedication to the job recognised in this way,' said Darren. 'Of course, you always want to keep improving and developing, and I would very much like to see our numbers increase for the new season.

'We had a squad of about 30 stewards last season, but five or six have left during the summer, for various reasons, and we could do with a few new faces. There are more and more ex-Football League teams in the Conference these days, and they tend to have a large away support.

'Darlington are first up at Moss Lane, and you can be sure they will bring a sizeable following. We must be ready for the challenge and keep ensuring Moss Lane is a safe and friendly environment for watching football. Knowing people have been able to watch a game under those conditions is what makes the job so rewarding. We are a close-knit team, and anyone wanting to join us will not only be welcomed on board but given full training. If you are reasonably fit and active, I'd be delighted to hear from you'.

Darren can be contacted on 07588 251295 or via the club on 0161 928 1045".
SATURDAY'S OPPONENTS
Our opponents on Saturday, Nantwich Town, lost their most recent friendly, at home, 2-6 to a Port Vale XI. The Dabbers line-up included two ex-Alty men in the player-management duo of Kevin Street and Darren Tinson: Ben Chapman, Tom Parkes, Darren Tinson, Chris Flynn (Omar Mahmoud, 46), Dave Tickle, Rodney Jack, Glyn Blackhurst, Kyle Blake, Ashley Carter (Marvin Robinson, 46), Michael Lennon (Dave Davis, 70). Subs not used: Kevin Street, Sam Aspinwall. Port Vale's strong side included former Alty trialist Adam Yates.
"CHAMPIONES!"
Brian Flynn writes: "Altrincham Supporters' Team, Alty Idols, have won the Altrincham Sunday Leisure League for the first time. The title went right down to the wire as the Idols, needing a point in their final game, defeated main challengers Clansmen 3-1, with goals from Steve Foster (2) & Mike Barton".

We hope to have a photo of the victorious team shortly. It comprises Tom Jacobs, Grahame Rowley, Ross McEwan, Steve Foster, Mike Barton, Brian Flynn. Congratulations to all concerned for bringing Alty some silverware!
WORLD CUP BLOG
Altrincham FC joint Press Officer Brian Flynn has sent the website his sixth and final World Cup Blog...

"Back to life.....back to reality......our adventure is over and I'm penning my final blog at home in leafy Timperley and looking forward to Altrincham's first pre-season friendly at Woodley Sports on Saturday! We drove almost five thousand kilometres in South Africa...saw nine games involving fourteen teams in seven stadiums (Polokwane, Rustenburg and Nelspruit were the three we didn't manage to see a game at).

Our last two matches were probably the best and worst of our footballing extravaganza. Paraguay and Japan were completely phased by competing in a Round of Sixteen game that each side had a decent chance of progressing in. This was the first penalty shootout of the tournament and as Oscar Cardozo calmly converted the winning spot kick for Paraguay, Keisuke Honda......probably the most talented player on the field, immediately walked to each side of the stadium to bow to the Japanese supporters........a fascinating cultural contrast to the post match antics of one or two other players in the tournament!

There is little doubt that Ghana should have been victorious over Uruguay in our final match last Friday. There were probably less than two thousand Uruguayan supporters in a crowd of over eighty four thousand as all of the South Africans and the vast majority of the neutrals willed on Africa's final World Cup representatives. The atmosphere was electric and the drama intense as Ghana's Asamoah Gyan rattled the crossbar with his last ditch penalty and Uruguay made the 'Black Stars' pay by triumphing in the ensuing penalty shootout. My son, Niall, was happy though......having had the Uruguayan flag facepaint treatment before the game!

During our last week, we visited the battlefield from the Second Boer war at Spion Kop, which was the inspiration for the naming of the Kop at Anfield and the fascinating....but woefully laid out (IKEA...all is forgiven!).....Apartheid Museum in Johannesburg. South Africa has clearly had a pretty turbulent history but there is a real sense of optimism everywhere that hosting this World Cup can act as a positive springboard for the future of the country".
BSBP NEWS
News of two former BSP players comes from Bullsnews. "Stockport are reported to have pulled out of a deal to sign Peterboro [and ex-Kettering] defender Exodus Geoghaghon after Jim Gannon changed his mind over taking on the manager's job. Barnet have signed Nottm Forest midfielder Mark Byrne on loan until January. The 21 year old spent last season with Rushden".

The BBC states that "The Forest Green Rovers supporters' trust is re-launching its scheme to try and increase the club's playing budget. Any money donated to the GRASS (Give Regularly to Assist Squad Sponsorship) fundraiser is ring-fenced and can only be spent on players' wages. 'We would be trying to work to a target of £2,000 a month', trust chairman Tim Barnard told BBC Radio Gloucestershire.

'That would be either one really good player, a couple of decent part-time players or other combinations. Want to do it quickly so that [manager] David [Hockaday] would still have time to shop around and look for more players'. Hockaday has so far recruited 13 players, with that number set to be boosted by academy players and possibly one or two extra additions...

'The reason that the playing budget is low is that we have a historic debt, the businesses are now trading profitably', Barnard said. 'The future will be bright providing we get investment to pay off some of the debt but in the meantime we all need to club together this season and get David Hockaday two more players'".

Confirmation comes from the Football Conference that "Bath City`s busy summer continues with the arrival of striker Lee Phillips from Cambridge United and Exeter midfielder Joe Burnell. Twenty-nine-year-old Phillips made his name with Weymouth, netting thirty-three goals in sixty-seven appearances before spending spells with Exeter City, Torquay United, Rushden & Diamonds and, last season, Cambridge. He was released by U's last month.

Experienced former Bristol City and Wycombe Wanderers captain Burnell also agreed to join City for the 2010/11 season. The 29-year-old, who has also played for Northampton Town, Oxford United and Exeter City, has played over 250 Football League games and can also operate in defence".

"Former Brentford defender Lewis Ferrell is on trial with Blue Square Bet Premier club Hayes & Yeading United" reports NL Daily. "The full-back was released by Bees boss Andy Scott without playing a game for the first-team earlier this summer".

According to NL News 24 we learn that "Mansfield Town's Rob Duffy has been struck down with chronic appendicitis, leaving boss David Holdsworth with a major striker dilemma. Holdsworth is desperate to get the go-ahead for the Welshman to receive private treatment, and if he does, Duffy's absence could be limited to around three weeks. But should he have to wait for NHS treatment, it could be months, This Is Nottingham is reporting.

The timing could not be worse for Holdsworth, who has seen Jake Speight sold to Bradford City and then allowed fellow front man Kyle Perry to join Tamworth. It leaves Lee Gregory as the only recognised striker on the club's books. Holdsworth has drafted in the Boulding brothers, Michael and Rory, on trial. He revealed he is also in talks with four other frontmen".
---
14 July 2010
RHYL GAME
Altrincham play at Rhyl this Friday night (7.30pm). As well as John Toner, who is currently a trialist at Rhyl two other ex-Alty players still seem to be at the Welsh club; Andy Owens and Andrew Pearson, who both played for Altrincham last season. Also still at Rhyl is Peter Doran's brother Phil.

The Welsh Premier site says that "Rhyl, relegated from the Welsh Premier League at the end of last season after difficulties in clearing an unpaid tax bill were looking forward to a bumper crowd against the newly-reformed Chester FC. But, after drunken Chester fans ran amok through Colwyn Bay and caused a mini-riot at their Llanelian Road ground last Saturday, North Wales Police advised Rhyl to cancel the game.

The Lilywhites will instead play Altrincham at Belle Vue on Friday evening (7.30pm). Rhyl manager Greg Strong, who has a long-standing friendship with his Alty counterpart Graham Heathcote... told the Daily Post, 'Graham is an old friend and he has helped us out massively by agreeing to send a side along on Friday evening. It is much appreciated and it should be an attractive match for our supporters'...

Chief Superintendent Andy Williams said: 'The events at Colwyn Bay on Saturday July 10 were unacceptable. Police resources from across North Wales were called in to deal with groups of people causing violence both before and during the game... I recognise that the majority of Chester FC followers are law abiding people who simply want to watch a game. However, we are not willing to tolerate a repeat of despicable behaviour by a minority of mindless thugs intent on causing harm to people and property'".
BSBP NEWS
Blue Square Football says that "Tamworth FC will run the rule over Faroe Islands international Claus Jorgensen... The 34-year-old midfielder worked with Lambs manager Gary Mills during their time together at Coventry City and will feature against Leamington... Jorgensen started his career in England with Bournemouth and has since gone on to represent Bradford, Coventry, Blackpool, Port Vale and Fleetwood Town".

Meanwhile "Crawley Town left-back Sam Rents is expected to miss the opening game of the campaign after sustaining a serious injury at the weekend. The former Brighton & Hove Albion man suffered a fractured cheekbone and a broken nose after clashing heads with Millwall's Steve Morison on Saturday.

Rents told The Argus: 'It's the first time I have had to have surgery in my career'... Rents says he is not sure when he will be able to return to training. He said: 'Normally these things take four to six weeks'".

From the BBC we learn that "New Bradford City striker Jake Speight has been jailed for 12 weeks after being found guilty of assault.The 25-year-old pleaded guilty to all charges against him but could be released after six weeks. Bradford manager Peter Taylor was unaware until the player's agent rang him on Friday morning and told him Speight was appearing in court . Taylor told the Telegraph & Argus: 'I'm very disappointed because we were totally unaware this was happening. This incident happened in February and Jake and his agent never told anyone that it would go any further. That's why I didn't know and Mansfield Town didn't know'...

He will not be paid by the club while in prison, and could have his wages capped until ready for first-team selection. Taylor added: 'To be fair to Jake, his desire to play for Bradford was so strong that he felt he might mess his chances up. He thought he would get a warning and the outcome has been a nightmare for him'". Perhaps almost as much a nightmare as for his victim?

"Speight was brought to Bradford at the end of June on the back of his goal-scoring record of 17 goals in 33 matches for Mansfield Town last season".

Meanwhile "Swansea City have been told they will not be refused permission to speak to Newport County boss Dean Holdsworth about their vacant managerial position... The Swans are struggling to lure their preferred choices so Holdsworth, linked to the post, could become an option. 'If another club comes in, it is anticipated we would want to hear what they had to say', County chairman Chris Blight confirmed to BBC Sport...

Promising young League One manager Paul Tisdale, the man that guided Exeter City to back-to-back promotions... [has] dismissed interest despite being in a lower league...

Chairman Blight confirmed Newport would demand financial compensation should the Swans wish to prize Holdsworth away just weeks after he signed a two-year contract extension at Spytty Park... 'He came to us as a bit of a rookie and we took a gamble. Although the first season didn't bear much fruit, it clearly sowed the seed as we won the league last season at a canter... Dean has said to his players "I want you here to do a job for me" and Dean is really loyal to his players. So I don't think he would turn around to them and just simply walk away from the club, just like that, having made so many promises to the players he has brought here - especially those new signings this summer'".

Still in the Principality, Welsh Premier confirms that Neath have signed Lee Trundle. "Released by Bristol City in May, he was not offered a deal at Swansea where he had been on a season-long loan, and rejected moves to League One clubs Yeovil Town, Tranmere Rovers and Swindon Town to stay in his adopted South Wales home. Trundle also turned down an 11th hour bid from Newport County, who hoped Trundle's goals could fire them into the Football League".

The BBC says that "Tamworth are playing Aston Villa's teenage goalkeeper Benjamin Siegrist in two friendly games with a view to signing him on a season-long loan. Siegrist, 18... is set to stay for the whole campaign. The Swiss youth international has signed a professional contract at Villa Park and recently won the Under-17 World Cup with his country. He was also a key figure in Villa's run to the 2010 FA Youth Cup final.

Tamworth general secretary Rod Hadley told BBC WM Siegrist also had offers from another Premier League club and a number of Championship sides".

"Cambridge United boss Martin Ling is considering signing former Leyton Orient striker Wayne Gray. The 29-year-old, who played at Orient under the U's boss, is currently without a club. Ling told BBC Radio Cambridgeshire: 'He's got pace and power and did a job for me for two years at Orient. He had a season hindered by injury last year. He's looking for a second chance'...

The forward was released by Grays Athletic in May, where he scored once in eight appearances... The former Southend man joined AFC Hornchurch after leaving Brisbane Road 12 months ago, but has struggled with injuries ever since... Meanwhile Ling says he is still making up his mind about whether former Lincoln City boss John Schofield will be joining his coaching staff. Schofield has been helping with the U's training sessions and the club hope to make a decision within seven days".

"Grimsby Town midfielder Adrian Forbes is training with Darlington with a view to a permanent move. BBC Radio Humberside understands the 31-year-old arrived in the North East on Monday and could secure a switch. The former Luton and Norwich player was one of several transfer listed by the Mariners this summer following their relegation from the Football League".

The Kidderminster Shuttle says that "Harriers' assistant manager Gary Whild admits he was surprised about David McDermott's decision to leave Harriers and go on trial at York City. The 22-year-old had started Harriers' first pre-season at home to West Bromwich Albion on Saturday but decided to try his luck at their Blue Square Bet Premier rivals.

McDermott had been asked back to try his hand at earning a new deal at Harriers this summer after injuries and illness hampered his attempts to impress Steve Burr last season... 'I'm surprised to see David try his luck at York', commented Whild".

According to This is Bath "Bath City boss Adie Britton has added further top-flight Conference experience to his squad with the acquisition of powerful striker Lee Phillips. Following hot on the heels of utility man Joe Burnell, Phillips signed a one-year deal at Twerton Park last night. The 29-year-old Cornishman left Cambridge United at the end of last season last season and lists Rushden & Diamonds, Weymouth, Torquay United and Exeter City among his former clubs. Before signing for Weymouth, Phillips made 50 Football League appearances for Plymouth Argyle, where he was a trainee...

Britton said: 'It's fantastic to have a player of Lee's quality on board. He and his agent had obviously done their research on us and asked around and he was really keen to come. Lee did have other offers but we had a massive advantage in that he's just got married and moved to Cirencester and didn't want to be travelling a million miles... At 29 he is a good age because he has the experience but also a good few years of football left in him'".

The NW Evening Mail says that "Barrow Raiders and AFC have assured their fans the £50,000 grant from the local council will be used wisely. Barrow Borough Council have given both the semi-pro outfits a one-off payment in place of their traditional £5,000-a-year contributions to the clubs, which have now come to an end...

Barrow AFC director Tony Keen said the Bluebirds were equally delighted with the council's £50,000 payment. Asked what AFC would do with the money, he added: 'We have to invest in the ground... The developments we've done in the Crossbar facility, that's generated more money in the club to allow us to stabilise the football team and will also help us invest in the right places in the ground as well... What the £50,000 will allow us to do is support any outcome of the study into the best future use of Holker Street'".
LOCAL NEWS
There is more from Manchester City on the transformation of Hyde United who have now dropped the "United" suffix and their Ewan Fields ground has been painted blue although the club's traditional colour is red. "Ewan Fields' summer transformation is almost complete as City's new partners Hyde prepare to welcome the Elite Under-21s for a special friendly on Saturday... between the two clubs as non-league Hyde celebrate a proud 125-year history in the game. Work has been going on during the past weeks to improve the ground where City's reserves and Under-21s will play their home games under the agreement revealed in June...

Project Manager Phoebe Marshall said: 'It's a really nice ground, it was just looking tired. Now it looks really smart in blue and light grey... We didn't want to go in there and maybe change too much'... Ewan Fields, which once had a plastic pitch, will now have one of the best grass pitches in non-league after work by City grounds manager Roy Rigby and head groundsman Lee Jackson. A new irrigation system has been installed. Phoebe added: 'There's been a massive paint job inside and out, the home changing-rooms have been done out to a high standard and the club lounge has had a makeover'".
---
13 July 2010
TWO FRIENDLES THIS WEEKEND
Altrincham FC will be playing an additional pre-season friendly, this Friday (16th). They will be playing away at Rhyl, with a 7.30pm kick off. Rhyl play at Belle Vue, Grange Road, Rhyl LL18 4BY. Originally, Rhyl were to play the newly formed Chester FC but crowd trouble at the new club's match at Colwyn Bay on Saturday led police to refuse permission for the game to take place.

Rhyl confirm that "Following the cancellation of Rhyl v Chester which was due to be played this Saturday, a friendly has been arranged for this Friday night against Altrincham. Kick off will be at 7.30pm. Gareth Owen, Chris Williams and Lee Jones will all feature in the game as will the three Australians, Anthony Costa, Nick Ruoco and Pasquale Polistina. Entry prices will be:
£5 Adults, £3 OAPs, £1 Children".

A Rhyl fan adds, "Shame the thugs have won again, with the cancellation of the Chester game, but from my point of view, what a replacement. I was happy when I heard Man City were coming, but now Altrincham as well, I am over the moon, if you will pardon the expression. I have family connections with Altrincham. My uncle and my late grandfather both played for them, and my grandfather was a member of the committee running the club. Ian Johnson".

In last Saturday;s friendly Rhyl lost 1-2 at home to Kidsgrove Athletic. The match report says "One of the players currently on trial at the club that featured in the match is former TNS [and Altrincham] forward John Toner who was released from Bala Town at the end of the season. Our trial goalkeeper was forced off after suffering a hand injury and debutant Brad Maylett was also injured during the match which saw him limp off".
The Rhyl site adds that "Following on from news that Australian goalkeeper Anthony Costa will be joining the club on a trial basis, we are now pleased to announce a further two Australian players who are due to arrive in Rhyl on Monday 12th July. Nick Ruoco and Pasquale Polistina both play in midfield and are in their early 20s and they have both been recommended by Nick Tarquinio who has worked with many youth players from Sydney, New South Wales... If their trials at Rhyl do not work out, they will move on to trial in Italy".
Altrincham's game at Nantwich Town on Saturday 17th is still on. In their last game, Nantwich fielded former Alty reserve Chris Rowley in goal for the second half, whilst ex-Alty Youth striker, Sam Madeley played up front. Admission prices on Saturday will be £5 for adults, £3 for concessionaries and £1 for children.
Nantwich play at the Weaver Stadium, Water Lode, CW5 5BS. They are managed by former Alty players Kevin Street and Darren Tinson (right).
SUMMER SOCCER FUN WEEK
The popular Altrincham FC Summer Fun Week at Moss Lane will be held this year from 26 to 30 July for those aged four and a half to thirteen (reception to year 8). The price is just £60 per child for a week of soccer coaching from 9.30am to 3.15pm. There is a discount for brothers and sisters of attendees. The football coaches will include Alty's former top striker Colin Little, now on the coaching staff at Manchester United. Please ring the club (0161 928-1045) to book places. There will be skill awards for each age group, a meeting with manager Graham Heathcote, a group photo for each player and a presentation ceremony at which parents are welcome.
SATURDAY SOCCER FOR UNDER-EIGHTS
Altrincham FC's Saturday Soccer School for under-8s will run throughout August from 10am to 12noon at Blessed Thomas Holford School. This popular event now has over 80 children attending each week. Please ring the club (0161 928-1045) for details.
BSBP NEWS
Left: Action from Alty's game at Woodley last Saturday; as Shaun Densmore tracks an aerial ball, Robbie Lawton (wearing Ross Thaker's shirt), Robbie Williams, Anthony Danylyk and Ryan Brown await developments.
According to the Football Conference "Gateshead have been dealt a blow with the news that central defender James Curtis will miss the start of the season. Curtis, the Tynesiders' longest-serving player and last season's player of the year, has broken the fifth metatarsal in his left foot. The 27-year-old is now on crutches and it is expected to take three-four weeks for the injury to heal and then a couple more weeks of rehab".
"'I felt the bone snap during the few minutes I was on the pitch in the opening pre-season friendly against Middlesbrough', said Curtis. 'I have never had an injury like this before and obviously it is disappointing, but hopefully I won't miss too many games. As I am now a full-time pro I can receive treatment and do the necessary physio every day rather than on a couple of nights so hopefully I'll be back sooner rather than later'.
Manager Ian Bogie is... philosophical about the situation. 'Ideally he will only miss the first week of the season'", he said.
According to Blue Square Football "Forest Green Rovers' hopes of signing Julian Alsop have ended after the veteran striker returned to former club Bishops Cleeve. Alsop has enjoyed a long and varied career but surprised many by resigning for Cheltenham Town last season, after a six year absence. The 37-year-old defied expectations by snapping up the supporters' player of the season award as well as breaking the club's Football League goalscoring record. But after training with Rovers, he has now put pen-to-paper on a deal with Bishops Cleeve".
Meanwhile "Kidderminster Harriers boss Steve Burr has expressed his disappointment at seeing David McDermott leave the club. The 22-year-old winger was offered a chance to resurrect his Harriers career after spending most of last season on the sidelines with illness and injury. But after a week's training with the Aggborough club, McDermott decided rather to try his luck with rivals York City.
Burr told the club's official website: 'Since I came here last season David has hardly played any football, through no fault of his own, so it was obviously the most we as a club could offer him; the chance to come back and show us what he could do. But he is a free agent and it is his right to decide where he wants to try and earn a contract. As far as I know he has not been offered anything concrete by York so we're disappointed to see him go - especially as we offered him the same chance straight after the end of the season'".
Blue Square Football also confirms that "Former Stockport and Leeds striker Anthony Elding is looking for a new club after Hungarian giants Ferencvaros paved the way for him move back to England. The 28-year-old moved to Budapest in January after being given a free transfer by Crewe Alexandra while on loan at Kettering. Elding... bagged eight goals in 15 league appearances as the side managed by Craig Short just missed out on a Europa League spot.
With Short having left for Notts County and the Hungarians' other English backroom staff and players - apart from ex-Port Vale midfielder Sam Stockley - now back home, Elding is also keen to return... Ferencvaros are understood to want around 25,000 Euro (around £20k) to release the former England C striker's registration".
The South Wales Argus says that "Ambitious Newport County made an eleventh hour bid to sign legendary Swansea hot shot Lee Trundle. The former Swansea, Wrexham and Bristol City man is set for an astonishing move to Welsh Premier League outfit Neath Athletic, according to reports, on a three-year deal said to be worth over £2,000 a week... It allows him to stay in his adopted hometown of Swansea.
However, when the news of Trundle's shock move became public, County boss Dean Holdsworth – currently on holiday in Italy – was in instant contact with the prolific marksman in a bid to lure him to Spytty Park, although the attempt appears to have been unsuccessful... County were hopeful that the opportunity to thrive in the Conference, as well as complete his coaching badges alongside A-licensed Exiles coach Matt Bishop, would be enough to tempt Trundle.
The Argus understands that there was even mention of Trundle being entitled to a percentage of any future transfer fee the club received for him (with a specific sum written into his contract), but that wasn't enough with Neath's huge offer already on the table".
Still in Wales, the BBC reports that "Ex-Swansea City midfielder Kristian O'Leary is set to join Welsh Premier side Neath. The 33-year-old will become the second former Swan to join in the space of a few days after striker Lee Trundle agreed a three-year-deal. Port Talbot-born O'Leary spent a spell on loan at Wrexham last season".
Swansea City report that "Chad Bond was in action for Newport County on Saturday - and scored. The young striker has been training with the newly promoted Blue Square Premier outfit and played in their weekend friendly at Aberystwyth Town".
From the BBC we learn that "Grimsby Town have signed former Bournemouth striker Alan Connell on a two-year deal with the club having an option of a further year. The 27-year-old was released by the Cherries this summer after 119 appearances and 19 goals... The former Ipswich trainee has played for Torquay, Hereford and Brentford".
"Bath City are poised to sign former Bristol City utility man Joe Burnell" says This is Bath. "The 29-year-old, who can play in midfield or at the back, has agreed to sign on at Twerton Park after leaving Exeter City at the end of last season. Burnell made more than 200 Football League starts for City, where he started his career as a trainee, Northampton Town and Wycombe Wanderers.
His 2009-10 campaign was ruined by a long-term groin injury, however, and City chief Adie Britton does not expect to be able to call on his new recruit for at least another three weeks as he completes his recovery. Britton said: 'Joe's a really good character who gives us cover in a number of positions... He's opted to play part-time for us because he is starting up his own business in the Bristol area'. Britton is also on the verge of bringing a new striker to the club but is resigned to losing Sean Clohessy just 10 days after signing the former Salisbury City full-back on a one-year deal
The ex-Gillingham man is attracting the attention of league clubs and did not attend City's friendly with Cardiff City last Thursday. Britton said: 'I said at the time he was the best player I'd ever signed for Bath and since then two or three league clubs have come in for him. It's better it happens now than in October or November and right-back is not a massive problem for us. Sean hasn't got a clause in his contract but I'm not going to stand in his way of somebody who has the chance to get back into the league'".
The Cambridge News tells us that "John Beck has admitted he faces an uphill task to assemble a squad capable of keeping Histon in the Blue Square Bet Premier next season. The Histon boss put 12 trialists through their paces in Friday night's home friendly against Ipswich Town, but only a handful stood out in the 6-0 defeat.
Beck said the Stutes had spread their net far and wide in a bid to recruit new players, but he is finding it difficult to find the right kind of player because of the low wage bill which the club will be operating with. He said: 'We've emailed 417 FIFA-registered agents saying "help, we've got no players". We've gone through 65 trialists now and we keep whittling them down and there were a couple that showed some promise. We've got a lot of work to do, though. We'll have a really low budget and the most we'll be able to pay is about £125 per week. But we'll keep looking and keep working hard'...
Beck was most impressed with defenders Gomez, Remi and Ben Clark, while last season's first-team squad members Joe Welch, Adam Tann, Erkan Okay, Lee Smith, Callum Stewart, Daniel Sparkes, Lewis Taffe and Jim Stevenson all featured during the game. Former Stute Antonio Murray also played, and Beck remains hopeful that a deal may be done to secure his services for next season. But it seems unlikely that Adam Bygrave will return.
'I don't think we'll be able to afford him', said Beck. He added: 'It looks like we'll have a back four and we'll probably have a midfield four. But we're a bit short on strikers... Hopefully we won't go down at the end of the season', he said. 'It certainly won't be for a lack of effort or organisation'".
Reports from the Uxbridge Gazette say that "Hayes & Yeading star James Mulley is on trial at Charlton Athletic. United boss Garry Haylock told the Gazette last week that the 21-year-old midfielder's future was hanging in the balance after failing to agree terms at Church Road.... He featured in the Addicks' 2-0 pre-season friendly defeat against AFC Wimbledon on Saturday".
The Leader says that "Dean Saunders is hoping to clinch the signing of goalkeeper Wayne Brown and an un-named centre-back from a higher division on a season-long loan deal. Brown, a free agent, having been released from Bury at the end of last season, has held talks with Saunders, although he feels the 33-year-old, who has also played for Chester City and Hereford United, 'might be out of our price range'. Saunders [added], 'I thought I had got him... but I may have to look elsewhere'.
Saunders is also in discussions with a club about bringing in a defender on loan after losing Ashley Westwood and Mansour Assoumani. As he is operating on a reduced budget, Saunders is hoping the player's club will contribute towards his wages. 'We want to take the player on loan for a year from a club higher up than us', said Saunders. 'We are waiting for their chairman to agree to the offer we have put in. The player wants to come... but we can't pay all the wages'".
LOCAL NEWS
Manchester City report that "City's unique partnership with Hyde FC will be launched with a special curtain-raiser against the Elite Under-21s at a refurbished Ewen Fields Stadium on Saturday. The game will cement the bond formed between the two clubs, with City beginning a three-year groundsharing and sponsorship deal with our non-league neighbours.

The Blues are to play reserve, Under-21 and selected Academy matches at the Stadium, which has benefited from summer improvements to the ground and to the pitch. City in the Community are also continuing as shirt sponsors for the 2010-11 campaign in the Blue Square Bet North by Hyde FC, who are celebrating their 125th anniversary.

Chief Executive Garry Cook said: 'We are very much looking forward to taking our games to Hyde for the new season. This is a win-win situation for both clubs. Hyde are a fantastic local club with which we have long enjoyed a strong relationship'.

Delighted Hyde Chairman Steve Hartley said: 'We have always had a close relationship with City, and Garry Cook and Life President Bernard Halford have both given us tremendous support during the past few seasons'... City's Phoebe Marshall, the Project Manager, said: 'The ground was looking a bit tired, now it's looking good'". Coincidentally, Hyde recently dropped "United" from their club name.
---
12 July 2010
WORLD CUP COMPETITION
Graham Rowley announces the winners of the Altrincham FC/TASC World Cup competitions...

Team Competition:
1st sending off - Uruguay - Anthony Wright - £20
Most goals conceded - North Korea - Phil Taylor - £20
4th place - Uruguay - Anthony Wright - £10
3rd place - Germany - Darren Gregory - £10
2nd place - Netherlands - Mike Ford - £25
Winners - Spain - Colin Mitchell - £75

Players Competition:
1st penalty save - Serbia - Mike Ainsworth - £50
1st sending off - Uruguay - Wayne - £50
Top goalscorer - David Villa (Spain) - Grahame Rowley, Forlan (Uruguay) - Grahame Rowley, Muller (Germany) - Campbell McLay and Sneijder (Netherlands) - AFC - £125 each
STEWARDS' AWARDS
Altrincham FC Safety Officer, Darren Gregory, writes:

"At Saturday's pre-season stewards' meeting, the following were awarded their NVQ level 3 certificates in Spectator Safety, the first ever stewards from the club to achieve this level.

L-R back row: Ian Kershaw, Steve Murray, Louise Bowyer, Darren Gregory and Alison Lewis

L-R middle row: Steve Jamieson, Keith Armstrong, Peter Lewis and Ian Cox.

Also qualified to this level but not pictured is Mike Ainsworth. Also pictured on the front row are the latest stewards to qualify at NVQ 2 level in Spectator Safety.

L-R Sam Lewis, Michelle Henshaw and Ian Langford. Not present: Chris Ainsworth And Emma Henderson.

I would like to thank the stewards for their continued commitment and also Tony Dunkerley and Telford College for their continued support.

Thank you, Darren Gregory"

Altrincham FC would like to thank Darren and all of the stewards' team for their dedication to their work for the club.
OLD BOYS
The EvoStik League reports that "Leigh Genesis boss Mark Maddox has completed the formation of his coaching set-up for the new season with the appointment of former Leigh player Gary Scott as his assistant manager.

Having began his career with Rotherham United, 32 year old Scott made eight appearances for Leigh while on loan at Hilton Park for the first month of the club's Nationwide Conference debut season in 2000/2001 before going on to make more than 250 appearances over eight years with Altrincham.

After playing alongside each other in the Altrincham defence, Maddox and Scott teamed up again last year as Formby's management team, with Scott also proving to be a useful addition to the playing squad along with the coaching staff.

Scott's appointment completes Maddox's coaching set up, with Scott filling the position of assistant manager, midfielder Andy Heald as player-coach and the recent appointment of Richard Ward as coaching assistant".

Former Alty player Danny Heffernan signed on Saturday for Woodley Sports. He and former team mate Pat McFadden were both at the pre-season game at Woodley against Altrincham. Pat is not currently attached to a club.
YOUTH TEAM
Alty Youth captain Jamie Brown tussles for possession.
Identifying the eleven faces who were in Alty's first team squad on Saturday at Woodley was a challenge, especially as they all wore shirts with names of other players on them and had different numbers on their shorts! But the problem was potentially worse at BTH on Sunday when Alty Youth fielded 13 players who had not been in their squad at the end of last season. But, thanks to manager George Heslop, everyone could be identified correctly.
Sunday's game, a pre-season match with Congleton Town, ended 0-0. There is a match report in the youth section
FRIENDLY PRICES
Right: Michael Twiss, Alty's new striker who was at Morecambe and Stalybridge Celtic last season.
Altrincham FC season ticket holders for 2010-11 get free entry to all the Moss Lane pre-season games but if you are paying at the turnstile, entry is still good value:
Tue. 27.7.10 at 7.45pm v MACCLESFIELD TOWN - £7 adults £2 concessionaries
Fri. 30.7.10 at 7.45pm v TRANMERE ROVERS XI - £5 adults £2 Concessionaries
Tue. 3.8.10 at 7.45pm v MANCHESTER UNITED XI - £7 adults £2 concessionaries
Tue. 10.8.10 at 7.30pm v WIGAN ATHLETIC XI - £7 adults £2 concessionaries
BRIAN'S WORLD CUP
Brian Flynn, Alty's joint Press Officer, is safely back from South Africa, from where he has been sending a blog to the Manchester Evening News. Here is Brian's final edition...

"We finally managed to see England live on Sunday and, for the majority of the game, I really felt that we would get a result, but the team's defensive frailties were ultimately cruelly exposed by the impressive Germans, who I fancy to push Argentine all the way in the Quarter Final on Saturday.

The rumours here proved unfounded that the England team flew back into Glasgow Airport to ensure a heroes' reception and whilst many will feel that we underperformed, my view is that reaching the last sixteen reflects the current team's abilities.

We sought sanctuary for our disappointment in Bethlehem! Not the birthplace of Jesus, but the Lions Rock Big Cat Sanctuary near the city of Bethlehem, situated about three hours away from the scene of England's demise in Bloemfontein. There was plenty of room at this inn though and the lions, tigers and cheetahs helped to soothe the disappointment of our World Cup exit.

We have been to three games in the last four days, watched Brazil twice (against Portugal in Durban on Friday and last night against Chile at Ellis Park, Johannesburg), with the England game in between.

We now have a bonus game in our sights as tickets are available for this afternoon's clash between Paraguay and Japan in Pretoria about thirty miles from Johannesburg. We are taking Mark and Pete, two Australian brothers from Sydney and Pastor Julius O. Akeng'a from Nairobi in Kenya... It will be the first time that we have been to a match with a man of the cloth! Julius is hoping to pick up a ticket outside the ground for about a hundred Rand (about £9) so he may need a little divine intervention to be successful in that venture!

We're entering the final few days of our African adventure, but no doubt there are still some interesting experiences ahead before we head back to England's green and pleasant land on Saturday".
BSBP NEWS
Left: Danny Adams, Alty's left-back from 1997 to 2000 returned to play in Alty's pre-season game at Woodley last Saturday. Here he is seen, after that game, with James Smith, an established member of Altrincham's current back-line.
Not content with spending £170,000 in transfer fees, plus handsome wages, to acquire Argentinian Sergio Torres from Peterborough United and Matt Tubbs from Salisbury, plus six other new signings, the NL Paper reports that Crawley boss Steve Evans has made a "mega money move for star midfielder Kevin Keane" from Luton Town believed to be in excess of £100,000. The paper adds "Crawley are also prepared to push the boat out on the player's wages" and Evans confirmed that "Crawley have lodged bids for three more players". This comes after a £150,000 bid for Tomlin from Rushden was turned down. The £100K paid for Torres "is the highest a non-League club has paid for a player in nearly ten years" says the NL Paper.
Meanwhile, Conference chairman Brian Lee said, "We have only to take the word of the club in question... that they have the resources to back up what they are buying. We know what happens if they don't... It will be interesting to see if their money is being spent wisely... Money does not guarantee trophies".
Even fellow manager Graham Westley, at promoted Stevenage, has his doubts about Crawley, as he told the NL Paper, "I sincerely hope, for everyone involved, that the [big money] approach does not end in pain but I cannot help feeling that it might... It takes much more than just money to win promotion. Nobody can guarantee that a big player won't get injured. Nobody can gift you an 8,000 home crowd... Despite all of the [Crawley] investment, there will still be stronger squads in the league".
The Crawley situation is all the odder for being so sudden. The club's two main owners have not changed since last season when they were portrayed by Steve Evans as obliging him to offload players such as Jake Wright, Jamie Cook and J-P Pitman, all of whom he wanted to keep, in order to balance the books. As recently as the May issue of the NLN24 magazine, Evans said, "I don't kid myself that I wouldn't prefer to still have those players on board. When you've only got 15 or 16 players in your squad... you have to ask kids to come in... you just don't get away with it". Evans claimed that last season he operated on a budget of "around £350,000 for the whole season". That is not much more than he will have spent in one month on transfer fees alone this summer.
According to Blue Square Football "Tamworth assistant manager Darron Gee is delighted that Des Lyttle will be staying at the club next season. The 38-year-old has a long and successful career spanning almost 20 years... Gee told This is Tamworth: 'He has been magnificent for us over the last couple of seasons and has been a big part of what we have achieved. From a coaching point of view, he has been a help to us. And, on the playing side, at 38, he still has that will to win - that desire is still there... He will push the young lads to make sure they are playing to the best of their ability'" .
---
11 July 2010
WOODLEY GAME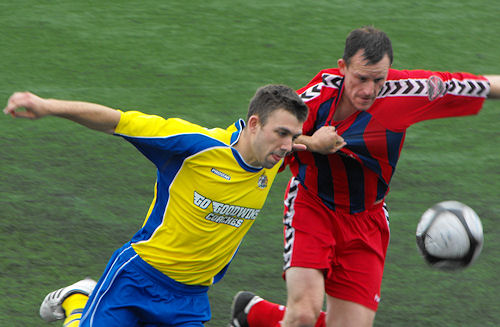 Above: Alty's Damian Reeves gets to grips with Woodley's Peter Band.
There is a report on the abandoned friendly at Woodley, here.
Woodley Sports add that "Woodley Sports opening pre-season fixture against Conference neighbours Altrincham FC was abandoned following a clash which resulted in The Steelmen's Matt Cotton being stretchered off. Early reports indicate that Matt sustained 2 fractures to both tib & fibs and will undergo surgery at Stepping Hill Hospital. Everyone connected with Woodley Sports wishes Matt a very speedy recover. The game, although now meaningless, was 1-1 at the time after Dennis Sherriff had put the home side in front".
TRIALISTS
Amongst the trialists who were included in Altrincham's squad at Woodley Sports on Saturday were:
Danny Adams (d.o.b. 3.1.76).

Danny was a permanent fixture for Altrincham at left-back from 1997 to 2000 when he went into the Football League with Macclesfield Town (for a £25,000 transfer fee). He then joined Stockport County and in March 2005 he moved on to to Huddersfield Town. After a period at Morecambe, he briefly joined Stalybridge Celtic last season.
Lewis Codling (d.o.b. 1.11.90).

Lewis is a Bootle-born striker who reached the Everton senior Academy side at the end of the 2006/07 season after impressing in the Under-16s. He went on to play for Everton Reserves during the 2008-09 season as well as turning out for the Under-18s. 2009-10 saw him still involved with the Toffees' reserves for whom he made two sub appearances.
Fraser McLachlan (d.o.b. 9.11.82, Manchester).

5 feet 11 inch central-midfielder Fraser McLachlan joined Morecambe in March 2006, initially on loan from Mansfield Town, making the deal permanent by signing a two-year contract in summer 2006. He started out with Stockport County making 43 league appearances befoe moving to Northwich Vics for three league games in 2004-05.

Next came 23 league games at Mansfield Town before he left in 2005-06 for Morecambe where he suffered a broken leg and missed most of the 2007–08 season . Morecambe released him in May 2010.
Danny Holmes (d.o.b. 6.1.89)
Danny is a former Burton Albion midfielder who spent last season at Ilkeston Town.
Raphael Evans is a central defender, formerly with Rochdale. At Spotland he had graduated from the youth team to the first team, before going on loan at Bradford PA and Leigh Genesis.
Matt Holt (d.o.b. 27.10.1987) is a defender who is a former Everton trainee and Welsh Under-17 and Under-19 squad member. He joined Rhyl in August 2006 before moving to Cammell Laird and then Caersws in the Welsh Premier, in January 2009.
Tom McCready spent six years as a youngster with Everton, where he was a regular in the reserves, before joining Scottish club, Hibernian at the age of 18 where he was a team mate of Aaron Chalmers, an Alty trialist last season. Brought up in Ellesmere Port, his elder brother Chris has many League appearances under his belt for Crewe Alexandra and Tranmere Rovers.
Mark Joseph (d.o.b. 10.11.76, Leicester), an Antigua and Barbuda international, was with Rotherham United in 2009-10. His former clubs include Blackpool, making his last appearance for the Seasiders in October 2006 before being released in summer 2007. He immediately moved to Rotherham in League Two. Mark was not at Woodley though he has been training at Alty.
Clive Moyo Modise who was at Alty last season briefly
Tom Schofield
Andy Gamble, a midfielder from the Alty Youth team.
Vernum Rowland who reached the Alty first team from the youth team in 2001-02 but departed after the pre-season of 2002-03. He returned briefly in 2004-05 but is currently unattached.
OLD BOYS
The Manchester Evening News on Saturday brought news of two ex-Alty players who were in trouble. Firstly, in a report on how Manchester City player Kelvin Etuhu had been arrested after a dispute at a Manchester casino, in which a man and woman needed hospital treatment, the paper states "Mr Etuhu and another man, Leonard Rico Richards, 27, from Longsight, were later arrested. Crown lawyers must now decidied whether the men are to be charged". Richards graduated from the Altrincham Youth team.

Secondly, we learn that another ex-Alty Youth player, in 2003-04, has received a lengthy soccer ban. "Langley celtic's chances of again representing Manchester with distinction in the highly coveted Manchester Sunday Cup have been dealt a hammer blow due to the indiscipline of their skipper. David Neville, who captained Langley to the last 16 stage... last season, has been suspended from all football for six minths for assaulting a referee. Neville, 23, was found guilty at a County FA hearing to a charge of common assault on the official... in April.

In addition to the 182-day ban, he was also handed a fine of £150. The incident is reported to have taken place when Neville reacted angrily to being sent off. The fiery midfielder, whose clubs have included FC United, Accrington Stanley and Salford City, will now be sidelined for the whole of next season as the marathon suspension will only start when Neville completes bans totalling three months imposed for previous offences". Neville's career with Alty Youth ended prematurely in September 2003 when he was sent off for violent conduct when representing the Altrincham & District FA representative side.

Team Talk says that "Macclesfield Town got their pre-season campaign off to a winning start with a comfortable 3-1 win at non-league outfit Buxton... Boss Gary Simpson will be delighted with his side's run out... trialist Osebi Abadaki [ex-Alty Youth] set up Butcher's opener. Simpson also included new signings Sam Wedgbury and [ex-Alty midfielder] Lewis Chalmers in his side".
BSBP NEWS
Blue Square Football says that "Wrexham are on the verge of losing midfielder Andy Fleming to Morecambe. The 22-year old rejected a new deal from the Dragons at the end of last season...

Boss Dean Saunders told the Daily Post: 'There's been some interest in Andy Fleming from Morecambe. We're waiting to see what they are going to offer and we are talking about a compensation package... He won player of the year last season and we've had interest from a few clubs, but none have been willing to put the money on the table... He will be a good signing for some club in the Football League'.

Fleming added: 'If the opportunity to move comes along I will take it because you don't get too many chances to play at a higher level. My agent is handling everything and I think he's talking to Morecambe while their people are talking to Wrexham. I'll be sad to leave if it goes through but I want to be playing in the Football League'".
---
10 July 2010
FRIENDLY ABANDONED
Altrincham's first friendly of the season ended prematurely in unfortunate circumstances when a Woodley player suffered a fractured leg with less than an hour played. At the time the score was 1-1, with Woodley having taken the lead against the run of play with a penalty awarded against Alty trialist, Danny Adams, for handball. Danny was playing his first game for Alty after a ten-year absence during which he has been playing League football. That goal arrived in the 29th minute but Chris Denham equalised ten minutes later. All at Alty wish the injured player a full recovery.

Player-identification was as difficult as it could have been. Even last year's squad were wearing shirts with other (mostly departed) players' names and numbers on them and most were wearing a completely different number on their shorts! Shaun Densmore, who was no.6 last season, for example, wore no.11 and the name Clee on his back.

The team sheet gave two different line-ups for each half of the game. Alty included all the fit squad from last year except Nicky Clee, who was presumably playing cricket in Yorkshire. New signings Michael Twiss and Damian Reeves started up front. Dale Johnson was present but will not play till next week after his injury. Matt Doughty and Tom Kearney were not involved but physio Sean Riley reports that both are making good progress towards fitness.

The trialists were as follows and more details about them will appear on the website later tonight...
Danny Adams, left-back who spent 3 years at Moss Lane from 1997-2000.
Lewis Codling, a young striker from Everton.
Fraser McLachlan, an experienced midfielderex-Morecambe, Mansfield and Stockport.
Danny Holmes, a defender from TNS and formerly at Tranmere.
Raphael Evans, a central defender.
Matt Holt.
Tom McCready
Clive Moyo Modise who was at Alty last season briefly
Lewis Codling - a young striker from Everton reserves.
Tom Schofield
Andy Gamble, a midfielder from the Alty Youth team.
Vernum Rowland, an Alty Youth defender/midfielder who made the first team at Moss Lane several years ago before moving on.

More on the match and pictures will follow tonight.
TODAY'S GAME - 2PM
Don't forget that Altrincham's friendly at Woodley Sports today (Saturday 10th) is a 2pm kick off.

It is exactly eleven weeks since Alty's last game of the 2009-10 season and since then six players have left; Colin Little has retired, Chris Senior has gone to Darlington and Greg Young has departed to York City. Michael Welch and John McAliskey have been released and Peter Doran has decamped to Fleetwood Town. With Dale Johnson, Matt Doughty and Tom Kearney still on the recovery path after serious injuries last term, there are nine faces currently missing from last season's end of campaign squad. Only two new signings had been made to date, both strikers: Michael Twiss and Damian Reeves. So a number of trialists will be on display today, hoping to fill some of the vacant slots in the squad.

Alty's last pre-season game at Woodley was on Saturday, 1 July 2006 when Alty lost 3-1. Alty fielded their two new signings from Halifax Town, midfielder Steve Bushell and winger Justin Bowler. Woodley included several former Alty players including David Swanick, Chris Young and Mario Daniel, whilst former trialist Gavin Salmon was on their bench.

Alty's side that day was 1. Craig ELLISON, 2. Stephen ROSE, 3. Richard GRESTY, 4. Karl MUNROE, 5. Peter BAND, 6. Steve BUSHELL, 7. Lewis CHALMERS, 8. Warren PEYTON, 9. Colin LITTLE, 10. Kieran LUGSDEN, 11. Justin BOWLER. Subs: 12. Ben DEEGAN, 14. Blake NORTON, 14. Laurence BALL, 15. NEVINS, 16. Pat McFADDEN, 17. Astley MULHOLLAND, 18. Lee MANNION.

Not one of the Alty 18 remains at the club now though Peter Band will feature this year - for the Sports rather than for Altrincham. Pictured, above right, during that game we see Steve Bushell, in front of Warren Peyton and, right, Justin Bowler. In the background is assistant manager Dalton Steele.
OLD BOY
Click Liverpol says that at Tranmere Rovers "Two names that have been confirmed as trying to earn a contract are former Huddersfield [and Altrincham] striker John McAliskey and former Coventry right back Curtis Wynter".
BSBP NEWS
The Football Conference says that "Defender Mark Preece has penned a one-year deal with Mansfield Town. The 23-year-old, who has made over 150 appearances for former club Forest Green Rovers, turned down contract offers from other Conference Premier clubs to join the Stags. Preece said: 'Mansfield is a big club and I want to be with a club at the top end of the league this year'...

Manager David Holdsworth said: 'Mark has been on jury service for the past two weeks so he is playing 'catch up' in regards to fitness... He is a hungry young man who wishes to continue his progression here'".

Meanwhile "Hartlepool United's Director of Youth Development, Terry Mitchell, has been appointed as the new assistant-manager and first-team coach at Gateshead. Mitchell, 48, replaces Adam Sadler, who was appointed number two during the summer but left this week to take up a coaching post at Plymouth Argyle. Tynesider Mitchell was a successful manager/coach at Newcastle Blue Star and West Allotment Celtic before he moved into the professional game with Hartlepool...

Said Mitchell, 'They are a progressive club and while many clubs are struggling Gateshead are moving in the right direction'".

Over on the west coast, "Skipper Paul Jones and winger Paul Rutherford both signed new one-year deals with Barrow after their previous contracts expired at the end of last season. Young midfielder James Owen, on non-contract terms last season following his departure from the old Chester City club, has earned a new twelve-month contract at Holker Street. Completing the quartet was debutant hat trick hero, Danny Forrest, after the winger/striker elected to reject a new offer from Crawley Town".

Newport County manager Dean Holdsworth says "I am really pleased to announce... the signing of the experienced right sided full back / midfielder Eddie Odhiambo [formerly Anaclet]. Eddie has played for both Oxford and, last season, Stevenage, in the Conference and I have had my eye on him for some time. I was really pleased when he became available and we have secured his services for the coming season".

From Southport we learn that "The Southport Visiter revealed today that Ciaran Kilheeney is engaged in talks with Droylsden along with Robbie Booth and Bradley Barnes while Chris Simm has been placed on the transfer list as Liam Watson reshapes his striking line up. The pre season friendly tomorrow versus Eastwood will feature a number of trialists as the fixture Liam Watson states has come too soon for some regulars. Liam Blakeman and Kevin Lee are ruled out with Daniel Lloyd-McGoldrick poised to start".

According to NL News 24 "Just a month after leaving Barrow, goalkeeper Tim Deasy is back at the club on trial. The 24-year-old left the club after three years earlier this summer, but has this week returned to pre-season training. The Salford-based stopper will feature this weekend when the Bluebirds tackle Oldham Athletic..

AFC joint-manager Dave Bayliss tells the North West Evening Mail: 'It was his choice to leave us originally. We offered him a contract and he turned it down. Tim, however, rang both myself and Shez (fellow joint-manager Darren Sheridan) earlier this week. Fair play, it takes a lot to ring someone up and admit you were wrong, but that's what he did. He's come back on trial. He's admitted he made a mistake by leaving the club in the first place, so he'll start on level pegging again. Tim is decent, as good as anyone you'll get in this league. It's now a case of having a look at him and seeing how the land lies'".

"Rushden and Diamonds boss Justin Edinburgh says midfielder Mark Byrne will not be re-joining them on loan. The 21-year-old scored seven goals in 44 appearances last season while on loan from Nottingham Forest. 'I'm disappointed because we gave him the platform to perform', Edinburgh told BBC Radio Northampton. 'Everyone else I wanted to re-sign has stayed with us'".
BROAD BRUSH APPROACH TO MANAGERSHIP
Rather than putting a gloss on it, here is a verbatim announcement from the Johnstone's Paint Trophy website.

"The Johnstone's Paint Trophy has launched a summer scouting mission to find some of the most marvellous non-league managers in the UK. As proud of sponsors of the Football League Trophy, Johnstone's has enjoyed its most successful season yet and would like to thank its grass roots fans, courtesy of a new campaign to put amateur managers in the spotlight. Whether it's a promising Pardew or an ambitious Abbott, the trophy is inviting everyone to nominate their favourite amateur bosses.

Every nomination will be displayed on the website during August for fans to log on and vote for their favourite. The winner will receive the first ever 'Johnstone's Marvellous Manager' trophy, a commemorative ball from the 2009/10 final and a new strip for his team. Ten runners up will each receive a Johnstone's Paint Trophy replica ball.

Johnstone's Paint Trophy's sponsorship manager Teresa Hardwick said: 'It could be a club coach of more than 20 years or a newer kid on the block who has masterminded some recent successes. We really want pub footballers, non league players and anyone else to dig out their stars of the dug-out for us to celebrate'.

Players who wish to nominate their manager will have until the 31st July to upload a picture and short explanation as to why they think their manager deserves to win. So to be in with a chance [of] crowning your manager the best in the UK, visit our competitions section to upload your photos and complete the online entry form".
---
9 July 2010
WE'RE OFF
Altrincham's pre-season starts tomorrow (Saturday, 10 July, at 2pm) with a game at Woodley Sports on their artificial surface. The Sports' website has directions to the ground.

Speaking of the new league season in Wednesday's Manchester Evening News, Alty keeper Stuart Coburn said, "It's probably the toughest opener we could have had but our performance at Luton in APril shows we should not have any fear".
YOUTH CUP DRAW
The FA Youth Cup Preliminary Round draw is:
AFC Fylde v Altrincham in week commencing 6 September.
1RQ AFC Fylde/Altrincham v Curzon Ashton in week commencing 20 September
2RQ AFC Fylde/Altrincham/Curzon Ashton v Bootle/Burscough in week commencing 4 October

AFC Fylde add that "The U18's will play in the FA Youth Cup for the first time and take on Conference side ALTRINCHAM at home. AFC Fylde v Altrincham Mon 6th September 2010 FA Youth Cup Kick Off 7.45pm. FA Youth Cup Qualifying Round". However, the date is subject to confirmation.
OLD BOY
On joining Macclesfield Town, Alty old boy Lewis Chalmers stated, "The lads and the coaching staff have been brilliant. I have been aching a bit in the mornings but that's to be expected. We were running for the first two days and just played football on the Saturday... I said to Simmo, with this squad we can beat anyone in the league. We've got a very attack-minded squad and I think we look solid at the back".
BSBP NEWS
According to NL News 24 "Ebbsfleet United goalkeeper Lance Cronin has been handed a trial at League Two side Gillingham. The 24-year-old is vying to get a league contract at the Gills and challenge current number one Alan Julian. [Julian,too, has non-League roots, having played for Stevenage]. Cronin is expected to feature in both of Gillingham's games over the next few days, when they travel to Braintree on Friday and Bromley on Saturday".

The spending goes on in Sussex as Peterborough United confirm that "Peterborough United winger Sergio Torres has signed a two-year deal with Blue Square Premier side Crawley Town after successful talks with boss Steve Evans this week. Torres moves to the Broadfield Stadium for a fee in excess of £100,000 as Town look to secure promotion into the Football League. The Argentine midfielder, who signed for Posh from Wycombe Wanderers, was hampered by injury problems at London Road". Meanwhile Bulls News tells us that "Peterboro say six League Two and two Conference sides are chasing [former Kettering] defender Exodus Geoghaghon".

But if you think Crawley Town are splashing the cash at Step 1 of the Pyramid, how about this from Bullsnews about Step 3 club, Brackley Town? "Halesowen boss, and former Bull, Matt Clarke... revealed that Yeltz [Halesowen] striker Stefan Moore had received a £1,000 a week offer from Southern League Premier rivals Brackley Town, who are managed by ex-Bull Jon Brady". The BBC recently reported that "Brackley Town have bolstered their squad by signing Michael Blackwood and Tom Kemp. Versatile Blackwood, 30, joins the Saints from Tamworth, while centre-back Kemp, 23, arrives from Worcester City... The signings follow the high-profile acquisition of goalkeeper Billy Turley from the U's".

At Mansfield Town "Strikers Mickey and Rory Boulding are expected to play some part in Saturday's friendly match at home to Sheffield United. Mickey, 34, started his career with us and enjoyed a second spell more recently between 2006-08, scoring 30 goals in 77 starts. Rory, 23, made his debut for us in October 2006 and spent two years with us since turning professional. The duo both plyed their trade with Bradford City last season

Manager David Holdsworth told mansfieldtown.net: 'I have given Mickey and Rory the opportunity to train with us and they both have a variation of knowledge about the game. Mickey is someone who was regarded as a hero in his previous spell here, I understand. Rory is a different type of player and is also a very talented individual. Both have trained very well today'".
CHESHIRE NEWS
The Northwich Guardian says that "Northwich Victoria are still waiting to bank prize money earned by the team on their run to the FA Cup's second round last season. They played five matches, two of which were broadcast live on terrestrial television, to accumulate a cash reward worth around £180,000. But the game's governing body would not pay up until the company that pays the players' wages – Northwich Victoria Football Club (2004) Ltd – came out of administration. That happened almost eight weeks ago.

'The FA wants clarification on one or two more things before releasing the money', said owner Jim Rushe yesterday, Tuesday. 'They aren't major issues; one is to do with crowd figures and another related to transfer fees we've received for our players over the past few months. I'm confident they can be resolved quickly'.

He proposes a new firm, Northwich Victoria Football Club (2007) Ltd, buys the old one and takes on the responsibility of paying off a proportion of its debts in monthly instalments over a five-years period. The FA has insisted on thorough checks before agreeing to the sale... A delay in releasing the six-figures sum means the club's creditors, who agreed to a dividend of 42p in every pound owed to them last December, continue to wait too.

That offer, which breached Football Conference rules that insisted on full repayment of cash owed, led to Vics' expulsion from Blue Square North in May. However this week the Conference gave the biggest hint yet that Vics – and Salisbury City – would be accepted as members next summer should they win promotion this time around. 'We would not wish for double jeopardy but I do not wish to pre-judge or pre-empt any situation', general manager Dennis Strudwick told the Guardian".
---
8 July 2010
CAN YOU HELP?
Altrincham FC vice-chairman Grahame Rowley writes:

"We are looking to source a Portakabin for use by the stewards on matchdays - if anyone has a contact for acquiring one or knows of one being disposed of, please contact the club.
JOIN THE PATRONS
Grahame Rowley announces that "Altrincham FC Patrons have increased their number to 107, to date. All PAtrons are entered in a draw for free match-day hospitality and this will take place during the Tranmere friendly on July 30th. This year we will also be doing a corporate draw for all companies who have joined, with the winner getting an advertising hoarding for a year around the ground. Anyone who has not already re-signed up to the scheme or anyone new who would like to be a Patron for the forthcoming season should contact me a.s.a.p..

Details of the Patrons' Scheme are here.
FRIENDLY PRICES
Altrincham FC season ticket holders for 2010-11 get free entry to all the Moss Lane pre-season games but if you are paying at the turnstile, entry is still good value:
Tue. 27.7.10 at 7.45pm v MACCLESFIELD TOWN - £7 adults £2 concessionaries
Fri. 30.7.10 at 7.45pm v TRANMERE ROVERS XI - £5 adults £2 Concessionaries
Tue. 3.8.10 at 7.45pm v MANCHESTER UNITED XI - £7 adults £2 concessionaries
Tue. 10.8.10 at 7.30pm v WIGAN ATHLETIC XI - £7 adults £2 concessionaries
ALTY "OLD BOY" JOINS FRIENDLY OPPONENTS
Former Altrincham FC captain Peter Band (right) has signed for Woodley Sports, whom Alty play in their opening friendly, at Lambeth Grove, this Saturday. Note kick off is at 2pm.

Woodley Sports' squad comprises:
Jack WAREING, Danny QUEELEY, Gary GEE, Dennis SHERRIFF, Thomas BUCKLEY, Mark HASLAM, Thomas SELLERS, Michael CLARKE, Mathew COTTON, Thomas BLACKLER, Robert PARSONAGE, Joe BOYLE, James ELMORE, Sam WALKER, Chris CURLEY, Josh GRANITE, Richard BAILEY, Nick BOOTHBY, Liam HIGGINBOTHAM, Peter BAND.

Granite and Wareing were in the Stockport & District FA Youth side which beat Altrincham & District FA Youth on penalties earlier this year. Chris Curley was a Reserve at Altrincham who originally joined Woodley in 2005 before re-signing this summer.
SPONSOR A PLAYER
"Player sponsorship is available again this season with the price remaining at £150 per player or £250 for two. For this your name will appear under your player's photo in the Manchester Glass Sponsors' Lounge and the matchday programme and you will also receive receive a signed shirt at the end of the season" writes Grahame Rowley. "Both home and away shirts are available for sponsorship on a first come first served basis. Please contact Karen at the club on 928-1045 for further details or send an e-mail".
OLD BOY
Osebi Abadaki, a member of the Alty Youth side in 2008-09 has recently been with Stalybridge Celtic but is now having trials with Macclesfield Town.
BSBP NEWS
Another new signing is likely to turn out for our first opponents of the league season as Luton Town report that "With summer signing number five - Adam Murray - in the bag and booked on the flight to Portugal, Town boss Richard Money was not only thrilled with his latest capture but surprised too... And while they may have failed in their bid to sign last season's successful loanee Simon Heslop, Money believes his newest recruit fits the bill perfectly.

'Adam is something we were really looking for: an established midfield player who knows the league and has excelled at this level as captain at Oxford', Money told lutontown.co.uk. 'We see him as a very important signing and one with which I am genuinely surprised to have been able to secure. We were astounded that he was made available'...

The Hatters' pursuit of Heslop was well documented before the former Barnsley man ironically opted to sign for Oxford... In the squad we've pieced together [there are] a lot of good, intelligent footballers with craft, industry and enthusiasm. Andy Drury, Dan Gleeson, Danny Crow... We're not signing any more forwards', Money said. 'We've got four strikers that are all capable of hitting 20 plus goals each. And we're not in for another defender either. Whether the midfield jigsaw is complete, I don't know, we'll take another look during pre-season...

Who will play in goal? It's the same with the front pair. Who would the two be? That's if we play with two. I really couldn't tell you... It takes all sorts to get out of this league', Money continued. 'Going to Gateshead and Barrow and winning 1-0 is just as vital as beating Grays 6-0 or Hayes & Yeading 8-0 at Kenilworth Road...

'The squad we have is adaptable. It will enable us to play 4-4-2 or a diamond, which will give us options all over the pitch depending on the situation'... With only one trialist - Stefan Bailey - joining the group for pre-season, it will be the first time for many summers that the Town will have a settled squad to pick from...

'A lot of clubs go through a period of regeneration in the summer, none more so in this league, and I think ourselves and York have been able to maintain the core of our squads which I believe will make both teams stronger. It means that come our first game against Altrincham on 14th August you could feasibly see a similar team that played against York in the final play-off game - albeit without Heslop. It could result in the likes of Gleeson, Murray, Crow, Pilkington and Drury not in the starting XI and that emphasises our strength in depth'".

Meanwhile, Hayes & Yeading United manager "Garry Haylock has today confirmed that Esmond James has undergone surgery to repair cruciate ligament damage suffered at the end of last season during our game at Crawley Town... Esmond will continue his re-habilitation with United during the forthcoming season and if all goes well, is aiming for a return to action in March 2011".

According to the Football Conference "Grimsby Town have signed defender Scott Garner from league rivals [Mansfield] on a two-year plus a year option deal... Ahead of the 2008/09 season he joined Ilkeston Town on loan where David Holdsworth was then the manager. With Holdsworth later becoming Mansfield manager... the Coventry-born centre half signed a contract at Field Mill... Garner was named in the England `C` squad to play Hungary under-23's in 2009, and captained the side".

The BBC adds that "The Mariners have also extended 29-year-old midfielder Mark Hudson's deal by another year. The duo [Garner and Hudson] join striker Charles Ademeno, 21, who signed a two-year deal on 1 July from Crawley Town".

Meanwhile news of Ademeno's old club is that "Peterborough United winger Sergio Torres is in talks with numerous clubs over a move, but Crawley are front-runners for the Argentine's signature... A statement on the Peterborough website said: 'Torres held talks with Crawley boss Steve Evans on Wednesday morning. Several other clubs are in for his services including League Two clubs'".

The Southport Visiter says that "Striker Chris Simm has been transfer listed - as Robbie Booth and Bradley Barnes close in on moves to Droylsden. The 19-goal hitman has rejected the chance to follow the duo to the Manchester side in favour of looking for a full-time deal.

Southport manager Liam Watson told Simm on Thursday, at the club's first pre-season training session, the 26-year-old would be third choice striker in the forthcoming season. Watson has hinted at a preference for playing a 4-5-1 formation, making the Sandgrounders difficult to break down, and therefore limiting the speedy Simm's chances of regular football.

Disappointed but appreciative of the boss' honesty, Simm has now acquired football agent Rob Shields to help him find a club for the new season. Simm remains a Yellows player for the time being, training with the side last night, and has not ruled out staying at Haig Avenue if no offers are tabled.

The forward's refusal to form part of the transfer to Droylsden - which saw Tony Gray move in the opposite direction - now means only three players will swap Southport for the Butcher's Arms Ground this summer. A deal, believed to be in the region of £13,000-15,000, would see Gray return to Port and the quartet move to the Bloods, but that transfer must now have Simm's value removed.

'I had a chat with Liam on Thursday and he was honest with me about playing 4-5-1 next season and that I would be third choice' said Simm. 'He said he's been in the Conference before and tried to go at teams but it didn't work - he wants to park the bus this time. Liam didn't really want to see me leave because I would probably have a part to play and be the best sub he has. But he knew I would want to play every week and I'm not that tall striker who can hold the ball up. Last season if I got dropped for one game I was moaning. Liam was just honest with me and I am appreciative of that. I have got to look after number one and want a crack at full-time. I've got an agent and he says there has been a few enquiries. I've stopped my job as a joiner because I want to try full-time. Obviously I'm disappointed that I might be leaving Southport because I like it there. The news came as a shock but if nothing comes up then we'll see what happens, I could end up staying'".
GRAYS' DECLINE
There is a sad picture on the Alty Fans' Forum. It shows Grays Athletic's stadium, with the main stand ripped out and the ground itself a demolition site.
FA CUP DRAWS
The FA reminds us that "The first draws for this season's FA Cup will be out Thursday... At 1pm tomorrow afternoon, TheFA.com will unveil the fixtures schedule for the first three rounds of The FA Cup sponsored by E.ON where the potential 'giant-killers' will see what's in store for them when the competition gets underway on the weekend of 14 August.

But it's not just The FA Cup, we'll also be releasing the early round draws for The FA Trophy, The FA Vase and The FA Youth Cup.

The FA Cup sponsored by E.ON:
Draws for the Extra Preliminary Round, Preliminary Round and First Round Qualifying

The FA Trophy:
Draws for the Preliminary Round and First Round Qualifying

FA Youth Cup:
Draws for the Preliminary Round, First Round Qualifying and Second Round Qualifying.
---
7 July 2010
CRAWLEY SIGN TORRES AND PABLO
Peterborough Today tells us that "Posh have agreed a fee with Crawley for winger Sergio Torres. Torres met with Crawley boss Steve Evans over the weekend... Former Posh boss Mark Cooper, who took the manager's post at non-league Darlington last week, has registered an interest in Exodus Geohaghon [ex-Kettering], Josh Simpson [ex-Cambridge Utd & Histon] and Liam Hatch [ex-Luton]. Cooper was the man responsible for bringing Geohaghon to London Road".

Also Crawley Town Football Club can confirm that Pablo Mills, last season's captain at League Two beaten playoff finalists Rotherham has joined the Reds. Mills (26) started over forty matches for Rotherham last season and led his team out as Captain in the Play-off Final at Wembley where they lost out to Dagenham & Redbridge by the odd goal in five. Pablo has just enjoyed a superb season and has been courted throughout the summer by a number of Football League clubs and Blue Square Bet Premier clubs but after several weeks of talks with Reds manager Steve Evans he arrived at The Broadfield Stadium this morning to complete a medical and sign his contract.

Manager Steve Evans was delighted with the capture, speaking exclusively to www.crawleytownfc.com he said, 'Pablo is a super signing for us. In fairness all the players we have signed, including him, have been carefully selected because our project this season is to get promoted to the Football League. Those selected players have either played at that level or in my opinion have the ability to perform and play there. We are building a squad not just for the season ahead but for the next two to three years, this is a serious project.

I watched Pablo many times last season and he was brilliant every time I watched him. He is a leader of men, a very talented footballer and a player who will make us better as a team and that is what we are - a team - it will never be about individuals. The lad can also play in a number of positions in the team; at centre back and in midfield Pablo has demonstrated he is simply outstanding.

The player spoke after completing his formal documentation to become a Red: 'I have been speaking to the Gaffer for weeks now and just to get him off the phone I signed for him; - no seriously, I am excited by the ambitions of the club and when I looked in detail at the squad for the new season I wanted to be a part of the project here. I told the Gaffer a few weeks ago that there was only one manager and club I would consider playing for in the Football Conference and his interest allowed me to turn down several clubs at Football League level to do that. This really is an exciting project and I want to be a big part of it'".
... OTHER BSBP NEWS
Luton Town Football Club "is delighted to reveal its fifth signing of the summer with the capture of former Oxford United captain Adam Murray on a two-year deal. The combative midfielder started his career as a trainee with Derby County, turning professional in August 1998... but by the start of the 2003/04 season was out of favour and joined Kidderminster Harriers on loan.

He left Derby in November 2003, joining Notts County and then rejoined Kidderminster Harriers and was a regular in their side until the end of the season. In June 2004, he joined Mansfield Town and then moved to Carlisle United in March 2005... At the start of 2006/07 he moved on to Torquay United for £10,000. In January 2007, Murray joined Macclesfield for a fee of £17,500 before he joined Oxford half way through the 2007/08 season... He was installed as Oxford captain at the start of the 2008/09 season...

Murray faces a baptism of fire when he travels with his new team mates for an intensive six-day training trip to Portugal tomorrow".

According to the Football Conference "Shane Huke has signed up to stay with Rushden & Diamonds for the 2010/11 season... The 24-year-old midfielder had been at Nene Park towards the end of last season, playing nine games, six starts and three substitute appearances - both in midfield and covering in the wing-back position".

Blue Square Football says that "Cambridge United manager Martin Ling has revealed that John Schofield has joined the U's with a view to earning a full-time coaching role at the club. 45-year-old Schofield held a training session with Ling's squad earlier this week after recently leaving his job as Cheltenham assistant manager. Ling told Cambridge News: 'We're assessing each other to see if it's a workable situation at the moment'... Schofield is a Uefa Pro Licence holder and made a name for himself at Lincoln before moving on to join Scunthorpe and Walsall".

"Alex Rodman's future as a Tamworth player remains uncertain" reports the Birmingham Mail. "The exciting wide player has rejected a new contract... Lambs' assistant boss Darron Gee said: 'Alex had turned down our offer but he remains a Tamworth player. At the moment nobody has come in for Alex. "There was a feeling he was going to Notts County and join them in Austria for a pre-season tour but he has declined it'.

The Lambs... are close to securing a deal, however, with defender Michael Wylde. The centre-back had been wanted by Kidderminster Harriers but the Lambs expect to sort out a new deal with the former Cheltenham Town player".

Later, Tamworth reported that "The Lambs trained at Whittington today for the first time after the summer lay off. All of the players signed were in attendance along with Alex Rodman who is still to sign and Des Lyttle. Des will again be signing for the club on a non contract form. Gary Mills invited a number of trialists to attend so in total there was 25 players... Michael Wylde called into The Lamb after training and finally put pen to a new contract for the new season".

The York Press says that "Monks Cross is today set to be named as the preferred site for York's new community stadium... creating a 6,000 all-seater home for York City FC and York City Knights on the edge of the city... The other sites named on a shortlist revealed last month were redeveloping City's current Bootham Crescent home and the neighbouring Duncombe Barracks, a site at Mille Crux and Nestle North off Haxby Road and land at Hull Road near the University of York's Heslington East campus extension.

But City's chairman Jason McGill has already said a completely new ground on the site of the existing Huntington Stadium is the club's preferred choice, and Coun Steve Galloway, the council's executive member for city strategy, was due to tell today's meeting City, the Knights and City of York Athletics Club had all made a 'firm commitment' to Monks Cross... 2014 has so far been earmarked as the earliest completion date".

McGill added, "I can also say to the football and rugby fans who have written to say they would like to have standing areas within the new stadium that the requirement for an all-seater design is currently imposed by the Football Foundation. Certainly the council would not seek to impose such a restriction, at least as long as the clubs are outside the upper reaches of their respective league pyramids.

There will be concerns at Monks Cross about traffic issues... The site has the advantage of a good Park&Ride service which I would expect most fans would wish to take advantage of".

Meanwhile York City "have confirmed the signings of George Purcell for an undisclosed fee from Braintree Town and Jonathan Smith from Forest Green Rovers".

From the Daily Post we have confirmation that "Dean Saunders returned from holiday yesterday and wasted no time in adding to his squad with the capture of former Forest Green player, David Brown... [He] also is in talks with ex-Grays Athletic defender Cameron Mawer, who took part in the first pre-season training session at Colliers Park, and expressed optimism that striker Gareth Taylor and midfielder Kristian O'Leary were close to signing new deals...

Saunders said: 'It's shaping up nicely and the average age of the squad is up to 27 when it was probably 22 last year. Dave is another experienced player who can play in midfield and he connected well with Andy Mangan at Forest Green and made a lot of his goals. I've been chasing Brown all summer and it's been a case of fitting him into the budget. He hasn't cost me an arm and a leg but money is tighter than last year so I'm hoping now that fans will come along to get behind the team and buy some season tickets...

If the gates are on the up I'll be able to go out and bring in better players again... I need to make another couple of signings, a centre-back and a goalkeeper', added Saunders. 'But we'll be short in certain areas and we'll have to keep our fingers crossed we don't get too many injuries or suspensions. I have tried to fit as many players into the budget as I can and the only way to do that is to bring in versatile people who can play in several positions'. Saunders refused to be drawn on the future of Andy Fleming, who was voted player of the year by fans but was dropped for the final four games after refusing a new deal".

"Newport County are hopeful that manager Dean Holdsworth will remain with the club despite the boss being linked to the vacant managerial post at Swansea City" reports the Spith Wales Argus. "The Argus understands that Holdsworth is on a shortlist to replace departing manager Paulo Sousa and his name is mentioned across the South Wales media as a potential replacement for the Leicester City bound boss... However, with more experienced names such as Gareth Southgate, Gustavo Poyet, Paul Tidsdale, Roberto Martinez's assistant Graeme Jones and Chris Coleman also in contention, County are hopeful that they won't be dealing with any approach from the Swans... Holdsworth inked a new contract just weeks ago, so the Exiles would at least be compensated financially should Swansea make an approach...

Meanwhile, The Exiles' record points haul of 103 in the Conference South has led to a drastic improvement in season ticket sales, up by over 20% on last term. County are closing in on 500 ticket sales for the season and with increased away attendances in the Conference National, that all but guarantees four figure crowds for every home clash... It has also prompted interest from the bookies.

County are seventh favourites for promotion... a better bet than Welsh rivals Wrexham and sides like Mansfield and AFC Wimbledon, and are also ahead of former League outfits Kidderminster, Cambridge United and Altrincham". Former League?

The Chronicle Live says that "Gateshead hope to bring in a new assistant manager/first-team coach by the weekend following the unexpected loss of Adam Sadler, who only joined the club during the close season... Sadler has been lined up to join Peter Reid and John Carver at Plymouth Argyle...

Gateshead gave the 30-year-old the chance to return to the professional ranks when Bogie's No 2 Jeff Wrightson was unable to commit to a full-time role... Manager Ian Bogie said: 'Adam has been offered an opportunity to join Argyle, but fortunately I have been able to fill the void. The man coming in has an excellent pedigree. He is at a Football League club who have indicated they will not stand in his way...

Bermuda international Tyrell Burgess is one of five trialists... having trained with Gateshead for the first time yesterday. Former Liverpool apprentice goalkeeper Josh Mimms, ex-Burton Albion and Chester City central defender Shaun Kelly and England C international midfielder Michael Carr will all be out to impress. Bogie will also take a look at left-back David Brown following the England youth international's release from Sunderland, where he played 16 reserve-team games last season. Bogie added: 'I am offered players on a daily basis. There are still four or five berths to fill and the players on trial will have the chance to impress first'".

This is Glos says that "Veteran striker Julian Alsop is training with Forest Green Rovers after being released by Cheltenham Town. The 37-year-old, who had a spell at the Nailsworth club in 2005/06, is a free agent after enjoying a remarkable second coming with the Robins last term.

Forest Green boss Dave Hockaday insists Alsop is working with his squad at Hartpury College purely to improve his fitness, but any fresh injection of funds could see the former Bristol Rovers and Swansea City man offered a surprise deal. Hockaday said: 'I'm very pleased to have him because he's a brilliant personality to have in and around the dressing room and he still knows where the goal is. At the moment we've got what we've got and there is not a lot left in the budget. But if somebody from outside wants to contribute to a new player's wages, whoever that may be, then great'.

Alsop made a shock return to Cheltenham last summer, having spent the previous five years playing outside the Football League with Forest Green, Newport County, Cirencester Town and Bishop's Cleeve. He went on to make 22 starts and 22 substitute appearances, scoring four goals and scooping the Supporters' Player of the Year award...

Hockaday oversaw a gruelling pre-season session yesterday, which involved a sizeable contingent of Hartpury College students. Among them was former West Bromwich Albion goalkeeper Gavin Carlin, who looks in pole position to be named as back-up to new number one James Bittner. Striker Ross Dyer, another new recruit from Hednesford Town, trained alone in the gym as he recovers from a minor knee injury".

The Holker Street Newsletter says that "In the Evening Mail's article on the friendly against the Furness Select XI on Saturday, [Barrow joint manager] Dave Bayliss has this to offer: 'It's not just the locals today, we've been doing the soccer camps and there are one or two really good youngsters and it's opened my eyes to be honest. The sooner we can get the development team sorted - which Neil Doherty has - it will be brilliant for the area. We are losing out to a lot of good players from this area who are going to the likes of Blackpool and Blackburn". Anyone wanting a pre-season look at Barrow will find them at Salford City on the evening of Wednesday 4 August.
---
6 July 2010
FRIENDLY FOES
Alty are away at Trafford on Tuesday, 20 July. NL Daily tells us that "Garry Vaughan, manager of Evo-Stik League Division One North club Trafford, has secured the services of striker Tommy Turner from New Mills. Turner, formerly with Bacup Borough and FC United of Manchester, made forty-seven appearances and scored a total of thirty-two league and cup goals for the Millers last season. Vaughan has also re-signed former Shawe View favourite Andy Lundy from Curzon Ashton. [Lundy was signed as cover for Alty in season 2003-04 but never played for the Robins]. This will be Lundy`s third spell at Trafford after making his debut in November 2003".
MATTY CROWELL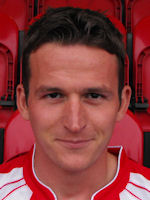 Altrincham FC joint Press Officer, John Edwards, writes:

"Hopes of seeing Matty Crowell (left) pull on an Altrincham shirt again have been dashed after it emerged he is living in South Wales and likely to sign for Conference newcomers Newport County. The former Alty midfielder was a huge favourite with Moss Lane regulars, after forming an impressive partnership with Tom Kearney in his brief spell at the club, and appeared to be back on manager Graham Heathcote's radar after cutting short his stay in Australia.

But his return to this country will not lead to a reunion with Alty followers after he chose to base himself in South Wales. 'Matty is living in Swansea, so that's a bit too far away for us,' said Heathcote, who looked to have pulled off a masterstroke by pairing Crowell with Kearney before the former Northwich midfielder accepted an offer to play for Australia 'A' League side Central Coast Mariners last August.

'That's often the way it is when you are looking to sign players at this level. It's down to where they are based. 'He has been doing some pre-season training with Newport, so you would imagine there must be a fair chance he will end up joining them. I'm still looking at players and talking to some, with a view to strengthening the squad further, so I hope there might be some news on that before long'".
OLD BOYS
NL Daily reports that "Danny Johnson, manager of Evo-Stik League Premier Division club Ashton United, has confirmed that off-field actions this summer has left him deflated and frustrated... [The Marcus Hallows case has been the club's main problem].

Johnson said 'Re-signing are Danny Caldecott, plus Ben Smith, Alex Frost [ex-Alty youth and reserve], Matt Landregan, Adam Morning, Gareth Richards and Kieran Killackey [ex-Alty reserve]. The club are also expecting Terry Smith, Ian Bennett, Matty O'Neill, Ged Murphy [ex-Alty] to put pen-to-paper in the next few days. Also joining the club for the first time is... [an Alty trialist last summer] David Owens from Rossendale United'".
BSBP NEWS
In the NL Paper, York City manager Martin Foyle says of his club's interest in Matt Tubbs before he signed for Crawley Town. "We're not in for Tubbs. We looked at it, I guess like many BSBP clubs did but when we heard what unbelievable wages Crawley were prepared to offer, we dropped our interest there and then. Some of the stories I am hearing need seeing to be believed, they really do. It's a few clubs and it's worrying because they could get themselves in a mess very easily... It sounds like Grimsby are throwing money about and we all know about Fleetwood...

At York City there's no buy now, pay later... I think people at the club have learnt a lesson from the experience of nearly losing their club'. York are generally offering new players one-year contracts to keep the club stable".

Also in the NL Paper, Stuart Hammonds confirms that from Crawley Town "a £150,000 bid for Rushden winger, Lee Tomlin, was rejected by both league rivals and player. A £125,000 punt for York City striker, Richard Brodie, in a bid to pair him with £70,000 Matt Tubbs, was also turned down. A further £50,000 swoop for Luton striker, Matthew Barnes-Homer, was aborted with even Crawley's new majority shareholders, Bruce Winfield and Susan Carter put off by wage demands of around £2,000 a week.

That is not to say there aren't going to be players at the Broadfield Stadium picking up decent four-figure salaries. Tubbs was said to be earning around £1,000 at Salisbury so a club record move to a club at the same level... is not going to entail a pay cut. Fellow strikers Jamie Cook and Craig McAllister from League One Exeter City also don't come cheap".

Stuart also tells us that another club seeking success are Fleetwood who "have made a statement of intent with a two-year deal, understood to be around £1,500 a week for [ex-Alty midfielder] Ian Craney. Kettering appear to be having a go too, with players like Moses Ashikodi and Ashley Westwood on two-year contracts believed to be for four figures"

Southport manager Liam Watson told the NL Paper why he might let Chris Simm leave. "I've got four forwards and we're likely to go with only one up front next season so I've been honest with him. It might be a decision that comes back to bite me on the bum".

At Darlington "Mark Cooper says the publication of the new fixtures last week will get fans buzzing for the 2010-11 campaign. Darlington's new boss is pleased to have been given a home game in the opening match of the Blue Square Premier season... But he admits the Quakers face a difficult opening few games.

'They could have been easier and could have been harder', he said. 'Newport County are on the crest of a wave at the moment... so they'll be full of confidence going into the new season, but we have to deal with that. We then go to Altrincham on the Tuesday night, which is a tough place to go for Darlington fans who haven't been before. [Darlington have played at Alty before, in 2002, in the FA Cup, as well as in the Conference in 1989/90 season].

It's a return to Kettering for me the following Saturday and that's another big game and then it's two home games against Grimsby and Gateshead, so for different reasons it doesn't get much bigger. But it gets them out of the way early on... We're keen to get off to a flying start'".

Meanwhile, "Mark Cooper today made his first signing as Darlington manager, with versatile midfielder Michael Brough signing a one-year deal... The 28-year-old, who can play in centre midfield and in defence, spent the second half of last season with the Stags [Mansfield] in the Blue Square Premier after signing for them permanently in January. Brough has also played for a number of other non-league clubs such as Stevenage Borough, Salisbury City and Forest Green Rovers".

Demoted "Salisbury City`s firebrand manager Tommy Widdrington is leaving the Zamaretto League Premier Division club to join Southend United as assistant-manager to new boss Paul Sturrock" reports the NL Daily.

"The man credited for keeping the Whites motivated on the pitch during last year's stormy season off it saw the approach by the npower League Two side as too big an opportunity to miss. However, Salisbury has moved quickly to ensure continuity at the Raymond McEnhill Stadium as it prepares for the new campaign which kicks off on August 14th and have given responsibility for football coaching to Mikey Harris and Darrell Clarke. Harris had worked closely with Widdrington preparing the club's pre-season schedule while club captain Clarke, who has already completed his UEFA coaching badges, was regarded by the former manager as his 'general in the dressing room'".

And, at Bath City "Sean Clohessy has become City's fourth summer signing after switching to Twerton Park from Salisbury City. The right-sided defender joins former teammates Danny White and Luke Ruddick in moving from the demoted Wiltshire club. After beginning his career as a trainee with Arsenal the 23-year old spent four seasons with Gillingham, where he made 43 first team appearances. He joined Salisbury in May 2009 after a successful loan spell there the previous season".

Wrexham report that following a holiday, "Manager Dean Saunders wasted no time in tying up one deal and progressing another. First to agree a switch to the Racecourse was striker David Brown. The former Manchester United trainee was with Forest Green Rovers last season and even had a short spell as manager at the New Lawn. Now 31, he is being reunited with partner Andy Mangan, and it is Brown who the Scouser credits with setting him up for his Conference leading goals tally two years ago... Based in Wigan, he helped Accrington to win promotion into the Football League in 2005.

Also likely to agree a deal is former Watford, Weymouth and Grays Athletic defender Cameron Mawer. A youngster at Vicarage Road, he later joined Grays Athletic during their glory days before heading to the south coast and spell with Weymouth in 2008/09".

"Bath City manager Adie Britton has spoken of his shock after securing the services of the highly-rated Sean Clohessy for the 2010-11 campaign" claims This is Bath. "Clohessy, 23, is a right-sided player who featured heavily for Salisbury City in the Blue Square Bet Premier last season. He is the third member of the Whites' squad to switch to City this summer, following in the footsteps of defensive duo Danny Webb and Luke Ruddick...

Based in Croydon, Clohessy made more than 40 Football League appearances for Gillingham... He has signed a one-year deal...

Britton said: 'He's a seriously good footballer and you don't sign somebody like that and not play him – he's like Adam Connolly and Lewis Hogg in that respect. I'm shocked that we got him. He wasn't on my radar because we thought he'd end up in the league. Then Luke [Ruddick] said that he wanted to come training because he didn't have anything sorted and I couldn't believe my luck. This will really open some people's eyes. It's a major, major signing for us'.

Britton also confirmed that a pair of former Bristol Rovers youngsters, striker Joe White and defender Alex Kite, are training with the club. White is the son of former City assistant manager Steve".

The Cambridge News says that "John Beck stepped up his search for some new players when Histon began pre-season training on Saturday. The Stutes' manager put around 35 trialists, who were eager to impress..., through their paces at Impington Village College. There were some familiar faces taking part in the session as well, with a group of 11 first-team players taking part in separate fitness tasks.

Leading the first-team squad, which included Antonio Murray, Joe Welch, Callum Stewart and Daniel Sparkes, through their regime were Erkan Okay and Adam Tann, with the latter appearing to be close to agreeing a deal which will see him become a player-coach at Bridge Road... Other players in the first-team group included David Knight, Jim Stevenson and Sam Mason-Smith.

Beck began by sending the group of potential recruits on laps of the playing field, with alternate bursts of slow and half-pace jogging. A couple were unable to last the pace... Beck will need some of the trialists to impress or he will have to bring in players from elsewhere as he needs at least five additions to form the 16-man squad he expects to have at his disposal".
DEMOTIONS
The Vodkat League reports on "a meeting held at Burton Albion F.C. last Tuesday, the FA National Leagues Committee". It says that "Given the recent publicity surrounding the allocation of the newly formed Chester FC at Step 4 in the National League System, an interesting announcement was made at the meeting with regard to the issue of "phoenix" clubs reforming under a new name.

The National League System Rules have been updated and the wording 'reformed' has been removed. In future, a club would either be considered an Old or New Club. Any New Club taking over from an Old Club would be placed at Step 5 [e.g. Vodkat NW Counties Premier]. League Secretary John Deal said: 'Hopefully, this now means that if any future occurrences arise similar to the formation of Chester FC, there will be no doubt or debate as to where a newly formed club would be placed in the National League System'.
---
5 July 2010
CONGRATULATIONS, GRAHAM!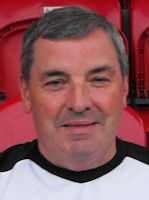 Congratulations go to Altrincham FC manager Graham Heathcote (left) who, this month (July 2010) becomes the Club's longest continually serving manager since Tony Sanders's seven-year and nine-month reign between April 1976 and January 1984. Graham became the Alty boss in October 2002.

As the season kicks off for 2010-11, Graham will also be the longest-serving current manager in the national division of the Conference, having operated continuously at that level since the start of the 2005-06 season. John King, under whom Graham also served as an assistant manager, had three spells in charge which make him the longest-serving manager overall as the Managers' List shows.

Graham has had an eventful period as manager; after securing a place in Conference North, he steered the club into the play-offs in 2005. Victory over Eastbourne Borough in the play-off final brought promotion to the Conference National. Alty finished eighteenth, comfortably clear of relegation in 2006, only to be docked 18 points for the James Robinson registration issue. Alty were reprieved from relegation that season and in the following two, due to other clubs' breaking the financial rules. Graham has secured lower-mid-table finishes in each of the last two seasons - commendable outcomes given that he has not spent a penny on transfers in his eight seasons of managership and also given that Alty remain part-time on a small budget in a largely full-time league.
SENSPORTKITS
Altrincham FC goalkeeping coach and supplier of the club's kit through his Sensportkits company, Ian Senior, has a new website for his business's merchandise. Ian's Alty merchandise can also be found on the Altrincham FC site, here.
FLYNNY'S BLOG
Written before England exited the World Cup, Altrincham FC joint Press Officer Brian Flynn sent this blog to the website on Friday...

"When we arrived in South Africa two weeks ago, we were a bit tired and weary after a long flight, but that was put into very clear perspective on Wednesday when we met Shane from Newry in Northern Ireland, who had cycled from Tangiers on the northern tip of Morocco to the Cape of Good Hope to get here. The journey took SIX MONTHS and was part of the Cycle for Hope charity effort (www.cycleforhope.org) and the riders were joined for the last week of their journey by that renowned cyclist and former Manchester United and England player Lee Sharpe.

We have been in Durban for the last five days and the weather has been glorious at our beachside hostel. Niall is a seasoned visitor to hostels around Europe, but this is the first time that I have been in one and I was a bit mortified when we checked in as you have to put your age down on the Guest list........suffice to say I was top of the league.....comfortably! We went to the very entertaining 2-2 draw between Nigeria and South Korea on Tuesday and today it is the eagerly awaited clash between Portugal and Brazil.

There was a bit of angst on Wednesday afternoon when we headed down to the beachside Fan Fest area with three lads from Belfast.....inevitably all United fans....... only to find that they were showing USA v Algeria instead of England v Slovenia. Hordes of England fans swiftly migrated to the local bars and restaurants who cashed in big style.....meanwhile there was plenty of room on the beach!

A much better performance from England against the Slovenes and whilst the USA's late winner against Algeria has set a much more tortuous route for Fabio and his boys, the Flynns are quite happy as we have tickets for game against Germany in Bloemfontein. This is the part of the trip, where the games come thick and fast and in the next four days we will see Portugal v Brazil, Germany v England and probably Portugal or Brazil against the runners up in Group H.....possibly Spain. Life's a beach!"
---
4 July 2010
ALTRINCHAM FESTIVAL
The Altrincham Supporters' Club (TASC) and the Altrincham FC Juniors each had a float in Saturday's Altrincham Festival, courtesy of Dunham Scaffolding, to whom the Club is most grateful. Pictured on the Club float in the above photos are Dawn Abbott, Steve Foster, Colin Mitchell and Graham Jackett, with the lorry decorations reminding everyone of Alty's FA Cup exploits on one side of the vehicle and of the Club's 100 years of playing at Moss Lane, which are being celebrated later in 2010.

From St Margaret's Road, the parade moved on to Timperley where the TASC stand in the Festival grounds included a penalty shoot out competition with vice-chairman Grahame Rowley excelling himself between the sticks. The club is grateful to everyone who gave their time to support the Festival and to raise the profile of the Football Club.
OLD BOYS
The BBC confirms that "AFC Telford have completed the signing of Alex Meechan".

Meanwhile "FC Halifax Town have signed winger Scott Metcalfe" who turned out for Alty Reserves a coupole of seasons ago. "The 21-year-old proved his credentials with an impressive display for league rivals Trafford against the Shaymen last season. Boss Neil Aspin admitted 'We tried to sign him midway through the campaign, but Trafford would not let him go'. Metcalfe spent three seasons at Trafford, with whom he won the 2008 North West Counties League title".

Hyde United "are pleased to announce three new signings. [One of theses is] ex-Stalybridge Celtic defender Andy Smart". Andy, a product of Altrincham Grammar School, played a couple of games for Alty Youth a few years back.

The Tameside Advertiser says that "Ashton United chairman David Aspinall is optimistic the club may win their fight for survival. Last Saturday's Northern League AGM ended with the Robins accepted into the competition for the 2010/11 season. That proved a great boost for all concerned at Hurst Cross as they await to hear whether [ex-Alty forward] Marcus Hallows will accept a settlement rather than the £32,000 he was awarded following an injury sustained when playing against Ashton.

'The AGM was quite positive as we're in the league next season', said Mr Aspinall. 'However, it all depends on Marcus Hallows and what he thinks because the other parties seem to be OK with our plans. What we've got to do is physically sit down and talk about it but we can't do that until we hear from Marcus Hallows'".
BSBP NEWS
Barrow's Holker Street Newsletter reported before today's friendly with Furness that "between the sticks for Barrow will be the brother of Barrow defender Mike Pearson, and [joint manager Dave] Bayliss adds: 'We're not panicking about the goalkeeper situation. There's still six weeks till the start of the season and talks are continuing. Mike Pearson's brother will play in goal this Saturday. He's played in the Welsh Football League for the last two years and is going to have a trial with us'. He adds: 'We've got some really good trialists coming in this pre-season, that's why we haven't made that much movement as regards new signings in certain positions. We have some well established players coming to trial with us, lads who have played in the Football League. We will sign another central midfielder before the start of the season. Don't forget there's also James Owen, Mark Boyd and Shez in there. It's a big year for young James Owen and I predict he'll go on and do really well this season.

Boydy, too, it's a big year for him. He knows last season he wasn't as fit as we wanted him and we've told him what we expect this season fitness-wise. He is the best technical player at the club, probably one of the best I've ever played with, but knows he needs to get fitter. He'll get his chance in pre-season".

According to This is Glos "Dave Hockaday will add five Hartpury College students to his Forest Green ranks before the new Blue Square Bet Premier campaign begins on August 14. The Rovers boss has so far assembled a squad of 13 players, who gathered for the first day of pre-season training on Thursday alongside a crop of Hartpury students keen to catch his eye.

College quartet Tom Pass, Ben Pugh, Jon Else and Marcus Palmer all made league appearances for the New Lawn club last term, and Hockaday has challenged others to follow their lead. He said: 'Steve Davies became the 13th permanent signing this week and it's looking like he will be the last, unless some fresh money suddenly becomes available from outside. That means there is a real opportunity for the Hartpury boys, and there is a pretty strong pool of talent to choose from. We're looking for five of them to step up before the start of the season, who will be registered as first-team players and available for selection straightaway. Injuries and other factors will probably mean we need to register a few more as the season goes along, but generally I want a more settled squad'.

Winger/forward Davies and midfielder Mike Fowler are the only members of the new-look squad not recruited by Hockaday – both were signed by Jim Harvey last summer. The current boss said: 'This is now my squad and I'm very happy with it, although if I could get one more in I would be even happier. It's a small squad but it's a powerful one and full of the right sort of characters'".
---
3 July 2010
ALTRINCHAM FESTIVAL
Altrincham Festival is today (Saturday 3 July). "This is also a really important event for TASC and the club. Not only is it a good fund raiser for the club, but it is also a great opportunity to increase the awareness of the club in the local area. TASC will be running a stall at the festival and participating in the parade. We would like to hear from anyone who feels that they can help at the festival on the day."

The parade leaves St Margaret's Road at 11am and proceeds to Grange Avenue, Timperley where entertainment actually starts from 10am. Please support this event if you can and help to raise the Club's profile in the local community.
BSBP NEWS
Kettering Town "announce the signing of Ashley Westwood on a 2 year contract. Ashley spent the last two seasons at Wrexham where he made 61 appearances and scored 3 goals as the team captain. The 33 year old 6'0 central defender is commanding both in the air and with his voice. Westwood was happy to put pen to paper on the deal saying, 'Wrexham were great to me and even though they offered me a deal, I just wanted to play closer to home'".

The Football Conference reports that "Rushden & Diamonds have signed Max York, a central midfielder formerly with Histon. York started his career with Cambridge United and then Histon's academy – making six appearances last season for the Stutes` first-team after becoming a member of the senior squad at Christmas. York said after signing: 'I'm glad to have signed for a club like Rushden & Diamonds, they've got a great set up and amazing facilities. I'm looking forward to playing my part in the team and I just can't wait to get started and stuck in. I'm a 90 minute midfielder – box-to-box. I spoke to the manager as to what sort of role he is looking for and I'll be happy to play it!'".

From The Argus we learn that "Steve Evans says he will have failed if he does not get Crawley into the Conference play-offs next season. Evans made his seventh summer signing and fourth in a week when Matt Tubbs, the league's leading scorer last season, sealed his move from Salisbury yesterday for a fee close to £100,000.

More new signings will follow as co-owners Bruce Winfield and Sue Carter finance a genuine bid for promotion having cleared the club's debts. Evans took his side to seventh last season – the highest finish in Crawley's history – despite operating with one of the lowest budgets of the full-time clubs and selling £300,000 worth of players. But he is confident he can lead a club into the Football League for the second time in his career after getting Boston United promoted.

He said: 'We don't hide our ambitions and neither do the board. The bar has been raised from survival to having a top five objective and if we don't finish in the play-offs I would personally consider it a failure. We finished seventh last year but after the investment we have made we have to improve on that. That message is loud and clear and the players are as excited about the challenge as we are. If we do fail it will not be because of a lack of effort. There are some big clubs in this league and it is going to be difficult. Stevenage won the league but where were they last October? Not in the top three. It is a marathon so if we lose our first game then it won't be head-in-hands time'".

"AFC Wimbledon have announced the signing of defender Ismail Yakubu following his release by Barnet" reports Blue Square Football. "Nigeria-born Yakubu spent his entire career with Barnet, racking up over 260 first-team appearances... Dons' boss Terry Brown told the club's official website: 'Despite what the various web sites say, believe me he is over six foot tall and he has a very powerful physique. I am sure he will be the commanding, experienced figure in central defence that we have been looking for this season. He is still only 25 and has a great career ahead of him - we hope that a large part of that will be with us... He suffered an injury last season that meant he missed about 20 games, so we took the precaution of having a couple of scans done before completing the deal'".

Meanwhile, the BBC reports that "Forest Green Rovers chairman David Drew has admitted the club continues to face a financial struggle after the failure of a campaign to raise £250,000. Drew acknowledged the 'Keep the Green Alive' campaign, launched earlier this year, fell 'sustantially' short of its ambitious target.

But he told BBC Gloucestershire: 'We're alive. I won't say we're healthy but we are keeping going'. Last season Rovers fought off two winding-up orders. Drew said: 'We're receiving monies to help with the playing budget and other things, but we're not out of the woods yet. It's always very tough to find the money each week to pay the players and the other staff who make an important contribution. Fans need to get behind the club and people need to use the facilities. We have a number of investors who are interested in putting some serious money into the club. We'll only be happy when we've had a good season but also when we have some more investment in place. We're having to cut our cloth much more conservatively at the moment because the money just isn't there any more'".

So it is perhaps no surprise that the Stroud News & Journal reports that "York boss Martin Foyle expects to rubber-stamp a deal for Forest Green Rovers midfielder Jonathan Smith... The 23-year-old is currently out-of-contract at the New Lawn after making more than a hundred senior appearances over the past three seasons".

Mansfield Town report that "Burly forward Kyle Perry has left Field Mill by mutual consent and is expected to join rivals Tamworth next week. The 24 year old hitman netted 11 goals in 43 appearances since making the switch from Port Vale last summer".

This is confirmed by This is Mansfield "have let a second striker leave inside the space of three days, with Kyle Perry joining Tamworth. His exit follows that of Jake Speight, who was sold to Bradford City for £25,000 on Wednesday... The 24-year-old started the season like a house on fire and was first choice in the early stages of the campaign alongside Rob Duffy. But his form dipped and the goals dried up in the second half of 2009-2010 and he was often left out of the side".

Whilst Perry joins the Lambs, This is Tamworth asserts that "Bradley Pritchard is set to move to Hayes and Yeading... after joining the club two years ago from Nuneaton. Manager Gary Mills said: Bradley is one of those lads who wanted to stay but we couldn't offer him what he wanted. 'Hayes offered him a deal we couldn't match. He's a lad I really enjoyed working with. He's a good player, has a great attitude and always trained with a smile on his face'".

Manager Dean Holdsworth at Newport County says that "We [have] secured the services of experienced Conference striker Robbie Matthews on a two year contract. I have watched Robbie for a good period of time and I'm convinced that he gives a totally new dimension to the team. Robbie has shown a clear desire to play for us and I intend to push him hard and with his personality I'm sure he will respond well and really fit in with the lads".

Matthews said, "I always remember Newport as a massive club and it was an easy decision to make to come here. The opportunity to work under such a fantastic player as Dean made me jump at the chance and I'm sure that I will learn a lot and that he will make me a better player. I am am still very ambitious and from my conversations with Dean it is evident that Newport County are too".

From the other side, Kidderminster Harriers "confirm that striker Robbie Matthews is to depart... The front man had a year remaining on his deal here but the club and player have reached an agreement for this to be terminated...

Boss Steve Burr told harriers.co.uk this morning: 'In terms of location it is probably better for Robbie to be a bit nearer to home as that was maybe a problem for him while he was here... It just unfortunately has not worked out for him'. Burr also went on to confirm that Robbie's departure from Aggborough... 'has freed up quite a bit of money for us and we will probably now be able to add two, maybe three players with it'".

According to the Express & Star "Kidderminster Harriers have lost one, signed one and been turned down by another in a frenetic 24 hours of transfer activity...

Manager Steve Burr's mystery top striking target was released Notts County striker Sean Canham, but the 25-year-old turned down a move to Aggborough to stay in the Football League with Hereford. Harriers then completed the signing of defender Michael Briscoe, who was a free agent after leaving Tamworth, on a one-year deal ahead of his 27th birthday on Sunday....

Burr negotiated an agreement with transfer-listed striker Robbie Matthews to terminate the remaining year of his contract. Matthews was on par with the highest earners at Aggborough".

Having made seven signings recently, Crawley Town "can confirm that out of contract striker Charlie Ademeno has signed for Grimsby Town... and unless both clubs can agree a transfer fee a FA independent tribunal will sit to decide on the player's transfer value. Grimsby Town did make a formal written offer for the player on Wednesday afternoon but this offer was swiftly rejected. The offer received was substantially less than an offer made last week from a Coca-Cola League club; that offer was also rejected, as it fell below the valuation placed on the player.

Manager Steve Evans said, 'The offer from Grimsby Town for Charlie Ademeno was rejected, in simple terms it was a derisory offer. Last week Bruce Winfield rejected an offer for Charlie that was substantially higher than that of Grimsby Town's offer, so I suppose we might be heading to a FA Tribunal. Bruce Winfield will deal with that issue, I only want to concentrate on the players I have or who I would like to have'.

The manager did confirm that Michael Malcolm has returned to The Broadfield Stadium after signing a new deal late last night. Steve said, 'Michael has blinding pace and it was important after the loss of Charlie that we kept that raw pace in the squad'... The manager is expected to meet with two signing targets over this weekend".

Barrow "will have new signing Danny Forrest and traillist Marc Goodfellow on display for the charity Furness Select game on Saturday 1pm. Striker / winger Forrest agreed a deal this week, while Goodfellow has agreed to train with the Bluebirds in pre-season following his successful loan spell last winter. Several other trialists are expected to feature".

"Luton Town fans can expect more pre-season arrivals at the club according to assistant boss Gary Brabin. The Hatters have already signed four new players... Brabin told BBC Three Counties Radio: 'We're certainly a little bit light in certain areas. There's one player, or one position, we'd like to fill but the squad of players we have we're excited about'...

Brabin also hinted that striker Taiwo Atieno will not be kept on at Kenilworth Road. The 24-year-old joined Luton in March after a spell in the USA but 'I think he only played one-and-a-half reserve games and didn't train that much and I don't think it was fair for us to have a good look at him', said Brabin. 'I think he probably wanted a bit more commitment and we would have liked to have seen a bit more from him. At the moment we've got four quality strikers and we're looking forward to working with them'. Town have strengthened their options with the signings of striker Danny Crow, full-back Dan Gleeson, winger Andy Drury and goalkeeper Kevin Pilkington, but Brabin expects tough competition in the Blue Square Bet Premier.

'I don't want to start naming names but when you're involved with football you know what's going on and I think there'll be a few surprises this year', he said. 'There's a couple of clubs that are going to be very ambitious this year and they'll be tempting players with financial backing. I think it's going to be an even tougher league than last season'".

The Northants Evening Telegraph reports that "Justin Edinburgh is optimistic Lee Tomlin will sign a new deal with Rushden & Diamonds. The Nene Park boss admitted they had received a 'substantial' offer for the star forward this week but refused to name the club involved – although Crawley Town are known to be interested.

'There has been a bid and it was a very big one', he explained. 'A club at our level came in and it was a substantial figure. It was a huge amount of money for a club like this. But we have turned it down and I can't speak highly enough of the chairman for that. I thank him and the player for turning it down. It is a big statement on our behalf that we are not prepared to let players go to our rivals. The only way our best players are going to leave is to go into the Football League. But we want them to do that with us. We talked to the player and he wanted the offer to be rejected as well. Hopefully now we are in a position to enter negotiations with him about signing a new deal'".
FLYNNY'S BLOG
Altrincham FC joint press officer, Brian Flynn, has produced his latest World Cup blog for the Manchester Evening News...

World Cup Blog 3

On Friday morning it was an early start as we had a three hour drive from picturesque Plettenberg Bay to Port Elizabeth, to see Germany surprisingly turned over by a resilient Serbian side to really throw that group wide open. There seem to be quite a few Americans at each match, some hugely knowledgeable about the beautiful game and others clearly experiencing it for the first time, such as the guy I overheard on his mobile telling a friend that his seats were 'between the big box and the half way line'!

That evening,we watched England's hapless display against Algeria at the Fan Fest area in Port Elizabeth, which was at the St.George's International Cricket Ground, a lovely old fashioned stadium.

The following day, the one hour drive to Addo Elephant Park finished on a sour note as I was fined 500 Rand (about £45) for failing to stop at a railway crossing just before the entrance to the national park. This was clearly a money making tourist trap as within a few minutes, we were joined by four Borussia Monchengladbach fans who were also guilty of being distracted by the Police vehicles and missed the Stop sign......hey ho!

Everyone visiting South Africa goes on at least one Game Drive and Saturday afternoon saw us marvelling at the likes of warthogs, giant tortoises, hyenas and of course lots of elephants.

This is the section of our adventure where we are travelling a lot and Sunday saw us staying at our sixth new location in as many days.......Morgan Bay on the Wild Coast between East London and Durban. We watched part of a fascinating township Football game on route with the match being played by 14-15 year old kids on a pitch with no grass on it and one corner completely submerged in water......plenty of raw young talent on show though! Today (Monday) is the shortest day of the year in the Southern hemisphere and we have a nine hour drive to Durban where our fourth match, Nigeria v South Korea ,awaits us tomorrow."
---
2 July 2010
FRIENDLY PRICES
Altrincham have a pre-season game at Nantwich Town's Weaver Stadium on Saturday, 17 July. Entry prices will be £5 for adults, £3 for concessionaries and £1 for children.
FRANK'S FAREWELL
How Do reports that "Chris Sievey, the man that brought Timperley's greatest champion Frank Sidebottom to life, is set to get a proper send-off on Friday (today), after a fund set up to save him from a pauper's funeral brought in over £21k in donations.

Sievey, who passed away after a short battle with cancer last week, was found to be virtually penniless when he died, leading to concerns from his family that he may not be afforded a proper funeral. However, writer and broadcaster Jon Ronson, along with former manager Guy Lovelady, set up an online fund to pay for the ceremony, attracting donations from 'thousands' of well-wishers. The fund closed yesterday after raising £21,240.

In a fitting final note, Sievey's funeral, which will take place at Altrincham Crematorium, should be almost as interesting as the character he created, with guests invited to arrive in fancy dress, if they so desire. The ceremony is private, while a public celebration is expected to take place within the coming weeks".

Many of Frank's songs featured the Altrincham area including references to the Football Club.
OPENING FIXTURES
The opening day of the Blue Square Bet Premier division is Saturday 14th August when the full fixtures are:
Crawley Town v Grimsby Town
Darlington v Newport County
Gateshead v Kettering Town
Hayes & Yeading United v Bath City
Histon v Barrow
Luton Town v Altrincham
Mansfield Town v Forest Green Rovers
Rushden & Diamonds v Fleetwood Town
Southport v AFC Wimbledon
Tamworth v Eastbourne Borough
Wrexham v Cambridge United
York City v Kidderminster Harriers

Tuesday 17 August 2010
AFC Wimbledon v Histon
Altrincham v Darlington
Barrow v Gateshead
Bath City v Rushden & Diamonds
Cambridge United v Crawley Town
Eastbourne Borough v Hayes & Yeading United
Fleetwood Town v Mansfield Town
Forest Green Rovers v Wrexham
Grimsby Town v York City
Kettering Town v Luton Town
Kidderminster Harriers v Southport
Newport County v Tamworth

For all of Altrincham's fixtures, please see the Fixtures page.
BSBP NEWS
Grimsby unofficial site, The Fishy reports that "Crawley striker Charles Ademeno has joined Grimsby, signing a two year contract with the Mariners. Ademeno, who is of Nigerian descent, spent a number of years at Southend, where he failed to establish himself in the first team. After a number of loan spells at non-league clubs, he joined Crawley at the start of last season, bagging 11 goals in 32 games.

The 21-year-old will become the seventh summer signing at Blundell Park. Neil Woods told the Grimsby Telegraph: 'I'm very pleased. We've tracked Charles for quite a while. We were very close at the end of last season to getting him here. He has a good goalscoring record, is a very intelligent player and very quick. With what we already have, Charles gives us an added option of pace in behind defences. He's not the complete package yet but he knows that and is keen to learn. Being an ex-striker I understand the position and have big expectations'".

Three of Ademeno's goals came in one game, so he netted just 8 in his other 31 appearances last season.

The BBC confirms that "Crawley Town have signed striker Matt Tubbs from Salisbury for an undisclosed fee, thought to be £70,000, on a two-year deal with an option of a third... Previously an apprentice with Bolton Wanderers, Tubbs had spells with AFC Bournemouth and Dorchester Town before signing for the Whites in October 2003. He is the fourth striker to sign for Crawley this summer, joining Craig McAllister, Liam Enver-Marum and Jamie Cook".

"Hereford United have signed former Notts County striker Sean Canham on a two-year deal. The 25-year-old joined Notts in 2008 from Team Bath... The former Exeter trainee had a loan spell at Hayes & Yeading last term where he scored six goals in 15 games" says the BBC.

According to the Uxbridge Gazette, "Hayes & Yeading boss Garry Haylock has confirmed the club's intention to move away from part-time football. United will move away from the traditional part-time structure of training in the evenings to more daytime sessions. 'We do not have the infrastructure to go full-time, but we are going to train more during the day', he said. 'It means that players released by clubs like Reading and Wycombe, who would previously not have considered a move, may now decide to come here'".

The BBC reports that "Crawley Town have announced they have cleared their debts and are now aiming for promotion to the Football League. The side were £1 million in the red when Bruce Winfield became co-owner and were losing £400,000 a year.

Winfield told BBC Sussex 'We've gone through a process of reconstruction. It gives us a great platform to go forward and compete in this league. We've had to pump money in as well as work on saving any money we could. We've raised the share capital to half a million pounds, which is significant at this level'.

Winfield paid tribute to Tom Scott and his family, who have been major investors in the club. 'The club was pretty much bankrupt and would have gone into administration', he said. 'We wouldn't be here today if they hadn't put their money in'. Winfield has given manager Steve Evans a task of achieving promotion to the Football League, and has broken the club transfer record with the purchase of striker Matt Tubbs from Salisbury City. He said: 'We've still got a long way to go - we're competing with some big clubs and it's not going to happen overnight. We think we've got the resources and the players to get where we want to be'.

After attending a press conference a Crawley Town supporter produced the following interesting report on the Conference Forum...

"There was about 20 press people from Sky, BBC, Non League Paper and various other rags. In addition there was hundreds of supporters who came down during lunch hour to see was going on.

Here are the facts:
1, Matt Tubbs has signed believed to be close to six figures with add ons.
2, CTFC Debt has been wiped out completely; there are no shareholders' loans or creditor debts.
3, Evans made an unsuccessful six-figure offer to Rushden for Lee Tomlin.
4, Evans also made an offer of £100,000+ for another player, He declined to comment who.
5, CTFC's policy on buying players is everything is paid in one hit, no staggered payments.
6, They have all the money required for the next two years banked in a reserve account at the bank.
7, The club will look to make 3 to 4 more signings in the next week.
8, Steve Evans has no budget for Crawley Town F.C only a top 5 finish target.
9, It's likely the club will break the club's transfer record again before start of season.
10, Bruce Winfield confirmed the club had some new shareholders based in the Far East, but the club is still controlled by the same people and the existing shareholders still remain in place with the exception of Prospect Holdings who have been bought out by Bruce Winfield".

Before the press conference, The Argus reported that "Evans has so far signed eight new players and expects to add two more in the next few days. It is an unprecedented level of spending for a club whose average gate fell by 16% last season to 1,003 despite their seventh-placed finish – the highest in Crawley's history...

Carter said: 'All will be revealed today but we believe we have a sustainable strategy to make the club successful and hopefully this will be reflected next season in increased gates and interest at the turnstiles'. As recently as last month Evans admitted he expected to be operating with a small squad again of around 17 players but... he will now have around 22-23 players for the forthcoming campaign.

The aim of Carter and co-owner Bruce Winfield last season was to make the club debt-free and able to pay its way after years of financial mis-management under the Majeed brothers. Carter refused to comment when asked yesterday whether the new investment was coming from outside the club but the indications are that lifelong fan Winfield is financing the rebuilding of the squad".

Meanwhile the Crawley Supporters' Trust tells us "Ever since the club announced the Press Conference which they held this morning, the Crawley Town rumour mill has been working overtime. The calibre of recent signings led to much speculation about new investment, and now we know for certain that this new investment is a reality. This is an exciting time to be a supporter of CTFC, and it is an exciting time to be a member of the Supporters' Trust.

But what do we know about the new investors? In truth, only what we were told this morning. Given events in the not too distant past, Crawley Town Supporters may be a little disconcerted with the pace of recent changes, and that is understandable. We've been through some difficult times; times we're unlikely to forget in a hurry. But whilst the pace of events has been unprecedented in our history, we believe that we have good reason to be positive.

Over the past season the Trust has developed good working relationships with shareholders, Bruce Winfield and Susan Carter- and with Director of Operations, Alan Williams. Local Heroes, WAGS for a Day, our sponsorship of Reggie Red and particularly the recent announcement that the Trust had agreed to run- and to pay the costs- of the Junior Reds scheme were born from those relationships... Bruce and Susan are the driving force behind bringing this new investment into Crawley Town. They believe that the new investors will give us strength and stability, and the fact that they remain shareholders and will be members of the new board should give us all confidence.

We must not, however, get carried away with the new investment and the quality of the new signings and believe that success is guaranteed... Steve Evans is not Kevin Costner. He may build a good team, but that does not in itself mean that people will come and watch it. New supporters have to be attracted, and there are many other attractions available... The club needs to engage with the community if the community is to engage with the club. It is the role of the Trust to help build that relationship, and we will do our utmost to make it happen.

It is also the role of the Trust to be independent, however. We will be the moral compass of CTFC. When the club is doing the right thing, we will be steadfast in our support. If the club acts in a way which we believe is not in its best interests, we will say so... Let's embrace this new world with optimism. The coming season promises to be eventful, so let's enjoy it together. The future is bright. But the future is red!".

NL Daily says that "Officials at new Zamaretto League Premier Division club Salisbury City have described the offer for star striker Matt Tubbs from former Blue Square Bet Premier rivals Crawley Town as 'too good to turn down'...

'We had budgeted for the season ahead and Matt Tubbs was always a major part of our plans', said a club spokesman. 'Our finances are such that we were not looking to offload any of our first-team squad – we were certainly under no pressure to sell Matt. However, Crawley tabled a bid that was simply too good to turn down and we owed it to the player to allow him to see what was on offer... The deal is good for the club, good for Matt and good for Crawley as they are getting one of the best players in the division'...

Tubbs said: 'I've had the time of my life there and it wasn't an easy decision to move away but I kind of had to make the break'...

Salisbury boss Tommy Widdrington agreed that the deal, which includes potentially lucrative sell-on clauses, was too good for the club to ignore... 'Steve Evans has now got the best striker in the Conference as far as I'm concerned and a player who could easily play at a much higher level... He rose through the leagues with us and by working his socks off, he got better and better'... A club spokesman confirmed that no other details relating to the deal would be made public. 'We agreed with Crawley that the fee would remain undisclosed'".
Cambridge News reports that former Alty loan-keeper "Lance Key feels he has been treated shabbily by Histon after seemingly being ditched by the club. The veteran goalkeeper and coach spent more than a decade at Bridge Road in two spells but has been angered by the way his time with the Stutes has come to an end. Last season Key was helping coach the scholars alongside Ian Hart, who quit the club on Friday after being unhappy working under new manager John Beck, and also assisted former boss Alan Lewer with first-team duties.
He believes his links with Hart and the fact he is the step-father of midfielder Lee Smith - who is considering his Histon future - could be why he is no longer wanted. And the shot-stopper also claims the club still owe him a month's wages. 'I've had no contact from the club (regarding his position) whatsoever since the last day of the season', said Key. 'And I'm still owed money for April. I'm Lee Smith's step-father and I've spoken to John Beck a couple of times about him, but that's the only contact I've had. I feel very disappointed about it because I've had 12 years at the club over two stints. I was one of the old guard, if you like. I've given the club a lot of time. It was especially hard work towards the end of last season and it would have been nice to have had a telephone call. I suppose that's football, but it's still not nice when it happens to you'.
Key, who was an unused substitute for several games towards the end of last term because of Joe Welch's contract dispute, added: 'I don't feel I've been treated very well'". Key is pictured, left, warming up at Histon when they entertained Alty last season.
York Vital Football says that "York City's released goalkeeper Josh Mimms is currently having a trial with rivals Gateshead. Mimms was released at the end of last season after managing only a couple of senior starts and just a dozen in three years with the club... The 20-year-old was called into the England 'C' squad at the end of last season after playing in York's final game of the campaign at champions Stevenage. Gateshead have already recently signed former York winger Craig Nelthorpe, while ex-Bootham Crescent midfielder Andy Ferrell also moved there last season".
From the BBC we learn that "Kidderminster Harriers have signed the 26-year-old former Tamworth defender Michael Briscoe. Harriers' manager Steve Burr said: 'I tried to sign him when I was Stalybridge and Northwich but, as a Birmingham lad, location was a problem. Obviously that is not the case for us here and I am really pleased about that as this is a good solid signing'".
NW NEWS
The new EvoStik (formerly UniBond) League reports that "The Northern Premier League will now be known as The Evo-Stik League... The league website will now be www.evostikleague.co.uk... In addition to a new sponsor the League also welcomes seven new clubs. In our Premier Division Northwich Victoria joins us from the Conference. In our First North we have the reformed Chester FC and in our First South Barwell from the Midland Alliance, Newcastle Town from the North West Counties, Rainworth Miners' Welfare from the Northern Counties East, Romulus from the Southern League and Sutton Coldfield Town also from the Southern League. It is sad that we say good-bye to Boston United and Guiseley who have been promoted and for relegated Rossendale United and Willenhall Town who we sincerely hope can return to us very soon. For information the Evo-Stik League fixtures for 2010-2011 will be published on our official website at 09:00 Wednesday 14th July".
---
1 July 2010
ALTRINCHAM BSP FIXTURES 2010-11
Altrincham start their 2010-11 season with a trip away to Luton Town. Full listing:
Saturday 14 August 2010 LUTON TOWN (A)
Tuesday 17 August 2010 DARLINGTON (H)
Saturday 21 August 2010 CRAWLEY TOWN (H)
Tuesday 24 August 2010 SOUTHPORT (A)
Saturday 28 August 2010 YORK CITY (A)
MONDAY 30 August 2010 MANSFIELD TOWN (H)
Saturday 04 September 2010 KIDDERMINSTER HARRIERS (H)
Saturday 11 September 2010 GATESHEAD (A)
Saturday 18 September 2010 EASTBOURNE BOROUGH (A)
Tuesday 21 September 2010 BARROW (H)
Saturday 25 September 2010 GRIMSBY TOWN (H)
Tuesday 28 September 2010 KETTERING TOWN (A)
Saturday 02 October 2010 RUSHDEN & DIAMONDS (H)
Tuesday 05 October 2010 BATH CITY (A)
Saturday 09 October 2010 HISTON (A)
Saturday 16 October 2010 FLEETWOOD TOWN (H)
Saturday 30 October 2010 HAYES & YEADING UNITED (A)
Tuesday 09 November 2010 AFC WIMBLEDON (H)
Saturday 13 November 2010 LUTON TOWN (H)
Saturday 20 November 2010 CRAWLEY TOWN (A)
Saturday 27 November 2010 CAMBRIDGE UNITED (A)
Tuesday 30 November 2010 FOREST GREEN ROVERS (H)
Saturday 04 December 2010 TAMWORTH (A)
Saturday 18 December 2010 HISTON (H)
SUNDAY 26 December 2010 WREXHAM (A)
Tuesday 28 December 2010 YORK CITY (H)
Saturday 01 January 2011 WREXHAM (H)
MONDAY 03 January 2011 MANSFIELD TOWN (A)
Saturday 08 January 2011 RUSHDEN & DIAMONDS (A)
Saturday 22 January 2011 BATH CITY (H)
Tuesday 25 January 2011 HAYES & YEADING UNITED (H)
Saturday 29 January 2011 BARROW (A)
Saturday 05 February 2011 SOUTHPORT (H)
Saturday 12 February 2011 KIDDERMINSTER HARRIERS (A)
Saturday 19 February 2011 KETTERING TOWN (H)
Saturday 26 February 2011 AFC WIMBLEDON (A)
Saturday 05 March 2011 GATESHEAD (H)
Saturday 12 March 2011 NEWPORT COUNTY (A)
Saturday 19 March 2011 TAMWORTH (H)
Saturday 26 March 2011 DARLINGTON (A)
Saturday 02 April 2011 CAMBRIDGE UNITED (H)
Saturday 09 April 2011 FOREST GREEN ROVERS (A)
Saturday 16 April 2011 FLEETWOOD TOWN (A)
Saturday 23 April 2011 NEWPORT COUNTY (H) - CORRECTED
MONDAY 25 April 2011 GRIMSBY TOWN (A)
Saturday 30 April 2011 EASTBOURNE BOROUGH (H)

The full list, with kick-off times, is on the Fixtures page.
JACKPOT TO BE WON
The winning combination of 5429 was not won this week but there were eight winning trebles on the Altrincham FC Saturday Yankee, each yielding £25 for their owners but the jackpot of £5,000 remains available to be won, for just a £1 stake. For details of how to join the Yankee, click here.
NUMBER NINE
It has been confirmed that Michael Twiss, Alty's new signing, will wear the number nine shirt, vacated by Colin Little, for next season.
FIXTURES
The 2010-11 Blue Square Bet Premier fixtures are due for release late this afternoon (Thursday 1 July) and they will appear on this site as soon as possible after issue. The Football Conference says that "The opening day fixtures [only] for season 2010/11 will be published here on the Football Conference web-site www.footballconference.co.uk at 3pm on Thursday 1st July, prior to them being released generally to member clubs and the media. All member clubs should be in a position to post their specific club fixtures in the Blue Square Bet Premier, North and South around 4pm the same day.

It was originally anticipated the release of fixtures would take place on Monday, 5th July but as most football supporters will now have a free World Cup weekend, the Football Conference felt it would be prudent to allow fans the opportunity to have them a few days earlier and to look forward to the new season with relish, rather than bemoan England having already returned home from South Africa".
BSBP NEWS
A much-travelled striker is on the move again as Cambridge United "have moved to secure the services of prolific striker Daryl Clare for a fee of £10,000 from Gateshead. The 31-year-old has agreed a two-year contact with the Club, subject to a medical... Since joining Boston in 2001, Clare has scored 145 goals in 298 matches and U's boss Martin Ling was delighted to have landed his number one target, telling cambridgeunited.com, 'Daryl's record speaks for itself. He's a one goal in two game striker at this level and also the level above. I have no hesitation that he'll come in and score the goals we require to be a successful side. Even though Daryl is in his early 30s, I'm confident his fitness levels and game playing ratio will be up to what we require. Strikers like this are hard to find and is why we've had to pay a fee to Gateshead. I feel he is more than an adequate replacement for Danny Crow and now leaves the shopping list at just one striker, which will now be once pre-season has started'".

Free-spending Crawley Town "have announced they will be holding a press conference at 11am on Thursday July 1st 2010... Everyone will have the chance to meet the clubs new signings for the coming season, some of which are still to be finalised and announced. You will also hear a full statement outlining the clubs new and exciting plans for the coming season and beyond. In attendance to answer questions will be Manager Steve Evans, Bruce Winfield, Susan Carter and Chairman Vic Marley".

Meanwhile The Argus confirms that "Jamie Cook is re-joining Crawley Town. The 30-year-old striker left Reds last September to return to his home town club Oxford United. But things did not work out for Cook at Oxford... and he was released in May. Cook is the third striker signed by manager Steve Evans in the last week and another, Matt Tubbs, is on the verge of completing a club record £70,000 deal today.

Evans also has the option of playing Cook in wide areas. Cook scored 33 goals in 78 appearances for Reds. He said: 'It is great to be back. I played my best football under Steve Evans and he was one of the big factors in my decision to return to the club'.

Cook's return will excite Reds' fans but that is nothing compared to the arrival of the prolific Tubbs, who was top scorer in the Blue Square Premier with 26 goals last season. The £70,000 fee Reds will pay Salisbury City shatters Crawley's previous transfer record when they paid £20,000 for Daryl Clare.

Evans was expecting to be operating with a small squad again this season but it appears wealthy co-owner Bruce Winfield is prepared to back him to have a real tilt at winning promotion. Evans could make two more signings before the weekend, both widemen, and his new faces will all be unveiled at a press conference on Thursday".

More on the Tubbs deal comes from NL Daily which says that "The fee, which is understood to be in excess of £70,000, was needed to see off the alternative offers from York City, AFC Bournemouth, Cambridge United amd Mansfield Town to land the England `C` attacker. Last summer York paid £55,000 to land Michael Gash from Ebbsfleet United and they were prepared to match that fee to secure Tubbs. However, they could not compete with Crawley's bid...

Tubbs, along with fellow new signings Craig McAllister and Jamie Cook, should give Crawley a much needed boost up-front. The Reds scored just fifty goals, the lowest of any side in the top-half of the division".

The Football Conference adds that "Striker Jamie Cook has returned to Crawley Town after manager Steve Evans made a last minute move to capture the player from under the noses of a number of Blue Square Bet Premier rivals and a Coca-Cola League Two club...

Evans said: 'Jamie Cook is a wonderful signing for us. I must admit I was gutted when we lost him last August to Oxford United but the lad had travelling issues then and secondly his boyhood club, who happened to be just 20 minutes from home came calling, so I guess it was to be expected. He was played out of position at Oxford, so unfortunately for them they did not see the real Jamie Cook.

Cooky is such a talented lad, he is a proven natural goalscorer and can produce that bit of magic that is needed to win the big games we play at this level. The lad will be living a lot closer to us and as a minimum I needed this commitment from him. In return he gets a manager who not only loves working with him but gets the best out of him. I know that was a key factor in the lad's decision to join us in preference to a few others who were keen to sign him.

The Conference National is now widely regarded as being at its strongest in its history and we intend to go into this season with plenty of firepower; we have four strikers now who can easily score sixty-five goals between them - that's more than two of the top five scored last season. During the next few days we intend to add yet another striker who will wear our number 9 shirt and complete us giving us the most powerful front line in the division.

I must pay a special thanks to chairman Bruce Winfield, who has been fantastically supportive of me in our player recruitment tasks this summer.'"

At AFC Wimbledon manager Terry Brown says that, "The Dons have made another significant signing in Rashid Yussuf, usually known as 'Toks', from Gillingham. The midfielder, who made eight senior appearances for the Gills last season, also has a spell at Charlton Athletic under his belt and is a former England under-18 international -[he was also briefly at Northwich in 2008-09].

Yussuf is 20, and is a highly-talented midfielder with blistering pace, great on the ball and predominantly left-footed. He can play either left-sided midfield or up front...

Brown said: 'From Thursday we will increasing the training schedule and the first week in particular will be very physically demanding. After Saturday's training we are looking next week to work with the squad towards our first pre-season friendly on July 10th against Charlton. We will also be looking to play two teams with 45 minutes each. This means that several of our trialists will get an opportunity to push for a place in our squad. We are also very close to signing a centre back we've been targeting'".

The Grimsby Telegraph confirms that "Peter Sweeney has had his Grimsby Town contract cancelled by mutual consent ahead of a move to Bury. The 25-year-old was midway through a two-year deal but is set to stay in league football after agreeing a similar contract at Gigg Lane. Sweeney is the eighth departure from Blundell Park this summer, following Leigh Overton, Matthew Bird, Nathan Jarman, Joe Widdowson, Adam Proudlock, Jean-Louis Akpa Akpro and Paul Linwood out of the club. The former Leeds man... ended the campaign as the club's leading scorer on six goals".

Still at Grimsby Town "Assistant manager Chris Casper will not be returning to the club and is set to take up a post elsewhere. Neil Woods was keen to keep the former Bury manager at Blundell Park and he was offered a new deal at the club. Casper joined the Mariners in December after the departure of Brian Stein but was only contracted to the club until the end of the 2009/10 season".

News of a fellow relegation club comes from The Northern Echo, which says that "Darlington will today appoint their fifth manager in what has been a traumatic 14 months... Assistant Sports Editor Craig Stoddart [writes].

Mark Cooper's appointment means that the Darlington managerial merry-go-round continues to spin at a pace. Since Dave Penney's three year reign ended in May last year there has been a revolving door policy that has seen a startling total of seven different managers at The Northern Echo Arena. That includes two caretaker spells, but of the so-called 'permanent' managers, Ryan Kidd's stay was easily the shortest.

He quit yesterday after only 12 days and without ever having opportunity to take a seat in the dug-out as Darlington manager. Some supporters this summer will have had longer holidays than Kidd spent time in charge. He is believed to have had "second thoughts" about being boss, and it is surely better that he makes that acknowledgement now rather than in the middle of next season when Quakers will be in the Blue Square Bet Premier. After all, nobody wants another Steve Staunton.

That 12-day spell puts him fifth in the all-time list of shortest managerial reigns while Simon Davey stands at 13th following his 77-day visit to the North-East... Cooper who finds himself in the well-worn hotseat, occupying a role that he was first offered in March With Quakers crying out for stability, a period of calm, Singh and supporters alike will be hoping that Cooper lasts longer than his two predecessors. So too will Cooper who was sacked from his last job at Peterborough United after only 76 days – one day less than Davey managed at Darlington".

Darlington's new boss "Mark Cooper insists all of Darlington's players already at the club will get a fair crack of the whip next season... 'They're probably thinking 'what's going on here?' admitted Cooper. 'But I'll speak to them, I'm very fair. If they're all right with me I'll be all right with them, and everyone will get a chance to impress. If you look at the squad you can see that we need two, three, four experienced players to help the good ones that are already here. There's a lot of players available and out of work and you have to use your contacts and loans.

But it's good timing. There's no need to rush into anything, there's a lot of players out of work so we'll take our time and have a good look at the boys that are here and see where we need to add. If we can get the players that I think we might need, I think we can have a good season'".

Meanwhile Northampton Town "have agreed terms on a 2 year contract with the former Darlington striker Tadhg Purcell".

At Bradford City "Peter Taylor has moved to boost his striking options by completing the signing of Mansfield Town striker Jake Speight for £25,000. Speight, 24, has put pen to paper on a two year contract to become Taylor's fifth summer signing... after enjoying a hugely successful season at Field Mill with the Stags. The Sheffield born striker finished the 2009/10 campaign as Mansfield's top scorer. Speight managed to notch up 17 goals in the Blue Square Premier last season despite starting only 15 matches...

After starting his career at Sheffield United in 2004, Speight enjoyed a brief spell at Scarborough before returning into league football with Bury... Speight left the Shakers to join Northwich Victoria in 2007. After a season with Northwich, Speight returned to Yorkshire with Farsley Celtic, where he scored six goals in 15 matches. A move to Droylsden beckoned for Speight in 2009 before he moved his career to another level at Mansfield with his amazing goalscoring feats". Speight was the player involved in the notorious 'trial by video' case against made by Mansfield against Alty's James Smith last season.

Mansfield Town themselves confirm that "Striker Jake Speight has joined League Two outfit Bradford City for a fee of £25,000... Chairman Andrew Perry said: 'It was a great disappointment to learn that Jake Speight no longer wanted to play for Mansfield Town. We have had no option other than to grant Jake a transfer as he stated that he would refuse to play for the club unless a transfer was forthcoming. We did all we could as a club to keep Jake but both he and his agent refuted any fresh offers and made it clear he wanted to move on. Bradford City were the only club to have registered a serious interest in Jake. I am very disappointed it has come to this. Jake was a great asset for us last season and I am even more disappointed when a player doesn't honour his side of his contract, as we have done'".

Forest Green Rovers state that "Ahead of the playing squad reporting back for training on Thursday (1st July) Manager David Hockaday has made another signing by re-engaging 21 year old Steve Davies on contract...

Finally to co-inside [coincide?] with the restructuring at the club Colin Peake will assume on a full time basis a new role of Operations Director, taking on management of the stadium, together with administration and commercial aspects of the football side of the Ltd Company. Ahead of the new season he would like to hear from anyone who would like to offer their service to the club on matchdays and in the first instance they are asked to contact him via the Club Admin Office to discuss their personal expertise and experience".

According to the BBC "Histon have been offered as much advice and help as necessary by Cambridgeshire FA as they work to rebuild the club's infrastructure before the new season. With the first game less than eight weeks away, the Stutes have only a handful of players signed up. They are also without a chairman, chief executive or assistant manager.

Chief executive Roger Pawley told BBC Radio Cambridgeshire: 'We will support them in any way we can and we'll do everything to ensure they keep going. Providing people ask for advice and don't just carry on and get in big trouble, we'll do everything we can to make sure they get off to a good start and continue'.

Histon survived in the Blue Square Premier by just one point last season, but have since lost a series of first team players as well as their manager and chairman. Pawley fears that 'Their success over recent years and has obviously come at a price and there have been many changes over the last twelve months that we never expected', he said. 'There are so many rumours going round that the club are struggling and they probably are but which club is not struggling, particularly financially? They're relying a lot on the youth system', he said. 'We know what Wrexham, Luton, Cambridge United and others have got in their resources, so putting a full team of youngsters in the Conference is not advisable...

I hope John Beck will have the right mix and they won't be struggling but at the present time you'd say they would be struggling'".

The BBC says that "Southern League side Brackley Town have bolstered their squad by signing Michael Blackwood. Versatile Blackwood, 30, joins the Saints from Tamworth... The signings follow the high-profile acquisition of goalkeeper Billy Turley from the U's".

"Boss Steve Burr has added a defensive rock to his 2010/11 squad today after clinching the signature of Mark Albrighton following his departure from Blue Square Premier Champions Stevenage Borough" state Kidderminster Harriers. "The 34 year-old is a massive signing for Harriers in more ways than one - as well as having clinched promotion from this division with both Borough and Doncaster Rovers, he has also reached the play-off final with Cambridge United.

Standing at 6'1'', the Nuneaton-based player began his career with Atherstone United in the late 1990s and it was whilst here he first came across his new boss Burr... He's spent the last two seasons at Stevenage as part of the Borough side...

Kidderminster Harriers have agreed a deal to bring Rugby Town goalkeeper Andrew Stevens to the club on a one-year deal, subject to some final dealings between club and player".

Tamworth "have signed 22 year old Tom Marshall who was last season playing for Eastwood Town in the Blue Square North Division. Tom began his footballing career at an early age at Hednesford Town rising through the youth set at Keys Park to finally make his First team debut at the age of 17. He went onto make over 170 First team appearances for the Pitmen and had the honour of Captaining the side for a season. Tom is a centre back who is equally at home at left back and lives localy in Burntwood".

Welsh Premier confirm that "full Welsh international and Wrexham midfielder Mark Jones is set for a move to ambitious Bala Town. Mark Jones The 25-year-old, who has won two full caps for his country as well as five at Under-21 level, has made 162 appearances for the Dragons [Wrexham], scoring 26 goals".

And another departure from Wrexham is reported as "Swansea City have announced the signing of Wrexham's left-sided Wales international Neil Taylor. The 21-year-old has agreed a three-year deal... The Swans are currently in discussions with Wrexham over compensation, as although Neil is out of contract, the Racecourse club are due compensation because he is under the age of 24 and has been with Wrexham since the age of 16".

Bullsnews has sad news from a recent BSP club, as "Torquay vice chairman Paul Bristow has died after being taken ill overnight. The £15 million lottery winner, 59, was one of the main backers of the club since their 2008 takeover".
---
FOR EARLIER NEWS, CLICK HERE
---