30 November 2008
OXFORD BOSS SACKED
Oxford United
announced today (Sunday) that they had "parted company with manager Darren Patterson after a meeting with Chairman Kelvin Thomas. Kelvin said: 'Darren is a very honest, hard working young manager who has given everything he had to the role. However, we feel that a change of manager and a change of direction is needed at this time'... Jim Smith will step in as caretaker manager in the short term alongside first team coach Mickey Lewis. The pair will take training tomorrow and be in charge of the side at Mansfield on Thursday. A full application and interview process will be conducted to find a permanent manager".
CHRISTMAS IS EARLY THIS YEAR
Saturday night witnessed the Altrincham FC Christmas Party at the Cresta Court Hotel. Master of Ceremonies, Graham Heathcote, was in fine form despite the 0-4 reverse earlier in the day and virtually the entire squad was present at the evening event. Most of the players were the subject of the manager's jokes at some point in the evening. Those supporters and sponsors who attended were treated to a rendition of a Christmas carol by the players - and then there was Alex Meechan's unforgettable Michael Crawford impersonation!
FA CUP
Round 2: Sunday 30th November:
Histon 1 Leeds U. 0
Notts C. 1 Kettering T. 1

The FA Cup 3rd Round draw featured the following ties involving non-League clubs. Forest Green's involvement means that their match at Moss Lane on January 3rd will now be postponed. Alty were knocked out by Luton, who in turn lost to Southend in Round 2. Southend now have an away tie at Chelsea in Round Three.
Middlesbrough v BARROW
Ipswich T. v Chesterfield/DROYLSDEN
TORQUAY U. v Blackpool
HISTON v Swansea C.
FOREST GREEN R. v Derby County
Notts C/KETTERING T. v EASTWOOD T.
Coventry C. v KIDDERMINSTER H.
Bournemouth/BLYTH S. v Blackburn Rovers
THE ROAD TO BARROW
Details of the Altrincham FC supporters' coach to Barrow on Tuesday, December 9th are here. Ring the club on 928-1045 to make your booking.
ALTRINCHAM 0 RUSHDEN & DIAMONDS 4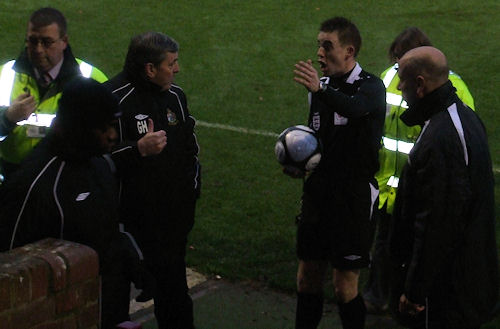 The home spectators at Moss Lane were short-changed by the decisions of Yorkshire referee Ross Joyce who ruined this game.

Right: Mr Joyce lays down the law to Graham Heathcote at half-time. The man in black is the Referee Development Officer at the North Riding County FA and is a Football League assistant referee. Mr Joyce also reffed Altrincham's FA Cup match at Newcastle Blue Star earlier this season.
Alty player Stats
---
29 November 2008
BSP FIXTURES
Saturday 29th
Altrincham 0 Rushden & D. 4
Burton A. 2 Eastbourne B. 0
Cambridge U. 1 Ebbsfleet U. 0
Northwich V. 0 Crawley T. 1
Salisbury C. 1 York C. 1
Stevenage B. 1 Wrexham 2
Weymouth 1 Mansfield T. 1
Howard Watts's Through the Years.
FA CUP FIXTURES
Round 2
Chesterfield A Droylsden A (abandoned due to fog, at h/t, Droylsden leading 0-1)
Peterborough U. 0 Tranmere R. 0
Eastwood T. 2 Wycombe W. 0
Bradford C. v Leyton O.
Southend U. 3 Luton T. 1
Forest Green R. 2 Rochdale 0
Scunthorpe U. 4 Alfreton T. 0
Torquay U. 2 Oxford U. 0
Fleetwood T. 2 Hartlepool U. 3
Morecambe A Cheltenham T. A (match abandoned at 1-1, fog)
Gillingham 0 Stockport C. 0
Millwall 3 Aldershot T. 0
AFC Bournemouth 0 Blyth S. 0
Kidderminster H. 2 Curzon A. 0
Leicester C. 3 Dagenham & R. 2

Round 1
Grays A. 0 Carlisle U. 2
"WALKING A FINE LINE"
In Friday's Manchester Evening News, referring to the game against Rushden, Alty boss Graham Heathcote said "I know we are good enough to make further strides up the table but we have to be aware we're walking a fine line. It's vital we stay focused because the next few weeks will be a crucial period for us. We've given ourselves a solid base but we simply cannot afford to ease off now". The paper adds that "Victory over Rushden would take Alty past the 30-point margin and into the top ten at the very least... As an added bonus to Alty, who have conceded just three goals in their last nine home league games, Heathcote will name his team from a squad missing only long-term injury victims Keivn Street and Chris Denham".
MANY NEW FACES AT RUSHDEN
Altrincham host Rushden and Diamonds today (Saturday).

The official Rushden & Diamonds website confirms that the club has been busy on the loan-signing front...

In on loan:
12 - Clayton Fortune; on a month long loan from 8th November 2008 from Darlington
19 - Dale Roberts; on loan until January from Nottingham Forest
22 - Luke Boden; on a month long loan from 7th November 2008 from Sheffield Wednesday
31 - Joe Wilcox; on a month long loan from 7th November from Scunthorpe
32 - Yannick Bolasie; on loan until January from Plymouth Argyle
33 - Simon Brown; on loan until January from Wrexham

Out on loan:
21 - Jake Beecroft; out on loan to Solihull Moors until January

Other moves etc:
Brendan Moloney was signed on loan from Nottingham Forest, but then recalled to go into the squad for a vital Championship game against Barnsley.
Leo Roget has re-joined the Diamonds after being released by Braintree.

Of those players transfer listed in October, Phil Gulliver (Oxford City), Dean McDonald (Grays Athletic) and Sagi Burton (free agent) have all left the Diamonds. Sean Calcutt, John Wigglesworth, Lewis Hallford and Jack Higgins have all been registered with the League and FA as cover, these are not call-ups to the squad - but this will give R&DFC the option of calling those players up should they be required.

The Northants Evening Telegraph says that "Garry Hill is backing Rushden & Diamonds' loan signings to add another dimension to their attack. He believes they need more mobility up front after a spell of one goal in six games was ended by last weekend's 2-0 home win over Eastbourne Borough. Yannick Bolasie – who has arrived at Nene Park from Plymouth Argyle – provided extra pace on his debut and tomorrow's trip to Altrincham could see a first appearance for Wrexham forward Simon Brown...

The Diamonds boss said: 'Over the last 10 days there have been chats between myself, Justin Edinburgh (assistant-manager) and Chris Hope (player-coach) about a few things... We've fetched a bit more pace into wide areas. Yannick is a natural who can go past players while Simon gives us that and a little more by getting beyond defences. He can play up front or out wide. He's sharp around the box and will provide another dimension. Simon is also an option down the middle if we feel that's the right area for him'. Hill is allowed to select five loan players in his 16-man squad with Bolasie and Brown joined in that category by Dale Roberts, Clayton Fortune, Joe Wilcox and Luke Boden".

Off the pitch, the Evening Telegraph revealed "Rushden & Diamonds put forward plans to build a 150-bedroom, six-storey hotel on land at the front of Nene Park...which is being used as a car park... Bosses at the football club believe the hotel would assist it in its aim to be self-sustaining and if the plans are not approved it would have a 'devastating' effect on the club financially. They argue the hotel would be complimentary to the running of the club and offer accommodation to away fans, as well as for visiting the business representatives... The club's managing director Helen Thompson said: 'It costs a huge amount of money to keep our business going and this development will help us as we develop. There is a need for a hotel like this in the area... It will also provide much-needed accommodation for the Olympians who will be training here in the run-up to the London games in 2012'... The club has agreed to make a contribution of £46,500 towards the trunk road network if the plans are approved."
ALTY'S BEST 90 MINUTES
In the Sale & Altrincham Messenger we learn that "Graham Heathcote declared Alty's defeat over Cambridge United as 'the best 90 minutes of football' he had seen from the team all season. The Alty boss told SAM Sport... 'This was the best I've seen the team play because of the difficulty the players faced getting themselves ready mentally after overcoming the disappointment of going out of the FA Cup last Tuesday. I'm convinced the players are more than a match for any other team in the league. They put in 100 per cent effort and the results are proving the team is capable of making an impact in the league'. Altrincham will take on Rushden & Diamonds this Saturday at Moss Lane and will go into the game, to kick off at 3pm, in 11th place, just a point behind their opponents but with a game in hand".
FA TROPHY
Altrincham's FA Trophy opponents on Saturday, December 13th will be Southport, following last Tuesday's 3rd Qualifying Round replay:
Southport 2 Vauxhall Motors 1

Other replays:
Cammell Laird 0 Redditch U. 2
Hednesford T. 5 Hyde U. 0
Farnborough 6 Braintree T. 2
Sutton U. 2 Wingate & Finchley 2, (aet, Wingate won 4-3 on penalties)
Dartford 1 St Albans C. 1 (aet, St Albans won 4-2 on penalties)
AFC Totton 1 Welling U. 2
AUCTION
On Saturday evening, Altrincham FC is holding its Christmas Party at the Cresta Court Hotel. If you are unable to attend the event but would like to place a bid on one of the items, please contact Grahame Rowley on 07720 606897 before 7.00pm on Saturday.
Manchester City hospitality voucher at any fixture of your choice (table of 4 in the Legends Lounge)
Round of golf for four people at Mottram Hall
House of Commons tour and afternoon tea for two with Graham Brady
Cleveland DJ Car CD changer
James Beattie signed Sheffield United shirt.
BSP NEWS - VICS IN TROUBLE BUT STILL SIGNING SOUTHERN REINFORCEMENTS
The Northwich Guardian reports that "Northwich Victoria's landlord could go out of business. Beaconet Limited, the company run by former chairman Mike Connett that owns and runs the club's Marston's Arena home, may be wound up at London's High Court after failing to pay a tax bill. 'I'm not sure where it leaves us to be honest', said Vics' owner Jim Rushe, who bought the club off Connett at the end of last year. 'We want answers as much as the supporters do'. A 25-year lease agreed with Beaconet in January will ensure Vics will not be left homeless... At the end of last month receivers from finance specialists Deloitte and Touche seized Beaconet's main asset – the nine-acre Wincham site – with a view to selling the land to the highest bidder to pay off debts totalling more than £1m... but Connett has still been allowed to run his business from the stadium. 'He continues to trade as normal' said Jo Ouvry, co-head of PR at Deloitte... Beaconet Limited has not filed accounts since late 2005, meaning nobody knows what state the firm's finances are in...

Last week Rushe said he had found a backer to fund his bid to buy back the club's home. He is in negotiations with Deloitte... He said rumours of a rival bid from Manchester-based Summit Property Finance and Brokers – a lender to whom Beaconet owes a reported six-figure sum – were likely to be true.

Meanwhile, Vics have had to place their whole squad on half-pay due to the financial crisis at the club. The Vics players have received half their wage for November but are unsure about when they will be paid in full. However, Rushe insists the move will not see an exodus of players from the Marston's Arena. He said: 'Nobody will be leaving the club as 99% of them are contracted. Their contractual obligations have been met as half of their wages have been paid this month and the other half will be paid in full as soon as possible. But nobody is a bottomless pit and I am no different'...

Six of the first-team squad have been made available for loan transfers - Stuart Robinson, Mat Bailey, Michael Welch, Richie Sutton, Ryan Brown and Paul Barratt have all been placed on the loan list, but are not available for permanent transfers".

The Guardian adds that "Jim Rushe has agreed a deal with the taxman to keep Vics afloat. A registrar at London's High Court yesterday adjourned a case against the club, which owes more than £300,000 in unpaid bills. 'It was a formality', said Rushe. 'The paperwork was sorted a couple of weeks ago but the hearing had to be listed to make everything official. I know a few people saw the club's name on the court list and panicked – I can assure them that's not necessary'. He told the Guardian he has negotiated to pay off the next instalment of Vics' six-figure debt at the beginning of next year... Rushe told supporters earlier this month that the club's finances were in better shape now than when his consortium bought the club at the turn of the year.

Their tax debt then was more than £460,000. That figure has since come down by £175,000 thanks to contributions by Rushe and former director Nick Bone. Between them the pair has pumped close to half a million pounds into the club. Making the playing staff full time employees cost more than £70,000 alone over the summer... 'The gates are lower than they were, which isn't helping" said Rushe.

Vics will continue to pay rent to landlord Beaconet Limited, owned by former chairman Mike Connett, until next year after petition to wind up its landlord was also adjourned until January".

On the pitch, manager "Steve King says he's signed the best goalkeeper in non-league's top tier. Injury rules out Ryan Clarke making his debut tomorrow... 'I'm not sure fans realise just what we've done', the Vics' boss told the Guardian... The 26-year-old shot stopper switches from rivals Salisbury City on loan with a view to making the move permanent in January. He has yet to play a match this term after breaking a bone in his foot over the summer. 'He'll be ready to play in a couple of weeks', added King. 'I think Salisbury's supporters were convinced he would return to the Football League and other clubs were desperate to sign him but we were first to come in. To get him for nothing is a massive boost too. I've had three or four chief execs from other Conference clubs on the phone asking how we've pulled this deal off'... His arrival takes King's collection of keepers to four. Teenager Stuart Robinson is likely to head out on loan, leaving the futures of Michael Jones and Scott Tynan uncertain".

in fact, "Vics are ready to lend six of their first team squad to other clubs. Steve King has made Stuart Robinson, Mat Bailey, Michael Welch, Richie Sutton, Ryan Brown and Paul Barratt available for loan. None are listed for transfer".
OLD BOY
NL Daily confirms that "UniBond League Premier Division club Ashton United have landed a member of Fabio Capello's backroom staff - but it's on the field that manager Danny Johnson hopes to utilise the skills of new signing Rod Thornley, who joins from league rivals Witton Albion".
FA CUP ROUND 2
Friday 28 November
Barrow 2 Brentford 1
TUESDAY
Tuesday 25th
Oxford U. 1 Kidderminster H. 0
---
25 November 2008
SHORT INTERMISSION
The next Altrincham FC official website update will be on Friday, 28th November.
UNITED MATCH OFF
Manchester United reserves' scheduled match at Moss Lane this Thursday has been postponed. This is because of a clash with United's FA Youth Cup game at Old Trafford on the same date.
REAPPRAISING THE FINANCES
Writing in the Robins' Review last Saturday, Alty vice-chairman Grahame Rowley (right) stated:

Going out of the FA Cup will mean, like most clubs, the need to reappraise where our finances stand for the remainder of the season and this exercise is going on as we speak. We are not immune to the effects of the credit crunch and we do not, unlike what some believe, have a wad of cash in the bank. I may seem like I always moan on about raising funds for the Football Club but the reality is that gate money accounts for only 25% of turnover at our club. The rest has to be raised by advertising, sponsorship, donations, central funding and fundraising events or schemes.

The results of our financial appraisal will be analysed over the next couple of weeks and then decisions will have to be made to ensure that this football club remains debt free. There is no going back to the days of spend, spend, spend. A fans' forum will be held in the Noel White Suite so that fans will have the chance to question the Board and management on these decisions".
HELP NEEDED
A volunteer is urgently needed to organize the matchday bucket collections at Moss Lane. Gary Warrington has done a great job for several years in coordinating the collections and many thousands of pounds have been raised for the club in this way. However, Gary now lives in the Midlands so a more local organizer is being sought. If you can help with this vital role, please contact the club on 0161 928-1045. Altrincham FC would like to thank Gary very sincerely for the hard work he has put in to this fundraising scheme.
CAMBRIDGE REFLECT
The Cambridge News reports that "Cambridge United striker Lee McEvilly has been sent out on loan to former club Rochdale until January 5 with a view to a permanent transfer, the club has confirmed". Also "When Gary Brabin hinted he could play Scott Rendell, Lee McEvilly and Mark Beesley up front together, it sounded a mouth-watering prospect on paper... Maybe the fact Rendell has only trained for a couple of days with his temporary team-mates could be used as an excuse for their failure to gel... Just eight minutes into the second half, the dream trio were split up with the Scouse duo of Beesley and McEvilly making way for Jardim and Danny Crow as United went back to 4-4-2. Not that it made a great deal of difference in the end as United huffed and puffed without being able to produce the quality of pass or cross, or even a fleeting moment of magic, to be able to break down a well-drilled Altrincham backline... Being a part-time side, Altrincham, by rights, should have been shattered after going to extra time and penalties on top of a 35-minute delay because of floodlight failure in their midweek FA Cup replay defeat by Luton.

But with Colin Little pulling the United defence this way and that, it did not turn out that way, the hosts taking their example from the evergreen striker as they battled for every ball while the visitors were the team looking laboured... Credit must also go to Altrincham's defence for the way they closed down so quickly in twos and threes whenever United got into threatening positions... Keeper Andy Ralph only had to shift himself to make saves from Beesley just before the break and Jon Challinor midway through the second half.

The brave Ralph (left) needed treatment for a head injury after colliding with McEvilly in the first half. But despite finding himself on the deck twice more after another clash with McEvilly and one with Dan Gleeson, he inspired confidence in the rest of his team... Altrincham always looked strong on the counter-attack though, and they could easily have killed the game off had their finishing been of a better calibre, Dale Johnson being the main culprit of their wastefulness with three decent chances going begging in the latter stages... Altrincham held out for a win they arguably deserved".

Cambridge United say that "After United's disappointing 1-0 defeat at Altrincham, veteran defender Phil Bolland shared his thoughts. 'We started off really slow in the first half and we simply can't afford to do that... Altrincham are a very hard-working team who play good football and perhaps we underestimated them at the start of the game, but now we must look to take a leaf out of their book... We all want to get out of this league just as much as the fans do'".

The Cambridge website also has its "Travellers' Tales v Altrincham". It says "We availed ourselves of the official club car park behind the ground and a less salubrious place it would be hard to imagine. Piles of old tyres, broken glass and builders' rubble encroach on some of the parking spaces in an area that butts up against the back wall of the ground. Here, once-red paint seems in a hurry to peel away from the rusting surface. It's a different story inside the ground though. Here, red paint on crush barriers and perimeter fences seems much more recent and appears to be still on speaking terms with the surfaces it is meant to cover, while the decrepit advertising boards of previous visits have also been spruced up. Another addition since our last visit is the enclave of new houses on the site of the old derelict social club that used to crumble quietly behind the away end... Those new houses stand in stark counterpoint to the ground, accentuating the overall impression of an old fashioned, somewhat ramshackle venue... Given Altrincham's nickname, you'd think that the mascot would in the form of a robin. Well, if it was, it had been designed by someone who'd never seen a real one. I can't remember ever seeing a robin with bright orange cheeks and an orange crest.

Programme: £2 for 44 unnumbered pages. A5, rather than the more usual, large B5 in size, the 'Robins Review' is a publication that has worked hard to keep the production costs to a minimum. Little in the way of colour or photos, but there were a number of interesting articles - including one that's sure to prove as controversial as it is thought provoking, discussing phone-ins and message boards. There was something I hadn't seen before in the centre pages, a Pitch Sponsorship scheme - although the explanation looked a little complicated. Food/Drink: There was a good range of pies available and the tea bag was left in to allow customers to chose the strength of their brew. You had to be patient though as long queues formed as supporters tried to get anything to thaw themselves out.

State of Toilets: There were a couple of options: a limited number of portaloos or larger facilities with an open gutter and a stronger aroma"
BSP NEWS
The BBC says that "York City have appointed Martin Foyle as the club's new manager. The 45-year-old takes over from Colin Walker, who was relieved of his duties with immediate effect on Friday. Foyle spent three-and-a-half years in charge at Port Vale between 2004 and 2007 and was assistant to Brian Little at Wrexham until October. 'Martin has an extremely good knowledge of Conference football and what is required to succeed in this division', said York chairman Jason McGill. 'He also has the very best coaching qualifications and having been a centre-forward himself, we believe he will help our strikers to develop and grow'".

Meanwhile The Press says that "Neil Redfearn has been appointed new manager Martin Foyle's assistant at York City. Former Oldham and Barnsley midfielder Redfearn has been promoted from his role as youth-team coach".

The Cambridge United official site says that "Gary Brabin has explained why Lee McEvilly is rejoining former club Rochdale on loan with a view to a permanent transfer... Fitter than ever under new boss Brabin, he started the season in great form with six goals in our first seven games, but since then he has only added two penalties to his league goal tally... 'We knew what type of character Lee was and I think we got more out of him in four months than some people have got out of him in the last four years', Brabin told cambridgeunited.com. 'But we just felt we had to freshen things up... his last league goal in open play was at Ebbsfleet at the start of September. I feel that we've really stood by him... but I feel that we need to change things a bit... Also, at the back of Lee's mind, his family is still in Liverpool and he's not prepared to move down here, which is a factor... It's a bold decision but we feel it's the right one.

We demand a high workrate from the players and I feel that sometimes Lee didn't always give us that... When he had the three-match ban we worked him hard again and he was a bit humble and worked hard... but we need a bit more consistency and we feel that now is the time to give the other lads a go... Lee was a strong personality and I feel him leaving will give the others a lift, so we've made the decision and we view it as a positive one'".

The Northwich Guardian says that "Dean Lodge became the fifth fresh face at the Marston's Arena since Steve King took over as manager of strugglers Northwich Victoria. The Vics` boss handed a second half debut to the former Kingstonian winger during Saturday's draw at Salisbury City after he agreed dual registration terms. "It was a surprise how quickly it happened," said K's manager Alan Dowson. "I received a phone call first thing Friday morning saying Northwich had come in for him – obviously Steve King had seen him when he was based down here and put together a good full time package that includes accommodation." Lodge scored twenty-seven goals in ninety-six appearances for the Ryman League Division One South outfit, pledging only to leave if a professional club came in for him. Dowson insists his star man turned down other clubs to join Northwich... Lodge joins a King cast list that includes Charlton Athletic youngsters Scott Wagstaff and Rashid Yussuff, plus Wycombe stopper Will Antwi. Goalkeeper Stuart Robinson completes the roll call of new recruits since the ex-Lewes chief agreed to replace Dino Maamria as manager at the start of the month".

Meanwhile rumours persist that the Vics' players pay has slipped into arrears.

Always a source of informed news, Bulls News says that "The cut in the rate of VAT could work to the advantage of Hereford United and other football clubs. VAT is included in the admission charge supporters pay at the gate. So a £14 ticket for the Meadow End at Edgar Street is effectively £11.92 plus £2.08 in VAT. With the reduction in VAT to 15% the charge is £12.18 plus £1.82 in VAT. Assuming a 3,000 gate of which 2,000 pay at the turnstiles, Hereford United could gain 0.26 per person for adults and around 10p for youngsters. Perhaps a gain of around £300 per home game. Every little helps".
---
24 November 2008
TROPHY HOME TIE
Altrincham have been drawn at home to the winners of the Southport v Vauxhall Motors replay in the FA Trophy First Round Proper on December 13th.

The full draw is:
Altrincham v Vauxhall Motors or Southport
Durham City v Harrogate Town
Northwich V. v York C.
Wrexham v Mansfield T.
Hyde U. or Hednesford T. v Nantwich T.
Burton A. v Farsley C.
Ilkeston T. v Ossett T.
Barrow v Skelmersdale U.
Alfreton T. v Redditch United or Cammell Laird
Kidderminster H. v Burscough
Workington v Kings Lynn
Stourbridge v Whitby Town or Stalybridge Celtic
FC United of Manchester or Boston United v AFC Telford U.
Swindon Supermarine v Eastbourne Bo.
Stevenage B. v St Albans City or Dartford
Cambridge C. v Kettering T.
AFC Sudbury v Oxford U.
Bashley v Bishop's Stortford or Tiverton T.
Welling United or AFC Totton v Weymouth
Histon v Cambridge U.
Forest Green R. v Hemel Hempstead T.
Bognor Regis T. v Ebbsfleet U.
Braintree Town or Farnborough v Wingate & Finchley or Sutton U.
Uxbridge v Wimbledon
Hayes & Yeading United v Grays A.
Havant & Waterlooville v Bury T.
Torquay U. v Bath C.
Woking v Salisbury C.
Basingstoke T v Brackley T.
Newport C. v Rushden & D.
Chesham U. v Crawley T.
Team Bath v Lewes
GEORGE'S CALLING
It's Bingo night at Moss Lane tonight (Monday 24th) at 7.30pm with George Heslop your "caller" for the night. The event is in the Jill Oakes Sponsors' Lounge.
ALTY LIKE HISTON?
After Saturday's win, the NL Paper reports that the "Robins' assistant boss Graham Barrett (Barrow) said, 'We are definitely taking a lead from the likes of our fellow part-timers Histon. We've bought in a lot of new players and they are now really starting to gel. Our form between now and Christmas will decide how far this team can go and, once we hit the 30 points mark, we can start looking at pushing on further... We've had a setback [versus Luton] but we've bounced back straightaway and I've told the lads it's onwards and upwards from here. It's easy to have a cup hangover but all the top sides have that bouncebackability and we've demonstrated it".
CAMBRIDGE COMMENT
The unofficial Cambridge United site reports on Saturday's defeat by Altrincham. "Yet more inconsistent team selection and tactics from Gary Brabin meant a 1-0 defeat to part-timers Altrincham... In truth, United deserved nothing, and the manager needs to find a system to play, and stick with it... Although the part-time opposition had played out a tough 120 minutes in midweek against Luton, they appeared hungrier and more determined to win the game... Altrincham's opening goal, minutes before half-time, was a cracker. Robbie Lawton rifled a bobbling ball firmly into the bottom corner past Potter's grasp - a goal a world-class 'keeper would have failed to save... Footballers are simple creatures, and prefer to have one system, get used to it, and play in that way. With Brabin's constant formation changes, the players don't know whether they're coming and going. And what must wingers Jardim and Willmott think? Both played very well in a winning side just days ago, yet find themselves benched because Brabin seemingly dare not upset a so called 'established' player in Jon Challinor".
FOOTBALL DEBTORS
There was a fascinating programme on Radio Five Live on Sunday night which addressed the subject of football clubs going into administration. Of the 42 clubs at league or Conference level which had gone into administration since 2000, the programme had managed to get hold of the figures relating to 18 clubs. These alone revealed that a total of £31 million was owed, mostly in income tax and non-payment of National Insurance. Of the £31M owed, just £3M has or is being been repaid - leaving the taxpayer and others with a shortfall of £28 million. This situation arose to a large degree because of the arrangement whereby so-called "football creditors" such as players and other clubs get paid out before everyone else including the tax man. For example, Luton town were quoted as having had, last season, a £2.5 million tax debt built up over two years. Of this, they are paying back just £275K. Neverthless, the Hatters felt they could afford to spurn £37K in TV fees from Setanta TV last week when they refused to move their FA Cup replay with Altrincham to a Thursday night.

Other debtors cited were as follows, where the first figure is the debt, and the second the amount repaid.
Leicester City League One £7m £700k
Leeds United League One £6.8m £680k
Ipswich Town Championship £5m £391k
Bradford City League Two £2.6m £26k
Luton League Two £2.5m 275k
Wrexham Blue Square Prem. £1.45m £507k
Bournemouth League Two £1m £100k
Halifax Town Unibond Division One North £795k £0
Huddersfield League One £723k £101k
Cambridge U Blue Square Prem. £532K £101k
Oldham League One £520k £260k
Notts County League Two £487k £96k
Wimbledon (now MK Dons) League One £460k £0
Rotherham League Two £450k £20k
Exeter City League Two £442k £62k
Darlington League Two £416k £2k £
Lincoln City League Two £350k £143k
Crawley Town Blue Square Prem. £193k £96K
---
23 November 2008
SUNDAY SCORES
Ebbsfleet U. 0 Kettering T. 0
York C. 2 Crawley T. 2
SUPPORT ALTY ON THE ROAD
Please book now (telephone 0161 928-1045) for the supporters' coach to Crawley Town on Saturday, December 6th. Full details are on the Away Travel page. Alty lie just four points behind the Sussex side, with a game in hand.
CAMBRIDGE REFLECT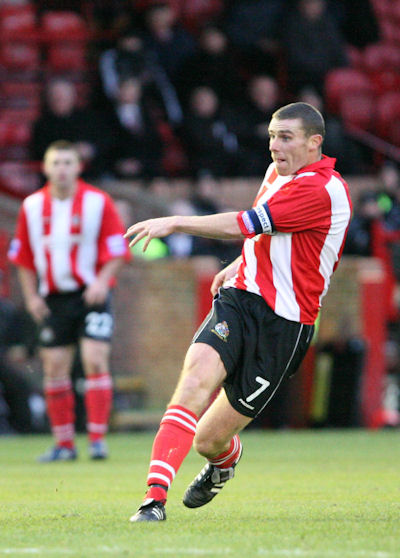 Right: Robbie Lawton fires home the winner. Picture courtesy of Gavin Rathbone of GR Photography.
Match report here.

Cambridge United also have a match report on Saturday's game at Moss Lane. It starts, "Cambridge United's run of eight games unbeaten in the league ended with a toothless defeat at Altrincham... Altrincham manager Colin[?!] Heathcote made one change to the team knocked out of the FA Cup by Luton on Tuesday... calling up midfielder Shaun Densmore in place of Warren Peyton... The pace of the game inevitably dropped after the lively start and the ground was almost silent for long spells as both sides tried but failed to impose themselves on the game, largely cancelling each other out with similar 4-3-3 line-ups... United were testing the home side regularly but most moves foundered on the well-drilled Altrincham defence... The home side took the lead against the run of play on the stroke of half-time. It was a goal from nothing as Robins' captain Robbie Lawton connected with Bolland's headed clearance and drove a low shot beyond Potter and just inside the far post from 25 yards... Gary Brabin had used almost every attacking option at his disposal but luck deserted the U's and the home side battled and scrapped to show why Moss Lane has become such a fortress this season".

The Cambridge website adds that "Gary Brabin was desperately disappointed with his side's first half performance at Altrincham as the eight-game unbeaten run in the league was ended... Blaming his players' lacklustre first half for the defeat, Brabin made it clear that he will not accept the performance and it looks likely that there will be changes to the team for our next game. 'Very frustrating', was his opening comment to the waiting media. 'I genuinely thought this was going to be the turnaround for us. I was excited about the forwards we had on show today, we had four attackers on the bench and it's a very attack-minded system we play. I'll take it on the chin that we're not scoring goals but what I won't take on the chin is the first half performance. We were very below-par and that's what lost us the game. The way we set ourselves out in the first half left us chasing the game'".
NEXT UP
Alty's next opponents are Rushden and Diamonds. The Northants Evening Telegraph reports that on Saturday "Lee Tomlin's first league goal at Nene Park in 20 months sent Rushden & Diamonds on course for three points... Michael Rankine also claimed his first goal for Diamonds this term to complete a comfortable win" over Eastbourne Borough...Boss Garry Hill made four changes – including a debut for on-loan Plymouth Argyle midfielder Yannick Bolasie. Gareth Jelleyman returned from suspension for a recall along with Tomlin and Lee Phillips as top scorer Daryl Clare dropped to the bench. Luke Boden and Marcus Kelly were also among the substitutes while club captain Andy Burgess and first-team skipper Woodhouse were both unavailable... Diamonds: Roberts; Moloney, Osano, Hope, Jelleyman; Tomlin (sub Kelly, 83 mins), Wolleaston (sub Boden, 85 mins), Corcoran, Bolasie; Phillips (sub Smith, 78 mins), Rankine. Subs not used: Clare, Fortune... Attendance: 1,037 (43 away fans)".

NL Daily adds that "Yannick Bolasie has joined Rushden & Diamonds on loan from Plymouth Argyle until January 2009. The midfielder joined Plymouth in 2008 from Maltese side Floriana after a successful trial - the Devonians beating off competition from Sturm Graz and Hoffenhein from Austria and Germany. Bolasie's father played international football for the Democratic Republic of Congo and his cousin is former Newcastle and Portsmouth player Lomano LuaLua. Bolasie is often nicknamed Ya-La or La-La amongst his team-mates at Plymouth".
HATTERS' SCHEDULE COSTS ALTY DEAR
In the NL Paper, Rebecca Lowe of Setanta TV confirms that "We would have loved to show Altrincham's replay with Luton but the Hatters' league commitments made it impossible". Each club would have received £37,000 for the live transmission.
OLD & CURRENT BOYS
Former Alty Youth and also involved in Alty's pre-season games this summer, Charlie Weir, has moved from Leek CSOB to Abbey Hey. According to the NW Counties League, current Alty Youth captain Daniel Fradley has signed forms for Flixton, as has former Alty midfielder Keith Mairs. Abbey Hey won 4-1 at Nelson on Saturday with Danny Heffernan and Mike Brown on the scoresheet. Stuart Scheuber netted as Stone Dominoes thrashed Leek CSOB 6-2. Ben Deegan scored in Ashton United's win at North Ferriby United and Alex Hay scored for Cammell Laird in the Trophy.

Former Alty captain Chris Timons was sent off as Hucknall lost in the FA Trophy. Alty trialist keeper James Coates kept goal for Vauxhall in the same competition whilst Ryan Toulson and James Dean played for Harrogate Town at Gateshead. Lee Thompson missed a penalty for Witton Albion who beat Bradford PA. Another ex-trialist, Dave Challinor, had to go in goal for Colwyn Bay for 82 minutes after the goalkeeper was injured; he kept a clean sheet!
HAVING A GOOD TIME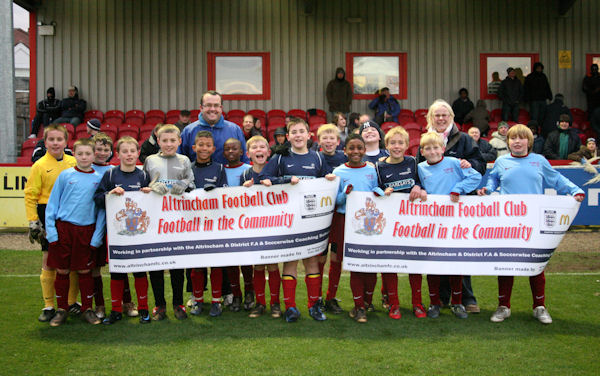 Above: Guests at Altrincham FC for the Cambridge match were children from Woodheys and Tyntesfield primary schools in Sale who are pictured above. They played a brief match on the pitch during the half-time interval. Picture courtesy of Gavin Rathbone of GR Photography.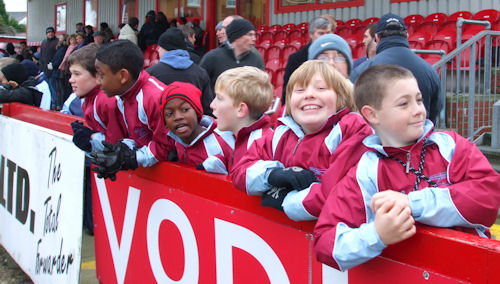 Right: The children from Woodheys and Tyntesfield primary schools in Sale enjoy themselves before the match.
FAT RESULTS
Altrincham enter the FA Trophy in the next round, the 1st Round Proper round, on 13th December, when prize money is £5,000. Results from the final qualifying round were:

Saturday 22nd FA Trophy results (Northern section)
Hinckley United 1 Burscough 2
King`s Lynn 3 Stafford R. 2
Solihull Moors 1 Durham C. 2
Ossett Town 3 Fleetwood T. 1
Whitby Town P - P Stalybridge Celtic
Redditch U. 1 Cammell Laird 1
Tamworth 0 Workington 1
Warrington T. 0 Nantwich T. 1
Vauxhall M. 0 Southport 0
Chasetown 1 Ilkeston T. 2
Farsley Celtic 2 Droylsden 0
Gainsborough Trinity 0 AFC Telford U.1
Hyde United 1 Hednesford T. 1
Blyth Spartans AFC 3 Alfreton T. 4
Stourbridge 3 Hucknall T. 2
Gateshead 0 Harrogate T. 2
Glapwell 0 Skelmersdale U. 1
BSP NEWS
In the NL Paper, Vics' new boss Steve King says that he does not need to make a "wholesale clearout" of players at the club. He thanks Charlton boss Alan Pardew (who was sacked on Saturday) for loaning him Scott Wagstaff and Rashid Yussuf and Peter Taylor at Wycombe for loaning Will Antwi. King adds "I doubt whether many clubs in our predicament would have been able to count on such a large and vocal following who made the long journey south to Hertfordshire last weekednd... I firmly believe we can have a crack at the play-offs next season". Elsewhere the NLP adds that "It is believed the Vics will need around £1.5 milion to buy the Marston's Arena, less than half the £3.2 milion chairman Mike Connett tried to sell it for in the summer... Things have gone from bad to worse for Connett, who was arrested at his home last week on suspicion of assault. The 56 year-old spent more than 12 hours in custody before beign released on bail... [His company] Beaconet is also facing a winding-up order from HM Revenue and Customs on Wednesday".

The Northwich Guardian confirms another new signing from the south of England at Northwich Vics as it states that "Kingstonian winger Dean Lodge made his Vics debut as a late substitute" on Saturday.
---
22 November 2008
ALTRINCHAM 1 CAMBRIDGE UNITED 0

Altrincham moved up to eleventh in the table with this deserved victory in a very entertaining game at Moss Lane.
Match report here.

Above: the players greet each other before the match.
Alty Player Stats
SATURDAY
Saturday 22nd
ALTRINCHAM 1 Cambridge U. 0
Barrow 0 Weymouth 1
Burton A. 2 Stevenage B. 0
Forest Green R. 1 Mansfield T. 0
Histon 5 Oxford U. 2
Kidderminster H. 1 Wrexham 0
Lewes 2 Grays A. 0
Rushden & D. 2 Eastbourne B. 0
Salisbury C. 1 Northwich V. 1
Woking 2 Torquay U. 2
ROBBIE'S PLEA
Altrincham FC Press Release:

Robbie Lawton has marked the end of Alty's gallant FA Cup run with a vote of thanks and heartfelt plea to all those who boosted the gate beyond the 2,000-mark against Luton on Tuesday. Read why the Alty skipper wants bumper crowds to become a regular feature at Moss Lane in his regular column, Captain's Log, in the Robins' Review matchday programme against Cambridge United.
TODAY'S GAME
The only two men to start all 18 of Alty's league games this season, "Midfielder Robbie Lawton and defender Mark McGregor face late fitness tests for Altrincham" claims the BBC. But "Defender Shaun Densmore and striker Joe O'Neill (left) have recovered from calf and knee injuries respectively."

"Cambridge boss Gary Brabin could hand striker Scott Rendell his first start since returning to the Abbey on loan. Midfielder Ben Farrell completes a two match ban, but both defender Dan Gleeson (hamstring) and midfielder Jon Challinor (ankle) will have checks". Also, "Cambridge United manager Gary Brabin told BBC Radio Cambridgeshire: 'It's fair to say that anyone could be starting up front, but Scott is definitely in the frame. I've got loads of options and that's an excellent position to be in, I always like a bit of extra competition. It always inspires me when I look at the bench and there are people who are desperate to come on'".

The referee for today's game is Mr R. J. West. His previous Altrincham games include:
Altrincham 3 Halifax Town 3, Blue Square Premier, 4 March 2008.
Kendal Town 0 Altrincham 1, FA Cup 4th Qualifying Round, 27 October, 2007.
Whitby Town 2 Altrincham 3, UniBond League Premier Division, 17 April, 2004.

According to the Cambridge News "Gary Brabin is threatening Altrincham with a three-pronged strikeforce when Cambridge United travel to Moss Lane. With five forwards to choose from following the shock return of Scott Rendell on loan... Brabin admitted it had given him a big selection dilemma. It could mean Rendell getting his first start after his comeback from Peterborough, alongside Lee McEvilly and Mark Beesley. Brabin said: 'We could go to three up front, but we've got a lot of good options in the front positions. There's a chance Scott could start, but I won't be making any decision until after today's training session. I want to have as many different attacking options as possible, and I think some of the lads are finding a bit of form. Lee McEvilly has scored a few goals and Scott coming in has given everyone a bit of a lift. But the work that Bees does doesn't go un-noticed and we've also got Danny Crow getting fitter every day'.

If Brabin does switch to 4-3-3, it could mean Robbie Willmott and Felino Jardim being sacrificed, with Mark Convery keeping his place in midfield and Jon Challinor likely to come in after recovering from a bruised shin ... Ben Farrell is still suspended, but Dan Gleeson should be okay to continue at right-back after coming through training yesterday without a reaction to a hamstring problem... But Brabin said he was confident United could build on their midweek victory despite Altrincham abandoning their status as perennial strugglers this term. He said: 'I speak to their manager quite a lot and they're delighted with the way things are going for them this season. But we're playing with a lot of confidence at the moment and believing in what we're doing, so I think we could get a good result tomorrow'.

Meanwhile, Jordan Collins has joined Weymouth on loan for a month after featuring just twice this season for United.

Altrincham (probable): Ralph, Smith, McGregor, Young, Doughty, Senior, Lawton, Danylyk, Peyton, Johnson, Little.

United (probable): Potter, Gleeson, Bolland, Hatswell, Tonkin, Carden, Challinor, Convery, Beesley, McEvilly, Rendell."
POWER LOSS
The delayed kick off against Luton Town last Tuesday was, apparently, not a failure of the floodlights themselves, but a power problem.
Howard Watts's Through the Years.
COLIN HONOURS COLIN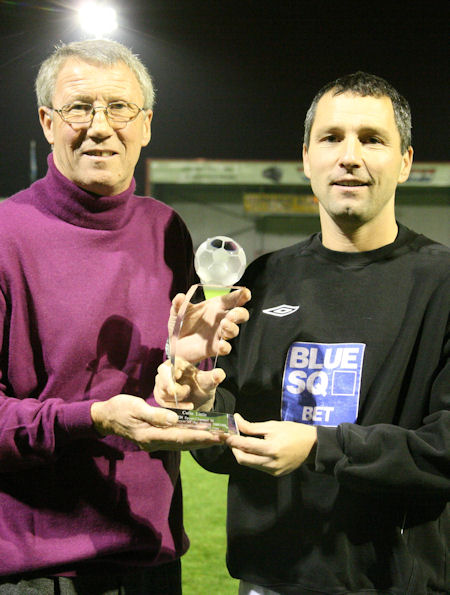 The Manchester Evening News says that "Proud Blues' fan and top non-League player Colin Little always knew he was named after the superstar of yesteryear known to [Manchester] City fans as The King. But, until Tuesday night, Altrincham's goal machine had never met Colin Bell. When he did it was Colin senior honouring Colin junior, who was judged the MEN-Channel M Unsung Hero of the Year.

Right: Colin Bell awards Colin Little his trophy. Photo kindly provided by Gavin Rathbone.

When Colin was about to be born at Wythenshawe Hospital on November 4, 1972, his City fan father Joey told mum-to-be Maggie that they would name their newborn after the player that scored City's first goal that Saturday afternoon. The Blues demolished Derby 4-0 at Maine Road with Bell grabbing the opener - so young Little was duly called Colin. Although not reaching the heights of Bell, Little has quietly carved out an excellent career for himself at Hyde, Crewe, and Macclesfield and has hit 100 goals for the Robins.

When the M.E.N. heard about how Little came to be christened Colin, we fixed it for Bell to hand over our trophy - in association with sponsors flybe.com - ahead of Altrincham's FA Cup replay against Luton at Moss Lane last night. A delighted Colin said: 'It's a good job Rodney Marsh didn't score the first goal! My dad was a big Blue but he's not with us any more. My mum lives in Spain and it's a pity she couldn't be here tonight'.

Meanwhile, ex-England international and City legend Bell said: 'It's quite a surprise to me that people like me so much they would call their son after me. I'm just a son of a miner and I always like to keep my feet glued to the ground so I would never think that people could be called after me. I played 700 games for City so it's really difficult to remember that particular goal'.

At the end of last season, M.E.N. Sport journalists marked all the pro and semi-pro players in Greater Manchester out of ten for their performances during the season and we asked readers, viewers of our sister TV station Channel M and users of our website to vote on who they thought should be honoured. United's much-decorated Cristiano Ronaldo was judged Player of the Year, with Little named the Unsung Hero.

Reader Mike McDonnell, 21, who works as an administrator for Co-op Retail, has been an Altrincham fan for five years and he gave his reasons why the award should go to Wythenshawe-born-and-bred Little. Mike said: 'He's at the veteran stage now, but as a striker he's awesome. He has sharp, predatory instincts and can always steal a yard because of his quick reactions on a defender. He's also such a down-to-earth bloke, a real talisman for the club'. Mike's vote for Little, and his reasoning, has won him a pair of flight tickets to anywhere in Europe courtesy of M.E.N. Sport sponsors flybe.com".
BSP NEWS
York City announce that their "Manager, Colin Walker, has been relieved of his managerial duties with immediate effect. A unanimous decision was made by the York City Board and Colin Walker was made aware of the situation in a meeting today with Chairman, Jason McGill and Club Directors. First team coach, Eric Winstanley, has also been relieved of his duties... Youth team coach, Neil Redfearn, will be in charge of the 1st team for Sunday's match against Crawley Town. An announcement regarding the appointment of York City's new manager will be made on Monday".

At Wrexham "Centre back Ashley Westwood has extended his stay at The Racecourse... The experienced Westwood initially earned a short term deal until January following a successful trial and has now signed on until the end of the season... Westwood was handed the captain's armband at Weymouth last Saturday" states the Evening Leader

According to NL Daily, "Rushden & Diamonds' Jake Beecroft has gone on loan to Solihull Moors.. until January... Beecroft signed for the Diamonds until the end of the 2010/11 season, after impressing in the youth team".

"Eastbourne Borough striker Allan Tait is set to remain with the club having been transfer-listed earlier this month... Eastbourne assistant manager Nick Greenwood told BBC Southern Counties Radio: 'We had a minor disagreement, these things happen quite regularly. He's still on the list technically, but that might change. He's looking forward to playing'. The Sussex side have confirmed they made a bid for the Salisbury striker Matt Tubbs, who has opted to join League Two side Bournemouth. Greenwood said: 'We've a few irons in the fire - not just in the forward positions. We're looking to strengthen the squad getting into the busy Christmas and New Year period'".

You may have thought that Northwich Vics were cash-strapped but the Northwich Guardian neverthless confirms that "Vics have missed out on the signature of Salisbury striker Matt Tubbs. The England C front runner has joined former Northwich boss Jimmy Quinn at Football League strugglers Bournemouth... 'It's disappointing', Vics' boss Steve King told the Guardian. 'I spoke to Matt on a couple of occasions and he would have come here if he hadn't had an offer from a league club. It's sad to miss out on someone of his quality but I understand his decision'".

"Liam Feeney is now expected to line up for Salisbury City tomorrow in their match with Northwich Victoria after his proposed loan move to Dagenham & Redbridge collapsed today2 says the Salisbury Journal. "Whites' boss Nick Holmes said the two clubs had failed to agree a loan move with a view to the player signing permanently in the transfer window".

More news of the Sports comes from Argus which tells us that ""Skipper Paul Armstrong is still out with an injured ankle but is expected to return to light training next week while Rushden captain Andy Burgess serves a one-match ban. Part-time boxer Curtis Woodhouse... is unavailable as he is due to return to the ring next week. Meanwhile, Borough defender Andy Ballard, who had been on loan with Hastings United this season, has rejoined former club Oxford City". The Argus adds that "Horsham have added to their squad by signing midfielder William Peauroux from Ebbsfleet".
---
21 November 2008
THURSDAY GAME
Crawley T. 1 Ebbsfleet U. 2

Altrincham drop to 13th in the League table.
CAMBRIDGE CONFIDENT
News of our next opponents comes from the BBC which says that "Cambridge United boss Gary Brabin says his side are well placed to make a title push over the second half of the season. The U's beat York 1-0 on Tuesday to move to third in the table. Brabin told BBC Radio Cambridgeshire: 'Hopefully we can time it right and make a late surge for the title. If we can just hang in there for now, we genuinely believe we're not a million miles away from producing our best form with goals on top'".

From the Cambridge News we learn that "Jon Challinor is likely to be back in contention for Cambridge United's trip to Altrincham on Saturday. But Dan Gleeson could be out of action after picking up a hamstring injury... Challinor suffered a badly bruised shin and over-extended his knee after being caught by a challenge by Sam Rents that saw the Crawley player sent off in their 2-2 draw at the weekend. Manager Gary Brabin said he expected the midfielder to be back in training today. He said: 'It's nowhere near as bad as we first thought, so hopefully he could be back in the squad on Saturday'. There are major doubts over Gleeson's fitness though, after he limped off in stoppage time against York, and if he does not come through over the next couple of days it could mean a recall for youngster Rory McAuley or Josh Coulson.

Brabin said: 'We're worried about Dan Gleeson... We're going to see how he is over the next day or two, but he'll be a big loss because he has probably found his best form this season. I'm not surprised he has been playing for the England C team because he has been brilliant for us'. Brabin said Gleeson had played a big part in United boasting one of the Blue Square Premier's tightest defences. He added: 'We've been rock solid at the back... We're unbeaten in our last eight league games, so we're hanging in there, and I'm pleased with the way things are going and the football we're producing at the moment'".
SHOOT-OUT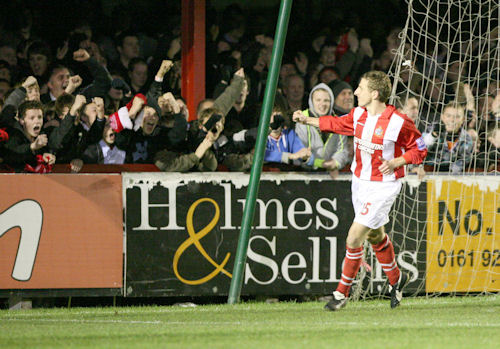 Right: Alex Meechan celebrates converting his penalty in Tuesday night's shoot-out. Here Gavin Rathbone captures the Golf Road End supporters celebrating. This and many other excellent images from Gavin are on his GR Photography website.
BSP NEWS
The Salisbury Journal states that "Salisbury City striker Matt Tubbs is expected to complete a move to AFC Bournemouth later today. Journal Sport understands that the marksman, who has netted more than 100 goals for the Whites, will initially join the Cherries on loan with the possibility of making the move permanent during the transfer window. Tubbs, formerly on Bournemouth's books, joined City in October 2003 from Dorchester Town". Despite this departure and transfer listing various players to cut their costs, "Salisbury boss Nick Holmes could sign Gillingham midfielder Rory Hill on loan by the weekend after he scored in a friendly against Bournemouth... The 18-year-old has been back on trial with the Whites this week, and scored in the 4-1 behind-closed-doors win. He previously played for the Whites on trial in October" says the BBC.

"York City have overturned the decision to allow Richard Brodie to extend his loan spell with Barrow for a further month, BBC Radio Cumbria understands. The Minstermen will now recall the England C striker after this weekend's fixtures... Barrow are now hoping to begin talks with York over a possible permanent deal for Brodie in January. The two clubs could agree a pre-contract arrangement which would allow the player to return to Holker Street before January. However, it is not known whether York are now willing to allow the player to leave in the transfer window... Barrow's finances were given a lift this week after their tie with Brentford at Holker Street was chosen for live television coverage. The club will now receive a further £85,000 on top of the £20,000 they receive for reaching the second round. The tie has been brought forward to Friday, 28 November, with kick-off at 1945". Meanwhile, York City add that striker Richard Brodie'... has found travelling from his North East home very difficult".

"The chairman of Weymouth's supporters' club, the Terras Trust, has warned the club's fans it is losing thousands of pounds a month. Anthony Sams told BBC Radio Solent the problems are being caused by the continued threat of administration. 'The situation is more serious than many of the fans know', he said. Weymouth owner Malcolm Curtis offered his 84% shareholding to the Terras' Trust, with responsibility of ownership and day-to-day running. The conditional proposal was made last week but it contained conditions which the Trust could not agree to. One of the most contentious was to bring Curtis back to control the club if there is a risk of entering administration. Sams added: 'At the last count we were aware that we are losing £30,000 a month. With the current losses we're not confident we could keep the club out of administration. Therefore the likelihood of his (Curtis) return is severely possible and that's not what the fans want'. Part of the deal included an agreement that the Terras Trust would do nothing to damage or interfere with the proposed new stadium project. A further obstacle was the failure of the football club to release any detailed financial information for the Trust to look at prior to their board meeting" reports the BBC.

Meanwhile the Weymouth FC 2are pleased to announce the loan signing of Jordan Collins from Cambridge Utd. Alan Lewer has secured the left sided defender through his contacts from his time spent at the former league club outfit".

According to the Burton Mail "Albion boss Nigel Clough has strengthened his promotion chasing squad by signing Cheltenham Town utility man Craig Armstrong. The 33-year-old Geordie has joined the Brewers on a six-week loan with a view to a permanent move when the transfer window opens in January. Armstrong, who can operate in defence or midfield, trained with the Brewers yesterday and goes straight into their squad... against Stevenage Borough... And Clough revealed he hopes to make at least one more signing - believed to be a forward - before the loan transfer window closes next week".

"Imraan Ladak has revealed Kettering Town have identified a site for a new purpose-built stadium and potentially secured the majority of the funding" says the Northants Evening Telegraph. "But he insists any plans for a new stadium will have to suit all the relevant parties. The Poppies chairman feels he is closing in on solving the club's ground issue by the March deadline, which will need to be done to ensure Kettering can remain in the Blue Square Premier for next season. But he admitted there is no way the plans could work unless the club make a concerted effort to ensure it suits Kettering Council and the current landlord of the A-Line Arena, Ben Pickering.

'There are four parts to this really and those are having a site, securing some funding, having something suitable for the council and also for the landlord', Ladak said. 'We feel the council will be fully supportive of us and I have no doubts about that. They have been great to me since I took over here... As a football club, we have our own needs and we can't expect the landlord to lose out for the benefit of the club... I don't think there has ever been a point where a plan has been in place that satisfies everyone concerned. But we are close to being in that very position. Of course, the biggest problem is time because we don't have a lot of it. The growth of the club on the pitch thanks to the great work of Mark Cooper and the players is ahead of the off-the-field matters'. Ladak also confirmed he has been receiving advice on the stadium issue from Milton Keynes Dons chairman Pete Winkleman. 'As everyone knows, Pete has recently managed to build a £50m, 30,000 all-seater stadium and he was able to put all the pieces together to achieve that', Ladak added2.

Ebbsfleet United report that "British-born striker Matthew Delicâte, who has been playing for the Rochester Rhinos in America's USL (a professional league one below Major League Soccer) for the last three seasons, joins the Ebbsfleet United squad this week. Matthew has flown over to the UK following the end of the USL season and is looking to continue playing football while he is in Kent. Matthew began his career in the League Of Wales aged 17, playing for Carmarthen Town during the 1999-2000 season. He scored a hat-trick on his debut in August 1999 and was a regular scorer until he departed in April 2000. He then went to the United States on a football scholarship at Virginia Commonwealth University aged 18 in summer 2000 where he scored 44 goals and progressed to play for the Richmond Kickers for two seasons, netting 25 times. He joined the Rhinos in 2006 and this season played alongside former Fleet defender Ross Smith. He has 13 Rhinos goals to his name. Liam Daish added the 6ft 3in forward to his squad following a successful trial".
---
20 November 2008
CAMBRIDGE LOOKING FOR GOALS
Altrincham entertain Cambridge United this Saturday.

The Cambridge Evening News reports on the 1-0 win over York on Tuesday. "All eyes were on Scott Rendell after his shock return to Cambridge United just hours before the game. But Gary Brabin's side had to rely on a Ben Purkiss own goal to ensure they got back to winning ways against York summing up just why he moved to bring Rendell back to the Abbey. Rendell went from hero to zero when he left in February for bitter rivals Peterborough with some angered fans going as far as launching an internet hate campaign against the striker. At that time it was unthinkable Rendell, who remained United's leading scorer last season, would be back in amber and black. But finding himself down the pecking order at London Road this term and having just spent a month on loan at Yeovil, Rendell's name was suddenly in the frame once more.... And when he came on with 18 minutes left, the striker was welcomed with chants of 'there's only one Scott Rendell'". United are at Moss Lane this Saturday; on Tuesday their line-up was Potter, Gleeson (Coulson 90+5), Tonkin, Convery, Bolland, Hatswell, Beesley (Rendell 72), Carden, McEvilly (Crow 83), Willmott, Jardim. Not used: Drench, Holroyd.

Rendell told the News "I've always got confidence in my ability at whatever level I play and my goal-scoring record at every club has been pretty good. Now I just want to get my head down and see if I can get my first one on Saturday" at Altrincham.

Cambridge United confirm that "Gary Brabin was pleased with United's dominant performance against York and is sure that goals are not too far away... Loanee Scott Rendell issued a reminder of his deadly goal form of last season in a 20 minute cameo and he looks sure to weigh in with goals in the next few weeks. 'I thought some of the football we played from the first minute right to the end was brilliant', stated Brabin afterwards.'We really believe that it's only round the corner that hopefully all these lads are going to start scoring goals... We've been coming away nil-nil or losing by the odd goal but today we dominated and it was hard to lift the lads at half-time because they were giving everything and playing some fantastic football. I was a little bit critical and told them we should be breaking our necks to get into the box and get on the end of things, and it took an own goal for us to win but I'll take that. The defence were solid again and we know we're capable of doing that. As well as defending doggedly, we played some great football across the back four and across midfield. Everything I want we've produced today, and the only thing I want is more goals!'...

Looking ahead to Saturday when United travel to Altrincham on Saturday, Brabin concluded, 'They're on a bit of a run at the moment but - like I keep saying - if we can just hang in there for now, we genuinely believe that we're not a million miles away from producing that sort of form with goals on top. Hopefully we can time it right so we can make a late surge for the title'"
ALTY SHIRTS REACH GHANA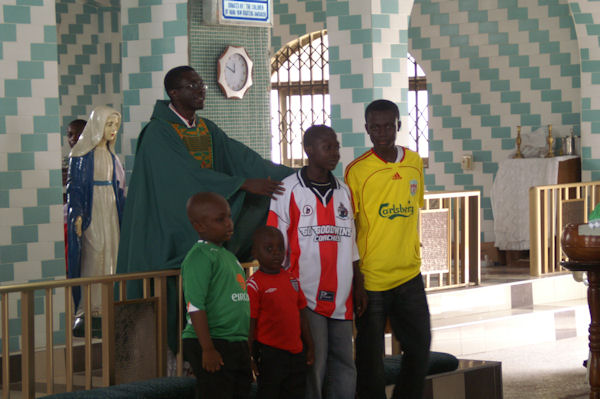 Daniel Eadie, a regular at Altrincham matches home and away, and a Vice-President of the Club, has kindly sent the website a letter from his brother Nick, who recently spread the word about Altrincham FC to Ghana. Nick writes:
On October 16th, I was lucky enough to fly out to Ghana with a small party, led by the Rev. Ian Blay, Rector of Mobberley. our mission was to forge a partnership links with the Church in Ghana, with a view to supporting various projects such as schools, orphanages, etc.
As they are football-mad in Ghana, we collected some Fairtrade footballs and a total of 85 football shirts of various colours and sizes, to take out as gifts. Eleven of these were Altrincham FC shirts which were donated by Paul Daine (Altrincham FC director) through my brother Dan Eadie, whom many of you will know. Many of the shirts were donated to St Anne's School in Kumasi. I enclose pictures of a young lad sporting an Alty shirt!
Many thanks from us and even more from Ghana where not many are blessed with material things as we are!
Love and God's blessing
Nick Eadie.
PS: Jackie Swindells is still my hero!
... AND WE ARE BIG IN NORWAY, TOO!
Taivo Lepig from North Norway sent the following message to the website before Tuesday's game:

Altrincham FC-fans in Norway hope team show up some big football and take club, sponsors and fans all over to next round of FA Cup. Here is nothing to lose or fear just all to win so forza go for gold. Keep up the good work in future and team will win many new fans to club. Fans all over cross all they have from top to toes and hope for the best. Take good care and have a nice week in Altrincham. BOL from us in Norway. ;) Forza alle alle".
OLD BOY
The Northwich Guardian reports how Witton beat Lostock 1-0 when "Kieran Lugsden headed the only goal as Albion stumbled through".
LUTON VERDICT
Right: Dale Johnson in action against Luton on Tuesday night. This and many other fine images from Gavin Rathbone are on his GR Photography website.
Luton Town report how "Luton sneak through on penalties" at Moss Lane on |Tuesday. "Luton Town beat Altrincham 4-2 on penalties after drawing 0-0 after extra time... Luton's cause wasn't helped by Sol Davis's sending off in the 66th minute for a professional foul, which gave away a penalty. Luckily for the Hatters, Conrad Logan made the save to keep the scores level. Logan was the Hatters' hero once again in the shoot-out saving two Altrincham penalties, leaving Paul McVeigh to stroke home the winning penalty".
In similar vein Luton Today also gives Alty credit. "Paul McVeigh netted the match-winning spot-kick to get a relieved Hatters side out of jail and into the next round of the cup. The Blue Square Premier outfit gave as good as they got throughout the encounter, so much so that, at times, you would have been hard-pressed to distinguish the full-timers from the semi-pros. Admittedly, Luton did play with 10 men for the best part of an hour following Sol Davis' dismissal but they created precious few chances in front of goal and were hanging on for the majority of the added period... The visitors lacked any kind of physical presence and too often squandered possession. Altrincham looked dangerous on the break which did not allow the Hatters to gain any kind of foothold in the contest until midway through the half when they should have gone in front.
Things turned in Altrincham's favour in the 67th minute when Davis, who had only been on the field for six minutes, brought down Chris Senior after the midfielder had been sent through on goal. The referee had no choice but to point to the spot and show Davis a red card, but Logan kept the scores level when he saved Peyton's weakly-struck penalty low to his right... As extra-time came around... Altrincham were still on top, but McVeigh almost made Ralph pay for a bad misjudgement in the 94th minute when his header from Nicholls' cross drifted just wide".
But Luton Today reports on news that may cause Luton to regret the scuppering of the TV transmission of Tuesday's game, which cost them - and Alty- £37,000 each. The paper reports that "A speedy conclusion to former manager Mike Newell's legal case against the Hatters seems unlikely... National newspaper reports have claimed that Newell, who was sacked by the club's former regime in March 2007, is seeking £300,000 from Luton in outstanding commission on player sales. Newell, who took a hard line against agents and the money they took out of the game, is said to have had a clause in his contract giving him a 10% share in outgoing transfer fees... At present it is still not clear exactly what remuneration Newell is looking for and whether he may also be pursuing a case for unfair dismissal. The current Grimsby boss though has previously stated he does not want to punish the current club and his owner, but instead wants to pursue those who were in charge at the time".
BSP NEWS
"Former Vics' chairman Mike Connett spent the night in a police cell last week. Currently the Wincham club's landlord, he was arrested by officers called to his home in High Legh - near Knutsford - on Remembrance Day following reports of a disturbance. He has not been charged. 'A 56-year-old man was arrested on suspicion of assault on November 11 and taken to Middlewich custody suite', said a Cheshire Police spokesman. 'He was released on bail the next day and has been asked to report to the same place on December 2'" according to the Northwich Guardian

"Lee Steele has won a regional player of the year award. Vics' veteran goal getter polled most votes in the Blue Square Premier category at the Northwest Football Awards, pipping Alty rival Colin Little to the title. He picked up his prize at a ceremony in Manchester last night, Monday" reports the Northwich Guardian

According to the Football Conference "Torquay United manager Paul Buckle has praised his squad after they set a new club record of 15 games without defeat in their 4-1 win over Lewes on Tuesday. The Gulls have not lost in any competition since a 1-0 defeat at Kidderminster on 4 September. Speaking to torquayunited.com Buckle said 'We were aware of the club record but there have been other things going on at the club this week that has dampened thing for us but we are fully aware of the record. I am very proud of the record we have set and I'm very proud of my players. It is an unbelievable run that we are on'.

Torquay United have also revealed that defender Chris Todd has been diagnosed with Leukaemia. Chris, 27, has been struggling to recover from an operation after picking up a stomach injury in the match with Forest Green Rovers back in September, and after blood tests earlier this week the diagnosis was confirmed. The Football Conference would like to send their best wishes to Chris, and hope he makes a full and speedy recovery". And so, too, would everyone at Altrincham FC wish him a restoration to full health.

"York City manager Colin Walker has hit out at his team after a lacklustre performance saw them lose 1-0 to Cambridge United on Tuesday night" says the Football Conference. "A Ben Purkiss own goal gifted the U's the points, a result which means the Minstermen have only won three of their last 17 Blue Square Premier games. Walker told The Press: 'I can't defend anybody. I tried to change shape to get them all going, but it was quite difficult. I think it's only the second time this season that I can say it was a poor team performance and the other team were better than us... I work as hard as I can and I know it's my team, so I take the flak. That's the job I get paid for. I have belief in my own and the players' ability'".

Also from the Conference, we learn that "Histon midfielder Robbie Nightingale is expected to go on a two month loan to Cambridge City this week. The 27-year-old is now likely to link up with former Lilywhites player Adrian Cambridge at Milton Road".

"Eastbourne Borough manager Garry Wilson has revealed that striker Allan Tait has been placed on the transfer list this week... 'We had a bit of a disagreement and the fact remains that we only want players who are 100 per cent committed to this club'", Wilson told Eastbourne Today. "We are actively seeking to bring in another striker or even two within the next week or 10 days", he added

The Grays v Carlisle United FA Cup replay, abandoned on Tuesday bceause of floodlight failure, will now be played on Saturday, 29th November which is the date of Round 2.

"On Saturday, Crawley conceded a late equaliser which prevented them jumping back into a playoff spot and Evans is now preparing his squad for another push during the Christmas period. He said: 'Alex Ferguson talks about February and March as a crucial stage of the season but they finish later. Our season finishes in April and the big time is now. We have set ourselves a target of being in the playoffs on Christmas Day. We've made massive progress and we've got the players and set-up to deliver'" the Crawley boss told the Crawley Observer.
---
19 November 2008
LUTON REPORT
A report on the Altrincham v Luton game is now here
"WE LACKED PASSION"
Following the FA Cup replay defeat by Luton after a penalty shoot-out, in today's Manchester Evening News Alty boss Graham Heathcote (right) said, "I'm just so disappointed. This side will never have a better opportunity of causing a cup upset. It's not just about the penalties. We should have won before 90 minutes or 120 minutes but we were inept as an attacking force. It was a miserable performance. We lacked that vital ingredient to go out to win the game and we lacked passion. We've got a very good team and good players but tonight we just didn't perform. It's a shame because there was a good crowd (2,397) here tonight. But in all my years here we've never bottled it on the big occasions".

Chairman Geoff Goodwin added, "We were the better side... The club is in a healthy state and we live to fight another day. We are part-timers and our lads did a day's work before playing".
ALTRINCHAM 0 LUTON 0 - Luton win 4-2 on penalties
Altrincham paid a heavy price for three penalty misses - one in normal time and two in a shoot-out - against a Luton side which played for 52 minutes with ten men. The Hatters can count themselves very fortunate to have progressed in a game dominated by the defences. Kick off was delayed by more than 35 minutes after the floodlights failed, so the game did not finally end till after 11pm.

The defining moment arrived in the 68th minute when Chris Senior was bundled over in the box and Luton's substitute Davis was sent off as he was the last man. However, Warren Peyton underhit his penalty and former Stockport keeper Conrad Logan saved the effort. Alty dominated the rest of the game but laboured to break down the 10-men of Luton and the game went to a penalty shoot out. Doughty and Meechan converted for the Robins but both McGregor and Lawton saw their spot-kicks saved by Logan to hand Luton a 4-2 win on penalties.

The financial loss of the £20,000 prize money was compounded by Luton's refusal to play this match on a Thursday when £37,000 would have been paid to each club in television fees for a live transmission. Report to follow.

ALTRINCHAM: Ralph, Smith, McGregor, Young, Doughty, Senior (Meechan 74), Lawton, Danylyk, Peyton, Little (Elam 46), Johnson (Lane 100).
FA CUP ROUND 1 REPLAYS
Monday 17th
Northampton T. 2 Leeds U. 5

Tuesday 18th
ALTRINCHAM 0 Luton T. 0. Luton won 4-2 on penalties.
Dorchester T. 1 Oxford U. 3 aet
Grays A. v Carlisle U. Abandoned after 20 mins, due to floodlight failure, with Grays leading 1-0
Barrow 4 Eastbourne B. 0
Stockport C. 5 Yeovil T. 0
Fleetwood T. 2 Leiston 0
Hartlepool U. 2 Brighton & Hove A. 1
Rotherham U. 0 Aldershot T. 3
Droylsden 1 Darlington 0
Southend U. 2 AFC Telford U. 0
Lincoln C. 1 Kettering T. 2
Rochdale 3 Barnet 2
Dagenham & R. 2 Hereford U. 1
Oldham A. 0 Cheltenham T. 1
BSP FIXTURES
Tuesday 18th
Cambridge U. 1 York City 0
Stevenage B. 1 Histon 3
Torquay U. 4 Lewes 1
Weymouth 1 Woking 1 - gate 696
BSP NEWS
Altrincham's league opponents this Saturday are Cambridge United where "Until ten o'clock this [Tuesday] morning the main team news was the return of stalwarts Paul Carden and Phil Bolland from their respective one-match bans, the absence of Jon Challinor due to the impact injury he sustained in Saturday's 2-2 draw at Crawley, and fellow midfielder Ben Farrell beginning a two match ban following a harsh second red card of the season in that game. However, we announced earlier that former striker Scott Rendell has returned on loan until January 1st... Carden looks set to make an immediate return to the centre of midfield, particularly as Challinor and Farrell's unavailability means the squad is suddenly stretched thin in that position. Mark Convery enjoyed a rare start in a midfield three at Crawley and scored the vital equaliser... 'There's only really him and Paul Carden available in midfield tonight, but that's not to take anything away from Mark's performance on Saturday', commented Brabin. 'His second half performance was excellent and that's what I want from him'.

The U's manager must decide whether to recall Bolland or keep faith with Josh Coulson, who deputised admirably on Saturday in his first league start of the season... 'Robbie Willmott has done great so far but it's important that we don't put too much pressure on him too soon, and that applies to Felino too, but there's a good spirit here and the lads are working well and looking forward to each game'", the manager added.

According to the BBC, "Barnet winger Kieron St Aimie is having further talks with Wrexham. The 19-year-old former Queens Park Rangers trainee is listed as available for transfer or loan. St Aimie started this season in the first team but has only made four appearances for the League Two club since, all as a substitute. Earlier this season the youngster spent a month on loan with Grays Athletic. Barnet signed St Aimie at the beginning of the year after he was released from Queens Park Rangers".
---
18 November 2008
GRAHAM'S RALLYING CALL
Before Tuesday night's game, the Manchester Evening News reported that "Altrincham manager Graham Heathcote is challenging his plucky part-timers to seize a golden opportunity to follow him into the Robins' FA Cup hall of fame by claiming the scalp of League Two strugglers Luton... 'We've got a great history in the Cup and I've told the lads this is their chance to be part of it', said the Robins' chief. 'But it would be daft for anyone to think we now start as favourites, because, as when any part-time team takes on a full-time club in the Cup, you're always at a disadvantage. That's where our supporters will have a major part to play, because, if we can attract the sort of crowd we're expecting and they create an electric atmosphere, it will be like having a 12th man on our side. Our lads know that, despite the great result they achieved in securing this replay, they'll quickly become the forgotten men of the Cup if we don't follow it up by knocking Luton out. If we're going to follow the likes of Curzon and Blyth into round two, we simply have to rise to the occasion'... Heathcote is, though, boosted by having a near full-strength squad at his disposal, with midfielder Shaun Densmore his only slight injury doubt. Andy Ralph will almost certainly get the nod to continue in goal despite regular No.1 Stuart Coburn having now fully recovered from the calf strain which has sidelined him for more than a fortnight. Set to join Coburn on the subs' bench is striker Joe O'Neill, now back in contention after his recent cartilage op".
DON'T BE LATE!
For tonight's FA Cup replay with Luton Town, a big crowd is expected so please arrive early for the 7.45pm kick-off.

To reduce delays, Altrincham FC ask all supporters to bring the right admission money to the turnstiles. Prices are:
Standing - Adults - £12; Concessions - £7; Aged 12 to 16 - £5; Under 12s - £2.
Seating - Adults - £14; Concessions - £8; Aged 12 to 16 - £5; Under 12s - £2.

As usual, Altrincham FC and Altrincham FC Juniors' season tickets are NOT valid for cup games. Also, please note that Altrincham Leisure Centre vouchers are no longer valid.
BEFORE THE GAME
The BBC says that "Altrincham are sweating on the fitness of Shaun Densmore's calf injury but are boosted by the return of Chris Lane after suspension. [Shaun is seen, right]. Val Owen and Joe O'Neill are likely to be on the bench, while Chris Denham and Kevin Street are long-term absentees. Luton will be without the ineligible Kevin Gallen and Tom Craddock, who has been refused permission to play by parent club Middlesbrough. Chris Martin and Paul McVeigh may lead the forward line in their absence".
COLIN'S AWARD
Alty's joint Press Officer, Brian Flynn, advises us of an important event tonight:

Manchester Evening News/Channel M Unsung Hero Award

Colin Little will receive his award for being the Manchester Evening News/Channel M "Unsung Hero" for season 2007/8 before tonight's F.A. Cup First Round Replay with Luton Town. The presentation will take place in front of the main Stand at 7.00pm. Channel M cameras will film the presentation and that, along with post-match interviews, will be broadcast on Wednesday.

The presentation is by a mystery celebrity so don't miss it! Also at Moss Lane tomorrow will be the camera of Sky Sports News.
JOIN THE FRIENDS!
The Friends of Altrincham FC scheme is an important fundraising schems for the Club. All members are entered into a monthly draw. Each entry costs £5 per month which can be paid at any time during the month by standing order. There is no limit to the number of entries any one person can have in the draw. A minimum prize of £100 is drawn every month. Follow the above link for the details of joining the scheme:

The latest draw results are:-
1st - No. 23. Lisa Jones (£100)
2nd - No. 19. Diane Swindells (£35)
3rd - No. 6. Karen Rowley (£15)
HATTERS PREPARE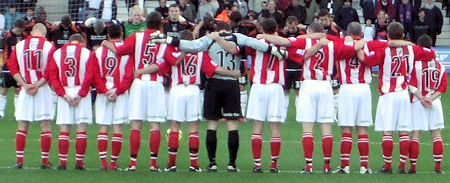 Right: Alty line up before the game at Kenilworth Road ten days ago.
Luton Town have a match preview; "Altrincham's 3-1 victory away from home against Forest Green last weekend is bound to build their confidence ahead of [tonight's] FA Cup replay... And the side contains one or two players which may be familiar to Luton fans. Kevin Street joined Altrincham in the summer and some fans may remember that the midfielder spent a brief spell at Luton Town in 2001. The 30-year-old joined on a month's loan from Crewe Alexandra and made just two appearances, the first a 1-0 home defeat against Hull, where he came on for the last minute, before starting the 4-1 away defeat at Macclesfield. Another player who may be familiar is former Crewe, Mansfield and Macclesfield striker Colin Little, whose goal two weeks ago was his 100th since signing for Altrincham in July 2004... Joe O'Neill (Preston, Bury and Chester), Warren Peyton (Rochdale, Bury and Doncaster), Mark McGregor (Port Vale) and former Luton trialist, Alex Meechan (Swindon Town and Bristol City) all have league experience with them playing in both of last season's matches between Vale and Luton, so this is anything but an easy tie as was evidenced when Altrincham held Luton to goalless draw two weeks ago. Add to the equation the previous good form of Alty in the FA Cup and Mick Harford will be acutely aware of what his counterpart Graham Heathcote and his side can do, so the Hatters can afford no slip ups... Against league opposition Alty have, in the past, given a good account of themselves. They held Tottenham Hotspur to a draw at White Hart Lane in 1978 and defeated Birmingham City 2-1 at St. Andrews in 1986".
According to Luton Today, a "Difficult task awaits Hatters. A place in the second round of the FA Cup is the only thing on Mick Harford's mind as he prepares his charges to face Altrincham... The Hatters make the trip to Moss Lane on the back of an encouraging - and much needed - victory against Dagenham & Redbridge on Saturday ... He said: 'Hopefully we can take this into the game at Altrincham'. The prize of a trip to either Telford or Southend awaits the victors... He added: 'We'll be on our guard. We've marked the players' cards about the possibility, and I'm sure Altrincham will be looking for the possibility, of an upset. They're a good little outfit. They're sitting comfortably in mid-table in the Conference and they'll be a danger for us I'm sure'. As to what the Hatters will expect at Moss Lane, Harford is expecting a fairly partisan atmosphere. He continued: 'It'll be tricky. The crowd will get behind them and they'll make it as vociferous as possible and it'll be a difficult tie for us if we're not spot on like we were on Saturday'... The Hatters will be without both Tom Craddock and new loan-signing Kevin Gallen. Craddock has not been given permission to play by his parent club Middlesbrough while Gallen is cup-tied having played for the MK Dons against Tranmere. George Beaven is still missing with bronchitis and the only other problems involve George Pilkington and Lewis Emanuel who are expected to return to training early next week".
LAST GAME
This is Gloucester reports that "The New Lawn natives are no longer interested in excuses and, rightly so, after Altrincham's part-timers exposed more crippling weaknesses in Jim Harvey's battalion. Aided by some horrific defending, the men from Cheshire looked as surprised as anyone to find themselves three goals to the good inside 32 minutes... His post-match comments made it clear radical changes are afoot, yet even a basic level of competence at the back on Saturday would surely have secured a point at least".

Meanwhile, This is Glos adds that "Jim Harvey could axe as many as six players from his misfiring Forest Green squad after losing patience with their sorry league form. Saturday's 3-1 defeat at home to Altrincham extended Rovers' winless run in the Blue Square Premier to 12 matches... A livid Harvey said: 'Yes we've had our injuries and the team has changed every week, and some of the football we produced in the second half (on Saturday) was terrific, but when we get into the final third we're not clinical at all. Too many mistakes are re-occurring – mistakes that we've worked on – and eventually you feel like you're knocking your head against a brick wall. I'm not going to do it any more, so I'll be looking to make changes now because some of the boys haven't come up to scratch. I can cover it for a period of time, which I probably have done over the past couple of months, so now I've got to say enough is enough'. All three Altrincham goals stemmed from defensive errors, but Harvey made it clear he was equally concerned about the other end of the pitch. 'You can take your pick as there were lots of bad performances', he said. 'I don't think we were under pressure at any stage – it was just three counter-attacks. We dominated the rest of the game but we weren't clinical and couldn't find the final pass'".
JUNIORS
Richard Holland, the Altrincham FC Juniors' under-10B manager, has created a website for the Junior teams and this can be found here.
OLD BOYS
NL Daily says of Vauxhall Motors that "rejoining is former Altrincham and Droylsden defender James Glendenning, who has recently been released by Colwyn Bay and has received international clearance".

` In a remarkable 5-5 draw between FCUM and Cammell Laird last week, ex-Alty man Kyle Wilson netted twice, and Chris Baguley also scored.
BSP NEWS
Trevor Benjamin has left Northwich Victoria for Hednesford Town.

NL Daily reports that the Wales under-23 squad for Tuesday's match against Finland has suffered the withdrawal of several players including "Wrexham brothers Mark and Mike Williams". The 18-man squad now has "Wrexham's Neil Taylor, Welling United's Adam Gross and the unattached Michael Byrne, who looks set to join Forest Green Rovers after he returns from international duty,[as] the only three from outside the League of Wales".

More Setanta televised fixtures have been announced and once again there is no Altrincham involvement. All are at 7.45pm unless shown.
1 Jan. Histon v Cambridge U. 3pm
6 Jan. Weymouth v York C.
8 Jan. Woking v Northwich V.
15 Jan. Torquay U. v Wrexham
22 Jan. Wrexham v Cambridge U.
29 Jan. Cambridge U. v Oxford U.

"Stevenage today installed last year's Manager of the Year, Dino Mammria, as replacement for Steve Greaves who left the club today. Manager Graham Westley felt a reorganisation was needed and persuaded Mammria, 38 to join up with him after the two worked together at Rushden. Mammria was an important part of Stevenage's run to the Promotion Final scoring the goal that put Stevenage through to the Final. He is an A Licence coach and was a popular figure at Broadhall Way as a player".

"Mansfield Town chairman Andy Perry has said he hopes the takeover of the club will be completed by their next home game, against Oxford on 4 December" claims the BBC. "Perry, along with Andy Saunders and Steve Middleton have businesses in the town and are long-standing supporters. The trio took control of the club in the summer but the paperwork is yet to be finalised. Perry told BBC Radio Nottingham: 'It's a building season for us and we're all going to be supporting the manager and existing players'".

This is Nottingham adds that "Billy McEwan is delighted he can keep Emile Sinclair for another month after watching the young hitman destroy Salisbury City. The 20-year-old scored one and set up another to put the Stags on the road to their first victory in six matches. Sinclair's month-long loan from Nottingham Forest was due to run out after Saturday's clash. But the player has agreed to stay and the Reds have extended his loan... Said McEwan, 'It says a lot for Mansfield that they can entice players like him, Paddy Gamble and Adnan Ahmed to come to the club. Emile has come in when we have changed the system round a bit and gone with three strikers. The understanding is now coming that they have to defend at times and we saw that against Salisbury. We need people up there to run off Jason Lee and Mark Stallard, and Emile does that. At this level pace is a bonus and I always like to have players in my side like that. Emile still has a lot to learn and some of the things he does shows he is still a bit naïve but he is only young and you expect that... We have not actually played that badly at home' he said.'We know we are not the finished article by a long, long way. We are searching for the right recipe'"
---
17 November 2008
LUTON GAME - TURNSTILES READY
Altrincham matchday secretary George Heslop has confirmed that all thirteen turnstiles at Moss Lane will be open for Tuesday night's FA Cup 1st Round replay with Luton Town. Nevertheless, please arrive early to avoid queueing and missing any of the action.
ANDY'S CUP PEDIGREE
Alty keeper Andy Ralph (right) has performed well since replacing the injured Stuart Coburn in the side recently. Previewing the Luton game on Tuesday, the NL Today paper reminds us that "Andy Ralph, expected to retain his place with Stuart Coburn still out with a calf injury, [though he was on the bench last Saturday], will hope to add to his own FA Cup legacy. Ralph kept out two penalties in Vauxhall Motors' famous shoot-out win over QPR, six years ago".

That was also an FA Cup 1st Round replay, away at the North London club, where Andy made a vital save in the shoot-out and also saw another penalty go wide. By coincidence, Kevin Gallen, whom Luton signed last week, was a used QPR sub in the initial match in November 2002 so he will know all about Andy's exploits.

Robbie Lawton and former Alty players Steve Aspinall and Nick Welton also played in the tie.
MANAGER OF THE YEAR
Setanta TV's Paul Parker has good things to say about Altrincham boss Graham Heathcote. The former Manchester United defender wrote in the NL Paper about Tuesday's replay with Luton. "If Altrincham had their team of last year, I'd say they've done well just to get a replay. But with what Graham Heathcote's done this season, you have to fancy them to turn Luton over at home. If you are looking for candidates for manager of the year you normally name people at the top. But, at this early stage, if you are talking about complete turnaround, at a club, it has to be Graham. I looked at his squad at the start of the season and felt it looked better than last year. I spoke to him and he said, 'Yeah, I believe we are better'. After a difficult start, he's done really well to get them back on track and reinforce that belief. I'm pleased for him. Hopefully, he'll get them to kick on even further".
GREG'S CUP EXAMINATION
The NL Paper reports that "Graham Heathcote turned film producer this week to put a DVD together showing his part-time Altrincham players how they can improve on their draw at Luton... But a few hours later he was given the starkest reminder of what a huge task he has just getting them onto the pitch for Tuesday's replay. 'I don't get the time to do this kind of thing often', said Heathcote. 'This is a chance for the players to write themselves into the club's history, providing we get no motorway hold-ups and get everyone here in time!. Greg Young (left), for example, has an exam in the afternoon. It's one of the joys of being part-time"!

Defender Young is in the first year of a degree in Sport & Exercise Science at Sheffield University and will be tested on anatomy and biomechanics between 4pm and 5pm. Kick off is at 7.45pm (40 miles away). The 25 year-old, who could have avoided the situation by converting the Robins' best chance at Kenilworth Road said, 'I should still get there for half-six if I miss the M62 and go the back way but Graham wanted to do everything right and get everyone in a bit earlier for a pre-match meal. It's not the kind of game you want to miss, so I'll be doing my best to get there'".
TUESDAY'S OMENS
Howard Watts's "Through the Years" data for 18th November, when we meet Luton Town in the FA Cup 1st Round replay is now here. It shows that Altrincham have had three previous FA Cup Round One matches on Tuesday's date, all of which were at Moss Lane.
1972 v Notts County (H), lost 0-1
1986 v Frickley Athletic (H) 1st Round replay, won 4-0
1990 v Huddersfield Town (H) lost 1-2
YOUTHS BACK ON TRACK
After last week's heavy defeat in the league, Altrincham FC youth team, playing as the Altrincham & District FA Youth team, put in an impressive performance on Sunday, beating previously unbeaten Stockport & District FA Youth 2-1 at Woodley Sports. However, the win came too late to allow Altrincham FA to progress in the Cheshire County FA District Cup, which they have held for the last three seasons. Altrincham's goals came from Kane Berkeley and Paul Cordock. The win was all the more commendable as manager George Heslop had to field a new centre-back pairing of full-back Dan Fradley and midfielder Dan Shaw. But they performed excellently in a very good team performance. Altrincham FC Youth hope to have defender Ben Oliver back from injury shortly; their next match is in the league at home to Marine at Wythenshawe Town next Sunday (23rd) at 2pm.
FGR CULL ON CARDS
According to the Stroud News & Journal "FGR boss Jim Harvey has promised a player cull after he watched his relegation threatened side slump again. The Gloucestershire side are still searching for their first Blue Square Premier win since August 30 after Chris Senior's first half brace helped Altrincham leave Nailsworth with the points and keep Harvey's side rooted inside the bottom four. Harvey said: 'It is quite obvious now and I've known this for a while and now we will have to do something and make move and move half a dozen out and make them available and see if we can bring some more in'... Graham Heathcote's side took the sting out of Rovers when the outstanding Dale Johnson's pass from inside the box was touched home by Colin Little after just four minutes... Senior made it two on 28 minutes as he nipped in and beat the onrushing Burton. It got worse for Rovers when on loan Wrexham defender Darran Kempson allowed Senior to nip in and touch a left-footed strike home for his second and Altrincham's third on 32 minutes. Kempson atoned for his error seven minutes later as his long ball was flicked on by Symons for strike partner Andy Mangan to drill through Ralph to offer Rovers some hope".
OLD BOYS
Astley Mulholland, an Alty Youth and reserves' graduate, has joined Ashton United. He joins fellow youth team products Ben Deegan and Alex Frost, as well as Stephen Rose, at Hurst Cross. Meanwhile, Jake Sedgemore continues in the Solihull Moors' side, whilst Karl Munroe played again for Hyde last Saturday.
BSP NEWS
As well trying to offload players at Salisbury City, the BBC now reports that "Salisbury City have received transfer requests from three players after the club slashed wages by 30% to ease their financial burden. Captain Aaron Cook, Scott Bartlett and Matt Robinson are looking to leave. All three are part-time players and have helped the Whites in their climb up the football pyramid. Bartlett joined in 2000, Cook swapped Bashley for Salisbury four years later, and experienced defender Robinson moved to south Wiltshire in 2006. All members of staff at Salisbury, including management and office workers, have seen their wages reduced as the club continues to cut its costs".

The NL Today reports on John Hollins at Weymouth. The manager is quoted as saying, mysteriously, "I am not suspended by the club. I was instead placed on gardening leave and that is my situation". The Terras' chief executive Gary Calder added, "We will be sitting down with John soon. We will deal with the matter internally".

A manager who travelled the same route as Hollins recently is Dino Mamria whose gardening leave ended in the sack. In the NL Paper he reveals that during last summer he signed a three-year deal at Northwich Victoria, saying "The board had all been in agreement the club should be working towards promotion to the League within the next three years and I believed I was the man to guide them there".
---
16 November 2008
CREDIT COLIN!
When Altrincham scored their first goal on Saturday at Forest Green, the stadium announcer credited it as an own goal by defender Darran Kempson. From the main stand it was impossible to confirm or contradict this. However, the BBC and the various media reports now all give the goal to Colin Little (right) and the website is more than happy to amend its own records - which have now been altered!

Apparently the referee is also uncertain who got the goal so will review the video; once a final decision is made, it will be posted here.
WATERFALL LEAVES
Tranmere Rovers' defender Luke Waterfall has returned to Prenton Park following his one-month loan. During that time he started three cup games and made one substitute appearance in the Blue Square Premier league. Altrincham FC would like to thank Luke for his services and wish him well for his future career.
OLD BOYS
Two former Altrincham team-mates in the 1999-2000 season, were sent off in the same match on Saturday as Morecambe report that "A full bloodied game came to a head in the final 10 minutes as Chester's Kevin Ellison and Morecambe's Danny Adams were both sent off after the former's horror tackle on Fraser McLachlan". Chester City add that "Kevin Ellison and Danny Adams were both dismissed eight minutes from time following the Chester striker's high challenge on Fraser McLachlan which caused a scuffle on the halfway line".

A loanee from Rotherham at Alty last season was striker Tom Cahill who scored for Ilkeston Town, where he is now on loan, on Saturday. Former Alty player Jim Vince has now taken FC Halifax Town to the top of the UniBond One (North), whilst ex-Alty reserve Ashley Stott netted for the Shaymen. Another ex-Reserve, John Maloney scored for Abbey Hey who took a 2-0 lead away at Whitley Bay in the FA Vase yesterday, only to concede two late-ish goals and go out 5-2 after extra time.

Our midweek CSC opponents Stalybridge Celtic beat Burscough 2-0 thanks to an opening goal by Richard Battersby.
FA CUP ON TUESDAY
Tuesday witnesses Alty's 31st appearance in Round One Proper of the FA Cup, a hurdle they have surmounted 16 times to date. Alty's post-War FA Cup record is here.

This week's FA Cup opponents, Luton Town appear to be on the up, as their website reports that "A much improved home performance saw the Hatters collect three well deserved points at Kenilworth Road... Luton went on the attack and took the lead on 6 minutes when a one-two between Sol Davis and Chris Martin allowed Davis to slot home... [New signing] Kevin Gallen was unlucky to see his first shot for the Hatters deflected wide... The visitors pulled level... [before] McVeigh finished [a] movement off nicely, firing past the diving keeper to put the Hatters back in the lead just before the break... Luton Town: Logan, Gnakpa, Davis (Jarvis 76), Keane, Roper, Nicholls (Hall 84), Martin, Spillane, McVeigh, Gallen, Howells. Subs not used: Brill, Worley, Talbot". Gallen was the only player who was not in the squad against Alty last week.

Before the game on Saturday Luton Today confirmed that "Experienced striker Kevin Gallen has joined Luton Town on loan until the end of the year. MK Dons forward Gallen will remain at Kenilworth Road until December 28. The 33-year-old was former Dons manager Paul Ince's first signing, joining the the club from Queens Park Rangers in July 2007. In his first season he notched eight goals in 24 appearances but this season he has only made one start under new boss Roberto Di Matteo. He has also made five appearances from the bench and scored one goal".

Also "Hatters' boss Mick Harford admitted that the easing injury crisis at Kenilworth Road is helping to buoy his team after seeing Town battle to an invaluable 2-1 victory against Dagenham & Redbridge. He said: 'You look at the bench and we've got players to put on. We've got players out on the pitch who are still not 100% but I feel they got to play'... He is sure his squad is strong enough to cope with the busy schedule that lies ahead. He said: 'The games are going to come thick and fast, Saturday, Tuesday, Saturday, Tuesday'... 'We created lots and lots of chances... We came under pressure at the death when they threw bodies forward and the boys handled it well'... Harford singled out the performances of striker duo Chris Martin and Kevin Gallen for praise. On the signing Gallen, he added: 'I've known Kevin for years. He has got a great pedigree and a clever brain... Kevin can get in the holes and create chances for himself and others'".
---
15 November 2008
FOREST GREEN ROVERS 1 ALTRINCHAM 3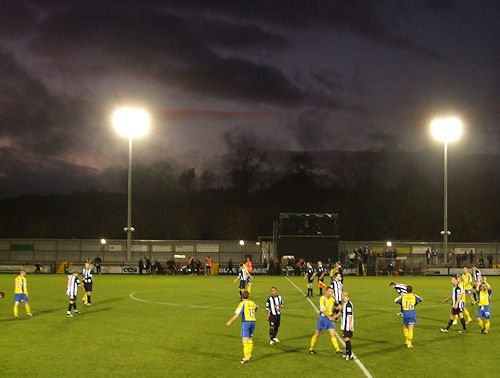 Right: Alty celebrate their win as clouds gather over the New Lawn
Fielding two players making their Alty debuts in the BSP (Ralph and Smith), the visitors took the points against a FGR team whose poor first-half defending cost them dear.
Match report here.
Alty line-ups
BSP Premier
Crawley T. 2 Cambridge U. 2
Eastbourne B. 0 Woking 0
Ebbsfleet U. 1 Barrow 0
Forest Green R. 1 ALTRINCHAM 3
Grays A. 2 Oxford U. 0
Histon 1 Kettering T. 0
Lewes 0 Burton A. 1
Mansfield T. 3 Salisbury C. 0
Rushden & D. 0 Kidderminster H. 2
Stevenage B. 1 Northwich V. 1
Weymouth 1 Wrexham 3
York C. 1 Torquay U. 2
Through the Years from Howard Watts.
LANDMARKS
If he plays today, Robbie Lawton (right), the Altrincham captain, will be making his 125th appearance for the club in just over two seasons. He has, so far, made 123(+1) appearances and scored seven goals. Another impending landmark is for Robbie's fellow midfielder Warren Peyton who has five more appearances to make before completing 150 appearances (133 starts + 12 as sub). Warren has scored eight times.

The only player to figure in all 23 Altrincham games, so far this season, is Anthony Danylyk, with 19 starts and 4 sub appearances. The most starts have been made by Mark McGregor and Robbie Lawton, with 22 each. Alty have used 21 players in league games to date.
BEFORE THE MATCH
Altrincham face their third successive away game at Nailsworth, against Forest Green Rovers today (Saturday). Alty lost 3-1 at the New Lawn last season, fielding the following squad: 1. Stuart COBURN, 15.Chris LANE, 4. Karl MUNROE, 5. Darren TINSON (capt), 11. Warren PEYTON; 6. Jake SEDGEMORE, 8. Val OWEN, 21. Gareth WHALLEY, 12. Joe O'NEILL; 9. Colin LITTLE, 19. Chris SENIOR. Subs: 2. Stephen ASPINALL, 3. Gary SCOTT, 17. Colin POTTS, 14. Stephen ROSE, 20. Matthew BERKELEY.

Today, with Coburn injured, Lane suspended, Owen just returning to fitness and O'Neill recovering from a knee operation, as well as Munroe, Tinson, Sedgemore, Whalley having all left the club along with all five of the substitutes, only Warren Peyton, Chris Senior and Colin Little are likely to be starters this year.

The BBC claims that for the game "Forest Green include loan signing Josh Low after he completed his one-month transfer from Cheltenham. Defender John Hardiker and midfielder Lee Fowler are both out, while Alex Lawless (hamstring) and Mark Preece (groin) are doubtful. Altrincham will be without suspended defender Chris Lane, with Warren Peyton or Luke Waterfall set to replace him. Keeper Stuart Coburn is struggling with a calf injury, so Andy Ralph is likely to continue in goal.

Forest Green player-coach Jerry Gill told BBC Radio Gloucestershire: 'It was great to go through in the FA Cup in midweek, and it would be nice if that cash could go back to Jim [Harvey] so he could strengthen the side. Cup runs do breed confidence but it's important we get three points on Saturday to get us back to where we belong in the league. This is the first of five games in a row at home. We've got confidence we can play our style there and it's a chance to build towards Christmas and get some points in the bag'".

Goalkeeper Terry Burton was sent off last season for Forest Green at Altrincham but This is Glos says that he "will make his first Blue Square Premier appearance of the season for Forest Green in tomorrow's clash with potential relegation rivals Altrincham. The goalkeeper has been highly impressive in Rovers' last two matches, in which they have defeated Oxford United in the Setanta Shield and progressed to the FA Cup second round at the expense of Team Bath. But he has received no guarantee of a run in the side from manager Jim Harvey, who feels the previously ever-present Ryan Robinson is unlucky to be taking an enforced break. 'We're fortunate to have two very good goalkeepers here, with Ryan and Terry pushing each other all the time and neither able to rest on their laurels', said Harvey. 'I'm really pleased for Terry, who is a great character in the dressing room and never moans about having to wait for his chance... He's playing really well and making it hard to leave him out'... The 3-1 reverse in Cumbria [Barrow] extended Rovers' winless run in the league to 11 matches, with tomorrow's opponents six points better off and on a high after holding League Two side Luton Town to a goalless draw in the Cup.

Saturday's game at the New Lawn is a Kids Go Free fixture, meaning under-16s will be admitted without charge when accompanied by a paying adult... Final documentation in relation to the change of the club's constitution from a limited company by guarantee of members to a limited company with shareholders is now almost complete... Rovers are seeking to raise an initial £80,000, which the current board will match.

Altrincham have been beaten only twice in their last 10 games, form that belies their part-time status. But previous fixtures have tended to favour the home side and Jim Harvey's need is greater than his counterpart Graham Heathcote's at present. Though far from easy, Rovers can battle their way to a precious three points... Captain John Hardiker (knee) and midfielder Lee Fowler (ankle) could both be missing for several weeks... Youngster Ben Ashford has suffered a setback in his recovery from a knee problem and remains on the sidelines with Mark Preece and Curtis McDonald (both groin). Fowler's absence makes it imperative that Alex Lawless (hamstring) passes a late fitness test.

Ticket prices: Stand - adults £15, concessions £10, under-16s £7. Ground - adults £13, concessions £8, under-16s £5. Kids Go Free.
CUP OPPONENTS
"Things are looking a lot rosier on the fitness front according to Hatters manager Mick Harford" on Luton Today. "Speaking ahead of the League Two clash with Dagenham & Redbridge - a 'must win game' - Harford said: 'The intensity of the training is much better and it's been fantastic over the last two days and we need to transfer that on to the pitch tomorrow'. That intensity will be lifted by inspirational midfielder Kevin Nicholls who has missed a sizable chunk of the season with a hamstring strain but will feature on Saturday... After a period which has seen the physio's room getting a good workout, the Hatters are starting to welcome back a number of absentees which will provide a big boost as the fixtures start to pile up. Harford added: 'It's a lot healthier than it was two or three weeks ago so there is competition for places and people are going to be disappointed. In the next six weeks we've got 12 or 13 games and everyone is going to be used".

The Ilford Recorder quotes Dagenham boss John Still on Luton Town. "They have some very decent players there, Paul McVeigh, Wayne Andrews, Kevin Nicholls and on Saturday, Drew Talbot came back" he said. "They brought Talbot for £250k and he's a player I very much admire and would have him here tomorrow!".
CSC
Cheshire Senior Cup
Tuesday 11th November
Witton A. 2 Congleton Town 1 - Mark Drew scored for Witton
Stalybridge C. 0 ALTRINCHAM 2
Nantwich T. 5 Warrington Town 2 - Ryan Shotton's brother, Liam, scored two for Nantwich

Wednesday 12th November
Runcorn Linnets 2 Woodley Sports 3

Alty host Witton Albion in the CSC Semi-Final on January 20th. The Northwich Guardian states that Witton boss "Gary Finley saw his struggling side end a run of 10 successive defeats with a midweek Cheshire FA Senior Cup victory over Congleton and they hope to transfer that fortune to the league for the visit of Worksop. He has a major doubt over [ex-Alty defender] Gary Scott (groin), who limped off at Ossett last week... [Another ex-Robin] Kieran Lugsden is ready to return after coming through Tuesday's game unscathed, while new boys James Olsen [also ex-Alty] and Mark Smyth should keep their places".

The Runcorn & Widnes Weekly News. reports that "Runcorn Linnets bowed out of the Cheshire Senior Cup after losing a controversial home quarter-final 3-2 last night. Linnets were beaten by UniBond League Division One North's Woodley Sports, several key refereeing decisions having gone against Steve Wilkes' side. ... With two minutes left, the referee played advantage when [ex-Alty man] Nehru McKenzie was fouled in midfield. The ball was knocked forward for Crewe to run onto and the Widnesian thought he had netted the winner – only to find an offside flag contentiously raised. Four minutes into extra-time Woodley took what proved to be a decisive lead. [Ex-Alty trialist] Gavin Salmon squeezed the ball past Glaysher at his near post". In extra-time "Linnets had the ball in the net again near the end of the first period when McKenzie's header was touched home by Thomas Boden on the line. This time, there were no complaints about the offside ruling but Runcorn can feel aggrieved at the manner in which their county cup campaign was ended".
BSP NEWS
"Steve King's men impressed against league leaders Burton in the ex-Lewes' boss first game, but tomorrow will provide a sterner test" claims the Northwich Guardian. "Jonny Allan damaged knee cartilage in the 1-0 reverse and faces up to six weeks on the sidelines, joining other long term absentees Paul Barratt, Joel Byrom and Richie Sutton. Darryn Stamp could step in, although King is hoping to sign a new striker... Lee Steele returned to training today, Friday, but won't be ready in time to play a part at Broadhall Way".

The Guardian adds that "Vics will add two more fresh faces to their line up ahead of tomorrow's trip to Stevenage. Manager Steve King told the Guardian that he plans to conclude loan deals for a defender and a forward... He said, 'I'm always looking to improve things'... Loan pair Scott Wagstaff and Rashid Yussuff made their debuts against the Brewers while another, Peter Winn, has agreed to extend his temporary stay until after Christmas. 'If we want to make progress then I'm not prepared to settle for players who are rated as "OK", said King. I don't want opponents to pick on weak links, I want to be looking down our teamsheet and seeing top drawer names in every position'".

Also from the Northwich Guardian, we read that "SteveE King has strengthened his side's leaky defence... First up the Vics' boss turned to Wycombe Wanderers stopper Will Antwi as cover for banned Michael Welch. 'He's got everything', King told the Guardian... Antwi, 26, should slot in alongside Mark Roberts in Welch's enforced absence, with Simon Grand staying at left back. The former Aldershot Town stopper has... [been] plagued by a persistent groin injury over the past two years... Antwi will be joined... by teenage shot stopper Stuart Robinson – brought in as cover Scott Tynan, who is ill. The huge 19-year-old played for King at Lewes last term, coming through the youth ranks at Fulham before that... 'We've not brought him in as competition for the other two guys. As a young lad he's one of those we feel we can develop and improve over time'".

From the Daily Post we learn that "Wrexham have signed midfielders Nathan Woolfe and Nathan Fairhurst on one-month loan deals. Nineteen-year-old Fairhurst has already captained Preston North End's reserves having signed his first professional contract in the summer. Bolton midfielder Woolfe, 20 came on for the Trotters in a Uefa Cup away match at Sporting Lisbon in March. Boss Dean Saunders could hand them their debuts in Saturday's visit to Weymouth."

At Eastbourne Borough "The club was surprised when it was informed by the F.A. that the previously agreed date of Tuesday November 18th. for the Barrow v Eastbourne Borough 1st round F.A. Cup replay had been changed to the following day. Barrow contacted the Football Association asking to switch the tie to Wednesday November 19th, following the Scotland Under 21 call up of on loan Leeds United goal-keeper Alan Martin for the international match against Northern Ireland at Hamilton next Tuesday. Borough protested to the F.A. with strong objections to a change and asked that the original date, signed off by both clubs, should stand, citing that 5 days notice is totally inadequate for a club with part-time players who have to get permission to take time off work and use holiday entitlement, and with travel, hotel and training facilities already booked. It is difficult enough for semi-professional players facing a 760 mile round trip for a mid-week game but to be confronted with this only days before is unacceptable. The Football Association apologised for not consulting EBFC and that the matter was being reconsidered by the Competitions Committee. Late this afternoon the club was informed that the 1st round F.A. Cup replay - Barrow v Eastbourne Borough - will be played at Holker Street on the originally agreed date of TUESDAY NOVEMBER 18th".

From the other side, Barrow say that "After a confusing twenty four hours, the Football Association have finally ruled that Barrow's FA Cup First Round replay with Eastbourne Borough will go ahead on Tuesday evening as originally planned. The FA had initially given their blessing to moving the game back twenty four hours following the call up of Alan Martin by Scotland U-21s, who play on Tuesday 18th. This move was unacceptable to Eastbourne, who objected and this caused a re-scrutinsation of the rules on call ups, which are only kept at Soho Square[!]. On closer examination it was discovered that the facility to move a cup tie due to an international call-up does not apply to short term loan players, so the earlier ruling was reversed. Manager Dave Bayliss is now resigned to playing without Martin but is still positive about the tie saying 'We will still beat them. Tim (Deasy) now knows he will be playing and he is focussed and will be fine'".

"Last week's meeting between officials of Vics and rivals Witton Albion proved fruitless with Albion's acting chairman Mark Harris stating they could not do anything to help Northwich" confirms the Mid-Cheshire Chronicle. "But club owner Jim Rushe is eager to build a relationship between the two clubs and believes a ground-share venture in the future is a very real possibility. He said: 'Until people come to the table with an open mind then nothing will ever be achieved. I am surprised to hear Mark say that Witton Albion can't help us because I never asked him for any help. I met Mark to shake his hand and see if both football clubs could help each other and perhaps start talks about one day sharing a nice new football ground as a developer is interested in their land'".

the Salisbury Journal states that "Aldershot Town have today confirmed that they have signed Salisbury City's Andy Sandell on loan with a view to making the move permanent during the transfer window. Sandell, who had scored five times for City this term, becomes the second player to depart the Ray Mac this week as the club attempts to reduce its wage bill. Robbie Matthews has already joined Havant & Waterlooville on loan while Matt Tubbs and Liam Feeney are understood to be attracting the attention of Football League and Blue Square Premier clubs. Feeney is rumoured to be on the verge of signing for... Dagenham & Redbridge".
---
14 November 2008
OPPONENTS' SIGNING
Altrincham travel to Forest Green Rovers this Saturday where This is Glos says that "Cheltenham Town winger Josh Low is set to join Forest Green Rovers on a month's loan. The tall winger has been available for transfer for nearly two months after failing to break into Robins' boss Martin Allen's first-team plans. He was brought in by previous manager Keith Downing from Peterborough on a two-year deal shortly before Downing lost his job. The 29-year-old has previously represented Bristol Rovers, Oldham Athletic, Northampton Town and Cardiff City. He scored twice for Cheltenham's Reserves against Forest Green in a 4-0 win on Tuesday and could make his Rovers' debut against Altrincham".
BRING YOUR CHANGE
As usual, Altrincham FC and Altrincham FC Juniors' season tickets are NOT valid for cup games - including Tuesday night's FA Cup tie against Luton Town. Also, please note that Altrincham Leisure Centre vouchers are no longer valid.

To reduce delays, Altrincham FC ask all supporters to bring the right money to the turnstiles for Tuesday night's FA Cup replay against Luton Town. Although it is hoped to have 13 turnstiles open, please do come early to make sure you don't miss the opening stages of the game.

If you are an adult and can help on Tuesday as a turnstile operator, please contact the club on 928-1045.

Turnstile prices are:
Standing - Adults - £12; Concessions - £7; Aged 12 to 16 - £5; Under 12s - £2.
Seating - Adults - £14; Concessions - £8; Aged 12 to 16 - £5; Under 12s - £2.
HELP NEEDED
For the Luton game on Tuesday Altrincham FC is seeking a volunteer to supervise the Moss Lane car park, behind the Popular Side. This work would not prevent the appointee seeing the whole ninety minutes of the game as the hours are 6pm to 7pm. There is free admission to the match once the duties are finished. Applicants must be over 17 years of age, please. Please contact the club 0161-928-1045 if you can help.
GEOFF SPELLS IT OUT
In this week's Sale & Altrincham Messenger there is a reader's photo of a coach operating a school-run service for Sale Grammar School, which bears an electronic destination sign reading Sale Grammer. The paper says "It was a case of 'could do better' for the bus company ferrying youngsters to Sale Grammar School". In fact, the coach was one of the Go Goodwins fleet owned by Altrincham FC chairman Geoff Goodwin, who has responded to the story by joking, "I never went to public school, but I seem to have done all right for myself!". Though Geoff admits he is not a great speller himself, he is proud that his daughter is a medical doctor whilst his son, Jay, is at grammar school.

Indeed, Jay is the subject of a substantial article in the same issue of SAM. The article outline his continuing success in the world of karting.

Meanwhile, Geoff himself is being interviewed on Monday for Tuesday night's Granada Reports programme, so look out for him then.
SPONSORS
The list of Matchday Sponsors is now on the website.
BSP NEWS
"James Aughterson believes Woking FC have already gone a long way to bridging the £300,000 deficit they are faced with next year once owner Chris Ingram ceases funding the club in May" according to the Woking Evening News & Mail. "The Cards' finance director is optimistic that the shortfall can be made up in various ways —hoping to raise another £50,000 to £60,000 from the new shares scheme alone — as the club looks to stave off the possibility of part-time football. Prudent Aughterson is... doing all he can to prepare the club for life without Ingram... 'We set a challenging but attainable budget in the summer and at this stage we are almost exactly where we were last season. Season ticket sales, and gate receipts haven't been as good as expected and there are some empty spaces around the ground in terms of advertising. But we did hit our targets last term because of the Setanta and FA Trophy cup runs and the Boxing Day crowd against Aldershot helped. When budgeting we look at the cup competitions as a whole and anybody who thinks the Setanta Shield is not important, with the prize money, and TV money at stake, just doesn't understand our situation. Every little helps'...

Aughterson believes at least £100,000 of next season's shortfall has already been accounted for, although costs have now been 'cut to the bone'. Geoff Chapple's arrival is set against those cost savings although his salary is minimal and is based mainly around commission terms. Chapple's position as commercial manager is said to be crucial in terms of bringing in extra revenue... 'The £300,000 deficit is not as depressing as it sounds when you look at the costs we've already saved... We would like to think Geoff will bring in around £50,000 worth of extra money from advertising and sponsorship... Ideally what we need is six or seven people putting in £5,000 or more, while increasing the total number of shareholders to around 200... We have made it accessible at £2.67 a month at the minimum level of £100 for 10 shares. There will be various exclusive benefits too.... I will sit down with Phil Gilchrist in December and discuss player contracts for next year', he added. 'It's not a coincidence that we currently have no contracted players for next season. The general environment has changed. Any player who thinks they will be able to leave Woking and just walk into another contract at another club is mistaken... So the players are playing to impress Phil, and for their future careers. We will also listen to offers for players in January. We have to be realistic. This is the real world where cash is king. No player is bigger than the club or sacrosanct, whoever they are. Phil has a clean sheet for next season and I believe he will be able to bring in players of the same quality for 75% of the amount we are currently paying'.

Aughterson also warned fans that signing players will only be achieved through shipping others out... 'It remains our number one priority to provide Phil with a competitive budget in order to achieve the club's ambitions, which remain as achieving promotion to the Football League. I'm comforted by the fact that... those looking after the finances at many other Conference clubs are probably worse off than us'".

The Northants Evening Telegraph tells us that "Rushden & Diamonds chairman Keith Cousins insists the decision to put eight players on the transfer list was not motivated by money. Club captain Andy Burgess and first-team skipper Curtis Woodhouse remain open to offers along with strikers Lee Phillips, Leon Knight and Lee Tomlin while Phil Gulliver, Sagi Burton and Dean McDoanld have already left Nene Park. However Cousins says the squad shake-up was purely a performance-related move rather than a bid to ease financial concerns. He admitted: 'We've tried to freshen it up by replacing some squad members with younger players, initially on loan... Our strategy is all about getting those under-performing names off the wage bill'".

Dorchester Town "owner Eddie Mitchell wants to take over Weymouth – and base them at the Jewson Stadium... With the Terras losing, reportedly, £30,000 a month, chairman Malcolm Curtis is inviting offers... Mitchell said: 'I would love to take control and bring them to our place. That is what I have said from day one. I am prepared to make a move for it if there is one to be taken... There is no reason why both clubs should not play at our place. I would like to think they would not get a new owner – I would like to think I would be the new owner", reports the The Western Gazette. "'I think in the future we will be accustomed to clubs as near as ourselves and Weymouth, who are in touching distance of the Football League, amalgamating. I know I have been in football for only 18 months but it does not take me long to weigh up what needs to be done. That will happen and I hope it happens in my time so I can orchestrate it. With us and Weymouth being so close, past rivalries do not matter because it is about survival – especially in this market. The real investment that comes into a club is through people who come through the turnstiles. We need 1,000 through the turnstiles – and if you add Weymouth and us on a good day there would be 1,500'. Curtis said: 'I have not had any dealings with Eddie Mitchell... I know what he is doing at Dorchester and I know what his plans are. I will speak with anyone who is interested (in Weymouth)'".

Meanwhile "Crawley today pulled out of a deal to sign Stuart Beavon from rivals Weymouth. Reds tabled a five-figure bid for the striker but pulled out when a deal could not be concluded this morning. Boss Steve Evans said: '(Weymouth manager) John Hollins kept his word when we brought in Malky Michael on loan last week but my understanding is that John is on gardening leave and that has made it difficult to get any clarity on things... They... couldn't give us an answer in a week so the offer has been withdrawn'".

From NL Daily we learn that "Midfielder Nathan Woolfe has joined Wrexham for one month after manager Dean Saunders completed his signing from Bolton Wanderers. The 20-year-old Mancunian will join the Dragons' squad for their game at Weymouth on Saturday. Saunders said: 'The lad is coming here because he believes a run of senior games with us will give him a better chance of breaking into Bolton's first team... He can play on either side of midfield'".

The England 'C' team "secured their place in the final of the International Challenge Trophy on Wednesday, by picking up a 2-2 draw with Italy in Benevento... They will now face Belgium in February 2009 in the final". Josh Simpson and James Constable scored. England: Bartlett (Kidderminster Harriers), Gleeson (Cambridge United), Tremarco (Wrexham), Smith (Ebbsfleet United), Simpson (Histon), Geohaghan (Kettering Town), Penn (Kidderminster Harriers), D'Laryea (Mansfield Town), Constable (Oxford United), Cole (Stevenage Borough) Pitman (Crawley Town). Substitutes: Bostwick (Stevenage Borough), Cronin (Ebbsfleet United), Harrad (Burton Albion), Robinson (Weymouth), Wright (Tamworth)".

Blue Square Football adds that "Adam Bartlett, goalkeeper with Kidderminster, made his debut for the England 'C' side, whilst Stefan Moore has signed a new one-month deal with the club. Moore agreed to extend his stay for an additional month. The player has been a free agent since leaving Walsall".

"Ebbsfleet have bolstered their midfield options by snapping up midfielder Karl Murray on loan from Bromley. The 26-year-old... joins Liam Daish's charges on a short-term deal... Murray has enjoyed spells with the likes of Shrewsbury, Woking and Grays Athletic" states Blue Square Football.

The Salisbury Journal claims that "Salisbury City midfielder Liam Feeney may be the next player to leave the club due to its current financial crisis. Manager Nick Holmes, who made strikers Robbie Matthews, Matt Tubbs and Andy Sandell available for loan moves earlier this week in a bid to reduce the club's wage bill, confirmed that Feeney has had talks with Dagenham & Redbridge concerning a loan deal and a possible permanent move to the Daggers when January's transfer window opens. Holmes told Journal Sport that the club would be seeking a fee for the popular player they signed in June 2007 from Hayes... Robbie Matthews has joined Havant & Waterlooville on loan while fellow strikers Andy Sandell and Matt Tubbs (already suspended for Saturday's game) are understood to have attracted the attentions of Football League and Blue Square Premier clubs".
---
13 November 2008
JOHN HOLLINS SUSPENDED
Weymouth report that "Following internal discussions, Weymouth Football Club confirms that it has commenced an investigation to establish whether there has been a breach of contract by a member of the management team. As a result, Manager John Hollins has been suspended from his duties with immediate effect. In order to ensure that the matter is dealt with fairly and without prejudice it is not possible for the Club to disclose any further detail at this stage. It is anticipated that the process will be complete within the next 28 days, following which a further statement will be made. Assistant Manager Alan Lewer will assume the role of managing the first team until further notice".

This is the second managerial suspension in the BSP in recent weeks following the suspension of Dino Maamria at Northwich.
FGR INJURY PROBLEMS
Alty travel to Forest Green this Saturday where This is Glos tells us that "FA Cup hero Kaid Mohamed has set his sights on scoring 20 times for Forest Green this season... The former Swindon Town man has made a habit of netting vital late goals... Currently on six for the season – one behind top scorer Andy Mangan – the 24-year-old is happy to go public on his target for the campaign, even though he has played most of his football for Rovers as a right winger. 'I'm enjoying my football at the moment, playing regularly and scoring winning goals', he said. 'I enjoy playing on the wing, but obviously if the gaffer (Jim Harvey) wants me to go up front I'll do that. As long as I'm on the park I'm not bothered where I play'.

The euphoria of Cup success has been tempered this week with the news that Forest Green captain John Hardiker faces another lengthy spell on the sidelines with a new knee injury... Medial ligament damage has now been confirmed, a different problem to that which has caused him to miss nearly two months of football already this season. To compound Harvey's frustration, midfielder Lee Fowler is certain to miss this weekend's fixture at home to Altrincham with an ankle injury... Harvey said: 'We seem to have been cursed with injuries since the end of August and there is no sign of it improving at the moment... Both John and Lee will be out for a while... They are key players who make a massive difference to the team'"
JACK'S BOOK
A regular face at Altrincham matches in the past few years has been the former Manchester United goalkeeper and trainer Jack Crompton. Jack kept goal for the Reds in the 1948 FA Cup Final. Altrincham chairman Geoff Goodwin Geoff has invited Jack & his wife, Sheila, to the FA Cup replay on Tuesday night (18th) against Luton Town. Jack will be available in the club shop from 6.30 till 7.15pm to oblige anyone who wants a copy of his book personally signed - it could make an ideal Christmas present for someone!! Jack was also once a coach at Luton so the occasion is a fitting one.

One review describes the book as follows; "If you want a real football story, a real life story of a true Manchester man, and if you want a change from the 'story so far' of a twenty-something millionaire footballer, the tale of Jack Crompton has the lot. as Sir Alex Ferguson says in the foreword, 'Jack's story is a refreshing departure from the endless modern and unremarkable football autobiographies which hit the bookshops these days. His recollections are taken from a veritable treasure trove of memories and make truly fascinating reading'.

Copies of the book will be available in the shop on Tuesday at a discounted price of just £12. It is called From Goal-Line to Touchline: My Career with Manchester United.
TOO YOUNG TO FACE ALTY
Harking back to last Saturday, Luton Today says that "Hatters' manager Mick Harford was left one player short when naming his squad for Saturday's FA Cup first round match against Altrincham. The competition allows a side to have seven substitutes on the bench but injury-hit Luton were only able to name six after they were informed that U16 striker Jean-Philip Yamfam was too young to play. Yamfam, 15, was originally in Harford's 18, but FA rules state that a player has to have turned 16 in order to appear in the competition".
CELTIC REPORT
A match report on Alty's win at Stalybridge Celtic in the quarter-final is here.

Stalybridge Celtic report that against Altrincham on Tuesday "Celtic gave away two early goals, and despite playing some excellent football were unable to take advantage of any mistakes made by the Altrincham back line, with the visitors riding their luck on more than one occasion... It was a very good performance from Celtic, and against a less stern defence would have seen a hatful of goals".
OLD BOY
"Bradford Park Avenue rescued a point with a late goal at Silverlands against Buxton...Buxton paid for not making the most of further chances as Avenue substitutes Stuart Rudd and Ged Murphy made a difference. It was Murphy who levelled when he drilled in a low shot from 30 yards in the 82nd minute".
BSP NEWS
"Keith Cousins has called on Rushden & Diamonds fans to keep the club away from another financial crisis" reports the Northants Evening Telegraph. "The chairman dismissed ongoing speculation that they are in danger of administration – but admitted things could change unless average attendances go above 1,500 before the end of this season. Cousins revealed the breakeven figure in his budget after just 1,002 supporters saw Saturday's 1-0 home win over Weymouth – the lowest league crowd at Nene Park since May 1995. He said: 'Last year's budget was based around crowds of 2,000 so it seemed prudent to set the figure at 1,500 this time. Unfortunately we have fallen well below that. If the fan base continues to fall with only 1,000 coming through the gates then we will have to review our financial structure. Has there been any talk of administration at this stage? Absolutely not!... I don't blame the fans at all. Indeed I share their frustrations that the team has underachieved... I've pumped huge amounts of money into this club – even more so this season – and we haven't seen any rewards yet. We felt it was the right time to bring forward the Weymouth game from the congestion around Christmas and the New Year. Otherwise we would have have also gone four weeks without a home game and, of course, that affects the club's income. It's very worrying. This is going to have a considerable impact on resources if attendances don't improve. The club has to be self-sufficient... Every week in the current climate we are all losing money... Supporters and staff must stick together'.

And another tale of woe comes from the Northwich Guardian, which says that "Vics' owner Jim Rushe reckons he has found a backer to fund his bid to buy back the club's home ground. He told supporters last night that, should a deal follow, he may no longer be in sole charge of the town's biggest team. 'I've been talking to a group of people', he revealed. 'And they have enough money – it's a consortium who want to buy the football club too'. Rushe would remain at the helm, saying the key to any deal would be a continued role for him in Vics' short-term future. However the new owners would take shares in Northwich Victoria Football Club (2004) Limited for free. At the moment Rushe is the only stakeholder. 'It's very expensive to run Northwich Victoria', he added. 'To move to the next level we have to have affluent people who can write cheques themselves or are in a position to borrow large amounts of money. At the moment this club has a poor reputation for managing its finances and so can't lend [?borrow] under any circumstances'... The company that currently owns and runs the Marston's Arena, Beaconet Limited, had its main asset seized by receivers from global finance services firm Deloitte & Touche at the end of last month. They will now sell off the nine-acre site to pay off debts totalling more than £1m. Rushe had agreed a deal with Mike Connett, Vics' landlord and former chairman, to buy the land for £3.2m over the summer but was unable to find the money. He hopes to shake hands soon on a deal worth substantially less. 'I'm in negotiations with Deloitte', he said... Connett paid £225,000 for the land in December 2004. Since then he has borrowed money from three lenders using the land as surety... One of those borrowers, Clydesdale Bank, has asked Deloitte experts to recover the cash it is owed under the terms of the Law of Property Act (1925). That debt alone is £1.25m. Connett, who last year sold Northwich Victoria Football Club (2004) Limited to Rushe when the club owed more than £350,000 to HM Revenue and Customs, has no say on what happens next".

The Guardian adds that "Northwich Victoria supporters were due to meet, on Tuesday, to discuss how they could raise some of the cash to reclaim the Marston's Arena. 'It would be fantastic to have their support', said the club's owner Jim Rushe. 'We are talking about a considerable sum of money – the land won't come cheap – but I'm happy to look at ways we can work together to make this happen'... Should they wish the receivers can restore mains-supplied electricity to the ground, which is currently powered by two stand-alone generators. Their failure caused a crucial FA Cup tie to be abandoned at half time last month... A 25-year lease agreed with Mr Connett at the turn of the year will ensure Vics will not be left homeless... Anybody who buys the stadium must honour the agreement".

On the pitch, "Wing man Peter Winn will play for Northwich Victoria until the New Year. The Scunthorpe United midfielder has agreed to extend his loan stay after impressing in his first four weeks at the Marston's Arena. 'We're pleased to have him here', said Vics' boss Steve King. 'I think Peter is a talented boy and he can bring a lot to our team'. Teenager Winn, a second year professional for the Iron, made four substitute appearances in the Championship last season after impressing in the reserves at Glanford Park. He has so far starred five times for Northwich in league and cup but has yet to score his first goal".

The latest Setanta televised fixtures are listed below. These are until 31 December and all are 7.45pm kick-offs except on Boxing Day, which is at 3pm.
20 Nov: Crawley T. v Ebbsfleet U.
4 Dec: Mansfield |T. v Oxford U.
11 Dec: Kettering T. v Crawley T.
18 Dec: Altrincham v Burton A. (subject to FAT replays)
26 Dec: Burton A. v York"

The Football Conference says that Tuesday's "Setanta Shield 3rd Round fixture between Grays Athletic and Chelmsford City was postponed due to floodlight failure. The fixture will now be played on Tuesday 25th November with a 7:45pm kick off".

According to NL Daily "Havant & Waterlooville have signed striker Robbie Matthews on loan from Salisbury City. Salisbury-born, Matthews returned to the Old Sarum club in 2004 from Eastleigh, having previously risen through the Whites' ranks... He was invited to turn professional at the start of the 2007/8 season and, aged just 25, still has a bright future at a club, for whom he has notched almost a goal every other game". The loan is for a month.

"Keith Webb, manager of King's Lynn, is stepping up his efforts to extend defender Luke Graham's loan stint at The Walks. The versatile Kettering Town defender's initial spell ends after Saturday's trip to Southport".

NL Daily also says that "Mansfield Town have taken 22-year-old goalkeeper Chris Howarth from Carlisle United on a week-long trial".

Meanwhile, the BBC adds that "Salisbury City manager Nick Holmes has warned that more players could leave as the club struggles financially. City have made Andy Sandell, Matt Tubbs and Robbie Matthews available for loan and Holmes is worried more could follow soon as they try to cut the wage bill. 'There's still certain other measures that will have to be taken. This is the start of what is happening', he told BBC Radio Wiltshire. 'If we carry on the way we're going we'll be in serious problems... We have to cut the wage bill, that was the unfortunate decision. The three that have gone on the list are big earners. It's not a thing that I certainly would have wanted to do. I don't want to get rid of my top players'. Sandell is seen as Salisbury's prize asset at the moment, with Blue Square Premier rivals and also League Two outfits interested in him. His departure would be a major blow to Salisbury... The manager said 'They're footballers at the end of the day so they get paid to play football wherever they are. A footballer's life is short and they have to get what they can'".

The Cambridge News announced that "Louis Fazakerley is on the verge of joining Histon and could make his debut in Saturday's crunch clash against Kettering. The Welling winger will train with the Stutes this week and is set to sign on non-contract terms... Former Fulham trainee Fazakerley caught Steve Fallon's eye in a Bishop's Stortford shirt when the Histon manager was scouting Jack Midson last season". However, Kent Online claims that "Welling forward Loui Fazakerley has put pen to paper with the club after turning down a move to the Blue Square Premier. Fazakerley joined the Wings two weeks ago from Bromley and was immediately the subject of a seven-day approach from Histon. But the diminutive attacker has decided to commit his future to Park View Road and signed a deal... Wings' assistant boss Jimmy Dack said, 'He would have no problem stepping up to Blue Square Premier but he can go beyond that. If he goes to the wrong team then you won't see the best of him but we're delighted he is staying with us'".

Yetserday the Crawley Observer reported that "manager Steve Evans will finally find out today (Wednesday) if he has had a five-figure sum accepted for a Conference striker. Town made the bid last week courtesy of director Phil Jarman who stumped up the cash out of his own pocket".

"A wealthy Sussex businessman is set to meet with Lewes FC bosses to discuss taking over the club, the Sussex Express understands. A club source confirmed that the un-named individual will meet with senior club officials towards the end of the week. It is understood that the businessman, who is out of the country at the moment, is not part of any group or consortium". And the Sussex club could be barking up the wrong tree as "A a club spokesman has revealed that the club has received 36 emails protesting at tonight's fundraising 'dog night' at Hove Greyhound Stadium. The writers of the emails are protesting at the club's involement in a sport they believe practices cruelty to animals".

From This is Nottingham says that "Mansfield Town chairman Andy Perry would love nothing more than to bring Field Mill back up to scratch. And he has not ruled out the possibility of the club once again owning the stadium they currently lease from former owner Keith Haslam. A revamp of the Bishop Street stand – to make Field Mill a four-sided ground – is well within Mansfield's scope, believes Perry. He said: 'Making it a four-sided ground is very much a long-term goal. It would give the ground a better feel for everyone who comes to games... It is not quite as dilapidated as we were led to believe and it is not a case of knocking the whole thing down and starting again because the structure is quite sound... We could have a standing area there, which would be allowed with the amount of seats we have in the other areas of the ground. An alternative is to have it as a seating area or a corporate area, which would free up some space over in the West Stand which is full in the week for meetings and conferences. "We would also like to put the television cameras on that side looking towards the west stand. That way when people see pictures of the ground they are seeing it for the better rather than boards'.

Perry added the club are looking at all possibilities regarding their future home but insists buying out Keith Haslam and staying could happen... 'We have the option to purchase the ground, which would be beneficial, but if we do that we have to make sure it is for the right reasons and cost effective... We will be discussing it with Keith Haslam'. Mansfield are one of only a handful of clubs averaging over 2,000 for home games as fans have stayed away during the onset of economic downturn. Perry said, 'We are doing everything we can to keep the crowds coming back and we have our 'double bubble' offer for the Altrincham and Salisbury home games coming up... We have sold 1,200 season tickets and for others who pay on the day we have taken on board the fact they think the prices are a bit hefty'... Perry revealed 'The budget is there and still not been fully spent. It is not that Billy doesn't want to, but that in the current climate he can only bring in loan players... We said we would make money available in January if we were going well and if there is someone who will benefit the club long-term and Billy wants to bring in on an 18-month contract. We said we would back the manager if we were up there but we will also back him up if he needs a player to make sure we keep stability at the club... The FA Cup has been very important from a monetary point of view'".

Meanwhile, "Emile Sinclair will not be playing his last game for Mansfield against Salisbury City on Saturday if boss Billy McEwan has his way. The winger/striker's one-month loan from Nottingham Forest is due to run out after the game against the Whites. But McEwan is hopeful he can persuade Reds boss Colin Calderwood to let him keep the 20-year-old".

The Woking News & Mail we learn that "Phil Gilchrist insists he has an open mind about his players' futures ahead of contract negotiation talks in the new few weeks — by which time he will have been told what his budget is for next season. The Cards' boss must wait until the club knows what the take-up is on the new shares scheme before making decisions on players... 'The players have to show me they are worth a contract next season', he said".
---
12 November 2008
MANSFIELD
Alty's game at Mansfield Town, due to have been played on Tuesday, 18th November, has been postponed because of our FA Cup replay against Luton Town that evening. The Mansfield game will now be on Tuesday, 13th January 2009.
CSC DRAW
Altrincham have drawn a home semi-final tie against Witton Albion on Tuesday, January 20th in the Cheshire Senior Cup.

A match report on Alty's win at Stalybridge Celtic in the quarter-final is here.
FGR COACH
Come along and help Altrincham try to get some points at Forest Green Rovers this Saturday. A supporters' coach is running and details are on the Away Travel page. Ring the club on 928-1045 to book your seat for this vital BSP match.
ALTY REACH SEMIS
Two early goals secured Altrincham's place in the Cheshire Senior Cup semi-finals at a wind-swept and rain-lashed Bower Fold on Tuesday night. Alty had the benefit of playing down the slope with the gusty wind behind them in the first half and they made the most of it in the opening 15 minutes. The first goal arrived in the fifth minute when Meechan's close-range volley from Elam's cross from the right was beaten out but Warren Peyton played the ball back in from the left for Johnson to score. Anthony Danylyk made it 2-0 on the quarter-hour when Alty did well again on the right. Johnson and Peyton combined to lay the ball off for the midfielder and Danylyk drove it low into the net, just inside Phillips's right-hand post. Stalybridge showed plenty of effort but a combination of indifferent forward play and a solid display at the back from Altrincham kept them at bay. In particular, debutant defender James Smith had a fine game alongside Luke Waterfall in an Alty side showing six changes in the starting line-up from the eleven who started last Saturday. It was also good to see Val Owen complete 70 minutes on his return to the side. Report to follow.

ALTRINCHAM (Red & white striped shirts, white shorts, red socks): 13. Andy RALPH; 17. Luke WATERFALL, 22. James SMITH, 2. Chris LANE, 7. Robbie LAWTON, 8. Val OWEN, 16. Anthony DANYLYK, 11. Warren PEYTON; 15. Alex MEECHAN, 14. Dale JOHNSON, 18. Lee ELAM. Subs: 4. Mark McGREGOR, 5. Greg YOUNG, 3. Matt DOUGHTY, 9. Colin LITTLE, 19. Chris SENIOR.
Alty Player Statistics
BSP NEWS
The BBC says that "Salisbury City have made three players available for loan in a bid to ease their current financial problems. The club will allow strikers Andy Sandell, Matt Tubbs and Robbie Matthews to leave on temporary transfers. It is hoped they will be signed before the weekend game in order for the Whites' wage bill to be reduced. Sandell has been one of the team's best players this Blue Square Premier season while Tubbs has scored more than 100 goals in his Salisbury career.

In September, the club launched a fund raising drive to raise £100,000 to help them compete in the top level of English non-league football but failed to reach half of that target. Chairman Neville Beal recently reassured supporters that the club was not about to enter administration... All three are full-time squad members, and could be loaned out before Salisbury travel to Mansfield on Saturday".
LUTON REPLAY
THere will be a different referee from last Saturday for the Alty v Luton replay. The man in charge will be Mr C. W. Oliver who recently reffed the Championship game between Sheffield United and Southampton.

Meanwhile, Luton Today reports that "Rejuvenated defender George Beavan says he was just pleased to be in the hat for the next round after the Hatters' goalless home draw against Altrincham... Town were left frustrated against the non-league part-timers but Beavan admitted it would always be difficult task to break down a side intent on defending for their lives. He said: 'We were saying in the dressing room afterwards that teams come here and know we're a good passing team, know we're going to come forward and they just sit and put 11 men behind the ball and it's hard for us to break down... I went to Salisbury and got some match fitness and I feel a lot fitter and sharper... It was the decision of both the club and myself to come back. I just wanted to come back and fight for my place at Luton'... Luton... dominated possession but were lacking in the final third and Altrincham to their credit, could have been in front at half-time. The home side got a real let off on 22 minutes when Keith Keane's poor back pass almost gifted Chris Senior the opener, while centre-half Greg Young then blazed a glorious opportunity over the bar from the edge of the box shortly afterwards.

The home side's only real effort on target during the entire match came in first half stoppage time but Chris Martin's header from Claude Gnakpa's right-wing cross failed to really trouble goalkeeper Andy Ralph... With eight minutes remaining, Keane had to produce a fierce last-ditch tackle to prevent substitute Lee Elam from getting a clear run on Conrad Logan's goal".
BSP NEWS
Our next league opponents Forest Green Rovers have issued a statement saying that they are "pleased to announce that anyone interested in investing in shares or wishing to discuss the details of any investment with the Directors is invited to come along this Saturday, (15th November) prior to the fixture against Altrincham... The club can confirm that the final documentation in relation to the change of the club's constitution from being a Limited Company by Guarantee of Members to a Limited Company with shareholders is now almost complete. With the minimum share purchase now set at £250, the club is seeking, in the first tranche of shares to be issued, to raise an initial £80,000 which the current Board of Directors state they will match".

Histon "are pleased to announce that their FA Cup 2nd Round fixture against Leeds United or Northampton Town will be broadcast live on ITV on Sunday 30th November - kick off is 12.15pm".

"Crawley Town's live television fixture with Ebbsfleet United scheduled for this coming Monday evening has been put back to Thursday of next week. As a result of the above date change, the match away at York City scheduled for Saturday 22nd November 2008 has been put back 24 hours to Sunday 23rd November 2008".
---
11 November 2008
LUTON GAME
It has been confirmed that next Tuesday's FA Cup 1st Round replay with Luton Town will not be all-ticket; admission will be by payment at the turnstiles on the match day.
WARREN'S DOUBLE LIFE
The Manchester Evening News says that on Saturday at Luton "Altrincham hero Warren Peyton (left) dashed off to work as a bricklayer at full-time after helping lay the foundations for another FA Cup upset. The battling midfielder was the keystone in a solid performance, which gives the Robins something to build on when they try to finish the job back at Moss Lane. But boss Graham Heathcote joked: 'Clearly the bonus from Saturday was not enough and he's got to go away and earn a few more bob'. While the Kenilworth Road Hatters may be bottom of the Football League, Heathcote was in no doubt that the hard-fought goalless draw was a creditable result for his side but insists that Luton will still be favourites to progress.

'The FA Cup is first and foremost about being in the hat for the next round', he added. 'Our history tells us not to get carried away. We've not done the job, we've done half a job but we've done a good job. I know they've had injury problems of their own but when you've got an 18-man squad and injuries on top of that then it's not going to be easy. It's an exciting cup tie. They have a great Cup pedigree and we've got a great history in terms of overcoming league sides. We're halfway there in terms of giving a good performance today. But Luton have got a far better away record than we have and I'm fully aware of that. Nothing will be taken for granted but we know what we've got to do. Anybody in the FA Cup would take a draw away from home. If you can't do the job on your own pitch you can't really argue if you go out of the competition. It would be a shame if we came here, put in a good performance and weren't able to finish the job at home. But it's lovely for our, I call them new supporters because we're gathering more all the time, and our young players."
Altrincham could even count themselves unlucky after creating the best chances. Veteran striker Colin Little almost grabbed a winner in the second half but Luton keeper Conrad Logan's despairing leg got the ball as the Robins top scorer tried to go around him. And minutes later, Little's back-heel put in strike partner Christopher Senior, who finished neatly, only to be brought back for a close offside flag.
But midfielder Anthony Danylyk (right) was delighted with the draw and reckons Altrincham have a good chance of an upset in what could be another famous night in the Robins' remarkable cup history a week tomorrow. 'We're very happy. I'd have definitely taken a draw before the game', he said. 'It keeps us in the hat for the next round and then we can get them back to our place and give them a good game. I'm not so sure this was a missed opportunity. In the first half they were the better team but not in the second - we could have sneaked a couple of goals'".
CHRIS'S BAN
The FA says that "Altrincham FC's Christopher Lane (left) [is] suspended from all football until the Club have completed one first team match for 5 cautions". So, Chris misses the game at Forest Green this Saturday.
FGR ON SATURDAY
Altrincham travel to Nailsworth next Saturday where Blue Square Football asserts that "Forest Green Rovers' manager Jim Harvey was delighted with his side's win at Team Bath, which ensured a safe passage to the next round of the FA Cup. He did, however, admit that he would have been happy to settle for a replay before a late winner by Kaid Mohamed sealed the Scholars' fate. Harvey's men can now look forward to a lucrative tie with either Rochdale or Barnet... 'I'm delighted to get out of the way. It was about determination and guts', Harvey told BBC Gloucestershire... Rovers will be looking to emulate their FA Cup success in the Blue Square Premier when they host Altrincham on Saturday. Rovers have been slow out of the starting blocks this season and are currently languishing near the foot of the league table.

This is Glos adds that "Forest Green manager Jim Harvey admitted he was relieved to be in the second round of the FA Cup after his side sank luckless Team Bath... Said Harvey 'We'll pick up £20,000 now, which is certainly welcome, and it's nice to have been handed a decent home draw'. The win was marred by injuries to Lee Fowler and John Hardiker, the latter's so serious that he was taken to hospital after being helped off the pitch in the 59th minute. Club captain Hardiker was playing only his third match since a six-week lay-off with knee ligament damage, and it is feared he may have suffered a recurrence'... Mohamed had been the Rovers hero earlier in the week with the extra-time winner against Oxford United in the Setanta Shield. Harvey added: 'Kaid is developing a nice habit of scoring late goals'". The speedy Mohamed played against Alty for Torquay last season.

The referee on Saturday at Forest Green is Mr S. Burt who oversaw the Woking v Alty game on the opening day of the season.
LUTON REPLAY
"Altrincham boss Graham Heathcote has urged his players to make history after their FA Cup draw at Luton" says the BBC... Heathcote told BBC Radio Manchester: 'When you're 50 and come to watch Alty play, you want people to remind you of what you achieved. Aren't you so-and-so who played in that FA Cup win in 2008? It's a lovely feeling coming back to that... If you go away in the FA Cup anywhere, whether they're a league club or not, it's all about being in the hat for the next round. It's a draw away from home so we're halfway there but we've still got to try to finish the job off so we've got a lot to do'".

The FA reports that "The first of two live FA Cup First Round Proper replays has been confirmed". They have chosen a clash between two League clubs, Tranmere Rovers v Accrington Stanley which "will be broadcast on Setanta Sports with The FA TV replay fee of £37,000 going to each club". So the non-League survivors will have to hope there is better news for "the remaining televised replay, and also news of the three Live Second Round proper ties, [which] will be released later this week". The Tranmere game will be on Thursday 13 November 2008, 7.45pm on Setanta Sports 1. At least Bournemouth reported later that their "FA Cup match against Blyth Spartans is to be shown live on Setanta".
FA CUP ROUND 1 REPLAY
Monday 10 November
AFC Wimbledon 1 Wycombe Wanderers 4
FA CUP ROUND 2 DRAW
Altrincham or Luton Town have been drawn away to AFC Telford or Southend United. Games are to be played on or about Saturday 29th November.

Full draw:
Chesterfield v Darlington/Droylsden
Peterborough U. v Accrington S./Tranmere R.
Eastwood T. v Wycombe W.
Notts C. v Kettering T.
Leicester C. v Hereford U./Dagenham & R.
Eastbourne B./Barrow v Brentford
Bradford C. v Leyton Orient
AFC Telford U./Southend U. v Luton T./ALTRINCHAM
Forest Green R. v Barnet/Rochdale
Histon v Leeds U./Northampton T.
Scunthorpe U. v Alfreton T.
Torquay U. v Oxford U./Dorchester T.
Leiston/Fleetwood T. v Brighton/Hartlepool U.
Morecambe v Cheltenham T./Oldham A.
Gillingham v Yeovil T./Stockport C.
Millwall v Aldershot T/ Rotherham U
Carlisle/Grays A. v Crewe A.
Bournemouth v Blyth Spartans
Kidderminster H. v Curzon Ashton
Port Vale v Macclesfield T.
HEAVY DEFEAT
Altrincham FC Youth team suffered their heaviest defeat in many a year when they went down 10-0 at Nantwich Town last Sunday.
BSP NEWS
The Northants Evening Telegraph says that "Lincoln City manager Peter Jackson has confirmed that he has made an official complaint to the match referee with allegations that his players and assistant Iffy Onuora were subjected to racial abuse at Kettering Town on Saturday. The Imps' boss met with referee Simon Hooper after the 1-1 draw in the first round of the FA Cup at the A-Line Arena and immediately reported the unsavoury incident, which occurred just before the Poppies took the lead after 85 minutes. Jackson said: 'How could a fellow stood 10 yards behind me call my players monkeys and make monkey gestures? If I'd have said the same I'd have been arrested by the police. But what happens? He's still in the stadium. They haven't got his name or address. Nothing. How is that possible? I made my thoughts clear to the referee after the game and he confirmed that he would be including it in his report to the Football Association. I just hope something is done about it because it was totally unacceptable and has left a very sour taste in the mouth. What's worse is that the stewards did absolutely nothing about it at the time and waited until after the game to discuss it. It's Monday morning now and we should be talking about how my players kept going under difficult circumstances and earned a vital replay with the chance of a local derby at Notts County in the next round. But we're not thanks to this one idiot who ruined my weekend'. Poppies' chairman Imraan Ladak said after the game that he would be talking with the club's stewards and insisted he would take the appropriate action if the allegations were found to be true".

The FA reports that "England C Manager Paul Fairclough has been forced to make two changes to the England C squad travelling to Italy on Sunday evening for their crucial International Challenge Trophy Group A decider with Italy C. Firstly, Crawley Town's Jake Wright failed to recover from an earlier injury and was replaced by Anton Robinson from Weymouth, who did not disappoint on his debut in Sarajevo in September. This was followed by the withdrawal of Ebbsfleet United striker Luke Moore who has failed to recover from a gashed leg. Moore... had earlier replaced Greg Pearson from Burton who has educational commitments. England were then hit by the news that Antonio Murray was injured in Histon's game with Swindon Town in The FA Cup, so he has been replaced by Jonathan D'Laryea of Mansfield Town... Fairclough said: 'The forthcoming fixture against Italy is arguably the single most important fixture that this team has had to play'... Fairclough added that: 'The squad selected has experienced campaigners at this level. It is complemented by a number of new, hungry and exciting players'".

The Daily Post says that "Wrexham's unsuccessful battle to preserve their Football League status earlier this year cost the club more than £400,000, according to owner Geoff Moss. The money, over and above the playing budget originally approved at the start of last season, was spent after Brian Little's appointment 12 months ago when he brought in nine new players in a bid to stave off relegation. The figure has been revealed in a statement issued by the club to update supporters... The statement... says: 'We have and will continue to endeavour to make funds available to the manager for players as is possible. We would like to point out that the club authorised over £400,000 of expenditure on players in excess of the original budget during the season, 2007-08. This unsuccessful attempt to avoid relegation meant that the 2008-09 budget had to be reduced as a result of the reduction in Football League funding available to the club... So we would appreciate the continued support of fans. Finances will also be dependent on the levels of commercial income and fundraising we are able to achieve. We trust that the supporters will agree with our optimism regarding the appointment of Dean Saunders as manager'... Reaffirming the intention to develop surplus land around the Racecourse, the statement continues: 'The development depends on two factors – a successful planning application and the support of a developer to fulfil the scheme... We believe that both of these factors... are now close to fruition'... The club plans to build a student village on part of the Yale Stand car park and to work with the local council and the Welsh Assembly on the provision of a new all-seated stand at the town end of the stadium. The profit from the development would be used to pay off the club's debts".

The statement added: "We have in place numerous plans to improve the club". Meanwhile, "former Cameroon international Patrick Suffo has agreed a 'pay as you play' deal with Wrexham manager Dean Saunders and has not ruled out a more permanent stay... The 30-year-old, striker, who has been training with the Dragons for a month... said 'I'm very happy to sign on in the short term, then see how things develop, 'There are times when it's about more than the money and I hope I can establish myself with Wrexham'... Saunders is hoping to bring in another striker shortly, in the coming days to further strengthen his squad, but it could be Christmas before the Dragons have a full complement. Summer signing Kyle Critchell is at least a month away from a return to training following ankle surgery and fellow long term casualties Andy Fleming (ankle) and Simon Spender (dislocated elbow) are looking at a further six weeks of rehabilitation. But on loan Stoke City defender, Ritchie De Laet, who sustained a slight groin strain during last week's Setanta Shield win at Altrincham, is making a speedy recovery and should be back in training in the next couple of days".
---
10 November 2008
ALTY'S EXTRA MAN
| | |
| --- | --- |
| | Left: Altrincham's "twelfth man [and woman!]" on Saturday was the 359-strong contingent of supporters who made the trip to Luton. They provided great support, singing from start to finish. Here a section of them are seen by Gavin Rathbone's lens. More of Gavin's images are to be found on his GR Photography website. |
FIXTURE POSTER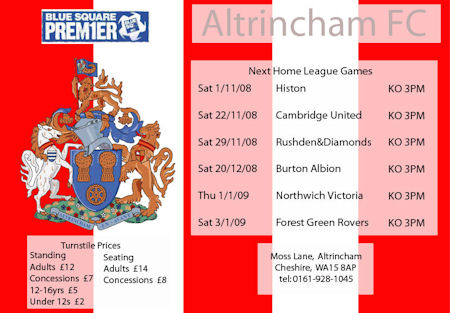 Chris Ainsworth of The Altrincham FC Supporters' Club (TASC) has produced an attractive colour poster/flyer for fans to print off and distribute to local companies, shops and other organizations. You can print off the poster here. A smaller version of it is shown, right.
STEWARDS NEEDED
Altrincham FC's Darren Gregory writes: "Matchday Stewards are required for Altrincham and MUFC reserve games. I am looking to recruit more stewards for the above games you must be over 17 years of age, physically fit and a good communicator. Full training will be given and all successful applicants will be expected to sign up for the NVQ 2 in Spectator Control run by Telford College. (All training sessions will be held at Moss Lane). For Altrincham matches stewarding is done on a voluntary basis, but for MUFC reserve matches you will be paid, after deductions for tax. I would like applicants to consider doing stewarding for both sets of games and not just come down for the money.

Hours for Altrincham matches:
Saturday matches 1 pm till 5.15pm; night matches 6pm till 10 pm

Hours for MUFC reserve matches due to the 7pm kick off:
5.30 -9.30pm or in the case of some cup matches, which could go to penalties, it would be a 10pm finish.

If interested please e-mail me or contact the club on 0161-928-1045 and leave your name and number and I will get back to you a.s.a.p.
OLD BOYS
Tom Cahill, a loanee from Rotherham Utd to Alty has had his loan at Ilkeston Town extended. James Olsen, released by Burscough last week has joined Gary Scott, Rod Thornley, Mark Drew and Lee Thompson as ex-Robins at Witton Albion.

Paul Ellender (Alfreton Town) and goalkeeper Dean Greygoose (Bury Town) met again on Saturday as their clubs met in the FA Cup, with the Midlanders winning 4-2. Neither of the ex-Alty team-mates got off the bench, however. In contrast, Ian Craney scored again for Huddersfield Town. Ex-Alty players on the move include Chris Downey, from Flixton to AFC Fylde, former Youth and reserve team player Paul Monaghan, to Abbey Hey, and the much travelled striker, Anthony Hargreaves, to Bacup Borough. Fromer Alty reserves' manager Neil Brown guided his team Abbey Hey, including numerous ex-Moss Laners to a 3-2 away win at Ashton Athletic in the Vodkat League Cup Second Round.

Striker Josh Mitten scored twice for Flixton on Saturday and Lee Thompson netted for Witton who lost again, 4-2 at Ossett Albion. In the FA Cup, Colin Potts played the first hour for Fleetwood Town, and Carlos Logan again started for Barrow. Matty Berkeley has joined Mossley, whilst ex-reserve Ashley Stott reorded a brace for FC Halifax Town in a 3-3 win against Woodley Sports. Playing for Woodley in that match, Levi Kennedy recorded an own goal and there was one at the right end for Gavin Salmon, a former Alty trialist.

Jake Sedgemore played for Solihull Borough whilst Karl Munroe was a sub for Hyde United. At Stalybridge, Steve Torpey played on Saturday. Former Alty Youth defender Rico Colulo has joined Salford City from Colwyn Bay.
AFTER DINNER, IT'S GRAHAM
Trafford FC announce that their "Next Sportsman's Dinner will be held on Friday 12th December at the Chef Peking in Urmston with guest speaker Graham Heathcote, manager of Conference side Altrincham FC, along with comedian Mark Strange & compere Roger Alderson." Tickets are £25.00 each and are available form Dave Law on 07772-287086.

On the field, Trafford's striker, Scott Barlow, leading scorer in the UniBond First North, is going on trial to Peterborough United.
BSP NEWS
The NL Paper reports that "Northwich will not be forced out of the Marston's Arena despite the collapse of the company that owns the ground. Beaconet Ltd, owned by former Vics' chairman Mike Connett went into receivership on October 30th. Its assets will be sold to pay off creditors. Under normal circumstances the stadium would be sold to the highest bidder, leaving the club homeless unless it could find enough money to buy it. But because of a lease signed between Connett and Vics' chairman Jim Rushe, last year, Vics are protected for 25 years. Northwich are named as "successor tenants", meaning anyone who buys the ground is obliged to let them remain. The upshot is that the site is effectively worthless to developers and that could see its value drop enough for Vics to buy back their home". In the interim Vics are paying rent to the receivers.

NL Daily says that "Fisher Athletic have added two goalkeepers to their squad [one of whom is] Ashlee Jones from Crawley Town".

The Football Conference tells us that "The Football Conference Sportsmanship Awards are now well underway. £15,000 is being made available to share between clubs who demonstrate improvements in the attitude of their players, officials and supporters". Altrincham are doing quite well in this.

"Wrexham manager Dean Saunders is set to open talks with Cameroon striker Patrick Suffo over a move to the club" according to Blue Square Football. "The 30-year-old former Coventry and Sheffield United player has been training with the club in recent weeks and could sign a short-term deal after impressing the Dragons' boss. Saunders told the Daily Post: 'I'm considering offering Patrick a short-term deal'".
FIXTURES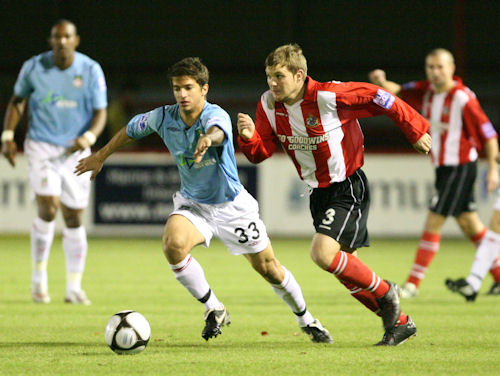 Right: Gavin Rathbone's camera captures Matt Doughty in action last Tuesday against Wrexham. More of Gavin's images are to be found on his GR Photography website.
---
9 November 2008
FA CUP ROUND 1 MATCHES
Sunday 9 November, 2pm
Team Bath 0 Forest Green R. 1
AFC Hornchurch 0 Peterborough U. 1
Havant & Waterlooville 1 Brentford 3
AFTER-MATCH COMMENTS
In the NL Paper, Graham Heathcote says "There's no way we can be favourites for the next game. They're a league team and we're part-timers. Warren Peyton had to shoot off [after the Luton game] to do a night shift! Our supporters were absolutely fantastic. They didn't stop singing and it really made a difference".

Luton Town reported that "Despite having the majority of the possession the Hatters were unable to score against Altrincham... The Hatters got off to a bright start... Greg Young almost put the Robins ahead on 26 minutes when a flick back from Colin Little on the touch line gave him enough space to power a shot towards goal but his effort flew over... Just eight minutes into the second half Little managed to burst through the Hatters defence, giving himself a clear run on goal, but Logan came off his line quickly to halt the attack... The Altrincham support had egg on their face in the 60th minute when they thought that a goal by Christopher Senior had put them in the lead, not realising that the linesman had flagged for offside... However neither team managed to break down the defence".

In Luton Today. we read an analysis of the game from the Luton boss with which few Alty supporters would agree. "Town manager Mick Harford wasn't too downbeat after his side were held to a goalless draw by the part-timers of Altrincham... He said: 'We were the best team by a mile. I thought it was a good performance today, we controlled the game from start to finish, had the majority of possession but in the last third, we weren't great and didn't create a lot. Defensively we looked solid, it's just in that final third where we need to discover that bit of craft as well as having the belief to open a team up. I asked the players to give me two things, one was keep a clean sheet which we did and the other was to be in the hat when the draw for the next round is made, which we are. We limited them to a few breakaways, corners and set pieces and we should have won the game comfortably. Their team was always going to come here and try to get bodies behind the ball like they did today, but we weren't able to break them down. I'm disappointed with the result but not the performance... We had three of four lads who played part of the game, like Kevin Nicholls, Kevin Watson, Garreth O'Connor and George Beavan, who haven't played a lot of football and are trying to get themselves back to fitness, so there are positives to take from it'".

Elsewhere Luton Today says, the "Hatters will have to do it the hard way after failing to break down Altrincham... Mick Harford's side must now win a replay after a frustrating afternoon... as they failed to produce a proper shot on target throughout the whole 90 minutes... The home side were perhaps guilty of trying to be too clever in and around the opposing box and Altrincham almost made them pay after they had a glorious chance to take the lead. Logan hesitated after rushing off his line and conceded the ball to Senior and, after laying the ball across to the unmarked Greg Young on the edge of the box, the Robins centre-back could only fire over the crossbar, with the net gaping at his mercy. Altrincham gained more confidence as the half wore on, without causing Luton too many problems at the back... Stubborn Altrincham continued to thwarted Luton's attacks and even proved they could throw men forward in attack on numerous occasions, with substitute Lee Elam making a couple of mazy runs into the final third, but they were just unable to fashion a real goalscoring chance".
LUTON TOWN 0 ALTRINCHAM 0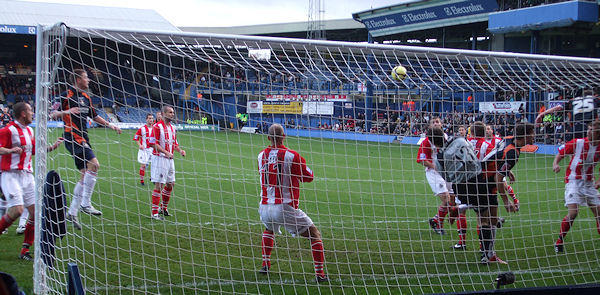 Above: Andy Ralph punches clear in the first half at Luton, as Warren Peyton guards the line.
It is Luton who were the more fortunate of the two sides to reach the Second Round draw of the FA Cup after Altrincham, who brought tremendous support, had the Hatters on the back foot for much of the second half. Indeed, Chris Senior had the ball in the net on the hour-mark, but it was ruled out for offside. Luton were also endebted to referee Graham for failing to see a clear foul on Johnson in the goalmouth, one of many such lapses from the officials. But both sides lacked a killer punch and so they will replay at Moss Lane on 18th November when Alty should have been at Mansfield in a BSP league match.
Match report here.
Alty Cup Line-Ups
---
9 November 2008
FA CUP 1 RESULTS
FA Cup Round 1 results are below; replays are on Tuesday 18th November unless rearranged for TV or on police advice.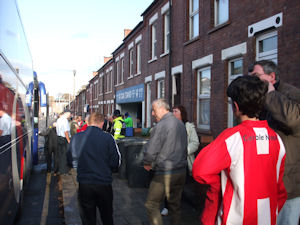 Right: The Alty supporters' coaches arrive at Luton Town; the away entrance is through the two "terraced houses" where the blue sign is.
Friday 7 November
Leeds U. 1 Northampton T. 1

Saturday 8 November
Blyth S 3 Shrewsbury T. 1
Colchester U. 0 Leyton O. 1
Sutton U. 0 Notts Co.1
Torquay U. 2 Evesham U. 0
Oxford U. 0 Dorchester T. 0
Bury 0 Gillingham 1
Chester C. 0 Millwall 3
Carlisle U. 1 Grays Athletic 1
Eastbourne B. 0 Barrow 0
Yeovil T. 1 Stockport County 1
Leiston 0 Fleetwood Town 0
Accrington S. 0 Tranmere Rovers 0
Walsall 1 Scunthorpe United 3
AFC Bournemouth 1 Bristol Rovers 0
Brighton & Hove A. 3 Hartlepool United 3
Aldershot T. 1 Rotherham United 1
Morecambe 2 Grimsby Town 1
Huddersfield T. 3 Port Vale 4
Alfreton T. 1 Bury Town 1
Kidderminster Harriers 1 Cambridge United 0
Leicester City 3 Stevenage B. 0
Milton Keynes Dons 1 Bradford C. 2y
Darlington 0 Droylsden 0
Chesterfield 3 Mansfield Town 1
AFC Telford United 2 Southend United 1
Curzon Ashton 3 Exeter City 2
Histon 1 Swindon Town 0
Kettering Town 1 Lincoln City 1
Barnet 1 Rochdale 1
Hereford United 0 Dagenham & Redbridge 0
Cheltenham Town 2 Oldham Athletic 2
Luton Town 0 ALTRINCHAM 0
Crewe Alexandra 1 Ebbsfleet United 0
Eastwood Town 2 Brackley Town 1
Harlow Town 0 Macclesfield Town 2
BEFORE THE LUTON GAME
The Manchester Evening News reports that "Graham Heathcote will tell his players to write the latest chapter in the club's remarkable FA Cup history before tomorrow's big clash... Heathcote was himself a member of the side which filled the Football League with trepidation in the 1970s and 80s, pulling off a memorable victory over Birmingham City at St Andrew's as well as holding First Division sides Tottenham and Everton... 'It's the greatest competition in the world. It's better than the World Cup or any other event for that matter', insists Heathcote, who scored a penalty for Altrincham in a 4-1 third round defeat to Liverpool at Anfield. 'I get annoyed when some of the big clubs come into it in later rounds and disrespect the FA Cup. If you can't respect it, don't enter it. Altrincham has a fantastic FA Cup tradition and, before the game, I will be saying to my players 'this is your chance to make your own history'. They can write their name into the annals of this club and be able to look back in the future and tell their children 'Your dad played in that game'. You never know with the FA Cup, you find players reach an extra level that they just can't reach week in, week out. They can sometimes really reach the heights in a one-off encounter. If we get 11 players at the top of their game - not just eight or nine - anything can happen'.

Luton are favourites to join Altrincham in the Blue Square Premier next season after having 30 points deducted at the start of the season for financial irregularities and going into administration. But... Heathcote says the Hatters will still start overwhelming favourites... 'I think the problems that they've had has pulled them together as a club', Heathcote said. 'They've also got a fantastic FA Cup pedigree - beating Liverpool not too long ago - and they have a tremendous level of support for where they are. Kenilworth Road is also a tight ground and generates a fantastic atmosphere. But that could be a bonus for us because we'll have a few hundred fans there hopefully making a lot of noise'.
Experienced defender Chris Lane who is a fitness doubt for tomorrow's clash. Altrincham are already without long-term absentee Kevin Street and goalkeeper Stuart Coburn (right), who was injured in Saturday's 1-0 defeat at home to Histon. Deputy Andy Ralph is set to continue in his place. 'We could have done without extra-time [on Tuesday] prior to the FA Cup' said Heathcote. 'It would have been better playing just 90 minutes and then penalties. I'll be speaking to the league about that as it doesn't help the smaller clubs in FA Cup week. But that's gone and we're fully focused on Luton. All we can do now is get the players properly prepared and see where it takes us'".
Colin Little was interviewed on Friday night on Channel M, whilst Graham Heathcote talked to Radio Manchester from the team-coach on the M1 en route to Luton. Graham repeated his great enjoyment of FA Cup ties and has told the players that it is their chance to "create their own bit of history". Also on the radio show was Alty Media and Press Officer Brian Flynn whose encyclopaedic knowledge of the game even enabled him to remind the Droylsden assistant manager of his own team's 1978 FA Cup exploits, which seemed to be news to him!
In SAM Graham Heathcote said, "We've got a massive test because we're suffering an injury crisis at the moment. It's become an enormous problem because we're a club that like to do right by our players so we're carrying them all on the wage bill. It puts extra importance on the finances available on Saturday. The result could have a massive bearing on our season and how we overcome this injury crisis. But it's going to be very tough going down there and getting a result. They are a team that might be pushing for promotion if it wasn't for the 30-point deduction... But we need to go down there without fear and approach the game with confidence. They have fantastic support and create a great atmosphere inside the ground so we need our fans to travel in numbers to give us the best chance possible. If we can get enough fans down there we'll create our own noise and give the team a real boost. It should be a fantastic cup tie". Graham added, "We've gone backwards in terms of results recently. We took our foot off the pedal in the game against Farsley a few weeks back and haven't quite recovered... We've just stepped down a little bit in terms of our ability to stop the other team playing. We need to remember the things that helped us win games and start doing the basics well".
The BBC reports that "Luton boss Mick Harford may make one change to the side that beat Walsall... Fit-again Garreth O'Connor could step in for teenager Jake Howells who picked up a knock to his thigh on Tuesday. Altrincham have concerns with Chris Lane (back), while keeper Andy Ralph may replace Stuart Coburn, who missed the Cardiff [Wrexham?] tie with a calf strain. Striker Colin Little will continue in attack after grabbing his club's 100th goal against Newcastle Blue Star.
THE HATTERS' PERSPECTIVE
Luton manager Mick Harford told BBC Three Counties Radio that Altrincham "have a great history in the cup. They have legends that have caused upsets in the past and they will be looking to come down to Luton and upset us. We know about them. It's the FA Cup and we have got to be on our guard. If we're complacent we'll get beat'".

Meanwhile, Luton Town announce that "There will be a one minute silence before Saturday's FA Cup clash with Altrincham in recognition of Remembrance Sunday and also to all those currently serving with the forces abroad".

From Luton Today we read that "Another one of Luton Town's promising U16 players looks set to be named on the bench for tomorrow's FA Cup match against Altrincham tomorrow. Jean-Phillipe Yamfam, 16, can operate as either a striker or out wide and impressed after coming on at half time during Hatters' FA Youth Cup defeat at Millwall on Monday night. Should he make an appearance from the bench, Yamfam would break the record as the youngest ever player to appear for the first team, which is currently held by team mate Jordan Patrick.

Captain Kevin Nicholls will be in the squad when Luton Town welcome Altrincham... Nicholls, 29, has missed the last dozen games with a hamstring problem but is back available for selection and is likely to be named among the substitutes. Also closing on a return to the squad is striker Drew Talbot, who has been out of action since suffering a serious knee injury back in March. Hatters will have to do without loan striker Tom Craddock who has been refused permission to play by his parent club Middlesbrough, while centre-back Ian Roper will be assessed before the match after getting a bang to the head during Tuesday night's 1-0 Johnstone's Paint Trophy win at Walsall.

Town manager Mick Harford admits he is delighted to finally have some experienced heads back involved with the squad after weeks of injury problems. He said: 'I think it showed the other night in Walsall. Kevin came along with us on the coach and, along with lads like Kevin Watson and Garreth O'Connor, not only did it boost the average age a little bit, but it gave us that bit of experience which has been missing in the dressing room over the past few weeks. The young lads have battled away, worked admirably hard and their attitude has been spot on. But they do miss that little bit of guidance from the experienced players'.

Harford also warned that non-league Altrincham must not be taking lightly, adding: 'They have got a great history in this competition, have caused major upsets in their past and will be looking to come down to Luton and upset us. They are a hard working team, we know about them but obviously it's the FA Cup and we've got to be on our guard, otherwise we'll get beat'.

Harford says his side's 'siege mentality' was a key factor in their victory at Walsall... He said: 'We weren't expected to win at Walsall, the only people who expected us to win up here were myself, the staff, the players, the directors and the fans. Everyone else thought we were coming up here to get beat, but there's a siege mentality amongst the players to go and prove people wrong... A couple of the more experience players in Garreth O'Connor and Kevin Watson were brought back into the squad and I think that helped the young lads along the way and they were able to go out and play without any real pressure'. The Hatters'
OLD BOY
Nantwich Town "were without regular centre-halves Darren Tinson and Charlie O'Loughlin on Tuesday. Tinson is expected to have recovered from food poisoning" to play at Matlock today states This is Staffs.
SATURDAY BSP GAMES
Northwich V. v Burton Albion
Rushden & D. v Weymouth
BSP NEWS
Surprising news comes from the Football Conference which confirms that "Dino Maamria has joined Blue Square North side Hyde United. The 34 year old was released from his contract as Northwich Victoria Manager in October 08".

Northwich Victoria reveal that "Young Charlton duo Scott Wagstaff and Rashid Yussuff joined on initial one-month loans on Friday. The loans will finish on Saturday, December 6th but can be extended if all parties agree. Winger Wagstaff has already spent time away from SE7 this season, enjoying a one-month loan with AFC Bournemouth where he made seven appearances. The Kent-based 18-year-old has played three times for Charlton's first-team, making his debut last season in a 3-0 defeat at Barnsley... He will be joined by Addicks teammate Yussuff, a regular for Mark Kinsella's reserves. Left-footer Yussuff earned a professional deal with the Addicks towards the end of last season but is yet to make his first-team debut. Equally strong on the left or in the centre, the Whitechapel-born starlet has represented England at U16, U17 and U18 levels".

Eastbourne Borough "have swooped to sign on loan, until January 1st, Cambridge United midfielder Daniel Brown. The 28 year-old six-footer was registered for Borough only seven minutes before the 12 noon Friday deadline for F.A. Cup 1st round registrations and he goes straight into the squad for the tie against Barrow... Brown started out at Leyton Orient but before he made his first team debut he was sold at the age of 18 to Barnet for £40,000. 94 appearances, 8 goals, two play off campaigns and a relegation...he then moved on for two seasons at Oxford United before joining Crawley in the summer of 2005. In November 2006 he signed for Cambridge United, progressing to captain the side. An influential ball winning midfielder he can also play at left back".

"Rushden & Diamonds have secured the loan signing of Luke Boden from Sheffield Wednesday" reports Blue Square Football. "The 19-year-old midfielder is a product of Wednesday's Youth Academy and has made a few appearances for the first team over recent seasons. Earlier this season he had a loan spell at Chesterfield, playing four times in League Two... Boden will stay with the Diamonds for one month. Meanwhile, Scunthorpe United defender Joe Wilcox has also joined the club on a one-month loan. Wilcox has been training with the Diamonds recently on a trial basis with a view to arranging this loan".

According to the Cambridge News "John Beck is hoping slaying Swindon Town will give him and Steve Fallon the chance to go on a January spending spree. Histon's first-team coach is delighted with his side's current form and believes they have every chance of upsetting the odds against their League One opponents... Beck said: 'It's an amazing story at the moment - we're the top part-time team in the country and, if we keep going, then we could make the play-offs. If you look at our squad, we've got about 16 and below that we're a bit lightweight, but if we keep doing the right things on and off the field, you never know what could happen. Hopefully, we can get some form of good result against Swindon and maybe that will fill the coffers to let us go and get one or two more players. At the moment, there is no money available, but, if we get a Cup run, then the chairman and directors might say to us that we can bring a player in. We work very hard on having a shadow squad waiting in the wings, and we could be in a position where we can go and find someone who is as good, if not better, than what we've got... We're very fortunate that we've got two strikers who are doing very well and we've got Damian Reeves waiting in the wings. The lads have worked extremely hard, not only in the games, but also in training. They've started to understand what they've got to do when they're away from the club. They've all had their nutritional profiles done and they're eating well, and they're doing a lot of work on Monday nights with squats and lunges with heavy weights and Olympic bars... Obviously our main aim is to get into the play-offs or get promotion, but if we could couple that with a Cup run it would be fantastic'".

Lower down the league, The Argus says that "Lewes managing director Martin Elliott will not rule out anyone as he looks to sell the club. There are suggestions a consortium who were turned down in the summer could make a fresh bid to buy the club. That consortium, who were led by supporter Lee Cobb, had a £200,000 bid dismissed by directors but Elliott says now he will not shut the door on anyone. The Rooks were put up for sale on Wednesday after revealing financial problems...

With Lewes in turmoil and up for sale, Howard Griggs met managing director Martin Elliott to find out where the club goes from here. 'Is the club going into administration or is it a possibility?' 'No it is not going into administration at this moment in time. I guess it is a possibility. It is dependant on what what interest is shown over the next couple of weeks'. 'Why are you in financial trouble when you made a 35% cut in the budget in April?' 'The level of sponsorship that we have been able to achieve in what is a very difficult economic climate has been disappointing and hasn't been to the prudently budgeted levels that we had looked at six months ago. It is the economic climate but also spectator numbers have been disappointing which I guess would be down to the quality of football and clearly going out of the Setanta Shield and more so the FA Cup, which was a wonderful opportunity for the club to progress, was extremely disappointing. The revenue stream that was there for the taking is now not going to be forthcoming. That has brought things to a head and I do think it is time for a change... We are not about to go bust because we owe the Inland Revenue £100,000 or anything like that. What we are trying to flag up is that we have a situation here. It has to be addressed'...

'Is Kevin Keehan to remain as manager?' 'At the moment he has neither resigned nor been sacked. It will all depend on what and whom is forthcoming over the next ten days or two weeks... We were budgeting on the average being 700 throughout the season. We still have some potentially big gates, like Eastbourne, to come and it only takes a couple of large gates to pull that average up. The crowd has been disappointing but people want to come and be entertained when they are spending their hard-earned money. I talk to people in town and they are picking and choosing their games now because nobody is flush with money'.

'There is a suggestion of unpaid bills including stewards which would put next Saturday's game in doubt. Will that game go ahead?' 'Yes. For the club not to honour its commitments in terms of fixtures within the league would be very seriously damaging and that is not a route we would be looking to go down at all... The board is effectively staying together through this transitional period. Everybody will then make a choice individually about what part they may wish to play in the club going forward with whoever else may be involved at that time'".

The Evening Leader states that "Dean Saunders is eager to free up places in the squad so he can bring in more new fresh faces. But a number of players who have been on trial at Wrexham will not be coming in on-loan. Saunders has informed Senegalese striker Daniel Bocande – a free agent – and Manchester City full-back Sam Williamson that they will not be offered deals; while frontman Chad Bond has already returned to Swansea City after training with the Reds... Saunders has not ruled out trying to bring in midfielder Joe Allen for another loan spell. The Welsh under 21 international's first loan stint from Swansea City was cut short after just two games when he picked up an ankle ligament injury in training".

The Conference reports that "Wrexham defender Nat Brown has gone on a month's loan to Macclesfield Town and Kettering Town have taken defender Peter Williams on loan from Wolverhampton Wanderers" says the Conference.

A Salisbury City Club official says that the recent "fundraising didn't achieve what was hoped and whist there was a response, it needs to be noted that a large percentage was money pledged for the rest of the season, when now is when it was needed This still leaves the club, with a shortfall, a hole that needs to be filled. A number of options are been looked at, but administration is not one that has been seriously considered... It is hoped that an announcement can be made which will clarify the position... We will shortly be launching a fundraising scheme that will enable a first prize of up to £1500 to be won – each and every home game".
---
7 November 2008
TWO SIGNINGS
Altrincham FC have made two signings in advance of tomorrow's FA Cup game at Luton. One is a familiar face, goalkeeper Richard Acton (29) who was with club until last season, having originally signed for Altrincham in 2002.

The other arrival is James Smith (d.o.b. 17.10.85), a former Stockport County defender, who recently joined Vauxhall Motors. He played in the abandoned friendly for Altrincham against Wrexham in September this year.
LUTON GAME
In the First Round matches this Saturday, Altrincham travel to Luton Town. The Sale and Altrincham Messenger reports that "A spate of injuries has left Alty with just fourteen fit first team players ahead of the clash with League Two's bottom club. The latest blow saw Chris Lane suffer a back strain during Tuesday's 2-1 defeat to Wrexham in the Setanta Shield, following on from an injury to Stuart Coburn against Histon on Saturday". It also goes on to state that Graham Heathcote is expected to be bringing in a new player tomorrow. The manager added, "If we can get enough fans down there we'll create our own noise and give the team a real boost. It should be a fantastic cup tie".

The FA reports that "Two former winners of the competition will be making the draw for the Second Round on Sunday. Live on ITV from 12.55pm, Ray Parlour and Lawrie Sanchez will look back on the action from the previous day with Jim Rosenthal before picking the names out of the hat for the Second Round at 1.45... 40 teams enter the hat for the Second Round and ties will be played on the weekend of 29-30 November. Winning clubs will receive £30,000 from The FA". Regarding the draw, should Alty get through the draw-ball number is 36 but we have a lot to do before we can consider that!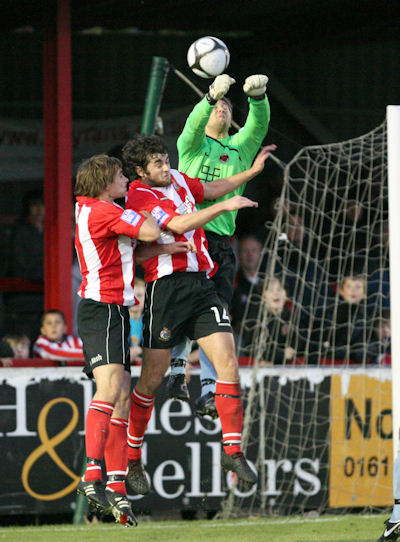 Anthony Danylyk and Dale Johnson compete for the ball against Histon last Saturday, in Gavin Rathbone's photo. Gavin's GR Photography site has many more excellent Alty images. H3>RAFO'S INTERVIEW An interview with Steve Raftery, Alty's matchday announcer will be on the ITV (via the red button) from today. Hopefully the website will have a clip of this in the near future too. Steve works for E-on who are sponsoring the FA Cup and this connection led to the interview.
CHESHIRE NEWS
Witton Albion chairman Mark Harris, (a former Alty chairman, too), says that "Some Wittoners have been asking me my views about the uncertainty surrounding Vics' future, and that of their stadium. As some of you know, I met Jim Rushe, the Vics' chairman yesterday at his request. Although the precise nature of our meeting must rightly remain confidential, I don't want any wild conjecture... The whole issue of whether we should leave Wincham Park for anywhere - including the Victoria Stadium - is a very simple one. We own our ground and I could never recommend to shareholders or supporters any move in which we did not retain ownership of our home.

Even if we wanted to (which we don't) the current economic climate makes it unviable to borrow any money, let alone the figure allegedly currently being asked for the Victoria Stadium. The interest payments alone would be £135,000 a year. And right now it isn't clear who - or what - we'd be dealing with if we tried to buy it... Sharing Wincham Park on a regular basis isn't an option either as Runcorn Linnets are with us this season at least... There are no hidden agendas or conspiracies - just people trying to run two clubs in very difficult financial circumstances. Right now, although our finances are tighter than ever, we are stable as a business...

As our neighbours know only too well, the dividing line between stability and chaos is wafer-thin. Let's use this as a reminder that we must never again cross that line ourselves. After all, unless we are very careful, it could be us tomorrow".
UNITED'S NEXT GAME AT MOSS LANE
Manchester United confirm that "Last week's Manchester Senior Cup defeat to Bolton took place at Moss Lane, and the Reds will next be in competitive action against Middlesbrough on 27 November" again at Altrincham FC. "Prices for all home games will remain at £5 for adults and £2 for concessions, while season ticket holders and One United members can gain free entry". Kick off is 7pm.
SETANTA SHIELD
Though Alty have no more interest in the Setanta Shield, the Round 4 draw is as follows. All ties to be played w/c 1st December 2008 except as shown.

Northern Section
AFC Telford U. v Burton A.
Barrow v York C.
Hinckley U. v Kettering T.
Wrexham v Southport

Southern Section
Crawley T. v Grays A/Chelmsford C. (who play on 11 Nov)
Ebbsfleet U. v Stevenage B.
Forest Green R. v Torquay U.
Salisbury C. v Woking or Bognor Regis T. (who play 8 Nov)
BSP NEWS
The Dorset Echo reports that "Former AFC Bournemouth director Ernie Battey has today confirmed that Morgan Sindall Investments Ltd will be the driving force behind delivering the proposed new community sports stadium near Monmouth Avenue. Battey, who is the subsidiary group's chairman, is not only confident he can deliver the new ground but is also adamant that it is the best way forward in terms of the long-term sustainability of Weymouth Football Club. Morgan Sindall Investments purchased the assets of Wessex Park Limited, which included the land surrounding the Wessex Stadium, from Terras' majority shareholder Malcolm Curtis last Friday and formed the Wessex Delivery Partnership, which has an option on the current ground should planning permission be approved on both sites.

Not only is Morgan Sindall PLC a huge organisation that has an annual turnover of £2 billion but it has also developed other local projects like the new fire stations in Poundbury and Poole. Battey said: 'If Weymouth Football Club wants progress it needs a new ground not only to reduce maintenance and costs but it needs better facilities to provide additional income. In that sense a new ground is critical to the opportunities going forward and the only way of achieving that is going along the lines of Malcolm Curtis's vision statement and that is what drove me to get involved'...

Battey, a former senior executive of Lloyds TSB added: 'When Malcolm transferred the land around the ground into his own company he did it at full market value and all the funds raised around that went back into the football club to reduce the debt and I am certain of that... He did not siphon off any money from that and he has since sold that land off for the same price to us. He has also invested another £300,000 in the club... It is clear that up to now he has made no money off the back of the club... I am aware of the fact that he received several offers to buy the club lock, stock and barrel but instead he decided to hold out rather than risk his vision to deliver a new stadium. That is why he decided to take my offer which involves buying the land with a commitment to delivering a new ground built to Football League standard worth around £7million plus grant funding if planning permission is approved... At the moment the club is struggling to sustain Blue Square Premier football at its current home but in the planned new stadium I think it would have the capability of doing that and even sustaining League Two football. That is why it is the way forward'... At present the club is 25 to 30 per cent down on its income but Curtis is adamant its financial position is better now than when former owners Mel Bush and Martyn Harrin".

The Football Conference says that "Rushden & Diamonds have secured the loan signing of twenty-six year old Clayton Fortune from Darlington. The central defender moved to Darlington in June 2008, but since then has struggled to gain first team football, playing only once in League Two this season. Clayton joins the Diamonds on a month-long loan".

According to Blue Square Football from the BBC Non League show, "Four or five top Non League clubs are on the brink of going under, that's the stark warning this week from one Chairman involved in his own financial battle. Whatever your love affair with Grays owner Mick Woodward, if he's right in his assertion, then a mighty black hole is about to rock up underneath the grassroots game. I'm not going to name names, but I've a fair idea who those clubs might be, and I know my reaction to it, but how does it make you feel?...

Now in a week when at least two respected Chairmen have stepped forward backing up the rumours, is it time to fear the worst?... If the rumours are true, five clubs, you've all heard of, five separate sets of fans, five histories spanning hundreds of years, supposedly near the pinnacle of the non-league game could be about to disappear, then how many others?... Sit down and have the same conversation with any fan at Scarborough or at Halifax and ask them how they felt, when debts spiralled out of control".

Grays Athletic "have signed the following players:
Efe Echanomi, striker, ex-Leyton Orient, Tiptree United & Welling United
André McCollin, striker, ex-Corinthian Casuals and Yeovil Town

Efe has signed on non-contract & André is on loan until December 6th 2008.

Woking goalkeeper "Nick Gindre has joined Croydon Athletic on loan with immediate effect".

"Striker Manny Williams has returned to Maidenhead United on loan from Woking after the striker endured a frustating time with the Cards.", states NL Daily. "Williams joined Woking in the summer of 2008 from the Magpies, for whom he scored thirty goals last season".

"Bradford Park Avenue parted company with assistant-manager Carl Ruffer but made a significant appointment by bringing in former Liverpool midfielder Mike Marsh as a replacement". Marsh left Northwich Vics last Saturday. "Avenue chief executive Bob Blackburn said: 'I think bringing someone in of Mike's stature shows how far we have come as a club. He is heavily involved in the Liverpool Legends team and they play a lot of charity games around the world but he has promised as much of his time as possible. He had been offered a full-time deal with Crawley Town and offers were on the table for him from clubs at our level and above as an assistant so it is a bit of a coup for Avenue that we have got him" reports the Telegraph & Argus.

As well as their offer to Marsh Crawley Town "co-owner Phil Jarman has confirmed they have made a five figure offer for a Blue Square Premier striker. Jarman, who will be funding any transfer fee would not reveal the identity of the player other than to add he is a player that manager Steve Evans has admired for some time...Jarman said, 'Yes we have as of this morning made an offer for the transfer of registration of a striker in the Conference Premier. Like the Adam Quinn transfer it will not cost Crawley Town a single penny to get our targeted player here. I will be funding this from my own pocket and I will continue to help financially when I can. The commercial property market is down nearly 10% in the last few months alone so obviously like everyone I need to be more prudent with what I spent. All I have done here is bring forward monies to strengthen the team. I had planned to do this in the January transfer window but given our severe injury situation then Steve Evans needs this investment now. The club to whom we have made the offer is considering our bid and will be back to us... Jarman did not rule out further additions to the squad in the January transfer window".

Confirmation comes from the Northwich Guardian that "Vics no longer share their home patch with the European champions. Manchester United have decided to move out of town, relocating their reserve team to Altrincham's Moss Lane for the rest of the season. 'All of our remaining games will be played there subject to Premier League approval', said a Reds' spokesman. He told the Guardian not enough people were interested in watching Ole Gunnar Solskjaer's men play at the Marston's Arena, owned by Vics' former chairman Mike Connett. Games this season in the Barclays Premier Reserve League North have been played out in front of less than 400 fans and United are hoping the switch will persuade more supporters to show up...a 'We feel that Altrincham is closer to our core support', added the spokesman.

He also said the farce that forced Vics' FA Cup tie with AFC Telford United to be called off last month was uppermost in their thoughts. That game was abandoned at the interval when a stand-alone generator providing electricity to the stadium blew up. 'We have concerns about Northwich staging night matches too', he said. The decision brings United's stay in the town to a premature end, cutting off a vital income stream to Connett as landlord".

The Kidderminster Shuttle says that "Representatives from the Kidderminster Harriers Independent Supporters Trust (KHIST) are set to meet chairman Barry Norgrove. They will discuss their interest in providing funds for the club and joining the board. The move comes after KHIST officially launched its loan note scheme on Saturday. KHIST hope the scheme will help generate £50,000, which is the amount needed to buy a place on Harriers' board for the season... KHIST treasurer Steve Millington said, 'We want to allay any fears he may have about how it would work if KHIST had a place on the board... The loan note scheme gives a lot of power to those who get involved".
---
6 November 2008
UNITED BACK AT MOSS LANE
It can now be confirmed that Manchester United Reserves have switched their home matches from Northwich Victoria's Marston Arena to Moss Lane. These matches will kick off at 7pm but a number of the fixture dates will have to be changed due to this change of venue. Once these changes are agreed they will be posted here on the website. UNited Reserves play in the Barclays Premier Reserve League North and also compete in the Manchester Senior Cup and the Lancashire Senior Cup.
YOUTHS' DEFEAT
Altrincham FC Youth lost 3-2 at Glossop North End in the NW Youth Alliance Premier Division last Sunday.
SUPPORTERS' CLUB MINUTES
The minutes of last week's Altrincham FC Supporters' Club are now available and all Alty fans are urged to read them and get involved with the organization. You will certainly be very welcome if you can help. The minutes are here
CHRISTMAS IS COMING!
Karen Rowley writes that "Tickets for the Altrincham FC Christmas Party are now available from the club offices - please see me or ring the club on 928-1045. For anyone who has expressed an interest to attend could they please collect their tickets at their earliest possible convenience. Early payment would be appreciated. Our aim is to collect all monies by Monday 17th November in order to help finalise numbers. Many thanks."

As previously advertised, the Altrincham FC Christmas party is on Saturday November 29th, at the Cresta Court Hotel, Altrincham following the Rushden and Diamonds home game that day. The evening includes a three-course meal followed by a disco.

Even if you cannot attend what promises to be a very enjoyable evening, you can still help by donating a bottle of wine, or chocolate or similar items for the accompanying raffle. Please bring any such items to the club offices during normal working hours or on matchdays. Your generosity will be very much appreciated by Altrincham FC.
HATTERS BEAT SADDLERS
Our FA Cup opponents next Saturday, Luton Town, scored a last-minute winner at Walsall last Tuesday to win their Johnsons' Paint Trophy match 1-0. Rossi Jarvis scored the winner from the edge of the area after Tom Craddock's effort had been blocked. The BBC says that "Craddock was a constant threat". The Hatters' team was Logan, Gnakpa, Roper (Worley 53), Beavan, Howells (O'Connor 46), Keane, Jarvis, Spillane, McVeigh, Martin, Craddock (Watson 90). Subs Not Used: Brill, Andrews. Luton Today has a match report.

The referee at Luton this Saturday for the match against Altrincham is Mr F. Graham of Essex. Last week Leeds Vitalfootball reported that "Mr F. Graham will be the man in charge for Leeds United`s match at Cheltenham Town on Saturday. Mr Graham so far this season has refereed 10 games; in those 10 games that he`s refereed he`s shown 25 yellow cards and 0 reds. Last season he refereed 31 games showing 42 yellow cards and 2 reds".

The Manchester Evening News reports that when the FA Cup visited Tameside this week for publicity before Droylsden and Curzon Ashton take part in Round One next Saturday, Altrincham declined to attend as they did not "want to tempt fate"!
HAPPY BIRTHDAYS!
Congratulations to Jack Thorpe, the former Alty groundsman - and still a regular spectator both at home and away - at the age of 95! It was his birthday on Tuesday, the same day as Alty striker Colin Little was 36. Meanwhile, current Alty groundsman Neil Brown refused to answer questions about his age after Tuesday's game!
CHRIS'S INJURY
Chris Lane's injury, which forced his withdrawal on Tuesday night, has been confirmed as a pull in his back, suffered as he tried to avoid a kick from behind.
COLIN'S PEN PICTURES
The Manchester Evening News says that "Altrincham are among football's most celebrated FA Cup giant-killers and are still remembered for their magnificent exploits of the 1970s and 80s, when their achievements included taking both Spurs and Everton to replays and beating Birmingham at St Andrew's. The Robins will be seeking to add another notable scalp to their collection when they travel to League Two outfit Luton... Spearheading their glory bid will be veteran striker Colin Little, and here he gives M.E.N. Sport's Tony Glennon his personal guide to the Robins' squad.
STUART COBURN

Age: 33 Goalkeeper: Never stops moaning, but part of the furniture and the place wouldn't be the same without him. A top Conference keeper. Works for his father-in-law's tool-hire company. I call him Saskwatch because he's covered in hair - although, sadly for him, not on his head. Looks about 50.
GREG YOUNG

Age: 25 Central defender: Fantastic for us this season, but a bit too beauty conscious, especially for a centre-half. He even has his hair straightened.
CHRIS LANE

Age: 29 Left-back: A Scouser and the team hard-nut. He's into cage-fighting and that sort of thing and does kick-boxing training. In fact, that's all he ever talks about, but I'd better not say any more in case I upset him.
MARK McGREGOR

Age: 31 Central defender: Joined us in the summer from Port Vale and is proving to be a quality signing. He doesn't say much but, when he does, it's usually spot-on.
MATT DOUGHTY
Age: 27 Left-back. A great lad (right), but thick as a plank. Tells everyone he's a demolition technician which, to me, means labourer. Nicknamed Buzz, but don't ask why, I haven't a clue.
LEE ELAM

Age: 32 Wide midfielder: A vastly experienced, left-sided player who's had more clubs than Nick Faldo. Has played up and down the country, so I've no idea where he actually lives - in a caravan, I expect. Hopes to move into coaching when his playing days are over.
ANTHONY DANYLYK

Age: 26 Midfielder: Has been a revelation since coming from Leek in the close-season. Must be a nightmare to play against - a typical ratter. Off the field, he's really into his music and is a dead ringer for Paul Weller. I told him so and it made his day.
ROBBIE LAWTON

Age: 29, Midfielder: Our skipper and the engine of the team. Took over as captain when Darren Tinson left us and leads by example with his all-action approach. Away from football, he's a teacher and is head of year at some big private school near Liverpool.
SHAUN DENSMORE

Age: 19 Wide midfielder: Has made a massive difference since joining us earlier this season, initially on trial. Formerly on Everton's books, his dad is ex-Alty legend Peter Densmore. He operates on the right and is 100 per cent committed.
COLIN LITTLE

Age: 36 Striker: Without doubt the best looking player at the club, but will leave others to judge my football abilities - or lack of them! Apart from playing for Alty, I coach the under-15s at my old club, Crewe, and hope to make coaching my living when I eventually hang my boots up.
CHRIS SENIOR

Age: 26 Wide-man: A real fans' favourite here at Moss Lane, where he will always be remembered for the stunning goal he scored against Millwall in the FA Cup last season. Has followed in the footsteps of our old team-mate, Rod Thornley, by becoming a masseur and now works at Huddersfield Town.
WARREN PEYTON

Age: 28 Utility-man: Wozzer, as he's known to us, does a great job wherever the gaffer, Graham Heathcote, asks him to play. A brickie by trade, he famously built Alty a new turnstile-block before we played Millwall, so there will always be a monument to him here!
DALE JOHNSON

Age: 23 Striker: Joined us from Hyde in the summer and has the potential to go even higher. Has loads of talent, but just needs to match it with the desire - and I don't mind you printing that because I've already told him to his face.
JOE O'NEILL

Age: 26 Striker: A tireless, unselfish worker who I'm always happy to play alongside. His scoring record isn't as good as he'd like it to be and that's why, I think, he's so under-rated. Hopes to become a physio.
KEVIN STREET

Age: 30 Midfielder: Training to be a priest at theological college. The captain of our debating team - all the lads enjoy talking to him about his religious beliefs. I remember him as a youngster at Crewe and, though he's largely been confined to the subs' bench since coming to Alty from Stafford, I know what a useful player he is.
ALEX MEECHAN

Age: 28 Wide-man: Another quality player who's yet to reach his best form with us. Nicknamed Roger Daltry because we reckon he is his double (right).
VAL OWEN

Age: 37 Midfielder: Thankfully now on his way back after a terrible time with injury. A legend here at Alty, we've missed him massively while he's been out. Works as a fitness instructor and it shows.
CHRIS DENHAM

Age: 26 Wide-man: Lightning fast and very fiery, he's got great potential if he's prepared to listen and learn. A tiler by trade, he recently suffered a nasty eye injury at work which means he'll be out for some time.
ANDY RALPH

Age: 25 Goalkeeper: Joined us recently from Marine as understudy to Stuart Coburn, but has already made appearances in both the Cheshire Senior Cup and Setanta Shield. A very quiet lad but has a decent pedigree in non-League with the likes of Northwich and Vauxhall Motors. Works as a joiner".
OLD BOYS
Greg Tansey, on loan at Alty last season, scored for Stockport County in their 3-2 defeat by Crewe in the Cheshire Premier Cup on Tuesday night. On the same night, Ryan Shotton scored again for Tranmere Rovers where he is on loan. News of an old boy from season 2005-06 comes from the Conference which says that "Burscough have released James Olsen".
NIKE AT MOSS LANE
Everton goalkeeper Tim Howard was at Moss Lane on Wednesday taking part in a photo-shoot for Nike sportswear.
WREXHAM VIEWS
The Daily Post post says that on Tuesday "Wrexham... needed extra time before clinching a place in the fourth round of the Setanta Shield... in a match short on quality... But they had to hang on desperately at the end".

The Evening Leader adds that "Terry Darracott was relieved that Wrexham finally got the better of Altrincham... Assistant manager Darracottsaid, 'We expected a battle and we were in one. It was a cup tie and we were playing away from home... We were disappointed with the way we played'... Manager Dean Saunders made just one change to the side that started Saturday's win against Lewes with midfielder Christian Smith taking over from Wes Baynes who was serving a one-match ban... But Darracott said 'We took it very, serious and put out what was a very strong side. We have not rested anybody', he said. 'The defence had to deal with a lot of long balls... but they will have headaches this morning, they had to head that many balls. I am not knocking teams if that is the way they play. It is a legal way to play but we have got to deal with it'".

The Wrexham FC site adds that "In front of a disappointing turn out at Moss Lane, it was the Wrexham fans, who seemed to [out]number their home counterparts... Although the Robins might have slipped down the Conference table of late, since our visit at the end of August they have only conceded one goal at home in six league games showing just how hard they have become to beat. The play swung from end to end, with both teams demonstrating their desire to play attacking football... The fourth round of the Setanta Shield finally welcomed Wrexham FC - our first cup success (without the aid of penalties) since the FA Cup win over Scunthorpe United in December 2006!"
BSP NEWS
Their first team may be struggling but Lewes have reached the Second Round of The FA Youth Cup for the first time in their history by beating Histon.

The Northwich Guardian reports that "Steve King is the new manager of Northwich Victoria. The ex-Lewes boss – who took the Rooks to the Blue Square South summit last season – agreed to replace Dino Maamria at the helm today, Tuesday. 'He's the man to take us forward', said Vics' owner Jim Rushe. 'I'm more impressed by Steve every time I talk to him and he believes he has what it takes to move us up the table. People might say it's a gamble but you only have to look once at his track record to see we've got a proven winner'. King was fired by the Dripping Pan outfit at the end of last term after guiding them to promotion to non-league football's top tier".

The Football Conference confirms that "Millwall have agreed to extend the loan of Lyle Taylor to Eastbourne Borough" and that "Weymouth midfielder Michael Malcolm has joined Crawley Town on an Emergency Loan basis". The nature of the emergency is unstated. The Conference also reports on numerous other signings- mostly of young players; "Youth team player Nicholas Langford has signed for Mansfield Town" and that "Forest Green Rovers have signed reserve team goalkeeper Thomas Pass on senior terms". Likewise, "Stevenage Borough have signed youngsters Jordan Gibson, Theo Swaine, Brendan Cowell and Tyrone Cazaubon" and "Mansfield Town have completed the extension of the loan of Maxime Chanot from Sheffield United". Also, "Grays Athletic have signed ex-Leyton Orient striker Efe Echanomi" and "International Clearance has been granted, permitting Forest Green Rovers to take Wrexham defender, Darran Kempson, on an initial one-month emergency loan deal". Elsewhere, "Kidderminster Harriers have signed youth team midfielder Nathan Hayward" and "Weymouth have signed youth team defender Jordan Vincent".

Blue Square Football tells us that "Midfield hardman Danny Brown has been left on the transfer list by Cambridge United manager Gary Brabin. The player's recent problems with injury and the range of midfield options available to the coach would appear to be the main reasons behind the move".

Kettering Town state that "Chris Arthur has joined The Poppies on a three month loan from QPR... Arthur made his QPR U18s' debut last season and became a regular in the side operating on either wing. Arthur had a spell with Hayes & Yeading last season".

"Weymouth Football Club chairman Malcolm Curtis today admitted his position has become untenable" according to the Dorset Echo. "The property developer says he remains determined to deliver the planned new stadium at Monmouth Avenue, but wants a deal in place by the end of the month... A club statement underlined Mr Curtis' plans to push forward with a partnership agreement with an unnamed organisation... It is understood that the organisation in question is Morgan Sindall, whose board of directors includes former AFC Bournemouth director Ernie Battey. The proposition will see Wessex Delivery Partnership immediately acquire the land surrounding the Wessex site from Wessex Park Ltd along with an option to buy the existing stadium... It is believed the new stadium... will cost £7million plus grant funding, pushing the overall price of construction up towards £10 million. As for the short-term future of the club, Mr Curtis is planning to hold talks with several parties in regards to offers for the Blue Square Premier outfit and hopes one of them will come to fruition by the end of this month.

If that does not happen then he has warned that big cutbacks will have to be made to safeguard the club's financial footing.. Mr Curtis said: 'The statement we put out is very complex and I really wish I could say more in a language that people can clearly understand. But lawyers had to look all over it and at the moment I can only say so much... I am even more frustrated that my position at the club has become untenable with all the allegations that have been made against me... I have three people that are interested, all of whom are very different. There are also a couple of others who are a bit crazy in terms of their ideas and I have asked them to go away and explain their madness. I will be speaking to all those people soon... We are losing money and our biggest overhead, as I said recently, has two legs. And if we need to make cutbacks for the good of the business then we will have to do that'... Many people believe Mr Curtis has stripped the club of its assets and sold them for his own gain but the majority shareholder refutes those allegations. He said: 'There is this misconception that I have sold the land around the Wessex Stadium for £1.3 million. If that was the case then I would be very disappointed with that figure. And what people have to remember is that Wessex Park Ltd also included the bungalow on the outskirts of the ground and a restaurant in Dorchester which I have sold for a fair market price. You would not believe the offers I have had since I have

The Daily Post reports that "Wrexham manager Dean Saunders is pressing ahead with the recruitment of yet more new players and made it clear that some members of his current squad are living on borrowed time. The Racecourse boss introduced two loan signings in last Saturday's victory against Lewes and is targeting more arrivals before the Dragons' next league match... Favourites to come in alongside Saturday debutants Ritchie De Laet and Angelos Tsiaklis are Manchester City defender Sam Williamson and Senegalese striker Daniel Bocane, both of whom are currently training with the club, but Saunders is keeping all his options open.

'With no game this Saturday there is no point in signing anyone on loan this week', he said. 'But we have got players in mind and the extra few days means I can make sure I'm going for the right ones'. The arrival of De Laet and Tsiaklis increased the size of the Racecourse senior squad to 31... and Saunders admitted that a cull was imminent. 'I'll be making decisions on some of the players here at the end of the week... There will be one or two who probably know how the land lies, even though they have been very professional'... Meanwhile, Wrexham have postponed their home clash with Forest Green Rovers after captain Neil Taylor and brothers Mike and Marc Williams were yesterday called up by Wales semi-pro boss Terry Boyle... The postponement means Saunders will be able to fulfil his duties with Wales".

And the Evening Leader confirms that "Wrexham FC defender Darran Kempson is poised to join Forest Green Rovers on loan. The former Shrewsbury Town defender, who joined the Reds in the summer, has played 12 times this season but has yet to feature under new manager Dean Saunders. He will join Forest Green initially for one month".

Lewes say that "The Board of Lewes Football Club met on Monday night to discuss the current financial position along with the budgets to the end of the season... The exit from the FA Cup has added stress to the current financial situation... Some new funding options have not materialised. We now have to reassess the position as the club is under severe financial pressure. The lower gate receipts have also put pressure on our cash flow. It is with the best interests of Lewes FC that the board are willing to listen to all and any offers of financial support up to and including the sale of Lewes FC to suitable interested parties. Certain criteria are attached to any full sale of the club that would involve the commitment of the new owner(s) to continue with the youth, under18, reserves and ladies' sides".

Rushden & Diamonds say that "Striker Dean McDonald left Nene Park yesterday by mutual consent, becoming the third of the eight players transfer listed over the last fortnight to depart".

The Northwich Guardian says that "The town's two football clubs are meeting today, Wednesday, to discuss their future. Northwich Victoria owner Jim Rushe called neighbours Witton Albion to set up a summit to look at ways the clubs can work alongside each other... He said, 'There are two football clubs in the town and I'm sure we can be of mutual benefit to each other'... Both outfits have dismissed talk of a merger as premature. Albion's acting chairman [and ex-Alty chairman] Mark Harris told the Guardian... 'I was surprised to get the call... There is no agenda and I've no idea what he plans to talk about'. Vics and Witton... played home league matches at the weekend in front of a combined crowd of little more than 800 people... 'The alarming fall in attendances is a great concern', said Mr Harris. 'To have only 200 Wittoners come through the gate is potentially disastrous'...

Even Manchester United have decided to move out of town, relocating their reserve team back to Greater Manchester [Altrincham] for the rest of the season. This week the European champions said not enough people were interested in watching their team play at the Marston's Arena, owned by Vics' former chairman Mike Connett. Games this season in the Barclay's Premier Reserve League North have been played out in front of less than 400 fans and United are hoping that the switch will see more turn up. 'We feel that Altrincham is closer to our core support', said a spokesman".

And "Steve King is a boss with belief in his own ability. The new Northwich Victoria manager told the Guardian in his first interview since accepting the job that he would keep the club in non-league's top tier. 'I'm excited about the challenge', he said. 'It's a tough one, but I'm not phased'... He has been a spectator at more than half a dozen Vics matches already this term... 'Northwich are where they are for a reason but the encouraging thing is that they've not been getting turned over... My brand of football is one that's pleasing on the eye', he said. 'At Lewes we scored more than 500 goals over five years – I don't care what level you play at, that's a record to be proud of. I suppose you could say I'm a purist really, my philosophy is to put out a team that plays in a fast, attacking manner. I know what it takes to win non-league football... My track record speaks for itself – it is unrivalled by anybody in the non-league game over the past five years... I don't think the team needs tearing apart', he said... 'I've turned down six or seven offers since I left Lewes because none of them felt right to me. This time it's different. I've worked with people who don't know how football works and the game is not their priority even though they're running a club. Jim Rushe isn't like that – his passion is football pure and simple and my gut instinct was that this is the right job for me. I know I can turn things around for Northwich Victoria'".
---
5 November 2008
ALTRINCHAM 1 WREXHAM 2 aet
Altrincham went out of the Setanta Shield after extra time in Tuesday night's match. They more than matched the former League side but conceded the winner in the 112th minute when Brown crossed from the right and Louis was allowed time to control the ball and poke it past Andy Ralph.

Setanta Shield Round 3 games played on Tuesday 4th November:
AFC Telford United 4 Cambridge United 3
Altrincham 1 Wrexham 2 aet
Barrow 3 Gateshead 1 aet
Bath City 0 Salisbury C. 1
Burton A. 3 Kidderminster H. 2
Crawley T. 3 Havant & W. 0
Eastbourne B. 1 Ebbsfleet U. 3
Forest Green R. 2 Oxford U. 1
Grays Athletic v Chelmsford City (11 Nov)
Hinckley U. 2 Histon 1
Kettering T. 4 Thurrock 1
Rushden & Diamonds 0 Stevenage B. 3
Stafford R. 1 Southport 2
Weymouth 0 Torquay U. 3
Woking v Bognor Regis Town (8 Nov)
York City 1 Mansfield T. 1 (York won 4-2 on pens)
Through the Years by Howard Watts.
---
4 November 2008
VAL AND DANNY SIGN UP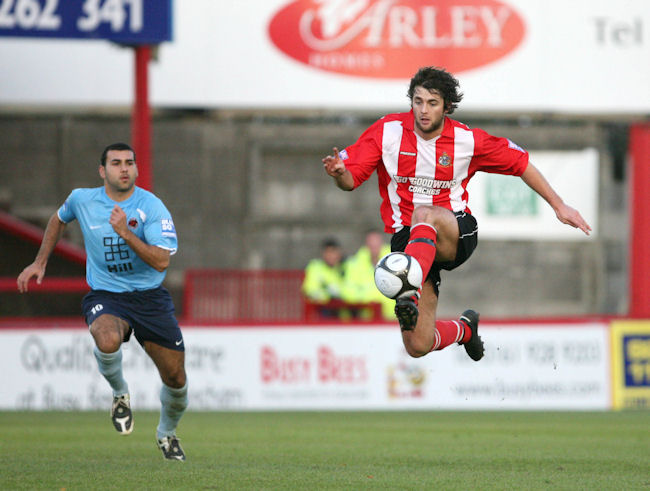 To bolster its injury-hit squad, Altrincham FC has confirmed that midfielder Val Owen has been re-signed as he nears full fitness following his lay-off since last season due to a knee injury. Val has been getting fit again recently with Witton Albion.

Also signing on is former Alty reserve Danny Heffernan. Danny was in the first-team squad in 2006-07 but did not play in the first team. He was originally signed on first-team forms on 30 August 2006. He is a versatile player who can operate on the left as well as in central defence or midfield. Danny has a strong left foot shot and has been playing for Neil Brown's Abbey Hey recently.
GAVIN'S BACK
Alty photographer Gavin Rathbone is back from his honeymoon but his new wife is still letting him out to produce excellent shots like this one of Dale Johnson in action (right) against Histon last Saturday. This, and more of Gavin's images are to be found on his GR Photography website.
LUTON GAME
With a view to Alty's trip to Kenilworth Road this Saturday, the BBC website has an interesting film clip showing how "British entrepreneur and 'Dragons' Den' panelist James Caan visits Luton Town to examine how the credit crunch has hit clubs in the lower leagues". The clip reveals that Luton's main stand used to be the grandstand at Kempton Park racecourse! The September 2008 issue of "When Saturday Comes" also had a feature on Luton Town. It reminds us that it was as recently as 21 October 2006 that Luton beat Leeds United 5-1 to go fifth in the Championship. "In the 21 months since, 15 league games have been won, two relegations suffered, and two managers sacked. Two oweners have left, one administration has been entered, 15 FA charges have been upheld and 40 points have been docked" - 30 of them this season. 10 of those 30 were "for payments made to agents thorugh a holding company" and 20 for "breaking insolvency rules". "WSC" argues that, compared with the likes of Leeds United, The Hatters have been harshly punished. The club is now owned by LTFC2020, a consortium whose talisman is former ITV presenter Nick Owen. "At the heart of the conundrum is how a club that have raked in around £14 million in transfer fees in three years could be in so much financial trouble".

And Luton Today says that "Midfielders Garreth O'Connor and Kevin Watson both have an outside chance of making the bench for the Johnstone's Paint Trophy area quater-final clash at Walsall [on Tuesday] night. The pair could be back in contention after returning to training, although assistant boss Warren Neill admitted that the Hatters are likely to have to make do with the same group of players who were swept off the park at Shrewsbury Town in a 3-0 reverse on Saturday. He said: 'There are a couple of players who we are trying to get on the bench for Walsall, but they are in no fit state to start a game or last 90 minutes'... Neill also admitted he was relieved that the League Two programme will now take a backseat for two weeks, with tomorrow's Trophy clash followed by the visit of Altrincham in the FA Cup first round. He said: 'It's a relief to get away from the league for a couple of weeks and allows us to get some players back, get some confidence back in the team ready for the next league game. There's a lot of pressure on this very young team because of the injuries and every game there is pressure for them, so hopefully this will be a release and, although we want to progress in the competition, it's lot less stressful than the league campaign. Hopefully we can go out and express ourselves and show what we've shown in glimpses throughout the season really. These young lads are having to grow up very quickly and they are trying to do that, but it's an up and down process with them at the moment because of the lack of maturity'".
CHESHIRE NEWS
After narrowly missing promotion to BS North in two successive seasons under Jim Vince, the Northwich Guardian reports that "Witton have sacked Nigel Deeley following their worst run in almost a century. The Wincham club blamed a run of nine successive defeats for their move, made late last night, Sunday. 'It was a painful decision', said acting chairman Mark Harris. 'However football is a results business and, despite a promising start, performances since the start of September have been poor and we could not allow the management team any more time to turn things around. Deeley's assistant Andy Nelson has also left the club'". Meanwhile "Gary Finley has returned to Witton as manager", where several ex-Alty players now play including Gary Scott, Mark Drew, Lee Thompson and Rod Thornley.
OLD BOYS
Tranmere Rovers "have extended Stoke City defender Ryan Shotton's loan deal by one month. The 20-year old joined Rovers at the end of August and has since made 14 appearances and scored three goals. He has been given permission to play in the FA Cup for Tranmere by Stoke City. Tranmere manager Ronnie Moore said: 'I'm delighted to keep Ryan here for a third month. He has been fantastic for us at right-back and has fitted very well into the team'".
BSP NEWS
On 18th November, Alty pay their first visit to Field Mill where, according to This is Nottingham "Billy McEwan admits Mansfield face a battle to climb away from the drop zone after watching his side slump to a fifth consecutive league defeat. The Stags sit just above the bottom four after second-half goals... condemned them to their latest setback at Torquay. And McEwan concedes... 'We know we are in a battle. Every game is tough. We are finding that there are no easy games in the Conference... I got stuck into the players for the second half performance because it was not acceptable... We were comfortable and were the better team... and we shot ourselves in the foot... What happened was schoolboy stuff'".

The Dorset Echo says that "AFC Bournemouth will this week continue talks with Weymouth for transfer-listed striker Stuart Beavon. The 24-year-old, one of six players put on the transfer-list by the troubled Blue Square Premier outfit, is a target for Cherries' boss Jimmy Quinn. The Cherries were hoping to sign Beavon on loan, with a view to a permanent move, ahead of Saturday's 1-1 draw with Chesterfield at Dean Court. But... it is believed they were put off by Weymouth's £25,000 asking price. Beavon, who played under Cherries assistant Jason Tindall at the Wessex Stadium, would be entitled to a free transfer at the end of this season".

"The Terras' Trust have issued a statement reassuring members that they have been fully involved in discussions with the football club and are looking forward to a conclusion to the present crisis. It reveals that the Trust's vice-chairman and Weymouth FC Board representative Mark Golsby was invited to attend a meeting at which he was asked to endorse an agreement between Weymouth Football Club and a significant investor. Contrary to speculation, he did not vote against the proposal but abstained on the grounds that he had not been able to discuss the matter with the Terras' Trust board as had been previously requested.

The Trust have assessed the details of the investment proposal, and are looking to come to a firm set of conclusions regarding the benefits of the deal for the club and its supporters. They were also looking at potential ways in which the football club can live within its means". Meanwhile "Echosport understands that Weymouth chairman Malcolm Curtis has sold all the assets of his holding company Wessex Park Ltd for £1.3 million. Morgan Sindall are believed to be the buyers and it is understood that a subsidiary group has been set up to help push through plans for the proposed new stadium near Monmouth Avenue, which Curtis will have continued involvement in delivering. It is also believed that on Friday the Terras' majority shareholder made a one-off payment of £140,000 to the football club that will now have to live by its own means until the new ground is ready to move into. When questioned about the deal yesterday, Curtis said: 'It is very complex and at this moment it would be wrong of me to start talking figures. All I can say is that I was always going to need some help delivering the planned new stadium and if that is achieved it would be worth a lot to WFC in the future'".

The Terras' Trust actually says something different from the above press report. "The Terras' Trust Board are extremely disappointed that the deal announced today does not meet the best short or medium term interests of Weymouth Football Club and its supporters. The Trust will be taking urgent advice and action towards seeking the immediate well being of the club, which is at present losing a very considerable amount of money despite assurances given previously that WFC would be run within budget. We anticipate that reductions in spending will have to be made to sustain the football club, and we appeal to all Terras' supporters past and present to support their club now at the turnstiles where it really matters to help secure our immediate future as a Blue Square Premier football club".

The official Weymouth site quotes chairman Malcolm Curtis: "I have written to all shareholders of Weymouth Football Club confirming that the Board has decided to recommend further important steps towards delivering a new income generating football stadium. Specifically the club is seeking to pass a resolution to enter into an option agreement with Wessex Delivery Partnership LLP. The aim of this move is to ultimately benefit the club by partnering with an organisation that has both the appropriate skills, and the significant resources, required to drive forward the delivery of the proposed new stadium... The proposed resolution will allow Wessex Delivery Partnership LLP an option to buy the existing stadium, and ultimately develop the whole of the Wessex site, once the proposed new facility is ready to be constructed. This will add greater security and more importantly impetus to the prospective stadium development plans... As part of the agreement, Wessex Delivery Partnership LLP will immediately acquire the land surrounding the Wessex Stadium from Wessex Park Limited. Existing access agreements to the stadium will be unaffected.

This is a vital step towards delivering a new, sustainable, sports stadium. I will continue to be personally involved with the development partnership to ensure its successful implementation and to protect the best interests of the club. In the meantime, the resolution protects the rights of the club to play in either the existing stadium or a new stadium of a superior standard. Furthermore, Wessex Park Limited will continue to hold its existing shareholding in Weymouth Football Club Ltd. In the short-term, I will be contributing further personal funds to assist with the financial stabilisation of the club".

Meanwhile, Crawley Town "have completed the loan signing of Weymouth winger Michael Malcolm. It is expected the transfer will be made permanent and Malcolm will complete that move on 1st January 2009. Malcolm (23) was in talks with Reds' boss Evans last week with a view to joining then but an unforeseen last minute hitch prevented the deal from being concluded".

From the Football Conference we learn that Rushden's "Phil Gulliver has today signed for Corby Town, and Sagi Burton has [also] left Nene Park. The two defenders were amongst the eight players transfer listed over the last fortnight".

Histon's defender Lanre Oyebanjo has won the Blue Square Premier "Player of the Month" award for October. The pony-tailed right-back played against us at Moss Lane last Saturday.

"York City have completed the signing of veteran striker Bruce Dyer"" according to NL Daily. "The 33-year-old's career has been in limbo for the last few months and he has been training with Bradford City. City manager Colin Walker said: 'I think I've pestered him enough over the last three or four weeks and now he's put pen-to-paper. I've worked with Bruce before at Barnsley, he's got a fantastic pedigree and he can bring that to us'... The former Crystal Palace frontman has made 466 Football League appearances in his career, scoring 117 goals".

"With regards to last month's announcement that the players would need to take a 50% salary cut due to the loss of sponsorship revenue, I am please to announce that following our success in the FA Cup match against AFC Totton the prize fund that was gained from this match has enabled me to pay the players their full wages" reports the Grays Athletic chairman, Mick Woodward.

Mansfield Town announce that "Reserve goalkeeper David Knight has left Field Mill. Said Manager Billy McEwan: 'He had an opportunity to get fixed up with another club, abroad. He wanted a contract off me but I wouldn't offer him one at this moment in time as I hadn't seen enough of him'". However, "Max Chanot's loan deal with us has been extended for a further month".

An old face returns at Woking where the Cards "are pleased to announce the appointment of Geoff Chapple as the Club's new Commercial Manager".

Kent Online reports that "Fleet Trust chairman Jessica McQueen has urged supporters to turn out in force for Ebbsfleet's FA Cup first round clash at Crewe on Saturday... McQueen is hoping up to 500 supporters make the trip. She said: 'One coach is full and we've already got more than 20 people booked on the second one. At the moment interest has dwindled since Saturday [when they lost to Burton], but I'm hoping people will get over that'. After five consecutive league defeats, McQueen believes Saturday's tie will provide a welcome distraction. 'People are excited and it gives them something to think about other than the league position', she added".
---
3 November 2008
CELTIC TRANSPORT
A supporters' minibus will run to the Cheshire Senior Cup tie at Stalybridge Celtic on Tuesday 11th November. To book your seat please ring the club as soon as possible. Details of the times and fares are on the Away Travel page.
WREXHAM GAME
The referee for tomorrow's Setanta Shield game against Wrexham is Mr P Varley. Mr Varley has previously officated Altrincham games, as follows:
ALTRINCHAM 4 WHITBY TOWN 0, UniBond Premier Division, Saturday, 3 January, 2004
ACCRINGTON STANLEY 1 ALTRINCHAM 0, Nationwide Conference, Saturday, 3 December 2005
ALTRINCHAM 1 CRAWLEY TOWN 1, Nationwide Conference, Sunday, 19 November 2006.
ALTRINCHAM 0 HEREFORD UNITED 1, Nationwide Conference, Saturday, 15 April 2006

The injury sustained by Altrincham keeper Stuart Coburn last Saturday has been confirmed as a calf strain, which makes him doubtful for tomorrow's game.
ALTRINCHAM 0 HISTON 1
Match report here.
HELP NEEDED
Altrincham FC is seeking a volunteer to supervise the Moss Lane car park, behind the Popular Side. This work would not prevent the appointee seeing the whole ninety minutes of the game as the hours are Saturdays 12.30pm to 2.30pm and, for midweek games, 6pm to 7pm. There is free admission to the match once the duties are finished. Applicants must be over 17 years of age, please. Please contact the club 0161-928-1045.
COLIN'S ACHIEVEMENT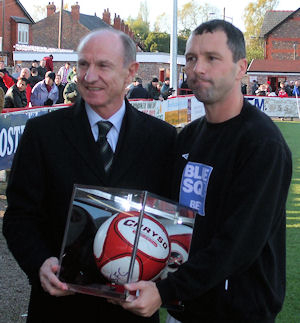 Right: Before the Histon game, Colin Little received the ball with which he netted his 100th goal for Altrincham last week at Newcastle Blue Star. Making the presentation was former Manchester City and England winger, Dennis Tueart.
The NL Paper has an interview with Colin Little following his 100th goal for the club, scored last week. It explains how he joined Altrincham. Aged 31, he was released by Macclesfield Town. Colin said "It came as a bit of a surprise when I was told I wouldn't be offered a new contract. A couple of London clubs called and said I could go on trial for a week... I decided to move closer to home. In the end I actually phoned Graham Heathcote. He gave me their best offer and even though I had better, I decided to accept... A lot of ex-League players go into non-League for a couple of years and their heart isn't really in it. But I decided that if I was going to do it, I was going to do it properly - stay in on Friday, look after myself, all that sort of thing... It's proved a good decision". As for his 100 goals, Colin says "Stats are for after your career". He also paid homage to the Crewe Alexandra coaching system to which he owes a lot, "It's like a university for young players", he states.
As for "Alty's recent good form...' We've just become very hard to beat. We used to play decent football but, at the same time, we'd often lose. That's probably gone out of the window this season and we're saying to ourselves, "Let's just get some results". The two Grahams (Heathcote and Barrow) did a lot of work on the formation,too. They made a simple sysstem and said to each player, "This is your job, do it". It was easy to understand. We stopped passing people on and we've had a bit of success'", said Colin. He also revealed that Crewe boss Dario Gradi told him "that I'd play until my late 30s because of my shape and fitness".
SETANTA SHIELD ROUND 3
News of Alty's Setanta Shield opponents, this Tuesday, comes from the Evening Leader, which says that last Saturday "Wrexham FC put the disappointment of Tuesday's FA Cup defeat behind them to secure a hard-fought victory over bottom club Lewes. Reds' boss Dean Saunders included new loan signings defender Ritchie De Laet [from Stoke City] and Cypriot midifielder Angelos Tsiaklis [from Manchester City] in his starting line-up for the visit of Lewes, while leading scorer Jefferson Louis also returned to action following his injury lay-off". Wrexham won 2-0, both goals being converted corners taken by Wes Baynes. Wrexham's team was: Ward, Baynes, De Laet, Westwood, Mike Williams, Whalley, Tsiaklis, Mackin, Taylor, Louis, Marc Williams (86 Spann). Subs not used: Anthony Williams, Steve Evans, Proctor, Smith.
RAFO'S SPREADING THE WORD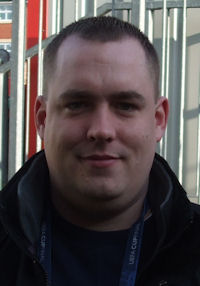 The "Voice of Altrincham FC", matchday announcer Steve Raftery (right) is set to become "The Face of Altrincham FC" as well, this week, when he is interviewed for a TV programme about the FA Cup and Alty's forthcoming 1st Round tie at Luton Town. "Rafo" is an employee of E-on, the sponsors of the FA Cup, and he hopes to use the interview to give our club some good publicity. When details of the broadcast are known, they will be posted on the website. Steve, whose commitment to Alty is such that he now travels from Barnsley to carry out his matchday duties, will not let fame go to his head but he will be available for media interviews and autographs at our next home match, on 22nd November against Cambridge United!
LUTON'S LAST GAME
Luton Today has a report on Luton Town's 3-0 defeat at Shrewsbury last Saturday. So, like Alty they go into the FA Cup next Saturday on the back of a defeat. The report says that "Under-strength Hatters froze against high-flying Shrewsbury... Town's hotch-potch team, filled with players out of position and seemingly lacking interest, just couldn't cope as Shrewsbury outclassed them with a goal in the first half and two late in the second. Still ravaged by injury manager Mick Harford was forced to name the same starting XI that started the abandoned game against Bournemouth on Tuesday night. The Hatters also named the same five players on the bench, with both YTS midfielder Mark Farthing and schoolboy striker Jordan Patrick among the substitutes.

Hatters: Conrad Logan, Claude Gnakpa (Jordan Patrick 86), Keith Keane (C), Ian Roper, Harry Worley, Rossi Jarvis, Chris Martin (Wayne Andrews 61), Michael Spillane, Tom Craddock, Paul McVeigh, Jake Howells. Subs not used: Dean Brill, George Beavan, Mark Farthing". Interestingly the refree of that match was Anthony Taylor who is a well-known face at Moss Lane, having officiated at several of our pre-season friendlies this year. The report identifies goalkeeper Conrad Logan as Luton's man of the match.
LUTON LINKS
Terry Rowley has produced a wealth of historical links with Luton Town, whom we visit next Saturday. Terry writes:

Although Altrincham and Luton have never met in a competitive fixture, surprisingly there have been quite a number of players, (considering the distance between the clubs), that have played for both clubs going back as far as 1925. In addition, former Altrincham manager Maurice 'Matt' Woods played 38 games for Luton in season 65/66, joining in July 1965 after a spell playing in Australia, where he had captained the national side. Matt joined Altrincham in February 1969, after a spell with Stockport County and a brief spell in Ireland. Unfortunately things didn't work out and Matt left in August to eventually take over at Stockport County.

Moving on to the players, first up is Altrincham goal-scoring legend, Stewart Littlewood, who scored on his debut in a 3-3 home draw against Brighton & Hove, following up with another goal in a 3-2 home win over Norwich City. Stewart also scored on his FA Cup debut but only played a total of 6 League and 1 FA cup games for the club. Nine years later, after a relatively successful career with Oldham Athletic and Port Vale he was with Altrincham on a three-season run that saw him score over 100 goals at a rate not far short of a goal a game.

Next up was centre half Bill Miller, who as a teenager had joined Altrincham from Marple in 1928 and was taken on by Bolton Wanderers before joining Luton in 1931 and making his debut in the season's opening fixture, a 2-1 defeat at Reading but he played only two further league games before ending up at Runcorn.
Right: Peter Thomson
Bob Weaver joined Luton for the 1932/33 season, having started with Altrincham and having had a two season spell at Burnley but played only 3 league games after scoring on debut in a 2-1 defeat at Norwich City, before moving on to Bristol City.
The first couple of players who turned out for Luton after the War were Herbert Blackshaw who had played for Altrincham in the mid-thirties and had had a good career with Oldham Athletic before the second World War. He played a game for Luton in 1946 and was Joined by former Wolves, Wrexham and Manchester United player, William Bryant, who went on to turn out for Altrincham during the early part of the 1946/47 season.
Moving into the 1960s, mercurial striker Harvey McCreadie joined Luton, then in the First Division in January 1960, from Accrington, playing a single game (a 2-3 defeat at Wolves) and eventually he ended up at Moss Lane for a brief spell under Freddie Pye (scoring 13 goals in 23 games). He had moved from Luton to Wrexham, in November 1960 and had spells at Northwich Victoria, Mossley and Hibernian.
Alan Rivers started as an apprentice with Luton and played two seasons (65/66-66/67) playing 30 league games and 4 league cup games during that time before he arrived at Moss Lane for a brief spell during the 1970/71 season, scoring once in 5 games for Altrincham.
John Oliver Ryan had two seasons at Luton in 1967/68 and 1968/69, having signed from Wigan Athletic, playing 18 league games, 1 FA Cup and 2+1 League cup games in his time at Luton before moving on to Notts County and then Altrincham for two seasons in 1970/71 and 70/71, playing 76 games.
Former Tranmere striker George Yardley had been a goalkeeper, (he was capped as an amateur for Scotland), and in his earlier days had played both in goal and up front for East Fife before spells at Montrose and St George's Budapest in Australia. He then joined Luton briefly in October 1966, playing just once before signing for Tranmere Rovers in November. He scored 69 times in 123 games. He eventually had a brief spell at Moss Lane in the 1973/74 season.
Andy Dibble joined Luton in July 1984, after starting out with Cardiff City and he played 37 games for Luton over the next 4 seasons. Andy went on to have an interesting and varied career with a collection of clubs both north and south of the border including Manchester City, Aberdeen, Glasgow Rangers and Luton (again) before arriving at Moss Lane in August 1998. Unfortunately injuries and difficulties adapting to part-time football, meant Dibble first going out on loan at Barry Town and then returning to league football with Hartlepool, Carlisle, Stockport and Wrexham.
Graham Jones started his senior career with Luton, joining in June 1976 and played 43 league and cup games over the next 4 seasons before moving on to Torquay United and Stockport County. After two seasons at Runcorn he joined Altrincham for the 86/87 season, playing 45 games before a £1,500 fee took him to Northwich Victoria.
Left: Neil Ryan.
A player well known to both sets of fans is Paul Showler who played one outstanding season for Altrincham in 1990/91 before moving into the Football League, firstly with Barnet and then Bradford City, before joining Luton in August 1996.
Former Irish under-21 International, Robert Wilson, joined Altrincham in December 1992 and played 9 games before leaving in February to play at Fulham (scoring 33 league goals in over 170 games) before a spell at Millwall saw him join Luton in August 1986, playing 24 games and scoring 2 goals. He then returned for two further seasons at Fulham and went on to play for Huddersfield Town, Rotherham and Farnborough prior to his stint at Moss Lane.
Rob Matthews and Peter Thomson both had brief spells at both clubs, Rob playing 12 games for Luton in season 94/95, after joining from Notts County before going on to play for York City, Bury, Stockport, Blackpool, Halifax, Hull City, Northwich Victoria and Mossley. He joined Altrincham in July 2003, scoring once in 8 games before returning to Mossley in September. Thomson had signed for Luton for £100,000 from Dutch side NAC Breda in September 2000 and was released in January 2001. After spells at Morecambe, Southport, Lancaster City and Stafford Rangers, he joined Altrincham in June 2006 but was released in March 2007 having scored only once in 3 starts and 10 substitute appearances.
Finally 3 other players had spells at Luton before playing for Altrincham, Alan Richards, who started with Luton before having spells at Chester and Runcorn, joining Altrincham for the 92/93 and 93/94 seasons, scoring 3 goals in 14 appearances. Neil Ryan (left), started at Luton before playing for Altrincham in 2001/02 and 02/03 and Neil Murphy had a spell on loan at Luton whilst on loan from Liverpool, eventually playing briefly for Altrincham in 2002/03 after being at Blackpool.
BSP GAMES
Saturday, 8 November
Rushden & D. v Weymouth
Northwich V. v Burton A.
BSP NEWS
Two of our nearest neighbours are in deep financial trouble as the NL Paper confirms.

Former Northwich Vics' chairman Ian Campbell, who left the club last Tuesday, told the NLP that he believes Northwich "are on a dangerous path with debts of more than £500,000. The former Woodley chairman also said that [Vics' owner] Jim Rushe was acting alone when he decided to dispense with Dino Maamria [as manager]". Meanwhile Mr Rushe revealed that, as regards Mike Connett, who owns the Vics' stadium, "There's no love lost between me and Mr Connett. He has nothing to do with me. He is very strict about the upkeep of the premises and the rent being paid on time and is very keen to let you know that". Mr Campbell added that "With the way the club is being run, there is only going to be one outcome. I've seen clubs go down this road and it's one that leads to points deductions, administration and, ultimately, it's curtains. I didn't find out Dino had been suspended until he was on gardening leave. There was no vote, no discussion and the next thing I know Dino calls me and tells me he's been sacked".

And at former Conference club, Leigh Genesis (formerly RMI),not only has owner Dominic Speakman withdrawn, "Manager Steve Bleasdale has had his contract cancelled along with all the playing staff, eight of whom were full-time professionals... Sacked Bleasdale ... said he would work on free for the next fortnight with Leigh's unpaid reserves fulfilling [their] fixtures. He said, "I told him [Speakman] to start slowly and build a foundation. But no, half the team went full-time, the rest were paid loads and now it's gone belly-up. I've now got the same players crying down the phone to me, players with babies to feed... I also turned down a good contract with Bradford PA as I bought into his dream".
---
2 November 2008
DON'T MISS THE BUS
At the latest count it looks as if at least three coaches will be taking Alty supporters to Luton Town on Saturday - and many other fans will be travelling there by other means. So, why not also support the team in their league matches against Forest Green and Mansfield Town which take place on November 15th and 18th respectively? After all, it is Altrincham's league status which is most likely to dictate the future of the Club. Details of the supporters' club trips to Luton, FGR and Mansfield are all on thE Away Travel page. You can book your seats by ringing the club during weekday office hours on (061) 928-1045.
HISTON GAME
After defeat by Histon on Saturday, Alty assistant manager Graham Barrow told the NL Paper, "We feel unfortunate not to have taken something from the game. It had 0-0 written all over it and their goal perhaps looked offside but we have no copmplaints about the officials. We created some good chances and have not taken them... I thought we coped with them quite well... Histon will go on and beat a lot more teams". The NLP adds that Stuart Coburn had to be subbed at half-time due to a calf strain.

The NL Today paper says that it was "a typically rugged performance from Histon. The aerial bombardment started from kick-off... hoisting crosses, corners, and throw-ins into the box".
OLD BOYS
Ian Craney scored for Huddersfield Town in League One yesterday. Former reserves' centre-back, Laurence Ball, netted for Ryman Premier League leaders Dover Athletic yesterday in the Trophy but saw his effort chalked off after the game was abandoned due to heavy rain. Former loan player Tom Cahill played for Ilkeston Town against Ben Deegan's Ashton United yesterday in the Trophy. Ex-Alty captain Steve Bushell has joined Bradford Park Avenue, whilst ex-Alty loanee from Tranmere, Alex Hay, scored for Cammell Laird yesterday against Leigh Genesis in the Trophy.
---
1 November 2008
ALTRINCHAM 0 HISTON 1
If dozens of long-throws, frequent spells of head-tennis and numerous corner kicks are what you enjoy about football, this was the game for you as Histon took all three points from Altrincham for the .htmfourth successive game between these clubs.
Alty player stats.
VICS' CARETAKER WALKS OUT
The Northwich Guardian reports that "Mike Marsh has changed his mind about the manager's job at Northwich Victoria. The former Liverpool star quit the club following today's defeat against Eastbourne... 'I've had enough', he told the Guardian at full time. 'I've got a couple of other commitments outside of the job here that I can't say "no" to unless I was offered the chance to carry on on a permanent basis. After more than a month that hasn't happened so, given the uncertainty, I didn't want to renege on those things I had agreed to do'. Marsh has picked the team since the end of September when close pal Dino Maamria – the man who brought the 39-year-old to the Blue Square Premier club as his right hand man in February – was suspended. When the Tunisian was fired last week, Marsh was asked to continue as caretaker. But after a week in which Vics crashed out of the FA Cup at the hands of AFC Telford United -missing out on more than £12,000 prize money and a potentially lucrative clash with Football League outfit Southend - and slumped to a meek home reverse against relegation rivals Eastbourne, he had a change of heart.

Marsh added: 'I had a chat with Jim [Rushe] yesterday and told him that as the situation is now I don't want to remain as manager. The club itself has been in a difficult situation financially and I've had to lay a couple of players off this week, which has given me sleepless nights as it's not an easy thing to do. "Putting people out of work is horrible and I felt it was only fair I fell on my sword too'. Trevor Benjamin and Michael Byrne - a player who only days ago Marsh praised as one he wanted to count on in the coming months – left on Thursday. The latter, a fan favourite since his arrival in February 2005, found out he was surplus to requirements only minutes after finishing an interview for today's match programme.

Strangely they have been replaced already. Luke Horrocks, a player Maamria (as well as Altrincham and Barrow) rated as not good enough for non-league's top tier, is back at Rushe's behest and playing for free. He was joined by ex-Wigan Athletic trainee Peter Moore and former Woodley Sports wide man Leonard Richards in the squad for this afternoon's encounter. 'I don't want to be having sleepless nights at the age of 39 after telling somebody they don't have a job any more', said Marsh. 'I'm doing this for my sanity and for that of my wife and kids'. Marsh revealed they could be followed out of the door by winger Danny Williams as the troubled club, today watched by less than 600 people in a 2-1 reverse, continue to look for ways to save money.

'All three are non-contract players so they are the first out of the door when the club embarks on a cost-cutting exercise like this', he added. 'I've been in an awkward position from the first day I agreed to look after things when Dino was put on gardening leave. But I go with my head held high – I think I've done a decent job picking up seven points from four games with everything that's been going on. I don't know what will happen next. Dino was suspended more than a month ago so I'm sure there have been people on the phone to Jim saying they want the job. It's up to him to pick somebody else now'".

Meanwhile, Beaconet the company which owns Northwich's ground and which is run by former Vics' chairman Mike Connett, is facing a winding-up order on 26th November.
RESULTS
Saturday 1st November
ALTRINCHAM 0 Histon 1
Barrow 3 Forest Green R. 1
Burton A. 3 Ebbsfleet U. 1
Cambridge U. 0 Rushden & D. 0
Kettering T. 0 Weymouth 1
Kidderminster H. 2 Grays A. 0
Northwich V. 1 Eastbourne B. 2
Oxford U. 1 York City 0
Torquay U. 2 Mansfield T. 0
Woking 0 Stevenage B. 1
Wrexham 2 Lewes 0
Through the Years, from Howard Watts.
ALTY FUNDRAISERS
Altrincham FC have announced two new fundraisers for the Club:

Sponsored Slim

For those of you who can remember, we will be holding another "Sponsored Slim" after Christmas for those who want to lose that Christmas tummy and raise some money for the club as well. Starting on New Year's Day participants will have just over 7 weeks to shed those pounds before the final weigh-in on February 21st at the Woking game. Anyone interested in taking part can collect a sponsor form from the office from Monday and start collecting sponsors. An appropriate prize will be awarded for the "Slimmer of the Season". Full details to follow.

Buy.at/altrinchamfc

Whilst searching for that special present for Christmas take a look at the retailers who have signed up to the buy.at/ scheme whereby they offer commission to the football club for buying your goods through their website. Amongst those participating are Mothercare, Littlewoods Direct, Next and hmv.com, to name but a few.

It's so easy to use – on this official website, click on the buy.at/ bar in the yellow section near the top of the home page and this will direct you to a listing of all the companies who are offering commission. Any purchases made via this link will generate income for your club at no expense to you. Give it a go and do your bit this Christmas".

The above details, plus information on the Bag2TheFuture fundraiser and the Altrincham FC Christmas Party are, and will remain, on the Social Events and Fundraising Page
GRAHAM'S VIEWS
Graham Heathcote (right) has his pre-match views on the Histon game today (Saturday) printed in the Manchester Evening News. The Alty boss says, "Histon's type of football isn't everyone's cup of tea but they're very good at what they do and we're going to have to be on our mettle if we're to extend our outstanding recent run. But if we're not buoyant now, we never will be. After winning our last half-dozen home games, we have to be confident about taking on anyone at our place, Histon included". The injuries to Joe O'Neill, Chris Denham and Kevin Street, are "forcing him to again ponder tapping into the loan market".
HISTON "TOO GOOD" FOR ALTY
According to the BBC "Altrincham midfielder Robbie Lawton is available following a ban and has also recovered from a groin problem. But winger Kevin Street is likely to miss the rest of the season after rupturing his cruciate ligament in a training ground incident. Histon striker Danny Wright will get his second start in a row after recovering from an ankle injury. Gareth Gwillim is still a minor doubt with a head injury, with Craig Pope set to deputise again if he misses out.

Histon manager Steve Fallon told BBC Radio Cambridgeshire: 'When we played them here they looked like they had accepted they were in a relegation dogfight. But since then they've picked up and I think they're second or third in the form table. We have the quality to take three points from anyone in this league - if we perform as we have done then I think we'll be too good for them'". Histon won that game 1-0 with the help of a handball in the build-up.

The Histon FC site says that they "travel to Moss Lane in search of their fourth consecutive victory in the league campaign and will look to push on after the victory in midweek. Fallon has promised to be ruthless with his selection, with Jack Midson taking a brace in mid-week and possibly doing enough to warrant a place in the starting XI. Antonio Murray might also feature after coming back from an ankle injury. He will face a late fitness test prior to kick-off in the North-West tomorrow. But one man who looks certain to start is Danny Wright who also grabbed a brace in midweek and put in a good display in his first start back after injury. He told BBC Radio Cambridgeshire that "It had been frustrating but I feel I have taken my chance to get back in the team", and with Damian Reeves finding it hard to find the back of the net of late, he will be keen to cement his place by netting this weekend. Gareth Gwillim is also expected to start after he has recovered from a facial injury sustained in midweek.

Altrincham have hit form of late though, taking an important 10 points out of the last possible 15, hauling themselves away from the relegation zone and into mid-table, only 6 points behind the Stutes, albeit with Histon having a game in hand. News emerged from the club this week that midfielder Kevin Street could be sidelined for "up to a year" after scans revealed he had suffered severe damage to cruciate ligaments. The 30 year old is yet to comment on the injury, but regardless to say he will be disappointed with the injury and will certainly miss this weekends clash.

The last clash between ourselves and the Greater Manchester side was a positive one for Histon, Gareth Gwillim sealed the narrow 1-0 victory with a sensational 30 yard strike that spun off the wet Glassworld surface into the bottom corner 15 minutes from the end. It was our second home win of the season and we went for 4 games after that unbeaten. Last year at Moss Lane, Histon were again the victors with a 2-1 victory, Danny Wright and ex-Stute Cliff Akurang grabbed the goals for us that day.

The 'Stutes take on League One side Swindon Town next Saturday, and with a third round Setanta Shield tie away to Hinckley United on Monday, and Altrincham on Saturday, Fallon and Beck will want to go into the tie off the back of two wins, and sitting in 3rd at least in the table".

More on Histon's visit to Altrincham comes from the Cambridge News which says that "Danny Wright hopes his two-goal salvo in midweek will give him the chance to sink Altrincham at Moss Lane for the second successive season. The striker started a game for the first time since September 13 on Tuesday night as he helped Histon overcome Durham 5-2 in their FA Cup, fourth qualifying round replay.After finally forcing his way into boss Steve Fallon's first XI after a spell on the bench following an ankle injury, the 24-year-old forward intends to keep his shirt.

And after grabbing the winner in his side's 2-1 success in the corresponding fixture last season, he believes he is in great shape and is eager to keep finding the net. Wright said: 'It's frustrating when you're coming back from injury because you want to be playing all the time, but you've got to be patient and you can't expect to just walk back into the side... I feel sharp again now and I feel on top of my game. I've been doing what I've had to for the team, but I was back up front on Tuesday, playing where I like most. If the manager needs to stick me out wide right or wide left then it doesn't really bother me, but hopefully he'll keep me up front after my two goals'... And the hitman thinks the Stutes can overcome Graham Heathcote's men... Wright said: 'Altrincham are doing a lot better than people expected, but we'll go there and approach it like any other game - we'll prepare properly and we won there last year, so I can't see why we can't win there again'".

The paper adds that "After Nathaniel Knight-Percival and Lanre Oyebanjo both failed to impress him on the right flank against Durham, the manager is looking forward to unleashing Antonio Murray at Moss Lane. Fallon said: 'Antonio's done some training this week and he's declared himself fit, so that's a really big plus... We'll just have to make sure he's 100 per cent, because the last thing we want is for him to be out for another three or four weeks.. He's definitely one of the best players in this league'. Danny Wright's two goals in midweek look set to keep him in the side, while skipper Mat Mitchel-King should be fit, despite suffering from a groin problem. Defender Gareth Gwillim is pushing for a recall... Histon (possible): Naisbitt, Oyebanjo, Ada, Langston, Gwillim, Murray, Simpson, Mitchel-King, Barker, Midson, Wright.
LUTON BRING IN YOUTHS
News of our FA Cup opponents comes from Luton Today. "Lifelong Hatters' fan and current Luton Town chairman Nick Owen believes a Johnstone's Paint Trophy-winning campaign could be hugely important to Town's future. He said "To be just four games from Wembley is a fact not lost on us... It would be poetic to give fans another trip to Wembley, under the tuition of Mick Harford - the man who starred in the number nine shirt on that emotional day in April [ when Town beat Arsenal to win the League Cup]. That was the proudest sporting day of my life. What a game that was!'. Luton Town travel to Bescot to play Walsall on Tuesday 4th November, 7.45pm in the southern area quarter final."

"Fans planning to protest peacefully at Town's FA Cup first tie against Altrincham should not be discouraged according to Hatters' boss Mick Harford. Both the club and its supporters have been left feeling raw by the FA's heavy-handed 10-point penalty for financial irregularities and Harford admitted he would understand if fans wanted to make their feelings known. He said: 'I'm very unhappy with the FA. I'm sure there's some sort of protest that will be made. The fans could wear black armbands - but we need to respect the FA. It's been put to bed and we need to move forward. We want to play in the FA Cup - it's a prestigious competition'".

Meanwhile "Town boss Mick Harford will once again have to rely on YTS players and a schoolboy for tomorrow's game at the New Meadow. Harford today confirmed that none of the injured players at the club will be fit enough to return for the match at Shrewsbury and that he will have to rely on the same squad of 16 he named for Tuesday night's abandoned game against Bournemouth - a squad that included YTS players Jake Howells and Mark Farthing and schoolboy Jordan Patrick. The Luton manager also admitted that he had never known a long-term injury crisis like the one currently bedevilling the Kenilworth Road club. He said: 'It's a massive disability to us at the moment... Some of the kids are in there and they really shouldn't be, but they've just got on with it'... Asa Hall, Kevin Watson, Kevin Nicholls and Garreth O'Connor are all set to return to training soon, but Harford is adamant he won't rush them back. However, Drew Talbot is still a little way away from a return to the action. He said: 'We will try and get a result on Saturday but then we have a fortnight's break without a league game and hopefully by that time we might have some of the sick and wounded back'".
OLD BOYS
Two ex-Altrincham players Liam Coyne (ex-youth) and Rio Nelson (ex-reserve) have joined Flixton.
MOSS LANE VIEWS
Photographer T.S. Rigby has some excellent photos of Moss Lane on his photographic website.
BSP NEWS
The Dorset Echo says that "Weymouth Football Club will release a press statement on Monday that Echosport understands will give details of a buy-out of Wessex Park Limited by an unknown subsidiary group. The deal was finalised this afternoon and includes the sale of the land surrounding the Wessex Stadium and an option on the purchase of the ground. It is also understood that a one-off payment will be made to the football club, which will then have to live within its means until the proposed new stadium near Monmouth Avenue is delivered. When asked about the deal Curtis said: 'There will be a Press announcement on Monday and I must stress that it is not a bad news story, it is a good news story... It is a good deal all round and nothing untoward is going on. The new stadium is the only way the club is going to move forward'... Former AFC Bournemouth director Ernie Battey, who has recently been linked with the club, was contacted by Echosport today. He admitted to having an interest in Curtis' stadium proposals but refused to reveal whether he is part of the deal... It is not known what the impact of such a deal will have on the football club but it seems more cuts will have to be made. This week the club put star striker Stuart Beavon on the transfer list where he has joined five other Weymouth stars including Danny Knowles, Scott Doe, Josh Webb, James Coutts and Michael Malcolm, and it seems more potential departures could follow. Curtis admitted: 'The strategy is not necessarily a solution to the football club's problems in regards to keeping the wolves from the door but I firmly believe that a new sustainable stadium is still the answer to the long-term future of the club'".

"Torquay United central defender Chris Robertson will have to have surgery on his ankle" says the BBC. "The 21-year-old has ruptured the main supporting ligament in his ankle meaning that manager Paul Buckle is running out of options at the back. With Chris Todd also out after a hamstring injury, Buckle has few options left at the back. 'Two key players in a key position isn't great. We are looking at that area at the moment', he said."

"Youngsters Kai Elais Edwards and Obioma Anorou have signed scholar terms with Wrexham FC" says the Football Conference. Likewise, "Rushden & Diamonds have registered four of their scholars, George Cox, Lewis Hilliard, Aynsley McDonald and Nabil Shariff" whilst "Northwich Victoria have made a number of signings with midfielders Leonard Richards, Peter Moore and Luke Horrocks all coming in to the club". Ex-Woodley Sports' winger, Luke Horrocks, was an Alty trialist this summer.

The Blue Square Manager Of The Month awards For October have gone to Kettering Town's Mark Cooper in the BSP, to St Albans City boss Steve Castle in the BSS and to former Alty player Neil Parsley of Farsley Celtic in BSN.

The Salisbury Journal says that "City chairman Neville Beal has moved to reassure Whites' fans that the club does not intend to enter administration... He said: 'We would like to make it clear that the football club does not intend to enter administration. We are working hard to outline the measures necessary to safeguard the future of the club and to try to ensure it can maintain its participation in the Blue Square Premier League".

The Daily Post states that "Wrexham have signed two Premiership starlets on a one-month loan and manager Dean Saunders says both will start tomorrow's match against Lewes at the Racecourse. The newcomers are defender Ritchie De Laet, 20, signed for £200,000 by Stoke City from Belgian club Antwerp, and Manchester City midfielder Angelos Tsiaklis, a member of the Premiership club's FA Youth Cup winning side last season".

From NL Daily, we learn that "Mansfield Town have released much-travelled striker Anthony Robinson... The ex-Tamworth and Kettering Town man, 28, started just once and made a further twelve appearances from the bench after joining on non-contract terms this summer".

"Nigel Clough has sent a 'little reminder' to his misfiring strikers by bringing in Paris Simmons from Derby County on an initial one-month loan deal" states Blue Square Football. "Clough already has six strikers on his books, but three of them are still to get off the mark in the Blue Square Premier this season... 'It won't do any harm to freshen it up a little', Clough to the Yorkshire Evening Telegraph... 'There's no harm in a little reminder that there's someone else around who will be very keen to show what he can do'... Clough tried to sign Simmons last season after the 18-year-old caught the eye playing for the Rams reserves at the Pirelli Stadium".

Grays Athletic have signed "Ex-Grays Athletic Striker, Jamie Slabber [who] Spent 11 years at Tottenham Hotspur - from junior to senior team. He left in the summer of 2005 after a loan spell with Aldershot Town. Signed for Grays in July 2005, departed from The Rec in January 2007 to join Stevenage Borough until July 2007 when he joined Havant & Waterlooville". Also signed is Scott Forrester who "is a strong, quick centre forward, previous clubs include, Aldershot, Sutton United, Hayes, Leatherhead & Metropolitan Police".

"Adam Boyes has been offered a professional contract by York City" says The Press. "Manager Colin Walker said the youth team ace, who turns 18 tomorrow, has been offered terms by the Minstermen and is currently mulling over the club's offer. Boyes has been on the fringes of the first team this season, as well as starring in the reserves and for Neil Redfearn's Minstermites, and Walker is keen to further his development... Boyes played the last 27 minutes when City exited the FA Cup at Mansfield on Tuesday night... 'This league is very competitive and very strong', Walker added. 'He's 6'2" but he's still finding his weight. We are easing him slowly. He's not far away and he's going to be involved all the way now'".
---
FOR EARLIER NEWS, CLICK HERE
---