Match Report
---
LUTON TOWN 0 ALTRINCHAM 0
FA Cup Round 1 match
played on Saturday, 8 November 2008, at 3pm.
---
SUMMARY:
It is Luton who were the more fortunate of the two sides to reach the Second Round draw of the FA Cup after Altrincham, who brought tremendous support, had the Hatters on the back foot for much of the second half. Indeed, Chris Senior had the ball in the net on the hour-mark, but it was ruled out for offside. Luton were also endebted to referee Graham for failing to see a clear foul on Johnson in the goalmouth, one of many such lapses from the officials. But both sides lacked a killer punch and so they will replay at Moss Lane on 18th November when Alty should have been at Mansfield in a BSP league match.
---
SCORERS
None
---
REFEREE: Mr F Graham (Essex)
---
ATTENDANCE: 3,200, (359 in the away end).
---
BACKGROUND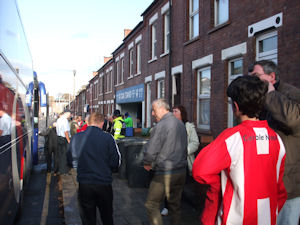 Right: The Alty supporters' coaches arrive at Luton Town; the away entrance is through the two "terraced houses" where the blue sign is.
Altrincham had never met Luton Town before though a surprising number of players had over the years played for both teams. One of them was Alex Meechan, who had trials with the Hatters at an earlier point in his career. But Kevin Street, who was a Luton player during a loan spell was unable to play through injury.
Kenilworth Road is a ground with character, which is entered through the frontage of two terraced houses. Each of the four sides of the groundhas its own character and the stadium makes a very pleasant change from the monotonously uniform and characterless out of town concrete stadia which we often visit in the BSP. The three Alty supporters' coaches were given an unnecessary police escort from the motorway which meant they were taken through the traffic jammed town centre instead of being able to go directly to the ground. It must make sense to someone.
---
TEAM NEWS
Both teams were badly hit by injuries. Alty were without Denham, Street, Coburn and O'Neill, though Coburn was named as a third keeper today. In addition, on the bench, was Val Owen, who has yet to play for Alty this season following his knee operation. However, Chris Lane passed a late fitness test to keep his place. With Senior partnering Little up front, Elam started on the bench, along with new signings James Smith and Richard Acton. Today saw Colin Little's 200th start for Altrincham.
Luton, hit by a 30-points deduction in League Two, went into this game bottom of the division though their playing record would place them nearer to the middle of the table. However, they included a number of youngsters to counter their long injury list. However, their captain - Nicholls - was back after injury and he played the first 45 minutes. After a long injury lay-off Talbot also returned to the squad as a substitute. Craddock, on loan from Middlesborugh, was not allowed to play in the FA Cup by his pay-masters which meant that Andrews came in, up front.
---
LINE-UPS
LUTON TOWN (Dark blue and orange shirts, dark blue shorts and white socks): 21. Conrad LOGAN, 2. Claude GNAPKA, 20. Michael SPILLANE, 33. Jake HOWELLS, 25. George BEAVAN, 28. Paul McVEIGH, 4. Keith KEANE, 8. Kevin NICHOLLS, 16. Rossi JARVIS, 18. Chris MARTIN, 23. Wayne ANDREWS. Subs: 1. Dean BRILL, 3. Sol DAVIS, 7. Garreth O'CONNOR, 12. Harry WORLEY, 17. Kevin WATSON, 19. Drew TALBOT.
ALTRINCHAM (Red & white striped shirts, white shorts, red socks): 13. Andy RALPH; 2. Chris LANE, 4. Mark McGREGOR, 5. Greg YOUNG, 3. Matt DOUGHTY, 21. Shaun DENSMORE, 16. Anthony DANYLYK, 7. Robbie LAWTON, 11. Warren PEYTON, 9. Colin LITTLE, 19. Chris SENIOR. Subs: 1. Stuart COBURN (gk), 8. Val OWEN, 14. Dale JOHNSON, 15. Alex MEECHAN, 18. Lee ELAM, 22. James SMITH, 23. Richard ACTON.
---
REPORT
Alty kicked off defending the away end, against a Luton side wearing its new orange and black away kit. Luton started the better, but Andrews skied the first shot of the game after a long ball had evaded Young in the first minute. Luton then won two early corners, the latter following a great block by McGregor who had a very solid game once more (6 mins). Luton's corner count rose to four by the 10th minute and, from the last of these, Ralph confidently punched clear. Alty's stand-in keeper went on to have a faultless game, handling everything confidently though he was little tested by the Luton forwards. But Alty were working hard and weathered the early pressure before they had to survive a 25-yard freekick awarded against Young which was driven well over the bar (19 mins). After a shaky start Young went on to make some vital tackles and headers.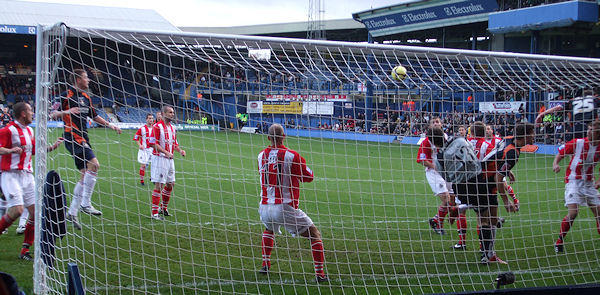 Above: Andy Ralph punches clear in the first half at Luton, as Warren Peyton guards the line.
Alty then threatened when a poor clearance from Logan fell to Senior in the right of the box, but the Alty man slipped as gathered the ball (22 mins). There was an ironic cheer when Mr Graham gave Alty a freekick after ignoring several earlier offences. This freekick led to a neat move, at the end of which Senior smartly nipped in ahead of Logan, to the left of goal, from where he found Young but the centre-back curled his shot wide (26 mins).
Luton were still looking the more menacing without seriously threatening a goal. But important tackles from Young and then Danylyk epitomised the hard work throughout the visitors' side, which was matched by the non-stop singing for 90 minutes from the 359 travelling supporters. Next, a fine diving header from Doughty allowed Luton a corner but Altrincham won one themselves soon after a freekick had been given when Senior was fouled as Luton halted a neat Alty attack (38 mins). Just after the referee had somehow failed to see a foul on Lawton, Lane was harshly booked for a foul on the touchline, 30 yards right of his goal (43 mins). It is the defender's fifth booking of the season so he now faces suspension.
Despite there being no stoppages at all, two minutes of added time were somehow found by the referee but half-time arrived with Alty deservedly level after a good all-round team effort.
---
Half-Time: LUTON TOWN 0 ALTRINCHAM 0
---
Watson replaced Nicholls for Luton at the interval but, soon after the re-start, Senior almost got free in the box. At the other end, Ralph then held a strong cross from Andrews (48 mins). Next, Little had a very good chance as he was put through against Logan but the keeper did enough as the striker tried to dribble past him (53 mins). Lawton then surged forward as Altrincham began to believe they could win the game.
Luton did threaten when Gnakpa fired a shot across goal from the right (58 mins). Altrincham then got the ball in the net when Little fed Senior inside the box and the latter finished neatly from close range to the right of goal but the offside flag saved the Hatters. Senior was immediately withdrawn, substituted by Johnson (60 mins).
Alty were now on top as Lawton turned well but shot wide (61 mins). Mr Graham now overlooked a clear handball by Jarvis, allowing Watson to advance before Doughty cleared well. At this point, O'Connor replaced striker Andrews for Luton (63 mins). When Densmore advanced and was pushed over 25 yards from the Luton goal, the lack of a freekick led Densmore to express his anger by clattering Beavan and seeing yellow for his sins (65 mins).
After a scrappy few minutes, Alty once more got the upper hand. Yet, when Spillane had a clear handful of Johnson's shirt as he went for a ball inside the six-yard box, once more the officials saw no offence (71 mins). Alty now replaced Little by Elam (73 mins). Gnakpa did win his side a corner but it was the visitors who were finishing the game the stronger.
Elam soon had a shot blocked after which McVeigh gave way to Talbot for the Hatters (78 mins). Soon after this, Elam went down under a challenge in the box, yet again to no avail (81 mins). A two-footed lunge which brought down Densmore went unpunished but when Luton immediately broke forward, they won a freekick 20 yards out in a central position which Howells drove this into the wall, the ball rebounding upwards before Ralph made a good catch (86 mins). Ralph's quick punt yielded a corner at which point Meechan was introduced in place of Densmore (87 mins).
Alty continued to look the more likely winners with Johnson and Elam both causing problems. The referee found four added minutes, in the last of which Danylyk became Alty's third booking. The game soon concluded and Alty had more than matched their League opponents as once again, a chorus of "Part-time and we're proud of it" rang out, with complete justification from their excellent supporters.
---
Full-Time: LUTON TOWN 0 ALTRINCHAM 0
---