30 September 2008
BSP NEWS - VICS SUSPEND BOSS
The
Northwich Guardian
reports that "Dino Maamria has been suspended by Northwich Victoria. The Vics' boss was told not to report for duty today, Tuesday, after the club sent him on 'gardening leave'. They have refused to say whether he will return. 'Dino is on gardening leave at the moment', said owner Jim Rushe in a prepared statement. 'He will remain so pending the resolution of internal matters within the club'... A proposed loan move for Peterborough United full back Danny Blanchett, set up by Maamria on Monday, has been scrapped.
Rushe added that first team coach Mike Marsh had been put in charge of team affairs... The Guardian tried to contact Maamria, but he was not answering calls this morning... Last week [Maamria] denied abusing a referee, asking for a personal hearing to put his side of the story after the Football Association charged him for comments made to match official Andrew Sainsbury during his side's 2-1 defeat at Torquay... On the pitch Vics sunk to their eighth reverse of the season on Saturday when they surrendered a 2-1 advantage before losing 3-2 to Weymouth. It was a result that sent Northwich spinning to the bottom of the Blue Square Premier".
SALISBURY TRIP
Altrincham travel to Salisbury City next Tuesday night. Travel coordinator Tom Jacobs writes:
Please can everyone who is traveling to Salisbury try and support or encourage others to use the Supporters' Travel service. Without continued support we can not guarantee to run a coach to all away games. Please can everyone who is booking on the coach for Salisbury do so ASAP as the coach will only run when economically viable. Please be aware that we will only being running a coach service to this game and that if there are not enough numbers will simply not be running any travel, there would be no minibus service. I would also like to thank Geoff Goodwin for running this trip at a considerably lower cost than originally quoted as he understands that the team need as much support as possible and that our away support is a great asset to the team. See the Away Travel page for times and prices. To book on the coach you can either call the club on 0161 928 1045 or book on at a home game by visiting the club shop. A decision onwhether the coach will run will be made by Saturday and posted here.
YANKEE
The
Yankee
Saturday Yankee is a key fundraiser for Altrincham FC. A vacancy exists for a collector on a small round in Oldfield Brow. Please contact Jenny Heslop at the club (061 928-1045) if you would like to help; commission is payable to collectors.
RUSHDEN & DIAMONDS 1 ALTRINCHAM 1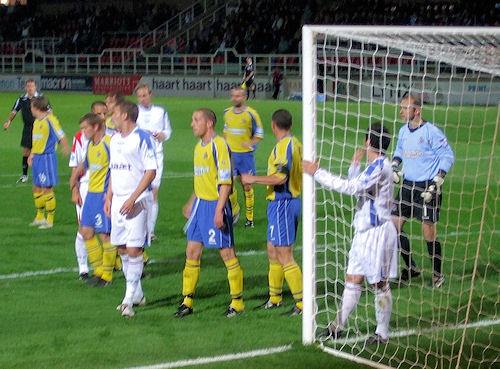 Above: Alty defend a corner at Rushden. Alty deservedly took their first ever point at the Nene Stadium to halt Rushden's run of three successive wins and to lift themselves above Oxford United into 19th place.
Alty Player Stats
Rushden & Diamonds have a match report on how "Leon Knight salvaged a point for Rushden & Diamonds in front of the Setanta cameras as they struggled against lowly Atrincham".
---
29 September 2008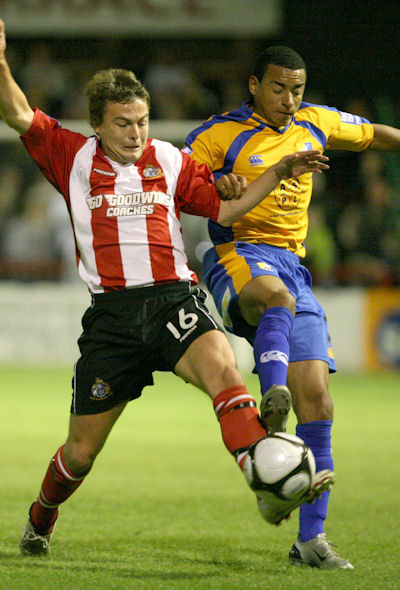 BEFORE THE MATCH
Right: Gavin Rathbone captures the effort from Anthony Danylyk in the win over Mansfield. Copies of Gavin's photos are obtainable via the Robins' Shop or his GR Photography website. Alty are away at Rushden tonight. Last season the Robins lost 1-0 to a Michael Rankine goal. Their side that day is below. 1. Stuart COBURN; 16. Ryan SHOTTON, 5. Darren TINSON (capt), 10. Greg YOUNG, 24. James JENNINGS; 23. Ryan TOULSON, 7. Robbie LAWTON, 25. Liam KING, 11. Warren PEYTON; 9.Colin LITTLE, 14. Tom CAHILL. Subs: 3. Gary SCOTT, 12. Joe O'NEILL, 15. Chris LANE, 17. Richard BATTERSBY, 19. Chris SENIOR.

Only five of that starting line-up (Coburn, Young, Lawton, Peyton and Little) remain at the club. Rushden, too, are much changed, but seven of last season's starters against Alty remain at the club. New faces include Daryl Clare, Lee Phillips and the on-loan Manny Panther, but the ex-York man is suspended tonight.

The BBC says that "Rushden & Diamonds may recall striker Lee Phillips, who recently suffered a cut head and came on as a substitute at Wrexham last Tuesday... Altrincham look set to welcome back striker Chris Denham, who appears to have resolved his differences with boss Graham Heathcote after a fall-out. But long-term absentee Val Owen (knee) is still sidelined".
SATURDAY
Saturday 4th
ALTRINCHAM v Ebbsfleet U.
Burton A. v Crawley T.
Forest Green R. v Wrexham
Grays A. v Lewes
Histon v Salisbury C.
Kettering T. v Northwich V.
Kidderminster H. v Barrow
Mansfield T. v Woking
Oxford U. v Rushden & D.
Torquay U. v Stevenage B.
Weymouth v Eastbourne B.
York C. v Cambridge U.
OLD BOYS
Former Alty trialist Gavin Salmon hit a hat-trick when woodley Sports beat Northwich Vics 4-1 in the Cheshire Senior Cup last week. Steve Aspinall netted twice for Colwyn Bay on Saturday - one of which was was a penalty. His former team-mate Karl Munroe was sent off for Hyde United. Also seeing red was James Olsen for Burscough. Former Alty captain Chris Timons netted for Hucknall Town, as did winger Colin Potts (for Fleetwood). Also in the Cup Former Alty youth graduate "Mark Drew's last minute spot kick earned Witton another chance to topple Gateshead. The hosts hit the front against the run of play on 71 minutes... only for Witton to bounce back on the stroke of full time. They now host the Tynesiders at Wincham Park in a replay this Tuesday".
BSP NEWS
Bullsnews tells us that Torquay United's "Tim Sills has auditioned for the Sky1 series 'Don't Forget The Lyrics'. He planned to give the testers a burst of Wham's 'Club Tropicana'".

More bad news for Dino Maamria as "Michael Welch was taken to hospital after he left the pitch on a stretcher during Vics' 3-2 loss to Weymouth. The Vics' skipper collided with keeper Scott Tynan after heading the ball into his own goal seven minutes into the second half. He was treated on the pitch before being carried from the field. Ironically Weymouth sub James Coutts scored his side's winner in the fifth minute of stoppage time added on to account for the time spent treating Welch. 'It's too early to tell what the damage is', manager Dino Maamria told the Guardian after the game. 'It looked bad from the sidelines and now we'll just have to wait for news'. Welch suffered a small cut above his right eye in the incident as well as taking a hefty blow to the same side of his head" reports the Northwich Guardian.

And "John Hollins, the Terras' manager told the Guardian the visitors could easily have left the Marston's Arena pointless after they came from behind to win 3-2. 'That was fun wasn't it?' he quipped. 'We went in front with a lucky goal which is something we haven't had for a long time... I was fuming at half time. I'm sure Dino will point to three or four headed chances inside our penalty area but I can't believe some of the chances we missed'... On the game's turning point – Mark Roberts' foul on Ryan Williams that led to the Terras' equaliser from the spot at 2-1 – Hollins was adamant. He said: 'It was a definite penalty. Ryan got himself into a good position and their player took him down. I was pleased with the winner too, especially after Coutts' first effort had gone out of the ground'...

But "Dino Maamria questioned his side's character after they threw away a winning position against Weymouth... 'We are nearly men', he said. 'We have come so close in so many matches yet we miss out and I think it's because we lack character. We should win matches like that, it's that simple... The loss of Michael Welch disrupted us because he had been the best player on the pitch... After that we started defending so deep it was frightening. They didn't score because they put us under any pressure... Scott [Tynan] was too slow to react for their first goal and Welchy had to make a decision to head the ball because he was under pressure. I thought Robbo got the ball for the penalty, no question... People will say their guy scored a wonder goal but he had far too much time to come forward and shoot – we were asking for trouble... Sometimes it feels like we are waiting to concede a goal before we start playing', added Maamria. 'I though Aaron Burns was different class again today', he said. 'He's hit two chances out of the ground but kept going and look how he took the third opportunity. He had the bottle to take his chance and I want to see that from everybody out there'".
---
28 September 2008
SUNDAY
Sunday 28th
Cambridge U. 1 Grays A. 0 - the winner was a penalty in the 5th added minute.
Stevenage B. 3 York C. 3
League Table
STUART BACKS GRAHAM
In Non-League Today, keeper Stuart Coburn indicates that following criticism of the players from the Alty manager the "team's reaction to Heathcote's shock tactics proves how respected the boss is in the dressing room. 'All the players are behind Graham' he said. 'We showed that with our performances in the last two games. We all had our backsides kicked and the response has been good. But it's only two results and now we've got to take that to Rushden. It'll be tough but we'll take confidence from the two wins'". The paper adds that Stuart "also fels it's wrong that Heathcote has taken the brunt of the stick from fans. 'The chants have mostly been aimed at the manager', he added. 'That's unfair. He can only send us out to play with the knowledge we need. If we don't put that into practice, the buck shouldn't always stop with him. And we saw the other night that, if we put in a performance, the fans soon forget about calling for the manager's head'". Stu is also pleased at two successive clean sheets "after just 14 in his last 100 games for the club, the keeper has now kept three in [the last] three home games. And he is determined to surprise everybody, including Setanta Sports, by achieving another shut-out at Nene Park. 'Last year they put us on TV at Stevenage probably thinking we would be cannon fodder', he said. 'But we ran them close and we'll go to Rushden hopeful we can get something'".
FOOD FOR THOUGHT
Rushden and Diamonds invite all fans, home or away, to dine in their Kimberley Suite at Nene Park tomorrow evening before the match with Altrincham. The menu will be steak & mushroom pie or chicken curry and rice, for £7.50 per person. There is full waitress service, a fully licensed bar and Sky Sports on big screens. Tables can be reserved in advance but there is no need to book in advance and "Away supporters are most welcome!" Meals start from 6.00pm
SUPPORT THE CLUB AND CHARITY TOO!
Please come along to Moss Lane today (Sunday 28th) where at 2pm there is a charity football match featuring many well-known names from the worlds of sport and television. Entry is just £5 for adults, £2 for concessionaries and £10 for a family of two adults and two children.

Organizer of the game, Suzanne Goodwin, has revealed that the charity football match at Moss Lane this Sunday (2pm) will include a host of well-known sportsmen playing for Darren Gough's XI against the celebrity All Stars of Ennerdale, Coronation Street and Emmerdale. As well as Darren himself, The Gough XI includes Bryan Robson, cricketers Gerard Brophy, Tim Bresnan, Andrew Gale, Chris Lycett, Anthony McGrath, Richard Prior, Jacques Rudolph, Chris Taylor and former Alty striker Rod Thornley. It is also hoped that another ex-Alty man, Dave Gardner, will play.

The proceeds of the match will be split 50-50 between the McGrath Foundation cancer charity and Altrincham FC. In addition there is an Ebay auction to play in Darren Gough's side, with the proceeds going to the Cancer for Kids charity. On Ebay insert item number 300261096989 to locate the auction.
OLD BOYS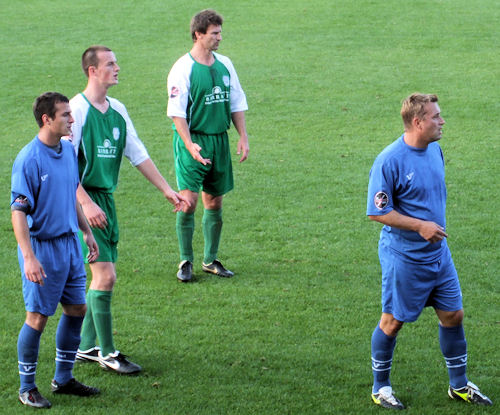 Altrincham had no game on Saturday so a few of the Robins' fans took themselves to Nantwich's new ground at the Weaver Stadium. Situated not far from the town centre, it boasts an excellent cantilever stand and a fine club house. The Dabbers were playing a second qualifying round match in the FA Cup against FC Halifax Town, from the league below them - the UniBond Division One. Though the visitors took the lead, in front of a crowd in excess of 1,000, Nantwich came back to win 4-1. For Alty fans there were quite a few former players on show. For a start the Halifax boss is ex-Alty man Jim Vince, whilst his team included Cavell Coo, who started in right midfield. The Nantwich side included Darren Tinson and former Alty reserve Ashley Stott. On the bench for the Dabbers was Ryan Shotton's brother, Liam, who came on and laid on one of the goals. A familiar name from League football on show was the Halifax assistant boss Nigel Jemson, the former Nottingham Forest striker. He came on in the first half to replace an injured player and put himself about but showed little of his former skill on the ball. Darren Tinson was named Man of the Match.

Right: Left to right, in green, Nantwich's centre-backs Charlie O'Loughlin and Darren Tinson, with Halifax strikers Ashley Stott and Nigel Jemson.

Meanwhile, on Friday night, Ryan Shotton was again on the mark for Tranmere Rovers, where he is on loan, whilst this Saturday Ian Craney scored Huddersfield Town's goal in a 1-1 draw.
BSP NEWS
NL Daily reports that "Lewes have appointed former Brighton skipper Danny Cullip as player-coach. The Rooks will be hoping Cullip, who signed in the summer from Gillingham, can help guide them away from the foot of table. Lewes [have been] boosted by the arrival of Charlton defender Aswad Thomas on a month's loan. The Westminster-born 19-year-old has already had loan spells at Accrington Stanley and Barnet, where he made thirteen and two appearances respectively".
MASCOTS
The Mascot Grand National will be started this year by Arsenal's Theo Walcott. The annual race is at Huntingdon on 5th October. The proceeds go this year to The Willow Foundation, a national charity set up by Arsenal's former goalkeeper, Bob Wilson and his wife, Megs. The charity organizes special days for seriously ill 16 to 40-year olds throughout the UK. To date the charity has organised by than 3,000 special days for people living with cancer, motor neurone disease, cystic fibrosis, organ failure and muscular dystrophy amongst other conditions.
---
27 September 2008
SECOND BOSS TO GO
Following the recent change of manager at Woking, Wrexham have become the second BSP club to change their manager as they "announce that Brian Little has left the Club by mutual consent. The Board would like to thank Brian for his honesty, integrity and unceasing efforts and wish him every success in the future. Brian Carey and Martin Foyle will take-over team affairs for the game against Torquay United today, and will be overseeing training next week".
BSP GAMES
Saturday 27th
Barrow 0 Ebbsfleet U. 3
Burton A. 4 Forest Green R. 2
Crawley T. 1 Kettering T. 0
Eastbourne B. 2 Kidderminster H. 3
Lewes 2 Oxford U. 1
Northwich V. 2 Weymouth 3
Salisbury C. 2 Mansfield T. 3
Woking 1 Histon 0
Wrexham 1 Torquay U. 1
OLD BOY
NL Daily reports that former Alty striker "Ken McKenna has stepped down as manager of UniBond League Premier Division club Cammell Laird. He will, however, be staying on with the club on a part-time basis... working on numerous corporate and sponsorship opportunities... Replacing McKenna as manager will be current player and ex-Bury and Stalybridge Celtic defender Derek Ward" who himself had trials with Altrincham. "Chairman John Lynch said: 'We have decided to make changes and re-structure the football club. I am delighted Ken has stayed on'... McKenna said: 'Within the current financial climate, it has become increasing difficult for the club to employ a full-time manager. I have really enjoyed my time here as manager but the club had to be re-structured and I am still pleased to be a part of the team moving the club forward'. Ward will be assisted by current team-mate Ian Cooke".
SATURDAY
Altrincham's first team has no game this Saturday; instead they are away at Rushden on Monday. So if you fancy a local game this Saturday, here is a selection. Local home ties in the FA Cup 2QR round draw include the following.
Nantwich Town v FC Halifax Town
Southport v Vauxhall Motors
Stocksbridge Park Steels v Curzon Ashton
Droylsden v Bradford (Park Avenue)
Buxton v Burscough
Stalybridge Celtic v Farsley Celtic

League match:
Northwich V. V Weymouth
STAGS SHAKEN
As for Mansfield Town, This is Nottingham reports "Their latest setback was a 1-0 defeat at struggling Altrincham on Tuesday night – arguably the club's most disappointing result of the campaign to date. But [Jason] Lee insists Mansfield are confident of turning things round on the road, with three points at the Raymond McEnhill Stadium firmly in their sights. 'I would say the biggest problem at the moment is we aren't passing the ball as well as we can', he said. 'I think we perhaps went a little bit route one-ish at Altrincham. We didn't put enough passes together and when we went longer it played into their hands'".

And The Chad adds that "McEwan has spoken at length with his players about Tuesday's miserable 1-0 defeat at part-timers Altrincham... 'We had a long discussion about the match this morning...I am not happy with our defending... But, apart from Gary Silk clearing off the line and the goal Altrincham didn't worry us all night. We were playing a part-time team and we have to be better than that. I am not putting up with that nonsense, giving goals like that away. Of course we want to win away but the pressure is coming from the media... I can think of four good chances we had on Tuesday'".
OLD BOYS
From the NL Daily we learn that ex-Alty midfielder "Ally Pickering, manager of Woodley Sports, turned to some of the club's youngsters last Saturday - and they delivered. After a patchy recent run of results, Pickering has decided to release three players - Nat Kerr, Luke Horrocks and Cane Hanley. [All three have been Alty trialists in the past eighteen months or so]" reports the Stockport Express
BSP NEWS
The Sussex Express says that "Kevin Keehan yesterday predicted that a number of other clubs in the Blue Square Premier would face financial problems to at least rival the Rooks in the week that saw the Lewes board of directors hand their manager a vote of confidence. Keehan said, 'I was happy with the statement the Board put out. They had to make a statement because there was so much talk about the situation. They needed to try and make some clarifications, including about the budget. They have made it clear that they're not happy with the results - but none of us are'... Keehan compared the Rooks's situation to teams such as tomorrow's opponents Oxford, who are facing a financial crisis. 'They (the Lewes Board) had to get their house in order. There was a risk in that. But there are a lot of clubs that are going to have big problems this year financially. It's not going to be easy for us but we have put a sensible slant to it... I'm 100 per cent sure after Christmas clubs are going feel the pinch – maybe even go into administration'".

Surprising news comes from the Salisbury Journal Salisbury City Football Club have set themselves a target of raising £100,000 in the next two weeks so that they can maintain their position at the top level of Non League football... Supporters will be able to assist by collecting donations from their friends and business colleagues, and also by bringing new football-watchers along to home games, whilst the club's existing business partners will each be asked to raise £1,000... Chairman Neville Beal, who will speak to home fans on Saturday at the match against Mansfield Town, said: 'Our supporters will learn the full details of how these initiatives will be put into practice at Saturday's match. I am confident that we can achieve our target'".

Later the Journal added , "Speculation is rife around the city as to why the club requires that specific amount in such a precise time frame, but City officials are adamant the money is urgently needed, not to meet a specific financial deadline, but simply to get the club back on an even keel. 'We need to raise £100,000, or more if we can, to put this football club back on a level playing field financially in order to give us a chance to kick on', the chairman told The Journal... 'If we can raise this money we will owe very, very little as a club', he explained... Mr Beal, a former City player, who helped save the club when it almost folded six years ago, revealed that the speech he gives on Saturday will be an emotional one. 'I'll be trying to get across to the fans that it's as much their club as it is mine. The speech will be from the heart because it's how I feel'... Behind the scenes the club is reeling following the departure of millionaire director Peter Yeldon, who quit the board towards the end of last season... Mr Yeldon helped bankroll the club's meteoric rise through the non-league ranks... A marked dip in attendances this season has helped contribute to a shortfall in revenue. Last season... saw Salisbury average 1,542 supporters at each home match. But this term, that figure has already slipped to 1,227... The current economic climate, a significant rise in admission prices at the start of this campaign and adverse publicity concerning what was viewed as an escalating anti-social behaviour problem on the terraces of the Raymond McEnhill Stadium have all been implicated in the decline. Mr Beal [added], "An extra 300 people a week works out at £60-65,000 and that makes a massive difference'. Addressing the recent issue of undesirable behaviour by a small number of City supporters who have since been banned, Beal acknowledged: 'Unfortunately everyone knows what happened in terms of the arrests'... The club has achieved tremendous early season success despite boasting a much-reduced playing staff compared to last season when the decision was taken to make many of its players full-time professionals".

A recent Conference star is on the move as the BBC confirms that "Cheltenham boss Martin Allen has signed Charlton striker Stuart Fleetwood on loan for a month, his fifth signing. The Robins made two offers to Forest Green last season for the 22-year-old striker before he moved to Charlton after a tribunal in the summer. However, he has not made his competitive debut for the Addicks yet".

Rushden & Diamonds report that "Justyn Roberts [has] signed for Welsh side Newport County... They are managed by former Diamonds' striker Dean Holdsworth".

According to Kidderminster Harriers the club is "pleased to announce that midfielder Neil MacKenzie has re-joined the club on loan from Notts County. The 32 year-old midfield veteran enjoyed a previous spell at Aggborough in the 2000/01 season... Defender Paul Bignot is to leave Aggborough Stadium on a temporary basis after agreeing a loan move to Newport County."

A third Conference player joining Newport County is Grays Athletic's "striker, Craig Reid... on one month's loan".

The Oxford Mail says that "United boss Darren Patterson is confident he can persuade Brentford to agree to extend Karleigh Osborne's loan. The 6ft 2in defender has been excellent in his month's loan... Negotiations took place yesterday with Patterson and Bees boss Andy Scott, the former United forward, and the Brentford chairman, and the upshot is expected to be that Osborne will be able to stay at the Kassam Stadium for a further two months. Patterson said: "Karleigh has been exactly what we needed. He's like Ronseal, he does exactly what it says on the tin. He's big and strong, kicks it far, heads it a long way and is a real no-nonsense defender. But as well as being big and uncompromisig, he's got good pace and is a physically strong boy, and you need that in this league. I'm a bit annoyed not to have done the loan initially for six months, because then there wouldn't have been an instant recall, which there has to be now under the regulations. But it wasn't possible at the time'".
---
26 September 2008
TWO RELEASED
Graham Heathcote has released two of his squad, reducing its size to 19 (including Val Owen who has not played this season through injury). The released players are:
Richard Battersby, the 29 year-old defender/midfielder, who joined Altrincham FC on 18 January 2008. A former Northwich Victoria player (from 2005), Richard had previously been at Radcliffe Borough. He made his Altrincham debut as a sub, the day after signing, at home to York City. He scored once for Alty, the winneragainst Forest Green Rovers on 11 March 2008, which was the only one of his 16 appearances for the club (9 starts and 7 as a used sub) in which he appeared on the winning side. Richard's performances for the club merited a better statistical record than that and it is no doubt due more to the club's limited budget than his ability that he is being released.
26 year-old Paul Tierney, a left-sided defender/midfielder, who joined Altrincham on 2 September 2008. Paul started at Manchester United and was an Eire under-21 International. Born in Salford, he joined Manchester United in July 1999 and made one first-team appearance for the Reds in a League Cup match (2003), after turning professional in 2000. In all he had made 78(+14) league appearances north and south of the border before arriving at Altrincham for whom he made just one start (in the CSC) and three substitute appearances (in the BSP).

The club would like to thank both players for their efforts during their time at Moss Lane and wishes them good luck for the future.
CHRIS DENHAM TO STAY
Altrincham manager, Graham Heathcote, has confirmed that Chris Denham will be staying at the club. There had been doubt about his future at Moss Lane, following the introduction of a third training night for Altrincham's part-time squad. Chris had to miss last Friday's session to attend a funeral and had not been happy about an ongoing commitment to the extra session but, after a meeting last night between Chris, Graham and chairman Geoff Goodwin, agreement has been reached about his ongoing attendance. Graham Heathcote has confirmed that there was never any doubt about Chris's abilities but that the problem had been about the player's compliance with a requirement to attend training which applied to all of the squad. Chris is now happy to remain at the club and to compete for his place like everyone else in the squad and Graham is pleased that he has agreed to do so.

Altrincham fans will be delighted to hear this news as Chris has had a bright start to the season, after joining Altrincham over the summer.
CHRIS IS CONFIDENT
SAM says that "Alty fans already knew Chris Senior (right) was quick - but nobody realised just how quick. On Tuesday night, the pacy striker scored after just 11 seconds to lead the Robins to a 1-0 win over Mansfield Town. It was the quickest goal he had scored in his career - suprising even himself - but Senior was not prepared to take the plaudits for the result. He told SAM Sport: 'It was superb, obviously the result's the main thing but to get such an early goal is great. It sets you off, gives you that early confidence to go on and hopefully push for another one. That didn't come but tonight you could see the confidence after a few good results and now hopefully we can pick up and carry on from where we left off today. "I haven't got a clue what my quickest goal was before that. When I came off the lads were all saying it might be a Conference record. Its something nice to enjoy personally but the team performance was unbelieveable, we worked our socks off and got our just desserts with the result. We can't wait to play Rushden on Monday now, we'll go there full of confidence. Everybody will be backing against us so hopefully we can spring a surprise'.

The victory against Mansfield - who started the game in fourth place in the Blue Square Premier - provided a welcome lift for Alty after 10 days of turmoil. Fans had called for the head of Graham Heathcote during Saturday's 1-0 win over Lewes, leading to verbal exchanges between manager and supporters. But Senior insists that has not affected the players and that they remain behind Heathcote and fully focused on improving results. He said: 'It hasn't really affected us. I think Graham was justified in making sure we got off the pitch at the end of the Lewes match because fans have got their say but we enjoyed the result Saturday, we won and it was much needed. We've been working hard for the last few weeks but hopefully now we've got the confidence to win games and we can carry on where we left off. I wouldn't have said it badly affected the players but confidence is starting to come back now'.

One of the most impressive aspects of Tuesday's victory was the fluid formation employed by Heathcote. While in possession of the ball, Alty lined up almost in a 3-4-3 formation, with full backs Shaun Densmore and Matt Doughty pushing into midfield and widemen Lee Elam and Chris Senior joining Colin Little up front. When the opposition had possession, however, the entire team tracked back well, forming a solid 5-4-1 unit... 'Graham mixed it up a little bit and we went with three up top and it seemed to work, giving us a few more options than we have with just a flat two because we had three up who were all interchanging. The main thing was hard work and if you work hard you find yourself in little pockets of space and then obviously try and do your business from there. I've played on the left before and Lee's played on the right but on Tuesday we switched round. At times we did interchange and Colin found himself out wide, with me or Lee down the middle'" said Chris.
STAGS' VIEW
Stagsnet has an interesting perspective on the game at Moss Lane on Tuesday against Mansfield Town!
STUDENTS WELCOME AT MOSS LANE
Altrincham FC have introduced a student discount on season tickets. For just £99, holders of valid student ID card can watch every Blue Square (Conference) Premier match at Moss Lane this season - that is less than £6 a game for the remaining matches of this campaign. To take advantage of this offer call the club on 928-1045 and ask for Lisa or Karen. The ground is easily accessible from Manchester by Arriva bus 263 and Stagecoach 41 from Piccadilly bus station, or by Metrolink tram. The buses and tram terminate at Altrincham interchange which is less than 10 minutes walk from the ground. Turnstile prices for students are £7 standing and £8 if seated.
OLD BOY
The Tameside Advertiser tells us that on Saturday, when "Droylsden face a Bradford Park Avenue side containing several former Bloods", one of them is ex-Alty midfielder Ged Murphy".
CHESHIRE SENIOR CUP
In the next round of the Cheshire Senior Cup, Altrincham have drawn Stalybridge Celtic, away, at the Bower Fold on Tuesday 11th November, 7.45pm. The full draw is:
Runcorn Linnets v Woodley Sports
Witton Albion v Congleton Town
Stalybridge Celtic v Altrincham
Nantwich Town v Warrington Town

The final results in Round One were:
Cheadle Town 2 Witton Albion 5

Ex-Alty man Rod Thornley, a substitute, scored the fifth Albion goal after Cheadle had led 2-0. Former Alty youth Mark Drew started the game and scored Witton's third goal.
Woodley Sports 4 Northwich Vics 1, att 126

Vics' manager Dino Maamria scored and also had one disallowed. According to the Vics' forum "Richie Sutton is off to hospital re his injury... he says he felt something 'snap'".
BSP NEWS
NL Daily asserts that "Brian Little has insisted he will not walk away from Wrexham, despite their losing streak. Little saw his side slump to a 3-0 defeat against Rushden & Diamonds at The Racecourse on Tuesday night - a result that leaves the Reds thirteenth in the table. For the second successive match, there with boos and jeers from supporters and calls for Little's head as Wrexham's poor run extended to four defeats in their last five matches. Little says he wants to stay in the Wrexham hotseat but admitted he would walk away if asked to do so by the club's board. 'I am here, I want to be here and I am trying my best', said Little. 'If my best is not good enough and people don't want me to be here then fine. I don't want to make anyone's life a misery... I am not here to fill in instead of doing something nice and pleasurable with my life. I want to be a manager and do well, and I was disappointed my team aren't reflecting how they can play but I accept responsibility for that. I will turn up for work until the day someone has a chat and says it is not right. But I fully intend to graft away. If any other decision is made, then fine... I get on great with the people here', said Little. 'If you'd spoken to me three weeks ago, everyone in this room would have said this is fantastic and we are on a roll. And yet in three weeks it appears to have gone in the other direction... I want to try and get this right. But the last two games, my team have not put too many signs up in big lights making it as if they want me to be here, which is a bit disappointing to say the least... It would be wrong to blame them totally. I pick the team, I tell them what to do and ultimately they try and do it', said Little... 'They have under performed and I have to stand by them'" he told the Evening Leader

According to the Mid-Cheshire Chronicle "Northwich Vics have appealed against a transfer embargo imposed by the Blue Square Premier. The league invoked the punishment when Vics failed to provide details of their finances by Wednesday's deadline. Mansfield are also affected. It prevents manager Dino Maamria boosting a squad trying to wriggle out of the relegation zone".

Despite the above claim, Mansfield Town's "Manager Billy McEwan stated he is waiting by he telephone, as he looks to add to his playing squad. 'I spoke to two Football League managers yesterday with regards to bringing a couple of players in on loan', said Billy. '"I received a phone call in relation to one of the players this morning, saying that a deal couldn't be done this week, but it may happen next week. On the other player, I am just waiting for a phone call from his manager. I have a good amount of money left in my budget, given to me by the club, but I will not be squandering it', he added".

Oxford United chairman Nick Merry writes that "Fans, sponsors and the press are aware of the action taken by the Stadium Company, Firoka (Oxford United Stadium) Ltd, on Tuesday at the Oxford United home game against Cambridge as they failed to service the Club's food and beverages requirement for the fixture. This affected supporters, sponsors and officials alike and was hugely embarrassing all round for everyone involved with Oxford particularly with the live cameras there showing Oxford United finally break its live-TV duck. We would like to apologise to all of our supporters who dealt with the situation with a tremendous show of loyalty and a large dose of common sense, perhaps buoyed by a great win. It is not the first time that supporters have had to deal with disappointment from this source.

We have been asked to comment publicly on the reported statements made by John Angus and Firoz Kassam in the past 24 hours on this matter. We would preface these responses by pointing out that we have to continue dealing with these people if the main Oxford United objective is ever to be reached of acquiring the Stadium and Conference Centre in order for Oxford United to be self-sufficient with its own incomes and without the current high rent.

Mr Angus is quoted as saying: 'Each quarter a payment is required for the rent which has not been met. We have spoken to the club since lunchtime today (September 23rd) and asked them for payment. The payment was not forthcoming and we could not provide a food service without that'. Mr Kassam is reported as saying: 'The rent is due. Every quarter we have had to get the bailiffs to get the rent. In the current financial climate we are looking to run our business more efficiently'.

The true facts are that the rent was not due at the time of Tuesday's game. It is only due on the 29th September, next Monday which is quarter day. The Stadium Company insisted that it was due on September 25th (this coming Thursday) and - in breach of the Stadium Licence - that Oxford United provides them with a September 25th postdated cheque for the full £117,103 by that afternoon of September 23rd or they would withdraw services from the game. In response to the assertion that bailiffs have been used every quarter to enforce the rent, the true facts are that bailiffs have never been used to get the Stadium rent throughout the 10 quarters since we took over the Club. It is always a great struggle to pay the quarterly Stadium Rent of £117,103 yet on average, over two and a half years and 10 quarters since we acquired the Club, the Rent has been paid an average of only 8 days late and the latest ever was 30 days.

The shop rent of £7,931 was overlooked one quarter and the bailiffs arrived unannounced after only 6 days. That is the only occasion in our tenure when bailiffs have been used against Oxford United as was disclosed at the recent AGM. Most Landlords are reasonable with rental payments, particularly in difficult times. This seems not to be the case with Firoka. For completeness, when considering amounts owed by Oxford United to Firoka, there are always routine small amounts outstanding between the parties for catering, hotels etc. As at Tuesday's invoices, Oxford United owed Firoka £3,645 and Firoka owed the club £1,902... This recent event is a clear example of the kind of unreasonableness which has made dealing with the Stadium Company so difficult over the last 2 years... We make no secret of the financial difficulties of running a Football Club with falling attendances and high Stadium rent and other costs. Every month is a struggle and our Investors and myself have already put in far more money than we wished.

However, whilst a serious possibility, it would be so frustrating and annoying for the Board and for all Oxford supporters for us to fail when we are closer than ever to a realistic partnership which, within 12 months, could return the Stadium to Oxford United, allow Mr Kassam a reasonable financial exit and allow the Club thereafter to fund itself within its own means from stadium revenues. We would ask Mr Kassam to help as much as possible in these mutually difficult times".

Meanwhile, Oxford Mail adds that "After a turbulent few days for the club, chairman Nick Merry and chief investor Ian Lenagan broke their silence, as former owner Firoz Kassam claimed that he was still owed money... No official statement has been made on speculation among fans that the club might opt to go into administration. However, the Oxford Mail understands that option is not being seriously considered. Responding to claims that he was being made a scapegoat for the on and off-the-field problems, Mr Kassam said: 'It's very nice and easy to blame Kassam for everything'... Mr Kassam's Firoka company refused to serve food to United's directors, in protest at what it called 'non-payment of bills'. United pay more than £400,000 a year to their former chairman for the use of the stadium that bears his name... The acquisition of the stadium is crucial to United's future financial stability, but Mr Kassam remained defiant over Mr Merry and Mr Lenagan's apparent inability to come up with the £13m needed to buy it. He said: 'The situation has always been there. If they cannot raise the money it is the current owner's problem, not mine'. When asked if he wanted to see United fold, he said: 'Absolutely not, but people have to run their business'".

"York City have agreed to let Jimmy Beadle leave the club" stats the Football Conference. "The 20 year old midfielder has spent the last month on loan at Whitby Town and his spell is due to end on Saturday... It is understood that Whitby are keen to offer Beadle a permanent deal and that the player has reluctantly decided to leave City".

Torquay United report that "boss Paul Buckle has signed Shrewsbury Town goalkeeper Scott Bevan on a month long loan. Bevan, 29, started his career at Southampton and, among others, has featured for Huddersfield, Wycombe, and MK Dons. The 6'6'' goalkeeper joined Shrewsbury from Kidderminster, where he played over 50 games, in January this year... 'We have lost Michael (Poke) to injury so it was important to act quickly and get a replacement. We could have recalled Martin (Rice) from Truro but Scott became available. He is a goalkeeper who has a lot of experience at this level and I earmarked him before as a possible signing but he chose to go into the Football League. I am very pleased that he has decided to come to Torquay on loan'" stated Buckle.

"Lewes have denied rumours they have applied to join the Ryman League" claims The Argus. "Communications director Steve White said: 'These rumours are completely unfounded... "The club is in the process of putting together a statement to outline the requirements and funding needed to attain the A ground grading which we very much want'".

The Northants Evening Telegraph says that "Imraan Ladak insists Kettering Town are pulling out all the stops to finally try and resolve their long-running stadium saga. The current lease on the A-Line Arena is due to end in five years... Ladak has revealed there are a number of irons in the fire and says he will continue to do everything he can to solve the problem. 'If the problem wasn't so immediate maybe we wouldn't be pulling out all the stops to get it sorted out. My view on it is that until we get a position where we have passed a deadline and it becomes in the hands of other people then I will be doing everything I can. I am pleased with the progress we have made. We have got so many different things that we are close on and if one of them does work out then we will be fine'. The popular rumour at present would suggest the Poppies could even be thrown out of Blue Square Premier on March 31 next year if a long-term solution isn't found due to their lack of a 10-year lease. Ladak, though, believes Kettering have a strong defence and is hopeful it won't come down to that.

He said: "We have an email from the Football Association from January 2007 which clearly states, following a conversation with then Conference chief executive John Moules, that our lease is acceptable for the Conference Premier. We were given that information. We understand that we are supposed to have a 10-year lease and if we hadn't been told that information then maybe we wouldn't have put as much financial backing into going up because we felt we had a bigger window. The way I am looking at it is we do have a defence there that we would work on. But I would rather it not get to that. We have to look at it that Mark (Cooper) might get us into the top five and if that happens we want to be able to challenge for a place in the Football League. As we stand our present lease definitely isn't good enough to go up into it. So, regardless of the Conference, if Mark carries on doing what he does I need to solve the problem... It's a long shot but that's the way I have to look at it'".
---
25 September 2008
ALTY STAY OUT OF TROUBLE
Grays A. 1 Stevenage B. 2
League table
Grays' defeat leaves Alty out of the relegation places.
MANSFIELD GAME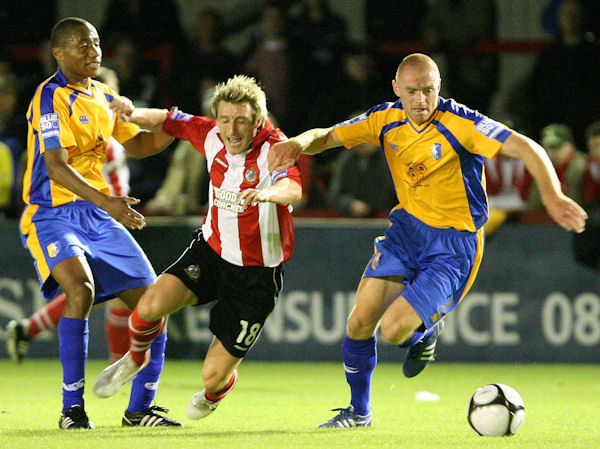 Right: Gavin Rathbone's photo captures Lee Elam wrestling for possession against Mansfield Town.
SAM says that Alty's win over Mansfield "was just what the club needed to ease the pain caused by arguments and in-fighting. Since defeat at Stevenage 10 days ago calls for change at the club had grown louder, coming to a head when fans clashed with manager Graham Heathcote during Saturday's 1-0 win over Lewes. But as the game got underway all the talk swiftly stopped. Moss Lane was stunned into silence by the brilliance of Senior. Taking the ball straight from kick off, he weaved his way through the entire Mansfield team and exchanged passes with Colin Little before poking a deft finish into the bottom corner. There were just 11 seconds on the clock. It took a few moments for the Alty faithful to realize what had happened but when it finally registered, they quickly found their voice... Mansfield simply could not keep up with the high tempo style employed by Alty and the home side's fluid 5-4-1 formation allowed them to dominate the midfield without losing any attacking edge. The wide areas were key for the Robins, with Senior and Lee Elam both busting a gut to make a difference in both defence and attack... Alty man of the match: Anthony Danylyk. Plucking Danylyk from the Unibond League was a masterstroke by Graham Heathcote. Despite being the least heralded of Alty's summer signings, he has probably been the Robins' best player so far this season. Against Mansfield he never stopped running. Danylyk was always there to help out his defence and break up play but was a calming and creative influence on the ball. He was the heartbeat of the team".
"Mansfield's lack of cutting edge in recent matches is an increasing worry, admits boss Billy McEwan. The Stags failed to net for the first time in a Blue Square Premier game this season as they lost 1-0 at Altrincham last night" reports This is Mansfield. "He said: 'A lack of penetration is a problem, but it's not for a want of trying. We miss (Aaron) O'Connor and the way he can stretch teams, but we don't know if he has a chance for Saturday... Nothing dropped for us in the final third but we also had problems in the build-up. There was a lot of effort from the players but not a lot of thought'... Mansfield did not help themselves by conceding what proved to be the winner after only 11 seconds. McEwan said: 'I can't believe it. I never saw it because I was coming out of the tunnel when it was in the back of the net. We gift silly goals and there is another one. Altrincham gave it a real good go, but I never thought we were in any danger of conceding any other goals other than us committing hari-kari. And their keeper has made a couple of really good saves'. McEwan saw the game as an ideal chance for Mansfield to break their away duck and so was disappointed with the result. He said: 'I thought we had got a good opportunity. It is the kind of start to a game normally confined to a pub team'.... Chris Senior could hardly believe his luck as he advanced to almost the edge of the penalty area without so much as being challenged. He was probably just as surprised he was allowed to take a return pass from Colin Little in his stride on the edge of a crowded penalty area. Suddenly, as Senior broke through a weak tackle, he had a sight of goal but still had plenty to do to find the target. Paddy Gamble looked well positioned as Senior stretched to get a foot to the ball with Stags defenders trying to recover, yet he was beaten by a well-placed shot that sneaked inside the corner... Mansfield have now taken only one point from their last nine and the early optimism is fast disappearing. Not only are the Stags finding things tougher on the pitch, they are also under a cloud off it with the revelations they are being investigated by the Conference and the FA for allegedly fielding ineligible players".
The Chad quotes Billy McEwan, "You have to respect the opposition and if you are not right than anyone can beat anyone... In the first half we played some decent football without carving them open'. Stags could be without left back Alex Jeannin at the weekend after he limped off with a thigh injury that he been having treatment on prior to the game. Earlier in the day McEwan had taken the precaution of registering former Sheffield Wednesday youngster James Kay in case of needing another left back... 'I thought we lost our shape a bit when Alex when off and Michael had to change position', said McEwan... McEwan refused to let the press speak to any of the Stags players last night".
CHRIS DENHAM
SAM adds that "Chris Denham's Altrincham future is in doubt after the winger refused to commit to extra training sessions. Robins' boss Graham Heathcote insisted last week that Denham was still an Alty player following rumours he had left the club. But it appears the summer signing will not be at Moss Lane for much longer after a bust-up with Heathcote over extra training sessions. In a bid to improve his side's form, Heathcote is bringing his squad in for extra training on Friday evenings, in addition to the usual Tuesday and Thursday night sessions. Denham said he would not commit to the extra training though and now looks likely to leave the club, although Heathcote refused to be drawn on the player's future. 'I asked something of the players but Chris wouldn't comply', said the Alty manager. 'I'm trying to sort the dressing room out, it's nothing to do with the player's ability'. Denham has become an immediate fans' favourite at Moss Lane since arriving from Droylsden in the summer... In his last outing for the club - the 4-2 Cheshire Senior Cup victory over Vauxhall Motors - he had an argument with Heathcote before the start of extra time. Alty beat out a host of clubs to sign Denham in the summer, including big-spending Rushden and Diamonds, and there is likely to be no shortage of takers for the 26-year-old".

On the Alty Fans' Forum is a message relayed from Graham Heathcote, saying "I have not touted Chris Denham around to any clubs. One manager had already expressed an interest in Chris some weeks ago. I told him he was not available. I subsequently recontacted him to let him know of Chris's discontent. I have no desire to keep anybody who is unhappy at the club. Chris made it clear that he would not be available for training on Fridays after I had agreed that the funeral last week would take precedence. Chris contacted the manager of another club, who phoned me on Thursday. That club is currently trying to find a way of signing Chris that is agreeable to all parties". Monday 29th
Rushden & D. v ALTRINCHAM
CSC
Altrincham' Cheshire Senior Cup match last week was a week or so ahead of everyone else's. The other scores are
Mon. 22nd: Hyde U. 0 Congleton T. 1, att. 104
Tue. 23rd: Alsager T. 0 Stalybridge C. 1, att. 53. During this game Alty's former reserves' keeper Craig Ellison was in action for Alsager against another ex-Alty man, Lee Ellington.
TUe. 23rd: Cammell Laird 1 Warrington T. 2, att 88
Tue. 23rd: Winsford U. 1 Runcorn Linnets 3, att 88
Wed. 24th: Cheadle T. v Witton A.
Thu. 25th: Woodley Sports v Northwich V.
NEXT MONDAY - RUSHDEN
Altrincham FC travel coordinator Tom Jacobs announces that "Once again we will be running a mini bus service to the game at Rushden on Monday (29th). Unfortunately there were not enough people to run a coach. You can still book on by calling the club on 0161 928 1045".

According to Blue Square Football, "Rushden & Diamonds have been unsuccessful in their bid to have Manny Panther's red card against Burton Albion rescinded. The midfielder, who is on loan from Exeter City, was sent off on his debut for an alleged head-butt on Albion's Michael Simpson. Panther was convinced of his innocence and hoped that video evidence would confirm his view of the incident, but the FA decided to reject the appeal. The 24-year-old now faces a three match suspension, one game of which has already been served after Panther missed Diamonds' clash with Wrexham on Tuesday night". He should therefore miss the game against Altrincham this Monday.

The Northants Evening Telegraph says that on Tuesday "A third successive win moved Rushden & Diamonds up to sixth in the table with a crushing 3-0 victory over Wrexham. Curtis Osano's free kick from inside his own half set up the opening goal as Daryl Clare shot right-footed past Gavin Ward. Chris Hope doubled the advantage with a header from close range from a ball in by Lee Tomlin. And Hope scored his second and Diamonds' third from a free-kick, provided by Tomlin, six minutes from time. Wrexham's woeful defending made it light work for Diamonds."

Rushden & Diamonds has an interview with Garry Hill after their win last Tuesday. The manager said,"We'll now prepare properly for the game against Altrincham... We're getting there - we're not good enough yet". Asked about the withdrawal of Daryl Clare, Hill said, "You've got to realise that Daryl's been out for 7 weeks, sometimes when you've got diamonds you've got to put them away in the cupboard, and he's one of them to me!... When you see the work rate from some of the midfield players getting forward tonight, Wolleaston is getting fitter now, Lee Tomlin tonight was a different class".
BSP NEWS
The Northwich Guardian says that Vics "will appeal against a ban stopping the club signing new players. Manager Dino Maamria told the Guardian last week that he was barred from bringing in fresh faces to ease his injury crisis, an embargo that has been in place since last Wednesday. 'That was for an alleged failure to provide certain financial information in terms of management accounts, certainly not because of any unpaid creditors', read a club statement. Since the takeover there have been numerous inherited issues with regard to (lack of) accounts – these have proved expensive, time-consuming and a distraction. The FA and Football Conference have both recognised the club has been put in a difficult position, not of its own making'. No date has been set for a hearing although it is likely to be weeks, not days, away... The club hope to have the embargo lifted by the end of the week... Meanwhile the game's governing body has denied punishing Vics with a transfer ban. 'It has nothing to do with us, speak to the Conference', said FA spokesman Mark Hooper. The Guardian called the league on Thursday and is still waiting for general manager Dennis Strudwick to respond to a request for an interview. The Football Conference has introduced a new system this season, designed in tandem with the FA, for the 68 clubs in its Premier, North and South divisions, to help them keep on top of their debts. Clubs must report to league bosses every quarter on what they owe HM Revenue and Customs and are required to show they have paid up within two months or have a written agreement scheduling the payments. In Vics' case it is the latter. If a club fails to pay its tax, or it fails to provide information requested by the league, then the Conference will slap them with a transfer ban.

The club statement continued: 'There have been a number of challenges since the takeover last November. Since then substantial investment – well into six figures – has been made. It is fair to say that the financial records of the club were in various different locations and some documents could not be found'".

The Football Conference tells us that "Torquay United have recalled goalkeeper Martin Rice, currently on loan at Truro City.. after first-choice keeper Michael Poke picked up an injury in Tuesday's fixture with Forest Green, which resulted in striker Tim Sills taking his place in goal for more than 75 minutes. Buckle told the BBC 'He's been keeping clean sheets at Truro and I'm confident he can come in and do the business'. Commenting on the injury to Poke, manager Paul Buckle added 'It's a pulled muscle and it's a thigh muscle so it's massive for him with striking the ball. The downside is we've lost Michael but the upside is that Martin Rice is match fit'".

the Conference also confirms that "Woking FC have annouced the appointment of Phil Gilchrist as 1st Team Manager. The former Leicester City, West Bromwich Albion and Oxford United defender will take charge from immediate affect, initially on a contract until the end of the season".

"Grays Athletic has signed hitman Jonny Dixon on a month's loan from League One side Brighton. The 24-year-old has struggled to hold down a regular place at the Seagulls since joining them in January. Dixon is likely to make his debut for Grays when they take on Stevenage Borough on Thursday night. The striker has had previous spells with Wycombe Wanderers, Crawley Town and Aldershot Town" says BS Football.

The BBC tells us that "Lewes have issued a statement backing manager Kevin Keehan, while admitting results have been 'disappointing'. It says the club remain 'confident' Keehan can take them forward and also states the playing budget has been cut by 35% from last season. Keehan told BBC Southern Counties Radio: 'The board have had to make tough decisions. We've got to try and get the crowd back on our side. We gave a determined performance at Histon, people will accept that'. The Rooks remain without a win after 11 games since promotion. Keeper Rikki Banks, signed from Worthing, welcomed the public backing for Keehan. 'Kevin's brought eight of us in who have not played above Ryman Premier. We want to get him out of the trouble people think he's in. Everyone is working their backside off'".

Barrow's "Keeper Tim Deasy last night revealed he had been playing for several games with a broken thumb – and vowed to regain the number one spot" reports the NW Evening Mail. "The Bluebirds drafted in Scottish U-19 international Alan Martin for his debut at Northwich but still went down to their third successive defeat... AFC managers Dave Bayliss and Darren Sheridan yesterday released second-string keeper Aaran Taylor and brought in Martin from Leeds. The 19-year-old youth and reserve team player has joined on a one-month emergency loan, the club citing Deasy's broken thumb as the reason".

From The Argus we read that "Kevin Keehan has begun to repay the faith shown in him by Lewes directors. Keehan's side produced a performance full of spirit and character away to Histon last night just hours after their manager had been given a vote of confidence. The ten-man Rooks seemed to be holding on for their first win of the season until their fifth-placed hosts struck a 90th-minute equaliser. Earlier in the day Lewes had issued a statement backing their underfire manager, whose side remains bottom of the table. The Lewes manager said: 'It is a genuine vote of confidence which is good. We knew it wasn't going to be easy. The directors have had to make difficult decisions and you have to cut your cloth accordingly. Lewes fans will accept performances like that, showing the spirit we showed. We have now got to build on that. The players don't know what went on today but I am convinced if we can match teams for effort we will do well. We showed a lot of passion and desire, which we lacked on Saturday [at Altrincham]. We passed it really well, created chances and could have had three or four'"

The manager's performance was discussed at a board meeting on Monday and again in a meeting with Keehan yesterday, after which the directors issued their vote of confidence. A carefully worded statement confirmed the board are still behind their manager... 'It was agreed by all parties that results have been disappointing and that some changes will be required to improve the team's poor form. As a result, Kevin Keehan is looking to strengthen the playing squad in key areas and equally the board of directors are looking to raise more funds via commercial activity. The board of directors remain confident that Kevin Keehan will be able to move the club forward'.... The statement also confirmed Keehan's budget was 35% less than his predecessor, although there were funds yesterday to bring in 19-year-old striker Sam Gargan on loan from Albion".

Reading This is Weymouth we learn that "Weymouth boss John Hollins has not yet received any offers for the five players he transfer-listed at the weekend. However, AFC Bournemouth manager Jimmy Quinn and his assistant Jason Tindall, and Yeovil Town's number two Steve Thompson were all in attendance at the Wessex Stadium last night as Weymouth captured a creditable 2-2 draw against Crawley Town. Three of those up for sale, Scott Doe, Michael Malcolm and James Coutts, signed for the Terras when Tindall was at the helm but so far the non-League club has received no firm enquiries for either man, or Danny Knowles and Josh Webb. Hollins said: 'If I could I would like to be able to give them more money but at the moment there is nothing left in terms of the playing budget... it will be up to them to decide if they want to go or not but so far we have had no offers. That is the way I work and I want to do the right thing for them and for the club. None of them have let me down and I want them to reap the rewards.. If we do let them go it means we can bring in new players which is the other side of it... I am a point collector, that is my job, and that is what I want to do and so far we have not collected enough'".
SETANTA SHIELD
Redditch U. 0 Solihull Moors 1

Solihull will now face AFC Telford away in round 2
---
24 September 2008
ALTRINCHAM 1 MANSFIELD TOWN 0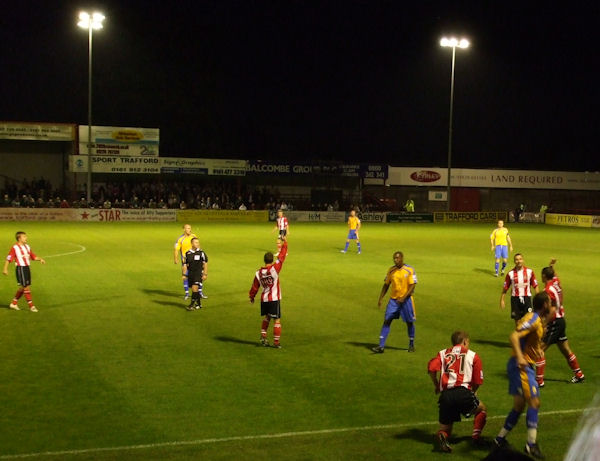 There was no good fortune about this result as Altrincham put their disappointing win over Lewes well behind them with this throroughly deserved win over a Mansfield side still seeking its first away win of the season.

Match report here.

Right: Action from the game with Mansfield.
ALTRINCHAM 1 Mansfield T. 0
Ebbsfleet U. 1 Eastbourne B. 1
Forest Green R. 1 Torquay U. 2
Histon 1 Lewes 1
Kidderminster H. 2 York C. 0
Northwich V. 2 Barrow 1
Oxford U. 2 Cambridge U. 1
Weymouth 2 Crawley T. 2
Woking 1 Salisbury C. 0
Wrexham 0 Rushden & D. 3

This is Nottingham reports that "Mansfield's dismal away form continued at Altrincham as they were sunk by the only goal of the game after just 11 seconds... when Chris Senior was given far too much space in the box and he poked home into the left corner... Altrincham played largely on the counter after their early success, but Mansfield lacked the imagination to break the Reds down. Their best chances were set piece headers from Jason Lee and Alan O'Hare and a strike just before the interval from Nathan Arnold that was well saved... Alty almost doubled their advantage again in the 26th minute when Greg Young's header from a right-wing corner was heading for the net before Gary Silk hacked the ball off the line".

And the Mansfield Town site adds that "As Altrincham began to tire after their gung-ho start, Stags started to come into their own... Stags' best chance of the first half came one minute from the end. After good build up play through the middle, Nathan Arnold struck a powerful 25 yard drive which home goalkeeper Stuart Coburn did well to get down to push wide. Striker Jason Lee should have done better from the resulting corner, after heading over from only a few yards. Mansfield were unfortunate to be behind in the opening 45... In a second half of few clear cut chances, Stags failed to test the home goalkeeper nowhere near enough".
BEFORE LAST NIGHT'S GAME
Before last night's game, This is Nottingham reported that "Alan O'Hare believes his side should be settling for nothing less than three points from away games. Despite securing five wins and a draw on home soil to make a solid start to life in the Blue Square Premier, the Stags have not won on their travels. But they are hoping to secure that first away victory at struggling Altrincham tonight... He said: 'There is no point going and hoping to get a draw in away games... We need to go out and get the win in away matches because we do not want to be lagging too many points behind the leaders... We need to go and get the win tonight'. The former Chesterfield defender said Mansfield should have nothing to fear as they look to bounce back into the Football League. And he said it is imperative they do that by playing a passing brand of football, both at home and on their travels. The 26-year-old said: 'The manager can go away from home and go 4-5-1 and be defensive and hope to hit them on the break. But we do not see why we should because we should not fear anybody in this league, home or away. We cannot get bogged down into playing the way so-called lower league teams play... It is going to be difficult everywhere you go, it is the same in every league... Altrincham are struggling but I am sure they do not want to be there. They will be going all out to win – and especially against a team that is up there, they will want a scalp. We have to go out and not fear them. We have so many creative players we are confident we can go out and get positive results. We can get goals and it is up to the defensive unit to keep clean sheets... We have high expectations and nobody wants to be in the Conference. I know practically it is just League Three, but we all have ambitions to be back in the Football League... We are the ex-League team from last season. We are expected to be in and around there – and should be'".
OLD BOYS
Ashton United lost at home to Kendal on Monday "with Ben Deegan being the sole striker and Stephen Rose, being brought into a five man midfield... the visitors took the lead with Neil Murphy providing a telling cross from which Hobson converted." Another ex-Robin, Peter Band, scored as New Mills beat Maine Road 3-0.
MICHAEL COCKAYNE
A good friend of Altrincham Fc, Michael Cockayne, has died at the age of 49. Michael had suffered with kidney disease for some years. Altrincham FC sends its condolences to his partner Val and all of his relatives and friends. Latterly Mike had been researching the history of a wide range of sports in the Altrincham area. A native of Belper in Derbyshire, Michael was the author of two authoritative books on Derby County. One of these was "Derby County: the Clough years" ISBN: 1 903158 44 3, from which he kindly gave a percentage of the proceeds to Altrincham FC, with the book being available through STAR, the Alty supporters' trust, as well as commercial outlets. The book's royalties were donated to the renal unit at Manchester Royal Infirmary. In summer 2006 he arranged a charity football match at Moss Lane to raise funds for the Kidneys for Life charity which is based at the Manchester Royal Infirmary.
CSC
In the Cheshire Senior Cup on Monday night Hyde United lost 1-0 in front of a crowd of 104 at Ewan Fields against Congleton Town.
BSP NEWS
The Football Conference reports that "Grays Athletic have announced that they have secured the services of Wayne Burnett as 1st Team Manager... from Monday 29th September. Tim O'Shea will continue as manager until this time after which he will remain with Grays Athletic as a major part of the coaching staff. Wayne has plenty of football experience having been with the likes of Blackburn Rovers, Plymouth Argyle, Bolton Wanderers, Huddersfield & Grimsby. He took over as 1st Team Manager of Fisher Athletic in 2004 and saw them promoted to the Ryman Premier at his first attempt, he then took the helm at Dulwich Hamlet and brought them from relegation fodder to play-off position in only 3 months before returning back to Fisher".

According to the BBC "Kettering Town chairman Imraan Ladak has admitted that there is a 'problem' with their lease at the A-Line Arena. The Poppies' deal is running out and they will need to act fast or face the possibility of demotion from the Blue Square Premier. 'In early 2007 we had correspondence with the FA and the Football Conference that our lease was acceptable;, Ladak told BBC Radio Northampton. 'It now appears that there might be an issue with it'. Ladak added: 'It's a bit of a complicated situation. My ideal solution is to obviously solve the ground issue permanently and then we don't need to worry about the length of lease but, yes, it is a problem...[but] I'm really positive at the moment'".

"Strugglers Oxford United's owners have not considered putting the club into administration, BBC Oxford have been told. The club are losing money, but it is understood the club's only major debts are soft loans from their owners. This would mean they would be the ones who stood to lose money if the U's were to go into administration. Meanwhile, chairman Nick Merry admits the credit crunch is making it hard to raise money to buy the Kassam Stadium. But he says talks are on going and he has not given up hope".

"Lewes have signed Brighton's 19-year-old striker Sam Gargan on a month's loan" according to the BBC. "The targetman goes straight into the Rooks' squad to face Histon after loan spells at Bognor Regis and Havant & Waterlooville among others".

Lee Sinnott started last season managing BSP side Farsley Celtic but Bullsnews reports that "Another Football League manager has parted company with his club. The latest casualty is Port Vale manager Lee Sinnott. It is understood that he was fired following a directors' meeting. Last Saturday Vale were defeated 4-1 at home by Macclesfield... Vale have played just seven League games this season. Sinnott was in charge for 11 months, winning only nine of his 44 games in charge".

Before Tuesday's game NW Evening Mail said that "The Bluebirds could have a surprise new face on show against Northwich Victoria tonight. AFC joint-manager Dave Bayliss today said they hoped to have the necessary paperwork tied up by the 4pm deadline. Said Bayliss: 'There could be a big surprise in the team tonight, depending on the paperwork. 'I spoke to the player last night, he is very good player and keen to join us'. Bayliss and fellow boss Darren Sheridan have also decided to release second-string keeper Aaran Taylor increasing speculation on Tim Deasy's position after conceding seven goals in the last two games. However, the managers have also been looking to strengthen the squad in other defensive areas and midfield. With over 200 Barrow fans expected to make one of the club's shortest journeys of the season, Northwich are hoping to get back towards a four figure crowd. It dropped to 600 for the 0-0 draw with Forest Green a week last Saturday".

< http://www.northantset.co.uk">The Northants Evening Telegraph says that "Mark Cooper felt sorry for his players as their unbeaten record... was ended last night.But the Kettering Town boss also moved quickly to dismiss speculation linking him with the managerial post at Grimsby Town – or anywhere else... The rumour mill has been working overtime after Kettering's impressive start... They were reduced to 10 men with Iyseden Christie being sent off for an ugly-looking challenge on Matt Bailey in the first half... The Poppies' boss said: 'My future at the present time is as manager of Kettering Town and I haven't heard anything different. I just want to keep winning games with Kettering'".

"Injury-hit Salisbury City have made their second emergency loan signing in a week after recruiting 18-year-old defender George Beavan from Luton Town" states the Salisbury Journal. "The player... has made one senior appearance for the Division Two side".

According to The Press yesterday, "Rotherham United midfielder Peter Holmes will make his full debut for York City at Kidderminster Harriers tonight. The former Luton Town player has arrived at KitKat Crescent in a one-month loan deal and Minstermen chief Colin Walker is ready to throw him straight into the team".
---
23 September 2008
TEAM NEWS
According to the BBC, "Altrincham are set to name an unchanged side with new signing Shaun Densmore keeping his place in defence ahead of Richard Battersby. Defender Matthew Doughty is pushing for a starting berth, but Kevin Street is set to be on the bench once more. Mansfield Town have a fully fit squad to choose from and striker Jason Lee will once again lead the line alongside Stags top goalscorer Mark Stallard. Aaron O'Connor looks to have recovered from a knock and he may feature".
LATE ADDITION
The Chad reports that "Mansfield Town have been boosted this afternoon by the signing of left-back James Kay Kay, a former Sheffield Wednesday defender, has been training with the Stags for several weeks now and impressed in a recent reserve game at home to Walsall. The 19-year-old will go straight into the Stags squad for tonight's match at Altrincham".
FIRST TIME VISITORS
Prior to tonight's encounter, Altrincham FC have not played Mansfield Town in a competitive match. However, there are half a dozen recent Alty players who have also played or trialled for the Nottinghamshire club, which was relegated from League Two at the end of last season.
Chris TIMONS: Alty's centre-half and captain at the turn of the millennium, Chris played League football for Mansfield Town before moving to Gainsborough Trinity, from where he was signed by Altrincham in summer 1998.
Colin LITTLE: Alty's current leading scorer made 220 appearances for Crewe Alexandra before going on loan to Mansfield in October 2002, where he played 5 games.
Joe O'NEILL: Altrincham's Player of the Year for 2006-07, Joe signed for Alty from York City in June 2006, Earlier in his career he had been at Mansfield Town (2004/05) where he made 3+12 appearances.
Mark McGREGOR: Mark spent a fortnight on trial with Mansfield before electing to join Altrincham this summer
Kevin STREET: Kevin (right) had a trial period at Mansfield in 2002
Chris YOUNG: Chris, an Alty striker from the 1990s reportedly had a brief spell at Mansfield Town, where he broke a bone in his back early in his career.

However our visitors face a problem familiar to Alty - a possible points deduction. The Chad reports that "Mansfield Town Town seem to be facing two separate investigations into allegations that they fielded ineligible players. National reports and an FA spokesman on Sunday confirmed Chad's Saturday evening story that the signing of Aaron O'Connor is subject to a separate probe - that he signed for one club while under contract to another. While the Football Conference is also continuing to look into the registration of several players, signed in the hours leading upto the start of the season, who it is claimed were ineligible for the first two matches... This relates to more than one player (not including O'Connor) and it is thought that this is an administrative error - rather than a deliberate attempt to break any rules.It appears that the Conference did not receive a fax from the Stags containing the details of the players' signings and registration. There is also no suggestion that the Stags are to blame for the O'Connor alleged rule breach - but both rule breaks if proved could lead to significant points deductions for Mansfield...

The Stags thought they had signed O'Connor at the start of the season having been told he was a free agent, but Grays Athletic are claiming that they had already secured the striker after taking up a one-year option to retain his services from the previous season. The problem came to light only after the 25-year-old had featured in the first five matches of the season - during which the Stags gained 10 points. In theory Mansfield could lose those 10 points for this breach - and also four should they be punished over the ineligible players from the registration investigation as that concerns just the first two matches of the season. However, no club has ever been punished twice over one match, so the maximum punishment from the two investigations would likely be 10 points - not 14. But the club will be hoping for leniency, given that they believed O'Connor was a free agent - a fact supported by Grays chairman Mick Woodward - and also that any registration breaches would not have been deliberate. A more likely outcome at the moment would seem to be a possible points deduction punishment over the registration issues - upto four points - with the Stags cleared of any wrongdoing over the O'Connor saga. Grays' chairman Woodward told The Non-League Paper on Sunday: 'It's the player's fault, not the club's. I don't want to see them lose points, but he was still our player'".

This is Nottingham says that "Mansfield Town boss Billy McEwan paid tribute to the returning Stags faithful as his side extended their unbeaten home record to six games... They now have five wins and a draw from six league games at Field Mill... McEwan was delighted with the 3,171 fans inside the ground, the highest gate of the season so far. He said: 'They were absolutely fantastic and I want to thank them for that. They made it a great atmosphere. The hair was picking up on the back of my neck during periods of the game because of the noise they were making. That brings back memories for me of when I was here as a player... It is important from a financial point of view that away teams can bring good followings'. But McEwan was not so happy with the goal his side conceded... He said: 'We have not dealt with the ball into the box, not properly, and we have not reacted to the knock down, the second ball'".
OLD BOYS
The informative Welsh premier site said last Saturday that that "Caernarfon Town hope to hand a debut to former West Bromwich reserve teamer Mike Garrity against NEWI Cefn Druids. A 28-year-old who can play in the centre or right side of midfield, Garrity was with Vauxhall Motors last season. Since leaving the Hawthorns, his career has also taken him to Altrincham, Chester City, Colwyn Bay, Leigh RMI and Runcorn". Garrity, the son of an Alty player, did make his debut in the game on Saturday. Two former Alty men are now at Leek Town. Ex-Alty Youth Charlie Weir and last summer's trialist striker Jake Moult played in Saturday's 0-0 at Lincoln United.
MONDAY'S GAME
Altrincham play at Rushden next Monday (29th) - see the Away Travel page for details of supporters' transport. One man who won't be playing will be the Diamonds' Sagi Burton-Godwin who is suspended by the FAC from 27th September for five bookings. The referee for this match will be Mr A. I. Halliday who oversaw Torquay v Alty last season.
STUART'S CUPPA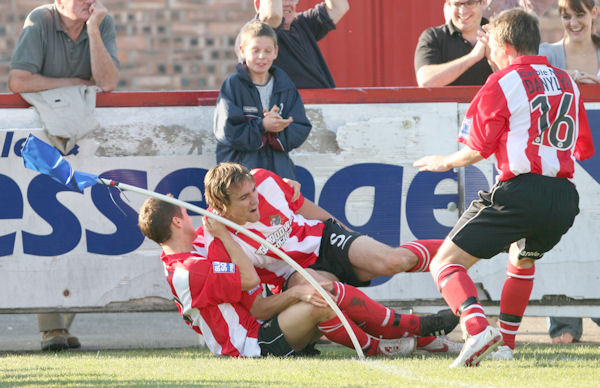 Left: Greg Young is dragged down to celebrate by Chris Senior after Saturday's late winner from the defender on Saturday against Lewes. For more of Gavin Rathbone's great pictures' see his GR Photography site.
In Sussex, the Argus says that "Kerry Mayo has challenged Lewes to bounce straight back against Histon tomorrow. The storm clouds are gathering over the Dripping Pan following a tenth game without a win. A 1-0 defeat away to fellow strugglers Altrincham left Lewes six points away from safety... Mayo, playing the second game of a month's loan from [Brighton & Hove] Albion, said: 'In the two games I have been here I have seen some major improvements. We defended well and it didn't look like Altrincham were going to score. In the first half especially we played some good football and 0-0 would have been a good result... When we have got possession we have to keep it. It is not rocket science... There are good players here, the team spirit is good, we just need to stick together, take the game to Histon'... There will again be calls for manager Kevin Keehan to resign following a defeat which leaves Lewes rooted to the bottom of Blue Square Premier... None of the directors were at the game on Saturday. The board made major decisions in April to change the manager and reduce the budget. If they still believe this is the way forward then maybe they should show some public support for their underfire boss. Keehan's commitment cannot be faulted. He is putting his heart and soul into the job but whether that is enough remains an unanswered question. Saturday's game was an important one with Altrincham also in the relegation zone.
The home side were on a wretched run of form, both in terms of results and goals. They went into the game having not scored in 445 minutes and that run passed the 500-mark long before Greg Young's late winner. Defeat was probably hard on Lewes but I repeat a comment made two games ago – that you cannot see where the first win is coming from... They did not once test Altrincham goalkeeper Stuart Coburn who could have stood there with a cup of tea in the second half".
NEIL'S DRAW
Alty groundsman Neil Brown has an away draw in the FA Vase 1st Round Proper:
4 Oct: Holker Old Boys or Colne v Abbey Hey
BSP NEWS
It is the time of the season for managers to lose patience with players as the NW Evening Mail confirms. "Furious Dave Bayliss has branded some of his players 'prima donnas' and warned that they risk being shown the Holker Street exit door. The joint-Bluebirds manager ripped into his team in an explosive post-match interview following the 4-2 defeat to Kettering Town... 'It's not good enough. It's no point the shackles coming off when you're 3-0 down, you've got to do that at 0-0 and we didn't do that. Certain players didn't compete today', he said. 'And if that's what they've got to show then they won't be here much longer. We've had a word with a few of the players and we're not too happy with them. We've assured them that we'll be here longer than them individual players. If they want to carry on, in our opinion, to not give it everything, to be prima donnas, if they think they are good enough for this level now and they think they can play in the Football League, then they'll soon find themselves slipping out of Barrow and back down into the Conference North... We didn't deserve to come out of the game with anything... Three mistakes, individual errors, have killed us again. If we keep doing that we're going to find ourselves slipping down the table. Kettering haven't beat us, we've beat ourselves, silly as it may sound... Perhaps it's mine and Darren's fault for sticking with these lads for so long... It's basically down to the players, what they've done wrong, only they can put right. I don't think we could do no worse than put Darren back in the team, because at least he'll have a go, grab people by the throat and pull people about'".

From On a similar theme "Mark Yates, manager of Kidderminster Harriers, insists that he's under no pressure to part company with any of his players. Yates... stressed that had nothing to do with midfielder Michael McGrath moving to rivals Worcester City last week on a month's loan... Yates confirmed: 'Michael was getting a little bit frustrated that he wasn't getting in the side. Like all players, they think they should be in the starting line-up... Money's tight at the moment, but I'm trying to keep as many players as I can. But if one or two want to go out, then that's up to them. I'm not under any pressure to get rid of people, but obviously I'm aware I can't keep everybody happy all the time'" he told the Birmingham Mail

The Football Conference reports that "Forest Green Rovers manager Jim Harvey has upgraded striker Michael Symons from non contract status and the 22 yr old has signed a contract to the end of the current season. Michael... started the season with Gloucester City... Rovers have struggled to find the back of the net this season on a regular basis and the inclusion of Symons, which will see him now train daily with his team mates, will provide Harvey with a further option".

"Dino Maamria has recalled [former Alty trialist] Aaron Burns to bolster his injury-hit attack" claim the Northwich Guardian. "The out-of-favour front runner is in the squad for tomorrow's crunch clash with Barrow... after spending the past month on loan at Droylsden. He could partner Jonny Allan against the Bluebirds with Darryn Stamp (hamstring) set to miss out through injury. Phil Marsh or Mat Bailey, thrown on as an emergency striker at Histon on Saturday, are the other options open to the Vics' boss... Burns, 20, has been training with his Northwich teammates through his loan spell, in which he scored one goal in four starts. He has not netted for Vics since a 2-2 home draw with Halifax Town back in January. Burns joined Vics during the transfer window at the turn of the year after starting last season with Cardiff City following his release by Manchester United. A brief stint at FC United of Manchester preceeded his switch to Northwich, turning down offers from Altrincham and Droylsden to play for the Wincham club".

Before Monday's game Burton Mail said that "The Brewers could be down to only 14 fit players when they face unbeaten Kettering Town... after an afternoon of mishaps at Nene Park. Goalkeeper Kevin Poole and midfield general Michael Simpson are both ruled out and Albion also fear they could be without the services of Jake Buxton. Poole has a groin injury while Simpson starts a three-match suspension after being sent off with Diamonds' Manny Panther... Manager Nigel Clough admitted last night: 'We could do with 14 days off... We don't see there is much point in taking Michael's sending-off any further with our record on appeals'".

Is there a happy manager in the land? Certainly not at Cambridge United where the local News reports that "Gary Brabin was doubly disappointed after seeing Cambridge United draw 1-1 at Mansfield... The U's manager felt hard done by after the hosts were awarded a controversial free kick... And he was unhappy with his team's defending from the set-piece as Alan O'Hare was allowed to head home... Brabin said: 'The referee and the linesman didn't know whether to stick or twist over the decision for their goal - the referee's said play on and the linesman's said free kick'".

Yesterday we reported Dino Maamria's criticism of Histon's aerial game. But in the Cambridge News we read the other side's version. "'Taking his Histon side above Cambridge United in the league table for the first time in the village side's history was a "nice feeling', admitted boss Steve Fallon... Fallon said: 'It certainly is a nice feeling to be above them. Diplomatically, we have always said if we find ourselves above them, we will be in the play-offs. But however long it lasts for, we will enjoy it - and it's our intention to stay there... I think Reeves and Midson did very well up front, they look like a good pairing'. The visitors' physical style disrupted Histon for long periods of the match, and Fallon admitted his defence had struggled to cope with Northwich's long ball game. 'Their big striker up front made some problems for us', he said. 'With a player like that they are going to win 90 per cent of the balls in the air, so it's important to do well on the second balls. But we got caught out from a corner'".

According to This is Glos "FGR manager Jim Harvey admitted he esperately needed his best players back after watching Stevenage Borough canter to a 3-0 win at the New Lawn... Rovers have lost three out of four matches since and are paying a heavy price for a lack of depth in their ranks... 'I've said right from the start of the season that, if we have everybody fit, then we're not a bad side', said Harvey... It has been confirmed that club captain Hardiker will not need an operation on ruptured knee ligaments, although the defender is expected to be out of action for six weeks. Of more immediate concern to Harvey is Rovers' habit of shipping early goals... He said: 'There were possibly only two lads out there who I was happy with in terms of their commitment, attitude and their ability on the park. The rest of them were all below-par'".
---
22 September 2008
MONDAY GAME
Kettering T. 0 Burton A. 1 - The last unbeaten recrod goes; Iyseden Christie was sent off for Kettering before half time.
YOUTHS DRAW
In an entertaining match at Wythenshawe Town, Alty Youth drew 3-3 with Mark Maddox's AFC Liverpool side in the NW Youth Alliance Premier Division today. A report is in the Youth section.
ALTY "THE POOREST"
Lewes claim that their side "were mugged by Altrincham at Moss Lane on Saturday, leaving them anchored to the bottom of the Blue Square Premier... Lewes put in one of their better performances, certainly from a defensive point of view with Danny Cullip returning from injury... However, upfront was a different story with Alty keeper Stuart Coburn having a decidedly easy afternoon... The match hardly rated on the entertainment scale as both sides, evenly matched, struggled to find a breakthrough. Altrincham were easily the poorest side Lewes have faced so far this season, so the lack of action in front of the Alty goal is even more cause for concern... The Altrincham supporters were getting restless, and in scenes reminiscent of the Rooks' last away game against Woking, a small section began chants against manager Graham Westcote[!!] who spoke in the match day programme of his frustration at a group of his players who 'have been treated to the best of everything we can give them, and they have taken that, but given nothing back'. In the last ten minutes, the home side certainly stepped up a gear.. Peyton mishit a hopeful shot across goal which looked to be going wide, but the flight of the ball deceived the unfortunate keeper who could only parry the loose ball into the path of Young for Altrincham to undeservedly grab all three points... Despite the win, the chants calling for Westcote's dismissal continued after the match. A number of angry supporters remonstrated with Altrincham club officials, with the manager actively trying to stop his players clapping the supporters as the teams were led off the pitch. Asked about his own team's performance this season, Keehan said, 'There is pressure there. We're doing our best but have got to do better'"

After the game with Lewes, the NL Paper says that "Alty boss Graham Heathcote... was beseiged by angry fans at the final whistle". But Alty assistant manager Graham Barrow told the NLP, "It's about time that people realised that no team has the God-given right to win games. Fans should come here to support the team and not get involved as they did at the end. The players are 100% behind their manager and came in for extra training this week."
SCHOOLS AT MOSS LANE
Yesterday at Moss Lane, Altrincham FC entertained, as guests, the pupils of Altrincham C of E Primary and Navigation Road Primary schools. These schools were the first of about 20 to have been visited by a team of Altrincham FC coaches to provide football coaching as part of the National Curriculum. The coaching will probably reach more than 600 children in total. This scheme, funded partly by Altrincham FC and partly by Altrincham and District FA, is run by Chris Bullock.

As an addition to the coaching, Altrincham FC is issuing a complimentary ticket to each of the coached pupils to allow them to see a live match at Moss Lane. Special offers are also being made to their parents so that they can visit the club and see the facilities that it offers as a a small, family-friendly club. Our next guests will be children from Bollin Primary and Heyes Lane Junior schools, who will be invited to our game against Ebbsfleet United on October 4th.
CHARITY GAME FOR JUST £5
As previously announced, Suzanne Goodwin, the chairman's wife has arranged a celebrity football match and dinner on Sunday, 28th September to raise funds for the McGrath Foundation cancer charity, founded by Jane McGrath, wife of cricketer Glenn McGrath. Jane sadly died on Sunday 22nd June 2008 at the age of 42. Suzanne aims to raise £100,000 over 5 years for the Foundation.

The football game starts at 2pm at Moss Lane and is between a Darren Gough XI (including England & Manchester United ex-captain Bryan Robson) and an All Stars XI, captained by Mike LeVell and including stars of Coronation Street, Emmerdale and Hollyoaks. At just £5 (£2 for children, or £10 for a family of 2 adults and 2 children) it is a great chance to see a host of famous names and enjoy a game of football at the same time. Kick off is at 2pm at Moss Lane.
OLD BOYS
Ryan Shotton again turned out for Tranmere Rovers but former Alty striker Kieran Lugsden is out of the Witton side for a month with a broken hand. Former Alty reserve Ashley Stott scored twice for FC Halifax Town at the weekend, and another ex-reserve Scott Metcalfe netted for Trafford . James Dean netted again for Harrogate Town. Winger Carlos Logan is currently operating as left-back for Barrow. With a host of ex-Alty reserve players, Abbey Hey manager and former Alty reserves' manager Neil Brown (still our groundsman at Moss Lane) saw his team beat Parkgate (Rotherham) in the FA Vase last Saturday.
BSP NEWS
the Northwich Guardian says that "Dino Maamria admitted his side had missed an opportunity to score their first success of the season at Histon... 'We've got to stick together', he said. 'I saw a lot of encouraging signs out there today and I felt we should have scored more in the first half when we were on top'... Maamria pointed once more to his understaffed attack – missing Lee Steele before Darryn Stamp limped off after half an hour. Jonny Allan was partnered by makeshift [former Alty loanee] forward Mat Bailey after that. 'We lack players in attack, it's obvious', said Maamria. 'To be fair Jonny worked his socks off but he's been forced to play every match so far and I think he looks a bit tired right now. When Stampy came off we lost a bit of know how in the final third of the pitch because Mat Bailey is a centre back... We know Histon are a strong, physical side who play route one football and we didn't want to get involved in a battle like that. They are good at what they do and they're winning games playing that way so good luck to them. I won't have my teams playing that way though'".
---
21 September 2008
"IT'S ABOUT BEING REALISTIC"
In today's NL Today newspaper, we read that "Altrincham chairman Geoff Goodwin is desperate for a way out of the club as soon as possible; he just has to find someone to take over. Fans have again been on the back of the chief, and manager Graham Heathcote, after the Robins' poor start to the season. But Goodwin, who has been searching for a successor for some time says he cannot take the club any further and wants the supporters to lay off.

'I've hit a brick wall', he said. 'I've done my bit but I'm not a chairman for the Conference. I can't afford it'. I want to go but I'm not going to do that until someone comes in with a three-year business plan to take the club forward. To sustain things in this league you need people to put massive amounts of money in. I'd love that to happen but it has to be done with a proper plan because I can't let what we've done over the last six years be destroyed. The fans expect to do well in the Conference now, and I understand that, but I've been getting some stick and I don't deserve it. It's about what you can afford. You are where you are and the fans have to accept that'.

Unfortunately, for all concerned, Goodwin does not expect things to change anytime soon. 'In today's climate, what are the chances?', he explained. 'People aren't going to invest in a football club when they are having to lay people off. So we'll have to keep going as we are for now'.

The chairman also insists that boss Heathcote is still the right man to lead the team. 'He's not under pressure', said Goodwin. 'Graham doesn't enjoy getting beat any more than the fans do. You can't always blame the manager. You could sack him but where would you find the money to pay the next manager and bring in more players? It's not about changing the manager, it's about being realistic'".
ALTRINCHAM 1 LEWES 0
Match report here
NEW RECRUITS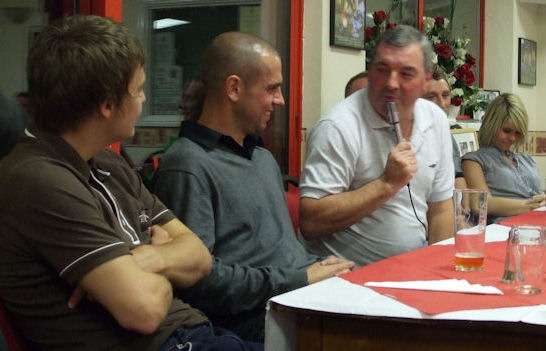 It was an eventful day for Altrincham FC manager Graham Heathcote who faced criticism for his team's performance during the 1-0 win over Lewes on Saturday. After the game he hosted the fourth Altrincham FC "New Recruits Evening", at which the format is for players who have recently joined the club to enjoy a meal with supporters before answering questions from the audience. In a full Sponsors' Lounge, the four new recruits who were guests were Anthony Danylyk, Mark McGregor, Kevin Street and Lee Elam. They are pictured, right, though Kevin and part of Lee are obscured by the manager. Far right is Lee's partner, Amy, who stood up well to the banter directed at her by Graham! These social events are great opportunities for the players and supporters to meet and they invariably throw up plenty of interesting anecdotes, so don't miss next year's!

We learned that, outside football, Anthony is a civil service Benefits Adviser. However, when asked by Graham Heathcote, tongue in cheek, what the benefits were for an out of work football manager, the young midfielder smartly replied that pensioners such as Graham were not part of his remit! Kevin explained that he is a coach at Crewe Alexandra but he also does "a bit of theology and teaching" as a trainee Religious Education teacher. Lee, for his part, is a qualified football coach who works with school children and he added that he was hoping to become a manager- "very soon", he added, looking at Graham. Mark has been a full-time footballer to date and has no job outside football currently, describing himself as a "house husband".

All of the panel were asked to describe their strangest moments in football which varied from Anthony Danylyk seeing his former manager almost die of a heart-attack on the touchline, to Mark McGregor's experience in an away game at Reading, where kick-off had to be delayed for 15 minutes as a heap of ladies' underwear was removed from the pitch where it had been thrown by supporters who were celebrating a "No Pants Day"!

The players all named the best manager they had played under; for Mark this was Brian Flynn (not the STAR chairperson who was in the audience, but the former Welsh international who managed Wrexham!). Lee Elam selcted Jim Harvey Whilst he was at Morecambe, whilst Kevin Street named Dario Gradi at Crewe. Anthony tactfully, but also sincereley, said that Graham Heathcote had been his best manager as he had given him a chance to play at this level. Graham himself singled out Roy Rees as the most astute manager under whom he had played at Moss Lane.

As for their view of Altrincham, all were confident that we could climb the table. Anthony had joined the club after a 40-minute sales-pitch from Graham, whilst Mark had signed up very quickly as he had found his first few hours very welcoming when he came on trial. One of the reasons Kevin Street was happy here was the excellent playing surface - sadly groundsman Neil Brown who had been at the event had left at this point so did not hear this unsolicited praise. Indeed Kevin drew a round of applause when he explained how happy he was at such a well-run club as Alty despite "not playing as much as I would have liked to" this season.

The players also talked us all through the best goal they had ever scored. Manager Graham Heathcote's description of his strike against Sheffield United in the FA Cup was the most expansive account! As usual Graham ensured that the conversation was enlivened with plenty of banter at the expense not only of himself and the players but also of the audience- as commercial director Barry Pond will testify. Barry will never wear a pink shirt again as a result. Graham also spoke frankly about the team's difficulties this season and volunteered that the squad had not yet fully bonded. Alluding to the extra training session for the players, introduced last week, the Alty boss added that in future he would give the players a choice between extra training or meeting up after games in the bar with the supporters. He felt that the odd drink after a game did as much to bond players as the additional training did.

Many thanks are due to the Rowley family and the other volunteers who helped to prepare and serve the food and drink - not to mention the washing-up. Jenny Heslop, as ever, did a sterling job in the bar and everyone was also grateful to the players and manager for giving their time to produce such an entertaining and informative evening.
UNITED WE STAND
Although his first love is Manchester United, a great friend of Altrincham FC is Andy Mitten, the sports journalist who edits the "United We Stand" fanzine and is a regular contributor to the excellent "442" football magazine (available at your local newsagents!). He has very kindly agreed to the full reproduction of the following article from UWS, written by one of his colleagues, Joe Ganley. This includes an informative interview with Colin Little.

We Live In The Shadows: Altrincham.

For a team once regarded as the 'Manchester United of non-league football', Altrincham F.C. have endured an uncharacteristically tough time during recent years. The club has finished in one of the Blue Square Premier division's relegation spots for three consecutive seasons, only to be reprieved from ignominy by blizzards of legal and administrative chaos at rival clubs. Unfortunately, after seven games, the 2008-09 campaign threatens to follow a similarly nerve-wracking trail; defeats to Barrow, Kidderminster and Eastbourne have left 'Alty' just one point from the drop zone.

Despite teetering on the brink of such a descent, Altrincham's famous reputation as the doyens of non-league football carries an indomitable weight about it. Although reported financial problems may indicate a struggle to compete with the league's more affluent members, any grim realism is negated by the swelling aura of faded glamour that still slinks around Moss Lane; the everlasting remains from a series of remarkable F.A. Cup jaunts and dashing bids for the big-time.

It helps that they have heroes. Of course, every football fan in the country thinks their club's history is uniquely blessed with stalwarts and firebrands. In reality, we've got Eric [Cantona] and City have Peter Beagrie. But how many non- league teams can muster the kind of memories invoked by Altrincham warrior John King? During a 1979 F.A. cup tie against Tottenham, Alty's prime bruiser mercilessly scythed down Argentinian aesthete Ossie Ardiles just fourteen seconds into the match: surely the most clinical welcome in North-West history. The Robins have a notable roster of fabled greats; cult figures of a particularly bold and daring disposition.
In 2008, striker Colin Little (right) stands virtually alone as the club's latter-day icon. A 35-year-old lad from Wythenshawe, Little has emerged top scorer for the last four seasons, performing unstinting feats of brilliance when a struggling team most needed it. His superb last-minute winner against Woking is available on YouTube, and presents a startling reminder of football's potential for grace and deceptive beauty at every level. It quickly became clear, that, along with manager Graham Heathcote (an Altrincham servant of almost biblical proportions), his name is almost completely synonymous with the club's public image.
I spoke to Colin two days after Alty's lengthy sojourn to Sussex, where they went down by a single goal to Eastbourne Borough. Though Little failed to start the match due to a persistent neck injury, he appeared bravely in the second half to aid the search for an equaliser. Colin is grieved by the result, but proffers that the team are not too far away from good form. "Most of our defeats have been in tight games. We're working hard and battling well. if we can produce a bit more creativity in our midfield play, we'll start picking up the points".
When I mention the rave reports he's received from those who follow the club's fortunes, the striker is noticeably bashful. The word 'hero' raises an embarrassed chuckle. "I don't know about that!" he says. "Alty is a great club and I'm delighted to be playing for them. They were always the club whose results I looked out for when playing elsewhere. It feels like home to me".
'Home' is an appropriate description. In the week leading up to the Eastbourne fixture, manager Heathcote noted a slew of lucrative offers for Little to move to pastures new. "I could have moved to Linfield F.C. in Northern Ireland and been involved in qualifying matches for the Champions League. They were offering me three times my current wage, but, you get to a stage in your life where you are settled and content." Colin's rapport with Altrincham is built around his upbringing in Wythenshawe and a strong circle of friends and family. He quickly dismisses the allure of money and keenly reaffirms the ties he made with the club at a young age, when he would regularly venture down to Moss Lane to watch the side with his mates.
He goes on to talk about his 'fantastic' time at Crewe Alexandra, where he made almost two hundred appearances and currently coaches an under-15s team, which he is vigorously passionate about. Though he describes Crewe as 'the highlight of his career', there is a linear flow to the way he talks about his journey around the Football League and clubs like Mansfield, Macclesfield and Hyde United, as if his own road was always destined to lead him back to Altrincham, and the pitch where he trained as a junior for Manchester Boys.
Maybe it's his fondness for Altrincham that keeps him striving, or maybe he's simply an excellent professional with a deep love for the game. Like most notable players, he's inevitably a mixture of many great qualities, even if he's reluctant to admit to any notions of heroism, or the 'legend' status afforded to him by Alty's fans. Though Altrincham's days of notoriety and appearances on Match of the Day may be in temporary suspension, for a club with a rich and storied existence there's no doubt that Colin Little represents a loyal and unflinching addition to a canon of rebels and mavericks.
Joe Ganley
Next Month: Salford City
Andy, who as Alty fans will know, is the brother of Josh Mitten, our former striker, is also writing a big feature for 442 magazine on Setanta's television coverage of football and will be spending a day in Essex shortly watching how the Grays v Stevenage game is covered. For his part, Josh is currently completing a three-match ban at his current club, Trafford.
---
20 September 2008
CAPTAIN'S LOG
In today's matchday programme, Alty captain Robbie Lawton responded to the article in Tuesday's Robins' review by manager Graham Heathcote. Robbie wrote:

Graham Heathcote could hardly have spelled out his dissatisfaction with our recent shortcomings any more clearly than in Tuesday night's matchprogramme. I read his column, and if there were any doubts about just how frustrated, angry and upset he feels about our failure to deliver since winning at Woking on the opening day, there surely can't be any now. He gave us both barrels, just as he did in the dressing room after a shocking first half at Stevenage, and he wasted no time matching words with deeds.

No sooner had we been taken to task in his programme notes than we were being told training would now be three times a week, rather than two. Already required for sessions on Tuesday and Thursday evenings, we will now be convening on Fridays as well, until we snap out of our slump and begin belatedly living up to expectations. Instead of the usual Friday routine of a leisurely tea at home and a bit of telly with the kids, we spent last night being put through our paces by the manager, working on drills and set-pieces, defending and attacking. We will keep doing it until we get it right, and I don't think there's a single one of us with too much cause for complaint.

For some reason, we simply haven't done it, and answers are hard to come by when you consider our pre-season showing and the players at our disposal. Maybe we were taken in too much by what we did in the build-up to the campaign, because there is an intensity about this league that places different demands on players, compared to meaningless friendlies. Whatever, the only thing that matters now is doing something about it, because, believe me, no-one wants things to carry on the way they are now.

Let's not pull any punches, it is not a happy dressing room at the moment. You wouldn't expect any different, would you? It is like any other industry. You don't bounce around the place laughing and joking when problems are piling up, like ours are. You face up to them and find a solution, and that is what we will be doing now on Friday nights, as well as Tuesdays and Thursdays. I don't think Graham wants to spend his Friday evenings with us any more than we do with him, so it is up to us to pull together and start showing we have all the necessary attributes to represent this club at this level. That is something Graham has called into question. Not whether we have the ability but whether there is a collective will to battle it out and work for our rewards. Do we know what Altrincham FC is all about? Does it mean anything to us to be wearing the Alty shirt and does it hurt enough when we lose?

These are the questions he has been airing, because we have ruined too many weekends for him - whole weeks, in fact - and he wants to know if it bothers us as much as it does him. One answer I can give him is that we are committed and we do care. He has frequently reminded us that our fans will accept a defeat, provided they can see we have given it every last ounce of effort. I know that. We all appreciate it, but I honestly feel if you asked any of the players, after a game, if they had given their all, the answer would be 'yes'. You can find fault with all sorts of aspects of our play, but, hand on heart, commitment isn't one.

I can still understand the manager's stance this week. though. He and the board rightly feel they have been thoroughly professional in their approach off the field, by carefully selecting the right food and drink for us and hotels, but are getting nothing in return. We can't really argue with that, particularly after such a flat, uninspiring first half at Stevenage, when it almost looked as if we were content to settle for being a couple of goals adrift. We were soon jolted out of that by the manager and came out fighting in the second half. We need more of the same now, only from the first whistle. These extra sessions will help, because it gives the manager a chance to speak to us at length, for the in-form players to help those whose confidence has dipped and for the natural leaders in the squad to lift the others with their example. Other than that, it just needs a decision to go our way on the pitch, or the ball to bounce kindly. Just something to hold on to. Let's hope it starts today"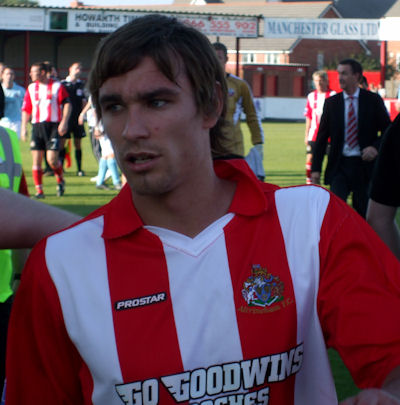 ALTRINCHAM 1 LEWES 0
Though Lewes never troubled Alty keeper Stuart Coburn, Altrincham laboured till the 87th minute until they could find the net themselves. In a game that was a poor spectacle, Lee Elam and Shaun Densmore looked Alty's liveliest players in the first half but it was late-substitute Greg Young, a centre-half deployed for the second time in a week as an emergency striker, who slotted home the winning goal after Lewes keeper Banks failed to hold a Peyton shot. But even the gaining of three points and the scoring of Altrincham's first goal in 531 minutes of league football could not deflect a section of the Golf Road supporters from calling for a change of management as the game drew to its conclusion. Lee Elam was named Man of the Match with Banks winning the award for the visitors. Report to follow.

Right: Greg Young leaves the pitch having scored the winning goal against Lewes.

Altrincham brought in Shaun Densmore for his debut at right-back and Alex Meechan, on the right flank, with Chris Denham and Richard Battersby both omitted from the squad. Greg Young dropped to the bench as Joe O'Neil started for the first time in the BSP this season.
Alty line-ups and bookings
The Argus says that, after today's game, Lewes manager "Kevin Keehan admitted his frustration but refused to blame goalkeeper Rikki Banks after Lewes lost 1-0 away to fellow strugglers Altrincham. Banks, who was the Lewes man-of-the-match, failed to hold an 87th minute shot from Warren Peyton which allowed substitute Greg Young to fire home the only goal... Keehan said: 'It is frustrating. They had a chance in the first couple of minutes but after that we had the better possession and passed the ball quite well without ever getting that final ball into the box to kill it off. We were comfortable until the last ten minutes when we started giving a few silly free-kicks away and invited them to put the ball into the box and ultimately they have scored. The fella has miskicked it, it is probably going wide, Rikki has made the save and unfortunately it has gone straight to their player'... He added he would be trying to add new players to his squad before Tuesday's trip to Histon".
SATURDAY GAMES
Saturday 20th
Altrincham 1 Lewes 0
Barrow 2 Kettering T. 4
Ebbsfleet U. 2 Woking 0
Forest Green R. 0 Stevenage B. 3
Grays A. 2 Wrexham 1
Histon 2 Northwich V. 1
Mansfield T. 1 Cambridge U. 1
Oxford U. 1 Crawley T. 2
Rushden & D. 2 Burton A. 1
Torquay U. 2 Eastbourne B. 0
Weymouth 1 Kidderminster H. 2
York C. 1 Salisbury C. 1
Through the Years from Howard Watts.
LEWES SIGN TWO
On the eve of their game at Moss Lane, Lewes signed two new players on Friday. They are David Wheeler and Emmanuel Sackey – both described by the Conference website as midfielders. Sackey, however, was previously a full-back for Aldershot and Hayes & Yeading reserve sides.
FINANCIAL INVESTMENT IS THE WAY FORWARD!
Altrincham FC has issued the following statement:

The Board of Altrincham Football Club are searching for new people to come forward who can invest in the Football Club and take it to the next level. Six years ago Geoff Goodwin, Grahame Rowley and Andrew Shaw formed a new Board after the previous directors resigned. Since then Altrincham Football Club has made massive strides on and off the pitch. The team, under the guidance of manager Graham Heathcote, has progressed from the UniBond League Premier Division, via Blue Square North to the highest level of football outside the Football League, the Blue Square Premier, where it has played for the last four seasons. Off the pitch £650,000 of debt has been paid off through sheer hard work and good financial housekeeping and the club is currently 100% solvent, a major achievement for any Football Club in this day and age.

Altrincham Football Club is in many ways a role model for how to run a Football Club in the third millennium. The Board now feel that the time is right for the club to try to progress to the next level, whereby it has the resources to compete on a level playing field with the majority of clubs in the Blue Square Premier. Chairman Geoff Goodwin states "I feel that the Board has taken the club about as far as it realistically can go with our current resources and what we now need is an investment injection to push for the next level. Everyone on the Board has worked exceptionally hard to maintain our Blue Square Premier status, but this is our fourth successive season where we have struggled to compete with most of the other clubs. Whilst we believe that we can avoid relegation this season, we do not feel that we have the infrastructure to progress the club much further. If there is anyone out there who is interested in investing in a well run solvent Football Club, then I am interested in speaking with them. Altrincham Football Club is essentially a volunteer-run Club and we are very thankful to the many people who put so much into it, often for little or no reward. We want to maintain the very strong community spirit that has been built here, whilst using further investment to develop the infrastructure of the club onto a higher plain." Grahame Rowley, Vice-Chairman, and I both love Altrincham Football Club, but are not precious about remaining in our positions and would happily stand aside and hand over to the right individual(s) who could provide the funds to push us on".
LEWES SKIPPER BACK?
Alty play Lewes at Moss Lane today (Saturday, 3pm). The Argus says that "Kevin Keehan believes Lewes would be clear of the relegation zone now had Danny Cullip been available all season. The Lewes skipper is expected to return from injury for tomorrow's trip to fellow strugglers Altrincham. Cullip has played in just three of the Rooks' nine games so far this season due firstly to a poisoned toe and then a hamstring problem which has ruled him out of the last three games. He took some part in Tuesday's training session and was due to train last night. Assuming there was no adverse reaction he will line-up at Altrincham in a decent-looking backline alongside former [Brighton & Hove] Albion team-mate Kerry Mayo, the experienced Anthony Barness and Chris Breach, providing he recovers from illness. If either Cullip or Breach fail to make it, Justin Gregory could come into contention after playing for the reserves against Millwall on Wednesday [but, see below]. Lewes are currently bottom of Blue Square premier, without a win after nine games and the pressure is on manager Keehan.

Cullip was Keehan's major summer signing and he knows the value of the former Seagulls' skipper. He said: 'What we need to do at the moment is stop crosses coming in and when they do we need to deal with them better. If we can do that it will make it a lot easier for ourselves. Danny will help in that respect. If Danny had been playing all the games I think we would have had another six points now and then there wouldn't be a problem. It is a fine line in football. Micky Adams got Bobby Zamora when he didn't really know him and it worked out fantastically for both of them. Sometimes things go for you in football. We just need something to go for us at the moment'.

Lewes's thin squad has been stretched by injuries this season. Craig Richards, who has a scan today on his troublesome groin, and Danny Davis (back) are both ruled out tomorrow while Breach and Stefan Cox are struggling with a stomach bug which has also affected Keehan. The Lewes manager stayed away from Wednesday's reserve game to avoid spreading germs, which meant he missed Gregory's first outing in a Lewes shirt. Left-back Gregory, who has played for Crawley, Farnborough, Stevenage and Havant, is a free agent after being released by Worthing last week due to budget cuts but Keehan is yet to decide what future he has at Lewes.

The reserve game with Millwall provided mixed news for Keehan. Trialist centre-back Jon Munday, 20, who was previously with Queens Park Rangers and Kidderminster, limped off early with a hamstring injury while striker Tom Lyons also suffered a hamstring pull which makes him a doubt for tomorrow. Shabazz Baidoo scored the consolation in a 5-1 defeat as he continues to build match fitness, although he also missed a penalty. Teenage midfielder David Wheeler impressed enough to put himself into consideration for the squad which travels to Manchester later today. It will be the first time this season Lewes have had an overnight stop ahead of an away game.

Keehan said: 'We have got to give ourselves the best possible chance. It is a very important game. If we can win we will go level on points with Altrincham and it would give us something to build on'. Keehan is still trying to bring in new players. He spent yesterday making phone calls in an attempt to add to his squad although he admits budget restraints give him little to work with in that respect. Comments, rightly or wrongly attributed to a Lewes director that his budget was not much different from previous manager, Steven King annoyed Keehan, who again stressed the difficulties he faces competing financially at this level. He said: 'When we played Rushden they had Daryl Clare and Leon Knight up front, players we could not even think of getting. Those two players alone would take up two thirds of my budget which does not make it easy'".

However The Argus adds that "Experienced defender Justin Gregory has signed for Shoreham. Left-back Gregory played for Lewes reserves on Wednesday but manager Kevin Keehan wants to see more of him before signing him permanently. Gregory, who has played for Crawley, Farnborough, Stevenage and Havant, will make his Shoreham debut tomorrow in the FA Vase".
'MAD DOG' RETURNS ON SUNDAY
On Sunday, Altrincham Youth host the newly formed AFC Liverpool Youth at Wythenshawe Town (2.30pm). Coach with the Liverpool side is former Moss Lane favourite, Mark Maddox, who combines this role with a coaching job at Accrington Stanley.
RAFO'S ASSISTANT
In last Tuesday's Robins' Review, Grahame Rowley wrote that "Following the announcement of the need for a midweek tannoy announcer, we have appointed a deputy for 'Rafo" (Steve Raftery) in these games. A warm welcome to Pete Harding; let's hope his dulcet tones become as famous around Moss Lane as those of Mr Raftery". Steve now has a new job in the Barnsley area, which means that he won't always be able to get to Alty's games.
OLD BOY
Former Alty Youth goalkeeper Barrie George has joined Bacup Borough.
BSP NEWS
Alty travel to Rushden a week on Monday and will face a new player. The Northants Evening Telegraph reports that "Rushden & Diamonds have today signed Exeter City midfielder Emmanuel Panther. 24 year-old Emmanuel Ugochukwa Ezenwa Panther - better known as Manny - started his career at St Johnstone before moving to Partick Thistle. In 2005, Panther signed for York City where he became team captain and made over 100 appearances. The midfielder moved to newly-promoted Exeter City on a free transfer in May 2008 but has struggled to gain first-team football having made only two substitute appearances so far this season. Panther plays in central midfield and will be given squad number 16".

The Conference says that "19 year old left sided midfielder, Sean Rigg, joins Grays Athletic from Bristol Rovers on an Emergency Loan. Rigg earned his first professional contract at Rovers in the summer of 2006. He made his League debut on 19 August 2006, coming on as a substitute... Grays are currently without Jon Ashton (partially detached retina), Jamie Taylor (broken foot) and Simon Downer (shoulder) and hope that Rigg, who can also play up front, will fill a crucial role".

"Salisbury City are pleased to confirm that they have completed the one month emergency loan signing of 21 year old defender Sean Clohessy from Gillingham" reports the Football Conference. "Clohessy, having at one time been on the books of Arsenal, came through the Gillingham youth ranks, making his League debut in the 2005-2006 season, but has failed to make an appearance for the Gills so far this season. With three regular defenders - Scott Bartlett, Tim Bond and Matt Robinson - sidelined for Salisbury through injury, Clohessy will be available for the visit to York City"

According to This is Nottingham "An investigation into whether Mansfield fielded an ineligible player in games earlier this season will not distract the team... The club was adamant that, should any wrongdoing be identified, it would be down to a genuine mistake. [That argumement will get them nowhere as Alty know to their cost]. While the club could be docked points and fined if found guilty – the registration of Aaron O'Connor is thought to be the documentation under the microscope – McEwan is adamant it is business as usual... 'We are not wanting to make an issue out of what is happening off the pitch', said McEwan. 'We have to be focussed and try to bounce back from what was a disappointing loss at Crawley'".

The Northwich Guardian says that "Simon Grand is on trial at Chester City. The former Morecambe defender has trained with the League Two outfit over the past week, turning out in a behind-closed-doors friendly against Wrexham. He is on a week-to-week deal at Vics but Dino Maamria admitted he is not in a position at the moment to offer the 24-year-old stopper a contract. Grand made his debut for Northwich at Torquay, going on to put on a man-of-the-match performance in last weekend's goalless stalemate against Forest Green Rovers".

From The Press "Former Boston United full-back Tom Hurst has been offered a contract with York City. Hurst, 20, impressed as a trialist during Tuesday night's 2-1 reserve victory over Grimsby Town and is set to be offered a short-term deal with the Minstermen. The former Boston youth-team captain... has spent the last two seasons playing reserve football at Hull and Rotherham, where he was released in the summer. City boss Colin Walker believes Hurst can contest the club's right-back position with Ben Purkiss and said: 'I've made him a little offer and am waiting for him to get back to me. He's got lots of energy and it's clear he's been well-schooled'... Hurst's fellow trialists – former Accrington Stanley striker and Manchester United trainee David Brown and teenage Ipswich midfielder Jai Reason – will not be offered terms with City. Walker added: 'David Brown is a very good player, but he doesn't live locally and, at 29, we'd really have to look after him. We've also got plenty of strikers at the moment, so he'll go elsewhere now'".

Meanwhile York City have issued a Directors' statement, which says that the club "is pleased to announce that... an agreement has been reached with the Football Stadia Improvement Fund which will enable the Club to meet its financial obligations under the loan provided by the FSIF and make significant progress towards the provision of a new Community Stadium for the City of York for 2012. The agreement has secured a stable future for the Football Club and is a major step forward in our pursuit of new, improved spectator facilities for professional sport in the city, with a strong community focus for the benefit of the people of York".
---
19 September 2008
NONSENSE
SAM reports that "Alty boss Graham Heathcote has rubbished rumours that Chris Denham could be leaving the club. A post made on Alty's online fans' forum claimed the winger had already left the club but Heathcote insisted that was far from the truth. He said: 'It's nonsense, Chris Denham (left) has not left the club. He is still an Altrincham player and will be training tonight'. Denham only joined the Robins in the summer on a one-year deal after leaving relegated Droylsden, turning down an offer from Blue Square Premier rivals Rushden and Diamonds. The 26-year-old's performances have been one of the few positives in an otherwise miserable campaign so far. If he were to depart it would be a major blow to Heathcote's struggling side".
NON-LEAGUE DIRECTORY
Copies of the annual Non-League Directory for the current season are now available at the Robins' Shop. So, would all those who have ordered a copy, please collect theirs as soon as possible? The price is £19.95. If you have not ordered a copy but would like one, please enquire in the shop on matchdays or ring the club on 928-1045 and ask for Jenny Heslop.
GRAHAM'S FUTURE
In today's Manchester Evening News, Alty boss Graham Heathcote (right) is quoted in advance of the match against Lewes tomorrow. "The natives are getting restless and we need a win, it's as simple as that" he said. "People will say that if we can't beat Lewes, it's a shambles and that something urgently needs to be done. I've already had talks with the board about my position and will have no qualms if they feel that a change of manager is required. I've been honest with them and my future is now in their hands. But, ultimately, it's our players more than anyone who require a victory tomorrow. If they don't win it will be the final nail in their coffin in terms of confidence but they don't need me, or anyone else, to tell them the importance of this game".
SUPPORTERS' ASSOCIATION
At Thursday night's meeting to set up a new Altrincham FC supporters' group, to replace the mothballed supporters' trust (STAR), there may not have been huge numbers of attendees but there was plenty of enthusiasm and good sense from those present. Chaired expertly by STAR's acting chairperson, Brian Flynn, the meeting started by trying to determine the objectives of the new association. Amongst the main goals mentioned were fundraising, supporter involvement and an absence of bureaucracy; as Pete Hughes expressed it succinctly, an organisation was needed which was "Not having meetings every three weeks to decide if we can buy a new set of pencils"! It was generally felt that the existing supporters' trust (STAR) had become too bureaucratic and that a leaner organization was needed. As previously reported STAR will be mothballed rather than disbanded.

From the floor of the meeting, Alty vice-chairman Grahame Rowley underlined that the club's finances were such that we could not "push on" and develop the football club much further as things stood. The costs of running a team in the Conference's national division were such, he said, that the benefits of the sale of the car park for housing would be largely eaten up by the end of this season. He also reminded the meeting that the funds raised by the supporters' trust (STAR) had been very welcome but had dipped in recent times. Grahame urged the new supporters' body to make a Christmas Prize Draw its first project, with prizes which were attractive to all - not just to Alty supporters - as renaming the Golf Road End had been. Grahame and his wife Karen also volunteered to play an active part in helping the new association's fundraising ventures. The association's activities would also be coordinated with the club's own marketing operations, which are in the care of Lisa Jones and Barry Pond.

Gareth Thomas expressed the view that it was important to raise funds for specific goals and with stated targets. He said that people were happier to support projects with a visible end-product, be it a new toilet block, supporting away travel or whatever, rather than just "pouring money into a black hole". This view of focussed fundraising was well supported by other members of the audience, including former supporters' association chairman Mark Eckersall. Brian Flynn said that such targeted fundraising would be discussed with the club Board so that priorities could be agreed. Steve Foster emphasized the need for publicising club fundraising events. Other ideas came from the audience, including Adam Martell's suggestion of an open day involving the players, with penalty shoot-out competitions and other activities to attract a wide audience. The association will itself also set up its own website.

Issuing more free tickets to lure in more supporters was also discussed. Pete Hughes referred to the potential new audience in the large housing estate being built behind South Trafford College and it was suggested that leafleting such areas would also be a potential way of generating new support for the club. Hiring out the pitch and extending the club's social facilities were also amongst the ideas discussed.

In response to Brian's request for volunteers to serve on the committee, more than a dozen people came forward, which was very encouraging. A meeting will now be arranged for the potential committee and matters such as the association's new name and the best time for meetings will be settled as early priorities. It was emphasized that there was a role for everyone to help, not just those who ended up on the committee.

All in all, this was a productive evening which demonstrated that there is a will to produce an active and effective supporters' association, with involvement from the club's young supporters upwards. It also underlined that keeping a club in the Blue Square Premier is an expensive and difficult task and Brian emphasized that a lot of hard work would be needed to ensure that the new association achieved its goals.
DOWN-TIME
Apologies for the inaccessibility of the website since Thursday evening; this was due to technical difficulties between the website's hosting service and internet service provider.
COACH TO RUSHDEN
Altrincham FC travel coordinator, Tom Jacobs, writes: The away travel scheme needs support to run coaches to matches. Please can everyone who is travelling to Rushden (Monday, September 29th) try and support, or encourage others to use the supporters' travel service. Without continued support we cannot guarantee to run a coach to all away games. Please can everyone who is intending to book on the coach for Rushden do so ASAP as the coach will only run when economically viable. It's time again to get to these away games and get behind the lads! To book on the coach you can either call the club on 0161 928 1045 or book on at a home game by visiting the club shop.

The travel times, fares and booking details for the visit to Rushden are on the Away Travel page |
ROBBIE'S RESPONSE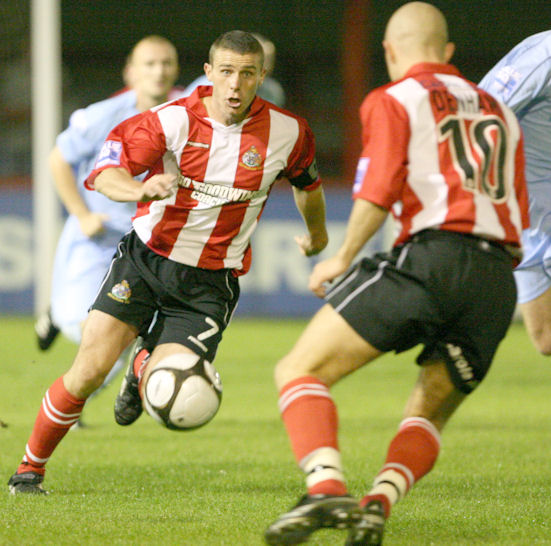 Right: Alty captain Robbie Lawton, pictured (right) by Gavin Rathbone in the match against Vauxhall Motors last Tuesday.
Press officer John Edwards writes: The manager Graham Heathcote had his say about Alty's current form, in a hard-hitting Cote's Comments on Tuesday night. Now it is skipper Robbie Lawton's turn to join in the debate, and he is just as forthright in bringing you the inside track from the dressing room, ahead of the home game with Lewes. Read Robbie's account of the players' take on how things stand in Captain's Log in this Saturday's Robins' Review.
So make sure you get your copy of this Saturday's matchday programme so that you can read Robbie's views. More of Gavin's excellent photos are on the GR Photography website.
Vauxhall Motors report on their defeat at Moss Lane on Tuesday night. "Injury-hit Vauxhall Motors gave Blue Square Premier outfit a real scare at Moss Lane – and know they were denied a real chance to claim the hosts' scalp when an assistant's flag ruled out Tom Rooney's perfectly legal effort in the final phase of this excellent cup-tie. The Motormen took the game to the Robins from the first whistle... Five minutes into the second [half of extra-time], Alan Griffiths hit a fierce free kick past the wall, Ralph didn't take it cleanly once more and Rooney nipped in to clip the ball over the sprawling keeper into the net – trouble is the assistant had spotted an infringement, presumably offside, but no one had any idea who or why the 'goal' did not stand".
FCUM PUTS ITS VIEWS
Before last night's supporters' association meeting at Moss Lane, there was a short presentation from three representatives of FC United of Manchester. FCUM directors John Manning and Mike Turton, along with general manager Andy Walsh, came along to try and improve the less than perfect relations between supporters of our two clubs. Relations had been soured by an incident at an FCUM match at Moss Lane a couple of years ago when a rogue FCUM supporter had assaulted a young Alty fan. Then, this summer, FCUM had been blamed by some Alty fans for trouble at a friendly at Moss Lane against Manchester United. In fact, this summer's trouble seems to have been caused by errant MUFC fans rather than FCUM supporters.

The three guests explained their club's philosophy and also related how the man who had caused the trouble at Moss Lane two years ago was now a reformed character who helped the FCUM club voluntarily. The man in question had also introduced himself to the Alty Security officer Darren Gregory at this summer's game and Darren agreed that the man was now a reformed character.

Questions from the floor covered other areas including the FCUM attitude to televised games and the shifting of kick-off times. The FCUM reps also explained that they were looking at a couple of possible new grounds in both Salford and Manchester as potential homes for their club, whose arrangement to play home games at Bury FC terminates at the end of this season.

The reps also offered the benefit of any of their experience as fundraisers to our club. The three visitors were given a generous round of applause and their attempts to build bridges with our club were much appreciated.
NEXT OPPONENTS
From our next opponents, Lewes we learn that "Lewes Reserves lost 5-1 to Millwall Reserves on Wednesday night at the Dripping Pan. A consolation goal from Shabazz Baidoo was scant reward for Lewes Reserves, who went into half time four goals behind... An improved second half performance was more encouraging for Lewes, who gave trials to John Monday and Justin Gregory". During the game, Lewes "trialist John Monday... was injured... and substituted".
NW NEWS
NL Daily says that "The UniBond League has been informed by Premier Division Leigh Genesis that the local authority in charge of Hilton Park have basically condemned the historical ground and are refusing to allow any further sporting events to take place there. Leigh are very much looking forward to moving into a brand new stadium at Leigh Sports Village which was to have been ready for the current campaign but is now scheduled for opening in early November. Leigh Genesis are now working hard to come up with a temporary home until the November opening. With a home fixture against Whitby Town this coming Saturday, the club are thankful to Chorley who have offered Victory Park for the game".
BSP NEWS
According to This is Nottingham "Mansfield chairman Andy Perry said today he was unaware of rumours Mansfield could be deducted points for fielding an ineligible player. The Football Conference have confirmed they are investigating one of their member clubs for such an indiscretion. It has been suggested the team in question is the Stags – and involves their first two games of the season at Ebbsfleet and Histon.... 'I have had nothing official or any paperwork from the Football Conference to say we have broken any rules', said Perry... Dennis Strudwick, chief executive of the Football Conference said: 'I can confirm we are looking into a matter confirming an ineligible player or players within the League. With an investigation of this kind it takes as long as it takes, but obviously we hope it won't be extended and is concluded as soon as possible. I don't want to speculate on any punishment that would apply'".

Later Mansfield Town admitted that "We can now confirm that we have had dialogue with the Football Conference relating to player registration/signings. At this point in time, we have no further information on the matter and are unaware that any regulations have been breached. We will issue a further statement once we know the full details of the matter". And the local paper, the Chad reports that "Mansfield Town IS being investigated over rumours that it may have fielded an ineligble player... Boss Billy McEwan would only say on Thursday afternoon: 'All we want to do is concentrate on Saturday's game - anything else is irrelevant so it's not an issue. We are only concerned with what happens on the field of play and geting on with our jobs'... Mansfield chairman Andy Perry told Chad on Wednesday evening... 'I don't know anything about us breaking any rules'... Dennis Strudwick, general manager of the Football Conference, said on Thursday morning... 'We check all player registrations every week as a matter of routine. That is when we discovered there may be a problem. This investigation will take as long as it takes, hopefully no more than a couple of weeks'. It is rumoured that the player in question may be striker Aaron O'Connor, who was signed in a flurry of transfer activity the day before the opening match of the season at Ebbsfleet. O'Connor had been offered a new contract by Grays, before agreeing to come to Field Mill. He started the opening match at Ebbsfleet and also made a substitute's appearance the following Tuesday in the win over Histon".

"Wrexham lost 3-2 against League Two neighbours Chester City in a behind closed doors friendly at Colliers Park on Tuesday. Nine players with first-team experience lined up for Wrexham, who also gave a run-out to trialist striker Wes Ryder, who has come all the way from Australia. The 21-year-old from Northam, who lives in Perth, plays for Inglewood United and was previously with Fremantle City. He had been recommended to the Dragons by former player Steve Stacey. 'It would be nice to find a club but I don't know what's happening at the moment or how long I will be here', said Ryder, who played for Australian Schoolboys"

200% says that "An interesting article by David Conn in The Guardian yesterday highlighted steps being taken by the Football Conference to limit the boom and bust culture which has blighted the league over the last few seasons. They have lost Scarborough, Canvey Island, Halifax Town and Boston United in recent years, and drastic measures have been put in place by a league that is keen not to be seen in the wider press as the home of some financial basket cases. These moves are most welcome, as they seek to force a more responsible form of management upon its member clubs, yet the suspicion remains that life in the Blue Square Premier is still not as rosy as some might want us to believe.

The league is currently headed by Crawley Town, a club whose financial misdeeds have been much reported over the last two or three years, but it is the goings on at two other clubs, Oxford United and Grays Athletic, that are causing alarm bells to ring, with the possibility of one or both of these clubs being unable to continue in anything like the medium to long term being a very real one. Both are clubs that have spent heavily since entering the Conference from very different routes, and both provide distinct warnings to others that seek to take the 'spend, spend, spend' route to what is perceived within the world of football as "success". Other clubs are also believed to be in a financially perilous position, but Oxford and Grays are both currently at the centre of news stories which threaten the clubs' very existence". Follow the above link to read the full story...

The Ebbsfleet United reports that "The club has been working on a new stadium project for some time and, as part of the recent takeover, a services agreement was set up between the football club and Fleet Group Development ("FGD") in relation to this project. FGD was set up prior to the MyFC takeover as a subsidiary of the club to run and deliver the new stadium project. FGD is providing consultancy services in the sourcing, planning, design and construction of the stadium... A presentation was made to EUFC and the MyFC Society Board on Wednesday 20 August... We have been in detailed talks with a development partner... They have been carrying out due diligence on a site we have identified... The subsequent initial financial analysis has come up with a figure that is too high... To get a more accurate financial analysis we need to carry out bore hole testing on the site for which permission of the landowner is required. We have been unable to get this so far... This and the fact that the residential property market has hit a major slump means this project is not as positive as we would wish. The overall development needed to help finance the new stadium included a large element of residential development... We have been looking at contingencies in case it does not go ahead. A series of meetings have been held with Gravesham Borough Council planning officials and members together with Kent County Council, local landowners and property agents to see what other sites might be suitable and sustainable. We have shortlisted three sites and are currently doing feasibility work on them".

Kidderminster Harriers "midfielder Michael McGrath is to get a month of first-team football on loan with local side Worcester City. After featuring regularly last term, McGrath has played just nine minutes of football for the first-team this season, in the 4-0 win over Altrincham at Aggborough last month. Michael will meet up with his new team mates this evening; among them is Marco Addagio who spent the summer on trial with Harriers".
---
18 September 2008
CHESHIRE SENIOR CUP
There is now a report on Altrincham's 4-2 win over Vauxhall Motors here.
CSC 1st Round
Altrincham 4 v Vauxhall Motors 2 a.e.t.
22/09/08 Hyde U. v Congleton T.
23/09/08 Alsager T. v Stalybridge C.
23/09/08 Cammell Laird v Warrington T.
23/09/08 Winsford U. v Runcorn Linnets
24/09/08 Cheadle T. v Witton A.
25/09/08 Woodley Sports v Northwich V.
THURSDAY NIGHT'S MEETING
Brian Flynn, Acting Chairperson of STAR, writes:

Altrincham F.C. Supporters' Group Meeting,Thursday September 18th, at 7.30pm in the Noel White Suite:

We have over thirty people who have offered to help get involved with the new Supporters' Group & we would like as many of them as possible to turn up as well as anyone else who hasn't yet declared their support. A finalised agenda will be published ahead of the meeting but an initial proposal is below.

Please can we have as many people as possible turning up for our initial meeting tomorrow evening. The agenda is as follows:-
Welcome & Objectives of Meeting (including apologies) -Brian Flynn
Building Bridges -John Manning/Mike Turton (Directors of F.C. United of Manchester)
What are our objectives & what do the fans want from a Supporters'Group? -All
What are we going to be called? -All
Formation of Committee & designation of roles -All
Future Meetings -All
Any Other Business -All

I will act as Chairperson & Peter Lewis has kindly volunteered to take the meeting minutes which will subsequently be circulated. It is anticipated that the meeting will finish between 9.30 & 10.00pm. I look forward to a good turn out tomorrow evening & a productive start for our new Supporters' Group.

Kind Regards

Brian Flynn, Acting Chairperson, STAR (Support The Altrincham Robins)
SATURDAY GAMES
Altrincham welcome Lewes to Moss Lane for their first ever visit to the ground. Before then "Justin Gregory could be about to join Lewes" claims The Argus. "The experienced left-back is a free agent after being released by Worthing last week. Gregory, who has played for Crawley, Stevenage, Farnborough and Havant, is expected to link up with the Rooks this week. Lewes Reserves take on Millwall in the Football Combination at the Dripping Pan (Wednesday). Manager Kevin Keehan will look at one or two options before Saturday's trip to fellow strugglers Altrincham as well as trying out a couple of trialists. Keehan is hoping skipper Danny Cullip will return from a hamstring injury in time for Saturday's match after missing the last three games".

Altrincham manager Graham Heathcote suggested changes would be made in his programme notes last Tuesday so it will be interesting to see the home side's line-up this Saturday.
SETANTA SHIELD
Tuesday's northern section Setanta Shield match, postponed from last weekend, saw:
Alfreton T. 2 Stafford R. 3

Fleetwood have now sacked their manager, the former Lancaster City boss Tony Greenwood and his assistant Andy Whittaker.
OLD BOY
An old boy in the FA disciplinary dock is Clive Freeman, who is described as "Manager, Buxton FC" concerning "Ashton United FC v Buxton FC, 25 August 2008. Charge: FA Rule E3 – improper conduct".
BABY-GRO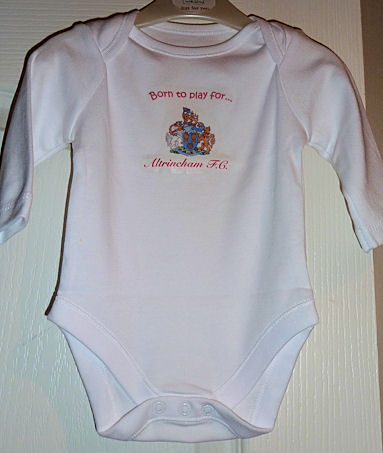 Altrincham FC have produced a "baby-gro" which can be personalised. The club shop has an example, which can be seen in the adjacent photo, kindly supplied by Sarah Rowley. They come in sizes: new-born, 0-3, 3-6, 6-9, 9-12, 12-18 and 18-24 months You can have any name and/or number on the back of them and order can be placed at the club shop or by calling the office on 0161-928-1045. The prices are £7.50 personalised, £5 plain (no name or number).
BSP NEWS
An interesting article comes from The Guardian which is headed, Conference shows way as sugar daddy era turns sour. It states, "While the Premier League continues its rich obsession below stairs the emphasis is on balancing the books... The men who run the Football League and the Conference are most concerned not with searching the planet for rich men to bail their clubs out, but with how to stop them overreaching themselves and collapsing into insolvency. Concerned voices are warning that another round of wage hyper-inflation in the Premier League, from Robinho's reported £160,000 a week, will trickle down.

Charlie Clapham, Southport's chairman and the Conference's vice-chairman, says that since his club won promotion to the Conference 15 years ago, players' wages have increased about tenfold, just as they have higher up. 'It is competitive and football is all about chasing the dream', he says. 'The leagues are all connected and it all comes down. Players' wages have gone up hugely but at our level clubs' incomes have not to the same extent'.

Since 1992, the richest era the English game has known, more than 40 of the Football League's 72 clubs have been insolvent... Many millions of pounds have been left unpaid; St John Ambulance, that most shaming of creditors, was left owed more than £35,000. HM Revenue and Customs, owed £7.7m by Leeds alone, decided some time ago not to write off any more public money to football's excesses.

In the face of protests from fans of the affected clubs, the League is standing firm on its policy of points deductions, although it is reviewing its policy generally towards insolvent clubs. The League's rules impose an automatic 10-point penalty for clubs who become insolvent, and require them to exit administration by achieving a company voluntary arrangement (CVA) to which 75% of creditors agree. HMRC, owed mostly PAYE on the excessive wages which sent the club insolvent in the first place, has been refusing to agree to any CVA settlements because 'football creditors' - the players themselves - have, by League rules, to be paid in full. The additional sanctions, 15 points deducted from Leeds last season, 17 each from Rotherham and Bournemouth, 20 from Luton (also deducted 10 by the FA for transfer irregularities), have been imposed for failing to agree CVAs.

Fans of those clubs have complained that the penalties are excessive, and that they hit fans and new owners rather than the failed former regimes. But the League's chairman, Lord Mawhinney, supported by member clubs, argues that those owing millions in tax, become insolvent then cannot get a CVA agreed should not take their place in equal competition with clubs that have paid their way. 'The rules are about protecting the integrity of competition', Mawhinney says. 'Some people who do not understand the issue are vociferous about points. But we will not be blown off course because [those] with a vested interest make a lot of public noise'.

The League, however, is aware that the football creditors' rule is not the game's most attractive facet, and nor is a competition which features clubs docked points for financial reasons which fans can find difficult to understand. The policy review began in earnest during the League's board meeting last week, and although Mawhinney will not reveal the detail of the discussions, it is widely recognised that the only satisfactory answer is for clubs to stop going bust in the first place. He says proposals should be ready to put to clubs in three to six months.

In the Conference patience wore thin with a succession of clubs becoming insolvent, and rules have been introduced which make it England's toughest league on overspending. Two years ago the Conference scrapped the 'football creditors' rule. Now, even if a club has agreed a CVA, it must pay all debts owed to any creditor in full, by the second Saturday of May. If not, a club is expelled - or, to use the more polite term favoured by the Conference's chief executive, Dennis Strudwick, 'not accepted for registration' the following season.

That has not been an idle threat. Without much attention paid by a football world fixated on the top, several long-established clubs have gone bust or fallen out of the Conference. Scarborough, after four years of insolvency, finally went into liquidation and out of existence in June last year. Boston United, who finished last season in Conference North, had not paid their creditors in full by May this year, were expelled and are now in the UniBond Northern Premier League. Halifax Town also failed to pay their creditors in full; the Conference refused to accept them for this season, and the old club, formed in 1911, ceased to exist. A new club, FC Halifax Town, formed by a supporters' trust, is playing now in the UniBond League Division One North.

The Conference has introduced a new system this season for the 68 clubs in its Premier, North and South divisions, to help them keep on top of their debts. In a system developed with the FA, the clubs will report to the Conference every quarter on what they owe HMRC, and are required to show after two months that they have paid their tax in full, or have a written agreement scheduling the payments. Again, the system has teeth - if a club fails to pay its tax, the Conference will impose a transfer embargo.

'This is about helping clubs live within their means', says Clapham. 'We believe debts should be paid in full, to everybody, not just footballers'. The most damaging phenomenon, which has put most clubs in trouble, Clapham points out, has been when new owners arrive at clubs with grand plans, spend big in an attempt to buy success, then pull the plug or run out of money. 'The sugar daddy model doesn't work', says Clapham. 'It's unsustainable'. Strange that it has been a recipe for mayhem in the Conference, yet in the Premier League it is now the way ahead".

"Torquay United could be left without up-and-coming defender Mark Ellis for up to a month after the player tore his calf muscles" reports Blue Square Football. "The centre-back had to be stretchered off the field during the second half of Saturday's 1-0 win over Cambridge United and left the ground on crutches. It's almost certain that the ex-Exeter City and Bolton Wanderers youngster will be sidelined for at least six games".

According to NL Daily "Cambridge United centre half Gavin Hoyte is looking for a loan move after struggling to establish himself... The 22-year-old joined the club in June 2007 from Bedford Town and scored on his debut. But he finished the season on loan at King`s Lynn after only making eleven appearances for United. His management company (Route1management) spokesman Dave Thomas said: 'It's in the best interests of all parties that Gavin goes out on loan. He's still young and was heralded by Jimmy Quinn as the next big thing when he joined the club and we want to make sure he fulfills that promise. The best way is for him to get back on track is to be playing regularly and return to United as a real asset. We had one offer for him but it wasn't quite right. He's hungry to get going'". I don't recall Jackie Swindells having a management company to run his affairs! The Cambridge News adds that "Mark Beesley looks set to be ruled out of Cambridge United's plans for several weeks after suffering a knee injury. The influential forward twisted his knee early in Saturday's 1-0 home defeat by Torquay and is thought to have damaged his medial ligaments."

"Paul Fairclough's England `C` side suffered only their second defeat since 2004 on Tuesday when they crashed to a 6-2 defeat in Sarajevo" says NL Daily. "Despite being 4-0 down after only 33 minutes, Fairclough's experimental side rallied and pulled back two goals in the second half from Oxford United's Matt Day and Ebbsfleet United's Luke Moore".

Wrexham add that England "can partly blame their defeat on an atrocious pre-match preparation. The squad touched down in the Bosnian capital a day late following two abortive attempts to fly in from Vienna after their original connecting flight had been cancelled. They were then forced to take a plane instead to Split in Croatia, before enduring a six-hour coach journey to Sarajevo... In the end, Carl Tremarco missed the trip awaiting the birth of his first child, while Darran Kempson did travel, but was an unused substitute. Their problems began on Sunday night when the party arrived in Vienna to find that their connecting flight to Sarajevo had been cancelled due to bad weather. After a night in an airport hotel and a 5am wake-up call, the group took to the air but after two aborted landings they found themselves back in Vienna. There then followed some frantic negotiations by Leagues Manager Mike Appleby to find an alternate route as the airport in Sarajevo closed for the day. Luckily, he managed to find seats on a flight to Split in Croatia and upon arrival there followed a six-hour coach trip to Sarajevo. The group finally arrived at their hotel base at 9.15pm, some 16 hours after that wake-up call, and it was hardly ideal preparation for Tuesday afternoon's match. England: Cronin, Day, Wright (Stevens 57), Foster, Robinson, Smith, Arnold, Laryea (Bailey 60), Brodie (Harrad 57), Moore, Cole.

Woking FC "are pleased to announce that goalkeeper Lenny Pidgeley will be extending his loan period at Kingfield. Lenny, who is enjoying his spell as first choice keeper at Kingfield, has this week confirmed he will remain at Woking Football Club for a further two months".

the Oxford Mail tells us that "The Oxford United owners' attempts to buy the Kassam Stadium look to have reached an impasse because of the ever-worsening economic crisis. It's understood that United were close in the summer to completing a deal, after a £13m asking price was agreed. But raising the finance has proved 'more difficult', according to a source involved in the negotiations... United chairman Nick Merry said: 'We've got close to a few things, but the asking price keeps making it very difficult'. Not owning their own ground has led to financial problems for United. Their only real source of income comes from ticket sales, with all the matchday ground advertising and catering money going to the stadium company. It's felt that buying the stadium is the only way for the football club to move forward, but when potential investors have done a detailed inspection of the stadium, which is now over seven years old, they have found the £13m price-tag unrealistic... Oxford United's own financial position has not been helped either with stadium owner Firoz Kassam putting up the rent considerably in recent months. He has 'cost of living' increase allowance clauses in the rental agreement with the U's and has activated these as the inflation and interest rates have risen. But while their rent has gone up considerably, the club's income has decreased. The U's dropped season ticket prices for this season, for those season-ticket holders who were renewing, while home gates are ten per cent down, from an average of 4,728 in 2007-8 to a current average of 4,332 this season".

The FA confirms "The latest cases heard by Regulatory Commissions and charges issued: Dino Maamria, Northwich Victoria FC, Torquay United FC v Northwich Victoria FC... 7 September 2008. Charge: FA Rule E3 – use of abusive and/or insulting words. Maamria has until 24 September to respond".
---
17 September 2008
MEET THE NEW PLAYERS EVENT
The four new Altrincham FC players who will be the special guests at this Saturday's "Meet the New Players" event at Moss Lane will be Kevin Street, Dale Johnson, Anthony Danylyk and Lee Elam (pictured right) . Just a few tickets (£15) are left and these can be obtained by contacting Grahame Rowley by e-mail or by ringing him on 07720-606897 by Thursday.

As previously announced, the event takes place at 7.30pm for an 8pm start, following the home game with Lewes that afternoon. The event includes a chicken dinner and will take place in the Gill Oates Sponsors' Lounge at the ground.

This will be a great opportunity to hear from the players themselves about their backgrounds, their current feelings about the season and their future plans as there will be a question and answer session during the evening.
ALTRINCHAM 4 VAUXHALL MOTORS 2

As part of the FA's "Respect" campaign the teams line up before every game, including Tuesday's CSC match.
Altrincham were pushed all the way by Vauxhall Motors and needed extra time to overcome their Blue Square North opponents. The Motormen went ahead on the half-hour mark after Andy Ralph had done well to beat out two shots, only for Karl Noon to score from the rebound. The introduction of Joe O'Neill with Chris Senior at the interval finally did the trick as Joe netted twice but not before Greg Young had also been brought on, playing as an auxiliary striker, alongside Chris Senior. O'Neill made it 1-1 in the 69th minute and then appeared to have won the game, with eight minutes left, when James Coates, the visitors' keeper, failed to hold his low shot. But, just two minutes later, Alty's defence was cut open on the Motors' right, allowing Chris Noone to score from close range when Ralph was unable to hold Owens's effort. So, the game went to extra time but it was not till the eventful final period that the game was decided. Firstly, Vauxhall "scored" from a freekick when Ralph was unable to hold the ball and it was put into the net, but this was ruled out for offside, then Greg Young scored from six yards after a McGregor shot had been blocked in the 114th minute. Finally, with virtually the last kick of the game, Chris Senior span clear of a marker on half way and sped up the left. A perfectly weighted return pass from O'Neill set Chris in on goalkeeper Coates and, though driven to the right of goal, the Alty striker scored a fine goal (120 mins). Just 128 people watched the game. Report to follow.
Altrincham included three players starting their first competitive game for the club, (Ralph, Densmore, Tierney).
ALTRINCHAM: 13. Andy RALPH; 21, Shaun DENSMORE, 2. Chris LANE, 4. Mark McGREGOR, 20. Paul TIERNEY; 7. Robbie LAWTON (capt), 6. Kevin STREET, 16. Anthony DANYLYK, 11. Warren PEYTON; 9. Colin LITTLE, 10. Chris DENHAM. Subs:19. Chris SENIOR, 12. Joe O'NEILL, 3. Matt DOUGHTY, 5. Greg YOUNG, 15. Alex MEECHAN.
VAUXHALL MOTORS: 1. James COATES; 2. Lee OWENS, 4. Ged BRANNAN (capt), 5. Alan GRIFFITHS, 3. Jonathan EGERTON; 7. James HOLDEN, 6. Tom HANNIGAN, 8. Mattie BURKE, 11. Chris NOONE; 9. Pat McFADDEN, 10. Thomas ROONEY. Subs: 12. Karl NOON, 14. Anthony WRIGHT, 15. Rio NELSON, 16. Jordan HOLMES.
RECIPE FOR A POOR GATE
A low gate for Altrincham's clash on Tuesday night with Vauxhall Motors in the Cheshire Senior Cup was predictable for numerous reasons:
The Cheshire Senior Cup attracts few customers at the best of times
Season tickets are not valid
The competition rules required full admission prices to be charged - £12 to stand at Moss Lane, for example
The opposition, Vauxhall Motors, have low home gates themselves, so visiting fans were minimal in number
It was a damp night
There was live European football on terrestrial TV at the same time
The league clubs have been moved out of the Senior Cup into a separate competition
Altrincham had not won for eight games
Altrincham had scored just once in their previous nine hours of league football.

Outcome: just 128 paying customers attended the game. One of them, John Skelhorn, left a happy man after winning the Guess the Crowd competion with an estimate of 132. Low gates in the minor cup competitions are not a new problem; on 11 December 2001 in the UniBond League Cup, just 114 turned up at Moss Lane to see Alty defeat the Motormen 2-0, though fog and icy temperatures were a factor then.
"WE ARE NOT GOOD ENOUGH" SAYS GRAHAM
The following is the text of Cote's Comments, by Alty manager Graham Heathcote, which were published in Tuesday night's Robins' Review programme:

I Will Ensure These Players Earn Their Very Good Part-Time Wages

Firstly I must apologise for the inept way that we played in the first half at Stevenage. Whilst I always felt it was going to be a difficult game with Stevenage getting many of their better players back, and the fact that some of the football they played in the first half was very good, we certainly didn't help ourselves with a lack of sharpness in the opening twenty minutes, and a lack of discipline in our defending. Indeed, I was forced to change our system after about ten minutes as we were being totally overrun and seemed incapable of getting tight to their players in our half. We were lucky to be only 2-0 down at half time – that was due to some brilliance from Stuart in goal.

A lot was said at half time and the players showed in the second half, that they were so much better than our first half performance. The penalty decision finally killed us off so I have to accept that we are not good enough and I have to find players who are good enough, or at least want it more. I will be looking at a few players tonight, and it is up to them to show me that they want to be a part of this team, competing in this league. I have given out a fair few contracts to players who have not lived up to my expectations of them, and whilst they should be better than their performances so far this season, the results suggest some are not up to it or don't want it enough. Some fans may say I'm not up to it, that's a decision for the Chairman and the Board.

All I will say is I will not allow players to just come here and pick their money up for doing nothing. If this means putting more nights in, then so be it. I've always been loath to do that, but as I feel, I, or you our supporters, are not getting value for money out of our players. Something has to be done. The pre-season form has totally thrown us. Whilst some players looked very good then, they have failed to reach the required standard of this league and what hurts me is I'm not sure that it hurts them anywhere near enough. There has to be, and there will be changes. The talking has to stop, we will have to play to a system that will enable us to grind out some results, and some players may get a shock when they are not picked. I hope they come to see me, I've got DVDs waiting to give them, and I'll tell them to watch them and then ask me why they're not playing.

We have a few new players – we have to give them their chance. We have treated the players to the best of everything we can give them, and they have taken that and given nothing back. Well, the taking has to stop. I'm the one who will now be doing the taking and if anyone doesn't like it, they can go. This club deserves better than we are getting and if this group of players don't care enough about the results, then I have to find some who will. I did not believe we would be in the position we are, but we are and whilst I am the manager, I will ensure these players earn their very good part time wages one way or another.

Enjoy the game,

Graham.
VOTE FOR COLIN!
The organizers of the NW Football Awards have written to Altrincham Fc saying, "Just a quick note to remind you that voting for Player of the Year closes this Friday at 12pm. We have had over 65,000 votes so far, and out of those Little is doing quite well but it's going to be a close call between him and Steele so a final push wouldn't go unnoticed; if you could place a news item on your website, blogs etc that would be super. Finalists will be released w/c 29th September so fingers crossed!"
The NW Football Awards previously announced:
Following the massive success of last year's inaugural event, the Award winning Northwest Football Awards returns in 2008 to recognise the region's sporting prowess. The prestigious panel of sporting experts will assemble once again to pick the cream of the footballing crop, however the Player of the Year Award will be adjudicated by the harshest of critics - you, the footballing public.
Colin Little (right) is competing against Northwich Victoria's Lee Steele for the Player of the Year award so record your vote now for Alty's finest by logging on to the North West Football Awards . The winner will be announced at the Northwest Football Awards, sponsored by Bank of America on the 17th November 2008, at the Midland Hotel, Manchester.
There is also a NW Manager of the Year vote, details of which are here.
SAM'S VIEW
The Sale & Altrincham Messenger says that "Alty's wretched run of form continued on Saturday as they were beaten 3-0 at Stevenage Borough. Another weak attacking display from the Robins extended their barren streak in front of goal to more than seven hours of football... It could have been more than three had Stuart Coburn not made a string of fine saves on his 400th appearance for the club... Manager Graham Heathcote set up his team defensively but they were breached after just 16 minutes played... Heathcote's half time words sent Alty out for the second half with a greater sense of purpose... Three down, Heathcote made three substitutions, including the surprising removal of Denham - who had looked to be Alty's best chance for a goal".
BSP NEWS
Blue Square Football says that "There has been one more twist in the tail at Grays Athletic with chairman Mike Woodward revealing that he could yet be persuaded to stay. Woodward made the decision to sell his shares in the club following Saturday's defeat at Woking but seems to have had a change of heart. He has now organised an open question and answers meeting for this Thursday, where he says the club's supporters can decided on his future involvement. 'I'll leave the decision to the supporters and if they back me and want me to stay, then I will stay', Woodward told BBC Essex. 'If they don't want me to, then I will put my shares of the club up and I will let somebody else take the club over', he added. 'If there are certain people out there who want to come and run the club, then just pay me a bit of money that I am owed and they are more than welcome to take it over'. Woodward appointed himself as manager in the 2006-07 season, before installing Andy King after 2 games. He then took up the reins for the second time when Justin Edinburgh left the club by mutual consent on 20 February 2008. He added: 'When people start attacking my family and my friends, it makes you feel that you are on the defensive', he explained. 'The one thing I will put my hands up to is I made a mistake in being the manager. I can't burn the candle at both ends, so the one thing I will hold my hands up to, and I'll be honest with the fans and to myself, is that I made a mistake. That's why that has been handed over to Tim O'Shea, Gary Phillips and Neil Smith and they will do an excellent job'".

Meanwhile, Grays Athletic report that "Jon Ashton has undergone surgery for a detached retina; he is more than likely going to be unavailable for the remainder of the season. Jamie Taylor has suffered a broken bone in his ankle and will be unavailable for approximately 3 months".

Oxford United's "injury-hit start to the season continued today with the news that striker Jamie Guy needs a scan on an ankle injury. Jamie, on a season long loan from Colchester, rolled his ankle in training yesterday and after an uncomfortable night he had the injury assessed but will need a full scan... to see the full extent of the damage... But there is light at the end of the tunnel for Phil Trainer who hopes to join in full training early next week after breaking a metatarsal in pre-season".
---
16 September 2008
SETANTA SHIELD
It has now been confirmed that Altrincham's second round Setanta Shield match at home to Farsley Celtic will take place on Tuesday, 14th October at 7.45pm. This is two days after Alty's Sunday BSP match with Oxford United at Moss Lane.
TUESDAY'S GAME
Tonight (Tuesday), Altrincham entertain Vauxhall Motors from Conference North in the Cheshire Senior Cup. Kick off is at 7.45pm. The sides last met in the CSC last season, when Alty won the semi-final game 2-1 at Moss Lane. Alty's side that night was: 1. Stuart COBURN; 16. Ryan SHOTTON, 15. Chris LANE, 10. Greg YOUNG; 3. Gary SCOTT, 6. Jake SEDGEMORE, 25. Liam KING, 24. James JENNINGS; 9. Colin LITTLE (capt), 12. Joe O'NEILL, 22. Carlos LOGAN. Subs: 2. Steve ASPINALL, 5. Darren TINSON, 7. Robbie LAWTON, 11. Warren PEYTON, 19. Chris SENIOR.

Six of those starters have since left Altrincham. Motors' main threat last year, Paul Taylor, has now left the club for League football.

Vauxhall Motors recently announced that player/manager "Carl Macauley strengthened his squad [last Friday] with two new signings. Striker Nick Robinson has signed from FC United of Manchester along with former Shrewsbury Town youth team central midfielder Anthony McDowell. Meanwhile, Keith Smith has left the club to join Caernarfon Town in the Welsh Premier League".

The Motormen include several players with Altrincham connections in their squad. These are goalkeeper James Coates, who was on trial at Moss Lane this summer, striker Pat McFadden, who made 7(+33) appearances for Altrincham's first team, and former Alty Reserves' player Rio Nelson.
DISTRICT CUP REVERSE
Last Sunday Altrincham and District FA (wholly comprising Altrincham FC Youth players) lost 1-2 to Mid-Cheshire at Trafford FC. Substitute Josh Smith's goal put Altrincham ahead but two goals in the final two minutes saw Mid-Cheshire snatch the points. The game was marred by an injury to defender Ben Oliver who had to be stretchered off with a leg injury.
SATURDAY'S REF
There have been quite a few new names refereeing Altrincham this season and on Saturday, against Lewes, we have another, Mr R. J. Madley of Ossett, Yorkshire, who earlier this season officiated the Kettering v Woking match.
BOROUGH GAME
Against Altrincham "Steve Morison continued his goalden streak" reports the Comet. "But forget about the scoreline. It does not reflect the true command Boro had over a poor Alrtincham side that spent the majority of the 90 minutes on the defensive trying to muzzle wave after wave of Stevenage attacks that washed in a continual tide in their direction... With an unchanged side from the one that overturned Burton Albion with such style the previous week, Boro began with panache and vigour searching for a quick incision into the Altrincham defence that was instantly in the retreat... The second half was perhaps a slight anticlimax as Altrincham attempted to repair their pride by launching a few raids into the Boro half. But Stevenage soon closed ranks and began to toy with the opposition. Unfortunately their superiority did not result in a bucket of goals... Morison brought the one-side show to an end with his spot kick".
BSP NEWS
The Northants Evening Telegraph says that "Mark Cooper believes the size of his Kettering Town squad may be the one thing that could prevent them from sustaining a place in the upper reaches of the Blue Square Premier. The Poppies are now the only unbeaten team in the division after beating York City... The victory moved Cooper's men up to third place and just two points behind new leaders Crawley Town... 'I am not sure whether we can challenge the top places mainly because of the size of our squad', he said. 'We lost Exodus Geohaghon on Saturday and, apart from the boys on the bench, there is just Luke Graham who wasn't involved – and that's it... If we get more injuries and suspensions I am not sure we will be able to compete... Anyone who has seen us over the nine games will know about the effort we put in. The first things I demand are effort and desire and if you have that with things going for you then you can always get results'... Cooper paid tribute to on-loan striker Iyseden Christie who scored twice... 'It's not a shock to see Iyseden do that. He's a good player and he is proven at this level and the one above. We are still trying to get him as fit as possible and once he is there he is going to be a major plus for us'".

According to This is Nottingham, "Mansfield must cut out the silly mistakes if they are to build on an encouraging start to the season, boss Billy McEwan said. The Stags were beaten for only the second time in the Blue Square Premier on Saturday, 2-1 by Crawley... McEwan was disappointed in the way his side conceded the goals, both after mistakes from keeper Paddy Gamble... 'We gave them two goals with basic errors, but no-one gives us any easy ones', said McEwan. 'If we keep making errors we are going to have a problem. The lads have already shown they have no problem with their character... It's just a case of eliminating the elementary mistakes... It took us to get upset with each other before we got back into the game. We don't want choir boys. It's nice they were getting upset because there were one or two things that weren't right... There were certain players off the boil big-time and you can't have that. The players have to stand up and be counted but there were certain individuals who were not good enough'".

"Following Mike Woodward's announcement yesterday the following statement is a clarification of the current situation" says the Football Conference. "Mike Woodward has resigned as team manager. Team affairs will be run by Tim O'Shea (Manager), Gary Phillips (Assistant Manager), Neil Smith (Head Coach). He will remain as Club Chairman for the time being, although he wishes to sell his share in the Club. Anyone interested in acquiring his share is free to contact him via the main Club address or number. The owners of the Recreation Ground, the Billings family, have always stated that they were willing for the Recreation Ground to be sold for development, provided the Club moved within the Borough. They are also prepared for a large part of the sale proceeds to be used to help the Club to relocate to a new community based facility in Thurrock. Nothing has changed in this regard since the late Mr Ron Billings gave this commitment to the Club in the early 1990s.

As to the future of the Club, Mike Woodward remains committed to relocate the Club to a new purpose built ground with other community based facilities, as soon as possible. As has been stated on this site previously, Thurrock Council has instigated a feasibility study into the plan. Supporters will be kept advised of progress in due course. Finally, Mike wishes to involve the supporters in the running of the new ground. Once the new ground is built, he intends to cease any active involvement in the running of the Club, but intends to ensure that the Club is in safe hands. In the meantime, the Directors of the Club hope that fans will continue to support the Club in any way possible".

Meanwhile, the BBC confirms that "Grays Athletic have appointed Tim O'Shea as their new manager, following chairman Mike Woodward's decision to step down from the role. O'Shea was appointed as a coach at the club in February but has been promoted to manager, with Gary Phillips becoming his new assistant. Woodward intends to step down as chairman and has put his share in the club up for sale. He told BBC Essex: 'The minority are morons and they've driven me out'".

"Oxford United have decided to transfer list Chris Carruthers and Matt Day, whilst speculation over the future of Luke Foster grows" claims Blue Square Football. Reports have suggested that Rushden & Diamonds are looking to snap-up centre half Foster on an emergency loan before making the deal permanent when the transfer window re-opens. U's manager Darren Patterson claims to be unaware of any approach for Foster. 'We've had lots of chats, and as I've said, I've felt he hasn't been the player he was last season', Patterson told the Oxford Mail. 'Yes, he's had some criticism. And he's also had a lot of praise when he deserved it, like at the end of last season'. Patterson was able to confirm that Carruthers And Day had been placed on the transfer list. 'We're having continual dialogue with Chris', Patterson said. He's a fantastic lad, and has done nothing wrong. It was just that there were areas of his game we were concerned about, and we want to get him back to the player I know he can be'. Day and Foster are currently with the England 'C' squad ahead of their clash with Bosnia tomorrow in Sarajevo".
---
15 September 2008
CSC GAME
For the Cheshire Senior Cup match on Tuesday (7.45pm) at Moss Lane, against Vauxhall Motors, normal admission prices apply. Clubs are not allowed to vary their prices in this competition.
GOAL SPONSORSHIP
Jon and Winnie Stack On behalf of Altrincham Football Club write:

For all those goal/clean sheets sponsors in 2007/8 who ordered their framed photos, these will be available to collect from the Club office at home matches, starting with the Lewes game next week. If you'd prefer to have yours sent to you, then please email me to let me know on the address below.

Alty Goal and clean sheet sponsorship 2008/9

If you'd like to enjoy the excitement of raising money for the Club every time Alty score or keep a clean sheet this season, then just email me with the amount you'd like to pledge per goal or clean sheet, or even pick a player and sponsor his goals individually, or even Stu Coburn's penalty saves!

In return, you'll:
See your name listed as a sponsor in every match programme,
and at the end of the season, as a thank you for your support, you'll receive your own chosen special framed action photograph of one of those goals or one of Stu Coburn's stupendous saves,

All monies raised will be paid directly and immediately to the Football Club, and payment will be in two instalments, one after half the season has gone and then the remainder at the end of the season. We'll be providing regular updates throughout the season of the amounts raised so far, so please take part, there's no minimum amount, and we look forward to welcoming you as a sponsor.

Contact Jon Stack with your name, address, phone number and sponsorship details on:
Tel: 01827 64471 or,
Fax: 01827 312852 or,
Post: 86 Main Road, Wigginton, Tamworth, Staffordshire B79 9DZ or, jon.stack@united-energy.co.uk
Email: here

Thanks very much for your support.

Jon and Winnie Stack On behalf of Altrincham Football Club
OLD BOYS
Kevin Ellison hit a magnificent hat-trick for Chester City last week - you can see all his goals and every other in the Premiership and League on the Virgin Media site. Kevin's second goal, a long-range freekick, must be a contender for goal of the season.

Simon Garner, who had a trial game for Alty last week has joined FC United of Manchester, whilst former Alty youth striker Dion Depeiaza has joined Salford City from Trafford. Former Alty players who scored on Saturday included ex-loanee James Dean, for Harrogate Town against Stalybridge. Also playing for the Yorkshire outfit was Ryan Toulson, who ended last season on loan at Alty from Halifax Town. Another former loan player, Ryan Shotton, scored his first league goal whilst playing for Tranemre Rovers, on loan from Stoke City. Two ex-Alty centre halves were in opposition last Saturday as Ashton United's Stephen Rose faced Kendal Town's George Melling. Steve Aspinall turned out for Colwyn Bay last week. Former Alty reserve defender Colin McAllister has joined Flixton, whilst ex-Alty midfielder under Mark Ward, Stuart Scheuber, has rejoined Stone Dominoes.
TUESDAY AT MOSS LANE
This Tuesday (7.45pm), Altrincham host Vauxhall Motors in the Cheshire Senior Cup and a familiar face in the visitors' squad is likely to be former Alty striker Pat McFadden.
BSP NEWS
Blue Square Football says that "Ebbsfleet United are delighted to have three more sites to consider before deciding where to build their new stadium. The club have called Stonebridge Road their home for more than 60 years but announced their intentions to build a new stadium in June... The club were handed the three sites in the Gravesham area after discussions with Gravesham Council and Kent County Council... Club chairman John Moules told the Kent News: 'We hope the new stadium will still be partly funded by a residential development as before. After discussions with the council it appears that there are more sites that may be available to us'".
---
14 September 2008
THANK YOU
On behalf of all those who made the journey to Stevenage last Saturday in the two supporters' minibuses, great thanks are due to Tom Jacobs for his hard work in ensuring that a service operated and to the two excellent drivers, Mark Eckersall and Martin Jordan. Their efforts were much appreciated by all who made use of the transport provided.
HAPPY BOROUGH
Stevenage Borough report on Saturday's game against Altrincham. "For the second week in a row the patrons at Broadhall Way were treated to a feast of attacking football as Altrincham were swept aside by a rampant Borough... The second half was initially a much more subdued affair with Altrincham at last showing some attacking ambition, although the Borough rearguard were largely untroubled... The victory means that Borough have now collected three wins from the past four matches". There are some excellent match photos here.
---
13 September 2008
UNCERTAINTY AT GRAYS
Grays Athletic announce that "Following yesterday's announcement Grays Athletic Owner/Chairman/Manager, Mick Woodward, has taken the decision to stand down from his position and place the club up for sale, the team will continue to fulfil their remaining fixtures. More news when available".
STEVENAGE BOROUGH 3 ALTRINCHAM 0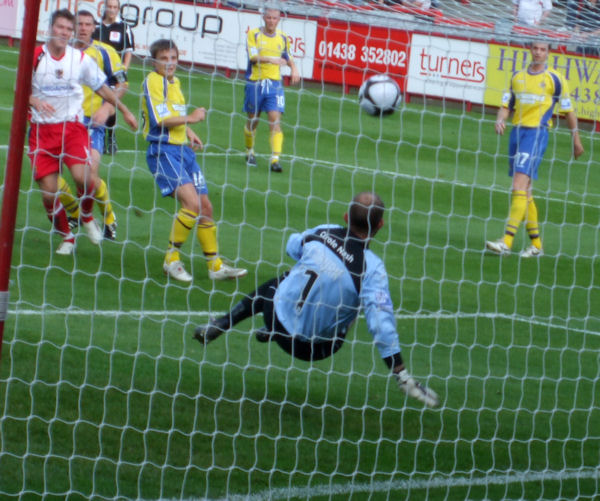 Above: On his 400th start for the club, Stuart Coburn was a busy man, especially in the first half, at Stevenage. Here he makes one of several excellent saves.
A poor first-half showing by the visitors was partly offset by an improved second-half performance but Altrincham were decidedly second-best overall. They have now gone eight games without a win and have been goalless for more than seven hours. Borough opened the scoring after 16 minutes, following a throw-in; a cross from the left evaded both Coburn and Young, allowing Morison to fire into the roof of the net from 3 yards. Substitute Cole made it 2-0 after Elam had lost possession and following a melee near the penalty spot, the ball broke to Cole, who drove home a low shot into Coburn's left corner. Alty had the better of the first part of the second half until Amy Rayner gave Boro a dubious penalty which Morison converted (73 mins). After this, Stevenage comfortably saw out the closing stages despite the introduction of three late substitutes by Altrincham.
Alty player stats
SATURDAY'S GAMES
Burton A. 1 Weymouth 1
Cambridge U. 0 Torquay U. 1
Crawley T. 2 Mansfield T. 1
Eastbourne B. 1 Histon 1
Kettering T. 4 York C. 2
Kidderminster H. 1 Oxford U. 0
Northwich V. 0 Forest Green R. 0
Salisbury C. 3 Barrow 0
Stevenage B. 3 Altrincham 0
Woking 3 Grays A.1
Wrexham 3 Ebbsfleet U. 2
Through the Years by Howard Watts.

The BBC claims that "Stevenage midfielder Gary Mills could miss the match after suffering a cut to the face against Kettering. In-form Lawrie Wilson could replace Mills, but winger John Martin (eye), midfielder David Bridges (foot) and keeper Ashley Bayes (thumb) are out. Altrincham defender Paul Tierney could make his full debut following his move from Blackpool last week. Striker Colin Little is set to continue in attack alongside Dale Johnson despite a recent injury". Chris Senior is unlikely to be fit for consideration following his recent injury.
SHIELD DRAW
The full second round draw for the Setanta Shield is:
Blyth S v Gateshead
Barrow v Fleetwood T.
Hinckley U v Tamworth
AFC Telford v Redditch U/Solihull M
Vauxhall M v Southport
ALTRINCHAM v Farsley C.
Alfreton/ Stafford R. v Northwich V.
Bath C. v Newport C.
Lewes v Bognor Regis T
Ketterin T v Bishop's Stortford
Fisher A v Eastbourne B
Eatsleigh v Havant & Waterlooville
Chelmsford C v Braintree T
Thurrock v Hayes & Yeading U.

Since we last met Farsley player moves at the Throstle Nest include the return of Mark Bett, after spells at Guiseley and Bradford Park Avenue and the arrival of Bury's young striker Jake Speight who is on a month's trial. Veteran ex-League striker Steve Torpey has joined North Ferriby United on loan and former Emley man, Simeon Bambrook, has joined Guiseley. Former Halifax Town striker Andy Campbell is now with Celtic.
NW NEWS
NL Daily says that "UniBond League Division One North newcomers Salford City have signed a player from the Football League for the first time in their history. Adrian Bellamy has joined the Moor Lane club on a two-month loan deal from Bradford City".
OLD FOES IN TROUBLE
"Worcester City will fold if action is not taken to address the current plight, according to the Shareholders Action Group. The St George's Lane club is in a state of turmoil off the pitch following the resignation of president Dr Michael Sorensen as the board face a clamour for them to step down....Worcester City Shareholders Action Group's statement read: 'Our major concern is the proposed move to Nunnery Way... To build the type of stadium publicised will leave a multi-million pound hole in the club's finances. Moreover, there is no certainty as to when the new build will start, let alone finish, leaving the club to fund, out of the sale proceeds for at least the next four years, an annual six-figure budget deficit which will further deplete limited resources... The club cannot afford the move to Nunnery Way as currently envisaged and at the current rate Worcester City will not be playing football anywhere in five years' time'" reports the Worcester News.
OLD BOYS
Paul Ellender is on the injured list at Alfreton whilst at Clitheroe "Barry Shuttleworth is not yet ready for a first-team re-call" after injury. Meanwhile at FC Halifax Town former-Alty player and manager of the Yorkshire club, Jim Vince, has signed Cavell Coo on a month's loan from Droylsden.
BSP NEWS
Blue Square Football says that "AFC Wimbledon manager Terry Brown has wasted no time in signing Grays Athletic striker Danny Kedwell... just a day after he was placed on the transfer list... Kedwell joined Grays for a fee of £12,000 in May 2007, and made 44 appearances, scoring a total of 15 goals last season".

Meanwhile, chairman Mike Woodward has issued a statement at Grays Athletic, stating "I have been informed that some of our fans have been in contact with the non-League press stating that I have taken the transfer money from the Danny Kedwell deal and other avenues. Since I came to the club in 2000 I have taken the bull by the horns and put my heart and soul as well as hard cash into this club, if anyone doubts the amount that has been invested they can obtain details from Companies House which will show exactly how much is owed to my company. If you look at the crowds that we are getting you can see that someone has to make up the shortfall that is why I have been looking for and agreeing deals with, sponsors to assist with this deficit.

I personally have not taken a penny out of this club and to have certain sections of Grays Athletic supporters accusing me and my family of taking money from the club disgusts me and I am now getting to the end of my tether.. If things continue in the same vein then the small minority of supporters who continue to spout their vitriolic remarks will force the closure of this club as Grays Athletic 1982 Ltd will be closed down. I have no problems with people having constructive criticism regarding the way we play, formations, players, coaches, management etc but things have been taken too far now".

This is Mansfield Town states that "Billy McEwan is confident the crowds will return to Field Mill - if his Mansfield side keep producing the goods. The Stags moved to the top of the Blue Square Premier with a 3-1 win over Eastbourne Borough on Saturday, watched by 2,536. New chief executive John Hemmingham has stated his desire to get attendances regularly above 3,000. And McEwan believes 'The fans will come back. They did at York, where we had some really good crowds when I was there, and they will do here'".

"Histon FC has agreed to a month long loan period for Adrian Cambridge to join local neighbours Cambridge City".

The Football Conference says that "Forest Green have signed midfielder James Simpson who featured last term for Newport County" whilst "Patrick Sappleton has signed a months contract for Eastbourne Borough."

From the Sussex Express we read that "Lewes Football Club's moment in the national spotlight ended in humiliation and bitter recrimination from a section of the crowd towards beleaguered boss Kevin Keehan [on Thursday]. A relatively bullish start from the Rooks ended in the all-too familiar spectacle this season of capitulation... another depressingly one-sided defeat. And with Setanta's television cameras beaming the events live to at least part of the nation, segments of the crowd chose the moment to let manager Keehan know that they had seen enough... What gave the atmosphere of disaffection all the more poignancy for the under-fire Keehan was that [former boss, Steve] King himself was watching from the stands... Lewes now have the best part of a week-and-a-half before their next game, a crunch meeting with fellow strugglers Altrincham... That may buy Keehan vital time to - in his words - 'beg, steal or borrow' much needed reinforcements to his struggling squad. It should certainly - touch wood - allow his captain Danny Cullip sufficient time to recover from a hamstring injury and forge, hopefully - if briefly - an obdurate partnership at the centre of Lewes's defence with former Albion colleague Kerry Mayo at the heart of the defence (Mayo, [is] on a month-long loan from Brighton)... Desperate defending in the air was the root cause of each of the four goals conceded by Lewes - and another drubbing at the hands of Altrincham could prove fatal to Keehan's hopes of a long and healthy tenure at the Dripping Pan.

Keehan may have his failings - his much-heralded lack of managerial experience at this or any level above the Sussex County Football League is not open for debate... But... he is a decent, honest and honourable man. And he is trying his best to rebuild a squad from scratch... The most distressing moment for this observer on what turned out to be a distressing night for Lewes FC was the vision of Rooks' legend, record appearance holder, former manager and once again chairman Terry Parris feeling the need to leave his seat as the chanting grew ever louder. Parris moved to the gangway behind the main stand, hands clenched and trembling with emotion and, perhaps, anger (although if it was anger, he'd never show it as he's too much of a gentleman) as his beloved club was embarrassed, if not shamed, by the chanting and jeering being viewed and relished by 150,000 or so armchair fans".

According to This is Glos "An injury crisis has rocked Forest Green Rovers...Back-to-back defeats, which included a 4-1 reverse against Ebbsfleet United last week, have saw [ouch!] the club slump to 11th... A trip to winless Northwich Victoria tomorrow would be the ideal place to rediscover August's form but Harvey could be without up to five key places [players?]. Andy Mangan (groin), Alex Lawless (hip), John Hardiker (knee) and Chris Thomas (ankle) are all doubts, along with long-term injury absentee Curtis McDonald".

Meanwhile, the Northwich Guardian says that "Dino Maamria admits he is shuffling his side too much. The Vics boss told the Guardian he wished to pick the same players every week but so far that had proved impossible. 'I'm changing things too much', he said. 'Every week two or three different names are on the teamsheet and I'm sending them out in a different system. It's causing us problems'. Maamria pointed to Vics' lengthening injury list for mitigation. Skipper Michael Welch, Richie Sutton, Joel Byrom, Michael Carr and now Lee Steele have all spent time on the sidelines this season... 'My best players are the ones getting injured', he said. 'I want to keep everybody fit and play one settled side in the same formation each game'. Four fresh faces – Mike Aspin, Phil Marsh, Mark King and Simon Grand – are playing for free [!!] to plug the holes in Vics' squad. One or two hope to land a deal should Maamria offload transfer-listed Danny Williams or Aaron Burns, currently warming the bench on loan at Droylsden. The quartet are all in contention to face Forest Green Rovers at the Marston's Arena tomorrow, Saturday, with Welch (knee), Sutton (groin), Stamp (hamstring) and Carr (ankle) all facing a race against time to be fit".
---
12 September 2008
YOUTH GAME
This Sunday Altrincham's youth team will now play their Altrincham and District FA Cup match against Mid-Cheshire which was postponed last week. Kick off is 2pm at Shawe View (Trafford FC). This replaces the Open Cup match originally scheduled for this Sunday.
NEW SIGNING
Altrincham FC have signed Shaun Densmore (19) who has played a couple of recent trial games at Moss Lane, one at right-back and one in midfield. He has been signed on a one-month contract. The son of Peter Densmore, a former Alty favourite, Shaun was with Everton, where he was Academy Player of the Year 2006-07, before being released in summer 2008. He was in Bradford City's side in a pre-season game against Altrincham though he did not sign for the Yorkshire club. His squad number will be 21.
SETANTA SHIELD
Altrincham have drawn a home tie against Farsley Celtic in round two of the Setanta Shield. The game is likely to be played on Tuesday October 14th.
MEET THE NEW PLAYERS
Tickets have sold well for the latest "Meet the New Recruits Night" on Saturday 20th September, after the home game with Lewes. There are just a few left so please contact Grahame Rowley by e-mail or by ringing him on 07720-606897 to reserve your place. Alternatively, you can contact the club (928-1045).

As usual a selection of the new players at Moss Lane will be the guests at the event, which will be accompanied by a chicken dinner. It will take place in the Gill Oates Sponsors' Lounge at the ground with a 7.30pm for 8pm start. Tickets are just £15. This will be a great opportunity to hear from the players themselves about their backgrounds, their current feelings about the season and their future plans as there will be a question and answer session during the evening.
SATURDAY
Alty travel to Broadhall Way this Saturday, where The Comet reports that "More hard work is the key for Stevenage Boro to build on their weekend demolition of Burton Albion... Assistant manager John Dreyer said: 'It's amazing what one result can do for a team. It was a convincing win against the team that were second in the table. After our first four games, there has been a vast improvement in the next four games. And we need to cut out ridiculous defensive errors and start keeping clean sheets to further improve'... Dreyer continued: 'The shorter to medium term injuries are filtering back. We are a lot healthier all round now'... Midfielder John Martin played his first game of the season against Burton following an eye infection. Striker Calum Willock was playing in the reserves against Peterborough United yesterday (Wednesday). Although David Bridges remains longer term, Gary Mills should resume training next week after sustaining a nasty facial injury... Goalkeeper Ashley Bayes' thumb injury is on the mend, while midfielder Andy Drury is recuperating from a minor knee operation. Boro are at home again this Saturday to Altrincham with striker Steve Morison hoping to add to his goal tally".

Altrincham travel to Hertfordshire with striker Chris Senior well on the way to fitness after missing the last couple of games through injury.
GRAHAM FRUSTRATED
SAM tells us that "Graham Heathcote is worried attempts to strengthen his squad will be scuppered by 'nonsensical' transfer rules. The Alty boss is hoping to bring in reinforcements in a bid to end a seven-game winless streak but is becoming increasingly frustrated by restrictions on player movement. Clubs at Blue Square Premier level were informed this week they are no longer allowed to bring in players on a non-contract basis outside of the two transfer windows. Instead, if they want to bring in free agents or a non-contract player from a lower division, they must offer the player a contract. Heathcote believes such rules only work to further disadvantage smaller clubs in the division. He told SAM Sport: 'We're still searching for the right formula within the squad we've got. But how you improve the squad I don't know because, the way the rules are, I just don't know what you can and you can't do. We've been told this week that you can't even sign non-contract players now. To me, it's a massive restraint of trade so we'll just have to wait and see what we can do. At the moment, you can only take people on if you prepared to give them contracts, although you can just give out month-to-month contracts. Then, the only other way is the emergency loan situation but that's supposed to be dictated by injuries so I'm not sure what you can and can't do. Everyone will just pass the buck and say it's been dictated by FIFA but not even FIFA should be able to say a player can't move around. It needs somebody now to challenge it because it's just becoming nonsensical. If you're on contract, you can't move around - I understand that. But I find it difficult to accept that a non-contract player can't move around. If I can't bring a non-contract player from another club, even from below us, it's just nonsense and it's massively playing into the hands of the rich, who can afford to carry a big squad'.

Alty travel to Stevenage on Saturday looking to turn around their recent run of poor form... 'Unfortunately, at this moment in time our problem is that we're not sticking our chances away because we've tightened up defensively', he said. 'We're now a competitive side but we have to go a stage beyond that and be a side that's going to win games of football. We just have to take our chances. We've had them, we've just not been clinical enough to put them away. We've not got a combination up front that's clicking at the moment and that's not because anyone's playing badly, we just haven't quite been able to find the right combination yet'".
CURRENCY EXCHANGE
When Alty travel to Lewes later this season supporters may need to convert your currency before you go! The BBC announces that "An East Sussex town is introducing its own currency in an effort to encourage shoppers to support the local economy. The Lewes Pound works like a voucher, with one Lewes pound note worth the same as a pound sterling. Up to 10,000 notes have been printed. The currency will be accepted in local participating stores and can be bought in four outlets in the town. More than 70 local traders have agreed to accept the Lewes Pound as a complementary currency to sterling. The town had its own currency between 1789 and 1895. The current scheme will run until next August, when a review will be held to determine whether it should continue. Lewes Mayor Michael Chartier, who officially launching the local pound, said: 'The idea behind it is to encourage as many local people as possible to shop locally. Lewes has a tradition of small shops and hasn't got a large number of major chain stores that a lot of other towns have'".
BSP NEWS
According to Blue Square Football "Nigerian-born striker Onome Sodje has won the first ever Blue Square Premier/Setanta "Goal of the Month" award... Sodje's strike against Torquay United topped the poll with 30%". The results demonstrate that well supported clubs have a great advantage as both the Grays' goals in the competition were crackers but came nowhere.
Mark Boyd - Barrow AFC v Oxford United 29%
Jefferson Louis - Wrexham v Oxford United 24%
Stuart Elliott - Grays Athletic v Northwich Victoria 8%
Sam Sloma - Grays Athletic v Northwich Victoria 9%
Onome Sodje - Torquay United v York City 30% "

"Striker Danny Crown has signed for Cambridge United" reports the Football Conference. "The 22 year old former Norwich City and Peterborough United striker agreed terms on a deal, keeping him at the club until May 2010. Manager Gary Brabin told the U's website...'For one reason or another he's fallen by the wayside for the last 12-18 months. He was unlucky with injuries and I don't think he got on with the new management at Peterborough, and he's been frozen out a bit. He's still only 22 and we know the ability he's got'".

NL Daily confirms that "Rushden & Diamonds' goalkeeper Martyn Margarson has gone on loan to Boston United until the end of the season. Margarson worked his way up to the first-team squad from the Diamonds' youth team... Youth goalkeeper Joe Day has now been elevated in the event of needing extra goalkeeping cover".

"Crawley Town boss Steve Evans is on the hunt to find out which prankster cut the arms and legs of his tracksuit when he turned up for training this morning (Thursday)" claims the Crawley Observer. "The horrified Crawley boss said the players have taken 'collective responsibility' over the matter but added that he won't stop until he finds out which player did it. The club are now holding an inquisition into who might have committed the prank. One of the favourites is Crawley Town co-owner Phil Jarman who was training with the team this morning. He said: 'I had nothing to do with it. We turned up and the gaffer brought us into the changing room and asked us who done it. The boys have been playing Bruce Springstean to him all day because of his sleeveless top and he's on the hunt to find out who done it'. Other potential pranksters are Thomas Pinault, Jake Wright, Adam Quinn, Danny Forrest, Lewis Killeen, Bradley Thomas and Dannie Bulman".

Oxford United report that "Jake Cole has ended his loan with the U's and returned to QPR. The keeper... injured his groin in his last appearance at Ebbsfleet".

At Grays Athletic "Due to the recent arrival of Danny Kedwell's new baby he has approached the club to state that, at present, he is unable to continue to play for a full time team as he has other family commitments which take priority, this would mean he would be unable to attend regular team sessions. Whilst Grays Athletic do not want Danny to leave, having spoken to Mick Woodward both parties have agreed that the best option would be to allow Danny to be placed on the transfer list to enable him to join a lower league team where he can continue to play football on a part-time basis".
NW NEWS
Hyde United report that manager "Steve Waywell has left the Club by mutual agreement. On behalf of the Club I would like to thank Steve for all his hard work in bringing back to back Championship successes as well as other silverware in his time with us. Steve is the first to admit things didn't go to plan in the second half of last season and unfortunately we have not regained our form in the first nine games this season and therefore a change was in the best interests of both parties... Neil Tolson and Chris Brass will take temporary charge of affairs with immediate effect. James Dean [former Alty loan player] has been released to join Harrogate Town. The Yorkshire club put in seven days notice last week and have today confirmed he is to sign for them forthwith".
---
11 September 2008
FIXTURES
Thursday 11th
Lewes 0 Rushden & D. 4
League table 2008-09
ALTY CRASH OUT OF FA YOUTH CUP
Cammell Laird Youth dealt Altrincham FC Youth a heavy 5-1 defeat at Kirklands on Wednesday night. After Alty had failed to convert a great headed chance from a second minute corner, the Robins found themselves two down inside nine minutes of the game.

Both goals were impressive; a fine 25 yard shot from Robinson after four minutes and a superb chip over the keeper by Jones, five minutes later. It could have been worse as Lairds smashed a shot against the post. But the Birkenhead side made it 3-0 through Noakes (34 mins), followed by the same player's second and his side's fourth goal, following a defensive error in the 43rd minute. Alty made a better fist of it in the second period but Gardner made it 5-0 with 11 minutes remaining. Brownhill scored a consolation goal after 88 minutes when he took advantage of centre-back Oldhan's error.

Match report in Youth section.
OLD BOYS
Kyle Wilson is top scorer in the UniBond League this campaign and he netted two this week against Prescot. Another ex-Robin, Chris Baguley scored in the same game but FCUM lost 3-4.

Ashton United, top of the league, report that "Stephen Rose has experienced what it's like not having much sleep but I am sure he will be raring to go on Saturday. Congratulations on behalf of all the management and players to Rosey and his fiancé on the birth of their baby boy". Ashton boast several ex-Alty men including former Youth players Alex Frost and Ben Deegan. And, in Ashton's recent game at Cammell Laird, Alex Hay was in the Wirral side's team as was recent trialist Dave Challinor... Former team-mates at Moss Lane, Matt Berkeley (Leigh Genesis) and Darren Tinson (Nantwich Town) were in opposition as their clubs drew 1-1 this week.
TUESDAY'S SETANTA SHIELD
Setanta Shield, Round 1.

Tuesday 9 September
AFC Telford U. 3 v Gainsborough T. 2
Alfreton T. v Stafford R. POSTPONED
Basingstoke T. 1 Fisher A. 3
Bishops Stortford 2 Bromley 1
Bognor Regis T. 2 Worcester C. 0
Braintree T. 3 Hampton & Richmond B. 0
Burscough 1 Blyth Spartans 4
Eastleigh 4 Weston-Super-Mare 4 (aet, Eastleigh won 5-4 on pens)
Farsley C. 3 v Workington 1
Harrogate T. 1 Fleetwood 1 (aet, Fleetwood won 5-4 on pens)
Hucknall T. 1 v Hinckley U. 3
King's Lynn 1 v Tamworth 2
Maidenhead U. 1 Havant & Waterlooville 2
Redditch U. v Solihull Moors POSTPONED
St. Albans C. 0 Hayes & Yeading U. 1
Stalybridge C. 1 Southport 4
Team Bath 1 Bath C. 2
Thurrock 2 Welling U. 0

First Round Winners earn £2,000. The Second Round is set to be played in the week beginning 6 October 2008 although the games involving the Premier Division clubs will be re-scheduled as they have league fixtures that week.
IT'S A STRANGE WORLD
According to Kent Online "Under-eight football teams have been banned from publishing the results of their league matches because the Football Association believes it puts too much pressure on youngsters. The little-known rule, which was quietly approved by the FA Council in May, comes into effect this month and affects tens of thousands of teams throughout the country, threatening uproar among parents who believe youngsters are entitled to know how successful their team has been. From now on, all leagues running Under-8 sections will have to keep results private. A similar ban was imposed on Under-7 teams five years ago. Under-8 teams will also be prevented from competing in knock-out tournaments where cups and medals are handed out to winners.

A spokesman for the Football Association said: 'This is about creating an environment where children can learn and develop their skills while enjoying the game without the pressure of having to get a result. They can start taking it more seriously as they get older'... Kent County FA vice-chairman Colin Boswell... said: 'I believe Sir Trevor Brooking is behind this initiative... In my opinion what's behind this is the problem of parental pride which all too often sees adults, who should know better, shouting and screaming at their sons from the touchlines. Sir Trevor wants to see a return to the days when youngsters of that age could play their football without any pressure whatsoever'".
BSP NEWS
In Barrow, the NW Evening Mail tells us that "Despite the promising start to the season, the bosses are still determined to strengthen the squad both short-term – and long-term. Says Bayliss: 'Me and Darren are not just looking at players for this season but have an eye on next year as well. We need to be on the ball. If someone is released from their contract with a league club, we can get in early without worrying about trial games'. Although the transfer window is closed until January, the managers last week brought in an unattached player – the former Sunderland and Port Vale defender Craig James – on loan".

From the Cambridge News we learn that "Norman Gautrey is staying put as chief executive of Cambridge United. Gautrey handed in his notice last month, stating on the club's official website message board he was unhappy with the running of the club and was not leaving for personal reasons, as had been originally claimed by former chairman Phil Law. It had been alleged by prominent supporter Colin Proctor at the recent fans' forum that Gautrey would withdraw his resignation if Law stood down. Now, just days after Law quit the board blaming fans' abuse for driving him out, acting chairman Terry Baker confirmed last night Gautrey would remain in his post for the foreseeable future. Baker said: 'I'm not surprised he handed in his resignation at the time. He had issues that he felt very strongly about, and they've been resolved. He doesn't suffer fools gladly and he took a certain view about certain things'. Baker was delighted with the U-turn made by Gautrey, who had previously threatened to quit in January after a row with Lee Power over issues at the running of United, with the then chairman resigning at a board meeting minutes later".
---
10 September 2008
CURIOUS EVENING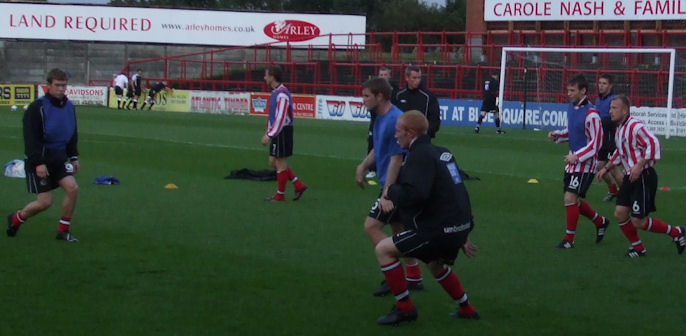 Alty warm up before the game. L to R, Densmore, Meechan, Doughty, Garner, O'Neill, Langford, Smith and Street.
Altrincham's friendly against a Wrexham XI at Moss Lane on Tuesday night turned out to be a curious affair. The game kicked off with one side of the ground floodlit but with sufficient natural light to suggest that this might just be an economy measure. But as the game progressed the Popular Side remained in darkness. With the working pylons shedding enough light to see the far side of the pitch, it came as a surprise when the referee abandoned the game just after the hour mark leaving spectators, trialists and managers frustrated. Matchday announcer Steve Raftery shed some light on the curtailment by indicating that it was due to "electrical problems".
Match report here.
LADY IN BLACK
Amy Rayner is the referee on Saturday for Stevenage Borough v Altrincham.
VOICE OF ALTRINCHAM
Altrincham FC matchday announcer, Steve Raftery, is now moving to Barnsley and as a result will not be able to continue in that role for our midweek games. If you would be interested in being the midweek announcer from October 2008, would you please e-mail Grahame Rowley or the club offices (982-1045)?
OLD BOY
Former Alty Youth Ben Deegan scored for Ashton United on Monday night as they beat Marine 2-0
BSP NEWS
Alty travel to Rushden on 29th September and the Northants EVening Telegraph said yesterday that "Daryl Clare will be 'raring to go' tomorrow night when he finally makes his Rushden & Diamonds league debut. The two-time Conference golden boot winner looks likely to start up front away to Lewes – a fortnight ahead of schedule on his recovery from a broken jaw. Clare, who fired a hat-trick against Milton Keynes Dons' youngsters in a friendly behind closed doors at Nene Park earlier this week, can't wait to be named in Garry Hill's squad for the first time since a summer switch from Blue Square Premier rivals Burton Albion. He revealed: 'I'm in contention for some kind of appearance. Whether that's a start or as a substitute, I'm not sure yet. But I'm feeling great. I've been working hard and it was tough... I'm going to have to use my experience over the next few weeks to make sure I'm staying out of the way of any real trouble. The last thing we want is a re-break'. For his comeback Clare has considered wearing a protective mask – similar to the one made famous by former England midfielder Paul Gascoigne".

IC Cheshire reports that "Northwich Vics make their ninth attempt at victory on Saturday with two new signings likely to make their home debuts. Manager Dino Maamria moved this week to fix his leaky defence by signing Simon Grand and the appropriately named Mark King. Grand, 24, made a promising start to his career playing 40 games for Rochdale before joining Carlisle, for another 30 first team appearances, in the Conference and Division Two. But since 2007-07 he has played less than 20 senior games at Carlisle, Grimsby and then Morecambe. King, a left back of central defender, is 20 and made a handful of appearances for Accrington Stanley last season. Both men are on non-contract terms... Off the pitch there is still no sign of the proposed buy-out of Arena landowner Mike Connett going ahead. A consortium remains keen to purchase the land but Vics owner Jim Rushe said: 'It has stalled. It is just the economic situation'".

In Wales, the Daily Post tells us that "Brian Little plans to bring in loan players after Wrexham dropped to the bottom half of the Blue Square Premier. But the Dragons boss may have to offload some of his transfer-listed players before he can bring in any new additions. Little is looking to the loan market following consecutive defeats to Burton Albion and Cambridge United... The manager said: 'We are well on our budget, but if we can (bring in loan players) we will. There is still a lump of players on the transfer list that haven't moved in any way and my hands are still tied in many respects. I'm not in charge of that – I can't make other people take people off me and at the same time my job is to look after the people that are here. These are my people and they deserve to be treated properly. We do want to change things and if we can we will, but at the moment that's just not happening so we have to soldier on'".

Kettering Town announce that they "would like to thank Owain Warlow for his efforts whilst on loan at the Club. Unfortunately his period on loan had to be cut short by illness".

From the Cambridge News we hear that "George Rolls has vowed Cambridge United will not break the bank in their bid to sign striker Danny Crow... Crow, 22, was on big money at Peterborough and will have to take a major pay cut to fit into United's wage structure. The former Norwich City trainee turned down the possibility of a loan move to the Abbey two months ago as he wanted to stay in League football... He said: aDanny Crow is a player we're very interested in. It's just a matter of tying up a few loose ends, and, hopefully, we can get something done. We've had a good chat with Danny and I think the ball really is in his court... But it's the financial side that's got to be sorted, really. Obviously, a player of that quality we wouldn't normally be able to afford within our pay structure. Danny has had a pay-off from Peterborough, though, and realises it's a matter of coming into our pay structure if he signs for us'... Crow, who was also being tracked by the likes of Rotherham, Lincoln City and Kettering over the summer, watched Saturday's 2-0 home win over Wrexham from the directors' box". Rolls observed "If Ronaldinho was there, he'd have been impressed. I think Danny was quite shocked by the level of the football. He made the comment to me that he saw us play more football in 10 minutes than he'd seen with Notts County all the time he was on loan there".

"Lewes FC have signed Brighton & Hove Albion stalwart Kerry Mayo on a month's loan" reports the Sussex Express. Mayo is a left-back. "The Dripping Pan outfit secured the agreement earlier this afternoon. Meanwhile, the club has announced it is to launch its new look website tomorrow (Wednesday)".

From Kent Online comes news that "Gillingham defender Sean Clohessy has joined Salisbury City on trial. The right-back has found it hard to win a place in manager Mark Stimson's plans... Clohessy, 21, joined the Gills in 2005 after being released from Arsenal's Academy side and he has made 46 appearances for the club".

"Vics fear Lee Steele may have broken a bone in his leg at Torquay on Sunday. Manager Dino Maamria told the Northwich Guardian. He could be without his main goal getter for months. 'I don't know how long Lee will be out', he said. 'It looks like he has fractured his tibia following a tackle late in the game on Sunday. I thought it was a terrible challenge but the referee did not even give a free kick'. Maamria revealed that the 34-year-old had had an inital x-ray yesterday, Monday, but he would not know the full extent of the damage until later this week... He added: 'We had a bad day and to find out about this is hard to take. It's extra worrying because we have such a small squad so to lose a player long term, as we have already with Joel Byrom, is a blow'".

Meanwhile "Dino Maamria wants to see referee Andrew Sainsbury "punished" for his performance in Sunday's stoppage time defeat at Torquay... 'It's very difficult to take', he said. 'Anybody who was at the game will know we were robbed by the referee. I've watched the game on video and it gets worse – I know refs make mistakes and I don't mind that. But this guy's decisions were crazy'". The referee "missed John Robertson's foul on Darryn Stamp... 'It was the clearest penalty I have ever seen in football', added Maamria. 'Their player should have been sent off too. It's embarrassing when opposing players apologise to you after the game. I went to speak to the referee but he wasn't interested. I'm hoping that after he sees the game again he gives me a call'. Maamria was more upbeat about his side's display, particularly after the interval. 'We put in a shift. I thought we deserved something more than what we got and that's not down to Torquay... I wanted the players to give me 100 per cent second half and they did that'".
---
9 September 2008
EARLY START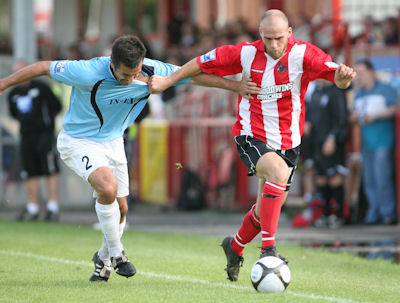 Right: Gavin Rathbone's photo shows man of the match, Warren Peyton, in action against Salisbury. More of Gavin's photos are on the GR Photography website.
Altrincham FC play a Wrexham XI in a friendly at Moss Lane this Tuesday, which kicks off at 7.15pm. Entry is free to Altrincham season-ticket holders but £5 to other adult spectators (£2 for concessionaries).
ROY FERGUSON
Altrincham FC regrets to announce the death of former club director, Roy Ferguson. Mr R.M.G. Ferguson was a director during the latter 1970s and the 1980s, during the White and Swales era when the club twice won the Alliance, the forerunner of the Conference. Roy latterly lived at High Legh but, before retiring, he was in the garage and haulage businesses in the Sale area. His funeral will be on Friday 12th September at noon at Altrincham (Dunham Lawn) crematorium. The club's condolences are extended to his family and friends.
BSP NEWS
Very unhappy managers is the main theme today... According to the Football Conference, "Oxford United striker James Constable is set for a spell on the sidelines after suffering a groin strain in the 1-1 draw against Kettering... Oxford boss Darren Patterson told BBC Oxford: 'It looks like he'll be out for a while. Everything and anything is going wrong at the minute. We'll just keep coping and getting on with things'".

Another unhappy manager is the subject of the Burton Mail which says that "Nigel Clough admitted Burton Albion were the architects of their own downfall... [with] Albion spinning to a 4-1 defeat against Stevenage Borough... The result plunged Albion from second to ninth place in the table - and again left Clough pointing the finger of blame at an inconsistent defence that has now leaked 15 goals in eight games. Skipper Darren Stride and fellow central defender Ryan Austin both came under fire from the Brewers' boss only days after he had sung their praises in the wake of a rousing victory at Wrexham... The Brewers' boss said: 'We knocked it about quite well at times in other departments but certainly defensively, as good as we were on Tuesday, we were poor today - and that was primarily down to the two centre-halves. In Darren's case it was his third game in a week and he was feeling it. I don't think he's quite able to play that many games in such a short space of time with the injuries he's carrying. But Ryan, for different reasons, can't put two or three performances together either... We conceded two very quick goals, both purely down to the two centre halves'".

Naming and shaming defenders is also on the agenda at the New Lawn where This is Glos claims that "Forest Green manager Jim Harvey has turned to his Morecambe contacts book again to find a new assistant. Former Shrimps midfielder Michael Knowles sat in the home dugout during Saturday's 4-1 home defeat to Ebbsfleet United and is set to replace Jamie Pitman, who joined Hereford United as physiotherapist last week... Harvey could yet turn to the emergency loan market this week to bolster his on-field resources. Morecambe-born Knowles, 34, served his home-town club for more than a decade and played an integral part in their rise through the leagues under Harvey... Two straight defeats have shattered the euphoria of the previous weekend, when Harvey's men won 1-0 at Histon to go top of the Blue Square Premier. A furious Harvey said: 'The two we conceded in the second half were absolutely shocking... It's about individuals turning up on the day and being focused on doing their jobs. Unfortunately there were a few of them who let us down. I have to mention (captain) John Hardiker in particular, who was very sloppy and casual for the first two goals'".

And a third unhappy manager is at Nene Park, where Alty will play their first televised game of the season later this month. The Northants Evening Telegraph tells us that "Garry Hill launched a scathing attack on his under-achieving Rushden & Diamonds squad. He offered no excuses and threatened more changes after Saturday's 1-0 home defeat to Crawley Town made it six games without a win... Diamonds' boss Hill blasted: 'We got what we deserved. There are no excuses and no complaints... Half of the team battled hard. But there were too many performances out there from players selected by myself which were not acceptable. It wasn't good enough in any way or form. I put the team on the park and the players haven't done the job which was required... I'm being honest. I can be hot-headed and fiery. But I won't tell lies. I'm fuming. But talk is cheap... Our supporters deserve better than that. We are under-achieving at the present time. It will be put right because if I don't do that in my position then it's not fair on the club. I'm saying 'wake up or get out'. I suppose it's a case of 'watch this space'. It doesn't matter whether players have been here for one year or one month. They will be gone and you can expect movement sooner rather than later'".

According to the Daily Post "It's a good job Brian Little has a big squad to choose from. The angry Wrexham boss vowed to wield the axe after Saturday's defeat at Cambridge United – and he could take his pick of who to drop after a woeful showing on Saturday. Many will now be fearing for their place ahead of next Saturday's home match against Ebbsfleet, especially after being kept in the visitors' changing room for 45 minutes after the game for what the Dragons boss euphemistically described as "a nice chat" about their inept performance. Only those present will know how harrowing Little's equivalent of 'the hairdryer treatment' really is... The manager himself should not escape without blame... Having started out in their usual 4-4-2 formation, the Dragons switched to 4-3-3 midway through the first half to match the home side-set-up. They could not match the fluid movement and interplay of Cambridge's three-pronged attack, however". Wrexham's next match is a friendly at Moss Lane this Tuesday evening at 7.15pm.

In contrast, This is Nottingham reports on a manager who has some grounds to be happy - Billy McEwan. But even he has "stressed the need to strengthen Mansfield's squad if they are to consolidate their position at the top end of the Blue Square Premier Division... The Scot is conscious the club are still short of players and with the transfer window for loan players set to re-open this week, McEwan may look to add to his number... 'Who is going to get in our team at the moment? How do you get into a team that is top of the league?' he said. 'But we do need competition because we need to make sure players don't become complacent. We still need three or four more and the players know that. If we get injuries and illnesses, we need people who can come in'... McEwan added: "'It does concern me that we have not kept a clean sheet again. We are giving goals away too easily... It was Mickey Mouse defending and we have to be better than that... If you are a neutral it's great stuff because there are plenty of goals', he said".

Further doom and gloom emanates from Sussex where "With eight games gone the signs of strain are beginning to show at Lewes" claims the Argus. "The Rooks are still looking for their first win of the season and at the moment you cannot see where it is coming from. Saturday's 3-0 reverse at home to fellow promoted side Barrow was their poorest performance of the season so far... The fans at least deserve to see them go down fighting. There was not too much of that in evidence on Saturday. Manager Kevin Keehan criticised his players for a lack of passion... [He] is coming under growing pressure... One of the problems facing Keehan is that the change of manager during the summer remains an open wound for many supporters. In my opinion Steven King's side from last season – without additions – would have taken 16 points from the same set of fixtures by this stage... The Lewes directors have to be respected for their wish to put the long term future of the club ahead of immediate success, which is why they cut the budget and got rid of King, but the problem at the moment is the difference between 'what is' and 'what might have been' is too great for many people to accept. The crowd on Saturday was a disappointing 679, which included a decent travelling contingent from Barrow... Everyone accepts money has to be found for ground improvements at the Dripping Pan to secure the A ground grading but for me the club cannot allow sympathy for their situation to turn into ridicule...

There were jeers at the end on Saturday and Keehan knows the fans expect more. He said: 'It was embarrassing. I have always said football is about managers and I have got to question myself as much as I question the players. "I wish some of them wanted it as bad[ly] as I do. We did all right in the first half but we didn't have enough passion, enough desire. I have stuck my neck on the line, Lewes Football Club have stuck their neck on the line, we are trying to give some of these youngsters a chance and they have got to step up to the plate otherwise we will have to look at things differently. We can try to look at other players but I can't go and bring loads in unless they want to come for nothing. I feel pressure. I don't feel pressure that I am going to be out of a job tomorrow but I do feel at the moment I am letting the supporters down and letting the directors down and I have got to be accountable the same as the players. We need to change it around and that is down to me'".

The Rooks gave debuts to three players on Saturday, new signing Shabazz Baidoo and former Albion teenager Zac Beda in the starting line-up and Tom Lyons as a second-half substitute. Baidoo, who is on a month to month contract... generally looked rusty... Along with injured trio Danny Cullip, Chris Breach and Danny Davis, striker Chamal Fenelon is also out of the equation after joining Tonbridge Angels on a month's loan. Fenelon was unhappy about being left on the bench for Tuesday's 1-1 draw at Woking".

From This is South Devon we learn that "Torquay United have put striker Roscoe Dsane and midfielder Michael Brough on the emergency loan list. Although the arrangement means the duo are still part of manager Paul Buckle's squad, they are both now available to go out on loan to other clubs. Dsane has played five times for the Gulls this season and has scored one goal. Brough, who was signed from Forest Green Rovers in the summer, has played just once".

The Press says that "Dreams of a new super-stadium for York have been dealt a fresh blow, after an official report warned of major funding problems. The Press understands there is a black hole of £4 million to £8.3 million in the plans for a new stadium, depending on building costs. A report to be considered by ruling councillors predicts a new 6,000-capacity ground, which would serve York City Football Club (YCFC), York City Knights Rugby League Club and the wider community, would cost at least £9 million, and possibly as much as £13 million... The market value of the clubs' existing homes at KitKat Crescent and Huntington Stadium has fallen, leaving a large shortfall in the budget... Any further delay could mean the loss of a £2 million grant from the Football Foundation's Football Stadia Improvement Fund (FSIF). But ominously for the club, the council's Labour opposition said the new figures meant the whole project had to be re-evaluated... YCFC managing director Jason McGill said, 'One of the key milestones we had to reach was to identify a stadium site by last December. We got dispensation because the Football Foundation know we have been trying very hard, but my concern is that their help will not go on indefinitely'. Business development director Rob McGill said, 'It's a bit galling for me when I look at other councils that are supporting their football clubs, and we are putting a plan together that does not cost money, and we are bringing in £4 million [the approximate market value of KitKat Crescent]... We have to be realistic and say there is a big possibility of losing that £2 million'. A definite site for the stadium has not yet been identified, although Bustardthorpe near the racecourse is believed to be a strong contender... If we pushed the button now, we should have the new stadium up and running by 2012'".
SETANTA SHIELD
The first round of the Setanta Shield (League cup) got under way on Monday, though you were hard pressed to know from most clubs' websites. At this stage the national clubs are exempt but the lower placed BSP clubs enter in round two - and that includes Altrincham. With Gateshead defeating Droylsden, we could be visitng the North East!

Round 1

Monday 8 September
Chelmsford C. v AFC Wimbledon
Dorchester T. v Newport Co.
Droylsden 1 Gateshead 2 aet
Hyde U. 1 v Vauxhall M. 2

Sadly for Alty one club whose fortunes have turned for the better is Stevenage Borough, our next opponents. From The Comet we learn that "Steve Morison scores goals. That's what he does. And Morison emphatically proved this on Saturday as he broke his duck for the season with a terrific treble... Boro boss Graham Westley again shuffled his pack with midfielder John Martin making his first start of the season and Lee Boylan partnering Morison up front".
---
8 September 2008
TRANSPORT RUNNING
Tom Jacobs, the Altrincham FC travel coordinator, writes:

Please be aware that there will be away travel running to Saturday's game (Sept. 13th), away at Stevenage Borough. There will be a mini-bus service running to the game at the same time and prices as originally advertised on the Away Travel page. As usual, we will be stopping for a break both on the way there and the way back. We aim to get as many supporters to all away games but on this occasion we have not had a great enough response to run a coach. I would reiterate, though, that the mini-bus is a new model (2007/08) from a reputable company. .

Two mini-buses are expected to operate for this game.
MIDFIELD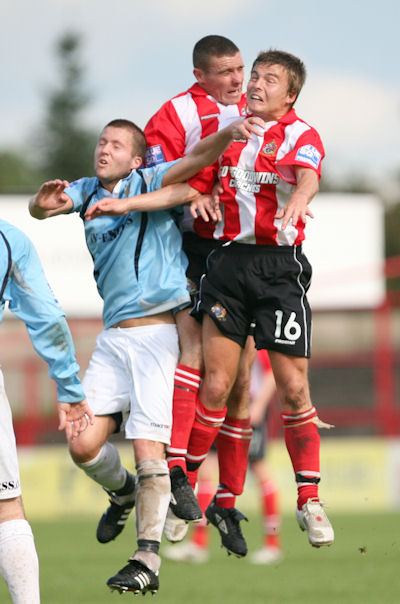 Right: As ever Gavin Rathbone took some excellent action shots last Saturday. This one shows the effort being put in by Anthony Danylyk and Robbie Lawton in the Alty midfield against Salisbury. More of Gavin's photos are on the GR Photography website.
TAKING ACTION
Graham Heathcote is quoted in NL Today as saying, "The fact of the matter is that we cannot sit around and wait for Christmas to arrive. I have to act quickly. There may be more players arriving, which means we will have to let some go".
SAM'S VERDICT
The Sale & Altrincham Messenger says that "A point gained felt more like two lost as Alty were held 0-0 by Salisbury. At first glance, a draw with the league leaders seems an excellent result but delving deeper, the Robins could - and probably should - have got more. Salisbury are occupying a false position, that much was clear, but Alty lacked the cutting edge to expose their weaknesses. Graham Heathcote's side have now gone 354 minutes without scoring a league goal and their inability to consistently create chances is becoming a real worry. On the other hand, the defence was magnificent. Mark McGregor grows with every game and is beginning to show the class that earned him a successful Football League career. Alongside him, Chris Lane was solid, while Anthony Danylyk impressed in the holding midfield role - in him Heathcote seems to have unearthed a real gem... If the first half had been Alty's, Salisbury dominated the second - but without ever looking like snatching a win".
OLD BOYS
NL Today has a piece by John Reed the Buxton manager who recalls taking Bridlington Town to the FA Vase final in 1990, when his left-back was Clive Freeman whom he later sold to Swansea for £12,000. "Clive is now back with me as my assistant", said Reed. Liam Brownhill, who almost joined Alty played for Droylsden in their abandoned match against Solihull Moors, for whom Jake Sedgemore was an absentee. Cavell Coo and Aaron Burns were on the Bloods' bench.
---
7 September 2008
SIGN UP NOW FOR THE COACH!
Altrincham supporters' travel coordinator, Tom Jacobs writes:

As of today (Sunday) there are only 20 people on the coach for next Saturday to Stevenage. At the moment we stand to lose circa £400 - this includes the money raised by the football card on Saturday. Unless we get another 10 people on the coach by 5pm tomorrow (Monday) this coach, unfortunately, will be cancelled. I will let all people t he decision tomorrow night. The decision will be advertised on the forum and ths club website".

Details of the trip are on the Away Travel page. Please ring the club on 928-1045 to book your seat.
ALTY IN DROP ZONE
After today's games, Altrincham fell into the bottom four of the Blue Square Premier:
Grays A. 3 Kidderminster H.2
Torquay U. 2 Northwich V. 1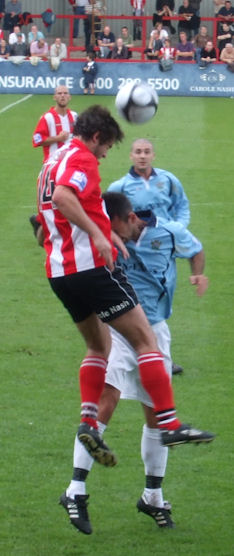 SALISBURY GAME
Left: Dale Johnson won plenty of headers yesterday against Salisbury City.
In today's NL Paper, Dave Stringer writes, "Alty manager Graham Hetahcote has adopted a policy of not speaking to the Press after matches. So it was up to his counterpart Nick Holmes to pass comment on the game. He said, 'This game was slightly better than awful. We had to make a number of changes before the game and we picked up a couple more injuries today... Both sides had chances and both keepers had to produce good saves. Our chances came late in the game and, when chances come late in a tight game, you always think that you should have won. But I suppose Altrincham will think they should have won, having had most of the play in the first half. A defeat would have been hard on them. They put in a lot of effort. I admire the work they do here. It can't be easy being part-time in this league'".
FRIENDS' DRAW
Steve Foster announces that the winners of the latest draw for the Friends of Altrincham FC are:
1st - No. 50. Jenny Heslop (£100)
2nd - No. 17. Stephen Murray (£35)
3rd - No. 30. John Brennan (£15)

Follow the above link to find out how you, too, can help Altrincham FC whilst being entered for the monthly prize-draw.
SUPPORTERS' GROUP MEETING
Brain Flynn, STAR's acting chairperson, writes:

Further to the STAR Annual General Meeting on August 5th, details of the meeting to launch the new Supporters' Group are as follows:-
Date: Thursday September 18th 2008
Venue: The Noel White Suite, Altrincham F.C.
Start Time: 7.30pm

We have more than thirty people who have offered to help get involved with the new Supporters' Group and we would like as many of them as possible to turn up as well as anyone else who hasn't yet declared their support. A finalised agenda will be published ahead of the meeting but an initial proposal is below:-

Welcome & purpose of meeting
Objectives
Name of new Supporters' Group
Forming a committee & designating specific roles
Fundraising ideas & financial targets
Future meetings
Any other business

This initial meeting will be run by current acting members of the Supporters' Trust (STAR) Board. However, once a committee is formed, future meetings will be handled by members of the new committee. If anybody has any ideas or questions ahead of the meeting then I can be contacted by e-mail or on 07860 561011.

Brian Flynn, Acting Chairperson, STAR (Support The Altrincham Robins)
OLD BOYS
Jake Moult, an Alty trialist this summer, is now playing at Leek Town. Fromer Alty youth and reserve Astley Mulholland scored twice for Abbey Hey, but they lost 2-3 to Nelson yesterday. Richard Gresty, former captain of Alty Youth has moved from Vauxhall Motors back to Trafford.
BSP NEWS
The NL Daily confirms that "Lewes have signed former Queens Park Rangers striker Shabazz Baidoo, having already had him at the club on trial during pre-season. The 20-year-old, who was released by Dagenham & Redbridge this summer, has agreed a month-to-month deal... [Also,] former Brighton coach Ian Chapman has been invited to help out at Lewes. Manager Kevin Keehan has confirmed Chapman has been offered the opportunity to take some coaching sessions while he awaits for another job to come up". Keehan added, "I have spoken to a few other people like Alan Cork, before he went to Bolton, and said if he wanted to keep his hand in by doing a session that would be good. I would say to them what I want from a session, let them get on with it and watch".
---
6 September 2008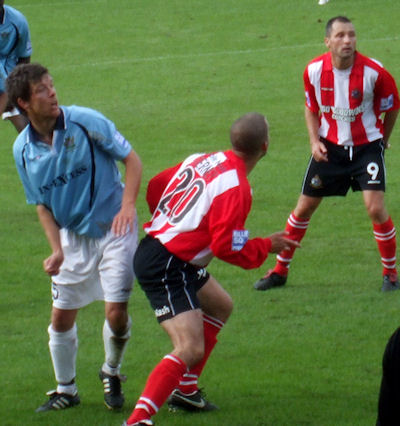 ALTRINCHAM 0 SALISBURY CITY 0
Altrincham took a deserved point off the league leaders but rued first half chances that they failed to convert.

Right: Paul Tierney and Colin Little in second-half action against Salisbury.
Altrincham player line-ups and bookings 2008-09
YOUTH GAME OFF
Altrincham and District FA Youth's game this Sunday at Trafford FC against the Mid-Cheshire FA has been postponed, due to a waterlogged pitch.
THIS WEEKEND
Saturday 6th
Altrincham 0 Salisbury C. 0
Cambridge U. 2 Wrexham 0
Forest Green R. 1 Ebbsfleet U. 4
Lewes 0 Barrow 3
Mansfield T. 3 Eastbourne B. 1
Oxford U. 1 Kettering T. 1
Rushden & D. 0 Crawley T. 1
Stevenage B. 4 Burton A. 1
Weymouth 2 Histon 5
York C. 2 Woking 0
Through the Years by Howard Watts.
SALISBURY - BEFORE THE GAME
In Friday's , Graham Heathcote states, "Our points tally simply does not reflect how well we've been playing, but we need to start getting results and there would be no better time for to do that than tomorrow. Salisbury will obviously provide us with the stiffest of tests but we've proved in our last two home games against Kettering and Wrexham that we're more than capable of matching the big clubs. Little things keep going against us but that will change as long as we don't allow our standards to slip". The MEN adds, "Ex-United starlet Paul Tierney, rleased by Blackpool in the summer... is pushing for a starting place".

The BBC adds that "Altrincham's Paul Tierney is pushing for a full debut having appeared as a substitute in the midweek defeat against Histon. Striker Colin Little is expected to lead the line, despite struggling with a knock in recent weeks. Salisbury will give a fitness test to defender Tim Bond on a pelvic injury. Darrell Clarke returns to the squad, as does midfielder Ian Herring... Salisbury manager Nick Holmes told BBC Radio Wiltshire: 'You can look at us seriously as a decent side in this league. Anybody in this league can beat anybody else and I think its going to be tighter this year. Altrincham are part time and cut their cloth accordingly. They have to make up the extra hours you spend doing organising and routines. All the bottom four teams last year were part time and Altrincham would have gone down but for Halifax's demise'"

From the other side, the Salisbury Journal reports that league "leaders Salisbury City hit the road on Saturday when they head north to Altrincham - a place that doesn't hold happy memories for manager Nick Holmes after tasting a disappointing defeat there last term. Alty, who finished in the drop zone last season survived relegation after the demotion of Halifax Town. However, despite struggling for much of the campaign, they banked four points in their matches against the Whites. Leading 3-0 at half-time when they met at the Ray Mac in October 2007, Altrincham left Wiltshire with only a share of the spoils after City forced their way back into the game to draw 3-3. However, City went down 3-1 at Moss Lane despite having led 1-0. Nick Holmes believes their performance that April afternoon was one of their poorest of the season and is demanding his charges avenge that defeat as they look to stay on top of the pile. 'We went there last season and didn't perform at all - it was one of the few games all season that I wasn't at all happy with our performance. They were struggling against relegation at the time and fighting for their lives. Hopefully we can put things right this time'".
OLD BOYS
From the Manchester Evening News we learn that "Former Bolton [and Alty] midfielder Tony Kelly is back at the club in a newly-created role of fans liaison officer. Scouser Kelly said: 'I'm going to be working with the fans to help get feedback for the club. If there's an issue then hopefully I'll be able to sort it out for them, whether that ranges from catering to ticket concerns. It's a very important link because I believe I have a great rapport with the Bolton fans. I had a great time out in Lisbon and Madrid last season on the UEFA Cup trips and they made me feel like a hero".

Less happy news of a former Alty goalkeeper comes from the BBC that "A former Manchester City youth team goalkeeper has been jailed for 20 months for blackmailing a Premier League footballer over sexual images. Goalkeeper Ashley Timms, 22, of Middleton, Greater Manchester, admitted making unwarranted demands with menaces on the unnamed player... Timms demanded £15,000, threatening to publish the images if he was not paid... Passing sentence, Judge Andrew Gilbart said: 'Blackmail always calls for a custodial sentence. The abuse of your friendship for simple greed is an aggravating feature'... The court heard Timms wanted £15,000 to put a deposit on a house... Rob Kearney, mitigating, said Timms was seen as a potential Premiership footballer after signing for Manchester City and lived 'the high life'. Timms's career faltered and he is currently without a club. Mr Kearney said: 'The fantasy life he dreamed of was gone. He experienced difficulty accepting that'... Timms played with Manchester City's under-19 side and had spells at Shrewsbury Town and Accrington Stanley. He has also had trials at Norwich City, Bolton Wanderers, Fulham, Oldham Athletic and Macclesfield Town. He joined non-league Cambridge City in January on non-contract terms but has now left".
BSP NEWS
Confirmation comes from Cambridge United that "U's Chairman Phil Law has announced that he will hand over responsibilities to Board member Terry Baker, who has previous experience at this level and will assume the position of acting Chairman with immediate effect. Due to these circumstances the Board has asked Norman Gautrey if he would be prepared to continue in his role as Chief Executive for the foreseeable future. Law is known to have been unhappy that people close to the club, to whom privileged access is granted, often see fit to abuse/badmouth Club staff and Board members on the Club's website. As a direct result of this behaviour, he has decided to leave the Club and the Board is currently considering temporarily suspending the message board whilst the personal abuse of individuals continues.

'The message board is intended for genuine fans to express their views, and I am saddened that our genuine fans will have this facility withdrawn for the time being because of the behaviour of a few', said Baker. 'Phil has been subjected to some cruel comments, which is totally unacceptable and unfair to him and his family. A firmer line will be taken in the future with individuals who continue to abuse the facility... The Club has appointed a dedicated PR consultant to manage communications in a better way moving forward, with the aim of sharing news more immediately and openly with fans... Law went on... 'I am extremely proud of the progress we have made in my 22 months' tenure... We have seen the average crowd figures increase by 60%, the financial situation at the Club has been greatly improved'".

"Woking have given Phil Gilchrist total managerial control and say that will remain so as long as results improve. Gilchrist arrived as Kim Grant's assistant in May, with Grant being sacked after seven games in charge. Gilchrist told BBC Southern Counties Radio: 'The board have given me full support, and say I'm the manager of the club with full reign and power. I am not stupid enough to think that if I don't turn results around, they won't look to bring someone else in'. Following Grant's departure on Wednesday, Gilchrist and Andy Cook took temporary charge".

"The Chairman and Board of Directors of Woking Football Club are delighted to announce the appointment of David Hemley, Commercial Director, as Vice Chairman. David will deputise as and when Club Chairman David Taylor is away on business". And "Mr Philip Ledger, Woking's Football Director, has today confirmed the signing of Academy player, Charlie Moone, on a one year's contract. Also confirmed is the departure of Tony Thorpe after one match by mutual consent".

Oxford United report that "Levi Reid this afternoon signed a new deal which keeps him with The U's until at least the new year. The former Macclesfield midfielder has impressed since linking up with United in pre-season and has already scored twice... Having started as a trainee at Port Vale Levi made 49 appearances for The Vale before joining Stafford. He then made 31 appearances for Macclesfield".

"Danny Williams has been transfer listed" reports the Northwich Guardian "The Vics midfielder's name has this week been circulated to clubs lower down the non-league pyramid. The transfer window closed on Monday, meaning he can't sign for a Blue Square Premier or Football League club on a permanent basis until January. A loan switch is possible though when the period for temporary signings starts next week. Williams, 27, penned a new one-year deal at the Marston's Arena in the summer. Now manager Dino Maamria has moved to show the winger the door to make room on his wage bill for a new signing. He has started three of Vics' seven league games, although he was substituted in two of those". Also,"Michael Carr has been ruled out of Sunday's trek to Torquay by injury. The midfielder limped out of the midweek reverse against Oxford... It could keep him out for a fortnight. Carr, 24, went back to owners Morecambe on Wednesday for a diagnosis - one which may end his loan stay after just one appearance".

Still with the Vics, "Dino Maamria has turned to a former England C international to bolster his leaky defence. Former Morecambe defender Simon Grand agreed non-contract terms... The 24-year-old comes with plenty of pedigree after playing a part in Carlisle United's Conference National winning side".

Grays Athletic captain, Jamie Stuart, has today been cleared of deliberately breaking his opponent's jaw during a heated match. Jamie admitted fracturing York City striker Chris Beardsley's jaw in two places after he elbowed him in the face during a league match... but insisted it had been an accident. At Basildon Crown Court on Friday the jury acquitted Jamie of causing Mr Beardsley grievous bodily harm.

Barrow report that "Barrow forward / midfielder, Chris Thompson, is set to join Blue Square North newcomers, Fleetwood Town on a one month loan. Thompson signed a new one year contract with Barrow in June, but has yet to break into the side this season and is now in need of match fitness. The paperwork is being drawn up this afternoon and assuming all goes to plan, "Tommo" will be in line for a place in Town's squad tomorrow while his host club colleagues make the long trip to Lewes today." Also, "Barrow signed former Livingstone left back, Craig James on a one month contract. The 25 year old was a regular last season with the Scottish outfit and also lists Sunderland & Port Vale as other former clubs. Craig, having received International clearance earlier this week, is eligible for tomorrow's trip to Lewes, following the confirmation from the Conference & F.A. that all was OK with the faxed contract paperwork."

"Lewes expect to have a new striker in their line-up at home to Barrow tomorrow" claims The Argus. "The Rooks are trying to complete the signing of former Queens Park Rangers and Dagenham frontman Shabazz Baidoo. Baidoo played in the final pre-season friendly... but budget constraints meant he was not offered terms. However, manager Kevin Keehan has returned to the 21-year-old who scored three goals in 28 League appearances for QPR before being released last January. Baidoo, a free agent, could play up front alongside Scott Taylor if Keehan decided to switch to a 4-4-2 formation or at right-midfield if he retained the 4-5-1 line-up he fielded at Woking on Tuesday. Stefan Cox came into the side for that game on the left-hand side of midfield and his pace gave Lewes an extra dimension going forward".

The Oxford Mail reports that "Young keeper Ben Hinchliffe has been given a big vote of confidence by Oxford United boss Darren Patterson. The 20-year-old, who at the start of this week signed a new one-year deal with the club, has been thrown in at the deep end because of the injuries to Billy Turley and Jake Cole. Cole could be out for up to six weeks after the results of his scan showed two small tears in his groin. But Patterson says Hinchliffe is an outstanding young talent... [a] former Preston and Derby man".
---
5 September 2008
DVD
A small number of copies of a free Blue Square DVD of last season's BSP highlights will be available in the Robins' Shop this Saturday.
NEXT VISITORS
The Daily Echo says that "Manager Nick Holmes has challenged his Salisbury City troops to change the pattern of this season by hanging onto the leadership of the league at Altrincham this Saturday. The Whites went top of the table once again on Tuesday night... 'So far this season anyone who has gone top of the league has automatically lost their next game', said Holmes - a trend continued by Forest Green Rovers losing 1-0 at Eastbourne Borough. 'We're probably the first team to have been up there twice this season, so now we've got the chance to put things right on Saturday'".
OLD BOY
Former Alty man Chris Downey hit four on Tuesday night in a remarkable game at Valley Road in the FA Cup, where Flixton defeated Bottesford Town 7-5; it was just 2-2 at the interval. The visitors even led 5-3 with just 15 minutes left!
BSP NEWS
The Cambridge News claims that "Phil Law is thought to be considering his position as Cambridge United chairman. Law, who took the helm in January following Lee Power's resignation, is expected to announce he is standing down from the post soon. His role has been in some doubt since a heated fans' forum two weeks ago at which certain supporters called for him to quit over a number of issues at the club. Several fans claimed at that meeting United had been offered £2,000 compensation by a local businessman following the initial cancellation of United's pre-season friendly at Cambridge City, with Law vehemently denying the allegations. Other supporters alleged chief executive Norman Gautrey had quit due to the way the club was being run under Law and called for the chairman to go to allow the CEO to reconsider his decision.

Law is also understood to have angered key members of the influential supporters' trust Cambridge Fans United - the club's third largest shareholder - following a meeting with them several weeks ago. He had arranged a meeting with the News on Tuesday to discuss alleged 'unrest at the club', but cried off at the last minute. The meeting was rescheduled... but Law failed to arrive. A similar arrangement was made today, but again the chairman did not turn up. He refused to confirm or deny whether he was planning to quit. Law received a vote of confidence in his leadership from main shareholder Paul Barry last week, with the US-based director stating Law was likely to stand down at the end of this season 'to balance more time with his work and family'. It now looks as if United will be searching for their third chairman this year".

The unofficial but very informative Rival website adds that "Vice-chair and Fans' Director Brian Attmore earlier this week spoke about the bid to buy back the Abbey, Norman Gautrey's decision to quit and the financial well-being of the club to date... Brian Attmore earlier this week spoke to the NLP Business Monthly about the U's board audacious £4,000,000 bid to buy back the Abbey Stadium from landlords Bideawhile 445... At the forum, [chairman Phil] Law's integrity had been called into question after some very confusing business decisions, including asking for the Histon chairman's advice for the sale of the Kitson sell-on fee, his poor input into the Farrell/Histon deal, his banning of the 'Burton 3' and his links with York Construction. Phil Law, of York Construction, who actively sponsor Histon's shirts and were heavily involved with the illegal approach to have Cambridge City evicted from Milton Road, a move which would have killed the club. It is believed that his position has been made untenable and is expected to resign very shortly.

He earned the wrath of the fans even more with some bizarre statements to the media, including comparing himself with Mother Theresa, and accusing a number of fans as being 'a malevolent force in trying to force him to resign'.... With Chief Executive Norman Gautrey set to quit next month, due to certain problems with the running of the club, Attmore also expressed his surprise and disappointment at his decision... Brian Attmore's own future as Fans Director is a little more unclear. An embarrassing incident at the fans forum, in which his wife was shrieking and shouting at various supporters who were quizzing Law's and Attmore's position, made many supporters lose a lot of respect... He is often accused of being the boards puppet... The next few weeks will be very interesting off the pitch as well as on it, with regards to the chairman, chief executive, and fans director".

From the Crawley Observer comes news that "Crawley Town boss Steve Evans has told two League Two clubs to keep their hands off his players... The clubs made approaches for Reds players Jon-Paul Pittman and Adam Quinn... Evans said: 'No offer was made but they asked me to put a valuation on them, and as we do not want to sell them, I refused. Pittman's on fire this season and has made a fantastic start.... Adam has come into the team and is working on his fitness. Morecambe, Grimsby and Macclesfield tried to sign him last season but couldn't agree a fee. He's already a recognised hero with the supporters and his partnership with Jake Wright has been excellent'".

According to the Oxford Mail "Oxford United manager Darren Patterson does not believe the three red cards his players have picked up in the first month of the campaign represent a lack of discipline at the club... with Tuesday night's 2-1 win at Northwich the first occasion they have played away and not had a man sent off in the first half... 'We had one of the worst disciplinary records last season for bookings, it was horrible. I looked at my team and thought "have I got any nasty so-and-sos here?" and I haven't. I've actually asked them to be a bit more competitive, because at times we were bullied in the league. It's not something we've set out to do, we've actually put in disciplinary fines which hits them where it hurts - probably the hardest and harshest the club's ever had. Other than that, I just think we've been unfortunate. Referees have clamped down on the laws'... So why then, when it happened against Oxford with the Northwich Victoria keeper, Scott Tynan, stopping a clear goalscoring chance when he fouled James Constable to concede the penalty this week, was he not sent off? It does point to an anti-Oxford bias in the Blue Square Premier.

Patterson said: 'I challenge anybody to come and watch our home games and do stats for us and against us, and I'll guarantee them the officials are against us. The stats show it. We coach in small-sided games and deliberately give ridiculously stupid decisions against the team, to make sure there's no reaction. They just accept it and get on with it, and we've done that all pre-season... So I hope fans will understand that, away from home, we can be a little bit tentative, because that's the way things are going... I do generally believe that referees feel we are the big team and everybody who plays against are are the underdogs... All we're asking for is 50-50 fair decisions, not a feeling sorry for the underdogs when we're at home'".

"Following rumours around the club, Tamworth FC have confirmed that Kettering Town FC made enquiries regarding Tamworth player Nick Wright" says the Football Conference. "Kettering Town followed up these enquires by making an offer to Tamworth.... Tamworth Chairman Mr Bob Andrews and Manager Gary Mills rejected the offer".
---
4 September 2008
THURSDAY GAME
Kidderminster H. 1 Torquay U. 0
League table 2008-09
STEVENAGE TRIP
Altrincham FC travel coordinator, Tom Jacobs, writes:

"The away travel scheme needs support to run coaches. Please can everyone who is travelling to Stevenage try and support or encourage others to use the Supporters' Travel. Without continued support we can not guarantee to run a coach to all away games. Please can everyone who is booking on the coach for Stevenage do so ASAP as the coach will only run if economically viable. Also, there will be a football card ran in the bar on Saturday with a signed Altrincham Ball up for grabs. It's time again to get to these away games and get behind the lads!"

Details of the trip to Stevenage are on the Away Travel page; please book your seat by ringing 928-1045 or by signing the list in the Robins' Shop on Saturday.
GRAHAM'S STRATEGY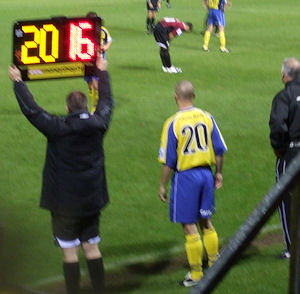 NL Daily reports that "Altrincham have signed former Blackpool midfielder Paul Tierney (right, seen making his debut) in an attempt to improve their start to the season. Manager Graham Heathcote's year-long pursuit of the 25-year-old eventually proved successful, as the club look to end a five -game run without a win. He said: 'I tried to get Paul on loan when he was at Blackpool last season, but it didn't happen. He has had spells with Stockport on loan and Bury but has finally decided to give it a go part-time with us'. Tierney can play either at left-back or on the left side of midfield and went straight into the squad for Tuesday's 1-0 defeat at Histon. Heathcote now may have to sacrifice another player to balance the books. He said: 'I'm not happy with our points total and felt something had to be done. I don't know whether the budget will stretch to another player, but I have seen seven games now, and there is no getting away from it - we should have a far healthier return'".

"Alty boss Graham Heathcote is aiming to instil a true passion for Alty in his players as they bid to overcome their current troubles... 'What I have to get into this squad of players is a feeling for the club', Heathcote told SAM Sport. 'It can't just be another club, we have to be at it for 90 minutes of every game. It has to really hurt them when we lose. That performance (against Histon) shows we've got heart but we have to show that every game. If we had done against Eastbourne on Saturday we'd have won... It's really disappointing because we've got no return from the two games. [At Histon] it was handball before the lad scored and that's gone against us. We've not had much luck in recent games. I thought Eastbourne's goal on Saturday was offside and I'm not convinced that Dale Johnson was offside when he put the ball in the net on Tuesday. But there are no excuses. We have to improve and we have to get the combinations together in our game. We did OK against Histon but you've got to think about how much we troubled the keeper over the 90 minutes. We didn't do it enough. We need to start getting past people because we are not getting in behind teams enough at the moment. That's how you cause problems, just as we did against Barrow. We have not attacked with the same verve since that game but the problem is we let in four so we've probably been more cautious since. It's taking longer than I expected for this team to gel but we need to find a balance between defence and attack'".

`
HISTON VERDICTS
SAM says that "Alty were dealt a cruel hand of fate as they suffered a 1-0 defeat at Histon. More accurately, it was the hand of Antonio Murray that crafted the Robins' downfall. The Histon midfielder handled the ball as he set up teammate Gareth Gwillim for the only goal of the game, changing the course of a clash that seemed destined for stalemate. But the referee couldn't see what was clear to almost everyone else inside the Glassworld Stadium and Alty's winless streak became six. In truth, the hosts probably deserved the win - just about - but it was harsh on the Robins, whose effort couldn't be faulted, especially in the first half. Despite a shaky start, Alty's resilient and combative approach, epitomized by central midfield duo Robbie Lawton and Anthony Danylyk, ensured they weren't bullied by their physically imposing hosts. Starved of space and time on the ball throughout the first 45 minutes, the Histon forwards had to make do with scraps... Histon's breakthrough came in controversial fashion. After the visitors had failed to clear another long throw from Mitchel-King, Murray appeared to use his hand as he helped the ball on to Gwillim 20 yards out. Allowed to continue, the full back hit a powerful shot that skidded off the turf and past an unsighted Coburn... Alty man of the match: Anthony Danylyk. Many observers questioned whether Danylyk could cope with the step up from Unibond Premier to Blue Square Premier. The industrious midfielder has now proved beyond doubt that it should never have been a concern. He harried and hustled throughout, giving the opposition little time to think, let alone play a pass, although his early booking got him in foul trouble late on".

Histon manager "Steve Fallon "praised his side's patient approach after they defeated Alty 1-0 on Tuesday night... He said: 'I felt we were patient, second half we came out and dominated the game, got into some good positions and had a few good chances. We created the chances but we were patient and defensively, second half we were never really in any danger. So overall, it was a very controlled performance... We didn't do particularly well up front first half but second half we put ourselves about and caused them a lot more problems, so we're very pleased'.... While Histon are renowned for a direct, rugged approach, Fallon said his team showed more variation to their play on Tuesday... He added: 'We want the players to pass it. There's times when we want to go long but we need to be less predictable and we've got the players that can mix it up, they can pass it and do the pressing game'".

The Cambridge News says that "A combination of good fortune and skill from defender Gareth Gwillim was to thank for a scrappy win over Altrincham... Stutes legends Ian Cambridge and Neil Kennedy were in the crowd, but the way the game went, not even the two veteran forwards would have been able to light up such a dull match... Both sides stood off early on, feeling each other out over a lifeless opening 15 minutes, which failed to set the pulses racing... It was Altrincham who came closest to breaking the deadlock in the early stages with a speculative cross needing to be cleared off the line by Stutes defender Lanre Oyebanjo on 17 minutes. And away defender Greg Young went just wide of the post with a header from a Warren Peyton corner a minute later. Peyton then stung the palms of Stutes' keeper Danny Naisbitt with a shot from nowhere that had to be dealt with... Histon upped their game in the second half... The breakthrough finally arrived 16 minutes from time when Gwillim kept his cool to fire home a poor clearance off Altrincham defender Young from 20 yards out, while Altrincham shouts for a Murray handball fell on deaf ears... A pleased Stutes manager said: 'I thought we had to be patient because they came to defend, so we had to try to play around that. The first half was even... It wasn't easy because they threw a lot of people behind the ball'".
OLD BOYS
Lee Hendley, who graduated from Alty Youth to the first team three years ago, reportedly scored on his debut for Baltimore Knights over in the USA recently.

"Cammell Laird are still finding it tough going in the Premier and went down to a 2-1 home defeat to Ashton United... United won it with two goals in the final quarter from Ben Deegan and then Ben Smith" reports the BBC. Meanwhile, former Alty winger Steve Torpey scored as Stalybridge beat Solihull Moors 5-0. "Solihull Moors will still be looking for further reinforcements to follow the double capture of Kevin Spencer and Marcus Palmer. Defender or midfielder Spencer has joined from Kettering Town... But with Moors still trying to cope with a growing injury list which includes Jake Sedgemore... manager Bob Faulkner has not ruled out further dips into the transfer market", reports the Birmingham Mail.
BSP NEWS
The first sacking of the season has happened at Woking who anounce that "The Directors of Woking Football Club held an Emergency Board Meeting this morning. The meeting discussed our performances, results, and league position, and the best way to turn these around. It was agreed to terminate the contract of Kim Grant with immediate effect. Phil Gilchrist and Andy Cook will take charge of the team, while The Board considers the best way forward. David Taylor, Club Chairman, said that that in the course of wanting to take the club in a new direction, he had made a big mistake. He apologised to the Board, to Chris Ingram and to the fans of the club, and tendered his resignation. Chris and The Board unanimously refused to accept it, and asked David to stay on and lead the club forward. He agreed to do this".

Meanwhile, as reported in the press and on this website three days ago, the accusations that Altrincham fans behaved in an "unsavoury" fashion at Kingfield earlier this season have been accepted as unfounded by the Surrey club. Indeed as Altrincham FC now announce, "Further to a letter from Altrincham supporter Tony McClennon to David Taylor, Chairman of Woking F.C., concerning a statement on Woking's website that future matches at Kingfield would be segregated, due to the behaviour of Altrincham fans at the opening day encounter between the two teams, Mr Taylor has replied advising that he has spoken with Altrincham Chairman, Geoff Goodwin, and that the statement has been removed from the website. Mr.Taylor regrets any issues caused by the statement and hopes that it will not affect the previous good relationship between the two clubs".

The BBC says that "Barrow are expected to sign a new left-back in time for Saturday's trip to Lewes. Joint-manager Dave Bayliss revealed to BBC Radio Cumbria that the player almost made his debut in Tuesday's 1-1 draw with Rushden & Diamonds. 'He was due to play against Rushden but he was unwell. We even had a shirt made up for him before the game', he said. 'He's unattached so he can go straight in'... The Bluebirds were forced to play winger Carlos Logan at left-back against The Diamonds... Bayliss and co-manager Darren Sheridan are considering changes for the trip to Lewes after going three games without a win. 'My heart bleeds for these players because I want them to do well', Bayliss said. 'But it's frustrating because experienced lads are at times running around like headless chickens. They have to start using their heads not just their hearts. They've got a season to work on that but if they are not good enough then they will have to go. It's our jobs that are on the line, they have to prove to us that they want to play'".

The NW Evening Mail confirms that "Barrow had a new defender lined up ahead of last night's game but the unattached former Scottish Premier League player was said to be unwell".

According to the BBC "Burton Albion have released details of the three-year deal that has taken defender John Brayford to Crewe. The League One side will pay £80,000 up front, which will rise to £130,000 if the England C international progresses into the first team. Albion will also receive £25,000 after 20 first team appearances and another £25,000 after 40 appearances. The Brewers have also negotiated a 20% share of any future fee Crewe receive for the 20-year-old". News of Alty's next opponents... "Salisbury boss Nick Holmes said he was encouraged by his team's 1-0 win over Weymouth. Holmes told BBC Radio Wiltshire: 'Our passing could have been a bit better and our performance could have been better but it was a good win".

"Ebbsfleet United manager Liam Daish believes clubs increased their asking prices after the sale of John Akinde. The 19-year-old striker joined Championship side Bristol City on transfer deadline day for £140,000. 'They know we've got some money now and suddenly the price went up', Daish told BBC Radio Kent. 'I tried to bring in a couple of players. Prices escalate and people know how much money we've got. Details of the transfer were put nationwide'".

"Forest Green manager Jim Harvey felt his team lacked cohesion as they were beaten 1-0 at Eastbourne. Harvey told BBC Radio Gloucestershire: 'We made it hard for ourselves because we lost our thinking as a group in terms of how to play and how to win... There were too many individual performances. We couldn't get it together. The boys are a bit sore, but maybe it's their egos more than their legs'".

From the Burton Mail we learn that "Albion completed the loan signing of Jon Newby in time for the striker to join their squad at Wrexham... The Brewers have secured the 29-year-old former Morecambe player on loan from Greenock Morton until January 2 with a view to a permanent transfer... Clough said: 'Things haven't worked out for Jon as he had hoped up at Morton. He still lives in Manchester which means a lot of travelling for him... It means we now have four strikers, which will allow us to change things round to keep everyone as fresh as possible'".

The Cambridge News informs us that "Gary Brabin would love to sign Danny Crow following his release by Peterborough United, and is in discussions with the striker... Crow was linked with a move to the Abbey Stadium in the summer, but Posh manager Darren Ferguson would only allow him to leave on loan... He said: 'Crowy's a big mate of Paul Carden and they speak quite regularly and we're aware of his situation... He wants a few days to gather his thoughts'... He had special praise for the unwell Phil Bolland. Brabin said: 'Phil looked terrible and he had to have his own space on the coach because we didn't want anyone else getting ill. He's not been well at all, but he was big enough to play the game and I thought he did well'... The boss was also pleased with debutant Rory McAuley's display at right-back. But the youngster faces a spell on the sidelines after he was dismissed in the last minute'".

The Thurrock Gazette tells us that "Grays Athletic captain Jamie Stuart has admitted breaking an opponent's jaw during a match but insisted it was an accident. Stuart, 31, said York City striker Chris Beardsley grabbed hold of his shirt during the league match at Grays' New Recreation Ground in Bridge Road, and as tried to free himself he hit Mr Beardsley in the jaw. Stuart said: 'I was being held firmly on my shoulder and swung my arm back and moved forward a few feet. I was not looking at Chris Beardsley at the time. I intended to make contact with his arm to release myself from his hold. I did not intend to make contact with his jaw or to cause him injury... At first I thought Mr Beardsley was faking it but then I saw the blood'... The trial continues".

The Northwich Guardian says that "Dino Maamria was left to moan about mistakes after seeing his side lose for the fifth time this term... 'Our naivety has cost us once again', he said. 'There was only team in it up to the moment we scored – we were better than they were in the first half and looked more likely to score. Our gameplan was working, we were on the front foot putting them under pressure'... Instead Oxford completed their comeback when Scott Tynan hauled down Constable in the box after delaying his attempt to catch a bouncing through ball. Jamie Guy's penalty was parried by the Vics custodian only for Constable to slide home the rebound. 'I don't think it was a penalty and Scott is adamant that it wasn't a foul', said Maamria... 'We need to be men, every one of us', he added. 'Players need to learn to make better decisions at certain moments in the match. I want to see people being positive when in possession rather than pass the buck to somebody else. As a team we look ok but the players are understandably low on confidence after Saturday's performance. There is a lot of anxiety around the place at the moment and that grows the longer you go without a win. Having said that I'm as positive as ever and know that once we get that first victory we'll be fine'".
---
3 September 2008
HISTON 1 ALTRINCHAM 0
Alty's second long away trip in four days turned into their sixth game without a win, leaving them still hovering above the relegation places in 19th place in the table. After a good first half for Alty's changed side, they lost to the game's only goal, scored by Histon defender Gwillim in the 74th minute. He netted from 20 yards after Altrincham failed to clear a disputed throw-in, one of 32 throw-ins in the second half. There were strong accusations of hand-ball in the goal's build-up but Histon's stronger second-half performance left Alty with few quibbles about the final outcome.

Match report here
MIDWEEK GAMES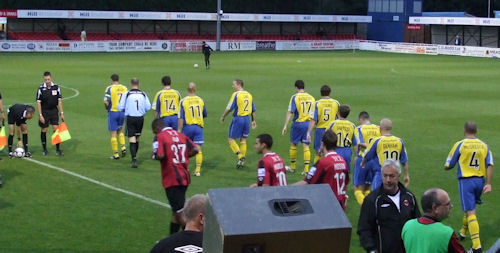 Right: Alty come out onto the pitch at the Glass World Stadium, Histon.
Barrow 1 Rushden & D. 1
Crawley T. 2 Grays A. 1
Eastbourne B. 1 Forest Green R. 0
Ebbsfleet U. 1 Cambridge U. 1
Histon 1 Altrincham 0
Kettering T. 1 Stevenage B. 0
Northwich V. 1 Oxford U. 2
Salisbury C. 1 Weymouth 0
Woking 1 Lewes 1
Wrexham 0 Burton A. 1
York C. 1 Mansfield T. 1
OLD BOY
An Alty trialist recently, midfielder Damien Allen, has joined Droylsden.
BSP NEWS
The BBC reports that "Striker Iyseden Christie has joined Kettering Town on loan from Stevenage Borough until January with a view to a permanent deal. The 31-year-old only joined Stevenage in June, after turning down a new contract at Blue Square Premier rivals Kidderminster Harriers".

According to the Northwich Guardian, "Michael Carr has made a shock return to Northwich Victoria. The midfielder is back at the Marston's Arena on a month-long loan despite starting all four of the Shrimps' league matches this season. He signed forms with his former club last night, Monday, and is available to face Oxford United tonight".

The Blue Square Football site reports that "Burton Albion are awaiting international clearance for Jon Newby. The striker had a trial spell at the Pirelli Stadium during the off-season and was tipped to join Nigel Clough's team. However, Newby snubbed the Brewers and signed for Scottish club Morton. But now the former Liverpool trainee has had a change of heart and is set to complete a six-month loan deal with Albion".
---
2 September 2008
HISTON CONFIDENT
Blue Square Football says that "Histon have bolstered their ranks with the capture of Josh Simpson from Cambridge City. Steve Fallon is delighted to have signed the 21-year-old midfielder. The Stutes' boss told the club's official website: 'Due to the investment in the ground in the summer it's been a tough job raising the funds to bring Josh in... He has a fantastic attitude, is hungry to prove himself'".

Meanwhile, Histon report that "19th placed Altrincham travel to Bridge Road on Tuesday in hope that they can also push on after a run of disappointing results. Having not won since the opening day of the season, they very much carry on last season's poor run of form and it will provide the Stutes an excellent chance to get back to winning ways after losing to Forest Green on Saturday. Erkan Okay might also be welcomed back into the fold after sitting out the weekend's clash with Forest Green with the Stutes' boss having a fairly fit squad to pick from. New signing Josh Simpson is not expected to feature though, after today's late transfer from Milton Road.

Altrincham, however, come into this tie with a poor set of results which leave them ominously hovering above the relegation zone early in the season. The thrice reprieved side will need to find some form quick[ly] if they are to stay up for another season along with Histon who only sit three places above them in the table on 8 points. At the weekend they lost to league new-boys Eastbourne Borough... The Robins last visit to Bridge Road wasn't so rewarding, Danny Wright grabbed the only goal in a 1-0 win for the Stutes back in November... It promises to be a interesting game with both teams expected to go all out for the all important three points. As of writing, Blue Sq Premier have branded Histon as the red-hot favourites at 8/11 with Altrincham at 7/2, but nothing should be taken for granted as last season's clash highlighted. Expect a very entertaining game".
ALTY SIGN NEW PLAYER
Paul Tierney, a left-sided defender/midfielder has joined Altrincham. Paul started at Manchester United and was an Eire Under-21 International. He has most recently played at Blackpool, Stockport and Bury. Paul has been given squad number 20 and will be in the squad for the match at Histon tonight.

Paul Tierney (height 5'10", weight 12st 10lbs), was born on 15 September 1982 in Salford. A midfielder, he joined Manchester United in 1999 and made one first-team appearance in a League Cup match. In all he has made 78(+14) league appearances north and south of the border.

Wikipedia tells us that "He signed for Manchester United as a trainee on 5 July 1999 and as a professional on 12 July 2000. He has been loaned out to Crewe Alexandra (14 appearances), Colchester United (2 apps), and Bradford City (14 appearances). He made his senior debut for Manchester United on 3 December 2003 against West Bromwich Albion in the League Cup. He signed for Livingston (25 appearances) on 16 June 2005 having been released by Manchester United, but failed to impress in his first season at the club and they were relegated from the Scottish Premier League. He joined Blackpool (10 appearances) on 2 June 2006 on a free transfer. On 17 July 2007, Blackpool manager Simon Grayson allowed Tierney to join Stockport County in a six-month loan deal (16 appearances). He returned to Blackpool on 7 January 2008. On 7 May 2008, he was released by Blackpool". He has played at Moss Lane for Manchester United against Alty (2003).
HISTON GAME
In advance of tonight's match, the BBC reports that "Histon have no new fresh injury worries for the visit of Altrincham but are still without key defender Erkan Okay. Okay has missed the past two games with an ankle injury... Altrincham boss Graham Heathcote has no fresh injury concerns but may still make changes. Strikers Colin Little and Dale Johnson (left) are pushing for starting berths after Chris Senior and Chris Denham (right) got the nod on Saturday".

Histon boss "Steve Fallon questioned the desire of his players after Histon were outplayed in their 1-0 Blue Square Premier defeat against Forest Green on Saturday. The manager felt his team were poor in all departments... Fallon told Cambridge News: 'It was a bad day at the office and there were a lot of things that weren't right about us, and they caused us a lot of problems. We were outplayed from start to finish and we've got no qualms about that - Forest Green exploited our weaknesses and we had a lot of them. We didn't compete with them, we couldn't get near them and when we had the ball we were poor with it'... Fallon said: 'We looked lethargic, we looked tired and we looked like we were lacking in confidence... sometimes you don't start well and you can't shake yourselves out of it'"

"Top of the pile for the first time in a decade, Forest Green will be tough to dislodge if the standards they set in Cambridgeshire become the norm" claims This is Glos. "Histon's weapons of mass destruction are not as subtly disguised as those in Iraq, with the long throws of Mathew Mitchel-King and Gareth Gwillim causing the biggest headaches to Jim Harvey's men... The second half was more a test of concentration for Rovers, as Hardiker and company were bombarded with high balls into the box... and goalkeeper Ryan Robinson deserves special mention for a succession of confident catches... Histon are nothing if not resilient, and the closing stages were not without nerves for away supporters as the aerial raid continued".

Alty have only played Histon twice - both games being lost by the Cheshire side by a one-goal margin in a four week period in November/december last year. Alty lost 0-1 at Moss Lane and 1-2 at the Glass World Stadium.
GRAHAM'S PRIORITIES
Before last Saturday's game, Graham Heathcote told Metro News, "We could have Ronaldo up front for us but it does not matter if you continue conceding silly goals. We have tried to bring in players to improve our attacking quality but we need to keep the back door shut too... I feel we have enough to handle it this season... We are where we are because we run this football club correctly. we could have run up £3 million debts and tried to get in the League but we wanted to run a community club. There are more than 1,500 kids affiliated to us through local schools, something we're proud of". The article adds that "During Heathcote's six-year reign, no transfer fee has been paid for a player, helping to stabilize a club which had debts amounting to £700,000. He added, 'This club is already a success story. We know what we want to achieve and that is to be here in 20 years".
SATURDAY'S MAN
The referee on Saturday for Altrincham v Salisbury City will be Mr T. Harrington.
OLD BOY
According to NL Daily "Former England semi-professional international Tony Hemmings has been named as Gary Norton's assistant-manager at UniBond League Division One South club Gresley Rovers... Hemmings, who is currently undertaking his FA Level 3 coaching qualification, steps up from the role of first-team coach - a role he has held for three seasons. The 40-year-old joined Rovers in 2005 originally as a player".
BSP NEWS
The Burton Mail reports that "Crewe Alexandra have made a transfer deadline-day swoop for Burton Albion's highly-rated defender John Brayford. Subject to Football Association and Football League confirmation the England C Squad international has been transferred to Crewe Alexandra on a three-year contract for an undisclosed fee... John came through Albion's Development Squad which is run in conjunction with Burton College and was a part of the England Schools FA team... John made 78 appearances, scoring 7 goals".

Barrow say that "Papers have been signed to convert last week's one month loan of the young Oldham full-back Paul Black into a long-term loan until early January... Should all parties agree in January, the loan deal could be then extended to the end of the season".

"Weymouth's Stephen Reed admitted after Saturday's 2-2 draw that he handled the ball out of the goalmouth to deny Cambridge United a stoppage time winner" according to the Cambridge United website. "Mark Beesley thought he had struck deep in in added time to make the score 3-2 but the officials decided that the ball had not crossed the line. However former U's midfielder Reed revealed afterwards that the ball was in but he pushed it out again. 'Being two-nil down against a side with the quality of Cambridge at half-time we had to go out with the attitude that we had nothing to lose', he said. 'Being down to ten men and not getting the penalty when Josh (Coulson) handled inside the area, I thought there was little chance of getting a point out of the game... We could even have won it towards the end. But to be honest Cambridge should have won it', he revealed".

Our opponents last Saturday, Eastbourne Borough "have taken Icelandic Under 19 international striker VIKTOR UNNAR ILLUGASON on loan from Reading. The highly rated 18 year-old, six feet, one inch forward goes straight into the Borough squad for the clash against table toppers Forest Green Rovers... Illugason was born in Reykjavik on 25. January 1990... He is said to be the most talked about football talent in Iceland since Eidur Gudjohnssen. He was chased by Ipswich and Reading but opted for Steve Coppell's Berkshire club and signed for them in 2006... He recently played against England at under 19 level".

The Blue Square Manager of the Month for August is Forest Green Rovers' boss Jim Harvey. But he is not a happy man as "Jamie Pitman has left Forest Green Rovers to take up the position of Club Physiotherapist at Hereford United. Jamie signed for Rovers from Hereford United in 2006 as a player and was promoted to player/assistant manager by manager Jim Harvey at the start of the following season following the departure of then assistant Paul Wanless". Harvey is reportedly upset that he has no time to get a replacement before the transfer window shuts.

More player movement is reported at Grays Athletic. where they "have signed, Defender, Lee Canoville from Notts County, Lee started with Millwall Youth before joining Arsenal as an apprentice. He has had spells at Northampton(Loan), Torquay, Boston United, Shrewsbury(Loan) and more recently Notts County. Lee has also represented England at Under 16 level".

According to their website, Kidderminster Harriers" "can confirm that young West Bromwich Albion left-back Lee Baker is to remain with the club on-loan until January". Additionally, "Harriers are delighted to announce the signing of ex-Wolves defender Keith Lowe on permanent contract until the end of the season".

At Oxford United", the club has "completed the signing of defender Karleigh Osbourne from Brentford on a month's loan. The 20 year old centre half was born in Southall and joined Brentford as a trainee, progressing into the first team at the age of seventeen. The six foot two defender captained Brentford on several occasions despite his age and has made exactly fifty appearances... With Luke Foster suspended for four games Osbourne is likely to go straight into the side at Northwich tomorrow".

"Rushden & Diamonds' "defender/midfielder Scott Mitchell has today gone on loan to Blue Square North side Kings Lynn until January 2009".

At Stevenage Borough "It has been an excellent transfer deadline day... with the club confirming two important signings. Former Spurs, Watford, QPR and Millwall goalkeeper Chris Day has signed a two-year contract with the Club. Day has already made two appearances for Borough... The experienced goalkeeper has made close on 200 Football League appearances... Also joining the club on a three-month loan deal from Ipswich Town is Edward Upson. The 18-year-old midfielder scored Ipswich's winning goal as a 15-year-old in the FA Youth Cup final".

The bottom of the table club Woking "announce with great regret that Director of Football, Colin Lippiatt, has decided to retire from the Board. David Taylor, Chairman, said: 'I am sorry that Colin has decided to call it a day... His name will forever be associated with some of the Club's greatest achievements'. Meanwhile The Cards "are pleased to announce that strikers Tony Thorpe and Wilfried Domoraud have signed short-term contracts... Tony Thorpe, 34, started his career at Leicester before moving to Luton, Fulham, Bristol City, Luton again, QPR, Swindon, Colchester, Stevenage and Grimsby... Wilfried Domoraud, 20, started his football career with AS Nancy, joining Yeovil Town in the autumn of 2007... but spent much of last season on loan to Weymouth and Weston-super-Mare".

Wrexham "boss Brian Little is bringing former Viking Stavanger and Portland Timbers midfielder Tom Taylor to the club. Tom has more recently been in the United States, but agreed to cancel his contract with the Timbers and returned to the UK. The boss has offered the midfielder a contract that will see him remain at the Racecourse until the transfer window opens again in January. Standing at 6'3" tall, the West Midlands native started out as a youngster with both Walsall and Derby County, before taking up his first full-time contract in Norway with Roy Hodgson at Viking in 2005. He returned to England to sign for Grimsby Town in 2005/06 and switched to Walsall in the summer of 2006, although finished the season with Conference South club Halesowen Town... Meanwhile, midfielder Christian Smith, whose current short-term deal runs out this week, will be offered an extended contract".

The York City "manager Colin Walker has strengthened his squad on deadline day by taking winger Peter Bore on a month's loan from Grimsby Town. The pacy 20 year old has made 26 appearances for The Mariners and is described as an old fashioned winger".
---
1 September 2008
EASTBOURNE'S VIEW
From Eastbourne, the The Argus reports that Borough "Manager Garry Wilson singled Lee Hook out for special praise after he helped Eastbourne Borough to a 1-0 win over Altrincham... Hook made two fine saves to deny Chris Senior, the second a brilliant parry from point blank range, as Borough held on for three points... Wilson said: 'In the last 20 minutes Altrincham stepped it up and we have to thank Lee for some great saves. We had to defend well in the second half because they put us under pressure but I wouldn't say we were lucky. We worked hard and I think we got what we deserved'. The paper adds that "Eastbourne Borough produced another backs-to-the-wall performance to clinch their third victory of the season. Borough were outplayed against Grays on Bank Holiday Monday before grabbing a last minute winner and repeated the feat at home to Altrincham... Lee Hook made a fine save to deny Chris Senior from point blank range and the visitors came even closer in the 76th minute when Warren Peyton's powerful 30-yard free kick crashed down off the underside of the bar. Borough were camped inside their own half for the final 15 minutes but Altrincham's final chance came when Dale Johnson headed over Chris Denham's free kick".

Eastbourne Borough report that "There can't be many Boro fans not aware of the limited but significant history between the club and Altrincham; Alty being the club who defeated 'The Sports' at The Britannia Stadium, Stoke in 2005, taking their place in the Conference Premier. At the time, and repeated often since, the defeat could have been seen as a blessing in disguise as many aspects of the club were not yet ready for the step-up into this level of football. Since that day in Stoke it would be fair to say that 'Alty' have struggled at the wrong end of the league table whilst Boro have worked diligently on and off the pitch to make the 'leap'. That said, Altrincham arrived at Priory Lane as a side who whilst again towards the foot of the table had achieved a fine away win at Kidderminster Harriers [i.e. Woking!], and as all sides in this division, opponents to be respected". The Borough website's match report follows this intro. "In contrast to the opening game of the season where Boro played some excellent football but were defeated by a solitary penalty this fixture saw the side 'win ugly'. Altrincham had a fair share of possession and territory and these produced several chances to score. These chances were fruitless due to excellent keeping and poor finishes. Very much a similar pattern to the opening day of the season for Boro. 'The Sports' have played better and will play better again this season but the drive and determination not to concede was back".
COACH TO HISTON
Altrincham FC travel coordinator Tom Jacobs has confirmed that a supporters'coach will be running to the game at Histon on Tuesday. As this long weekday journey follows closely on the even longer trip last Saturday to Eastbourne, numbers who have indicated they are travelling are currently low both because of the combined cost of two long trips and the need to take time off to go to Tuesday's game. But Tom announces that nevertheless, "For a number of reasons, we had a substantial anonymous donation to the fund for Tuesday and Geoff Goodwin kindly agreed to reduce the price of the coach as he understands the importance of support for the team. There was one point yesterday where we were going to have to cancel the coach due to insufficient numbers. Please can I reiterate the point that the away travel is a self funding organisation and relies on the support of us to ensure that we continue to operate".

You can find the coach details here. Please book by ringing the club on 928-1045.
IMPRESSIVE WIN FOR YOUTH TEAM

Above: Tom Cosgrave heads the second goal against Morecambe.
Altrincham FC Youth's first league game, at home to Morecambe today, ended in a fine 3-0 win for the home side. Report in the Youth Team section.
Next Sunday (2.30pm at Shawe View, Trafford FC), Altrincham and District FA, which comprises a squad of Altrincham FC youth players, take on Mid-Cheshire FA as they start their defence of the Cheshire County FA District Youth Cup.
WOKING TROUBLE - OR NON-TROUBLE?
Tucked away at the bottom of a page of the NL Paper, we read a confusing story that "Woking chairman David Taylor has apologised to Altrincham chief Geoff Goodwin after the Cards' website accused Alty fans of 'unsavoury behaviour' during their clash at Kingfield... The troublemakers were later revealed to be rogue fans of an unnamed Premiership club. The statement has been withdrawn and Taylor said, 'There was no trouble at the match. There may have been a couple of fans who had too much to drink'".
OLD BOYS
Matt Bailey, formerly a loan striker from Crewe at Alty, but now a defender at Northwich, headed an own goal at Crawley last Saturday. Another ex-Robin having a bad day was defender Adam Yates who conceded a penalty playing for Burton Albion. Another ex-loan player at Alty, James Dean played for Hyde United alongside Karl Munroe on Saturday. Not an ex-Robin, but the son of one, Shaun Whalley (whose father is Neil Whalley) hit two goals to bring his tally to four for the week for Wrexham on Saturday. Pat McFadden was aused sub for Vauxhall Motors against Gainsborough Trinity. In Wales, ex-Alty striker from the late 1990s, John Toner, was a sub for TNS.

Former Alty youth and reserve Astley Mulholland scored for Neil Brown's Abbey Hey as they won at previously unbeaten Winsford Utd 2-0. Former Alty youth player last season, Daniel Killilea, has registered with Flixton whilst Glossop North End have secured the signature of former youth team keeper Stefan Fielding.

Bangor City captain Marc Limbert converted a penalty on Saturday. Still in Wales, Porthmadog's ex-Alty striker Marc Lloyd Williams netted.
TRIALIST NEWS
Dave Challinor, the ex-Tranmere and Bury defender, has attended most of Alty's home games this season as well as training with the Robins and even turning out for them in a recent friendly. But, according to the NL Paper, he has now signed for Ken McKenna's Cammell Laird "on a short-term deal... after a trial with Altrincham".
BSP NEWS
In Sunday's NL Paper, Northwich boss Dino Maamria blames his team's coach journey to Crawley for their 5-2 defeat. "We left home at 6.30am and were still on the coach when we kicked off. We were tired". Alty's fans, travelling to Eastbourne came across Dino and his team at Oxford services on the M40; they were just arriving there as the Alty fans left at 11am.

Former Grays boss Justin Edinburgh has been combing the managerial vacancy adverts but reveals in the NL Paper that he is without a football job for the first time in 22 years. He says, "It's a good job I've had something else to keep me occupied, with the opening of my second Toni & Guy hair salon with my business partner Jim Shaw, who was voted British Male Hairdresser of the Year for 2008. This shop, in Billericay (Essex), is a bit different in that it specialises in male grooming".

Blue Square Football says that "Oxford United midfielder Rob Davies has been released by the Yellows after his contract expired on Sunday. The 22-year-old Welshman made one appearance for the U's, but was substituted at half time in a 3-0 home defeat to Barrow... He has had previous spells with Wrexham A.F.C and West Brom".
PRICE RISE
The Non-League Today newspaper has just raised its price to £2. Its rival, the Non-League Paper
---
FOR EARLIER NEWS, CLICK HERE
---