31 July 2008
IN THE PICTURE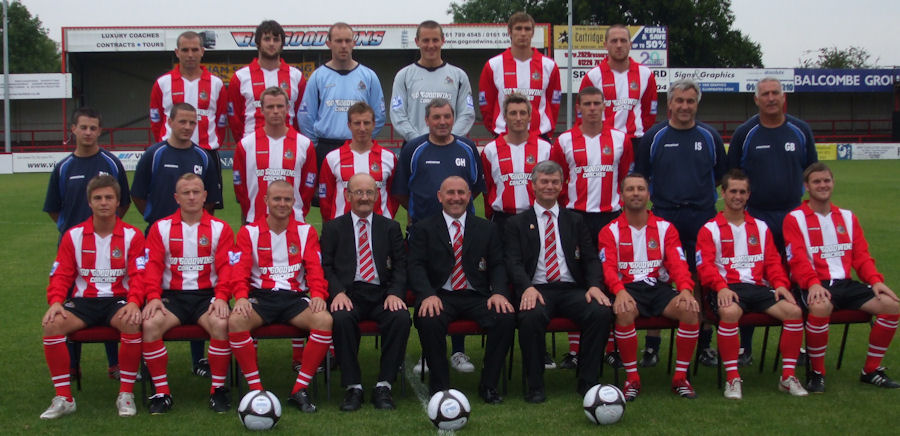 Altrincham FC had their team photo session this evening. Absent from the picture above were Richard Battersby, Warren Peyton and Val Owen. Those pictured are, left to right: BACK: Mark McGregor, Dale Johnson, Stuart Coburn, Andy Ralph, Greg Young, Chris Lane; MIDDLE: Danny Heathcote (kitman), Charles Heathcote (kitman), Joe O'Neill, Alex Meechan, Graham Heathcote (manager), Lee Elam, Robbie Lawton, Ian Senior (goalkeeping coach), Graham Bartrow (Assistant manager); FRONT: Anthony Danylyk, Kevin Street, Chris Denham, George Heslop (company secretary), Geoff Goodwin (chairman), Grahame Rowley (vice-chairman), Colin Little, Chris Senior, Matt Doughty.

1. STUART COBURN


2. CHRIS LANE


3. MATT DOUGHTY


4. MARK McGREGOR


5. GREG YOUNG


6. KEVIN STREET


7. ROBBIE LAWTON


8. VAL OWEN


9. COLIN LITTLE


10. CHRIS DENHAM


11. WARREN PEYTON


12. JOE O'NEILL


13. ANDY RALPH


14. DALE JOHNSON


15. ALEX MEECHAN


16. ANTHONY DANYLYK


17. RICHARD BATTERSBY


18. LEE ELAM


19. CHRIS SENIOR

ALTRINCHAM FC

sponsored by

Go Goodwins
Coaches
TRIALIST RELEASED
Altrincham's last remaining trialist of the summer, Alex Morris, has been released. Alex is a former Crewe Alexandra and Kidsgrove Athletic midfielder.
THROUGH THE YEARS
The new league season starts on 9th August. Howard Watts's "Through the Years" data shows that only once before have Altrincham played a competitive game on this date. Details here.
FINALIZING THE SQUAD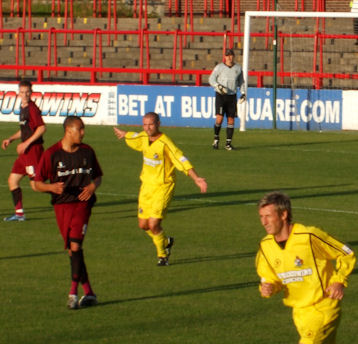 Right: Alty v Bradford City - Marc McGregor organizes the defence as Lee Elam (foreground) and goalkeeper Andy Ralph keep their eyes on the opposition.
The Sale & Altrincham Messenger reported before Tuesday's win over a Bradford City XI that "Although results have been good in preseason so far - Alty winning four of their five games - fitness is top of the agenda for boss Graham Heathcote. In particular, new signing Lee Elam needs to get back to match fitness after a disrupted preseason campaign. 'I want to see Lee Elam get a bit fitter and the main aim of tonight is fitness', said Heathcote. 'We've got an 18 to 19 man squad and we won't be carrying many more than that. I just have to find clubs for the youth team players I've kept on. They haven't been forgotten about'. The squad has been trimmed right down now with all the trialists, bar Alex Morris, having already moved on. The onus is on the ex-Crewe midfield man to stake a claim for a squad number, especially following the departure of fellow trialist Damien Allen, who is currently in talks with Chester and Wrexham... Alex Meechan is expected to be back for this weekend's game against a Blackburn Rovers XI. Young's absence is anticipated to be around 10 days.
Another name still on Alty fans' lips is Ryan Shotton, the impressive young defender who spent the second part of last season on loan at Alty from Stoke City. Having been released by Bournemouth his future is currently unclear, making a possible Moss Lane return the talk of the Robins' faithful. But a move looks unlikely at the moment, with Shotton making it known that he wants to play in the Football League. But Heathcote hasn't given up hope and hopes to review Shotton's situation in a month's time".
MARK & ANDY
"Graham Heathcote has added muscle to Alty's defence with the signing of centre-back Mark McGregor" says Sale & Altrincham Messenger. The ex-Wrexham, Burnley, Blackpool and Port Vale man possesses strong League pedigree... Heathcote said: 'You just have to look at where he's been. I signed him on the experience he's got... Mark will fill that void in defence left by Tinson's departure'... McGregor's hardworking personality was equally reflected through his endeavour to find a new club. Through the social networking website, Facebook, modest Mark created his own group with a sole purpose: 'Help find macca a new football club'.It seems to have worked though, and following an unsuccessful trial at Mansfield Town, McGregor signed for Alty after impressing Heathcote in his first ever game for the club.

Meanwhile, a long term aim has been fulfilled after Heathcote secured the signature of Andy Ralph, a competent number two to Alty's solid Stuart Coburn... Hetahcote said: 'I went for Andy Ralph because he has a little bit more experience than James Coates. I think Coates needs to be playing first team football, but both are decent keepers and either guy could have done the job'".
YOUTHS' SOLID START
On the first day of the Umbro International Tournament, Alty's Youth team (under-18s) are competing against under-19s and have done very well to emerge with a goalless draw against Stalybridge Celtic's Academy side and to defeat Norwegian side Ullem IL 1-0, thanks to a goal from Kane Berkeley. Alty lie third on goal difference in the six-team group. Leigh Genesis lead with 6 points, followed by Stalybridge with 4, followed by Alty (4) with Poynton, Muswell Hill, Ullem (1) and Cannon occupying the remaining places. Today (Thursday) Alty take on Muswell Hill (11.30am) and Poynton (2.30pm).

Manager George Heslop also discovered from the tournament programme that the team which defeated Alty last season in the final of their group was not from Walthamstow as he had been told, but from a little further south.... Nigeria!
FACE IN THE CROWD
Lisa Jones, Alty's commercial executive writes "Just to let you know the 'face in the team' photos will be being taken before training on Thursday 31st July as that is when the official team photo is being shot. The lads will be there from 6pm and MUST be gone by 6.45 to get to BTH for training so there is a good 45 minutes to fill up. If anyone hasn't got in touch yet email me, or alternatively ring the club anytime between 9 and 5 and if I'm not there leave a message". Face in the Team is an initiative through which you can have your photo taken with the first team for a £35 donation.
BSP NEWS
Blue Square Football reports that "Crawley Town have handed Italian Giuliano Grazioli the chance to impress during a trial period. And the 33-year-old former Barnet star did just that when he scored during the Red Devils' 1-1 pre-season draw with Croydon Athletic on Tuesday evening. Crawley manager Steve Evans told the Crawley Observer: 'He's a great player and played against us when we were at Boston many times. We have him here for a trial and it all depends on how fit and hungry he is as to whether we make him an offer. He's a goalscorer and could be the ideal player to link up with the forwards we already have: Jamie Cook, Isaiah Rankin, Steve Fletcher, Danny Forrest and Simon Weatherstone who can all play up front. Of course he would have to prove he is better than we already have to earn a place in the squad'".

Addressed to their fans, Grays Athletic have made an "announcement that we hope you have all been waiting for and one which we believe will springboard our aspirations for the future... Statement from Thurrock Council: Top Thurrock councillors will be discussing the creation of a massive sporting centre when they meet next week. A 'Thurrock Sports Hub', based around Blackshots, will be on the agenda of Thurrock Council's Cabinet on Wednesday (6 August)'. The council and the Thurrock Thames Gateway Development Corporation - which is backing the plan - have already received interest about the scheme from a variety of potential public and private partners, including Grays Athletic Football Club... The plans - if they go through - will provide wide benefits for the community at large, says the report. These include improved health of the population generally, activities for younger people - reducing anti-social behaviour - and regeneration of the borough".

At Histon "Manager Steve Fallon and Coach John Beck believe they may have unearthed a real talent in their most recent find Lanre Oyebanjo - full name Olanrewaju Oyebanjo. Coach John Beck spoke of his admiration for the 18 year old who has been with the Stutes since the start of pre season after being released by Brentford in the summer. Following the player signing a contract with the Stutes, which could see him at the Glass World Stadium for the next two seasons, Beck said 'The lad has looked good in training and even better in the pre season games, so far his performances have been very good and against Boston he provided us with enough to offer him a contract'. This will provide Craig Pope with competition for his right back position whilst also leaving the Stutes with cover in all positions, although Beck was quick to add that a central midfield player was still on the Stutes' list... Speaking after his holiday the manager was clearly pleased to have the problem of selecting a squad of 16 from his 24 players now that the four emerging youngsters have proved they are not far away from making a play for a first team place. 'I think we have eight of our starting eleven sorted so the next two games will give us a chance to get the final places sorted'".

In a piece reporting Alty's signing of their former centre-half Mark MCgregor, Wrexham add that their "former midfielder Danny Williams had been training with Altrincham over the summer, but now looks likely to be settling with Northwich Vics. He played a part in their last two friendlies".
---
30 July 2008
ALTRINCHAM 2 BRADFORD CITY XI 1
This was not just a win but also a very encouraging performance by Altrincham against a young Bantams' side.
COLLECTORS NEEDED URGENTLY
Altrincham FC urgently require a person to collect fortnightly payments to the Saturday Yankee fundraising scheme. Areas available are Oldfield Brow and Bowdon which can be combined or be collected by two different people. Commission is paid to collectors. Please contact Jenny Heslop as soon as possible on 0161-928-1045. Only over 18s are permitted to act as collectors due to the gambling laws.
OLD BOY
According to Bournemouth "Four trialists have been invited to spend a further week training with AFC Bournemouth. The squad are based in Woodbury Park Devon for four days and also taking on Dorchester Town at The Avenue Stadium tomorrow night. Peterborough stopper Shwan Jalal, Chester midfielder Paul Rutherford and Pompey duo Joel Ward and Matt Ritchie all impressed in friendlies against Pompey and Bristol City last week and are being kept on for further assessment. Ryan Shotton, Ritchie De Laet, Sammy Igoe, Carl Pettefer, Clydie Roberts, Stephen Maher, John Fletcher and Corrin Brooks-Meade have all left the club".
BSP NEWS
The BBC says that "Grays Athletic will not be signing striker Jeff Goulding despite agreeing a contract with the forward. The 24-year-old spent the final two months of last season on loan at the New Rec from Blue Square South outfit Fisher Athletic. He scored two goals during his loan spell and had agreed a one-year contract at the end of the season. But Athletic have announced they will not be going ahead with the deal which was due to be signed this Friday".

Alty travel to Woking a week on Saturday where "Head Coach, Kim Grant, has told utility player Matt Gray, defender Matt Ruby and midfielder Jerome Maledon that they do not figure in his plans for the coming season and that they are free to look for another club. All three have one year left on their contracts. Kim Grant said: 'This was a tough decision to make. All three are good players but I need to create room in my squad to enable me to bring in other players who, I think, can take us up a level'... Matt Ruby, 22, and Jerome Maledon, 20, both joined the first team squad from Woking's Academy. Matt Gray, 24,was signed from Sutton United in May 2007".

"Salisbury have signed former Stafford Rangers centre-back Djoumin Sangare, pending international clearance. Frenchman Sangare, 24, has been on trial with the Whites and scored in their pre-season win over Swindon Town. Coach Tommy Widdrington told BBC Radio Wiltshire that the Whites have been trailing the player for a long time. 'We've had him in our sights since very early last season. He was top of the list and I hope he has a good stay with us', he said. Sangare appeared 30 times for Stafford last season".

Oxford United "will look at two trialists tonight (Tuesday) as they welcome Wycombe Wanderers for a pre-season friendly. Both Michael Husbands, a striker, and Levi Reid, a winger have linked up with the club from Macclesfield and are likely to be on the bench... Husbands was very highly rated as a youngster at Aston Villa but has become nomadic since then, having spells at Hereford, Southend, Bristol Rovers, Walsall, Port Vale and Macclesfield scoring five times in 15 starts at those clubs. Reid, 24, started his career at Port Vale before dropping down to Stafford where his pace and skills earned a move back into the Football League with Macclesfield, where he scored twice in 28 starts".

And "Oxford United have announced the signing of 19-year-old goalkeeper Ben Hincliffe on non-contract terms. The Preston-born shot-stopper has put in some solid performances for the U's in pre-season since being released by Derby County boss Paul Jewell", reports Blue Square Footbal

From the NW Evening Mail we learn that "Furiosu Dave Bayliss has warned his pre-season under-performers to 'shape up or ship out'. The Barrow AFC joint-manager has been bitterly disappointed with his team's performances since their return to action a fortnight ago. He described Saturday's latest showing at lower-league Kendal Town as 'gutless, effortless and passionless'. Bayliss tore into his squad in the dressing room after the game, warning them that another similar performance will result in some players being shown the Holker Street exit door. 'I'm still fuming', said Bayliss yesterday. 'I've never had cause before to say what I said to the lads in the dressing room, and I can assure you when I left it was a very quiet dressing room. I won't stand for it, and Darren (Sheridan) won't stand for it. We're being totally frank. If people think they're better than what they are then they can go and find another club. We don't want people like that associated with us. Me and Darren as players are winners, and we'll put our hearts on the line. Them lads haven't done that so far. Even if it's a friendly game you still should be winning those games'. Barrow – whose televised Conference Premier opener against Oxford United is now only 10 days away – were trailing 3-2 to Kendal when the game was abandoned in the closing stages following a serious injury to AFC right-back Lee Woodyatt.

Bayliss said: 'At the end of the day, there's two games left before the season starts and these lads really need to have a think about what they want to do now over the next week or so... I've had a number of clubs ringing me about our players. So, if they don't want to shape themselves up, they can ship out, basically... It was gutless, effortless, passionless, everything about it that doesn't associate us with football. It was horrendous to watch, embarrassing... If we see another performance like that in pre-season again then some of them lads will never wear a Barrow soccer shirt again. I don't think we've matched teams physically this pre-season. We've been a bit intimidated, and that is worrying'... Meanwhile, with broken leg victim Woodyatt likely to miss most of the season, Bayliss and Sheridan are on the lookout for a replacement right-back... 'We are short of numbers in the defence area, the full-backs especially'".

Blue Square Footbal says that "New boys Kettering Town have secured the services of Redditch United defender Exodus Geohaghon on a month's loan. Poppies' boss Mark Cooper has brought the towering centre half to Rockingham Road on an initial month's loan and has the option to make the move permanent. 'We've agreed to take him on loan for the next month initially and then see how it goes', Cooper told Northants ET. 'He's a big centre-half who also provides us with a bit of pace at the back... We will probably get another couple - a target man and a wide player'". Geohaghon started his career at West Bromwich Albion and went on to play for Sutton Coldfield Town and Bromsgrove Rovers, before joining Redditch in 2005".

The Northwich Guardian reports that "Vics say they do not want to play Torquay on a Sunday. The Gulls have asked to push back their clash with Dino Maamria's men – scheduled for Saturday, September 6 – by 24 hours. But their wish has not been granted. The Devon club face Kidderminster Harriers at Aggborough in front of the television cameras two days earlier, hence their desire to have an extra day's rest before hosting Vics at Plainmoor on the Sunday. Now United have referred the case to the Football Conference board for their verdict".

According to the Burton Mail "Albion boss Nigel Clough is not anticipating making any more signings ahead of the season opener on August 9. Clough completed a double swoop at the weekend - signing striker Greg Pearson and agreeing a deal for former Mansfield Town centre-back Jake Buxton - and says he is happy with the size and strength of his squad".
---
29 July 2008
CITY TEAM
Bradford City's squad tonight will be - Convey, Ainge, Korey Nix, Densmore, Taylforth, O'Brien, Turner, R Boulding, Bellamy, Osborne, Horne, O'Hara, Dean, Newton, Banks, Elliott, Harrison, Carson, Hutton, Villerman.
TONIGHT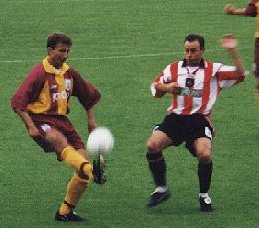 Altrincham take on League Two club Bradford City tonight (Tuesday, 7.45pm) at Moss Lane. City have made a couple of recent pre-season visits to Moss Lane.
4 August 2000 - Altrincham 0 Bradford City 1. City included the likes of Dan Petrescu, Lee Sharpe, David Weatherall and Peter Beagrie in their side. Pictured right, Alty player manager Mark Ward contests possession with Petrescu in that game.
5 August 2003 - Altrincham 1 Bradford City 1. Mark Maddox was Alty's scorer.

The Bantams' manager is Stuart McCall, the former Scottish international who enjoyed an illustrious career at clubs which included Everton and Glasgow Rangers, as well as Bradford City. The City first-team squad includes Barry Conlon and Paul Heckingbottom, who have both played at Moss Lane previously when they were part of the Darlington side which knocked Alty out of the FA Cup in the Second Round in December 2001.
DOING IT ON THE PITCH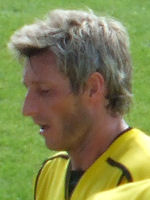 SAM tells us that "Alty have added further to the impressive list of attacking weapons at their disposal after signing experienced winger Lee Elam (left). The 31-year-old arrives at Moss Lane after failing to win a full-time deal at York City following his release by play-off winners Exeter at the end of last season... [Previously] Elam has been a constant thorn in Alty's side, completely terrorising the Robins' defence for both Exeter and Weymouth in the past two seasons. And with Colin Little, Chris Denham, Dale Johnson and Chris Senior he completes Alty's most impressive attacking line-up in recent memory...

Manager Graham Heathcote told SAM Sport: 'Everyone is talking about the squad we've put together but they've go to do it on the pitch now. I'm glad we've been able to sign Lee. He was trying to get a full-time deal at York but for some reason or another that hasn't worked out and he decided to come here. I think we're benefitting from the economic situation at the moment. The price of petrol is high so for players to make a long journey four or five times a week to join up with a full-time team is a significant chunk out of their wages. People think we've splashed the cash but the budget is the same as it was at the start of last season. We raised the budget in December but now we've gone back to what we started off with last season... We're putting together the best squad we can while working within our means'".
MARK JOINS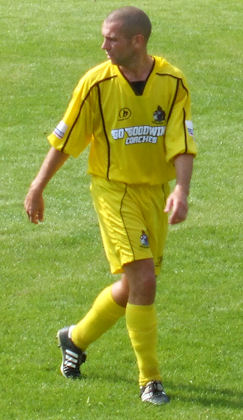 Pictured, right, is Alty's latest signing, Mark McGregor, 31, an experienced centre-back whose last club was Port Vale.
ALL CHANGE
Alty Youth manager George Heslop announces that the Umbro International Youth tournament has completely revised its format in the last 24 hours. Now, instead of there being three groups there will be two and therefore Alty now have two matches a day for three successive days, the games being 30-35 minutes in duration. Alty's group-stage games are now:
Wednesday 30th July: 12.30pm v Stalybridge Celtic; 3.30pm v Ullem IL
Thursday 31st July: 10.30pm v Muswell Hill (London); 2.30pm v. Poynton
Friday 1st August: 12.30pm v Leigh Genesis; 4.30pm v. Cannon FC (Hertfordshire)

All games are on pitch 22 at the University playing fields at Northenden.
OLD BOYS
Former Alty captain Darren Tinson scored twice for Nantwich Townin their 3-0 win at Kidsgrove Athletic last weekend. And Ryan Shotton played all game for Bournemouth against Bristol City, whilst elsewhere, Witton's team last Saturday included Rod Thornley.
BSP NEWS
According to the Burton Mail "Having signed striker Greg Pearson on Friday, Clough then sprung a surprise when former Mansfield captain Jake Buxton lined up in central defence. 23 year-old Buxton had been on trial at Crewe, but when they failed to offer terms, Clough made his move, and after the game the Brewers' boss confirmed that a deal had been agreed for Buxton to join on August 1. A delighted Clough said: 'If you'd said at the start of pre-season, who were the two signings at the top of our list, it was Greg Pearson and Jake Buxton, and now we've got both of them... You have to wait sometimes, and if it's two weeks before the start of the season, then we'll wait if we have to, because they're good players'. The arrival of Pearson has ended his interest in former Forest Green Rovers striker Danny Carey-Bertram... Clough said: 'Once Lee Morris proves his fitness then hopefully we'll have our four strikers for the season'.

Cambridge News reports that "Gary Brabin admitted being disappointed with his Cambridge United side for the first time following Saturday's 3-1 home defeat by Coventry City. The United manager felt his players looked fatigued in the sweltering conditions and not as sharp as they had been in previous friendlies. Brabin said: 'I'm reserving my judgement a little bit because they've had a tough pre-season, mentally and physically, and we've had 10 training sessions and a game since our last day off. I know I've been working them hard, but all I've asked of them is that they come in with a smile on their faces and give me 100 per cent, and that's the first time they've looked tired. Going forward we're a handful. We're enthusiastic and we've got a load of ideas, but at the moment I'm still waiting for my first clean sheet, which is another little thing we have to work on'. Midfielder Eddie Hutchinson, who has been transfer-listed by Oxford, was the latest trialist to be given a chance".

This is Nottingham says that "Billy McEwan is close to making decisions on a number of players currently trying to earn permanent deals at Field Mill. Ten trialists played for the Stags in their 3-2 defeat to Derby County, including Grays Athletic's Aaron O'Connor who only joined the club at the end of last week...He said: 'It's nice to win but the most important thing is for us to get our touch and understanding as a group of players... Aaron (O'Connor) has been training with us for a couple of days, so it's a little bit unfair to judge players after they have only just joined us. We will make decisions as quickly and early as we can'. McEwan introduced a trio of the club's youngsters in the second half - Chris Wood, Ryan Goward and Lewis Trimmer".

Oxford United "have been given a boost ahead of the new season with defender Luke Foster signing a new deal which keeps him at the club until the end of the 2009/10 season. The 22 year old centre half... [won] the fans and the players 'Player of the Season' awards last year".

"Forest Green Rovers' boss Jim Harvey has offered non-contract terms to a quartet of players. Former Cirencester Town defender Lee Molyneaux, striker Mike Symons - who has also been linked with Gloucester City - and defender Chris Thomas have been snapped up. Thomas requires international clearance having been at Carmarthen Town last season... The club have also offered non-contract terms to 19-year-old Isaac Shaze for whom the club have received international clearance. However, as Isaac holds a Ghanaian passport, and also due to immigration regulations, the club must seek special permission for him to be registered to play at Blue Square Premier level. Documention has been submitted to the FA and the Home Office and a decision is awaited. The club are unable to make a similar application in respect of his fellow countryman, 19-year-old Sam Mensah until the FA and the Home Office rule on student visa credentials for players from outside the UK and EU. Shaze is being used as the 'test case' to challenge the rules which currently forbid overseas student players attending accredited sports colleges, in their case Hartpury College, obtaining a work permit in the Premiership and Football League but discriminates against leagues outside those listed by the Home Office in their regulations. The challenge is being supported by David Drew MP and Lord Faulkner, a Vice President of the Football Conference. Shaze has been awarded squad number 19, while Molyneaux, Symons and Thomas will wear squad numbers 20, 21 and 22 respectively".
LEAGUE TWO
It may be early to consider who will drop into the BSP next season but with Luton 30 points adrift before the season starts, the BBC says that another League Two side "Rotherham could be barred from the football league and unable to start the new season if they are unable to provide assurances over their future. The Football League has written to the Millers requesting an urgent meeting to clear up issues that will affect their league membership. They want assurances from the club's new owners about the timeframe needed for playing at the Don Valley stadium... The Millers have been forced to look for an alternative stadium after they quit Millmoor in May when new owner Tony Stewart was unable to reach an agreement with current landlord Ken Booth. But the move to Don Valley is yet to be rubber-stamped by the League who want a loan from the Football Foundation Stadia Improvement Fund settled by the Millers. There is also a concern from the governing body that no provision has been made regarding a £750,000 security bond which is necessary for them to ratify the move to Don Valley. The League also want an assurance from the Millers that they will move back to the town within a four-year timeframe. Rotherham were deducted 10 points last season for going into administration and face a potential 15-point penalty deduction this season after their creditors rejected a move for a Company Voluntary Arrangement (CVA) last week."
---
28 July 2008
ALTY SIGN McGREGOR
Altrincham FC have signed centre-back Mark McGregor, who made his debut on Saturday at Stalybridge. Mark played for Port Vale last season and has more than 400 League appearances to his credit. It was for his first club, Wrexham, that he made the majority of those appearances (244), between 1995 and 2001. He then went on a free transfer in 2001 to Turf Moor but after 54 games for Burnley (2001-04), he moved to Blackpool (59 games between 2004 and 2006). Next, he played 66 times for Port Vale (2006-08). He joins Altrincham after a trial at Mansfield Town earlier this month.

Mark was born at Chester on February 16, 1977.

Full details of Altrincham's 19-man squad are here.
WOKING TRIP
The STAR supporters' coach will be running to Woking for Altrincham's first game of the new season on August 9th. Times and fares are here. Come along and help Altrincham try to get the campaign off to a good start.
OLD BOYS
Steve Aspinall played for Colwyn Bay yesterday. He scored with a freekick in their 3-1 defeat by Tranmere. Pat McFadden (right) also netted on Saturday, playing for Vauxhall Motors.

Former Alty reserves' keeper Craig Ellison has joined FC Halifax Town from Witton Albion, following former Albion boss Jim Vince in the process. Kieran Lugsden's move from Buxton to Witton has been confirmed. Ex-Alty striker Marc Whiteman scored for Hastings United as they beat Lewes in a friendly. Colin Potts netted for Fleetwood Town and Paul Ellender was Alfreton Town's man of the match on Saturday. Meanwhile both Ged Murphy and Karl Munroe have been released by Droylsden.
YOUTH NEWS
Altrincham Youth drew yesterday against Congleton Town. Alty's goal came from Iké Ekwueme. In their previous pre-season friendly they lost 6-0 to Macclesfield Town Youth. They have entered the Umbro International Tournament which starts on 30th July at the University of Manchester playing fields at Northenden. Their group matches are as folows:
Wednesday 30th at 3pm v Leigh Genesis
Wednesday 30th at 5.30pm v Cannon FC
Thursday 31st at 3pm v Ullem IL
Friday 1st August at 1.45pm v Manchester Youth

Of the above opposition only Leigh Genesis are a club whom Altrincham have previously met, under their previous name of Leigh RMI.
N.W. NEWS
Leigh Genesis's move from Hilton Park to the new stadium at Leigh Sports Village has been deferred by several months.
BSP NEWS
The NL Paper reports that "Conference managers who are sent from the technical area will no longer be able to sit in the stand. 'We want them to have no view of the match' said Conference vice-chairman Charlie Clapham. 'Elvis must leave the building'". Asked where the manager would go, Clapham said, 'We're really not bothered. They can get in their car and go home, they can get on the coach or go shopping in town... so long as they can't see the game... We put it to the clubs at the AGM in June and did not get any objections'

And "Clapham has a warning for clubs who think the switch from the league's Approved Playing Budget system to the new Financial Reporting Protocol gives them a licence to spend above their means... All 68 clubs will have to provide quarterly reports on their expenditure... 'We have absolutely no sympathy for people who are not paying their way... We have led the way in dealing with that kind of thing... We are trying to get people to live within their means'" said Clapham.

Barrow report that former Chester City and Vauxhall Motors defender Lee Woodyatt suffered a double fracture of the leg "towards the end of the friendly at Kendal on Saturday... Once the seriousness of the injury became apparent, referee Jeremy Simpson abandoned the game. Woodyatt was treated on the pitch by Barrow assistant-physio, Les Potter, and then by an ambulance crew that drove their vehicle onto the pitch. The right back was taken to The Royal Lancaster Infirmary and is expected to undergo surgery to pin the broken bones... It is the second time in his career that he has suffered such an injury and last time made a full recovery. He is likely to miss, however, a large chunk of the new campaign... Barrow were trailing 3-2 at the time of the abandonment with goals from Jason Walker & Lee Hunt, but after a display that left boss Dave Bayliss fuming".

According to NL Today the qualifying rounds of the FA Cup will be broadcast by ITV and Setanta Sports. "The matches will be broadcast on ITVLocal.com, ITV.com and The FA website as well as selected highlights being aired on Setanta for the world to enjoy".
---
27 July 2008
ALTY SIGN McGREGOR
Altrincham FC manager Graham Heathcote has today signed centre-back Mark McGregor. Mark, who has more than 400 League appearances to his credit, played for Port Vale last season but it was for his first club, Wrexham, that he made the majority of those appearances (244), between 1995 and 2001. He then went on a free transfer in 2001 to Turf Moor but after 54 games for Burnley (2001-04), he moved to Blackpool (59 games between 2004 and 2006). Next, he played 66 times for Port Vale (2006-08). He joins Altrincham after a trial at Mansfield Town earlier this month.

Mark was born at Chester on February 16, 1977. He made his debut for Altrincham last Saturday at Stalybridge where he turned in a fine performance at the heart of the defence alongside Greg Young and, when Greg was injured, with Chris Lane. He will have squad number 4.

Other squad numbers announced today are:
18: Lee Elam
13: Andy Ralph

For full details of Alty's squad for 2008-09, see the Players page.
FANS
In Sunday's NL Paper, Altrincham FC vice-chairman Grahame Rowley writes that "Non-League football simply cannot and, most importantly must not, cave in and hand the initiative to the mindless hooligans trying to ruin our game. Last weekend I saw Altrincham defender Greg Young get attacked on the pitch during our pre-season friendly with Manchester United... I still can't believe it... When FC united came to play us just three days later, there was no segregation, a minimal police presence and the match went off without any fuss. The day you put in segregation for pre-season friendlies and bring in the police in large numbers is the day you have to consider ending these types of matches altogether"

At the MUFC game, "everything we have [MUTV pictures, press photos] has been passed on ... and we hope that something will happen to these trouble-makers off the back of it... This will not stop us playing Manchester United in the future. We have a great relationship with them.. What concerns me is that this may turn into a bigger problem. With more and more people banned from Football League grounds... this could push them down into Non-League football... Cheaper football is an option for these people... We want nothing to do with these people... We are a family football club and they are not football fans".
SECOND KEEPER
Altrincham FC's second keeper, to compete with Stuart Coburn, will be Andy Ralph (right, in foreground), the former Vauxhall Motors and Northwich Vics number one.

Manager Graham Heathcote has also indicated that he hopes to be making an outfield signing tomorrow.
INJURIES
Altrincham lost two players through injury in yesterday's game at Stalybridge. Centre-back Greg Young has had multiple stitching to his lip and been advised not to play for ten days. However, he will be able to train and should be fully fit for the start of the season. And Alex Meechan's foot injury is not as bad as first feared, though it still awaits full assessment. His opponent's studs came down on his instep but hopefully he too will be fit before the season starts.
STALYBRIDGE CELTIC 0 ALTRINCHAM 3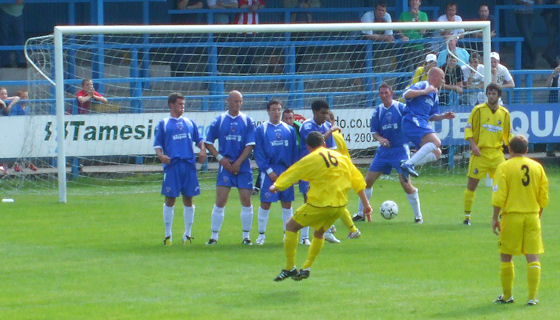 Above: Trialist Alex Morris's well-hit freekick was deflected onto the far post in the second half at Stalybridge. Alex is no.16, whilst Matt Doughty (no.3) and Dale Johnson look on.
Match report here.
BSP NEWS
It was reported recently that Cortez Belle had gone AWOL from Northwich. From NL Daily we learn that he has surfaced in the West Country. "Adie Mings, manager of Chippenham Town, says he will not break the bank to sign in-demand Cortez Belle.... With five Blue Square South sides after Belle, Mings say any deal will be on the club's terms. 'Hopefull',," he said. 'We try and keep everyone on the same money so there are no big earners. Everyone is relatively on the same based on their experience'... They have yet to talk terms with the former Halifax Town and Merthyr Tydfil man and Mings is wary of the wages Belle could expect".

Meanwhile "Liam Daish has moved swiftly to sign prolific Cambridge City forward Michael Gash to reinforce Ebbsfleet United's strike force. Daish's move in the transfer market has been assisted by the boost his playing budget has received from donations made to the club in a recent supporters' initiative. MyFC member Tom Baker inspired 1,000 supporters from across the world to each donate £20 or more to the club's playing budget to cover transfers and wages this season. With the target successfully achieved, the money will be handed over to the club at their opening Blue Square Premier game at Stonebridge Road on August 9th. German-born Gash trialed for the Fleet on their recent West Country tour... Daish beat off interest from Blue Square Premier newcomers Kettering Town to secure Gash... New CEO David Davis tells us 'The total deal to bring Michael Gash to Ebbsfleet United is worth £20,000, and the player's wages will fall within the weekly budget already set by MyFootballClub members'"
---
26 July 2008
INJURIES MAR WIN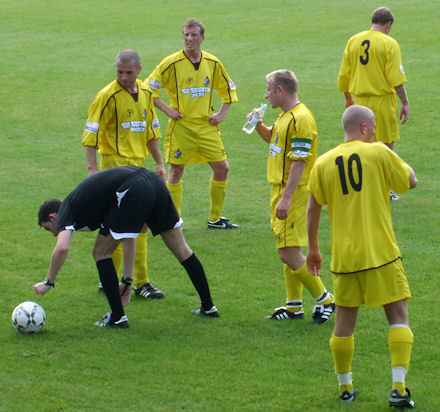 Altrincham emerged with a 3-0 win from their bogey ground, Stalybridge Celtic's Bower Fold, but lost two players in the first half to injury. Just before the interval, Alex Meechan had to hobble off, after making a good start to the game, when he was accidentally caught on the instep by Rob Jones as he was in the act of shooting. And ten minutes earlier Greg Young had had to go off with blood streaming from a split lip after being caught by the elbow of Chris Hall. On a very warm afternoon, all three goals owed something to Celtic's defensive errors.

Chris Denham, who had an impressive game, opened the scoring after 20 minutes when he sprang the offside trap to shoot low past former Droylsden team-mate, Paul Phillips. Colin Little made it 2-0 after 27 minutes when ex-Harrogate Town defender Paul Sykes was unable to control the ball and was dispossessed by Colin Little, who scored with a firm shot. Dale Johnson made it 3-0 when another defensive slip allowed Morris's ball from the right to come to O'Neill. Though his shot was blocked, Johnson slotted home the rebound.

Alty fielded two debutants. New signing Lee Elam looked well short of match fitness on his first outing but centre-half Mark McGregor (ex-Port Vale), a trialist, had a very solid game. Report to follow

ALTRINCHAM (All yellow): 1. James COATES, 2. Richard BATTERSBY, 4. Mark McGREGOR, 5. Greg YOUNG, 3. Matt DOUGHTY; 7. Alex MEECHAN, 6. Robbie LAWTON, 6. Kevin STREET (capt), 11. Lee ELAM; 9. Colin LITTLE, 10. Chris DENHAM. Subs: 12. Dale JOHNSON, 14. Chris LANE, 15. Chris SENIOR, 16. Joe O'NEILL, 17. Alex MORRIS.

Right: Five of Alty's new players this season watch the referee placing the ball for a freekick. They are, left to right, McGregor (trialist), Street, Meechan, Denham and Doughty.
HIGH NOON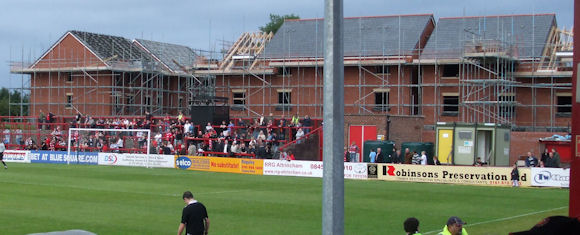 It has been confirmed that the Altrincham v Wrexham match on Bank Holiday Monday has been moved to a noon kick off on police advice.
Fans visiting Moss Lane this season will notice a difference at the away end, where the block of apartments pictured above is rising behind the Carole Nash & Family End. There can't be many flats with a better view of a football pitch than these!
BSP NEWS
The BBC says that "Midfielder Rob Sinclair will miss the start of Salisbury's second Blue Square Premier campaign. Sinclair, 18, will be out for six to eight weeks after suffering a knee injury in the Whites' pre-season," manager Nick Holmes told the Salisbury Journal. Sinclair moved from Luton to the Raymond McEnhill Stadium in July".

"Lewes boss Kevin Keehan is close to signing ex-Brighton defender Zac Beda. The 18-year-old, who can play at right-back or centre-back, is set to join on a month-to-month basis. Keehan told BBC Southern Counties Radio: 'He knows his first team chances are limited but he is looking forward to playing in the reserves'. Meanwhile, Guyana midfielder Shawn Beveney has been released by Lewes after playing in two pre-season games".

"Oxford United have taken Southend midfielder Peggy Lokando on trial with a view to agreeing a loan deal for the former Arsenal trainee. Lokando, 18, will play for Oxford in Saturday's friendly against Manchester United at the Kassam Stadium... Oxford have also allowed transfer-listed midfielder Eddie Hutchinson to take a two game trial at Cambridge United."

From Burton Albion we learn that the club has "successfully concluded the signing of 23 year old striker Greg Pearson from Bishops Stortford for an undisclosed fee. Pearson who scored 26 league goals last season to finish as joint top scorer in Conference South, netted 35 goals in all competitions and was named Conference South Player Of The Year alerting Football League side Notts County with whom Pearson has spent the last three weeks training. However, Pearson has now committed himself to a two year deal with the Brewers instead of a move to Meadow Lane. Greg began his career as a trainee with West Ham United before a move to Lincoln City. Loan spells at Canvey Island and Hucknall followed before a spell with Rushden & Diamonds. Greg left Nene Park to join Bishops Stortford and scored 42 goals in 67 games in just over a season with the Blues".

According to Blue Square Football "Mansfield Town pairing, Michael and Rory Boulding, have ended speculation over their futures by signing two-year contracts with Bradford City [who visit Alty for a friendly this Tuesday]. The Stags' strikers were rumoured to be joining League One outfit Cheltenham Town, but opted for the Bantams instead".

"Rushden & Diamonds miidfield player Jake Beecroft has signed a new contract with the club until the end of the 2010/2011 season. Eighteen year-old Beecroft has worked his way through the ranks at Nene Park, starting out in the Club's youth system, and progressing via a number of reserve team games to make an initial appearance for the first team at the end of the 2006/07 season, and then three further substitute appearances in the league at the end of the 2007/08 season".

Confirmation comes from the NW Evening Mail that Barrow have "offered former Oldham Athletic defender Mike Perason a one-year deal. Pearson, who spent last season on loan at Farsley Celtic, has played in Barrow's last three friendlies. AFC joint-manager Dave Bayliss said: 'Mike Pearson has done well, he can play left back, right-back, centre back, even midfield. 'He has lots of Conference experience with Farsley Celtic so knows the level... We offered him a deal last night and he is thinking it over'. The managers are also considering making an offer to former Workington second string keeper Aaron Taylor, who played last night. However, the other pre-season trialists, former Morecambe left-back Jamie Burns, Matt Burke and James Holden are not being taken on, the latter two joining last season's squad member [ex-Alty reserve] Rio Nelson at Vauxhall Motors".

But "The Bluebirds are preparing to face life without energetic new signing Ashley Winn for their first three games in the Conference. The 22-year-old midfielder — who has made an instant impact pre-season — received an FA ban for his end-of-season bookings with Stalybridge Celtic... Darren Sheridan and Dave Bayliss were both unaware of the suspension when they fought off strong competition from other clubs to sign the player on a one-year deal. Says Sheridan: 'We've only just found out the same as Ashley. To be fair to Ashley he's like genuinely said he thought it had been cancelled out from last season, he didn't realise'". So, Winn will miss the game at Moss Lane against Alty on August 12th.
---
25 July 2008
SATURDAY'S GAME
Altrincham's friendly on Saturday is away to Stalybridge Celtic whose chairman reports that "Keith Briggs was signed by Norwich, aged 21, for £65,000. He moved on from there back to Stockport and although he was offered another contract this season with Mansfield, I am delighted to say that he has decided to join Celtic. One Bower Fold official said to me 'Keith is the type of midfield general that we've been looking for for a long time. Rarely gives the ball away and is always aware of the players around him'. I'm also really excited to also announce the signing of Chris Williams. Most Northwich fans will tell you that Chris transformed their season when he joined them, on loan, from Stockport County and was the main reason they romped the Conference North that season. Chris, who is a winger, was courted by Man City as a teenager and one of our officials described him as 'a type of Chris Denham, only faster and more direct'. Chris broke his leg playing for Northwich in the Conference National, but has now fully returned to match fitness".
FANTASY FOOTBALL
Altrincham FC have received the following which they are happy to publicize. Don't forget to mention Alty if you sign up!

My name is Ian White and I am the programme editor at Weymouth FC. I was wondering whether or not you would be interested in my Football Fantasy competition? Basically it is a good way for your club to make some money and also give your fans a very enjoyable game that lasts all season. It costs £5 to enter and for every Alty fan that enters the competition and nominates Altrincham as their club you will receive £2. So for example if 500 fans enter from your club you will receive £1,000.

A link to the competitions website is here. I also run the very successful Fantasy Non-League in the Non-League Paper.
OLD BOYS
Bournemouth report that Ryan Shotton played 90 minutes for them as they " went down 4-1 against FA Cup winners Portsmouth this evening. Peter Crouch bagged a brace between strikes".

In pre-season for Droylsden, the following players with Alty connections have been in evidence. Liam Brownhill (who opted for Droylsden ahead of Alty this summer), Matt Berkeley (who started last season at Moss Lane), Karl Munroe and Cavell Coo (right).
BSP NEWS
Money is tight at Northwich as the Northwich Guardian reports that "Vics will have to wait for the economy to pick up before manager Dino Maamria can add to his squad... Vics' owner Jim Rushe told the Guardian the club have had to tighten their belt due to the credit crunch currently hitting the country's economy. 'As a board we are having to be careful because of the current economic environment we are in at the moment. We haven't got as big a fan base as the likes of the relegated teams — Mansfield, Wrexham, Oxford[?] and Cambridge[?] — and we are actively encouraging them to come back'. As a result manager Dino Maamria has had to hold fire as he attempts to sign former Halifax front man Darryn Stamp on a permanent deal... Dino said: 'I'm hoping something will be sorted regarding Darryn Stamp. He was a key player for us last year and he will give us a different dimension to the team'. He added that Michael Byrne's form in training and the matches so far has been enough to secure him a deal but money is the sticking point. 'I do know the board is going around trying to get some funds on board so we can get some more players signed', Dino added.

Meanwhile, Cortez Belle's future at the Marston's Arena looks in doubt after the club sent him a letter asking him his whereabouts. Belle has yet to turn up for any pre-season sessions and Dino confirmed the centre back had been retained by Vics at the end of last season and was still their player. 'When you get a job and you don't turn up, you expect to be punished. It is an internal matter and we've sent him a letter, which he knows about'"

Nevertheless, "Vics made it three wins out of three... A youthful and inexperienced Wigan Athletic side were the visitors to the Marston's Arena last night, Wednesday. A brace from Darryn Stamp along with a strike from trialist Martin Vcadi saw Vics ease past their opponents... VICS (4-4-2): Tynan (Jones h/t), Sutton (Aspin), Bailey, Roberts, Brown, Williams, Flynn (Byrne 59), Byrom, Mullan, Steele (70), Burns (Vcadi 84)".

"Salisbury boss Nick Holmes says he has some difficult decisions to make over new signings following his team's 2-0 friendly win over Swindon on Wednesday. Djoumin Sangare and Jamal Easter, who were amongst a number of trialists to play for the Whites, were on target and Holmes admitted he was impressed. 'I'd take them all because we'd have a very strong squad and a decent chance of making the play-offs', he said. 'Unfortunately, I don't think the money will allow us to do that'. He added to BBC Radio Wiltshire: 'It might mean that I might only be allowed to take one'".

From the Cambridge News we learn that "Elino Jardim hopes he has done enough to earn a deal with Cambridge United after scoring twice in last night's 4-2 win at Soham. U's manager Gary Brabin said he had started talks with the Dutch trialist... The former Holland under-19 international, who was released by Sparta Rotterdam at the end of last season, said: 'I hope we can agree to something... Everybody has helped me out and treated me as their own rather than like a trialist'... Brabin said "'light negotiations' had started with the speedy winger and admitted... 'I've been analysing him in training and he wouldn't still be here if I didn't think he had something'... Brabin ran the rule over several other trialists including former United man Tom Youngs, who played in central midfield before moving up front after Darren Quinton made his comeback from injury... Forward Domaine Rouse, right-back Pat Bexfield and QPR defender Andy Powell are also likely to be given another chance. Meanwhile, United fan Jamie Nightingale came to his side's rescue by going in goal after youth keeper Sam Beagle became stranded in the Czech Republic. Brabin said: 'Beags has been away with the youth team on tour. He should have been back to play, but they missed their flight and I didn't find out until 3pm yesterday. I didn't want to risk Danny Potter because he has played all the games and he did a double session yesterday, so I didn't think it was fair on him. Young Jamie was kind enough to help us out'".

"Forest Green are poised to make a permanent move for Cirencester Town and Hartpury College defender Lee Molyneaux" claims This is Glos. "The 25-year-old has impressed... having featured for Jim Harvey's reserve side last term. A former trainee at Portsmouth, he has played in the Football League with Oxford United and can operate as a full-back or central defender. Harvey still hopes to recruit a specialist right-back in time for the start of the Blue Square Premier on August 9, but he appears ready to take a punt on a player making the step up from Southern League and universities' football".
---
24 July 2008
ALTY SIGN ELAM
Altrincham FC have signed 31 year-old winger/striker Lee Elam who last season played at Exeter City. Lee was recently offered a full-time deal at York City but has opted, instead, to join Altrincham on a part-time basis as he develops a career in coaching youngsters. Bradford-born Lee started his career with Guiseley before moving to Southport in November 1998, then Morecambe (August 2002) and Halifax (May 2003). After a move to Yeovil he had a loan spell at Chester before heading south to join Hornchurch in Essex. Next, a brief spell at Morecambe led to his joining Morecambe in November 2004. He then went to Crawley and Weymouth before joining Exeter. In all, he made 240 starts and 43 sub appearances for the above-mentioned clubs, scoring 40 goals in the process.
ATTACK!
The Sale & Altrincham Messenger reports that "Graham Barrow (right) is confident Alty's attacking options will keep them afloat in the coming campaign. Alty scored just 56 goals throughout the whole of last season but Tuesday's 3-0 win over FC United made it 12 goals in just four preseason games so far. 'Our attacking options are good, we just need to get the other end of the pitch right'. The Robins' assistant boss isn't about to fool himself that preseason results will transfer to league form but he believes the signs are good nonetheless... He said: 'We're a lot brighter and more positive going forward. The most important thing to me is that we do look better than last year, on the ball going forward. We are obviously trying to sort out the back bit and you never know till August 9 but the response from the players in the training that we've done and the games we've played so far has been very good... It's a bit scary looking at what some of the Conference clubs have done in the transfer market. But we've just got to adopt the mentality that it's a great challenge and that we'll take it on and try and achieve something... The attacking options are outstanding as long as we can get the best out of them. When you look at Colin Little's record last year, we've got Joe O'Neill still to come back and Chris Senior banging the goals in, it can only be good'... One of the reasons for Senior's success, however, has been the arrival of Dale Johnson. The former Hyde hitman appears to be the targetman Alty have coveted for so long. Good in the air, adept at holding the ball up, yet with a delicate touch and a surprising turn of pace...

Barrow said: 'For the first time in a while we've got a player who can hold the ball up. He'll be very important to us and that's why we're wrapping him up in cotton wool at times. It's always been a must to have a big targetman in your squad but players like that aren't easy to find and I think Graham's come up trumps this time'... The need for a centre half is still pressing but former Wrexham man Danny Williams impressed while on trial in Tuesday's game and is one of a few options Alty are considering. Barrow confirmed... 'There was promise tonight [v FCUM] with Danny Williams. He's obviously very experienced but we've spoken to a few experienced centre halves and obviously they're still training with League clubs. Now it's coming to crunch time we've got two or three irons in the fire and he's one of them. We have to be encouraged by what he showed because he linked up well with Greg Young and what I know about Danny is that his ability and distribution on the ball is outstanding. In terms of the other trialists, we know what we want. It is simply the defensive end of the field and possibly, just possibly, in midfield but it would have to be the right player'".
CSC CLASH
The Cheshire FA has announced the UniBond Cheshire Senior Cup draw and yet again it produces a clash with a league match - in this case the home game with Mansfield Town on 23rd September which will now, presumably, be postponed.

Round 1:

Monday 22nd September [19:45]
Hyde United v Congleton Town

Tuesday 23rd September [19:45]
Alsager Town v Stalybridge Celtic
Altrincham v Vauxhall Motors
Cammell Laird v Warrington Town
Winsford United v Runcorn Linnets
Woodley Sports v Northwich Victoria

Wednesday 24th September [19:45]
Cheadle Town v Witton Albion

Exempt to Round 2: Nantwich Town (holders)
FCUM GAME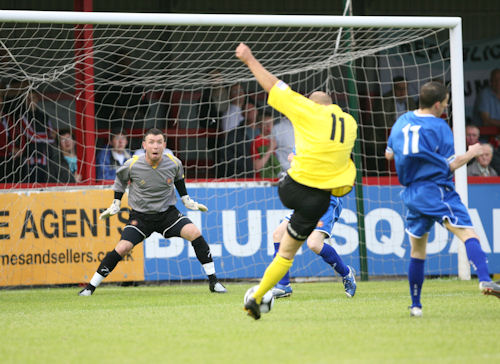 Above: Warren Peyton's strike causes the FCUM keeper some concern - an excellent photo courtesy of Gavin Rathbone, who has more images on his GR Photography website.
SAM reports that "Alty's second United clash in four days ended on a much happier note as they put away FC United of Manchester 3-0. It was just the pick up the Robins needed after Saturday's friendly against Manchester United reserves had ended in acrimony - abandoned after a pitch invasion five minutes from time... A healthy crowd of 831, a friendly - if slightly subdued - atmosphere at Moss Lane and a composed Robins performance to go with two more Chris Senior goals. There was also the reassuring presence of trialist Danny Williams, recently released by Wrexham, at the heart of defence, suggesting Alty may be closing on a solution to their centre half problems.
But the most impressive aspect of the performance was the partnership of Senior and Dale Johnson up front... On this evidence Colin Little may have a fight on his hands for a place up front, something that would have been unthinkable prior to pre-season... It took them just seven minutes to open the scoring and it came as the result of a fluid passing move. Alex Meechan, so disappointing against Manchester United on Saturday, found space on the right and whipped in a dangerous delivery. Warren Peyton's effort was blocked by a defender but Senior, sharp as a dart, pounced to ram the ball home... New keeper Andy Ralph also did his best to replicate James Coates' error against Manchester United, making a complete mess of a backpass only for Nick Robinson's effort to be blocked by the retreating Greg Young. But that was only a blip for the Robins and soon their own Allen, Damien that is, laid the groundwork for them to double their lead... but the icing on the cake came 10 minutes from time when Greg Young's header from a Lawton cross slipped through Ashton's grasp and into the corner of the net".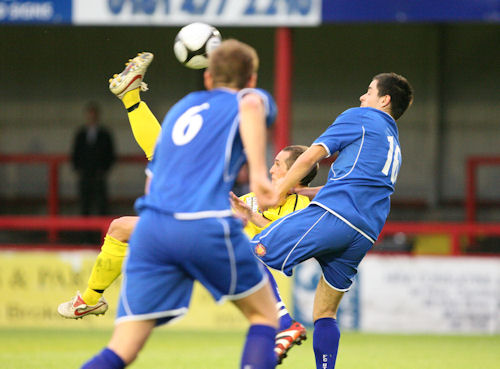 Above: In another photo courtesy of Gavin Rathbone, who has more images on his GR Photography website, we see Chris Senior netting his overhead kick.
For their part, FC United report that the "Robins prove too much for United... as they were beaten 3-0 by Altrincham at Moss Lane... Despite the scoreline it was United who began the better and pushed forward early looking to pressurise the Robins' defence... The United side had a different look to the one which took to the field on Saturday and players took time to find their form, for some of them it was their first appearance of the pre-season campaign. Forward Carlos Roca showed glimpses of his ability; against his former club, with a lovely nutmeg and run but United were never troubling the opposition goal in the first half... After the interval... There was a zip to the play and real tempo to how the ball was being knocked about and for the first 15 minutes it was hard to separate the teams in terms of ability as United more than held their own... As the game wore on the Robins seemed to pull away from United. Whether it was in terms of ability or fitness is a matter of debate but the home team certainly took over in the final 20 minutes".
OLD BOYS
In the Stockport Express we read that "New Mills boss Tony Hancock is not ruling out another promotion-winning campaign for his team next season... after his side - last season's North West Counties second division champions - thumped UniBond League outfit Salford City 4-1 in a pre-season friendly game last weekend thanks to goals from new boys Rhodri Giggs [2], Peter Band and Matty Zajac... Hancock has also snapped up talented left-midfielder Stuart Cook from Welsh side Connah's Quay after successfully securing international clearance". Stuart was a graduate of the Altrincham Youth team.

IC Cheshire reports on a friendly between Vauxhall Motors and Chester in which "Chester doubled their advantage, Kevin Ellison nodding the ball back into the danger area and Stephen Vaughan striking it first-time past Rigby. But a young Motors side refused to roll over... Their first real chance fell to Richard Gresty [former Alty Youth captain] but his effort at the far post was well saved".
BSP NEWS
Alty's opponents on the first day of the season, "Woking, have signed French defender Patrice Mondon-Konan after he impressed during pre-season. The 25-year-old can play either at right-back or in central defence and has agreed a one-year deal. The Ivory Coast-born player began his career with Le Mans before playing in French amateur football" states the BBC which also says that "Burton Albion have completed the signing of Wolves teenager Matt Bailey on a one-month loan deal. Bailey, a regular in the Wolves reserve side, normally plays in midfield but has featured as a left-back during a pre-season trial with the Brewers". This is not the ex-Alty loan player of the same name.

The Woking News and Mail confirms that "Wilfried Domoraud is expected to sign for Woking today, the French striker having scored both goals in The Cards' three friendlies so far and impressing boss Kim Grant. The 19-year-old former Yeovil forward is keen to put pen to paper and barring any last minute hitches is expected to do so at a meeting with Grant this afternoon, after his latest goal in the 6-1 home defeat to Colchester United on Tuesday night. He will join fellow Frenchman Patrice Konan on a one-year contract, the full back enjoying a good game against the Essex side. 'I am on trial so I have to make sure I take my chance', said Domoraud... Giuseppe Sole (thigh), Joel Ledgister (calf) and Matt Pattison (ankle) all missed the match."

As reported yesterday, Alty's home game with Oxford has been put back 24 hours and so too has Rushden v Torquay United as the Devon side are Oxford's opposition the previous Thursday on setanta TV.

The BBC says that "Barrow will give trialist defender Jamie Burns another chance to earn a contract in the home friendly against Workington Reds on Thursday. The former Blackpool and Morecambe player has impressed in his two friendly outings so far this summer".

"Oxford United left-back Alex Jeannin has begun a trial at rivals Mansfield Town. The 30-year-old has a year left on his Kassam Stadium contract but has been put on the transfer list. Jeannin, who ended last season on loan at Kidderminster, figured in Mansfield's friendly at Ilkeston and is set to play against Derby this weekend" says the BBC.

According to Blue Square Football "Weymouth have announced the signing of utility player Stephen Reed following his release by Cambridge United. This comes just a few weeks after Reed had signed an extension to his contract for this coming season. Unfortunately, attitude problems and a falling out with new manager Gary Brabin have put paid to Stephen's Cambridge United career. This move allows him to return closer to his Cornwall roots".

Burton Albion "went down to a 3-1 defeat at home to Nottingham Forest but although his side were on the wrong end of the result, Nigel Clough was still pleased with a tough workout as his side... The Brewers boss took the chance to run the rule over former Hereford United and Forest Green Rovers striker Danny Carey-Bertram who is currently a free agent. Clough confirmed that having seen 75 minutes of the striker he would like another look and said that Carey-Bertram would hopefully feature against Walsall on Saturday afternoon at the Pirelli Stadium. 'We are hopefully going to have a look at a couple of young lads from league clubs, similar to Matt Bailey' added Clough. Bailey has now signed on a month's loan taking him through to August 20th. Clough explained that there was a bizarre FA rule that states a player can only play two trial games, even though they are only friendlies before a formal arrangement has to be entered into".

Meanwhile, Cambridge United report that "Gary Brabin has taken Bury striker Domaine Rouse on trial, and the 18-year-old will be involved in Wednesday's match at Soham Town. 'He's an exciting, fast forward who's quite physical too, and he's coming in for a week to ten days for us to have a look at', Brabin said. Rouse made his first team debut in February 2007 and has since added seven League Two appearances... The diminutive Manchester-born striker is set to make his first outing in U's colours at Soham".

Crawley Town "can confirm that former Arsenal and Bradford City striker Isaiah Rankin has signed for the club".

Reports in the NW Evening Mail say that "Barrow AFC's ground capacity has been increased just ahead of the Conference season... Holker Street will now be able to accommodate 250 more spectators following a decision by the county council development committee. Councillors, meeting in Kendal yesterday, formally approved a new figure of 4,256 — up from the existing 4,006. AFC director Ian Laird, who is responsible for health and safety at the ground, says planned structural alterations could lead to another increase. He adds: 'The increase is a reasonable one and follows a recent inspection of our record-keeping and match-day stewarding. We have a one or two structural alterations planned, such as a stress test on the crash barriers on the popular side, which will hopefully further boost capacity'".

Kent Online says that "Liam Daish has confirmed Ebbsfleet have made a bid for Cambridge City duo Michael Gash and Josh Simpson. Striker Gash has been on trial with the Fleet and scored twice in their emphatic 9-0 pre-season friendly win at Torpoint Athletic last Thursday. The Fleet boss has also moved to bring in midfielder Simpson, who has attracted interest from Cambridge United. Daish faces major competition in his efforts to bring Gash to Stonebridge Road after City accepted an offer from Kettering on Tuesday. Gash, who scored 23 goals in Blue Square South last season, has also had trials with Weymouth and Oxford. Daish explained: '"We have put in an offer for both players and we're waiting to hear whether it has been accepted... (Gash) enjoyed his time with the lads. You can see he has come from part-time football as he needs more fitness. We can turn that around. He has got potential'".

Seemingly reluctant "Kettering Town target Alfie Potter will not be allowed to leave Peterborough United until their injury problems clear up. The teenage winger was due to join up with the Poppies this weekend to start a season-long loan at Rockingham Road" states The Northants Evening Telegraph. "But Posh director of football Barry Fry said: 'The deal is in place. But the manager and Alfie don't want the move to go ahead while Sergio Torres and Russell Martin are injured. It would be a good standard of football for Alfie, but he doesn't want to go while he is in our first-team squad'".
---
23 July 2008
FIXTURE CHANGE
The home BSP match against Oxford United has been moved back 24 hours to 3pm on Sunday, 12th October. This is because Oxford have a live Setanta TV game the preceding Thursday night.
THREE TRIALISTS GO
Altrincham FC have released three of their pre-season trialists, defenders Natt Kerr and Ben McHugh, along with winger Luke Horrocks.
ALTRINCHAM 3 FC UNITED OF MANCHESTER 0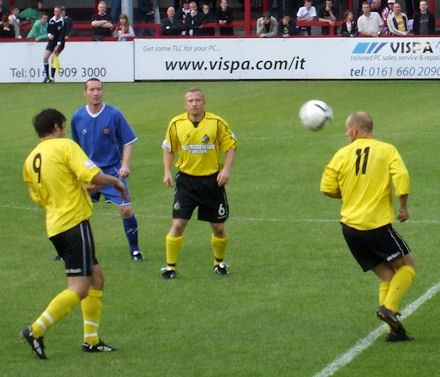 Altrincham FC did enough against newly promoted UniBond Premier side FC United of Manchester to run out 3-0 winners. Fielding two debutants in goalkeeper Andy Ralph (ex-Vauxhall Motors and Northwich) and centre-back Danny Williams (ex-Wrexham), Altrincham's win came courtesy of two more goals from Chris Senior, who has now netted eight times already this pre-season, and a header from Greg Young. Senior opened the scoring after six minutes at the end of a good build-up, the striker netting after Warren Peyton's initial effort had been blocked. FC United enjoyed plenty of possession in the middle of the game but after Senior scored with a smart overhead kick from Lane's cross after 65 minutes, Alty upped their game and netted a third with 10 minutes remaining, as Young smartly headed home Lawton's cross from the right. Williams (29) looked a particularly useful prospect to fill the vacant central defensive berth, the former Welsh under-21 having plenty of League Two experience with Wrexham and Kidderminster. After Saturday's debacle, there was not a hint of any crowd trouble at the game tonight with the visiting fans giving their side good vocal support throughout.

Match report here.

Left: Dale Johnson, Kevin Street and Warren Peyton in action against FCUM.

ALTRINCHAM (Yellow shirts and socks, black shorts): 1. Andy RALPH, 2. Chris LANE, 4. Danny WILLIAMS, 5. Greg YOUNG, 3. Matt DOUGHTY; 7. Alex MEECHAN, 8. Robbie LAWTON, 6. Kevin STREET, 11. Warren PEYTON; 9. Dale JOHNSON, 10. Chris SENIOR. Subs: 12. Richard BATTERSBY, 13. James COATES, 14. Alex MORRIS, 15. Damien ALLEN, 16. Tom BAILEY, 17. Charlie WEIR.

FC UNITED (All blue): 1. Sam ASHTON, 2. Dale WHITEHEAD, 4. Dave NEVILLE, 5. Dave CHADWICK, 3. Bradley HOWARD; 7. Adam CARDEN, 6. Michael BURNS, 8. Simon CARDEN, 11. Carlos ROCA; 9. Nick ROBINSON,10. Dave ROBERTS. Subs: 18. Chris BAGULEY, 14. Jamie BAGULEY, Shaun ROSCOE, Kyle HARROP, Danny ALLEN, James BRACKENRIDGE, Rob HOWARTH.
OLD BOY
"Tony Hesketh, manager of Chorley, has... made midfielder Mark Drew available for transfer in a shock move following a telephone call from the 24-year-old saying he had joined UniBond Premier side Witton. Hesketh said: 'As he is a contracted player with Chorley, we hold his registration and if he moves we would expect a fee for him. I am disappointed in Mark, but if he doesn't want to play for us, then he's not part of my plans'" he told the Chorley Citizen. Drew is a former Alty Youth and Reserves player.
BUILDING ON FIRM FOUNDATIONS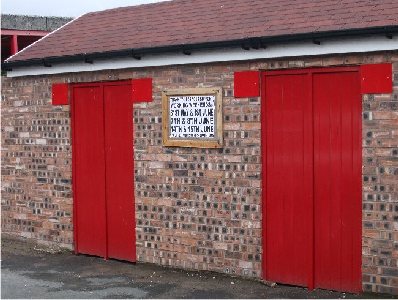 Tuesday's Manchester Evening News does Alty proud with almost a full page of coverage, comprising interviews with chairman Geoff Goodwin and midfielder Warren Peyton.

Geoff tells the MEN that at Altrincham FC "I run it like I'd run a business. If you fail in business, you go bankrupt and I think every club should be run like that. I don't want to sign Ronaldinho. I've had millionaires offering to buy players for this club but I won't let them because I think it's wrong. If we buy a player and give him a wage that is only sustainable because someone has given us the money, what happens when he stops [giving money]? Fans say they want a millionaire taking over. We are in Hale, where there are more millionaires than anywhere in the country. I'm from Wythenshawe and I care more about this club than they do. I understand the fans and sometimes they have a go at me. But when you've come from the UniBond and achieved what we have, and you can't give the manager money, reality has to step in."

Meanwhile Warren is interviewed about his work on building the new turnstile block on Golf Road (pictured right). "'With many things here at Altrincham they try to keep people involved', he said. 'They knew I was a bricklayer and there was opportunity for a bit of work to be done and I was more than happy to do that... Altrincham do things in their own way, which is the right way. They try not to throw money here, there and everywhere. They try to do it the right way and that was in keeping with it. The club has a community spirit and I think the lads appreciate that... I know it [the building work] won't be enough to guarantee my place in the team. At least I've kept hold of my number eleven shirt for next season though! When we've gone into previous seasons we've strengthened the squad and hoped to be successful. And we always come in with the best of intentions and don't think we are going to struggle. We will give it our best shot and I would like to think that we will be nowhere near the bottom this season'".
BSP NEWS
NL Daily says that "Lewes have continued to strengthen their squad for the coming season with another new signing. The Rooks have signed experienced 27-year-old midfielder Michael Standing. Standing started out at Brighton before joining Aston Villa. He later joined Bradford City and then Walsall before having short spells at both Chesterfield and AFC Bournemouth before joining Oxford United in the summer of 2007, switching to Grays last November. Lewes boss Kevin Keehan said: 'We are shaping up well for the start of the season. This season will be very hard but an exciting one for me and Lewes FC. I have maybe one or two more signings before the start of the season, but we are beginning to make good progress'.

From the Northants Evening Telegraph we learn that "Alfie Potter is set to finally link up with Kettering Town's squad at the end of this week. The 19-year-old winger has already agreed a season-long loan spell from Peterborough United... Poppies' boss Mark Cooper said: 'Hopefully he will come in before the weekend and play for us against Leicester City. He has got a bit of pace and he works his socks off. He is exactly what we need. That will also give us options on the right wing along with Jon Brady and Jean-Paul Marna. Hopefully we've got one or two more players still to come in because it is a relatively small squad here. We also need a target man and a back-up goalkeeper. But we might have to lose a couple along the way to bring in more quality'... Kettering will take another look at striker Chris Hanna who has scored against St Neots Town and FC United of Manchester since arriving on trial from Walsall. The Poppies are also likely to field another goalkeeper after handing a chance to Ben Webster last weekend. Worcester – managed by Cooper's former Tamworth assistant Richard Dryden – have made a series of signings... They include defenders Jon Richardson from Exeter City and Ollie Barnes, previously at Salisbury City.

Cooper added: 'We are trying to get these pre-season games tougher as we go along. Worcester will be a really tough test for us'. This summer's first signing Dwane Lee remains sidelined with an ankle problem".

The Woking News & Mail says that The Cards "will be without Giuseppe Sole (thigh), Joel Ledgister (hamstring) and Matt Pattison (ankle) as they take on what promises to be a full-strength Colchester United at Kingfield tonight (Tuesday)... Trialists Kunle and Wilfried Domoraud will play, as will Patrice Konan, the Frenchman having signed a one-year deal on Monday".
---
22 July 2008
PRE-MATCH NEWS
NL Daily reports that our opponents tonight, "FC United of Manchester have announced the signing of Tunji Moses, the son of former Manchester United midfielder Remi Moses, after he parted with old club Salford City. Moses is an all-action midfielder in the same mould as his famous father and FC United manager Karl Marginson is expecting big things from him next season. Unfortunately, fans may have to wait until December to see their new man in action after he serves a suspension and recovers from an ankle injury... He added: 'Remi was a great player and I loved watching him. I went to the same primary school in Ancoats and he was a local hero. I knew his cousins when we were growing up so I've known the family a long time. I really hope Remi comes along to a game because it's great to keep the links with United's past alive at FC'" reports the FCUM Files
OLD BOYS
From This is Staffs we read that "Four Stoke City players have been allowed to go out on loan... [Amongst them,] defenders Ritchie De Laet and Ryan Shotton will both link up with League Two Bournemouth. Their first game for Kevin Bond's side could be against FA Cup winners Portsmouth on Monday".
"Danny Johnson, manager of Ashton United, has confirmed the signings of defenders Stephen Rose, Craig Robinson and Alex Frost. Rose (right) and Robinson have both plied their trade in the Blue Square North and National over the past couple of years and Frost [a former Alty Youth and reserve] has been playing for Team Bath whilst studying at University. All three will bring some strength and experience to the Robins squad.... Danny said, 'I initially spoke with Stephen Rose back in May ... he was one of my main summer targets. He has done the majority of pre-season training with us and he is really looking forward to pulling on an Ashton United shirt. Rosey left Altrincham midway through last season due to various reasons but has played around 150 games for them over the past four years. Having spent a few months out of the game he has one or two minor niggles following a few tough pre-season training sessions but he is working closely with our physio and should be fit and ready to compete for a starting spot come the 16th August. Rosey won't thank me for saying this but I can't believe he is only 27 years of age and with that still has many years left in him at this level. He has expressed his desire to play in the centre of our defence. However, I have outlined to him that I plan to do things slightly different this season, especially away from home and I have a specific role that I would like him to play. He can operate at either full back and in the centre of midfield so has loads to offer but more than anything else he is looking forward to a fresh start and a new challenge. Alex Frost has come very highly recommended and, after speaking to a few people about him and seeing him perform in a few training games, I have decided to offer him a deal that he has accepted. The first time we saw him train, Danny Jones and I said to each other that he could well be the find of pre-season and after four or five sessions I still have that same opinion. Frosty is comfortable at either right back or centre half, has a great engine and excellent ability on the ball. He is a fantastic lad as well and has fitted into our changing room very nicely. I am really looking forward to working with all three of the new lads'".
UNITED GAME
There is now a brief report and team sheet from the Altrincham versus Manchester United XI match last Saturday, to be found here. I am grateful to Brian Flynn, George Heslop and Gavin Rathbone for their help in putting this together.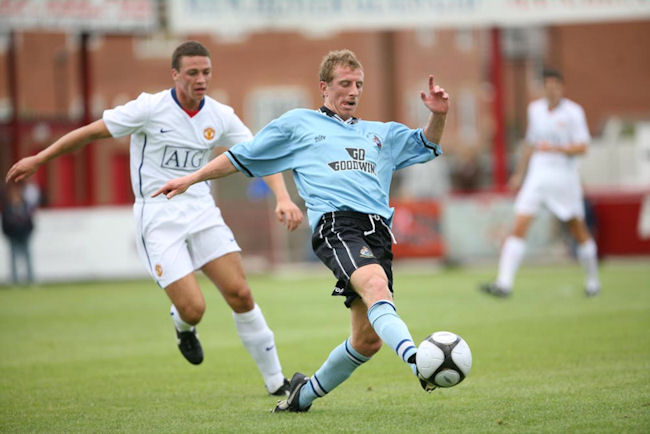 Above: Courtesy of Gavin Rathbone, is Alex Meechan, who was one of two debutants against United on Saturday.
The Sale and Altrincham Messenger confirms that "Despite the incident [at Saturday's match against Man. Utd], Tuesday's friendly against FC United of Manchester will go ahead as scheduled. In the aftermath of Saturday's game, the board had originally considered calling off the friendly to avoid the potential for any further crowd trouble. The Unibond Premier side are expected to bring a large following with them to Moss Lane and there was crowd trouble in the previous meeting between the two teams when fighting broke out on the terraces. A statement released by the club's board said: 'Altrincham and FC United of Manchester will be working together to ensure that the security measures in place for this game provide a safe environment for supporters of each club'. If anyone has photographs or video footage from the events at Saturday's game email us or contact the newsdesk on 0161 908 3380".
AUCTION ENDS
Altrincham FC vice-chairman Grahame Rowley reports that "The winning bids in the online auction were:-
Carlos Tévez Boot £95
Chelsea Shirt £125
Altrincham FC DVDs £101
Pelé Shirt £160
England Shirt £140
Carlos Tévez Shirt £110

Many thanks to everyone who took part in the auction and congratulations to the winners".
BSP NEWS
Rushden & Diamonds FC "have signed defensive players Sagi Burton and Gareth Jelleyman until the end of the 2008-09 season, subject to medicals... Both players have impressed during the Rushden & Diamonds' pre-season training camp in Portugal, including games against local side Portimonense SC and Coca-Cola Championship side Bristol City... Additionally the club has released two players, Lawrence Lambley and Ben Nunn".

The Burton Mail says that "Burton Albion manager Nigel Clough is looking to add at least two more names to his squad, with a replacement for departed top scorer Daryl Clare and a defender at the top of his priority list. The players the Brewers' boss would like to recruit are currently training with Football League clubs... Clough told Mail Sport: 'We are fast approaching the stage of the summer when clubs will be making decisions about people they have taken on trial. We are particularly interested in two players who fall in that category and there is a strong possibility they will know their fate in the next few days'. With his squad still not up to strength, Clough temporarily filled one of the gaps by agreeing a deal with Wolves to borrow 19-year-old utility player Matt Bailey. But he will not be offering terms to former Billericay striker Dean Perry, who had a trial outing in Friday's 1-0 win at Solihull Moors. Bailey has impressed in both midfield and at full back in two appearances with the Brewers. Wolves have agreed he can stay with Albion for the remainder of their pre-season games... Clough said: 'His versatility makes him a very useful player to have around and, as things stand, it is more than likely we will take up Wolves' offer of us taking him on loan for the first month of the season'".

As supporters come to terms with increased fuel prices, The Chad reports that "The Stags Supporters Association (SSA) will be organising travel to every Mansfield Town away match this season. The supporters' coaches will be backed by new sponsors CCM Print Management... For the first match of the season at Ebbsfleet on Saturday 9th August and [the] "amber2 fare to Ebbsfleet will be just £15. The service is for SSA 08-09 members only... SSA membership is open to all Stags fans and the SSA would like to encourage as many fans as possible to join as Amber members. SSA membership prices have been frozen at just £4 per month for amber members and £10 for the season to enrol as a blue member, with junior and family membership also available.

The SAA said in a statement: 'Amber members of the SSA will not pay any more than £18 travel fare anywhere in the country, despite the long hauls this season, and blue members will pay no more than £20 maximum fare. The SSA are delighted that the new owners of the club are openly engaging with all fans".

According to This is Weymouth "Weymouth manager John Hollins was disappointed with how poor his side were in possession on Saturday. The Terras' boss expected a lot more from his men even though they were without Anton Robinson, Stuart Beavon and Pierre Joseph-Dubious [I think they mean Dubois!] who were all rested. Hollins said: 'Games like this are always good for fitness but our passing was atrocious today, both short and long... We played a couple of trialists and we had to figure out the best system to put them in. We let it go for a while and then slightly changed it. We could not change it too much because that can sometimes become confusing. So we waited until half- time and swapped a few more things around then, and at the start of the second half we began to look more like our old selves but for some reason we still could not pass it... When you look at the way we played against Bristol Rovers and today, it was hard to believe it was the same side. The nucleus of the team was certainly the same even if we did have three missing... Chris McPhee made his debut for the Terras coming on as a first half substitute. Hollins added: 'Chris has been on honeymoon and had a bit of a break'... As for trialists Anthony Mason and Andy Taylor, Hollins said: "Andy tried hard. He tried to come short and go long but he got very little service and because of that I would like to see him again... We also had Nicholas Nicholai on the bench but he did not get on and I would like to take a look at him. As for Shaun Lillington, one of our other substitutes, he is a young boy from our college academy team'".
---
21 July 2008
VIOLENCE ELSEWHERE
The Altrincham v Man Utd game on Saturday was not the only one blighted this week by violence as the Salisbury Journal reports that "Eleven men have been arrested after violence broke out before Tuesday evening's first "friendly" match of the season between Southampton and Salisbury City football clubs. Up to 30 Saints and City fans clashed at South Western Road near Salisbury Railway Station just after 6pm. Police were called in and arrested 10 men at the scene, while another was later arrested at the Raymond McEnhill Stadium, where the match kicked off at 7.45pm. David McMullin, Salisbury sector commander for Wiltshire Police, said: 'This was an unusual incident, especially as it was a friendly match. We responded promptly and effectively and the match went off without any problems'. There was no violence at the match itself, which Southampton won 3-0".

Likewise, the Burton Mail tells us that "Police have slammed 'a minority of Derby County supporters' who blighted Tuesday's friendly match at Burton Albion's Pirelli Stadium. Riot police and a police helicopter had to be used as a group of 80 to 100 youths fought among themselves outside the ground. Police stressed that no Brewers fans were involved in the trouble. It was confirmed that three youths, one 16-year-old and two 15-year-olds, were arrested as a result of the fracas. Chief Inspector Phil Fortune told the Mail: 'The game is usually an excellent curtain-raiser for the new season and we are hugely disappointed that a few mindless idiots have gone to cause trouble'.
OLD BOYS
Another ex-Altrincham FC name to add to the list of players in the Trafford FC team playing against Altrincham last week was former Youth-team striker Andy Thorpe. Andy played for Trafford at right-back, a change of role which, combined with the absence of a pre-match announcement of the teams, and the gap of a few years since he played for Alty, helped to account for our failing to note his involvement at the time. The Trafford FC website also confirms three other ex-Alty players on the bench that night were Leon Grandison, Sean Smith and Dion Depeiaza.
BSP NEWS
"Colin Walker, manager of York City, is considering offering trialist Lee Elam a contract" reports NL Daily. "31 year-old Elam (pictured), who was released by Exeter City last season, has spent two weeks training with the Minstermen... Walker said: 'We can't offer him anything this early but he knows the situation and I've been very honest with him. He's been training with us and likes what we do and the way we try to play. His preferred club would be York City and hopefully we can get together and make that happen'".

The unofficial Cambridge United site says that "The Cambridge United board have excelled themselves yet again. Despite repeated claims they were going to communicate with fans and tell us the truth, they walk into yet another PR disaster - this time over the Dave Kitson transfer sell-on fee... For two weeks, the name of 'Dave Kitson' and 'transfer target' has been bandied around the newspapers, internet news sites and football television shows as the race for his signature heated up. It was common knowledge to every U's fan that we were entitled to a sell-on fee of 20%, and the figures of £4,000,000 plus had every member of the Amber Nation rubbing their hands with glee. But what our delightful Board of Directors decided to do, is 'sell' the sell-on fee back to Reading for £350,000.... £450,000 less than what we'd have earned had they sat back and waited for the transfer to happen.

Earlier this week, Reading approached the Cambridge United board, who must now be known in football circles as the most amateurish board of directors in football, with an offer to 'buy' the 20% sell-on fee. They offered a sum of £350,000, which the U's directors eventually accepted, only for days later to find Kitson had been sold for £5,500,000. Had they not accepted that offer, we would now be sitting on a total of £800,000*, a sum of money that could have set the club up for years to come. It could have been used to launch a bid to buy back the Abbey Stadium, it could have been used to strengthen the footballing side, pay for works on the stadium, spend money on off-field issues and much, much more.

The inexperience and naivety of the Cambridge United board have been shown up for what they are - clueless. One wonders how long it took for Reading FC to have stopped hilariously laughing after the offer was accepted. I would like to take out Norman Gautrey's name from my feelings on the directors, as I understand he was the only one against 'selling' the sell-on fee, and was reported to have almost considered his position at Cambridge United FC. One of the most disturbing factors of this deal is Chairman Phil Law asking his Histon counterpart Gareth Baldwin for advice on the matter. That is like Alex Ferguson ringing Arsene Wenger and Phil Scolari to ask whether he should sell Cristiano Ronaldo to Real Madrid....!

This is yet another PR disaster on the toes of the Cambridge board of directors, as they kept this deal from supporters before Reading's official website heartily announced 'Cambridge will not receive a sell-on fee from Dave Kitson's transfer to Stoke' - quite a sneaky move from Reading, not disclosing the full facts, causing U's fans into a panic on Friday afternoon... This follows on from the PR shambles of selling the naming rights of the Abbey Stadium, refusing to disclose the fee, until the fans' fury and pressure made them tell all... Whilst the sum we have received (£350,000) is a life-saving amount of money, the fact it could have been over double leaves a very bitter taste in the mouth of Cambridge United fans, who are becoming sick to the back teeth of the incompetence of our board of directors. On another note, the home shirt sponsors 'Haart' have seemingly being pushed aside, with all signs of their supposed two year sponsorship disappearing after just one season, yet not a murmur of explanation from the board on this".

The BBC says that "Former Mansfield and Leyton Orient winger Wayne Corden has been given a trial by Oxford United. The 32-year-old is out of contract and United have decided to look at him after losing Phil Trainer to injury. Manager Darren Patterson told BBC Oxford: 'He's an experienced pro who can play wide left or right'".

Mansfield Town report that they made use of the following trialists las Saturday:
Gary Silk: Right back Portsmouth, Barnet, (loan) Wycombe, (loan) Boston (loan), Notts County
Alan O'Hare: Centre-half, Left back Bolton, Chesterfield
Paul Hurst: Left back Rotherham, Burton (loan)
Gavin Hurren: Midfield Kidderminster, Bromsgrove (loan)
Rob Duffy: Striker Rushden & Diamonds, Cambridge, Oxford, Wrexham (loan)
Mark McGregor: Central defender Wrexham, Burnley, Blackpool, Port Vale
Matt Somner: Central midfielder/defender Brentford, Cambridge Utd, Bristol Rovers, Aldershot, Notts County
Paddy Gamball: Goalkeeper Nottingham Forest, York (loan), Stalybridge (loan)
Tom Shaw: Central midfielder Rushden & Diamonds, Nuneaton
Jason Lee: Striker Charlton, Stockport (loan), Lincoln, Southend, Nottingham Forest, Grimsby (loan), Watford, Chesterfield, Peterborough (loan, Falkirk, Boston United, Northampton, Notts County"

On a happier note, Farsley Today reports that "Farsley Celtic fans can have no doubt about the pedigree of new signing Andy Campbell... The powerful striker arrives in Farsley with a wealth of experience behind him".

20 July 2008
CLUB STATEMENT
Altrincham FC have issued the following statement: The Board of Altrincham Football Club wish to condemn the behaviour of the section of visiting supporters at Saturday's pre-season fixture against a Manchester United XI. We have hosted friendly matches against Manchester United on numerous occasions over many decades and there has not been a single unsavoury incident. The events at Moss Lane on Saturday afternoon took everyone by surprise and we would like to thank our stewards for the calm way in which they handled a very difficult situation.

The behaviour of these individuals was an embarrassment to both clubs and the vast majority in attendance and whilst no arrests were made, we have done everything that we can to support the Police in providing film and photographic evidence of the scenes that ultimately led to the abandonment of the game.

We have been in discussion today with representatives of our next opponents F.C. United of Manchester and can confirm that, subject to gaining Police consent, we will be going ahead with the game, which will kick off at 7.45pm. Altrincham and F.C. United of Manchester will be working together to ensure that the security measures in place for this game provide a safe environment for supporters of each club.
MATCH ABANDONED
Courtesy of Brian Flynn, here is a report on Saturday's friendly match at Moss Lane between Altrincham and a Manchester United XI.

There was unwanted drama at Moss Lane on Saturday as this pre-season friendly fixture was abandoned after 86 minutes following a pitch invasion by visiting supporters. Trouble had been brewing all afternoon following the looting of the Thresher off-Licence opposite the ground and at least one supporter gaining entrance to the stadium illegally. Although matters seemed to calm down as the match got underway, there was an increasing air of tension during the second half as Manchester United supporters congregated at the Golf Road End and created an intimidating atmosphere by constantly banging against the metal structure that constitutes the back of the stand.A couple of smoke bombs were thrown onto the pitch and six minutes after the impressive Rodrigo Possebon had scored Manchester United's third goal, the fans invaded the pitch, leaving referee Mr.Taylor with no real alternative than to call the match off with the safety of both players & supporters in potential jeopardy. The Police were originally called to the ground around 3.30pm and deemed "spirits to be OK" on attending during the half time interval. A second visit by the Police shortly before the pitch invasion, led to reinforcements being called, however the game had been abandoned by the time they arrived.No arrests were made.

In terms of the game itself, Manchester United's young charges, under the tutelage of Ole Gunnar Solskjaer, ran out very comfortable winners against a below par Robins side. Federico Macheda pounced on an embarassing error by Alty keeper James Coates to give United the lead after 21 minutes. Coates stood on the ball after receiving a suspect backpass from Chris Lane & the 16 year old striker,signed from Lazio,gratefully accepted the gift. Macheda neatly converted Tom Cleverley's left wing cross in the 35th minute to score his and the visitors second. The second half was a bit of a non event with most people's attention sadly focused on events on the terraces and many may well have missed Possebon's wonderful 80th minute long range strike which sailed over Coates before dipping visciously.......it was a goal that was at odds with the unedifying events of this particular afternoon.
MORE ON UNITED GAME
The NL Paper has a report on the abandoned friendly at Moss Lane last Saturday. It says, "Altrincham defender Greg Young was pushed to the ground by some of more than 50 out of control supporters who invaded the pitch at Moss Lane. Young was not badly hurt but was said to be 'rattled' by the incident. Young and other Alty players were attacked by supporters as the 'friendly' had to be abandoned, four minutes from time - and police were called to the pitch. Robins' vice-chairman Grahame Rowley slammed the troublemakers for ruining the day for local supporters. 'We, as a club, feel embarrassment for both parties involved and disappointment that a minority of unruly fans, who were clearly intoxicated, have ruined this perennial pre-season friendly' he said. 'Altrincham have been playing United for 30 or 40 years and we have have never had any kind of trouble before. All game they had been getting continually worse until they finally stormed onto the pitch'... The Altrincahm Board will meet today to consider what to do about Tuesday's scheduled friendly against FC United of Manchester amid speculation that some of the troublemakers might return" for that game.
The The Sale & Altrincham Messenger says that "Altrincham FC's high profile friendly against Manchester United was abandoned after a Robins' player was attacked by drunken fans. Greg Young (right) was physically confronted by a United supporter during a mass pitch invasion five minutes before the end of the game... Before kick off a female employee of the club had been attacked by a visiting supporter who had attempted to gain entry to the ground without paying. Then, at half time, rowdy fans caused damage to the Moss Lane bar, climbing on tables and throwing bottles and glasses through the air. An unconfirmed amount of alcohol was also stolen from an off-licence on Moss Lane opposite the ground. As yet, no arrests have been made.
Now Altrincham vice chairman Grahame Rowley believes the club have to seriously consider whether to call off Tuesday's friendly with FC United, a club set up by breakaway Manchester United supporters. The Unibond Premier side are expected to bring a large following with them to Moss Lane and there was crowd trouble in the previous meeting between the two teams when fighting broke out on the terraces. 'I have never been so embarrassed in my life', said Rowley. 'This was a sponsors' open day for us but who would want to sponsor the club after seeing scenes like this? I know I wouldn't. I think we need to sit down now and decide whether to go ahead with Tuesday night's game. We're not sure at the moment'.
Although trouble began before the game, incidents escalated during the second half when visiting supporters in the Golf Road End began to climb on safety barriers and let off smoke bombs. Then, five minutes before the end, a large group of fans made their way onto the pitch, one of them confronting Young before shoving the defender in his chest. Some of Young's Altrincham teammates quickly came to his aid before the troublemakers dispersed after the arrival of police.
A Greater Manchester Police spokesman added: 'We were informed at 3.45pm of a small number of drunken fans who had attended a friendly football game. Officers did attend and at that point spirits were deemed OK. But a pitch invasion occured, stewards couldn't deal with it and police support was called for. By the time police arrived at the scene, the fans had dispersed into the streets of Altrincham. No arrests were made'".
The unofficial Manchester United reserves' website has a very fair report of saturday's game. "Events off the field may have somewhat overshadowed those on it, but for 84 minutes at Moss Lane there was a very good United performance and a very watchable encounter to enjoy for those in the crowd who actually came to take in a football match. A first-half brace from Federico Macheda and another stunning long-range strike from Rodrigo Possebon had established a 3-0 lead for the Reds before the game was brought to a premature close with five minutes remaining after a group of spectators purporting to be United fans stormed the pitch and got involved in confrontations with Altrincham players, forcing the referee to abandon the contest... Ole Solskjaer had made three changes to the side that won at Burscough last week, with Gary Woods and Sam Hewson returning from first-team duty in place of Conor Devlin and Febian Brandy, and Jimmy Derbyshire replacing the injured Richard Eckersley... It was Altrincham who looked the more dangerous as the halfway point of the first half approached... Against the run of play and with a huge slice of luck, United proceeded to take the lead a minute later.... An Alty defender turned the ball back to 'keeper James Coates. With plenty of time to deal with the backpass, the hapless stopper only managed to tread on the ball, leaving United's #9 with the simple task of rolling the ball into the empty net. Credit to Altrincham - heads didn't drop".
United's third goal "appeared to be the cue for the moronic element in the stands to go looking for trouble... 20/25 lads clambered over the safety barriers and onto the field... With several idiots soon embroiled in confrontations with players from the home team, the referee had little option but to call a halt to proceedings... A sad end to what should have been an enjoyable afternoon". 18 July 2008
TRAFFORD 0 ALTRINCHAM 4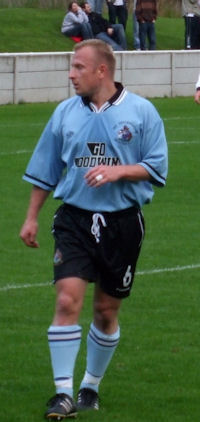 A match report of last night's win at Shawe View is here.

Pictured right is midfielder Kevin Street who had an impressive debut in midfield for Alty last night.
UPDATES
The next website update will be on Sunday, 20th July.
NEW FACE
Alty gave a debut last night to trialist Damien Allen, a Cheadle-born midfielder (dob 1 August 1986) who despite his young age has plenty of first-team experience. After starting out with Manchester United he went to Stockport County where, between 2003/04 and 2006/07 he clocked up 28(+22) league appearances. After a spell of 15 games with Royal Antwerp in Belgium he was at Morecambe last season where he played 20 games. He came on for Alty at Trafford initially at right-back before moving into midfield.
YANKEE REWARDS SCHEME
Ian Rosendaal of Ideas4alty writes:

"Would you like to help Altrincham F.C. earn more cash and earn some great rewards in the process? The new Saturday Yankee Rewards scheme is aimed at bringing much-needed extra income into the club whilst rewarding our loyal fans at the same time! How is this possible?

THE BIG IDEA

The Altrincham F.C. Saturday Yankee Lottery is a long-established and crucial form of income for the club. Details are here for those of you who are unfamiliar with the format, but it is very simple to join and can win people a lot of money. Despite a healthy membership there is always room for improvement and this is where we, the supporters, can make a huge difference. A lot of Alty fans still don't play the Yankee but even more of our friends and relatives are either not aware that it exists or simply haven't got round to joining yet. A great incentive has now been introduced to try and change this trend:

Supporters who sign up a certain number of new members will earn "rewards" as follows:
10 new members:- 1 free ticket to any home league match of their choice; or, £15 voucher redeemable against any Altrincham F.C. merchandise in the club shop.
25 new members:- 2 x tickets to any league match including a pre-match meal in the sponsors' lounge and complimentary drinks; or, £40 voucher redeemable against any Altrincham F.C. merchandise in the club shop.

Word of mouth is a simple yet powerful tool and for a minimal amount of effort you could really make a huge difference to the club. How many other clubs reward their fans like this? Finding 10 people is really not as hard as it might seem, and as a lot of us aren't members ourselves, that's already one less person you need to find! Start today and you could soon be sharing in the success of a brilliant new scheme which really embodies the community spirit which Altrincham F.C. is all about.

Please note there are one or two small conditions which will apply:
"New members" must stay in the Yankee for a minimum of three months before the reward can be claimed.
"New members" who have been in the Yankee within the last 12 months do not count towards the incentive.
All new members must pay by direct debit.
Just to give this idea some perspective, even if only 5 people get involved in the scheme and between them they bring in 50 new Yankee members that could bring as much as £2,600 extra a year into the club. This is a fantastic opportunity for quite literally everyone involved with the club to make a huge difference with minimal effort.
Interested?
If you are ready to start earning rewards simply fill in the form, including the names and details of all your new members and hand it in at the club. Alternatively you can post them to:
Saturday Yankee Rewards, Altrincham Football Club, Moss Lane, Altrincham, Cheshire, WA15 8AP
If you have any questions regarding the scheme please feel free to contact me at ideas4alty@hotmail.co.uk
Thank you for your support and good luck!"
ALTY OMITTED AGAIN
Once again Altrincham are not included in Setanta's latest list of televised games as reported by Blue Square Football. "Setanta have announced further live fixtures for the 2008/2009 campaign...in Sept and Oct.
Tues 2nd Sept 7.45pm York City v Mansfield Town
Thurs 4th Sept 7.45pm Kidderminster Harriers v Torquay United
Thurs 11th Sept 7.45pm Lewes v Rushden & Diamonds
Tues 23rd Sept 7.45pm Oxford United v Cambridge United
Thurs 25th Sept 7.45pm Grays Athletic v Stevenage Borough
Tues 7th Oct 7.45pm Stevenage Borough v Mansfield Town
Thurs 9th Oct 7.45pm Torquay United v Oxford United
Sun 12th Oct 1.30pm Eastbourne Borough v Stevenage Borough
Mon 13th Oct 7.45pm Burton Albion v Mansfield Town
Thurs 16th Oct 7.45pm Forest Green Rovers v Cambridge United "
OLD BOYS
IC Cheshire confirms that "Vauxhall Motors boss Carl Macauley is slowly rebuilding his squad... Manager Carl Macauley has secured the signatures of Rivacre Park favourite Thomas Rooney, who left for Cammell Laird last season, and former Altrincham striker Pat McFadden... Motors' 2008-09 squad will feature former Tranmere Rovers midfielder Ged Brannan... and he will be joined by Jordan Holmes, Matt [i.e. Mark] Maddox and Lee Owens".

Also, the Northwich Guardian reports that "Nigel Deeley hopes to sign trialist Kieran Lugsden. The former Altrincham forward limped off part way through Albion's friendly win at Alsager but he was already in the Witton boss' thoughts. 'We've put a deal to him', said Deeley. 'We're just waiting for him to say what he wants to do as I know one or two other clubs are interested in him. It was everybody's worst nightmare to see someone injured in our first game but thankfully he should be fine after a getting some treatment this week'. Lugsden, 22, finished last season on loan to Glossop from Buxton. He started the campaign at Leigh RMI before switching to Silverlands in March".
BSP NEWS
NL Daily says that "Eastwood Town have pulled off a major signing... Mansfield Town striker Ian Holmes put pen-to-paper... The Badgers beat off stiff competition from both League and Conference clubs to sign the striker on a one-year contract... Holmes spent the latter part of last season at AFC Telford United after declining offers from Altrincham, Gainsborough Trinity and Alfreton Town. He was released by the Stags at the end of the season".

The Halifax Courier tells us that "FC Halifax Town's team for the new season will have a formidable spine following the signing of Craig Mawson. That was the view of boss Jim Vince after announcing that the 29-year-old keeper would be staying at the Shay. Mawson, who vied for the number one spot in Chris Wilder's Blue Square Premier side with Adam Legzdins last season, has signed a one-year deal... 'It is fantastic news for us',said Vince. 'He has stayed out of loyalty to the club and I think there is a bit of a feeling of unfinished business... We will have Craig Mawson, Tony Barass, Steve Payne, Ross Clegg and Neil Ross right down the spine of the team. That is very strong, and there will be more acquisitions in the next couple of weeks'. With the spine of the side complemented by the likes of Tony Lennon, Dorryl Proffitt and Adam Morning, Vince is building a strong squad... 'David Bosomworth and the rest of the board have supported me fantastically', said Vince. 'They have given me everything I have asked for, but there is no bottomless pit of money. The budget is competitive, and gives us a good chance of progression, but it has to be managed properly'".

From the Burton Mail we learn that "Albion manager Nigel Clough saw his side go down 2-0 to a strong Derby County side at the Pirelli Stadium... Clough, who used the match to give trialists Dave McDermott and Matt Bailey starts, was pleased with the way his side responded... He said: 'Matt Bailey did well and I thought he was better at left-back in the second half. I'll have a chat with him and a chat with Wolves and hopefully we'll have the option of taking him on loan which we may well do. Lee Morris is coming on very well".

According to the Crawley Observer, "Steve Evans is in talks with Crystal Palace boss Neil Warnock about signing a couple of loan players at Crawley Town. Both players are understood to have played in Crawley's 1-1 draw with Palace on Monday night at the Broadfield Stadium. And the Reds' boss is also in discussions with the Watford assistant manager about making another addition to the squad".

IC Cheshire says that "A former Northwich Vics employee who stole more than £8,500 after a fundraising dinner is facing prison after pleading guilty to three offences of theft. Ex-club chef Paul Burgess, 30, fled after taking £8,627 from the Marston's Arena on Saturday, November 26. He went on the run but was eventually caught by police and charged with two further offences".

The Oxford Mail reports that "Oxford United boss Darren Patterson will not be offering deals to trialists Michael Gash and Reuben Reid. Ex-Cambridge United striker Gash and former Wycombe frontman Reid, played for part of United's pre-season win at Oxford City. However, Patterson said: 'Michael did ever so well for Cambridge City, scoring 27 goals last season, but he did one training session for us and struggled physically. Reuben wasn't really what we were looking for'. Fellow trialists Gary Silk, Dean Oliver and Aaron Plummer have also left the club".

"Brian Little has made Shrewsbury defender Darran Kempson his seventh signing of the summer" states the Daily Post. "The 23-year-old centre-back... has penned a two year-deal at the Racecourse".

The Cambridge News says that "Gary Brabin has not given up hope of signing Chris Holroyd to strengthen Cambridge United's strike force. United have agreed a nominal fee with Chester for the 21-year-old marksman, but may face a stumbling block over personal terms with Holroyd. Holroyd...is also being targeted by Stockport County".
TRAFFORD 0 ALTRINCHAM 4
Above: Colin Little nets Alty's second goal as Dale Johnson also closes in. Trafford keeper Tom Read suffered a head injury when he collided with a defender.
In Thursday night's pre-season friendly at Shawe View, Altrincham overcame the newly promoted UniBond One side 4-0, thanks to a hat-trick from Colin Little and another goal from Chris Senior. Especially in the first half Alty looked a potent force going forward with Johnson and Denham both looking a threat whilst fellow new signings Kevin Street and Matt Doughty, both making their debuts, were forging a good understanding prompting attacks, especially up the left. Colin Little put Alty ahead after 15 minutes from close range following good work by Johnson after Doughty's throw-in on the left. An excellent run up the right by Denham turned defence into a goal in a matter of seconds, with Little again the scorer - 2-0 after 41 minutes. After various substitutions, Alty added two more goals in the second half. First, Senior scored the goal of the game, a curling left foot shot which went in off the post in the 59th minute. Ten minutes later, Little completed his hat-trick with a well-taken header after Horrocks had got in a good cross from the left. Report to follow.
ALTRINCHAM: 1. Stuart COBURN, 2. Natt KERR, 3. Matt DOUGHTY, 4. Chris LANE, 5. Greg YOUNG (capt), 6. Kevin STREET, 7. Robbie LAWTON, 8. Chris DENHAM, 9. Colin LITTLE, 10. Dale JOHNSON, 1. Warren PEYTON. Subs: 12. Richard BATTERSBY, 14. Luke HORROCKS, 15. Charlie WEIR, 7* Ben McHUGH, 16. Damien ALLEN, 17. Chris SENIOR, 17*. Anthony DANYLYK, GK. James COATES.
---
17 July 2008
TRAFFORD TONIGHT
Altrincham travel to Shawe View tonight (Thursday) with the side again expected to be a mix of signed players and trialists. Pictured right is the corresponding encounter between the two sides in 2004, with Ged Kielty, now manager of Trafford, firing in a shot for the Robins against his future team. Kick off tonight is at 7.30pm.
TWO TRIALISTS RELEASED
"Alty's search for a centre half is proving harder than expected" according to SAM. "Robins' boss Graham Heathcote has been on the lookout for defensive reinforcements since skipper Darren Tinson departed for Nantwich Town last month but has so far drawn a blank. A deal for a player who plied his trade in League Two last season fell through when he decided to pursue a full-time deal and Heathcote has since faced similar barriers... But although the season is now less than a month away he is not about to panic. He told SAM Sport: 'I've been speaking to a few centre halves but have not tied anyone down yet because there are a lot of players still hoping to win full-time contracts with League clubs. There are plenty of candidates out there and I'm sure there will be more who come available as the season approaches. We just have to be patient and we can always look to bring in younger players on loan from premiership or Championship clubs if we need to'.

One centre half who will not be arriving at Moss Lane is Peter Band. The 34-year-old had been keen on a return to Alty after spending last season with Hyde United but has now signed for New Mills after being told he could not be guaranteed first team football. Trialists António dos Santos and Jake Moult have also been told they will not be offered deals... But the remaining trialists will get a chance to prove themselves in the upcoming games against Trafford, Manchester United reserves and FC United. 'I'm just looking to cut numbers down now so we'll have another look at the remaining trialists in the coming games and make a decision', added Heathcote. 'I was pleased with the performances of most of the trialists against Abbey Hey but we have to be certain that anyone we do sign on can do a job at this level. With the centre half gap in mind we'll be taking a good look at Natt Kerr (left) and he'll have a chance to show us what he can do over the next week'".
SEASON TICKETS
If season ticket-purchasers cannot pick up their season ticket from the club office before Saturday, when Altrincham take on a MAnchester United XI at Moss Lane, the tickets will be available for collection in the bar before kick-off. The bar can be accessed off Moss Lane, next to the Main Stand. Season tickets confer free entry to Altrincham FC's home friendlies.
MEDIA AT MOSS LANE
Altrincham FC announces that "The Manchester Evening News & Channel M were at Moss Lane on Tuesday evening to cover the story of the Golf Road turnstile block built by Altrincham FC player Warren Peyton. Filming also took place at Blessed Thomas Halford School where Altrincham train. The Manchester Evening News also interviewed Chairman Geoff Goodwin as he looks forward to the new season. Look out for both of these features in the coming days with the Channel M piece likely to be featured on their weekday evening news programme between 5-7pm".
GRAHAM GOES BACK TO SCHOOL
As part of Altrincham F.C.'s objective to increase links with the local community, manager Graham Heathcote has been to Altrincham Boys' Grammar School twice this week to carry out coaching sessions.
LOCAL NEWS
The NL Zone has a review of a book entitled Manchester- a football history by Gary James which says, "I apppreciate that by far the largest part of this new book is about league football, but there are mentions to varying degrees for Maine Road F.C. Hyde Utd, Altrincham, Stalybridge, FC United, Droylsden, Mossley, Ashton United and some now extinct non-league teams from the region. If you are just a local football fan, I defy you not to enjoy Gary James's latest effort..all 500+ pages of it... The book clearly has a 'wow' factor. I think one of its main qualities is the author's refusal to merely compartmentalise each Manchester club's history. Instead it is largely chronological and dwells many times on the relationships between clubs rather than just significant events in their individual past... This is a 'once seen - must have' book".
BSP NEWS
Bullsnews reports that "Football League clubs will follow the Premier League, European competition, and Internationals by having a more formal opening to matches. Each team will line up on each side of the half-way line, with the home side shaking the hands of the away side and officials before the away side greets the officials and both sides disperse for the coin-toss. A Football League statement on the initiative states: 'This initiative will seek to improve behaviour both on and around the pitch, and, in particular, demonstrate a commitment towards greater respect for match officials. It is being supported by all agencies in the game, including ourselves, the Premier League, the Football Conference, the PFA and the LMA".

From Blue Square Football we learn that "Crawley Town have signed goalkeeper Nick Morgan on a permanent contract from Blue Square South side Braintree Town. The 19-year-old completed his medical on Monday after a three-week trial spell... He will be an understudy for the Reds Devils' new stopper Simon Rayner" [from Torquay].

The same source adds that "Oxford United manager Darren Patterson has been dealt a double blow ahead of the new campaign as Phil Trainer and Declan Benjamin will face lengthy sideline spells. Midfielder Trainer suffered a broken metatarsal in his right foot in a training session and is expected to be out of action for two months. Benjamin, meanwhile, suffered a spiral fracture of the tibia and is expected to be sidelined for longer than two months. Yellows' boss Darren Patterson told the club's official website: 'They were complete freak incidents. There was no-one within five yards of Phil, but he turned and caught his studs and went over... Declan was another bad one because, like Phil, he just fell awkwardly with no-one else involved'".

NL Daily tells us that "Summer signing Scott Taylor scored twice as Lewes opened their pre-season campaign with a 4-0 win at Sussex County League neighbours St Francis Rangers. Former Colchester and Peterborough striker Lloyd Opara was one of three trialists. He was joined by Guyana international midfielder Shawn Beveney, who played two games for Lewes towards the end of last season, and former Southampton and Salisbury City defender Craig Richards".

Meanwhile in another friendly "Farnborough shared a 1-1 draw with Woking. A cross from Danny Bunce on the left found its way through to Wilfred Droummond at the far post, who side-footed home from a few yards to give the Cards a 15th minute lead".

Surprising news from Farsley Today is that "Former Middlesbrough and Cardiff striker Andy Campbell will turn out for Farsley Celtic tonight in their pre-season friendly against Sheffield United... Celtic manager John Deacey wants to make just one more signing before Farsley embark on the quest to win back their place in the Conference at the first attempt, and 29-year-old Campbell fits the bill. The Middlesbrough-born striker, who spent last season at Halifax, has averaged a goal every three games throughout his career and could be the ideal replacement for the departed Damien Reeves. Deacey said: 'Three or four Conference sides have tried to sign him and a couple from Conference North but he likes what he has seen here so far, he knows we have a decent side and hopefully he is going to sign... This guy has played Premier League football and it would be a real coup for us'".

"Keith Downing has confirmed that he is hoping to capture the signature of Mansfield Town striker Michael Boulding" says This is Glos. "The Cheltenham Town manager will meet with the 32-year-old former Aston Villa and Sheffield United front man at the end of this week... Boulding, who scored 25 goals for Mansfield last term, is believed to be attracting the interest of a number of other clubs, including Bradford City, and he has been training with Rotherham United this summer".

This is Glos adds that "An outstanding display by Hartpury College winger Isaac Shaze had Forest Green fans purring last night. Rovers were never embarrassed by a Reading side littered with Premiership experience... Jim Harvey would have been pleased with Alex Lawless's composed performance as a second striker, but Shaze stole the show. The Forest Green boss handed a start to the Ghanaian teenager, while former Accrington Stanley man Ricky Baines was the latest trialist to push his claims for the right-back berth".

The Northants Evening Telegraph says that "The arrival of Gareth Seddon will not deter Kettering Town manager Mark Cooper from trying to bring one more striker into his squad... The Kettering boss revealed a deal is close to being struck with a front-runner. But it won't be Trevor Benjamin who had been training with the squad. Cooper said: 'We couldn't come to an agreement and he has gone his way and we have gone ours'... Seddon is set to link up with his new team-mates for the first time on Friday and Cooper is hopeful that Peterborough United winger Alfie Potter will arrive on a season-long loan ... The pre-season action continues at Cambridge City this evening with Dwane Lee set to make his debut... Striker Nathan Smith, however, is set for an eight-week lay-off after breaking his foot in training last week".

Reports from This is Mansfield say that "Another goalkeeper to push Jason White is at the top of Mansfield's shopping list, boss Billy McEwan confirmed today. The Stags have been down to just one shot-stopper since veteran Carl Muggleton was released at the end of last season... 'I want a strong spine to the team through the middle, from the strikers up front to the midfielders, centre-backs and goalkeeper', said McEwan. 'We need another keeper because we have only got one, and we need players in other areas too because we only had two signed on when I started... But I have to see them play before I'll sign players - reputations count for nothing'".

"Brian Little admitted he has shown an interest in Shrewsbury's out-of-favour centre-back Darran Kempson – but the Reds boss stressed there are other potential targets" reports the Evening Leader. "Wrexham have been linked with the 23-year-old centre-back who despite having a year left on his contract, is one of four fit players not taken to Spain for a training camp by Shrews manager Paul Simpson. Little, having made six summer signings so far, would like to bring in one more new recruit and a striker was top of the agenda. But Little has not ruled out bringing in a fresh face in another position... Said Little today, 'Darran is a player that genuinely interests us but there are one or two others that do'".
---
16 July 2008
SAM'S VERDICT
SAM says "There's no substitute for class. Despite his diminutive stature, Chris Senior proved head and shoulders above everyone else on the pitch, smashing five first half goals as Alty passed their first pre-season test. Some of the finishing was simply sublime. Pick of the bunch was an acrobatic scissor kick to convert new signing Dale Johnson's pinpoint cross four minutes before the break and seal an easy 5-1 win... It's no coincidence his purple patch lasted as long as Johnson (right) was on the pitch. Recovering from a hamstring injury, the big centre forward was limited to just 45 minutes but it was a cameo full of promise. The former Hyde man played with an unselfish nature, exhibiting strength and neat footwork to bring his teammates into the play. Strangely for a targetman, he also showed a good turn of pace, beating his man on a number of occasions to whip dangerous balls into the box. Senior and Johnson seemed to have a strong understanding right from the start...

The only blip in the Robins' first half performance came on the half-hour mark, courtesy of former Alty youth player Danny Heffernan. Playing like a man with a point to prove, the tall striker beat both Greg Young and trialist Natt Kerr on the edge of the box before finding the corner of the net with a shot that gave trialist keeper James Coates no chance... The going was tougher after the break. Abbey Hey tightened up at the back and despite plenty of decent possession for the Robins - with trialist Jake Moult looking neat and tidy in the centre of midfield - they couldn't add to their lead. Youth team striker Tom Bailey came close, denied well by Coates, who played the second half in goal for the hosts".

"SAM sports editor Connor Murphy gives his view on the trialists vying for a deal at Moss Lane.
James Coates (goalkeeper)... Initial impressions are that he looks small for a keeper and he does frequently elect to punch rather than catch from corners and free kicks. But Coates is athletic, a good shot-stopper and appears to read the game well. Possesses a huge kick... Would be an able understudy to Stuart Coburn.
Natt Kerr (defender) - The former Rotherham man played the entire game alongside Greg Young at centre half and looked generally solid. Comes with prior Blue Square Premier experience, having spent much of last season on loan at Northwich, and certainly possesses the size to succeed at this level. Strong in the tackle and in the air, although he did sometimes mistime headed clearances, which meant he got sucked into midfield as Abbey Hey sent long balls over the top. Was also guilty of holding onto the ball too much at times...
Luke Horrocks (winger)... In a similar mould to former Robin Carlos Roca, he is small, quick and skilful, but does seem to have more strength than Roca and appears better equipped to play in the Blue Square Premier. Didn't get to the by-line enough for a winger but often that was due to the fact he was targeted by the Abbey Hey defence, frequently brought down before he had the chance to get going... He could afford to be more selfish.
Ben McHugh (defender). The 18-year-old former Crewe trainee played the second half at right back and put in a good shift. A towering figure, appearing to be around the 6ft 4ins mark, McHugh also appeared fit and quick, getting up and down the flank well throughout... and displaying an air of confidence.
Antonio dos Santos (defender/midfielder)... Appears to be more a converted left-winger than a natural left back and enjoyed getting forward when he could. But considering his pace, Santos didn't beat his man often enough - possibly because he lacked the size to hold off bigger defenders... He timed his tackles well and was generally solid in one-on-one situations.
Jake Moult (midfielder) - A 19-year-old midfielder who can also play at right back... Played the second half in centre midfield for Alty alongside the combatitive Anthony Danylyk and was impressive enough without particularly standing out. Neat and tidy in possession, Moult barely misplaced a pass... Would be a useful playmaking option, although he may need work on his final ball".
UNITED SQUAD
When Manchester United bring a side under the managership of Ole Gunnar Solskjaer to Moss Lane this Saturday their squad is expected to include some or all of the following:
Conor Devlin, David Gray, Richard Eckersley, Craig Cathcart, James Chester, Rodrigo Possebon, Magnus Eikrem, Danny Drinkwater, Febian Brandy, Tom Cleverley, Federico Macheda, Jimmy Derbyshire, Sam Johnston, Reece Brown, Matthew James, Joshua King, Sam Hewson and Gary Woods.
OLD BOYS
The UniBond League reports that "Ashton United manager Danny Johnson has lost the services of promising utility player Liam Ralph on the eve of the team's first pre-season friendly.Ralph (25), who lists Leigh RMI, Trafford and Altrincham amongst his former clubs, was punched to the floor and stamped on in an unprovoked attack at the weekend and now requires metal plates inserting into a broken jaw. Johnson told the Ashton United website 'Anyone who knows Ralphy will tell you that he is one of the quietest and nicest young men you could ever wish to meet... he has not missed a training session so far this pre-season and the doctors have told him he will not be able to take part in any physical activity for the next 6/7 weeks'". Liam Ralph was signed for Altrincham on UniBond Premier forms in March 2004 to cover for an injury crisis. However, the Trafford left-back never played for The Robins.

Leek Town manager Wayne Johnson continued to fine tune his squad after training on Saturday with the addition of five more players... Johnson has added former Manchester City academy central defender Adam Brindle to his squad after the youngster impressed in training. Brindle enjoyed a short spell at New Mills last season". Adam Brindle sat on the bench for Altrincham in 10 league games in 2004-05 but, sadly, never got onto the pitch.

Closer to home the Northwich Guardian says that "Nigel Deeley declared himself happy with Witton's first friendly. Albion ran out 3-0 winners at Alsager, when Rod Thornley, Dan Skelton and trialist Mark Awange were on target"
BSP NEWS
From Blue Square Football we learn that "Woking Football Club have unveiled Calor Gas as their new main club and shirt sponsors in a deal estimated to be worth around £60,000... Peter Jordan, CardS' director and owner of Calor Gas, added: 'I have been a supporter of the club for many years and as a matter of fact I was determined this year to get my name on the shirts'".

NL Daily says that "Chelmsford City have completed their latest transfer coup with the capture of last season's Blue Square South championship-winning Lewes skipper Steve Robinson".

"Histon have announced they plan to appeal against the Football Association's decision to suspend right-back Craig Pope for four matches" claims the BBC. 2The 25-year-old has been handed a suspension and fined £325 for using 'abusive and/or insulting words aggravated by a racial element'. The charge relates to an incident which took place during the derby with Cambridge United on Boxing Day. Both Histon and Pope deny the charge and have launched an immediate appeal. Histon's barrister Gill McGiven said: 'It's one player's word against another'".

Already the trapdoor to the BS Premier from the bottom of League Two appears to have a queue forming. Following the massive points deduction for Luton Town, Bullsnews writes that "Rotherham's CVA attempts have been rejected, meaning they will almost certainly face a heavy points deduction for the coming season. They will meet with lawyers to consider their next move."

In Cumbria, the NW Evening Mail said yesterday that "Former Oldham defender Mike Pearson will be another new face on display for AFC in tonight's friendly against Morecambe... The left-sided full-back Jamie Burns – who played for the Shrimps' first team last season – and Salford midfielder Matthew Burke will also get further run-outs for the Bluebirds... New midfielder Ashley Winn impressed on his debut on Saturday and the former Stalybridge man starts again tonight... Pearson, who can play anywhere along the back four, suffered from injury at Oldham but impressed while on loan at Farsley Celtic last season. However, Workington second string keeper Aaron Taylor, who played 45 minutes on Saturday, is unavailable because of a pre-arranged holiday. Says [joint manager] Bayliss: 'The defence was our rock last season, the back four must be the four fittest defenders in the league. They could play 50 games on the trot but you can't rely on that, we need extra cover. We're quite happy with what we've got going forward'. However, from having the four recognised strikers on Saturday, Barrow may be down to one tonight – Paul Tait. Leading scorer Nick Rogan, who limped off at the weekend, is having to go for a scan on a suspected hernia and could need an operation. New signing Lee Hunt has just recovered from tonsilitis, while Jason Walker has an ankle injury".

In Mansfield, The Chad says that "New Stags manager Billy McEwan has admitted there is a lot to do in a short time if he wants a decent squad for the big kick-off... McEwan has so far wasted no time in getting stuck into the job of rebuilding a squad capable of challenging for a quick return to the Football League –– with defenders Adie Moses and Michael Blackwood the latest two to put pen to paper.... Moses said: 'I live in Doncaster which is not a million miles away. I'm settled there with children in school, and Mansfield is the right club at the right time for me'... Blackwood added: 'We may be in the Conference but this is a massive club in this league... I like Billy's ideas, the ground is beautiful, and everything is geared up to getting back into the League where Mansfield belong'. However, McEwan insisted 'It's no good bringing in players that you've never seen or had time to judge. I still have people to talk to, but the people I bring into Mansfield Town will be the people I have seen and who I know will do a good job for us. That is going to take time –– players have to get to know each other, and gel together, and that is not going to happen overnight'".

"Salisbury City has confirmed that striker Marvin Brown has been released from his contract" states the Salisbury Journal. "Brown, who netted more than a dozen goals in approximately 40 appearances for the club, is understood to be re-joining Weston-super-Mare".

According to This is South Devon, "As one left winger arrives, so another one leaves as Torquay United manager Paul Buckle fine-tunes his squad... United's latest signing, Mustapha Carayol from MK Dons, is set for his first appearance for the Gulls after pleasing Buckle in his opening training session yesterday. But, at least for the time being, Serbian-born trialist Nikola Nicolic has returned to Switzerland, where he plays for FC Basle reserve side Koncordia. Buckle explained: 'There might be money involved in a transfer with Niki, or there might not, and that would dictate whether we take him or not. It's a bit more complex than we thought at first. But with Carayol coming in now, I'm not quite so worried about that left side of midfield'. Last night Buckle watched his other trialist, London-based striker Lawrence Yiga, play for Tiverton Town against Plymouth Argyle".

"York City have rejected claims that teenage striker Onome Sodje is set to join Barnsley" claims The Press. "It was reported Sodje, who turns 20 on Thursday, was on his way to Oakwell in a £100,000 deal. But City communications and community director Sophie McGill insisted there was no truth in the story. She said: 'I can confirm we have not been approached by Barnsley in recent weeks regarding Onome Sodje or any of the York City players'. While there may not have been 'recent' interest in Sodje from South Yorkshire, he caught the eye during an away reserve game against the Tykes back in November, converting two penalties after winning one, hitting the crossbar and seeing a spectacular overhead kick cleared off the line".
---
15 July 2008
SEASON TICKETS
The 2008-09 Moss Lane season tickets for the stands have now arrived and can be collected from the club offices from 1pm today. Season tickets for the terraces are due to arrive from the printers tomorrow and should be available for collection from Moss Lane tomorrow afternoon but please check (tel. 928-1045) before travelling. Applicants who have supplied stamped addressed envelopes will have their tickets posted to them over the next day or two.
NEXT GAME - AT TRAFFORD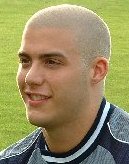 Altrincham travel across the Borough to meet Trafford FC on Thursday evening, k.o. 7.30pm. Now managed by former Alty midfielder Ged Kielty, the Shawe View club won the Vodkat NW Counties Division One last season and start this season back in the UniBond League. Amongst the other ex-Alty faces at the club are two goalkeepers, ex-youth team stopper Tom Read and 25 year-old former first team keeper (2002-03) Andy Moore (pictured left) who joined Trafford from Salford City in February 2008, having also played for Squires Gate and Rossendale United. Andy made his Alty debut in August 2002 in a 4-0 win over Gateshead and was unlucky to lose his place to Richard Acton. He moved on for a short spell at Trafford so this is now his second spell at Shawe View. Also playing for Alty in that game and now the Trafford right-back is Simon Woodford, who is seen in the adjacent picture.

Right: Gary Talbot leads Andy McDonald, Simon Woodford, Neil Murphy and Peter Band off the pitch at the end of the game against Gateshead, August 2002.
Other former Robins at Trafford last season, and presumably still there, are midfielder Sean Smith, whose Alty career was effectively halted by a bad car crash, and former Altrincham youth teamers Dion Depeiaza and Wes Wilkinson; the latter is recovering from a broken leg.
On the Trafford website, Ged Kielty says, "Similar to last year, pre season commenced on Flixton Road fields, with over 50 players in attendance. For the first session last year we managed to attract 55 players, this year it was 51. Over the next few weeks the management will have the opportunity to see them in action, either in training or in the 13 pre season friendlies that have been arranged for the 1st team and reserves... Our first pre season game is on Thursday 17th July against Altrincham FC at Shawe View. Please try and get yourself down".
ALTY STUMPED
At the end of the second innings of Sunday's cricket match against Timperley CC, Altrincham FC lost by four wickets with three overs remaining.
UP FOR THE CUP
There is additional prize money in the FA Cup this season. The list below shows the new and old prizes for each round's winners from the point that BSP clubs join the competition to Round Two.
Fourth Round Qualifying winners (32) £12,500 £10,000
First Round Proper winners (40) £20,000 £16,000
Second Round Proper winners (20) £30,000 £24,000.

The FA Trophy prizes are:
Third Round Qualifying winners (40) £4,000
First Round Proper winners (32) £5,000
Second Round Proper winners (16) £6,000
Third Round Proper winners (8) £7,000
Fourth Round Proper winners (4)£8,000
Semi Final winners (2)£16,000
Final runners-up (1)£25,000
Final winners (1)£50,000"
BSP NEWS
After his abortive move to cash-strapped Northwich, the Northants Evening Telegraph reports that another club had no trouble finding the fee, rumoured to be around £25,000. "Gareth Seddon has signed for Kettering Town. The 28-year-old striker has signed a two-year contract at the A-Line Arena after the Poppies agreed an undisclosed fee with Hyde United. Seddon will be familiar to Poppies fans for his goalscoring exploits for Hyde and arrives with an impressive record of 62 goals in 87 appearances over the last two seasons. The frontman had been set to sign for Kettering's Blue Square Premier rivals Northwich Victoria but that deal broke down after the Vics and Hyde were unable to agree a fee. That alerted Poppies chairman Imraan Ladak, who had already made an enquiry to Hyde earlier in the summer, and the deal was finally was finally completed this afternoon. Seddon is no stranger to Northamptonshire having signed for Rushden & Diamonds in 2004 only to have his career put on hold by a blood disease, which ruled him out for over a year".

Meanwhile Rushden & Diamonds have "signed eighteen year old right-sided midfield player Jamie McGuinness. Jamie joins as a free agent from Luton Town on a deal until the end of the season. Jamie began his career at Luton, mostly playing on the right-hand side of midfield, and also had a brief loan spell at Aldershot Town last season. He was released by the Hatters at the end of their 2007/08 campaign". However, "Rushden & Diamonds FC have today agreed to cancel the contract of midfield player Tom Shaw by mutual consent, as he was not expected to feature in manager Garry Hill's plans".

Back in Cheshire, the Northwich Guardian confirms that "Gareth Seddon has signed for Kettering Town... It's a bitter blow for Dino Maamria, who is desperate for further options up front to join Lee Steele and Jonny Allan. [Former Alty trialist] Aaron Burns, hauled off after half an hour of Saturday's friendly with Chorley, has slipped down the pecking order... Vics had been ready to smash their transfer record to bring the England C international striker to the Marston's Arena. Instead they ended up falling out with his owners, Hyde United".

According to the Daily Post "A late change of heart by Wrexham manager Brian Little has seen trialists Brent Sancho, David Ogilby and Drew Fahiya leave the club ahead of [yesterday's] pre-season friendly with Wolves. The Dragons' boss had initially planned to see all three players in action this afternoon, but has now decided to look elsewhere for the one or two new faces he still wants."
---
14 July 2008
IDENTITY PARADE
Pre-season is always difficult for football fans as a host of new faces arrive at their clubs. To help identification here are some shots from the weekend football and cricket activity to help with identification.

Alty's next football game is away at Trafford on Thursday, kick off is at 7.30pm.
ABBEY HEY 1
ALTRINCHAM 5

Above: Natt Kerr


Warren Peyton &
James Coates


Jake Moult,Chris Senior
& Graham Barrow


Danny Browne &
Anthony Danylyk


Luke Horrocks &
Jake Moult


Dale Johnson


Antonio dos Santos


Anthony Danylyk


On Sunday, Alty played cricket
against Timperley CC, where
Matt Doughty kept wicket
CRICKET CHALLENGE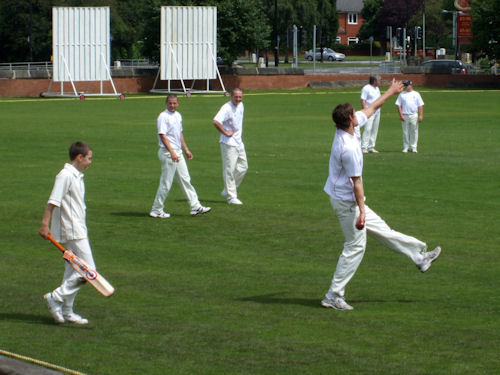 Right: Greg Young warms up to the amusement of his team mates Charles Heathcote and Chris Lane, whilst Sam Heathcote strides onto the pitch. In the background, manager Graham Heathcote and chairman Geoff Goodwin discuss tactics..
Altrincham FC played a friendly cricket match at Timperley Cricket Club. The Altrincham XI comprised Charles Heathcote (Alty kitman), Matt Doughty (new signing from Halifax), Chris Lane, Chris Denham (new signing from Droylsden), Chris Senior, Stuart Coburn, Greg Young, Geoff Goodwin (chairman), Charlie Weir (from last year's youth team), Graham Heathcote (manager) and Ian Senior (goalkeeping coach). In the first innings of twenty overs Timperley reached 104 with Chris Senior, fresh from his five goals yesterday, weighing in with three wickets. Chairman Geoff Goodwin sported an Australian cap but it was Chris Lane who made an early impression, getting Timperley's South African, van der Merwe out leg-before, in the fourth over. Stuart Coburn made two excellent catches on different parts of the boundary whilst Charlie Weir weighed in with a wicket to reduce the Timperley side to 56-4, but they reached 104-7 by the end of their alloted overs.
Alty's batting was opened by Doughty, who had kept wicket well, and Charles Heathcote but the former was soon out with just one run on the scoreboard. Chris Senior made some good runs before generously not being given out when apparently stumped. Charles Heathcote also played well before being caught leaving Alty 29-3. Chris Denham then played the most entertaining innings of the game though his stance and batting style seemed more suited to baseball! He too was allowed to bat on despite falling over in mid-wicket as Timperley declined to run him out. His reverse sweep was arguably the shot of the first innings! After he had been bowled, Stuart Coburn held the innings together with several boundaries, as his wife and young son watched from the clubhouse. After Graham Heathcote had gone cheaply, Ian Senior was last man in but he and Charlie Weir added some useful runs to give Alty a first innings lead of three, as the innings closed at 107-9.
FACE IN THE CROWD
Lise Jones, Alty's commercial executive writes. "Just to let you know the 'face in the team' photos will be being taken before training on Thursday 31st July as that is when the official team photo is being shot. The lads will be there from 6pm and MUST be gone by 6.45 to get to BTH for training so there is a good 45 minutes to fill up. If anyone hasn't got in touch yet email me here on the forum, or alternatively ring the club anytime Mopnday to Friday between 9 and5 and if Im not there leave a message. Those who have said they would be interested I will speak to to confirm if the date is still okay. Hope to see some of you then". Face in the Team is an initiative through which you can have your photo taken with the first team for a £35 donation.
OLD BOYS
According to NL Daily "Accrington Stanley secured the first win of the pre-season campaign with a 1-0 victory at Cammell Laird. Midfielder Ian Craney scored the second half goal".

Meanwhile Kieran Lugsden played for Witton yesterday but was injured. He has also been linked recently with Droylsden.

Peter Band has joined Kieran's original club, New Mills, where he will be joined by another ex-Alty man as "New Mills AFC can confirm the signing of Anthony Hargreaves from Runcorn Linnets. Anthony is a striker but can also play in midfield. He has played for numerous clubs,some of which include Trafford, Altrincham, Hyde Utd, Cammell Laird, Flixton and FC United".
BSP NEWS
Blue Square Football says that "Torquay United have completed the signing of MK Dons midfielder Mustapha Carayol on a two year contract. He joined Crawley on loan last season and became a regular part of their line-up... Gulls boss Paul Buckle told the club's official website: 'Mustapha is someone who played very well against us last year, he has come from a League 1 club and I know Paul Ince rated him highly. He is the right age for us and will give us pace and ability down the left side... I didn't think we would get the opportunity to speak to him and sign him because there were other clubs involved... Carayol explained his decision: 'To be honest I had a word with Paul and he is the whole reason why I have come down here. I have left a League 1 club so he had to have a big impression on me. I played against the club last season and I like the way they played and at my age I need to be playing regular football... I told my agent I needed to get out of London and get on with my football career and I feel this is the right club for me. I didn't want to end up as a fringe player at a League 1 or 2 club, I want to be involved... I can guarantee the supporters that I will always be taking on players and working hard for my team'".

Kettering Town report that on Saturday they played their "first friendly match of the season at the new Rowley Park, the home of St. Neots Town F C and was the first game to be held at the ground... Kettering won the game with goals from Jean-Paul Marna after 20 minutes and ex Walsall player and trialist, Chris Hanna... The Poppies were without two new signings - the unlucky Nathan Smith who has broken a bone in his foot (and will be out for a few weeks) and Dwane Lee with a turned ankle. Trevor Benjamin, also on trial, played for the first 45 minutes".

According to the Argus "Lewes have confirmed the signing of former Brighton and Hove Albion skipper Danny Cullip. The 31-year-old, who has also played for Fulham, Brentford, Sheffield United, Watford, Nottingham Forest, QPR and Gillingham, has signed a two-year contract at the Dripping Pan. Manager Kevin Keehan said: 'I am really pleased to have signed Danny and would like to thank our title sponsors, Magic Man, for their help in bringing Danny to Lewes. I have two more quality signings I hope to make in the near future and then we will be ready for the coming season'".
---
13 July 2008
SATURDAY'S FRIENDLY
Above: Ben McHugh, one of Alty's trialists, warms up before the game at Abbey Hey. In the background, left to right, are Anthony Danylyk, Luke Horrocks, Robbie Lawton, Greg Young, Dale Johnson and Jake Moult.
The trialists who featured for Altrincham at Abbey Hey yesterday were:
Ben McHugh- an 18 year-old Liverpool defender from Crewe Alexandra's academy. He played at right-back for part of the game at Abbey Hey.
António dos Santos, who made his debut at Guiseley April 2006 having previously played in his native Portugal for União de Lamas. He played yesterday mostly at left back.
Natt Kerr - a defender, who was loaned by Rotherham to Northwich Vics last season.
James Coates - a 23 year-old goalkeeper with experience at Worcester City. He then moved to Kidsgrove Athletic where he was last season. Prior to that he had spells at clubs which included Moor Green and Bromsgrove Rovers, and he was selected, whilst at TNS (2004-05), for the Welsh Under-21 squad.
Jake Moult is a 19 year-old Stoke-on-Trent born midfielder/ right-back who was with Plymouth Argyle last season after being with Port Vale. The Argyle website adds that he was a "versatile player who can play at either right-back or anywhere in the midfield. Jake came to Argyle from Port Vale in one of the first moves made by the new youth set-up of Gordon Bennett and Mike Pejic. Jake was named as an unused substitute in the Championship defeat to Burnley in January 2008". He had a month at Kidderminster Harriers at the end of last season, on loan from Plymouth. He made one unused sub appearance for the Harriers. Jake was captain of Port Vale reserves.
Three of last season's Altrincham YOuth team also played: midfielder Danny Browne, striker Tom Bailey and winger Charlie Weir.

A match report is here. More pictures to follow tomorrow.
OLD BOY
Ryan Lynch, who had a spell on loan at Altrincham last season, was released by Crewe this summer.
BSP NEWS
Barrow have signed Ashley Winn from Stalybridge.

Forest Green Rovers have "confirmed that Curtis McDonald has signed Blue Square Premier forms for the club, on a non-contract basis. Cardiff-born Curtis, 20, is a left-sided midfield player who featured regularly as a trialist in Rovers' Reserve side last year".
---
12 July 2008
ABBEY HEY 1 ALTRINCHAM 5
In today's friendly match at Gorton, a remarkable five first-half goals from Alty's Chris Senior secured a win for the visitors. AFter that the second half was something of an anti-climax with the half-time score of 5-1 remaining unaltered at the end of the full 90 minutes. It was a curious match insofar as Abbey Hey included seven starters who had played for Altrincham Reserves in the past whereas Altrincham themselves had only five players in their starting eleven who had ever worn an Altrincham shirt before ! They were Battersby, Young, Peyton, Lawton and Senior. Alty's other six starters were new signings Anthony Danylyk and Dale Johnson, along with trialists James Coates (goalkeeper), Luke Horrocks (winger) and Natt Kerr (central defender), together with last season's youth team midfielder Danny Browne. On the bench, to be used as second-half subs, were goalkeeper Stuart Coburn, trialist defender Ben McHugh (ex-Crewe), trialist left-back/midfielder António Santos, a Portuguese who has been at Guiseley, trialist Jake Moult a Stoke-born former Plymouth Argyle midfielder and ex-Alty youth teamers striker Tom Bailey and winger Charlie Weir. Report to follow.
CRICKET BONDING
The Sale & Altrincham Messenger reports that "Alty manager Graham Heathcote believes Sunday's friendly cricket match will be an essential part of his side's preseason preparations. A Robins' team will take on a Timperley XI at Timperley Cricket Club in a friendly Twenty20 match starting at 1pm. And Heathcote is urging fans to go along and meet the new players in order to forge a sense of unity ahead of the new campaign. He said: 'This Sunday at Timperley I want fans to come down and meet the new squad because it forms the second part of the bonding process after last week's squad getaway to Mottram Hall. The trip to Mottram was great for us and it allowed us to cover certain training issues that might otherwise have taken two weeks to do. But Sunday's cricket match will be as important to us. It's important that we make the new players feel at home and that everyone is in positive mood and I hope this will help in creating a good atmosphere'".
FOOTBALL BONDING
Right: In August 2005, Alty played a cricket match at Urmston CC. Here Peter Band walks to the pavilion as Graham Heathcote goes out to face the bowling.
Sale & Altrincham Messenger adds that "Although the Robins are set to field a strong side against the Gorton-based outfit, there will only be a few recognisable faces on display. Surprisingly, one of them will be centre half Peter Band (right). The 34-year-old departed Moss Lane last summer to join Hyde United but has been training with the Robins this summer and Heathcote is keen to take a closer look at him as he seeks a replacement for Darren Tinson. Otherwise, the starting line-up is set to include Chris Senior, Robbie Lawton and Greg Young from last year's squad, while the rest will be made up of new signings and trialists.
Alty fans will get their first look at both Anthony Danylyk and Dale Johnson, although the latter will be limited to 45 minutes as he recovers from a hamstring problem. Among the trialists set to figure are defender Natt Kerr and forward Luke Horrocks, both of whom featured for bitter rivals Northwich last season, former Plymouth trainee Matthew Holt and ex-Worcester and Leigh RMI keeper James Coates.
Heathcote is also set to give a run out to Tom Bailey, Dominic Lillie and Danny Browne, who have all been training with the first team after starring for the youth team last season. Meanwhile, the first team players not involved in the game will undergo a training session earlier in the day to maintain fitness levels.
Ruled out through injury is Joe O'Neill, who has an ankle ligament problem but should be back in training within a week. Trialist Alex Morris, formerly of Crewe, will also miss out due to a thigh strain. But Val Owen is also making good progress following the knee injury that kept him out of much of last season and Heathcote is confident he could be back in time for the start of the season".
TODAY'S GAME
The pre-season starts today at Abbey Hey FC where the Vodkat league side, managed by former Alty reserves' manager and current groundsman Neil Brown takes on Altrincham at 3pm. Entry is just £5 so come along to Goredale Avenue, Gorton and get used to the new faces at the club for this season.
OLD BOYS
The North Wales Chronicle tells us that amongst their injury problems they have former Altrincham "full-back Dave Swanick sustaining a damaged ankle". It is believed that Steve Aspinall may be joining the Welsh club.

Defender Gary Scott and former Altrincham Youth and Reserve player Mark Drew have both joined Witton Albion. The Northwich Guardian says that "Nigel Deeley has added five fresh faces to his squad... 'It's been a really positive week', he said. First up is former Leigh RMI stopper Liam Coyne [an ex-Alty youth player]... 'Liam is a monster' he said... He should win everything in the air back there'. Gary Scott penned terms this week after spending a week on trial... The versatile defender, 30, left Blue Square Premier outfit Altrincham in the summer after making more than 200 appearances for the club... 'Gary is a great addition for us'," he said. 'He can play in either full back position or as an anchor man in midfield so I've got options with him around'. Defender Tony Dunne has made the move to Wincham Park from Warrington Town, while Mark Drew is a ready-made replacement for Alex Brown... 'Mark is a creative player' he said. 'He has an eye for a pass and chips in with goals too'... An ex-Bolton Wanderers Academy graduate, he was at Rossendale before moving to the Magpies in November".
BSP NEWS
Alty groundsman and Abbey Hey boss Neil Brown will be interested in this news from Forest Green Rovers where this week "Dave Whincup works for Sports Turf Maintainance & Supplies, based at Frocester, and was installing the Beam Rider System ahead of marking all the lines on the pitch ready for the visit of Bristol City tomorrow. The system, which is fully automated, is 100% accurate in marking all the lines...even better than any old groundsman with his long suffering ball of string! Setting up time is crucial but, once complete, a laser beam is projected by the machine to allow the marker to keep the line in perfect dimensions to all the others. The human eye cannot see the beam but the machine knows perfectly where it is heading".

"Ashley Winn has left Vics after a trial" according to the Northwich Guardian. "The former Stalybridge Celtic schemer spent the last week training with Dino Maamria's men before playing the first half of Vics' 3-1 over Clitheroe on Wednesday. He is due to turn out for Blue Square Premier newboys Barrow tomorrow when they take on a Furness XI".

From the Northants Evening Telegraph we learn that "Garry Hill will check out at least two trialists in Rushden & Diamonds' first pre-season friendly. Former Peterborough United defenders Sagi Burton and Gareth Jelleyman have been named as part of the squad for the trip to Essex club Halstead Town. Centre-half Burton, 30, spent last season at Barnet while 28-year-old left-back Jelleyman was relegated with Mansfield Town. Diamonds' boss Hill revealed: 'They have been training with us at Kimbolton and we'll see where we go next week'... Summer signings Alan Marriott, Curtis Osano, Scott Mitchell, Daryl Clare, Lee Phillips and Dean McDonald will make their debuts for Diamonds. But former Cambridge United midfielder Rob Wolleaston is left out along with the likes of Jon Challinor, Tom Shaw and Michael Corcoran because Hill doesn't want to take a full squad on the two-hour trip... Diamonds head to Portugal next week before returning for home games against Peterborough United, Derby County, an Arsenal XI and Tottenham Hotspur XI".

"Grimsby manager Alan Buckley has refused to accept defeat in the race to sign Mansfield forward Michael Boulding but has admitted he is monitoring other attacking options" says Blue Square Football. "Buckley last month confirmed his interest in Boulding, who scored 25 goals last season".

NL Daily says that "Lewes are offering terms to three players who have been training at the Dripping Pan. Ollie Rowland, Matt Geard and Joe Keehan will all be signing in the next few days. Left-sided Rowland played for Whitehawk, Worthing and Burgess Hill Town last season but is best known for his time at Eastbourne Borough which was cut short by a knee injury. He started his career at Crystal Palace and also had a trial with Brighton. Geard began his career with Brighton and has played for Burgess Hill and Horsham. Fellow midfielder Keehan, who is the son of Lewes boss Kevin, played for Worthing last season having earlier been with Crawley Town and Eastbourne Borough. Manager Keehan said: 'They have shown a great attitude in training as well as the necessary ability... Joe has done really well in training. He may be the manager's son but I think he will show people what he is capable of'... Keehan is still hoping to add a couple more experienced players to his squad after tying down Anthony Barness and Scott Taylor on one-year contracts" reports the Argus

Stevenage Borough announce that "Following a spell on the transfer list, Ashley Westwood has left the club by mutual consent".

At Oxford United "The U's are set to sign 22 year old goalkeeper Jake Cole on a three month loan. Cole has been the number two keeper at QPR for a long time... but has performed well in his first-team starts The six foot two shot stopper... will join on a three-month loan while Billy Turley recovers after his shoulder operation. Darren Patterson said: 'Billy had an operation in the first week after the end of last season and is making excellent progress. He is doing all he can to get fit but in all likelihood he will miss the start of the season. Rather than rush him and further endanger that injury we wanted to bring in a keeper we could trust and who would push him all the way, and Jake will certainly do that. He is a very good keeper from a much higher level and we are really lucky to have him'".

Mansfield Town we learn that "Boss Billy McEwan has today made a double swoop by signing former Premiership defender Adie Moses and ex Aston Villa trainee Michael Blackwood. Moses, 33, has made over 300 career appearances, and was at the heart of the Barnsley defence when they gained promotion to the Premiership in 1996/97. Huddersfield then paid £225,000 for his services in 2000. He subsequently played for Crewe and Lincoln City, more recently. He can play anywhere across the back line. Boss Billy McEwan told mansfieldtown.net: 'He is a leader with a great attitude, and is somebody who I wanted to sign when I was manager of York'. Michael Blackwood started his career at Aston Villa as a youth team player. The 28 year old has also plyed his trade at Wrexham, Telford, Lincoln and Kidderminster. He played on loan at Oxford United last season from the Harriers. Blackwood can play at left back or on the left hand side of midfield".

Kidderminster Harriers today announce a new initiative for the 2008-09 season that will see supporters given the chance to be a Club Director for a day. 'Director for a Day' sees Harriers' Chairman Barry Norgrove and his Board of Directors joined on match days in the Aggborough boardroom by a supporter or supporters. You can enjoy a pre-match meal as well as being able to watch the match from the comfort of the KHFC Directors Box in the Main Stand here at Aggborough. Refreshments are included at both half-time and following the game, all for just £150.00 per-person".

The BBC confirms thaT "Mansfield Town midfielder Jonathan D'Laryea has signed a new contract with the club... The 22-year-old had been released by the Stags, but was given permission to return for pre-season training. He has since impressed new manager Billy McEwan and has agreed to a pay cut to try to help Mansfield back into the league... D'Laryea has made over 100 appearances since joining from Manchester City".

"Histon boss Steve Fallon has confirmed his side are in talks to sign midfielder Josh Simpson from local rivals Cambridge City. The Stutes have agreed personal terms with Simpson, 21... 'We've spoken to him, he wants to come, we've made an offer', Fallon told BBC Radio Cambridgeshire. 'They've got their price so as always there's a little haggling to go on'. Simpson joined City as a youngster and showed enough promise to secure a move to Cambridge United for the 2006-07 season. But he returned to Milton Road last season in search of more regular first-team football and was a virtual ever-present in the City side".

According to the Sussex Express "Kevin Keehan is hopeful of adding another two ex-Football League names to his Lewes squad following the aquisition this week of Anthony Barness and Scott Taylor. Former Millwall, Bolton, Tranmere, Blackpool, Plymouth and MK Dons striker Taylor and ex-Bolton and Chelsea defender Barness – the one remaining member of the Rooks' championship-winning team of last season – put pen to paper this week to bring much-needed experience to boss Keehan's young squad. And the Lewes manager this week told Sport Express he was confident of landing two more big names in time for the Rooks' friendly with Brighton & Hove Albion next Saturday (July 19).

He said, 'I'm talking to a couple of players as we speak. They are names that people will want to hear and are names that people will think will be an asset. Rather than youngsters they will be experienced players'... [Taylor], the experienced frontman, 32, made almost 400 League appearances in his Football League career before joining Grays Athletic last season... Barness decided to rejoin the Rooks on a one-year contract".

The Kent Online site says that "Ebbsfleet manager Liam Daish has stood his ground after Peterborough United withdrew an offer of £100,000 for striker John Akinde... 'I like to keep things like this confidential', insisted Daish. 'There's a lot of factors I wasn't comfortable with. I didn't think it was right for the club or the player, and I wasn't comfortable with the way he [Barry Fry] went about it. Barry decided he wanted to withdraw an offer and that's fair enough. I spoke to [manager] Darren Ferguson and he was understanding of the situation. Then Barry got involved. I think that's his way. He's trying to be clever but he's not. I won't be bullied into doing anything just because it's Barry Fry'".

"Mark Cooper is hoping to persuade Trevor Benjamin that his immediate future lies with Kettering Town" claims the Northants Evening Telegraph. "The striker – who once cost Leicester City £1.5m when he signed from Cambridge United in 2000 – has been training with the Poppies after being released by Hereford United at the end of last season... But Cooper insists talks to strike a deal are ongoing – although the manager admitted Benjamin fits the bill. The striker – who started his career at Rockingham Road as a 15-year-old – is the sort of player Cooper is looking at to complete his squad... The Poppies' boss said: 'He has come in and his attitude has been first class. He is still not firing at 100 per cent like a lot of the lads because we haven't been back that long. If he wants to come somewhere convenient and local to him, where he can maybe make a name for himself again, then this might be the right place. If it comes down to money then there is a chance we could lose him. But it's my job to try to persuade him. We have pulled off a major coup by getting Darren Wrack and if we can get Trevor then it will be just as good. We need a target man. If you look at all the good Conference sides, they have one'".
---
11 July 2008
SQUAD NUMBERS
An incomplete list of Altrincham FC squad numbers for 2008-09 is below:
1. Stuart COBURN
2. Chris LANE
3. Matt DOUGHTY
4.
5. Greg YOUNG
6. Kevin STREET
7. Robbie LAWTON
8. Val OWEN
9. Colin LITTLE
10. Chris DENHAM
11. Warren PEYTON
12. Joe O'NEILL
13.
14. Dale JOHNSON
15. Alex MEECHAN
16. Anthony DANYLYK
17. Richard BATTERSBY
18.
19. Chris SENIOR
20.
21.
MEET THE PLAYERS
A cricket match has become almost an annual feature of Altrincham's pre-season. This Sunday an Altrincham FC XI plays a Timperley Cricket Club team at the latter's Stockport Road ground. This will be a good opportunity to meet the new players who have arrived at Moss Lane. Indeed, many of the new men will be playing. Amongst the current Alty football squad are some pretty decent cricketers, according to manager Graham Heathcote. The ex-Halifax trio of Greg Young, Chris Senior and Matt Doughty are all good cricketers, with Matt being a wicketkeeper. Graham himself is also an experienced cricketer, so why not come along to Timperley Cricket Club this Sunday - the game starts at 1pm. Refreshments will be available for purchase from the clubhouse.
AUCTION
The latest bids in the Altrincham FC auction are as follows:
Tevez Signed Boot - 85 - Ron Bellingham
Chelsea Signed Shirt - £95 - Chris Priestley
Set of last season's DVDs - £101 - Mark Steele
Pele Shirt - £65 - Jamie Sheridan
Tevez Signed Shirt - £95 - Jamie sheridan
England Signed Shirt - £75 - Ashley Williams

If you are interested in bidding for any of the above items or you know someone else who would like to place a bid please contact Grahame Rowley on 07720-606897 or by e-mail. Grahame adds, "Many thanks for your support - all proceeds will go towards the playing budget for next season".
CATERING HELP NEEDED
Altrincham FC announce that "The club is looking to employ three people to work in the two catering facilities at the club during the current season. On Saturday the hours of employment would be 12.30 till 5pm and on Tuesday evening from 6 till 9.30pm. These will be paid positions paying £5-£6 per hour. If anyone knows anyone who would be interested in these positions please contact Keith Davey or Karen Rowley at the club on 928-1045 or by e-mail.
PATRONS' CLUB FOR 08-09
The Altrincham FC Patrons' Club is a vital fundraiser for the Club. Last season 101 fans signed up and this season the club hopes to beat that total. Vice-chairman Graham Rowley writes:

For the cost of £50, your name will appear throughout the coming season in the matchday programme as a Patron of Altrincham Football Club. At the beginning of the season, every member will be entered into a prize draw, with the winner being match sponsor for an appointed game along with nine guests. Second prize will be hospitality for five people and third prize will be hospitality for 3 people in the Sponsors' Lounge.

If you are interested in becoming a Patron for next season, please forward a cheque for £50, payable to Altrincham Football Club, for my attention. If you require any further information please speak to me (Grahame Rowley) on 07720-606897 or e-mail me, or ring the club on (0161) 928-1045. Thank you for your support.
AWAY TRAVEL SPONSOR SOUGHT
With the increase in price of diesel and the subsequent increase in travel costs the club are looking to acquire a 1st team away travel sponsor. If anyone or any company are interested in becoming this season's sponsor, please contact Grahame Rowley on 07720-606897 or email him at altrinchamprog@yahoo.co.uk to discuss further.
OLD BOY
From Morecambe Today comes news that "The Shrimps start their friendlies with trips to Barrow on Tuesday and Burscough next Wednesday. The majority of the first team squad will go to Barrow with more of a fringe side travelling to Burscough.That game will feature the several trialists currently at Christie Park, including former Chester defender Phil Bolland who has been training with the club".
BSP NEWS
Alty's first opponents this season are Woking where "The code of conduct for the players this year has been drawn up by Kim Grant and one of the significant rules will be only the captain of the club will be allowed to approach the referee during a match if there is any need to during the game. We believe that at our level of football there are very few if any clubs, that are instigating this rule. Maybe a first for the Cards."

Peterborough Today informs us that "Posh insist they will eventually get their man after having four bids rejected for Ebbsfleet's star striker John Akinde. Posh made three unsuccessful bids ranging from £25,000 to £60,000 before agreeing to meet Ebbsfleet's £100,000 asking price for the 19 year-old player who helped his club lift the FA Trophy at Wembley last season. But that still wasn't enough to land their man and Fry is unhappy with the way the deal has collapsed. He has accused Ebbsfleet manager Liam Daish of messing the club around over the proposed transfer. Fry said: 'We have been after the lad since March but we've been messed about something rotten by Liam Daish. Akinde is one for the future and we met the asking price we were given to be able to talk to the player. Liam told us he would give permission for that to happen after the FA Trophy Final but two months later he hasn't even bothered. I've heard he won't get any of the money to spend so he wants to keep hold of the lad for the remaining year of his contract, but we are not playing games and we have withdrawn the offer... I am confident we will get him in the end'".

And another deal that fell through is the subject in the Tameside Advertiser. "Hyde United have condemned Northwich Victoria for their role in Gareth Seddon's aborted transfer to the Blue Square Premier club. Both clubs had agreed an undisclosed, five-figure transfer fee for the striker on May 23, only for the deal to fall through. Northwich had apparently claimed on several occasions that the money would be on its way to Ewen Fields, but they finally got in touch with Hyde chairman Steve Hartley at the end of last week to say they could not afford the agreed fee. The Advertiser understands that Northwich instead wanted to provide a down payment which would account for more than half of the agreed price with the rest paid in instalments during the season. The impasse has come after a benefactor – who had agreed to 'sponsor' the transfer – was unable to get the full amount together and then pay it all up front. Hyde football director Tony Beard said: 'This is totally unacceptable. We are angry that the player has been unsettled and their promises to both Gareth and us have not been met. You can't conduct business like that, you're just messing people around. I don't know whether they expected us to snatch their hands off but it's a matter of principle. Gareth has been unsettled and let down badly. We've stated all along that we haven't fallen out with him; he just wants to play at a higher standard of football which is why we said he could leave'. Lawyers acting for Hyde have now been called in and all relevant papers have been forwarded to the Football Association for their consideration".

The BBC reports that "Barrow have taken Workington Reds goalkeeper Aaron Taylor on trial. The Bluebirds are looking to add a second goalkeeper to their squad as cover for Tim Deasy. Taylor, who is second-choice at the Reds, has been training with Barrow... Barrow played the majority of their games last season without a keeper on the bench and joint managers Dave Bayliss and Darren Sheridan have made a back-up option one of their priorities this summer".

"Oxford United have signed their third forward in three days after securing the services of Colchester United's Jamie Guy on a season-long loan" states the BBC. "The move for the 20-year-old former Cambridge and Gravesend striker follows Oxford's capture of Lewis Haldane and James Constable on similar deals. Boss Darren Patterson said: 'He has always excelled against our reserves and he's looked the part at first-team level as well... With James Constable and Yemi already here we have good options up front'". Burton Albion had also been pursuing Guy as well as Jon Newby but the BBC confirm that "Morton boss Davie Irons has moved to sign twenty-nine-year-old former Morecambe striker Jon Newby. Newby, Morecambe's top scorer last season, was released by the Lancashire club in May".

NL Daily reports that "Football fans in Halifax will be able to follow `Town` after all next season. The newly-formed club has been given the go ahead to call itself FC Halifax Town in its first season in the UniBond League Division One North". One of their first away games will be at our neighbiours Trafford FC on Tuesday 19th August when Alty do not have a game. It had been thought that the football authorities would veto the name as it was too close to the previous club which went into administration in May".

"Chester have given striker Chris Holroyd permission to speak to Cambridge United over a possible transfer" according to Blue Square Football. "The 21-year-old may find first-team opportunities hard to come by next season after the arrivals of Paul Taylor and Ryan Lowe, and is set to travel south for talks with new United boss Gary Brabin".

According to Bullsnews, "Stockport have failed in two six-figure bids for Morecambe midfielder Carl Baker. The former Southport man scored ten times from 42 games in his, and the Shrimps, opening Football League season".

The Gravesend Reporter says that "Will Brooks insists the 'Pick the Team' option on the MyFootballClub (MyFC) website offers Ebbsfleet United's owners a real taste of match-by-match football management. MyFC announced on Tuesday that team selection - which has been termed 'Phase Four' and was a fundamental tenet of the portal's plans during last November's takeover proposals - would be thrown open to the 30,000 members for this Saturday's pre-season friendly against Charlton at Stonebridge Road. The Fleet's online supporters were initially polled on whether they wanted sole control over the choice of the starting line -up or would prefer Liam Daish and his assistant, Alan Kimble, to decide the XI. The results will be known 24 hours prior to the fixture and shared only between the MyFC webmasters and Daish in the build-up. The disclosure of ballots, percentages and preferred players and formations will be held back until kick-off in order to prevent the opposition from gaining an early advantage. However, Brooks confirmed that if the fans' overwhelming wish is to pencil in the names on the teamsheet, then their choices will be carried through right on to the pitch.

'If people vote to pick the team with no coaching staff influence, that's what will happen', the MyFC founder explained. 'It's a moveable situation from game to game'... Such a seismic shift of power on the tactics board may well come as something of a culture shock for the Fleet's FA Trophy- winning head coach Daish... 'Liam's known from when I first spoke to him in November that this would happen and he's willing to see how it goes'," Brooks explained".

And Kent Online adds that "Liam Daish has made his third new signing with the capture of winger Ricky Shakes. The Trinidad & Tobago international, who has played under Sam Allardyce at Bolton Wanderers and Dennis Wise at Swindon Town, spent last season with Brentford. He has amassed more than 120 appearances in the Football League. The 23-year-old, who looked set to join Wrexham last month after being shown round the Racecourse Ground, is the second ex-Brentford man to join the Fleet this season, following the arrival of defender Darius Charles. Daish said: 'We missed someone with pace on the flanks a little bit last season. Ricky has genuine pace and can also tuck in as a striker if required'".

The "Kidderminster Shuttle claims that "Harriers are braced for a second bid from Walsall for key midfielder Russell Penn... Chairman Barry Norgrove dismissed an approach from the Coca-Cola League One side for the 22-year-old... However, Norgrove admitted that he is expecting Walsall to make another move for Penn... 'We've turned down an offer for Russ Penn because it is nowhere near what we value him at', said Norgrove. 'We'd obviously like him to stay and play for us but if the right offer comes in we would have to look at it'... Penn, who joined Harriers from Scunthorpe United in 2005, has been the subject of transfer speculation throughout summer... With manager Mark Yates's budget smaller than last summer and season tickets sales down on the same point in 2007, it may be hard for Harriers to resist cashing in on Penn... Norgrove said: 'I would prefer to keep him at least until Christmas and see what's going on then. It is more important for the club to be financially solvent than in debt. Season ticket sales are down at the moment and people are feeling the pinch because of the current financial problems the economy is facing, so we have to be realistic'. Meanwhile, Penn admitted 'I know the club have turned down an offer from Walsall and I am waiting to see what happens next. They're a League One side and it's the ambition of any player in the Blue Square Premier to play as high as they can. I am concentrating on getting fit at the moment and we have some friendlies so we'll see what happens. Of course it's a distraction but it's a good distraction to have'".

"York City will not have a number one shirt next season" says The Press because "First-choice goalkeeper Michael Ingham has requested the number 24 instead for personal reasons. The Minstermen's squad numbers for the new Blue Square Conference campaign, released today, also revealed that new Australian striker Daniel McBreen has inherited the number nine shirt worn by Paul Brayson and Leo Fortune-West last term. Captain Mark Greaves will be the club's new number eight following the departure of Manny Panther – his predecessor as City skipper – while Ben Purkiss (2) and Darren Kelly (4) have been handed first XI numbers for the forthcoming campaign. The full list of squad numbers is: 2 Ben Purkiss, 3 Mark Robinson, 4 Darren Kelly, 5 David McGurk, 6 Danny Parslow, 7 Onome Sodje, 8 Mark Greaves, 9 Daniel McBreen, 10 Craig Farrell, 11 Martyn Woolford, 12 Ben Wilkinson, 13 Josh Mimms, 14 Steven Hogg, 15 Simon Rusk, 16 Richard Brodie, 17 Niall Henderson, 18 Adam Boyes, 19 Liam Shepherd, 20 Andy McWilliams, 21 Jimmy Beadle, 22 Josh Radcliffe, 24 Michael Ingham".
---
10 July 2008
STAR & SUPPORTERS' ASSOCIATION
Brian Flynn writes that:

"The STAR Annual General Meeting (2007-8) and the launch of a new Altrincham Football Club Supporters' Association will take place in The Noel White Suite on Tuesday August 5th 2008 at 7.30pm. The prime agenda items will be:-
Presentation of STAR's 2007-8 Accounts
Proposal to 'mothball' STAR & launch a new Supporters' Association which would be run by a committee rather than a more formal Board.

Everyone is welcome to attend & the STAR Board encourages as many people as possible to be present on the night.
OLD BOYS
Liam King (right) enjoyed a successful loan spell at Moss Lane but he has made a surprising move. Matlock Town "have signed Liam King, a 20 year old midfielder who was released by Rotherham United at the end of last season. Liam was on loan for a spell last season at Altrincham. Liam can also play in defence, he's 5 ft 9 ins, likes a tackle, and can break play up also having a good engine".

Alty FC historian Terry Rowley has provided some information on Stuart Gibson whose death was reported here yesterday. Stuart played 3 games and scored 3 goals for Altrincham. He scored one in a 4-2 win away at Macclesfield and two in a 3-4 defeat at Wellington.
CHRIS AIMS TO SCORE
The Sale & Altrincham Messenger says that Alty's new signing "Chris Denham has experienced that sinking feeling in the past and it's something he's keen not to experience again any time soon. A key player at Droylsden last season, the tricky forward spent the entire campaign scrapping it out in the lower echelons of the Blue Square Premier... Following Droylsden's relegation, several clubs - including big-spending Rushden and Diamonds - battled it out for the 25-year-old's signature but he eventually plumped for Alty. Some might see that as jumping out of the frying pan and into the fire but Denham certainly doesn't.

He said: 'Last season was hard work because most weeks you were trying to pick yourself up after another defeat to try and prepare for the coming game. When you're at the bottom of the table, your confidence is low and you need people there to look after you and put an arm round you. You always need picking up. That's definitely not what I want this season, I don't want to be down there again. Getting beat week in, week out is not what I want to be doing... Alty have been reprieved three years in a row so everyone here, including the new players, has a point to prove. I've been impressed by the players Graham (Heathcote) has brought in. I know Kevin Street well and he's been about for years and has plenty of experience. Dale Johnson was always a handful when he was at Droylsden last year and all of the other players brought in should add to the team as well. But I'm looking forward to playing with the likes of Colin Little as well, there is some real quality in the squad. I have been impressed with the set-up here and the training is a lot better than I'm used to, we should be at peak fitness by the start of the season. The squad are all getting on well together and it's been really enjoyable so far... I know Graham and he's been asking me for a few years if I'd be interested in joining Alty. He rang me again this summer but at the time I was still umming and ahhing over my future. But when I decided to stay part-time, I respect Graham so I went back to him and said I wanted to join. It's a big club and I'm excited to be here. Now I just want to do my best for Alty and the fans can be sure that I'll give my all whenever I'm out on the pitch. I'm not sure where I'll be playing yet though and where I'll fit in. Last season I played wide right but because we were on the back foot so much I didn't get the chance to go forward as much as I'd like. There's a possibility I could play up front this season and I am definitely aiming to score more goals than I did last season'.
BSP NEWS
The Nortwhich Guardian has an extraordinary story from our Cheshire neighbours. "Vics are set to miss out on their number one summer target. The club were ready to smash their transfer record to bring England C international striker Gareth Seddon to the Marston's Arena. Instead they are heading for a row with the forward's owners, Hyde United. 'Northwich have broken their promise to us and the player', said Tony Beard, the Tigers' director of football. 'It's totally unacceptable — we struck a deal at the end of May when they agreed in writing to pay an undisclosed fee yet now they say they do not have the money'.

Not so, according to Vics' owner Jim Rushe. He says the club still wanted to sign Seddon but the details of any deal would have to change. 'We've been honest with Hyde from the outset and all the way through the negotiations', he said. 'The economic climate has changed considerably over the past six months since we first expressed an interest in the player and, as a result, we simply can't afford to make the full payment up front'. Rushe told the Guardian that he had offered Beard a down payment today, Wednesday, that would account for more than half of the five-figure fee agreed by the two clubs. The rest of the cash would be payed in instalments over the course of the season.

He added: 'I fully understand the frustration of Hyde but we had to restructure the deal. I spoke to Tony on Saturday and apologised to him for what has happened but the facts remain the same'. Beard's response has been to contact the FA to complain. It is now likely that former Bury hotshot Seddon, 27, will remain at the Blue Square North club to see out the remaining two years of his contract... 'Gareth was flattered by Vics' offer', added Beard. 'Now he is completely disillusioned'".

The Northants Evening Telegraph tells us that "Rushden & Diamonds have announced a double deal to take Garry Hill's summer signings up to seven. The new number one at Nene Park is former Tottenham Hotspur trainee Alan Marriott who spent the last nine years at Lincoln City before being handed a free transfer this summer. Another arrival is forward Dean McDonald following a spell with Scottish Premier League side Inverness Caledonian Thistle. They join Daryl Clare, Lee Phillips, Rob Wolleaston, Scott Mitchell and Curtis Osano in the new-look Diamonds squad with Hill still hoping to add a centre-half and a left-back... Bedford-born Marriott – who made more than 400 appearances for Lincoln – signed a two-year contract after turning down offers from Football League clubs. He revealed: 'I actually came down here when I left Spurs for a couple of days on trial. At the time Brian Talbot was the manager and he already had a couple of good keepers. Being a local lad, I wanted to sign. Unfortunately things didn't work out back then for different reasons and instead I moved to Lincoln where I've had a fantastic time... I wanted to do a deal because I'm from this area and also the facilities are first-class'... McDonald, meanwhile, is looking to get his career back on track after just seven substitute appearances last season in Scotland. The former Arsenal apprentice – who can be used as a striker or a winger on either flank – said: 'I think at my age of 22 I need to be playing regularly after a couple of years when I've been in and out of the first team'".

From NL Daily we learn that "Blue Square South club Worcester City have handed a trial to former Burton Albion striker Jake Edwards".

Meanwhile, BLue Square Football confirms that "Veteran striker Mark Stallard became the first piece of transfer business under new Mansfield manager Billy McEwan on Tuesday evening. The news of the hitman's desire to join the club provided welcome relief to the former York City mentor as it followed Micky Boulding's decision to depart Field Mill... McEwan is delighted with the capture and told the Mansfield Chad: This is a big signing for the football club. Mark is a proven goalscorer'".

And "Kidderminster Harriers have rejected a bid from Walsall for Russell Penn. The midfielder's contract comes to an end in the 2008-2009 season and that, coupled with his goalscoring exploits has seen him attract interest... Chairman Barry Norgrove insists 'We've turned down an offer for Russ Penn because it is nowhere near what we value him at'".

From the Daily Post comes news that "Gavin Ward could be forgiven for thinking he had seen it all in the 18 years since he made his senior debut in the game, but the Wrexham veteran will be venturing into unknown territory when the new season kicks off next month... The 38-year-old goalkeeper admitted it had taken some weeks before he recovered from the embarrassment of finishing bottom of the Football league... 'What happened last season when we went down was a tragedy', he said yesterday. 'We have got to do the business this year if we are to go straight back up... I've played in every division and the Conference will make it five, even though I would prefer that not to be the case', he added. 'And it's going to be a difficult season for us because we'll be seen as one of the big boys. We'll be up there among the favourites and teams will come and look around at the Racecourse and want to put one over on us... Looking at who we've brought in there are some good young players with plenty of legs and who are keen to do well. Added to those who were already here I think we've got a good chance... The gaffer maybe could have brought in lads who have played at a higher level and were looking to step down, but that's happened elsewhere. If you look at Telford in the past they did that with a lot of lads I actually knew and it didn't work out for them for one reason or another... The gaffer has signed players who know a bit about Conference football but they are young and have ability and pace'... On his own prospects, Ward said he was looking forward to a selection battle against the experienced Anthony Williams and first-year professional Chris Maxwell... Wrexham have announced work is to begin immediately on converting an empty car showroom adjacent to the Racecourse into a new club shop and ticket office".

There is startling news from The Press that "Ruling councillors are set to agree to lend York City Football Club £2.1 million to help ease the club's financial burden. Financial experts Deloitte have scrutinised the club's accounts, and City of York Council's executive will next week be asked to approve a loan. The money will allow the club to clear its debt to the Football Foundation, which was at a higher interest rate than the council loan will be... Labour leader Coun David Scott said 'When you are spending £2.1 million, the council has to be sure that money is secure and that it's legal to make the money available'. He said the council could invest up to £7 million in a community stadium".

On the field, "City boss Colin Walker has not ruled out making one further signing before the start of the new season. Former Bradford City striker and Leeds United trainee David Brown bagged a brace as the Minstermen kicked off their pre-season with a 6-0 win in front of 450 fans at Tadcaster Albion last night. Fellow trialists Anton Foster and Nathan Fisher, who was released by Gretna last season after previously being on Middlesbrough's books, also played at Ings Lane while experienced winger Lee Elam, released by last season's play-off winners Exeter City in the summer, arrived at KitKat Crescent for training this morning... Elam, 31, is looking for a new club close to his Bradford roots, having plied his trade at Exeter, Weymouth, Crawley, Morecambe, Burton, Hornchurch, Chester, Yeovil, Halifax and Southport in the past".
---
9 July 2008
FIRST FRIENDLY
Above: Abbey Hey 0 Altrincham 8 on 17 July 2004 - Steve Aspinall watches as Mark Rawlinson (14) awaits the next move from fellow trialist Gareth Feeney (on the ball).
Altrincham's pre-season starts at Gorton, Manchester M18 7HD. A map is here. After turning off Hyde Road into Woodland Avenue turn right into Ryder Brow Road, pass under railway bridge and turn first left into Goredale Avenue. The nearest railway station is Ryder Brow. Abbey Hey boss Neil Brown has indicated that a programme will be produced for the game.
OLD BOYS
The website has not quoted the Devon Cricket website before but I am grateful to Alty supporter and cricket fan Brian Birtles for the following piece on a former Alty player from that source: "Cricketer, teacher, golfer, footballer and team-mate of the Busby Babes, Stuart Gibson was all of those and more. Gibson, who has died aged 69 after losing a long fight against cancer, was a permanent fixture on the South Devon sporting scene for more than 40 years. Generations of young sportsmen and women got to know Gibson as their teacher at St Cuthbert Mayne School in Torquay. He was on the staff there, teaching RE and PE for 28 years until his retirement in December 2003. Gibson had turned to teaching after missing out on making it as a professional footballer with Manchester United in the late 1950s. He was a clubmate of the young Bobby Charlton and shared a dressing room with Duncan Edwards and Dennis Viollet. Charlton and Viollet survived the Munich Air Disaster in 1958... A year before the Munich crash, Gibson was a member Manchester United youth team squad who won the FA Youth Cup. Gibson left United before making it to the senior ranks and went on to play for non-League Altrincham and Charlton Athletic. Later, he turned for Torquay United's A team and Falmouth in the South Western League". By an amazing coincidence, "Stuart Gibson" was the answer to one of last night's Sports Mastermind questions! He apparently moved from Manchester United to Sheffield Wednesday. Commiserations go to his family and friends from all at Moss Lane.
The NW Evening Mail reports that a "Former Barrow AFC [and Altrincham] goalkeeper has denied blackmailing a Premier League footballer. Goalkeeper Ashley Timms, 22, (right) has pleaded not guilty to demanding £15,000 from the unnamed player. Mr Timms, of Middleton, Greater Manchester, is charged with making an unwarranted demand for money from the player with menaces. Yesterday Judge Andrew Gilbart QC, at Manchester Crown Court, set a trial date for August 11.He also upheld a previous ruling not to name the Premier League player involved. Mr Timms was granted an extension of his bail and ordered to report to a police station twice a week".
CRICKET ON SUNDAY
Mike Ainsworth confirms that this Sunday a "number of Altrincham FC players and staff will be involved in the game which will be on the Stockport Road grounds of Timperley Cricket Club.Please take the opportunity to come down and support the team, enjoy a drink and meet the players old and new. NB Time change to 1pm".
INTERVIEW WITH GRAHAM
The voice of Altrincham FC, Brian Flynn reports that he has recorded an interview with Graham Heathcote on ClubCall, in which "Graham tell us about:-
The three day trip to Mottram Hall
Why he feels the squad is higher on quality than quantity
His plans for the first couple of pre-season fixtures
The latest on his search for a centre half
AUCTION
Grahame Rowley advises that the ongoing auction to raise club funds has reached the following levels but new bids are still very welcome:
A signed Carlos Tévez football boot - £60
A home Chelsea shirt signed by 18 of the squad - £85
A complete set of DVDs of every Altrincham FC league game [last season] both home and away - £50
A Pele signed Brazil No.10 Shirt - £55
An England shirt signed by 13 players - £60
A Carlos Tévez signed Manchester United shirt - £70

If you are interested in bidding for any of the above items or you know someone else who would like to place a bid please contact Grahame Rowley on 07720-606897 or by e-mail. Grahame adds, "Many thanks for your support - all proceeds will go towards the playing budget for next season".
FRIENDS' DRAW
Steve Foster reports that the winners of the June Friends of Altrincham FC draw were:
1st, No. 66. Sean Riley (£100)
2nd, No. 24. Mick Taylor (£35)
3rd, No. 9. Steve Foster (£15)
BSP NEWS
Whilst the Setanta Shield starts with Round 1, the Blue Square Premier clubs enter in stages. In Round 2 the contestants are the 22 Round One winners from BS North and South plus six BS Premier clubs (i.e. the 2 lowest placed last year and not relegated, plus 4 newly promoted) - so Alty will join at this stage. In Round 3 the 14 survivors of Round 2 are joined by the remaining 18 Premier clubs. There are then three more rounds before the final.

Matt Cook of Blue Square writes: "With less than 5 weeks left until the start of the new Blue Square Premier, North and South season, fans of all clubs are chomping at the bit for news of their club's new signings. With that in mind, Blue Square have added a 'Transfer Centre' section to their website here. This details the 'Ins & Outs' at all 68 clubs, as well as bringing a little of the gossip from the media, fuelling the transfer merry-go-round... You may also wish to add a little 'gossip' which we can also air (anonymously of course)!"

By sending off the form at the following link you can obtain a free DVD reviewing the 2007-08 Blue Square Premier season.

"Peterborough United forward Danny Crow has played down the possibility of a loan move to rivals [?] Cambridge United" reports the BBC. "But the former Norwich trainee is reluctant to drop into non-league".

"Oxford United are set to complete the loan signings of forwards Lewis Haldane and James Constable from Bristol Rovers and Shrewsbury Town respectively" and the BBC adds that "Winger Courtney Pitt has rejoined Cambridge United after being released by previous boss Jimmy Quinn at the end of last season. Pitt, 26, has signed a two-year deal following talks with new manager Gary Brabin and his assistant Paul Carden. Brabin told the U's website: 'He's a good player and I think he's been a bit of an enigma in the last few years. I've told him I'm looking to get more out of him and I think he's excited by that challenge'".

Meanwhile "Shrewsbury have Guy Madjo back in training after failing to seal a deal in the Netherlands" says Bullsnews.

"Manager Billy McEwan has decided not to keep Gareth Jelleyman at Mansfield Town. He said: 'I have told Gareth that we cannot afford him. It is as simple as that. He travels from Peterborough every day, and that is a long way to come. It is time to move on, and a time for a fresh start. We have a couple left sided players in on trial at the minute. I am working tirelessly to get some good players in here'... Meanwhile, Jonathan D'Laryea has expressed his desire to stay. But Carl Muggleton and Keith Briggs have not reported for training and look set to depart. The manager also confirmed that former Chesterfield defender Alan O'Hare remains on trial with us". However, "Billy McEwan has said it is highly unlikely that Mickey & Rory Boulding will be at Field Mill next season. Said Billy: 'I spoke to the lads' dad at great length on Sunday. I knew it would be difficult to keep Michael. The only reason he came back was to get fit ahead of the new season. But I cannot understand Rory wanting to go. I told his dad on Sunday that I would advise Rory to stay here, but I won't beg him to stay... If they don't want to play for us, that is fine. Life goes on'... The pair did not report for training this morning".

Indeed, "New Mansfield Town boss Billy McEwan revealed to The Chad on Tuesday morning that Micky Boulding has left the Stags. Boulding, together with brother Rory and Gareth Jelleyman, has rejected a new contract offer... Bradford City head the race for his signature, ahead of a cluster of other clubs including Rotherham, Scunthorpe, Lincoln and Morecambe... Jon D'Laryea has remained training at Field Mill and is trying to win a contract under the new regime - one of the few players from the 'old guard' now at the club. Carl Muggleton and Keith Briggs, who had attended pre-season training last week in the hope of earning a new deal, have not been seen at Field Mill this week. McEwan said that that Field Mill is currently awash with trialists, including former Chesterfield defender Alan O'Hare. On the departure of three players on Tuesday, he said: 'It's not a problem, I only want players here who want to play for Mansfield Town. I did want Mickey to stay, but he is 32 and in the twilight of his career so I can understand him wanting to stay in the League... We are a Conference club with a Football League set-up and one of the best stadiums in our league... When I was a player I signed for Brighton just to play for Brian Clough, not for Brighton, though I liked the club. But I thought Clough could make me a better player and improve my career. That's what I could do for Rory [Boulding], but if he wants to go then we retain his registration and if he wants to sign elsewhere we would be entitled to a nominal fee for him'".

The Burton Mail reports that "Burton Albion face competition from north of the border for striker Jon Newby. Newby has trained with Albion as he looks for a new club after being released by League Two outfit Morecambe. But Albion boss Nigel Clough last night revealed the 29-year-old former Liverpool trainee is also in talks with a Scottish Division One club. Clough told Mail Sport: 'Jon went up to Scotland last week to speak to a club - I'm not quite sure who. We're now waiting to hear whether he wants to move his family up there or whether he prefers to join us'. Manchester-based Newby is available on a free transfer despite finishing joint top of Morecambe's scoring chart in their first season of League football. Clough said: 'We haven't made him a formal offer as such but he's got an idea of the deal we have in mind'".

From the Northants Evening Telegraph This is Weymouth says that "Weymouth boss John Hollins has handed out the captaincy duties for the forthcoming season. New-signing Ryan Williams has been named club captain but it will be Anton Robinson who will wear the armband on match-days. Robinson flourished in the role as skipper last season".

The Press confirms that "Former Bradford City and Nottingham Forest striker David Brown will go on trial for home-town club York City... Buxton midfielder Anton Foster and ex-Gretna winger Nathan Taylor will also play for the Minstermen at Ings Lane on the same basis. City boss Colin Walker had previously stated that he would not be considering trialists ahead of the new campaign... Winger Taylor, 18, enjoyed six substitute outings for Gretna last season after previously plying his trade at Hamilton Academical, while combative 25-year-old midfielder Foster has spent the last three seasons at Buxton... City have signed Daniel McBreen, Michael Ingham, Mark Greaves, Ben Wilkinson, Steven Hogg and Niall Henderson over the summer... The City boss declared himself pleased with the condition of all his players after the summer break, reserving particular praise for Jimmy Beadle and Darren Kelly, who have both lost a stone in weight. He also revealed that 33-year-old utility man Greaves will be the club captain next season".
---
8 July 2008
NEW BADGE
A new Altrincham FC enamel badge has been produced for season 2008 (pictured right). Its theme is Alty's three FA Trophy Final appearances. 2008 is the 30th anniversary of the debut appearance at Wembley against Leatherhead. The badge will be available in the Robins'Shop at Moss Lane as well as through the club's Altrincham-Football-Club E-Bay shop at a cost of £2.50.
BSP NEWS
From Bullsnews we learn that "Shrewsbury have sent striker Guy Madjo for a trial at Dutch side Go Ahead Eagles. The former Forest Green man started only ten of 21 games after a £20,000 January move".

According to Blue Square Football "Bristol Rovers forward Lewis Haldane is close to agreeing a season-long loan to Oxford United in a bid to earn first-team experience.The parties are yet to reach a final agreement but expect the deal to go through in the coming days."

NL Daily reports that "Blue Square Premier new boys Lewes have announced the signing of Scott Taylor. Taylor has a wealth of experience. He has been at several clubs since starting his career in non-League football at Staines Town, including the likes of Plymouth Argyle, Blackpool, Tranmere, Bolton Wanderers, Millwall, Stockport County and Brentford. The striker joined Grays Athletic from MK Dons last January in a deal until the end of the 2007/08 season".

From the same source we learn that "Former Mansfield Town midfielder Danny Sleath has been training with Hucknall Town and is hoping to earn himself a move to Watnall Road" and that "Blue Square North new boys Gateshead... have missed out on former Middlesbrough and Cardiff City front man Andy Campbell. The 29-year-old has agreed terms with Mansfield Town".

The Northwich Guardian tells us that "Vics will share their home with Manchester United again next season.The Red Devils today told the Guardian that new reserve team boss Ole Gunnar Solskjaer wanted to keep the team in Wincham. 'We'll be back next year', said United spokesman Diana Law. 'The arrangement will stay the same, with all our home league and cup matches taking place at the Marston's Arena'. That makes United co-tenants alongside Northwich Victoria with the pair paying landowner Mike Connett to play there. Last week Vics' director Jim Rushe told supporters that the club spent around £1,500 just to host a match – a sum that includes payment to stewards and other costs associated with staging a game. The club keeps cash paid at the gate plus receipts from programme sales and car parking while food and drink sales are kept by Connett's company, Beaconet.

The Premier League and UEFA Champions League winners have had a presence in the town already this summer with experts lending a hand to groundsman Joe Biddle as he prepares the pitch for the new campaign... Three preparatory matches have been arranged to get Solskjaer's young side... After the Reds take on Burscough at Victoria Park, they travel to Altrincham's Moss Lane the following Saturday before facing Oxford United on July 26".

Lewes report on work at the Dripping Pan. "Extensive costing of building work and preparation of a submission for planning permission is well underway... A new portakabin will be installed in the south-west corner, between the player's entrance and the Rookery. This will incorporate a new sponsors' lounge and board room. The existing board room will be used as a security control room on match days. New toilet facilities will be made available alongside the wall in the south-west corner, and in the vicinity of the scoreboard in the north-east corner. A players' tunnel will be installed for the new season. A permanent structure will cover the steps with a cantilever section in place at the foot of the steps and onto the pitch. Any company interested in sponsoring the players' tunnel should contact Steve White. A new tea bar will be situated in the south-east corner, between the Rookery and Terry Parris stand. This will be open to all, although in the event of segregated matches, it will be for away supporters only. In the north-west corner the old huts have been removed and a new relocated first aid room and secure storage room will be installed. Lastly but definitely not least, the pitch has been reseeded and is in a good condition in preparation for the new season".

Nearby, The Argus tells us that "One of the more significant changes at Eastbourne Borough this summer will go by largely unnoticed. The Blue Square premier new boys have bolstered their squad with four decent signings. Off the field former Chelsea managing director Colin Hutchinson has joined the club in an advisory role. Amid all that chief coach Nick Greenwood's conversion from part to full-time status has not attracted much attention but fans should not under-estimate its importance... Whether Garry Wilson could have continued as manager without Greenwood becoming full-time is something only he could answer. Borough will be only one a few clubs in Blue Square premier this season who are not full-time and most of those who have remained part-time, including neighbours Lewes, at least have a full-time manager. Wilson is an engineering manager by day so his trusty sidekick has given up his job in the fire service. Greenwood, who turns 50 in a fortnight, has been a fundamental part of Borough's meteoric rise from County League to Blue Square premier since joining the club from Hassocks in 1997.

He said: 'This will enable me to take the pressure off Garry. I will be fielding calls, freeing him up from the responsibility of that so he can get on with doing his job during the day. I will be putting on extra training sessions for the players when we can because a lot of them have unusual shift patterns. It will also be an opportunity to watch more matches in the professional game that are going on during the week that we should have some sort of attendance at. Garry is the manager and I am the coach but we are a pair and we share the responsibilities jointly. As you move up the leagues there are more responsibilities, more things to do. It was bad enough last year when a lot of the managers in Conference south were full-time... I have done 30 years in the fire service. I had an opportunity to stay on and take promotion but basically I couldn't do both. I couldn't take extra responsibilities with the fire service and extra responsibilities of coaching a Conference national side'... Although Greenwood will not go full-time until the start of August, he and Wilson have been working hard all summer trying to get Borough as prepared as they can... One thing they did was have a meeting with the management team at Salisbury, whose players remained part-time after promotion to the Blue Square premier and enjoyed a superb season last year.

Greenwood said: 'We take advice from others. We have spent a lot of time with our counterparts at Salisbury, Tommy Widdrington and Nick Holmes. We have talked to them and they have told us the pitfalls, things they did well and things they didn't do so well. They are both full-time themselves and they have given us pointers. The club have a plan that we have to stay part-time but if we manage to stay in the Conference national next year we will look at the next stage, having some players full-time and some part-time. Ultimately if we stay in that division with part-time players we will be relegated in the end. Me doing this is the first step towards that. That has always been the secret of our success at Eastbourne, continually looking at ways to do things better'".

At Grays Athletic "Defender, Jamie Stuart, appeared at Basildon Crown Court to face charges of breaking Chris Beardsley's jaw during last season's game against York City. The trial has now been adjourned until Monday 21st July 20".

"Mark Cooper feels he is one striker away from completing his Kettering Town squad for the Blue Square Premier campaign" he told the Northants Evening Telegraph. "The Poppies' boss sealed his third deal of the summer last week with the impressive capture of experienced midfielder Darren Wrack. The former Walsall man follows Dwane Lee and Nathan Smith into the A-Line Arena while Peterborough United winger Alfie Potter is expected to arrive on a season-long loan deal within the next two weeks... 'I think we need a target man and we will keep looking', the Poppies' boss said."

The Evening Leader says that Wrexham's "Racecourse Ground is gearing up for an influx of TV cameras next month. Setanta Sports will be screening live Wrexham's clash with Oxford United on Thursday, August 21 and that's just 24 hours after Sky Sports roll into town for Brian Flynn's Welsh under 21s showdown with Romania... Football secretary Geraint Parry also revealed he is trying to re-arrange the club's away fixture at Rushden and Diamonds on August 16. The Reds travel to Rushden less than 48 hours after that live game with Oxford. 'Football League rules were clear that you didn't play games within 48 hours'," said Parry. "'Rushden don't want to put the game back to the Sunday but we feel that if we say yes then a precedent will be set'...

Hoping to be involved in the squad for Wrexham's first games in the Blue Square Premier is young Reds' goalkeeper Chris Maxwell... A product of the club's youth system... he readily accepted [a] one-year deal. Maxwell, aged 17, could find himself as back-up to first choice shot-stopper Gavin Ward as Anthony Williams has been placed on the transfer list... Wrexham released their squad numbers for the new season. The full squad number list is:1 Gavin Ward, 2 Kyle Critchell, 3 Carl Tremarco, 5 Steve Evans, 6 Nat Brown, 7 Wes Baynes, 8 Simon Brown, 9 Jefferson Louis, 10 Shaun Whalley, 11 Neil Taylor, 12 Levi Mackin, 14 Tom Kearney, 15 Mike Williams, 16 Silvio Spann, 17 Simon Spender, 18 Michael Proctor, 19 Andy Fleming, 20 Shaun Pejic, 21 Marc Williams, 22 Conall Murtagh [ex-Alty reserves], 23 Sam Aiston, 24 Gareth Evans, 26 Anthony Williams, 27 Chris Maxwell, 28 Chris Marriott". Just the 27 players then!
---
7 July 2008
ABBEY HEY ON SATURDAY
Altrincham FC play their first pre-season friendly this Saturday (12th) at Abbey Hey, whose ground is at Goredale Avenue, Gorton. Admission prices for this game against the club now managed by Altrincham FC groundsman Neil Brown, will be £5 and £2. There is free car parking at the ground and on the adjacent road. Kick off is at 3pm.
OLD BOYS
The Hyde United Forum has a message from the Tigers' Secretary confirming that former Alty defender Peter Band has joined New Mills, whilst Hyde's Steve Pickford has left Ewan Fields for Droylsden. Meanwhile at New Mills "Everyone at New Mills AFC would like to congratulate [former Alty Youth goalkeeper] Barry George and his partner Catherine. Catherine gave birth to a boy on Monday 9th June 2008, Samuel Zhang Ogboni George weighed in at 8lb 5oz and both Mother and son are doing well".
BSP NEWS
At Stevenage Borough the club have made four back-room appointments. They have "appointed Steve Greaves as Head Coach. The 38 year old UEFA A licence coach takes up his appointment immediately after 14 years coaching at Ipswich. Steve played at Fulham, Preston and Ipswich as a professional before a knee injury ended his career aged 24. He turned to coaching and has coached both youth and seniors for Ipswich over his 14 years at the club. The high point of his career was coaching the U18s to the FA Youth Cup win in 2005. A new goalkeeping coach was also added some weeks ago - Ali T joining on a full time basis to coach the keepers. Ali was the former coach of Lionel Perez at Cambridge. Neil Withington has been appointed as fitness coach... and a familiar face returns as Keith Allinson is appointed to head up the physiotherapy team. Keith left Stevenage some years ago to pursue a teaching career and develop his private practice. With Graham Westley as Manager and John Dreyer as assistant manager, the management team is now complete".

According to Blue Square Football "Mansfield skipper Jake Buxton has departed Field Mill after a decade long spell at the club. The move comes a mere 24 hours after Billy McEwan replaced Paul Holland as manager...The defender told mansfieldtown.net on Saturday: 'I am very sad to leave the club after being here from the age of 13. I held talks with new boss Billy McEwan yesterday and expressed to him my desire to stay... The club have agreed to let me go and I thank them for that'".

Boston United have re-signed David Farrell, who spent last season with Burton Albion.
---
6 July 2008
ALTY ON TOUR
Altrincham FC vice-chairman Grahame Rowley, his wife Karen, daughter Sarah and boyfriend Dan Jones are on holiday at present. Whilst passing though Los Angeles, they took in a "soccer" game at the Home Depot Centre to watch David Beckham play and score for LA Galaxy against New England Revolution in the Major League. Despite Beckham's second half goal, it was not enough to overcome a two goal deficit from the first half. But the travellers took advantage to display their replica Alty home and away kits as shown in the adjacent photo.
BSP NEWS
The SAM reports that "League sponsors Blue Square have tipped Alty to finish in the drop zone again next season. The Robins have finished in the bottom four in each of the past three seasons before being reprieved due to other clubs' difficulties. [They actually finished 18th in 2006, only to be deducted 18 points]. And the betting firm predict another season of troubles for Graham Heathcote's men, rating them second favourites for relegation from the Blue Square Premier. Blue Square South champions Lewes are odds-on favourites, priced at 4/6, while the Robins follow closely behind at evens. Division newcomers Eastbourne Borough and Barrow round out Blue Square's predicted bottom four... Favourites for the Blue Square Premier title are Stevenage Borough... They are priced at 11/2, with Torquay and Wrexham at 6/1 and 7/1 respectively. Oxford United and Rushden and Diamonds round out the top five, both at 9/1. Alty are a long shot at 80/1 to finish as champions".

Blue Square Football says that "York City's released goalkeeper Tom Evans has put pen to paper on a deal at Alfreton Town". Meanwhile "Oxford United have completed the signing of former Northampton and Bristol Rovers utility-man Chris Carruthers. The 24-year-old began his career with the Cobblers before joining Rovers on loan. He completed a permanent switch to the Pirates in 2005".

Also, according to BS Football, "New Mansfield Town manager Billy McEwan is keen to get the ball rolling at the Racecourse Ground [that's Wrexham isn't it?], but admits it will be a difficult task. The former York City boss replaced Paul Holland in the Stags' hotseat on Friday and is already assessing what the Blue Square Premier new-boys need to do to achieve promotion.... 'It's going to be difficult, we've got no team', he told the Mansfield Chad. 'We're starting from scratch. There's only five or six players left. The rest have gone for some reason... It took Doncaster six years to get out of the division, it took Hereford 10 years to come back and it took Accrington Stanley 44 years - Halifax Town went into oblivion... We're actually talking about building a football club from the bottom - right from the very bottom. There's hardly any staff here. In my opinion the club is rundown. The facilities are awful... It needs sorting out and the playing side needs sorting out - but we'll get there... I am not having an assistant, what would I do?',he joked. 'My job will be out on the training pitch with the players everyday moulding them into a team - hopefully. We'll be possibly looking at bringing another coach in'".

This is Nottingham adds that "Mansfield Town's new manager Billy McEwan has revealed he has already spoken to out-of-contract striker Michael Boulding. McEwan was unveiled as the Stags' new boss at Field Mill yesterday, following the takeover of the club by businessmen Andy Perry, Andy Saunders and Steve Middleton...The 32-year-old striker scored 25 goals for the Stags last season, despite the club suffering relegation out of the Football League at the end of the campaign. He has been linked with a host of clubs during the summer".

"Striker Jon Shaw has joined Rochdale from Halifax Town on a two-year-contract for an `undisclosed` fee" according to NL Daily. "Dale... beat off some stiff competition for Shaw's signature. The 24-year-old had been linked with potential moves to Bury and Stockport as well as a host of Blue Square Premier clubs, including Burton Albion".

The NW Evening Mail says that "Barrow Reserves may be switching their home games to Wednesdays. Dave Bayliss says there will be more Tuesday evening games in the Conference than in Blue Square North last season. He adds: 'Reserve team games on a Wednesday would be better for the lads who don't get a game on the Tuesday'... Bayliss adds that he and joint-manager Darren Sheridan intend having a closer contact with the reserve set-up this season... with the team playing in the Lancit Haulage Lancashire League (West). The league will comprise 12 teams, with Chorley and Clitheroe returning and Kendal resigning. Skelmersdale could also be back after a year's absence, but the league are still waiting their decision. The rest of the teams are Bamber Bridge, Burscough, Darwen, Fleetwood, Formby, Lancaster, Leigh RMI, Salford and Workington. The first team squad were having their third pre-season fitness session at Myerscough College today".

From This is South Devon we learn that "While team manager Paul Buckle and his players try to win promotion back to the Football League on the pitch, Torquay United are poised to take an increasingly high profile off it. One year on from the takeover of United by a ten-man consortium of local businessmen, chief executive Colin Lee has revealed that around £150,000 is being spent to turn Plainmoor into a seven-day-a-week entertainment operation. And Lee also wants United to play an increasingly prominent role in the local financial community, through the Torbay Business Forum.When the 2008-2009 home season opens... Gulls fans should be greeted by a raft of customer improvements, including Championship-standard floodlights, impressive new bar facilities, a transformed restaurant and, importantly to the Gulls' die-hard supporters, a new-style stadium catering operation. Lee stressed: 'We all understand that success on the pitch is the most important thing... Apart from the work on the team, we have now introduced a new Youth Scheme, which I always felt was massively important. But we now need to encourage people to come to Torquay United through the week as well as on Saturdays... There's about £150,000 worth of investment going in here'... United are just completing the creation of an impressively enlarged bar called the Gulls' Nest, formerly the 200 Club, available to all, a new reception area and a refurbished restaurant, which will be called No.10s instead of Laces. Its theme will be the outstanding players to wear the No.10 shirt in national, international and Torquay United history. Among new staff appointments to be announced shortly are a full-time chef, stadium manager and corporate hospitality manager. The match-day stadium catering franchise is being taken over by a dual operation fronted by St. Marychurch's Nourish cafe and delicatessen".

According to Wrexham's Evening Leader, "Geoff Moss, who yesterday confirmed he had bought out former co-owner Neville Dickens, now hopes to go public with the new proposals by August. They will include converting the Dickens car showroom into a club megastore. Mr Moss has bought Neville Dickens' 50 per cent stake in the club in order to set up a new property development company to redevelop land around the ground, including building a new stand at the Kop end... Mr Moss said: 'There has been a lot of doom and gloom surrounding the club but slowly and surely we are putting it on a better footing... The club's overdraft has been paid off and everyone is happy with the work of Brian Little... As well as the new stand at the Kop end we will look to convert the Dickens showroom in to a club megastore and have retail and student accommodation surrounding the ground'".
EASTER EGGS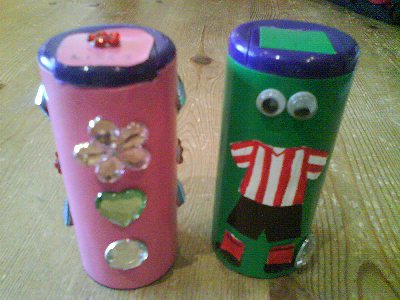 At the end of last season, the Club Shop sold tubes of Cadbury's mini chocolate eggs and invited children to buy them, eat the eggs and then fill the tubes with 5p pieces, with the proceeds going to the Club. The decorated tubes should now be returned to the Club by the 1st of September, when two prizes of a signed football will be given to the creators of the best decorated egg, one for U-8 year-olds and one for 8 year-olds and over.
---
5 July 2008
WORKING SATURDAY
Don't forget that there is another Working Saturday (today, 5th July) at Moss Lane. Please come along, if you can, to help spruce up the ground for the new season. The work starts from 10am.
NEW CENTRE-HALF
"Alty are on the verge of replacing departed captain Darren Tinson, with a new centre half expected at the club by Monday" claims SAM. "Plugging the gap at the heart of the Robins defence has become manager Graham Heathcote's priority since Tinson joined Nantwich Town last month... 'Hopefully, over the weekend, I'll be able to get a firm answer from a centre half we've been chasing for a while now', said Heathcote. 'He's making the move from full-time to part-time football so there's just a few things he needs to sort out before it all goes through'. That signing would take the Robins' squad up to 17 players and Heathcote... said: 'Ideally, we wanted around 17 or 18 players, so a new centre half would almost complete the squad. I still want to bring in a keeper and maybe we'd look at bringing in one more player after that, that's all our budget would allow'".

Meanwhile, "Alty's players will be put through their paces this weekend as the pre-season preparations get underway in earnest. Training has already started ahead of the new season but the squad depart today on a four-day retreat that will see them seriously tested by management duo Graham Heathcote and Graham Barrow. Fitness, tactics and team bonding will be the focus of the trip and Heathcote hopes it will stand his team in good stead before they return to the pitch. Alty's first friendly is at Abbey Hey next Saturday and the Blue Square Premier season starts on August 9 with a trip to Woking. Heathcote said: 'We'll be doing all sorts of things - attacking, defending, set pieces, throw-ins. We'll try and fit as much as possible into the four days so we don't have to do so much in pre-season. It's about getting people to understand how we play and what our set pieces are so it becomes second nature to them by the start of the season. I also hope it will be a good bonding exercise for the lads, so that the squad gels and everyone is comfortable with one another'... The whole squad reported for training at Blessed Thomas Holford on Tuesday night. Assistant manager Barrow ran a gruelling conditioning session, with fitness a major priority for the coaching staff. 'I'm really pleased with the condition of all the players', added Heathcote".
BSP NEWS
An interesting story comes from the Oxford Mail which says that "The Blue Square Premier fixtures broke new ground in more than one way. Not only did the league become the first to stage a match the day before the official season began [Barrow play Oxford on Setanta on Friday 8 August], but it also compiled the fixtures manually. General manager Dennis Strudwick revealed to the Oxford Mail that after the Premiership and Football League fixtures came out, he spent ten working days compiling the fixtures for both the Blue Square Premier, North and South Leagues. Although the North and South matches were done this way last year, it was a first for the Premier. I was asked if the fixtures could be done by hand rather than a computer and didn't see any reason why not', he said. 'The difficulty is that approximately 50 out of the 68 clubs would prefer their matches not to clash with local rivals - for example teams in the Manchester area do not want to be at home the same day as Manchester United so there is a lot of difficulty in accommodating everyone. I know some clubs will not be happy with certain matches, but we certainly did our best'". One of the notable changes this season is that whereas the original fixtures last season gave teams one match against all 23 rivals in the BSP before the return fixture, this season some return matches occur in the first half of the campaign.

"Paul Holland has been sacked as Mansfield Town manager following the agreed takeover of the club" reports BBC Radio Nottingham, which "understands that former York City boss Billy McEwan will be named Holland's successor at a news conference on Friday afternoon. Holland, 34, who came through the youth ranks with the Stags, is the only player to have won England Under-21 honours whilst at the club. He has also been assistant boss and coach during his time at Field Mill. A club statement read: 'It is with great regret that we announce the departure of Paul Holland as manager of Mansfield Town Football Club with immediate effect'... Holland was initially appointed caretaker boss in March following Billy Dearden's sacking and was then given a contract until the end of the season. But the Stags were already in deep relegation trouble at the foot of League Two and Holland could not stop them slipping out of the Football League after a season of unrest. McEwan, a former assistant boss at Derby County, was sacked by York last November".

The Chad confirms that "Mansfield Town Football Club has been sold today (Thursday) - and the protracted takeover had a major twist at the end of the sale saga. For Chad can reveal that the new owners of the Stags are a group of local businessmen and NOT Glapwell FC owner, dentist Dr Colin Hancock, as had been expected. Former club sponsors Andy Perry and Andy Saunders, together with Steve Middleton, have taken control at Field Mill after a takeover was announced on Thursday evening... Saunders is a high profile figure in supporters groups Stags Supporters Association (SSA) and the recently formed Stags Fans United (SFU) - positions he will now, no doubt, have to relinquish. Middleton (49) is a new name to Stags fans, but has been a Mansfield fan since 1969. He is from Mansfield and has an electrical business in Newark... All three - Andy Perry is from former shirt sponsors Perry Electrical and Andrew Saunders from ASIS, Andrews Saunders Insurance Services, which sponsored the Quarry Lane end stand at the 'new' Field Mill - are expected to attend a press conference at Field Mill... The news finally ends Haslam's controversial 15-year tenure of the Stags... The new owners - who have bought the football club and will rent Field Mill over a 10-year lease (thought to include a get-out clause at some point) - have been in direct negotiations with Mr Haslam in recent weeks... It is thought the consortium will have bought Haslam's majority shareholding for £1 and it is known that the rent will be substantially less than the £175,000 figure first quoted"

The Chad adds that "New Stags' owner Andy Perry... is to be the new chairman... Season tickets will finally go on sale at 10am on Saturday, the new owners have announced... Town's new owners have appointed Billy McEwan as manager... McEwan was unveiled at Field Mill on Friday afternoon... McEwan has had experience in the Conference after almost three years at York City... Holland had been appointed when Billy Dearden left Field Mill in March... At that time he had to fight off a challenge for the role from McEwan, a former Stags' player who appeared certain to get the job after being interviewed by then chief executive Stephen Booth. But Booth appeared to have a change of heart and gave Holland his first manager's job... McEwan has since had managerial success and experience at Rotherham United and Derby County... McEwan [is] a long-standing friend of Sir Alex Ferguson... He was part of the famous Mansfield side which won the old Division III title in 1977, propelling the Stags into the top [?] tier of English football for their only season from his midfield role".

The first round of the Setanta Shield has now been drawn. The Northern section comprises:
Hyde United v Vauxhall Motors
Droylsden v Gateshead
Stalybridge Celtic v Southport
Harrogate Town v Fleetwood Town
Farsley Celtic v Workington
Burscough v Blyth Spartans
Hucknall Town v Hinckley United
AFC Telford United v Gainsborough Trinity
Redditch United v Solihull Moors
Alfreton Town v Stafford Rangers
King's Lynn v Tamworth

Matches to be played week commencing Monday 8th September 2008. Round 2 is scheduled for week commencing Monday 6th October 2008".

From The Argus we learn that "Lewes have re-signed defender Anthony Barness. Barness was a key figure as the Rooks won the Blue Square South championship last season". Also, "Lewes boss Kevin Keehan is happy to put his faith in Rikki Banks if his search for another goalkeeper draws a blank. Keehan had been hoping to sign Chris Winterton to challenge Banks for the No. 1 jersey at the Dripping Pan but the former [Brighton & Hove] Albion youngster has joined Eastbourne Borough".

"Ebbsfleet midfielder Danny Slatter will be keen to impress during pre-season after spending eight months sitting on the sidelines after suffering a serious knee injury early last season" says Kent Online. "Slatter and Gary MacDonald will both be with the club on non-contract terms. Ebbsfleet boss Liam Daish explained: 'They will both be with us on non-contract terms, so we can assess them'... The former Republic of Ireland international confirmed two players will be coming in on trial and they are close to agreeing a deal with an unnamed striker. Fleet are also set to embark on a pre-season tour of the West Country with games against Torpoint and Bodmin Town yet to be confirmed. Daish said: 'We haven't been away for a long time. Most clubs go away for a break. It's a different environment and will be a nice trip'".

According to the Northwich Guardian "Dino Maamria has hired a full time fitness coach to get his squad in shape this summer. The Vics' boss reckons Richie Whall will be one of his best signings as he hopes to avoid a repeat of last term's disastrous start... 'Poor preparation set us back last season', he said. 'I've said it so many times, the team were not fit and I think we paid for that right through to Christmas. Only after that when I was able to bring in younger, fitter players who had hunger to do well did we see a difference'. Maamria met Whall last summer when former boss Neil Redfearn asked the coach to take a couple of early sessions... 'He helped us out in January as a consultant when we had what I called a mini pre-season and so one of the first things I wanted sorted when last season finished was to get him down here on a more permanent basis'... Whall said: 'I'm excited to be back working with Dino. He's a really forward-thinking manager with the way he likes things to be done'... Whall shares Maamria's modern outlook. 'The training is all structured around the latest sports science research', he added",
---
4 July 2008
CENTRE-HALF ON WAY?
"Pre-season training starts in earnest for Alty players this weekend as they go for a four-day retreat to Mottram Hall to get them in top shape... Graham Heathcote is also hoping to wrap up the signing of a new centre-half at the weekend with some minor details simply needing to be resolved before the player can put pen to paper. After that the Robins boss envisages one, possibly two more players arriving at Moss Lane before the start of the new campaign" reports the Sale and Altrincham Messenger
NEW BOYS
The Manchester Evening News reminds us that Alty have so far signed six new players "while even more players have left... The new recruits are headed by flying winger Chris Denham (Droylsden)...together with highly rated young striker Dale Johnson (Hyde Utd) and Stalybridge wide man Alex Meechan. Completing the incoming sextet are Kevin Street (Stafford), Matt Doughty (Halifax) and Anthony Danylyk (Leek Town). Heathcote's top priority now is to replace his centre-half and skiper Darren Tinson, who has joined Nantwich. Heathcote said, 'Our new signings should help us keep the ball better as all six of them have decent feet and all bar Johnson and Danylyk have played regularly at this level. Having occupied the fourth bottom spot for the last couple of seasons it's time we made an improvement".
OLD BOYS
The NL Paper reports that "AFC Liverpool may be a new club, but they will have a familiar Non-League face in charge of their youth team this season. Vauxhall Motors centre-half Mark Maddox (right) has taken his Park View Under-18 side [who have played Alty Youth in past seasons] over to the new Reds to help them establish a production line of their own talent. The ex-Altrincham and Leigh RMI captain – known throughout Non-League as 'Mad Dog' and a lifelong Liverpool fan – told The NLP: 'My mate Ian Porter and I have run the side since they were Under-12s and we've got two or three who are going to be really good players. I got in touch with Alun Parry, the man behind AFC Liverpool, and it's all gone from there. We're going to be playing under the club's banner in the North West Alliance against the likes of Alty, Morecambe, Stalybridge and FC United, so it'll be a good competition for the lads'. The 35-year-old recently went on a UEFA A licence coaching course in Belfast with the likes of Grays coaches Tim O'Shea and Neil Smith, Dover manager Andy Hessenthaler and ex-Weymouth boss Jason Tindall. 'I've not got long left as a player and I want to go down the coaching road', added Maddox, 35, who currently works with absent fathers and their children. 'I'm due to complete the A licence by the end of the year with the aim of getting a fulltime job in football in some capacity'.

NL Daily reports that Ashton United manager Danny Johnson "has now secured the majority of last season's squad... [including] Ben Deegan", the former Altrincham Youth and Reserves' striker.
PRE-SEASON
The Sale and Altrincham Messenger refers to Alty's pre-season game when "Manchester United Reserves, now managed by Red Devils' legend Ole Gunnar Soskjaer are the visitors for the first home friendly on Saturday July 19". But before then, a week this Saturday (12th), Alty's first away friendly is at Abbey Hey, against Neil Brown's Vodkat (NW Counties) side. The folowing day (13th) from 2pm Alty will play a cricket match at and against Timperley Cricket Club.
BSP NEWS
"Hyde United have agreed to sell star striker Gareth Seddon to Northwich Victoria" claims the Manchester Evening News. The Tigers were recently asking £25,000 for the front-man.

According to the Daily Post, "Wrexham are running the rule over Trinidad and Tobago World Cup star Brent Sancho. The defender, who played against England in the 2006 World Cup, has joined the Dragons on a two-week trial. Sancho made 45 appearances for Gillingham between 2005 and 2007, and has also played in the Scottish League for Dundee. He played in all three of the Soca Warriors' matches in Germany. He joins Northern Ireland under-23 centre-back David Ogilby and young Welsh striker Drew Fahiya on trial at the Racecourse".

Wrexham "can confirm that director Geoff Moss has acquired the 50% shareholding of Neville Dickens, giving him the controlling interest in the Club. This will facilitate negotiations to take place with a group of North Wales businessmen about long-term investment in the Club. It is envisaged that the Club will form its own property development company, and subject to planning permission, undertake a building scheme to develop the land around the stadium, including Mr Dickens's former garage. As part of the scheme a new stand will also be built at the 'Kop end' of the ground. This development will provide the necessary funds to repay the Club's debt, and establish a long-term income stream for the Club. The Club is delighted to announce the appointment of Paul Retout, a Chartered Accountant from Ruthin and Wrexham supporter, to the Board of the Football Club. Paul Atkinson, a former Director at Elegant Resorts, will also join the Board. Further enhancements to the Board will be made in due course. Nev Dickens will become Senior Vice President and will remain very much involved in the Club. He is not, as was mistakenly reported in the Daily Post, 'set to walk away'".

More news of the Dragons comes from the BBC which says us that "Moss told BBC Sport Wales that Dickens sold to avoid any conflict of interest with redevelopment plans, as Dickens owns land around the Racecourse Ground. 'I've paid off the bank overdraft so the club is in good shape now financially', Moss said... 'Neville will be very much at the forefront of the club'... Moss will now become chairman after taking sole ownership of the club... The North East Wales Institute of Higher Education (NEWI) has withdrawn from a joint proposal to build student accommodation on part of the Racecourse Ground car park. But Moss said that the club has alternative plans in place... 'It is going to happen and things will happen very quickly, and we will be building some student accommodation anyway', Moss said'".

Also from the BBC we learn that "Rushden & Diamonds have completed the signing of defender Curtis Osano on a two-year contract following his release by Reading. Osano, 21, spent last season at Nene Park on work experience after joining the Royals' academy as a schoolboy. The Kenyan born player had previous spells at Aldershot Town in October 2006 and Woking in January 2007. Osana made 56 appearances for Diamonds, and started more League games than any other player last season. He becomes manager Garry Hill's fifth summer signing ahead of the new season".

There is sad news from Blue Square Football which confirms that "Former Grays Athletic and Crawley Town midfielder Ernie Cooksey has died after losing his battle against cancer. The 28-year-old, who played at the New Recreation Ground last season, was admitted to hospital earlier in the week but died on Thursday. Cooksey started his career at Crawley but made his name at Oldham, where he made 41 appearances before joining Rochdale in September 2004. He went on to play over 100 games for Dale. Grays released a statement on the official club webite which stated: 'It is with great sadness that we have to announce that Ernie lost his battle against cancer in the early hours of this morning. Ernie will always be fondly remembered by all those who he came in contact with on the pitch. Ernie always gave 100% and was a true gentleman off the pitch, he always found time to talk with his fans and has made many friends throughout his career. He will be greatly missed by all. Our thoughts and prayers are with Ernie's partner Louise and family at this sad time".

"Weymouth have snapped up Chris McPhee from Ebbsfleet United to complete their fourth signing in the space of a week. The Blue Square Premier outfit have already signed Danny Knowles, Cameron Mawer and Kevin Sandwith as they attempt to beef up their squad. And the addition of the 25-year-old utility player, who netted 12 times in 55 games for County, will provide a welcome boost to the Terras" says Blue Square Football.

BSF confirms that "New Cambridge United management pair Gary Brabin and Paul Carden have swooped to make Anthony Tonkin and Andy Parkinson their first summer signings. Tonkin was snapped up... [before] the signing of former Notts County winger Parkinson. The 29-year-old signed a two-year deal at the Abbey Stadium much to the delight of Brabin. 'He's a fast, goal-scoring winger or forward', added the mentor. 'He can play on either flank or up front and he's one I've had my eye on for a while'".

The Northants Evening Telegraph is the source of news that "Darren Wrack has become Kettering Town's third signing of the summer. The 32-year-old completed his move to the A-Line Arena having been released by Walsall at the end of last season. That brought an end to his 10-year career with the Saddlers where he made over 300 Football League appearances".

"Grays Athletic had offered the following players new or extended contract at the end of last season:Aaron O'Connor, Andy Sambrook, Neil McCafferty, Scott Taylor. To-date the club have not received any positive news on these contracts and it is now looking very unlikley that these players will be with Grays Athletic next season".
BACK TO BASICS
Given the almost weekly farce observed at BSP matches when the fourth official can't get the electronic indicator board to work properly, Kentish Football tells us that the Ryman League is trusting in tried and tested technology. "In a new initiative at all Ryman League and Cup games, all participants and spectators must be notified of the number of minutes of added time that the referee has decided to play in addition to normal time... This will be indicated by a member of the home club within the technical area or official holding up the appropriately numbered substitute board, equivalent to the number of minutes to be added... [Also] in a change from previous seasons... clubs are required to use a white based Chryso football in matches played for the period August to November and March through to the end of the season, whilst, during the months of December, January and February a yellow based football must be used. This is similar to what happens in the Premier League, Championship and the Football League".
---
3 July 2008
McGRATH FOUNDATION
The Alty Fans' Forum has a message from Suzanne Goodwin, wife of Altrincham FC Chairman, Geoff Goodwin.

Firstly, may we take this opportunity to thank you for your support last year at the Glenn McGrath Celeb Football Game & Dinner in September 2007, in which over £40K was raised ! As we are sure you are now aware, Jane McGrath died on Sunday 22nd June 2008 at the age of 42.

We feel that this should not be the end of the fundraising but the beginning and we have set ourselves a mission to raise £100,000 over 5 years for the McGrath Foundation. We met Tracy Bevan yesterday, Jane's best friend and general manager of the McGrath Foundation and she has agreed to support any future events for Jane's charity and has agreed to travel to the UK for the event this year.

With this in mind, we have arranged a celeb charity football game on Sunday 5th October with a Questions and Answers session in the evening with Darren Gough. Although we realise that times are hard at present, please email me if would would be able to support this event. Further information will be emailed as it becomes available".
GRAHAM HAPPY WITH FIXTURES
The Sale & Altrincham Messenger says that "Graham Heathcote is relishing a bumper Bank Holiday tie with Wrexham after the Blue Square Premier fixtures were annouced on Tuesday. The Alty boss believes the August 25 clash with the division newcomers will be the pick of his side's early fixtures and could even bring a record crowd to Moss Lane. Wrexham were relgated from the Football League for the first time in their history last season, but despite that Brian Little's men were still watched by an average crowd of more than 4,000 at the Racecourse Ground. And with their games against Alty one of the closest things they have to a derby match in the Blue Square Premier, Heathcote is hoping their fans will travel to Cheshire in their droves.

He told SAM Sport: 'It's fantastic to be playing Wrexham at home on the August Bank Holiday, to get them early doors it's guaranteed to bring tremendous support to Moss Lane. Of course, it depends on their early results but I'm glad we're catching them at this time, it'll be a great day for our fans'. Not only do the Robins face an early date with Wrexham, they meet all six of the league's newcomers within the first six weeks of the season. The campaign starts on Saturday August 9 with a trip to Woking, who Alty have still not beaten since their return to the Conference in 2005, before they face newly-promoted Barrow in their first home game the following Tuesday. Another home game then follows against Kettering Town and Alty travel to Kidderminster Harriers before their game against Wrexham. A trip to Blue Square South play-off winners Eastbourne Borough rounds off August.

Heathcote added: 'Woking, Barrow and Kettering is a decent start to the season. Woking have been our bogey team in recent years but those kinds of records are there to be ended. Barrow should bring good support for the second game, it'll be their first away game and we're one of their shortest trips. All the games will be difficult but I'm quite happy with the way it has worked out'".
OLD BOYS
James Dean, the former Bury loan-player at Altrincham, has joined Hyde United after finishing last season at Stalybridge Celtic.

In an article on Marcus Hallows's legal claim against Ashton United's Danny Wright, Graham Heathcote says, 'This is something Marcus has done personally. I was surprised as anyone when I heard about it and I think it sets a dangerous precedent... My personal view is that nobody goes out deliberately to hurt someone, therefore I have to regard it as an accident... The advice people are given these days is the litigious route, whiuch disappoints me".
BSP NEWS
Sunday's Non-League Paper claims there will be six part-time teams in the BSP next season - Altrincham, Histon, Barrow, Lewes, Eastbourne Borough and Burton Albion. It adds that "When part-time ruled the roost, Altrincham were a non-league powerhouse but the Robins have fallen on hard tims in recent years. Despite being one of the division's best-run clubs, Graham Heathcote's men have finished in the relegation zone in every one of the last three seasons".

From NL Daily we learn that "Former Carlisle United favourite Kevin Gray snubbed a return to his first club Mansfield Town in favour of helping old team-mate Darren Edmondson mount a promotion push with Blue Square North outfit Workington... Mansfield, relegated to the Blue Square Premier at the end of last term, wanted to take Gray back to the club where he started his career as a teenager... Gray said:'There was one other offer from Mansfield but I wasn't keen on travelling so far away from home. I live in Carlisle and playing for Workington means I can stay up here, which is what I wanted'".

BlueSquare Football reports that "Weymouth manager John Hollins is expecting great things from his latest signing Kevin Sandwith... The Terras snapped up the versatile defender from Chester City and Hollins...told This Is Weymouth: 'He is a solid defender who has played in different divisions and can comfortably play at either centre back or left back. He is also a winner and that is the sort of quality we have been after... Kevin has spent most of his career up north so he has travelled a long way to improve us and improve himself. His commitment is fantastic and the way he has already fitted in and began working has been very impressive'".

Meanwhile "Levi Mackin is eager to prove his consistency in form to Wrexham manager Brian Little following his gritty performances on-loan at Droyslden last season. The 22-year-old earned glowing praise from Little for his gutsy displays in the Bloods' relegation scrap, but knows he faces stiff competition from new signings Tom Kearney and Kyle Critchell to earn a place in the Dragons' midfield. But Mackin told the Daily Post: 'Everyone is keen to impress from the off and if I can carry on now in the way that I finished last season, I'll be pleased'".

According to the BBC "Mansfield Town manager Paul Holland believes it will not be long before the club is sold by owner Keith Haslam. It is understood that prospective new owner Colin Hancock has been at Field Mill this week, but he is not thought to be the only interested party. Holland told BBC Radio Nottingham: 'I've spoken to certain people at the football club and I don't think a takeover is a million miles away. We are about six weeks behind everyone at the minute and players are waiting'. Holland also confirmed that striker Micky Boulding, who has attracted interest from fifteen other clubs, will return for pre-season training. Last season's captain Jake Buxton will also train with the Stags despite wanting to leave the Blue Square Premier club".

The Burton Mail claims that "Burton Albion are giving a trial to former Tamworth midfielder Jonty Richter. The Australian player has joined the Brewers for pre-season training... Richter, who also plays for Brisbane club Queensland Lions, has flown back to Britain in the hope of finding a new club. Clough said: 'Jonty offers something a little bit different to what we've already got and is certainly worth a look. We saw him playing for Tamworth a few times last season and quite liked him'. Another new face being put through his paces in the first week of training is Jon Newby. The experienced striker was joint top scorer in Morecambe's first season of League Two football but is now looking for a new club. He has been earmarked by Clough as the likely replacement for Daryl Clare... Jody Banim, the forward snapped up from relegated Droylsden, joins his new team-mates for training for the first time today".

"Gary Brabin and Paul Carden made Anthony Tonkin their first Cambridge United signing by snapping up the former Forest Green defender on a free transfer" reports the Cambridge Evening News. "The 28-year-old centre-back comes in as Michael Morrison moved to Leicester City... United chairman Phil Law has promised new boss Brabin and his assistant Carden more money will be available to bring in new faces... Law said: 'There are two aspects to the Michael Morrison deal. The new contract he signed in February rightly put him at the top end of the club's earners, so the move to Leicester will free up money in that respect. Secondly, the up-front fee from Leicester, which was fairly decent, will come into play and I expect the lion's share of that to go back into the playing budget... We've been working away at the budget and building it up. It's certainly in excess of the playing budget we started off with last season. I don't want anyone to think we lack ambition. Gary and Paul are desperate for success and are happy with the money they've got', said Law. 'We had a good start to last season and the closer we got to promotion, we decided to put a bit more money in. It will be similar this season. If we do start strongly we will put our money where our mouth is. But we will, at all times, exercise caution'". "Tonkin is from Cornwall but, like the new manager and fellow summer signings Lee McEvilly and Paul Carden, he has signed a two-year contract and is committed to moving to the local area". Brabin also told NL Daily that 'He's primarily a left back but he can play a number of positions and he likes to attack... I thought we were weak on the left side'".

The Gravesend Reporter says that "Ebbsfleet United's new chief executive has promised to do all he can to preserve the 'fans-first' ethos as the Fleet prepares for its maiden full season as an internet-owned football club. An original member of the MyFootballClub internet venture that bought the club in February this year, CEO David Davis has warned there are still plenty of obstacles to overcome before the MyFC model - the first of its kind in the world - is up and running smoothly... He said. 'I've got to make sure I get the balance right between being commercial and ensuring that the fans and MyFC owners are actively involved... We are still defining the model in terms of how we run the club... Does 'Pick the team' mean pick the squad? We've got members who want to be involved in the signing and transfer process, but was that part of the original remit? It's open to definition, but we've certainly got a few things to sort out'... Ebbsfleet made net losses in excess of £20,000 in each of the five months since December 2007 before victory in the FA Trophy Final netted the club a bumper payout in May that covered much of those shortfalls

However, Davis, a former head of European operations at computer retailer Dell, will not be relying on money coming from MyFC to determine the club's future... 'I have to take the view that MyFC won't always continue to support the club, I've got to look at it from the club's perspective first but, because I am an original MyFC member, I really do come from that side and can see the views of the majority of members'... Fleet's home attendances have declined steadily over the last few years due, in part, to the quality of their current home, Stonebridge Road... Though a site was announced publicly for a new 8,000 capacity ground to be built two weeks ago, Davis believes short-term investment in the current residence is desperately needed, and has been for some time... The club has got a primitive charm, but a new stadium isn't necessarily fundamental to breaking even. There has been a reluctance to invest in the existing ground because there is a new stadium on the horizon but, actually, we have to invest short-term in the existing facilities as well... We've actually had a group of volunteers in last weekend helping with the maintenance... One of the things raised both on the forums and in the queues for the turnstiles, is that people would rather children weren't separated from the adults when they go through the separate concession turnstile... That won't happen any more. We will have a family entrance. We've got to do find out what the fans want. I can guess, but it's all anecdotal and I'm not prepared to work with that, so I'm looking for volunteers to go in with questionnaires and ask how we can improve the experience, because that is what will bring in new fans.'".

An ex-Altrincham player has landed the manager's job at the new club being formed from the Halifax Town collapse. The Halifax Courier announces that "Town fans have warmly welcomed new manager Jim Vince. Supporters' trust member Allan Baker said his credentials in the Unibond with Witton Albion suggest the consortium have made a good appointment. 'If his team plays football like what he is reputed for we are in for exciting times'. he said. 'The stature of Halifax in division one north will hopefully attract the better players and it will now be interesting to see who his assistant will be'".

The above news is also reported by the Northwich Guardian which says that "Jim Vince has taken over at Halifax.... picking the 41-year-old from a list of four candidates. 'Jim was the outstanding choice', said consortium leader David Bosomworth... His shock return to management was mooted by the Guardian last week after Ashton United manager Danny Johnson dropped the bombshell in his online blog. Vince called the Guardian the following day and asked for the story to be removed from our website, saying the rumours were 'rubbish'. Yet Bosomworth has revealed that the club never approached anybody to take over from Chris Wilder, who resigned on Monday to join Bury as assistant manager. 'The job was never advertised', he said. 'We shortlisted four applicants, all with excellent levels of experience'. Vince, who was interviewed twice, walked out of Wincham Park for the second time just 36 days ago, telling the club he needed to concentrate on his health after an operation on his right ankle left him facing a six-month recovery period. That has been cut short by five months".

Reportedly Witton's "Acting chairman Mark Harris was so keen to retain Vince's services that he was prepared to grant sick leave until he felt ready to resume duty pitchside. Vince declined... Pushed by the Guardian on what lay ahead, his answer was clear... 'You won't see me bounce straight into another job'... Not a single player has yet signed for the Shaymen, leaving Vince with a huge task ahead, but the consortium fronting a takeover at the Yorkshire club are confident he is the right man for the job".
---
2 July 2008
EURO WINNERS
In the Altrincham FC Euro 2008 Sweepstake, the two winners were Pete Foster and Zoe Lewis, who had drawn Spain, whilst Barry Pond and Zoe's father, Peter Lewis were the unlucky runners-up with Germany. The Club would like to thank everyone who took part in the competition.
FIXTURES ANNOUNCED
Altrincham face a trip to Woking on the first date of the season, with a trip to Cambridge United on the last day. We visit Vics on Boxing Day and have the return match at Moss Lane on January 1st. The Setanta matches announced for August are Barrow v Oxford United, York City v Wrexham, Torquay United v Ebbsfleet United, Wrexham v Oxford United, Cambridge United v Kettering Town and Torquay United v York City. The full season's list for Altrincham, with kick off times, is here.

The 2008 schedule for Altrincham is:
9 Aug 08 WOKING (A)
16 Aug 08 KETTERING T. (H)
23 Aug 08 KIDDERMINSTER H. (A)
25 Aug 08 WREXHAM (H)
30 Aug 08 EASTBOURNE B. (A)
2 Sep 08 HISTON (A)
6 Sep 08 SALISBURY C. (H)
13 Sep 08 STEVENAGE B. (A)
20 Sep 08 LEWES (H)
23 Sep 08 MANSFIELD T. (H)
27 Sep 08 RUSHDEN & D. (A)
4 Oct 08 EBBSFLEET U. (H)
7 Oct 08 SALISBURY C. (A)
11 Oct 08 OXFORD U. (H)
18 Oct 08 WEYMOUTH (A)
1 Nov 08 HISTON (H)
15 Nov 08 FOREST GREEN R. (A)
18 Nov 08 MANSFIELD T. (A)
22 Nov 08 CAMBRIDGE U. (H)
29 Nov 08 RUSHDEN & D. (H)
6 Dec 08 CRAWLEY T. (A)
9 Dec 08 BARROW (A)
20 Dec 08 BURTON A. (H)
26 Dec 08 NORTHWICH V. (A)
28 Dec 08 YORK C. (A)
YOUTHS DRAWN AWAY
In the FA Youth Cup Preliminary Round, to be played in the week commencing 8 September, Altrincham FC Youth have been drawn away to Cammell Laird Youth. The winners of that tie then have a home match against Southport in the week commencing 22 September.

Youth manager George Heslop has also confirmed that Altrincham FC Youth wil be in the Premier Division "A" of the NW Youth Alliance League next season. The winners and runners up of Division "A" will play the top two in Division "B" to determine the championship next season. The winners of each division play the runners up of the other division to determine the finalists. Each of the Premier Divisions will have ten teams in it.

To prepare for the campaign George has arranged a number of friendlies, details of which are on the Youth Team page.
ALEX COVETED
Reporting recently, SAM says that "Alty have continued to add to their attacking options ahead of the new season after signing experienced winger Alex Meechan. The 28-year-old is a player Robins boss Graham Heathcote has coveted for some time and arrives at Moss Lane with more than 230 Conference appearances under his belt. Heathcote originally tried to sign Meechan last summer following his release from Chester City, only for York to pip him to the post. The former Norwich City trainee was again a target when his short term contract at the KitKat Crescent came to an end in November last year but he opted to join Blue Square North high-flyers Stalybridge Celtic. Able to play both up front and on the wing, Meechan has proved he can find the net at Conference level, most notably during his first spell with Forest Green, when he scored 33 goals in 99 games".
OLD BOYS
Bullsnews says that "Former [Hereford] Bulls' target Kevin Ellison has turned down Stockport for a second time, three weeks after Chester accepted a bid. He snubbed a bid in February after what Stockport claimed were 'contractual issues', while he rejected the latest move after Chester were claimed to be under a transfer embargo by the PFA. Claims that Chester have been repeatedly late in paying wages continue to circle the club".

"Tony Hesketh, manager of UniBond League Division One North club Chorley, admits the return of two of last season's players from long-term injury will breathe new life into his team. Midfielders Ashley Parillon and [former Altrincham Youth teamer] Lee Shillito have completed their latest stage of their comebacks after operations... Hesketh said: 'Lee is 25 and I am optimistic he will be back in time for the start of the new season. He is a great talent' he told the Chorley Guardian.
BSP NEWS
"Dino Maamria plans to add a couple more fresh faces to his squad. He told the Northwich Guardian his summer spending had not yet ended, revealing he still has space for 'one or two' newcomers. A total of 17 are due to report tomorrow. ' can't wait to get started', he said. 'I'm going to invite three players down to have a look them so we'll see how that goes. I think I need one or two more to complete the squad but there is no rush'. Cortez Belle, Matty Crowell and Danny Williams have all signed since Maamria's return from a three-week break... Those players on full time deals will train twice a day in the coming weeks. 'It'll be nice to get back out on the training pitch again', added Maamria. 'I've spent most of the past month speaking down a phone and it does wear you down. That's part of the job but the bit I really love is working with the players'. The full list of players due at Moss Farm this week includes: Michael Jones, Scott Tynan, Mat Bailey, Cortez Belle, Ryan Brown, Mark Roberts, Richie Sutton, Michael Welch, Paul Barratt, Joel Byrom, Matty Crowell, Chris Flynn, Jamie Mullan, Danny Williams, Jonny Allan, Aaron Burns and Lee Steele'". Meanwhile, "Scott Tynan has said sorry for saying he wished to leave the club over the internet. The Vics' custodian used his personal page on social networking site Facebook to reveal he might be on the market, but apologised to manager Dino Maamria when the pair met this week. 'It's all sorted now', said Maamria. 'Scott knows he made a mistake, he's held his hands up and I'm happy with that'. The 24-year-old penned an 18-month deal at the turn of the year after signing for Vics on non-contract terms in October. But last week, while Maamria was still away on holiday, the former Rusdhen & Diamonds shot stopper said he wanted more money now most of the Vics' squad had gone full time. 'Scott has signed a contract with us and he's going nowhere', added Maamria. 'The terms of that will not change at the moment as it was a full time deal anyway'".

Oxford United "have completed the signing of midfielder Joe Burnell. The 27 year old made his Football League debut for home town club Bristol City in January 2000 and made over 120 appearances for his home town club, who he captained, before joining Wycombe Wanderers in 2004. He made 50 league starts for the Chairboys and when boss John Gorman moved to Northampton he made Burnell one of his first signings. Once again Burnell made 50 starts for the Cobblers... Joe is a hard tackling central midfielder who adds experience and energy in the middle of the park. He will join the squad at their training base at HMS Collingwood tomorrow".

According to Non-League Today "Forest Green Rovers have confirmed the signing of 23-year-old striker Kaid Mohamed from Swindon Town. Cardiff-born Mohamed made four appearances for rival BSP side Torquay United last year, while on loan from Swindon, scoring two goals. Before moving to the County Ground in 2007, Mohamed established himself as a bright prospect during spells at Carmarthen Town and Cwmbran Town".

"Leicester City, relegated to Coca-Cola League One, have completed the signing of defender Michael Morrison from Cambridge United. Morrison, 20, has joined on a two-year contract for an `undisclosed` fee... Cambridge director George Rolls said the offer was too good for the club to turn down. 'It's a good move for the club and a cracking move for Michael. An opportunity like this doesn't come along every day and it wouldn't be right to stand in his way'. The fee for Morrison, who has been voted Cambridge's young player of the year for the past three years, also includes additional payments for appearances and a sell-on clause" reports Non-League Today who also report that...

"Weymouth have added the Grays Athletic duo of goalkeeper Danny Knowles and defender Cameron Mawer to their squad ahead of the new campaign. Terras` manager John Hollins knows the duo well as they both played under him for Crawley Town. Knowles and Mawer, both 22, have put pen-to-paper on one-year contracts after being shown the door at Grays at the end of May. Hollins... hopes to bring in at least two more players before the 2008/09 campaign kicks off".

"Wycombe Wanderers have signed Brazilian striker Magno Silva Vieira on a one-year deal. The 23-year-old has played for Wigan, Carlisle, Northampton and Barnet, before spending last season with Crawley Town and on-loan at Cambridge United. New Chairboys` boss Peter Taylor, who saw Viera at close quarters last season when managing Stevenage Borough, said : 'He comes to us as a winger and a striker. He's an all-out attacking player... he's used to scoring and he's hungry. I believe he will do well'".

"Burton Albion returned to training with manager Nigel Clough close to finalising his squad for the new campaign. One of the quietest close seasons on record has seen Clough so far make only one signing, despite the loss of four players from the squad... But Clough is hoping newcomer Jody Banim will be joined at the Pirelli Stadium by former Derby County forward Lee Morris and Morecambe striker Jon Newby. And an announcement regarding a season-long loan signing from a Football League club is imminent. Clough said: 'We possibly haven't made the so-called big signing that people were hoping for, but we're close to the squad of eighteen we are looking for. Jon Newby and Lee Morris could complete our strikeforce and we hope to be tying up the loose ends on the long-term loan of a player who can fill a variety of roles... We'll be quite happy with the squad if our present plans come together in the next week so... We're starting with the usual two weeks of full-time training and it's going to be pretty intensive stuff - a mix of track work, ball work and swimming. These two weeks are the foundation for everything that follows over the next nine or ten months because anyone who misses out will find themselves playing catch up... The likes of Andy Corbett and John McGrath always stand out in training, but I think they'll have a lot more competition this year'" he told the Burton Mail.

"Eastbourne Borough finally confirmed that Mo Harkin will be their third signing... Harkin signed on at a pre-season get together at the University of Brighton. Boro have been tracking the ex-Crawley Town and Havant & Waterlooville playmaker during the close season and Nick Greenwood is delighted to finally land the former Irish under-21 international. Greenwood said: 'Mo has a proven record at this level and he will be a fantastic addition to the squad. We wanted all of our signings to have experience of the Conference National... Last year we were very solid but perhaps sometimes we lacked that something extra when the games got tight. We feel Mo can give us that bit of creativity and pick out a killer pass to unlock defences'. Harkin will join Jean-Michele Sigere and Simon Wormull as the new signings this year... Greenwood said, 'The squad... know we will be asking a bit more from them this season. We will be up against full-time sides so the fitness levels will need to be that bit higher'".

Non-League Today says that "For this coming season, Forest Green Rovers have signed an exclusive deal with a major Dubai-based company to sponsor the club`s shirts... Full financial details and timescale of the agreement have not been made public, though it is thought to be one of the best ever in the history of the Football Conference and probably only one of a handful of such style sponsorships which has been aligned to a company outside the UK. Full details of the sponsorship were finalised between Rovers` chairman Trevor Horsley with the CEO of First Line Consultancy (FLC)... Horsley, an ex-director of the Football Conference Board, has been following his own business interest in the Middle East for several years. Mr Newsome [CEO of the sponsors] said: 'Despite being a long way away from the Cotswolds our company is taking the deal seriously... We hope this partnership sees both parties climbing up the divisions'. Back in Nailsworth, press officer and football secretary at the New Lawn, Colin Peake, commented: "Again we are extending our name even further around the world and it just goes to show that a club based in a small market town in Gloucestershire can compete'... Rovers commercial team have also cemented a deal with brewery giant Marstons to have their name on the back of the shirts'".

Meanwhile Woking "are very pleased to announce that 20 year-old winger Joel Ledgister has signed for the Club on a one-year contract. Joel, who is Kim Grant's second signing, started his career at Southend United before going on loan to (the then) Gravesend and Northfleet in the 2006/07 season, where he made some half a dozen starts. In the summer of 2007 Jim Smith took him to Oxford United on a two-year deal, where he played alongside the Cards' Assistant Coach, Phil Gilchrist. In February this year Joel went on loan to Hayes and Yeading and left Oxford by mutual consent at the end of the season".

"Eastbourne Borough have made former Birghton & Hove Albion goalkeeper Chris Winterton their fourth summer signing" states the Argus. "Winterton was released by the Seagulls at the end of last season without making a first team appearance. Lewes were also interested in signing him".

From From the Daily Post we read that Wrexham manager Brian Little, "who continues to monitor the availability of players he believes will further complement his squad, will be watching the progress of two trialists over the next two weeks. Northern Ireland U21 centre-half David Ogilby and striker Drew Fahiya , a prolific goalscorer in junior Welsh football last season, have both set their sights on impressing the Racecourse boss. Civil servant Ogilby, who plays for Irish League side Institute, hopes to turn professional... Playing for Dinas Powys last season Fahiya scored 25 goals from right wing and he cancelled a planned holiday to take up the trial offer".
NW NEWS
"Liam Watson has stepped down as manager of Blue Square North club Burscough. A statement from the club reads: "The illness of chairman Chris Lloyd and the current economic situation affecting the proposed new ground development plans, has resulted in the board of directors having to make financial adjustments to safeguard the future of Burscough Football Club. 'It is with much regret that manager Liam Watson has kindly resigned and is replaced as manager by Joey Dunn [former Alty player and assistant manager], Liam's assistant for the past two seasons... The board is saddened at having to take such measures but the priority is to safeguard the future of the club. We wish chairman, Chris Lloyd, a speedy recovery from his illness and would like to thank Liam Watson for his tremendous contribution to the club, not only in bringing recent success, but in dealing with this current situation admirably and professionally'... [As for Watson at Southport] "The 38-year-old had a successful spell at the club between 2003 and 2006, winning the Conference North title and ensuring survival the following season... He said: 'I work at Ashworth Hospital and that is my main priority but I can fully commit to managing Southport'. One of the main reasons Watson left Southport in 2006 was their decision to go full-time and the impact that could have had on his career away from football... In addition to Watson's return, Southport have announced they have signed Ciaran Kilheeney from Burscough. Kilheeney was the top scorer in Blue Square North last season and has signed a two-year contract with Southport. Watson added that he may be tempted to sign some more of his former players from Burscough" reports Non-League Today .

It has subsequently been confirmed that eleven Burscough players have joined Southport. They are Ciaran Kilheeney, Chris Price, Matthew McGinn, Anthony McMillan, Alan Moogan, Craig Noone, James Connolly, Steve Daly, Shaun Gray, Earl Davis and Adam Flynn.
---
FOR EARLIER NEWS, CLICK HERE
---