You are in the
PLAYING SQUAD 2008/09
Page

SITE LINKS:

Home

MOSS LANE, ALTRINCHAM, CHESHIRE WA15 8AP Tel: 0161-928-1045

Altrincham FC
First-Team Players
2008-09
<!TEXT>


This Page
15 April 2009
---
2008-09 First-Team Squad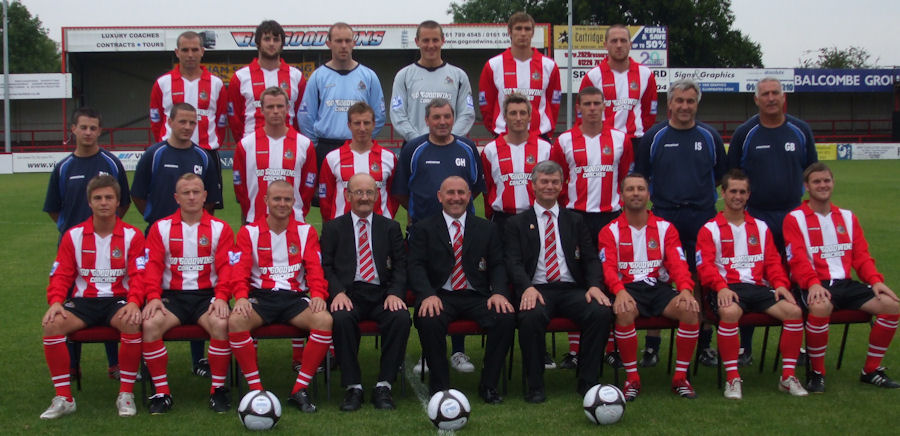 ALTRINCHAM FC 2008-09: Left to right: BACK: Mark McGregor, Dale Johnson, Stuart Coburn, Andy Ralph, Greg Young, Chris Lane; MIDDLE: Danny Heathcote (kitman), Charles Heathcote (kitman), Joe O'Neill, Alex Meechan, Graham Heathcote (manager), Lee Elam, Robbie Lawton, Ian Senior (goalkeeping coach), Graham Barrow (assistant manager); FRONT: Anthony Danylyk, Kevin Street, Chris Denham, George Heslop (company secretary), Geoff Goodwin (chairman), Grahame Rowley (vice-chairman), Colin Little, Chris Senior, Matt Doughty. Absent from the picture above were Richard Battersby, Warren Peyton and Val Owen.
Listed below are those players with a current squad number plus any others who have been named in a first-team squad and who remain at the Club.
1. Stuart COBURN
2. Chris LANE
3. Matt DOUGHTY
4. Mark McGREGOR
5. Greg YOUNG
6. Kevin STREET
7. Robbie LAWTON
8.
9. Colin LITTLE
10. Chris DENHAM
11. Warren PEYTON
12. Joe O'NEILL
13.
14. Dale JOHNSON
15. Pat McFADDEN (Ashton United)
16. Anthony DANYLYK
17. Ben WILKINSON (loan from York City)
18. Michael WELCH (loan from Northwich Vics)
19. Chris SENIOR
20. Danny HEFFERNAN (Abbey Hey)
21. Shaun DENSMORE
22. James SMITH
23. Richard ACTON
24. Ben DEEGAN (Ashton United)
25. Alex FROST (Ashton United)
26. Rod THORNLEY (Ashton United)
Joel BROWNHILL
Players shown above with another club's name next to theirs are those who have signed non-contract forms with Altrincham FC but whose parent club still has first call on their services.
Photos below, unless shown otherwise, are courtesy of Gavin Rathbone of GR Photography website
PHOTO/SQUAD N0.

GOALKEEPERS


23

Richard ACTON (d.o.b. Stockport, 16 October 1979, height 6ft, weight 14st. 2lbs)

Richard rejoined Altrincham on 7 November 2008, having left at the end of the 2007-08 campaign. A self-employed car salesman Richard combines his business career with his football. As a youngster, he was at Manchester City (released 1998) before moving to Hyde United and Runcorn. Alty signed him in early September 2002 and he made his league debut against Marine that month. He remained first-choice keeper till he badly injured his shoulder at Harrogate (31/8/03) and he did not return to action till 6 January 2004 because, in the interim, Stuart Coburn had returned to the club to re-claim the no.1 jersey. Richard is an excellent shot-stopper and gained League of Wales experience with TNS in March 2004 but returned to Altrincham for most of the 2004-05 season. He signed UniBond forms with Woodley Sports in August 2004 before joining Bangor City but returned to Alty once more in February 2005. Even so, he was on the bench for another Welsh club, TNS, against Liverpool in European competition (7/05) but he also re-signed for Alty for 2005-06. A broken metatarsal suffered in the Cheshire Senior Cup at Woodley sidelined Richard from 13 September 2005 till mid-November when he returned to play against Crewe but he made no Conference appearances that season. However, he made his Conference debut and started only his second league game in three years in September 2006, but he kept three clean sheets in his first five matches. However, after eight Conference games (including just one defeat) and one match in the FA Cup, he could count himself unlucky to be dropped in favour of Stuart Coburn in early November 2006. In 2007-08 he made 10 starts for Altrincham. Richard made his first appearance of 2009-10 covering for Stuart Coburn's suspension by keeping a clean sheet against Woking in February 2009. Appearances to June 2008: 71(+1).


1

Stuart COBURN (d.o.b. Manchester, 5 May 1976, height 6ft 1in, weight 14st.)

Stuart is Altrincham's senior professional, having passed the 400 appearances mark at Stevenage in September 2008. He first joined Altrincham from Trafford in 1997/98 season, having been at Trafford since 1994/95 after spells at Irlam Town and Maine Road. Injury meant that Stuart played only nine games in his first Conference season (99/00) and his absence probably cost the club survival at that level in that campaign.

In May 2002, the lure of Conference football took him from Alty (then in the UniBond Premier) to Leigh RMI on a 2-year contract. Leigh surprisingly released him in October 2003 after he had been their player of the year. He rejoined Alty on 17 October 2003 and made his (second) Alty debut at Hyde on 21 October 2003. Stuart underwent a hernia operation in May 2004 but was fit to star in season 2004-05 when, once again, he enhanced his reputation. A groin injury sidelined him after 9 games of the 2006/07 season but he returned in early November 2006. However, injury struck again and sidelined him in September 2007 but he recovered to play most of the season as first-choice keeper. Has been first-choice again in 2008-09. Appearances to June 2008: 391, 1 goal.


Formerly no. 13

Andy RALPH

Andy emigrated to Australia in February 2009. His details can be found on the Departed Players page.

DEFENDERS


Formerly no. 17

Richard BATTERSBY

Richard was released on 26 September 2008. His details can be found on the Departed Players page.


3

Matthew DOUGHTY (d.o.b. 2 November 1981, height 5ft 8ins)

Former Halifax Town left-sided defender/midfielder Matt Doughty signed for Alty in mid-June 2008. Matt had joined the Shaymen in July 2004 from Rochdale. He had previously also played for Chester City for whom he signed professionally when just 16. Born in Warrington, Matt was a regular for Chester for two seasons (1999-2001) making 53(+17) League/Conference appearances for them. In 2001 he moved to Rochdale as a left back and had a trial with Southampton, but a broken leg halted the prospects of a move to Hampshire. At Rochdale he made 93(+12) appearances in the League. Another broken leg hampered the 5ft 8inch defender's career at The Shay but he still managed 119(+12) league appearances for the club. Matt made his Alty league debut on 9 August 2008 and after briefly losing his place soon established himself as a regular starter. Appearances to June 2008: 0.


25

Alex FROST (d.o.b 18.9.85)

Alex, a former Altrincham Youth team captain and Reserves' player, was signed on non-contract terms on 31 March 2009 as back-up to the squad. He remains an Ashton United player. Alex was a right-back or centre-half when he started to play for Altrincham Youth from 2002-03 season as a 16 year-old, (he is seen left in April 2003). Earlier, he had been released by Bury F.C. He became the Alty Youth captain for 2003-04 and won Cheshire County FA honours as well as being an England Schoolboys trialist. Photo, www.altrinchamfc.com.


15

Chris LANE (d.o.b. Liverpool, 24.5.1979)

Altrincham signed Southport right-back Chris Lane on non-contract terms in late June 2007. Chris was born in Liverpool on 24th May 1979 and began his career, under the YTS Scheme, at Everton. In three years with the Toffees, he made 17 appearances for the reserve team. From Everton he moved, in 1998, to Hereford United in summer 1998 and made 57(+8) appearances for them. Southport's Mark Wright then acquired him for a fee of £12,000 in January 2001. After Southport had been relegated from the Conference in 2003, he moved up the coast to Morecambe in May, making his debut at Christie Park in August, 2003. The Shrimps released him in January 2004 and he next joined Leigh RMI, for two appearances, before moving on to Chester City in February 2004 as they went on to win the Conference title that season. He then went back to Leigh RMI in June 2004, making 40 appearances in 2004-05 before returning to Haig Avenue in May 2005, where he made 67(+4) appearances and was voted Port's Player of the Year last season.

Chris started the 2007-08 season against Exeter City on 11 August 2007 having already made 287 Conference appearances, the most of any current player at that time in the Blue Square Premier. After being an ever-present for Alty he moved to the bench for much of the second half of the 07-08 season but made important appearances playing in the hole in front of the back four. Chris is a very reliable defender with a strong will to win and he can also play at centre-back.

Chris was released at the end of the 2008-09 season. Appearances to June 2008: 39(+7), 1 goal.


4

Mark McGREGOR (d.o.b. Chester, 16.2.77, height 5ft 10ins)

Centre-back Mark McGregor signed for Altrincham on 27 July 2008. Mark played for Port Vale last season and has more than 400 League appearances to his credit. It was for his first club, Wrexham, that he made the majority of those appearances (244), between 1995 and 2001. He then went on a free transfer in 2001 to Turf Moor but after 54 games for Burnley (2001-04), he moved to Blackpool (59 games between 2004 and 2006). Next, he played 66 times for Port Vale (2006-08). He joined Altrincham after a trial at Mansfield Town during the summer.

Mark was born at Chester on February 16, 1977. He made his debut for Altrincham in a friendly at Stalybridge on 25 July 2008 and his league debut on 9 August 2008 and established himself as a very reliable and efficient regular in the back-line. In the absence of the injured Robbie Lawton, Mark captained the side either side of Christmas 2008 and was ever-present until sidelined by injury in March 2009.


22

James SMITH (d.o.b. Liverpool, 17 October 1985)

James, a former Stockport County defender, joined Altrincham on 7 November, 2008 after a brief spell with Vauxhall Motors. He had previously played a trial match for Altrincham in the abandoned friendly against Wrexham in September 2008. He made his full debut against Stalybridge Celtic in the Cheshire Senior Cup on 11 November 2008. James started his career at Liverpool where he made his first-team debut inthe Carling Cup in 2006. Three months of 2007 were spent on loan with Scottish club, Ross County. He joined Stockport in August, 2007 and played in their Wembley League Two play-off win. After an assured debut for Altrincham against Stalybridge in the Cheshire Senior Cup (11 November 2008), James made his BSP debut in the win at Forest Green Rovers, four days later, and soon established himself as a regular on the right side of the back line.


Formerly no. 17

Luke WATERFALL

Luke returned to his parent club Tranmere Rovers on completion of a one-month loan in mid-November 2008. His details can be found on the Departed Players page.


18

Michael WELCH (d.o.b. Crewe, 25 April 1983, height 6ft 3ins)

Michael signed on loan for a month from Northwich Victoria on 20 February 2009; this was later extended till the end of the 2008-09 season. Of Irish extraction, Michael was born in Crewe but has represented the Republic of Ireland at youth level. His career began with Barnsley, before he joined Macclesfield (124 games, 7 goals) from 2001 to 2005. From 2005 to 07 he was at Macclesfield Town where he played made 64 appearances and scored 6 goals. By the start of this season he had made 56 appearances for the Vics, scoring three times since joining them in 2007. He scored on his full debut for Altrincham against Weymouth on 14 March 2009. Having scored in his first two league starts for Alty, including a 70-yard freekick against Crawley, Michael was sadly sidelined with ankle ligament damage. Photo, www.altrinchamfc.com.


5

Greg YOUNG (d.o.b. Doncaster, 25 April 1983, height 6ft 3ins)

Altrincham signed 6ft 3inch central defender Greg Young from Halifax Town on 4 January 2008. He joined till the end of the season after being released by the Shaymen. On arrival at Moss Lane he had made 13 starts (and a sub appearance) for Halifax whom he had joined on a permanent basis in February 2005, his last appearance for the Shaymen being just nine days before joining Alty. Greg has previously been with Sheffield Wednesday (traineee), Grimsby Town (League debut 2003), Northwich Victoria (loan) and Alfreton Town. After a substsitute appearance at left-back at Oxford on 5 January 2008, Greg made his full Altrincham debut at centre-back three days later at home to Kidderminster and played impressively for the rest of the season. Greg signed a two-year contract in summer 2008. As well as having good defensive capabilities, Greg has also been deployed successfully as an auxiliary striker. During 2008-09 Greg, who is Doncaster-based, has been one of the most consistent performers over the last two seasons. Appearances to June 2008: 23(+1), 2 goals.

MIDFIELDERS




Joel BROWNHILL (d.o.b. 7.1992)

A local youngster, Joel Brownhill, was brought into the first-team squad for the FA Cup tie at Newcastle Blue Star on 26 October 2008, but did not get onto the pitch. Joel, a left-winger, had established himself in the Altrincham FC Youth team this season. He is the cousin of Droylsden defender, Liam Brownhill.


16

Anthony DANYLYK (d.o.b. Stoke-on-Trent, 19.6.82)

Anthony, the captain of Leek Town, joined Altrincham on 8 June 2008. He started his career at Stoke City before being released and signing for Stone Dominoes. He joined Leek Town in March 2002. Anthony made his Alty league debut as a used substitute on 9 August 2008 and soon made a good impression as a ball-winning central midfielder. Despite stepping up two rungs in the Pyramid, Anthony has made himself at home at Blue Square Premier level. Anthony is a civil servant by profession. The latter part of his 08-09 season was disrupted by two suspensions and injury. Appearances to June 2008: 0.


21

Shaun DENSMORE (d.o.b. Liverpool, 11 November 1988)

Signed on 12 September 2008, Shaun is a former Everton Academy Player of the Year, who was released by the Toffees in summer 2008. After trials with Bradford City he joined Altrincham, following in the footsteps of his father Peter, an Altrincham favourite in the 1980s. Shaun, a right-sided defender/midfielder, made his Alty debut in the Cheshire Senior Cup on 16th September 2008. After completing his initial month's contract at Altrincham, on 13 October 2008 Shaun signed on for the rest of 2008-09 season, having impressed in a run of seven unbeaten games in the side. He scored on his debut for the England "C" side against Malta in February, 2009 having established himself by then in the Altrincham midfield.


Formerly no. 18

Lee ELAM

Lee asked to be released on 16 January 2009 and joined Northwich Victoria. His details can be found on the Departed Players page.


Formerly no. 8

Jordan HADFIELD

Jordan completed his one-month loan after Altrincham's game on 21 February 2009 and returned to Macclesfield Town. His details can be found on the Departed Players page.


7

Robbie LAWTON (d.o.b. Liverpool, 14 June 1979)

Robbie is a tall, powerful and hardworking midfielder, signed in June 2006 from Vauxhall Motors, where he was the captain. He was previously with Marine and Caernarfon Town and can play on either flank as well as in central midfield. He impressed in pre-season friendlies and was a regular first-team starter on the right flank from the start of the 2006-07 season before moving to centre-midfield when Colin Potts returned on the right wing. With former captains Hussin, Band, Bushell, Thornley and Little all injured or sidelined, Robbie played as captain from mid-September 2006. By profession he is a PT and psychology teacher and one of the physically fittest players in the squad. Robbie completed a full century of starts in under two seasons with Alty. He was named team captain for the 2008-09 campaign in which he has featured in central midfield. Appearances to June 2008: 101(+1), 7 goals.


Formerly no.8

Val OWEN

Val left the club on 4 December 2008. His details can be found on the Departed Players page.


11

Warren PEYTON (d.o.b. Manchester, 13 December, 1979, Manchester)

Warren is a tall left-sided midfielder/defender, signed by Altrincham on 11 November 2005 after a spell out of the game. He had previously been with Leigh RMI and before that he had experience at Rochdale, Bury, Doncaster Rovers and Nuneaton Borough. Whilst at Nuneaton, he was in the England semi-pro team. Warren made his Alty debut in central midfield on 12 November 2005 against Exeter City but was then suspended after a sending off at Forest Green. Warren has a fierce shot and is a useful taker of free-kicks and corners. For much of his Alty career he has played at left-back rather than his preferred position in left midfield. In 2007-08 he occasionally played in central midfield as well as on the left. Warren, a bricklayer by trade, built the 2007 turnstile block at the Golf Road End at Moss Lane. He is one of the fittest players at the club and, despite losing his place as new players arrived for the start of 2008-09, he deservedly regained it early in the campaign, only to be an irregular starter once more by the latter part of the campaign. Warren was released at the end of the 08/09 season. Appearances to June 2007. 121(+5), 7 goals


6

Kevin STREET (d.o.b. 25 November 1977)

Altrincham FC have signed experienced midfielder Kevin Street from Stafford Rangers. Kevin was born at Crewe and started his career at Crewe Alexandra, for whom he made 57(+58) league appearances and scored 9 goals. After a loan spell with Luton Town (1+1 league appearances) he joined Northwich Victoria (12+1 league appearances, 6 goals) for three months at thestart of the 2002-03 season before signing for Bristol Rovers (21+12 league appearances, 2 goals, 2002-03) and then Shrewsbury Town (35+13 league appearances, 3 goals, 2003-05) before joining Stafford Rangers for the start of the 2005/06 season. He made more than a century of appearances for the Marston Road club and, with Neil Grayson, was joint caretaker-manager for part of 2007-08 before Steve Bull was appointed. Kevin is 5ft 10 inches tall. Kevin made his Alty league debut on 9 August 2008 but sadly damaged his cruciate ligaments in training in October 2008 and looks to be sidelined for 9 to 12 months.

Unusually for a footballer, Kevin "hopes to eventually swap his football strip for a clerical robe and be a priest" reported the Express and Star last year and he is "studying for a degree in theology. He says it was his Ďoriginal aimí to go into the priesthood. He said: 'Iím not a stereotypical priest - I just love God. Iím as loud as anyone else when Iím on the pitch and enjoy the banter -Iím just also extremely religious'. He says of his team mates: 'They do lay into me about it. I suppose itís because its unusual. Itís lighthearted banter. Becoming a priest is something I definitely want to end up doing. I have to finish my degree and then do a devotional ministerial course which will take a few years. I imagine it will be about 10 years time before I finally make it. I love football to bits but know eventually the time will come when I will finally become a priest. I would always like to keep a hand in football though'. Kevin, who lives in Nantwich, said he wants to use his football experience to help him. He said: 'The youth of today idolise footballers so it would be a good way in to speak to them about Christ'".


Formerly no.20

Paul TIERNEY

Paul Tierney was released on 26 September 2008. His details can be found on the Departed Players page.


17

(Alistair) Ben WILKINSON (d.o.b. Sheffield, 25.4.87)

Sheffield-born Ben was signed on loan from York City on 26 March 2009 for the period to the end of the season. Ben had spells as a youngster with both Sheffield United and Wednesday as well as Derby County, Hull City (where he turned professional, Harrogate Town (loan) and Gretna (where he spent the end of 07-08 on loan). Ben is the son of former Leeds United and England manager/coach Howard Wilkinson. He played the last 20 minutes against Alty at Kit Kat Crescent earlier this season. Made his Altrincham debut as an injury-time sub against Crawley on 28 March 2009. Photo, www.altrinchamfc.com.

FORWARDS


Formerly no.20

Jody BANIM

Jody Banim returned to Burton Albion after a one-month loan period in February 2009. His details can be found on the Departed Players page.


24

Ben DEEGAN (d.o.b. 13.7.1988)
Striker Ben Deegan of Ashton United signed non-contract forms for Altrincham on 30 March 2009, along with Pat McFadden (see below). He is a graduate of George Heslop's Altrincham FC youth team, where he was leading scorer in 2005-06, scoring more than 50 goals that campaign, despite missing games through injury and suspension. Ben gained Cheshire FA representative honours and made his Alty Reserves debut in October 2005. He signed Conference forms that season but did not appear for the first team. In March 2006 he had trials at Lincoln City before being involved in the Altrincham first-team's pre-season games in summer 2007. He briefly played in 2007 for Leek Town under former Alty Reserves' manager, Neil Brown, before joining Flixton. Early in 2008, he settled at Ashton United in the UniBond Premier League. Appearances to June 2008: 0.


10

Chris DENHAM (d.o.b. 14.9.1982)

Pacy and skilful former Droylsden forward Chris Denham (born 14.9.82) signed for Altrincham on 8 June 2008. He started his career at Prestwich Heys before enjoying a prolific season at another North Manchester club, Stand Athletic. During that season he also had a loan period at Bamber Bridge. In August 2002 Chris joined Stalybridge Celtic before signing for Radcliffe Borough in July 2003. By December of that year he had returned to the Bower Fold. He has likewise had two spells at Droylsden, whom he first joined in in June 2005 before rejoining in October 2005 after a brief at Ashton United in between. Chris made his Alty league debut on 9 August 2008 and was soon demonstrating his willingness to run at the opposition to create attacking opportunities for the team. An eye injury sustained at work as a tiler ruled him out from October 2008 and he was only cleared to resume training just before Christmas that year. He returned to action in January 2009 but went on a month's loan to Stalybridge Celtic in February 2009, to regain match fitness. On his return to Moss Lane in March 2009 he was sidelined by a groin injury picked up at Stalybridge. Chris's injuries meant that he started just one league game between mid-September 2008 and April 2009, when he came on as a substitute against Kidderminster Harriers.


20

Danny HEFFERNAN

Danny was originally signed on first-team forms by Altrincham on 30 August 2006, following impressive displays for the Reserves. However, he did not appear for the first-team before leaving when the Reserves were disbnaded and following manager Neil Brown to Leek Town and then Abbey Hey. He was re-signed for Altrincham by Graham Heathcote in 2008 and made his debut as a substitute striker in a Setanta Shield match against Wrexham on 4th November 2008. A tall, versatile player who can operate on the left and up front, as well as in central defence or midfield, Danny has a strong left-foot shot and is a tall player who is not easily shaken off the ball. Prior to joining Altrincham Reserves, Danny had played in local South Manchester football for Fletcher Moss FC. Danny made his debut for the first-team on 4 November 2008 as a substitute in the Setanta Shield game with Wrexham. Photo, www.altrinchamfc.com.


14

Dale JOHNSON (d.o.b. Ashton-under-Lyne, 3 May 1985)

Dale, who signed for Altrincham on 6 June 2008, finished 2007-08 season in the Blue Square Premier on loan to Droylsden after a prolific spell at Hyde United. He spent three years at Hyde, after joining from Woodley Sports. A tall and mobile central striker, Dale is good in the air and holds the ball up well. After making his first start on the opening day of the 2008-09 season, Dale was an intermittent rather than regular starter until November when he got a run of games from the start and established himself in the first eleven. Appearances to June 2008: 0.


9

Colin LITTLE (d.o.b. Wythenshawe, Manchester, 4 November 1972, height 5ft 10, weight 10st. 5lbs)

Altrincham FC signed Colin, whose last club was Halifax Town, on 5 July 2004. A skilful, two-footed striker, Colin is a local lad, born in Wythenshawe. He signed for Hyde United in August 1995 but moved to Crewe Alexandra for £50,000 on 6 February 1996. He made 220 appearances for Alex and scored 45 goals before going on loan to Mansfield in October 2002, where he played 5 games. He then went on loan to Macclesfield in December 2002, for whom he signed on a free transfer in May 2003. He made 26+8 appearances and scored 7 goals for Macc. before joining Halifax Town in March 2004, for whom he played 8 games and scored twice. Alty fans may wish to forget that Colin scored two of Crewe's three goals in their Cheshire Senior Cup Final win, 3-0 over Alty at the Drill Field, Northwich in 2002 and that he also got the winner as Alex won 3-2 against Alty in the CSC 1st Round in September, 2002. Colin was previously at Alty as a junior as well as being at Wythenshawe Town, Rossendale United and Hyde United before joining Crewe. He had also had a brief spell at Bury. His Alty career started impressively with 38 goals in the 2004-05 season. After intially playing on the left, he now always starts up front and was once again the club's leading scorer in 2005-06 and 2006-07 with 17 and 12 Conference goals respectively. After a slow start to 2007-08 he recorded a superb tally of 21 BSP goals from just 34(+5) starts to finish the season third in the national scoring charts. Colin has turned down numerous offers to play at a higher level but remains dedicated to his local club. Appearances to June 2008: 179(+8), 92 goals.


15

Pat McFADDEN (d.o.b. 4 April, 1987)
Pat McFadden of Ashton United signed non-contract forms for Altrincham on 30 March 2009, to provide cover for an injury crisis at Moss Lane. However, Pat had previously spent almost three seasons in the Alty first team squad, having originally signed up on Conference forms in October 2005, following a prolific burst of scoring for the Reserves. He had graduated to the Reserves and first-team squad from local football with Fletcher Moss FC in south Manchester. Pat made his first-team debut as a sub at Burton Albion in October 2005 whilst continuing to score regularly for the Reserves, reaching more than 30 goals for them that season. He signed NW Counties forms in February 2006 and played the odd game for Trafford whilst also continuing to be named as a substitute for Altrincham. In 2006 pre-season he also played several games on loan to Radcliffe Borough as well as playing for Altrincham. During 2006-07 he was an irregularly used substitute in the Conference and had another six-match loan spell at Radcliffe before being released by Altrincham at the end of the 2007-08 campaign. In 2008-09 he was playing for Vauxhall Motors, then briefly at Abbey Hey (2009), before moving on to Ashton United in February, 2009. Appearances to June 2008: 7(+33), 0 goals. Photo, www.altrinchamfc.com.


Formerly no.15

Alex MEECHAN

Alex Meechan was released, at his own request, on 26 March 2009 and joined Stalybridge Celtic. His details can be found on the Departed Players page.


12

Joe O'NEILL (d.o.b. Blackburn, 28 October 1982, height 6ft)
Altrincham's Player of the Year for 2006-07, Joe signed for Alty from York City in June 2006, He is a Blackburn-born striker who was at Preston North End from 2001 to 2005, during which time he made two sub appearances for the Deepdale first XI. However, he also gained league experience on loan at Bury (2003/04, 10 starts +13 sub. appearances), Mansfield Town (2004/05, 3+12) and Chester City (2004/05, 5+6). He joined York City for the 2005-06 season and scored for them against Alty in the match at Kit Kat Crescent in 2005-06 season, having earlier hit a hat-trick on his York debut against Southport. In all, Joe netted five goals for York in the Conference that season, making 25(+12) appearances in the Conference and one in the FA Cup for the Minstermen before his release in summer 2006. At Moss Lane he started 2006-07 as Colin Little's regular strike partner and generally played in that position though also occasionally turning out in wide midfield. Though not a prolific goalscorer, Joe is accomplished at holding the ball up and his workrate is excellent. Outside football, Joe is a student. In 2007-08 and 2008-09 Joe has played often from the bench but has still weighed in with some important goals. He had a minor knee operation in late October 2008 and was unable to regain a regular place, starting just 4 BSP games in 08/09. Joe was released at the end of the 08/09 season. Appearances to June 2008: 74(+24), 14 goals.


19

Chris SENIOR (d.o.b. Huddersfield, 18 November 1981)
Chris signed for Altrincham in July 2007, having previously spent the latter part of 2006-07 season on loan at Moss Lane from Halifax Town, an arrangement which started on 19 January 2007. Halifax released Chris in the summer of 2007. He started his career at Huddersfield Town as a midfielder but, after being released in early 2003 as part of cost-cutting measures, he played briefly for Wakefield-Emley. After a trial with Halifax Town, in summer of 2003 the Huddersfield-born Senior joined Scarborough, where he stayed till summer 2005. He started 31(+36) league games for the Seadogs and netted 18 goals. In 2003-04 he set a Conference record by coming off the bench 36 times. Whilst with Scarborough he was selected for the England non-League squad. Chris made his Alty debut, at Woking, on 20 January 2007. After a scoring burst in late 2007, he was suspended for three games and found the going tougher on his return but still maintaned a good scoring ratio per games played. In 2008-09 he again varied between starting games and being on the bench but, having secured a regular run of starts, he suffered a hamstring injury on 10 March and was sidelined for the rest of the season. When not playing for Alty, Chris is employed in the physio team at Sheffield United. Appearances to June 2008: 43(+18), 15 goals.


26

Rod THORNLEY (d.o.b. 2 April 1977)

Rod Thornley re-signed for Altrincham on non-contract terms on 31 March 2009, having left the club in August 2007 following a six and a half year stay. However, he remains an Ashton United player, a club he joined earlier in 2008-09 season, following a spell at Witton Albion. Rod made his first Conference appearance since August 2007 when he came on as a sub against Eastborune Borough on 7 April 2009. For further details of Rod's prolific career at Altrincham, please see the Departed Players page for 2007-08. Appearances to June 2008: 183+43, 79 goals).

DEPARTED PLAYERS 2008 close season and 2008-09

For details of those named (right), visit the Departed Players page
Steve ASPINALL - left summer 2008; joined Colwyn Bay
Jody BANIM - returned after loan to Burton Albion, February 2009
Richard BATTERSBY - left 26 September 2008; joined Stalybridge Celtic
Lee ELAM - left to sign for Nortwhich Vics on 16 January 2009
Jordan HADFIELD - returned to Macclesfield Town after loan period in February 2009
Pat McFADDEN - left summer 2008; joined Vauxhall Motors, then Ashton Utd, but returned in March 2009
Alex MEECHAN - contract cancelled at his own request on 26 March 2009; joined Stalybridge Celtic
Val OWEN - left 4 December 2008
Andy RALPH - released to emigrate to New Zealand, 6 February 2009
Carlos ROCA - left summer 2008; joined FC United
Gary SCOTT - left summer 2008; joined Witton Albion
Paul TIERNEY - left 26 September 2008
Darren TINSON - left summer 2008; joined Nantwich Town
Luke WATERFALL - loan player, returned to parent club Tranmere Rovers, November 2008
---

Copyright: ©