Match Report
---
ALTRINCHAM 0 MANCHESTER UNITED XI 3
Match abandoned after 86 minutes.
Pre-season friendly match
played on Saturday, 20 July 2008, at 3pm.
---
SUMMARY: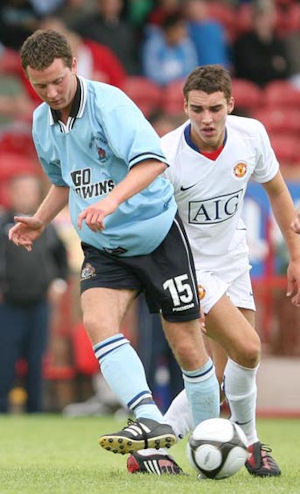 Right: Alex Morris, one of the game's debutants for Altrincham. Photo courtesy of GR Photography.
Report courtesy of Brian Flynn
There was unwanted drama at Moss Lane on Saturday as this pre-season friendly fixture was abandoned after 86 minutes following a pitch invasion by visiting supporters. Trouble had been brewing all afternoon following the looting of the Thresher off-licence opposite the ground and at least one supporter gaining entrance to the stadium illegally. Although matters seemed to calm down as the match got underway, there was an increasing air of tension during the second half as Manchester United supporters congregated at the Golf Road End and created an intimidating atmosphere by constantly banging against the metal structure that constitutes the back of the stand. A couple of smoke bombs were thrown onto the pitch and six minutes after the impressive Rodrigo Possebon had scored Manchester United's third goal, the fans invaded the pitch, leaving referee Mr.Taylor with no real alternative than to call the match off with the safety of both players and supporters in potential jeopardy. The Police were originally called to the ground around 3.30pm and deemed "spirits to be OK" on attending during the half time interval. A second visit by the Police shortly before the pitch invasion, led to reinforcements being called, however the game had been abandoned by the time they arrived. No arrests were made.
In terms of the game itself, Manchester United's young charges, under the tutelage of Ole Gunnar Solskjaer, ran out very comfortable winners against a below par Robins side. Federico Macheda pounced on an embarrassing error by Alty keeper James Coates to give United the lead after 21 minutes. Coates stood on the ball after receiving a suspect backpass from Chris Lane and the 16 year old striker,signed from Lazio, gratefully accepted the gift. Macheda neatly converted Tom Cleverley's left wing cross in the 35th minute to score his and the visitors second. The second half was a bit of a non event with most people's attention sadly focused on events on the terraces and many may well have missed Possebon's wonderful 80th minute long range strike which sailed over Coates before dipping viciously...it was a goal that was at odds with the unedifying events of this particular afternoon.
---
SCORERS
21 mins: Federico MACHEDA (Altrincham 0 Manchester United XI 1)
35 mins: Federico MACHEDA (Altrincham 0 Manchester United XI 2)
80 mins: Rodrigo POSSEBON (Altrincham 0 Manchester United XI 3)
---
REFEREE: Mr Anthony TAYLOR
---
ATTENDANCE: 822
---
TEAM NEWS
Altrincham brought in another trialist debutant in the shape of Alex Morris, a former Crewe Alexandra and Kidsgrove Athletic midfielder. The Alty fans also got their first view of summer signing Alex Meechan, the former FGR and Swindon Town striker.
---
BACKGROUND:
This was Altrincham's third pre-season game, following their 5-1 win at Abbey Hey last weekend and a 4-0 victory at Trafford in midweek. The Robins included two new faces in Alex Meechan, signed over the summer after being with Forest Green Rovers, Swindon Town and other clubs, and trialist Alex Morris. Alex, released by Crewe in 2006, had latterly been at Kidsgrove Athletic for whom he played against Alty in a pre-season game in 2007.
United, managed by Ole Gunnar Solskjaer, brought a young side to Moss Lane.
---
LINE-UPS
MANCHESTER UNITED XII: (All white): 1. Gary WOODS, 2. David GRAY, 3. Jimmy DERBYSHIRE, 4. Craig CATHCART, 5. James CHESTER, 6. Rodrigo POSSEBON, 7. Magnus EIKREM, 8. Danny DRINKWATER, 9. Federico MACHEDA, 10. Tom CLEVERLEY, 11. Sam HEWSON. Subs; 12. Kenny STRICKLAND, 13. Conor DEVLIN, 14. Matthew JAMES, 15. Cameron STEWART, 16. Evandro BRANDAO, 17. Oliver NORWOOD, 18. Oliver GILL.
Substitutes:
12. Kenny Strickland for Possebon after 81 mins
13. Conor Devlin
14. Matty James for Drinkwater after 62 mins
15. Cameron Stewart for Eikrem after 46 mins
16. Evandro Brandao for Hewson after 62 mins
17. Oliver Norwood for Gray after 76 mins
18. Oliver Gill for Derbyshire after 46 mins

ALTRINCHAM: (Pale blue shirts, dark blue shorts and pale blue socks): 1. James COATES, 2. Richard BATTERSBY, 3. Matt DOUGHTY, 4. Chris LANE, 5. Greg YOUNG, 6. Anthony DANYLYK, 7. Alex MEECHAN, 8. Kevin STREET, 9. Colin LITTLE, 10. Dale JOHNSON, 11. Chris DENHAM. Subs: 12. Robbie LAWTON, 14. Natt KERR, 15. Luke HORROCKS, 15* Ben McHUGH, 16. Charlie WEIR, 16*. Warren PEYTON, 17. Damien ALLEN, 17* Alex MORRIS.

Substitutes:
12. Robbie Lawton for Kevin Street at Half-Time
14. Natt Kerr for Richard Battersby at Half-Time
15. Luke Horrocks for Matt Doughty after 68 mins
15. Ben McHugh for Chris Lane after 82 mins
16. Warren Peyton for Alex Meechan at Half-Time
16. Charlie Weir for Dale Johnson after 76 mins
17. Damien Allen for Anthony Danylyk after 51 mins
17. Alex Morris for Chris Denham after 56 mins
---
Abandoned after 86 mins: ALTRINCHAM 0 MANCHESTER UNITED XI 3
---