Altrincham FC Ladies
---
---

Above: Altrincham FC Ladies, May 2015 (click to enlarge)
Altrincham FC runs an open-age Ladies' team which plays (2015-16) in the North West Regional League.
The venue for home matches is normally Mersey Valley Sports Club, Banky Lane, Sale, M33 5SL. Matches are normally played on Sundays, k.o. 2pm. Spectators are welcome at all games. For details of matches and times, please see the fixtures list below.
There is a separate website for the Altrincham FC Juniors and social activities.
| | | | |
| --- | --- | --- | --- |
| Keith Edleston | Phil Taylor | John McManus | Dave Grundy |
Manager - Keith Edleston
Administration/Coach - Phil Taylor
Fitness Coach - John McManus
Coach - Dave Grundy
Recruitment
Aspiring lady footballers are invited to e-mail the Ladies' Team Manager,
Keith Edleston
, giving details of their footballing background.
---
6 August 2015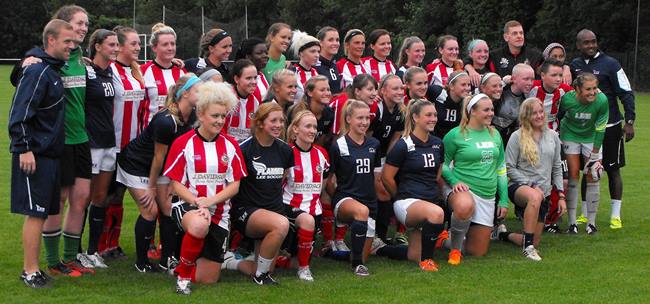 On a wet Wednesday evening at Mersey Valley FC, Altrincham FC Ladies played a visiting USA ladies' team, Lee University Flames of Cleveland, Tennessee. The skilful and speedy visitors proved too good for the Alty Ladies who, nevertheless, gave a good account of themselves. The Flames struck four times in eleven minutes midway through the first half, before adding two second-half goals, to run out 6-0 victors.
More details to follow, from Phil Taylor, whilst Mike Ripley will post images from the game on his website. Altrincham FC thank the Lee University team for their visit and wish them well throughout the rest of their tour of the country.
Above: The two teams mingle for a joint photo before the match kicked off..
---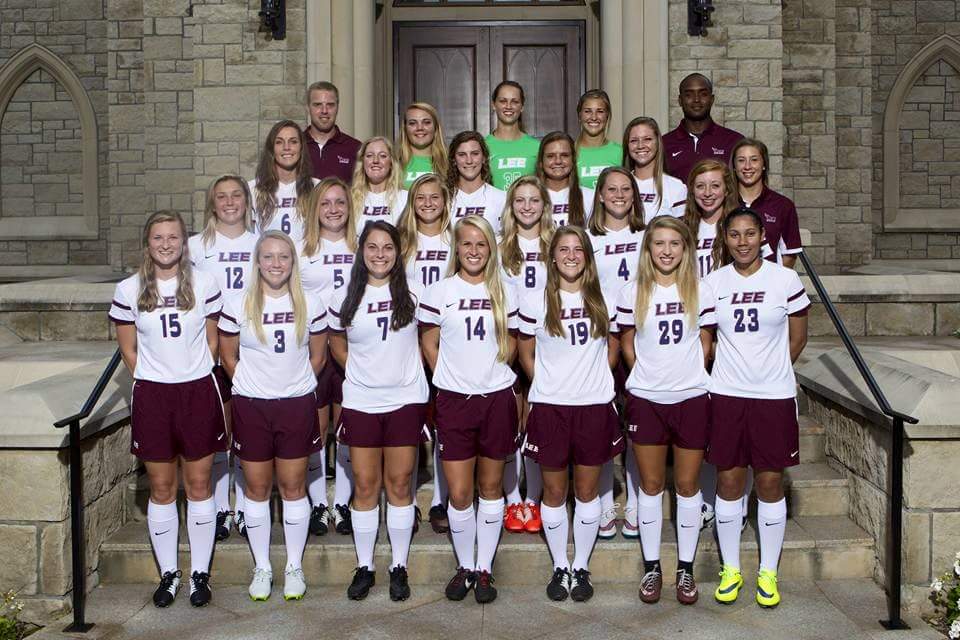 2 August 2015
As previously announced, Altrincham FC Ladies are playing the Lees Flames, a University team from Tennessee, USA on Wednesday, 5th August. The visitors are pictured, right, (click to enlarge). The match is at Mersey Valley FC, kick off is at 7.15pm. Please come down and support the Ladies in this transatlantic challenge!
Image courtesy of Keith Edleston.
---
18 July 2015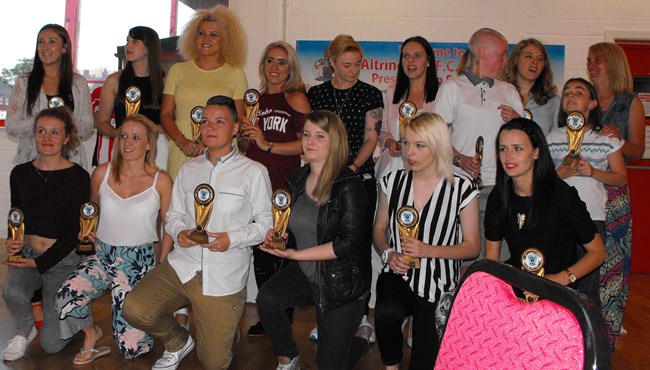 At the end of a successful season which ended in promotion, Altrincham FC Ladies held their annual Presentation Evening at the Community Sports Hall on Friday evening. Above we see the squad with their Division One runners-up awards presented by the Cheshire Women's and Youth League.
Manager Keith Edleston compered the evening and announced the awards, which were presented by Altrincham FC first team's assistant manager, Neil Tolson. Keith's "Manager's Player of the Season" was Gail, whilst "Most Improved Player" was Chloe Brereton. "Sportswoman of the Year" was Heather, whilst Tracey (who was unable to attend) gained the "Top Goalscorer" award.
The "Players' Player of the Season" award was won by a one-vote margin by Georgia, just ahead of Gail. Sponsor Dave Grundy also nominated Georgia for the Blue Dog Bar award. There were special awards for physio Alan Ainsley and supporter Ian Langford, whilst Keith also honoured his management team of John McManus, Phil Taylor and Dave Grundy.
The evening drew towards its conclusion with Neil Tolson thanking Keith for his hard work throughout the season and Heather making a speech on behalf of the players to acknowledge the sponsors as well as the players and management. Richie Bentley Catering, Randalls Jewellers, The Blue Dog Bar, Impact Signs and Robinsons Preservation had all helped to sponsor the team throughout the season.
---
17 July 2015
Altrincham FC Ladies' boss, Keith Edleston, writes, "I would like to take this opportunity to welcome our two new signings. First up is Jess Hartopp a versatile player, who can play in most positions across midfield and upfront and will be a big asset to our squad. Jess, who is 18, has played most of her career at Crewe Alexandra LFC, and has impressed me every time she has played against us with her darting runs down the wings, strong tackling and her will to win which hopefully should stand us in good stead for the coming season. Jess played 15 games in a slightly stop-start season, scoring 6 goals but providing plenty of assists to help her team finish third, just behind us.
Also new to the squad is Judy Henson who has moved over to us from Chorltonians LFC, who play in the Manchester League and finished runners up just behind FC United in Division One. 'Chorlts' also made it through to the League Cup final beating Beechfield United 2-1 and Judy played a pivotal part in that victory. She can play midfield/defence and ,with her subtle array of passing allied to some extremely calm positional play, will definitely have some teams chasing the ball. Judy also works for the Community Sports Hall project at Alrtincham FC and is instrumental in helping me design and print out our programmes that, hopefully, we will be offering at our home games next season.
The Gaffer".
Pictured below, with Keith, are (left) Jess Hartopp and, right, Judy Henson.
---
15 June 2015
Altrincham FC Ladies' manager, Keith Edleston reports that "After a sucessful season we have also been promoted to the North West Regional League". In 2014-15 the Ladies finished second in the Cheshire Women's Open Age League.
Altrincham FC have arranged an international friendly against a touring American University team from Lees University, Cleveland, to be played at Mersey Valley (Banky Lane, Sale, M33 5SL) on the 5th August (k.o. time to be arranged).
---
25 May 2015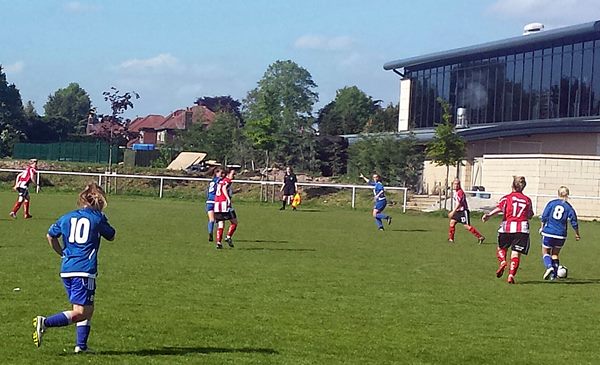 Phil Taylor's report on the Altrincham FC Ladies' excellent performance against the Isle of Man Ladies' representative team is here.
---
21 May 2015

Phil Taylor has kindly provided a match report on the Ladies' midweek win over Egerton, which secured second place in the league table to underline another successful season. The report is here and an image from the game is shown above.
---
17 May 2015

Courtesy of Phil Taylor we have a match report on last week's 3-1 win by Altrincham Ladies against Runcorn Linnets Ladies. It can be found here. The image above, courtesy of Keith Edleston, shows the match in progress.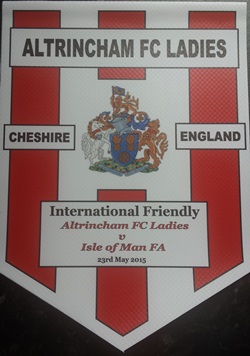 Altrincham FC Ladies' manager, Keithe Edleston, writes "I am now going to enjoy the peace and quiet that is 'close season'; it's time to sit back and recharge the batteries .....Oh no, it isn't! On Saturday, 23rd May we are taking on the Isle of Man Women's national team in a friendly, before they set off to compete in the 2015 Island Games. This is a massive honour for our team to be asked and a bit of a coup for the Football Club in general to be asked to play in such a prestigious game. We are playing at Clay Lane with a 3pm K.O. Please come down to cheer us on".
Pictured right is a special pennant which Keith has had made for the match.
---
16 May 2015
Congratulations go to Altrincham FC Ladies as Phil Taylor advises us that the Ladies were 4-1 winners in Wednesday night's fixture versus Egerton. The goals came from Emma Booth, Kathryn "Cyprus" McIntyre, Kate Bryan and a penalty from Aimee Gibson. In doing so, the runners up spot in the League was confirmed mathematically with one game still to play". Phil will provide a report on the game in the near future.
---
9 May 2015
Phil Taylor's match report on the Altrincham Ladies 1-0 win over Chester, last Sunday, is now
here
.
---
4 May 2015
DAVE GETS A MEDAL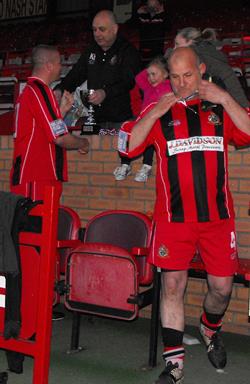 Blue Dog bar owner and sponsor of the Altrincham FC Ladies, Dave Grundy, took part in the Altrincham FC Staff v Supporters' game last Friday. Despite relentless heckling from Keith Edleston, the Ladies' manager, Dave had a good game! He is seen, right, having just received his winners' medal from Keith after the game.
Altrincham FC Ladies are third in the
league
after they defeated Chester City by a score of 1-0 in Sunday's match at the J. Davidson Stadium. Phil Taylor informs us that "The goal came from a free kick taken by Elina Parker which, under pressure from Kate Bryan, the Chester keeper misjudged and allowed to creep into the net. Again, it was a good game with some excellent football being played".
---
26 April 2015
Altrincham FC Ladies won 5-0 away at Vauxhall Ladies on Sunday. Next up is a home game against Egerton FC at Mersey Valley FC on Wednesday evening.
---
21 April 2015
Phil Taylor reports that "for the second time this season the Ladies lost to Crewe by way of a stoppage time goal. Georgia Plant had given us the lead after 19 minutes and we were the better side. Crewe equalised after 86 minutes and scored the winner in the 93rd minute. The Altrincham players were excellent. I will be preparing a report in the near future" which will appear on the website.
---
19 March 2015
Altrincham FC Ladies, with only ten players for the entire game, played well but bowed out of the County Cup, with a 4-0 defeat to Winsford Ladies. Phil Taylor's match report is
here
.
---
10 March 2015
Altrincham were narrowly defeated in the Cheshire Women's & Youth League Challenge Cup First Round last Sunday. Phil Taylor's match report is
here
. Next Sunday the Ladies are away in the County Cup to Winsford Ladies at the Barnton Stadium (k.o. 1.30pm); spectators are very welcome.
---
22 February 2015
Today's scheduled Ladies' match between Altrincham and Wallasey Wanderers was postponed because of a bereavement to a member of the opposition side. Altrincham FC extends its condolences.
---
17 February 2015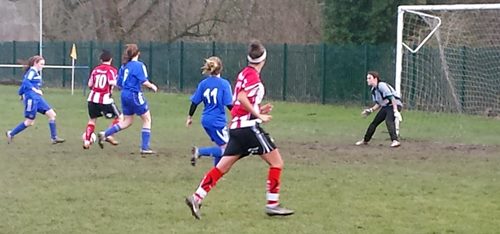 There is a report here from Phil Taylor on the Altrincham FC Ladies' impressive win over Macclesfield Town Ladies last Sunday.
---
12 February 2015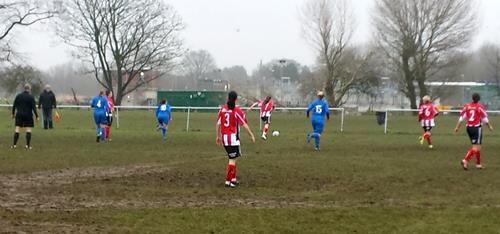 Altrincham FC Ladies lost to Warrington Wolverines last Sunday. Phil Taylor's report on the match (seen above) is here. On Sunday, the Ladies have a 1pm kick off at Mersey Valley against Macclesfield in the league cup. All spectators are very welcome.
---
29 January 2015
FINE PERFORMANCE BY LADIES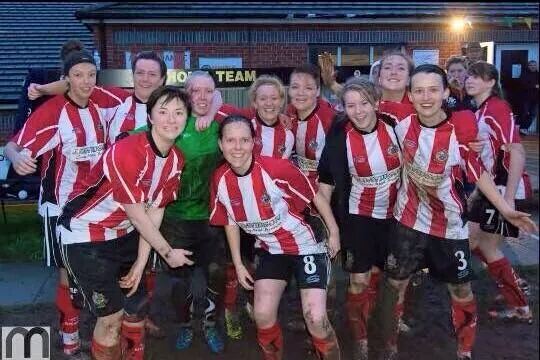 Pictured, right, are the Altrincham FC Ladies celebrating their fine victory on penalties against table-topping Warrington Wolverines and, as Phil Taylor writes, "demonstrating the spirit and cameraderie which is such a part of the team. The photo is one of a number of excellent images captured by Mike Ripley, who was once again kind enough to come down and record events".
Phil's match report is here.
---
14 January 2015
LADIES' 3-1 WIN
The Ladies won 3-1 away to AFC Stockport last Sunday and a report from Phil Taylor is
here
. Next up is a cup match at home (Mersey Valley) to Warrington Wolverines on Sunday 25th Jamuary, 2pm. All spectators are welcome.
---
9 January 2015
Courtesy of Phil Taylor, we have a
match report
on the Altrincham FC Ladies 5-2 win against Stockport County HNR, in a match switched to Stockport because of the weather.
---
6 January 2015
Phil Taylor advises us that Altrincham FC Ladies defeated Stockport County HNR by five goals to two, on Sunday. Phil adds that "HNR had beaten the Alty Ladies 6-1 in the previous fixture between the two teams this season and, at kick kff, were in second place in the League. The Alty victory means that we have now leapfrogged them and hold second position ourselves. The goals were scored by Tracey Blanchard Webb (3), Emma Booth and Aimee Gibson but every single player contributed significantly".
---
12 December 2014
In a friendly match, Altrincham FC Ladies overcame a strong Llandudno Junction team. Phil Taylor's match report is
here
.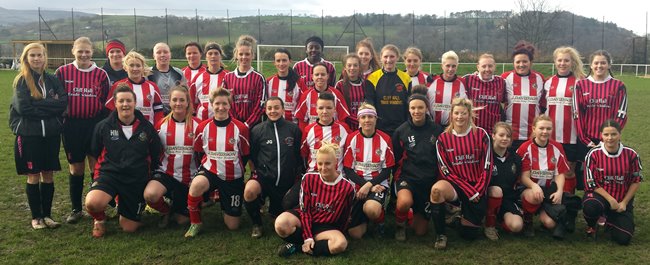 Pictured above are the two teams posing as part of the weekend's World War I truce commemoration.
---
27 November 2014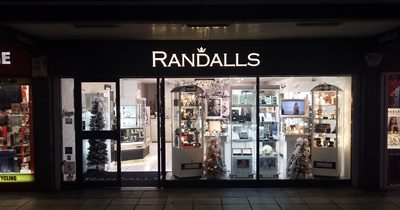 Altrincham Ladies have accepted an invitation by Randalls Jewellers, who kindly sponsor the team's training kit, to visit the store this evening (Thursday, November 27th) to help them to publicise their links to the Club and also their Christmas Offers. A number of the Ladies players and Management will be at the Store on George Street from around 7pm if anyone wants to come down, meet the payers or ask any questions about the Ladies Team.
Randalls is located on George Street near WH Smith and the store is shown, right.
---
25 November 2014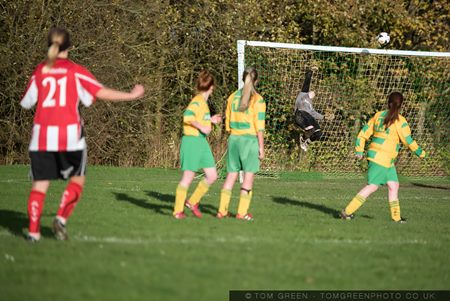 Phil Taylor advises that " Despite falling behind, Altrincham Ladies defeated Runcorn Linnets Ladies 3-1 away on Sunday. The goal Scorers were Kathryn McIntyre, Charlotte Dudley and Tracey Blanchard Webb". Phil's match report is
here
. The excellent action picture, right, is courtesy of
Tom Green
.
---
20 November 2014
Phil Taylor's report on the Ladies'14-0 win over Heswall is
here
.
---
5 November 2014
HEAVY REVERSE
Altrincham Ladies lost 6-1 at Stockport County HNR on Sunday.
---
27 October 2014
EIGHT-GOAL THRILLER
Phil Taylor's report on the exciting 4-4 draw between Altrincham FC Ladies and Vauxhall Motors Ladies is
here
.
---
26 October 2014
Phil Taylor reports that Altrincham FC "Ladies drew 4-4 with Vauxhall on Sunday. Having twice fallen behind in the first half, we were level at the interval before taking a 4-2 lead in the second half. The concession of a third goal increased the pressure and the equaliser came in the second minute of stoppage time, which was frustrating and annoying in equal measure. Alty Goalscorers were Aimee Gibson (2) Charlotte Dudley and Emma Booth. There will be a report in the near future".
---
22 October 2014
Thanks go to Phil Taylor, who has kindly provided a
match report
on last Sunday's game against Warrington Wolverines.
---
20 October 2014
Phil Taylor tells us that "Altrincham FC Ladies were defeated 4-0 by League Leaders Warrington Wolverines, who maintained their 100% record on Sunday. Despite the score, the Ladies more than held their own and, on balance, arguably played the better football at times". Phil's match report will follow shortly.
---
12 October 2014
Phil Taylor reports that "The Ladies turned around a two goal deficit to register a 3-2 win versus AFC Stockport on Sunday. Tracey Blanchard-Webb (2) and Elina Parker were the scorers. Report to follow in the next few days".
---
8 October 2014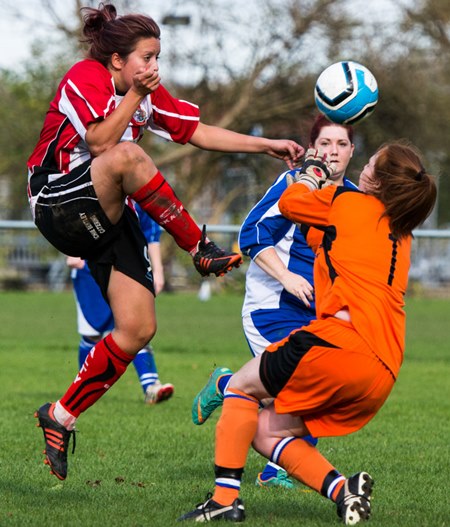 Phil Taylor has kindly provided a
match report
on the Ladies' 4-1 win over Chester City, last Sunday. Courtesy of Michael Ripley (right) we have an excellent photograph of Charlotte Dudley scoring her second and the team's fourth goal.
---
6 October 2014
Phil Taylor informs us that "Despite conceding a very early goal, the Ladies fought back to register a 4-1 win against Chester City Ladies with two goals each for Aimee Gibson and Charlotte Dudley". Phil's report will follow in the near future.
---
28 September 2014
Sunday's match ended Altrincham FC Ladies 3 Crewe Alex. Ladies 4. A report isto follow from Phil Taylor, who tells us "The Ladies were unfortunately beaten 4-3 at home by Crewe today. The winning goal was an excellently struck volley in the 90th minute. Alty's goalscorers were Tracey Blanchard Webb (2) and Hannah Shufflebotham". Phil's match report is
here
---
21 September 2014
Phil Taylor tells us that "Altrincham FC Ladies returned from Wallasey with a 7-3 Win. The goals came from Aimee Gibson (3), Cloe Allsop (3) and Georgia Plant". Phil's match report is
here
---
4 September 2014
LADIES' FIRST FIXTURE
Courtesy of Phil Taylor, there is a
report
on Altrincham Ladies' first league game of the season, at home to Wythenshawe Amateurs, on Wednesday. Unfortunately, the Ladies lost 4-1. On Sunday (7th), the Ladies are away to Egerton (2pm).
---
3 September 2014
FRIENDLY DEFEAT
Phil Taylor's report on the Ladies' away friendly at Bootle is
report
. Bootle won 3-0.
---
21 August 2014
The Ladies are away to Winsford United on Sunday, 31 August, 2pm.
---
27 July 2014

Altrincham FC Ladies' manager Keith Edleston announces that "We have another friendly organised, v Winsford United Ladies on the 31 August, 2pm k.o., at The Barton Stadium, Kingsway, Winsford CW7 3AE.
Also, last Thursday, we made two more signings to bolster our squad, Georgia Plant (17) an attacking winger (above, left) who has come from Richmond Rovers and Elina Parker above, right) who twice in the 80s played for England. Elina is a versatile player who now can operate in a number of positions and whoses ability, attributes and cleverness will help the younger players come on".
---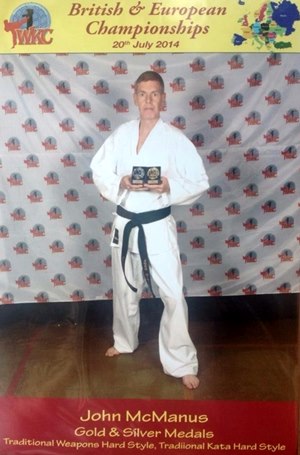 24 July 2014
Altrincham FC Ladies' Assistant Manager, John McManus (right) won Gold and Silver Medals in the European Kick Boxing Championships last weekend. The Ladies' administrator and coach, Phil Taylor adds, "Clearly all at AFC Ladies are incredibly proud of John", who is pictured right.
---
19 July 2014
For anyone who thought football managers had a restful summer, these two images (courtesy of Keith Edleston), belie that. On the left we see Keith, manager of the Altrincham FC Ladies shaking hands on a deal with local company Impact Signs & Designs. Says Keith, "Impact Signs & Designs have agreed to sponsor our away kit for the coming season. After a few meetings and a bit of negotiation the MD of Impact Signs, Craig Hill, said that he was very happy for his company to assist the Ladies to push futher with their ambitions and also to promote his business when we are on our travels throughout the North West.
This great bit of sponsorship will now hopefully attract more high profile firms like Impact Signs to step forward and join this great Club. Thanks to Craig and all his staff for making this happen. Roll on the 2014/15 season".
And, on the playing front, Keith adds that he has "signed Charlotte Dudley, a striker from AFC Stockport, after her attending training for the last three weeks. Charlotte is a player I have known for a long time right through her junior days, starting at Flixton FC through AFC Urmston Meds and then onto AFC Stockport. She is a prolific striker who knows where the back of the net is. Welcome to the club Charlotte you will be a great asset to the team".
---
13 July 2014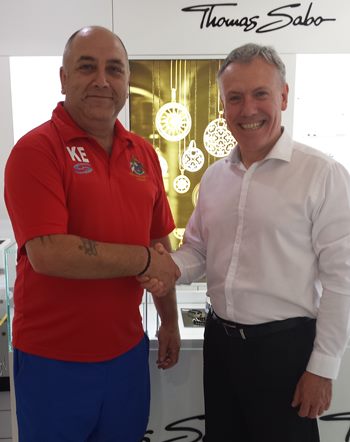 Altrincham FC Ladies' manager Keith Edleston is delighted to announce that for the next two seasons the Ladies' training kit will be sponsored by a well-known local jewellery company,
Randalls of Altrincham
. Randalls are located in the town centre at 16 George Street in the Stamford Quarter of Altrincham (WA14 1SF).
Keith expressed his delight at the new sponsorship, saying "This is another local business supporting the Club which, in my mind, goes to show that the local business community is willing to help out with such a progressive and forward thinking club. We in the Ladies' section are so proud that, along with Dave and Alison at the Blue Dog Bar and Richie Bentley Catering, we now have another big name supporting us in Randalls of Altrincham. I would like to say a big "thank you" to Peter Foster for helping to arrange this latest sponsorship".
Pictured right, Keith shakes hands on the deal with Randalls.
---
8 July 2014
Keith Edleston advises that Altrincham FC Ladies' team will take on Merseyrail Bootle LFC on Sunday, 17th August, k.o. 2pm. The match is at the Delta Taxis Stadium, Vesty Road, Bootle, L30 1NY.
---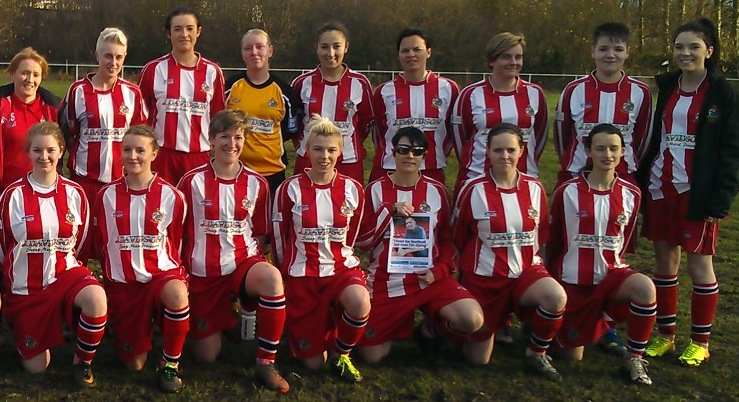 Above: Altrincham FC Ladies line up before the game against Macclesfield Town in December 2013.
---
FOR ALL THE NEWS ABOUT ALTRINCHAM FC LADIES DURING LAST SEASON (2013-14)
CLICK HERE.
---