ALTRINCHAM FC DEPARTED PLAYERS/STAFF 2022-23
OPTIONAL DROPDOWN MENU - HERE
---
Players & Staff who departed Altrincham in season 2023-24
or in close-season 2023
---
Bruno ANDRADE (d.o.b. 2 October, 1993 in Viseu, Portugal)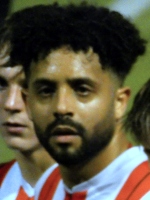 Bruno is an experienced forward who, as a trialist, scored the only goal for Altrincham in a 1-1 draw against 1874 Northwich on 11 October 2023 in the Cheshire Senior Cup. He went on to convert the decisive penalty in the resulting shoot-out to clinch a win for the Robins. He was later reported to have joined Chesham.
In his early career in England, Bruno spent five years at QPR where he reached the first team, making two appearances.
Away from Loftus Road he had loan spells at Aldershot Town, Wycombe Wanderers and Stevenage, before signing for Woking, where he played against Altrincham in 2015-16 season.
From 2016 to 2018 he was a regular starter for Boreham Wood before moving to Lincoln City (2018-20). Next came a spell at Salford City (2020/21) and the following season, he returned to Stevenage. Another second-coming saw him rejoin Boreham Wood last season before a spell at Maidenhead United whom he joined in Spring 2023.
Altrincham appearances: 1, 1 goal.
Jordan HULME (d.o.b. 23 November 1990) formerly no.9
Jordan Hulme rejoined Altrincham on loan from AFC Fylde in a move announced on 7 January 2022.
He had first signed for Altrincham on 13 July 2017, just after he had left Salford City where he had scored ten times and provided eleven assists in 48 appearances in 2016-17 in National League North. At the time Alty were in the tier below, the Northern Premier League. The previous season he had netted 18 times in 54 appearances for the Ammies.
Jordan's earlier clubs included CMB Sports Club, Walshaw Sports Club, Shevington, Padiham, Ramsbottom United (2012) and New Orleans Jesters (USA). At Ramsbottom, he had scored more than thirty goals in 100 or so appearances before following the Rams' management duo of Bernard Morley and Anthony Johnson to Salford City in January 2015.
A versatile player, at previous clubs he has turned out as a right-winger and right-back, as well as striker. By mid-November he had established himself as Alty's leading scorer in all competitions and crowned a fine season as Alty's top scorer, breaking the 30-goal barrier, and the NPL's Player of the Season.
He started 2018-19 with seven goals from eight starts before being suspended for a game and then missed further game time with a persistent eye problem. Nevertheless, he netted nine times in his first ten games of the campaign.
However, a flurry of yellow, and two red, cards meant that he missed more than a quarter of the club's first 30 fixtures in 2018-19 through suspension. Nevertheless, he still finished the season as joint top scorer in all competitions, with twenty goals. When the 2019/20 season was prematurely ended Hulme was again the club's leading scorer in that competition.
In summer 2020 he signed a new two-year contract but, just weeks later, he opted to take lower league AFC Fylde's offer of full-time football, his departure being announced just twenty hours before the start of the 2020-21 season.
However, an unhappy time with The Coasters prompted his return on loan in January 2022 to an Alty side which had lacked a potent striker since his departure.
Following a number of impressive preformances, injury sadly meant that he played in just two of the final eleven fixtures. After the end of the season, he was released by Fylde and rejoined Alty, as was announced on 21 May 2022, when he was also announced as the team captain for 2022-23.
Injury meant his playing time was intermittent at the start of the 2022-23 season but he went on to make 15(+2) appearances in the last National League 21 games of that season. Having just been announced as staying at the club for 2023-24, Jordan opted to move to Radcliffe FC in the Northern Premier League where he will be reunited with his former managers from his time at Salford City.
Altrincham appearances: 175(+18), 82 goals.
Hayden LINDLEY (d.o.b. 2 September, 2002)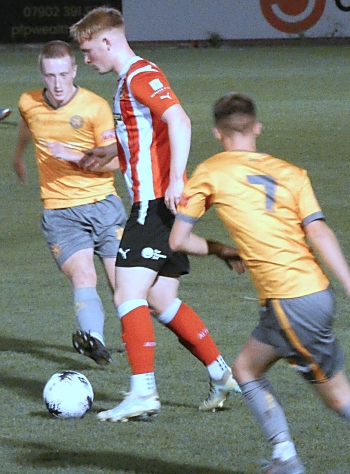 Hayden, a midfielder, started out at Blackburn Rovers as a child of six, before being recruited by Manchester City in 2010, where he spent nine years.
In 2019 he joined Aston Villa, from where he went on loan to Newport County in 2022, where he made five appearances before being recalled. A loan spell at Cheltenham Town followed before his release by Villa in June 2023.
His Altrincham debut was as a trialist in the Cheshire Senior Cup on 11 October 2023. Later that month he signed for Darlington.
Appearances to end of 2022/23 season: 0.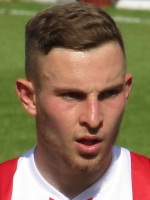 Josh LUNDSTRAM (d.o.b. 19 February, 1999 in Stoke-on-Trent) formerly no.8
Josh joined Altrincham from Crewe Alexandra in a move announced on 28 May 2022.
He had formerly enjoyed a loan spell from The Railwaymen in 2020, when he made thirteen starts for the club.
That originally short-term loan spell had been announced on 17 January 2020, and he played the fully 90 minutes the next day at Gateshead, in central midfield. Josh had had previous experience of National League North football during a loan spell from January 2019 with Nuneaton Town, during which he played against Altrincham in April, 2019.
Prior to his fifteen games for Nuneaton, Josh had a loan spell at Kidsgrove Athletic and also had a second spell at the club from November 2019. Unusually for a loanee, Josh became an ever-present starter and, after eight full 90-minute games for Alty, Josh's loan was extended to 24 March 2020 but the season was then curtailed by the Covid-19 pandemic. However, in common with rulings elsewhere, Josh was permitted to play in the July play-off campaign when football resumed.
Josh played every minute of every Altrincham league game in 2022-23, a season in which he was also awarded his first England C cap, as he faced Cymru C at Moss Lane on 21 March 2023. He often captained the side in the absence of Jordan Hulme.
After lifting all three of the end of season's major awards for the club, Josh departed to fellow National League team Oldham Athletic, a move announced on 6 June 2023.
Altrincham appearances: 66, 3 goals.
---
---
---