ALTRINCHAM FC DEPARTED PLAYERS/STAFF 2021-22
OPTIONAL DROPDOWN MENU - HERE
---
Players & Staff who departed Altrincham in season 2021-22
or in close-season 2021
---
Fisayo ADARABIOYO (d.o.b. 1 February, 1995) Formerly No. 26
Fisayo Adarabioyo signed on 12 October 2020, his arrival being announced two days later and he made his debut on 27 October 2020 at Hartlepool.
He had impressed manager Phil Parkinson when scoring twice against Alty as a trialist for Curzon Ashton in a pre-season game in September 2020. He also played for Curzon in the FA Cup against FC United of Manchester and, before signing for Altrincham, he also turned out for Stafford Rangers in a home defeat to Hyde United.
He started out at Manchester City where his brother, Tosin, was on the club's books for many years. After moving on to Birmingham City, Fisayo subsequently moved to Perth to join Scottish Premier side, St Johnstone where he was in their under-20s' squad early in 2014 but, by the end of that year, he had moved south to Croydon and Crystal Palace.
After these travels he actually made his professional debut much closer to Altrincham, at Macclesfield Town, a club he had joined early in the 2015-16 season. He made one start and two more from the bench at the Moss Rose.
Next came a single substitute appearance with AFC Fylde's development team before his travels began again with a move to The Netherlands for the start of the 2016-17 season at NAC Breda, who gained promotion during his stay. Fisayo scored once in 12 substitute appearances in the regular league and appeared twice more as a sub in Breda's play-off games before moving to Dutch Second Division side, FC Oss, where he scored twice in 16 games and played one more game in a cup competition.
Early in 2019 Fisayo briefly joined Romanian Liga 3 team FC U Craiova 1948 where he made two appearances. In February 2020, he joined Warrington Town, for whom he made three appearances, scoring on his debut in an abandoned game. His Altrincham debut was delayed by the Covid-19 hiatus to the club's 2020-21 league fixtures, which started on the day of his signing.
By late November 2020 had started eight games for the club before injury sidelined him and he did not appear again till very near the end of the season when he appeared once as a used sub in game 38 of the league season.
His exclusion from the squad list issued on 12 July 2021 suggested his departure but he appeared again in pre-season and was described as a trialist. However, no announcement was made about his status before the 2021-22 season commenced so it was assumed that he is not part of Phil Parkinson's plans before this was belatedly confirmed. He then joined Ashton United.
Altrincham appearances: 8(+1), 2 goals (inc. a goal in the expunged game v Dover)
---
Barry BAGGLEY (d.o.b. 11 January 2002 in Belfast) Formerly No. 31
Known as Barry Baggley, Barry Thomas Crowe joined Alty on loan from Fleetwood Town and made his debut the same day against Solihull Moors on 26 October 2021 and scored his side's goal that day.
He had been with Northern Ireland club Glentoran before joining Fleetwood in 2018/19 and had made five appearances for the Lancashire coastal club before his arrival at Moss Lane. He was Fleetwood's youngest ever player in an EFL match.
Barry has represented Northern Ireland at under-17 level. After the completion of his month's loan he returned to Fleetwood Town.
Altrincham appearances: 3, 1 goal.
---
Kevin BERKOE (d.o.b. 5 July 2001 in Redbridge, London). Formerly no.24
Kevin Berkoe's arrival on a one-month loan from Salford City was announced on 14 January 2022.
A left-back, Bercoe started out at Chelsea before moving to Wolverhampton Wanderers, from where he joined Oxford United in May, 2019. Whilst there he had a loan spell at neighbouring Oxford City before being released by United.
After his release by Oxford, he joined Salford City for the 2020-21 campaign. In late September of 2021 he went on a month's loan to AFC Telford United where he remained till the second week of November 2021. On joining Alty he had made three cup appearances for the Ammies.
In only his second start for the club he was sent off at Solihull on 29 January 2022 and his three-match suspension meant that his spell at Altrincham ended prematurely.
Altrincham appearances: 2(+1)
---
James BERRY
(d.o.b. 10 December, 2000, in Wigan) Formerly no.26
Following two pre-season appearances as a substitute, on 5 August 2021 Altrincham announced the signing of former Liverpool, Wigan Athletic and Hull City youngster, James Berry.
He went immediately on loan to the newly formed Macclesfield FC and the loan was extended in January 2022 until the end of the 2021-22 season. But on 10 March 2022 it was announced that Berry had joined Macclesfield on a permamanet basis for an "undisclosed fee", having scored 11 times in 32 appearances for the Silkmen at NW Counties Premier level (step five).
He joined Wigan Athletic in December 2016 after spending almost a decade at Liverpool. Three years later Hull City signed him and he made his debut as a substitute in the Championship in 2020. He left The Tigers by mutual agreement in summer 2021.
Altrincham appearances: 0.
<
---
Joe BUNNEY
(d.o.b. 26 September 1993 in Gorton, Manchester) Formerly no. 29
With five defenders out injured as the 2021-22 season got under way, Joe was signed by Phil Parkinson on 24 August 2021, having made his only pre-season game for Altrincham, three days earlier, behind closed doors against Huddersfield Town "B".
Nowadays primarily a left-back, Joe first encountered Alty as a striker for Lancaster City youth in 2011, scoring against the Robins in the FA Youth Cup.
After playing briefly for both Kendal Town and Stockport County in 2012, he spent time at Northwich Victoria (2012-13). However, it was a five-year spell (2013-18) at Spotland that he made his mark in the Football League, making more than 120 appearamces for Rochdale.
Next he joined Northampton Town (2018-19), for whom he made 16 appearances and he also turned out five times, on loan, for Blackpool, as well as a further 16 outings back at Rochdale on loan (2019).
He was signed by troubled Bolton Wanderers but after a couple of appearances moved back into non-League, very briefly with Matlock Town, before moving to help Hartlepool United as they regained their Football League status in 2021.
Curiously in 2020-21 he later turned out for a club which swapped its League status with the Pools, as he had five games for relegation-bound Grimsby Town. After leaving Altrincham in October 2021, he joined Warrington Rylands.
Altrincham appearances: 3((+1), 0 goals
---
Christopher CONN-CLARKE
(d.o.b. 22 November 2001) Formerly no.31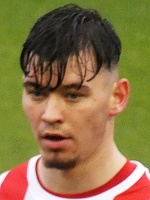 Attacking midfielder Christopher Conn-Clarke joined Altrincham on a one-month loan from Fleetwood Town on 3 February 2022
He started out at Linfield and then Glentoran in his native Northern Ireland before joining Burnleyin 2018. He played twice during a loan spell with Chorley from October 2020 before joining Fleetwood Town in February 2021.
The Lancashire club extended his initial contract to the end of the 2022-23 season. He made his EFL debut for Fleetwood in September 2021. He has played for Northern Ireland's under 17s, 19s and 21s.
Chris made a promising Altrincham debut, in a no.10 role, on 5 February 2022 against Woking. But early in his second game, at King's Lynn, a foul tackle led to his being stretchered off and the extent of the injury meant that his loan was curtailed, as was announced on 15 February 2022.
Altrincham appearances: 2, 0 goals.
---
David FITZPATRICK (d.o.b. 28 February 1990 in Stretford) Fomerly no.19
Left-back David Fitzpatrick signed for Altrincham in late July 2021 after playing two pre-season games for the club. However, he was no stranger to Alty having played against them on several occasions for former clubs Northwich Victoria,
David started out at Stockport County but joined Northwich Victoria in 2010. Whilst there he had a loan at New Mills, a club which he eventually joined in 2012.
2013 brought him a move to Southport, where he made 80 appearances, before a five-year spell started at Macclesfield Town in 2015 where he went on to make the better part of 200 appearances. During that time he became an England C international.
Season 2020–21 was spent in the EFL at Port Vale, where David made 22 appearances. Injury on his debut sidelined him at the end of August and on his second start he again was unable to complete the first half.
Altrincham appearances: 11(+1), 0 goal.
---
Dean FURMAN (d.o.b. 22 June 1988 in Cape Town, South Africa) formerly no.28.

On 25 August 2021, Dean signed for Altrincham having made just a single appearance in a behind closed doors friendly against Huddersfield Town eleven days earlier.

Dean's career started in the youth set-up at Chelsea, where he spent nine years, till he was 18.

Next, he moved to join Glasgow Rangers (2006) and was captain of their Under-19 team before making his Scottish Premier League debut in May 2008.

In summer 2008 he returned to England, signing for Bradford City on loan but a hamstring injury limited his appearances. However, he returned to action and stayed till the end of the season.

He then joined League One Oldham Athletic in summer 2009 and became team captain in 2011, as he went on to make 147 appearances for The Latics.

In Spring 2013 he joined Doncaster Rovers and helped them win the League One title. After two years at the club, having played 82 games, he moved back to South Africa and joined SuperSport United where he spent five years five years and played 101 games before he made a return to the EFL in summer 2020 at Brunton Park, with Carlisle United.

He made his debut for South Africa in 2012 and captained them in the 2015 Africa Cup of Nations and by March 2019 he had amassed fifty caps for his country. After twelve appearances his departure on the termination of his short-term contract was announced on 21 January 2022.

Altrincham appearances: 6(+6), 0 goal
---
James HARDY
(d.o.b. 11 May 1996, in Stockport), formerly No. 32
The signing of winger/number ten James Hardy was announced on 22 February 2021, just after his release by AFC Telford United whose season had been decelared null and void.
As a youngster he was with Oldham Athletic for six years before signing for Manchester City in 2012. He moved on to play for AFC Fylde in October 2015 but, after helping them gain promotion from the National League North, he was badly affected by injury for two seasons.
A loan period from Fylde, at FC Halifax Town, followed in February 2019, before he left the Lancashire club, having made almost 100 appearances for The Coasters.
Next, he was signed by EFL club Walsall in June 2019 but, after eleven appearances, he was released at the end of 2019-20 season, whereupon he joined AFC Telford United for 2020-21.
He is an England C international and was their Player of the Year in May 2019.
Hardy's departure was announced on 15 June 2021.
Altrincham appearances: 5(+6), 1 goal.
---
Connor KIRBY (d.o.b. 10 September 1998 in Barnsley), formerly no.14
Connor's return to Moss Lane, on loan from Harrogate Town until early January 2022, was announced on 16 July 2021. That followed a month at the club at the end of 2020-21 season.
His first loan had been announced on 21 April 2021 and saw him make five starts and two substitute appearances by the end of the season.
Earlier in his career, after signing in 2015 for Sheffield Wednesday, he had made two appearances for The Owls in the Championship as well as two in the league cup.
2019-20 saw him make 39 appearances on loan at Macclesfield Town before joining Harrogate Town in League Two for 2020-21 season, a club for which he made 22 appearances, 16 in League Two, before his move to Altrincham.
He made his Alty debut on 24 April 2021 in the home defeat by Barnet and scored his only goal of that season at home to Yeovil Town. His outstanding performances prompted Altrincham to re-sign him on loan for the start of the 2021-22 season. However, after being an ever-present in the opening fixtures, he sadly suffered a double compound fracture of the leg in the fourth match of the campaign at Wealdstone which curtailed his loan spell.
Altrincham appearances: 9(+2), 2 goals.
---
Alec MUDIMU (d.o.b. 8 April 1995 in Harare, Zimbabwe) formerly no.33
On 12 February 2022, Altrincham announced the signing of centre-back Alec Mudimu (26) on a short-term contract. He has 24 caps for Zimbabwe and his career includes spells with Sheffield Wednesday, Stalybridge Celtic and Cefn Druids in the UK and most recently in Turkey after a spell in Moldova. He played against Alty for Stalybridge in 2014.
As a child Alec's family moved to Hertfordshire but his youth football started at Sheffield Wednesday before he moved to Stalybridge Celtic in 2011.
In early 2015 he joined Radcliffe Borough on loan, after which he had spells at Northwich Victoria and Stockport Town and,in Wales, with Cefn Druids (2017-)
Trials followed at both Fleetwood Town and Rochdale before he opted to move abroad, to Moldova, where he joined Sheriff Tiraspol (2020). A year later, in January 2021, he moved to play for Ankaraspor in Turkey
In the interim, he was capped for the first time by Zimbabwe, in 2018.
After making his Altrincham debut as a late substitute at King's Lynn, and then playing a full match at Boreham Wood, he opted to leave to seek a more permanent contract elsewhere, having never been seen by supporters who only attend home matches.
Altrincham appearances: 1(+1).
---
Tom PEERS
(d.o.b. 23 October, 1995) Formerly no.23
Tom made his Alty debut on 12 August 2017 at home versus Stafford Rangers but left the club in November 2018, only to return in May 2019.
Born in Warrington, Tom came through the Chester FC youth system (2013-16) where he made 3(+21) first-team appearances under manager Neil Young. He then went on loan to 1874 Northwich FC and, in January 2015, Tom started a month's loan at Marine.
In December 2015 he went on a month's loan to Salford City, with a similar loan stay at Hednesford Town following that. In 2016 he briefly joined Hednesford before a summer 2016 move to AFC Telford United. However, he soon moved on to Warrington Town (Sept. 2016) and then Droylsden (Dec. 2016 to Feb. 2017). At that point he joined Nantwich Town and followed manager Phil Parkinson to Altrincham in summer 2017.
Although his Altrincham appearances in 2017 were more often from the bench than from kick-off, by mid-November 2017 he had participated in more Altrincham games than any other member of the squad and had weighed in with some important goals. 2018-19 also saw him primarily deployed as a substitute but on 1 November 2018 it was announced that he had opted to move to FC United in the hope of more consistent game time. Ironically he left Moss Lane whilst top of the chart for goals scored per minutes played in 2018/19 season!
Tom ended the season at FCUM but rejoined Altrincham in late May 2019. He went on to score a number of important goals in 2019-20 season, having won a first-choice place after early appearances as a substitute. In all, he made 26 appearances in 2020-21, with 15 of those being starts.
In 2021-22 he had started or taken part in seventeen of the 24 matches played in league and cup before going a loan to Curzon Ashton was announced on 23 December 2021. He returned to Alty and started at Solihull on 29 January 2022 but on 15 February it was confirmed that he had joined Curzon Ashton for an undisclosed fee..
Altrincham appearances: 70(+79), 32 goals. Figures include his sub appearance in voided game against Dover in 2020.
---
Adam PORTER (d.o.b. 8 April 2002 in Biddulph, Staffs) formerly no.8
Adam's arrival on a one-month loan from Stoke City was revealed on 5 November 2021. He had worked his way up through the junior teams at the Potteries club and had one first-team appearance under his belt, in the EFL Cup in August 2021, before joining Altrincham.
He enjoyed a brief loan in October 2019 at Leek Town where he made three appearances for the Staffordshire club. His return to Stoke after completion of his loan was announced on 6 January 2022.
Altrincham appearances: 9(+2), 0 goals.
---
Simon RICHMAN (d.o.b. 2 June 1990 at Ormskirk) formerly No. 30
Simon Richman's departure from Altrincham was announced on 21 June 2021, a decade after his arrival at Moss Lane. His versatility meant that, during his stay, he had worn every outfield shirt at Alty except no.3.
Simon was a product of the Bolton Wanderers' academy and the Port Vale youth system. He broke through into the Valiants' first team in League One in 2007-08 and made 48 League appearances for them in all, mostly in 2008-09 in League Two, when he was voted the club's Young Player of the Season. Simon then suffered a groin injury which kept him out of action for several months and, though he made five first-team League Two appearances for Vale in 2009-10, he was released at the end of that campaign. In summer 2010, he had trials with Southport and Worcester City, before joining City and making eight league appearances in the Blue Square Bet North.
Simon became Lee Sinnott's first signing at Altrincham in summer 2011 but his early Alty career was marred by injuries and illness. Having mostly played in right midfield, Simon completed the campaign in central midfield, a position he also played in during 2012-13. Summer 2013 saw him as an integral part of the Great Britain Universities' team which won the silver medal in the world games in Kazan, Russia.
His energy in midfield is an important feature of the team. Outside football, Simon has a degree in chemical engineering from the University of Manchester.
His 2015-16 season was disrupted by an injury in late August but he then re-established himself as a regular starter. 2016-17 also saw him as a regular starter, though some games were missed through injury. Early 2017-18 also saw him miss games through injury before re-establishing himself as a regular starter. Towards the end of that season he played impressively at right-back as well as in midfield.
Simon figured chiefly as a substitute during the early part of 2018-19 season and by the end of that campaign he had made twenty appearances each as a starter and as a used substitute. Simon had re-established himself in midfield before suffering a hamstring injury in January 2020.
In 2020-21 Simon generally was named as a substitute, making only four starts plus nine from the bench.
Altrincham appearances: 270(+98), 24 goals.
---
Lewis SALMON (d.o.b. 2 November, 2001) formerly no.16
On 6 November, 2019, Altrincham FC announced the signing on an 18-month contract of nippy ex-Hanley Town forward Lewis Salmon. He had previously spent part of the 2019 pre-season with Altrincham and scored for the club in its pre-season game against its own youth team. He then played against Altrincham in Trafford's pre-season match at Shawe View in 2019. He joined Trafford on dual registration for 2019-20 and had become the leading scorer in their Step 4 league by early November, ending his stay wuh 13 goals from 35 appearances.
After signing his Alty contract in summer 2020, Lewis was announced to be going on play for Stalybridge Celtic in 2020-21 on dual registration forms. His loan was set to run till the end of January 2021 but Alty recalled him in November 2020 and he was named in two matchday squads in the National League and one in the FA Trophy but did not get onto the pitch in any of those games. He netted three times in 6(+5) games for the Bower Fold club.
On 5 July 2021 it was announced that Lewis had joined Nottingham Forest for an undisclosed fee on a two-year contract.
Altrincham appearances: 0.
---
Joel SENIOR (d.o.b. 24 June, 1999 in Didsbury, Manchester) formerly no.24
Right-back Joel was signed on 29 September 2020 after joining Altrincham for the 2020-21 pre-season. Joel started out as a youngster with Oldham Athletic who released him at the age of 15, leading to a spell playing at Sunday-league level. His career was rebuilt via NW Counties football at Maine Road, followed by joining FC United of Manchester in National League North and then Curzon Ashton at the same level before he moved to Premiership club Burnley who later released him.
He made his league debut on 10 October 2020 at Eastleigh in the third game of 2020-21 season and established himself as first-choice in that position. He lifted several end of season awards including Manager's Player of the Season and scorer of Goal of the Season.
On 1 July 2021 it was announced that Joel had extended his contract but on 2 January 2022 it was announced that he had departed for an undisclosed fee to EFL 2 club Carlisle United.
Altrincham appearances: 65(+2), 1 goal.
---
Alistair SMITH
(d.o.b. 19 May 1999) formerly No.29
One of three signings announced on 13 November, 2020, Alistair joined Alty on loan from Mansfield Town where he had graduated from their Academy. He had previously made six first-team appearances for Mansfield and also had been on loan at Loughborough Dynamo, Frickley Athletic as well as at Kettering Town, where he played against Alty in February 2020.
He made his Alty debut as a used substitute on 14 November 2020 against Aldershot Town and after a further four starts and a substitute appearance in the National League, Alistair's loan was extended to 13 January 2021.
Having made ten consecutive National League starts in games in which he completed the full ninety minutes in every case, his release from Mansfield was negotiated and he immediately signed for Altrincham on 15 January 2021. His contract runs to the end of the 2021-22 season.
It was a blow to Altrincham when newly promoted Sutton United triggered Alistair's release clause which allowed him to leave for an EFL club. This was announced on 1 July 2021.
Altrincham appearances: 30(+1), 3 goals.
---
Joel TORRANCE (d.o.b. 2 April, 2002) Formerly no. 22.
Six-foot plus youth-team 'keeper Joel Torrance was first included in a first-team matchday squad for the game against Kidderminster Harriers on 14 September 2019. This came just nine days after he had impressed in an FA Youth Cup match in which he saved three of the seven penalties that he faced in a shoot-out, only to finish on the losing side!
Although he did not make a league appearance, he was named nine times on the bench in the National League North in 2019-20. His one appearance came in the CSC.
He joined Salford City's development squad, a move announced on 24 July 2021.
Altrincham appearances: 1.
---
Tom WALKER (d.o.b. 12 December 1995 in Salford) formerly no.32
Tom was an emergency loan signing from Stockport County and he made his Alty debut on the day that he joined, 23 October 2021.
He made his first team debut for Bolton Wanderers in 2015 before moving on loan to Bury in 2016 prior to being released by the Trotters in summer 2017. After a spell at Stockport in National League North in 2017-18 he moved on to FC United of Manchester and then Salford City.
He was loaned to Stockport, now in the National League in 2019-20, before joining AFC Fylde and then Harrogate Town (2020-21). Harrogate loaned him to Notts County and then Stockport County. He re-signed for The Hatters in July 2021 before his arrival on loan at Altrincham. After three appearances his loan was completed.
Altrincham appearances: 2(+1), 0 goals.
---
Danny WHITEHEAD (d.o.b. 23 October 1993, in Stretford) formerly no.29
The signing of midfielder Danny Whitehead, on a month's loan from Port Vale, was announced on 15 October 2021, following the loss of Connor Kirby to injury.
A graduate of Stockport County's youth system he was signed by West Ham United in 2013 but he made just a single appearance for The Hammers before moving on in 2015 to Accrington Stanley, then to Macclesfield Town (2015/16) and Wigan Athletic (2016/17), from where he went on loan back to Macclesfield and Cheltenham Town during 2016/17.
He rejoined the Moss Rose outfit in 2017 and was part of the Silkmen's team which regained the club's EFL status before signing for Salford City of the National League in May 2018, staying with the Ammies till 2020, a spell which include a ten-game loan spell back at Macclesfield.
At the start of 2020-21 season his former Macclesfield manager John Askey took him to Burslem club Port Vale but a change of managership led to a reduction in his game time and his being transfer-listed in summer 2021 before his loan to Altrincham. After 10 appearances his return to Port Vale was announced on Christmas Eve, 2021. He was then released by The Valiants and signed for AFC Fylde in January 2022.
Altrincham appearances: 6(+4), 0 goals.
---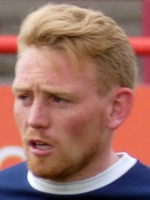 Sean WILLIAMS
(d.o.b. 20 January 1992, in Liverpool) Formerly no.8
Sean rejoined Altrincham on 21 May 2018, having first signed for the club, from Colwyn Bay, in May 2014. His debut followed on 12 August at home against Lincoln City.
Prior to rejoining Alty, he had had another spell with the Bay, and had also played for FC Halifax Town where he was part of their promotion squad from Conference North. Earlier, he also spent time with Stockport County, Vauxhall Motors, Hyde and Skelmersdale United.
After 25(+12) appearances for Altrincham, Sean was surprisingly released by Altrincham at the end of the 2014-15 season and, like his ex-Alty team-mates Kyle Perry and David Parton, he joined Hednesford Town for 2015-16.
By the start of 2016-17 season he had moved on to AFC Telford United but, in mid-November 2016, he signed for Warrington Town where he became an important figure in their reaching the promotion play-offs in 2017-18. That summer he joined Altrincham and was impressing in the Alty midfield when his season was interrupted by injury in late October 2018.
But after returning to fitness he reclaimed his starting place and continued as a first-choice central midfielder at the start of 2019-20 before an ankle injury sidelined him in January 2020. Away from Alty Sean works as coach with Liverpool FC and the Jamie Carragher coaching school.
Sean was injured at Eastleigh in the third game of 2020-21 and was sidelined into 2021. He made just ten starts by the end of the 2020-21 campaign.
Having not been named in any of the first four matchday squads of 2021-22, it was announced that Sean had gone on loan to former club Warrington Town and he made his second debut for them on 25 September 2021. His permanent move back to Warrington was announced on 27 October 2021.
Altrincham appearances: 89(+29) 1 goal.
---