---
31 May 2012
LEE HAPPY WITH NEW SIGNINGS
Joint Press & Media Officer at Moss Lane, John Edwards, writes:
"Lee Sinnott has sent out a positive statement of intent for next season by reinforcing his Altrincham squad with three new faces and promising at least as many again in the next few weeks.
As well as securing former Fleetwood centre-back Matt Flynn, after a loan spell last season, the Alty manager has added a trio of newcomers to his promotion plans in the shape of central defender Danny Hall, midfield powerhouse Carl Rodgers and 6ft 1in striker Ryan Brooke.
All three are viewed as significant additions to Alty's squad, and the recruitment drive does not end there, after a clear signal that three or four more signings could be arriving at Moss Lane before the start of pre-season training.
'We are certainly up to speed with bringing players in and are on the right path towards having the sort of squad we will need for next season,' said Sinnott. 'Danny was part of a Championship-winning side last season, after playing more than 30 games for Hyde, and his experience should be a big help to Matt Flynn. He was agreeable to the idea of joining us and, when you consider the clubs he has played for and what he has done for them, his arrival should prove a step towards solving one of last season's main problems, which was conceding too many goals.
'People tend to look solely at the defence but it's a team ethic. We score as a unit and concede as a unit. It's about getting the balance right and I'm just as pleased with the signings of Carl and Ryan. Strength is one of Carl's main assets, and he will give us a presence in midfield, but I wouldn't want to pigeonhole him. He has played in the top division at Telford, and has experience of getting out of this one, so that tells you a bit about him. When you look at our other midfielders, he is different to what we've already got. He will bring different qualities to the table. 'You look at ticking boxes for each player you consider signing, and Carl is the sort we have been looking for. Ryan is a six-footer who will provide a physical presence up front and will be keen to prove himself, after just coming out of the professional ranks at Oldham. It's the role Michael Twiss filled last season, and Ryan will now have the chance to show he can do it. What you want is competition for places and also an environment where you have players who will complement each other. When you look at the forwards already at the club, like Leighton McGivern, James Lawrie, who can operate through the middle as well as on the flanks, and young Duncan Watmore, there should be plenty of possibilities.'
Sinnott confirmed he expects top scorer Damian Reeves to be snapped up by a League club in the next few weeks, despite Alty's best efforts to keep him at Moss Lane.
'I have always had a good working relationship with Damian,' he said. 'We have been good for each other, and our supporters can rest assured we did everything in our power, within the framework of Altrincham Football Club, to convince him he should stay put.
'But it is his career and I think we all knew that all the attention he attracted with his phenomenal scoring record would lead to offers coming his way. No one can blame him for wanting to pursue that. But, from our point of view, we could not afford to hang around while he decided which one to accept. We couldn't risk missing out on targets, waiting for the inevitable to happen, so we started making plans.
'The first priority at the end of the season was to assess the squad, decide who we wanted to keep and who would be released and then set about bringing in players we wanted from the list of targets we had drawn up. That is how we have gone about it and we haven't finished yet. We are looking at three or maybe four more signings and one of them could well be another striker.
'For all the emphasis on addressing the problem of conceding too many goals, I don't want us to lose what we were good at last season. We created chances and scored goals and I want us to keep that side of our game and even look at improving it.
'We have identified what we need and acted on it early and I'm sure a lot of supporters will be happy about that, after the turmoil of last season, when there was relegation from the Conference Premier, followed by a new manager coming in, with the close-season already well underway.
'We are probably four or five weeks ahead of where we were this time last year but there will be no resting on laurels. We are looking at a squad of probably around 19 players, and I am determined to make sure there is real competition for places in all departments'.
YOUTH TEAM PRESENTATIONS
ALTRINCHAM FC
YOUTH TEAM AWARDS
2011/12

Altrincham FC Youth team manager, George Heslop,
compered the annual awards ceremony
at Moss Lane on Wednesday evening. Here are a couple of images
from the evening....
Nine more photos are on the Youth Page.




Sam Grimshaw receives the James Black Trophy
as Manager's Player of the Season
from Mr & Mrs Black




Manager George Heslop
receives an award from Joe Reid on behalf
of the players' parents.
The 2011/12 Altrincham FC Youth Team annual presentation night was held at Moss Lane on Wednesday. Manager George Heslop thanked all the players' parents and the club's board for their attendance. He described the last season as a "roller-coaster". The season had got off to an unfortunate start with serious injuries to centre-backs Jake Barnabas and Ben Hamilton ruling both out for virtually all of the season.
But the fact that ten players were signed on BSBN forms during the season and five of them made their first-team debuts ensured that it had been an excellent season. With so many lads becoming involved with Lee Sinnott's first team, those who had replaced them in the youth team had emulated them with fine performnaces in the NW Youth Alliance Premier Division. The team had shown great spirit to finish the season strongly and claim second place in the Division.
George revealed that Lee Sinnott had asked him for another five youth team graduates this season, so the pressure is on! The team had also had a good FA Youth Cup run and had scored 96 goals in all competitions this season, the goals being shared by 20 players, with 19-goal Derryn Ofori the top scorer, despite having a slow start to the campaign.
The awards were announced as follows:
Clubman of the Season: Shakeel Depeiaza, who was unable to attend the awards event.

The Players' Player of the Season:
1. Sam Grimshaw
2. Derryn Ofori
3. Adam Reid

The James Black Memorial Trophy was presented for the third year by Mr and Mrs Ian Black, whose late son James was a popular figure on the Moss Lane terraces as well as at away matches before his untimely death. The Black family had commissioned a bronze trophy which goes to the Manager's Player of the Season, who this year was the team captain, left-back Sam Grimshaw.
Winner: Sam Grimshaw.
Runner-Up: Derryn Ofori
Third place: Oliver Riley

Finally, there were awards to three of the five players who had made their first-team debuts in the last year.
Matt Fearon (debut 5 April 2011)
Adam Reid (debut 8 Nov. 2011)
Duncan Watnore (debut 26 Nov. 2011).

Two other debutants, Joe Coombs and Jake Barnabas were unable to attend.

Manager George Heslop also announced that Joe Reid, Adam's father and a UEFA "B" qualified coach, would be joining the Altrincham FC Youth coaching team,

At the end of the evening Chairman Grahame Rowley thanked all the players and their families for their roles in making the youth team successful.
STRUDWICK'S STROLL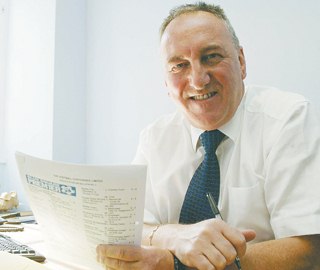 The Football Conference announces that "Last year, before the Football Conference AGM, director Andy Shaw [of Altrincham FC] undertook a 15-mile canal walk to raise money for Level Playing Field, (previously known as the Disabled Supporters Association). His efforts were well rewarded by donations from various sources to the amount of £600.

Following on from that success, this year the next section of the canal walk around Newport, amounting to a distance of 16 miles, is to be conquered! Leading the charge to raise funds, not only again for Level Playing Field but also on this occasion the Haemophilia Society, will be none other than the General Manager, Dennis Strudwick (right). The walk will take place on Friday 8th June.

Being a glutton for punishment Andy Shaw will again don his walking boots to support Dennis and also roped in to make it a trio of walkers will be none other than Blue Square's PR Manager, Alan Alger.

Anyone wishing to make a donation towards their combined efforts, can send a cheque payable to the 'Football Conference' for either of the chosen charities, c/o Fraser Tooley, The Football Conference, Third Floor, 31-34 Wellington House, Waterloo Street, Birmingham. B2 5TJ. For those not identifying either charity the donations received will be split 50/50.

Alternatively, for any member clubs or individuals attending the AGM at Celtic Manor, Newport on Saturday 9th June, donations will be welcomed at the registration desk prior to entering the AGM or donations can be handed personally to any of the trio, who will be present. Best wishes to all three and well done for giving something back to those less well off in our society".
BSBN NEWS
The Football Conference says that "Boston United have swooped to sign highly-rated striker Mark Jones from league rivals Corby Town. The 22-year-old has become Jason Lee's second outright signing of the summer following the earlier capture of Hinckley United goalkeeper Dan Haystead. Standing at 6`3" tall, Jones spent spells of last season on trial with Crewe Alexandra. The former Deeping Rangers frontman joined Corby in December 2011 and netted five times in fifteen starting appearances for Steelmen before the end of the season">

From BSBN, we learn that "Colwyn Bay have secured the services of top scorer Rob Hopley who has agreed to sign a new contract for next season. The 27-year-old, who scored 14 goals last season in the club's first season in the Conference North, after leading the scoring charts with 23 the previous season, will be in his fifth campaign at the Seagulls, interrupted only by a short spell with Chester.

Versatile John McKenna, who put in some sterling performances both in midfield and central defence last season, has also agreed to sign a new contract. The only definite departure from the squad so far is forward Karl Noon who looks set to join Evostik Premier club Marine. Noon scored eight goals last season but couldn't hold down a regular place in the team".

NL Daily reports that "The Football Conference has confirmed the date when the 2012/13 Blue Square Bet Premier fixtures will be released. Fans will be able to find out on Monday 2nd July the exact list of who, when and where their team are playing next season. As announced last week, the Blue Square Bet Premier season itself will start on Saturday 11th August and conclude on the earlier than usual date of Saturday 20th April. The play-off final is pencilled in for Sunday 12th May and will take place at Wembley Stadium".

According to Pitchero Non-League, "Corby Town manager Ian Sampson believes his budget for the new campaign will be 'competitive'. Speculation has been rife about how much money Sampson will have at his disposal since he was appointed as the new boss at Steel Park last week....

Sampson said, 'I am not going to make any predictions. I have been guilty of that in the past when I was at Northampton. I think everyone is looking to get out of the league they are in - whether they have the resources to do it is a different matter. I would like us to finish higher than we did last year and get more home wins. The fans were starved of success at home last season and it has a knock-on effect on attendances... But we aren't going to spend beyond our means.

The club has had a little bit of debt before and we don't want that... "You can see what is happening down the road with Kettering Town and the last thing we want is for that to happen here. The players have to be realistic about what is happening at this club. We want to build a sustainable business and I know the chairman doesn't want to run it as a 'football business'. The chairman wants to break even and he wants to know what is going out and coming in and that makes sense to me. Players don't always see it like that but they will have to realise that we can't be paying massive wages and leaving ourselves in debt. That's not the way we are going to run things. Let's just say the budget will be competitive. It has been reduced so we will have to do a bit of wheeling and dealing here and there'".

At Chester "boss Neil Young has made his latest signing, snapping up Northwich Victoria centre half Dominic Collins... Collins arrives at the Exacta Stadium on a 1 year deal, and will compete with both George Horan and Michael Taylor for a place in the defensive unit next season".

The Times and Star says that "Workington Reds midfield star Stuart Green could be set to switch to ambitious Northern League neighbours Whitehaven Amateurs – as manager. Reds have given Whitehaven permission to speak to the former Carlisle United, Newcastle United, Crystal Palace and Hull City ace, who signed a two-year deal at Borough Park last year after his release from League Two Wycombe Wanderers...

Green hails from Whitehaven and played for Marchon, the forerunner to Amateurs, as a junior before launching his career on the pro scene. He was keen to return home last year after a 15-year career in the game, and at just 30, he signalled he had no plans to drift in to retirement. His opening season with Reds was dogged by injury, however, ankle ligament damage bringing an early end to his campaign".
CHESHIRE NEWS
The Express and Star tells us that "Stafford Rangers [have] revealed they are ready to release Northwich Victoria from an agreement to groundshare at Marston Road next season... The Vics had to have a groundshare for the following season in place by March 31 or be kicked out of the Evo-Stik Northern Premier League. Rangers stepped in at the 11th hour but the league expelled them [Vics] from their pyramid for failing to comply to a Company Voluntary Agreement.

After appealing to the Football Association, Northwich were reinstated but only to Evo-Stik NPL Division One South, a demotion of one division. And they could have to honour their agreement to play at Marston Road – over 40 miles from Northwich – if they can't find a ground closer to home....

Rangers' chairman Mike Hughes said, 'It's all in limbo at the moment but, as far as we are concerned, they have our blessing to go somewhere else. Yes, we have this agreement but I have told the league that we wouldn't hold them to it or demand compensation. If they can't find anywhere else or the league won't let them, we will honour the agreement and it's still in place. We entered the agreement in good faith to help a club we known for many years, who are older than our own club... It's up to them, so the ball is in Northwich's court'.

Northwich have already seen plans to play at Skelmersdale and Warrington fall through but have approached other neighbouring teams. And Hughes admitted it could be 'unworkable' for them to operate as a club from Marston Road next season. He said, 'The distance, for them, is too far and it would put a real strain on them, the sensible thing would be to find somewhere closer. In common sense terms, it's unworkable for them, it would have brought extra income in for us but also extra expense. We haven't built it into our budgets and, as we have listened to what has been going on, none of their fans would come here anyway!'"
---
30 May 2012
YOUTH TEAM FINISH AS RUNNERS UP
Marine "can confirm that the youth team have been deducted 12 points in relation to breaches of discipline following disciplinary hearings that have taken place at the Liverpool County FA. Six points have been deducted for fielding an ineligible player on two occasions and a further six points have therefore been forfeited for the points gained in those two games. A further three point deduction has been made for the breach being on two occasions.

As a consequence of the 15 points deduction, the youth team have finished in third place in the North West Youth Alliance Premier Division who yesterday confirmed FC Utd of Manchester as Champions and Altrincham as runners up".

The new positions are shown in the revised NWYA league table.

Tonight witnesses the Altrincham FC Youth Team presentation evening at Moss Lane. With ten of the youth team having signed BSBN forms last season, it was a highly successful season for manager George Heslop and coaches Josh Collins and Ant Small's squad. All supporters are welcome to attend the presentations which will take place in the bar at Moss Lane, starting at 7pm.
DOING YOUR BIT
Please don't forget that if you have a couple of hours or more spare any time this summer, you could usefully spend them helping Altrincham FC with its close-season jobs. If you are able to come and help, please ring the club (0161 928-1045) or send an e-mail in advance.

On the pitch the grass at Moss Lane continues to grow well after the re-seeding. Off the pitch, amongst the work going on is the major revamp of the away dressing room - the club is grateful to Neil Faulkner's Robinsons Preservation for their work in this respect. Painting and other tidying up work is also proceeding but help is always welcome.
YANKEE UP TO £1,800
With this week's winning code, 3794, being unissued, the Altrincham FC Saturday Yankee jackpot now stands at £1,800, which can be won for a £1 weekly stake. There were three winning trebles, last week, each giving their owners £66.66.
GET YOUR GLASSES
Altrincham FC has pint-sized glasses available, both from the recent Beer Festival and from usage in the bar prior to the change of beer supplier. The Beer Festival glasses, sponsored by Manchester Glass Ltd, are engraved to commemorate the occasion and are available for just £2.50. In addition there are free pint glasses, branded with the brewers' name, which are available free, on a first come, first served basis. For either type of glass, please call in at the club offices during normal office hours.
CHEER ON ENGLAND!
The club will be showing all of England's games in the European Championships, live in the Noel White Suite
England v France - Mon 11th June 5pm
England v Sweden - Fri 15th June 5pm
England v Ukraine - Tues 19th June 7.45pm

As a special promotion all of Hyde's bitters will be priced at just £1.50 a pint and all other beers or lagers will be £2.50 a pint. So, come along to support England as well as your local club.

Former Alty centre-back, Mark Sertori, has now joined Roy Hodgson's Euro 2012 squad as a masseur, following on the heels of former Alty striker, Rod Thornley.
BSBN NEWS
The Football Conference says that "FC Halifax Town have confirmed that defender Luke Ashworth has left the club. Ashworth started his career at Wigan Athletic in 2008, but made his professional debut while on loan at Leyton Orient. The former Rotherham United and Harrogate Town player signed for Orient in 2009 and made ten League appearances. Ashworth joins Simon Eastwood, James Dean, Tom Baker and Danny Holland in departing the Shaymen this summer."

Meanwhile, "Gainsborough Trinity's squad rebuilding for next season has continued as midfielder Shane Clarke has committed to another season. Clarke will be joined in the colours of Trinity by left-back Josh Wilde from Buxton".

Pitchero Non-League reports that "Darlington`s hopes of a successful appeal against their demotion to the STL Northern League appear to have been dashed by confirmation from the Football Association that Shildon's ground is unable to host matches at a higher level. And in another blow to the embattled Quakers, the FA have also revealed it is 'very likely" the club will have to change its name as it is regarded as a new entity by English football's governing body.

Darlington officials had been hoping to appeal last week's decision to demote the club five divisions by proving that former chairman Raj Singh had agreed to relinquish the playing licence, known as a football share. However, their appeal looks doomed to failure because of their ground-sharing arrangement with Shildon.

An FA spokesman said, 'Darlington presented a plan to the FA that they would be ground sharing with Shildon for the duration of the 2012/13 season. Shildon's ground is graded at Step 5 level only... The original Darlington FC are no longer members of the Football Conference and, under the regulations of the National League System, are now a new club. As such, they are only allowed to make an application to join a league/division at Step 5.... It is very likely that the new club will not be allowed to carry the name Darlington FC. This is a matter to be discussed with their County Football Association, Durham FA. As it stands, the new club are not yet affiliated to Durham FA and have been advised to do so at the earliest opportunity by the Football Association'".

And news of the other BSB Premier club to be demoted lower than BSBN comes from the BBC, which says that "Kettering Town's George Rolls says he is confident that creditors will accept a company voluntary arrangement (CVA) at a meeting on 14 June. The club's acting-chairman has stated that debts amount to £1.2m.

He told BBC Northampton, '[Current owner] Imraan Ladak has agreed to waive his loans in the business. With money owed to myself and Ritchie Jeune, and a few other creditors we know will vote yes to the CVA already, we know there's over the 75% needed'. The Evo-Stik League hold their AGM on the 16 June and have confirmed that any club entering an insolvency event, either before or after that meeting, will be liable to a 10-point deduction.

Kettering want to enter a CVA without being in administration first. Football finance experts say it can be cheaper and easier to do so - and is more suitable between seasons, as opposed to mid-campaign. The 10-point deduction in the Southern Premier will make promotion difficult, especially as the team still needs major re-building - and a manager. But after months of uncertainty, just competing in the 2012/13 season would be a relief to Poppies' fans. Although it can only be confirmed at that AGM, Kettering Town have been placed in the Southern League Premier Division by the Leagues Committee.

'Creditors are going to lose out and I feel genuinely sorry for them', said Rolls. 'But a lot of creditors have got back some money because we've been paying them off since we came to the club. For example, we've knocked the debt down with one of the utilities companies by £20,000. St John's Ambulance were owed well over £1,000 and I think they're owed about £150 now. The club has cost me money since I've been here. I can sleep at night knowing we've done all that we can'.

The club's mounting debts contributed to not being able to fulfil Football Conference conditions for entry into the Blue Square Bet North, but a CVA protects the club from winding up petitions. 'We didn't want to put the club into insolvency but HM Revenue & Customs wanted another chunk of money. They wouldn't be like other creditors and [accept being] paid over a certain amount of time. There was a tax bill from 2007 that had been missed as well. And [former manager] Mark Stimson took the club to an employment tribunal for unfair dismissal'.

The club are yet to appoint a new manager after Morell Maison, Stimson, Mark Cooper and Ashley Westwood held the role in 2011/12. But Rolls says he is hopeful of high attendances in 2012/13, despite the Poppies dropping two levels. 'The fans didn't have much to cheer about. When they see a winning team, I'd like to think we'd get 1,200 or 1,300 regularly. We've budgeted for 700 but that's very pessimistic. We'll be going in with one of the larger budgets in the league and I know some people say that's not fair because of creditors being owed money, but our budget is the same as it would've been in Conference North'". So that's OK then.

From Chester "midfielder Alex Brown, joint winner of the Players' Player of the Year Award at the recent Awards Evening, has turned down an offer to stay at the Club, and instead will look to join a Blue Square Bet Premier club. Brown, who featured 39 times for the Club last season, netting 3 goals, said at the Awards Evening that last season had been 'the greatest of his career', but has decided that his future lies elsewhere, a move which has left Neil Young disappointed...

The 27 year old midfielder said, 'For me I've been offered an opportunity I don't want to pass up on and, although I would have loved to have stayed, after deliberating long and hard, I've decided to take on a new challenge'. Chester manager Neil Young said, 'Alex was offered a new contract at the football club but has decided that he wants the opportunity to play in the Conference. Yes we are disappointed but if players see their futures elsewhere it's important that we concentrate on the players who want to be here'".

According to the Times and Star, "Workington Reds will travel 8,650 miles next season, as the Football Conference looks set to rubber stamp more travelling to the Blue Square Bet North's most northerly club. Brackley Town and Oxford City have been promoted from the Evo-Stik South League Premier Division - a combined 1,106 round trip.

If the Conference accepts their inclusion at its annual meeting next month, Chester and Bradford Park Avenue will also come up. The Football Association's leagues committee met on Friday to discuss where clubs would play, but the Football Conference must agree before the final tables are decided. As things stand, Workington will travel an extra 330 miles on last year. The longest trip of the season is the 600 mile round trip to Hertfordshire to take on Bishop's Stortford".

Alty's longest trip will remain the 194 miles each way to Bishop's Stortford but our second longest away trip will no longer be to Blyth Spartans but the 148 miles each way to Oxford City, followed by the 141 mile journey to ... Workington.

Mike Avery has last season's journeys for the BSBN- Alty's average trip was 77 miles each way. And King's Lynn have an interesting list of average gates for 2011/12.
---
29 May 2012
SEVEN UP
Altrincham FC have arranged their seventh pre-season friendly. It will take place on Saturday, 4 August, at home to Wrexham, k.o. 3pm. The full list, to date, is here.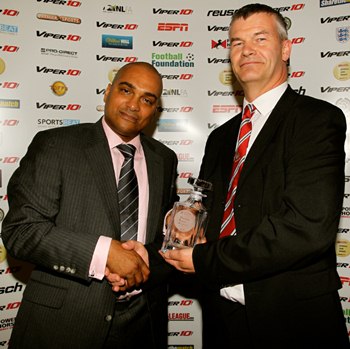 Altrincham FC Chairman, Grahame Rowley, receives the Fair Play Award from the PFA's Bobby Barnes at the National Game Awards at Stamford Bridge..
HYDE DEFENDER AGREES TERMS WITH ALTY
Hyde FC central defender, Danny Hall (d.o.b. 14th November 1983), has agreed terms to join Altrincham for 2012-13. His previous clubs include Oldham Athletic, Scarborough, Shrewsbury Town, Gretna, Chesterfield, Darlington, Crawley Town, Forest Green and Stockport County, with Football League experience coming his way at Oldham, Shrewsbury and Chesterfield and Scottish Premier League experience at Gretna. He was with Crawley Town when they won the Conference, though he spent part of that season on loan at Forest Green.
BSBN NEWS
The Football Conference reports that "The Hertfordshire FA Competitions Committee runs an annual award - the Sir Stanley Rous Memorial Trophy... The Herts FA have announced that Bishop's Stortford FC have been voted the winners of this prestigious award for season 2011/12, as voted for by the members of the Competitions Committee. All aspects are taken into account, but the original wording for the reason of introducing the award is that is for the club, organisation or individual who has 'brought most prestige to Hertfordshire in the season just completed'... Winning the Senior Challenge Cup and Charity Cup (first team to do so since the two competitions started over 100 years ago) plus a mid-table finish in the Blue Square Bet North swayed the majority to vote in the club`s favour".

The BSBN reports that "Oxford City would have preferred to be playing in the Blue Square Bet South next term, but chairman Brian Cox says they're happy to be in the North division... after Kettering's resignation lead to a reprieve for relegated Blue Square Bet South outfit Maidenhead United...

Cox told the Oxford Mail, 'Obviously, we would have preferred to be in the South, but we're just happy to be in the Conference and playing in an excellent standard of football. I know last season Bishop's Stortford were given £12,000 in compensation by the league when they were put in the North. We'll certainly ask the league what the situation is now - £12,000 is quite a lot of money for a club like ours'".

Last year Brian Lee of the Football Conference made it clear that the £12K "is not a precedent for any other club" as he stressed that the award "was made due to the timing of the switch", well after the end of the previous season.

Cox continued, "I'm not too concerned about the extra distances, journeys to the Midlands and the North might be easier than those around London. At least we won't have to cope with the M25! The only thing I'm worried about is the extra travelling might affect the number of fans we take to away games'".

The BSBN also reports that "Gainsborough Trinity have received a major boost with the confirmation that midfielder Jonathan D'Laryea has signed a new one-year deal. The 26-year-old made 45 appearances for the Blues last term and was voted the Supporters' Player of the Season, as well as the Players' Player of the Season. D'Laryea joined Gainsborough from Eastwood Town in the summer of 2011 and also counts Northwich Victoria, Mansfield Town and Manchester City amongst his former clubs.

Commenting on the midfielder's new deal, chairman Peter Swann told the club's official website, 'We feel that he has not only delivered some superb performances week in week out, but also a very important part of what is a superb team here at Gainsborough. We are over the moon that he has decided to stay with us and not take up offers which he has received from elsewhere'".

Meanwhile, Gainsborough Trinity add that "the following players have all signed year long contracts keeping them at the Northolme for at least another season:
Jonathan D'Laryea
Luke Waterfall
Ryan Kendall
Ryan Williams
Darryn Stamp
Michael Leary
Dominic Roma
Jamie Yates
Jonathan Williams
Jason White
Shane Clarke

Paul Connor and Lee Ridley both signed two-year contracts last season, so they were already guaranteed a place in Steve Housham's squad. Ryan Williams was delighted to have been offered a new deal by Steve Housham. 'I'm looking forward to the future and my deal is all signed and I'm looking forward to next season to give it a good old go again and grab that promotion' said Williams.

Other members of our squad are still considering their offers which we gave them, and we are in talks ourselves with many very exciting players. Goalkeepers Phil Barnes, Andrew Pettinger and Michael Emery have all been asked to come back to train with us on the 25th June to prove their fitness for the coming season".

The Gainsborough Standard adds that "Trinity's squad rebuilding for next season has continued as midfielder Shane Clarke has committed to another season. Clarke will be joined in the colours of Trinity by left-back Josh Wilde from Buxton. But Andrew Boyce has left the club to join Lincoln City. Released striker Leon Mettam has signed for Worksop Town in the Northern Premier League".

Chester First tells us that "Neil Young believes his latest signing is a massive coup for Chester. The Blues boss has secured the services of striker Nathan Jarman on a free transfer and on a two-year deal. Jarman, 25, netted 17 league and cup goals for Alfreton Town in the Conference Premier League last season and has joined Chester after turning down other offers from Conference Premier and Conference North clubs.

Young said, 'To get a player of Nathan's ability and experience on a free transfer is a massive coup for Chester Football Club... I have been criticised a little bit in the past about some of my signings and about Chris Simm recently being released, but people have to realise that we need to move on. I think Nathan will freshen things up in the final third after doing so well for Alfreton last season'...

Revealing that assistant Chester boss Gary Jones had played a key role in trying to persuade Jarman to join the Blues, Young added, 'Nathan used to partner Gary Jones in attack at Grimsby Town and it was always mine and Gary's ambition to secure Nathan's signature'...

Meanwhile, Young has set this Friday as a deadline for several players to make a decision about whether they intend to stay at Chester. Young said, 'I think Iain Howard and Robbie Booth will rejoin the club, but Michael Taylor is away until tomorrow, while Michael Wilde, Christian Smith and Alex Brown are still deciding what to do. I am setting a Friday deadline for those players who are still undecided about rejoining the club, but they have to understand that I only have one pot of money for my budget. I am still pursuing a few other targets which I would like to secure before I have a holiday. I am still wanting another forward as well as a left sided player, a centre back, and a goalkeeper as cover for John Danby'".

Pitchero Non-League tells us that "FC Halifax Town have confirmed that Danny Holland has left The Shay after a two-year stint... Holland has been in and amongst the Town starting line-up this last season. However, manager Neil Aspin has decided not to renew the charismatic man's contract.

Aspin said, 'I had Danny at Harrogate and he always gives a lot both on and off the pitch. He's a great character and good footballer, he's scored a lot of goals in his time and I've always enjoyed working with him'".

Other news from Pitchero Non-League is that "David Livermore would love to discover the new Dan Holman is already within the confines of Histon Football Club. The Stutes' manager hit the jackpot when he brought Holman to the Glassworld Stadium from ChromaSport & Trophies United Counties League side Long Buckby almost a year ago, the striker scoring twenty-nine goals in his debut season at Blue Square Bet North level.

A lack of scouting options means Livermore is hampered when it comes to unearthing new talent from the lower leagues. And the boss believes more young and hungry players with the potential to excel could be coming through the club's youth system. Livermore said, 'In some respects we were lucky there weren't a lot of other teams trying to sign Dan Holman last season. Conor Washington at St Ives Town is at the same level Dan was playing at, but he's brought a lot of attention... There are players at the lower levels, but the difficulty we have, because of resources and finances, we don't have the luxury of sending people to watch these players. We can't afford to pay expenses, so that's another reason why we have to develop our own players. Hopefully, the next Dan Holman is already at the football club'".
NW & WELSH NEWS
"The FA has now confirmed the position regarding the promotion and relegation of clubs from and to the North West Counties League. Woodley Sports have been relegated from the Evo-Stik League Division One North and will play in the NWCFL Premier Division in season 2012-13. They will take the place of Ramsbottom United, who are promoted to the Evo-Stik League Division One North. The FA has also confirmed that the application from West Didsbury and Chorlton to be promoted from Step 7 has been approved. The Manchester League club will therefore be presented to NWCFL member clubs for election to the NWCFL Division One in season 2012-13 at the League AGM in June" confirms the Nw Counties Football League.

The Welsh Premier says that "After failing to gain the FAW domestic licence last month, Neath's woes continued as they were wound-up at London's High Court today. The rugby club escaped a similar fate last week, but an official receiver will now handle the football club's affairs following a petition by Barclays Bank...

Neath finished third in this season's Welsh Premier League behind Bangor City and champions The New Saints, but were refused entry into Europe after also failing to gain a UEFA licence. Today's decision means that players under contract at The Gnoll should be free to join other clubs, with several having already been in talks".

Meanwhile, "Bangor City have boosted their attacking options for next season by signing striker Chris Simm, who has just been released by Chester FC. A former trainee with Wrexham, Simm came to prominence as a prolific striker with Leigh RMI and Hyde, for whom he scored 39 goals in two seasons".
---
28 May 2012
ALTY WIN FAIR PLAY AWARD
At the National Game Awards for 2011-12, Altrincham FC won the Fair Play Award. In the NL Paper, it says that "Altrincham chairman Grahame Rowley praised manager Lee Sinnott for instilling discipline into his side". This season Altrincham accumulated 49 yellows and 3 reds. "'The manager has always been very disciplined with the players and I think his influence has rubbed off on them' said Rowley. 'They realise that you get nowhere by answering back to officials and the best way to win a match is to have 11 men on the pitch. Whether the decision is right or wrong, the referee won't change his mind, so you just need to get on with it.

The one thing we've found is that we've had no disciplinary calls at all this year from the FA and it's saved the club a bit of money! It's worked for us and I think it's a great commendation for the football club that we've actually won this award'".

Photos from Wednesday's National Game Awards can be viewed here.

Footnote: The previous season (2010-11), in 46 games, Alty amassed 79 yellows and 7 reds.
DAMIAN MISSES OUT
Damian Reeves is very unfortunate to have missed out on the National Game Awards Golden Boot. Damian hit 44 league goals in 42 matches in Step 2, but Richard Jolly who got 33 league goals amassed 48 goals in all competitions for Step 3 club Wealdstone and he picked up the award for 2011-12. Jolly told the NLP "I don't love football. I haven't actually really wanted to play football for quite a few years... I have lost my passion for it." Aged 28, he intends to retire after next season.

Meanwhile, Doncaster Rovers have already commented in the press that they have been targetting Damian as a possible new signing for the Yorkshire club but the Doncaster Free Press reports that manager"Dean Saunders is patiently waiting for another club to start the domino effect which will allow him to make new signings at Rovers. Saunders this week met with six players to discuss potential moves to the Keepmoat. But he remains unable to offer any deals until he drastically cuts his wage bill - and that means moving players on.

He told the Free Press, 'All it takes is one club to start the domino effect by coming in for one of our players and we'll be up and running. I think things will start to happen in the next fortnight... Saunders invited several targets for face to face meetings this week in an attempt to decide which will make suitable signings. He said, 'I like to look a player in the eye when I'm deciding if they're right for the club. Just because they've been here doesn't mean I necessarily want to sign them. A few of the lads I've met made a good impression and I'll be looking to do some business with them. But I'll not be following up some of the others... We've been concentrating on looking at strikers because Chris Brown is the only one we've got on our books right now'".
MARK'S BAND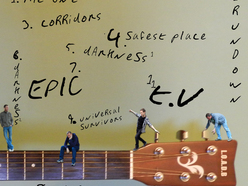 The Non-League Paper reports that 39 year-old Mark Maddox "decided to dig out his old guitar and form a band after being diagnosed with Motor Neurone Disease, a year ago.

Maddox... got together with three of his childhood mates to form "Last of a Dying Breed". Inspired by the likes of Pink Floyd, Led Zepplin and Oasis, the Scouse foursome have produced an 11-track album available from Reverbnation.com".

Mark told the NLP, "No one in football knew I had such a love for music because I never spoke about it. I started playing the guitar when I was 16 but while I got into football and didn't have the time, the other boys carried on. As soon as I was diagnosed, we all said "Right let's try and do something". We've recorded the 16 tracks in my mates's bedroom but we're so pleased with how it's come out. I've known the boys since we were babies and it's bene good for me mentally with the illness. It's helping me stay as sharp as I can'".

The articles relates how fundraising at Altrincham FC culminated in Mark being awarded a £25,000 cheque for his testimonial fund. Mark added, "As a football club, Altrincham have been fantastic. They've done so much for me". And the NLP concludes that "The musical feel around the club continued this week with Lee Sinnott signing...Carl Rodgers - who works as a DJ"!

Mark's album cover is shown, right.
BSBN NEWS
Stalybridge Celtic report that ""As far as players staying is concerned, Joel Bembo-Leta and Dennis Sherriff have both signed for next season, and there will be more news as the weeks progress".
---
27 May 2012
BSBN NEWS
Vauxhall Motors report that they "have signed goalkeeper Zac Jones from AFC Fylde. The 23 year old stopper joined AFC Fylde in November 2011 and was instrumental in their promotion to the Evo-Stik Premier League with a string of impressive displays. Jones started out at Blackburn Rovers before spells with Stockport County, Forest Green Rovers and Harrogate Town followed. He made 8 appearances for Harrogate last season, keeping 2 clean sheets".

From the Worcester News "Worcester City manager Carl Heeley is happy to play a waiting game while several of last season's stars take their time to decide whether to re-sign with the club... Heeley has already persuaded a number of last term's key performers – such as Mike Symons, Tom Thorley and Rob Elvins – to extend their City careers into next term. However, he is still waiting to hear back from the likes of skipper Kevin O'Connor and the versatile Tyler Weir, with Gloucester City believing they are in pole position to sign him. He won't be putting pressure on them for answers, though.

Heeley said, 'I am aware of what the Gloucester manager has said about Tyler but all I'm concentrating on is what we are doing at Worcester. We've had contact with Tyler but he is a Hereford United player until the end of June, so it is premature to say anything yet. We are talking to him but so are a number of other clubs. Every player needs to want to play for Worcester City and if anybody does not, then we don't want them on board... I am not worried about what other managers say, as I have enough to occupy me here at Worcester... We don't just have one option – we probably have too many players to choose from and they are all good footballers'.

The City manager added, 'Nothing has changed with Kevin either. He asked me for a little bit more time to consider his options and one thing I know about him is he will be totally open and honest with me... We would love to have him here next season but he has to do what's best for him'".

Confirmation comes from the Oxford Mail that "Oxford City will play in the Blue Square Bet North next season... The club had been hoping to be placed in the south division, but were forced into the north after Kettering Town resigned due to financial problems.

That allowed Maidenhead to be reinstated and means Mike Ford's side face some lengthy trips when the season kicks-off in August. Their schedule will take them as far north as Workington in Cumbria, a mammoth round trip of 544 miles, while Brackley Town and Gloucester City will count as their shortest away days. The greater travelling distance will have financial implications on City,...

Secretary John Sheppard commented, 'Our preference was clearly for the south division, but it was not to be. It's disappointing, but we will just get on with it'".

Meanwhile, "Oxford City have received a massive boost after experienced duo Steve Basham and Chris Willmott, pledged their future to the Court Place Farm outfit. Basham, 33, scored 22 goals in all competitions, while his former Oxford United team-mate Willmott, 34, was a vital part of the defence as City won promotion... And although the former Oxford United duo have not yet put pen to paper on deals, boss Mike Ford feels it is just a formality...

'Both have verbally agreed to sign', Ford said. 'I would be gobsmacked if they changed their minds. In their own ways, they are both big players... They are superb fellows to have around the place and they give their honest opinions. We are a largely young team, but experience will count for a lot next season... There are no better role models than Steve and Chris'.

City are now hoping that defender James Clarke will agree to stay. Ford added, 'James has been offered a new contract and we are just waiting to hear back from him'. The future of keeper Jason Mooney, who was on a season-long-loan at City from Wycombe last season, should become clearer next week following his release by the Chairboys.

'I have had a conversation with Jason and he has had a trial at Cheltenham, so we're waiting... We want him to stay. He'll obviously be playing part-time and maybe we can help find him a part-time job. A lot of players have shown interest in coming here, but [speaking a few days ago, he said] I can't do anything until we know where we are playing and how it will impact on my budget'".

The Gainsborough Standard states that "Trinity midfielder Jamie Yates says he had no intention of leaving the club... Despite interest from other clubs, Yates, who captained the side in the final six games of the campaign, admitted that Gainsborough's failure to secure promotion had no bearing on his decision to sign a new one-year contract.

He told the Standard, 'There is a job that is unfinished at the minute'...

And the 23-year-old says following talks with Trinity chief Steve Housham and chairman Peter Swann, his decision to stay on the Northolme was made a lot easier... Yates joins fellow midfielder Jonathan Williams and goalkeeper Jason White, who have both extended their stay at the club for another year. Last week, Players' Player and Supporters' Player of the Year Jonathan D'Laryea inked a new contract with the club along with Dominic Roma and Ryan Williams.

However, the Blues have decided not to retain club captain Gavin Cowan, who missed the latter half of the season through injury. Leon Mettam, Kevin Sandwith and the club's longest serving player Lewis McMahon have also been shown the exit door. 'I am surprised to see one or two go maybe but that is the manager's decision and as a player I wish them all the best', added Yates.

'The likes of Gavin Cowan, Kev Sandwith, Metts and Lewis McMahon, they are all very good players but the opinions of people above me have obviously decided differently... There are big personalities that have left, but we still have big personalities that are here'...

It does seem as though Trinity will enter the new season with a much more youthful look about their side and Yates says it could be something manager Steve Housham is trying to build at the club. He said 'I've had a good couple of years at this level now and I'm still only 23. Shane Clarke, Dom Roma and Ryan Kendall have all done the same and a few experienced heads along with us could really help us do something'.

The Standard also understands that striker Ryan Paczkowski and former Lincoln City defender Adam Watts have been told they can leave."

From the Cambridge News we learn that "John Payne says it is still full steam ahead for the setting up of the Histon Independent Supporters' Trust despite more off-field drama at the club this week. Chief executive Gordon Boateng, director of football Glynn Mason and director Graham Muncey all quit the Stutes' board on Monday.

And there were rumours on internet message boards yesterday that the club were about to be hauled in front of a Football Conference panel and threatened with expulsion from the Blue Square Bet North if they could not prove they were close to clearing their debts. But those rumours were scotched by Dennis Strudwick, the Conference's general manager telling the News there was no such thing on their agenda...

Said Payne, 'We've not seen or heard anything that's going to knock us off course... It's a case of getting all the legal bits and bobs in place so we can be in a position to start inviting people into the trust... We've got the shareholders' meeting on June 7 and we'll wait and see what comes from that. We can speculate and try to guess what will happen, but until we know what happens there's no point in us doing anything but steaming ahead'".

The Herts & Essex Observer tells us that "Scott Shulton is set to leave Bishop's Stortford FC for Hendon... where a friend of his is manager. Shulton has been known to struggle with the long midweek journeys to and from Blues' away games as he is a school teacher...

Meanwhile, Dwight Gayle completed a memorable spring when he secured the Blue Square Bet North Player of the Month award for April. The ex-Stansted striker ended the season with 42 goals, breaking the record for Bishop's Stortford FC, which had stood for more than two decades... His goals allayed drop fears as Rod Stringer's side finished in 10th. He hit four hat-tricks during the campaign. Gayle, 22, had been on loan at Stortford after signing from Dagenham & Redbridge. Gayle also scooped the 2011-12 Players' Player of the Year and Supporters' Player of the year gongs at Woodside park. He now returns to the Daggers and will look to seal a first-team spot".
CHESHIRE NEWS
Conflicting accounts are the subject of a report from the Northwich Guardian which reports that "Northwich Victoria are set to stick with Stafford as a home away from home next season after a ground share with Warrington Town was refused. It is likely that Vics will be placed in Evo-Stik NPL Division One South as a result when the Football Association's Leagues Committee makes public a provisional line-up shortly.

'The FA says we can't play at Warrington', owner Jim Rushe told fans at an open meeting on Saturday. 'We want to go there, but I don't know why it's been knocked back by them'.

However Warrington Town chief executive Toby Macormac has told the Guardian that his club – and not the game's governing body – had made the decision not to share their pitch with a rival. He confirmed that the two clubs had discussed entering into an arrangement though.

'We as a board decided that logistically it's not right for us at the current time and the matter will not be pursued any further', he added.

League officials, who would have to be convinced by Northwich that a swap from Stafford to another venue is acceptable after its March deadline has passed, say they have not been asked to approve a change. A source told the Guardian, 'Northwich Victoria has not made an application to ground share with another club. It submitted an agreement to play at Stafford Rangers prior to the deadline on March 31, which remains the club's designated home ground for next season'...

Northwich reached an agreement with Stafford, whose Marston Road home is more than 40 miles from Vics' old one, hours before the league's deadline. The club had expected to play at Skelmersdale, but that accord fell through when the club's West Lancashire College Stadium failed an inspection to host Premier Division matches".

The Guardian adds that "Northwich Victoria will play in the Evo-Stik Northern Premier League's Division One South next season, the Football Association has decided... The club has arranged to share Stafford Rangers' pitch, a determining factor in the FA's suggestion that the team be placed in the league's southern section".
---
26 May 2012
NEW STRIKER FOR ALTY
Altrincham FC have agreed terms with 21 year-old Oldham Athletic striker Ryan Brooke (d.o.b. 4 October, 1990, height 6ft 1inch). Ryan is being released by the Latics at the end of his contract this summer. He spent much of last season on loan, firstly from September, at Barrow where he played six games and scored twice. In January, 2012, Ryan went to AFC Telford United on a season-long loan, where he scored on his debut against Braintree. At Telford he made 7(+5) appearances, scoring twice. He had previously made 30 Football League and FA Cup appearances for Oldham Athletic. At the New Buck's Head he was a team-mate of Alty's other new face this summer, Carl Rodgers.
2010/11 League 2(+11), 0 goals
2009/10 League 2(+13), 1 goal
2009/10 FA Cup 0(+1), 0 goals
2008/09 League 0(+1), 1 goal
BSBN NEWS
The Football Conference "has received Kettering Town Football Club's resignation from the Competition. The Football Association Leagues Committee, which is due to meet today (Friday 25th May) to discuss allocation of clubs to leagues for 2012/13, has been advised".

BSBN states that "Lincoln City have announced the signing of defender Andrew Boyce from Gainsborough Trinity. The 22-year-old was offered a new contract by Trinity following the conclusion of the 2011/12 campaign, but has opted instead to link up with the Red Imps on a one-year deal. Due to the fact that Boyce is under the age of 24 and was offered a new contract, Gainsborough are entitled to a compensation fee which is currently being discussed by the two clubs...

Boyce told This is Lincolnshire, 'I had a great season with Gainsborough. They were fantastic with me and we had a terrific season. I am gutted to be leaving, but on the other hand happy to get full-time football with Lincoln. It was an opportunity I could not turn down because playing full-time football has always been an ambition of mine. I have so many people to thank at Gainsborough for what they have done for me. It's a terrific club and I have met some great people'.

Boyce started his career as a trainee at Doncaster Rovers but failed to make a single first-team appearance and subsequently signed for King's Lynn at the start of 2009. He went on to sign for Gainsborough in December 2009".

A report from Chester says that the club has "completed the signing of striker Nathan Jarman, who has arrived from Alfreton Town. Jarman, 25, netted 17 league & cup goals last season for Alfreton and has turned down other clubs from the [Blue Square] Premier League and Blue Square North to come to Chester.

Chester boss Neil Young said, 'Nathan is a great signing for us, to have a striker from the Conference who netted double figures gives us firepower up front, and it's a big signing for us as we obviously want the type of player who has scored goals at the level that we are aiming for'. The striker has previously played for Barnsley and Grimsby in the Football League, and last season scored a hat trick against Stockport County".

The Nuneaton News says that "Nuneaton Town manager Kevin Wilkin has revealed the reasons behind his shock decision to let 21-goal top scorer Danny Glover leave the club. Skipper Mark Noon and left-back Eddie Nisevic agreed new contracts on Wednesday, but Glover was unwilling to entertain the possibility of non-contract terms and was released.

Wilkin admits he had doubts how much more he could get out of the striker, who may have paid the price for only scoring 11 league goals from open play - four of which came in one game. He said, 'It's about how much further I can take Danny Glover as a player. If we were full-time then maybe I could get more out of him, but at two days a week training I don't see that happening... There are certain elements to his game that need developing for what is a very big step up to the Conference and I don't see that happening as it stands. If he puts those things right then I fully expect him to realise his potential. I think he needs to be at a club that can offer him full-time training, which we can't do.

He's a great lad and I don't question his dedication but I don't think two nights a week is enough. If I had him full-time I would have looked at it differently. There was the possibility of a non-contract offer, but I understand why Danny wasn't willing to consider that'. The 22-year-old arrived from Worcester City last summer, where he had also scored 20 goals in Blue Square Bet North in a one-season stay after leaving Port Vale.

Wilkin says the striker, believed to be one of the club's highest earners, will be replaced. Fan favourite Andy Brown has already agreed a new contract and Wilkin says he may be partnered by teenager Wes York, another who is staying. 'When you've got the pace of Wes you will be an asset. He can play in a number of positions and be effective'...

Meanwhile, Wilkin says his former No 2 Ken Gillard will be a success at Crystal Palace, after he joined the Championship club's academy staff".

"Darren Edmondson, manager of Workington, has identified the players he believes will improve his squad" reports the News and Star. "Some of the players he's chasing have been released by Football League clubs, while others are experienced non-league players... Edmondson said, 'I have spoken with a number of players, but we are some way off having deals completed. It's a waiting game but the lads I have had contact with would definitely improve on what we already have'.

Edmondson expects a number of new faces to take part in training when the players return from their holidays next month. He said, 'We want to see them in action, and make sure they are the right type of player for us'".

The Conference North season starts on Saturday, 18 August 2012.

The NW Weekly News says that "It looks likely that Oxford City and Brackley Town (Northamptonshire) will join Chester and Bradford Park Avenue in the Conference North next season following today's meeting of the Football Association's Leagues committee. The four newcomers will replace Hyde, Nuneaton (both promoted to the Premier), Eastwood Town and Blyth Spartans (both relegated). With Kettering dropping into the Southern League due to their £1.2 million of debts, and Darlington dropping all the way down to the Northern League in Step 5 due to their financial problems, Hinckley United (who finished third bottom) have been reprieved from relegation and stay in the Conference North.

The full list of clubs proposed for the Conference North, which will have to ratified at the Conference AGM next week, is:
Altrincham
Bishop's Stortford
Boston United
Brackley Town
Bradford Park Avenue
Chester
Colwyn Bay
Corby Town
Droylsden
FC Halifax Town
Gainsborough Trinity
Gloucester City
Guiseley
Harrogate Town
Hinckley United
Histon
Oxford City
Solihull Moors
Stalybridge Celtic
Vauxhall Motors
Worcester City
Workington

Northwich Vics will play in the Evostik South"
NW NEWS
The BBC says that "Fleetwood Town have made their first two signings since winning promotion to the Football League. Goalkeeper Chris Maxwell has joined on a free transfer from Wrexham, while Witton striker Alex Titchiner has also joined the Cod Army... Titchiner came through the academy at Crewe and was named Evostik First Division North player of the year. He will be handed the task of trying to replace top goalscorer Jamie Vardy".

Meanwhile the Evostik League announces "the Football Association's proposed league allocations for 2012/13;

Evo-Stik NPL Premier Division: AFC Fylde, Ashton United, Blyth Spartans, Buxton, Chorley, Eastwood Town, Hednesford Town, Ilkeston, FC United of Manchester, Frickley Athletic, Grantham Town, Kendal Town, Marine, Matlock Town, Nantwich Town, North Ferriby United, Rushall Olympic, Stafford Rangers,Stocksbridge Park Steels, Whitby Town, Witton Albion, Worksop Town

Evo-Stik NPL First Division North: Bamber Bridge, Burscough, Cammell Laird, Clitheroe, Curzon Ashton, Farsley, Garforth Town, Goole, Harrogate Railway Athletic, Lancaster City, Mossley, New Mills, Ossett Albion, Ossett Town, Prescot Cables, Radcliffe Borough, Ramsbottom United, Salford City, Skelmersdale United, Trafford, Wakefield, Warrington Town

Evo-Stik NPL First Division South: Belper Town, Brigg Town, Carlton Town, Chasetown, Coalville Town, Gresley, Halesowen Town, Hucknall Town, Kidsgrove Athletic, King's Lynn Town, Leek Town, Lincoln United, Loughborough Dynamo, Market Drayton Town, Mickleover Sports, Newcastle Town, Northwich Victoria, Rainworth Miners' Welfare, Romulus,Sheffield, Stamford, Sutton Coldfield Town.
---
25 May 2012
YOUTH PRESENTATIONS
As previously announced, the Altrincham FC Youth Team's Presentation Evening will be on Wednesday, 30 May at Moss Lane, starting at 7pm. All supporters are welcome to salute what has been a very successful season in terms of players progressing to the first team.

Amongst the awards to be made during the evening will be the Players' Player of the Season (1st, 2nd and 3rd), the Player of the Season, the Clubman of the Season and the prestigious James Black Award, presented by Mr and Mrs Black in honour of their late son, James, who was a regular ALtrincham supporter, home and away, before his untimely death.
GOLF DAY SUCCESS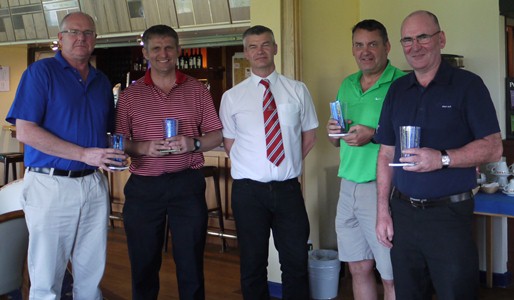 Peter Foster has kindly supplied a report on the Altrincham Football Club Golf Day for 2012...
"The Club's annual Golf Day was held on Tuesday at Withington Golf Club. We had eight teams entered, including representatives from Ravenscroft & Co, Gemini UPVC, Float Glass, Manchester Glass, The Cresta Court Hotel and two teams from Securitas. The weather was fantastic, and the golf was very competitive. The competition was won by Patrick Air's Manchester Glass team, by one point from the runners up, Paul Salt's team from Ravenscroft & Co.
Withington Golf Club proved once again to be exceptional hosts, with the course in good condition, and the food being excellent. The club would like to thank all of the participants for their support for the event, which raises important funds for the club. The two pictures feature (left) the winning team from Manchester Glass, and (right) the runners up, Ravenscroft & Co receiving their prizes from Chairman Grahame Rowley". Click on the images for larger versions.
And Grahame Rowley adds, "The booby prize was won by Neil Tolson's Securitas team, although Neil says he was hampered by his fellow team mates! Gorgeous weather, good food and a great atmosphere made the day a great success for the club - anyone interested in competing next year should contact Peter Foster for details (0161 928-1045)".
BSBN NEWS
An Alty old boy is one of those released at Guiseley who report that "Guiseley AFC are continuing to develop a squad for next season to challenge for further honours and, to work towards that, some difficult decisions have had to be made. Steve Kittrick and the Football Management team have considered options on how to move forward, and as a result have advised Dave Merris, Ciaran Toner and Joe O'Neill that they will not be offered contracts for next season.

All the named players have given excellent service to the club, particularly Dave Merris, who has been ever-present 2010-11-12 and has been awarded Player of the Year by the Supporters for the last two seasons... Steve has found decisions difficult to make, especially as he brought all the players to the club, but as part of the rebuilding process has had to make decisions that he, his Management team and the Club believe will move us further forward."

And Guiseley add that they "are delighted to announce that the following signings... Josh Wilson, 24, from Vauxhall Motors who is a current England C striker... Rhys Meynell [ex-Stalybridge Celtic], also aged 24, has signed on contract terms and is a left back or midfielder who we have had to work hard to capture. On top of these signings, we are equally pleased to announce that both Danny Forrest and Jamie Clarke have agreed to stay with the club next season."

Following the news of Kettering's enforced demotion to the EvoStik Southern League Premier Division, 200% has a typically thoughtful analysis. It says "Clubs continue to live beyond their means, make bafflingly bad business decisions and then walk away from the all too predictable results of their mismanagement... So it was that last night, for the second year in a row, the supporters of Kettering Town found themselves in a public meeting after the final whistle had blown on their season.

Last year, Imraan Ladak was polling supporters over whether the club should leave its Rockingham Road home and decamp eight miles away to Nene Park, the former home of the late Rushden & Diamonds FC.... After a lavish spending spree on new players, it soon became apparent that the team wasn't gelling, crowds were falling considerably short of the expectations of the owner and... by the time that relegation was confirmed, the fight for the survival of Kettering Town Football Club was overshadowing anything that could happen on the pitch.

The white knight thundering into Irthlingborough on his charger was a familiar name: the former chairman of Cambridge United and Weymouth, George Rolls. Over the last few months and years, Rolls has developed a curious habit of saying one thing with considerable confidence before doing something else entirely. When he arrived at Weymouth, he had no intention the club into a CVA, before putting them into a CVA. When his name first became linked with Kettering Town, he proclaimed very publicly that he was doing nothing more than 'advising' the club. Within a couple of months, he had decamped to Nene Park. Upon his arrival at Irthlingborough, he stated that he had no intention of putting Kettering Town into a CVA. At last night's meeting, he confirmed that he would be putting the club into a CVA...

Under Football Association rules, any person that is involved in two separate insolvency events at football clubs fails their Fit & Proper Persons Test. Rolls was a director at Weymouth when he put the club into administration, but he seems likely to side-step liability for this second insolvency event because he is not yet formally a director of Kettering Town FC. He did, however, become the sole director of a new company called Poppies Events Ltd on the fifth of March. Is this the company that is ready and waiting to buy the club out of administration with a CVA in place as soon as the insolvency practitioners are formally appointed? It could, of course, all be a happy coincidence that Rolls was becoming the sole director of a company whose registered address is at Nene Park two and a half months prior to the formal announcement that the club was insolvent...

Who are the current directors of the club?... Who are the creditors and why does it already seemed determined that they will be happy with ten pence in the pound as a result of this clubs financial recklessness? ...

At last night's meeting, Rolls stated that the club needs average attendances of 700 people next season in order to continue to break even... Seven hundred people per match may be optimistic. The club will be playing at least... two divisions below where they ended last season... and the fact remains that Nene Park is and will remain eight miles from the town of Kettering itself. Will people turn out in considerable numbers to watch a club whose off the pitch behaviour has left a sour taste in the mouth and will be starting the season with a deduction of ten points?...

Some may be tempted back by the Rolls statement that he intends to spend £20,000 per month next season on wages, which will likely be the highest wage budget in their division... Perhaps there is nothing morally repugnant about offering creditors who provided the club with services in good faith being offered a pittance by a man who says almost in the same breath that he intends for his club to spend so lavishly on players. These are, perhaps, considerations for Kettering Town supporters to ponder as the close season stretches out before them".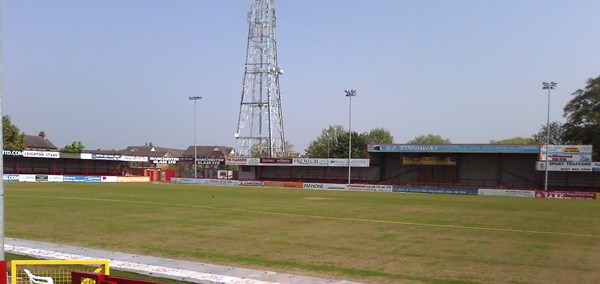 Left: The grass has been growing well at Moss Lane following the re-seeding little more than a week ago.
BSBN reports that "Gainsborough Trinity midfielder Jamie Yates has claimed that...his mind was made up to stay with the Trinity after meeting with boss Steve Housham. 'There is a job that is unfinished at the minute', Yates told the Gainsborough Standard... 'We were all disappoint[ed] to miss out on promotion but that still didn't affect anything with regards to my summer plans... I'll be looking to do well again next year to prolong my stay and hopefully if things go as well as they have done this year then there shouldn't be a problem'.
He added, 'I had a couple of phone calls (from other clubs) but after speaking with Steve and the chairman I decided to stay... There is a new ground up and coming and it would be nice to move into that in the league above. It is in the back of our minds that if we do well then we could be starting Blue Square Premier football in a new stadium'".
According to the Northampton Chronicle "Chris Plummer believes he has a 'fantastic opportunity' to progress his career at Corby Town as well as bringing the club some good times. The 35-year-old officially resigned as manager of UCL Premier Division side Peterborough Northern Star on Monday before being unveiled as Ian Sampson's assistant in the Steelmen's new-look coaching staff...
'I had been talking to the club for a few weeks', Plummer said. 'The club is looking to be progressive and I have been interested in joining Corby for a number of weeks'...
Plummer certainly has a good footballing pedigree. He was at Queens Park Rangers for 10 years as a player and also made 50 appearances for Posh as well as playing for a spell at Barnet... 'As a player I played under some fantastic managers, particularly at QPR with the likes of Gerry Francis, Ray Wilkins and Bruce Rioch', he said...
Plummer's knowledge of players at a lower level could prove invaluable as Sampson looks to put together a young team. And Plummer believes there are 'a few' players in the UCL who could be capable of making the step up if they are given the chance".
Spalding Today confirms that "Spalding United have fired a signal of their intent by pulling off the mouth-watering signing of former Boston United skipper Lee Canoville. The 31-year-old centre back, who left the Pilgrims last month to seek a new challenge, has been handed a two-year contract by Tulips boss Pat Rayment. Canoville, who started his career with Arsenal after graduating from the FA School at Lilleshall, captained Boston to UniBond Premier Division promotion before spending the last two seasons in the Blue Square Bet North – which included a stint as joint boss with current supremo Jason Lee".
From Worksop Town we learn that "The Tigers have pulled off a real coup in signing Leon Mettam from Gainsborough Trinity. The 25 year old striker got 14 goals last season despite limited starts. There were a number of clubs after his signature". Mettam hit a hat-trick at Moss Lane in the final game of last season.
---
24 May 2012
POPPIES JOIN DARLINGTON ON BSBN BY-PASS
It is not just Darlington who look set to by-pass the BSB North after relegation last season from the national level of the Football Conference as the Northampton Chronicle confirms that "Kettering Town are set to play in the Evo-Stik Southern League Premier Division next season after it was confirmed the club will be entering a Company Voluntary Arrangement (CVA) to clear their debts.

George Rolls, who is in full control of the club, laid out the plan to supporters at a hastily-arranged fans forum at Nene Park last night (Wednesday). Rolls revealed the full debt of the club stands at £1.2m but all current and previous directors have agreed to write off their loans, leaving the Poppies with £402,000 to clear – a figure that will be dealt with by a CVA over three years.

It means they are to be thrown out of the Football Conference but Rolls has revealed the Southern League are willing to let them into the Premier Division, although they will start with a 10-point deduction. The CVA is set to be confirmed on June 7 and Rolls believes creditors are likely to receive 'around 10 pence in the pound' as part of the agreement.

Rolls, who revealed he has put a 'six-figure sum' into the club also moved to clear up the situation over the delay over the transfer of shares from former chairman Imraan Ladak. Rolls said, 'I feel sorry for the people who are owed money. This is not my debt, I feel we have done well since we have been here. We have got the losses down from £40,000 a month to an affordable £15,000 a month and I would like to think people can see that we are trying hard.

We are looking at breaking even by October going forward but the Conference will want a bond of £100,000 for next season. We were hoping that the money coming in from season tickets and people like myself would see us through but it won't. We have called in an insolvency practitioner and we will look to enter the CVA.

I will bring this club back to the Blue Square Bet Premier. I will stay until the job is done. But we will live within our means. Our playing budget won't change for next season, it was always going to be the same. We are going to have a fresh start.

As far as the share issue is concerned, Imraan Ladak is not involved any more and he can't be involved any more. It is a complex issue but I am in full control of the club. Imraan isn't in the background and he isn't coming back'.

Rolls also confirmed matchday admission prices would go down to £12 for adults and £10 for concessions for next season, with those who have already brought season tickets receiving the appropriate rebate".

It is believed that this will reprieve Maidenhead United from BSBS relegation and that Hinckley will likewise be reprieved by Darlington's drop but these decisions will be confirmed later.
CARL SIGNED "TO DO A JOB"
The Advertiser reports that "Altrincham boss Lee Sinnott is confident his first summer signing, Carl Rodgers, will prove to be a big hit with Robins' fans.

Away from football, the 6ft 2ins former Chester City midfielder works as a disc jockey, so he should come in handy at club functions! But Sinnott believes it's 29-year-old Rodgers' footballing talents rather than his prowess at the turntable which will endear him to the Moss Lane faithful. Chester-based Rodgers joins Alty from AFC Telford, where, in six seasons, he helped the Shropshire club climb from the Evo-Stik League to Blue Square Bet Premier.

Sinnott said, 'I'm delighted to have signed Carl and sure our supporters are going to like him. He'll bring something we don't have; a big, physical presence to the centre of midfield. Carl can also operate as a central defender but, while it's always useful to have players who are versatile, I've brought him to the club to do a job for us in the middle of the park.

He's at a good age, has bags of experience and knows what it takes to get out of Blue Square Bet North. All things considered, he ticks a lot of boxes'.

Sinnott, whose main task during the close-season remains to bolster Alty's leaky defence, is also poised to sign centre-half Matty Flynn from newly-crowned BSBP champions Fleetwood. Flynn impressed while on extended loan with the Robins last season and Sinnott's pleased he has agreed to join Alty permanently once his contract with the League Two-bound Cod Army expires next month.

Altrincham have released details of five pre-season friendlies, starting with their now traditional leg-stretcher at Abbey Hey on Saturday July 7. They visit Nantwich the following weekend before hosting two eyecatching clashes, with Morecambe first up at Moss Lane on Tuesday, July 17 and a Burnley XI then providing the opposition four days later on July 21. After that, the Robins will be back on the road again when they make the short hop to neighbours Trafford on Thursday July 26.

Meanwhile, Altrincham's 'meet the old recruits' evening in aid of the Mark Maddox testimonial fund was a big success. It ended with compere, Alty legend, Graham Heathcote presenting a £25,000 cheque to former skipper Maddox, who was diagnosed with Motor Neurone Disease a year ago".
NOEL HONOURED
John Edwards, Joint Press & Media Officer at Altrincham FC writes that former Altrincham and Chelsea manager, "Tommy Docherty will lead the acclaim for one of Altrincham's most famous sporting sons at a tribute dinner for Noel White at the Cresta Court Hotel next Thursday, May 31.

Former Manchester United manager Docherty, who had a spell in charge at Alty, has agreed to appear as guest speaker at the gala event, which starts at 7.15 and includes a four-course meal, celebrity guests and entertainment.

White rose to the very top of football administration, holding the prestigious position of FA international committee chairman for 14 years, but has never forgotten his roots and still attends games at Moss Lane whenever he can.

Explaining the decision to honour his remarkable impact on the game – locally, nationally as Liverpool chairman and internationally with the FA – Alty chairman Grahame Rowley said, 'Noel will always be regarded as a club legend at Altrincham, but we feel his general contribution to, and achievements in, football should be recognised and that this tribute dinner is a fitting way to do that.'

White's rise to prominence began after he forged a business partnership with Peter Swales. The pair opened their first White & Swales record and sheet music shop on Cross Street before taking over at Alty in 1961 and transforming their fortunes. While Swales moved on to Manchester City a few years later, White remained at Moss Lane as chairman and oversaw an era in which Alty became the country's most renowned FA Cup giantkillers.

Told the dinner was being staged in his honour, White said, 'It is very nice that my efforts in football are being recognised in this way. My involvement in football administration goes back to when I was 15, playing for a team run by my father in the Altrincham and District Service of Youth League. I used to collect match subs of threepence per player per match, write the details in a cash book and handle player registrations.'

Alty, who have signed former AFC Telford United midfielder or centre-back Carl Rodgers, still have tickets available at £30 each on 0161 928 1045 or by e-mail."
DAMIAN
According to the South Yorkshire Times, "Doncaster Rovers are being linked with prolific non-League striker Damian Reeves... His exploits haven't gone unnoticed with Rovers' new League One rivals Oldham Athletic and SPL side Kilmarnock reportedly battling it out for his signature.

But the striker originates from Doncaster and might prefer a return to his home town. Rovers manager Dean Saunders... did have the player, who finished the campaign as English senior football's leading scorer, watched earlier this season. Reeves works as a self-employed plasterer so the option to turn professional would be an enticing one. Contracts only run for a season-long basis at Altrincham, meaning that there would be no transfer fee involved and Altrincham chairman Graham Rowley expects Rovers to be in the race to sign him.

Rowley insists that Reeves, who has scored 64 in 79 since signing for the club two seasons ago, would be a gamble worth taking. Rowley told The Star, 'I know Doncaster looked at him around Christmas and anyone who scores that amount of goals is going to get noticed. We haven't had any official enquiries yet and we will offer him a new deal but he's earned a shot at League football and I expect more interest in him shortly. We can't say whether or not he'll be able to hack League football but the goals he's scored suggests he's definitely worth a punt'.

Reeves broke a club record last campaign by scoring in 10 consecutive games for the Moss Lane outfit... Rowley likens the striker's skills to those of Blackpool veteran Kevin Phillips, who also played in non-League football before making it in the Premier League and earning an international call-up for England.

Although resigned to losing his star man he believes, with Rovers low on numbers since releasing a dozen players following their relegation from the Championship, that the former Leeds United trainee Reeves would be a great first addition and one that would catch the imagination of fans at the Keepmoat.

'Damian's a predator in the box. He's not going to score 25-yard screamers and you're not going to get 90 minutes of hard work out of him but if he gets a chance, it's a goal', said Rowley. 'He'd definitely be one for Doncaster fans to get excited about. He can appear a bit lazy at times but he comes alive in the final third of the pitch and he's good with either foot. He's a great finisher and if you watch the footage of him on Youtube you'll see that some of his skills are sublime'".
BSBN NEWS
BSBN say that "FC Halifax have confirmed the release of captain Tom Baker and forward Danny Holland. [Former Alty reserve] Baker became the first player to make over 100 appearances for the Shaymen... However, the 27-year-old has parted ways with the club by mutual agreement.

Manager Neil Aspin told the club's official website, 'I can't speak highly enough of Tom. He was here before I was but we decided to keep him at the club and that was a wise decision. He helped in both our promotions and has made a massive contribution to the club. He always gives 100 percent and is willing to play through injuries for the cause. I just can't say enough good things about him.

However sometimes it's best for players to have a fresh challenge and I think it's time we change some players for new ones. He leaves the club with our best wishes and I'm sure he'll do well wherever he goes'.

Meanwhile, Holland has also been released after two years at the club where he has scored 30 goals. Aspin added, 'I had Danny at Harrogate and he always gives a lot both on and off the pitch. He's a great character and good footballer. He's scored a lot of goals in his time and I've always enjoyed working with him'".

The Cambridge News tells us that "Russell Hands wants to get a clutch of professionals with a passion for Histon on to the club's new-look board. The Stutes' chairman is the only director left... following the resignations of chief executive Gordon Boateng, director of football Glynn Mason and director Graham Muncey this week.

A general meeting will be held on June 7, and Hands believes the right people to join the board are already helping out behind the scenes. 'We've got several members that have helped us over the years that are now babysitting various aspects, if you like, until that meeting', said Hands. 'Hopefully one or two of those will come on the board because they're very professional. They've been reluctant in the past, but hopefully we can coax them on this time around... They've been like ghost directors working behind the scenes and done a lot of the hard work in the past'...

Manager David Livermore said his position had not changed in the wake of this latest upheaval, but he is concerned the club could miss out on transfer targets as he still does not know his playing budget. 'I guess I'm in the same position I was, and all the conversations I've had have been with Russell, the chairman', said Livermore. 'I'll get on with what I can get on with, which is organising pre-season and making sure the guys have their off-season plans. It's a little bit concerning because people seem to be doing their business now and we're missing out on opportunities in that respect... We might miss out on one or two players, but they might be players we can't afford anyway'".

BSBN says that "Boston United winger Kallum Smith has signed a new contract... The 22-year-old joined the Pilgrims from Lincoln City on transfer deadline day in March and only made a couple of appearances before the end of the season. However, he started against Hyde FC and Guiseley in United's last two league games, and did enough to impress manager Jason Lee, who has awarded him with a contract. The Pilgrims have recently also re-signed defenders Gareth Jelleyman, Tom Ward, Nathan Stainfield and Conor Marshall, midfielders Ian Ross and Ben Milnes, and strikers Marc Newsham and Spencer Weir-Daley."

On the NL Daily site we read that "Neil Young, manager of Chester, has axed striker Chris Simm... The Blues' boss confirmed he has told last season's joint leading goalscorer that he couldn't guarantee him regular football for next season's campaign.

'Chris Simm has been a good servant for Chester and he is a great lad both on the pitch and in the dressing room', Young said. 'I know how much he loves his football and how well he played for the team last season – and that was underlined by the number of goals he scored in our title-winning campaign. "But I couldn't guarantee Chris a regular place in next season's starting line-up and I had to be respectful by telling him that. I prefer to be straight and honest with every player because I don't want to mess people around as they have bills to pay as well as wanting to play football.

There certainly won't be any shortage of clubs wanting to speak to Chris now that he is a free agent because he has scored goals wherever he has been'...

Simm, who finished last season as Chester's joint leading marksman with Matty McGinn on 16 goals, admitted ... 'Neil Young told me there was nothing there for me and to say I was shocked by what he said is an understatement. I thought I'd done well enough to stay at the club and I think he knew I'd say no if I was offered non-contract terms because I've got a young family to provide for. I'm disappointed because I think Neil has left me in the lurch after I have helped the club win the league title and finish the season as joint top goalscorer... I have been loyal and I now feel I am in my prime...

I knew after speaking to people at the weekend presentation evening that Neil had already spoken to some players, so I thought I was okay...I've now got to start again from scratch'" he told The Leader.

Also at Chester "Neil Young has made his first signing of the Summer, with midfielder Dave Hankin joining from Kidderminster Harriers. Hankin 27, joined the Blues on a 2 year deal...having formerly played at Stalybridge Celtic, and his preferred position is right midfield... It wasn't the only bit of business carried out by Young today, as Marc Williams & Levi Mackin put pen to paper on their contracts for next season."

At Alfreton Town manager Nicky Law "has begun his planning for next season by signing four of last season's squad on new deals and releasing three. Central defender Darran Kempson has signed a new two-year deal and one-year contracts have been signed by Josh Law, Connor Franklin and Leigh Franks...

Attacking midfield player Daniel Meadows, 19, who was on loan at the Impact Arena for the last five weeks of last season from Nottingham Forest, has agreed a two-year deal with the Reds of Alfreton and other new one-year deals have been agreed by Anton Brown and Nathan Arnold.

Players already under contract with Alfreton for the 2012/13 season are Paul Clayton, Jake Moult, Adam Quinn, Anthony Wilson, Matt Wilson, Adie Hawes, Chris Senior and Greg Young. Utility player Theo Streete has also had an additional one-year option to stay with the Reds exercised by the club.

Law's squad already looks to have a good foundation to build on and it will hopefully get stronger as last season's 17-goal top scorer Nathan Jarman is in ongoing negotiations on a new contract. One very pleasing factor is that Franklin, Law, Brown and Arnold have agreed to stay with the Reds despite interest from other Blue Square Bet Premier clubs.

Released by the Reds are goalkeeper Dan Lowson and winger Jamie Mullan. It is understood that central midfield man Nicky Deverdics, who was on non contract during a short spell at the club at the end of the season, will not be offered new terms. Reds chairman Wayne Bradley thinks there will be several new faces coming into the club in the summer, somewhere between four and six depending on how successful the club are with their targets...

Said Bradley, 'This year will be a case of quality instead of quantity'".

Guiseley say that "With the dust having settled on the Lions' play-off heartbreak, the club's management team have wasted no time in getting players signed up for the next campaign. The club are happy to announce that Danny Ellis, Mark Bower and Andy Holdsworth have all agreed terms to stay with the club next season. Steven Drench, Simon Ainge and Gavin Rothery are already under contract for next season's campaign".

According to the Northampton Chronicle, "Ian Sampson insists he 'can't wait to get started' after being confirmed as the new manager of Corby Town... with ex-Peterborough Northern Star manager Chris Plummer arriving as his assistant...

'It is a fantastic little arena here, I am just keen to get started and very excited about the prospect of progressing Corby Town', said Sampson, who was sacked as Cobblers boss in March, 2011...

'Don't get me wrong, we are looking to win games of football because, if you don't, you pay the price as a manager regardless of what budget you have... There were 800 here for the first game at this ground last season and 400 for the last. If you have 14 defeats at home, fans will stay away. We need to get that home form right and hopefully if we do, we can get the local people coming down here to have a look at us'.

Ingram revealed Sampson will have a smaller budget than the club had at the start of last season but a bigger one than it finished the campaign with. But Sampson is unfazed...

'Budget is a massive thing in football but there are teams that do well on lower budgets and we will be looking to be one of those', he added... 'There are players who were at the club last season that we are interested in keeping on, we don't want to dismantle the whole thing'".

Although they would normally have dropped into the BSBN, the Northern Echo tells us that "The Northern League are preparing to accommodate Darlington ahead of Friday's Football Association announcement about which league the club will be playing in next season. The FA are still to confirm Darlington's punishment for failing to exit administration by the proper procedures at the start of the month.

A delegation including DFC 1883 chairman Denis Pinnegar and board member Laura Drew argued for leniency when they met FA officials at Wembley last week. However, it looks as though their pleas have fallen on deaf ears, and The Northern Echo understands there is a strong possibility of Darlington being placed into Division One of the Northern League ahead of the start of next season.

If confirmed, the news will be a major blow to club officials, who had been hoping to secure a place in either the Evo-Stik League Northern Premier or Division One North. That could still happen, but it is telling that Northern League officials have been instructed to start making preparations for the Quakers' possible inclusion in next season's competition.

Interestingly, Durham City's demotion from the Evo-Stik League means the Northern League's top-flight currently has an odd number of clubs. By installing Darlington, the FA would be preventing the need for a further reshuffle.

The Quakers will discover their fate on Friday, and little more than two years after they were playing against Bradford City, Notts County and Crewe Alexandra in the Football League, they could find themselves lining up against the likes of Newton Aycliffe, Consett and Team Northumbria. They are also set to be in the same division as Shildon, who will be their landlords at Dean Street.

If they bypass the Evo-Stik League, they will have been relegated four divisions since the end of last season, when they finished in the bottom four of the Blue Square Bet Premier. The FA's punishment would be one of the most draconian ever dished out, and reflect the governing body's unhappiness with Darlington's failure to adhere to the regulations that govern a club's exit from administration.

FA rules state that in order to leave administration and reclaim a place in the football pyramid, a club must agree a Creditors' Voluntary Agreement (CVA) with its creditors...

They could not reach an agreement with the club's major creditor, former chairman Raj Singh, and inherited footballing debts relating to outstanding wages owed to the club's former players. Pinnegar has promised to do all he can to help local businesses who lost out when the club was placed into administration, and has pledged to pay the players' outstanding wages. However, his assurances are not understood to have placated FA officials, who are concerned that a lenient interpretation of the rules on this occasion could establish a dangerous precedent for other clubs to exploit in the future.

To further complicate matters, Darlington have not been able to transfer their existing footballing share, the notional ratification that enables them to compete in an FA-affiliated competition. As a result, while DFC 1883 opted not to go down the route of liquidation and reformation as a 'Phoenix club', the FA are effectively treating the latest incarnation of the Quakers as a separate entity to the one that ended last season.

There are also issues over the ground rating of Dean Street which could prevent Darlington from playing Evo-Stik matches at the stadium... If Darlington are demoted to the Northern League, questions will be raised about the wisdom of keeping the club alive in the second half of last season, rather than investing the money that was raised through bucket collections and personal donations into the creation of a brand new club".
---
23 May 2012
OLD BOYS
Relegated Macclesfield Town have released 21 players, including ex-Alty midfielder Lewis Chalmers and former Alty loanee Jon Bateson. Another Alty loanee Sam Wedgbury remains under contract at the Moss Rose.
BSBN NEWS
According to NL Daily, "Ashley Westwood believes it is "vital" that fans of relegated Kettering Town back acting chairman George Rolls during the club's hour of need. Westwood had been one of the candidates to take the permanent manager's job at Nene Park having finished last season's doomed Blue Square Bet Premier campaign in caretaker charge. But he has now signed a year-long contract with Lincoln City after admitting the renewed uncertainty at the Poppies had left him unsure on his own future...

The Conference may yet ask Kettering for a bond of £100,000 or even boot the Poppies out of the upper reaches of the non-League game. The Blue Square divisions are due to be confirmed at the Conference's annual meeting on June 9...

'To be honest, the club isn't in a position to be able to name a new manager', Westwood said. 'They need to get through to that meeting on June 9 and find out what division they are going to be in. From my point of view, other opportunities came up and it was a question of hanging on or taking one of those opportunities. I think I have done the right thing. I am disappointed because I put a lot of effort into the job at the end of last season and I believe I could have made a go of it... I feel sorry for the new owners because the fans don't seem to be very enthusiastic. Even when they came in and secured the immediate future, there was no real buzz around the place which I found strange. It's very much a case of "help them help you" and I hope the Kettering fans get behind their club again,'" he told the Northampton Chronicle.

At another relegated club, the Darlington and Stockton Times reports that "The new owners of Darlington Football Club have launched an appeal for fans to reinvest money already pledged to the club. Darlington FC 1883 Ltd (DFC 1883) says it needs £70,000 before the end of this month and £200,000 by the end of next month to be able to move forward.

Last night, DFC 1883 launched two websites – savedarlo.org and 1883cic.org – to explain to fans how the club will be run and how to invest and donate money. The options include investing in 1883CIC – a new community interest company (CIC), which will have a controlling stake in the club. Alternatively, fans can back one of the club's supporters' groups, which will either buy a stake in the club, invest in the CIC, or donate money directly to the club directly".

The Northampton Chronicle tells us that "Former Cobblers' boss Ian Sampson has been named as the new boss of Corby Town. Sampson was unveiled as the Steelmen's new man at a press conference at Steel Park. The club's new owner Kevin Ingram is putting his faith in Sampson, who was sacked as the Cobblers boss in March last year.

Sampson enjoyed a reasonably successful stint as Town boss, with the highlight of his time in charge at Sixfields being the stunning Carling Cup win over Liverpool at Anfield in September, 2010. The Cobblers were mid-table in league two when Sampson was dismissed, but the team has struggled at the wrong end of the table since...

Sampson, who also played 449 games in the claret and white, replaces Graham Drury at the Corby Town helm, and will be assisted by Chris Plummer, the former Queens Park Rangers player and ex-boss of Peterborough North."

BSBN says that "Boston United have confirmed that striker Spencer Weir-Daley and defender Gareth Jelleyman have signed new deals at the club. Weir-Daley has penned a one-year contract with the Pilgrims, where he has scored 41 goals in 96 appearances. The 26-year-old spent half a season at AFC Telford after they snapped him up last summer, but he returned to York Street in January.

Meanwhile, club captain Jelleyman has also signed a one-year deal after making 41 appearances for United last term. The 31-year-old full-back has made 90 appearances for the club since arriving in 2010. He also had two separate loan spells at Boston, in 1998 and 2004".

The Blue Square Bet North the 'Player of the Month' for April and the play-offs is Dwight Gayle from Bishop's Stortford. In the Blue Square Bet North the Manager of the Month' award for April and the play-offs goes to Nuneaton Town manager, Kevin Wilkin.
---
22 May 2012
BSBN NEWS
"Following a meeting on Sunday 20th May 2012, Histon "announce the intended resignation from the Board of Gordon Boateng (Chief Executive), Glynn Mason (Director of Football) and Graham Muncey (Director) at the next General Meeting. Chairman Russell Hands stated, 'I am sorry that all three decided to step down and would like to place on record my thanks for their efforts on behalf of the Club during a difficult time for the Board.

On Friday 18th May 2012 the Club received a letter from a shareholder requesting a general meeting of shareholders to be convened within the timescales outlined in the company's Articles of Association. Proposed resolutions include the appointment of a new Board to be made up of a number of individuals that have stepped forward to declare their interest.

The Club will be writing to all shareholders immediately with further details and to confirm arrangements for the meeting which will be held in The Glass World Lounge on Thursday 7th June at 7.00pm. For now it is business as usual, I along with the Management Team, David Livermore, Brian Page and not forgetting the volunteers, will continue to push forward for the Season ahead.

Russell Hands, Chairman".

"Experienced defender Paul Mayo has joined Stamford from Corby Town. The 30-year-old has agreed to team up with boss Graham Drury again, after enjoying two successful spells under his guidance with the Steelmen".

"The Chairman of the Kettering Town Supporters' Trust admits the club faces a 'huge task' to avoid administration", reports the BBC. "KTST chairman Mark Severn echoed acting chairman George Rolls's plea for supporters to buy season tickets. Severn told BBC Northampton, 'There's a lot of scepticism about. There's been so many false dawns. We've asked the fans to put their hands in their pockets since December but we need to give that little bit more if we can'.

Severn continued, 'This is the biggest crisis we've had. If the club is to have any chance of moving forward, it's going to need all the supporters that came out and helped us last summer doing it again. It's a huge task to avoid administration. I'd hope that we can, but without the season ticket revenue and things happening off the field, there's only so much we can do'.

The Football Conference has confirmed a meeting took place with Rolls on Tuesday 8 May at which assurances were sought regarding the club's ability to complete its fixtures and meet its financial obligations in the Blue Square Bet North in 2012/13. A spokesperson for the Conference said, 'Kettering were advised, in writing, of a number of conditions to comply with and respond to by 25 May. Dependent on that response, it could be that the football club may have to lodge a financial bond [with the Conference] prior to the AGM on the 9 June to ensure the integrity of the competition'.

Neither the Conference, the club nor the Trust will confirm what those conditions relate to, although the value of the bond is known to be a six-figure sum. "

Meanwhile, "Kettering defender Ashley Westwood is one of three players to have agreed a move to Lincoln City. The former Manchester United trainee, 35, was player-caretaker manager at Kettering last season and has signed a one-year contract at Sincil Bank. Grimsby striker Rob Duffy, 29, and Nuneaton midfielder Gary Mills, 31, have also signed one-year deals...

Westwood added, 'Kettering are still not certain of their future to be honest - what league they're going to be in, whether they'll be in administration or not - with that pending I didn't really have a decision to make to be honest'".

According to the Worcester News, "City are still waiting to hear whether they will be able to play at Kidderminster Harriers from the start of the 2013-14 campaign. Worcester officials met their Harriers counterparts last month about the possibility of ground-sharing at Aggborough once they leave St George's Lane at the end of next season. Harriers are believed to be City's preferred option as the stadium is already up to Football League standard, although the cost could prove a stumbling block. The other option, Bromsgrove Sporting's Victoria Ground, would need investment to bring it up to the Blue Square Bet North grading required by City".
TELEVISED FOOTBALL
Hereford's "Bulls News" says that "The BBC have agreed a new three year deal with the Football League to continue showing FL highlights. The deal will keep the Football League Show on air during the time, but the BBC will no longer have live Championship coverage as they have had for the last few years".
---
21 May 2012
LIVING LEGENDS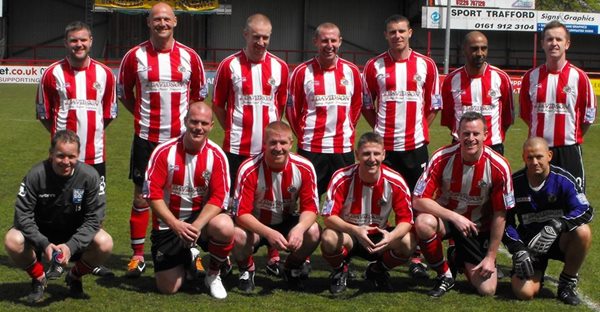 Above, the Altrincham FC Legends who took on the Altrincham FC Coaches last week. Back row: Matt Doughty, Gary Talbot, Stephen Rose, Ian Craney, Robbie Lawton, Paul Robertson, Ged Kielty. Front: Steve Aspinall, Colin Potts, Eddie Hussin, Gary Scott, Peter Band, Charles Heathcote.
FRIENDLY
Mossley confirm that they will host Altrincham in a pre-season friendly on Tuesday 31st July, at 7.45 pm
RUNNING FOR GOOD CAUSES
Amongst the runners who completed Sunday's 10km Run in Manchester were goalkeeper Stuart Coburn, who finished in 52 minutes, chairman Grahame Rowley, who took 60 minutes, and ex-player Peter Band who recorded a very impressive 39 minutes.

Watching the Manchester 10km Run on Sunday brought several other sightings of competitors with Altrincham FC connections. Former Alty defender Richard Battersby was part of a team of 41 (including 9 players) which was entered by FC United to raise funds for the club. As FCUM explain, "There will be an FC United team running the Great Manchester Run to raise funds to help FC get closer to our dream of a ground of our own... It will be interesting to see if any of the supporters taking part manage to finish before any of the players."

At least one regular on the Moss Lane terraces, Dan Martell, also ran the course. So, congratulations to these competitors and all the others who ran in the event for the benefit of charities.
BACK TO THE LEAGUE
In Sunday's play-off at Wembley, York City returned to the Football League with a 2-1 win over Luton Town, who had gone ahead in the first minute. City had spent eight seasons in the Conference since their relegation from League Two and are now promoted after their third appearances in the play-offs.
BSBN NEWS
FC Halifax Town report that their "Goal of the Season" was Jamie Rainford's effort against Altrincham at The Shay, when Alty won 4-2.
---
20 May 2012
OLD BOY
"Hucknall Town have drawn up a shortlist of seven in their search for a new manager to replace Des Lyttle... The new boss will be the club's 13th appointment since John Ramshaw was sacked in 2001... Veteran defender Chris Timons was understood to be The Yellows' first choice. But he would be unlikely to commit the time because of his demanding job with the fire service" reports the Hucknall Dispatch.
BSBN NEWS
The Hellenic League reports that "Fleet Town FC have been reprieved from relegation following the removal of Darlington FC from the top tiers". Fleet Town are in Evostik South.

AFC Halifax Town reports on a player who had a loan spell at Altrincham who "has been the most popular player in FC Halifax Town's short history, but James Dean's time at The Shay has come to an end. The big striker, who scored an astonishing 83 goals in just 130 games for The Shaymen, has joined big spending AFC Fylde of the Evo-Stik Premier...

Neil Aspin, who brought the talisman to The Shay, was disappointed with the surroundings of his exit. 'Deano's done a very good job at Halifax, he's played a massive part in the two promotions and made a big contribution this season as well. I was just very disappointed that he had agreed to sign for another season and then just sent me a text saying he had signed for Fylde, so in that respect I do find it disappointing that he couldn't ring to tell me. But I have no problem with Deano, he's done a very good job for us'...

With Dean joining Simon Eastwood in leaving The Shay exit, Aspin assured fans he is making progress in bringing players into the club. 'Of course, we've got targets lined up who we think can come in and do the job and that's what we're aiming to do. That won't stop from now until we have got the strongest squad we can assembled'".

Meanwhile, Corby Town report that they "can confirm that Leicestershire-based business man Kevin Ingram has completed his purchase of shares from David Mallinger and Graham Starmer and is the now the club's majority shareholder. Mr. Ingram has assumed the role of Chairman and confirmed that he has invited several new directors to join the current board. Former acting chairman Mallinger and vice chairman Starmer have also accepted new roles within the restructured board.

'Due to the complexity of the deal it has taken a while to get to this point but things are really beginning to take shape now', explained the new Chairman.... 'Corby Town is going to be a club that does things the right way; it is going to be a club people will want to be associated with and one other clubs will look at with envy... I am looking forward to working closely with new Borough Council CEO, Norman Stronach and his team, as well as the newly formed Supporters' Trust. They all have significant roles to play too.

It is my ambition to build a highly motivated football team who will become ambassadors for the area and wear the shirt with pride. We will do this in a sustainable and progressive manner. What this club needs right now is financial stability, we have to bring an end to the volatility of recent years'.

At this present point in time, the club is approaching the final stages of the search for a new first-team manager and that will remain the board's primary focus for the immediate future. 'I hope to be in a position to make an appointment next week'" said the Chairman."

From This is Lincs we learn that "Supporters may be shocked and upset to hear Leon Mettam will not be at Gainsborough Trinity next season". Manager Steve Housham admitted, "'It was a very difficult evening', said Housham. 'Talking to Leon was especially tough as he has done a fantastic job for us. But I see him as an impact player and he needs to be starting more matches. It was very difficult telling my son Billy because Leon is his favourite player'".

Mettam, though, who finished the season with 14 goals from 13 starts, is looking at his departure as an opportunity. 'It was kind of a joint decision really', Mettam said. 'I had spoken to Houshy (Steve Housham) and the chairman (Peter Swann) a while ago about wanting to start more games... I do have a few irons in the fire and I am talking to clubs, some at a higher level and some in the same league. In fact I had a call from Boston United manager Jason Lee this week, who asked me not to sign anything until he gets back from holiday.

But that doesn't mean I will be going there. Like I said, I will be talking to a few teams over the next few weeks'...

Lewis McMahon, Adam Watts and Ryan Paczkowski have not been offered new deals and Housham is still to meet with club captain Gavin Cowan and defender Kevin Sandwith. 'I hope he (Housham) doesn't upset the apple cart too much,', added Mettam. 'I don't know who he is letting go, but there are some big personalities in the dressing room who have helped us have a very good season. I don't yet know what will happen with Gavin (Cowan), but he is a great influence at the club... There are no hard feelings at all on my part'".

Promoted BSBN champions, Hyde, say "Tahir Khan has been appointed as the new chairman of Hyde FC, replacing Allan Kenyon who recently stepped down from the role due to business commitments" He said, "I considered other offers at Football League level, but for me there was only ever one destination. Hyde FC is renowned for having one of the best playing surfaces in the Conference and the club like to play a passing game. I have met with the new management duo of McNiven and McCann and they have reassured me that they want to play a passing game... We have big plans to develop the club, its infrastructure, the facilities, academy and there is lots of hard work that lies ahead...

We have a very positive relationship with Premier League champions Manchester City, and it's befitting that we have both been crowned champions this year... We recognise that it's a very expensive family day out to watch our big cousins City and United. Therefore, I am urging both sets of these fans to adopt Hyde as their second club".
---
19 May 2012
MEET THE OLD RECRUITS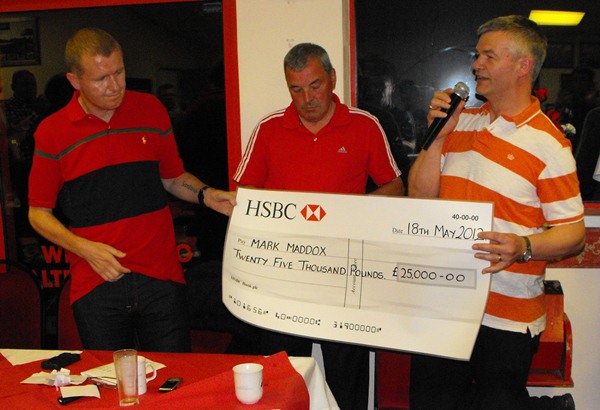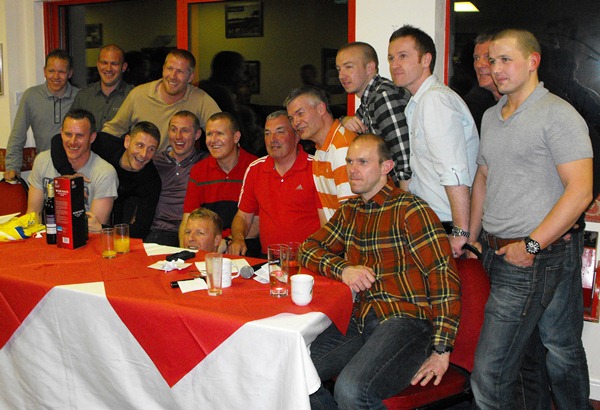 An enjoyable Meet the Old Recruits evening was held at Moss Lane on Friday, in aid of Mark Maddox's testimonial fund.

Right are two images from the Evening; click on each for a larger version.

Left: Mark receives a cheque for £25,000 from chairman Grahame Rowley, which is the sum raised from the various events held over the past year for Mark's testimonial. Right: Mark's former team-mates attended in large numbers. Here we see; standing: Steve Aspinall, Colin Potts, Eddie Hussin, Stephen Rose, Ged Kielty and kitmen Dave Mitten and Charles Heathcote. Seated (more or less) are Peter Band, Gary (a.k.a. Glenn) Scott, Ian Craney, Mark himself, Graham Heathcote, Grahame Rowley, Stuart Coburn and, having emerged from under the table, Chris Adams. Also in attendance was former assistant manager, Dalton Steele.

The event was compered in inimitable fashion by Grahame Heathcote who, of course, managed the team for much of Mark's career. The players formed two panels which were asked questions by the audience. Amongst the many stories recollected was Gary Scott's of the Play-Off Final at Stoke in 2005. Gary was named as Man of the Match in the News of the World the next day but the paper ruined his moment of national fame by printing his name as "Glenn Scott" - and it still rankles! Nevertheless, Gary recovered his composure to treat the audience to a rendition of "King of the Road".

Other memorable moments included Mark Maddox's snap response to a questioner who asked what his biggest regret in football had been. "Meeting Graham Heathcote" was the reply! For Steve Aspinall, the biggest regret had been giving Gary Scott lifts in his car back to Merseyside. The players told us what they were doing now that (in virtually all cases) their football careers were over. Ged Kielty, for example, "works for the government", Stephen Rose is about to go to Canada for three months and Steve Aspinall is an electrician at a hospital. Ged has also run five marathons over the past five years.

Peter Band is now in football management at Mossley, whilst Colin Potts retains his carpet-laying business. Graham Heathcote lamented that a few years ago he had employed Dave Mitten as kitman and Graham Barrow as assistant manager. Both were now in the Premier League at Wigan Athletic, whilst Graham was out of full-time football employment working as a school groundsman!

Asked to sum up their feelings for Altrincham FC, Colin Potts told us that he had made "friends for life" at Moss Lane. Stuart Coburn explained how football had changed with the regular booze-ups of the past now replaced by a more serious attitude from current players. Whilst some of Chris Adams's stories were unprintable, one tale was hair-raising; he had set light to Rod Thornley's hair on the team coach coming back from Bradford Park Avenue!

Ian Craney, who attended with his footballer friends Pater Cavanagh and Tony Grant, gave a boost to the Testimonial Fund when he won the auction for a signed Altrincham FC shirt. The final part of the evening saw Gary Scott as the victim in a game based on "Deal or No Deal", before chairman Grahame Rowley thanked the organising committee and presented Mark with a cheque for £25,000, for which Mark thanked all who had contributed. Many thanks, too, go to Richie Bentley for preparing the food for such an enjoyable evening.
BSBN NEWS
"Influential performers Ian Ross and Marc Newsham have both committed their futures to Boston United", reports the Football Conference. "Ross, 26, and Newsham, 25, were major players for the Pilgrims in 2011/12 and they have both signed new deals ahead of the 2012/13 season. Ross arrived in November 2011 from rivals Harrogate Town and thrived in the playmaker's role, scoring four goals in twenty-six appearances.

Newsham, meanwhile, scored twenty-one goals to finish the season as the Pilgrims' top scorer, in addition to scooping three end-of-season awards. He also passed the fifty-goal mark in United colours during the course of the season".

According to the Cambridge News, "David Livermore has told Daniel Sparkes and Remy Clerima to take their time over deciding whether to commit to Histon. The Stutes announced they had offered re-engagement terms to captain Sparkes and French defender Clerima on May 4, with the pair having 28 days to make up their minds.

And manager Livermore is still waiting to hear back from the board regarding the futures of goalkeeper Jorg Stadelmann and Grant Roberts, as well as more details on next season's playing budget.

'Sparky and Remy have got 28 days to do what they want to do, so I expect them to take their time on the decision', said Livermore. 'There's no rush. At present I'm still talking to the club about Jorg and Grant Roberts. It's on-going talks and I still don't know what the budget is, so once I know that we can get on with a few things'.

Livermore has been busy in his attempts to unearth a few gems at trial games, attending events in Staines, Walsall and Loughborough. 'I saw about 180 players last week, so it was worth going to them', he said. 'You see three games and then you get all the information on the players in a booklet. You fill in a form at the end and that gets passed on to the players, and you then get emailed their contact details. It's certainly a worthwhile exercise. Not everyone would be suitable but, if we can get one player from events like that, then it's worth it'.

The boss will be keen to have the bulk of his squad formed when they return to pre-season training on June 25. 'We're probably looking at doing a bit longer pre-season than we did last year, probably coming back in the last week of June', said Livermore. 'Last season the guys came back in good shape so we didn't have to gamble too much in the first few weeks of the season. After a bit of preparation work we went into the higher intensity stuff... but having an extra week, making it seven weeks rather than six, will make sure bodies are prepared and ready to get into the more enjoyable stuff'".

The Northants Evening Telegrph says that "George Rolls insists there is 'no crisis' at Kettering Town. But the acting chairman has made another passionate plea for fans to purchase season tickets for the next campaign to help with cashflow over the next couple of months. The Poppies are currently without a manager while it remains unclear what division they will play in next season.

Season tickets have been on sale for over a month but, after over 1,000 were sold at a cut price before the last campaign that ended in relegation, just 74 adult tickets have been sold since the season finished...

He said, 'There is no crisis. The business and football club is viable, we know that is the case... We just want the supporters behind us. The number of tickets that have been sold so far is a bit insulting to me, Ritchie and my wife because we are the ones who have come in and saved the club. That's the way it is... I realise we are asking people to dig deep but it's what most clubs around the country are doing at the moment and I dare say most fans are obliging. We can make this work but we need to sell some more season tickets. If we can sell another 200 or so, quickly, then we will be in a good position... I believe a good fanbase is there but it needs to show itself now'".

Meanwhile, the previous occupants at Nene Park "Phoenix club AFC Rushden & Diamonds have been informed by the FA National Leagues Committee that the club have been placed in the United Counties League Division One for the forthcoming season 2012-13... at Step 6 of the Non-League pyramid".

Stalybridge Celtic have lost another player as Pitchero Non-League tells us that "Jim Gannon, manager of Stockport County, announced a hat-trick of new signings at the Edgeley Park outfit today"... In addition to two others, "The Hatters have also nabbed striker Craig Hobson from Conference North side Stalybridge Celtic, for whom he netted sixteen times last season... He joined Stalybridge from Kendal Town three years ago, after scoring twenty-six times... in 2008/09. Hobson played in the same Myerscough College team as Anthony Pilkington. He has made a big impression at Bower Fold in his last season picking up the manager's 'Most Improved Player of the Season award and coming third in the Player of the Season award, too".

It is reported by This is Glos that "Tyler Weir wants to become a Gloucester City player on a permanent basis and boss Dave Mehew is hopeful of striking a deal to land the former Hereford United man. Gloucester-born Weir, who has enjoyed two loan stints with his hometown club, is being released by Hereford this summer and the Tigers are his preferred destination...

Mehew said, 'I have had a few conversations with some quality players, who I believe will improve the squad, if we can bring them in. I haven't spoken about money with any of them yet as the budget hasn't been confirmed but Tyler is one of them. He has said to me that if we can sort a deal out then we are his preferred destination and that is great to hear. However, whether we can afford him is another matter... He will certainly have other offers...

Mehew said, ideally, he wants to add 'two or three quality new players' for a play-off push next term... 'In an ideal world I would love to bring in three or four players in for next season, but we certainly don't need wholesale changes', he said. 'We have a backbone of players and we're keen to add two or three quality players to that mix, whether I can do that remains to be seen... I honestly believe that with some good additions that we can be pushing for a play-off place next season'".
---
18 May 2012
CHEERS!
Altrincham FC would like to thank all of the beer barrel sponsors at last weekend's Beer Festival. The club is also very grateful to Dunham Scaffolding/Gallagher Roofing for erecting the covered area adjacent to the bar. Everybody's assistance is much appreciated.
STARTING FROM A GOOD PLACE
The Hale, Altrincham & Sale Independent says that "Altrincham FC may have failed to make the play-off but manager Lee Sinnott believes 'the buds of improvement are there and ready to grow'.

Though disappointed with the final placing – eighth in the league – he believes that the Robins provided true entertainment for their loyal fans by scoring 89 goals, making them the joint top scoring team in the league.

And the club manager singled out Damian Reeves for special praise for his sterling contribution of around half the team goals. Yet, while he acknowledges this meant the Robins gave the fans an exciting time, the problem was that they simply couldn't plug the holes in defence effectively. And this is a situation he intends to address during the closed season.

'We conceded 15 penalties which didn't help', says Lee Sinnott. 'But we still came back from relegation the season before and managed to flirt with the play offs'. The manager admits he faces an issue that we are living in a time when everyone wants success yesterday – and managing that expectation can prove difficult at times.

'We mustn't forget that there are only a couple of clubs in the league that can be successful and, unfortunately, it wasn't our time this season', he says. 'You have to look at the overall situation in a level headed way. You've got to deal with what you've got and overall I think we have had an OK season'.

Not that he sees it will be a walk over next with the arrival of well supported clubs like Chester.

'But Altrincham is a well run club with a very loyal fan base and the support has been very good. There's no better starting point for next season than that'".

The paper adds that "Although the results in the games against the top teams were disappointing, the difference between Alty and the teams above them in most of these games was not great, and Manager Lee Sinnott will have recognised the areas where they need to tighten up... Amidst the disappointment of missing out on the play-offs, there have been positive features of the season, not least the emergence of players from the Club's Junior and Youth sections, into the first team squad.

Over the season 5 players have featured either starting in the team, or as sub, with particular mention being due to goalkeeper Adam Reid, with 3 starts and many appearances as sub, and forward Duncan Watmore, who scored his first league goal in the final game of the season. After the Club's final game of the season, the annual awards were presented, with the Club's, and the League's, leading goalscorer Damian Reeves receiving both the Players' Player, and the Fans' Player awards.

Runners up in the Fans' award were Stuart Coburn and Nicky Clee. Young Player of the year was captain Shaun Densmore, and scorer of the Goal of the Season was James Lawrie.

Altrincham FC is largely run by volunteers, and the Club tries to recognise the contribution of the many who do keep the club going, by awards to the Volunteer of the year, which this year went to the Lewis family, Allison (Safety Officer), Peter (Chief Steward), Zoe and Samm (Stewards). The award for Clubman of the year went to Joint Kitman, John Skelhorn. The Club is most grateful to all who contribute their time though.

Although the playing season has finished, the Club still has some fundraising events in May. On May 22 the holds its Club Annual Golf Day at Withington Golf Course. Anyone interested in entering a team should contact the club on 0161 928 1045.

On May 18 there will be the final event in the Mark Maddox Testimonial year, which is a 'meet the old players' event to be held in the Club's Sponsors' Lounge".
BSBN NEWS
The Football Conference says that "It's back to business for Dave Mehew, manager of Gloucester City, with six players agreeing to new deals with the Tigers... although three of those to agree new deals did so before the end of last season! Goalkeeper Mike Green, defenders Jack Harris, Matt Coupe and Tom Hamblin and strike partners Darren Edwards and Will Morford will all be back in yellow and black next season. And Mehew has said all the remaining members of the squad will be offered deals in the next week, with no one being released".

New of a former FC Halifax Town player comes from Sky Sports which reports that "Leicester City have agreed a deal worth £1 million for Fleetwood Town striker Jamie Vardy. Vardy is understood to have turned down offers from fellow Championship sides Cardiff City and Peterborough United to join Leicester... The Conference champions have agreed what is a record deal for a non-league player, and it could rise to £1.7million. Vardy, 25, only joined Fleetwood last season from Halifax Town. Before that he played over 100 games for Stocksbridge Park Steels".

The Chester Chronicle says that "Chester FC are in danger of being priced out of the market by their Blue Square North rivals. Neil Young has started to make tentative enquiries in a bid to strengthen his championship-winning squad. But the Blues boss has so far been frustrated by the money being offered by some of the teams expected to challenge his side next season.

Young, who has led Chester to back-to-back promotions, said, 'We've been putting some feelers out there to see what certain players' availability is like and, if I'm being honest, at the moment there are wage demands we can't meet. There are other clubs in our league who have met those wages demands and that's where we are at the moment. It puts it into perspective what we're facing. We get 3,000 people coming through the gates but just because other teams don't have our massive fan base, it doesn't mean they don't have luxury in terms of finance'....

Young said, 'We've already got a lot of the best part-time players so what we've got to do is find those lads who want to drop down from full-time to part-time'. Midfielder Ashley Williams was last night expected to sign a new contract with Chester".

From the Wharfedale Observer comes news that "Play-off semi-finalists Guiseley have confirmed their first two pre-season friendlies. They will play Huddersfield Town, who will be sending a first team to Nethermoor on Saturday, July 21. Meanwhile, Bradford City will visit Guiseley in another high-profile contest on Wednesday, August 1... The match against Simon Grayson's Terriers, who could be a Championship club by then, will be the first game at Nethermoor following further stadium refurbishment during the close season. City, who are under Phil Parkinson, will also be send-ing a first team to face the Lions.

Last season, Guiseley added a second stand, while plans for the summer include getting their own water supply and replacing the perimeter fencing behind the stands and in front of the third-generation artificial pitch, as well as getting new dugouts. Guiseley's joint club secretary Adrian Towers was on the pitch yesterday, and said, 'They are digging the bore-hole at the moment and are 50 feet down. Maybe they will have to go 100 feet down to get to the water. The money for the project has come from the Football Foundation, while the new perimeter fencing will give us more space for terracing. The dugouts are past their sell-by date and the new ones will be more like those seen in the Football League".
---
17 May 2012
SUCCESSFUL BEER FESTIVAL
Altrincham FC Joint Press & Media Officer, John Edwards, writes "Alty boosted by beer festival success.

Grahame Rowley saluted the sponsors and volunteers who helped turn Altrincham's Beer Festival into a resounding success and made Moss Lane the place to be last weekend.

Backed by shirt sponsors J.Davidson, the event raised significant funds for the club, as the lure of real ales and ciders, football, live music and family fun events ensured the ground was a hive of activity on all three days.

'A big thankyou to all those who helped organise and run the Festival and, of course, to the sponsors whose financial support was greatly appreciated,' said Alty chairman Rowley. 'We are really grateful to Jamie Davidson for sponsoring the entire event and Manchester Glass for sponsoring the glasses.

'There is a long list of people who gave their time and worked really hard to make sure everything went smoothly, and the fruits of their labour were there for everyone to see. It really was a spectacular success. We were fortunate with the weather, and it was extremely well attended.

'There was a wide range of things for people to watch. We had a legends game and a ladies game, and the juniors were in action as well. All elements of the football club were on show over the course of the weekend, and that made it all the more special.

'The bar was packed for much of the weekend, particularly on Sunday, when it was standing room only for the final games of the Premier League season. We had United on one screen and City on the other, and the banter between the two groups watching either game was priceless. There were songs flying back and forth, but it was all good natured. There was never any hostility, which says everything about the people who follow our club.

'It was a great end to a memorable weekend.'

Alty are already turning their thoughts to next season. The pitch was dug up at 6.30 on Monday morning, in readiness for work aimed at helping it withstand whatever the elements throw at it next season, while the away dressing room is being completely refurbished.

The club are also in talks with prospective new signings and hope to make an announcement in the next few days".
BSBN NEWS
There are one or two surprises in the Gainsborough Standard, which tells us that "Steve Housham has confirmed that he has released a quartet of players. The Trinity manager... has let strikers Leon Mettam [who hit a hat-trick at Moss Lane in the last game of the season] and Lewis McMahon go. Adam Watts and Ryan Paczkowski have also been released.

Housham said it was a tough decision, 'We've offered contracts to most of the squad, but we've let Leon, Lewis, Adam and Ryan go. It's hard, hard talking to them about it because we've had a really good season with them but, unfortunately, they don't really feature in our plans. Leon needs to get regular football and it's time for pastures new'.

After his first season in charge on The Northolme, Housham is keen to put the disappointment of Sunday's play-off final defeat behind him. 'We need to move on', he said. 'We've got a presentation night on Friday to celebrate what we've achieved this season and then we shut the door on it. We don't want to go through it again, we want to go even better next season, finish higher than fourth, if not win the league. We had a good season; it would only have been a great season if we'd brought a trophy home'".

Another club issuing its retained list is the subject of an announcement from Harrogate Town. "Players staying next season: Jonny Allan, Adam Nowakowski, Alan White, Mark Cook, Craig Radcliffe, Matt Bloomer, Lee Elam, Alex Meechan, Robbie Youhill

Players released: Jake Picton, Paul Brayson, Laurie Wilson.

Manager Simon Weaver is also keen to allow our long-term injury players the chance to prove themselves again, so Paul Heckingbottom, Danny Stimpson, Michael Brough and Liam Hardy have all be invited back to pre-season training. Also invited back are: Chib Chilaka, Paul Beesley. Youngsters Dan Clayton, Jack Emmett and Josh Garbutt are also returning back to pre-season training".

According to the Football Conference, "Boston United have completed their first outright signing of the summer by capturing Hinckley United goalkeeper Dan Haystead. The 26-year-old, who spent a successful spell with the Pilgrims in 2010/11, returns to The Jakemans Stadium following the release of veteran stopper Paul Bastock. Haystead established himself as the Pilgrims' number one in the early weeks of 2011 and his ever-present league run was only ended by a freak injury when he sustained ankle ligament damage by tripping over his dog's toy and falling downstairs.

In total, Haystead kept seven clean sheets in fifteen Conference North outings for the Pilgrims. He will be the Pilgrims' number one stopper in 2012/13 once more, with 22-year-old Ricky Drury providing goalkeeping cover".

The Leader tells us that "Neil Young is keen to strengthen three positions before the start of the new campaign. The Chester boss.... is determined to build on his club's back-to-back promotions...

'I am aiming to stage talks with players next week, once this weekend's club presentation evening is out of the way', Young said. 'I have made a couple of enquiries about a few players I am wanting to sign but the targets are not matching up financially to other clubs' valuations. I won't be bullied into paying over-inflated prices for any players. Other clubs may think that we have plenty of money in the bank because we attract big crowds, but I have a budget and I will stick to it. Other clubs in the Conference North have big investors and their position puts into perspective what we are facing'.

Young admitted he wasn't going to sign many new additions to a squad that celebrated a comfortable 17-point title victory last term... But he confirmed that he would be looking to replace [ex-Alty] striker Matty McNeil, who was named as the Player of the Season after missing the end of the campaign with a knee injury which requires an operation. And Young also hopes to increase his defensive options and provide back-up for the impressive defensive partnership of skipper George Horan and Michael Taylor.

He added, 'I don't need to make that many new signings. Most people will expect us to look for a new striker because of Matty McNeil's injury problems and that is one of the vacancies I do need to fill. I also need to strengthen the defence with another centre half because I need another player to provide an option as I only have two centre halves at the minute. Another player I want to find is a forward who can play wide and help us switch from a two in attack to a three'".

In the Worcester News we learn that "Worcester City have increased their season ticket and general admission prices in a bid to sustain a Blue Square Bet North play-off challenge. The St George's Lane club... have aspirations of again being in the promotion mix.

An adult season ticket costs £252 to sit and £216 to stand, up £32 and £16 respectively, while for concessions (overs 60s) it is £180 to sit and £144 to stand, an increase of £30 and £14. Season tickets for under 16s cost £20, while under 21s can get one for £90. Matchday admission is up across the board, meaning it will now cost £14 for adults to sit and £12 to stand with concessions £10 and £8...

It is the first time City have put up prices since 2010 after freezing levels last year despite VAT rising to 20 per cent. A statement said the club regretted the increase but had no choice if they were to remain competitive".

From 200%, we learn that "Kettering Town's wretched season ended with a whimper rather than a bang. They finished the season with just thirty points, rooted to the bottom of the Blue Square Bet Premier, and under the same ownership with which they began the season – albeit under the apparent control of a new 'acting chairman'... Some financial liabilities, however, remain ongoing all year round and if season ticket sales prove sluggish, a critical source of income may be lost for another year.

Much of this may be playing on the mind of George Rolls this week. Rolls is always careful with his words. As recently as the middle of February, he was telling the Dorset Echo that those concerned that he was set to leave Weymouth FC that 'Unfortunately, some people make things up and put two and two together and don't always come up with four', the implication being that he was having a 'having chit-chat to try and help other clubs out' and no more. Within three weeks of this, though, it was being reported that the Kettering Town Supporters Trust was already stating that Rolls had been (in the words of the BBC) 'handed control of the club', and at the end of March Rolls paid off the £42,000 that been the subject of a winding up order brought against the club by HMRC. Within two weeks of this, his take-over of the club was being described as "imminent", although this, so far as anyone is aware, has yet to be confirmed.

Rolls has offered the supporters trust a twenty-four per cent stake in the club, and the trust has recommended to its members that this be accepted, and talks are set to begin between the trust and Rolls over how to get the club through the summer months, but one comment straight from this particular horse's mouth this week really did stand out, 'The threat of going into administration is very real. If the club needs to go into an act of insolvency than so be it'.

This should be of particular interest to supporters of the club because it is only just over two years since Rolls took Weymouth into a CVA, with debts of £900,000 being reduced to around £80,000. Interestingly, the representative for 'a group of creditors owed around £200,000' quoted in the BBC article from March 2010 which confirmed the creditors' agreement to this CVA was one Steve Beasant, who would resurface at Rushden & Diamonds as its Chief Executive in time for that club to be expelled from the Football Conference and subsequently fold. Upon the closure of Rushden & Diamonds, of course, Kettering Town moved into the suddenly-vacant Nene Park, the former home of the Diamonds.

So, where does this leave Kettering Town, then?... A football club enters into any arrangement with a majority in value of its creditors in respect of the payment of its debts or any of them as a Company Voluntary Arrangement (under the Insolvency Act 1986, the Insolvency Act 2000 or the Enterprise Act 2000) or a Scheme of Arrangement (under the Companies Act 1985). As is reasonably common knowledge, any director who is involved in two or more insolvency events fails the Fit & Proper Person test and cannot act as the director of a football club. As such, we might consider George Rolls to be at the point of giving up his right to be able to act as the director of a football club, but the truth of the matter is that George Rolls is not listed at present with Companies' House as a director of Kettering Town Football Club yet. The FA, of course, has a detailed definition of what does and doesn't constitute a director:

"Director" means in respect of any Club, any individual person operating the powers that are usually associated with the powers of a director of a company incorporated under the Companies Act (as a company limited by shares or by guarantee) including, but not limited to: (a) a person exercising direct or indirect control over a corporate director of the Club...

Kettering Town Management Ltd only has one director, but there can be little question that, even though he may claim to only be an advisor,... he is acting in the way that a director would. He has paid off £42,000 of the clubs debts and has been interviewing for the vacant manager's position at the club... It may be down to the FA to make a decision over which they consider him to be, and whether the restrictions placed on directors under the Fit & Proper Persons Test...

Should the club not enter into administration, then Rolls will presumably complete a take-over of the club, but this would surely only leaves only leave Kettering Town's short-term future secured. They will remain at Nene Park in Irthlingborough, eight miles from the town of Kettering, with no plans in place to return to the town".
CHESHIRE NEWS
The Stockport Express tells us that "Didi Hamann's appointment as Stockport County manager last summer raised a few eyebrows, so you can imagine the reaction last month when Peter Withe, a fellow European Cup winner, confirmed he'd be taking charge at Woodley Sports.

Just three days earlier, the non-league outfit discovered that, due to issues with their Lambeth Grove ground, they'd be demoted from the Evo-Stik North – which was already three levels below County. But, speaking from his current home in Perth, Western Australia, Withe stressed that the impending league verdict didn't deter him from committing to a two-year contract with Woodley.

'I was well aware that decision might be made, it's not as if the goalposts have been moved', said the 60-year-old, who scored the only goal as Aston Villa beat Bayern Munich in the 1982 European Cup final. 'It was unfortunate but we've just got to be positive and move on, because in the general scheme of things, it doesn't set the club back in terms of their long-term plans and the way we want to go forward'.

Woodley have taken the bold decision to go full-time and their plans attracted the interest of Withe, who felt it was time to return to coaching in the UK after bringing his golf handicap down to five while in Australia. The Liverpudlian was contacted late last year by Ian Seddon, who was organising a 'This Is Your Life' night for his father Ben, a team-mate of Withe's at Southport in the early 1970s. The pair kept in touch and Seddon, who is now Withe's representative, began looking for potential opportunities.

'It was a case of out of sight, out of mind so we made a website and then got on Twitter and Facebook', explained Withe, who won league titles with Nottingham Forest and Villa as well as 11 England caps. 'There were a few jobs that came up but we felt Woodley Sports was the best option. They've got a three-year business plan and we like what they're trying to do and what they're trying to achieve, building an academy and hoping to progress up the leagues. It's a challenge I wanted to have a go at, it's something I can really get my teeth into.'.

Coaching Woodley may seem a far cry from international management for Withe, who spent seven years coaching Thailand and Indonesia, but he is no stranger to non-league. 'I started out playing part-time at Skelmersdale United and Southport while working on the docks in Liverpool', said Withe, who was director of youth and chief scout at Villa before taking up the Thailand job in 1998.

'Football has changed dramatically, with non-league teams now having academies, but I've no qualms about coaching at this level. Some coaches who've coached at the top level find it difficult coaching players of a lower quality. They ask them to do things they can't physically do. I've coached 12-year-olds up to senior professionals and you can't be looking down on them, you've got to adapt to the level you're coaching at. I've no problems about my ability to do that. I've got the same enthusiasm as when I was 18. I haven't lost any desire to improve and get better, and I feel there's so many things I can still pass on'.

However, most of the players Withe will have at his disposal will be used to top-level coaching, and the club is currently in the process of putting together a squad that will train full-time. The club is focusing on youngsters who've been released by Football League academies and are looking to kick-start their career, although they can also offer accommodation to players wishing to come from overseas. Woodley will be running a full-time operation off the pitch too as their ambitious plans aren't being bankrolled. The club has worked hard to put together a commercial team that will bring in the sponsorship we need', explained Withe, who will be based in Solihull.

'We've got the ways and means to generate our own income and be self-sufficient. We want a system that can produce players for the team now and help them move up the leagues, which will generate sales for the club, something Crewe have done for 30 years. We have to be realistic with our thoughts but with the business plan we've got, we believe it can work'".

Woodley's average league gate last season was eighty-four.
---
16 May 2012
ALTY SIGN CARL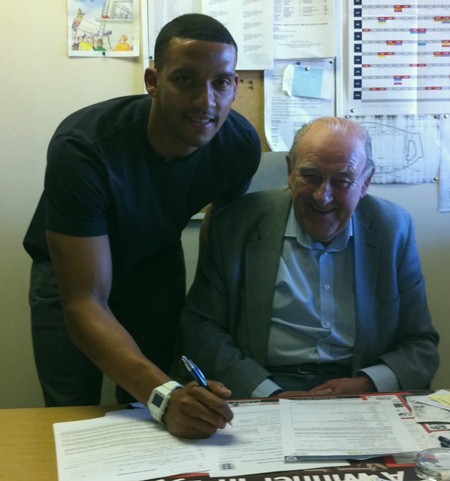 Altrincham FC is pleased to announce the signing, tonight, of 6 feet 2 inch midfielder/centre-back Carl Rodgers, who has spent the last six seasons at AFC Telford United (since 2006-7 season). He rose through the leagues with Telford from the Northern Premier League to the Conference National. Born on 26 March, 1983, his work outside football is as a disc jockey. His previous clubs include Chester City (2002), Caernarfon Town (2002-03), TNS (2003-04) and Colwyn Bay (2004-06).

Pictured, right, Altrincham FC Secretary, Derek Wilshaw witnesses Carl's signature.
PRE-SEASON FRIENDLIES
Five pre-season friendlies for Altrincham FC have so far been arranged in July 2012:
1. Sat. 7.7.11 3pm Away Abbey Hey
2. Sat. 14.7.11 3pm Away Nantwich Town
3. Tue. 17.7.11 7.45pm Home MORECAMBE
4. Sat. 21.7.11 3pm Home BURNLEY XI
5. Thu. 26.7.11 7.45pm Away Trafford
PRESENTATION NIGHTS
Altrincham FC supporters are invited to two presentation nights at Moss Lane:
Youth Team Presentation Night, Wednesday, 30 May 2012.

Alty Youth finished third in the NWYA Premier Division but manager George Heslop and his assistants, Josh Collins and Ant Small, have been delighted to see no fewer than ten of their players progress as far as signing Conference North forms last season. And five of these were named in a league or cup squad.
Ladies' Team Presentation Night, Saturday, 16 June. Under the managership of Keith Edleston, the Ladies laid the roots for a successful team.
YANKEE
The Altrincham FC Saturday Yankee jackpot now stands at £1200. Last week there were five winning "Trebles" each winning £40 for their code holder. The winning code 7672 was unissued. Plenty of behind the scenes work is going on at Moss Lane in the close season. As well as the pitch renovation which started on Monday, the away team dressing room has been gutted and painted and new benching will be installed next week. Meanwhile, Dave Johnson and Jim Vince have completed the bin emptying and washing around the ground. But there is still plenty to do...

So, Altrincham FC invites all of its supporters to come along, please, to help spruce up the Moss Lane ground for the coming season. Two dates have been chosen for this "Operation Tidy Up" but, if you cannot make either date, you are invited to contact the club if you have a couple or more hours free on any other date(s) over the summer as useful jobs can always be found for willing volunteers! The dates when it is hoped to get a number of volunteers together are:
Saturday, 19 May, from 10am to 3pm
Saturday, 9 June, from 10am to 3pm

Whether you are coming on either of these dates or wish to come on a different day, please let the club know in advance so that jobs can be assigned appropriately. The Club can be contacted for this purpose either by phone (0161 928-1045) or by e-mail. The Club relies heavily on volunteers throughout the year so please do consider giving up a few hours for the benefit of your football club, if you possibly can.
BSBN NEWS
BSBN reports that "Worcester City manager Carl Heeley has rubbished reports linking him with the managerial vacancy at Hereford United. Manager Richard O'Kelly recently parted ways the Bulls, who were relegated to the Blue Square Bet Premier this past season, which led to speculation linking Heeley and Stalybridge Celtic boss Jim Harvey with the job.

However, the City tactician has made it clear... [as he] told Worcester News, 'There's been no approach to me or the club regarding the Hereford United vacancy. I am Worcester City manager until anybody tells me otherwise'".

The Northampton Chronicle reported on Tuesday that "George Rolls will hold talks with the Kettering Town (Poppies) Supporters' Trust tonight as he looks to get the club through the summer months. The Poppies' acting chairman has admitted the threat of administration is 'very real' after he confirmed just 74 adult season tickets have been sold for the next campaign. The club are currently without a manager, don't know what league they will be in next season and are on the back of the worst campaign ever in their near 140-year history.

And Rolls again admitted the club might be forced into an 'insolvency act'. However, he will be talking over the issues with Trust chairman Mark Severn and treasurer Michael Quinn this evening.

'The debt the club has is manageable, if given time', Rolls said. 'Unfortunately, the Revenue won't give you that time. They are due another large chunk but we are having to deal with payments to them from 2007, it's quite frankly ridiculous. We are disappointed with the season ticket sales so far but what will be will be. It has been very quiet over the past week and a half or so, which is a big concern. The threat of going into administration is very real. If the club needs to go into an act of insolvency than so be it'".

From the BBC, we learn that "Chairman Peter Swann says he is keen to develop Gainsborough Trinity's young players to be the club's future... Swann told Radio Lincolnshire, 'We have a lot of youngsters in the side we would like to bring though. [Manager] Steve [Housham] and I will sit down and discuss what we need to do to go one better next year. This was a bonus this year and, hopefully, if we keep most of the squad together, which we would like to do, we will learn a lot from this.

I wish we could have done a little bit more for the fans. I don't think we really came to the party. I think when you look at it, we can play a lot better than that, we know that. But listen, they gave 100%, as we have done all season. It has been a great season and, like I said to a few of them, we have to do the same next year'".

According to the North Wales Weekley News, "Colwyn Bay boss Jon Newby says he aims to carry on playing next season. The 33-year-old former Liverpool and Bury striker is looking for the Seagulls to build on a season of consolidation...

Although he only scored six goals last season, (four of those before he took over the managerial chair in October), as compared to 18 the previous season, he had numerous assists and Colwyn Bay always looked a better side from an attacking point of view when he was on the pitch.

'I feel that I can still contribute something as a player and that I probably have a couple more seasons left in me, injuries permitting', he commented this week. He is hoping to strengthen the squad with a couple of key signings and says he has had talks with a number players.

'We have one or two irons in the fire, but it is very early days yet as players want to weigh up their options over the next few weeks before making a decision', said Newby.

Several of last year's squad have already agreed to stay on and the club are hoping to fend off reported interest from Bangor City by offering a contract to attacking full-back Mike Lea, who picked up both the manager's and players' Player of the Season awards last month.

'We have offered Mike what I feel is a very good deal and I am hoping that he will accept', said Newby. Right-back Luke Denson, who has just won the Club Player of the Season award, has been in Scotland recently for trials with Inverness Caledonian Thistle and is expecting a decision this week on whether they are to offer him a full-time contract. 'I would be very sorry to see Luke go, but also delighted for him if he is given a chance to go full-time. He has worked very hard and deserves the opportunity', added Newby".

The Grass Roots Football Show 2012 announces that "With some of the best coaching talent in the country including Phil Brown, Tosh Farrell, Bill Beswick, Tom Bates and Mark Meredith all at the event it will be the biggest weekend of the year for anyone involved in the world of coaching. The FA are in full support of the event this year too, with the FA Zone taking up a large part of the floor plan. The FA Zone will be packed full of interactive football features and FA led coaching content as well as the chance to meet key people from the FA face to face.

Central to the FA Zone will be The Vauxhall Youth Arena – where visitors can enjoy a full programme of interactive demonstrations featuring highly qualified FA coaches. As well as this and in recognition of the great grass roots support of FA Charter Standard Clubs and FA Qualified Coaches, we have special ticket deals for these groups as well as deals on tickets and CPD events available for FA Licensed Coaches..

In addition we have a full programme of content across our arenas, theatres and workshops, as well as the biggest football focused exhibition in the country! Plus if that's not enough, all FA qualified coaches and FA Charter Standard clubs can still get 50% off their tickets".
---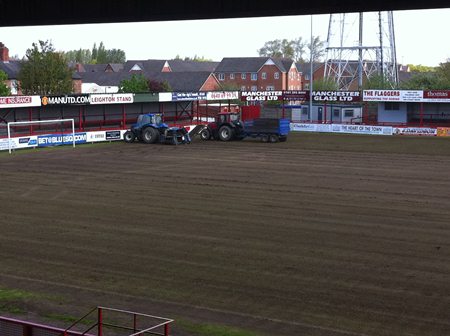 15 May 2012
HELP REQUESTED
As the image, left, from Grahame Rowley, shows, the pitch at Moss Lane is undergoing its annual renovation, under the guidance of groundsman Neil Brown. But behind the scenes, there is a lot more work to be done before the 2012/13 campaign starts.

So, Altrincham FC invites all of its supporters to come along, please, to help spruce up the Moss Lane ground for the coming season. Two dates have been chosen for this "Operation Tidy Up" but, if you cannot make either date, you are invited to contact the club if you have a couple or more hours free on any other date(s) over the summer as useful jobs can always be found for willing volunteers! The dates when it is hoped to get a number of volunteers together are:
Saturday, 19 May, from 10am to 3pm
Saturday, 9 June, from 10am to 3pm

Whether you are coming on either of these dates or wish to come on a different day, please let the club know in advance so that jobs can be assigned appropriately. The Club can be contacted for this purpose either by phone (0161 928-1045) or by e-mail. The Club relies heavily on volunteers throughout the year so please do consider giving up a few hours for the benefit of your football club, if you possibly can.

Thank you in advance for your assistance.
THANK YOU
Chairman, Grahame Rowley, writes:

"On behalf of Altrincham Football Club I would like to thank the many people who made the Beer Festival weekend a giant success for the Club.
Jamie Davidson for sponsoring the entire event.
Manchester Glass for sponsoring the glasses.
All 16 beer barrel Sponsors - keeping costs to a minimum
Gallagher Roofing / Dunham Scaffolding for providing the covered area.
Neil Faulkner for building the beer cask racking
Bob Large for installing additional electrics.
John Glover for advising and helping set up all the beers.
Peter and Steve Foster for their help in the organising, setting up and running.
The Lewis family for all their support and helping out over the weekend.
The stewarding team.
Colin Mitchell, Anthony Wright, Tom Jacobs, Paul Salt, Mike Ford, Martin Howe, Brian Flynn, John & Laura Starkey, John Skelhorn and the Rowley family for their help behind the Real Ale Bar.
Jenny & George Heslop, Darren & Louise Gregory for their help behind the club bar.
Keith Davey, Dawn Abbott, Richie Bentley, Gemma, Matt and Dan for preparing and serving the food.
Keith Edleston for organising and running the Ladies game.
Sandbach FC for agreeing to play our ladies team.
Graham Heathcote for organising the Legends side.
Graham Houghton, Chris & Wendy Bullock and Rachel for helping organise the Junior coaches' side and the Junior football events on Sunday.
Phil Taylor for organising the officials for all the games played over the weekend.

and finally...... Everyone who attended the Festival over the weekend - without your attendance it wouldn't have been the success that it was.

Grahame Rowley".
SALUTING MARK
On Friday, 18 May, in the Sponsors' Lounge at Moss Lane, Altrincham FC will be holding a "Welcome Back to the Old Recruits" evening. It is expected that twelve former Alty players will be in attendance, with proceeds going to the Mark Maddox testimonial fund. Please ring the club (0161 928-1045) or send an e-mail to get your ticket. Tickets are just £15 per head, which includes a chicken and chips meal expertly cooked by club caterer Richie Bentley. The event begins in the bar at 7.30pm with an 8pm start in the Manchester Glass Sponsors' Lounge.
73 GOALS FOR A TENNER!
Alty TV announces "The Altrincham Football Club 2011/2012 Highlights DVD (right). 73 goals packed into 90 minutes of highlights from 19 league home games including 26 of Damian Reeves's record haul of 44 league goals. The DVD also includes full post-season interviews by Brian Flynn with Altrincham Manager, Lee Sinnott, and striker Damian Reeves. Priced at £10 + £2 P&P via Paypal from watermarkfilms.co.uk.
BSBN NEWS
According to the Football Conference, "Boston United full-back Conor Marshall has become the first player to put pen-to-paper on a new deal with the club. The 19-year-old, who impressed following his switch from Brigg Town in January, was offered new terms for the 2012/13 season and has officially signed the paperwork. The former Grimsby Town player made sixteen appearances for the Pilgrims after his mid-season arrival... Marshall's signature is the first of what manager Jason Lee hopes to be a number of players signing new deals".

FC Halifax Town "announce that goalkeeper Simon Eastwood has been released following a one year stay at the club. The stopper signed from Oxford United last year and has been a first team regular all season. However, he has not been offered a new contract for next season. Manager Neil Aspin said, 'I just felt that we needed a change in the goalkeeping department. Simon is only young and has a long career ahead of him. It's quite possible he could move to a higher division but I feel we need changes defensively and this is the first stage of the process... We part on good terms'".

The BBC reports that "Gainsborough Trinity boss Steve Housham says getting so close to winning promotion has made his side determined to come back stronger next season... Housham told BBC Lincolnshire, 'We will pick ourselves up and have another go... The fans should be proud of what we have achieved this season and so should the players. We were so close - it just didn't fall for us. We gave it a right old go and the supporters were fantastic'">

In the Leader, "Chris Pilsbury today gave an assurance that Chester wouldn't turn professional until they become a Conference Premier side. The Blues' chairman revealed that the subject of professionalism had been looked at and discussed by the Chester FC board after the club's back-to-back title-winning campaigns.

Pilsbury admitted Chester were well on track of achieving their objective of Conference Premier status within the next three years and Football League status within the next eight years. 'We are well ahead of schedule in terms of achieving our club objectives, but Chester won't be turning professional until we are members of the Conference Premier Division', he said. 'The Chester FC board have looked at, and discussed, the issue of professionalism, and we believe there is no need to change our part-time status until we are in the Conference Premier'...

He added, 'I am scheduled to meet Neil [Young, manager,] this week to discuss his plans for next season. He has already told me he would like to strengthen the squad with four or five new players because we are now another step up the ladder... Nobody at Chester would expect Neil to do nothing. It is inevitable that new players will be brought in to bolster the squad and increase our hopes of challenging for a play-off place.

I have no doubt that we will be focusing our sights on a top six position in the Conference North, but the thought of a third straight title victory is beyond anyone's wildest dreams... I don't think anyone ever believed we would win back-to-back titles, but we have and that in my opinion is stupendous. To win any league title by 17 points is amazing, and to lose only eight games in two seasons is an incredible statistic. Neil has certainly raised expectations of more success for Chester and in that respect I suppose he hasn't done himself any favours for next season. But there is no pressure as far as I can see because I feel the current squad are well equipped to challenge for a play-off position and anything better than that would be a bonus...

I definitely think Neil Young is the man for the job because he is astute, tough, single-minded, and ambitious."
---
14 May 2012
BEWARE!
Altrincham FC would like to alert all supporters and local companies to the existence of a confidence trickster who is visiting local premises, claiming to be selling advertising space on an Altrincham FC wall chart. The man in question is in his forties, white, and speaks with a Merseyside accent - though, of course, he may have accomplices of a different description. Please do NOT give any money to any such person claiming to represent the Club and note that any cheques intended for the Club should always have "Altrincham FC" as the payee and not an individual's name.
ALTY GLASSES
There are a few souvenir Altrincham FC pint glasses available following the weekend Beer Festival at Moss Lane. If you would like to purchase one they are available at just £2.50 each from the club. Please ring the club (928-1045), send an e-mail, or visit the club offices to get yours. A small image of the glass is here.
SALUTING MARK
On Friday, 18 May, in the Sponsors' Lounge at Moss Lane, Altrincham FC will be holding a "Welcome Back to the Old Recruits" evening. It is expected that twelve former Alty players will be in attendance, with proceeds going to the Mark Maddox testimonial fund. Please ring the club (0161 928-1045) or send an e-mail to get your ticket. Tickets are just £15 per head, which includes a chicken and chips meal expertly cooked by club caterer Richie Bentley. The event begins in the bar at 7.30pm with an 8pm start in the Manchester Glass Sponsors' Lounge.

After the game on Sunday, the Balloon Race in aid of Mark Maddox's testimonial fund was started by Gary Scott and Eddie Hussin, as pictured (left).
PLAY OFFS
Football Conference North play-off:
Gainsborough T. 0 Nuneaton T. 1

Football Conference South play-off:
Dartford 1 Welling United 0

So, Bulls' News reports that "Dartford and Nuneaton will be on the list of clubs the Bulls will face next season after winning their respective play-off finals today... Nuneaton won 1-0 at Gainsborough to return to the fifth tier for the first time since their 2008 liquidation. The Boro went bust in 2008 and the reformed side has had to win three promotions in four seasons to bring the town back to the fifth tier...

For Dartford it has also been a rise up the leagues after financial problems. They went bust in 1992, on the back of Maidstone's failure, and then had a number of temporary homes at the likes of Gravesend and Thurrock before returning to the town in 2006. Three promotions since then have seen the club return to the fifth tier for the first time since 1986".

According to the Football Conference, "Andy Brown's first-half goal was the difference between Nuneaton Town and Gainsborough Trinity... Boro had to defend for much of the 90 minutes in front of the travelling fans in the 3,280 crowd as they defied a Trinity onslaught... Boro were almost always under pressure as they dug deep to earn a place in Conference Premier. The only goal of the game came after 17 minutes when a free-kick floated in was headed past Jason White by Brown.

The second half saw dogged defending from the Boro defence against a Trinity side that saw manager Steve Housham put three strikers on, with Leon Mettam, Paul Connor and Ryan Kendall all looking for that elusive equaliser... It was all Trinity but Nuneaton would not buckle".

And "Dartford booked their place in next season's Blue Square Bet Premier after winning the Kent-derby... against Welling United at Princes Park on Sunday. The sides were eventually separated by Lee Noble's early spectacular 4th minute strike".
ALTY LEGENDS 8 ALTY JUNIORS' COACHES 8
Above, the Alty Legends and Alty Coaches, are seen after the match at Moss Lane.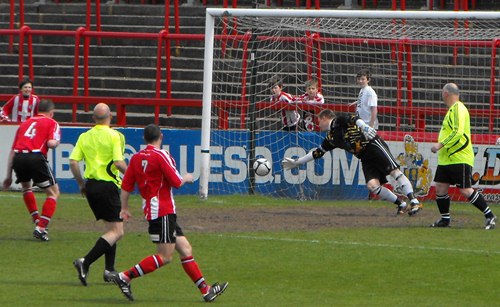 Honours were even at the end of this 70-minute match at Moss Lane, which featured a side of ex-Altrincham players (a.k.a. The Legends) against opposition comprising coaches of the Altrincham FC Juniors' teams. With the Legends 7-0 up early in the second half, the rulebook was torn up and the game ended with 20 Coaches playing 14 Players! The numerical advantage told as the Coaches pulled back the deficit and equalised in the last minute.
The Legends squad was:
1. Charles Heathcote, 2. Stephen Rose, 3. Matt Doughty, 4. Peter Band, 5. Gary Talbot, 6. Edie Hussin, 7. Robbie Lawton, 8. Gary Scott (capt), 9. Colin Potts, 10. Ian Craney, 11. Paul Robertson. Subs: 12. Ged Kielty, 17. Steve Aspinall.
The first half was dominated by the former players as they stroked the ball about. Ian Craney put his side ahead from a good ball played by Paul Robertson (12 mins). From an excellent corner on the left by Robertson, Peter Band arrived in the box with perfect timing to head the second goal past Tom Read in the Coaches' goal (17 mins).
Right: Peter Band (no.4) heads goal number two past Tom Read.
A clever step over by Eddie Hussin from Paul Robertson's low cross from the left allowed Craney a tap-in to make it 3-0 to the Legends (34 mins). Colin Potts broke away to net number four just before the half-time whistle.
The Coaches started the second half by parking the bus in front of goal with a 1-9-1 formation. Nevertheless, they soon got in their first shot on target, but new keeper Peter Band saved it well. But the Coaches soon conceded three more goals. From an Ian Craney cross from the right, Charles Heathcote cushioned the ball back for Eddie Hussin to net. Two minutes later a trademark rocket from Steve Aspinall made it 6-0 and Matt Doughty converted a Craney pass for the seventh goal, ten minutes into the half.
The Coaches now had 17 players on the pitch and the tactic quickly worked as they got forward and won a penalty when goalkeeper Band bowled over the Coaches' Tom Read, the former Alty Youth keeper, who was now playing up front. In a reversal of roles, goalkeeper Read got up and beat defender Band from the spot, 14 minutes into the half.
The Coaches scored again a minute later when Band made a good save but the loose ball was cleverly played by Read to a team-mate, who netted. Robbie Lawton found himself controversially (in his view anyway!) booked before another "legend" joined the game in the form of sponsor, Neil Faulkner. So, with 12 Legands players now pitted against 17 coaches, the score became 7-3, sevnteen minutes into the half. And, three minutes afterwards, a glancing header from Tom Read somehow got past Peter Band's hands into the net.
However, Colin Potts restored a four-goal lead for the Legends, with a header, before Tom Read completed his hat-trick as he chested the ball down before scoring (24 mins). Two more goals before the 30th minute of the half made it 8-7. But the 20-strong Coaches had the last word as the ball was taken round the keeper to make it 8-8. Moments later the final whistle sounded.
It was good to see so many ex-players turning out and all of them showed that whilst their pace may have departed them, their skills remain (largely) intact! The coaches too deserved credit for keeping going when 7-0 down and first-half goalkeeper Tom Read, after his second-half hat-trick, may now be pressing for a place in the outfield positions at his club, Trafford.
OLD BOYS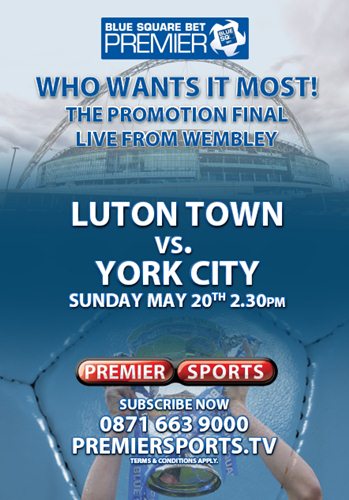 Chester FC report on their testimonial game in memory of Ciaran Geddes, whiuch ended Chester FC (2012) 6 Chester City (2004) 4. During the game, "Chester FC nearly regained the lead as Wes Baynes tried to repeat his heroics from the game against Buxton earlier this season as he struck a shot from just inside the Chester City half, catching Chris MacKenzie off his line but the effort was off target". There were several ex-Alty players in the line-ups, as listed below.

Chester FC Team: Mike Dixon, Wes Baynes, Matty McGinn, George Horan, Michael Taylor, Christian Smith, Levi Mackin, Ash Williams, Gary Powell, Marc Williams, Joe Ormrod. Subs: Jordan Grace, Iain Howard, Alex Brown, Alex Hay, Steff Latham, Michael Powell, Calvin Hughes

Chester City XI Team: Chris MacKenzie, Jamie Heard, Kevin McIntyre, Carl Ruffer, Phil Bolland, Shaun Hessey, Robbie Booth, Ben Davies, Daryl Clare, Jason Manford, Michael Twiss. Subs: Gary Brabin, Billy Stewart, Jimmy Haarhoff, Adam Carden, Eddie Bishop, Colin Woodthorpe, Stuart Beddows, John Bishop, Chris Lightfoot".
BSBN NEWS
An article on the Football Economy site holds up a BSBN side as a model for others. Entitled, "Is there a Histon model?", it says, "Have Histon managed to develop a model for non-league survival at a minimal cost? They have managed to survive in the second tier, despite having a £130,000 budget, which permits a 15-man squad which works out an average of £7,000 per player [?£8,667].
Left: Altrincham FC Club Secretary, Derek Wilshaw, captured by the camera of Colin Mitchell as he works his way through the ales at the Altrincham FC Beer Festival, held over the weekend in conjunction with the Old Market Tavern.
Histon is just to the north of Cambridge and with the intertwined village of Impington is a fast growing area. However, the combined population is short of 10,000 which is quite small to sustain a tier two club, even though some fans come from further afield. They do, however, manage to train five days a week, whereas my third tier side just trains for one night. What helps is that they have access to excellent training facilities at Anglia Polytechnic University and, perhaps more surprisingly, Cambridge University Press. However, the Press has a 'works' side that plays in the Eastern Counties League Division 1".
The Telegraph & Argus reports that "The celebrations after Bradford Park Avenue's promotion play-off success last Sunday lasted long into the night – but the club's directors were back to business the morning after, despite it being a bank holiday...
Director Kevin Hainsworth said, 'It was wonderful to win the game and reach our goal. You don't get days more special than that. Preparation started on Monday morning for next season though because you can't just bask in the glory'...
It ended a three-year quest by the Bradford club to reach the Conference North. They had lost in the two previous play-off campaigns, once after finishing runners-up to neighbours Guiseley, but had learned from that. Hainsworth revealed... 'An awful lot of work went into it behind the scenes. We analysed the previous two play-offs and identified that we had struggled with injuries. Against Boston United and then FC United last year, we had had to win something like our last seven games just to get into the play-offs. It means you don't have a chance to rest players and at this time of year, with hard pitches, the players are going to pick up knocks and sprains. So we made a conscious decision back in January to have a large enough squad to ride out those problems.
At that time it was obvious that no-one was going to catch Chester at the top, so we protected the players as much as possible. We brought experienced lads in to play the odd game here and there and we always felt we would be in the play-offs. The strategy worked to perfection. It wasn't good for the nerves that we left it so late (minutes before a penalty shoot-out) but I think in many ways that made it even better because of the tension. If Rocky had knocked his opponents out in the first round every time, there wouldn't have been 70-odd sequels! It's the triumph over adversity that makes it so worthwhile'".
---
13 May 2012
BEER FESTIVAL DOUBLE BILL - LEGENDS' GAME + PREMIERSHIP FINALE
Today, (Sunday), The Altrincham FC Legends will take on a team of Altrincham FC Juniors' Coaches as part of the Altrincham Beer Festival weekend. The game starts at 1pm and The Legends team includes:

Stuart Coburn, Stephen Rose, Gary Scott, Steve Aspinall, Peter Band, Gary Talbot, Ged Kielty, Ian Craney, Eddie Hussin, Matt Doughty, Robbie Lawton, Colin Potts, Paul Robertson and Charles Heathcote. Jason Gallagher may also play if he can get away from work, whilst Barry Shuttleworth will be in attendance but is unable to play due to a back injury.

Please come along an lend your support. After the game you can watch the Premiership finale in HD in the Noel White Suite at Moss Lane. United and City's games will each be shown - on different screens!

And the Beer Festival itself is going well with plenty of excellent ales to choose from, plus the full range of other drinks stocked by the Club bar. The Harbingers had a very successful gig in the bar on Friday and the music continues throughout the weekend.

TASC's Colin Mitchell reports from the Beer Festival, where he has been selling a football card for Club funds. Colin says, "The winning club was 'Blyth Spartans' and Mr Derek Wilshaw is the lucky winner of the 'Family Size George Foreman Grill'". One of Colin's photos of the Beer Festival is below...
GET WELL, KEITH
All at Altrincham FC wish Catering Manager, Keith Davey, a quick recovery after he was taken into hospital early on Saturday morning.
ALTRINCHAM FC LADIES 1 SANDBACH LADIES 2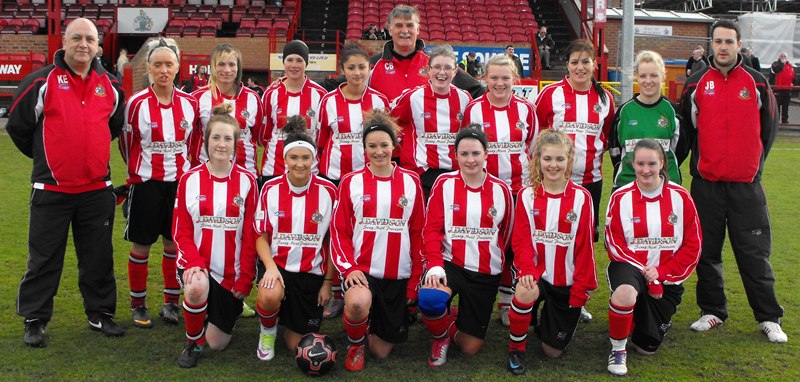 Above: Altrincham FC Ladies
Saturday evening's match during the Altrincham FC Beer Festival, organised in conjunction with The Old Market Tavern, was a friendly between Altrincham FC Ladies and their counterparts from Sandbach. The visitors ran out narrow winners thanks to a goal midway through the second half by their number 10, in a game which proved a good advert for the ladies' game, with barely a foul, no dissent and some impressive play from both sides.

After Sandbach had opened the game marginally the better side, Altrincham had taken a 14th minute lead when a Sandbach defender headed an excellent cross from the right into her own net. Altrincham then enjoyed an impressive spell, forcing a couple of good saves from the Sandbach keeper. But four Sandbach corners approaching the half hour mark underlined their resurgence and they levelled the scores in the 33rd minute when they seized on defensive hesitancy to score through their number five.

With the first half going into added time, Alty's number ten suffered a serious ligament injury as she stretched to attempt a shot and, sadly, a stretcher was needed followed by the summoning of an ambulance to take her to hospital, from where we hope she will make a speedy recovery. After Sandbach's second goal, Alty went close with a 30-yarder and, in the closing minutes, Sandbach had a well-worked goal correctly ruled out for offside by referee Phil Taylor and his assistant.

Altrincham FC's chairman, Grahame Rowley, awarded a trophy to the winners and, on behalf of the club, he thanked the visitors for making the journey to play the game.
BSBN NEWS
Hyde say that "Allan Kenyon has stepped down as Hyde FC chairman and resigned from the board due to business commitments. Allan has released the following statement to the supporters:

'It has been a privilege to be chairman of Hyde FC in a season where we have seen some fantastic football resulting in our players becoming Blue Square Bet North champions for the first time in our history. It is with deep regret that I have decided to step down as chairman and board member as of Friday 11th May. Due to business commitments I can no longer give the time necessary to fully perform the duties of chairman as I would wish.

I was very saddened that [management duo] Gary and Martyn felt that they had to leave the club due to budget restraints but, as I have always said, the budget must reflect the income. I would like to say thank you to John Manship for his financial commitment two years ago, without it we would not have survived to witness this special season...

Andrew McAnulty was elevated from supporters club secretary to football club secretary overnight. This is by far the hardest job in the club and Andrew performed it faultlessly. Andrew's shrewdness in rearranging games early on in the season, I think, played a part in helping us win the league'...

Also, as announced at Monday's supporters' meeting, Tigers chief executive Ted Davies has resigned from the board to concentrate on his role in developing the club's new football academy."

Meanwhile, "Nuneaton Town have been handed a welcome boost before the play-off final with the news flying forward Wes York has agreed a new deal. The 18-year-old will miss Sunday's big game at Gainsborough Trinity with a knee injury, but he has pledged his immediate future to the club after shaking hands on a one-year contract with the option of a second.
Left: Colin Mitchell's camera catches two happy customers at the Beer Festival - obviously only one of them could consume the ale but there are plenty of soft drink options available too.
Manager Kevin Wilkin says he is thrilled to have retained a player who attracted Premier League interest after a blistering start to his Boro career. He said, 'I'm delighted. Wes came in with a real blaze. He got a load of goals and assists in those first few games when he signed at the start of November. They dried up a bit when we moved him to the right wing but his all round contribution remained excellent. He gave the team real balance out there and he is learning all the time'...
Clubs including Birmingham City, Watford and Burton Albion regularly sent scouts to monitor his progress until he picked up a knee injury last month. He underwent knee surgery last Wednesday and has started a six-week recovery programme, which means he should be back for the start of pre-season... 'I've no doubt he can do well at the level above, if we go up. He's got pace and bags of ability. The one thing you want, but can't teach, is pace and he's got it in abundance. He's also a level headed lad with a great attitude'", he told the Nuneaton News
The Oxford Mail reports that "Mike Ford, manager of promoted Oxford City, says he will do all he can to retain the services of keeper Jason Mooney and striker Aaron Woodley, but admits it could be tough. They were part of the City side that clinched promotion...
Mooney, 22, was due to return to Wycombe Wanderers, where he was a first-year professional, after completing a season-long loan at Court Place Farm, but was released by manager Gary Waddock following their relegation. Woodley, 19, who was on loan from Oxford United, was let go by manager Chris Wilder after making three senior appearances for the U's in 2009/10.
'I was surprised Jason was released by Wycombe, because I think he is good enough to be their No 2 at that level', said Ford. 'He now needs to find himself a new job and Aaron is at a stage in his career where he needs to be playing football on a regular basis, whether it's here or somewhere else. They will be difficult to keep, because both will be much sought-after'.
However, Ford admits City's elevation has made them a more attractive proposition for potential players. He said, 'We've already had a few emails, from home and abroad, from clubs asking about sending players to us. Senior clubs are more willing to loan players out to Conference clubs than Southern League ones'".
Whilst Oxford City may not end up in our division, news of more certain opponents comes from the Harrogate Advertiser, which says that "Their season might be over but, for Harrogate Town boss Simon Weaver, the hard work has only just begun. The 2012/13 campaign promises to be a cracker with FC Halifax, Guiseley and Bradford Park Avenue all in the mix. Off the pitch work has started on the levelling of the Wetherby Road playing surface, which will mean playing the majority of pre-season fixtures away.
'There's lots going on', said Weaver. 'The ground work is well underway. There are going to be some good fixtures coming up. We're looking at games against Knaresborough Town, Harrogate Railway, Ossett Albion, Tadcaster Albion, Middlesbrough and Blackburn, which will be confirmed later. Then there will be a game to officially open the new pitch. We're also set for a tour to Belfast. I did that at Lincoln and it was good. We'll get a flight over, play a few games, have a night out, and then come back, we're all looking forward to that'.
Weaver has pencilled in a fixtures against well known NI side, Crusaders, on July 28. He also revealed the club will release more news about pre-season signings next week".
Still in Yorkshire, the Wharfedale Advertiser tells us that "After drawing the first leg 1-1 of their Blue Square Bet North play-off semi-final at Nuneaton Town last Wednesday, the Lions were beaten by the only goal in extra time in Sunday's second leg at Nether-moor.
'It still hurts', confessed Guiseley's community director Phil Rogerson, 'but maybe not quite as much as last season, when we got to the play-off final against AFC Telford United and were within ten minutes of getting into the Conference before losing 3-2'...
As for this season, Rogerson said, 'Nuneaton did us for pace but we have had a long season... It is galling knowing that we were the second best team by 11 points but haven't been promoted. Hyde lost out earlier in the FA Trophy than we did and they had the rub of the green with the weather as we were three games behind them at one stage and we had one of our festive games against Harrogate Town called off. We also had to play the West Riding County FA Cup final on the Wednesday after a Bank Holiday Monday. It seems as if the fates were against us'...
At least staying in the same division will mean derbies against FC Halifax Town and promoted Bradford Park Avenue next season, as well as games against Kettering and Chester... He said, 'If you think where we have come from in the last five or six years, then we have every right to be proud... We have had a 26 per cent rise in attendances, which is the biggest in the division. I would like to think that that is down to the style of football that we play but also the effect of social media such as Twitter and Facebook... It is to our credit that we aren't just a parochial football club. We are putting ourselves out there, and we are also moving forward off the pitch as well with our new stand, and there are further plans for next season so that when we do get into the Conference we will be all right'".
---
12 May 2012
LADIES' GAME AT BEER FESTIVAL
The Altrincham FC Beer Festival, run in conjunction with the Old Market Tavern, includes today the Altrincham Ladies v Sandbach Ladies friendly game (6pm). This and the other events today are listed on the image below. Entry to the Festival (including the match and other entertainment) is free, so please come along and enjoy the match... and the beer. Wine and the full range of other drinks as well as food are also available, and the club bar will be open.
ALTY STAFF 4 ALTY SUPPORTERS 2

Above, the Staff and Supporters' teams are pictured after Friday night's annual clash at Moss Lane.
The annual Staff v Supporters game at Moss Lane ended in a 4-2 win for the Staff, who maintained manager John Skelhorn's unbeaten record.
The game got off to a bright start with each side scoring in the first five minutes. The Staff took the lead in the third minute when Chris Rowley scored from close range after Alty's assistant boss Neil Tolson had got in a good cross from the right. The Supporters equalised two minutes later with an excellent volley from a Ryan Barry corner.
The Staff took the lead when Neil Tolson's fine header from a Matt Day cross from the left flew into the net off the underside of the bar (22 mins). The Staff were fielding four goalkeepers - Tom Reid, (who works for the Altrincham FC Community scheme), between the posts and fellow custodians Ian Senior, Chris Rowley and Stuart Coburn in outfield positions. And it was one of them, Stuart Coburn who made it 3-1 with a superb shot from outside the box after 41 minutes.
Above, left: Stuart Coburn celebrates his goal. Right: The Staff side celebrates its win.
Neil Tolson made it 4-1, six minutes into the second half when hesitation in the Supporters' penalty area allowed Matt Day to feed Neil Tolson for his second goal of the match. The Supporters spent much of the second half on the front foot and finally got some reward in injury time when Tom Jacobs was ruthlessly scythed down inside the box by Altrincham's joint Press and Media Officer, Brian Flynn. Tom got up to convert the spot kick and the game ended soon afterwards, allowing the spectators to return to the serious business of the Altrincham FC Beer Festival, to the musical accompaniment of The Harbingers.
Staff v Supporters squads:
STAFF: Manager, John Skelhorn, 1. Tom Read, 2. Alan Ainsley, 3. Steve Foster, 4. Ian Senior, 5. Grahame Rowley, 6. James Dawson, 7. Richie Bentley, 8. Sam Heathcote, 9. Neil Tolson, 10. Chris Rowley, 11. Matt Day, 12. Danny Fishwick, 14. Luke Pickering, 15. Stuart Coburn, 16. Dan Martell, 17. Josh Collins, Brian Flynn, Gavin Rathbone.
SUPPORTERS: Manager, Martin Jordan, 1. Alex Pugh, 2. Jack Lawley, 3. Jack Jolley, 4. Chris Hewitt, 21. Matthew Turpin, 20. Tom Jacobs, 7. Tim Ainsworth, 8. Dan Cashin, 9. Jon Pentry, 10. Ollie Needham, 11. Andy Topping, 12. Cal Shelmerdine, 14. Ryan Barry, 15. Dave Fishwick, 16. Matt Lamey, 17. Leighton Wright.
BSBN NEWS
The Hinckley Times reports that "Hinckley United will discover which league they will play in next season when the FA put together the league structure on Tuesday... The Knitters could escape the drop, should Darlington be demoted two leagues due to their financial problems over the last 12 months, as expected. If the Conference side are forced to start the 2012/13 campaign in the Evo-Stik Southern League Premier Division, this would free up a space in the Blue Square North for Hinckley and see them avoid becoming the team with the highest amount of points to be relegated from the division".

According to the Coventry Telegraph, "Sunday's play-off final will define Nuneaton Town's season says manager Kevin Wilkin as battle-scarred Boro go to Gainsborough Trinity looking book a place in the Football Conference. Boro, who have been beaten twice this term by their Lincolnshire hosts, go into the do-or-die tie with confidence high and Wilkin hopeful of making it third time lucky and getting a victory over Trinity.

Twelve months ago, Boro lost out to AFC Telford in the play-off semi-final and missed the chance to contest the showpiece for a Conference spot but since then Wilkin's well-laid plans have come to fruition. And now he's just one game at Northolme away from bringing back top-level non-league football to Nuneaton after nine years on the fringes...

Few remember losers but the Town chief, in his sixth term in office, is positive. He said, 'This is our cup final. Nothing matters now, just the result of this one game and we go into it in a great frame of mind after our brilliant end-of-season run into the play-offs and the superb performance in beating Guiseley last Sunday to seal our place against Gainsborough... It's not been easy on or off the pitch for us one way or another but the lads have done terrific'...

Wilkin has no injury worries with Mark Albrighton set to return to the squad after missing the 1-0 win over Guiseley due to a family illness... 'We know what it's like to lose in the play-offs. It was pure hell and a real kick in the teeth. We want this badly and that's why I think we will win'".

From Solihull Moors we learn that the "Moors are pleased to announce that a number of players have agreed terms for the 2012/13 season. Having confirmed the new backroom staff, Manager Marcus Bignot has also been quick to finalise deals with many of the current first team squad.

Players' Player of the Year, [goalkeeper] Jasbir Singh, has been offered a new contract, and Bignot has also secured the services of Supporters' Association Player of the Year, Dominic Langdon, along with fellow defenders Stuart Pierpoint and Danny Spencer, all of whom have put pen to paper on new deals. They will be joined in the squad by Midfielders: Andre Francis, Jordan Fitzpatrick, Dean Bennett and Junior English, along with Forwards: Ryan Beswick, Michael Blackwood, Justin Marsden and Lee Morris who have all committed to Solihull Moors FC for another season.

Discussions are ongoing with all the other remaining squad members including Club Captain, Phil Midworth, and the club hopes to conclude these talks in due course. A number of our U21 players have also signed for the Club. Alex Price, Steve Jackson, Alando Lewis and goalkeeper Sheridan Martinez will be given the opportunity to stake a claim for a first team position next season".
---
11 May 2012
LEGENDS' GAME
The Altrincham FC Legends will take on a team of Altrincham FC Juniors' Coaches as part of the Altrincham Beer Festival weekend. The game is at 1pm on Sunday, 13 May, at Moss Lane. The Legends team includes:

Stuart Coburn, Stephen Rose, Gary Scott, Steve Aspinall, Peter Band, Gary Talbot, Ged Kielty, Ian Craney, Eddie Hussin, Matt Doughty, Robbie Lawton, Colin Potts, Paul Robertson and Charles Heathcote. Jason Gallagher may also play if he can get away from work, whilst Barry Shuttleworth will be in attendance but is unable to play due to a back injury.

Please come along an lend your support.

Before that, don't forget the Staff v Supporters' game tonight at 7pm. Free entry to the game and the beer festival applies.
BEER FESTIVAL OPENS
The poster, above right, gives details of the Beer Festival to be held at Moss Lane from Friday till Sunday (11th to 13th May) and, below, is a list of the ales which will be available. Entry to the festival and its events is FREE and the beers will include...
Phoenix Arizona 4.1%
Phoenix Wobbly Bob 6%
Timothy Taylor's Landlord 4.3%
George Wright Drunken Duck 3.9%
Northern Lights 5.1%
Coach House Gunpowder Mild 3.8%
Coach House Blueberry 5%
Facer's DHB 4.3%
Hornbeam Lemon Blossom
Lymestone Stone Faced 4%
Lymestone Stone Cutter 3.7%
Northern Navajo 3.9%
Blackmere Gold 4.3%
Cheshire Gold 4.1%
Citrus Temptation 4.2%
Pale Gale Ale 4.4%
Tornado 4.4%
3-4 different ciders will also be on sale.

For the Beer Festival the only open entrance will be the gate alongside the Noel White Suite on Moss Lane (to the left of the main stand as you look from Moss Lane). The gate will be open (with free entrance) one hour before the first event each day, and the Bar will be open half an hour before the first event.

And Keith Edleston, manager of Altrincham FC Ladies, says "We are playing Sandbach United on Saturday 12th May at Moss Lane 6pm kick off". This game is part of the Altrincham FC beer festival which starts on Friday evening with the annual Alty Staff v SUpporters game. That game kicks off at 7pm. Entry is free to both games as well as to the beer festival.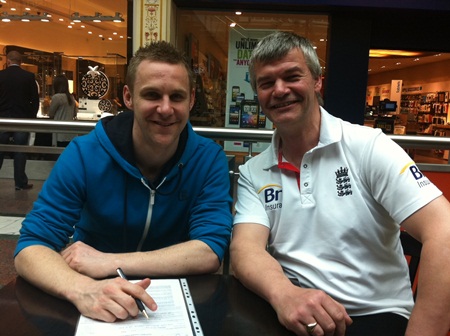 NICKY SIGNS UP
In the adjacent photo, we see a sight to gladden Alty hearts as popular wingman, Nicky Clee, meets chairman Grahame Rowley and signs up for his fourth season at Moss Lane.

News of one of Nicky's Altrincham team mates comes from the Doncaster Free Press says that "English football's top scorer [is] on Rovers' radar. Doncaster Rovers are poised to offer Altrincham hot shot Damian Reeves the opportunity to join his hometown club. The prolific 26-year-old striker, who lives and works in Doncaster, is out of contract this summer.

He is expected to leave the Blue Square Bet North side after finishing the season as the highest scorer in English football. Reeves, a self-employed plasterer, has covered himself in glory on the non-league circuit after netting more than a goal a game for Altrincham over the last season. The former Leeds United trainee finished the 2011/12 campaign with 44 league goals, including a club record of scoring in ten successive league games.

His goalscoring exploits have not gone unnoticed by Dean Saunders - whose priority in the transfer window is to find a replacement for marksman Billy Sharp. Saunders wants to sign at least two strikers and hopes to convince Reeves, who is aware of Rovers' interest, that his future lies at the Keepmoat Stadium."

And the Sporting Life adds that "Doncaster manager Dean Saunders has expressed an interest in signing Altrincham striker Damian Reeves. The 26-year-old has scored 63 times in 79 starts for the Blues Square Bet North outfit...

'I've watched Reeves, who is an interesting player', he told Doncaster's official website."
BSBN NEWS
According to BSBN, "Gainsborough Trinity chairman Peter Swann says winning promotion to the Blue Square Bet Premier would provide a massive financial boost for the club. Trinity still need to overcome Nuneaton Town in the Blue Square Bet North play-off final on Sunday before they can consider the financial benefits of earning promotion.

However, that hasn't stopped Swann from considering the possibilities... Swann told the Lincolnshire Echo, 'Promotion would be worth around £250,000 to us. The biggest benefit to us would be the bigger gates, especially with who is in that division, with the likes of Lincoln, Grimsby etc. You have some really big sides in the Blue Square Bet Premier and undoubtedly they would bring large support. For the Lincoln match alone you are looking at a crowd of around 3,500.

Let's not forget we have the potential of being on TV and merchandise sales too, which would also be worth money. But I think, just for the area alone, it would be fantastic to have clubs with large support coming to the town'.

And Swann has also revealed that the club will consider converting to a full-time operation if they are promoted to the Blue Square Bet Premier. He added, 'It would be something we would consider especially in terms of coaching the kids which is what we want to do next season. We are probably a year early from where I actually envisaged us to be, so if we do win promotion we will have to look at it. The players have been coming in Mondays, Tuesdays and Thursdays and, besides, some of the players don't have another job anyway. But I think if we did get the new stadium, then the plan would be to go to two days and two nights which would be near enough full-time'".

Also from BSBN we learn that "Vauxhall Motors chairman Alan Bartlam has heaped praise on manager Carl Macauley for managing to steer the Motors clear of relegation. Macauley parted ways with the Blue Square Bet North outfit on 26 May 2011, but returned to the hotseat at Rivacre Park just four months later.

The Motors boss went on to [win] 13 points from the last eight games of the Blue Square Bet North campaign, which saw Vauxhall finish two points clear of relegated Hinckley United... He told the Ellesmere Port Pioneer, 'Carl has done a fantastic job, a phenomenal job. He has made the difference since coming back to the club and it was a difference we desperately needed'".

Meanwhile, "Worcester City have further underlined their intention to be a major force in Blue Square Bet North next season by securing Tom Thorley for another campaign. The influential 22-year-old midfielder has agreed to a third term at St George's Lane after starting 86 games in the past two seasons. Along with striker Mike Symons, who has also pledged himself to City for 2012/13, Thorley has been one of the key performers in establishing Carl Heeley's team as play-off contenders.

After representing Great Britain at the World University Games in China last August, he went on to net eight goals in helping Worcester finish seventh in the table, six of which came from the penalty spot. Due to begin a teaching job in Stafford after completing his studies at the University of Worcester, Thorley is highly regarded by City and Heeley is delighted to have him on board.

The Worcester manager said, 'The key thing with Tom was that he wanted to stay. He's enjoyed his time at Worcester and we are glad he feels like that and we wanted him to stay as well. Him and Kevin O'Connor make us tick and Tom will get a goal. He's stepped up and been the regular penalty-taker so he's a big player for us. Tom is a manager's dream — he's first to turn up for training and he plays lots of games. He's got everything you look for in a footballer and he's also a smashing lad as well. You couldn't wish for a better non-league player. He got the recognition he deserved in the student games and he's a key signing'", the manager told the Worcester News.

Worrcester City themselves add that "Rob Elvins, Tom Thorley and Matt Birley have all committed to Worcester City for the 2012/13 Season, the last at St Georges Lane. Rob Elvins who recently played his 100th City game, Tom Thorley who was at Worcester University until recently and Matt Birley join Mike Symons, Jacob Rowe, Matt Sargeant, Jimmy Dormand, Michael Taylor and Stuart Whitehead, meaning City are near to keeping the majority of last Season's squad.

Manager Carl Heeley said, 'We are delighted that Rob, Tom and Matt are staying with us for next season along with the players who have already signed. I am also pleased that we look set to keep the majority of the squad for next season which can only be of benefit'".

Elsewhere, "Oxford City, just promoted from the Evo-Stik Southern League Premier Division, will have to wait until May 25 to find out which division of the Blue Square Bet Conference they will play in next season... The issue will be discussed at an FA Alliance sub committee meeting on May 15 and is set to be rubber-stamped the following week.

City chairman Brian Cox said, 'Hopefully, we are going to be in the Blue Square South rather than the north. Even then, there is a fair amount of travelling. There are plus and minuses – obviously you get a lot better gates, but then you've got the costs of the travelling against it. But you're not going to turn it down... What I like is that we have a lot of young lads here. You saw two goalscorers on Monday, Kynan (Isaac) and Albi (Skendi). They're 18-year-olds who can play at this level, and we can only go forward. I don't think there is much to fear next season and with our youngsters, I think the future looks bright'.

Meanwhile, City secretary John Shepperd confirmed that Court Place Farm will be able to host Conference South or North matches next season. He said, 'We have been given a C grading, which means Conference football can be played there. However, we have to have a B grading by March 31 next year so we will have to carry out a number of improvements'" reportsthe Oxford Mail.

However, in the Herts & Essex Observer we read that "Blues' boss Rod Stringer is praying common sense prevails and Bishop's Stortford FC are returned to the Blue Square Bet South for the 2012-13 season. Stringer thinks newly-promoted Oxford City should take Stortford's place in Blue Square Bet North. But they are at least four miles further south than Stortford.

Stortford were catapulted into the North for the 2011-12 season due to a shortage of North England teams at this level of the non-League pyramid, mainly because of the demise of cash-crippled Rushden & Diamonds. And in an echo of last season, Darlington are now in financial trouble and may have to drop down three divisions. This doesn't do Stortford any favours - it only frees up an extra place in Blue Square Bet North and could reprieve relegated Hinckley.

Blues' boss Rod Stringer felt last year was unavoidable but something should be done this time round. He said,'They [the Football Conference board] did not have an option last year. It happened midway through the pre-season but this time there is the whole of the close season to sort it out. There are only four or five miles in it [Oxford being further south than Stortford]. Travelling wise for Oxford, teams like Solihull, Gloucester City and Worcester City are a lot closer than we are'.

He added, 'Our closest game is 45 minutes away [in Histon] and after that the next closest game is two hours. I bet Dover would rather travel to us than to Oxford. We could [if playing in the southern division] have derbies against the likes of Hornchurch and Billericay. I'm sure sides in the North would not have to stay over if they went to Oxford rather than if they came to us'.

With too few North England teams enjoying success at Step 3, Stortford have been left facing another season of expensive travelling which threatens the very existence of the club. Stortford's last hope came when Lowestoft Town lost to Hornchurch in the Ryman play-off final. The Suffolk side would have automatically gone into Blue Square Bet North.

Oxford beat Cambridge City (another team north of Stortford) in their semi-final, before defeating Hampshire-based AFC Totton 4-2 in the play-off final on Bank Holiday Monday. The six teams promoted to Step 2 from the three feeder leagues – the Evo-Stick Northern League, Ryman League and Evo-Stick Southern League - are: Chester City, Bradford Park Avenue and Brackley Town (who should go into the North) plus Oxford, Billericay Town and Hornchurch (who should go to the South).

But if any more Northern teams go bust, even Stortford's neighbours Chelmsford City could be sucked into the North. This is mere speculation at this stage and Football Conference General Manager Dennis Strudwick told the Observer, 'The FA will be releasing the teams for the leagues on Tuesday next week. The Conference's annual meeting will be held in early June, at which the constitution of all three divisions will be ratified'".

According to the BBC "Forest Green Rovers have signed Stalybridge Celtic striker Phil Marsh on a free transfer. The 25-year-old, who made one appearance for Manchester United in 2006, scored 22 goals for Blue Square Bet North Celtic this season. e has signed a two-year deal... Marsh also had a spell at Blackpool, without playing a game, and went on to play for Northwich, Hyde, Leigh and FC United of Manchester".

The Manchester Evening News informs us that "New Hyde boss Scott McNiven says he's ready to take on the challenge of keeping the Tigers in Blue Square Bet Premier next term on a wage-bill described by his predecessor, Gary Lowe, as 'unworkable'. McNiven is the surprise choice to lead Hyde into their historic first season in non-League football's top-flight after Lowe stunned the Tameside club by quitting within a fortnight of steering them to promotion as Blue Square Bet North champions.

Lowe's shock resignation was prompted by his failure to agree a budget with Hyde's owner, John Manship, who set a figure which the former Curzon Ashton chief said gave him little or no chance of keeping the Tigers up. But 33-year-old ex-Oldham defender McNiven, who had a successful spell as Hyde's caretaker-manager a year ago but left when Lowe took over, insists he's not daunted by the prospect of working within the confines of what's likely to be the national Conference's smallest pay package.

He said, 'Only time will tell if Gary Lowe was right, but me and my assistant, Gavin McCann, are ready to rise to the challenge set for us by Hyde even though we know the budget here will probably be the tightest in the division. I know what Hyde fans want and I certainly know what the owner wants. I'll keep my expectations private, but me and Gavin will certainly be looking to keep Hyde in the national Conference and, hopefully, make an impact.

It's a terrific chance for us both – and we're thrilled to have been offered it'. The Lytham St Anne's-based pair are lifelong friends, having first played football together as seven-year-olds, with McCann going on to clock up more than 300 Premier League appearances for Everton, Sunderland, Aston Villa and Bolton while also being capped once for England, against Spain in 2001.

McNiven added, 'It's a real coup to have attracted Gavin to Hyde. Not only does he have vast experience of playing at the highest level, he's also close to becoming a UEFA 'A' licensed coach. He and I will be looking to keep as many of Hyde's championship-winning squad as possible, while also exploring opportunities to strengthen. You don't have a season like Hyde have just had without having a great team spirit, so, hopefully, we can keep the nucleus of the squad together'".
---
10 May 2012
FROM POINTS TO PINTS
The Sale and Altrincham Messenger carries Alty joint Press & Media Officer John Edwards's report that "Altrincham switch their focus from points to pints this weekend as they prepare to stage their eagerly-awaited Beer Festival at Moss Lane, from Friday evening to Sunday night.

With their Blue Square Conference North campaign over, Alty are throwing open their doors to fans of beer, football or just fun activities for all the family, in an initiative aimed at reinforcing their community club image.

Admission is free, via the gate alongside the Noel White Suite on Moss Lane, and Alty are hoping aficionados of beer at its best might be tempted by a choice of no fewer than 18 real ales and ciders.

Gates open at 6pm on Friday, with the annual Staff v Supporters game kicking off an hour later and Harbingers Band performing from 9pm. They reopen at 2pm on Saturday, ahead of an afternoon and evening of more football and music, including Altrincham Ladies' match with Sandbach (6pm).

A family fun day on Sunday, featuring a bouncy castle and ice cream van, rounds off one of the major weekends on Alty's social calendar, with games involving junior and past players starting at 10am, a barbecue scheduled for 2pm and a balloon race being staged later in the afternoon.

Manager Lee Sinnott has begun work on reshaping his squad for next season, with Marlon Broomes, James Holden, Mark Lynch, John Miles and Michael Twiss all released and on-loan full-back Kieran Walmsley returning to Kendal Town.

Terms have been agreed for next season with Nicky Clee, Stuart Coburn, Shaun Densmore, James Lawrie, Chris Lynch, Leighton McGivern, Scott Phelan, Simon Richman, Sam Grimshaw, Adam Reid and Duncan Watmore, while negotiations are continuing with several others.

Alty have also marked Geoff Goodwin's eight-year reign as chairman, during which time he helped haul the club back from the brink and clear debts that were threatening their existence, by offering him a life vice-presidency, which he has accepted."
ADVERTISER UPDATE
The Advertiser tells us that "Altrincham boss Lee Sinnott has released five players as he prepares for a summer of defensive re-building work. And two of those who have been freed are themselves defenders, with Sinnott having called time on the Moss Lane careers of ex-Blackburn centre-half Marlon Broomes and one-time United reserve-team right-back Mark Lynch.

Striker[?] John Miles, who switched to Alty from Stockport County in February along with Lynch, has also been released together with former FC United midfielder Jimmy Holden. Making up the freed quintet is ex-Morecambe front man Michael Twiss – the only one of the five who was with the Robins at the start of the season, having joined them in the summer of 2010. A sixth player, loanee Kieran Walmsley, has also left Alty to return to his parent club, Kendal.

Altrincham have also revealed that no fewer than 11 players have already agreed terms for next season, while talks with others remain ongoing. Heading the list of those who have committed for a further 12 months are skipper Shaun Densmore and veteran goalkeeper Stuart Coburn. The others are Nicky Clee, James Lawrie, Chris Lynch, Leighton McGivern, Scott Phelan and Simon Richman plus youth-teamers Duncan Watmore, Adam Reid and Sam Grimshaw, who have each signed senior forms.

But it's the future of Alty's 44-goal top scorer Damian Reeves, one of non-League's hottest properties, which will be uppermost in the thoughts of Robins' fans. Sinnott is desperately hoping to persuade 26-year-old Reeves to stay but, with his contract about to expire, will be powerless to prevent the Doncaster-based sharp-shooter leaving if a bigger club comes knocking.

Meanwhile, Altrincham are holding a tribute dinner for former chairman Noel White at the Mercure Bowdon Hotel on Thursday May 31. The event, which will feature celebrity guests and live entertainment, will mark a distinguished football career spanning more than six decades which also saw White serve as Liverpool's chairman as well as filling a host of senior FA roles. For tickets, priced £30, ring Moss Lane during office hours on 928 1045.

Alty, who have just made another of their ex-chairmen, Geoff Goodwin, a life vice-president in recognition of his services, are joining forces with local pub The Old Market Tavern to stage a beer festival this weekend. Events kick off at 7pm on Friday with a staff versus supporters football match and will continue throughout Saturday and Sunday."
BSBN NEWS
According to the Football Conference, "England `C` manager Paul Fairclough has named eight new faces... in his eighteen-man squad for what will be a very difficult International Challenge Trophy Group A fixture with Russia. The match will be played in the Khimky Arena, the home of the legendary Moscow Dynamo, on Tuesday, 5th June.

In addition, three players from the Conference North are also making their first appearance in the squad in the shape of Guiseley's Simon Ainge, Stalybridge Celtic's Stephen Brogan and Vauxhall Motors' Josh Wilson who all receive call-ups after consistent performances during the season. The remaining two new faces are Luton Town's exciting striker Andre Gray and the Braintree Town 'keeper Nathan McDonald".

The England C full squad also includes ex-Alty man Andy Owens of Southport.

BSBN reports that "FC Halifax Town chairman David Bosomworth says there is a lot of hard work ahead for everyone connected to the club in the coming months. The Shaymen did well to earn a play-off berth in the 2011/12 campaign, but it was not to be for Neil Aspin's men as they were defeated by Gainsborough Trinity over two legs...

Bosomworth says they can now start planning for the 2012/13 season. He told the Halifax Courier, 'It has been massively difficult to plan for next year. This was our first experience of play-offs and other clubs have already had discussions with existing players and spoken to incoming players. We know where we want to be and we will now knuckle down. We have the nucleus of a squad and Neil (manager Aspin) knows what he wants to do to strengthen it in the summer... There will be a lot of work to do in a short space of time."

AFC Fylde confirm that their "First-team Coach Scott McNiven has returned to his former club Hyde Utd as their new Manager. McNiven, who enjoyed a successful spell as player and as Caretaker Manager with the Blue Square Premier newboys previously, has landed the job in a hectic 24 hours after Gary Lowe quit as Hyde Boss over the weekend...

McNiven explains, 'It all came out of the blue over the last couple of days and the Hyde Chairman called me and asked if I would be interested in talks to become their new manager. It is a fantastic opportunity for me to get into management and to do it at Conference level is fantastic so it didn't take me long to take the opportunity really. I enjoyed it at Hyde last time I was there as Joint Caretaker manager with Steve Halford (Now Mossley Manager) and we kept the club in Blue Square North.

Despite keeping them up, the club then opted to go for another manager in the close season last summer - but that's football sometimes! I'm relishing the chance now to show what I can do and I've got my own ideas of how I'd like to do things. I came to Fylde last summer after Kelham O'Hanlon offered me the chance to become 1st Team Coach, which was great, and despite Kelham moving on Dave Challinor and Colin Woodthorpe came in and kept me on when they could have easily changed things. That was great for me and I've enjoyed every minute working with them both.

Chally is a Football League Manager in the making for me so I've picked up some good things from him and from Colin too. I've enjoyed this season at Fylde and I'm sure they will continue to take the club forward through the Pyramid'.

McNiven has added Gavin McCann as his number 2 at Ewen Fields, the former Everton, Sunderland and Bolton Wanderers midfielder, who has recently retired from the game through an ankle injury, to focus on coaching. He is coach at Bolton Wanderers Centre of Excellence and is another well-known face on The Fylde, often taking in games at Kellamergh Park. 'Gavin is someone I know very well and I can trust him; that's important in football. We played together when we were kids at YMCA and he has had a great football career at the highest level. He is now a great coach so I'm delighted he wanted to join me there. I have asked him in the past if he ever fancied getting involved if I got a chance in management and I'm pleased he is coming to Hyde with me for what is an exciting challenge in the Blue Square Premier'.

Dave Challinor gave the 34 year old his best wishes for his new found role. 'We wish Scott all the best in what is a very good opportunity for himself. He accepts it is a really tough challenge but one he can't wait to get started on. We've had a good chat over the weekend and he knows I'm only a phonecall away if he needs any advice about anything'".

Elsewhere. "Jason Lee, manager of Boston United, has set his players a deadline of this week to sign their new contracts. The Boston United manager has offered deals to 14 members of the current squad while releasing Paul Bastock, Ryan Semple, Kevin Austin and Chris Hall...

'I've spoken to all the players and they know I want an answer this week', said Lee. 'We've offered them what we can offer them. That's the final offer'..

Lee says there will be no repeat of the Spencer Weir-Daley saga which dominated last summer. Weir-Daley was offered an new deal by the Pilgrims before it was eventually withdrawn as he held out for a move to higher league... 'We've offered Spencer something and he knows what the score is', added Lee...

Lee will also be keen to keep hold of fellow striker Marc Newsham, who ended the season as top scorer and with a string of player of the season awards. 'I'd like to stay and have a better season as a team'" Newsham told This is Lincs.

According to the BBC, "Gainsborough Trinity chairman Peter Swann says the club have surpassed their own expectations by reaching the Blue Square Bet North play-off final... and victory over Nuneaton Town on Sunday will take them into the Blue Square Bet Premier.

Swann told Radio Lincolnshire, 'We have surprised ourselves and everybody else. The plans were to perhaps flirt with the play-offs and probably not get to this stage'. But Swann, who is hoping for a crowd of around 3,500 at the Northolme, added, 'We will try to take this chance on Sunday and I will not moan about it'".

The Leader tells us that "Levi Mackin is hoping he can be part of Chester's plans next season. The 26-year-old midfielder agreed to join his home town club in January... He scored one goal in his six appearances for Chester that were punctuated by a broken collarbone...

'There has been nothing sorted out yet with Chester since the season ended', said Mackin. 'But I would love to stay at the club. I only signed until the end of the season, but I thoroughly enjoyed being part of the club's successful campaign and the title victory meant a lot to me'...

Mackin is no stranger to life in the higher leagues having played for Wrexham, York City, Droylsden and Alfreton Town, and he believes... 'Playing in the Conference North is a step up and it will be hard work for Chester, but I am confident that the club can do what is needed to compete at that level... Some of our attendances have been better than a number of League Two clubs have attracted'".
CHESHIRE NEWS
In the Northwich Guardian, "Jim Rushe, Northwich Victoria's owner, insists he will put together a new team after six players left on Monday to join Welsh club Airbus UK. Tom Field is one of half a dozen regulars unveiled as new recruits for director of football Andy Preece, who left Northwich in January...

'I didn't know about it', said Rushe on the announcement. 'Some of the names I expected to go, while others have surprised me. It's disappointing, but Airbus can afford to pay much higher wages than we can. We can't compete with that'.

Airbus CEO Stewart Roberts... added that all, except for Armstrong, had signed two-years contracts...

Rushe added, 'I'm gutted that a group put together by a team of people is now breaking up. However it's a natural progression for players to go somewhere else if they can earn more money, it happens in every walk of life... There are offers on the table for other squad members, some of whom are now free agents and so able to talk to who they want. It's time to look forward, not back'...

Another not returning next season is co-manager Martin Foyle, who has left following a brief spell in joint charge with Alan Wright. His replacement is Andy Mutch, a man who master-minded a famous FA Trophy upset against a Northwich team, then in non-league's top tier, picked by Dino Maamria back in 2007... Former Wolves forward Mutch, now 48, has not managed in non-league since leaving Burscough in 2009".
---
9 May 2012
YOUTHS FINISH THIRD
Altrincham Youth have had a fine season with the chief measure being that so many of their players progressed through to the first-team squad in 2011-12. And, despite many of these players missing Youth team matches because of their first-team involvement, the Altrincham FC Youth team finished a very creditable third in the NWYA Premier Division after securing a 3-0 win on Tuesday night, away to Northwich Victoria, in their final match of the season. Alty's scorers were Derryn Ofori (penalty), Josh Palmer and Oliver Riley.
WYTHENSHAWE RADIO AND ALTY
AFC Press Release:

"There is a recording of last week's WFM 97.2 Sports Talk Show with Kevin Thompson here. Reviewing the season just ended, Joint Press and Media Officer, Brian Flynn, is interviewed about half-way through the programme and Kevin's guests in the studio, a Manchester City fan and a Manchester United fan, both display a keen interest in and knowledge of Altrincham Football Club".
YANKEE
The Saturday Yankee jackpot has risen to £900 after last week's winning code, 8559, was found to be unissued. Three subscribers did, however, each have winning "trebles" earning them £66.66 apiece.
PRESS RUMOURS
The Daily Mail claims that "In League One, Oldham could move for Altrincham goal machine Damian Reeves, 26, who scored 44 times this season in the Conference North. The former Leeds trainee has also attracted attention from Kilmarnock and Doncaster Rovers".
BSBN NEWS
Alty could be visiting Oxford again next season - but not their one-time destination of the Kassam Stadium. "Oxford City defender Chris Willmott said it was well worth the wait to clinch his first promotion - following yesterday's 4-2 Evo-Stik Southern League Premier Division play-off final win against AFC Totton. The 34-year-old former Oxford United centre back, who only joined City in December after signing from Brackley, scored the winner in Thursday's 1-0 semi-final victory against Cambridge City to set up the AFC Totton clash.

And Willmott, who was released by United in 2009, helped his teammates to victory yesterday and promotion to either the Blue Square Bet South or North... He said, 'We have been superb at home. We did so well to finish second and give us home advantage. It's was a great performance today, there's a real good spirit here. I have never won anything, so it's the best. I've been lucky enough to have a career in the pro game but never won promotion, so this is the first achievement...

I was on the bench at Brackley for a couple of months, a bit disillusioned really, at my age, wasting away there. Mike (Ford) approached me to come here and it's proved a great decision. I haven't thought about next season yet, I've got all summer to take this in'", he told the Oxford Mail.

Whilst we may meet Oxford City next season, we won't be going to Darlington, it seems. The Gazette Live reports that "Darlington could be ready to appoint a new manager within a week - and it will almost certainly be someone with connections to the club... to replace Craig Liddle, who is moving on. Current player Graeme Lee has expressed an interest, while former player Andy Toman and ex-player and assistant manager Martin Gray are also likely to be in the frame. Talks will take place at the end of this week.

The Football Association will next week decide which league and division the club will play in. It is likely to be the Evo-Stik Northern Premier League... The ground share was confirmed yesterday. Craig McKenna, of the 1883 group, said, 'This is a good deal for both sides and we are looking forward to a great working relationship with all at Shildon'".

Meanwhile, "Four players have committed their immediate futures to Worcester City by signing for the 2012/13 campaign. Young player-of-the-year Jacob Rowe, striker Michael Taylor and keepers James Dormand and Matt Sargeant have all agreed terms at St George's Lane. The news comes hot on the heels of leading scorer Mike Symons penning a new deal as manager Carl Heeley continues towards his aim of retaining the bulk of the squad", reports the Worcester News.

Pitchero Non-League reports that "David Livermore believes consolidation is key for Histon in Blue Square Bet North next season. After surviving the drop on the final day of the campaign, the Stutes' player-manager felt a mid-table finish could be viewed as progress in 2012/13. He said: 'As a club, we have to put talk of promotion and getting into the Football League to one side because I don't think that's something we're going to achieve at the present time because of the budget and the attendances we get. But what we can do is get ourselves back into the Conference Premier. It's going to take a while, but the most important thing is we play good football with a young side and get people through the turnstiles.

'If we get a promotion here or there it's fantastic, but this club shouldn't have to fight relegation. I believe we can quite comfortably be mid-table next season and you never know if you get things right between now and the new season, we could finish a bit higher than that. But we don't need to put ourselves under any pressure. We're a development squad playing in an adults' league, so I think that's unique in itself. I think that's what we should be pushing and publicising about this club'.

Livermore felt young players could be attracted to Histon by the chance to perform at a decent standard. He said, 'I get a lot of young lads who want an opportunity because these guys know they're going to be treated in and work in a very professional environment. I had a good chat with Grant Roberts last week and he said coming here was the best decision he made. He has been at other non-League clubs and was shocked at how unprofessional it was. But here it's different and this is someone who was at Sheffield United, so that's a good sign and a massive selling point for us in attracting players. Brian Page and academy director Howard Willmott are doing a fantastic job and the style of play and philosophies from the first-team down to the age of 14 is the same. That in itself will create the squad that can integrate into the first-team easily and enable the next Daniel Sparkes, Dan Holman or Zak Mills to come through'".
CHESHIRE NEWS
And Welsh Premier, says that "Airbus UK Broughton chief Andy Preece has moved for six of his former players from ailing Northwich Victoria in preparation for next season. Preece, who moved to The Airfield from the Cheshire outfit at the start of the year, was unwilling to approach any of his ex-charges during the January transfer window.But, since then, Vics have been evicted from their Victoria Stadium home and also kicked-out of the Evo Stik Premier League for financial irregularities, leaving the current squad with an uncertain future. The players arriving at The Airfield are central midfielders Kyle Armstrong, Michael Roddy and Tom Field wingmen Jordan Johnson and Ryan Wade and striker Chris Budrys."

Meanwhile, "Airbus UK Broughton have offered ailing Northwich Victoria a ground-share at The Airfield next season... Since their eviction, Vics have mostly played their matches at Nantwich, but also at Macclesfield and Kidsgrove. Owner Jim Rushe has recently announced a ground-sharing agreement for next season with Stafford Rangers, 40 miles away. Airbus chief operating officer Stewart Roberts says the ground share offer is 'sincere and genuine'. 'Yes we did make an offer to Northwich when they were looking for a groundshare but I understand Jim is not looking at it, so I presume they must have other options', Roberts says".
OLD BOYS
The EvoStik League tells us that "Having picked up no bookings in their final two league matches, Ashton United's players ensured that they won Evo-Stik Northern Premier Division's 'Fair Play' award for April - the second month running the club had lifted the award...The club's annual awards presentation was also held after the Mickleover game, with defender [and Alty Youth product] Alex Frost the big winner on the night, collecting both the Supporters' and Players' Player awards".

Less happy news of another ex-Alty Youth player comes from FC United of Manchester who report that "It was a game too far for the youth team as Warrington Town put up a much stronger performance in the Neil Thomason Cup Final, winning 4-1. Matters were made worse at full time when a mass brawl broke out. Richard Smith, Kial Callacher , Connor Naughton, [ex-Alty man] Theo Kidd and Matthew Hassall all received red cards... Warrington made it 3-1... in injury time... Glass ran clear of the FC defence and chipped over the advancing keeper. Soon after that the full time whistle blew and whilst understandably disappointed to lose the players were left in no doubt that what happened has no place on any football pitch and certainly not at FC United". Also in the FCUM sidw was another ex-Alty Youth, Kyle Cunningham.
FA CUP AND TROPHY
Bullsnews says that "Welsh League and Cup winners The New Saints say they intend to enter both the English FA Cup and FA Trophy next season. The Oswestry based side have been told by the Welsh FA that, if that happens, then they will not be allowed to postpone league matches to fit in their English games."
---
8 May 2012
PLAY-OFFS
.

Monday, May 7th:

BSB Premier, Play-Off Semi-Final Second Legs
Mansfield Town 0-1 York City - York win 2-1 on agg.
Wrexham 2-1 Luton Town - Luton win 3-2 on agg.

Southern League Premier, Play-Off Final
Oxford City 4 AFC Totton 2

Isthmian League Premier, Play-Off Final
AFC Hornchurch 2 Lowestoft Town 1
BSBN NEWS
Hyde have confirmed that "management team Gary Lowe and Martyn Booty have left the Tigers and will be replaced by Scott McNiven as manager and Gavin McCann as first team coach".

The ex-manager himself is more expansive, in the Manchester Evening News, which reports that Lowe announced "his resignation just hours after celebrating the Tigers' title triumph at a civic reception laid on by Tameside Council. The bombshell news will stun Hyde's supporters as well as alerting Macclesfield – set to face the Tigers in Blue Square Bet Premier next season – who are in the market for a manager after parting with Brian Horton following their relegation from League Two.

Lowe's sensational exit, along with his assistant, Martyn Booty, stems from his failure to agree a playing budget or personal terms with Hyde's owner John Manship. The 52-year-old ex-City and Crystal Palace player, who led the Ewen Fields outfit to promotion within a year of joining them from neighbours Curzon Ashton, says he informed Manship of his decision late last week but agreed to delay making it public until after Saturday's celebrations.

Lowe said, 'I told John that Martyn and I felt the budget he was offering didn't give us any sort of fighting chance to stand still in the National Conference, let alone move forward. We weren't happy, either, to be told the club could only afford to offer us one-year contracts when three-year deals had been mentioned. I'd be lying if I said it wasn't a difficult decision to walk away. I appreciate times are hard and that raising funds isn't easy. I also hope Hyde's fans don't feel we've let them down.

But me and Martyn also have to look at what we can do ourselves and whether we can continue to gain success'." Lowe's achievements at Hyde will inevitably make him a contender to replace Horton at Macc. Added Lowe, 'We gave 150 per cent every day at Hyde and just hope there's another club out there who will now give us the chance'".

According to Blue Square Bet North, "Worcester City manager Carl Heeley has secured the services of another four players for next season. Promising centre-half Jacob Rowe, striker Michael Taylor and goalkeepers James Dormand and Matt Sargeant have all agreed terms at St George's Lane...

'It took him a while to get a start but there was clear potential there', said Heeley of Rowe to Worcester News. 'It's his first full season but since the turn of the year he's been superb for us. There's still a lot of improvement in his game and that's why we are keen to keep him'...

On Taylor, Heeley said, 'For his first season playing in Blue Square Bet North, he was a major threat. He was probably the best partner with Mike Symons over the course of the season and I think he will continue to improve... I am sure he will get a lot more starts next season'".
NORTHERN NEWS
The Northern Echo reports that "Darlington FC will play its home games ten miles away in Shildon next season, the fans' group that runs the club confirmed. A one-year agreement was agreed for Quakers to share Shildon's 2,500 capacity Dean Street ground for the 2012-13 season.

The deal was reached following talks between Darlington FC 1883 (DFC 1883), which last week completed a deal to buy the club, and representatives from the Northern League outfit... Shildon, who finished tenth in Northern League division one this season, will receive £25,000 in rent from DFC 1883, while Quakers will keep gate receipts from their home games.

Mr McKenna said, 'Shildon has been great, as has Bishop Auckland, but the deciding factor was that we had spoken to Shildon first and we felt that a degree of decorum was needed... The focus is very much on coming back to Darlington next year'".
CONFERENCE NEWS
From This is Glos, we read confirmation that "Long-serving secretary and head of matchday operations Colin Peake has left Forest Green Rovers. Peake has been involved with the Nailsworth club for more than 20 years, during which time they have been transformed from Southern League unknowns to a full-time and highly ambitious outfit. He was one of the driving forces in keeping the club afloat when it came close to collapse prior to Ecotricity taking over at the New Lawn in August 2010... Peake, who will continue in his role as PR and media board director for the Football Conference, has chosen not to comment on his New Lawn departure at this time."
---
7 May 2012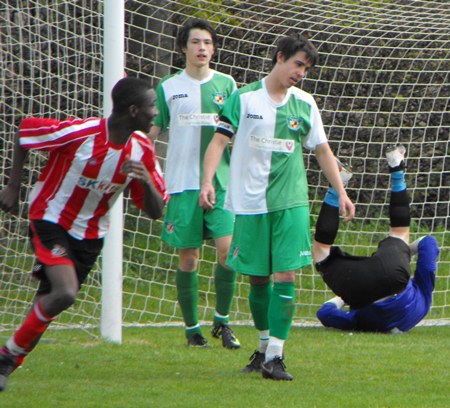 YOUTH TEAM HITS SEVEN
Right: Denico Walters turns after heading Alty's seventh goal against Nantwich Town.
A report on Alty Youth's 7-1 win on Sunday is here.
In the NW Youth Alliance, the other results on Sunday were:
Mossley 0 Chester FC 2
New Mills 0 Morecambe 9

In The Neil Thomason Cup Final:
FC United of Manchester 1 Warrington Town 4

The latest League table shows Alty third, with just two fixtures left to be played in the league on Tuesday:
FC United of Manchester v Morecambe
Northwich Victoria v Altrincham.
PLAY-OFFS
The BSB regional play off finals next Sunday (13th) are:
Gainsborough T. v Nuneaton T. (4th v 5th at the end of the season)
Dartford v Welling U. (2nd v 3rd at the end of the season)
OLD BOYS
Both Joe O'Neill and Chris Senior were in Guiseley's starting eleven as they lost their BSBN play-off yesterday; and Lee Ellington was on the bench.

Though he did not play for Altrincham, goalkeeper Ian Horridge signed forms at Moss Lane recently to allow him to act as potential cover in the Altrincham goalkeeping position. So, congratulations go to him as he was part of the victorious Bacup Borough side which lifted the NW Counties' League Cup, with a 5-0 win over Maine Road, last Thursday. Some details are here.

News of an Alty "old boy" comes from Pitchero Non-League; "Tony Sullivan remains hopeful Cammell Laird could earn a relegation reprieve. The Kirklands side defeated Wakefield 2-0 on the final day of the Evo-Stik Northern Premier League First Division North season but it could not prevent them from finishing bottom.

Blighted by budget problems and the loss of fourteen senior players, that Lairds gave themselves a fighting chance of survival is to be applauded. Sullivan believes his squad should take comfort for that but the stain of demotion will be a difficult one for him to shift from this thinking. The Lairds manager admits the season has taken its toll on him. 'We took it to the last week of the season and for that the players need commending', he said. 'It has been a tough, hard season and a massive strain on myself. I'm an ambitious person and want success but I have to take responsibility for us finishing bottom of the league. When people look back at the table, they are always going to ask "who was the manager?".

But we may get a reprieve because of situations elsewhere. The people at the club deserve a reprieve. Since Christmas we set up a new committee, prior to that the club was not being run as it should have been... In effect, the run from August to December destroyed what we set out to do. But Durham City have resigned from the league, Woodley Sports have been relegated and in the league above, Northwich Victoria have been relegated. It all now depends on the FA and how they restructure the leagues'.

Sullivan reckons he is five players short of making the current Lairds squad significantly more competitive at NPL First Division North level... 'Everyone knows that Cammell Laird can't compete financially with teams around them', he said. 'The reason for that is gates and other certain issues the club need to address'".
BSBN NEWS
At Solihull Moors, "Manager Marcus Bignot has announced the makeup of his backroom staff for the 2012/13 season. Roger Ashby will continue in his role as Assistant Manager and will be joined in the role by Craig Hinton. Darren Acton will take charge of the Goalkeeping Coaching whilst continuing to provide goalkeeping cover if necessary. Dean Spink will begin his fourth season with Solihull Moors as Physiotherapist, and James Bradley takes on the role of Kit Manager."

Following the shock departure of their manager, Gary Lowe, Hyde FC are holding a supporters' meeting today (Monday) at 2pm "Where, hopefully, members of the board will be in attendance".
---
6 May 2012
PLAY OFFS
BSBN Play-Off Semi-Finals
FC Halifax 0 Gainsborough T. 1 (agg 2-3)
Guiseley 0 Nuneaton T. 1 (agg 1-2) after extra time)

EvoStik Premier Play-Off Final
Bradford PA 1 FC United of Manchester 0

BSBS Play-Off Semi-Finals
Dartford 2 Basingstoke T. 1 (agg 3 - 1)
Welling U. 0 Sutton Utd 0 (agg 2 - 1)
HYDE BOSS GOES
Having just won promotion to the BSB Premier, Hyde boss Gary Lowe has left the Tigers, citing budgetary and contractual disagreements with the chairman, reports the NL Paper.
KEEPING YOUR BEER DRY
Altrincham FC is very grateful to Gallagher Roofing and Dunham Scaffolding for building the covered area (shown, right) between the bar and the club shop in preparation for the beer festival which starts at Moss Lane next Friday.
BSBN NEWS
The Worcester News tells us that "Manager Carl Heeley wants even more goals from Mike Symons next season, after the striker agreed to stay at Worcester City. Symons, aged 26, scored 19 goals during the 2011/12 campaign, 18 of which came in City's run to seventh in Blue Square Bet North...

Heeley said, 'He has been superb for us and I was really pleased to see him pick up the supporters' player-of-the-year award because he deserved it... Myself and Matt Gardiner are challenging ourselves but we are also challenging him and we want more goals from him next season.... I think it's fair to say he had a smile back on his face when he came to Worcester. I think he will be a good player for us again.'.

Symons is the second player to agree terms with the club as centre-half Stuart Whitehead is on a contract until the end of next season. However, they will not be joined by striker Will Morford after the Gloucester City hitman re-signed for the Tigers. Morford was seen as a potential recruit for City, particularly as he shares a house with Symons in Cheltenham, but wants to stay with the club he netted 15 goals for in the 2011/12 campaign.

Heeley added, 'I rate Morford, he's a very good player but my understanding is that he has signed a new deal for Gloucester. He was a potential target but he's happy at Gloucester and we respect that and we won't attempt to change that decision'.

Meanwhile, Lee Smith has been released by the club after his contract expired... The 28-year-old, embroiled in a Twitter row which will see him appear at Gloucester Magistrates Court later this month charged with writing racially aggravated words, has only started one league game in 2012. The striker arrived at the Lane from Nuneaton Town last September".

According to BSB North, "Harrogate boss Simon Weaver believes he has the nucleus of a strong squad that will be able to challenge for a better finishing position in the 2012/13 campaign... Weaver told the Ripon Gazette, 'We've got a great core now. After Christmas it wasn't working. We brought in the likes of Michael Brough, Alan White, Paul Bolland and Robbie Youhill. They were key signings for us... We want to keep the nucleus of players that have done well for the club. We know the players we are after now. When we sign them we want to scrutinise players, to see if they are the right ones for us. It's written in their contract that they have to stay behind after the game, to have a drink with the fans.

There's no Balotellis here, we want everyone to be salt of the earth people, who love their football and will love playing for Harrogate Town... We're going to be so unfancied it's untrue. I'm just so glad we didn't have to take the Blue Square North flags down'".
CHESHIRE NEWS
Pitchero Non-League tells us that "Supporters say they should be told by their favourite football club's owner what his plan is to keep it alive. More than 100 Northwich Victoria fans agreed at a meeting last night that Jim Rushe, who said last week he would not resign after Vics' relegation from the Evo-Stik Northern Premier League's top tier as a punishment for breaking finance rules, should answer their questions.

'Our number one objective remains to preserve the continued existence of the club', said James Wood, board member for Northwich Victoria Supporters' Trust. 'Working with the owner is not viewed by us as a viable option any more. However if Mr Rushe approaches us, then we will talk to him. That door is never closed'.

He told supporters that the trust had drafted a business plan, part of which was written with launching a new club in mind, that it planned to publish later this month. Wood said that the trust's position remained unchanged; it would seek to set up a new version of Vics only if the existing one went out of business...

Fans in the audience... supported the trust continuing with its contingency plan, while at the same time asking the independent group to write a letter to Mr Rushe with a list of questions to which they want an answer... The game's governing body will now decide in which division to put the club next term.

Vics are committed to playing home matches at Stafford Rangers` Marston Road home, a round trip of more than eighty miles from their former ground... Pushed on how advanced plans were for a new club, trust chairman Paul Stockton said, 'We have made initial, introductory contact with Cheshire FA, the FA and the North West Counties League. However, we have not talked to any club about a potential ground share'. The trust's business plan assumes a team from Northwich could play in the North West Counties League's second tier, two levels below where the current club has been demoted".
---
5 May 2012
FOOTBALL FOR CHRISTIE'S AT MOSS LANE ON SATURDAY
The league season may be over but the Moss Lane pitch is playing host to a number of matches before its usual summer overhaul.

On Saturday 5th May at 7.45pm there is a charity football match , "North v South" in which supporters of Altrincham FC take on supporters of St Albans City FC in a clash of the regions! All proceeds go to the Christie's Hospital in Manchester. There is free entry to the game, a raffle and a fans' penalty shoot out, so please come along if you can.

The two sides each have a "Just Giving" page, the north's being here and the south's is here. There is more on the match on You Tube.
OLD BOYS
Former Altrincham centre-back Robbie Williams is one of six players released by AFC Telford United.

"Dave Bayliss, manager of Barrow AFC, hopes to have...physio Sean Riley in the dugout beside him next season... Former Altrincham physio Riley joined Barrow last summer and has regularly been described by Bayliss as the club's 'best signing'. The AFC boss said, 'I would love to keep Sean but that is not down to me. He has been a really good addition to the club. The stuff he does behind the scenes is excellent. He never stops working and is keen as mustard. Hopefully Sean will want to stay, but that is down to him'" he told the NW Evening Mail.
DAVE ELECTED
This website is apolitical but congratulations go to Non-League Paper match reporter on Altrincham games, Dave Stringer, who was elected on to Newcastle-u-Lyme Borough Council in Thursday's voting. Dave took 50% of the vote to gain a seat for Labour from the Conservative incumbent.
BSBN NEWS
He has recently been playing for Droylsden but the NL Daily reports that "Salford City have announced the appointment of Darren Sheridan as first team manager at Moor Lane. Sheridan has playing experience at the top level with 350 League appearances under his belt in England with Barnsley, Wigan Athletic and Oldham Athletic then afterwards in Scotland with Clyde and St Johnstone. His Non-League experience is also of the highest calibre, most notably a five-year spell as player/joint manager at Barrow... 'Salford City FC hopes that this high profile appointment will demonstrate the club's desire to strive for on-field success next season, and are confident that their ambition will be supported by the sport and business communities within the City of Salford' read a club statement".

Histon state that "Following the final game of the 2011-12 season against Hyde last weekend, David Livermore has been busy meeting with his players and making the tough decisions that have to be made at this time of year as contracts end and plans for the future are put into place.

The Club and management staff remain committed to the continuing development of our own young players and it is therefore crucial for the Club's future plans that we keep our very promising young squad together. It is of course equally important that the Club doesn't commit to a playing budget that it cannot deliver, although it is also vital to protect the Club's interests in terms of players that are under the age of 24. Bearing in mind all of these factors, we are pleased to confirm the following with regard to our First Team Squad:

The Club has exercised one year options on the contracts of Danny Fitzsimons, Daniel Holman, Jay Dowie and Calum Kitscha and have offered re-engagement terms to Club Captain Daniel Sparkes and Remy Clerima. Zak Mills, Jim Stevenson and Lewis Taaffe remain under contract for another year whilst Jorg Stadelmann and Grant Roberts are both out of contract but in discussions with the Club regarding next season.

David Livermore and Brian Page will also be sitting down with the current 3rd Year Scholars for discussions over the next couple of weeks. Olly Cleaver and Pelayo Gomez-Pico have both been released...Discussions are ongoing with other members of the squad...

Manager David Livermore commented today, 'I'm delighted to have been able to secure the services of many of our key players for next season and keep the majority of our young squad together for another year. I'm also hopeful that once the Board have finalised the budget that I'll be able offer one or two new contracts and strengthen the squad still further'".

Elsewhere, "After months of pain and uncertainty, relegated club Darlington has been bought by its fans and is looking forward to a new beginning. Community company Darlington FC 1883 Ltd (DFC 1883) yesterday agreed a deal with administrator Harvey Madden to purchase the club's assets. The deal went through without a company voluntary arrangement in place, meaning creditors, including former chairman Raj Singh, are unlikely to get their money back.

The club could also face further sanction from the Football Association (FA). However, DFC 1883 last night pledged to do all it could to help local businesses who lost out when the club was placed in administration. Denis Pinnegar, interim chairman of DFC 1883, is also hopeful that the FA will look favourably on the club and not demote it below the Evo-Stik Division Premier North – two divisions below its current position...

He added, 'We have created a club that will be run for the benefit and entertainment of the community'...

Mr Madden said 'My hope is that DFC 1883 can get going, get promoted fairly quickly and can get back to Darlington as soon as possible'. The new owners have the support of caretaker manager Craig Liddle, who has agreed to sit down and discuss his own future with DFC 1883. He said, 'I'm chuffed to bits. We now have a football club that is run by people who are in it for the right reasons – that is for the football club to be secure and move forward, and not for any financial gain'" reports the Northern Echo.

200% comments that "The battle to save Darlington FC went to the wire... The club will be leaving The Arena, the wholly unsuitable venue that is charged by many as being the single biggest reason behind the cycle of despair in which the club has found itself for much of the last ten years...

The question of which division the club start next season in, however, is not yet known because of the nature of the agreement reached between the rescue group and the administrators. Darlington FC will be exiting administration without a CVA in place, meaning that the club should – theoretically at least – face expulsion from the Football Conference under the rules of the league. The FA's leagues committee will decide in which division the club will play next season...

There are reasons to ask questions of the deal that has been agreed with the administrators. Under the proposal, the assets of the company in administration have been purchased by Darlington 1883. This company – which didn't incur the debts that the "club" has run up – has no legal obligations to pay creditors, which is the reason why the club is exiting administration without a CVA being in place. Darlington 1883 has pledged to do all it can in order to help local businesses who lost out when the club was placed in administration, but this is in contravention of a fundamental rule of dealing with any sort of debt, which is unwritten but enshrined in insolvency law, that once creditors have been divided up into priority and non-priority creditors, they should be treated equally.

There is no question that the way that Raj Singh, who stands to lose out the most as a result of the agreement reached, has left supporters of the club with nothing but emnity towards him, but leaving one creditor out – especially the biggest one – may have ramifications for football and insolvency that go far beyond the future of Darlington FC...

The matter of the club leaving The Northern Echo Arena is one that makes considerable sense. It had been reported that the club would have faced a jaw-dropping bill of £270,000 in order to stay there, and this would be an amount of money that would effectively have been money down the drain for any non-league football club, regardless of which division this one ends up playing in next season...

The biggest single lesson to be taken from this story is that amongst the false Gods of victory that the game of football throws up, the only victory that really matters is the continuing existence of the clubs that actually play the game".

Should Darlington be demoted below the BSBN as seems likely, there is likely to be a reprieve from relegation for either the highest placed relegated club in BSB North or their counterpart in BSB South. As Hinckley United gained 48 points and their BSBS counterparts Maidenhead United amassed only 43, it looks probable that Hinckley will survive in BSBN in 2012/13.

Corby Town confirm that they "have received a positive response from applicants to the role of first-team manager. Director Martin Harris told www.corbytownfc.co.uk, 'In the first 48 hours we have received a fair mix of applications from those with experience of this level or higher to those looking to make the step up. We have been pleased with the quality of applications received so far, and given the interest expressed by other potential candidates, we are expecting a few more to arrive with us before Monday's 5pm deadline. From that point we will then draw up a shortlist and invite the strongest candidates for an interview. We are looking to move quite swiftly with this process because it is important that we get the new manager in place as early as possible so that he can make the most of the close season period'".
SOUTHERN PLAY-OFFS
Monday 7 May
Play Off for place in BSBS or BSBN
In the semi-finals the scores were:
Oxford C. 1 Cambridge C. 0
AFC Totton 3 Chesham Utd 2
FAREWELL TO COLIN PEAKE
Forest Green Rovers "wish to announce the departure of Colin Peake as Football Secretary and Head of Matchday Operations. Colin has had a long-term association with Forest Green and was one of the driving forces in keeping the club afloat when it came close to collapse prior to Ecotricity taking over at the New Lawn in August 2010".
WELSH PROBLEMS
It is not just in the Conference that teams go up and down for off the field reasons as Welsh Premier reports that "Thursday was another black day for the WPL as promotion and relegation issues were settled by licensing criteria rather than on sporting merit. Rule changes are desperately needed as the traditional Roy of the Rovers' drama of final day deciders has been replaced by a tense end-of-season wait to see who has - or hasn't - been granted a domestic licence.

Promotion and relegation cliff-hangers are now played out by faceless men in suits behind closed doors in Cardiff, rather than by the derring-do of players urged on by fans at the stadiums of Carmarthen or Newtown. Two clubs from the top six have dropped through the trap door for financial mismanagement in recent times, reprieving others who deserve to be relegated for their lack of on-field prowess.

But the failure of the WPL to promote two and relegate two each season is the principal injustice and also has an unfair domino effect right down the pyramid, where clubs can miss out on promotion or lose their divisional status despite finishing in the requisite league positions. Newtown's reprieve last night also spared Llanrhaeadr from the drop in the Huws Gray Alliance and enabled Welshpool Town, who are in desperate straits on and off the field, to retain their place in Mid Wales League One. In the south, Aberaman Athletic will probably be pushed down a division just three seasons after themselves missing out on promotion to accommodate Neath, despite finishing above the automatic relegation places.

The introduction of licensing by the FAW in 2003/4, combined with a lack of finance and ambition in the feeder leagues, is increasingly creating a stagnant top flight which is starting to resemble a gentlemen's club. Allied to the FAW's desire for a 12-club league, there is little doubt this is also contributing to the league's lack of spectator appeal, which has seen club attendances drop on a like-for-like basis for the past two seasons.

In those nine years post-licensing, only seven clubs (44%) that finished in the drop zone have actually been relegated on sporting criteria instead of the 16 provided for by the league's rules".
---
4 May 2012
ELEVEN AGREE TERMS
Altrincham FC is pleased to announce that, just six days after the end of the 2011/12 season, eleven of Altrincham's players have already agreed terms for the 2012/13 season and negotiations are ongoing with several others. There will be more news on these in the next few days.
The eleven who have agreed terms comprise, in alphabetical order, are:
Nicky Clee (101+23 appearances so far for Altrincham)
Stuart Coburn [right] (547)
Shaun Densmore (162+4)
James Lawrie (34+4)
Chris Lynch (32+6)
Leighton McGivern (7+2)
Scott Phelan (10+1)
Simon Richman (21+11)

In addition, three of the players who were in the Altrincham youth team last season have signed for 2012/13:
Sam Grimshaw (0)
Adam Reid (3)
Duncan Watmore (2+9)
GEOFF MADE A LIFE VICE-PRESIDENT
Altrincham FC is pleased to announce that "Following the end of the season and our Board meeting on Monday it was decided to award Geoff Goodwin with a life Vice-Presidency of Altrincham Football Club. Geoff has kindly accepted this award for his leadership and business sense in clearing the club of its debts over the eight years in which he was Chairman. Geoff has continued to support the club since stepping down and has re-iterated his offer to season ticket holders of free bus travel to all our home games. So supporters from Wythenshawe, Urmston, Oldfield Brow, Timperley and surrounding areas can help congestion by jumping on a Go Goodwins bus on matchdays for free".
YOUTH NEWS
Altrincham FC Youth moved up to fourth in the NWYA Premier Division on Thursday evening after their 2-0 away win over New Mills, in a game played at Knutsford. On a bobbly pitch, Altrincham's goals came from Denico Walters and Derryn Ofori. Goalkeeper Adam Reid had an "assist" for Denico's goal, his long kick being headed in by the striker as the keeper came for the ball.

Altrincham FC Youth's re-arranged match away to Northwich Victoria is now being played on Tuesday 8th May, (6.30 p.m.) at Barnton FC. Before that, Alty entertain Nantwich Town at Clay Lane, this Sunday, 2.30pm.
CHEERS!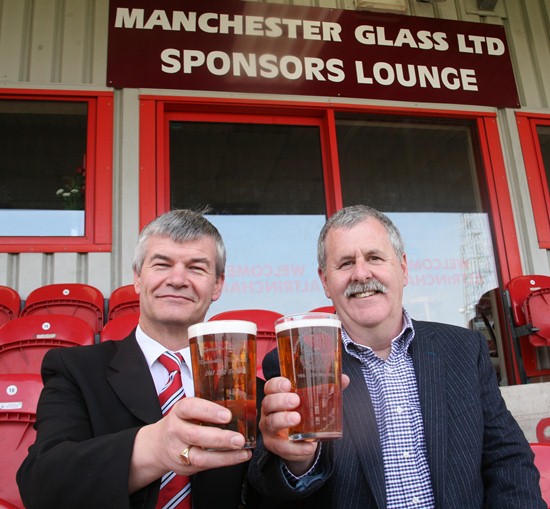 Altrincham FC is pleased to announce that Patrick Air and his Manchester Glass company has agreed to be the Glass Sponsor for the forthcoming Beer Festival at Moss Lane. The beer festival deatils of which are here takes place from Friday 11th to Sunday 13th May at Moss Lane. In the adjacent picture we see Patrick with chairman Grahame Rowley in front of the Manchester Glass Sponsors' Lounge at Moss Lane.
DAN AND AMANDA'S GOOD CAUSE
Altrincham supporter Dan Martell, is raising funds for The Children's Adventure Farm Trust, a local charity and one that for which Dan and fellow supporter, Niall Flynn, completed a charity cycle ride to AFC Wimbledon from Altrincham a couple of years ago. The Trust "provides holidays and activities for terminally ill, chronically sick, disabled and disadvantaged children from all over the North West."

Dan is running in the Manchester 10km run on May 20th and on 9th June he and his girlfriend, Amanda, are doing a skydive, both of which are for the Children's Adventure Farm Trust. They have also carried out a bucket collection and this coming bank holiday are having a car boot sale with all proceeds going to CAFT. Dan says "We have been round the farm and seen the fantastic work they do, all of which is totally funded by donations. Donations can be made to our JustGiving page.

If any Alty supporters would be kind enought to donate, Dan and Amanda would be very grateful - and so too would the Trust itself.
ATTENDANCES
In the national Attendances in 2011/12, Altrincham are third (only one person per game behind the second placed club) in the BSBN for average home gates...
1. FC Halifax Town avge: 1,419, highest gate 1,815
2. Worcester City 827, highest 1,501
3. Altrincham 826, highest 1,291

Other local clubs include Trafford (avge 130) Chester FC (2,789), FC United of Manchester (1,947) and, soon to be full time, Woodley Sports (86).
MATT'S RELEASE CONFIRMED
Fleetwood Town has released its list of released players, which includes Altrincham's 2011-12 loanee Matthew Flynn and another man who has worn the Alty shirt, Sean Clancy.
CATCH UP
For those who may have missed it, six players left Altrincham FC yesterday. Details are here.
BSBN NEWS
The Northern Echo confirms that "After months of heartbreak and uncertainty, Darlington FC has today been bought by fans' company Darlington FC 1883 (DFC 1883) in a deal which it is hoped will give the club a sustainable future. DFC 1883 has agreed to buy the club's assets and goodwill from administrator Harvey Madden.

The deal had gone through without a company voluntary arrangement in place, meaning creditors, including former chairman Raj Singh, will not get their money back and the club could face further sanction from the Football Association. The new proposal of moving ahead without a CVA and playing away from the Arena is radically different to the original plan... Supporters will be urged to reinvest their money in the new plans, with DFC 1883 saying it needs at least £200,000 reinvested before the end of June..

The community company has already revealed it plans to groundshare with another club next season and will not play at the Arena. Potential grounds include Shildon, Bishop Auckland and West Auckland football clubs...

It is understood the complications surrounded the players wages and the 25 per cent of their salaries they have not been paid since the club was placed in administration. DFC 1883 learnt on Wednesday that it would become liable for the unpaid wages once it took over. In order for the purchase of the club to go ahead, members of DFC 1883 this morning contacted all players asking them to agree to temporarily waive the money they are owed, which is understood to total around £100,000. The Northern Echo understands that all players agreed to the proposal on the condition that they will get their money at a later date. This agreement from the players, together with the backing from Darlington Uncovered, the supporters' club and the Echo, cleared the way for the purchase of the club".

However, it is probable that Darlington will be demoted to a lower level than BSBN, which would presumably save Hinckley United from relegation.

Meanwhile, This is Leicestershire says "Hinckley United chairman Kevin Downes insists the club is in a stronger position than last year, despite their possible relegation from Blue Square Bet North. He says there will be no knee-jerk reaction to the 'devastating' finish to the season.

Instead, Downes, the Knitters' board and manager Dean Thomas will sit down and discuss the club's future... Hinckley may not know their fate until early June as a number of cash-strapped clubs in the Conference set-up, including Darlington and Histon, have to prove their financial security to the league in order to maintain their status. If they fail to do so, United may yet get a reprieve...

Said Downes, 'There are lots of things going on at lots of other clubs and I hear that several of them are in a bit of crisis. But I don't feel it is right to comment on their situation'..

'Off the pitch, we have steadied the ship and have been making great strides... We don't have outstanding creditors. We made the decision last year that the club must come before the team' said Downes. 'We reduced our budgets and asked Dean to keep us in the league. While the club is now in a much better position, the team has suffered. Off the pitch, we have achieved everything that we wanted to achieve'. United's players are understood not to have received any wages for the final two months of the season.

Downes said that issue was likely to be rectified within the next four weeks. 'We have got wages that need to be paid', he said. 'That took us until the end of May last season to do that and I imagine it will be about the same timescale this season'".

In advance of Sunday's second legs, Football Conference says that "Both first legs of the Blue Square Bet North play-off semi-finals ended in draws, but FC Halifax Town will feel the momentum is with them after coming back from being 2-0 down at the Northolme against Gainsborough Trinity on Wednesday night. The Shaymen looked to be heading out of contention when they trailed 2-0 after just 13 minutes... Town could not get into the game at all and it could have been 3-0 after 20 minutes when Leon Mettam was poised to volley in only to be denied by Danny Lowe...

Two minutes before the break they pulled a goal back... And they were back on level terms after 65 minutes when Sean Clancy put pressure on the home defence and Andrew White was forced into a hasty clearance that fell nicely for Gregory"

And at Nuneaton, "a crowd of 1,476 saw goals at either end of the game as this tie also ended all-square. Boro caught the Lions cold when they took a lead after just 2 minutes, Danny Glover heading in... In the first minute of injury-time at the end of the game, substitute Chris Senior sent in a cross that Matt Wilson bundled in from close range" to make it 1-1.

NL Daily reports that "Stamford AFC have move quickly to appoint Graham Drury as their new manager, replacing Tommy Brookbanks. Drury, who recently left Corby Town, will return for a second spell with the Daniels after previously being in charge between 2005 and 2008 before leaving to manage the Steelmen. He will be assisted by his former Daniels and Corby number two, Paul Holden."

The Eastwood Advertsier tells us that "John Ramshaw looked back on a dreadful season at Eastwood Town this week and declared his intention to put things right in the next campaign. The Badgers boss saw his side lose 4-0 at Bishop's Stortford in last Saturday's final game, the club's 30th defeat of a season where they've conceded 105 league goals...

He said, 'It's been an absolutely torrid campaign, there's no two ways about it. I came to the club in November from Shepshed Dynamo, where there was plenty of desire and the fitness levels were good but the ability just wasn't there. Here it was totally the opposite, with good players who largely didn't seem interested and that was reflected in their performances and attitudes to training. Those players found it difficult to walk away due to the financial rewards of staying, namely big contracts that were taking up about 86 per cent of the wage bill. So it left very little leeway for good quality new players and ultimately it cost us in more ways than one'.

Ramshaw says the club is now keen to learn from those errors, with any future players over the age of 24 only being offered non-contract terms in order to invest in younger talent that could reward the club in the future. The club has taken up the option of retaining Alex Troke, Jevaise Christie, Josh Burge and Sam Benjamin, while Danny Elliott has been offered new terms. The option to extend defender Gavin Caines' contract has not been taken due to his age, but he has been offered non-contract terms...

He said, 'Some players have done well and shown enough to deserve another chance next year. What people have seen this season hasn't been a fair reflection on my managerial ability which has been proven at non-league level for a long time. Next season I want to get back to doing things my way. I want more lads from the Notts area involved so there's a bit of local pride to fight for, and we need to go about things in a way that we keep our dignity better than this season... We know there's no way we're coming straight back up but I want us to have a workable budget... There are still some who don't recognise that a lot of personal sacrifices have been made by a lot of people to keep this club afloat'".

The Tameside Advertiser reports that "Stalybridge Celtic boss Jim Harvey insists his Bower Fold youngsters are still heading in the right direction despite having paid a heavy price for an alarming slump by missing out on the Blue Square Bet North promotion play-offs.

Bridge ended the season with a 4-2 romp over visiting Hinckley but it was not enough to secure them the top-five finish they needed to join in the four-team scrap to decide who accompanies their title-winning neighbours Hyde in going up to the Conference's national tier... Bridge actually managed to win their last two games but had triumphed in only four of the previous 21 – a half-season-long run which ultimately proved their undoing.

But Harvey, whose young full-timers had kicked off the campaign with 14 wins and only one defeat in their opening 19 outings, nevertheless remains upbeat about Celtic's long-term prospects. He said, 'Our boys have been brilliant over the past two years and are developing into great players. But, in the overall scheme of things, they've let themselves down when we've given away silly points. Their attitude has been first-class and I'm very proud of their efforts, but they haven't been enough'".
---
3 May 2012
YOUTH MATCH TONIGHT
Tonight's Youth Team game versus New Mills (k.o. 6.30 p.m.) is now being played at Egerton Youth Club, Mereheath Lane, Knutsford, WA16 6AN.
BSBN PLAY OFFS
BSBN Promotion Play-Offs
1st legs: Wednesday 2 May
Gainsborough T. 2 FC Halifax T. 2
Nuneaton T. 1 Guiseley 1

2nd legs: Sunday 6 May
FC Halifax T. v Gainsborough T.
Guiseley v Nuneaton T.

BSBS Promotion Play-Offs

1st legs: Wednesday 2 May
Basingstoke T. 0 Dartford 1
Sutton Utd 1 Welling 2

2nd legs: Sunday 6 May
Dartford v Basingstoke T.
Welling v Sutton Utd
LEE'S VIEW OF THE SEASON
Brian Flynn interviewed Lee Sinnott following the game last Saturday and it can be seen and heard here.

And Brian has written the following...

Goals Should Have Counted For More!

"Altrincham manager Lee Sinnott believes that he knows exactly what needs to be done to mount a promotion challenge next season as his team finished the season with a 3-2 defeat to Gainsborough Trinity who now take on FC Halifax Town in a two-leg play-off semi-final.

'Having scored 90 goals and been the joint leading scorers in the league, we really should have been able to achieve a top five position, but we've flirted with the play-offs and we know where the problem is and we have to address that in the summer. Today's game was a like a micro-shot of the season; we played really well at times but, having got in front just before half-time, a defensive lapse has cost us dear and we have ended up losing the game'.

The Robins have been the great entertainers in the Blue Square Bet North League this season, but a goals against column of over seventy goals shows that Sinnott must sort out a defence that has been consistently leaky throughout the campaign.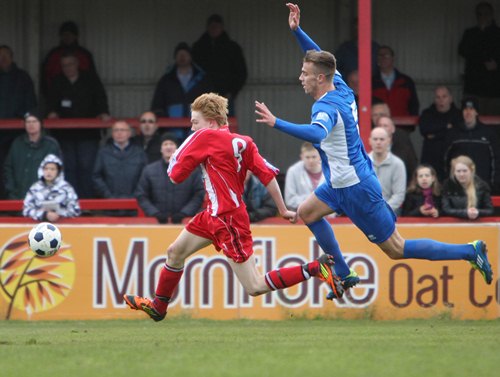 Sinnott paid tribute to Duncan Watmore (right, in action on Saturday, picture courtesy of Gavin Rathbone of GR Photography), who scored his first senior goal for the club with an audacious chip to put Altrincham 2-1 up just before the interval. 'The supporters have really taken to him but we must remember that he is only just eighteen. Duncan is a raw talent and his goal was Messi like. We have been encouraging him to be a bit greedier and he was today. I like that'.
Damian Reeves had a very rare off day and finished the season with 44 league goals in 42 games an achievement acknowledged by his manager. 'Damian played in every minute of every game, scored almost half of our goals and has had a phenomenal season'. Despite the defeat, there was another bumper crowd of almost a thousand on Saturday as Altrincham finished in 8th place".
"CONSISTENTLY INCONSISTENT"
The Advertiser reports that "Altrincham boss Lee Sinnott is planning a summer of defensive re-building work in the wake of a campaign which saw the Robins trail in eighth in Blue Square Bet North despite being the division's joint-top scorers.

Alty ended their season with Nicky Clee and teenager Duncan Watmore on target in a disappointing 3-2 home defeat by Gainsborough - goals which took their 42-game tally to a healthy 90, a haul only matched by newly-crowned champions Hyde. Hot-shot Damian Reeves helped himself to nearly half of those, topping the division's individual scoring chart with an incredible 44, but a total of 71 conceded meant the Robins were always fighting a losing battle in their efforts to make the play-offs.

Sinnott said, 'Ninety goals scored is a fantastic effort, but it's clear where our problems lie and we know where we need to change things to ensure we're right in the thick of the promotion contest next season. Too many times over the past nine months, silly individual mistakes have cost us, as they once again did at the weekend. Conceding more than 70 over a season is obviously far too many and we'll be working very hard to rectify this in time for the start of next season.

But, at the same time, we don't want to curb our attacking play. We might have been consistently inconsistent, but no cone can accuse us of not being entertaining and that's something I'd like to see continue. "It's a case of building on what we're good at while finding ways of keeping the stable door shut. "I'll be looking to bring in players who can help us achieve that. We have our targets and I'll be attempting to get things moving as quickly as possible." Sinnott admitted to once again having been left frustrated as Alty contrived to throw away a 2-1 lead in losing to a Gainsborough side for whom victory sealed their place in the play-offs. The Robins chief added: "I thought we played well for most of the game and that Gainsborough were fortunate to get away with the win they needed. "Their second goal in many ways typified the problems we've had all season. Young Duncan had just put us 2-1 up with a great finish, half-time was upon us and we were on the attack. "The next minute, we lose possession cheaply and end up conceding a free-kick from which they equalise with a free header. It was just so very frustrating."
STATISTICAL REVIEW OF THE SEASON, 2011/12
Overview:
It is often quoted that manager Lee Sinnott said his prime aim in 2011/12 was to restore the smile to the faces of Altrincham FC supporters. In most respects, he achieved that aim:
Alty were the league's joint top scorers with 90 goals.
Damian Reeves was the nation's top league goal scorer at our level or higher in the football pyramid.
Alty were top of the divisional fair play league and one of the best behaved clubs nationally.
No none was suspended for amassing five (or ten in the latter part of the season) yellow cards
Gates were a vast improvement on our last season in Conference North
Alty did not play a single goalless draw in the wjole season.
Local Altrincham FC youth/junior team players broke through into the first team squad in significant numbers.

But on the other side:
Alty finished outside the play-offs
They went out of all three cup competitions at the first hurdle
They conceded 71 league goals

Background:

Altrincham spent 2011-12 outside the national tier of non-League football for the first time since 2004-5 season - which was their only previous season at Conference North level.

Over the summer of 2011, Ken McKenna and Stuart Bimson elected to leave their managerial positions at Moss Lane and were replaced by Lee Sinnott, the former Port Vale and Farsley Celtic boss, who brought in Neil Tolson, the former Hyde manager and player as his assistant. Both men had a wealth of league as well as non-League experience.

From the relegated squad, Mark Beesley, Chris Denham, Craig Dootson, Dale Johnson, Marc Joseph, James Smith and Rob Williams all left; some from choice others were not offered terms. Moreover, several of the senior players from the previous season who had stayed at Moss Lane also left during the 2011-12 season for a variety of reasons, these were Ryan Brown, Anthony Danylyk and Robbie Lawton. So the new management team spent much of the season on a rebuilding job which saw XX players make their first-team debuts for Altrincham in 2011-12. In addition, seven of the players (excluding loanees) who joined in 2011-12 departed before the end of the season (i.e. Adam Flynn, Paul Jones, Mark Lees, Astley Mulholland, Josh Ollerenshaw, Jack Redshaw and Brian Summerskill).

Player turnover was further increased by substantial use of the loan system with its inevitably variable effect of success in some cases and failure in others. Loanees who had left before the end of the season were Joe Collister, Adam Dodd and Adie Hawes.

Once again no transfer fees changed hands in 2011-12, in or out; Alty have not paid a penny in transfer fees for a player for well over a decade.

In 2010-11 Alty failed to win any of their first nine games and again in 2011-12 they made a slow start, winning just one of their first seven matches before 5 wins in 6 games lifted them up the table. However, a disappointing run-in, with just two victories in ten outings meant that the play-offs remained out of reach.

Yet again it was a disappointing season in cup competitions, with Altrincham bowing out of all three competitions at the first hurdle. Particularly disappointing was a 2-0 home defeat by Witton in the FA Cup, with the 2-1 loss away to FCUM in the Trophy only marginally less so. Once a proud FA Cup giant-killing team, Altrincham have now not scored in any of their last five FA Cup matches over the past four seasons.

STATISTICAL SUMMARY:

Altrincham's 61 points was their best yield over a season since 2004-05 when 69 points secured a play-off place in Conference North. The first half of the 2011/12 season saw 32 league points won, whilst the latter half witnessed 29 points gained.

The biggest contrast with 2010-11 season was in goalscoring. In 10/11 just 47 goals were netted in 46 matches, whilst in 11/12 Damian Reeves alone hit 44 league goals out of a team total of 90. That was the highest team total in a season for the club since 1978/79 when 93 goals came in 44 matches. For a 42 match season you have to go back to 1967-68 when 108 goals were scored in 42 Cheshire League matches to better the 11/12 total. In each of those previous seasons, Altrincham finished second in their league, compared with eighth in 11/12.

In 2010/11, 87 goals were let in during 46 matches, compared with 53 in 2009-10. Those goals conceded were the highest number since 1960-61 when Alty were in the Cheshire County League. So, the 2011/12 total of 71 goals conceded in 42 matches was an improvement, disappointing though it was.

The first half of the 11/12 campaign yielded 48 goals in 21 matches compared with a meagre 18 goals in 23 matches in the first half of last season. In the latter half of 11/12 the scoring declined slightly to 42 goals in 21 matches but was nevertheless a good return.

At the back, 35 goals were conceded in the first half of the 2011/12 season and 36 in the final 21 games. An unwanted statistic was the run to the end of the season when, in 29 successive games (27 in the league), Altrincham failed to keep a clean sheet this season. In fact, only three clean sheets were achieved all season in 42 league and 3 cup matches) and all were in home games (v. Histon, Nuneaton Town and Eastwood Town).

SEASON 2011/12:
| | | | | | | | | |
| --- | --- | --- | --- | --- | --- | --- | --- | --- |
| | P | W | D | L | F | A | GD | PTS |
| Games 1-21 | 21 | 9 | 5 | 7 | 48 | 35 | 13 | 32 |
| Games 22-42 | 21 | 8 | 5 | 8 | 42 | 36 | 6 | 29 |
HISTORICAL LEAGUE RECORD
Below is Alty's league record since 1998-99. The 2009-10 season shows both the full record, including the expunged games against Chester City, and the official league record. For Alty's historical league record (excluding play-offs), click here
| | | | | | | | | | |
| --- | --- | --- | --- | --- | --- | --- | --- | --- | --- |
| SEASON | LEAGUE | P | W | D | L | F | A | PTS | POS |
| 1998-99 | UNIP | 42 | 23 | 11 | 8 | 67 | 33 | 80 | 1 |
| 1999-00 | CONF | 42 | 9 | 19 | 14 | 51 | 60 | 46 | 21 |
| 2000-01 | UNIP | 44 | 20 | 10 | 14 | 80 | 58 | 70 | 7 |
| 2001-02 | UNIP | 44 | 19 | 9 | 16 | 66 | 58 | 66 | 9 |
| 2002-03 | UNIP | 44 | 17 | 9 | 18 | 58 | 63 | 60 | 14 |
| 2003-04 | UNIP | 44 | 16 | 15 | 13 | 66 | 51 | 63 | 12 |
| 2004-05 | CONFN | 42 | 19 | 12 | 11 | 66 | 46 | 69 | 5 |
| inc playoffs | CONFN | 45 | 22 | 12 | 11 | 72 | 50 | [78] | 5 |
| 2005-06 | CNAT | 42 | 10 | 11 | 21 | 40 | 71 | 41 | 18* |
| 2006-07 | CNAT | 46 | 13 | 12 | 21 | 53 | 67 | 51 | 21 |
| 2007-08 | CNAT | 46 | 9 | 14 | 23 | 56 | 82 | 41 | 21 |
| 2008-09 | CNAT | 46 | 15 | 11 | 20 | 49 | 66 | 56 | 15 |
| 2009-10** | CNAT | 46 | 14 | 16 | 16 | 57 | 53 | 58 | |
| 2009-10 | CNAT | 44 | 13 | 15 | 16 | 53 | 52 | 54 | 14 |
| 2010-11 | CNAT | 44 | 11 | 11 | 24 | 47 | 87 | 44 | 22 |
| 2011-12 | CONFN | 42 | 17 | 10 | 15 | 90 | 71 | 61 | 8 |
* 2005-06 Alty's deduction of 18 points reduced their official total to 23 points and sent them to 22nd and bottom place.
---
PLAYERS
In 2011/12, Altrincham used seven loan players, two fewer than last season (M Flynn, Walmsley, Collister, Dodd, Hawes, Williams, Tomsett)

15 players (incl. 4 loanees) who were named in Alty squads this season were no longer at Moss Lane at the end of the season (Brown, Collister, Danylyk, Dodd, A Flynn, Hawes, Jones, Lawton, Lees, Mulholland, Ollerenshaw, Redshaw, Summerskill, Tomsett, Williams). Player turnover was also high in 10-11 with 15 players turning out for the club but leaving before the end of the campaign.

Exactly the same number of players as last season, 38, were named in league squads for Altrincham in 2011-12 season. Of these four did not actually make a league appearance (Coombs, Grimshaw, Ollerenshaw, Tolson).
DOUBLES
After two seasons in which Altrincham only completed a league double of victories over a single team, in 2011/12, two clubs were beaten home and away - Histon and Eastwood Town. But whereas eight clubs did the double over Alty in 10/11, only 3 did so in 2011/12 (Hyde, Gainsborough and Bishop's Stortford). Alty achieved five wins over top ten clubs in 2011/12 compared with just two such successes in 10/11.
Alty gleaned 21 points from the top half of the table finishers and 40 from the bottom eleven. In 2010/11 Alty likewise picked up 21 points from top-half finishers but only 23 from bottom-half teams.
APPEARANCES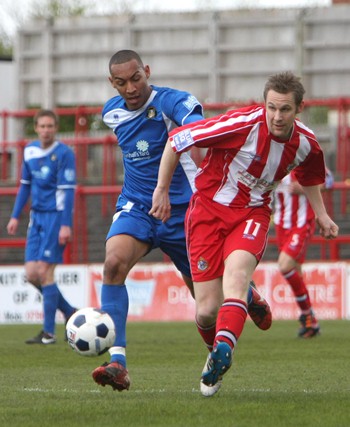 Damian Reeves started every league game and two of our three cup matches.
46 - Damian Reeves (44L 2C)
41 - Shaun Densmore (37(+1)L 3C)
38 - Stuart Coburn (36L 2C)
38 - Nicky Clee (32+3L 3C) [seen right in action against Gainsborough last Saturday.]
38 - Chris Lynch (30+6 2C)

These totals were significantly less than in recent seasons when the leading appearance maker played in 50 or more games.
2010-11: 51 appearances: Rob Williams – league 44+1, cup 5+1
2009-10: 50 appearances: Rob Williams – league 44+1, cup 4+1
2008-09: 54 appearances: Greg Young 51+3 (being 44+1 league and 7+2 cup games).
LEAST APPEARANCES
In addition to Coombs, Grimshaw, Ollerenshaw and Tolson, who were on the bench in the league but did not get onto the pitch, two players did not start a game though they did make substitute appearances:
0+9 Mulholland (8 in league, 1 in cup)
0+4 Holden (all in league)

The following made a single league start:
Brian Summerskill 1(+8)
Matt Fearon 1
GOALS
In 2011/12 Alty scored 90 league goals and 4 in cups. 49 league goals came at Moss Lane and 41 on the road. They commendably scored in every home league game but drew blanks four times on the road (Worcester, Solihull, Gainsborough, Bishop's Stortford).

In 2010/11, Alty scored only 47 league goals in 46 matches but thanks to the Cheshire Senior Cup, they also scored 22 cup goals in 7 matches, including 12 in a single game against Alsager Town. At home in 10/11, Alty scored 29 league goals and a further 18 away from home. They failed to score 17 times that season - eight times at home.

For and against, Alty supporters witnessed a remarkable 161 league goals in 2011/12 season, compared with 134 in 10/11.

Sixteen different players scored league goals for Alty this season. The outfield player who played most games without scoring was Chris Lynch 30(+6) but he did get 2 cup goals. Fifteen players scored league goals for Altrincham in 2010/11.

With a remarkable 44 goals in 42 league matches, Damian Reeves was Alty's highest scorer in a season since the days of Jack Swindells. The second top scorer was James Lawrie with 10, though Leighton McGivern did get 19 in the BSBN, but 15 of these were for Vauxhall Motors before he joined Altrincham.

Despite only starting 35 games (+11 as sub), Damian Reeves was top scorer in 2010/11 with 19 goals in all competitions; 15 of these came in the league where he played 33(+9) games.
GOAL TIMES
In 2011/12 Alty scored exactly half of their 90 league goals in each half of games i.e. 45 in the first and 45 in the second half. 17 goals were scored between the 41st and 50th minutes, which includes first-half added time. 4 goals came in added time after the regulation ninety.

In 2010/11, just 14 of Alty's 47 goals were scored in the first-half of games.

Alty only failed to score in five league games in 11/12 (twice against Bishop's Stortford), whereas in 2010/11 Alty failed to score a phenomenal 17 times in the league; 8 at home and 9 times away.

Alty netted six goals three times, twice of which were away (Colwyn Bay and Eastwood), the other was at home to Boston United; all those games ended 6-1.

League game goal times are shown below. Because of added time the periods 41-50 and 81-90 actually contain more time than the other time slots.
Right: Damian Reeves in action against GAinsborough; picture courtesy of Gavin Rathbone of GR Photography.
| | | | | | | | | |
| --- | --- | --- | --- | --- | --- | --- | --- | --- |
| Time | 2011-12 | 2010-11 | 2009-10 | 2008-09 | 2007-08 | 2006-07 | 2005-06 | 2004-05 |
| 1 to 10 mins: | 5 | 3 | 2 | 6 | 3 | 10 | 5 | 2 |
| 11 to 20 mins: | 12 | 2 | 5 | 2 | 4 | 3 | 3 | 7 |
| 21 to 30 mins: | 12 | 3 | 9 | 9 | 3 | 9 | 4 | 7 |
| 31 to 40 mins: | 8 | 4 | 9 | 4 | 6 | 3 | 4 | 2 |
| 41 to 50 mins: | 17 | 3 | 5 | 6 | 8 | 7 | 5 | 13 |
| 51 to 60 mins: | 5 | 12 | 2 | 5 | 7 | 4 | 1 | 8 |
| 61 to 70 mins: | 12 | 3 | 8 | 6 | 10 | 5 | 6 | 11 |
| 71 to 80 mins: | 10 | 6 | 5 | 1 | 8 | 3 | 8 | 7 |
| 81 to 90 mins: | 9 | 11 | 12 | 10 | 7 | 9 | 4 | 13 |
HEAVY WINS
Remarkably, Alty won three times by a 6-1 margin and twice these wins came away from home (Colwyn Bay and Eastwood Town). The home 6-1 win was against Boston United. Alty also hit five against Droylsden and Harrogate at Moss Lane.

The best they could do in 2010/11 was to score four against Hayes & Yeading United.

PENALTIES

In 2011/12 Altrincham converted eight spot kicks in league games (all by Reeves) but also missed a couple more. At the other end, a phenomenal 15 penalties were conceded, 12 of which were converted. Even so, Altrincham won the divisional fair play title.

In 2010/11 Altrincham converted five league penalties in 2010-11, with Reeves netting three and Densmore two, and three more were missed.

HEAVY DEFEATS

There was nothing to compare with the 7-0 drubbing at Crawley in 2010-11, but Alty did get turned over 5-1 by Stalybridge Celtic. The heaviest home defeats were 1-3 by Hyde and 0-2 by Bishop's Stortford.

CLEAN SHEETS

Altrincham finished the season on a run of 27 league games without a clean sheet - 29 games if you count cup matches. No clean sheet at all was recorded on the road. The three home clean sheets recorded were versus Histon, Nuneaton and Eastwood.

In 2010/11, a much better 9 clean sheets were recorded in the league, compared with 13 in 2009-10.

CAUTIONS

2011/12 witnessed 48 yellow cards in 42 games with 3 more seen in cup games, a vast improvement on the 79 league (in 46 games) and 7 cup cautions in 2010/11.

As for red cards, 3 were shown to Alty in 11/12 (Adam Flynn, Danylyk, McGivern). This compares with 10/11 when Alty got to game 24 without seeing a red card and then suffered seven dismissals in the final 22 matches.

No player was suspended simply for amassing yellow cards in 2011/12. The most booked player was Chris Lynch (7 times), followed by Matt Flynn (5) with Simon Richman, Shaun Densmore and Michael Twiss all seeing four yellows, though one of Shaun's was in the CSC.

The player with most cautions in 2010/11 was Shaun Densmore with 9 from 32 league starts.

In 2011/12 Jack Redshaw played the most games (14) without recording a single card.

SEQUENCES

Alty's best run of successive league wins was four (games 10-13) but, as that was punctuated by the FA Cup defeat to Witton, the best run without any defeat was three (games 23-25), the same as in 10/11. Three was also the longest sequence of successive league defeats (games 37-39) but four matches in a row were lost in November (including two cup matches).

In 0/11 Alty's longest run of successive league defeats was 7 games (games 3 to 9) and their longest run without a win was 9 (games 1 to 9). Their best run of wins was three (games 37 to 39). They went five games unbeaten between matches 37 and 41 in 10/11 but only managed two runs of four games without defeat in 11/12.

Altrincham's faltering run-ins have become a regular occurrence. They finished 11/12 with just two wins in ten matches, compared with one win in the final seven in 2010/11 and Alty lost five of the final six games in 2009-10

GATES

Although relegation inevitably saw a fall in league attendances the 2011/12 average of 826 was a vast improvement on the 665 average who saw our last Conference North campaign seven years ago. The average home league gate in 2010/11 was 1,038.

The biggest home gate was 1,291 (v FC Halifax Town), one more than watched us play Hyde. The lowest home gate was 625 on a Tuesday night versus Hinckley United though in the CSC only 243 bothered to watch us lose to Stockport County. The lowest gate at an Alty away game was 239 at Eastwood Town and the highest was at Halifax (1,414).

In 2010/11 the home match with Wrexham provided Moss Lane's best gate; 1,928. The 558 souls who saw Hayes and Yeading visit Alty constituted the lowest home gate. Away, 6,665 saw Alty at Luton on the opening day of the season whilst just 274 saw Hayes entertain Altrincham.
BSBN NEWS
BSBN reports that "Workington manager Darren Edmondson has earned a new deal at Borough Park and is expected put pen to paper on a two-year contract before the weekend. Edmondson, who took over from Tommy Cassidy in 2007, has steered the Reds to a 13th placed finish in the Blue Square Bet North this season. The 40-year-old's current contract expires on Friday, and should he accept his improved one and see out the duration of the deal, he will go on to become the club's longest-serving manager.

'I am delighted that my hard work has been rewarded', Edmondson told the Times & Star. 'This season has been incredibly tough, but we have stuck together and I am grateful to be given this chance. I always believed I was the man to take Workington forward, and I am proud to be the manager of this football club... To be given another two years is testament to the hard work I have put in. But it's not all about me. This team has given their all too. It's been a slog, but we will fight to make sure next season is an improvement'".

According to the Coventry Telegraph, "A company owned by the chairman of Nuneaton Town FC has gone bust, with debts of around £750,000. Ian Neale Building Contractors has ceased trading after being put into administration – but Boro fans have been told their football club is safe.

Joint administrator Martin Coyne told the Telegraph, 'We are dealing with the construction side of the firm, while the rest of the Ian Neale Group, involving divisions for homes and special projects, plus the football club, remains intact... The total amount owed to creditors, who include Mr Neale himself, the bank and Revenue and Customs, is around £750,000'...

Mr Neale refused to comment on the administration issue and also declined to confirm that he was responsible for a message sent under his name to a fans' forum internet site... The message said that 'Although the football club business was part of the IN Group of Companies, it has no financial tie and the administration of the building company in no way affects the football club. The football club is run and managed without overdraft. The board have a commitment not to borrow money unless it was for a capital project that would be an investment in the stadium. The club is fully up to date with both payments to staff and players as well as HMRC'...

Mr Neale, 46, who is also an associate director of Coventry City FC, started his own building business 25 years ago after leaving school at 16 and becoming an apprentice bricklayer... His firm reported a turnover approaching £7million and was behind several high-quality projects, including new training facilities and executive lounges for the Sky Blues and an impressive funeral home in Nuneaton. Mr Neale took over the reins at his hometown football club four years ago and his company developed the new stadium at Liberty Way".

From Pitchero Non-League, we learn that "Russell Hands has vowed to give David Livermore, manager of Histon, an honest and realistic figure when they meet to discuss next season's playing budget... Hands, who says they already have more than half of the playing budget in place, will not give Livermore a figure he is not confident can be stuck to. 'I'd rather give David x amount that's a realistic figure, and then maybe be in a position to give him some extra finances if we get them and if he needs them', said Hands.

'He feels he's not quite achieved what he wants to achieve yet, but he sets himself targets like we do and that's quite good. Even with questions, I'll give a yes or no answer, it's never a maybe. We've all got ambitions, but in football nowadays you have to deal in reality. I've spoken to his agent and we've put together what David wants and what he wants to achieve. All parties are happy with that. We'll go through who he wants to keep and I think that will be the majority of the lads... Our structure is not a rest home for old players, but a place for young players'".

The Northern Echo states that "A meeting of Quakers' creditors has been cancelled after the company bidding to buying the club confirmed they were unable to pay the club's debts. Darlington FC 1883 now intends to buy the club with a company voluntary arrangment in place. This would mean creditors, including former chairman Raj Singh, do not receive their money. The club is also likely to face a further penalty from the Football Association.

Administrator Harvey Madden confirmed this afternoon that he had cancelled the creditors' meeting planned for Friday. He said, 'I have recently had discussions with representatives of Darlington FC 1883 Ltd who informed me that unfortunately despite their best efforts, they have been unable to raise funds to enable the payments they envisaged to both the football creditors and unsecured creditors of the club. Accordingly, 1883 will not be able to perform the terms of the Company Voluntary Arrangement sent to creditors on April 18, 2012 and it is my intention to write to the creditors of the Club informing them of this, cancelling the meeting convened for May 4, 2012 and withdrawing the Company Voluntary Arrangement'.

DFC 1883 confirmed this afternoon that talks with Mr Singh had ended. The company said it remained confident it would soon be able to buy the club." Bulls' News adds that "It will mean almost certain relegation from the Conf North spot they were expected to take".
PLAY-OFF PROBLEM
Pitchero Non-League reports that "The Evo-Stik League is disappointed to receive notification from Bradford Park Avenue that the Bradford Metropolitan Local Authority and West Yorkshire Police have now refused to sanction the Premier Division Play Off Final at the Horsfall Stadium on Saturday as planned... It has now been agreed by all concerned that game will take place at the Horsfall on Sunday 6th May, kick off 14:00".
---
2 May 2012 Manager Lee Sinnott and assistant Neil Tolson have started their preparations for 2012/13 season by releasing five players; a sixth, loanee Kieran Walmsley is returning to his parent club, Kendal Town.

Those leaving Moss Lane, all but one of whom only joined the club midway through the 2011-12 season, are:
Marlon Broomes: 34 year-old Marlon signed from Clitheroe FC on 9 January 2012. He had previously played for Blackburn Rovers in the Premiership as well as Swindon Town, Queens Park Rangers, Grimsby Town, Sheffield Wednesday, Preston North End, Stoke City, Blackpool and Crewe Alexandra. In all he made 223(+22) league appearances.

Marlon made his Altrincham debut in central defence at Hinckley on 9 January, 2012 but, unfortunately, had to go off injured just before the half-hour mark. However, in his next game, which was also his home debut on 18 February, 2012, he scored his maiden goal for the Robins. But a second hamstring injury, in only his sixth start, again sidelined him. Altrincham career appearances: 9, goals 1.
James Holden: James (25) was on the books of Altrincham Reserves as a 17 year-old, having received his initial footballing education over a period of five years at Manchester United, whom he joined at the age of seven. Four years at Bury followed, before James had his first spell at Moss Lane. He had spells with Chorley, FC United, Vauxhall Motors, Bala Town and Curzon Ashton before he rejoined FCUM for a third spell in 2010. He made his Alty debut as a substitute against Harrogate Town on 21 January 2012 but, after two more appearances from the bench, he signed forms to play for AFC Fylde, whilst remaining registered for Altrincham at BSBN level. Altrincham career appearances: 0(+4), goals 0.
Mark Lynch: A former Manchester United reserves defender, 30 year-old Mark joined Altrincham on 2 February, 2012, after being released by Stockport County. Mark signed forms for Manchester United in 1999 and remained at Old Trafford till 2004/05 season, but made just one appearance for the first-team. During his time with United, Mark started 20 times for St Johnstone and on leaving United, he joined Sunderland, then Hull City, Yeovil, Rotherham United and Stockport County. He made his Robins' debut, at left-back, against Blyth Spartans on 18 February, 2012. Altrincham career appearances: 5(+3), goals 0.
| | | | | | |
| --- | --- | --- | --- | --- | --- |
| Marlon Broomes | James Holden | Mark Lynch | John Miles | Michael Twiss | Kieran Walmsley |
John Miles: Signed by Altrincham on 2 February 2012, after being released by Stockport County, John (30) had previous experience with Liverpool (no first-team appearances), Stoke City, Crewe Alexandra, Macclesfield Town, Accrington Stanley, MK Dons, Fleetwood Town, Droylsden and Stockport County. He made his Altrincham debut as a late substitute against Blyth on 18 February 2012 and played his first full game three days later in central midfield, winning the Man of the Match award for his performance. Altrincham career appearances: 8(+3), goals 0.
Michael Twiss: Michael joined Altrincham on a two-year contract in summer 2010. Now 34, before joining Alty, Michael had been released by Morecambe in March (2010) before he had a brief spell at Stalybridge Celtic. Michael started out at Manchester United where he spent four seasons in the Reserves, though he did make a 1(+1) first-team appearances too, as well as spending much of the 1998-99 season on loan at Sheffield United in the old First Division. He joined Port Vale on leaving Old Trafford in July 2000.

His other clubs include Leigh RMI and Chester City for 2001-02. He joined Morecambe in 2004. A pre-season injury prevented his starting a league game for Alty until October 16th 2010 when he also scored his first goal, against Fleetwood. However, he started only eight matches in the second half of a season in which he netted four goals. However, four more goals in his first 12 league matches in 2011-12 promised a better season for Michael but he lost his starting place after 17 games of the season and started only intermittently after that. Altrincham career appearances: 44(+24), goals 9.
Kieran Walmsley: Defender/ midfielder Kieran Walmsley joined Altrincham on a season-long loan from Kendal Town on 5 January 2012. In May, 2011, he had signed a two-year contract with the Cumbrians and he has now returned there. Having previously played for Morecambe and Fleetwood Town, Kieran's Alty debut came as a substitute on 7 January 2012 but injury and illness disrupted his Alty career with him starting only 8 of the first 15 matches for which he was at Moss Lane. Altrincham career appearances: 11(+2), goals 0.

Altrincham FC thanks all of the players for their service to the club and wishes them well in their future careers.
ALTY SEASON TICKETS 2012-13
The following information is being sent to all season-ticket holders...

"Season ticket prices will remain the same as last season with the £10 discount if purchased before June 30, 2012.

A season ticket also entitles you to free admission to all the pre-season friendly matches at Moss Lane. We hope that we can rely on your support again this season and look forward to seeing you at Moss Lane in July.

Please supply your e-mail address, if you have one as we are attempting to update people with information throughout the season.

TASC, our supporters' association, is also keen to extend its membership, which costs just £10 per year. Please consider joining and achieving TASC's target of 200 members".

Please cut and paste the following text, print it off and send to Altrincham FC, Moss Lane, Altrincham WA15 8AP, with your remittance.

Name and address:

_________________________________________________________________________

_________________________________________________________________________

_________________________________________________________________________
| | | | | | |
| --- | --- | --- | --- | --- | --- |
| Type of ticket | Type of spectator | Price (each) | Number required | Total Price | Forename and surname of each applicant for each category of ticket - use BLOCK CAPITALS please |
| Standing | Adult | £225 | | £ | |
| Standing | Concession | £115 | | £ | |
| Anywhere | Age 12-16 | £50 | | £ | |
| Anywhere | Under-12 | £25 | | £ | |
| TASC Membership | | £10 | | £ | |
| Total Cost | | | | £ | NB £10 discount if paid before 30 June 2012. Please make cheques payable to "Altrincham FC" |
Please supply a stamped addressed envelope with a large first or second-class stamp if you require your ticket to be posted to you.
Thank you for your continued support.
NOEL WHITE TRIBUTE
Tribute Dinner For Altrincham Legend!
One of Football's iconic figures is to be honoured with a Tribute Dinner at the Mercure Bowdon Hotel on Thursday May 31st.
Noel White, the current President of Altrincham Football Club and former Chairman is the recipient and the evening will celebrate Noel's achievements in Football over a period of more than 60 years.
White went on to become Chairman of Liverpool and recently received a 'Long Service Award' from the Football Association, presented by its Chairman, David Bernstein, for his extensive contribution to a number of F.A. major committees, across a broad spectrum from Non-League to International level. He was Head of the F.A. Delegation for the F.I.F.A. World Cups in France, Japan/South Korea and Germany and served for 26 years on the International Committee, the last 14 of which were as Chairman.
The former Altrincham Chairman said, 'It's very nice that my efforts in football through the years are being recognised in this way. My involvement in football administration goes back to when I was 15. I played for a team, run by my father, in the Altrincham and District Service of Youth League. I used to collect match subs of threepence per player, per match, wrote details up in a cash book and handled player registrations'.
Altrincham Chairman, Grahame Rowley, added 'Noel will always be regarded as a club legend at Altrincham, but we feel that his general contribution to and achievements in football should be recognised and that this Tribute Dinner is a fitting way to do that'.
Event Details:
Date: Thursday May 31st
Venue: The Mercure Bowdon Hotel, Altrincham.

The Sportsman's evening will consist of a four course dinner, celebrity guests and entertainment. Tickets are priced at £30 and are available from Altrincham Football Club (0161 928 1045 or via e-mail.
PREMIER GAMES ON TV
The bar at Moss Lane opens at 12.30pm on Sunday for live transmission of the following vital Premiership games...
Newcastle v Man City k.o. 1.30pm
Man Utd v Swansea k.o. 4pm
ELEMENTS CONSPIRE AGAINST THE LADIES
Altrincham FC Ladies' manager, Keith Edleston, writes:

"The extreme weather conditions put paid to any proper football last Sunday

I planned our friendly against Blackpool Wren Rovers four or five weeks ago when the weather was sunny and dry. Oh what a shock it was as we met up at Moss Lane to get on the coach! It was horrendous, with rain and gale force winds battering the coach window. I made a quick check with Kirsten, the Wrens' manager, to check on the game and we were told it was dry but windy in Blackpool so, with a bit of trepidation, off we set.

The journey down there was pretty rough but our Goodwins coach driver was driving as safe as houses and, with the players in good spirits, things were looking up!

We arrived at Squire's Gate and the weather had obviously caught up with us because the rain had started to fall. Undeterred, a quick kit change and onto the pitch we went. We decided between us on three 20 minute games but, unfortunately, only managed two because it quickly became unplayable, with players from both sides suffering with the cold and soaking wet conditions.

Both myself and Kirsten decided we'd all had enough and abandoned the game. After a quick change to get the girls warm and dry we were invited into their clubhouse for food and drink which was superb. I and the team can only thank Kirsten and her club for laying on such a spread and, by doing so, it only re-iterates our belief that there are some good people and some good clubs about.

We have already talked about re-arranging the friendly (in the summer) up at Wrens', where they said they will put a BBQ on and make a day of it, which is fantastic.

On another point, my thanks go to Chris, Rick and the parents for having to brave the elements. A few brollies were lost too but a big thanks go to Grahame Rowley and young Fozzy for driving all the way there to watch the game and support us. Well done fellas, we will get you a season ticket each with all the games you have attended this year. Up the Alty!!

Roll on next season!

Keith"
ANNUAL AWARDS AT ALTRINCHAM FC
ALTRINCHAM FC
ANNUAL AWARDS
for
SEASON 2011-12





Damian Reeves
Players' Player of the Season,
presented by Shaun Densmore

Courtesy of Gavin Rathbone are these images
from the annual end of season awards event
at Moss Lane last Saturday.
Larger images can be seen and purchased
from the GR Photography website.





Damian Reeves
Supporters' Player of the Season,
presented by Steve Foster and Brian Flynn


Nicky Clee
Joint runner-up Supporters' Player of the Season,
presented by Steve Foster & Brian Flynn


James Lawrie
"Jimmy McKiernan Trophy for Goal of the Season,
presented by the McKiernan family


James Lawrie
Jimmy McKiernan Trophy for Goal of the Season,
presented by Steve Foster & Brian Flynn


Damian Reeves
Supporters' Player of the Season,
presented by Steve Foster


Shaun Densmore
Young Player of the Season,
presented by Dave Johnson


John Skelhorn
"Tom Earley Clubman of the Season",
presented by the Earley Family & Lee Sinnott


The Lewis Family,
(Peter, Samm, Zoe and Allison),
Volunteers of the Season


James Antrobus
Penalty Competition Keeper,
presented by Lee Sinnott
Footnote: Stuart Coburn was joint runner-up in the Supporters' Player of the Season and we hope to have an image showing his receipt of the award in the near future!
ALTY TV
Alty TV has an interview by Brian Flynn with Damian Reeves, recorded after last Saturday's game. An interview with manager Lee Sinott follows tomorrow. A full unedited version of this interview will appear on the season review DVD coming out soon".
TASC "GOAL RUSH"
TASC's Paul Salt writes:

TASC Goal Rush Scheme

"Altrincham's 2 goals last Saturday brought the season's goal tally to 94 in all league and cup competitions for the 2011-12 season. The End of Season Race Night and Presentation Evening saw the final draws in the TASC Goal Rush scheme.

The two winners of two complementary tickets to a home match early next season for the team reaching the 80 & 90 goal marks were Nicky Clee(!) and Dennis Massey.

The end of season draws for the signed matchball and shirt were won by Neil Dummigan and Johnny Keen respectively.

Congratulations go to all our draw winners throughout the season.

The team's goal scoring exploits mean that the Goal Rush Scheme has raised over £3,000 over the 2011-12 season and, on behalf of TASC and Altrincham Football Club, we would like to thank all those supporters who agreed to take part for their generous support throughout the season.

We will be contacting all our sponsors over the next few days to arrange for payment of outstanding balances.

TASC will be running a similar scheme again for the 2012-13 season and we very much hope that as many supporters as possible sign up to support the scheme.

Many thanks, Paul Salt".
OLD BOY
The Lancashire Evening Post announces that former Altrinhcam and recent "Accrington midfielder Ian Craney has left the npower League Two outfit after failing to agree terms on a new contract. It brings to an end the 29-year-old's third spell at the Crown Ground after 216 appearances for the club.

Craney made his Stanley debut in 2004 and was part of the side which won promotion to the Football League in 2006 before moving to Swansea. He returned for a second stint in January 2008 and came back again three years later via Huddersfield, Fleetwood and a loan spell at Morecambe. A broken ankle suffered in October restricted Craney to 25 appearances this term".

The usually well informed Bulls' News adds, "Craney...is widely expected to rejoin former manager John Coleman, now at Rochdale".
FLYNNZINE
Brian Flynn's lates "Flynnzine" is reproduced below from Saturday's "Robins' Review".

A Curate's Egg!

So here we are on the final day of the season…can it really be eight months since almost three hundred Alty fans descended on Harrogate for that opening encounter. A 3-2 defeat at Wetherby Road certainly set the tone for the season, as we played some great stuff at times, created chances almost at will, yet saw a month of pre-season optimism regarding our defensive capabilities evaporate inside forty five minutes.

There have been moments when it seemed only a matter of time before we got our act together and moved into a play-off position, yet the harsh facts are that we only spent a week in the top 5 - after that dramatic last gasp 3-2 victory over Vauxhall Motors in October. Simon Richman's winning goal was certainly one of the best moments of the season.

Stalybridge Celtic put us in our place the following week with a 5-1 demolition job at Bower Fold and, since then, we have reached sixth place on just two occasions; in November after beating Eastwood at Moss Lane (2-0) and then again in early March when Matt Flynn's first ever senior goal snatched a dramatic late victory over a Stalybridge Celtic side that were probably a little unlucky on the night not to take anything from the game.

Despite the season lurching up and down from game to game, we have always looked likely to finish just outside the play-offs and so it has come to pass.

The obvious highlight of the season is the phenomenal goal-scoring record of Damian Reeves. A goal today would take him to 45 in 42 appearances and whilst the icing has been on this particular cake for weeks, that would certainly put the cherry on the top.

The lowlight is, sadly, just as blindingly obvious. We have failed to defend properly as a team throughout the season and if you add to that a generous helping of individual errors and we have the perfect recipe for an unwanted nadir in terms of goals conceded.

When we look back at the season, the downside will be almost completely dominated by our poor defending as a unit, yet the upside reflects a number of positives 'apart from t' Yorkshire lad's goals'.

Lee Sinnott and Neil Tolson must take a lot of credit for the team's excellent disciplinary record, which has been top of the class in our division and George Heslop must be absolutely delighted with what has probably been his most successful season ever, in terms of progressing players to the first team squad. Duncan Watmore certainly looks like a really exciting prospect, as does goalkeeper, Adam Reid, who has been at the club for two seasons, yet is still only seventeen years old! Matt Fearon, Joe Coombs and Youth Team captain, Sam Grimshaw, have all been involved to some degree with the first team and this bodes really well for the footballing future of the club.

Finally, I think that the fans have been fantastic this season. Great away support and I have been amazed that our home crowds have held up so well. I would estimate that our average home attendance will be about 825, which means that very few fans have deserted us, despite playing in a lower league this season…..brilliant!!

Enjoy the summer and here's to 2012/13 season!

Brian Flynn"
BSBN NEWS
The Football Conference confirms that "Graham Drury's contract as manager of Corby Town has now expired and the club have made the decision not to extend the agreement. The decision was made following a review meeting between acting chairman David Mallinger, Kevin Ingram, director Martin Harris and Graham Drury.

Mallinger commented, 'It is with a heavy heart that we have made the decision not to offer Graham a new contract. He has had a tough year and has tackled the challenges thrown at him with his own unique style of enthusiasm and professionalism. For that we thank him. He has kept a smile on his face throughout and that has rubbed off on others at the club. When we met with him at early in the New Year and explained the situation the club found itself in, that is what he said he'd do and he's been true to his word.

After careful consideration of a number of factors though, we have decided we feel it is in the best interests of all parties to proceed in a different direction. It is time for a change..."We parted on good terms and wish him every success in the future. He'll always be welcome at Steel Park'.

Drury added, 'I am very disappointed with how my reign at the club ended on Saturday. That is not the way I wanted to bow out however I feel my achievements here over the years will ensure that is not what I will be remembered for. My records here stands for itself and the good times far outweigh the bad... The club is now established as a Blue Square Bet North side and I leave knowing it is in a much better position than it was when I arrived.

At the start of the season the board challenged me to start building a platform for a three-year plan; that involved lowering the average age and blooding youngsters from a lower level who had the potential to step up in standard. The aim was a top ten finish and unfortunately, and I fully appreciate why, the objective changed around the turn of the year. From that point the aim was just to keep the club in the division and I've done that'".

Meanwhile, "Mark Cooper has been interviewed for the vacant manager's job at relegated Kettering Town. But it is understood the ex-Poppies boss could be up against two of his former assistants as speculation continues to grow over who will lead the club... It is understood that Richard Dryden – who worked with Cooper at Tamworth and Darlington – and Nicky Eaden, Cooper's assistant for a spell at Kettering, are both in the frame...

Other names that continue to be linked with the post include former Cambridge United boss John Beck, ex-Corby Town manager Eddie McGoldrick as well as Ashley Westwood, who finished a doomed Blue Square Bet Premier campaign in caretaker charge. Cooper, who had one match in charge after a shock return during last season, remains a firm favourite with the Kettering faithful having become one of the most successful managers in the club's recent history...

Kettering chief George Rolls...said, 'Mark has been interviewed but is only one of a number that have'...

Rolls's immediate order of business is to speak to the remaining players at Nene Park about their futures – a process which will pick up pace once a number of contracts expire after the weekend... Rolls added, 'The vast majority of the managers I have spoken to have given me the same names of players they would like to keep... It won't be George Rolls's decision on who stays and who goes but that of the next manager. The managers in our thought process have all come to the same conclusion so we will look at sorting that out after the weekend'" he told the Northampton Chronicle.

On the field, the Northants Evening Telegraph tells us that "Spaniard Jaime Navarro has left Kettering Town. The midfielder, who had previously been on the books of Real Madrid, was signed last summer but struggled to make an impact... He made 18 appearances for the club and becomes the latest to leave Nene Park following the departures of Jerel Ifil and Craig Dobson".

The Darlington & Stockton Times reports that "A community company bidding to buy Darlington FC is today expected to conclude a deal with the club's administrator. Talks between Darlington FC 1883 Ltd (DFC 1883) and Harvey Madden will enter a second day... ahead of a creditors' meeting due to be held on Friday...

DFC 1883 had hoped to agree a company voluntary arrangement (CVA) to pay off football creditors immediately and non-footballing creditors over the next three years. However, conditions requested by former chairman Raj Singh to secure his backing as the largest creditor meant the CVA would have been unacceptable to the Football Association.

A statement issued on behalf of Mr Singh last night said, 'Agreement was reached in principle by Mr Singh in relation to the proposed CVA of Darlington Football Club 2009 Limited. Today (Monday) different proposals, not involving a CVA, have been put forward by the rescue group and discussions are ongoing. Mr Singh continues to co-operate with the group with a view to securing a positive way forward for the club at the earliest opportunity'".

Speculation about where the Quakers will play next season, if they survive, has also grown in recent days".

In the Gazette we read that "Graeme Lee is understood to be keen to manage Darlington, whichever league they are in next season. With Craig Liddle ready to step aside and return to youth coaching at another North-east club, Lee could be ready to take on the role... Injury ruled Lee out of the final months of the season at Darlington, so he helped Liddle with the coaching.

Lee's father Tony has a wealth of knowledge and contacts in the North-east and could help recruit players to take Darlington back up the leagues. The club's fate for next season has yet to be decided after relegation from the Blue Square Premier and no manager will be appointed until the future is secure.

The Gazette understands that unless a favourable deal can be struck with creditors and the owners of The Arena, a new-look club will play in the Northern section of the Evo-Stik League and initially groundshare out of town while developing a new ground in Darlington. Blackwell Meadows, alongside Darlington Rugby Club is understood to be the preferred site.

Around £350,000 has been raised to turn Darlington into a community club, but that money could quickly disappear if Quakers stayed at The Arena, with all the associated costs, while possibly having to pay substantial sums from future income to former chairman Raj Singh, who plunged the club into administration in January.

However if both Singh and The Arena owners can enable the club to continue with minimal outlay, it could be possible for Quakers to remain at their home of the last nine years. Such a scenario looks unlikely, though further talks between Darlington 1883 Ltd - the group wanting to run the club - and administrator Harvey Madden will take place today".

According to the Cambridge News, "David Livermore will look to act quickly as he bids to hold on to his promising young Histon players for the 2012/13 season. The Stutes player/boss hopes to find out what his budget for next season will be in the next few days so he can re-sign the players he believes can push the team further up the Blue Square Bet North table...

'For me, this is where the hard work starts', he said. 'The first step is the club needs to tell me what budget we have and what we can afford to do. We've got seven days, so by next Saturday we need to exercise options on people's contracts and we need to re-engage with the lads who are under 24-years-old as well. If we don't do that they'll be free agents'.

One player Livermore will be especially keen to hold on to is striker Dan Holman who bagged 29 goals after joining from Long Buckby in the summer. 'Dan comes in every day wanting to improve, develop and learn', said Livermore....

On his own future, Livermore said discussions with the board will follow but reiterated his desire to stay at the Glass World and continue the good work achieved so far".
---
1 May 2012
ALL CHANGE FOR ALTY
The "All Change for Alty" scheme, whereby supporters collect their small change in tins provided by the club has proved a great success over the last couple of years; to date the scheme has raised just short of £3000. Collection boxes are again available from the club offices for you to fill with all your change during the close season and all supporters are encouraged to take part in the scheme.
PATRONS' SCHEME
The Altrincham FC Patrons' scheme is an important source of income to the club during the close season- when bills still have to be paid but there is no gate revenue from matches.

Chairman Grahame Rowley writes:

"For the cost of £50, your name will appear throughout the coming season in the matchday programme as a Patron of Altrincham Football Club. At the beginning of the season, every member will be entered into a prize draw, with the winner being match sponsor for an appointed game along with nine guests. Second prize will be hospitality for five people and third prize will be hospitality for 3 people in the Sponsors' Lounge.

If you are interested in becoming a Patron for next season, please forward a cheque for £50, payable to Altrincham Football Club, for my attention. If you require any further information please speak to me (Grahame Rowley) on 07720-606897 or e-mail me. Thank you for your support".
BSBN NEWS
BSBN reports that "Colwyn Bay have confirmed that Jon Newby will continue as player-manager next season after helping the side secure their Blue Square Bet North status with a 4-2 victory in their final game against Gloucester City. The former Liverpool and Bury striker moved into the managerial hot seat at the end of October when Dave Challinor, who had led the side to promotion the previous season, dropped a bombshell by moving to AFC Fylde.

But just 12 weeks after stepping into the breach, Newby won the Manger of the Month award for January after a seven match unbeaten run had put the Seagulls in contention for the top five play-off places. An alarming slump followed, with nine defeats in 11 games as the squad was starved of investment due to the financial demands of upgrading the ground to meet new league requirements, but the side has rallied strongly in the last three weeks to finish in a creditable 12th place with 53 points in their first season.

'Since I have started here, this club has become very special to me and I want to continue the job I'm doing and build on what we have done this season', said Newby. 'It has been hard, going from being a team-mate of the other players to suddenly being their manager, but they have been fantastic with the commitment and performances they have given me... Overall I think 12th place is a good effort in our first season at this level'".

Meanwhile, NL Daily says that "Jason Lee, manager of Boston United, has confirmed his retained list ahead of the 2012-2013 season. Five players — including outgoing joint manager Lee Canoville — will leave The Jakemans' Stadium with immediate effect, while midfielder Josh Burge has returned to Eastwood Town at the end of his loan spell. Paul Bastock, Kevin Austin, Chris Hall and Ryan Semple have all been released.

In total, 14 players have been offered new terms for the 2012-2013 season, including youth team prospect James Reed and reserve team utility player Jason Field. The players who have been offered new terms for the 2012/13 season are Ricky Drury, Ben Fairclough, Jason Field, Gareth Jelleyman, Conor Marshall, Ben Milnes, Marc Newsham, James Reed, Ian Ross, Danny Sleath, Kallum Smith, Nathan Stainfield, Tom Ward and Spencer Weir-Daley."

The Worcester News tells us that "Newly-crowned Worcester City player of the year Mike Symons says he wants to stay at St George's Lane next season. The striker, who scooped the award, voted for by supporters... is out of contract following the end of the campaign... after a season that has seen him net 19 goals for the club he joined from Gloucester City last summer...

Symons said, 'I want to stay, I think it's a fantastic club — probably the best I've played for, with the way the fans are. I love St George's Lane because the crowd are always involved, it's a brilliant atmosphere, especially when you're walking off the pitch at the end. The players are fantastic and Carl and Matt (Gardiner) have been superb for me this year'".

But "Manager Carl Heeley says Worcester City face a tough task to try and break into the Blue Square Bet North elite...

Heeley said, 'We want to improve year-on-year and we've managed to do that for three seasons on the bounce now but bridging that last gap with the sides currently in the play-off positions and ourselves is tough. If you look at our results against those top sides, that's where the improvement needs to be but that's also where the clubs are spending the money and have got the resources. It's going to be no different next season with clubs like Brackley and Chester joining us and they are going to be up there challenging. With their support base and financial backing, it's going to make the league even tougher'.

There will be changes to the City squad over the summer but Heeley is not anticipating anything like the major revamps of previous summers. He said: 'Overall we have had a super season and the players should be rightly proud of that and it gives us something to build on for next season... The key is just tweaking little bits and bobs and hopefully improve and pick up an extra 10 points next season which would see us challenging up there. When you've finished in seventh position, you don't need to go mad.

I signed about 15 players in my first season in charge and last season brought in another 10. When you bring in those sort of numbers, you will have some that don't come off. Hopefully, when you're only bringing in two or three it minimises that risk and that's the aim'".

"Nuneaton Town will face Guiseley in the Blue Square Bet North play-off semi-finals... and manager Kevin Wilkin believes they have what it takes to eliminate the side that finished second in the table. He said, 'I think we've learned from losing in the semis last season and you want that experience, but I wouldn't move away from the fact that you need luck to win play-offs... There is nothing between us and Guiseley'" he told the NUneaton News.

In the Gazette Live, we learn that "Darlington's season ended with a rare win - so supporters had something to smile about as they left The Arena for what may be the last time. Whether or not creditors - especially former chairman Raj Singh - this week accept an offer from Darlington 1883 Ltd, the company set up to run the club on a community basis, it may not be viable, because of costs, to stay at The Arena.

It was revealed on Saturday that 1883 have asked a local Northern League club if they can ground share next season, although the Gazette understands it would be with a view to returning soon to another Darlington site, possibly Blackwell Meadows...Time is of the essence now that the season is over, to secure a home, decide what division the club will play in, appoint a manager and recruit players.

Whatever happens to the club, manager Craig Liddle is set to move on as are most, if not all, of the players".

According to the Cambridge News, "David Livermore expressed his pride in his Histon players as they secured their Blue Square Bet North status with a 1-1 draw at home to champions Hyde...

'We deserved to stay up and I think we're a team that's improving all the time', he said. 'We've probably drawn too many... I genuinely believe we can push on and do better. We're not a million miles away from a top 10 finish in terms of points. Fifty one points is a good return and on previous seasons we would have been safe a number of weeks ago'".

Corby Town's David Mallinger (Acting Chairman) and Graham Starmer (Vice-Chairman) say that they "would like to thank fans for their passionate and dedicated support of the first-team throughout the season. It has been appreciated by the manager, the players and the board throughout the campaign... It has not quite ended on the pitch in the way we all hoped for given the promising start. However the 17th placed finish should still be regarded as an achievement under the circumstances...

Off the pitch, we concluded our main objective, which was to ensure the club survived difficult financial circumstances at the turn of the year to complete the season, and remain a Blue Square Bet North team for the 2012/13 season... We are approaching the final stages of completing the sale of our shares to Mr. Kevin Ingram and that will remain our sole focus for the foreseeable future. Once that sale has been concluded then we will...fill in the 'missing details' regarding some of the issues that require clarity!".
CHESHIRE NEWS
200% says "There is always something faintly pathetic about the list of creditors for a football club's proposed CVA. It's not so much the big creditors that sink the heart – after all, those that pour money into the black hole of a football club, for example, have paid their money and taken their choice – but the smaller creditors that tug at the heart-strings. This is as true in the case of the CVA proposed for Northwich Victoria FC at the end of 2009 as for any other. It's difficult not to feel sympathy for Anthony's Travel of Runcorn, a coach hire company which ended up being owed £16,178 by the club – a lot of money for a small business – while the stomach can only turn a little at the inclusion of a £5,889.13 debt to Blessed Thomas Holford Catholic College, a school at which the club used for training sessions. [ALtrincham also use BTH for their training sessions]...

Earlier this week at Wembley, however, the FA somehow saw fit to fall for Rushe's pleas for clemency up to a point, and commuted their expulsion to a one division relegation. Such matters, however, may soon end up as an irrelevance... With the CVA having failed, it is surely only a matter of time before a fresh winding up order is issued against the club – especially with HMRC being owed £446,108, according to the CVA paperwork from December 2009. Meanwhile, applications to join the North West Counties League have to be in by the end of next month. Supporters of AFC Rushden & Diamonds, who have spent this season watching a youth team after their club folded too late for a new club to start for the beginning of this season, will be more than aware of what happens when a club folds too late for a new one to begin for the following season".
---
FOR EARLIER NEWS, CLICK HERE
---