---
31 December 2010
NEW DEFENDER
Peterborough United defender Carl Piergianni (born 3 May 1992) has joined Altrincham FC on open-ended work experience, and will be available for tomorrow's game against Wrexham. He will have squad no. 26. The official Peterborough United
website
says that "Carl Piergianni came through the youth ranks at London Road and was awarded a professional contract by manager Gary Johnson following discussions with the youth department. Piergianni is dominant in the air, tenacious in the tackle and another that puts his body on the line for the cause.
A local lad, he is expected to gain experience on loan this season." With one substitute appearance in League One this season, Carl has been playing regularly for Peterborough Reserves this season and last and scored in their 3-0 win over Luton Town reserves in November last year. He made six appearances for Spalding United whilst on loan there in 2009-10. He was The Posh's Under-18 Player of the Year last season and featured in several first team squads in the Championship.
Meanwhile they also announce that "midfielder Josh Simpson has joined ambitious Blue Square Premier League side Crawley Town for an undisclosed fee. Simpson, who has enjoyed a loan spell at League Two side Southend United, will link up with former Posh players Ben Wright and Sergio Torres at the club. Simpson joined Posh from Histon after a successful trial and arguably his best moment came when he scored twice in the 4-4 draw with Cardiff City last season."
NEW YEAR DRAW
TASC chairman Brian Flynn announces:
"The lack of any matches at Moss Lane since mid-November means that there have been very limited opportunities to sell tickets for the New Year Draw' which is scheduled to take place after the game against Wrexham on Saturday. We have therefore decided to postpone the date of the draw to harness the ticket-sales opportunity of a number of home games in January and the draw will now take place in the Noel White Suite after the game against Southport on Saturday February 5th.
Whilst the draw will not be taking place on Saturday, the Wrexham game is a big opportunity to sell tickets and if anyone is available to sell tickets before or after the game, then please can they contact Brian Flynn by e-mail or phone, 07860 561011".
THANK YOU
Altrincham FC wishes to express its thanks to all those supporters who helped to prepare the stadium for Saturday's match following the burst water pipes at the ground. As the picture taken on Thursday, right, shows, all is looking good on the pitch for the game against Wrexham to go ahead. If it does, it will be the first league game at Moss Lane for seven weeks, since we played Luton on 13 November.
NEW YEAR'S DAY
Assuming the match at home to Wrexham goes ahead on New Year's Day, there will be live
Matchday Updates
here on the website. At our opponents' base, "Wrexham boss Dean Saunders is hoping the warmer weather being forecast will result in his charges returning to action against Altrincham on Saturday" reports
Blue Square Football
. "The cold snap has seen five of the Dragons' Blue Square Bet Premier matches postponed, with their last outing dating back to November 27, which ended in a 1-1 draw with Mansfield...
'It has been a winter break but we have not switched off', he told The Leader. 'We have had the same training sessions and they have had the same intensity'".
The Daily Post adds that "Dean Saunders gave the club's groundsmen a helping hand yesterday, turning up at the Colliers Park training ground at the crack of dawn to commence snow-clearing operations. The Dragons' boss was behind the wheel of a tractor at 7.30am and, before his players arrived for training, had cleared the snow from one full-sized pitch in the hope that it can be used tomorrow and Friday to better prepare for the scheduled match at Altrincham on Saturday...
Surveying yesterday morning's efforts, he said: 'We've cleared a bit of snow but the ground underneath is still rock-hard. Hopefully it will be playable on Thursday and Friday... We don't switch off, we don't stop training and we have the tensions of preparing properly for a game, only to find there's nothing there at the end of the week...
At least, everyone's games are being called off and we are all pretty much in the same boat... I have given some of the older players a day off today because I don't like them training too many days in succession on the artificial surface. Fingers crossed it will be better later in the week so that we are able to play both Altrincham on Saturday and Bath on Monday. We will be looking to take six points from the two games. That's absolutely possible if we perform as we know we can and go into the games in the same right frame of mind that we had against Kidderminster last time out...
'The fans look forward to the Christmas programme and they plan ahead for the games. With them being called off, there's a chance people will fall out of the habit of coming and find themselves something else to do'.
One silver lining for Saunders as a result of the last three postponements is that from January 1 players will only be liable for suspension once they have accumulated 10 bookings. Defenders Chris Blackburn and Frank Sinclair (four apiece) would have been banned for one match had they picked up another caution before the year-end. As it is, only Curtis Obeng, banned for one game, and Andy Mangan who has served the first part of his three-match ban, are unavailable to the Dragons manager this weekend".
BSBP NEWS
Rushden & Diamonds
report that "Striker Michael Gash has signed on loan from York City for the remainder of the season, with the loan period starting on January 1st 2011. In other squad news Kurt Robinson has signed on loan with Chelmsford City for one month, until 24th January 2011. Nabil Shariff's loan with Nuneaton Town has been extended for a further month. Tim Sills's loan period was completed on Boxing Day, and he has returned to Stevenage".
At Crawley Town we learn that "After the arrival of goalkeeper Scott Shearer earlier this week, Reds' manager Steve Evans has moved to strengthen his squad further by signing Brentford midfielder David Hunt. Hunt (28) arrives initially on a month's loan deal but all parties are looking positively at making the move a permanent deal by the end of January.
The player was key and outstanding as Brentford won promotion from League 2 last season and he has had significant interest in his services from clubs in League 2 this last few weeks, so manager Steve Evans will take great delight with the player having chosen Crawley Town".
According to NL News 24 "AFC Wimbledon have reportedly opened talks with Brentford about the possibility of taking winger Kirk Hudson on loan. The 24-year-old is way down the pecking order at Griffin Park. He played under Dons' chief Terry Brown during his time at Aldershot Town, having been signed permanently from Bournemouth in 2006 after impressing on loan.
Bees' boss Andy Scott told stainesnews.co.uk: 'AFC have made an enquiry about Kirk. All reserves fixtures are off so he needs games'... The Dons already have Bees youngster Chris Bush on work experience at Kingsmeadow".
From the BBC comes news that "Aldershot Town striker Marvin Morgan has played down speculation of a move away from the club and insists he wants to stay at the Recreation Ground. The 27-year-old, whose contract expires in the summer, is the subject of a £50,000 bid from Crawley Town.
The five-goal forward told BBC Surrey: 'It's been publicised that I'm going to Crawley but I'm not really looking to go anywhere else. Obviously I'm happy to stay here and I want to stay here. That's how it is'...
Aldershot manager Kevin Dillon said: 'Crawley offered £50,000 and it's up to Marvin if he wants to go. I've told him that. I didn't want to make it public about Crawley coming in for him but every man and his dog seems to know - how, I don't know. At this moment in time he's got five goals. That wouldn't be a loss. If he had 10 it would be a loss. If he wants to stay I'm happy. If he's not scoring goals he won't be in the team soon'. Dillon has also confirmed Crawley have made an offer for midfielder Manny Panther and AFC Wimbledon have shown interest in forward Danny Hylton".
---
30 December 2010
CAN YOU HELP, PLEASE?
A Big Thank You
Altrincham Football Club would like to thank Steve Foster, John Skelhorn, Karen and Grahame Rowley, Neil Brown, Jenny Heslop, Keith Davey for all their help today in clearing up following four major bursts at the club affecting both changing rooms, the referee's room, the physio. room and the toilets in the bar. A special thanks goes to Dave Johnson, one of our Junior Club managers for spending most of his day off with us, answering our plea for a plumber. Without his help and expertise the club would have been facing a large repair bill especially at Christmas time.
Unfortunately, due to the burst, essential jobs getting the ground ready for Saturday's important New Year's Day clash with Wrexham have been delayed and thus the club asks for anyone with a spare hour on their hands if they could call down to the club either on Thursday or Friday morning and lend a hand.
Grahame Rowley, Chairman
OLD BOY
From
NL Daily
we learn that "Chester boss Neil Young has secured a loan deal for FC Halifax Town winger Scott Metcalfe", a former Alty reserve.
BSBP NEWS
A statement has been issued by
Kettering Town
, "in relation to our Ground situation". It includes the following; 'The club spent a substantial period of time negotiating with ASDA and Tesco, eventually securing two offers in the region of £20m to build a new stadium. ASDA was selected as the best partner for several reasons...
In August 2009, the club was made aware of the contents of a meeting between ASDA and KBC [Kettering Borough Council] CEO David Cook, following which ASDA understandably felt a planning application would be a waste of time and money... At the present time the club has no opportunities to build a new ground that will be supported by KBC...
A more supportive Council would have ensured the opportunity to build a new stadium did not end so prematurely... However following the collapse of the new stadium plans, the Board have had to deal with the possibility of the club being homeless from 2013.
The board unanimously agreed fourteen months ago that no groundshare or merger with another club could go ahead without the majority of Kettering supporters voting in favour... The club had already paid for an option to groundshare at Corby Town FC which formed a necessary part of our application to remain a member of the Conference Premier in early 2009 to satisfy the rules applicable at the time...
As disclosed by Keith Cousins, a meeting with a "for sale" Rushden & Diamonds was held with both options discussed hypothetically but the financial proposal and supporter rivalry was deemed prohibitive. No further talks were held. Kettering Chairman Imraan Ladak reached an agreement to acquire the land at Rothwell Town FC but no solution could be reached with Persimmon Homes to buy back their option...
The Pickering family who have offered an extension to the current lease which is due to expire in 2013. The club is very grateful for this offer but are awaiting official feedback from the Football League and Conference Board in relation to certain clauses...
Kettering Town FC does not have the funds to acquire the site. However a serious interest from a third party contact of the Chairman to acquire and lease back the site to the club has recently been brought to the attention of the Pickering family...
Last season two approaches to purchase the club were received. Neither were on acceptable financial terms or believed to be in the long term interests of the club. The shareholders have openly stated their wish for the supporters trust to be the future custodians of the club and in early 2011 will submit a proposal for this to become a reality...
The difficulties of the economy have deeply affected supporters and sponsors in the area... This is further compounded by the unacceptable performance and lack of commitment on and off the field from some members of the first team squad which has resulted in the club languishing in the league table and knocked out of the FA Cup and Trophy at the first hurdle. The wage bill has become unsustainable and must be reduced.
Ticket prices will have to increase in January 2011 and players will have to leave and be replaced. If certain players refuse to leave this will present a problem for all parties by February. The club is acting as responsibly as it can under the circumstances...
The current management team believe that full time football can be sustained at Conference Premier level within a budget manageable for Kettering Town FC. It is also believed that the club would become uncompetitive at this level by making any change. As it currently stands, the club would only consider reverting to a part time status if it was relegated".
From Blue Square Football we learn that "Newport County manager Dean Holdsworth is looking forward to his three new signings joining up with the side...
The Exiles boss told the South Wales Argus: 'We've agreed in principle to sign Mike Fowler and Curtis McDonald from Forest Green Rovers on January 1 and Wayne Hatswell will join as player-coach with Matt Bishop becoming assistant manager, so we've restructured things a bit. We have been busy behind the scenes. We're looking forward to them coming in because we believe they will add a lot to the squad, which is one of the smallest in this division.
This is fantastic news for us. We've done our homework and I'm very excited about them coming in... We won't be standing still. We're building something here and there will be more on the way as well'".
Meanwhile, "Cambridge United boss Martin Ling feels his team didn't deserve the 5-1 scoreline they suffered at the hands of visiting Mansfield on Tuesday... While Ling is naturally disappointed with the heavy defeat, he remains surprisingly upbeat. 'I think the scoreline's deceiving', he told his club's official website. 'I'm not a manager who wears rose coloured glasses and the game was decided on fine dividing lines. We took a gamble and went 3-4-3, the same we did before (against Tamworth)...
We've played worse this season and won games of football, no doubt about it. But there are little nitty gritty bits. I think their front two were better than our front two. Their centre halves dominated our centre forwards which gave them a foundation to play from. That was never a 5-1 game but they exposed us when we took that gamble'.
He added: 'There's a few disgruntled people at the end of the game which you expect losing 5-1 at home but we hadn't lost since October. I know we hadn't played that many games but we hadn't lost in the league for the last seven. Let's put it into perspective. It's a bad day at the office but it's not the disaster that everyone wants to build it up to be'".
According to the BBC "Mansfield Town winger Adam Smith believes the troubles at the club over the past month have brought the squad closer together. The Stags, who won 5-1 at Cambridge on Tuesday, were locked out their Field Mill ground and had a change in manager over the past few weeks.
Smith told BBC Radio Nottingham: 'It's a rollercoaster ride but it has probably made us stronger. We are a tight bunch anyway and we love each other. We've always kept together off the field and kept tight. It's good for the team - we stay together and we don't know what's going on off the field'".
According to This is Sussex "Steve Evans, manager of Crawley Town, is hoping to make Peterborough United`s Josh Simpson his second signing of the January transfer window and is expected to table a bid for the player this week.
The Reds' boss is a big fan of the 23-year-old midfielder and believes the former Cambridge United ace is just the man to help fire Crawley to the title and promotion to the Football League. Simpson is currently on loan at Southend United having fallen down the pecking order at the Posh, although a number of clubs are thought to be chasing his signature in January.
However, Evans is confident he can sell the player his vision for Crawley... One potential problem for the deal could be Simpson's wages and Evans admitted he would need to persuade Crawley's owners Susan Carter and Bruce Winfield to sanction the transfer. 'I'm waiting for Bruce Winfield to call me back about it', added Evans. 'I genuinely don't know if we will be able to make it happen. Contrary to some reports we don't have a bottomless pit of money and may miss out on some of our targets. Josh is one of a group of players we are interested in though'...
Evans did rule out signing either Burton Albion striker Shaun Harrad or Aldershot forward Marvin Morgan in this transfer window... Said Evans, 'We sat down and had a chat but the player [Harrad] wants to play at a higher level and I can't blame him for ambition and wanting to play in League One. I want to manage in League One myself but the difference is I want to do that with Crawley.
With Marvin we were actually approached by Aldershot and asked if we would be interested in making an offer for him. We didn't make a bid but I think it was in their interest to have him linked with us'".
Forest Green Rovers report that "Rovers have completed the signing of 21yr old Chris Allen from Swindon Supermarine. Chris... has taken the opportunity to return to the full time game after being shown the door at Swindon Town. In an agreement with the Marine management they will retain his registration in the Southern League".
---
29 December 2010
GETTING TO WHERE WE WANT TO BE
In Monday's NL Paper, there is an interview with Altrincham manager Ken McKenna. It says that Alty's "part-time playing staff deserve heaps of praise for competing with the big boys". But asked about the club's low budget he said, "I don't even think about it. It doesn't matter what anyone else has got or hasn't got. You have what you have and you try to do your best tactically, get the lads as fit as you can, get them organised and get results. .. You are what you are. Worrying about what everybody else has got doesn't help your job.
My first job was at TNS in Wales. We won leagues, we travelled all over Europe, played Liverpool and Manchester City and had a lot of success. Here is the total opposite but it is football and whatever situation you are in, you have to manage it...
For us to have stayed in this league as long as we have is a great achievement and something we've got to keep trying to do. If we are still playing in this league next year, it's massive. If the club say we are going to pay £10, it will be £10 and not £11. That's the way the club is run. We are a community club with 20-odd teams of all ages.
If we train on Astro on a Saturday morning, there are kids everywhere with Altrincham shirts on. They share it with us right the way from youth football up to the senior football. If we had a reserve side there would be a route right up from the under-5s to the first team...
We don't have massive support... but I still see some of the faces I saw 20 years ago when I was playing for the club. Back then we were one of the biggest clubs in non-League and everybody was part-time. It takes something special to support someone like Altrincham all your life. The lads that come and watch us I've known personally for more than 20 years... You want to do well for them, so there is a little bit extra pressure..
Going into the New Year we are six points from where we want to be... As long as on that last day we get to where we want to be then that will be success".
MATTY'S NEW CLUB
On Tuesday
Farnborough
reported that their "line up today will also feature two new signings; Michael Malcolm & Matthew Crowell... The home side... were largely reduced to speculative efforts from distance. The pick of those fell to new signing Matthew Crowell who failed to make the desired impact on his debut when he dragged his shot well wide from 30 yards". Matty played the full game
BSBP NEWS
Blue Square Football
reports that "York City boss Gary Mills has revealed winger David McDermott and midfielder Danny Racchi will sign new contracts... McDermott was brought back to Bootham Crescent in mid-October by Mills following his release by York caretaker manager Andy Porter...
Mills told the York Press: 'David McDermott and Danny Racchi have both been offered contracts until the end of the season. They have both accepted and will be putting pen to paper. David is good on the ball and can cause defences problems. He's also got good feet and can play on the right, left or in the middle so he's a good player to have at the club but, at the age of 22 now, he's played a lot of football and needs to be more consistent. I've spoken to him about that and I hope he realises that he now needs to be performing week in, week out. He's got the ability but now it's down to having the mental strength of wanting to play how he can on a regular basis'".
And "Mills has admitted that Duane Courtney and Michael Gash are likely to leave Bootham Crescent in the January transfer window. Right-back Courtney is currently on the transfer list and has not featured for the club since Mills was appointed in mid-October. Striker Gash has not been able to force his way into Mills' first-team plans and has attracted interest from a number of clubs recently.
Mills told the York Press: 'There are also a couple of clubs interested in taking Michael Gash during the transfer window and there's no point in me saying he has been involved here, because he hasn't, so we will have to see what happens. We will only reduce the squad when the timing is right though. Jimmy Sangare was a player I did not want to lose this week but he felt the timing was right for him to go to Morocco'".
"Gateshead have not given up on signing Stalybridge Celtic hitman Phil Marsh, despite having an initial bid rejected" reports Blue Square Football. "The Tynesiders are keen to bolster a modest strike force, which has only yielded 21 goals from 20 games in the Blue Square Bet Premier this season...
'We have tabled a bid for Marsh which has been rejected by Stalybridge but will continue to monitor the situation', manager Ian Bogie told Chronicle Live. 'He is on a contract at Bower Fold until the end of next season and is the type of striker we are looking for, with a good goal-scoring record this season'. Marsh, once on the books of Manchester United, has bagged 17 goals in the Blue Square Bet North this term".
Meanwhile, "With the transfer window just a few days away, things are starting to happen at Forest Green Rovers. Mike Fowler and Curtis McDonald have informed the club that both are intending to join Newport County. Fowler had been on a month to month contract until the end of December since he returned from last season's injury, whilst Curtis, who was non-contracted, has taken the opportunity to sign for the Welsh club. Both players are based in South Wales...
Wayne Turk who was on loan from County but lives in Swindon, now joins Rovers on a permanent contracted basis and will be partnered in midfield by newcomer 20yr old Kieron Forbes... from Wealdstone FC. The clubs agreed a nominal transfer figure for his registration... Rovers are also in the process of speaking to other players and clubs and looking at the possibility of other members of the squad going out on loan to gain regular first team football...
Steve Guinan has signed a contract for the remainder of the season and this will be implemented when his loan from Northampton Town expires on 10th January. Talks are still on-going with Adam Quinn over a possible permanent move... prior to his loan expiring on 8th January".
NL Daily adds that "Forest Green Rovers have signed dynamic midfielder Kieron Forbes from Wealdstone... for a full-time professional career... Since he signed from Watford two seasons ago, it is of little surprise that Forbes caught the eye of a number of professional clubs... Forest Green manager David Hockaday was Watford`s under-18 coach when Forbes was a member of the club's academy set-up. Forbes, 20, recently completed 100 appearances for Stones".
---
28 December 2010
TUESDAY GAMES
Tuesday 28th December
AFC Wimbledon 3 Eastbourne Borough 0
Altrincham v York City POSTPONED
Barrow AFC v Wrexham POSTPONED
Bath City 2 Forest Green Rovers 4
Cambridge United 1 Mansfield Town 5
Crawley Town v Hayes & Yeading Utd POSTPONED
Fleetwood Town 2 Southport 0
Gateshead FC v Darlington POSTPONED
Grimsby Town v Rushden & Diamonds POSTPONED
Kettering Town v Histon POSTPONED
Kidderminster Harriers 2 Newport County 3
Luton Town v Tamworth POSTPONED
League Table
BSBP NEWS
The NL Daily says that "Striker Marc Williams is ready to call time on his Wrexham career for an opportunity to play regular first-team football elsewhere, despite conceding it would be a huge wrench to leave the club. The former Wales under-21 international is mulling over the offer from manager Dean Saunders of a fresh six-month contract until the end of the current season, but would prefer the security of a longer deal, even if that leads to his departure from the Racecourse.

Now 22, Williams has enjoyed his first injury-free spell in two years during a three-month loan spell at Kidderminster Harriers, where he played alongside his brother Mike, but the weather and competition for places have conspired against his efforts to convince the Dragons boss he justifies a longer contract...

'It's just a case of working out what is right for me in terms of a contract. Being offered six months is hard to play with because it runs out at the end of the season and if I'm not offered anything then where do I go and what do I do?... I'm talking to everyone first, including the gaffer. He's been great with me because he was a player himself. He knows what it's like when you've missed a lot of football and then simply want to play every game to make up for lost time... I worked out that I missed about eighteen months so now I'm looking for a good run of regular football. I want to be playing twenty-five to thirty games on the bounce and whether I can do that here, with all the other strikers that are on the books, I'm not sure.

There's a good front line with Andy Morrell, Gareth Taylor and Andy Mangan and then there are Mathias Pogba and Adrian Cieslewicz and even Nat Knight-Percival who can play up there. That's seven of us fighting for three places, so if you do the maths it means four people are missing out every week. I'm not stupid and if I do stay I'll work hard to make sure I do my best to break into the first choice three... So I've done enough to be offered another six months, but we'll have to wait and see. At the end of the day I'd love to keep on playing for Wrexham week in and week out and scoring goals like I was. That's

Meanwhile "Experienced midfielder Stefan Oakes, currently with Tamworth, is heading west next month to try his luck in America. The 32-year-old, who had his contract with Lincoln City cancelled in March of this year, is flying out to attend a trial for a side based in New York... He signed for Tamworth in August, but is now hoping to secure a player-coach role in New York".
---
27 December 2010
MATCH OFF
Tomorrow's home match against York City has been postponed, following a pitch inspection late this morning (Monday). However, the Club is optimistic that the New Year's Day game at home to Wrexham will take place if the current thaw continues.
REF
The referee for Tuesday's match at home to York City should have been Mr S. Bratt; on Saturday, at home to Wrexham, it will be Mr D. S. Bond, who will officiate.
ALL OFF
All of the Boxing Day matches were postponed...
Bath City v Newport County POSTPONED
Darlington v Fleetwood Town POSTPONED
Eastbourne Borough v Crawley Town POSTPONED
Forest Green Rovers v Kidderminster Harriers POSTPONED
Hayes & Yeading Utd v AFC Wimbledon POSTPONED
Histon v Cambridge United POSTPONED
Mansfield Town v Grimsby Town POSTPONED
Rushden & Diamonds v Luton Town POSTPONED
Southport v Barrow AFC POSTPONED
Tamworth v Kettering Town POSTPONED
Wrexham v Altrincham POSTPONED
York City v Gateshead FC POSTPONED
BSBP NEWS
From Cambridge News we learn that "Gareth Baldwin is raring to get his teeth into the juicy challenge of replicating the storming success he achieved with Histon at rivals and neighbours Cambridge United. The man who helped mastermind the Stutes' incredible rise from the Eastern Counties (Ridgeons) League to the Conference Premier would love to make his mark at the R Costings Abbey Stadium and help United return to the Football League.

The sticking point which is preventing Baldwin from moving from his current post of commercial consultant to a place on United's board is his ownership of Histon shares. Baldwin is one of the guarantors on a frozen account Histon have with Barclays, which has an outstanding overdraft of more than £100,000...

'At the moment it looks as though joining the board is a long way off because of the guarantee situation with Histon', said Baldwin. 'I would give my shares back to the club if they give back the guarantee. They've not been prepared to do that, hence why I still have the shares. I'm not going to just give them back after investing so much time and a lot of money in the club... There could well be a change in the situation in the future'".

According to Wales Online "Dean Saunders played Santa Claus yesterday to bring some Christmas cheer to Wrexham. Saunders offered several of his players extended contracts or improved terms in recognition of their performances for the Conference Premier club this season. And the Wrexham boss has also cancelled Christmas Day training...

But it will be business as usual on Monday... Midfielder Jamie Tolley and strikers Marc Williams and Mathias Pogba, whose current deals run until the end of the month, have been offered terms until the end of the season. Youngster Johnny Hunt's one-year contract has been extended by a further 12 months. A similar offer has been made to Jay Harris, together with an immediate wage increase that brings him in line with his team-mates.

Saunders said: 'I want to keep Marc Williams as well but he may well have had offers from other clubs so I'm waiting to see what happens'... The Dragons boss, who off-loaded high-earning goalkeeper Scott Shearer to Crawley Town on Wednesday, has also held preliminary talks with Mark Creighton, currently on loan from Oxford United until the end of the month.

Added Saunders, 'I'd like to keep him here, but I understand there have been offers from other interested clubs which he obviously has to consider... Ever since I became a professional footballer there have been games on Boxing Day and New Year's Day. I have been in on Christmas Day every year, apart from the time I spent with Benfica where there was a winter break. There are plenty of pluses to life as a footballer so the odd sacrifice here and there is nothing'...

Realistically... Wrexham are unlikely to be back in action until New Year's Day at Altrincham".
---
26 December 2010
BOXING DAY
Most of the scheduled Boxing Day games were called off more than 48 hours before their scheduled kick-off...

But some survived till Sunday; Newport County say that "The pitch at Twerton Park [Bath] has passed today's 3pm pitch inspection, subject to a further inspection on Sunday morning at 11am".

And Hayes & Yeading United say that although their game had not yet been postponed, "The word from the frontline however is that the chance of the fixture going ahead is low unless we have a major thaw which is unlikely to happen with temperatures forecast to hit minus 7 on Christmas night".
TUESDAY'S GAMES
Altrincham will have an inspection on Monday to see if Tuesday's game with York City can go ahead. It was minus 11C on Friday night and already minus 7C at 8.30pm on Christmas Day. Sleet is forecast by the BBC for Monday and drizzle on Tuesday.

The Non-League Paper will be published on Monday rather than Sunday this week with coverage of any Boxing Day matches included.
---
25 December 2010
HAPPY CHRISTMAS!
Altrincham FC extends its best wishes to all supporters for a very happy Christmas and New Year and thanks everyone for their support through the season to date. The club looks forward to your continuing support in 2011.
BOXING DAY
Most of the scheduled Boxing Day games were called off more than 48 hours before their scheduled kick-off...
Through the Years by Howard Watts.
Bath City v Newport County
Darlington v Fleetwood Town POSTPONED
Eastbourne Borough v Crawley Town
Forest Green Rovers v Kidderminster Harriers POSTPONED
Hayes & Yeading Utd v AFC Wimbledon PITCH INSPECTION, SUNDAY 9am
Histon v Cambridge United POSTPONED
Mansfield Town v Grimsby Town POSTPONED
Rushden & Diamonds v Luton Town POSTPONED
Southport v Barrow AFC POSTPONED
Tamworth v Kettering Town POSTPONED
Wrexham v Altrincham POSTPONED
York City v Gateshead FC POSTPONED
BSBP NEWS
The Burton Mail says that "Burton Albion revealed they have received two offers for top scorer Shaun Harrad. Albion's League Two rivals Northampton Town and ambitious Conference outfit Crawley Town have both tabled written offers for the 26-year-old striker.

But Brewers' chairman Ben Robinson...said: 'We have been talking to Shaun and his agent for weeks now about a new contract, but so far we have been unable to reach agreement. Subsequently, we have received written offers from Northampton and Crawley and we have notified Shaun and his agent of these developments. However, it is our intention to continue to try to reach an agreement regarding a new contract because the manager (Paul Peschisolido) does not want him to leave the club'...

It is understood Harrad would not drop into non-league football with Crawley and would prefer to move to a club at a higher level if he does part company with the Brewers... Albion's concern is that Harrad would be able to leave the Pirelli Stadium as a free agent at the end of the season after more than five years with the club... but [he] has found himself on the substitutes' bench in recent weeks because Peschisolido has used James Collins as the targetman in a 4-2-3-1 formation.

Peschisolido said: 'We have been having difficulty with the contract talks and that's why we're listening to offers from other clubs'".

Luton Town announce that "Kenilworth Road will be staging international football for the ninth time in its history when the England C side take on Belgium on Wednesday 9th February, kick-off 7.30pm. Both countries will be gunning for a place in the International Challenge Trophy final where either Italy or Portugal await. Paul Fairclough's squad for the tie could include a number of Town players and admission on the night is £5 for adults and £1 for concessions".

According to the Birmingham Mail, "Cash-strapped Kidderminster Harriers must search again for a new financial saviour after businessman Chris Swan pulled out of buying the club. Harriers face the real threat of having to go into administration – which would bring an automatic ten-point penalty – as they need to find £150,000 to pay wages, tax, PAYE and National Insurance before the end of the month...

The sticking point was to repay loans of £75,000 to acting chairman David Reynolds and £50,000 to new director Mark Serrell, who had rescued the club in October after a boardroom takeover... Harriers' hearing over Conference charges concerning a failure to submit the correct financial paperwork last season was postponed yesterday. The snow meant the hearing in Birmingham was scuppered and will now be held on January 6. Harriers could face a hefty fine and/or points deduction".
---
24 December 2010
MATCH POSTPONED
The Wrexham v Altrincham game on Boxing Day has been postponed following an inspection of The Racecourse pitch this morning. Alty's next scheduled game is at home to York City on Tuesday 28 December at 3pm.
HOME FORM IS THE KEY
The Sale & Altrincham Advertiser says that "Altrincham boss Ken McKenna believes home form will be the key to survival... 'They are all big games' said McKenna. 'We haven't much margin for error. Every game is important but none more so than our home games. We had a good result and performance against Curzon [in the Trophy] and wanted to build on that against Histon but, unfortunately, the match was called off. When we took over, we got within striking distance of safety quite quickly but then we had another poor run, which set us back. We now have to pick up a couple of results.

We are a lot better at home than away. if you look at our previous home games, against Luton and Wimbledon we were unlucky not to get something. There wil be lots of ups and downs towards the end of the season and we need to pick up as many points as we can'...

'We've had a flu epidemic in the squad which has affected five or six players. We are getting indoor training whenever we can to keep the players ticking over'...

'We would have loved to strengthen but we have to be realistic as we have no money to spend at all. It might come down to whatever little juggling acts we can do. Sometimes just changing one or two can give you a bit of a lift and if we do change any, it will be like for like, We might see if we can pick up one or two from the league below. All the players we have are doing well and I'm pleased with their effort. As long as they keep working and training hard, I'm happy'.

'It's a very difficult league as we are playing against teams who are full-time. However, you can look at teams like Bath, who are doing well and sitting in mid-table. if you have a good team spirit, then it can be done'".
BOXING DAY
If Boxing Day's game does go ahead the BBC confirms that "Wrexham will be without striker Andy Mangan, who serves the second game of a three-match suspension, and right-back Curtis Obeng, who has a one-game ban. Midfielder Jamie Tolley and forward Kevin Gall should return after missing the FA Trophy win over Kidderminster earlier this month with a virus.

Altrincham boss Ken McKenna expects to have a fully-fit squad available for the trip to the Racecourse Ground. Bottom-of-the table Alty have not played a league game since 27 November".

The Leader claims that "Wrexham Football Club is facing a major financial crisis if the big freeze continues. Club boss Geoff Moss says that having to cancel home games such as the one against Crawley on December 4 cost the club around £40,000 in lost revenue.

And he warns that if the Arctic snap leads to the cancellation of the big Boxing Day home clash against Altrincham, it will be down a similar amount of income. Mr Moss said: 'Frankly, this weather is just killing us and if it doesn't let up soon we will have a real financial crisis on our hands. It is obviously home games at the Racecourse which bring in the income but when you are losing matches like the Crawley one you lose a lot of your income.

On that day our hospitality operation, which includes boxes and meals, was completely sold out. We also had 120 people booked into the function room. We lost all the income from that, which when you add in the gate receipts amounted to about £30,000 – £40,000'.

Mr Moss added: 'The trouble is that we rely for our income on people coming through the gates and when they don't there is just no money coming in. But you still have to pay all your costs, like staff and the Inland Revenue."

He added: 'Over the Christmas period we have four games in eight days and two of these are at home - Altrincham on Boxing Day and Bath on January 3. The Boxing Day one is traditionally a very big one for us and if that one falls victim to the weather we stand to lose another £30,000 – £40,000 at least. We have borrowed covers from St Helen's Rugby Club but they only cover about three-quarters of the pitch and only protect against temperatures down to minus two or three. When it goes down to minus eight and nine like it has been over the past few days they just don't work'".

Indeed, postponements look likely at most venues on Boxing Day but at Bath City "The Twerton Park pitch is currently under a thick blanket of snow. Despite the freezing temperatures of the last few days the snow has acted as insulation and spot checks indicate that the pitch remains playable underneath. Very low temperatures are expected Christmas night (25 December) so the snow will be left in place until the morning of Boxing Day. At this point the snow will be removed and a full pitch inspection will occur. Every effort is being made for the 26 December match against Newport County to proceed".
BSBP NEWS
At Gateshead "The festive derby against Darlington at the International Stadium on bank holiday Tuesday, 28th December will be subject to a 9:30am pitch inspection" and "Gateshead have extended striker Gary Mulligan's initial five-month contract until the end of the season. The 25-year-old Ireland U.21 international has made 17 starts and two substitute appearances for Gateshead, scoring four goals".

The Football Conference says that "Mark Cooper, manager of Darlington, has confirmed that he's released former Manchester United and Newcastle star Keith Gillespie. The Northern Ireland international winger had joined the Quakers on a short-term deal... but after just three games the 35-year -old midfielder has been allowed to leave.

'I think we've got enough cover in midfield', explained Cooper. "Keith came to us when he wasn't really fit and we've had a few games called off. We haven't got time to get people fit, we need people that are ready to go, can go straight into the team and improve us. I've had to make the decision, is he as good as Gary Smith? You'd probably say he's no better. He keeps the ball okay but I don't think he's any better than what we've got. If I can put that money towards a striker that can get us ten goals before the end of the season or someone who can create goals then that's what I'd rather do'.

One player Cooper does rate is midfielder Aman Verma, who's extended his loan deal from Leicester City. Verma joined Darlington on November 19th but has only played twice due to postponements. The 22-year-old has extended his stay to February with a view to staying longer".
---
23 December 2010
WREXHAM ON BOXING DAY
Wrexham FC have issued a statement about the Boxing Day game...

"Due to prolonged and persistent bad weather we are suffering from at present, the Football Conference is allowing clubs to call for pitch inspections on Christmas Eve.

Following another three inches of snow overnight (Tuesday), on top of a pitch that is frozen in large areas after a week of sub zero temperatures, we have asked match referee Peter Wright to take an early look at the Racecourse surface.

The Southport-based official has therefore agreed to call in at the ground at lunchtime on Friday, after carrying out a similar engagement at Haig Avenue.

With temperatures plunging most nights and the BBC forecasting nothing rising above freezing before the middle of next week in the Wrexham area, we keep our fingers crossed, but it doesn't look overly promising!

Even then, a thaw will only bring about the risk of flooding for another 24 hours or so, not just from the snow melting, but also from the frost coming out of the pitch".

And the Daily Post also reports from Wrexham that Dean Saunders, the Racecourse boss, is anxious to salvage something from the Christmas programme, even though the Boxing Day home game with Altrincham already appears very doubtful. 'It's not looking good for the weekend, but we have to prepare as though the game is going ahead' he added. 'Some of the players won't have played for a month, but at least we have been able to maintain our training on the artificial pitch, which is an advantage we have over some of the other clubs'."
BSBP NEWS
"Djoumin Sangare is set to leave York City to play in Morocco with Casablanca" reports the Football Conference. "Sangare has been a fans` favourite since... early last season. The previous manager Martin Foyle offered him a contract until the end of December and the player has now decided that it is time for a move abroad.

Sangare said: 'I would like to thank all the fans for their support shown to me. I really appreciated it. I would have loved to stay and help the team get back into the Football League but football is a short career and you have to make big decisions. I am now 27 years old and it's a U-turn in my career but when this opportunity came up I couldnt say no. I will be playing in Morocco, a hot place and it's a good challenge. I will be playing in the African Champions League. It's a package that's good for me and it gives me a chance to live in a Muslim country which is very important to my beliefs.

I wish the lads all the best for the rest of the season hoping that they get promoted and have a good run in '.

Manager Gary Mills added: 'I`m gutted that his contract was only to December, it was all sorted out before I joined. I was in the process of offering Djoumin a further contract but he's been offered a two-year deal to play in Morocco which he felt was right for him and his family'".

Meanwhile, "Crawley Town manager Steve Evans has made his first signing ahead of the January transfer window opening as goalkeeper Scott Shearer joins from rivals Wrexham. Shearer, 29, is a very experienced goalkeeper and is expected to challenge both Michel Kuipers and Nick Jordan for a place in the starting eleven.

The highly-rated goalkeeper joined Wrexham in the summer but a desire to move back south alerted the Reds to his potential availability... The player travelled to Crawley on Tuesday evening, completed a medical and joined up on an eighteen-month deal'.

No transfer fee was involved and although the player joins the Reds immediately, he will only be available for selection from 1st January due to the current transfer window regulations".

From NL News 24 we learn that "Businessman Chris Swan hasn't ruled out fresh investment talks with Kidderminster Harriers... But sources have alleged that current chairman David Reynolds, who took the majority shareholding from his predecessor Barry Norgrove in return for a £93,000 investment into the club two months ago, wants his money back before relinquishing control, expressandstar.com is reporting.

Swan could be the answer to Harriers' problems, although the 52-year-old insists they must now make the next move and adhere to his clauses for a deal to go through. He said: 'It's gone, as far as I am concerned, and I am not sure it can be picked up. I am keeping my eyes open and will see what happens, but it's difficult to know what is going on there at the moment. You never say never, but the door is not open at the moment. However, if certain stumbling blocks can be resolved, we could

At Gateshead "The festive derby against Darlington at the International Stadium on bank holiday Tuesday, 28th December will be subject to a 9:30am pitch inspection. At present there is a 2" covering of snow on the pitch, which is frozen underneath...

If the two Christmas fixtures are wiped out... Gateshead will have suffered seven postponements before the start of 2011. 'If that turns out to be the case then the powers that be have to look at extending the season by a couple of weeks', said manager Ian Bogie. 'There is going to be a huge volume of fixtures to be played in the second half of the season which will put a strain on all clubs, and particularly the players. It is important to maintain the standards expected in the Blue Square Premier and it will be difficult to do that if clubs are playing three or four games a week on a regular basis regular basis. Extending the season by two weeks would allow clubs to fit in two Saturday and two midweek games which would ease the burden considerably. The situation, of course, will deteriorate further if more games are called off in January and February'".

According to Bath City the "Intricate Shape of Snowfakes May Save Match. Head Groundsman Andrew Pierce is cautiously optimistic about the Boxing Day match against Newport County. He has confirmed that underneath the heavy layer of snow the Twerton Park pitch appears to have so far escaped freezing. The pitch was fully thawed the day before the snow arrived. In theory the snow has acted as an insulation, preventing the frost from reaching the pitch in the last few days.

Because of its beneficial properties the snow will be allowed to remain on the pitch until the morning of Boxing Day. Until it and the covers are removed there is no way of knowing for the full condition of the entire pitch. Snow will be cleared from Twerton Park's terraces, carpark and walkways on Friday morning from 9am".

Interesting news comes from Hereford's Bullsnews to the effect that "The Conference have relaxed their rules to allow clubs to print smaller programmes due to the high chance of postponements. Current rules state a full programme must be produced for each match, but clubs can now issue a smaller eight page design over the festive period to cut costs".

In the Uxbridge Gazette we read that "Michael Malcolm has issued a come-and-get-me plea to Hayes & Yeading after his release by Crawley Town. The 25-year-old forward, who spent three months on loan with Garry Haylock's men, has opened the door for a quick return when the January transfer window opens.

'I would be interested, but it is up to the Hayes & Yeading management if they want to sign me', Malcolm said. ,There has been contact, but nothing concrete. I would like to come back to Hayes & Yeading if possible'. However, boss Haylock may have to move quickly if he wants to land the ex-Stockport County professional as Malcolm revealed that two other clubs were already chasing his signature. Malcolm's contract at Crawley was terminated by mutual consent last week.

And Malcolm says it hurt to be completely frozen out by Crawley boss Steve Evans. 'This season I would say that I was not given a fair crack of the whip, that's why I went on loan to Hayes & Yeading', he added. 'As soon as I went back I was told by the manager that he did not want me and you cannot stay where you are not wanted'...

Striker Liam Marum, who also spent a month on loan at Hayes & Yeading, was also released by Crawley at the same time as Malcolm and he could be another possible signing".

The Daily Post asserts that on-loan defender Mark Creighton is a prime target for Wrexham FC manager Dean Saunders when the transfer window opens next month. The 29-year-old Oxford United player has yet to be on the losing side in the four outings he has made since joining the Dragons midway through November, but his short-term deal expires at the end of the year.

Creighton, who appears to be surplus to requirements at the Kassam Stadium, has a year to run on his contract with the League Two club and Saunders knows he faces a battle to retain the big man's services. Yesterday he said: "Mark is a good lad... At this level of football he is ideal for us'. Acknowledging that Oxford would probably seek a fee were Creighton to leave, Saunders has a weak hand...

'To bring in good players in January you need to be able to buy them really', he added. 'I'll be talking to Mark and his agent, to my chairman and to (Oxford manager) Chris Wilder, who will also need to talk to his chairman, so it's a bit more complicated than might be the case with other players. There will probably be other clubs interested in signing Mark, but in an ideal world I'd like him to stay so I'll try to come to some sort of arrangement that suits everyone'...

The Dragons boss was more circumspect about a future at the club for former Wales under-21 striker Marc Williams, who will be out of contract at the end of the month. A goal-scoring sensation during Saunders' first season with Wrexham until he broke a bone in his foot, Williams then endured two years of frustrating injuries and was sent out on loan in August to Kidderminster Harriers...

'I am sure there are clubs that would want Marc Williams and we'll have to make a decision on him soon', said Saunders".
CHESHIRE NEWS
Northwich Victoria "have received an email from the FA regarding the payment of the FA Cup prize money for the 2009/10 season. The Club are pleased to announce that the FA have formally confirmed that they will be releasing the FA Cup prize money to Northwich Victoria FC. The prize money will be paid separately from the prize money gained in the 2010/11 season. The news comes as a welcome relief with the Club having had a string of home fixtures postponed due to the cold weather".
---
22 December 2010
NEW SIGNING
Altrincham FC have signed on Conference forms Famoud Sonko, a left-sided defender, currently with Radcliffe Borough. He will be back-up to the Altrincham squad but remains a Radcliffe player, too. He was previously with Dulwich Hamlet (2008-09) and Welling and signed forms for Alty earlier this month. His squad number is 24.
CSC GAME
The Cheshire Senior Cup quarter final between Runcorn Linnets and Altrincham has been rearranged for Wednesday 5th January at 7.45pm; the game was postponed on 21 December owing to a frozen pitch at Runcorn.
COMMUNITY CLUB AWARD TO ALTY
"PRESS RELEASE FROM ALTRINCHAM FOOTBALL CLUB:
UNITED CHIEF EXEC PRESENTS COMMUNITY CLUB DEVELOPMENT FUND AWARD TO ALTRINCHAM
Right: Peter Foster (TASC The Altrincham Supporters' Club), David Gill (MUFC Chief Executive), Grahame Rowley (Altrincham FC Chairman).
Altrincham Football Club is celebrating following the award of a grant from the newly established Football Conference Community Club Development Fund.
The award of £12,000 will enable the Club to establish the Community Apprenticeship scheme that has been initiated this year under the umbrella of the club's Community Programme.
Grahame Rowley, Altrincham Football Club Chairman, says that 'The scheme will see young people who are unemployed or short time working, taken from the local community, benefit by the education received in achieving recognised Sports Administration and associated qualifications, which we hope will assist them in obtaining full time employment within the Sports industry.
We also expect that attendees will feel that they are able to become involved in supporting and coaching Community Sports Projects in a voluntary capacity within the Trafford area.
We also believe that the Scheme will help the personal development of the students via work experience which, in turn, should improve their confidence when they move into full time employment.
This is a massive boost for Altrincham Football Club. The Apprenticeship Scheme complements our existing community projects, which include running 28 teams of all ages between 7 and 18, including boys and girls, an extensive school coaching program, a Saturday morning club for younger players, and school holiday coaching schools'.
David Gill, the Manchester United Chief Executive said, 'The Development Fund is a great way of supporting Conference Clubs, most of whom have close links to their local community. I am particularly pleased to see Altrincham, a Club that we have a good, long standing relationship with, benefiting from the Scheme through their Community projects'.
The Football Conference launched the Fund in August. The scheme is designed to encourage member clubs develop their work in their local communities. It was made possible by the generous commitment of the Premier League and the Professional Footballers' Association.
Richard Scudamore, Chief Executive of the Premier League said about the Fund: 'We are extremely pleased to be working with the Football Conference to establish the Development Fund that will allow Conference clubs, all extremely important within their local communities, to invest more funds into local youth development and good cause initiatives'".
BOOK A.S.A.P.!
All supporters who wish to use the TASC supporters' coach for the Wrexham game on Boxing Day are asked to book their seats by midday on Thursday 23rd December as the office will be closed over the festive period. The phone number to ring is (0161) 928-1045.

You can also book for the trip to Mansfield Town on Monday, 3rd January. Details of both trips are on the Away Travel page.
CSC
Not even the artificial pitch at Woodley survived the bad weather, as Tuesday night's Cheshire Senior Cup match between Woodley v Alsager, transferred from Alsager, was postponed. Alty's match at Runcorn Linnets was likewise postponed.
BSBP NEWS
"Mansfield Town have announced that Duncan Russell has been appointed as manager until the end of the season" reports the Football Conference. "He has been handed the role on a permanent basis following an unbeaten three-match spell as caretaker-manager... Russell, who had been Holdsworth's assistant since the beginning of the season, emerged as the best candidate to take on the prestigious role and fulfil our ambition of a swift return to the Football League.

Paul Hall will join him as assistant-manager after taking on the role as Russell's number two on an interim basis last month. Russell, 52, a UEFA `A` Licence holder, has held coaching roles at six different clubs over the last twelve years, including Derby County, Walsall, Wolves and MK Dons.

A variety of factors were considered in his appointment including his record of working with high quality players at Championship level, his many contacts in the game, his familiarity with and the respect he has earned from the playing squad alongside his unbeaten record in temporary charge.

Chairman John Radford said: 'I believe that I have found the right man, alongside his assistant Paul Hall, to lead us back where we belong in the Football League. The way he handled the role as caretaker-manager, in addition to the results he secured, has proved to me that we can now expect continued success on the pitch this season'".

From NL News 24 we learn that "Eastbourne Borough's Matt Smart isn't happy about the club's hectic Christmas fixture schedule, and has called on the Conference fixture planners to be more sympathetic to the needs of the league's part-time teams. Borough face five games in 13 days starting with the Boxing Day derby against Crawley at Priory Lane.

Smart told Bruce Talbot at The Argus: 'I think it's ludicrous to expect a part-time team to pit themselves against full-time opposition for five games in 13 days. They can come in the next day for proper rehab and prepare properly but we can't do that. It beggars belief that the Conference can impose a schedule upon us like that'".

Meanwhile, "Histon's Omer Riza is calling on the club's fans to help them pull through. The Stutes have been charged with financial misconduct by the Conference, while chairman Russell Hands has admitted the players will not be getting paid this month.

Riza told Cambridge-news.co.uk: 'The club is going through a sticky patch at the moment, but the boys are really positive. We've agreed to delay wages this month while the club deals with certain issues it has. It's difficult to put things out of your mind completely but we have to be professional. The people running Histon are trying their hardest to put things right, and we respect that as players. We have to do our best to win games and get good results, that's the most important thing for us now'. He added: 'We need to get the number of fans coming to games up'".

York City report that "City's game against Gateshead on Boxing Day is already in doubt due to the frozen state of the Bootham Crescent pitch. A deep frost and continued below zero temperatures in the local forecast make prospects of play look unlikely and having consulted Gateshead and the match referee, the club have sought permission for an early decision. A locally based referee will therefore visit Bootham Crescent on Christmas Eve to see if such a decision can be made".

Another of Alty's New Year opponents, Mansfield Town also report that "A pitch inspection will be held on Christmas Eve ahead of our Boxing Day clash with Grimsby. A local referee will inspect the pitch here at Field Mill at 10.30am to determine whether the game will go ahead as planned. The pitch has been covered but more freezing temperatures are forecast over Christmas".

Barrow likewsie report that "Not surprisingly, prospects are not good given the current weather forecast, for the Boxing Day trip to Southport. Given that, like at Holker Street, a frozen pitch is covered in at least six inches of snow and that the forecast is of subzero temperatures in the main, hopes are not high that Sunday's game will go ahead. A pitch inspection will take place on Friday morning".

At Southport "Striker Steve Daly has been ruled out for six weeks after being rushed to hospital for an emergency appendix operation. Steve has had his appendix removed".

Troubled Kidderminster Harriers report that "Director, Keith Chandler, has issued the following account of recent events at the Club in the form of an open letter to all supporters...

'You will be aware of the serious financial difficulties facing our Football Club and of the substantial efforts that have been made to secure new monies to enable the Club to compete this season without being weighed down by further debt... A meeting was held at the Club at which Mr. Chris Swan gave a presentation...

The objective of this meeting was to hear from Mr. Swan a proposal whereby he would take full control of the Club, inject new monies into the Club and, ultimately, achieve promotion for the Club into League 2. Mr. Swan was of the opinion that it would take him approximately five days to undertake the process of 'due diligence', after which and providing matters were satisfactory, he would take full control of the Club and bring in his team to get the interest within the town fully behind the Club.

His conditions for taking over the Club were twofold;
1. He wanted 100% of the Shares in Kidderminster Harriers Football Club, for which he would pay £1.
2. He would not pay back any Directors' loans that had been made to the Club.

It was explained to Mr. Swan that it would be unlikely that 100% of the Shares in Kidderminster Harriers Football Club would be delivered to him and there were instances where only one share was held by an individual. Furthermore it was believed that some of those who held only a few shares may have died, and the whereabouts of their Shares could be unknown.

It was further explained to Mr. Swan that, according to the constitution of the Football Club, outright control of the Club lay with any one person or groups of persons holding 75% or more of the Football Club Shares. Mr. Swan was advised that currently Aggborough Holdings held approximately 60% of the Shares... and Mrs. Jane Murrant held approximately 26%... The remaining 14% of the Shares in Kidderminster Harriers Football Club are held by a significant number of individuals or groups...

Mr. Swan was advised, therefore, that for him to take sole control of the Club, he would have to acquire the two major holdings of Kidderminster Harriers Football Club Shares, being those held by Aggborough Holdings and Mrs. Jane Murrant. There was no other permutation of holdings that could deliver to Mr. Swan the total control he wished for...

Following a discussion, a majority of the Aggborough Holdings Shareholders together with Mrs. Jane Murrant stated that they would be prepared to pass to Mr. Swan the Shares that they jointly held, amounting to 86% of the Shares... However it was also agreed... that Mr. Swan should be asked to repay two loans that had been made to the Football Club since 28 October 2010 and these were as follows;
David Reynolds £75,000
Mark Serrell £50,000

Both David Reynolds and Mark Serrell advised at the meeting that if Mr. Swann repaid these two loans to the Club, they would each pass to KHIST a sum of £25,000 upon receipt of payment for KHIST to use for the benefit of the Club as KHIST saw fit. I was asked to telephone Mr. Swan on the morning of 16 December 2010 (Thursday), which I did... and, upon conclusion, Mr. Swan advised that he was not prepared to repay any loans whatsoever and therefore he would not be proceeding further".
---
21 December 2010
MATCH OFF
The CSC match tonight (Tuesday) at Runcorn Linnets against Altrincham has been postponed due to a frozen pitch.

Tuesday 21 December

Cheshire Senior Cup QF
Alsager T. v Woodley S. POSTPONED
Runcorn Linnets v Altrincham POSTPONED
Through the Years
FAT 1R replays
Eastwood Town v Rushden & Diamonds POSTPONED
Southport v Gateshead FC POSTPONED
REFEREE
The referee on Boxing Day for Wrexham v Alty is Mr P.C. Wright, who reffed Alty 0 Mansfield 4 this year and, last year, Altrincham 2 Histon.
CASH FLOW AT CHRISTMAS
In Monday's Manchester Evening News, Altrincham FC chairman Grahame Rowley "has warned [that] the region's semi-professional clubs face a chilling start to 2011 in financial terms, if the big freeze extends over the normally lucrative Christmas season....

Despite recently buying frost covers for their pitch, Altrincham haven't played in front of their own supporters since November 13 with the exception of a minor cup tie. And should their Christmas and New Year fixtures against York and Wrexham also be postponed, Alty will go 10 weeks without a home game.

Rowley said, 'It's a big worry even for a club such as ourselves, who are very careful about the way we budget for the season. Fortunately, we recently held a sportsman's dinner, which brought in around £6,000 but we're already looking at our next scheduled home match against York on December 28 and fervently hoping it can go ahead.

The York and Wrexham games are normally two of our biggest earners and we would anticipate gates of more than 2,000 for each of these fixtures, should they be played as scheduled. But should one or both be off and then take place on a Tuesday night later in the season, we wouldn't expect a crowd of anything like that figure... Histon, in our league, have already announced they'll be late paying this month's wages and, if the bad weather continues, I can see a lot more forced to do exactly the same. It's a major concern but, as far as the weather goes, there's obviously nothing we can do other than wait - and hope".
BSBP NEWS
From the Football Conference we learn that at Aggborough "The Board of Directors have committed to keeping the loyal supporters informed of Kidderminster Harriers Football Club's position in an open and transparent manner.

It is well documented that the KHFC remain in an extremely difficult financial position and the Board are working tirelessly to rectify this position.

A meeting was held on the 15th December 2010 with Directors, ex-Directors and major shareholders with a potential investor Chris Swan. Swan, a successful business man from Stratford, gave a presentation to the group which outlined his wish to take over full control of KHFC.

The Directors and major shareholders gave full consideration to the offer and unanimously agreed a proposal which was put to Swan on the 16th December 2010. After due consideration, Swan has decided not to pursue his interest in KHFC.

Although disappointed, the Board would like to take this opportunity to thank Swan for his interest and remain committed to securing the long-term future of KHFC".

The BBC says that "Histon chairman Russell Hands has confirmed the club has now paid [its] playing squad for November... Hands told BBC Radio Cambridgeshire: 'It was a cash-flow issue, but the directors have managed to sort out the money to pay the players'...

The seriousness of the club's financial problems first became apparent over the summer as they chose to slash their playing budget... 'I'm not saying administration could never happen as you should never say never, but it will only happen if we can't raise the money to maintain our ongoing debts'," he said. 'For most of the people who have genuine claims on money which is owed to them we've come up with agreements and settlements and we're paying off those debts bit by bit'.

Hands says there are outstanding loans still to be repaid which were taken out by former directors, but they are no longer the club's responsibility. 'The bank wouldn't lend the club the money [at the time the loans were taken out], so they lent the money to the individual people and those individual people are responsible for it', he said. 'The bank aren't chasing us for the money, they're going after the people who guaranteed it because they wouldn't lend us the money as a football club'.

Meanwhile, Histon will face independent commission on 23 December after they were charged with allegedly submitting 'misleading financial information' to the Football Conference. The club could be docked points should the commission not find in their favour, but Hands is hopeful that they will be found innocent. 'Between the two sets of figures we get hit by a huge tax bill and suddenly we're being asked why it's not in the figures. The reason it isn't there is because we didn't know about it', he said".
---
20 December 2010
CLUB CLOSED TODAY
After last night's temperature dropped to -11, the club has to close today as the water supply is frozen to both offices and bar. This also means that the planned TV match tonight in the bar is cancelled. It is hoped that measures being taken will mean that the club will open tomorrow. Secretary Derek Wilshaw will be in touch with Runcorn Linnets tonight to see about the possibility of tomorrow's match being on. In an emergency chairman Grahame Rowley can be contacted on 07720606897.
GET YOUR CALENDAR!
Altrincham FC calendars are now available from the club offices during normal working hours. Before Christmas the offices are open till lunchtime on 23 December. There are two sizes; A4 calendars cost £8 and the A3 size will cost £10.

Orders can be made by e-mail - but do please state which size of calendar you require.

The calendar has been produced by Gavin Rathbone of GR photography and features his excellent action photos. Each month contains biographical information about a player or players in the Alty squad. Samples are shown right and below.
FIXTURES
The Vodkat League confirms that "Two Cheshire Senior Cup Quarter Finals have been rearranged for this coming Tuesday 21st December. Alsager Town will now travel to Woodley Sports, despite originally being drawn at home. The game has now been switched to Woodley in order to (hopefully) get the game played on Woodley's artificial surface. In the same competition, the Cheshire FA have also rearranged Runcorn Linnets' previously postponed tie at home to Altrincham for the same evening. In each instance if the games are not played, new dates will be arranged in the New Year". Woodley report that "Should this game be cancelled then it will be scheduled for the 4th January at Alsager."
OLD BOY
Former Alty defender George Melling has moved from Bamber Bridge to Kendal Town, one of his former clubs.
BSBP NEWS
"Crawley Town have revealed that midfielder Dannie Bulman will sign on a permanent contract when his loan from Oxford United expires on Boxing Day", reports Blue Square Football. "The experienced midfielder will sign on the dotted line when the transfer window reopens in January, but he will not be eligible to play against Hayes and Yeading on December 28. Bulman's switch to Crawley will not involve a transfer fee and manager Steve Evans is delighted the 31-year-old will be staying on at Broadfield Stadium.

Evans told The Argus: 'Everything is agreed with Dannie and we're delighted to have him with us on a permanent basis. Dannie has seen this is a different club to the one he was at before'".

Elsewhere in Sussex, The Argus reports that "Assistant manager Nick Greenwood says Eastbourne Borough are looking to add to their squad in time for the hectic holiday programme. Their options were reduced this week when Charlton re-called defender Carl Jenkinson from his loan spell. Greenwood said: 'There are one or two irons in the fire so I wouldn't rule it out but it all depends on negotiations. We've had deals set up that have fallen through this season already so we have to be cautious'".

York Press told us last Friday that "Midfielder Danny Racchi will be unavailable for York City's clash at Luton Town tomorrow. Racchi's three-month loan stay from Wrexham has expired but City boss Gary Mills is interested in bringing the former Huddersfield and Bury player back to Bootham Crescent once the transfer window reopens in the New Year.

Since Mills took charge of the Minstermen in mid-October, Racchi has started nine of the club's 11 fixtures but, following the Kenilworth Road clash, he will also be missing for the Boxing Day home match against Gateshead and the trip to Altrincham two days later.

The City chief said: 'I've worked well with Danny and we have already talked about sorting something out until the end of the season. I'm disappointed he won't be available for three games because he's a footballer who can see a pass, doesn't give away possession and is capable of scoring a goal. He's also very comfortable on the ball, which I like'".
---
19 December 2010
GET YOUR CALENDAR!
Altrincham FC calendars are now available from the club offices during normal working hours. Before Christmas the offices are open till lunchtime on 23 December. There are two sizes; A4 calendars cost £8 and the A3 size will cost £10.

Orders can be made by e-mail - but do please state which size of calendar you require.

The calendar has been produced by Gavin Rathbone of GR photography and features his excellent action photos. Each month contains biographical information about a player or players in the Alty squad. Samples are shown left and above.
KEN, IN FULL
Alty's joint press officer has kindly provided the full text of his recent interview with Ken McKenna...

"A power cut may have helped Altrincham rediscover their spark after they surged into the second round of the FA Trophy at the Tameside Stadium on Tuesday night.

Trailing 2-1 to Curzon Ashton at half-time last Saturday, the lights went out and forced an abandonment that handed Alty an unexpected reprieve.

They made the most of it three days later, as a vastly-improved performance yielded late goals by Robbie Williams and Chris Denham and a second-round date away to Blyth Spartans on January 15.

Manager Ken McKenna believes the realisation of how close they came to an ignominious exit may have given his players a timely jolt and that their response could be a sign of better times ahead.

'I always stress to the players, in any cup tie against lower league opposition, that it is about attitude,' he said. 'You can't afford to underestimate anyone, and you could see on Saturday how the Curzon lads wanted to prove to ours that they were every bit as good.

'They were up for it, while we weren't quite, and, as a consequence, we got a shock. We pulled a goal back just before half-time, but there's no doubt the power cut helped us. We had a bit of luck with that. It gave us the chance to assess what we were up against and what was needed to get through, against a good, honest bunch of lads, and we acquitted ourselves a lot better second time around.

'It was a big improvement. After giving away a stupid goal on Saturday, we set out to be a lot more solid this time, and we succeeded on that score. I actually felt we had a chance to get back into it on Saturday, after scoring just before the break, but I was glad of the chance to start again from scratch.

'Curzon were excellent throughout and pushed us all the way, and, let's be fair, they might have gone ahead in the first half on Tuesday night, but for a great save by Stuart Coburn from a one-on-one.

'They showed they can be a dangerous side. Their two lads up front were a handful, and the big lad playing wide caused problems. We had our work cut out and had to match them physically, but I think our quality came through in the end. Having stood up to the challenge, we had that bit extra that saw us through.

'It was never going to be easy, particularly after the couple of knockbacks we've had recently. People don't always understand how hard it is when you are a bit low. We were doing ok, but those heavy defeats at Crawley and Cambridge United really knocked the players' confidence.

'It's my job to try and rebuild that, and I'm made up for them after Tuesday night's result. It was a banana skin, and we were on a hiding to nothing. It was one of those no-win ties; if you get through, you're supposed to, if you go out, you're suddenly the worst team in the world.

'We are playing under a bit of pressure at the moment, but we stood up to it well and showed a lot of character to go through deservedly.

'There was a good mood in the dressing room afterwards, but, to be honest, I sensed that before the game. We had a good gab about Curzon and what we could expect from them, and all the signs from the lads were encouraging. I could just tell they wanted to put things right after Saturday, and I'm so pleased for them.' McKenna is demanding more of the same against Histon at Moss Lane on Saturday, saying: 'This is a big game, a big chance to close the gap, and the lads have to keep believing in themselves and working hard. If they do that, there'll be no complaints from me.

'We were doing all right until that little run of defeats, but now we find we've got to start putting some wins together. If we beat Histon, and other results go our way, we could be just three points from safety, so we have to use that as a motivation. We could be in the best position we've been in all season, with a Trophy second-round tie to follow, so it is essential we try and seize the opportunity.

'I'm just so happy and relieved that we have finally delivered a victory for our supporters, because I know how disappointed they were with Saturday's performance. I looked round our support on Saturday and saw the same faces that were turning up and getting behind the team when I was playing 20 years ago. That's loyalty for you. They are proper football supporters, and the plain fact is, we let them down on Saturday.

'I told the players that before kick-off on Tuesday and urged them to go out and give them something to shout about. They haven't had much to shout about lately, and they have every right to have a go at us, if they feel we are not trying hard enough.

'It's a point I keep making to the players. I don't expect us to play like Real Madrid or look as though we're a team full of Wayne Rooneys, but I do expect hard work. If we give it our all and maintain our concentration from first whistle to last, the fans will get behind us.

'I will never have a go at them, if they do what they are asked to. It does get my back up when we make individual errors, and it costs us, but maybe that is just a consequence of the level we are at. We can't practice things as much as we would like, because we don't have the time.

'But it's still important we make the most of what we've got. If a team footballs us to death and plays us off the park, fair enough. But I'll only accept that if we have done our absolute utmost to compete with them first.

'There is still a lot of work to be done, but it was a good victory at Curzon. We can enjoy that, and I'm really pleased for the players and supporters that we're in the next round.

'It was a tough game, and it's possible there could be changes on Saturday. We'll have a look at what we know about Histon and also assess our own personnel. We'll look at the minutes all the lads have played and try and establish who is looking tired and who looks fresh. It's a squad game these days, and you have to make the most of what is at your disposal'".
BSBP NEWS
From the Birmingham Mail we learn that "Steve Burr is determined not to let Kidderminster Harriers' off-the-field dramas derail their on-the-pitch charge...

Burr warned that the week's events – being hauled before the Conference over alleged financial misconduct and then finding the club under the threat of going into administration – could easily upset the apple cart. Harriers will now face a Conference hearing next Thursday after being charged over 'discrepancies' regarding their financial returns as part of the league's Financial Reporting Initiative between August 2009 and May this year. They could be hit with a points deduction and a fine.

Harriers' acting chairman Dave Reynolds has warned they need an injection of cash to avoid the threat of having to go into administration, which, under FA rules, would mean being docked ten points. But a possible new owner, Stratford-based businessman Chris Swan, could also lead a bail-out...

'It is unsettling and players start to ask what's happening', said Burr. 'The sooner it all gets sorted, the better. But all we can do – as manager and players – is to concentrate on the football... Thankfully, we've got a good team and that's really positive. They have done fantastic, especially when you look at what we are competing with. It's been an unbelievable effort – there's a great spirit in the dressing room'...

Harriers' tricky financial situation is likely to mean they will not extend the loan of Accrington Stanley forward Craig Lindfield... Left-back Mike Williams, meanwhile, is likely to miss the Christmas games after undergoing surgery on a foot problem".

More on this comes from the Express & Star which says that "Warwickshire-based businessman Chris Swan... could save Kidderminster Harriers. The entrepreneur is believed to have been in touch with all three of Harriers' major shareholders, including current chairman David Reynolds, to express an interest.

Harriers need £150,000 by the end of the month to avoid going into administration... Swan, who made his money in property development and car parts... already has the backing of former chairman Barry Norgrove, who relinquished his majority shareholding to Reynolds in return for a £93,000 investment into the club two months ago. Those two, along with Wayne Jones, from Harriers' parent company Aggborough Holdings and must step aside if Swan were to take charge".
---
18 December 2010
BSBP NEWS
Sat. 18 December
AFC Wimbledon v Wrexham POSTPONED
Altrincham v Histon POSTPONED
Barrow v Tamworth POSTPONED
Bath C. v Southport POSTPONED
Cambridge U. v Darlington POSTPONED
Fleetwood T. v Newport C.
Gateshead v Hayes & Yeading U. POSTPONED
Grimsby T. v Forest Green R. POSTPONED
Kidderminster H. v Kettering T. POSTPONED
Luton T. v York C.
Rushden & D. v Eastbourne B. POSTPONED

Before Saturday's Alty v Histon game was called off, Cambridge News reported that "Histon could go bust in the near future - that is the sensational warning of their former chairman Tony Roach.

Roach approached the News to lift the lid on the financial turmoil he believes is engulfing the club...

'It's clear the club will never stand up on its own without the directors putting money in', he said. 'Even with 1,000 fans a week the directors would still need to put in a considerable amount. At the time I was chairman, I and several directors put money in'.

Roach claimed the club has at least one outstanding loan of £100,000, agreed in the summer of 2008, that has still not been paid off, and said he and other former and current directors were being saddled with an overdraft of more than £100,000.

The News has seen documentation from Barclays referring to a frozen account with an outstanding overdraft of £103,154.03, for which Roach and others are guarantors. 'I've taken advice from a lawyer and have sent a letter back saying they can't come to me for the debt because the club is still trading'," he said... Roach... said he put £327,000 into the club in total... 'There is only one way out and that is if the previous directors come back to the club', said Roach...

'All I want to see is a nice bunch of businessmen there who can help a village team like Histon have a future'...

But Histon director Angelo Dama hit back at Roach's claims. He said: 'The directors made personal loans to Histon which they guaranteed. The bank has asked for it back, so it's their liability. It's nothing to do with Histon. If Tony was that worried about the club, he wouldn't have gone. If he's so concerned about it, he should put his money in'".

From Forest Green Rovers comes news that 'It is with regret that Lee Fowler has taken a personal decision to leave the club and make certain matters public... The club would say that they have demonstrated their side of the commitment they gave to the player upon signing. Part of the agreement reached was that he would sign as a non contracted player...

After starting in the first 8 league fixtures he was then unavailable for the next 3 due to suspension... He then appeared in another 3 fixtures before injuring himself in training. This was diagnosed by the club medical team as a serious knee injury, resulting in the club paying for medical scans and consultant fees...

Two weeks ago the club was approached by the player requesting to be given a full time contract, stipulating what he sought in personal terms. At that time he was advised that until he... was able to prove his fitness the club would not enter into any such discussions.

The club then finds that the player has indicated that other clubs have allegedly been speaking to him, which not only is this contrary to regulations without our knowledge, it appears the player may well have manufactured this position to strengthen his case for a contract. Following the club position being put to him he alone decided to take the option to leave. The club has been duly forced to agree to cancel his registration".
---
17 December 2010
MATCH POSTPONED
Following this afternoon's pitch inspection, tomorrow's game between Altrincham FC and Histon has been postponed due to a frozen pitch. Alty's next game is now on Tuesday night, away at Runcorn Linnets, in the Cheshire Senior Cup Quarter Final.
KEN PLEASED FOR THE LADS
In the Sale and Altrincham Messenger, Alty manager Ken McKenna says of Tuesday's Trophy win at Curzon Ashton, "I always stress to the players in any cup tie against lower league opposition that it's about attitude. You can't afford to underestimate anyone and you could see on Saturday how the Curzon lads wanted to prove to ours that they were every bit as good.

They were up for it while we weren't quite and, as a consequence, we got a shock. We pulled a goal back just before half time but there's no doubt the power cut helped us. we had a bit of luck with that.

It gave us the chance to assess what we were up against and what was needed to get through against a good, honest bunch of lads and we acquitted ourselves a lot better, second time around.

People don't always understand how hard it is when you are a bit low. We were doing OK but those heavy defeats at Crawley and Cambridge United really knocked the players' confidence. It's my job to rebuild that and I'm made up for them after Tuesday night's result.

It was a banana skin and we were on a hiding to nothing. We are playing under a bit of pressure at the moment and we stood up to it well and showed a lot of character to go through deservedly. There was a good mood in the dressing room afterwards but, to be honest, I sensed that before the game.

I could just tell they wanted to put things right after Saturday and I'm so pleased for them. The lads have to keep believing in themselves and working hard. If they do that, there'll be no complaints from me'".

Fri. 17 December
Crawley T. v Mansfield T. POSTPONED
BSBP NEWS
"Mansfield Town have announced they will be returning to Field Mill on Monday (20th December) following a fresh agreement between chairman John Radford and landlord Keith Haslam" reports Blue Square Football.

"The ground had been repossessed by Mr. Haslam two weeks ago in a dispute over rent payments, which has now been resolved after the lease was renegotiated on improved terms. The terms of the new lease do not affect the ongoing legal action being taken by Radford concerning the recovery of dividend payments paid to Haslam's company, Stags Ltd.

The club can therefore confirm that their Boxing Day match against Grimsby Town will now go ahead as planned at Field Mill, along with all remaining home matches this season".

More on this comes from The Chad which says that "Mansfield Town FC will be allowed back into their Field Mill home from next week, after a deal was struck by stadium owner Keith Haslam and Stags owner John Radford on Thursday to run until the end of the season...

Mayor Tony Egginton, who facilitated Thursday's meeting, hailed the news... 'They have both given ground to enable this to happen and I am delighted.'... The club was paying £10,000 a month to use Field Mill - and had been struggling to find a temporary home which would satisfy the Football Conference before a deadline of Monday...

It is thought that the new lease deal - which the club has described as being on improved terms - has included a one-off payment of rent for the remainder of the season, as well as an agreement for ongoing discussions over the possible sale of Field Mill to Mr Radford...

Radford added: 'The rent paid to Mr Haslam previously of over £140,000 a year was too much considering the current legal situation. I will continue with proceedings against Mr Haslam and for the moment, with the small amount of money I have now paid him, I am very happy with the new deal'.

A separate statement on the managerial vacancy added: 'A decision is now overdue regarding the installation of somebody in the managerial role on a permanent basis after being delayed through a number of unforseen factors... Duncan Russell has also given the Chairman food for thought after presiding over a thumping 5-0 win against Worksop on Tuesday night thus extending his unbeaten stint as interim boss to three matches. Mr Radford believes that handing him a fourth game is not only practical in the circumstances but also prudent'".

According to NL Daily "Kettering Town have brought in one of their most popular former players to help manager Marcus Law. The Poppies have recruited record appearance holder Roger Ashby to the coaching staff. He made 662 appearances and scored ninety-six goals during his Rockingham Road career and was later manager at the newly-formed Rushden & Diamonds and has also managed the likes of Nuneaton Borough, Bedford Town, Grantham Town and Brackley Town amongst others...

Kettering currently have veteran striker Paul Furlong as player-coach, whilst Ashby will effectively replace player-coach Tommy Jaszczun, who recently left the club after turning down terms including a wage cut. Warwick University's deputy director of physical education James Ellis has also joined the backroom staff... Ellis worked with Ashby at Nuneaton and was previously the head coach for the England Universities and Men's Great Britain Futsal team".

Meanwhile, "Gary Calder, chairman of Rushden & Diamonds, says everyone is devastated by the tragic news that Dale Roberts has taken his own life... Roberts was found just hours before the Diamonds had been due to play an FA Trophy First Round replay away against Eastwood Town. The game was postponed two hours before kick-off and this Saturday's home game against Eastbourne Borough has also been called off as the club comes to terms with the news of Roberts's death.

Calder said: 'Dale didn't turn up at the training ground at 2pm on Tuesday for whatever reason so the manager Justin Edinburgh tried to find him... When his girlfriend left work and went back home, she couldn't get in. So she called the police who got into the property and found Dale had taken his own life'...

Fans reacting to news the goalkeeper had been found dead at his Higham Ferrers home flocked to the ground at Nene Park all day to pay their respects" reports the Northants Evening Telegraph.

From the Cambridge News we learn that "David Livermore is bracing himself for the worst possible outcome of Histon's financial misconduct hearing. The Stutes could face a points deduction or a fine if the Football Conference find them guilty when they hear the case on December 23...

'As far as I'm aware it's something that relates to a previous regime', he said. 'It looks to me as though the paperwork was filed incorrectly by them and then when the current board filed our financial documents the two things didn't add up. It could mean a fine or points deduction, we just don't know. We've got a good case. It's very hard to fill in financial paperwork if you don't know what's been going on with people who were at the club previously.

It's something we could really do without. But this is about Histon Football Club being here in 10 years' time and about doing the right thing. If we're going to be punished we have to take the punishment and then get on with it'...

Conference general manager Dennis Strudwick said: "We don't know what the punishment will be until we know all the circumstances...The board has found something under which they feel a charge is necessary and relates to the submission of paperwork'...

Livermore added, 'Not one player has used not being paid as an excuse when they could have easily done that. They deserve nothing but praise for that'. Livermore also confirmed that all the players had accepted the decision to delay the payment of their November wages. 'As far as I'm aware all the players accepted it. I'm sure they're disappointed not to be paid, especially just before Christmas. But they've decided to a man to hold off until January. If the club doesn't come up with the money then, it might be a different story'".
---
16 December 2010
NEXT TUESDAY
Tuesday's win means that next Tuesday Altrincham will be able to travel to play Runcorn Linnets in the Cheshire Senior Cup quarter-final. The Linnets describe themselves as "a Trust-based team formed in the 2006 off-season by the fans of the now defunct Runcorn FC (which was playing under the name "Runcorn FC Halton" at the time). We play in the Vodkat League. Having started out in North West Counties Division 2, we successfully secured promotion to Division 1".

Runcorn play at the Millbank Linnets Stadium, Murdishaw Avenue, Runcorn, Cheshire, WA7 6HP.
CALENDARS
TASC's Steve Foster writes:

"Calendars will be available from the club shop on Saturday, at the Histon game and from the offices at the club during normal working hours. A4 calendars will cost £8 and A3 calendars will cost £10.

Orders can be made by e-mail so that calendars will be reserved for you. Please also state what size calendar you would like. There are a limited number currently available, so ordering would be advisable to ensure you can get one! It would also be helpful to gauge the level of interest to assess whether a further run of calendars should be printed. The calendars ordered will be available from the shop before the game and at half time, or in the bar after the game".
ALL CHANGE
The "Change for Alty" has raised virtually £2,000 since it started in the 2009 season and you can help boost that sum by filling a special collecting tin, available from the Club, with your loose change. It is surprising how quickly the coins mount up. So, is you would like a tin, please collect one from the club during normal office hours. (The offices close at lunchtime on 23 December).
CURZON VIEWS
Right: Shaun Densmore, James Smith and Robbie Williams in action at Curzon.
A report on the Curzon Ashton v Alty game is here.
The Manchester Evening News adds that "The lights went out on Curzon Ashton's record-breaking FA Trophy run as they crashed 2-0 to Altrincham at the Tameside Stadium on Tuesday night. But this first-round defeat was tough on the Nash, who were leading 2-1 when the teams first met at the weekend only for the tie to be abandoned due to floodlight failure.
Alty, who lie some 50 places above Curzon in the football pyramid, had clearly learned from that lucky escape and rarely looked like they'd be on the wrong end of an upset second time around. Nevertheless, Curzon were just six minutes away from forcing a replay when Robins defender Robbie Williams finally broke the deadlock with a neat side-footed finish after a Nicky Clee corner had only been half-cleared.
And Altrincham had to wait until deep into stoppage-time before killing off their plucky hosts with a Chris Denham penalty after Curzon keeper Dave Carnell was controversially adjudged to have tripped Clee [actually Denham] in the box. To add to Curzon's woes, Carnell was sent off.
Skipper Dave Birch donned the green jersey but was promptly beaten by Denham's spot-kick as twice former Trophy winners Altrincham finally made sure of a second-round trip to Blyth Spartans on January 15.
Curzon's best chance had arrived on the half-hour mark when Chris McDonough latched onto Dan Broadbent's pass only to shoot tamely at Alty's veteran shot-stopper Stuart Coburn. After that, scoring opportunities were at a premium until Alty's late double blast brought an end to a Curzon run which had seen them battle through four rounds to reach the Trophy's last-64 stage for the first time in their 47-year history".
NEXT TROPHY OPPONENTS
From the Chronicle we learn that "Blyth Spartans' super run continued as they produced a cup shock by knocking Blue Square Bet Premier high-flyers Fleetwood Town out of the FA Trophy. A goal in each half from midfielder Stephen Turnbull and front man John Alexander booked Blyth's place in the last 32.

The in-form Spartans will now host Conference Premier bottom club Altrincham in the second round on January 15 after the Robins beat Curzon Ashton 2-0 last night. Blyth are on fire after a run of eight wins and a draw in their last nine games, and manager Mick Tait was delighted with the win and another shut-out.

Tait said: 'This was the best result of the lot. To beat a full-time Fleetwood outfit, who are sixth in the Conference Premier, is a tremendous result... Winning games without Brayson proves we are not a one-man team and we can now look forward to another home tie in the next round'".

Mike Garnett informs us that:

"Altrincham's full playing record v Blyth Spartans is as follows:
Home; p.6 w.4 d.1 l.1 f.12 a.6
Away; p.7 w.2 d.4 l.1 f.11 a.8
Overall; p.13 w.6 d.5 l.2 f.23 a.14

The record in the FA Trophy is:
Played 1 (Rd 3, 26.2.83, A) lost 1, goals 0-2. In that game Alty's Graham Heathcote was shown a red card after little more than one minute's play".
BSBP NEWS
The gate for the Gateshead v Southport FA Trophy on Tuesday was just 223.

From the Cambridge News we learn that "Histon will find out next week if they will be punished for alleged financial irregularities after being formally charged by the Football Conference. The club face a financial misconduct charge over what is believed to be discrepancies in documents submitted to the league before the season started. Every club in the Conference is required to send in details of their finances as part of the league's Financial Reporting Initiative.

The requirement was introduced in 2009 so as to avoid clubs running into financial difficulties midway through the season. Kidderminster Harriers have also been charged under the same rule. A statement issued by the Conference said: 'The board of the Football Conference confirm that both Kidderminster Harriers FC and Histon FC have been charged with misconduct under Rule 18. These charges relate to allegations of submitting misleading financial information.

Each club will within the next two weeks formally appear before an independent commission who will adjudicate on the evidence to be heard'.

A statement from Histon last night said: 'The club also understands that a hearing has been provisionally arranged for December 23'... The need to clear debts to HM Revenue and Customs and the police resulted in a player exodus at the end of the last season and a vastly reduced budget for the current campaign. And it was recently confirmed the club would no longer be taking players on loan as it looks to cut costs even further. However it is not known if the Football Conference charge relates to any of these matters".

According to This is Nottingham "Mansfield Town are still eyeing a temporary move to Ilkeston – despite the New Manor Ground not being up to Blue Square Premier standard.

The Stags have been kicked off Field Mill by landlord Keith Haslam over a rent dispute. Haslam and Mansfield chairman John Radford are due to meet for fresh talks to resolve the situation on Thursday. But the Stags are taking no chances with their home game against Grimsby Town on Boxing Day fast approaching. They favour a move to Ilkeston because there are no senior games currently being played there, avoiding potential clashes.

The Stags have been told, however, by the Conference that the Derbyshire ground does not meet required grade A standards. They would need to improve capacity by 1,000 to 4,000, as well as improve floodlighting and the size of changing facilities. As a result, they are looking at existing Football League grounds to host fixtures while the work is carried out.

Notts County's Meadow Lane and Rotherham United's Don Valley Stadium are understood to be the venues under consideration for those games against the Mariners and against Altrincham on January 3. 'Alfreton is still an option' said chief executive, Steve Barker... 'We are looking at the possibility of having temporary stands and seating to bring it up over the required 4,000... We have to look at a Ground A venue for Grimsby and possibly the game after that to give us time to make the improvements'.

Barker also confirmed Mansfield would 'ideally' unveil their new manager prior to Friday night's scheduled Blue Square Premier trip to Crawley".

At Fleetwood Town "Micky Mellon vowed to reimburse the travelling Cod Army as Fleetwood Town were unceremoniously dumped out of the FA Trophy at the hands of Blyth Spartans. Town created few good opportunities throughout the entire 90 minutes and had Scott Davies to thank for ensuring the divide wasn't higher...

Fleetwood fielded a strong starting eleven, which included twelve goal Magno Vieira - returning from a knee injury and Alan Wright...

Micky Mellon was unimpressed with his side. 'It was a thoroughly disappointing performance...and I'd like to apologise to our supporters for that show. I was seething with the goals we gave away... Tonight I am apologising to the fans, especially the ones who made the trip. I'd like them to know I've spoken to the players and, as a gesture, we will pay for their travelling costs to the game. That, in its way, is an apology. We value our supporters so highly and they paid good money at this time

The Surrey Comet reports that "Terry Brown has warned his AFC Wimbledon strike players to shape up or potentially be shipped out as the January transfer window looms...after the Dons laboured to a fortuitous 3-0 FA Trophy win over Braintree Town...

Brown said: 'Take the likes of Danny Kedwell and Christian Jolley out of the equation and we have about seven midfielders and forwards who have about five goals combined this season. That is simply not good enough... With the midfield you have the players that put their foot in and beat people up, and you have those that chip in with the goals. But the truth is we do not have either at the moment - we do not win enough tackles and we are not getting any goals.

I have given the attacking players the licence to get forward and I need to see a response, or I might have to look at bringing people in who can do that... I am an old-fashioned non-league boss and I love the FA Trophy... This is the best chance these players will probably have of getting to Wembley so of course we will go for it'".
---
15 December 2010
ALTY WIN THROUGH
Altrincham scored two late goals to earn an away tie at Blyth Spartans in Round Two of the FA Trophy on January 15th. Robbie Williams volleyed home from close range from a Clee pass in the 84th minute before a Chris Denham penalty in injury time saw the home keeper dismissed and Denham blast the penalty home.
Match report here.

FAT 1 results:
Eastwood Town v Rushden & Diamonds POSTPONED
Worksop Town 0 Mansfield Town 5
Curzon Ashton 0 Altrincham 2
Darlington 3 Tamworth 2
Kettering Town 1 Chasetown 2 after extra time; full time 0-0, (Chasetown scored 120th min winner)
Blyth Spartans 2 Fleetwood Town 0
Alfreton Town 3 Hyde 0
Gateshead 2 Southport 2
Welling United 1 Luton Town 2
Sutton United 0 Eastleigh 4
Dartford 1 Crawley Town 0

On Monday night:
Wealdstone 0 Newport 1 aet

Wednesday
Gloucester City FC 3 Cirencester Town FC 0

The Eastwood v Rushden game was postponed following this announcement from Rushden & Diamonds, "It is with great sadness that this afternoon our England-C goalkeeper Dale Roberts passed away, our thoughts and prayers at this time go to his parents, family and friends".
CSC
Northwich Victoria 5 Nantwich Town 2, att. 142. Jake Sedgemore got one of Nantwich's goals.
Warrington Town 2 Congleton Town 0
Alsager Town v Woodley Sports POSTPONED
COACH TO WREXHAM
Seats on the TASC supporters' coach to Wrexham on Boxing Day can be booked by ringing the Club (0161 928-1045) before lunchtime on Thursday, December 23rd. Details of the times and fares are on the Away Travel page.
£1,800 TO BE WON
The Altrincham FC Saturday Yankee's £1,800 jackpot was unclaimed this week; the winning code was 8117. However, five winning treble codes each picked up £40.
BEST WISHES, JACK
Best wishes go to Jack Thorpe (97), the former Altrincham FC groundsman, who is in hospital after breaking his hip. All at Moss Lane wish him a speedy recovery. Jack is still a regular at Alty games, home and away.
BSBP NEWS
The Football Conference confirms that "Eastbourne Borough`s on-loan defender Carl Jenkinson has been recalled by parent club Charlton Athletic. The 18-year-old's spell at Priory Lane has been cut short to allow him to feature in the Addicks' first-team squad for their Johnstone's Paint Trophy southern area semi final at Brentford on Tuesday night. Jenkinson, a Finland under-19 international, made five appearances for Boro".

"Mansfield Town will not be allowed to play at Ilkeston or Alfreton, BBC Radio Nottingham understands. Both the Derbyshire clubs' home grounds are not considered able to host Blue Square Bet Premier football as they do not meet the required A grade standard.

The Stags are looking for a new temporary home after being locked out of Field Mill by landlord Keith Haslam. And if they do not find a solution by Monday, 20 December they could face a fine and possible points deduction... Mansfield have not played since they were locked out earlier this month, with their games against Barrow and Worksop falling foul of the weather. They will face the latter in their rearranged FA Trophy tie at Ilkeston on Tuesday".

The BBC also reports that "Kidderminster Harriers director Mark Serrell has admitted the club could face liquidation but insists it would only be as a last resort. The Blue Square Bet Premier promotion chasers have to find £150,000 by the end of the month.

'We're taking all avenues we possibly can at the moment and are talking to potential investors', Serrell said. 'But I have to say that at this present moment in time it is looking like a very tall order'. Even if Harriers do manage to raise the £150,000 needed by the turn of the year they would then need to raise a further £50,000 by the end of January.

The board is working closely with the Kidderminster Harriers Independent Supporters Trust (KHIST), who are appealing to fans to donate a minimum of £100 each in an effort to secure the club's future. Their treasurer is Steve Millington and he admits...'We have had a very limited response so far to be honest but that is no more than I would have expected given the time of year', he told BBC Hereford and Worcester...

'But we really need those people who have got £1,000 to £5,000 to spare to put into the pot to come and join us otherwise we are going to be a long way short'. Harriers' problems have been further compounded by an appearance in front of the Football Conference on charges relating to the Financial Reporting Initiative.

The allegations refer to the period covering the entire 2009-10 season and if proven Harriers could expect a possible points deduction or fine. But they do not expect to hear the outcome of the Conference's deliberations until after the Christmas period".

There are no such problems in Sussex where 'Forwards Michael Malcolm and Liam Enver-Marum have left Crawley Town by mutual consent. Both players signed one-year deals in the summer but have spent most of the season out on loan. Reds' manager Steve Evans said: 'They are behind several options we have for a regular place in our matchday squad. It is only fair we let them move on to get regular first-team action'".
---
14 December 2010
CURZON GAME
It is hoped to provide updates from the Tameside Stadium during Tuesday night's game between Curzon Ashton and Altrincham. These can be found on the Matchday Update page.
ALTY CALENDARS
The Altrincham FC 2011 calendar, produced by Gavin Rathbone of GR Photography is now available. Some copies will be available at tonight's match at Curzon Ashton and, otherwise, may be ordered from the Club (0161 928-1045). The calendar comes in two sizes; A4 costs £8 and a larger version comes at £10, with all proceeds going to the Club.
SPECIAL OFFERS IN SPONSORS' LOUNGE
Altrincham FC is offering special prices in the Sponsors' Lounge to season ticket holders at the following games:
v Histon on Saturday, 18 December
v York City on Tuesday, 28 December

Season ticket holders can enjoy the game after a pre-match drink and choice of hot meal, provided by Richie Bentley in the Sponsors' Lounge. In addition, a matchday programme and half-time tea/coffee are provided, all for just £20. Places may be booked by ringing the club on 928-1045. Please note that the offices will be closed from lunchtime on December 23.
CAROL SERVICE CANCELLED
Because Altrincham will now have a game on Tuesday 21 December, the planned Christmas Carol service at Moss Lane has had to be cancelled. On that date, Alty will either be playing a Trophy replay with Curzon Ashton or a CSC match away to Runcorn Linnets.
FROM THE ASHES
Altrincham FC regular Ian Wilkinson is currently Down Under watching the Ashes cricket series. He has sent some photos showing him, in his Alty shirt, with two of the Aussies who have visited Moss Lane as guests of former chairman Geoff Goodwin. Pictured, left, is Ian with Australian hat-trick hero Peter Siddle, whilst, right, we see him with Altrincham FC shareholder and Australian captain, Ricky Ponting. Peter reminded Ian that he scored each of his penalties in the half-time shoot out at Moss Lane when he visited us, whilst Ricky sent his best wishes to everyone at Moss Lane.
FAT DRAW
The full FA Trophy draw for Round Two, to be played on Saturday, January 15th 2011, is as follows:
Gateshead or Southport v Hampton & Richmond Borough
Boston United v Gloucester City
AFC Wimbledon v Woking
Droylsden v Ebbsfleet United
Chasetown v Grimsby Town
Alfreton Town v Cambridge United
Ashford Town (Middx) v Dartford
Luton Town v Uxbridge
AFC Telford United v Rushden & Diamonds or Eastwood Town
Darlington v Bath City
Mansfield Town v Newport County
Blyth Spartans AFC v Altrincham
Dorchester Town v Eastbourne Borough
Guiseley v Stalybridge Celtic
Eastleigh v Worcester City
Salisbury City v Wrexham
MAN IN CHARGE
The referee on Saturday for Altrincham v Histon is Mr R.M. Clark, who oversaw Alty 0 Cambridge in April 2010 and York 3 Alty 0 in August of this season.
OLD BOYS
According to NL Daily "Paul Ogden, manager of Witton Albion, has signed four new players. The senior of the four is defender Danny Adams, who has joined the club from Nantwich Town. The vastly experienced Adams was on the books of Altrincham from 1997-2000, turning professional in 1999 before making the move to Macclesfield Town where he remained until 2004. From there he went on to play for Stockport County and Huddersfield Town. A transfer to Morecambe in 2007 saw Adams reunited with his former Macclesfield manager, Sammy McIlroy, before joining Stalybridge Celtic in March of this year.

Defender Matt Doughty, also from Nantwich, joined the club after his registration was cancelled by the Dabbers".
TASC MINUTES
The latest TASC (The Altrincham Supporters' Club) committee minutes are here.
BSBP NEWS
The Football Conference has issued two press statements, following a meeting of the Board of Directors...

1. The Board of the Football Conference confirm that both Kidderminster Harriers FC and Histon FC have been charged with misconduct under Rule 18. These charges relate to allegations of submitting misleading financial information. Each club will within the next two weeks formally appear before an independent commission who will adjudicate on the evidence to be heard.

2. Mansfield Town FC has been instructed by the Board of the Football Conference, that while they are sympathetic to recent events, nevertheless the integrity of the competition must remain paramount in the interest of all member clubs.

As a consequence of information received from the club and its solicitor, the club is required no later than 5pm on Monday 20 December to notify the Conference, of where it will meet the obligation under rule, to fulfil its scheduled Boxing Day home fixture and all home fixtures thereafter.

The rules of the competition are quite clear. If the ground upon which they were admitted to membership is no longer available to stage their home fixtures, then Mansfield Town can only fulfil future fixtures at a ground on which they intend to play such fixtures, which is certified as having an "A" grade qualification. Failure to meet this requirement will not only impinge on issues which relate to competition rules on membership criteria, but other associated matters including, though not limited to, promotion regulations to the Football League.

The Football Conference says that "Kettering Town have signed another player from manager Marcus Law`s previous club, Barwell. Coventry-based Towers is a tall, exciting wing forward who is quick and likes to take on defenders. Towers's previous clubs include Coventry Marconi, Barnt Green Spartak and Coventry Sphinx, but it was with Leamington where he really came to the fore...

He moved briefly to Nuneaton Borough in June 2007 but returned to the Brakes... before leaving for Barwell in March 2009. He scored several goals in the early part of last season but then missed almost three months though suspension and work commitments as Barwell won the Midland Alliance title".

Meanwhile, "Vauxhall Motors have signed defender Andy Nicholas on loan for a further month from Barrow".

Blue Square Football reports that "Eastbourne Borough's on-loan midfielder Joe Partington has returned to parent club AFC Bournemouth after being recalled by the Cherries".

The same source adds that "Mansfield Town have decided to delay the announcement of their new manager until later in the week. According to the club's official website, chairman John Radford promised to give caretaker manager Duncan Russell three games at the helm".

Elsewhere, "Histon boss David Livermore has warned his players that unless they improve dramatically, relegation could be their fate. This follows the Stutes' 3-2 loss to Bath City in their FA Trophy clash at the weekend...

Livermore told CambridgeNews: 'You have to learn quickly. You can't keep making the same mistakes over and over again. Unfortunately, that's been our Achilles heel this season. If we don't learn from our mistakes then it's going to keep happening and we will go down. The message that goes to the lads is to stop crosses. I said after the last Bath game you can't allow someone to put that ball into your penalty area, or to have a free shot at your goal but that's what happened. We played very well for 70 odd minutes. But you could see the writing was on the wall once the free-kick went in'".
---
13 December 2010
CURZON GAME
Curzon Ashton announce that "The FA Trophy First Round Proper at home to Altrincham FC was abandoned after 45 minutes due to a electrical failure that not only affected the Tameside Stadium but the whole of the local area.

The floodlights were on from the start of the game at the request of the referee and at 3.25pm power to the whole area had failed, although it didn't affect the first half. At the half-time interval the referee and officials of both clubs were in agreement that we wait until 4.20pm to see if power was restored. Unfortunately this didn't happen and the game was abandoned.

The Club are not sure of the reasons for the failure but when power was reinstalled at 4.50pm, it was too late to continue the game as almost everyone had gone home. At 6.15pm power had again failed but was restored 10 minutes later. Both clubs have agreed to reduce admission for the rearranged game to be played on Tuesday 14 December 2010 with a 7.45pm kick-off. Adults £3.50 - Concessions £1.50".
FIXTURES
Sunday, 12/12/2010 FA Trophy 1
Luton Town 0 Welling United 0
BSBP NEWS
According to Blue Square Football "Southport manager Liam Watson has revealed he plans to make one big signing in the January transfer window in order to bolster his defensive options. Watson has been assured he will have money to spend in January but he says the biggest challenge will be finding the right man for the job. 'I am looking at one big signing in January',Watson told the Southport Visiter.

'The only issue will be finding someone for the right wages. Putting cash down is not the big issue here, it is finding the right person with the right experience. But with the right experience comes the higher wages. As we talk I've had partial success but as with the signing of Matty McNeil, we have got to find the right character and also someone who knows me and the club. The chairman has come out and said what money is available, it is just now picking the right man with the right wages'".

- Fleetwood Town conform that they "have signed promising Kendal Town striker Danny Rowe. The former Manchester United schoolboy player signed for the Highbury club after he passed a medical on Thursday afternoon...

'I'm glad to join Fleetwood Town and I'm looking forward to proving myself at this level. I'll also contribute with plenty of goals, having already put away nine for Kendal in the Evo-Stick Premier. I know Fleetwood are a good club who are going places. The lads are a good bunch and I can't wait to wear a red and white shirt."

Town manager Micky Mellon was keen to stress Rowe may not be an immediate answer in adding to Town's goal tally this term.

"It's important we keep improving the squad and adding players with good potential. Danny, at the minute, may not be ready to step straight into first team football. With full-time training at the intensity we practice, and the coaching which is available, we feel he will be moulded into a good footballer'" said Rowe...

Rowe comes to Highbury with a good grounding having spent his boy and teenage football with Preston North End in addition to Old Trafford...

Mellon is keen to develop playing careers no matter what stage a player is at. The case is proved none more so than Town's longest serving player and bedrock of the club Nathan Pond. The midfielder will now move to Kendal for a short loan period to gain a different sort of experience. .. 'I don't really want him to go on loan. He is insistent he wants some games. He did a fantastic job at centre half (against AFC Fylde) and that made me ask myself just what is the lad's best position. We already know he is effective in midfield but he also has all the right attributes to be a top centre-back. Nathan wants to go and have four or five games at Kendal as centre-back and that's what he is going to do. I do stress he will be back after the first week in January for our busy New Year schedule... That is the experience he can't gain in training. I think he fancies himself as a Marcel Desailly and he's keen to develop in that direction'".
---
12 December 2010
MATCH OFF
Alty Youth's match at home to New Mills this afternoon (Sunday) has been postponed, due to a frosty pitch.
CURZON GAME
The Curzon Ashton v Altrincham FA Trophy match, abandoned on Saturday, will now take place at the Tameside Stadium on Tuesday 14th December at 7.45pm. Admission prices have been reduced to £3.50 for adults and £1.50 for concessionaries.
MATT MOVES
Matt Doughty has signed EvoStik League (NPL) forms with League One North Witton Albion, having moved from Premier club Nantwich Town.
---
11 December 2011
ASHTON LEFT CURZON THEIR LUCK
Altrincham's FA Trophy campaign was aided by a power cut at the Tameside Stadium this afternoon. Alty could have been five down before the interval but two excellent blocks from Stuart Coburn kept the score down, and Curzon's McDonagh also spooned a shot badly over the bar from close range. Match report here.

The FAT 1 matches which were played ended as follows:
AFC Sudbury 1-4 Hampton & Richmond
AFC Wimbledon 3-0 Braintree T.
Ashford Town (Middx) 1-0 AFC Hornchurch
Barrow 2-3 Guiseley
Basingstoke 0-2 Salisbury C,
Cambridge U. 2-1 Forest Green R.
Chasetown 3-3 Kettering
Cirencester 1-1 Gloucester
Crawley Town 3-2 Dartford
CUrzon Ashton v Altrincham. Abandoned at HT due to power failure, with Curzon leading 2-1.
Dorchester 3-0 St Albans
Droylsden 4-3 Hinckley U.
Eastbourne Boro 3-1 Boreham Wood
Eastleigh 1-1 Sutton U.
Ebbsfleet United 3-1 Hayes & Yeading U.
Grimsby 3-0 Redditch
Harlow 0-2 Woking
Harrogate Town 0-3 AFC Telford
Histon 2-3 Bath City
Lowestoft Town 2-3 Uxbridge
Newport County 0-0 Wealdstone
Rushden & D'mnds 1-1 Eastwood Town
Stalybridge 2-1 Nantwich Town
Worcester C. 1-0 Northwich V.
Wrexham 2-0 Kidderminster H.
York C. 0-1 Boston Utd
SATURDAY'S GAME
Assuming the match with Curzon Ashton goes ahead, there will be live reports on the Matchday Update page.

The Manchester Evening News reports that "Beleaguered Altrincham will get a welcome break from battling the drop on Saturday when they take on Curzon Ashton in the FA Trophy.

After conceding 11 goals in two heavy defeats to Crawley Town and Cambridge United, Altrincham were denied the chance to get back on track after games against Forest Green and Tamworth both fell foul of the weather. Altrincham are currently rooted to the bottom of the Blue Square Premier table, six points from safety, and Curzon manager Gary Lowe has warned the Robins to expect another rough ride at the Tameside Stadium.

He said: 'All the pressure will be on Altrincham on Saturday so it's a good game to come back to after a few weeks out, but at the same time we want a good cup run and will be fighting them every inch of the way. Obviously we would have preferred to have been able to train properly this week, but we have kept the lads active and we're ready to give them a real game'".
NEW DATES
Altrincham's two recently postponed games have now been re-arranged as follows:
Home against Forest Green Rovers - Tuesday, 11th January
Away against Tamworth game - Tuesday, 18th January.

Tamworth have explained that "The club offered Altrincham Tuesday 14th or the 21st of December to play last Sunday's postponed game as these are the only available dates left to comply with the League's 42-day rule to re-arrange a postponed game but Altrincham have already been advised that their FA Trophy tie is in doubt so the 14th comes into play for the Trophy and their County Cup match moves back to the 21st".
OLD BOYS
NL Daily tells us that "Gary Martindale, manager of Formby, has moved swiftly to make additions to his squad... Martindale [has] swooped to sign Leigh Genesis's... Adam Farley. Farley, a defender, came up through Everton's ranks as a schoolboy and subsequently played in their reserves, while briefly featuring in the first-team squad".

And "Bamber Bridge`s skipper Michael White is backing striker Peter Wright to hit the goal trail in 2011. Wright has suffered an injury-plagued third spell at Brig after returning to the QED Stadium from Kendal Town last summer. Wright, though, should be fit early next month, and the skipper said: 'Peter is just too good a striker not to get goals, he is one of the best forwards in this league.'".

Meanwhile, "AFC Telford United have signed midfielder Carlos Logan until the end of the season. Logan began his career as a trainee at Manchester City... He signed for Altrincham in September 2007 but failed to settle and left the club in February 2008. He moved to Barrow just before the start of the 2008/09 season and spent two years with the Bluebirds... He was released in May 2010, having played in the FA Trophy-winning team at Wembley Stadium a few days earlier. He signed for Blue Square Bet North side Hyde in August 2010, but was released recently because he did not make the impression they thought he would after nine first-team appearances".
BSBP NEWS
According to the Football Conference "Forest Green Rovers have signed Bradley Gray, who is currently with Salisbury City, on non-contract terms. Gray, 20, is a left-sided winger who started his career at Leyton Orient where he scored eight goals for the youth and reserves sides.

Meanwhile, Steve Davies has returned to Forest Green after his loan period with neighbours Gloucester City, whilst Lee Smith has had his loan period at Gloucester extended to the beginning of January 2011".

The Conference also says that "Kidderminster Harriers Football Club Limited can confirm that it has today (Friday, 10th December) attended a personal hearing at the Football Conference Headquarters to answer charges regarding misconduct under Rule 18, in accordance with Clause 3.3 of Appendix D. The charges relate to discrepancies regarding a Financial Reporting Initiative during the period between August 2009 and May 2010.Until the outcome of the enquiry into the misconduct held by the Football Conference is known, Kidderminster Harriers will be making no further comment on the issue".

The BBC adds that "Kidderminster Harriers Independent Supporters Trust has called on fans to help the club raise £150,000 by the end of the month. After a meeting with the board the Trust issued a statement underlining the extent of the club's problems.

'Our club still has major financial hurdles to overcome', it read. 'To survive the club needs £150,000 before the end of the month and a further £50,000 by the end of January'. The current board, led by chairman David Reynolds and vice-chairman Mark Serrell, took over from Barry Norgrove in October. We need anyone who can pledge amounts of £100 or preferably more now to come forward.

The Supporters Trust's statement acknowledges the new board has been working hard to turn around the Harriers financial fortunes but say the directors desperately need help. Although costs are being looked at, so that the club is run in a sound financial manner going forward, without an immediate large cash injection the future of the club is uncertain', they said".

"Kettering Town boss Marcus Law says he will discuss wage restructuring at the club with the players in January" reports the BBC. "The Poppies lost player-coach Tommy Jaszczun as a result of the wage cuts, which are being brought in because the club's future remains uncertain. Law told BBC Radio Northampton: 'January [and the transfer window] is looming. We won't stand in the way of players progressing to another club. If that doesn't happen, we'll re-assess, but I won't pre-empt anything'.

Kettering are working to resolve the issue of their ground lease at Rockingham Road, which is due to expire in 2013. 'This is what we have and we have to get on with it', Law added... 'We've got to cut the cloth and it didn't suit Tommy - I understand that. He has been exceptional. He's got useful ideas, he's a fantastic communicator with the lads and they admired him. It'll be a loss'".

Elsewhere, The Conference reports that "Dean Sinclair has signed for Grimsby Town until the end of the season. The former Charlton Athletic midfielder has been training with the Mariners in a bid to prove his fitness. Sinclair has had two previous loan spells with Grimsby, but following his release by Charlton in the summer is now a free agent and can sign for the club.

Meanwhile, midfielder Lewis Gobern has played his last game for the club. The 25-year-old has been suspended after a training ground incident with an unnamed team-mate left Gobern with a broken nose. Manager Neil Woods said: 'Lewis isn't at the football club but I can't say much at this moment. I'll be more than happy to tell everyone what's gone on when it's all been dealt with properly'".
CATCH-UP
With the website not being updated for the last three days here are some scores from that period:

Tuesday, 7 December

BSBP
Hayes 2 Eastbourne 1 att 190.

FAC 2 replays
Leyton Orient 8 Droylsden 2
Swindon Town 2 Crawley Town 3

Wednesday, 8 December

FAC 2 replay
FC United of Manchester 0 Brighton & Hove Albion 4

Thursday, 9 December

FAC 2 replay
Luton Town 1 Charlton Athletic 3
---
10 December 2010
SATURDAY'S GAME
Tomorrow's FA Trophy match at Curzon Ashton (3pm) is subject to a 10am pitch inspection in the morning.
---
7 December 2010
COMING UP
This website will next be updated on Friday. In the interim, please visit the Alty Fans' Forum for any updates from the Club.

Assuming the weather improves and Alty play away at Curzon Ashton's Tameside Stadium on Saturday, it will be the third time they have played a side from the Tameside town on the same date, 11 December. Howard Watts's Through the Years reminds us that in 1920, Alty beat Ashton National 3-1 in the Cheshire County League at Moss Lane. In 1926 they drew 1-1 with Ashton Brothers, again at Altrincham.

This year's game is Alty's second visit to the Tameside Stadium, having lost there 2-1 in a pre-season friendly this year.

Wifi permitting, live text updates will be provided on the website's Matchday Updates page.
GOAL RUSH
The winners of the Altrincham FC "Goal Rush" competition were as follows. The Club wishes to thank everyone who took part in this fundraising competition.
Winner: Karen Rowley, with Bolton/Scunthorpe/Charlton/Bradford City, with a total average of 7.5
Second: Noel Shield, with Bolton/Swansea/Brentford/Crewe, with a total average of 6.55
Third: Val Shaw, with Chelsea/Norwich/Exeter/Shrewsbury, with a total average of 6.35.
SING YOUR HEART OUT
The Altrincham FC Carol Service will be on Tuesday, 21 December at 7.30pm in the Noel White Suite. Club Chaplain, Andy Barclay-White, will be leading the singing and, afterwards, you can join in the Christmas spirit with mince pies for those present.
COACH TRAVEL
The Altrincham Supporters' Club travel coordinator, Tom Jacobs,writes:

"For the forthcoming cup match against Curzon Ashton (Dec.11th) there will no coach travel running to the game. The reason for this is simply that coaches have a minimum hire charge and it would not be cost effective or popular to charge people £8/£10 for such a local game.

This has been agreed after discussions with a number of our regular travellers who advise that they will be travelling by bus/train or car to this fixture on various planned days out. Should anyone need a lift to the game we will start a thread on the Fans' Forum for car-sharing, to do our best to get everyone to the match.

The same will apply to the Cheshire Cup game against Runcorn Linnets. We simply cannot afford a loss on this fixture at the present time.

TASC still intends to run coaches to away games for as long as possible, however, this will not be possible without your support. The coaches must be self-funding and we ask that, despite the team's current poor form, you do all you can to support the coaches to ensure we can continue our excellent support of the team away from home".
OLD BOYS
Ian Senior advises that goalkeeper Andy Ralph is now with Waitakere United in New Zealand.

News of a recent Alty Youth defender of two or three seasons back comes from Tom Cosgrave who informs us that he was in the SSAC (Southern States Athletic Conference) League team of year 2010 for Belhaven FC in the USA, after making 42 appearances and scoring 5 goals. Tom has been on a soccer scholarship in Mississippi, USA since leaving the Alty Youth team in 2009.

The Belhaven site adds that "Tom Cosgrave, a sophomore defender who hails from Manchester, England, was selected for a spot on the 2010 SSAC All-Tournament team of year. Cosgrave provided solid defense in Belhaven's tournament games in which the Blazers posted a solid 8 shutouts. On the season Cosgrave has a pair of goals and four points from his defender position".
HALF-PRICE SEASON TICKETS
An ideal Christmas present for any Alty fan is announced by chairman Grahame Rowley... a half-price season ticket. This is available now and will be valid after Christmas for the remaining league matches:
Standing Adult - £110, concessionaries - £55
Seating Adult - £125, concessionaries - £60
Aged 12-16 - £25
Under 12s - £12.50
GET WELL SOON
A good friend of Altrincham FC, Jim Vince (senior), who in recent years has been one of George Heslop's helpers with the youth team, underwent a triple heart by-pass last Thursday at Wythenshawe Hospital. Jim is recovering well and it is hoped he may be home for Christmas. All at the Club send Jim their best wishes.
BSBP NEWS
Altrincham are due to play away to Mansfield Town on January 3rd. According to This is Nottingham "Homeless club Mansfield Town are set to play at New Manor Ground, home of wound-up Ilkeston Town, on Saturday. They could turn out in an FA Trophy game against Worksop Town – an away fixture originally scheduled for Retford United's ground. But Mansfield have also made informal suggestions that their home league games could be switched to Ilkeston, which is only hosting friendly games for an academy side.

Mansfield, locked out of Field Mill in a rent dispute, have also been in contact with officials at Eastwood Town, Alfreton Town and Notts County. The Ilkeston ground has a capacity of 3,029 but one stand is currently closed because it needs an official's name on a safety certificate.

The Stags were due to travel to Worksop in the First Round of the FA Trophy. But police have blocked that because rival fans could not be segregated. Now former Ilkeston secretary Keith Burnand has been approached by officials of Worksop, who are currently playing at Retford`s ground, to stage this weekend's game.

Burnand, who is helping Ilkeston on a voluntary basis, said: 'There are two provisos – permission would be needed from the FA and the issue of the stand would need to be cleared up'.

The Northants Evening Telegraph says that "Justin Edinburgh believes his friendship with new Rushden & Diamonds chairman Gary Calder should be 'a big plus' over transfers and contract talks. The highly-rated manager's current deal runs out at the end of this season and he has been promised funds to strengthen the squad during next month's transfer window...

Edinburgh revealed: 'The contract talks are further advanced. I enjoy working for this football club and I've built up a good relationship here with a lot of people over a period of time. I certainly don't want to leave... So far the talks have moved on quite well. Of course, it helps that I have known the chairman for a while. This speeds up the process because I don't have to open my eyes to what the owners want to do'".
---
6 December 2010
OLD BOY
The NL Paper reports on Mark Maddox's departure as manager from Leigh Genesis. The Paper quotes the former Alty defender and captain as saying, "Basically the club's got no money... there's no scope to move the club forward... the club's got a decent youth set up and a couple of the lads have a chance of making it... I don't really like having time away from the game so I'll be looking to get back into management when I can".
BSBP NEWS
The NL Paper reports from Mansfield that, despite "The absence of a manager and lack of a home", captain Steve Foster says of his return to The Stags, "I've no regrets about coming back. There is a quality squad at the club and unfortunately results haven't gone for us... There is no reason why we shouldn't be up near the top, come the end of the season. I said, before we'd kicked a ball, that we'd be disappointed if we weren't in the top five. That still stands".
MIDWEEK FIXTURES
Tuesday, 7 December
BSBP
Hayes & Yeading U. v Eastbourne B. OFF

FAC 2 replays
Leyton Orient v Droylsden
Swindon Town v Crawley Town

Wednesday, 8 December

FAC 2 replay
FC United of Manchester v Brighton & Hove Albion. Live on ESPN.

Thursday, 9 December

FAC 2 replay
Luton Town v Charlton Athletic. Live on ESPN.
---
5 December 2010
SUNDAY GAMES
Both of Sunday's matches are now postponed, completing a complete wipe-out of this weekend's BSBP fixtures:
Newport County v Cambridge United POSTPONED
Tamworth v Altrincham POSTPONED

Before their game against Alty this Sunday was postponed, This is Tamworth reported that "Tamworth have been left counting the cost of the postponement of their televised game at home to Newport County tonight (Thursday)... The Lambs will not only lose out on television money from Premier TV but also miss out on a visit from football dignitaries Sir Dave Richards and Gordon Taylor...

Club secretary Rod Hadley said: 'We've missed out on a TV game which would have given us worldwide exposure and also lost out on the chance to entertain important football personalities in Sir Dave Richards and Gordon Taylor, which is disappointing for the club. The loss of revenue in a month where home games could fall to the weather will be a cause of concern for the club. Hopefully, Premier TV will offer us another televised game later in the season'".
BSBP NEWS
The BBC says that "Player-coach Tommy Jaszczun has quit Kettering Town after he was asked to take a wage cut. The 33-year-old returned for a second stint at the club this summer after originally leaving in 2009. Jaszczun told BBC Radio Northampton: 'They offered me a decrease in my wages and I wasn't prepared to take that. I haven't fallen out with anyone. I was born in Kettering, I still love the club but unfortunately I can't do it for the money they're offering me'".

However, "John Dempster has reaffirmed his commitment to Kettering Town despite talk of further budget cuts on the way" reports the Northants Evening Telegraph. "The Poppies' skipper insists the atmosphere in the dressing-room has 'remained upbeat' after midfielder Andre Boucaud moved to York City and chairman Imraan Ladak confirmed manager Marcus Law would be working with less money than previous bosses...

He said, 'Until someone comes to you and tells you there are going to be pay cuts or anything like that then there's not a great deal anyone can say... I am sure there will be things like this happening at clubs up and down the country... I am happy at Kettering and I always have been and that's why I signed a two-year contract in the summer for less money than I had been offered at other clubs'"

Meanwhile, manager "Marcus Law intends to add to his backroom staff following the departure of Tommy Jaszczun... He said: 'With the restructuring at the club, the assistant-manager's position didn't really suit Tommy's needs... It was in his best interests to move on'...

André Boucard's departure to York has been negated by the twin arrivals of Claudio Hoban and Liam McDonald. The latter came from Stafford Rangers and the manager reckons his knowledge of the lower levels will serve as a useful tool until the January window opens...

'It's not just me bringing in players from my old club and from a fans' perspective they might be a bit worried... Come January there will be a lot wider spectrum than at the moment so the fans don't need to worry'".

"Forest Green striker Steve Guinan has been appointed Hartpury College's new junior football academy manager. The 34-year-old who joined on loan from Northampton on 27 November will combine the role with playing for Rovers, who train at Hartpury, from January.

'I didn't want to give up playing, I think I've still got a lot to offer', Guinan told BBC Radio Gloucestershire. 'I don't want to be travelling hundreds of miles so it seemed the logical solution to go to Forest Green Rovers'. Guinan also revealed that there had been interest in him from other clubs approaching the loan deadline and that Northampton did not stand in his way since he was transfer listed in the summer.

He is set to sign for Rovers until the end of the season in January and, with no travelling required between training bases, should be able to work full-time in both... 'I'll be running three teams, I'll be taking care of a technical programme for the under-19s - they're pretty much like full-time academy players', he said. 'It's not an easy job, it's highly pressured, they're expected to win trophies - they're like the Manchester United of the college scene'".

Also at FGR "Liam Enver-Marum has returned to Crawley town as the club has not extended his loan whilst central defender Adam Quinn has had his loan period extended to at least January 8th 2011".

According to NL Daily "Sunderland midfielder Robbie Weir's loan stay at York City has been extended until January. Weir's original one-month spell had been due to expire after next weekend's FA Trophy home tie with Boston United...

The Northern Ireland under-21 international has not yet featured on a losing City team during six appearances for the club and the City boss said: 'He works hard and is somebody who breaks a lot of the game up and gets the ball back quickly for you. He also sees a pass and is always comfortable to receive the ball'...

With Weir staying at Bootham Crescent for a further month and new signing Andre Boucaud now hoping to cement a place in midfield, Mills added he would still like to find loan moves for some of his players to Blue Square Bet North outfits, which is permitted even before the transfer window reopens in January.

Levi Mackin is a prime candidate for a temporary switch having not started a game since suffering knee ligament damage on the opening day of the season but Mills added 'I'm not sure anybody wants to take people on loan and pay them while the weather is like this and there are no games on. When the snow clears though, I would like to think we can get a couple of players out'".

Meanwhile "Goalkeeper Carl Pentney has extended his loan deal with Bath City from Colchester United by another month. The 21-year-old, who signed on a non-contract basis for the U`s in the summer following his release by Leicester City, initially went to Bath on an 'emergency' one-month loan to cover for injured shot-stopper Ryan Robinson... Although he has yet to keep a clean sheet, he has helped City to pick up eleven points from a possible fifteen."

Reports from Blue Square Football suggest that "Mansfield Town are in talks with Alfreton Town about potentially using the Impact Arena after being locked out of Field Mill. Stags' owner Keith Haslam ejected his tenants after a row over unpaid rent with a Stags' spokesman revealing that talks with the Blue Square Bet North side have been positive. The club has also been in contact with Notts County over the use of their Meadow Lane stadium.

A statement on the Reds' official website reads: 'Alfreton Town are contemplating a request from neighbours Mansfield Town to ground share at the Impact Arena. 'Alfreton are sympathetic to the Stags' plight and as such are positive to exploring the possibility of a ground share'... Mansfield need the problem resolved before the next home game against Grimsby on Boxing Day and with the Reds away at Eastwood, their ground would be available".

As the lockout continues Mansfield Town reports that "Stags Fans' United would like to wholeheartedly condemn the actions of Stags Ltd in evicting Mansfield Town Football Club from their traditional home at Field Mill. Football has been played on this site since 1861 and been home to the Stags since 1921.

A statement from SFU today read: 'SFU believe that this is the act of a man who has brought nothing but turmoil to the club for over 15 years. Hopefully, it will lead to the severing of all ties between Keith Haslam and Mansfield Town Football Club on a permanent basis. John Radford can rely on our full support in pursuing legal action against Stags Ltd and Keith Haslam to recover any monies unlawfully paid to them by the football club. We would encourage all supporters of Mansfield Town to do the same...

And Mansfield add that "Due to Stags Ltd repossessing the ground, our administration staff are now working at One Call Insurance HQ in Doncaster. We have re-directed our main phone line to Doncaster... We are in the process of making sure that all mail sent by post is also re-directed... Our club shop, both online and at the Field Mill stadium is temporarily unavailable. Our Football in the Community room is also unaccessible".

Further comment comes from The Chad which says that "It is being reported that the Stags' FA Trophy clash with Worksop Town, whhich had been expected to be played at Worksop's own temporary home, Retford, will now be played at Ilkeston's New Manor Ground".

In Sussex, The Argus reports that "Manager Steve Evans says stories linking Crawley with a January move for Dundee striker Leigh Griffiths are wide of the mark. But he still expects to make two signings in the transfer window".

Reports from the Cambridge News state that "David Livermore insists he can cope with the never-ending financial restrictions placed upon him at Histon. The Stutes' manager was told by the board this week that he would only be allowed to make more loan signings in an emergency due to problems finding accommodation for temporary recruits...

'The goalposts have been slightly tweaked, rather than moved', said Livermore. 'I've maintained since the first day I came here that there's enough ability in the squad to keep the club in this division. We've got to get the maximum out of the resources we have'... The likes of Jim Stevenson, Callum Stewart, Zak Mills and Daniel Sparkes have all come through the club's youth system and become big parts in Livermore's plans...

Said Livermore, 'My medium-term goal is to stay up and my long-term goal is to put the infrastructure in place that enables the club to develop its own players and get them into the first team, season after season'".
TROPHY REWARDS
FA Trophy prize money for this season is as follows;
First Round Proper winners (32 clubs) £5,000
Second Round Proper winners (16) £6,000
Third Round Proper winners (8) £7,000
Fourth Round Proper winners (4) £8,000
Semi Final winners (2) £16,000
Final runners-up (1) £25,000
Final winners (1) £50,000
---
4 December 2010
SATURDAY GAMES WIPED OUT
Darlington v Kidderminster Harriers POSTPONED
Eastbourne Borough v Gateshead FC POSTPONED
Forest Green Rovers v Luton Town POSTPONED
Grimsby v Southport POSTPONED
Hayes & Yeading Utd v Rushden & Diamonds POSTPONED
Histon v Fleetwood Town POSTPONED
Kettering Town v Bath City POSTPONED
Mansfield Town v Barrow AFC POSTPONED
Southport v Grimsby POSTPONED
Wrexham v Crawley Town POSTPONED
York City v AFC Wimbledon POSTPONED
OLD BOY
"Leigh Genesis have announced the departure by mutual consent of their first-team manager Mark Maddox. Maddox has been with the club since May of this year and has built an enthusiastic young team who have worked extremely hard against some strong opposition in the hugely competitive First Division North and even made a playing appearance as a substitute in October's League Cup meeting with Curzon Ashton.

Leigh Genesis chairman Alan Leach said: 'The whole committee are sad to see Mark go. He has been a pleasure to deal with during his time with us, approaching his role as manager in a mature and professional manner. We would like to thank him sincerely for his contribution to the club as a whole and wish him every success in his future career... He will always be welcome at Leigh Genesis' games in the future'" reports NL Daily.
BSBP NEWS
The Football Conference says that "York City goalkeeper Michael Ingham has been named the Blue Square Bet Premier player of the month for November. Ingham has only been beaten once in over 600 minutes of football including six clean sheets. The award makes it a York double in November after his manager Gary Mills scooped the managerial equivalent".

From NL Daily we learn that "Southport are set to swoop for former Everton prospect John Paul Kissock. Manager Liam Watson has agreed terms with the 21-year-old to join on a non-contract basis before putting pen-to-paper on a deal next month to keep him at Haig Avenue until the end of the season. The former Toffee, who never made a senior appearance for David Moyes's side but was an unused substitute on several occasions, has been resurrecting his career with Vodkat North West Counties League Premier Division side Formby...

'We are hoping John Paul will sign on Saturday', said Watson. 'I see him as something different. He is a player with immense ability but somewhere along the line has lost his way... John Paul probably needs me as much as I need him. We can get his career back on track. Just look at what we've done for lads like Carl Baker and Craig Noone'".

The Argus tells us that "Chairman Len Smith admits Eastbourne Borough are no closer to the goal of turning full-time as he looks forward to the prospect of another fixtureless weekend... The call-off denied Borough their first home fixture for three weeks and adds to the financial squeeze on a club which has felt the impact of falling gates and an early exit from the FA Cup this season.

Smith has stated the club's intention of turning professional in the next few years but, with average crowds hovering just above 1,300, he says that is a distant dream. Borough's average attendance is the 14th highest in Blue Square Bet premier but if you take away bumper gates against AFC Wimbledon and Luton Town then it falls below the club's break even figure of 1,200.

Smith said: 'I have been disappointed with the crowds we have attracted this season. We have been playing some exciting football so I don't quite know what we can do to get people to come and watch. Maybe people have got used to us being at this level and the novelty has worn off. The level of support we get at away games this year has been embarrassing at times which perhaps shows people are losing interest. It is a worry as it is preventing us from progressing as quickly as we would like. If people came out and supported us we could move forward a lot quicker but there is no chance of us going full-time anytime soon with the current gates'...

Smith criticised the decision to call off the game at Haig Avenue last Saturday less than two hours before kick-off and has welcomed the Conference's decision to allow games to be postponed the day before a game to avoid unnecessary long journeys.

Smith added: 'It cost us thousands of pounds last week going to Southport and staying overnight and it was always doubtful whether the game would go ahead. Saying that I dispute the pitch was unplayable. Referees are over-cautious these days and are scared to let games go ahead unless they are blamed if somebody gets injured. It is ludicrous some of the postponements we have had to put up with over the last few years and I would like to see the final decision taken out of the hands of the referee. If both clubs are happy to play the game it should go ahead which is what the situation was last Saturday. Clubs won't take risks if it is dangerous for their players'.

Borough hope the postponement gives Ross Treleaven, Gary Elphick and Andy Atkin more time to recover from injuries."
---
3 December 2010
TAMWORTH POSTPONED
The Tamworth v Altrincham game this Sunday has been postponed after a pitch inspection this evening.
BAR CLOSED
The Premiership game between Blackpool and Manchester United scheduled for 5.30pm tomorrow (Saturday) has been postponed and therefore the bar at Moss Lane will not now be open at that time for the planned televised broadcast of the match.
UNITED RESERVE GAME OFF
The FA Youth Cup game between Manchester United Youth and Portsmouth Reserves at Moss Lane this Monday (6th) has been postponed due to the frozen pitch.
NEXT OPPONENTS
There is news of Alty's next scheduled opponents, Tamworth who "have announced the details of an exciting new project which will bring The Lamb ground up to Football League standard. Local businesses are throwing their weight behind the plans as the expansion will benefit the local economy and create a number of jobs. The article written by Chris Philpotts at The Tamworth Herald...[says]:

'Tamworth may not be a Football League club on the pitch at the moment - but if we get the go-ahead for this new development, we will be one off it'. That is the message from Lambs' director John Holcroft, who has got big plans for the Football Conference side. Plans which he admits are shared by the rest of the board.

He said: 'We are looking to move this club forward onto the next level now - we are looking to take Tamworth forward. For the last couple of years we have been looking behind the scenes for ways of making Tamworth a bigger club. Not just on the pitch, but off it also. We want to create a club and a facility that the whole town can be proud of. We have looked at the stadium as one of our priorities and think, with this plan, we have got the perfect way for the club to make a statement for where it wants to go in the future.

'We have not got a "sugar daddy" to throw money to propel us forward. So instead we are looking at ways of growing organically', he said. The plans for the stadium would see a new 1,800 seat stand to replace the current main stand. The building that is located there currently would then be moved to the uncovered section behind the goal - giving Tamworth the ability to offer 360º cover for all the fans. Added to this would be ten new VIP boxes and a conference room that overlooks the pitch.

John Holcroft added: 'If this gets the go-ahead - and we are hoping that the council we be able to do that - then in 18 months we will have a club that can offer year-round conference facilities as well as a better all-round match day experience for the fans. We will be able to offer fans the option of watching football in a more comfortable environment'".
YOUTH GAME OFF
This Sunday's Altrincham FC Youth game at AFC Liverpool's Formby ground has been postponed due to a frozen pitch.
OLD BOYS
The Evo-Stik League Manager of the Month winners are Kevin Street and Darren Tinson of Nantwich Town.
WALLETS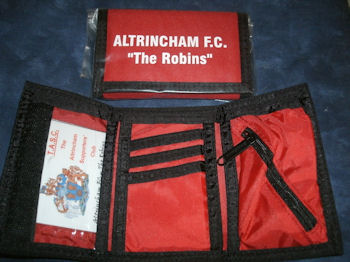 TASC's Colin Mitchell writes: "While we have no home games you can get your Alty wallets on ebay - Item No: 180593714707. I will also be on the Tamworth coach on Sunday if the game goes ahead and people can buy one from me then. Ebay price is £6.99 (includes free gift) and postage. In person, price is still only £6".
BSBP NEWS
According to This is Nottingham "Former Stags' owner Keith Haslam has today kicked Mansfield Town out of their Field Mill ground by changing the locks and terminating the lease. Bailiffs acting for Mr Haslam's business said this morning that the lease had been terminated over a rent dispute with new club owner John Radford.
The statement also said there were concerns over the progress of talks between Mr Haslam's company Stags Limited, which owns the stadium itself, and Mr Radford, who bought the club in September, over the latter buying the ground.
The statement said: 'Burlington Enforcement, acting on behalf of Stags Limited, have today changed the locks and terminated the club's lease of the stadium. Stags Limited are extremely disappointed that it has been necessary to take this step. Stags Limited will remain willing to engage in a constructive dialogue with the club regarding the future of the stadium'.
Mansfield Town chief executive Steve Barker said the club were talking to lawyers and would be issuing a statement later".
Local paper, The Chad adds that "MAnsfield Town FC was thrown into new turmoil on Thursday when controversial Field Mill owner Keith Haslam locked new owner John Radford out of the ground - and terminated the club's lease of the stadium. Mr Haslam has leased the ground out since selling the football club in the summer of 2008 to three local businessmen Andy Perry, Andy Saunders and Steve Middleton. They sold the Stags recently to millionnaire businessman John Radford.
Chad understands that no rent has been paid for several months as the new club owner and landlord clashed over the financial details of the original sale of the Stags, with Mr Radford instructing solicitors to examine a dividend paid out to shareholders including the company Stags Ltd, owned by Mr Haslam.Mr Radford had also opened negotiations with Mr Haslam with a view to buying Field Mill last month.
But on Wednesday night bailiffs acting for Stags Ltd (Mr Haslam's company) changed the locks at the ground and posted a warning notice on the gates instructing people not to enter Field Mill...
Mr Haslam confirmed Chad's earlier reports that he had acted over non payment of rent... On Thursday afternoon Glapwell FC - currently renting Field Mill from the Stags for their home matches - announced they would be returning to Hall Corner. A statement said: 'We have not been able to receive any communications from Field Mill at present so in view of our own compliance issues and the responsibility to our staff, players , and supporters and in order to remain compliant with the rules and regulations of the EVOSTIK league and its competitions the Directors have reluctantly taken the decision to return to Hall corner until such times as the situation is resolved'".
The Blackpool Gazette says that "Fleetwood Town are on the brink of completing a deal for Kendal Town striker Danny Rowe, who was once on the books of Manchester United. The Highbury club have agreed a fee with the Cumbrian club, but the sticking point is over the terms of his contract and the conditions laid down by the player's agent. The fee agreed between the two clubs is said to be 'nominal'". According to the Cambridge News "Russell Hands has revealed Histon would be ready to cash in on their top-performing stars when the transfer window opens in January. The Stutes' chairman is aware of at least three players who have attracted the interest of visiting scouts this season.
Hands still believes David Livermore's charges, who are in the Blue Square Bet Premier's relegation zone, can preserve their status... Said Hands, 'We've got clubs interested in three of the lads, possibly four. That means we must be doing something right and it makes everyone involved at the club feel good. The only way we'll survive is by developing our players through the academy and then moving them up. If you can get some rewards for doing that then you can fund the next phase'...
Goalkeeper Joe Welch has shone for Histon this term and captain Antonio Murray is also likely to have put himself in the shop window with some good displays. Young winger Daniel Sparkes may have had watching scouts scribbling notes, while full-back Lanre Oyebanjo has been linked with moves to League clubs for more than a year...
'We're looking at different aspects of how we're going to progress', said Hands. 'We could well be pushed into a corner where we have to go out and get loan players in to fill a gap'".
"Two more players have completed their contracts with Forest Green Rovers and have left the Club" report Forest Green Rovers. "triker Liam Head has finished his loan period and returned to his parent club Plymouth Argyle whilst midfielder Malvin Kamara has not been offered an extension to his contract".
The Northants Evening Telegraph says that "Justin Edinburgh has opened talks with the new owners of Rushden & Diamonds over a long-term contract to stay as manager. Business partners Gary Calder and Liam Beasant took charge at Nene Park yesterday to end the four-year reign of Keith Cousins.
Edinburgh – whose current deal runs out at the end of this season – is also likely to have extra funds to strengthen the squad during next month's transfer window... Essex-based Calder and vice-chairman Beasant – who will be moving to this area along with transferring their business to Nene Park – became the new owners following negotiations with Cousins over the last month".
And finally, the Danish consortium which tried to buy Chester City a couple of years ago has now acquired another English club with financial problems as Croydon Athletic "Are pleased to welcome Fodboldsekskabet A/S as joint owners of the Club with effect from 1st January 2011. The Danish football fans' company, led by Palle Rasmussen and Christopher Baadsgaard, have joined forces to take the Club forward both on and off the pitch. The papers were signed, sealed and delivered today and the Club are looking forward to a successful partnership between Fodboldsekskabet and Mazhar Majeed. Majeed continues to own 49% of the Club and will continue to play an active part in the running of the Club...
Palle and Christopher head a group of over 400 Danish football enthusiasts who are fanatical about English football, and whose dream was to own a British club". Majeed was recently investigated about the Pakistani cricket team's match-fixing allegations.
---
2 December 2010
25 GAMES TO GO
Altrincham FC joint Press Officer, Brian Flynn, writes:

Is now the winter of our discontent?

Altrincham's dismal season continued with another heavy defeat on Saturday as Cambridge United cantered to a 4-0 victory which leaves the Robins six points from safety,with an horrendous goal deficit of thirty one.

In some ways, this latest setback was more concerning than the 7-0 mauling at Crawley last week as Cambridge rarely rose above the ordinary but still seemed to be able to open up the Altrincham defence at will.

'After a bright first few minutes, we conceded an early goal and all of the work that we had done during the week was undone. We were poor defensively and that makes it even more frustrating that I was unable to strengthen in that area before the emergency loan transfer deadline last Friday' said Altrincham manager Ken McKenna, who has now seen his team suffer four league defeats in succession, conceding fourteen goals without a single reply.

Shaun Densmore's second miss from the penalty spot in consecutive games was academic as the score was 4-0 at that point, but is symptomatic of the frailty of the players' confidence at present.

The freezing temperatures experienced during the last few days put paid to any hopes of Tuesday's scheduled 'six pointer' against fellow strugglers Forest Green Rovers going ahead at Moss Lane and perhaps that was a blessing in disguise for the new Altrincham manager, who now has over a week to pick his charges up before Sunday's trip to Tamworth, who are another side fighting for survival in the mini-league at the bottom of the table.

There are still twenty five games to be played and ten of those are at home to teams in the bottom half of the table. A couple of victories would do wonders for morale at Moss Lane and things can change quickly in Football, but the cold, hard facts do not make good reading for Alty fans at present".
TAMWORTH FROZEN
Altrincham's match at Tamworth was moved to this Sunday from Saturday because of our hosts televised match this Thursday. But the Football Conference now confirms that the "Game between Tamworth v Newport County has been postponed due to a frozen pitch at The Lamb. The game was due to be screened live by Premier Sports TV".
BSBP NEWS
"Gary Calder and Liam Beasant today are the proud new owners of Rushden & Diamonds Football Club. After 4-6 weeks of negotiations with Keith Cousins they are delighted to get the deal over the line and take full control of the club as from today (Wednesday 1st December 2010).

Gary and Liam take over the club that has been under the excellent stewardship of Keith Cousins and all the staff for the past five years. To enable the deal to conclude Keith Cousins has written off all his loans, which allows us to take over the club debt free. Helen Thompson will remain on the board with Liam as Vice Chairman and myself.

Gary Calder"

The Diamonds site has Keith Cousins's comments. "I have mixed emotions about this decision, but I've decided to sell the Football Club with immediate effect. I'm very pleased to say that I've sold the Football Club to Gary Calder and Liam Beasant... I think it's sad that this has happened as I wanted to get the club into the Football League during my stewardship, and I failed...

But I felt that I could not take the club much further than now, and I was beginning to reach my limits and therefore I started looking for someone who could launch the Football Club to the next level, bring extra finance into the club, bring extra commerciality into the club and thus support Justin even more in terms of what he needs to get us back into the League, and accordingly, and with some reluctance, I have decided to resign with immediate effect. Mr Calder is going to take over as Chairman and Liam Beasant is going to take over as vice Chairman".

Calder was previously chairman of Hornchurch, where he installed Garry Hill as manager, and a CEO at Weymouth and Enfield. As a player he was a goalkeeper at Grays Athletic.

The BBC adds that "Calder told BBC Radio Northampton: 'We'll be supporting Justin Edinburgh... we've already had discussions about an extension of his contract'...

Edinburgh said he was delighted at the prospect of having funds to spend in the January transfer window, although he is warning fans not to expect an outlay similar to some other clubs in the Blue Square Bet Premier. 'This can push us on, and although it's not a Crawley Town situation and won't let us compete [financially] with Luton, hopefully come January we can add to the squad. No one will take my players on the cheap, so it's good for the fans and good for myself that, going into the Christmas period, we won't be selling but buying'.

Striker Rene Howe, on loan at Nene Park from Peterborough, has already stated he does not intend to return to London Road... Helen Thompson, who will remain as vice-chairman alongside new appointment Liam Beasant said: 'With the new investor coming in, we're quite sure that in two or three years we'll be in the Football League'.

Calder, who briefly took charge of first-team affairs at Weymouth in 2007, left in 2009. The financially-stricken Dorset club was relegated from the top-flight of non-league football at the end of the 2008/09 season and currently plays in the Southern League".

According to the Cambridge News "Russell Hands has revealed difficulty finding cheap accommodation is the main reason behind the Histon board's decision not to make more loan signings. Stutes' manager David Livermore wanted to bring QPR defender Danny Fitzsimons back to the club after his recovery from an ankle problem, as well as eyeing a return for Dagenham centre-half Femi Ilesanmi in January.

But chairman Hands and his fellow directors have told the boss to concentrate on developing the crop of players that have come through the club's youth system. 'One of the problems we have is finding accommodation for these lads', said Hands. 'If we don't have accommodation for them then we're snookered... We can't afford to put them up in a nice hotel somewhere, so we have to cut our cloth to suit. The other thing is we've got some young lads that have come through our academy that aren't bad players. We need to persevere with the young players we've got and then they'll improve'.

Hands is also keen to increase attendances at the Glass World Stadium following consistently disappointing turnouts this season. The biggest crowd at Bridge Road was 726 for the visit of Wrexham on October 30, with 285 against Gateshead on September 28 being the lowest... Said Hands, 'One of the problems we've got is it's easy to jump in the car or get on a train and go down to London to watch the big teams. All we can do is keep plugging away and hope we can generate more interest. We're trying hard, but you can't force people to come'".

"Tom Cadmore is determined to put his job as a part-time accountant before football - despite what his Hayes and Yeading team-mates say" reports the Uxbridge Gazette.

The talented central defender has won praise for his performances in an England C shirt, as the only non-league international at Church Road. But he is now the sole man with two jobs at the Blue Square Premier club, and insists balancing books is better than the unknown...

H&Y themselves switched to five-day training in the summer, with a special exemption made for the 22-year-old. Manager Garry Haylock even interceded on behalf of the defender by arranging with Cadmore's boss a mixture of desk work in Soho and training with his United team-mates.

However, keeper Lee Harrison warned Cadmore that if his aim is to break into the Football League, he needs to make up his mind what he wants most... He said: 'To be truthful, I'm not very good at making this sort of decision... Garry has also done the accountancy exam I'm working towards, and he understood the situation. My boss in Soho has also been wonderful and the two decide when I'm to be available for training sessions, especially when they involve shape work on the pitch.

However, football is not forever, and as it stands, I can do both'. However, Harrison... added: 'Tom's got bags of skill and he can go on to higher things, but it's really a question of making his mind up about his football'".
AND FINALLY...
A novel approach to manager recruitment is reported by Welsh Premier as "Barry Town are advertising for a new manager, who must have £15,000 to spare! An advertisment for the vacancy... states: 'The Club will only consider applicants who are able to bring financial backing to the first team to a minimum of £15k'... The advertisement also states that the Dragons are for sale 'at £250k debt free' to any potential investor".
---
1 December 2010
YANKEE'S FOUR FIGURES
Altrincham FC's Saturday Yankee jackpot now stands at £1,200 after the jackpot code 6458 was unclaimed last week. Three winning trebles each won £66.67. To find out how you can win the prize, click here.
BUY VIA ALTY
With Christmas approaching, don't forget that you can buy a wide range of items via the Alty Online Shop, for which there is also a permanent link above. You earn discount and the club gets commission, so everybody wins!
BSBP FIXTURES
Right: Harry Simper's photos, taken on Monday morning, show the frost-bound pitch at Moss Lane which led to the postponement of Tuesday's match.
Kidderminster's draw lifted them into the promotion play-off places...
Tue. 30 Nov.
AFC Wimbledon v Luton Town POSTPONED
ALTRINCHAM v Forest Green Rovers POSTPONED
Bath City v Crawley Town POSTPONED
Darlington v Histon POSTPONED
Gateshead FC v Barrow AFC POSTPONED
Grimsby Town v Kettering Town - POSTPONED
Hayes & Yeading Utd v Eastbourne Borough POSTPONED
Kidderminster Harriers 0 York City 0
Mansfield Town v Fleetwood Town POSTPONED
Rushden & Diamonds v Cambridge United - POSTPONED
Thu. 2 Dec.
Tamworth v Newport County POSTPONED
BSBP NEWS
According to the Football Conference "Tamworth would like to congratulate and 'welcome' Des Lyttle as the new first-team manager at The Lamb. After a few weeks in the caretaker role since the departure of Gary Mills, Lyttle has overseen the running of the team and was officially appointed on Monday evening. Martin Prentice, who has been alongside Lyttle in the dug-out and on the training field, has been named as the new assistant-manager and everyone at The Lamb wish the pair all the best.

'I'm really proud', Lyttle said. 'I guarantee to everyone that I will do my best on and off the pitch and work hard to get the best out of the players. We'll play football in the right way and in a way that I hope the fans will enjoy. And our first aim will be to pick up some much-needed points to help us move away from the lower regions of the league'".

From the Northants Evening Telegraph we learn that "Kettering's home clash with Gateshead was postponed last Saturday... That came 24 hours after midfielder Andre Boucaud joined league rivals York City in a loan move, which will become permanent for an undisclosed fee in January. Boucaud's departure was the first sign that changes will be coming as chairman Imraan Ladak confirmed the playing budget will not be as high in the near future...

'The decision has been made and I am comfortable with it and I won't be moping around because of it', the Poppies' boss said. There will be players leaving and new ones coming in and I see it as a big challenge to look forward to. Working under a restricted budget isn't something new to me. I have had to deal with that a lot as a manager. People can't expect to see big-name signings from the Football League coming into the club. That won't happen'".

And NL Daily adds that "Marcus Law, manager of Kettering Town, has added two players to his squad. Nineteen-year-old Romanian defender Claudiu Hoban has joined the Poppies from Hereward Teamwear United Counties League Premier Division side Northampton Spencer having been training at the Elgood`s Brewery Arena. Hoban was previously a member of the Leicester City youth academy.

Twenty-five-year-old midfielder Liam McDonald also joins Kettering from Stafford Rangers. McDonald had only joined Rangers in October from Law`s former club, Barwell. Formerly with Sutton Coldfield Town, Cradley Town and Hednesford Town, McDonald is a highly-rated midfielder who made fourteen appearances for the Barwell".

Blue Square Football reports that "Local Mansfield referee Russell Booth will inspect the Field Mill playing surface at 9.45 on Friday morning, prior to Mansfield Town's proposed home match to Barrow on Saturday."

The Blackpool Gazette told us on Tuesday that "Fleetwood Town's Lancashire Trophy derby with AFC Fylde is ON, though the Highbury reunion between manager Micky Mellon and new signing Jamie Milligan will have to wait. Midfielder Milligan... won't play, having completed the shock move of the season yesterday – rejoining Town just months after stepping down three divisions to sign for Fylde. But Mellon will not be present – the Town boss plans a scouting trip to watch a potential transfer target".

According to the BBC "Grimsby Town have offered a contract to Dean Sinclair subject to the midfielder demonstrating his fitness, reports BBC Radio Humberside. Sinclair, 25, who has had two loan spells at Blundell Park, was let go by Charlton at the end of last season and has been training with the Mariners. Sinclair underwent knee surgery in the summer but says he is fit again.

'I know my fitness and I know I'm ready to go so it's a formality for me', he told BBC Radio Humberside. Terms have been agreed but the player must prove he has fully recovered before the deal can be completed. 'That's fine, it's the smart thing to do on their behalf', the England C international added. And the former Norwich, Barnet and Luton midfielder is grateful to get another chance with the Mariners. 'Obviously the position they're in now is not great but they're a big club and I want to help them get back to where they belong in the Football League'".
---
FOR EARLIER NEWS, CLICK HERE
---