Following Sunday's open meeting on the subject of Altrincham FC's strategic plan, the club's Press and Media Officer, John Edwards, writes:

"For those who were unable to attend last night's strategic review presentation at the Community Sports Hall, here is a full account of proceedings.

Compered by Ian Watmore, the evening began with a presentation of the review by Nicky Watmore and Peter Foster. In turn, they presented the document as it appeared on the club's website a week ago.

There then followed the first of two Question and Answer sessions - this [first] one specifically about the review - which unfolded as follows:

Q (Jonathan Wall) - You can have a five-year plan, but if you cock-up year one, I can tell you years three, four and five may well work out very differently. You have to be very careful. We should be looking at an 18-month plan - top-five by Christmas, 1,000 gates, a new plan on revenue, improvements to the ground and development of the junior and ladies teams. Keep it simple. It's all right having the best website around, but what good is that if we're in the seventh tier of English football? What I want is 16 players showing a bit of passion for our club, but that has been sadly lacking.

You lot (the board) should be hurting inside. That's what I want to see tonight. I want to see a bit of passion, because we have been lacking leadership. We should be picking out real headlines; don't obsess with things that are not crucial in there. It's the absolute headlines we should be thinking about.

A (Peter Foster) - I think it's fair to say a lot more detail has gone into the five-year plan, and what we've also tried to focus on is those areas where, for example, we feel supporters have been neglected. The football side is absolutely paramount, but it's also very important we try to win over supporters with some of the little things we can do, like making the ground a bit more welcoming and ensuring people can get a drink or a pie when they want to.
I accept everything you say, but on the playing side, it's down to the board to decide on a management structure. There are some massive challenges we have to face up to in making sure loss of commercial and attendance revenue is understood. As things stand, we don't even know what admission prices are going to be next season.
Q (Mark Simpson) - You have had about 100 responses to the questionnaire. I think one thing we have found out this season is our core support, and it is about the 700-mark, judging by recent gates. How do you know the angry fans are a minority on that basis?
A (PF) - It is based on the responses we have had. We are not trying to suggest that of 700 people, there are only 100 angry fans or anything like that. All we can base a judgement on is the responses we receive. Where we categorise, it is based on those 100 or so responses.
Q (John Henderson) - Anger is one of the emotions I have felt. I have been angry, distraught, upset, crying, all of those this season. It's not normal business, is it? If it was normal business, the board would have gone by now. If we were all shareholders, the board would have gone. I'm not asking the board to go. We're friends. We are all friends, all Alty supporters.
The number one observation here is that these people run the board to make football decisions. Bradford Park Avenue average gates of 350. There are over 120 people in this room alone, yet we are breaking our necks looking at them in the table. That is where we are. This board I would trust with my life to manage a profit and loss account. They saved our club a decade or so ago. That's why I bought shares in the club. I trust them with our money. I don't trust you guys with what happens out on the pitch.
Sorry boys, I don't. Get some knowledge to make the right decisions, and we will be back in the National League. Not in five years, in two or three.
A (Ian Watmore) - I think that was an impassioned speech, more than a question! One of the recommendations was strengthening the board's football knowledge, but, anyway, I think that is one for Grahame to address after we have finished questions about the review.
Q (David Roberts) - I wonder whether any attempt was made to compare expenditure on players with other clubs in our division? Is the resource we use enough to run a successful team?
A (Nicky Watmore) - Some attempt was made to find out expenditure at other clubs, but it's a very secretive world when you go down that path. It is very difficult to find out figures at other clubs when you don't know the appropriate people there. With regard to is there enough revenue here to run a successful team in our current division, yes there is. We are certainly in the top 10 in the National League North, I think it's fair to say, so, judging by that criteria, we should be in the top half of the table at least.
Q (Neil Dummigan) - What is the evidence to back up your claims that strong community links increase the fan base?
A (IW) - I was here yesterday for the Worcester game, and I have never seen so many kids, yelling 'Alty, Alty' in their high-pitched voices, and I know for a fact they were all here because of the Community Sports Hall. (PF) - It is fair to say it is based on feedback, the responses we've had from people and what we have seen for ourselves in the junior section. We also know there are people who have come to games after being introduced to the club through the community side of things. It's not exactly a scientific study, but there is plenty of evidence to support the claim.
At this point, Grahame Rowley delivered the Board response.
[Next, Grahame Rowley introduced Mike Adams...]
Mike Adams - I suspect most in this room don't know who I am, but I have been supporting this club for 46 years and have been a season-ticket holder for 25 years. I can only be found on match days sitting at the back of the main stand. I come from the Black Country, and after university, I joined Chrysler motor company and became a qualified accountant. I have been looking after the club's finances since 2006 after taking early retirement and volunteering my services. In terms of the finances of the club, the board have a very good idea of how the club runs in terms of cash flow, and I hope I have been able to give them some leadership on that. I have also been niggling at them for years to be more open with the fans about the numbers that are actually involved in running the club, and I think I'm finally about to succeed.
We have to accept that a lot of financial information is covered by commercial sensitivity and confidentiality, but there are numbers we can show you, and I would like to start with the community sports hall, because there is still a lot of discussion about that. How much did it actually cost, for instance. Well, we always say to the last penny, and that is shown on the slide you can see now on the screen, £731,407.90.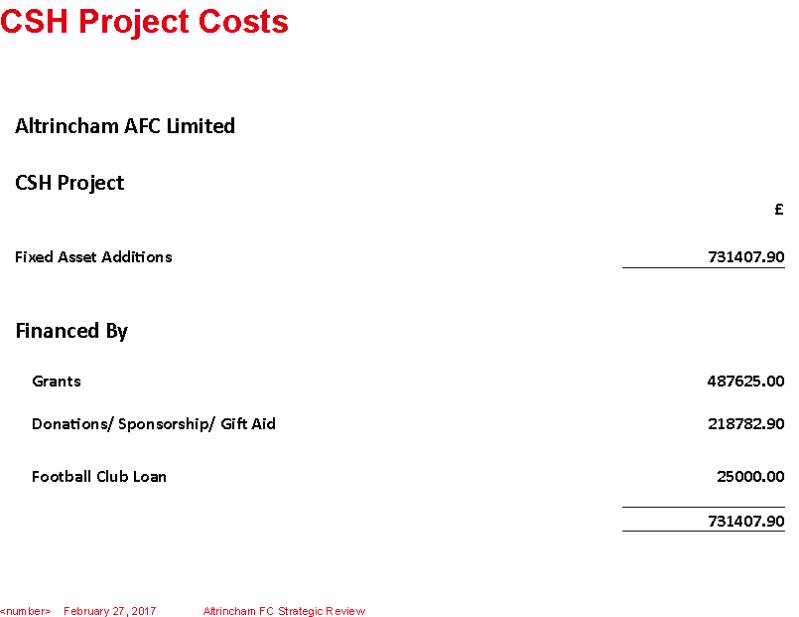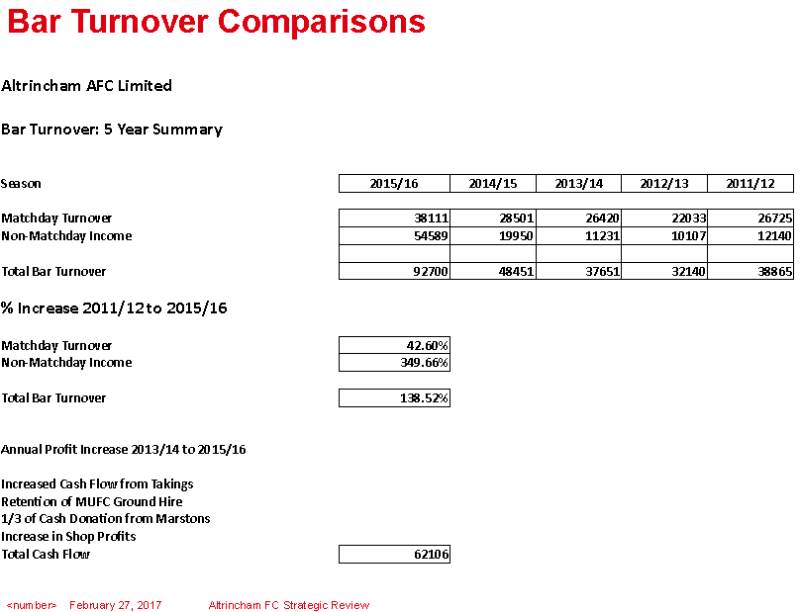 Where did the money come from? By far the biggest chunk was came from grants, followed by public subscriptions, sponsorship and a bit of help from the government in the form of gift aid. The club made a loan of £25,000 to the community trust right up front. In relation to that, there has been talk of money being lost to the club, but it wasn't. Behind the £25,000 was a private investor.
If, at any point, we required the money back, the private investor would have given it us. We didn't. We haven't run out of cash, and it hasn't affected the football side of things at all. That loan is still within the community trust.
Also, if you look at how much is coming into the club from the community side, there are several ways that is happening and will continue to. Looking at the immediate cash, basically the bar, you can see a cash flow of £62,000 a year, and that is a genuine increase in the profits of this club.
[At the end of the Chairman's address, comes the second Q&A session, as follows...]
Q (Graham Heathcote) - I would like to congratulate the board of directors for a well-run club. The Community Sports Hall is providing 60 grand a year, which is fantastic. The major problem with this football club, in my opinion, is the dressing room. It's not the running of the club, it's the dressing room. You get a successful club when you have a manager who does a good job for you, but unfortunately the last two or three haven't worked out, for whatever reason. What I believe has happened in the dressing room is the passion for the club has gone. It's no good harping on about it. It's a fact.
I went into that dressing room before the Trophy game against Blyth, and... disaster. I have been in good dressing rooms and bad dressing rooms, but that one - disaster. That transfers on to the pitch. It's not rocket science.
I'm a bit concerned to read the board are going to get involved in recruitment of players and releasing of players. I would say be very, very careful about that, or get yourselves some tin hats. If you can't get the managers right, God help you with the players, I'm telling you. But we have got in that dressing room, in my opinion, the ability from here on in to go forward. That might sound ridiculous, and I'm not just basing it on one win yesterday. We have got players in that dressing room.
Don't tell me Jake Moult isn't a good player. At Colchester in the FA Cup last year, he produced one of the best performances I've seen from an Altrincham player in a long time. All of a sudden, he looks a poor player, or did. So the problem is the mentality, and Matt Doughty and Robbie Lawton know that and are working on it. They have the passion and desire to take this club forward. The results don't suggest it, but everything has to have solid foundations, and I can see what they are laying.
I've been happy to help them, but let's get one thing straight - I don't want to be the manager. Let's get that on the record. We have the ability. There are some good players and young lads coming through, like Sam (Heathcote), Laurence (Taylor) and Kyle (Brownhill). All three local lads. What I hope doesn't happen is a cry for the revolving door in the dressing room to extend to the boardroom, because if that happens, you will have more chaos. Anything can be done if we are all in it together.
A (IW) - thanks for that Graham, and for all you have done for the club over so many years. You are the original club legend.
Q (Steve Pugh) - My question has been made a lot easier, because what Graham has just said makes so much sense. Someone was saying about what we need is someone on the board with some football knowledge. Well, there you are. The person who has just spoken has been a player and manager here longer than I've been a supporter. We want someone on the board who knows about the playing side of the business. There he is - it's a no-brainer for me.
A (Grahame Rowley) - I see exactly where you are coming from with that. We need time to digest all the elements of setting up roles and precisely what is needed. I'm sure if someone like Graham Heathcote was interested in joining the board, we would talk to him about it.
Q (John Henderson) - I completely agree that no organisation prospers unless we are all pushing in the same direction. Therefore, you need a chairman of the board not dividing the support. I have got to be honest, and frankly the accusation you made against parts of the support about why Neil Young left, in an article in the Non League Paper, did you no credit and led to a situation whereby some people are 'boycotting' the club. I don't know why you did it, but, it needs saying, I'm sorry you did it.
A (GR) - We all make mistakes. I made a mistake by talking to a reporter in the car on the way home from a game when I was p***** off about what had been going on. He asked questions about various things, but I did not say a lot of the things he says I did. Since then, I have not done any interviews with them. I'll hold my hands up and admit I was wrong talking to him, because they have ended up manipulating what I said to make it look like they wanted it to look.
I know people have been in touch with him and he categorically claims I said what appeared, but all I'll say to that is there are two sides to every story. I can categorically state here and now that story was a false story, and he manipulated my words to create the story he wanted. I was not having a go at our fans at all. The only comment I made was that if anyone actually feels they need to impinge on someone's family life, I think they are totally wrong. That's all I said, so how that can be interpreted as having a go at our fans, I don't know.
I wasn't happy because Neil Young told me one of the reasons he was leaving was that his family were getting phone calls, etc. I said if that was happening, it was totally wrong. I stand by that, but that is all I said.
Q (Steve Murray) - I was reading in the Non-League Paper the other week about the possible restructuring of the pyramid in non-League football. I think it said it would be reviewed again in the next few months. It would cut down on travel costs. What do the board think?
A (GR) - I appreciate from the fans' point of view that the nearer an away venue is the less they have to pay to get there. We'll see what happens.
Q (Alex Jukes) - What will the remit be for whoever the manager is next season? If we are in the league below, will it be we must go up as champions or would we settle for just getting promoted? Would we be going all out to win that division? Should we stay up, would it be a case of consolidating in this league or push on and try and be where we all expected to be when this season started?
A (GH) - I can assure you this board will do everything it can to take this club forward. We will be going all out to win promotion as champions, should we go down. We want to get back to where we should be, and with your help, we can do that.
Q (from Facebook) - If the NLP report was inaccurate, why didn't you ask for a retraction?
A (GR) - The answer is I did. I contacted the journalist involved. I emailed him and said I wasn't happy with what he had written, and I wanted a retraction. I'm still waiting for a response. That's why I've had no contact with that paper since and will have none in the future".
MS PowerPoint Presentation Slides.
Brian Flynn, Altrincham FC Press and Media Officer, has kindly supplied two further documents comprising "overheads" shown during the meeting (in MS PowerPoint format):
---
RETURN TO WEBSITE NEWS PAGE
---