ALTRINCHAM FC SEASON REVIEW 2018-19
---
---
COMPARABLE SEASONS
With Altrincham yo-yoing between divisions in the last three campaign, the nearest comparator to Altrincham's final league position and performance in recent years is with 2011-12:
2011-12: Conference North P42 W17 D10 L15 F90 A71 PTS61 POSN 8th
2018-19: Conference North P42 W20 D11 L11 F85 A56 PTS61 POSN 5th plus playoffs, in which: P2 W1 D0 L1 F3 A3
GOALS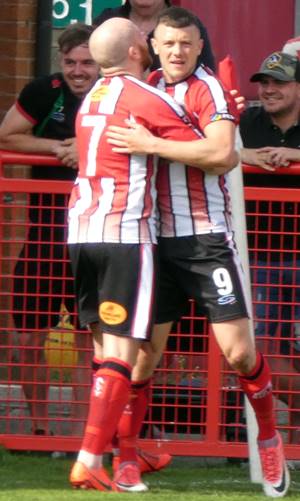 In 2018-19 Altrincham scored 85 league goals plus 3 in the play-offs and conceded 56, plus 3 in the play-offs. The individual goal scorers were led by...
20 in all competitions: Josh HANCOCK (19 league) and Jordan HULME (17 league)
15 John JOHNSTON (14 league)
7 Max HARROP
Right: Jordan Hulme is congratulated by Matt Chadwick.
GOAL TIMES (LEAGUE exc play-offs)
First half: 33
Second half: 52
CLEAN SHEETS
Ten clean sheets were kept in league matches this season. Five at home (to Ashton United, Nuneaton Borough, York City, Southport and Chester FC) and five away (at Darlington, Curzon Ashton, York, Alfreton and Nuneaton).
SEQUENCES
Wins: Four, games 16 to 19
Unbeaten: Eight, twice. Games 12 to 19 and games 31 to 38
Draws: Two in main season (games 41,42) or 4 if the two play-offs are added.
Losses: Two, twice (games 4,5 and 8,9)
POINTS ACCRUED
Games 1-21: 35 points
Games 22-42: 36 points
HAT-TRICKS
1: Joe Piggott at Curzon Ashton
BIGGEST WINS IN LEAGUE
7-0 at Alfreton Town
6-0 at Curzon Ashton
4-0 at home to Nuneaton Borough and at home to Chester FC
HEAVIEST LOSSES IN LEAGUE
1-4 at Chorley
0-3 at Leamington
DRAWS IN LEAGUE
Altrincham had eleven draws in the league proper plus two more in play-offs which were settled by penalty shoot-outs. Until the end of the season Alty had never drawn two successive league matches under Phil Parkinson but they finished the campaign with a run of four draws if the play-offs are included!
Goalless draws in league: 0
Other league draws: 11 in league (6 home, 5 away), 2 more in play-offs
BIGGEST WINS IN CUPS
5-0 at home to Whitley Bay (FA Cup)
4-0 at home to Bradford (PA) in FA Trophy
AGGREGATES IN LEAGUE GAMES
8: Spennymoor 4 Altrincham 4
8: Altrincham 5 Chorley 3
7: Alfreton Town 0 Altrincham 7
6: Curzon Ashton 0 Altrincham 6
6: Altrincham 3 Darlington 3
APPEARANCES IN ALL COMPS
Stability was a key factor in 2018-19. 12 players made 37 or more starts:
49 Jake MOULT (all starts, 44 league, 5 cups)
46 John JOHNSTON (44+2, comprising 40+1 in league, 4+1 in cups)
46 Josh HANCOCK (39+7, comprising 36+5 in league, 3+2 in cups)
44 Tom HANNIGAN (all starts, 40 league, 4 cups)
44 James JONES (43+1, comprising 39+1 league, 4 in cups)
41 Connor HAMPSON (38+3, comprising 35+2 league, 3+1 in cups)
41 Max HARROP (28+13, comprising 25+12 league, 3+1 in cups)
40 Simon RICHMAN (20+20, comprising 16+20 league, 4 in cups)
39 Jordan HULME (36+3, comprising 31+3 league, 5 in cups)
37 Anthony THOMPSON (all starts, comprising 34 league, 3 in cups)
37 Andy WHITE (all starts, comprising 33 league, 4 in cups)
37 Sean WILLIAMS (30+7, comprising 26+7 league, 4 in cups)
PLAYERS USED IN LEAGUE
Named in a league squad: 37 players
Loanees named in league squad: 9 (who are included in total above; they were Yusifu Ceesay, Owen Dale, Brendon Daniels, Ashley Hemmings, Josh Langley, Joe Piggott, Chris Sang, Billy Sass-Davies, Nathan Waterston)
Never got on pitch in league game: 3 (Ben Elliott, Josh Langley, Charlie Scott)
Used as a sub but did not start a league game: 5 (Bay Downing, Dontai Gabidon, Callum Harris, Billy Sass-Davies, Nathan Waterston)
PLAYERS USED IN ALL COMPETITIONS
Players named in any matchday squad, league or cup:
44 of whom six did not figure in a league squad (Louie Barratt, Reece Coley, Matt Cook, Callum Jones, Pat Savage, Ross Woodcock)
CARDS
Red: 4 of which 3 in league (inc. 1 in play-offs) (Jordan Hulme away at Leamington, Andy White away at Telford, Josh Hancock away at Chorley in play-off). 1 red in cups: Jordan Hulme, home to Stockport County)
Yellow: 61 in league, 6 in cups
RED CARDS
2 Jordan Hulme
1 Andy White, Josh Hancock
YELLOW CARDS
11 Max Harrop in 28+13 appearances
8 Jordan Hulme in 36+3
7 John Johnston in 44+2
6 Andy White in 37+3
5 Sean Williams in 30+7
5 Simon Richman in 20+20
LEAGUE ATTENDANCES
League gates:
HOME
Highest: 3,383 v Stockport County, 26 December 2018
Lowest: 695 v Nuneaton Borough, 30 October 2018
AWAY
Highest: 4,549 v Stockport County, 1 January 2019 and 3,446 v Chorley in play-off semi final, 5 May 2019
Lowest: 454 at Bradford (PA), 15 September 2018
ATTENDANCES Excluding play-offs:
Home avge: 1137
Away avge: 1198
---