---
Alty Legends- Section Eighteen
by Terry Rowley
---
These pages chronicle the playing legends of Altrincham Football Club. The texts have been kindly supplied by Terry Rowley, joint editor of the Robins' Review matchday programme. The profiles have previously appeared in the Robins' Review.
---
Altrincham Football Club Legends Section Eighteen
Profiles 52-54.
52. Freddie PYE, pt.2
53. Alfred STEWARD
54. Clarence HILDITCH
---
52 - FREDDIE PYE part two
By Terry Rowley, Joint Editor of The Robins' Review,
with thanks to Bill Coop.
Part One is here.
For the last weeks of the 1962/63 season Fred assessed the squad and made few changes to the side except for bringing in former Manchester United goalkeeper, Gordon Clayton, for the last three games of the season, though two defeats and a draw hardly showed an improvement! During the close season Pye used his contacts to begin building his own side. Goalkeeper Bobby Allan was persuaded to re-join and a collection of League professionals was blended with Cheshire League talent. Amongst the professionals signed were former Bolton skipper John Higgins along with Ian Greaves, and former Blackburn Rovers duo Roy Isherwood and Paddy Mulvey. Bobby English was signed from Southport along with Ken Finney from Tranmere Rovers and, from non league, veteran Freddie Taberner was brought in from Wigan Athletic, along with Jackie Dobson.
Despite this influx of basically a new team, results were not consistent and despite reaching the 1st Round of the FA Cup, (going out to Wrexham), Fred started to become impatient and began making changes. Johnny Worth was brought in from Rusholme and soon released to Hyde, goalkeeper Mitchell Downie was signed and dropped. It was obvious that the team was being changed too often and not being allowed to gel, something that Pye admitted had been a mistake, the following season. The arrival of Felix Reilly, Neil Dewer and 'goal machine' Alan Foster saw the team more settled and consistent and it finished the season in fourth place, (up 4 places from the previous season). More importantly, Fred landed a trophy, the Cheshire League Cup, beating League Champions, Macclesfield over two legs, a notable achievement. After drawing the home leg 0-0, Altrincham won 4-2 at the Moss Rose.
If this was a step forwards, the 1964/65 season was a step backwards as once again Freddie sought the right blend by chopping and changing players. Only five players out of the 37 used that season could be considered first choice (Reilly, Wardle, Dewer, Billington and Cooke were the only players to play over 30 league games). The team finished eighth again in the league and were knocked out of the league Cup at the semi-final stage by Runcorn, after again beating Macclesfield in the previous round. The one significant event of that season was the signing of Jackie Swindells but, in the handful of games he played at the end of the season, he did little to suggest the impact he would subsequently have on Altrincham's fortunes.
At the end of his first two seasons Fred nearly packed it in as being 'Mission Impossible' though, never one to shirk a challenge, Freddie carried on with his re-building. He had an eye for players and was not afraid to make unusual changes such as converting half-back Neil Dewer into an extremely effective centre-half and, probably most famously, converting Jack Swindells from an inside forward cum midfielder to a deadly centre forward.
When Altrincham opened the 1965/66 season it was with a revamped side which included Dewer, Reilly and Swindells from the previous season, supplemented by wingers, Clive Colbridge from Wrexham and Ronnie Taylor from Colwyn Bay, centre forward Pat Connelly from Colchester United, left half Frank Peters from Sankeys and full backs Jimmy Brown and George Forrester, also both from Sankeys. But, quite possibly, the most crucial signing was Les Campbell, the man responsible for engineering the chances for the 'All Star' forward line. This time Pye backed his judgement and stuck with the team without chopping and changing and they in turn rewarded him with an unbeaten run from the start of the season that only ended in the 5-0 Third Round FA Cup defeat at Wolves. The team finished as League Champions, losing only twice, winners of the newly inaugurated Macclesfield Floodlit trophy (forerunner of the North West Floodlit league), League Cup finalists and Cheshire Senior Cup semi-finalists. In all competitions Altrincham scored 189 goals with centre forward Connelly scoring 34 and wingers Taylor and Colbridge contributing 17 and 13 respectively but dwarfing them all was Jackie Swindells who scored 82!
White and Swales were thus vindicated in their choice of manager and they now had a team that was getting national exposure. For the 1966/67 season Pye used his astute judgement to freshen up the championship winning side, bringing in Tommy Heron along with Johnny Worth. As the season progressed Colbridge and Taylor dropped out of the picture to be replaced by Heron and Frank Twist but the back bone of the Championship winning side was still in place; Campbell, Dewer, Halliwell, Brown and Swindells were all still regulars. Although going out of the FA Cup at the first hurdle, the team finished as champions once again, this time also winning the Cheshire Senior Cup.
The 1967/68 season was to be Altrincham's last in the Cheshire County League before joining the newly formed Northern Premier League and it was Pye's intention to bow out as champions yet again. Once again Pye showed his astuteness in the transfer market. Whilst retaining his core players of Dewer, Halliwell, Swindells, Worth, Stewert and Peters, he brought in winger Ronnie Smith from Southport and 'star' players like Bert Lister and Albert Quixall, who not only sharpened up the side but attracted much needed publicity to the club. Unfortunately, Altrincham lost the championship by three points to Macclesfield Town, although they gained a measure of revenge by lifting the North West Floodlit League title, by beating Macclesfield in a two legged final.
Altrincham retained the Northwest Floodlit League title the following season (1968/69) by again defeating Macclesfield in the two-legged final but, in the newly formed Northern Premier league, Altrincham took time to adjust and eventually finished a disappointing ninth in the table. New players were drafted in, like former Manchester United youngster Peter Jones and Rochdale's Brian Taylor, to bolster the side but, again, the team was changed around far too often to gel properly. Furthermore, Fred's business demanded more time and the increased travelling was also taking its toll on the manager, eventually forcing him to resign in favour of former Stockport County player Matt Woods and accept a position on the Altrincham board.
He was later to become General Manager and Vice-Chairman at the club, as well as acting as caretaker manager early in 1970 when player-manager Laurie Brown resigned, but he had no intention of resuming the manager's role on a permanent basis. He remained connected with Altrincham till late 1974 when he accepted the joint Chairman's post at Stockport County, eventually becoming Chairman before moving to become chairman of Wigan Athletic around 1981. He was later invited to join the board at Manchester City by Peter Swales around 1985, eventually becoming vice-chairman. He left Manchester City in June 1998, by now 70 years old.
It is believed that Fred is now retired and living in Spain.
Fred Pye's legacy to Altrincham is not to be underestimated. He not only produced a trophy-winning side to be proud of but also brought the club national exposure and a higher level of expectation from its supporters.
---
53 - ALFRED STEWARD
By Terry Rowley, Joint Editor of The Robins' Review,
with thanks to Bill Coop.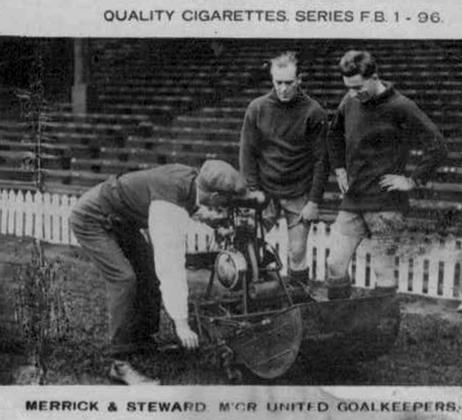 Born: Manchester 18th September 1896

Career
Army football (Manchester Pals' Regiment) 1915-18
Stalybridge Celtic
Manchester United (amateur 1919)
Heaton Park
Manchester United (professional Jan 1920)
Manchester North End (player/manager June 1932)
Altrincham (player/manager 1933/34, secretary/manager 1936-38)
Torquay United (Secretary 1938-40)

The arrival of 37 year-old Alf Steward at Altrincham from Manchester North End, after 13 seasons at Manchester United coincided with what was to be one of the most successful two or three season periods in Altrincham's history at that time.

Alf Steward was born in Manchester on the 18th September 1896 and was a tall, brave and confident keeper and excellent all round sportsman. (He was also a good cricketer who was on Lancashire Cricket Club's books for a spell).

During the First War he played army football for the Manchester 'Pals' Regiment and after the war was signed from Stalybridge Celtic by Manchester United as cover for first choice keeper Jack Mew, initially as an amateur. He also turned out for Heaton Park FC prior to signing professional terms with the Old Trafford club in January 1920. Initially Steward found it difficult to break into the first team but his abilities were soon acknowledged by selection for the Central League XI v The North Eastern League XI for a representative match early in 1921, followed by a Central League winner's medal later in the season with United. He eventually claimed Jack Mew's 1st team spot during the 1923-4 season and went on to save six penalties during the remainder of the season. During the 1924/25 season he was an ever present in a side that saw United promoted to the First Division with 25 clean sheets and conceding just 23 goals, (both still United records).

From April 1924 to September 1927 he missed only 7 league games out of a possible 139 before losing his place to Lance Robinson. Many believed that Steward was finished but he regained his place in April 1928 and went on to play a further 149 games (out of a possible 163), playing on until the end of the 1931/32 season, and he was fittingly rewarded with two benefits.

On finally leaving United he joined Manchester North End as player/manager in June 1932 and created something of a record when circumstances meant he ended up playing for both sides in the final of the Cheshire County League Cup - how?

Alf played for Manchester North End in the final (3-3) against Altrincham, which was played at the end of the 32/33 season. With no time for the replay that season, the replay was held over till the following season by which time Steward had joined Altrincham! The replay was a 4-1 victory to Altrincham thus giving Alf his first medal in only his fourth game for the club!

This was the start of a very successful season which saw Altrincham make the 1st Round proper of the FA Cup for the first time in their history, losing 1-0 to Gainsborough Trinity after beating Sandbach Ramblers, Lostock Gralam, ICI Alkali, Macclesfield and Wigan Athletic in the qualifiers. Altrincham also reached, and won, the final of the Cheshire Senior Cup where they beat Congleton Town 1-0 at Edgeley Park in front of 5,671 spectators. In the League, they moved up to 6th place (12th the season before). Steward also proved to be versatile, not only being a top notch keeper but also not a bad left winger, as he proved against Stockport County Reserves in a league match, Altrincham lost but Alf scored Altrincham's only goal in a 2-1 defeat.

The 1934/35 season saw Steward miss only one game as Altrincham finished in second place just missing out on the championship to Wigan Athletic on goal difference. Steward was to repeat this the following season, missing only one game all season and finishing in second place, yet again to Wigan Athletic, but this time by 13 points. Time however was catching up with Alf and, already past his fortieth birthday, he started season 1936/37 looking for a permanent replacement for his goalkeeping position. At this time he was player, manager and secretary of the club. He was also extremely active off the field, especially in raising critically needed funds for the club which was now beginning to struggle financially - the result of running a nearly complete team of professionals.

The 1937/38 Season was to be his last as a player, making just 2 appearances for Altrincham in an emergency, when regular keepers were unavailable and by the end of the season he had been offered the Secretary's job at Division 3 (South) side, Torquay United, a job viewed as a promotion, which he naturally took. He stayed at Torquay till May 1940, only leaving Plainmoor when the club closed down due to the Second World War. He moved to the Birmingham area to work on munitions and later still became group secretary of the BSA Recreation Centre in the city.

Alfred Steward's Manchester United Career Appearances
| | | |
| --- | --- | --- |
| Season | League | FA Cup |
| 1920/21 | 2 | 0 |
| 1921/22 | 1 | 0 |
| 1922/23 | 1 | 0 |
| 1923/24 | 30 | 2 |
| 1924/25 | 42 | 1 |
| 1925/26 | 35 | 2 |
| 1926/27 | 42 | 3 |
| 1927/28 | 10 | 1 |
| 1928/29 | 37 | 2 |
| 1929/30 | 39 | 1 |
| 1930/31 | 38 | 4 |
| 1931/32 | 32 | 1 |
| TOTAL | 329 | 17 |
Alfred Steward's Altrincham Career Appearances
| | | | | |
| --- | --- | --- | --- | --- |
| 1933/34 | 35 | 8 | 2 | 4 |
| 1934/35 | 41 | 4 | 5 | 3 |
| 1935/36 | 41 | 5 | 1 | 1 |
| 1936/37 | 16 | 2 | 1 | 1 |
| 1937/38 | 2 | 0 | 0 | 0 |
| TOTAL | 135 | 19 | 9 | 9 |
---
54 - CLARENCE GEORGE HILDITCH
By Terry Rowley, Joint Editor of The Robins' Review,
with thanks to Bill Coop.
Born: Hartford (nr Northwich) 2 June 1894.
Clarence Hilditch's contribution to Altrincham's history is in itself brief (though 18 goals in 17 games was pretty impressive) but it was these performances for Altrincham in the Lancashire Combination wartime competition that brought him to the attention of Manchester United and it was from Altrincham that he went on to a famous career with Manchester United.
Clarence or 'Lal' as he was popularly known, began his senior career as a free scoring centre forward with Witton Albion in the Lancashire Combination League (1911/12 to 1914/15). He switched to inside left on joining Altrincham in December 1915, where he proved just as effective, and finally successfully switched again to left half after joining Manchester United.
Hilditch was described as adaptable, hard but fair, confident and reliable and regarded by many contemporaries as one of the 'cleanest' players to have ever played the game. His contribution to Manchester United was immense, during some difficult times in their history. He went on to spend 17 years with Manchester United and there can be few players to have played as long with United without winning any major club honours. He did however represent England against Wales in an unofficial Victory International in October 1919 and later in 1920 went on tour to South Africa with the England FA party. He also received Football League representative honours.
Uniquely, Hilditch is still United's only ever player-manger as he was asked to take over both roles in October 1926 when then current manager, Jack Chapman, was suspended by the FA for alleged improper conduct. 'Lal' stayed in the post till the following April when he reverted to solely playing again. He retired from playing at the end of the 1931/32 season after playing 322 first team games to become a junior coach at Old Trafford. After the war he helped out at Witton Albion and held the post of secretary for a spell.
Career Details
| | | | | |
| --- | --- | --- | --- | --- |
| Altrincham | LeagueGames | League Goals | FA Cup Games | FA Cup Goals |
| 1915-16 | 14 | 14 | 0 | 0 |
| 1916-17 | 3 | 4 | 0 | 0 |
| ALTY TOTAL | 17 | 18 | 0 | 0 |
| | | | | |
| Man .Utd | | | | |
| 1915-16 | 3 | 0 | 0 | 0 |
| 1916-17 | 30 | 1 | 0 | 0 |
| 1917-18 | 35 | 0 | 0 | 0 |
| 1918-19 | 33 | 1 | 0 | 0 |
| WAR TIME | 101 | 2 | 0 | 0 |
| | | | | |
| 1919-20 | 32 | 2 | 2 | 0 |
| 1920-21 | 34 | 1 | 0 | 0 |
| 1921-22 | 29 | 0 | 1 | 0 |
| 1922-23 | 32 | 1 | 3 | 0 |
| 1923-24 | 41 | 0 | 2 | 0 |
| 1924-25 | 4 | 0 | 1 | 0 |
| 1925-26 | 28 | 1 | 3 | 0 |
| 1926-27 | 16 | 0 | 3 | 0 |
| 1927-28 | 5 | 0 | 0 | 0 |
| 1928-29 | 11 | 1 | 0 | 0 |
| 1929-30 | 27 | 1 | 1 | 0 |
| 1930-31 | 25 | 0 | 4 | 0 |
| 1931-32 | 17 | 0 | 1 | 0 |
| PEACE-TIME | 301 | 7 | 21 | 0 |
| MAN U. TOTAL | 402 | 9 | 21 | 0 |
---
Go to ALTRINCHAM FC LEGENDS INDEX
---