ALTRINCHAM FC LADIES
Altrincham FC Ladies 2015-16 Season
27 April 2016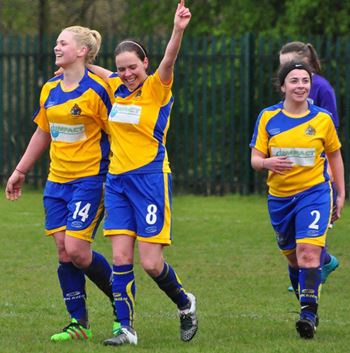 Altrincham FC Ladies' manager Keith Edleston writes about his team's 6-0 win over Liverpol City Ladies last Sunday. "A great afternoon of football down at Mersey Valley yesterday as both teams put in a shift and a half in pouring rain to make it a very entertaining match. Pre-match saw our junior team play Didsbury in the FA Girls' Football Week exhibition game and both teams were superb with the way they played the game. Afterwards the two team joined us to be mascots Alty were ours and Didsbury were Liverpool City's. Thanks go to Harriet,Anne and the girls from Liverpool who agreed to do this and I know it made both sets of girls very happy.
The final score was Altrincham FCL 6 Liverpool City 0, with goals from Liss Taylor, Kate Bryan, Laura Dodds (x2), Gail Simpson and Kye Brown. The Players' Player of the Match was Gail Simpson and the Manager's Player of the Match was Laura Dodds.
Thanks go to all our support, who have made it down to watch and cheer the girls on throughout a season in which, at times, it has been a tough one in our new league. But it has made us all a lot wiser and stronger for next season. Bring on 2016/17!"
Pictured, right, Gail Simpson celebrates her goal. Image courtesy of Keith Edleston.
Phil Taylor adds that "Altrincham FC Ladies ensured that we would not finish in a relegation position by beating Liverpool City Ladies. Many thanks to everyone who has supported us in any way this season and particularly to our hardy bunch of parents, partners etc. However, very special mention has to be made of our now regular supporters, especially Bill and Roger. Everyone connected with the Ladies is extremely grateful to you; your support, appreciation and encouragement are hugely appreciated".
This victory follows two recent reverses...
On Sunday 10 April, away to FC United of Manchester Ladies, Alty lost 6-1. And the following Sunday (17th) the Ladies were beaten 3-1 at home by Warrington Wolverines.
---
6 April 2016
Phil Taylor has kindly provided a
match report
on Altrincham FC Ladies' game with Ellesmere Port Town last Sunday. Altrincham FC Ladies came back from 0-2 to draw 2-2, thanks to goals by Georgia Plant and Alisha Palmer.
---
29 March 2016
Keith Edleston, manager of the Altrincham FC Ladies, has kindly provided us with the recently released fixtures for his team. They can be found
here
. The Ladies are always keen to have supporters so please come along if you possibly can.
The Ladies' rearranged match at Winsford last Sunday was postponed at the last minute.
---
13 March 2016
Successful at the weekend were the Altrincham FC Ladies. They lost a "double-header" as the
FA
confirms they lost to MSB Woolton "home" and "away" 0-3 on Sunday. They now lie 14th in the table.
---
9 March 2016
Altrincham FC Ladies' manager, Keith Edleston, informs us that "Our next game is this coming Sunday, 13th March, away at MSB Woolton LF. Kick off is 1pm and this is classed as a 'double header' due to the poor weather we have had, which has caused a major fixture pile-up. The address of the ground is Admiral Park, Admiral Street, L8 8JN and we would love to see as many supporters as possible down to cheer us on.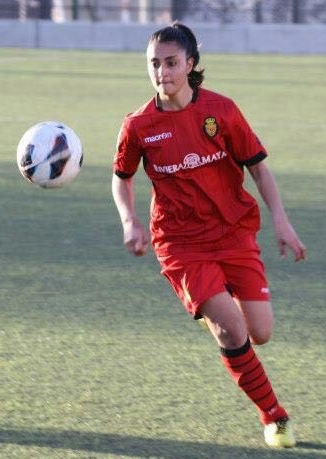 Also we have a new signing, Estefania Lillo Munoz, a 21 year-old Spanish girl, who has joined us while she is over here working as an au-pair and studying English. Steffi has played for Granada and Real Mallorca before coming to England and has slotted in very well with the girls and is looking forward to her debut very much. Steffi's position is as a forward and we have seen already in training her quick feet and eye for goal. Steffi's picture (above) shows her in her last game for Real Mallorca".
---
22 February 2016
Alty Ladies' match beat the weather on Sunday but, unfortunately, they lost 3-2 at home in the Cheshire Cup to Ellesmere Port Ladies. The previous Sunday, the Ladies lost in the league, 5-1, at Merseyrail Bootle.
---
27 January 2016
Keith Edleston confirms the details of this coming Sunday's game (31 January) for Altrincham FC Ladies. It is at home at Mersey Valley Sports Club, Banky Lane, Sale, M33 5SL. Kick- off is at 2pm, against Mersey Girls. The social club will be open throughout the day from 12 noon. All spectators are very welcome.
---
26 January 2016
Phil Taylor has kindly provided a match report on the Altrincham FC Ladies' 10-0 win over Chester City Ladies, last Sunday. It can be found
here
. Next Sunday, the Ladies are at home to Mersey Vally (2pm).
---
25 January 2016
Phil Taylor writes that "Altrincham Ladies secured their place in the draw for the Second Round of the Cheshire County FA Ladies' Cup on Sunday afternoon with a 10-0 victory over Chester City Ladies. Goals were scored by Lissy Taylor (3), Kye Brown (2), Jess Hartopp (2), Alisha Palmer, Kate Bryan and an own goal.
---
13 January 2016
This Sunday, 17 January, Altrincham FC Ladies are at home at Mersey Valley Sports Club, (Banky Lane, Sale, M33 5SL) with a 1.00pm kick off against Chester City LFC. The social club will be open throughout the day from 11.30am and all spectators are very welcome.
---
6 January 2016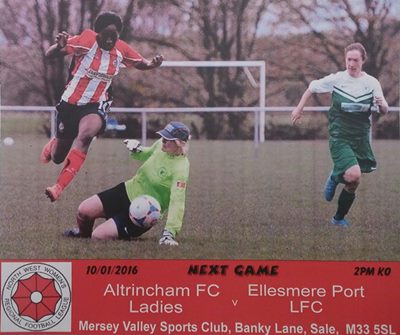 Altrincham FC Ladies' next match is on Sunday (10th January) at 2pm at the Mersey Valley Sports Club, Banky Lane, Sale M33 5SL. Kick off is at 2pm and the opponents are Ellesmere Port LFC. Spectators are very welcome; entry is free.
---
29 December 2015
Altrincham FC Ladies' manager Keith Edleston has been busy over Christmas as he announces that "Things are looking up on the ladies front after a 'testing' first half of the season. I have, over the last couple of weeks signed on two players from AFC Urmston Meadowside after they unfortunately folded, due to lack of players. The signings are (above, left) Bliss Molyneux, a tough-tackling left-sided centre-half with enough skill and knowledge to play anywhere along the back three or four with no problems. She can also weigh in with the odd goal or two from a set piece or corner. Bliss has been coming down to Mersey Valley to watch some of our home games and, as soon as I knew she was 'available ' it was down to me then to sell the club to her. After a few long chats, she agreed to sign on the dotted line and now is eligible to play on the 10th January v Ellesmere Port. Bliss will take the no. 16 shirt.
The second signing is Kayeshia Brown (above,right). Kye has also joined us from AFC Urmston and is a very accomplished left-back, a position we haven't filled properly since Sam Briggs went on maternity leave to have her first baby. Kye comes with a good playing pedigree as she has played for both Manchester United and City in her career. Again, she is a player who, after a chat and a couple of training sessions, saw that we could offer a lot and didn't need to be asked twice! Kye will take the no.2 shirt.
I'm sure that, once settled in, both players will enhance the squad and will help the team to progress further. Welcome to the club Bliss and Kye".
The Ladies' next fixture is on Sunday 10th January, 2016 at Mersey Valley Sports Club, Banky Lane, Ahshton on Mersey (2pm) against Ellesmere Port LFC in the North West Women's Regional League. All spectators are very welcome.
---
29 November 2015
In today's cup match, Altrincham Ladies lost 3-4 at home to Mersey Girls, after extra time.
---
27 November 2015
On Sunday, Alty Ladies entertain Mersey Girls in a cup tie at Mersey Valley. To allow time for possible extra time/penalties, kick off will be at 1pm.
---
18 November 2015
Phil Taylor's report on the Ladies' 3-3 draw at the weekend is
here
.
---
16 November 2015
Altrincham FC Ladies followed up their excellent 5-1 win a week ago with an excellent 3-3 draw at home to Liverpool Feds on Sunday. Michael Ripley has images
here
.
---
11 November 2015
Courtesy of Phil Taylor, we have a
report
on Altrincham FC Ladies' excellent 5-1 win over Winsford last Sunday.
---
9 November 2015
Altrincham FC Ladies had an excellent 5-1 home win over Winsford on Sunday.
Phil Taylor has kindly provided match reports on the two previous games, against Merseyrail Bootle and Warrington Wolverines.
---
26 October 2015
Altrincham FC Laides lost 7-0 at home to Merseyrail Bootle on Sunday.
---
21 October 2015
Altrincham Ladies recorded an impressive away win last Sunday against Mersey Girls. Phil Taylor has kindly provided a
match report
.
Next up is a home match against Merseyrail Bootle at Mersey Valley FC, Banky Lane (2pm); spectators are very welcome.
Ladies' manager Keith Edleston has sent his "Manager's Mutterings"...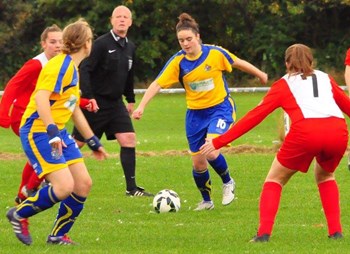 Right: Action from the Ladies' match last Sunday.
"Well, another sunny but cold day as we all set off on our travels back up to Merseyside to take on Mersey Girls LFC.
I had heard through the grapevine that they were a young, energetic team who liked to play football in the right fashion so it boded well for a good game. Well, my reports were deemed to be right and, without a doubt, they were everything and a bit more, they played the ball around well, weren't afraid to make a mistake and broke with some speed.
I knew that it was going to be a tough game but we stuck to our game plan and it worked. Earlier in the week, I had signed a new forward, Roisin Stone, who had moved up here from London in September and had started work in Elina's school in Salford. At training last Thursday we had a look at her and, during the session, she showed great quality and movement so was thrown straight in for her debut. Well, with a great 90 minute performance and two goals later, I knew the right decision had been made and Rosie will go on to be a great player for us.
Also getting on the score sheet, with a well taken goal, was Liss Taylor who now has scored two in two since joining us from Whitchurch.
All in all, it was a very good away performance from the girls who, at times, as well as playing some good football had to dig in to make sure Mersey Girls didn't get a foothold back in the game. Special note goes to Lucy, who is really growing in confidence since being "thrown in " at the deep end with Lizzie's injury, and Jess, who played a good 75 mins despite being absolutely full of flu and struggling to breath. She gave a non-stop display up and down the right wing.
On the injury front we still are missing Lizzie but the cast has to stay on for another four weeks, then it will be re-assessed and then they will decide what to do. Louise has a sore foot after kicking the bottom of a player's boot in a University training session on Monday. Gail and Heather will be missing for three weeks as they both are away to Australia. So,it will give the opportunity for other players in the squad to challenge now and give me a selection problem when they are back.
Well, onto our next game this coming Sunday and, finally, we are back at Mersey Valley Sports Club in a league game v Merseyrail Bootle LFC 2pm. I and the girls would love to see you down to support us to try and get another three points in what will be a very tough game.
Keep on believing #COYRGirls
Keith (The Gaffer)"
---
16 October 2015
Once more, Alty Ladies have an away game on Merseyside on Sunday. This time they take on Mersey Ladies (k.o. 2pm).
There is now a match report, courtesy of Phil Taylor, on the Ladies' game, last Sunday, away to Liverpool Feds' reserves. It can be found
here
.
---
15 October 2015
Phil Taylor has kindly provided two reports on recent Ladies' matches. These are the home match against FC United of Manchester and the away fixture at Liverpool City Ladies.
---
13 October 2015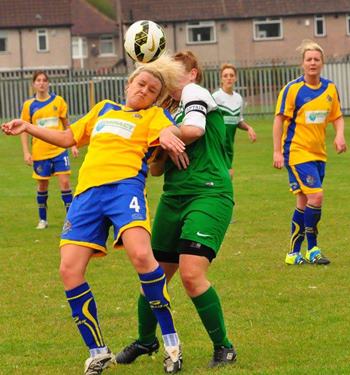 Altrincham FC manager Keith Edleston has sent his "Manager's Mutterings" from Sunday's game...
Right: Action from the Ladies' match on Sunday.
"On Sunday we travelled back up to Merseyside (again) to take on Liverpool Feds Reserves at Childwall College. The games are coming thick and fast now and, slowly, we are getting our players back to fitness and availability. Added to that, a couple of new additions are helping.
This was a much improved performance. Commitment, energy and enthusiasm were everywhere, with the girls getting their confidence back and expressing themselves much more. With our new found vigour we took the game to Feds and could (and most possibly should) have been three-up by half time!
We stretched Feds all over the field and restricted them to possibly two or three shots on our goal. Unfortunately, as we have moved up the league, we have found that if you don't take your chances these good teams now will punish you and Feds did just that and we found ourselves two-down at half time.
Into the second half we kept going with our football and still had chances to score but Feds' rearguard managed to keep us out and it finished 0-2.
There were some very spirited performances that I am more than happy with and, like I say, with the new signings settling in, our first win shouldn't be far away.
This Sunday we are on our travels yet again to (you've guessed it Merseyside) to take on Mersey Girls. Until then, it's back to the training pitch on Thursday to work hard in preparation for the game on Sunday. On the injury front Lizzie [Brereton]'s looks like it's going to be a long-term injury but you never know. So, apart from a few knocks and bruises we should nearly be at full strength".
---
27 September 2015
Altrincham FC Ladies' match against FC United of Manchester at Mersey Bank FC was abandoned on Sunday afternoon followed a serious injury to Altrincham goalkeeper Lizzie Brereton. The score at that stage was 1-1. Lizzie suffered the injury in making a fine save from the visitors' number 11. Fortunately, Alty FC physio Alan Ainsley was at the game and he gave Lizzie excellent attention. As she could not be moved from the pitch the game was suspended and it eventually took two and half hours for an ambulance to arrive to take her to Salford Royal Hospital.
Phil Taylor advises that the injury is a "displaced fracture of the wrist" and that it remains to be decided whether the injury needs an operation or not. All at the Club wish her a full and speedy recovery and are grateful to Alan Ainsley for his treatment of the injury.
Michael Ripley has images from the game here.
---
23 September 2015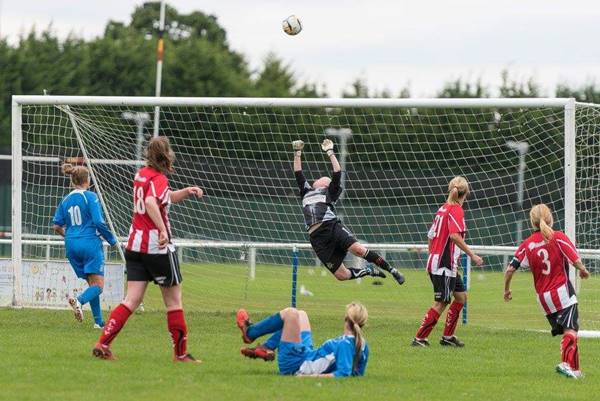 Above: An excellent action shot from the game, courtesy of Tom Green, shows keeper Lizzie Brereton in action last Sunday at Ellesmere Port.
Following a 6-0 defeat, Alty Ladies' manager Keith Edleston entitles his summary of Sunday's game for his side as "Manager's Mutterings"!. He says, "On Sunday we travelled over to Ellesmere Port LFC to play ours, and the club's first ever game in the North West Women's Regional League Div 1 (South). In our short history of four seasons this is now where we mix it with the bigger, more established teams and where we play on better pitches with better facilities which (hopefully) then produce better football.
On Sunday, though, we did have a selection problem, with a lot of girls unfortunately having to work or recovering from injury. It made us have to travel with a squad of just 12 players! The twelve players on show showed lots of desire, commitment and gave everything they had against a very good 'Port team which boasted some quality players from a higher division and a Welsh Premier League player.
Over the 90 minutes, though, we couldn't complain. Yes, the better team won but on desire commitment, etc., I couldn't fault any of my players and we left Whitby Sports Club with our heads held high and some very positive comments from their players and Nigel the manager ringing in our ears.
As manager of this team I, along with the rest of the management staff, was very proud of this achievement; of taking these girls to a new level to compete with the Ellesmere Ports and FC Uniteds of this world and one where, yes, it may be a bumpy ride along the way but you can rest assured that THIS is a challenge we relish.
See you next Sunday 27/09/15 at Mersey Valley Sports Club where we face another tough game v FC United with a 2pm kick off. They are bound to bring a lot of support to this game so we hope to see you all there to cheer us on.
Come on you Red Girls!"
Phil Taylor's match report is here.
---
16 August 2015
Congratulations got to Altrincham FC Ladies' manager, Keith Edleston, who was married on Saturday at Davenport Methodist Church. The service was followed by a reception at the Cresta Court Hotel in ALtrincham. The Club wishes him and his wife many happy years together.
---
8 August 2015
Courtesy of Phil Taylor, there is a match report on the Ladies' commendable peformance against the US visiting team, Lee University Flames, here.
The
FA
has Altrincham FC Ladies' fixtures for 2015-16 in the North West Regional League, Division One South. They kick off on 6 September at home to AFC Urmston medowside at Mersey Va;lley, FC, Banky Lane, Ashton on Mersey.
---
6 August 2015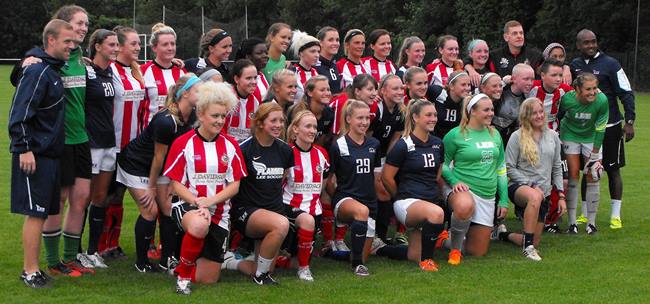 On a wet Wednesday evening at Mersey Valley FC, Altrincham FC Ladies played a visiting USA ladies' team, Lee University Flames of Cleveland, Tennessee. The skilful and speedy visitors proved too good for the Alty Ladies who, nevertheless, gave a good account of themselves. The Flames struck four times in eleven minutes midway through the first half, before adding two second-half goals, to run out 6-0 victors.
More details to follow, from Phil Taylor, whilst Mike Ripley will post images from the game on his website. Altrincham FC thank the Lee University team for their visit and wish them well throughout the rest of their tour of the country.
Above: The two teams mingle for a joint photo before the match kicked off..
---
---