Altrincham Football Club News Archive
2to 4 June, 2005
---
4 June 2005
WELCOME BACK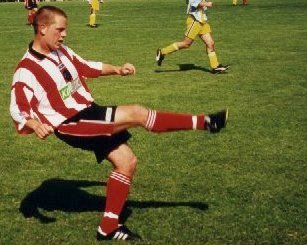 Alty manager Graham Heathcote has returned from holiday to announce the first changes to his playing squad for the new season in Conference National. His first signing of the summer is a familiar face, the former Altrincham captain, midfielder Steve Hawes (left) who has rejoined The Robins from Stocksbridge Park Steels. Steve was previously at Moss Lane from late 1999 to May 2002 and made 25+3 appearances for Alty in the Conference in his first season. Despite being surprisingly advised in January 2002 that his services would not be required at Altrincham for 2002-03, Steve continued to apply himself for the club, making 56 starts in 2001-02. By his departure to Worskop Town in May 2002, Steve had made 193+4 appearances for Altrincham and had scored 17 goals.
Steve was one of Alty's few southern-born players in recent seasons, having been born at High Wycombe, Bucks, on 17 July 1978. He joined Altrincham from Hull City, for whom he had started 18 league games. Before that he was the youngest player ever to play in the Sheffield United first team, for which he made 1 full and 3 substitute appearances, before moving on to Belle Vue where he played 18 full games for Doncaster Rovers. Steve then drifted into Sunday league football before being signed by Bernard Taylor in 1999. He was the sole non-Conference player in the FA XI versus the Unibond XI game in November 2000 and turned down a £20,000 move to Southport in December, 2000. He was appointed Altrincham captain on 27 January 2001 on the departure of Gary Talbot. Whilst at Moss Lane, Steve had trials at Doncaster (mid-February 2001) and was due to go to Barnet for trials in mid-March 2001 before he re-signed for Alty for 2001-2. Though generally a central-midfielder, he had a spell in 2001-02 at right-back. He is also a proficient taker of corners and free-kicks and has a good long throw. He becomes the fifth player in the current squad to rejoin Alty after a spell elsewhere; the others are Coburn, Adams, Maddox and Talbot.
MITTEN RELEASED
Altrincham striker Jonathan ("Jozzer") Mitten (28) has been released after five months at the club during which he made 5 starts and 10 sub appearances. His spell as Moss Lane was blighted by an 8-game suspension picked up before he joined Altrincham, when he was playing for Ashton United. Though he scored on his first home appearance against Lancaster in January, his prolonged lay-off, exacerbated by illness, meant that he was not fully fit whilst at Moss Lane and he did not find the net again. Alty manager Graham Heathcote said today, "The Alty fans did not see the real Jonathan Mitten" before paying tribute to the player's spirit in volunteering to take one of the vital shoot-out penalties at Nuneaton in the play-off semi-final this season. Unlike certain Milan and Liverpool players in the recent Champions' League Final, Jonathan kept his head to convert his spot-kick and help Alty to eventual promotion. The club wishes Jonathan good luck in his future career and, already, a number of clubs have expressed an interest in acquiring his services.
CLEARING UP
Alty matchday secretary and youth-team manager, George Heslop, is pictured in Friday's
MEN
inside the
Robins' Shop
after it had been broken into during the recent occupation of the Moss Lane car park by tarmacing lorries and other vehicles, including 16 caravans, belonging to the so-called "travellers" who forced their way onto the site by removing a height-restriction barrier and concrete bollards. Eventually evicted after days of hard work and legal action by club officials and helpers, the "travellers" left the club with a trail of vandalism and damage to clear. As well as breaking into the club office complex and the ground itself, the club shop was forcibly entered and programmes and other items strewn around the floor. The
MEN
reports that "it has cost thousands of pounds to clean up". It quotes George Heslop as saying that the site was a "filthy and disgusting mess when the 'travellers' left, including alcoves full of human excrement, litter, damaged locks and doors and smashed windows. Ten workers from Trafford Council... spent two days on site. They used three tipper vehicles and a tractor to remove more than 28 tons of domestic waste, rubble, soil, sand and tree cuttings". The unwanted visitors also raided charity bins of old clothes left by people at the recycling point behind the football ground. George estimated that there was £3,5000 of damage to the football club's premises alone - plus the mess left on the council-owned car park. George praised the council workers for their rapid action once the 16 caravans, as well as lorries and other vehicles, had moved on.
CONFERENCE
"Before the news broke regarding Northwich Victoria's possible relegation from the Nationwide Conference National, manager Steve Burr had been extremely busy strengthening his squad. However, quite what the position is now regarding one or two of his new signings remains to be seen". After listing the five new players (Hugh McAuley, Richard Battersby, Steve Payne, Stuart Elliott and Blake Norton, the
NL Daily
report adds "However, it is understood that nothing had been signed, and given the bad news, the situation may change".
"Ron Higgins has been voted out as chairman of Farnborough Town at a board meeting after he failed to attend... It is understood that Ron Higgins is involved in a consortium trying to takeover Kidderminster Harriers" reports the Hampshire club's website.
"Peter Davenport, manager of Welsh Premier club Bangor City, has landed three new signings in time for the forthcoming Inter Toto Cup matches". They include "goalkeeper Andy Ralph, who signs from Northwich Victoria" reports Citizens Choice.
Leigh RMI report that "The directors of Leigh RMI are sorry to announce the resignation of Steve Bleasedale". He is joining Mark Wright as assistant at Peterborough United. But in advance of this This is Bolton carried a report which quotes Bleasdale: "We'll be looking at the short-term aim of finishing in mid-table and consolidating. It's obviously difficult with just a £2,000 wage bill but all the players have understood the situation so far and that bodes well for the future'". However, it adds: "Bleasdale has conceded defeat over the services of defender David Ridler... The 29 year-old is expected to join a Conference club".
IC Surrey says that "Defender Nick Burton has parted company with Crawley Town after turning down the offer of a new contract... Burton was unable to fulfil the club's training requirements due to prior work commitments". A club spokesman said, "He is looking to stay at a decent level. We would very much have liked him to stay, but he couldn't commit to [training] three nights a week. We can't bend the rules for one player".
Accrington Stanley have signed "28 year old central defender Andrew Tretton. Andy started his career as a trainee at Derby before moving to Shrewsbury and then on to Hereford United, from where he was released". Tretton said, "I'm delighted to be playing here at Accrington next season, its a great setup and I've always wanted to join a team that plays in red!" But "manager John Coleman is now looking to bring in up to four more new faces including a left back, a midfielder and a striker... Meanwhile Lee McEvilly could be going the opposite way following weeks of speculation over a move to a Football League club... Also expected to leave for pastures new is defender Steve Halford [who] is expected to sign for Droylsden in the near future".
The Cambridge News says that "Cambridge United have sold their 500th season ticket for next season. The figure represents a remarkable show of faith by the club's fans... United have barely half a team in place for next term and manager Rob Newman is still acting only in a caretaker capacity. United's finance director Nick Pomery said, "We would like to give the manager a real chance of getting United back into the Football League at the first attempt. The difference between a mediocre Conference budget and a top-six squad is only £60,000 or so - that's equivalent to about 400 season ticket sales".
The BBC states that "Scarborough boss Nicky Henry boss hopes 17-year-olds Michael Coulson and Ryan Blott can fill the void left by some high-profile departures from the club. Scott Kerr and Chris Senior have both turned down new deals, while Mark Hotte has agreed to join rivals York City. Henry told BBC Radio York: "Michael was around the first team at the end of last year... Ryan is one of the best finishers at the club so he might be the answer. He had an unfortunate motorbike accident and that slowed his progress. He just needs to get his fitness back".
NATIONWIDE NORTH
"Irish defender Brian Shelley is the latest player to catch the eye of Lee Turnbull, manager of Barrow". Shelley has been released by Carlisle United states the
NW Evening Mail
.
Gresley Rovers "have completed the signing of goalkeeper Gavin Saxby from Alfreton Town".
---
3 June 2005
GOING FORWARD
SAM
reports that "Survival in next season's Nationwide Conference will be a tough task... But the club's promotion has also brought with it a host of rewards and director Grahame Rowley (left) is optimistic about the future. He said: 'In all the years I've been here the place has never been buzzing like it is now and there is a good feeling that we are finally getting there. It will be difficult next season because 16 of the clubs in the Conference will be full-time but we will make a few good signings to add to our squad and just aim to consolidate our position. It's looking very positive for next season because, now that we have got into the Conference, we don't have to chase people up and beg for money, we've actually had people asking us if they can sponsor the team for next season. We were facing a shortfall in revenue for the new season of around £35,000 because of the loss of revenue from Manchester United and from the transfer of Ian Craney to Accrington Stanley which gave us a boost at the beginning of last season".
SAM adds, "Good progress has been made in securing sponsors for next season and talks have been ongoing this week to complete a significant deal with one interested company, while there are several others interested in backing Alty next year. The club will also receive a share from the Conference's collective television rights package and this will help to fill the revenue gap created when Manchester United decided to move their reserve team games... The club has also been running a patron scheme to raise extra funds". Grahame Rowley said, "The uptake in the scheme has been much better than expected. We wanted to attract as many members as possible but we set a realistic target of 100. Now we have 111 and it's pleasing that we have had people from all over the place, people I've never heard of before and not just the 20 or 30 regulars who back all of our fundraising schemes'".
Also, as manager Graham Heathcote returns to Moss Lane from a well-earned holiday, work has begun "to improve the playing surface in time for the new season, with 100 tons of sand being dumped on the pitch before it is completely re-seeded... The club is asking for supporters to lend a hand in the general maintenance work which will be carried out during the summer. A meeting will be held at Moss Lane on Monday June 6 at 7.30pm and the club are inviting anyone to come along and put their name forward for any of the jobs which need to be completed before the end of the close-season. 'We're looking for anyone who could help, painters, decorators, gardeners, even people who have IT skills or think they have something else to offer, they will all be welcome'", said Grahame. To join the Patrons, you can ring Grahame Rowley on 07720 606897.
CONFERENCE
Daggers website
confirms that "a request was received from Hull City regarding the availability of Chris Moore... These discussions have been completed with no firm offer from Hull City F.C. having been made".
This is Lancs reports that as Accrington Stanley "nears its one-year anniversary of being a full-time professional outfit, the players, management and officials are ready to make one giant leap into the Football League. 'Our first year as a full-time club was something of a learning curve', said club administrator Rob Heys. 'We went from being a club with five or six full-time employees to a club which all of a sudden employs about 40 people full-time... There are so many players looking for new clubs now, players from the Football League, and that can only be good for the Conference and raising the standard. ... Our aim is the championship rather than a play-off place." Stanley have also got a Football Foudation grant to roof the Clayton End of their ground.
Cambridge News says that "Cambridge United are halfway towards the £100,000 they need to get through to the start of next season. Finance director Nick Pomery said: "This is better than we would have expected". Concerts at the Abbey Stadium should also raise £50,000 . "Hopefully we can do something in the Conference and have a good crack at it... and see if we can get the club back in the league". The club administrators will finalise the offer to creditors this week and "the key will be to come up with an offer that will be acceptable to Customs and Excise, to which the club owes £420,000". The News also reports that "Stewart Roach, the top scorer in the Ridgeons League, is being offered the chance to prove he is good enough to play for Cambridge United next season. Roach scored 45 goals for Lowestoft last season and has been invited for a two-week trial... The 26-year-old striker came through the youth ranks at Norwich City... Meanwhile, Steve Angus, who was released by United last week, has had the offer of a one-year deal with Scunthorpe withdrawn... Scunthorpe boss Brian Laws said: 'He had a lot of baggage which I feel would have made him high maintenance. That has scared me off'".
Hereford United's official website confirms that "Defender Tamika Mkandawire has signed on to the club for a further 12 months... Only two players from the retained ' wish list' have yet to re-sign, these are Craig Stanley and Andrew Tretton... Tony James, Rob Purdie and Craig Mawson have all agreed new contracts".
From The Gravesend Reporter is news that "Liam Daish's team-building plans have been boosted after Ben Surey and Graham Porter agreed one-year extensions". Daish said. "The league is so tight I think it's realistic to aim for the play-offs".
Worksop's winger Blake Norton has reportedly signed for Northwich Victoria, their fifth recent addition to their squad after Richard Battersby (Radcliffe Borough), Hugh McAuley (Forest Green), Steve Payne (Macclesfield) and Stuart Elliot (Gateshead).
The BBC reports that "Striker Lloyd Blackman has joined Woking following his departure from Farnborough". The BBC also says that "Scarborough have signed Darlington midfielder Chris Hughes following his release by the Quakers. Hughes, 21, has agreed a 12-month deal... Hughes made 49 first-team appearances for Darlington"
"Garry Hill, manager of Weymouth, is hoping to complete a summer swoop for Exeter City defender Alex Jeannin. The 27 year-old has been told he is free to leave... as part of a cost-cutting drive by the St James's Park outfit. Hill is facing competition from Bristol Rovers and Stockport County for the French full back Jeannin", reports NL Daily. NL Daily also says that at Alfreton Darren Gee "has been in consulation with numerous player targets over the past few days", including "centre-back David Robinson, 29, at Tamworth". Gee added that, "We will also be having talks with striker Paul Barnes, recently released by Hinckley United".
Lancaster "Boss Phil Wilson is currently taking a well-deserved break in the sun after a busy time in the transfer market... Wilson "has snapped up experienced pair Stuart Howson and Steve Skinner" states This is the Lake District.
NORTHERN NEWS
NL Daily
confirms that "Atherton LR have announced that their new management team will be Stuart Humphreys and Andy Nelson. The duo will come to the club as joint managers after being in charge of Leigh RMI reserves".
Runcorn FC Halton confirm that "Steve Soley has resigned his position as manager from the club for personal reasons, and the post has been taken up by assistant manager, Steve Carragher.". The club is "in talks with Pavilions about a return to their home town. Plans to build a stadium of the required standard around an all-weather pitch at the Runcorn site, near the Ineos Chlor Site at Weston Point, could see the club return to the town in 2007. In the meantime, Valerie Park in Prescot will become the new home of Runcorn FC".
---
2 June 2005
VICS MAY BE RELEGATED
Confguide
has important news about our Cheshire rivals, Northwich Victoria: "Although sources close to Northwich Victoria indicated that the Victoria Stadium passed its inspection this week, the Conference has declared that the club is not compliant with the rules. The result is likely relegation to the Conference North.When the club went into administration last season, the planned route to safety was to transfer the club itself into a new limited company, Northwich Victoria (2004) Ltd. The lease on the ground is owned by this new company. However, it is the old company that remains members of the Nationwide Conference, and the transfer of membership had not been completed by 31st May.
The Conference's statement reads: The Nationwide Conference have today notified Northwich Victoria FC Ltd (in administration) that they have failed to comply with the requirements to remain in the Conference Premier Division by the agreed deadline. The Club should originally have obtained a grading certificate for their new ground by 1st April 2005. By concession the Club were given until midnight on 31st May 2005 to comply on ground and club ownership status and it is understood that, although the ground was acceptable, the existing club in membership of The Football Conference, Northwich Victoria Ltd (in administration) did not have any security of tenure over the ground and as such could not be accepted into membership. The Club had intended to transfer its membership in the Football Conference to a new company, Northwich Victoria (2004) Ltd, formed for that purpose, but the FA have now informed The Football Conference that they have not been able to approve the transfer by 31st May 2005 as all their financial pre-conditions had not been met.
A Conference spokesperson said 'Every possible assistance was given by ourselves and the FA to Northwich to comply by the 31st May deadline, including significant correspondence with the lawyers of the administrators and lawyers for Northwich (2004) Ltd. The Conference left all concerned in absolutely no doubt whatsoever what was required to be in place by 31st May 2005. Whilst the ground work was acceptable, the transfer of membership had not been completed and no lease was in place in accordance with the Rules of the Football Association and The Football Conference to the existing member of The Football Conference, Northwich Victoria Football Club Ltd (in administration). The only lease in existence was granted to Northwich Victoria (2004) Ltd whose membership had not, by the relevant date, been approved by the Football Association'.
The Football Conference have had no alternative but to implement their Rules and have advised Northwich Victoria Football Club Ltd (in administration) of their right of appeal to The Football Association pursuant to those Rules".
OPEN FORUM- HELPERS REQUIRED
Alty director Grahame Rowley writes:
A meeting will be held in the Noel White Suite on Monday 6th June at 7.30pm to invite people to volunteer to help the club during the coming season. With the step up to the National Conference, attendances will hopefully increase and with that comes greater need for manpower (person power!) to run the various operations both pre-match, during the match and post match. Even if you can spare half an hour, your help would be appreciated and a job can be found for you.
We are also looking to utilise people's expertise be it in handiwork, I.T., marketing or other. If you believe that you could be of some help to the Football Club, please come along and express an interest.
The club needs your help - please come along!
LEGENDARY STUART
Terry Rowley's profile of Stuart Coburn (right) has been added to the Legends
section
.
MOSS LANE ON ITINERARY
From 1 July, Tom Johns and a friend are visiting each and every ground in the top ten English divisions. He writes,
"We are doing this challenge in aid of Macmillian Cancer Relief and have generated support from all over the country with people offering beds and food! More recently we have been in the paper and the radio (the link can be found on our website)and the BBC are also showing an interest in the tour. Many people have sponsored us already on-line via the website and we hope to get a fair amount for Macmillan. We are planning to visit your ground sometime in July, (a route plan is on the website) we also hope to collect an item of memorabilia/merchandise from numerous clubs in order to auction them off and raise more money for Macmillan and also Tackle Africa (a football based charity promoting football in Africa) and if your club is willing to contribute to this it would be fantastic."
. You can
e-mail Tom
with any queries, pledges, etc.
Altrincham FC have kindly agreed to support the good cause with an item of memorabilia.
CONFERENCE NEWS
Shotsweb
reports that "Wycombe Wanderers have confirmed they have signed defender Will Antwi on a two-year contract... He became a major factor in the Shots reaching the play off semi finals... Antwi's departure follows that of former Southampton defender, Phil Warner, who was released on Tuesday by mutual consent". The local
paper
adds that "Welsh full and now semi-professional international Darren Barnard has said he wants to stay with Aldershot Town and is hoping to tie up a deal before the end of the week... Manager Terry Brown, however, dismissed suggestions that former Newcastle and Tottenham striker Les Ferdinand, who has been plying his trade at Reading for the last four months, would be donning a Shots shirt for the coming season. 'I can't really see Les Ferdinand landing his helicopter at the Rec', laughed Brown. 'It's absolutely ridiculous. The guy has played at the best level, and is a millionaire; he doesn't really need me to give him £500 a week'".
Gravesend "have signed former Welling midfielder Danny Slatter on a one year full-time contract".
Bulls' News confirms that "The Football Conference has signed a new three-year deal with Nationwide Building Society in a partnership that also incorporates the competition's two new feeder divisions... John Moules, Chief Executive of the Football Conference, said: 'To have a partner of the calibre of Nationwide Building Society - that also sponsors the England team and The FA Cup - illustrates how highly our competition is regarded'".
Southport GB reports that "Defensive duo Neil Fitzhenry and Earl Davis have agreed new contracts at Southport... As expected, defender James Williams has been released following the arrival of Chris Lane... and it is reported that Droylsden are amongst those awaiting his signature. Meanwhile, midfielder Chris Price is set to hold talks with boss Watson to discuss his future".
"Steve Flitcroft wants to follow former Accrington Stanley teammate Jonathan Smith to Barrow next season". But Barrow boss Lee Turnbull said "I've been honest with him and I've told him I've got two other midfield options I'm pursuing... and that I'd be back in touch with him in a couple of weeks' time... Steve's had offers from Lancaster City, Radcliffe Borough and one or two others but he's indicated that he would like to come to us" reports the NW Evening Mail.
Unconfirmed reports say that Alfreton's player of the year, Lee Butler, has rejoined Halifax Town as cover keeper and goalkeeping coach. York City have signed Mark Hotte, a defender, from Scarborough but Scunthorpe have decided not to sign Cambridge United's defender, Steve Angus.
The Unibond league season starts on August 20 a week after the Conference.
---
FOR EARLIER NEWS, CLICK
HERE
---