ALTRINCHAM FC MATCH REPORTS
---
---
ALTRINCHAM (2) 5
AFC TELFORD UNITED (0) 2
Vanarama National League North match
played on Tuesday, 4 February 2020 at 7.45pm
---
SUMMARY:
After a minute's applause in memory of Jordan Sinnott, spectators were treated to seven goals and five strikes against the woodwork as Alty moved up to sixth in the table with a performance which even had the watching Stockport County manager, Jim Gannon, applauding an Altrincham attack.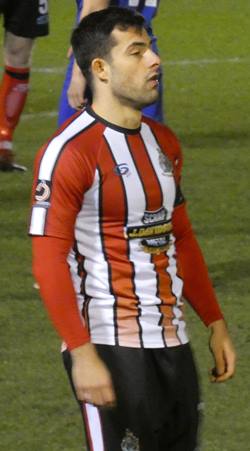 Alty almost snatched a fourth-minute goal when Hulme's fierce shot, from the right, came back off the inside of the far upright. Telford then almost scored as Thompson seemed to punch the ball onto his own crossbar. Another minute's applause for Jordan Sinnott started in the 20th minute, not the planned 25th but, by chance, this was appropriate as 20 was Jordan's squad number during some of his time at Moss Lane.
The score somehow remained goalless until the 29th minute when the impressive Alty debutant, Daniel Mooney [right] fed Hulme and he calmly finished past the advancing Luyambula.
Jake Moult then hit the post with a low shot from distance but the ball was not cleared and Hancock netted impressively, from left of goal, to make it 2-0 (41 mins).
When Hancock scored again just fifteen seconds into the second half it looked to have settled the outcome. And when the very impressive Mooney laid on a fourth goal, scored emphatically by Hulme, it definitely looked to be over as a contest.
However, to their credit, Telford kept going, with Dinanga the main threat. An Alty error allowed the Telford man to reduce the arrears in the 52nd minute and, when Alty again lost the ball in midfield, Telford were awarded a penalty which Daniels rolled into the net. So it was 4-2 after 61 minutes.
Telford were unable to score again and Jake Moult finally settled the encounter in the 67th minute, five goals having arrived in 22 minutes of the second half. Alty absorbed some further Telford pressure fairly comfortably before Jones clipped the bar at the other end.
---
SCORERS:
29 mins: Jordan HULME (ALTRINCHAM 1 AFC Telford United 0)
41 mins: Josh HANCOCK (ALTRINCHAM 2 AFC Telford United 0)
46 mins: Josh HANCOCK (ALTRINCHAM 3 AFC Telford United 0)
49 mins: Jordan HULME (ALTRINCHAM 4 AFC Telford United 0)
52 mins: Marcus DINANGA (ALTRINCHAM 4 AFC Telford United 1)
61 mins: Brendon DANIELS (penalty) (ALTRINCHAM 4 AFC Telford United 2)
67 mins: Jake MOULT (ALTRINCHAM 5 AFC Telford United 2)
---
REFEREE:
Mr Edward Duckworth
---
ATTENDANCE:
810
---
TEAM NEWS:
With Andy White and Sean Williams still injured, Altrincham made just one change to their starting eleven; Tom Peers had limped off at Telford on Saturday and he was replaced tonight by new signing Dan Mooney, who played on the right wing. He thus became the tenth different winger to be deployed in a league game by Altrincham this season.
Telford's German keeper Michael Luyambula, a loanee from Birmingham City, had irritated Alty fans with his persistent timewasting on his debut in the reverse fixture and he continued in goal tonight for the visitors. The Bucks made changes, however. Their captain Shane Sutton had been helped off the field at the end of Saturday's match and he did not feature today, with Steele replacing him at the back. Ellis Deeney captained the side in Sutton's place.
Up top, Marcus Dinanga came in at centre-forward with the player who had occupied that role on Saturday, Matt Stenson, nevertheless retaining his place in the team. Barnett and Williams dropped to the Bucks' bench.
---
LINE-UP:
ALTRINCHAM (Red and white striped shirts, black shorts, red socks): 1. Tony THOMPSON, 2. Shaun DENSMORE, 3. Connor HAMPSON, 4. James JONES, 5. Tom HANNIGAN, 6. Jake MOULT (c), 7. Daniel MOONEY, 8. Josh LUNDSTRAM, 9. Jordan HULME, 10. Josh HANCOCK, 11. Craig MAHON. Subs: 12. Max HARROP, 14. Luke WALL, 15. Lewis WALTERS, 16. Toby MULLARKEY, 17. Simon RICHMAN.
AFC TELFORD UNITED (All purple): 1. Michael LUYAMBULA, 2. Arien BIRCH, 3. Ross WHITE, 4. Ellis DEENEY (c), 5. Theo STEELE, 6. Zak LILLY, 7. Brendon DANIELS, 8. Adam WALKER, 9. Marcus DINANGA, 10. Matt STENSON, 10. Aaron WILLIAMS, 11. Darryl KNIGHTS. Subs: 12. Theo STREETE, 14. Jon ROYLE, 15. James McQUILKIN, 16. Aaron WILLIAMS, 17. Ryan BARNETT.
---
BACKGROUND:
This was the return league match against The Bucks and was taking place just three days after the first encounter at the New Buck's Head, which had ended 2-2.
There was a minute's applause both before kick off and in the 20th minute to commemorate Jordan Sinnott, the former Alty midfielder, who had died in tragic circumstances ten days earlier.
The late Mike Garnett's records tell us the historical record of Altrincham against the Telford clubs.
Against AFC Telford United:
Home: P4-W1-D1-L2-F5-A6
Away: P5-W0-D2-L3-F5-A9
All: P8-W1-D3-L5-F10-A15
Against Telford United:
Home: P36-W15-D8-L13-F49-A45
Away: P39-W8-D5-L26-F47-A84
All: P75-W23-D13-L39-F96-A129
---
REPORT:
After the well-observed minute's applause for Jordan Sinnott, the game started brightly with Altrincham on the front foot. Densmore soon got forward and his cross earned a third-minute corner. Following this Hulme picked up the ball wide-right of goal and his meaty diagonal shot beat Luyambula but came back off the inside of the back post (4 mins).
Already at this early stage, debutant Mooney was impressing with his speed of thought and of action on the right wing. But just as Alty impressed, Telford got to the other end with Stenson cutting in from the left and powering a shot at goal which went only narrowly wide and must have got a touch off Thompson as a corner was awarded (7 mins). Thompson was fortunate as he then seemed to punch the corner onto his own crossbar but the ball was cleared.
Having had an excellent season so far, a surprisingly nervy-looking Thompson now needed two attempts to hold a long-range shot by Deeney (9 mins). The visitors then won two corners in succession as they showed more fluency than in the game at their own ground on Saturday (16 mins). The better playing surface tonight may have been a factor in that improvement.
In keeping with the "Jordan Sinnott 25" social media movement there had been a planned round of applause in his honour after 25 minutes, the number equating to Jordan's age of 25 at the time of his death. But spectators started clapping in the 20th minute instead which, although unplanned, had a relevance as Jordan had worn the number 20 shirt at Altrincham in 2015-16, which was the season when he played the majority of his games for the club. The applause was followed by choruses of "There's only one Jordan Sinnott" from the Popular side.
After a Jones clearance had gone to Stenson, the ball was worked to Daniels, whose swerving shot from 20 yards hit the bar, the third strike against the woodwork already in this game (26 mins). With Luyambula again irritating the home support with his snail-like speed at goalkicks, the German keeper was soon picking the ball out of his net.
The game's opening goal was impressively fashioned by Mooney who fed the ball forward to put Hulme free against the keeper. Hulme slid the ball past him to make it 1-0 (29 mins).
Soon afterwards, Mooney impressed again as he again fed Hulme but, this time, the defence won the contest. Just after the half-hour mark, Mooney won his side a corner and he took it well but Telford were awarded a freekick in its aftermath (31 mins).
As Alty continued to press, Lundstram had a shot blocked, the young loanee again impressing in the home side's midfield. Next, a Telford mispass allowed Moult to advance and strike a fine shot from the edge of the box which cannoned off the base of the keeper's left post and was half cleared. But, within moments, the ball had been worked to Hancock and, from left of goal, he hit a superb shot across the keeper to make it 2-0 (41 mins).
When Ross White hauled down the flying Mooney on the Alty right, the visitors' left-back was cautioned (44 mins). Soon, what had been a very entertaining first half ended with Alty two goals up but the frame of the goals having been struck twice by each team as well. The Bucks looked a more potent force than they had shown in the encounter at their own ground.
---
Half-Time: ALTRINCHAM 2
AFC TELFORD UNITED 0
---
For the second half, Telford brought on Barnett for Birch but inside fifteen seconds, Altrincham had scored again. Hancock picked up the ball in the box, made space for himself and placed a firm shot past Luyambula (46 mins).
And, just three minutes later, it was 4-0 and a rout looked on the cards. The scorer this time was Hulme who was presented with the chance by yet more impressive work from Mooney, to his right (49 mins). But from their dominant possession, Alty gave away a goal as Densmore lost possession and Dinanga went on to score (52 mins).
Nevertheless, it could easily have been five goals for Alty, straight afterwards, when a fine cross from Mooney was well headed at goal by Hancock but Luyambula made an excellent save, pushing the ball away to his left for a corner (53 mins).
Another good Alty build-up produced a further corner, two minutes later (55 mins). Things should have got worse for Telford when Lilly blatantly barged into Hampson as he headed the ball near halfway, but the Bucks' man escaped with a word from the referee for what was a blatant yellow-card offence (57 mins). As Alty continued to dominate, the visitors were gifted a goal. Alty lost possession cheaply 35 yards from goal, centrally, and a foul was deemed to have been committed in the centre of the box; a penalty was the decision.
Daniels wrong-footed Thompson from the spot, sliding the ball to the keeper's right to make it 4-2 (61 mins).
Harrop now came on to replace Mooney on the right wing (62 mins). With the goal-gap having been halved, Alty supporters' nerves were settled midway through the half. Mahon won a corner, which he took short, and the ball came out to Moult, who took advantage of a defender's inability to sort out his feet to clear the ball, and the Alty captain netted (67 mins).
Immediately, Walters replaced Hancock (68 mins) and, two minutes later, McQuilkin came on for Telford's Stenson (70 mins). Some indication of Telford's predicament was that Luyambula now actually ran to retrieve a ball for a freekick rather than adopt his customary saunter.
On 72 minutes, McQuilkin was booked for diving, barely two minutes after joining the game. Next, Mullarkey replaced Mahon for Alty, the defender assuming an unaccustomed role in front of the Alty back line (75 mins).
Soon, Mullarkey advanced into the box and this initiative led to a home corner, taken by Walters. To their credit, Telford did not give up but Altrincham were now playing some delightful one-touch football which even drew applause from the watching Stockport County manager, Jim Gannon, who was watching from the stands (85 mins).
In the 87th minute Royle replaced Walker for the visitors but two more Alty corners followed before the end of the regulation ninety minutes. Following the second of these corners, Alty hit the bar with a fine shot from the edge of the box by Jones (90+1 mins).
In the decreed four added minutes, Dinanga won his side a corner (90+3 mins). After this, with play now running into the 95th minute, Hannigan and Dinanga, both facing the Alty goal, vied for a through ball. Dinanga went down and Mr Duckworth deemed it a foul, much to Hannigan's annoyance. The Alty centre-back was shown a yellow card (90+5 mins). However, Daniels's freekick came to nothing and the final whistle sounded (90+6 mins).
This was a greatly entertaining game in which Altrincham played some excellent football, although they will be disappointed at the way the two goals were conceded. Debutant Dan Mooney had as good a debut as has been seen at Moss Lane for a long time, whilst Telford also played their part in the entertainment.
---
Full Time: ALTRINCHAM 5
AFC TELFORD UNITED 2
---
ll