Altrincham Youth Team Players,
2003-04
---
---
PLAYER PROFILES 2003-04
Ages, where given, are as at the start of the 2003-04 season
.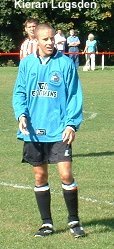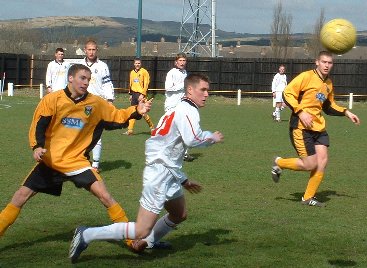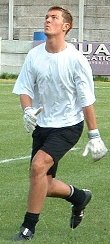 Above: Kieran Lugsden; Luke Killeen (in white), with Kelvin Lugsden on the left (in the yellow of New Mills); Ashley Timms.
Will ALLMAN Goalkeeper, who joined the squad for 03-04, but has now left.
John AUSTIN
Michael BAILEY (d.o.b. 24.9.85). Michael is a centre-half/midfielder who has played for Trafford Schools. He is the son of Malcolm Bailey, a former playing legend at Moss Lane. Michael is also an Altrincham & District F.A. player and County trialist. (02/03: played 21+4, scored 1).
Adam BALL Skilful wide midfielder who joined in October 2003.
Mark BRANNICK A midfielder who joined the squad soon after the start of 03/04 having been briefly with them last year before injury.
Paul BREIDENBACH Joined the squad in 03-04.
James CARTY James is a powerful attacking midfielder. (02/03: 1+8, 2 goals).
Lewis CHALMERS A central midfielder, who is good in the air and has a very long throw, Lewis made his debut in last match of 02/03 season. In the absence of Alex Frost, lewis has captained the side.
Josh COLLINS Josh is a tall, left-side midfielder/ centre-back with a strong shot. (02/03: 16+3, 7 goals). Formerly at Sheffield United and Chorley.
Joe CONNOR Tall county player who made his debut in Dec. 2003 and plays for Cheadle Town.
Stuart COOK Stuart is a two-footed player who is comfortable in all midfield positions & up front. His previous clubs were Stockport County & Sheffield United. Stuart made his first team start for Connahs Quay from the Welsh Premier League at Afan Lido in the FAW Premier Cup on 25/11/03.
Chris DAVIS Made several sub appearances in 02-03.
Adam DOUTHWAITE (17) Adam is a full-back who was formerly at Bolton Wanderers. He played for Trafford Schools' team for two years and also for Greater Manchester Schools. Adam also played in China on a government-funded tour whilst attending Ashton on Mersey High School. He also currently plays for South Trafford College academy team. (02/03: 20+5, 1 goal).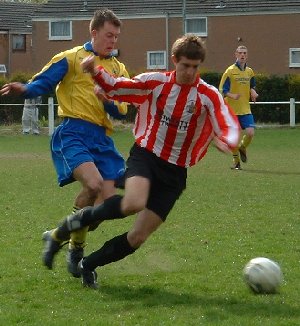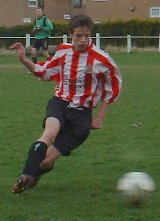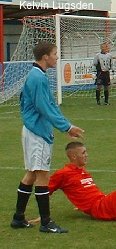 Above L to R: ; Paul Lewis; Steve Lunt; Mattie Tooth; Adam Douthwaite; Kelvin Lugsden; Stuart Cook.
Alex FROST (17) Alex, right-back or centre-half, is the captain for 2003-04. After a spell at Bury F.C., he impressed in the Altrincham Youth team last season. Alex is a Cheshire County and England schoolboys trialist.
Barry GEORGE (17) Barry is a goalkeeper, formerly at Manchester City. He is a local lad who was the reserve keeper for much of 02/03 and keeper for the Cheshire FA squad.
James GREENHALGH
Tom HILTON DOB 24/5/88. Tom is a central midfield player who has been at Sheffield United, Stockport County, Rochdale and has represented Cheshire Schools and the Bury and Radcliffe Interleague. He has also played in the 03/04 FA Youth Cup for Trafford FC.
Steven HOWARTH Centre-back formerly with Trafford.
Abdi JAMAL Manchester County midfielder who made his Alty debut in Jan. 2004.
Kevin KEATING
Luke KILLEEN (17) A prolific scorer since he was a 12 year-old, Luke has represented Bolton & District Schools. A forward, he was released by Bury due to their financial problems. Luke played for the Altrincham first team in 2002-03 in the UniBond Cup competition. (02/03: 19+2, 12 goals).
Jake LENNOX Right-back.
Paul LEWIS Central midfielder, formerly at Stockport County.
Kieran LUGSDEN DOB 4/4/86. A prolific striker who joined late in the season from New Mills. Kieran and his brother Kelvin both also play for New Mills first team in the Manchester League. Also a Cheshire FA player. Made first-team debut in November 2003.
Kelvin LUGSDEN DOB 4/4/86. Left-back/ midfielder, who joined Alty with his twin, Kieran from New Mills. Kelvin is just 10 minutes younger than Kieran and like him has been in the Cheshire FA squad and made his first-team Alty debut at Workington in November 2003.
Stephen LUNT (17) Steve is a Trafford Schools player who has also appeared for the Altrincham & District F.A.. Steve has made a number of appearances for Altrincham F.C. first team and has scored in the UniBond Premier Division. (02/03: 20+2, 14 goals).
James MONAGHAN Midfielder. Brother of Paul, a former Alty youth player.
David NEVILLE DOB 18.7.87. Strong midfielder formerly with Burnley and Oldham Athletic. Has now left Alty.
Matt PEACOCK
Anthony POTTS (17) A right-sided player with a strong shot, Anthony was formerly at Macclesfield Town. (02/03: 1+5).
Tom READ Goalkeeper.
Chris ROWLEY Goalkeeper, who played in pre-season.
Stephen TAYLOR Midfielder, who usually plays either centrally or on the left.
Andrew THORPE Striker (02/03: 4+5; goals 2). Andrew is also a useful right-sided midfielder.
Ashley TIMMS Goalkeeper, formerly at Manchester City. Ashley has a prodigious kick and throw. Has played for Altrincham first team and had trials at clubs which include Bolton Wanderers and Oxford United.
Matthew TOOTH Left-back, who established himself in the team for 03-04. Has captained the side on occasions.
Clint WALKER Goalkeeper, who joined the team for 03-04.
Paul WOOD
---
PLAYER STATISTICS 2003-04
Courtesy of George Heslop. Statistics relate to all matches, league and cup.
| | | | | | | | | | | |
| --- | --- | --- | --- | --- | --- | --- | --- | --- | --- | --- |
| ALTY YOUTH 2003-04 | | | | | | | | | | |
| Name | | League | | | Cup Games | | | Total | | |
| | Played | Sub | Goals | Played | Sub | Goals | Played | Sub | Goals | |
| LUGSDEN, Kieran | 13 | 0 | 15 | 7 | 0 | 10 | 20 | 0 | 25 | |
| LUNT, Stephen | 10 | 0 | 9 | 7 | 0 | 11 | 17 | 0 | 20 | |
| CHALMERS, Lewis | 8 | 2 | 5 | 5 | 0 | 2 | 13 | 2 | 7 | |
| COOK, Stuart | 4 | 6 | 2 | 1 | 5 | 1 | 5 | 11 | 3 | |
| FROST, Alex | 10 | 0 | 2 | 7 | 0 | 2 | 17 | 0 | 4 | |
| BALL, Adam | 1 | 5 | 2 | 1 | 2 | 1 | 2 | 7 | 3 | |
| LUGSDEN, Kelvin | 12 | 0 | 2 | 6 | 0 | 0 | 18 | 0 | 2 | |
| TAYLOR, Stevie | 10 | 1 | 1 | 4 | 0 | 0 | 14 | 1 | 1 | |
| THORPE, Andy | 6 | 3 | 1 | 3 | 2 | 0 | 9 | 5 | 1 | |
| HOWARTH, Steven | 8 | 0 | 1 | 3 | 0 | 0 | 11 | 0 | 1 | |
| KILLEEN, Luke | 1 | 0 | 1 | 0 | 1 | 0 | 1 | 1 | 1 | |
| COLLINS, Josh | 11 | 0 | 0 | 6 | 1 | 0 | 17 | 1 | 0 | |
| DOUTHWAITE, Adam | 14 | 0 | 0 | 6 | 0 | 0 | 20 | 0 | 0 | |
| TOOTH, Matthew | 14 | 0 | 0 | 5 | 1 | 1 | 19 | 1 | 1 | |
| LEWIS, Paul | 9 | 0 | 0 | 3 | 0 | 0 | 12 | 0 | 0 | |
| TIMMS, Ashley | 4 | 0 | 0 | 4 | 0 | 0 | 8 | 0 | 0 | |
| GEORGE, Barry | 8 | 0 | 0 | 2 | 0 | 0 | 10 | 0 | 0 | |
| BAILEY, Michael | 3 | 1 | 0 | 2 | 0 | 0 | 5 | 1 | 0 | |
| NEVILLE, David | 1 | 1 | 0 | 1 | 0 | 0 | 2 | 1 | 0 | |
| ALLMAN, Will | 1 | 0 | 0 | 1 | 0 | 0 | 2 | 0 | 0 | |
| LENNOX, Jason | 1 | 0 | 0 | 1 | 0 | 0 | 2 | 0 | 0 | |
| MONAGHAN, James | 0 | 2 | 0 | 1 | 1 | 0 | 1 | 3 | 0 | |
| CONNOR, Joe | 4 | 1 | 1 | 1 | 0 | 0 | 5 | 1 | 1 | |
| WALKER. Clint | 1 | 0 | 0 | 0 | 0 | 0 | 1 | 0 | 0 | |
| BREIDENBACH, Paul | 0 | 3 | 0 | 0 | 3 | 0 | 0 | 6 | 0 | |
| HILTON, Tom | 0 | 3 | 0 | 0 | 1 | 0 | 0 | 4 | 0 | |
| BARTON, Matthew | 0 | 1 | 0 | 0 | 0 | 0 | 0 | 1 | 0 | |
| BRANNICK, Mark | 0 | 1 | 0 | 0 | 0 | 0 | 0 | 1 | 0 | |
| JAMA, Abdi | 0 | 1 | 0 | 0 | 0 | 0 | 0 | 1 | 0 | |
| LEIGH, Gary | 0 | 1 | 0 | 0 | 0 | 0 | 0 | 1 | 0 | |
| POTTS, Anthony | 0 | 1 | 0 | 0 | 0 | 0 | 0 | 1 | 0 | |
---