ALTRINCHAM FC YOUTH (0) 2
CURZON ASHTON YOUTH (1) 2
NWYA Premier Division match
played on Sunday, 6 September 2009, at 2.30pm
---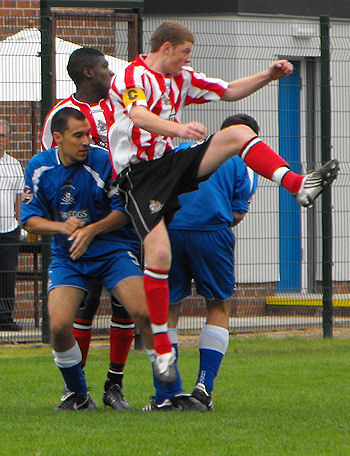 Left: Dan Shaw clears a Curzon attack in the first half.
LINE-UPS
ALTRINCHAM (Red & white striped shirts, black shorts and red socks): 1. James FOSSDYKE, 2. Ben SHAWCROSS, 3. James SMART, 4. Dominic BATES, 5. Rory BRADBURY, 6. John BENNETT, 7. James BROWN, 8. Dan SHAW (capt), 9. Glodi KUBA-KUBA, 10. Michael LINNEY, 11. Joel BROWNHILL. Subs: 12. Niall SHERIDAN, 14. Liam BROMILEY-BLACKBURN, 15. Matthew CLINTON 16. Kieran MADDEN, GK. Alex DAVIES.
CURZON ASHTON YOUTH (All blue): 1. Hayden BUCKLEY-SMITH, 2. Curtis CLAYTON, 3. Nathan MARTIN, 4. Thomas MILLS, 5. Thomas dos SANTOS, 6. Aiden PHILLIPS, 7. Ryan McNULTY, 8. Alex JAMES, 9. Jordan THOMPSON, 10. Niall SWANICK, 11. Matthew PURCELL. Subs: 12. Christy CARR, 14. Scott VERIGOTTA, 15. Jordan ANDREW, 16. Aaron McGARRY, GK. Aaron BUCKLEY-SMITH.
---
REPORT
Wearing their new Sensport Kits-sponsored shirts, Altrincham were playing into a stiff breeze as this game kicked off at the upgraded Ericstan Park, home of Wythenshawe Town, where a new club house and car park have now been completed and a short covered terrace has been installed. Altrincham started well and won an early corner, with Linney, Brownhill and Kuba-Kuba proving a handful for the visitors' defence. Shaw was also impressing in midfield and, from his feed, Brownhill fired over the bar (4 mins).
An important tackle by Bradbury at the other end saw off a Curzon attack at the cost of a corner. After this, Curzon's Thompson fired wide before Brown pulled a shot across goal for Altrincham. Brownhill and Kuba-Kuba then exchanged a slick one-two which ended with Brownhill getting into the box but his chip over the keeper was just stopped by a stretching Buckley-Smith (10 mins).
There were quite a few freekicks breaking up play but overall it was an entertaining contest. A fine Bennett tackle soon prompted another Alty attack before Brown drifted past two challenges and found Shaw but his effort ran to the keeper (27 mins). Brownhill, who had earlier gone off for treatment but had resumed playing, now had to give way to Madden, the new man joining Kuba-Kuba up front as Linney dropped deeper (28 mins).
Bennett then got in a decent shot from 25 yards before Curzon's Swanick got to the by-line and, from his cross, Thompson scooped his shot over the bar when he should have tested Fossdyke (30 mins). The visitors now took the lead out of the blue when Swanick's shot from 50 yards out on the left, just inside the Alty half, sailed in the gusty wind over Alty keeper Fossdyke, who was not far off his line but nevertheless unable to keep the ball out (33 mins). The goal had been against the run of play but now the visitors' confidence grew.
At the other end Kuba-Kuba forecd a good save (35 mins) before Alty won a corner which came to nothing. However, an error by the Curzon defence soon allowed Madden a shot but he sliced it wide. Moments later Madden had another chance from Kuba-Kuba's lay off from Linney's pass. But, again, the substitute's shot was off target (45 mins). Half time now arrived with the visitors one-goal lead intact.
---
Half-Time: ALTRINCHAM FC YOUTH 0
CURZON ASHTON YOUTH 1
---
Altrincham got an equaliser just 43 seconds into the second half. The goal came when Shaw rose well to loop a header into the net from an excellent cross by Shawcross from the right. It got better for Alty soon afterwards when Shaw strode up the middle through three challenges before planting a low shot into the net to the keeper's right (48 mins). It now seemed that Altrincham might go on to a comfortable win but it was not to be the case, despite some solid work from the centre back pairing of Bradbury and Bates and the rest of the defence.
Next, Kuba-Kuba was set free but the keeper smothered the ball well at his feet (52 mins). After this, Altrincham had an escape themselves when a through ball evaded both Curzon's Thompson and Alty keeper Fossdyke, but the retreating Bates did well to clear off the line (56 mins). Moments later Thompson got clear but shot at keeper Fossdyke.
Altrincham won three corners in the next ten minutes and, after the first of these, Bennett's shot forced the visitors' keeper to tip his effort over the bar. With twelve minutes left, Clinton replaced Brown for Altrincham. With the game into the final ten minutes, Alty won another corner which again was seen off (82 mins). At this point Curzon brought on Verigotta for Mills.
Alty then paid the price for conceding a freekick a couple of yards outside the penalty "D". Thompson drove his freekick past Fossdyke to give the visitors parity at 2-2 (86 mins). Despite this setback, Altrincham had a chance to clinch the game in the 90th minute when the ball came off a defender to Kuba-Kuba but he lashed his shot comfortably over the bar. After that Linney had a shot at the keeper but time ran out and Altrincham were left rueing their finishing, having created more chances than Curzon but failing to convert enough of them.
---
Full-Time: ALTRINCHAM FC YOUTH 2
CURZON ASHTON YOUTH 2
---