ALTRINCHAM FC YOUTH (2) 2
CONGLETON TOWN YOUTH (0) 2
Pre-season friendly match
played on Sunday, 26 July 2009, at 2pm
---
LINE-UPS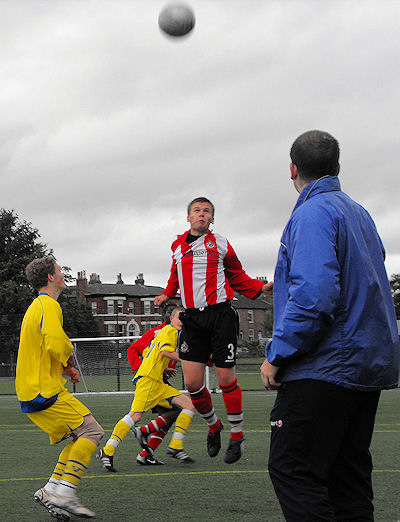 Right: Dan Millen heads clear against Congleton.
---
ALTRINCHAM (Red & white striped shirts, black shorts and red socks): 1. Saul STAPLEY, 2. Harry McAUGHTRIE, 3. Dan MILLEN, 4. Rory BRADBURY (capt), 5. Ryan MARSDEN, 6. Matthew CLINTON, 7. Sam McKAY, 8. Luke LAVELLE, 9. Kieran MADDEN, 10. Michael LINNEY, 11. Sam PRINCE. Subs: 12. Isaac AKANI, 14. Stelvio ROCHA, 15. Ben SHAWCROSS, 16. Iké EKWUEME, 17. Charlie McGUINESS, 9* Alfred KUJABIE, 8*(gk) Jack ABBOTT.
---
REPORT
In cool, damp and windy weather more akin to October than July, Altrincham, without six of their County trialists (Blaine Whiteside, Dan Shaw, Dominic Bates, James Fosdyke, Jon Bennett and James Smart) let a two-goal half-time lead slip to draw against Congleton Town. But the game started in the best possible fashion for Alty when Kieran Madden found the top corner of the net with a fine shot from the edge of the box in the second minute.
But Congleton soon had the ball in the net when they broke away up the left and a low cross from their no.11 was converted in front of goal by their number nine but it was ruled out for offfside (11 mins). The "goal" nevertheless lifted the visitors and as the rain started to fall they came forward with more conviction than earlier. However, Alty then won two corners and when McAughtrie got in a good low cross from the Alty right, Linney was almost able to turn it in, but the ball went wide (22 mins).
The game was now fairly even and as the half-hour mark passed, each side won two corners. Alty's second came when a superb 25 yard shot from McAughtrie was tipped onto and over the bar by Congleton's keeper. Soon after, Lavelle had had to come off for treatment to a blood injury and he was substituted by Isaac Akani who opereated on the right flank as McKay moved into the centre (35 mins). Alty then suffered a further blow when they lost McAughtrie to a groin strain, with Shawcross coming on to replace him (38 mins).
Play then went through a fairly scrappy period but, as half-time approached, the Congleton keeper needed treatment after colliding with Clinton. Moments before the interval, the visitors' number six dwelt on the ball on the front edge of the Congleton box and was dispossessed by Madden. As Madden got free to face the keeper, the Alty striker struck the post with his first effort but was then faced with an open goal from the rebound, to gave his side a 2-0 lead.
---
Half-Time: ALTRINCHAM FC YOUTH 2
CONGLETON TOWN YOUTH 0
---
Congleton's number 12 replaced the number eight and it only took the visitors seven minutes for him to get a goal back. However, the goal arrived in rather fortunate circumstances when a strike from left of goal struck the nearby Marsden on the hand, with the centre-back unable to get out of the way of the effort. The referee pointed to the spot and the number 12 made no mistake in coverting the penalty (52 mins). Alty made an immediate switch of keeper as Abbott came on.
Alty responded to the Congleton goal by upping their game but when a fine long ball forward from Shawcross found Linney, the striker was given offside. Next, McGuinness replaced Prince (57 mins) before Congleton won two corners in a minute. Alty made another change after 61 minutes when Madden gave way to Ekwueme. Soon afterwards the substitute had a half chance but shot wide as Altrincham pressed for a third goal.
But Congleton then came back and went close when a shot was deflected by their number eight narrowly past the post. Alty made more changes as Rocha and Kujabie replaced Linney and McKay (71 mins). Some more Alty pressure produced two corners (73 & 78 mins). But then Congleton secured a draw when their number 9 got in a cross which the number 7 converted at the near post (83 mins). Altrincham were unable to create a serious opening in the final minutes but with six of their regulars missing, they could take comfort from this draw.
---
Full-Time: ALTRINCHAM FC YOUTH 2
CONGLETON TOWN YOUTH 2
---