ALTRINCHAM FC YOUTH (1) 2 NANTWICH TOWN YOUTH (3) 3
NW Youth Alliance Football League, Premier Division game
played on Sunday, 19 April 2009 at 2.30p.m.
---
LINE-UPS
ALTRINCHAM FC YOUTH (Red & white striped shirts, black shorts, red socks): 1. Chris WALKER, 2. Lewis KILKENNY, 3. Ben OLIVER, 4. Jake LEIGH-WATSON, 5. Dominic BATES, 6. John BENNETT, 7. Danny WALSH, 8. Daniel SHAW (capt), 9. Osebi ABADAKI, 10. Paul CORDOCK, 11. Joel BROWNHILL. Subs: 12. Ben SHAWCROSS, 14. Ryan SILVESTER, 15. Ryan DAVIES, 16. Kieran MADDEN, 17. Ryan NICHOLAS (gk).
NANTWICH TOWN (All green, with white sleeves) 1. Marcus COOPER, 2. Jack McKAY, 3. Elliott LEDWARDS, 4. Joshua HANCOCK, 5. Adam DAWSON, 6. Daniel EDGE, 7. Nathan SOUTHERN, 8. Steven McNICHOLL, 18. Declan WAKEFIELD, 10. Daniel KIRKHAM-STUBBS, 11. Liam PRINCE. Subs: 11. Ethan TIZARD, 19. Aidan HOUGHTON-DARIO, 9. Jamie BAKER, 12. Joshua BREHAUT.
MATCH REPORT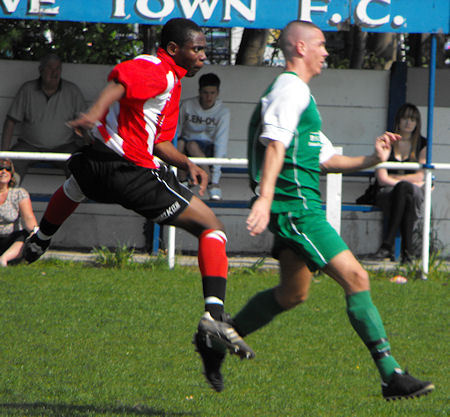 Right Osebi Abadaki in action against Nantwich.
After three successive wins, Altrincham were looking to complete their season on a high note. And the home side got off to a good start on a warm and sunny afternoon by winning a corner through Abadaki and Walsh in only the second minute.
It got even better in the fifth minute when Kilkenny's good cross from the right was met by Abadaki's header into the Nantwich net to make it 1-0. Facing Alty for Nantwich was their own former defender Declan Wakefield, now playing in the Dabbers' midfield.
The home side won the game's next three corners in rapid succession but Nantwich gave a warning when, after the final corner, they broke forward quickly up the right but the resulting shot found the side netting only (18 mins).
Alty replied when Cordock, Shaw and Brownhill combined with the last named's cross just evading team mates in the box (20 mins). And when a Brownhill shot flashed narrowly over the bar it looked like it would be Altrincham's afternoon. However, a minute later Nantwich had equalised when Hancock and Southern combined well before the last named placed a low shot into the net to Walker's right (21 mins). At the other end Abadaki shot narrowly wide from 25 yards but play was now more even than it had been at the start of the game.
Alty suffered a blow when Bates needed treatment and though he eventually returned, the centre-back was not to reach half- time. But it was Nantwich's no.5 that had to go off before his Altrincham counterpart when Dawson went down and indicated that his ankle had "gone". He was subbed by Brehaut (39 mins).
Altrincham now suffered a disastrous two minutes as first a freekick from inside the Nantwich half by Ledwards was missed by a defender and met by McKay's drive from right of goal which gave Walker no chance and made it 2-1 to the visitors (40 mins).
Following this a Nantwich throw led to Walker having to tip a ball out from under his bar for a corner. From this, Nantwich headed home their second goal, the ball lodging in the frame of the goal. So, it was 1-3 after 42 minutes. Immediately, Bates had to be substituted with his injury and Davies replaced him which prompted a reshuffle, as Shaw moved back into defence with Davies in midfield.
So a half in which Altrincham had been the better side for half an hour ended with them trailing by two goals.
---
Half-Time: ALTRINCHAM FC YOUTH 1 NANTWICH TOWN YOUTH 3
---
Nantwich won an early corner and soon afterwards Walker was forced to make a save(50 mins). A fine run up the right from Southern then led to a corner as the visitors began the half the better. But Alty then went close when a good ball from Abadaki fed Cordock whose left foot shot went narrowly wide (56 mins). Alty's improvement continued as Walsh won a corner with a shot which was deflected over the bar (58 mins).
Following the corner, Abadaki turned well but was brought down to win a penalty for Altrincham. Kilkenny drove this impressively into the net to make it 2-3 with a half hour left to play. Abadaki then had a shot saved and soon the pacey Alty front man won a freekick with a long run forward, ended by a foul from Edge.
Oliver and Kilkenny were now pushing forward on the flanks before Southern was booked for dissent. Next the Nantwich keeper had to be out smartly to get to a ball ahead of Abadaki (71 mins) as Alty pressed for the leveller. Houghton-Dario then came on for Nantwich (73 mins) whilst the visitors' keeper became the second Nantwich player booked for dissent (74 mins).
Alty kept pressing but the minutes ticked away. In added time Hancock was booked for dangerous play and from a freekick 45 yards out Brownhill forced the keeper to tip over the bar for a corner. Though another corner followed, Altrincham could not force an equalizer before the final whistle.
---
Full-Time: ALTRINCHAM FC YOUTH 2 NANTWICH TOWN YOUTH 3
---