F.C. UNITED OF MANCHESTER YOUTH (2) 4
ALTRINCHAM FC YOUTH (0) 0
NW Youth Alliance Football League, Neil Thomason Memorial Cup game
played on Sunday, 22 February 2009 at 2.00p.m.
---
LINE-UP
F.C. UNITED OF MANCHESTER YOUTH (All blue): 1. Grant SHENTON, 2. Ashley REECE, 3. Barry DAVIES, 4. John BUCKLEY, 5. Nick SWIRAD, 6. Andy LEE, 7. Mark REEVES, 8. Shaun WILLIAMS, 9. Gary NOLAN, 10. Jamie MACK (capt), 11. Jay FREAKES. Subs: 12. Ryan LYONS, 17. Josh PARKINSON, 14. Gage EIYE, 15. Toby ILOBA, 16. Kyle McDONAGH.
ALTRINCHAM FC YOUTH (Red & white shirts, black shorts, red socks): 1. Chris WALKER; 2. Jake LEIGH-WATSON, 4. Dan SHAW (capt), 5. Dominic BATES, 3. Dan MILLEN; 7. Danny WALSH, 6.John BENNETT, 8. Ryan DAVIES, 11. Ryan SILVESTER; 9. Kane BERKELEY, 10. Paul CORDOCK. Subs: 12. Kieran BOWN, 13. Ryan NICHOLAS (gk), 14. Osebi ABADHAKI, 15. Steven SHERRATT.
---
MATCH REPORT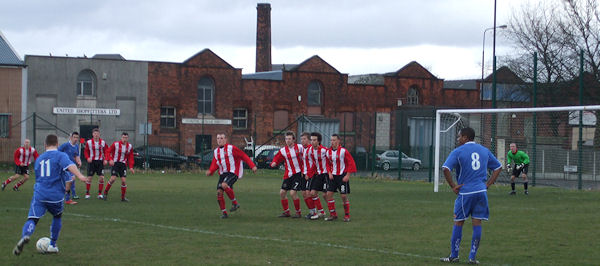 Above: FCUM's Jay Freakes takes the free-kick which put his side one-up, the ball rising into the top right-hand corner of the net..
Altrincham were without the injured defender Daniel O'Donnell and the absent Ben Oliver, whose return flight from holiday had been delayed. Conditions were difficult with a stiff and cold wind and a soft, bobbly pitch. Alty played the first half into the wind. The game kicked off 12 minutes late due to the late arrival of the officials. In an undistinguished opening, FCUM had the better of things without seriously threatening a goal. But the hosts took the lead when Altrincham's midfield conceded a freekick just outside the penalty area. Freakes's freekick, aided by the wind, rose past keeper Walker's dive, into the top left corner of the keeper's net (22 mins).
Altrincham's centre backs were repelling further advances reasonably comfortably and after the half hour mark, Altrincham improved and started to get forward with a bit more regularity. However, as the interval approach, FCUM picked up again and won a corner. Soon afterwards, Mack had a shot saved by Walker (41 mins). But it looked as if Altrincham would get to the break just a goal behind and with the chance to take advantage of the wind in the second half. However, on the stroke of half time a long ball forward glanced off Shaw's head and fell for Freakes to lash over Walker into the net from 18 yards to make it 2-0. Alty had a good chance to pull a goal back in added time when Millen's well struck freekick evaded the defence but seemed to bounce off Bates at the back post and go narrowly wide.
---
Half-Time: F.C. UNITED OF MANCHESTER YOUTH 2
ALTRINCHAM FC YOUTH 0
---
Though they now had the wind against them, FCUM started brightly with the skilful Mack winning an early corner. An Altrincham corner arrived soon afterwards but it was the hosts who were looking in control. Despite their lead FCUM were committing silly fouls to concede freekicks.
Mack again impressed to the left of goal to win another FCUM corner as the hour mark approached. Alty's Davies did get a shot at goal but it went straight to the keeper (60 mins). Soon afterwards, Osebi Abadhaki came on up front for Cordock, who had earlier suffered a facial blow (61 mins). But Altrincham again gifted their opponents a goal in the 66th minute when an almost carbon copy of the second goal saw the ball skim backwards off Shaw's head leaving Mack free to bury the ball in the net. It got worse two minutes later when keeper Walker came out to kick clear but the ball broke for Mack to put into the unguarded net to make it 4-0 (68 mins).
FCUM continued to dominate and Alty's frustration was shown when Berkeley was booked for jumping into a tackle (71 mins). Two minutes later FC brought on McDonagh and Lyons for Reeves and Reece. Alty's Walsh shot wide just before Bown replaced Berkeley (75 mins).
Soon afterwards a promising Alty move ended with an overhit cross by Abadhaki. Altrincham were showing little sign of getting anything out of the game as Buckley got forward to chip over the Alty bar (77 mins). Millen did well to stop another goal following a miskick by keeper Walker. But despite leading 4-0 the FC team continued to allow their over- confidence to lead them into the referee's book as Mack was booked off the ball presumably for a verbal offence (82 mins).
FCUM had the ball in the net again soon after this when Freakes's good work on the left allowed Nolan to "score" but he was given offside (83 mins). At the other end Abadhaki poked an effort narrowly wide. FCUM made their final change as Mack was replaced by Eiye (87 mins).
But the home side picked up another silly booking in the 90th minute when Nolan was cautioned. Inside the two added minutes a fine ball from Davies set Abadhaki free but he was tackled before he could shoot and the chance disappeared (90+2 mins).
Soon afterwards the final whistle went to confirm a comprehensive defeat for Altrincham. Though conditions had been difficult, especially in the first half, this was a disappointing showing from Altrincham who showed little sign of getting back into the game once they had fallen behind.
---
Full-Time: F.C. UNITED OF MANCHESTER YOUTH 4
ALTRINCHAM FC YOUTH 0
---