ALTRINCHAM FC YOUTH (0) 0
PR VISION UK YOUTH (0) 1
NW Youth Alliance Football League, Premier Division game
played on Sunday, 19 January 2009 at 2.00p.m.
---
LINE-UP
ALTRINCHAM FC YOUTH (Red & white shirts, red shorts, red socks): 1. Ryan NICHOLAS, 2. Daniel O'DONNELL, 4. Jake LEIGH-WATSON, 5. Dan SHAW, 3. Ben OLIVER; 7. Tyrone WATSON, 6. Dan MILLEN, 8.John BENNETT, 11. Joel BROWNHILL; 9. Kane BERKELEY, 10. Paul CORDOCK. Subs: 12. Dominic BATES, 14. Kieran BROWN, 15. Steven SHERRATT.
PRO VISION UK YOUTH (Red & white shirts, red shorts & socks): 1. Jordan McBRIAR, 2. Liam MULHALL, 3. Thomas BOND, 4. Konran ROGERS, 5. Thomas MILLS, 6. Joshua GREENHALGH, 7. Christian FAHY, 8. Tom CHEETHAM, 9. Adiel CHICKEREEMA, 10. Aaran SPENCER, 11. Ethan CLOUGH. Subs: 12. James BRIDGE, 17. Thomas MASSEY, 14. Jack McLEISH, 15. Joshua LYNCH.
---
MATCH REPORT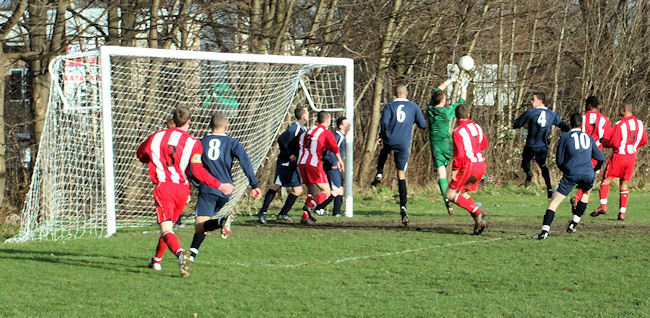 Above: Alty attack, early in the game.
The game kicked off in bright sunshine but with a cold wind blowing down the pitch at Wythenshawe Town's Ericstan Park ground, where the club house has been demolished whilst a much bigger structure is constructed. So, the ground had an unfamiliar look to it this afternoon. Pro Vision, a Bury based club set up in 2007, were making their first visit to Altrincham.
According to the Pro Vision NW website, they are the "brainchild of ex-Manchester United, Manchester City, Port Vale and former Bury FC Player Andy Hill, who is the Managing Director. The Academy is also staffed with qualified, professional coaches that are in the main ex professional players. The Academy's main aim is to provide young players that have been released by professional clubs or missed by the talent scouts an opportunity to regain their confidence and get exposure to other professional clubs nationally and internationally".
The Altrincham side showed several changes enforced by injuries and unavailability as they went into this game on a run of five league matches without a win and three games without scoring. One of the newer players in the Altrincham team is defender Daniel O'Donnell, the grandson of former Manchester United and Eire full-back Tony Dunne.
Play was end to end at the start with Pro Vision winning the first corner, followed by two to Altrincham (4 mins). But Altrincham slowly began to get the upper hand with Brownhill and Watson on the flanks looking dangerous whilst Berkeley and Cordock were also causing problems to the visitors defence. Cordock had a shot hit the post in the 13th minute but he was given offside in any case. Soon a cross from Bennett was headed narrowly over by Brownhill and then the same player fired wide after a slick move which started when Millen won possession with a good tackle.
But the visitors were still a danger and a fine move up their right wing ended with Spencer feeding Chickereema whose shot was diverted out for a corner by keeper Nicholas. After another Alty corner had come and gone, Pro Vision conceded one of a series of freekicks in midfield but these likewise came to nothing for the hosts.
After two shots had been blocked in quick succession in the visitors' box, Alty gained another two corners as the half hour mark approached. Then Berkeley did well to the right of goal but his pull back from right of goal evaded his team mates. Next a Brownhill feed allowed Berkeley a shot which went out for yet another corner (38 mins). But despite their pressure Altrincham went off at half time with the score still goalless.
---
Half-Time: ALTRINCHAM FC YOUTH 0 PRO VISION UK YOUTH 0
---
The second half started with Pro Vision kicking off and gaining an early corner for themselves. But play was end to end with Alty gaining another corner after which Pro Vision broke away and it took a great tackle from Leigh-Watson to see them off at the cost of another corner, from which Clough shot over the bar (48 mins). Alongside Leigh-Watson, Shaw was also having a steady game in central defence for Altrincham.
After a goalmouth scramble, in which Alty had three shots blocked, yet another Alty corner arrived. The visitors made a change after 58minutes when Lynch replaced Fahy. The corners continued to come thick and fast - two for Alty and one for the visitors. After 68 minutes McLeish replaced Chickereema for Pro Vision. Lynch then had a shot deflected for a Pro Vision corner and when Rogers made a good run on the right soon afterwards, another flagkick resulted. After so many unproductive corners for both sides, this time one yielded a goal. McLeish took the corner from the right, Mills nodded it on and Lynch hit it home, beating an Alty defender on the goal line to give his side the lead (73 mins).
Brownhill was now booked for jumping in on Mills and arguing about it and, a minute later, Bates replaced Millen for Altrincham (75 mins). Six minutes later Pro Vision's Bridge replaced Clough. Alty were working hard for an equalizer but the visitors were containing them fairly comfortably. Six minutes from the end, the visitors' keeper failed to hold an aerial ball but Brownhill shot the loose ball wide.
Though they pressed to the end and won a corner, Altrincham could not get the equalizer, despite four minutes of added time. But it was really in the first half that Alty had missed their chance to go ahead and with the visiting defence efficiently handling the Alty attack in the second half, there was no way back for them.
---
Full-Time: ALTRINCHAM FC YOUTH 0 PRO VISION UK YOUTH 1
---