Match Reports, 2003-04
BARNSLEY YOUTH (2) 4
ALTRINCHAM YOUTH (0) 0
FA Youth Cup, 1st Round Proper
played at Oakwell, Barnsley FC,
on Monday, 13 October, 2003, at 7.45pm.
---
LINE-UP
BARNSLEY YOUTH (Red shirts, black shorts and red socks): 1. Scott FLINDERS, 2. Richard BATLEY, 3. Thomas HARBAN, 4. Ryan LAIGHT (capt.), 5. Robert ATKINSON, 6. Jonathan LOUKES, 7. Simon Heslop, 8. Nicky WROE, 9. Nathan JOYNES, 10. Nathan JARMAN, 11. Michael VICKERS. Subs: 12. Stefan HOLT, 13. Andrew NAYLOR, 14. Adam JORDAN, 16. Rhys MEYNELL
ALTRINCHAM YOUTH (Pale blue shirts, white shorts and black socks ): 1. Ashley TIMMS, 2. Adam DOUTHWAITE, 3. Matthew TOOTH, 4. Alex FROST (capt.), 5. Josh COLLINS, 6. Andy THORPE, 7. Lewis CHALMERS, 8. Stevie TAYLOR, 9. Kieran LUGSDEN, 10. Steve LUNT, 11. Kelvin LUGSDEN. Subs: 12. Stuart COOK, 13. Barry GEORGE (g/k.), 14.Luke KILLEEN, 15. Paul BREIDENBACH, 16. James GREENHALGH.
---
MATCH REPORT
This was Altrincham's biggest youth match since their trip to Wrexham's Racecourse Ground in the same competition two seasons ago. The Oakwell pitch looked in excellent condition as a crowd of a couple of hundred or so gathered inside the impressive stadium.
Altrincham started with the same line-up which had beaten Barnsley's Yorkshire neighbours, Hallam, in the last round. In the directors' box with Alty's Geoff Goodwin, Graham Rowley and Graham Heathcote was Barnsley's Peter Ridsdale.
After an early surge forward by Barnsley, Altrincham got in their first shot when Thorpe advanced up the middle and the ball came to Tooth who shot from 30 yards but his effort went well over the top (3 mins). Next, a fine volley from Laight just cleared Timms's bar at the other end. Barnsley conceded a series of early free kicks and from one of these, Chalmers's effort from 20 yards was only held at the second attempt by Flinders, towards his top right corner.
From another free-kick, by Tooth, Chalmers header was dropped by Flinders but cleared by his defensive colleagues. Then Douthwaite played a fine ball for Kieran Lugsden which, from Kieran's knock-on, Flinders just reached before the incoming Steve Lunt.
Barnsley, however, were impressing with some fast and accurate passing and when they advanced on the right, the Alty defence missed a tackle and the ball came to Wroe whose 20-yard shot was slightly deflected and crept into Timms's net off the inside of the post (14 mins).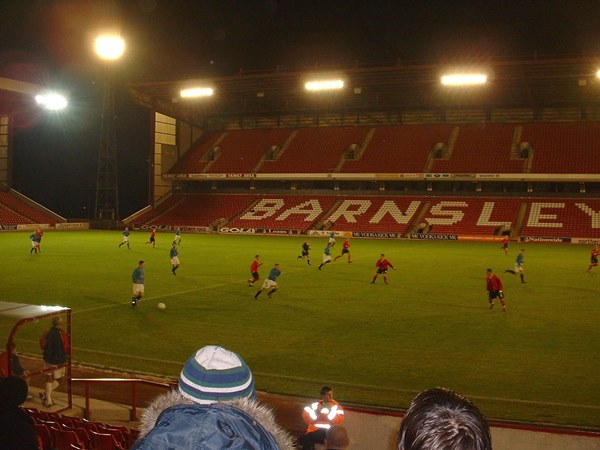 A foul on Douthwaite earned Alty another free-kick but soon a slick combination between Wroe and Heslop led to Joynes's firm shot coming back off the crossbar and his follow-up only just cleared the bar (18 mins).
However, Alty won their first corner soon afterwards following a Chalmers throw. From the corner Kelvin Lugsden's shot went well over the bar (21 mins). The impressive Heslop then went past two Alty tackles and drove the ball against Timms's crossbar once again (24 mins).
Taylor then cleared a free-kick conceded by Douthwaite against Jarman, whose skill also troubling Altrincham. Barnsley then doubled their lead when Loukes and Heslop were involved in the build up before Joynes's shot beat the wrong-footed Timms to creep inside his left-hand post as the Alty keeper attempted to block it with his feet (26 mins).
Soon, Wroe's shot just cleared the bar as Chalmers went down injured and the Alty no.7 had to be treated off the pitch leaving Alty with just ten men for several minutes. Wroe soon shot narrowly wide after getting past Collins (35 mins) and Barnsley soon won a corner to maintain their pressure.
Collins cleared this well before winning a free kick for Altrincham. Altrincham relieved the pressure further when Taylor did well in the left corner and then Collins made a good interception from which Lunt was judged offside (42 mins). Next, Tooth and Kieran Lugsden fed Lunt who got to the by-line, to the far left of goal.
Steve did well to get past a defender near the corner flag and delivered a good cross to Thorpe but his header, from a central position, landed on the roof of the net (44 mins). Barnsley then took advantage of an air kick from Collins to win a corner but this was cleared and Lunt advanced to feed Kieran Lugsden who had escaped his marker well. Kieran's shot from the edge of the box was well beaten out by the advancing keeper as Alty's second good chance in as many minutes went unconverted (45 mins).
---
Half-Time: BARNSLEY YOUTH 2 ALTRINCHAM YOUTH 0
After the restart, Barnsley soon had Batley off the pitch for treatment before a mis-pass to Kieran Lugsden saw an interchange of passes between him and Andy Thorpe from which Kieran's low shot went narrowly wide (46 mins). Then, near half-way, Kelvin Lugsden put in a very late challenge on the unfortunate Batley, who had just returned to the pitch from injury treatment. Kelvin got a booking about which he could not complain (48 mins).
Soon, a fine ball forward from Kelvin Lugsden found his brother in the left side of the box and he was brought down by the goalkeeper Flinders. Mr Clyde awarded a penalty. Flinders dived prematurely, to his right, but Kieran's spot kick sadly cleared the bar comfortably to the keeper's left (53 mins). Immediately, Barnsley took off the crocked Batley and brought on Holt (54 mins). Kelvin Lugsden soon got in a high shot before a prodigious freekick taken by goalkeeper Timms was just caught by Flinders - but Altrincham were given offside.
Altrincham were now doing well with Stevie Taylor very industrious in midfield and Steve Lunt doing well up front. Chalmers then volleyed narrowly wide after Kieran Lugsden had nodded on Thorpe's pass (61 mins). When Heslop advanced to the central edge of the box from Harban's feed, he sent a good shot into the top right of Timms's net, as Tooth challenged him, to make it 3-0. This crucial goal had arrived against the run of play (65 mins). Barnsley now brought on Jordan for Vickers and Altrincham changed their formation, with Collins moving to the left flank as Kelvin Lugsden replaced him at centre-back. Frost, who had a good game, then headed clear before a shot from Jarman went narrowly wide.
A long throw from Chalmers led to a goalmouth melee at the other end but Barnsley got the ball clear. Barnsley put the final nail in Alty's coffin after 70 minutes when, from Wroe's good shot from the left, Timms made a good parry but the incoming Heslop had a simple task to volley the ball back into the open net from close range to the right-centre of goal (70 mins).
As Barnsley attacked again, Douthwaite then recovered well to make a fine tackle in the box at the cost of a corner. Alty now made a double change with Killeen joining the midfield on the right and Cook also joining the game in midfield as Thorpe and Chalmers gave way.
With Alty fan Kenny Palin leading a choir of young Barnsley supporters in the stand, Barnsley soon made a change of their own, Beevor replacing the impressive Heslop (74 mins). After Kieran Lugsden had got past his man, Laight made a good covering tackle before Lunt fed Collins but Josh could only find the side netting from the left of goal (78 mins).
Taylor continued to impress in midfield and soon an overlap by Douthwaite won his side a corner, quickly followed by two more Altrincham flag-kicks. Alty made another change when Breidenbach came on up front for Kieran Lugsden (84 mins). Alex Frost then went forward but his curling shot was held by Flinders. Frost was soon in more accustomed territory making a fine defensive tackle. Alty's last chance came when Killeen tried to find Breidenbach as they both advanced into the box but Laight intercepted well.
Though Alty lost by four goals they were unlucky not to get on the scoresheet themselves. After going two down they had finished the first half strongly and been unlucky not to score from one or other of two good chances just before the break.
Then, the missed penalty could have caused their heads to go down, especially after Barnsley got their third against the run of play. The knock to Chalmers did not help their cause but Altrincham could leave Oakwell with their heads held high. Barnsley had only been knocked out of the Youth Cup last season by the finalists, Middlesborough and had beaten Liverpool away from home in an earlier round. So, these were formidable opponents and the visiting fans were proud of the effort put in by their youngsters.
---
Full-Time: BARNSLEY YOUTH 4 ALTRINCHAM YOUTH 0
---