First-Team Playing Squad
2003-04
---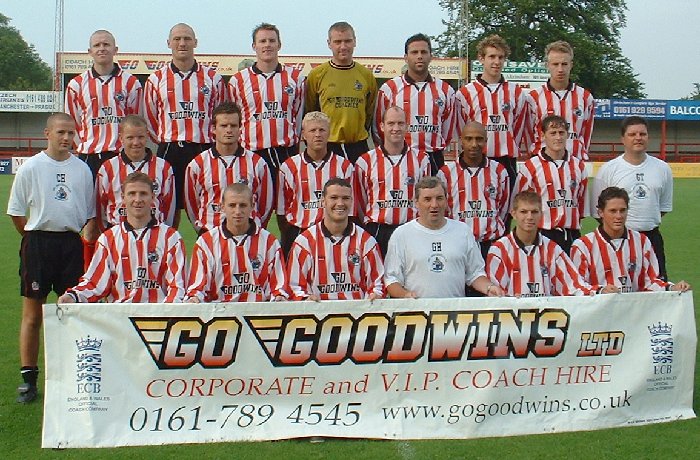 CLICK IMAGE TO ENLARGE IT. 2003-04 Squad Photo.
Back - Mark Maddox, Gary Talbot, Peter Band, Richard Acton, Jason Gallagher, Stephen Lunt, Stephen Rose.
Middle- Charles Heathcote (backroom staff), Steve Aspinall, Neil Ryan, Chris Adams, Rob Matthews, Paul Robertson, Barry Shuttleworth, Gary Thompson (physio).
Front- Gary Scott, Ian Craney, Rod Thornley, Graham Heathcote (manager), Andy Tunnicliffe, Dave Gardner.
---
---
2003-04 Squad
Goalkeepers
Richard ACTON (d.o.b. 16 October 1979, height 6ft 2ibs, weight 14st.)

Richard, (left), who was formerly at Manchester City (released 1998), Hyde United and Runcorn, was signed in early September 2002. An excellent shot-stopper, Richard made his league debut against Marine (Sept. 2002) and remained the first-choice keeper till he badly injured his shoulder at Harrogate (31/8/03) and did not return to action till 6 January 2004. Signed League of Wales forms for TNS in March 2004. Appearances to June 2004: 46.


Stuart COBURN (d.o.b. 5 May 1976, height 6ft 1in, weight 14st.)

Stuart Coburn (right) rejoined Alty on 17/10/03. He had previously joined Altrincham from Trafford in 1997/98 season. Stuart had joined Trafford in 1994/95 after spells at Irlam Town and Maine Road. He had one Conference season (99/00) with Alty but he played only a handful of games due to injury and his absence probably cost us survival there. In May 2002, the lure of returning to Conference football took him to Leigh RMI on a 2-year contract, despite being Altrincham's player of the year for 2001-02. Up to then, Stuart had made 173 appearances for Altrincham and even scored one (wind-assisted) goal, at Runcorn. RMI surprisingly released him in October 2003 after he had been their player of the year in 02/03. He made his (second) Alty debut at Hyde on 21 October 2003 and kept a clean sheet. App's to June 2004: 210, 1 goal.
Kurt EDGINTON (d.o.b. 30 October 1968)

Signed in late August, 2001, Kurt came to Moss Lane from Hyde after starting out at Flixton. He made his Alty debut impressively at Woodley Sports (Nov.2001) but played only once more for Altrincham that season, during which he also played for Flixton in the NWCL. He made a surprising return to Altrincham as an unused sub in the FA Trophy win at Bradford PA on 30 November 2002 and also kept goal well in the league match at Marine on 2 December 2002. Kurt is also a bowler for Urmston Cricket Club. Signed NW Counties forms for Flixton in late Feb. 2004. App's to June 2004: 3(+1).
Barry GEORGE (d.o.b. April, 1986)

Barry is Alty's youth team keeper and also the Cheshire FA keeper. He signed UniBond forms at the end of March 2004. App's to June 2004: 0.
Dave McCARTHY
and
Ashley TIMMS
and
Ben WILLIAMS
See Departed Players.

---
Defenders
Chris ADAMS (d.o.b. 10 October 1975)

Chris, an Altrincham postman, signed from Ashton United in late May 2001, after being at Alty previously in 1997 when he made just one substitute appearance. Before coming to Moss Lane in 1997 he had played at Congleton with his namesake, Danny Adams. Chris moved from Moss Lane via Nantwich Town to Trafford and also played at Droylsden, Northwich Victoria and Oldham Athletic. In 2001-02, he was ever-present till sidelined by a hernia injury in December but he returned on 3 August 2002. However, he was released by Bernard Taylor after just two league games in 2002-03. He returned to Alty immediately after the appointment of Graham Heathcote as manager and made his third 'debut' for the club on 15 October, 2002 at Burscough. From then he was the regular left-back. Chris has also played 50 minutes in goal, at Harrogate in Aug. 2003 but was sidelined by a shoulder injury in Jan. 2004 and then broke his right arm in Feb. 2004. Picture by Terry Rowley. Career appearances for Alty at June 2004 - 101(+1), 3 goals.



Stephen ASPINALL (d.o.b. 1976)

Steve Aspinall was signed in early July 2003 from Vauxhall Motors, where he had been during much of the previous two seasons. Steve is the son of John Aspinall, who played for Tranmere Rovers and Altrincham in the 1980s and went on to manage Bangor City. Though originally played as a central midfielder, Stephen has performed very well at right-back in Gary Scott's absence and kept that spot even when Gary returned to the side. He is a good taker of penalties, free-kicks and corners.

Before arriving at Altrincham, he had played against us on a number of occasions, including a 1-1 draw at Bamber Bridge (25/11/00), our 4-0 trouncing by Vauxhall Motors (20/8/02) and the same club's 2-0 win at Moss Lane (8/10/02), which was Bernard Taylor's last match in charge of Altrincham. Steve started his career at Poulton Victoria and was also on Tranmere's books and has played for several other North West clubs in a non-league career spanning a decade. These include Runcorn, whom he joined from Bamber Bridge in December 2001, Chorley, Winsford and Macclesfield Town. App's to June 2004: 46+2, goals 7(inc. 5 pens).
Greg BYRNE (d.o.b. 1985)
and
Mark GRIFFITHS (d.o.b. 1985)
See Departed Players.
Kelvin LUGSDEN (d.o.b. 4/4/86)

Kelvin and his twin brother Kieran joined the Altrincham Youth team in late April 2003 after the New Mills youth team, for which they had played, withdrew from the MWYA league. Kelvin has played at left-back, in midfield and, most recently, at centre-back for the Altrincham Youth team. He made his first-team debut, as a substitute, in the UniBond League Cup match at Workington on 18 November 2003. App's to June 2004: 0(+1).
Mark MADDOX (d.o.b. 1 March 1973, height 6ft 1in, weight 12st 7lbs)

Born in Liverpool, Mark is a centre-back who originally joined Altrincham in 1996 and returned to Moss Lane in December 1998 after a brief spell at Barrow. Initially, he had to settle for a role as substitute but then re-established himself as first-choice centre-back alongside Gary Talbot. He also played occasionally in 1999/2000 at right-back and in midfield. A very popular player, nick-named 'Mad Dog', he is an excellent tackler. He had a fine season in 2001-02 and firmly re-established himself as a first-choice centre-back. He assumed the captaincy in 2003 but picked up a hairline heel fracture in the first game of 2003-04 and was out for several weeks. Despite returning to action, the injury continued to cause some problems and an ear infection also sidelined him in December 2003/January 2004. He is the club's senior professional and by June 2004 had made 258(+16) appearances and scored 9 goals.


Liam RALPH (d.o.b 23/6/83, height 5ft 9ins, weight 12st 4lbs.)

Signed from Trafford, late March 2004. A left-back, Liam joined Trafford from Leigh RMI and was formerly at Atherton Town. App's to June 2004: 0.
Gary SCOTT (d.o.b. 3 February, 1978, height 5ft 8ins, weight 11st 2lbs)

Gary (left) made his debut for Altrincham on 3 October 2000 as a midfielder (v. Stalybridge), having played the previous Saturday for Leigh RMI at right-back. Born in Liverpool, he began his career at Tranmere Rovers but moved to Rotherham United on 7 August 1997. Gary then moved to Marine and Leigh, who released him after he had made 9 Conference appearances. After two games in Alty's midfield, his first appearance for Altrincham at right-back was at home to Leek Town (10/10/00). Gary opened his scoring account with two goals at Hyde (16//10/00) and played for the Unibond XI against the F.A. XI (22/11/00). Defensive experiments meant that he was an irregular rather than ever-present member of the team at the end of 2000-01 but he became a regular starter in 2001-02 at right-back or in midfield until injured in March 2002. He made a brief return at the very end of the 2001-02 season but re-established himself as the regular right-back for 2002-03 and 03-04 till injury curtailed his appearances in late August 2003. On his return he played mostly in right midfield until a non-football injury sidelined him in Feb. 2004. Appearances by June 2004 - 150(+13), goals 6.



Barry SHUTTLEWORTH (d.o.b 7 July, 1977, height 5ft 8ins, weight 11st.)
Originally signed on loan from Macclesfield, Barry (seen right) made his debut in left midfield for Alty on 2 March 2002 against Bishop Auckland. Born in Accrington, he started at Bury as a trainee (95-97) before moving on a "free" to Rotherham (97-98), Wigan Athletic & Blackpool (98-99), Stockport County (99/00) and Scarborough (00-01). He made 16 league starts (and 3 others) for Blackpool, 2 for Scarborough and 3 as a league sub for the Silkmen before joining Alty. He moved to Accrington Stanley for 2002-03 but rejoined Alty after being released from the Crown Ground and made his second Alty debut at Marine on 2 December 2002. Barry settled into a midfield role, usually on the left but also proved himself a reliable left-back and penalty-taker. Injury curtailed his appearances early in 2003-04 season but after re-establishing himself in midfield, he was injured in New Year 2004 but returned playing at left-back. Career appearances for Alty at June 2004 - 60(+12), 9 goals.



Gary TALBOT (d.o.b. 6 October 1970)

Gary Talbot, pictured right, originally signed for Alty towards the end of the 1998/99 season from Winsford. He is a commanding centre-back and an excellent header of the ball who is also a threat to opponents' goals at corners and free-kicks. Gary assumed the captaincy from Chris Timons in 1999, but then relinquished it once Timons regained his place in the side. Gary resumed as captain for 2000-01 season. His former clubs include Rhyl, Barnton, Wilmslow Albion and Witton Albion. He was sold to Northwich for a fee of £2,500 on 25 January, 2001 in the wake of Alty's financial rescue package announcement earlier that week. He became the Vics' captain by the end of that season but was released and re-joined Altrincham for the 2002-03 season when he was a regular first-teamer and occasional captain. He has played consistently well for Alty in 2003-04. Appearances by June 2004 - 179(+3), goals 14.
Jason van BLERK
See Departed Players.
Derek WARD (d.o.b. Birkenhead, 17/5/72)

Altrincham re-signed Derek (right), who can play on either defensive flank, from Vauxhall Motors on 5 March 2004. Derek was previously at Moss Lane for the 2002-03 pre-season but moved on to Vauxhall Motors before the season started. In his early career he was at Bury and Northwich before joining Stalybridge Celtic. He then joined Ken McKenna's TNS in the League of Wales before his first spell at Alty. App's to June 2004: 0.
---
Midfielders
Jamie ALMOND (born Northallerton, 5 Oct. 1983)

(Michael) Jamie Almond was signed from Woodley Sports on 12 March 2004. He is a winger, who played against Altrincham for Mossley in August 2003 in a friendly but, after 2+3 games and 1 goal for the Lilywhites, moved to Woodley. Jamie was an England under-15 international and was with Manchester City's Academy (1999-03) and whilst there had trials at Colchester United in December 2002. Jamie had come to City from Scarborough for a fee which had been a record for a schoolboy at the time. Before joining Mossley he also had a trial with Bradford City. Made debut at Burscough 10 March 2004. Left: Jamie Almond (7) tangles with Chris Adams at Mossley in August. App's to June 2004: 0(+1).
Jamie BAGULEY (born Salford, 1984)

A skilful, wide-left player signed on a month's loan from Stockport County on 8 March 2004. He made a scoring debut next day at Gainsborough. Jamie was with both Man. Utd and City before joining County in 2001. App's to June 2004: 10+2, goals 2.
Peter BAND (d.o.b. 18 December 1973)

Peter (left) signed from Hyde United for a small fee in July 2002. He joined Hyde United, where he became captain, from Bollington Athletic in July 1998 as a striker but played most of Alty's pre-season at centre-back. A 3-match suspension incurred at Hyde delayed his league debut till the fourth game of the 2002-03 season when he appeared in central midfield and scored a goal. Peter soon established himself in the first team and played well in various positions - central defence, midfield and striker. He is a whole-hearted player wherever he plays. Career appearances for Alty at June 2004 - 100, goals 16.


Lewis CHALMERS

A skilful Alty Youth central-midfielder, who also plays for Accrington Stanley. Lewis (right) was an unused Alty sub at Barrow (12/03). App's to June 2004: 0.


Ian CRANEY (d.o.b. 21 July 1982)

Ian is a skilful, young and very promising midfielder, who was formerly at Runcorn. He made his first-team Alty debut against Emley on 9 September, 2000. Ian is quick-footed, strong on the ball and has a powerful long-range shot in his armoury. In 2000-01 season Ian attracted a number of scouts from League clubs, which included Manchester City. He continued to perform very well in 2001-02 as an ever-present member of the first team and made a good start to the 2002-03 pre-season before being required to play out of position. Ian reverted to midfield on the appointment of Graham Heathcote as manager in October 2002 and went on to make a successful debut for the England semi-pro side against Belgium in February 2003. Elected Player of the Season for 2002-03. In 2003-04 he has once again impressed both in central midfield and further forward. Appearances by June 2004 - 197(+17), goals 40.



Jason GALLAGHER
See Departed Players.

Dave GARDNER
See Departed Players.


Paul GLYNN (d.o.b. 1985)

Paul (right) was the Alty Youth team captain until the end of 2002-03 and has also played for Cheshire Colleges. He is a right-back or right-midfielder who can be relied upon to score goals as well. After impressing in pre-season, Paul made his first-team debut v. Burscough in October 2003. He has since also played for St Helens Town. App's to June 2004: 0(+1).


Danny HOOPER

Danny has now left the club; for details, see here.
Ryan HUTCHINSON (born Manchester 20/9/83)

A right-midfielder released by Stoke City after regular games for their Reserves. Ryan had emerged from the youth team. Signed for Alty on 8 March 2004; debut next day at Gainsborough. App's to June 2004: 3(+1).
Ged KIELTY (d.o.b. 1 September 1976)

Ged, a central midfielder, re-joined Altrincham from Leigh RMI on 17 February 2004. He had originally signed for Alty, from Barrow, in January 1999, having previously played at Manchester City, York City and Southport. He moved on loan to Leigh RMI in late March, 2000 as they gained promotion to the Conference. Apps to June 2004: 25(+4), 1 goal.
Rob MATTHEWS
See Departed Players.


Danny MURPHY (d.o.b. 10 May 1977)
A speedy, wide midfielder who can operate on either wing but is also a fine header of the ball. He was signed on the strength of a fine performance for Mossley against Altrincham in the F.A. Cup and made his debut on 10 October 2000, scoring against Leek Town. His former clubs include Wilmslow Albion, Mossley and Cheadle Town. He picked up an injury in mid-October and missed some games but reappeared as sub at Ilkeston before succumbing once more to injury. On his return he scored inside a minute against Bishop Auckland (2/12/00). Danny had more injuries in 2001-02 which limited his effectiveness and he underwent a hernia operation in Spring 2002 which ruled him out of the side for many weeks. He returned to play at the end of 2001-02 season but injured his ankle in the first game of 2002-03 season. He resumed first team action a few weeks later before falling victim again to injury in November 2002. After an operation, he returned only to fall awkwardly in January 2003 and be sidelined yet again with a ruptured cruciate ligament which will kept him out for the whole of 2003-04, despite an operation in late August 2003. Appearances by June 2004 - 86(+17), goals 17.




Paul ROBERTSON
See Departed Players.



Stephen ROSE (d.o.b. 23 November 1980)

Stephen (right) was a junior with Manchester United before having a loan spell at Bournemouth. He then progressed via Bristol Rovers to Chester City, for whom he played in the Conference in 2001-02, before being released in May, 2002 and joining Alty. Stephen made his UniBond debut on 17 August 2002 and established himself as a virtual ever-present starter. He is a versatile player who has appeared at centre-back, full-back and, more recently, regularly in central midfield for Altrincham. Career appearances for Alty at June 2004 - 97(+5), 1 goals.

Neil RYAN
See Departed Players.
Sean SMITH (d.o.b. 6 October, 1980)

Sean was Player of the Year for 2001-02 in the Eccles Sunday League. Signed in the close season, he came on as a sub at full-back in 2002/03 pre-season. He made his league debut in Graham Heathcote's first match as manager at Burscough on 15 October 2002 and played very well in left midfield and became a regular in that position till breaking his leg badly in a car accident on 16 February 2003, whilst working as a taxi-driver. Sean was fit enough to be a named sub by 6 January 2004. Career appearances for Alty at June 2004 - 15(+2), goals 1.


Stephen TAYLOR

Stevie (left) is a hardworking midfielder who graduated from Alty Youth to sign UniBond forms in March 2004. App's to June 2004: 0.
Andy TUNNICLIFFE
See Departed Players.

Stuart WRIGHT (dob. 1 March 1978)

Signed on 21 November 2003 from Vauxhall Motors, Stuart (right) made his debut next day. He joined Vauxhall from Shell (Ellesmere Port) in July 2000. He is a left-midfielder/striker but he has also covered at left-back for the injured Chris Adams. App's to June 2004: 13(+14), goals 1.
---
Strikers
Matthew BAILEY (born c1986)

A 6ft 4in centre-forward signed on loan from Stockport County on 8 March 2004 and made a good debut next day at Gainsborough. Formerly at Nantwich Town. App's to June 2004: 6(+7), goals 3.
Chris DOWNEY
See Departed Players.

Marcus HALLOWS (d.o.b. 7 July 1975, height 6ft 1in, weight 12st 9in)

Bolton-born Marcus (left, with Jamie Almond) is a tall, mobile striker who signed on 21 Nov. 2003 on loan from Chorley before signing on non-contract terms on 17 Feb. 2004. After a spell at Leigh RMI, he was with Stockport County then Sligo Rovers (98/99) and St Patrick's Athletic (Ireland, 99/00). He was at Leigh (2001-02) before going to Stalybridge Celtic (2002-03) from where he went on loan to Lancaster City in January 2003. In October 2002 Marcus was stretchered off against Alty, when playing for Celtic, with a dislocated shoulder and fractured arm. At Chorley (03-04), Marcus scored 5 times in 11+1 games. He also scored on his full league debut for Alty at Moss Lane, against Radcliffe. App's to June 2004: 28(+2), goals 11.
Niell HARDY (d.o.b. 29 December 1973, height 5ft 11, weight 12st.)
Niell Hardy re-joined Altrincham on 16 October 2003, after being released by Radcliffe Borough. No fee was involved. Niell was a successful striker with Altrincham in the Conference, being leading scorer in 1996/97, when Alty were relegated. In 1999, he left on a free transfer to Morecambe. Another "free" took him to Radcliffe Borough in July 2000. He then went to Bury in April 2001 and, via Radcliffe, on to Stockport County in June 2001 where he scored twice in 10 games in 2001-02. He was released from Edgeley Park in May 2002 and rejoined Radcliffe, who released him in early October 2003. Niell made his (second) Alty debut at Hucknall (18/10/03) and scored a fine goal but was out injured in November/December and again in mid-February 2004.
Niell, a Bury lad, originally joined Alty in August 1995, after two years with Northwich Victoria. He started off as a YTS Trainee at Bolton Wanderers before going to Tranmere Rovers and Crewe. Alty career at January 2004: 143+33 apps, 65 goals.
David HOLT
and
Mattie HUGHES
See Departed Players.

Kieran LUGSDEN (d.o.b. 4/4/86)

Kieran (left) is a striker who joined Altrincham with his brother Kelvin in April 2003. Both brothers still also play for the New Mills first team in the Air Miles Manchester League. He made his first-team debut, as a substitute, in the UniBond League Cup match at Workington on 18 November 2003. Badly injured on full debut at Whitby in April 2004. App's to June 2004: 1(+14).
Andy LUNDY (dob 8/11/82, Manchester, 6ft 2ins)

Andy is a striker signed from Trafford FC in late March 2004. He had joined Trafford in November 2003 from Woodley Sports and was previously at Salford City and Cheadle Town. App's to June 2004: 0.
Stephen LUNT (d.o.b. 30 September, 1985)

Steve, formerly at Blessed Thomas Holford School, Altrincham, but now a student at South Trafford College, made his first-team debut as a late substitute against Bradford P.A. on 12 November 2002. He had previously established himself as a striker for the Altrincham Youth team, as well as playing for Altrincham F.C. Reserves, during 2001-02. Steve has won representative honours for Trafford Schools and for the Altrincham & District F.A. He made his first start against Hyde in November 2002 and scored. He got his first league goal, against Blyth on 8 February 2003. Steve is also still playing for the Youth team in 03-04 as well as for the first team. Career appearances for Alty at June 2004 - 11(+34), goals 4.

Michael REYNOLDS
See Departed Players.

Rod THORNLEY (d.o.b. 2 April 1977)
Signed from Congleton Town in time to make his official debut against Droylsden on 17 March, 2001, Rod had been top scorer for the NWCL side. He had played two games for Altrincham before signing, a friendly against Doncaster and a reserve game against Ashton, in which he scored the opening goal. Rod's brother, Ben, played for Manchester United, Aberdeen and Blackpool, whilst Rod himself works for United and for the England national side as a masseur which sometimes obliges him to miss Altrincham games. His other former clubs include Warrington Town, Doncaster Rovers and Salford City. Rod re-signed for Alty for 2001-2 and went on to hit 20 goals in his first 20 games for Alty in 2001-02 before ending the season with 31 goals. He is a speedy and hard-working front-man with good ball-control and is also the side's penalty-taker. Rod is the team captain for the 2002-03 season but he missed quite a few games and had to have an operation in December 2002. Nevertheless, he still finished the season as top-scorer once again. He missed much of pre-season due to his work commitments and, though hampered by a knee problem, played on till succumbing to an operation in Dec. 2003. After a brief return, had a second knee op. in April 2004. Appearances by June 2004 - 118(+5), goals 61.


Nick WELTON
See Departed Players.

---