Altrincham FC Statistical Review 2017-18
League Season 2017-18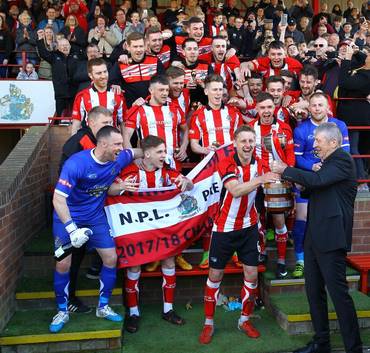 Image, right, courtesy of Gavin Rathbone, shows Altrincham receiving the EvoStik NPL trophy.
Altrincham were stronger at home in the first half of this season but better away from home in the second half. Overall they lost fewer away games (3) than at home (4).
Games 1-23
HOME P11 W 9 D1 L1 F32 A 7 PTS28
AWAY P12 W 6 D4 L2 F21 A10 PTS22
TOTAL P23 W15 D5 L3 F53 A17 PTS50
Games 23-46
HOME P12 W 6 D3 L3 F30 A17 PTS21
AWAY P11 W 7 D3 L1 F18 A 8 PTS24
TOTAL P23 W13 D6 L4 F48 A25 PTS45
Overall
TOTAL P46 W28 D11 L7 F101 A42 PTS95
POINTS
Altrincham accrued 95 points this season which is the highest total they have ever recorded (in the three-points for a win system) and immediately follows the 2016/17 season when the club accrued its lowest ever points total (21 pts). In the years when wins only accrued two points, Alty would have beaten this season's total with 106 points in 1965/66 and 99 points in 1966/67, had the three points for a win system been in place in those seasons.
This season's total of points in 46 matches exceeds by 30 that gained over the last two seasons combined (65 points over two seasons in 88 games).
With just seven defeats this season, Alty have recorded the lowest number of losses in a league season since 1984/85 when six matches were lost in a season of only 42 games. In 1965/66 Alty lost just twice in 42 league matches.
SEQUENCES
Longest run undefeated: 16 games (from game 9 to 24, comprising 12 wins and 4 draws)
Longest run of victories: 5 (games 20 to 24)
Right: Jordan Hulme
YELLOW AND RED CARDS
(Red =3 Yellow=1)
Max Harrop 10Y 1R (League 8Y + 1R)
Simon Richman 9Y 1R (League 8Y)
Jordan Hulme 11Y 0R (League 10Y)
Red cards: 5 (League: Hannigan, Harrop) (Cups: Moult, J. Jones, Walsh)
GATES
League Home: Highest 1856 v Hednesford Town; lowest: 482 v Marine - both in the same week!
League Away: Highest 952 v Warrington; lowest: 221 v Barwell
Cup Home: Highest 781 v Ramsbottom United (FAT); lowest 131 v Winsford United (CSC)
Cup Away: Highest 545 v Warrington Town (FAT); lowest 109 v Mossley (Integro)
APPEARANCES IN 2017-18
53+2: Jordan Hulme (45+1 in league)
53+1: Jake Moult (45 in league)
50+3: John Johnston (41+3 in league)
49+3: Josh Hancock (42+2 in league)
49: Tony Thompson (42 in league)
44: Ben Harrison (36 in league)
Apart from those players who were named in squads but did not get on the pitch at all, the least appearances of the season (0+1) were recorded by Chris Lynch, Tolani Omotola and Scott Smith.
GOALS
31: Jordan Hulme (26 in league)
21: Josh Hancock (17 in league)
20: John Johnston (14 in league)
13: James Poole (11 in league)
11: Tom Peers (7 in league)
CLEAN SHEETS
Altrincham kept 20 clean sheets in the league and a further five in cup competitions.
At the other end, they failed to score in six league games and two cup ties.
PLAYERS
40 players were named in league and/or cup matches with four (including three goalkeepers) not getting on the pitch - Andrew Jones, Josh Samberg, Dylan Scanlan and Cameron Terry.
30 players were used in league matches of whom five did not start a game but were used subs.
36 players were named in cup matches and all got some game time
THE JONES BOYS
Four players with the surname (or part-surname) of Jones, played for Altrincham this season; Andrew Jones, Callum Jones, James Jones, Theo Bailey-Jones.
On Saturday night the following awards were made in the Community Sports Hall...
Manager's Player of the Season: Jordan Hulme
Supporters' Player of the Season: Jordan Hulme
Players' Player of the Season: Jake Moult
Most Improved Player of the Season: Max Harrop
Young Player of the Season: John Johnston
---