ALTRINCHAM FC IN THE COMMUNITY
ALTRINCHAM FC IN THE COMMUNITY Altrincham Football Club has a thriving Community section which includes football coaching support for schools, youth groups, Ladies' football and for disadvantaged sections of our local community. These activities would not be possible without the continued financial support from the Football Conference Trust, for which the Club is extremely grateful.
The Football Conference Trust is a partnership between the Football Conference, the Premier League and the Professional Footballers' Association. The Premier League and the PFA have committed to contribute £400,000 a year each to the Fund for three years. This fund of £2.4m is to assist all Football Conference member clubs to help support and develop their community activities.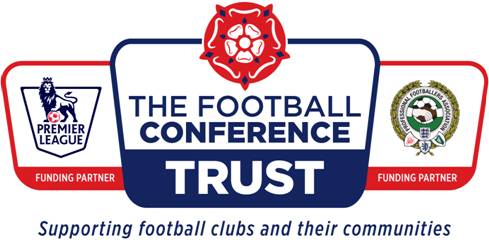 ---
For full details of Altrincham FC's community activity, including its exciting new Community Sports Hall project, visit the Community website.
---
12 September 2014
With the new Community Sports Hall building at the J. Davidson Stadium approaching completion, Peter Foster advises that "The Altrincham FC Community company and Altrincham Football Club are advertising the position of Community Sports Hall General Manager. All of the information regarding how to apply is contained within the
job description
".
Information about the project is on the Community Sports Hall's website.
4 April 2014
Altrincham FC's community programme is the subject of a "
case study
" on the Football Conference website. It describes how "The programme received a grant of £15,000 towards the project in April 2013. The project cost £23,000 to deliver.
The overall purpose is to encourage people of all ages to become involved in playing, volunteering and organising sports activities. This included encouraging girls and women to continue to play football.
The project started with initial support from the Cheshire FA and Trafford Leisure, who provided assistance with coaching and venues but, after 3 months, Altrincham took over the running the project. Numbers have increased and there are 5-a-side and league teams. The sessions are attended by a cross section of ages and abilities, but a number have developed and moved into the competitive team squad
Football Fun sessions for children from organised groups were also run. Working with groups such as Rainbows, Beavers, Brownies, Cubs, Guides and Scouts, sessions have been based at schools for these groups. Over 150 have attended mid-week sessions and a Saturday Morning Club for younger children has also been popular with over 80 participants each week.
As for football coaching in schools, throughout the year, Altrincham provides coaching at 12 different schools, with 3 new schools this year. Typically, they work with about 200 boys and girls in any week.
There are also activities for 'at-risk' children and youths during the school holiday periods. Four holiday camps were running during the year, with as many as 70 children being involved. Some places being given to disadvantaged children via Trafford Fostering services. Altrincham also ran drop in sessions for 'at risk' youths during the summer, aimed at attracting young people from one of the more deprived areas of the Borough and involving them in activities to prevent anti-social behaviour. These were arranged in conjunction with local Police Community liaison officers and Trafford Local Authority. The relationship with local police has continued to be fruitful.
Peter Foster, who manages the project, said, 'Each activity has resulted in an increase in involvement from the targeted section of the community. One conclusion that we have reached is that we need to take a step back and review activities as they are sometimes growing faster than our ability to support them. We may need to be prepared to consolidate and build upon what we are doing successfully'".
---
2 July 2013
COMMUNITY AWARD FOR ALTY
In the
Sale & Altrincham Messenger
, Altrincham FC joint Press and Media Officer, John Edwards, reported that "Altrincham are community champions.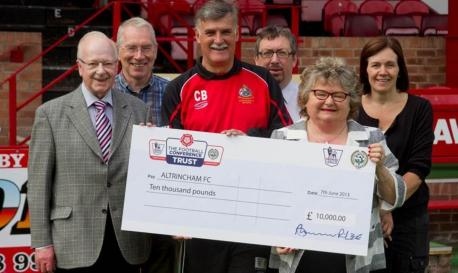 Right: Courtesy of Gavin Rathbone of GR Photography, we see the Community Board, with Community Officer Chris Bullock. Left to right, Fred Nash, Pete Foster, Chris Bullock (Community Officer), Neil Faulkner, Carole Nash, and Karen Rowley.
Altrincham's growing emphasis on public relations has brought them a £10,000 cheque as the Blue Square Bet North's Community Club of the Year.
Twelve months after lifting the Conference North's Respect Trophy, for best disciplinary record, Alty have shown they are setting the right example off the pitch as well, after having their community work honoured by the Football Conference Trust.
Judges based their decision on levels of commitment to community activities and had no hesitation naming Alty as outright winners after hearing the scale of their involvement with youngsters in the area.
Chairman Grahame Rowley provided an insight into how the club are connecting with boys and girls throughout the area by saying, 'In any typical week, when you take into account coaching in schools and the 40-odd junior teams playing games, there are approaching 1,000 local kids participating in football directly through Altrincham FC.
That is some statistic, and one we are extremely proud of. Reaching out to the community, as well as striving for excellence on the pitch, is what this club is all about, and we will continue to pursue both objectives as best we can'.
As well as a thriving junior set-up, boasting well over 40 teams of all ages, and a ladies' team and social section, Alty's community programme is devoting more time and energy to developing a growing presence within local schools. Free tickets to first-team games are regularly distributed, lunchtime clubs are held in several Trafford junior schools and fun weeks and drop-in sessions are staged during holidays, as well as curriculum coaching after school.
A delighted Rowley added, 'Everyone at the club is absolutely thrilled to receive this award. We see it as a tribute to the many volunteers, well over 100, who ensure the boys', girls' and ladies' teams can continue and also to the high standard of coaching delivered by community officer Chris Bullock and the coaching team.
The club decided a few years ago that it had to become more integrated into the community and it is gratifying that our efforts have been recognised externally. The award is also further encouragement for our efforts to provide a focal point for the local community via the Community Sports Hall, for which a planning submission has recently been made'.
Anyone interested in finding out more about the club's community activities should email Altrincham FC or call the club on 0161 928 1045".
---
1 June 2013
COMMUNITY SPORTS HALL PLANS SUBMITTED
Above: An artist's impression of the new hall.
Altrincham FC's Peter Foster announces that "The Planning Application for the Community Sports Hall project at Moss Lane were submitted on Tuesday 21st May and information regarding the application has now been published by the Trafford Planning Officer. Details can be viewed on the Trafford Planning portal, here.
The application number is 80669/FULL/2013
On the Planning Application Search Results page, click on the application number, and you will find displayed the details of the application. Towards the bottom of this page, by selecting 'Comment on this application' you will be able to enter a letter/email of support. These are required by June 14th. We are led to believe that these really do carry weight so you can do your bit by writing to the Chief Planning Officer. Letters from outside Trafford do count as long as you travel into Trafford, and are a potential user of the Community facility.
We have already received a letter of support from MP Mr Graham Brady, and a copy of a letter of support sent to the Chief Planning Officer from the Altrincham Chamber of Commerce, who are always very supportive of the Football Club. We believe that a target decision date is August 20th".
---