---
30 April 2012
PREMIERSHIP DECIDER
The Premier League title decider between Manchester City and Manchester United will be shown live tonight in the bar at Moss Lane. The bar will open at 7.15pm for the 8pm kick off. Everyone is very welcome, whichever team they support.
RACE NIGHT YIELDS £1,400 FOR CLUB
Brian Flynn, chairman of The Altrincham Supporters' Club (TASC), reports...
TASC Race Night Raises Nearly £1,400!
"The traditional 'End Of Season Race Night' on Saturday was very well supported and attended and it raised a total of £1390.60 for Altrincham Football Club, which is almost £100 more than last season!
There was also a bumper take on the bar; so, all in all, a great success and a big thank you to everyone who came along for what was a very enjoyable evening!"
PRICES HELD
In Saturday's "Robins' Review", chairman Grahame Rowley announced that Altrincham FC season tickets for 2012/13 will be held at the same prices as applied this season. They are:
Standing: Adults £225; Concessions £115
Seating: Adults £265; Concessions £125
Under 12s: £25
12-16 years: £50.
TWELVE MAKE THE GRADE
You can now make up a full starting eleven (and one substitute) from players who have played for Altrincham FC Youth and have also been involved with the Altrincham FC first-team squad this season.

On Saturday, left back Sam Grimshaw (right) became the fifth current Altrincham FC Youth player to be included in a first-team squad this season, following Adam Reid, Joe Coombs, Matt Fearon and Duncan Watmore. In addition, Alty's left back on Saturday, Andy Smart, also turned out for George Heslop's team a couple of times in his under-18 days. And, five other current youth teamers signed BSBN forms this season; they are Josh Mason, Derryn Ofori, Josh Palmer, Denico Walters and Alex Weatherby. The twelfth youth team graduate is Astley Mulholland, who played for Alty this season but then moved on to FCUM.
ALTY TV HIGHLIGHTS
Alty TV has extended highlights of Altrincham v Gainsborough, last Saturday, including both of Alty's goals. Alty TV announces "Interviews with Lee Sinnott and Damian Reeves to follow soon".
BARRY'S REVIEW
Barry Pikesley published his review of Altrincham's 2010-11 season in last Saturday's programme and it is reproduced below. This website's statistical review of the season will follow here during the coming week.

Alty, 2011/12 Season Review

LEE SINNOTT SAID (I'M IN HEAVEN WHEN YOU SMILE)

Amidst all the media coverage engendered by the appointment of Lee Sinnott as Alty's manager back on Tuesday, 24th May 2011, there was one quote attributed to the new incumbent at Moss Lane in particular which really caught the eye.

Speaking to John Edwards, one of the Robins' Press Officers, Lee Sinnott imparted the following upbeat message to the club's supporters: "After the disappointment of relegation, I will be looking to put a smile back on their faces."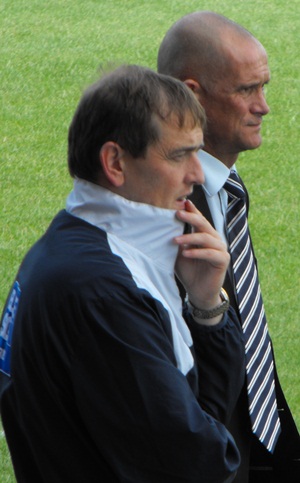 Therefore, with merely one league fixture of the Robins' 2011/12 Blue Square Bet North (BSBN) season to be staged, it's an opportune time to undertake a subjective overview of the inaugural campaign under the supervision of Messrs. Sinnott and Neil Tolson (pictured left).
Has the theme song at Moss Lane been Happy Hour, as sung by The Housemartins from Lee Sinnott's current hometown, Hull, or has the prevailing mood amongst the Robins' devotees been epitomised by the more local sound of Morrissey proclaiming Heaven Knows I'm Miserable Now?
When all those sanguine Alty supporters descended upon Harrogate on that sunny afternoon back on Saturday, 13th August 2011, little did we realise then how the ensuing 90 minutes played on that pitch of erratic gradients would prove to be a microcosm of how the Robins' season would unfold i.e. dominant attacking play frustratingly blighted by horrendous defensive errors, invariably incorporating the concession of a daft penalty (on this occasion, two spot kicks were given away by Adam Flynn, who also received a red card to cap what was probably the most calamitous Alty debut that I have ever witnessed!), and the obligatory goal from Damian Reeves.
The principal plus point of our season has been our capacity to score goals. In fact, the current total of 88 goals scored in league fixtures represents the highest amount the Robins have achieved since the 1978/79 Northern Premier League season, when we amassed a tally of 93 goals in that competition (and we still have this afternoon's encounter with Gainsborough Trinity to fulfil).
When the master plan has clicked, in games such as the ones at Moss Lane versus Worcester City, Boston United and Droylsden respectively, or those away against the likes of Colwyn Bay and FC Halifax Town, our attacking play has been incisive, fluent, clinical and hugely entertaining.
At present, only the Champions, Hyde, have managed to eclipse the Robins in the 'goals for' column of the BSBN league table (by a solitary goal). Alas, however, they have notably conceded 33 fewer goals than us.
All of which conveniently leads the discussion on to the glaring downside of our season, namely our repeated inability to defend effectively. At this juncture, I do feel a duty to exonerate Stuart Coburn from any associated criticism, as he has once again excelled for us between the posts.
In our 41 league fixtures to date, we have contrived to concede a disconcerting total of 68 goals and there are only eight teams in the BSBN who currently possess a worse defensive record than ours. The personnel comprising our rearguard may well have changed frequently during the season but our defensive shortcomings have persisted nonetheless.
We have also exhibited an uncanny and wholly unwanted knack of giving away 'soft' penalties. Indeed, during the present season, we have already conceded the ludicrously high sum of fifteen spot kicks (three of which have been saved: one by Joe Collister just two minutes into his Alty debut at Gainsborough Trinity and two by Stuart Coburn, both at Moss Lane - versus Bishop's Stortford and FC Halifax Town respectively).
The most damning statistic relates to the fact that we have now clocked up an alarming total of 26 consecutive league matches without keeping a clean sheet since the 2-0 victory over Eastwood Town back on Saturday, 5th November 2011. Moreover, we have failed to record a clean sheet in an away fixture in the league throughout the entire season, an abject outcome that the club has not experienced since the 1938/39 campaign.
Clearly, the area where wholesale improvements have to be implemented next season is evident if we are to mount a serious promotion challenge.
The undoubted highlight of this season has been the phenomenal goalscoring record of Damian Reeves. Apologies for bombarding you with the subsequent statistics pertaining to his smile-generating achievements but I doubt that we will see them emulated (or even surpassed) at Moss Lane again for some considerable time (unless, of course, Damian is still with us next season!).
With just today's fixture outstanding, Damian has scored a tremendous total of 44 goals in 41 league matches and is the leading goalscorer in the BSBN by a margin of 13. He has featured in Alty's starting XI in every single one of those 41 league games and has scored in 32 of them. He has been successful with eight penalty kicks whilst missing from the spot on two occasions (away at FC Halifax Town and Solihull Moors at Moss Lane). 27 of his goals have occurred at Moss Lane and 17 have been accrued on Alty's travels.
Damian's best sequence consists of scoring in 10 consecutive league games from the 2-1 home reverse against Gloucester City back on Saturday, 19th November 2011 to the 1-1 draw at Blyth Spartans on Tuesday, 24th January 2012 inclusive. The longest run he has endured without finding the back of the net in a league game is merely two successive matches. To date this campaign, the only two clubs against whom he has not scored in a BSBN fixture are Bishop's Stortford and Gainsborough Trinity (although, of course, he has the opportunity to remedy that situation somewhat against the latter this afternoon). Finally, to put things into some historical context, Damian's prodigious total of 44 goals signifies the highest figure that an Alty player has attained in one season's league fixtures since the legendary Jackie Swindells accumulated a personal tally of 40 goals in 42 Cheshire County League games during the 1966/67 title-winning season. Extraordinary stuff, indeed.
In contrast, our elimination from each of the three cup competitions at the first hurdle induced an array of forlorn grimaces rather than wide grins. Losing to Evo-Stik Premier Division FC United of Manchester (of all teams) in the FA Trophy was hellish enough. However, that mortifying capitulation at Moss Lane in the FA Cup Second Qualifying Round tie against Witton Albion, a team from a league two divisions lower than us, remained the indisputable nadir of the 2011/12 season. Not a single much-needed penny in prize money gained, as our embarrassment of poverty in the major cup competitions in recent times continued for yet another year.
Meanwhile, let's move on to the candidates for the most surreal aspect of the season. How about the unexpected return to Moss Lane on loan of Robbie Williams as the apparent answer to our central defensive woes? George Heslop winning a Mansfield Town stationery set in a TASC raffle, perhaps? Or Adrian Hawes' impersonation of Bambi on ice during the New Year's Day fixture on a sodden pitch at Droylsden? Alternatively, who can forget Brian Flynn being harangued by the indignant natives in the bear pit that is Blyth's main stand during his Radio Robins commentary on Damian Reeves' controversial 94th minute equaliser from the penalty spot? Other nominations could include our unfathomable tactics during the home debacle incurred at the hands of Bishop's Stortford or the enigmatic Brian Summerskill's painstakingly-bequiffed fringe.
However, my own personal favourite concerns the bizarre and chaotic scenes resulting from the referee, one Simeon Lucas, inexplicably allowing the Moss Lane clash versus Nuneaton Town to proceed for six minutes with both teams wearing predominantly red kits. Following protests from the Alty bench and some pointed observations from the spectators that differentiating between the two sides was proving to be extremely challenging, Mister Lucas eventually relented and allowed the visitors to change into the yellow shirts of the Robins' away strip.
Enduring image of the season? Well, it simply has to be that stirring vision of the indefatigable Altrincham FC Youth Team supremo, George Heslop, braving torrential rain as he cajoled his charges on to an eventual triumph on penalties against Lancaster City in the FA Youth Cup Second Qualifying Round tie played at a drenched Moss Lane on Thursday, 6th October 2011. He was like a human sponge or even Gene Kelly, that is, if the latter had been unable to sing or dance and had ever sported a dodgy moustache. What an absolute trouper!
So, to sum up the season. In my opinion, finishing in eighth position in the BSBN whilst experiencing a total washout in the cup competitions amounts to an ultimately underachieving campaign for a club and supporters with high standards and ambitions. The root of my disappointment is a heartfelt belief that a play-off spot was well within our capabilities this season if only we had managed to rectify our porous defence. Perhaps fielding 25 league debutants throughout the season has simply hindered any prospect of establishing a degree of continuity in the team? And to have a prolific striker in your ranks who has rattled in 44 league goals and yet still miss out on securing a presentable place in the play-offs is tantamount to a wasted opportunity, to my mind. To paraphrase a famous line uttered by Marlon Brando in On The Waterfront: "We coulda been a contender."
That dramatic eleventh hour 2-1 success over Stalybridge Celtic at Moss Lane on Tuesday, 6th March 2012 seemed to have set us up for a real tilt at infiltrating the play-off positions at the 'business end' of the season. Depressingly, we then proceeded to collect a meagre total of six points from our next eight league fixtures, as another false dawn materialised. Tellingly, that Stalybridge encounter constituted the sole occasion this season to date when we went on to win a match in which the opposition had scored the first goal.
Instances of our fine attacking play will live in the memory but there have simply been too many incidents of us resembling an overly timid Jehovah's Witness who has not really possessed the conviction to knock on the door of the play-offs when the chance to do so has arisen. Our inconsistency has been consistent.
There have certainly been smiles along the way but they have been sporadic. Unfortunately, there have also been too many occasions when the post match expression on the faces of the Robins' supporters has mirrored that of the one worn by the protagonist in Edvard Munch's haunting painting The Scream.
Let's sincerely hope that twelve months on from now, our countenances are those of Mona Lisas rather than Lee's moaners. BARRY PIKESLEY".
BSBN NEWS
The Boston Standard reports that "It is understood Boston United goalkeeper Paul Bastock has been released... 'Bazza', the Pilgrims all-time record holder, took to Twitter to announce the news. 'Shocked not offered out next season but that's football for you been a pleasure to play for Boston United', he wrote to fans.

It appears he was told by phone, as manager Jason Lee looks to rebuild for next season. Ryan Semple is another player who appears to have been released.

He also took to Twitter, writing:, 'So I'm no longer a BUFC player. Really sad to leave such a great club and set of boys. Six months ago would never of [sic] seen this coming but that's the beautiful game!'".

News of an Alty old boy comes from a team which will play Alty next season; Chester FC report that their "striker Matty McNeil, fresh from winning the CFU Player of the Year award, has received bad news, following surgery to repair a knee cartilage, meaning full reconstruction is required, and ruling McNeil out for 9-12 months...

McNeil went into surgery on Thursday for the operation to repair the knee cartilage but the two other parts of the knee have ruptured, the main area being the anterior cruciate ligament, and both require full reconstruction... The rehabilitation period is 9-12 months which effectively rules Matty out for this coming season...

Neil Young on the news said, 'It's a massive blow as Matty has been excellent not just on the pitch but his attitude, commitment and professionalism off the pitch is an example to all. Matty over the season has been are most consistent player and I know a particular favourite of the supporters'...

McNeil said 'Obviously, hearing this news has left me very very disappointed that I will be out of football for this amount of time'".

Save The Mighty Imps says that "In 1912 Gainsborough Trinity were voted out of the Football League, replaced by of all teams, their local rivals Lincoln City. Lack of fan base and financial backing rather than relegation led to the demise, but now both these factors appear a thing of the past. Ominously for the complacent Imps, the two ancient rivals appear on the verge of meeting next season thanks to ex Imp Leon Mettam's hat trick in the 3-2 win at Altrincham yesterday.

When Steff Wright was still in charge and justifying that it was not for the directors to put their hands in their pockets when a club should be able to sustain itself on budgets alone; the loudest voices were in agreement. Those against, labelled 'the malcontents' looked northward as Peter Swann of the Wilkinson family began to put his money where his mouth was. Brian Little certainly squandered a lot of money, Swann was also ridiculed over his plans for a new ground, yet he kept the faith and continued to plough in the cash. Little was not the complete waste of time many were quick to point out, passing on valuable contacts to understudy and now manager Steve Housham...

Housham has moulded a decent side with the spirit to match Swann's spondoolies, leaving plenty in the bank for next year. Kevin Sandwith, Adam Watts, Dominic Roma, Shane Clarke, Michael Leary, Jamie Yates, Paul Connor, Leon Mettam and Darryn Stamp are part of a squad that has shed the prima donnas whilst retaining the quality and passion for the cause...

Three years ago we were three divisions apart, next year we could be contesting our first competitive games since 1996, then an FA Cup tie that went to a replay... You cannot help thinking that the two old rivals may not stay on a par for too long. Swann has the money and ambition for his club, whilst the Imps appear happy to tread water – in football terms a road to nowhere. What are the 2,000 fans who saw us in 2009 currently doing every other Saturday?... Peter Swann who paid for 150 Trinity fans to go to Altrincham".
---
29 April 2012
WEATHER WINS AGAIN
The heavy rain this weekend put paid to Sunday's Altrincham FC Youth team match away to Northwich Victoria but the Altrincham FC Juniors U-18 match was switched to BTH to allow that fixture to be played.
ALTY AWARDS
In Saturday's TASC Altrincham FC annual awards, presented on Saturday evening in the Noel White Suite, the winners were:
Players' Player of the Season, presented by Shaun Densmore: Damian Reeves (right)
Clubman of the Season, presented by Lee Sinnott: John Skelhorn (joint kitman), with thanks also to Luke
Goal of the Season, chosen by Brian Flynn: 1. James Lawrie (v Boston [H]), 2. Damian Reeves (v Stalybridge [H]), 3. James Lawrie (v Histon [A])
TASC Penalty Competition: Tim Ainsworth, with thanks to goalkeeper James Antrobus
Young Player of the Season, presented by Dave Johnson: Shaun Densmore
TASC Supporters' Player of the Season, presented by Steve Foster; 1. Damian Reeves, 2. Stuart Coburn, 3. Nicky Clee
AFC Volunteers of the Year, presented by John Laidlar: The Lewis Family (Allison [Safety Officer], Peter [Chief Steward], Samm [Steward] and Zoe)

Photos of the event will follow from official club photographer Gavin Rathbone of GR Photography.

Altrincham FC would like to thank everyone who supported the club in whatever way during the past season. There are still numerous close season events at Moss Lane which we hope you will be able to attend. Details of some of these are given below...
COMING SOON...
May 11th – 13th: Altrincham FC Beer Festival
In association with John Glover and the Old Market Tavern, Altrincham FC are holding their first ever Beer Festival at the club. Starting on Friday night with the Staff v Supporters game followed by a night of entertainment, on the Saturday there will be the corporate 7 a side tournament, a ladies' football match and finally two live bands to round the day off. Sunday will be a family fun day with Junior exhibition games, a Past Players vs TV celebrity game, the final Premiership games live on big screen and finally a balloon race.
Friday, 18 May: Welcome Back to the Old Recruits
In the Sponsors' Lounge at Moss Lane, Altrincham FC will be holding a "Welcome Back to the Old Recruits" evening. It is expected that twelve former Alty players will be in attendance, with proceeds going to the Mark Maddox testimonial fund. Please ring the club (0161 928-1045) or send an e-mail. Tickets are just £15 per head which includes a chicken and chips meal expertly cooked by club caterer Richie Bentley.
Thursday, 31 May - Tribute to Noel White
As seen in the attached letter, a Tribute Dinner is being held at the Mercure Bowdon Hotel in honour of Altrincham FC President, Noel White. Ticket applications should be made by post, please, to Altrincham F.C. (N.W.T.D.), Moss Lane, Altrincham, WA15 8AP or, by telephone, to 0161 928 1045. Cheques should be made payable to "Altrincham FC Tribute Dinner".
Please make a note of these dates and support as many as possible – your club needs your help.
ATTENDANCES
Altrincham's average attendance at Moss Lane for league games this season was a commendable 826. In our only previous season in the Conference North the average was only 665 (2004/5). Last season (10/11) in the Conference's national division, average gates were 1,038 at Moss Lane.

The BSBN attendances on Saturday were:
Altrincham v Gainsborough Trinity 989
Bishop's Stortford v Eastwood Town 502
Blyth Spartans v Nuneaton Town 363
Boston United v Guiseley 1,087
Colwyn Bay v Gloucester City 476
Corby Town v Harrogate Town 460
Droylsden v Vauxhall Motors 401
Histon v Hyde 667
Solihull Moors v FC Halifax Town 711
Stalybridge Celtic v Hinckley United 670
Worcester City v Workington 815
ROUTE TO THE TOP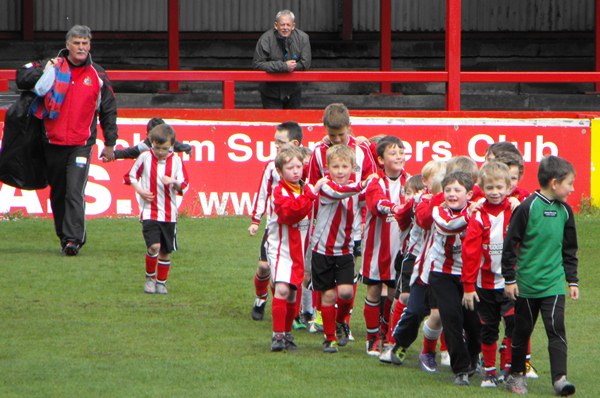 Pictured right, before Saturday's game at Moss Lane, are Community Officer Chris Bullock and some of the younger members of the Altrincham FC Juniors. The youngsters will have been inspired to see Alty's 18 year-old striker Duncan Watmore net his first goal for the first-team against Gainsborough. Duncan has graduated to the first team at Moss Lane via the Juniors and the Youth team.
NW PLAY OFFS
The EvoStik League confirms that "Witton Albion have been promoted to the Evo-Stik League Premier Division after winning Saturday's Division One North Play-Off Final 3-0 against Curzon Ashton. In front of 989 fans, [former Alty reserve] Ashley Stott gave Witton the lead in the 32nd minute... before Stott doubled his tally on 71 minutes to put Witton firmly in command. Alex Titchener rounded off the scoring in stoppage time on a memorable afternoon for Witton fans". So, next season they will be at a level above their former close neighbours Northwich Victoria, who start the season in EvoStik Division One based at Stafford Rangers.

Meanwhile, "The Champagne corks are popping for Ilkeston after they claimed victory in the Evo-Stik League Division One South Play-off Final by beating Leek Town 2-0 on Saturday".

In the Evo-Stik Northern Premier Division Promotion Play Offs Semi-Final, the outcomes were:
Bradford Park Avenue 5 Hednesford Town 0, att. 609
Chorley 0 FC United of Manchester 2, att. 2,754, with former Robin, Astley Mulholland, scoring the second goal.

So, on Saturday 5th May, the Evo-Stik Northern Premier Division Promotion Play Off Final is:
Bradford Park Avenue v FC United of Manchester (3pm)

In the other feeder leagues,

Southern League Premier Division Play-Offs

The play offs are not yet fixed as AFC Totton's league match was postponed on Saturday. If they win the rearranged game (on 1 May) they will qualify along with Oxford City, Chesham Utd and Cambridge City. Otherwise Stourbridge take the final play-off place.

Ryman Isthmian Premier Division Play-Offs Semi Finals:

Wednesday 2 May
AFC Hornchurch v Bury Town
Lowestoft Town v Wealdstone
BSBN NEWS
"Corby Town boss Graham Drury has admitted he is unsure of his future at the club. Speaking after his side's 5-0 hammering at the hands of Harrogate, he confessed he may not be at the helm next season, but was still full of praise for the club.

He told www.corbytownfc.co.uk, 'If I'm not here next season then there's no hard feelings there whatsoever. I'll be the first one to want this club to go onwards and upwards." "I brought the club up and kept the club at this level, which is something no-one can ever take away. One thing I can definitely say is I'm proud of what I've achieved at this club. Corby's loss against Harrogatewas their 14th home defeat of the season and has saw attendances slump at Steel Park but Drury wasn't out to criticise the dwindling numbers.

'There's been a lot said about the attendances and maybe it contributed to our bad run of form but results are what bring fans in and, when it doesn't go right, they don't come and watch, which is expected. I don't think you can blame the fans at all for the position the club is in, certainly not the diehard ones that come every week because they've been amazing to me during my four years at Corby'.

He was also just as quick to defend goalkeeper Nick Bennion, who many think was at fault for Harrogate's first two goals. 'He's a young kid, he's stepped up the levels and he's still learning so I'm not going to knock him. He's stepped into the breach, so all credit goes to him. He's desperate to do well, desperate to learn, and he'll have learnt some very hard lessons this season but, all credit to him, he's still here. We've had problems at both ends really, if you can't score goals you're under pressure and if you can't keep them out you're going to lose games'". Following the game at Moss Lane, This is Lincs tells us that "Gainsborough Trinity will take their place in the play-offs after a nail-biting clash at Altrincham. The Blues finally came through 3-2 thanks to a brilliant Leon Mettam hat-trick...

Trinity were let off 10 minutes in when the dangerous Damian Reeves pulled his shot wide from 10 yards out. After 13 minutes, Trinity took the lead when Stamp was brought down. Leon Mettam stepped up to smash home the free-kick off the underside of the bar from almost 30 yards. Two minutes later and Jason White did well to hold on to a cross from Nicky Clee. Jason White came to the rescue again after 17 minutes when Watmore was through with just the Trinity keeper to beat, but White made a great save to maintain Trinity's lead. There was another let off for Trinity as James Lawrie dragged his shot just wide after a one two with Watmore on the half hour mark. Four minutes later, however, and the scores were level when a good Altrincham move ended with a Nicky Clee strike which gave White no chance...

Just before half time Altrincham took the lead when Watmore got on the end of a long ball and chipped White for his first goal for his club. But, just 30 seconds later, Mettam levelled the scores again with a close range header... It was Altrincham who started the second half the better with Reeves and Lawrie both going close. Watmore was again the thorn in the Trinity side when the youngster went close again with a deft flick which just went over the bar.

After 72 minutes, Mettam hit his third with a well taken taken goal... With just over ten minutes left, Trinity nerves were jangling when Altrincham hit the bar after a corner. The ball fell at the feet of a Trinity defender and was hoofed to safety. Minutes later and Watmore again twisted and turned his way into the box but his shot was smothered by White. But Trinity hung on for the win".
---
28 April 2012
ALTRINCHAM 2 GAINSBOROUGH TRINITY 3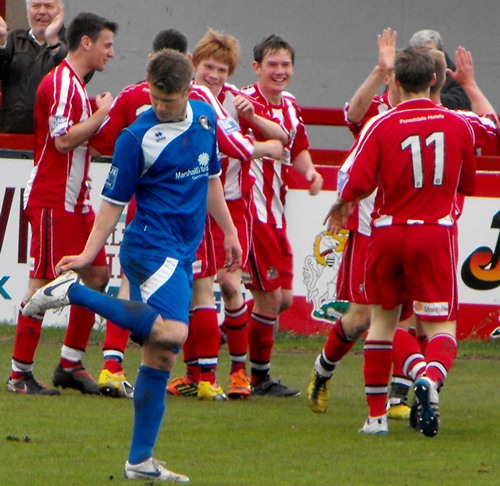 Right: 18 year-old Duncan Watmore scored a fine goal for Alty against Gainsborough - here he receives his team-mates' congratulations.
Gainsborough came from 2-1 down to secure their play-off place in a very entertaining game at Moss Lane...
Match report.

Sat. 28 April

Hinckley United are relegated; Gainsborough, Halifax, Nuneaton and Guiseley are in the play offs.
Through the Years by Howard Watts
Altrincham 2 Gainsborough Trinity 3
Bishops Stortford 4 Eastwood Town 0
Blyth Spartans 2 Nuneaton Town 3
Boston United 3 Guiseley 3
Colwyn Bay 4 Gloucester City 2
Corby Town 0 Harrogate Town 5
Droylsden 5 Vauxhall Motors 2
Histon 1 Hyde FC 1
Solihull Moors 1 FC Halifax Town 2
Stalybridge Celtic 4 Hinckley United 2 - incorrectly quoted as 3-3 in some web reports
Worcester City 0 Workington 1
BEFORE THE GAME: ALTY v GAINSBOROUGH TRINITY
If you cannot get to the Alty v Gainsborough game, you can follow it on the Live Matchday Update page of this website, or you can listen to live radio commentary on Radio Robins...

Brian Flynn writes, "Radio Robins, sponsored by Paradox-Computers.com will be broadcasting a full internet commentary of Saturday's game against Gainsborough Trinity.

The match commentary this week is sponsored by Altrincham F.C. Ladies. Altrincham FC Ladies was founded in 2011 and are an open age team competing in the Cheshire & Manchester Women's League Division Two. Find out more about 'Altrincham FC Ladies' here.

The match commentators are Paul Salt and Brian Flynn and the broadcast begins at 2.50pm. You can listen to Radio Robins on the internet by clicking on the link below (right).
ALTRINCHAM FC
Live Text Updates
CLICK HERE

If you cannot get to the game,
you can keep up to date either by radio commentary
or by live matchday updates...
just click on the relevant adjacent link.

RADIO ROBINS
Live Commentary
CLICK HERE
AFTER THE GAME: PLAYER OF THE SEASON AND RACE NIGHT
You are invited to enjoy a full afternoon and evening at Moss Lane on Saturday...
Pre-match: Buy your balloons for the Mark Maddox Testimonial Fund - details below.
3.00pm: Altrincham v Gainsborough Trinity
5:00pm: Bacon & sausage butties available in the bar - £2 each, with Norwich City v Liverpool live in HD on TV
6:30pm: Player of the Season awards
7:00pm: Race Night starts – first four races
Break: TASC Monthly Draw, Draw for TASC Goal Rush and Raffle draw
Final four races
10:00pm: End
"AVERAGE, AT BEST, ALTRINCHAM SHOULD PROVE NO CHALLENGE"
According to This is Lincs, "A bullish Leon Mettam believes Gainsborough Trinity have no one to fear as they look to book their place in the Blue Square Bet North play-offs... This weekend they travel to Altrincham and Mettam is confident the Blues can do the business, in fact he believes they should have been champions.

'Everyone has got a role to play. We've got a big squad and such a variety of players to pick from that we should be up there. We should, in fact, have won the league', said Mettam, who has scored 11 goals this season. 'The amount of games where we have let our lead slip, or conceded soft goals, has let us down. But the quality of our squad is top notch and I don't believe there is anyone out there who has as good a squad as we have in this league. The play-offs will be a lottery, but I fancy us to beat anyone in the play-offs on our day. Halifax are a good team and so are Guiseley. But I'd fancy us to go to those sides and, over two legs, beat them'.

Mettam is confident Altrincham should prove no challenge to them. The Blues managed a 2-0 win over the Robins at the Northolme earlier in the season. A draw and the solitary point would be enough to secure the Blues a place in the play-offs, but Mettam believes a positive mindset is needed.

'Altrincham won 6-1 against Eastwood on Saturday. They will go in to the match this Saturday flying', said the former Lincoln City youth team player. 'If we go there thinking we just need a point we'll get beaten, it is not a positive way to look at it. We've got to go there and try and win. We made Altrincham look average at best when they came here. We beat them 2-0 earlier in the season. There is no reason why we can't go there and make them look very average again. They will be fearing us, we won't be fearing them. We made them look silly when they played us last year. We'll go there and do that to them again'.

Gainsborough boss Steve Housham... echoed Mettam's sentiments insisting he wants his side to approach Saturday's crunch match in a positive mind set.

'We've got to be positive at Altrincham', said Housham. 'It is there for us to win, we will give it our best shot'".
HELP TO INFLATE MARK'S TESTIMONIAL FUND!
Just 100 tickets are left for the Great Balloon Race in aid of the Mark Maddox Testimonial Fund and this Saturday, before the game with Gainsborough Trinity, these will be sold by former Alty stalwarts Peter Band, Matt Doughty, Graham Heathcote and, it is hoped, Gary Talbot.

The balloon race will take place at Moss Lane, immediately after the Former Players v. Coaching Staff football match, which kicks off at 1pm on Sunday, 13 May.

So, even if you have bought a balloon already, come along on Saturday and buy some more for the benefit of Mark, who has been a great servant of our Football Club; all proceeds go to his Testimonial Fund.

Tickets for this excellent cause are just £2 each and the winner, whose balloon travels the furthest, will receive a prize of £100.

After the balloon race starts on May 13th, why not stay at Moss Lane to watch the final action of the Premiership season, live, in the bar at Moss Lane in High Definition?

And, on Friday 18th May, there will be a final event to round off Mark Maddox's testimonial year, so please keep that date free. More details of this event are below...
SATURDAY FIXTURES
Whilst Gainsborough Trinity, Nuneaton Town and Stalybridge Celtic are fighting to occupy the two remaining play-off places, no fewer than eight teams are struggling to avoid the last relegation place to be determined. Just three points cover the following teams..
50 pts: Corby Town, Histon, Vauxhall Motors, Colwyn Bay
49 pts: Workington, Solihull Motors, Harrogate Town
48 pts: Hinckley United

Altrincham will finish eighth, whatever the outcome of their final league game.
MEET THE OLD RECRUITS
On Friday, 18 May, in the Sponsors' Lounge at Moss Lane, Altrincham FC will be holding a "Welcome Back to the Old Recruits" evening. It is expected that twelve former Alty players will be in attendance, with proceeds going to the Mark Maddox testimonial fund. Please ring the club (0161 928-1045) or send an e-mail. Tickets are just £15 per head which includes a chicken and chips meal expertly cooked by club caterer Richie Bentley.
NEIL'S NEW ROLE
Altrincham FC groundsman Neil Brown performed a new role on Thursday night. Neil was seized upon by the match officials to perform the absent fourth official's duties for Manchester United Reserves' match at Moss Lane - and his performance was shown on the MUTV channel.
BSBN NEWS
"Coventry City Academy centre-back Joe Henderson has been recalled from his work experience loan spell with Nuneaton Town ahead of Saturday's trip to Southampton. The teenager... was due to travel with Boro to Blyth Spartans... but City boss Andy Thorn plans to take him to St Mary's Stadium as defensive cover. It is likely the 18-year-old will be part of the matchday squad and take a place on the bench" reports the Coventry Telegraph.
YOUTH TABLE
The latest North West Youth Alliance Premier Division league table is now available.
MICHAEL'S CHARITY APPEARANCE
The Chester Chronicle reports that Michael Twiss is playing in a charity match for Chester. "Chester teams past and present will go head-to-head at the Exacta Stadium in a special benefit match in memory of a young Blues fan... Proceeds from the clash will be donated to a charity decided by the family of Ciaran Geddes, the seven-old-year Chester FC supporter who tragically died last week".
---
27 April 2012
PLAYER UPDATE
As Altrincham prepare for their final game of the season, at home to Gainsborough Trinity this Saturday, several players will miss the game.

Defender Mark Lynch is still in hospital with viral meningitis and everyone at Moss Lane wishes him a speedy recovery, whilst forward Leighton McGivern starts a three-match suspension for his sending off against Halifax. And right-back Kieran Walmsley is still sidelined by a virus.

Recent injury victims, Marlon Broomes (right) and Nicky Clee both trained on Thursday night but both remain doubts for the game on Saturday. In addition, team captain Shaun Densmore is also battling for fitness with a tight hamstring.
TASC EVENTS
Steve Foster of TASC (the Altrincham Supporters' Club) writes:

"Please support all the events over the summer, the money we raise will hopefully help the club to field a team that can be more successful on the pitch next season!

Saturday night sees the traditional 'End of Season Race Night' in The Noel White Suite, starting at 7pm. The players will be in attendance and the Player of the Year awards will be presented at the event. Food will be available to purchase in the bar, for anyone wishing to stay after the game. This is TASC's main fund raising event of the year, and your support is essential to its success. Please try to attend if you can - It's always a good night and ENTRY IS FREE!

Raffle tickets will be on sale at the game on Saturday, so even if you can't attend, please buy some.

TASC again intend to have a presence on 7th July at Altrincham Festival on behalf of the Football Club. This event is usually successful in providing publicity for the Club, and raising money at the same time. We would therefore ask for anyone who wants to assist at this year's festival to contact me. Alternatively, donations for the tombola would be gratefully received. Please bring any donations to the club in normal office hours in advance of this date.

Goal Rush has been a massive success this season. The exact amount raised will be announced once all the money has been collected in. Thanks to everyone for their generous sponsorship, and well done to Paul Salt for running the scheme. We will be running this scheme again next season. Full details will be sent to current sponsors with requests for the final payment for this season over the next few weeks. If anyone wants to join for next season, please speak to any of the TASC Committee, or email Paul Salt.

Saturday sees the final of the Penalty Competition, to see who wins the coveted prize, the TASC Penalty Champion of 2011/12. The finalists are Tim Ainsworth and Bob Jones. Good Luck to them both!

Steve Foster".
BSBN NEWS
The Worcester News quotes City manager Carl Heeley as saying that "There is a huge challenge facing Worcester City and we need everyone to help and fully understand the club's plight. We have one season left at St George's Lane and need to raise funds to build a new ground at Nunnery Way... Around 850 have turned up to home games consistently this season and every one of them should make it their goal to understand the club's predicament...

Nobody will be turned away by chairman Anthony Hampson and the board, any help will be welcomed with open arms... Of those 850 people, we will have expertise in lots of areas and we need them to come forward...

[There] will be a period of time away from Worcester when we won't have our own ground and will have to share...

We have also got the big issue running alongside of capital gains tax. We need to see if it can be delayed so that all of the funds go into the new ground. In all of this, we are trying to develop a good squad of players on the pitch and that's a considerable challenge... However, there are likely to be some uncertain times ahead for the club and we need everyone behind us."

According to This is Glos, "Matt Rose, the man who scored the goal that earned Gloucester City their historic promotion from the Southern League, will leave the Tigers after Saturday's season finale at Colwyn Bay. City boss Dave Mehew spoke with the experienced midfielder-turned-defender after training on Tuesday and both parties came to the conclusion that is was the right time to move on...

Said Mehew, 'Basically, he has work commitments that mean he can't commit to the rigours of Conference football and we felt it was the best time for both of us to move on'".
CHESHIRE NEWS
Pitchero Non-League reports that "After news filtered through that Northwich Victoria were to be relegated to the lowest level its team has ever played at, owner Jim Rushe says he will not resign. He told the Northwich Guardian that it is wrong to blame him for the club's third demotion in as many years, only one of which was because the players on the pitch were not good enough.

'I don't feel that what has happened is my fault', he said. 'But, as the owner of the club, I have to accept some responsibility as I'm the one in the driving seat. However I'm determined to fight on and won't be relinquishing control. I think I have enough support [to carry on]'...

The team, which finished as runners-up to Chester FC in the Premier Division, will not compete in this week's promotion play-offs either. 'I'm angry', said Rushe. 'The verdict looks bad on me, and the club. It just feels like every time certain people get a chance to kick us, then they do. It's a decision of huge magnitude for everybody associated with Northwich Victoria – me, the players and the supporters. I think it's the thing that has devastated me most since I came to the club [in 2007] because we should be preparing for a play-offs semi-final'.

Vics were charged before Easter for two offences - first, for not complying with a legal accord made with firms to which the club owes money – a Company Voluntary Arrangement (CVA) – and second, for not telling the league that it hadn't...

'I want to prove to the doubters that the promises I made were not empty ones', he added. ,I haven't told lies, and the truth will come out'. He did not say when, or how.

Rushe does admit that the firm that pays the players' wages, Northwich Victoria Football Club (2007) Ltd, has failed to do what was expected – that is payment of a £10,000 sum to transfer membership from the club's previous incarnation, Northwich Victoria Football Club (2004) Ltd, to the new one – when it joined the league in the summer of 2010. However he told representatives from the game's governing body at Wembley that he did not know that an insolvency expert, hired by him, asked a judge at Manchester High Court in February to rip up the club's CVA.

'We were left with no alternative', said Gary Pettit, from business recovery specialists Marshman Price, last month... 'But the directors of the club have always been aware that this would happen if they did not comply'. In papers sent to Companies House, he said that Vics' owner had reneged on an accord to find £2,500 each month for its long list of creditors. Pettit blamed 'protracted negotiations' for taking action more than two years after writing off close to two thirds of every unpaid bill in return for receiving the remainder owed in instalments over the next five years.

'Mr Rushe sought to claim payments were not due and pleaded ignorance as to his obligations', he wrote. However, Rushe was listed as the club's second largest creditor, behind the tax man, when the CVA was agreed in December 2009...

'It remains the case that I have never seen a penny of the money paid out by the FA following our cup run in 2009, it was given to the club's administrator', said Mr Rushe today, Wednesday. 'As far as I was concerned, that sum was to be used to pay off part of the CVA. If I had been paid the cash owed to me, which I spent keeping alive the club after it entered administration, then I would have paid the monthly instalments myself. But that hasn't happened'...

Relegations off the field... persuaded fans to call for change in a protest at the weekend. Rushe... said, 'I heard the chants, but I'm still unsure as to in what way they want things to be different. Do they want me to resign tomorrow? What then? Do those same people think that I would spend the money I have fighting the appeal if I didn't care? If that was true, then I could have walked away last week with pockets less light than they are now. It's not about the money though; I want to continue because I have faith in a model of building up the club from the bottom. That may now take longer – it will be at least two years before we can end a season at the top of the Evo-Stik Northern Premier League – but I believe we can achieve that'".
NW NEWS
The play offs in the EvoStik (Northern Premier) League are as follows:

Saturday 28th April

Evo-Stik Northern Premier Division Promotion Play Off Semi Finals
Bradford Park Avenue v Hednesford Town
Chorley v FC United of Manchester

Evo-Stik Northern First Division North Promotion Play Off Final
Curzon Ashton v Witton Albion

Evo-Stik Northern - First Division South Promotion Play Off Final
Ilkeston FC v Leek Town

Saturday 5th May 2012

Evo-Stik Northern - Premier Division Promotion Play Offs 11-12 - Final
Higher League Placed SF Winner v Lower League Placed SF Winner.

Lower down the pyramid, the NW Counties Football League announced on Thursday that "Following the postponement of league fixtures last night, and with some scheduled fixtures for this evening already postponed before 12 noon today, the League's Emergency Committee have made the decision to extend the season... Details of the new dates for fixtures postponed this week will be issued in due course following consultation with the clubs involved".

A further complication is that "It has now been confirmed that Bootle fielded an ineligible player [against Ramsbottom]... As the result of this game could have an impact on the final positions in the Premier Division, the League Management Committee has sought guidance from the FA. The FA has advised that if the result of the Ramsbottom United v Bootle game would affect Ramsbottom's promotion chances, the Club would then have the right of appeal. Given this advice, the League Management Committee has decided on the following course of action. Scheduled fixtures between Ramsbottom United and Winsford United, and Runcorn Town and AFC Blackpool, will take place on Saturday.

As everyone will be aware, the results in these two games will decide the final placings of the top two teams in the Premier Division. After Saturday's games have been played, if Ramsbottom United do not finish in 1st place, the game between Ramsbottom United and Bootle will be replayed".
---
26 April 2012
YOUTH TEAM GAME OFF
The recent rainfall has meant that tonight's NWYA Premier Division match at Clay Lane between Alty Youth and Nantwich Town has had to be postponed.

The youth team's next game is on Sunday, 29 April, away to Northwich Victoria at Barnton FC, Townfield Lane, CW8 6GB, k.o. 2.30pm.
LEE LAMENTS DEFENSIVE LAPSES
John Edwards, Altrincham joint Press Officer, writes in the Sale & Altrincham Messenger that "Free-scoring Altrincham are aiming to be hailed as the Blue Square North's Great Entertainers as they bring the curtain down on their campaign against Gainsborough Trinity at Moss Lane on Saturday (3pm).
Alty are just one behind Hyde's 89-goal tally, after thrashing relegated Eastwood Town 6-1 last week, and are determined to overhaul the champions and finish the season as the league's most prolific scorers.
'I'll probably have a wry smile on my face if we do because, if you score 90 goals or more over the course of a season, you really should be in the promotion shake-up', said manager Lee Sinnott.
'We should be in the play-offs, at least, but, of course, we have conceded too many goals. That has cost us, but it is something that will be addressed and hopefully rectified before the start of next season. Eastwood may be down at the bottom, but you can only beat what is in front of you, and, whether you are home or away, 6-1 has to represent a good day's work. It was our third 6-1 of the season and, once we began moving the ball around better, after starting slowly, we looked as impressive as in the other two, against Colwyn Bay and Boston United.
'I'm just delighted with the way the players have responded to the disappointment of missing out on the play-offs. There has been no treating games as dead rubbers. Their application has been first-class'.
Leighton McGivern completed his hat-trick in the last minute, while midfielder Scott Phelan scored twice and Damian Reeves claimed his 44th goal of the season from the penalty spot. At 5-0 up, however, an elusive first clean sheet of the season eluded Alty, as Eastwood pulled one back.
'That was the only disappointment, and you can't help feeling it's one of those seasons, as far as keeping goals out is concerned', added Sinnott. 'We can't buy a clean sheet, but we are already working behind the scenes to put that right. It is an ongoing issue that will be dealt with. As for Saturday, we are all determined to finish on a high and sign off in style. We will be doing everything we can to add more goals and more points to our tally'.
Mark Lynch (left) is unlikely to be fit, after contracting viral meningitis, while Kieran Walmsley is also struggling with a flu bug".
CHEERS!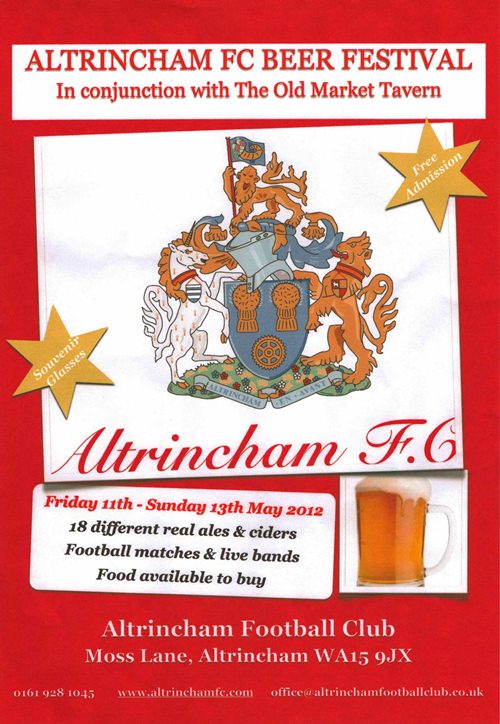 The poster, right, gives details of the Beer Festival to be held at Moss Lane and, now, some of the ales have been announced. They will include...
Phoenix Arizona 4.1%
Phoenix Wobbly Bob 6%
Timothy Taylor's Landlord 4.3%
George Wright Drunken Duck 3.9%
Northern Lights 5.1%
Coach House Gunpowder Mild 3.8%
Coach House Blueberry 5%
Facer's DHB 4.3%
Hornbeam Lemon Blossom
Lymestone Stone Faced 4%
Lymestone Stone Cutter
Northern Navajo
NW NEWS
The Manchester Evening News says that "FC United are to take part in the Evo-Stik Premier promotion play-offs after all, despite having failed to qualify in their own right. The Rebels, who just missed out on a top-five qualification spot in finishing sixth, are now preparing for a semi-final trip to Garry Flitcroft's Chorley on Saturday. It comes after league bosses last night confirmed FC are to take the place of runners-up Northwich Victoria in the contest to decide who accompanies champions Chester in going up to Blue Square Bet North".

NL Daily says that "Ambitious Evo-Stik League Division One North club Woodley Sports have announced that, following extensive negotiations, former England International and Aston Villa European Cup winner Peter Withe has been appointed on a full-time basis as first-team manager.

Withe has signed a two-year contract with an option of a further two-year extension. His last two managerial posts were as international manager of Thailand and latterly Indonesia.

Withe, who currently resides in Perth, Australia, is due to return to the UK during May to take up his new post and said upon his appointment, 'I felt that the time was right to return to the UK for a number of reasons. I still feel that I have a lot to offer in terms of my knowledge base and experience in the many roles I have enjoyed during my career in the management and coaching aspects of the game...

I feel with my gregarious nature and my infectious character the players will learn and be infused to become better players, productive individuals, have great life values and gain a greater knowledge of our great game. The chance came to me via my good friend Ben Seddon, who I played with at Southport. I got to know his son Ian Seddon on my trip to the UK last year and he has worked tirelessly to find an opportunity for me.

We were presented with a club that is in the Non-League but showed Ian and me that they had a great vision and drive to move forward and wanted someone to take up the reins. They showed us an excellent business plan which included going full time, having a thriving international academy and wanting to move forward in the right direction, which is my forte. Woodley Sports FC is that club and it gives me great pleasure to be teaming up with them and taking them forward and upward.

As a player they said I was like a good wine; I seemed to get better the older I got and this I feel is true with my management and coaching'.

The Club said 'The appointment of Peter is in itself testament to the Club's short and longer term ambitions... This really will be a massive shot in the arm for the Club as he brings a wealth of industry knowledge with him'".
LEAGUE NEWS
Confirmation comes from the NL Paper that "Craig Dobson is to leave relegated Kettering Town. The Jamaican midfielder joined the Poppies from Barnet last summer and came on as a substitute in their first game of the 2011/12 campaign. However, he suffered a serious knee injury during the 3-2 win over Newport County and has not featured for the Poppies since. He has now come to a mutual agreement to leave Nene Park and will search for a new club over the summer".
---
25 April 2012
BIG WINNER
The Saturday Yankee jackpot of £4,100 was won by one lucky member last week, for just a £1 stake. The winning number was 5281, with 3 trebles winning £66.66 each. You, too, can take part and have a chance to win up to £5,000 whilst helping the Club's funds at the same time. Details are on the Saturday Yankee page.
DANNY'S FAREWELL
On the Altrincham FC Fans' Forum, Altrincham FC Physio Danny Fishwick writes:
"As you may know, at the end of the current season I will be taking the opportunity of moving over to Australia with my family, initially on a one year visa, with a view to permanent residence! Saturday will be my final game on the line (apart from the Staff v Supporters game in may).
This season has been amazing for me personally and I am gutted to be leaving such a fantastic, friendly club. From the day I started and ever since, I have never met more friendly people, from Grahame and Karen [Rowley] to every fan I have spoken to. It has been alot of responsibility for me at such a young age (23) to look after such a talented group of players and I have loved every second of it and believe I have done a good job overall.
I would like to thank the Rowleys for everything they have done for me. The gaffer [Lee Sinnott] has he has been great with me and has been a great person to work under, same with 'Tols' [Neil Tolson], a really good guy and great to work with. John [Skelhorn], the kitman, and Ian Senior have kept me entertained throughout the season with their moaning at each other, and John even offered to pay for a sooner flight to get rid of me quicker, ha ha!!
I would like to thank all the players and everybody behind the scenes. Finally, I would like to thank the fans, had some funny times this year and I will be back when I visit over the next few years.
As I say, I'm gutted to be leaving such a big fantastic club and be part of this promotion push. But this year has made me a massive Alty fan so I'll be looking for the scores and visiting when I can!
I wish you all the best for the future, see you on Saturday!!
Danny Fishwick"
OLD BOY
The Welsh Premier reports that "After being knocked unconsious in a clash of heads on Saturday, two players have made a speedy recovery. Prestatyn's Gareth Wilson and Bala Town's Peter Doran were injured six minutes from the end of the game... But Wilson was discharged later the same day with concussion and a broken hand, while Doran was sitting-up and talking, although expected to be detained overnight"
BSBN NEWS
The Worcester News says that "A Worcester City Football Club player has been charged with affray over a fight outside a Birmingham city centre nightspot. City defender Ellis Deeney, aged 21, will appear at Birmingham Magistrates Court on Thursday. He was arrested with three other men after a 20-year-old from Selly Oak suffered a broken jaw outside Broad Street's Bliss nightclub on Wednesday, February 29.

The former captain of Aston Villa's youth team, who led them out in the 2010 FA Youth Cup final loss to Chelsea, had brief spells at Kettering Town and Hinckley United before joining the St George's Lane side in January. The left-back has made 16 starts and one substitute appearance for the Blue Square Bet North team.

His brother Troy, 23, who was also released by Villa as a youngster and currently plays for Watford, faces a charge of affray and is also charged with assaulting a police officer... [Ellis] Deeney is currently on a part-time contract until the end of the season with City".

Rochdale announce that "Reece Gray's loan spell at Hyde FC has come to an end. The 19 year old returns to Spotland with a winner's medal following the Tigers' promotion to the Conference on Saturday. Their 4-1 win over Boston United at Ewen Fields saw them clinch the Blue Square Bet North title. Reece, who joined Hyde for a second loan spell in February, made 17 appearances during his time there. He netted four times. Dale's Godwin Abadaki who has also been out on loan at the Tigers, will remain at Hyde until the end of the season".

Chester First says that "Chris Simm aims to be a part of Chester's plans when they play in the Conference North next term. The popular striker...is currently out of contract. Simm, who finished the season as Chester's joint leading marksman alongside Matty McGinn with 15 goals, is no stranger to life in the Conference North as he was a member of the Southport squad that won promotion to the Conference Premier before he joined the Blues.

'I won the Conference North title with Southport before I joined Chester. I remember the team having to beat Eastwood, away from home, to win the title that season', Simm said. 'I don't think there is a lot of difference between the Conference North and the league we have been playing in, and we shouldn't be afraid of anybody. I know the gaffer will probably make changes to the current squad, but I'm sure we'll be fine and I'd love to see Chester go on and win another title... Hopefully I can now get a new contract sorted out for next season because I love the club and I love the fans...

All the lads at Chester have always dreamed about back-to-back promotions. Some players never get to win a league title, but to win back-to-back is really special for everybody at the club'.

And Chester manager Neil Young believes he already has the framework in place... 'FC Halifax Town won the Northern Premier Division by 20 points last season and they are now contending for a promotion spot from the Conference North', said Young. 'We do need to bring players in, but we have the majority and the core already here. While a lot of lads are out of contract in the summer I will talk to players'", he added.

Joining the BSN from the other end of the pyramid are Darlington and the Darlington and Stockton Times reports that "Oitgoing Quakers chairman Raj Singh has indicated he will reject a request to write off the money he is owed by the club unconditionally. Without Mr Singh's backing as the club's largest creditor, a company voluntary arrangement (CVA) proposed by community company Darlington FC 1883 (DFC 1883) is now expected to fail...

Mr Singh told The Northern Echo he did not want any of the money raised by fans bidding to save the club from liquidation. But he repeated an assertion that he should get back some of the £800,000 he is owed, if the club received money for decisions he made. It is understood Mr Singh wants a share if the club benefits from any redevelopment of the Arena site. A second condition relates to clauses in the contract of former Quakers defender Dan Burn, who was sold to Fulham last summer. That could lead to money for Darlington FC...

The chairman told The Northern Echo he felt he was being "stitched up" and would be blamed if the CVA was not accepted at the creditors meeting on May 4. He added, 'What are they expecting me to do? Sign a piece of paper and walk away? In business and in reality that just doesn't happen. I don't want any money from the funds that have been raised, but it's only fair that if they're going to get any back because of deals that have been done in the past, then I get a share. I hear that they're already going down the route of a phoenix club and blaming me is an easy way out'.

Mr Singh said no one from DFC 1883 had called him for three or four weeks. 'That just shows how keen they are to sort things out', he added... 'There was no debt – those were just the invoices for December. People need to get their facts right'.

In response, Craig McKenna, board member and project manager for DFC 1883, said...he decided it would be more efficient if discussions with Mr Singh took place through their lawyers. 'We're confident the club will be saved and a phoenix club is not on the agenda', he added".
NW NEWS
Witton Albion compfortably beat a disappointing Farsley FC 3-0 in Tuesday night's EvoStik (Northern Premier League) play-off semi-final at the Help for Heroes Stadium. They now meet Curzon Ashton in the final, this Saturday, in Tameside. On Monday, Curzon beat Garforth on penalties after extra time.

As reported yesterday Northwich Victoria are to be demoted to the EvoStik North. So, Vics could have a derby with Witton Albion next season (but played at Stafford) should Albion not gain promotion.

The FA explains the demotion as follows...

"An FA Appeal Board heard today, [Tuesday 24 April 2012], an appeal by Northwich Victoria against a decision made by the League in that the League:
(a) came to a decision on the facts of the case that no reasonable body should have come and
(b) imposed an award or sanction that was excessive in respect to three charges as follows:-
(i) Failing to notify the League within seven days of it failing to comply with terms of a Company Voluntary Arrangement.
(ii) Failing to comply with the conditions for the transfer of membership from "old Co" to "New Co" as set out in the agreement signed on 15 February 2011.
(iii) Failing to comply with the terms of the CVA entered into.

Result. The appeal was upheld on the grounds that the sanction imposed was excessive, the first limb of the appeal, that the League came to a decision on the facts of the case that no reasonable body should have come [to], was dismissed. The Appeal Board have decided that the sanction imposed on the Club be varied and have ordered that Northwich Victoria FC cannot participate in the play-offs and are to be relegated one step from the commencement of the 2012-13 season. The decision is final and binding on all parties".

Over the border in Wales, Welsh Premier reports that "Regular season attendances dropped by 7.4% in 2011/12, one of the largest falls ever recorded in the 20-year history of the Welsh Premier League... The average attendance at the 192 games was 314, compared with 339 in 2010/11, with five clubs... showing an improvement...

There were significant decreases at Carmarthen Town (9.9%) and Bangor City (8.8%) despite a league record attendance of 2,593 for the last-ever game at Farrar Road against Prestatyn. Apart from that fixture, the only other four-figure attendance was at Park Hall on Saturday when 1,468 watched TNS play Bangor in the title decider. The Citizens were again the best-supported club both at home (727) and away (436)...

Overall 60,291 spectators watched Welsh Premier games compared with 65,107 in the previous campaign - the mid-season split seems to have had a reverse effect on attendances than intended with an average of 337 before the winter break and only 311 in the second phase".
---
24 April 2012
CHESHIRE NEWS
The Evostik League reports that "At the FA hearings held at Wembley today the decision of the panel was as follows: In respect of Northwich Victoria FC, the panel ruled that the Club would not be allowed to participate in the promotion play-offs, however the Club would not be expelled from the Northern Premier League but relegated one step from the 2012/2013 Season. In respect of the appeal by Woodley Sports FC, the panel upheld the decision of the Northern Premier League and the Club will be relegated to a step to be determined by the Football Association. No further comment will be made by the Evo-Stik Northern Premier League at this time"
JIMMY McKIERNAN GOAL OF THE SEASON
Voting closes at noon on Friday, 27 April at noon for the Jimmy McKiernan Trophy for the scorer of the Goal of the Season.

The six chosen goals to compete for the award are as follows. Sadly, the list was compiled before Nicky Clee's wonder goal at Guiseley!
1. August 23rd 2011: Vauxhall Motors (A) Shaun Densmore
2. October 8th 2011 Boston United (H) James Lawrie
3. December 3rd 2011 FC Halifax Town (A) Jack Redshaw(4th Altrincham Goal)
4. January 21st 2012 Harrogate Town (H) Damian Reeves (4th Altrincham Goal)
5. March 3rd 20112 Histon (A) James Lawrie (3rd Altrincham Goal)
6. March 6th 2012 Stalybridge Celtic (H) Damian Reeves

The home goals can be viewed on Alty TV on You Tube. The away goals can be viewed using the following links:-
Shaun Densmore v Vauxhall Motors, here
Jack Redshaw v FC Halifax Town, here
James Lawrie v Histon, here

Please vote for your Goal of the Season by e-mail, stating your name and your first choice.

Many Thanks".
CLEAN SHEETS AND GOALLESS DRAWS
Mike Garnett has provided some interesting statistical information...

"Last Saturday's scoreline ensures that Alty will go through the season without an away 'clean sheet'. This feat, (if such it may be termed), has not been achieved since season 1938-39; the closest we seem to have come in 'modern times' is 1970-71 when we failed to keep a clean sheet away from home in Northern Premier League games, but did manage a 2-0 FA Trophy win at Stalybridge and a 3-0 North-West Floodlit League victory at Buxton(!). 1938-39 saw an even rarer 'distinction', which is shared with season 1928-29, namely that of Alty going through the season without achieving a clean sheet ANYWHERE in a competitive fixture (43 matches in 1928-29 and 46 in 1938-39). The same may well be true of season 1927-28, but at least one result from the Cheshire League Cup is missing from the records in my possession".

And Alty have yet to have a goalless draw this season, which Mike advises would be the first time since 1969-70, if no goals are scored at Moss Lane this Saturday!
NEXT GAME
You can click on Matt Royle's poster, right, for a larger version, which can be printed off for display.
Gainsborough Trinity have announced that their supporters' transport to Altrincham this Saturday is being subsidised heavily "by the Chairman and the Blues Club. Tickets now cost £5 for adults and £2.50 for under 16s". So, hopefully decent numbers of Trinity supporters will be at Moss Lane this Saturday.
The Gainsborough Standard tells us that "Trinity's play-off hopes will, as boss Steve Housham predicted, go right down to the wire – after they were held 2-2 on the Northolme by Worcester City on Saturday. The Blues are currently fourth, in a play-off spot, with one game left to play. They dropped vital points on Saturday, despite going ahead twice at home to Worcester".
LAST SATURDAY'S MATCH
This is Nottingham reports that "Eastwood Town's dismal season continued after the Conference North strugglers suffered their tenth league loss in a row against a rampant Altrincham as they crashed 6-1 at Coronation Park. The Badgers, showing numerous changes from last week's 3-0 defeat away at Histon, looked hapless as the Robins ran riot, with a hat-trick from Leighton McGivern the highlight for the visitors.

Ex- Kidderminster Harriers midfielder Scott Phelan added two more and former Leeds United academy graduate Damian Reeves grabbed a penalty...

Boss John Ramshaw, who criticised many of his young troops after last Saturday's reversal at Histon, will have seen little to force his hand ahead of the showpiece (Notts County cup final), despite them holding out for just over half an hour."
NW NEWS
The semi final ties for the EvoStik (NPL) First Division North promotion play-offs are:

Mon. 23 April
Curzon Ashton 2 Garforth Town 2. Curzon Ashton win 4-1 on penalties.

Tue. 24 April
Witton Albion v Farsley FC

The games kick off at 7.45pm and will have extra time and penalties if required.
BSBN NEWS
"Ashley Westwood insists he is happy to wait before finding out whether he has a future at relegated Kettering Town" claims the Northampton Chronicle, "The Poppies are currently hunting for a new permanent manager, with a number of candidates now having had second interviews. Westwood, who has been in caretaker charge since January, remains in the frame for the job...

Westwood said, 'A number of managers have applied and been interviewed so I am no different to them'".

And news of another club relegated to the BSBN comes from the Darlington & Stockton Times, which says that "A community company bidding to buy Darlington Football Club has deleted conditions from its rescue plan requested by outgoing chairman Raj Singh. Darlington FC 1883 Ltd (DFC 1883) needs Mr Singh to write off about £800,000 he is owed by the club, if its takeover bid is to be successful. DFC 1883 previously agreed to conditions requested by Mr Singh in order to secure his backing.

It is understood the outgoing chairman wanted a share if the club benefited from any redevelopment of The Northern Echo Darlington Arena site. The second condition related to clauses in the contract of former Quakers defender Dan Burn, who was sold to Fulham last summer, which could lead to money for Darlington FC.

However, DFC 1883 board member Craig McKenna revealed last night that the company voluntary arrangement (CVA) proposal sent out to creditors did not include the conditions. He said that although DFC 1883 was willing to meet Mr Singh's requests, it would have meant the Football Association not giving its crucial support to the CVA.

Mr McKenna said, 'We have asked Mr Singh to waive his £800,000 unconditionally. Following conversation with the FA we have been informed that the clauses which we were discussing with Mr Singh would not be acceptable to them. We are still hopeful that Mr Singh will sign the CVA as per his original indication'.

The CVA has been sent out to creditors ahead of a crucial meeting on May 5 when they will either accept or reject the proposal".
FA CUP & TROPHY NEWS
The BBC says that "The New Saints' chairman Mike Harris believes they should be allowed to play in the FA Cup next season. He feels they should join Welsh exile sides Newport, Wrexham and Merthyr, who played in the English league pyramid, FA Cup and the Welsh Cup this year.

'We thought it only fair that we try to compete in the competitions they compete in as well', said Harris. 'We're not the unique ones in this - I would imagine a couple of other Welsh Premier clubs have applied as well'...

The Football Association of Wales invited the six Welsh clubs playing in the English system to participate in this season's Welsh Cup following a 16-year absence. Swansea City, Cardiff City and Colwyn Bay turned down the chance, but Wrexham and Newport, plus Merthyr accepted and could be eligible to play in the Welsh Cup again next season. Wrexham, Newport and Merthyr also played in the FA Cup and Saints feel that if those clubs can enter both knock-out competitions then they have a right to enter the FA Cup as well.

However, the entry requirements for next season's FA Cup state that new entrants must have played in the FA Trophy or FA Vase this season to be considered, while Saints' artificial pitch could also fall foul of regulations... Saints have applied for entry into both the FA Cup and the FA Trophy. No other Welsh Premier clubs have applied to the FA for entry. Harris said, 'The Welsh Cup and the FA Cup have similar status, both get into Europe. I don't quite see the English system as a higher platform, I see it as an equal platform, but with a bigger population and bigger crowds... We've clearly stated we have no interest in the English place in Europe should we win the competition... just like we hope that the FAW wouldn't give one of our cherished places to an English-playing club if they were to win the Welsh Cup'".

Wales Online adds that "The Football Association website confirmed that The New Saints are among the 940 clubs who have entered FA competitions for the 2012-13 season. The New Saints are entered for the FA Cup and FA Trophy, while continuing to keep their Welsh football commitments. The Oswestry-based club – whose Park Hall ground is actually across the border in England – hope to complete a league and cup double next month".
---
23 April 2012
TWO LEADING SCORERS
While Damian Reeves has rightly received plenty of attention for his 44 goals this season, his new strike partner, Leighton McGivern, has not exactly been a slouch either. Despite suspensions meaning he only started 28 BSBN games this season - 21 for Vauxhall Motors and 7(+2) for Altrincham - he netted 18 league goals in 2011-12. He also scored a further four in other competitions for the Motormen.

Leighton's total includes three BSBN hat-tricks to his name this season - for the Motormen against Halifax and Bishop's Stortford and for Alty against Eastwood Town. Unfortunately, he cannot add to his tally as he is suspended for Saturday's game.
PLAYER OF THE SEASON
TASC chairman Brian Flynn writes:

"The deadline for voting for the 'Supporter's Player of The Year' has been extended until 8pm on Wednesday April 25th. You can vote for your 'Player Of The Year' by emailing your 1st, 2nd & 3rd choices to Geoff Morris. Presentations will be made to the winner and the two runners-up at The TASC Race Night on Saturday".
GOOD WIN
Altrincham FC Youth had a good 3-1 away win at Warrington Town on Sunday. But in the NW Youth Alliance Premier division table, on April 15, Altrincham FC Youth, having reached a total of 40 disciplinary points were deducted a league point. Other clubs in the division, (Marine A.F.C. Youth, Mossley, Warrington Town, Morecambe, New Mills, & Northwich Victoria) have all also been charged with the same offence this season and had points deducted. Each club concedes a point for exceeding 40 penalty points in the Fair Play League. Two disciplinary points are accrued for each booking and five points for each sending off.
BSBN NEWS
News of Alty's opponents this Saturday, Gainsborough Trinity, comes from the Worcester News, "IN The end, Worcester City gave themselves just too much to do. They travelled to Gainsborough knowing nothing less than victory would suffice to keep their play-off hopes alive and came up agonisingly short... try as they did, City could not fashion the winner that would have set up a grandstand finale to the season this weekend...

Yet, in the cold light of day, they will be able to reflect on one of the best City campaigns for many years... Carl Heeley's team are virtually guaranteed to finish seventh. They can't be caught by eighth-placed Altrincham and their goal difference is hugely inferior to Stalybridge in sixth. That's a good season in anyone's book, made even more remarkable by City being joint-favourites for relegation back in August, along with league champions Hyde. Who said the bookies rarely get it wrong?...

The hosts, though, needed three points themselves to be sure of a play-off spot and were the dominant force in the first-half".
---
22 April 2012
EASTWOOD TOWN 1 ALTRINCHAM 6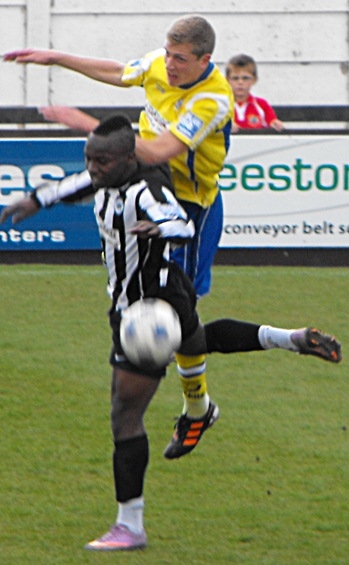 Match report
The results elsewhere confirmed that Altrincham will finish eighth this season. Coincidentally, that is the same position they achieved after their first relegation from the Conference in season 1997/98; and the following season Alty won the league. Robins' supporters will be hoping for a repeat of history in 2012-13!
Right: Matthew Flynn had another good game at the heart of the Altrincham defence at Eastwood.
FINAL GAME
Gainsborough Trinity report how "Trinity came within 5 minutes of securing their play-off place when Worcester City spoiled the day late into the game. The result saw Worcester City's playoff hopes demolished, after drawing 2-2 with Steve Housham's Trinity... With Trinity 5 minutes from a play off place, Dominic Roma unfortunately fouled Symons inside the area, the referee pointed to the spot. Thorley fired the spot kick straight down the middle and gifted Worcester a point".

Trinity, who need at least a point when they visit Moss Lane for the final game of the season, fielded the following team onSaturday:

"Jason White, Dominic Roma, Kevin Sandwith, Luke Waterfall, Andrew Boyce, Michael Leary, Jonathan D'Laryea, Ryan Williams, Leon Mettam(Paczkowski 82), Darryn Stamp(Connor 70), Jamie Yates(Clarke 75). Subs not used, Adam Watts, Jonathan Williams. Star Man; Ryan Williams".

Gainsborough have a remarkable history insofar as they have neither been promoted nor relegated since 1968 when they joined the NPL in 1968 (and indeed for many years earlier than that). They did move, like Alty from the NPL to Conference North in 2004 but that was not, in the normal sense, a promotion.

Sat. 28 April
Altrincham v Gainsborough Trinity
Bishops Stortford v Eastwood Town
Blyth Spartans v Nuneaton Town
Boston United v Guiseley
Colwyn Bay v Gloucester City
Corby Town v Harrogate Town
Droylsden v Vauxhall Motors
Histon v Hyde FC
Solihull Moors v FC Halifax Town
Stalybridge Celtic v Hinckley United
Worcester City v Workington
OLD BOYS
At Runcorn Linnets, Glossop North End's Kelvin Lugsden scored a late equalizer. Dale Jojnson netted Droylsden's goal as they lost at FC Halifax Town. Gainsborough Trinity's ex-Alty loanee, Luke Waterfall, scored on Saturday. Lee Elam got Harrogate Town's goal in their draw with Solihull Moors, whilst Paul JOnes scored as Vauxhall Motors recorded a vital win over Corby Town.
OLD BOYS
At Runcorn Linnets, Glossop North End's Kelvin Lugsden scored a late equalizer. Dale Jojhnson netted Droylsden's goal as they lost at FC Halifax Town. Gainsborough Trinity's ex-Alty loanee, Luke Waterfall, scored on Saturday. Lee Elam got Harrogate Town's goal in their draw with Solihull Moors, whilst Paul JOnes scored as Vauxhall Motors recorded a vital win over Corby Town.

"Northwich Victoria will try to persuade an FA panel next week that the Evo-Stik Northern Premier League's decision to kick out the club is wrong. Owner Jim Rushe travels to Wembley on Tuesday, April 24, to argue that his team, guaranteed to finish second in the Premier Division behind champions Chester, should be allowed to compete in the promotion play-offs...

Vics were charged before Easter for two offences; first, for not complying with a legal accord made with firms to which the club owes money – a Company Voluntary Arrangement (CVA) – and second, for not notifying the league. Mr Rushe was summoned to a hearing last week to offer his explanation, but it was not enough to convince members of a league disciplinary panel not to take drastic action.

The Premier Division play-offs, originally scheduled to start on the same day that Northwich will now appeal that they should take part, have been postponed. A league source confirmed to the Northwich Guardian on Thursday that the semi finals would now provisionally take place on Saturday week, April 28. The final has been pencilled in for seven days later" reports the Northwich Guardian.
---
21 April 2012
EASTWOOD TOWN 1 ALTRINCHAM 6
Altrincham coasted to a comfortable win but it took them 34 minutes of lacklustre play before they scored four times in fifteen minutes...
Match report
Right: Leighton McGivern celebrates his hat-trick goal at Eastwood.
The results today confirmed that Altrincham would finish the season eighth.
Alty line-ups
ALTRINCHAM (Yellow & blue shirts, blue shorts, yellow socks): 1 Stuart Coburn, 2. Shaun Densmore (capt), 3. Andrew Smart, 4. Simon Richman, 5. Matthew Flynn, 6. Marlon Broomes, 7. Duncan Watmore, 8. Scott Phelan, 9. Leighton McGivern, 10. Damian Reeves, 11. James Lawrie. Subs 12. Chris Lynch, 14. Mark Lynch, 15. John Miles, 16. Michael Twiss, 18. Adam Reid
EASTWOOD TOWN (Black & white striped shirts, black shorts, white socks): 1. Sam Andrew, 2. Josh Raven, 3. Sam Benjamin, 4. Danny Elliott, 5. Mitch Hanson, 6. Gavin Caines, 7. Jake Green, 8. Alex Troke, 9.Wes Henry, 10. Kallum Keane, 11..Markell Bailey. Subs: 12. Nelson Burgess, 14. Perry Marriott, 15. Tyler Witton
Eastwood Town 1-6 Altrincham 239
FC Halifax Town 2-1 Droylsden n/a
Gainsborough Trinity 2-2 Worcester City 390
Gloucester City 1-2 Stalybridge Celtic 320
Guiseley 0-1 Bishop's Stortford 926
Harrogate Town 1-1 Solihull Moors n/a
Hinckley United 1-3 Blyth Spartans 624
Hyde 4-1 Boston United n/a
Nuneaton Town 1-1 Colwyn Bay 856
Vauxhall Motors 2-1 Corby Town 189
Workington 0-0 Histon 649
PLAYER OF THE YEAR
TASC reminds everyone that "Votes are now being accepted for the Supporters' Player of the Year. Supporters are invited to vote for 3 players in first, second and third place.

You can e-mail your vote to Geoff Morris here.

The deadline for sending in your votes is 8pm on Sunday, April 22nd and the presentations will be made to the winner and the two runners-up at The TASC Race Night on Saturday, April 28th".
BEFORE THE GAME: EASTWOOD v ALTY
Brian Flynn writes, "Radio Robins, sponsored by Paradox-Computers.com will be broadcasting a full internet commentary of Saturday's game against Eastwood Town. The match commentary is sponsored by Leck Construction Limited.

Leck Construction Limited has over 60 years Building Experience and is one of the largest construction and development companies in South Lakeland and Cumbria. You can find out more about Leck Construction at their website.

The commentators are Paul Salt and Brian Flynn and the match summariser is Tim Ainsworth. The broadcast begins at 2.50pm.

You can listen to Radio Robins on the internet here.
ALTRINCHAM FC
Live Text Updates
CLICK HERE

If you cannot get to the game,
you can keep up to date either by radio commentary
or by live matchday updates...
just click on the relevant adjacent link.

RADIO ROBINS
Live Commentary
CLICK HERE
In advance of Saturday's game, This is Nottingham reports that "John Ramshaw has warned his Eastwood Town players to get their act together against Altrincham tomorrow – or miss out on a cup final place. The Badgers have been cut adrift at the bottom of the Blue Square North but, after some battling displays from his mainly young side, he was left fuming after last weekend's lacklustre 3-0 defeat at Histon.
It led to him questioning the attitude and desire of his team, warning many faced being released at the end of the season. It could lead to changes for tomorrow's penultimate league match and Ramshaw said there could be a few disappointed faces on Tuesday for the Notts Senior Cup final against Clifton.
He said, 'The Senior Cup final is a big occasion for the club at the end of a bad season and we are looking to put right what went wrong last week. And the outcome tomorrow could go a long way to determining who starts the cup final on Tuesday night. Some people who might have thought they were safe for a start in that game are not. I want to see a much better attitude. I was very disappointed with the attitudes. A few let themselves down. Some of them are in for a shock at the end of the season and it is the inconsistency with the attitude that upsets me.
'They will be up for it one week, put in a shift and, then, the opposite the next. I find it hard to understand. Should the cup final be an incentive for them to play well against Altrincham? No. I just think playing football is incentive enough and I asked them if they are not going to give 100% when they turn up on a Saturday, then why bother coming? They might as well go and do something else. There is no lack of talent, just a lack of mental strength in some of the players'".
In its preview, Alty Mad says "Altrincham face a trip to Eastwood Town at Coronation Park on Saturday afternoon, for the first time in their history, and will be hoping to give their new opponents the runaround. Recent encounters between the teams:
5 Nov. 2011: Altrincham 2 Eastwood Town 0

Eastwood Town's home form is most definitely relegation standard, collecting just 1 solitary point from the last six... Altrincham's away form is none too clever either, picking up two good wins, but losing three, from the last six...

FootyMad's prediction ... It's been an indifferent run of form for the Robins of late away from home, but your FootyMad panel sees things improving, starting here at Coronation Park with Altrincham coasting to victory. Away win".

Sequence statistics:
Eastwood Town - been beaten in each of their previous 5 home matches. Failed to win in previous 18 home matches. Latest 9 games ended in defeat. Not won in the 9 most recent games.
Altrincham - lost each of the previous 2 away matches. Not won in previous 2 away matches. No win in the 4 most recent games".

And, finally, the win over Eastwood at Moss Lane on Bonfire Night 2011 was the last time that Altrincham kept a clean sheet!
FIXTURES
Through the Years by Howard Watts
Eastwood Town v Altrincham
FC Halifax Town v Droylsden
Gainsborough Trinity v Worcester City
Gloucester City v Stalybridge Celtic
Guiseley v Bishops Stortford
Harrogate Town v Solihull Moors
Hinckley United v Blyth Spartans
Hyde v Boston United
Nuneaton Town v Colwyn Bay
Vauxhall Motors v Corby Town
Workington v Histon
WATCH THE PREMIERSHIP AT ALTY
The bar at Altrincham FC will be open for the televising of two Premier League matches on Sunday, 22 April:
Man United v Everton (k.o. 12.30pm)
Wolves v Man City (k.o. 4pm)

The bar will be open from approximately 12 noon. Everybody is welcome to come along and enjoy the games whilst also supporting the Football Club bar.
BSBN NEWS
"Jamie Yates wants Gainsborough Trinity to prove they are no 'Big Time Charlies' by sealing a place in the play-offs. The flying winger has lashed out at anyone who says the squad at the Northolme are only there for the money...

'It's hard work, people say "Oh, Gainsborough have got big money", but what you need at this level is players that have been there and done it', said Yates. 'Yes, Gainsborough do have a good backer in Peter Swann and he does look after his players and that is no secret. But what you have got to have is hard work, and good honest lads. Just because the chairman is willing to hand out money, people are always quick to brand you as "Big Time Charlies".

But you need good honest lads who know their level and we've got that... No matter how we get to the play-offs, we've just got to do it. We said it with 10 games to go that performances may matter, but it's results we need and it doesn't matter how we get those points'", he told This is Lincs.

According to the Manchester Evening News. "Hyde boss Gary Lowe insists they can shrug off the loss of star winger Ryan Crowther to clinch the Blue Square Bet North title and automatic promotion to non-League football's top-flight - possibly as soon as tomorrow.

Crowther, who left the table-topping Tigers for Fleetwood in November only to return on loan in January, has now completed his temporary three-month stint back at Ewen Fields and so will miss Hyde's critical last two games at home to Boston tomorrow and away to Histon next weekend. Lowe, whose near season-long leaders will be crowned champions if they beat Boston and second-placed Guiseley slip up against Bishop's Stortford, admits Crowther's exit is a blow but is adamant Hyde can seal the title without him.

'Of course we'd have preferred to keep Ryan through to the end, but we've got excellent players in David Poole, Phil Edghill and Shelton Payne all waiting in the wings, so I'm sure we can finish the job in any case', said the Tigers' chief. Meanwhile, Hyde's bitter rivals Stalybridge Celtic must win their penultimate fixture at Gloucester or face seeing their promotion dreams shattered. Bridge are also praying fellow Tamesiders Droylsden can do them a huge favour by securing at least a draw at FC Halifax, who currently stand immediately above the Celts in the lowest of the play-off places. Altrincham's ace marksman Damian Reeves will be seeking to add to his record-breaking 43-goal haul in the Robins' trip to relegated Eastwood".

From This is Lincs, we learn that "Lee Canoville urged Boston United to take a leaf out of Gainsborough Trinity's book as he targeted an unlikely victory at Hyde FC on Saturday... After a run of three straight defeats, joint-boss Canoville wants his side to show the doggedness Trinity displayed in their 2-1 victory at York Street on Saturday.

'Playing well and getting beaten is not good enough', said the player-manager. 'We want to win games. You saw it from Gainsborough on Saturday. They were dogged. I didn't think they played particularly well, but they were dogged. You could see their will to win... we need to show that in these last two games. I don't care if we play terribly and win both games. At the end of the day, it's about winning games. That increases the lads' confidence. There were some disappointed lads in the dressing room on Saturday. We want two wins. It's going to be a hard task, Hyde away and Guiseley at home, but that's the target we've set the lads and we want to see it delivered'".
---
20 April 2012
NEXT MATCH
After Thursday evening training, manager Lee Sinnott reported that Nicky Clee is the main doubt for Saturday, but the final decision about his fitness will be taken in conjunction with the player himself on Saturday. Kieran Walmsley was unable to train due to a virus, which has affected several Alty players recently. However, Mark Lynch has recovered from his bout of illness and Simon Richman should be available once more after injury.

Our opponents on Saturday, Eastwood Town, lost last time out 3-0 at Histon. The Eastwood Advertiser reports that "Eastwood's young squad once again endured a tough afternoon as the Badgers fell to their tenth straight league defeat... The second-half saw Eastwood, having received a thorough dressing down from boss John Ramshaw at the break, twice test keeper Jorg Stadelmann but the hosts weren't to be denied and extended their lead on 55 minutes...

Eastwood: 1 Sam Andrew 2 Josh Raven 3 Sam Benjamin 4 Richard Cooper (Tyler Witton) 5 Gavin Caines 6 David Haggerty (Perry Marriott) 7 Jake Green 8 Alex Troke 9 Wes Henry (Gregg Simmons) 10 Danny Elliott 11 Markel Bailey. Subs not used: Nelson Burgess".
LADIES SIGN OFF WITH A WIN
Manager of the Altrincham FC Ladies' team, Keith Edleston, provides a report from his side's game against Stockport County Yellows this week. The Ladies' next game is a friendly, away to Blackpool Wren Rovers (1-30pm kick off) on the 29th April.

Ladies sign off their 1st season with a win..!
Left: Courtesy of Keith Edleston, we see the Altrincham FC Ladies squad.
Last night was our final game of the season, a derby game and a game which Stockport needed to either win or draw to get through to the final of the league cup on Sunday. It was a cold, damp evening at Manor Farm but I could sense that our ladies were definitely 'up' for this one. We even had some VIP spectators in the shape of the Altrincham FC Chairman, Grahame Rowley, and 'young Fozzy'!
We started the game quickly and at a pace that the Yellows struggled to cope with, spreading the play and using both wings with Maya and, especially, Nat giving their defence a torrid time. So much so that, on 5 minutes, after a cross from Nat, the number 3 from Stockport fouled Kelly and gave away a free kick on the edge of their box. (Hmm shades of last Sunday's game v Yellows),.
Kelly took the free kick and placed it into the top right hand corner to put us into a 1-0 lead, a lead that was to last the whole game! As the night drew in and got colder, the game went very scrappy and was littered with free kicks and offsides, with neither team really settling into a pattern. We could (and should) have scored a couple more, with Jacqui going the closest with a shot that went just past the post.
As the game got into the last 15 minutes Stockport threw everything at us, as well as the kitchen sink, because they knew they had to get a result. But we managed to hold out and have a few occasional breakaways ourselves that caused them a worrying moment or two, but we held on for a well deserved win.
All in all a very good night.
This season we have had our ups and downs, as any team does (more ups though!) and, starting the season with a squad of ladies who didnt even know each other's names, to where we are now, with plaudits from other managers saying how far we've come in such a short space of time ringing in our ears is nothing short of a miracle.
I must take this opportunity to say thank you to a number of unsung heroes without whom our season wouldn't have been half as good. And they are Grahame & Karen Rowley - because, without them saying YES, this project wouldn't have even got off the ground. Thanks to to ALL the staff at Altrincham FC including Chris Bullock, Jamie Bunster, Rick and Lauren Brennan for all the football/pitchside help, all the parents for transport help and, finally, the players - because, from 1 to 22, they have been a credit to the club and to themselves with their behaviour and standards that they have set...Bring on next season!!
Up the Alty..!!
SQUAD :- Rosie Emerson, Rachel Bullock, Louise Edleston, Shannune Hylton, Natalie Thornley, Hannah Kibble, Kate Rawthor, Brogan Walsh, Maya Germain, Kelly Leigh, Jacquie Farra,
SUBS :- Ella Taylor, Rebecca Collins
Goal :- Kelly Leigh (5mins)
BSBN NEWS
Worcester City Supporters' Trust has a lengthy report on "Leaving St George's Lane", which includes....
We have to vacate St George's Lane in June 2013, so next season (the 2012/2013 season) will be the last at St George's Lane. Discussions have been held with Careys who have bought St George's Lane to ascertain whether they would be prepared to allow the Club to remain at St George's Lane beyond June 2013. At this point in time this appears to be very unlikely.
The Board are therefore currently investigating all ground share possibilities and will report on the outcome of these discussions shortly.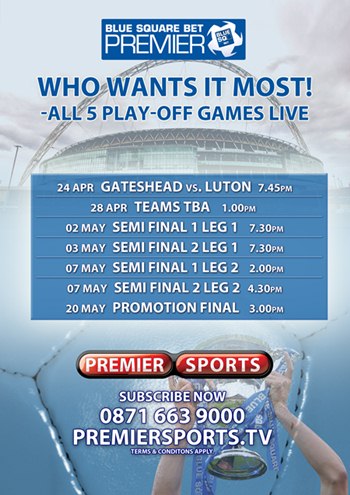 Move To Nunnery Way...
In an ideal situation, the Club would like to move directly to Nunnery Way. However St Modwen have confirmed it is very unlikely that a Stadium at Nunnery Way will be ready for the start of the 2013/2014 Season so an alternative ground share venue will be required...
Once the infrastructure works are complete, Worcester City Football Club will be responsible for building the Stadium. In order to keep the development affordable to the Club it is proposed to construct the Stadium on a phased basis...
St George's Lane was sold for £3.06m and unless the Club can qualify for roll over relief the Capital Gains Tax demand could be in excess of £500,000.
The Capital Gains Tax Liability is likely to crystallise during 2013 and to mitigate this and obtain roll over relief all money from the sale of St George's Lane has to be re-invested in replacement infrastructure within 3 years (ie by December 2013).
Regardless of the outcome of the negotiations the fact remains that the more funds we can raise and invest in the Stadium before 2013 the less Capital Gains Tax we will have to pay. Put simply, if the Club could manage to raise £1.1m then the Capital Gains Tax liability would be avoided regardless of the outcome of any of the current negotiations. Fund Raising...
Should the situation arise where the Club is promoted then St George's Lane meets all the criteria necessary to play Conference Premier football at St George's Lane next Season. The Board continues to fully back Carl Heeley for a promotion push".

The Northern Echo tells us that "A date has been finalised for a creditors meeting which could decide the future of Darlington FC. Administrator Harvey Madden revealed last night that details of the proposed company voluntary arrangement (CVA) had been sent to Quakers creditors. The document was prepared by Darlington FC 1883 Ltd (DFC 1883) which is aiming to buy the football club and run it as a community organisation.

The meeting to accept or reject the proposal will be held at Darlington Arena on May 4... Under the proposal, football creditors would get the full amount they are owed immediately. Non-footballing creditors would get all their money over three years – although this is dependant on outgoing chairman Raj Singh writing off the money he is owed... If the CVA is agreed, the Quakers could emerge out of administration following a 28-day cooling off period at the beginning of June.

DFC 1883... Chairman Denis Pinnegar said, 'We're working hard to ensure that Darlington FC is playing football next season – that's what we promised'... Mr Pinnegar confirmed that the success of the CVA proposal would rest with Mr Singh, if it was accepted by other creditors. 'Raj Singh has promised (to waive his money) and we accept him to be a man of his word', he said, adding that DFC 1883 did not have enough money to pay off the former chairman as well. It is understood Mr Singh is owed about £800,000 by the club.

DFC 1883 has raised more than £300,000 to buy the Quakers, although it estimates that it needs a minimum of £500,000 to complete the takeover'".
---
19 April 2012
YOUTH MATCH OFF
Altrincham Youth team's match away against New Mills Youth tonight has been postponed due to a waterlogged pitch. The game will now be played on Thursday 3 May at 6.30 pm.
BOOK YOUR SEAT NOW!
Altrincham FC are providing a 38-seater coach for the trip to Eastwood on Saturday. There are still a few seats left for supporters wishing to travel on it. Please ring the club on 0161-928-1045 to book a place
LEE'S PLANS
Altrincham FC joint Press Officer, writes:

"Altrincham are battling to hang on to prolific marksman Damian Reeves and have held talks with him about signing a new deal at Moss Lane.

Lee Sinnott revealed how one of his first tasks as Alty boss was to secure Reeves' signature on a season-long contract, and he is clearly determined to try and repeat the trick after a campaign that has brought the former Leeds United Academy striker an astonishing 43 League goals.

'I have known Damian since he was 13 or 14, and we have always had a good, honest working relationship,' he said. 'When I walked into the job here, I knew how it important it was to get him under contract, so we would have him for the entire season, at least. Otherwise, another team could have come in at any stage and put in seven days' notice.

'There was interest from the division above us, but, fair play to Damian, he had enough faith in what we were doing to sign the contract. And just look at what's happened, as a result. His goalscoring has been phenomenal, and it goes without saying we want him here again next season.

'We have had dialogue with him about that for a few months now, and our supporters can rest assured we will be doing everything we can, within the realms of Altrincham FC, to keep him here.
'As things stand, there has been no contact from any other club. But let's not kid ourselves, there may well be interest from an even higher level than the division above. If there is, it will be Damian's decision, and we will respect that. In the meantime, we continue talking to him, in the hope he might yet remain an Alty player next season.'
An entertaining 1-1 draw with FC Halifax on Saturday was marred by controversy, as Alty's Leighton McGivern was sent off for two yellow cards, apparently stemming from the same incident, just seven minutes after going on as substitute.
'It wasn't at all clear, and we will have to wait for the referee's report,' said Sinnott. 'There is even a suggestion the first card could have followed a free-kick a couple of minutes earlier, when it appeared Scott Phelan had been booked. I think swearing was involved for the second yellow, though Leighton was adamant it wasn't aimed at the ref. Either way, if you've already been booked, you need to take a step back.'
Sinnott insisted his judgement would not be clouded by McGivern's indiscretion when he decides on the fiery frontrunner's Moss Lane future at the end of the season.
'We are still a bit in the dark about exactly what happened, and what the referee's interpretation of events was, so it would be wrong to surmise on that until we have seen the report,' he said. 'But decisions on players for next season will be based on what they can do for us, what they can bring to the team, and Leighton will be no different, in that respect.'
Sinnott was delighted with his side's attitude, after seeing their play-off hopes extinguished a week earlier, and called for more of the same in the remaining two games, at Eastwood Town.
'Really, our hopes disappeared into the sunset after the Hyde defeat, so to go to Guiseley 48 hours later and apply ourselves so well was absolutely superb,' he said. 'We could, and perhaps should, have won, and I thought our application was first-class once more against Halifax. There was no easing off, and that demonstrates the level of honesty within the group of players
'I shook hands with their manager Neil Aspin before kick-off and said I couldn't see it being a nil-niller. We both had a chuckle, given the number of goals we have scored between us, and it was a wonder it finished only one-apiece.
'Neither of us were likely to shut up shop, and it was an entertaining game. They may well have argued they could have won it, but so could we, and it is important we take that same attitude and urgency into our remaining two games. When you finish a campaign on a high note, it can give you the momentum for a positive pre-season, which is what you want.
'It matters that you do things the right way, and we will be endeavouring to add another six points to our tally. The players have a job to do. They know that, and they also know we are making plans for next season, so there will be no taking our foot off the pedal.'
Alty are still unsure of McGivern's availability for the two remaining games, as they await the referee's report, while Nicky Clee's fitness will be assessed later in the week, after he aggravated ankle and rib injuries against Halifax".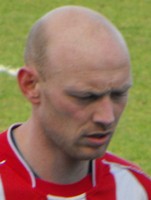 LEIGHTON GETS THREE GAME-BAN
Following his dismissal last Saturday, The FA confirms that for "Altrincham FC, Leighton McGivern (right) [from] 28/04/2012 [is] suspended from all football until the Club have completed 3 first team matches for a sending-off in a match played on 14/04/2012".
BSBN NEWS
Harrogate Town announce that "The Solihull Moors match will be the final game that Harrogate Town will ever play on the slope of Wetherby Road! As part of the upgrade of the ground and its facilities, the pitch will be levelled out in the close season, finally eliminating the dip."

After a ten-goal thriller, "David Livermore, manager of Histon, had mixed emotions following his team's pulsating 5-5 draw with Droylsden... The Stutes' player/manager was delighted with his team's attacking play but rued the defensive mistakes that cost the team three points that would have moved them a big step closer to safety... An own goal from Jim Stevenson, who just moments earlier had put Histon 5-4 up, ensured an enthralling match ended honours even.

'It was an unbelievable game', said Livermore. 'I've never been involved in anything like that before. Going forward, we were excellent, it was a fantastic display by the lads. But there was comedy defending by us, and I'm sure their manager would be saying the same about them'" reports the Cambridge News.
According to This is Lincs, "David Newton insists the decision not to offer Lee Canoville a new contract was based on finances, not results. Jason Lee will be Boston United's sole manager next season after joint boss Canoville was told his deal would not be renewed for the 2012/13 campaign. It is believed Canoville was offered another role at United, but that was rejected and the defender will leave the club following the league games against Hyde and Guiseley.
The news comes amid another round of expected budget cuts at York Street, where crowds are down by 25 per cent compared to last season. Newton revealed Lee's salary will be reduced while the money saved by Canoville's departure will be ploughed into the playing budget.
Lee has been given licence to appoint an assistant manager who is expected to be announced shortly.
'We came to this decision last week', Newton told 'The Target'.
'It's quite expensive operating with joint-managers and we felt we needed to make a change. This decision is based on our budget. We're moving forward off the pitch, but we're still losing money and crowds are down by 25 per cent. I think they (Lee and Canoville) were a little surprised that we decided to go down this route, but they both understood our decision. We're not saying Lee is to blame for some of the poor results this season – they take joint responsibility. This is a financial decision'.
Newton admits he will be sad to see Canoville leave the club he has served so loyally over two spells. The 31-year-old played for the club in the Football League before returning in 2009 under Rob Scott and Paul Hurst. He went on to captain the side to promotion from the UniBond Premier League.
'Lee is a consummate professional and has been a great servant to the club', added Newton. 'We haven't fallen out and we are still on good terms... I realise the fans are spilt (on whether he should stay), but I would ask them to give Jason the benefit of the doubt', said the United chief. 'I think it's fair to say that Jason has been the dominate [sic] manager of the two and he has grown immensely over the season'...
Newton insists the Pilgrims will still have a competitive budget in Blue Square Bet North. 'It won't be the top budget, but it will certainly be competitive for this level', he said. 'We can't compete with some teams in this league in terms of finance, but there's no reason why we can't be competitive next season'".
---
18 April 2012
STUTES AND HISTON SHARE TEN GOALS
Histon 5 Droylsden 5

The result leaves eight teams covered by three points from 13th to 20th in the BSBN League Table.
MAN OF THE MATCH
Right: Stuart Coburn was a deserved Man of the Match last Saturday against FC Halifax Town. And here is one reason why; Stuart's fine penalty save, captured by the lens of Gavin Rathbone of GR Photography.
PATRONS' SCHEME
Grahame Rowley, Chairman of the Altrincham FC Patrons' Scheme writes:

Patrons of Altrincham FC, 2012-13

"Thank you to everyone who has participated in the Patrons' Scheme over the last few seasons – your support was much appreciated. If you didn't join last season then can I please ask you to consider joining this year?

Following the success of the scheme over the last seven years, we have decided to continue with it for the coming season 2012-13.

It has become even more important this season to maintain our income streams throughout the year, as the credit crunch bites, and thus your support would be greatly appreciated.

For the cost of £50 your name will appear throughout the coming season in the matchday programme as a Patron of Altrincham Football Club.

At the beginning of the season, every member will be entered into a prize draw, with the winner being match sponsor for an appointed game along with nine guests. Second prize will be hospitality for five people and third prize is hospitality for three people in the Sponsors' Lounge.

If you are interested in becoming a Patron for next season and helping your club to compete, please forward a cheque for £50, payable to 'Altrincham Football Club', marked for my attention. If you require any further information, please do not hesitate to contact me on 07720-606897 or by e-mail.

If you would like to pay in instalments this can also be arranged, as every bit of help is appreciated.

Thank you once again for your support - look forward to seeing you next season".
COLIN SALUTES DAMIAN
In the Manchester Evening News we learn that "Former Altrincham hero, Colin Little, believes the Robins have found a more than worthy successor to him in hot-shot Damian Reeves. City fan Little bagged 114 goals in six seasons with Alty between 2004 and 2010 before leaving them to take up a coaching post at United's youth academy.

But 26-year-old Reeves has proved to be an able replacement for the ex-Crewe and Macclesfield star, having so far hit 43 goals this term, with two games still to go in Blue Square Bet North. That makes Reeves Altrincham's second highest scorer in a single season in post-War years, with his current total having only been bettered in that time by Robins' legend Jackie Swindells, whose incredible tally of 83 goals [in all competitions] back in the 1965/66 campaign will surely never be equalled.

Little, whose own scoring exploits at Moss Lane appear modest by comparison, is delighted to see Reeves become the latest in a long line of fabled Alty strikers, the Doncaster-based front-man having now scored 62 times in just 77 starts for the Robins. But Little fears his former club might be hard-pressed to hang onto Reeves, a self-employed plasterer, following their failure to win a place in the promotion play-offs.

He said, 'For Damian to have averaged more than a goal a game in 40 league appearances for Altrincham this season is phenomenal. If he'd have had a regular scoring partner, who knows what Alty might have achieved, but, by the same token, where would they be now if it weren't for all the goals he has scored? I never played alongside Damian at Alty, but he impressed me when he played against us for Farsley and Histon and has also done well when I've watched him a couple of times this year'".
PREMIERSHIP ACTION
In the bar at Moss Lane, the following vital Premiership matches will be shown in HD; everyone is welcome to come along and watch and make use of the bar facilities which will be open from half an hour before kick off.

Sunday, 22nd April
k.o. 12.30pm, Manchester United v Everton
k.o. 4pm. Wolves v Manchester City
YANKEE WINNER GETS £5,000
The Altrincham FC Saturday Yankee jackpot of £5,000 was won this week but the Reserve Jackpot is now available and that stands at £4,100. So if you are not a memeber, why not join up and help the Club in the process? Last week's winning code was 8314 and there were also three winners of Treble prizes, each netting £66.66.
PLAYER OF THE SEASON
Brian Flynn, TASC chairman, writes: "Fans can vote for their 'Player Of The Year' by e-mailing their 1st, 2nd & 3rd choices to Geoff Morris.The deadline for sending your votes in is 8pm on Sunday April 22nd and presentations will be made to the winner and the two runners-up at The TASC Race Night on Saturday April 28th".
TRIBUTE TO NOEL WHITE
As seen in the adjacent letter, a Tribute Dinner is being held at the Mercure Bowdon Hotel in honour of Altrincham FC President, Noel White. Ticket applications should be made by post, please, to Altrincham F.C. (N.W.T.D.), Moss Lane, Altrincham, WA15 8AP or, by telephone, to 0161 928 1045. Cheques should be made payable to "Altrincham FC Tribute Dinner".
OLD BOY
NL Daily reports that "Kendal Town have confirmed that Marc Joseph will remain as club captain for the 2012/13 playing season. The Antigua and Barbuda international player, who is competing with his country in the North and Central America Group A World Cup qualifiers, was previously with Football League sides Cambridge, Peterborough, Hull, Blackpool and Rotherham. Joseph will assist manager Lee Ashcroft as a player-coach in developing next season's promotion chasing side.

Chairman Haydon Munslow said, 'I am delighted a player of Marc Joseph's stature and experience will again captain our first team next season. Marc has enjoyed his first season with our developing setup and feels committed to Kendal Town and to our manager Lee Ashcroft's style of football. We want to build a side and infrastructure that will challenge and achieve promotion to the Football Conference and Marc will help us achieve this aim'.

Manager Lee Ashcroft added, 'Marc is a fantastic player and has been a wonderful performer this season at the centre of my defence. He was rightly voted this year's Supporters' Player of the Season. With his fitness and experience he will help me develop our young future stars as we continue to build something in Kendal of which we will all be really proud'".
BSBN NEWS
The Gazette says that "Darlington manager Craig Liddle has suggested the club put all their resources into winning promotion next season. If the Quakers survive... Liddle sees his future in youth development.. Survival will depend on former chairman Raj Singh, the main creditor, agreeing a deal...

'I have spoken to those hoping to take over the club, and they aim to have a youth team next season', said Liddle... 'But I feel the money must go to getting the first team back up. The youth set-up may have to be built again from scratch... I'm not frightened of a challenge or a scrap'".

Before Tuesday's ten-goal thriller, the Cambridge News says that "David Livermore wants Histon to build on their 'best footballing performance" of the season and claim a crucial victory over Droylsden tonight. The Stutes dominated possession against doomed Eastwood on Saturday and ... The success lifted them five places in the table, but they are still only one point clear of the relegation zone going into this evening's game in hand...

'It was probably the first opportunity we've had this season to push full-backs wide and high', said Livermore. 'There was no point our full-backs standing on the halfway line playing square passes, we wanted to get them in advanced areas to pull some more of their players back... I thought it was our best footballing performance of the season, regardless of the opposition'....

The Stutes... could do with being mathematically safe going into their final fixture against Hyde... could need something to clinch the title...

'For all we know, 48 points could already be enough, but we can't think like that'" said Livermore.
OLD FOES
"AFC Rushden & Diamonds will celebrate a turnaround in fortunes and its first season as a new club with its final competitive game of the season tomorrow" reports the Northants Evening Telegraph. "The club was formed after the demise of Rushden & Diamonds Football Club in the summer last year... playing an under-18 team in the Northants Senior Youth League...

Vice-chairman Jon Ward said the club was attracting crowds of just under 300 now and was going from strength to strength. Mr Ward said, 'It's been astonishing, from having not even a club in July to forming a club, not having a team and then getting a team. We just wanted to be competitive really'...

Mr Ward said AFC Rushden & Diamonds was already looking forward to next season. Trials for players for the under-18s team will take place in May and for the senior team in June".
HONOUR FOR LOCAL REFEREE
Altrincham-based referee, Anthony Taylor, a familiar face at Moss Lane, has been appointed to referee the FA Trophy Final at Wembley.
---
17 April 2012
DAMIAN'S AMBITIONS
The Daily Mail reports that "Football may have changed since the 1960s, when Damian Reeves's father, Gordon, went for a schoolboy trial at Doncaster Rovers, with his best friend Kevin Keegan, but the margin between stardom and relative obscurity remains as fine as ever.

Doncaster signed Gordon and rejected Keegan and, from then on, their career paths went in very different directions.
For Damian, that moment arrived at the age of 20 when he left Leeds and had to say goodbye to James Milner, Aaron Lennon and Scott Carson, his team-mates at the club he had joined nine years earlier. Reeves had a spell at Barnsley before disappearing into non-league football and learning his trade as a plasterer, but a determination to play professionally never left him. Nor, it would seem, did his eye for goal.
Left: Damian Reeves in action at Guiseley last week..
Now 26 and playing for Altrincham in the Blue Square North, Reeves will almost certainly finish this season as the highest scorer in English football. His 43 goals — more than half Altrincham's total — have all come in the league. Even Lionel Messi cannot match that at the moment.
With two games to go, Reeves could still hit his pre-season target of 45. Either way, his success, just 15 minutes down the road from Old Trafford, is set to earn him non-league's golden boot and, in all likelihood, a move back into the professional ranks.
'I don't think you ever lose that hunger to be a full-time footballer, coming from a professional club and dropping into part-time,' he said. 'I was with Milner, Lennon and Carson but you can't look at "what ifs". It's not so difficult now. When they were breaking into the first team and getting England call-ups, that's when I thought about it. But when I see them on the telly now, it's water off a duck's back to me.'
It was at Elland Road that Reeves got to play alongside his boyhood hero Robbie Fowler for Leeds reserves after recovering from a badly broken right leg.
There is something of Fowler about him; a predator's instinct and an inner confidence that there will only be one outcome when up against a goalkeeper. Once Reeves brilliantly collected a pass played a yard behind him and dragged it a yard in front with one movement during Saturday's 1-1 draw with FC Halifax Town at Moss Lane, there was no doubt in his mind that goal 43 from 40 appearances was about to arrive as he slotted it past Simon Eastwood.
'Once I've got the keeper in front of me in the middle of the goal and both sides to aim at, I'm never going to miss,' said Reeves. 'Maybe one in a thousand. That's just me being confident in my own ability. I try to play in a similar way to Robbie Fowler. I idolised him. He knew how to score goals. That was his type of game and that's my game. It's just instinctive. You've either got it or you haven't. You can improve on it but it has to be there in the first place.
'This season has been surreal. I've averaged a goal a game now, even if I don't score again. People ask me how many of them are league goals and it's nice to turn round and say they all are. If I don't do it at this level, I'm not going to get a chance to play at the next level. If you put me a level or two above, I'm sure you'd still get a return.'
A record of 19 goals from 21 starts as Altrincham headed for relegation from the Blue Square Premier in his first season at the club would suggest Reeves has a point.
The prolific striker will continue to juggle football with his plastering work in Doncaster, where he lives with his girlfriend Lauren, who is expecting their first child. But by the time he becomes a father, Reeves could also be a professional footballer again. 'At some point there are going to be offers coming in that I'm going to have to think about,' he said. 'If I do play professionally again, it will just make it that little bit better that I've had something to overcome and got back into it.'
Even in the Blue Square North, there are some familiar names to be found. Altrincham's Duncan Watmore is the son of former FA chief executive Ian Watmore, who was in the crowd at Moss Lane to see his 18-year-old son impress as a second-half substitute.
And Halifax midfielder Sean Clancy is the brother of Peter Crouch's wife Abbey. Clancy, on loan from Fleetwood Town, had a first-half penalty saved following a brief dispute with team-mate Ross Hannah over who should take it and was then substituted at half-time.
At least an equaliser from James Dean (no relation) left Halifax in contention for the play-offs and a third straight promotion".
LADIES' LATE DEFEAT
The manager of Altrincham FC Ladies reports on a very late defeat for his team...

"Ladies play their part in seven goal thriller".

Sunday's game versus Stockport was a great advert for ladies' football; from the first whistle to the last, both teams played the game in the right fashion.

This game ebbed and flowed both ways with Stockport taking the early lead, only for Altrincham to storm back and go into a 2-1 halftime lead. Stockport then equalised only for us to then go 3-2 up. Again Stockport pulled level and we thought that was the end of the scoring but a very strange decision by the official in the last minute gave the Yellows a free kick on the edge of our box.

And when the ball hit the wall and fell kindly for one of their players to smash the ball into the top corner of our net, there was no time left for us to come back and the game ended 3-4. We were gutted that, for the second game running, a very strange decision had cost us a result, but I'm so impressed with the Ladies for giving the league champions such a big scare.

May I also take this opportunity to wish Tiree from the Yellows a speedy recovery after an awkward fall in the build-up to the last goal, and also a speedy recovery to our Faye, who damaged her neck also with a heavy fall - hope you both recover quickly and get back to playing your football.

Squad :- Rosie Emerson, Shannune Hylton, Louise Edleston, Rachel Bullock, Natalie Thornley, Hannah Kibble, Kate Rawthore, Brogan Walsh, Kelly Leigh, Faye Howard, Jacquie Farra, Ella Taylor

Goals - Kelly Leigh (2), Natalie Thornley".
LAST GAME
After Saturday's game, the Halifax Courier reports that "James Dean struck on the stroke of half time to give Town another valuable point from their trip to former Conference foes Altrincham. Town will perhaps feel that they should have returned across the Pennines with all three having missed a penalty before the home side scored their opening goal. But, in truth, a draw was a fair result in a game in which both sides had chances and - on another day - there would have been plenty more goals...

Clancy got hold of the ball for the spot kick but saw his effort saved with Gregory sending the rebound over the bar. Within a minute Altrincham were ahead as Nicky Clee found Damian Reeves and he fired home his 43rd goal of the season... The Shaymen levelled on the stroke of half time from a McManus long throw on the right...

Town might have gone on to win the game had Sean Clancy converted an 18th-minute spot kick, a penalty Aspin admitted he had wanted Ross Hannah to take. 'I always think if someone wants to take a penalty you let him take it', he said. 'I wanted Ross Hannah to take it because he is a goalscorer, it is as simple as that. I was disappointed that Sean Clancy took it... Altrincham had not made any chances but you know that if Reeves gets an opportunity he will take it', said Aspin. 'That's what he has been doing all season'...

Aspin added that the confusion over the Town penalty and the subsequent miss had nothing to do with his decision to replace Clancy with Danny Holland at the break... Said the Shay chief, 'It was a decision based on performance although there were others who I could have taken off'".
FLYNNZINE
Brian Flynn's latest "Flynnzine". is entitled "Pride Comes After A Fall".

"Despite the fact that our Easter Monday defeat at Guiseley meant that our slim hopes of reaching the Play-Offs had disappeared, it was a very positive day in many respects.

The disappointment of the result was tempered by the excellence of the team's performance and I was really pleased to see that the impressive number of travelling Alty fans gave the players a great reception following the final whistle - well done lads, you deserved that.

A quarter of an hour earlier, those same supporters welcomed former 'Player Of The Year', Chris Senior on to the pitch with a rapturous round of applause. Such is the popularity of our former striker that even his injury time winning strike, that consigned us to a very harsh defeat, didn't diminish further appreciation after the final whistle from the Alty fans; appreciation that was passionately reciprocated by the player himself.

An interesting and impartial view of proceedings at Nethermoor on Monday is to be found in 'Ron's Blog'. Ron Griffith is a groundhopping former journalist who certainly seemed to enjoy his visit to watch the match:-

A journey on the upper deck of the No. 33 bus from Leeds city centre and I got off with a bunch of local fans opposite The Full Monty sandwich shop - naked bacon and skinless sausage sandwiches, and a couple of minutes walk to Nethermoor Park, home of Guiseley AFC for the visit of Altrincham FC from across The Pennines.

The Lions are second in the Blue Square Bet North league, just behind Hyde FC, and looking for promotion from the sixth tier of the English league pyramid. Alty, The Robins, lost at home 3-1 to Hyde last Saturday and arrived with about 75 enthusiastic fans.

It was a marvellous match, entertaining from beginning to end, with enthusiasm, skill, excitement, teamwork and an appreciative crowd. In fact, a far cry from the rubbish seen this season down at nearby Elland Road where Leeds United are falling apart and were to lose 0-2 this afternoon. The Lions have a neat ground next to the main road and 200 yds from Guiseley train station and 10 minutes drive from LBA-Leeds Bradford Airport. It is also the home to Guiseley Juniors FC, a breeder of champions, and [the football club] share the busy club house bar with Guiseley Cricket Club, whose ground next door.

The bar was packed before, at half time, and after the match, while across the pitch there was a winding long line for the great tasting Pukka pies, with or without gravy, mushy peas and

The two teams had tied 2-2 at Moss Lane earlier in the season and, once again, the Robins surprised the locals by taking the lead and then adding to it in the first half. Nicky Clee opened the scoring in the 13th minute and, just before the half time whistle, Damian Reeves made it 2-0 with his 42nd goal of the season. As the second half kicked off, Alty players scored two more goals-unfortunately they were own goals in the 50th and 52nd minute from Kieran Walmsley and Matthew Flynn. 2-2.

The visitors almost took all three points, as they battled back, but disaster struck three minutes into added time when ex-Robin, Chris Senior, found himself alone in front of former team mate Stuart Coburn's goal and scored the winner for the Lions, who are now only two points behind leaders Hyde F.C.

In the last 12 months I have been to about 100 matches from Munich to Manchester, Rio to Warsaw, London to Glasgow, Milan to Oslo, but this was as good as it gets - and both clubs are part-time professional but full-time entertainers.

Brian Flynn".
BSBN NEWS
News of our next opponents comes from Blue Square North which reports that "Eastwood Town boss John Ramshaw has confirmed he will show a number of his players the exit door at Coronation Park following Saturday's defeat to Histon.

The already relegated Badgers slumped to a 3-0 defeat at the Glassworld Stadium and Ramshaw was bitterly disappointed to see a lack of commitment from all of his players... He had specifically asked his players to give it their all for the season run-in.

Ramshaw told the Nottingham Post, 'Some of the players were an absolute disgrace, and I've told them that. There was no work ethic from some of them, and that's the one thing I have specifically asked for over the last few weeks. I am really disappointed. They've let me down, some of their team-mates down and the fans down that had travelled to support us. There were some who were superb, it wasn't everyone by any means, but those who have let me down won't be staying at this club beyond this season.

They are young lads, and we've tried hard to mature them but there's no excuse for not working hard'.

Ramshaw has just returned to Nottinghamshire following a scouting trip in America and admitted he is considering bringing in some new faces from abroad. He added, 'I was over in America for a week and it was just to get things ready for the summer and perhaps look at a few players. I'd certainly be interested in a few of them. It's a nice opportunity to broaden my horizons and perhaps bring one or two things back to Eastwood, and after that performance I think we'll need it'".

Contrasting opinions came from the opposition, "David Livermore, manager of Histon, was pleased with his players' execution of the gameplan as Histon triumphed 3-0 in their must-win match against Eastwood. The crucial three points took them out of the Blue Square Bet North drop zone...

'It doesn't matter who you're playing against, you've got to do your job and I thought we did that', said Livermore. 'I thought Eastwood, for all the problems they've had, conducted themselves in a great way and I've nothing but praise for them... We'd worked on certain things in the week and it was nice to see some of that put into practice. We could still be better – my problem is that I want it to be perfect'" he told the Cambridge News.

According to BSBN "Worcester City will be without James Dormand for the rest of the season after the goalkeeper suffered a groin injury during the 1-1 with Hinckley United on Saturday. Dormand... faces at least two weeks out of action... Carl Heeley's side still have hopes of making the play-offs and are only two points adrift of fourth-placed Nuneaton and FC Halifax Town in fifth".

News of a team relegated to the BSBN, (subject to confirmation), comes from the Northern Echo, "The fans' group bidding to buy Darlington FC have insisted the club may be down but it is far from out, as they urged supporters to keep faith with the Quakers.

Darlington were relegated into the Conference North league for the first time after a 2-2 draw with fellow strugglers Bath City... The interim board of community club Darlington FC 1883 (DFC 1883) has called on fans to rally together and continue fundraising efforts for a takeover of the club.

Denis Pinnegar, interim chairman of DFC 1883... [and] a Darlington season ticket-holder for 30 years, said, ' Relegation is a matter of life in football – we would be naive to think it couldn't happen to us... We've got a five-year plan to get us back into the football league'...

Mr Pinnegar has been backed by fellow board member Craig McKenna, who is responsible for raising funds to buy the Quakers. Mr McKenna said, 'We are up for this challenge and making a success of this club'...

DFC 1883 is hoping to bring the club out of administration and will submit their draft company voluntary arrangement (CVA) proposal to administrator Harvey Madden this week... He is aiming to put the CVA proposal before creditors on May 2".

Meanwhile, the Gazette tells us that "Darlington's future could lie in the hands of former chairman Raj Singh... Singh is the main creditor - so even though he plunged the club into administration and refused to pay players their full wages - he could hold the key to Quakers emerging from their current sorry plight.

Fans have raised over £300,000 to take the club forward - given the chance. Darlington manager Craig Liddle refuses to blame the current plight on the players, or those leading the battle to revive the club... He said, 'The odds have been stacked against us. The players have not had their full wages, and have families to support. We have had to bring players out or retirement. You can't rebuild a side in mid-season and go through the traumas we have had and expect to come out smiling. Relegation was inevitable...

The likes of Aaron Brown and Paul Arnison, I couldn't ask any more of... I'm proud and privileged to have worked with them because they have given their all'... [In their last game], in young midfielder John McReady, Darlington had by far the most talented player on the pitch, and scouts are flocking to watch him and other youngsters. However even though the bright youngsters... remain under contract there is a question mark over whether the club will receive a fee should they move on, for they may be free to go as their wages have not been paid in full. That may mean that their contracts are null and void".
OLD BOYS
An Alty "old boy" is the subject of action by the EvoStik League, which says that "Nantwich Town Football Club were found guilty and fined by The FA of [for?] not complying with a procedural rule concerning the signing of player Brian Summerskill. As Brian played in the fixture versus Ashton United without the appropriate FA clearance, result 1-1, The Evo-Stik League imposed their own sanction under Rule 6.9 of deducting the point gained for this game. Nantwich Town appealed to The FA on the League decision at a hearing today, 16th April. The appeal was dismissed by The FA and therefore the point deduction will stand".

Boston United report that "Boston United have appointed Jason Lee as the club's sole first team manager for the 2012-2013 season. Lee (40) will work as the Pilgrims' outright manager — with current joint boss Lee Canoville poised to leave The Jakemans Stadium at the end of the current campaign...

United chairman David Newton told bufc.co.uk, 'I can confirm that Jason Lee has been appointed first team manager for the coming season. Due to budget constraints, Lee Canoville has not been offered a new managerial contract and will leave the football club at the end of the season. Lee has been an influential player for the club and has worked very hard in his dual role this season. I have nothing but praise for Lee. He is a true professional as well as a true gentleman...

Although this season has not been the success we had all hoped, I have seen Jason grow into his new management role as time has progressed. He understands where we have fallen short this season and what steps need to be taken next season to ensure that we are more competitive. This will be against a continued background of budget restraint that is necessary as we continue to move the club forward to financial stability. Attendances are down over 25 percent on last season, which is understandable given the current economic climate and the fact that we were not challenging at the top of the table this season, but of course it does have a negative impact on the finances...

Jason will be appointing a new assistant over the coming weeks and squad announcements will follow as players are signed'..

Canoville, who played for the Pilgrims between 2005 and 2007, returned to The Jakemans Stadium in the summer of 2009 and captained the Pilgrims' side which won promotion via the UniBond Premier League play-offs in 2010 — and reached the play-offs in Blue Square Bet North last season".
CHESHIRE NEWS
The Northwich Guardian tells us that "While the timing of a statement announcing Northwich Victoria's latest expulsion came as a surprise – the team was playing a match against a rival for promotion – its content should not [have been]. Not paying creditors, be they related to football or not, is about as serious a rules break imaginable. Not telling the men that run the Northern Premier League – one of the charges for which the club has been found guilty – makes it even worse.

Vics' owner Jim Rushe was summoned to a hearing yesterday, Friday, to offer his explanation, but it was not enough to convince members of a league disciplinary panel not to take drastic action. They have barred the team, currently second in the Premier Division table, from taking part in the promotion play-offs as well as kicking out the club from next season's competition. It appears they were fed up that, more than two years after firms to which the club owes money wrote off close to two thirds of those debts, none have yet received a penny promised to them. That the club had not declared as much – rule 14.B.4 – made the league less likely to be lenient in its punishment...

Northwich Victoria Football Club (2004) Ltd entered administration in May 2009, little more than a month after the team was relegated from non-league's top tier after a disastrous season. The club was originally kicked out of the Football Conference as a sanction but was reinstated in the competition's northern section – albeit with a 10-points deduction – after an appeal to the Football Association...

Instead, in December 2009, the [creditors] voted in favour of a Company Voluntary Arrangement (CVA) that would pay back 37p of every pound owed to them over a five-years period. Such an accord was in breach of Conference finance rules, which require every penny to be returned again, so the club was – this time after an unsuccessful appeal – relegated to the Northern Premier League the following summer.

Meanwhile the FA, unhappy that a new firm set up by Rushe – Northwich Victoria Football Club (2007) Ltd – did not have everything in place to take over the old one, held on to the FA Cup prize money... It agreed to pay £170,000, a reduced figure after deductions were made to pay bills owed to opponents from the FA Cup run, to administrator Gary Pettit only in January 2011 on the condition that Rushe paid a £10,000 bond to complete the purchase of NVFC (2004) Ltd. A further £150,000 was to follow in monthly instalments.

However in February of this year Pettit, an insolvency practitioner for Northampton-based finance recovery specialists Marshman Price, asked a judge at Manchester High Court to rip up the CVA, accusing the club of failing to fulfil any of its commitments. Specifically, he said that Rushe had reneged on an accord to find £2,500 each month for the club's creditors.

Unsurprisingly, Vics' owner's version of events is different. He says that Pettit should have paid him a six-figures sum he spent keeping the club afloat for the seven months between it entering administration and creditors approving the CVA. From that pot would he have paid the monthly sums, he claims... Neither man told the league anything. Or the players. Or the managers. Or the club's fans.

The revelation that Vics have not paid their creditors, in turn making invalid the transfer of membership from NVFC (2004) Ltd to NVFC (2007) Ltd, is the reason they have breached rule 2.9.2. Rushe told the disciplinary panel yesterday that he is not guilty of any of the offences they accuse him of... he thinks its punishment is too severe.

The club can not adopt both of those positions in the appeal it has promised to lodge, so it is unclear on what grounds Graham Bean – a former FA compliance officer turned nemesis of his former employers fighting clubs' corners on disciplinary matters – will base its defence...

Meanwhile the supporters face the ignominy of the club they follow being relegated up to five divisions in three years if such an appeal fails. Only one of those demotions will have been for the football team they follow not being up to scratch on the pitch. That, more than anything else, is the most sobering fact of this whole saga".
---
16 April 2012
NEW SHIRTS OFFER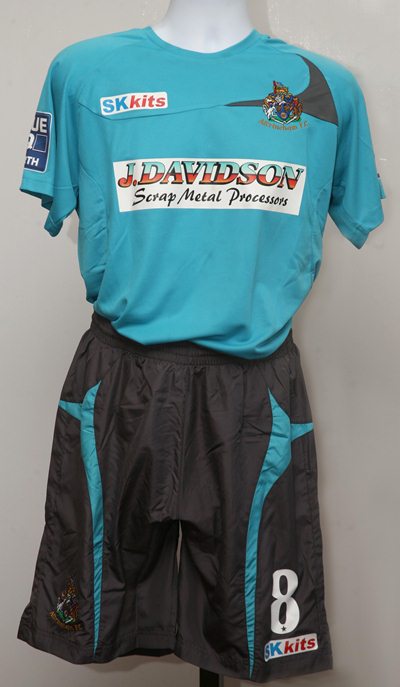 Ian Senior of SK Kits announces that The "first 25 examples of the new Altrincham FC away kit will have free Blue Square decals printed on the sleeve as shown (right). Sizes available are 30, 32, 34, 36 inches, XS, S, M, L, XL, XXL". Orders can be placed with the club shop manager, Jennie Heslop (0161 928-1045).
YOUTH TEAM
Alty Youth had no game this weekend, but the NWYA Table shows the latest league positions.
BSBN NEWS
After Saturday's draw at Moss Lane, FC Halifax Town report that manager "Neil Aspin insists that FC Halifax will have to wait until the end of the season to decide whether the point gained at high scoring Altrincham was good enough on Saturday... The FC Halifax Town boss admitted the Shaymen should have taken their chances in front of goal.

He insisted, 'There are a lot of things I weren't happy with today. I wouldn't say it was a bad performance but certainly I would expect us to play better and I feel that if we want to progress we have to be better. So it is a kick in the teeth but, to be fair to the players, they have kept going and got us back in the game at half time, which was very important. At the end of the season we will decide if this was a good point or not. Overall I think we had the better of the game but, as usual, it all comes down to your chances and what you do in both penalty areas'. he told Shaymen Player.

'Although we could have won the game, where I thought we should of [have], we could also have lost it if we had conceded where the keeper's made a couple of good saves... We have had a lot of trouble over the last few years with penalties, and we actually haven't had a penalty in a while so it's not something that's been a big issue...

Our home form we know hasn't been the best this season, but the last couple of performances have been better and give a little bit of hope to the supporters at home'".

Halifax add that "Midfielder Tom Baker returned to the FC Halifax Town starting eleven in the 1-1 draw away at Altrincham and he has spoke[n] to Shaymen Player about the talking points of the match... Baker knows what it feels like to miss a penalty and he isn't too down hearted about the miss.

'Obviously it would have put us 1-0 up and who knows what would have happened after that? But that's what happens in football, people miss penalties and there is nothing you can do about that. We responded well to going 1-0 down and things just didn't drop for us in the second half, there were a few good saves from the keeper... A few of the teams around us have drew I think, come the end of the season, it could work out as a valuable point'".

"Striker Will Turl has left Blue Square Bet North club Harrogate Town, it has been announced. Turl, 22, joined Town at the beginning of the season from Pontefract Collieries and made 29 appearances scoring three goals, with his last one coming against local rivals Guiseley in March".
---
15 April 2012
LAST TRIP IS TO A NEW GROUND
Altrincham FC's last away trip of the season is to Eastwood Town in Nottinghamshire, which is a new ground for the club to visit. TASC is running a supporters' coach and its details are on the Away Travel page. It may also be our last visit there for a while, as Town have unfortunately been relegated this season. So, book early to avoid disappointment.
McGIVERN DISMISSAL
On Saturday, Leighton McGivern was sent off just seven minutes after leaving the bench to join the game. I am reliably informed that the sequence of events was that Leighton was, first of all, cautioned for dissent just after the award of a freekick to Halifax. (It was not Shaun Densmore who was booked as it appeared to some of us; he was just doing his captain's duty in talking to the referee at that point). As McGivern stood in the wall with Scott Phelan, he then collected a second yellow, and subsequent red, card for a further instance of dissent.
Match report
100 UP
Sadly, Nicky Clee's 100th start for Altrincham on Saturday ended prematurely as the influential wingman had to come off shortly after the hour mark, with an injury. Hopefully, he will be fit for next week's game.
SHAYMEN'S VIEW
FC Halifax Town report that "The points were shared in Greater Manchester between FC Halifax Town and Altrincham as the play-off contenders drew 1-1, but it was a miss from the penalty spot that may have threw away the three points for The Shaymen.

James Dean seemed to have been struck in the face, despite calls for it being no more than a slight push from the Altrincham defence but Mr Kavanagh had no other option then to point to the penalty spot.

On loan Fleetwood Town midfielder Sean Clancy stepped up, much to the disagreement of manager Neil Aspin and substitute striker Danny Holland, who both wanted Ross Hannah to take it. Nether the less, Clancy stepped up and goalkeeper Stuart Coburn blocked his effort, and the rebound fell to Lee Gregory, who smashed it over the bar.

And to top things off for Town, the hosts took the lead just minutes later as the league's top scorer Reeves took on Simon Eastwood in a one on one and slipped it past the Town goalkeeper...

As the board went up for 1 minute added time, James Dean was the man to get the final touch of a goal mouth scramble...

With goals expected from Aspin, Dean came closest as he somehow hit it over the bar from the edge of the six yard box and the scores stayed level. Minutes later, James Lawrie failed from a similar position at the other end with an astonishing miss as the scores could have been two all after just four second half minutes.

Substitute Leighton McGivern was given his marching orders with ten minutes to go as the former Vauxhall Motor's striker shared his thoughts with the referee over a free kick decision, lasting just six minutes on the pitch. The sending off proved to be the only talking point of the second half, as the scores remained 1-1".

There are video interviews with Neil Aspin and Tom Baker.
SATURDAY'S GATES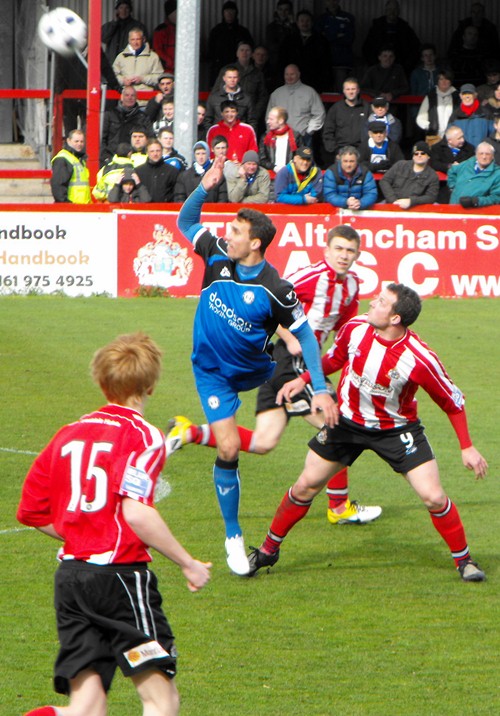 The gate at Moss Lane was the largest this season for Altrincham, beating by just one, the figure for the game against Hyde, the previous week.

Right: Duncan Watmore (15) and Damian Reeves await developments as Michael Twiss makes a challenge against FC Halifax Town on Saturday.
Bishop's Stortford v Vauxhall Motors, gate 378
Blyth Spartans v Hyde 321
Boston United v Gainsborough Trinity 1,164
Colwyn Bay v Harrogate Town 284
Corby Town v Workington 290
Droylsden v Gloucester City 220
Histon v Eastwood Town 310
Solihull Moors v Nuneaton Town 517
Stalybridge Celtic v Guiseley 710
Worcester City v Hinckley United 813
FIXTURES
Tuesday, 17 April
Histon v Droylsden
COMING DOWN
Darlington were relegated into the Blue Square Bet North on Saturday - unless their financial troubles see them demoted further down the pyramid. Kettering and Bath City were already relegated from the national division, with Hayes and Yeading the most likely to complete the four relegation positions.
OLD BOYS
Old boys who scored on Saturday include Aaron Burns, who scored twice as Ashton United won at Kendal Town. In front of 1,319 at Matlock Town, the home side's Liam King scored as they beat FCUM 2-1. Woodley Sports won at Clitheroe, with the visitors' goals including one from Aaron Chalmers. And former Youth player, Osebi Abadaki, scored twice for Salford City.
---
14 April 2012
ALTRINCHAM 1 FC HALIFAX TOWN 1
In an entertaining game at Moss Lane, Altrincham's ten-men secured a point against play-off contenders FC Halifax Town, despite Leighton McGivern being sent off, just seven minutes after he had come on as a substitute...
Match report ALTRINCHAM (Red & white striped shirts, black shorts, red socks): 1. Stuart Coburn, 2. Chris Lynch, 3. Andrew Smart, 4. Shaun Densmore (c), 5. Matt Flynn, 6. Marlon Broomes, 7. James Lawrie, 8. Scott Phelan, 9. Michael Twiss, 10. Damian Reeves, 11.Nicky Clee, Subs: 12. Mark Lynch, 14. John Miles, 15. Duncan Watmore, 18. Adam Reid (gk), 16. Leighton McGivern

FC HALIFAX TOWN (Blue): 1. Simon Eastwood, 2. Ryan Toulson, 3. Scott McManus, 4. Simon Garner, 5. Liam Hogan, 6. Danny Lowe, 7. Sean Clancy, 8. Tom Baker, 9. James Dean, 10. Ross Hannah,11. Lee Gregory. Subs: 12. Phil Senior, 14. Danny Holland, 15. Aaron Hardy, 16.Matt Crooks, 17. Jason St Juste.
Alty line-ups
SATURDAY FIXTURES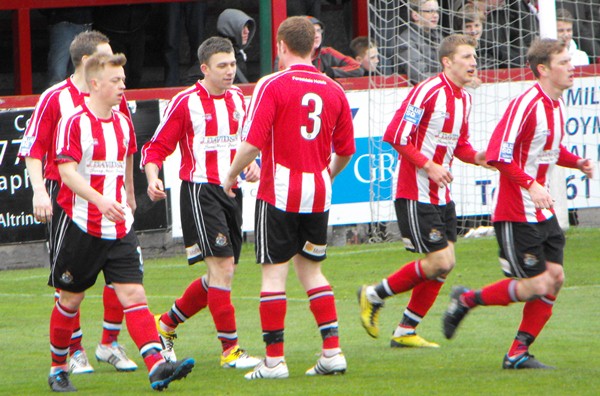 For the 43rd time this season, Damian Reeves is congratulated by his team mates after netting the opening goal of the match against Halifax, today.
Saturday 14 April
Altrincham 1 FC Halifax Town 1
Bishop's Stortford 2 Vauxhall Motors 0
Blyth Spartans 0 Hyde 1
Boston United 1 Gainsborough Trinity 2
Colwyn Bay 2 Harrogate Town 2
Corby Town 3 Workington 3
Droylsden 1 Gloucester City 2
Histon 3 Eastwood Town 0
Solihull Moors 0 Nuneaton Town 0
Stalybridge Celtic 0 Guiseley 3
Worcester City 1 Hinckley United 1
ONE IN SEVEN FOR BOTH SIDES
The Halifax Courier adds "Stand by for another 90 minutes of information gathering and nail biting as the Shaymen continue their pursuit of a play off place at old adversaries Altrincham... Town now have their fate firmly back in their own hands again having slipped down to sixth place following the first round of Easter weekend matches...

But they will be striving for an 11th away win in the league which will at least keep them above the dotted line for a further seven days. Altrincham's outside hopes were finally extinguished last Monday... It was a third successive defeat for Alty... In fact the Manchester side have won just one of their last seven, a run that saw them slip from sixth and within a whisker of the play off places to eighth and out of contention.

Of course not having the pressure of needing points to qualify for a top five finish could make them more dangerous than they might otherwise have been. Town will not only be seeking three valuable points from Moss Lane, they will be looking for revenge for a 4-2 defeat at the Shay in early December.

It was a strange game with a Damian Reeves double giving Altrincham the upper hand before Jamie Rainford and Simon Garner appeared to have swung the momentum as the Shaymen levelled. Jack Redshaw had other ideas, however, as he bagged two goals in the second half to give the visitors the points. It ought not to have been such a surprise given that in seven Conference games against Altrincham at the Shay, Town had managed just one win.

They have also won just once at Moss Lane, with a couple of draws and four defeats completing their record there. Town's solitary victory came in February 2006"

Mike Garnett's statistics reveal the past record against Halifax Town and FC Halifax Town...
At Moss Lane p8-w4-d2-l2-f13-a12
At Halifax p10-w2-d6-l2-f12-a13
Overall p18-w6-d8-l4-f25-a25

Altrincham Mad says "Altrincham play host to FC Halifax Town at Moss Lane on Saturday afternoon, hoping to improve on a record of draws against their opponents. The last time the two teams met at Altrincham was just over four years ago, in March 2008, when they fought out a thrilling high-scoring 3-3 draw in a (Conference) Premier match.

Recent encounters [at Moss Lane] between the teams
2011/2012 FC Halifax Town 2-4 Altrincham
2007/2008 Altrincham 3-3 Halifax Town
2006/2007 Halifax Town 1-1 Altrincham

Altrincham are not in the best of form at home, with two wins, two draws, and two defeats in their last six... FC Halifax Town have an average recent record on the road, with two wins, two draws, and two defeats... Your FootyMad panel thinks that Altrincham's indifferent home form is due to continue with a narrow home defeat against FC Halifax Town. Away win.

Team sequences Altrincham
Failed to win in previous 3 home matches.
Latest 3 games ended in defeat.
FC Halifax Town - Last drawn game 6 outings ago".

FC Halifax Town report that "Striker Ross Hannah is in great form recently and is on course to hit his target of ten goals for the time he is on loan from Bradford City, and will no doubt look to add to his seven already at the weekend.

Altrincham manager Lee Sinnott has called for his players to see out the rest of the season with a flourish in the run up to the play-offs. The sides met at The Shay in December, and it was Sinnott's Altrincham that won 4-2. Town's goals came from Jamie Rainford and Simon Garner in the first half to cancel out Damian Reeves' early brace, but Jack Redshaw soon won the points back for The Robins. Prior to that, the sides shared the points in a 3-3 draw at Moss Lane in March 2008.
Town's last six games: WLWLWD
Altrincham's last six games: LLLWDD

Neil Aspin will make late checks on midfield pair Liam Needham and Matty Crooks".
FOOTBALL EDUCATION PROGRAMME
Details of the Altrincham FC Football Education Programme are now here on the website. The first trials take place on Monday, 7th May, from 6.30pm to 9pm on the Moss Lane pitch. To register for the trials, please phone Steven Mort, Programme Director on 07540 418599 or e-mail him.
NW NEWS- VICS AND WOODLEY EJECTED FROM LEAGUE
The EvoStik League reports that "Following a hearing on Friday 13th April 2012, Northwich Victoria Football Club have been found guilty of failing to comply with League Rules 2.9.2, 2.9.3 and 14 b 4 relating to financial matters. The membership of the Northern Premier League has been terminated with effect from the end of the current playing season and the club will not be allowed to participate in this seasons promotion play-offs.

In a following hearing Woodley Sports Football Club were charged with failing to comply with League Rules 2.5, 2.6 and 8.5 relating to Ground Grading Criteria and Security of Tenure compliance. Woodley Sports Football Club were found guilty on the three charges and will be relegated at the end of the current playing season to a level determined by the Football Association. The club will not be allowed to participate in this seasons First Division North Play Offs if they qualify.

Both clubs have the right to appeal this decision to the Football Association.

The League or its officers will not be making any further comments until such time as the appeal process has been exhausted. A statement will be made in due course relative to the qualifying teams and dates of the Premier Division Promotion Play Offs [and possibly First North] which will be impacted by this decision".
BSBN NEWS
The NL Paper says that "George Rolls has appealed to Kettering Town fans to help prevent the club going into adminstration or a Company Voluntary Arrangement... Rolls, who is acting chairman at Nene Park, says it will be a long road to recovery but fans showing their commitment by buying season tickets will ensure their short-term stability.

Speaking to BBC Northampton, he said, 'It's going to take a lot of hard work to get rid of the debt. All I can ask is that fans help out in terms of buying season tickets. I've only budgeted that we'd get 300 season tickets, and on the gate we'd get more. But if we get 300 season ticket holders, there's no way the club will be looking to go into a CVA or administration'.

Rolls added that he expects to have completed his takeover of the club by Sunday evening. 'The signing over of the shares will happen within the next 72 hours, I'm sure', he told the BBC on Thursday".
---
13 April 2012
DUNCAN SIGNS CONTRACT
Altrincham's 18 year-old forward, Duncan Watmore (right, seen against Hyde), has signed a contract at Moss Lane until the end of the 2012-13 season. Duncan, a graduate of George Heslop's Youth team at Moss Lane, made his first-team debut as a substitute in the FA Trophy game against FC United on 27 November 2011. He was first named in a league squad at Hinckley in January, 2012 and later that month gained some further match experience with Clitheroe FC, before making his league debut as a substitute at Gainsborough on 28 January, 2012. To date, Duncan has made eight appearances for the first team from the bench, but has yet to make a start.

As well as at Altrincham FC, Duncan was a junior at Manchester United and has impressed for the Cheshire County side and for his college, Cheadle Hulme School.
PLAYER NEWS
Following training on Thursday night, Altrincham manager Lee Sinnott reported on the condition of his injured players.

Nicky Clee, who went off injured on Monday, has a knock to his ankle but was able to take part in training on Thursday, as did Simon Richman, who had also taken a knock at Guiseley. The indestructible Chris Lynch completed training. However, Leighton McGivern still has a bug and was unable to train; he missed Monday's match for the same reason.

There is good news of central defender Marlon Broomes, who has stepped up training, after his hamstring injury. His progress will be monitored in light of how he reacts to the increased activity.
"THE ALTRINCHAM OBSTACLE"
From the Halifax Courier comes news that Halifax "Town boss Neil Aspin will be checking on a couple of key players at training tonight as he prepares his side for Saturday's trip to Altrincham. Matt Crooks and Liam Needham are both carrying knocks ahead of the crucial game in Greater Manchester. Crooks was withdrawn at half time in the win over Boston United on Monday while Needham missed the game altogether after suffering an ankle problem at Stalybridge three days earlier.

Aspin admitted the fact Crooks, who has extended his loan deal from Huddersfield Town until the end of the play offs, had been cautioned early in Monday's game had influenced his decision to replace him with [ex-Alty Reserve] Tom Baker, whose introduction showed the strength of the Town squad... He said, 'I thought it was best to take him off and Tom Baker was disciplined in what I asked him to do. Just because players haven't been involved does not mean they won't be involved in these next three games'.

Needham, who has been an automatic pick in the second half of the campaign, failed a fitness test... And of the two, he appears [the more] likely to be given further time to recover as the Shaymen look towards the final two games... 'Liam had no chance last Monday but you would like to think that by Saturday he might have one', said Aspin... 'If we can overcome the Altrincham obstacle and it still be in our hands with two games to go, that's what we are looking for'.

Town have confirmed that in addition to Crooks being available until the end of the play offs, Ross Hannah and Sean Clancy will also be here until the final game of the campaign - whenever that may be".
ALL IN A GOOD CAUSE
Altrincham resident John Brownhill, whose first love is QPR but whose second club is Alty, has written to Altrincham FC...

"I am contacting all Football league clubs and a few more in the Conference as I look for support and exposure for my proposed charitable exercise. A friend and I are going to visit all 92 clubs and a further four non-League clubs [including Altrincham], over a two week period in June. Provisionally, this is the week commencing 18 June. This is to raise funds and awareness for CALM and CRY.

Both are very needy causes; the death of Gary Speed and serious illness to Fabrice Muamba have brought this home, and we are aware of how football can change awareness and perceptions. By going to all the clubs, we could generate a significant amount of charity donations along with winning people's minds. Our trip will be done in fancy dress to stand out and gain support. It is entirely self funded by ourselves and done in our own time...

We just intend to arrive to each ground and have our picture taken outside the club as proof of our visit...

CALM (Campaign Against Living Miserably) look to tackle depression, mental health and issues of suicide. They particularly target young men who are most likely to suffer from, and struggle to admit their, problems. Money raised goes to provide an eventual 24/7 telephone helpline at national level.

CRY, (Cardiac Risk in the Young), was founded in 1995 to raise awareness of conditions that can lead to Young Sudden Cardiac Death (YSCD) and Sudden Death Syndrome (SDS).

Our "Just Giving" site for CALM is here.

Our site for CRY is here.
OLD BOY
Buxton beat Stafford Rangers 3-1 on Wednesday, with Kieran Lugsden netting Buxton's first.
BSBN NEWS
"Peter Swann has hailed Steve Housham's managerial qualities after the Gainsborough Trinity boss landed himself a new contract at the club. The Blues' chairman wasted no time in rewarding his commander-in-chief with a two-year deal, after masterminding the club's rise to the play-off places.

Housham has excelled in the hotseat since succeeding Brian Little who was sacked last August following a disappointing start to the season...

'We have had a great season and, probably, there were many opportunities to give him a new deal before now', he said... 'He would probably be the first to admit that he is still learning the various roles within management. But overall he has done a fantastic job. Steve has ensured that one or two losses have not turned into losing runs and he has built a very good team spirit. And I just felt now was the right time, given our position in the league, to motivate him for the run-in'...

After slipping up to Droylsden on Easter Monday, Trinity are hoping to get back on track by securing a fine victory against their arch rivals. But a forward thinking Swann, who has reduced coach prices to £5 for the trip to York Street, says their fate will not be decided on one game alone...

'There are three games left to play, meaning there are nine points up for grab... Personally, I think five points would be enough to get in those play-offs... We have some hard fixtures against some tough teams'" he told This is Lincs.

Pitchero Non-League reports that "With his Blyth Spartans side relegated last Saturday, manager Tommy Cassidy was thinking of recharging his batteries, and of positives and negatives.

'I'm looking forward to the summer holidays and to the new season', he said. 'Don't think though that I'll be relaxing because the hard work starts then, actually before that – now! I've had a word with the current players and they know that they are under the microscope till the end of the season. I will be looking to improve the squad and I'll be looking predominantly for players from a higher level. Signing the majority of players from a lower level doesn't work'.

Cassidy thought that Blyth's battle against relegation since he took over in the New Year was always going to be difficult. 'Realistically it was too late to turn things around. However, we should have had more points from several games in that period and we did have a wee run but, unfortunately, we weren't good enough. The fact that we did play well at times is a positive but the negative is that we didn't accumulate the necessary points!...

Life in the Evo-Stik Northern Premier League Premier Division awaits the Spartans and Cassidy is optimistic that a good start will have the fans returning to Croft Park in their numbers. 'I believe that if we can get into the top three or four we will have crowds of around six or seven hundred coming to watch us. When I was playing for Newcastle we were on getting 20,000 or so at St James's but, after we'd been relegated to the old Division Two and were doing well, we were attracting over 35,000!' he said".

The Flintshire Chronicle tells us that "Neil Young is hell-bent on taking Chester FC into the Blue Square Bet Premier inside two years. The 37-year-old wants to build on back-to-back title wins and lead the Blues to non-League football's top flight by the time his new contract expires in 2014.

Chester were promoted to the Conference North on Monday after they sealed their second straight Evo-Stik Northern Premier League championship...

Young said, 'My ambition in the next two years is to try and get the football club into the Conference. Can we do that and how quickly can we do that are questions people are going to ask and, while I wouldn't like to put an exact time frame on it, that is the ambition. What we've got to do now is build an infrastructure around the club that means once we get into the Conference or go full-time we will be ready, as we can't just keep going the way we are...

He said [of the BSBN] 'It's a massively tough division, with the likes of FC Halifax Town already in it, Darlington and Kettering Town maybe coming down into it, and the likes of Chorley and FC United of Manchester battling to come up. But I said the same when I took over two years ago and we went into the Northern Premier League. We've managed to get out of that one... We're the biggest part-time football club in the country and, with that, come a lot of commitments that other part-time clubs don't have'".

A slightly unclear statement on the FA Disciplinary list says "Gainsborough Trinity FC -MICHAEL LEARY - 23/04/2012 - 28/04/2012. Suspended from all football until the Club have completed 3 first team matches for a Sending Off in a match played on 09/04/2012". However, it does seem that he will miss the game at Altrincham on 28 April.

The Times & Star states that "Workington Reds are hoping that a new long-term lease will pave the way for an impressive new 1,200-capacity stand at Borough Park. The club have been in talks with landlords, Allerdale Council, over a new lease, seen as essential before Reds can access up to £1.5 million needed to fund the West stand. And chairman Humphrey Dobie is determined that it will go ahead.

'I intend to put it up before I retire. I just hope it's quick', quipped the 80-year-old, who believes the end of talks with the Council may be in sight. 'They say they want to help and I'm hopeful that it can be sorted over the next couple of months. We need security of tenure and can then go for planning permission, then look around for the money... I think we will get the money, but it's not an easy job...

We have about 12 years on our lease and we need an absolute minimum of 35 years. That would allow us to access more grant money'. Reds are hoping to start work on the new stand in the closed season next year, which leaves little over a year to get all elements of their bid in line. In addition to improving facilities for fans, the new stand, which will include a function room, offices, changing facilities, sponsors and visiting officials' rooms, will provide valuable non-football income to invest in the club.

It will leave Reds with 1,500 to 1,700 seats, according to Dobie, enough to qualify for the next level up, the Conference Premier, and just short of the 2,000 needed for the Football League. 'We could then do the 2,000 easily', said the chairman, who reported that the stand would take up to five months to complete... The stand will cost between £1.25, and £1.5m, depending on fittings".
---
12 April 2012
LEE PLANS AHEAD
John Edwards, Altrincham FC joint Press Officer, writes:

"Lee Sinnott called for his Altrincham players to finish the season with a flourish as they savoured the prospect of a bumper turn-out for Saturday's Moss Lane showdown with play-off candidates FC Halifax.

Alty's play-off hopes were finally scuppered after they followed a 3-1 home defeat by leaders Hyde with a last-gasp 3-2 setback at second-placed Guiseley on Easter Monday.

Sinnott already has one eye on plans for next season but is adamant his side end this one on a high, starting against a Halifax outfit who took over 800 fans to their recent game at Stalybridge.

'If you look at the season as a whole, we have scored enough goals but conceded too many, and, consequently, we have come up a bit short,' said the Alty manager. 'I do happen to think things have gone against us at times, and we haven't had the rub of the green over so many incidents, from deflected shots to handballs and offsides.

'When you're at the top, like Hyde, Guiseley and Nuneaton, and you are building momentum, those breaks go your way. But that's football, and we have to accept our performances have not been perfect. Nowhere near. There is much to be done, and we are working behind the scenes to try and make sure we are better next season.

'I have already started thinking about who will be with us, and where we need strengthening, and I will continue observing the players between now and the end of this campaign. Young Duncan Watmore has been getting more game time, and will continue to, so there are options.

'It is disappointing the play-offs have now gone, but we are determined to finish on a positive note. We have lost three on the bounce, which is our worst sequence of the season. Saturday will mean we have faced the top four in as many games, but we don't want another defeat.

'I thought we started really well against Hyde and Guiseley and deserved to be ahead each time. We conceded goals we shouldn't have done against Hyde, which put us on the back foot, and though our energy levels were superb against Guiseley, we didn't get the breaks in the second half. It just showed that when things go against you, they really go against you.'

Alty are hopeful Simon Richman, Chris Lynch and Nicky Clee will be fit for Saturday".
DAMIAN IN THE "NEWS"
Alty's joint Press Officer, Brian Flynn, advises that "There is going to be a feature on Damian Reeves's goalscoring exploits this season, in the Manchester Evening News. It could be published as early as Thursday".
BSBN NEWS
News of Altrincham's next opponents comes from the Halifax Courier, which reports that "Ross Hannah has achieved one target with the Shaymen by starting to score again on a regular basis - now he wants to go on and finish the job. The Bradford City loanee took his tally to seven in six matches with a first half double in Monday's win over Boston. And he knows that if he can continue to find the net he can help Town in their bid for a third successive promotion.

'That was one of the main things I wanted to bring to Halifax', he said... 'All in all, it is going to plan'...

The Shaymen travel to Altrincham on Saturday looking for more points but Hannah knows that the Manchester side will pose a real threat. 'It is another big game', he said. 'They lost on Monday which I think puts them out of the picture. But that doesn't mean we can turn up and whitewash them. We have to start like we did on Monday and carry it on for longer. They will want to turn us over like everyone else does'...

Town have received a boost with Matt Crooks and Huddersfield Town agreeing to extend the young midfielder's loan at the Shay to the end of the season."

The Courier also reports on Town's last game, a 3-2 home win over Boston United, a game in which, "After looking comfortable when they led 3-0 with a little over 10 minutes of the first half remaining, they were made to fight all the way for the points... Liam Needham failed in his bid to shake off an ankle injury and was replaced by Simon Garner with Tom Baker returning to the bench... The lead was down to a single goal with 18 minutes remaining when Town failed to clear the ball inside their box, Eastwood let it slip from his grasp and Boston sub Josh Burge fired home despite the efforts of Toulson on the line".

The Nuneaton News says that "Town manager Kevin Wilkin has hailed the 'outstanding belief' of his team after they returned to third place in Blue Square Bet North even after being formally deducted six points today... Wilkin says he is proud of the resolve his small squad has shown to win all three games since the deduction was announced, something he insists must continue with three games still to play.

He said, 'I'm delighted to be third but there's still work to do. We've not cemented the position yet... There are twists and turns still I believe... The thing is to have momentum going into the play-offs. If you look back at the week we had when we looked to be going into the play-offs, we lost to Stalybridge, lost the points and then lost key players in Wes York and Mark Noon... But the belief we've shown is outstanding and if we keep that up we've got a great chance'".

There is sad news from Harrogate Town who "confirm that midfielder and captain, Michael Brough, was involved in a bad car accident on the evening of the 9th April 2012. Michael was airlifted to hospital following the accident and received treatment as required. We are very glad to report that he has since been released from hospital and is recovering at home.

Manager Simon Weaver has been in contact with Michael since the accident, and although it looks like his injuries will keep him from playing for the remainder of the season, we are all very grateful that the outcome was not far worse".

"Nathan Stainfield has pleaded with fans of Boston United to show patience and believes next season will be better" reports This is Lincs. "With four defeats in their last five games, the Pilgrims are stumbling towards the end of the season. However, with a hungry, young squad, Stainfield is convinced better days are around the corner.

'Hopefully we can push for promotion next season. I can see potential', said the former Boston Town defender. 'It's hard to put the defeats to one side, but if you look at the way we have played at times, the future is only bright. I just hope everyone understands that, is patient, and gives us time'.

The form of Stainfield has been one of the major pluses for United this season. Centre-back partner Tom Ward has also impressed while 17-year-old youth teamer James Reed has figured in the last two games. Stainfield believes United are building for the future.

'It's fantastic. You can see what the club is trying to do', he said. 'Reedy has come through the youth team, Tom was (Blue Square Bet North's) player of the month recently and I'm still learning. I'm still making mistakes, but I'm learning on the job and gaining experience all the time'".

New of potential opponents for Altrincham next season comes from Bullsnews, which tells us that "Darlington's Administrator has set a date of May 2nd to present a CVA proposal to creditors. The club must exit Administration and pay off footballing creditors by the Conference AGM of June 9th to avoid being dumped out of the competition, but face a 28 day cooling off period after the CVA offer before the deal can be formally accepted".

Acording to the North Wales Pioneer, "Colwyn Bay AFC have been dealt a huge boost in their battle to retain their Conference North status after their Llanelian Road ground was granted a Grade B licence from the FA. The Seagulls faced being kicked out of the division after their ground fell short of the minimum requirements for league standards, prompting the £70,000 'Raise the Roof' campaign to finance a new 500 seater stand and carry out significant ground improvements.

Following another inspection on April 2, league officials are now satisfied that the Red Lion Foods stadium is up to scratch, as the Bay head into their final three matches of the 2011/12 campaign. Colwyn Bay FC chairman Bob Paton [said]... 'I was always confident we would do it. It's been a lot of work, and now we need to get behind (manager) Jon Newby and the lads over these next few games. Everything is in order at the ground and we'll be able to build on that, but we need points from these next three games'.

The Seagulls are one of ten clubs faced with relegation from a tight Blue Square North league table, and will end the season with another home match against Gloucester on April 28".
FA TROPHY
The FA has written to all Conference clubs stating:

"The FA Carlsberg Trophy Final, Newport County –v- York City, Saturday 12 May 2012, At Wembley Stadium, Kick-off 3pm

Tickets are available from either Newport County or York City as follows:-
Newport County: via website or phone, 01633 662262
York City: via website or phone, 01904 624447

This is the first Trophy Final for Newport County and the second Trophy Final for York City, as they were runners-up in 2009, and if any further details are required, please e-mail The FA".
OLD FOES
This is Sussex reports that "Steve Evans and Susan Carter have denied [that] a split between the manager and board over the appointment of Steve Coppell as director of football led to him leaving Crawley Town. The 49-year-old walked out on the Reds on Monday to join League Two rivals Rotherham, less than 24 hours before former Reading and Crystal Palace boss Coppell was unveiled as Town's director of football.

The Crawley News understands Evans had told the club's owners he would not work under anyone while the manager was also unhappy that the decision to sell strikers Matt Tubbs and Tyrone Barnett earlier this season was made above his head. And Evans made it clear after Friday's game with Crewe that the decision to strip Pablo Mills of the club captaincy, after the player's part in the post-match brawl at Bradford City last month, was also made by the club's directors. However, the former Boston United manager maintained that while he did not necessarily agree with any of those decisions, his relationship with owner Ian and Susan Carter and chief executive Alan Williams had remained strong until the end.

'I'm now an employee of Rotherham so I can say what I like', he told the Crawley News. 'But I still say Crawley Town Football Club are a fantastic football club with some fantastic owners. I consider everyone who runs Crawley as friends and I'm sure they will still be friends in 20 years time'...

Said Evans on Monday night, 'Yes, as a manager you don't always agree with those decisions, but having seen the detail of the deals behind those transfers I can understand why the offers were accepted." Susan Carter told the News there was no rift and insisted... Town had only moved for the former England international [Coppell] once Evans resigned on Monday...

However, Evans... added, 'Steve knows the owners very well and has watched us quite a few times this season and last year', he added. 'I thought that if I left this would happen quite quickly as it has been on the cards for some time... I don't know him, but he commands respect in football... What I would say, though, is that he wouldn't have come to the club that I took over which was at the bottom of the Conference with loads of debts. I have built a great squad there and once he gets to know the players then he'll realise what a talented bunch I've left him'".
---
11 April 2012
BALLOONS FOR MARK
£478 was raised on Saturday from the sale of balloons in aid of Mark Maddox's testimonial fund. Tickets (£2) for the balloon race will again be on sale this Saturday at the match against FC Halifax Town, so please buy as many as you can for this excellent cause.
LIONS' VIEWS
Right: There is a puff of the cheeks from a relieved Stuart Coburn as Alty break up a Guiseley attack and charge upfield, led by Michael Twiss, James Lawrie and Kieran Walmsley, at Guiseley on Monday.
The Yorkshire Evening Post reports that "Guiseley kept the heat on leaders Hyde with a last-gasp dramatic 3-2 success at home to Altrincham... The home side found themselves two goals down at the break with the first goal an unstoppable rocket from Altrincham winger Nicky Clee... Then, just before the break, the home side conceded a second.
Damian Reeves found himself able to work the ball between the Guiseley centre-backs and slot in his 42nd goal of the campaign from close range, giving the away side a somewhat undeserved two-goal cushion.
Guiseley came out all guns blazing in the second half... Guiseley kept pressing, desperately pushing for the third goal and in stoppage time it came... After the game, manager Steve Kittrick was more than pleased to get the three points, but disappointed at having to come from behind again. 'I don't know what happened in the first half', he said. 'We just didn't get going, and we gave ourselves a mountain to climb. I told the lads at half-time that, if we score first in the second half, we'll win this'".
The Post adds that likewise,"FC Halifax Town survived a major scare before holding on for a 3-2 victory at home to Boston United. The Shaymen were 3-0 up and cruising at the break after a brace from Ross Hannah and James Dean strike. However, two handling errors from Halifax goalkeeper Simon Eastwood gifted second-half strikes for Boston's Mark Newsham and Josh Burg. Halifax, though, held on for victory and stay fourth in the table ahead of Saturday's trip to Altrincham".
The Post also has a "picture slideshow of match action from Guiseley v Altrincham at Nethermoor."
YANKEE
The Altrincham FC Yankee jackpot remains intact at £5,000 after last week's winning code 1747 was found to be unissued. The reserve jackpot stands at £3,800. Six contestants did win "Trebles", each receiving £33.33.
MOSS LANE TV
Altrincham FC will be showing Wigan Athletic v Manchester United live in the bar. The game kicks off at 7.45pm but the bar will open half an hour earlier at 7.15pm. This game is NOT on Sky or ESPN , and, unlike in some hostelries nearby, the match commentary at Moss Lane will be in English! So come along and help the club by enjoying a drink or two as you watch the game.
SATURDAY'S BAR ARRANGEMENTS
The bar at Moss Lane this Saturday will be open to home supporters only. Home fans will have to enter the ground via the turnstiles to get to the bar, rather than access the bar from Moss Lane as they usually do.
BUCKET COLLECTION
Altrincham FC thanks everyone who contributed to the bucket collection, last Saturday, which raised £63.34. The club is also grateful to the collectors for giving their time.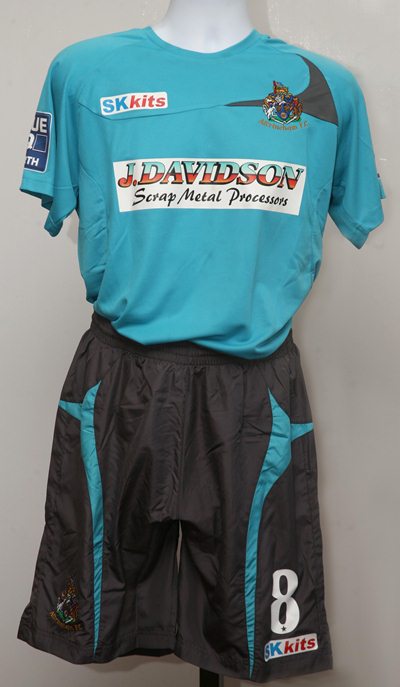 NEW AWAY KIT
Pictured, left, is Altrincham FC's new away shirt and shorts for 2012-13 season. The image is courtesy of Ian Senior, whose SK Kits company provides the team kit.
BSBN NEWS
The BBC tells us that "Former Kettering Town midfielder Brett Solkhon hopes the club will learn lessons from relegation. The 29-year-old helped the Poppies to the Blue Square Bet North title in 2007-08, but was released after a second spell with the club last summer.

Solkhon told BBC Northampton, 'It's been mis-managed behind the scenes. They've overspent and brought in a lot of players on good money. Hopefully they can start with a clean slate and learn for seasons to come... Nene Park is part of the problem at the moment', said Solkhon. 'You've got to use the facilities there wisely and it's not been used as it should have been. Fortunately, George Rolls has come in and saved the club from the winding-up petition. And the fans are very passionate and they've done their utmost to keep the club afloat'.

Solkhon could face the Poppies in Conference North next season, as his current side Brackley Town are eight points clear at the top of the Evo-Stik Southern Premier".

Meanwhile, Huddersfield Town "midfielder Matt Crooks has today extended his loan stay at FC Halifax Town until the end of the 2011/12 season. The teenage second year Academy scholar initially joined the Shaymen in early March and, after two initial appearances as a substitute, has established himself in Neil Aspin's team".
CHESHIRE CONTRASTS
As ever, 200% has an informative view on the football world, headed "Chester FC & Northwich Victoria: Poles Apart In The Same Division".

It says "End of season title deciders in non-league football have a tendency to bring out vastly inflated crowds which hint at the potential of a club were it to be playing at a higher level, and this weekend was no exception with a crowd of 5,009 people turning out at The Exacta Stadium in Chester to see Chester FC draw 1-1 with Northwich Victoria to lift the Premier Division title in the Northern Premier League. Yet this was far from being so much as an 'ordinary' end of season title decider, because seldom have two clubs both circling at the top of a division had such differing prognoses for the future.

Yesterday's match brought Chester their second successive championship since their reformation after the mid-season financial collapse and closure in 2010, and promotion to the Blue Square Bet North for the start of next season marks the arrival of the club in the division that the original Chester City might have found itself had it been allowed to continue to limp along under its previous, thoroughly discredited ownership...

Chester will likely start next season amongst the favourites to win promotion again, this time to the Blue Square Bet Premier... A handful of miles, eleven points and a single league position separates Chester FC from Northwich Victoria, but in most other respects the gulf between the two clubs could not be any greater. Northwich guaranteed their place in the play-offs with a win at the weekend, but for the long-suffering supporters of this club, such considerations are somewhere near the bottom of any list of priorities at present.

The club will play its play-off matches in the knowledge that no matter which division in which it starts next season, it will not be playing its home matches anywhere near Northwich itself next season, having signed a ground-share deal to play its home matches more than forty miles away next season at Stafford Rangers, following eviction from The Victoria Stadium in January...

Promotion would bring greater operating costs, both in terms of travelling distances and the wage expectations of players in a higher division...

In the case of the collapse of Chester City, the club's ground was owned by the local council and the lease over it reverted to them after the old club was wound up. The supporters trust had to bid to take over the lease, but were successful in doing so...

In the case of Northwich Victoria, however, the ownership of The Victoria Stadium has stayed resolutely in private hands, passing from its original owners Beaconnett to the receivers upon the winding up of that company, and then on to Thor Specialities when Northwich's owner Jim Rushe failed to take up an option to buy the ground for the club".
... AND TWO MORE OLD CONFERENCE FOES
The Maidenhead Advertiser announces that "Former Reading FC boss Steve Coppell has become director of football at League 2 side Crawley Town. Coppell managed the Royals between 2003 and 2009, guiding them to the Premier league in 2005/06 after a recorded breaking campaign in the Championship... He returned to football in May 2010 to take over at Bristol City but lasted just four months before resigning and has been out of the game ever since.

But he has now decided to return as director of football at Crawley who are without a manager following Steve Evans's departure to Rotherham United. A club statement said, 'Steve will oversee all aspects of the club's football operations. Craig Brewster will remain as caretaker manager'.

And Crawley's chief executive, Alan Williams, added, 'Bringing someone with Steve's stature in football as well as his experience and detailed knowledge of the game to Crawley Town is another important mile-stone in the development of the club. Steve's background and pedigree will help us to achieve our aims of pushing into League One and beyond and I am sure his appointment will be welcomed by everyone with Crawley Town FC at heart'".

Meanwhile, the BBC reports that "Rotherham United chairman Tony Stewart said new manager Steve Evans will have more money to spend with the Millers than he had with Crawley... 'Steve is not coming here on a smaller budget than he had at Crawley', Stewart told BBC Radio Sheffield. 'That was one of the strong points about him joining us, he'll be able to do more with this club. The 'X factor' was the new stadium and the volume of crowd we can attract here. The board all thought that he was the man for the job and his record proves that. He's the man of the moment', he added. 'We spoke to him and saw how deep-thinking and professional he is. This is the man to take Rotherham to the next stage. The guy has come here to win games and I'm sure that by the end of September we'll have more fans loving him than hating him'.

Rotherham move to their new 12,000 capacity home, the New York Stadium in the summer... 'The 'X factor' was the stadium and the volume of crowd we can attract here which is far greater than Crawley', he said".

And also there is news of another ex-Conference foe of Altrincham's, Kettering, which still has big ideas. The Northampton Echo reports that "George Rolls has confirmed the Poppies will remain a full-time club next season... 'We will be a full-time club next year', Rolls said. 'But it has been the case, certainly this season, that the players have had it too easy. They have been working a couple of hours a day and that's it. When I say we will be full-time, I mean we will be full-time. It means the players will be playing football in the mornings and then going out into the community, coaching and meeting youngsters and getting into the schools to help spread the word. There will be no easy rides for anyone'".
---
10 April 2012
MILESTONES
If Nicky Clee starts against FC Halifax Town on Saturday - he did not complete Saturday's game due to injury- it will be his 100th start for Altrincham. He has also made 23 appearances from the bench and scored eleven goals, including his magnificent strike at Guiseley. Apart from Stuart Coburn, Shaun Densmore is the only current player to have completed more than a century of starts for The Robins.

Last Saturday was Damian Reeves's 75th start for the club; he has also made 12 appearances as a substitute. After the game at Guiseley, (where he was once a Farsley loanee briefly), his Alty career total is a remarkable 61 goals. Damian's 42 goals in 39 matches in the league this season are only bettered since 1945 by Jack Swindells who hit 57 in 42 games in season 1965/66.
GUISELEY VIEWS
There was a sense of deja vu about Monday's game at Guiseley as it mirrored, to a large degree, the reverse fixture at Moss Lane earlier in the season. Then, goals from Damian Reeves and Michael Twiss had put Alty 2-0 up after 26 minutes, only for the Robins to concede twice in four minutes as Guiseley drew level with 35th and 39th minute goals. In the game on Monday, Guiseley also came back from 0-2 with a double salvo but, sadly, they also got a winner.
Match report here.

Guiseley report that "Substitute Chris Senior's last-gasp winner helped the Lions maintain the pressure on leaders Hyde after the home side had overturned a two-goal first-half deficit. Having got themselves level within seven minutes of the restart, through Simon Ainge and James Walshaw, the pressure eventually paid when Senior grabbed a deserved winner.

Walshaw and Ciaran Toner flashed shots over the Alty bar before James Lawrie and Michael Twiss tested Steve Drench before Michael Clee latched on to a clearing header from a corner to hit a superb half volley into the top corner on thirteen minutes...

Walshaw controversially had a goal chalked off by the linesperson's flag, although he appeared to have come from behind Matthew Flynn to fire past Stuart Coburn...

[Guiseley] were rocked back on their heels when Altrincham's leading scorer Damian Reeves netted from close range on the stroke of halftime to send the visitors in two goals to the good.

Maintaining their recent record of second half comebacks the home side restored parity within seven minutes of the restart as first skipper Simon Ainge's header from a corner found its way through a posse of defenders on the line and Walshaw levelled matters when he made progress down the left past Kieran Walmsley to fire in a cross-cum-shot that looped up over Coburn after Matthew Flynn had got his head on it in attempting to clear.

Walmsley then nearly put through his own goal whilst at the other end the visitors had a goal disallowed for offside. Following sustained pressure Walshaw nearly put his side in from with an acrobatic overhead kick only to see Coburn make a superb reactive save to deny him.

The keeper then denied Toner by palming a way his shot from the edge of the area with Senior just unable to reach the loose ball but the striker was on hand to shoot past Coburn after Andy Holdsworth had played a ball forward for Walshaw to take down and roll into the path of Senior".

Another view comes from the Telegraph & Argus, which says that "A last-minute strike by substitute Chris Senior completed a sensational comeback by Guiseley after they had trailed 2-0 at half-time... Lee Sinnott's visitors broke the deadlock with their first real goal attempt, mounting a counter-attack in the 13th minute with Nicky Clee lashing in a stunning 20-yard shot... before Altrincham launched another smash-and-grab raid. This time it was former Guiseley and Farsley striker Damian Reeves who netted.

The two-goal cushion did not last long as Lions skipper Ainge powered a header in off the underside of the bar when Andy Holdsworth whipped in a 50th-minute corner. And just two minutes later it was all square after a Walshaw cross-shot hit a defender and looped in... The pressure finally told just into stoppage time".
COMING UP
Altrincham FC Marketing Manager, Matt Royle, writes:

"Although results haven't gone our way over the Easter period, we were delighted with the excellent attendance of 1,290 for the Hyde game. We hope that many of you took up the £5 entry promotion we ran and we look forward to welcoming you back to Moss Lane for the remaining fixtures of the season.

Two out of our last three games are against teams pushing for the play-off places. Both Halifax Town (14th April) and Gainsborough Trinity (28th April) have had great seasons and will be looking to cement their place in the promotion mix when they travel to Moss Lane. Come down and support the boys .... it's your last chance for your Alty fix until our first pre-season game on 21st July!"
BSBN NEWS
News of our next opponents comes from Boston United, who report that "United produced a rousing comeback but were ultimately left empty-handed against FC Halifax Town on Easter Monday. Halifax raced into a three-goal lead at The Shay, but strikes from Marc Newsham and Josh Burge hauled the Pilgrims back into contention. United dominated during the closing stages — but some fraught and frenetic Halifax defending kept the visitors at bay...

Halifax seemingly put the game beyond the Pilgrims' reach with three first half strikes. Bradford City loanee Ross Hannah scored the first two, with James Dean getting the third... United had the better chances in the closing stages. Jelleyman's arrowing header was grabbed by Eastwood, who then denied Semple from distance. Ross clipped the crossbar with a cross-come-shot in the dying embers, but Halifax had done enough — just".

FC Halifax (4-3-3): Simon Eastwood; Ryan Toulson, Liam Hogan, Danny Lowe, Scott McManus; Sean Clancy (Jason St Juste 71), Matt Crooks (Tom Baker 46), Simon Garner; James Dean, Ross Hannah (Aaron Hardy 83), Lee Gregory. Subs (not used): Jamie Rainford, Phil Senior (gk)".
OLD BOYS
PItchero Non-League reports that "The race for the Evo-Stik Northern Premier League First Division North title will go into another week after both leaders AFC Fylde and second-placed Curzon Ashton won on Easter Monday. Fylde beat Bamber Bridge 2-0 at home with goals from [ex-Alty man] James McCarthy just after half-time and Bradley Barnes after 68 minutes, while Curzon remain four points behind after mirroring that result at the Tameside Stadium against Trafford...

The race for the remaining play-off places now looks to be between Witton Albion, Farsley FC, Garforth Town, Lancaster City and Skelmersdale United".

And from same source, "Lancaster missed out on chance to get back into the top five after slumping to an injury-time defeat at Clitheroe... Clitheroe won the game in injury-time through [ex-Alty Youth] Glodi Kuba-Kuba after a quick counter attack". A former Alty reserve was in action as "Salford City were beaten 2-0 at Moor Lane by Radcliffe Borough, for whom Ben Wharton after 12 minutes and Griff Jones were the scorers."

In the NWCL Premier, Flixton beat Atherton LR 6-1, with Pat McFadden scoring one of Flixton's goals.
GATES
The EvoStik League reports that "Chester FC are celebrating after securing the Premier Division title with a 1-1 draw against Northwich Victoria at the Exacta Stadium. A club record crowd of 5,009 witnessed the club's second successive promotion since reforming in 2010, as a late Matthew McGinn goal earned Chester the point they needed... Only Luton Town's 6,003 crowd for their game with Hayes and Yeading surpassed Chester's attendance on Monday afternoon, which was also higher than that of several Football League clubs".

Meanwhile, the combined gates in the BSN totalled 6,667 from 11 games...
Eastwood Town v Corby Town 189
FC Halifax Town v Boston United 1,584
Gainsborough Trinity v Droylsden 629
Gloucester City v Histon 320
Guiseley v Altrincham 776
Harrogate Town v Blyth Spartans 425
Hinckley United v Bishop's Stortford 427
Hyde v Solihull Moors 591
Nuneaton Town v Worcester City 958
Vauxhall Motors v Stalybridge Celtic 254
Workington v Colwyn Bay 514
---
9 April 2012
ALTY LOSE 3-2 AT GUISELEY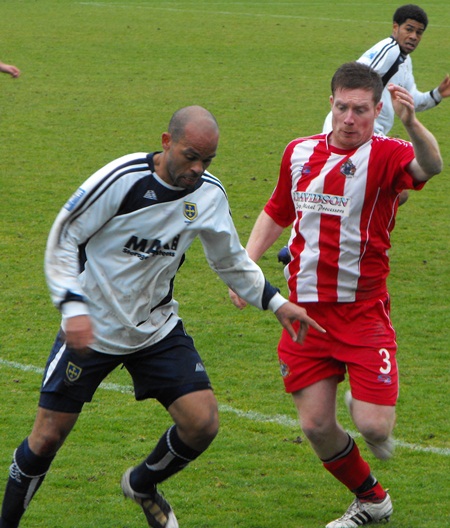 A disputed goal by former Alty striker, Chris Senior, three minutes into added time, robbed Altrincham of a well deserved point, after the Robins had led 2-0 at the interval.
Match report here.

Right: Alty's Andy Smart battles with Guiseley's Simon Baldry.

Monday 9 April
Through the Years by Howard Watts
Eastwood Town 1 Corby Town 4
FC Halifax Town 3 Boston United 2
Gainsborough Trinity 1 Droylsden 2
Gloucester City 0 Histon 1
Guiseley 3 Altrincham 2
Harrogate Town 0 Blyth Spartans 0
Hinckley United 1 Bishops Stortford 3
Hyde FC 3 Solihull Moors 0
Nuneaton Town 3 Worcester City 0
Vauxhall Motors 1 Stalybridge Celtic 0
Workington 3 Colwyn Bay 1
ALTY AT GUISELEY

Before Altrincham's last Unibond Premiership game at Guiseley on 1 May, 2000, we see most of the 14-man squad warming up. The team that day comprised Stuart Coburn, Simeon Hodson, Chris Timons, Paul Ellender, Danny Adams, Jason Gallagher, Phil Power, Paul Robertson, Andy Lovelock, Gary Talbot (who played no.9 that day), Leroy Chambers, Ricky Harris, Ged Kielty and Mick Carmody.
Brian Flynn writes, "Radio Robins, sponsored by Paradox-Computers.com will be broadcasting a full internet commentary of Monday's game at Guiseley. The match commentary is sponsored by The Friends of Kadzinuni, who are fighting poverty in Kenya.
The 'Friends of Kadzinuni' is a UK based charity supporting Kadzinuni Primary School and its rural community. The charity was founded and is run by Elaine and Nic Seller, Alty fans since 1966!
The commentators are Paul Salt and Brian Flynn. The broadcast begins at 2.50pm. You can listen to Radio Robins on the internet at www.radiorobins.com.
ALTRINCHAM FC
Live Text Updates
CLICK HERE

If you cannot get to Guiseley for the game on Easter Monday,
you can keep up to date either by radio commentary
or by live matchday updates...
just click on the relevant adjacent link.

RADIO ROBINS
Live Commentary
CLICK HERE
In advance of the game, Mike Garnett's records show the following statistics for previous games between Altrincham and Guiseley. As you will see, Alty have yet to win at Nethermoor!
At Moss Lane: P3-W2-D1-L0-F5-A2
At Guiseley: P4-W0-D1-L3-F3-A10
Overall: P7-W2-D2-L3-F8-A12

Despite their poor record at Guiseley, the visit in 1999 was a happy one for Altrincham as they had already clinched the UniBond Northern Premier League title before their final away game of that season ended in defeat to The Lions. In the adjacent picture we see manager Bernard Taylor and captain Chris Timons looking happy after the game.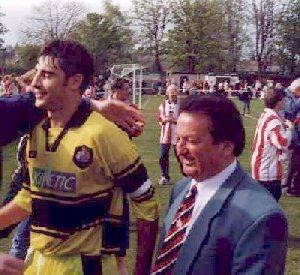 GUISELEY'S LAST GAME
Guiseley report that "The Lions kept pace with leaders Hyde - who won 3-1 at Altrincham – with a hard-fought victory in North Wales, where two goals from Simon Ainge secured a 2-1 win against Colwyn Bay after a less-than-impressive first half performance that had seen the home side dominate physically and go in a goal to the good courtesy of John McKenna.

Andy Holdsworth and Danny Forrest had gone close for the visitors but the home side took the lead on 35 minutes when central defender McKenna fired home past Steve Drench – none-the-worse for his midweek injury – after a shot had been blocked... The Lions were level on the hour when Ainge lashed in a shot from 18 yards. Two minutes later they were in front, when the visiting skipper headed home at the far post from Holdsworth's free kick.

In the closing stages Dave Merris almost finished off a decisive Guiseley move only to see his effort tipped away by the keeper, who also clutched Chris Senior's acrobatic overhead kick.

Steve Kittrick said after the game, 'The performance was a lot better in the second half. I don't know what's wrong with us in the first half. We give teams too much respect and let them get about us. I've just spoken to the lads and asked them what they want to do, if they want to do the warm up differently or something, but it all seems to start from the ball coming back too quick from up front. The lads at the front have got to be a platform that lets us build and get forward'".

Team :1 - Drench, 2 - Clarke, 3 – Merris, 4 – Toner, 5 – Ellis, 6 - Ainge (Capt), 7 – Forrest (Senior, 77), 8 - Boshell (Wilson, 61), 9 - Ellington (Baldry, 59), 10 - Walshaw, 11 – Holdsworth, 12 - Baldry, 14 - Wilson, 15 - Burns, 16 - Senior, 18 – Giles".

The Telegraph & Argus adds that "Guiseley held their nerve and their concentration to earn yet another victory... Spokesman Stuart Allen said, 'We were poor first half, very poor considering the standards we have set ourselves recently. But after half-time it was more or less all us'.

Leaders Hyde won 3-1 at Lee Sinnott's Altrincham, who visit Nethermoor tomorrow to play a Guiseley side bang in form. The win at Colwyn Bay was a sixth straight victory for the Lions. Allen added, 'Danny Boshell had to come off in the second half and will be a doubt for the Altrincham game because there is not much recovery time'".
VIEWS ON SATURDAY'S GAME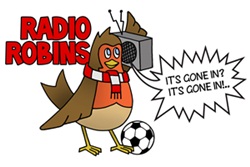 Radio Robins' Brian Flynn recorded an interview with Alty assistant manager, Neil Tolson (left), after Saturday's game with Hyde. You can listen to it here. Neil gives his views both on the match and its implications, as well as his view on the outcome of the league title race.

Alty TV has good highlights of Saturday's game against Hyde.

After Saturday's game, Hyde reported that The Tigers "secured a massive victory over Altrincham in this Cheshire derby to take them one step closer to the Blue Square Bet Premier. They had to do it the hard way though – coming from behind to take the points.

It was the home side who started the brighter and they took the lead on 8 minutes when the league's leading scorer Damian Reeves smashed home a penalty after James Lawrie [actually Shaun Densmore] had been brought down in the area.

They had goalkeeper David Carnell to thank for not falling further behind as he produced a brilliant reflex save from Reeves's flick following a Matty Flynn header.... After Broadbent had clearly been tripped... leading scorer Scott Spencer rifled home the penalty to equalise. Hyde were now on top... They were soon in front when Flynn misjudged a header which Spencer latched onto. He played in Reece Gray who drew Stuart Coburn and pulled it back for Broadbent to smash home to send the travelling fans wild.

It was Altrincham who came out the brighter in the second half but Hyde were always dangerous on the break and they increased the lead when Flynn flew in on Spencer as he raced into the box and a third penalty of the game was awarded. Spencer this time fired it down the middle and to give them a 2 goal cushion. The home side were seeing a lot more of the ball but failing to break down a well organised defence".
YOUTH NEWS
Alty Youth did not play this weekend but the NWYA reports that in the Neil Thomason Cup 11-12 semi-finals, the scores were:
Chester F.C. 0 F.C. United of Manchester 2
Marine 3 Warrington Town 5

The latest league table is here.
OLD BOY
Welsh Premier tells us that "GAP Connah's Quay will return to the Welsh Premier as champions next season after clinching the Huws Gray Alliance title on Saturday. The Nomads beat Welsh Cup finalists Cefn Druids 2-0 at the Deeside Stadium and are now seven points clear of second-placed Buckley Town with just one game remaining... Marc McGregor's men have made history by becoming the first side ever to win back-to-back Alliance titles in the two seasons since they were relegated from the top flight in 14th-place when the league was cut from 18 to 12 clubs under the FAW's reorganisation. But they were cruelly denied promotion last season when they failed to gain the domestic licence on appeal. Prior to their relegation in 2010, Nomads had enjoyed 18 unbroken seasons in the Welsh Premier since the inception of the league in 1992".
---
8 April 2012
NEXT GAME
Details of TASC supporters' transport to Guiseley are on the Away Travel page.
ALTRINCHAM 1 HYDE 3
In a game of three penalties, Hyde were deserved winners. However, Alty started in determined fashion and went ahead with a penalty in the ninth minute, converted by Reeves...
Alty line-ups
Right: Chris Lynch was named Alty's Man of the Match against his former club. Here he competes with Hyde's Scott Spencer.
CHRIS'S DREAM
The local Independent says that "Chris Bullock, the Community Officer with the Robins has a dream – and he wants to share it with every local youngster.

It is that soccer can be a major source of good for children, no matter what background they come from or what their level of ability.

After all, Chris Bullock has been soccer mad all his life and never lost his passion for the game even though he never made it beyond the enthusiastic amateur ranks. That's why the former Social Worker decided to switch careers mid-stream and devote his life to coaching youngsters in the beautiful game.

The catalyst for change was when one of his sons – Mark, then aged 10 and now a PE teacher – was attending Tyntesfield School in Sale"...

Chris adds, "A teacher had run the School football team for a number of years and decided to step down, leaving nobody to run it".

The article continues...

"Chris Bullock and the other parents decided they would take over the coaching. The only problem was they soon learned you need to be qualified. So Chris became a professional coach 18 years ago at Wellington School, Timperley, took voluntary redundancy and the rest, as they say, is history.

Since obtaining his Level 3 UEFA B Coaching qualification, Chris has worked for several soccer schools including the one set up by Steve Bruce. Having only recently taken up the role of part time Community Officer for the Robins, he now finds himself working for Altrincham Community Sport, a new organisation set up handle all the club's community activities.

As Community Officer his job has three key objectives – to work with schools, to link up with youth clubs and to engage with the elderly.

Yet, at least half of his time is spent doing what he loves most, coaching the Robins' 37 youth teams, with some 400 boys and girls aged from 4 years up to 17, and running the Saturday morning club.

Chris is also responsible for the Open Age Ladies' Team, which is in its first season in the Cheshire Ladies' League. And he has a personal interest in this new team, as his 16-year-old daughter Rachel plays central defender.

'I love the job because football is a dream that needs to be shared by children', he says. 'It presents an opportunity for kids from all walks of life to play together – and we are all equal playing football'".
GATES
As well as being Altrincham's best attendance of the season yesterday, the match against Hyde was also the top crowd puller in the division on Saturday, as 180 or so Hyde fans helped to make up a gate of 1,290.
Altrincham v Hyde 1,290
Bishop's Stortford v Nuneaton Town 538
Blyth Spartans v Gainsborough Trinity 392 - Blyth relegated
Boston United v Harrogate Town 1,049
Colwyn Bay v Guiseley 386
Corby Town v Gloucester City 277
Droylsden v Workington 245
Histon v Hinckley United 354
Solihull Moors v Vauxhall Motors TBA
Worcester City v Eastwood Town 857
UPS AND DOWNS
Saturday's results mean that Kettering Town join Bath City in being relegated from the BSB Premier, whilst Blyth Spartans join Eastwood Town in dropping down from the BSBN. Chester will be promoted to the BSBN as champions of the EvoStik Premier if they either win or draw at home to Northwich Vics on Monday. Northwich Vics lie second, followed by Bradford PA and Chorley. FCUM are now fifth, five points behind after losing on Saturday at home to Buxton.

The Northwich Guardian reports that "Northwich Victoria will play fellow promotion hopefuls Hednesford Town at Leek's Harrison Park next Friday. The encounter has been brought forward 24 hours because Vics' first pick for home encounters, Nantwich Town's Weaver Stadium, is unavailable. It will become the third venue at which Northwich have hosted an opponent for a league game since the club was evicted from the Victoria Stadium in January.

A switch to Leek now makes certain that Vics will not be able to pick which pitch they play on if they finish in a play-off position rewarded with home advantage. League bosses said last month that, unless guests are hosted at the same ground for the remainder of the campaign, the homeless team would have to hit the road to earn promotion back to the Football Conference.

'The rules were made clear then', a spokesman for the Northern Premier League told the Guardian."
---
7 April 2012
RESULTS
Saturday, 7 April
Results below have been corrected after three of them were incorrectly reported by the BBC (and still are wrong at 7.35pm!).
Howard Watts's Through the Years record for Saturday's date (7 April)
Altrincham 1 Hyde FC 3
Bishop's Stortford 0 Nuneaton Town 3
Blyth Spartans 2 Gainsborough Trinity 3
Boston United 0 Harrogate Town 2
Colwyn Bay 1 Guiseley 2
Corby Town 0 Gloucester City 1
Droylsden 1 Workington 1
Histon 2 Hinckley United 3
Solihull Moors 2 Vauxhall Motors 3
Worcester City 1 Eastwood Town 0
ALTY v HYDE
Altrincham take on league leaders Hyde at Moss Lane on Saturday (3pm) seeking to avenge a 2-1 defeat at Ewen Fields earlier this season.

Mike Garnett's records show the following statistics relating to previous games between Alty and Hyde:
At Moss Lane: P60-W33-D12-L15-F152-A95
At Hyde: P55-W14-D8-L33-F82-A139
Neutral: P3-W1-D0-L2-F11-A9
Overall: P118-W48-D20-L50-F245-A243
PLAYER OF THE SEASON
TASC chairman, Brian Flynn announces that voting forms for the Supporters' Player of the Season poll will be available at the turnstiles at Moss Lane tomorrow.
FIXTURES
Monday, 9 April 2012
Eastwood Town v Corby Town
FC Halifax Town v Boston United
Gainsborough Trinity v Droylsden
Gloucester City v Histon
Guiseley v Altrincham
Harrogate Town v Blyth Spartans AFC
Hinckley United v Bishops Stortford
Hyde FC v Solihull Moors
Nuneaton Town v Worcester City
Vauxhall Motors v Stalybridge Celtic
Workington v Colwyn Bay
RADIO RE-RUN
Brian Flynn reports that there is now a recording of Tuesday's 'WFM 97.2FM Sports Show' on the internet. This comprises an interview with Brian, of about 15 minutes' duration, at the start of the programme.
BSBN NEWS
FC Halifax Town report that "Stalybridge Celtic won the battle of the Pennines to make sure it wasn't a very Good Friday for FC Halifax Town, winning 2-1 at Bower Fold... 1647 was the attendance, including over 800 Shaymen supporters...

On-loan Fleetwood Town midfielder Sean Clancy scored his first Town goal, cancelling out Chris Lynch's opener, but Greg Wilkinson was the man to win the game in the dying minutes to send Stalybridge one point clear of Halifax.

The game proved to be a scrappy one, with no less than six yellow cards being shown and a half full of warnings from the referee Mr Copeland. Lynch was the unlikeliest of men to give the hosts the lead after 27 minutes as the defender tapped the ball into the net from the six yard box following Stephen Brogan's header from an in-swinging free kick.

But it only took seven minutes for Clancy to level the scores. James Dean played the ball across the face of Jan Budtz's goal and the on loan Fleetwood Town midfielder arrived swiftly at the back post to tap it in.

With just fifteen minutes left on the clock, Jamie Rainford made his return to the Town side, replacing Gregory... As the referee blew the full time whistle, there were jubilations from three of the stands at Bower Fold, while the Town fans faced a thirty mile trip back home which will seem like three hundred miles".

FC Halifax Town: 1. Simon Eastwood, 2 Ryan Toulson, 3Scott McManus, 4 Liam Needham (16 Simon Garner - 71), 5 Liam Hogan, 6 Danny Lowe, 7 Sean Clancy, 8 Matt Crooks, 9 James Dean, 10 Ross Hannah (14 Jason St Juste - 64), 11 Lee Gregory (15 Jamie Rainford - 76). Subs: 12 Phil Senior, 17 Aaron Hardy

Stalybridge Celtic: 1) Jan Budtz, 2) Mark Lees, 3) Rhys Meynell (c), 4) Tim Ryan, 5) Chris Lynch, 6) Jack Rea, 7) Callum Warburton (15 Mitchell Austin), 8) Greg Wilkinson, 9 Phil Marsh, 10 Arthur Gnahoua (12 Lloyd Ellams -75), 11. Stephen Brogan. Subs:, 14 Joel Bembo-Leta,, 16 Kristian Platt, 17 Ollie Banks...

FCHT Man of the Match: James Dean", a former Alty loanee.
---
6 April 2012
FRIDAY GAME
Stalybridge Celtic 2 FC Halifax Town 1
League table
BUY YOUR BALLOONS FOR MARK!
Don't forget to bring a few extra pounds to Moss Lane this Saturday to buy your tickets for the Altrincham FC Balloon Race, with all proceeds going to the Mark Maddox Testimonial Fund. The race itself will start with the release of the balloons from Moss Lane immediately after the Former Players versus Coaching Staff football match, which kicks off at 1pm on Sunday, 13 May.

The balloon race sellers will include some familiar faces in the shape of former colleagues of Mark's. These will include Gary Scott, Graham Heathcote, Eddie Hussin and Chris Adams (pictured, right), all of whom have volunteered their time to boost the testimonial fund on Saturday. Tickets will also be available at Alty's other remaining home games against Halifax and Gainsborough. Tickets for this excellent cause are just £2 each and the winner will receive a prize of £100.

After the balloon race starts on the 13th, why not stay at Moss Lane to watch the final action of the Premiership season, live, in the bar at Moss Lane in High Definition?

And, on Friday 18th May, there will be a final event to round off Mark Maddox's testimonial year, so please keep that date free. More details of this event will follow.
SPORTSMAN'S DINNER
A successful Sportsman's Dinner was held last night at the Cresta Court Hotel, Altrincham, last night, with Steve Claridge as guest speaker. Important funds were raised both for the Football Club and the Mark Maddox Testimonial appeal. The evening was expertly compered by Radio Manchester's Jimmy Wagg.

Steve, a much-travelled footballer who has played under a string of well-known managers, had plenty of anecdotes to entertain the audience. He has had spells under such household names as Harry Redknapp (Bournemouth), John Beck (Cambridge United), Barry Fry (Birmingham City), Martin O'Neill (Leicester City), David Pleat (Luton Town), Alan Ball (Portsmouth) and a remarkable four spells with Mark McGhee, all four of which ended with McGhee getting rid of Steve!

Steve had some other strange experiences, including being sacked as manager at Millwall by Theo Paphitis after just 32 days and a period of six weeks as a player at Crystal Palace, where he missed the team photo because he was led on a wild goose chase in his car by Mark Bright and couldn't find his way back to the ground in time.

Steve also was candid about his fondness for betting; he once bet £900 on Portsmouth beating Barnsley and also got his team-mates to bet another £900. They won £6,000 between then, half of which was Steve's. However, the FA charged Steve and fined him £6,000 so he ended up out of pocket. He also once sold his house to place a bet on a runner at Cheltenham. He wagered £130,000 on the horse and bought a four-bedroomed detached house on the proceeds!

After Steve's talk, an auction of football memorabilia raised signifcant sums for the Mark Maddox Testimonial fund and for the Football Club.

The Club would like to thank all concerned for supporting this event.
ALTY'S NEXT OPPONENTS
Alty entertain league leaders Hyde FC this Saturday (3pm).

The Tameside Advertiser says of Hyde's latest win, over Bishop's Stortford, that "A comfortable victory maintained Hyde's five-point lead at the top of the table. The league leaders flew out of the traps as Scott Spencer's shot was spilled by Jordan Archer, who just managed to grab the ball at the second attempt from an onrushing Godwin Abadaki. The on-loan Tottenham keeper wasn't so lucky second time around though when Andy Pearson's shot was spilled and Spencer netted the rebound. Archer managed to redeem himself by saving Reece Gray's volley but was almost caught out again when Spencer rounded him, only for Jack Lampe to clear off the line. Lampe almost shone at other end when a rare Bishop's attack ended with his shot tipped behind by David Carnell.

Nevertheless, the Tigers extended their lead on 55 minutes when a lovely flowing move ended with Ryan Crowther firing across Archer... A third goal arrived when Gray won the ball and played in Spencer, who beat Archer. He repeated the trick six minutes later, completing his hat-trick from Chris Worsley's through ball. Crowther then completed the scoring three minutes from time as he fired a 25 yarder into the bottom corner".
BSBN NEWS
Alty travel to Guiseley on Monday and you can join them by taking the TASC Supporters' Coach to the game. Full details are on the Away Travel page. The coach leaves The Vine at 12 noon, The Hare & Hounds at 12.10pm, Altrincham Leisure Centre at 12.15pm and Moss Lane at 12.20pm.

Meanwhile, the Wharfedale Observer tells us that "Guiseley manager Steve Kittrick is unhappy about his team having to play four games in eight days. The Lions' early April schedule includes away matches on Easter Saturday against Colwyn Bay and on Saturday, April 14 against Stalybridge Celtic, plus hosting Altrincham on Easter Monday. That would be fair enough but squeezed into the equation is the West Riding County Cup final against Bradford Park Avenue next Wednesday at Valley Parade.

Kittrick said, 'I have always treated the County Cup with the utmost respect but we are facing four matches in eight days and the league is my priority. I am sure that Bradford Park Avenue feel the same way but the County FA have got to look at the scheduling. They must know in the summer when the next Easter will fall'...

A run of six wins, a draw and a defeat has led to Kittrick being named manager of the month for March and has also lifted the Lions from third to second in the table...

Kittrick added, 'It is now a two-horse race for the title between ourselves and Hyde, who we trail by two points. The only way that it won't be a two-horse race is if we each lose all our remaining games and that is not going to happen. But Hyde will be looking over their shoulders at us now'.

One reason why Guiseley have climbed from fourth in February to second now is their ability to turn what is a losing result or a draw at half-time into wins in the second half. Kittrick said: "I say what I have to say at half-time but there are a number of reasons why – the half-time team talk, the players' fitness and the players' intelligence have probably all played a part'...

Kittrick said, [injured goalkeeper, Steve Drench] "should be okay for Colwyn Bay but Jason [Price] could be out for two or three weeks but to attract 487 fans [for their last game] in conditions that were absolutely unbelievable was a superb effort, and we are now seeing supporters with Leeds and City shirts too".

More on this comes from the Telegraph & Argus which says that "Guiseley go into the Easter weekend right on the coat-tails of leaders Hyde FC... as they journey to Wales on Saturday to take on mid-table Colwyn Bay. All the challengers have played the same number of games, so after the Easter period there will be just three remaining. That intriguing scenario means Lee Sinnott's Altrincham could yet have a big say in who lands the title as they play the top two over the weekend.

The former Bantams' defender and Port Vale manager sees his club host Hyde on Saturday and travel to Guiseley on Monday. The Lions avoided the manager of the month curse after Steve Kittrick was named as the winner of the Division One North award before Tuesday's 3-2 home win over Gloucester City...

Spokesman Stuart Allen said, 'We are left sweating on news of injuries to Jason Price and Steven Drench, who were substituted in the game against Gloucester'. Striker Price limped out minutes after being brought down in the area... Goalkeeper Drench suffered [as] he dived to gather a ball but was caught by the visiting striker...

Allen added, 'Drenchy's looked much worse - even the medical people didn't know if his nose was broken. There was a long stoppage for treatment but that was because it was a possible neck injury. Fortunately that wasn't the case and when I spoke to him after the game he was sitting up but he did have stud marks on his face. He is a tough lad and I'm sure he will want to play, not just on Saturday but Monday as well'".

From the Eastwood Advertiser, we learn that "Eastwood Town manager John Ramshaw had mixed reactions after last weekend's narrow 1-0 home defeat against Stalybridge Celtic... 'I was very impressed by us. It was a good all-round team performance, the lads battled well. Young Josh Raven did well at right back on his debut, he did very well and looked comfortable", said Ramshaw.

'To be honest, I was a bit disappointed in them [Stalybridge], being a full time football club and all that. They struggled to break us down and once again we had hardly any luck... but the goal we conceded was tame. The lad cut inside and squared it and they had a tap in. But we are now starting to take the game to people. If we could finish, we would be in a different league position'.

Looking ahead to an Easter double-header weekend, Ramshaw is expecting two more tough games. 'Worcester City will be a very difficult game. They are a big club and are flying at the moment as they close in on the play-off places. Easter Monday's game against Corby could be different. It depends on what sort of team turn up from them as they have been rather inconsistent... They are saying they have got financial problems, but so have we!...

There are no easy games in this division though, they are all difficult, they just vary in degrees of toughness!'... Ramshaw says the planning for next season is already occupying his thoughts. 'To be honest, the planning started in November when I took over. We are aiming to retain all the players under the age of 22. Things could hopefully change financially in summer and we will build from there'".

The North Wales Weekly News says that "Colwyn Bay's new stand will be open to spectators for the first time for this Saturday's home game against title-chasing Guiseley, as the club wait anxiously for an FA decision on their Conference North status. The FA's ground grading committee meet next Tuesday (April 10) when a report will be submitted following an inspection of the Red Lion Foods Stadium's improvements earlier this week.

Club officials have worked tirelessly over the last few weeks to get a new stand, new floodlighting, turnstiles and other league requirements installed by the March 31 deadline - and they are hopeful that the inspection went well.

'The inspectors seemed impressed with the work we have done, and particularly the new stand'," said club secretary, Grant McIndoe. All the club's resources in the last two or three months have had to be channelled towards upgrading the ground, and that has starved player-boss Jon Newby of investment for the team... That has contributed greatly to the recent decline in fortunes on the pitch.

'Getting the ground improvements done by the deadline has had to take priority over the team, but once we get the grading approved we can start to concentrate on the playing side again and plan for next season', said chairman Bob Paton... Eight defeats in their last 10 games, with the Bay failing to score in seven of those fixtures, is a major worry for Newby ahead of a big Easter weekend which sees the home game against Guiseley followed by a trip to bottom six side Workington on Easter Monday.

'Guiseley, in my opinion, are the best side in the division by a mile', says Newby, after watching them win at Halifax last week. 'They have put together a squad now that I reckon could compete in the Football League'...

The Seagulls, by contrast go into the game on the back of five defeats in a row... [In their last match] 'We looked like a side who were resigned to losing and we've got to be better than that', he said".

According to the Halifax Courier, "Strikers love a goal and Town frontman Lee Gregory will be bidding to get on the scoresheet for the third game in a row at Stalybridge Celtic tomorrow. But the Shaymen's 17-goal leading scorer has admitted that there was a time at the end of February when he did not think he would be able to help the club's push for a third successive promotion.

The former Mansfield man returned from injury at Nuneaton only to pull up in the second half with a recurrence of a hamstring problem and limp from the Liberty Way pitch.

'I feared the worst', he said. 'And the physio said it did not look good. Fortunately the swelling went down after a few days and it healed quicker than we thought'... Gregory was back for the 3-1 win at Bishop's Stortford. He did not score in that game, but netted against Guiseley and Histon and is delighted to be back on track.

'Personally, I think I am starting to get back to full fitness and playing well', he said... 'We needed the win on Saturday, especially after the game against Guiseley', he said. 'That was a bit deceiving because we played really well in the first half'...

There are five matches remaining for all the play-off contenders with the points deduction suffered by Nuneaton - scheduled to kick in on April 11 - meaning there are effectively four points covering five teams battling for the final three places... 'It is going to be tight, but it is in our hands', said Gregory. 'If we let it go now it is our fault and no one else's'.
---
5 April 2012
"LITTLE ROOM FOR ERROR"
The Sale & Altrincham Messenger tells us that "Altrincham face a crucial Easter programme as they battle to keep their play-off hopes alive. A 2-1 defeat at Nuneaton on Saturday was a severe blow and manager Lee Sinnott had few complaints.

'We had an obvious penalty turned down early in the second half as Matthew Flynn's header was clearly handled but, overall, Nuneaton dictated the game to us and we struggled to build momentum. We lost too many individual battles and that was a real disappointment, after we had played so well in the second half in winning at Corby, last Wednesday'.

The one bright spot in a frustrating afternoon for the Robins was Damian Reeves's 40th goal of the season, a remarkable tally achieved in just 37 games.

'There is very little room for error now. We probably need to win four of our remaining five games as a minimum', said the Altrincham supremo, who needs to get his team back up for an Easter weekend that couldn't be any tougher. Long time league leaders Hyde visit Moss Lane on Saturday, to be followed by an Easter Monday trip to Yorkshire to take on Guiseley, who are breathing right down the Tigers' necks in second place".

And in the Advertiser we read that "Altrincham boss Lee Sinnott insists he hasn't given up on leading the Robins into the Blue Square Bet North play-offs despite their loss to Nuneaton at the weekend... Alty are still 13 points short of the 70 Sinnott believes might be enough to take them into the knockout stages, so, if his calculations are right, nothing less than four wins and a draw will now suffice.

He said, 'Saturday's defeat has made it harder for us, there's no getting away from that, but, like any manager in my position, I can promise we won't be giving up until it's mathematically impossible. Easter will be tough, but, since both Hyde and Guiseley need to win as badly as we do, neither will shutting up shop, which in many ways should suit us'. Altrincham are hoping to get a 1,000-plus crowd for the first time this season as they are offering £5 entry for Saturday's game. The offer is open to season ticket holders for any of the 92 Football League clubs, on presentation of their season ticket and valid ID".
OLD BOYS
The Manchester Evening News reports that "It's Danny Heffernan joy as Mossmen retain Shield. Australia-bound striker Danny Heffernan signed off in style by ensuring the perennial Manchester Amateur Sunday League champions retained the coveted County Shield.

Heffernan, making his farewell appearance for the Mossmen before jetting off to sample soccer Down Under, scored the winner as the Seymour Park aristocrats came from behind to beat Eccles League aces Lightoaks Villa 3-1 in an action-packed final at the Regional Athletics Stadium. Adam Tsi gave Lightoaks a deserved interval lead but Moss Side came roaring back with man-of-the-match James Holden equalising before Heffernan struck to send Ian Heath's side to their second successive County triumph.

[Former Alty trialist] Gavin Salmon added a third goal late on but Moss Side's delight at holding on to the Shield was somewhat diminished when the former Droysden frontman's fellow substitute John Murphy suffered a broken ankle in the dying seconds".
PREMIERSHIP AT MOSS LANE
At Moss Lane on Sunday, you are invited to watch live Premiership matches in HD in the bar:
k.o. 1.30pm Manchster United v QPR
k.o. 4.00pm Arsenal v Manchester City

The bar opens half an hour before kick-off and everyone is welcome.
BSBN NEWS
The Telegraph & Argus tells us that "Guiseley moved to within two points of leaders Hyde FC when they beat Gloucester City by the odd goal in an incident-packed game at Nethermoor last night. The visitors took the lead after just three minutes when Darren Matthews headed home...

Price was brought down in the area, an action which earned Gloucester defender Matt Ross a red card, but James Walshaw's penalty was saved. Price was soon hobbling off, possibly as a result of the late challenge, and [ex-Alty man] Lee Ellington replaced him. There was more injury woe for the home side after a long stoppage for treatment to Steven Drench late in the first half. The keeper had been caught in the face by a boot, as he made a save, and was unable to continue. However, reserve shot-stopper Jacob Giles was on the bench.

Guiseley... were on terms a little over a minute into the second half. A Walshaw shot was saved but Danny Boshell fired in... Ellington drove a low shot into the net from 16 yards, and two minutes later Danny Forrest appeared to score but the goal was credited to Ciaran Toner. It should have been plain sailing for the Lions from there but a Darren Edwards strike 20 minutes from time ensured a nervous ending to an already tense game".

According to This is Lincs, "Boston United joint-manager Jason Lee says he wants his future resolved before the end of the season. After an inconsistent campaign in Blue Square Bet North, it remains to be seen whether bosses Lee and Lee Canoville will be retained for the 2012/13 campaign. Chairman David Newton has an extremely tough decision to make following a season which has seen the Pilgrims show definite signs of promise.

But a chronic lack of consistency has blunted their play-off hopes and could see Newton dispense with the pair and 'go to the market' as he did before Lee and Canoville were appointed on a full-time basis last May... Lee admitted he was eager to learn his fate...

On Saturday, the Pilgrims host relegation-threatened Harrogate before visiting a Halifax side battling for promotion on Easter Monday. That double-header is followed by home games with Gainsborough Trinity and Guiseley either side of a trip to leaders Hyde... Added Lee, 'I want to win every game going in. At the end of the season we can say this is where we ended up, this is what we did, this player got 20 goals, this player played this number of games and so on. Every player has got something to achieve'".

"Ellis Deeney says he would be happy to commit his future to Worcester City beyond the end of this season", reports the Worcester News.

"The 20-year-old former Aston Villa youth captain joined the club from Hinckley United at the turn of the year and has since established himself as first-choice left-back. Filling the boots of Neil Cartwright, who was released during the January shake-up, Deeney has proved a good asset to manager Carl Heeley's team. Like Tyler Weir or Dwayne Samuels at right-back, he is equally comfortable attacking down the flanks as he is facing his own goal...

'I was playing with a team I didn't like too much and I wanted to come to a team that plays football', Deeney said. 'We don't just kick it, we try and get the ball down and play, which is more my game. It's a good move for me. If a better team comes in for me, then that's for my personal progress, but I am happy where I am right now and if they want to offer me a contract for next season then I am happy to take it... We are just trying to get our heads down, work our way up the table and see what happens'".
CHESHIRE NEWS
The Guardian's David Conn writes an article headed:

Northwich Victoria now consigned to sleeping on neighbours' floors

After selling the Drill Field, their much-loved home for 127 years, it has been downhill all the way for the now almost destitute Vics. The Victoria Stadium was perceived to be the answer to Northwich Victoria's problems – now it has become a problem with no ready answer.

For 127 years the evocatively named Northwich Victoria owned, played at and were justly famous for one of the world's oldest football grounds, the fabled Drill Field, yet now Vics, of all clubs, find themselves homeless.

The club have been evicted by a neighbouring chemical company, Thor, bringing a cruel full-stop to a decade of calamity. In 2002, previous Vics directors sold their greatest, defining asset, the Drill Field, for housing, and for ambition to build a new stadium on an industrial estate. Had the world been different the Drill Field would have been protected, for Northwich and future football generations, but the Conference, itself pumped up with professional ambitions, was insisting all its member clubs have 6,000 ground capacities, able to be enlarged to 10,000.

Near-tragically, as it turned out, the Conference reduced that rule to a more reasonable 4,000-capacity requirement just after Vics made their decision, so it could have been saved, but the directors decided to plough on anyway... The old board began to build the Victoria Stadium on the Wincham business park at the edge of town, with the hope that the bar and restaurant which they planned would make them money to climb the football ladder...

In early 2004 the money from selling the Drill Field proved not to be enough to complete the new stadium, and the club collapsed into administration. A Manchester nightclub owner, Mike Connett, bought the Vics and the new ground from the administrator... [in] 2006-07, the team won promotion to the Conference Premier ... but the financial hangover hit the following October and with the club at risk of falling into administration again, Connett kept the ground, and sold the club to a Manchester go-cart-track owner and property investor, Jim Rushe.

Rushe, still Vics' owner now, sank £325,000 in to pay wages and running costs, as did his then partner, Nick Bone, but it was insufficient to bail out the club and by May 2009 Her Majesty's Revenue and Customs had issued a winding-up petition for £433,902 unpaid taxes. Rushe took the club into administration again, and bought it back himself... In October 2008 Deloitte was appointed as receiver of the stadium by Clydesdale Bank, which had lent money to Connett, and the bank repossessed Vics' new ground. January 2009 was one of the grimmest periods in Northwich Victoria's long history, as they were forced to wander for the first time since they arrived at the Drill Field in 1875. Ultimately they returned to play their games at Victoria Stadium, but only on a short-term licence from the receiver, which was looking to sell it...

In 2010, despite another storming FA Cup run, in which Vics beat Charlton Athletic live on ITV in the first round, the club were expelled and relegated to the Evo-Stik Northern Premier League... Finally Thor Specialities... bought the ground for £598,000... Vics are now doing the football club equivalent of sleeping on neighbours' floors. Mostly they have played their matches at Nantwich, but also at Macclesfield and Kidsgrove. Rushe has just announced a ground-sharing agreement for next season with Stafford Rangers, 40 miles away, which is filling no fans' hearts with glee...

Rushe says he will not be able to fund the club with their current wage bill next season, although he insists the club will stay in business... Sport England has a statutory right to object in any planning application if a sports site is disappearing with no new one to replace it, so a solution may need to be found before Thor can develop". The Northwich Guardian reports that "Businesses promised, more than two years ago, part-payment of a debt owed to them by Northwich Victoria Football Club, have not had a penny.

Those firms agreed in December 2009 – seven months after the club had entered administration – to write off close to two thirds of every unpaid bill in return for receiving the remainder in monthly instalments over the next five years. They are still waiting for their money.

In February an insolvency expert, hired by the club's owner Jim Rushe, asked a judge at Manchester High Court to rip up a Company Voluntary Arrangement (CVA), a binding legal agreement about how the debt would be paid back, accusing the club of not fulfilling its commitment. 'We were left with no alternative', said Gary Pettit, from business recovery specialists Marshman Price. 'It is with deep frustration and regret that we have had to take such a course of action, but the directors of the club have always been aware that this would happen if they did not comply'.

In papers sent to Companies' House at the end of February, he said that Mr Rushe had reneged on an accord to find £2,500 each month for creditors... '[Mr Rushe] sought to claim payments were not due and pleaded ignorance as to his obligations'.

Not surprisingly, Vics' owner's version of events is a different one. He says that Mr Pettit's responsibility as the club's administrator – a position he accepted in November 2009 – had been to make the payments. Mr Pettit brokered a deal a month after his appointment with the club's creditors, who were persuaded not to petition to wind up Northwich Victoria Football Club (2004) Ltd – the firm that paid the players' wages at the time – after the team reached the FA Cup second round. Vics' reward was a prize pot worth close to £190,000, cash those companies owed money thought the club could use to pay part of its debts. Mr Pettit says there is only £30,000 of it left.

According to his report, Pettit's firm is claiming £54,000 as fees while a further £16,000 accounts for lawyers' costs for a drawn out battle with the FA to release prize money earned on the pitch in that FA Cup run. A round sum of £50,000 has been allocated as trading expenses, which the Guardian has learned is repayment of a loan made to the club by a third party while it was in administration. As a result, neither man has done what the other claims to have expected...

Mr Pettit had threatened to close down the club after dissolving its CVA, but changed his mind following a summit with Mr Rushe in Northampton a fortnight ago... Said Vics' now former administrator, 'Jim knows what he must do and if he can meet that requirement I'll recommend to creditors that the CVA continues, but of course nothing can be guaranteed'. It is not known what the two men agreed, but Mr Pettit says a deadline has been set...

'Should Mr Rushe meet his obligations then I can ask creditors to relinquish the failure notice', added Mr Pettit. 'If they decline, then the CVA will be treated as having failed'...

The game's governing body is watching though. 'We're aware of the notice to terminate the CVA and are considering this development in relation to the application of football's rules', said an FA spokesman. The Football Conference, which kicked out Northwich in the summer of 2010 as punishment for the club's failure to pay its creditors in full by a league-imposed deadline, is another interested observer... 'I can't give a definitive reply to any question about a club's application for promotion until all of its circumstances are known', said Dennis Strudwick, Conference general manager, in June 2010... 'My understanding is that Northwich will be required to be compliant with its CVA, if such a condition still prevails, but I would not wish to pre-judge any given situation'".

200% adds that "It was announced on Friday afternoon that, from the start of next season, the Vics will be sharing the Martson Road home of Stafford Rangers, more than forty miles from Northwich's base in Cheshire... Earlier this week, however, there was news, of sorts. It didn't come from an official source, and it has yet to be confirmed by the club itself, but it has been announced that the club's official supporters' club is to be relaunched and that a fund is to be opened to facilitate the contruction of a new stadium in the club's immediate vicinity..

The idea seems to be the brain-wave of one Steve McNally, but... McNally doesn't claim to be a supporter of the club and as much as we know about him is that he is a single father and that he is, or may be, from the Bootle area of Liverpool... Although he has no apparent previous connection to the club, McNally seems to have big plans for Northwich Victoria which culminated in a lengthy and bizarre post on the forum outlining his plans for the club's future...

Here are six questions that McNally must answer before so much as an iota of credibility can be given to any such bright ideas.
1. Who are you?
2. Was the post referred to on the NVST forum an official launch or not? Northwich Victoria FC has not released anything official to confirm that they support this initiative...
3. Why has the "building fund" set a target of £4m? We note that the original post mentions that this figure was decided upon after "discusions [sic] with the land and building parters [sic] of the new stadium", and that "the Developer is on board and a world known stadium building company is on board." ... The nearest example that we can find to a project of this size that was completed recently is Morecambe FC's Globe Arena... It cost £12m to build.
4. Is planning permission already in place for yet another new stadium in Northwich? We ask this question because we note that, "We expect the stadium to be built in time for the 2013-14 season or half way through that season at the latest."
5. Is it wise to alienate members of the Supporters' Trust at any time, never mind now? ... When Northwich Victoria move more than forty miles away to Stafford for next season, they are likely to find that they will need supporters who are prepared to put in time and effort for the club. It would... be unsurprising to see Northwich's home crowds drop to below one hundred people next season.
6. What do those that haven't been paid from Northwich's current CVA think of this sort of talk? ...

It is possible that this particular idea is little more than the idle chitter-chatter of a fantasist, or alternatively a crude attempt to do little more than play a game of divide and rule amongst the club's support".
---
4 April 2012
GUISELEY COACH TIMES- CORRECTION
Please note the pick up times for the TASC supporters' coach to Guiseley. The times for the Leisure Centre and Moss Lane are, respectively, five and ten minutes earlier than previously shown. Apologies for any inconvenience caused.
The Vine Inn, Washway Road, Sale 12.00 noon
The Hare and Hounds, Stockport Road, Timperley 12.10am
Altrincham Leisure Centre 12.15pm
Altrincham FC Ground, Moss Lane, Altrincham 12.20pm

Full details of the service are on the Away Travel page; you can book your seat by ringing the club on 0161 928-1045 or, assuming there are still places free, by signing up on Saturday in the Robins' Shop.
YANKEE JACKPOT IS £5,000
Code 1709 was the winning sequence in this week's Altrincham FC Yankee, but as it had not been issued, the jackpot of £5,000 remains to be won. In addition, the reserve jackpot has now grown to £3,500. However, two subscribers each won £100 for "trebles".
RESULTS
You can click on the poster, right, for a larger version, which can be printed off for display.
Tuesday, 3 April
Blyth Spartans 2 Solihull Moors 1 att. 238
Droylsden 1 Harrogate Town 1
Guiseley 3 Gloucester City 2 att. 487
Stalybridge Celtic 2 Bishop's Stortford 3 att. 352
Vauxhall Motors 1 Hinckley United 2 att. 232

Friday, 6 April
Stalybridge Celtic v FC Halifax Town k.o. 3pm
COMMUNITY DEVELOPMENTS
John Edwards, Altrincham FC joint Press Officer, writes:

"Altrincham have further reinforced their image as The People's Club of non-League football by forming a separate company to look after community affairs.

The Altrincham Football Club Community Sports Ltd has been set up to try and maximise funding for a series of programmes aimed at enriching lives and encouraging more local people to form an attachment with Moss Lane.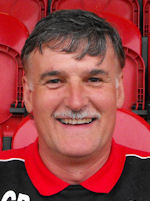 Alty's recently-appointed community officer Chris Bullock (left) would welcome any ideas or suggestions on 0161 928 1045, but a number of initiatives are already taking shape, following a move that is being seen as another positive step towards forging even closer links with the town and surrounding areas.
Peter Foster, a director of the new company along with Neil Faulkner, Karen Rowley, Carole Nash and Fred Nash, explained how people of all ages and backgrounds, male and female, stand to benefit.
'One of the reasons for forming the new company was that it should give us a better chance of getting the grants we need to fund the programmes we want to run,' he said. 'There seems to be a growing reluctance to give grants for community activities if the money is going into a football club's bank account.
'The preference is for clubs to do what we have done, so there can be no blurring of any lines and everyone knows that any grant will be used 100 per cent for its intended purpose.
'The bulk of the money comes from the Premier League, who pass funds on to the Conference for distribution among the clubs, and we are applying for £15,000-worth of grants for the next year, because we've got lots of projects already underway and more we want to introduce.
'The launch of a ladies team was funded this way, and it has been such a success, we are looking to expand it. We aim to arrange more fun weeks for the school holidays, and while it is important to connect with kids and try and ensure they become Altrincham supporters, we haven't forgotten those at the other end of the age scale.
'Exercise for the more mature adult is another idea we are looking at. It would be aimed at 60+ and would be along the lines of walking football. Plenty of people in their 60s probably shouldn't be running around too much, for health and fitness reasons, but might still like the idea of kicking a ball around. This could be the perfect solution, and we may give it a try at Walton Park in Sale and see how it takes off.
'Another possibility is sessions for at-risk children and youths in the summer holidays. A couple of hours of football, or some other activity, that will hopefully capture their imagination and keep them occupied.
'It is early days for us, but what we have is a desire to reach out to people in the community and, in Chris Bullock, someone who is extremely enthusiastic and absolutely fantastic with kids. It has to be a two-way street, of course, and it will be. The benefits to the club are unmistakeable.
'The girls from the ladies team have been brilliant at selling tickets and getting involved in the fabric of the club, and our junior section runs 37 teams as well as a Saturday morning club.
'You can see the effect of that from the crowds we are getting at matches. Six or seven years ago, the age mix was quite unhealthy. It was orientated towards 50+. Now you look round, and there are teenagers and under-12s everywhere. Catch them young and make them feel they belong, and they will be supporters for life.
'Funds are needed to sustain what we are doing, though. Equipment, booking fees and qualified coaches all need to be paid for, and that is why help is always appreciated. We are applying for as much grant money as possible but are always happy to hear from anyone with any ideas or suggestions.'
BSBN NEWS
According to the Halifax Courier, "Jamie Rainford has admitted he was wrong to react as he did when he was left out of the Town squad against Guiseley seven days ago. And he is ready to fight for his place in the side... The former Chester man left the ground before kick off against the Lions last week after being told he would not be involved.

Boss Neil Aspin was unhappy with the striker but the pair met on Friday to discuss the issue and Rainford was back at the stadium at the weekend, running hard in the hours before kick off in a bid to force his way back into contention.

'It basically comes down to my desire to play', said Rainford about his decision to leave before the Guiseley game had kicked off. 'And the way I have reacted to things is sheer frustration at not being able to play. I understand what I did was wrong and this week we can put it behind us. I knew I wasn't going to be involved on Saturday but I had to go in and show the Gaffer and the lads I was prepared to work hard'...

But he may have to wait until Monday when Town entertain Boston United given that they won so impressively against Histon on Saturday... Said Rainford, 'I don't know if and when I am going to get back in the fold but, hopefully, it is sooner rather than later.... It was significant with Nuneaton losing their points last week and with two games over the Bank Holiday, if we can get six points we won't be far off'".

The North Wales Weekly News says that "Colwyn Bay must wait until next Tuesday (April 10) for an FA decision following a ground grading inspection of their Red Lion Foods Stadium today (Monday). A report following the inspection of the new stand, floodlighting, turnstiles and other improvements requested by the Conference last October, will be presented to the FA ground grading committee meeting scheduled for next week. They will then decide if Colwyn Bay have successfully achieved the criteria needed to retain their Conference North status for next season. The club have put in a huge effort over the last few weeks to get the work done in time to meet the March 31st deadline and ahead of today's inspection.

'It seemed to go well and we now have everything crossed for next Tuesday', said club secretary Grant McIndoe after today's inspection".
CHESHIRE NEWS
The Stockport County Blog says that "Sale Sharks will announce they are to leave Edgeley Park to ground-share with Super League side Salford City Reds tomorrow morning, skysports.com reports. A press conference has been called by the club for 11am to 'make a major club announcement', while Stockport radio station Pure 107.8FM also tweeted that the news would affect Hatters' fans.

Rumours of Sale announcing their departure from Edgeley Park have been doing the rounds for several months, with negotiations on a ground-share at Salford's newly opened City of Salford Stadium said to have been taking place for some time... Plans that the side could also change their name to reflect a move have also been mooted, which have left fans less than impressed – although coach Steve Diamond this week promised that supporters would be consulted over any such decisions.

Salford City Reds' 12,000 seater stadium, located just off the M60 in Barton played host to its first match in February, but crowds thus far are said to have been 'disappointing', so Sale's imminent arrival is set to be welcomed by the Reds. The move will leave County as sole tenants at Edgeley Park, but what this will mean for the Hatters in terms of rent and other payments and liabilities is yet to be revealed".
---
3 April 2012

STILL TIME TO JOIN IN...

Altrincham FC's Easter Fun Soccer Week has proved very popular with 54 children signing up. If you want to secure a place before the event ends on Thursday, please ring the club on 0161 928-1045. The opening day's activity (Monday) brought some rain but that did not dampen anyone's spirits, as we see in the accompanying image.

DAMIAN'S RECORD

With his 40 goals this season, Damian Reeves is now Altrincham's highest scorer in a season since 1966-67, when the legendary Jack Swindells scored 47 goals. Alty were operating in the Cheshire League at that time and they scored 123 league goals alone that season. So, Damian's record of hitting 40 of Alty's 78 league goals this season is a much higher ratio of goals from a single player.

OLD BOYS

Pitchero Non-League reports that FC United of Manchester in "Looking to avoid a repeat of last season, where striker Ben Deegan twice had to play in goal, Marginson has also signed experienced shot-stopper Jon Worsnop, most recently of Worksop Town, and young goalkeeper Adam Halton from Ashton Athletic. In a boost to FC United's long-term plans, Marginson has confirmed that eight key members of his current squad has already committed to the club for next season. The eight are James Spencer, Kyle Jacobs, Adam Jones, Lee Neville, Nicky Platt, Carlos Roca, Astley Mulholland and Michael Norton".
CLARIFICATION - SATURDAY'S ADMISSION PRICES
Some supporters have interpreted the statement issued by Altrincham FC Marketing Manager, Matt Royle, [and reproduced below] as meaning that Hyde FC fans get automatic cheap entry to Moss Lane on Saturday. This is NOT the case. Matt's statement is meant to indicate that any Hyde fan (or indeed Altrincham fans too), who possesses a valid Premiership or Football League season ticket in his or her name, and who presents ID to confirm this, can take advantage of the £5 entry offer. It does NOT mean that Hyde, or Altrincham, fans get entry for £5 without a season ticket from any of the 92 Premiership or League clubs. A sentence has been inserted below, in bold, to this effect.

Altrincham FC's Marketing Manager, Matt Royle, writes:

"Hyde come to Moss Lane on Easter Saturday - £5 entry promotion.

For next week's game at Moss Lane we're running the £5 entry promotion for the last time this season - season ticket holders of any of the 92 Football League clubs get entry into the game for £5, on presentation of their season ticket and valid ID. We're hoping this great value offer will allow us to get the first 1,000 plus crowd of the season - both United and City play on Sunday, it's a local clash, being vital in the League for both clubs, and it's Easter weekend! We're also extending the offer to Hyde fans, as Moss Lane misses away supporters! [This means that Hyde supporters MUST have a valid season ticket from one of the 92 Premiership or Football League clubs to take advantage of this offer.]

Although the weekend results haven't been kind to Alty, our remaining fixtures see us play many of the teams above us. If we can take points off them all then who knows where it will take us? There is always a defining game in a team's season... Come down to Moss Lane on Saturday to witness what could be just that.

Matt Royle".

All those wishing to take up this offer must use turnstiles 5 and 6 only.
TUNE IN ON TUESDAY MORNING!
Press release:

"Altrincham F.C. will feature on Wythenshawe FM on Tuesday morning, during their weekly 'WFM Sports with Kevin Thompson' programme. The programme is broadcast from 11am-12 noon with the club's Joint Press & Media Officer, Brian Flynn, being interviewed between 11.05-11.15am.

Wythenshawe FM is a community radio station, based in the heart of Wythenshawe Town Centre and can be heard on the radio on 97.2FM or via the internet . If any supporter wants to send in a question or comment on our reverse at Nuneaton or our big game against League leaders Hyde FC on Saturday, you can send e-mails straight to the studio on Tuesday or use the show's Facebook page.

During the programme, there will be an oportunity to win two tickets to the Easter Saturday showdown with Hyde FC.
NUNEATON OPINIONS
The Coventry Telegraph reports that "Skipper Mark Noon was forced to sit out Nuneaton Town's 2-1 win over Altrincham on Saturday but the Sky Blues' Academy coach could not have been prouder of the team following the six-point points deduction handed out last week.

An ankle ligament injury, which could sideline Noon for the Easter programme... left him in the dugout but he witnessed a performance that was full of... grit, guts and genuine quality.

Noon said, 'That was a brilliant team display when you consider what the lads were told before training on Thursday about the points loss. But they did what I expected them to do, roll up their sleeves and prove we are not giving the play-offs up without a real fight...To get six points knocked off your total at thus stage is a major blow... It will make us all the more determined to complete our ambition and finish in the top five'".
Left: Stuart Coburn's rueful look sums up Alty's afternoon at Nuneaton. But Alty's keeper made several excellent saves to keep his side in the game and in the picture he is seen, still holding the ball, despite being barged into the net by a Nuneaton player, who conceded a foul in the process. Despite the advert behind him, Alty's keeper has not opened a string of plumbers' merchants in the Midlands.
The Telegraph also reports that "A traumatic week for Nuneaton Town ended on a high with a brave victory over fellow play-off rivals Altrincham... To be told an administration oversight has cost you precious points that takes you out of the top five is a galling situation and one that could easily bring in negative thoughts... Enthusiasm, resilience and honesty were all ingredients that stewed in Boro's performance and no one did more than Boro's equivalent to England's Peter Crouch – Jimmy Armson – who has made more comebacks that Stoke international hit-man, yet still delivers energy, commitment and no shortage of quality.
The 22-year-old came out of the wilderness on Tuesday night at Stalybridge as a second-half substitute for injured skipper Mark Noon and though Boro were bullied into a 4-1 defeat at Bower Fold, one player to stand-up and be counted that night was 'our Jimmy'. And on Saturday, Armson took top billing with a full-hearted display that may have lacked quality in the passing department early on but there was [were] no complaints in other areas as he grabbed hold of the game by the throat.
Armson said, 'I've been disappointed not to have been playing more regularly and maybe I had something to prove. But it's great to be back in the side and in a position I enjoy. I've been playing in a few positions and, when keeper Neil Collett got injured late on, I thought here we go I'll be in goal as I've done it previously. Fortunately, he was OK and he made a brilliant save to keep our lead intact that maybe I wouldn't have made!'".
The Nuneaton News adds that "Town manager Kevin Wilkin said he still believed his side could win promotion... Saturday's 2-1 win over Altrincham was just the ticket for the Boro boss...
He said, 'We've had the week from hell really with everything that's gone on through the course of the week. I thought the character the lads showed today was great and we could have won that game a whole lot easier... I still think overall there is a real belief in that changing room and it is all still there for us. I thought the crowd were terrific today, they got behind us and kept lifting us and that is what you want as a player...
This was effectively the first of six cup finals we've got to face between now and the end of the season to give ourselves a chance of getting in the play-offs. We had lots of chances today, and in previous games we've got into great areas but missed the target altogether but, at least today, the keeper has pulled off some good stops to keep them in the game... I fully believe we should have had more goals today'".
Elsewhere The News has a match report saying that Town "dominated proceedings from the first whistle against an Altrincham side who offered very little other than long-ball tactics, and can consider the 2-1 final scoreline rather flattering. Nuneaton were quickly out of the blocks and... the visitors responded with striker Leighton McGivern missing two fine chances as the Boro defence let him in far too easily, but fortunately his finishing went awry on both occasions...
Nuneaton continued to dominate as the second half got under way but could count themselves extremely lucky when referee Brooks waved away an Altrincham penalty appeal when Gaz Dean appeared to handle under pressure in the box... It looked like Boro would go on to win the game comfortably, but they were thankful to a terrific tackle by skipper Dean on 60 minutes which prevented McGivern getting a shot off just outside the six-yard box when the goal was gaping...
Nuneaton looked like they might pay for not taking their chances when the league's top scorer Damian Reeves pounced a minute later to give the away side hope against the run of play. Good work by young substitute Duncan Watmore put Scott Phelan through and after he collided with oncoming keeper Neil Collett, the ball broke kindly for Reeves to slide in the rebound - the visitors' first shot on target.
It seemed for a while that Boro's bad week was to get even worse as Collett needed extensive treatment as a result of the clash with Phelan - and with no reserve stopper on the bench the whole ground held their breath. Thankfully, Collett was able to continue despite a nasty gash to his shin... However, Nuneaton still had the better of the play for much of the final quarter and could have sealed it when an acrobatic overhead kick by Brown was well saved by Coburn as it headed towards the top corner.
Altrincham's best effort came on 90 minutes when a Phelan long-range curling shot was tipped over well by Collett".
CHESHIRE NEWS
This year's Cheshire Senior Cup Final will be staged by Chester FC at The Exacta Stadium. The game is between Stalybridge Celtic and Nantwich Town on Tuesday 24th April (7.45pm). Admission will be £8.00 for adults and £3.00 for OAP's and under-16's.
BSBN NEWS
Droylsden report that "After careful consideration, the Manchester FA has awarded the Manchester Premier Cup to Mossley AFC and fined Droylsden for not fulfilling the fixture". The Bloods had claimed that they had insufficient eligible players to raise a starting eleven.

Blue Square Bet announce that "In the Blue Square Bet North the 'manager of the month' award for March goes to Guiseley AFC manager Steve Kittrick. Fixture congestion lead to Kittrick's side playing nine league games during the month as they try to overhaul long-term leaders Hyde. The period included a 1-0 win at the leaders as well as an impressive away win at fellow promotion chaser, FC Halifax Town. Guiseley collected 20 points from a possible 27, with their only defeat coming away at Gloucester City...

The 'player of the month' for March is Josh Wilson from Vauxhall Motors. The striker hit seven goals as an ever-present in the side during the month including a hat-trick in the 4-2 win at Eastwood Town. At times partnering player-boss Carl Macauley, who narrowly missed out on the division's managerial award for the month. Motors find themselves in the final relegation spot but have closed in on the sides above them after their fantastic run which Wilson was a big part of. With a month left they could pull off a great escape!"
---
2 April 2012
GUISELEY GAME
Altrincham's next away trip is to Guiseley on Easter Monday. TASC is running a supporters' coach and details of its times and fares are on the Away Travel page. To book your seat please, ring the club during normal office hours or sign up in the club shop on Saturday if there are still places left.
YOUTH REPORT
There is now a report on Altrincham FC Youth team's game on Sunday against Marine, in the Youth section.
NUNEATON VIEW
An unofficial report on Saturday's game against Altrincham appears on the Nuneaton Town website. It includes...

"The crowd was given as 765, including 75-ish travelling fans, who gave their team excellent vocal support... Altrincham got the game underway, with the Boro playing towards the Stuart Plumbing End, which was resplendently adorned with Altrincham flaggage. It was the Boro lads that started much the brighter though...

The ball fell to Glover who got a scrambled shot away that defied the attempts of the keeper and slid into the net to set the Boro fans and players celebrating the opening goal. 1-0! Happily, the Altrincham reaction was pretty underwhelming and the game continued in much the same fashion, with the Boro producing the better football and creating the better openings. However, Altrincham were clearly not a bad side and as half time came, the outcome remained open...

The second half got under way... Altrincham were now marginally more effective going forward... Yet another Boro attack saw the ball fall to Forsdick, who shot low from close range to make it 2-0 and set the Boro fans celebrating!... An Altrincham attack saw Collett injured and the ball slotted into the Boro net to make it 2-1. Worryingly, Collett remained down and needed extensive treatment before he was able to continue. Mysteriously, following the Altincham goal and Collett injury, we got a morale puncturing score update over the PA system informing us all our major competitors were winning".
BSBN NEWS
According to FC Halifax Town "Neil Aspin revelled in side's "vital" victory over Histon, insisting that the must-win affair could prove decisive if the Shaymen are to ensure their play-off spot at the end of the season. He told Shaymen Player after the 4-0 thrashing, 'The result was vital. I said before the game that we are running out of games and it is a crucial part of the season, so we need to start winning these games. Today was a game that we had to win if we are to get into the play-offs...

We haven't really produced at home. But today we got the goals at the right time'.

Town went into the game on the back of their sixth home league defeat of the campaign against fellow promotion-hopefuls Guiseley in midweek. But Aspin highlighted the differences between the majority of those disappointing losses and the emphatic victory over Histon. He said, 'There were more crosses into the box, there were more shots at goal and we worked their goalkeeper more.... The big part of the win was down to the goalkeeper. We knew that if they'd have scored it would have made it a nervous second half. Once he made the saves we were able to get the third goal and that put us out of reach'...

'We have not kept enough clean sheets this season', the Shay Chief said. 'If we'd have kept more clean sheets at home we would be a lot higher up in the league. We'd be comfortably in the play-offs now. But we've only kept 4 clean sheets at home this season and we've played 19; we should be getting at least 10 out of 19 if you are to be successful'".
---
1 April 2012
WEAKENED YOUTH TEAM BEATEN
An Altrincham Youth team weakened by the absence of six regulars, went down 2-5 to Marine in a match which only got under way 28 minutes late because the match officials went to the wrong ground. Jacob Malachi-Brown and Josh Palmer were the Alty scorers. Match report to follow.
NUMBERS
After yesterday's game...
40 is the number of goals scored by Damian Reeves in 37 league games this season. Well done, Damian!
7 is the number of points that separate Altrincham from the play-offs.
22 is the number of consecutive games in which Altrincham have failed to record a clean sheet in the league currently.
2 is the number of points covering six teams which are vying to escape the relegation places. Between 15th and 20th are Workington, Bishop's Stortford, Histon, Harrogate Town, Hinckley Utd and Vauxhall Motors.
15 is the number of points better off this season that Altrincham are, compared with the two other teams relegated from the Conference national division last season. Alty have 57, Histon and Eastbourne Borough have 42.
NUNEATON TOWN 2 ALTRINCHAM 1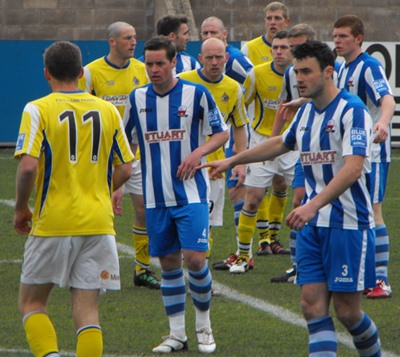 Above: Nuneaton defended this freekick in depth against Alty.
Altrincham's play off hopes took a severe blow as they lost 2-1 at Nuneaton.
Match report here
Alty line-ups
---
FOR EARLIER NEWS, CLICK HERE
---