---
31 March 2012
RESULTS
Matches on Saturday 31 March
Eastwood Town 0 Stalybridge Celtic 1
FC Halifax Town 4 Histon 0
Gainsborough Trinity 2 Colwyn Bay 0
Gloucester City 1 Boston United 3
Guiseley 3 Corby Town 0
Harrogate Town 0 Worcester City 2
Hinckley United 1 Droylsden 1
Hyde FC 5 Bishop's Stortford 0
Nuneaton Town 2 Altrincham 1
Vauxhall Motors 2 Blyth Spartans 1
Workington 1 Solihull Moors 1

31 March is the most unlucky date in the Altrincham calendar. As Howard Watts's Through the Years data show, this was the seventh successive game on that date which Altrincham have lost!
NUNEATON TOWN v ALTRINCHAM MATCHDAY COVERAGE
Radio Robins sponsored by Paradox-Computers.com will be broadcasting a full internet commentary of Saturday's game between Nuneaton Town and Altrincham. The match commentary is sponsored by Sale Fencing & Surfacing, who are specialists in Driveways, Patios and Fencing, throughout North Cheshire and Greater Manchester.

You can find out all about Sale Fencing & Surfacing on their website.

The commentators are Laurence Howarth and Roger Booker, and the match summariser is Brian Flynn. The broadcast begins at 2.50pm.

The match will also be covered by the Altrincham FC Official website's Live Matchday Updates

To the right are quick links to your options; just click on the appropriate image to go either to Radio Robins or to Live Matchday Updates.
This is Altrincham's first-ever away meeting with Nuneaton Town; the home clash at Moss Lane was won 2-0 by Altrincham, (with a brace from Damian Reeves). However, this was not Altrincham's first visit to Liberty Way, a ground shared with Nuneaton rugby club, as they had met Nuneaton Town's forerunner club, Nuneaton Borough, there in a Setanta Shield match in December, 2007. Borough won that, 2-1, with two late goals.
Mike Garnett's record show the following statistics relating to previous games between Alty and Nuneaton Borough.
At Moss Lane: P13-W8-D2-L3-F25-A15
At Nuneaton: P12-W2-D2-L5-F10-A17
Overall: P25-W10-D4-L8-F35-A32
BOTH MANAGERS KEEP PLAYERS FOCUSED
The NL Paper reports that "Lee Sinnott has vowed to not let off-the-field matters at Nuneaton Town affect his Altrincham side's preparations as the two meet on Saturday. Nuneaton were awarded a six point deduction on Thursday evening for fielding an ineligible player against Colwyn Bay and FC Halifax on February 18 and 21. Unless an appeal is successful in the next 14 days a win for Altrincham would see them move ahead of Nuneaton – who are eight points in front of Alty prior to a deduction.

Sinnott said, 'What's happened at Nuneaton has nothing to do with myself, the players or the football club. All it will do is take our focus off the game. We've just got a fixture against them on Saturday and we're looking to win'. Nuneaton is the first of six tough games for Alty which sees them play the rest of the current top five in Blue Square Bet North as well as recently relegated Eastwood Town. Sinnott added, 'We've got six games to go so we're just taking each game as it comes and we'll look to win each game. The table isn't going to lie after 42 games'".

From the other side, in similar vein, the Coventry Telegraph reports that "While Nuneaton Town's trials and tribulations intensify off the pitch, on it, manager Kevin Wilkin is keeping focused on winning football matches.

Boro's six-point penalty for failing to register striker Andy Brown prior to the Colwyn Bay and FC Halifax wins in January has hit the club hard but Wilkin insists nothing has changed as regards the team's play-off ambitions – he's still aiming for a top-five place. Going into tomorrow's home clash with fellow promotion hopefuls Altrincham, Boro lie seventh and just a solitary point above their Cheshire rivals, who will definitely be galvanised by Nuneaton's misgivings.

But a meeting of the playing staff last night prior to training was one of positivity and determination. A strong-willed Wilkin said, 'There's been plenty to say but my job is to concentrate on the football and we face a big game against Altrincham that we all want to win. I watched them beat Corby 3-1 on Wednesday and they are a very strong all-round side with two excellent strikers in Damian Reeves and Leighton McGivern, both of whom scored and were a handful.

But that applies to ourselves and, in Danny Glover and Andy Brown, we have a pair of frontmen as good as there is at this level. Obviously, the heavy defeat at Stalybridge was a blow but I know when the lads go out tomorrow they'll give their best... There'll be no change in how we approach the game and if we perform to our usual levels we have a great chance to avenge the early season defeat at their ground'.

Skipper Mark Noon faces a battle against time to be in the starting line-up after limping off with ankle injury at half-time at Stalybridge. If he fails to make it then James Armson, who was the captain's replacement, looks sure to fill the hole in what is his favourite central midfield position....

Wilkin added, 'Hopefully Noony will come through, although I know James is more than capable of doing the job. We need to get Tuesday's disappointment out of mind. We have some wounded pride to repair and getting three points at Altrincham's expense would be the perfect response. The lads know they were poor against Stalybridge. We just didn't get it together and allowed our opponents to run things'.

Wilkin added, 'We have six fixtures remaining and they are all going to be cup finals. We are all in this together and I'm convinced we can still make it into the top five'".

The Alty Mad site says "The last time the two teams met at Nuneaton Town was just over four years ago, in December 2007, the Town carving out a narrow 2 - 1 victory in a Shield (Conference Cup) match... Nuneaton Town are in decent form at home, having won four and drawn two of their last six games... Altrincham have an average recent record on the road, with two wins, two draws, and two defeats... and this could be the reason why Nuneaton Town may poach a narrow victory, according to the Madmen. Home win".
JAMES SIGNS EVOSTIK FORMS

Altrincham midfielder James Holden (right) has signed EvoStik League forms with AFC Fylde. 25 year-old James, who remains registered with Altrincham for the BSBN, joined Altrincham two months ago following his third spell with FC United of Manchester. An Alty Reserve in his teenage years, James has acquitted himself well in three substitute appearances for ALtrincham this season but has not been able to command a starting place in Lee Sinnott and Neil Tolson's team.
LADIES' GAMES
Keith Edleston, manager of the Altrincham FC Ladies team advises us that his team's two remaining fixtures are as follows :-
AFC Stockport (Away) on Thursday, 12th April, kick off 6-30pm at Daisy Fields, Bredbury, Stockport
Stockport County Yellows (TBC) Sunday 15th April, kick off 2pm

Keith adds that "We will be playing friendly games to keep the girls active for our match at Altrinchams Beer Festival (weekend of 12th May)".
OLD BOYS
Morecambe report on their reserves 6-1 home defeat by Manchester City's reserves this week. "Carlos Tévez was the main attraction as he starred for Manchester City Reserves... Morecambe started the second half strongly with Jack Redshaw going close before City went on to score three more times in the second half... Tevez was joined in the City starting line up by former England international Owen Hargreaves...

The Shrimps are hoping to include Jack Redshaw in their [first-team] line up after he suffered a hamstring tweak at Accrington last week and loan signing Craig Curran is also in the side to get some match practice".
BSBN NEWS
The Sun reports that "While Manchester City's millions have sent shockwaves through the Premier League, one of the world's richest clubs has made a massive yet controversial impact closer to home. For 91 years, they had been known as Hyde United. Until one day in the summer of 2010 when the club's name was changed to Hyde FC.

The stands at this non-league outpost had all been a grubby shade of red. Until everything was repainted blue. Because when Ewen Fields — capacity 4,073 — became home for City's reserve games, a few things changed. Anyone would think there was a little bit of resentment with another pretty successful team across Manchester. Even the colour of Hyde's kit changed from red to white and navy.

While Hyde's previous board could be accused of selling their soul, without City's help, a club which attracted only 300 fans a game would no longer exist. And now Hyde is a remarkable success story. Helped by curious City fans, the Conference North leaders have doubled their gates and look set to earn promotion to the Blue Square Premier for the first time.

Chairman Allan Kenyon, 59, said, 'People say we are top of the league because of City's money. I would say we are still in business because of City's money. In 2009 the Inland Revenue were winding us up with debts of £120,000. The club asked City to hold a bucket collection and in one game they raised £8,000. A year later the old directors struck a deal to do the ground up so City could play their reserve games here — but there were strings attached. City spent a total of £250,000 on the ground. We get stick about the City tie-up but when you speak to other directors of other clubs they would give their eye teeth to have this type of link-up. The ground was very, very tired. It had four or five different shades of red. They painted it blue which made it look a lot smarter.

Wherever we have a Hyde badge in the ground there is a City badge. The ground has to make the City players feel at home as well. They pay to play games here and we have also had NextGen Series games here. We have had Barcelona, Celtic and Marseille here with crowds of 2,500. A couple of weeks ago, we had Carlos Tevez playing his first game back in a reserve match against Bolton and over 1,000 came along. City have also have bought up all the advertising around the ground and they sponsor our shirts."

The erasing of the word United has been a sticking point. Although in the future, this could return and the team are once again playing in red. The current deal — City pay £75,000 a year which covers the £45,000 annual cost of maintaining a Premier League-standard pitch — expires in 2013.

Kenyon, no relation to former United chief executive Peter, said, 'It was our 125th anniversary in 2010 and the directors told the fans that we were dropping United, as we were originally formed as Hyde FC... City have been brilliant with us. Roberto Mancini and Patrick Vieira both come regularly although we have not had Sheikh Mansour here yet!'..

Yet it should be remembered that in this tiny club's greatest hour of need, Hyde begged their neighbours for help — and City responded. Manchester United were also asked for assistance — even a bucket collection. Hyde, though, are still waiting for an answer".

"There is no doubting the progress that Guiseley have made on the pitch since the cash injection of the new owners and the management of Steve Kittrick but now huge steps are being made away from the playing side" reports the Telegraph & Argus.

"Nethermoor is under development and the club are expecting the work on their second seated stand to be completed tomorrow. March 31 is the deadline for improvements necessary for the club to achieve the ground-grading guidelines set down by the Conference League... As a promoted club to the Blue Square Bet North Division last season, the Lions were allowed to have temporary extra seating so that they could compete in the play-offs. By this campaign's end-of-season extras, they were required to have permanent seating in place.

Visitors to the ground this term will have seen that the work, partly funded by grants, after the club raised enough of their own money to qualify for the funding, will have seen the structure taking place and the seats are now fitted... They have also gone on-line with their club shop".

News of a player leaving the BSBN comes from Ilkeston where "Kevin Wilson, manager of Ilkeston, has [brought]... experienced striker Francis Green to the New Manor Ground from Eastwood Town".

And another player dropping into the EvoStik is David McNiven of Workington, who has signed forms for Bradford PArk Avenue.

This is Lincs reports that "Boston United joint-manager Jason Lee is looking to the future now the club's late charge for the play-offs has stalled. The Pilgrims had a sensational run of results to get themselves close to challenging for the top five of the Blue Square Bet North. However, last Saturday's 2-1 defeat against Droylsden and Tuesday night's 3-2 loss at home to Worcester City brought their promotion dream to an end.

Lee and fellow manager Lee Canoville are yet to discuss extending their contracts with the York Street club, but are eager to find out where they stand and start making preparations for next season. 'We haven't spoken about our contracts yet, but we've been very busy in the period of March, especially with all these games coming', said Lee. 'We will have that discussion sooner rather than later, because everyone will need to know. The players will need to know where we stand and what we are looking to do in the future. We are looking and we still look to build a squad, but we will have that discussion with the chairman and see where we are with the future plans for the club...

'Callum Smith is a player who we have brought in with a view to the future. He can train, we can get to know him and it's better than leaving it until the summer and then getting in the mix with everyone else. If we can get players in now then it benefits everybody... As long as there is points to play for we will not send an experimental Boston team out', he said. 'We want to win games and we owe that to everybody...

'In the second part of the season we have created and scored more goals than we did in the first part of the season', said Lee. 'It's hard to get everything right. To be conceded as many goals as we do is frustrating, especially for the defenders... The sides who are challenging for the top will have a goal scorer or are doing something right going forward. They do say the best form of defence is attack. Overall, in the second part of the season we have shown we have got some good talented young players. I've seen teams in this division who have done well with young groups of players who have had time to work together. You have got to remember these players are playing for the first time at this level. Some of the players have come in and it's a big ask for them. But they are talented players and we've seen that they have it in them. We would like to keep this group together. You obviously add players to what you've got, but it's obvious we've got a decent core here of good footballers who could do well for Boston in the future'".
CHESHIRE (& STAFFORDSHIRE) NEWS
After much speculation, Northwich Victoria "are pleased to announce that, following the agreement with Skelmersdale falling through at short notice, we have reached a ground-share agreement with Stafford Rangers for next season. We would like to thank the Stafford board for their assistance at this time, the Evo-Stik League and in particular Alan Allcock for his assistance. The agreement has been signed today. It is still subject to Evo-Stik League board approval."

According to the AA it is 42 miles from Northwich to Stafford.
---
30 March 2012
PLAY WITH ALTY HEROES!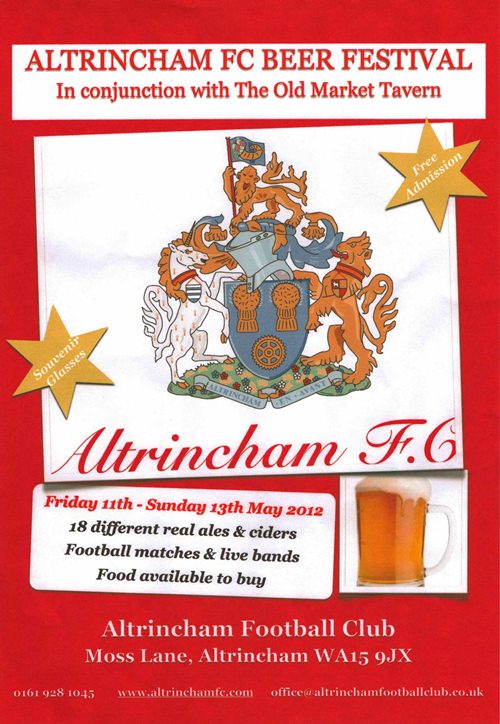 Altrincham FC announce:

During the Altrincham FC Beer Festival weekend (May 11th-13th), we will be holding a Past Players v Coaches from the Junior Teams game on 1pm on Sunday 13th and we are proposing on giving two lucky supporters the chance to play alongside the likes of Gary Scott, Chris Adams, Stuart Coburn, Matt Doughty and Peter Band (amongst others to be confirmed).

One place in the team will be raffled off - details to follow shortly - and another place is to be auctioned to the highest bidder. Your bids can be sent to Altrincham FC and an update will be posted on the website periodically.
MONDAY VIEWING AT MOSS LANE
The bar at Moss Lane will be open on Monday night (2 April) to show the televised match between Blackburn Rovers and Manchester United (k.o. 8pm). The match is open to all, free of charge. The bar opens around 7.30pm.
CORBY PERSPECTIVE
Corby Town report that "Town's home revival proved to be short-lived on Wednesday night as they were beaten 3-1 by Altrincham. Two quick-fire goals from the Robins after the break left the Steelmen reeling and saw them crash to their sixteenth loss of the season.

Damian Reeves inevitably opened the scoring for the away side, before Mark Jones pegged one back for Drury's charges. Reeves then nudged Altrincham back in front with his 39th goal of the season and Leighton McGivern rounded it off for the Robins with a stupendous finish in the 54th minute.

Despite the end result the Steelmen started brightly against the Robins with Andy Hall, Delroy Gordon and Jordan Smith all denied by Stuart Coburn in the opening stages... Altrincham took the lead against the run of play...

As the first-half whistle blew[at 1-1] Steelmen fans were left wondering whether they would be left to rue their missed chances... Altrincham took just four minutes to regain the lead, goal-machine Reeves applying the finishing touch to a pin-point McGivern [Smart] freekick. McGivern had a goal of his own to celebrate six minutes later as he hit home for his side's third of the night. Storming to the edge of the Steelmen area, the striker smashed a stupendous rifled shot towards goal, leaving Bennion with no chance...

Speaking after his side's defeat against Altrincham, [manager] Drury was adamant that Corby will not have to swallow the bitter pill of relegation whilst he is at the helm. He told www.corbytownfc.co.uk, 'We'll be a Conference North side next year, I promise you now, they'll be at this level. I can guarantee you that right now'.

Despite his promise, Drury has admitted that he is worried about the future of Corby Town... 'If the people of Corby want a club at this level, they've got to come and support it. Bottom line is, if they don't want it, just keep doing what they're doing and don't turn up'. The official attendance at Steel Park against Altrincham was 280, one of the lowest gates of the season.

'Forget about results, forget about everything else we're still an established club at Blue Square Bet North level. A club like this isn't going to survive on 280 people coming through the gates. And I'm not knocking them; our results haven't been good enough at home and I'll hold my hands up to it... I thought we could have won today, I said that to the lads beforehand. And I'll be honest, I think there's a massive possibility we will lose on Saturday. Guiseley are a very strong side and are challenging for the league, but I've challenged the lads to prove me wrong... And if they do, I will shake every single of of thier hands after the match on Saturday'".

An audio interview with the Corby manager is on Corby Radio.
SATURDAY'S GAME
Alty travel to Nuneaton Town on Saturday. As for Nuneaton's last match, the Coventry Telegraph says that "Nuneaton Town were bullied and burried [sic] at a resurgent Stalybridge Celtic on Tuesday night and, with just six fixtures remaining, Kevin Wilkin's boys can ill-afford defeats like the one handed out at Bower Fold if their play-off dreams are to be fulfilled.

On the night, third-placed Boro had no answer to Celtic's tough, uncompromising approach that set up the Manchester men for the most convincing of 4-1 wins... It was not the loss that was worrying but the way Stalybridge bossed the game in all departments, especially on the physical front. Boro's midfield had no time to breathe as they were closed down quickly by a vibrant and fully committed home side that Wilkin will want to avoid in the play-offs should the two clubs achieve their top-five ambitions.

It was difficult to see why Celtic have had such a lean time over recent weeks, one league win in their previous 15 outings... before bouncing back at the expense of a Nuneaton team that looked shell-shocked. Wilkin admits it was not one of his team's best days at the office but refuses to lose faith in a squad that will face unpredictable Altrincham on Saturday looking to improve on a run of just five points from as many outings".

Town's squad for the match at The Bower Fold was: Neil Collett, Neil Cartwright, Simon Forsdick, Mark Noon, Gareth Dean, Mark Albrighton, Gary Mills, Adam Walker, Danny Glover, Andy Brown, Wesley York, Guy Hadland, James Armson, Alex Gudger, Graham Ward, Danny Mitchley

Off the field, the Football Conference announces that "Nuneaton Town FC appeared at a Personal Hearing on 28th March 2012 to answer a charge of allegedly fielding an ineligible (unregistered) player in two Blue Square Bet North fixtures played on 18th and 21st February 2012. Upon the club's own admission it was found guilty of the two offences and the commission imposed the following sanction for breach of Rule 6.9:-

Nuneaton Town FC was fined £500.00 and had the six points gained in the two matches deducted from its League Table score. The club has the right of appeal against the above decision, within 14 days. The Competition's League Table will not, therefore be amended until the appeal procedure has been exhausted".

Later, Town announced, "Nuneaton Town Football Club has been deducted six points and ordered to pay a fine following an administrative error which led to the club fielding an ineligible player on two occasions. On loan from AFC Telford, Andy Brown played for the club on February 18th and February 21st this year.

It had been agreed at that time that Andy Brown's loan would be extended and both Nuneaton Town and AFC Telford say all the relevant paperwork was completed and sent to the Football Conference (FC) and Football Association (FA). But both the FC and the FA deny receiving the paperwork.

At a Football Conference Panel Hearing, held at The Premier League HQ on Wednesday, the club accepted full responsibility, admitting to two charges of fielding an ineligible player. In mitigation the club pleaded exceptional circumstances. However the club accepts the correct procedure and notification were not followed.

During the hearing the FC Panel acknowledged the exceptional nature of the circumstance, giving rise to the charges. It also took into account the club's exemplary administrative record to date and significant steps taken by the Board to improve its internal practice to alleviate human error.

The Board of Nuneaton Town FC wishes to reassure fans of the unique and exceptional circumstances giving rise to the charges and that all care has been taken to ensure best practice and to avoid a similar occurrence in the future.

Kevin Wilkin, Manager of Nuneaton Town, said, 'It is of course disappointing, but I am aware of the circumstance giving rise to the charges and have been in communication with the Chairman throughout. It is a regrettable situation but one I understand, being appraised of the facts. I am pleased moving forward steps have been taken for the better. From the perspective of the team we pick ourselves up, brush ourselves down and look to ensure we secure our play-off place. There is still plenty of football to be played and we now have an even greater incentive to win games to make up the lost six points'.

Ian Neale, Club Chairman, said, 'On behalf of the Board we apologise unreservedly to all the staff, players and every supporter of this fantastic club. We have now changed procedure adding in more failsafe measures on the administration procedures and look forward. The deduction of points is a massive blow but we are well and truly still in the hunt for a play-off position. This still remains our goal and in the face of adversity we will look to close ranks and focus on achieving that. We now have a massive game at the weekend against Altrincham and every game after that we will treat as a cup final!'".
BSBN NEWS
The Cambridge News reports that "A mystery benefactor has stepped in to help resolve Histon's financial crisis with a loan of £26,000 that will get the club through to the end of the season. The offer was revealed during last night's fans' forum at the Glass World Lounge, where chairman Russell Hands revealed the full extent of the Stutes' financial plight.

He said Angelo Dama's shock resignation as vice chairman had left Histon 'in a perilous position' and said the club needed £6,000 immediately and a further £20,000 to cover player wages and outstanding running costs until the end of the season. He said without an immediate injection of cash, the players would not be getting paid this weekend.

'Angelo has lived, died [?!] and sweated here', he said. 'If we can't resolve the situation we're in, the hard work he has done over the eight years he was involved with the club will probably go down the drain. It's that critical. We've come so far and are so close to getting out of the mire this club was in a couple of years ago'...

Histon volunteer David Humm stepped up and told just under 100 assembled supporters about the anonymous offer. 'I've just had a phone call from a friend of Histon Football Club', he said. 'He will loan the club £26,000 on the provision it's paid back a month at a time. This person is anonymous but I can assure all of you he's not someone you would not want to be involved with the club... knowing the way the accounts are, it's not a problem as far as I'm concerned', he said.

Histon chief executive Gordon Boateng also addressed the meeting but there were tense moments when player/manager David Livermore, goalkeeper Jorg Stadelmann and skipper Daniel Sparkes expressed their anger and surprise at the prospect of the players not being paid. Both Hands and Boateng said the reason they had not been told earlier was that the wages were not an issue until Dama's sudden departure on Monday. Boateng also stressed the need for supporters to get more involved with the club and hoped the meeting would lead to the formation of a formal supporters' group that would have a place on the board".

The Halifax Courier tells us that Harrogate "Town boss Neil Aspin has spoken for the first time about the absence of Jamie Rainford from Tuesday night's squad that took on West Yorkshire rivals Guiseley at the Shay. The striker was seen leaving the stadium a little under an hour before kick off amid rumours of a bust up.

And, following his side's 2-1 defeat, Aspin explained that the frontman, who has been a bit-part player since signing on a permanent deal from Chester, had been told that he would not be involved. 'The situation with Jamie Rainford is that he wasn't in the 16 on Tuesday night', said Aspin who is expected to next see the player at training tonight. 'I asked him to do something on Saturday which he didn't do... He wasn't in the starting line up or on the subs' bench'...

Another player Aspin will be hoping to get news on is defender Scott McManus who missed the Guiseley game as he recovers from injury. And there is a possibility that the left back, who has been one of Town's best players over the last few months, could return to action against Histon at the weekend...

Said Aspin, 'By not playing against Guiseley he gives himself a chance of playing on Saturday'... Matt Crooks was forced to leave the action at half time on Tuesday after taking a couple of knocks. But Aspin is hopeful of having the youngster on loan from Huddersfield available for Saturday's game".
NW NEWS: FULL-TIME ON GATES OF 86
Currently their home gates average just 86 (eighty-six), but Woodley Sports of the Evo-Stik League Division 1 North, whose youth team was expelled from the NW Youth Alliance earlier this season, are now becoming a club with full-time players living in club-provided accommodation and with full-time management, as well as a Director of Football, a Reserves' team and "development" squad.

The club announces that "Woodley Sports FC are inviting applications for the vacant 'First Team Manager's' position. For the 2012-13 season, the 1st team Manager will be responsible for:
1st team Managerial duties on a full time basis. (The squad will be available to train Mon-Fri at Woodley Sports [Stockport Sports Village]
Oversee the 'Reserve' team - player development & interaction with the 1st team
Direct interaction with the 'development' squad - (via the Director of Football)

For this full time role, the club will offer a very competitive package, that will include:
A competitive monthly wage
Petrol Allowance
A small company car (if required)
A competive squad / squad budget

The club will be based at a newly renovated property in Marple (near to Marple Locks [4 miles from Woodley]), which will be able to offer full time accomodation to players at various levels (1st team players being accomodated in the main house, development squad players will lodge in the 2nd building). Our 'sports science' department will also be based here, as will the physio team etc. The vision of the club is to provide an opportunity for talented players to train full time, with the opportunity for those players 'good enough' to represent Woodley Sports at their effective level (development squad / reserves / 1st team).

The main points for interested parties to concentrate on are:
The role will be 'Full Time'
The role will require the successful candidate to manage the 1st team, and oversee the Reserves/Development squad.
The role will be supported by a Sports Science department and full physiotherapy team.
The club will provide the successful candidate with a very competitive package, which will reflect the full time status".
---
29 March 2012
PROBLEM SOLVED
If you had spoken to Alty fans at Corby last night you would have heard the names of four players who might have actually taken the left-footed freekick which led to Damian Reeves's second goal and his 39th of the season. Some thought it was Leighton McGivern, others James Lawrie, whilst votes were also cast for Andy Smart and even right-back Kieran Walmsley. The definitive answer has come from assistant manager Neil Tolson who confirms that Andy Smart was the taker, after a step-over by Leighton McGivern.
CORBY TOWN 1 ALTRINCHAM 3
Altrincham took the lead in the 9th minute when a throw in led to Lawrie's shot which was parried and Reeves lashed home the rebound. Corby then had the better of the first half and equalised ...
Match report here.
Alty line-ups
Above: Alty line-up before kick off at Corby.
The Conference also carry a match report.
LEE IS CONFIDENT
John Edwards, Alty's joint Press Officer, has again interviewed Lee Sinnott and the following is a longer version of the text that appeared in the Sale and Altrincham Messenger.

"Altrincham players and officials were left shaking their heads after a string of near-misses and two baffling refereeing decisions combined to cost them two points against Solihull Moors.

After going behind early on, Alty laid siege to the Solihull goal but had to settle for a draw after Damian Reeves converted a 73rd-minute penalty, minutes after hitting the post with another.

Their cause was hardly helped by referee Robert Jones failing to penalise keeper Jasbir Singh for blocking Reeves' first-half run on goal and taking no action against a defender who hauled down Shaun Densmore for the second spot-kick.

'I spoke to the ref at half-time, and he said he thought Damian had run into the keeper,' said assistant-manager Neil Tolson. 'My reply was to ask why, after taking the ball round him, would Damian then want to run into him? He clearly got that one wrong.

'As for the second one, Shaun was clean through and six yards out, so if that is not a scoring opportunity, I genuinely don't know what is. I spoke to the ref again at the end and told him he was the only person in the ground, and I include the Solihull bench and manager in that, who didn't think it should have been a straight red. His rely was 'I'm the one that matters'.

'The frustrating thing is that, even if you overlook the first incident, they should have been down to 10 men for the last quarter-of-an-hour or so. They would doubtless have taken a forward off, so we could have committed more players forward, kept people out wide and stretched them. It would have made a difference.

'As for the missed chances, we told the players afterwards that, over the course of the season, they had stuck a good proportion away and would do so again, if they kept creating them. It's an old saying, but a true one, that the time to worry isn't when you're missing chances but when you're not getting them.

'We have to learn from the goal we conceded, because it was certainly avoidable but, overall, I thought we defended really well. We restricted Solihull to about three opportunities in the entire game, and you would settle for that.

'The key thing now is to keep our heads and our belief. I went to the Halifax game last night (Tues), and for 45 minutes, Guiseley never had a kick. They were 1-0 down but stepped it up in the second half and won 2-1. That's what belief can do for you. I honestly don't think we are lacking in that department. I can feel it from the supporters as well. They have stuck by us brilliantly, and I know our players are not the sort to give up on our objective. We will keep going and keep working, and with all those elements in place, I am very confident we can still make the play-offs.'

Former Bradford City goal-poacher Tolson makes a playing comeback at Moss Lane tonight (Thurs, 6.30pm) in a charity match between Securitas and Bruntwood.

'I'm not planning to do too much running,' he said. 'I'll be loitering round the opposition area, hoping the ball comes my way and seeing if I can stick one in the net. That would be good, but it would be even better if we get a decent turn-out, because we are aiming to raise funds for local charities'".
RUN-IN ROLLER-COASTER
In the Sale & Altrincham Advertsiser is a report, written before the win at Corby, which says that "Lee Sinnott has told everyone involved with Altrincham to strap themselves in for a rollercoaster ride.

Alty are lurking just outside the Blue Square North play-off places heading into tonight's away game against Corby Town. The Robins then face the league's top four over their next four games, beginning with Saturday's trip to Nuneaton. And Sinnott expects that to spark a thrilling finish as the race for a play-off place hots up.

'There'll be lots of twists and turns so I'm sure it'll be an intriguing period', said the Alty boss. ,It's exciting times for us and it's the same for everyone. Every week there seems to be somebody at the top playing somebody else up there. I think we're capable of beating anyone in this league so they should be interesting games. Against teams lower in the league it tends to be cagey, they try to shut up shop and hit you on the break but teams that are higher up tend to be more attacking so, when we play them, it promises to be two teams just going for it. Hopefully we can get the right results'.

The Robins remained seventh after Saturday's 1-1 draw at home to Solihull Moors... Sinnott admitted it was two points dropped. 'You've got to look at it like that, although I think we've played well over the last two games'. he said. 'We created enough chances so there's not a lot wrong, we've just got to finish things off'".
MATT'S ALTY MISSION
Altrincham FC joint Press Officer, John Edwards, writes:

"Matt Royle (below, left) has hit the ground running, in his new role as Altrincham's marketing manager, and is already confidently forecasting the imminent return of 1,000-plus gates to Moss Lane.
A fervent Alty fan, university graduate Matt admits he is living the dream in his new role and says he never tires of seeing his name and job title alongside each other on the club's website.
His appointment is no ego trip, though. Fiercely driven, he has devised and implemented a string of ideas that have already helped revive attendances, with Saturday's gate topping 800, despite Solihull Moors bringing only a handful of fans with them.
Solihull are not the only ones who travel light, in terms of support, but there are even plans in place to address that.
'I've got a degree in business and management, specialising in marketing, from Aston University, and I've always been an Alty fan, so this really is like living the dream,' he said. 'Just seeing my name on the club website - Matt Royle, marketing manager, Altrincham FC – honestly, it's a real buzz. Fantastic. I love it and feel so proud.
'I love watching Alty, because it is proper football. I remember coming to my first game and being hooked straightaway, because it is so different. I love being able to stand so close to the touchline and listen to the players. I stand near the halfway line or behind the goal. Generally I follow the mob. I must admit I don't join in the chanting, but I love being in amongst them, savouring the atmosphere.
'It really is proper football, and that is something I use as a marketing tag. It's cracking to be so close to the action and to feel the passion of the fans and the closeness that exists at this club. You don't get that at other clubs, and it really is how football used to be.
'Coming to Alty is like returning to the roots of what football is all about, and I want more people to experience what that feels like. I noticed attendances had dropped off a bit, so I came up with a marketing plan and contacted (chairman) Grahame Rowley to see if I could possibly try and help the club out a bit.
'I want to get numbers back up, and the social media area of the club is what I'm concentrating on. It's about increasing exposure to make sure people are fully aware of the club and the games we are playing. Facebook and Twitter are ideal for us, not least because they are free, and even simple things like posters advertising games are so effective.
'Facebook followers have already gone up from 1,270 to 1,370, while on Twitter, it has gone from 850 to 1,300, so instantly the message is getting out there, and, as a result, attendances are improving. It's a case of putting out information, and it is working.
'The aim is to break the thousand mark by the end of the season, and we are on course. We are targeting away fans as well. Via their websites, and Facebook and Twitter, I'm getting the message across that it's a great day out at Alty. It's local clubs for now, but from next season, I'll be extending it to clubs further afield and trying to sell the idea of a weekend in Manchester, based round the game at Moss Lane.
'Why not? Manchester has so much to offer, with so much going on, and you get to see your team play Alty into the bargain. I love the banter with away fans, and it saddens me when you've got about four standing in acres of space behind the goal.
'We are also looking at pricing schemes, and how we can make them work. I've got the turnstile operators filling out attendance sheets to give me an idea of the age groups coming through the gates, and I'm trying to tap into the student market as well, at Manchester Uni and Trafford College.
'That is the main objective – to get people into the ground – because once someone has sampled their first Alty game, I know they will come back'".
---
28 March 2012
CORBY FANCY CHANCES AGAINST "FALTERING" ALTY
Corby Town report that their next "battle comes in the form of play-off chasing Altrincham, a side who currently sit seventh [now eight after last night's games] in the table.

Steelmen fans will not need reminding of their side's last result, a slender 1-0 win over Welsh side Colwyn Bay. The scoreline resulted in their first league win at Steel Park since November and their first victory in seven matches. Visibly pleased after the match manager Graham Drury...called for his side to record back-to-back home victories by putting in a similar performance against Altrincham.

And Drury's charges have every chance of recording another victory, as they meet a side in the Robins who are beginning to show signs of faltering. The New Year started well for Lee Sinnott's men, recording four victories from their first five matches, propelling them into contention for the play-offs. But they are currently without a win in their last three and are beginning to drift from the elusive fifth spot in the table. Their last two outings in the Blue Square Bet North have resulted in 1-1 draws with Boston and Solihull respectively, mirroring their last scoreline against the Steelmen... However statistics imply that tonight's result will not end in a draw, with Corby's last draw at home coming some 26 matches ago.

Should the Steelmen record uncharted back-to-back home wins, they will have to keep a wary eye on Alt's striker Damian Reeves. A graduate of the fabled Leeds United Youth Academy, the young striker is the current Blue Square Bet North top scorer, sitting atop the chart with an impressive haul of 37 goals".

Subject to a satifactory wi-fi signal, live Matchday Updates will be available throughout the match at Corby on Wednesday evening.

Radio Robins, sponsored by Paradox-Computers.com, will be broadcasting a full internet commentary of Wednesday night's game. The match commentary is sponsored by Ashley Mowers Garden Machinery, a family run business providing quality gardening tools & machinery that are best suited to you and your garden. You can find out more about them on their website. The match commentators are Paul Salt and Brian Flynn, whilst the match summariser is George Heslop. The broadcast begins at 7.35pm.
MIDWEEK
Following Tuesday's games, Altrincham are now eighth and seven points of a play-off position but with a game in hand on most of the clubs above them.
League table before Wednesday's game.

Tuesday 27 March Results
Bishop's Stortford 0 Hyde FC 1
Boston United 2 Worcester City 3
FC Halifax Town 1 Guiseley 2
Gloucester City 0 Gainsborough Trinity 2
Stalybridge Celtic 4 Nuneaton Town 1

Wednesday 28 March
Through the Years by Howard Watts.
Corby Town v Altrincham
WEDNESDAY'S GAME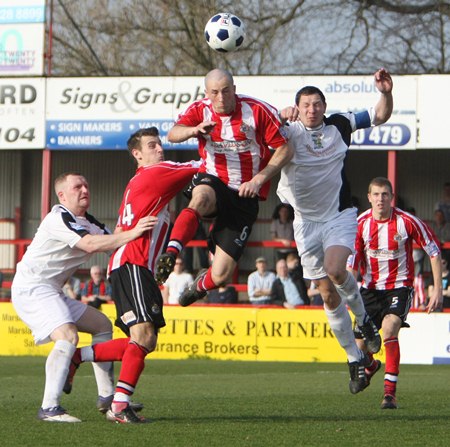 Right: This image from Gavin Rathbone of GR Photography captures Chris Lynch's commitment to the cause as he heads clear in his new role at centre-back for Altrincham.
The Alty Mad site says, "Altrincham face a trip to Corby Town at Rockingham Triangle Stadium on Wednesday evening, for the first time in their history, and will be hoping to give their new opponents the runaround... Corby Town's woeful home form means they have chalked up just a single victory, with 5 defeats, from the last six...
Altrincham's away form is none too clever either, with two wins, two draws, and two defeats... Though the away form of the Robins has not been the best, though the Footymad panel sees them pulling off a narrow win on their visit to Corby Town. Away win".
"Alty Mad" also points out some current sequences; Corby Town - 26 games since last home draw. Altrincham - drawn each of the last 2 games. No win in the 3 most recent games."
KIERAN'S HONOUR
In the Evo-Stik NPL's inaugural Player of the Year awards, held at Barnsley, Altrincham's Kieran Walmsley was named as right-back in the Premier Division Team of the Year. Also in the eleven was a former Alty man, Matty McNeil, now at Chester FC.
A TARGET FOR DAMIAN!
Damian Reeves has hit 37 goals in 35 matches so far in the BSBN but Cliff Stanton hit 49 goals in 40 league matches for the club in 1927-28 and he is the latest subject in Terry Rowley's Alty Legends.
YANKEE
The winning code on the Altrincham FC Saturday Yankee was 6718, which was unissued. So, both the £5,000 jackpot and the reserve jackpot, which now stands at £3,200 remain to be won.
CHAPLAIN'S CHAT!
Rev Andy Barclay-Watts, Altrincham FC's chaplain, wrote the following in his "Chaplain's Chat" article in las Saturday's "Robins' Review".

"Good afternoon to everyone and welcome to another vital game in our quest for a play-off place. We are reaching the 'business end' of the season and we probably all feel we don't have room for many slip ups from now on. At the same time it is great to have something to play and cheer for. I think, if my calculations are right, winning our remaining games this season would ensure we are promoted through the play-offs – no small challenge, but great to have something to aim for at this stage of the season! I would like to think we could lose a couple and still make it, but that will leave us dependent on others.

I am in North Wales this weekend speaking at the church I used to lead in Caernarfon. I hate not being able to add my voice in encouragement of the team, but I will be following events closely on my phone.

It has been fantastic to see how many people have been praying for Fabrice Muamba. An event like this puts football in perspective and points us to look for help beyond ourselves. We live in a very humanistic society and I would like to encourage everyone to realise that there are limits to what man can do, but as the bible says, 'nothing is impossible with God'! At the time of writing it appears that his life may have been spared, but he is going to need our prayers in an ongoing way.

We are approaching the time of year when we celebrate the most amazing sacrifice and fantastic miracle. 2000 years ago Jesus died on a cross in our place and 3 days later He rose again….nothing is impossible with God! On Easter day at 10.30 am we are holding, here at the football ground, a massive Easter egg hunt. This will start with a very short family service. You would be really welcome and please do invite any other families to come.

I have really appreciated the interest that a number of people have shown in our new building development on Washway Road. It is exciting for us to begin to see it taking shape, but we are probably not going to be in until November. In the meantime we have the small matter of another £235,000 to raise! The aim is that it will be a 7-day-a-week outreach and community centre and I really hope we will be able to welcome you there sometime.

Please give a shout of encouragement for the boys on my behalf today.

God bless.

Andy

Andy Barclay-Watt is Senior Minister of LifeChurch (formerly Sale Baptist Church) and Club Chaplain. He can be contacted through the church office: 0161 850 0770 or by e-mail".
TWO MORE SIGN EVO-STIK FORMS
Altrincham FC Youth team captain Sam Grimshaw and fellow youth-team defender Josh Mason have signed EvoStik League forms with Radcliffe Borough FC to allow them to gain experience of playing at semi-professional level. Both Sam and Josh also recently signed BSBN forms to allow them to play for Altrincham's first team.

Earlier this season Joe Coombs, Matt Fearon and Duncam Watmore likewise signed EvoStik League forms and turned out for Clitheroe to gain match experience in a senior league.
BSBN NEWS
The Football Conference tells us that "Histon have announced that vice-chairman Angelo Dama has stepped down from the Board and resigned his position at the club with immediate effect. During his time with Histon as main sponsor, Board member and vice-chairman, Dama's contribution has been enormous and deserving of recognition. Financially he has supported the club to an extent that cannot be underestimated, whilst behind the scenes his tireless drive and determination to get things done ha[ve] been ceaseless and invaluable. It is fair to say that without him this club may well not have survived through the last couple of turbulent years.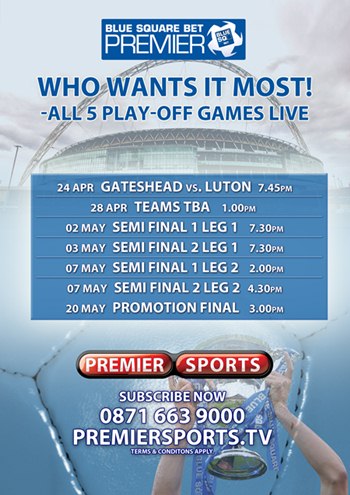 The Board is disappointed that he felt he had to make this decision but are fully understanding of his reasons for doing so. The Board would like to go on record in recognising his contribution over the years and thank him for everything that he has done for Histon FC".
Colwyn Bay have recently transformed their ground by moving their seating to the opposite side of the pitch and enlarging its capacity and now Guiseley report that "With the deadline for the additional seating that the new stand will provide fast approaching, the finishing touches are being put to the new structure. Partially funded by grants from various organisations, the stand has to be completed by 31 March to enable the Lions to qualify for the play-offs if required.
If the work had not been done, Guiseley would have suffered the same fate as Eastwood Town last season who, although finishing high enough in the table, were barred from the play-offs, a situation that led to their benefactor pulling out, the subsequent lack of funds eventually seeing the Badgers relegated back to the Northern Premier League last Saturday".
The Times & Star reports that "New recruit Adam Flynn can be the man that keeps Workington Reds in the Blue Square Bet North, according to boss Darren Edmondson. So impressed with the former Southport captain's performance during the 1-0 win at Harrogate, Edmondson said the 29-year-old would play a major role in the fight against relegation.
Calling on the experienced Flynn, who was snapped up after his release from Altrincham, Edmondson added, 'Adam's debut was exceptional. He was a real leader for us and a major reason behind why we won all three points. Adam's experience is vital, but he offers us more than just a big frame and a great footballing brain. He's a talented lad and someone who can offer us a great deal between now and the end of the season'...
Edmondson also paid tribute to fellow new boys Matthew Berkeley [also ex-Alty] and Jordan Connerton for their role in the win. The strikers were both chosen ahead of Stefan Scott, who is now suspended for three-games. Edmondson said 'They worked hard and will score goals. Both players offer us something different from what we already have. They have good pedigrees'".
News of a player dropping out of the BSBN comes from PItchero Non-League which says that at Stocksbridge Park Steels, "Former Scunthorpe player Rory Coleman has signed from Gainsborough Trinity. Coleman has also played for Harrogate Town and Boston United while on loan from Scunthorpe. A left-sided player, he scored seven times in twelve appearances at Harrogate".
From the Coventry Telegraph, we learned on Tuesday that "Seven games remaining and third-placed Nuneaton Town are in a positive frame of mind as they face their latest 'cup final' tonight up the M6 at sixth-in-the-table Stalybridge Celtic in a real six-pointer...
Kevin Wilkin said, 'Conceding inside 90 seconds, as we did at Histon, never helps but the lads were strong of mind and body.... We may have lost second place in the table to Guiseley but there's still seven matches left and 21 points at stake and I'm delighted to be where we are at this stage, considering it's not been the most straightforward of seasons one way or another'".
---
27 March 2012
AFC COMMUNITY SPORTS LTD
Altrincham FC announce...

Altrincham Football Club Community Sports Limited

Altrincham Football Club is pleased to announce the setting up of Altrincham Football Club Community Sports Limited, a separate company which will act as the focal point for the Club's Community activities.

Altrincham Football Club, the Football Conference, and the other main Football governing bodies see football as a great force for good within the local communities, with clubs such as Altrincham having the reputation, resources, and facilities to provide huge benefits locally. The additional involvement with the Community also enhances the reputation of the club, as well as resulting in increased support and revenues.

The new Community Sports organisation will be the umbrella organisation that will manage the Club's community activities in the future. The forming of Altrincham Football Club Community Sports Limited will help in obtaining funding for, and managing of, these activities. The Directors of the new Company will include Neil Faulkner, Karen Rowley, Carole Nash, Fred Nash, and Peter Foster.

The day to day management and operation of the community activities will be via the Club's recently appointed Community Officer, Chris Bullock.

Altrincham Football Club is already active with community-based activities within the local area, particularly in Junior football where the Junior section currently runs 37 teams, as well as a Saturday Morning Club. The club provides coaching in several local schools, runs Fun Weeks during the school holidays and, this season, started an Open Age Ladies' team.

During the current season the Football Club has given out over two thousand free or reduced price tickets for home games to young children and their parents.

At present, the Club are looking to start new health and education projects with mature adults, as well as educational projects with young adults. However, anyone with ideas regarding new community projects that may benefit from resources or facilities available from Altrincham Football Club should e-mail Chris Bullock or contact him by phone on 0161 928 1045.
CORBY GAME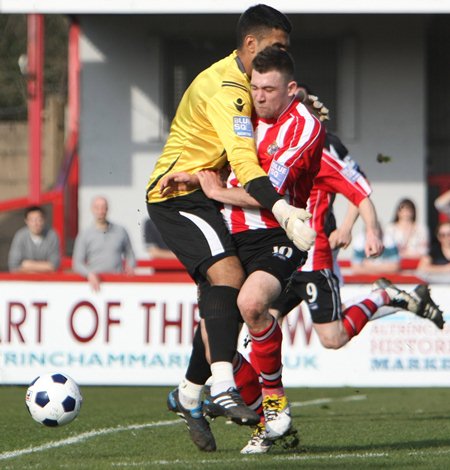 Right: Not a foul, ruled referee Jones, as Solihull keeper Singh blocked Damian Reeves's access to the ball and an almost certain goal on Saturday.

Wednesday witnesses the first ever visit of Altrincham to Corby Town's new ground, Steel Park, which the club describes as "the last word in state-of-the-art sports venues... Venture into the stadium and there, among the magnificent all-seater stand, you will find a new press box, executive box and directors box, where the Corby board catch all of the action. But it is when you step back outside in the car park that you can really marvel at the stadium before you.

Walk through the players entrance and be welcomed by the directors in the board room... On match days, the same buzz of excitement echoes round the corridors, as in the days of the famous Occupation Road... So this is today's new stadium, a contemporary environment in which a positive-thinking club moves forward with a passionate regard for its history and its heritage...

Steel Park includes a mainstand which was erected with room for 577 spectators. With supporters also able to stand on the terrace behind the goal and around the perimeter of the pitch, the official capacity of the stadium is 3,893".

Whilst Steel Park may be new to The Robins, Altrincham have played before in Corby, at the Steelmen's old ground. That clash was in the FA Trophy in 1982-83 in Round 1 when the sides drew 1-1 before Alty won the replay at Moss Lane, 6-0. In the BSBN earlier this season, Alty and Corby drew 1-1 at Moss Lane. Mike Garnett advises us that the statistics are as follows:

At Moss Lane: P2-W1-D1-L0-F7-A1
At Corby: P1-W0-D1-L0-F1-A1
Overall: P3-W1-D2-L0-F8-A2

TASC is running a supporters' coach to the game; details here
FLYNNZINE
Brian Flynn's latest contribution to the Robins' Review has a Basque flavour...

Red and White Stripes Invade Alty!

During the last few weeks, I have been to a few games not involving Altrincham, (the Carling Cup Final /Manchester City v Sporting Clube de Portugal /Maine Road v Winsford United) but the real non-Alty highlight was Athletic Bilbao's visit to Old Trafford to take on, and vanquish, Manchester United from The Europa League.

My son, Niall, decided to displace his lectures at Newcastle University for the extra-curricular double-header of this game and Alty v Stalybridge on the previous Tuesday. He had tried various routes to acquire tickets in the Bilbao section, but they had all proved fruitless, to that point.

Fortunately, there were plenty of Bilbao fans staying in Altrincham, mainly at the Cresta Court. In fact, over one hundred and sixty of them. By Wednesday lunchtime, my Spanish speaking offspring had managed to infiltrate this group of footballing tourists, who were certainly up for the occasion, arriving at Manchester Airport before 9.00am and spending the better part of £1,000 in The Cresta Court bar by 10.30am... impressive stuff.

Many of them were soon partaking in visiting the traditional Altrincham tourist attractions, (The Roebuck, The Orange Tree, The Market Tavern, etc) and by late afternoon, my lad had acquired two tickets. A third ticket was still needed for 'Cheese', a Burnley fan, also partaking in virtual studying at Newcastle, but Niall managed to secure that amongst the throngs of Bilbao fans that congregated in Shambles Square in Manchester on the Thursday afternoon.

I arrived around 5.30pm to find that the first drinking establishment that I entered had sold out of beer completely! Looking around at the city centre mayhem caused by 8,000 Bilbao fans, I wondered what it must have been like when over 100,000 Rangers fans hit town for the 2008 UEFA Cup Final!

Off to the match on the Metro, where I had an interesting chat with an FC United fan, who attracted my attention as we were herded on to the tram by proclaiming 'Take me back to the UniBond'.She was certainly enjoying the non-league football experience more than being a season ticket holder at Old Trafford, which she was until 2005. We jumped off at Trafford Bar and the FC United fan continued her journey home from work.

The match was sensational in every way. The Bilbao fans were as passionate as any set of supporters that I have seen and their players turned in an incredible display. I cannot remember seeing Manchester United so outclassed in their own back yard in a European game.

Back to the Cresta Court for a post-match livener, where the bar was a sea of red and white stripes... wonderful to see! Niall swopped his Alty shirt for José's Bilbao shirt and a Colombian lady, called Estefania, recognised my Alty jacket for the fashion icon that it is and promptly requested that she took ownership of it - with immediate effect. Fortunately, my blood alcohol levels were high enough to ensure that there was no threat of freezing during the 2.30am stroll back to Timperley!

Great night!

Brian Flynn".
BANNED
TASC chairman Brian Flynn writes:

Dennis Birch

"Further to Grahame Rowley's statement regarding Dennis Birch being banned from Moss Lane, I would like to advise that this ban also extends to travelling on trips organised by TASC to away games.

The banning decision taken by the board of Altrincham Football Club, which ensures the prevention of further behavioural issues at home games by Dennis Birch, needs to be supported by TASC and it would be inappropriate to allow Dennis Birch to travel with The Altrincham Supporters' Club (TASC) because, in doing so, we would be potentially inviting a further episode of unwanted behaviour at an away fixture and that would be unfair to both the club we are visiting and Altrincham Football Club.

Brian Flynn, Chairman, TASC".
BSBN NEWS
"Hyde FC have extended the loan deals of Godwin Abadaki and Reece Gray from Rochdale" reports the Football Conference. "Forward Abadaki and midfielder Gray have impressed during their time at Ewen Fields... Gray, 19, will stay with the club until April 21st, the maximum time allowed under the ninety-three-day emergency loan period, while Abadaki, who made his Dale debut as a substitute in January's goalless draw at Tranmere Rovers, will remain until the end of the season and is available if Hyde are involved in the play-offs".

Monday's Manchester Premier Cup match betweeen Droylsden and Mossley was postponed at short notice as Droylsden issued a "Statement from Dave Pace.

It is an unfortunate situation which could not be avoided on my part, I had an obligation to strengthen our position in the league and did so by making a number of recent signings. Three wins out of three in the league justifies this but sadly M/cr Premier cup rules state that a player who is named in the final must have been involved in a previous round and, in that respect, we fall short of eligible players,. We would not devalue the competition by turning out with eight or nine players and so informed the M/cr FA of the situation. We need some guidance from them... It is an unusual, if not unique, situation that we find ourselves in... The Manchester FA has so far decided to postpone tonight's final and will advise us as and when any further decisions are made".

Apparently Droylsden were in the same situation last season and were allowed by the Manchester FA to play players unqualified for the competition.

The Nuneaton News reports that "Andy Brown rescued a point for Nuneaton Town as their title hopes suffered another blow, but their bid for a play-off place looks ever stronger... They really needed to beat Histon on Saturday... Their 1-1 draw in Cambridgeshire means they are still eight points ahead of sixth-placed Stalybridge Celtic with seven games to go, and a meeting between the sides to come tomorrow night...

Boro created the majority of the chances but failed to press home their advantage... Struggling Histon more than held their own as their young side played some vibrant football on an uneven, sun-baked pitch...

Right-back Graham Ward, who will have knee surgery in May, was on the bench after striker Matthew Barnes-Homer moved to Ostersunds FK in Sweden last week. Left-back Alex Gudger was also named on the bench as forward Lee Moore was on holiday... Mark Noon had blood pouring from the top of his head on the half hour when he was caught in an aerial challenge... but he later aggravated an ankle injury and had to be replaced by James Armson".

Alty travel to Nuneaton next Saturday; The Boro's squad at Histon comprised "(4-4-2): Collett 7; Cartwright 7, Albrighton 6, Dean 7, Forsdick 6; York 6, G Mills 8, Noon (c) 7 (Armson 58), Walker 6; Brown 8, Glover 6 (Mitchley 69); Subs not used: Hadland, Gudger, Ward".

From the other side, the Cambridge News adds that "Histon secured a valuable point against promotion-chasing Nuneaton".

Manager David Livermore stated, "We concede a lot of goals in the last 10 or 15 minutes of games and it's not a fitness thing. It's because we don't keep possession of the football. That's something we need to improve... It's frustrating as the simple pass is the best pass', said Livermore. 'I don't mind us giving the ball away trying to be positive' said Livermore".

In Wales the Daily Post reports that "These are anxious days for Colwyn Bay player-boss Jon Newby. After doing so well for much of their first season in the Conference North, the Seagulls are ending it with a wretched run of defeats and are slowly being sucked towards the six teams who are involved in a desperate battle to avoid the final relegation spot.

With three of Colwyn Bay's last six games against top five promotion-chasing sides Gainsborough, Guiseley and Nuneaton, Newby was desperate for a win against a Corby side that had lost eight home games in a row and not won at Steel Park since November. But his side conceded a set piece goal with Delroy Gordon's far post header from a corner on 21 minutes and couldn't peg it back....

Said Newby, 'We had words at half-time and in the last 35 or 40 minutes I thought we were excellent on what was a terrible surface (hard and bumpy)... but it shouldn't need me ranting and raving at half-time for people to start playing'. He was pleased, however, with new signings Allan Collins, who came on as a second half substitute, and winger Paul Ennis before he had to go off after getting a hefty whack on the ankle. Overall Colwyn Bay had plenty of possession, forcing eight corners to Corby's two and having 12 attempts at goal to five by Corby.

But... they rarely tested Corby's debutant teenage keeper Nicholas Bennion. 'We didn't deserve to lose the game', added Newby. 'We need to go ahead in a game and then battle to hold onto the lead for a win, like Corby did today, and we will be okay'. A further blow, however, was the loss of skipper Danny Meadowcroft early in the second half with a pulled hamstring that could rule him out for much of the final month of the season. It means Matty Hughes, who only starts training this week after missing seven games with a broken toe, may have to be rushed back into action earlier than planned next Saturday".

More news of our next opponents comes from the Northants Evening Telegraph, which says that "Corby Town collected their first home league win since November thanks to a single strike". Their side was: Bennion; Gordon, Gulliver, Malone, Mayo; Hall, Hibbert, Towers, Smith; King, Jones (sub Amory, 62 mins). Subs not used: Dossou, McGowan, Ozmen, Farden
WHERE YOUR TAXES GO
Sporting Intelligence has an informative piece on football club debts and a table showing how much creditors have received. It says "When Darlington went into administration in 2009 – the second of three times the club has now done so – they owed HMRC tax arrears of more than four hundred thousand pounds. As part of the deal that led to them coming out of administration, unsecured creditors, including the tax man, received 0.0009 per cent of what was owed to them. In Darlington's case on this occasion, they owed tax of £404,376 in tax – and paid £3.64.

This is just one of the extraordinary facts revealed in an official HMRC document about the financial knock-on effects of English clubs that go bust and leave huge debts behind. Sportingintelligence has obtained a leaked copy of the 106-page document, which was prepared by HMRC for its ongoing legal battle against the Football League and Premier League to have the 'Football Creditors Rule' scrapped. This rule allows bust clubs in England to guarantee some creditors ("football creditors" such as players and other clubs) to be paid in full while other creditors get just a few pence in the pound, or nothing. Between 2000 and 2010, there were 53 incidents of clubs in England entering administration and the HMRC document includes official breakdowns of what clubs owed in 21 of those cases... 15 clubs owed a total of £40.26m to the taxman – and more than £39.5m has never been paid or remains unaccounted for in those cases alone...

It was in 2002 that HMRC lost its 'Preferential Creditor Status', meaning it became an outside party alongside the likes of small local traders and the St Johns Ambulance service – all of which are often paid next to nothing...

HMRC are currently waiting for the High Court verdict on the Football Creditors Rule after opening a case against the Football League last November. A decision is expected over the next few weeks".
---
26 March 2012
TELEVISED GAME TONIGHT
The following game is being shown LIVE in the Bar at Altrincham FC tonight. Everyone is welcome; the Bar opens half an hour before kick-off time.
Mon 26th March: Manchester United v Fulham (k.o. 8.00pm)
BSBN NEWS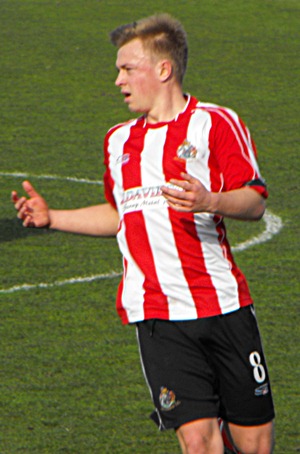 Altrincham travel to Corby on Wednesday from where Football Exclusives has an audio interview with Corby's Leon Hibbert. It says "Corby player Leon Hibbert was a happy man in the wake of the side's much needed home win at the expense of Colwyn Bay. Speaking about the attitude of his team mates he said 'We always believed the home win would come but it has been difficult with players coming in and out of the team'.

Right: Midfielder Scott Phelan was named Altrincham's Man of the Match against Solihull Moors on Saturday.

The popular midfielder described the effect this winless run has had on the dressing room saying everyone was feeling a bit 'negative'. However, he also states that this win has given a huge boost to the side saying that 'Everyone was buzzing and we just want to put in good performances between now and the end of the season'".

The Football Economy tells us that "Histon have asked fans to donate £150 each to keep the club running until the end of the season. Promised sponsorship failed to materialise and so supporters have been asked to contribute to the near £14,500 monthly wage bill. Two years ago the Cambridgeshire village side had debts of £75,000 and these have been reduced to less than £25,000. There is no risk of the club folding".
YOUTH TEAM DEFEAT
Altrincham Youth lost 2-0 away to FC United of Manchester Youth on Sunday. The updated NWYA Premier Division league table is now available.

FCUM report that "FC United Youth welcomed Altrincham to a sun drenched St Bride's... The sun seemed to have a soporific effect on the home side as Altrincham had the better of a first half that had few clear cut chances. Jonathan Beisty was called into action twice in the first twenty minutes to deal with Altrincham breaks as the FC midfield found the combination of Oliver Riley, playing just off lone striker, Denico Walters, hard to deal with.

As the half wore on the Reds started to get their act together without actually troubling Adam Reid in the visitors' goal. The one time the ball got past Reid and was drifting towards goal a defender was able to clear off his goal line without being put under pressure.

After words of encouragement the second half had a more familiar pattern to its play. It was barely three minutes old when a Theo Kidd run towards goal was halted unfairly. Matthew Boland dispatched the penalty calmly with Reid going the wrong way. Even so there were few efforts of note in the rest of the half as the visitors threat was dealt with by the home defence and the attack seemed a little too keen to force matters by shooting from distance.

The Reds doubled their lead in the 75th minute as Theo Kidd fed the ball forward looking for Sam Howell... As the visitors were looking for an offside call that never came, Poizer calmly lifted the ball over the advancing keeper and into the net. With little else of note happening the game drifted to a conclusion".
---
25 March 2012
NEW SHIRT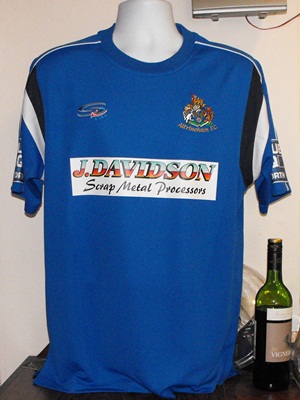 Pictured, right, on display in the bar before yesterday's game against Solihull Moors, is the proposed new Altrincham FC away shirt for 2012-13 season. The shirt is produced by Ian Senior's SK Kits and Ian is happy to receive any comments on it.
ALTY v MOORS GAME
Alty TV match highlights

The Solihull Moors Forum has a brief report on Saturday's game. It says, the Moors emerged with "an impressive point at play-off hopefuls, Altrincham. Solihull started the game confidently and were well worth their early 1-0 lead... The home side... moved up a gear and createda number of chances, with ... leading scorer Damian Reves squandering two glorious chances to level the scores... Solihull were doing well to keep the hosts out as well as playing a very good passing game which kept Altrincham frustrated".
ON THE MARK
An Alty "old boy" who scored on Saturday included Chris Denham (Chorley) as did current youth team defender Matthew Fearon for Clitheroe.
BSBN NEWS
The first "up or down" of the 2011-12 season was decided yesterday when Eastwood Town's defeat meant that they were relegated from the Blue Square Bet North.

Altrincham's next match is on Wednesday, at Corby, from where Corby Town report that "Corby manager Graham Drury has dedicated his side's win against Colwyn Bay to the Steelmen fans... the Steelmen's first league victory at home since November. Drury praised the support shown to his team throughout the season.

He told www.corbytownfc.co.uk, '"It's nice getting a win for the fans here. We've always got the ones that stick by us, the loyal ones, which show us support when we're getting beat so it's only fair that they get credit when we win. I'm just really chuffed for the fans today'...

'We had two or three great chances to put the game to bed today. In fact, I thought it was going to be a bit of dejavu; against Droylsden we had four chances to be 4-0 up at half time, we didn't take them and we got beat. It could have been the same story today and it did get a bit nervy towards the end but, credit to the lads, they stuck in and got the result. I think we defended really well today. The pressure of getting that first home win since November is gone now, so hopefully we'll put in the same kind of performance against Altrincham on Wednesday'".

The Corby website adds that "Corby Town finally rid themselves of the Steel Park curse on Saturday afternoon, as Delroy Gordon's first half header was enough to secure all three points against Colwyn Bay... The Steelmen's last win at home came in November... Despite enjoying the lion's share of the possession, Newby's effort was the closest the Seagulls came to a goal all afternoon, as debutant goalkeeper Nick Bennion was left relatively untroubled in the Corby goal...

On the twenty minute mark Gordon headed in a deep Steve Towers' corner for the opener. The Seagulls continued to dominate possession... The lowly scoreline ensured a few nervy moments for the Steelmen at the death, but Drury's charges held steadfast".

Corby's team was: Bennion; Gordon, Gulliver, Malone, Mayo; Hall, Hibbert, Towers, Smith; King, Jones (sub Amory, 62 mins). Subs not used: Dossou, McGowan, Ozmen, Farden.
---
24 March 2012
STATEMENT
Altrincham FC chairman Grahame Rowley has issued the following statement:

"Following the behaviour of one of our supporters, Dennis Birch, during the game this afternoon, the Board have decided to ban Mr Birch from Moss Lane. His behaviour is unacceptable to the club.

I have apologised on behalf of the Football Club to the player involved, his manager and the Chairman of Solihull Moors. They have accepted the apology and, as far as both clubs are concerned, this is an end to the matter. As stated recently in the matchday programme, racial abuse will not be tolerated at Altrincham Football Club".
ALTRINCHAM 1 SOLIHULL MOORS 1

Above: There was an unusual start to proceedings at Moss Lane today as the teams took to the pitch whilst the cheerleaders were still performing!

Not for the first time in recent weeks, Altrincham's inability to convert numerous goalmouth chances cost them dear...

League Table
SATURDAY GAMES
Saturday 24 March

Through the Years by Howard Watts.
Altrincham 1 Solihull Moors 1
Bishop's Stortford 1 FC Halifax Town 3
Blyth Spartans 0 Gloucester City 1
Corby Town 1 Colwyn Bay 0
Droylsden 2 Boston United 1
Gainsborough Trinity 2 Eastwood Town 0
Harrogate Town 0 Workington 1
Hinckley United 2 Vauxhall Motors 2
Histon 1 Nuneaton Town 1
Hyde FC 0 Guiseley 1
Worcester City 0 Stalybridge Celtic 0
KEEPING UPDATED
As usual, Altrincham's next match, at home to Solihull Moors, will be covered live on Radio Robins as well as by this website's live Matchday Updates.

Brian Flynn confirms that "Radio Robins, sponsored by Paradox-Computers.com will be broadcasting a full internet commentary of Saturday's game. The match commentary is sponsored by Whetstone Professional Editing Services, who provide high quality editing and proofreading of all kinds of documents, for students, businesses and footie fans!! You can find out more about Whetstone Professional Editing Services by visiting their website.

The match commentators are Jack Jolly and Brian Flynn with the match summariser being Marlon Broomes. The broadcast begins at 2.50pm".
TV IN THE BAR
Altrincham FC announce that "Two televised Premiership games will be available tomorrow in the bar at Moss Lane, either side of the Solihull game. For those arriving early, you should be able to catch some of the Chelsea v Tottenham game prior to the Solihull game.
MOORS' SIGNING
On the eve of their visit to Moss LAne, Soilihull Moors announce "Great news for Solihull Moors. Following the club's hard fought 2-1 victory over Hinckley United, Monday night, Solihull Moors have announced the signing of former Aston Villa and Jamaican international forward Darren Byfield. Byfield will be known by most people for the time he spent playing for Premier League side Aston Villa.

During his time at Villa Park, he made seven first team appearances as well as several loan spells to various clubs including Blackpool, Preston North End, Cambridge United and Northampton Town. He had a successful spell at Millwall in League 1 netting 19 times in 31 games and more recently at Walsall.

The six times capped Jamaican forward signed just before the transfer deadline".

Byfield, aged 35, left Walsall in May 2011.

The Football Conference adds that "Solihull Moors have signed much-travelled former Aston Villa and Jamaica forward Darren Byfield. Almost as famous for marrying, then divorcing, singer Jamelia, Byfield started his career with Villa and made seven first-team appearances... He transferred to Walsall in the summer of 2000 and scored the extra-time winner in the 2001 Second Division play-off final, giving the Saddlers a 3–2 victory over Reading. He moved onto Rotherham a year later and then followed spells with Sunderland, Gillingham, Millwall, Bristol City,

A report of the Moors last outing, a 2-1 win at Hinckley, features in the Solihull News which claims that "Moors boss Marcus Bignot read the riot act after team staggered to a two-all draw against lowly Blyth Spartans last Saturday - and his words paid dividends two days when they swept aside the challenge from Hinckley United...

'It was the performance more than anything that got me,', said Bignot. 'It felt like a loss; we were fortunate to get a draw and I was looking for a response against Hinckley and I'm really pleased with the way they came back'. Bignot also rang the changes following the Blyth match, bringing in Danny Spencer to bolster the defence and youngsters Andre Francis and Jordan Fitzpatrick, the former getting the winning goal.

'I'm really pleased with them, the youngsters gave us a lot of legs while Danny allowed us to be more solid at the back... We really are at the crossroads and we're aware of both the consequences of slipping back and pushing on into the top ten, which would be fantastic given the poor start we had to the season'"

For the third time in a month, Altrincham Mad forecasts a goalless draw for an Altrincham side yet to play a goalless match this season. They say "Altrincham prepare to entertain Solihull Moors at Moss Lane on Saturday afternoon, for the first time in their history, and will be hoping to give their new opponents the runaround... Altrincham have only performed averagely at home, winning 3 and losing 2 of their last six... Solihull Moors have an average recent record on the road, picking up two good wins, but losing three, from the last six... Your number one FootyMad panel have studied this game long and hard, and cannot separate the two. A draw for the Robins. No-score draw".
GET YOUR HORSES NOW!
TASC Chairman Brian Flynn announes...

Horse & Race Sponsorship Available for End of Season Race Night!

"Horses and Races are now available for the traditional 'End of Season Race Night', which takes place in The Noel White Suite on Saturday April 28th, following the final league game of the season against Gainsborough Trinity.

Prices are the same as last year, with Horse Sponsorship priced at £10 & Race Sponsorship at £20.

This year, we are trying to spread the load of selling horse sponsorships into allocations of six. Therefore, if you feel that you can help out by selling six horses amongst your Alty mates, please either e-mail Steve Foster or ring him on 07876 767284; or e-mail Brian Flynnor ring him on 07860 561011.

If you wish to sponsor a horse individually or be a race sponsor, you can also reserve your sponsorship by contacting Steve or Brian directly, via the above links".
CONFERENCE GAME LIVE
"The Football Conference confirms [that] the scheduled Blue Square Bet Premier fixture [featuring] Mansfield Town v Wrexham, on Saturday 21 April 2012, has been brought forward for live screening with a kick off at 7.30pm on Friday 20 April 2012, by Premier Sports Television (Sky Channel 433). The broadcast will commence at 7pm".
BSBN NEWS
According to the Football Conference, "Vauxhall Motors have strengthened their attacking options in their battle to avoid relegation. Motors have taken Ray Putterill on loan from neighbours Southport until the end of the season. The former Liverpool FA Youth Cup 2007 winner only joined 'Port at the beginning of the month and was sent-off on his second appearance for Liam Watson`s side! Putterill joined 'Port having made twenty-four League appearances for Accrington Stanley before being released last summer. The midfielder's promising Liverpool career was blighted by injuries".

In the Coventry Telegraph, we learn that "Kevin Wilkin grew up and played at Histon; tomorrow he goes back to the Glass World Stadium as Nuneaton Town manager and determined to put one over his former club.... Last Saturday only an injury-time goal foiled a surprise away win at title outsiders Guiseley and, in Danny Holman, they boast one of the division's most lethal strikers and scorer of 21 league goals this season.

Wilkin said, 'I had some good times as a young man at Histon and scored a few goals. I was on the Boro' bench for that notorious FA Cup second round tie back in December 2005 when we beat them 2-1 – booking the famous third-round tie against Middlesbrough – and Terry Angus was accredited with the last-minute winner, although to me it was an own goal... I reckon I was closer in the dug-out than he was!'

But on serious note the Boro boss would be relieved to make the short journey back to his Northampton home afterward tomorrow's clash with a league double and three points safely in the bag. 'That's the priority', he continued, 'but Histon are no mugs despite their bottom-six position. I think over the years they have done fantastic to achieve what they have, especially to play at Conference level. Obviously they will be giving everything to get a result and boost their chances of avoiding relegation and I hope they achieve the latter'.

Striker Andy Brown is now a bone-fide Nuneaton player after all the paperwork went through before last night's deadline while ex-Boro Chris Dillon is on stand-by should injuries or suspensions kick in and leave Wilkin short-handed.

Another player to be registered with the club is Coventry City Academy youngster Joe Henderson, a left-sided midfielder. Wilkin added, 'With not having the biggest of squads, Chris and Joe have been signed on a non-contract basis, just in case of emergencies... Definitely missing the game is Lee Moore as he's away on holiday while both Graham Ward and Robbie Burns are out for the season".

The Worcester News informs us that "Worcester City host promotion rivals Stalybridge Celtic tomorrow... Only two points separate Carl Heeley's side from fifth-placed Celtic ahead of the crucial contest at St George's Lane... >P> Manager Heeley said, 'Nuneaton and Guiseley look favourites (for the play-offs) but Halifax are far from secure, so there's a lot to play for. With the greatest of respect, I am not really interested about anybody else. All I am focusing on is what we have got to do'...

Former Hereford United midfielder Jimmy Harvey's Celtic side have faltered in their challe, 'At the turn of the year, the title looked to be between Hyde and Stalybridge but they have dropped off the pace in that respect. Similarly, we had a torrid January and there was no rhyme nor reason to it'...

New recruit Dwayne Samuels, a right-sided player, is in line to make his debut in defence after joining from Telford United, while attacking midfielder Matt Birley continues to improve following a groin injury. However, City will not play Tom Thorley unless the midfielder has fully recovered from the hamstring strain... Heeley was not optimistic of Thorley being fit earlier this week and he can't afford to risk the 21-year-old aggravating the injury and missing the rest of the season".

And This is Lincs says that "If the wheels had fallen off the Gainsborough Trinity band wagon, manager and chief mechanic Steve Housham believes he has made the necessary repairs. A second successive defeat saw Trinity slip out of the play-off places last Saturday, but Housham says a return to basics this week in training and the addition of a new face on the playing rosta could help get their play-off train up and running again.

Housham has added Luke Holden to the Gainsborough Trinity squad... Holden has most recently been playing at Formby... However, Droylsden still have his registration... Said the Blues' boss, 'As long as the paperwork can be sorted out in time for the deadline, he will feature in the squad. His move came about because I received a text message from his agent and I just followed it up. He played against us earlier in the season, when he played for Droylsden, and we were impressed then. The lad is predominantly a left sided player and could just turn out to be the final piece of the jigsaw for us. He has a turn of pace and a few tricks, I think he will definitely brighten the place up'...

'We did not play well last Saturday', added Housham. 'But this was one game in which a decision made by an official has changed the game. Their lad was fouled, but it was clearly outside the box and the referee didn't call it. But then the linesman, who was 30 yards away put his flag up and gave a penalty. But we didn't react well to that and you have to be better at accepting decisions like that. We have to be stronger and not let ourselves be deflated by them. We have been working hard in training on that kind of thing and on keeping the ball, because we need to keep the ball better than we have been doing.

'I am one of those managers who does not like to see miserable faces at training. There are more important things in life than football and I want my players to come to training with a smile on their faces and enjoy their football'. Saturday's visitors Eastwood will not make that easy...

Said Housham, 'You hear that players are jumping ship and they are playing with mostly kids, but we will not expect them to come here and lay down... They will be fighting for their lives and we have to match that'".

According to the Halifax Courier, "There is no doubt that the past month has not been a good one for Halifax Town... In the seven games since they moved in behind Hyde FC at the top of the table with victory at Colwyn Bay, Neil Aspin's side have won just once and they have picked up six points from the 21 on offer...

Well, the signs were at least promising against Gloucester last weekend and new loan signings Ross Hannah and Sean Clancy will have had a couple of training sessions with their new temporary teammates... And the fact that their rivals were also dropping points meant that Town remained firmly in the top five".

Halifax meet Bishop's Stortford who beat them a fortnight ago. "The Bishops came to the Shay with a plan and it worked to perfection as they returned home with three points. They have won four of their last six and are the form team in the Blue Square Bet North. But the Shaymen are still the team with the best away record in the division this season and have lost just one of their last 10 on the road... with trips to Stalybridge Celtic, Altrincham and Solihull Moors still to come".
NW NEWS
Reports in the Runcorn & Widnes Weekly News state that "The newly formed Widnes Town FC has agreed to change its name after a junior club complained that it had the same title. The spat over the Widnes Town FC brand erupted last week following the creation of a team chaired by former Liverpool defender Mark Wright and managed by ex-Chester City player Stephen Vaughan Jnr.

But a club by the same name was founded in 2009 and plays in the West Cheshire Youth League (WCYL)... Mr Vaughan and Mr Wright's club told the Runcorn & Widnes Weekly News that it has dropped the 'Town' part of its name. Stephen Speed, one the new team's directors, told the Runcorn & Widnes Weekly News, 'To avoid confusion, we have decided to call the club just Widnes FC. We do not want to be associated with any other club'...

This week Widnes FC also revealed that it has struck a deal with an existing football club to play home matches at its ground for 12-months, with an option of a second season. However, Mr Speed said he could not reveal which club had agreed the deal. Halton Borough Council had rejected its bid to play at Stobart Stadium".
---
23 March 2012
SQUAD NEWS
Lee Sinnott reports, after Thursday night's training, that all of his squad are fit apart from centre-back Marlon Broomes, who remains sidelined by his hamstring injury, and Nicky Clee, who is a doubt with an ankle knock. Chris Lynch, who took a knock at Boston, and Kieran Walmsley, who missed that game, both came through training successfully and should be available subject to any post-training reaction.
OLD BOYS
Pitchero Non-League states that "Blue Square Bet Premier title-favourites Fleetwood Town have become Joe Collister`s latest temporary port of call. Collister has enjoyed something of a nomadic season, having just returned from a loan spell with Conference North side Altrincham. The former Tranmere Rovers keeper joined the Robins on loan from Fleetwood`s league rivals Tamworth, where he signed a contract at the beginning of the season, at the end of January 2012. Hoylake-born Collister claimed the first-team gloves at Tamworth just in time to play in a Third Round FA Cup tie against his boyhood favourites Everton at Goodison Park just before his loan spell. But the Lambs then agreed to loan Collister to Alty and he turned in a man-of-the-match performance in the 2-0 defeat at Gainsborough Trinity".

NL Daily confirms that Ashton United's "vice-captain George Melling has signed for rivals Kendal Town. The central defender had established himself as a key member of Danny Johnson's squad since signing in the close season. But he has decided to take up an offer to again play for his former club. He made 35 appearances for the Robins, scoring two goals".
BSBN NEWS
The Conference tells us that "Hinckley United have re-signed young striker Jacob Joyce from Peterborough United. The promising 18-year-old, whose deal at London Road ends in June, returns to the Knitters having been at the Greene King Stadium on `work experience` earlier this season. After returning to Posh, Joyce was then sent out to Hinckley`s league rivals Boston United on a similar basis".

Elsewhere, "Prolific goalscorer Jordan Connerton has gone out on his third loan spell of the season by joining Workington from Crewe Alexandra", whilst "Boston United have added midfield cover to their squad ahead of the transfer deadline by completing the loan signing of Josh Burge. The 21-year-old, who made one appearance for the Pilgrims during a brief spell at The Jakemans Stadium last season, has arrived on loan from Eastwood Town, where he still has one year remaining on his contract. Burge was initially recruited by the Pilgrims in 2010 but made only one appearance... Having been one of the shining lights for Eastwood during a poor campaign for the Badgers, Burge has been allowed to leave temporarily due to budget cuts at Coronation Park. Burge played alongside Pilgrims' joint-manager Jason Lee at Ilkeston Town in 2009/10 and 2010/11. His loan deal at The Jakemans Stadium will run until the end of the season.

Meanwhile, the Pilgrims have registered 17-year-old defender Lewis Sturman on Conference forms".

According to BSBN, "Luton Town have confirmed the capture of Hinckley United striker Andre Gray on loan until the end of the season. The 20-year-old was the target for a number of Championship and League One sides, but has opted to join Gary Brabin's men on loan with a view to making the deal permanent in the summer transfer window. Luton have agreed a £30,000 fee with the Blue Square Bet North outfit and Gray will be available to make his debut against Grimsby Town at Kenilworth Road on Saturday afternoon".

A move in the opposite direction, to the BSBN, means that "Worcester City have signed utility player Dwayne Samuels from AFC Telford United. The 21-year-old joined the Bucks at the start of the season following his release by league rivals Grimsby Town".

In the Eastwood Advertiser, we learn that "Eastwood Town boss John Ramshaw urged the young players at his disposal to earn the right to stay at the club as he plans ahead for next season. The Badgers' relegation could be confirmed this weekend if they lose at Gainsborough Trinity and other results go against them. But while Evo-Stik Premier Division football is now almost a certainty next season, Ramshaw wants his players to go down in a dignified manner despite resources being stretched, and was enthused by the fight put up by his young squad in the 1-0 defeat to Harrogate Town last weekend.

He said, 'Against Harrogate we had only two players over the age of 21, Gavin Caines and Richard Cooper, who hasn't played regularly for over two years. At one point ourselves and Harrogate made substitutions at the same time - they brought on an experienced striker with over 400 games behind him and we brought on a kid who is in Year 11 at school in Josh Raven. That goes to show what we're up against at the moment. But I thought the young lads did magnificently well in terms of their fight and organisation.

We didn't have a good threat in front of goal and certainly didn't do enough to win the game, but I thought a 0-0 draw would have been fair which is why I was so disappointed with the late winner - especially as I thought there was a strong suspicion of offside about it. But we want to go down with dignity, not by losing heavily each week. We have to do our best and Saturday was encouraging'...

He said, 'There have been two silver linings to the clouds of this season. One is that the club has been saved from extinction by the hard work of Steve Lynch and the other is that we have been forced to blood some very young players who have therefore been given an opportunity to show they can perform at a high level... We're trying to look to next season and these guys can force themselves into my plans. One or two of the players have surprised me with their positive response to our situation and that's good to see, whereas there are some who have thrown in the towel already. We've got seven league games to play [including one against Altrincham], whether we like it or not, and need to put on as much of a show as possible, particularly with the Notts Senior Cup also up for grabs".

A report that could have affected Colwyn Bay is on the Welsh Premier, says that "UEFA has ruled that the six exiled Welsh clubs can only qualify for a place in Europe through the English system in which they ply their trade. The FAW had asked the governing body to rule that Swansea City, Cardiff City and the other four 'exiles' could qualify for Europe via the Welsh Cup, after inviting them back into the competition this season.

But a UEFA executive committee meeting in Istanbul this week has rejected the idea that the exiles can have two bites of the cherry through both English and Welsh leagues or cups... The ruling is a blow to the FAW who wanted to offer the exiles the carrot of Europa League qualification to persuade them to play in the Welsh Cup... Newport, Wrexham and Merthyr entered this season Welsh Cup but their participation in the future may now be in doubt without the lure of European qualification. Swansea, Cardiff and Colwyn Bay rejected the invitation."

Meanhwile, "Scholar Jamie Morton has been registered on Work Experience forms with Colwyn Bay for the last five weeks of the season. Due to his age, this makes him eligible to play in the Blue Square North for the Seagulls, while still training and receiving his education with Wrexham. Dragons' boss Andy Morrell was keen for the player to spend a few weeks with Jon Newby's team, which will also introduce him to a higher grade of football".

Pitchero Non-League adds that "Colwyn Bay have taken young goalkeeper Connor Roberts on loan from Everton. The 19-year-old signed for Everton as a scholar in July 2009. He joined the Toffees from Tranmere Rovers and his progress has seen him achieve international recognition.. He's played for Wales at both under-16 and under-17 level... Roberts spent part of this season on loan at Burscough".

"Andy Brown has signed a permanent deal with Nuneaton Town" reports the Coventry Telegraph. "The 26-year-old striker has made a huge impact during his second spell at Boro on loan from AFC Telford – he has netted six goals in 12 appearances and has been a major reason why the club are second in the table and very much on the promotion trail.

Brown has forged an imposing partnership with top Town marksman Danny Glover since making a scoring second debut at Workington... Nuneaton chairman Ian Neale completed the signing of the all-action striker yesterday. Brown, scorer of 56 goals for The Bucks, would have been able to stay at Boro until April 11 when the maximum 93-day loan period would have run out forcing him to return to Telford until the end of the campaign...

Wilkin's options have been further boosted by the news that former Boro front-man Chris Dillon, currently turning out for Arlesey, will be available if required. 'Andy is key to our plans', said Wilkin. 'His presence during the run-in will be a major boost. He's a big favourite with the fans and why not? He scores goals, creates opportunities and gives you 100 per cent every second he's on the pitch'".

And Nuneaton Town "have signed Coventry City Academy defender Joe Henderson on a work experience deal.The 18-year-old centre half will remain with the Sky Blues' Under-18s setup but will also be elegible for selection for Town... He will also be following in the footsteps of current first team defenders Nathan Cameron and Cyrus Christie who joined Nuneaton on similar work experience deals in 2010".
---
22 March 2012
LEE'S LEFT-BACK PLANS
John Edwards, Altrincham FC joint Press Officer, writes "Lee Sinnott believes promotion-chasing Altrincham are back on track after an impressive performance in a hard-fought 1-1 draw at Boston United.

The Alty manager, who has recruited left-back Andy Smart from Trafford and signed Ossett defender Andy Milne as emergency cover, urged his players to banish the memory of the previous Saturday's bitterly-disappointing home defeat by Bishops Stortford.

They duly rose to the challenge with a second-half equaliser from James Lawrie and last-gasp effort from Damian Reeves that would have won it but for a marginal offside decision.
.

'I asked the linesman politely how far Damian was off, and he put his finger and thumb together,' said Sinnott, who is looking for more of the same from his side against Solihull Moors at Moss Lane this Saturday. 'That's how tight it was and how close we were to winning. You'll always get grumbles in situations like that, but we don't have the luxury of TV replays or freeze-frame shots from cameras that are in line, so, unless you've got a great view of it yourself and can see there's been an obvious mistake, it's pointless making too much of a fuss.

'I asked the linesman in a nice way, and he answered, so we just have to accept luck went against us with that one.

'The main thing for me was the performance. It was the total opposite to the week before, and that was important. We had to show our true capabilities, and we did, against a side who have a good home record and who would have drawn level with us on points, had they beaten us.

'It was exactly the response I wanted, a good start and even a positive response to going behind against the run of play. Often at half-time, when you have done well without reward, there can be a dip, but we kept at it and were certainly good value for the equaliser.

'I think probably both sides could build a case for saying they could have won, when you consider they hit the bar and we hit the post, then had Damian's late effort chalked off. But what's beyond doubt is there were a lot of positives, from our point of view. It was a good, solid performance, and with others dropping points, you wonder about the tally needed to make the play-offs. If results continue to follow the recent trend, we might find the figure required is less than was being forecast about three weeks ago.'

On his new signings, Sinnott said: 'Left-back is a specialist position, but Nicky Clee has done an excellent job there. He is comfortable on the ball, as we know, and has also managed his defensive duties really well. Andy Smart's arrival is an opportunity to move Nicky back to what people would class his natural position on the left of midfield, but I'll have to chew that over. It's always good to have options.

'Really good left-footers are hard to come by, but Andy fits into that category. Like Kieran Walmsley, Shaun Densmore and Nicky, he is comfortable in possession and can deliver a good ball, either a dangerous one into the box or to a team-mate.

'I appreciate Ossett's help over the other Andy. If we need him on a day when Ossett are also playing, it will be a case of negotiating with them and seeing what Andy thinks. He was able to sign for both clubs, because we are in different league structures, so if there is ever a clash of interests, we'll have to consult Ossett and Andy.'

Marlon Broomes is still out with a hamstring injury, but Walmsley is expected to be fit for Saturday".

In the Advertiser, we read that "Altrincham boss Lee Sinnott has boosted his squad ahead of a potential play-off push by signing local lad Andy Smart. The 26-year-old was brought up in Timperley and still lives there, so will be something of a rarity in recent years, being an Altrincham player living in the Altrincham area. A specialised left-back, Smart began his career with Macclesfield, playing nine League Two games before having spells with Northwich Victoria, Stalybridge and Hyde. Smart joined Trafford last summer and after impressing for the Evo-Stik North side this season, he's earned a move back up into the Blue Square North, signing for Altrincham on Monday.

'It's a position we've been looking at', said Sinnott. 'Nicky Clee has done an excellent job at left-back but signing Andy will release him to play left-wing again. We've had a few play at left-back over the season. We needed someone more specialised and left-sided players are hard to find but Andy's a recognised left-back who's already played at a higher level'.

The Robins remain two points outside the play-off places after Saturday's 1-1 draw at Boston, James Lawrie heading home in the 52nd minute to cancel out Ben Fairclough's 36th-minute opener for the hosts. Alty host Solihull Moors this Saturday".
OLD BOY
The Football Conference informs us that "Workington have signed defender Adam Flynn (right), who was recently released by league rivals Altrincham after falling out of favour at Moss Lane. The 27-year-old joined the Robins in the summer of 2011 after leaving Southport. Flynn made just three appearances for Altrincham before suffering an injury which kept him on the sidelines for the club's next eight fixtures. He went on to make a further dozen appearances but lost his first-team place, and was named as a substitute in five games. Flynn is currently head coach at Liverpool`s International Football Academies".
BSBN NEWS
"Relegation-threatened Vauxhall Motors have brought Nigerian-born striker Obi Anoruo back on loan from Wrexham, subject to international clearance being received from the FA of Wales" reports the Football Conference. After leading the scoring charts for the Dragons' youth team in the successful 2008/09 campaign, he was given his senior debut against Eastwood Town in the FA Cup and then got a first league start against Kidderminster Harriers in late March 2009. He signed on a professional contract in the summer of 2009 and has since enjoyed loan spells with Welsh Premier side Newtown and Motors, as well as making a number of first-team appearances with the Dragons. He had originally agreed to stay with Motors until the end of this season, but was recalled by Wrexham after the departure of manager Dean Saunders".

Elsewhere, "Jon Newby, player-manager of Colwyn Bay, has followed up the signing of winger Paul Ennis by bringing in attacking midfielder Allan Collins from managerless Warrington Town. Collins returned to Cantilever Park for his second spell with the club having re-signed in September 2011. The hard-working player started off his career at Southport before joining Warrington on loan during the 2010/11 season. After three months, he signed until the end of the season before leaving for league rivals Skelmersdale United".

And "Gloucester City have completed the signing of midfielder David Bird until the end of the season. With City's own appearance record holder, Tom Webb, suspended for the next three games after his red card against Droylsden, manager Dave Mehew has brought in the former Cheltenham Town favourite, who holds the record for the most League appearances for the Robins. Like Webb, Bird has been a one-club player – signing for Cheltenham as a teenager and playing for the team for more than ten years, making a total of 289 appearances. The 27-year-old left Cheltenham by mutual consent earlier this season and according to Mehew was an ideal signing to bolster the injury and suspension depleted Tigers' squad."

The Nuneaton News reports that "Andre Gray is on the brink of a move to Luton Town after they agreed an undisclosed fee for the Hinckley United striker. The Knitters top scorer was yesterday in Bedfordshire talking terms with the Hatters — but manager Dean Thomas revealed Championship side Watford and League One outfit Scunthorpe United have also expressed an interest in the 21-year-old who has hit 21 goals this season.

Thomas yesterday said, 'Andre has gone to Luton to discuss terms with them. We've agreed a fee with them but there are other clubs interested. Watford and Scunthorpe have expressed an interest but they've not made a bid. Andre might have played his last game for us but we have to wait and see'.

Any move for Gray would have to be on loan initially with a view to a permanent move at the end of the season. It must go through before the emergency loan window ends tomorrow".

After defeat this week at home to Solihull, Thomas stated "We aren't a good enough team to let ourselves get exposed so often in games. We keep getting fundamentals wrong and you can't do that". Meanwhile, "Notts County central defender Haydn Hollis has left Hinckley with a view to joining Darlington on loan".

Pitchero Non-League says that "Gainsborough Trinity have signed a player with Champions' League experience. Trinity have brought in well-travelled 23-year-old left-sided attacking midfielder Luke Holden, who has spent the past few weeks with Formby, having been released by Welsh Premier outfit The New Saints.

Holden was born locally to Formby and his early talents saw him play as part of Liverpool's youth programme from the ages of 6-12. After eighteen months at Everton he transferred to Tranmere Rovers as a trainee... Aged 18 he signed for TNS for the 2007/08 season... That summer he returned to Merseyside football, accompanying TNS manager Ken McKenna to Cammell Laird. After a brief stint at Bradford Park Avenue, he signed for Rhyl midway through the 2008/09 season... This achievement put them in to Champions League qualifiers and in July 2009 Holden played in both legs against the club with a tenancy on the Serbian league title, FK Partizan.

Over that summer Championship side Coventry City held talks with him but were unable to agree terms, so he moved to Charlton Athletic on loan for the final three months of 2009... before returning to Rhyl in January 2010. He quickly joined Wrexham... He was a first-team regular and by the time the season ended he had made fifteen appearances and scored one goal.

In the close season of 2010 he joined Droylsden, and stayed until transferring to rising stars Chester FC in November 2011. In January this year he rejoined TNS".

News of our most recent opponents is that "Boston United have parted company with winger Tyrone Kirk. The 26-year-old, who scored once in six starts and eight substitute appearances for the Pilgrims, agreed to leave the club... Kirk started his career with Manchester City and has also had spells with Barrow AFC, Stamford AFC, Macclesfield Town and Rhyl... Kirk moves on having made fifteen appearances in total for United."

And, "Nuneaton Town have re-signed experienced forward Chris Dillon. Dillon, 28, signed for Arlesey Town from Nuneaton in 2011. A player who has scored plenty of goals wherever he has been, his previous clubs include Luton Town, FC Jokerit in Finland, Bedford Town, Histon and Hemel Hempsted Town".
---
21 March 2012
ALTY SIGN SIX!
As deadline day arrives tomorrow for signing players before the end of the season, Altrincham FC have added six names as cover for their first-team squad. Five of the players are current Altrincham FC youth team players, listed below in alphabetical order...
Josh Mason
(right-back)

Derryn Ofori
(striker)

Josh Palmer
(left winger)

Denico Walters
(striker)

Alex Weatherby
(central defender)
All of the above players are aged 17, except Josh Mason, who is 18.

The sixth signing is experienced goalkeeper, Paul Horridge (38), who, most recently, has been at Radcliffe Borough and Bacup Borough. He is also a British Fire Service international player - firefighting being a profession he shared with Alty coach Ian Senior.

Paul's career started at Bury, followed by time at Chorley, Atherton LR, Rossendale Utd, Ramsbottom Utd, Accrington Stanley, Bamber Bridge, Lancaster City, Salford City and Clitheroe as well as more than one spell with Radcliffe Borough and Bacup Borough. He has played against Alty more than once, including when playing for Lancaster City and Salford City.
SUPPORT ALTY ON THE ROAD
Mark Eckersall writes:

"We have put transport on to the next two away games and we need your help to support it. Can you get booked on as soon as possible by calling the club on 928 1045 if you can or, alternatively, wait until Saturday and put your name down in the club shop?

For anyone who hasn't travelled with us before, the aim of the coach is to arrive at 6.30 to 7pm for a midweek game and 1.30 to 2pm for a Saturday game, to allow people to have a drink/look around.

We return straight after the match to get you back for your Saturday night or to bed, for work the next day.

Hope you can travel with us... Details here."
TUESDAY SCORES
Tuesday 20 March

Droylsden 2 Corby Town 1 att. 176
Guiseley 2 Harrogate Town 1 att. 519
League table.
NEXT MATCH - ALTY v SOLIHULL MOORS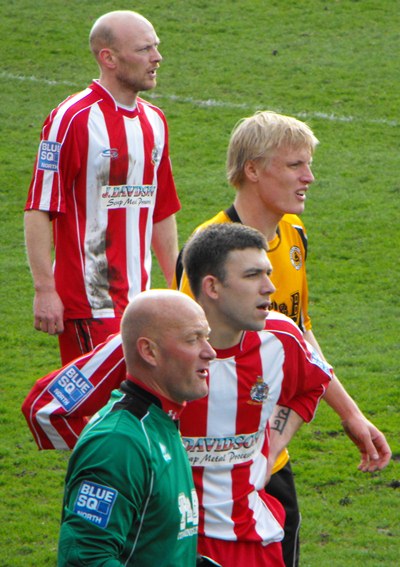 Howard Watts's Through the Years records for games on 24 March are now on the website, whilst Mike Garnett informs us that whilst this is the first ever visit of Solihull Moors to Altrincham, our record against one of their predecessor clubs, Moor Green, is in the Midlanders' favour.

At Moss Lane (v Moor Green): P1-W0-D0-L1-F0-A2
At Moor Green: P1-W0-D1-L0-F2-A2
At Solihull: P1-W0-D0-L1-F0-A2
All: P3-W0-D1-L2-F2-A6

Right: In a view from Boston last Saturday, we see Damian Reeves and Leighton McGivern, sandwiched by Pilgrims' keeper Paul Bastock and a team-mate. Damian is going through his worst run of the season - he hasn't scored in two successive games, the only time that has happened this season! Saturday's match at Boston was also the first time since 3rd September 2011 that Altrincham have scored in a league match and Damian has not been on the scoresheet. However, he did have a goal dubiously ruled out for offside on Saturday and also hit the post.

This season, the Moors had an awful start to the season, losing all seven of their first fixtures. Their win over Alty was their first home win of a campaign which recently saw them climb to 11th in the league table (they dropped to 12th after Droylsden won on Tuesday). The Moors' win over Alty game was also the first time that Solihull scored two goals in a match this season. The Moors have the best defence outside the league's top three but the lowest scoring attack in the whole division, apart from bottom club Eastwood.

Both Alty and Solihull have played 34 league games this season. Whereas Alty games have seen a total of 129 goals scored by both sides, those involving the visitors have featured just 78 goals.

After Monday's win at Hinckley, Solihull Moors reported that "The Moors needed three points that would take them into mid-table. Mid-table would be a great success after the awful start to the campaign where they lost the first seven games on the trot... The first twenty minutes were all United. Yet they managed just one goal and that a gift from Solihull as the ball rolled agonizingly slowly over the goal line... Solihull drew level when Stuart Pierpoint headed home a Ryan Beswick free kick. From then on the first half belonged to Solihull and they could have doubled their lead...

Solihull began the second period in determined fashion and were rewarded after seven minutes when a Michael Blackwood cross was headed home by Andre Francis at the back stick... The Moors were content to play on the break with long balls hoofed forward. On four or five occasions they found themselves with break-away chances, but squandered them all. At the final whistle there was a degree of chaos as Solihull courted disaster by some inept time-wasting that was punnished by referee Holmes with a yellow card for Michael Blackwood. Tragic as he was hardly the worst offender.

Nevertheless Marcus Bignot will be pleased with a spirited performance and the way Solihull ground out a victory. Although they played some sublime football in patches, it was for the most part, a case of 'winning ugly' as they say".

The Moors' line-up on Monday was Singh, Connolly, Langdon, Fitzpatrick, Pierpoint, Spencer, Francis, English, Marsden (Tomczak 79), Beswick (Headley 86), Blackwood. Subs not used: Broadhurst, Bennett, Hurren.
£5,000 STILL TO BE WON
The Altrincham FC Saturday Yankee jackpot remains unwon after winning code 5799 was an unissued sequence. So the jackpot of £5,000 remains to be won with the reserve pot now standing at £2,900. There were 3 winning trebles each receiving £66.66.
OLD BOYS
Having recently won a Manager of the Month award, it is surprising to read in NL Daily that ninth-placed "Evo-Stik League Division One North side Warrington Town have parted company with manager Joey Dunn [ex-Alty] and his assistant Stuart Humphreys with immediate effect. In a club statement Chief Executive Richy Sutton said, 'These decisions are never easy, particularly when it involves a popular former player such as Joey. On behalf of the board we would like to thank Joey and Stuart for their efforts over the last three seasons... The club's ambitions are to eventually bring football league status to the town".

At the weekend, Ben Deegan scored twice for the second week running for New Mills.
BSBN NEWS
The Football Conference reports that "Harrogate Town have re-signed midfielder Luke Dean on a month`s loan from Bradford City. Dean originally joined Harrogate for a month's loan last October, returning to Valley Parade on November 12th after making four appearances and scoring once. Dean, who has also gained experienced out on a temporary basis with the likes of Hinckley United, FC Halifax Town and Ossett Town".

From Pitchero Non-League we read that "Bishop`s Stortford have signed forward Ben Hunt and goalkeeper Aldi Haxhia. Hunt was a youth player at West Ham United and made regular appearances in their reserve side, but never made the progression into the Hammers` first-team. At the end of the 2007/08 season he was released by the Hammers and he signed for Bristol Rovers...

He enjoyed a loan spell with Gloucester in 2009/10, scoring four goals in twelve appearances before returning in October 2011 following a spell with Weston-super-Mare. He has also turned out for Lewes and Dover Athletic.

Twenty-year-old Haxhia began his career as a youth player at Chelsea... and went out on academy loans to Aston Villa, Bristol City and Birmingham City. Kosovo-born Haxhia was included in Albania's under-21 squad to face Poland in May 2010. He has also had spells with Hayes & Yeading United and most recently Kettering Town".

Reports in the Cambridge News say that "Gordon Boateng has dismissed suggestions that Histon cannot afford to play Conference level football and said the club's financial future could actually depend on them staying up in the Blue Square Bet North. The Stutes' chief executive has stressed the importance of avoiding relegation this season...

'If we go down it's going to be even harder for us in the future', said Boateng... 'There has been an over-reaction to what has been said', continued Boateng. 'It's two months until the end of the season and this is always a difficult time for a club like ours after everything we've been through... The forum will make it clear to supporters what direction we're going in," he added'".

Meanwhile, the Nuneaton News says that manager ""Kevin Wilkin says it would take 'a bit of a miracle' to catch Hyde despite Nuneaton Town's 2-0 win against the league leaders on Saturday... Wilkin said, 'We won't give up until it's mathematically impossible to catch them... we have eight games to play and a lot to play for'...

Hyde missed a penalty...as Collett made an easy save from an awful spot kick... Glover had not scored in his previous four games, but he got his 16th of the season with an assured 75th minute finish... Glover had been replaced by Matthew Barnes-Homer in the last four games, but Wilkin does not feel that put any pressure on him. 'I don't think it's affected him. You need depth in the squad to be successful'".

But later we read that, according to BSBN, "Matthew Barnes-Homer has left Nuneaton Town to play professional football for Swedish third-tier club Ostersunds FK. The striker, who arrived at Liberty Way last month, made five appearances for Boro, with club boss Kevin Wilkin disappointed he couldn't see more of the England C man.

Wilkin said, 'He's had an offer to play professionally in Sweden through the summer. There was an understanding in place to say that, if something like this happened, we wouldn't stand in his way. It's a shame he is going but he's not really had a chance to show what he can do, such has been the form of Danny Glover and Andy Brown. He's mostly been limited to cameos. A few players have been in that position recently because we've been doing well'".

Nuneaton also report that "striker Andy Brown extended his loan from AFC Telford United until April 11 on Friday. Boro are now hoping to arrange his release from the Bucks so he can be signed until the end of the season... 'It's no coincidence we've done well since he's been here,', Wilkin said".

According to Pitchero Non-League

, "This coming Saturday Hinckley United host Vauxhall Motors and the fixture has taken on even more of a `six-pointer` tag after the Knitters were beaten by mid-table Solihull Moors on Monday night... The home side were only able to hold onto that lead for 2 minutes as a long free-kick was met by unmarked Stuart Pierpoint and he glanced a headers past Dan Haystead.... Indeed, had it not have been for the excellent Haystead – later made man of the match – Hinckley would have been out of the game much sooner... In the end Solihull fully deserved their victory."
More on this comes from the Nuneaton News, which says that "Hinckley United's home form is now becoming quite a worry... with just two wins on their home patch this year... This defeat leaves two points above Vauxhall Motors and defeat on Saturday against them will see Hinckley drop into the relegation zone again
The latest news from Droylsden is of a "new signing, Alirou Nsangou, a forward/midfielder, ex Polish club LZS Piotrowka."
---
20 March 2012
ANOTHER ANDY SIGNS - ON STANDBY
Altrincham FC have signed Scottish-born defender Andrew Milne, who enjoyed a loan spell at Moss Lane in 2010-11. He came to Alty on a one-month loan from Barrow on 14 October 2010, which was later extended to three months. His signing of BSBN forms now is as a stand-by measure, whereby Andy will be eligible to play for Altrincham but will only do so if there is a player injury crisis.

Since leaving Moss Lane, Andrew has been with FC Halifax Town and then his current club, Ossett Town. His careeer started out at Leeds United from where he went on loan to Darlington in 2009-10, but an injury in only his second game disrupted his progress there. He was released by Leeds and joined Barrow from where he had a loan spell at Gainsborough Trinity

Andrew was born on 30 September 1990 (age 21) and has Scotland under-18 honours. It will be remembered that he scored the winning goal for Altrincham against Rushden on 8 January 2011 but, after playing 10(+1) games during his loan at Moss Lane and his subsequent release from Barrow, Andrew opted to move on as travelling from his home in York made playing for Altrincham difficult in terms of travel.
AWAY TRAVEL- TWO NEW LEAGUE VENUES
Altrincham's next two away trips are to grounds where they have never previously played a league game. On Wednesday, 28 March, Alty are away to Corby Town, a club they have played in the FA Trophy but not in the league before. In any case, Corby have since moved to a new stadium, so it truly is a "new ground" for those who like to record such visits.

On Saturday 31 March, Alty are away at Nuneaton Town. Of course, Alty have had numerous battles with Town's forerunner club Nuneaton Borough in the league and other competitions, but they have never played Town. However, Alty did visit Town's current ground at Liberty Way in December 2007, when they lost 2-1 to Borough in a Setanta Shield match. Altrincham threw that game away in the last few minutes with Boro' substitute Brian Quailey netting in the 86th and 92nd minutes.

TASC is planning to run coaches to both matches so please get your name on the list as soon as possible. You can ring the club on 0161 928-1045 to reserve your place. Details of pick-up times and fares are on the Away Travel page.
BSBN MONDAY
Monday 19 March
Hinckley United 1 Solihull Moors 2 - Moors move up to 11th.
SIGN UP
Altrincham are away at Corby Town on Wednesday 28 March. TASC is organising supporters' transport to the game, which will be Alty's first visit to Corby's new stadium. Please sign up for the trip as soon as possible by ringing the club (928-1045) or adding your name to the list at Saturday's match.
MOORS' MAN MISSING
In advance of their visit to Alty this Saturday, we learn from the FA that for "Solihull Moors FC, Junior English [from] 24/03/2012 [to] 31/03/2012 [is] suspended from all football until the Club have completed 2 first team matches for a Sending Off in a match played on 10/03/2012".
BOSTON VIEWS
There are two video interviews about last Saturday's game on the Boston United website. The second is with Ryan Semple.

Boston add that "The Blue Square Bet North transfer deadline comes into force on Thursday evening. Boston United and their league rivals cannot sign any more players after 5.00pm on Thursday".
OLD BOY
NL Daily says that "Leek Town's inspirational skipper Darren Tinson will miss the rest of the season after a scan revealed that the damaged knee cartilage that has kept him out of the last eight games requires surgery... Tinson is believed to have decided to hang up his boots at the end of the season."
BSBN NEWS
The Football Conference confirms that "Droylsden signed former Barrow AFC joint boss Darren Sheridan as a player in time for him to play in the 2-0 win at Worcester City on Saturday. Sheridan had been playing for Radcliffe Borough in recent weeks, re-signing for Boro in February for the second time in his career after originally having a stint at Stainton Park in the early 1990s. He then went onto have a League career with Barnsley, Wigan Athletic and Oldham Athletic before moving to Scotland to play for Clyde and St Johnstone.

He returned south of the border when he became joint-manager of Barrow in 2007. A successful five years as joint player-manager saw him play over 100 times and win promotion to the Conference and the 2010 FA Trophy at Wembley".

Meanwhile, "Hinckley United have finally secured the signature of former Leeds United forward Simon Johnson. Johnson was at Leeds between 2000 and 2005 and made his Premier League debut in the 6–1 defeat of Charlton Athletic. He moved to Hereford via Darlington in August 2007 and was in the Bulls` team that won promotion to League One. After a spell at Halesowen Town, Johnson arrived at Solihull Moors in February 2010 for just six weeks before seeing out the season at Guiseley. His impact during those six weeks was immense – the team was struggling at the foot of the table and a remarkable change in fortunes coincided with him leading the attack with some priceless goals. He returned to Moors early last season after a spell in Malta with Hibernians".

The Times & Star reports that a "A 40-man bust-up which saw Bishop's Stortford manager Rod Stringer sent off overshadowed Workington Reds' 1-1 draw. Stringer's ugly confrontation with fullback Lee Andrews saw all 22 players, plus both benches and members of the 377-strong crowd get involved in the melee just after the hour-mark.

The incident happened as Andrews attempted to take a throw in, in front of the visitors' dugout. Stortford's assistant Colin Reid claimed the ex-Carlisle United defender hit Stringer in the face, kick-starting the chaos.

Workington manager Darren Edmondson refuted the claims, saying Andrews, who was cautioned, acted in self defence. He added, 'Lee did nothing wrong; he was protecting himself. Lee just wanted to take a throw in, but Rod squared up to him. It was a nothing incident that was instigated by their manager. He was getting more tense as the game went on'.

Referee Peter Wright struggled to restore order, as play stopped for three minutes. It came as novice striker Stefan Scott scored his maiden goal in the semi-professional game. Scott levelled the scoring for Workington... The youngster starred alongside Gareth Arnison with fellow strikers Jonny Wright, Matthew Berkeley and Ryan Hall all injured... Hefty hitman Ricky Sappleton gifted Bishop's the lead on four minutes when he latched on to Reece Prestedge's clever pass to lash past Aaran Taylor...

From then on it was one-way traffic, with Workington producing much of the better play...

Substitute Jordan Pavett flashed a header wide on 57 minutes, before the real flashpoint of the game. Andrews ran towards the Bishop's bench to pick up the ball, before Stringer started shouting in the defender's face. Both teams ran over to the epicentre with a lot of pushing, shoving and harsh words being exchanges. Stringer was sent to the stands for his part, and left watched the remaining 27 minutes from the directors' box... the game fizzled out without further incident".

The Halifax Courier says that "Boss Neil Aspin believes his side are one good performance away from regaining their mid-season form... as Town were held to a goalless draw at home by mid-table Gloucester City. The Shaymen shot up the table to second place with a 10-match unbeaten run between December and February. They have taken just five of the last 18 available points since the run ended although with their rivals also faltering they are still in the top five.

'We are not on a great run of results but we are still in there with a chance', said Aspin... 'One good result would get rid of alot of the doubts and set us up for the run in. If you finish the season on a good run you will get in the play offs but it needs to start soon... I thought we were pedestrian against Bishop's Stortford but played with more urgency on Saturday'...

Town were boosted by the arrivals on loan of Ross Hannah from Bradford City and Sean Clancy from Fleetwood. 'Ross Hannah needs chances to be made for him so he can finish', said Aspin...

'Sean Clancy is a good footballer who will get better as the games go on and he gives us something a bit different. He moves the ball well, he has good balance and he showed some clever inventive play in the first half especially'".

In the Cambridge News, we read that "David Livermore fears for his team's future following the Histon board's latest appeal to fans for financial help. The Stutes issued a statement on their official website at the weekend again inviting supporters to make donations, and an open forum has been arranged by the club for fans to discuss how they can help...

Player/boss Livermore believes the squad's potential may never be fulfilled if the club fail to overcome their financial difficulties. 'Hopefully we can keep the team together but that's out of my control', he said. 'The truth is I don't know what the future holds for me and the players. I don't know what the plan is from the end of the season.... There are a lot of very good things about this club. We've got some fantastic scholars and players coming through which looks really promising for the future...

Maybe we don't have the money to play at this level, I don't know. The budget is low and has been cut from last season by £50,000. It's already been cut again this season. We started off with £100,000 for players' wages, by the end of the season it will have worked out at about £85,000 to £90,000. That would probably put us in the bottom five of this division in terms of the playing budget'.

Supporters have already come forward to help cover some running costs and player and manager wages, but that does not appear to be enough. The club's statement, which has also been sent out to all Histon season ticket holders and Histon Supporters' Association members, is not only asking for financial help to keep the club going until the end of this season. It also suggests that more donations would be needed next year, in addition to corporate sponsorship.

One of the ideas to be debated at the forum, set for March 28, includes running 'with a £40,000 cash buffer to tide us over the fallow periods, for example, when there are no home games to generate income. We will almost certainly come back to you, the supporters, next season for another donation to provide this "float"'...

Livermore again reiterated his desire to see the job through at Histon... 'Hopefully we can continue to keep the team together', he added".

According to the North Wales Weekly Times, "Jon Newby has completed the signing of winger Paul Ennis from Northwich Victoria - and hopes to sign another forward tomorrow. The 22-year-old Ennis started as a trainee with Stockport County and his previous clubs include Stalybridge Celtic, Droylsden, Witton and Bala Town... He can play left or right and has a lot of pace and hopefully can give us a bit more threat up front', said Newby.

The player-boss is also looking to bring in a couple of players in on loan if he can to bolster his depleted squad, with three players facing suspension and fears that goalkeeper Chris Sanna may not play again this season. 'Chris needs a scan on his shoulder to get to the bottom of the problem, but he is having to wait a while for that, so it looks as though his season could be done', reported the player-boss. Former Wrexham defender Lee Roberts, who was signed last week, will make his debut in the North Wales Coast Cup on Tuesday night and Danny Meadowcroft is also expected to play along with Liam Benson, Chris King and Jamie McKernan".

On this, the Northwich Guardian adds that "Paul Ennis has left Northwich Victoria for a higher-ranked rival in order to play more matches. The winger, a starter only five times for Vics this term, will complete the campaign at Colwyn Bay. 'They want me to play, so it's an opportunity I can't turn down', he wrote on Twitter... Ennis, 22, signed for Northwich last summer after impressing during pre-season... but has failed to break into the plans of management pair Martin Foyle and Alan Wright in recent weeks".

"Southport have snapped up young striker Ross Farran after he had a brief spell with Vauxhall Motors" re[prts Pitchero Non-League. "Twenty-one-year-old Farran had only joined Motors towards the end of February from Leek Town. Farran, who had signed for Leek in December 2011, has previously been on the books of Northwich Victoria and was also a member of the Nike Academy."

Also, "Ryan Clarke has left Worcester City and has signed for Worksop Town. Worcester boss Carl Heeley said, 'Ryan has found travelling a bit too much to take especially with a new four month old baby. We waived any seven-day approach so he could sign immediately for Worksop which is considerably closer to his home'. Clarke signed for Worcester in September 2010 following the demise of Ilkeston Town for his second spell at the club".
NW NEWS
Sad news of one of our nearest neighbours comes from the NW Counties Football League, that "Following recent speculation and press coverage, the League Management Committee wishes to make the following statement regarding the position of Flixton FC.

In the present economic climate and recession, Flixton FC, like some others, are under pressure as a result of dwindling support both on and off the field. Club Chairman Lenny Wood is therefore exploring a range of options on the best way to take Flixton FC forward in the future. One of these options is the club's withdrawal (resignation) of their football team from the NWCFL Premier Division. Consequently, notice of this possible outcome has been served in accordance with league rules.

No decision has yet been made and various opportunities for the future are still under active consideration. A final decision should be made and confirmed to the NWCFL Management Committee by the end of March, and subsequently an announcement regarding the club's future can then be posted on the League website.

In any event, everyone can rest assured that the team management are committed to fielding their 'strongest possible side' until the end of this season, as they have always done in the past – Flixton FC's current league position of 7th testifies to this".

The Runcorn & Widnes Weekly News reports that "Widnes Town FC has struck a deal to play football at an existing ground during its first season... He said the stadium serves a current football team but could said the club has agreed not to reveal which one at this stage. The ground's occupants are in a higher division than the North West Counties league (NWCL), which is where Widnes Town FC will start out. Mr Speed said the stadium is outside Halton.

The club was keen to publicise the deal after Halton Borough Council rejected a request to play at Stobart Stadium. Mr Speed added that another request to play at the home to the Widnes Vikings could be successful at a later date, pending the level of support for the fledgling football club. It was revealed last week that Widnes Town FC has been set up. It has received approval from the NWCL and will meet next month with the Football Association to table its proposals and application for FA affiliation."
---
19 March 2012
LEE'S SMART MOVE
Altrincham FC are pleased to announce that they have signed Trafford FC left-back, Andrew Smart. Andy is a 26 year-old and a rarity on the playing staff at Moss Lane in recent years in being an Altrincham resident! He was brought up and still lives in Timperley and was born in Wythenshawe Hospital, on 17 March 1986.

He played at Macclesfield Town (2003-07), where he broke into the first team playing 9(+3) games for them, of which 7(+2) were in League Two. However, an injury cost him his place and he moved on loan to Northwich Victoria, who were then in the Conference, where he played 19(+1) games, and scored once.

From 2007–2010 he was with Stalybridge Celtic, for whom he made 98 appearances and scored 15 goals. Andy moved across Tameside to Hyde for 2010-11 where he netted seven times in 34 appearances, which led to his receiving an award as the Club's top scorer that season. When new manager Gary Lowe released all the players at Ewen Fields, Andy joined Trafford. Naturally left-footed, Andy is tall and a good dead-ball kicker, with a firm shot.

Andrew has worn an Alty shirt previously, having turned out a couple of times for George Heslop's Altrincham FC Youth team. And he has also played against us; most recently, he was in Trafford's team which met Alty in a pre-season friendly in July, 2011. He is seen, right, in that game, alongside his new team-mate, Nicky Clee, who coincidentally played at left-back last Saturday.
BSBN NEWS
Corby Town announce that "Acting chairman David Mallinger and vice-chairman Graham Starmer have signed an agreement with Leicestershire-based businessman Kevin Ingram that will see him become the new majority shareholder at the club. Ingram will now proceed to complete the purchase of shares from the current owners. The board of directors will remain in its current structure and for the foreseeable future no changes are expected".

Corby also report that "Acting chairman David Mallinger commented. 'The long-term financial security and viability of the football club has been our primary goal from the outset. We have been running a tight ship since taking over in a bid to consolidate the club's historical debt and were close to a trading profit for the season to date when it became clear at the beginning of 2012 that, due to circumstances beyond our control, the football club was going to have some significant cash flow issues before reaching the end of the season...

Discussions have culminated with us all signing an agreement that will see him taking a controlling interest in the football club. We are thankful that due to Kevin's involvement the immediate cash flow issues will be resolved and all creditors will be met... I would also like to thank the players and in particular Graham Drury for their patience and understanding'".#

In the Telegraph & Argus we read that "A last-gasp strike from substitute Lee Ellington deep into stoppage time rescued a point for Guiseley from what was looking like a shock home defeat to lower mid-table Histon... It earned them a point and kept them in the promotion race...

'It showed determination but we have a lot of players on big money and its time they showed more than just that', declared Kittrick after the game... Former Bradford City frontman Jason Price was making his debut for the Lions after signing from Morecambe in midweek and he began to come into his own... 'It was difficult for Jason as he has only just landed at the club but he did well and he gives us something extra', added Kittrick".

Altrincham's next opponents drew with Blyth last Saturday. And the Spartans report that "Blyth Spartans manager Tommy Cassidy is still shaking a clenched fist in defiance. After seeing his side miss out on three points in the battle to escape relegation on Saturday at Solihull Moors Cassidy said, 'The 2-2 draw was a fair result really. We didn't play particularly well, certainly not as well as recently... If we had 20 games left, I think we would stay up but with there being only 8 it is certainly a big ask but we will keep going'.

The draw at the weekend was actually Blyth's fifth successive game without losing... Cassidy didn't confine his criticism to the defence, 'We didn't play well up front either where our retention of the ball wasn't at its best... We just have to keep on doing the best we can', said Cassidy. 'It's important to keep this spell on track as it keeps the season alive for players and supporters and we're aiming to try and stay undefeated until the end of the season. It would be great to see a big crowd on Saturday. The fans really do make a big difference'".

The Moors' squad for the game was "Singh, Connolly, Langdon, Hurren (Beswick), Broadhurst, Pierpoint, Marsden, Bennett (Fitzpatrick), Hedley (Tonszak), English, Blackwood. Man of Match: Blackwood".
BOSTON GAME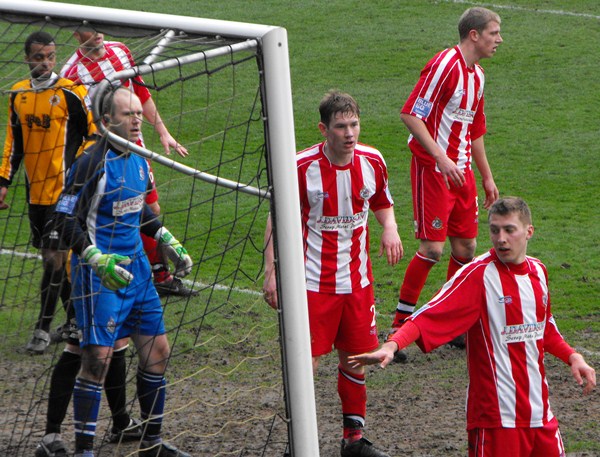 Above: Alty defend a second-half Boston corner. Here we see, left to right, a half-hidden Chris Lynch, Stuart Coburn, Shaun Densmore, Matt Flynn and James Lawrie.
Match report.
---
18 March 2012
BOSTON REPORTS

This site's match report on Saturday's game at Boston is here.

And Boston United's report is here.

Left: Alty celebrate their goal at Boston.

Alty's next game is at home to Solihull Moors on Saturday (24th).

The current league Top Ten are:

Hyde P34 GD+40 PTS71
Nuneaton Town P34 +28 63
Guiseley P32 +26 60
FC Halifax Town P34 +14 58
Stalybridge Celtic P33 +16 55
Gainsborough Trinity P34 +5 55
Altrincham P34 +17 53
Worcester City P34 +5 53
Boston United P34 0 50
Colwyn Bay P35 -11 48
MATT IS ALTY'S MARKETING MANAGER
Altrincham FC are pleased to announce that Matthew Royle has been appointed as Marketing Manager of the Club and they wish him well in this important role.

Matt writes, "With only 4 home games left it's vital that we keep up the attendances at Moss Lane to support the team towards the play-offs. Thanks for two great attendances at our last home games against Stalybridge and Bishop's Stortford. Although there was little to cheer at the latter game, we were pleased to see that so many fans came down and we're hoping for the same again on Saturday 24th March when we play Solihull Moors.

We miss the days where we used to reach the lofty crowds of over 1,000. If you can't make it for the Solihull game try and get to Moss Lane for one or more of the remaining home games. With tasty matches against Hyde, Halifax and Gainsborough in prospect, all of whom are in the promotion hunt, we hope we can beat this figure on one or more occasions before the end of April. As the saying goes 'points mean prizes' and, with a big home crowd behind us, we can hopefully snatch the points we need to secure a place in the play-offs".
CLAY LANE DEVELOPMENT
Anyone attending Altrincham FC Youth's matches this season will have noted the steady progress in the transformation of the former British Airways Silver Wings site on Clay Lane, Timperley, where the youth team plays its home matches. An impressive structure has been growing next to the football pitch and the Manchester Evening News supplies the background..

"A leisure group run by entrepreneurial brothers is investing nearly £7m in a five-star health and country club in Greater Manchester which will create 80 jobs. Stuart and Andy Taylor's FX Leisure Group will launch the club in Hale next month. The £5m-turnover, Wigan-based business currently operates seven health and fitness clubs across the north west and north east, including sites in Lowton, near Leigh, Stalybridge and Congleton.

The brothers said their latest venture, a 40,000 sq ft, three-storey club on the site of the former British Airways Silverwings Sports Club, Clay Lane, is an upmarket departure from their current operations. It will employ feature state-of-the-art health and fitness facilities, indoor and outdoor pools, a champagne bar, restaurant and rooftop spa.

Stuart said, 'We believe that the Hale area has great demographics for this sort of club. At present, we believe there is a lack of such facilities and we believe that the demand will be there for them. In opening this facility, we are bringing luxury and quality to the area. What we are doing at Hale is a much bigger concept than what FX has done elsewhere. This is not the usual type of health and fitness centre with a corporate identity. It will be a bespoke centre that we will not be duplicated anywhere else. We want to create something unique to give people an experience that they cannot have elsewhere'.

The brothers are aiming for 4,000 members at the Hale club. Membership fees will be £60 and £90 per month. The duo said they hope the club will achieve a turnover of £4m within two years – and they believe that their goals will not be hampered by the tough economic times. Stuart said, 'We believe there is the need for this. While there is always a risk attached to any venture, we are experienced in this industry and we are making sure that we are competitive. Our club may not be the cheapest to join in the area, but it will also not be the most expensive. We want it to be an experience that is far more luxurious than anything else on offer'".
OLD BOYS

Altrincham "old boys" on the mark on Saturday included Kevin Holsgrove for Vauxhall Motors, for whom Paul Jones was named the NLP Man of the Match. Carl Piergianni put through his own goal for Stockport whilst Lee Ellington scored a last-minute equaliser for Guiseley.

FIXTURES

Saturday 24 March

Altrincham v Solihull Moors
Bishop's Stortford v FC Halifax Town
Blyth Spartans v Gloucester City
Corby Town v Colwyn Bay
Droylsden v Boston United
Gainsborough Trinity v Eastwood Town
Harrogate Town v Workington
Hinckley United v Vauxhall Motors
Histon v Nuneaton Town
Hyde FC v Guiseley
Worcester City v Stalybridge Celtic
---
17 March 2012
MARK LEAVES
Altrincham FC defender Mark Lees has left the club and signed, today, for Stalybridge Celtic. Mark is seeking regular first-team action and, although he has appeared in 27+3 of Altrincham's 37 matches this season, he feels he will be better placed to achieve his aim at the Bower Fold. The club thanks Mark for his services and wishes him well in his future career. Mark joined Alty this summer from Hyde United.
OLD BOYS
In Morecambe's 2-0 League Two win today, the scorers were both ex-Altrincham players; Kevin Ellison and Jack Redshaw. It was Jack's first goal for The Shrimps.
BOSTON UNITED 1 ALTRINCHAM 1
This was a game which Altrincham could have won had they taken any of numerous first-half chances. But, instead, after dominating, they fell behind when Fairclough scored (35 mins). The introduction of Watmore at the interval revitalised Alty and from his defence-splitting ball, McGivern's shot came off Bastock's legs but was not cleared and Lawrie headed home off the cross bar (50 mins)...
Match report here.
Alty line-ups.

Right: Simon Richman and Leighton McGivern battle for the ball at Boston.

ALTRINCHAM 1. Coburn, 2. Densmore (c), 3. Clee, 4. Richman, 5. M Flynn, 6. C Lynch, 7. Miles, 8. Phelan, 9. McGivern, 10. Reeves, 11. Lawrie; Subs 12. M Lynch, 14. Holden, 15. Twiss, 16. Watmore, 18 Reid

BOSTON UNITED 1. Bastock, 2. Marshall, 3. Jelleyman (c), 4. Milnes, 5. Ward, 6. Stainfield, 7. Ross, 8. Sleath, 9. Weir-Daley, 10. Newsham, 11Fairclough. Subs: 12. Semple, 14. Hall, 15. Austin, 16. Canoville, 17. Lee
Boston United 1-1 Altrincham 1,204
Colwyn Bay 0-5 Hinckley United 237
Eastwood Town 0-1 Harrogate Town
FC Halifax Town 0-0 Gloucester City n/a
Guiseley 2-2 Histon 518
Nuneaton Town2-0 Hyde 902
Solihull Moors 2-2 Blyth Spartans 245
Stalybridge Celtic 2-2 Corby Town n/a
Vauxhall Motors 3-1 Gainsborough Trinity 171
Worcester City 0-2 Droylsden 895
Workington 1-1 Bishop's Stortford 377
DURING THE GAME...
As usual you can follow the game on Saturday here, live, on the Matchday Update page, as well as by listening to Radio Robins, sponsored by Paradox-Computers.com, which will be broadcasting a full internet commentary on the game.

The match commentary is sponsored by Ashley Cricket Club, which is based just outside Hale, on the way to Tatton Park. The club will have 12 teams in 2012; 3 Saturday and 2 Sunday sides, an over-40s team plus junior sides and coaching for boys and girls aged 4 to 18. Practice sessions are held on Monday and Tuesday evenings and the club has 10 qualified volunteer coaches.

Players of all ages and abilities are welcomed and the club is keen to establish a girls' team this year. You can find out more about Ashley Cricket Club by visiting its website. The match commentators are Laurence Howarth and Brian Flynn and the broadcast begins at 2.50pm.

Though Altrincham beat the Pilgrims 6-1 at Moss Lane earlier this season, Robins' fans do not need reminding that another 6-1 win this season, over Colwyn Bay, was followed by a defeat in the return fixture against the Welsh club!
BEFORE THE GAME...
Mike Garnett's statistics show the following historical record between Alty and Boston...
At Moss Lane P32-W15-D11-L6-F64-A31
At Boston P31-W8-D9-L14-F48-A57
Overall: P63-W23-D20-L20-F112-A88

For their last BSBN match, against Hinckley United, Boston United's squad comprised:

Paul Bastock, Conor Marshall, Gareth Jelleyman, Ben Milnes, Tom Ward, Nathan Stainfield, Ian Ross, Danny Sleath, Spencer Weir-Daley, Marc Newsham, Ben Fairclough, Tyrone Kirk, Chris Hall, Kevin Austin, Lee Canoville, Jason Lee.

Although Altrincham and Boston have been regular opponents over the decades, on Saturday Altrincham pay their first league visit to Boston for almost 14 years - since the last match of the 1997/98 season when Alty lost 0-1. Boston finished second that season but moved sideways into the Dr Marten's (Southern) League for the next season. Nevertheless, Alty did go to Boston that season, as they were drawn together in the FA Trophy in 1998/99. Altrincham lost 0-2 this time.

But when Alty went back up to the Conference themselves, for 1999-2000 season, Boston were still in the Southern League, from where they won promotion back to the Conference in 2000, under Steve Evans. By then, Alty had been relegated back to the UniBond (Northern) Premier League, so our paths did not cross again till this season.

In the interim, Boston won promotion to the Football League at the end of 2001-2002 season, but Steve Evans left after being banned from football for 20 months. Evans returned to the club in 2004 but the Pilgrims were relegated in 2007 but before they could take their place in the Conference National division, they were demoted to Blue Square North, after taking out a Company Voluntary Arrangement (CVA). Evans resigned and immediately joined Crawley Town.

As they were still in Administration Boston were demoted again at the end of 2007-08 to the Northern Premier League, Premier Division, from where they have climbed back to the BSB North.

In advance of Saturday's game, Boston United advise that "Play-off chasing rivals Boston United and Altrincham meet... The Pilgrims have closed to within six points of the top five following back-to-back wins over Stalybridge Celtic and Hinckley United and are now aiming for three league wins in a row for the first time this season.

Altrincham meanwhile are three points shy of the play-off positions and come into Saturday's encounter off the back of a 2-0 home defeat to Bishop's Stortford. Altrincham have collected five wins and three draws from 16 away fixtures to date — but are yet to keep a clean sheet away from home in league action. The Pilgrims will be eager to avenge their 6-1 defeat at the hands of the Robins in October — but if United name an unchanged starting XI, only four players will remain from the line-up which started at Moss Lane earlier in the campaign - Paul Bastock, Gareth Jelleyman, Nathan Stainfield and Ben Fairclough are the only likely starters of both encounters.

Winger Ryan Semple trained on Thursday evening but it could be too soon for the popular wideman to return to competitive action. Altrincham's last visit to Boston unfolded in 1999 with the Pilgrims securing a 2-0 FA Trophy victory".

And the Boston Standard has a video interview with "Boston United boss Canoville [who is] ready to shoot down the Robins... United boss Lee Canoville has revenge in mind. The Pilgrims joint-manager is still reeling from his side's 6-1 drubbing at Altrincham in October. But he wants to put that right as they two sides meet at York Street tomorrow".

Altrincham Mad tells us that "The last time the two teams met at Boston United [in the league] was more than a decade ago, in May 1998, the Pilgrims carving out a narrow 1 - 0 victory in a (Northern) Premier match". Alty's last win over United was in 1992/93 at York Street, when they won 2-1...

Boston United have been playing quite well at home, winning 3, drawing 2, and losing just 1. A total of 10 goals have been scored by the Pilgrims in those games, with 7 conceded. The Robins have had a decent run of form away from home recently, coming away with three points on 3 occasions, but drawing 1 and losing 2... A creditable return from recent away games for Robins could well see them head back from York Street Stadium with a share of the spoils, think the FootyMad panel. No-score draw".
YOUTH TEAM BEAT IRISH VISITORS
In a match at Manchester United's Carrington complex which, for that reason, could not be publicised in advance, Altrincham FC Youth beat an Irish youth team, St Kevin's who are touring England, 3-0, on Friday night. There is more on this in the Youth Section.
FIXTURES
Saturday, 17 March
Through the Years by Howard Watts.
Boston United v Altrincham
Colwyn Bay v Hinckley United
Eastwood Town v Harrogate Town
FC Halifax Town v Gloucester City
Guiseley v Histon
Nuneaton Town v Hyde FC
Solihull Moors v Blyth Spartans
Stalybridge Celtic v Corby Town
Vauxhall Motors v Gainsborough Trinity
Worcester City v Droylsden
Workington v Bishops Stortford
BSBN NEWS
The Football Conference reports that "BSBN high-flyers Hyde FC have re-signed former loanee Shelton Payne from league rivals Colwyn Bay. Bay secured the signing of the forward from Chorley in January. The 23-year-old Welshman, who was born in Cardiff and has had spells at Cardiff City and Blackburn Rovers, has been on loan at Hyde where he scored three goals in five appearances... Payne had been in dispute at Chorley and was on the transfer list at his own request. He was even threatening to hang up his boots for the rest of the season if the Lancashire club refused to release him.

Chorley manager Garry Flitcroft signed Payne from Trafford, after he had scored fifteen goals in twenty-seven appearances following his release by Blackburn. Manchester-based Payne made a big impression when he first signed for the Seagulls, but expressed problems with travelling to North Wales in recent weeks".

From the Welsh end, the North Wales Weekly News says that "Jon Newby's squad has been further depleted by Shelton Payne's decision to re-join league leaders Hyde. But Newby is hoping to brining in two new forwards next week. The 23-year-old Manchester-based Payne made a big impression when he first signed for the Seagulls in January, but has shown a disappointing lack of commitment in recent weeks.

'He is adamant he couldn't handle the travelling and that was affecting his performances', reported Newby. 'I feel a bit let down because I had high hopes of him. I thought he had a lot to offer, but in the end his attitude just wasn't right and he didn't want to be here. I have spoken to three players this week and although one has said he wants to stay with his present club, I am quite confident of getting the other two', he reported.

'One is a wide man and the other can play anywhere along the front line. You can never be 100 per cent certain until players put pen to paper, but I am quite confident that they will be on board after the weekend'.

Meanwhile, Newby has added some defensive cover to the squad in former Wrexham player Lee Roberts from Prescot Cables... Newby looks set to stick with an unchanged starting line-up for tomorrow's game against relegation-threatened Hinckley United, with assistant manager Stuart Barlow again filling in on the bench. Chris Sanna is still ruled out by a shoulder problem, so Andy Metcalf continues in goal".

Nuneaton Town confirm that "Robbie Burns continues on his rehabilitation and return to football by signing forms for Hemel Hemstead on a dual registration that would allow him to return and play for the club later in the season".

According to the NL Paper, "FC Halifax Town have secured the loan services of Bradford City frontman Ross Hannah. Hannah, a former star with Matlock Town, left the Gladiators in May 2011 after netting over 40 goals for them last season. He has since made 26 appearances for Bradford, 17 of which came from the bench, and was rewarded with a new one-year deal last week.

However, Bantams boss Phil Parkinson decided a loan move would give the 25-year-old a better opportunity of playing regularly and has sent him to the Shay Stadium... Parkinson told the Bradford City website, 'We like Ross, and obviously fans will know that we recently chose to extend his contract. We always had it in our mind, however, that if a club came in for him with a decent offer and at the right time then we would be fair to him and get him some games. He is still going to be with us next season... I think he'll be a good signing for them - they have worked hard to make this deal happen'...

Hannah is set to remain with the Shaymen... until the end of the season".

Further strengthening by the Shaymen is reported by the Halifax Town website which says that "manager Neil Aspin has brought in Sean Clancy from Fleetwood Town. Clancy, who can play either left back or left midfielder, follows Ross Hannah in joining the Shaymen until the end of the season. The 24 year old started his career at Blackpool and has had spells at Southport, Altrincham and Burscough".

The Carlton People reports that "John Ramshaw is optimistic Eastwood Town's season can have a silver lining on two fronts... His troops look doomed to relegation from the Blue Square Bet North at the end of the campaign – a division they finished fourth in last season under a different regime....

He is hoping Eastwood can go on to retain the Notts Senior Cup, a trophy that has found a second home a Coronation Park over the last few seasons... Ramshaw has also been boosted by the displays of some of the raw teenagers he has been forced to throw in. 'We have said to the boys that we can still cap a very difficult season with a trophy#, he said. 'The other plus is that the kids have come in and acquitted themselves well. We had four 16-years-olds in at Blyth last week and one of them is still in Year 11 at school. Not everyone can go into school on a Monday morning and say they have played in the Blue Square Bet North'. It is hoped Sam Benjamin (groin) will return for tomorrow's clash with Harrogate Town, but Mitch Hanson (thigh) remains a doubt."
---
16 March 2012
ALL, EXCEPT MARLON, FIT
Following training on Tursday evening, Altrincham manager Lee Sinnott indicated that he had no major injury worries, except for Marlon Broomes (right). Lee expects the central defender's hamstring injury to rule him out for around a month. John Miles and Chris Lynch who had received knocks recently both came through training satisfactorily though, of course, there can be post-training effects. Nicky Clee, whose partner Vicky gave birth to a son last Saturday, also trained after missing the home game against Bishop's Stortford.
NEXT OPPONENTS
News of our next opponents... According to the NL Paper, "Boston United will receive £10,400 compensation from Grimsby Town for the loss of joint-managers Rob Scott and Paul Hurst. The pair resigned their positions at Boston in March last year after Grimsby made an approach for their services, which was turned down by the Pilgrims. They were subsequently appointed by the Mariners but Boston have always maintained they breached their contract at York Street and the club were entitled to compensation. Sheffield County Court have now ruled in the Pilgrims' favour and Grimsby, Scott and Hurst have been ordered to pay £10,400 in damages, £10,500 costs and £510 interest".

And Boston United announce that "Midfielder Chris Hall is the cover star of Saturday's edition of 'The Pilgrim' — Boston United's popular matchday programme. Saturday's publication, priced £3, is a must for anybody of amber and black persuasion". Items in the programme include a 'Scene Setter', previewing the Altrincham match, as well as a 'Focus on opponents, Altrincham'.
BSBN NEWS
BSB North reports that "Worcester City manager Carl Heeley was full of praise for his players after a determined performance saw them beat Gainsborough Trinity 2-1 on Monday... Second-half strikes from Mike Symons (70) and Greg Mills (72) secured the three points for the hosts.

Heeley told Worcester News, 'There was a determination that has been evident for a few weeks now and they weren't going to lie down or get beaten. I felt from after five or 10 minutes there was only one team going to win the game. It was a great strike from Mike. He's probably been beating himself up because he's gone a few games without a goal but it's about... what he gives to the side with his work-rate and hold-up play. He's a very good foil for the pace of Michael Taylor and Greg Mills'".

And BSBN also reports that "Nuneaton Town have confirmed the departure of staff member Ian Brown, who has resigned due to health reasons. An official statement from Nuneaton Town read, 'The Board has accepted the resignation of Ian Brown, we would like to thank him for his time and hard work at the club carrying out secretarial, web, match day security and development work..

Ian commented his reasons for stepping back from a day to day role with the club [are] due to his deteriorating health...

Everyone knows, I am a bit accident prone and the chairman has restricted me to one [ambulance] helicopter a season on the pitch!"

Former Altrincham "Striker Matthew Berkeley can score the goals to save Workington from relegation, according to the club`s manager Darren Edmondson. The Saint Kitts & Nevis international came on as a second half substitute during last Saturday`s 4-2 loss at Hinckley United.

Edmondson believes the 24-year-old hit man can be the perfect addition to the squad and link up well with Jonny Wright and Gareth Arnison. And it was Berkeley who instigated the move from league leaders Hyde FC, contacting Edmondson after the 4-0 win last week.

Edmondson said, 'Matthew is a quality player and has a proven track record at this level. He's a goalscorer, and that's what we need right now... We will give him more game time, over the weeks to come'...

Berkeley has seven league goals this season for runaway league leaders Hyde" reports Pitchero Non-League.

The same source reports that "Nuneaton Town look set to complete the loan signing of Andy Brown for the rest of the season. as Eddie Nisevic prepares to spend the remainder of the campaign with Brackley Town. Manager Kevin Wilkin said his opposite number at AFC Telford United, Andy Sinton, has given the green light for striker Brown to extend his stay with Boro...

He said, 'Andy Sinton has agreed for Andy Brown to stay until the end of the season. Telford are looking for a 24-hour recall clause but we are hoping to avoid that'...

Brown has scored six goals in two months since returning to the club he played for in 2007/08. Wilkin feels... 'He's been here before and he's settled back in. He's got goals and really given us impetus up front'...

Meanwhile, left-sided player Nisevic will stay with Brackley, where he has been for the last three months... Wilkin says 'He will stay there until the end of the season but he could definitely have a future as a Nuneaton Town player" reports Pitchero Non-League.

According to the Worcester News, "Leading scorer Mike Symons has challenged Worcester City to go unbeaten for the rest of the season. Symons netted his sixteenth goal of the season in Monday's 2-1 win against Gainsborough Trinity to make it seven games without defeat in the league... There's a great team ethic and Carl Heeley and Matt Gardiner are always encouraging us to perform and keep the ball on the deck" reports Pitchero Non-League.

From the Football Conference comes news that "Defender Tom Ingram has rejoined Corby Town after leaving Steel Park earlier this season to join rivals Hyde FC. The Steelmen originally signed the former Stafford Rangers midfielder or defender following a spell in Australia. He started off with Peterborough United where he stayed for about four years before moving on to Reading. He then moved to Notts County before signing for Stafford in 2007. A short stint with Quorn followed before he signed for Aussie side Stirling Lions last year... The Steelmen have also registered highly-rated young goalkeeper Nick Bennion, who is on the books at Thame United."

Guiseley "are pleased to announce the signing of striker Jason Price. Jason, 34, has plied his trade with a number of clubs including Swansea, Doncaster, Millwall and most recently Morecambe".
OLD BOY
The EvoStik League reports that "England World Cup winner Roger Hunt was on hand to help Warrington Town manager Joey Dunn celebrate being presented with the Evo-Stik Division One North Manager of the Month award for February".
CHESHIRE NEWS
The Northwich Guardian confirms that "Northwich Victoria's owner has asked a rival more than 30 miles away to host his club's home matches next season. Jim Rushe told the Northern Premier League on Sunday that Lancashire outfit Skelmersdale United had offered to share its pitch with homeless Vics from this summer. He is waiting for league bosses to approve the agreement.

'I know it's not an ideal solution', he said. 'Northwich fans are not going to be happy, I concede that, but nor am I at the position the club finds itself in... This is the best I've been able to do'. He said that other clubs closer to Northwich had been either unable, or unwilling, to help. However he did not wish to name which ones. League officials will inspect Skelmersdale's West Lancashire College Stadium before the end of the month to check it meets the standard required to host Premier Division matches...

'I'm exploring other options', he said... 'There is flexibility in our initial agreement that allows us to make arrangements with another club if the opportunity comes along'".

According to the AA. Skelmersdale is almost 32 miles from Northwich.
---
15 March 2012
"SO MUCH TO PLAY FOR" SAYS LEE
Altrincham FC joint Press Oficer, John Edwards, writes, "Lee Sinnott explained the thinking behind his apology for Saturday's home defeat by Bishop's Stortford and issued a rallying cry for the remaining nine games of Altrincham's push for a Conference North play-off place.

The Alty manager published a heartfelt apology to fans on the club's website after a change of formation to three up front backfired and allowed the visitors to complete a league double over The Robins with a 2-0 win.

As he relished the chance to make amends at Boston United on Saturday, Sinnott said, 'I was mulling things over on the way home, and I pulled over and decided it had to be done. It's a measure of how strongly I felt about things, and if you are going to ask your players to be brave on the pitch, you have to live by what you teach. I told the players it was my fault, and let's move on to the next game without any hangovers, and I wanted to send the same message to the supporters.

'I take full responsibility for the result and performance. The changes were based on something I saw in the game at Bishop's Stortford, but, as ever with these things, you're the greatest if it comes off or an absolute plonker if it doesn't.

'Let's be fair, FC Halifax slipped up at home to Bishop's Stortford on Tuesday night and, with nine games left, we are only three points off the play-offs. It is all bunching up rather intriguingly, with Boston coming upon the rails and Worcester edging ahead of us by one point. There are more teams entering the fray and more pressure on everyone.

'We've still got most of the top teams to play, but I prefer it that way. I would rather have to chance to deprive our rivals of points at the same time as adding to our tally. I just see that as giving us so much to play for.

'The supporters have been fantastic all season, and their backing is so important. I got it wrong last Saturday, but what we have to do now is move on and make sure we put everything into each and every remaining game.'

Duncan Watmore's appearance as a second-half substitute provided the one ray of light, and Sinnott was quick to salute Alty's attacking prospect.

'Duncan was very positive in everything he did, which is just what you want when you send a young player on,' he said. 'He played without any fear, and you often get that with lads his age. They just want to go out and play and feel the ball at their feet.

'Sometimes you lose that a bit, as you get older, but it is a lovely attribute to have. If you are confident, you won't have any fear, and he was full of confidence.

'He also showed he's not short of pace. You look at him and think he's hardly going to be another Usain Bolt, but he doesn't half cover the ground quickly. It's one of those strange things with some players. They don't exactly look like sprinters, but they get from A to B at a very rapid rate. His stride gets him forward extremely swiftly, and it certainly caused their defenders some problems.

'We brought him into the first-team fold for training earlier this season, and allowed him to go to Clitheroe to get some games under his belt, and I think it is clear to everyone how he is developing.'

Watmore stays in the squad at Boston, after his impressive showing, while Nicky Clee should return and John Miles is expected to shake off a tight hamstring.

Tickets are still available from the club (928 1045) for an evening with Steve Claridge, including a four-course meal, at the Cresta Court Hotel on Thursday, April 5 at 7.30pm".

Meanwhile, the Advertiser reports that on the fringes of the play-offs, Altrincham, "as on previous occasions when presented with such an opportunity, failed to deliver when it mattered most. Rather than criticise his players, however, Sinnott instead insisted he should take the rap for the defeat, saying it was the tactics he'd adopted which were the cause of Alty's undoing...

Defeat for Alty was a disappointing way to end a week in which they'd not only beaten Stalybridge but also seen Sinnott significantly bolster his squad by signing free-scoring striker Leighton McGivern and ex-Everton midfielder Scott Phelan from BSBN rivals Vauxhall Motors. But the Robins' chief, who has released defender Adam Flynn in the wake of the two new arrivals, insists Alty can still make the play-offs with nine games to go, starting with this weekend's trip to Boston United. 'We've just got to pick ourselves up and soldier on, because there's still everything to play for', he added".
BSBN NEWS
News of Altrincham's next opponents comes from BSBN, "Boston United striker Spencer Weir-Daley is adamant he has not given up on sneaking into the top five before the end of the season... 'Since I've been back I've sensed we're still in this', he told the Boston Standard... 'There's always one team that drops out (of the promotion race), and we want to be the team that fills that slot... We need to put a run together. But we're confident'.

The North Wales Pioneer claims that "Jon Newby is hoping to wrap up the capture of a new forward this week after his strike force again failed to take advantage of a dominant performance against Solihull Moors. The 1-0 weekend defeat was the twelfth league match in which the Seagulls have failed to find the back of the net this season, and Newby... said he was on the hunt for a natural finisher to convert the Bay's dominance into points.

'We've had a few games where we've been the better side recently and not won. One is OK, but after two or three you have to wonder. We'd love to bring one in, but it's difficult to find one at this level, and goalscorers cost money. But that's not a criticism of the players we've got here. Rob (Hopley) has been excellent this year and got us 12 goals. He's the type of forward who does all the hard work for the team, and ideally I'd like to have a 20 goal-a-season man up there with him. We're looking at next year really, but we've got a 7 day notice on two or three players at the moment, and we're hopeful of getting someone in. We've performed really well, we'd have been happy to finish fourth from bottom and stay up but, as you're performances improve, so do your expectations, and if we get one or two players in to supplement what we've got we'll have a very strong squad'.

Hopley, Fraser McLachlan, Mike Lea and Lee Davey all failed to convert chances as the Bay dominated long periods of the game, and paid the price when Junior English, who was later sent off, netted a superbly struck 80th minute winner".

In the Manchester Evening News, we read that "Hyde boss Gary Lowe admits he's still pinching himself at the prospect of steering the Tigers to the Blue Square Bet North title despite them having spent almost all season at the top of the table, writes Tony Glennon.

Eleven points clear with just nine games left, Hyde are now odds-on favourites to go straight up to the Conference's national division as champions as they prepare for Saturday's key trip to second-placed Nuneaton. Promotion to the Blue Square Bet Premier would represent a huge achievement for Hyde and Lowe, who have transformed the Tigers in just nine months.

Lowe and his assistant Martyn Booty took the brave decision to start afresh after joining from Curzon Ashton last summer, clearing out all the players who helped the Tigers narrowly avoid relegation to make way for a brand new squad. But even Lowe admits he never expected his new recruits, several of whom like him made a step-up of two divisions in following him from Curzon, to gel so instantly.

'If anyone had told me last August we'd be where we are today, I'd honestly have laughed at them', said Lowe. 'But, until we get that trophy in our hands, I'm not going to tempt fate by starting to believe it's already in the bag. I'm not allowing myself to look that far ahead and neither should anyone. I'm not taking anything for granted."

If Hyde do win a place at non-League football's top-table, the first battle they could face is hanging onto Lowe. Hyde have bolstered their championship-chasing squad ahead of next week's transfer deadline by signing goalkeeper Adam Judge from Chester together with yet another of his former Curzon stalwarts, midfielder Phil Edghill".

Pitchero Non-League says that "FC Halifax Town, potential challengers to leaders Hyde FC less than a month ago, will have to improve if they are to make the play offs. That was the stark message from manager Neil Aspin after watching his side go down 1-0 to Bishop's Stortford at The Shay on Tuesday night - their fifth home defeat of the season.... It was another frustratingly flat performance on home soil.

'If we play like we did at Hyde we are good enough to be in the play offs', said Aspin. 'When we play like we did last night we are not good enough to be in them. The players have not done enough. They have not performed and I am not happy with what I have seen... The difference in performance is hardly believable but it has happened too many times this season... You can't expect to lose that many games at home and be challenging', said Aspin...

'If you'd played Saturday and had injuries and had been forced to change the side you might be able to understand it. But you are putting out the same team as Saturday and the difference in level of performance is massive. It is so frustrating... I have no problem with a team sitting back and defending', he said. 'We have to be better in breaking them down. We have to put them under more pressure and we just haven't done that'.

Pitchero also reports that "Rolling substitutions are set to be introduced into adult football next season. It is understood the four home nations will take part in a two-year trial and in England it will happen at all levels below the non-League Pyramid. That means leagues at Step 7 - the bottom step of the Pyramid – will not be affected as yet. It will, however, cover the remainder of Saturday senior football and Sunday football. It is a directive that has come down from the FA and must be implemented... The system allows teams to name a maximum of five substitutes and a manager has unlimited use of them. A player who has been substituted can re-enter the field of play".
NW NEWS
Football Editorial reports that "Controversial new club side Widnes Town would be behind South Sefton in the application process to join the North West Counties League, it has been confirmed. The newly formed club, managed by former Chester City chairman Stephen Vaughan Jnr and owned by ex-England and Liverpool star Mark Wright, would not be admitted into the league ahead of teams who has finished in the promotion places.

This means any teams in step 8 of the non league system would take priority when it comes to promotion, a league source has revealed. South Sefton are a step 8 club which has applied for entry into the league after securing the rights to play at Litherland Sports Park for the 2012/13 season...

Despite the good news for South Sefton, they would still need to finish in the promotion places to secure priority for promotion. They are currently third in the league in a promotion position... The application from Widnes Town has been a controversial one because there is already a team going by that name playing in the West Cheshire Youth league. The new Widnes Town has promised 'thousands in investment' into the team and offered the original Widnes Town a friendly match to build ties, stating there is enough support for both teams. However, on its Twitter feed, it warned, 'Let's just see who is the biggest club in Widnes come the start of the season'".
---
14 March 2012
TUESDAY SCORES
Tuesday, 13 March
Droylsden 3 Blyth Spartans 3 Spartans came back from 3-0 down after 72 mins; attendance 170.
FC Halifax Town 0 Bishop's Stortford 1
Guiseley 3 Solihull Moors 1 (att. 344).
League table.
NEXT UP
Altrincham FC Youth are away at New Mills next Sunday (2.30pm). Meanwhile, Altrincham Ladies' next game is away in Wallasey, against Delta Colts.
£5,000 TO BE WON
The Altrincham FC Saturday Yankee has a £5,000 jackpot and a reserve jackpot of £2,600 to be won, after this week's code of 1192 was an unissued one. There were 2 lucky trebles winning £100 each. It only costs a £1 a week to give yourself the chance to win! And every member of the Yankee means increased revenue for Altrincham FC, so please do join if you can.
SATURDAY ACTION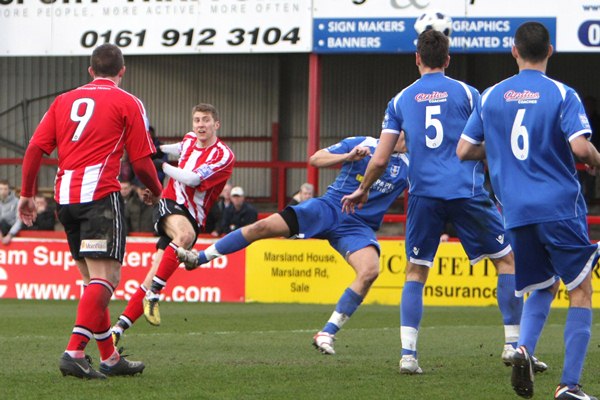 Right: James Lawrie gets in a shot against Bishop's Stortford. Image courtesy of Gavin Rathbone of GR Photography.
DAMIAN'S RECORD
In 2008, Terry Rowley assessed striker Colin Little's scoring achievements as he approached the hundred mark for the club. Terry put together a list of the ratios of goals to games of the players who have scored a hundred or more goals for Altrincham, by way of comparison with Colin's record.
Stewart Littlewood: 113 games, 104 goals. This equates to ratios of 0.92 goals a game or 1.08 games a goal.
Jack Helme: 272 games, 147 goals. Ratios: 0.54 and 1.85
Graham Heathcote: 528 games, 147 goals Ratios: 0.27 and 3.59
Jeff Johnson: 502 games, 147 goals. Ratios: 0.29 and 3.41
Walter Jones: 215 games, 141 goals. Ratios: 0.65 and 1.52
John Rogers: 276 games, 133 goals. Ratios: 0.48 and 2.07
Jack Swindells: 322 games, 264 goals. Ratios: 0.82 and 1.22
John Worth: 236 games, 123 goals. Ratios: 0.52 and 1.91
Colin Little 185 games, 92 goals. Ratios: 0.49 and 2.01 (to 18.4.08)

Colin went on to complete his Alty career, scoring 114 goals in 245(+33) games, at a ratio of 0.41 goals per game and 2.44 games per goal.

If you measure Damian Reeves's record (70+12 games, 55 goals) and bear in mind that nearly 15% of his games have been as a substitute, (so he has not been on the pitch for anything like 90 minutes in those matches), his scoring ratios are 0.67 goals per game or 1.49 games per goal, figures which put him on track to rank third only to Stewart Littlewood and Jack Swindells for goals per game - if he also gets to 100 goals for the club.
ALTY'S POLISH STAR
Terry Rowley's "Alty Legends" series continues with a profile of the Robins' former Glasgow Celtic player, Konrad Kapler.
PREMIERSHIP IN THE BAR
In the bar at Moss Lane this Sunday you can watch, in HD...
Wolves v Man United, kick off 1.30pm.

The bar opens at 1pm and everyone is very welcome. All bar-takings help the club so please do come along if you can.
BSBN NEWS
The BBC reported that "Joint manager, Lee Canoville, insisted Boston United can still make the Blue Square Bet North play-offs after a 2-1 win at Hinckley United. Spencer Weir-Daley's double took Boston to within six points of the top five... Canoville told BBC Lincolnshire, 'It's a massive win, the boys grafted hard. I'm sure a lot of people would have written us off a few weeks ago but we believe the lads can do it and they're starting to believe it now. Everyone can see the team is growing in confidence... There are a lot of hard games to come but we're going to do our best'".

And the Boston Standard reports that Lee Canoville added "We said after beating Stalybridge (on Saturday) that it would be no good getting three points unless we put in another good performance... Two games in three days is very tough. We're not used to doing it and I'm pleased they dug in there".

The Standard adds, "For Weir-Daley it was a case of anything Newsh can do, I can do too. After seeing his strike partner grab a brace and the plaudits during Saturday's 3-2 success over Stalybridge, it was the ex-Notts County man's chance to shine. However, he says he is happy to share the limelight, adding, 'It's good that there's goals all over the team, but it was my turn. There's a really good feeling in the dressing room as that was a big win. I'm feeling confident in front of goal'".

"John Ramshaw, manager of Eastwood Town, accepts that a step down to the Evo-Stik League Premier Division may be a blessing in disguise after watching his side slump to 1-0 defeat against fellow strugglers Blyth Spartans... [leaving] the Badgers rooted to the foot of the table and 16 points adrift of safety. But, after the release of eight players during the week, Ramshaw was lucky just to put out a side.

The financial burdens at Coronation Park meant the likes of Steve Istead, Ian Deakin and Francis Green were given the green light to leave, meaning only 13 fit players made the trip to Blyth. But after a turmoil-ridden five months since taking charge, Ramshaw has learned to accept his fate and says his main priority now is simply ensuring Eastwood's fans have a club to support next campaign.

'It has been a very, very difficult week, as it has been all season to be fair, but we just have to get on with it. That's football', he said. 'It wasn't ideal having only 13 players to choose from. We named Sam Benjamin on the bench, but to be honest there was no chance of him coming on because he was injured. He just came to have some work with the physio. We had to release some big players and, for us with such a small squad, it obviously affects everything. These budget cuts need to be made. Our aim is to keep this club alive and the players needed to go in order for that to happen. We have to take it on the chin. The survival of the club is of paramount importance'" he told This is Nottingham.

And Eastwood Town confirm who has left. "Due to extreme cuts to the playing budget, several of the current first team squad have given their intention to leave the club. John Ramshaw has been forced to sign some of the young reserves side as cover for the first team. None of the contract players are immediately affected... The following non contract players have now left the club: Paul Riley / Francis Green / Craig Nelthorpe / Bradley Munn / Craig Davies. The following non contract players are staying at the club Chris Shaw / Kallum Keane / Mitch Hansen / Markell Bailey".

At the other end of the table, "Kevin Wilkin, manager of Nuneaton Town, was waiting on confirmation Andy Brown's loan from AFC Telford United would be extended until the end of the season. Media outlets in Shropshire suggested the striker would be allowed to stay with Boro, subject to a 24-hour recall clause, after falling down the pecking order with the Bucks... Brown has scored six goals in the last two months with Boro, having rejoined his former club" reports the Nuneaton News.

Another play-off contender is the subject of a report from the Yorkshire Evening Post, which says that "Boss Steve Kittrick insists Guiseley's title bid is still alive ahead of [Tuesday's] visit of mid-table Solihull Moors. However, the Lions boss is warning his men to expect a difficult evening, admitting sides are 'getting wise' to parking the team bus in front of goal...

Kittrick feels all is not lost with his side still having three games in hand... Kittrick admits a home win is crucial...

'It is becoming very difficult as, at the start of the season, you are playing free-flowing football which everyone wants to see and it's great', said Kittrick. 'But now teams are getting wise; managers speak to each other and they know what we are about. Gloucester just put the back four on the 18-yard box and 10 men behind the ball and I'm sure it will be the same with Solihull on Tuesday night. I don't envisage them doing anything other than playing a 4-5-1 and they will speak to Gloucester and ask what they did.

Wally (James Walshaw) will have two men on him because they will do their homework and it's up to us to work out how to break these teams down. We've got to work that little bit harder and we've got to be patient'.

Guiseley started Tuesday's game with ex-Alty man Joe O'Neill up front and Chris Senior on the bench.

"Chairman Russell Hands has moved to clarify the job Histon's new director of football Glynn Mason will be doing at the club. The Stutes' chairman said Mason, who has worked with chief executive Gordon Boateng in the past, will take on some of the tasks of director Mac McDonald, who stepped down from the board because of work commitments.

Mason , who is not being paid by the club, will act as a link man, working with player-manager David Livermore, scholarship lead co-ordinator Brian Page and academy director Howard Willmott... He will be helped in the role by club volunteer David Humm, who is to take care of the administration side and is also considering joining the Stutes' board.

'Since Mac had to step down from some of the things he's involved with, we had to look to fill these roles', said Hands... 'We don't have the money to pay someone to do the job. But Glynn's been coming to the club all season and we knew about his footballing past and experience. Neither he nor David Humm can do it all, so, rather than have nobody, we'll have two people looking after the situation. Glynn will not be going out finding players or overseeing David (Livermore) in any way... I want to hang on to all of our footballing staff, because the system's working and we can see we're getting results'". Hands told the Cambridge News.

The following from Welsh Premier only affects Colwyn Bay in BSBN. "It appears unlikely that the exiled [Welsh] clubs will reappear in the Welsh Cup next season if UEFA rule they can represent Wales in Europe. Jonathan Ford FAW chief executive Jonathan Ford has revealed that the exiles would be forced to withdraw from the FA Cup and Football League Cup if they chose to try and qualify for Europe through the Welsh Cup"

Ford said, "If the decision goes through it will mean those clubs that are in exile at the moment that play in the Welsh Cup, should they choose, ultimately would have a guaranteed route in to Europe. It would be a fantastic opportunity for Newport, Colwyn Bay even Swansea and Cardiff. Let's hope they may play in the Welsh Cup soon as well... I don't think they would be allowed to play in both competitions... But if they came back into the Welsh Cup they would have a guaranteed place [in Europe] should they win the competition".

Welsh Premier adds that "Since 1995, only clubs from the Welsh pyramid have been eligible to represent Wales in Europe. Welsh clubs playing in the English league pyramid - Cardiff City, Swansea City, Wrexham, Newport County, Colwyn Bay and Merthyr Tydfil - were barred by the FAW from entering the Welsh Cup 17 years ago after pressure from UEFA. But the FAW invited the six Welsh clubs playing in the England to participate in this season's Welsh Cup. Newport and Wrexham along with Merthyr Town accepted the FAW's invitation. Swansea City, Cardiff City and Colwyn Bay chose not to enter."
---
13 March 2012
BOOK NOW!
There is just a handful of places left on the TASC supporters' coach to Boston United this Saturday, so please book your place as soon as possible by ringing the club, during office hours, on 0161 928-1045. Details of the coach times and fares are here. This is Alty's first visit to Boston since the season of 1998/99 when we met in the FA Trophy.
MONDAY GAMES
Monday, 12 March
Hinckley United 1 Boston United 2
Worcester City 2 Gainsborough Trinity 1
TASC DRAW RAISES £1,180
Chairman of TASC, Brian Flynn, announces...

The Altrincham Football Club 2012 Draw: Winners

The list of prizewinners from Saturday's draw, which took place in The Noel White Suite after the game with Bishop's Stortford is as follows:-
Android Tablet PC: Campbell McLay
22" TV/DVD Combo: Dan Eadie
£100 Portrait Photography Voucher at GR Photography: Kev Corkerton
Four-Ball Round of Golf at Heyrose Golf Club, Tabley, Knutsford: Paul Brady
Altrincham F.C. Home & Away Shirts plus Match Hospitality For Two People at a Home Game: Steve Pugh
Chocolate Box Selection: Janet Ramzan
Gok Wan Cosmetics, Toiletries & Magnetic Nail Set: Aimee Taylor
Pukka Pies Football & Mug: Derek Wilshaw
Yankee Candle Co. Set: Niall Flynn
Toy Car: John Edwards
Mansfield Town Stationery Set: Thomas George Boyd Heslop

Whilst ticket sales were very slow up until the last couple of weeks, a late surge in sales produced a profit of £1,180 for Altrincham Football Club... so, many thanks to those people who bought & sold tickets!!"
MORE TASC NEWS
The latest TASC Monthly Draw for all TASC members was held on Saturday and the winners were
Mr L R Wilkinson
Mick Taylor
John Edwards
George Heslop

TASC also announces that "The TASC Goal Rush Draw for the team passing the 70-goal mark was held on Saturday evening after the Bishop's Stortford match. The winners of two tickets for a forthcoming home match of their choice were 'The Flaggers'. Thanks to all our sponsors for their continuing support and (hopefully!) the next draw for reaching the 80 goal mark will be held very shortly".
THANK YOU
Altrincham FC thanks the donors and collectors for Saturday's bucket collection, which raised £63.55.
LADIES LOSE LEAD
Altrincham FC Ladies' manager Keith Edleston writes...
Ladies throw away two goal lead...!!
Sunday's match was definitely a game of two halves, with Altrincham having the upper hand in the first half and Delta having more of the ball in the second. The team was also weakened with our usual centre half Rachel missing, Hannah having to leave for work after the first half and Brogan having to come off with breathing difficulties early doors. This meant we had to shuffle players into positions they were not used to. Our football, while not quite living up to previous weeks, was OK but it missed our usual spark and fluency.
Despite a two-goal salvo from Faye Howard (35 & 41 mins), putting us in a commanding position to go into the break 2-0 up, our performance in the second half was nowhere near what we normally produce. I suppose credit must go to Delta for upping their game and closing us down much quicker. Delta's goals came in the 48th, 65th and 84th minutes which gave us not much time to reply.
All in all, I can't complain too much after the last 3 or 4 weeks, as we have produced some delightful football, although we must also learn the old adage, which is that we must always play from the first whistle to the last.
TEAM: Rosie Emerson, Scarlett Wright, Louise Edleston, Lauren Thorneycroft, Shannune Hylton, Brogan Walsh, Hannah Kibble, Kate Rawthore, Nat Thornley, Jacquie Farrar, Faye Howard. SUBS: Kelly Leigh, Kim Latham, Maya Germain
Up the Alty...!!".
Right: Photo from the match, courtesy of Keith Edleston.
ET TU, FLYNNY?
Brian Flynn's lates "Flynnzine", published last Saturday, has a Latin title...

Tempus Fugit

We are just coming up to the first anniversary of the start of Radio Robins' live match coverage of Altrincham's matches. Our first broadcast was on Tuesday March 15th 2011, when we beat Forest Green Rovers 2-1 here at Moss Lane and, in fact, we won the first three games that were broadcast (Tamworth 2-0 and 1-0 away at Darlington) and that really should have been five as Southport and Cambridge United should have both been beaten, before eventually leaving with a point - two results that went a long way to sealing our ultimate fate and relegation to Blue Square Bet North.

We certainly had a few technical challenges in the early days and still do, at times, but for a service run by volunteers, using just a laptop, mobile broadband device (where necessary) and a microphone, we haven't done badly at all.

This season, we have introduced sponsorship options and therefore Radio Robins not only provides a service for Alty fans unable to get to a match, but also produces revenue for the club and we are keen to build on this next season.

Whilst things haven't always been easy or straightforward, by and large it's been good fun for the people involved in the commentary on a match day and I would like to thank the following people who have all made a broadcast contribution:- Paul Salt, Simon Ellis, Jack Jolly, Jonny Keen, Tony Chetham, Paul McGee, George Heslop, Rod Thornley, John Edwards, Roger Booker, Adam Flynn, Stuart Coburn, Laurence Howarth and Niall Finnegan.

Behind the scenes, Paul Burton has been a huge help, both in terms of coming up with the initial idea of how to deliver the Radio Robins service and providing technical knowledge and support when we are broadcasting.

There have been a few interesting moments along the way most notably at:-
Vauxhall Motors - no power points, leading to the laptop battery running out a few minutes before the team ran out of steam and Vauxhall scored two late goals to earn a point.
Blyth Spartans - wild Northumbrians frightening us to death for the majority of the game and going into meltdown when Damian Reeves scored that penalty in the fourth minute of injury time.
Histon - world's most cramped press area. We'll definitely be looking for a couple of contortionists with oratory skills if we go there again next season.

To celebrate our first birthday, we are planning a special interview today with an Altrincham Football Club legend, none other than Kenny Pailin... it will be essential listening! If we can win this afternoon, then we will definitely be putting a marker down in terms of really coming into contention for the play-offs at the right point in the season.

Enjoy it….if you can! Brian".
STORTFORD VIEW
Following Saturday's game, Bishop's Stortfod reported that "Stortford bounced back in fine style from their midweek defeat at Colwyn Bay to record an excellent victory at Moss Lane. Up against a side that is pushing for a 'play off' spot this has to be one of the best – if not the best – wins on the road this campaign for the Blues. A goal in each half from Dwight Gayle and Ricky Sappleton, in addition, enabled Stortford to notch up a "double" against the Robins without conceding a goal.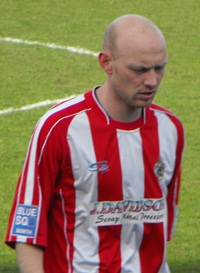 Left: Leighton McGivern started his second game for Altrincham last Saturday.
After looking vulnerable in North Wales the defence was in much better form and the victory was based on a calm and sound defensive unit. Youngster Jack Lampe, in the right back slot looked very comfortable and played well. The midfield also played an important part with Alli Abdullahi, recalled and making his 50th appearance in a Stortford shirt, winning a lot of the ball. Rod Stringer also gave a debut to Ryan Melaugh who played wide on the left and was signed on work experience from Colchester United...
As in the match at Woodside Park a fortnight previously the hosts liked to play football from the back. However, the slowness of the build ups gave Stortford few problems as the first third of the contest drew to its conclusion and it was noticeable that the home fans were getting a little frustrated and irritated...
McGivern, who recently joined Altrincham, netted a hat-trick against the Blues for Vauxhall Motors in November but was allowed few opportunities to shine in this contest...
Sappleton... drove an angled right footed shot goalwards with the outside of his boot from the left which keeper Coburn could only parry away one handed and DWIGHT GAYLE turned to hit the loose ball into the net from six yards (0-1)... Archer punted a long ball deep into Atrincham territory and RICKY SAPPLETON, with his back to goal brought it under his control. With the Altrincham defence, in particularly, centre back Matt Flynn [actually Mark Lynch], not making a strong challenge, the striker half turned to his left to slam the ball inside Coburn's left upright and high into the net (0-2)...
[Gayle], Stortford's leading marksman, cut in to just inside the box where he went down under a challenge from Altrincham skipper Shaun Densmore and a penalty was awarded. Keeper Stuart Coburn, however, dived to his right to push away Dwight Gayle's spot-kick".
Alty TV has highlights of Alty's defeat by Bishop's Stortford last Saturday.
BSBN NEWS
On Monday, news of our next opponents came from the Boston Standard, which told us that "Pilgrims' striker Ben Fairclough is eager to show former club Hinckley what they are missing. Boston United travel to Leicestershire to face Hinckley United this evening (Tuesday). And the striker is no stranger to the Greene King Stadium having spent last season there...

If United are to find the net, they'll have to get the better of Dan Haystead. The ex-Boston keeper, touted as one of the finest stoppers in the Blue Square Bet North, returned to Hinckley in the summer after being released by United".

The Nuneaton News says that "Nuneaton Town slumped to their second defeat in 20 league games as they shot themselves in the foot at Gainsborough Trinity... as they suffered a first away league defeat since September.

With nine games to go they must look to get straight back on track, but that will not be easy considering the next game sees likely champions Hyde visit on Saturday. If Boro perform as they did at both ends of the pitch at Trinity they will surely lose. For so long this season they have had the best defensive record in the league but, at the weekend, they made awful errors at the back and were not much better in front of goal...

Manager Kevin Wilkin named the same starting line-up for the third game in a row as he stuck with the side which played well in the 1-1 draw with Guiseley last Monday"

"Droylsden have made their fifth signing since the beginning of the month by adding midfielder Patrick Lacey to their squad" reports the Football Conference. "Joining on-loan Cliff Mayo and Tom Fisher and more permanent signings Danzelle St Louis-Hamilton and James McKenzie, Lacey left Bradford City at the end of January after his contract was cancelled by mutual consent... after nearly eight months at the club following his summer move to City".

Heading out of the Butcher's Arms is Ciaran Kilheeney as the EvoStik League conforms that "Chorley manager Garry Flitcroft has pulled off a major transfer coup by signing one of the most prolific strikers in non-league football. The Magpies boss has snapped up Droylsden hitman Ciaran Kilheeney – thanks to the help of several local businesses.

The 28-year-old forward has been one of the most consistent goalscorers in BlueSq North over the last few years, regularly finishing near the top of the scoring charts. After making his name at Burscough and Southport, Kilheeney then signed for Droylsden in 2010 and has bagged more than 40 goals in just short of two seasons with the Bloods.

Delighted to have secured his signature, Garry said, 'This is a major signing for the club and I'm over the moon that Ciaran has decided to join us... He's got an outstanding goal record in the league above our own and he's joining us at the peak of his career'... Garry, who confirmed the club had paid a small undisclosed fee for the player, added, 'This move has only been made possible thanks to the help of several local businesses'".

According to BSB North, "Histon have confirmed Glynn Mason as the club's new director of football. The former Harlow Town, Cheshunt and Brimsdown Rovers manager has a wealth of experience in football, having worked at Wimbledon, Aston Villa and the African Football Federation in Ghana, Zambia, Nigeria and Sierra Leone.

In his role as director of football, Mason will work closely with first team manager David Livermore...

'Top priority will be to improve all areas of the Club's footballing operations, linking these various areas of the Club together into a more cohesive structure to help us move forward with our development from the ground up', read a statement on the club's website".

However, the Cambridge News adds that "David Livermore admitted he was unaware that Glynn Mason would be joining Histon as director of football. The Stutes announced the appointment on Friday but, speaking after Saturday's 3-2 win at Droylsden... player-manager Livermore said it took him somewhat by surprise. 'I didn't know he was coming in as director of football', he said. 'I was under the impression he'd be coming in as a director as we lost Mac Macdonald, the link director for Brian Page and the scholarship system. It's not a problem. If the club feels that a director of football is something we need and it's going to improve the running of the club, then who am I to say it's the wrong decision? In this country we tend to think a director of football is a problem for a manager. If you go to any other country in the world, every football club has a director of football or a general manager or technical director. There are things which are time consuming which I, as a manager, don't need to deal with. To have someone who can take that burden off me and give me more time to prepare the team, can only be good'".

Elsewhere, "Gloucester City have bolstered their midfield by signing Cheltenham Town's Theo Lewis on a one-month loan deal. The 20-year-old attacking midfielder has made just two substitute appearances for the League Two outfit this season... He told Gloucester City's official website, 'It was a no brainer when the opportunity came to join Gloucester and I want to grab it with both hands. It's a good level of football and a few of the boys here recommended that it would be a good move for me'...

City manager Dave Mehew...said, 'With Adam Mann injured and Darren Edwards with a suspension to come its a great signing for us. Theo has an eye for a goal and that's what I like to see in a player'".
OLD BOY
NL Daily confirms the signing of an Alty trialist from last summer, as "Marine AFC have announced the signing of striker Nick Rogan. Rogan'sformer clubs include Morecambe, Southport, Barrow, Fleetwood and Stalybridge Celtic".
NLP AWARDS
The Non-League Paper announces:

"Once again, The Non-League Paper is looking for the outstanding players and personalities of the season. And we are hoping your newspaper can get behind the search and make sure the players you write about get their due recognition.

Those who come out on top of the readers' poll will be honoured at a glittering award lunch at Stamford Bridge on Wednesday May 23.

Voting has opened in The Non-League Paper's National Game Awards in association with VIPER10 Sportswear and you need to help your local team by backing them for one of 14 awards and getting your readers to send in their votes.

The categories are:
The PFA Fairplay Award
The FA England C Player of the Year
The Pro-Direct Golden Boot
The Mark Harrod Team of the Year
The NLFA Player of the Year
The Sharethematch.com Manager of the Year
The Premier Sports Goal of the Season
The ESPN Cup Run of the Year
The TOFFS Step 3 Player of the Year
The William Hill Fan of the Year
The Football Foundation Community Club of the Year
The Power Horse Lifetime Achievement Award
The Sportsbeat Young Player of the Year
The Reusch Goalkeeper of the Year

Ways to enter:
Tweet us at @NonLeaguePaper with your nomination, the award and hashtag #NGA
Write on our facebook page at www.facebook.com/NonLeaguePaper
E-mail us your choices to NGAvotes@hotmail.co.uk
Post your nominations to NGA Votes, The Non-League Paper, Tuition House, St George's Road, Wimbledon, SW19 4EU
---
12 March 2012
FIRST SUMMER FRIENDLY ANNOUNCED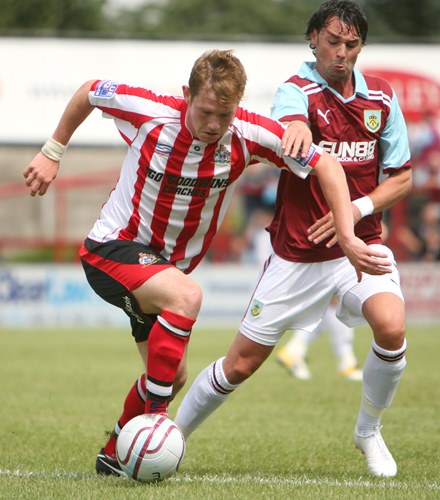 Altrincham FC is pleased to announce its first pre-season friendly for summer 2012, which will be against a Burnley XI. Championship club Burnley came to Moss Lane last summer and manager Eddie Howe kindly selected a high quality side, which included Tyrone Mears, Chris Eagles, Jay Rodriguez and Chris Iwelumo. The game will be on Saturday, 21 July, so please put the date in your diary now!

Pictured, right, by Gavin Rathbone, is Shaun Densmore, competing with Chris Eagles in the match against Burnley at Moss Lane last summer.
YOUTH TEAM
The Altrincham FC Youth team plays in the NW Youth Alliance Premier Division for which the current league table is here. Next week Alty are away at New Mills.

A report on yesterday's win over Curzon Ashton can be found on the Youth Page, along with George Heslop's report on last week's win at Morecambe.
BSBN NEWS
NL Daily confirms that "Boston United have parted company with experienced striker Leon Constantine. The 34-year-old played his final competitive game for the club in Tuesday evening's Lincolnshire Senior Shield final against Grantham Town. He scored once in three starts and eight substitute appearances for the Pilgrims".

Following Saturday's game, the Herts & Essex Observer reports that Bishop's Stortford "pulled off a fantastic win when they triumphed at Altrincham... Bishop's Stortford's victory was the second over the Cheshire side after the former had beaten them 1-0 two weeks ago at Woodside Park. The win was also impressive as it came against a team which has ambitions of getting into the play-offs.

Stortford went ahead in the 32nd minute. Dwight Gayle tucked in a rebound from eight yards after home keeper Stuart Coburn pushed out a shot from the left by Ricky Sappleton. The visitors doubled their lead in the 51st minute. A long kick from Stortford keeper Jordan Archer saw Sappleton exploit hesitant home defending to shoot home from 10 yards. Gayle then missed a great chance to put Stortford further ahead from the penalty spot on 87 minutes.

He was fouled in the box but his spot-kick was saved by Coburn and the ball was cleared away".
---
11 March 2012
ALTRINCHAM YOUTH 3 CURZON ASHTON YOUTH 0

Left: Duncan Watmore and Josh Palmer are seem here in the thick of the action for Alty Youth against Curzon Ashton. Right: The Altrincham FC Youth management team comprising coaches Josh Collins and Ant Small with manager George Heslop.

Alty Youth overcame good opposition in beating Curzon Ashton 3-0 today at Clay Lane. After midfielder Alan Tansinda had continued his run of goalscoring with the opener, captain Sam Grimshaw made it 2-0 with a well taken freekick, before second-half substitute Duncan Watmore made it 3-0 just after coming on. But Duncan also missed a late penalty. Report on Youth Team page.
ALTRINCHAM 0 BISHOP'S STORTFORD 2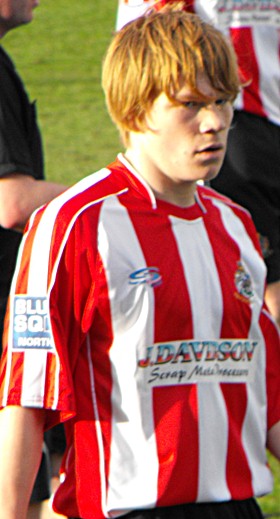 Right: Duncan Watmore was the one bright feature in Altrincham's performance yesterday.
Match report here
PRIZE WINNERS
Last night witnessed the annual Altrincham FC Prize Draw, organised by TASC. The winners of the top three prizes were:
Android Tablet PC: Campbell McLay
22" TV/DVD Combo: Daniel Eadie
£100 Portrait Photography Voucher at GR Photography: Kev Corcoran

The club and TASC thank everone who sold or bought tickets. For those not at the draw, TASC will be announcing the full list of winners in the near future.
OLD BOYS
According to Pitchero Non-League "Evo-Stik Northern Premier League First Division North prompotion-chasers Curzon Ashton [have] signed midfielder Brian Summerskill from Blue Square Bet North Tameside neighbours Droylsden. Summerskill joined Northwich Victoria in November 2010 from Wrexham, where he had been a regular in the reserves... and was previously on the books of Crewe Alexandra and The New Saints... He moved onto Altrincham, but after making just one start and seven substitute appearances he went on an initial month's loan to Nantwich Town - a spell which was extended until he returned to the Robins' squad on New Year's Day, 2012. However, after making just one more appearance from the bench, he was released last month and signed for Alty`s league rivals Droylsden."

Ex-Alty men on the mark yesterday included Kieran Lugsden and Aaron Burns, who scored for their resapective sides as Kieran's Buxton overcame Ashton United, 2-1. Ben Deegan netted twice as New Mills beat Goole. And former Alty reserve, Kwame Barnett hit four as Northwich Vill a trounced Irlam 6-0.
BSBN NEWS
News of Alty's next opponents comes from the Boston Standard which says that "Strikers Marc Newsham and Spencer Weir-Daley took centre stage as Boston United secured an excellent victory over Stalybridge Celtic on Saturday. Newsham gave the Pilgrims an early lead at The Jakemans Stadium and although Stephen Brogan levelled for the visitors, Weir-Daley and Newsham struck to hand United an unassailable lead...

The [3-2] result was fair on the balance of play with the Pilgrims turning in a performance full of drive against one of the strongest sides in Blue Square Bet North... The Pilgrims were seemingly coasting but Stretton opted to play almost nine minutes of added time — in addition to the six played at the end of the first half — and with eight additional minutes on the clock, Hobson bundled the ball over the line after Brogan's free-kick had seen Bembo-Leta have a shot blocked.

Boston (4-3-3): Paul Bastock; Conor Marshall, Tom Ward, Nathan Stainfield, Gareth Jelleyman; Ben Milnes, Ian Ross, Danny Sleath; Ben Fairclough, Marc Newsham (Chris Hall 81), Tyrone Kirk (Spencer Weir-Daley 55). Subs (not used): Kevin Austin, Lee Canoville, James Reed".

Corby Town say that "Manager Graham Drury was eager to focus on the positives following Saturday's defeat at Steel Park against Worcester City. 'I was pleased with performance up till two crucial turning points', said Drury. 'Experienced player Andy Hall was naive, bringing their player down in that area was criminal. He says he didn't touch him but the intent was there and a good player will go over and that's what happened, which was extremely disappointing as I think we were right in the game until that stage'...

Drury also felt that luck was against them following an error from on loan goalkeeper Fabian Spiess. 'When the chips are down, things are going against us. The keeper kicks the ball and it falls to one of theirs instead of one of ours and he puts it away. That's a crucial blow for us again, but you know we had a great chance to bring it back to 3-2, you just cant miss a ball on the goal line like Smithy (Jordan Smith) and Molly (Paul Maloine) did. If we had scored that then the penalty would have meant a point at home, which would have been a big step forwards for us. But, instead, we find ourselves with another defeat on our hands and its quite frustrating...

'We will have a number of players available again next week. Mullarkey, Jones, Hibbert and Gulliver will all be returning to the squad to make us stronger and we need everybody that we can get. Especially in the cases of Gulliver and Hibbert, they are very experienced players and we will also have good options going forward... We need to forget the negatives and look for the positives... The positive was that it is better than Tuesday. Another positive was that Tom McGowan has come into the side and looked good and played really well as a youngster... We just have to keep working hard and stick together'".
---
10 March 2012
LEE'S APOLOGY
Following today's 2-0 home defeat by 18th-placed Bishop's Stortford, which completed a league double over the Robins, Altrincham manager Lee Sinnott said "I take full responsibility for the poor result and performance today. With the recent away game at Bishop's Stortford fresh in our minds, I set the side up differently today with a change of shape, playing three upo front and one behind them but it didn't work today. In fact, we created more chances in the away match, with our normal formation, than we did today.

As the team tactics are down to me, I take full responsibility for the outcome. We didn't perform anywhere near as well as we did in the second half last Tuesday, against Stalybridge. I hold up my hands and apologise to all the fans, who turned out in good numbers today. We didn't do them justice".
ALTRINCHAM 0 BISHOP'S STORTFORD 2
Not for the first time this season Altrincham failed to deliver when faced with getting into the play-off positions as Bishop's Stortford completed a league double over a lacklustre Altrincham. And it could have been worse, had Stuart Coburn not saved an 88th minute penalty...
Match report here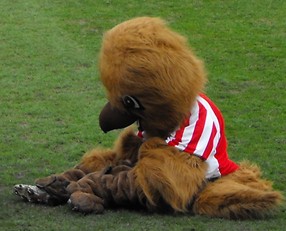 Alty line-ups
Right: Even Rocky Robin, Alty's mascot, was having a bad day at Moss Lane on Saturday!
Saturday, 10 March
Only one of the top six won today whilst five of the bottom six had victories.
Through the Years by Howard Watts.
Altrincham 0 Bishop's Stortford 2
Blyth Spartans 1 Eastwood Town 0
Boston United 3 Stalybridge Celtic 2
Corby Town 2 Worcester City 3
Droylsden 2 Histon 3
Gainsborough Trinity 3 Nuneaton Town 1
Gloucester City 2 Guiseley 1
Harrogate Town 1 Vauxhall Motors 2
Hinckley United 4 Workington 2
Hyde FC 1 FC Halifax Town 1
Solihull Moors 1 Colwyn Bay 0
CONGRATULATIONS!
Altrincham's Nicky Clee became a father today, at 3.28am to be precise. The baby, weighing eight pounds, is to be named Oliver Jacob. Congratulations go to Nicky and his partner.
.
BEFORE SATURDAY'S GAME
As usual, Radio Robins will be covering Saturday's match, which is against Bishop's Stortford. Brian Flynn writes:

"Radio Robins, sponsored by Paradox-Computers.com will be broadcasting a full internet commentary of Saturday's game. The match commentary is sponsored by Sale Fencing & Surfacing Sale Fencing & Surfacing are Specialists in driveways, patios and fencing throughout North Cheshire & Greater Manchester. Yyou can find out all about Sale Fencing & Surfacing here.

The commentators are Jack Jolly & Simon Ellis & the match summariser is Paul Salt. The broadcast begins at 2.50pm. You can listen to Radio Robins on the internet at http://www.radiorobins.com.

And, this website will be offering its usual live matchday updates throughout the game.
TASC / ALTRINCHAM FC PRIZE DRAW - THIS SATURDAY
Please remember to get your Altrincham Football Club 2012 Draw tickets before the prize-draw takes place this Saturday 10th March 2012 at 5.30pm in The Noel White Suite at Altrincham Football Club, following the game with Bishop's Stortford. This is a very important fundraiser for the club so your support will be much appreciated.

Prizes:
Android Tablet PC
22" TV/DVD Combo
£100 Portrait Photography Voucher at GR Photography
Four-Ball Round of Golf at Heyrose Golf Club, Tabley, Knutsford
Altrincham F.C. Home & Away Shirts plus Match Hospitality for Two People at a Home Game
PLUS MANY MORE!!!!!

If you can help by selling tickets, either on Saturday at Moss Lane, or to friends, or colleagues, beforehand, please do contact the club. Tickets will also be available on Saturday in the club shop. Tickets are just £1 each, and come in books of five for £5.
EDUCATION PROGRAMME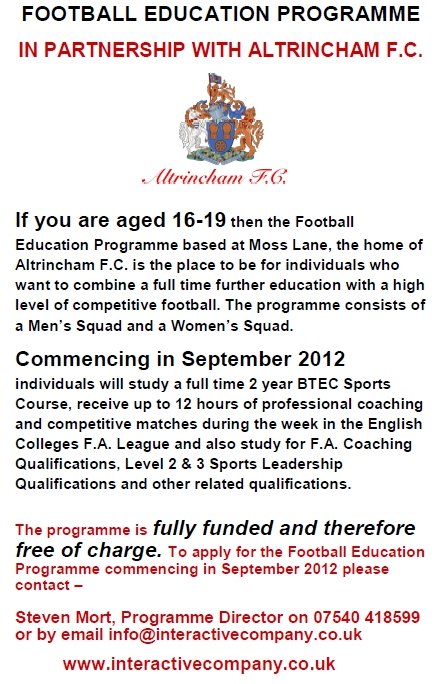 Details of Altrincham FC's Education Programme can be found, right. Please contact Steve Mort to apply, or for further information.
WEBSITE
I am in the process of moving a lot of the archived pages of this site to a new web address, because of changes in the Virgin Media service. For the next week or two (hopefully only that long), some of the archived pages will either not be accessible or, if available, will lack some of their associated images and files. I apologise for any inconvenience that this will cause but, hopefully, everything will be back to normal before too long!
BSN NEWS
A terse message comes from Eastwood Town which tells us that "Due to extreme cuts to the playing budget, several of the current first team squad have given their intention to leave the club. John Ramshaw has been forced to sign some of the young reserves' side as cover for the first team. None of the contract players are immediately affected... More details will follow on any players who decide to leave".

The local paper, the Eastwood Advertiser adds that "Eastwood Town manager John Ramshaw witnessed two more demoralising home defeats this week and simply declared afterwards, 'We're relegated.'. The Badgers are now 13 points from safety with just nine games remaining following a 3-0 loss to Hinckley on Saturday and the 4-2 reverse against Vauxhall Motors on Tuesday night.

And having only a week ago been enthused by a stunning win at promotion-chasers Guiseley, Ramshaw was this time left upset by the collapse of any remaining hopes that safety could be achieved. He said, 'I'm angry and hurt. At half-time against Vauxhall I wrote on the board the time and date of their third goal and told the players that was the moment they got this club relegated. It's more than just that match, of course, but the fact is our league position is true, given the budget we have and the squad, despite initially seeming to be getting what's required at this level, suddenly seem to have lost that understanding. But we can't dress it up anymore. We're going down having been thrown to the wolves and eaten up'.

Tuesday's performance, in particular, frustrated Ramshaw, Eastwood having gone ahead only to be pegged back by three quick goals – two of them crosses into the penalty area which went straight in the net. 'The goals were gimmes, all of them. Sam Andrew has put his hands up for a couple of them but, to be fair to him, he's only 19 and hasn't done a lot wrong since coming here', said Ramshaw. 'We defended like schoolboys and were punished by a side who are struggling themselves. After the Guiseley game, I honestly felt we had a chance of getting seven points from these three games (including Blyth on Saturday) but we're nowhere near that'.

Ramshaw cited his squad's lack of experience as a key problem in the battle for survival, but with his hands tied due to the extreme financial constraints at the club, could offer little in the way of solutions to that problem. He said 'We've been stifled by the budget constraints and have had a high turnover of players because it's hard to either keep hold of them or even pay some of them for every game. We sometimes have to pick and choose a squad based on what cash is available that week. So, we were relying on spirit and belief carrying us through but it seems we don't have enough of that, let alone it making up for the lack of quality...

The budget we have now would be one of the smallest even in the division below us and it could be we're having to plan for next season with even less money than at the moment', he said. 'But I'm not going to walk away from it as I care for the club and, if I did go, then I've no idea who would want to take the job on... Really, we're now just playing for what pride is left'".

According to the Northants Evening Telegraph, at Corby Town "Graham Drury has paid tribute to former assistant Paul Holden after the latter resigned this week. Holden quit... because he was unhappy at the way certain aspects of the club were being run.

'I've lost one of the best coaches in the area and that would hurt any club', said Drury. 'He's also one of my best friends in football and he was my right-hand man... Paul is very proud of the reputation he has built up within the game, not just at Corby, and he felt that he could not carry on under the current circumstances. I fully respect that... With him not there, there will be no-one that I know well to discuss tactics with, to bounce ideas off within a game, to be that second pair of eyes, spotting something I might have missed...

We're not mathematically safe from relegation yet so we need to start picking up some points', he continued. 'But that is going to be hard tomorrow because we obviously have this poor home record, and we're coming into the game on the back of bad defeat in the week, while Worcester are flying right now... We need to restore some pride more than anything else after conceding six at Harrogate and I expect the players to do that... The two lads up front, Gary King and Jordan Smith, are working their socks off but neither has scored in the last two games so I need them both to have their scoring boots on tomorrow'".

The Football Conference says that "FC Halifax Town have brought in young midfielder Matt Crooks on a month's loan from Huddersfield Town. Academy scholar Crooks was added to the [Huddersfield] first-team squad in late October 2010 at the tender age of 16... A 6 foot tall, elegant midfielder, Crooks hails from Huddersfield and joined the club as a youngster before spending a number of years at the Manchester United Academy".

Meanwhile, "Gloucester City have signed a goalkeeper and midfielder ahead of tomorrow`s home game with play-off chasing Guiseley. Theo Lewis has joined the Tigers on a month's loan from ground landlords, Cheltenham Town. Lewis is a product of the Cheltenham Centre of Excellence and was previously a schoolboy player at both Chelsea and Reading... Lewis... has now totalled thirty-nine starts and substitute appearances for the senior side.

Also joining City is 24-year-old goalkeeper Chris Humphries from Mangotsfield United. Humphries joined Mangotsfield in August from Brislington where he impressed many during his first full season".

"Harrogate Town have signed right-back Andrew Burns on a month's loan from Bradford City. The Liverpool-born teenager, who was previously with Bolton Wanderers, agreed a two-year deal with City last July. Burns impressed for the Bantams in pre-season after spending eight years with the Trotters where he played several reserve games. The 18 year-old will remain at the CNG Stadium until April 8th.

Town have also taken young defender Ashley Palmer for a month from Scunthorpe United. The centre-back goes straight into their squad for Saturday's home game with Vauxhall Motors. He had a spell at Southport earlier in the season but didn't make an appearance".

Also from the Conference, we learn that "Droylsden have brought in a new striker and defender in an attempt to halt their slide down the table. Joining on a month's loan from Macclesfield Town is young striker Tom Fisher. The 19-year-old made his debut for Stockport County towards the end of the 2008/09 season, two months shy of his seventeenth birthday. A former trainee at the club, he went on to make twenty-nine appearances for the Hatters but, following their relegation to the Conference Premier, he was one of many players released and arrived at the Moss Rose on an initial one-year deal last June. Earlier this season he had a loan spell with the Bloods' Tameside neighbours and league rivals, Hyde FC.

Also joining Droylsden is defender James McKenzie from Australian outfit Sutherland Sharks".

From further north comes news of an ex-Alty player as, "Workington have re-signed forward Matthew Berkeley from rivals and leaders Hyde FC for a second spell at Borough Park. Berkeley, 24, was in his second spell with the Tigers after a brief period at Ewen Fields during the 2008/09 season. He rejoined the club in the summer of 2011 from Welsh Premier side The New Saints. With over half a dozen different clubs to his name by the age of 24, plenty of managers have seen potential in Berkeley, and they include Lester Morris, the head coach of Saint Kitts & Nevis, who called him up for the Caribbean island nation's World Cup qualifiers after a prolific start to the 2011/12 season at Hyde. Berkeley has turned out for several other of the Tigers' rivals, including Altrincham, Droylsden, Leigh Genesis and Mossley, having begun his career at Gretna".

Bulls' News tells us that "Former Bulls' defender Kern Miller has signed for Gainsborough Trinity. The 20 year-old signed for the Bulls on non-contract terms in January after spending several weeks training with the Bulls. He was released without fanfare or any appearances in early February for undisclosed reasons. A similar fate befell him at Accrington earlier in the season after he was suddenly axed from their side without explanation. Having already been registered with Barnsley, Accrington, and the Bulls this season, the former Lincoln man could only sign for a side below the Conference. Trinity are currently just outside the play-off spots in Conf North".

Meanwhile Gainsborough Trinity themselves "announce the news of 3 exciting signings, Defender Kern Miller and goalkeeper Jason White till the end of the season. Matt Godden has joined on a month-long loan deal set to expire on April 9th.

Defender Kern Miller is a product of the Lincoln City Youth team and was drafted into the first team in the 2008/2009 season, On 4 January 2011 after being released from Lincoln, he signed for Barnsley in the Football League Championship. On 28 July 2011 he signed a 6 month loan deal for Accrington Stanley... In November 2011 Miller was released from his loan deal early after suffering a broken jaw in an off the field incident. He made a total of 3 appearances. Upon his release from the loan spell at Accrington Stanley, Miller joined Hereford United on a loan deal till the end of the 2011/2012 season. However he is ineligible to play until January 2012 following his previous loan spell.

Jason White, the 28 year-old goalkeeper joins Trinity from Shirebrook Town. White joined Mansfield Town after being released by Nottingham Forest at the age of 16... He made only 13 appearances between his debut and the end of the 2005–06 season... but began the 2006–07 season in goal, going on to make 33 appearances that season. By the end of the 2007–08 season, White had made over 50 appearances for Mansfield. White was transfer listed in January 2009, and left the club at the end of the season...

Matt Godden joins Trinity on a month-long loan deal, the 20 year-old striker has joined on loan from neighbours Scunthorpe United, [he] also spent some time with Blues' boss Steve Housham whilst at Brigg scoring 9 goals. Matthew Godden started his career at Scunthorpe United... He later went on loan to Ilkeston Town. Gooden was involved in Scunthorpe's 2009-10 pre-season. He was signed [on] a year extension on 8 June 2010... He made his league debut on 28 December 2010, in a 2-0 win over Burnley".

According to the Coventry Telegraph, "Ten games remaining and Nuneaton Town are where manager Kevin Wilkin, back in early August, anticipated they would be – in the top five and on course for the play-offs. In fact, Boro' are second, going into tomorrow's away encounter against Gainsborough Trinity at Northolme but Wilkin is just delighted to see his charges gunning for glory...

A superb run of one defeat in their last 19 league outings has taken the Triton Arena boys from ninth going into November to where they are today, albeit ten points adrift of runaway leaders Hyde United, who come to Town tomorrow-week in an authentic top-of-the-table clash... Wilkin said, 'We are now getting down to where results really matter. We reached 60 points with the one against Guiseley in midweek and maybe 80 will ensure our top-five position but the aim is maintain second and be ready should Hyde start to feel the pressure'".
---
9 March 2012
PLAYER UPDATE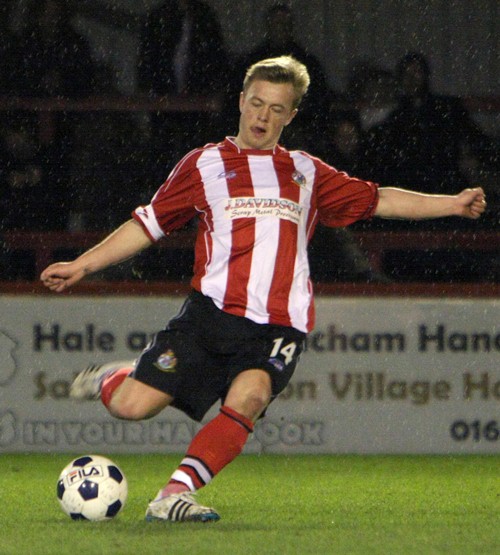 Right, pictured by Gavin Rathbone, is an image of Alty's new midfielder, Scott Phelan, who made a promising debut as a second-half substitute last Tuesday.

Speaking after training on Thursday night, Altrincham manager Lee Sinnott provided an update on his players' fitness in advance of Saturday's match at Moss Lane against Bishop's Stortford.

Centre-back Marlon Broomes has damaged the other hamstring from the one which sidelined him previously for four games. Until the injury can be fully assessed, it is unclear for how long he will be out of action, though it is likely to be several weeks.

As for the other players with injuries, Nicky Clee did not train this week, to help rest his rib injury. Although his partner is expecting a baby imminently, it is hoped that Nicky will be available on Saturday.

There is good news about Kieran Walmsley, who trained on Thursday, but the manager will need to see if there is any adverse reaction before Saturday. Kieran has missed the last three games. Another player who has been in the wars is midfielder Chris Lynch but he also trained this week so should be available this Saturday.

Talking of Simon Richman, who has played the last couple of games in central midfield, the Alty boss revealed that the central position is one that Simon has played previously, though with Alty he has generally played on the right flank so far. Lee explained that Simon's good energy levels and his ability to get up and down the pitch make central midfield a position into which the wingman could develop. On this theme, Lee is pleased that the players have been able to adapt to different formations.

The Altrincham manager was also pleased with the debuts, last Tuesday, of Leighton McGivern and Scott Phelan, both of whom looked lively in the boss's opinion.
SPONSORS
Barry Pond's latest list of Matchday Sponsors is now available.
THANK YOU
Tuesday's bucket collection by the TASC volunteers raised an excellent £63.91, for which the club is very grateful.
BSBN NEWS
The Ilkley Gazette says that "When you are the sum total of Guiseley's scouting net-work, as well as the manager, it makes it extra special when a punt comes off. Steve Kittrick must have been smiling inwardly and outwardly last Saturday after they defeated Gainsborough Trinity 2-0 at Nethermoor.

With Danny Boshell tweaking a hamstring as early as the 16th minute, he gave former York City and Hull City defender Dean Lisles his debut. Kittrick said afterwards, 'Dean has looked good in training and he told me after the Trinity match that it was the first time he has kicked a ball in anger for 12 months! It could have gone either way!'

Lisles, who isn't 20 until May 5, signed for the Lions last month, having been released by the Minstermen in October 2010. Another new face at Nethermoor is Matt Wilson, who Kittrick calls 'a quality player'. The Lions' boss added, 'I tried to sign him in the summer but he had a two-year contract at Alfreton Town, and has since had a few injuries and found himself out of the side'.

For Saturday's match at Gloucester, Kittrick should have James Walshaw, Boshell, Danny Forrest, Baldry and Danny Ellis in contention."

More problems at Corby where Pitchero Non-League that "Paul Holden has resigned as assistant-manager of Corby Town, saying his position had become untenable. Holden quit in the wake of the Steelmen`s midweek 6-2 defeat at Harrogate Town, citing boardroom interference in team selection as the final reason for his departure.

Among Holden's claims are that the man set to take over as chairman at Steel Park has demanded his son is selected for this weekend`s home game against Worcester City. He also says the players are being asked to either drive themselves to away games or book seats on the supporters' coach for the rest of the season and that he has not been paid for six weeks while several players were also being asked to play for free. He added that dressing room morale is at rock bottom with players unhappy at not being told what is going on with the club's finances in the wake of some senior players leaving".
---
8 March 2012
ADAM FLYNN
Altrincham FC announce that they have released defender Adam Flynn (right), who joined them over the summer of 2011. Adam's early period at Altrincham was blighted by injury, meaning that after starting three matches, he was unable to start any of the next eight league matches. He returned to the side and was captain for several games before he suffered an ankle injury in game 22 against Colwyn Bay. He did not appear in another game for Altrincham after that, though he was named on the bench five times. In all he made 15 appearances for Altrincham.

27 year-old Adam had been the Southport captain when they were promoted back to the Conference National level in 2010 but his work commitments, as Head Coach at Liverpool FC's International Football Academies, conflicted with his availability to play for the Port and he was transfer listed in November 2010.

Altrincham FC would like to thank Adam for his commitment and extends its best wishes to him for the future.
"BEST RESULT OF THE SEASON", SAYS LEE
Alty Press Officer John Edwards writes, "Lee Sinnott (below, left) hailed a dramatic 2-1 win over promotion rivals Stalybridge Celtic as 'our best result of the season' and urged his players to continue their pursuit of a play-off place against Bishop's Stortford at Moss Lane on Saturday.

A double half-time substitution helped Altrincham turn round 1-0 arrears against 10-man Stalybridge and close in on the top five with a Damian Reeves equaliser and 88th-minute winner from defender Matt Flynn.

Stalybridge had Kristian Platt sent off for a second-minute foul on new signing Leighton McGivern and were finally undone after the half-time introduction of fellow-newcomer Scott Phelan and Nicky Clee gave Alty extra impetus.
As he reflected on the late drama, with Flynn bundling home the last-gasp winner after Alty themselves had been reduced to 10 men due to an injury to Marlon Broomes, Alty boss Sinnott said:
'I don't know where to start with that one. The format before the game was to win it. We did that, and put another three points on the board, but that only tells half the story.
'For the neutrals, I imagine it was quite entertaining, but for each manager and set of supporters, it was one where you just didn't know which way it was going to go. It certainly kept everyone on the edge of their seats.
'I thought, for the sending off, Leighton turned their lad really well, and you could tell he was brought to ground in a central position, just outside the area. He was going to get an effort in on goal, so by the letter of the law, Kristian had to go.
'That left Stalybridge with 10 men, but, daft as it sounds, it seemed to help them more than us. They went to a 4-4-1, and worked the system very well, and it seemed to put us out of our stride more than it did them.
'They didn't put us under any sustained pressure, or threaten our goal too much, but they looked far too comfortable for my liking in the first half. Their two banks of four coped quite easily, and that was largely down to the fact that when we worked the ball round the park, it was just too ponderous. We didn't punch holes in areas where we might have caused problems, and it was clear to me after half-an-hour what needed doing.
'I just sensed the full-back areas were going to be key against a team who were a man short. We needed quality in those areas, and I thought Shaun Densmore moving to right-back and Nicky coming on at left-back gave us that.
'I told the players at half-time they were going to have to pick the tempo up, or Stalybridge would see the game out, and that's exactly what they did. In a tight derby game between two teams battling for a play-off place, it was vital we took our chances, and I'm thankful we did.
'It was a fantastic finish by Damian for the equaliser. To spin and get it in the far corner like that just about sums up his season. He had a couple of chances just before, and might normally have expected to stick at least one away, but he kept getting in the right positions, as he always does, and he duly got his reward.
'If people are suggesting there may have been a hint of offside about the winner, then who knows? We don't have the luxury of instant replays and freeze-frame at this level, so you have to go with whatever decision is made. I'm sure some have gone against us, and if luck did favour us on this occasion, I would argue it was deserved.
'It was a bobbly, scruffy goal, but who cares? They all count, and I told the players afterwards that it was the best result we've had all season. You have to say that, when you consider the enormity of the game and the pressure on us, because if the points had gone to Stalybridge, it may have left us with too big a gap to bridge, given the time left.
'There were a lot of plusses from the night, not least a very positive debut from Leighton. He is lively and will always cause defenders problems, as he proved within the opening two minutes, with the sending off. He is a nuisance – a bit like Craig Bellamy and Andy Johnson rolled into one – and I'm sure he will get goals for us. He got himself into good positions, and he will finish chances, because he has a history of finishing. He put in a full 90 minutes, too, despite not playing for a couple of weeks, so full credit to him for that.
'It was a good debut from Scott Phelan as well. He acquitted himself well, when he went on for the second half, and gave us that drive to take the game to Stalybridge. We pushed forward more quickly and accurately in the second half and started asking questions of their back four, instead of their middle four. That was because we upped the tempo and increased the pace and quality of our play, and it was exactly what was needed.
'With 10 games to go, we need to be fortunate now with form, injuries and suspension, but, to be fair, everyone is walking the same tightrope. Kieran Walmsley should be OK for Saturday, but Marlon Broomes might have tweaked his other hamstring, and we will also have to evaluate Nicky Clee, who managed 45 minutes, despite a problem with his ribs.
'But we are looking strong. When you look over your shoulder and see what you've got on the bench, it gives you an indication of how strong your squad is. It is very important for the players who have a shirt to realise they have to maintain their form, or someone will step in and take it off them.
'We need to keep putting points on the board, especially against teams around us, because it will mean we are pegging them back. But it is also essential our approach is right against teams below us, because throwing away points when you have been on your game is how not to make the play-offs.
'We can't just turn up against Bishop's Stortford on Saturday and assume we will beat them. I told the players at the end of the Stalybridge game that I don't want any Lord Mayor's Show scenario. If we are ponderous in our build up, they will get bodies behind the ball, in their 4-1-4-1 formation, and make it hard for us. So we have to replicate the second-half performance for the entire 90 minutes. We are looking to avenge the 1-0 defeat of two weeks ago, but we know our approach will have to be spot-on'".
CELTIC'S VIEW
After Tuesday's game, Stalybridge Celtic report that "Celtic were forced to play with ten men for the full game when Kristian Platt pulled down Leighton McGiven who was threatening to burst through one-on-one with Jan Budtz. From then on, Celtic put in a sensational shift, and outplayed their hosts for an hour, fully deserving their half time lead...

With the extra man Altrincham should have been creating more chances, but the Celtic defence was immense... Rea's ball into the box... [reached] Craig Hobson coming in at the back post, who smashed the ball past an angry Stuart Coburn for the opener. Altrincham were on the back foot, but were still carving out chances, McGiven wasting two good opportunities...

Something had to change for Altrincham, and they made the brave decision to take off both full-backs and bring on wingers. This move paid off in general... Altrincham's goal required the kind of luck that seems to have deserted Celtic... A simple through ball into the box, Budtz came to collect. The ball skidded out of his hands and fell to the most dangerous man in non-league at the moment, Damian Reeves. It still required an exceptional finish, and he produced it to equalise...

Altrincham started to dominate the game... With stoppage time looming, Altrincham took advantage of the most outrageous decision when, from a corner, Flynn was stood behind Budtz, virtually on the goal-line. When the shot came in, Budtz couldn't hold it, turned to pick it up, but Flynn was there to poke home, looking completely offside, but it wasn't given and Altrincham could celebrate a win".
NUMBERS
Prompted by a couple of "firsts" for Alty on Tuesday night, here are some numbers associated with Altrincham currently...
1 - is the number of goals scored at the right end of the pitch in Matt Flynn's senior career! Prior to Tuesday, his only goal in senior football was into his own net.
1 - league game has been won by Alty this season in which the opposition scored first (v Stalybridge)
68 - is the number of substitutions by Alty in 32 league games this season
36 - league goals have been scored by Damian Reeves this season
32 - league games have been played by Damian Reeves this season
7 - different players have worn Alty's no.2 shirt in the league this season (Robbie Lawton, Chris Lynch, Matt Fearon, Mark Lees, Matt Flynn, Kieran Walmsley, Mark Lynch)
6 - different players have worn Alty's no.7 shirt in the league this season (Shaun Densmore, Simon Richman, James Lawrie, Jack Redshaw, Kieran Walmsley, John Miles)
72 - league goals have been scored by Alty this season - more than any other club in the BSBN
125 - goals have been scored by both sides in Alty's league games this season - more than witnessed by any other club's supporters
5 - is the number of Alty captains in league matches this season (Lawton, Danylyk, Densmore, Adam Flynn, Coburn)
759 - is the average gate at Moss Lane for league games, so far this season; excluding evening matches, the average is 776 for 3pm kick offs
53 - league goals have been conceded this season in 32 games
5 - players who are still at Moss Lane have started a league game both this season and last season for Alty (Clee, Coburn, Densmore, Reeves, Twiss)
4 - is the highest number of different starting shirts used by a single player (Mark Lees has worn nos. 2,3,5,6)
36 - players have been named in an Alty league squad this season
4 - league games have been drawn from a winning position
27 - debutants have been named in an Alty league squad this season (including the returning Rob Williams)
13 - players have left Moss Lane during this season (eight signed players plus five loanees)
17 - is the age of Alty's youngest player to have started a league game this season - Adam Reid, d.o.b. 29/6/94. Don't ask Stuart Coburn who is the oldest player, though Neil Tolson could take their accolade later this season!
2 - red cards have been received this season (Anthony Danylyk and Adam Flynn)
CONGRATULATIONS
Alty Youth striker Duncan Watmore has captained his Cheadle Hulme School team to win the Barry Burns Northern Eights' Tournament at Chester, defeating Derbyshire school, Repton, in the Final, 1-0.
BISHOP'S STORTFORD PREPARE
BSB North adds that "Bishop's Stortford boss Rod Stringer expects a 'tough' encounter in Saturday's trip to play-off chasing Altrincham. The struggling Bishops, who were thrashed 4-1 by Colwyn Bay on Tuesday, recently edged the sixth-placed Robins 1-0, with Jordan Pavett netting a 70th minute decider at Woodside Park. And naturally Stringer is wary of a potential backlash at Moss Lane.

'They are a good side. We have to go there with a game plan. I am sure they will not want to lose to us twice', Stringer told the Herts and Essex Observer. 'They are still on the edge of the play-offs. It's going to be tough. It's good we are second in the form guide'".

More comes from the Herts & Essex Observer which reports that "The Blues slipped to a heavy defeat at Colwyn Bay (Tuesday March 6). Bishop's Stortford fell behind in the sixth minute... Colwyn's player-manager Jon Newby shot home from a 55th minute corner to make it 3-1. The home side's fourth goal came on 70 minutes... Five minutes later Colwyn defender John McKenna was sent off for a reckless challenge on Blues' skipper Reece Prestedge. The defeat was Stortford's first in five league matches. It also saw Stortford slip two places to 18th in the table after Droylsden and Harrogate Town both recorded victories to leapfrog the Blues".
OLD BOYS
Alex Meechan scored for Harrogate last night, Kevin Holsgrove for Vauxhall and Dale Johnson for Droylsden. In last night's game between Clitheroe and Witton Albion, the Lancashire side included current Alty player Matt Fearon (on the bench) and former youth teamer Glodi Kuba-Kuba (used sub). Kevin Ellison got two for Morecambe as they beat Cheltenham 3-1. Jack Redshaw was not in the side because of illness.
BSBN NEWS
The Football Conference announces that "Blyth Spartans have announced that talismanic crowd favourite Robbie Dale has returned on loan from Whitley Bay for an initial month's stay. The 27-year-old had been with Spartans for seven seasons, scoring ninety-six goals in 291 appearances following his arrival from Northern Alliance side Ryton in March 2004. He was surprisingly released in the summer by then manager Steve Cuggy and joined up with former Spartans striker Ian Chandler – now manager at Hillheads. Since then Dale has been a regular attendee of games at Croft Park – attending all of the home games where the fixtures have not clashed with those of Whitley Bay. He was also present at the majority of the pre-season training sessions and knowing some of the current squad from his previous spell with the club".

Alty's next away match is at Boston where the Boston Standard reports that "Tyrone Kirk says Boston United will be giving their all to reach the play-offs – because the whole squad are playing for their futures. The Pilgrims' hopes of a top-five finish suffered a setback following Saturday's 3-0 defeat at Worcester City. But the winger has refused to rule out a late flurry up the table...

'We're playing for our futures, you can't take things for granted', Kirk told The Standard. 'The club reached the play-offs last year so people want to do it again. If we don't reach the play-offs, the gaffers will look at us and question whether we're good enough to reach them next year. You have to be playing for your future'.

But Kirk, who says his strong Christian faith has helped him greatly throughout his career, is a firm believer in positive thinking... He continued, 'You've got to aim as high as possible. You take your mind off things and you start slipping down the league... If you aim for the stars you can reach the moon'".

Boston's next opponents are Alty's last opposition, Stalybridge Celtic, who beat the Pilgrims in December . "Remembering that 3-0 defeat, Boston boss Jason Lee said, 'We all remember the spanking we took from them and we don't want that to happen again. We've got a score to settle'".

Meanwhile, "Dutchman John van Engel's Boston United career looks to be over, before he even kicked a ball for the club. Pilgrims' bosses Jason Lee and Lee Canoville were left stunned yesterday when – ahead of the Lincs Senior Shield final at Grantham Town, in which he was expected to play – the winger called up to say he had played in a friendly match for Kettering Town that afternoon.

'We were looking for him to start today and give us some impressions of what he's all about', Lee told The Standard following last night's 2-0 defeat. 'But he played for Kettering. We received a phone call telling us he's played for Kettering already and would come play for us if necessary. But that's never going to happen, at any level. As far as we're concerned we move on and play someone else'. The 23-year-old signed with the Blue Square Bet North club on Saturday evening, after watching the side suffer a 3-0 defeat at Worcester City.

However, he seems keen on touting himself around English football after leaving SVV Scheveningen in the Dutch Hoofdklasse, the highest tier of non-league in The Netherlands. If he is keen on signing for Kettering, who have had a transfer embargo imposed on them this season due to their financial situation, then the Poppies will have to put in a seven-day approach as he is registered with United....

Unimpressed Lee does not think he has helped himself earn a future at York Street... He added, 'He's not a player who's really committed himself to us'".

In the Coventry Telegraph, we learn that "Some will look at Nuneaton Town's 1-1 draw with Guiseley on Tuesday night as two points dropped but manager Kevin Wilkin was more than happy to see his in-form side stave off defeat against last season's play-off finalists and second favourites in the title race. The Boro boss... said: 'No complaints about the draw. It wasn't the greatest game in the world but it was one that we could easily have lost on another day... When they scored direct from a free-kick I think it just took a bit of the sting out of us... But all credit, we did come back well'".
CHESHIRE NEWS
The NW Counties Football League says that "The League Management Committee has received an approach from Widnes Town FC, who have indicated that they wish to apply to join the NWCFL at the start of next season. The club is newly formed, and the club owners are looking to develop the club into a community based football facility...

Widnes Town's Chairman is Mark Wright, a former professional footballer who played top flight football for Liverpool, Derby County, Southampton and Oxford United amassing almost 500 appearances. He also represented his country winning 45 caps at senior level... Mark has significant football management experience having been at the helm of several League and Non-League clubs including Southport, Oxford United, Peterborough and Chester City.

The Team Manager is Stephen Vaughan Jnr., another former professional footballer, who was on Liverpool FC's books before going on to play for Chester City 58 times. He also played for several other Non-League clubs before his career was cut short by injury.

The club has reached agreement in principle to play their home games at the Stobart Stadium, Halton. The ground, previously known as Naughton Park, is primarily a rugby league ground which currently hosts the Widnes Vikings Rugby League Team and is also the home venue for Everton FC Reserves. The ground is owned by Halton Borough Council, is close to Widnes Town Centre and less than 2 miles from Runcorn via the Widnes/Runcorn Bridge.

League Secretary John Deal said, 'As this approach is from a new club we have had to refer the matter to the FA... If the FA decides that they can proceed, Widnes Town's application will then be discussed with the League Management Committee... In accordance with league rules, the clubs would then vote to decide whether or not Widnes Town should be admitted to our league for season 2012-13.

We have had 17 enquiries from various Clubs this season, some from individuals representing clubs that do not have a ground and are not currently fielding a team in any of our feeder leagues, but it is only fair to point out in this instance that the business plan, and other information provided to us by Widnes Town, is far more detailed than we have received from these other clubs. We should also clarify that Widnes Town are a new club, and should not be confused with a team known as Widnes Town who are playing in the youth league of the Carlsberg West Cheshire League, a competition which also includes teams from Runcorn Linnets and Runcorn Town'".

Alty fans will recall visiting the then-named Halton Stadium to play the now defunct Runcorn FC Halton.
---
7 March 2012
ALTRINCHAM 2 STALYBRIDGE CELTIC 1
Altrincham climbed to sixth place with this hard-won victory over Stalybridge Celtic. New Altrincham signing, striker Leighton McGivern from Vauxhall Motors, certainly had an impact at the start of the match. He won a corner after 42 seconds and then was fouled a minute later on the edge of the box, with Kristian Platt getting a red card after being judged to be the last defender and to be denying a goalscoring chance. But the 10-men of Stalybridge took the lead when Hobson converted Rea's feed in the 14th minute...
TUESDAY GAMES
Tuesday, 6 March
Altrincham 2 Stalybridge Celtic 1 -gate 791
Blyth Spartans 2 Histon 1 - gate 343
Colwyn Bay 4 Bishop's Stortford 1 -gate 141
Eastwood Town 2 Vauxhall Motors 4 -gate 151
Gloucester City 1 Droylsden 3 - gate ?
Harrogate Town 6 Corby Town 2 - gate 175
YANKEE'S £5,000 TO BE WON
Altrincham FC's Saturday Yankee still has a jackpot of £5,000 to be won after this week's results. The winning code, 7117, was not held by any member. But six members did receive £33.33 each for winning "Trebles".
BSN NEWS
The Coventry Telegraph reports on Nuneaton Town. "Boro's five-match winning league run ended at The Triton Arena last night as they shared the points with fellow top-four and title-chasers Guiseley while leaders Hyde ran amok in a 4-0 victory over Workington to stretch their advantage at the head of affairs.

In a frantic tussle in which clear-cut opportunities were at a premium, Boro had to overcome the surprise of going behind early on to an Andy Holdsworth strike with midfielder Adam Walker grabbing the equaliser 15 minutes into the second half. Neither side could complain with second-placed Boro having just three goal attempts on target compared to just one from their fourth-in-the-table Yorkshire opponents...

Time and time again [Nuneaton] were left frustrated as the visitors continually stopped the flow of the game by giving away a glut of free-kicks, 11 in the first half, from which only the temperamental Matt Wilson received a caution. Guiseley posted two men on the lively Wes York, a constant thorn in the side of the Leeds-based outfit".

And, yesterday, the Yorkshire Evening Post says that "Boss Simon Weaver says injury-ravaged Harrogate Town have performed admirably to sit 18th in Blue Square North ahead of tonight's home clash with Corby Town. Frustrated Weaver saw both Paul Heckingbottom and Jake Picton limp off during Saturday's 3-1 defeat at FC Halifax Town meaning the Town boss is now without eight players ahead of tonight's match.

Chris Elliot, Danny Stimpson, Adam Nowakowski, Michael Brough, Patrice Liburd and the recently departed Stephen Turnbull will also be missing and, while Town now sit fifth-bottom, Weaver has stressed that position fails to explain the full tale of an injury-plagued season.

'You look it and a third of our playing budget is taken up by players that are injured and it's worth stating, as people soon forget', said Weaver. 'People look at us and think "they have underachieved'", and we have, but I would like to see any other team in this league cope with the injuries we have had and I bet they would be below us... We are down to the bare bones again'...

Heckingbottom will now be out for a month with medial ligament damage to his knee with Picton also facing two weeks on the sidelines with a hamstring strain... 'Corby are excellent away from home', warned Weaver. 'They got beaten on Saturday at a very strong Nuneaton team but, before that, they had been unbeaten away for most of the season and that's what has held them together this season and has them sat where they are. We know they will be a dangerous team on the break, as they have some quick lads in there, but we'll have to stick to our jobs and just give it a damn good go. There are still 12 games left and we need to make sure we get as far away from the bottom area as we can though it doesn't help when you have to keep changing the team every time.... It can soon change and we play Vauxhall on Saturday', said Weaver. 'We've got to look at getting at least four points from the next four games and then go on from there'".

Some "stars of the future" are tipped by the Two Unfortunates, who write "We turn our attention here to the Conference's two regional divisions... Wesley Durbin takes a look at the northern section which has, albeit under the guise of the Northern Premier League, which it superseded in 2004, been a staging post for the likes of Burton and Accrington in recent years.

As peculiar as it seems, the first individual to come under the spotlight in this article plays for David Livermore's Histon FC who, along with Bishop's Stortford, Gloucester City and Worcester City, have been forced to endure a multitude of lengthy journeys this season (due largely to the fact that two of the three leagues which feed into the Conference system are located in the south). Dan Holman is a 21 year-old hardworking striker with good strength and movement, who has proven capable of scoring goals from inside or outside of the box... The young striker has continued to attract praise with his all-action style, scoring 19 goals in 34 starts...

Moving further north, the second player who might well step further up the pyramid is Wesley York, an 18 year old winger-cum-striker with Nuneaton Town. A former Nottingham Forest, Derby and Leicester academy player signed from East Midlands Counties League side Anstey Nomads in November, York started his career in sensational fashion at Conference North level with 5 goals in 6 starts... It isn't just Burton Albion interested in the youngster with other scouts from the Football League, and also Premier League, reportedly monitoring his progress.

Elsewhere, Ryan Kendall is a 22 year-old striker with Gainsborough Trinity. A six-footer who was highly rated as he came through the Hull City youth setup, Kendall was a regular for the Tigers' reserves, gaining valuable experience playing alongside the likes of Dean Windass, and scoring 2 goals in as many starts while on loan at Bradford City during 2009-10...

Another striker, Scott Spencer is a 23 year old former England under-19 international, currently playing for Hyde FC. Spencer started on fire this season, scoring in each of his first 9 appearances for the club... Spencer has continued to impress in all competitions, scoring 22 goals in 25 starts so far.

Finishing with a defender, Gareth Dean is a 22 year old centre back with Nuneaton Town. During the 2009-10 season, Dean won Manager's Player, Players' Player, Young Player and Supporters' Home and Away Player of the Year. He is strong in the air and in the tackle, brave, good with the ball and is a threat in the opposition box with his aerial prowess... This season, Dean has made 36 appearances, scoring 7 goals and has been named man of the match on 5 occasions, with 12 clean sheets kept during that time. Dean balances his football career with studying for a degree in Aeronautical Engineering at Loughborough University, and it's thought that it will only be a matter of time before he moves on to a Football League club once he graduates".
---
6 March 2012
TRIP TO BOSTON
Mark Eckersall writes, "We have started a list, to gauge numbers for Altrincham's game at Boston a week on Saturday so we can decide what is the most cost effective way of getting people there. Would anyone wishing to go help us by either calling the club this week on 928 1045 or putting their name and contact details down on the list in the Club Shop tonight? We will decide our plans on Friday and update people at Saturday's game".
TUESDAY GAMES
Howard Watts's Through the Years data for Tuesday is also on the website.

As usual, Radio Robins will be covering the match against Stalybridge Celtic. Brian Flynn writes:

"Radio Robins, sponsored by Paradox-Computers.com will be broadcasting a full internet commentary of Tuesday night's game. The match commentary is sponsored by Steve Foster. The commentators are Paul Salt and Brian Flynn. The broadcast begins at 7.35pm. You can listen to Radio Robins on the internet at http://www.radiorobins.com.

And, this website will be offering its usual live matchday updates throughout the game.
ALTY MAKE ANOTHER SIGNING
Altrincham announce the signing of midfielder Scott Phelan (d.o.b. 13/3/88, height 5ft 8ins, weight 11st 2lbs). Scott signed for Vauxhall Motors a fortnight ago but he has now been released and is elgible for tonight's match at Altrincham against Stalybridge Celtic. He recently (20 January) scored for the Motormen against FC Halifax Town, playing in the same side as Leighton McGivern, who joined the Robins yesterday.

Liverpool-born Scott was recently released by Kidderminster Harriers. However, earlier, he had been at Everton where his path crossed with Alty's captain, Shaun Densmore. Scott was captain of the Toffeemen's under-18s and reserves before he was released in 2007. A contract with Bradford City followed and it was with The Bantams that he made his Football League debut as a substitute in August, 2007. He went on to make 13 league and three cup appearances for the Yorkshire club. In a mass clearout at Bradford, Scott was released at the end of the 2007-08 season.

Next, Scott joined FC Halifax Town in September 2008. From there he signed for Kidderminster Harriers, from where he was sent out on loan to Vauxhall Motors in December 2011. The Harriers released him in February, 2012 and he then had his brief spell with the Motormen.
MONDAY RESULTS
Monday, 5 March
Hyde FC 4 Workington 0
Nuneaton Town 1 Guiseley 1
BEFORE THE GAME

Before the match with Stalybridge, Alty Mad curiously says of a fixture played many times that "Altrincham play host to Stalybridge Celtic at Moss Lane on Tuesday evening... The last time the two teams met at Altrincham was back in April 2005, over five years ago, when they eased past their opponents in a high-scoring 4-1 thriller, in a (Conference) North match.

Recent encounters between the teams

2011/12 Stalybridge C. 5-1 Altrincham
2004/05 Altrincham 4-1 Stalybridge C.
2004/05 Stalybridge C. 1-1 Altrincham
2003/04 Stalybridge C. 1-0 Altrincham
2003/04 Altrincham 3-3 Stalybridge C.
2002/03 Stalybridge C. 2-0 Altrincham
2002/03 Altrincham 3-3 Stalybridge C."

However, Mike Garnett's more extensive statistics show that Celtic do have the historical edge...

At Moss Lane: P61 W32 D15 L14 F118 A77
At Stalybridge: P67 W18 D11 L39 F103 A146
Neutral: P5 W1 D1 L3 F5 A7
Overall: P133 W51 D27 L55 F226 A230

Footy Mad adds that "Altrincham have been playing quite well at home, winning 3, drawing 2, and losing just 1. These high-scoring games have yielded a total of 18 goals for the Robins, with 11 goals against. Stalybridge Celtic have an average recent record on the road, losing just 1 from the last six, but amazingly drawing the other 5. The Celtic's have scored 9 goals in these games, but conceded an alarming 11... FootyMad's prediction ... Both teams are displaying reasonable form at the moment, and for that reason, the Madmen predict the game will end in stalemate. No-score draw". Given that Alty have not had a goalless draw all season, this seems a bit unlikely!

TOP ACTION AT MOSS LANE

There will be more top class Premiership action on the HD TV screen in the bar at Moss Lane, as detailed below...

Next Sunday, 11th March

Man United v West Brom (kick off 2pm)

Note..This game is NOT on Sky or ESPN. Hopefully we can get a good turnout which will help the club funds. The bar opens at 1.30pm.
MARLON ENJOYING HIMSELF
The Hale, Altrincham & Sale Independent reports that "Former Blackburn Rovers centre half when they were riding high in the Premier League, Marlon Broomes, is still enjoying his footie in his first season at Altrincham FC. After a career spanning almost 25 years – he was first spotted as a potential star by Birmingham FC scouts at the age of 12 – Marlon is relishing the prospect of helping the Robins reach the play-offs...

After training at the National Excellence Academy, he could have had his pick of any Premier League club but chose Blackburn because it was then being managed by Kenny Dalglish. Conceding he may not be as mobile as he was 10 years ago, he says he can now make up for this by using his head more in what he sees as a highly competitive – if lower – league. And he still relishes the game even though the rough and tumble of the lower leagues mean he spends "less time on the ball".

In this, his first season which sees him not playing as a full time pro, he has landed a part time job which he would rather not have – that of a house husband. While his wife Vicky works as a wedding events organiser at the famous Mitton Hall, Marlon can be found looking after their children – 11-year-old Tre, three-year-old Ethan and eight month old Ava at their home in the Ribble Valley...

Marlon is studying for his coaching qualifications... 'Although I will be 35 in November, I am still enjoying the game and will carry on playing as long as I can', he says. 'And I'll be enjoying it even more if we get in the play offs. We have a very talented team at Altrincham – I've been very impressed with the lads – and, with a bit of luck, we can go places meaning up...'".
LAST GAME
In the Cambridge News "'Blame me for defeat', says David Livermore. David Livermore took responsibility for Histon's disappointing first-half performance which ultimately cost them against Altrincham.

The Stutes' player/boss went for a more defensively-minded approach against the free-scoring visitors, instructing his team to sit deep, soak up the pressure and try to deny the Altrincham forward line the space to develop their attacks. While Histon were able to limit some of Altrincham's attacking threat, they failed to create much themselves, and their inability to retain possession handed the initiative to the opposition.

James Lawrie struck the first blow and, even after Lewis Taaffe equalised, Altrincham regained the ascendancy with goals from former Histon forward Damian Reeves and another from Lawrie.

A change of tactics in the second half brought a valiant response from Histon. Daniel Sparkes's header reduced the arrears and the Stutes were twice denied by the woodwork as Altrincham held on.

Livermore admitted the first half did not go to plan, but was proud of his players for the way they responded to the change after the break.

'Altrincham had a lot of possession (in the first half) but they didn't have it in the areas where they wanted to have it', he said. 'The problem we had was that when we did win the ball we couldn't keep it or counter in the way we wanted to. That shows me we're not quite ready to play in that way yet, and I take responsibility for that. In the second half we played in a way that is more suited to us – more tempo and pressing the ball higher up the pitch, and I thought we caused them all sorts of problems. You live and learn, and you learn more from defeat than you do from winning'...

Lawrie's opening goal in the 13th minute, an in-swinging effort from the right that Reeves almost got a touch to, was an early indication of how dangerous the visitors can be going forward. But they were always vulnerable defensively... Altrincham remained dangerous on the counter, with Lawrie and Shaun Densmore both going close and Stadelmann producing a fine save from Reeves at close range... but the Stutes were unable to get the point their second-half efforts deserved.

Livermore added, 'In the second half our aim was to play with more tempo and press higher up the pitch. Our energy levels and workrate were fantastic. We had a really good go'".
BSBN NEWS
According to the Football Conference, "Vauxhall Motors have added two forwards to their squad as they battle to avoid the drop. The most experienced is 28-year-old Nick Rogan, who recently departed league rivals Stalybridge Celtic. Rogan is a striker with a proven record at Conference National and North level, having helped Southport, Barrow and Fleetwood Town to promotion. [He was an Alty trialist, too, last summer].

Blackpool-born, Rogan started out with Morecambe in 2002 (with loan spells at Kendal Town) for whom he made thirty-five appearances, mostly from the bench, scoring twice.... He spent two years at another coastal town, Fleetwood, again with them during their promotion season, and scoring regularly. He then joined Corby Town in the summer of 2011 scoring the very first goal at Corby's new stadium. But after half a season with the Steelmen, he joined Celtic, but was released after just two months and four appearances (two as sub), at Bower Fold.

The other recruit is Matt Ogden, who is originally from England and signed professionally for Blackpool in 2005. After leaving the Tangerines he moved to Los Angeles where he coached for MLS soccer camps, played semi-professionally for Hollywood United and was the head Varsity coach for a local High School in Hollywood from 2008/09. Ogden has worked for Brit-Am Soccer Academy since the summer of 2010 and passed the USSF 'D' License in the Spring of 2011."

Meanwhile, "Droylsden, who are slipping dangerously towards the relegation zone, have brought in a new goalkeeper following Saturday`s 5-0 drubbing at Bishop`s Stortford. Danzelle St Louis-Hamilton has arrived at the Butcher`s Arms from Fleetwood Town. St Louis-Hamilton joined the Cod Army in May 2011 with the club needing an extra goalkeeper following the release of Danny Hurst. Joining from Conference Premier rivals Darlington, the shot-stopper originally came from Stoke City with a loan spell at Bristol Rovers and Vauxhall Motors, for whom he played against Fleetwood". Paul Phillips, Droylsden's first-choice keeper, was sent off last Saturday.

According to the Coventry Telegraph, "Nuneaton Town face yet another absorbing test tonight in their quest for promotion when they entertain fellow Blue Square Bet North title contenders Guiseley at the Triton Arena. Impressive Boro easily disposed of Corby Town 2-0 at home on Saturday, inflicting only the second away defeated on the Steelmen thanks to goals from central defender Guy Hadland and midfielder workhorse Adam Walker in the opening period.

However, five consecutive league victories for Boro guarantees nothing as manager Kevin Wilkin admits. 'It's another game and one we are desperate to win, especially against opposition who are also looking to win the league in Guiseley', said a determined Nuneaton boss. 'Saturday's first-half performance was one of our best in front of our own fans this season and getting two goals up helped keep the nerves in check. Our keeper Neil Collett hardly had a shot to save and that's pleasing although I would imagine Guiseley are going to come here and be far more positive. We were unlucky not to beat them at their place when they were gifted a late penalty and we had to make do with a point. But they have one of the top strikers in the division in James Walshaw and it's important we keep a close check on him'".

The Boston Standard confirms earlier reports that "Boston United have signed winger John Van Engel, as the club fears they may have lost Spencer Weir-Daley for the remainder of the season. The Dutchman received international clearance to join up with the Jakemans' Stadium side after spending a few weeks on trial with the Pilgrims. He formerly played at SVV Scheveningen in the Hoofdklasse, the highest tier of amateur football in the Netherlands.

Van Engel, 23, is likely to feature in tomorrow's Lincs Senior Shield final... The wideman has just received international clearance to complete his move...

Meanwhile, fellow manager Jason Lee fears Weir-Daley could be out of action until the summer following a mystery appendix injury which ruled him out of Saturday's defeat at Worcester. He said, 'We're waiting to see what the doctors say. If it is appendicitis, that's a long-term thing and we may not be seeing him again this season... He's been to the doctor's and there was a suspicion of maybe appendicitis... He's got a virus as well. It may be a viral problem'".
---
5 March 2012
NEW SIGNING
Altrincham FC have signed striker Leighton McGivern, who recently left our BSB North rivals, Vauxhall Motors. The Robins, already the top scorers in the BSB North, with 70 goals this season, now have two of the top six scorers in the division, as Leighton has hit 14 league goals for the Motormen, despite playing only 21 BSBN games and, of course, Damian Reeves leads the BSBN charts with 35 goals. Leighton has also hit 1 FA Cup and 3 FA Trophy goals this term, to bring his total to 18 in all major competitions.

Alty fans will recall Leighton McGivern as he proved a handful when we met Vauxhall Motors back in August.To give him his full name, Leighton Terence McGivern-Henshaw (d.o.b. 2.6.84 in Liverpool; height 5ft 8ins) comes to Moss Lane with Football League experience under his belt, playing for both Rochdale and Accrington Stanley. He rejoined Vauxhall Motors for a third time in January 2011.

Leighton's former clubs include
2002–2003: Aberystwyth Town 10 appearances, 3 goals.
2003–2004: Vauxhall Motors 1 app., 1 goal.
2004–2005: Rochdale 25 app's, 1 goal.
2005–2006: Vauxhall Motors 9 app's, 3 goals.
2006–2008: Accrington Stanley 19 app's, 2 goals.
2008–2010: Waterloo Dock (Liverpool County Premier)
2011–2012: Vauxhall Motors.

Leighton will be available for tomorrow's game versus Stalybridge Celtic.
YOUTHS WIN
In Sunday's NWYA Premier Division match, Altrincham FC Youth had a good away win at Morecambe, where they won 3-2. Alty are up to third in the latest league table. Next Sunday the youth team is at home to Curzon Ashton, kick off 2.30pm.
A CLOSE SHAVE

Altrincham had a close shave in more ways than one at Histon on Saturday, winning narrowly by 3-2. And some of the Alty players had also had a close encounter with the barber as this image of goalkeeper Stuart Coburn and defender Marlon Broomes illustrates.

Some other pictures from the game are on the Histon website.

SPONSORS

Barry Pond's updated table of Matchday Sponsors is now on the website. Please consider sponsoring a game or match ball or player - all the funds received help the club's budget!

OLD BOYS

The The Evo-Stik League Manager of the Month award winners for February include former Alty man, Joey Dunn, now in charge at Warrington Town.

BSBN NEWS

A week on Saturday, Altrincham travel to Lincolnshire, where the Boston Standard tells us that "Boston United have completed the signing of Dutch winger John van Engel. The 23-year-old, who travelled with the Pilgrims to Worcester City on Saturday, has joined United from SVV Scheveningen...

Reflecting on the capture of van Engel, joint manager Jason Lee told bufc.co.uk, 'John is a Dutch boy who has been training with us for a number of weeks. We are always looking for players and if they can come in and strengthen our squad, that is what it is all about'".
---
4 March 2012
LADIES' GAME OFF
The heavy rain overnight put paid to the Altrincham FC Ladies' match against Stockport County Yellows, due to take place on Sunday afternoon. The Ladies are due to play at home again next Sunday, against Delta Colts' Ladies.
HISTON 2 ALTRINCHAM 3
Match report here.

After Saturday's game, the Cambridge News reported that "Damian Reeves returned to haunt former club Histon by scoring in Altrincham's 3-2 win at the Glass World Stadium. James Lawrie opened the scoring in the 13th minute as the visitors dominated the opening stages. It had initially looked as though Reeves got a touch at the far post but it was later confirmed that Lawrie's cross had found the net unaided.

Lewis Taaffe equalised for Histon in the 22nd minute but former Stute Reeves eventually got on the scoresheet when he restored Altrincham's lead five minutes later. Altrincham looked firmly in control when Lawrie grabbed his second in the 33rd minute. Daniel Sparkes gave Histon hope when he headed home Matt Breeze's cross early in the second half and, though he and substitute Jay Dowie both hit the post, Altrincham held on for victory".
BSBN NEWS
"Graham Drury, manager of Corby Town, has agreed a deal to bring German goalkeeper Fabian Spiess to Steel Park on a youth loan, from Notts County. The highly-rated youngster is a product of the Meadow Lane club's academy and is a commanding presence between the sticks. The stopper is expected to go straight into the squad ahead of Saturday's fixture with Nuneaton Town, following the retirement of Corby Town veteran Chris Mackenzie this week.

Drury told www.corbytownfc.co.uk, 'Fabian is a very promising player, who is held in high regard at Notts County. They will almost certainly offer him a full professional deal at Meadow Lane in the future so he's clearly got the right credentials...I'm grateful to Notts County for their support in helping us again... and I think it shows how far we have come as a club that a side pushing for promotion to the Championship trusts us with one of their young players'".
---
3 March 2012
HISTON 2 ALTRINCHAM 3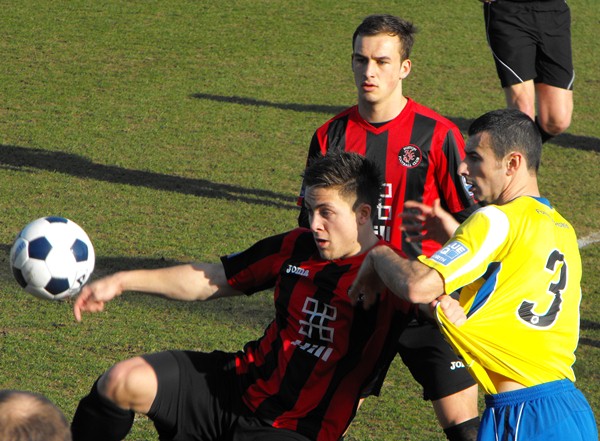 After a quiet opening, Altrincham went ahead when James Lawrie's speculative cross from the left evaded both keeper Stadelmann and the incoming Reeves and went into the net at the back post after 14 minutes... Match report here.

Right: Mark Lynch (in yellow) fights for possession at Histon.

Saturday, 3 March
Through the Years from Howard Watts.
Bishop's Stortford 5 Droylsden 0
Colwyn Bay 0 Blyth Spartans 2
Eastwood Town 0 Hinckley United 3
FC Halifax Town 3 Harrogate Town 1
Guiseley 2 Gainsborough Trinity 0
Histon 2 Altrincham 3
Nuneaton Town 2 Corby Town 0
Stalybridge Celtic 2 Solihull Moors 0
Vauxhall Motors 0 Hyde 2
Worcester City 3 Boston United 0
Workington 3 Gloucester City 0
SATURDAY
As usual, Radio Robins will be covering Saturday's match at Histon. Brian Flynn writes, "Radio Robins, sponsored by Paradox-Computers.com will be broadcasting a full internet commentary of Saturday's game. The match commentary is sponsored by Mobberley Golf Club. Mobberley Golf Club is known as the 'Friendly Golf Venue', catering for all level of golfers, from raw beginners to seasoned players. You can find out more about Mobberley Golf Club here.

The commentators are Simon Ellis and Brian Flynn; the match summariser is Niall Finnegan. The broadcast begins at 2.50pm. You can listen to Radio Robins on the internet at http://www.radiorobins.com".

And, this website will be offering its usual matchday updates throughout the game.
HISTON'S PLANS
According to Pitchero Non-League, "David Livermore, manager of Histon, is already turning his attentions to next season now that his future at the Glassworld Stadium has been secured for the rest of this campaign. The wages for the Stutes' player-manager have been covered, thanks to donations from eight Histon supporters, meaning Livermore and his players can now focus on matters on the pitch.

'It's good to get that out of the way', said Livermore. 'You always have to be professional and still get on with your job but, at times, it has been difficult. I'm really grateful to the eight supporters who stepped forward and kindly donated the money to at least keep me here until the end of the season... We're already looking ahead. It's an on-going process', he said. 'I have a contract until the end of next season so, until told otherwise, I'll continue to plan. There are one or two things we're looking at on the player front. A lot of that is dependent on the budget we'll have but, at the moment, I'm planning along the lines of having the same as this season'.

Histon entertain Altrincham at the Glassworld tomorrow, and Livermore is boosted by having a full-strength squad from which to choose. The Stutes suffered a 3-0 loss at Altrincham earlier in the season, but Livermore believes his players have learned a lot since that disappointing defeat.

'It was one of the more disappointing performances we've put in this season at Altrincham', he said. 'We didn't play well in any department. We're a different team to the one we were at the start of the season. We've improved on a few different aspects'.

If Histon are to get a positive result this weekend they will need to keep former Stute – and the league's leading scorer – Damian Reeves quiet. 'They're good going forward, but the flip-side is how good are they defensively?' added Livermore".

Altrincham Mad says that "Altrincham face a trip to Histon at Bridge Road on Saturday afternoon, looking to break their duck against the hosts. Most of the previous meetings have ended up in defeat for the Robins...
2011/2012 Altrincham 3-0 Histon
2010/2011 Altrincham 0-3 Histon
2010/2011 Histon 3-0 Altrincham
2009/2010 Histon 0-0 Altrincham
2009/2010 Altrincham 2-1 Histon
2008/2009 Altrincham 0-1 Histon
2008/2009 Histon 1-0 Altrincham
2007/2008 Histon 1-0 Altrincham
2007/2008 Altrincham 1-2 Histon

Histon have collected 2 wins and 3 draws from their last six home matches... Altrincham have an average recent record on the road, picking up two good wins, but losing three, from the last six... Footymad are of the opinion a draw at Bridge Road will be a good result. No-score draw".
OLD BOY
The NW Counties league confirms that former Alty Youth and Reserves' midfielder Aaron Hevingham has moved from Bacup Borough to Flixton.
BSB NORTH NEWS
According to the Football Conference, "Solihull Moors have signed midfielder Harvey Headley on a month`s loan from Conference Premier neighbours Tamworth. Headley signed for the Lambs in January 2012, having returned to England after spending the last few years playing for Longwood University in America. The 23-year-old Coventry-born man has also played in the Brazilian Second Division".

Also, "Eastwood Town have added three new players to their injury-hit squad. Midfielder Bradley Munn has signed following his release by Burton Albion, left-sided winger Craig Nelthorpe has been signed from Matlock Town, while highly-rated striker Craig Davies has joined after moving back up north.

Davi[e]s has most recently been turning out for Margate on dual registration with Hampton after being with rivals Horsham on similar terms. He started the 2011/12 season with St Albans City and made an early season switch to Leatherhead before signing for the Hornets. He had signed for St Albans from Stalybridge Celtic having played for a number of northern-based clubs including Warrington Town, Burscough, Lancaster City and Morecambe.

Meanwhile, young reserve defender Josh Raven has signed Conference forms for the Badgers and his registration came through in time for him to be a sub against Guiseley.

While Eastwood's form has improved, their fortunes have not, as they head into the crucial run of games with a flurry of injuries to contend with. 'We have six players fighting injury at the minute, as well as Chris Shaw suspended', said manager John Ramshaw. 'When you don't have a massive squad to begin with, it is not ideal. But, while the timing could be better, we are positive and we will be looking to get the results we need."

Elsewhere, "Neil Aspin, manager of FC Halifax Town, has brought in 19-year-old striker Aron Wint on a month's loan from Scunthorpe United".

And BSB North tells us that "Alfreton Town defender Matt Wilson has joined title chasers Guiseley on loan until April 4, 2012. Matt will link up with Reds striker Chris Senior, who is on loan with the West Yorkshire club until the end of the season and former Reds' midfield player, Andy Holdsworth".

Droylsden announce a "new loan signing, Cliff Moyo, a defender from Barrow".

More on this comes from the NW Evening Mail, which says that "Barrow defender Cliff Moyo has joined Droylsden on a loan deal... Teenager Moyo, who can play at right-back and centre-half, has made seven league appearances... for Barrow this season... Moyo's loan will run from Saturday March 3 until Monday April 2. He has also spent time on loan at Northwich Victoria during the 2011/12 campaign.

Barrow manager Dave Bayliss said in Monday's Evening Mail, 'He (Cliff) needs games. He will be here next year as far as we are concerned and will be offered a contract. He's 18 and I think he will be a terrific player, but he needs a regular run of games'".

Pitchero Non-League tells us that "March Town United manager Brett Whaley made a triple swoop for three players from Blue Square Bet North side [Histon]... Whaley is still very happy with the three lads he has taken on loan, especially Casey Logan, a 17-year-old wide player, who has made one first-team appearance in the Conference North this season and actually comes from March.

His other signings are Curtis Fulcher, a central midfielder, and striker Mattie Waters, who are also both 17. Whaley added, 'For a club like ours to have a good relationship with a club like Histon, who do not have a reserve side, is ideal. Brian Page, the assistant-manager who is also head of the academy, has been very helpful and it may be a way forward for us. If things work out we can have the players until the end of the season, unless they need to be recalled. They will be training with us each week which will be a big help too".

The Worcester News says that "Worcester City chairman Anthony Hampson is hoping the club will only have to ground-share for one season after they leave St George's Lane. Now that planning permission has been granted for St Modwen to build a stadium as part of their Nunnery Way development, City have hope of a future beyond their exit date of June 2013...

Hampson remains optimistic of being able to move in for the 2014/15 campaign... He said, 'I am hoping it can be pushed forward. If it can't, then a ground-share will be inevitable for one year. It won't be built by June 2013 and I think we will be having to ground-share but hopefully for one season'. Before building can begin, which City hope will be with cost-reducing prefabricated structures in the first instance, a bridle path has to be moved from the site and Hampson said St Modwen are due to do that by next month.

City also have the unresolved issue of capital gains tax, the level of which directors are working to reduce. The chairman said, 'The essence of what the club now needs to do is to put our investment of thought into the new ground rather than worrying about the maintenance of St George's Lane. I would prefer the club's resources to be expended more on the new ground'. Several options are being considered for temporary homes, including Bromsgrove Sporting's Victoria Ground and Evesham United's new Cheltenham Road base".
PREMIER SPORTS
The Football Conference has issued the following:

Record-Breaking Spring Line-up on Premier Sports

"Premier Sports, operating on Sky channel 433 in the UK, today announced its best Spring yet since launching in August 2010.

In March alone 114 sporting events will be broadcast on the channel with at least 70 live.

After a weekend of drama that saw the channel broadcast over 12 hours of NASCAR coverage, to great acclaim, which included an 8 hour non-stop Daytona 500m the focus returns to the start of the Rugby League season.

This year, Premier are covering every round of the Championship Rugby League season in England with the opening televised game on Thursday the 8th of March between Leigh and Batley.

In a first for televised rugby, the channel will be giving viewers the chance to listen in live to the video referee as he passes comment on every angle shown as they decide whether a try should be awarded or not.

This will be an exciting new development and the channel is delighted to be breaking ground on a concept long called for by fans.

National Rugby League from Australia moves from 150 to 170 games per season with 6 matches per round. That is more coverage than they get Down Under and with Sam Burgess back from injury and England stalwart James Graham at the Bulldogs it is certain to be a fascinating watch for UK fans.

Premier Sports also became the first sports broadcaster in the world to use fans' Twitter comments live during sports coverage by incorporating them into commentary by Steve Bower and Ian Snodin on the Blue Square games. This has been a great success and other broadcaster[s] are known to be looking at it. A strong March line-up of live games sees 3 matches that feature 5 of the top 6 in the table including Luton's trip to Wrexham on Wednesday, 7th March.

Ice hockey fans have been enjoying more coverage than ever on UK television and it is about to get even bigger with 54 games scheduled for broadcast in March as teams compete for the Stanley Cup play-off places.

On top of this, Premier is also the only channel in Europe currently showing full Hockey Night in Canada coverage direct from CBC every weekend.

A strong line-up of boxing features 4 events with fighters such as Daniel Geale and Zab Judah and capped off by our very own production on Spencer Fearon's Hard Knocks from the Troxy in London featuring Prize Fighter winner Mongolian Warrior Choi!

Throw in some football from South America in the form of the Argentine Primera Division and Copa Libertadores and there really is something for everyone this Spring on Premier Sports.

To subscribe to Premier Sports visit their website or call 0871 663 9000.
---
2 March 2012
TRAVEL TO HISTON
Brian Flynn, chairman of TASC writes:

Arrangements for TASC Supporters Travel to Histon on Saturday

All supporters who are booked to travel to Histon tomorrow with TASC are requested to turn up, as usual, at their designated pick up point, (The Vine in Sale, Hare & Hounds in Timperley, Altrincham FC, Moss Lane).

Supporters will be travelling in three vehicles as follows:-
15 supporters on the TASC Minibus
4 supporters in Andrew Nash's car
5 supporters in Brian Flynn's car

In addition, Simon Ellis is travelling independently from North Wales.

For those people whose names were put on a reserve list earlier this week (Numbers 16-25 in the reservation sequence), we have taken your telephone contact details & we will call you later today, to update you on your individual arrangements.

If anyone has any queries regarding travel arrangements, please contact me by phone (07860 561011) or e-mail".
PLAYER UPDATE
Lee Sinnott, the manager of Altrincham FC, reviewed his squad's availabilty after Thursday night's training and indicated that his left-winger, and latterly left-back, Nicky Clee (right) is "struggling" with badly bruised ribs, an injury he picked up at Bishop's Stortford, last week.

Right-back Kieran Walmsley, who damaged his hamstring against Hinckley United, is improving but is another doubt for Saturday's match at Histon.

Despite again being in the wars at Bishop's Stortford, it takes more than a couple of knocks to keep midfielder Chris Lynch on the sidelines. He trained on Thursday night and, subject to post-training reaction tomorrow, should be OK for the trip to Cambridgeshire.

Likewise, goalkeeper Stuart Coburn, who has missed the last six games through injury, is set to return for his 536th game between the Altrincham posts. On the topic of appearance statistics, captain Shaun Densmore made his 150th start last week at Bishop's Stortford. The midfielder is the only current Altrincham player, apart from Stuart, to have made 100+ starts for the club. Shaun is also second in the goalscoring charts, with 15 goals for the Robins, a total only beaten by Damian Reeves's phenomenal 53 strikes from 67(+12) appearances.

As Altrincham travel for the second week running to a club which has only lost a couple of its last eleven or twelve games, Lee Sinnott said, "We know what we've got to put right. We had plenty of possession last week but we've got to put the ball in the net".
SATURDAY
Altrincham travel to meet Cambridgeshire side, Histon. Alty beat the 'Stutes 3-0 at Moss Lane, back in August, but have yet to win a game against the Cambridgeshire team on its own ground - indeed, The Robins have never scored at Histon in four previous attempts. However, a good omen is that Histon is one of Damian Reeves's former clubs.

Just like our opponents, last week, Bishop's Stortford, Histon have had a good run recently, losing just two of their last 12 league games.

Mike Garnett's statistics tell us that the outcome of previous games between the clubs has been as follows...
At Moss Lane: P5 W2 D0 L3 F6 A7
At Histon: P4 W0 D1 L3 F0 A5
Overall: P9 W2 D1 L6 F6 A12

HISTON: From: 1. Jorg Stadelmann, Grant Roberts, Danny Fitzsimons, Pelayo Gómez-Pico, Remy Clerima, David Livermore, Lewis Taaffe, Jim Stevenson, Dan Holman, Matthew Breeze, Jay Dowie, Daniel Sparkes (C), Harri Hawkins, Calum Kitscha (gk), Charlie Day, Jack Sessions

For Alty, goalkeeper Stuart Coburn is likely to return after a six-match absence. But Altrincham have major injury doubts over Nicky Clee and Kieran Walmsley. Loanees, goalkeeper Joe Collister and striker Jack Redshaw, have now returned to their employers.

ALTRINCHAM From: Stuart COBURN, Matt FLYNN, Marlon BROOMES, Mark LYNCH; Simon RICHMAN, Shaun DENSMORE (capt), Chris LYNCH, James LAWRIE, Damian REEVES, Mark LEES, John MILES, Michael TWISS, Adam REID (gk), James HOLDEN, Adam FLYNN, Nicky CLEE, Kieran WALMSLEY,
A "SHINING LIGHT"
"Carl Garner, manager of Clitheroe, is urging supporters to get behind his team as they bid to survive a relegation dogfight. The club has sunk in to the depths of the Division One North table, seven points from the drop zone... He said, 'I've put seven years of my life in to Clitheroe Football Club... I've rescued it before and I maintain that belief that we can recover again... We don't like scoring at the moment either. The shining light has been Duncan Watmore who has had two very good games'" reports tha Clitheroe Advertiser.
BSBN NEWS
The Telegraph & Argus says that "The task for Guiseley on Saturday may be a difficult one but the bottom line is they simply cannot fail. The Lions were sitting pretty in second place in Blue Square Bet North with enough games in hand to overhaul the leaders and were in the last 16 of the FA Trophy – but all that changed with back-to-back defeats. Following their exit from the Trophy, they slipped to a shock home defeat in the league to relegation-threatened Eastwood Town...

The Lions are now 12 points off the summit with only three games in hand on leaders Hyde FC... Guiseley's injury crisis has bit[ten] so deep that manager, Steve Kittrick, is set to finalise his side on Saturday morning. 'I only had nine fully-fit players for Tuesday night's [local cup] semi-final [against Farsley]. Another two were 80% fit and I only had one outfield sub', said the Lions' boss.

'I don't know what my team is going to be for Saturday. I should know more today but I am not expecting to finalise my team until Saturday morning, for what is a massive few days. We will be facing one team who have been in the top five or six all season (Gainsborough) and are pushing for the play-offs and another who are going for automatic promotion (Nuneaton away on Monday)'.

Kittrick added, 'I was glad that we had the game against Farsley on Tuesday as we put in a poor performance in losing 2-1 to Eastwood last Saturday. One or two of my players needed to look at themselves after that'".

From Corby Town we learn that "goalkeeper Chris Mackenzie has retired from football, after making his last appearance in Corby Town's victory over Long Buckby on Wednesday evening in the Northants Hillier Senior Cup. 39-year-old Mackenzie has enjoyed a glittering career, having represented 12 different clubs in both the Football League and Football Conference during his 19 years between the sticks.

Mackenzie, who broke the record for being the oldest player ever to represent the Steelmen earlier this year, began his career at Corby Town back in 1993 as a talented youngster. Following an impressive season as Corby's number one Chris made the step up to Hereford United in 1994. During a three year spell with the Bulls Chris not only established himself as the number one, but he even managed to score a goal, against Barnet on the opening day of the 1995/96 campaign. As well as representing Hereford United, Hinckley United, Alfreton Town, Nuneaton Borough and Shrewsbury Town, Mackenzie spent time in the Football League with both Leyton Orient and Chester City.

In the summer of 2010 Chris Mackenzie returned home to his first club, Corby Town. The fans' favourite proved to be a revelation and helped the club's push towards the play-offs and... first FA Cup First Round appearance for decades against Luton Town. However following the sad death of chairman Peter Mallinger, Mackenzie was one of a number of players to leave Corby Town, joining Alfreton Town in January 2011. During his time at Alfreton, Mackenzie's impressive displays helped the The Reds win promotion to the Blue Square Bet Premier and win the title in the process.

Chris returned to Corby Town for a third spell in the summer of 2011, after rejecting the chance of returning to full time football with Alfreton and, yet again, played an infuential role in both the club's impressive league start and yet another FA Cup run, which was ended at Bristol Rovers".

According to the Halifax Courier, "Town defender Liam Hogan has the prefect word to describe the Blue Square Bet North promotion race - madness. Despite picking up just one point from the last nine on offer the Shaymen remain third in the table... With many of their rivals also faltering in their quest for a top-five finish...

'It is madness in this league at the moment', he said... 'I am confident we can stay in the play off places and we would have taken that at the start of the season'...

Town's focus now turns to Saturday's home game with Harrogate Town... 'Two defeats on the trot, after a poor result at Eastwood, will show what the lads are made of', said Hogan... 'We have a week to regroup and there is nothing to say that we can't put another run together'. Town's successive defeats against Nuneaton were not only damaging in terms of points, but also in terms of discipline with Ryan Toulson and Jason St Juste red-carded... 'Over the two games we have played against a side that was better than us', he said.".
FIXTURE LICENCES
As ever there is interesting football news from Hereford's Bulls News which tells us that "The Football League's fixture list cannot be copyrighted, a European Court has judged. The League, through its Football DataCo licensing partner, had taken Yahoo, Stan James, and sports firm Enetpulse to court after the trio refused to buy licences to use the data. The case was passed by the High Court to Europe for clarification on key points, with the European judges backing the three firms.

The judgement says, 'A football fixture list cannot be protected by copyright when its compilation is dictated by rules or constraints which leave no room for creative freedom'. Speaking to the BBC, copyright expert Mark Daniels said the ruling, once it had been ratified by the High Court, meant the League could no longer sell licences to use the data. Thousands of licences are sold each year with clients including national media and bookmakers right down to fan sites like Bulls News. Those licence sales are worth millions each season to the League."
---
1 March 2012
STUART BACK
Altrincham FC joint Press Officer, John Edwards, writes:
"Stuart Coburn (right) makes a timely return to action for Altrincham on Saturday after regaining full fitness in the same week as Joe Collister's loan spell ended.
With Collister heading back to Tamworth, after an impressive spell between the posts at Moss Lane, Alty would have been left with just youth keeper Adam Reid for the trip to Histon, but for Coburn finally shaking off a troublesome elbow injury.
'Stuart trained last Thursday and again last night (Tuesday), and there has been no reaction so far,' said Alty manager Stuart Coburn. 'It will be good to have him back, especially with Joe leaving us after doing so well during his time here.'
Sinnott is looking for his side to rediscover their spark in front of goal, after dominating possession at Bishop's Stortford last Saturday but losing 1-0.
'When you look at possession and chances created, then, of course, we should have taken something from the game,' he said. 'But you've got to put the ball in the back of the net, and the way we struck the woodwork three times, hit shots straight at their keeper and steered others wide, you got the impression we wouldn't score if we played until Easter.
'I've been involved in games like that, as a player and manager, and they are very frustrating. I suppose when you have scored as freely as we have this season, you are going to encounter that sort of game eventually, and all you can do is move on.
'I told the players at half-time I wanted us to increase the tempo in the final third and try and punch holes in their defence a bit more. Our play had to be crisp and accurate, and that's what we must strive for in the remaining 12 games, because everything is still in the melting pot.
'I'm glad we've still got the top five to play, because it means catching them up is in our own hands. We can take points off them, rather than relying on others. It's a tough run-in, but I'd rather have it that way.'
Kieran Walmsley is a major doubt, but Nicky Clee hopes to shake off a knock".
SUNDAY AT MOSS LANE
Altrincham FC announce that the bar at Moss Lane will be open from 3.30pm this Sunday where the following will be shown, live on TV in HD...
Tottenham Hotspur v Manchester United (k.o. 4.10pm).

Please come down and support our club as all the takings go back into the Football Club. Everyone is very welcome. The bar opens half an hour before kick-off.
BSB NORTH NEWS
The Wirral News reports that "A host of clubs have been placed on red-alert after Leighton McGivern confirmed his exit from Vauxhall Motors. The former Accrington Stanley striker has left the Rivacre Park outfit because of contractual disagreements. McGivern parted ways with the club over a week ago and has already had contact with Hyde United and Altrincham over the possibility of securing his services.

But the forward's availability is sure to attract the attention of clubs further up the football pyramid after he once again showed his predatory instincts this season by hitting double figures in a struggling side. Colwyn Bay, according to McGivern, were amongst those who made contact with Vauxhall about signing him whilst he remained with the Wirral side. Alfreton Town are understood to have shown interest in McGivern who has been in talks with Welsh team Airbus UK and wants it to be known he is ready to find another club.

The 27-year-old said, 'Vauxhall have been good to me but I think I've been good to them as well. But I was becoming frustrated, picking up bookings and getting sent off all the time'.

More on this appears in the Ellesmere Port Pioneer, which tells us that "Carl Macauley is hoping a whirlwind week of transfer activity will end with his Vauxhall Motors side claiming the scalp of runaway league leaders Hyde. Macauley has been busy reshaping his squad... He has released winger John Lawless, extended the loan of midfielder Liam Wynn from Fleetwood Town and signed two new strikers.

The arrival of Dan Parkinson, 19, on a month's loan from Morecambe, and Ross Farran, 21, on a permanent deal from lower-league Leek Town, comes hot on the heels of Leighton McGivern's shock departure. The 19-goal top scorer revealed at the weekend that he had decided to call time on his third spell with Motors.

McGivern... was on non-contract terms... Macauley is unsure of McGivern's next move but he still holds the 27-year-old's talent in high regard...

[Motors] banished the memory of last Tuesday's 4-0 home hammering by Boston United with a 1-1 draw at play-off hopefuls Gainsborough Trinity at the weekend. Macauley said, 'We did really well and the only disappointment was that we didn't get the three points... Now we've got to keep on picking up points for the rest of the season. As a player the game against Hyde is the kind of game you want to play in. They had a good win over Droylsden, they're flying high and full of confidence. We're going to be in for a very hard game'".

Cambridge News reports that "Russell Hands is delighted to have secured the cash to keep player-manager David Livermore in the Histon hotseat. The chairman said eight 'Stutes supporters had come forward to provide the required funds to pay the boss's wages.

And the club have also received donations to go towards several players' wages following their SOS appeal earlier this month, while the Appeal To You campaign had raised almost £5,000 as of Friday.

Livermore and his agent John Mac had been due to meet with the board at the Glass World Stadium last night, but the meeting was cancelled due to the cash being raised.

'It's brilliant and I'm really pleased', said Hands. 'I've been pleasantly surprised because I know how tough it is for everybody. If someone gives you a fiver you're chuffed because we know how much effort it takes to generate a fiver ourselves. It's a phenomenal amount of work'.

Livermore, who succeeded John Beck in August 2010, is contracted to the club until the end of next season, with the club having an option to keep him until the end of the 2013-14 campaign. Histon fans will now be hoping the latest instalment of off-field drama is over and Livermore can concentrate on on-the-pitch matters. The Stutes have lost just twice in their last 12 outings and are on a four-game unbeaten run, with nine points separating them from the relegation zone".

From the Football Conference we learn that "In the Blue Square Bet North the 'Player of the Month' for February is Tom Ward from Boston United. Having been promoted from the reserves in pre-season, Ward has had an impressive first campaign in the centre of the Pilgrims' defence. February featured two goals in successive Boston victories, which also saw the youngster as part of a back-line which kept two clean sheets".

Meanwhile, "In the Blue Square Bet North, the 'Manager of the Month' award for February goes to Nuneaton Town manager Kevin Wilkin. Boro' have moved up to second in the table and have emerged as one of the key title rivals to long time leaders Hyde. Wilkin's side won all three of their matches during the month, scoring 10 goals and conceding just one".
---
FOR EARLIER NEWS, CLICK HERE
---